inbox and environment news: Issue 557
October 2 - 15, 2022: Issue 557
Spring School Holidays 2022
We hope all of you who have been part of Year 12 Graduation ceremonies and Formals this week have had a great time
We also hop you all have a wonderful school holidays break. We will run another Issue next Sunday, October 2nd, and then have No Issue on Sunday October 9th so we can spend some time with our own youngsters in the week leading up to that Sunday. We've loaded up your page with some fun stuff this week and will do so again next week; some of your regular sections will stay as is until the break. We will get back to more serious subjects after the Spring School Holidays. Have a great break!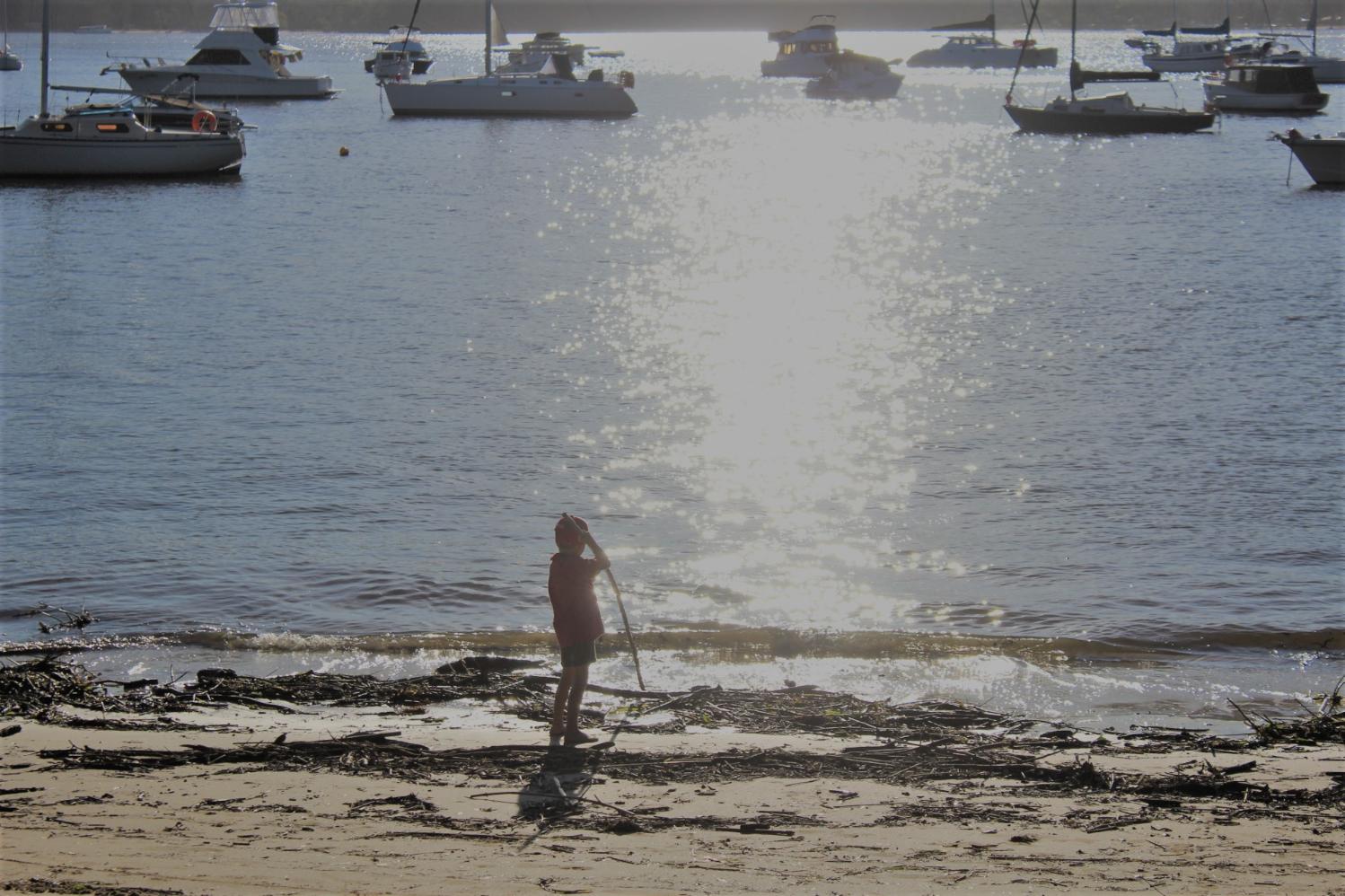 Year 12 Performance Showcase 2022
School Leavers Support
Explore the School Leavers Information Kit (SLIK) as your guide to education, training and work options in 2022;
As you prepare to finish your final year of school, the next phase of your journey will be full of interesting and exciting opportunities. You will discover new passions and develop new skills and knowledge.
We know that this transition can sometimes be challenging and the COVID-19 pandemic has presented some uncertainty. With changes to the education and workforce landscape, you might be wondering if your planned decisions are still a good option or what new alternatives are available and how to pursue them.
There are lots of options for education, training and work in 2022 to help you further your career. This information kit has been designed to help you understand what those options might be and assist you to choose the right one for you. Including:
Download or explore the SLIK here to help guide Your Career.
School Leavers Information Kit (PDF 5.2MB).
School Leavers Information Kit (DOCX 0.9MB).
The SLIK has also been translated into additional languages.
Download our information booklets if you are rural, regional and remote, Aboriginal or Torres Strait Islander, or living with disability.
Support for Regional, Rural and Remote School Leavers (PDF 2MB).
Support for Regional, Rural and Remote School Leavers (DOCX 0.9MB).
Support for Aboriginal and/or Torres Strait Islander School Leavers (PDF 2MB).
Support for Aboriginal and/or Torres Strait Islander School Leavers (DOCX 1.1MB).
Support for School Leavers with Disability (PDF 2MB).
Support for School Leavers with Disability (DOCX 0.9MB).
Download the Parents and Guardian's Guide for School Leavers, which summarises the resources and information available to help you explore all the education, training, and work options available to your young person.
School Leavers Information Service
Are you aged between 15 and 24 and looking for career guidance?
Call 1800 CAREER (1800 227 337).
SMS 'SLIS2022' to 0429 009 435.
Our information officers will help you:
navigate the School Leavers Information Kit (SLIK),
access and use the Your Career website and tools; and
find relevant support services if needed.
You may also be referred to a qualified career practitioner for a 45-minute personalised career guidance session. Our career practitioners will provide information, advice and assistance relating to a wide range of matters, such as career planning and management, training and studying, and looking for work.
You can call to book your session on 1800 CAREER (1800 227 337) Monday to Friday, from 9am to 7pm (AEST). Sessions with a career practitioner can be booked from Monday to Friday, 9am to 7pm.
This is a free service, however minimal call/text costs may apply.
Call 1800 CAREER (1800 227 337) or SMS SLIS2022 to 0429 009 435 to start a conversation about how the tools in Your Career can help you or to book a free session with a career practitioner.
National Bird Week + Aussie Bird Count 2022
National Bird Week 2022 will take place between Monday 17 October and Sunday 23 October
. The celebration of National Bird Week has its origins back in the early 1900s when 28 October was first designated by BirdLife Australia's predecessor, the Royal Australasian Ornithologists Union, as the first 'Bird Day'. BirdLife Australia organises and promotes Bird Week with the goal of inspiring Australians to take action and get involved in bird conservation efforts.
BirdLife Australia brings you the Aussie Bird Count, one of Australia's biggest citizen science events! Celebrate National Bird Week by taking part in the Aussie Bird Count — you will be joining thousands of people from across the country who will be heading out into their backyards, local parks or favourite outdoor spaces to take part.
To get involved all you need is 20 minutes, your favourite outdoor space (this can be your yard, local park, beach, or anywhere you can see birds), and some keen eyesight. And it doesn't matter if you're a novice or an expert — we will be there to help you out. Simply record the birds you know and look up those you don't on our 'Aussie Bird Count' app or our website. You'll instantly see live statistics and information on how many people are taking part near you and the number of birds and species counted in your neighbourhood and the whole of Australia. Not only will you get to know your feathered neighbours, but you'll be contributing to a vital pool of information from across the nation that will help us see how Australian birds are faring.
So get your friends and family together during National Bird Week, head into the great outdoors and start counting.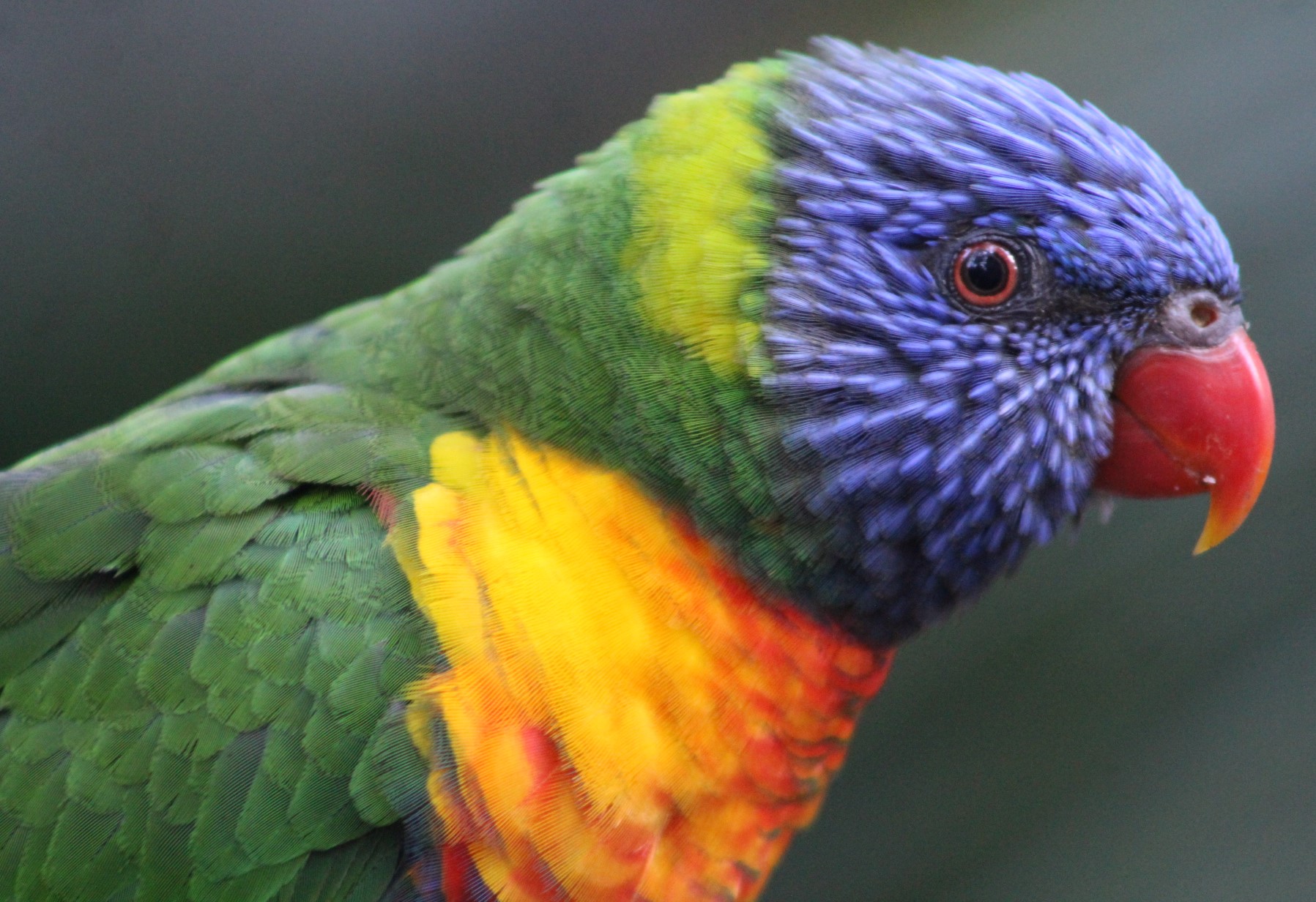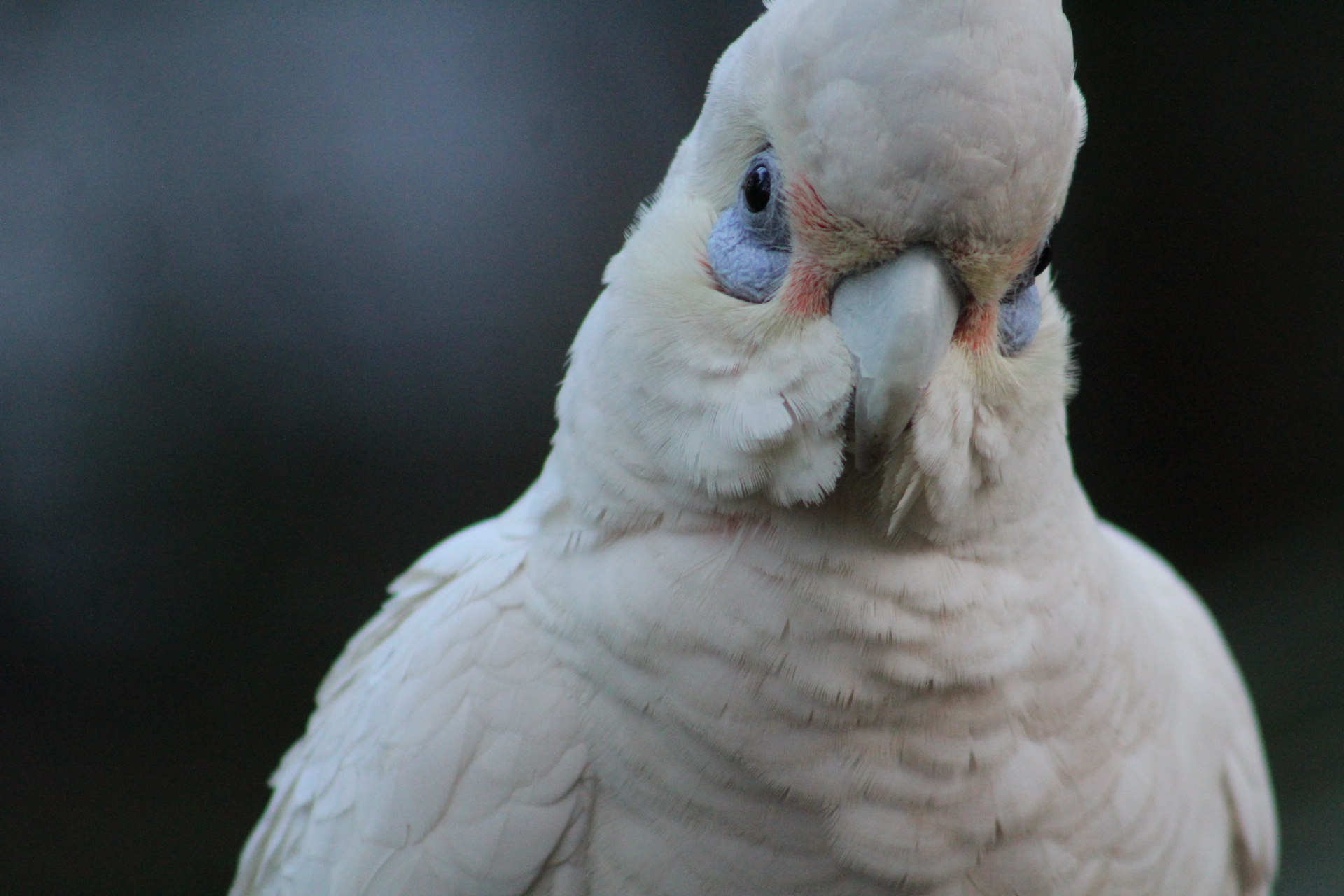 Photos: Rainbow Lorikeet and Little Corella in Pittwater on September 29, 2022. Photos taken by A J Guesdon.
Stay Healthy - Stay Active: HSC 2022
Stay active, keep connected and look after yourself during the HSC this year!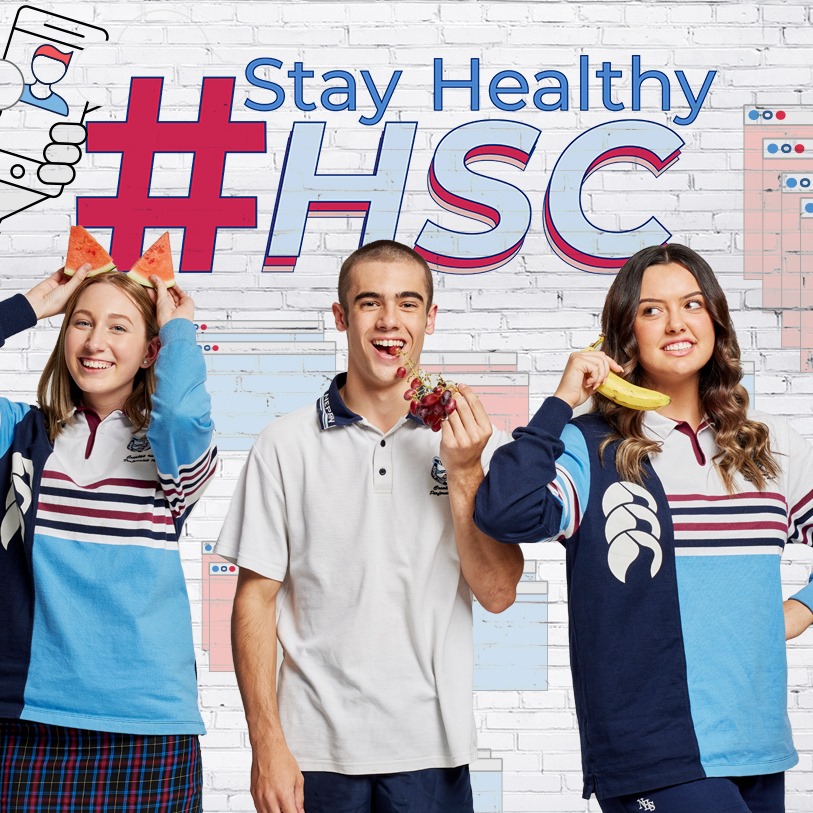 2023 Year 12 School Scholarship Program Now Open: DYRSL
Dee Why RSL is pleased to announce the 2023 School Scholarship Program, open to local students going into year 12 for the 2023 year of study.
A total of ten students will receive $2000 each, to assist them in achieving their utmost potential while completing the Higher School Certificate.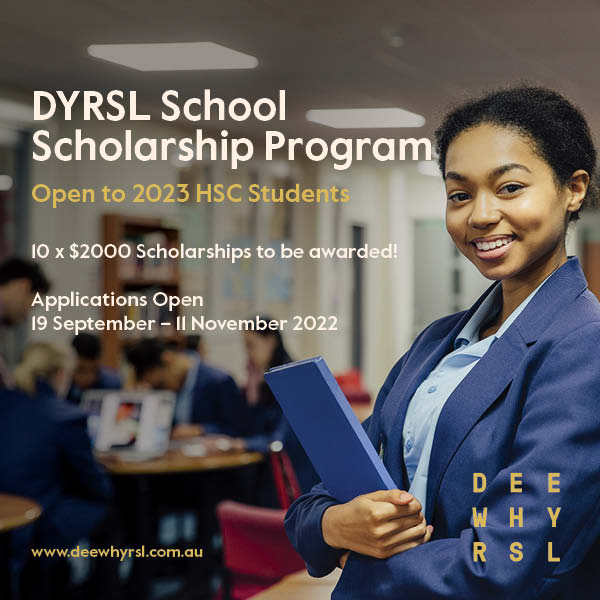 Securing A Brighter Future For Disadvantaged Youth
Eligible students from Years 10 to 12 or TAFE equivalent can now apply for a $1000 scholarship to help meet the cost of studying.
The future goals of some of the state's most vulnerable young people are a step closer to being achieved thanks to the NSW Government's Youth Development Scholarships program.
Minister for Families and Communities and Minister for Disability Services Natasha Maclaren-Jones is calling for eligible students from Years 10-12 or TAFE equivalent to apply for the $1000 scholarships.
"The scholarships aim to remove some of the financial burdens that students face so they can focus on achieving greater results and finish their studies," Mrs Maclaren-Jones said.
"From textbooks to internet access, the scholarships will ensure our young people are well-equipped to reach their full potential."
Minister for Education and Early Learning Sarah Mitchell said that a quality education is a strong foundation for a brighter future.
"The NSW Government wants to support our students in achieving their goals and these scholarships provide them with the necessary financial support to get them started," Ms Mitchell said.
"I know these scholarships will be greatly appreciated by our young people and will help them have a bright start in life."
To be eligible for the scholarship, students must be living in social housing or on the housing register, receiving private rental subsidy from DCJ, or living in supported accommodation or out-of-home care.
More than 4700 students have been supported by the scholarship program since it was established in 2017.
For new and returning high school students
, applications will close
Wednesday 30 November 2022 at 5:00pm.
For returning tertiary students
, applications will
close Friday 3 March 2023 at 5:00pm
.
The Unique Power Of Australian Seaweed
By BBC newsreel
Be The Boss: I Want To Be A Marine Electrician - New Subject After School Holidays
If you love being around the water and tinkering with machines then becoming a Marine Electrician may suit you. Marine electricians are important to the upkeep and safety of marine vessels. They can be involved in the design and building of new ships, or spend the majority of their time repairing existing ones. Becoming a marine electrician requires the attendance and completion of a maritime academy, as well as a hands-on apprenticeship. In this article, we discuss the requirements of becoming a marine electrician and how you can develop the necessary skills to do well as one.
A marine electrician is a person with electrical training who specifically works on boats and ships. Marine electricians may work with all types of marine equipment, including yachts, cruise liners or even runabouts. They will generally spend the majority of their time working on boats. They may also work on-call and travel to boats at sea. Other marine electricians may work in a shipyard where they prepare or maintain ships.
Marine electricians are specialised in all electrical components of the ship, including troubleshooting, repairing, improving and building. Some marine electricians may also take on a supervisory role, where they lead a team of other marine electricians.
Marine electricians maintain the electrical wiring and systems on boats. They may have the following duties:
Troubleshoot wiring and other electrical systems on marine equipment and make repairs
Test low and high-voltage circuit systems for safety
Work on power generators or other alternative sources of energy, like solar or wind power
Wire and test the alarm and communication systems
Monitor for potential electrical voltage threats
Design and update bonding systems to protect the ship against weather elements
Protect the boat's equipment using drip loops and heat shrinks
Interpret and write technical reports and estimate repair costs
Install wiring and electrical equipment when building new ships
Install and configure generators
Test marine electrical equipment like voltmeters and oscilloscopes for efficiency
Becoming a marine electrician requires that you complete certain training and education. You can become a marine electrician with the following steps:
1. Complete a high school Certificate
Because attendance in a maritime academy is a requirement, you will first need to complete high school. Taking classes in computers, physics, mathematics and physics can help you prepare for this.
2. Attend and complete a maritime academy program or Navy Program
This vocational program will specifically prepare you for marine work. During your training, you can expect to take classes like electrical installation and maintenance following protocol. You will also have hands-on experience with electrical tools and equipment, like soldering irons and multimeters. Some academic programs will also offer field training, which may require time spent at sea. Some people may also choose to get a bachelor's degree, rather than attend an associate's-level vocational program.
The Royal Australian Navy states:
Be a tradie in the Navy working as a Marine Technician responsible for operating, maintaining, and monitoring engineering systems and equipment, onboard ships or submarines and ashore.
Whether you already have a trade, you're an apprentice, or you have no experience at all, we're hiring. You'll be paid from day one to gain all the skills needed with extensive on-the-job trade training. You may also be able to use your existing qualifications and be eligible for recognition of prior learning.
Your duties include, but aren't limited to maintaining:
Electrical power generation and distribution
The ship's boats engine and steering systems
Propulsion systems (gas turbines, diesel and electrical engines, gear boxes, propellers, thrusters, and positioning systems)
Electrical systems (alternators, batteries, charging systems, electrical switchboards, and corrosion protection systems)
Auxiliary engineering systems (air-conditioning, refrigeration, generators, air compressor systems, stabilisers, winches, and cranes)
Hull structures and fittings
You'll enjoy a competitive salary package, career stability, opportunities for continuous progression, and an adventurous lifestyle – all while making a difference to Australia.
Benefits:
Free medical and dental
Competitive salary package
Incremental salary increases as you progress through training and ranks
16.4% superannuation
Job security
Career progression and development
Good work/life balance
Travel opportunities
Excellent social and fitness facilities
Subsidised housing
Balance of shore and sea postings
Great chef made meals at sea
Variety of allowances
Submariner:
There is also the option to specialise as a Marine Technician Submariner and be a part of the most exclusive and stable workforce in Australia. Your role will be to operate, repair and conduct maintenance on the submarine's machinery, engines, power, and ventilation systems to ensure the vessel runs at optimum capacity, working at sea and ashore.
Salary:
Upon completion of your initial military and employment training, you'll enjoy a salary package starting from $73,253 for surface fleet and $85,861 for submariners.
For this role, you must be over 17 at time of enlistment, an Australian Citizen and have passed Year 10 English, Maths and Science.
Visit the links below for the full position descriptions:
The Australian Defence Force is an equal opportunity employer. This advertisement is to ensure women are aware of the rewarding and fulfilling careers available in the Navy, Army and Air Force. Females are encouraged to apply, however all roles are open for Australian men and women to apply.
3. Consider working toward certifications
Most employers require marine electrician candidates to have certain certifications, including an Australian Electrical Trade Certificate. Getting work in a local marina can help as well. This will give you experience in Ship repair / the marine industry.
Some people may find employment with the company in which they completed their apprenticeship. But, once you have completed all educational and training requirements, you can begin applying for positions. Update your resume with your most recent educational achievements and certifications. Create a new cover letter for each position.
In some cases, it is also possible to become a marine electrician by going through the required steps to become an electrician and then taking on an apprenticeship in a marine setting. But, this process is less common.
Skills for a marine electrician
Certain soft and hard skills are useful when working as a marine electrician:
Technical: Working as a marine electrician involves a lot of technical work. You will need to troubleshoot the electrical system, rewire systems and install equipment in the ship.
Mechanical: Good mechanical skills are also useful as you will use certain tools and machinery to install and repair systems. A basic understanding of mechanics can be helpful.
Problem-solving: A big part of the job of a marine electrician is identifying electrical problems and repairing them. This involves good troubleshooting skills and the ability to quickly come up with a solution.
Project management: Marine electricians will often manage multiple projects at one time. They may complete projects for different ships and will need to manage time and delegate tasks.
Marine electricians may also need specialized skills, which will often be learned while attending a maritime program. These are some of the specialized skills they may need:
Knowledge of electrical systems: A good working knowledge of electrical systems in ships is important. In addition to reading and navigating electrical blueprints, marine electricians will need to know where to find certain access points and wires.
Coast guard: Some marine electricians may choose to work with the U.S. government on military ships. If this is your preferred route, you may need special coast guard training.
Knowledge of circuit breakers, transformers and high-voltage control panels: Working as a marine electrician, you are likely to work with each of these things. An apprenticeship can be a good way to learn these areas in-depth.
Knowledge of certain safety protocols: Up-to-date safety protocols are needed as marine electricians often work on electrical systems near water. Knowledge of emergency protocols is needed.
The career outlook for marine electricians, according to BLS.gov, is expected to grow by one percent by the year 2029. They estimate that many of the new jobs will be in building new ships and boats for the military. They also believe that with a shift toward environmental-friendly practices, more marine electricians will be needed to help complete offshore wind energy projects.
Also Available:
Word Of The Week: Toll - New Word After School Holidays
Word of the Week returns in 2022 simply to throw some disruption in amongst the 'yeah-nah' mix.
noun
1. a charge payable to use a bridge or road. 2.the number of deaths or casualties arising from a natural disaster, conflict, accident, etc.
verb
1. (of a large bell) to ring slowly and repeatedly, or to cause a large bell to ring in this way.
A death knell is the ringing of a church bell immediately after a death to announce it. Historically it was the second of three bells rung around death, the first being the passing bell to warn of impending death, and the last was the lych bell or corpse bell, which survives today as the funeral toll.In England, an ancient custom was the ringing of bells at three specific times before and after death. Sometimes a passing bell was first rung when the person was still dying, then the death knell upon the death,and finally the lych bell, which was rung at the funeral as the procession approached the church. The ringing of the lych bell is now called the funeral toll. The canon law of the Church of England also permitted tolling after the funeral.
During the reign of Henry VIII and Elizabeth I, statutes regulated death knell, but the immediate ringing after death fell into disuse. It was customary in some places by the end of the 19th century to ring the death knell as soon as notice reached the clerk of the church (parish clerk) or sexton, unless the sun had set, in which case it was rung at an early hour the following morning. Elsewhere, it was customary to postpone the death knell and tellers to the evening preceding the funeral, or early in the morning on the day of the funeral to give warning of the ceremony.
The use of the passing bell for sick persons is indicated in the advertisements of Queen Elizabeth in 1564: "[W]here any Christian bodie is in passing, that the bell be tolled, and that the curate be specially called for to comfort the sick person".
Sometimes the age of the departed was signified by the number of chimes (or strokes) of the bell. This practice still persists in many places - the recent funeral of Her Majesty Queen Elizabeth II saw 96 tolls or peals of Big Ben to signify her 96 years of life.
This is shown again in the 1940 published novel For Whom the Bell Tolls by Ernest Hemingway. It tells the story of Robert Jordan, a young American volunteer attached to a Republican guerrilla unit during the Spanish Civil War. As a dynamiter, he is assigned to blow up a bridge during an attack on the city of Segovia.
The book's title is taken from the metaphysical poet John Donne's series of meditations and prayers on health, pain, and sickness (written while Donne was convalescing from a nearly fatal illness) published in 1624 as Devotions upon Emergent Occasions, specifically Meditation XVII. Hemingway quotes part of the meditation (using Donne's original spelling) in the book's epigraph. Donne refers to the practice of funeral tolling, universal in his time:
No man is an Island, intire of it selfe; every man is a piece of the Continent, a part of the maine; if a Clod bee washed away by the Sea, Europe is the lesse, as well as if a Promontorie were, as well as if a Mannor of thy friends or of thine owne were; any mans death diminishes me, because I am involved in Mankinde; And therefore never send to know for whom the bell tolls; It tolls for thee.
The use of "tellers" to denote the sex was almost universal. For instance in the greater number of churches in the counties of Kent and Surrey they used the customary number of tellers, viz., three times three strokes for a man, and three times two for a woman; with a varying usage for children. The word "tellers" became changed into "Tailors".
The funeral tolling of a bell is the technique of sounding a single bell very slowly, with a significant gap between strikes. It is used to mark the death of a person at a funeral or burial service. The expression "tolling" is derived from the English tradition of "telling" of the death by signalling with a bell. The term tolling may also be used to signify a single bell being rung slowly, and possibly half-muffled at a commemoration event many years later. Tolling is typically used for tenor bells in change ringing, it also applies to bourdon bells as well in a bell tower or cathedral.
Compare the invoking of silence instead of tolls denoting years:
Stop all the clocks
'Stop all the clocks, cut off the telephone'
Stop all the clocks, cut off the telephone,
Prevent the dog from barking with a juicy bone,
Silence the pianos and with muffled drum
Bring out the coffin, let the mourners come.
Let aeroplanes circle moaning overhead
Scribbling on the sky the message He Is Dead,
Put crepe bows round the white necks of the public doves,
Let the traffic policemen wear black cotton gloves.
He was my North, my South, my East and West,
My working week and my Sunday rest,
My noon, my midnight, my talk, my song;
I thought that love would last for ever: I was wrong.
The stars are not wanted now: put out every one;
Pack up the moon and dismantle the sun;
Pour away the ocean and sweep up the wood;
For nothing now can ever come to any good.
W H Auden
"Funeral Blues", or "Stop all the clocks", is a poem by W. H. Auden which first appeared in the 1936 play The Ascent of F6. Auden substantially rewrote the poem several years later as a cabaret song for the singer Hedli Anderson. Both versions were set to music by the composer Benjamin Britten. The second version was first published in 1938 and was titled "Funeral Blues" in Auden's 1940 Another Time. The poem experienced renewed popularity after being read in the film Four Weddings and a Funeral (1994), which also led to increased attention on Auden's other work. It has since been cited as one of the most popular modern poems in the United Kingdom.
Toll - From Middle English toll, tol, tolle, from Old English toll ("toll, duty, custom"), from Proto-Germanic *tullō ("what is counted or told"), from Proto-Indo-European *dol- ("calculation, fraud"). Cognate with Saterland Frisian Tol ("toll"), Dutch tol ("toll"), German Zoll ("toll, duty, customs"), Danish told ("toll, duty, tariff"), Swedish tull ("toll, customs"), Icelandic tollur ("toll, customs"). More at tell, tale.
Alternate etymology derives Old English toll, from Medieval Latin tolōneum, tolōnium, alteration (due to the Germanic forms above) of Latin telōneum, from Ancient Greek (telṓnion, "toll-house"), from τέλος (télos, "tax").
Toll (bell peal) ME tollen to entice, lure, pull, hence prob. to make (a bell) ring by pulling a rope; akin to OE -tyllan, in fortyllan to attract, allure
'Holiday' Tunes To Dance By
Sara Bareilles - Brave (Official Video)
Jessie J - Price Tag ft. B.o.B
Can't stop the feeling - Justin Timberlake (2016)
Dance Monkey by Tones and I (2020)
Book Of The Month: October 2022 - Voss By Patrick White
Originally published: London: Eyre & Spottiswoode, 1957.
Set in nineteenth-century Australia, Voss is White's best-known book, a sweeping novel about a secret passion between the explorer Voss and the young orphan Laura. As Voss is tested by hardship, mutiny, and betrayal during his crossing of the brutal Australian desert, Laura awaits his return in Sydney, where she endures their months of separation as if her life were a dream and Voss the only reality. Marrying a sensitive rendering of hidden love with a stark adventure narrative, Voss is a novel of extraordinary power and virtuosity from a twentieth-century master.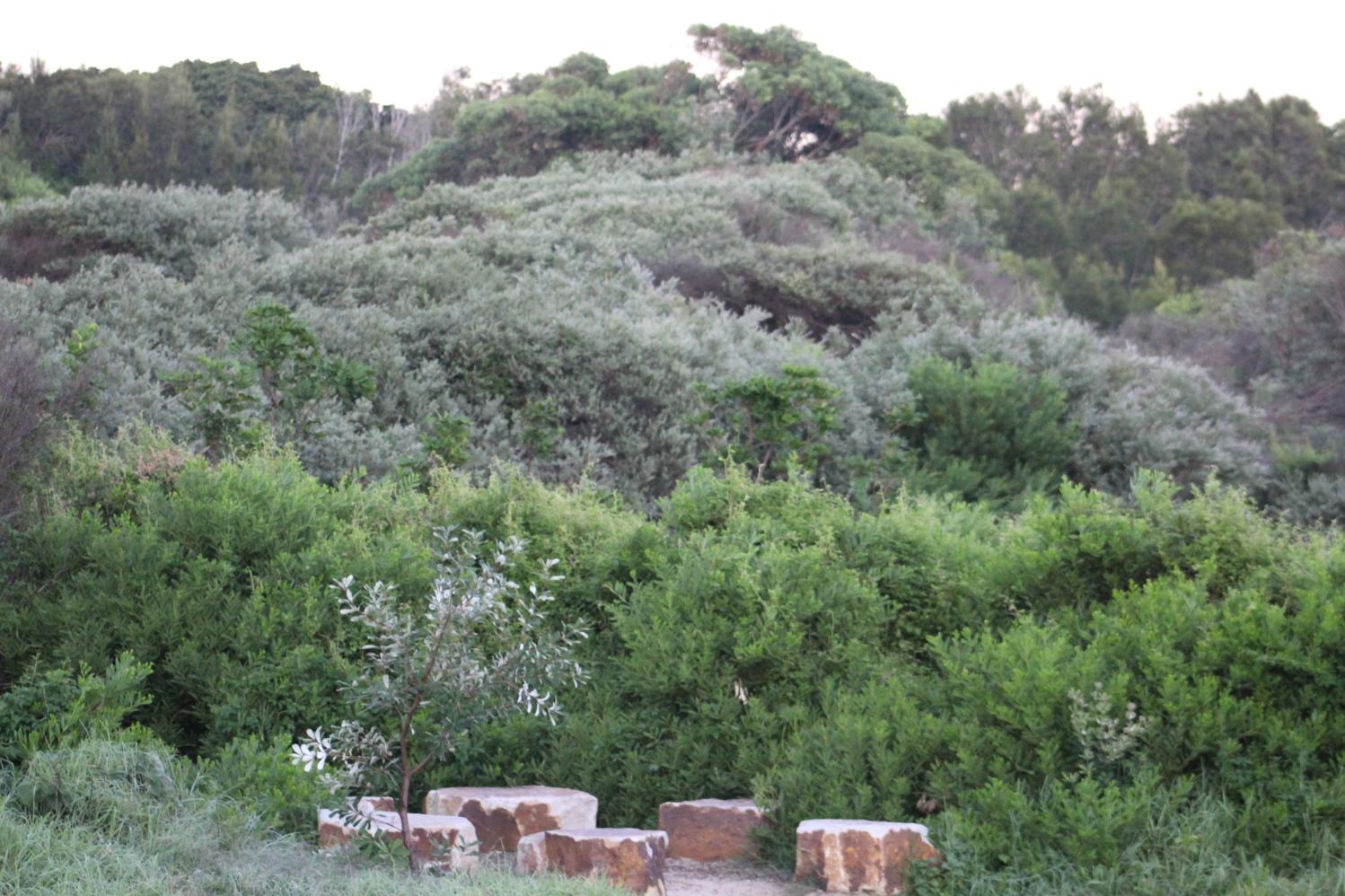 Bilgola Probus Club Commences
The Bilgola Probus Club had its inaugural meeting last month and the Committee is now on a membership drive to secure interested people to join our club. Membership is open to males and females who are currently retired or semi-retired.

We meet on the first Friday of each month at 10am at the Newport Bowling Club; 2 Palm Road Newport.
To find out more, please contact our President, Patricia Ryan on 0438 281 573.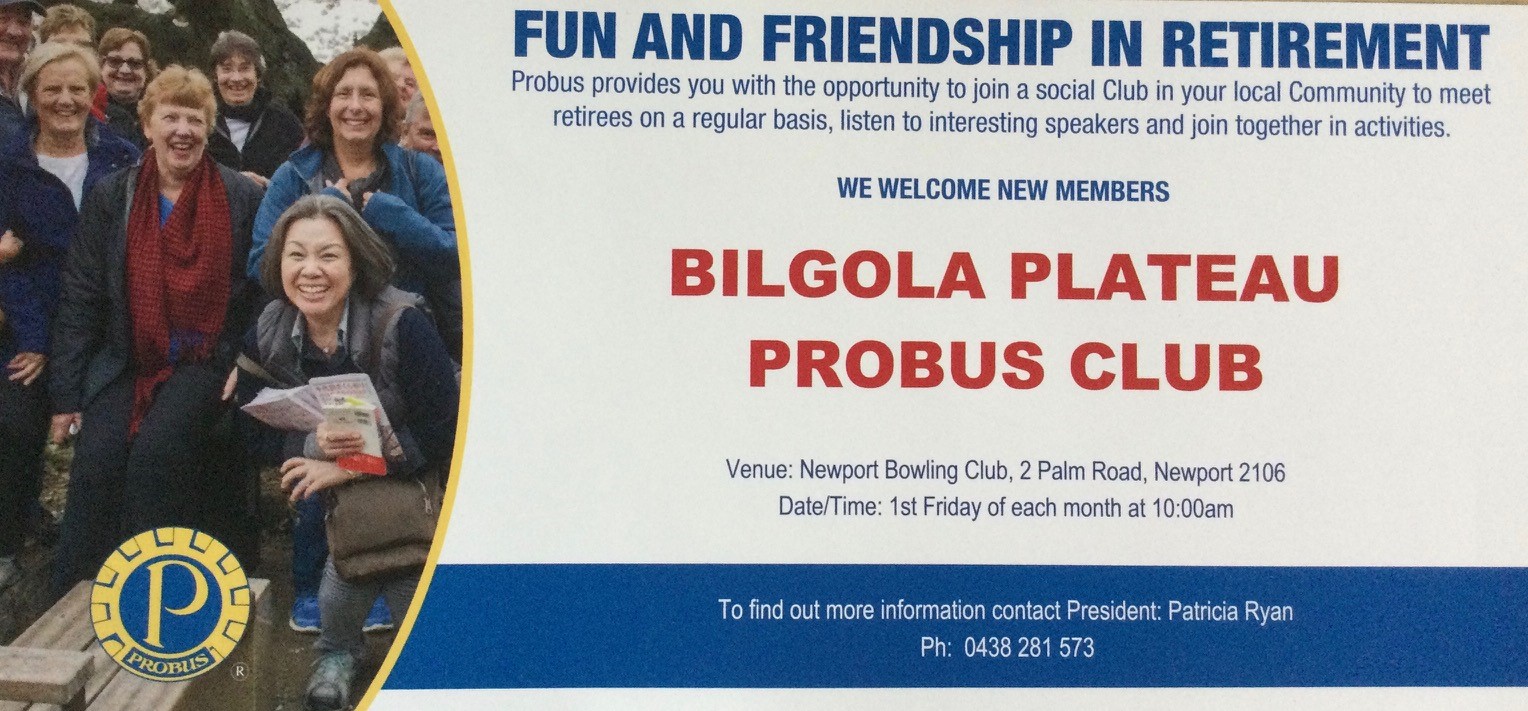 Support At Home: A Commentary On The Design Of The Proposed Unified Program
September 29, 2022: UTS AGEING RESEARCH COLLABORATIVE (UARC)
Support at Home: a Commentary on the design of the proposed unified program offers a critique of the initial framework for reforms to the delivery of in-home aged care services.
It is a response to the Overview paper released by the Department of Health in January 2022 and discusses the strengths and shortcomings of the current proposals.
In 2021, the then Government announced its intention to consolidate three existing programs for delivering in-home aged care into a new, unified Support at Home Program.
In January 2022, the Department of Health released an Overview paper containing an initial framework for the reforms, alongside a schedule for consultation with the sector.
The new Support at Home program is now expected to commence on 1 July 2024. The incoming Minister for Aged Care announced the deferral by one year to facilitate additional consultation and ensure that reforms will "bring genuine improvements for older Australians in the long and short-term."
Current programs have a diversity of client cohorts, services and providers
The three programs to be unified have different objectives, scopes, funding models and cohorts. This diversity must be recognised and accommodated in all facets of the design of the new program, as should the differences of aged care from disability care.
The program should have a clear set of principles which guide its design
Aged care reform in Australia has followed a broadly consistent approach over the past decade. Design of the Support at Home program should be guided by a set of principles that reflect this approach and are centred on the independence and wellness of senior Australians.
In the absence of a published statement of principles to date, this Commentary suggests the following:
Senior Australians to have choice and control over the services they are assessed as needing and that those services change as their needs change.
Services to be delivered within a competitive market-based environment.
Regulation to be proportionate in setting quality and safety standards for the services and the providers of those services and correcting for market failures.
The allocation, management, delivery and outcomes of subsidised services to be transparent and have clear lines of accountability.
Subsidised services to be funded sustainably and equitably between taxpayers and clients.
Key concerns discussed in the Commentary are:
The need for a clear and consistent set of principles to guide program design
Ensuring effective accountability within a multi-provider, fee-for-service model
The impact of service and price lists on transparency and flexibility
The role of appropriate client contributions within sustainable funding models
READ AND DOWNLOAD AT UTS:
Sophisticated New Robot Driving Innovation In Joint Surgery
A $400,000 robot, which may hold the key to significant improvements in hip and knee replacements, is now operational at the Kolling Institute.
Known as KOBRA, or the Kolling Orthopaedic Biomechanics Robotic Arm, the new technology delivers an advanced testing facility while greatly increasing research capabilities.
It is the largest of its kind in Australia and one of just two SimVitro robots in the country.
Director of the Kolling's Murray Maxwell Biomechanics Lab Associate Professor Elizabeth Clarke has welcomed its installation, saying it represents a significant step for orthopaedic and biomedical engineering research, new surgical techniques and medical technologies.
"KOBRA will be used to simulate complex human movements on joints," Elizabeth said. "This is a new way of working and very few other machines have this capability where they can test joints through a broad range of life-like manoeuvers, like hip flexing, squatting, walking and throwing.
"We expect to use the robot in the testing of implants, particularly for hip and knee replacements, to gauge how the implants will function and to help ensure the movement is as life-like as possible," Elizabeth said.
We expect to use the robot in the testing of implants, particularly for hip and knee replacements, to gauge how the implants will function and to help ensure the movement is as life-like as possible
The orthopaedic biomechanics robot is not only expected to advance hip and knee replacements, but is also likely to assist surgeons working to repair chronic shoulder instability.
Large numbers of patients are presenting with this injury and the information provided by the robot will help to improve the quality of research and optimise surgical approaches.
Professor Bill Walter, Royal North Shore Hospital orthopaedic surgeon and Professor of Orthopaedics and Traumatic Surgery at the University of Sydney has witnessed advances in surgical techniques over many years.
He said the next improvements will be delivered through new technologies provided by robots like KOBRA.
"We have seen that previous innovations have come through new materials and design," he said. "The next innovations however in joint replacement surgery will be delivered through improved biomechanics of the artificial joints.
"It's tremendously encouraging to see this world-leading technology coming to the Kolling. It will assist researchers, engineers and surgeons, and ultimately lead to improved surgical techniques, better placement of implants and good long-term health outcomes for our community."
The robot has been made possible following a collaboration between the Northern Sydney Local Health District, the University of Sydney, the Kolling Institute, the NSW Investment Boosting Business Innovation program and the RNSH Staff Specialist Trust Fund.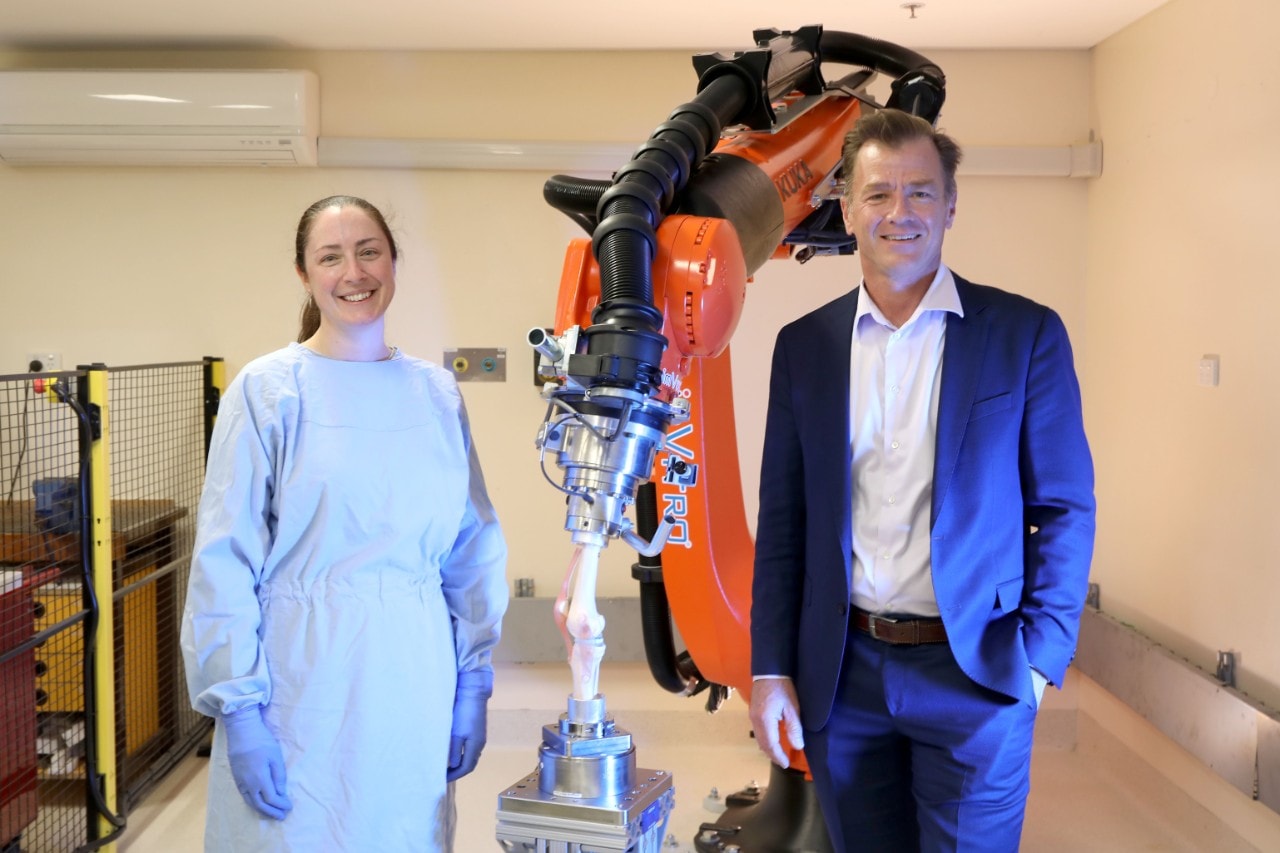 Associate Professor Elizabeth Clarke and Professor Bill Walter standing in front of the robot KOBRA.
Dog Behaviour Could Offer Insight Into Building Better Robots For Aged Care
Macquarie University (at Ryde) has conducted research into understanding how we bond with our furry friends in order to help scientists to design robots that can reduce loneliness.
The premise is that if small robots could be made more doglike by teaching them to play, respond to emotional cues and stay close, it could be the start of creating bonds between human and machine to combat the rising problem of social isolation, new research suggests.
Pre-pandemic, loneliness was considered to be most prevalent among older people, but with repeated lockdowns and the shift to working from home, it is increasingly being recognised as an issue for all age groups.
Researchers around the world are looking for ways to tackle the problem, with attention turning to technological solutions involving artificial intelligence, including apps, chatbots, avatars and virtual reality.
And while it may sound like something straight out of science fiction, robots could also be an option, providing a physical presence that could not only offer companionship but potentially provide support like raising the alarm in a medical emergency or carrying out small day-to-day care tasks.
With this in mind, Macquarie University Professor of Human Neuroscience, Emily Cross, and PhD candidate, Katie Riddoch, began looking at the potential for robots in aged care, providing a form of social interaction and allowing people to stay in their own homes longer.
If a lonely person is going to benefit from interacting with a robot, we believe they need to be able to bond with it."
"Developing humanoid robots for tasks like these has proved to be an expensive challenge that is complicated by the extremely high expectations we have thanks to fictional robots," Cross says.
"This has led to a shift in focus towards social robots based on small animals like dogs.
"Having a dog has been shown to be associated with improved mental health and wellbeing, but it's not an option that's open to everyone due to factors like allergies or diseases such as dementia that mean the person can't care for a pet effectively.
"What we're looking for in our research is ways to bridge the gap between seeing a robot as simply a machine to something more. If a lonely person is going to benefit from interacting with a robot, we believe they need to be able to bond with it."
The seven keys to human-dog bonding
Cross and Riddoch began looking at ways to make social robots behave more like the animals they were designed to resemble, beginning with identifying the traits that create and maintain bonds between dogs and their owners.
Riddoch, who is based at the University of Glasgow in Scotland, surveyed more than 150 dog owners, asking them open-ended questions about their pets' behaviour and what they perceived it to mean, rather than simply asking them what they liked about their dogs, as previous studies had done.
Using the survey responses, Riddoch, Cross and their University of Edinburgh colleague Dr Roxanne Hawkins identified seven types of behaviour that contributed to human/dog bonding. These form the basis of a new paper published in scientific journal, PLoS One.
"Top of the list were activities like playing or going for walks together, which owners perceived as representing shared interests," Cross says.
"The dog choosing to stay close was another key behaviour, as owners read this as the animal being protective or caring.
"More than half of the people surveyed mentioned the importance of their dog communicating with them to let them know what it needed, and offering physical affection.
"The sense of positivity and enthusiasm was also important, in the form of actions like the dog running straight to them when they came home.
"Respondents also perceived what we've called 'attunement' as an important behaviour, where the dog appears to be on the same emotional wavelength and responds to the owner's moods – doggy empathy, if you like."
Using this list of bonding behaviours, the team programmed a MiRo‑E robot, which looks something like a cross between a rabbit and a dog, then tested how dog owners reacted to it. The results of this study were published on September 28, 2022.
"We're not suggesting that robots could replace dogs, because obviously there are aspects of being with a living creature that robots can't simulate," Cross says.
"We're not even trying to completely reproduce dogs' behaviour in robotic form, but we do think robots that exhibit some of these doglike traits could offer benefits for people who don't have the option of having a real dog.
"We hope that our research will contribute, even in a small way, to people being able to relate better to robots."
Emily Cross is a Professor of Human Neuroscience in Macquarie University's School of Psychological Sciences, and the MARCS Institute for Brain, Behaviour and Development at Western Sydney University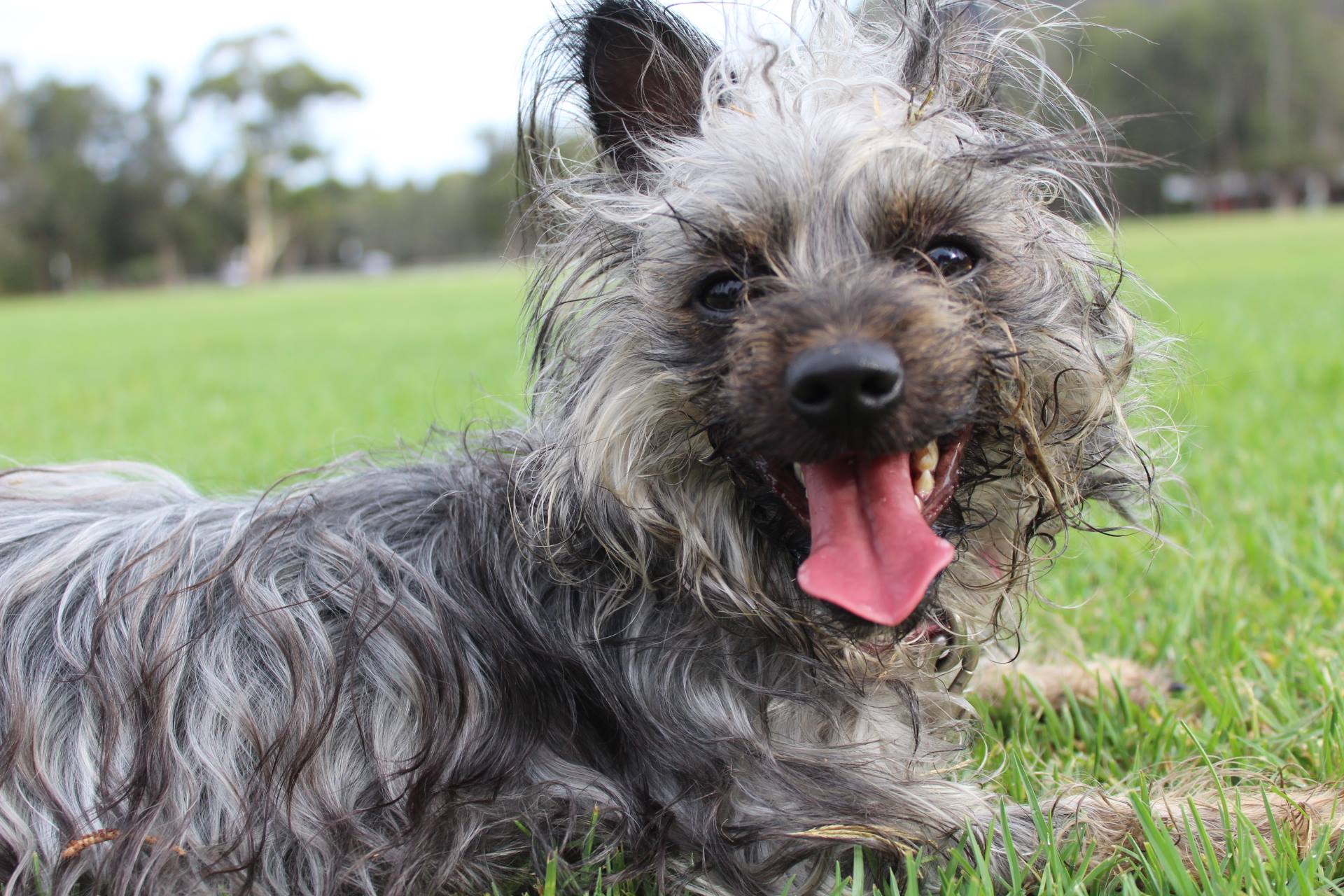 The real thing; messy, cheeky, likes rolling in muck until she stinks, eats like a horse, full of love.
These 12 things can reduce your dementia risk – but many Australians don't know them all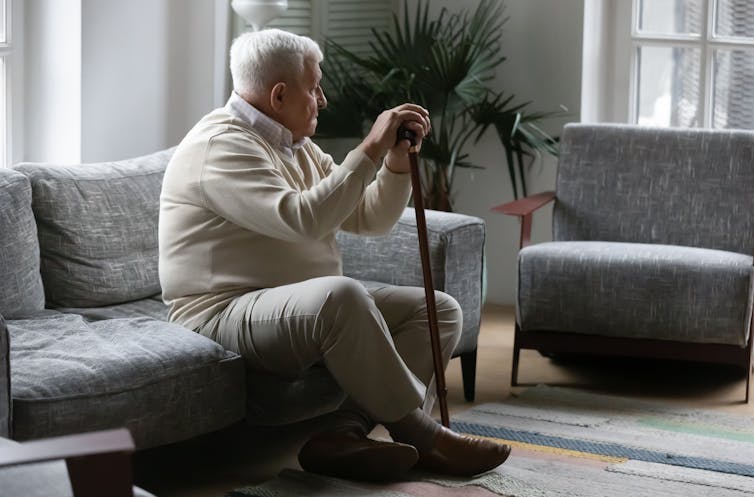 Joyce Siette
,
Western Sydney University
and
Laura Dodds
,
Western Sydney University
Dementia is a leading cause of death in Australia.
Although dementia mainly affects older people, it is an avoidable part of ageing. In fact, we all have the power to reduce our risk of developing dementia, no matter your age.
Research shows your risk of developing dementia could be reduced by up to 40% (and even higher if you live in a low or middle-income country) by addressing lifestyle factors such as healthy diet, exercise and alcohol consumption.
But the first step to reducing population-wide dementia risk is to understand how well people understand the risk factors and the barriers they may face to making lifestyle changes.
Our new paper, published this week in the Journal of Ageing and Longevity, found most older people are aware that dementia is a modifiable condition and that they have the power to change their dementia risk.
We also found the key barrier to making brain healthy lifestyle choices was a lack of knowledge, which suggests a public awareness campaign is urgently needed.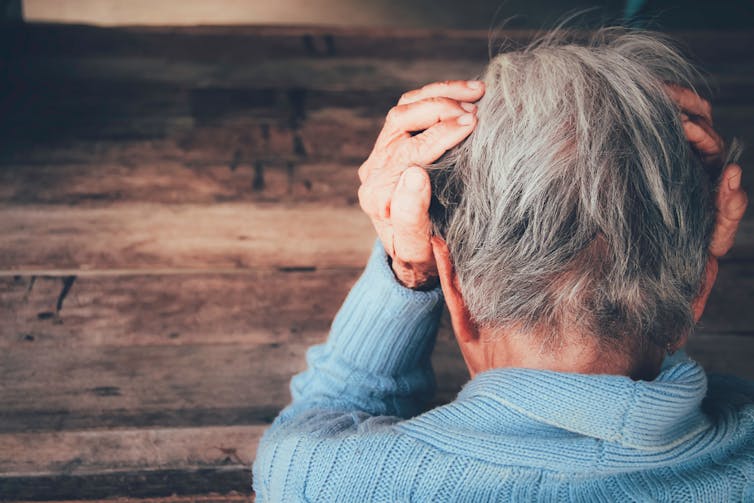 What We Did
We began by reviewing the published research to identify 12 factors shown to reduce dementia risk. We surveyed 834 older Australians about their awareness of the 12 factors, which were:
having a mentally active lifestyle
doing physical activity
having a healthy diet
having strong mental health
not smoking
not consuming alcohol
controlling high blood pressure
maintaining a healthy weight
managing high cholesterol
preventing heart disease
not having kidney disease
not having diabetes
The Lancet subsequently published its own list of factors that help reduce dementia risk, which covered much the same territory (but included a few others, such as reducing air pollution, treating hearing impairment and being socially engaged).
Of course, there is no way to cut your dementia risk to zero. Some people do all the "right" things and still get dementia. But there is good evidence managing lifestyle factors help make it less likely you will get dementia over your lifetime.
Our study shows many older Australians are quite aware, with over 75% able to correctly identify more than four of the factors in our list of 12.
However, few were able to name the less well-known risk factors, such as preventing heart disease and health conditions like kidney disease.
The good news is that close to half of the sample correctly identified more than six of the 12 protective factors, with mentally active lifestyle, physical activity and healthy diet in the top three spots.
Two Key Issues
Two things stood out as strongly linked with the ability to identify factors influencing dementia risk.
Education was key. People who received more than 12 years of formal schooling were more likely to agree that dementia was a modifiable condition. We are first exposed to health management in our school years and thus more likely to form healthier habits.
Age was the other key factor. Younger respondents (less than 75 years old) were able to accurately identify more protective factors compared to older respondents. This is why health promotion initiatives and public education efforts about dementia are vital (such as Dementia Awareness Month and Memory, Walk and Jog initiatives).
How Can These Findings Be Used In Practice?
Our findings suggest we need to target education across the different age groups, from children to older Australians.
This could involve a whole system approach, from programs targeted at families, to educational sessions for school-aged children, to involving GPs in awareness promotion.
We also need to tackle barriers that hinder dementia risk reduction. This means doing activities that motivate you, finding programs that suit your needs and schedule, and are accessible.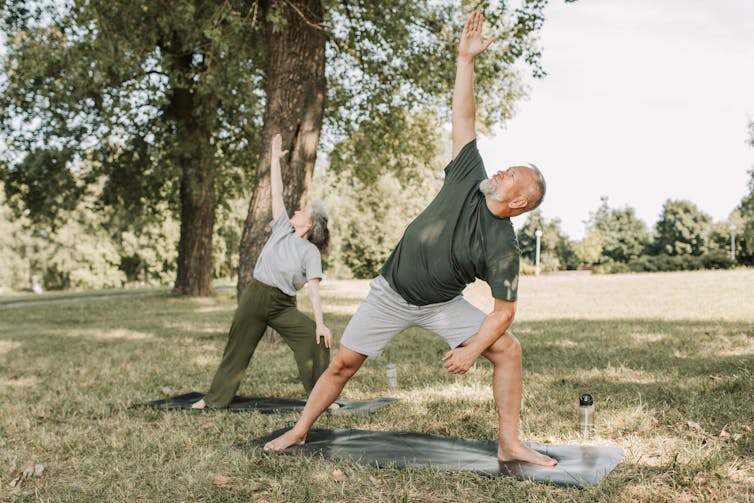 What Does This Mean For You?
Reducing your dementia risk means recognising change starts with you.
We are all familiar with the everyday challenges that stop us from starting an exercise program or sticking to a meal plan.
There are simple and easy changes we can begin with. Our team has developed a program that can help. We are offering limited free brain health boxes, which include information resources and physical items such as a pedometer. These boxes aim to help rural Australians aged 55 years and over to adopt lifestyle changes that support healthy brain ageing. If you're interested in signing up, visit our website.
Now is the time to think about your brain health. Let's start now.

Joyce Siette, Research Theme Fellow, Western Sydney University and Laura Dodds, PhD Candidate, Western Sydney University
This article is republished from The Conversation under a Creative Commons license. Read the original article.
MQ Health, Surgeons And Medibank Partner To Establish World-Class Orthopaedic Centre In Sydney
MQ Health will establish a world-class orthopaedic surgical centre in Sydney, with support from leading orthopaedic surgeons and Medibank.
The centre will be located on a dedicated floor of Macquarie University Hospital, with four state of the art orthopaedic operating theatres and 29 beds supporting a short stay surgical model.
Macquarie University Hospital CEO, Associate Professor Walter Kmet said the centre will champion the hospital's philosophy of excellence in evidence-based medicine.
"This is an exciting partnership for our hospital as we continue to innovate in care, quality and safety for our patients," Associate Professor Kmet said.
"The short stay model combines pre-assessment and pre-habilitation to support a patient's rapid recovery and help them return home sooner. Both the hospital and treating specialist decide if the model is appropriate for each patient, with decisions around their care, monitoring and rehabilitation to be made by our clinical team.
"As the number of joint replacements continues to increase in line with the ageing population, increasing access to short stay is a great development for our treating specialists and their patients," he said.
A group of orthopaedic surgeons and Medibank will invest $29.6 million to support the establishment of the centre through a joint venture, with the surgeons and Medibank each contributing $14.8 million to fund the fit out and equipment. MQ Health is contributing the floor space, with the centre to operate as an integrated part of the hospital.
The surgical centre will be accessible to all patients regardless of their health fund or if they are self-funded.
Medibank Group Executive – CEO Health Services Dr Andrew Wilson said the centre will expand Medibank's no gap program, which provides customers with choice and value around their healthcare.
"Our no gap program gives our customers choice in how their treatment is delivered and can halve the number of days they need to spend in hospital. Instead, they have the option to rehabilitate in the comfort of their own home with full support from nurses, allied health practitioners and personal carers as required," Dr Wilson said.
"It's also designed to eliminate out-of-pocket medical costs commonly associated with a hip or knee replacement. For minor complexity procedures, these savings have averaged $1,200, although they can be as high as $4,700. This can make a real difference to household budgets at a time when the cost of living is increasing," he said.
MQ Health Discipline Head of Orthopaedics Professor Munjed Al Muderis, said the centre will provide a range of benefits.
"This world-class centre will help us meet growing demand for this model of care and provide opportunities to partner with the university on research and teaching," Professor Al Muderis said.
The centre is expected to open in late 2023.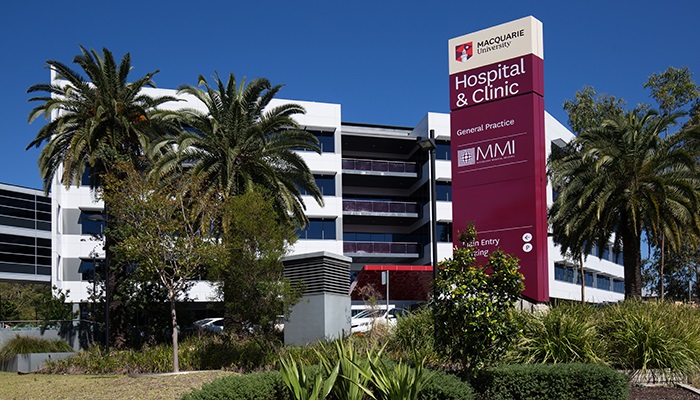 A Call To Better Support Unpaid Carers This International Day Of Older Persons
This year, the International Day of Older Persons fell on Saturday 1 October. The theme for this year focuses on the resilience and contributions of older women. National Seniors Australia CEO and Director of Research John McCallum explains why it is sorely needed.
With workforce shortages causing chaos nationally, ageism continues to exclude older workers from employment with older women more exposed to ageist discrimination than men.
While most people are working to save superannuation to fund their retirement, many older women shoulder the responsibility of care. Consequently, losing income and superannuation while facing a higher risk of poverty, welfare dependency and homelessness in older age.
The unrecognised role of unpaid care
The situation is compounded by the demanding role of providing unpaid, informal care to family members, which results in reduced hours of paid work or quitting altogether.
National Seniors research suggests there is a strong gender disparity among those providing care to an ageing parent.
National Seniors recently surveyed more than 4000 Australians aged 50 plus. The survey found that 69 per cent of women provided care for ageing parents.
This work can be debilitating in terms of time, health, and financial costs. One participant shared, "It is emotionally and physically draining caring for an elderly parent. I cannot go on holiday for more than a night or two. I have health problems and live alone, so I really need to look after myself as well. It is a bit of an exhausting cycle."
Another said, "That is 20 years of my life, earning power and superannuation that I have sacrificed for a worthwhile (yet distressing and exhausting) cause. At significant health and wealth cost to myself."
Given the projected shift in Australia from caring for older people in residential facilities to caring for them in their own homes, we know this situation will get worse.
Home care packages can lighten some of the load, but it is not 24/7 care. At National Seniors, older Australians tell us family members still must fill the gaps in home-based care. Those gaps can be very wide.
Older people do not care only for parents. They care for children too, which goes largely unrecognised by the government and is often taken for granted in families.
National Seniors' research also identified gender differences in grandparenting care.
Among our sample, women and men provided grandparent care equally, with 27 per cent of women and 26 per cent of men actively grandparenting.
Almost all the men who were a grandparent, a whopping 93 per cent of our sample, had a partner. This suggests they share the burden of the labour as a couple.
However, the same is not true of the women, among whom only 57 per cent had partners, while 43 per cent were single, providing grandparenting care on their own.
This suggests that the financial, time and health costs of grandparenting are higher for women than men on average since many more women are doing it alone. At the very least, there should be public recognition and support for those doing it tough.
As one of our survey participants said, unpaid care activities often come at a direct cost to the carer. "Two days per week unpaid care of two grandchildren. Gave up work as a teacher."
The need for financial support
Older people who provide unpaid care for others contribute labour to the Australian economy without recompense and often at great personal and professional costs.
Many are not eligible for the Carer Payment because of its strict criteria. Others are eligible, but lose it if they continue in some paid work and earn over the allowable threshold.
The government's proposal to allow workers to take extended unpaid carer leave will not solve the problem of lost earning potential either.
While workers can sometimes use personal leave to care for others, this disadvantages carers because they have less paid leave available when they fall sick.
Our research and that of others demonstrate that caring is associated with poorer mental and physical health. Therefore, carers need all the sick leave they can get, or they magnify their risks.
National Seniors recently proposed to the Senate Select Committee on Work and Care that paid leave entitlements for carers are increased by instituting paid carer leave. This is separate from personal leave to redress the inequity.
Like parental leave, this would be a type of leave that some people will never need, and others will, depending on life circumstances.
By expecting our carers to keep giving, despite poverty and ill-health, we are doing a disservice to older Australians who work, care, and the older Australians they care for.
The resilience and contributions of older women and other older people deserve recognition and in a form that pays the bills. The 2022 International Day of Older Persons is the time to act.
U3A Actvities
Previously known as Guringai country, the land of the Garigal or Caregal people, the Northern Beaches area stretches from Palm Beach to Manly. It is home to Manly Sea Eagles, Garigal and Kuring-Gai Chase National Parks, enviable beaches and a relaxed, carefree lifestyle.
Our
2022 Semester 2 Course Book
is now available and we are looking forward to seeing you at some of our exciting courses. In addition to face to face and Zoom courses this semester we also have three outings which may interest you:
A day trip to Mount Wilson on 5 October (details on page 9);
Our annual picnic on 20 October, this year at Clontarf Reserve (details on page 10); and
Tunnels and Gunners Tour, with a guide from the Sydney Harbour Trust, on 3 November (details on page 10.
Bookings are required for each of these events so please hurry to join in.
Home Instead Sydney North Shore & Northern Beaches
We are a provider of quality home care and companionship services for seniors in the Northern suburbs of Sydney.
To you, it's about finding trustworthy care for your ageing loved one. To us, it's about providing the highest-quality in-home care services to fit you and your family's needs.
To Us, It's Personal.
We provide services to all areas and suburbs in the North Shore and Northern Beaches of Sydney.
Telephone: (02) 9144 2322
Warming Oceans Are Changing Australian Reef Fish Populations
Shallow reefs and the creatures that inhabit them are changing due to rising ocean temperatures, but these impacts have been obscured by a lack of comprehensive local data. A team of researchers in Australia has been tracking changes in the country's reefs for over a decade, and in research publishing September 22 in the journal Current Biology they describe how they used fine-scale data to illustrate how warming waters impact tropical and temperate reef fish communities differently.
"Reefs provide a ton of benefits to people, from food, livelihoods, recreation, physical protection from storms, and I dare say even happiness and inspiration," says lead author Rick Stuart-Smith, a marine ecologist at the University of Tasmania. "We specifically considered the fishes that live on reefs, as these are important for many of those aspects, and also help maintain the natural ecological function of the reefs."
The Reef Life Survey, which Stuart-Smith created with co-author Graham Edgar to help the world understand what is happening with Australia's reefs, collects data globally. For this study, the Australian Reef Life Survey data were combined with that from two other major reef monitoring programs. "The two other datasets we used are amongst the longest running of any reef biodiversity monitoring programs globally," says Stuart-Smith. "The combination of these datasets provided a more comprehensive picture of what is happening on reefs than would be imaginable for any other continent."
The research teams looked at habitat change -- coral bleaching, for example -- and temperature change and found that impacts varied depending on the reef's location. Fishes on temperate and subtropical reefs appeared to show the signs of temperature change more, and tropical reef fishes seemed to be more affected from habitat change. After a 2011 marine heatwave warmed waters in southwestern Australia, temperate reefs saw an influx of tropical fishes that hung around for years after the event.
The team also examined how a loss of coral and kelp cover resulted in less unique fish populations. Regions in northeastern Australia showed evidence of habitat degradation that has led to fish populations dominated by generalist species, rather than niche species adapted to specific habitats.
Stuart-Smith hopes that this research will encourage more widespread, standardized, and coordinated local research, which can then be better used to evaluate global trends. The team also calls for more climate-related reef research. "Climate change clearly has a huge impact on marine biodiversity, with changes we observed around the Australian continent over short time scales indicating that much larger changes are likely over the next half century as ocean warming progresses," write the authors.
Rick D. Stuart-Smith, Graham J. Edgar, Ella Clausius, Elizabeth S. Oh, Neville S. Barrett, Michael J. Emslie, Amanda E. Bates, Nic Bax, Daniel Brock, Antonia Cooper, Tom R. Davis, Paul B. Day, Jillian C. Dunic, Andrew Green, Norfaizny Hasweera, Jamie Hicks, Thomas H. Holmes, Ben Jones, Alan Jordan, Nathan Knott, Meryl F. Larkin, Scott D. Ling, Peter Mooney, Jacqueline B. Pocklington, Yanir Seroussi, Ian Shaw, Derek Shields, Margo Smith, German A. Soler, Jemina Stuart-Smith, Emre Turak, John W. Turnbull, Camille Mellin.
Tracking widespread climate-driven change on temperate and tropical reefs.
Current Biology, 2022; DOI:
10.1016/j.cub.2022.07.067
Fighting Fungal Infections With Metals
Each year, more than one billion people contract a fungal infection. Although they are harmless to most people, over 1.5 million patients die each year as a result of infections of this kind. While more and more fungal strains are being detected that are resistant to one or more of the available drugs, the development of new drugs has come to a virtual standstill in recent years. Today, only around a dozen clinical trials are underway with new active agents for the treatment of fungal infections.
"In comparison with more than a thousand cancer drugs that are currently being tested on human subjects, this is an exceptionally small number," explains Dr. Angelo Frei of the Department of Chemistry, Biochemistry and Pharmacy at the University of Bern, lead author of the study. The results have been published in the journal JACS Au.
Boosting antibiotics research with crowd sourcing
To encourage the development of anti-fungal and antibacterial agents, researchers at the University of Queensland in Australia have founded the Community for Open Antimicrobial Drug Discovery, or CO-ADD. The ambitious goal of the initiative is to find new antimicrobial active agents by offering chemists worldwide the opportunity to test any chemical compound against bacteria and fungi at no cost. As Frei explains, the initial focus of CO-ADD has been on "organic" molecules, which mainly consist of the elements of carbon, hydrogen, oxygen and nitrogen, and do not contain any metals.
However, Frei, who is trying to develop new metal-based antibiotics with his research group at the University of Bern, has found that over 1,000 of the more than 300,000 compounds tested by CO-ADD contained metals.
"For most folks, when used in connection with the word 'people', the word metal triggers a feeling of unease. The opinion that metals are fundamentally harmful to us is widespread. However, this is only partially true. The decisive factor is which metal is used and in which form," explains Frei, who is responsible for all the metal compounds in the CO-ADD database.
Low toxicity demonstrated
In their new study, the researchers turned their attention to the metal compounds which showed activity against fungal infections. Here, 21 highly-active metal compounds were tested against various resistant fungal strains. These contained the metals cobalt, nickel, rhodium, palladium, silver, europium, iridium, platinum, molybdenum and gold.
"Many of the metal compounds demonstrated a good activity against all fungal strains and were up to 30,000 times more active against fungi than against human cells," explains Frei. The most active compounds were then tested in a model organism, the larvae of the wax moth. The researchers observed that just one of the eleven tested metal compounds showed signs of toxicity, while the others were well tolerated by the larvae. In the next step, some metal compounds were tested in an infection model, and one compound was effective in reducing the fungal infection in larvae.
Considerable potential for broad application
Metal compounds are not new to the world of medicine: Cisplatin, for example, which contains platinum, is one of the most widely used anti-cancer drugs. Despite this, there is a long way to go before new antimicrobial drugs that contain metals can be approved.
"Our hope is that our work will improve the reputation of metals in medical applications and motivate other research groups to further explore this large but relatively unexplored field," says Frei. "If we exploit the full potential of the periodic table, we may be able to prevent a future where we don't have any effective antibiotics and active agents to prevent and treat fungal infections."
The study was supported by the Swiss National Science Foundation, the Wellcome Trust and the University of Queensland, among others.
Angelo Frei, Alysha G. Elliott, Alex Kan, Hue Dinh, Stefan Bräse, Alice E. Bruce, Mitchell R. Bruce, Feng Chen, Dhirgam Humaidy, Nicole Jung, A. Paden King, Peter G. Lye, Hanna K. Maliszewska, Ahmed M. Mansour, Dimitris Matiadis, María Paz Muñoz, Tsung-Yu Pai, Shyam Pokhrel, Peter J. Sadler, Marina Sagnou, Michelle Taylor, Justin J. Wilson, Dean Woods, Johannes Zuegg, Wieland Meyer, Amy K. Cain, Matthew A. Cooper, Mark A. T. Blaskovich.
Metal Complexes as Antifungals? From a Crowd-Sourced Compound Library to the First In Vivo Experiments.
JACS Au, 2022; DOI:
10.1021/jacsau.2c00308
Simple Process Extracts Valuable Magnesium Salt From Seawater
Since ancient times, humans have extracted salts, like table salt, from the ocean. While table salt is the easiest to obtain, seawater is a rich source of different minerals, and researchers are exploring which ones they can pull from the ocean. One such mineral, magnesium, is abundant in the sea and increasingly useful on the land.
Magnesium has emerging sustainability-related applications, including in carbon capture, low-carbon cement, and potential next-generation batteries. These applications are bringing renewed attention to domestic magnesium production. Currently, magnesium is obtained in the United States through an energy-intensive process from salt lake brines, some of which are in danger due to droughts. The Department of Energy included magnesium on its recently released list of critical materials for domestic production.
A paper published in Environmental Science & Technology Letters shows how researchers at Pacific Northwest National Laboratory (PNNL) and the University of Washington (UW) have found a simple way to isolate a pure magnesium salt, a feedstock for magnesium metal, from seawater. Their new method flows two solutions side-by-side in a long stream. Called the laminar coflow method, the process takes advantage of the fact that the flowing solutions create a constantly reacting boundary. Fresh solutions flow by, never allowing the system to reach a balance.
This method plays a new trick with an old process. In the mid-20th century, chemical companies successfully created magnesium feedstock from seawater by mixing it with sodium hydroxide, commonly known as lye. The resulting magnesium hydroxide salt, which gives the antacid milk of magnesia its name, was then processed to make magnesium metal. However, the process results in a complex mixture of magnesium and calcium salts, which are hard and costly to separate. This recent work produces pure magnesium salt, enabling more efficient processing.
"Normally, people move separations research forward by developing more complicated materials," said PNNL chemist and UW Affiliate Professor of Materials Science and Engineering Chinmayee Subban. "This work is so exciting because we're taking a completely different approach. We found a simple process that works. When scaled, this process could help drive the renaissance of U.S. magnesium production by generating primary feedstock. We're surrounded by a huge, blue, untapped resource."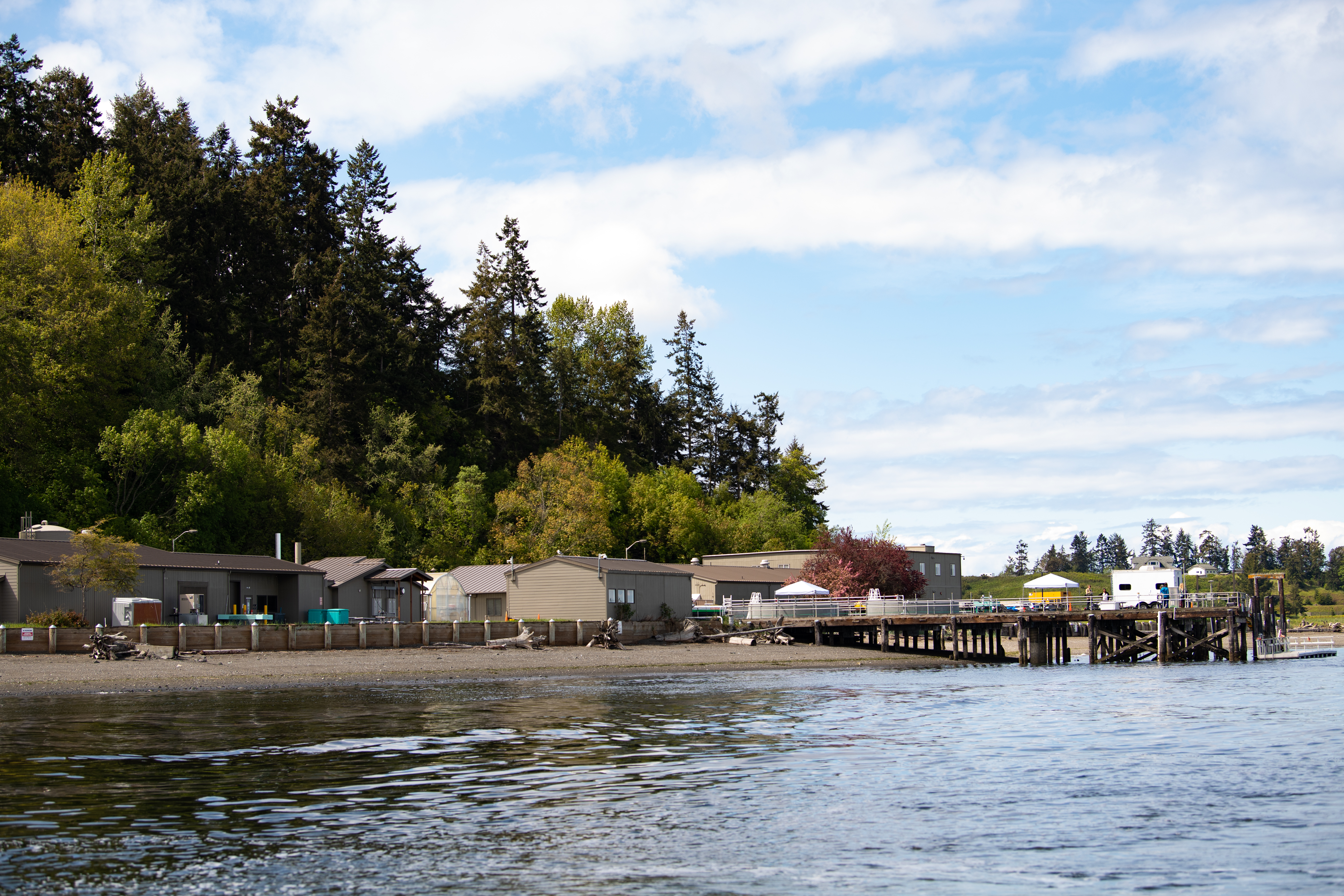 Seawater from the PNNL-Sequim campus fueled this research project. (Photograph by Andrea Starr | Pacific Northwest National Laboratory)

From Sequim water to solid salt
Subban and the team tested their new method using seawater from the PNNL-Sequim campus, allowing the researchers to take advantage of PNNL facilities across Washington State.
"As a Coastal Sciences staff member, I just called a member of our Sequim chemistry team and requested a seawater sample," said Subban. "The next day, we had a cooler delivered to our lab in Seattle. Inside, we found cold packs and a bottle of chilled Sequim seawater." This work represents the collaboration that can happen across PNNL's Richland, Seattle, and Sequim campuses.
In the laminar coflow method, the researchers flow seawater alongside a solution with hydroxide. The magnesium-containing seawater quickly reacts to form a layer of solid magnesium hydroxide. This thin layer acts as a barrier to solution mixing.
"The flow process produces dramatically different results than simple solution mixing," said PNNL postdoctoral researcher Qingpu Wang. "The initial solid magnesium hydroxide barrier prevents calcium from interacting with the hydroxide. We can selectively produce pure solid magnesium hydroxide without needing additional purification steps."
The selectivity of this process makes it particularly powerful. Generating pure magnesium hydroxide, without any calcium contamination, allows researchers to skip energy-intensive and expensive purification steps.
Sustainability for the future
The new and gentle process has the potential to be highly sustainable. For example, the sodium hydroxide used to extract the magnesium salt can be generated on site using seawater and marine renewable energy. Removing magnesium is a necessary pre-treatment for seawater desalination. Coupling the new process with existing technologies could make it easier and cheaper to turn seawater into freshwater.
The team is particularly excited about the future of the process. Their work is the first demonstration of the laminar coflow method for selective separations. This new approach has many additional potential applications, but more work needs to be done to understand the underlying chemistry of the process. The knowledge gap offers new possibilities and research directions for powering the blue economy.
"We want to take this work from the empirical to the predictive," said PNNL materials scientist Elias Nakouzi. "There is an exciting opportunity to develop a fundamental understanding of how this process operates while applying it to important problems like creating new energy materials and achieving selective separation of hard-to-separate ions for water treatment and resource recovery."
The published study was supported by the PNNL Laboratory Directed Research and Development program. Elisabeth Ryan of UW was also a co-author of the study. Current development of this technology is supported by the Department of Energy, Office of Energy Efficiency and Renewable Energy, Water Power Technologies Office under the Marine Energy Seedlings Program.
Qingpu Wang, Elias Nakouzi, Elisabeth A. Ryan, Chinmayee V. Subban.
Flow-Assisted Selective Mineral Extraction from Seawater.
Environmental Science & Technology Letters, 2022; 9 (7): 645 DOI:
10.1021/acs.estlett.2c00229
Museums Of History Bill Passes In NSW
The NSW Government's Museums of History Bill creating two new agencies, Museums of History NSW and State Records NSW, has passed parliament.
Minister for the Arts Ben Franklin said the Bill meant the State's most important and historic collections, records and archives will be better preserved, presented and accessible to the public.
"It will see the NSW State Archives and Sydney Living Museums brought together to create a flagship body, Museums of History NSW, to serve the people of NSW and beyond," said Mr Franklin.
"The NSW Government is committed to a future where history is alive and the telling of history takes a more prominent place in our cultural landscape."
"The creation of Museums of History NSW is increasing accessibility by making history immersive, discoverable and relevant to the people of NSW."
The Bill also includes the creation of State Records NSW, a separate and dedicated agency for recordkeeping standards, regulation, advice, education and policy.
"Good recordkeeping is the foundation of good government. The creation of a dedicated agency will ensure the highest of standards is maintained for NSW Government integrity and accountability now and into the future," Mr. Franklin said.
CEO of NSW State Archives and Sydney Living Museums, Adam Lindsay said the passing of the Bill was a tremendous achievement in the ongoing preservation of, and access to our precious history for generations to come.
"History is happening as every moment passes into the next and it can be shared by all of us. With this formidable portfolio of assets combined with the expertise of our dedicated professionals, the creation of Museums of History NSW offers the chance to dig deep, discover and enjoy the wonders held within this vast and rich collection of archives, objects and built heritage," Mr Lindsay said.
The Museums of History Act 2022 and the State Records Act amendments will be effective from 31 December 2022.
New Hawkesbury Hub For Fires And Floods
The State Government has announced emergency response to fires and floods in the Hawkesbury is being significantly enhanced with construction beginning on a new $8 million Fire Control and Emergency Operations Centre.
Minister for Emergency Services and Resilience and Minister for Flood Recovery Steph Cooke joined Member for Hawkesbury Robyn Preston and Rural Fire Service (RFS) members at the site in Wilberforce today to officially turn the first sod.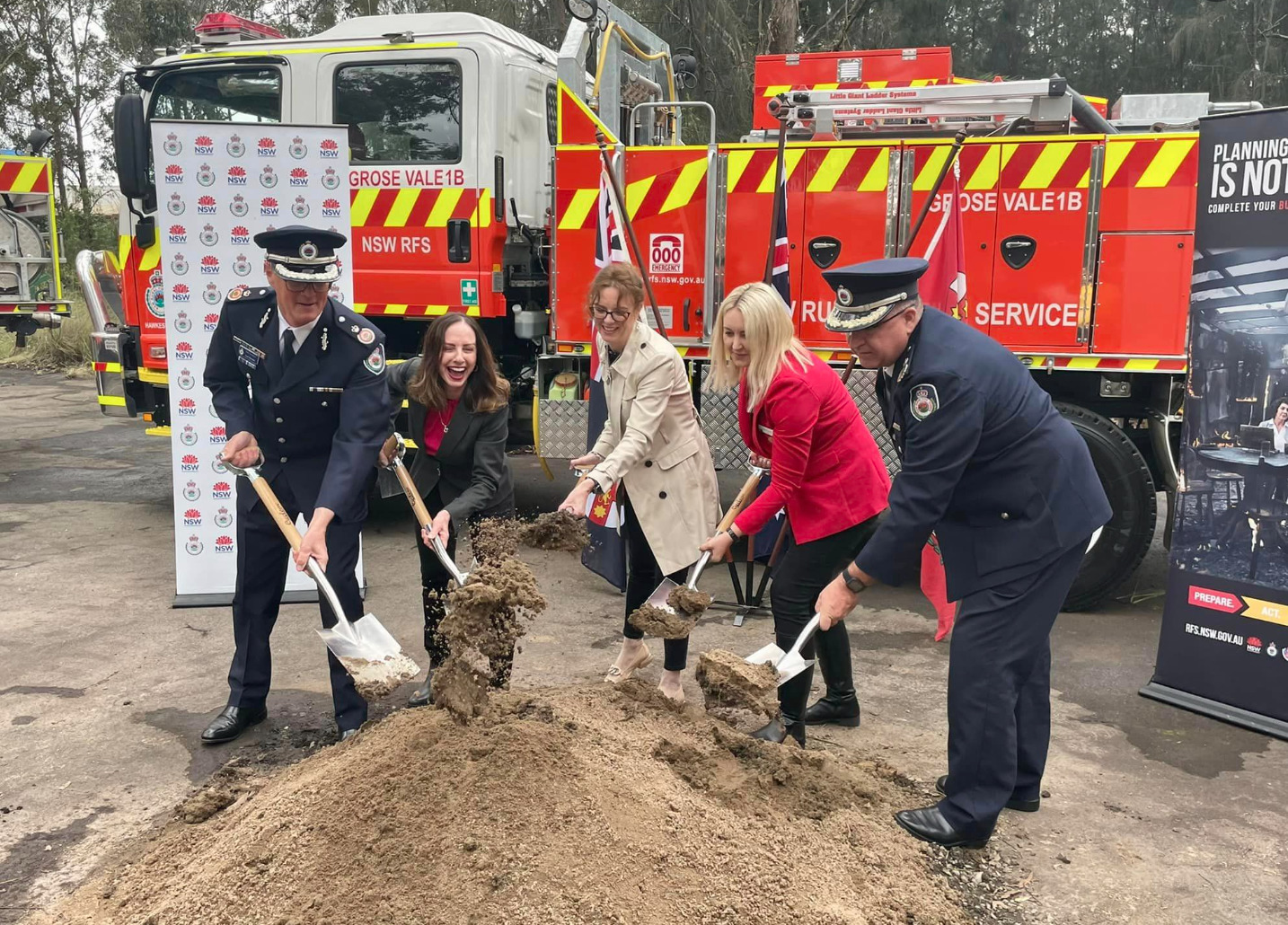 "Communities in the Hawkesbury have been devastated by back-to-back fires and floods over recent years, which is why it has been earmarked for this state-of-the-art operations hub to help our emergency services better respond to hazards rapidly and effectively," Ms Cooke said.
"We are investing $71 million in eight new Fire Control Centres in high fire risk areas across the State including Armidale, the Clarence Valley, Cooma, Hawkesbury, Moruya, Mudgee, Narrabri and Tumut."
Ms Preston said the NSW Government is committed to ensuring emergency services organisations have the infrastructure and resources they need to better protect communities from future emergencies.
"Having a purpose-built and co-located Fire Control and Emergency Operations Centre will provide our local RFS staff and volunteers with the very best facilities for day-to-day operations, and ample room for additional personnel when major events occur," Ms Preston said.
RFS Commissioner Rob Rogers said construction is expected to take two years and once completed, the new facility will give RFS volunteers what they need to carry out their roles safely and effectively.
"RFS members are dedicated to helping their communities 24 hours a day, seven days a week. Once completed this centre will ensure members of the 23 Brigades in the Hawkesbury District have access to the latest technology and equipment to support emergency events, increase the level of safety and keep the community informed," Commissioner Rogers said.
Wellbeing Support To Ensure Student Success In NSW
The NSW Government has announced that world-leading child health researchers have been tasked with looking at the mental health and wellbeing of NSW primary school students and helping to create innovative social and emotional support measures for our youngest learners.
Premier Dominic Perrottet says the Murdoch Children's Research Institute will undertake the work and propose a suite of new social and wellbeing initiatives.
"The unprecedented challenges of the past few years have certainly been tough and we've heard from teachers and parents right across our state how they've noticed an impact on student capacity to focus, social interactions and general happiness," Mr Perrottet said.
"This research is vital to find the best ways of providing support in our schools. We're already reforming curriculums to give students the best educational start in life and wellbeing is another important component to help set them up for success."
Minister for Education and Early Learning Sarah Mitchell said when it comes to student wellbeing, early identification and prevention is key.
"The NSW Government has invested significantly in health and wellbeing support, services and personnel in our high schools over the last few years, and we want that same high calibre of support in our primary schools," Ms Mitchell said.
"We need to think holistically, whether that's introducing student support officers into every primary school or helping schools make better choices about the wellbeing programs they offer to their students – there are endless possibilities.
"The work the Murdoch Children's Research Institute will be ground-breaking, and will help deliver a tool and evidence-base for us to choose between those possibilities, and support our schools, and our kids, in the best possible way."
Minister for Mental Health Bronnie Taylor echoed the importance of prevention in the wellbeing of young people.
"This partnership will complement the NSW Government's successful School Wellbeing Nurses Program and create a web of support around our students – ensuring they have the support and resources they need no matter their age or where they live," Mrs Taylor said.
The Murdoch Children's Research Institute's work will be completed by February 2023.
"We know how important it is to have a variety of supports for our children– one size doesn't fit all," said Sharon Goldfeld, Professor at the Murdoch Children's Research Institute.
"We're excited to work with the NSW Government to support schools and kids right across NSW."
Since 2015, the NSW Government has invested more than $290 million to provide mental health and wellbeing professionals and services in NSW public schools, along with a series of programs to connect students and families with support in their community.
Engineers Build A Battery-Free Wireless Underwater Camera
Scientists estimate that more than 95 percent of Earth's oceans have never been observed, which means we have seen less of our planet's ocean than we have the far side of the moon or the surface of Mars.
The high cost of powering an underwater camera for a long time, by tethering it to a research vessel or sending a ship to recharge its batteries, is a steep challenge preventing widespread undersea exploration.
MIT researchers have taken a major step to overcome this problem by developing a battery-free, wireless underwater camera that is about 100,000 times more energy-efficient than other undersea cameras. The device takes colour photos, even in dark underwater environments, and transmits image data wirelessly through the water.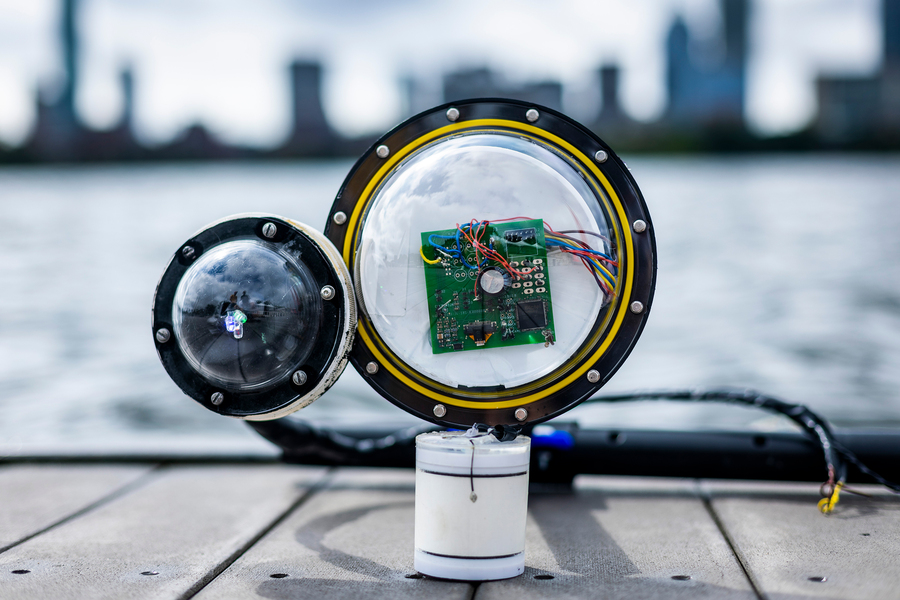 Image: Adam Glanzman

The autonomous camera is powered by sound. It converts mechanical energy from sound waves traveling through water into electrical energy that powers its imaging and communications equipment. After capturing and encoding image data, the camera also uses sound waves to transmit data to a receiver that reconstructs the image.
Because it doesn't need a power source, the camera could run for weeks on end before retrieval, enabling scientists to search remote parts of the ocean for new species. It could also be used to capture images of ocean pollution or monitor the health and growth of fish raised in aquaculture farms.
"One of the most exciting applications of this camera for me personally is in the context of climate monitoring. We are building climate models, but we are missing data from over 95 percent of the ocean. This technology could help us build more accurate climate models and better understand how climate change impacts the underwater world," says Fadel Adib, associate professor in the Department of Electrical Engineering and Computer Science and director of the Signal Kinetics group in the MIT Media Lab, and senior author of the paper.
Joining Adib on the paper are co-lead authors and Signal Kinetics group research assistants Sayed Saad Afzal, Waleed Akbar, and Osvy Rodriguez, as well as research scientist Unsoo Ha, and former group researchers Mario Doumet and Reza Ghaffarivardavagh. The paper is published in Nature Communications.
To build a camera that could operate autonomously for long periods, the researchers needed a device that could harvest energy underwater on its own while consuming very little power.
The camera acquires energy using transducers made from piezoelectric materials that are placed around its exterior. Piezoelectric materials produce an electric signal when a mechanical force is applied to them. When a sound wave traveling through the water hits the transducers, they vibrate and convert that mechanical energy into electrical energy.
Those sound waves could come from any source, like a passing ship or marine life. The camera stores harvested energy until it has built up enough to power the electronics that take photos and communicate data.
To keep power consumption as a low as possible, the researchers used off-the-shelf, ultra-low-power imaging sensors. But these sensors only capture grayscale images. And since most underwater environments lack a light source, they needed to develop a low-power flash, too.
"We were trying to minimize the hardware as much as possible, and that creates new constraints on how to build the system, send information, and perform image reconstruction. It took a fair amount of creativity to figure out how to do this," Adib says.
They solved both problems simultaneously using red, green, and blue LEDs. When the camera captures an image, it shines a red LED and then uses image sensors to take the photo. It repeats the same process with green and blue LEDs.
Even though the image looks black and white, the red, green, and blue colored light is reflected in the white part of each photo, Akbar explains. When the image data are combined in post-processing, the color image can be reconstructed.
"When we were kids in art class, we were taught that we could make all colors using three basic colors. The same rules follow for color images we see on our computers. We just need red, green, and blue -- these three channels -- to construct color images," he says.
Once image data are captured, they are encoded as bits (1s and 0s) and sent to a receiver one bit at a time using a process called underwater backscatter. The receiver transmits sound waves through the water to the camera, which acts as a mirror to reflect those waves. The camera either reflects a wave back to the receiver or changes its mirror to an absorber so that it does not reflect back.
A hydrophone next to the transmitter senses if a signal is reflected back from the camera. If it receives a signal, that is a bit-1, and if there is no signal, that is a bit-0. The system uses this binary information to reconstruct and post-process the image.
"This whole process, since it just requires a single switch to convert the device from a nonreflective state to a reflective state, consumes five orders of magnitude less power than typical underwater communications systems," Afzal says.
The researchers tested the camera in several underwater environments. In one, they captured color images of plastic bottles floating in a New Hampshire pond. They were also able to take such high-quality photos of an African starfish that tiny tubercles along its arms were clearly visible. The device was also effective at repeatedly imaging the underwater plant Aponogeton ulvaceus in a dark environment over the course of a week to monitor its growth.
Now that they have demonstrated a working prototype, the researchers plan to enhance the device so it is practical for deployment in real-world settings. They want to increase the camera's memory so it could capture photos in real-time, stream images, or even shoot underwater video.
They also want to extend the camera's range. They successfully transmitted data 40 meters from the receiver, but pushing that range wider would enable the camera to be used in more underwater settings.
This research is supported, in part, by the Office of Naval Research, the Sloan Research Fellowship, the National Science Foundation, the MIT Media Lab, and the Doherty Chair in Ocean Utilization.
Sayed Saad Afzal, Waleed Akbar, Osvy Rodriguez, Mario Doumet, Unsoo Ha, Reza Ghaffarivardavagh, Fadel Adib.
Battery-free wireless imaging of underwater environments.
Nature Communications, 2022; 13 (1) DOI:
10.1038/s41467-022-33223-x
Disclaimer: These articles are not intended to provide medical advice, diagnosis or treatment. Views expressed here do not necessarily reflect those of Pittwater Online News or its staff.