inbox and environment news: Issue 556
September 25 - October 1, 2022: Issue 556
Viewfinder: Photography From The 1970s To Now Opens At The National Library
Heading to or through Canberra over the next few months? This may be worth visiting.
Viewfinder: Photography from the 1970s to Now takes a unique look at the journey of Australian documentary photography, from black and white images to the vibrant high definition images of today.
The 125 images in this exhibition reveal a changing Australia. The lives of migrants, shearers, dancers, miners, gardeners, surfers and knitters are all uniquely captured by celebrated documentary photographers. The exhibition also includes winged angels at Mardi Gras, significant moments in the journey towards reconciliation and COVID protests.
Director-General of the National Library of Australia Dr Marie Louise Ayres FAHA said the exhibition was striking in depicting the lives of different communities.
'This exhibition is all about our communities. It captures significant moments of individuals and groups but also reveals the huge amount of change our society has undergone in the last 50 years. The National Library collects today what will be important tomorrow and this exhibition is a brilliant way for us to showcase the changing lives of all Australians.'
The exhibition includes works by dozens of photographers and the exhibition curator Matthew Jones looked at tens of thousands of images in the National Library's collection when preparing the exhibition and
accompanying book
.
'There are many everyday moments that can be captured with a camera but may not be significant enough to be accessioned into the collections of other libraries or galleries. The beauty of the Library's collections are that they are so wide-ranging, and I hope visitors enjoy viewing these more ephemeral moments.'
'I started working on this exhibition during lockdown and used Trove to research images. Preparing an exhibition in this way made me reflect on how the digital revolution has vastly increased our ability to visually document and see our world.'
Viewfinder: Photography from the 1970s to Now is exclusive to Canberra and opens at the National Library of Australia on Friday 16 September, running until Monday 13 March 2023. Entry is free.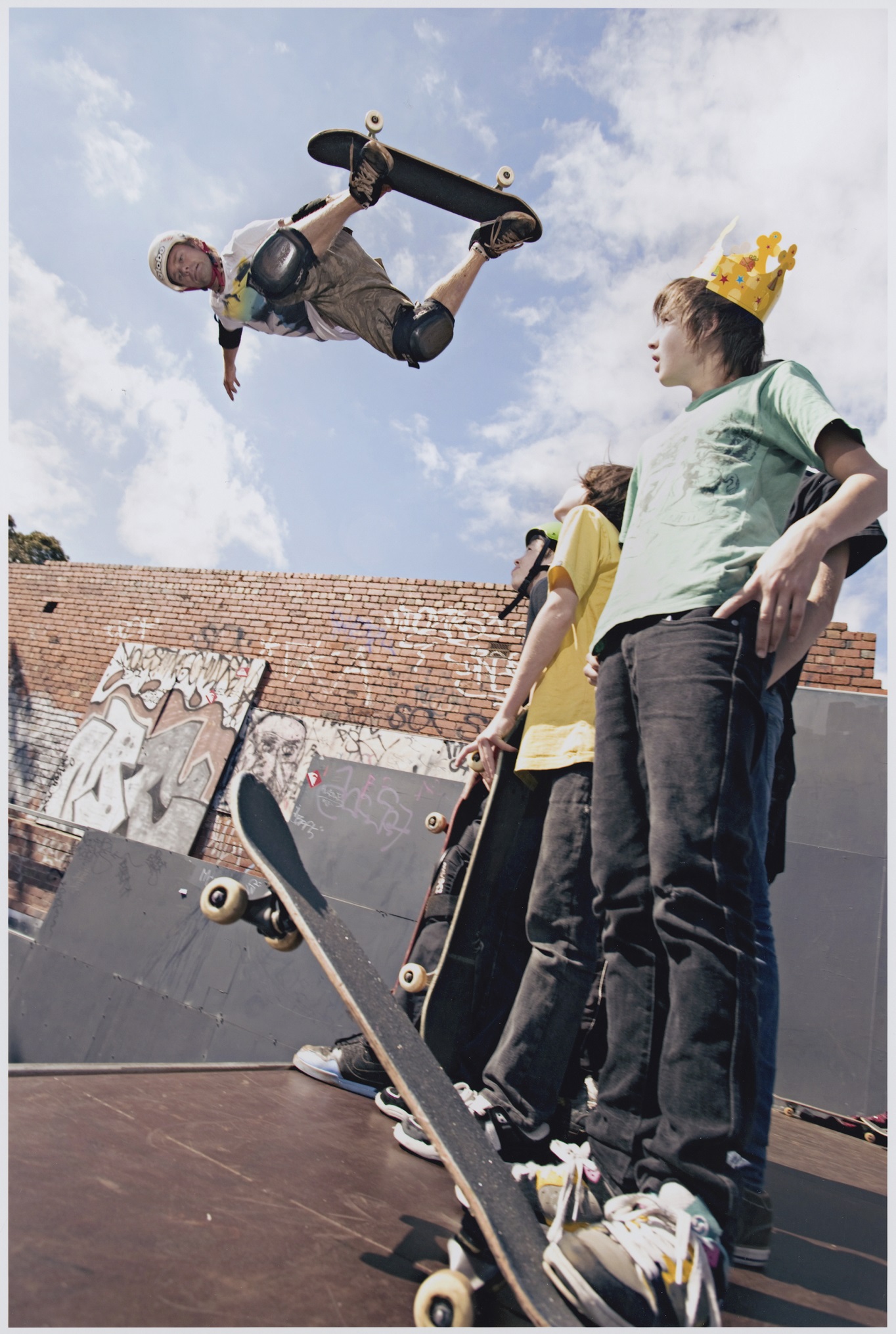 Dave Tacon,
Australian Renton Millar, World Champion Professional Skateboarder, Performs a Method Air Above a Half Pipe Ramp, Before a Crowd of Young Onlookers at Prahran, Victoria, 8 April 2009
,
nla.gov.au/nla.obj-137927722
, courtesy Dave Tacon
Stay Healthy - Stay Active: HSC 2022
Stay active, keep connected and look after yourself during the HSC this year!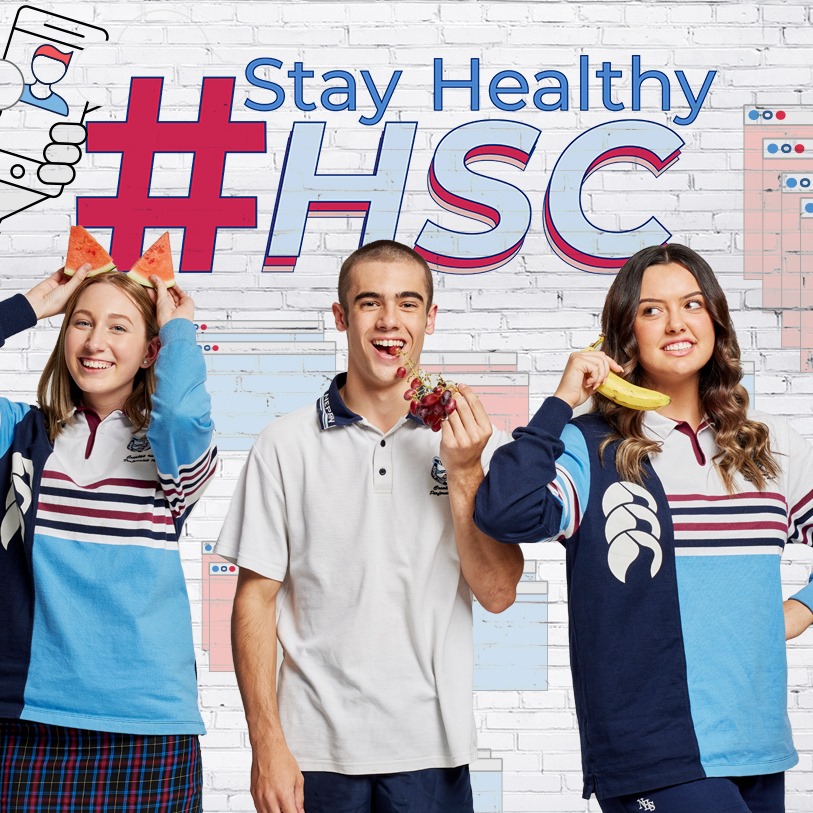 2023 Year 12 School Scholarship Program Now Open: DYRSL
Dee Why RSL is pleased to announce the 2023 School Scholarship Program, open to local students going into year 12 for the 2023 year of study.
A total of ten students will receive $2000 each, to assist them in achieving their utmost potential while completing the Higher School Certificate.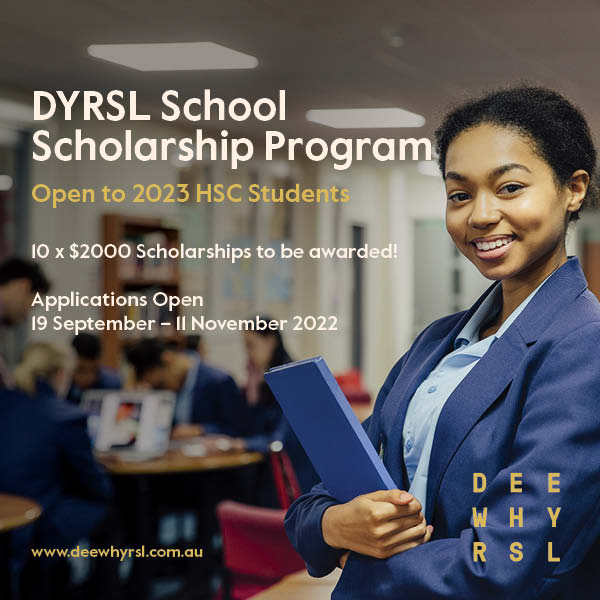 Securing A Brighter Future For Disadvantaged Youth
Eligible students from Years 10 to 12 or TAFE equivalent can now apply for a $1000 scholarship to help meet the cost of studying.
The future goals of some of the state's most vulnerable young people are a step closer to being achieved thanks to the NSW Government's Youth Development Scholarships program.
Minister for Families and Communities and Minister for Disability Services Natasha Maclaren-Jones is calling for eligible students from Years 10-12 or TAFE equivalent to apply for the $1000 scholarships.
"The scholarships aim to remove some of the financial burdens that students face so they can focus on achieving greater results and finish their studies," Mrs Maclaren-Jones said.
"From textbooks to internet access, the scholarships will ensure our young people are well-equipped to reach their full potential."
Minister for Education and Early Learning Sarah Mitchell said that a quality education is a strong foundation for a brighter future.
"The NSW Government wants to support our students in achieving their goals and these scholarships provide them with the necessary financial support to get them started," Ms Mitchell said.
"I know these scholarships will be greatly appreciated by our young people and will help them have a bright start in life."
To be eligible for the scholarship, students must be living in social housing or on the housing register, receiving private rental subsidy from DCJ, or living in supported accommodation or out-of-home care.
More than 4700 students have been supported by the scholarship program since it was established in 2017.
For new and returning high school students
, applications will close
Wednesday 30 November 2022 at 5:00pm.
For returning tertiary students
, applications will
close Friday 3 March 2023 at 5:00pm
.
The Unique Power Of Australian Seaweed
By BBC newsreel
Be The Boss: I Want To Be A Marine Electrician
If you love being around the water and tinkering with machines then becoming a Marine Electrician may suit you. Marine electricians are important to the upkeep and safety of marine vessels. They can be involved in the design and building of new ships, or spend the majority of their time repairing existing ones. Becoming a marine electrician requires the attendance and completion of a maritime academy, as well as a hands-on apprenticeship. In this article, we discuss the requirements of becoming a marine electrician and how you can develop the necessary skills to do well as one.
A marine electrician is a person with electrical training who specifically works on boats and ships. Marine electricians may work with all types of marine equipment, including yachts, cruise liners or even runabouts. They will generally spend the majority of their time working on boats. They may also work on-call and travel to boats at sea. Other marine electricians may work in a shipyard where they prepare or maintain ships.
Marine electricians are specialised in all electrical components of the ship, including troubleshooting, repairing, improving and building. Some marine electricians may also take on a supervisory role, where they lead a team of other marine electricians.
Marine electricians maintain the electrical wiring and systems on boats. They may have the following duties:
Troubleshoot wiring and other electrical systems on marine equipment and make repairs
Test low and high-voltage circuit systems for safety
Work on power generators or other alternative sources of energy, like solar or wind power
Wire and test the alarm and communication systems
Monitor for potential electrical voltage threats
Design and update bonding systems to protect the ship against weather elements
Protect the boat's equipment using drip loops and heat shrinks
Interpret and write technical reports and estimate repair costs
Install wiring and electrical equipment when building new ships
Install and configure generators
Test marine electrical equipment like voltmeters and oscilloscopes for efficiency
Becoming a marine electrician requires that you complete certain training and education. You can become a marine electrician with the following steps:
1. Complete a high school Certificate
Because attendance in a maritime academy is a requirement, you will first need to complete high school. Taking classes in computers, physics, mathematics and physics can help you prepare for this.
2. Attend and complete a maritime academy program or Navy Program
This vocational program will specifically prepare you for marine work. During your training, you can expect to take classes like electrical installation and maintenance following protocol. You will also have hands-on experience with electrical tools and equipment, like soldering irons and multimeters. Some academic programs will also offer field training, which may require time spent at sea. Some people may also choose to get a bachelor's degree, rather than attend an associate's-level vocational program.
The Royal Australian Navy states:
Be a tradie in the Navy working as a Marine Technician responsible for operating, maintaining, and monitoring engineering systems and equipment, onboard ships or submarines and ashore.
Whether you already have a trade, you're an apprentice, or you have no experience at all, we're hiring. You'll be paid from day one to gain all the skills needed with extensive on-the-job trade training. You may also be able to use your existing qualifications and be eligible for recognition of prior learning.
Your duties include, but aren't limited to maintaining:
Electrical power generation and distribution
The ship's boats engine and steering systems
Propulsion systems (gas turbines, diesel and electrical engines, gear boxes, propellers, thrusters, and positioning systems)
Electrical systems (alternators, batteries, charging systems, electrical switchboards, and corrosion protection systems)
Auxiliary engineering systems (air-conditioning, refrigeration, generators, air compressor systems, stabilisers, winches, and cranes)
Hull structures and fittings
You'll enjoy a competitive salary package, career stability, opportunities for continuous progression, and an adventurous lifestyle – all while making a difference to Australia.
Benefits:
Free medical and dental
Competitive salary package
Incremental salary increases as you progress through training and ranks
16.4% superannuation
Job security
Career progression and development
Good work/life balance
Travel opportunities
Excellent social and fitness facilities
Subsidised housing
Balance of shore and sea postings
Great chef made meals at sea
Variety of allowances
Submariner:
There is also the option to specialise as a Marine Technician Submariner and be a part of the most exclusive and stable workforce in Australia. Your role will be to operate, repair and conduct maintenance on the submarine's machinery, engines, power, and ventilation systems to ensure the vessel runs at optimum capacity, working at sea and ashore.
Salary:
Upon completion of your initial military and employment training, you'll enjoy a salary package starting from $73,253 for surface fleet and $85,861 for submariners.
For this role, you must be over 17 at time of enlistment, an Australian Citizen and have passed Year 10 English, Maths and Science.
Visit the links below for the full position descriptions:
The Australian Defence Force is an equal opportunity employer. This advertisement is to ensure women are aware of the rewarding and fulfilling careers available in the Navy, Army and Air Force. Females are encouraged to apply, however all roles are open for Australian men and women to apply.
3. Consider working toward certifications
Most employers require marine electrician candidates to have certain certifications, including an Australian Electrical Trade Certificate. Getting work in a local marina can help as well. This will give you experience in Ship repair / the marine industry.
Some people may find employment with the company in which they completed their apprenticeship. But, once you have completed all educational and training requirements, you can begin applying for positions. Update your resume with your most recent educational achievements and certifications. Create a new cover letter for each position.
In some cases, it is also possible to become a marine electrician by going through the required steps to become an electrician and then taking on an apprenticeship in a marine setting. But, this process is less common.
Skills for a marine electrician
Certain soft and hard skills are useful when working as a marine electrician:
Technical: Working as a marine electrician involves a lot of technical work. You will need to troubleshoot the electrical system, rewire systems and install equipment in the ship.
Mechanical: Good mechanical skills are also useful as you will use certain tools and machinery to install and repair systems. A basic understanding of mechanics can be helpful.
Problem-solving: A big part of the job of a marine electrician is identifying electrical problems and repairing them. This involves good troubleshooting skills and the ability to quickly come up with a solution.
Project management: Marine electricians will often manage multiple projects at one time. They may complete projects for different ships and will need to manage time and delegate tasks.
Marine electricians may also need specialized skills, which will often be learned while attending a maritime program. These are some of the specialized skills they may need:
Knowledge of electrical systems: A good working knowledge of electrical systems in ships is important. In addition to reading and navigating electrical blueprints, marine electricians will need to know where to find certain access points and wires.
Coast guard: Some marine electricians may choose to work with the U.S. government on military ships. If this is your preferred route, you may need special coast guard training.
Knowledge of circuit breakers, transformers and high-voltage control panels: Working as a marine electrician, you are likely to work with each of these things. An apprenticeship can be a good way to learn these areas in-depth.
Knowledge of certain safety protocols: Up-to-date safety protocols are needed as marine electricians often work on electrical systems near water. Knowledge of emergency protocols is needed.
The career outlook for marine electricians, according to BLS.gov, is expected to grow by one percent by the year 2029. They estimate that many of the new jobs will be in building new ships and boats for the military. They also believe that with a shift toward environmental-friendly practices, more marine electricians will be needed to help complete offshore wind energy projects.
Also Available:
Word Of The Week: Toll
Word of the Week returns in 2022 simply to throw some disruption in amongst the 'yeah-nah' mix.
noun
1. a charge payable to use a bridge or road. 2.the number of deaths or casualties arising from a natural disaster, conflict, accident, etc.
verb
1. (of a large bell) to ring slowly and repeatedly, or to cause a large bell to ring in this way.
A death knell is the ringing of a church bell immediately after a death to announce it. Historically it was the second of three bells rung around death, the first being the passing bell to warn of impending death, and the last was the lych bell or corpse bell, which survives today as the funeral toll.In England, an ancient custom was the ringing of bells at three specific times before and after death. Sometimes a passing bell was first rung when the person was still dying, then the death knell upon the death,and finally the lych bell, which was rung at the funeral as the procession approached the church. The ringing of the lych bell is now called the funeral toll. The canon law of the Church of England also permitted tolling after the funeral.
During the reign of Henry VIII and Elizabeth I, statutes regulated death knell, but the immediate ringing after death fell into disuse. It was customary in some places by the end of the 19th century to ring the death knell as soon as notice reached the clerk of the church (parish clerk) or sexton, unless the sun had set, in which case it was rung at an early hour the following morning. Elsewhere, it was customary to postpone the death knell and tellers to the evening preceding the funeral, or early in the morning on the day of the funeral to give warning of the ceremony.
The use of the passing bell for sick persons is indicated in the advertisements of Queen Elizabeth in 1564: "[W]here any Christian bodie is in passing, that the bell be tolled, and that the curate be specially called for to comfort the sick person".
Sometimes the age of the departed was signified by the number of chimes (or strokes) of the bell. This practice still persists in many places - the recent funeral of Her Majesty Queen Elizabeth II saw 96 tolls or peals of Big Ben to signify her 96 years of life.
This is shown again in the 1940 published novel For Whom the Bell Tolls by Ernest Hemingway. It tells the story of Robert Jordan, a young American volunteer attached to a Republican guerrilla unit during the Spanish Civil War. As a dynamiter, he is assigned to blow up a bridge during an attack on the city of Segovia.
The book's title is taken from the metaphysical poet John Donne's series of meditations and prayers on health, pain, and sickness (written while Donne was convalescing from a nearly fatal illness) published in 1624 as Devotions upon Emergent Occasions, specifically Meditation XVII. Hemingway quotes part of the meditation (using Donne's original spelling) in the book's epigraph. Donne refers to the practice of funeral tolling, universal in his time:
No man is an Island, intire of it selfe; every man is a piece of the Continent, a part of the maine; if a Clod bee washed away by the Sea, Europe is the lesse, as well as if a Promontorie were, as well as if a Mannor of thy friends or of thine owne were; any mans death diminishes me, because I am involved in Mankinde; And therefore never send to know for whom the bell tolls; It tolls for thee.
The use of "tellers" to denote the sex was almost universal. For instance in the greater number of churches in the counties of Kent and Surrey they used the customary number of tellers, viz., three times three strokes for a man, and three times two for a woman; with a varying usage for children. The word "tellers" became changed into "Tailors".
The funeral tolling of a bell is the technique of sounding a single bell very slowly, with a significant gap between strikes. It is used to mark the death of a person at a funeral or burial service. The expression "tolling" is derived from the English tradition of "telling" of the death by signalling with a bell. The term tolling may also be used to signify a single bell being rung slowly, and possibly half-muffled at a commemoration event many years later. Tolling is typically used for tenor bells in change ringing, it also applies to bourdon bells as well in a bell tower or cathedral.
Compare the invoking of silence instead of tolls denoting years:
Stop all the clocks
'Stop all the clocks, cut off the telephone'
Stop all the clocks, cut off the telephone,
Prevent the dog from barking with a juicy bone,
Silence the pianos and with muffled drum
Bring out the coffin, let the mourners come.
Let aeroplanes circle moaning overhead
Scribbling on the sky the message He Is Dead,
Put crepe bows round the white necks of the public doves,
Let the traffic policemen wear black cotton gloves.
He was my North, my South, my East and West,
My working week and my Sunday rest,
My noon, my midnight, my talk, my song;
I thought that love would last for ever: I was wrong.
The stars are not wanted now: put out every one;
Pack up the moon and dismantle the sun;
Pour away the ocean and sweep up the wood;
For nothing now can ever come to any good.
W H Auden
"Funeral Blues", or "Stop all the clocks", is a poem by W. H. Auden which first appeared in the 1936 play The Ascent of F6. Auden substantially rewrote the poem several years later as a cabaret song for the singer Hedli Anderson. Both versions were set to music by the composer Benjamin Britten. The second version was first published in 1938 and was titled "Funeral Blues" in Auden's 1940 Another Time. The poem experienced renewed popularity after being read in the film Four Weddings and a Funeral (1994), which also led to increased attention on Auden's other work. It has since been cited as one of the most popular modern poems in the United Kingdom.
Toll - From Middle English toll, tol, tolle, from Old English toll ("toll, duty, custom"), from Proto-Germanic *tullō ("what is counted or told"), from Proto-Indo-European *dol- ("calculation, fraud"). Cognate with Saterland Frisian Tol ("toll"), Dutch tol ("toll"), German Zoll ("toll, duty, customs"), Danish told ("toll, duty, tariff"), Swedish tull ("toll, customs"), Icelandic tollur ("toll, customs"). More at tell, tale.
Alternate etymology derives Old English toll, from Medieval Latin tolōneum, tolōnium, alteration (due to the Germanic forms above) of Latin telōneum, from Ancient Greek (telṓnion, "toll-house"), from τέλος (télos, "tax").
Toll (bell peal) ME tollen to entice, lure, pull, hence prob. to make (a bell) ring by pulling a rope; akin to OE -tyllan, in fortyllan to attract, allure
ALKOO OF PALM BEACH.
When first I saw Alkoo, she was a pretty, young mother koala with a soft, grey furry coat, a white front, and ears fringed with feathery fur. She opened her bright eyes so wide when she gazed about the bush that she looked as if she was always surprised, though really she was not, for she knew every opossum and every cockatoo and parrot that lived in the gum forest near Palm Beach.
Alkoo's coat was so silky, her eyes were so bright, her large nose so handsome that the koala colony thought Antony very lucky to have won her for his wife. But Alkoo did not agree with her friends. She thought she was the lucky one to have so kind and goo d-looking a husband, and when her little son, Bunyarra, was born, she was so proud that she hardly knew what to do.
The days and weeks passed quietly by, and Bunyarra grew steadily till he was big enough and strong enough to climb out of his mother's pouch and look about. It is hard to say whether Alkoo or Antony was the prouder of him. They both doted on him, and he would have become thoroughly spoiled had not Alkoo been a really good mother and punished him when he was disobedient or cheeky.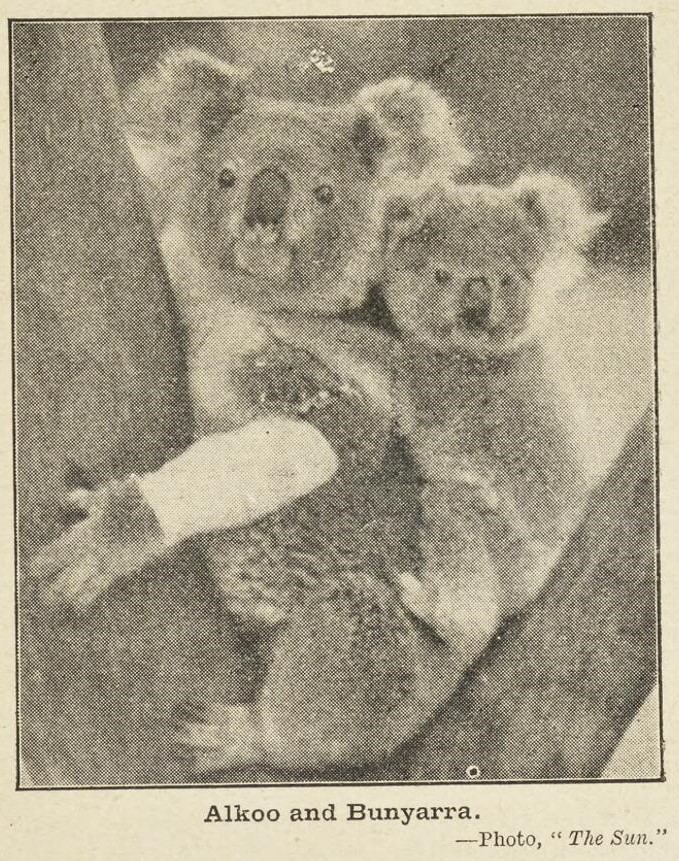 Alkoo and Bunyarra. —Photo, " The Sun."
If it had not been for Bunyarra's curiosity, trouble would not have fallen on Alkoo. One Saturday afternoon he set off on his own when his parents were both fast asleep, for it was a hot afternoon towards the end of the summer.
Bunyarra trotted and hopped as fast as he could, and soon reached the edge of the concrete motor-road. There he sat in the shade of a little gum-tree and watched. He was so small and so much in the shade that no one noticed him. He loved watching the cars. What a lot he would have to tell everyone when he got home !
He was just feeling a little hungry, and thinking that he had better start for home, when he heard a soft grunt, and turned to see his mother. She did not say much, but was clearly very frightened about him and very cross. Bunyarra was beginning to explain how clever he was, and to tell Alkoo all about the cars, when a dog barked quite near them, and before Bunyarra had time to run away, a large, rough-coated dog sprang upon his mother, barking furiously.
Bunyarra ran away, and climbed a little tree. He could not quite see all that happened to his mother. At first he hardly dared to look. He knew that the dog had hurt her, for it had her down on the ground, and rolled her over, and then she screamed with pain.
Bunyarra was dreadfully upset. He sobbed and cried, but no one paid any attention to him. A boy and a girl came running up to his mother. They called off the dog and the boy picked up Alkoo. One of her arms hung limp, and one of her ears was bleeding. The boy carried her to a car, and a man drove him and the girl and Alkoo away.
Alkoo's broken arm hurt her badly, so did her torn ear, but much worse to bear than the pain was her anxiety about Bunyarra. Was he still by the road ? Had he gone home to his father ? Could he find his way home ?
Alkoo was so terribly worried about Bunyarra that she hardly noticed what was happening to herself, nor did she care. The car was travelling fast, and after what seemed a long time it stopped.
"I'll carry her in," the big strong man told his son.
Alkoo knew, both from his voice and his touch, that he was a kind man. If only she could tell him about Bunyarra.
She was left alone in a big, bare room for what seemed a long time. Then the man came back and brought another man with him, who sat down and took Alkoo on his lap and felt her all over. He set her arm in a splint and bathed her ear. Alkoo began to cry like a baby.
The doctor stroked her and soothed her.
''Why, she must have had a baby in her pouch not many weeks ago ! It's her baby she's crying about, not the pain. I thought that wasn't a pain cry. I'm afraid that baby will be killed, but we can't go and look for it to-night."
Although it was late, Alkoo was taken that night by the doctor to Koala Park. There she was put into the hospital, and made comfortable in a large enclosure where boughs of green formed a little arbour.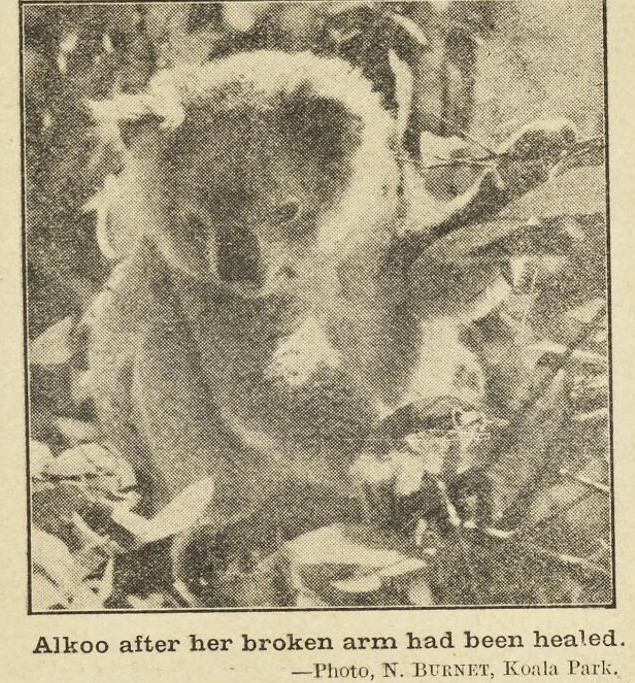 Alkoo after her broken arm had been heated. —Photo, N. BURNET, Koala Park.
The Secretary of the Koala Club, Mr. Edwards, had a telephone call late the next afternoon. Two children had found a baby koala at Palm Beach, sitting in a tree by the roadside, crying as if its heart would break. A dog was at the bottom of the tree barking at the poor little thing.
The children had carried Bunyarra home, but their parents did not want them to have him for a pet, for they knew how difficult it would be to get the right leaves for him.
Mr. Edwards, who will do anything to save a koala from pain or unhappiness, and who had heard all about Alkoo, thought that the koala the children had rescued must be Alkoo's baby. So he went off in his car, and found the house at Palm Beach where the children lived.
The children had gone to bed, but he was greeted by their mother. They had put Bunyarra in the tool shed for the night, but he had lolloped round and round, crying all the time. Mr. Edwards was taken to the boy's bedroom, and there he saw a curly-headed boy with a little koala snuggled up against him, both sound asleep.
Mr . Edwards hated disturbing them, but he had motored a long way to fetch Bunyarra. The boy did not wake when Bunyarra was lifted gently from his bed, nor did Bunyarra till he was in the car, lying rolled up in a shawl on the seat. Then he began to cry his hardest, and he kept on crying until Mr. Edwards reached his home. He could not take him out to Koala Park that night. It was too late, so he put him in the washhouse, and arranged sticks so that he had a nice fork in which to sleep.
Bunyarra refused to use the perch provided for him, and sat in a corner and cried very loudly. This woke Mr. Edwards's little boy, who came running downstairs to see what was the matter.
" I can make him stop crying," he said at once. "Let me take him to bed." He carried him upstairs and took him into bed with him, and there Bunyarra snuggled down against him and slept till the morning.
The next afternoon Bunyarra was taken out to Koala Park. Alkoo did not know how to express her joy when her baby was brought to her. The doctor was afraid Bunyarra would hurt his mother's broken arm, but Alkoo would not be satisfied till she had smelled him all over, and combed out his coat as well as she could manage.
Then the Director of the Park took Bunyarra away, for he saw that he was going to be too much for Alkoo.
Now Bunyarra needed a mother to keep him in order by day and to cuddle him at night, and there was a very kind old granny, who badly needed a baby to look after.
The Director of the Park, Mr. Burnet, had had to punish old Booraby for stealing babies from their mothers. She had been shut up in the sun room for two days, and now he was glad to be able to give her Bunyarra to look after.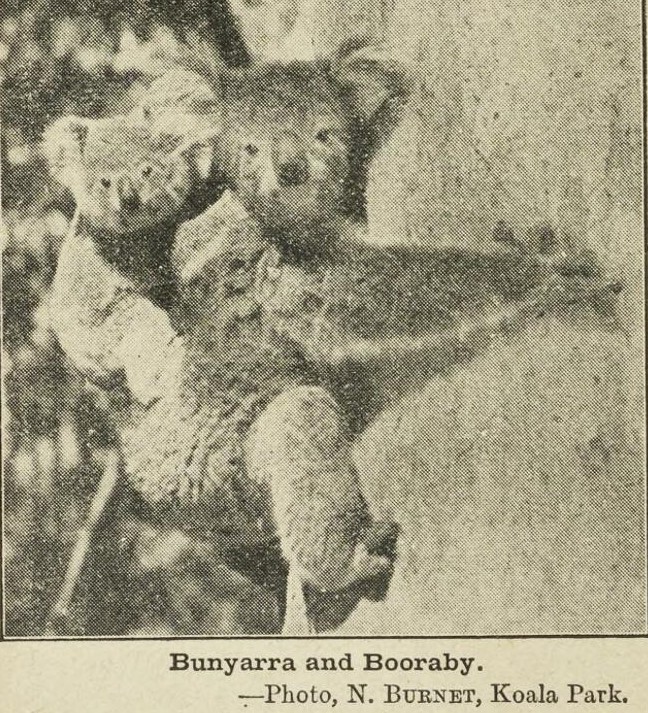 Bunyarra and Booraby. —Photo, N. BURNET, Koala Park.
She was so delighted and proud that she fetched all the best leaves for Bunyarra, and chose the best forks in the trees for sleeping. She had had four babies of her own, so she knew just how to cuddle Bunyarra.
But Bunyarra's time with Granny Booraby was to end sooner than had been expected. As Bunyarra grew bigger and heavier his strong claws gripped Booraby's fur too hard and pulled out great pieces, for, at seventeen, a koala's fur is not nearly so close and strong as when she is young.
So a change of foster mothers had to be made, and Lallewoon, a young mother who had just brought up a baby, was chosen to look after Bunyarra. She had a splendid fur coat into which Bunyarra could put his claws and grip as hard as he liked without pulling out any tufts. Bunyarra was happy with Lallewoon, and was very popular at Koala Park, for he was the only young koala just then, and his adventures made visitors anxious to see him.
—From "Little Teddy Bear," by LYDIA S. ELIOT. Price, 5/9. (Collins).
This book is recommended for school libraries. New South Wales. Department of Education. (). The school magazine of literature for our boys and girls September 1st, 1940, pages 115-118 Retrieved from http://nla.gov.au/nla.obj-774926280
Vale John Hamblin
March 18, 1935 – September 21, 2022.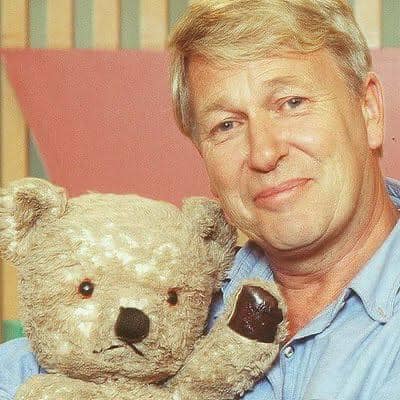 Known by his character names Funny John, or Naughty John, was an English-born Australian children's television presenter and actor of stage and screen who appeared in theatre productions, soap operas and made-for-TV films.
Hamblin's father had flown with the Royal Flying Corps during World War I and Hamblin himself joined the Air Force and did his national service in Cyprus in the late 1950s before returning to England.
Initially, Hamblin trained at art school for six months but decided on a career in acting instead and studied drama to become an actor. Hamblin started his acting career in England, in repertory theatre with the Theatre Royal, Windsor and also worked in old time music hall before an appearance in the cult TV series The Prisoner in the episode "A Change of Mind".
Hamblin came to Australia in the early 1960s as a 'Ten Pound Pom' with his second wife, Wendy. Mr. Hamblin secured roles in television throughout the 1960s, 1970s and 1980s, including roles in soap operas Number 96, Class of '74, The Young Doctors (as Dr Dan Wheatley), Case for the Defence, and Sons and Daughters.
Hamblin played the role of Michael Chamberlain in the 1984 telemovie The Disappearance of Azaria Chamberlain. After a hiatus in the 1990s, he returned to TV series in guest roles in All Saints and Love My Way in the early 2000s.
Known as being irreverent and inserting double-entendres into skits, Hamblin was the second most prolific presenter of Play School appearing in 357 episodes between 1970 and 1999 while fellow presenter Benita Collings appeared in 401 episodes.
After Play School, he retired and moved to Tasmania with his third wife Jenny, who he married in 1984. He suffered a heart attack in 2003. In 2008, he published his memoirs Open Wide, Come Inside with Peter Richman.
He had two children: Emma and Myles, who survive him.
Entry Milestone Reached In First Pan Pacs Since 2018
Mother and daughter Kerrie Jones and Nicola Jones share a curious concept of taking a break.
They'll travel from their southern NSW homes to the Gold Coast for November's 2022 Pan Pacific Masters Games (4-13 November) with 69-year-old Kerrie set to compete in no less than six track and field throwing events and Nicola (36) lining up for Games glory in three quite different sports.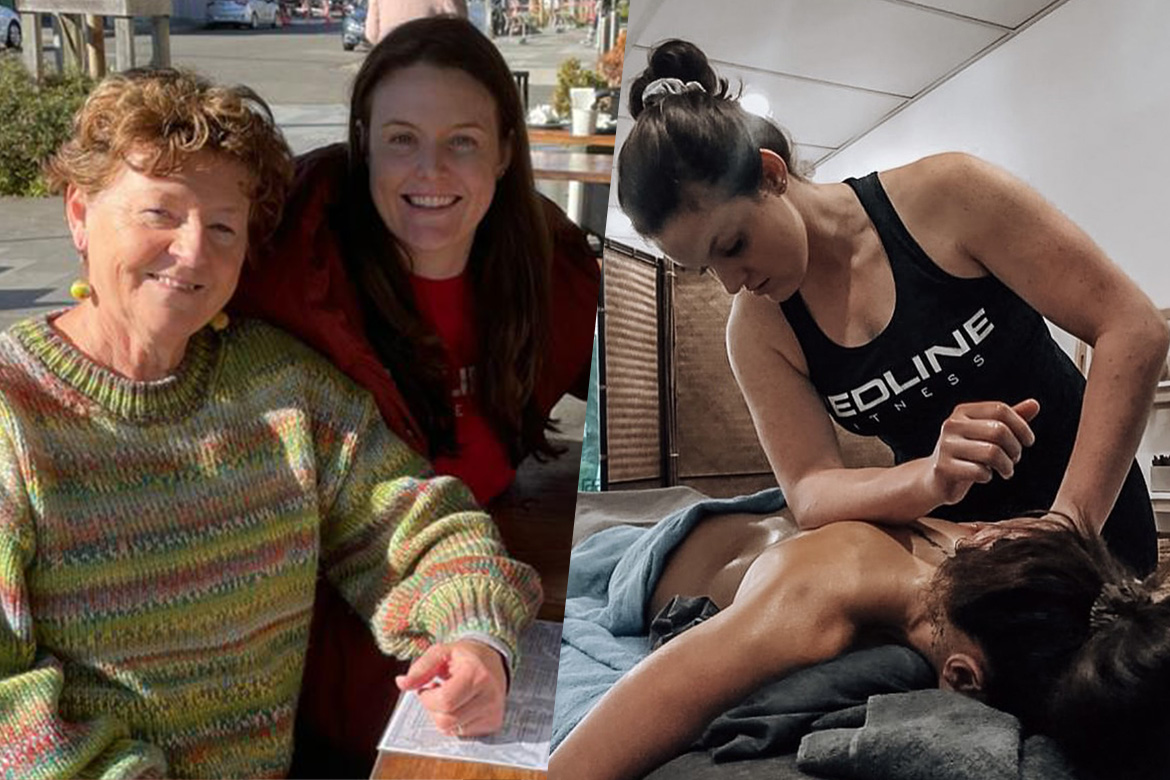 And just by entering they have helped achieve a significant milestone with Nicola being the 10,000th and Kerrie the 10,001st entrants in the return edition and the first Pan Pacs since 2018.
It will also be the first time competing on the Gold Coast for both women.
"It's just so exciting to have a goal again after the Covid break and I can't wait," Nicola, a two-time nationals discus thrower for NSW, said.
"I live and work as a remedial massage therapist in Sylvania, south of Sydney.
"My clinic is located next to a friend's gym and I'm so lucky as I get to be a part of a gym and sporting community, which helps me keep fit.
"Mum and I are flying up together and we'll be on the Gold Coast for eight days and we can't wait; it'll be a great break for us both," she said.
But a quick glance at their schedules belies the concept of the trip being anything resembling a put-the-feet-up holiday experience.
"Mum will compete on the three days in athletics, and I'll compete on the Sunday in discus alongside her, which will be really special," Nicola said.
"Then on Monday and Tuesday I'll race in the long distance and sprint indoor rowing events and then I'm swimming on Wednesday and Thursday," Nicola said.
"The schedule has worked out perfectly.
"And I need a break away from home because work and life has been so busy lately," she said after admitting to pushing herself through rowing and track and field training sessions earlier that day.
"But competing with my beautiful mother at our first Pan Pacific Masters Games is the best bit – she's my hero and has inspired me to return to competing in the sport I loved so much as a child right through to my early 20s – discus.
"Now to be able to travel and compete alongside her in the field events is amazing.
"We just can't wait to feel the vibe, to meet all the other people and have a great time," she said.
Kerrie, a former home economist, lives in the small coastal town of Manyana in southern NSW.
It's a joyfully named beach haven with a population of just over 500 which is located about two and a half hours drive from Nicola.
She says spending just over a week on the Gold Coast with her daughter will be extra special given the tyranny of distance the five hours round trip between their houses presents.
And she says the 2022 Pan Pacific Masters Games is the next step for her in a two-decade throwing crusade.
"I've always been around sport, junior and senior and when I turned 50, I picked up the shot put," Kerrie said.
"Women's shot put was four kilograms until you turned 50 and then it was only three kilograms, so I thought I'd have a go and I haven't stopped since.
"At the Games I'll compete in shot, discus, hammer, javelin and weight throw and there's also a thrower's pentathlon that covers those five disciplines in one event; that puts me in six events.
"Having time with my daughter is precious and competing in discus together is a first for us in a competition like this and it is extremely special," she said.
They are organised by Events Management Queensland and are proudly supported by the Queensland Government, through Tourism and Events Queensland, and features on the It's Live! in Queensland events calendar.
U3A: Hippies Concert
This week the 3rd Age Rock Orchestra, led by Harvey Broadbent, took us back to the Hippie era in a memorable concert in which we all turned on, tuned in and dropped out.
Previously known as Guringai country, the land of the Garigal or Caregal people, the Northern Beaches area stretches from Palm Beach to Manly. It is home to Manly Sea Eagles, Garigal and Kuring-Gai Chase National Parks, enviable beaches and a relaxed, carefree lifestyle.
Our
2022 Semester 2 Course Book
is now available and we are looking forward to seeing you at some of our exciting courses. In addition to face to face and Zoom courses this semester we also have three outings which may interest you:
A day trip to Mount Wilson on 5 October (details on page 9);
Our annual picnic on 20 October, this year at Clontarf Reserve (details on page 10); and
Tunnels and Gunners Tour, with a guide from the Sydney Harbour Trust, on 3 November (details on page 10.
Bookings are required for each of these events so please hurry to join in.

3rd Age Rock Orchestra in Hippie mode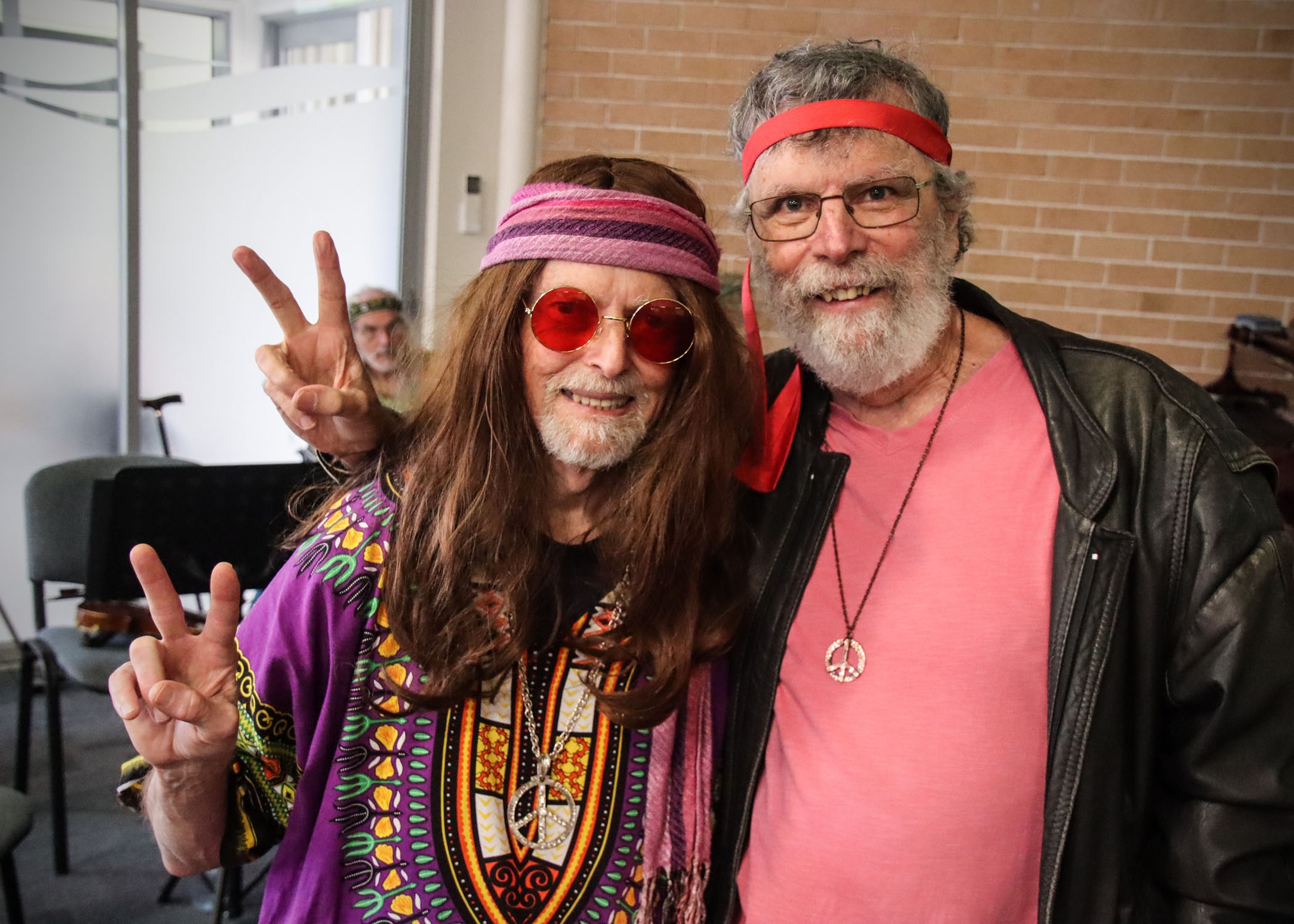 'In the groove'
Remembering Kokoda
By Warrant Officer Class 2 Max Bree
Several events have been organised to mark the 80th year since the Kokoda Track Campaign in Papua New Guinea during World War Two.
On one of them, after starting from opposite ends of the track, soldiers from 16th Battalion, Royal Western Australia Regiment (16RWAR) and 39th Operational Support Battalion (39OSB) came together for a dawn service at a site on Brigade Hill on September 6 to commemorate the 62 Australian soldiers killed in fighting there.
The sounds of insects and the occasional bird that could be heard during the ceremony were a far cry from those of gunfire, grenades and shouted orders that rang out across the battle site 80 years ago.
Over two days' fighting in September 1942, Japanese forces engaged the forward Australian elements at Mission Ridge, before flanking and sending an attack force up Brigade Hill.
Despite fierce resistance, the Japanese exploited gaps in the line and forced the Aussies off the high ground and into the jungle.
16RWAR is a successor unit to 2/16 Battalion, which fought in the battle, while 39OSB carries lineage of militia unit 39 Battalion, one of the first committed to fight in the Kokoda campaign.
Commanding Officer 16RWAR Lieutenant Colonel Leigh Partridge said the mud, mountains and vegetation would have made the area difficult to fight in.
"During this battle there were bayonet attacks, brutal close combat. There was encirclement, there were counter-attacks and then Australian elements broke contact and moved to the rear to establish subsequent defensive positions," he said.
Just before the battle, 39 Battalion – who'd been fighting without rest for weeks – were relieved by the 2/27 Battalion on nearby Mission Ridge.
They moved passed 2/14 and 2/16 Battalions on their way back.
"We are re-enacting what was a rear passage of lines with the 39th withdrawing from the north and the 2/16 Bn reinforcing from the south," Lt-Col Partridge said.
The Japanese flanking attack up Brigade Hill cut off the three infantry battalions from their HQ.
Counter-attacks from the 2/14 and 2/16 overran several Japanese positions but they were forced back by enemy reinforcements.
HQ troops later withdrew down the track, while the infantry battalions were forced down a steep jungle-covered mountain.
The 2/14 and 2/16 made it to HQ shortly after, but the 2/27 was stuck in the jungle for about two weeks, trying to reach retreating friendly forces.
Following the service, CO 39OSB Lieutenant Colonel David Ready paid tribute to the link between his unit and the Papuan people.
"The Papuan Infantry Battalion and the 39th were the first two units committed to battle. There's 80 years of shared fighting history," he said.
"A lot of people remember the Fuzzy Wuzzy Angels, not the fact that the Papuans fought as well.
"Without them, there's no way you could fight effectively in this environment."
New Residential Aged Care Quality Indicators
The Federal Department of Health is introducing new quality indicators in residential aged care from 1 April 2023.
The National Aged Care Mandatory Quality Indicator Program (QI Program) currently requires residential aged care providers to report on crucial areas of care to support quality improvement and better health outcomes for older Australians.
The Federal Department of Health are expanding the QI Program from 1 April 2023 to include the following quality indicators:
Activities of daily living

– Percentage of care recipients who experienced a decline in activities of daily living

Incontinence care

– Percentage of care recipients who experienced incontinence associated dermatitis

Hospitalisation

– Percentage of care recipients who had one or more emergency department presentations

Workforce

– Percentage of staff turnover

Consumer experience

– Percentage of care recipients who report 'good' or 'excellent' experience of the service

Quality of life

– Percentage of care recipients who report 'good' or 'excellent' quality of life.
The additional quality indicators for residential aged care have been confirmed and the updated draft QI
Program Manual 3.0 – Part A
is available now.
Approved providers must:
start collecting new quality indicators in the April – June 2023 quarter
submit quality indicator data in the 1 – 21 July 2023 reporting period.
Introducing these new quality indicators by July 2023 aligns with recommendations of the Royal Commission into Aged Care Quality and Safety.
Updated Dementia In Australia Report Released
The Australian Institute of Health and Welfare (AIHW) released the updated Dementia in Australia report. The report provides the latest statistics on the impacts of dementia in Australia, including mortality, hospitalisations and population health impacts on people throughout Australia. This includes First Nations people, carers, and those living in regional, rural and remote locations.
Dementia continues to be a critical health challenge for Australia's ageing population, with an increase in both hospitalisations and deaths over the past decade.
In 2021, it was estimated that there were between 386,200 (AIHW estimate) and 472,000 Australians living with dementia (Dementia Australia 2020a). Based on AIHW estimates, this is equivalent to 15 people with dementia per 1,000 Australians, which increases to 83 people with dementia per 1,000 Australians aged 65 and over. Nearly two-thirds of Australians with dementia are women.
With an ageing and growing population, it is predicted that the number of Australians with dementia will more than double by 2058 – from 386,200 in 2021 to 849,300 in 2058 (533,800 women and 315,500 men).
In 2020, dementia was the second leading cause of death in Australia, accounting for 14,500 deaths (or 9.6% of all deaths). Dementia was the leading cause of death for women and the second leading cause for men, after coronary heart disease.

People with pre-existing chronic conditions, such as dementia, have a greater risk of developing severe illness from COVID-19. Fatal COVID-19 outbreaks have involved many people with dementia. Pre-existing chronic conditions were reported on death certificates for just under 5,400 deaths due to COVID-19, registered by 30 June 2022 in Australia. Of these deaths, 31% had dementia (including Alzheimer's disease) recorded (ABS 2022). COVID-19 was an associated cause of death for a further 234 deaths due to Dementia including Alzheimer's disease.
The indirect effects of COVID-19 on people with dementia – including reduced uptake of preventative healthcare services leading to delayed diagnoses, as well as spikes in mental illness, such as loneliness and depression – are not well understood but are thought to be substantial.
Although there is no cure for dementia, there are 4 medicines, subsidised through the Pharmaceutical Benefits Scheme and Repatriation Pharmaceutical Benefits Scheme, that may alleviate some of the symptoms of Alzheimer's disease.
In 2019–20, there were over 623,000 prescriptions dispensed for dementia-specific medications to just under 64,600 Australians with dementia aged 30 and over. There was a 43% increase in scripts dispensed for dementia-specific medications between 2012–13 and 2019–20.
People with dementia may experience changed behaviours, such as aggression, agitation and delusions, commonly known as behavioural and psychological symptoms of dementia. Non-pharmacological interventions are recommended to manage these symptoms, but antipsychotic medicines may be prescribed as a last resort.
In 2019–20, antipsychotic medications were dispensed to about one-fifth (21%) of the 64,600 people who had scripts dispensed for dementia-specific medication.
In 2020–21, there were more than 11.8 million hospitalisations in Australia (AIHW 2022). Of these, dementia was the main reason for admission for about 25,500 hospitalisations, which is equivalent to 2 out of every 1,000 hospitalisations.
For people with dementia, the average length of stay was almost 5 times as long as the average for all hospitalisations (13 days and 2.6 days, respectively). Of the hospitalisations due to dementia, 62% of patients were aged 75–89.
Aged care services are an important resource for both people with dementia and their carers. Services include those provided in the community for people living at home (home support and home care), and residential aged care services for those requiring permanent care or short-term respite stays.
Among people with dementia in Australia, 1 in 3 people live in cared accommodation. In 2019–20, there were over 244,000 people living in permanent residential aged care, and more than half (54% or about 132,000) of these people had dementia.
Australia's response to dementia requires economic investment across health, aged care and welfare sectors. It is estimated that almost $3.0 billion of health and aged care spending in 2018–19 was directly attributable to the diagnosis, treatment and care of people with dementia.
Residential aged care services accounted for the largest share of expenditure (56% or $1.7 billion), followed by community-based aged care services (20% or $596 million) and hospital services (13% or $383 million).
The level of care required for people with dementia depends upon individual circumstances, but likely increases as dementia progresses. Carers are often family members or friends of people with dementia who provide ongoing, informal assistance with daily activities.
The AIHW estimates that in 2021 there were between 134,900 and 337,200 informal primary carers of people with dementia. Among primary carers of people with dementia, 3 in 4 were female and 1 in 2 were caring for their partner with dementia.
Caring can be a rewarding role with 38% of primary carers of people with dementia reporting feeling closer to the care recipient.
Caring can also be physically, mentally, emotionally, and economically demanding. According to the Australian Bureau of Statistics (ABS) Survey of Disability, Ageing and Carers (SDAC) 2018, among carers of people with dementia:
1 in 2 provided an average of 60 or more hours of care per week.
3 in 4 reported 1 or more physical or emotional impacts of the role.
1 in 4 reported that they needed more respite care to support them.
1 in 2 experienced financial impacts since taking on the role.
First Nations people remain a priority focus. Indigenous Australians are at increased risk of:
developing dementia
experiencing higher dementia prevalence
a greater number of years lived with a disability when compared with non-Indigenous Australians.
The report has been produced as part of the work of the National Centre for Monitoring Dementia (NCMD) at the AIHW, established through $13 million funding from the Department of Health and Aged Care.
Men's Sheds Grants And Movember Improving Men's Health
The Australian Government is providing much needed funds to our men's sheds.
A total of $500,000 will be provided through the latest round of National Men's Sheds Programme (NSDP) funding.
Across Australia, 153 men's sheds will receive up to $10,000.
Funds will be used to buy computers, host health and wellbeing events, make shed improvements, or purchase tools to use in the shed.
Men's sheds seeking funding to purchase a defibrillator will also be able to apply at any time under a special category.
The Government is also providing $400,000 over the next 18 months to charity organisation Movember to conduct a targeted review of health professional education on male health issues.
Movember will lead a group of subject matter experts to identify gaps and improvement opportunities for the education of clinicians. This work will assist in removing barriers for men in accessing timely and appropriate health care.
This work will assist in remove barriers for men in accessing timely and appropriate health care.
Applications for the next round of NSDP open on Friday 19 August,
with interested sheds encouraged to
apply by Tuesday 27 September
.
Health and Aged Care Minister Mark Butler said;
"Men's sheds across Australia create a place of belonging for over a thousand local communities.
"The Albanese Government is providing this funding to men's sheds so they can continue their important work.
"Movember is synonymous with highlighting men's health issues.
"The Movember review continues efforts to realise improved health outcomes for Australian males through the implementation of the National Men's Health Strategy 2020-2030."
Alzheimer's might not be primarily a brain disease. A new theory suggests it's an autoimmune condition.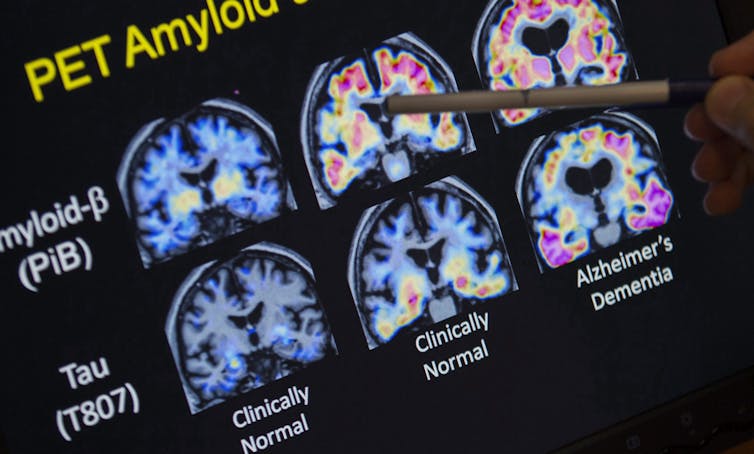 Donald Weaver
,
University of Toronto
The pursuit of a cure for Alzheimer's disease is becoming an increasingly competitive and contentious quest with recent years witnessing several important controversies.
In July 2022, Science magazine reported that a key 2006 research paper, published in the prestigious journal Nature, which identified a subtype of brain protein called beta-amyloid as the cause of Alzheimer's, may have been based on fabricated data.
One year earlier, in June 2021, the U.S. Food and Drug Administration had approved aducanumab, an antibody-targeting beta-amyloid, as a treatment for Alzheimer's, even though the data supporting its use were incomplete and contradictory. Some physicians believe aducanumab never should have been approved, while others maintain it should be given a chance.
With millions of people needing an effective treatment, why are researchers still fumbling in this quest for a cure for what is arguably one of the most important diseases confronting humankind?
Escaping The Beta-Amyloid Rut
For years, scientists have been focused on trying to come up with new treatments for Alzheimer's by preventing the formation of brain-damaging clumps of this mysterious protein called beta-amyloid. In fact, we scientists have arguably got ourselves into a bit of an intellectual rut concentrating almost exclusively on this approach, often neglecting or even ignoring other possible explanations.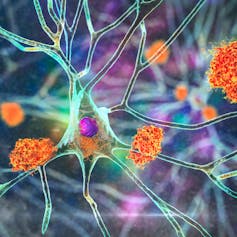 Regrettably, this dedication to studying the abnormal protein clumps has not translated into a useful drug or therapy. The need for a new "out-of-the-clump" way of thinking about Alzheimer's is emerging as a top priority in brain science.
My laboratory at the Krembil Brain Institute, part of the University Health Network in Toronto, is devising a new theory of Alzheimer's disease. Based on our past 30 years of research, we no longer think of Alzheimer's as primarily a disease of the brain. Rather, we believe that Alzheimer's is principally a disorder of the immune system within the brain.
The immune system, found in every organ in the body, is a collection of cells and molecules that work in harmony to help repair injuries and protect from foreign invaders. When a person trips and falls, the immune system helps to mend the damaged tissues. When someone experiences a viral or bacterial infection, the immune system helps in the fight against these microbial invaders.
The exact same processes are present in the brain. When there is head trauma, the brain's immune system kicks into gear to help repair. When bacteria are present in the brain, the immune system is there to fight back.
Alzheimer's As Autoimmune Disease
We believe that beta-amyloid is not an abnormally produced protein, but rather is a normally occurring molecule that is part of the brain's immune system. It is supposed to be there. When brain trauma occurs or when bacteria are present in the brain, beta-amyloid is a key contributor to the brain's comprehensive immune response. And this is where the problem begins.
Because of striking similarities between the fat molecules that make up both the membranes of bacteria and the membranes of brain cells, beta-amyloid cannot tell the difference between invading bacteria and host brain cells, and mistakenly attacks the very brain cells it is supposed to be protecting.
This leads to a chronic, progressive loss of brain cell function, which ultimately culminates in dementia — all because our body's immune system cannot differentiate between bacteria and brain cells.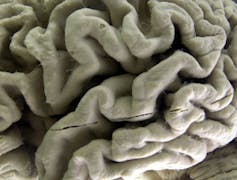 When regarded as a misdirected attack by the brain's immune system on the very organ it is supposed to be defending, Alzheimer's disease emerges as an autoimmune disease. There are many types of autoimmune diseases, such as rheumatoid arthritis, in which autoantibodies play a crucial role in the development of the disease, and for which steroid-based therapies can be effective. But these therapies will not work against Alzheimer's disease.
The brain is a very special and distinctive organ, recognized as the most complex structure in the universe. In our model of Alzheimer's, beta-amyloid helps to protect and bolster our immune system, but unfortunately, it also plays a central role in the autoimmune process that, we believe, may lead to the development of Alzheimer's.
Though drugs conventionally used in the treatment of autoimmune diseases may not work against Alzheimer's, we strongly believe that targeting other immune-regulating pathways in the brain will lead us to new and effective treatment approaches for the disease.
Other Theories Of The Disease
In addition to this autoimmune theory of Alzheimer's, many other new and varied theories are beginning to appear. For example, some scientists believe that Alzheimer's is a disease of tiny cellular structures called mitochondria — the energy factories in every brain cell. Mitochondria convert oxygen from the air we breathe and glucose from the food we eat into the energy required for remembering and thinking.
Some maintain that it is the end-result of a particular brain infection, with bacteria from the mouth often being suggested as the culprit. Still others suggest that the disease may arise from an abnormal handling of metals within the brain, possibly zinc, copper or iron.
It is gratifying to see new thinking about this age-old disease. Dementia currently affects more than 50 million people worldwide, with a new diagnosis being made every three seconds. Often, people living with Alzheimer's disease are unable to recognize their own children or even their spouse of more than 50 years.
Alzheimer's is a public health crisis in need of innovative ideas and fresh directions. For the well-being of the people and families living with dementia, and for the socioeconomic impact on our already stressed health-care system coping with the ever-escalating costs and demands of dementia, we need a better understanding of Alzheimer's, its causes, and what we can do to treat it and to help the people and families who are living with it.

Donald Weaver, Professor of Chemistry and Director of Krembil Research Institute, University Health Network, University of Toronto
This article is republished from The Conversation under a Creative Commons license. Read the original article.
Book Of The Month: October 2022 - Voss By Patrick White
Originally published: London: Eyre & Spottiswoode, 1957.
Set in nineteenth-century Australia, Voss is White's best-known book, a sweeping novel about a secret passion between the explorer Voss and the young orphan Laura. As Voss is tested by hardship, mutiny, and betrayal during his crossing of the brutal Australian desert, Laura awaits his return in Sydney, where she endures their months of separation as if her life were a dream and Voss the only reality. Marrying a sensitive rendering of hidden love with a stark adventure narrative, Voss is a novel of extraordinary power and virtuosity from a twentieth-century master.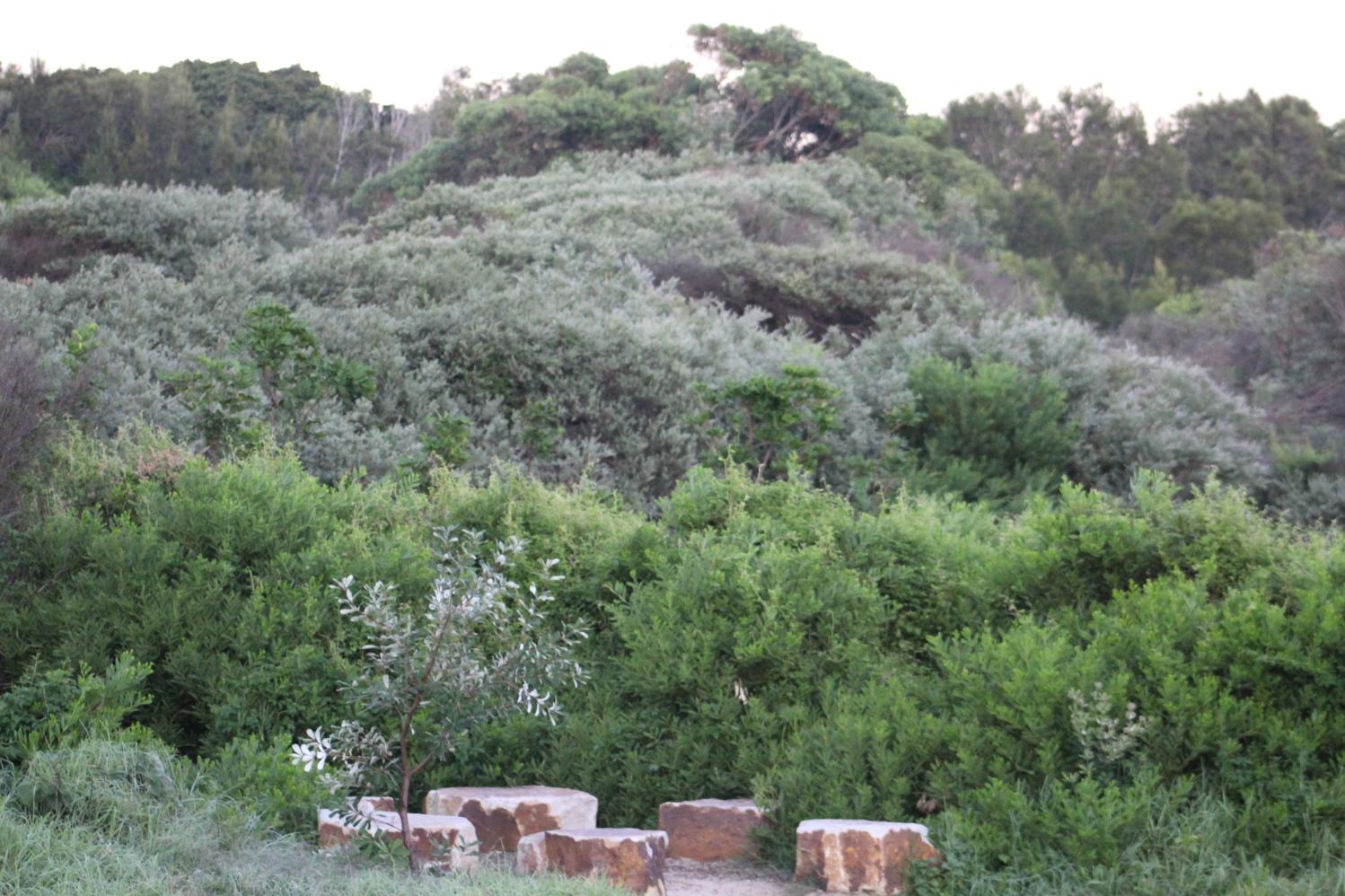 Youth Mental Health Improves Despite COVID Pressure
The mental health and wellbeing of young Australians has dramatically improved, despite the ongoing COVID-19 pandemic, new analysis from The Australian National University (ANU) shows.
The findings come from the ANU Centre for Social Research and Methods' COVID Impact Monitoring survey, which has examined the effect of the pandemic on Australians for more than two years and across 12 waves of data collection.
According to the researchers, the latest survey of more than 3,500 people completed in August 2022 shows Australians aged 18 to 24 are feeling more positive about their lives and their future, and are experiencing less psychological distress.
"We found a large and significant turnaround in the number of young Australians who said their lives and wellbeing were improving, especially compared to Australians aged 45 to 64," study co-author Professor Nicholas Biddle said.
"More than two in three, 67.4 per cent, of young Australians said their life had improved in the last 12 months. This was also the age group with the largest improvement in life satisfaction since our April 2022 survey.
"We also found a five per cent decline in psychological distress among Australians aged 18 to 24. This was the age group reporting the biggest decline in psychological distress."
Professor Biddle said it was important to note that levels of psychological distress were still above pre-pandemic levels, but much lower than what they were in 2020 and when COVID took a hold in Australia.
Young Australians also continued to have the most elevated level of psychological distress of any age group compared to pre-COVID levels.
"However, overall this is really encouraging news," Professor Biddle said.
"Young people have been the people most dramatically impacted by the COVID-19 pandemic in Australia, especially when it comes to their economic security, future prospects and mental health and wellbeing.
"So it is heartening to see that the majority of young Australians say there are feeling much better than they were 12 months ago, even though they still face ongoing pandemic pressures."
The study found that across the board Australians thought their life and wellbeing was improving, with levels of life satisfaction steadily increasing since January 2022.
Levels of psychological distress among all Australians have also steadily declined between October 2021 and August 2022.
"In May 2020, roughly half of Australians thought their life was worse, 51.3 per cent, including 6.5 per cent who thought it was much worse," Professor Biddle said.
"By August 2022, only about one in five Australians thought that their life had become worse in the 12 months since August 2021, with only 3.9 per cent thinking that their life had got much worse.
"And in October 2021, 27.2 per cent of adult Australians reported feeling hopeless at least some of the time. By August 2022, this had declined to 22.3 per cent, a drop of about 981,000 Australia adults.
"That does not mean that Australia has returned to pre-pandemic levels of wellbeing and mental health. Life satisfaction was lower in August 2022 than it was in October 2019. There are also still more Australians who have high levels of psychological distress.
"However, wellbeing and mental health outcomes have improved over recent months as lockdown conditions have substantially eased, and despite high case numbers."
Address The Logjam To End The Cycle Of Horror Stories: AMA
The AMA today renewed its call for reform of public hospital funding, following a week of harrowing media stories highlighting the plight Australians face from an under-funded and under-resourced hospital system.
AMA President Professor Steve Robson said the horror stories coming out of every state and territory were the result of increased pressure on hospitals and a funding agreement that is "failing the health system and Australians who rely on that system".
"Story after story is showing a system buckling under pressure. People are dying waiting to be seen which is unacceptable in a country that prides itself on having a world-class health system," Professor Robson said.
"NSW is facing record wait times for emergency departments and essential surgery, as ambulance ramping spikes, one in 10 people are leaving the emergency department without receiving care, and more than 18,700 people are overdue for surgery. This is no surprise, given reports of patients stuck in hospital beds for more than five years, waiting for disability or aged care services — beds that are needed to provide hospital care.
"In QLD, there are reports of patients dying as they wait for ambulances, with one suicidal patient waiting more than two hours for an ambulance and being found dead by paramedics, and another dying as the ambulance arrived nine hours after the call for help.
"How many more people need to die before we act?"
Professor Robson said the ACT also has beds taken up by patients who are waiting for disability or aged care services, and while the federal government's new plan will help address this, more is needed to address systemic hospital issues.
"As inflation — and therefore the cost of providing care — continues to increase, the dollars available to provide healthcare will decrease, which was highlighted in a report on Victoria's health budget over the weekend."
The states and territories agree the current funding model is inadequate and have joined the AMA's call for a permanent 50-50 funding split with the Commonwealth; with SA and TAS re-stating their position this week as they grapple with unprecedented demand and GP shortages.
"The previous federal government failed to act on an inadequate funding system, and decisive action is needed from the current government to address the issue," Professor Robson said.
"We appreciate the decision to extend pandemic-related funding arrangements for another three months, however the health minister's suggestion yesterday that the current funding agreement should run until 2025 isn't good enough. Our hospitals were in crisis before COVID-19. The horrific stories we are hearing are simply the result of inadequate funding arrangements."
The AMA's Clear the Hospital Logjam campaign is calling for 50-50 funding between the Commonwealth and states to improve hospital performance, expand capacity, and address avoidable admissions. It also calls for the 6.5 per cent cap on activity to be scrapped, to allow hospitals to meet community demand.
"Over the next few months, the AMA will be renewing our push for hospital reform through our campaign. We will be advocating for funding to address elective surgery and outpatient appointment wait times, the bed block created by having inadequate aged care and NDIS funding and proposing solutions to the current GP crisis.
"My hope is that we give hospitals what they need, and soon.
"Behind every horror story of an avoidable death is someone's loved one, and all Australians deserve better — it's time to act."
Did My Computer Say It Best?
With autocorrect and auto-generated email responses, algorithms offer plenty of assistance to help people express themselves.

But new research from the University of Georgia shows people who rely on algorithms for assistance with language-related, creative tasks didn't improve their performance and were more likely to trust low-quality advice.
Aaron Schecter, an assistant professor in management information systems at the Terry College of Business, had his study "Human preferences toward algorithmic advice in a word association task" published this month in Scientific Reports. His co-authors are Nina Lauharatanahirun, a biobehavioural health assistant professor at Pennsylvania State University, and recent Terry College Ph.D. graduate and current Northeastern University assistant professor Eric Bogert.
The paper is the second in the team's investigation into individual trust in advice generated by algorithms. In an April 2021 paper, the team found people were more reliant on algorithmic advice in counting tasks than on advice purportedly given by other participants.
This study aimed to test if people deferred to a computer's advice when tackling more creative and language-dependent tasks. The team found participants were 92.3% more likely to use advice attributed to an algorithm than to take advice attributed to people.
"This task did not require the same type of thinking (as the counting task in the prior study) but in fact we saw the same biases," Schecter said. "They were still going to use the algorithm's answer and feel good about it, even though it's not helping them do any better."
Using an algorithm during word association
To see if people would rely more on computer-generated advice for language-related tasks, Schecter and his co-authors gave 154 online participants portions of the Remote Associates Test, a word association test used for six decades to rate a participant's creativity.
"It's not pure creativity, but word association is a fundamentally different kind of task than making a stock projection or counting objects in a photo because it involves linguistics and the ability to associate different ideas," he said. "We think of this as more subjective, even though there is a right answer to the questions."
During the test, participants were asked to come up with a word tying three sample words together. If, for example, the words were base, room and bowling, the answer would be ball.
Participants chose a word to answer the question and were offered a hint attributed to an algorithm or a hint attributed to a person and allowed to change their answers. The preference for algorithm-derived advice was strong despite the question's difficulty, the way the advice was worded, or the advice's quality.
Participants taking the algorithm's advice were also twice as confident in their answers as people who used the person's advice. Despite their confidence in their answers, they were 13% less likely than those who used human-based advice to choose correct answers.
"I'm not going say the advice was making people worse, but the fact they didn't do any better yet still felt better about their answers illustrates the problem," he said. "Their confidence went up, so they're likely to use algorithmic advice and feel good about it, but they won't necessarily be right.
Should you accept autocorrect when writing an email?
"If I have an autocomplete or autocorrect function on my email that I believe in, I might not be thinking about whether it's making me better. I'm just going to use it because I feel confident about doing it."
Schechter and colleagues call this tendency to accept computer-generated advice without an eye to its quality as automation bias. Understanding how and why human decision-makers defer to machine learning software to solve problems is an important part of understanding what could go wrong in modern workplaces and how to remedy it.
"Often when we're talking about whether we can allow algorithms to make decisions, having a person in the loop is given as the solution to preventing mistakes or bad outcomes," Schecter said. "But that can't be the solution if people are more likely than not to defer to what the algorithm advises."
Eric Bogert, Nina Lauharatanahirun, Aaron Schecter.
Human preferences toward algorithmic advice in a word association task
. Scientific Reports, 2022; 12 (1) DOI:
10.1038/s41598-022-18638-2
Genetic Variants Linked To Congenital Urinary Tract Obstruction In Males
Genetic variation affecting developmental genes not previously linked to urethral development may contribute to a congenital condition that is the most common cause of kidney failure in young males, a new study suggests.
The discovery may help scientists better understand what causes a rare condition called posterior urethral valves (PUV), which affects 1 in 4,000 males and leads to blockages in the urethra and a build up of urine in the bladder which can then damage the kidneys. About one-third of individuals with this condition develop kidney failure before age 30. Affected individuals often undergo surgery to remove the blockages, but most continue to have urinary tract problems even after surgery. Therefore, new insights about the condition's cause are required to better understand how the urinary tract develops in health and disease and potentially inform new treatment approaches in the future.
"PUV does not follow a Mendelian pattern of inheritance, where each parent contributes one of two possible alleles for a trait, and scientists have not identified a single gene cause," explains lead author Dr Melanie Chan, who conducted the study as a Clinical Research Fellow at the UCL Department of Renal Medicine, London, UK. "This suggests that the genetic basis of this condition is more complex."
To identify the genetic causes, Chan and colleagues analysed the genomes of 132 unrelated males with PUV and 23,727 individuals without the condition who had been recruited to the UK's 100,000 Genomes Project. They included individuals with diverse genetic ancestry, including people of South Asian, African and European descent. They found two genetic variants associated with the risk of PUV. One was a common genetic variant located on chromosome 12q24.21 and the other was a rare genetic variant on chromosome 6p21.1. They confirmed the link between these two genetic differences and the disease in a separate group of individuals of European descent that included 395 males with PUV and 4,152 individuals without the condition.
The team then mapped the variation on 12q24.21 to a gene called TBX5, which contributes to turning other genes on or off. They also mapped the 6p21.1 variation to a gene called PTK7, which plays an essential role in cell development. When they looked at cells from developing human embryos, they found that the proteins encoded by the genes are active in the developing urinary tract. This discovery suggests that alterations in these proteins may interfere with normal urethra development.
Finally, they showed that structural changes in chromosomes, including flipped sections of DNA or other changes that alter the regulation of gene expression, were also linked to PUV.
"Our study is the first to identify rare and common genetic variation strongly associated with PUV, as well as structural variations in chromosomes that may contribute to the disease," says Dr Chan. "It provides new insights on what causes this poorly understood disorder."
The authors add that the small number of individuals included in this genetic analysis reduces its statistical power to detect very rare genetic variations linked with PUV. Additionally, they say more studies are needed to verify how exactly these genetic changes cause PUV.
But senior author Professor Daniel Gale, the St Peter's Chair of Nephrology at the UCL Department of Renal Medicine, says the study demonstrates the importance of including people with diverse genetic backgrounds in genome-wide studies of rare conditions. Too often, he noted, genetic studies may consist of only European populations, making them less likely to identify genetic variants that might be important in other groups.
"Increasing diversity in genetic studies is both scientifically and ethically beneficial," Professor Gale says. "It increases the power of studies to find and verify rare genetic variants and allows detection of genetic variants disproportionately affecting individuals with Asian, African, or other non-European ancestries. It also helps to ensure that people across the world benefit more equally from treatment advances driven by genetic discoveries."
Melanie Mai Yee Chan, Omid Sadeghi-Alavijeh, Filipa M Lopes, Alina C Hilger, Horia C Stanescu, Catalin D Voinescu, Glenda M Beaman, William G Newman, Marcin Zaniew, Stefanie Weber, Yee Mang Ho, John O Connolly, Dan Wood, Carlo Maj, Alexander Stuckey, Athanasios Kousathanas, Robert Kleta, Adrian S Woolf, Detlef Bockenhauer, Adam P Levine, Daniel P Gale.
Diverse ancestry whole-genome sequencing association study identifies TBX5 and PTK7 as susceptibility genes for posterior urethral valves.
eLife, 2022; 11 DOI: 10.7554/eLife.74777
Zebrafish To Help In Search For MS Drugs
The zebrafish should be known to many aquarium enthusiasts mainly because of its striking pigmentation. However, the characteristic black-blue stripes, to which the animal owes its name, only form over time. Its eyelash-sized larvae, on the other hand, are still more or less transparent. Many developmental processes in their bodies can therefore be observed under the light microscope. For this reason, they now serve as a model organism for research groups around the globe.
"At the University of Bonn, for example, we are investigating how zebrafish repair defective nerve tissue," explains Prof. Dr. Benjamin Odermatt from the Institute of Anatomy at the University Hospital Bonn. "We are also interested in this because many genes involved in this process also exist in a similar form in humans." In principle, agents that boost these repair genes in fish could thus also work in humans. However, the differences between the genetic makeup of fish and humans are often significant. The larvae are therefore sometimes of limited use in the search for new drugs.
Fish gene replaced by human gene
"We therefore took a different approach," explains Prof. Dr. Evi Kostenis from the Institute of Pharmaceutical Biology at the University of Bonn. " For a human gene known to play a role in the repair of nerve cells we looked for its counterpart in zebrafish. Then we excised this counterpart in the fish and replaced it with the human version." The new genetic material took over the function of the original zebrafish gene. "If we now find a substance that boosts the repair processes in the fish with the human gene, there is a good chance that this will also be the case in humans," says the scientist, who is also a member of the Transdisciplinary Research Area "Life and Health" at the University of Bonn.
The researchers demonstrated that this replacement works in their pilot study on the so-called GPR17 receptor. In humans, its overactivation can lead to diseases such as multiple sclerosis (MS). Nerve cells communicate by means of electrical signals. Their extensions are surrounded by a kind of insulating layer, a lipid-like substance called myelin. It prevents short circuits and also significantly speeds up the transmission of stimuli. This protective sheath is produced by specialized cells named oligodendrocytes. These resemble a microscopic octopus: many long arms extend from their cell body, most of which consist of myelin. Like an insulating tape, these wrap themselves around the nerve cell processes during brain development. Normally, the protective layer lasts a lifetime.
Insulating tape dispenser remain in immature state
In multiple sclerosis, however, the body's own immune system destroys the myelin layer. This results in neurological disorders, for example in speech, vision or walking. But normally there is a supply of immature oligodendrocytes in the brain for repair work. When damage occurs, they mature and patch up the hole. In multiple sclerosis, this mechanism is disrupted -- many of the cellular insulating tape donor cells remain in their immature state. The GPR17 receptor seems to bear the main blame for this: if it is activated by a molecular signal, it slows down the maturation of the oligodendrocytes.
"Zebrafish also have a GPR17 receptor," explains Dr. Jesus Gomeza, who led the study with Kostenis and Odermatt. "And there it also regulates how many oligodendrocytes mature." The researchers now replaced part of the receptor gene with its human counterpart -- namely, the very structure responsible for receiving molecular signals. "We were able to show that this new mosaic gene functions normally in the fish larvae," says Gomeza. A molecule that inhibits the human GPR17 receptor in the test tube also cranked up the formation of mature oligodendrocytes in the modified fish.
In the search for new active ingredients, substances are first tested in cell cultures. Only individual, very promising candidates are then tested in mice or other animal models. But even if they work there, tests in humans still often end soberingly. "Humanized zebrafish larvae allow many substances to be screened quickly, and with a high chance of success, since the target genes originate from humans," explains Benjamin Odermatt. "From our point of view, this is a very promising avenue for drug development."
Felix Häberlein, Enrico Mingardo, Nicole Merten, Nina-Katharina Schulze Köhling, Philip Reinoß, Katharina Simon, Anna Japp, Bhuvaneswari Nagarajan, Ramona Schrage, Cecile Pegurier, Michel Gillard, Kelly R. Monk, Benjamin Odermatt, Evi Kostenis, Jesus Gomeza.
Humanized zebrafish as a tractable tool for in vivo evaluation of pro-myelinating drugs.
Cell Chemical Biology, 2022; DOI:
10.1016/j.chembiol.2022.08.007
Octopuses Prefer Certain Arms When Hunting And Adjust Tactics To Prey
Famous for their eight arms, octopuses leverage all of their appendages to move, jet through the water and capture prey. But their movements can look awkward and seemingly unplanned at times, more closely resembling aliens than earthly creatures.
"Normally when you look at an octopus for a short while, nothing is repeatable. They squirm around… and just look weird in their exploratory movements," said Trevor Wardill, an assistant professor in the College of Biological Sciences who studies octopuses and other cephalopods.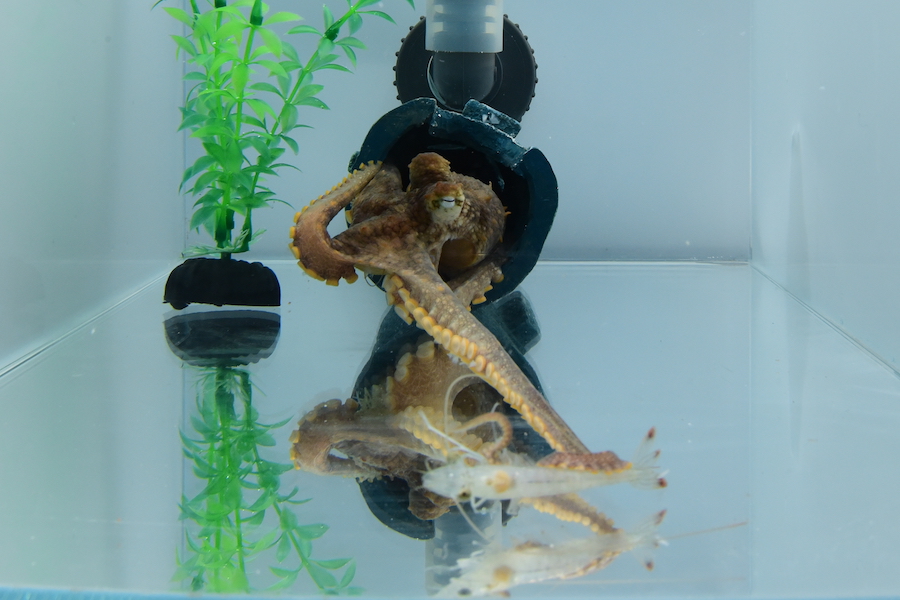 A California two-spot octopus hunts a shrimp in an experiment, striking with its second arm. Credit: Wardill Lab, University of Minnesota

For a new study in Current Biology, Wardill and colleagues investigated whether octopuses preferred certain arms over others when hunting, rather than using each arm equally. A better understanding of how they use their arms will aid efforts to develop next-generation highly manipulative soft robots.
The research team studied the California two-spot octopus, which live for about two years and grow to the size of tennis balls. Octopus arms are numbered on each side of its body, starting at the center. Researchers dropped different types of prey, including crabs and shrimp, into the tanks and recorded video as the octopuses, who were hiding in ornamental SpongeBob "dens" with one eye facing outward, lunged for the snack. Because crabs move slowly while shrimp can flick their tails to escape quickly, each type of prey potentially requires different hunting tactics.
The researchers found:
Octopuses used arms on the same side as the eye viewing the prey.
No matter what type of prey came by, each octopus attacked using the second arm from the middle.
When hunting crabs, octopuses pounced on the prey with a cat-like movement, leading with the second arm.
When hunting shrimp, the octopuses were more careful to avoid spooking the prey. They led with the second arm and after it made contact with the shrimp, they used neighbouring arms one and three to secure it.
Flavie Bidel, the lead author and a postdoctoral researcher in the lab, was shocked at how predictably octopuses began prey capture with the second arm. For creatures whose movement appears unpredictable, the hunting behaviour was actually exceedingly repeatable. One of the next steps is to study how neurons facilitate the arm movements.
"Octopuses are extremely strong. For them, to grasp and open a door is trivial, given their dexterity. If we can learn from octopuses, then we can apply that to making an underwater vehicle or soft robot application," said Wardill. Underwater vehicles inspired by octopuses could play a crucial role in deep ocean exploration.
Funding and support for this work was provided by the Office of Naval Research. The Wardill lab is based in the Ecology, Evolution and Behavior Department in CBS.
Flavie Bidel, Natalie C. Bennett, Trevor J. Wardill.
Octopus bimaculoides' arm recruitment and use during visually evoked prey capture.
Current Biology, 2022; DOI:
10.1016/j.cub.2022.08.080
World First Achievement In Diabetes Research: WSU
Distinguished Professor David Simmons has become the first 'diabetes in pregnancy' researcher to receive three prestigious honours in the field: the Norbert Freinkel Award, Joseph Hoet Award and, most recently, the Jørgen Pederson Award Lecture.
Professor Simmons, from Western Sydney University's Translation Health Research Institute and Macarthur Clinical School, said that while it was a great honour to receive global recognition of his work, the accolades were simply a reflection of his passion for trying to curb the impact of diabetes on both pregnant women and the community more generally.
"I have seen first-hand the life-changing and devastating effects that poorly managed diabetes can have during pregnancy both for women and our youngest children. This condition demands the best of our research, resources and collaborations and I am honoured to be contributing to finding solutions to reduce the impact of this disease," said Professor Simmons.
"The impact of diabetes on our community, our 'diabetes epidemic', is equally devastating, yet there is hope. I have seen – during more than 30 years as an endocrinologist – community-based solutions work in programs throughout the world and will continue to promote the power of community in combatting this deadly disease."
For the prestigious Jørgen Pedersen Award, Professor Simmons presented a lecture at the annual meeting of the Diabetic Pregnancy Study Group (DPSG) in Madrid last week. The award is presented to someone chosen by the DPSG Board in recognition of outstanding contributions (including scientific publications and presentations) to the understanding and treatment of diabetes and pregnancy.
In 2020, Professor Simmons was the recipient of American Diabetes Association Norbert Freinkel Award, where he presented the Norbert Freinkel Award Lecture. The lecture is given in memory of Professor Norbert Freinkel to honour a researcher who has made outstanding contributions to the field of diabetes and pregnancy.
In addition to these two prestigious 'diabetes in pregnancy' awards, Professor Simmons is also the recipient of the Joseph Hoart Award, presented to a leading figure who highly contributes to the field of prevention of diabetes and its complications.
With over 350 peer review publications and research collaborations in Sweden, Europe, UK, USA, New Zealand, China and Australia, Professor Simmons is renowned for instilling in his teams a dedication to achieving results, working in collaboration and ensuring his research can be easily understood by the communities it impacts.
Professor Simmons is a Distinguished Professor of Medicine at the Western Sydney University Macarthur Clinical School, Head of the Campbelltown Hospital Endocrinology Department, Chair of the Campbelltown Hospital Clinical Council, Director of the Diabetes Obesity and Metabolism Translation Unit (DOMTRU) and Co-Director of the Diabetes Obesity and Metabolism Clinical Academic Group of the Sydney Partnership for Health, Education, Research and Enterprise (SPHERE).
Malaria Spike Linked To Amphibian Die-Off
Dozens of species of frogs, salamanders and other amphibians quietly disappeared from parts of Latin America in the 1980s and 2000s, with little notice from humans, outside of a small group of ecologists. Yet the amphibian decline had direct health consequences for people, according to a study from the University of California, Davis.
The study, published in the journal Environmental Research Letters, links an amphibian die-off in Costa Rica and Panama with a spike in malaria cases in the region. At the spike's peak, up to 1 person per 1,000 annually contracted malaria that normally would not have had the amphibian die-off not occurred, the study found.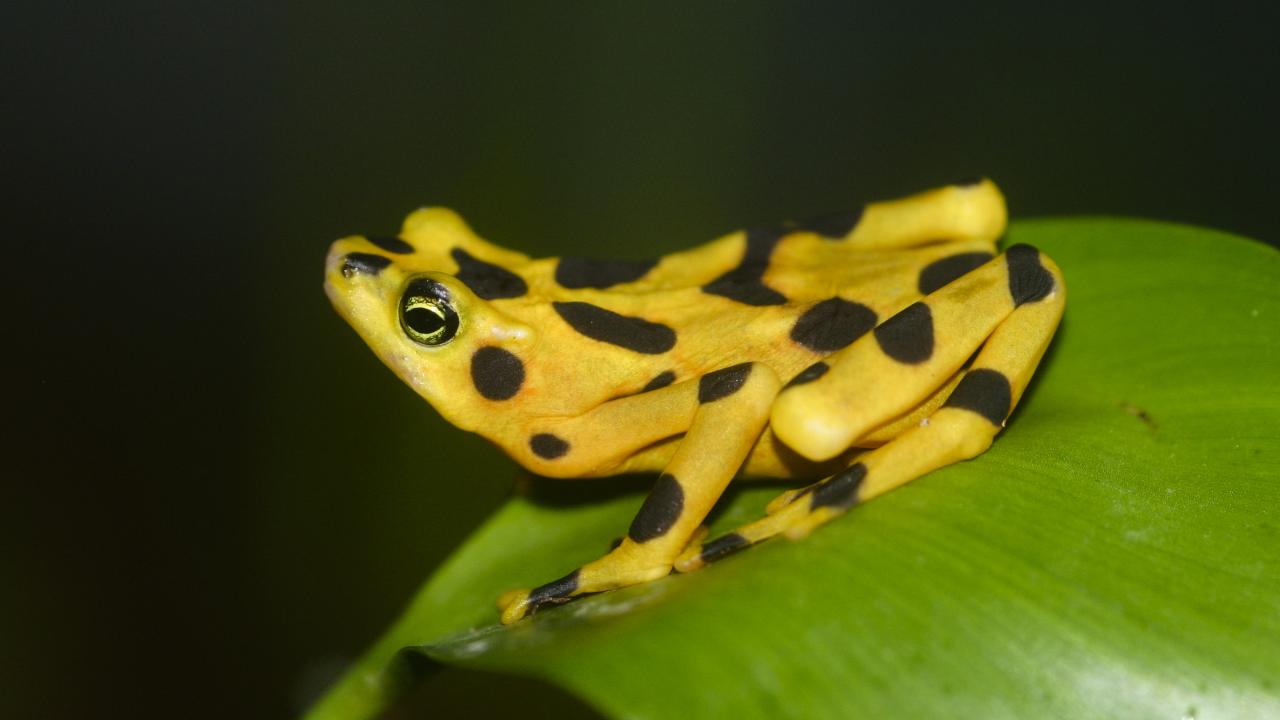 The Panamanian golden frog is endemic to Panama and is among the species whose populations collapsed following the deadly fungal pathogen "Bd." (Brian Gratwicke, Wikimedia Commons)
"Stable ecosystems underpin all sorts of aspects of human wellbeing, including regulating processes important for disease prevention and health," said lead author Michael Springborn, a professor in the UC Davis Department of Environmental Sciences and Policy. "If we allow massive ecosystem disruptions to happen, it can substantially impact human health in ways that are difficult to predict ahead of time and hard to control once they're underway."
From the early 1980s to the mid-1990s, a deadly fungal pathogen called Batrachochytrium dendrobatidis, or "Bd," travelled across Costa Rica, devastating amphibian populations. This amphibian chytrid fungus continued its path eastward across Panama through the 2000s. Globally, the pathogen led to the extinction of at least 90 amphibian species, and to the decline of at least 500 additional species.
Shortly after the mass die-off of amphibians in Costa Rica and Panama, both countries experienced a spike in malaria cases.
Some frogs, salamanders and other amphibians eat hundreds of mosquito eggs each day. Mosquitoes are a vector for malaria. Scientists wondered, could the crash in amphibians have influenced the rise in malaria cases?
To find out, the researchers combined their knowledge of amphibian ecology, newly digitized public health record data, and data analysis methods developed by economists to leverage this natural experiment.
"We've known for a while that complex interactions exist between ecosystems and human health, but measuring these interactions is still incredibly hard," said co-author Joakim Weill, a Ph.D. candidate at UC Davis when the study was conducted. "We got there by merging tools and data that don't usually go together. I didn't know what herpetologists studied before collaborating with one!"
The results show a clear connection between the time and location of the spread of the fungal pathogen and the time and location of increases in malaria cases. The scientists note that while they cannot fully rule out another confounding factor, they found no evidence of other variables that could both drive malaria and follow the same pattern of die-offs.
Tree cover loss was also associated with an increase in malaria cases, but not nearly to the same extent as the loss of amphibians. Typical levels of tree canopy loss increase annual malaria cases by up to 0.12 cases per 1,000 people, compared to 1 in 1,000 for the amphibian die-off.
Researchers were motivated to conduct the study by concerns about the future spread of similar diseases through international wildlife trade. For instance, Batrachochytrieum salamandrivorans, or "Bsal," similarly threatens to invade ecosystems through global trade markets.
Springborn said measures that could help prevent the spread of pathogens to wildlife include updating trade regulations to better target species that host such diseases as our knowledge of threats evolve.
"The costs of putting those protective measures in place are immediate and evident, but the long-term benefits of avoiding ecosystem disruptions like this one are harder to assess but potentially massive, as this paper shows," Springborn said.
Additional co-authors include Karen Lips of University of Maryland, Roberto Ibáñez of Smithsonian Tropical Research Institute in Panamá, and Aniruddha Ghosh of UC Davis and the Alliance of Biodiversity International and CIAT in Kenya.
The study was funded by the National Science Foundation and the UC Davis institute of the Environment.
Michael R Springborn, Joakim A Weill, Karen R Lips, Roberto Ibáñez, Aniruddha Ghosh.
Amphibian collapses increased malaria incidence in Central America
. Environmental Research Letters, 2022; 17 (10): 104012 DOI:
10.1088/1748-9326/ac8e1d
UNSW: T Cells Use Force To Destroy Cancer Cells
As a part of our immune defences, cytotoxic T cells -- or killer T cells -- seek out and destroy cells that are infected or cancerous. This process is essential for the body's defence against diseases.
These specialised immune cells are armed with lytic granules containing two key components for immune attack: perforin (proteins that punch holes in the target cells) and granzymes (which gain access via these holes and ultimately kill disease-causing cells).
T cells snuggle up to targeted diseased cells and form an intimate junction between the two, called the 'cytotoxic immunological synapse'.
A research team at UNSW Sydney's EMBL Australia Node in Single Molecule Science in the School of Biomedical Sciences has found that mechanical forces generated by T cells influence how effectively perforin can punch through tumour cell membranes. In a paper published today in Developmental Cell, they describe the cell interactions and the integration of forces at both the front and rear of the cell.
The researchers detected physical forces within T cells that propel lytic granules toward the immunological synapse where their payloads are released. These forces also enable T cells to grab onto regions of the cancer cell membrane where the membranes of both immune and target cells are pulled and manipulated.
"It was very exciting to discover that, in addition to its mechanical tension and biochemical configuration, the shape of the target cell membrane plays an important role in T cell mediated cancer cell killing," said Dr Daryan Kempe at UNSW Medicine & Health who co-led the research.
By stretching and bending the membranes of tumour cells in a certain direction, T cells made it easier for perforin to punch through, but only if the membranes were bent in the right direction.
Bias towards outwardly curved cell membranes
Using human melanoma cell lines, the researchers demonstrated that perforin preferentially perforated outwardly curved tumour cell membranes, rather than inwardly curved ones. The authors think that this bias ensures that the killer payload is deliver to its intended recipient, and could also be another level of protection for the T cells from their own assault.
"As the granules arrive, their contents will be emptied at this region of the membrane that is very highly curved. That there was a bias between positively curved and negatively curved membranes was completely unexpected," said EMBL Australia Group Leader, Associate Professor Maté Biro at UNSW Medicine & Health, who was senior author and team leader.
Measuring the mechanical properties of cells
A/Prof. Maté Biro said that most of the experiments relied on delicate biophysical assays with cancer cell lines, and T cells isolated from healthy blood donors and mice. They used high precision microfluidic pumps, computer-controlled micromanipulators and micropipettes in which the pressure could be controlled independently.
"This technique really allows us to tease apart the whole integrated process because it is such a controlled method. One micropipette picks up a T cell and another picks up a tumour cell, and we bring them into contact on a microscope.
"We image the entire cytotoxic process. At the same time, because we control and know the exact pressure inside each of the micropipettes, we can also measure the mechanical properties of the cells as they are interacting and engaging in the process," said A/Prof. Biro.
This study adds to the understanding of fundamental mechanisms involved in how T cells destroy disease-causing or compromised cells in our bodies. Knowing that mechanical forces are also at play when pore-formers, like perforin, punch through target cells could also help researchers investigating how these proteins work at the molecular level.
Matt A. Govendir, Daryan Kempe, Setareh Sianati, James Cremasco, Jessica K. Mazalo, Feyza Colakoglu, Matteo Golo, Kate Poole, Maté Biro.
T cell cytoskeletal forces shape synapse topography for targeted lysis via membrane curvature bias of perforin.
Developmental Cell, 2022; DOI:
10.1016/j.devcel.2022.08.012
Disclaimer: These articles are not intended to provide medical advice, diagnosis or treatment. Views expressed here do not necessarily reflect those of Pittwater Online News or its staff.