Inbox and environment news: Issue 555
September 18 - 24, 2022: Issue 555
Be The Boss: I Want To Be A Marine Electrician
If you love being around the water and tinkering with machines then becoming a Marine Electrician may suit you. Marine electricians are important to the upkeep and safety of marine vessels. They can be involved in the design and building of new ships, or spend the majority of their time repairing existing ones. Becoming a marine electrician requires the attendance and completion of a maritime academy, as well as a hands-on apprenticeship. In this article, we discuss the requirements of becoming a marine electrician and how you can develop the necessary skills to do well as one.
A marine electrician is a person with electrical training who specifically works on boats and ships. Marine electricians may work with all types of marine equipment, including yachts, cruise liners or even runabouts. They will generally spend the majority of their time working on boats. They may also work on-call and travel to boats at sea. Other marine electricians may work in a shipyard where they prepare or maintain ships.
Marine electricians are specialised in all electrical components of the ship, including troubleshooting, repairing, improving and building. Some marine electricians may also take on a supervisory role, where they lead a team of other marine electricians.
Marine electricians maintain the electrical wiring and systems on boats. They may have the following duties:
Troubleshoot wiring and other electrical systems on marine equipment and make repairs
Test low and high-voltage circuit systems for safety
Work on power generators or other alternative sources of energy, like solar or wind power
Wire and test the alarm and communication systems
Monitor for potential electrical voltage threats
Design and update bonding systems to protect the ship against weather elements
Protect the boat's equipment using drip loops and heat shrinks
Interpret and write technical reports and estimate repair costs
Install wiring and electrical equipment when building new ships
Install and configure generators
Test marine electrical equipment like voltmeters and oscilloscopes for efficiency
Becoming a marine electrician requires that you complete certain training and education. You can become a marine electrician with the following steps:
1. Complete a high school Certificate
Because attendance in a maritime academy is a requirement, you will first need to complete high school. Taking classes in computers, physics, mathematics and physics can help you prepare for this.
2. Attend and complete a maritime academy program or Navy Program
This vocational program will specifically prepare you for marine work. During your training, you can expect to take classes like electrical installation and maintenance following protocol. You will also have hands-on experience with electrical tools and equipment, like soldering irons and multimeters. Some academic programs will also offer field training, which may require time spent at sea. Some people may also choose to get a bachelor's degree, rather than attend an associate's-level vocational program.
The Royal Australian Navy states:
Be a tradie in the Navy working as a Marine Technician responsible for operating, maintaining, and monitoring engineering systems and equipment, onboard ships or submarines and ashore.
Whether you already have a trade, you're an apprentice, or you have no experience at all, we're hiring. You'll be paid from day one to gain all the skills needed with extensive on-the-job trade training. You may also be able to use your existing qualifications and be eligible for recognition of prior learning.
Your duties include, but aren't limited to maintaining:
Electrical power generation and distribution
The ship's boats engine and steering systems
Propulsion systems (gas turbines, diesel and electrical engines, gear boxes, propellers, thrusters, and positioning systems)
Electrical systems (alternators, batteries, charging systems, electrical switchboards, and corrosion protection systems)
Auxiliary engineering systems (air-conditioning, refrigeration, generators, air compressor systems, stabilisers, winches, and cranes)
Hull structures and fittings
You'll enjoy a competitive salary package, career stability, opportunities for continuous progression, and an adventurous lifestyle – all while making a difference to Australia.
Benefits:
Free medical and dental
Competitive salary package
Incremental salary increases as you progress through training and ranks
16.4% superannuation
Job security
Career progression and development
Good work/life balance
Travel opportunities
Excellent social and fitness facilities
Subsidised housing
Balance of shore and sea postings
Great chef made meals at sea
Variety of allowances
Submariner:
There is also the option to specialise as a Marine Technician Submariner and be a part of the most exclusive and stable workforce in Australia. Your role will be to operate, repair and conduct maintenance on the submarine's machinery, engines, power, and ventilation systems to ensure the vessel runs at optimum capacity, working at sea and ashore.
Salary:
Upon completion of your initial military and employment training, you'll enjoy a salary package starting from $73,253 for surface fleet and $85,861 for submariners.
For this role, you must be over 17 at time of enlistment, an Australian Citizen and have passed Year 10 English, Maths and Science.
Visit the links below for the full position descriptions:
The Australian Defence Force is an equal opportunity employer. This advertisement is to ensure women are aware of the rewarding and fulfilling careers available in the Navy, Army and Air Force. Females are encouraged to apply, however all roles are open for Australian men and women to apply.
3. Consider working toward certifications
Most employers require marine electrician candidates to have certain certifications, including an Australian Electrical Trade Certificate. Getting work in a local marina can help as well. This will give you experience in Ship repair / the marine industry.
Some people may find employment with the company in which they completed their apprenticeship. But, once you have completed all educational and training requirements, you can begin applying for positions. Update your resume with your most recent educational achievements and certifications. Create a new cover letter for each position.
In some cases, it is also possible to become a marine electrician by going through the required steps to become an electrician and then taking on an apprenticeship in a marine setting. But, this process is less common.
Skills for a marine electrician
Certain soft and hard skills are useful when working as a marine electrician:
Technical: Working as a marine electrician involves a lot of technical work. You will need to troubleshoot the electrical system, rewire systems and install equipment in the ship.
Mechanical: Good mechanical skills are also useful as you will use certain tools and machinery to install and repair systems. A basic understanding of mechanics can be helpful.
Problem-solving: A big part of the job of a marine electrician is identifying electrical problems and repairing them. This involves good troubleshooting skills and the ability to quickly come up with a solution.
Project management: Marine electricians will often manage multiple projects at one time. They may complete projects for different ships and will need to manage time and delegate tasks.
Marine electricians may also need specialized skills, which will often be learned while attending a maritime program. These are some of the specialized skills they may need:
Knowledge of electrical systems: A good working knowledge of electrical systems in ships is important. In addition to reading and navigating electrical blueprints, marine electricians will need to know where to find certain access points and wires.
Coast guard: Some marine electricians may choose to work with the U.S. government on military ships. If this is your preferred route, you may need special coast guard training.
Knowledge of circuit breakers, transformers and high-voltage control panels: Working as a marine electrician, you are likely to work with each of these things. An apprenticeship can be a good way to learn these areas in-depth.
Knowledge of certain safety protocols: Up-to-date safety protocols are needed as marine electricians often work on electrical systems near water. Knowledge of emergency protocols is needed.
The career outlook for marine electricians, according to BLS.gov, is expected to grow by one percent by the year 2029. They estimate that many of the new jobs will be in building new ships and boats for the military. They also believe that with a shift toward environmental-friendly practices, more marine electricians will be needed to help complete offshore wind energy projects.
Also Available:
Word Of The Week: Galoot
Word of the Week returns in 2022 simply to throw some disruption in amongst the 'yeah-nah' mix.
Noun
slang, mainly US; a clumsy or uncouth person, someone who is awkward.
Galoot can be a mildly offensive term that originally referred to a marine or soldier on board ship, much like a modern sailor might use jarhead. Etymologist Anatoly Liberman points to the thirteenth century Italian galeot(t)o, "sailor, steersman," as a possible source for galoot. others state: From Quranic Arabic jālūt, pronounced galūt in Egyptian Arabic, proper name equivalent to English Goliath, giant warrior of the ancient Philistine ethnicity; cf. connotations of derogatory uses of English.
It's basically an all-purpose term of mild contempt with humorous undertones while others state galoot can also be a term of affection. It was quite widely used from about 1900 to the 1940s but is now outdated and unfashionable even in its American heartland.

Compare Awkward;
lacking dexterity or skill (as in the use of hands); lacking ease or grace (as of movement or expression). From Middle English awkeward in the wrong direction, from awke turned the wrong way, from Old Norse ǫfugr; akin to Old High German abuh turned the wrong way

NB: Language Warning. NB II: BUT, didn't run the original official film clip. P!nk's 'Galoot' song - ;
2023 Year 12 School Scholarship Program Now Open: DYRSL
Dee Why RSL is pleased to announce the 2023 School Scholarship Program, open to local students going into year 12 for the 2023 year of study.
A total of ten students will receive $2000 each, to assist them in achieving their utmost potential while completing the Higher School Certificate.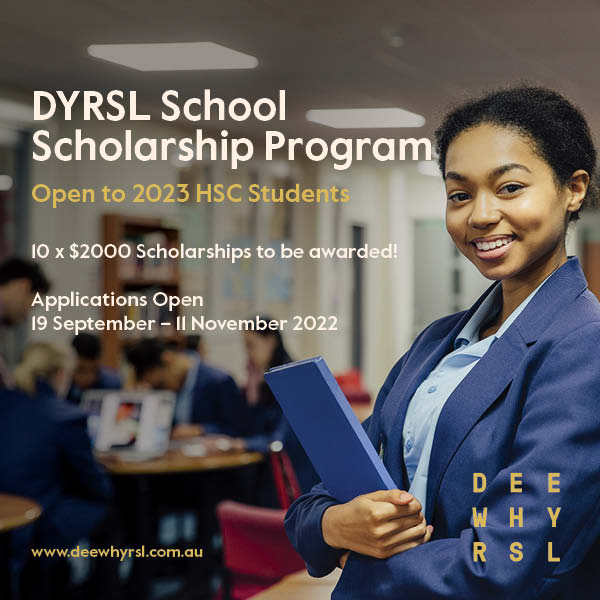 Securing A Brighter Future For Disadvantaged Youth
Eligible students from Years 10 to 12 or TAFE equivalent can now apply for a $1000 scholarship to help meet the cost of studying.
The future goals of some of the state's most vulnerable young people are a step closer to being achieved thanks to the NSW Government's Youth Development Scholarships program.
Minister for Families and Communities and Minister for Disability Services Natasha Maclaren-Jones is calling for eligible students from Years 10-12 or TAFE equivalent to apply for the $1000 scholarships.
"The scholarships aim to remove some of the financial burdens that students face so they can focus on achieving greater results and finish their studies," Mrs Maclaren-Jones said.
"From textbooks to internet access, the scholarships will ensure our young people are well-equipped to reach their full potential."
Minister for Education and Early Learning Sarah Mitchell said that a quality education is a strong foundation for a brighter future.
"The NSW Government wants to support our students in achieving their goals and these scholarships provide them with the necessary financial support to get them started," Ms Mitchell said.
"I know these scholarships will be greatly appreciated by our young people and will help them have a bright start in life."
To be eligible for the scholarship, students must be living in social housing or on the housing register, receiving private rental subsidy from DCJ, or living in supported accommodation or out-of-home care.
More than 4700 students have been supported by the scholarship program since it was established in 2017.
For new and returning high school students
, applications will close
Wednesday 30 November 2022 at 5:00pm.
For returning tertiary students
, applications will
close Friday 3 March 2023 at 5:00pm
.
Stay Healthy - Stay Active: HSC 2022
Stay active, keep connected and look after yourself during the HSC this year!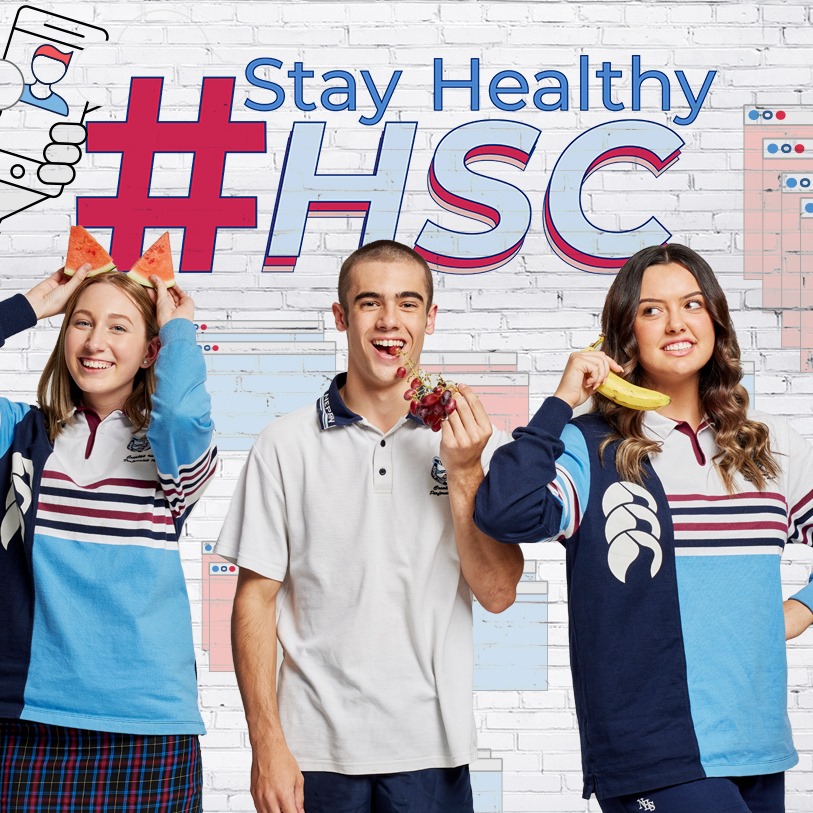 World Barber Day Highlights Demand For Age Old Craft
TAFE NSW is sharpening the skills of future barbers to enter the re-emerging industry as the demand for qualified barbers is surging. This comes as World Barber Day approaches on 16 September.
Despite the fact barbering dates back to Ancient Egypt, the future looks bright for aspiring barbers thanks to growing trends in male grooming, with Australian men spending $7 billion on grooming products every year.
TAFE NSW Barbering Teacher, Aynah Penton said TAFE NSW is supporting the industry through a wide range of training pathways, from short courses in specific barbering techniques, to apprenticeships, and salon management.
"Barbering is a great career because not only is the job hands-on and social, qualified barbers are in high demand, Ms Penton said.
"There is so much more to barbering than cutting hair. From holding clippers correctly to hygiene standards, being qualified is what keeps the industry reputable and safe.
"We've come a long way from traditional straight or taper cuts. New tools of the trade and changing customer needs have shaped a growing skills demand in the latest equipment and techniques."
Ms Penton is also seeing modern barbershop owners undertake further training to grow their business and provide additional services in beauty, massage, and responsible service of alcohol.
Kate Pitts is a 22-year-old local Terry Hills apprentice barber at the Division Barber Co Newport while studying a Certificate III in Barbering at TAFE NSW Northern Beaches.
"Originally I was a hairdresser and wanted to advance my skills in barbering, but once I started the course and learnt how to do fades and all the different haircuts, I enjoyed it so much that I now focus solely on barbering," Kate said.
"My favourite part of the career is keeping up with all the new trends and learning new techniques, which my TAFE NSW teacher and workplace help me with, plus I love working with my clients."
The nationally accredited Certificate III in Barbering is a fully government-subsidised JobTrainer course for those who meet eligibility criteria.
To find out more about barbering courses on offer at TAFE NSW visit
www.tafensw.edu.au
or call 131 601.
Photo: Kate at work place
UNSW Launches Artificial Intelligence (AI) Institute
The new flagship university-wide research institute will support the activities of over 300 UNSW researchers working across AI.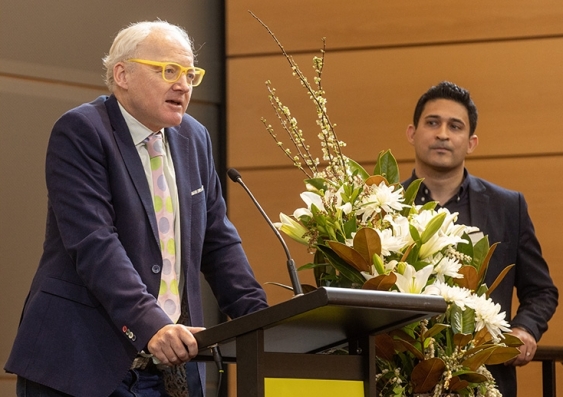 UNSW AI Institute Chief Scientist Toby Walsh and Associate Professor Haris Aziz, the interim Director of the UNSW AI Institute. Photo: UNSW
Experts and industry leaders in the field of Artificial Intelligence (AI) converged on UNSW Sydney today for the launch of the UNSW AI Institute. The new institute will support the activities of over 300 UNSW academics working in AI spanning all UNSW faculties.
"Our objective at the UNSW AI Institute is to synergise the activities of researchers working in AI, machine learning, and data science, to maximise our collective impact," said Associate Professor Haris Aziz, the interim Director of the UNSW AI Institute. 
"The envisioned impact has multiple dimensions, including fostering interdisciplinary connections for both teaching and research, participation in public dialogue on AI, and driving the commercialisation of our research. The interdisciplinary aspect is fundamental to our vision which is why we are excited to have participation from all the faculties," A/Prof. Aziz added.
UNSW Vice-Chancellor and President Professor Attila Brungs said the Institute will provide a forum for researchers and students to share ideas, and maximise opportunities for collaborative creativity and the discovery that can happen in such a fertile environment. "It will play its part in explaining to the broader community how AI can be of benefit to society, but also encourage debate about its use and limitations, including appropriate regulation."
Experts and industry leaders attended the event, including Stela Solar, the Director of the National AI Centre at CSIRO's Data61; Professor Peter Bartlett, Head of Research at Google Australia; Professor Toby Walsh, Chief Scientist at the UNSW AI Institute; and Dr Ian Oppermann, Chief Data Scientist at the NSW Department of Customer Service. 
"United together – academia, industry, and government – we have the potential to power the future development, growth and productivity of our state. Making NSW the Australian home of responsible AI will help drive our future economy and prosperity," said NSW Minister for Customer Service and Digital Government, Victor Dominello.
Prof Walsh said, "I've spent 40 years working in AI and it is undoubtedly the most exciting time to be working in the field. We are seeing these technologies leave the laboratory and enter our homes, offices, and factories. The role of the UNSW AI Institute is to facilitate this transfer and ensure AI is deployed responsibly, that benefits all members of society."
A/Prof. Aziz said AI is becoming better than humans in performing many key tasks from marketing chatbots to AI safeguarding private records against cyber criminals. "Harnessing its potential and ensuring its responsible use is important. The UNSW AI Institute is a platform to help connect UNSW AI researchers with each other and the rest of the world."
"We have a wealth of world-class researchers working on fundamental AI problems or applying AI techniques to their respective domains. The main consideration for setting up the institute was to make sure that we capitalise on our strengths and make it easier for the world to engage with us."
The scope for AI across domains is far-reaching
AI is a ubiquitous technology that affects every domain and the potential scope across industries is far-reaching, with AI rapidly emerging in fields such as finance, social media, education, e-commerce, agriculture, entertainment, space research and security, just to name a few. Health care is a prime example of where AI is making a substantial impact.  
"In the last five years, health & medicine received the largest global private AI investment ($28.9 billion). Our researchers are well-positioned to make a significant impact on the AI-med interface," said A/Prof. Aziz. 
He said medicine and biology rely increasingly on imaging technologies to process the large data sets they produce. "We have a tremendous group working on improving the reliability and throughput of biomedical diagnostics and screening.
"Another example is our members' work on AI-empowered biomedicine to integrate and interpret clinical data to promote personalised medicine and precision therapy. The research is transformational in improving tailored treatment, facilitating drug development, and reducing the risk of various diseases.
"Our goal is to connect with the world, so do engage and keep a close eye on the fascinating work our researchers are doing," said A/Prof Aziz.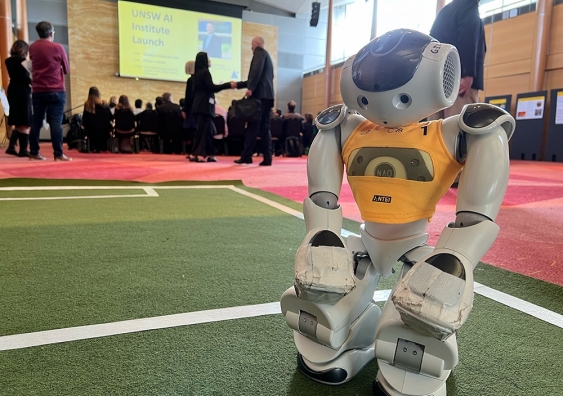 During the launch of the UNSW AI Institute, guests experienced a little Robot Soccer action. Photo: UNSW
Youth For Soibada – Be A Part Of It!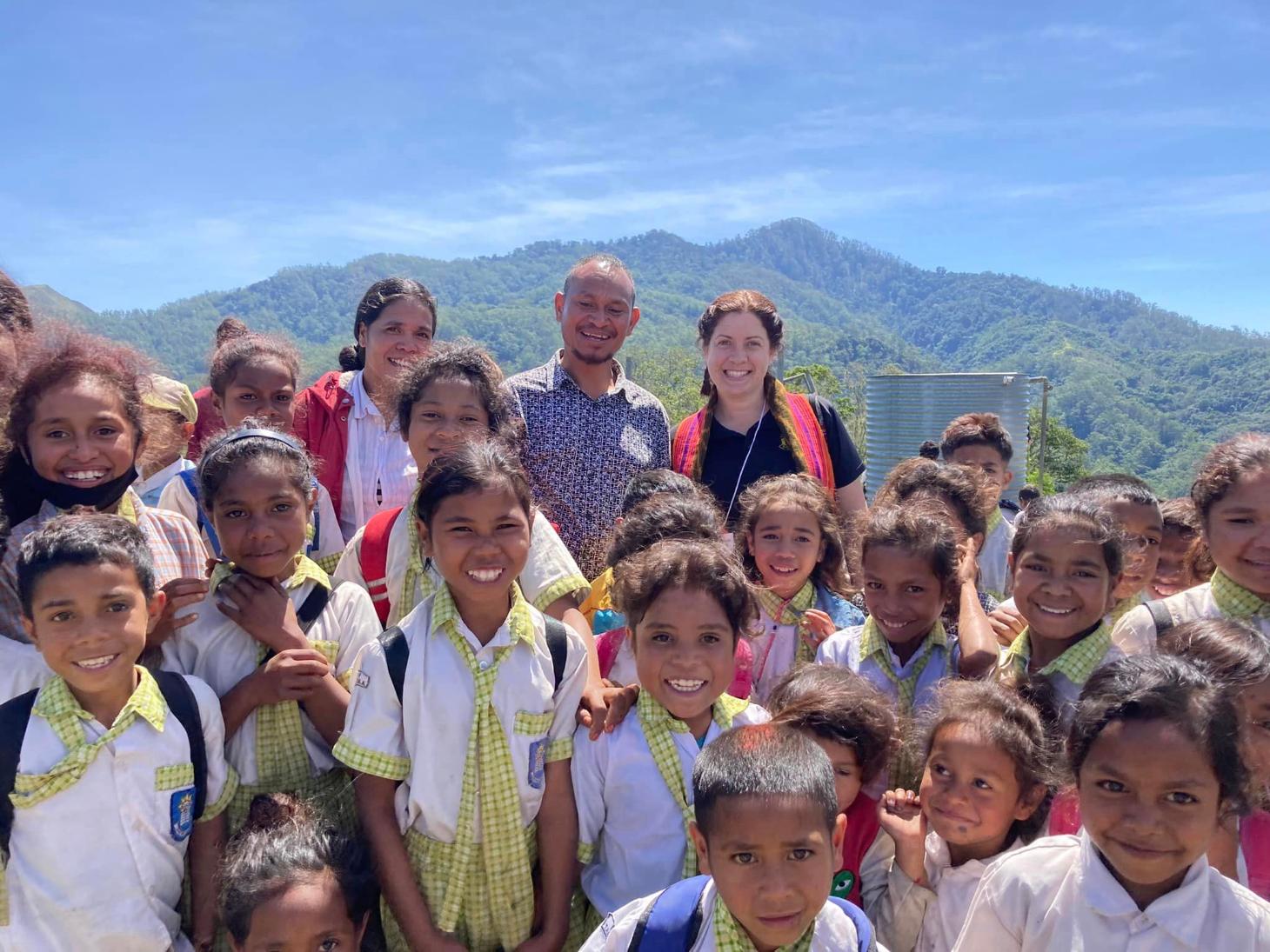 The youth of the world are the future, and we must nurture, educate, and provide them with what they need to prosper. In our sister village of Soibada in Timor Leste the young people are full of energy, love, and laughter. They are small in stature due to malnourishment but their desire to learn is huge!
Since Maria Regina School in Avalon first connected with Our Lady of Aitara School in Soibada in 2009, followed by Sacred Heart School and Tasi Fatin School soon after, and then Mater Maria and Nicolau Lobato Senior High School, many other schools, both State and Private, here in Sydney have taken up the link of friendship with schools in Soibada. Most recently Narrabeen North Primary School connected with Somoro School in central Soibada. Teacher Olivia Scully visited Soibada in July to formalise the friendship – there will be lots of news on that soon!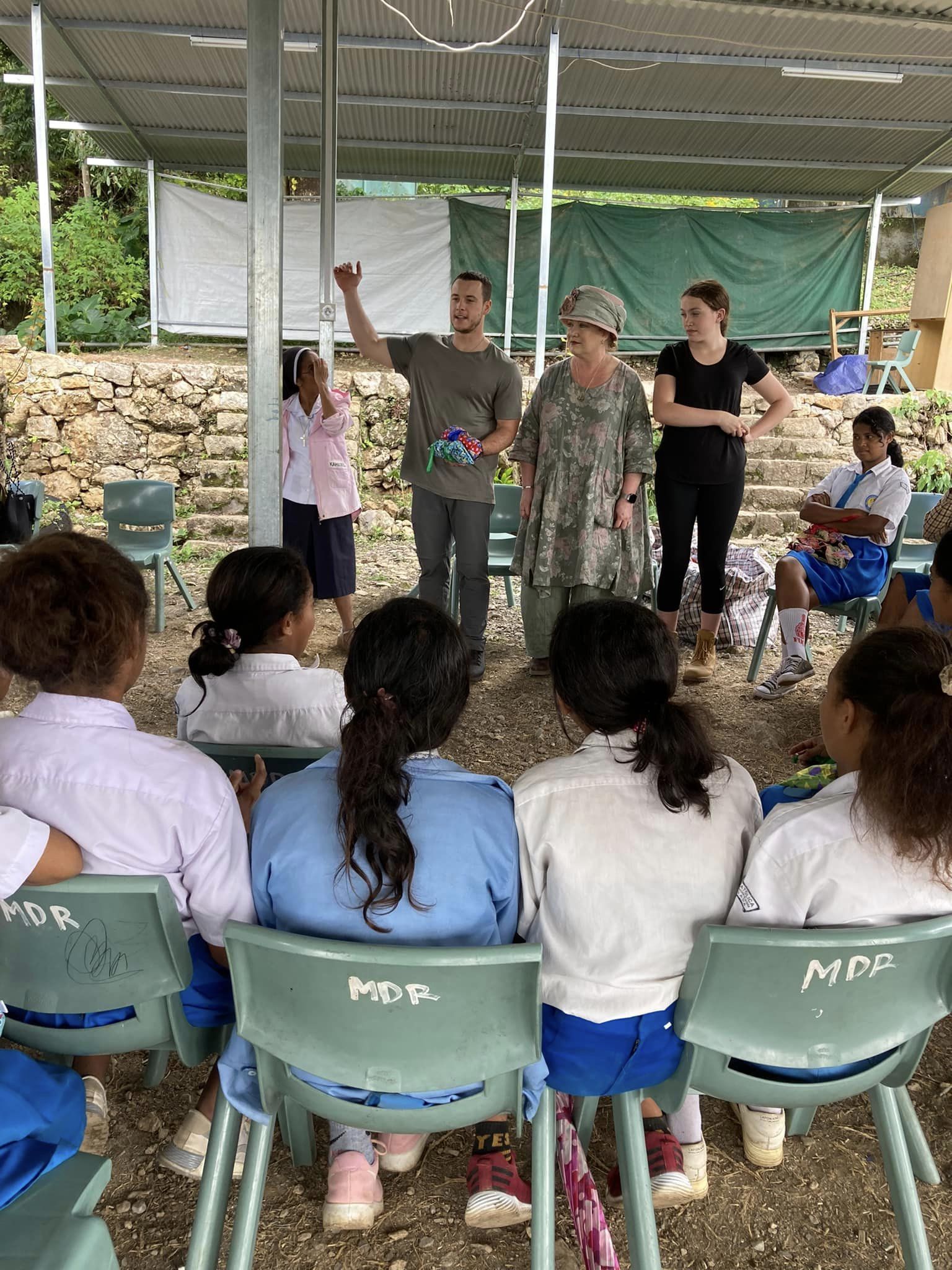 It is a wonderful opportunity to learn about each other's cultures but it also provides a chance for our young people to see what a difference they can make in the lives of others - even in small ways. Although it is all about friendship, there is still so much need in Timor Leste after the years of occupation and the fight for freedom. Maria Regina students recently did a "Seeds for Soibada" campaign that did not cost much – just a packet of vegetable seeds – but will have a big impact on nutrition.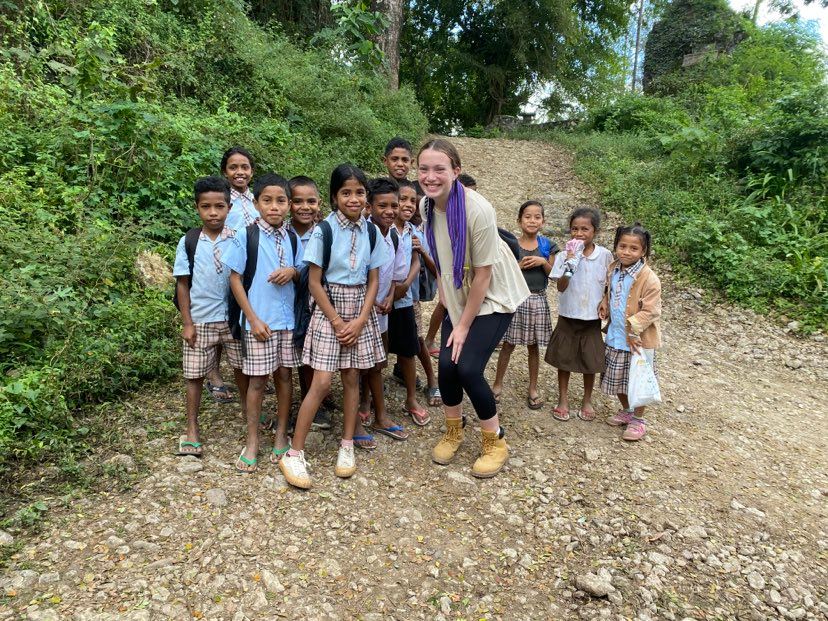 The Youth for Soibada committee has been reinvigorated after the Covid Years and there was a great team in the village in July. One of them was even an ex-Maria Regina (and current Mater) student. The kids connected in a way impossible to adults and language proved no barrier. They have initiated a new Instagram page to generate interest and support from other teenagers. They have some great events planned, including performances from some of the young artists and bands we had at Soup for Soibada recently. If you are interested in getting involved or know someone who is, or just want to keep up to date with what is going on, please send a direct message on Instagram to friendsofsoibada
Or contact Tamara on tamara.harding@bigpond.com
Tamara Sloper Harding OAM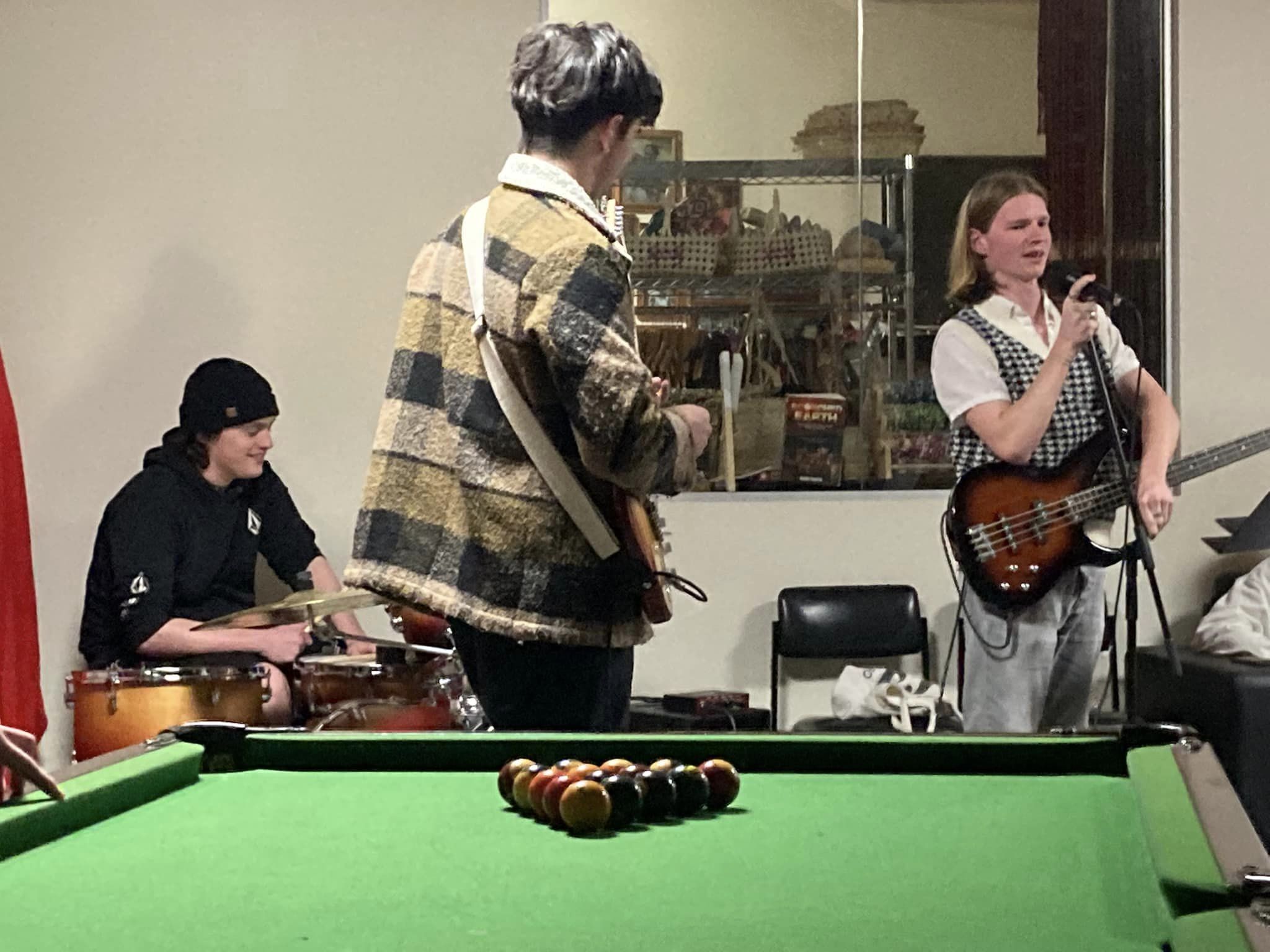 Barrenjoey High School Maths Teacher Farewell
Farewell to Mr Grunseit, Head Teacher of Mathematics at Barrenjoey High School. That's 36 years serving our students. Thank you very much sir.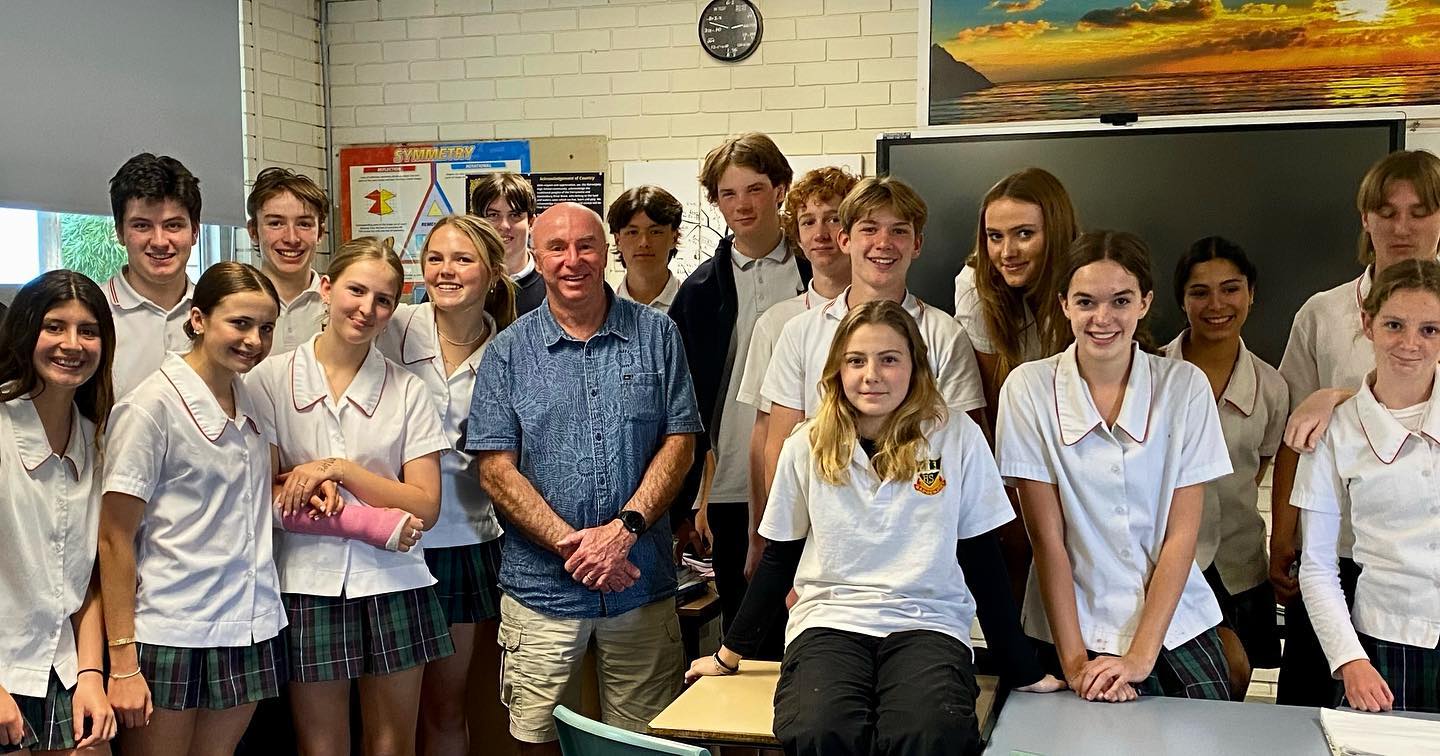 Sunday Comics And Cartoons
One of the reasons we first started reading the Sunday paper was to get the children's section and read the cartoons. In keeping with that a cartoon or animation will run each Sunday on your page. Some of these you will need to read and others you can watch. This week it's A message from Ginger Meggs in 1947.
Surfer Groms Comp In Coffs Harbour Sees Local Surfers Among Winners
The Woolworths Surfer Groms Comps in Coffs Harbour finished on Sunday September 11, 2022, with some great placings for local surfers. Well done to all those who had a go and all those who won a place in the results.
Regarded as one of the major stepping stones in the development of young Australian surfers, the 10-event Woolworths Surfer Groms Comps series caters for surfers from Under 8 to Under 14 and will be held in New South Wales, Queensland, Victoria, Western Australia, Tasmania and South Australia over Spring and into Summer.
As an added bonus, the respective winners of the Under 14 boys' and girls' divisions from each event will receive an invite to attend an all-expenses-paid, three-day Woolworths Surfer Groms Comps National Final Surf Camp, (1-day coaching clinic, two days of competition and heat analysis coaching) at the Surfing Australia High-Performance Centre (HPC). For the South Australian, Victorian and Tasmanian events, the Woolworths Surf Camp prize will be awarded to the highest place Under-14 Boy and Girl who reside in that respective state.
Run through Surfing NSW this is a great competition for those who like their surfing and a great opportunity to meet youngsters from other places.
Woolworths Surfer Groms Comps 2022 Schedule:
EVENT 1 – Kiama, NSW – Sept 3 – 4, 2022
EVENT 2 – Coffs Harbour, NSW – Sept 10 – 11, 2022
EVENT 3 – Gold Coast, QLD – Sept 24 – 25, 2022
EVENT 4 – Fleurieu Peninsula, SA – Oct 1, 2022
EVENT 5 – Northern Beaches, NSW – Oct 15 – 16, 2022
EVENT 6 – Clifton Beach, TAS – Oct 29, 2022
EVENT 7 – Torquay, VIC – Nov 12 – 13, 2022
EVENT 8 – Trigg, WA – Nov 19 – 20, 2022
EVENT 9 – Cronulla, NSW – Dec 3 – 4, 2022
EVENT 10 – Sunshine Coast, QLD – Dec 10 – 11, 2022
Coffs Harbour Results

U8 Mixed
1st Atlas Zoric (Broken Head)
2nd Flynn Swierczewski (Coolangatta
3rd Lakey Schomberg (Bonville)
4th Noah De Campos (Emerald Beach)
U10 Girls
1st Zoee Bradshaw (Haleiwa)
2nd Isabel O'Boyle (Lennox Head)
3rd Coco Woolley (Boomerang)
4th Alanni Morriss (Shelly Beach)
U10 Boys
1st Phoenix Talbot (Yamba)
2nd Sage Lewis (Sandy Beach)
3rd Billy Daniel (Fingal Head)
4th Conor O'Boyle (Lennox Head)
U12 Girls
1st Lehiani Zoric (Broken Head)
2nd Talia Tebb (Avoca)
3rd Zoee Bradshaw (Haleiwa)
4th Olive Morriss (Shelly Beach)
U12 Boys
1st Kade Kelly (Newcastle)
2nd Locana Cullen (Avalon)
3rd Luca Martin (Coffs Harbour)
4th Liam Gason (Collaroy)
U14 Girls
1st Charli Hatley (Currumbin)
2nd Lehiani Zoric (Broken Head)
3rd Madora Barton (Yamba)
4th Avalon Vowels (Scotts Head)
U14 Boys
1st Ben Zanatta (Manly)
2nd Balin Cullen (Avalon
3rd Lucas Leal (Dee Why)
4th Will Tebb (Avalon)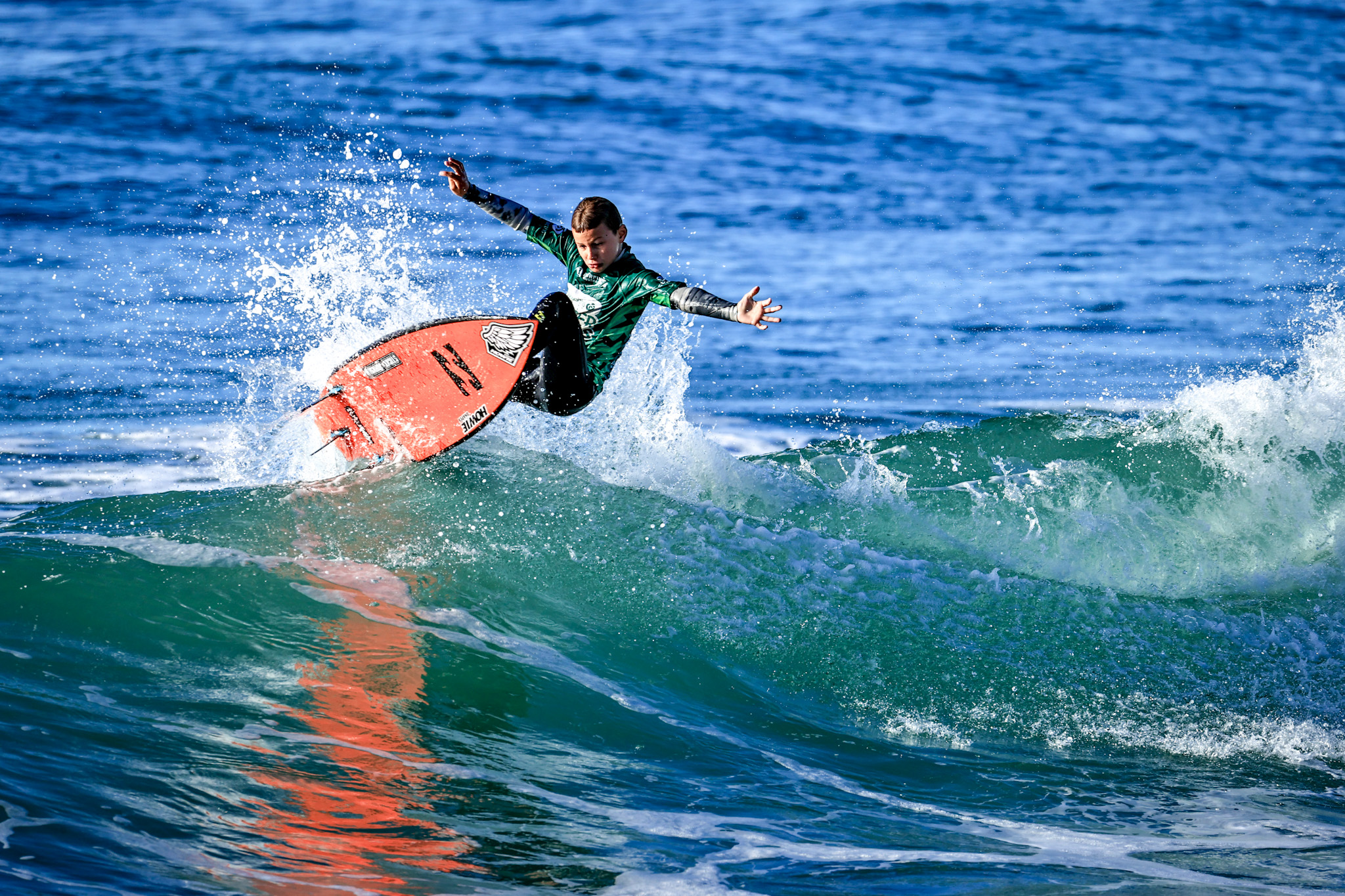 Locana Cullen (Avalon)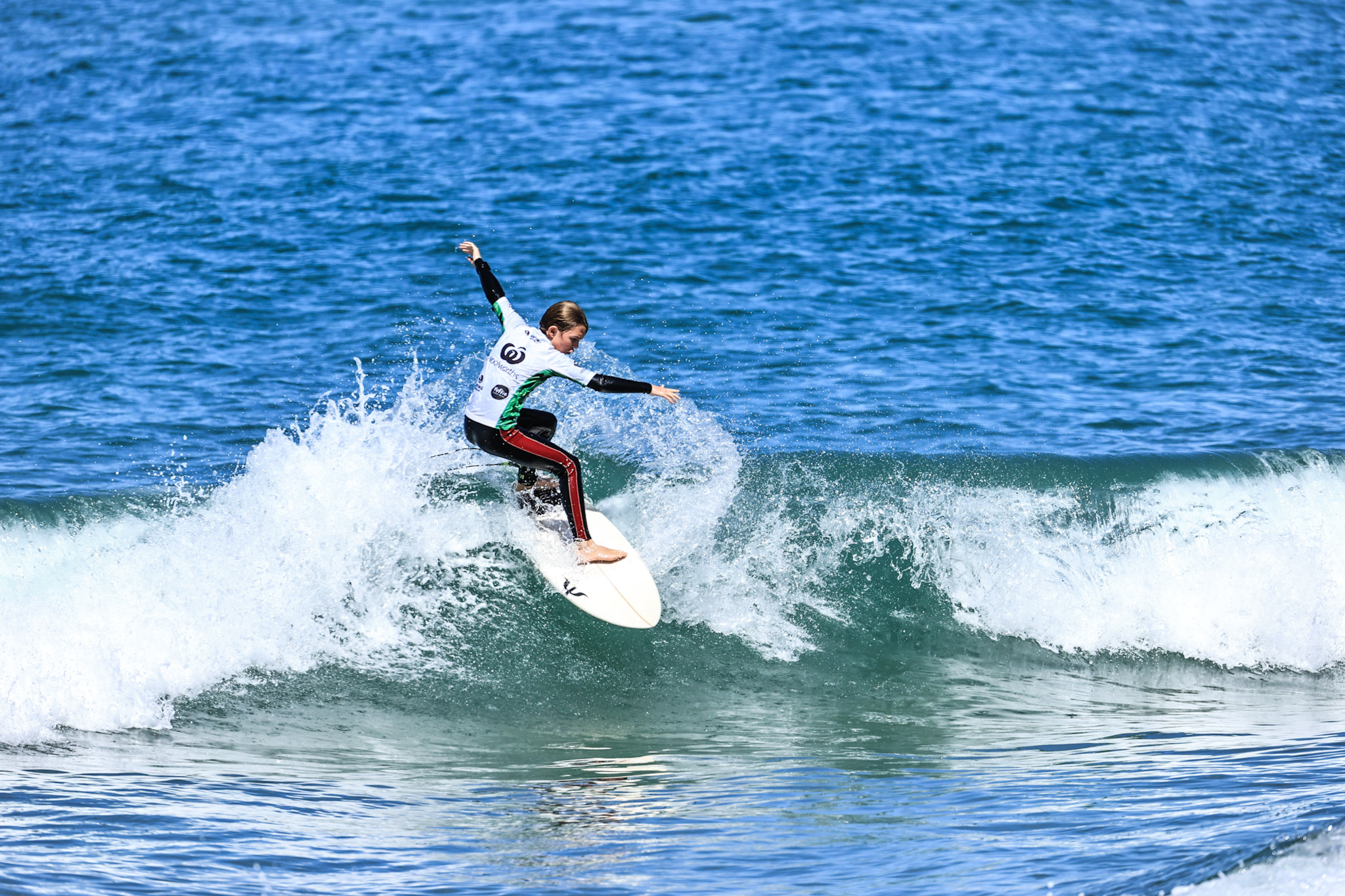 Liam Gason (Collaroy)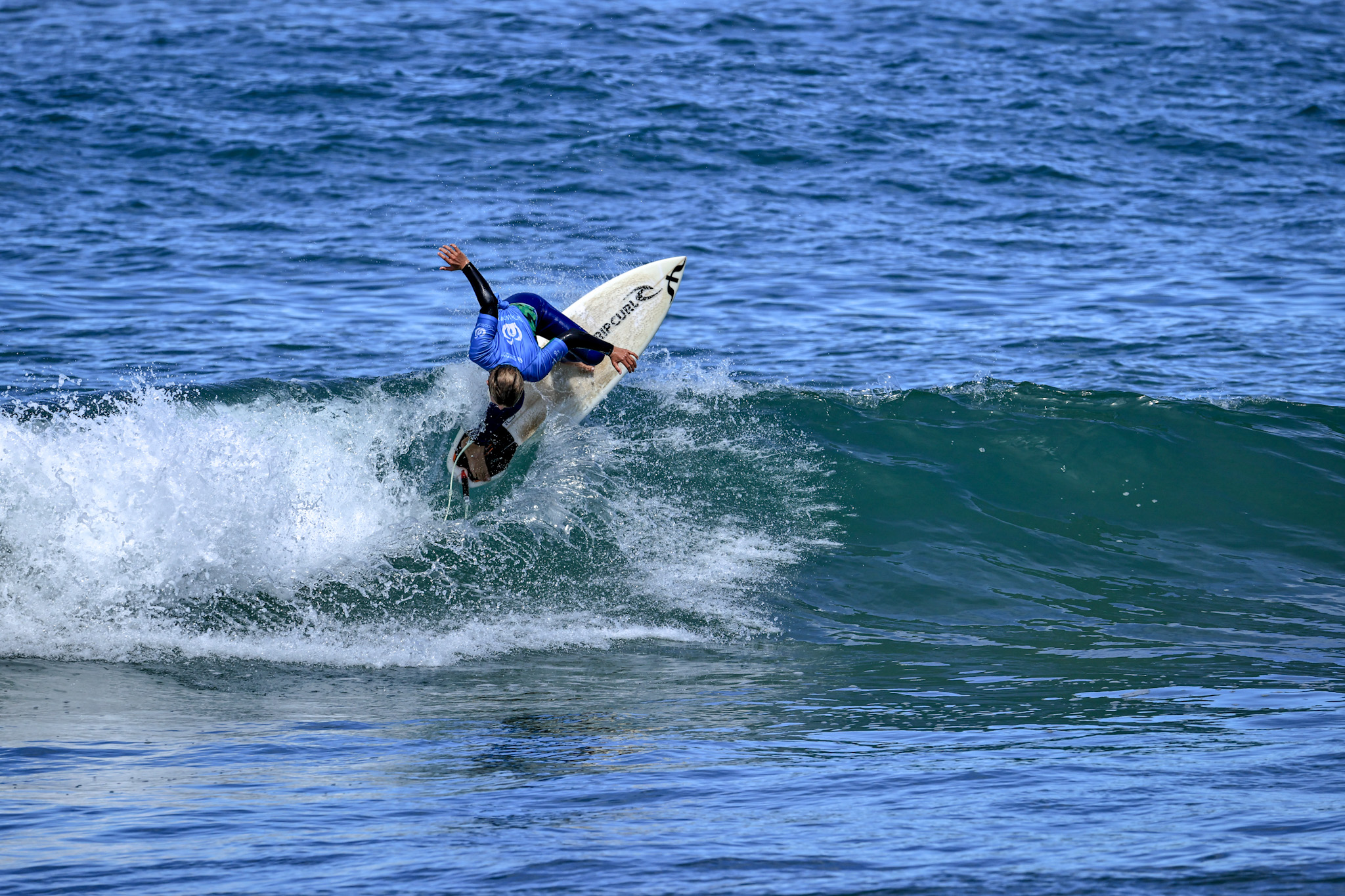 Ben Zanatta (Manly)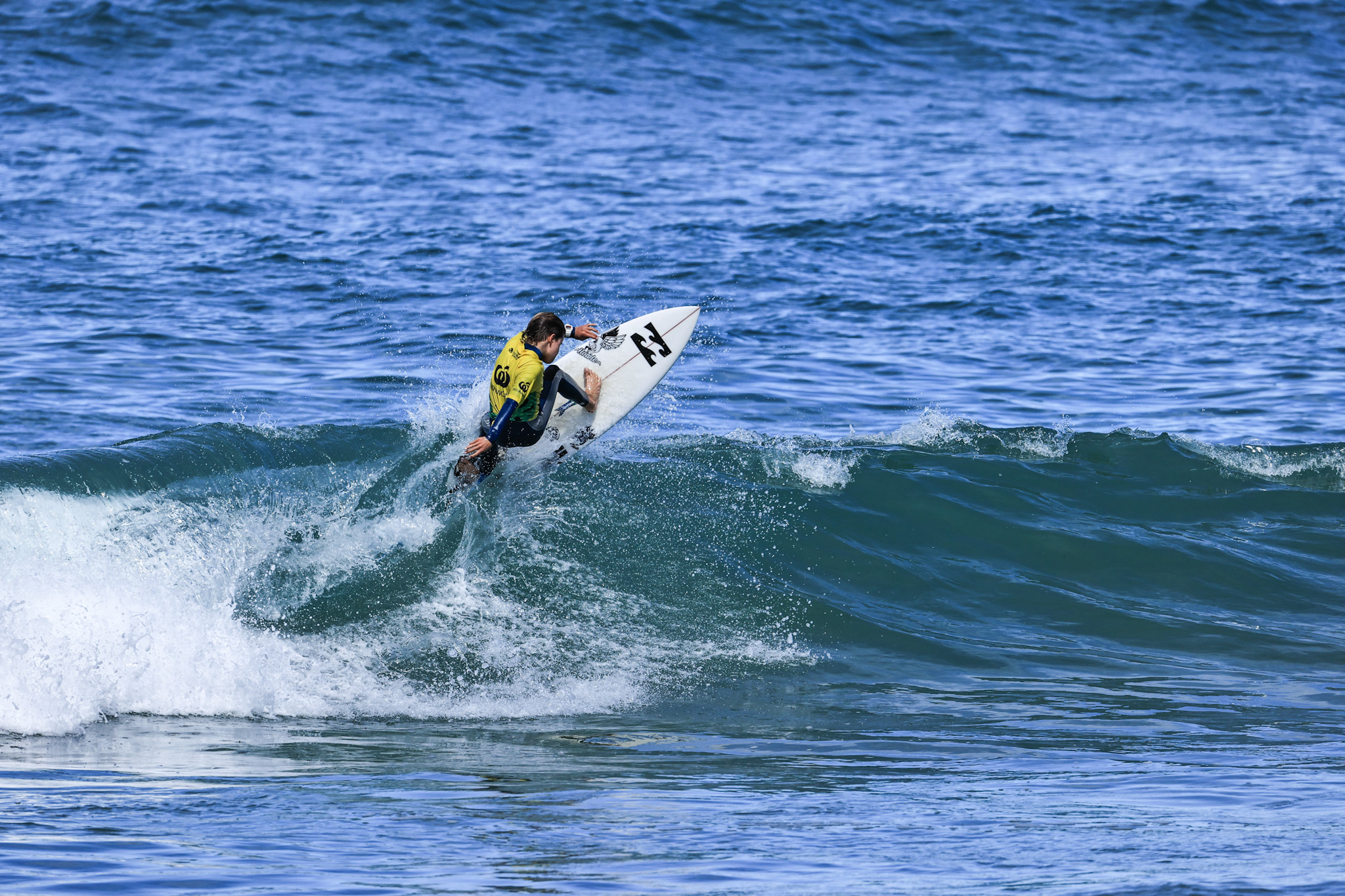 Balin Cullen (Avalon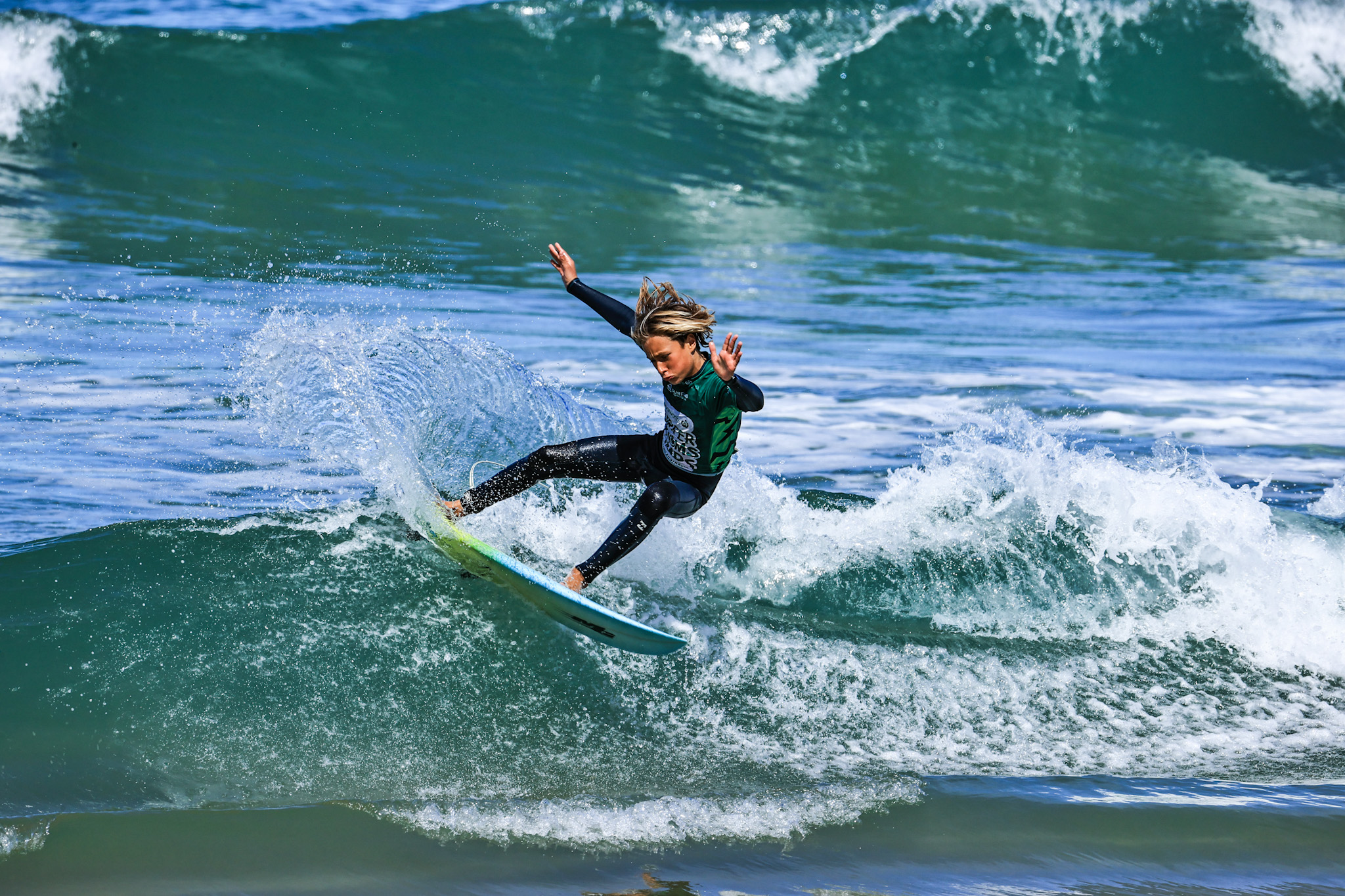 Lucas Leal (Dee Why)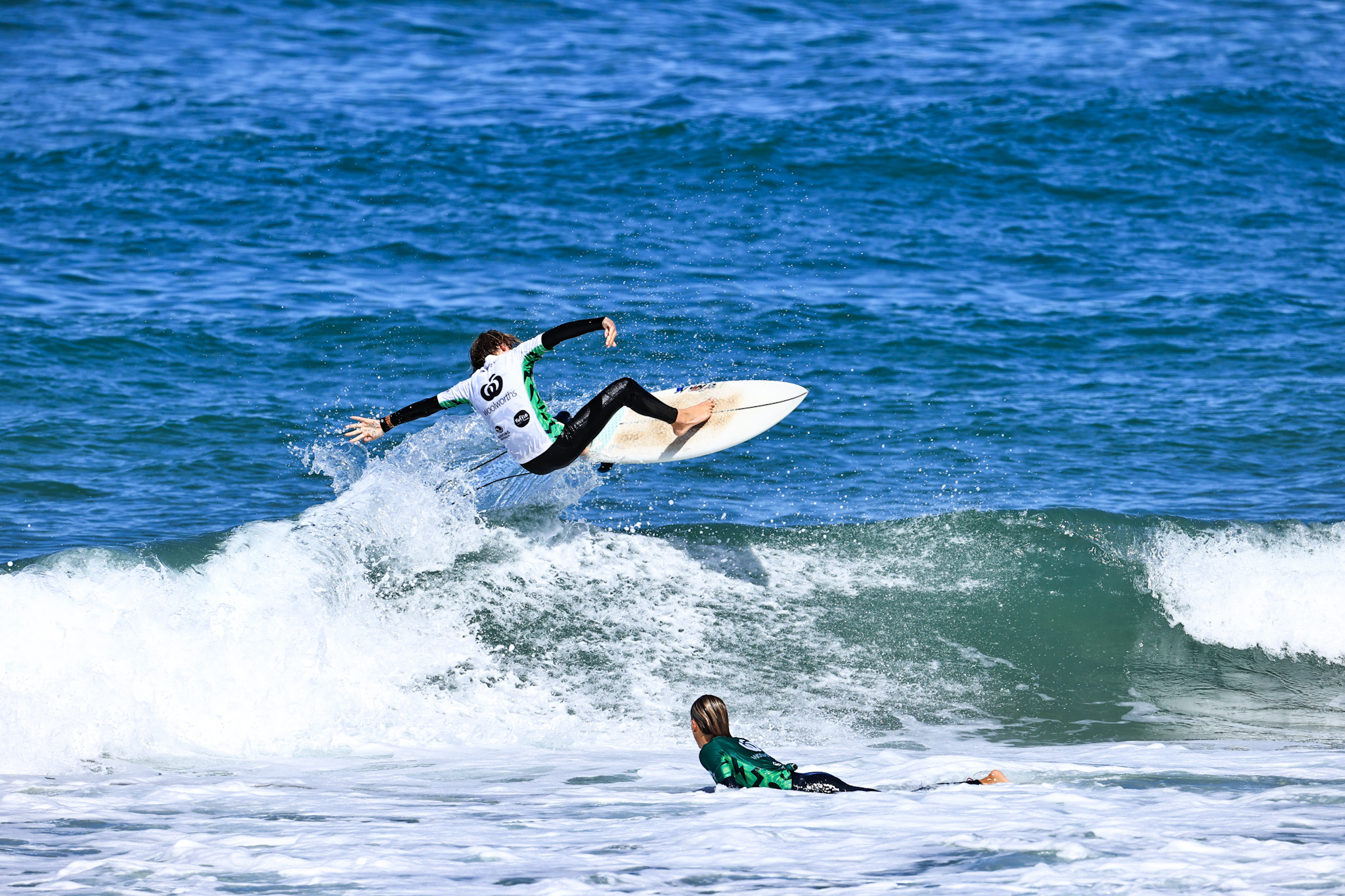 Will Tebb (Avalon)
Photos by Lighthouse Photography
What Is The Beaufort Scale?
I had a youngster ask me what the Beaufort Scale is recently and thought, as so many of us get in or on the water, sailing, windsurfing, kayaking, it may be a good idea to check that knowing what this is is being passed on to others as well.
The Beaufort scale is an empirical measure that relates wind speed to observed conditions at sea or on land. Its full name is the
Beaufort wind force scale
. It depicts the force of wind by a series of numbers from 0 to 17 with the last five numbers only applying to tropical typhoons.
Wind is made up of gusts and lulls. The Australian Bureau of Meteorology's forecasts of wind speed and direction are the average of these gusts and lulls, measured over a 10-minute period at a height of 10 metres above sea level. The gusts during any 10-minute period are typically 40% higher than the average wind speed. For example, when the average wind speed is 25 knots, it is normal to experience gusts of 35 knots and lulls of lighter winds. Thunderstorm and squalls may produce even stronger gusts.

Wind speed usually increases with height above the sea-surface, so winds at the surface are not typically as strong as they are at 10 metres, where wind is measured and forecast by the Bureau.
A wind forecast range (for example, 10 to 15 knots) may be given when the wind speed is expected to vary significantly within a coastal area. The wind direction is based on true north orientation and is the direction the wind is blowing from. For example, a northerly wind is blowing from the north towards the south. Wind speed and direction can be influenced significantly by the local environment. Cliffs and other landscape features will affect winds near the shore.
The Beaufort wind scale measures wind speed according to the impact the wind has on the land and sea. Although the system is old (first developed in 1805 by Sir Francis Beaufort), it remains a widely used system to measure wind speed today.
The table below describes what can be expected for each level of the scale and the relationship to the forecast average wind speed values.
Beauf. scale

Desc. term

Units in knots Description on Land Description at Sea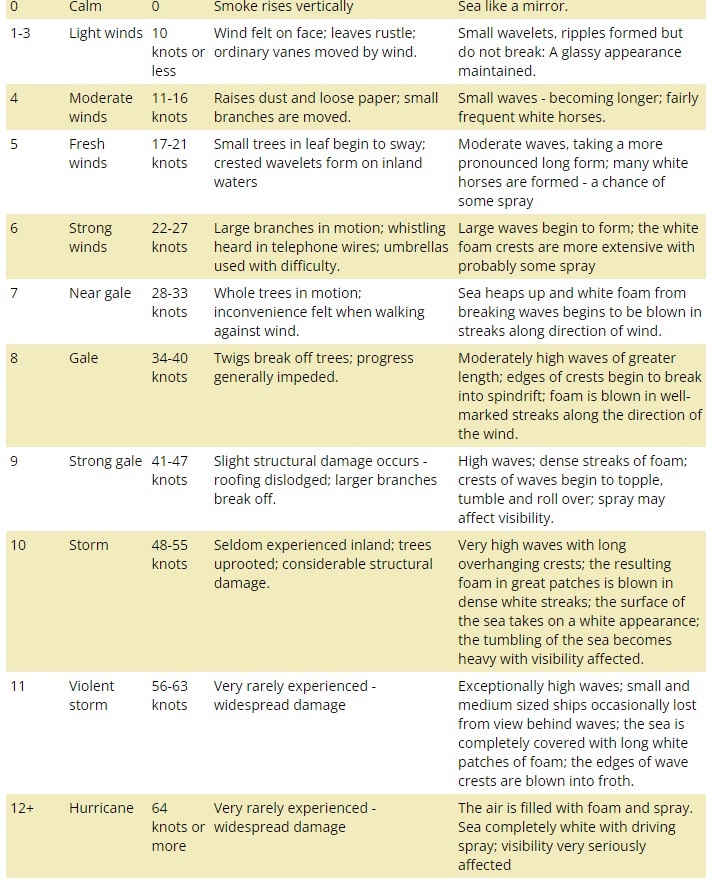 BOm Table
Checking wind conditions is one of the five vital weather safety checks everyone should complete before heading out on the water. Those five checks are:
Marine warnings:

The Bureau of Meteorology issues a range of warnings for marine areas when dangerous winds and waves are expected.

Changing weather:

Take note of forecasts indicating reduced visibility from fog or rain, or risks to safety and comfort from thunderstorms, lightning or squall conditions. Some forecasts will also include information on UV levels and the times of day to use sun protection.

Wind conditions:

Winds of any speed can be hazardous for boating. Know the limits of your vessel and your abilities. A typical rule of thumb is for small craft to avoid winds greater than 15 knots. Marine wind warnings are issued whenever strong winds, gales, storm force or hurricane force winds are expected. The six things you need to know about wind warnings will help you understand how to get these warnings, and what to do when they are issued.

Wave conditions:

It is important to know what wave conditions are forecast, as waves can make your boating trip dangerous and uncomfortable - especially close to the coast where the waves enter shallower water.

Tide times:

Knowing when high and low tide will occur is important for boats entering and exiting river entrances and crossing bars. The combination of an outgoing tidal flow or low tide can cause waves to become steeper than usual, making your boat difficult to navigate. The changing tide over the day can cover rock platforms or reefs at high tide, whilst exposing them and creating a hazard at low tide.
Devised in 1805 by the Irish hydrographer Francis Beaufort (later Rear Admiral), a Royal Navy officer, while serving on HMS Woolwich, the scale that carries Beaufort's name had a long and complex evolution from the previous work of others (including Daniel Defoe the century before) to when Beaufort was Hydrographer of the Navy in the 1830s, when it was adopted officially and first used during the voyage of HMS Beagle under Captain Robert FitzRoy, who was later to set up the first Meteorological Office (Met Office) in Britain giving regular weather forecasts. In the 18th century, naval officers made regular weather observations, but there was no standard scale and so they could be very subjective – one man's "stiff breeze" might be another's "soft breeze". Beaufort succeeded in standardising the scale.
The initial scale of thirteen classes (zero to twelve) did not reference wind speed numbers but related qualitative wind conditions to effects on the sails of a frigate, then the main ship of the Royal Navy, from "just sufficient to give steerage" to "that which no canvas sails could withstand".
The scale was made a standard for ship's log entries on Royal Navy vessels in the late 1830s and was adapted to non-naval use from the 1850s, with scale numbers corresponding to cup anemometer rotations. In 1853, the Beaufort scale was accepted as generally applicable at the First International Meteorological Conference in Brussels.
In 1916, to accommodate the growth of steam power, the descriptions were changed to how the sea, not the sails, behaved and extended to land observations. Rotations to scale numbers were standardized only in 1923. George Simpson, CBE (later Sir George Simpson), director of the UK Meteorological Office, was responsible for this and for the addition of the land-based descriptors. The measures were slightly altered some decades later to improve its utility for meteorologists. Nowadays, meteorologists typically express wind speed in kilometres or miles per hour or, for maritime and aviation purposes, knots; but Beaufort scale terminology is still sometimes used in weather forecasts for shipping and the severe weather warnings given to the public.
The Beaufort scale was extended in 1946 when forces 13 to 17 were added.] However, forces 13 to 17 were intended to apply only to special cases, such as tropical cyclones. Nowadays, the extended scale is only used in Taiwan and mainland China, which are often affected by typhoons. Internationally, WMO Manual on Marine Meteorological Services (2012 edition) defined the Beaufort Scale only up to force 12 and there was no recommendation on the use of the extended scale.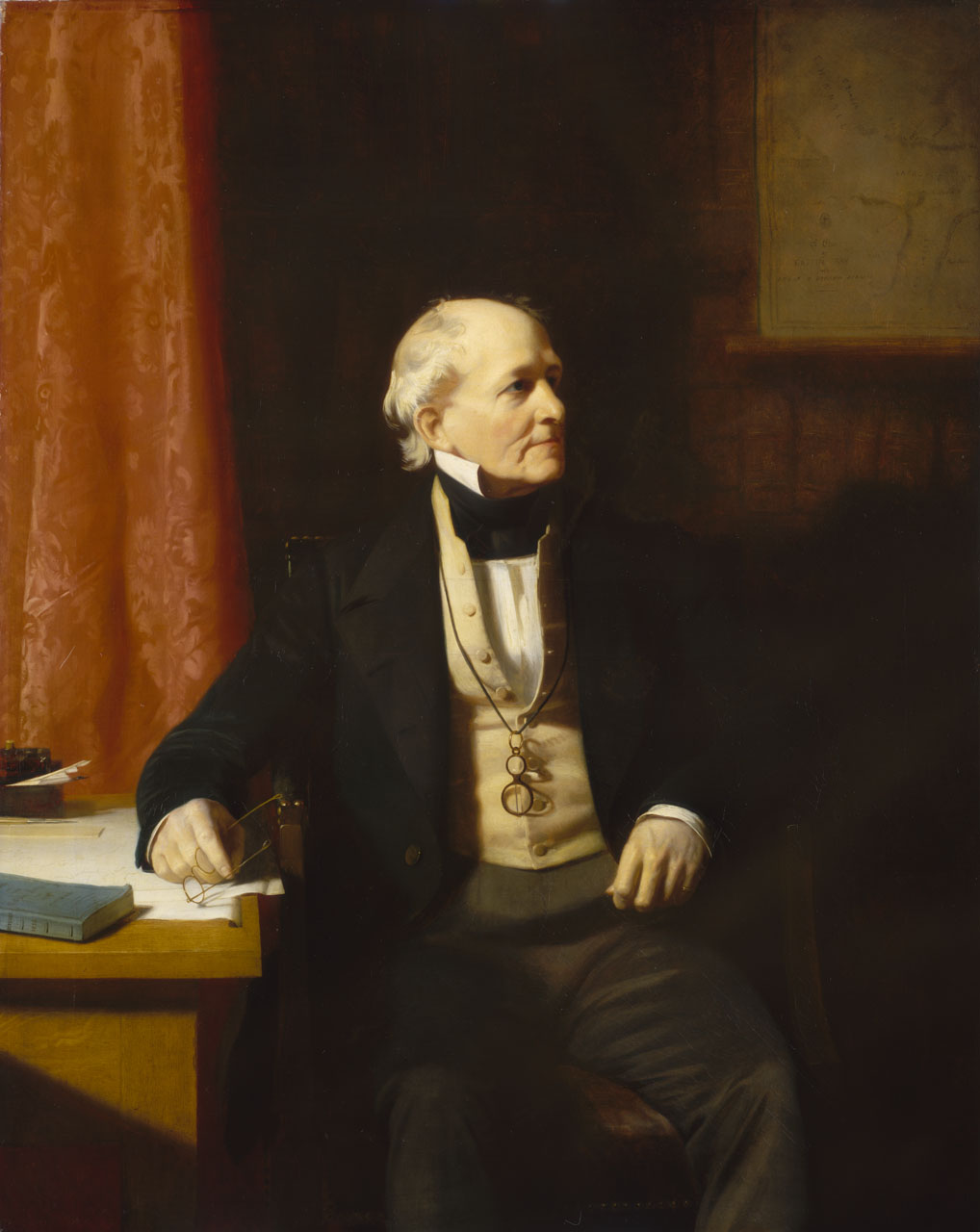 Sir Francis Beaufort. Image: Stephen Pearce - Royal Museums Greenwich
Rear-Admiral Sir Francis Beaufort KCB FRS FRGS FRAS MRIA (May 27, 1774 – December 17, 1857) was descended from French Protestant Huguenots, who fled the French Wars of Religion in the sixteenth century. His parents moved to Ireland from London. His father, Daniel Augustus Beaufort, was a Protestant clergyman from Navan, County Meath, Ireland, and a member of the learned Royal Irish Academy. His mother Mary was the daughter and co-heiress of William Waller, of Allenstown House.
Francis was born in Navan on 27 May 1774. He had an older brother, William Louis Beaufort and three sisters, Frances, Harriet, and Louisa. His father created and published a new map of Ireland in 1792. Francis grew up in Wales and Ireland until age fourteen. He left school and went to sea, but never stopped his education. By later in life, he had become sufficiently self-educated to associate with some of the greatest scientists and applied mathematicians of his time, including Mary Somerville, John Herschel, George Biddell Airy, and Charles Babbage.
Francis Beaufort had a lifelong keen awareness of the value of accurate charts for those risking the seas, as he was shipwrecked at the age of fifteen due to a faulty chart. His most significant accomplishments were in nautical charting.
2022 Schools Spectacular
Students and staff participating in the 2022 Schools Spectacular are representing the following local NSW public schools:
Avalon Public School
Belrose Arts Alive
Collaroy Plateau Public School
Curl Curl North Public School
Davidson High School
Elanora Heights Public School
Forestville Public School
Harbord Public School
Killarney Heights High School
Mona Vale Public School
Narrabeen Lakes Public School
Narrabeen Sports High School
Neutral Bay Public School
Northern Beaches Secondary College Cromer Campus
Northern Beaches Secondary College Freshwater Senior Campus
Northern Beaches Secondary College Mackellar Girls Campus
Northern Beaches Secondary College Manly Campus
Pittwater High School
Did you know that the Schools Spectacular is Australia's longest-running annual arena variety show?
The Schools Spectacular:
has taken place annually at Qantas Credit Union Arena (formerly known as the Sydney Entertainment Centre) since 1984, and in 2016 was held at the Qudos Bank Arena.
in 2016, set a new GUINNESS WORLD RECORDS TM for the Largest Amateur Variety Act with over 5,300 students performing in the show!
is an established and well-recognised event on the Sydney live entertainment calendar
showcases a cast of 2,300 dancers, a combined choir of 2,500, an 80-piece full symphony orchestra, and a 25-piece stage band
delivers outstanding, cutting-edge artistry in dance and musical performance
features state-of-the-art sound, lighting and staging
is televised nationally in prime-time on Channel 7.
The Schools Spectacular is a remarkable New South Wales success story proudly presented by the NSW Department of Education.
Now in its 39th year the 2022 edition will be back at the Qudos Bank Arena after two years live on stage. Good luck to all those taking part!
Dates: show week rehearsals – Monday 21 November to Thursday 24 November 2022, including final combined dance rehearsal, orchestra and stage band sound checks, mass choir rehearsal and dress rehearsal.
Performances: Friday, 25 November, and Saturday, 26 November 2022, including the schools' preview matinee, Friday evening, Saturday matinee and Saturday evening performances.
Ho Ho Ho ... Pencil In This Date
The popular Christmas card competition has been expanded to more primary school students.
'All I want for Christmas' is the theme of this year's competition for students to design a Christmas card for the Minister for Education and Early Learning, Sarah Mitchell, and senior department executives.
The annual competition is now open to students from Kindergarten to Year 6.
The winning artist will have their artwork featured on the Minister's 2022 Christmas card and receive a book pack and 20 copies of the card. The runners up will feature on cards for the Department of Education Secretary, Georgina Harrisson, and Deputy Secretaries – School Performance, Murat Dizdar and Leanne Nixon.
The competition has previously been open only to Kindergarten students. Last year's winning image from Hayley Shepard from Surveyors Creek Public School in Glenmore Park featured a dream of waking up to a puppy in Santa's stocking.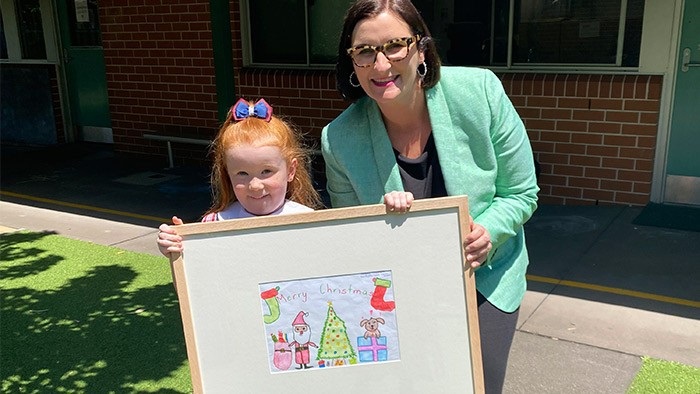 Doggone it: Hayley Shepherd and Education Minister Sarah Mitchell hold Hayley's winning design.

How to enter
Schools can submit artwork entries on behalf of students by email to mcc@det.nsw.edu.au by 5pm on 17 October 2022. Please name saved artwork files in the format of schoolname-firstname-lastname.png, such as Christmas-PS-Santa-Claus.png.
Artworks can be created in any medium but should be no larger than 21cm x 30cm (A4). The artworks may be in portrait or landscape format.
The winning artists will be notified by 29 October 2022.
Kindergarten In Sydney In 1968
From the Film Australia Collection. Made by the Commonwealth Film Unit 1968. A look at how a group of Sydney children spend their day at kindergarten.
Spring Things: Pittwater Butterflies
Over the next few weeks and months we will see a lot more butterflies flitting around our gardens. This week we share some of those you may see. Perhasp you remmeber a few years ago when a cloud of these butterflies flew over our area, heading out to sea: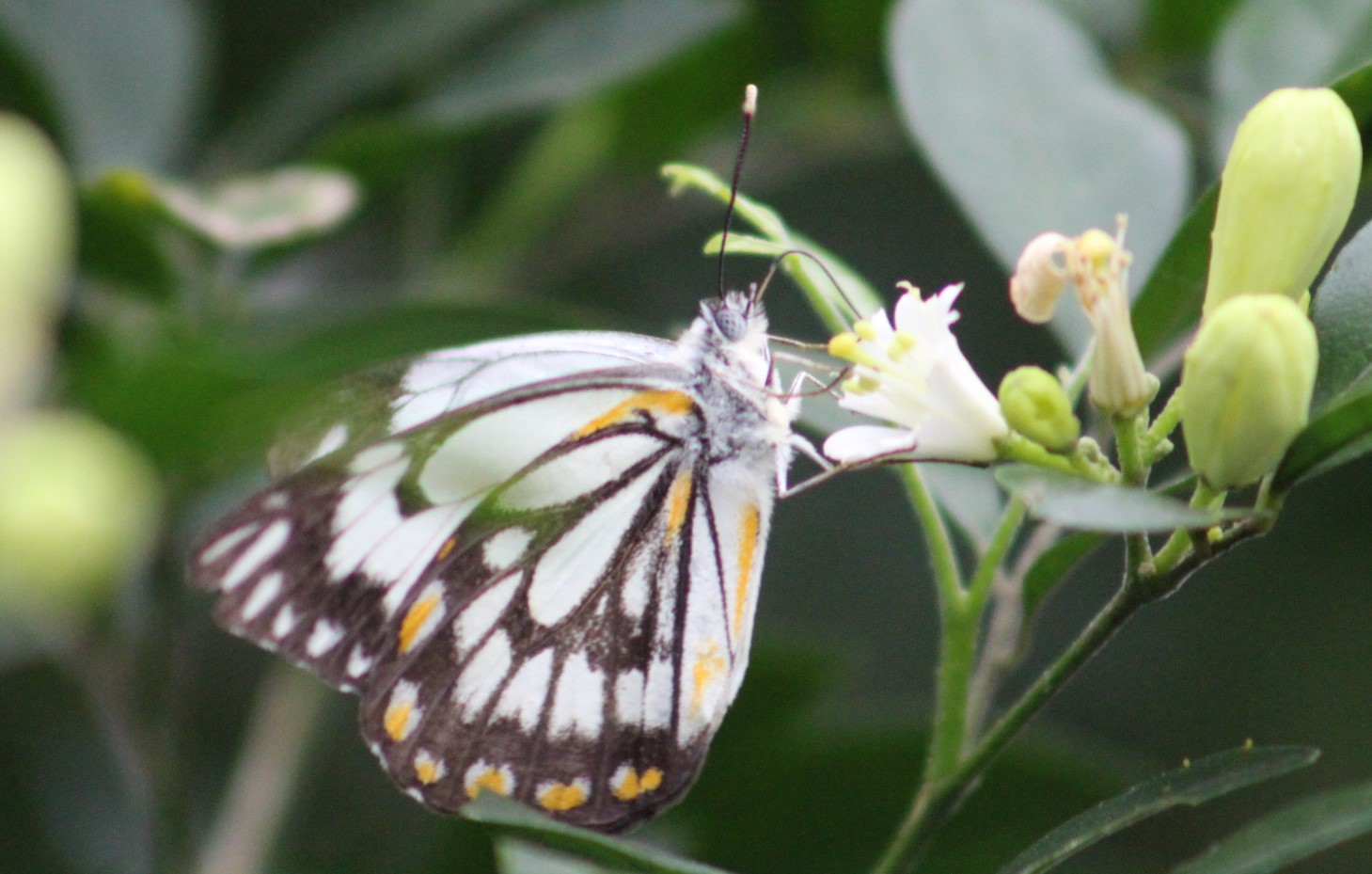 Caper White Butterfly, Elenois java, - photo by A J Guesdon, November 20, 2020
The Blue Triangle Butterfly - Graphium sarpedon choredon, is just one of around 400 butterflies seen in Australia with a dozen endemic species and even some of the world's largest found only here.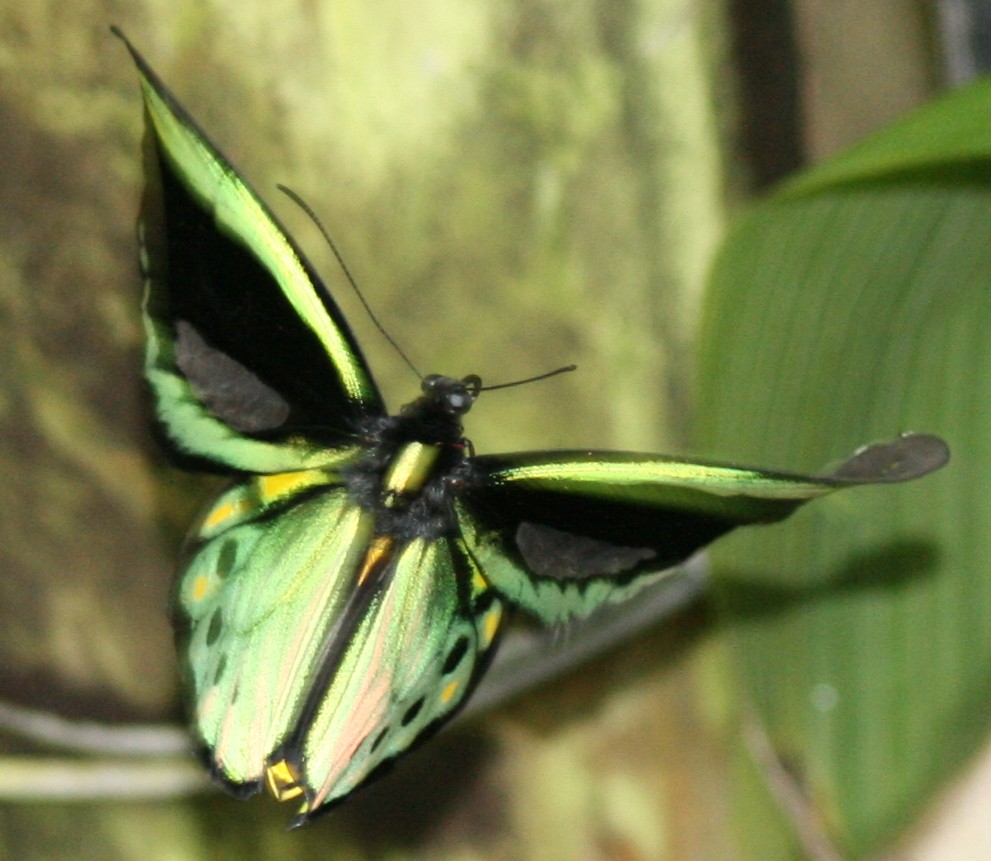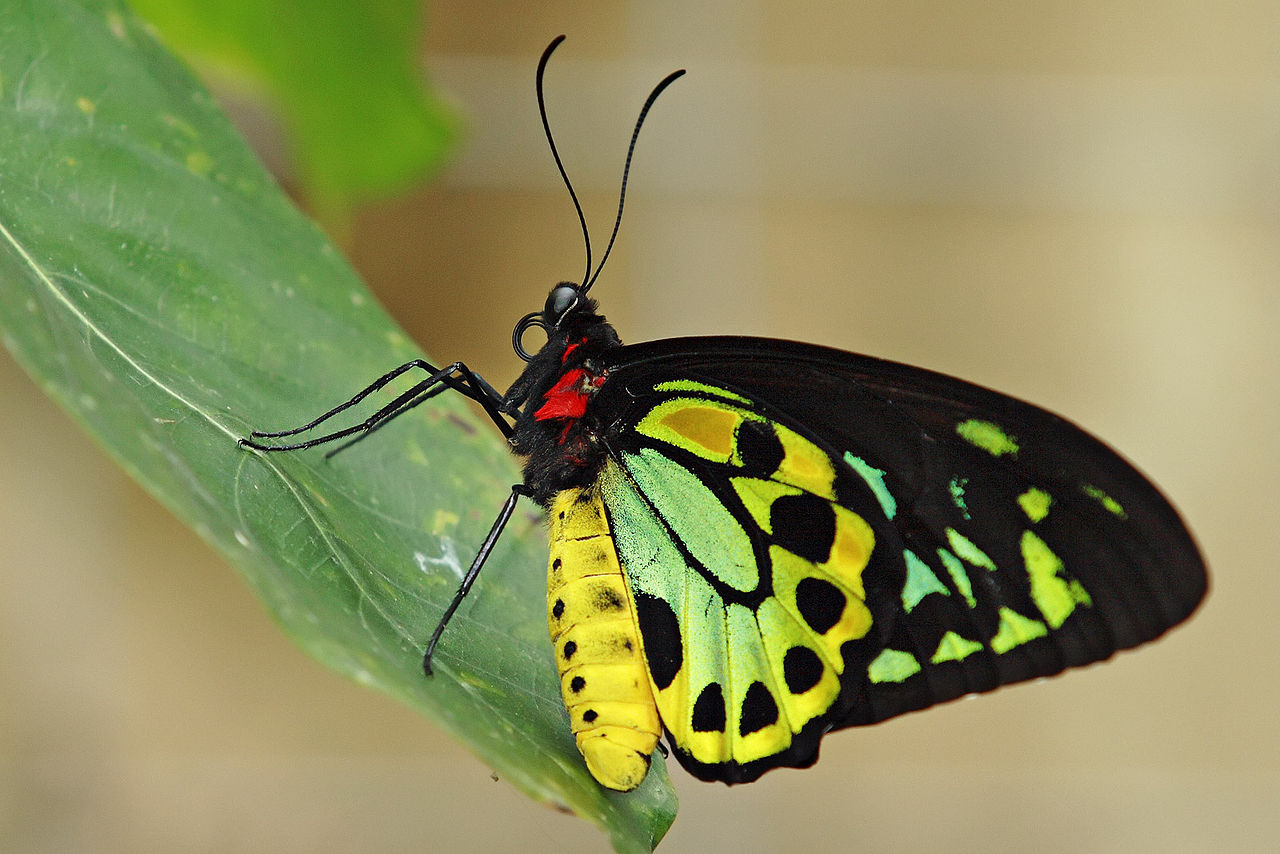 Cairns birdwing (Ornithoptera euphorion): Australia's largest endemic butterfly, photo by Lepidlizard, and side view taken at Melbourne zoo by fir0002 - both from Wikipedia
The Cairns birdwing butterfly wingspan can be up to 15 cm (5.9 in) in females, and 12.5 cm (4.9 in) in males. A closely allied species, the New Guinea or Priam's birdwing (Ornithoptera priamus) reaches 19 cm (7.5 in) and is the largest butterfly species found in Australia, but it is not endemic.
Australia butterflies come from seven families: Papilionidae: swallowtails, Nymphalidae: brush– or four-footed, Pieridae: whites and yellows, Coliadinae: yellows, Riodinidae: metalmarks, Lycaenidae: gossamer-winged blues and coppers, and Hesperiidae: skippers.
September through April is when see the most butterflies through Sydney, although some are spotted during the cooler months of May and June as well. There is a great webpage hosted here which lists many of the butterflies you will see in Sydney.

The Blue Triangle Butterfly, like the Cairns birdwing, are Swallowtail butterflies - the large, colourful butterflies in the family Papilionidae, and include over 550 species. Though the majority are tropical, members of the family inhabit every continent except Antarctica.

The Blue Triangle is also known for being excellent of vision - from a 2016 study:
When researchers studied the eyes of Common Bluebottles, a species of swallowtail butterfly from Australasia, they were in for a surprise. These butterflies have large eyes and use their blue-green iridescent wings for visual communication -- evidence that their vision must be excellent. Even so, no-one expected to find that Common Bluebottles (Graphium sarpedon) have at least 15 different classes of "photoreceptors" -- light-detecting cells comparable to the rods and cones in the human eye. Previously, no insect was known to have more than nine.
"We have studied color vision in many insects for many years, and we knew that the number of photoreceptors varies greatly from species to species. But this discovery of 15 classes in one eye was really stunning," says Kentaro Arikawa, Professor of Biology at Sokendai (the Graduate University for Advanced Studies), Hayama, Japan and lead author of the study.
Have multiple classes of photoreceptors is indispensable for seeing color. Each class is stimulated by light of some wavelengths, and less or not at all by other wavelengths. By comparing information received from the different photoreceptor classes, the brain is able to distinguish colors.




Photographed at Surf Road, Whale Beach
Another swallowtail that visits Sydney from October to May is the Papilio aegeus, the orchard swallowtail butterfly or large citrus butterfly. Both male and female have black forewings with a white stripe, though there is more white overall on the female forewing. The hindwing is again black, and there is a white swath through the middle. Here the markings differ in that the female has chains of red to orange and blue crescents toward the edge. The markings on the underside are similar to those on top. The body is black. The wingspan is about 140 millimetres (5.5 in) in females and 120 millimetres (4.7 in) in males, making it rather large overall and the largest butterfly commonly seen in at least part of its range.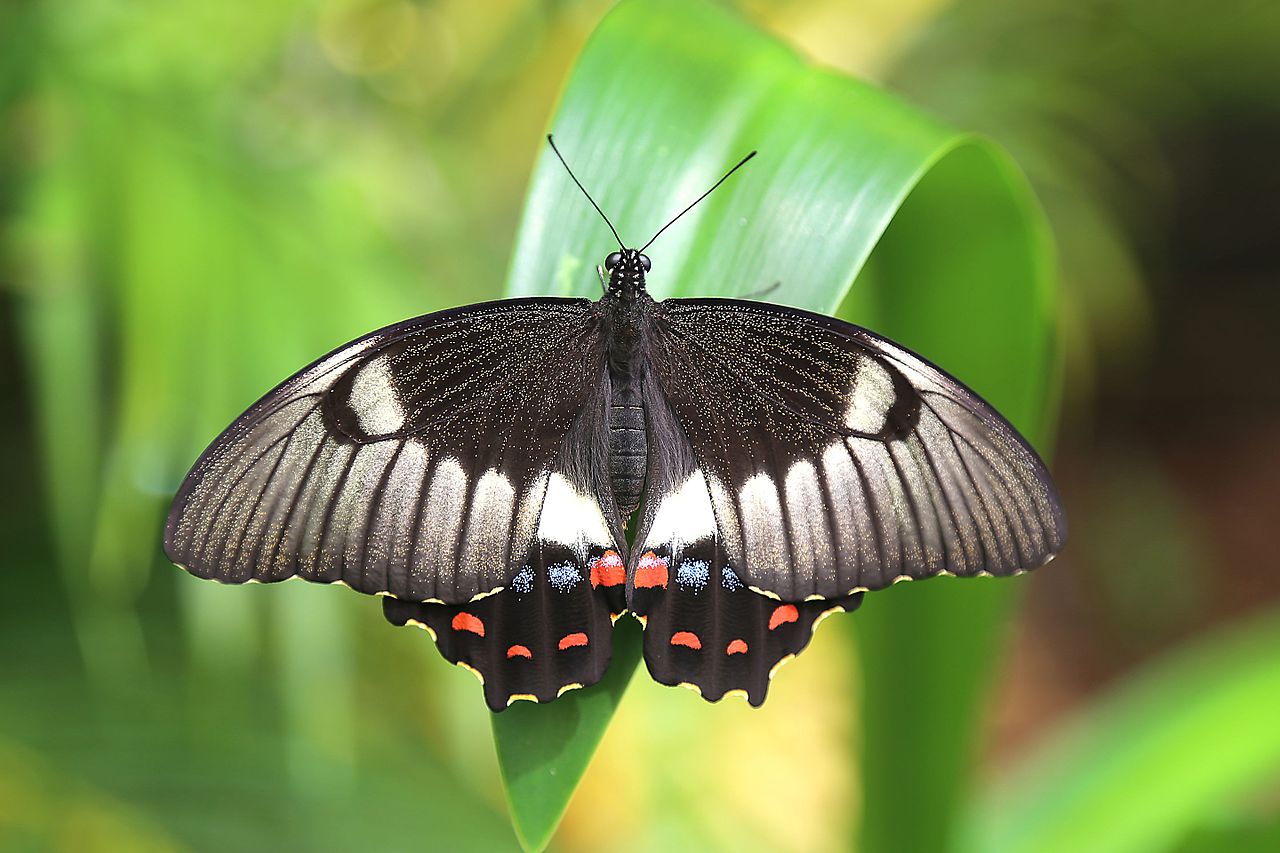 Orchard Swallowtail butterfly female (Papilio aegeus) taken in Cairns, Queensland by Summerdrought, CC BY-SA 4.0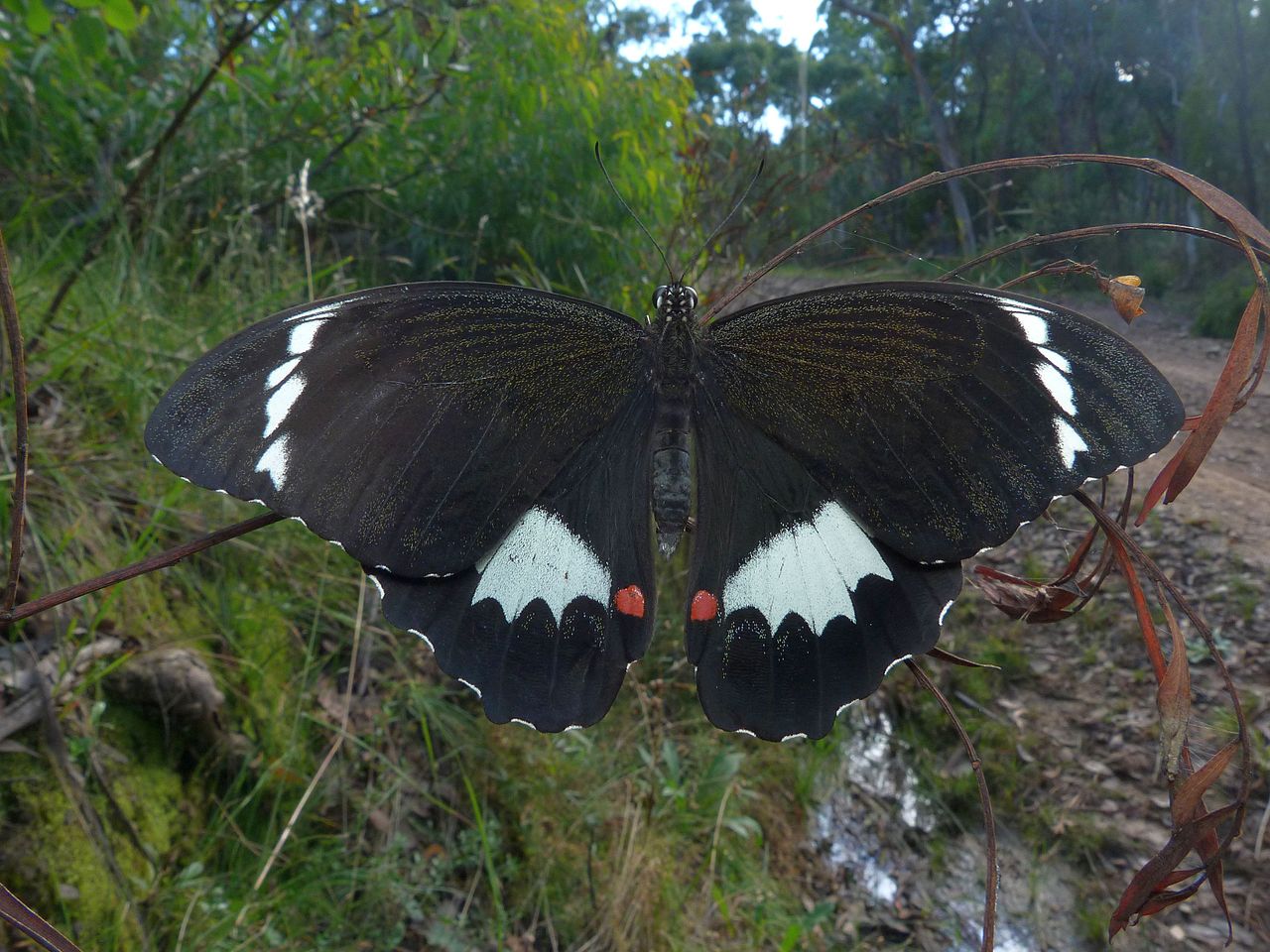 Papilio aegeus Donovan, 1805 (Orchard Swallowtail), male, Black Mountain, Canberra, ACT, 14 February 2011 - photo by Donald Hobern, CC BY 2.0

Despite being a swallowtail, which group derives its name from the distinctive tails on the hindwing, this characteristic is entirely absent.
The swallowtail butterflies also lead to pointing out another fact - new butterflies are still being discovered - for example, this news ran in our Environment page a few years ago:
New species of Swallowtail butterfly discovered in Fiji
October 30, 2018: University of Oxford
A spectacular new butterfly species has been discovered on the Pacific Island of Vanua Levu in Fiji. The species, named last week as Papilio natewa after the Natewa Peninsula where it was found, is a remarkable discovery in a location where butterfly wildlife was thought to be well known.
The large Swallowtail was first photographed in 2017 by Australian ornithologist Greg Kerr, working with Operation Wallacea, an international organisation which supports school students in science projects.
Specialists around the world were puzzled when Kerr's photograph was sent for identification. It was not until earlier this year, during a second fieldtrip to Fiji, that it was confirmed as a species new to science by John Tennent, Honorary Associate at Oxford University Museum of Natural History, and Scientific Associate of the Natural History Museum, London.
"For such an unusual and large new butterfly to be discovered somewhere we thought was so well known is remarkable," said John Tennant, who is a Pacific butterfly specialist. The species was named by Tennant and colleagues in Fiji and Australia in a paper published this month in Entomologischer Verein Apollo.
Tennant has spent long periods in the Pacific, including the Solomon Islands and eastern Papua New Guinea and has found and named over a hundred new species and subspecies of butterflies in the last 25 years. But he describes the new Natewa Swallowtail as "easily the most spectacular." The find is especially remarkable because there are only two Swallowtail butterfly species previously known from this part of the Pacific, and only one from Fiji.
"Because they are large, conspicuous and often beautiful in appearance, Swallowtail butterflies have been intensively studied for over 150 years," says James Hogan, manager of butterfly (Lepidoptera) collections at Oxford University Museum of Natural History.
"To find a new species like this, not only in a small and reasonably well-studied area like Fiji, but also one which looks unlike any other Swallowtail is truly exceptional. For John Tennent, Greg Kerr and the rest of the team this really is a once-in-a-lifetime discovery."
The Natewa Swallowtail has remained undiscovered for so long perhaps due to its habits and the geological history of the islands. Unusually for a Swallowtail, it seems to be a true forest species, spending most of its life inside the forest at elevations above 250 metres, on land with restrict access rights.
"It does make you wonder what else awaits discovery in the world's wild places. The key to finding new and interesting things is simply to go and look," adds Tennant.
An online version of this story is available on the Oxford University Museum of Natural History blog, More than a Dodo, at: https://morethanadodo.com/2018/10/30/fijis_swallowtail_surprise/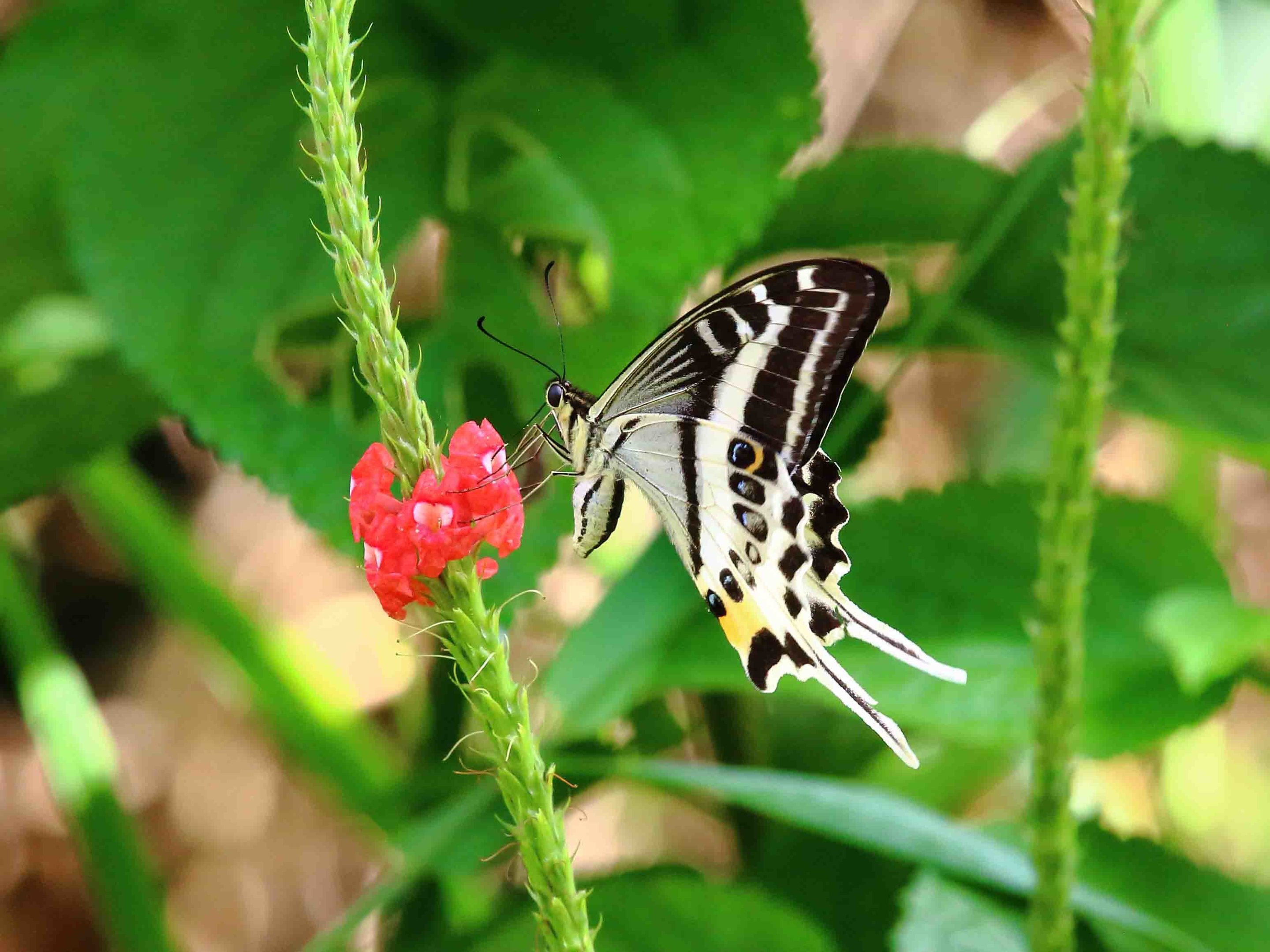 The large Swallowtail, now named Papilio natewa, was first photographed in 2017 by Australian ornithologist Greg Kerr, working with Operation Wallacea.

Papilio natewa was one of four new species of butterflies discovered or named in 2018; the Cyllopsis tomemmeli in Mexico, named for Thomas Emmel, now 76 and an internationally recognised Lepidoptera expert at the University of Florida, who went on his first expedition at age 17, Wahydra graslieae, named to honour Emily Graslie the Field Museum in Chicago's chief curiosity correspondent, and Catasticta sibyllae, named for Maria Sibylla Merian an artist who sailed across the Atlantic on a largely self-funded scientific expedition to document the animals and plants of Dutch Suriname in 1699.

In 2017 there were more 'new' butterflies discovered, some among collections not yet examined and some found 'in the field' as Mr. Kerr did, including this one -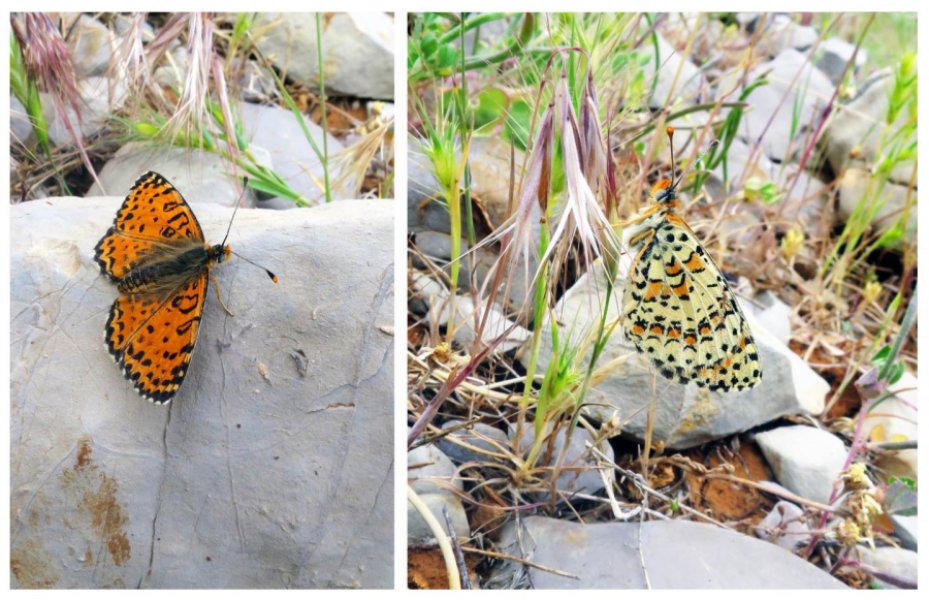 This is Acentria's fritillary (Melitaea acentria), a new butterfly species discovered in Israel on the slopes of the popular Mount Hermon ski resort. Credit: Dr Vladimir Lukhtanov; CC-BY 4.0
The Acentria's fritillary seems to be endemic in northern Israel and the neighbouring territories of Syria and Lebanon. Its evolutionary history is likely to prove interesting.
"The species is probably one of a handful of butterflies known to have arisen through hybridisation between two other species in the past," says Lukhtanov. "This process is known to be common in plants, but scientists have only recently realised it might also be present in butterflies."
This is the first new butterfly species discovered and described from the territory of Israel in 109 years.
Vladimir A. Lukhtanov. A new species of Melitaea from Israel, with notes on taxonomy, cytogenetics, phylogeography and interspecific hybridization in the Melitaea persea complex (Lepidoptera, Nymphalidae). Comparative Cytogenetics, 2017; 11 (2): 325 DOI: 10.3897/CompCytogen.v11i2.12370
A perusal of science articles shows that new species of Butterflies are always being discovered - and well worth keeping an eye out for.
Another butterfly specific to here is the Australian painted lady (Vanessa kershawi) butterfly is mostly confined to Australia, although westerly winds have dispersed it to islands east of Australia, including New Zealand. Some debate surrounds the taxonomy of this species. Some believe that the Australian painted lady should be a subspecies of the painted lady (Vanessa cardui) due to the similarity in lifestyle and behaviour. Furthermore, the painted lady is found around the globe, but Australia is the only location in which it varies enough to be considered a separate species.
This can be seen around Sydney at any time except Winter. The Australian painted lady belongs to the family Nymphalidae and genus Vanessa, which compromises 22 species, which are strongly migratory.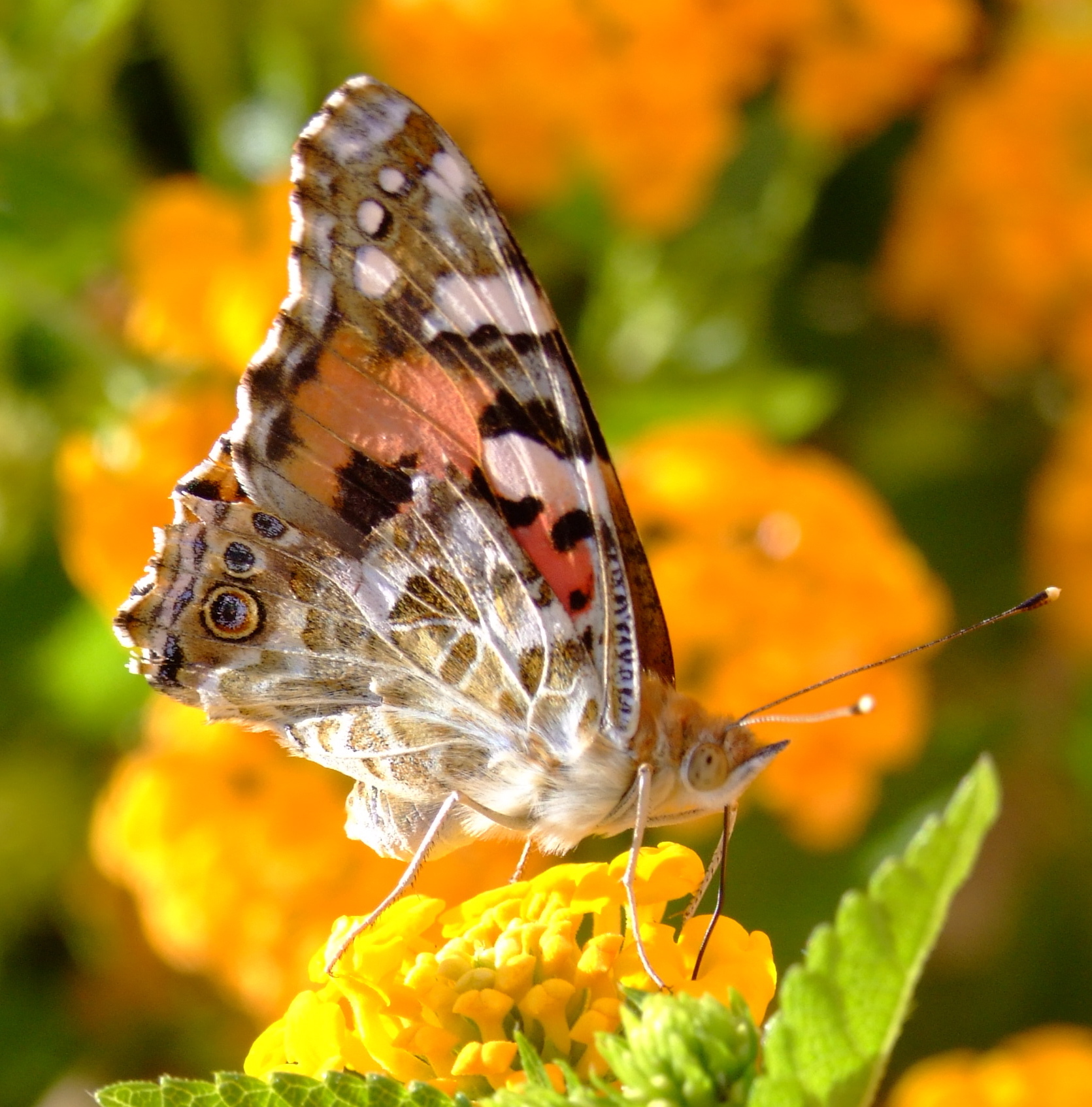 Australian painted lady on yellow flower - photo by Gaetan Lee - Flickr

During spring, adult butterflies migrate south in large numbers from northern states of Queensland and New South Wales. To find mates, male Australian painted ladies exhibit territorial behaviour, which involves a male perching on vegetation in a sunny spot on a hilltop, waiting for females to fly by.
Despite urbanisation and invasive plants altering its habitat, populations of Australian painted ladies have not been significantly impacted by these changes.
The life cycle of the Australian painted lady lasts around 53 days in the summer. The females lay eggs in the centre of the leaf of food plants. The eggs are green and hatch in about three days. As a caterpillar, the Australian painted lady is only active at night, during which its main activity is feeding. During the day, it hides in a curled leaf or at the foot of a food plant. The pupa hangs vertically from the underside of the leaf of a food plant, and the duration of the pupal stage is about two weeks.
The Australian painted lady typically uses the native Australian everlastings and other daisies as a host and food plant. However, it also feeds on several introduced species, including capeweed (Arctotheca calendula), Scotch thistle (Onopordum acanthium), and lavender (Lavandula angustifolia). The adults feed on the nectar of flowers.
Another in the Nymphalidae family, which can be seen in Sydney at just about anytime and anywhere, is the Monarch butterfly or simply Wanderer (Danaus plexippus). These live for around four months and spend pretty much all of that time doing what their name describes - wandering!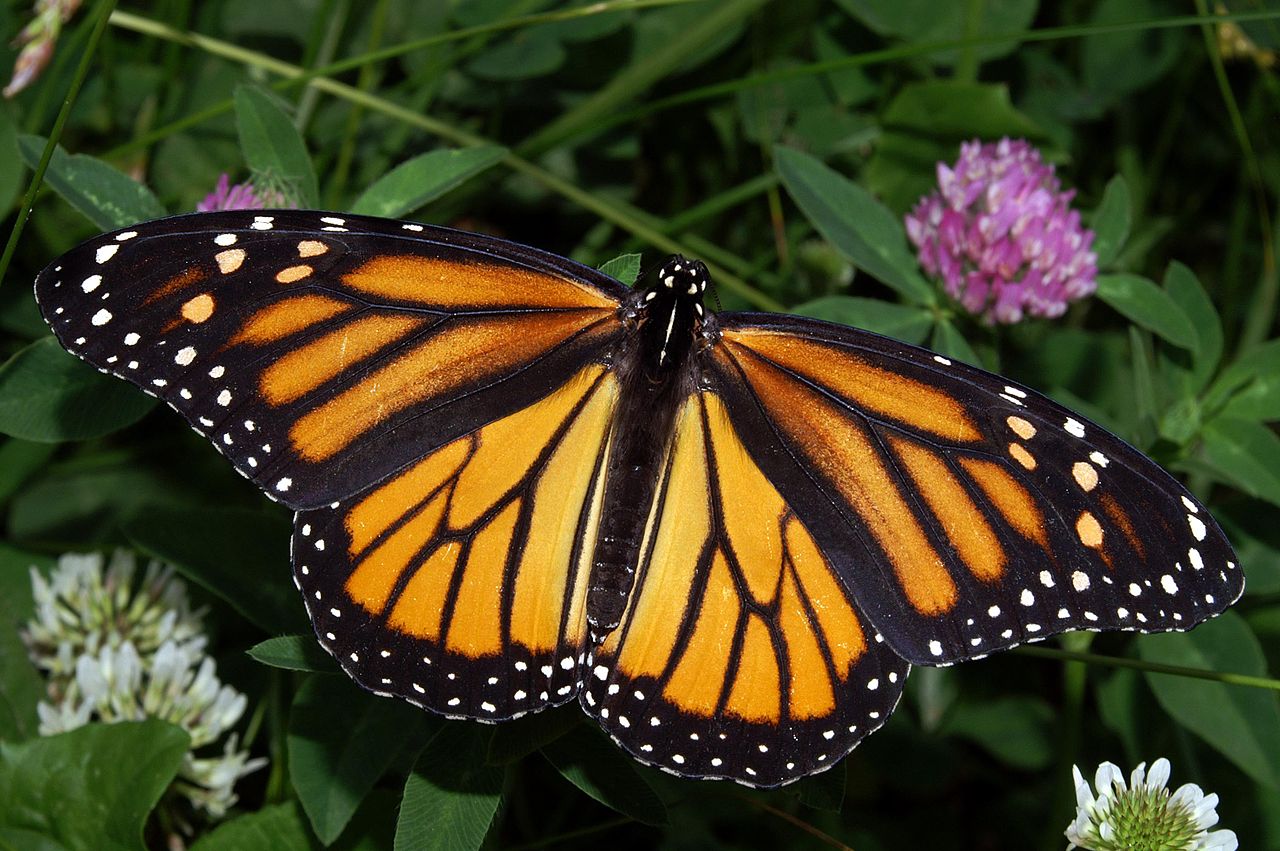 Monarch Butterfly, female - photographed in May by Kenneth Dwain Harrelson, CC BY-SA 3.0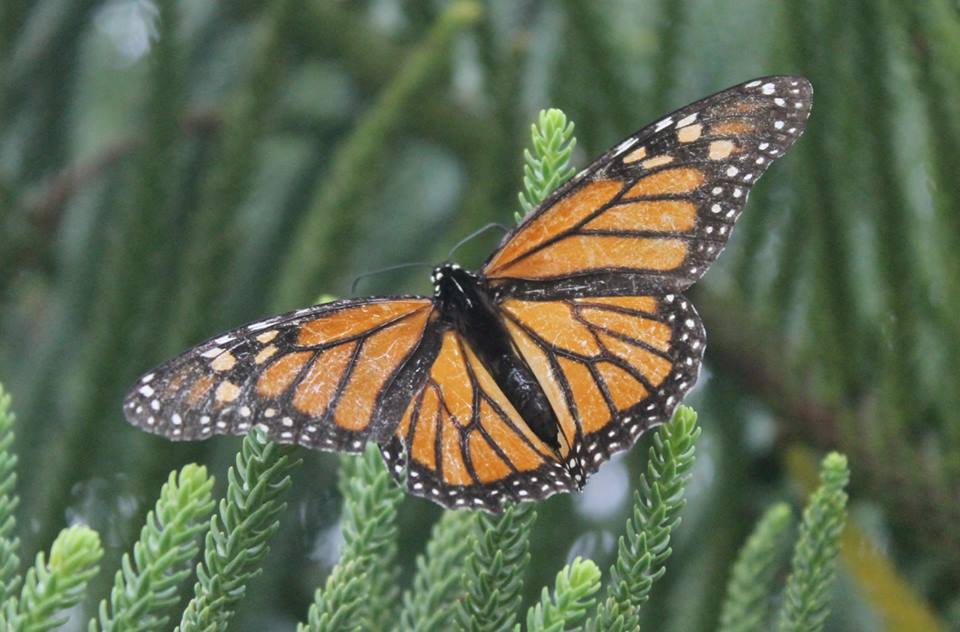 One photographed at Narrabeen in 2015 by A J Guesdon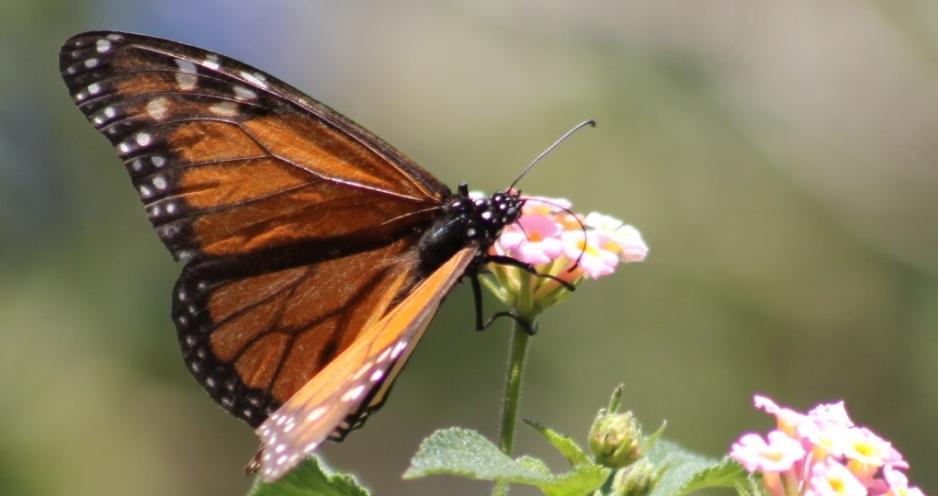 In September, 2013 - photo by A J Guesdon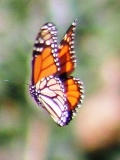 The name "monarch" is believed to be given in honour of King William III of England, whose secondary title Prince of Orange makes a reference to the butterfly's main colour. The monarch was originally described by Carl Linnaeus in his Systema Naturae of 1758 and placed in the genus Papilio. In 1780, Jan Krzysztof Kluk used the monarch as the type species for a new genus Danaus.
Danaus, a great-grandson of Zeus, was a mythical king in Egypt or Libya, who founded Argos; Plexippus was one of the 50 sons of Aegyptus, the twin brother of Danaus. In Homeric Greek, his name means "one who urges on horses", i.e. "rider" or "charioteer". In the 10th edition of Systema Naturae, at the bottom of page 467, Linnaeus wrote that the names of the Danai festivi, the division of the genus to which Papilio plexippus belonged, were derived from the sons of Aegyptus. Linnaeus divided his large genus Papilio, containing all known butterfly species, into what we would now call subgenera. The Danai festivi formed one of the "subgenera", containing colourful species, as opposed to the Danai candidi, containing species with bright white wings. Linnaeus wrote: "Danaorum Candidorum nomina a filiabus Danai Aegypti, Festivorum a filiis mutuatus sunt." (English: "The names of the Danai candidi have been derived from the daughters of Danaus, those of the Danai festivi from the sons of Aegyptus.")
Robert Michael Pyle suggested Danaus is a masculine version of Danaë, Danaus's great-great-granddaughter, to whom Zeus came as a shower of gold, which seemed to him a more appropriate source for the name of this butterfly.
Among the Pieridae family we can see Eurema brigitta from December to April, usually staying low to the ground. The Pieridae are a large family of butterflies with about 76 genera containing about 1,100 species, mostly from tropical Africa and tropical Asia with some varieties in the more northern regions of North America. Most pierid butterflies are white, yellow, or orange in coloration, often with black spots. The pigments that give the distinct colouring to these butterflies are derived from waste products in the body and are a characteristic of this family.

The name "butterfly" is believed to have originated from a member of this family, the brimstone, Gonepteryx rhamni, which was called the "butter-coloured fly" by early British naturalists.
Eurema brigitta has a wingspan is 30–35 mm.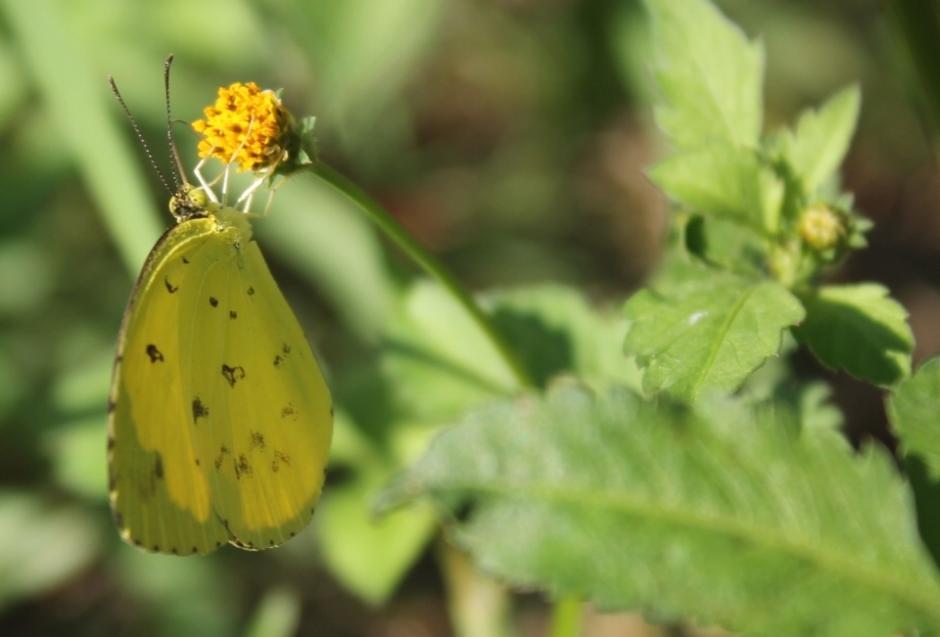 Eurema brigitta on bright yellow dandelion flower - photo by A J Guesdon, April 2016
Another in the same family Pieridae you may see almost year round is the introduced Pieris rapae, the small white, is a small to medium-sized butterfly species of the whites-and-yellows family Pieridae. It is also known as the small cabbage white and in New Zealand, simply as white butterfly. The names "cabbage butterfly" and "cabbage white" can also refer to the large white. The butterfly can be distinguished by the white colour with small black dots on its wings. They are further distinguished by the smaller size and lack of the black band at the tip of their forewings.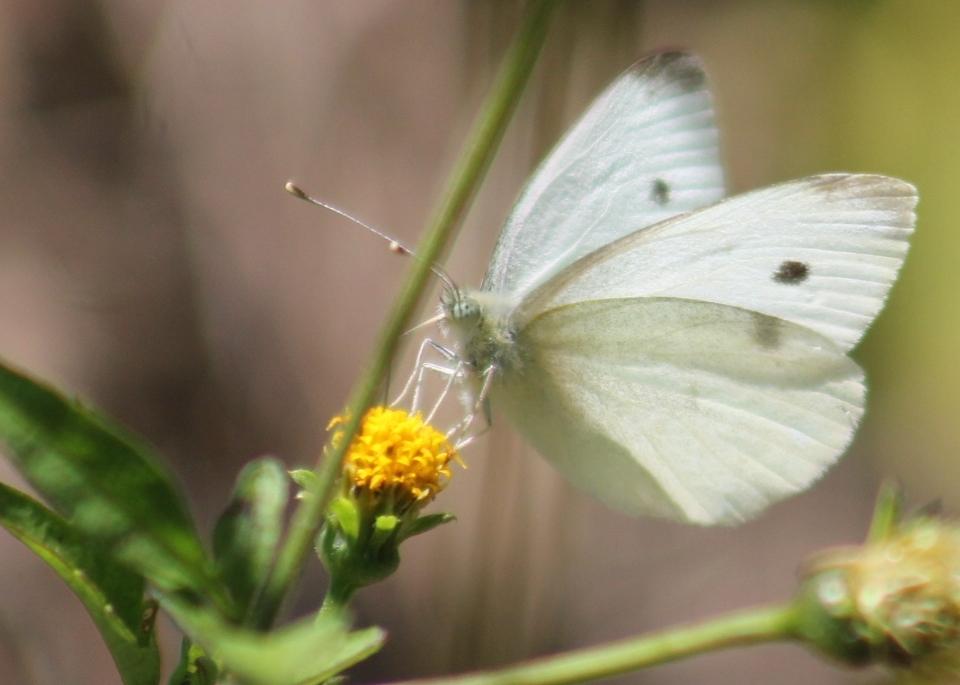 Photo by A J Guesdon, November 2015
It is widespread and is believed to have originated in Europe or Asia. It is also found in North Africa and was accidentally introduced to North America, Bermuda, Australia and New Zealand. The caterpillar of this species is seen as a pest for commercial agriculture. Often referred to as the "imported cabbageworm" they are a serious pest to cabbage and other mustard family crops.
So for those who ascribe to Shakespeare's line from Hamlet - There are more things in heaven and earth, Horatio, than are dreamt of in your philosophy - have a closer look next time you see something colourful flitting by - you may be the first to do so.
Visit:
Butterflies of Australia: http://lepidoptera.butterflyhouse.com.au/butter.html

List of butterflies of Australia. In Wikipedia, The Free Encyclopedia. Retrieved from https://en.wikipedia.org/w/index.php?title=List_of_butterflies_of_Australia&oldid=875690239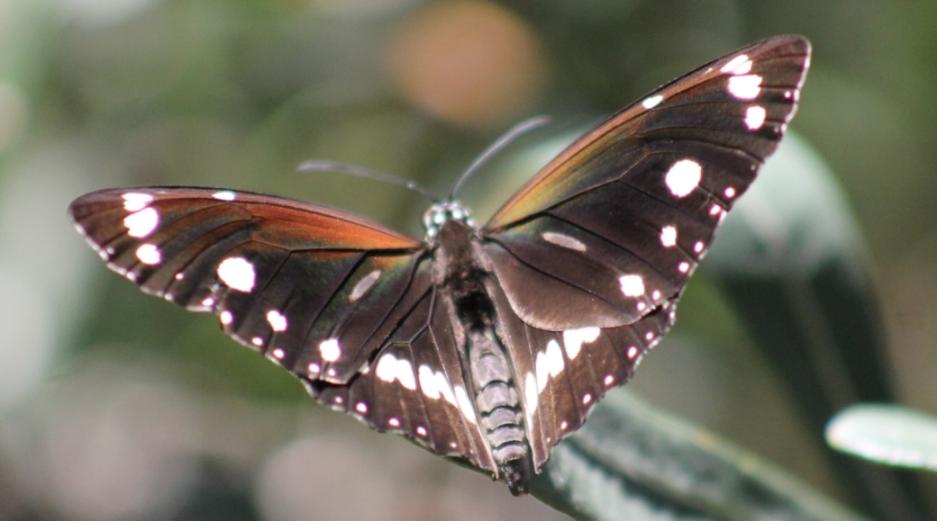 Early Autumn Butterfly - picture by A J Guesdon, 8.3.2014
Bumblebees And Honeybees
By SciShow Kids
You see them when it's warm outside, hanging out in flowers and working away. Bees! Check out what these buzzing insects are up to, and how you can tell the difference between a bumblebee and a honey bee.
All About Frogs For Youngsters
By Free School
With thousands of known species, frogs and toads make up more than 88% of all known amphibians on earth. Frogs have peculiar skin that allows them to breathe both above and under the water. Learn really cool facts and trivia about frogs in this brief, child-friendly documentary, including a section on poison dart frogs and the metamorphosis from tadpole to frog.
How To Draw A Penguin In Just 3 Minutes!
Earth Sketch Pad | BBC Earth Kids
Dementia Action Week
19 – 25 September 2022
Dementia impacts close to half a million Australians and almost 1.6 million Australians are involved in their care. The number of people living with dementia is set to double in the next 25 years. With so many people impacted now and into the future, it is vital we clear up some of the prevailing misconceptions about dementia.
People living with dementia can live active and fulfilling lives many years after diagnosis. Despite this, they often experience discrimination. In a Dementia Australia survey, more than 70 per cent of people believed discrimination towards people with dementia is common or very common.
The concept for Dementia Action Week was developed in consultation with Dementia Advocates, who have a lived experience of dementia. The 'A little support makes a big difference' campaign demonstrates that many people living with dementia can continue to live well for many years after their diagnosis. In 2021, the focus was also on supporting and celebrating carers of people living with dementia.
The campaign provides information and tips to encourage all Australians to increase their understanding of dementia and learn how they can make a difference to the lives of people around them who are impacted – and to help eliminate discrimination. These include simple and practical tips to:
Give a little support to a person living with dementia.
Give a little support to a carer, friend or family member of a person living with dementia.
Help healthcare professionals make their practice more dementia-friendly.
This awareness-raising campaign continues to lead the discussion about discrimination, which we know has a big impact on people living with dementia, their families and carers. The good news is, there is a lot that can be done to improve their experiences. To find out how you can make a difference please visit our campaign site by clicking the link below:
We encourage community organisations, partners and supporters to
register your interest
to receive further information about Dementia Action Week 2022, discrimination and dementia.
Celebrities Combine Forces And Voices To Support People Impacted By Dementia + National Dementia Helpline Now 24/7
Celebrity supporters, Ambassadors, Patron Ita Buttrose AC OBE and a person living with dementia have combined forces and lent their voices to an audiobook version of Dementia Australia's Dementia Guide.
"
The Dementia Guide
is the go-to online resource for any person impacted by any form of dementia, of any age, in any location across Australia," Ms Buttrose said.
"Speaking for the voices team, I know we have all been thrilled to contribute to The Dementia Guide Audiobook to increase the accessibility to vital information about dementia and the support available.
"Each person who has shared their voice has had an experience of dementia in their family and we have done this to raise awareness and help others to know they are not alone and that there is support available."
Dementia Australia Ambassadors and voices Natarsha Belling, Stephanie Bendixsen, Takaya Honda, Mark Seymour, Denis Walter OAM, Pat Welsh and celebrity supporters Rhonda Burchmore OAM and Geraldine Hickey wholeheartedly echo Ita's words and have enthusiastically backed the project.
Not just for people living with dementia, The Dementia Guide is also for friends, families and carers, and talks to the impact dementia may have on a person, the treatment, support and services they may need, and how loved ones can provide support. 
Stephanie Bendixsen, video game critic and television presenter, said she added her voice to the audiobook as she sees the value in a more accessible resource for families, such as hers, who need to navigate life with dementia.
"My mother passed away from Alzheimer's disease in 2018, and we really knew so little about dementia when she was diagnosed," Ms Bendixsen said.
"This made it difficult to understand why certain things were happening with her behaviourally, and we struggled to understand what was truly going on inside her brain, how her physicality was affected and how best we could support her and my Dad, her main carer, as a family.
"Resources like this are so very valuable, and their accessibility even more so. Even though I consider myself a big reader - finding the time to sit down and read a book can be tricky when you have a busy lifestyle. I switched to audiobooks years ago so that I can absorb books while I'm driving, walking the dog, doing chores - it's been life-changing. An easily accessible resource like this would have made a wonderful difference to me and my family when we were coming to terms with how Mum's - and our lives - would change."  
The audiobook includes a welcome from Dementia Australia CEO Maree McCabe AM and a chapter recorded by Ann Pietsch, who is a Dementia Advocate and lives with dementia. 
"I was invited to read one of the chapters and I personally think that The Dementia Guide is a valuable resource, making it available as an audio book is a great idea as it will now be easily available to more people living with dementia, carers, and families and the wider public," Mrs Pietsch said.
Ann speaks to the value of The Dementia Guide in her own personal circumstances when she was first diagnosed with dementia.
"I would have been able to effortlessly pass on the details of the audiobook to my children and family and friends, so they could learn about dementia and my specific dementia, and the issues I might face whilst living with dementia. Then in their own time they could have chosen to listen to reliable dementia information and used any of the resources."
Dementia Australia CEO Maree McCabe AM said The Dementia Guide Audiobook is an important addition to our suite of support services and resources ensuring more people are able to access the support they need at a time that suits them.
"Dementia Australia exists to empower people living with dementia, their families and carers to understand dementia and to manage their diagnosis on their terms," Ms McCabe said.
"We are committed to increasing accessibility to our services and
the National Dementia Helpline,

1800 100 500

, operated by Dementia Australia, is now available 24 hours a day, seven days a week, 365 days a year.
If someone has a diagnosis of dementia, or mild cognitive impairment, or is concerned about changes to their or a loved one's cognition, Dementia Australia is here for them. 
"There is no reason too small, no issue too big and no time too late. This is a gamechanger because no one should have to face dementia alone at any time of day or night.
"The National Dementia Helpline and
The Dementia Guide
are both invaluable and much-needed resources, especially as the number of people living with dementia is expected to grow from half a million Australians today, to more than one million by 2058."
Ms Bendixsen said sometimes there are scenarios that don't warrant an emergency or doctor response or there are moments when we need to reach out and feel we don't want to burden others – through the night, the early morning, or times when family is busy or unavailable.
"I think when carers or people living with dementia find themselves in a moment of panic, or indecision, or confusion - it's so hard to know where to turn first. A dementia diagnosis can be a frightening, lonely road for many people - and this Helpline will serve as a lantern in the fog. This Helpline is an invaluable resource and for many people even just knowing it is there will mean the world," she said.
Dementia Australia provides support and information to all Australians, of any age, impacted by all forms of dementia, including mild cognitive impairment, in any location across Australia. Ongoing support and information is available at every stage from pre, during and post-diagnosis. This includes support for people with concerns about changes in memory and thinking.
The National Dementia Helpline, staffed by a highly-trained team, is a free 24/7 telephone service which provides information and support to people living with dementia, people concerned about changes to memory and thinking, people living with mild cognitive impairment (MCI), family, friends and carers of people living with dementia and people who work in health and aged care.
By contacting Dementia Australia, you will have access to timely, reliable and expert information, advice and a wide range of programs to support you and your family and friends to live well with dementia. The National Dementia Helpline 24/7 service is available by phone, email or through our online chat function.
Listen to and download The Dementia Guide free at dementia.org.au/resources/the-dementia-guide.
Dementia Australia is the source of trusted information, education and services for the estimated half a million Australians living with dementia, and the almost 1.6 million people involved in their care. We advocate for positive change and support vital research. We are here to support people impacted by dementia, and to enable them to live as well as possible. No matter how you are impacted by dementia or who you are, we are here for you.
For support, please contact the National Dementia Helpline on 1800 100 500. An interpreter service is available
. The National Dementia Helpline is funded by the Australian Government. People looking for information can also visit dementia.org.au
Seven Healthy Lifestyle Habits May Reduce Dementia Risk For People With Diabetes
A combination of seven healthy lifestyle habits including sleeping seven to nine hours daily, exercising regularly and having frequent social contact was associated with a lower risk of dementia in people with type 2 diabetes, according to a study published in the September 14, 2022, online issue of Neurology®, the medical journal of the American Academy of Neurology.
"Type 2 diabetes is a worldwide epidemic that affects one in 10 adults, and having diabetes is known to increase a person's risk of developing dementia," said study author Yingli Lu, MD, PhD, of Shanghai Jiao Tong University School of Medicine in China. "We investigated whether a broad combination of healthy lifestyle habits could offset that dementia risk and found that people with diabetes who incorporated seven healthy lifestyle habits into their lives had a lower risk of dementia than people with diabetes who did not lead healthy lives."
For the study, researchers looked at a health care database in the United Kingdom and identified 167,946 people 60 or older with and without diabetes who did not have dementia at the start of the study. Participants completed health questionnaires, provided physical measurements and gave blood samples.
For each participant, researchers calculated a healthy lifestyle score of zero to seven, with one point for each of seven healthy habits. Habits included no current smoking, moderate alcohol consumption of up to one drink a day for women and up to two a day for men, regular weekly physical activity of at least 2.5 hours of moderate exercise or 75 minutes of vigorous exercise, and seven to nine hours of sleep daily. Another factor was a healthy diet including more fruits, vegetables, whole grains and fish and fewer refined grains, processed and unprocessed meats. The final habits were being less sedentary, which was defined as watching television less than four hours a day, and frequent social contact, which was defined as living with others, gathering with friends or family at least once a month and participating in social activities at least once a week or more often.
Researchers followed participants for an average of 12 years. During that time, 4,351 people developed dementia. A total of 4% of the people followed only zero to two of the healthy habits, 11% followed three, 22% followed four, 30% followed five, 24% followed six and 9% followed all seven.
People with diabetes who followed two or fewer of the seven healthy habits were four times more likely to develop dementia than people without diabetes who followed all seven healthy habits. People with diabetes who followed all of the habits were 74% more likely to develop dementia than those without diabetes who followed all the habits.
For people with diabetes who followed all the habits, there were 21 cases of dementia for 7,474 person years or 0.28%. Person-years represent both the number of people in the study and the amount of time each person spends in the study. For people with diabetes who followed only two or fewer habits, there were 72 cases of dementia for 10,380 person years or 0.69%. After adjusting for factors like age, education and ethnicity, people who followed all the habits had a 54% lower risk of dementia than those who followed two or fewer. Each additional healthy habit people followed was associated with an 11% decreased risk of dementia. The association between healthy lifestyle score and dementia risk was not affected by medications people took or how well they controlled their blood sugar.
"Our research shows that for people with type 2 diabetes, the risk of dementia may be greatly reduced by living a healthier lifestyle," Lu said. "Doctors and other medical professionals who treat people with diabetes should consider recommending lifestyle changes to their patients. Such changes may not only improve overall health, but also contribute to prevention or delayed onset of dementia in people with diabetes."
A limitation of the study was that people reported on their lifestyle habits and may not have remembered all details accurately. Lifestyle changes over time were also not captured.
The study was funded by the National Natural Science Foundation of China, Shanghai Ninth People's Hospital of Shanghai Jiao Tong University School of Medicine and other funders.
Bin Wang, Ying Sun, Xiao Tan, Jihui Zhang, Ningjian Wang, Yingli Lu.
Association of Combined Healthy Lifestyle Factors With Incident Dementia in Patients With Type 2 Diabetes.
Neurology, 2022; 10.1212/WNL.0000000000201231 DOI:
10.1212/WNL.0000000000201231
Risk Factor For Developing Alzheimer's Disease Increases By 50-80% In Older Adults Who Caught COVID-19
Older people who were infected with COVID-19 show a substantially higher risk -- as much as 50% to 80% higher than a control group -- of developing Alzheimer's disease within a year, according to a study of more than 6 million patients 65 and older.
In a study published today in the Journal of Alzheimer's Disease, researchers report that people 65 and older who contracted COVID-19 were more prone to developing Alzheimer's disease in the year following their COVID diagnosis. And the highest risk was observed in women at least 85 years old.
The findings showed that the risk for developing Alzheimer's disease in older people nearly doubled (0.35% to 0.68%) over a one-year period following infection with COVID. The researchers say it is unclear whether COVID-19 triggers new development of Alzheimer's disease or accelerates its emergence.
"The factors that play into the development of Alzheimer's disease have been poorly understood, but two pieces considered important are prior infections, especially viral infections, and inflammation," said Pamela Davis, Distinguished University Professor and The Arline H. and Curtis F. Garvin Research Professor at the Case Western Reserve School of Medicine, the study's coauthor.
"Since infection with SARS-CoV2 has been associated with central nervous system abnormalities including inflammation, we wanted to test whether, even in the short term, COVID could lead to increased diagnoses," she said.
The research team analyzed the anonymous electronic health records of 6.2 million adults 65 and older in the United States who received medical treatment between February 2020 and May 2021 and had no prior diagnosis of Alzheimer's disease.
They then divided this population two groups: one composed of people who contracted COVID-19 during that period, and another with people who had no documented cases of COVID-19. More than 400,000 people were enrolled in the COVID study group, while 5.8 million were in the non-infected group.
"If this increase in new diagnoses of Alzheimer's disease is sustained, the wave of patients with a disease currently without a cure will be substantial, and could further strain our long-term care resources," Davis said. "Alzheimer's disease is a serious and challenging disease, and we thought we had turned some of the tide on it by reducing general risk factors such as hypertension, heart disease, obesity and a sedentary lifestyle. Now, so many people in the U.S. have had COVID and the long-term consequences of COVID are still emerging. It is important to continue to monitor the impact of this disease on future disability."
Rong Xu, the study's corresponding author, professor of Biomedical Informatics at the School of Medicine and director of the Center for AI in Drug Discovery, said the team plans to continue studying the effects of COVID-19 on Alzheimer's disease and other neurodegenerative disorders -- especially which subpopulations may be more vulnerable -- and the potential to repurpose FDA-approved drugs to treat COVID's long-term effects.
Previous COVID-related studies led by CWRU have found that people with dementia are twice as likely to contract COVID; those with substance abuse disorder orders are more likely to contract COVID; and that 5% of people who took Paxlovid for treatment of COVID symptoms experienced rebound infections within a month.
Lindsey Wang, Pamela B. Davis, Nora D. Volkow, Nathan A. Berger, David C. Kaelber, Rong Xu.
Association of COVID-19 with New-Onset Alzheimer's Disease.
Journal of Alzheimer's Disease, 2022; 89 (2): 411 DOI:
10.3233/JAD-220717
Men's Sheds Grants And Movember Improving Men's Health
The Australian Government is providing much needed funds to our men's sheds.
A total of $500,000 will be provided through the latest round of National Men's Sheds Programme (NSDP) funding.
Across Australia, 153 men's sheds will receive up to $10,000.
Funds will be used to buy computers, host health and wellbeing events, make shed improvements, or purchase tools to use in the shed.
Men's sheds seeking funding to purchase a defibrillator will also be able to apply at any time under a special category.
The Government is also providing $400,000 over the next 18 months to charity organisation Movember to conduct a targeted review of health professional education on male health issues.
Movember will lead a group of subject matter experts to identify gaps and improvement opportunities for the education of clinicians. This work will assist in removing barriers for men in accessing timely and appropriate health care.
This work will assist in remove barriers for men in accessing timely and appropriate health care.
Applications for the next round of NSDP open on Friday 19 August,
with interested sheds encouraged to
apply by Tuesday 27 September
.
Health and Aged Care Minister Mark Butler said;
"Men's sheds across Australia create a place of belonging for over a thousand local communities.
"The Albanese Government is providing this funding to men's sheds so they can continue their important work.
"Movember is synonymous with highlighting men's health issues.
"The Movember review continues efforts to realise improved health outcomes for Australian males through the implementation of the National Men's Health Strategy 2020-2030."
A Rugby Trip Inspired William To Take Some Brave Steps
Father of three William Yeates lives in Curl Curl. When he was diagnosed with Younger Onset Alzheimer's Disease in 2019 at only 59 years old, it was a life changing moment for him and his family.
William completed a Pharmacy degree in 1980, which led him to a career in education as a senior teacher in chemistry, physics and mathematics, and as deputy principal in three schools. During a very satisfying career spanning 35 years, he also completed two Masters' degrees.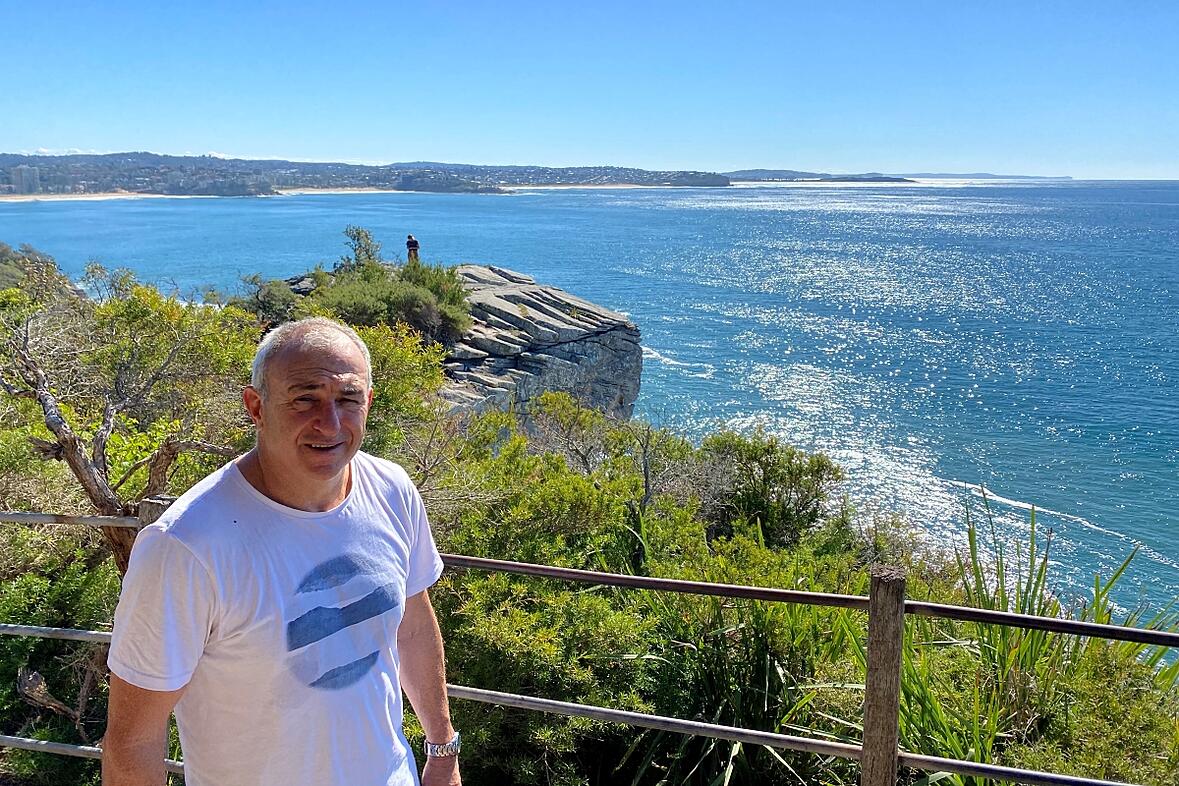 Above: William Yeates near his home in Sydney's northern beaches. Source: Supplied.
After his diagnosis, William began to lose confidence in himself. He withdrew, no longer participating in activities that used to bring him satisfaction and enjoyment. Then an opportunity arose to return with close friends to his favourite country, Japan, for the 2019 Rugby World Cup. With twin Peter accompanying him as his carer, he took the plunge, thinking this trip would be his 'last hurrah'.
During the trip William began to see another perspective: "Japan has its own unique but mysterious character, which I believe you can experience by immersing yourself in its daily life – the beautiful gardens, temples and shrines, the food, and meeting Japanese people who are so polite, friendly and respectful."
"Or perhaps I started to see things differently because we were all behaving like 21-year-olds again! The friendship and camaraderie I experienced during that trip made me realise that life was too precious to be given up without a fight."
"My father taught us that we all experience hurdles in life, but the important thing is what you decide to do when you get up. So while I was in Tokyo I made a life-altering decision to fight the disease."
When he returned home, William embarked on his own personal journey: to rediscover a life that held value. Involvement in a clinical trial enabled him to return to volunteering as a surf lifesaver. From there he started competing in Masters swimming and lifesaving events, first at local level, then progressing to state and national level, but not before having to teach himself to swim again.
"I nearly drowned the first time I got in the pool after my diagnosis. I started a neuro-cognitive training program with an exercise physiologist to help with my coordination, balance and reflexes. Now I'm just starting to swim butterfly. I also have my own swimming instructor, a friend I grew up with; I'm in his swimming squad."
William is now looking forward to competing in the Lifesaving World Championships in Italy in late September.
"Being a schoolteacher and being a lifesaver previously, it was always about community. For me that's an important aspect of my life, so being given the opportunity to do that again is really important. I'm also now back training kids in surf lifesaving, helping my twin brother."
William is not thinking about slowing down any time soon. "I also recently travelled to London to present an abstract on a neuro-cognitive training program, which was so well received that the organisers have decided to post it on their YouTube channel during October this year. I'm pretty chuffed about that."
"I want to inspire others living with dementia that it is still possible to live a full life."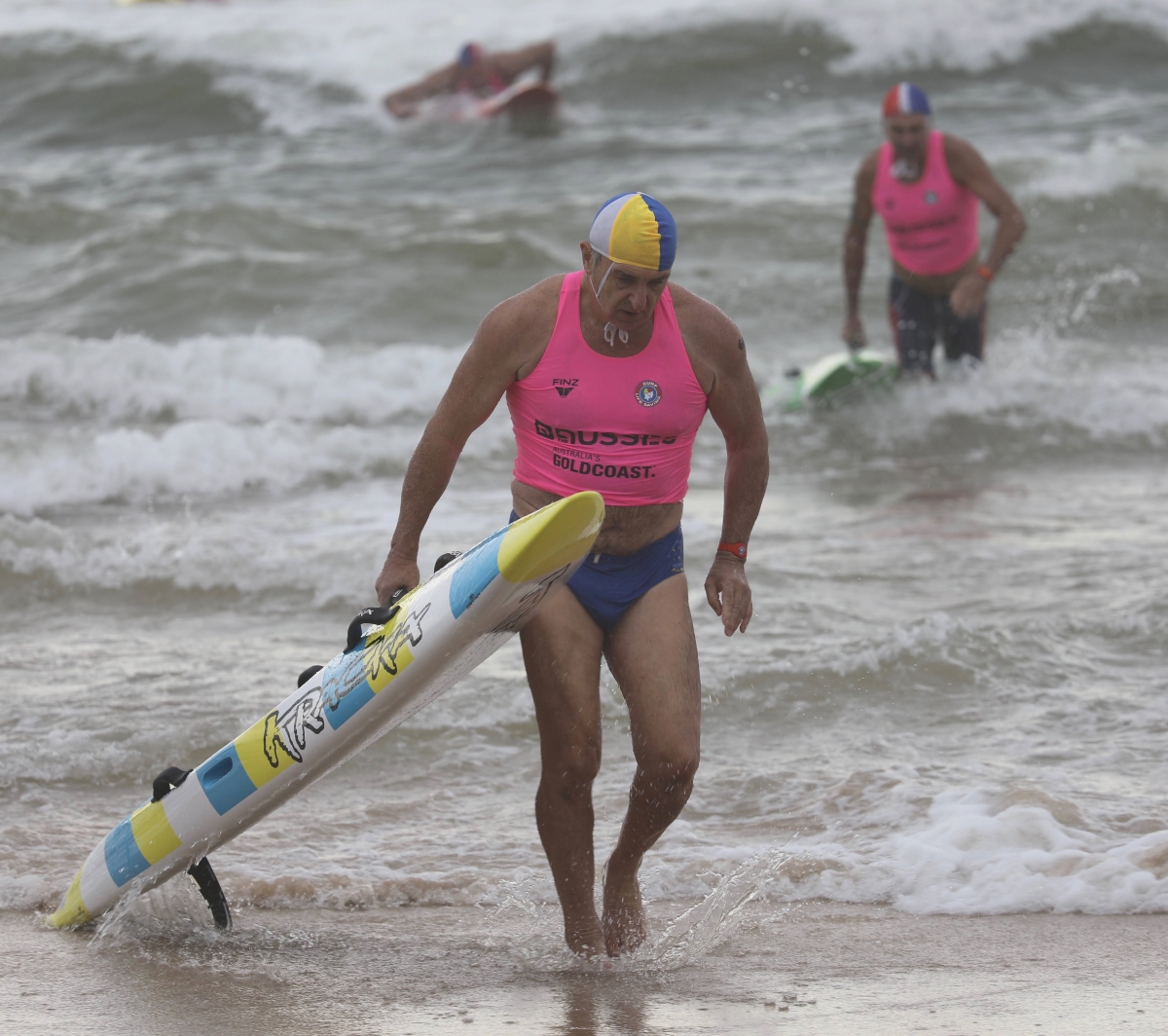 Above: William competes in the 2022 Australian Surf Lifesaving Championships at the Gold Coast. A neurocognitive training program helped give him the strength and confidence to return to competition swimming. Source: Supplied.

Dementia Action Week 2022 Insight: courtesy HammondCare Dementia Centre.
Cheaper Scripts For Millions
For the first time in its 75-year history, the maximum cost of general scripts under the Pharmaceutical Benefits Scheme (PBS) will fall.
Under a Bill tabled by the Australian Government last week, from 1 January 2023 millions of Australians will pay almost 30 per cent less for PBS scripts, with the maximum general co-payment dropping from $42.50 to $30.
This means that someone taking one medication a month could save as much as $150 every year, or for two or three medications as much as $300-$450 a year.
The maximum cost to general patients for PBS medications has doubled since 2000. This change fulfils the Government's election promise to cut the cost of medicines and ease cost of living pressures for Australians.
National President of the Pharmacy Guild of Australia Professor Trent Twomey said "patients continue to tell community pharmacies of the increasing pressures of having to choose between food on the table and medicine for their family".
"Community pharmacies around the country thank and welcome the action taken by the Government to cut the out of pocket cost patients pay for medicines on the PBS," Professor Twomey said.
The Prime Minister said:
"I'm really pleased that we're introducing this legislation to make many medicines cheaper for Australians.
"My Government is serious about delivering on our election commitments and easing the cost of living pressures left by the former government."
Minister Butler said:
"The ABS advises that the high costs of medications meant close to 1 million Australians delayed or didn't fill their medications in 2019-20. We must do better than this and we will."
"Cutting their price by nearly one third will mean more people can afford to get the medications they need to stay healthy – without worrying so much about the price."
"This change will put close to $200 million back in the pockets of Australians each year."
Pace As Important As 10,000 Steps For Health
10,000 steps a day is the 'sweet spot' for lowered risk of disease and death, but how fast you walk could be just as important according to new research.
The studies, published in the journals JAMA Internal Medicine and JAMA Neurology, monitored 78, 500 adults with wearable trackers -- making these the largest studies to objectively track step count in relation to health outcomes.
The researchers from the University of Sydney, Australia and University of Southern Denmark found lowered risk of dementia, heart disease, cancer and death are associated with achieving 10,000 steps a day. However, a faster stepping pace like a power walk showed benefits above and beyond the number of steps achieved.
"The take-home message here is that for protective health benefits people could not only ideally aim for 10,000 steps a day but also aim to walk faster," said co-lead author Dr Matthew Ahmadi, Research Fellow at the University of Sydney's Charles Perkins Centre and Faculty of Medicine and Health.
'For less active individuals, our study also demonstrates that as low as 3,800 steps a day can cut the risk of dementia by 25 percent," said co-lead author Associate Professor Borja del Pozo Cruz from the University of Southern Denmark and senior researcher in health at the University of Cadiz.
Key points:
Every 2,000 steps lowered risk of premature death incrementally by 8 to 11 percent, up to approximately 10,000 steps a day.
Similar associations were seen for cardiovascular disease and cancer incidence.
A higher number of steps per day was associated with a lower risk of all-cause dementia
9,800 steps was the optimal dose linked to lower risk of dementia by 50 percent, however risk was reduced by 25 percent at as low as 3,800 steps a day
Stepping intensity or a faster pace showed beneficial associations for all outcomes (dementia, heart disease, cancer and death) over and above total daily steps.
"Step count is easily understood and widely used by the public to track activity levels thanks to the growing popularity of fitness trackers and apps, but rarely do people think about the pace of their steps," said senior author Emmanuel Stamatakis, Professor of Physical Activity, Lifestyle and Population Health at the University of Sydney.
"Findings from these studies could inform the first formal step-based physical activity guidelines and help develop effective public health programs aimed at preventing chronic disease."
How was the study conducted?
The study drew on data from UK Biobank to link up step count data from 78,500 UK adults aged 40 to 79 years with health outcomes 7 years on. Participants wore a wrist accelerometer to measure physical activity over a period of 7 days (minimum 3 days, including a weekend day and monitoring during sleep periods).
With ethics consent, this information was linked with participants' health records through several data sources and registries including inpatient hospital, primary care records, and cancer and death registries.
Only those who were free of cardiovascular disease, cancer or dementia at baseline and disease-free in the first two years of the study were included in the final assessment. Statistical adjustments were also made for confounders, such as the fact that people who do more steps generally walk faster.
The researchers note that the studies are observational, meaning they cannot show direct cause and effect, however, note the strong and consistent associations seen across both studies at the population level.
"The size and scope of these studies using wrist-worn trackers makes it the most robust evidence to date suggesting that 10,000 steps a day is the sweet spot for health benefits and walking faster is associated with additional benefits," said Dr Matthew Ahmadi.
"Going forward more research with longer-term use of trackers will shed more light on the health benefits associated with certain levels and intensity of daily stepping."
Journal References:
Borja del Pozo Cruz, Matthew N. Ahmadi, I-Min Lee, Emmanuel Stamatakis.

Prospective Associations of Daily Step Counts and Intensity With Cancer and Cardiovascular Disease Incidence and Mortality and All-Cause Mortality.

JAMA Internal Medicine, 2022; DOI: 10.1001/jamainternmed.2022.4000
Borja del Pozo Cruz, Matthew Ahmadi, Sharon L. Naismith, Emmanuel Stamatakis.

Association of Daily Step Count and Intensity With Incident Dementia in 78 430 Adults Living in the UK.

JAMA Neurology, 2022; DOI: 10.1001/jamaneurol.2022.2672
Daily Multivitamin May Improve Cognition And Possibly Protect Against Decline
Could taking a daily multivitamin help maintain cognitive health with aging and possibly prevent cognitive decline? According to new research from Wake Forest University School of Medicine, conducted in collaboration with Brigham and Women's Hospital in Boston, taking a daily supplement may improve cognition in older adults, but additional studies are needed to confirm these findings before any health recommendations are made. The study also showed that daily use of a cocoa extract supplement does not benefit cognition.
The findings were recently published in Alzheimer's & Dementia: The Journal of the Alzheimer's Association.
"There's an urgent need for safe and affordable interventions to protect cognition against decline in older adults," said Laura D. Baker, Ph.D., professor of gerontology and geriatric medicine at Wake Forest University School of Medicine and co-principal investigator of the trial, along with Mark Espeland, Ph.D., professor of gerontology and geriatric medicine at Wake Forest University School of Medicine.
The COcoa Supplement and Multivitamin Outcomes Study for the Mind (COSMOS-Mind), funded by the National Institute on Aging of the National Institutes of Health, was an ancillary study to the COSMOS trial led by Brigham and Women's Hospital that randomized 21,442 men and women across the U.S. The study investigated whether taking a daily cocoa extract supplement or a daily multivitamin-mineral supplement reduces the risk of developing heart disease, stroke, cancer and other health outcomes.
According to Baker, cocoa extract is rich in compounds called flavanols, and past research suggests that these compounds may positively impact cognition. Baker also said that several micronutrients and minerals are needed to support normal body and brain function, and deficiencies in older adults may increase the risk for cognitive decline and dementia.
In COSMOS-Mind, researchers tested whether daily administration of cocoa extract versus placebo and a multivitamin-mineral versus placebo improved cognition in older adults. More than 2,200 participants, ages 65 and older, enrolled and were followed for three years. Participants completed tests over the telephone at baseline and annually to evaluate memory and other cognitive abilities.
"Our study showed that although cocoa extract did not affect cognition, daily multivitamin-mineral supplementation resulted in statistically significant cognitive improvement," Baker said. "This is the first evidence of cognitive benefit in a large longer-term study of multivitamin supplementation in older adults."
The researchers estimated that three years of multivitamin supplementation roughly translated to a 60% slowing of cognitive decline (about 1.8 years). The benefits were relatively more pronounced in participants with significant cardiovascular disease, which is important because these individuals are already at increased risk for cognitive impairment and decline.
"It's too early to recommend daily multivitamin supplementation to prevent cognitive decline," Baker said. "While these preliminary findings are promising, additional research is needed in a larger and more diverse group of people. Also, we still have work to do to better understand why the multivitamin might benefit cognition in older adults."
Laura D. Baker, Joann E. Manson, Stephen R. Rapp, Howard D. Sesso, Sarah A. Gaussoin, Sally A. Shumaker, Mark A. Espeland.
Effects of cocoa extract and a multivitamin on cognitive function: A randomized clinical trial.
Alzheimer's & Dementia, 2022; DOI:
10.1002/alz.12767
Benefits Of The Environment To Health. A Literature Review Of Health Benefits Derived From 3 Ecosystem Services: Air Filtration, Local Climate Regulation, And Recreation
The value of the environment – to the economy and to human wellbeing – can be estimated through ecosystems accounts. Accounts on ecosystem assets and the services they provide can be compiled using the System of Environmental Economic Accounting Ecosystem Accounting (SEEA EA) framework adopted by the United Nations Statistical Commission in March 2021 (SEEA 2022).
In Australia, the Department of Climate Change, Energy, the Environment and Water (DCCEEW, formerly the Department of Agriculture, Water and the Environment – DAWE) is developing environmental ecosystem accounts. To do this, it is seeking to gain a wide understanding of the extent of the economic and social benefits of ecosystem services. It was in this context that the former DAWE commissioned the Australian Institute of Health and Welfare (AIHW) to conduct an extensive review of the evidence on ecosystem services and their benefits to, and impacts on, human health.
This review analyses a broad range of current relevant literature on the benefits of the following 3 ecosystem services for human health:
air filtration – the filtering of air-borne pollutants by ecosystems, in particular by plants,
to mitigate harmful effects of pollution
local climate regulation – the regulation of ambient temperatures by plants and water bodies to improve local living conditions
recreation-related services – the qualities of ecosystems that allow people to use and enjoy the environment, such as through providing opportunities for physical activity or other passive recreational pursuits.
An extensive review of available Australian and international literature found associations between ecosystem services and a range of health outcomes, although the evidence more strongly supported this relationship for some health outcomes than others. The review also sought to uncover existing research of health benefits of these ecosystem services in economic terms, in particular those using methods consistent with the SEEA EA framework.
The AIHW review revealed multiple examples of evidence in support of a wide range of health benefits associated with each of the 3 ecosystem services. Key health benefits included:
air filtration is associated with improved respiratory outcomes (such as for asthma) and decreases in mortality. Positive maternal and perinatal outcomes are areas being increasingly researched
local climate regulation is associated with decreases in both all-cause mortality, and in hospitalisations due to heat
recreation-related services are associated with increases in both physical activity, and in subjective mental wellbeing associated with recreation in nature.
A range of other health benefits associated with these ecosystem services were also revealed, such as for cardiovascular health, heat-related mortality, obesity, diabetes, and immune function. However, the evidence for these tended to be inconsistent: some studies supported a positive association between the ecosystem service and the health benefit, while others found no association, or insufficient evidence to support one. In many cases, the equivocal findings could be attributed to design limitations in the original research articles. Inconclusive evidence does not necessarily mean an association does not exist – rather that the research approach may not have been the most appropriate for the research question.
Download full report Benefits of the environment to health. A literature review of health benefits derived from 3 ecosystem services: air filtration, local climate regulation, and recreation
HERE
Replacing Band-Aid Wound Solutions Could Save Lives And Millions In Health System Costs: AMA
Band-aid solutions to chronic wounds are costing lives and limbs, and a simple solution could not only prevent those losses but cut billions in health system costs, AMA Vice President Dr Danielle McMullen told a wounds conference today.
Dr McMullen told the Wounds Australia 2022 conference in Sydney that people are dying prematurely and limbs are being amputated because the current system prevents some of the most vulnerable people in the country getting the right treatment at the right time.
"Chronic wound care is a poorly understood and under-funded public health issue, even though it affects around 450,000 Australians and costs $3 billion each year," Dr McMullen said.
"A lack of awareness about the significance of chronic wounds means vulnerable patients — mostly older Australians, Aboriginal and Torres Strait Islander peoples, or patients with other chronic conditions — often suffer in silence and fall through the cracks in our health system.
"The AMA is proposing a national scheme to fund medical dressings for chronic wounds and new MBS items to cover the unmet costs of providing care for patients suffering chronic wounds.
"Our analysis shows investing just $23.4 million over four years to deliver best practice wound care for diabetic foot ulcers, arterial leg ulcers, and venous leg ulcers would save the health system more than $203 million.
"This is a no brainer. I don't know of many investments where for every $1.00 you spend, the return is $8.36, but this is the case with evidence-based wound care."
Dr McMullen said if implemented, the plan would also increase access to GPs with research showing new MBS items would free up around 148,000 general practitioner consultations in the first year and 162,000 consultations by the fourth year.
"As GPs, we see some terrible consequences for patients if a wound isn't managed properly, including amputations and nasty infections. These wounds can take months or even years to heal and these consequences are totally avoidable.
"At the moment Medicare doesn't cover the cost of the dressings to treat chronic wounds correctly, so doctors are either bearing the costs themselves or are forced to pass on the cost to patients, and that's not something we like doing.
"The government often mentions its inherited trillion-dollar debt, so it should be looking for smart investments which will save the health system money and deliver better health outcomes for patients at the same time."
The AMA's five-point solution:
A Commonwealth-funded wound consumables scheme to subsidise the cost of dressings and other consumables provided in general practice for patients with chronic wounds.
The implementation of a stepped model of care for the management of chronic wounds, with improved access to other healthcare professionals involved in wound care to form GP-led healthcare teams.
Three new Medicare items to facilitate the stepped model of care, including a Medicare item to allow trained practices nurses, Aboriginal and Torres Strait Islander Health Practitioners or Aboriginal Health Workers to provide short-term treatment.
Implementation of a national education and training program on the prevention and management of chronic wounds, with access to the consumables scheme and extra Medicare support linked to completion of this education and training.
Improved coordination of wound care initiatives in the sector under a national program to reduce duplication of effort.
Social Housing Temperatures In NSW Exceed Health And Safety Limits: Study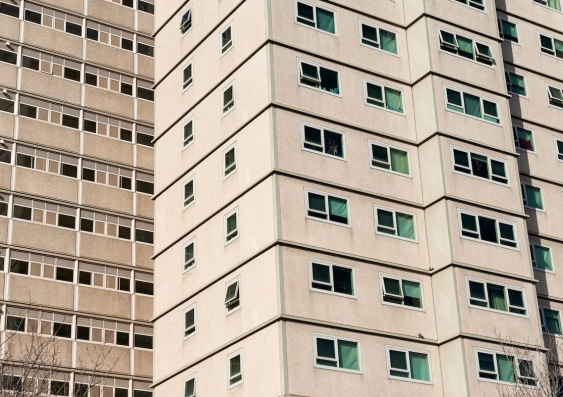 Many residents in social housing in New South Wales can experience alarming levels of winter underheating and summer overheating in their homes that do not meet standards for comfort and health, according to UNSW Sydney-led research funded by the Department of Planning and Environment and CRC for Low Carbon Living.
A research team from the School of Built Environment and the Department of Planning and Environment monitored 106 low-income dwellings in New South Wales during the winter and summer of 2018–2019. The team studied the impacts of outdoor temperature and housing characteristics, including indoor temperature and air quality, and surveyed the residents' health and quality of life.
During summer, indoor temperatures reached 39.8°C and were above 30°C up to 62 per cent of the time in some residences. The minimum indoor temperatures during winter also dropped as low as 5°C in some homes and were below 18°C 93 per cent of the time.
Households also reported high levels of dissatisfaction with their indoor thermal conditions year-round. During summer, the majority of low-income households in western Sydney experienced higher indoor and outdoor temperatures than those who reside in the proximity of the coast, according to the study.
The recommended thermal discomfort threshold is 28°C for living rooms and 26°C for the bedroom, according to the Chartered Institution of Building Services Engineers (CIBSE). Meanwhile, The World Health Organization (WHO) recommends a temperature band of 18–24°C for thermal comfort and safety.
"Many social housing dwellings recorded indoor temperatures outside the recommended limits for safety and comfort for substantial periods," says the study's first author Dr Shamila Haddad.
Prolonged exposure to poor housing quality can have adverse health effects. Indoor overheating can lead to thermal discomfort and increase the risk of heat-related morbidity and mortality. Meanwhile, temperatures below 16°C may raise the risk of respiratory disease and vulnerability to infection from airborne pathogens.
"We know many people from low-income backgrounds are living in low-quality housing, and this impacts their health and quality of life," says Scientia Professor Mat Santamouris, Anita Lawrence Chair in High Performance Architecture and senior author of the study.
Temperature extremes during summer and winter
Social housing tenants may be particularly vulnerable to health risks associated with poor air quality and building thermal performance. Risk factors for heat-related health issues, such as cardiovascular disease, tend to be more prevalent in low-income households. Social housing dwellings are also more likely to be located in areas with high exposure to the elements.
Most of the dwellings investigated in the study were built before 2000 and predate the introduction of building codes and minimum energy-efficiency standards at the national level. Mould and condensation, which are common issues in poor-quality dwellings, were also reported in 42 per cent of the residences.
"The housing quality is typically lower than general housing stock and can lack adequate ventilation and insulation, increasing the amount of heating and cooling needed to achieve comfortable and safe indoor temperatures," Dr Haddad says.
The research also found many households experience energy poverty – where they struggle to afford the required energy services in their homes. Some used compensatory measures to minimise energy bills and escape overheated environments, including visiting shopping malls, seeking medical assistance, or skipping food and other essentials.
"Lower-income households may suffer from warmer homes during summer," Dr Haddad says. "While thermal discomfort was reported, these low-income families limited their energy use by avoiding heating and cooling.
"As local and global temperatures continue to become more extreme, the findings suggest financially disadvantaged people living in poor-quality housing may be disproportionately affected."
Improving thermal conditions in social housing
Indoor air temperature in naturally ventilated buildings highly depends on the quality of the building envelope and follows the pattern of the outdoor climate. With climate change expected to increase indoor overheating and discomfort further, there's an urgent need to improve social housing dwellings to ensure healthy living conditions for residents and protect them from extreme temperatures, Dr Haddad says.
Improvements in building quality can reduce heating and cooling needs. Passive heating and cooling strategies, easy-to-apply insulation, materials and glazing are all cost-effective technologies that could be implemented to improve the thermal quality of housing while reducing energy demand.
"Enhancing housing energy efficiency can alleviate energy poverty and improve households' health and wellbeing," Dr Haddad says. "This should be the main goal of retrofit upgrades in the social housing sector."
Dr Haddad says it would be more sustainable and cost-effective to prioritise refurbishing existing building stock over rebuilding. However, design standards must also be improved, and appropriate thermal performance mandated in the build quality of any new social housing construction.
More significant investment in urban heat mitigation could also minimise the impacts of poor-performing housing during warm periods. Results of previous studies in Sydney reveal that urban heat mitigation strategies, such as increasing green spaces and employing reflective materials for pavements and roofs, can reduce the peak ambient temperature by up to 3°C.
"In addition to housing quality, urban heat mitigation strategies also help decrease the health impact of very high temperatures, which would better protect the health of low-income people living in social housing," Dr Haddad says.
Prof. Santamouris says other innovations could also help people from low-income backgrounds at risk of energy poverty, such as using smart meters to monitor indoor temperatures and supplying free electricity to occupants.
"Many European countries supply people from low-income backgrounds a certain level of fuel for free, or they give them a grant to buy electricity or fuel," Prof. Santamouris says. "There used to be 50,000 deaths per year in the UK due to energy poverty. But now, because of these changes, this number has decreased dramatically."
M4-M5 Link To Be Renamed
The NSW Government today confirmed that once operational, the WestConnex M4-M5 Link project will be officially referred to as extensions of the M4 and M8 motorways.
Once complete, the 7.5 kilometre underground mega tunnels will connect the two motorways, providing a seamless link between Haberfield and St Peters and cutting travel times by up to 40 minutes between Western Sydney and Sydney Kingsford Smith Airport.
Minister for Metropolitan Roads Natalie Ward said the operational names aligned with the NSW motorways' numbering system, making it easier for motorists travelling across the broader network.
"We are in the final stages of one of the most significant road infrastructure projects ever undertaken in Australia," Ms Ward said.
"Naming the tunnels the M4 and M8 motorways will help motorists join the dots on the new and improved network when the tunnels open next year.
"Once complete, the tunnels will significantly improve connections between west and southwest Sydney, reducing travel times into the city for Western Sydney residents.
"This is all about making a real difference to people's daily lives, with our Government committed to providing them with the transport connections they need to move quickly and safely across our city."
The new link between the M4 and the M8 is expected to open in early 2023 and will connect to the Rozelle Interchange at the end of 2023, marking the completion of Australia's largest road infrastructure project, WestConnex.
The project will also include future links to the Western Harbour Tunnel, Sydney Gateway and the M6, to better connect communities across the city and improve freight routes.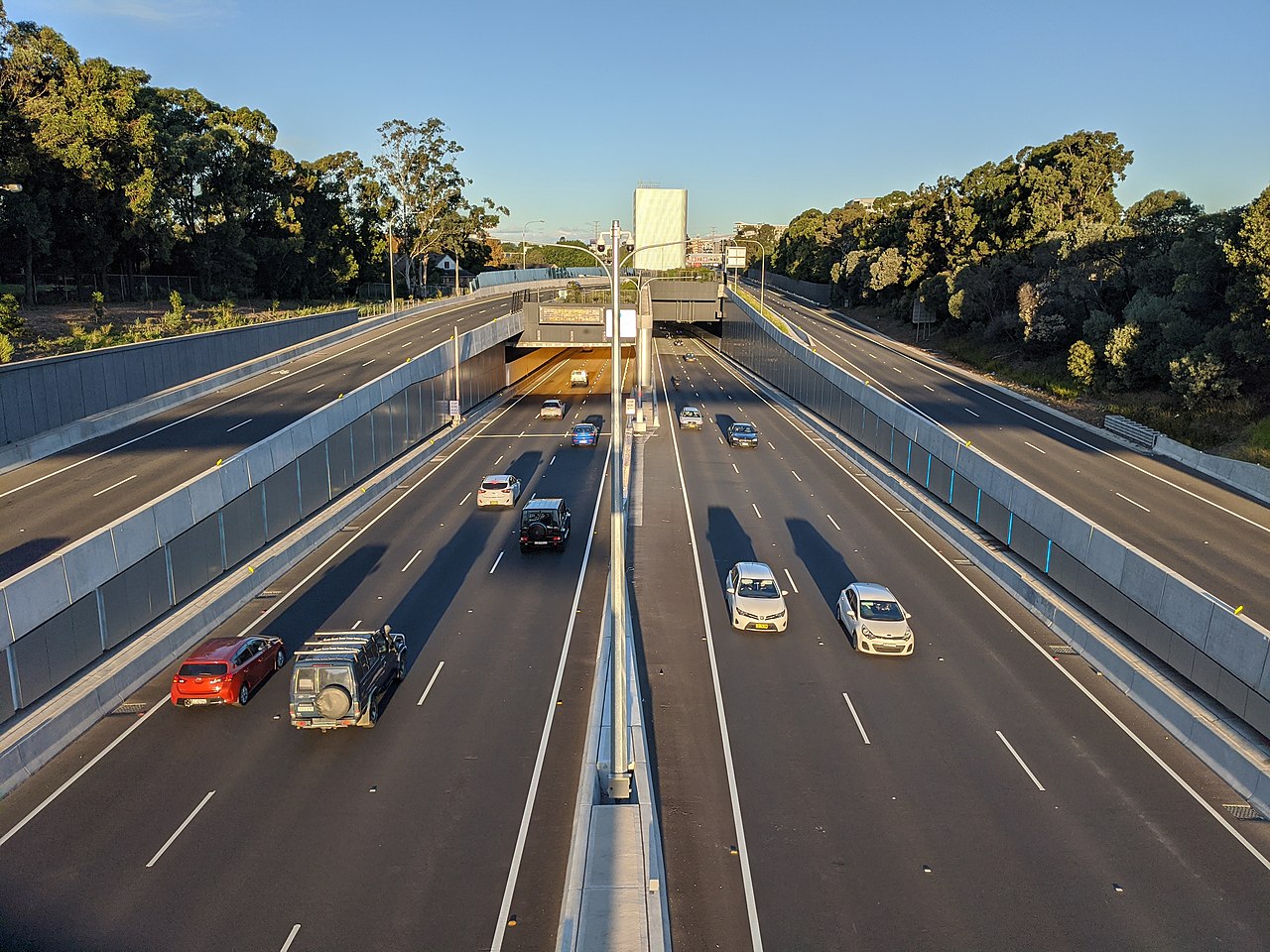 M4 Tunnel - photo by MDRX
Emergency Department Walk Outs Show Need For Ratios Nurses Association States
The NSW Nurses and Midwives' Association (NSWNMA) has urged the NSW government to overhaul the current nursing and midwifery staffing system, as new figures show tens of thousands of frustrated patients have left emergency departments without receiving or completing treatment.
New Bureau of Health Information (BHI) data shows 76,117 patients walked out of public hospital emergency departments during April to June this year,
the highest of any quarter since 2010. Almost one in five of the patients who left had re-presented for care within three days.
Waiting times inside emergency departments were also the poorest on record, with barely half of the 'triage category 2' patients, and only 62.8% of all patients, starting treatment on time.
NSWNMA General Secretary, Shaye Candish, said the report card was an alarming reminder of the demand on public hospitals and reflected the extreme pressure experienced by nursing staff.
"Our public health system has been under enormous pressure for an extended period, held together by nurses, midwives and other health staff stretching themselves beyond what is reasonable," said Ms Candish.
"The sheer volume of patients leaving our emergency departments before starting their care is shameful. Returning within a few days to try and access care, as they've likely deteriorated, doesn't depict a 'world class' health system, or one that's meeting the needs of NSW patients.
"We can see bed block issues and ramping outside emergency departments are also compounding the delays in ambulance response times to some of the highest priority cases."
BHI figures indicated elective surgery waiting times for non-urgent and semi-urgent surgeries during the quarter were also the longest on record, with patients waiting 339 days and 161 days respectively.
"The current staffing system in our public hospitals is no longer fit for purpose. It isn't transparent and it's open to manipulation. We need clear nurse-to-patient ratios on every shift to deliver safe care to all patients when they need it," Ms Candish said.
"Many members have told us unsafe workloads are prompting staff to reduce their hours. We know that manageable and safe workloads will attract nurses and midwives back into our health system.
"The ratios our members are seeking are flexible to help manage patients' care needs and the clinical experience of nursing staff across a hospital."
The NSWNMA said members would continue to advocate for patient safety in NSW public hospitals and reiterated calls for the NSW government to guarantee safe staffing with ratios.
Government States Hospitals Continue To Perform Well Despite COVID-19 And Flu Outbreaks
NSW hospitals continued to deliver high-quality care in the April to June quarter despite significant challenges due to the ongoing wave of the Omicron strain of COVID-19 and the peak of an early winter flu season, the NSW Health Department has stated today.
NSW Health Deputy Secretary, Adjunct Professor Matthew Daly, said the latest Bureau of Health Information (BHI) Healthcare Quarterly report shows large numbers of complex presentations and admissions to hospitals and furloughed staff created significant challenges. These challenges were experienced by health systems throughout Australia and NSW was no exception.
Almost 14,000 people were admitted to NSW public hospitals with COVID-19, including 925 people who required intensive care, in the April to June quarter. More than 1,500 people were admitted to NSW public hospitals with influenza-like illnesses during the same period.
COVID-19 and flu also had a significant impact on healthcare workers, with thousands of NSW Health staff unavailable every day throughout the quarter, either through illness or isolation.
"I want to thank all our staff for their incredible efforts during this difficult period because the work they have done, and continue to do, to care for the people of NSW is extraordinary," Prof Daly said.
"We acknowledge that the challenges faced by the health system did have an impact on the timeliness of care provided during the quarter, but we continued to make every effort to ensure that those who need care urgently received it without delay."
Prof. Daly said not only did public hospitals have a hugely busy quarter, but the complexity of emergency department attendances increased.
"Of the almost 800,000 attendances at NSW emergency departments during the quarter, about 111,000 were by patients in triage category two, those with an imminently life-threatening condition – the highest number of patients in this category in any quarter since BHI began reporting," Prof Daly said.
The report shows the majority of emergency department patients (62.8 per cent) started treatment on time and more than seven in 10 patients (72.5 per cent) were transferred from ambulance to ED staff within the 30-minute benchmark.
Prof. Daly said a total of 53,712 elective surgeries were performed across the state from April to June and almost all urgent elective surgeries (98.2 per cent) were performed on time.
"The elective surgery wait list was reduced by more than 2,200 people in the quarter thanks to the incredible efforts of our staff and the support of our private hospital partners, but we acknowledge we still have a lot more work to do to address the significant impact the pandemic response has had on our waiting lists," Prof. Daly said.
Prof Daly also noted that public hospitals also performed more than 24,000 emergency surgeries during the quarter, but these critical and generally most complex surgical procedures are not included in the BHI report, thereby greatly under-representing the work done in operating theatres throughout the state.
The NSW Government states it is investing a record $33 billion in health as part of the 2022-23 NSW Budget. Further, the Government states a record 10,148 full-time equivalent staff will be recruited to hospitals and health services across NSW over four years, as part of a $4.5 billion investment. The Budget also includes $408 million over two years to fast-track elective surgeries and $899 million for the ongoing COVID-19 response.
Researchers Identify How Science Can Help Cities And Companies To Operate Within Earth System Limits
What businesses and cities must do to stay within 'safe and just' environmental limits for carbon, water, nutrients, land and other natural resources is the subject of a new set of recommendations from Earth Commission experts.
The authors, from academic institutions including the University of Exeter Business School, have published key knowledge gaps for researchers to help cities and businesses to operate within Earth system limits in the journal Nature.
It comes ahead of an Earth Commission report due out next year that will outline a range of 'Earth system boundaries' (ESBs) based on the latest science, modelling and literature assessments.
A decade ago, scientists defined a set of planetary boundaries within which humanity can operate 'safely' in nine areas -- climate change, the biosphere, nutrients, water, land use, ocean acidification, ozone depletion, aerosols and novel entities -- and the soon-to-be-defined ESBs will add a social justice dimension, to ensure quantified boundaries are 'just' as well as 'safe'.
The researchers argue that methods need to be developed to identify what cities and companies must do for the world to stay within the ESBs and to help them assess their share of responsibility towards global budgets of carbon, water, nutrients, land and other natural resources, and set targets to protect them.
The authors argue for 'science-based targets' and say objectives must be 'measurable, actionable and time-bound', pointing out that few cities and companies currently have science-based targets and of the top 200 cities with the highest emissions, only 110 have 'net zero' pledges that align with the Paris Agreement.
Lead author Xuemei Bai, Distinguished Professor at the Fenner School of Environment and Society at The Australian National University and a member of the Earth Commission said: "It's a long haul, but humanity needs to stay within our planet's finite budgets. Developing scientifically-robust and socially-just methods to allocate natural resources and responsibilities is essential to respect them.
"Cities and companies are main contributors to planetary level changes, but also key actors for solutions. There are knowledge gaps in how to translate such boundaries into concrete allocations for businesses and cities, and our recommendations seek to fill those gaps."
Co-author Gail Whiteman, Professor of Sustainability at University of Exeter Business School said: "Our work makes the strong case for breakthrough joint actions by companies and cities to synergistically tackle urban hot spots within Earth System Boundaries using science-based limits. Right now, corporate and urban targets are siloed. A key next step is for initiatives like the International Sustainability Standards Board and the Science Based Targets Network to integrate ESBs and encourage joint action."
Co-author Johan Rockström, co-chair of the Earth Commission and director of the Potsdam Institute for Climate Impact Research, said that "Earth system boundaries are linked, so targets need to be aligned. Measures that focus on one domain can be beneficial or detrimental to others.
"Climate change, for instance, depends on land-based processes -- such as methane emissions from thawing permafrost and weakened carbon sinks through deforestation. Several pressure points can combine so that tipping points are reached sooner."
Co-author Şiir Kılkış, senior researcher at the Scientific and Technological Research Council of Turkey said: "Cities exchange people, energy and goods with their local and global hinterlands. The top 200 cities with the largest greenhouse-gas emissions also host the headquarters of 360 of the top 500 emitting companies.
"Looking across domains, more than 50% of these cities and companies are in water-stressed areas, including Mexico City, Santiago, Beijing, Madrid, New Delhi, Rome, Istanbul in Turkey and Phoenix, Arizona."
Co-author Anders Bjørn, postdoctoral fellow at the Technical University of Denmark said: "It is encouraging that more and more companies are setting reduction targets for carbon emissions based on the 1.5-degree Paris goal. These science-based targets are typically more ambitious than national commitments and should inspire more action from policymakers at different levels. Now we need the biggest emitters and resource consumers to step up and do their part in limiting climate change and protecting all other Earth system boundaries."
Erin Billman, Executive Director of Science Based Targets Network advised that "Earth Commission's critical work on Earth system boundaries is directly informing Science Based Targets Network's development of environmental science-based targets (SBTs) for companies and cities, which build upon climate SBTs to cover freshwater, land, ocean and biodiversity."
The authors highlight seven recommendations for researchers aiming to translate ESBs into concrete steps for cities and businesses.
1. Develop common procedures
Principles and protocols must be developed, and methods, metrics, assumptions and uncertainties must be clear. Without such clarity, cities and companies may seek to minimise their own responsibility and maximise the resources they claim; powerful actors may exert undue influence.
Earth system boundaries are linked, so targets need to be aligned. Climate change, for instance, depends on land processes -- from methane emissions from thawing permafrost to weakened carbon sinks through deforestation. Researchers should identify key activities that span several ESBs and evaluate what can be achieved by targeting them.
Most targets focus on a particular date, like 2030 or 2050. But pathways are important. For example, reducing carbon emissions linearly to net zero by 2050 would result in less warming than keeping them high for the next decade and then dropping suddenly. Researchers must develop an agile approach -- time-sensitive and dynamic goal setting that allows regular checking, adjustment and updating.
4. Allocate for justice and equity
Targets need to reflect socioeconomic contexts, such as income and consumption levels, environmental impacts or capabilities to act. For example, cities with high consumption levels, historical emissions or high revenues should arguably adopt more stringent targets than others.
5. Support monitoring and accountability
Much work needs to be done to support monitoring and accountability. We recommend that initiatives, such as the new International Sustainability Standards Board, engage with cross-disciplinary scientists to ensure that their proposed 'global baseline of sustainability-related disclosure standards' explicitly link cities and companies with ESBs. Independent auditing systems are also needed.
6. Establish governance mechanisms
New policies and regulations will be needed to incentivise or mandate cities and companies to adopt targets. One approach is to recognize each of the ESB domains as a global commons. For climate change, the United Nations could initiate intergovernmental panels and call on governments to mandate science-based target setting for large cities and companies. There is no guarantee this would fix the problem, but it would put ESBs onto the policy agenda.
Widespread adoption of science-based target setting by cities and companies is essential, as they can also prompt and incentivise national governments to follow the suit. Quality trademarks for products and services, such as 'kitemarks' or positive labels, could be issued to raise awareness and encourage others. Financial incentives should be scaled up and expanded.
'How to stop cities and companies causing planetary harm', by Earth Commission authors from the Australian National University, Technical University of Denmark, University of Exeter Business School, Scientific and Technological Research Council of Turkey, University of Graz, University of Potsdam and Potsdam Institute for Climate Impact Research (PIK), is published in the journal Nature.
Xuemei Bai, Anders Bjørn, Şiir Kılkış, Oscar Sabag Muñoz, Gail Whiteman, Holger Hoff, Lauren Seaby Andersen, Johan Rockström.
How to stop cities and companies causing planetary harm
. Nature, 2022; 609 (7927): 463 DOI:
10.1038/d41586-022-02894-3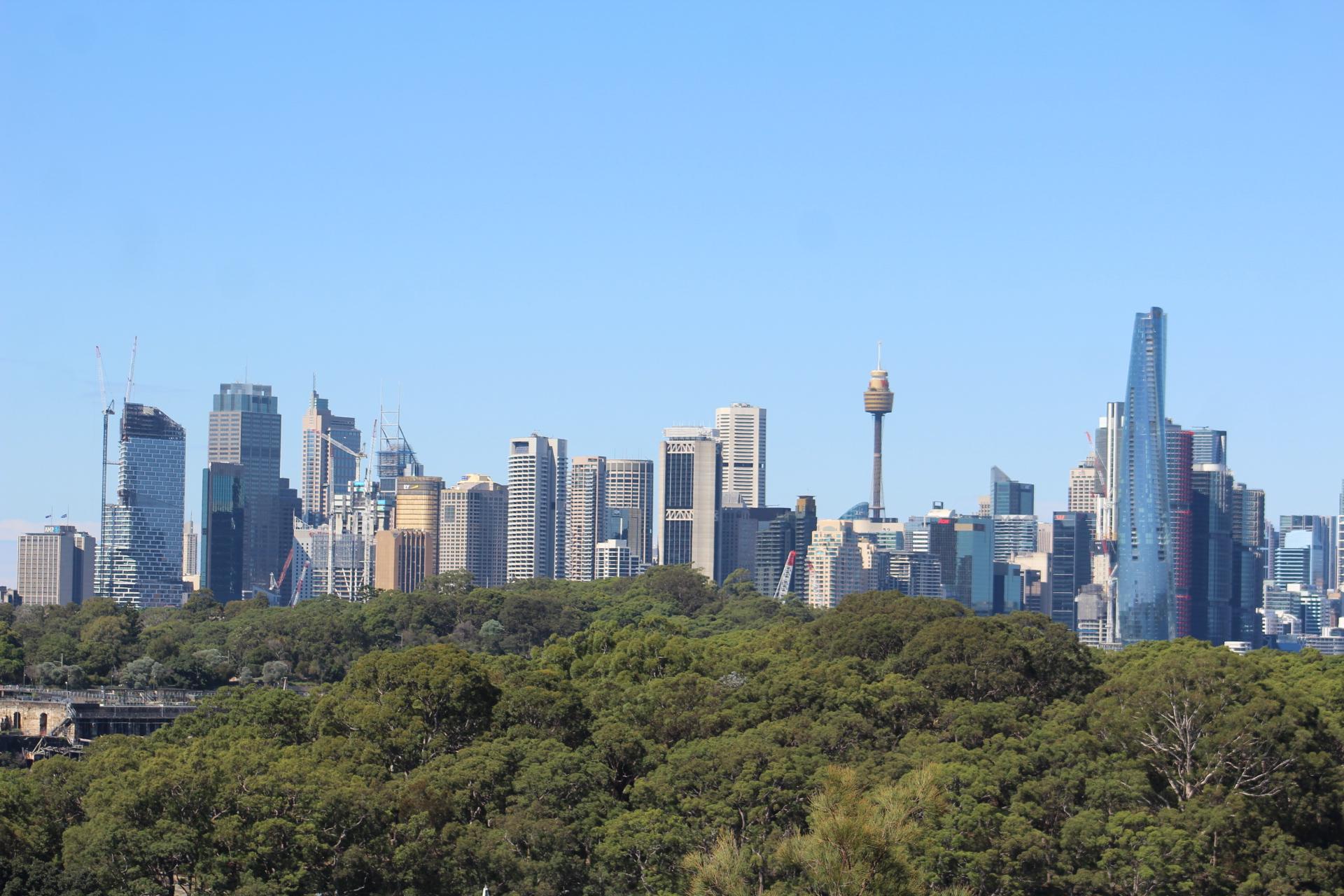 Chemical Fingerprints Could Land The Biggest Catch: Seafood Fraudsters
Universal chemical fingerprints that can trace the geographic origins of many marine species have been developed by Australian scientists to help combat seafood fraud and stop illegal and unsustainable fishing.
Marine ecologists Dr Zoe Doubleday and Dr Jasmin Martino have identified chemical fingerprints common to the bones and shells of marine life from specific ocean environments, allowing them to track where individual seafood comes from.
Dr Doubleday who developed the concept as part of her ARC Future Fellowship at the University of South Australia (UniSA), says seafood is one of the most traded commodities in the world, but supply chains are unclear, and the industry is susceptible to fraud.
"It is important we know where our seafood comes from and that consumers can trust the label of origin, otherwise it threatens the integrity of the industry and the fisheries they depend upon," Dr Doubleday, says.
Alongside Dr Martino, a former UniSA postdoctoral researcher who now works at the Australian Nuclear Science and Technology Organisation (ANSTO), Dr Doubleday built a map of ocean chemistry that can distinguish the origin of seafood between south-east Asia and southern Australia.
"Precise levels of chemicals found in seafood is controlled by the ocean where marine life is based, so we can establish a chemical fingerprint that tells us which body of water the animal comes from."
Seafood fraud occurs when consumers or businesses are deceived about where seafood is caught, and where products are substituted with lower quality seafood or from locations with fewer sustainable regulations.
Poor quality seafood can contain hidden pathogens, unlisted allergens and fewer nutrients.
"This substitution threatens our food system by risking sustainability, safety, and consumer confidence," Dr Martino says.
"In the long term, it leads to over-exploitation of stocks and upsets the balance of marine ecosystems, ultimately harming seafood industries."
Paper-based and digital tracing are also used to determine where seafood is from, but until now, chemical fingerprinting has largely been restricted to land animals.
"The advantage of chemical fingerprinting is that it is difficult to falsify. Now that we have established a universal chemical marker, with ongoing research and development, it could transform the way we provenance seafood on a global scale," Dr Doubleday says.
The researchers describe the breakthrough in the journal Fish and Fisheries.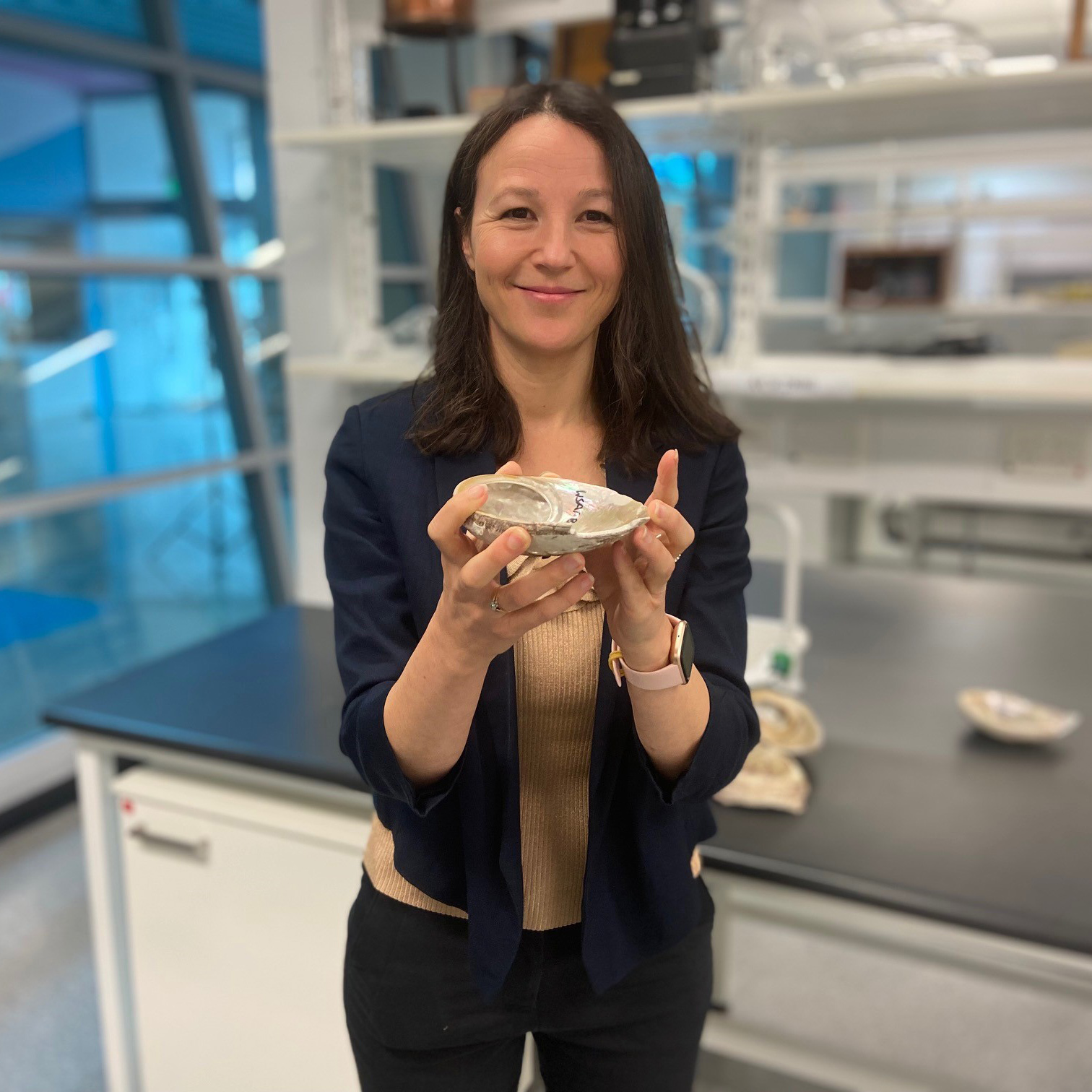 Dr Zoe Doubleday uses chemical fingerprints in shells to geolocate marine animals and animal products. Photo: UniSA

Jasmin C. Martino, Clive N. Trueman, Debashish Mazumder, Jagoda Crawford, Zoë A. Doubleday.
The universal imprint of oxygen isotopes can track the origins of seafood.
Fish and Fisheries, 2022; DOI:
10.1111/faf.12703
Australian Vets And Pets To Reap Benefits From New Drug To Treat Common Infection
Australia's 29 million pets look set to benefit from a more effective treatment for Giardia, a common intestinal infection in dogs and cats, thanks to a collaboration between academia and industry.
Pharmaceutical scientists from five Australian universities are partnering with veterinary pharmaceutical company Neoculi Pty Ltd to develop a new drug to treat Giardia, which affects at least 15 per cent of dogs, particularly puppies, and approximately 12 per cent of cats.
Existing treatments on the market are ineffective and have significant drawbacks, according to University of South Australia pharmaceutical scientist Professor Sanjay Garg, one of the key collaborators on the three-year project, led by the University of Newcastle.
Professor Garg says current drugs have limited effectiveness due to parasitic resistance, require multiple treatments and have toxic side effects.
"The drug we are developing is safe and effective in one single dose. We are aiming to produce a palatable formulation that pets will take without any resistance." Prof Garg says. "It should be available within three years."
Australia has the highest pet ownership rate in the world, with 40 per cent of households owning a dog and 27 per cent owning a cat, incurring significant costs in the order of $12 billion a year, with veterinary bills accounting for about 25 per cent.
"It costs each household around $1627 per dog each year and $962 per cat, so anything we can do to make veterinary drugs more cost effective is a win-win for animals and owners alike."
The $282,339 project with matching funding is being funded by the Federal Government's ARC Linkage Grant program.
Mucosal Antibodies In The Airways Protect Against Omicron Infection
High levels of mucosal antibodies in the airways reduce the risk of being infected by omicron, but many do not receive detectable antibodies in the airways despite three doses of the SARS-CoV-2 vaccine. These are the findings of a study published today in The New England Journal of Medicine, led by researchers at Karolinska Institutet and Danderyd Hospital in Sweden.
The COMMUNITY study enrolled 2,149 health care workers in the spring of 2020 at Danderyd Hospital, Sweden. Study participants and their immune responses against the coronavirus SARS-CoV-2 are since then followed up every four months. A sub-study between January and February 2022 screened 338 triple-vaccinated healthcare workers for SARS-CoV-2 infection. Antibody levels in blood and airways were determined at the start of the screening period, and one in six (57 participants) was subsequently infected with omicron during the four-week screening period. This allowed the research group to investigate immunity against omicron breakthrough infection as well as immune boosting following breakthrough infection.
The levels of mucosal IgA antibodies (immunoglobulin A) were measured in the airways because they play an important role in the protection against respiratory infections. All participants had high levels of systemic antibodies (e.g. in the blood) after three doses of the vaccine, but only 62 per cent had detectable mucosal airway antibodies (e.g in the nose). High levels of mucosal airway antibodies more than halved the risk of becoming infected with omicron.
"It is not surprising that antibodies in the respiratory tract neutralise the virus locally, but these findings show, for the first time, that SARS-CoV-2 mucosal antibodies in the airways actually protect against omicron infection," says lead author Charlotte Thålin, M.D. and associate professor at the Department of Clinical Sciences, Danderyd Hospital, Karolinska Institutet.
High mucosal antibodies in the airways were also associated with a lower viral replication among those infected with omicron. After omicron infection, a 40-fold increase in mucosal airway antibodies was found in the majority of participants, even if the infection had been mild.
The researchers also showed that participants with SARS-CoV-2 infection prior to vaccination had significantly higher levels of mucosal airway antibodies after vaccination compared with triple-vaccinated with no prior SARS-CoV-2 infection. This may explain why so-called hybrid immunity, the combination of infection and vaccine, provides stronger protection against infection than just vaccines.
"We are now in a situation with omicron infecting people despite having received several doses of today's intramuscular vaccines," says Charlotte Thålin. "It is tempting to think that a vaccine administered through the nose or mouth, where SARS-CoV-2 enters the body, could provoke a local immune response preventing infection at an earlier stage. Several vaccines in the form of a nasal spray are now being investigated in clinical trials with the hope of being able to reduce the spread of infection and thus reduce the risk of developing new virus variants."
The COMMUNITY study continues with regular samplings from blood and mucosa, monitoring immune responses after repeated SARS-CoV-2 infections and vaccinations. The study is conducted in close collaboration between Danderyd Hospital, Karolinska Institutet, Uppsala University, the Public Health Agency of Sweden, KTH Royal Institute of Technology, and SciLifeLab.
The research has been funded by the Jonas and Christina af Jochnick Foundation, Region Stockholm, the Knut and Alice Wallenberg Foundation, Leif Lundblad and family, the Swedish Research Council, the Swedish Heart-Lung Foundation, the Bill and Melinda Gates Foundation, Karolinska Institutet and SciLifeLab.
Sebastian Havervall, Ulrika Marking, Julia Svensson, Nina Greilert-Norin, Philip Bacchus, Peter Nilsson, Sophia Hober, Max Gordon, Kim Blom, Jonas Klingström, Mikael Åberg, Anna Smed-Sörensen, Charlotte Thålin.
Anti-Spike Mucosal IgA Protection against SARS-CoV-2 Omicron Infection.
New England Journal of Medicine, 2022; DOI:
10.1056/NEJMc2209651
Tropical Insects Are Extremely Sensitive To Changing Climates
Insects that are adapted to perennially wet environments, like tropical rainforests, don't tend to do well when their surroundings dry out. New research published this Wednesday indicates they may be equally averse to heavy rainfall.
The results of an extensive five-year study conducted in Peru revealed a 50% decline in arthropod biomass following short periods of both drought and increased precipitation. One of only a few studies of this scope conducted in the tropics, the findings suggest terrestrial arthropods, a group that includes insects and spiders, will be more susceptible to climate change than previously suspected.
"Most of the time when we think about climate change, we think about warming temperatures, but rainfall patterns will change as well, which is something insects seem to be especially sensitive to," said Felicity Newell, a postdoctoral associate and former doctoral student with the Florida Museum of Natural History. "We're seeing that rainfall extremes can have negative effects over very short timescales."
The insect apocalypse takes on new dimensions
The discovery of a Goldilocks preference for just the right amount of water makes its debut against a worrying backdrop of population declines. Over the last two decades, thousands of studies have documented insect decline and extinction on every continent except Antarctica, a pattern some have dubbed the insect apocalypse.
These results paint a stark but incomplete picture. Most of these studies have been conducted in densely populated temperate regions, while the planet's most biodiverse ecosystems -- the tropics -- have received considerably less scrutiny.
Half of all insect diversity resides in the tropics, and as a result, scientists know a great deal about only a small fraction of imperiled insect species. This imbalance places strict limits on understanding how insects will fare with the complex problem of climate change.
"One of the biggest challenges is abiotic factors like temperature and rainfall influence multiple things. They can influence both the growth of new leaves and the arthropods that feed on them. In temperate systems, it's difficult to tease the two apart because they're often very synchronized," Newell said.
In temperate zones, the seasons proceed in a tight lock-step. Life stirs and flourishes in spring and summer, then wanes and lies dormant in autumn and winter. Near the equator, the annual changes are less pronounced. Wet and dry seasons create rhythmic variation, but the consistent temperatures allow plants to retain their leaves and tropical ecosystems to remain active year-round.
With a constant supply of plant food, any large increase or decrease in insect abundance is more likely to be the result of changing climates. For scientists like Newell who want to understand how climate change will affect insect populations, the tropics are the ideal place to study.
Insects decline in wet conditions for reasons that remain obscure
Newell and co-author Ian Ausprey spent a combined two-and-a-half years between 2015-2019 conducting field work along the slopes of the Andes Mountains in northern Peru. Living and working with the residents of local villages, they collected insects multiple times of the year at sites spanning more than 4,500 ft of elevation. In total, they collected more than 48,000 insects, which they compared to rainfall and temperature measurements taken throughout the year.
They expected insect abundance would be strongly linked to the growth of plants. While most trees and shrubs don't lose their leaves in the tropics, the production of young, supple leaves favored by herbivorous insects coincides with the onset of the rainy season. But this isn't what they found. The flush of bright green growth, as interpreted by satellite data and by visual inspection in the field, had only a small effect on insect biomass.
Instead, rainfall was the single greatest predictor of how many insects you might expect to find at a given location.
"Arthropod biomass decreased after three months of dry weather, but it also decreased after three months of exceptionally wet conditions," Newell said. "Biomass peaked at intermediate rainfall, creating a dynamic balance between too wet and too dry."
Newell and Ausprey took things a step further by attempting to determine the exact mechanism behind the declines. They conducted desiccation experiments on insects collected in the field. Most of their specimens found it hard to cope with even a small reduction in humidity. This was particularly true of small insects; their greater surface-to-volume-ratio makes them especially prone to drying out.
Researchers are at a loss, however, to explain why wetter-than-average conditions are problematic. Theories range from the physical damage small insects receive by being pelted with raindrops to decreased foraging times caused by more frequent storms. Another idea posits that cooler temperatures from prolonged cloud cover might hamper insect growth and development.
"One hypothesis is there are more fungal spores during the rainy season, which would result in a greater occurrence of entomopathogenic fungi," Newell said. Such fungal pathogens that prey on insects are common in tropical ecosystems. Infection often results in the death of the insect host, but only after their behavior has been radically altered to ensure optimal dispersal for the next batch of spores, as is the case for the zombie ant.
Whatever the reason, the authors worry what their results might portend for insects and the animals that rely on them in a rapidly warming world. Combining their information collected in the field with 50 years of regional rainfall data, they also developed a predictive model that might help untangle the "black box" of ecosystem function and response. Their model suggests insects will be among the first organisms that respond if conditions continue to shift toward a dangerously unbalanced climate.
"Insects are incredibly diverse and important. They fill the ecosystem roles of pollination and decomposition, and they serve as a food resource for many birds and mammals," Newell said. "Our predictive model shows that insects respond to rainfall extremes, but how they respond to changing climates over the long term remains to be seen."
Felicity L. Newell, Ian J. Ausprey, Scott K. Robinson.
Wet and dry extremes reduce arthropod biomass independently of leaf phenology in the wet tropics.
Global Change Biology, 2022; DOI:
10.1111/gcb.16379
The Blood Stem Cell Research That Could Change Medicine Of The Future
Biomedical engineers and medical researchers at UNSW Sydney have independently made discoveries about embryonic blood stem cell creation that could one day eliminate the need for blood stem cell donors.
The achievements are part of a move in regenerative medicine towards the use of 'induced pluripotent stem cells' to treat disease, where stem cells are reverse engineered from adult tissue cells rather than using live human or animal embryos.
But while we have known about induced pluripotent stem cells since 2006, scientists still have plenty to learn about how cell differentiation in the human body can be mimicked artificially and safely in the lab for the purposes of delivering targeted medical treatment.
Two studies have emerged from UNSW researchers in this area that shine new light on not only how the precursors to blood stem cells occur in animals and humans, but how they may be induced artificially.
In a study published today in Cell Reports, researchers from UNSW School of Biomedical Engineering demonstrated how a simulation of an embryo's beating heart using a microfluidic device in the lab led to the development of human blood stem cell 'precursors', which are stem cells on the verge of becoming blood stem cells.
And in an article published in Nature Cell Biology recently, researchers from UNSW Medicine & Health revealed the identity of cells in mice embryos responsible for blood stem cell creation.
Both studies are significant steps towards an understanding of how, when, where and which cells are involved in the creation of blood stem cells. In the future, this knowledge could be used to help cancer patients, among others, who have undergone high doses of radio- and chemotherapy, to replenish their depleted blood stem cells.
In the study detailed in Cell Reports, lead author Dr Jingjing Li and fellow researchers described how a 3cm x 3cm microfluidic system pumped blood stem cells produced from an embryonic stem cell line to mimic an embryo's beating heart and conditions of blood circulation.
She said that in the last few decades, biomedical engineers have been trying to make blood stem cells in laboratory dishes to solve the problem of donor blood stem cell shortages. But no one has yet been able to achieve it.
"Part of the problem is that we still don't fully understand all the processes going on in the microenvironment during embryonic development that leads to the creation of blood stem cells at about day 32 in the embryonic development," Dr Li said.
"So we made a device mimicking the heart beating and the blood circulation and an orbital shaking system which causes shear stress -- or friction -- of the blood cells as they move through the device or around in a dish."
These systems promoted the development of precursor blood stem cells which can differentiate into various blood components -- white blood cells, red blood cells, platelets and others. They were excited to see this same process -- known as haematopoiesis -- replicated in the device.
Study co-author Associate Professor Robert Nordon said he was amazed that not only did the device create blood stem cell precursors that went on to produce differentiated blood cells, but it also created the tissue cells of the embryonic heart environment that is crucial to this process.
"The thing that just wows me about this is that blood stem cells, when they form in the embryo, form in the wall of the main vessel called the aorta. And they basically pop out of this aorta and go into the circulation, and then go to the liver and form what's called definitive haematopoiesis, or definitive blood formation.
"Getting an aorta to form and then the cells actually emerging from that aorta into the circulation, that is the crucial step required for generating these cells."
"What we've shown is that we can generate a cell that can form all the different types of blood cells. We've also shown that it is very closely related to the cells lining the aorta -- so we know its origin is correct -- and that it proliferates," A/Prof. Nordon said.
The researchers are cautiously optimistic about their achievement in emulating embryonic heart conditions with a mechanical device. They hope it could be a step towards solving challenges limiting regenerative medical treatments today: donor blood stem cell shortages, rejection of donor tissue cells, and the ethical issues surrounding the use of IVF embryos.
"Blood stem cells used in transplantation require donors with the same tissue-type as the patient," A/Prof. Nordon said.
"Manufacture of blood stem cells from pluripotent stem cell lines would solve this problem without the need for tissue-matched donors providing a plentiful supply to treat blood cancers or genetic disease."
Dr Li added: "We are working on up-scaling manufacture of these cells using bioreactors."
Meanwhile, and working independently of Dr Li and A/Prof. Nordon, UNSW Medicine & Health's Professor John Pimanda and Dr Vashe Chandrakanthan were doing their own research into how blood stem cells are created in embryos.
In their study of mice, the researchers looked for the mechanism that is used naturally in mammals to make blood stem cells from the cells that line blood vessels, known as endothelial cells.
"It was already known that this process takes place in mammalian embryos where endothelial cells that line the aorta change into blood cells during haematopoiesis," Prof. Pimanda said.
"But the identity of the cells that regulate this process had up until now been a mystery."
In their paper, Prof. Pimanda and Dr Chandrakanthan described how they solved this puzzle by identifying the cells in the embryo that can convert both embryonic and adult endothelial cells into blood cells. The cells -- known as 'Mesp1-derived PDGFRA+ stromal cells' -- reside underneath the aorta, and only surround the aorta in a very narrow window during embryonic development.
Dr Chandrakanthan said that knowing the identity of these cells provides medical researchers with clues on how mammalian adult endothelial cells could be triggered to create blood stem cells -- something they are normally unable to do.
"Our research showed that when endothelial cells from the embryo or the adult are mixed with 'Mesp1 derived PDGFRA+ stromal cells' -- they start making blood stem cells," he said.
While more research is needed before this can be translated into clinical practice -- including confirming the results in human cells -- the discovery could provide a potential new tool to generate engraftable haematopoietic cells.
"Using your own cells to generate blood stem cells could eliminate the need for donor blood transfusions or stem cell transplantation. Unlocking mechanisms used by Nature brings us a step closer to achieving this goal," Prof. Pimanda said.
Jingjing Li, Osmond Lao, Freya F. Bruveris, Liyuan Wang, Kajal Chaudry, Ziqi Yang, Nona Farbehi, Elizabeth S. Ng, Edouard G. Stanley, Richard P. Harvey, Andrew G. Elefanty, Robert E. Nordon.
Mimicry of embryonic circulation enhances the hoxa hemogenic niche and human blood development.
Cell Reports, 2022; 40 (11): 111339 DOI:
10.1016/j.celrep.2022.111339
Disclaimer: These articles are not intended to provide medical advice, diagnosis or treatment. Views expressed here do not necessarily reflect those of Pittwater Online News or its staff.