inbox and environment news: Issue 571
February 12 - 18 2023: Issue 571
Stop PEP11 & Protect Our Coast Bill 2023 To Be Tabled In Federal Parliament This Week By Warringah MP - Will Be Seconded By Mackellar MP
Mackellar MP Dr. Sophie Scamps has stated she will be seconding Warringah MP Zali Steggall's Stop PEP11 and Protect Our Coast Bill 2023 on Monday February 13th when Parliament returns.
''The Northern Beaches is united on this - we will never accept drilling for oil and gas off our beaches!'' Dr. Scamps has stated
''Zali's Bill will rule out any consideration of an application to drill for oil and gas off our coast and protect our oceans and our coastline for good.
It's time for the Albanese Government to do what the Morrison Government couldn't, and that's kill off PEP-11 for good and start investing in the future - clean, cheap and reliable renewables backed by storage technology.''
More in: Agreement To End PEP-11 Litigation Revives Applicants' Licence Extension Process - Issue 570
Plastic Boardwalk Through Manly Warringah War Memorial Park: 'We Can Do Better!' States Save Manly Dam Bushland Group
Background
Between February 2022 and March 2022, the Northern Beaches Council consulted with the community on a concept design for a proposed link trail, including a raised boardwalk, between Picnic Area 2 and Picnic Area 3 at Manly Dam. The purpose of the link trail was to help improve safety and accessibility, with pedestrians no longer needing to walk along the narrow road between the picnic areas.
The Council states that;
'Overall, there was general support for the proposed link trail, with the majority of respondents supporting a safer pedestrian path separate from the road. The need to be sensitive to the existing natural environment and landscape was also strongly recognised.
Most respondents felt that the proposed link trail will improve safety for them and their families and will improve access for wheelchair users, people with low mobility and people with prams. This will allow a wider range of people to enjoy the area
Some felt the area should be left alone and kept natural. Concerns and questions were raised by respondents regarding impact on local wildlife, loss of native vegetation, accessibility, boardwalk materials and width, flood management and ongoing maintenance.'
The Council then announced:
The project is progressing to the construction stage. Council intends to issue a tender before the end of the year and construction is expected to commence in mid-2023.'
The link trail is to be approximately 433 m long and will consist of a raised fiberglass reinforced plastic boardwalk on galvanised steel pilings traversing bushland to finish at the northern end with a short section of coloured concrete path at the commencement of the boardwalk at the southern end.
The Council states that it chose this raised boardwalk/plastic option instead of a bush track as:
' The boardwalk will be set between 200mm and 400mm above the ground. This is to allow the movement of flora and fauna underneath the boardwalk and minimises the environmental impact by minimising disturbance to the bush floor. It also means that changes to the hydrology of the slope will be minimised resulting in no erosion as a result of the construction of the boardwalk. This contrasts with a terrestrial trail option which would have led to significant erosion events and great change to the hydrology of the bank.'
The Save Manly Dam Bushland community group stated this week:

WE CAN DO BETTER !!
Just last month, a substantial part of Manly Warringah War Memorial Park was listed on the NSW State Heritage register -a cause for community celebration. Unfortunately, despite the listing being largely dependant on the biodiversity and cultural values of the area, it will not impede Northern Beaches Council's proposal for a $1.8 million, 400 metre, new pathway through untouched Pygmy Possum habitat (one of our most cherished threatened species).
The tender document calls for the "removal of native shrubs and small trees within the construction corridor; installation of a 2m wide fibre reinforced plastic boardwalk with hot dipped galvanised steel subfloor and posts into earthen subgrade and/or drilled into sandstone; Supply and installation of galvanised balusters with stainless steel handrails as required along the boardwalk; Construction of a stepped viewing platform with seating and timber stairs; Relocation and provision of new picnic facilities; Coloured concrete footpath on grade".
This is hardly conducive to conserving or respecting unique natural heritage.
At the announcement of the heritage listing, Mayor Michael Regan cited the positive influence of (recently departed) ex WW2 serviceman and Save Manly Dam activist Ray Cox- who when faced with similar destructive proposals advised him that "we can do better".
Michael, who is now running as an Independent candidate in the Wakehurst electorate has listed "ensure Manly Dam is properly protected" as one of his policies... https://www.michaelregan4mp.com/policies
The below short video details a better and cheaper alternative-allowing funds to be redirected to more suitable projects. Surely it is beyond time to properly value the preservation of nature and not continually exploit it.
The latest council staff recommendation will be going up to February's Council meeting for a decision on the responses received for the tender
Please send an email message to all Northern Beaches Councillors and the General Manager, Ray Brownlee, to tell them how you feel about this proposal.
Pittwater: Urban Wallabies
The below video, from Riekie Du Plessis, shows a swamp wallaby
visiting a garden in Clareville (caught on security camera).
A local wildlife carer explains: ''
We had them before the fires up at Palm Beach - Barrenjoey headland…. so it could be from there or could be the Newport/Bilgola one that has been seen for a few years.''
'Barrenjoey' means 'little kangaroo' - so wallabies, and their presence there from the original language of this place.
Palm Beach residents state they have seen a wallaby in the quieter streets over several years.
Residents also report seeing one, perhaps the same indiivdual, going into Avalon Beach sand dunes earlier this week, a place where at least two young foxes have also been sighted in recent weeks. The link to report these runs below.
Another resident has spotted what looked like the body of a wallaby on the side of the road at Dark Gully, Palm Beach.
Bushcarers at Angophora Reserve, Avalon Beach, state they have seen a wallaby in the reserve over the years.
Is this the same wallaby, or are there now more moving into the northern end of the peninsula, escapees driven by Mona Vale road upgrade works and increased development encroaching into the areas they once were much safer living in?
Report Fox Sightings
Fox sightings, signs of fox activity, den locations and attacks on native or domestic animals can be reported into FoxScan. FoxScan is a free resource for residents, community groups, local Councils, and other land managers to record and report fox sightings and control activities.
Our Council's Invasive species Team receives an alert when an entry is made into FoxScan. The information in FoxScan will assist with planning fox control activities and to notify the community when and where foxes are active.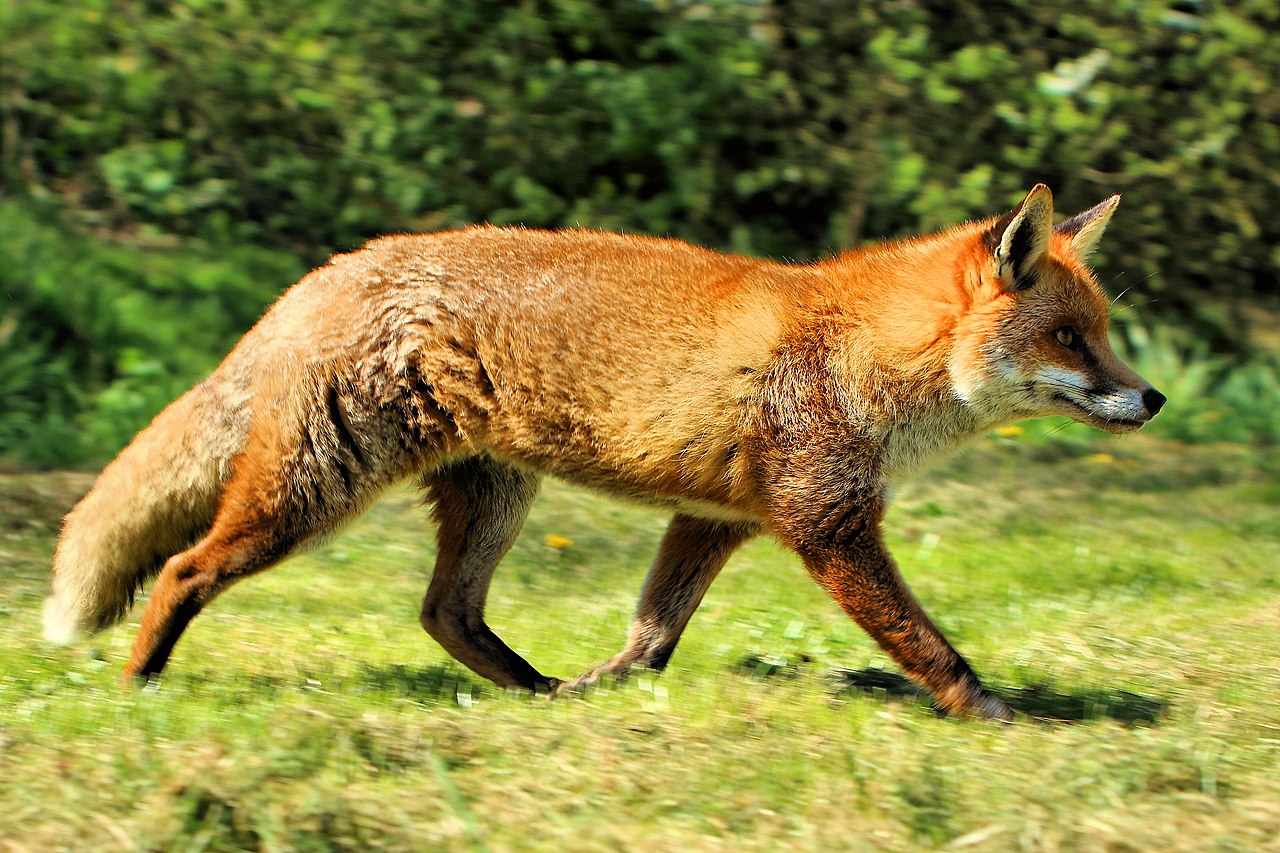 Avalon Dunes Bushcare Returns Sunday March 5th
We're back on the dunes in 2023 in our very own bushcare area. See map. We'll be there starting at 8.30 on the first Sunday morning of each month.
Next will be on March 5, meeting at 8.30 in the parking area off Tasman Rd south.
We work until 11.30 but any time you can spare is wonderful.
We always find interesting insects and other wildlife. We can see the progress happening as we work in this corner of the 4.5ha dunes.
Call in to say hello or phone 0420 817 574 if you can't see us there.
New helpers very welcome, and there's always something yummy for morning tea.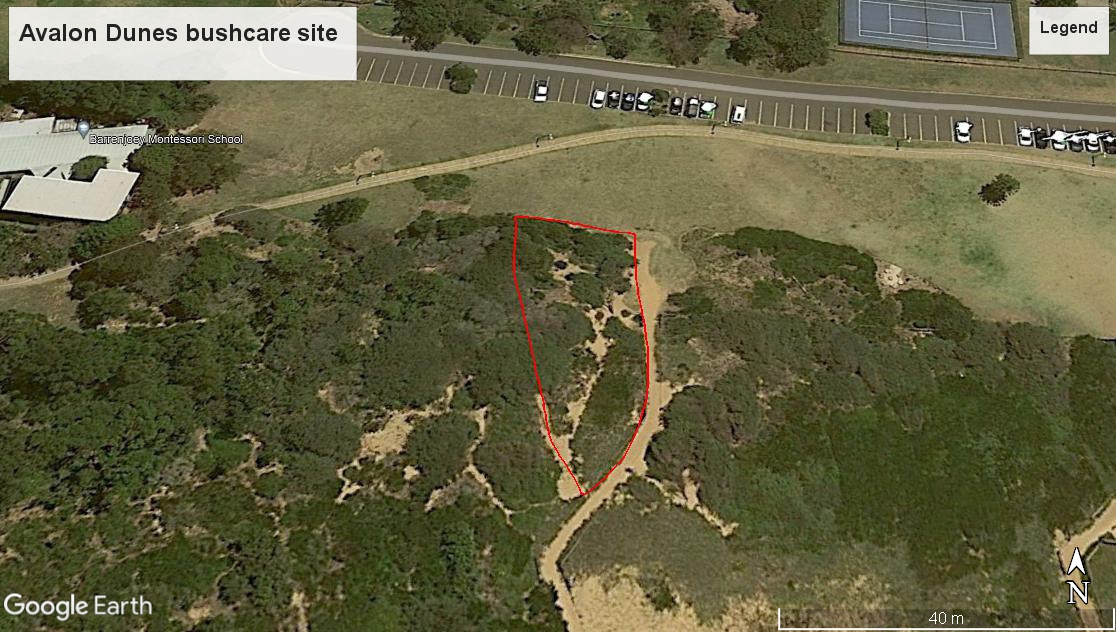 Our bushcare area is within the red lines. We can work in the shade in summer, or in sun in winter. Barrenjoey High school is to the north.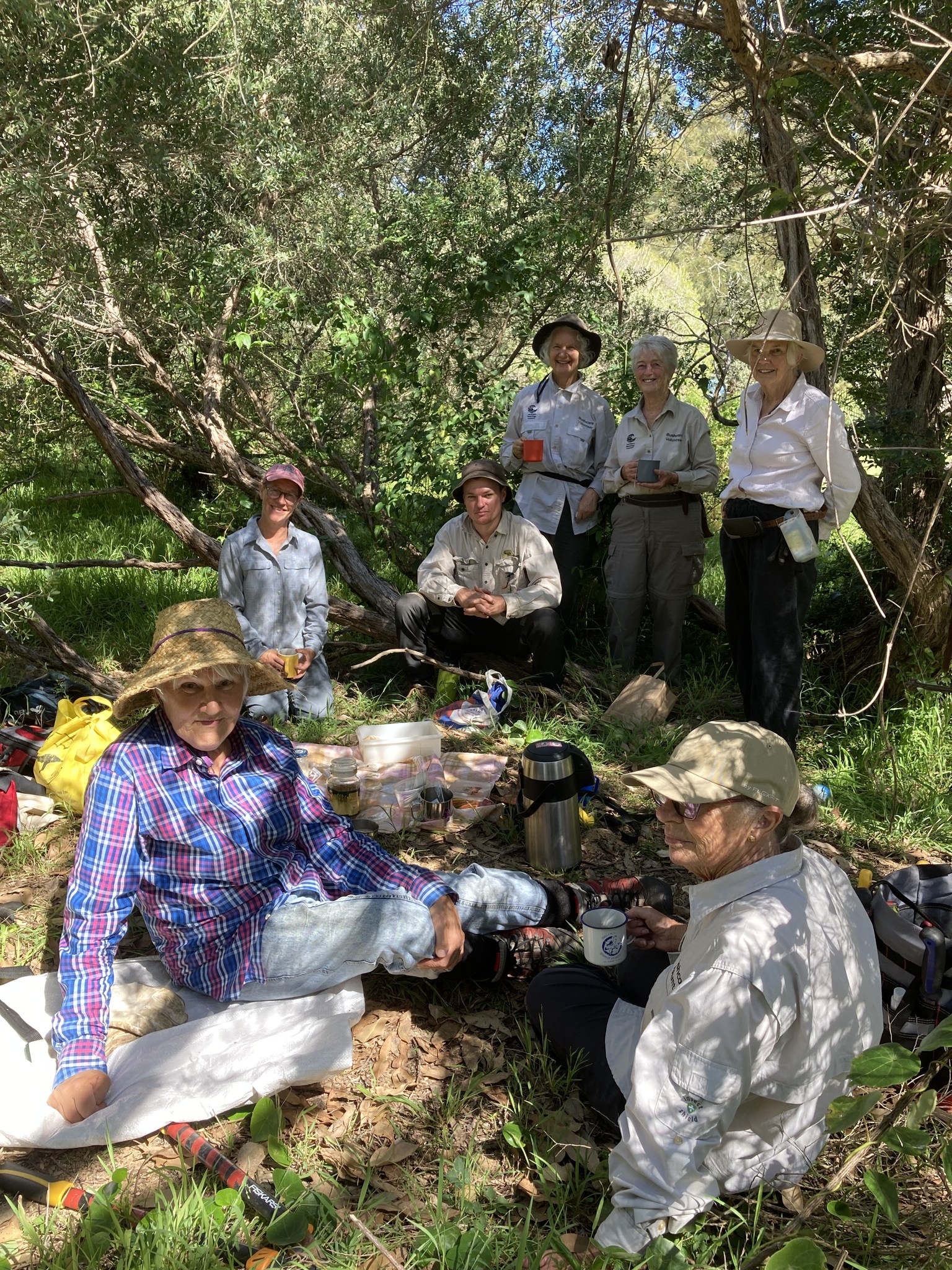 Morning tea with good company and cake.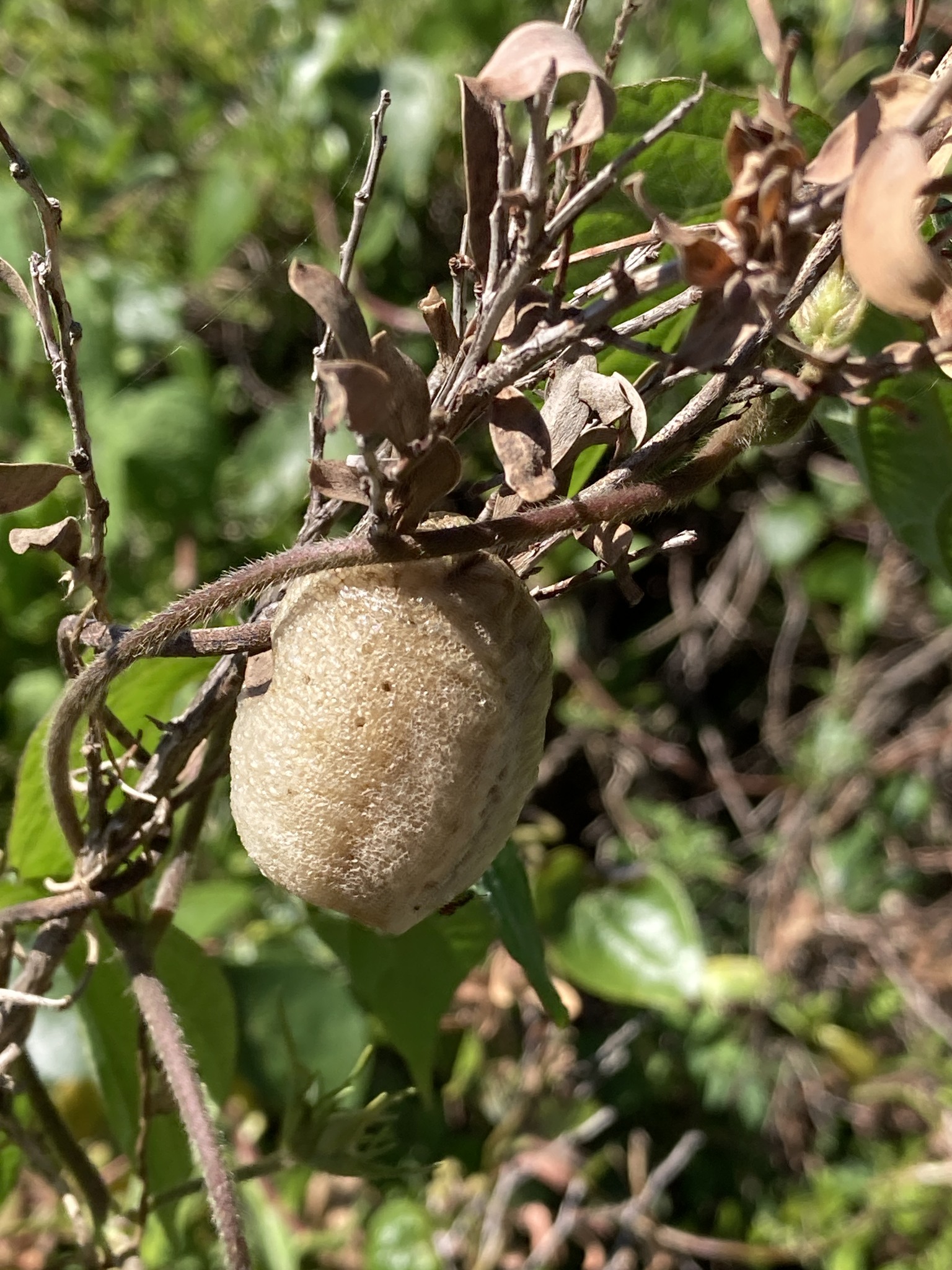 The egg case or ootheca of a Praying Mantis. Each ootheca contains a number of eggs, up to 200 with some species. Mantis eggs can take anywhere from 40 days to around five months to hatch. On hatching, the baby mantises are about as big as a large ant. The tiny holes on this one suggest the eggs have hatched.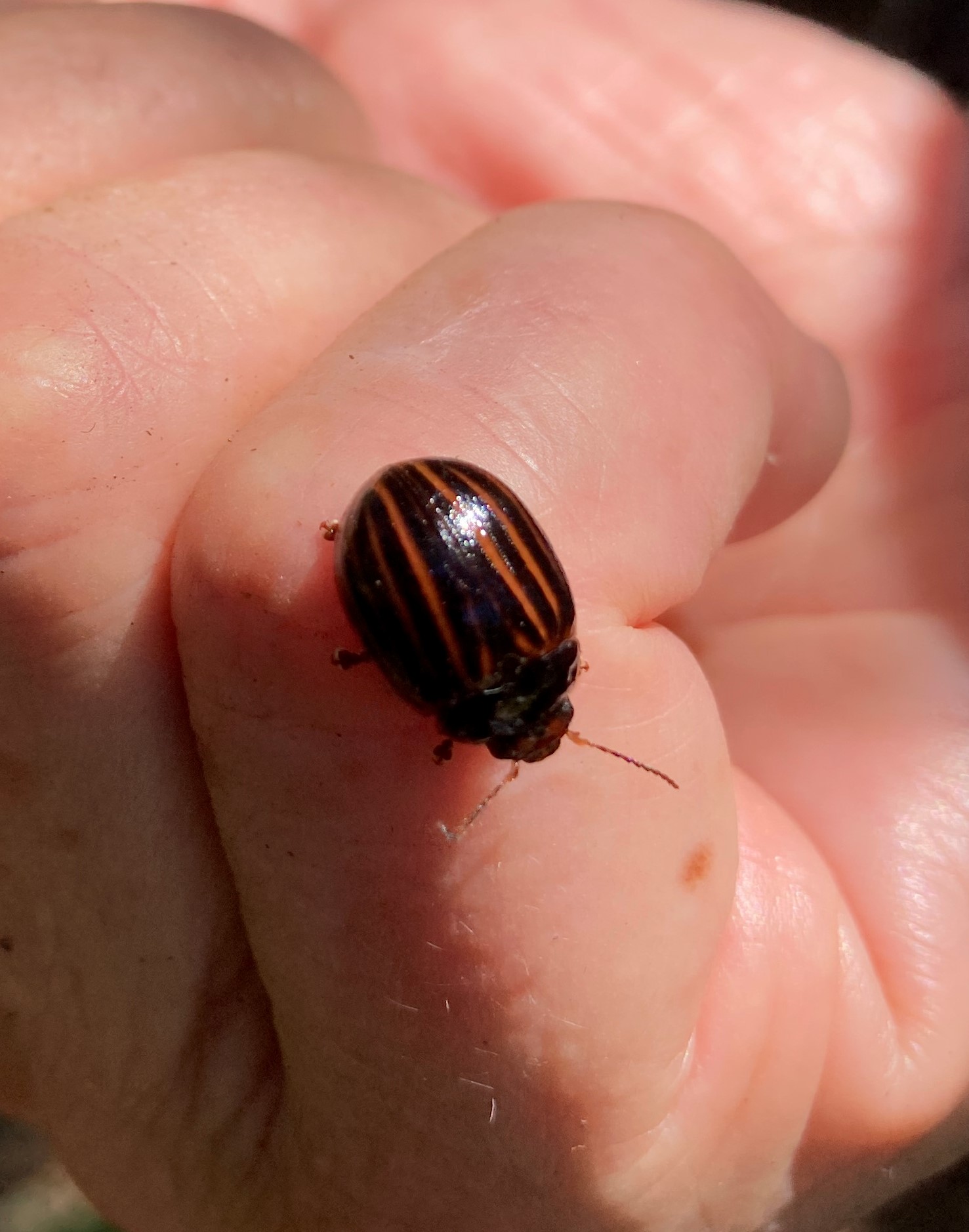 This Leaf Beetle in the genus Paropsisterna. It has been feeding on Eucalypt or Acacia foliage. It is one of Australia's many beetles. The total species number is estimated to be in the range of 80,000 to 100,000.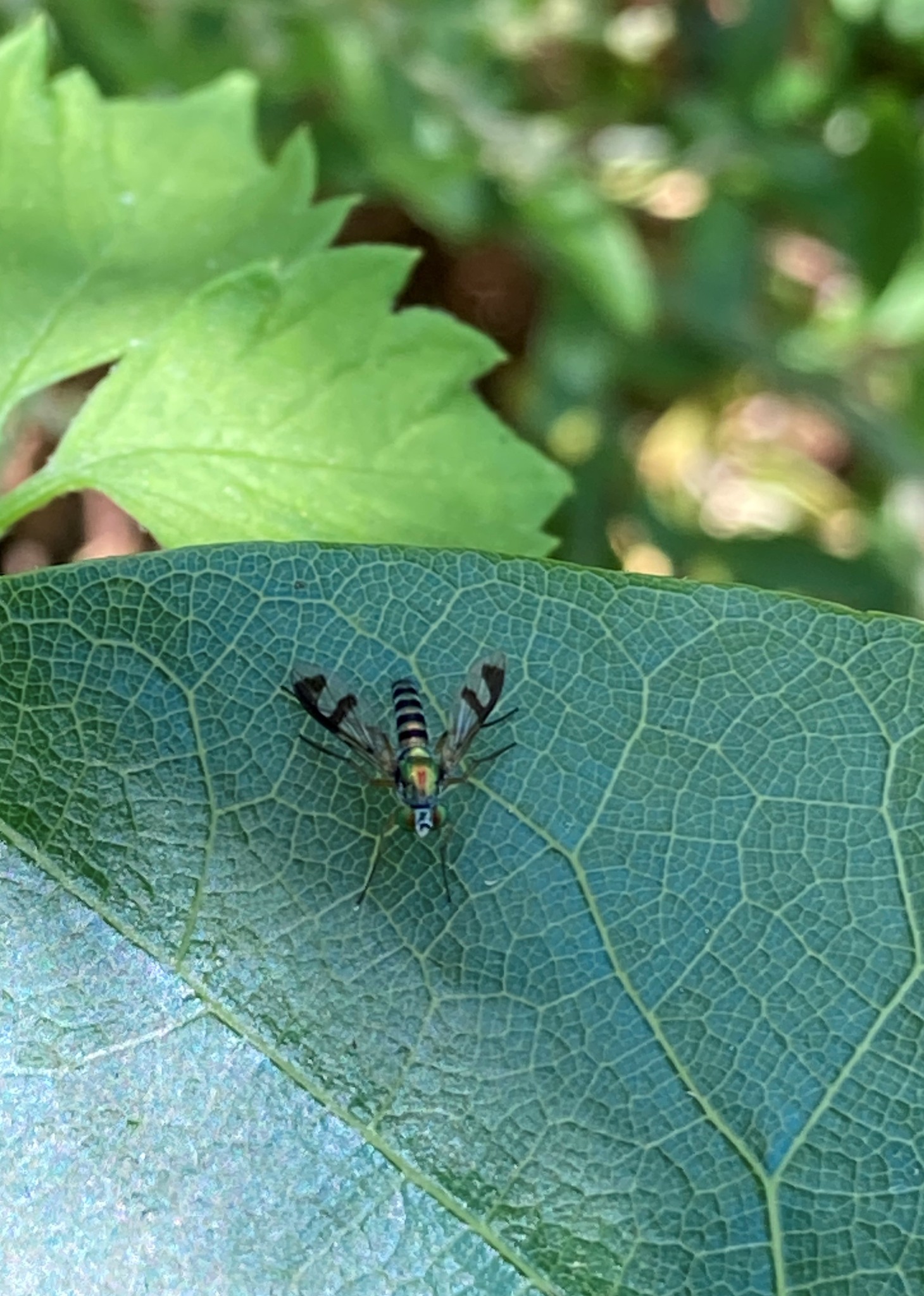 A long-legged Dancing Fly pauses on a leaf of Snake Vine.
Photos; PNHA
Ocean Street Narrabeen Bridge Works
Information Courtesy Cr Vincent De Luca OAM, Independent for the Northern Beaches
Northern Beaches Council Capital Works Manager has advised:
Works commenced in September 2021 to undertake rectification works to the abutments of the bridge over Narrabeen Lagoon at Ocean Street, Narrabeen.
The contract also included lagoon entrance clearance works which ensured both projects could be managed in tandem to improve environmental outcomes and minimise disruption for the community.
The bridge works involve the placement of sandstone armouring to protect the embankments on either side of the Ocean Street Bridge from scouring and the formation of voids that could cause instability to the roadway.
As the placement of sandstone is undertaken via a barge, the water level in the Lagoon needs to be sufficient for the barge to float.
When the entrance was reopened in late 2021, the lagoon water levels dropped below the safe barge levels.
Prolonged wet weather in 2022 and lower water levels delayed the completion of these works. However, the conditions are currently favourable to allow these important asset protection works to recommence.
Our contractor, Soil Conservation Services, is due to establish the site from 13 February 2023 to complete the remaining works. The works are expected to take up to five weeks, weather and lagoon water levels permitting.
Community notification will be undertaken in the coming days via a letter box drop to the surrounding area and site signage.
Nearby businesses and relevant associations will also be informed of the works.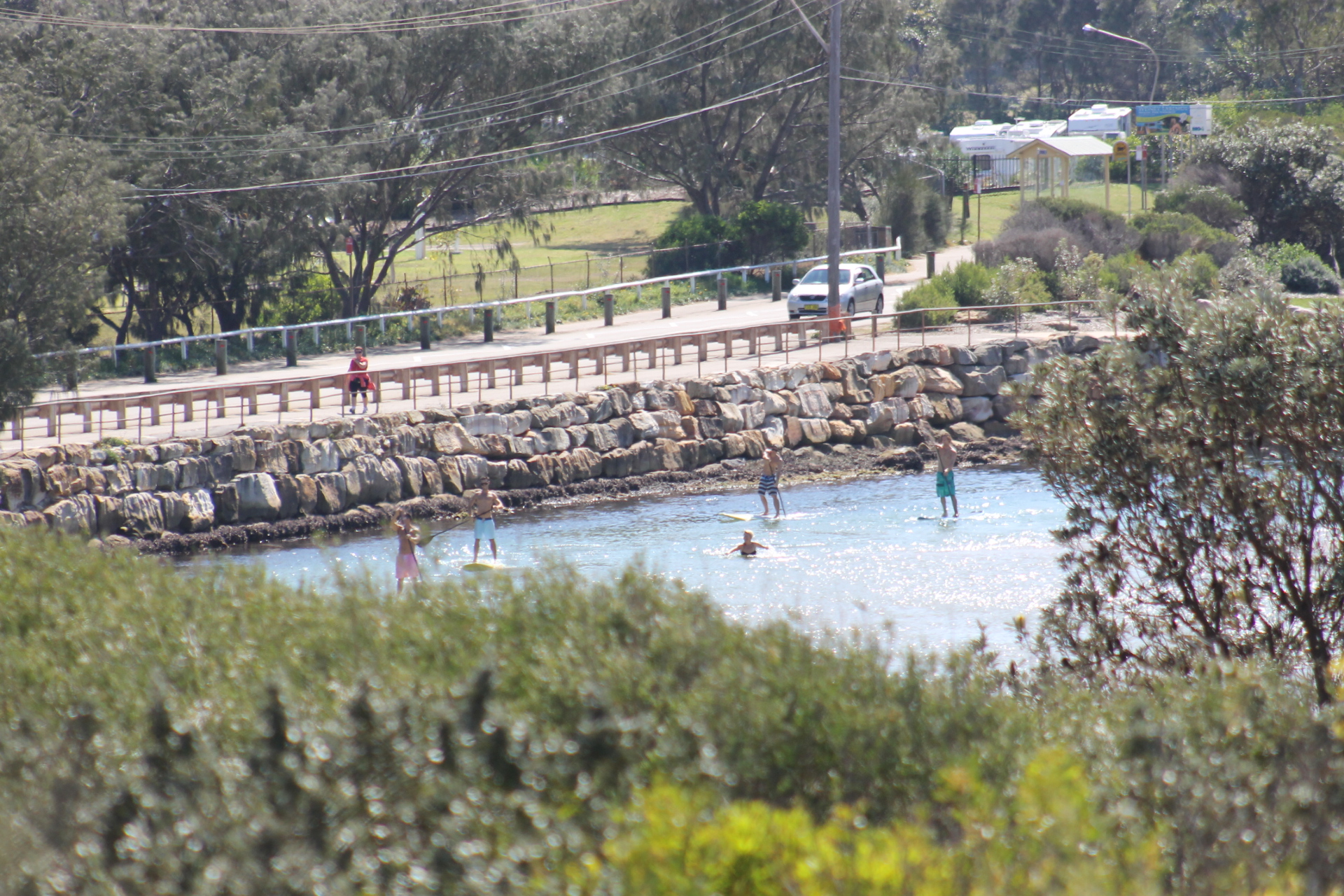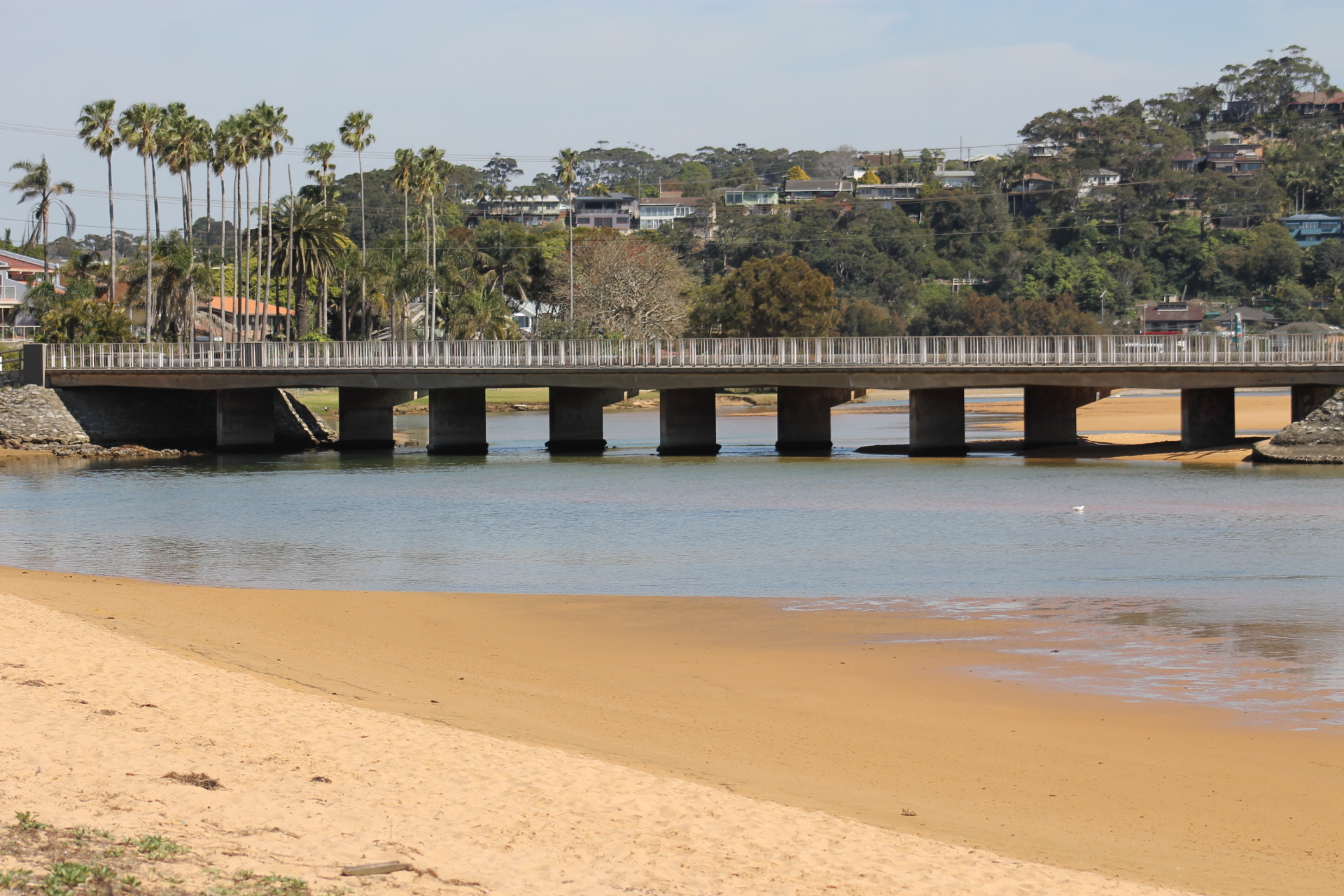 Photos: AJG
Juvenile Rainbow Lorikeet Pair
A nest for a pair of Rainbow Lorikeets in the Pittwater Spotted Gums here means that during late Summer a pair of fledgling or juvenile lorikeets are heard and seen in the trees. Juveniles have a black beak, which gradually brightens to orange. It takes around 60 days for a new born one to learn flying. Their parents usually show them off to us at least twice at this time of year.
The rainbow lorikeet (Trichoglossus haematodus) are monogamous and remain paired for long periods, if not for life. Nesting sites are variable and can include hollows of tall trees such as eucalypts, palm trunks, or overhanging rock. One population in the Admiralty Islands nests in holes in the ground on predator-free islets. Pairs sometimes nest in the same tree with other rainbow lorikeet pairs, or other bird species. Orthinologists state they live for around 7-8 years in the wild but there have been reports of long lives often ranging for 15 to 20 years.
Rainbow lorikeets often travel together in pairs and occasionally respond to calls to fly as a flock, then disperse again into pairs. Rainbow lorikeet pairs defend their feeding and nesting areas aggressively against other rainbow lorikeets and other bird species. They chase off not only smaller birds such as the noisy miner and the little wattlebird, but also larger birds such as the Australian magpie.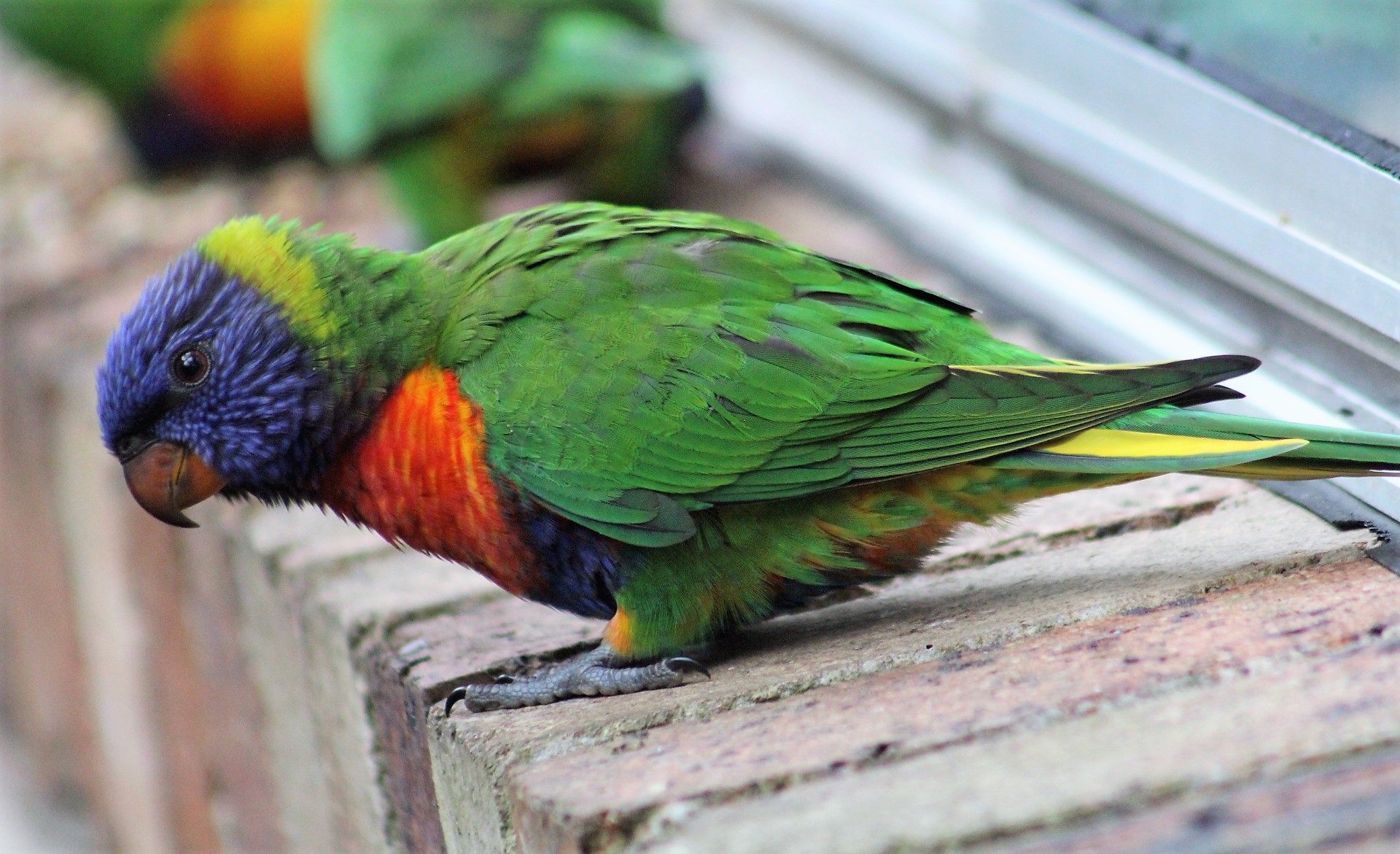 Black Swans On DY Lagoon
Friends of Dee Why Lagoon, a community bushcare group dedicated to the conservation and rehabilitation of the Lagoon, have reported this week there are 11 black swans on Dee Why Lagoon at the moment.
''And here's a photo to prove it! Our member, Suse S, states when the lagoon closed recently there was a feeding frenzy of pelicans in the lagoon. We surmised a lot of fish must have been caught in the lagoon.
However, black swans don't eat fish. They eat aquatic and marshland plants and algae. They also eat shoreline vegetation. They are also filter-feeders, sometimes running their bills along the surface of the water to capture floating plants and small insects. The water level in the lagoon is very low at the moment so we don't anticipate there will be enough food for this large group for much longer.''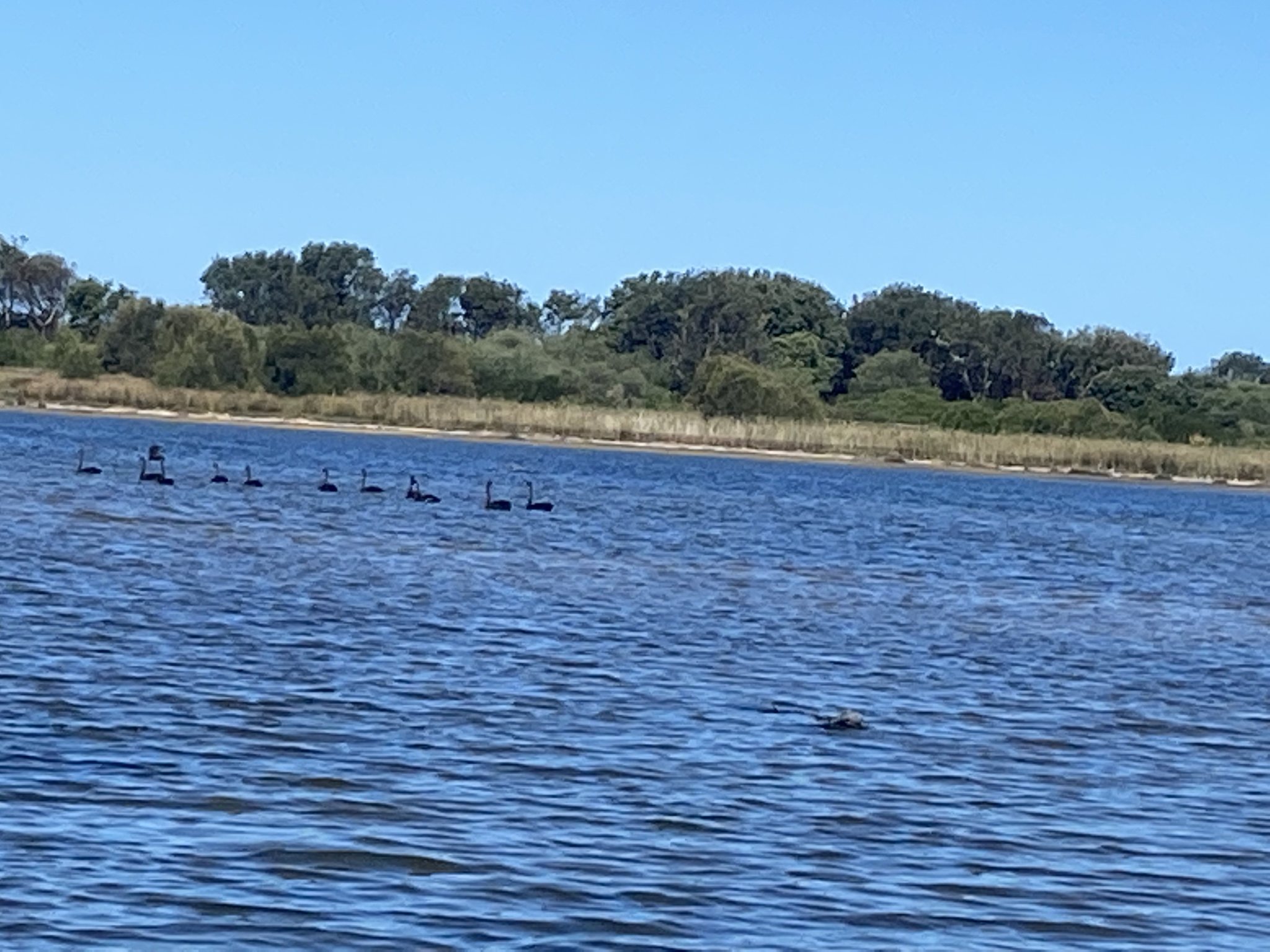 Collins Beach Clean Up
SUNDAY, 26 FEBRUARY 2023 FROM 10:00-12:30
by Northern Beaches Clean Up Crew
Come and join us for our February clean up at beautiful Collins Beach in Manly on the 26th at 10am. We'll meet in the grass area just past 99 Stuart Street in Manly.
We have gloves, bags, and buckets, but since this beach has a small path down to it, we need your help to carry up and down buckets, grabbers and bags. We're trying to remove as much plastic and rubbish as possible before it enters the ocean. Some of us can focus on the bush area, sandy/rocky areas, and others can walk along the beach and even clean up in the water (at own risk).
We will clean up until around 11.20, and after that, we will sort and count the rubbish so we can contribute to research by entering it into a marine debris database. The sorting and counting is normally finished around noon, and we'll often go for lunch together at our own expense.
We understand if you cannot stay for this part, but are grateful if you can. We appreciate any help we can get, no matter how small or big. No booking required - just show up on the day. We're a friendly group of people, and everyone is welcome to this family friendly event. It's a nice community - make some new friends and do a good deed for the planet at the same time.
For everyone to feel welcome, please leave political and religious messages at home - this includes t-shirts with political campaign messages. There is a street parking, but it is often busy on Sundays, so check streets close by as well if it's full or please consider using public transport.
Message us here
if you are lost.
All welcome - the more the merrier. Please invite your friends too.
Prune Viburnum Hedge Agapanthus Flowers To Prevent Spread Into Bush Reserves
PNHA: January 11, 2023
Now is the time to prune the berries off the Viburnum hedge and dehead those old Agapanthus flowers. Put these prunings into your green waste bin. Both are now weeds of bushland as their seeds travel.
Photos: Pittwater Natural Heritage Association (PNHA)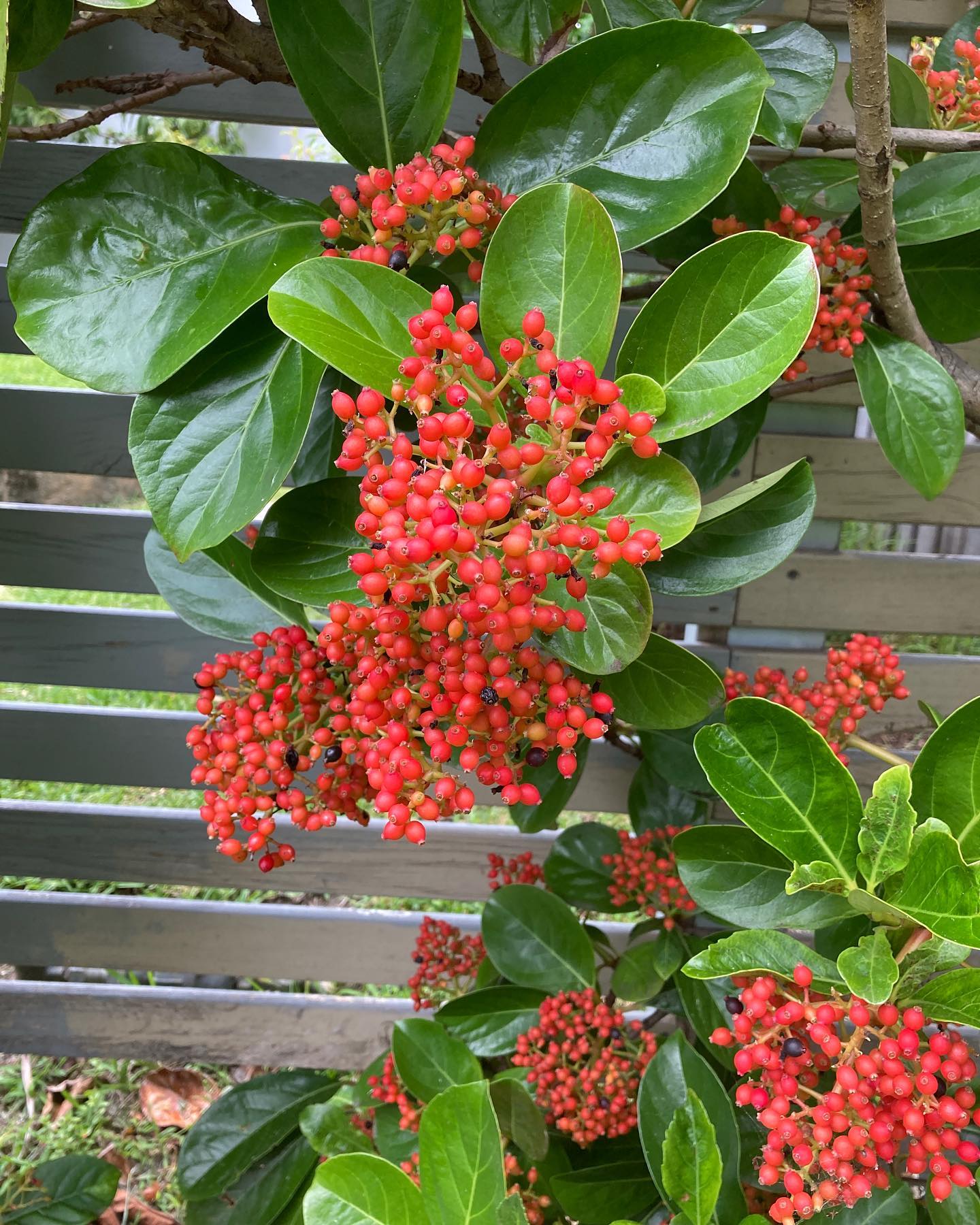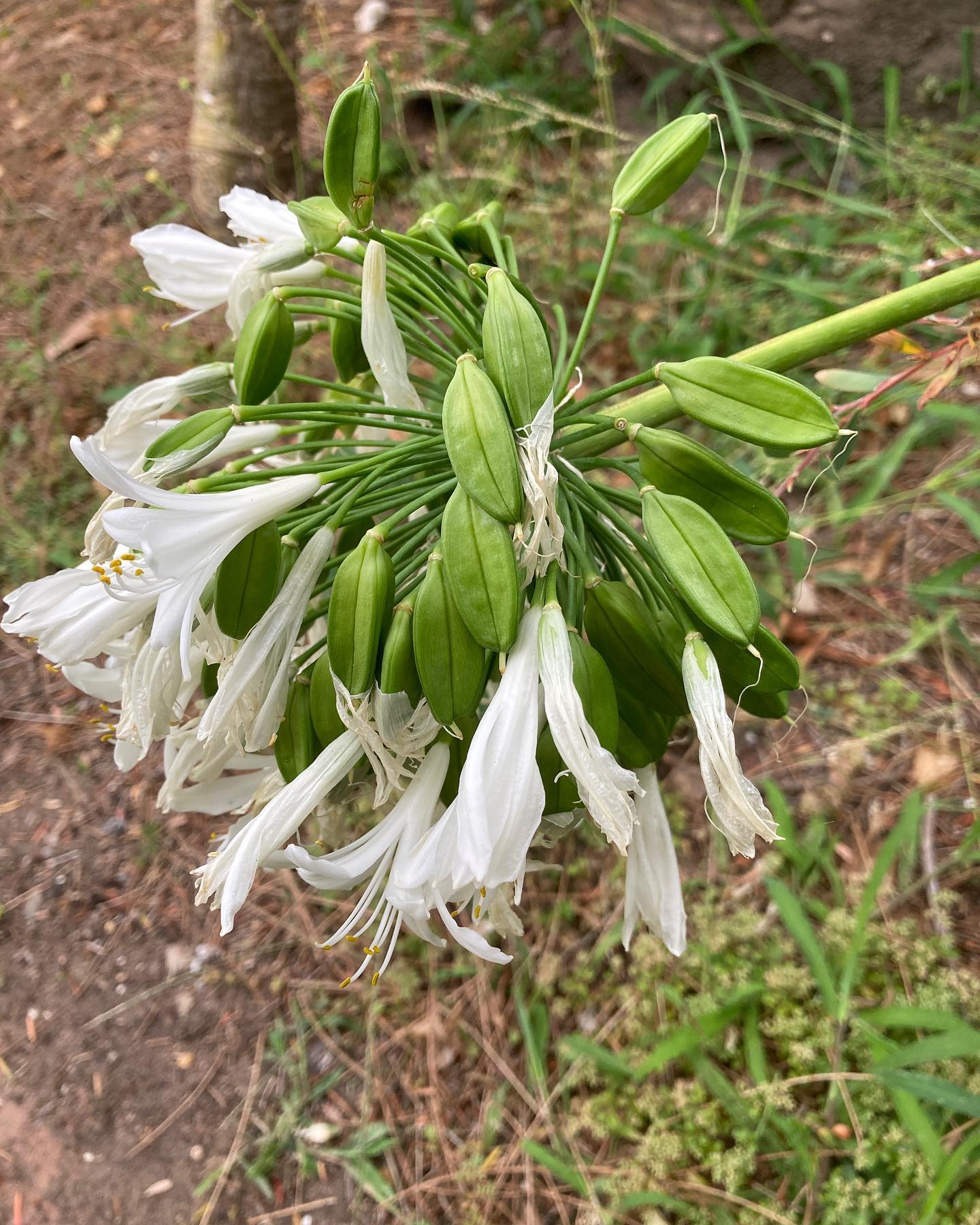 New Marine Wildlife Rescue Group Launched On The Central Coast
A new wildlife group was launched on the Central Coast on Saturday, December 10.
Marine Wildlife Rescue Central Coast (MWRCC) had its official launch at The Entrance Boat Shed at 10am.
The group comprises current and former members of ASTR, ORRCA, Sea Shepherd, Greenpeace, WIRES and Wildlife ARC, as well as vets, academics, and people from all walks of life.
Well known marine wildlife advocate and activist Cathy Gilmore is spearheading the organisation.
"We believe that it is time the Central Coast looked after its own marine wildlife, and not be under the control or directed by groups that aren't based locally," Gilmore said.
"We have the local knowledge and are set up to respond and help injured animals more quickly.
"This also means that donations and money fundraised will go directly into helping our local marine creatures, and not get tied up elsewhere in the state."
The organisation plans to have rehabilitation facilities and rescue kits placed in strategic locations around the region.
MWRCC will also be in touch with Indigenous groups to learn the traditional importance of the local marine environment and its inhabitants.
"We want to work with these groups and share knowledge between us," Gilmore said.
"This is an opportunity to help save and protect our local marine wildlife, so if you have passion and commitment, then you are more than welcome to join us."
Marine Wildlife Rescue Central Coast has a Facebook page where you may contact members. Visit: https://www.facebook.com/profile.php?id=100076317431064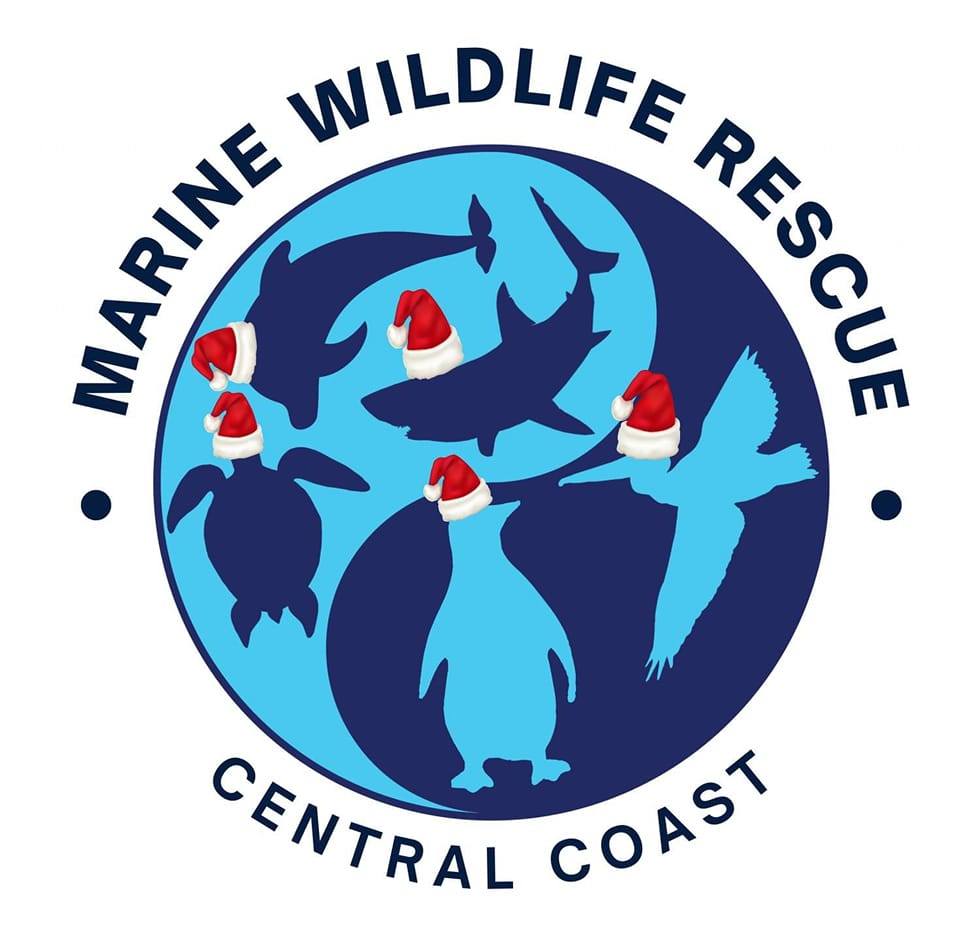 Watch Out - Shorebirds About
Summer is here so watch your step because beach-nesting and estuary-nesting birds have started setting up home on our shores.
Did you know that Careel Bay and other spots throughout our area are part of the East Asian-Australasian Flyway Partnership (EAAFP)?
This flyway, and all of the stopping points along its way, are vital to ensure the survival of these Spring and Summer visitors. This is where they rest and feed on their journeys. For example, did you know that the bar-tailed godwit flies for 239 hours for 8,108 miles from Alaska to Australia?
Not only that, Shorebirds such as endangered oystercatchers and little terns lay their eggs in shallow scraped-out nests in the sand, NSW National Parks and Wildlife Service (NPWS) Threatened Species officer Ms Katherine Howard has said.
Even our regular residents such as seagulls are currently nesting to bear young.
What can you do to help them?
Known nest sites may be indicated by fencing or signs. The whole community can help protect shorebirds by keeping out of nesting areas marked by signs or fences and only taking your dog to designated dog offleash area.
Just remember WE are visitors to these areas. These birds LIVE there. This is their home.
Four simple steps to help keep beach-nesting birds safe:
1. Look out for bird nesting signs or fenced-off nesting areas on the beach, stay well clear of these areas and give the parent birds plenty of space.
2. Walk your dogs in designated dog-friendly areas only and always keep them on a leash over summer.
3. Stay out of nesting areas and follow all local rules.
4. Chicks are mobile and don't necessarily stay within fenced nesting areas. When you're near a nesting area, stick to the wet sand to avoid accidentally stepping on a chick.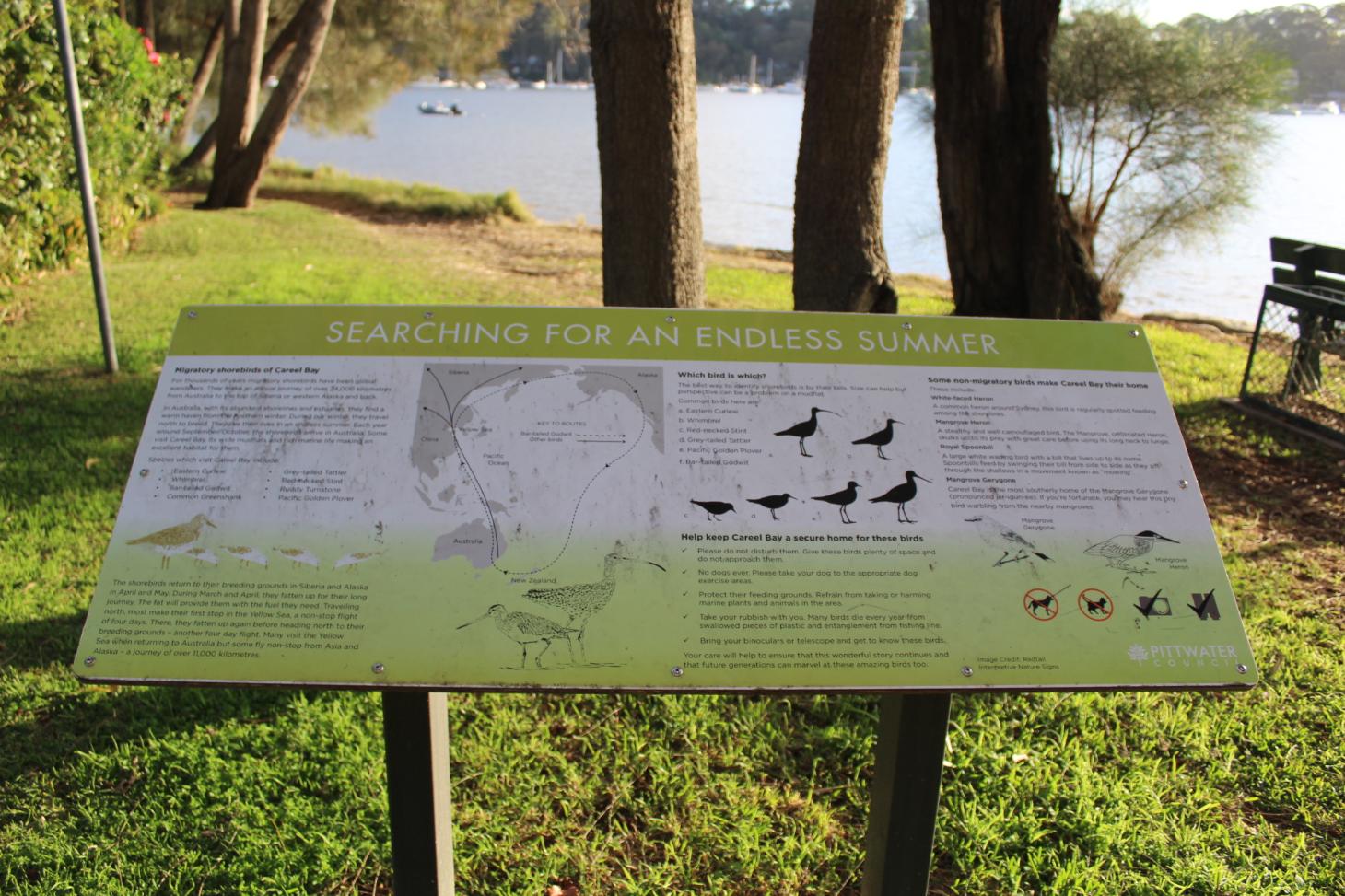 Possums In Your Roof?: Do The Right Thing
Possums in your roof? Please do the right thing
On the weekend, one of our volunteers noticed a driver pull up, get out of their vehicle, open the boot, remove a trap and attempt to dump a possum on a bush track. Fortunately, our member intervened and saved the beautiful female brushtail and the baby in her pouch from certain death.
It is illegal to relocate a trapped possum more than 150 metres from the point of capture and substantial penalties apply. Urbanised possums are highly territorial and do not fare well in unfamiliar bushland. In fact, they may starve to death or be taken by predators.
While Sydney Wildlife Rescue does not provide a service to remove possums from your roof, we do offer this advice:
✅ Call us on (02) 9413 4300 and we will refer you to a reliable and trusted licenced contractor in the Sydney metropolitan area. For a small fee they will remove the possum, seal the entry to your roof and provide a suitable home for the possum - a box for a brushtail or drey for a ringtail.
✅ Do-it-yourself by following this advice from the Department of Planning and Environment:
❌ Do not under any circumstances relocate a possum more than 150 metres from the capture site.
Thank you for caring and doing the right thing.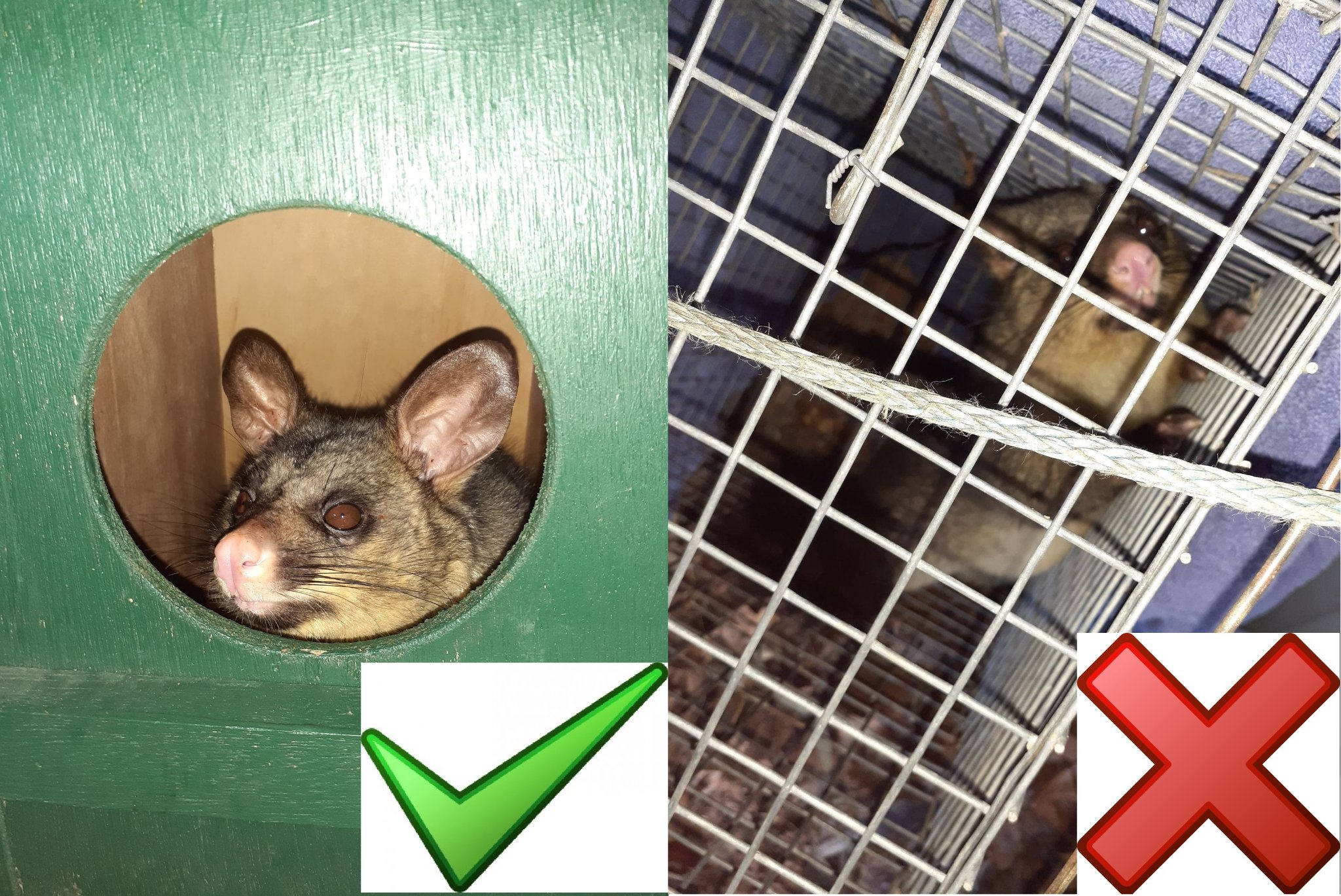 Sydney Wildlife photos
Aviaries + Possum Release Sites Needed
Pittwater Online News has interviewed
Lynette Millett OAM
(WIRES Northern Beaches Branch)
needs more bird cages of all sizes for keeping the current huge amount of baby wildlife in care safe or 'homed' while they are healed/allowed to grow bigger to the point where they may be released back into their own home.
If you have an aviary or large bird cage you are getting rid of or don't need anymore, please email via the link provided above.
There is also a pressing need for release sites for brushtail possums - a species that is very territorial and where release into a site already lived in by one possum can result in serious problems and injury.
If you have a decent backyard and can help out, Lyn and husband Dave can supply you with a simple drey for a nest and food for their first weeks of adjustment.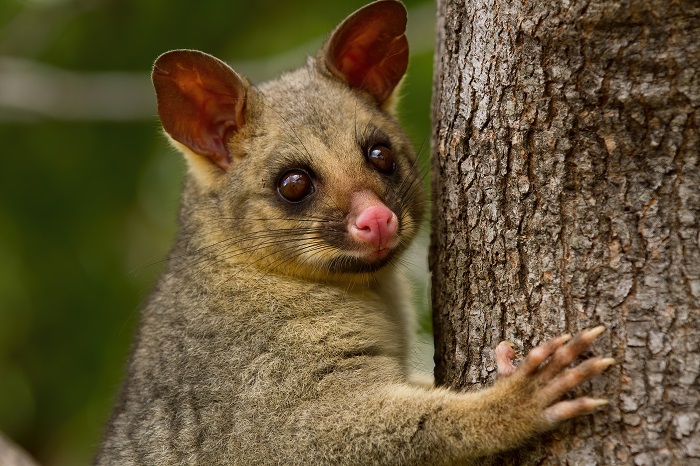 Bushcare In Pittwater
For further information or to confirm the meeting details for below groups, please contact Council's Bushcare Officer on 9970 1367 or visit Council's bushcare webpage to find out how you can get involved.
BUSHCARE SCHEDULES
Where we work Which day What time
Avalon
Angophora Reserve 3rd Sunday 8:30 - 11:30am
Avalon Dunes 1st Sunday 8:30 - 11:30am
Avalon Golf Course 2nd Wednesday 3 - 5:30pm
Careel Creek 4th Saturday 8:30 - 11:30am
Toongari Reserve 3rd Saturday 9 - 12noon (8 - 11am in summer)
Bangalley Headland 2nd Sunday 9 to 12noon
Bayview
Winnererremy Bay 4th Sunday 9 to 12noon
Bilgola
North Bilgola Beach 3rd Monday 9 - 12noon
Algona Reserve 1st Saturday 9 - 12noon
Plateau Park 1st Friday 8:30 - 11:30am
Church Point
Browns Bay Reserve 1st Tuesday 9 - 12noon
McCarrs Creek Reserve Contact Bushcare Officer To be confirmed
Clareville
Old Wharf Reserve 3rd Saturday 8 - 11am
Elanora
Kundibah Reserve 4th Sunday 8:30 - 11:30am
Mona Vale
Mona Vale Beach Basin 1st Saturday 8 - 11am
Mona Vale Dunes 2nd Saturday +3rd Thursday 8:30 - 11:30am
Newport
Bungan Beach 4th Sunday 9 - 12noon
Crescent Reserve 3rd Sunday 9 - 12noon
North Newport Beach 4th Saturday 8:30 - 11:30am
Porter Reserve 2nd Saturday 8 - 11am
North Narrabeen
Irrawong Reserve 2nd Saturday 2 - 5pm
Palm Beach
North Palm Beach Dunes 3rd Saturday 9 - 12noon
Scotland Island
Catherine Park 2nd Sunday 10 - 12:30pm
Elizabeth Park 1st Saturday 9 - 12noon
Pathilda Reserve 3rd Saturday 9 - 12noon
Warriewood
Warriewood Wetlands 1st Sunday 8:30 - 11:30am
Whale Beach
Norma Park 1st Friday 9 - 12noon
Western Foreshores
Coopers Point, Elvina Bay 2nd Sunday 10 - 1pm
Rocky Point, Elvina Bay 1st Monday 9 - 12noon
Friends Of Narrabeen Lagoon Catchment Activities

Bush Regeneration - Narrabeen Lagoon Catchment
This is a wonderful way to become connected to nature and contribute to the health of the environment. Over the weeks and months you can see positive changes as you give native species a better chance to thrive. Wildlife appreciate the improvement in their habitat.
Belrose area - Thursday mornings
Belrose area - Weekend mornings by arrangement
Contact: Phone or text Conny Harris on 0432 643 295
Wheeler Creek - Wednesday mornings 9-11am
Contact: Phone or text Judith Bennett on 0402 974 105
Gardens And Environment Groups And Organisations In Pittwater
Plastic Debris In The Arctic Comes From All Around The World
"Citizen Science" gives interested citizens the chance to actively engage in scientific research. A citizen-science project conducted by AWI in the Arctic now shows just how successful this can be. In the course of five years, citizens who went on sailing cruises to the Arctic surveyed and collected plastic debris that had washed up on the shores of Svalbard. This has now been analysed by the Alfred Wegener Institute.
According to the findings, one third of the plastic debris which still bore imprints or labels allowing an analysis of their origin came from Europe, and much of that number from Germany. The findings, just released in the journal Frontiers, clearly show that even prosperous industrialised countries like Germany make significant contributions to the pollution of remote ecosystems like the Arctic.
Plastic debris is a global problem that even the uninhabited wilderness of the High North is not immune to: considerable amounts of plastic debris have been observed floating in the remote Arctic Ocean. However, it is still unclear where it all comes from. A citizen science project conducted by the Alfred Wegener Institute, Helmholtz Centre for Polar and Marine Research (AWI) now offers a first, valuable insights.
"In 2016 we began working with citizens to investigate the composition of plastic debris on Arctic shores," says AWI researcher Dr Melanie Bergmann, who came up with the idea for the project together with the tour guide and writer Birgit Lutz. In close collaboration with companies offering trips to the Arctic, participating tourists gathered and recorded plastic debris washed up on the shores of Svalbard. From 2016 to 2021, this amounted to 23,000 items with a combined weight of 1,620 kilogrammes.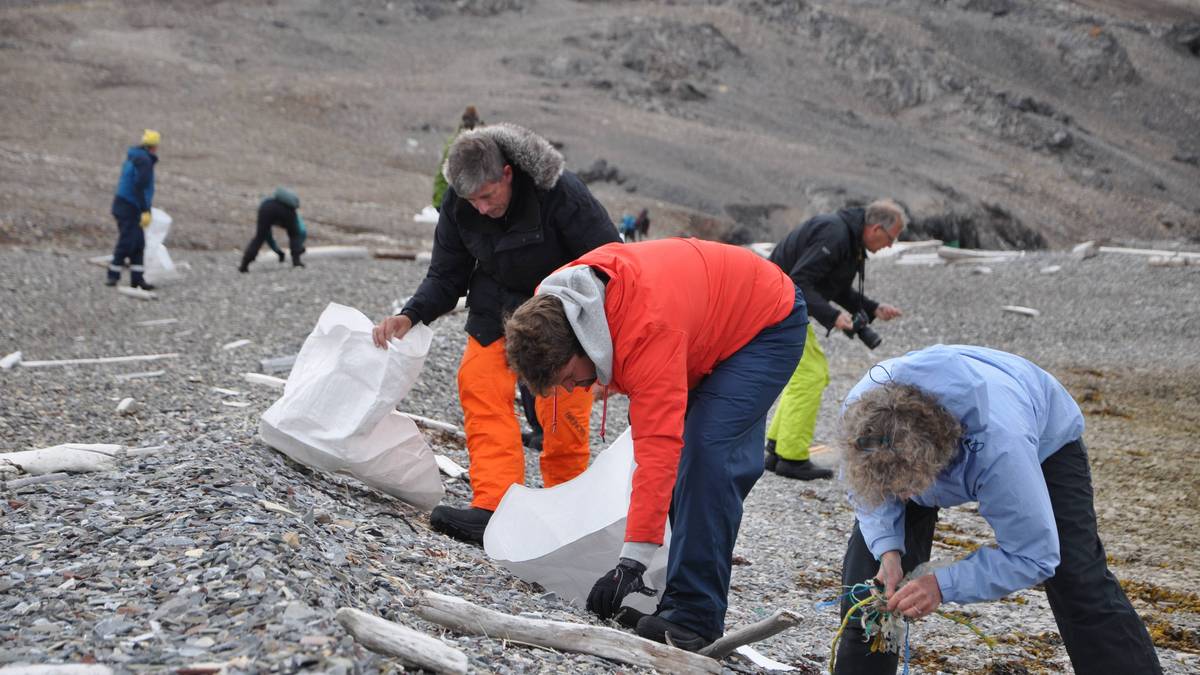 Citizen scientists collecting plastic waste on a Svalbard beach. (Photo: Birgit Lutz)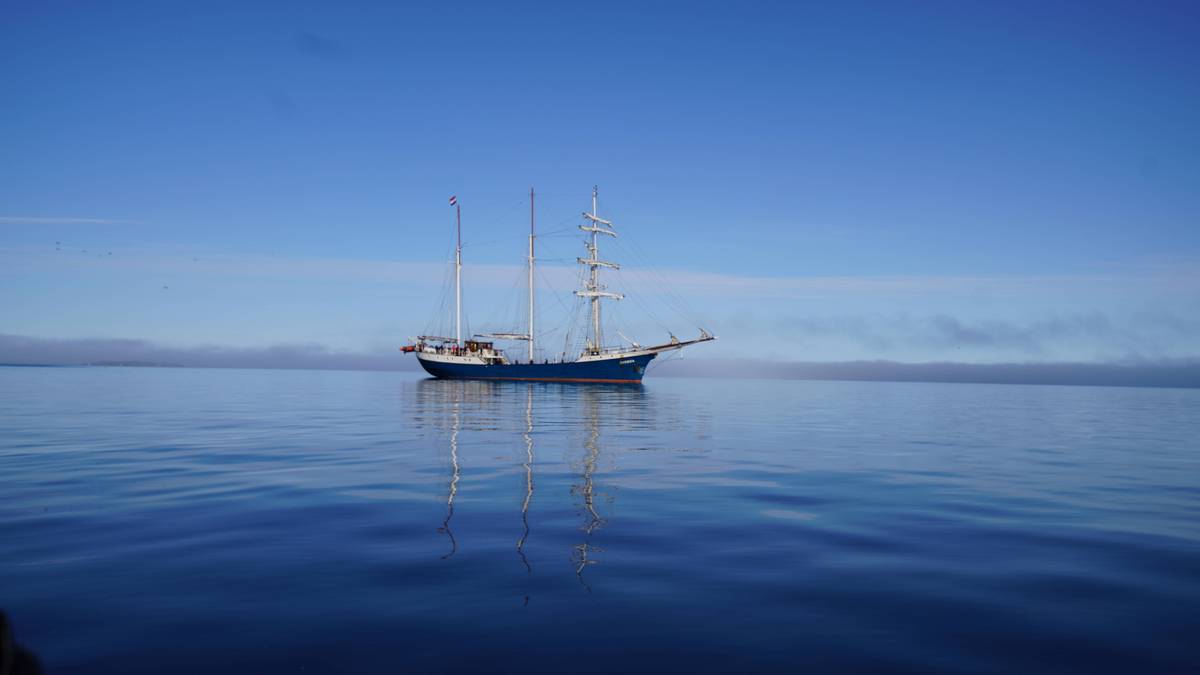 Sailing vessel Antigua, the base of most beach surveys conducted by citizen scientists (Photo: Birgit Lutz)

"We've now gone a step further and investigated where the debris that had still marks, labels or imprints came from," Bergmann explains. "Our analysis found that, at 80 percent, the clear majority was plastic debris," adds first author Anna Natalie Meyer from the AWI.
Although most of the items could be classified as stemming from fisheries, its point of origin couldn't be identified. In roughly one percent of the debris, labels or imprints could still be recognised -- primarily from Arctic countries, particularly Russia and Norway.
"From previous studies and computer models, we know that plastic pollution comes from local and remote sources alike," says Meyer. "Locally, plastic debris finds its way to the ocean from ships and from Arctic communities with poor waste management systems. As for remote sources, plastic debris and microplastic are transported to the Arctic Ocean from the Atlantic, North Sea and North Pacific by various rivers and ocean currents."
For example, the experts even found debris originating from sources as distant as Brazil, China and the USA on the coast of Svalbard. But plastic debris from Europe, especially from Germany also ended up in the High North, accounting for eight percent of the total.
"Considering that Germany is the 'European champ' in terms of both plastic production and debris exports, this comparatively high percentage isn't so surprising," says Melanie Bergmann.
According to the study, a comparison of the new data with those from previous fieldwork conducted at the sea surface and the deep ocean floor shows that much more debris accumulates on Arctic shorelines, making them a final sink of sorts. This plastic debris poses additional challenges for Arctic ecosystems, which are already overly burdened by climate change. After all, the Arctic is warming at four times the global average rate.
"Our results highlight that even prosperous industrialised countries, which can afford better waste management, make significant contributions to the pollution of remote ecosystems like the Arctic," says AWI expert Melanie Bergmann.
"Accordingly, in order to tackle the problem effectively, not only does local waste management -- especially on ships and in fisheries -- need to be improved. It's equally important that global plastic production be massively reduced, especially in the industrialised countries of Europe, North America and Asia, since roughly 11 percent of the global plastic production finds its way into our water ways. This underscores once again the urgent need for an ambitious and legally binding UN Plastics Treaty, which is currently being negotiated and due to enter into force in 2024."
Anna Natalie Meyer, Birgit Lutz, Melanie Bergmann.
Where does Arctic beach debris come from? Analyzing debris composition and provenance on Svalbard aided by citizen scientists
. Frontiers in Marine Science, 2023; 10 DOI:
10.3389/fmars.2023.1092939
How Waste-Eating Bacteria Digest Complex Carbons: New Information Could Lead To Bacteria-Based Platforms That Recycle Plastic And Plant Waste
A common environmental bacterium, Comamonas testosteroni, could someday become nature's plastic recycling center. While most bacteria prefer to eat sugars, C. testosteroni, instead, has a natural appetite for complex waste from plants and plastics.
In a new Northwestern University-led study, researchers have, for the first time, deciphered the metabolic mechanisms that enable C. testosteroni to digest the seemingly undigestible. This new information could potentially lead to novel biotechnology platforms that harness the bacteria to help recycle plastic waste.
The research will be published on Feb. 6 in the journal Nature Chemical Biology.
Comamonas species are found nearly everywhere -- including in soils and sewage sludge. C. testosteroni first caught researchers' attention with its natural ability to digest synthetic laundry detergents. After further analysis, scientists discovered that this natural bacterium also breaks down compounds from plastic and lignin (fibrous, woody waste from plants).
Although other researchers have worked to engineer bacteria that can breakdown plastic waste, Aristilde believes bacteria with natural abilities to digest plastics hold more promise for large-scale recycling applications.
"Soil bacteria provide an untapped, underexplored, naturally occurring resource of biochemical reactions that could be exploited to help us deal with the accumulating waste on our planet," said Northwestern's Ludmilla Aristilde. "We found that the metabolism of C. testosteroni is regulated on different levels, and those levels are integrated. The power of microbiology is amazing and could play an important role in establishing a circular economy."
The study was led by Aristilde, an associate professor of civil and environmental engineering at Northwestern's McCormick School of Engineering, and Ph.D. student Rebecca Wilkes, who is the paper's first author. The study included collaborators from University of Chicago, Oak Ridge National Laboratory and Technical University of Denmark.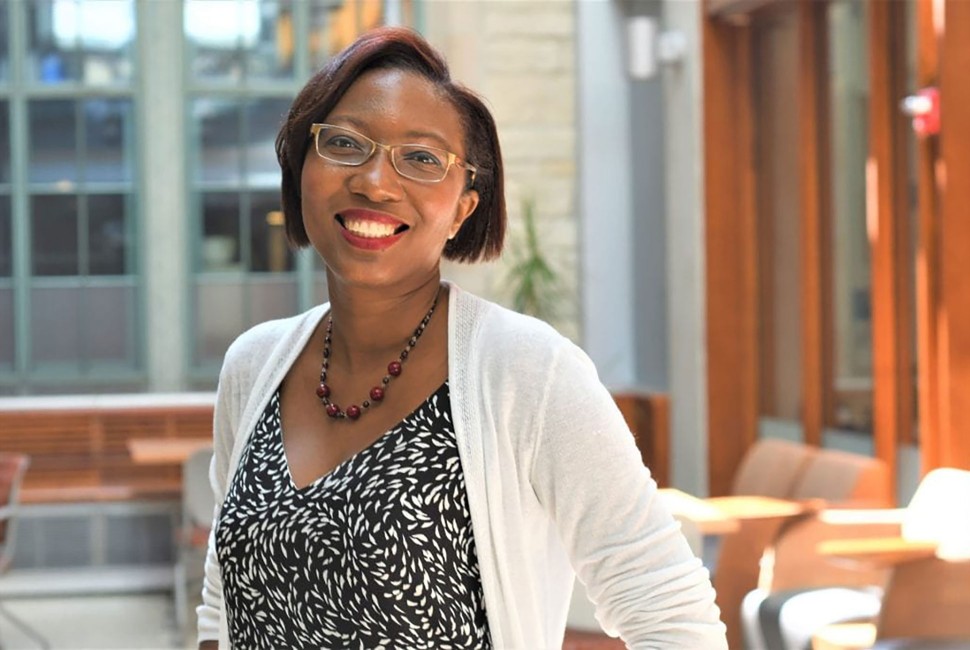 Ludmilla Aristilde

Most projects to engineer bacteria involve Escherichia Coli because it is the most well-studied bacterial model organism. But E. Coli, in its natural state, readily consumes various forms of sugar. As long as sugar is available, E. Coli will consume that -- and leave the plastic chemicals behind.
"Engineering bacteria for different purposes is a laborious process," Aristilde said. "It is important to note that C. testosteroni cannot use sugars, period. It has natural genetic limitations that prevent competition with sugars, making this bacterium an attractive platform."
What C. testosteroni really wants, though, is a different source of carbon. And materials such as plastic and lignin contain compounds with a ring of tasty carbon atoms. While researchers have known that C. testosteroni can digest these compounds, Aristilde and her team wanted to know how.
"These are carbon compounds with complex bond chemistry," Aristilde said. "Many bacteria have great difficulty breaking them apart."
Combining different 'omics'
To study how C. testosteroni degrades these complex forms of carbon, Aristilde and her team combined multiple forms of "omics"-based analyses: transcriptomics (study of RNA molecules); proteomics (study of proteins); metabolomics (study of metabolites); and fluxomics (study of metabolic reactions). Comprehensive "multi-omics" studies are massive undertakings that require a variety of different techniques. Aristilde leads one of few labs that carries out such comprehensive studies.
By examining the relationship among transcriptomics, proteomics, metabolomics and fluxomics, Aristilde and her team mapped the metabolic pathways that bacteria use to degrade plastic and lignin compounds into carbons for food. Ultimately, the team discovered that the bacteria first break down the ring of carbons in each compound. After breaking open the ring into a linear structure, the bacteria continue to degrade it into shorter fragments.
"We started with a plastic or lignin compound that has seven or eight carbons linked together through a core six-carbon circular shape forming the so-called benzene ring," Aristilde explained. "Then, they break that apart into shorter chains that have three or four carbons. In the process, the bacteria feed those broken-down products into their natural metabolism, so they can make amino acids or DNA to help them grow."
Aristilde also discovered that C. testosteroni can direct carbon through different metabolic routes. These routes can lead to useful by-products that can be used for industrially relevant polymers such as plastics. Aristilde and her team are currently working on a project investigating the metabolism that triggers this polymer biosynthesis.
"These Comamonas species have the potential to make several polymers relevant to biotechnology," Aristilde said. "This could lead to new platforms that generate plastic, decreasing our dependence on petroleum chemicals. One of my lab's major goals is to use renewable resources, such as converting waste into plastic and recycling nutrients from wastes. Then, we won't have to keep extracting petroleum chemicals to make plastics, for instance."
Aristilde is a member of the Institute for Sustainability and Energy at Northwestern's Program on Plastics, Ecosystems and Public Health.
Rebecca A. Wilkes, Jacob Waldbauer, Austin Caroll, Manuel Nieto-Domínguez, Darren J. Parker, Lichun Zhang, Adam M. Guss, Ludmilla Aristilde.
Complex regulation in a Comamonas platform for diverse aromatic carbon metabolism.
Nature Chemical Biology, 2023; DOI:
10.1038/s41589-022-01237-7
New Shorebirds WingThing For Youngsters Available To Download
A Shorebirds WingThing educational brochure for kids (A5) helps children learn about shorebirds, their life and journey. The 2021 revised brochure version was published in February 2021 and is available now. You can download a file copy here.
If you would like a free print copy of this brochure, please send a self-addressed envelope with A$1.10 postage (or larger if you would like it unfolded) affixed to: BirdLife Australia, Shorebird WingThing Request, 2-05Shorebird WingThing/60 Leicester St, Carlton VIC 3053.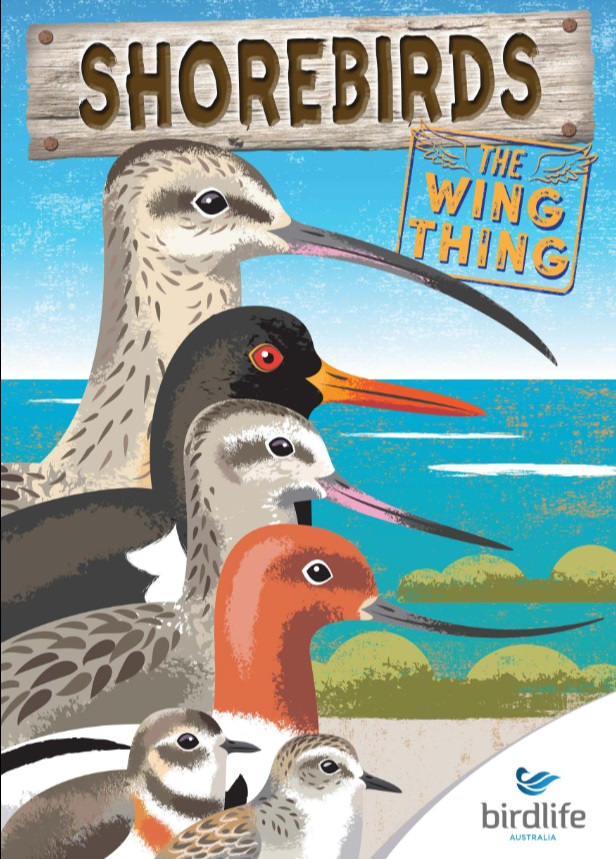 Shorebird Identification Booklet
The Migratory Shorebird Program has just released the third edition of its hugely popular Shorebird Identification Booklet. The team has thoroughly revised and updated this pocket-sized companion for all shorebird counters and interested birders, with lots of useful information on our most common shorebirds, key identification features, sighting distribution maps and short articles on some of BirdLife's shorebird activities.
The booklet can be downloaded here in PDF file format: http://www.birdlife.org.au/documents/Shorebird_ID_Booklet_V3.pdf
Paper copies can be ordered as well, see http://www.birdlife.org.au/projects/shorebirds-2020/counter-resources for details.
Download BirdLife Australia's children's education kit to help them learn more about our wading birdlife
Shorebirds are a group of wading birds that can be found feeding on swamps, tidal mudflats, estuaries, beaches and open country. For many people, shorebirds are just those brown birds feeding a long way out on the mud but they are actually a remarkably diverse collection of birds including stilts, sandpipers, snipe, curlews, godwits, plovers and oystercatchers. Each species is superbly adapted to suit its preferred habitat. The Red-necked Stint is as small as a sparrow, with relatively short legs and bill that it pecks food from the surface of the mud with, whereas the Eastern Curlew is over two feet long with a exceptionally long legs and a massively curved beak that it thrusts deep down into the mud to pull out crabs, worms and other creatures hidden below the surface.
Some shorebirds are fairly drab in plumage, especially when they are visiting Australia in their non-breeding season, but when they migrate to their Arctic nesting grounds, they develop a vibrant flush of bright colours to attract a mate. We have 37 types of shorebirds that annually migrate to Australia on some of the most lengthy and arduous journeys in the animal kingdom, but there are also 18 shorebirds that call Australia home all year round.
What all our shorebirds have in common—be they large or small, seasoned traveller or homebody, brightly coloured or in muted tones—is that each species needs adequate safe areas where they can successfully feed and breed.
The National Shorebird Monitoring Program is managed and supported by BirdLife Australia.

This project is supported by Glenelg Hopkins Catchment Management Authority and Hunter Local Land Services through funding from the Australian Government's National Landcare Program. Funding from Helen Macpherson Smith Trust and Port Phillip Bay Fund is acknowledged.
The National Shorebird Monitoring Program is made possible with the help of over 1,600 volunteers working in coastal and inland habitats all over Australia.
The National Shorebird Monitoring program (started as the Shorebirds 2020 project initiated to re-invigorate monitoring around Australia) is raising awareness of how incredible shorebirds are, and actively engaging the community to participate in gathering information needed to conserve shorebirds.
In the short term, the destruction of tidal ecosystems will need to be stopped, and our program is designed to strengthen the case for protecting these important habitats.
In the long term, there will be a need to mitigate against the likely effects of climate change on a species that travels across the entire range of latitudes where impacts are likely.
The identification and protection of critical areas for shorebirds will need to continue in order to guard against the potential threats associated with habitats in close proximity to nearly half the human population.
Here in Australia, the place where these birds grow up and spend most of their lives, continued monitoring is necessary to inform the best management practice to maintain shorebird populations.
BirdLife Australia believe that we can help secure a brighter future for these remarkable birds by educating stakeholders, gathering information on how and why shorebird populations are changing, and working to grow the community of people who care about shorebirds.

To find out more visit: http://www.birdlife.org.au/projects/shorebirds-2020/shorebirds-2020-program
Aussie Bread Tags Collection Points
Collecting bread tags enables us to provide wheelchairs that change the life of disabled people in need, as well as keeping the tags out of landfill to help to preserve the environment.
Bread Tags for Wheelchairs was started in South Africa in 2006 by Mary Honeybun. It is a community program where individuals and organisations collect bread tags, which are sold to recyclers. The money raised pays for wheelchairs for the less fortunate which are purchased through a local pharmacy. Currently about 500kg of bread tags are collected a month in South Africa, funding 2-3 wheelchairs.
We have been collecting bread tags nationally in Australia since September 2018 and now have more than 100 collection points across the country. In February 2019 we started local recycling through Transmutation - Reduce, Reuse and Recycle in Robe, SA, where our tags are recycled into products such as door knobs and bowls. Tags from some states are still sent to South Africa where a plastics company called Zibo recycles them into seedling trays.
These humble bits of polystyrene can make a real difference so get your friends, family, school, workplace and church involved. Ask school tuck shops and boarding school kitchens, child care centres, aged care facilities, hospitals, cafes and fast food outlets to collect for you - they get through a lot of bread!
All the information and signage for collecting or setting up a public collection point is
on our website
.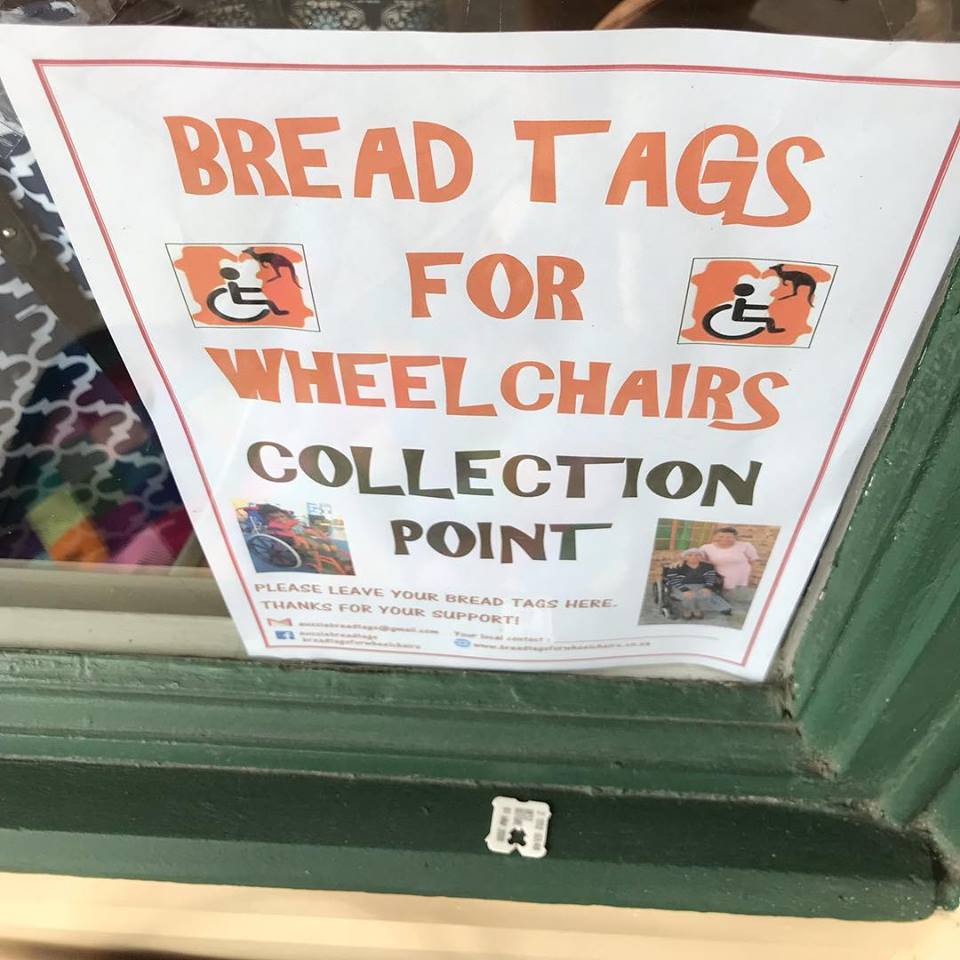 All Adults Now Eligible For A 2023 COVID-19 Booster Dose
The Australian Government has accepted advice from the Australian Technical Advisory Group on Immunisation (ATAGI) that all adults who have not had a COVID-19 booster or a confirmed case in the past six months can now get another booster to give them additional protection against severe illness from COVID.
The ATAGI experts have particularly recommended that everyone at risk of severe illness – that is, everyone aged 65 years and over as well as younger adults who have medical comorbidities, disability or complex health needs – have a 2023 booster dose.
ATAGI have advised that otherwise healthy children and teenagers do not need a booster at this time, given the low incidence of severe illness and high level of hybrid immunity amongst this cohort.
In keeping with ATAGI advice, an additional booster will not be provided for under 18's, except where children aged 5 to 17 have health conditions that would put them at risk of severe illness.
In all instances the recommendation for a booster is for people whose most recent COVID-19 vaccine or infection was six months or more ago, irrespective of how many prior doses that person has received.
The vaccine booster advice from ATAGI is specific to the current Australian context in early 2023. ATAGI has said that ongoing surveillance of COVID-19 infection rates, new variants and vaccine effectiveness will determine any future recommendations it makes concerning additional booster doses.
For this booster dose, all available COVID-19 vaccines are anticipated to provide a benefit. However, Omicron-specific mRNA booster vaccines are preferred over other vaccines.
The Government has 4 million Omicron-specific booster doses available right now and another 10 million arriving in February.
The recommendation for additional boosters comes into effect on February 20.
February will see the largest supply of new vaccines into the Australian COVID vaccine program, since late 2021.
The Minister for Health and Aged Care Mark Butler and Minister for Aged Care Anika Wells will be writing to aged care providers to advise them of the new requirements for additional booster doses.
Providers will be encouraged to regularly bring local general practitioners and pharmacists into their facilities to administer the booster doses, as required by the vaccination and infection history of individual residents.
Friday essay: love in the time of incontinence – why young people don't have the monopoly on love, or even sex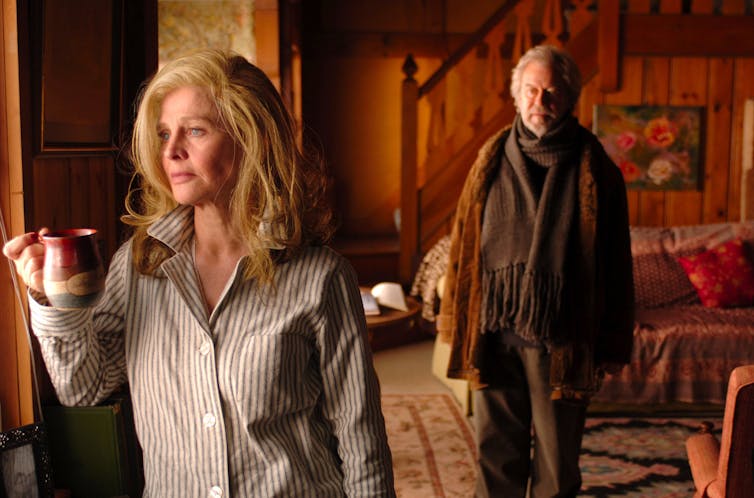 Carol Lefevre, University of Adelaide
A friend with a close relative in a residential aged care home reports – in a tone of scandalised surprise – on romantic entanglements among the elderly.
In one case, a man and woman have become so inseparable that staff have been forced to move his bed into her room so the two can sleep side by side. When the woman's son made an unexpected visit, he was distressed to find his mother in her nightdress in the arms of a stranger, though eventually he had to accept it was what she wanted.
The concept of the elderly, with their age-altered bodies, demonstrating an appetite for intimacy, especially in an institutionalised setting, appears widely regarded as funny at best – and at worst, disgusting. But should we be surprised if in this difficult, final phase of their lives, elderly people yearn for human contact?
Love Is Short, Forgetting Is Long
As another friend, an experienced nurse, points out, the rooms of aged care residents are routinely lined with framed family photographs, what she calls "the people with the big hats and the scrolls". But where, my friend demands, are these people in the lives of the lonely residents? Why do they never visit?
She describes how in her childhood in Ireland, any house you'd go to would have an old man or woman in it being cared for by the family; though she admits this may no longer be the case, since so many women have found work outside the home.
For Australians in aged care, living among strangers, removed from all that was once familiar – including the ordinary luxuries of an outing to a local cafe, or to watch the sun set over the sea – it is surely natural that they should turn to those nearest them for comfort. As the poet Pablo Neruda says: "Love is so short, forgetting is so long."
Each February, the Day of Love rolls around, with its buckets of poor, forced roses outside florists' shops, its gaudy greetings cards, and supermarkets crammed with chocolate. Young people, of course, are mad for all the hullabaloo, with Valentine's Day themed parties, and singing telegrams delivered in the lunch breaks in high schools. But if those young people imagine they have a monopoly on love – or even on sex – the truth appears otherwise; in real life and in books.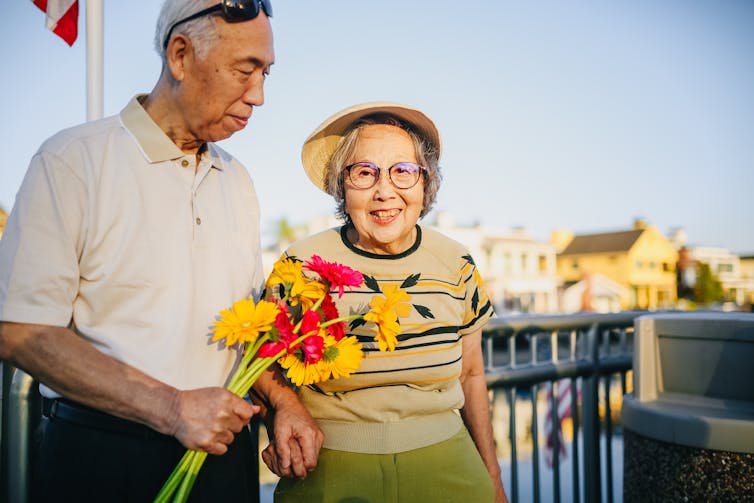 Romance In Residential Care
For a moving narrative of love at the end of days, read Alice Munro's The Bear Came Over the Mountain, from her book Hateship, Friendship, Courtship, Loveship, Marriage (filmed as Away From Her; director Sarah Polley was Oscar nominated for her screenplay adaptation of Munro's story).
The story documents both romantic attachment in residential care, and the lengths a spouse might go to for love. Grant and Fiona have been married for almost 50 years when she starts leaving sticky notes on their kitchen drawers: Cutlery, Dishtowels, Knives. Grant is shaken by the realisation that it is not where things are kept that Fiona is struggling with, but what they are.
As Fiona's memory loss accelerates, she moves voluntarily to Meadowlake, a nursing home where she and Grant have previously visited a neighbour. The home's rules forbid visitors during the first month; Grant is told this is to help Fiona settle in. But when the month is up his wife does not recognise him, and at each visit he finds her sitting close beside her new friend, Aubrey.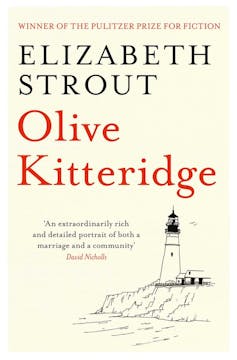 Grant's eventual acceptance of Fiona's and Aubrey's relationship, his efforts, after Aubrey's wife takes him home, to have him returned to Meadowlake, is where the real love lies in this story. It is not the stuff of cellophane-wrapped roses and chocolate hearts, but the devotion that has accreted over the course of a long marriage. In Grant's case devotion may be tinged with guilt, for in the past he has been a philanderer, though he never wanted to risk losing his wife. Now that he has lost her, he throws his effort into securing the only thing that appears to make her happy.
At the end of Elizabeth Strout's Pulitzer prize-winning Olive Kitteridge, Olive seeks out the widowed Jack Kennison. She puts her hand on his chest and feels the thump of his heart "and her body – old, big, sagging – felt straight-out desire for his". Olive is saddened to remember she had not loved her husband Henry in this way for a long time before he died.
What young people didn't know, she thought, lying down beside this man, his hand on her shoulder, her arm; oh, what young people did not know. They did not know that lumpy, aged, and wrinkled bodies were as needy as their own young, firm ones, that love was not to be tossed away carelessly.
Privacy, Consent And Family Resistance
Intimate relationships have been associated with lower levels of stress and depression, with higher levels of oxytocin, a feel-good hormone, and a general lift in physical and mental wellbeing, even taking into account cognitive or physical impairment.
Intimacy, of course, does not necessarily mean sex; it can be expressed through touch, such as hugging, cuddling, or hand-holding. But in an Australian aged care setting, this may not be as straightforward as it seems in fiction. For one thing, there is a discouraging lack of privacy, including a scarcity of shared rooms, rooms with double beds and lockable doors. Then, if a resident's husband or wife is still living in the wider community, a new attachment might stir family resistance.
A recent survey of almost 3,000 Australian residential aged-care facilities conducted by researchers at La Trobe University's Australian Centre for Evidence Based Aged Care found that only half of facilities surveyed had written policies on sexuality, and only one third had policies on sexual behaviour.
Dementia raises the question of a capacity to properly consent. Legislation is clear concerning a resident's will and medical and financial matters. But when it comes to people's sexual decisions, it is left to staff to negotiate a balance between the rights of individuals and the facility's duty of care to a group of people who are particularly vulnerable to unwanted attentions, or even sexual assault.
It must be acknowledged that in Australia an estimated 50 sexual assaults occur every week in residential aged care, and that the elderly also experience such assaults in their own homes; victims are invariably female. Police and care providers can be unwilling to take action, believing that dementia makes the victim's evidence unreliable – and, mistakenly, that people with dementia will not remember, nor be traumatised.
The Ready to Listen project, launched in 2021 by the Older Persons Advocacy Network, aims to address the rights of people in aged care to be heard, to be believed, and (following open disclosure of assault) to have their cases followed up by police. It is also concerned with establishing a charter of sexual rights for older people, including their right to a consenting, romantic relationship, and clarifying the all-important question of consent.
But the possibility of non-consensual contact exacerbates the difficulty of forming genuine attachments, and family disapproval may be enough to cause staff to intervene. Even without this, the lack of guidance, or the ageist prejudices of staff members, may mean intimate friendships within an aged care setting will be firmly discouraged.
Children, especially adult children, can complicate mature love, and are often unscrupulous in thwarting it. Because aside from what they perceive as age-appropriate behaviour, late-life attachments can, of course, have consequences for an offspring's anticipated inheritance.
'You're Not Even Ashamed'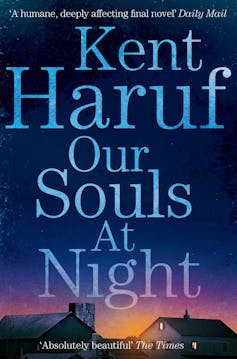 In Kent Haruf's Our Souls at Night, Addie Moore and Louis Waters, neighbours for years, both live alone; their houses empty of family, their evenings solitary. Then Addie visits Louis with the astonishing proposal that he sleep over with her at night: for the company, for the quiet conversations after lights out. Louis agrees, and they fall into a companionable routine. The town soon notices this new intimacy, but at 70, Addie does not care what anyone thinks, and nor does Louis.
Alerted by a friend to her father's behaviour, Louis's daughter Holly tells him, "It just seems embarrassing". But Addie's son Gene is incensed. "Because he's after your money too, isn't he?" he says. "If you married him he'd get half of everything wouldn't he? I couldn't stop him."
Addie's six-year-old grandson Jamie is sent to stay with her when Gene separates from his wife. Frightened at night, Jamie ends up sleeping in Addie's bed, making her arrangement with Louis impossible. But gradually the three of them bond, and when Louis gives Jamie a dog, Bonny, Bonny is allowed to sleep on Jamie's bed. When the three of them go camping, they share the same tent.
Gene comes and takes Jamie and Bonny away, and afterwards Addie and Louis decide they will do what the town believes they've been doing all along.
Addie says, "This old body. I'm an old woman now." Louis says, "Well, old woman Moore. You've won me completely. You're just right. You're how you're supposed to look."
When their lovemaking is not a success, Louis says, "I've got the old man's complaint." Addie says, "It's just the first time. We have all the time ahead of us […] Let's try again another night." But Addie's son returns. "I want this to stop," he says. "You're not even ashamed of yourselves."
Gene bans Addie from speaking on the phone to her grandson. When she does get through to Jamie, he tells her that if he talks to her "they'll take Bonny away". Addie must have contact with the boy; she cannot afford to wait until Jamie is 16. She tells Louis they must remain separate.
When Addie falls in the street, Gene has her transferred from the town of Holt, where she and Louis live, to Denver. Louis goes to the hospital, where Gene tells him, "You're not wanted here."
When Addie is discharged, she will move into assisted living in another town. Gene's disgust, while partly motivated by financial need, is also an expression of a common distaste for age-altered bodies. To Gene, this is all the justification he needs to use his small son as a weapon.
Love After '50 Years Of Being Parched'
Addie Moore is not the first elderly woman to discover that the last great love of her life is settled on a grandchild. The unconditional love can flow both ways, to their mutual joy, if it is not pinched out by parents with a loveless attitude towards the older generation. In her surrealist novel The Hearing Trumpet, Leonora Carrington delivers this dehumanising impulse with devastating economy as a woman speaks to her husband about his aged mother, Marian.
"Remember, Galahad," added Muriel, "those old people do not have feelings like you or I. She would be so much happier in an institution." Unfortunately for Marian, her adult grandson is not the loving kind. "She ought to be dead," Robert said. "At that age people are better off dead."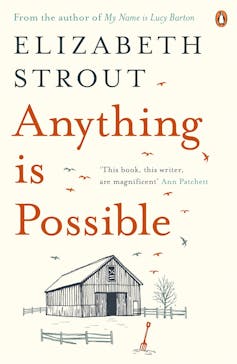 Even when offspring are not primarily focused on their inheritance, a lifetime's accumulation of feelings and resentments can be in play. In Anything is Possible, also by Elizabeth Strout, the story Mississippi Mary tells of a 78-year-old woman living in Italy, married to a man so much younger than her that at first the locals assumed she was his mother.
When her youngest daughter visits, Mary thinks she will not understand "what it had been like to be so famished. Almost fifty years of being parched". At their 50th wedding anniversary party her husband had not asked her to dance. Later, when Mary was 69, her daughters had given her a trip to Italy as a birthday gift, and it was there that she had wandered off and become lost, and was found by Paolo.
She fell in love. She did. He'd been married for twenty years, it had seemed like fifty to him, and now he was alone – they were both parched.
Mary's first husband had been in a long-term affair. Their daughter Angelina judges it "pathetic […] painful, of course, but pathetic". Her father "really was a mean snake of a man" Angelina admits, but then the selfishness of the hurt child kicks in:
Why couldn't her mother see what she had done by leaving? Why couldn't she see it? There could be only one reason: that her mother was, behind her daffiness, a little bit dumb; she lacked imagination.
Angelina accuses her mother of having taken from her the ability to care for her in her old age, and to be with her when she dies. Mary is a little stricken by this, because she suspects death is not far away. But "she did not dread her death […] she was almost ready for it, not really but getting there". Mary admits that
Always, there was that grasping for a few more years, Mary had seen this with many people, and she did not feel it – or she did, but she did not. No. She felt tired out, she felt almost ready, and she could not tell her child this.
Sexy Old Women
In her essay, Sexy Old Women, Krissy Kneen has just finished writing a novel that would go on to be shortlisted for the Stella Prize, An Uncertain Grace, in which the main character, Liv, reaches 130 years of age and is still very much a sexual being. Kneen writes:
The older I get the more I see that the signifiers of sex are inextricably linked to youth. We say young, sexy bodies. We say sexy young things. We do not say sexy old woman.
In the work of writers such as Gabriel Garcia Marquez, Philip Roth, Yasunari Kawabata, Michel Houellebecq, Peter Carey, and Vladimir Nabokov, Kneen easily finds literary examples of sexual old men. But it is harder to find a model for a sexual older woman, and in the few examples she does find – In Praise of the Stepmother, by Mario Vargas Llosa, and The Graduate by Charles Webb (the basis for the 1967 film starring Dustin Hoffman) – the women are portrayed as "dangerous, manipulating, clever enough to cause a man's downfall".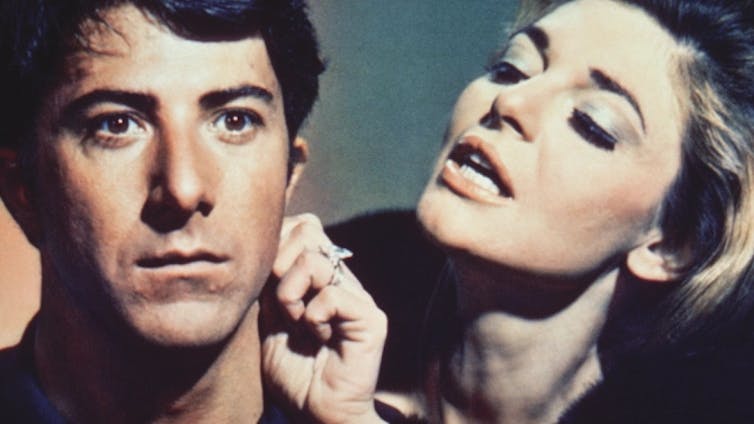 Kneen recalls watching the screening of a documentary, Nitrate Kisses, in which a sex scene involving two very old women draws a shocked response from the young audience. Describing the scene as "caring and quite frankly, beautiful" Kneen, though at the time still young herself, hopes that as an old woman she will still be "equally sexually bold".
Ripe Glamour
Septuagenarian American novelist and poet May Sarton famously developed the optimistic concept of "ripening towards death in a fruitful way". But ripeness as it relates to the elderly, especially elderly women, can be a fraught topic. Some pro-ageing advocates insist that an essential element of a woman ageing well is glamour, but glamour is a construct; in our times it is often measured by the subject's perceived sexual appeal, as demonstrated by the clichéd poses and facial expressions of those modelling "glamour" in magazines, or on screens.
The pro-ageing movement on Instagram is divided between older women who still lay claim to the glamorous props of their youth – skin-baring garments, high heels, extravagant quantities of makeup – and those who are evolving towards a kind of beauty that does not rely on overt sexuality, but focuses instead on being comfortable in one's own skin. Neither approach is right or wrong, but of the two ways of going forward, the "less is more" philosophy of the natural agers somehow seems more universally doable.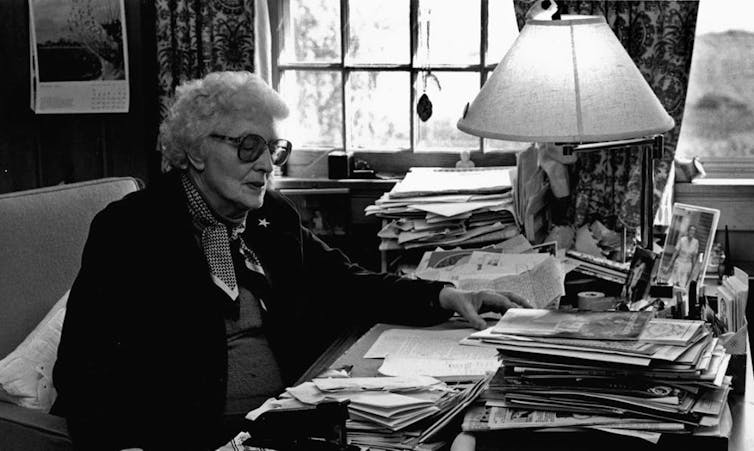 The roots of the word "glamour" can be traced to the Scottish word gramarye, meaning "magic, enchantment, spell", including the lovely phrase "to cast the glamour". Gramarye may be from an Ancient Greek word for the weight unit of ingredients used in magic potions. Or it is an alteration of the English word "grammar", in its medieval sense of "scholarship" and especially "occult learning"?
In John Jamieson's 1825 Etymological Dictionary of the Scottish Language, glamer, glamour, is
the supposed influence of a charm on the eye, causing it to see objects differently from what they really are. Hence to "cast glamer o'er one, to cause deception of sight".
This definition draws glamour closer to the Old Norse words glámr, "moon", or "name of a ghost", and glámsýni, "illusion" – which makes of glamour a deception, a beauty trick.
Jamieson's dictionary contains many old words that women might use to describe themselves in ways that stand outside the conventions formed around youthful beauty.
For those of us anticipating our own extreme old age, when we will be more frooch ("frail, brittle") than now, let us hope we shall still be able to summon the odd moment of gleit ("to glitter"), and that our eyes, our hair, will be touched at times with their old glister ("lustre").
And looking back over the fiction I've drawn on for this essay, I see the writers were both forsy ("powerful") and formois ("beautiful").
The Right To Relationships
The Royal Commission into Aged Care Quality and Safety was announced by the Morrison government in 2018, following a string of disturbing incidents – including South Australia's Oakden Aged Care scandal, where the facility was closed after evidence came to light of neglect and abuse. Among the findings of the Royal Commission were that "sub-standard care and abuse pervades the Australian aged care system". In its final report, it pronounced this "a source of national shame".
Reforms suggested by the Royal Commission in any overhaul of Australia's aged care system include the right of autonomy, the right to the presumption of legal capacity, and in particular the right of elders in residential aged care to make decisions about their care and the quality of their lives, and the right to social participation.
The recommendations state that older people should be supported to exercise choice about their own lives and make decisions to the fullest extent possible, including being able to take risks and be involved in the planning and delivery of their care. They also state that older people are entitled to receive support that acknowledges the aged care setting is their home, and enables them to live in security, safety and comfort, with their privacy respected.
For those of us who are not yet quite ready to access these late-life services, let us hope the Albanese government follows through on the Royal Commission's recommendations, which state that people should be treated as individuals. And that the relationships older people have with significant others in their lives should be acknowledged, respected, and fostered.
Carol Lefevre, Visiting Research Fellow, Department of English and Creative Writing, University of Adelaide
This article is republished from The Conversation under a Creative Commons license. Read the original article.
Express Yourself 2023
Manly Art Gallery & Museum is proud to present Express Yourself from March 3 – April 16 2023.
Express Yourself is comprised of over 50 artworks by HSC Visual Arts students, selected from the 20 secondary schools across our area.
At its core, the exhibition displays the voice of our youth – raw and authentic and presents young artists as commentators and advocates, who are questioning the status quo, and opening minds and conversations to help us imagine new futures.
Mayor Michael Regan said the exhibition has been an important part of the Gallery's program since 1995 and demonstrates Council's continuing commitment to supporting visual arts education.
"Express Yourself provides a chance every year to connect with the artists emerging from secondary schools across the region. It's a loved centrepiece of the annual program and an exhibition that brings new life and ideas into the Gallery to be celebrated and exposed to new audiences.
"I'd like to congratulate each and every artist selected to take part in 2023 and to acknowledge the tremendous work they have put in to be included," Mayor Regan said.
The works by 2022 HSC students show incredible diversity, depth and skill.
Featuring a broad range of expressive artforms, the high technical and artistic calibre of the works reflect the continuum of creativity in our region, and helps to reveal the quality of teaching and learning in Visual Arts at this level.
Some artworks reflect very personal themes of family and relationships, or draw on their cultural heritage; some explore the environmental crisis, and our connection to the land and to place; while others reflect on all that it is to be human in an ever-changing world.
Now in its 29th year, Express Yourself is presented by MAG&M and the Council in partnership with local secondary schools and the MAG&M Society.
To learn more about the programmed events, awards and to view a catalogue
click here
.
Express Yourself 2023 events
Meet The Artists:

From 2-5pm on Sunday, 26 March 2023
RSVP here
Express Yourself 2023 offers a unique opportunity to Meet the Artists and enjoy some Live Music and Performance. Here visitors can engage with selected Express Yourself 2023 artists as they move through the gallery, listening to stories of inspiration and the creative process (2-3pm) and are then invited to sit back and enjoy live performances by top young local musicians and performers (3-5pm).
Manly Art Gallery & Museum West Esplanade Reserve, Manly NSW 2095
Open Tue – Sun, 10am – 5pm (closed Mondays & Public Holidays)
Free entry
T: 02 9976 1421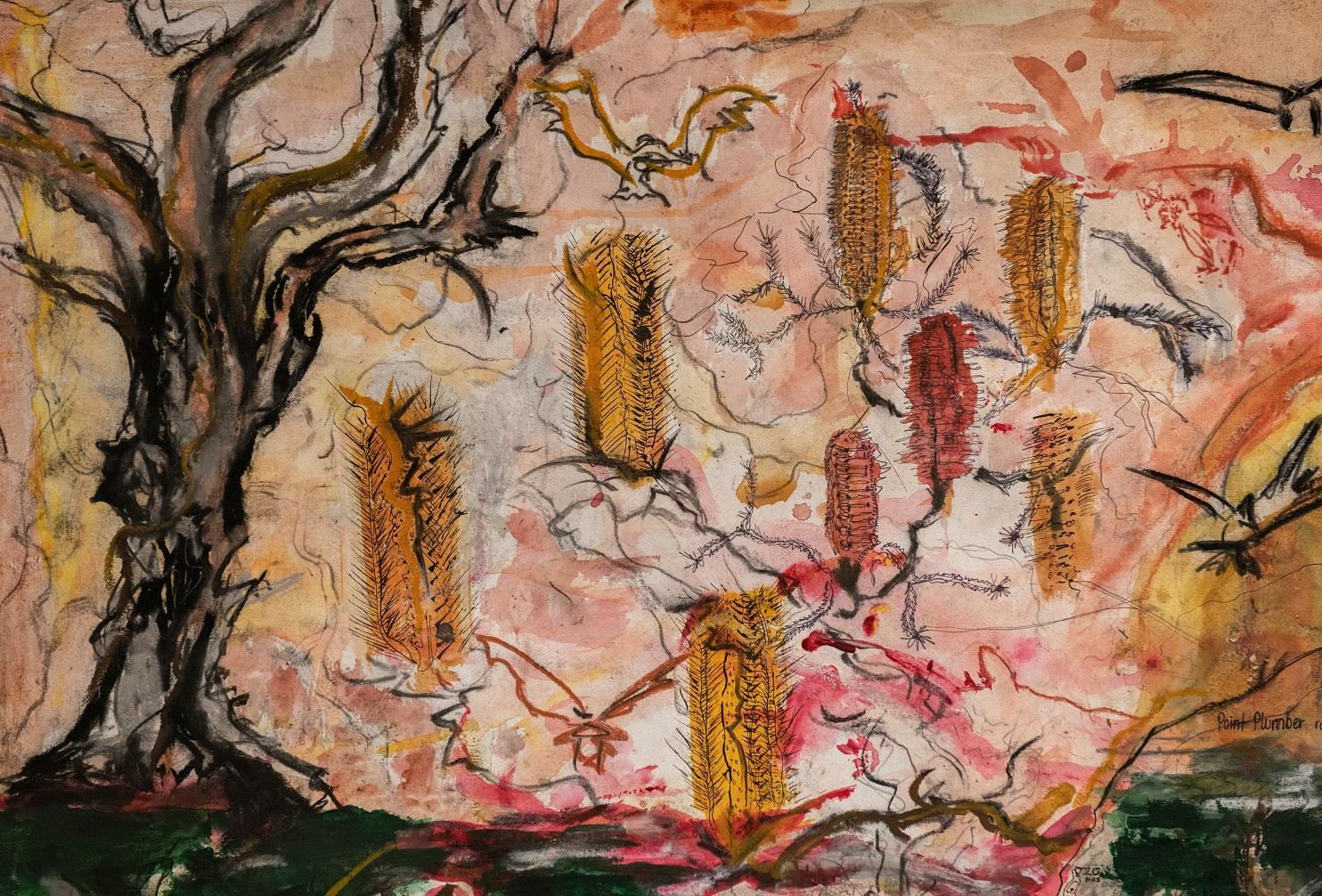 Joe Boaler, The land is ours; this land owns me, Barrenjoey High School
NSW Sports High Schools Partner With Australian Olympic Committee
New South Wales has scored a first with the state's seven Sports High Schools officially becoming Australian Olympic Pathway Schools from February 8, 2023.

NSW Education Minister Sarah Mitchell MLC and NSW Sports Minister Alister Henskens SC, MLA with Australian Olympic Committee (AOC) Chief Executive Matt Carroll, jointly announced the partnership, aimed at boosting opportunities for talented NSW athletes to progress their sporting and academic careers.
In a further boost for schools across NSW, the state government has also announced Australia's largest Olympic education initiative, with an extension of the "Olympics Unleashed" program set to reach 250,000 school students over the next three years.
Minister for Education and Early Learning Sarah Mitchell said the unique designation from the Australian Olympic Committee for these schools was fantastic news and would help boost the State's efforts to create future generations of Olympians and Paralympians.
"Our seven Sports High Schools in NSW are the only secondary schools in Australia to have this prestigious recognition," Ms Mitchell said.
"This reflects the great strength of our sports high school network, and their excellent track record in fostering both sporting high performance and academic achievement. I can't wait to see the next generation of medal-winning athletes coming from our public schools as we look to Brisbane 2032."
The seven Sports High Schools in NSW receiving this recognition are Endeavour Sports High School, The Hills Sports High School, Hunter Sports High School, Illawarra Sports High School, Matraville Sports High School,
Narrabeen Sports High School
and Westfields Sports High School.
The NSW Government has also confirmed a $1.5 million boost to extend the successful "Olympics Unleashed" school program, aimed at supporting students through the power of sport, until 2026.
"The award-winning Olympics Unleashed program, which teaches our students important life skills in decision making, goal setting and overcoming adversity, has reached more than 75,000 Year 9 students over the last three years," Ms Mitchell said.
"Continuing it for a further three years will mean thousands more young people, including primary school aged students for the first time, will benefit from the program delivered by Olympians and aspiring Olympians.
"Sporting heroes are made in our public schools and particularly our amazing sport high schools, so it is fitting and incredibly exciting to recognise their role in Australian sporting excellence by acknowledging them as 'Olympic Pathway Schools'."
Minister for Sport Alister Henskens said the NSW Liberal and Nationals Government is committed to supporting the State's seven sports high schools in their endeavour to develop future Australian Olympians.
"The students at our sports high schools today will be our heroes standing on the podium at the Brisbane 2032 Olympics, and this partnership will strengthen their opportunity for international success," Mr Henskens said.
"The first-of-its-kind in Australia, this initiative will encourage even more high school students to reach for the stars, as well as provide programs to help young people stay focused and motivated while they're studying and trying to forge a pathway in their respective sports."
AOC Chief Executive Officer Matt Carroll says the Australian Olympic Pathway Schools designation is an important recognition of the value of the Sports High Schools network in NSW.
"The key to sporting excellence is to align participation, pathways and high performance into the virtuous circle. To have this alignment at high school level is powerful, particularly as we look to Brisbane 2032 and beyond.
"The Australian Olympic Pathway Schools designation provides an additional motivation and validates the specialisation being undertaken within each Sports High School.
"We have seen Olympic Training Centres recognised around Australia and overseas, but never at the school level in this country.
"The AOC is thrilled by the extension of the Olympics Unleashed program. Our Olympic athletes can deliver these sessions across the state, including regional areas and Indigenous communities. We will reach 1800 schools across the three years.
"It's important that our young people pursue a passion – we want students to get active but finding your passion may lie beyond sport. Olympics Unleashed teaches students the value of finding a passion and really becoming their best selves. That's the most important lesson.
"Our thanks to the NSW Government for their investment in the future of our youth.
"This is such an exciting time for our Olympic sports with a green and gold runway leading to Brisbane 2032 and opportunities for a decade beyond that."
Two-time Olympic cyclist Kate Bates, a product of Westfield Sports High, says the Olympic status of the schools will inspire a new generation to chase an Olympic dream.
"Coming through a sports high school program allowed me to balance education and an elite sport pathway without having to compromise either. It also meant I was amongst peers who, even though they were in different sports, understood the journey, and added an enormously beneficial layer of support.
"Having the Australian Olympic Pathway School designation offers even more inspiration for our future Olympians to strive for.
"Being an Olympian has had an extraordinary impact on my life. From being a child aspiring to be like the athletes I saw on my screens, to experiencing the Olympic journey, and coming full circle to realising that my journey has inspired the generation below me to chase their own dreams.
"Now students at the sports high schools have extra motivation to chase their own Olympic dream and be part of this incredible Olympic community," she concluded.
The state's Sports High School have produced 32 Olympic athletes, including
Kyah Simon
(Football),
Brandon Starc
(Athletics),
Maurice Longbottom
(Rugby 7s),
Kaarle McCulloch
(Cycling - Track),
Dani Stevens
(Athletics) and
Mariah Williams
(Hockey).
Olympic sports currently with programs at NSW Sports High Schools:
Athletics
Baseball/Softball
Basketball
Football
Golf
Gymnastics
Hockey
Rugby Union
Surfing
Swimming
Tennis
Water Polo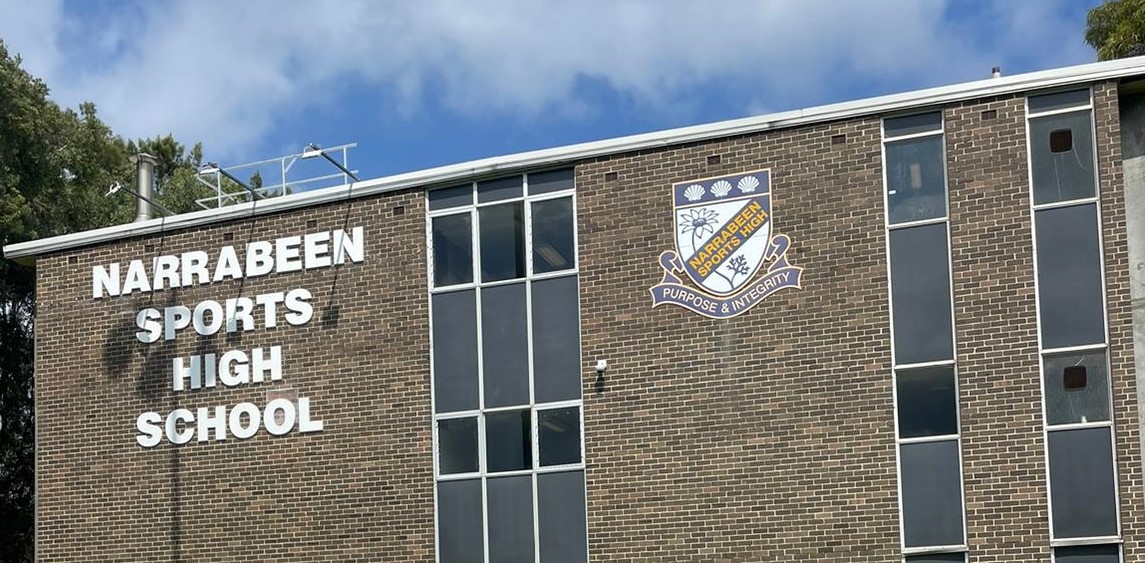 Surfing Is Sydney's Favourite Summer Pastime: Manly In 1959
Made by the National Film Board 1959. Directed by Jack S Allan. A typical 1950s weekend at Manly Beach, swimming, surfing, sun baking and life savers.
Council Seeks Community Members For LGBTQIA+ Working Group
As Sydney prepares to host the world's largest LGBTQIA+ event, WorldPride, Council is commencing a long-term plan to make sustained and meaningful change.
Rather than simply joining in with WorldPride celebrations over a festive two-week period, Council is seeking expressions of interest to form a LGBTQIA+ working group to identify strategies to make the Northern Beaches increasingly safe, inclusive and welcoming for all.
Mayor Michael Regan said the new working group is an ideal way to make the Northern Beaches a safer and more inclusive place, by getting a diverse group from our community together to identify the most effective ways to create positive culture change over the longer term.
"We value lived experience, the voices of young people and people with strong connections to the local LGBTQIA+ community," Mayor Regan said.
"Northern Beaches Council is running a program of activities that celebrate and support Sydney WorldPride, because we believe that social sustainability can only be achieved when we make the Northern Beaches safe, inclusive and welcoming for all."
The LGBTQIA+ working group will comprise a diverse group of community members across Council's five wards (Pittwater, Narrabeen, Frenchs Forest, Curl Curl and Manly).
The group will include up to two community members per Council ward and up to three representatives from local community organisations that have strong connections to the local LGBTQIA+ community.
Expressions of interest open on Tuesday 31 January and
close on Tuesday 28 February.
Northern Composure Band Competition 2023
Due to the pandemic, Council have had the 20th anniversary on hold but pleased to say that the competition is open and running again.
Northern Composure is the largest and longest-running youth band competition in the area and offers musicians local exposure as well as invaluable stage experience. Bands compete in heats, semi finals and the grand final for a total prize pool of over $15,000.
Over the past 20 years we have had many success stories and now is your chance to join bands such as:
Ocean Alley
Lime Cordiale
Dear Seattle
What So Not
The Rions
Winston Surfshirt
Crocodylus
And even a Triple J announcer plus a wide range of industry professionals
About the Competition
In 2023, the comp looks a little different.
All bands are invited to enter our heats which will be exclusively run online and voted on by your peers and community by registering below and uploading a video of one song of your choice. (if you are doing a cover, please make sure to credit the original band) We are counting on you to spread the word and get your friends, family, teachers voting for you!
The top 8-12 bands will move on through to our live semi finals with a winner from each moving on to the grand final held during National Youth Week. Not only that but we have raised the age range from 19 to 21 for all those musicians who may have missed out over the past two years.
Key dates
Voting open for heats: Mon 13 Feb – Sun 26 Feb

Band Briefing: Mon 6 March, Dee Why PCYC
Semi 1: Sat 18 March Mona Vale Memorial Hall
Semi 2: Sat 25 March, YOYOs, Frenchs Forest
Grand Final: Fri 28 April, Dee Why PCYC
For more information contact Youth Development at youth@northernbeaches.nsw.gov.au or call 8495 5104
Stay in the loop and follow Northern Composure Unplugged on KALOF Facebook.
School Leavers Support
Explore the School Leavers Information Kit (SLIK) as your guide to education, training and work options in 2022;
As you prepare to finish your final year of school, the next phase of your journey will be full of interesting and exciting opportunities. You will discover new passions and develop new skills and knowledge.
We know that this transition can sometimes be challenging and the COVID-19 pandemic has presented some uncertainty. With changes to the education and workforce landscape, you might be wondering if your planned decisions are still a good option or what new alternatives are available and how to pursue them.
There are lots of options for education, training and work in 2022 to help you further your career. This information kit has been designed to help you understand what those options might be and assist you to choose the right one for you. Including:
Download or explore the SLIK here to help guide Your Career.
School Leavers Information Kit (PDF 5.2MB).
School Leavers Information Kit (DOCX 0.9MB).
The SLIK has also been translated into additional languages.
Download our information booklets if you are rural, regional and remote, Aboriginal or Torres Strait Islander, or living with disability.
Support for Regional, Rural and Remote School Leavers (PDF 2MB).
Support for Regional, Rural and Remote School Leavers (DOCX 0.9MB).
Support for Aboriginal and/or Torres Strait Islander School Leavers (PDF 2MB).
Support for Aboriginal and/or Torres Strait Islander School Leavers (DOCX 1.1MB).
Support for School Leavers with Disability (PDF 2MB).
Support for School Leavers with Disability (DOCX 0.9MB).
Download the Parents and Guardian's Guide for School Leavers, which summarises the resources and information available to help you explore all the education, training, and work options available to your young person.
School Leavers Information Service
Are you aged between 15 and 24 and looking for career guidance?
Call 1800 CAREER (1800 227 337).
SMS 'SLIS2022' to 0429 009 435.
Our information officers will help you:
navigate the School Leavers Information Kit (SLIK),
access and use the Your Career website and tools; and
find relevant support services if needed.
You may also be referred to a qualified career practitioner for a 45-minute personalised career guidance session. Our career practitioners will provide information, advice and assistance relating to a wide range of matters, such as career planning and management, training and studying, and looking for work.
You can call to book your session on 1800 CAREER (1800 227 337) Monday to Friday, from 9am to 7pm (AEST). Sessions with a career practitioner can be booked from Monday to Friday, 9am to 7pm.
This is a free service, however minimal call/text costs may apply.
Call 1800 CAREER (1800 227 337) or SMS SLIS2022 to 0429 009 435 to start a conversation about how the tools in Your Career can help you or to book a free session with a career practitioner.
Word Of The Week: Consternation
Word of the Week returns in 2023 simply to throw some disruption in amongst the 'yeah-nah' mix.
noun
1. amazement or dismay that hinders or throws into confusion. 2. amazement combined with terror.
The first known use of consternation was in 1604. From French or Latin; French, from Latin consternation-, consternatio, from consternare to throw into confusion, from com- + -sternare, probably from sternere to spread, strike down, from Latin consternationem (nominative consternatio) "confusion, dismay," noun of state from past-participle stem of consternare "overcome, confuse, dismay, perplex, terrify, alarm," which is probably related to consternere "throw down, prostrate," from assimilated form of com-, here perhaps an intensive prefix (see com-), + sternere "to spread out, lay down, stretch out"
verb: consternate; 3rd person present: consternates; past tense: consternated; past participle: consternated; gerund or present participle: consternating - to fill (someone) with anxiety.
A slightly 'confused' but more likely 'random mix' for your listening pleasure this week:
Murray Valley Encephalitis Virus Detections Widespread Across Inland NSW
Communities across western and southern areas of inland NSW are urged to protect themselves against mosquito bites as detections of Murray Valley encephalitis (MVE) virus increase.
MVE virus has been detected in mosquitoes across a wide area of western and southern NSW. Sentinel chickens used for surveillance of viruses have also been infected with MVE virus in Macquarie Marshes and Menindee.
MVE virus is spread to humans by infected mosquitoes. Rarely, it causes severe neurological illness.
Acting Executive Director of Health Protection NSW, Dr Paul Douglas said that detections in sentinel chickens suggest that virus levels within mosquito populations are high and there is potential for the virus to spread to people.
"Only a small proportion of people infected with the virus will have any symptoms, which include fever, headache, nausea, vomiting, loss of appetite, diarrhoea, and muscle aches. Among those who get a severe infection, lifelong neurological complications or death can result," Dr Douglas said.
"Signs of severe infection include severe headache, neck stiffness, sensitivity to bright lights, drowsiness, confusion, seizures, and loss of consciousness.
"There is no vaccination or specific treatment for Murray Valley encephalitis and the best way to avoid infection is to avoid being bitten by mosquitoes, which are most active between dusk and dawn.
"Avoiding mosquito bites will also protect against other mosquito-borne infections including Japanese encephalitis, Ross River Fever and Barmah Forest virus."
The primary hosts of MVE and Japanese encephalitis virus (JEV) are wild waterbirds such as herons and egrets. Recent detections of MVE virus are likely related to recent flooding and increased numbers of waterbirds.
Protect yourself and your family from mosquito bites by:
wearing light, loose-fitting long-sleeved shirts, long pants and covered footwear and socks, especially around dusk and dawn
applying repellent to all areas of exposed skin, using repellents that contain DEET, picaridin, or oil of lemon eucalyptus
re-applying repellent regularly, particularly after swimming, being sure to always apply sunscreen first and then apply repellent
covering openings such as windows and doors with insect screens and checking there are no gaps in them
removing items that might collect water (such as old tyres, empty pots) outside your house where mosquitoes can breed
improving drainage on your property so that water does not become stagnant
using insecticide sprays, vapour dispensing units and mosquito coils to repel mosquitos (mosquito coils should only be used outside).
Three Or More Concussions Linked With Worse Brain Function In Later Life
Experiencing three or more concussions is linked with worsened brain function in later life, according to major new research.

The study -- the largest of its kind -- also found having just one moderate-to-severe concussion, or traumatic brain injury (TBI), can have a long-term impact on brain function, including memory.
Led by teams at the University of Oxford and the University of Exeter, the research included data from more than 15,000 participants of the online PROTECT study, who were aged between 50 and 90 and based in the UK. They reported the severity and frequency of concussions they had experienced throughout their lives, and completed annual, computerised tests for brain function.
Published in the Journal of Neurotrauma, the paper found that people who reported three or more concussions had significantly worse cognitive function, which got successively worse with each subsequent concussion after that. Attention and completion of complex tasks were particularly affected.
Researchers say people who have had concussions should be warned of the dangers of continuing high-risk sport or work.
Lead investigator Dr Vanessa Raymont, from the University of Oxford, said: "We know that head injuries are a major risk factor for dementia, and this large-scale study gives the greatest detail to date on a stark finding -- the more times you injure your brain in life, the worse your brain function could be as you age.
"Our research indicates that people who have experienced three or more even mild episodes of concussion should be counselled on whether to continue high-risk activities. We should also encourage organisations operating in areas where head impact is more likely to consider how they can protect their athletes or employees."
The team found that participants who reported three episodes of even mild concussion throughout their lives had significantly worse attention and ability to complete complex tasks. Those who had four or more mild concussion episodes also showed worsened processing speed and working memory. Each additional reported concussion was linked to progressively worse cognitive function.
Furthermore, the researchers found that reporting even one moderate-to-severe concussion was associated with worsened attention, completion of complex tasks and processing speed capacity.
In the online PROTECT study, participants share detailed lifestyle information, and complete a suite of cognitive tests every year, for up to 25 years. This rich mine of data helps researchers understand how the brain ages, and the factors involved in maintaining a healthier brain in later life.
Dr Helen Brooker, a study co-author from the University of Exeter, said: "As our population ages, we urgently need new ways to empower people to live healthier lives in later life. This paper highlights the importance of detailed long-term studies like PROTECT in better understating head injuries and the impact to long term cognitive function, particularly as concussion has also been linked to dementia. We're learning that life events that might seem insignificant, life experiencing a mild concussion, can have an impact on the brain. Our findings indicate that cognitive rehabilitation should focus on key functions such as attention and completion of complex tasks, which we found to be susceptible to long-term damage."
Dr Susan Kohlhaas, Director of Research at Alzheimer's Research UK, said: "Studies like this are so important in unravelling the long-term risks of traumatic brain injury, including their effect on dementia risk. These findings should send a clear message to policy makers and sporting bodies, who need to put robust guidelines in place that reduce risk of head injury as much as possible."
The research included collaboration with University of New South Wales, Australia, Kings College London and University College London, UK, Stavanger University Hospital in Norway and Harvard Medical School, in the US. The. paper is entitled 'Lifetime TBI and cognitive domain deficits in late life: The PROTECT-TBI cohort study', published in the Journal of Neurotrauma.
Matthew J. Lennon, Helen Brooker, Byron Creese, Tony Thayanandan, Grant Rigney, Dag Aarsland, Adam Hampshire, Clive Ballard, Anne Corbett, Vanessa Raymont.
Lifetime Traumatic Brain Injury and Cognitive Domain Deficits in Late Life: The PROTECT-TBI Cohort Study.
Journal of Neurotrauma, 2023; DOI:
10.1089/neu.2022.0360
Remapping The Superhighways Travelled By The First Australians Reveals A 10,000-Year Journey Through The Continent
New research has revealed that the process of 'peopling' the entire continent of Sahul -- the combined mega continent that joined Australia with New Guinea when sea levels were much lower than today -- took 10,000 years.
New, sophisticated models combined recent improvements in demography and models of wayfinding based on geographic inference to show the scale of the challenges faced by the ancestors of Indigenous people making their mass migration across the supercontinent more than 60,000 years ago.
The ancestors of Aboriginal people likely first entered the continent 75,000-50,000 years ago from what is today the island of Timor, followed by later migrations through the western regions of New Guinea.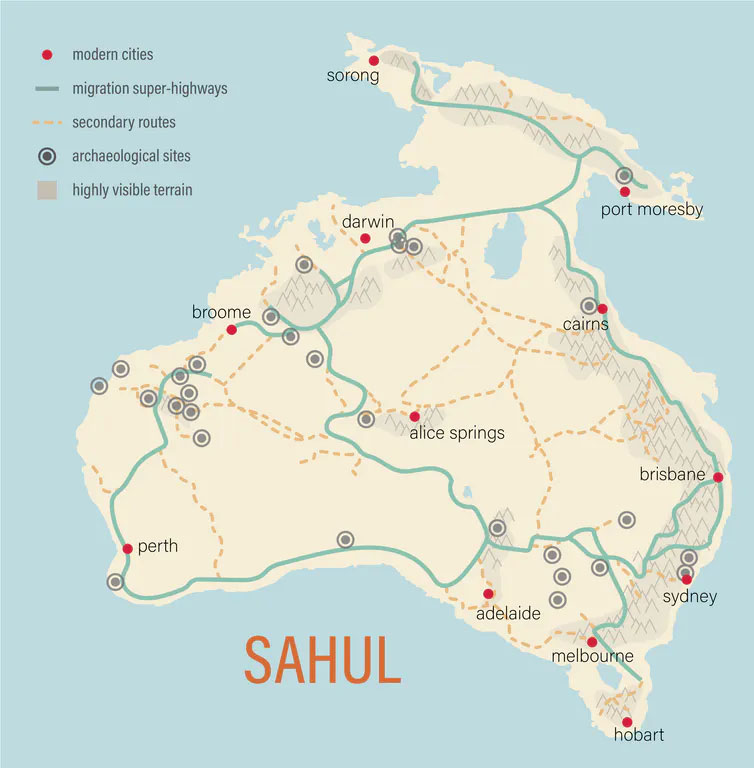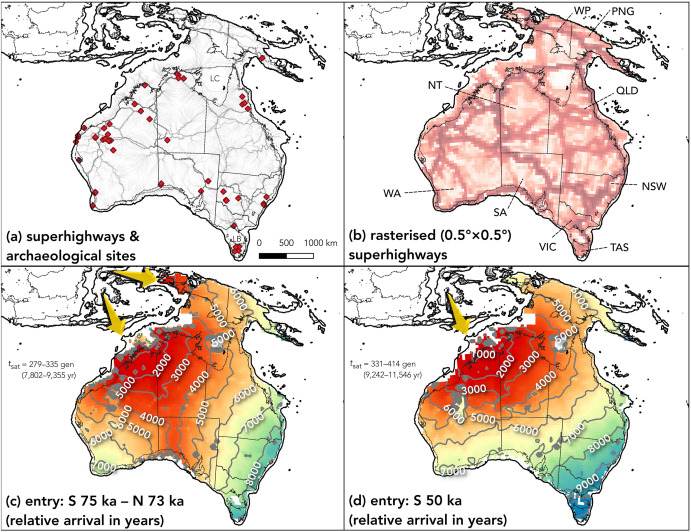 Diagrams: Flinders University
According to the new research, this pattern led to a rapid expansion both southward toward the Great Australian Bight, and northward from the Kimberley region to settle all parts of New Guinea and, later, the southwest and southeast of Australia.
The research was led by the ARC Centre of Excellence for Australian Biodiversity and Heritage (CABAH) and saw international experts in Australia and the United States collaborate to investigate the most likely pathways and the timeframe needed to reach population sizes able to withstand the rigours of their new environment.
By combining two existing models predicting the routes they took -- 'superhighways' -- and the demographic structure of these first populations, the researchers were able to estimate the time for continental saturation more precisely. The new research has just been published in the international journal Quaternary Science Reviews.
Based on detailed reconstructions of the topography of the ancient continent and models of past climate, the researchers developed a virtual continent and programmed populations to survive in and move successfully through their new territory.
Navigating by following landscape features like mountains and hills and knowing where to find water led to successful navigation strategies. The first people of Australia soon passed along cultural knowledge to subsequent generations facilitating the peopling of the whole continent.
Yet the challenges put forth by the topography of Sahul led to a slower pace of migration. Previous models did not take into account the topographic constraints that this sophisticated model does, allowing for a more realistic estimation of the peopling of the continent. This new work also explains the slower progress Indigenous ancestors made in reaching Tasmania, which was only made possible when seawaters across Bass Straight receded -- a finding only possible by combining these model results.
The study's lead author, Corey Bradshaw, Matthew Flinders Professor of Global Ecology at Flinders University and CABAH Models Theme Leader, says together these combined models allow for a better understanding of the archaeological and genetic data explaining the great migrations of Indigenous people in Sahul.
'The ways that people interact with terrain, ecology, and potentially other people alter our model outcomes, providing more realistic results. Therefore, models that incorporate only demographic information without considering the resources and needs of travellers, as well as the opportunities and constraints to their travel, are likely to underestimate the timing of expansion into new regions. So, we now have a good prediction of the patterns and processes of how people first settled these lands tens of thousands of years ago.'
'Our updated modelling shows that New Guinea was populated gradually over 5000 to 6000 years, with a focus initially on the Central Highlands and Arafura Sea area before reaching the Bismarck Archipelago in the east. The peopling of the far southeast and Tasmania is predicted to have occurred between 9000 and 10,000 years following initial arrival in Sahul.'
Professor Bradshaw says the innovative model developed by the researchers could be modified for other parts of the world to investigate the timing and patterns of initial peopling by humans.
'Examining comparable patterns in regions of the Middle East as humans left north-eastern Africa, entry and spread into Europe, expansion across southern Asia, and movements from Alaska to South America, are all now possible using the same modelling approach.'
'Because our model incorporates local conditions, including the spatial and temporal patterns of the land's ability to provide food, the distribution of water sources, and topography, our migration patterns would be highly relevant when applied to other parts of the world.'
'These results are surprising and very compelling,' says Dr Stefani Crabtree, co-author of the study and Fellow at the Santa Fe Institute and Assistant Professor at Utah State University.
'Our work shows that we need to keep in mind the constraints placed on travellers by the underlying geography as well as likely demographic scenarios. And as this work is based on our understanding of human movement globally, it can have massive implications for understanding migration in other places and other times. This also goes to show the power of combining computational models with archaeology and anthropology for refining our understanding of humanity.'
'This type of work is a game changer.'
Corey J.A. Bradshaw, Stefani A. Crabtree, Devin A. White, Sean Ulm, Michael I. Bird, Alan N. Williams, Frédérik Saltré.
Directionally supervised cellular automaton for the initial peopling of Sahul.
Quaternary Science Reviews, 2023; 303: 107971 DOI:
10.1016/j.quascirev.2023.107971
Antarctica's Ocean Brightens Clouds: Gases From Phytoplankton In The Ocean Help Form Dense Clouds That Reflect Sunlight
The teeming life in the Southern Ocean, which encircles Antarctica, contributes to brightening the clouds that form there, according to a study published today in Atmospheric Chemistry and Physics. The clouds are bright because of their high density of water droplets, due in turn to a chain of atmospheric processes that eventually connects back to the Southern Ocean's extraordinary phytoplankton productivity.
The study helps us better understand the natural processes of cloud formation, says Gerald "Jay" Mace, professor of atmospheric sciences at the University of Utah and the study's lead author.
"We can use that knowledge to improve our understanding of how clouds reflect sunlight globally," Mace says. "That, in turn, is key to predicting how much the earth warms and how precipitation patterns change."
Clouds, with all their dreamlike wispiness or fluffiness, are really only made of water droplets and ice crystals. Those droplets form when water vapor condenses around something in the atmosphere, like an aerosol particle, also called a "cloud condensation nucleus."
"In most situations, the amount of water available to condense to become a cloud is fixed," Mace says. "The number of droplets that then form from that fixed amount of water vapor depends upon the number of aerosol particles that are present."
So, in cases where a region of the atmosphere contains a high number of aerosols, clouds that form have lots of cloud condensation nuclei available. The density of cloud droplets, or number of droplets per volume of the cloud, is also high.
It's that density of droplets that Mace and his colleagues,
including scientists from CSIRO Oceans and Atmosphere in Australia and the University of Tasmania,
sought to study in Southern Ocean clouds.
Using satellite data, the researchers examined the properties of clouds in the Southern Ocean during summers between 2014 and 2019. They looked specifically at a region between Madagascar and New Zealand where research vessels and aircraft had traveled in the summer of 2017-2018. The on-the-"ground" data from those research missions supported the satellite observations.
In studying the trends of clouds, the researchers worked to determine where clouds had traveled before arriving in the "airspace" around Antarctica. They noticed a significant difference between two sets of clouds. Clouds with relatively low droplet densities were highly likely to have migrated from more northern latitudes, where salt in the air from spraying ocean water is one of the primary cloud condensation nuclei.
But clouds with relatively high droplet densities were more likely to have originated over the Antarctic continent and to have passed only over the waters of the Southern Ocean. The main difference between the source areas of the two groups of clouds was the plankton productivity in the Southern Ocean.
The plankton, which grow abundantly in the cold, nutrient-rich Antarctic water, release sulfate gases as a part of their metabolism. In the relatively still summer air of the Southern Ocean, those gases can lead to atmospheric chemical reactions that form aerosols.
"The entire circumpolar ocean is highly productive so that there is a massive source of aerosol that finds its way to becoming cloud droplets," Mace says. "This aerosol is also transported north, and the entire Southern Ocean all the way to the subtropics experiences a seasonal cycle in cloud properties. That seasonal cycle appears to be much larger in the waters around Antarctica causing the clouds to have much higher droplet number and, thereby, be more reflective to sunlight."
That reflectivity, also called albedo, is significantly higher in the clouds in latitudes closest to Antarctica, southward of about 60° S, than in clouds that formed farther north, the study found.
The Southern Ocean provides an ideal setting to study natural cloud formation processes, since it's atmospherically isolated from the rest of the world. That means that it's free of the aerosols produced by anthropogenic, or human-caused, activity.
"In science, we seek controlled experiments where all extraneous variables are removed from an experiment to isolate the process of interest," Mace says. "The Southern Ocean is like a controlled experiment where much of the variability due to anthropogenic and continental influence is removed from the experiment."
The Southern Ocean also plays a key role in the planet's climate. The productivity of plankton helps the Southern Ocean pull carbon dioxide out of the air and "sequester" it in the oceanic food chain. But the productivity of the ocean is tied to how much sunlight its waters receive -- which is tied back to the reflectivity of clouds and the clouds' droplet densities. It's a process that plays out in all the world's oceans, he says, but is more pronounced in the Southern Ocean because of its isolation from other aerosol sources.
"Because cloud droplet number depends upon the biology living in the upper ocean," Mace says, "we come full circle."
Gerald G. Mace, Sally Benson, Ruhi Humphries, Peter M. Gombert, Elizabeth Sterner.
Natural marine cloud brightening in the Southern Ocean.
Atmospheric Chemistry and Physics, 2023; 23 (2): 1677 DOI:
10.5194/acp-23-1677-2023
Celebrating The Sporting Heroes Who Have Stamped Their Place In Our National Story
Australia Post is celebrating four of Australia's sporting heroes through a commemorative stamp issue launched today.
Sporting Treasures offers a thread of Australia's sports history through four treasured objects held in museum collections: Jack Brabham's F1 prototype racing car, Evonne Goolagong Cawley's tennis racquet, Hubert Opperman's racing bike and Kurt Fearnley's racing wheelchair. The stamp issue speaks to the sporting achievements of these champions, many of which will be etched into the minds of Australians.
Designed by Tim Hancock of Backpack Creative, the stamps span a range of both sports and periods, with each athlete representing a luminary of their sport. The treasures shown in the designs are preserved as valued cultural items in the collections of the Australian Sports Museum (Melbourne), the National Museum of Australia (Canberra) and Museums Victoria (Melbourne).
Australia Post Group Manager Philatelic, Michael Zsolt, said: "In a country that is sport obsessed and that greatly admires our sporting heroes, Australia Post acknowledges the role of sport in our nation's history and for its capacity to bring people together."
"This commemorative issue tells a story of our sporting history, reinscribing it in the fabric of our national narrative. It follows on from our 2005 Sporting Treasures stamp issue, which paid tribute to Don Bradman through his baggy green, Lionel Rose through his boxing gloves, Marjorie Jackson through her running spikes and Phar Lap through the jockey's silks," Zsolt concluded.
The series of stamps includes:
$1.20 Evonne Goolagong Cawley's tennis racquet
This stamp shows a wooden Dunlop Maxply Fort racquet used by Evonne Goolagong Cawley, the first Australian Indigenous player to compete in international tennis, during the early 1970s. This much-admired player won the Australian Open four times (1974–77), Wimbledon twice (1971 and 1980) and the French Open too (1971). Goolagong Cawley's Dunlop Maxply Fort racquet, once avery popular model, is now held in the collection of the National Museum of Australia.
$1.20 Kurt Fearnley's racing wheelchair
The stamp features the racing wheelchair used by Kurt Fearnley to win gold in the marathon at the Beijing Paralympic Games in 2008. Known for his ambition and achievements, Fearnley competed in five Paralympic Games and more than 30 marathons and won seven world championships during his racing career. This three-wheeled racing wheelchair is held in the collection of the
Australian Sports Museum.
$1.20 Jack Brabham's BT23A-1 prototype
Jack Brabham was Australia's first F1 world champion, winning in 1959, 1960 and 1966. In 1967, he designed, with fellow Australian Ron Tauranac, the Repco-Brabham Tasman BT23A-1 prototype shown on the stamp, which he raced in the 1967 Tasman series. This model led directly to the T24,
which won the F1 in 1967, driven by Brabham team driver Denny Hulme. The car is held in the collection of the National Museum of Australia.
$1.20 Hubert Opperman's "Tour de France" model bike
Showing Hubert Opperman's Malvern Star "Tour de France" model road bike, the stamp represents this early figure of Australian cycling royalty. Among Opperman's many triumphs was setting the world record for a 24-hour unpaced ride, which he did on this bike when he cycled from Mt Gambia to Melbourne in October 1927. This bike is held in the Museum Victoria's collection.
From today, the stamps and associated collectables, comprising a minisheet, stamp pack, first day cover, 4 x booklets of 10 x $1.20 stamps and 4 x maxicards, are available for purchase. To find out more information about the stamp issue, customers can visit
https://auspost.com.au/shop/sending/stamps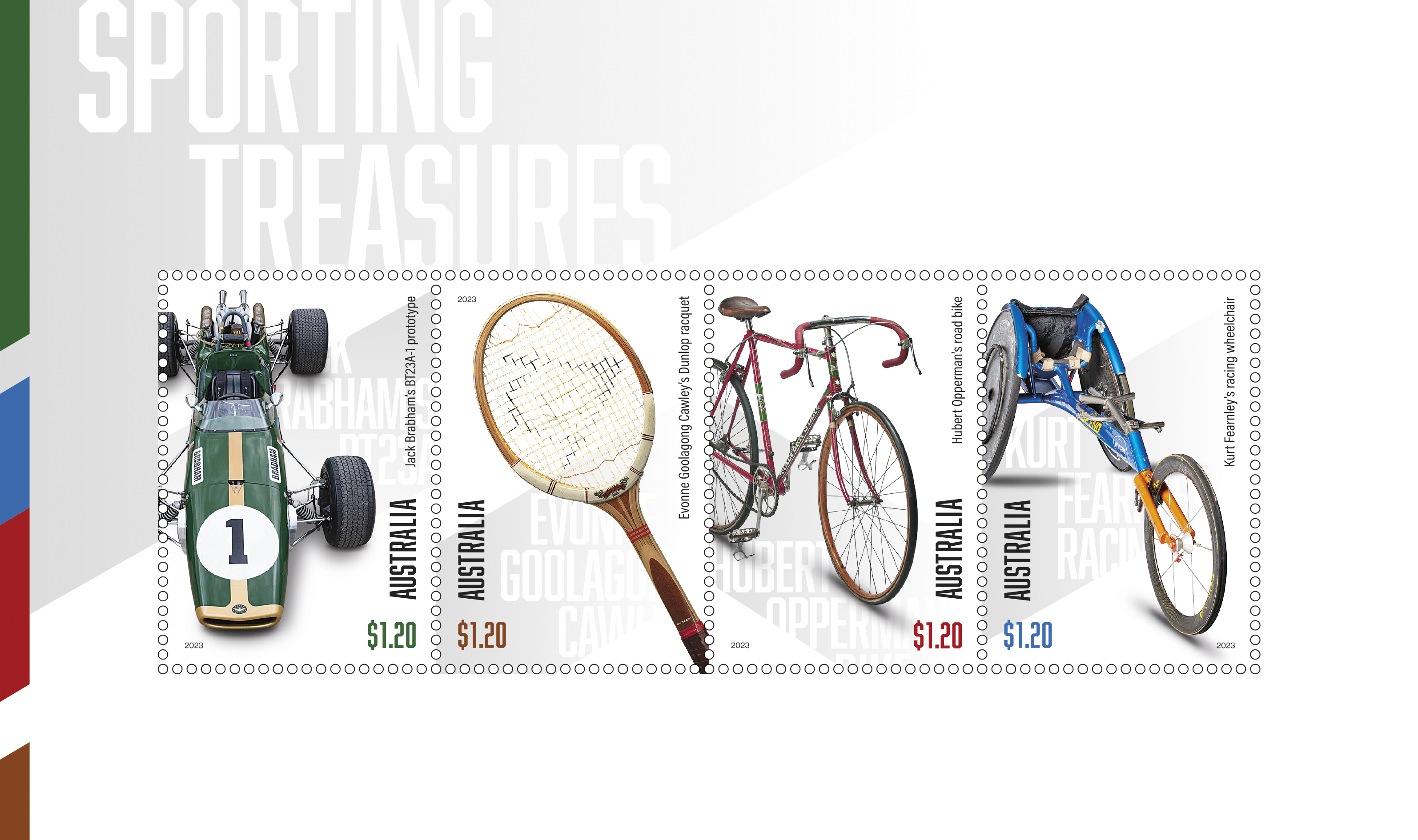 Disclaimer: These articles are not intended to provide medical advice, diagnosis or treatment. Views expressed here do not necessarily reflect those of Pittwater Online News or its staff.