Inbox and environment news: Issue 566
December 11 2022 - January 14 2023: Issue 566
The Good, The Bad, The Ugly 2022
The good remains those volunteers who have toiled all year at local bushcare sites and shared knowledge of our local plants and seasons and how to look after and restore these places. There are many great examples, everywhere you look. New volunteers always welcome.
The bad is the amount of tree loss our area is sustaining, and the loss of wildlife that follows.
The ugly is the destruction of all that work, over many decades, sometimes due to not knowing the impact such activities have on our special environment, along with the growing number of over the top developments or even incremental height increases for housing developments that are passed and block razings of everything on a site, as well as carving out a chunk of the hillside.
This is occurring across the Sydney Basin, where habitat for listed critically endangered species is being destroyed or removed, and all that lives in it in the form of wildlife killed, under the direction, policy and changing laws of the incumbent state government.
We still, too, have those who are poisoning protected trees, for views.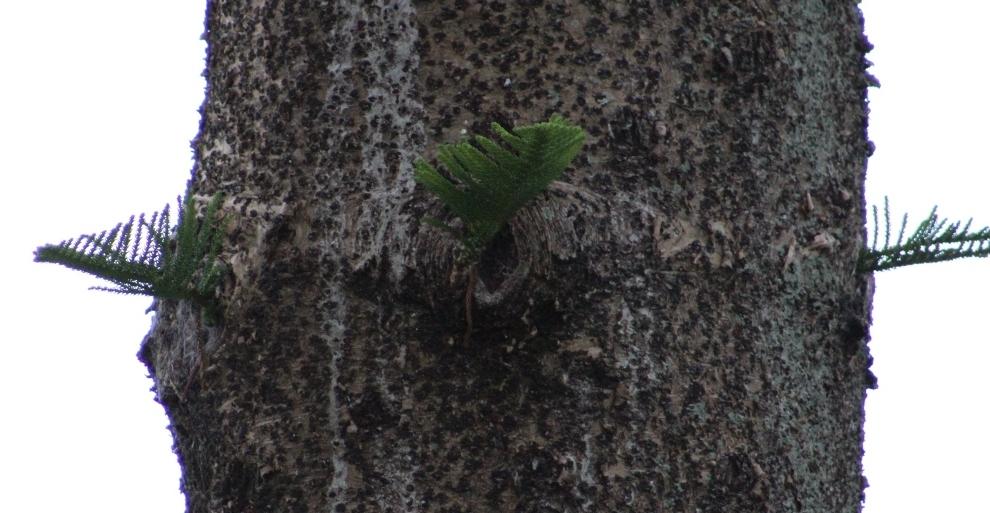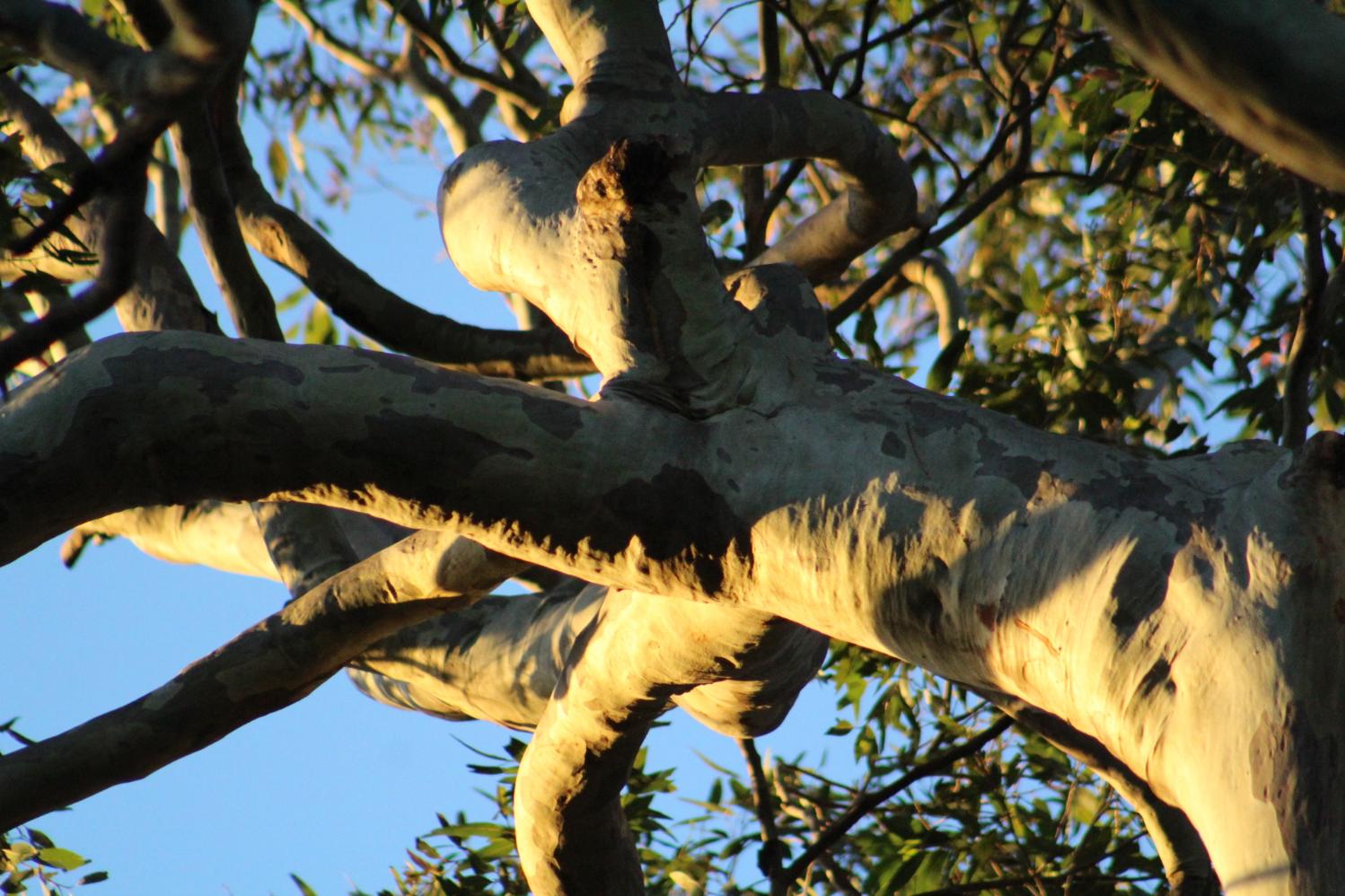 Who Owns The Beach?
The Australian Coastal Society (ACS) is proud to present the podcast "Let's Talk Coast" a short series that brings you conversations on coastal issues and projects from around Australia.
Episode 1 – Who owns the beach?
In our very first episode of "Let's Talk Coast", Emeritus Professor Bruce Thom and coastal engineer, Angus Gordon, explore issues around beach management, beach access, private ownership and coastal policy.
Known as the founding father of the Australian Coastal Society, Professor Bruce Thom is Emeritus Professor at the University of Sydney and a member of the Wentworth Group of Concerned Scientists. In 2010, Bruce was awarded a member of the Order of Australia for his services to the environment and advocacy for the ecological management of the coastal zone and as a contributor to a public debate on natural resource policy. Bruce regularly writes blogs for ACS, which can be found here.
Angus Gordon is a coastal engineer and former General Manager of Pittwater Council. Angus has worked on coastal engineering, coastal zone management and planning projects across Australia and the globe, and in 2018 he received an Order of Australia for his services to the environment planning and the community. You can read more about Angus Gordon here.
Both guests bring a wealth of knowledge to the discussion around the question of "Who owns the beach?" and suggest a way forward in protecting Australians right to the beach through national standards.
This podcast is an Australian Coastal Society podcast, produced and hosted by Gretchen Miller.
If you would like further information about this episode, contact us at admin@australiancoastalsociety.org.au
Let's Talk Coast, was created through the financial support of our donors over the years.
To become a member and find out more about membership benefits, follow this link: https://australiancoastalsociety.org.au/membership-account/acs-membership/
To make a tax-deductible donation and help us continue to be a voice for the coast, follow this link: https://australiancoastalsociety.org.au/get-involved/donate/
This episode was recorded on the lands of the Garigal or Caregal people.
Australian Shorebird Monitoring Program: Critically Endangered Eastern Curlew Chased Out Of Port Hacking - Saturday December 10, 2022 - NSW Dept. Of Environment Responds With Mission Statements Only
The Eastern curlew is listed as critically endangered in Australia, with global populations estimated to have declined by 80% in the last 30 years. As a wading bird that travels across our earth, they rely on intertidal mudflats for food and habitat.
Australia is a signatory of the East Asian – Australasian Flyway. The East Asia/Australasia Flyway extends from Arctic Russia and North America to the southern limits of Australia and New Zealand. It aims to protect migratory waterbirds, their habitats and the livelihoods of people dependent upon them.
On Saturday December 10, jetskis and people disturbed this group of Eastern curlews at Port Hacking. One of the monitors that works as a volunteer to protect this bird when it visits our shores filmed the following. This bird comes to Careel Bay too - where people are frequently seen taking dogs in a 'no dogs' area for this very reason.
The volunteer tells us ;
''Yesterday the Port Hacking eastern curlews put up with 6 hours of disturbance in order to get an afternoon feed. This morning after 1 hr and 4 disturbances they decided the energy needed to stay was too great, so flew out to Botany Bay. I had asked these 2 charmers if they wouldn't mind turning around rather than walk to end of beach to avoid disturbing the roosting curlews. They had already walked almost 2 km having left their kayaks at the other end of the Spit, surely they wouldn't mind giving up the last 100m. Rude response and on they walked.''
Pittwater Online News forwarded this to the Office of James Griffin, NSW Environment Minister for a response - Monday, December 12, 2022.
Late on Friday December 16th a Department of Planning and Environment spokesperson replied with the statement so readily found on the OEH webpages, nothing specific about addressing what is occurring to these critically endangered birds at Port Hacking was broached.
The statement reads:
''Remember to keep your distance. If shorebirds take off or run away as you approach, you are too close.

Eastern Curlews fly thousands of kilometres to get here, typically from Russia and north-eastern China

Every unnecessary flight uses energy and potentially affects their ability to fly home.

There is a saying: Birds in sight – don't make them take flight!

Migratory shorebirds have travelled a long way so it's really important they are allowed to roost and feed in peace, to build up their fat reserves before they migrate north.

There are four ways you can help protect our shorebirds -

1. Pay attention to signs or fences

2. Leash your dog whenever you're on the beach, and only walk dogs on designated beaches

3. Stick to the wet sand and leave the birds space

4. Respect beach-closure signs and beach-driving rules. Only drive on designated beaches

BACKGROUND INFORMATION

Within Australia, the Eastern Curlew has a primarily coastal distribution, and in NSW is mainly found in estuaries such as the Hunter River, Port Stephens, Clarence River, Richmond River and the south coast.

The Eastern Curlew breeds in Russia and north-eastern China but its distribution is poorly known. During the non-breeding season a few birds occur in southern Korea and China, but most spend the non-breeding season in north, east and south-east Australia.''
Gilead Stage 2 Development
The proposal for Gilead Stage 2 has been
opened for submissions
with the
closing date of December 19th, 2022
. The documents show the application proposes to 'directly impact' 268.72 ha of the assessment area of which 53.50 ha is mapped as native vegetation and threatened species habitat, including the local population of koalas. The
Save Sydney's Koalas Facebook page
lists ideas for submissions, having been through the reams of documents.
The planning proposal, which has already been approved through a gateway decision by the NSW Department of Planning, seeks to rezone land at Gilead Stage 2 to facilitate around
3,300 dwellings
.
The proposal was announced as one of three being 'fast-tracked' by the NSW Department of Planning by Minister for Planning Anthony Roberts on November 2nd, 2022.
Mr Roberts said while planning proposals are normally lodged with councils in the first instance, the State will assess these proposals.
"The Department of Planning and Environment will undertake the assessment of these proposals, which are all located in the Greater Macarthur Growth Area, so councils don't need to. However, it will be required to work closely with councils and other agencies to resolve any potential issues," he said.
"Nothing about the assessment process changes including the important need for community consultation."
The webpage underlines this approach, notifying that any decision will not be made public and follows on for the approach taken by the state government in regard to their being both the proponent partner and decision maker in the proposal for Lizard Rock at Belrose.
The application proposes to permanently protect and manage for conservation, 225.76 ha of lands, 218.93 ha of which, the documents state, will generate ecosystem credits.
These same BSA sites, the biodiversity report states, will generate 6,232 species credits; 1,348 for Koala, 1,347 Squirrel Glider, 1,181 Cumberland Plain Land Snail, 856 Southern Myotis and 1,500 Pomaderris brunnea species credits i.e. there will be a deficit of 108 Koala credits and significant surpluses for all other species.
The deficit of Koala credits (108) will be met by retiring 99 Koala species already held by Lendlease (Credit ID holder 650) from the Campbelltown Koala population purchased from the Noorumba Reserve Biobank site (BA239) and the purchase of 9 Koala credits from registered biobank sites outside the BCAA or Biodiversity Stewardship sites or the BCT (subject to an assessment of credit equivalency).

The initial application for Biodiversity Certification was publicly exhibited for 64 days by Campbelltown City Council between 15 December 2020 and 17 February 2021. The Council received 626 submissions during the exhibition period and a further 53 after the close of exhibition.
The Biodiversity assessment report states it has been updated in light of these submissions.
The submissions raised a number of concerns in regards to a lack of a strategic approach, the inadequacy of surveys for threatened species, unacceptable impacts to the Campbelltown Koala population (inadequate Koala corridors) and unacceptable impacts to listed endangered ecological communities.
Those who have campaigned or written feedback for the earlier version have stated the Biodiversity document, its latest edition, amounts to stating that it is alright to destroy over 268 hectares of habitat because you're not going to destroy a portion of that habitat and that koalas living there, even though now listed as Endangered in NSW, can still be killed or displaced if you purchase 'koala credits'.
Other species found at the site were six species of threatened microchiropteran bats, all listed as Vulnerable, the Squirrel Glider was recorded in seven locations (with only the 'higher quality vegetation' being mapped as habitat, isolated individual trees and small patches of vegetation without a mid-storey and greater than 30 m from intact vegetation were not considered suitable habitat), along with hundreds of species of fish, amphibians, reptiles, bird species, mammals (non-flying, and mammals (flying).
However, at present, only Koala, Squirrel Glider, Southern Myotis and Cumberland Plain Land Snail are species 'credit species' and have been identified as being impacted by the land to be certified. The other species that have been recorded or have the potential to occur within the BCAA which are species credits species (Little Bentwing Bat, Eastern Bentwing Bat, Large-eared Pied Bat and Grey-headed Flying Fox) are only species credit species when breeding habitat is being impacted. No breeding habitat was recorded within the land to be certified so these species do not require further assessment as species credit species in this assessment.

All the other species don't count at all - 'another way to underline why our nation has the highest extinction rate in the world'.
Subject to the Minister's approval of the request for a red flag variation, the proposal, the documents state, can meet an 'improve or maintain' outcome and is eligible for biodiversity certification.
Once the Minister confers biocertification on the requested land, which has been the stated and published intent from the incumbent government's Minister for Planning, the local Council, as the consent authority for future development applications, is;
''no longer required to assess impacts to 'biodiversity values' as these have already been addressed by the Minister and 'conservation areas' will be required to be managed in perpetuity for conservation''.
Mark Pearson MLC of the NSW Animal Justice Party has pointed out:
''
The NSW Biodiversity Offsets scheme is a sham. As I said in a speech in Parliament last month, this project is used to justify maiming, distressing and killing animals and harming the environment and it's absolutely not acceptable.
Not only is it unacceptable that individual animals are killed under this scheme, but it is a scheme that does not protect biodiversity.
The Auditor‑General's review found there is an undersupply of in‑demand credits for numerous endangered species. Seven endangered and 10 vulnerable flora species are likely to have a large credit undersupply, as are at least three endangered and 15 vulnerable fauna species, including the swift parrot, eastern pygmy possum and bush stone‑curlew.
Biodiversity gains made through the scheme will not be sufficient to offset the losses resulting from development and the outcome of irreversible habitat and species loss. The Auditor‑General found that the Department of Planning and Environment has not established a clear strategy to develop the biodiversity credit market or determine whether the scheme's operation and outcomes are consistent with the purposes of the Biodiversity Conservation Act 2016.
We are slipping backwards with species and habitat loss. The Government's 2020 NSW Biodiversity Outlook Report estimates that, without effective management, only 50 per cent of species and 59 per cent of ecological communities that are listed as threatened in New South Wales will still exist in 100 years. The NSW State of the Environment 2021 report identifies habitat destruction and native vegetation clearing as presenting the single greatest threat to biodiversity in the State—not introduced wild animals. Demand for offset credits is growing rapidly, predominately driven by major projects.
The Government needs to curtail development in sensitive areas. Intuitively, clearing land for development and killing animals in one place and then paying for a credit to protect animals elsewhere is not acceptable.''
Nature Positive Plan: Better For The Environment, Better For Business
December 8, 2022
Statement By The Hon Tanya Plibersek MP, Minister for the Environment and Water
Australia's environment laws are broken.
Professor Graeme Samuel's 2019 review into the Environment Protection and Biodiversity Conservation Act found that "the EPBC Act is outdated and requires fundamental reform… Australians do not trust that the Act is delivering for the environment, for business or for the community".
Nature is being destroyed. Businesses are waiting too long for decisions. That's bad for everyone. Things have to change.
Labor is today delivering on our promise by responding to Professor Samuel's review and announcing our Nature Positive Plan: better for the environment, better for business.
We want an economy that is nature positive – to halt decline and repair nature.
We will build our legislation on three basic principles: clear national standards of environmental protection, improving and speeding up decisions, and building trust and integrity.
Our Nature Positive Plan will be better for the environment by delivering:
Stronger laws designed to repair nature, to protect precious plants, animals and places. For the first time, our laws will introduce standards that decisions must meet. Standards describe the environmental outcomes we want to achieve. This will ensure decisions made will protect our threatened species and ecosystems.
A new Environment Protection Agency to make development decisions and properly enforce them.
Our Nature Positive Plan will be better for business by delivering:
More certainty – saving time and money with faster, clearer decisions about developments including housing and energy. Regional plans will identify the areas we want to protect, areas for fast-tracked development and where development can proceed with caution.
Less red tape – easier paperwork and less duplication. Streamlining and consolidating the project assessment process.
Our Nature Positive Plan is a win-win: a win for the environment and a win for business.
I look forward to working with environment, business, community and First Nations groups to deliver it.
Our reforms are seeking to turn the tide in this country – from nature destruction to nature repair.
And they match what we've already begun in our first six months in office.
A stronger emissions reduction target, with a clear path to net zero.
A target of zero new extinctions on this continent.
A commitment to protecting thirty percent of Australia's land and oceans by 2030.
A new nature repair market.
Reducing waste and building an economy focussed on recycling, re-use and repair.
Campaigning on the world stage, to protect our oceans, to support the Pacific, and to reduce plastic waste.
And $1.8 billion in the recent Budget –
to protect the Great Barrier Reef
to save our native species
to employ 1,000 new Landcare Rangers.
to support new Indigenous Protected Areas
to fund the Environmental Defenders Office, for the first time in nine years
And to clean up our urban rivers and waterways.
The legislation will be released as an exposure draft prior to being introduced into the Parliament before the end of 2023.
The Government's full response to the Samuel Review can be found here: EPBC Act reform - DCCEEW
New Marine Wildlife Group Launched On The Central Coast
A new wildlife group was launched on the Central Coast on Saturday, December 10.
Marine Wildlife Rescue Central Coast (MWRCC) had its official launch at The Entrance Boat Shed at 10am.
The group comprises current and former members of ASTR, ORRCA, Sea Shepherd, Greenpeace, WIRES and Wildlife ARC, as well as vets, academics, and people from all walks of life.
Well known marine wildlife advocate and activist Cathy Gilmore is spearheading the organisation.
"We believe that it is time the Central Coast looked after its own marine wildlife, and not be under the control or directed by groups that aren't based locally," Gilmore said.
"We have the local knowledge and are set up to respond and help injured animals more quickly.
"This also means that donations and money fundraised will go directly into helping our local marine creatures, and not get tied up elsewhere in the state."
The organisation plans to have rehabilitation facilities and rescue kits placed in strategic locations around the region.
MWRCC will also be in touch with Indigenous groups to learn the traditional importance of the local marine environment and its inhabitants.
"We want to work with these groups and share knowledge between us," Gilmore said.
"This is an opportunity to help save and protect our local marine wildlife, so if you have passion and commitment, then you are more than welcome to join us."
Marine Wildlife Rescue Central Coast has a Facebook page where you may contact members. Visit: https://www.facebook.com/profile.php?id=100076317431064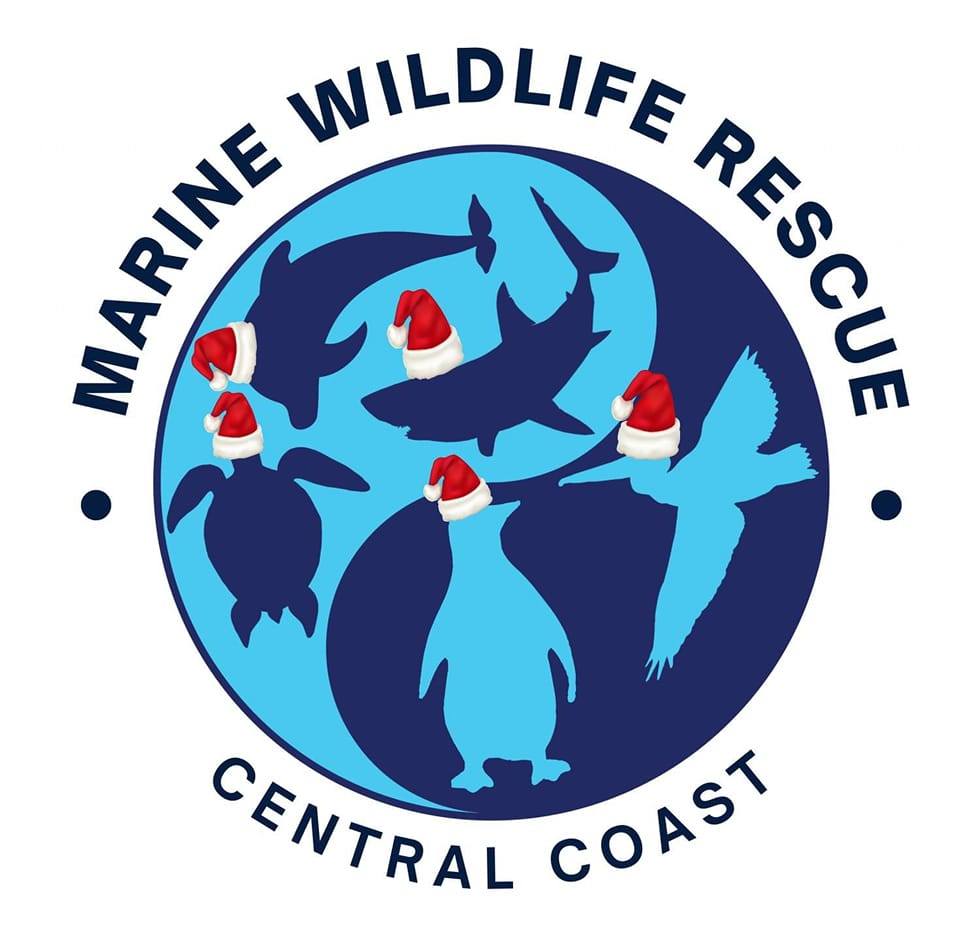 Help Needed To Save Sea Turtle Nests As Third La Nina Summer Looms
Those who recall Green Turtle Eggs being found at North Steyne in January 2020 will know our area is now part of where turtles may make nests. Crews found 144 of the white, ping pong ball sized eggs, their shells still soft and leathery. Although it was said then that incidents of turtles laying their eggs so far south are extremely rare, more recent studies have shown the shift of what was once north to the south in our oceans and what was once south moving north.
The NSW Department of Environment has stated on Monday October 17th, Beachgoers spotting and reporting sea turtle tracks and nests could save hundreds of baby turtles as sea turtle nesting season kicks off in November and a third La Nina summer looms.
Holly West from NSW TurtleWatch said that last year, reports and support from members of the public meant 4 nests were relocated to higher ground that would otherwise have been washed away during the summer storms.
"
Green and loggerhead sea turtles which nest on NSW beaches are both threatened species
, so it's vital we do everything we can to protect every nest and every egg during this critical breeding period," said Ms West.
"From the nests we successfully relocated last year, 376 baby turtles hatched and made their way to the ocean.
"That's almost 400 baby turtles saved by those members of the public who gave us a call.
"With another La Nina summer predicted, sea turtle nests will be in the firing line from increased storm activity.
"Nesting turtle tracks disappear from the beach very quickly, so the earlier we are notified about tracks or the location of a potential nest, the better.
"This allows us to monitor the nest from the get-go and act to save the eggs if the nest is at risk of being inundated by high tides or impacted by other threats, such as predators, erosion or light pollution," she said.
In 2021–22, 11 sea turtle nesting activities were recorded on NSW beaches.
"Each nesting season, in collaboration with NSW National Parks and Wildlife Service, we collect data on how many sea turtles are utilising the NSW coastline to nest," said Ms West.
"The more we understand about how, where and when marine turtles nest, the more we will be able to protect them," she said.
Female turtles typically come out of the water between dusk and dawn to lay their eggs so beachgoers should keep an eye out for tracks in the sand if they are on the beach early in the morning.
Sightings of nesting turtles, turtle tracks or nests should be reported to the NSW National Parks and Wildlife Service (NPWS) on 13000 PARKS or to NSW TurtleWatch on 0468 489 259.
NSW TurtleWatch is developed by Australian Seabird and Turtle Rescue and supported by the NSW Government through the Saving our Species program, the Marine Estate Management Strategy and NPWS.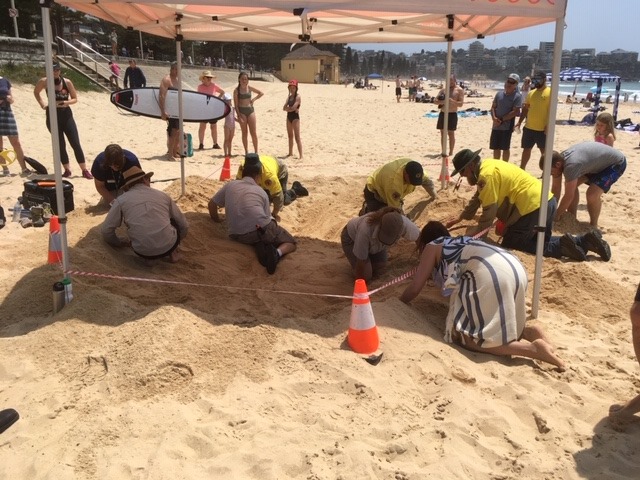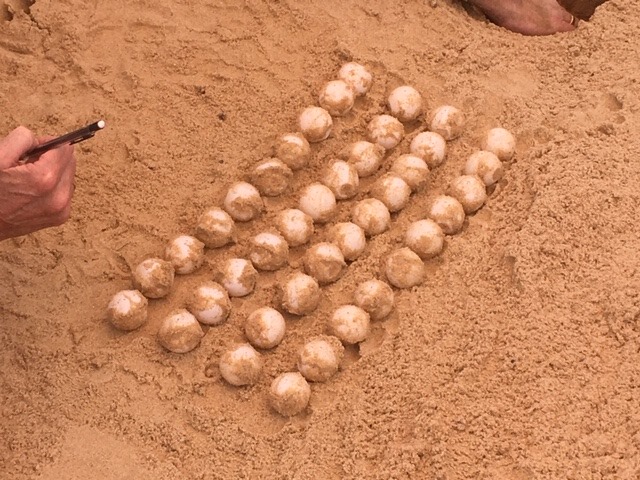 Photos: the eggs found in our area in 2020. Photos courtesy and from Northern Beaches Police Area Command Facebook page. Those eggs were carefully placed in sand at an undisclosed location near Coffs Harbour, where they were more likely to hatch.
Watch Out - Shorebirds About
Spring is here so watch your step because beach-nesting and estuary-nesting birds have started setting up home on our shores.
Did you know that Careel Bay and other spots throughout our area are part of the East Asian-Australasian Flyway Partnership (EAAFP)?
This flyway, and all of the stopping points along its way, are vital to ensure the survival of these Spring and Summer visitors. This is where they rest and feed on their journeys. For example, did you know that the bar-tailed godwit flies for 239 hours for 8,108 miles from Alaska to Australia?
Not only that, Shorebirds such as endangered oystercatchers and little terns lay their eggs in shallow scraped-out nests in the sand, NSW National Parks and Wildlife Service (NPWS) Threatened Species officer Ms Katherine Howard has said.
Even our regular residents such as seagulls are currently nesting to bear young.
What can you do to help them?
Known nest sites may be indicated by fencing or signs. The whole community can help protect shorebirds by keeping out of nesting areas marked by signs or fences and only taking your dog to designated dog offleash area.
Just remember WE are visitors to these areas. These birds LIVE there. This is their home.
Four simple steps to help keep beach-nesting birds safe:
1. Look out for bird nesting signs or fenced-off nesting areas on the beach, stay well clear of these areas and give the parent birds plenty of space.
2. Walk your dogs in designated dog-friendly areas only and always keep them on a leash over summer.
3. Stay out of nesting areas and follow all local rules.
4. Chicks are mobile and don't necessarily stay within fenced nesting areas. When you're near a nesting area, stick to the wet sand to avoid accidentally stepping on a chick.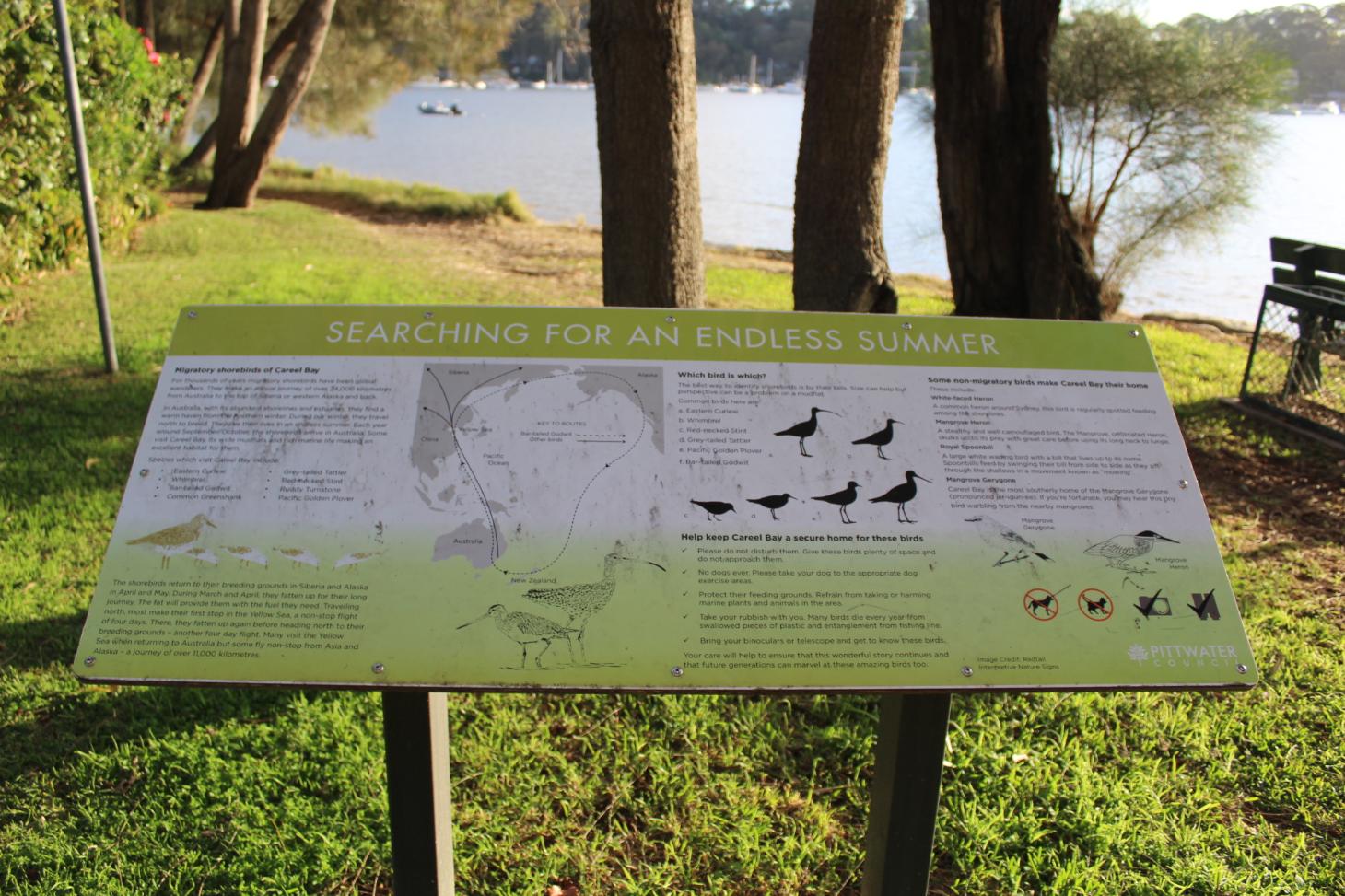 Wanted: Photos Of Flies Feeding On Frogs (For Frog Conservation)
Do you have any photos of frogs being bitten by flies? Submit them to our study to help in frog conservation.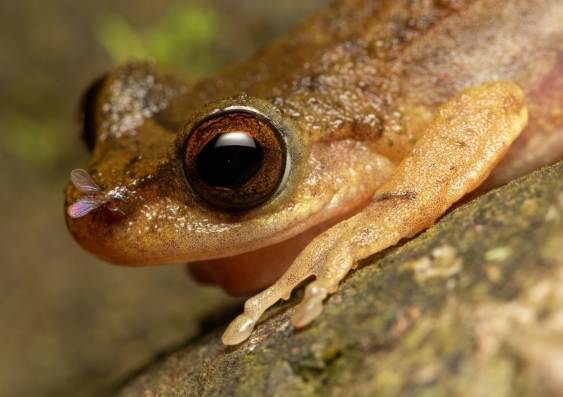 By sampling the blood of flies that bite frogs, researchers can determine the (sometimes difficult to spot) frogs in an environment. Common mist frog being fed on by a Sycorax fly. Photo: Jakub Hodáň
UNSW Science and the Australian Museum want your photos of frogs, specifically those being bitten by flies, for a new (and inventive) technique to detect and protect our threatened frog species.
You might not guess it, but biting flies – such as midges and mosquitoes – are excellent tools for science. The blood 'sampled' by these parasites contains precious genetic data about the animals they feed on (such as frogs), but first, researchers need to know which parasitic flies are biting which frogs. And this is why they need you to
submit your photos
.
"Rare frogs can be very hard to find during traditional scientific expeditions," says PhD student Timothy Cutajar, leading the project. "Species that are rare or cryptic [inconspicuous] can be easily missed, so it turns out the best way to detect some species might be through their parasites."
The technique is called 'iDNA', short for invertebrate-derived DNA, and researchers Mr Cutajar and Dr Jodi Rowley from UNSW Science and the Australian Museum were the first to harness its potential for detecting cryptic or threatened species of frogs.
The team first deployed this technique in 2018 by capturing frog-biting flies in habitats shared with frogs. Not unlike the premise of Michael Crichton's Jurassic Park, where the DNA of blood-meals past is contained in the bellies of the flies, Mr Cutajar was able to extract the drawn blood (and therefore DNA) and identify the species of amphibian the flies had recently fed on.
These initial trials uncovered the presence of rare frogs that traditional searching methods had missed.
"iDNA has the potential to become a standard frog survey technique," says Mr Cutajar. "[It could help] in the discovery of new species or even the rediscovery of species thought to be extinct, so I want to continue developing techniques for frog iDNA surveys. However, there is still so much we don't yet know about how frogs and flies interact."
In a bid to understand the varieties of parasites that feed on frogs – so Mr Cutajar and colleagues might lure and catch those most informative and prolific species – the team are looking to the public for their frog photos.
"If you've photographed frogs in Australia, I'd love for you to closely examine your pictures, looking for any frogs that have flies, midges or mosquitoes sitting on them. If you find flies, midges or mosquitoes in direct contact with frogs in any of your photos, please share them."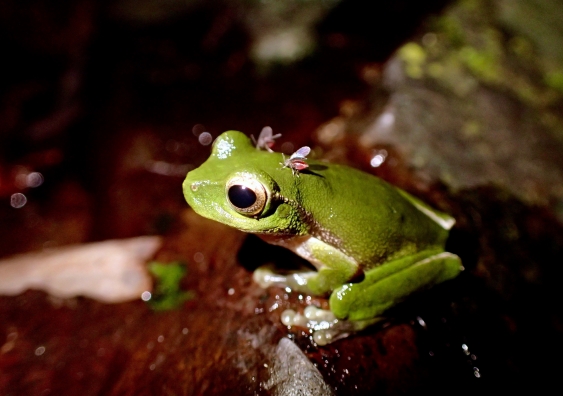 The submitted photos will be analysed for the frog and parasite species they contain, helping inform future iDNA research. Mountain Stream Tree Frog (Litoria barringtonensis) being bitten by Sycorax. Photo: Tim Cutajar/Australian Museum
"We'll be combing through photographs of frogs submitted through our survey," says Mr Cutajar, "homing in on the characteristics that make a frog species a likely target for frog-biting flies.
"It's unlikely that all frogs are equally parasitised. Some frogs have natural insect repellents, while others can swat flies away. The flies themselves can be choosy about the types of sounds they're attracted to, and probably aren't evenly abundant everywhere."
Already the new iDNA technique, championed in herpetology by Mr Cutajar, has shown great promise, and by refining its methodology with data submitted by the public – citizen scientists – our understanding of frog ecology and biodiversity can be broadened yet further.
"The power of collective action can be amazing for science," says Mr Cutajar, "and with your help, we can kickstart a new era of improved detection, and therefore conservation, of our amazing amphibian diversity."
Possums In Your Roof?: Do The Right Thing
Possums in your roof? Please do the right thing
On the weekend, one of our volunteers noticed a driver pull up, get out of their vehicle, open the boot, remove a trap and attempt to dump a possum on a bush track. Fortunately, our member intervened and saved the beautiful female brushtail and the baby in her pouch from certain death.
It is illegal to relocate a trapped possum more than 150 metres from the point of capture and substantial penalties apply. Urbanised possums are highly territorial and do not fare well in unfamiliar bushland. In fact, they may starve to death or be taken by predators.
While Sydney Wildlife Rescue does not provide a service to remove possums from your roof, we do offer this advice:
✅ Call us on (02) 9413 4300 and we will refer you to a reliable and trusted licenced contractor in the Sydney metropolitan area. For a small fee they will remove the possum, seal the entry to your roof and provide a suitable home for the possum - a box for a brushtail or drey for a ringtail.
✅ Do-it-yourself by following this advice from the Department of Planning and Environment:
❌ Do not under any circumstances relocate a possum more than 150 metres from the capture site.
Thank you for caring and doing the right thing.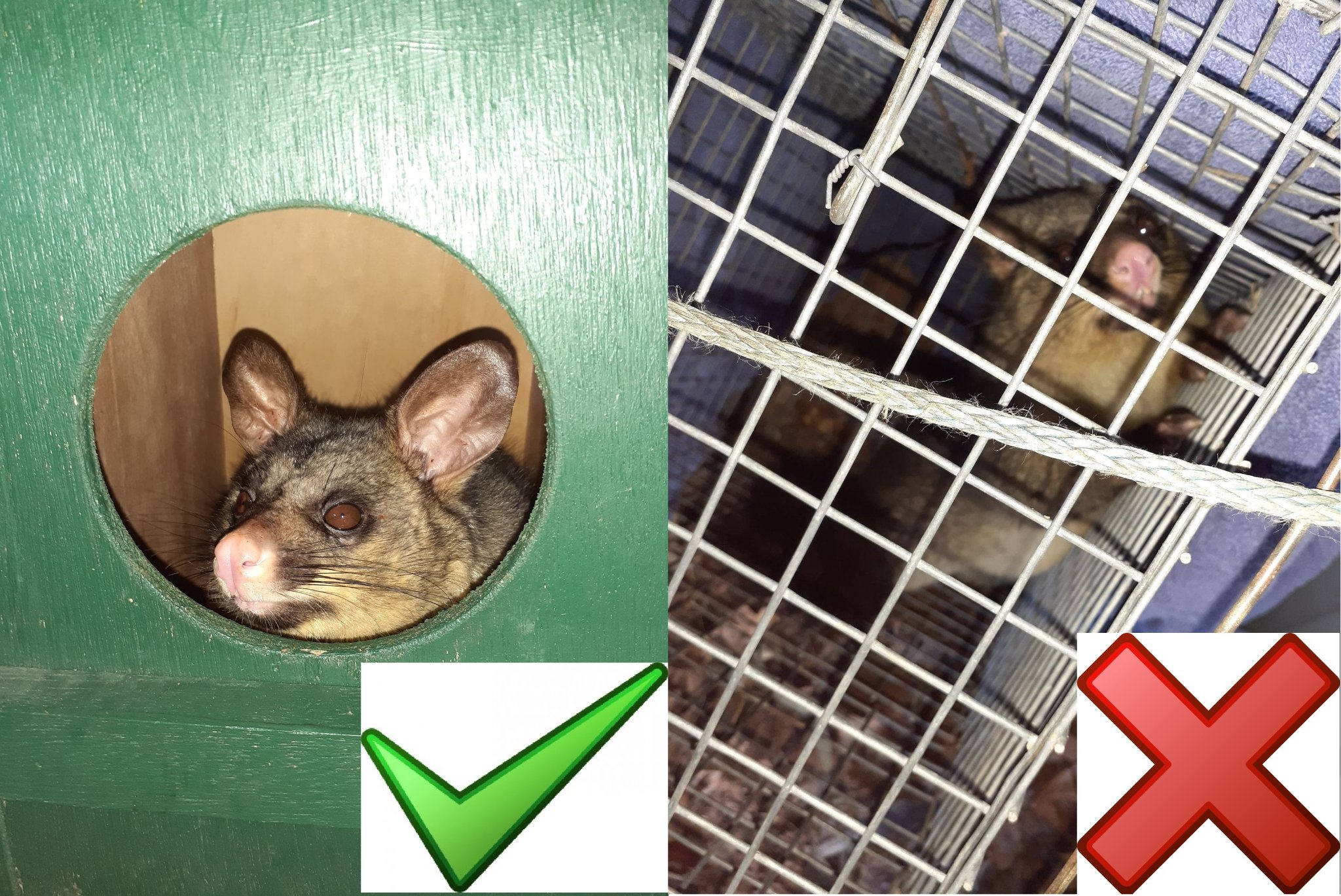 Sydney Wildlife photos
Local Wildlife Rescuers And Carers State That Ongoing Heavy Rains Are Tough For Us But Can Be Tougher For Our Wildlife:
Birds and possums can be washed out of trees, or the tree comes down, nests can disintegrate or hollows fill with water
Ground dwelling animals can be flooded out of their burrows or hiding places and they need to seek higher ground
They are at risk crossing roads as people can't see them and sudden braking causes accidents
The food may disappear - insects, seeds and pollens are washed away, nectar is diluted and animals can be starving
They are vulnerable in open areas to predators, including our pets
They can't dry out and may get hypothermia or pneumonia
Animals may seek shelter in your home or garage.
You can help by:
Keeping your pets indoors
Assessing for wounds or parasites
Putting out towels or shelters like boxes to provide a place to hide
Drive to conditions and call a rescue group if you see an animal hit (or do a pouch check or get to a vet if you can stop)
If you are concerned take a photo and talk to a rescue group or wildlife carer
There are 2 rescue groups in the Northern Beaches:
Sydney Wildlife: 9413 4300
WIRES: 1300 094 737
Please be patient as there could be a few enquiries regarding the wildlife.
Generally Sydney Wildlife do not recommend offering food but it may help in some cases. Please ensure you know what they generally eat and any offerings will not make them sick. You can read more on feeding wildlife here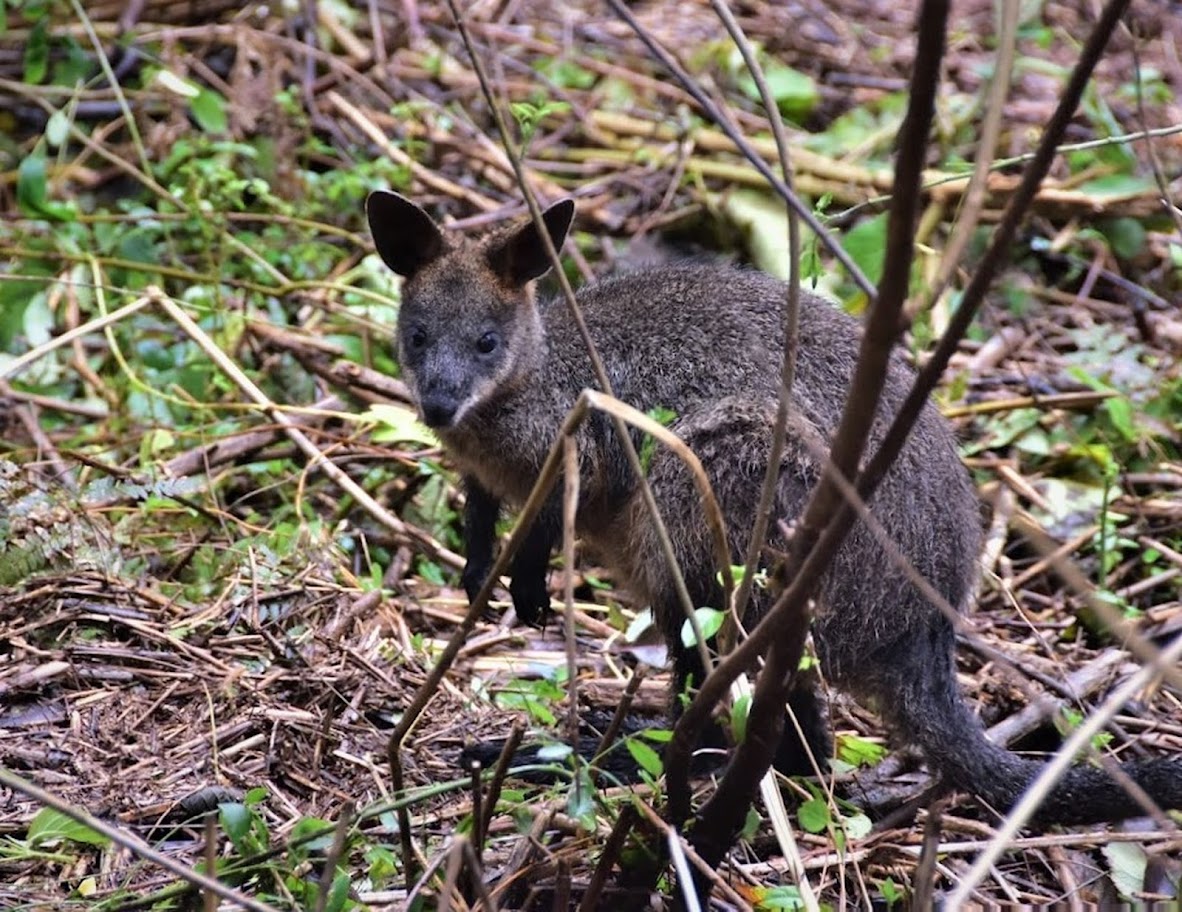 Information courtesy Ed Laginestra, Sydney Wildlife volunteer. Photo: Warriewood Wetlands Wallaby by Kevin Murray, March 2022.
Aviaries + Possum Release Sites Needed
Pittwater Online News has interviewed
Lynette Millett OAM
(WIRES Northern Beaches Branch)
needs more bird cages of all sizes for keeping the current huge amount of baby wildlife in care safe or 'homed' while they are healed/allowed to grow bigger to the point where they may be released back into their own home.
If you have an aviary or large bird cage you are getting rid of or don't need anymore, please email via the link provided above.
There is also a pressing need for release sites for brushtail possums - a species that is very territorial and where release into a site already lived in by one possum can result in serious problems and injury.
If you have a decent backyard and can help out, Lyn and husband Dave can supply you with a simple drey for a nest and food for their first weeks of adjustment.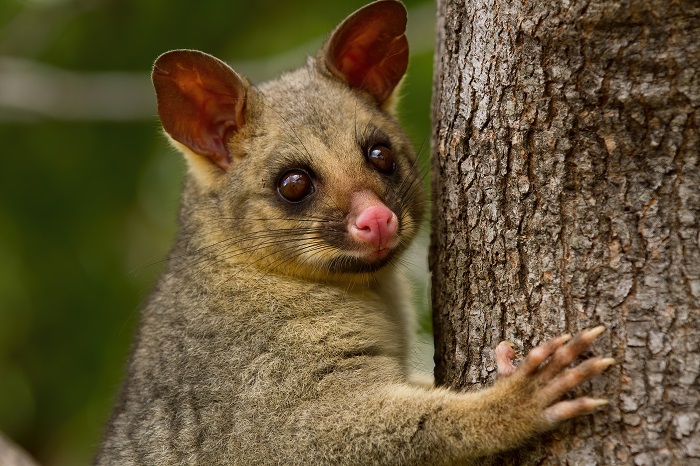 Sydney Wildlife Rescue: Helpers Needed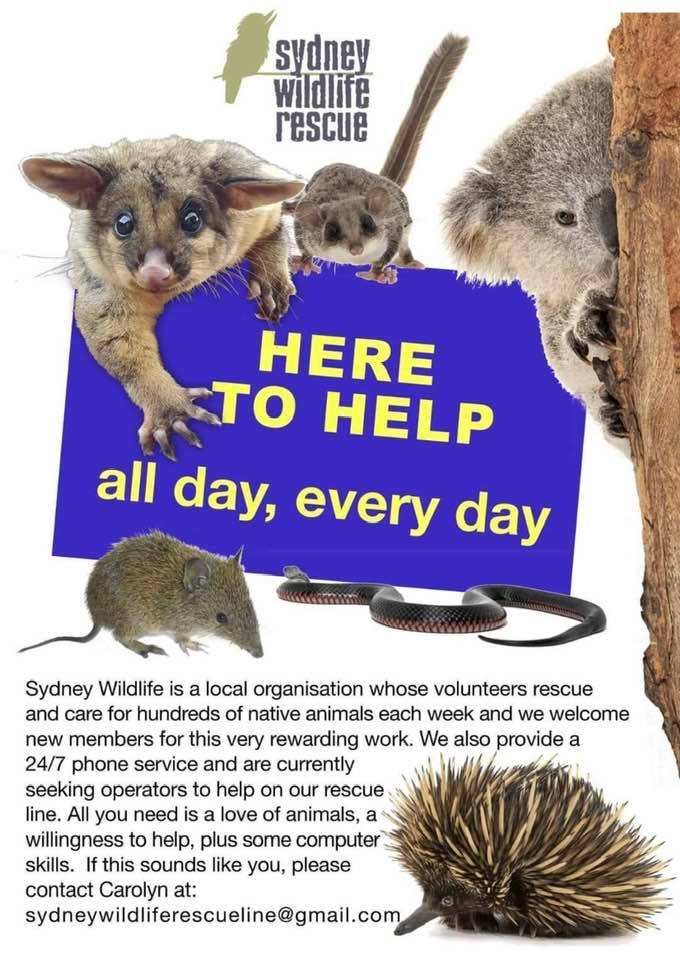 Bushcare In Pittwater
For further information or to confirm the meeting details for below groups, please contact Council's Bushcare Officer on 9970 1367 or visit Council's bushcare webpage to find out how you can get involved.
BUSHCARE SCHEDULES
Where we work Which day What time
Avalon
Angophora Reserve 3rd Sunday 8:30 - 11:30am
Avalon Dunes 1st Sunday 8:30 - 11:30am
Avalon Golf Course 2nd Wednesday 3 - 5:30pm
Careel Creek 4th Saturday 8:30 - 11:30am
Toongari Reserve 3rd Saturday 9 - 12noon (8 - 11am in summer)
Bangalley Headland 2nd Sunday 9 to 12noon
Bayview
Winnererremy Bay 4th Sunday 9 to 12noon
Bilgola
North Bilgola Beach 3rd Monday 9 - 12noon
Algona Reserve 1st Saturday 9 - 12noon
Plateau Park 1st Friday 8:30 - 11:30am
Church Point
Browns Bay Reserve 1st Tuesday 9 - 12noon
McCarrs Creek Reserve Contact Bushcare Officer To be confirmed
Clareville
Old Wharf Reserve 3rd Saturday 8 - 11am
Elanora
Kundibah Reserve 4th Sunday 8:30 - 11:30am
Mona Vale
Mona Vale Beach Basin 1st Saturday 8 - 11am
Mona Vale Dunes 2nd Saturday +3rd Thursday 8:30 - 11:30am
Newport
Bungan Beach 4th Sunday 9 - 12noon
Crescent Reserve 3rd Sunday 9 - 12noon
North Newport Beach 4th Saturday 8:30 - 11:30am
Porter Reserve 2nd Saturday 8 - 11am
North Narrabeen
Irrawong Reserve 2nd Saturday 2 - 5pm
Palm Beach
North Palm Beach Dunes 3rd Saturday 9 - 12noon
Scotland Island
Catherine Park 2nd Sunday 10 - 12:30pm
Elizabeth Park 1st Saturday 9 - 12noon
Pathilda Reserve 3rd Saturday 9 - 12noon
Warriewood
Warriewood Wetlands 1st Sunday 8:30 - 11:30am
Whale Beach
Norma Park 1st Friday 9 - 12noon
Western Foreshores
Coopers Point, Elvina Bay 2nd Sunday 10 - 1pm
Rocky Point, Elvina Bay 1st Monday 9 - 12noon
Friends Of Narrabeen Lagoon Catchment Activities

Bush Regeneration - Narrabeen Lagoon Catchment
This is a wonderful way to become connected to nature and contribute to the health of the environment. Over the weeks and months you can see positive changes as you give native species a better chance to thrive. Wildlife appreciate the improvement in their habitat.
Belrose area - Thursday mornings
Belrose area - Weekend mornings by arrangement
Contact: Phone or text Conny Harris on 0432 643 295
Wheeler Creek - Wednesday mornings 9-11am
Contact: Phone or text Judith Bennett on 0402 974 105
Gardens And Environment Groups And Organisations In Pittwater
New Shorebirds WingThing For Youngsters Available To Download
A Shorebirds WingThing educational brochure for kids (A5) helps children learn about shorebirds, their life and journey. The 2021 revised brochure version was published in February 2021 and is available now. You can download a file copy here.
If you would like a free print copy of this brochure, please send a self-addressed envelope with A$1.10 postage (or larger if you would like it unfolded) affixed to: BirdLife Australia, Shorebird WingThing Request, 2-05Shorebird WingThing/60 Leicester St, Carlton VIC 3053.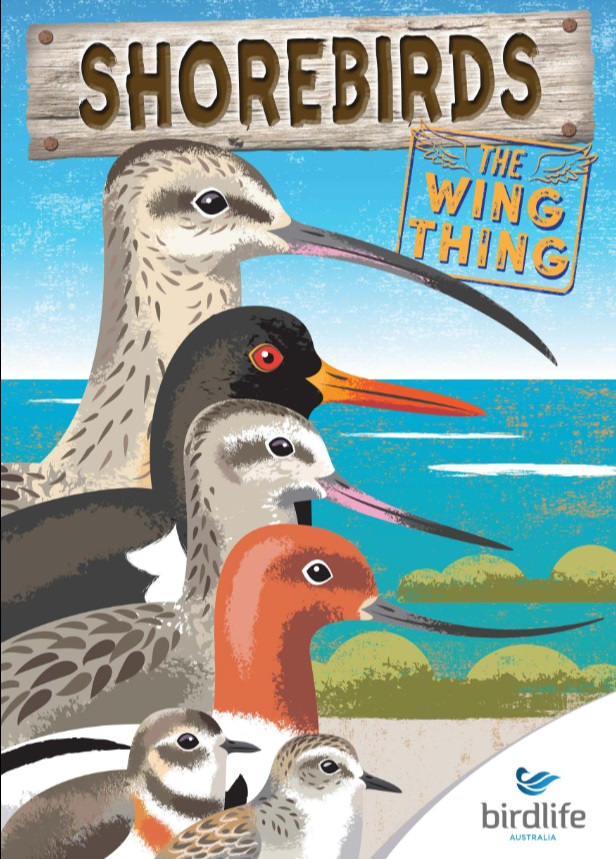 Shorebird Identification Booklet
The Migratory Shorebird Program has just released the third edition of its hugely popular Shorebird Identification Booklet. The team has thoroughly revised and updated this pocket-sized companion for all shorebird counters and interested birders, with lots of useful information on our most common shorebirds, key identification features, sighting distribution maps and short articles on some of BirdLife's shorebird activities.
The booklet can be downloaded here in PDF file format: http://www.birdlife.org.au/documents/Shorebird_ID_Booklet_V3.pdf
Paper copies can be ordered as well, see http://www.birdlife.org.au/projects/shorebirds-2020/counter-resources for details.
Download BirdLife Australia's children's education kit to help them learn more about our wading birdlife
Shorebirds are a group of wading birds that can be found feeding on swamps, tidal mudflats, estuaries, beaches and open country. For many people, shorebirds are just those brown birds feeding a long way out on the mud but they are actually a remarkably diverse collection of birds including stilts, sandpipers, snipe, curlews, godwits, plovers and oystercatchers. Each species is superbly adapted to suit its preferred habitat. The Red-necked Stint is as small as a sparrow, with relatively short legs and bill that it pecks food from the surface of the mud with, whereas the Eastern Curlew is over two feet long with a exceptionally long legs and a massively curved beak that it thrusts deep down into the mud to pull out crabs, worms and other creatures hidden below the surface.
Some shorebirds are fairly drab in plumage, especially when they are visiting Australia in their non-breeding season, but when they migrate to their Arctic nesting grounds, they develop a vibrant flush of bright colours to attract a mate. We have 37 types of shorebirds that annually migrate to Australia on some of the most lengthy and arduous journeys in the animal kingdom, but there are also 18 shorebirds that call Australia home all year round.
What all our shorebirds have in common—be they large or small, seasoned traveller or homebody, brightly coloured or in muted tones—is that each species needs adequate safe areas where they can successfully feed and breed.
The National Shorebird Monitoring Program is managed and supported by BirdLife Australia.

This project is supported by Glenelg Hopkins Catchment Management Authority and Hunter Local Land Services through funding from the Australian Government's National Landcare Program. Funding from Helen Macpherson Smith Trust and Port Phillip Bay Fund is acknowledged.
The National Shorebird Monitoring Program is made possible with the help of over 1,600 volunteers working in coastal and inland habitats all over Australia.
The National Shorebird Monitoring program (started as the Shorebirds 2020 project initiated to re-invigorate monitoring around Australia) is raising awareness of how incredible shorebirds are, and actively engaging the community to participate in gathering information needed to conserve shorebirds.
In the short term, the destruction of tidal ecosystems will need to be stopped, and our program is designed to strengthen the case for protecting these important habitats.
In the long term, there will be a need to mitigate against the likely effects of climate change on a species that travels across the entire range of latitudes where impacts are likely.
The identification and protection of critical areas for shorebirds will need to continue in order to guard against the potential threats associated with habitats in close proximity to nearly half the human population.
Here in Australia, the place where these birds grow up and spend most of their lives, continued monitoring is necessary to inform the best management practice to maintain shorebird populations.
BirdLife Australia believe that we can help secure a brighter future for these remarkable birds by educating stakeholders, gathering information on how and why shorebird populations are changing, and working to grow the community of people who care about shorebirds.

To find out more visit: http://www.birdlife.org.au/projects/shorebirds-2020/shorebirds-2020-program
Aussie Bread Tags Collection Points
Collecting bread tags enables us to provide wheelchairs that change the life of disabled people in need, as well as keeping the tags out of landfill to help to preserve the environment.
Bread Tags for Wheelchairs was started in South Africa in 2006 by Mary Honeybun. It is a community program where individuals and organisations collect bread tags, which are sold to recyclers. The money raised pays for wheelchairs for the less fortunate which are purchased through a local pharmacy. Currently about 500kg of bread tags are collected a month in South Africa, funding 2-3 wheelchairs.
We have been collecting bread tags nationally in Australia since September 2018 and now have more than 100 collection points across the country. In February 2019 we started local recycling through Transmutation - Reduce, Reuse and Recycle in Robe, SA, where our tags are recycled into products such as door knobs and bowls. Tags from some states are still sent to South Africa where a plastics company called Zibo recycles them into seedling trays.
These humble bits of polystyrene can make a real difference so get your friends, family, school, workplace and church involved. Ask school tuck shops and boarding school kitchens, child care centres, aged care facilities, hospitals, cafes and fast food outlets to collect for you - they get through a lot of bread!
All the information and signage for collecting or setting up a public collection point is
on our website
.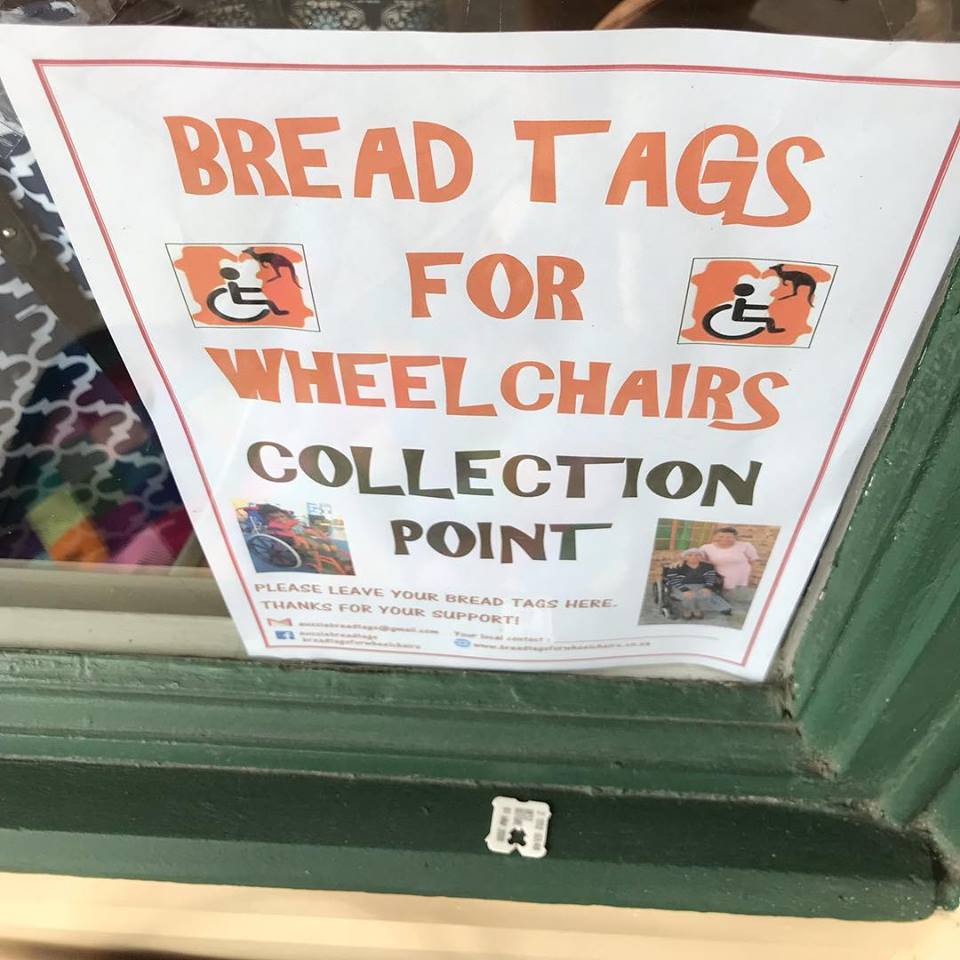 Bilgola Plateau Probus Christmas Party
Our Xmas party on 2 Dec at The Glasshouse, Pittwater RSL had 40 attendees.
We next meet on 3 Feb 2023 and welcome interest to join. We have gone from 7 members in Sept when we formed, to 58 and growing.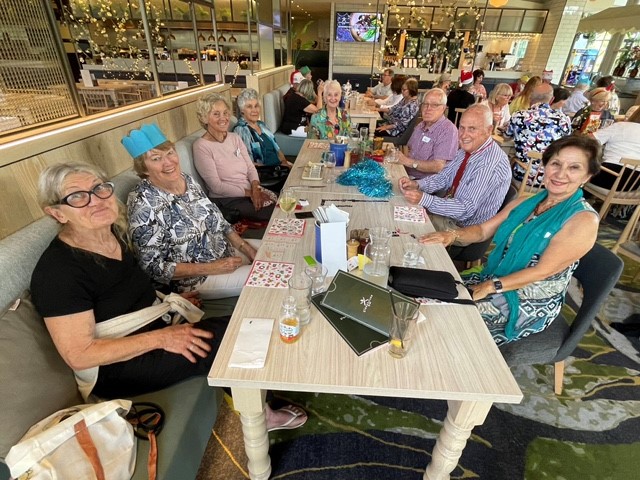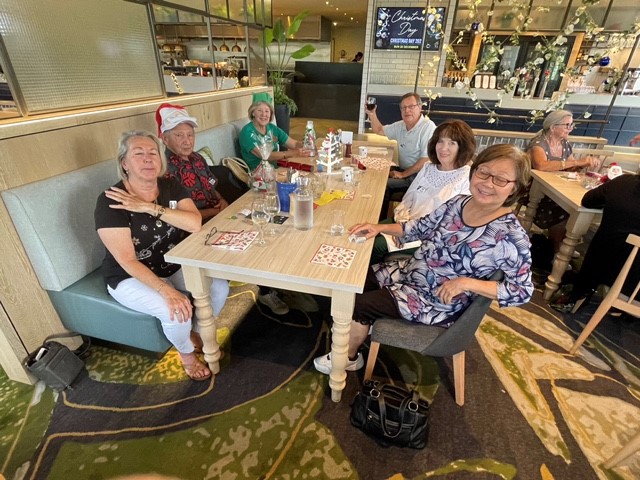 Pittwater Probus Club Celebrates 40th Anniversary
50 members and partners of Pittwater Mens Probus celebrated the club's 40th birthday on Tuesday December 13th at Mona Vale Surf Club. Local Member, Rob Stokes proposed the toast to the club prior to the ceremonial cutting of the cake.
The inaugural meeting was attended by 12 members on Tuesday 13th January 1981 at Pittwater RSL Club and was established as a men's club which it is today. The first President was George R Cockburn. He and his fellow members ran the club very formally with the Minutes of Meeting duly handwritten into the minute book.
For over 20 years the club held its meetings at the Mona Vale Golf Club, but Covid put an end to that. The club now enjoys the beautiful setting of the new Mona Vale Surf Club for its monthly meetings.
The club today is quite different in how it functions compared to those early days but continues to maintain an environment of fun, friendship and fellowship first established back in 1981. It has a dedicated activity program with a recent group trip to Orange visiting all the local landmarks.
The club is actively seeking new members. If interested, please contact Terry Larke on 0412 220 820 or attend a meeting at 10 00 am on the second Tuesday of the month at Mona Vale Surf Club. You will be made welcome.
President, Pittwater Probus Club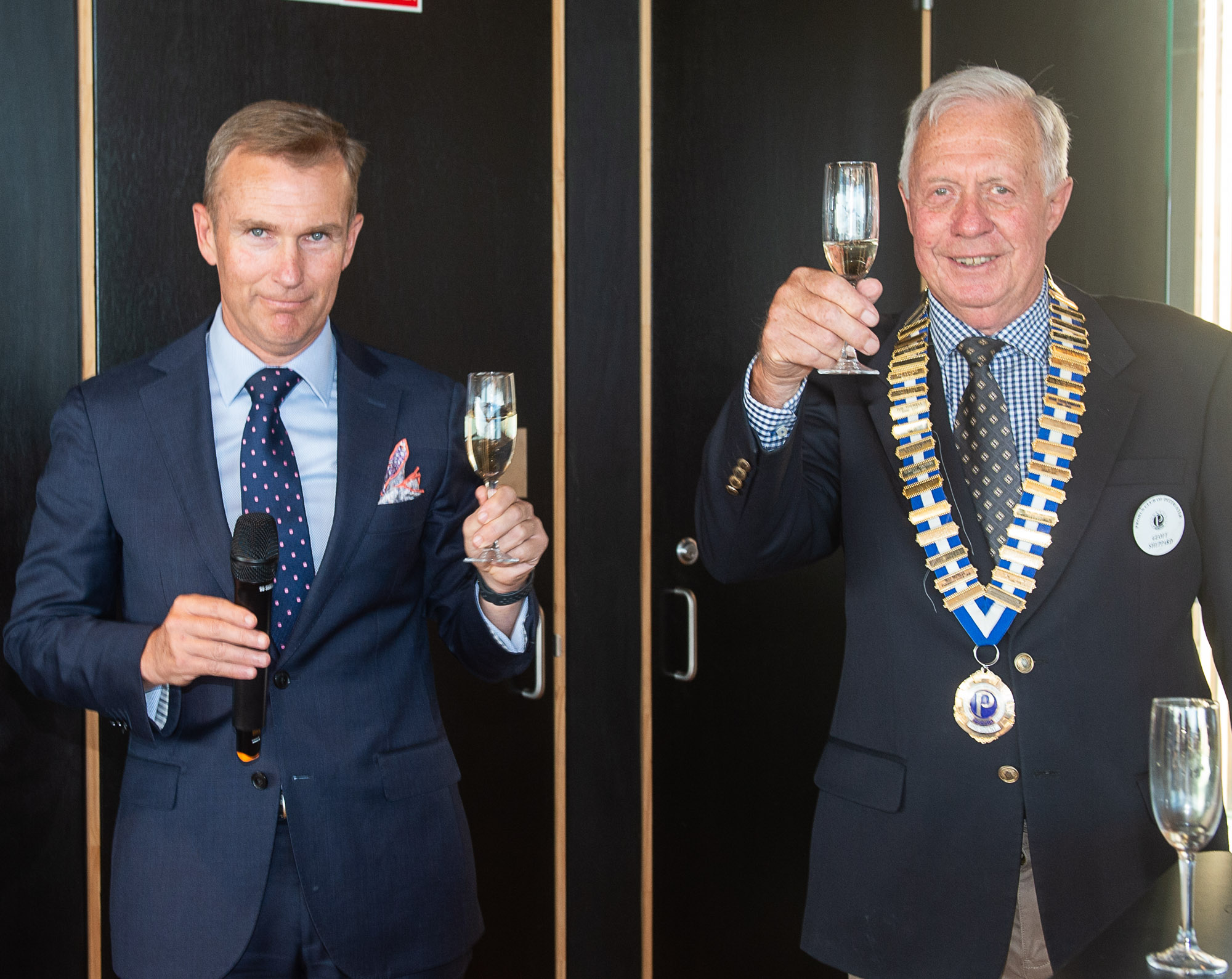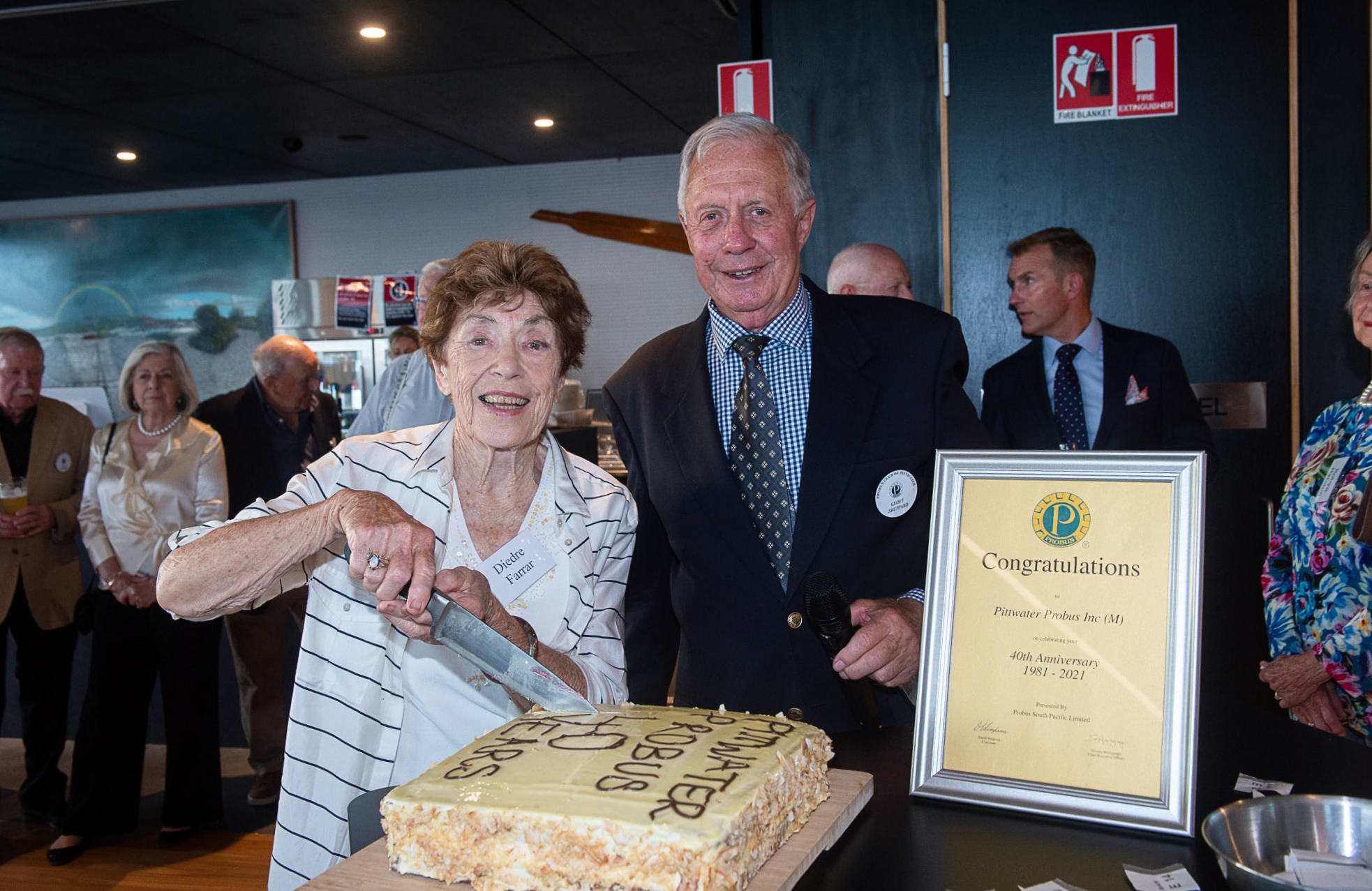 Photos: Michael Mannington OAM, Community Photography
Home Care Package Charges Change From January 1st
A reminder that changes are coming to Home Care Package charges on 1 January 2023. The Australian Government states the changes will bring more transparency to how providers charge and set limits on care and package management prices.
The aim is to reduce excessive charges and improve your ability to compare prices between providers.
If you receive a Home Care Package, the below article outlines what the changes are and how this impacts you.
From 1 January 2023 there will be set limits on what providers can charge you for care and package management.
In addition, providers will no longer be able to charge you:
exit charges
additional costs for third-party goods or services
package management charges in a month (except for the first month of care) where you do not receive services other than care management.
How does this affect your Home Care Package?
Most Home Care Package providers already charge less than the new limits for care and package management. If this is the case with your provider, you won't see changes to these charges.
However, if your provider is charging above the new limits, they will need to reduce their prices from 1 January 2023.
Some providers may need to adjust their pricing models to remove exit charges and additional costs for third-party goods or services. This may mean there are some reasonable increases in service charges. But it ultimately ensures that you only ever pay the published price – with no hidden charges.
If your provider needs to lower their care and package management charges, they must let you know. You do not need to do anything to receive these lower charges.
If your provider increases their prices, they must seek your consent before doing so. You have the right to understand all charges and what they mean.
Your provider must clearly explain their price increase, including:
what is changing
why it needs to change
what the new price will include
when the new price will start.
Seniors Call For Reforms
National Seniors' submission to the Employment White Paper has called on the government to adopt policies that support workforce participation throughout a person's life, boosting income and savings in later life.
Workforce shortages are not going to be solved by immigration alone, so we need to simplify the tax and transfer system to boost participation. Critically, this will also increase tax revenue to pay for health, aged care, and other social services.
Our call to simplify payment rules is consistent with our submission to the Retirement Income Review in February 2020.
In both submissions, we ask the government to recognise work as a key pillar of the retirement income system, with material outcomes for the health and well-being of older Australians.
Because superannuation balances are directly dependent on employment participation and earnings capacity, we must address the barriers to workforce participation if we are going to make the system fairer.
With Australia facing one of its worst workforce crises in decades, the government has a once-in-a-lifetime opportunity to reform payment rules for all Australians to boost workforce participation and with it, the income and wealth of older Australians.
Job crisis continues
Almost half a million job vacancies are dragging business and economic growth down and fuelling a cost-of-living crisis. The hardest hit sectors include health care and social assistance, mining, agriculture, hospitality, and tourism.
Rightly, the Terms of Reference guiding the Employment White Paper singles out the care economy as one in critical danger of failure. Difficulties attracting and retaining staff in aged, disability, health and childcare have grown significantly since the first COVID-19 outbreak. These are unlikely to ease any time soon, even as migration picks up.
Older Australians on the cusp of relying on aged care services will be understandably nervous about their prospects of getting the services they desperately need.
Equally, sectors such as agriculture continue to face difficulties getting workers to pick fruit and harvest other crops, which puts pressure on food prices and affect supply and export earnings.
That is why the white paper process is so critical and why the government must adopt bold policy changes to get Australians back to work.
Options for change
National Seniors' submission discussed the costs and benefits of a range of policy options, recommending that action be taken to reform the government payment income test rules as the most practical solution.
Unfortunately, people receiving Centrelink payments are punished if they work, creating one of the biggest sources of inequality in Australia.
To fix this we must "let people work."
We propose government adopt a simple, elegant policy to help all Australians on low incomes or with limited savings get out of poverty by increasing their workforce participation.
We can do this by allowing aged pensioners, students, veterans, job seekers, carers, and disability pensions the right to work and pay taxes.
Those eligible should receive a lower income test taper rate of 32.5 cents in the dollar on their Centrelink payment when they work (rather than 50 cents in the dollar or 60c in the dollar as is the case for some).
Ideally, this would act as tax withheld with no ongoing reporting of income required, with taxes being balanced by the Australian Taxation Office (ATO) at the end of the financial year.
As modelling conducted by Deloitte has shown, this policy would be cost-neutral if only 8.3 per cent of pensioners worked or worked more, and we would expect similar results for other payment recipients.
This is not a universal basic income nor a universal pension. It is a universal right to work by providing an incentive for those who live in or are close to poverty, including pensioners.
As the Prime Minister and others often say, those in need "need a hand up, not a handout."
While our preference is to apply the new 32.5 cents in the dollar rate as tax withheld, this could alternatively be offered as a taper rate reduction, with recipients still required to report their earnings, helping to smooth the transition between payments and work.
A third option is to provide only the 32.5 per cent income test taper rate reduction to workers in the care and agriculture sectors, where there are higher proportions of workers and critical labour force shortages.
A fourth policy option put forward in the submission is for a dedicated mature age traineeship scheme to boost workers in home care using money redirected from the failed Restart mature age subsidy.
Boosting workforce participation among the mature aged alone will reap enormous economic benefits.
As the Deloitte report "The Grey Army Advances", written by respected economist Chris Richardson found, if we increase the over-55 participation rates by 5 per cent, it would add $48b to Australia's Gross Domestic Product (GDP). Given we have a tax-to-GDP ratio of around 23 per cent, this represents an additional $11b a year of revenue for the Commonwealth.
If our participation rate (66.5 per cent) was like New Zealand's (71.7 per cent), the rate of pension poverty would halve, tax receipts would be boosted by tens of billions annually, and the 500,000 job vacancies would be filled.
As Minister Rishworth said when announcing the latest changes to the Work Bonus, "It is a win for pensioners, businesses, and the government. It demonstrates a clear ability to listen."
We are glad the government is continuing to listen. We hope our input to this White Paper provides practical evidence-based policies for the May 2023 Budget.
These policies will help businesses prosper, help the government balance the books and help those in need fight off poverty.
An Aboriginal And Torres Strait Islander Voice To Parliament
In COTA NSW's 2021 research on what older people think about current issues, a resounding 81.7% of respondents believed that Aboriginal and Torres Strait Islander people should be recognised in the Australian constitution. This is backed up by a Griffith University study in which a majority of Australians support a First Nations voice to parliament in some form.
The proposal is to have an elected body of Aboriginal and Torres Strait Islander people that would sit outside (or alongside) parliament and advise on policies and laws affecting their people and communities. Aboriginal and Torres Strait Islander people would be involved in the law-making process rather than politicians and public servants deciding what is best for them.
There are two different ideas on how this might occur. The government could simply legislate it, without the need for a referendum. However, the current Australian constitution does not acknowledge the occupancy of Australia by Aboriginal and Torres Strait Islander people, or their rights.
Many Aboriginal and Torres Strait Islander people therefore support changes to the Australian Constitution which would recognise the country's original occupants and enshrine their voice in parliament. Griffith's research showed there is also more support for this option in the general community than the legislative one.
In the light of this, the COTA NSW Board has endorsed the Uluru Statement from the Heart. The Uluru Statement is a call by Aboriginal and Torres Strait Islander people for real and practical change through the establishment of a constitutionally enshrined voice to parliament and the establishment of a Makarrata Commission to undertake the process or treaty-making and truth-telling.
COTA NSW calls on all sides of politics to support an Aboriginal and Torres Strait Islander voice to parliament and a referendum to change the Australian constitution. This will enable all of us to move forward in addressing past injustices and promoting a spirit of healing, truth telling and respect with our country's first inhabitants.
Merry Christmas - Hope You All Have Great Summer Break!
We're going on our Christmas - New Years break after this Issue comes out - so we'd like to wish you all a very Merry Christmas, enjoy your last week and a bit of school and have a brilliant Summer with some good times and lasting memories.
Please remember to take it easy on yourselves and look after yourselves and out for and after each other.
We're back January 15th!
the Ed.
Congratulations William Cassell BHS: Equal First In Music: HSC 2022 Results
December 15, 2022
Music 1: William Cassell, Barrenjoey High School (equal first)
Will was School captain at BHS in 2022 and read the Prayers at the Anzac Day Commemorative Service at Avalon Beach RSL Cenotaph this year, along with fellow School Captain Hannah Pepper.
William started playing the flute at an early age and told the SMH his teacher was one of the biggest factors in helping him get one of the top scores in the subject.
"I definitely had a good teacher, she was very passionate, she completely changed the way I thought about music,"
"She was an absolute inspiration, I have been playing since I was eight years old, it was my first passion." Will said
Will was presented with his certificate from NESA by NSW Education Minister Sarah Mitchell.
Will has also been awarded a Tuckwell Scholarship for 2023.
In July 2022 the Tuckwell Scholarship Program announced its tenth annual award of 25 Scholarships, to students who will commence their undergraduate studies at ANU in February 2023.
"We are delighted to welcome to the Tuckwell community another 25 truly exceptional young people from across Australia" said founder Dr Louise Tuckwell AO. "The panel this year has been impressed by their academic and personal achievements, as well as their commitment to their diverse communities."
"The Tuckwell Scholarship is a unique and life-changing opportunity for exceptional young people to get together, share their ideas and inspire each other" said founder Dr Graham Tuckwell AO.
"This year we have again received an enormous number of high quality applications, and I am confident that these talented young people will not only embody the Tuckwell attributes, they will also inspire others to strive and achieve."
The Tuckwell Scholarship Program at the ANU is the most transformational undergraduate scholarship program in Australia. With a total scholarship package valued at up to $140,000, it offers funding to students for five years of full-time study; allowing them to take full advantage of their time at university, including the many academic, social, cultural, sporting and leadership opportunities that come with life on campus.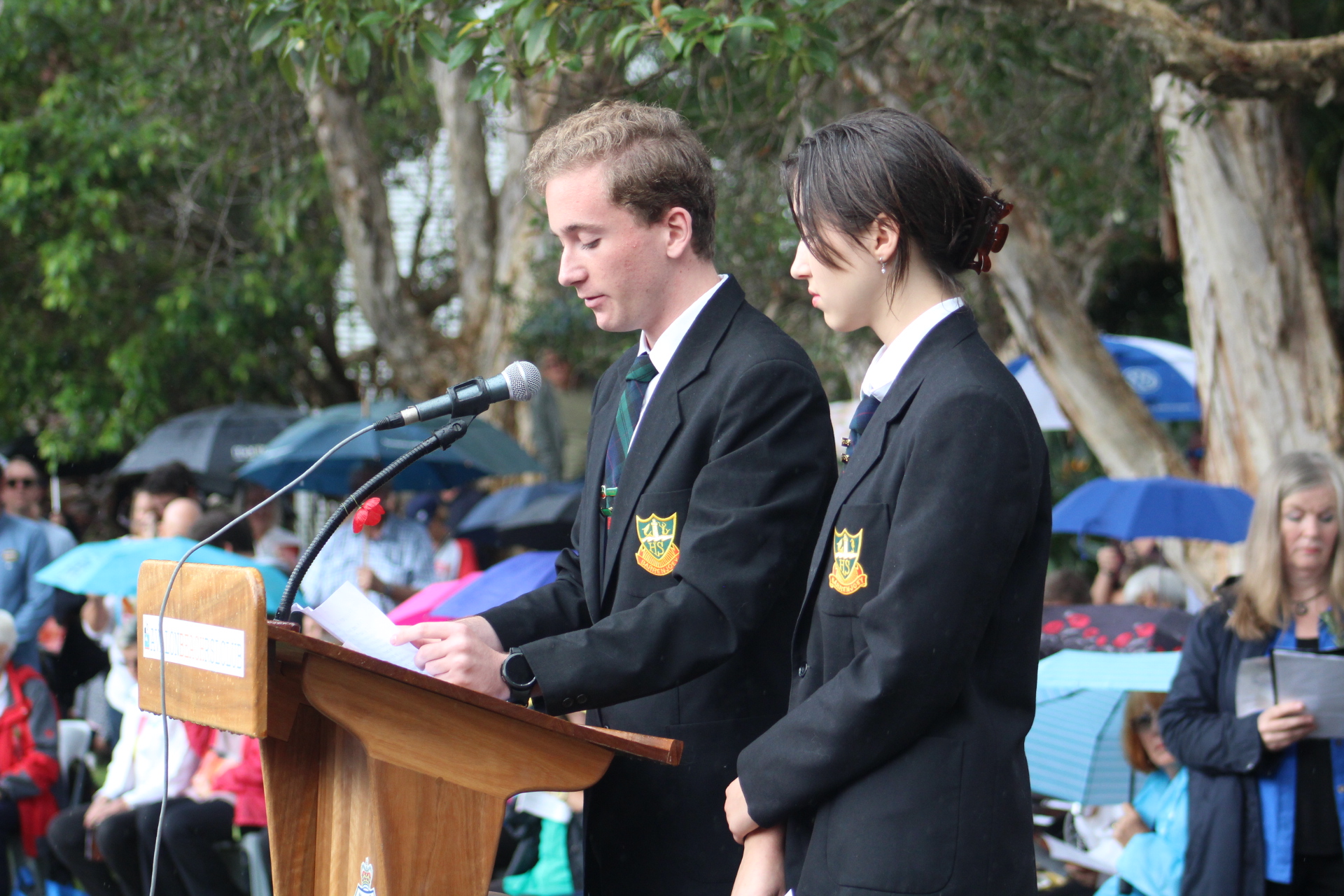 State's Top HSC Students Celebrated
By NSW Dept. of Education
126 students who have obtained first place in a 2022 HSC course have been acknowledged for their extraordinary academic achievement. In a NSW first, students who have achieved despite adversity have also been recognised.
Premier Dominic Perrottet congratulated the students and said finishing first in one of the 114 world-class HSC courses examined this year is cause for celebration.
"These young people have shown what can be achieved when you combine ability and passion with commitment – qualities which will prove invaluable throughout their careers and lives," Mr Perrottet said.
"Congratulations to all the exceptional students who have achieved First in Course for the 2022 HSC. You should be proud of what you have accomplished."
Minister for Education Sarah Mitchell said 135 certificates will be presented to 126 students, with nine students topping more than one course.
"These students have triumphed in their final senior years of school and deserve to be celebrated," Ms Mitchell said.
"Today we also thank the schools, the teachers and school communities who supported these students throughout their education journey, as well as their parents and carers.
"It is also so important that we celebrate students who have achieved outstanding outcomes in the face of adversity, which is why this year, we've introduced a new award to recognise the resilience of schools impacted by flooding across the state."
This year, 14 Commendation Awards will be issued in recognition of school communities who went above and beyond to set-up learning spaces and provide the necessary resources to ensure students could continue learning despite challenges due to flooding.
To view the First in Course merit list, visit: https://educationstandards.nsw.edu.au/wps/portal/nesa/about/events/merit-lists/first-in-course
All Round Achievers, Top Achievers and Distinguished Achievers will be published on the NESA website at midday today.
All 75,000 students who sat at least one HSC exam in 2022 will receive their results by SMS, email and online from 6am today.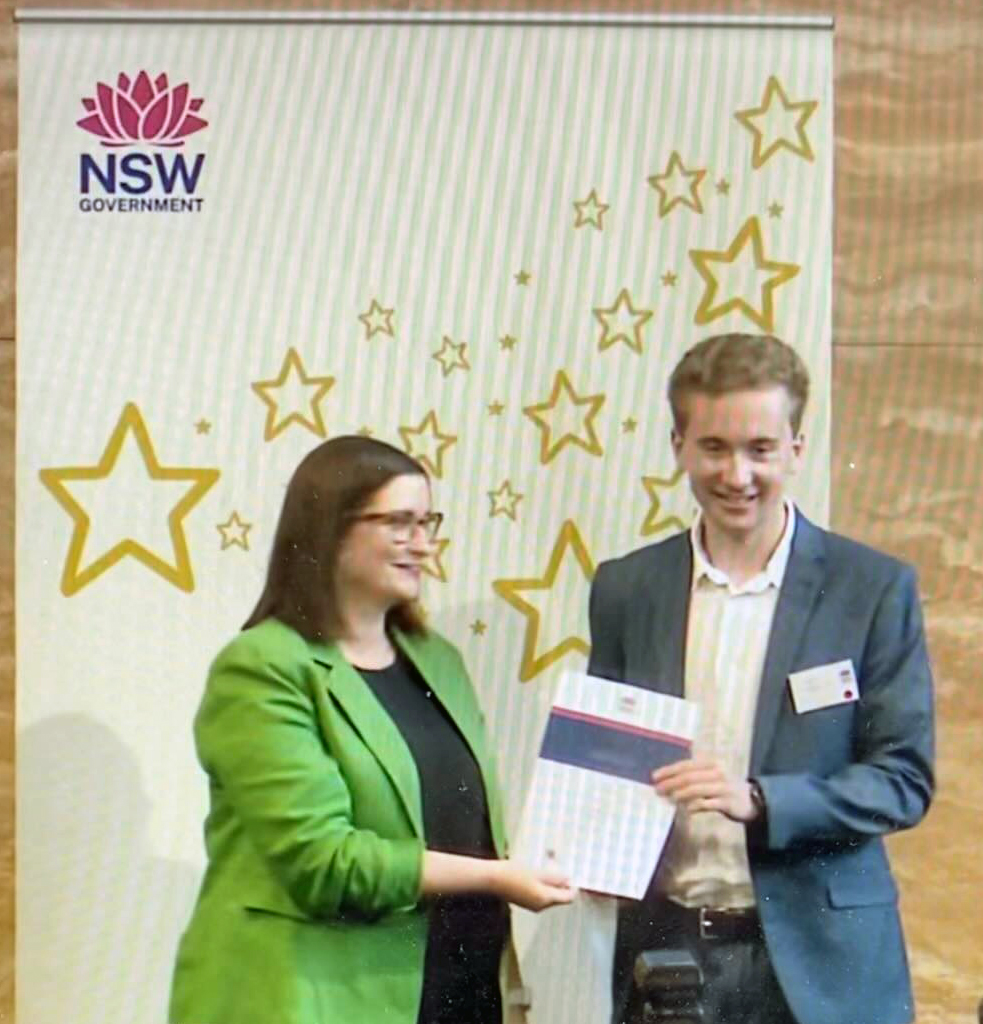 RPAYC's Louis Tilly Wins WASZP 2022 WA State Championship
In an indicative warm-up to the National titles on the Swan River in January, Louis took out the 8 race WA States from Laser Radial World champion, Tristan Brown. This great event was run from the Royal Freshwater Bat Yacht Club. Victory in Perth caps off a run of successes with Louis so far this season winning in Queensland, NSW and now WA.
The win on count-back was delivered on a stunning Perth day with the strong seabeeze propelling the sailfoilers around Freshwater and Claremont Bays at breathtaking speeds. The top two boats were in close battle (including a substantial collision) for all three races on the last day.
Collecting the Bazel Twine Memorial Trophy, Louis thanked the organisers, volunteers, follow competitors and his home club.
Jervis Tilly also representing RPAYC, secured 3rd overall in the regatta and 1st in the hotly contested Super Master division.The smaller sail (6.8m) division was taken out by up and coming local Perth sailor, Jamie Bougher.
In the WASZP class, RPAYC can now claim highest Australian ranking WASZP sailor (Louis) and 11th fastest recorded WASZP speed globally with Jervis topping out at 24.3 kts crossing the line at the end of race 8 in WA.
This coming weekend many RPAYC WASZPs will be at Sail Sydney in their last competitive event prior to the Nationals which will be run from the Perth Dinghy Sailing Club from 22 to 27 January 2023. Currently, six boats plan to represent RPAYC at the Nationals.
The WASZP has been selected as Australian Sailing's supported Sailfoiler. It caters for sailors of all ages from Opti graduates to more mature types.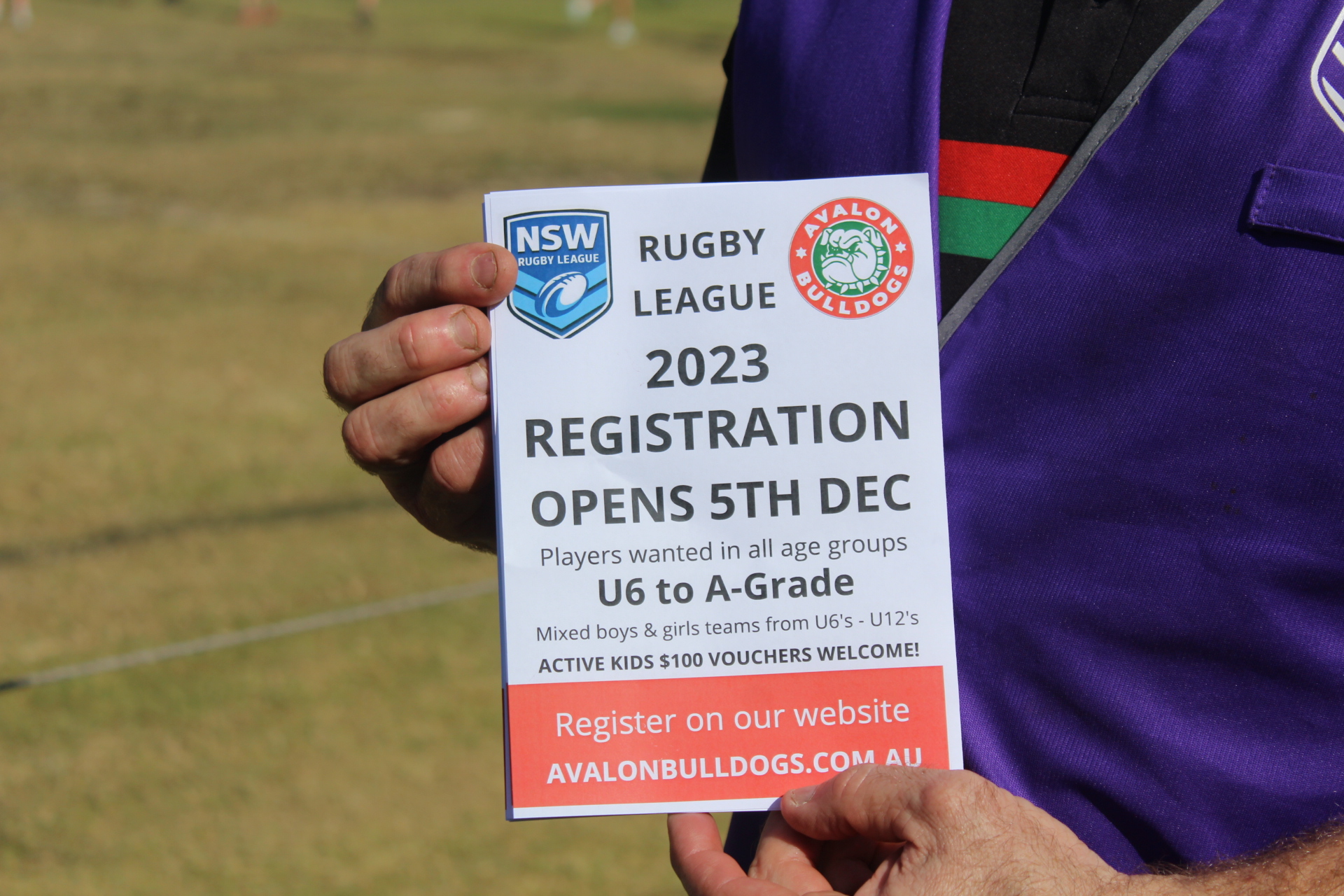 Safer Drivers Courses At Narrabeen - Dee Why
To secure a spot at the Narrabeen or Dee Why Awesome SDC visit our website: www.awesomesdc.com.au
Awesome Driving School is a provider of the TfNSW Safer Drivers Course. Our 5 hour course = 20 hours in your logbook!
Narrabeen Safer Drivers Course
Sun, 4 Dec 2022 at 10:00AM - 4 Places Remaining
Sun, 11 Dec 2022 at 10:00AM - 8 Places Remaining
Wed, 21 Dec 2022 at 10:00AM - Places Available
Sun, 8 Jan 2023 at 10:00AM - Places Available
Thu, 19 Jan 2023 at 10:00AM - Places Available
Sun, 29 Jan 2023 at 10:00AM - Places Available
Dee Why Safer Drivers Course
Sat, 17 Dec 2022 at 10:00AM - 6 Places Remaining
Thu, 22 Dec 2022 at 10:00AM - Places Available
Thu, 5 Jan 2023 at 10:00AM - Places Available
Wed, 11 Jan 2023 at 10:00AM - 10 Places Remaining
Tue, 17 Jan 2023 at 10:00AM - Places Available
Sat, 21 Jan 2023 at 10:00AM - Places Available
Wed, 25 Jan 2023 at 10:00AM - Places Available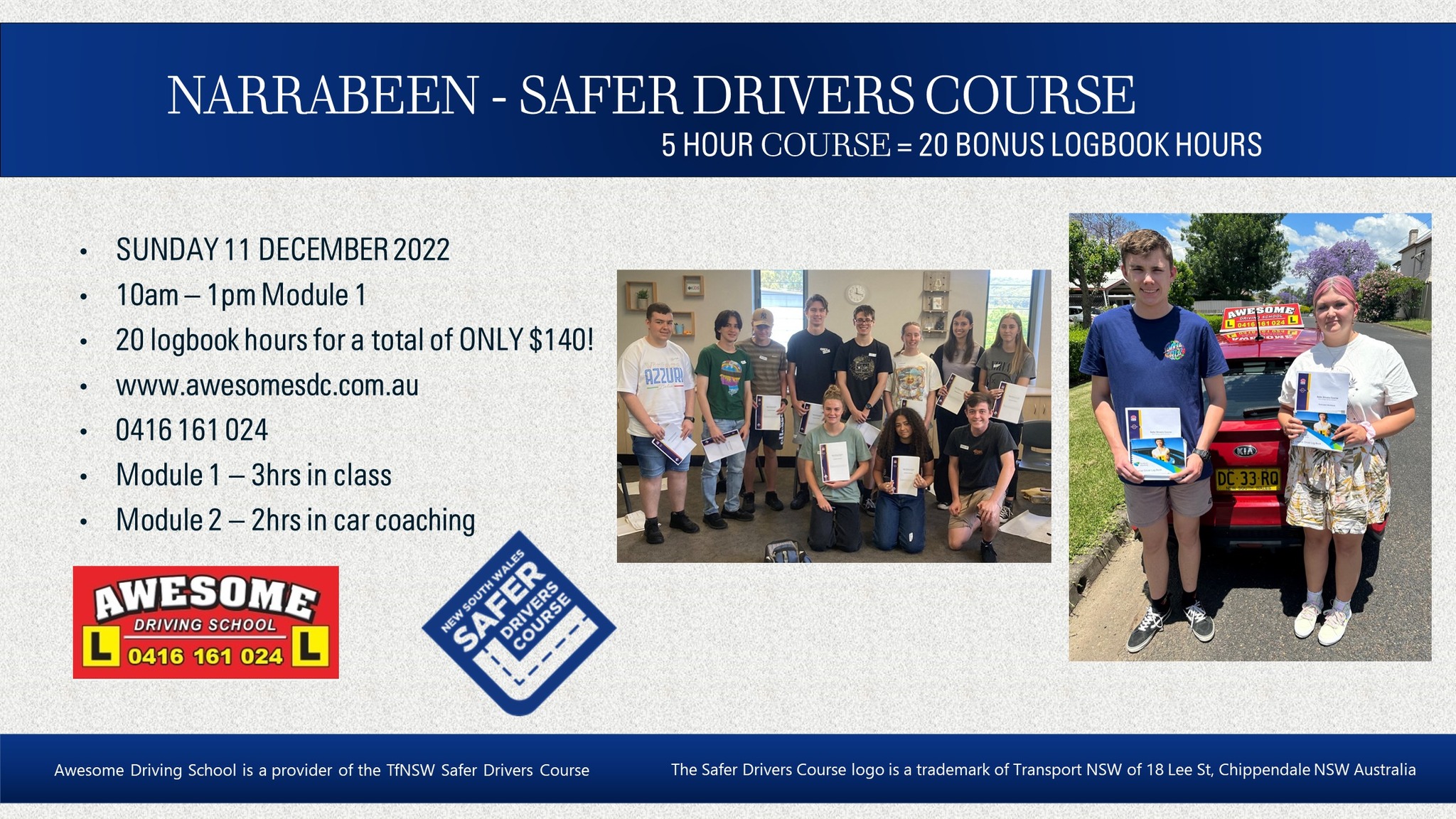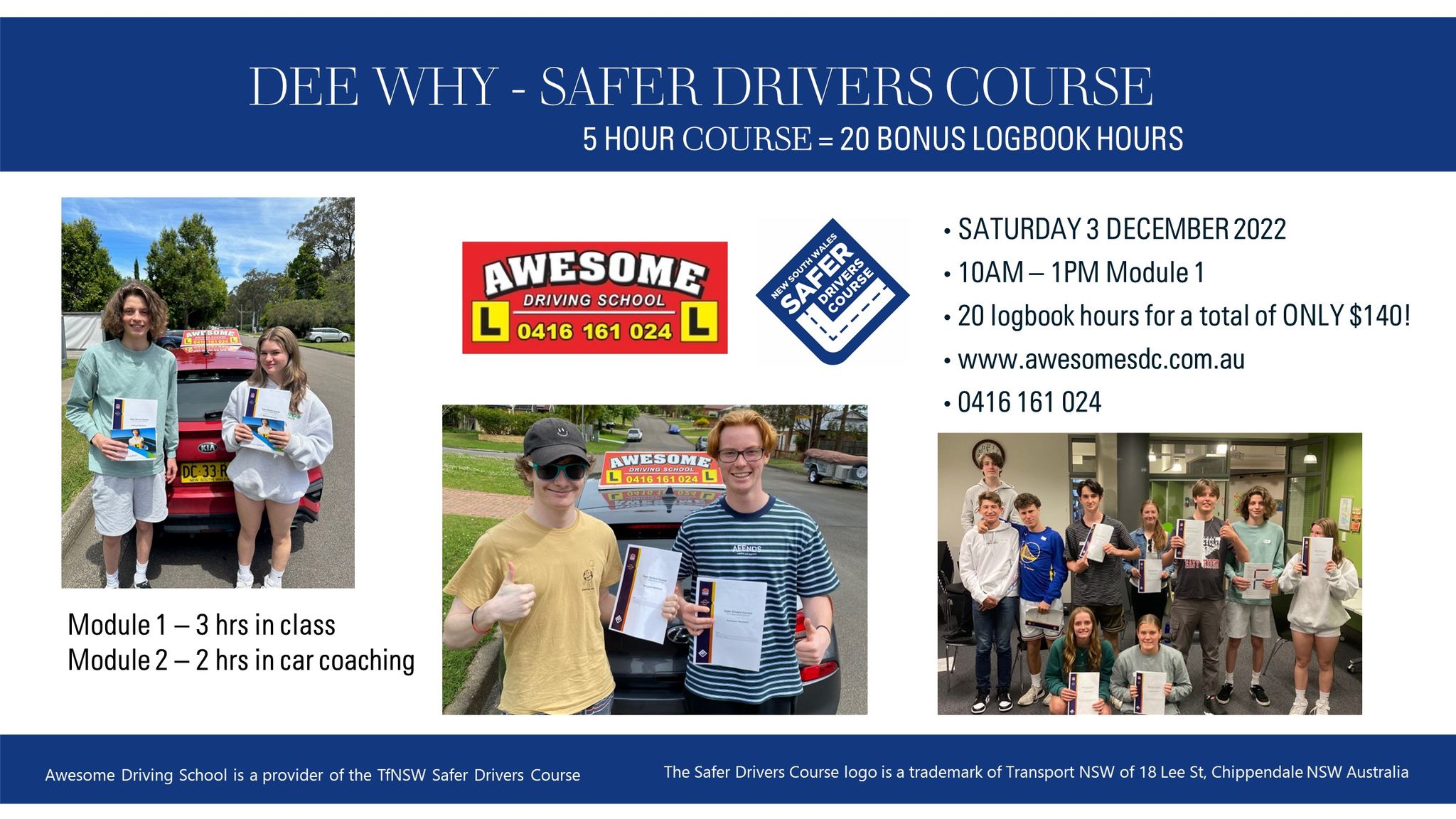 The Rions Christmas Special 2 at Dee Why RSL
Announcing the 2nd edition of our Christmas Special show! It's happening on December 17th at Dee Why RSL (18+) and tickets are on sale now! Our last one sold out so make sure you get in quick. It's gonna be next level with special guests Molly Millington, The Good Love, Liquid Time and Chloe Dadd.
Tickets: https://tickets.oztix.com.au/outlet/event/08bfea31-2dff-4ccb-8240-b8ab3f8b5cbe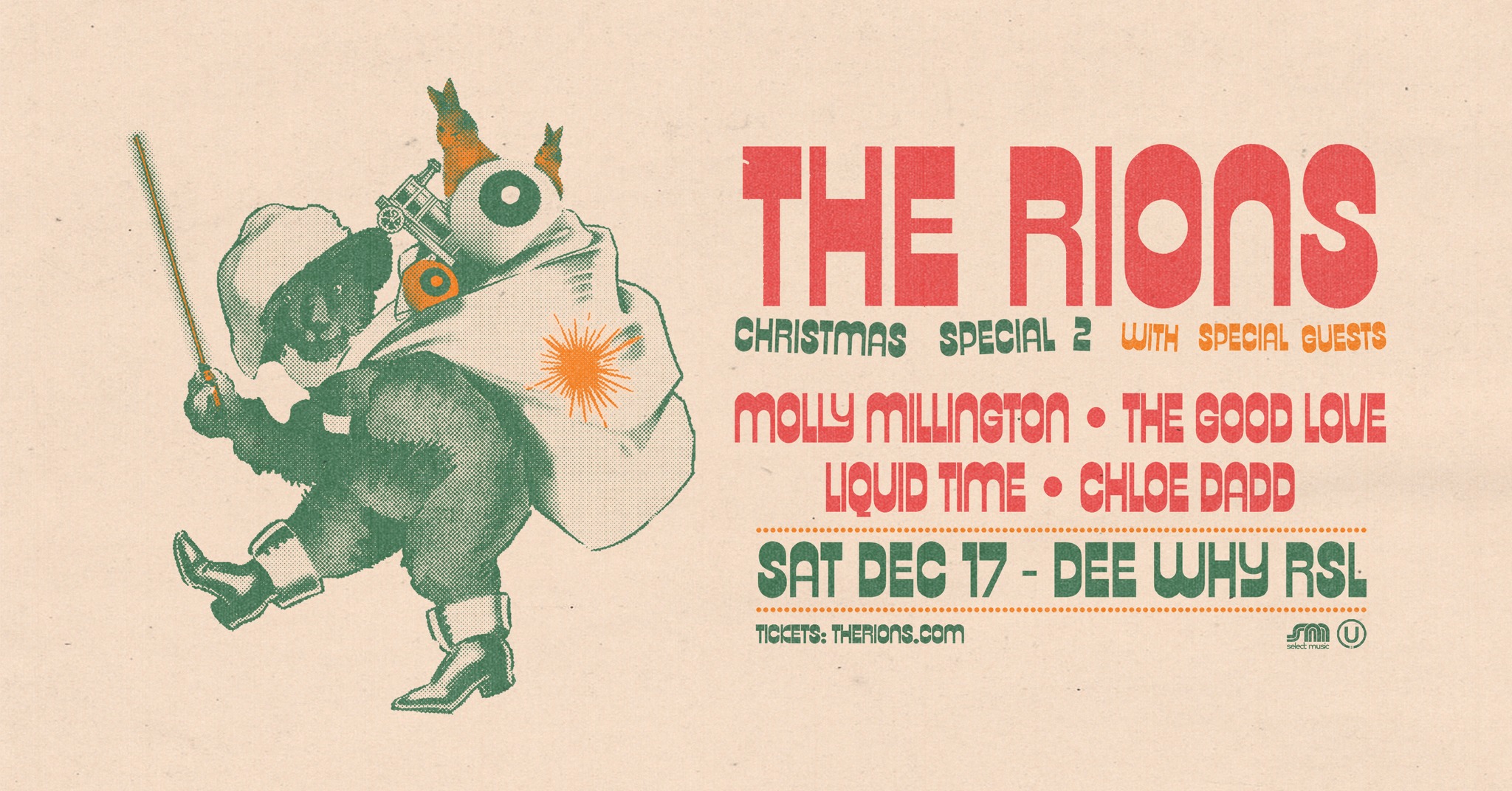 School Leavers Support
Explore the School Leavers Information Kit (SLIK) as your guide to education, training and work options in 2022;
As you prepare to finish your final year of school, the next phase of your journey will be full of interesting and exciting opportunities. You will discover new passions and develop new skills and knowledge.
We know that this transition can sometimes be challenging and the COVID-19 pandemic has presented some uncertainty. With changes to the education and workforce landscape, you might be wondering if your planned decisions are still a good option or what new alternatives are available and how to pursue them.
There are lots of options for education, training and work in 2022 to help you further your career. This information kit has been designed to help you understand what those options might be and assist you to choose the right one for you. Including:
Download or explore the SLIK here to help guide Your Career.
School Leavers Information Kit (PDF 5.2MB).
School Leavers Information Kit (DOCX 0.9MB).
The SLIK has also been translated into additional languages.
Download our information booklets if you are rural, regional and remote, Aboriginal or Torres Strait Islander, or living with disability.
Support for Regional, Rural and Remote School Leavers (PDF 2MB).
Support for Regional, Rural and Remote School Leavers (DOCX 0.9MB).
Support for Aboriginal and/or Torres Strait Islander School Leavers (PDF 2MB).
Support for Aboriginal and/or Torres Strait Islander School Leavers (DOCX 1.1MB).
Support for School Leavers with Disability (PDF 2MB).
Support for School Leavers with Disability (DOCX 0.9MB).
Download the Parents and Guardian's Guide for School Leavers, which summarises the resources and information available to help you explore all the education, training, and work options available to your young person.
School Leavers Information Service
Are you aged between 15 and 24 and looking for career guidance?
Call 1800 CAREER (1800 227 337).
SMS 'SLIS2022' to 0429 009 435.
Our information officers will help you:
navigate the School Leavers Information Kit (SLIK),
access and use the Your Career website and tools; and
find relevant support services if needed.
You may also be referred to a qualified career practitioner for a 45-minute personalised career guidance session. Our career practitioners will provide information, advice and assistance relating to a wide range of matters, such as career planning and management, training and studying, and looking for work.
You can call to book your session on 1800 CAREER (1800 227 337) Monday to Friday, from 9am to 7pm (AEST). Sessions with a career practitioner can be booked from Monday to Friday, 9am to 7pm.
This is a free service, however minimal call/text costs may apply.
Call 1800 CAREER (1800 227 337) or SMS SLIS2022 to 0429 009 435 to start a conversation about how the tools in Your Career can help you or to book a free session with a career practitioner.
Word Of The Week: Hogmanay
Word of the Week returns in 2022 simply to throw some disruption in amongst the 'yeah-nah' mix. It will persist in 2023 - apparently you're enjoying this other 'mix' - good to hear, thank you.
New Years – Hogmanay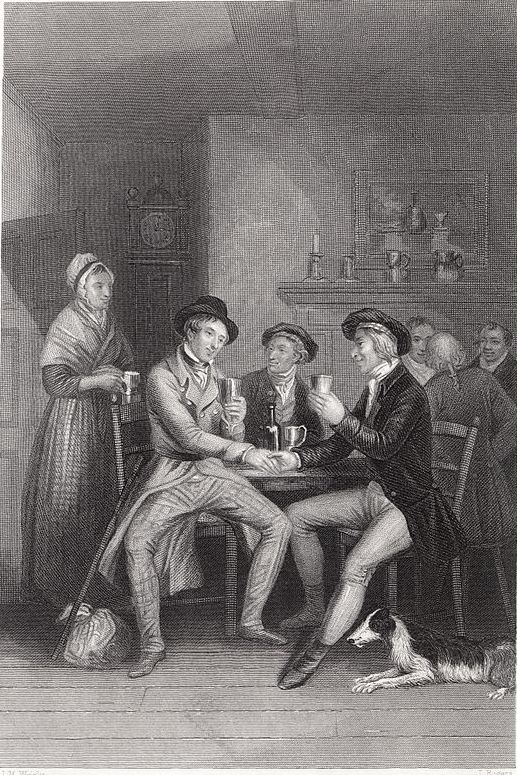 Hogmanay is the Scots word for the last day of the year and is synonymous with the celebration of the New Year(Gregorian calendar) in the Scottish manner. However, it is normally only the start of a celebration that lasts through the night until the morning of New Year's Day (1 January) or, in some cases, 2 January—a Scottish Bank Holiday. The etymology of the word is obscure. The three main theories derive it either from a French, Norse or a Goidelic (Insular Celtic) root. The word is first recorded in 1604 in the Elgin Records as hagmonay (delatit to haue been singand hagmonayis on Satirday) and again in 1692 in an entry of the Scotch Presbyterian Eloquence, "It is ordinary among some plebeians in the South of Scotland to go about from door to door upon New-years Eve, crying Hagmane".
Possible French etymologies
It may have been introduced to Middle Scots through the Auld Alliance. The most commonly cited explanation is a derivation from the Northern French dialect word hoguinané, or variants such as hoginane, hoginono and hoguinettes, those being derived from 16th century Old French aguillanneuf meaning either a gift given at New Year, a children's cry for such a gift, or New Year's Eve itself. This explanation is supported by a children's tradition, observed up to the 1960s in some parts of Scotland at least, of visiting houses in their locality on New Year's Eve and requesting and receiving small treats such as sweets or fruit. The second element would appear to be l'an neuf (the New Year), with some sources suggesting a druidical origin of the practice overall. Compare those to Norman hoguinané and the obsolete customs in Jersey of cryingma hodgîngnole, and in Guernsey of asking for an oguinane, for a New Year gift (see also La Guiannee). In Québec, "la guignolée" was a door-to-door collection for the poor.
Possible Goidelic etymologies
Fraser and Kelley report a Manx new-year song that begins with the line To-night is New Year's Night, Hogunnaa but did not record the full text in Manx. Other sources parse this as hog-un-naa and give the modern Manx form as Hob dy naa. Manx dictionaries though give Hop-tu-Naa, generally glossing it as "Hallowe'en", same as many of the more Manx-specific folklore collections. In this context it is also recorded that in the south of Scotland, for example Roxburghshire, there is no <m>, the word thus being Hunganay, which could suggest the <m> is intrusive. However, in spite of these recorded Manx forms, no satisfactory etymology has been proposed for Hop-tu-Naa within Goidelic. Another theory occasionally encountered is a derivation from the phrase thog mi an èigh/eugh I raised the cry, which, in pronunciation, resembles Hogmanay, as part of the rhymes traditionally recited at New Year but it is unclear if this is simply a case of folk etymology. Overall, Gaelic consistently refers to the New Year's Eve as Oidhche na Bliadhn(a) Ùir(e) "The Night of the New Year" and Oidhche Challainn"The Night of the Calends".
Possible Norse etymologies
Some authors reject both the French and Goidelic theories, and instead suggest that the ultimate source both for the Norman French, Scots, and Goidelic variants of this word have a common Norse root. It is suggested that the full forms
Hoginanaye-Trollalay/Hogman aye, Troll a lay (with a Manx cognate Hop-tu-Naa, Trolla-laa)
Hogmanay, Trollolay, give us of your white bread and none of your gray
invoke the hill-men (Icelandic haugmenn, cf Anglo-Saxon hoghmen) or "elves" and banishes the trolls into the sea (Norse á læ "into the sea"). Repp furthermore makes a link between Trollalay/Trolla-laa and the rhyme recorded in Percy's Relics Trolle on away, trolle on awaye. Synge heave and howe rombelowe trolle on away, which he reads as a straightforward invocation of troll-banning.
There are many customs, both national and local, associated with Hogmanay. The most widespread national custom is the practice of first-footing, which starts immediately after midnight. This involves being the first person to cross the threshold of a friend or neighbour and often involves the giving of symbolic gifts such as salt (less common today), coal, shortbread, whisky, and black bun (a rich fruit cake) intended to bring different kinds of luck to the householder. Food and drink (as the gifts) are then given to the guests. This may go on throughout the early hours of the morning and well into the next day (although modern days see people visiting houses well into the middle of January). The first-foot is supposed to set the luck for the rest of the year. Traditionally, tall dark men are preferred as the first-foot.
Auld Lang Syne"
The Hogmanay custom of singing "Auld Lang Syne" has become common in many countries. "Auld Lang Syne" is a traditional poem reinterpreted by Robert Burns, which was later set to music. It is now common to sing this in a circle of linked arms that are crossed over one another as the clock strikes midnight for New Year's Day, though it is only intended that participants link arms at the beginning of the final verse, co-ordinating with the lines of the song that contain the lyrics to do so. Typically, it is only in Scotland this practice is carried out correctly.
John Masey Wright and John Rogers' c. 1841 illustration of Auld Lang Syne. Illustration to Robert Burns' poem Auld Lang Syne by J.M. Wright and Edward Scriven. Hogmanay. (2013, December 27). In Wikipedia, The Free Encyclopedia. Retrieved from http://en.wikipedia.org/w/index.php?title=Hogmanay&oldid=587987742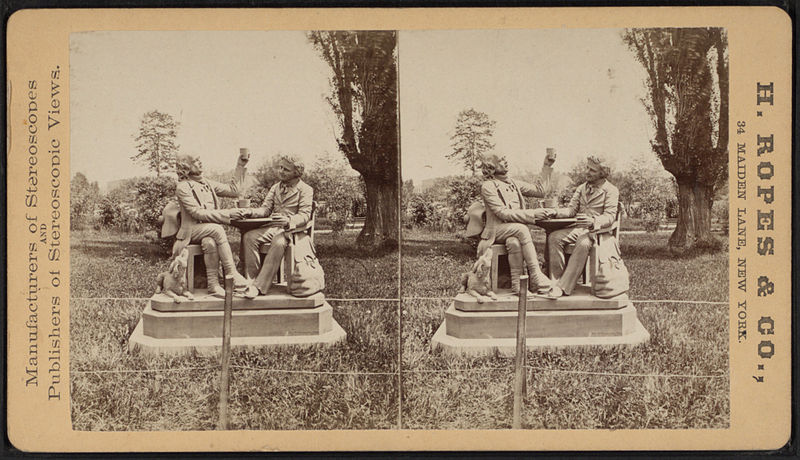 Auld Lang Syne
"Auld Lang Syne" is a Scots poem written by Robert Burns in 1788 and set to the tune of a traditional folk song (Roud # 6294). It is well known in many countries, especially in the English-speaking world, its traditional use being to celebrate the start of the New Year at the stroke of midnight. The song's Scots title may be translated into English literally as "old long since", or more idiomatically, "long long ago", "days gone by" or "old times". Consequently "Forauld lang syne", as it appears in the first line of the chorus, might be loosely translated as "for (the sake of) old times". The phrase "Auld Lang Syne" is also used in similar poems by Robert Ayton (1570–1638), Allan Ramsay (1686–1757), and James Watson (1711) as well as older folk songs predating Burns. Matthew Fitt uses the phrase "In the days of auld lang syne" as the equivalent of "Once upon a time..." in his retelling of fairy tales in the Scots language.
Burns' original Scots verse
Should auld acquaintance be forgot,
and never brought to mind ?
Should auld acquaintance be forgot,
and auld lang syne* ?
CHORUS:
For auld lang syne, my jo,
for auld lang syne,
we'll tak a cup o' kindness yet,
for auld lang syne.
And surely ye'll be your pint-stowp !
and surely I'll be mine !
And we'll tak a cup o' kindness yet,
for auld lang syne.
CHORUS
We twa hae run about the braes,
and pu'd the gowans fine ;
But we've wander'd mony a weary fit,
sin auld lang syne.
CHORUS
We twa hae paidl'd i' the burn,
frae morning sun till dine ;
But seas between us braid hae roar'd
sin auld lang syne.
CHORUS
And there's a hand, my trusty fiere !
and gie's a hand o' thine !
And we'll tak a right gude-willy waught,
for auld lang syne.
CHORUS
English translation
Should old acquaintance be forgot,
and never brought to mind ?
Should old acquaintance be forgot,
and old lang syne ?
CHORUS:
For auld lang syne, my dear,
for auld lang syne,
we'll take a cup of kindness yet,
for auld lang syne.
And surely you'll buy your pint cup !
and surely I'll buy mine !
And we'll take a cup o' kindness yet,
for auld lang syne.
CHORUS
We two have run about the slopes,
and picked the daisies fine ;
But we've wandered many a weary foot,
since auld lang syne.
CHORUS
We two have paddled in the stream,
from morning sun till dine† ;
But seas between us broad have roared
since auld lang syne.
CHORUS
And there's a hand my trusty friend !
And give me a hand o' thine !
And we'll take a right good-will draught,
for auld lang syne.
CHORUS
Auld Lang Syne. (2013, December 27). In Wikipedia, The Free Encyclopedia. Retrieved from http://en.wikipedia.org/w/index.php?title=Auld_Lang_Syne&oldid=587896303
Photo: Auld Lang Syne, Central Park - circa 1865 - 1898; Robert N. Dennis collection of stereoscopic views. / United States. / States / New York / New York City / Stereoscopic views of sculpture in Central Park, New York City.
Summer Reading 2022-2023: We Of The Never Never
We of the Never Never is an autobiographical novel by Jeannie Gunn first published in 1908. Although published as a novel, it is an account of the author's experiences in 1902 at Elsey Station near Mataranka, Northern Territory in which she changed the names of people to obscure their identities. She published the book under the name Mrs Aeneas Gunn, using her husband's first and last name. Over the years, newspapers and magazine articles chronicled the fortunes of the Elsey characters. Jeannie outlived all but Bett-Bett.
Jeannie Gunn was the first white woman to settle in the Mataranka area. Her husband Aeneas was a partner in the Elsey cattle station on the Roper River, some 483 km (300 miles) south of Darwin. On 2 January 1902 the couple sailed from Melbourne for Port Darwin so that he could take up a job as the station's new manager. In Palmerston, Gunn was discouraged from accompanying her husband to the station on the basis that as a woman she would be "out of place" on a station such as the Elsey. However, she travelled south and her book describes the journey, settling in, and the difficulties of life in the bush. Jennie Gunn lived on the cattle station for about a year before her husband, Aeneas, died of malarial dysentery on March 16th 1903. Jeannie returned to Melbourne shortly afterwards and never returned to the Northern Territory.
The book is regarded as being significant as a precursor of the 1930s landscape writers. Already in 1908 Australia was a significantly urbanised country and the book was seen to provide symbols of things that made Australia different from anywhere else, underwriting an Australian legend of life and achievement in the outback, where "men and a few women still lived heroic lives in rhythm with the gallop of a horse" in "forbidding faraway places".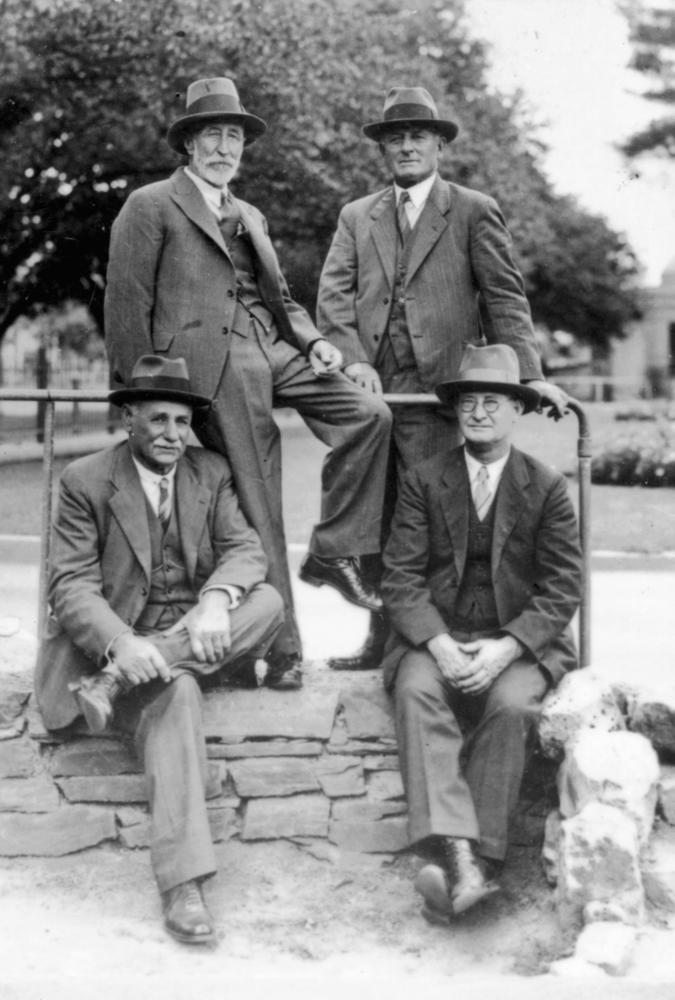 Four of the stockmen from Elsey Station in 1933 who were characterised in "We of the Never Never"
Characters from Aeneas Gunn's book 'We of the Never Never', 1933
Caption: Do you know the men in the above photograph? Probably not, yet thousands of boys and girls throughout Queensland during the past week have had the quartet intimately in their thoughts. They are the originals of characters in 'We of the Never Never', Mrs. Aeneas Gunn's classic tale of early Australian days, which was a textbook for the State scholarship examinations. They worked together on Elsy Station and had the first reunion since those days in 1933 when 'Truth's' photograph was taken. From left to right they are: Irish Mac, The Dandy, Mine Host and The Quiet Stockman. The first-named has since died. The other three are residents of South Australia. (Description supplied with photograph). Photo courtesy State Library of Queensland.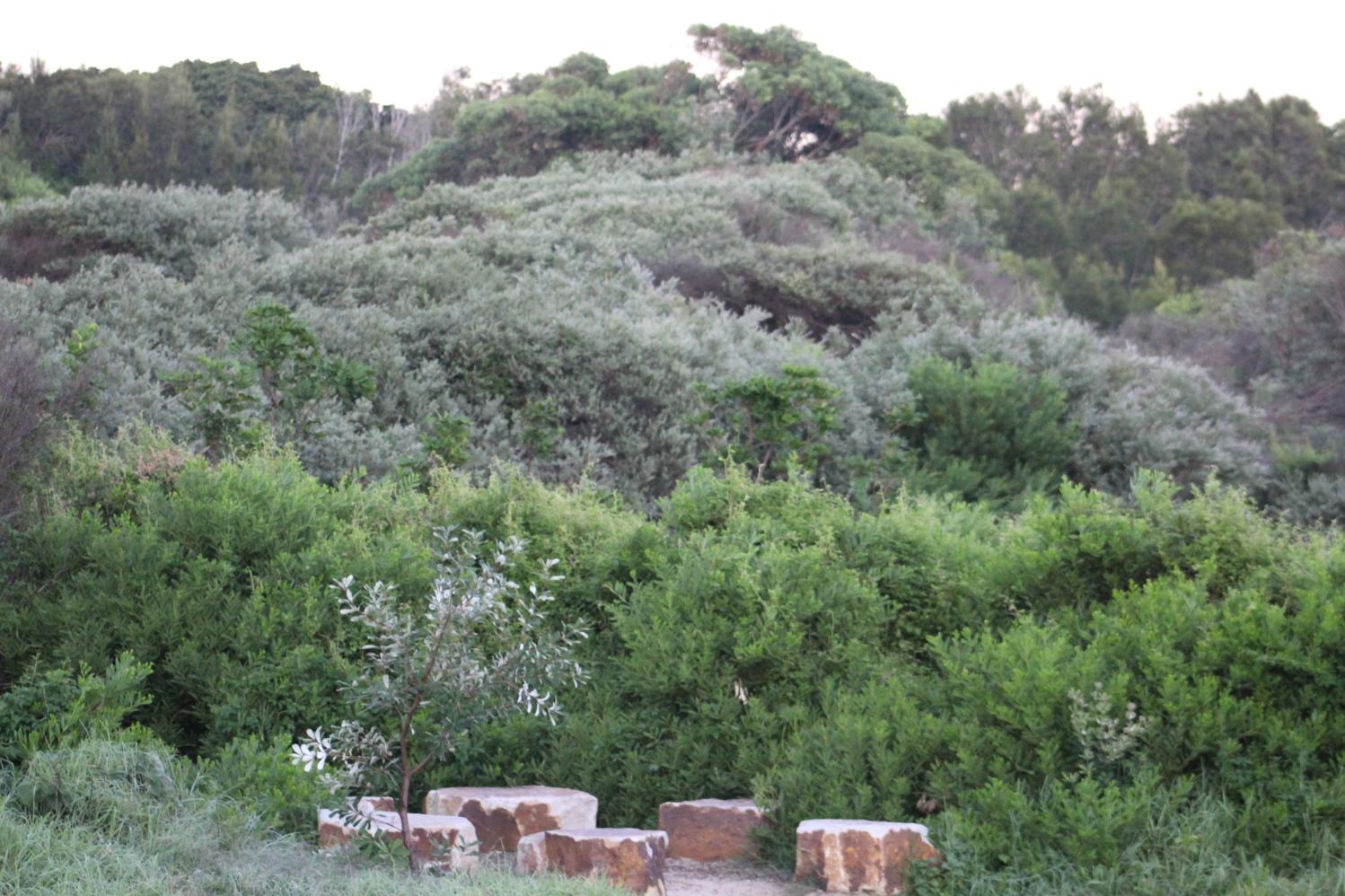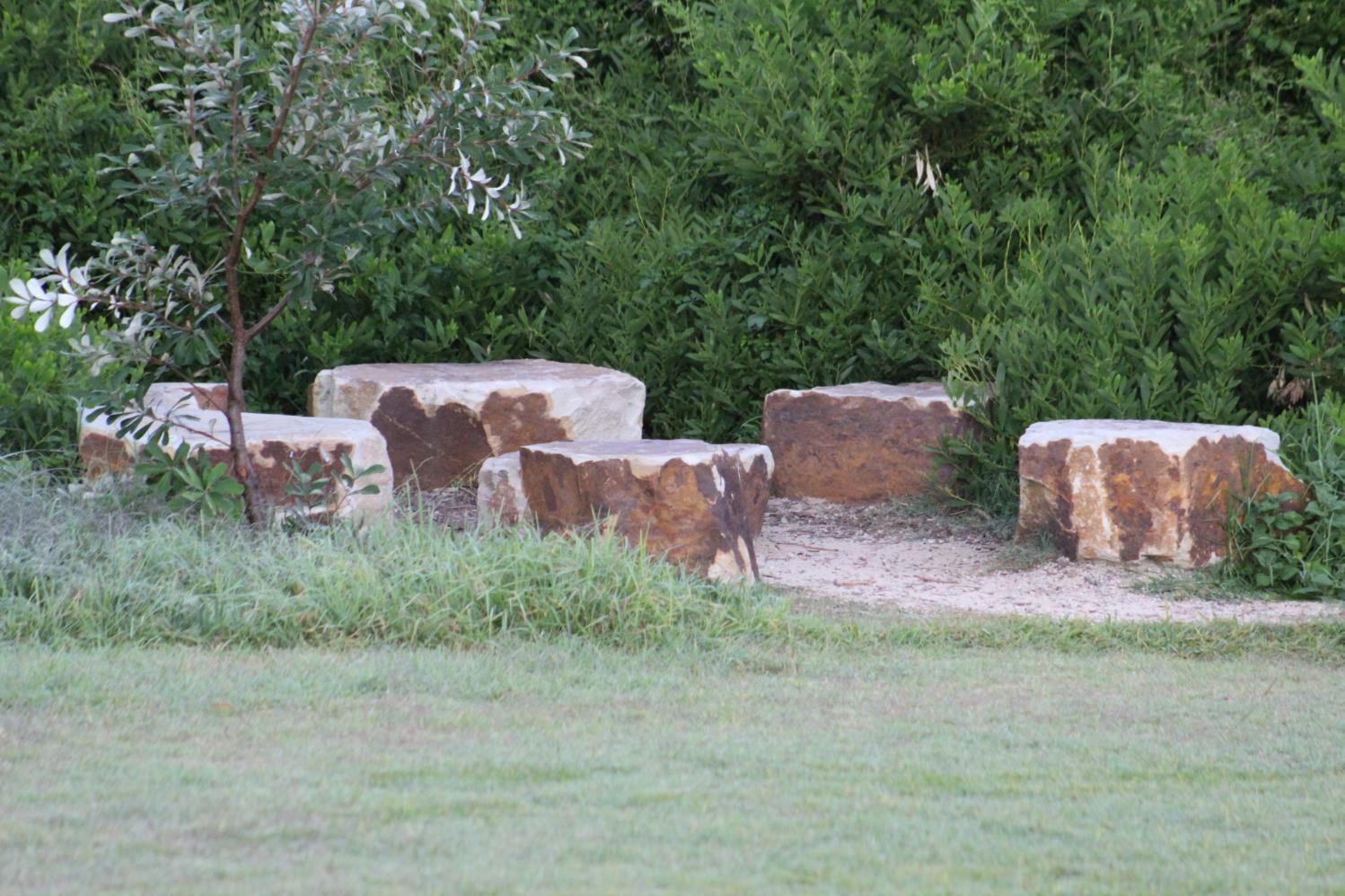 Fire And Rescue NSW Adopts Nation Naming Of Trucks Across NSW: Local Tribes Descendants State These May Need Adjusting
More than 40 Fire and Rescue NSW (FRNSW) stations now display traditional indigenous nation names on their trucks, alongside existing geographical names, in the first tranche of a state-wide rollout.
The nation naming conventions, officially announced in a ceremony today at the Emergency Services Academy in Sydney's west, not only recognise original custodianship but further embed Aboriginal languages and insights in mainstream consciousness.
The approach has successfully been undertaken by FRNSW in the state's New England region and north-west for several years and will now be embraced state-wide.
The first 43 FRNSW stations to adopt nation names as part of the agency-wide rollout include Campbelltown, City of Sydney, Mount Druitt, Redfern and Ropes Crossing.
Each indigenous name has been identified and confirmed with the assistance of community elders, Aboriginal land councils and other cultural representatives.
However, as many of these are disputed, and there have been challenges to some of the Land Councils, who quickly applied for and were granted lands outside of their traditional areas when the legislation was first enacted in 1985, the nations named on trucks in some areas may need adjusting.
For example, in 2002 descendants of the Guringai tribe issued a letter to the Darkingjung Land Council;
" Notification to Cease and desist Misrepresentation of Prehistory Occupation by Aboriginal Peoples In the Area Bounded by Port Jackson in the South, Lake Macquarie in the North and Mangrove Creek in the West - Guringai ( Wannungine/Wannerawa speaking people ) Land "
These coastal Aboriginal tribes were and are known as the Eora people and consist of the Sydney tribes (Kurring-gai / Carigal / Dhurang / Durrouk)
the larger coastal Guringai (Walkeloa clan)
tribes and the Lake Macquarie tribes ( Koompahtoo / Bah Tah Tah / Awakabal ). It is thought that they came to the coast as long as 20,000 years ago. Scientists have proven that the Aboriginal people have been in Australia as long as 65,000 years and newer research is considering back dating that to 110,000 years.
The tribes were based on family groups and consisted of up to 30 people, there were at least 18 family tribes living along the coast and inland and at peak periods it is estimated about 540 individuals existed, the coastal families were located at: Kincumber, Patonga - Pearl Beach, Brisbane Water - Woy Woy - Gosford, Somersby Falls, Erina - Terrigal - Wamberal - Avoca, Ourimbah - Narrara, Jilliby, Tacoma, Tuggerah, Munmora - Norah Head, Cooranbong - Morriset, Mangrove Mountain - Kulnura and Wollombi.
Descendants of Bungaree still live in the Pittwater area. Bungaree was born around the Brisbane Water area in 1775 and was a young lad when Phillip and his party landed in 1789, he met Bass and Flinders when they visited Broken Bay on a survey expedition in 1799. His son Bowen would camp at Barrenjoey headland with his family.
So far they have been denied as being descendants of local indigenous peoples, and a ''seat at the table'' by both the Darkinjung Aboriginal Land Council, which, since its creation under the NSW Aboriginal Land Rights Act 1983 (NSW ALR Act) has been located on the Central Coast of New South Wales, and the Metropolitan Local Aboriginal Land Council, which holds lands in our area.
An extract from that states;
Background to the New South Wales Land Rights Act

''In June 1983 the Wran Labor Government enacted the LRA, which subsequently allowed Aboriginal land councils to claim empty Crown land not needed for essential public purposes. This Act had its initiative in the early South Australian lands trust; in 1974 the New South Wales Coalition government had sponsored the establishment of a Lands Trust. The Trust's main activity was the purchasing of residential properties. In time it became the landlord to around 20 per cent of the State's Indigenous population. Much of this property later ended up as valuable assets for land councils and Aboriginal housing groups. The advent of the Wran Labor Government in 1976 was hailed as a necessary first step towards the granting of inalienable land rights to Indigenous people. After much delay and despite heated debate and opposition from some Indigenous groups, the parliament of New South Wales passed the LRA. It gave certain groups freehold title over current Aboriginal reserves but had no process for claiming former Aboriginal reserves. The only non-reserve land that could be claimed was Crown land that had no future use and was not being used. There was no recognition of traditional ownership (Bennett 1999: 104; Wilkie 1985).

Our traditional custodians were ill-prepared for what followed. Aboriginal Land Councils were established very quickly and began a land grab. This was often without any involvement or consent from local Aboriginal people who were direct descendants of the traditional people of the lands in question. Guringah people generally were still recovering from wearing the brunt of nearly 180 years of physical and psychological trauma (dating from the establishment of Sydney town adjacent to our lands in 1788 through to the 1967 referendum which removed discriminatory clauses from the Australian constitution). These traumas included firstly dispossession of our land, enforced segregation and discrimination, and then assimilation and the denial of our culture.

Guringah people were not fully conversant with the new opportunities that the Act bestowed upon them, nor savvy enough about the workings of the new legal system. There was a lag in the granting of these opportunities and in local resolution as to how to respond to them. Another group of Indigenous people however stepped into the vacuum and took advantage of this significant historical event. We Guringah custodians could not believe other Aboriginal people could act against us to both deny our existence and then steal our traditional lands from under us. But they did and history will show that the medium to allow this was the LRA

.''
''The Office of the Registrar of the Land Rights Act conservatively values these lands at $770 million. The administrator of the New South Wales Aboriginal Land Council believes the figure could be closer to $3 billion. These local Aboriginal land councils could collectively be a larger landowner than Lend Lease or Mirvac. Recent enquiries have revealed that a serious lack of necessary infrastructure has left the door open to corruption. One report makes the claim that land councils have been drawn into questionable dealings by lucrative offers from real-estate developers (Jopson and Ryle 2004: 30).''

''The 2001 census revealed that 135 319 people living in New South Wales identified as Aboriginal (ABS 2002). Almost half of this group was living in financial stress. Most of them were existing on incomes classified as being below the poverty line. Almost one in five was unemployed and one-third lived in sub-standard housing. Of the 135 319 Aboriginal people in the State, only 20 459 or 15 per cent are members of Aboriginal land councils (Jopson and Ryle 2004a: 30). As previously mentioned, the logical deduction is that the great majority of Aboriginal people in the State are not receiving any flow-on benefits from the 1983 Act. Despite their chronic poverty, they have not received any benefit from the 79 000 hectares of land granted to Aboriginal people or the sale of prime coastal property by Aboriginal land councils.




Land lies at the heart of Indigenous cultural heritage. If the land is being managed (and sold) by a small minority of Aboriginal people who have no historical connections with that land—be they spiritual, cultural, intellectual, ceremonial or economic—then surely the claim can be made that the New South Wales Aboriginal land councils are little more than real estate speculators. They are by their own actions usurpers.''
Fire and Rescue NSW has stated locally-designed indigenous artworks will also be emblazoned on the vehicles, unlocking stories and providing a strong sense of belonging and identity.
Minister for Emergency Services and Resilience Stephanie Cooke said the initiative will help broaden the understanding of the more than 30 Aboriginal languages in NSW.
"By introducing nation names on our fire truck fleet, we recognise our history, helping connect with First Nation Australians, and celebrating their heritage across NSW," Ms Cooke said.
FRNSW Commissioner Paul Baxter said this is another step forward in reforms taking place across the agency to help recognise, support and advocate for Aboriginal and Torres Strait Islander peoples.
"Through systematic, and structural changes, FRNSW is committed to strengthening our partnerships with Aboriginal and Torres Strait Islander people. Recognising the traditional owners of the land on which we work is just one step we can take to better reflecting the communities we serve," Commissioner Baxter said.
The move aligns with FRNSW's core belief that diversity drives service quality, innovation and future readiness, as set out in the agency's blueprint for organisational change, known as the 'Plus Plan.'
FRNSW's existing Indigenous Fire and Rescue Employment Strategy (IFARES) program actively targets Aboriginal and Torres Strait Islander people and has resulted in the recruitment of 90 Aboriginal Australian firefighters since its inception.
Station Name - Aboriginal Nation
Aberdeen - Wonnarua / Wanaruah
Abermain - Wonnarua
Albion Park - Wadi Wadi
Albury Central - Wiradjuri
Albury Civic - Wiradjuri
Alexandria - Eora
Alstonville - Bundjalung
Armidale - Anaiwan
Arncliffe - Eora
Ashfield - Eora
Balgownie - Dharawal
Ballina - Bundjalung
Balmain - Eora
Balranald - Paakantji / Ngyiampaa / Mutthi Mutthi
Bangalow - Bundjalung
Bankstown - Darug
Banora Point - Bundjalung
Barham - Ngarrindjeri / Yorta Yorta
Barraba Barrapa - Barrapa
Bateau Bay - Awabakal
Batemans Bay - Bhnduu
Bathurst - Wiradjuri
Batlow - Wiradjuri
Baulkham Hills - Darug
Beecroft - Eora
Bega - Djirringanj
Bellbird - Kulin
Bellingen - Gumbaynggirr
Belmont - Awabakal
Berkeley Vale - Kuring-gai
Berowra - Darug / Guringai
Berrigan - Wiradjuri
Berry - Dhurga / Dharumba
Bingara - Gomeroi
Blackheath - Gundagurra
Blacktown - Darug
Blayney - Wiradjuri
Boggabri - Gamilaraay
Bombala - Eora
Bondi - Eora
Bonnyrigg Heights - Darug
Boorowa - Wiradjuri
Botany - Darug / Eora
Bourke - Nyampaa Ngemba / Wankamarra
Bowral - Tharawal
Bowraville - Gumbaynggirr
Braidwood - Yuin
Branxton - Awabakal
Brewarrina - Nyampaa
Broken Hill - Wiljaali
Broken Hill South - Wiljaali
Brunswick Heads - Gubbi Gubbi
Budgewoi - Darkinjung / Awaba
Bulli - Dharawal
Bundanoon - Dharawal
Bundeena - Dharawal
Burwood - Eora
Busby - Darug
Byron Bay - Bundjalung
Cabramatta - Darug
Camden - Dharawal
Campbelltown - Dharawal
Campsie - Darug
Canowindra - Wiradjuri
Cardiff - Awabakal
Cessnock -
Awaba / Wonnarua
Coffs Harbour -
Gumbaynggirr
Dapto -
Dharawal / Wodi Wodi
Deniliquin -
Wamba Wamba / Baraba Baraba
Denman -
Wonnarua / Wanaruah
Doyalson -
Darkinjung / Awaba
Glen Innes -
Gumbaynggirr
Glenbrook -
Wurundjeri / Woi Wurrung
Gordon -

Kuring-gai / Gurringgai
Gosford -

Darkinjung / Awaba
Goulburn -
Burra Burra / Cookmal / Dharawal / Dharrook / Gundungarra / Lachlan / Mulwaree / Ngunnawal / Pajong / Parramarragoo / Tarlo / Wollondilly / Wiradjuri
Hamlyn Terrace -
Darkinjung / Awaba
Helensburgh -
Dharawal / Wodi Wodi
Jindabyne -
Walgalu / Ngunnawal / Bidhawal
Kariong -

Darkinjung / Awaba
Kearsley -
Awaba / Wonnarua
Kiama -
Dharawal / Wodi Wodi
Lake Cargelligo -
Wiradjuri
Lightning Ridge -
Nyampaa
Liverpool -
Darug / Dharawal
Macksville -
Gumbaynggirr
Macquarie Fields -
Dharawal
Matraville -
Darug / Eora
Menai -
Dharawal / Gweagal
Merriwa -
Wonnarua / Wanaruah
Merrylands -
Darug / Eora
Miranda -
Dharawal / Gweagal
Moruya -
Brinja Djuwin / Walbunja
Mount Victoria -
Wiradjuri
Murrurundi -
Wanaruah / Wonnarua
Murwillumbah -
Bundjalung
Muswellbrook -
Wanaruah / Wonnarua
Nambucca Heads -
Gumbaynggirr
Nowra -
Dhurga / Dharumba
Paxton -
Awaba / Wonnarua
Perisher Valley -
Wiradjuri / Wolgalu / Ngunnawal / Monaro Ngarigo
Queanbeyan -
Ngunnawal / Ngambri
Raymond Terrace -

Wonnarua / Wanaruah
Salamander Bay -
Wonnarua / Wanaruah
Scarborough -
Dharawal / Wodi Wodi
Scone -
Wonnarua / Wanaruah
Shellharbour -
Dharawal / Wodi Wodi
Shoalhaven -
Dharawal / Wodi Wodi
Silverwater -
Darug / Eora
Singleton -
Wonnarua / Wanaruah
South Grafton -
Gumbaynggirr
South West Rocks -
Dunghutti
Stockton -
Wonnarua / Wanaruah
Tea Gardens -
Wonnarua / Wanaruah
Thirroul -
Dharawal / Wodi Wodi
Thredbo -
Ngarigo / Walgalu / Ngunnawal
Tingira Heights -
Awabakal
Tweed Heads -
Bundjalung / Yugambeh
Walcha -
Dunghutti / Anaiwan
Warrawong -
Dharawal / Wodi Wodi
Wentworth Falls -
Gundagurra
West Tamworth -
Kamilaroi
Wollongong -
Dharawal / Wodi Wodi
Woolgoolga -
Gumbaynggirr
Wyong -

Darkinjung / Awaba
Yass -
Ngunnawal / Ngambri
The Bureau Of Meteorology And The NEA Collaborate On Weather, Climate Research In The Maritime Continent
December 6, 2022
The National Environment Agency (NEA) and The Bureau of Meteorology (the Bureau) have signed a Strategic Relationship Arrangement (SRA) to embark on a multi-year collaboration programme on weather and climate research in the Maritime Continent[1] with a focus on the impact in Singapore and the wider Southeast Asian and Indo-Pacific regions.
Under the SRA, the Meteorological Service Singapore (MSS) under NEA and the Bureau will undertake research in areas such as very-short-range weather forecasting for the next 1-2 hours (known as nowcasting) using advanced weather radar data, seasonal prediction and the analysis of regional climate projections data. These research initiatives will contribute to improved prediction of heavy rainfall in Singapore, improved guidance on emerging seasonal climate trends in the region e.g., the El Niño–Southern Oscillation[2] (ENSO), as well as an enhanced understanding of future regional climate change through the sharing and development of novel climate data analysis tools. The outcomes of the joint research will help MSS, and the Bureau deliver enhanced forecast and warning services for decision-making, as well as to guide climate change adaptation plans.
Mr Luke Goh, CEO of NEA, said, "NEA is glad to work with Australia's Bureau of Meteorology, and other world-class partners to better understand the unique tropical weather phenomena in our region. This partnership with the Bureau announced today will improve our understanding and prediction of tropical weather and climate for Southeast Asia and enhance Singapore's weather and climate services."
Dr Andrew Johnson, the Bureau's CEO and Director of Meteorology, said, "The Bureau has a close working relationship with MSS, and we are looking to further strengthening our collaboration by strategically uplifting forecasting capabilities and weather knowledge across the tropics, as well as work focusing on tropical processes and improved radar nowcasting. This collaboration will benefit Singapore and Australia as well as our global partners, as we improve capabilities. Further opportunities will also be explored as this partnership grows and supports the four key objectives which underpin the Bureau's decadal Research and Development Plan."
The new bilateral SRA builds on existing collaborations, including the multilateral Unified Model Partnership, of which MSS and the Bureau are already core members, which plans and develops capabilities of one of the world's leading weather and climate modelling systems. This adoption of a common modelling system for research, forecasting operations and regional climate projections provides a firm basis for advancing the collaboration between MSS and the Bureau.
[1] The Maritime Continent refers to the tropical region between the Indian and Pacific Oceans including the archipelagos of Indonesia, Borneo, the Philippines, and the surrounding seas.
[2] ENSO is a recurring climate phenomenon involving the interaction between the atmosphere and ocean in the tropical Pacific Ocean and can affect weather patterns globally.
While On The Weather: Long-Range Forecast Overview
December to February rainfall is likely (greater than 60% chance) to be above median in eastern parts of the eastern states. Below median rainfall is likely for parts of Western Australia.
December to February maximum temperatures are likely (greater than 60% chance) to be warmer than median for most of Tasmania, and most of northern and western Australia. Below median temperatures are likely for south-eastern parts of Queensland, central and eastern New South Wales and most of Victoria.
December to February minimum temperatures are likely to very likely (greater than 60% to greater than 80% chance) to be warmer than median for most of Australia. Below median temperatures are likely for parts of north-east New South Wales.
This wet outlook over northern and eastern Australia is consistent with several climate drivers, including La Niña, a rapidly decaying negative Indian Ocean Dipole event, a positive phase of the Southern Annular Mode, and record warm waters around Australia.
Transport Of Air Masses In Connection With 'El Niño' Decoded
The El Niño phenomenon influences the weather in distant regions, as far away as the USA, India or the Mediterranean region. But how exactly these so-called teleconnections actually work has not yet been clarified completely. Atmospheric researchers at the University of Vienna have now succeeded in demonstrating that variations of the transport of air mass, heat, moisture and energy from the tropical Pacific are responsible for many of these climate anomalies. And: El Niño also warms up the Atlantic, according to the study recently published in the journal Geophysical Research Letters.
The El Niño Southern Oscillation (ENSO) is one of the most important modes of climate variability worldwide, with large impacts on the weather conditions in many regions, and thus on agriculture and economy. It is related to changes in the sea surface temperatures in the Tropical Pacific Ocean. Periods with higher temperatures cause the so-called El Niño phenomenon. This phenomenon causes pronounced weather anomalies in many regions around the world, for example, droughts in the Amazon basin. These far-ranging impacts are called teleconnections.
Breakthrough regarding the role of air mass transport
Despite of a lot of research that has been done on ENSO, the mechanisms behind the observed teleconnections are still not well understood. Researchers at the University of Vienna now made a breakthrough in our understanding of the role of air mass transport in these teleconnections. They found that variations of the transport of air mass, heat, moisture and energy from the Tropical Pacific are causally responsible for many of the observed climate anomalies.
Katharina Baier, first author of the study and Early Career Researcher at the Department of Meteorology and Geophysics of the University of Vienna, explains: "The main benefit of our study is the different perspective on teleconnections, as we look at how the heat and moisture from the Pacific Ocean is transported via the atmosphere. We can thus establish a direct connection between the Pacific and remote regions. For instance, we can show that anomalously dry air is transported towards the Amazon Basin during El Niño, causing droughts there. In contrast, anomalously moist air is transported toward the southeastern U.S., which favours increased precipitation."
El Niño is also warming the Atlantic ocean
Andreas Stohl from the University of Vienna, who has led the study which is now published in the journal Geophysical Research Letters, points out: "Our results contribute to the understanding of weather phenomena worldwide, for instance also in Australia, Africa, or the Mediterranean. In addition, we can show that anomalously large amounts of heat are transported from the Tropical Pacific towards the Atlantic Ocean during El Niño, which then responds by warming." Stohl is also head of the Department of Meteorology and Geophysics as well as the Research Network "VINAR."
Methodologically, the research team at the University of Vienna relied on atmospheric dispersion models, the so-called Lagrangian models. While conventional models record meteorological parameters such as humidity or temperature at certain positions, Lagrangian models follow the individual particles and capture how the meteorological parameters change along their way. These models can also be used to analyze the dispersion of particles such as soot, microplastics, or greenhouse gases.
K. Baier, M. Duetsch, M. Mayer, L. Bakels, L. Haimberger, A. Stohl.
The role of atmospheric transport for El Niño‐Southern Oscillation teleconnections
. Geophysical Research Letters, 2022; DOI:
10.1029/2022GL100906
Winners Of The NSW Crown Land Awards: Ku-Ring-Gai Council Wins Award For Excellence For Transforming St Ives Showground: New Cultural - Environmental Education Centre Planned For 2023
Minister for Lands and Water Kevin Anderson has congratulated the winners of the prestigious NSW Government Community Achievement Awards for their outstanding work maintaining and improving Crown reserves.
"These awards recognise the volunteers and organisations whose wonderful work ensures that local residents and visitors can enjoy top-quality facilities for recreation and community activities," Mr Anderson said.
"The winners are among thousands of Crown land managers, mostly locals who donate their own time and do an amazing job improving and maintaining some of the 34,000 Crown reserves across NSW."
The Department of Planning and Environment – Crown Lands sponsored three categories of the Community Achievement Awards for Regional NSW and the ACT.
Jone Pavelic won the Individual Excellence in Crown Land Management Award as chair of the Temora Showground Land Manager, overseeing a multi-use facility that is central to community life. Jone leads by example as the front-line point of contact taking all bookings for the showground and its caravan park.
The volunteer board members who manage Oberon Showground won the Crown Land Management Excellence Award for improving facilities
. They installed sensor security lights throughout the grounds, new water taps in the camping area and set up a Facebook page to keep the community up to date on activities.
Ku-ring-gai Council won the Council Crown Land Management Excellence Award for transforming
the St Ives Showground site with upgrades supported by the NSW Government worth millions of dollars. The council opened St Ives Showground Regional Playground in 2020 and Treetops Adventure Park in 2021.
Crown reserves are critical for supporting recreation, culture and the economies of local communities across the state and provide land for everything from showgrounds, racecourses and surf lifesaving clubs to parks, sporting venues and public halls.
Mayor Jeff Pettett received the award on behalf of Ku-ring-gai Council at the presentation.
Ku-ring-gai Council was recognised for its Plan of Management for the St Ives Showground, which was conducted following extensive consultation with the Ku-ring-gai community and key stakeholders. The Plan of Management initiatives included opening the St Ives Showground Regional Playground in December 2020 and the Treetops Adventure Park in November 2021. Council also implemented upgrades and improvements using the Covid-19 stimulus package.
The strategic vision of the St Ives Showground is for it to be a foundation for building strong connections between agriculture, entertainment, recreation, the environment and education whilst respecting the natural environment and beauty.
Mayor Jeff Pettett said he was pleased to see St Ives Showground continue to grow and become a much-valued regional recreation and major events destination for Ku-ring-gai and the wider Sydney.
"St Ives Showground is a busy hub of recreational activities, including walking, picnics, equestrian events, cycling, dog training club and off-leash areas, model plane flying club, radio controlled car club car and as well as, sports training and competitions, markets, playgrounds, environmental education, Community Shed and the annual Agricultural and Horticultural Show, all within a bushland setting"
"There is also more to look forward to with Council currently in the detailed design stage for a new Environmental and Cultural Centre to open onsite in 2023".
The new Cultural and Environmental Education Centre aims to be an exciting space for increasing environmental awareness throughout the Ku-ring-gai community. Located at the St Ives Showground, the building and surrounds will facilitate community workshops, seminars, functions and events for all ages. It will also connect with the range of programs currently on offer at the neighbouring Ku-ring-gai Wildflower Garden.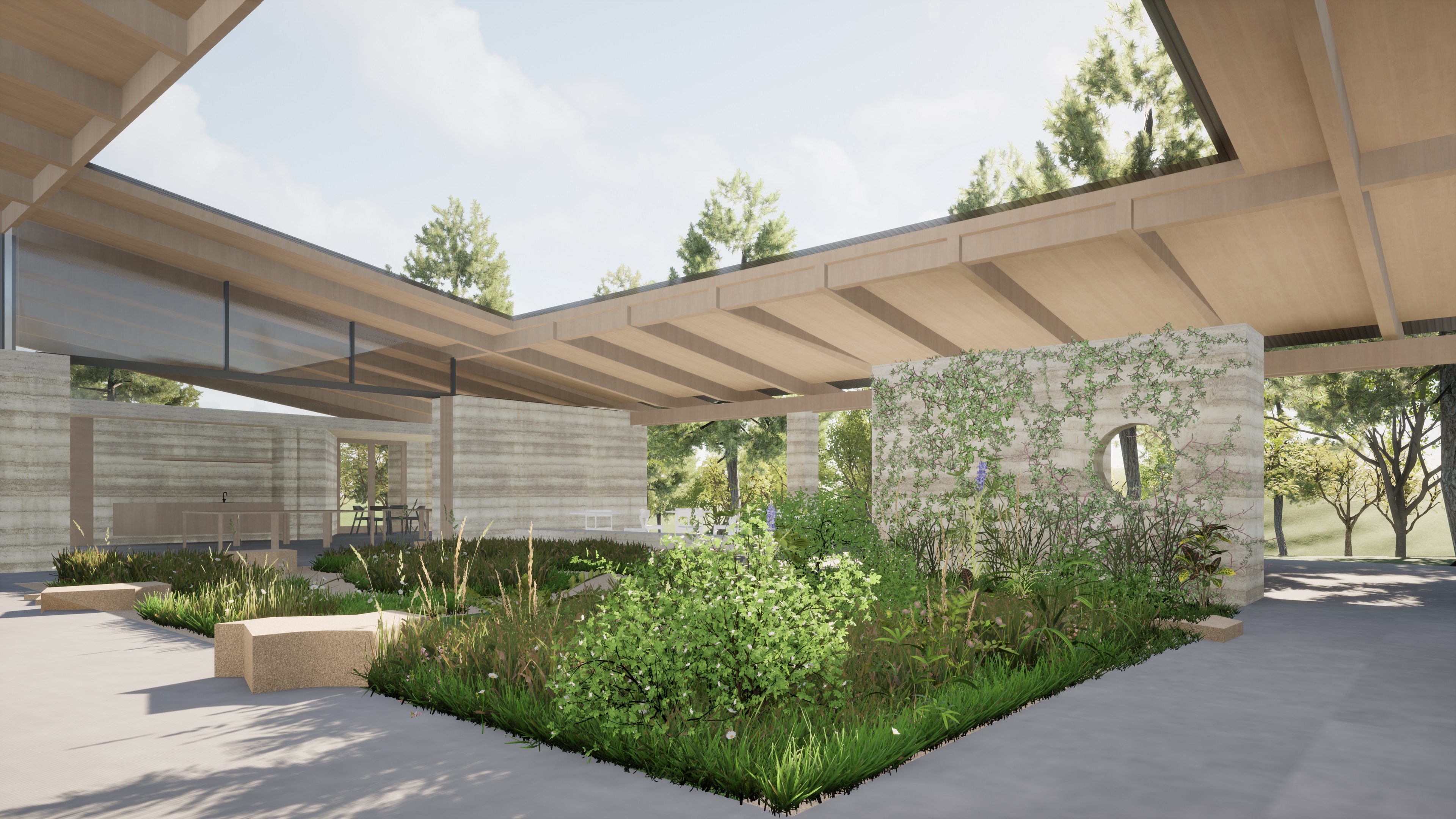 Artists drawing of the new Cultural and Environmental Education Centre courtyard. Image:
Ku-ring-gai Council
Bioinspiration & Dynamic Proteins Among 2023 Discovery Projects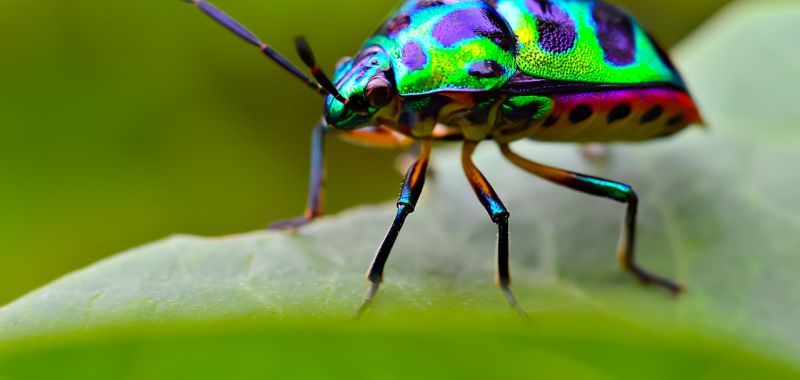 Five Exciton Science Associate Investigators were among the successful applicants for the Australian Research Council's 2023 Discovery Projects.
RMIT University's Daniel Gomez is part of a project aiming to fabricate 2D soft plasmonic photocatalysts with leaf-like structures and functions for solar-to chemical energy conversions.
The researchers hope to increase our understanding of plasmon-enhanced photocatalysis mechanisms, and construct artificial leaves to perform the solar-to-chemical conversions, which can provide significant benefits, such as creating a new generation of soft energy devices and advancing Australian expertise in photochemistry, self-assembly, and functional nanomaterials.
Andrew Christofferson, also at RMIT University, and his collaborators will address critical issues in studying proteins outside their native environments by developing new solvents that will increase their stability and solubility.
The project expects to create new knowledge in our understanding of solvent chemical properties through a novel approach using high throughput robotics, synchrotron analysis of protein structures and Molecular Dynamics simulations.
The expected outcome is a set of design rules for creating new solvents. This should benefit many research and industrial applications, including determining protein structure for the development of new drugs and biocatalysts, and cryopreservation of protein-based pharmaceuticals.
Lars Goerigk of the University of Melbourne and Monash University's Chris Ritchie will be part of a team examining proteins, which perform almost every task that enables the amazing complexity of cellular and whole organism physiology.
These molecular machines perform this incredible array of tasks due to their ability to dynamically change shape. For the vast majority of these machines, we can only view a snapshot of the possible shapes they can adopt and can't monitor how they change from one shape to another, which is critical for their functioning.
This project aims to develop and apply a completely new method to visualise dynamic changes in protein shape which is not possible with current techniques. This will allow us to provide a new description and understanding of the function of proteins, which is fundamental to all biology.
The University of Melbourne's Ann Roberts and her colleagues will seek to discover the nano-structural properties of beetles that enable effective management of solar and thermal radiation in different environments.
A further aim is to reveal how these composite biological materials combine thermal control with desirable mechanical properties, such as strength and flexibility. Passive control of radiative energy is critical for both animal survival and for the design of many manufactured materials, particularly in a warming world.
This interdisciplinary project will provide new knowledge of the different ways that biological materials mediate radiative energy exchange with the environment. This knowledge is essential for the design of bioinspired, energy-efficient, multi-functional materials.
Read more about the first round of 2023 ARC Discovery Projects below.
More Than $221 Million ARC Discovery Projects Announced For 2023
The Australian Research Council (ARC) Chief Executive Officer, Ms Judi Zielke PSM, has announced funding of more than $221 million for 478 new projects through the ARC Discovery Projects scheme.
Ms Zielke said that the Discovery Projects scheme supports individual researchers or research teams to innovate and build the 'new' knowledge essential for a knowledge-based economy.
"Funding these cutting-edge research projects will expand the knowledge base and research capacity in Australia." Ms Zielke said.
"Projects will deliver significant outcomes in fields such as advanced manufacturing, cybersecurity, environmental change, health, and water."
"The ARC funds world-class excellence across a wide range of scientific fields. This includes projects to better understand the history of the Torres Strait through sport, improving techniques for primary school learning, and fundamental 'blue-sky' research that will expand the horizon of our knowledge of the universe."
Discovery Projects, a flagship scheme for fundamental research and the largest scheme under the ARC National Competitive Grants Program, provides funding of between $30,000 and $500,000 each year for up to 5 consecutive years. Among other things, funding can be used to support research associates or assistants and technicians, access to research and infrastructure facilities, technical workshop services, essential field research, equipment and consumables, and the publication and dissemination of findings.
Among the successful Discovery Projects to commence in 2023 are:
University of Southern Queensland
($399,000): Carbon fibre thermoplastics as next-generation carbon fibre composites. Carbon Fibre Composites (CFCs) are extremely strong and lightweight materials used in manufacturing, particularly in the aerospace industry. This project, using malleable polymer resin, will develop new CFCs enabling rapid production, reduced manufacturing costs, and the potential for materials to be reprocessed and recycled. This will help Australia's advanced manufacturing capability as new applications are identified in broader industries like automotive, wind energy, marine, oil and gas, and hydrogen storage.
University of Technology Sydney
($482,000): Deep Learning Attacks and Active Defences. This project will develop sophisticated cybersecurity techniques to provide active protection measures against attacks on artificial intelligence (AI) systems that process data, including making the detection of threats quicker, more reliable, and more affordable. The security and privacy tools developed are expected to be adopted by a wide variety of organisations using AI software, especially in critical sectors such as banking/securities, trade/customs, telecommunications, government decision-making and power grid control, plus transport and autonomous vehicles.
University of Newcastle
($660,000): Towards 2050 - managing recovery of Australia's coral reefs. This project will provide information on how historical temperatures and bleaching severity impact reef recovery. With increasing ocean temperatures this information will support coral reef managers in Australia and internationally to make decisions to mitigate long term impacts of coral bleaching.
University of Western Australia
($565,000): Brain-skull interface - discovering the missing piece of head biomechanics. Every year in Australia over 22,000 people suffer a traumatic brain injury and over 12,000 neurosurgical operations are performed. This research will help create software that will design safety devices to prevent traumatic brain injury as well as surgical simulations to improve surgery accuracy and safety by integrating our knowledge of brain biomechanics with advanced computer modelling techniques.
University of Tasmania
($475,000): Eruption dynamics and tsunami potential from submarine volcanoes. Using recently acquired ship-based geophysics and seafloor samples, this project will uncover the dynamics of large scale catastrophic volcanic eruptions. Partnerships with international experts will unlock the expertise needed to model eruption and tsunami dynamics and increase our knowledge of the volcanic hazards in our region to inform tsunami risk and mitigation policies.
University of Adelaide
($530,000): Integrated nonmetal-metal single-atom catalysis for selective synthesis. New cutting-edge technology will be integrated at low cost into waste recycling and wastewater treatment plants. New green catalysts will be developed that can remove persistent organic pollutants in water without producing large amounts of toxic and hazardous wastes.
University of Queensland
($391,000): Torres Strait Islander History - Sport, Culture, and Identity. This project will examine the history of the Torres Strait through its local, national, and international sporting past and provide a body of literature and resources for national communities, schools, and scholars to better understand the uniqueness of Torres Strait Islander history, cultures, and identities.
University of Canberra
($344,000): Spatial intervention: An enduring model to build mathematics achievement. This project will develop innovative teaching and learning techniques to engage primary-school children with mathematics. Developing students' critical spatial reasoning skills will support successful outcomes in school-level mathematics for all students, including those from marginalised groups and regional in areas.
Swinburne University of Technology
($375,000): Unveiling the dead and dusty Universe with the James Webb Space Telescope. Researchers from Swinburne will join researchers from leading institutes in the USA, Europe, and Israel to discover the first mature galaxies formed after the Big Bang by revealing galaxies previously obscured by dust.
For further information about the excellent basic and applied research funded by the ARC through the Discovery Projects scheme, please visit
Discovery Projects
.
Built To Last: The Perovskite Solar Cells Tough Enough To Match Mighty Silicon
Researchers at Oxford University and Exciton Science have demonstrated a new way to create stable perovskite solar cells, with fewer defects and the potential to finally rival silicon's durability.
By removing the solvent dimethyl-sulfoxide and introducing dimethylammonium chloride as a crystallisation agent, the researchers were able to better control the intermediate phases of the perovskite crystallisation process, leading to thin films of greater quality, with reduced defects and enhanced stability.
Large groups of up to 138 sample devices were then subjected to a rigorous accelerated ageing and testing process at high temperatures and in real-world conditions.
Formamidinium-caesium perovskite solar cells created using the new synthesis process significantly outperformed the control group and demonstrated resistance to thermal, humidity and light degradation.
This is a strong step forward to matching commercial silicon's stability and makes perovskite-silicon tandem devices a much more realistic candidate for becoming the dominant next-generation solar cell.
Led by Professor Henry Snaith (Oxford University) and Professor Udo Bach (Monash University), the work has been published in the journal Nature Materials and is available here.
Oxford University PhD student Philippe Holzhey, a Marie Curie Early Stage Researcher and joint first author on the work, said: "It's really important that people start shifting to realise there is no value in performance if it's not a stable performance.
"If the device lasts for a day or a week or something, there's not so much value in it. It has to last for years."
During testing, the best device operated above the T80 threshold for over 1,400 hours under simulated sunlight at 65°C. T80 is the time it takes for a solar cell to reduce to 80% of its initial efficiency, a common benchmark within the research field.
Beyond 1,600 hours, the control device fabricated using the conventional dimethyl-sulfoxide approach stopped functioning, while devices fabricated with the new, improved design retained 70% of their original efficiency, under accelerated aging conditions.
The same degradation study was performed on a group of devices at the very high temperature of 85°C, with the new cells again outperforming the control group.
Extrapolating from the data, the researchers calculated that the new cells age by a factor of 1.7 for each 10°C increase in the temperature they are exposed to, which is close to the 2-fold increase expected of commercial silicon devices.
Dr David McMeekin, the corresponding and joint first author on the paper, was an Australian Centre for Advanced Photovoltaics (ACAP) Postdoctoral Fellow at Monash University and is now a Marie Skłodowska-Curie Postdoctoral Fellow at Oxford University.
He said: "I think what separates us from other studies is that we've done a lot of accelerated aging. We've aged the cells at 65°C and 85°C under the whole light spectrum."
The number of devices used in the study is also significant, with many other perovskite research projects limited to just one or two prototypes.
"Most studies only show one curve without any standard deviation or any kind of statistical approach to determine if this design is more stable than the other," David added.
The researchers hope their work will encourage a greater focus on the intermediate phase of perovskite crystallisation as an important factor in achieving greater stability and commercial viability.
This work was supported by the Stanford Linear Accelerator Center (SLAC) and the National Renewable Energy Laboratory (NREL).
Background: About Perovskites
Artificially synthesised in laboratory conditions, semiconductor thin films made up of perovskite compounds are far cheaper to make than silicon solar cells, with greater flexibility and a tunable band gap.
They emerged unexpectedly in the last decade and have reached impressive power-conversion efficiencies of over 25%.
However, too much focus has been placed on creating the most efficient perovskite solar cell, rather than resolving the fundamental problems inhibiting the material from being used in widespread commercial applications.
Compared to silicon, perovskites can degrade rapidly in real world conditions, with exposure to heat and moisture causing damage and negatively impacting device performance.
Solving these stability issues is the key challenge for perovskites in their quest to take on, or "boost" silicon via a tandem architecture and take their place in the commercial photovoltaics landscape.
David P. McMeekin, Philippe Holzhey, Sebastian O. Fürer, Steven P. Harvey, Laura T. Schelhas, James M. Ball, Suhas Mahesh, Seongrok Seo, Nicholas Hawkins, Jianfeng Lu, Michael B. Johnston, Joseph J. Berry, Udo Bach, Henry J. Snaith.
Intermediate-phase engineering via dimethylammonium cation additive for stable perovskite solar cells.
Nature Materials, 2022; DOI:
10.1038/s41563-022-01399-8
Countries Bet On Forests And Soils To Reach Net-Zero
New research by the University of East Anglia highlights the risks of countries relying on nature-based solutions to achieve net-zero.
National climate strategies set out how countries plan to reduce emissions, for example by phasing out fossil-fuel use, to get to net-zero in 2050. The study found, once the bulk of emissions have been reduced, countries plan to 'cancel out' the left-over difficult to decarbonise emissions, such as those from agriculture, by using forests and soils to remove carbon from the atmosphere.
However, this may prove risky because forests and soils are also threatened by a range of impacts, such as fire, disease, changes in farming practices or deforestation. These mean forests and soils could lose their stored carbon back to the atmosphere.
There is also a risk of being over optimistic about the amount of carbon forests and soils can remove to reach net zero, especially if combined with delays to reducing emissions from coal, oil, and gas.
The findings, published in the journal Communications Earth & Environment, show that most of the strategies submitted to the United Nations Framework Convention on Climate Change (UNFCCC) do not quantify the amount of carbon 'removals' needed in 2050.
With progress on reducing emissions stalling at COP27, the researchers call for the reporting requirements on long-term national climate plans to be urgently strengthened.
"The deployment of carbon dioxide removal is essential to reach global and national net-zero emissions targets, but little attention has been paid to its practical deployment by countries," said the study's lead author Harry Smith, a Leverhulme Trust Doctoral Scholar in the School of Environmental Sciences and Tyndall Centre for Climate Change Research at UEA.
"Nature-based removals, such as using forests and soils, remain vital to address challenges in biodiversity and climate adaptation, but may be risky if used as the only way to remove carbon. Countries should also explore engineered carbon removal methods. To meet the challenge of net-zero, we need both."
The study analysed how Carbon Dioxide Removal (CDR) methods -- which remove CO2 from the atmosphere and permanently store it in forests, soils, the oceans, or underground geological formations -- are integrated into climate strategies.
It groups the methods into 'nature-based CDR', for example storing carbon in forests, soils, or coastal habitats, and 'engineered-CDR', storing carbon deep underground through biomass energy with carbon capture and storage or direct air carbon capture and storage.
Despite being central to net-zero ambitions, the research finds CDR is rarely made explicit in policy plans. Some countries such as France look to engineered removals as a possible long-term solution. Others, such as Australia and Latvia, look to the potential of international cooperation and the creation of carbon markets to transfer removals between countries.
Meanwhile the UK is investing in research and development for engineered-CDR and has a near-term 2030 target for the amount of carbon removed by these methods.
Since the adoption of the Paris Agreement in 2015, more than 124 countries have agreed to a net-zero emissions target, defined as a balance of emission sources and anthropogenic removals.
Unlike many studies, which focus on short-term pledges to 2030 published by countries, otherwise known as 'Nationally Determined Contributions' or 'NDCs', this study focuses on long-term national climate strategies.
Officially called 'long-term low emission development strategies' or 'LT-LEDS', these often represent modelled scenarios or pathways to 2050 or beyond, providing for greater engagement with CDR than NDCs.
"Long-term national climate strategies are an important tool to think through carbon dioxide removal at the national level and we advocate that they should be made compulsory under the UNFCCC, as opposed to their current optional status," said Mr Smith.
The study examined 41 LT-LEDS submitted to the UNFCCC before the start of 2022, capturing those published in and around COP26 -- and totalling 3,885 pages -- to determine how countries quantify and discuss CDR. The analysed strategies are mostly from the Global North and cover 58% of global 2019 greenhouse gas emissions and around 74% of global GDP.
The findings show that enhancing forest and soil carbon sinks are the most advocated strategies but are only explicitly quantified in 12. Remaining difficult to decarbonise emissions by 2050 are only quantified in 20 strategies and most of them use forests to achieve national net-zero targets.
Strategies that quantify both the remaining difficult to decarbonise emissions and carbon dioxide removal identify national constraints, such as wildfire risks to forests and limited geological CO2 storage capacity. Strategies also highlight the need for international cooperation.
Co-author Dr Naomi Vaughan, Associate Professor in Climate Change at UEA, said: "With more countries submitting long-term national climate strategies during COP27, the UNFCCC should urgently strengthen its reporting requirements.
"Carbon dioxide removal is an important part, together with reducing emissions, of how countries will reach net zero. National level analysis is needed to determine how countries plan on incentivising different CDR methods.
"This combines with an urgent need to scale-up efforts to reduce emissions and develop CDR methods to meet the scales needed to reach Paris Agreement temperature targets."
Harry B. Smith, Naomi E. Vaughan, Johanna Forster.
Long-term national climate strategies bet on forests and soils to reach net-zero.
Communications Earth & Environment, 2022; 3 (1) DOI:
10.1038/s43247-022-00636-x
New Battery Technology Has Potential To Significantly Reduce Energy Storage Costs
An international team of researchers are hoping that a new, low-cost battery which holds four times the energy capacity of lithium-ion batteries and is far cheaper to produce will significantly reduce the cost of transitioning to a decarbonised economy.
Led by Dr Shenlong Zhao from the University of Sydney's School of Chemical and Biomolecular Engineering, the battery has been made using sodium-sulphur -- a type of molten salt that can be processed from sea water -- costing much less to produce than lithium-ion.
Although sodium-sulphur (Na-S) batteries have existed for more than half a century, they have been an inferior alternative and their widespread use has been limited by low energy capacity and short life cycles.
Using a simple pyrolysis process and carbon-based electrodes to improve the reactivity of sulphur and the reversibility of reactions between sulphur and sodium, the researchers' battery has shaken off its formerly sluggish reputation, exhibiting super-high capacity and ultra-long life at room temperature.
The researchers say the Na-S battery is also a more energy dense and less toxic alternative to lithium-ion batteries, which, while used extensively in electronic devices and for energy storage, are expensive to manufacture and recycle.
Dr Zhao's Na-S battery has been specifically designed to provide a high-performing solution for large renewable energy storage systems, such as electrical grids, while significantly reducing operational costs.
According to the Clean Energy Council, in 2021 32.5 percent of Australia's electricity came from clean energy sources and the industry is accelerating. Household energy storage is also growing. According to a recent report a record 33,000 batteries were installed in 2021.
"Our sodium battery has the potential to dramatically reduce costs while providing four times as much storage capacity. This is a significant breakthrough for renewable energy development which, although it reduces costs in the long term, has had several financial barriers to entry," said lead researcher Dr Zhao.
"When the sun isn't shining and the breeze isn't blowing, we need high-quality storage solutions that don't cost the Earth and are easily accessible on a local or regional level.
"We hope that by providing a technology that reduces costs we can sooner reach a clean energy horizon. It probably goes without saying but the faster we can decarbonise -- the better chances we have of capping warming.
"Storage solutions that are manufactured using plentiful resources like sodium -- which can be processed from sea water -- also have the potential to guarantee greater energy security more broadly and allow more countries to join the shift towards decarbonisation."
The lab-scale batteries (cion batteries) have been successfully fabricated and tested in the University of Sydney's chemical engineering facility. The researchers now plan to improve and commercialise the recently fabricated Ah-level pouch cells.
Bin‐Wei Zhang, Liuyue Cao, Cheng Tang, Chunhui Tan, Ningyan Cheng, Wei‐Hong Lai, Yun‐Xiao Wang, Zhen‐Xiang Cheng, Juncai Dong, Yuan Kong, Shi‐Xue Dou, Shenlong Zhao.
Atomically Dispersed Dual‐Site Cathode with a Record High Sulfur Mass Loading for High‐Performance Room‐Temperature Sodium–Sulfur Batteries.
Advanced Materials, 2022; 2206828 DOI:
10.1002/adma.202206828
The researchers declare no competing interests. The research involved contributions from researchers at Chongqing University, University of Adelaide, University of Wollongong, Chinese Academy of Sciences, Beijing, and the University of Science and Technology China. It was funded by The Australian Research Council, National Natural Science Foundation of China, Fundamental Research Funds for the Central Universities and the Ministry of Science and Technology China.

Meteorites Plus Gamma Rays Could Have Given Earth The Building Blocks For Life
Even as detailed images of distant galaxies from the James Webb Space Telescope show us more of the greater universe, scientists still disagree about how life began here on Earth. One hypothesis is that meteorites delivered amino acids -- life's building blocks -- to our planet. Now, researchers reporting in ACS Central Science have experimentally shown that amino acids could have formed in these early meteorites from reactions driven by gamma rays produced inside the space rocks.
Ever since Earth was a newly formed, sterile planet, meteorites have been hurtling through the atmosphere at high speeds toward its surface. If the initial space debris had included carbonaceous chondrites -- a class of meteorite whose members contain significant amounts of water and small molecules, such as amino acids -- then it could have contributed to the evolution of life on Earth. However, the source of amino acids in meteorites has been hard to pinpoint.
In previous lab experiments, Yoko Kebukawa and colleagues showed that reactions between simple molecules, such as ammonia and formaldehyde, can synthesize amino acids and other macromolecules, but liquid water and heat are required. Radioactive elements, such as aluminum-26 (26Al) -- which is known to have existed in early carbonaceous chondrites -- release gamma rays, a form of high-energy radiation, when they decay. This process could have provided the heat needed to make biomolecules. So, Kebukawa and a new team wanted to see whether radiation could have contributed to the formation of amino acids in early meteorites.
The researchers dissolved formaldehyde and ammonia in water, sealed the solution in glass tubes and then irradiated the tubes with high-energy gamma rays produced from the decay of cobalt-60. They found that the production of α-amino acids, such as alanine, glycine, α-aminobutyric acid and glutamic acid, and β-amino acids, such as β-alanine and β-aminoisobutyric acid, rose in the irradiated solutions as the total gamma-ray dose increased.
Based on these results and the expected gamma ray dose from the decay of 26Al in meteorites, the researchers estimated that it would have taken between 1,000 and 100,000 years to produce the amount of alanine and β-alanine found in
the Murchison meteorite, which landed in Australia in 1969.
This study provides evidence that gamma ray-catalysed reactions can produce amino acids, possibly contributing to the origin of life on Earth, the researchers say.
The authors acknowledge funding from the Japan Society for the Promotion of Science KAKENHI.
The Murchison meteorite is a meteorite that fell in Australia in 1969 near Murchison, Victoria. It belongs to the carbonaceous chondrite class, a group of meteorites rich in organic compounds. Due to its mass (over 100 kg or 220 lb) and the fact that it was an observed fall, the Murchison meteorite is one of the most studied of all meteorites.
In January 2020, cosmochemists reported that the oldest material found on Earth to date are the silicon carbide particles from the Murchison meteorite, which have been determined to be 7 billion years old, about 2.5 billion years older than the 4.54-billion-year age of the Earth and the Solar System.[a] The published study noted that "dust lifetime estimates mainly rely on sophisticated theoretical models. These models, however, focus on the more common small dust grains and are based on assumptions with large uncertainties."
On 28 September 1969 at approximately 10:58 a.m. local time, near Murchison, Victoria, in Australia, a bright fireball was observed to separate into three fragments before disappearing, leaving a cloud of smoke. About 30 seconds later, a tremor was heard. Many fragments were found scattered over an area larger than 13 square kilometres (5.0 sq mi), with individual mass up to 7 kilograms (15 lb); one, weighing 680 grams (1.5 lb), broke through a roof and fell in hay. The total collected mass of the meteorite exceeds 100 kilograms (220 lb).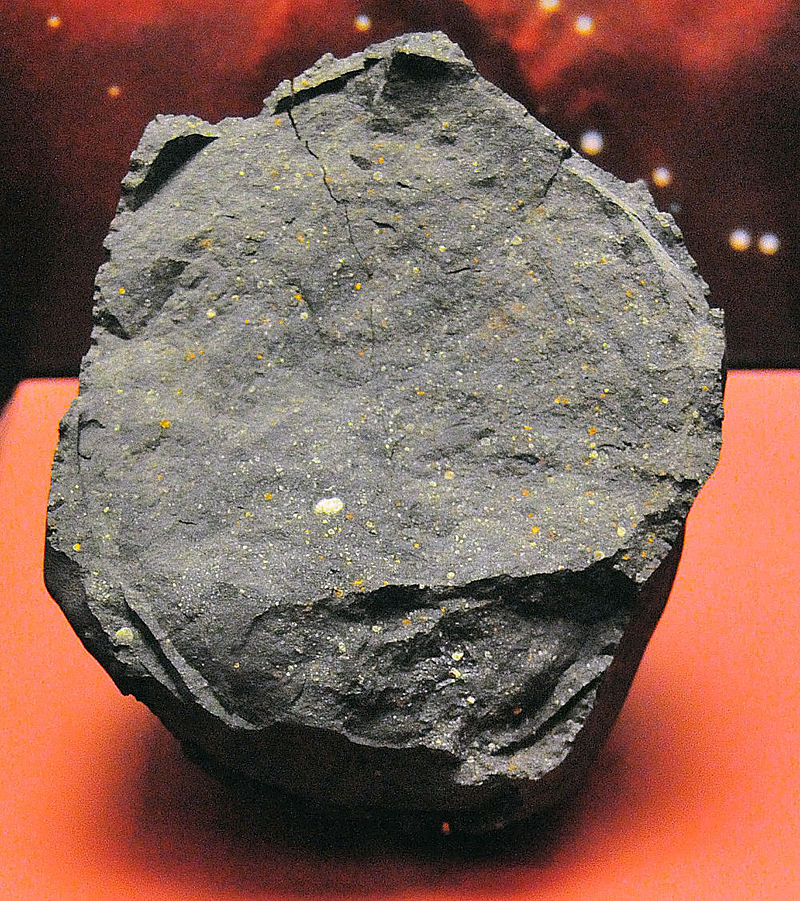 A Murchison meteorite specimen at the National Museum of Natural History, Washington, D.C.
Yoko Kebukawa, Shinya Asano, Atsushi Tani, Isao Yoda, Kensei Kobayashi.
Gamma-Ray-Induced Amino Acid Formation in Aqueous Small Bodies in the Early Solar System
. ACS Central Science, 2022; DOI:
10.1021/acscentsci.2c00588
Fossil Overturns More Than A Century Of Knowledge About The Origin Of Modern Birds
Fossilised fragments of a skeleton, hidden within a rock the size of a grapefruit, have helped upend one of the longest-standing assumptions about the origins of modern birds.
Researchers from the University of Cambridge and the Natuurhistorisch Museum Maastricht found that one of the key skull features that characterises 99% of modern birds -- a mobile beak -- evolved before the mass extinction event that killed all large dinosaurs, 66 million years ago.
This finding also suggests that the skulls of ostriches, emus and their relatives evolved 'backwards', reverting to a more primitive condition after modern birds arose.
Using CT scanning techniques, the Cambridge team identified bones from the palate, or the roof of the mouth, of a new species of large ancient bird, which they named Janavis finalidens. It lived at the very end of the Age of Dinosaurs and was one of the last toothed birds to ever live. The arrangement of its palate bones shows that this 'dino-bird' had a mobile, dexterous beak, almost indistinguishable from that of most modern birds.
For more than a century, it had been assumed that the mechanism enabling a mobile beak evolved after the extinction of the dinosaurs. However, the new discovery, reported in the journal Nature, suggests that our understanding of how the modern bird skull came to be needs to be re-evaluated.
Each of the roughly 11,000 species of birds on Earth today is classified into one of two over-arching groups, based on the arrangement of their palate bones. Ostriches, emus and their relatives are classified into the palaeognath, or 'ancient jaw' group, meaning that, like humans, their palate bones are fused together into a solid mass.
All other groups of birds are classified into the neognath, or 'modern jaw' group, meaning that their palate bones are connected by a mobile joint. This makes their beaks much more dexterous, helpful for nest-building, grooming, food-gathering, and defence.
The two groups were originally classified by Thomas Huxley, the British biologist known as 'Darwin's Bulldog' for his vocal support of Charles Darwin's theory of evolution. In 1867, he divided all living birds into either the 'ancient' or 'modern' jaw groups. Huxley's assumption was that the 'ancient' jaw configuration was the original condition for modern birds, with the 'modern' jaw arising later.
"This assumption has been taken as a given ever since," said Dr Daniel Field from Cambridge's Department of Earth Sciences, the paper's senior author. "The main reason this assumption has lasted is that we haven't had any well-preserved fossil bird palates from the period when modern birds originated."
The fossil, Janavis, was found in a limestone quarry near the Belgian-Dutch border in the 1990s and was first studied in 2002. It dates from 66.7 million years ago, during the last days of the dinosaurs. Since the fossil is encased in rock, scientists at the time could only base their descriptions on what they could see from the outside. They described the bits of bone sticking out from the rock as fragments of skull and shoulder bones, and put the unremarkable-looking fossil back in storage.
Nearly 20 years later, the fossil was loaned to Field's group in Cambridge, and Dr Juan Benito, then a PhD student, started giving it another look.
"Since this fossil was first described, we've started using CT scanning on fossils, which enables us to see through the rock and view the entire fossil," said Benito, now a postdoctoral researcher at Cambridge, and the paper's lead author. "We had high hopes for this fossil -- it was originally said to have skull material, which isn't often preserved, but we couldn't see anything that looked like it came from a skull in our CT scans, so we gave up and put the fossil aside."
During the early days of Covid-19 lockdown, Benito took the fossil out again. "The earlier descriptions of the fossil just didn't make sense -- there was a bone I was really puzzled by. I couldn't see how what was first described as a shoulder bone could actually be a shoulder bone," he said.
"It was my first in-person interaction in months: Juan and I had a socially distanced outdoor meeting, and he passed the mystery fossil bone to me," said Field, who is also the Curator of Ornithology at Cambridge's Museum of Zoology. "I could see it wasn't a shoulder bone, but there was something familiar about it."
"Then we realised we'd seen a similar bone before, in a turkey skull," said Benito. "And because of the research we do at Cambridge, we happen to have things like turkey skulls in our lab, so we brought one out and the two bones were almost identical."
The realisation that the bone was a skull bone, and not a shoulder bone, led the researchers to conclude that the unfused 'modern jaw' condition, which turkeys share, evolved before the 'ancient jaw' condition of ostriches and their relatives. For an unknown reason, the fused palates of ostriches and kin must have evolved at some point after modern birds were already established.
Two of the key characteristics we use to differentiate modern birds from their dinosaur ancestors are a toothless beak and a mobile upper jaw. While Janavis finalidens still had teeth, making it a pre-modern bird, its jaw structure is that of the modern, mobile kind.
"Using geometric analyses, we were able to show that the shape of the fossil palate bone was extremely similar to those of living chickens and ducks" said Pei-Chen Kuo, a co-author of the study. Added co-author Klara Widrig: "Surprisingly, the bird palate bones that are the least similar to that of Janavis are from ostriches and their kin."
Both Kuo and Widrig are PhD students in Field's lab at Cambridge.
"Evolution doesn't happen in a straight line," said Field. "This fossil shows that the mobile beak -- a condition we had always thought post-dated the origin of modern birds, actually evolved before modern birds existed. We've been completely backwards in our assumptions of how the modern bird skull evolved for well over a century."
The researchers say that while this discovery does not mean that the entire bird family tree needs to be redrawn, it does rewrite our understanding of a key evolutionary feature of modern birds.
And what happened to Janavis? It, like the large dinosaurs and other toothed birds, did not survive the mass extinction event at the end of the Cretaceous period. The researchers say that this may be because of its large size: Janavis weighed around 1.5 kilograms and was the size of a modern vulture. It's likely that smaller animals -- like the 'wonderchicken', identified by Field, Benito, and colleagues in 2020, which comes from the same area and lived alongside Janavis - had an advantage at this point in Earth's history since they had to eat less to survive. This would have been beneficial after the asteroid struck the Earth and disrupted global food chains.
The research was supported in part by the American Ornithological Society, the Jurassic Foundation, the Paleontological Society, and UK Research and Innovation (UKRI).
Benito, J., Kuo, PC., Widrig, K.E. et al.
Cretaceous ornithurine supports a neognathous crown bird ancestor
. Nature, 2022 DOI:
10.1038/s41586-022-05445-y
Disclaimer: These articles are not intended to provide medical advice, diagnosis or treatment. Views expressed here do not necessarily reflect those of Pittwater Online News or its staff.