inbox and environment news: Issue 550
August 14 - 20, 2022: Issue 550
Public Meeting On Northern Beaches Aboriginal Lands Approval By State Government
WHO: Save the Northern Beaches Bushlands
DATE: SUNDAY 21ST AUGUST 2022
LOCATION: OPALA RESERVE, OPALA STREET, BELROSE
To discuss: Decision made by NSW Minister for Planning of approval for draft development delivery plans for the Northern Beaches Aboriginal Lands to be included into SEPP. Decision by NSW Minister for Planning to be investigated as to why such a decision was made when so much is against it already.
What does this mean?
What can we do now to continue the fight to protect our natural environment and bushlands?
Open Invitation to: State and Federal Ministers, Local MP's, Mayor and all community members to be there.
We aim to protect and preserve our Bushlands and wildlife here on the Northern Beaches.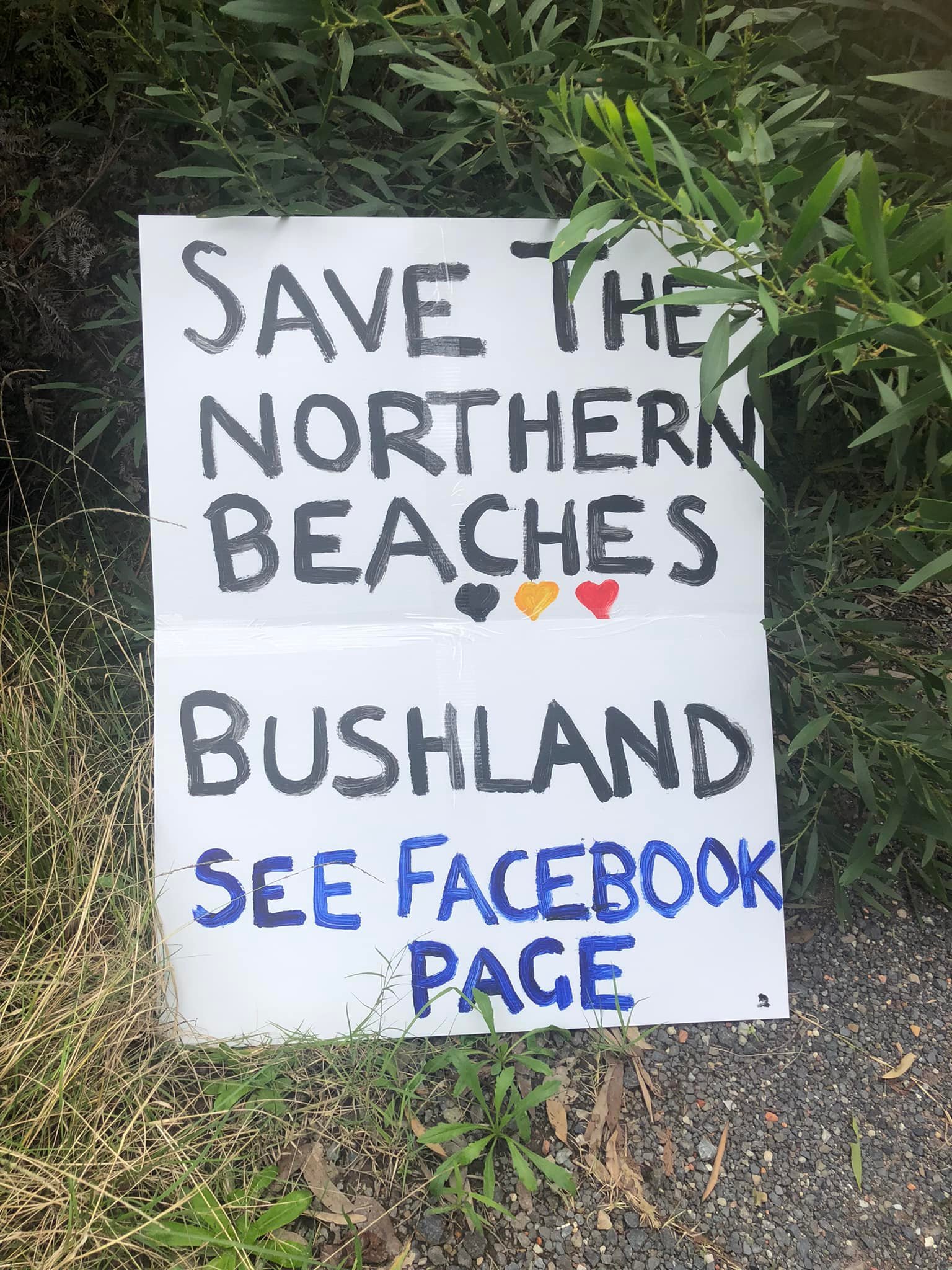 Bushfire Affected Species Listed As Threatened
The Minister for the Environment and Water is today listing the South-eastern Glossy Black-Cockatoo and the Mountain Skink as threatened under national environment law.
Listing a species under environmental law can provide it with the support of a recovery plan or conservation advice, funding and support to bounce back. The Government has committed to providing $224.5 million over the forward estimates to help arrest species decline and restore populations of endangered plants and animals.
Minister Tanya Plibersek has accepted the Threatened Species Scientific Committee's recommendation to list the South-eastern Glossy Black-Cockatoo as vulnerable on the threatened species list under the Environment Protection and Biodiversity Conservation Act 1999 (EPBC Act).
The Minister has listed the Mountain Skink as endangered. It is found in isolated patches of rocky habitat in the mountains and subalpine areas of Victoria, New South Wales and the Australian Capital Territory.
Both species were severely impacted by the 2019-2020 Black Summer bushfires and prioritised for listing assessment in the wake of the fires.
A comprehensive statutory Conservation Advice is now in place for both species to guide their protection and conservation.
A national Recovery Plan for the South-eastern Glossy Black-Cockatoo will also be developed to further facilitate conservation action across its national range and to coordinate management across multiple jurisdictions and diverse stakeholder groups, including First Nations people and communities.
The Australian Government is investing more than $1 million in projects benefitting the South-eastern Glossy Black-Cockatoo through on ground actions including citizen science surveys and coordinating cross-jurisdictional monitoring, nest box installation, and revegetation and protection of the Black She‑oak, which is their main source of food and habitat.
An investment of $800,000 is supporting the recovery and conservation of alpine reptiles, including the Mountain Skink, through protection of their known and suspected habitat and surveys to uncover more about this illusive skink.
Minister for the Environment and Water Tanya Plibersek said:
"Today, I have listed the Mountain Skink as endangered under national environmental law.
"At the same time, I have listed the beloved South-eastern Glossy Black-Cockatoo as vulnerable.
"The damage caused by the Black Summer bushfires is still being felt today and can be seen reflected in these listings today.
"The fires had an immense impact on our environment, from a small reptile found in the mountains to a bird that is at home on the coast – there is still a lot of work to do.
"The Australian Government has committed to establishing the Saving Native Species Program that will boost protection for many threatened species like these, combat invasive species, and strengthen conservation planning required under national environmental law.
"We are working closely with experts and community groups to help prevent species decline and restore populations of endangered plants and animals.
"These listings will ensure the prioritisation of recovery actions to protect both species and offer conservation guidance on a national scale."
Glossy Black-Cockatoos Added To Federal Threatened List
The Black Saturday bushfires of 2019–20 had a catastrophic effect on so much of Australia's wildlife, and those effects are still being felt, with yet another bird being added to the Federal Government's list of Australia's threatened species as a result of the fires. This time it's the South-eastern Glossy Black-Cockatoo, (Calyptorhynchus lathami) which has been classified as Vulnerable.
Many Glossy Black-Cockatoos in East Gippsland and adjacent areas of New South Wales were killed during the bushfires, and although a few of those that survived were able to fly across the landscape in a desperate search for suitable sheoak habitat to forage and breed in, most of the survivors remained in scattered patches of unburnt bush in eastern Victoria and south-eastern NSW.
Glossy Black-Cockatoos specialise in feeding on the seeds of sheoaks (also known as casuarinas), which they extract from the hard seed pods. They rely on groves of sheoaks growing among the eucalypt forests to survive. However, many casuarina habitats across the Glossies' range in eastern and south-eastern Australia were burnt during the bushfires, and they have been very slow to recover. Glossy Black-Cockatoos feed almost exclusively on the cones of female she-oak trees, which can be 10 years old before they start producing cones.
This has meant there are shortages of food to eat and hollows for them to nest in.
The Glossy Black-Cockatoos of eastern Victoria and south-eastern NSW are the subject of a BirdLife Australia project, which has seen a network of artificial nest hollows provided for the birds to breed in the scattered, remnant patches of unburnt habitat. Additionally, BirdLife Australia's advocacy has prevented yet more habitat being blackened, this time in planned burns.
With bushfires becoming more frequent and severe, the impacts are growing more dangerous for birds like the South-eastern Glossy Black-Cockatoo, and by being recognised as a threatened species, it should now be subject to all the protections under the EPBC Act that this listing entails.
This guide
supports citizen scientists to collect data on South-eastern Glossy Black-Cockatoos. Glossy Black-Cockatoos (also known as "glossies") are threatened by bushfires, droughts, land clearing, urban development, and inappropriate planned fires. Data about Glossy Black-Cockatoo flocks and feed trees are important for informing work to protect them from these threats.
This guide summarises how to:
• identify South-eastern Glossy Black-Cockatoos;
• tell the sex and approximate age of birds; and
• identify different species of she-oaks in each region and recognise evidence of Glossy Black-Cockatoos feeding on them.
Data on South-eastern Glossy Black-Cockatoos and their feed trees (i.e., sheoak trees with evidence of Glossy Black-Cockatoo feeding) can be recorded in the "South-eastern Glossy Black-Cockatoo" module on the Birdata website at
birdata.birdlife.org.au
, or using the Birdata mobile app. You can also email data to
GlossyBC@birdlife.org.au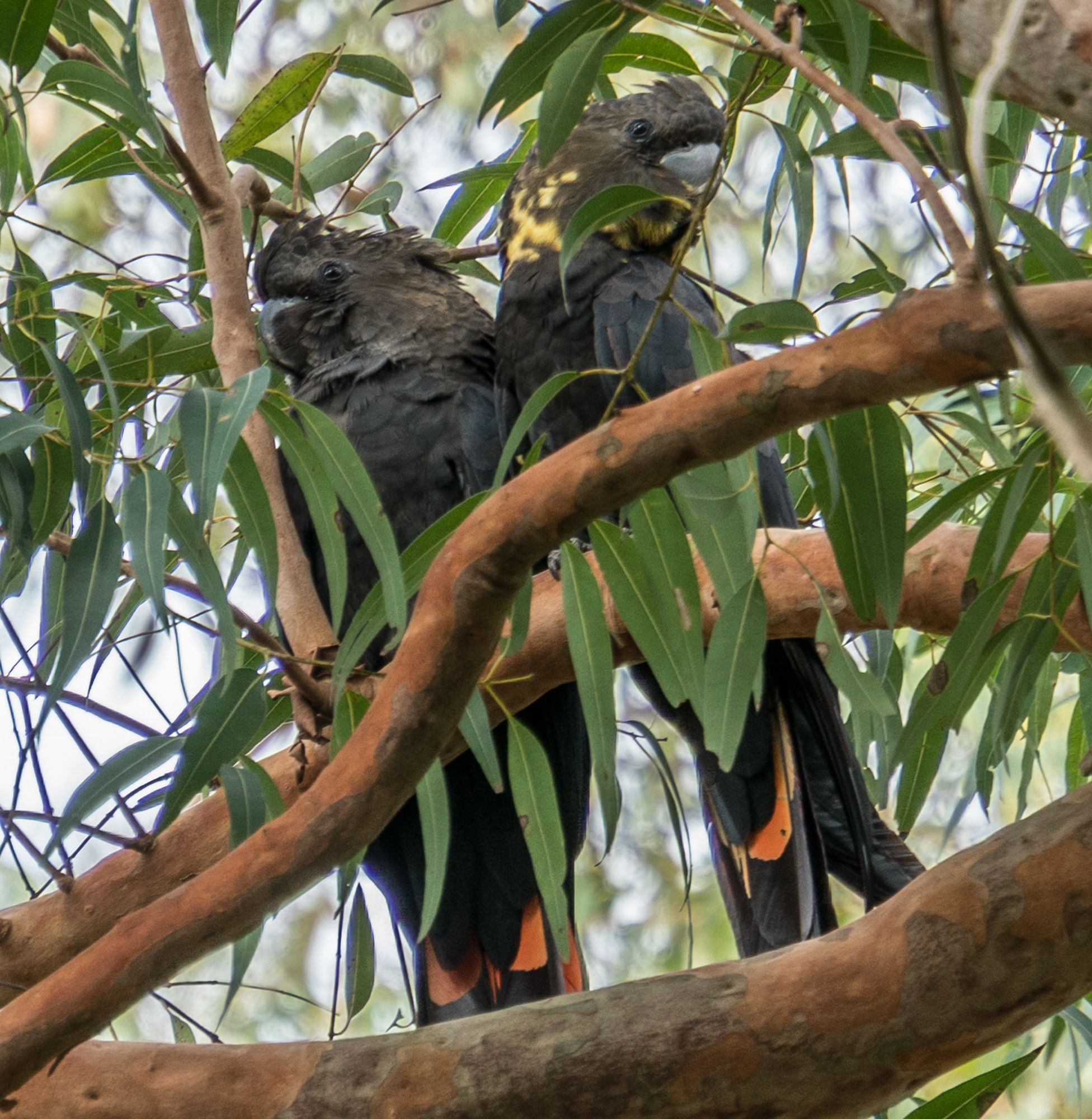 A pair of glossy black cockatoos. Photo: Cabritis

Vale Peter Higgins
1959–2022
BirdLife Australia is sad to announce the passing of Peter Higgins, the driving force behind our most ambitious undertaking ever — the encyclopaedic Handbook of Australian, New Zealand and Antarctic Birds (HANZAB). He was 63.
Although he was born in Deniliquin, Peter grew up in Peakhurst, in suburban south-western Sydney, where the bush on the banks of the Georges River provided him with unbridled opportunities to immerse himself in nature, especially the district's abundant birdlife.
Later, he cemented his love of birds at the University of Sydney, graduating with a Master's Degree, focusing on the social organisation and behaviour of White-eared Honeyeaters.
In the early 1980s, Peter and his wife-to-be, Jill, headed west to spend some time as Assistant Wardens at the Eyre Bird Observatory, on the southern edge of the Nullarbor Plain, but his next stint at the RAOU (later to become BirdLife Australia) — a stint that would turn into a marathon — was where he would make his true mark.
In 1987, Peter moved to Melbourne, where the RAOU employed him as an Assistant Editor on HANZAB, under the watchful eye of the classically trained Managing Editor, Stephen Marchant. Although already an accomplished writer, Peter's editorial skills were quickly honed under Stephen's gaze, and he soon became Joint Editor. After two volumes of HANZAB were published, Peter took over the reins as Managing Editor for the remaining five volumes.
Leading a team of ornithological writers and compilers, harnessing their varied personalities and pointing them all in the same direction was one of his more onerous tasks, and keeping them on track was always a challenge. Nevertheless, through a combination of Peter's diligence tempered with a healthy dose of good humour (though not necessarily patience), HANZAB continued on, despite constantly being confronted with seemingly insurmountable staffing and funding setbacks, together with ruffling a few feathers along the way. That the project was finished at all is testament to his tenacity, passion and plain hard work. All those years of late nights and early mornings finally paid off — HANZAB won numerous awards, including the prestigious Whitley Medal, and is a monument to his mammoth effort. And the ornithological world is better off for it too.
In between times, he was often called on to interrupt this hectic schedule to fill in as Acting CEO of our organisation — always a thankless task — to provide sound and thoughtful guidance.
In the late 1990s, Peter and Jill moved from Melbourne to Sawtell, on the north coast of NSW, where he continued to toil away. His epic journey on the good ship HANZAB lasted for 20 years or so, and he was one of just three people to work on all seven volumes. Along the way, he mentored numerous up-and-coming ornithologists and ecologists, some of whom have subsequently become leaders in their field. His remarkable contribution was rewarded with a Special Commendation from the Royal Zoological Society of NSW in 2016.
After HANZAB was completed, Peter turned his elite editorial skills to our flagship journal, Emu–Australasian Ornithology. As Copy Editor, his adroit edits transformed many a substandard contribution, and his thoughtful queries were reputed to be far more astute than most made by peer reviewers. Peter continued in this role for a decade or more, during which time his editorial magic played no small part in propelling Emu's rapid rise up the journal quality rankings.
Never one to be idle, Peter was also the Convenor of BirdLife Northern NSW, a position he held for five years. During his time at the helm of this major regional branch, they organised the 2012 BirdLife Australia Congress and Campout, considered one of the most successful ever.
After his time with BirdLife Australia, Peter joined the NSW National Parks & Wildlife Service, where he applied the ecological knowledge that he'd gained over a lifetime to threatened species as disparate as donkey orchids and Spotted-tailed Quolls.
All this hard work makes him sound a dullard, but Peter was anything but dull. Anyone who met him instantly knew his good humour and cheerful personality, and quickly discovered what wonderful company he was, whether in the office, at the football or sitting around a campfire in the Outback.
A friend to many, a mentor to a grateful few and an unsung hero at BirdLife Australia, Peter will be remembered fondly and missed greatly.
He leaves behind his wife Jill and daughter Nell.
Tasmanian Birdlife Cull
Three states — Victoria, South Australia and Tasmania — still persist with conducting duck shooting seasons, flying in the face of high levels of disapproval by the general public. As barbaric as this pastime is, at least the native waterfowl are protected at other times of the year, outside the killing season. However, in Tasmania there is a loophole which sees thousands of native birds killed throughout the year, with the blessing of the state government. Ironically, some of the birds targeted are waterbirds that are protected from hunters during the duck shooting season.
Under what are called 'Property Protection Permits' (formerly Crop Protection Permits), issued by the Tasmanian Government, landholders have killed literally millions of native animals across the state since 2019, with the assumption that the wildlife being targeted is damaging property or crops.
Apart from 2.8 million wallabies, kangaroos and possums, more than 5000 Black Swans, nearly 3000 Australian Wood Ducks and 1800 Cape Barren Geese have been killed in Tasmania since 2019, as have more than 14,000 Sulphur-crested Cockatoos, over 2500 Tasmanian Native-hens, 340 Green Rosellas and 560 Silvereyes. Also included in the list of birds killed legally under permit are Yellow-tailed Black-Cockatoos, Kelp Gulls, Black and Grey Currawongs and Yellow Wattlebirds.
"The numbers are truly staggering", said Dr Eric Woehler, Convenor of BirdLife Tasmania. "The more you look at these… numbers and [the] species involved, the more they defy logic and comprehension."
"It's carnage, there's no other way to describe it — it's carnage for our wildlife."
Dr Woehler suspects that large numbers of some birds, particularly Black Swans, Australian Wood Ducks and Cape Barren Geese, are killed as a result of a widespread but misplaced belief among many farmers that grazing by birds has a significant impact on pasture, citing that some farmers are under the impression that a single Cape Barren Goose will eat as much grass as four sheep.
"There's always this tension that the birds are displacing the sheep from pasture, but from a biology perspective it's not possible," he said. "I acknowledge farmers do have problems with some of these animals, but culling shouldn't be the top of the list of options."
"Some farmers are very conservative," he said. "I suspect it's going to take a long time to change these practices."
"The 'business as usual' approach of issuing 5-year permits to cull wildlife is as indefensible, as is the numbers of wildlife culled," he continued. "These are convenience culls of our native wildlife."
"Culling must be the last resort for wildlife management in Tasmania."
Careel Creek Birds Seen This Week
photographed Thursday August 11, 2022
AJ Guesdon pictures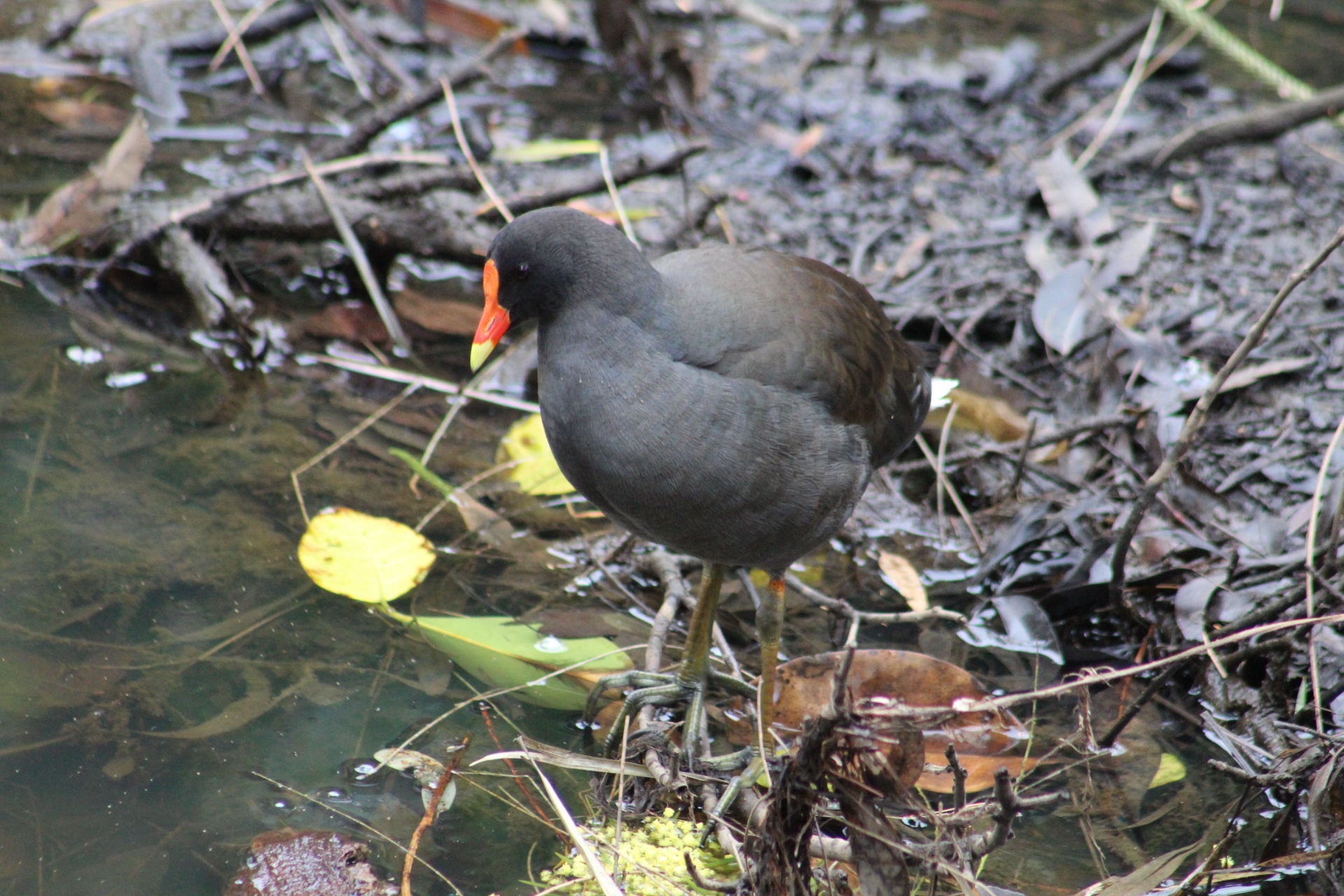 Dusky moorhen (Gallinula tenebrosa) - there is a pair of these living here now - earlier this year 3 chicks were seen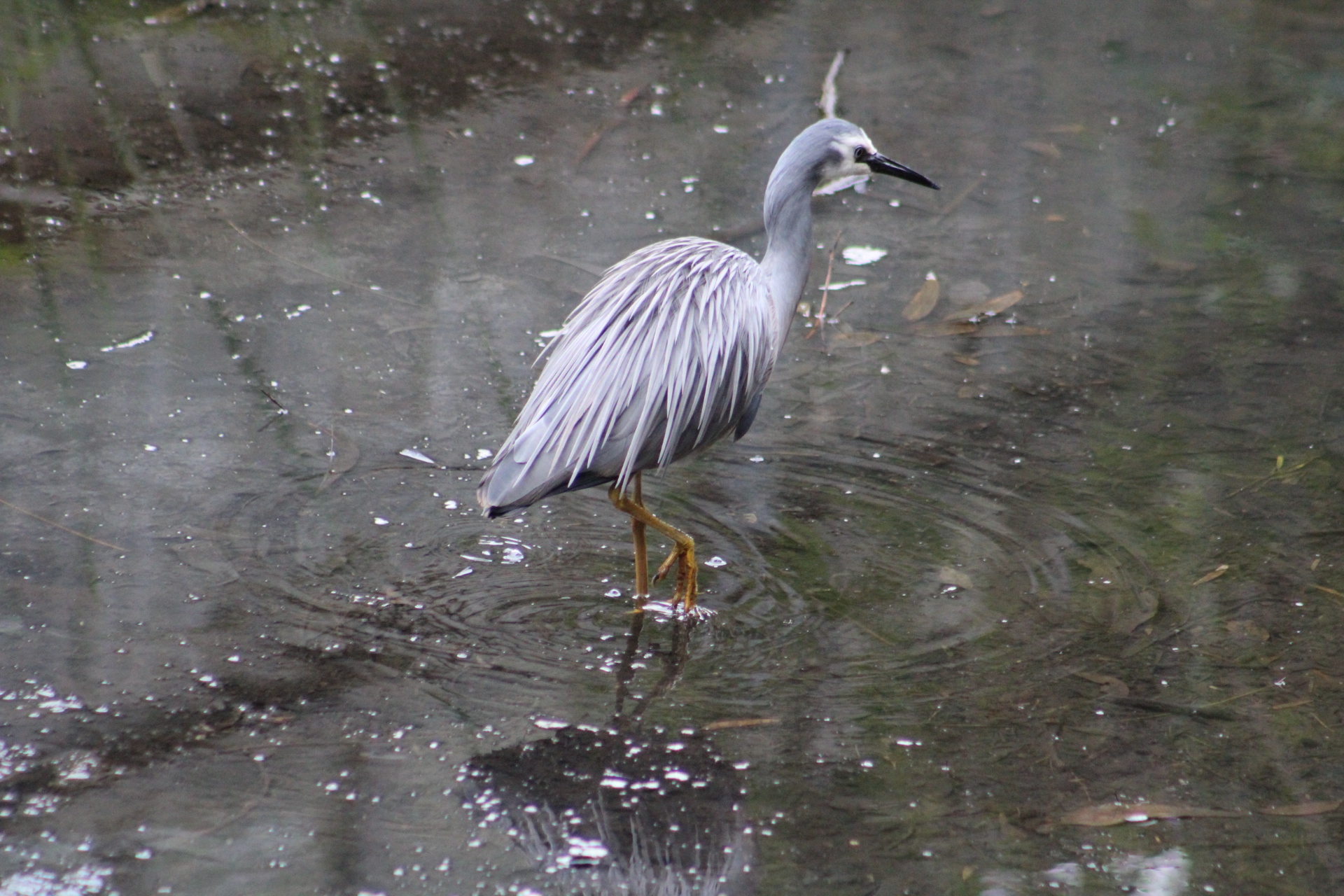 White-faced heron (Egretta novaehollandiae)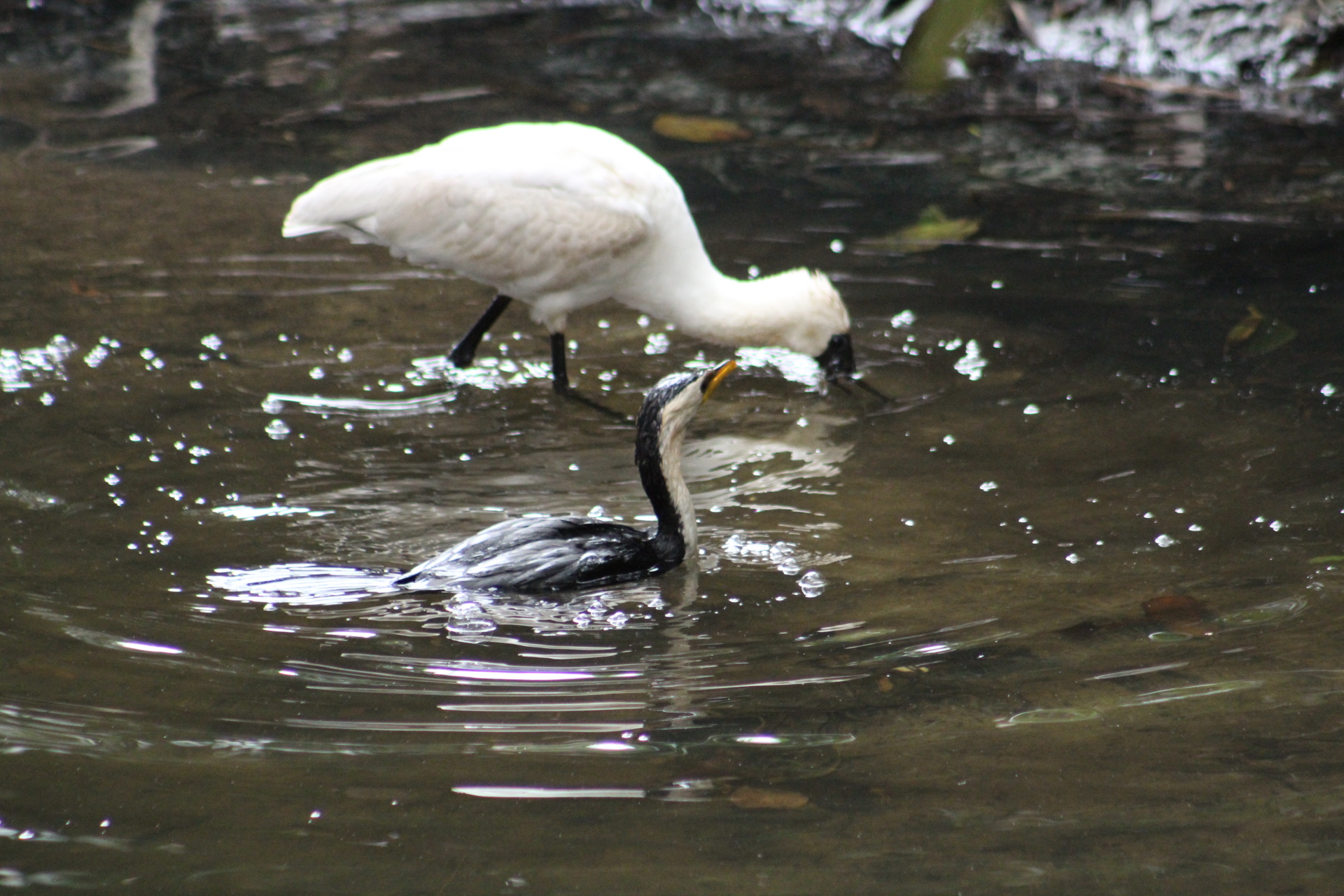 Little pied cormorant(Microcarbo melanoleucos) in foreground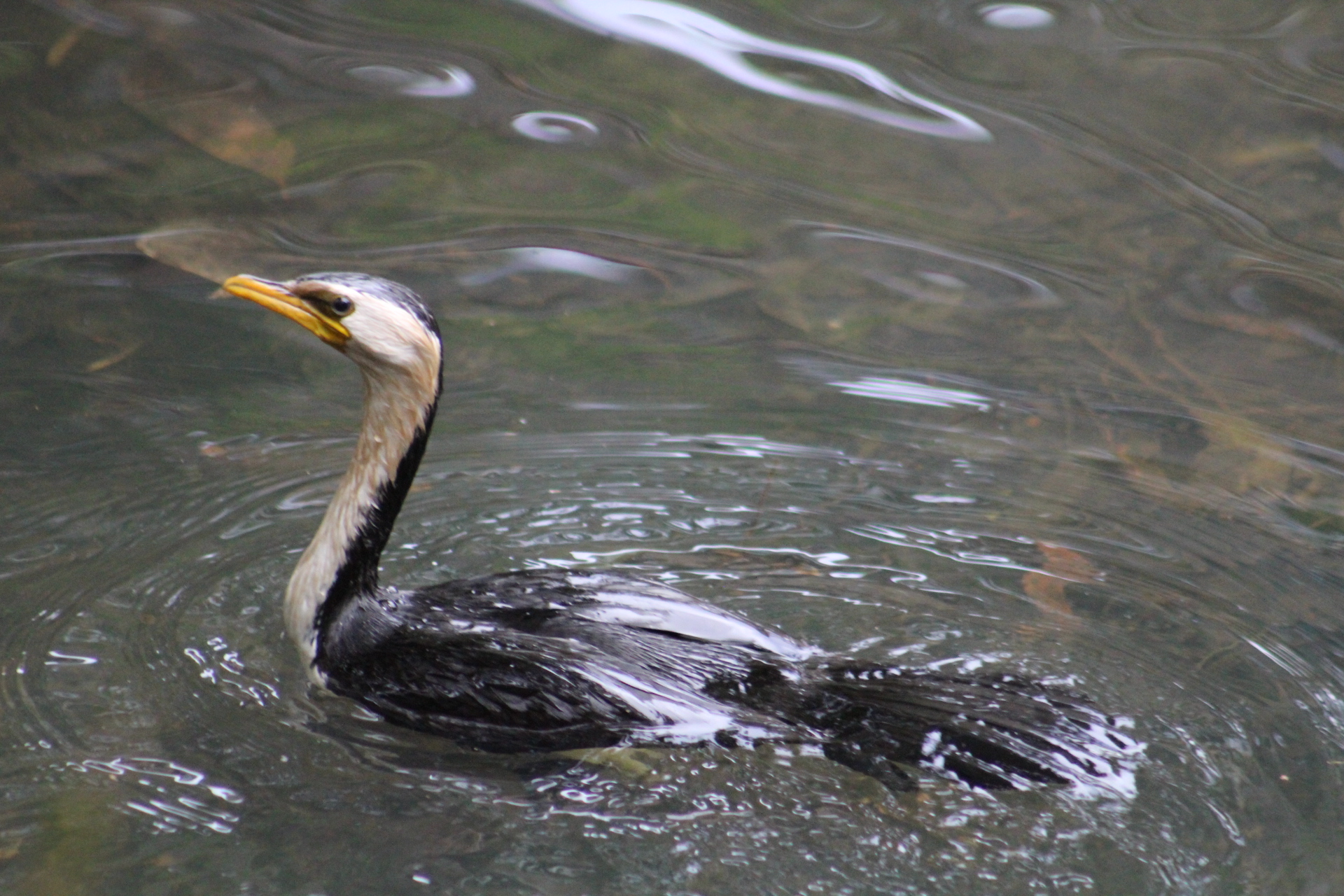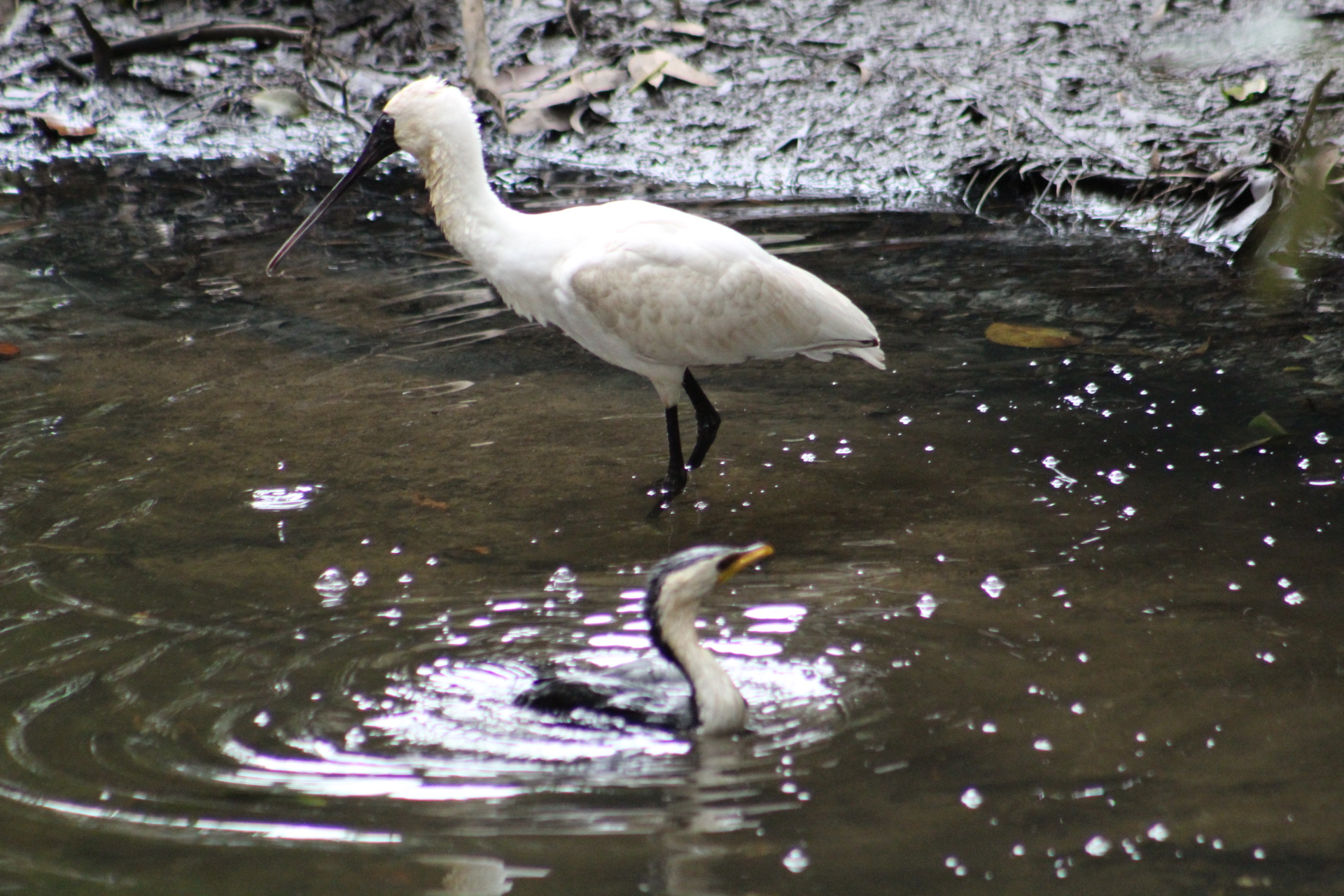 Royal Spoonbill (Platalea regia) also known as the black-billed spoonbill, in background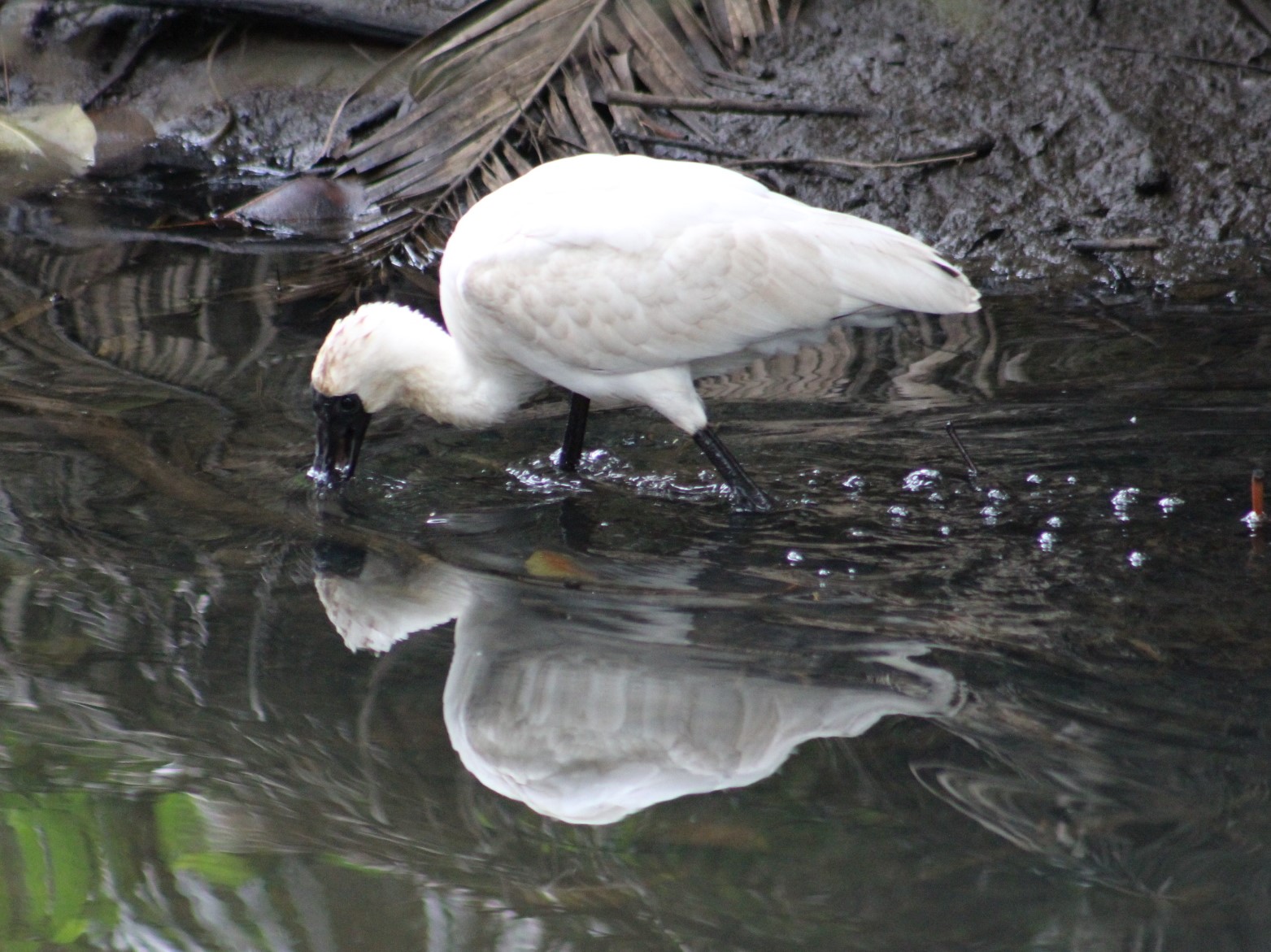 Pacific Black Duck (Anas superciliosa)
The Black Duck Songline
, as current Aboriginal knowledge holders confirm, travels up the South Coast from over the Victorian border to the Hawkesbury River, north of Sydney, passing through Pittwater and many important cultural locations of the Yuin and Dharawal peoples of the region.
National Bird Week 2022 will take place between Monday October 17 and Sunday October 23.
The celebration of National Bird Week has its origins back in the early 1900s when October 28th was first designated by BirdLife Australia's predecessor, the Royal Australasian Ornithologists Union, as the first 'Bird Day'.
The
Backyard Bird Count
will take place during this 2022 celebration of Australian birds. To get involved all you need is 20 minutes, your favourite outdoor space (this can be your yard, local park, beach, or anywhere you can see birds), and some keen eyesight. And it doesn't matter if you're a novice or an expert — BirdLife Australia will be there to help you out. Simply record the birds you know and look up those you don't on the 'Aussie Bird Count' app or their
website
.
You'll instantly see live statistics and information on how many people are taking part near you and the number of birds and species counted in your neighbourhood and the whole of Australia!
Magpie Breeding Season: Avoid The Swoop!
Residents are reporting local pairs of magpies are already starting to display signs of breeding in well-known local places they nest. The NSW Department of Environment provides a few tips to help us look after ourselves and these other local residents during the onset of the Spring breeding season.
As Spring arrives, many species of native birds are beginning to court and build nests. Across Sydney these species include the magpie, butcherbirds and noisy miners, along with all the shorebirds we are fortunate to share this beautiful place with.
As Spring progresses some birds start protecting their hatchlings by swooping people entering their nesting territory.
The breeding season generally runs from late August through until November. It can be a stressful time for many people as favourite outdoor destinations become 'no-go zones' due to swooping birds. But the National Parks and Wildlife Service (NPWS) says there are simple steps people can take to avoid these unwanted close encounters of the feathery kind during spring.
"For most of the year these birds are welcome additions to our lives helping control garden pests and filling our ears with their beautiful song," NPWS Executive Officer of the Sydney Branch of OEH Peter Hay said.
"However, for several weeks in springtime, some of the males will swoop to defend their hatchlings, generally within 100 metres of their nest.
"They are just being responsible parents, protecting their young from perceived threats by warning us off."
Some simple and effective steps to avoid being swooped include:
Try to avoid the area. Do not go back after being swooped. Australian magpies are very intelligent and have a great memory. They will target the same people if you persist on entering their nesting area.
Be aware of where the bird is. Most will usually swoop from behind. They are much less likely to target you if they think they are being watched. Try drawing eyes on the back of a helmet or hat. You can also hold a long stick in the air to deter swooping.
Keep calm and do not panic. Walk away quickly but do not run. Running seems to make birds swoop more. Be careful to keep a look out for swooping birds and if you are really concerned, place your folded arms above your head to protect your head and eyes.
If you are on your bicycle or horse, dismount. Bicycles can irritate the birds and the major cause of accidents following an encounter with a swooping bird, is falling from a bicycle. Calmly walk your bike/horse out of the nesting territory.
Never harass or provoke nesting birds. A harassed bird will distrust you and as they have a great memory this will ultimately make you a bigger target in future. Do not throw anything at a bird or nest, and never climb a tree and try to remove eggs or chicks.
Teach children what to do. It is important that children understand and respect native birds. Educating them about the birds and what they can do to avoid being swooped will help them keep calm if they are targeted. Its important children learn to protect their face.
"We advise people to try to avoid areas where birds are known to swoop and to be patient and as tolerant as possible.
"These are protected native birds and harassing them may likely make the problem worse as they become more distrusting of people," Mr Hay added.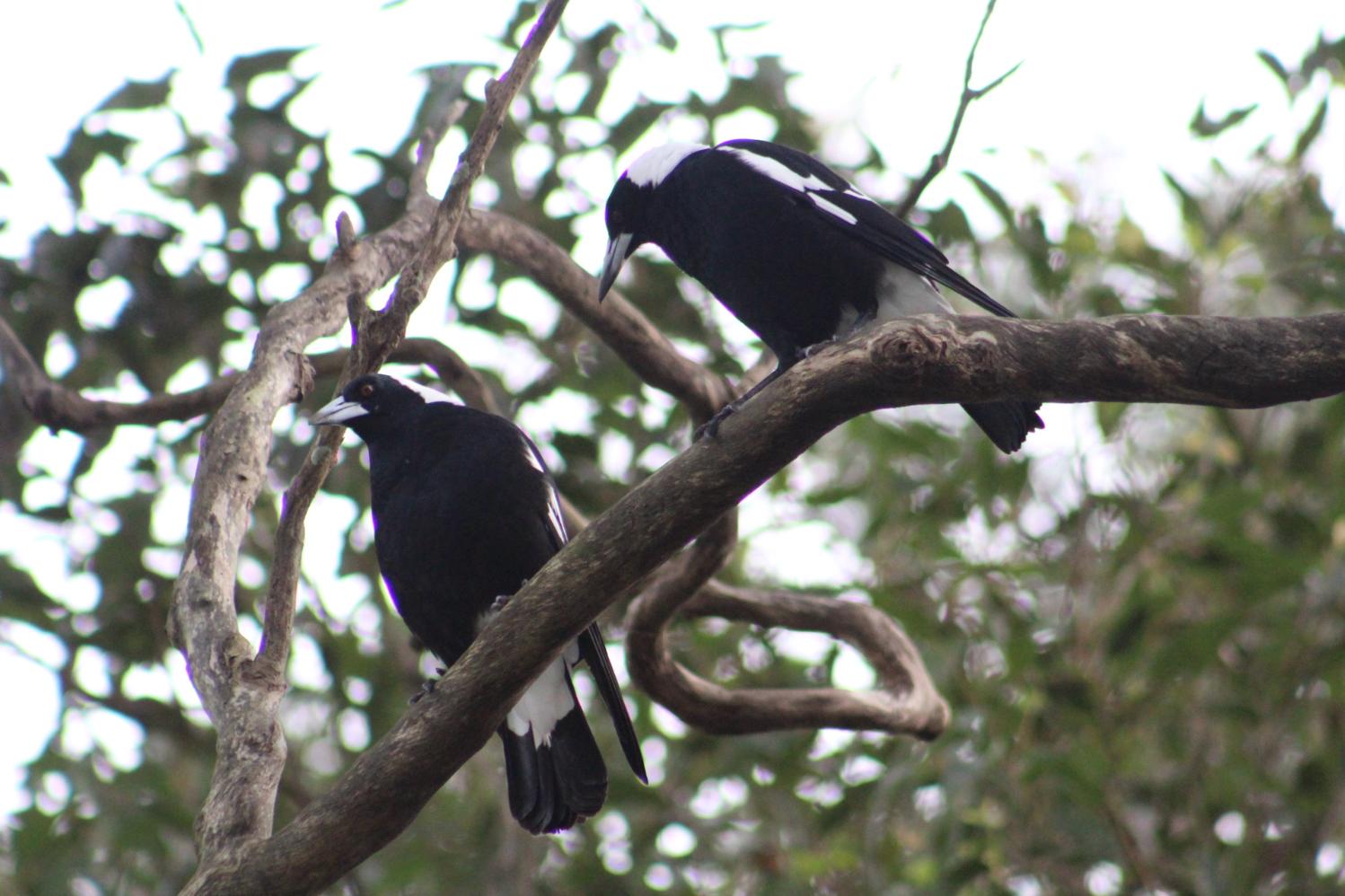 Magpie pair: live in the PON office yard and adjacent trees, July 2022
Wanted: Photos Of Flies Feeding On Frogs (For Frog Conservation)
Do you have any photos of frogs being bitten by flies? Submit them to our study to help in frog conservation.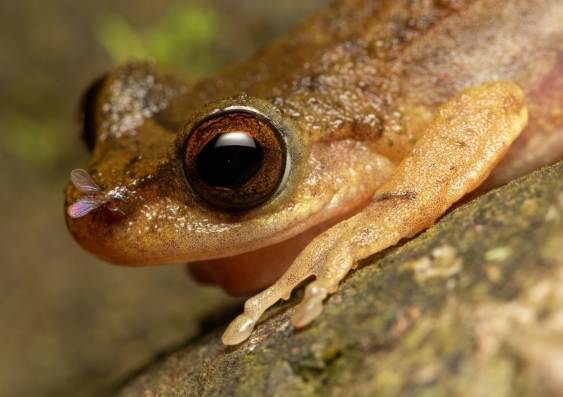 By sampling the blood of flies that bite frogs, researchers can determine the (sometimes difficult to spot) frogs in an environment. Common mist frog being fed on by a Sycorax fly. Photo: Jakub Hodáň
UNSW Science and the Australian Museum want your photos of frogs, specifically those being bitten by flies, for a new (and inventive) technique to detect and protect our threatened frog species.
You might not guess it, but biting flies – such as midges and mosquitoes – are excellent tools for science. The blood 'sampled' by these parasites contains precious genetic data about the animals they feed on (such as frogs), but first, researchers need to know which parasitic flies are biting which frogs. And this is why they need you to
submit your photos
.
"Rare frogs can be very hard to find during traditional scientific expeditions," says PhD student Timothy Cutajar, leading the project. "Species that are rare or cryptic [inconspicuous] can be easily missed, so it turns out the best way to detect some species might be through their parasites."
The technique is called 'iDNA', short for invertebrate-derived DNA, and researchers Mr Cutajar and Dr Jodi Rowley from UNSW Science and the Australian Museum were the first to harness its potential for detecting cryptic or threatened species of frogs.
The team first deployed this technique in 2018 by capturing frog-biting flies in habitats shared with frogs. Not unlike the premise of Michael Crichton's Jurassic Park, where the DNA of blood-meals past is contained in the bellies of the flies, Mr Cutajar was able to extract the drawn blood (and therefore DNA) and identify the species of amphibian the flies had recently fed on.
These initial trials uncovered the presence of rare frogs that traditional searching methods had missed.
"iDNA has the potential to become a standard frog survey technique," says Mr Cutajar. "[It could help] in the discovery of new species or even the rediscovery of species thought to be extinct, so I want to continue developing techniques for frog iDNA surveys. However, there is still so much we don't yet know about how frogs and flies interact."
In a bid to understand the varieties of parasites that feed on frogs – so Mr Cutajar and colleagues might lure and catch those most informative and prolific species – the team are looking to the public for their frog photos.
"If you've photographed frogs in Australia, I'd love for you to closely examine your pictures, looking for any frogs that have flies, midges or mosquitoes sitting on them. If you find flies, midges or mosquitoes in direct contact with frogs in any of your photos, please share them."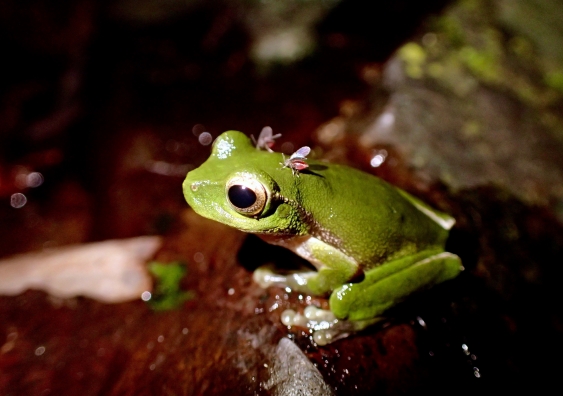 The submitted photos will be analysed for the frog and parasite species they contain, helping inform future iDNA research. Mountain Stream Tree Frog (Litoria barringtonensis) being bitten by Sycorax. Photo: Tim Cutajar/Australian Museum
"We'll be combing through photographs of frogs submitted through our survey," says Mr Cutajar, "homing in on the characteristics that make a frog species a likely target for frog-biting flies.
"It's unlikely that all frogs are equally parasitised. Some frogs have natural insect repellents, while others can swat flies away. The flies themselves can be choosy about the types of sounds they're attracted to, and probably aren't evenly abundant everywhere."
Already the new iDNA technique, championed in herpetology by Mr Cutajar, has shown great promise, and by refining its methodology with data submitted by the public – citizen scientists – our understanding of frog ecology and biodiversity can be broadened yet further.
"The power of collective action can be amazing for science," says Mr Cutajar, "and with your help, we can kickstart a new era of improved detection, and therefore conservation, of our amazing amphibian diversity."
Possums In Your Roof?: Do The Right Thing
Possums in your roof? Please do the right thing
On the weekend, one of our volunteers noticed a driver pull up, get out of their vehicle, open the boot, remove a trap and attempt to dump a possum on a bush track. Fortunately, our member intervened and saved the beautiful female brushtail and the baby in her pouch from certain death.
It is illegal to relocate a trapped possum more than 150 metres from the point of capture and substantial penalties apply. Urbanised possums are highly territorial and do not fare well in unfamiliar bushland. In fact, they may starve to death or be taken by predators.
While Sydney Wildlife Rescue does not provide a service to remove possums from your roof, we do offer this advice:
✅ Call us on (02) 9413 4300 and we will refer you to a reliable and trusted licenced contractor in the Sydney metropolitan area. For a small fee they will remove the possum, seal the entry to your roof and provide a suitable home for the possum - a box for a brushtail or drey for a ringtail.
✅ Do-it-yourself by following this advice from the Department of Planning and Environment:
❌ Do not under any circumstances relocate a possum more than 150 metres from the capture site.
Thank you for caring and doing the right thing.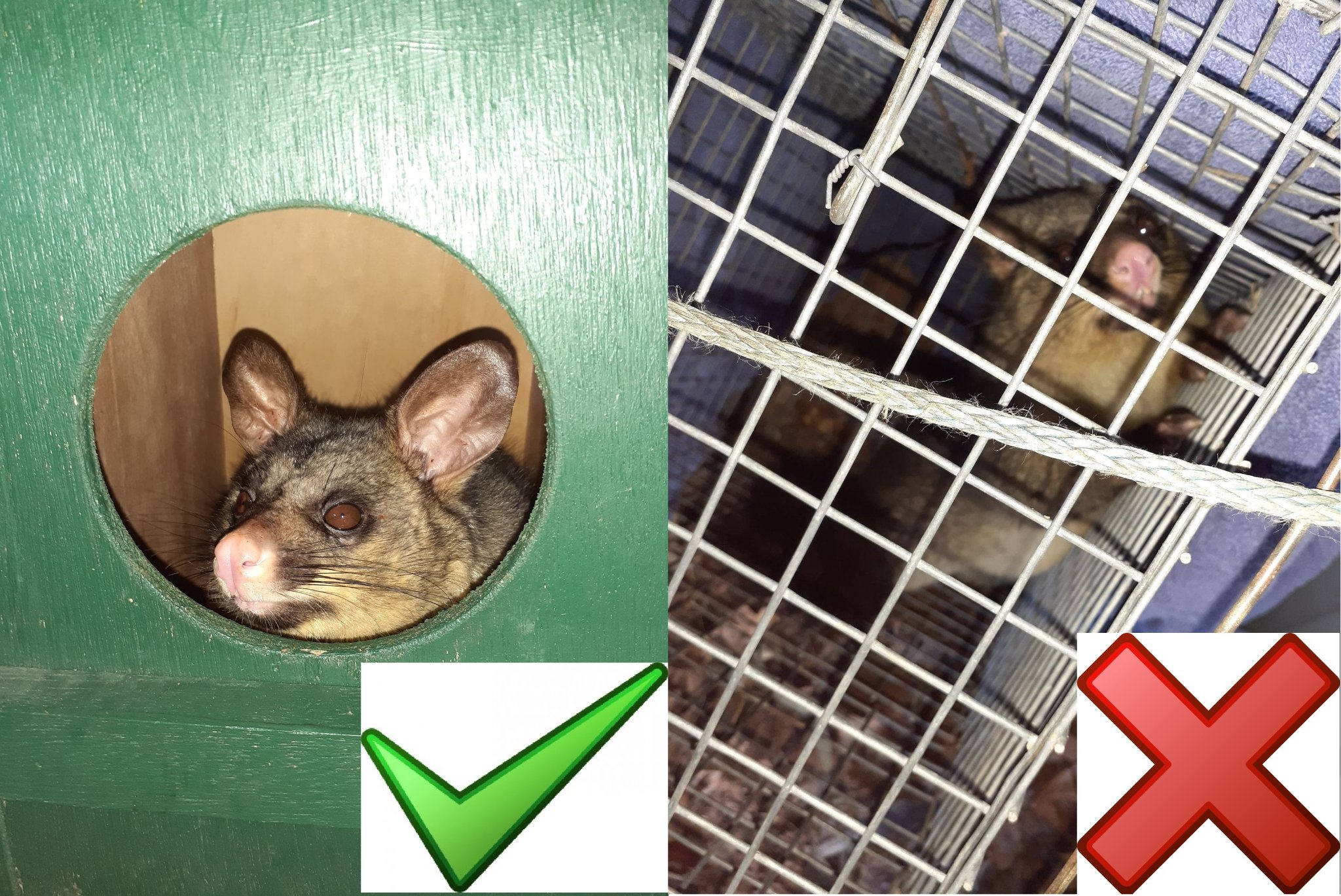 Sydney Wildlife photos
Local Wildlife Rescuers And Carers State That Ongoing Heavy Rains Are Tough For Us But Can Be Tougher For Our Wildlife:
Birds and possums can be washed out of trees, or the tree comes down, nests can disintegrate or hollows fill with water
Ground dwelling animals can be flooded out of their burrows or hiding places and they need to seek higher ground
They are at risk crossing roads as people can't see them and sudden braking causes accidents
The food may disappear - insects, seeds and pollens are washed away, nectar is diluted and animals can be starving
They are vulnerable in open areas to predators, including our pets
They can't dry out and may get hypothermia or pneumonia
Animals may seek shelter in your home or garage.
You can help by:
Keeping your pets indoors
Assessing for wounds or parasites
Putting out towels or shelters like boxes to provide a place to hide
Drive to conditions and call a rescue group if you see an animal hit (or do a pouch check or get to a vet if you can stop)
If you are concerned take a photo and talk to a rescue group or wildlife carer
There are 2 rescue groups in the Northern Beaches:
Sydney Wildlife: 9413 4300
WIRES: 1300 094 737
Please be patient as there could be a few enquiries regarding the wildlife.
Generally Sydney Wildlife do not recommend offering food but it may help in some cases. Please ensure you know what they generally eat and any offerings will not make them sick. You can read more on feeding wildlife here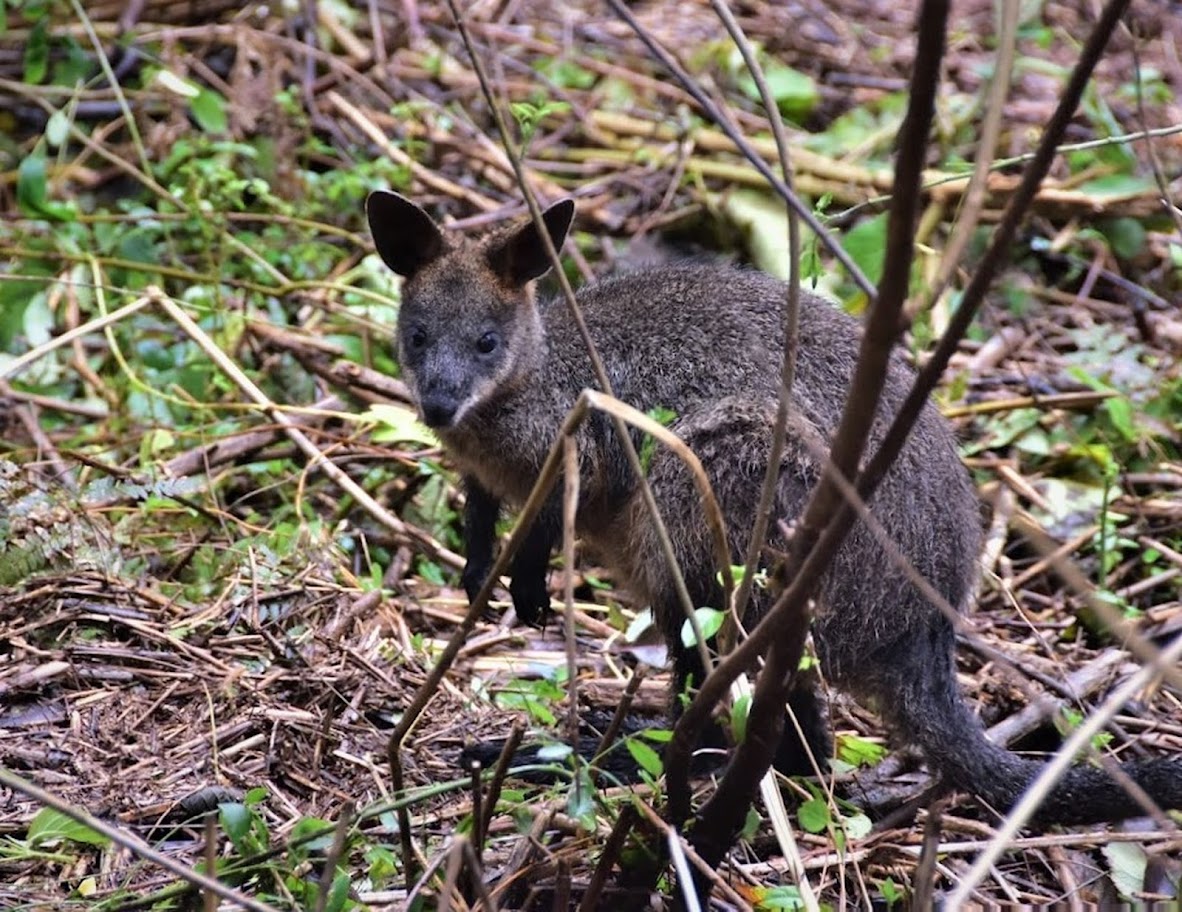 Information courtesy Ed Laginestra, Sydney Wildlife volunteer. Photo: Warriewood Wetlands Wallaby by Kevin Murray, March 2022.
Aviaries + Possum Release Sites Needed
Pittwater Online News has interviewed
Lynette Millett OAM
(WIRES Northern Beaches Branch)
needs more bird cages of all sizes for keeping the current huge amount of baby wildlife in care safe or 'homed' while they are healed/allowed to grow bigger to the point where they may be released back into their own home.
If you have an aviary or large bird cage you are getting rid of or don't need anymore, please email via the link provided above.
There is also a pressing need for release sites for brushtail possums - a species that is very territorial and where release into a site already lived in by one possum can result in serious problems and injury.
If you have a decent backyard and can help out, Lyn and husband Dave can supply you with a simple drey for a nest and food for their first weeks of adjustment.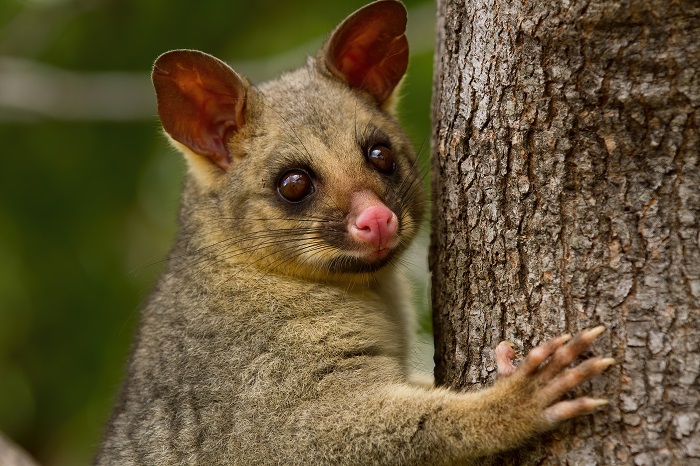 Sydney Wildlife Rescue: Helpers Needed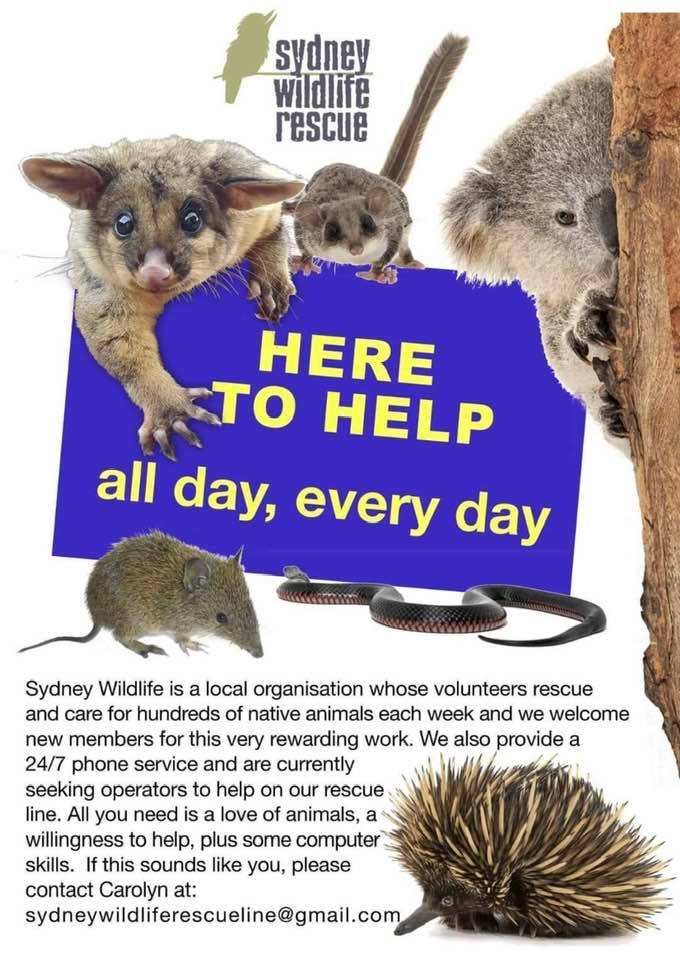 Bushcare In Pittwater
For further information or to confirm the meeting details for below groups, please contact Council's Bushcare Officer on 9970 1367
BUSHCARE SCHEDULES
Where we work Which day What time
Avalon
Angophora Reserve 3rd Sunday 8:30 - 11:30am
Avalon Dunes 1st Sunday 8:30 - 11:30am
Avalon Golf Course 2nd Wednesday 3 - 5:30pm
Careel Creek 4th Saturday 8:30 - 11:30am
Toongari Reserve 3rd Saturday 9 - 12noon (8 - 11am in summer)
Bangalley Headland 2nd Sunday 9 to 12noon
Bayview
Winnererremy Bay 4th Sunday 9 to 12noon
Bilgola
North Bilgola Beach 3rd Monday 9 - 12noon
Algona Reserve 1st Saturday 9 - 12noon
Plateau Park 1st Friday 8:30 - 11:30am
Church Point
Browns Bay Reserve 1st Tuesday 9 - 12noon
McCarrs Creek Reserve Contact Bushcare Officer To be confirmed
Clareville
Old Wharf Reserve 3rd Saturday 8 - 11am
Elanora
Kundibah Reserve 4th Sunday 8:30 - 11:30am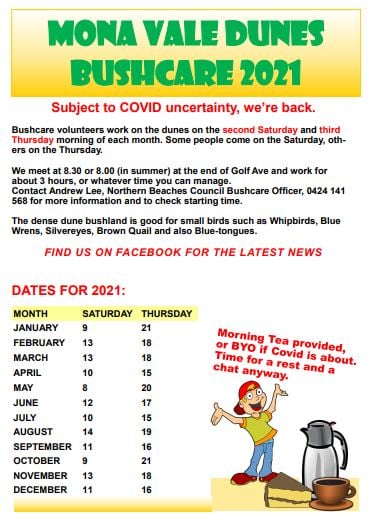 Mona Vale
Mona Vale Beach Basin 1st Saturday 8 - 11am
Mona Vale Dunes 2nd Saturday +3rd Thursday 8:30 - 11:30am
Newport
Bungan Beach 4th Sunday 9 - 12noon
Crescent Reserve 3rd Sunday 9 - 12noon
North Newport Beach 4th Saturday 8:30 - 11:30am
Porter Reserve 2nd Saturday 8 - 11am
North Narrabeen
Irrawong Reserve 2nd Saturday 2 - 5pm
Palm Beach
North Palm Beach Dunes 3rd Saturday 9 - 12noon
Scotland Island
Catherine Park 2nd Sunday 10 - 12:30pm
Elizabeth Park 1st Saturday 9 - 12noon
Pathilda Reserve 3rd Saturday 9 - 12noon
Warriewood
Warriewood Wetlands 1st Sunday 8:30 - 11:30am
Whale Beach
Norma Park 1st Friday 9 - 12noon
Western Foreshores
Coopers Point, Elvina Bay 2nd Sunday 10 - 1pm
Rocky Point, Elvina Bay 1st Monday 9 - 12noon

Gardens And Environment Groups And Organisations In Pittwater
National Parks And Wildlife Amendment (Reservations) Bill 2022 Passes NSW Parliament
The Bill revokes a total of 54.3 hectares from national parks and reserves including:
about 23 hectares in the Blue Mountains National Park
about 21.41 hectares in the Conjola National Park
about 0.3 hectares in the Corramy Regional Park
about 3.56 hectares in the Hartley Historic Site
about 2.35 hectares in the Limeburners Creek National Park and
about 3.68 hectares in the Parma Creek Nature Reserve
The principal objective of the Bill is to revoke land from 6 reserves to enable the upgrading of highways and public roads for improving road safety and for better connecting communities. The road upgrades will be to the Great Western Highway, the Princes Highway and Maria River Road.
The bill also revokes the gazettal of land that was recently declared as the Mayingu Marrugu Aboriginal Place in the Gardens of Stone reserve. This change has occurred following feedback from the traditional custodians of the land that they wish for the area to remain as Crown land.

The land is predominantly located next to the existing roadway and involves a widening of existing transport corridors to allow these infrastructure works to proceed.
Under the bill the New South Wales Government will need to fund the purchase of land to compensate for this loss to the national parks estate and add it to the national parks estate. To be clear, the land purchased to compensate for the land being lost is in addition to any biodiversity offset requirements that will likely arise from the development application process.
Labor MP Kate Washington, during debate this week, stated,
''At the same time that those opposite were failing to protect land by creating national parks, they were actively stripping protections away from existing bushland. The Liberal-Nationals Government rolled back land clearing laws in New South Wales, which encouraged widespread bulldozing of native bushland and resulted in the massive loss of habitat across this State. Under this Government, land clearing in New South Wales has increased thirteen-fold. Do not think for a moment it is a coincidence. It is a direct consequence of this Government's decision to change the biodiversity conservation laws, which wound back protections for habitat and gave the green light to bulldozers. The direct and predictable consequences of the irresponsible changes to environmental protection laws that were made by this Government includes the plummeting populations of koalas and the exacerbation of the impact of climate change on ecosystems. Whilst we all like to talk about koalas, it is not just my furry friends that are now endangered. A rising number of other native species are at greater risk of becoming extinct due to this Government's irresponsible attitude when it comes to our environment.
In the State of the Environment report released recently by the new Federal Labor Government, the extensive land clearing in New South Wales over the last five years was cited as a major cause of habitat loss and fragmentation and the reason why many of Australia's native species are now listed as threatened. The report was prepared and ready for release last year under the former Federal Morrison Government, but it sat on it. It clearly realised that failing to care about the environment has political implications, as it should. Just like their former Federal counterparts, as we head into an election next year, this Liberal-Nationals Government will no doubt be seeking to hide its environmental legacy of land clearing, habitat loss and critical declines in koala populations. But I can guarantee the Government members that my Labor colleagues and I will not let the good people of this State forget this Government's legacy when it comes to our environment.
I acknowledge that Minister Kean did what he could when he was the Minister for Energy and Environment, but ultimately he did not succeed in his battle against his Coalition partners—the environmental vandals otherwise known as The National Party. It appears that the new Minister and member for Manly will have even less success.
When Minister Griffin was asked what his priority was in the portfolio, he said he wanted to massively increase conservation activity on private land. Let us check how that is going. The Government's data reveals that land clearing approvals on privately owned land have now exceeded an astonishing half a million hectares in just four years. That is a shocking 646,418 hectares that have been approved between 2018 and April 2022. That is in addition to the many thousands of hectares of land no longer requiring formal approval because of other changes to laws and regulations made by this Government. The bill before us today will, at best, deliver the status quo in protected land. Our environment needs so much more than that and so much more than this Government.''
Blue Mountains MP Trish Doyle, Labor, stated:
''The bill states that the land identified as "land to be revoked" in the Blue Mountains National Park will be "about 23 hectares". I want it to be acknowledged that this is not a sliver, as has been suggested by senior Transport for NSW bureaucrats; it is a sizeable chunk. I imagine the argument put forth will be that it is necessary to forge ahead with the Great Western Highway duplication project west of Katoomba. I also imagine that it will be pointed out that the piece of land to be revoked, whilst it is national park, does not sit within the World Heritage‑listed section. The suggestion might be, therefore, that it is not such a big deal. I think it is still a big deal, and so do many in the community of the Blue Mountains—the Blue Mountains Conservation Society especially.
Labor is not opposing the bill, with the expectation that the New South Wales Government will do the right thing and that the land revoked will be replaced, like for like, with land of equal area and equal or greater environmental value. I note that the bill amends the National Parks and Wildlife Act 1974 to revoke more than 54 hectares from national parks and reserves for priority transport projects; that national park land revocations occur regularly and are only considered as a last resort when no other practical options are available; and that there is a requirement that the lost land will be compensated. The Minister must be satisfied that appropriate compensation has been secured before the land can be revoked. I note that the Minister is in the Chamber; we will hold him to this, and so will the State.
Whilst the party I represent is not opposing the bill, as the local member for an area that will be on the receiving end of the actions that result from the bill, I want my concerns and the concerns of my community on the record. I want to know that there are protections in place for the remainder of our national park, World Heritage listed or otherwise. It seems that what is deemed as progress that meets human need always wins out in the end, often by way of large infrastructure projects like highways. I understand this to a degree, but we must all realise that the days of this kind of thinking are numbered.
I worry for my electorate because so much of the focus on getting the Great Western Highway upgraded is not at all about what is best for protecting and preserving the natural environment in the Blue Mountains. While I acknowledge the growing need for a more efficient traverse across the mountains and more practicable solutions to ease local traffic congestion, I am yet to be convinced that one of the core motivations in progressing the highway upgrades is respect for environmental sensitivities. This is starkly illustrated by the New South Wales Government's decision to opt for a review of environmental factors in the area where the land in the Blue Mountains is earmarked for revocation, rather than a full environmental impact statement.
I highlight this because it makes me question whether we really know enough about the land in the Blue Mountains that is set to be revoked. Do we know that there are no vulnerable species living there? Do we know the full impacts on things like groundwater run‑off and nearby swamps? We are essentially being asked to trust in the process of taking something away and giving something back, but I would feel more inclined to trust in this if I had any trust in the Government. Let us not forget that Blue Mountains National Park has already lost millions of hectares and wildlife from the 2019‑20 bushfires and from the impacts of several major flooding incidents.
I would also like to understand what assurances, if any, will be in place to protect the surrounding national park and World Heritage national park as this highway project ploughs ahead. I want to know that a precedent of sorts is not being set here. I want to know that, if this piece of our park must be revoked, it will not pave the way for further revocations at a later date because another project has been deemed more important than the unique environment in which we live. Our national parks are essential to us all, both locally and globally. They support broader conservation and anchor ecosystems. They are home to Indigenous cultural heritage, and they provide habitat for wildlife and plant life.''
MP for Manly and NSW Environment Minister James Griffin confirmed new lands would be added to the reserves system without specifying where.
''The National Parks and Wildlife Amendment (Reservations) Bill 2022 proposes to amend the National Parks and Wildlife Act 1974 to remove a small area of land from the reserve system—only 54 hectares, which is less than one square kilometre—from six parks and reserves.'' Mr. Griffin said during debate of the Bill.
''Compensatory lands will be of suitable biodiversity or other conservation values. Importantly, the bill includes a safety net to ensure that appropriate compensation must be approved by the Minister for Environment and Heritage before any of the revoked lands are transferred to the relevant road authority.''
'' It is important to recognise that none of the land being revoked sits within the Blue Mountains World Heritage area, and I can assure the member for the Blue Mountains that appropriate compensation will be provided and transferred into parks. I also note that since 2019 this Government has increased the New South Wales protected area network by over 441,000 hectares.
All the bill does is recognise that from time to time park boundaries require routine adjustment to correct historical areas, address encroachments and enable significant infrastructure projects to proceed. At the core of this, appropriate transfers and compensation will be identified and provided to the particular parks where an impact is being felt.'' Mr. Griffin said.
NSW Department Of Planning Announces New Chief Executive Secured For NSW Land And Housing Corporation
Simon Newport has been named the new Chief Executive of the NSW Land and Housing Corporation, leading the team responsible for the largest housing portfolio in Australia, comprising some 125,000 property assets worth more than $51 billion.
NSW Department of Planning and Environment Secretary Mick Cassel said Mr Newport was an experienced executive with more than 30 years in the construction, finance and housing industries, most recently as Acting Chief Executive at the Aboriginal Housing Office (AHO).
"The NSW Land and Housing Corporation has a mandate to grow and manage the largest social housing portfolio in Australia, and to be an industry leader in providing social housing that is well designed and located, affordable, safe, and well maintained," Mr Cassel said.
"LAHC is innovating housing to deliver more keys in doors for people in need, but housing is more just than having a roof over people's heads – it's also about safe and appropriate accommodation close to transport, shops and local services, and community support.
"I'm delighted we've secured a leader with Simon's capability, experience, and passion for social housing, demonstrated most recently where he led AHO's economic stimulus and recovery programs over the past 18 months, delivering more homes, upgrades and jobs for the Aboriginal community in NSW.
"With Simon at the helm, the AHO recently secured more than $200 million of additional Budget investment in Aboriginal housing and support services."
Mr Cassel said LAHC, including supporting teacher and police housing, had been allocated more than $1.3 billion over the past 2 years to invest in new and upgraded housing - to respond to COVID-19, floods, and housing needs across the State.
"This funding is delivering 2,295 social homes, over 28,000 upgraded homes through capital maintenance, new and refurbished key worker homes in remote and regional areas, 1,800 private market homes, and 1,000 vacant land lots.
"I also want to acknowledge the work of Deb Brill who, from late December 2021, has acted in the role of Chief Executive at LAHC. Deb has been integral in shaping the LAHC business, working with me to reposition LAHC as an innovative agency. Deb's knowledge and passion for social housing are well known and highly respected across the sector," he said.
Mr Newport said he was thrilled to join LAHC at such a critical time for the agency.
"I'm excited to work with a great team at LAHC to continue to ensure the delivery of the right types of housing, at the right time, in the right places for people in need across NSW.
"With housing pressures front of mind right across Australia, the quality and innovation of our maintenance, delivery, policy and partnership work remains vital to ensure safe and secure housing for people and families in need," he said.
Simon Newport will commence in the role of Chief Executive, Land and Housing Corporation, on 15 August.
For more information about the Land and Housing Corporation visit www.dpie.nsw.gov.au/land-and-housing-corporation.
Applications Now Open For 2022 Gone Fishing Day Grants
NSW Gone Fishing Day is back for 2022 and recreational fishing clubs and organisations are encouraged to apply for grants to host fishing activities on Sunday October 9th.
NSW Department of Primary Industries (DPI) Deputy Director General Fisheries Sean Sloan said applications for grants of up to $2,000, as well as Gone Fishing Day packages to help host a local Gone Fishing Day event are now
open until Tuesday September 6th, 2022
.
"Recreational fishing clubs, organisations and community groups are eligible to apply for grants of up to $2,000 to purchase items required to run Gone Fishing Day events, such as casting and fishing workshops and information sessions, on or around 9 October 2022.
"The grants can be used to purchase fishing gear, bait, food and soft drinks and equipment hire etc.
"Activities to restore fish habitat, through replanting and/or weeding creek banks, on Gone Fishing Day are also eligible to apply.
"Clubs can also apply for Gone Fishing Day packages consisting of rod and reel sets, bags, giveaways and advisory information for participants attending events," Mr Sloan said.
Gone Fishing Day events and activities are supported by NSW DPI and the Recreational Fishing Trust and is a part of a national initiative organised by the Australian Recreational Fishing Foundation.
"Gone Fishing Day is a great way for the state's one million fishers to connect and introduce their friends and family to their valued pastime," Mr Sloan said.
"It doesn't matter if you haven't fished before or if you're the keenest of anglers, Gone Fishing Day is for everyone."
DPI will also be hosting free community fishing events at Ballina, Lake Macquarie, Batemans Bay, Sydney, Narrabri and Cowra on Sunday 9 October to encourage everyone to get on the water and wet a line.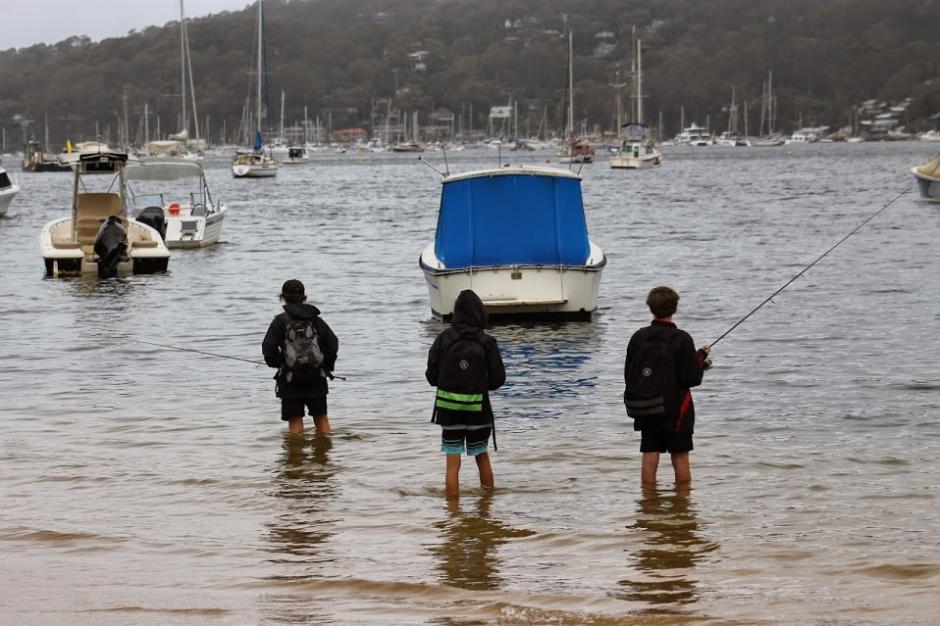 Minister Officially Opens Koala Hospital
Minister for the Environment and Water Tanya Plibersek has today officially opened the Port Stephens Koala Hospital, reaffirming the Australian Government's commitment to Koala conservation.
In recent years, the cumulative impacts of climate change, disease, and habitat loss have caused a drastic decline in population numbers of Koalas, which are now listed as endangered in some states under national environment law.
This decline was accelerated by the 2019-2020 Black Summer bushfires, which impacted 3.7 million hectares of Koala habitat on Australia's east coast.
In response, the Australian Government is taking action to protect this iconic species and has committed nearly $76 million to Koala conservation over the next four years.
Most recently, the Australian Government committed $24.5 million towards Koala conservation under the $224.5 million Saving Native Species Program.
Minister for the Environment and Water Tanya Plibersek said:
"I am excited to be opening the Port Stephens Koala Hospital and to see first-hand the work that is being done to protect and revive this iconic species," Minister Plibersek said.
"It's hard to imagine Australia without koalas. But because of habitat destruction, climate change and disease, they're at genuine risk of extinction.
"Last month, I released the State of the Environment Report. It showed that, in the past five years, the number of threatened ecological communities in Australia had grown by another twenty percent – while the number of threatened species had grown by almost ten percent.
"The Australian Government is determined to protect Australian species from the ongoing threat of extinction. That's why we've committed $224.5 million to establish the Saving Native Species Program, that will boost protection for native species including the Koala, combat invasive species, and improve conservation planning."
$1.27 Million To Bolster Energy Storage In The Hunter
The Hon Chris Bowen MP, Minister for Climate Change and Energy
Meryl Swanson MP, Member for Paterson
The Albanese Government is boosting renewable energy technology by supporting a ground-breaking thermal energy storage project in the Hunter to support the energy transformation.
Through the Australian Renewable Energy Agency (ARENA) the government is providing $1.27 million to Newcastle-based company MGA Thermal to develop a 5 MWh thermal energy storage system.
The $2.85 million project will see the construction of a pilot unit to showcase steam generation from stored thermal energy with the capacity to provide a new form of medium-term energy storage.
As Australia ramps up renewable generation such as wind and solar, we will need more energy storage to deliver secure and affordable renewable energy for Australian businesses and households.
The government's funding will help take this technology from lab to market.
Minister for Climate Change and Energy Chris Bowen, on a visit to the MGA Thermal manufacturing site near Newcastle with local member Meryl Swanson, said the government was proud to be supporting a local Newcastle company.
"MGA Thermal is a wonderful example of Australian know-how leading the way in the rapidly expanding renewables sector," he said.
"The company's unique technology has the potential to make major advances in medium-term storage that are vital for decarbonising industrial energy use and electricity generation in Australia and the world."
"ARENA makes it possible for Australians to invest in ground-breaking projects like MGA Thermal, which is why the Albanese Government is committed to protecting and strengthening the agency."
Member for Paterson Meryl Swanson, who accompanied Minister Bowen on the visit, said the trail-blazing project by MGA Thermal in Newcastle would stimulate the local economy and create employment.
"This project will have many positive knock-on effects for the region, including delivering 22 high-skill full-time jobs," she said.
"MGA Thermal is a spin-off from the University of Newcastle and its latest breakthrough highlights the Hunter's growing dual reputation as a leading research hub and a regional energy powerhouse."
The project uses MGA Thermal's proprietary Miscibility Gap Alloy technology, a unique material to store heat for days with minimal energy loss. The government's funding will help take this technology from lab to market.
Last month the Government introduced regulations to ensure ARENA could remain focused on supporting next generation renewable and related technologies like electrification. These steps are helping to back
technologies that industry and other energy users will need for the energy transformation underway.
Queensland's Renewable Energy Sector Gets $160m Boost
The Australian and Queensland governments have inked a landmark agreement to fast-track connection of the country's largest wind farm precinct to the National Electricity Market.
The $160 million commitment from the Clean Energy Finance Corporation (CEFC) for the Southern Downs Renewable Energy Zone (REZ) will help power 700,000 Queensland homes and create hundreds of local jobs.
Powerlink, a Queensland Government company, will use the finance to build and operate 65 km of high voltage overhead transmission lines and two new switching stations.
The new infrastructure will connect power generated from the region's rich wind resources to the grid, providing additional network capacity of up to 1000MW, adding to the proposed 1000MW of renewable plant capacity to support the MacIntyre Wind Precinct.
Minister for Climate Change and Energy Chris Bowen said the CEFC finance would help deliver more renewable energy to households and businesses in southern Queensland, and the east-coast states of Australia.
"The best way to put downward pressure on energy prices is to ramp up investment in renewables, transmission and storage and that is exactly what this $160 million commitment will do," he said.
"After a decade of energy chaos from the Abbott/Turnbull/Morrison Governments – the Albanese Government is getting on with the job and working with all states and territories, including Queensland, on the essential energy infrastructure we need.
"We are delivering on our Powering Australia plan which includes a major boost to renewable energy supplies to help create jobs and reduce emissions across the nation."
This is the first account between a Queensland Government owned company and the CEFC, and it will be helping to establish one of the largest wind project in the southern hemisphere.
Queensland Energy Minister Mick de Brenni said the agreement demonstrated how working together can help the nation achieve energy independence.
"Connecting the massive project to the national grid not only unlocks $2 billion worth of investment, it also boosts reliability of power across the three east Australian states, with clean Queensland-made energy," he said.
"It also presents another opportunity to build onshore capability and skill Queenslanders for renewable energy jobs of the future.
"This model also connects cheaper renewable generation in a way that minimises costs and risks for Queensland businesses and households."
Energy Users Association of Australia (EUAA) CEO Andrew Richards said the model should be replicated across Australia.
"This model fundamentally changes the way that transmission businesses are looking at delivering this type of infrastructure," he said.
It's fantastic and we want to see more of them adopt this approach across the country."
Santos' Pipeline Purchase Faces Massive Hurdles As Landholders Line Up Against It
Oil and gas giant Santos is set to stir up a hornet's nest of fierce opposition after it purchased the rights to build the Queensland-Hunter Gas Pipeline, which would run through the Liverpool Plains on the way to the Narrabri Gas Project in the Pilliga.
With hundreds of landowners along the existing pipeline route organised and ready to defend their businesses and the region's high quality soils from the destructive pipeline, the company will need both state government's to override these residents to proceed.
Mullaley Gas and Pipeline Accord spokesperson and beef farmer Margaret Fleck said "The previous owners of the Hunter Gas Pipeline knew the fight they were in for, so it's no wonder they were all too happy to offload this poisoned chalice onto Santos."
"We estimate there are at least 800 properties in NSW alone that would be impacted if this destructive pipeline is built, and all along its proposed route, farmers and communities have formed grassroots groups to prevent its construction.
"It is totally inappropriate and downright dangerous for any company to build a high pressure gas pipeline through the vertosol soils of the Liverpool Plains. These soils crack and swell, and they also happen to be some of the best soils for food and fibre production in the state.
"This also proves Santos' intent to rip apart the Liverpool Plains with hundreds of new gaswells, with the company recently announcing plans to conduct seismic testing in the world-renowned foodbowl.
"There's also no incentive for regional towns to link to 'offtake points' along the route as Santos claims because it would cost councils millions of dollars in infrastructure cost that will leave these councils holding a very expensive, stranded asset."
Quirindi farmer Peter Wills, who has a property likely to be impacted by the pipeline said, "Santos needs to drastically reconsider its expectations if it thinks it can build a high pressure gas pipeline through the Liverpool Plains while it is already trying to explore for coal seam gas here.
"Santos has made it ten times harder for itself by already announcing its intentions to once again explore for gas in the Liverpool Plains, more than a decade after this community rejected its last advances and drove Santos out of town."
Lock the Gate National Coordinator Carmel Flint said, "Santos is the architect of the gas crisis currently besetting the East Coast - its gas exports have resulted in our domestic gas being funnelled overseas and have driven up prices here to astronomical highs.
"The only solution to volatile gas markets and profiteering gas giants is to switch to renewables now - more gasfields will damage land and water and won't do anything about high gas prices which are caused by cartel-like behaviour by gas companies, including Santos."
QLD Farmers Given Just Days To Respond To Massive Gas Threat
If approved, the regional interests development approval (RIDA) application by Shell and PetroChina owned Arrow Energy would allow the company to drill deviated CSG wells on land in the Ducklo area south west of Dalby - a district renowned for its world class cropping.
The move comes after Arrow was fined $1 million in March this year for ignoring land access laws and illegally drilling deviated wells beneath farmers' land.
Arrow applied for a RIDA on July 21 last year, however was later served a noncompliance letter after it was unable to provide sufficient information to the Queensland Government.
Even though the farms Arrow is targeting for unconventional gas drilling are classed as priority agricultural land and strategic cropping land, Queensland laws do little to protect it. In fact, an Environmental Defenders Office analysis recently showed that since the Regional Planning Interest Act was created in 2014, not one RIDA application to drill for CSG in priority agricultural areas has been rejected.
Chinchilla landholder advocate and Chair of Property Rights Australia Shay Dougall said Arrow Energy was once again treating farmers and Australia's best agricultural land with disdain.
"Farmers can't be expected to wade through, let alone respond to a document of this size and importance in just 15 days while they are trying to put food on the table for Queenslanders," she said.
"We're facing a food supply crisis and an energy crisis, yet in Queensland the Palaszczuk Labor Government is happy to sacrifice farms so companies like Arrow can rip the gas and water out from under our feet and send it overseas to the highest bidder.
"We've requested an urgent extension to the 15 business day timeframe; this is the one opportunity that these farmers have to influence the state's decision on these CSG activities and the impact they have on their businesses.
"A 15 day timeframe for a meaningful contribution is absurd.
"The Palaszczuk Government must put the spirit and intention of the RPIA into action so priority agricultural land is preserved. It must not blindly follow arbitrary dates that would only serve to appease Arrow Energy."
Submissions in response to Arrow's RIDA are due by August 15.
DVA Claims Processing Among Urgent Recommendations In Royal Commission Interim Report
The Royal Commission into Defence and Veteran Suicide has made 13 urgent recommendations in its interim report, which was handed to the Governor-General, David Hurley, and tabled in Parliament in Canberra today.
The Commission Chair Nick Kaldas said suicide in the veteran community was a national tragedy that required immediate action.
"We acknowledge every serving and ex-serving member who has died by suicide – each life lived and each life left behind," Commissioner Kaldas said. "We also recognise those serving or former ADF members who have experienced suicidality."
Key recommendations include:
Clearing the backlog of Department of Veterans' Affairs (DVA) claims
Simplifying and harmonising complex and confusing veteran compensation and rehabilitation laws
Increasing legal protections for serving and ex-serving ADF members to engage with the Royal Commission
The exemption of the Royal Commission from parliamentary privilege, to make it easier for the inquiry to hold Defence and DVA to account
For Defence and DVA to improve access for serving and ex-serving members (and their families) to their service information, including medical records
Commissioner Kaldas said one of the most pressing issues was the unacceptable backlog of DVA claims – almost 42,000, as at the end of May this year – that were still awaiting processing.
"We know that the long wait to receive entitlements can have a terrible effect on veterans' mental health and in some cases leads to suicide and suicidality," he said.
"Behind each claim is a veteran who needs support, and it is gravely important that this assistance is provided as quickly as possible – lives and livelihoods depend on it."
The Commission has recommended DVA be given until 31 March 2024 to eliminate the backlog of claims and that the Australian Government provide the necessary resources to ensure this occurs.
Accountability – permanent body
The Australian Government has formally responded to fewer than half of the 57 previous inquiries or reports submitted to it in relation to matters that relate to Defence and veteran suicide.
The Commission is considering what should follow this Royal Commission, including the need for a permanent body to report on the progress and quality of the implementation of recommendations from this Royal Commission and previous inquiries.
Further work – including public consultation – will be carried out in 2023 so that such a body can be in place by mid-2024 when this Royal Commission delivers its final report and recommendations.
Other areas of focus for the remainder of the inquiry include suicide prevention and wellbeing, the role and support of families, ADF culture and transition to civilian life.
Separate issues not detailed in this interim report may be included in any special reports or recommendations produced before the Commission concludes in 2024.
Commission Chair Nick Kaldas said the welfare of current and former serving members – and the memory of those who had died by suicide – is foremost in Commissioners' minds.
"We will continue to listen, consult and learn. We want to ensure this Royal Commission's legacy is a vast improvement in the welfare of serving and ex-serving members of the ADF and their families," Commissioner Kaldas said.
The Royal Commission will continue to review each submission received and consider the evidence and information gathered from hearings, roundtables, private sessions, internal and commissioned research.
"We want all current and former Defence personnel to go on to live long, happy and meaningful lives,"" Commissioner Kaldas said.
The Commission was established in July 2021 to help reduce the devastating toll of suicide among current and former members of the ADF.
Royal Commissioners, Nick Kaldas APM (Chair), The Hon James Douglas QC and Dr Peggy Brown AO presented the Interim Report of the Royal Commission into Defence and Veteran Suicide to the Governor-General, His Excellency, General the Honourable David Hurley AC DSC (Retd) on 11 August 2022, and it was tabled in Parliament on 11 August.
The inquiry is focused on the identification of systemic problems and solutions to suicide and suicidality among serving and ex-serving ADF members.
The Interim Report provides commentary on the following:
summary of work undertaken
preliminary observations
recommendations about urgent and immediate issues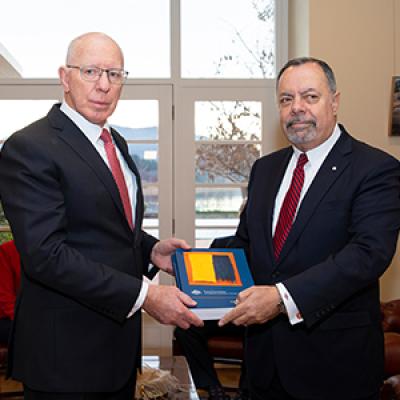 Caravan Industry On Notice For Poor Treatment Of Consumers
Australian consumers have reported widespread consumer guarantee failures, misrepresentations by caravan suppliers, and unexpected delays in the delivery and repair of caravans, according to the
ACCC's New caravan retailing report
.
The report highlights key issues of concern in the market for new caravans and provides guidance to businesses about their obligations to comply with Australian Consumer law.
In an ACCC survey of 2,270 caravan owners, 80 per cent reported having experienced problems with their new caravan.
The number of consumer complaints to the ACCC about the caravan industry continues to rise, reaching more than 1,300 reports in the past five years.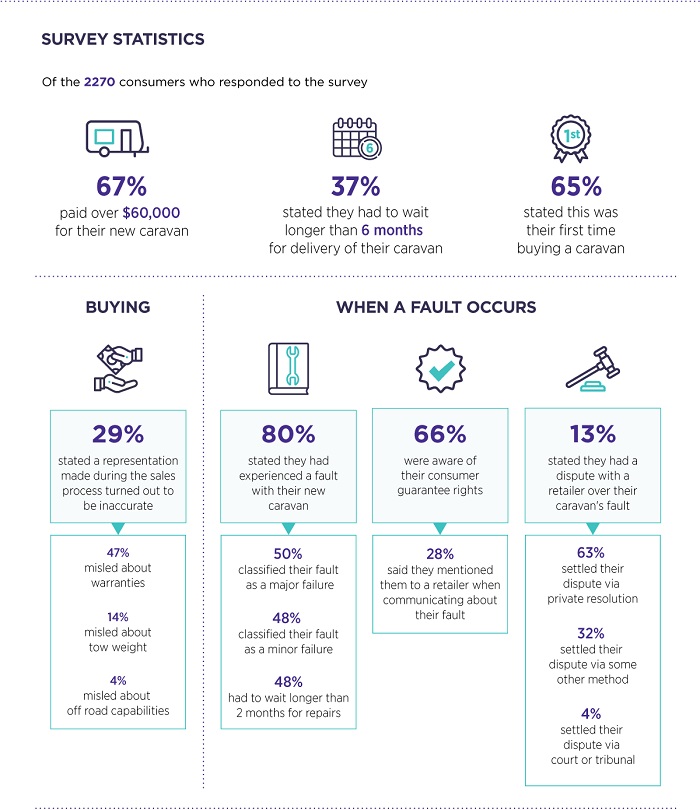 "A caravan can represent a significant financial and emotional investment. Some people save for years in anticipation of purchasing and travelling in a caravan. If something goes wrong the harm can be significant," ACCC Deputy Chair Delia Rickard said.
Under Australian Consumer Law, if your caravan fails to meet one or more consumer guarantees, for example it is not of acceptable quality or doesn't match a description made by a supplier, then you are entitled to a remedy from the supplier. A remedy can be a repair, replacement or refund.
If a consumer guarantee failure is minor, the supplier can choose to offer you a repair. If the supplier refuses to offer you a repair for the minor failure, you are entitled to a refund or a replacement.
If a failure is major, you are entitled to your choice of a replacement or refund. It is also important to note that multiple minor failures can be considered a major failure, which entitles you to your choice of a refund or replacement.
Many consumers reported to the ACCC that when they experienced a failure with their caravan, they were unable to obtain a remedy or that the remedy provided did not fully address the failure.
"We are very concerned by these reported failures to comply with obligations under the Australian Consumer Law, and the impact that these failures have on consumers who have purchased a caravan which develops a fault."
"Consumers need to be confident that when they make a significant financial purchase like a caravan, they will be able to get a refund, replacement or a repair if there is a failure," Ms Rickard said.
"It is the ACCC's view that it is reasonable to expect a new caravan won't develop a major fault within the first several years of use."
Under Australian Consumer Law, a retailer must provide the consumer with a remedy when there is a consumer guarantee failure. However, the Australian Consumer Law also provides the retailer is entitled to recover any costs associated with providing that remedy from the manufacturer. This reimbursement includes parts and labour associated with repairs.
In response to an ACCC survey, 40 per cent of caravan suppliers reported that a manufacturer had refused to reimburse them for providing a remedy to a consumer.
"While a supplier can take legal action against a manufacturer to recover costs, the ACCC's survey of suppliers found some were reluctant to take this step due to fear of retribution," Ms Rickard said.
"We are very concerned by reports that retailers are unable to obtain the reimbursement they are entitled to for providing remedies to consumers."
The ACCC is also concerned that many consumers believe suppliers have misled them during the sales process or when problems with their caravan arose. The most frequently reported misleading claims were about consumer guarantee rights and their interaction with warranties.
"If your caravan has a major or minor consumer guarantee failure you may be entitled to a remedy even if the warranty provided by the business has expired," Ms Rickard said.
Consumers also reported they believed suppliers made misrepresentations about their caravan's performance capabilities, and tow-weight.
"Reports of misleading representations about caravan's tow-weight and other important performance capabilities are particularly worrying given the grave safety implications for consumers," Ms Rickard said.
"The ACCC will investigate and take enforcement action against suppliers and manufacturers we believe may have misled consumers."
The report also found that many consumers experienced delays in the delivery of their new caravan, or for repairs to their existing caravan, some of which relates to COVID-19 supply chain disruptions and recent increased demand.
"We expect that suppliers will be upfront with consumers about the timeframe for delivery of their caravan and any potential delays during the sales process and continue to proactively communicate until delivery," Ms Rickard said.
The ACCC strongly supports proposals to strengthen the Australian Consumer Law, including by enabling enforcement actions and penalties for when suppliers have failed to provide remedies for consumer guarantee failures and when manufacturers have failed to reimburse suppliers for providing remedies.
The ACCC has released guidance buying a new caravan
to help consumers and businesses understand their rights and obligations when buying and selling caravans.
The ACCC has also developed information for the caravan industry to assist in complying with the requirements of consumer and competition laws.
The ACCC is concerned with the rising number of complaints (1,300) the ACCC has received about caravans over the past five years.
Accordingly, industry compliance with consumer guarantees regarding high value items including caravans is a
2022-23 Compliance and Enforcement
priority for the ACCC, as it was in 2021-22.
In November 2021, the ACCC released two surveys directed towards consumers and suppliers to better understand the issues they faced in the new caravan retailing market.
The ACCC received 2,270 relevant consumer responses and 67 supplier responses. The ACCC has also spoken directly with consumers, suppliers, industry associations and received feedback through industry forums.
In December 2021, the Treasury published a
Consultation Regulatory Impact Statement
(CRIS) on improving consumer guarantees and supplier indemnification provisions under the ACL. This included consideration of civil prohibitions with pecuniary penalties for:
a failure to provide a remedy where a business is legally required to do so
manufacturers' failure to indemnify suppliers, and
retribution by manufacturers against suppliers who seek indemnification.
The ACCC has provided a submission to Treasury's CRIS process advocating for the ACL to be amended to introduce these prohibitions.
Major Contributor To Alzheimer's Disease Discovered
Research led by Drs. Yuhai Zhao and Walter J Lukiw at the LSU Health New Orleans Neuroscience Center and the Departments of Cell Biology and Anatomy, Neurology and Ophthalmology, reports for the first time a pathway that begins in the gut and ends with a potent pro-inflammatory toxin in brain cells contributing to the development of Alzheimer's disease (AD). They also report a simple way to prevent it.
The researchers found evidence that a molecule containing a very potent microbial-generated neurotoxin (lipopolysaccharide or LPS) derived from the Gram-negative bacteria Bacteroides fragilis in the human gastrointestinal (GI) tract generates a neurotoxin known as BF-LPS.
"LPSs in general are probably the most potent microbial-derived pro-inflammatory neurotoxic glycolipids known," says Dr. Lukiw. "Many laboratories, including our own, have detected different forms of LPS within neurons of the Alzheimer's disease-affected human brain."
In this study, the researchers detail the pathway of BF-LPS from the gut to the brain and its mechanisms of action once there. BF-LPS leaks out of the GI tract, crosses the blood brain barrier via the circulatory system, and accesses brain compartments. Then it increases inflammation in brain cells and inhibits neuron-specific neurofilament light (NF-L,) a protein that supports cell integrity. A deficit of this protein leads to progressive neuronal cell atrophy, and ultimately cell death, as is observed in AD-affected neurons.
They also report that adequate intake of dietary fibre can head off the process.
The novel features of this newly described pathological pathway are threefold. The AD-stimulating pathway begins inside of us -- in our GI-tract microbiome -- and therefore is very "locally sourced" and active throughout our lives. The highly potent neurotoxin BF-LPS is a natural by-product of GI-tract-based microbial metabolism.
Bacteroides fragilis abundance in the microbiome, which is the source of the neurotoxin BF-LPS, can be regulated by dietary fibre intake.
"Put another way, dietary-based approaches to balance the microorganisms in the microbiome may be an attractive means to modify the abundance, speciation, and complexity of enterotoxigenic forms of AD-relevant microbes and their potential for the pathological discharge of highly neurotoxic microbial-derived secretions that include BF-LPS and other forms of LPS," Lukiw explains.
The researchers conclude that an improved understanding of the interaction between the GI tract-Central Nervous System axis and the GI-tract microbiome and Alzheimer's disease has considerable potential to lead to new diagnostic and therapeutic strategies in the clinical management of Alzheimer's disease and other lethal, progressive, and age-related neurodegenerative disorders.
It has been estimated that Americans eat 10-15 grams of fibre a day on average. The USDA recommends that women up to age 50 consume 25 grams a day and men 38 grams. Over age 50, women and men should consume 21 and 30 grams daily, respectively.
Aileen I. Pogue, Vivian R. Jaber, Nathan M. Sharfman, Yuhai Zhao, Walter J. Lukiw.
Downregulation of Neurofilament Light Chain Expression in Human Neuronal-Glial Cell Co-Cultures by a Microbiome-Derived Lipopolysaccharide-Induced miRNA-30b-5p
. Frontiers in Neurology, 2022; 13 DOI:
10.3389/fneur.2022.900048
Dementia Action Week
19 – 25 September 2022
Dementia impacts close to half a million Australians and almost 1.6 million Australians are involved in their care. The number of people living with dementia is set to double in the next 25 years. With so many people impacted now and into the future, it is vital we clear up some of the prevailing misconceptions about dementia.
People living with dementia can live active and fulfilling lives many years after diagnosis. Despite this, they often experience discrimination. In a Dementia Australia survey, more than 70 per cent of people believed discrimination towards people with dementia is common or very common.
The concept for Dementia Action Week was developed in consultation with Dementia Advocates, who have a lived experience of dementia. The 'A little support makes a big difference' campaign demonstrates that many people living with dementia can continue to live well for many years after their diagnosis. In 2021, the focus was also on supporting and celebrating carers of people living with dementia.
The campaign provides information and tips to encourage all Australians to increase their understanding of dementia and learn how they can make a difference to the lives of people around them who are impacted – and to help eliminate discrimination. These include simple and practical tips to:
Give a little support to a person living with dementia.
Give a little support to a carer, friend or family member of a person living with dementia.
Help healthcare professionals make their practice more dementia-friendly.
This awareness-raising campaign continues to lead the discussion about discrimination, which we know has a big impact on people living with dementia, their families and carers. The good news is, there is a lot that can be done to improve their experiences. To find out how you can make a difference please visit our campaign site by clicking the link below:
We encourage community organisations, partners and supporters to
register your interest
to receive further information about Dementia Action Week 2022, discrimination and dementia.
New AMA President And Vice President Elected At AMA National Conference
The AMA today elected a new President, Professor Steve Robson and Vice President, Dr Danielle McMullen.
The election, at the AMA's National Conference, follows the conclusion of the two-year terms of President Dr Omar Khorshid and Vice President Dr Chris Moy.
Professor Robson is a senior specialist in Obstetrics and Gynaecology and has been in practice in Canberra for 20 years.
Professor Robson first joined the AMA in 1984 as a medical student in Queensland. He has served as ACT President and is in his fifth term on the AMA ACT Board and is a Federal Councillor. He has also been President of the Royal Australian and New Zealand College of Obstetricians and Gynaecologists.
Dr McMullen is a GP in Sydney's Inner West, and immediate past president of AMA (NSW), which included handling the state's response to COVID. Throughout the pandemic, she demonstrated strong leadership, effectively engaging decision makers to further the AMA's strategic policy and public health aims.
Dr McMullen is passionate about the AMA and strongly believes it is the only organisation that successfully brings together doctors from all specialties and stages of career to advocate for a better system for patients and their doctors.
Professor Robson thanked Dr Khorshid and Dr Moy for their service in unprecedented times.
"Our new team will be a strong advocate for the medical profession and the community following in the large footsteps of the former leadership team of Dr Omar Khorshid and Dr Chris Moy.
"We have come so far, but there's still so much to be done. I am determined to see general practice not only survive but be recognised as the lynchpin it is in our health system. It is one of the most cost-effective ways of keeping Australians healthy," said Professor Robson.
"As a leadership team, we look forward to working with members and non-members and stakeholders, including government to see the $1 billion dollars in funding earmarked for general practice spent in a targeted and effective way as outlined in the 10 Year Primary Health Care Plan," said Dr McMullen.
"Continuing the AMA campaign to stop the Hospital Logjam and restore sustainable funding to our public hospital system and hold the new federal government to account will be a priority also," she said.
"Across the issues of prevention, private practice, public hospitals, aged care and general practice we are looking forward to continuing the critical work the AMA carries out, and highlighting that health is the best investment for governments to make," said Professor Robson.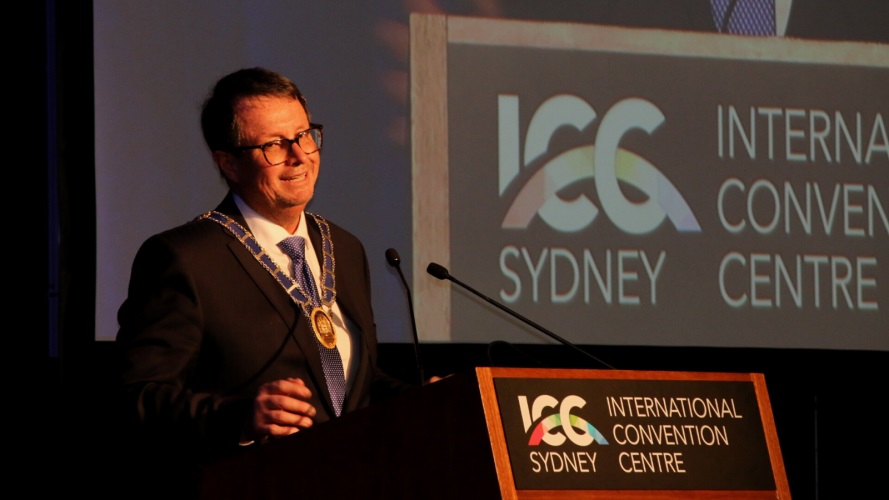 The Seekers - I'll Never Find Another You
(HQ Stereo, 1964/'68)
The Seekers' first hit single, recorded at Abbey Road studios in London in the autumn of '64, reaching #1 in Feb '65. Originally in mono, here is a new stereo mix using DES (Digitally Extracted Stereo)
Olivia Newton John - Let Me Be There
Nullarbor
A man with road rage confronts an elderly driver. Then all hell breaks loose.
Six Behaviours To Increase Your Confidence: Emily Jaenson - TEDxReno
Published August 11, 2022 by TEDx Talks
Research tells us that the way to get people to change is not to start with trying to change their attitudes alone, but to start with the behaviors associated with the attitudes. When people see themselves behaving differently, they can then think of themselves differently and the attitude change will follow. The six behaviors discussed that you could start today are derived from over 90 interviews with female executives in sports.
Emily Jaenson's motto is "Be so good they won't forget you!" and this motto has carried her through her career to land her former role as General Manager of the Triple-A Reno Aces. Upon accepting this role in 2018, Jaenson became the first female in Triple-A to hold the GM role in nearly 20 years. Jaenson leads a podcast, Leadership is Female, where she interviews executives in sport so that she and her guests can guide the next generation of female leadership forward and leads a team of sports front office veterans in their consulting business. This talk was given at a TEDx event using the TED conference format but independently organised by a local community. Learn more at https://www.ted.com/tedx
Be The Boss: I Want To Be A Music Producer
We all LOVE music, right? But not all of us will become GREAT Musicians - however, there is an industry career that will allow you to support musicians, that of Music or Record Producer.
Years ago, as part of doing some research into the Doppler Effect and wondering what whole notes our planets sound (a heartbeat), how the sequence of these may create a 'song of our galaxy', the best way to find out more about sound production to recreate that range of notes was to do a Music Producer course in at Surry Hills. Since then it is noted this same great crew of then has expanded and now offer courses in Sydney still but also in Melbourne and Brisbane. They were, and are, the JMC Academy, and there is some fee help available through this organisation, you can check them out here: pages.jmcacademy.edu.au/Sept22_Production.html - there's a new course starting September 22nd, 2022.
But what is a Music Producer?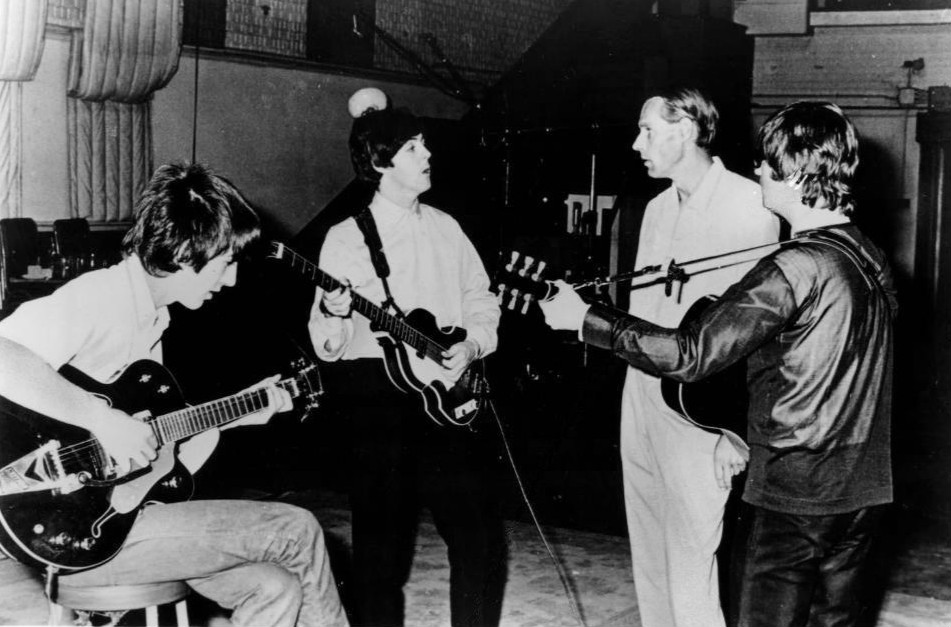 A music producer writes, arranges, produces and records songs for other artists or for their own projects.
Work activities
As a music producer, you would:
work with musical artists in a recording studio to record new songs
choose songs with the artist
work out musical arrangements and hire musicians
arrange, set up and use microphones and other recording equipment
meet with new artists and music industry professionals to schedule work
generate ideas for creative approaches to recording music
develop budgets for music albums
schedule the recording and mixing studios that an artist would use
supervise the recording, overdubbing and mixing sessions, keeping within the decided budget
at the major label level, work in shaping songs deemed to have commercial potential
work closely with artists to elicit consistent and outstanding vocal or instrumental performances
keep to a record label's deadlines
produce music for games, film and TV, and video commercials.
Key skills and interests
To become a music producer, you would need:
a broad knowledge of musical styles
well developed technical skills
extensive knowledge of audio recording techniques and the best way to use music studio equipment
the ability to use microphones and computer software to engineer quality recordings
an awareness of new musical trends and new audio production technology
creativity and flexibility
good project management and time management skills.
Working hours and conditions
Music producers work irregular hours. They are also likely to have to attend music industry events, concerts and performances out of hours, during evenings, and on weekends.
Music producers may be self-employed, work for a recording studio or record label, or work on the production of music for games, film and TV, and video commercials. You would usually work in a studio. You would use a wide range of specialised recording, mixing and dubbing equipment, as well as computer software.
How to become an Music Producer?
You can work as a music producer without formal qualifications. Most producers begin the production phase of their careers after many years working their way up from junior level roles in the music industry, or in related industries such as film.
However, most producers are educated to degree level. You could undertake a Bachelor's degree in an area such as visual or creative arts, arts management or arts with a major in music studies. To get into these courses, you usually need to gain your senior secondary school certificate or equivalent.
Additional courses in music production may increase your chances of success in a very competitive environment. You will also need substantial experience in a broad range of musical styles, an in-depth understanding of the production process, and a good network of contacts in the industry.
Music producers face strong competition for jobs because there are many more people who want to work in this field than there are jobs available, but that doesn't mean you shouldn't follow your passion - if you have to make music, this could be your way in and may well lead to other opportunities presenting themselves along the way that could lead to your place in your chosen field.

Music Producer as a job information courtesy Australian Government Apprenticeships Guide (Your Career), Australian Open Colleges, Australian Careers HQ and The Good Universities Guide, Australia.
In text photo: Music producer Sir George Martin, best known for his work with The Beatles, pictured with members George Harrison, Paul McCartney and John Lennon at a recording session at Abbey Road in 1966
Also Available
Smooth Start To First HSC Exams
COVID-smart protocols are in place to ensure minimal disruption to the start of the 2022 HSC exams.
The NSW 2022 Higher School Certificate (HSC) exams have kicked off last weekend with more than 5,600 students completing their oral language exams. On Monday August 8th, HSC performance exams in Dance, Music and Drama began for more than 9,500 students.
With teachers having to provide marks for both oral language and performance exams last year due to COVID-19 disruptions, Minister for Education and Early Learning Sarah Mitchell said it was great to see the HSC return to normal.
"I know students starting their exams are breathing a sigh of relief having had a smoother start to their HSC journey," Ms Mitchell said.
"All students can take comfort in that fact that we have stringent measures in place to reduce potential disruptions this year, including alternative arrangements if they are unable to sit an exam due to illness."
Ms Mitchell said COVID-smart protocols would be in place, including physical distancing and strongly encouraging face masks. Hand sanitiser, alcohol wipes and masks will also be readily available to students.
"Our most important message to students is to stay home and get tested if you feel unwell on the day of an exam."
Ms Mitchell said around 76,000 students are working to complete their HSC program this year, and languages was the first of 126 courses to be examined.
"Learning a second language is an invaluable experience and an important skill in a globalised world," Ms Mitchell said.
"In NSW, we are surrounded by rich and diverse languages – and the NSW Curriculum provides students from all backgrounds the opportunity to engage with and value those cultures."
HSC written exams will start on 12 October 2022, finishing on 4 November 2022. View the HSC timetable here
Funding To Enhance University Collaboration
August 10, 2022
Young people will be supported and encouraged to study at university, upskill and pursue entrepreneurship through innovative new projects that aim to enhance educational outcomes and break down barriers to university study.
Minister for Skills and Training Alister Henskens said four projects will receive a share of the $1.75 million NSW Government Collaboration and Innovation Fund, which focuses on supporting innovation and addressing challenges to partnerships within the university sector.
"These grants will help break down barriers that prevent people who want to study at our world class universities and will drive innovative new projects in collaboration with the university sector," Mr Henskens said.
"Projects funded through this round of the program include workshops to encourage high school students to explore technology entrepreneurships and toolkits to help regional and culturally and linguistically diverse students bridge the skills gap between school and university."
Projects funded through the Collaboration and Innovation Fund, include:
Startup @ Schools (University of Technology Sydney and the University of Newcastle)

with workshops to

encourage Year 9 and 10 students to pursue technology-enabled entrepreneurship

as a career;

Teachers Aide Pathway (Charles Sturt University, TAFE NSW and Regional Development Australia Orana)

to upskill teachers' aides currently employed in NSW schools to become qualified teachers in regional communities;

Start @ Uni (UNSW Sydney and The University of Sydney)

for first-year regional and culturally and linguistically diverse students transitioning to university, which aims to address academic skills gaps between high school and university; and

The Academy (University of New England and the Dhiiyaan Centre)

preparing Aboriginal students for higher education from Year 8 through to tertiary enrolment via a curriculum that merges Aboriginal knowledge with science.
The Collaboration and Innovation Fund provides grants to support university projects that address education goals included in the NSW Higher Education Strategy.
Art Competition To Remember Our ANZACS
Students across NSW are encouraged to get creative as the NSW Government together with RSL NSW launches an art competition to commemorate the 70th anniversary of the RSL and Schools Remember ANZAC Commemoration next year.
Minister for Education and Early Learning Sarah Mitchell is encouraging students to speak to their school and submit a design that will feature on the 2023 program and at an exhibition at the Anzac Memorial in Hyde Park.
"The NSW Government and the Department of Education has co-hosted this service with RSL NSW for 70 years, and we want to acknowledge this anniversary with a commemorative program to which the students in New South Wales can contribute," Ms Mitchell said.
"I invite any student across all three education sectors to participate and have the opportunity to be selected to have their artwork featured on the 2023 service program."
Minister for Transport and Veterans David Elliott said the annual commemoration at the Anzac Memorial in Hyde Park aims to educate and encourage younger Australians to learn about Australia's military history, whilst paying respect to the service and sacrifice of servicemen and servicewomen.
"This art competition is a great way for students in New South Wales to learn about our military history and design an artwork that reflects what it means to them. It could be about a family member who served in World War One, or a symbol of their service to our nation," Mr Elliott said.
"The annual RSL and Schools Remember ANZAC proceedings are incomparable, as they're delivered entirely by school students including the Master of Ceremonies, keynote address, readings, and musical accompaniment."
RSL NSW President Ray James said it was critical for the RSL to work with the Department of Education to ensure school students understood why Australians commemorated the service and sacrifice of those who have served in the Australian Defence Force.
"Commemorating significant moments in our military history is vital to Australia, as a people, a community, and a nation. RSL NSW takes this responsibility incredibly seriously as the custodians of the Anzac spirit. Future generations should never forget that the freedom they enjoy in Australia has been protected by the men and women who served in our armed and allied forces." Mr James said.
The RSL and Schools Remember ANZAC Commemoration was first held in 1953, co-hosted by RSL NSW and the Department of Education. Over the years the service has expanded to Catholic Schools NSW and the Association of Independent Schools NSW.
16 September 2022: Submissions close
Word Of The Week: Scallywag
Word of the Week returns in 2022 simply to throw some disruption in amongst the 'yeah-nah' mix.
noun
1. a person, typically a child, who behaves badly but in an amusingly mischievous rather than harmful way; a rascal. 2. US; a white Southerner who collaborated with northern Republicans during the post-Civil War reconstruction period. 3. Scallywags (Second World War), a nickname for the British Auxiliary Units, who were to engage in guerrilla warfare in the event of a Nazi invasion.
The first citation of "scalawag" given by the Oxford English Dictionary is from J.R. Bartlett's 1848 Dictionary of Americanisms, which defines it as "a favourite epithet in western New York for a mean fellow; a scape-grace."

scapegrace; Archaic - a mischievous or wayward person, especially a young person or child; a rascal.

Scallawag: In United States history, the term scalawag (sometimes spelled scallawag or scallywag) referred to white Southerners who supported Reconstruction policies and efforts after the conclusion of the American Civil War. As with the term carpetbagger, the word has a long history of use as a slur in Southern partisan debates. The post-Civil War opponents of the scalawags claimed they were disloyal to traditional values and white supremacy. Scalawags were particularly hated by 1860s–1870s Southern Democrats, who called Scalawags traitors to their region (long known for its widespread chattel slavery). Prior to the Civil War, most Scalawags had been opposed to the southern states' (the Confederacy's) secession from the United States.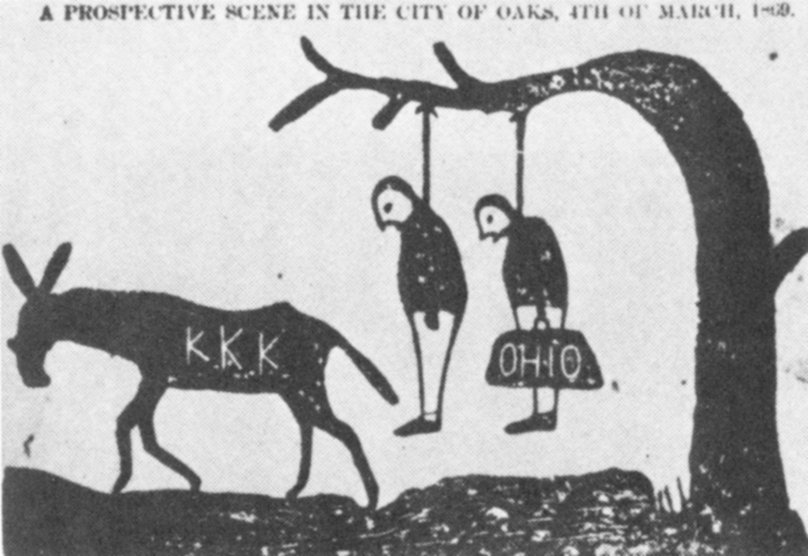 A Sept. 1868 cartoon in Alabama's ''Independent Monitor'', threatening that the KKK would lynch scalawags (left) and carpetbaggers (right) on March 4, 1869, predicted as the first day of Democrat Horatio Seymour's presidency (the election winner was actually Ulysses S. Grant). The term is commonly used in historical studies as a descriptor of Reconstruction Era Southern white Republicans, although some historians have discarded the term due to its history of pejorative connotations.
Scallywags WWII: The Auxiliary Units or GHQ Auxiliary Units were specially-trained, highly-secret quasi military units created by the British government during the Second World War with the aim of using irregular warfare in response to a possible invasion of the United Kingdom by Nazi Germany, "Operation Sea Lion". With the advantage of having witnessed the rapid fall of several Continental European nations, the United Kingdom was the only country during the war that was able to create a multi-layered guerrilla force in anticipation of an invasion.
The Auxiliary Units would fight as uniformed guerrillas during the military campaign. In the event of an invasion, all Auxiliary Units would disappear into their operational bases and would not maintain contact with local Home Guard commanders, who were to be wholly unaware of their existence. Although the Auxiliaries were Home Guard volunteers and wore Home Guard uniforms, they would not participate in the conventional phase of their town's defence but would be activated once the local Home Guard defence had been ended to inflict maximum mayhem and disruption over a further brief but violent period. They were not envisaged as a continuing resistance force against long-term occupation. The secrecy surrounding the insurgent squads meant that members "had no military status, no uniforms and there are very few official records of their activities".
Service in the Auxiliary Units was expected to be highly dangerous, with a projected life expectancy of just twelve days for its members, with orders to either shoot one another or use explosives to kill themselves if capture by an enemy force seemed likely.
Urged on by the War Office, Prime Minister Winston Churchill initiated the Auxiliary Units in the early summer of 1940. This was to counter the civilian Home Defence Scheme already established by SIS (MI6), but outside War Office control. The Auxiliary Units answered to GHQ Home Forces but were legally an integral part of the Home Guard.
In modern times, the Auxiliary Units have sometimes misleadingly been referred to as the "British Resistance Organisation". That is a title was never used by the organisation officially but reflects a subsequent misunderstanding of what their role might have been. Colloquially, members of the Auxiliary Units were referred to as "scallywags" and their activities as "scallywagging".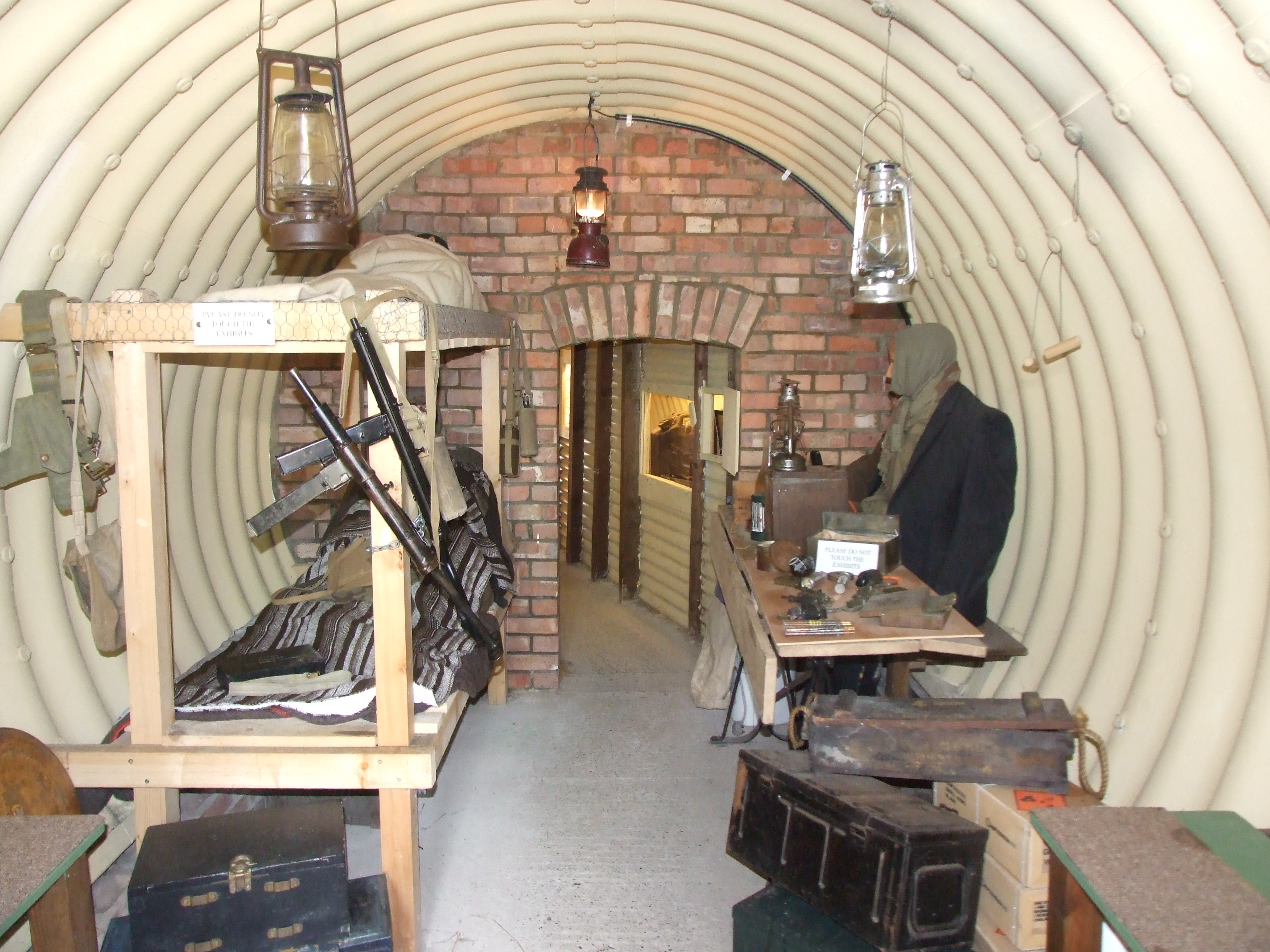 Operational base, reconstruction at Parham Airfield Museum. Photo courtesy Gaius Cornelius

Skimmed ALIVE - Skim Boarding The Biggest Waves On The Planet. Featuring Lucas Fink. Profile 2
by Surfing Visions - Tim Bonython
Published August 10, 2022
Nazare the home of the worlds biggest ridable wave attracts fearless riders of all sorts of craft. Here we a profile the world champ skim boarder Lucas Fink maximising himself on some of the biggest waves ever ridden on a skim board in PART 2 of Big Wave Surfer Profiles. ENJOY
Home And Hope For Vulnerable Women In Sydney
A partnership between the NSW Government and community housing provider Women's Housing Company is set to drive a new strategy to address the rising issue of female homelessness in Sydney.
The completion of a new complex with nine units at Peakhurst by the NSW Land and Housing Corporation (LAHC) is one of twelve to be delivered by 2025 across Greater Sydney and marks another step towards helping women who are most in need.
The NSW Government has invested $35 million towards the program, which will see the construction of safe accommodation across 9 Sydney LGAs, delivering 106 new units for women who are either homeless or at risk of homelessness.
Minister for Planning and Minister for Homes Anthony Roberts said the new facilities would play a crucial role in helping those in need transition into permanent housing.
"Single women over 55 are one of the fastest growing groups of people seeking housing assistance in NSW. They can be at risk of homelessness for many reasons including separation, domestic violence, health issues or retirement," Mr Roberts said.
"That's why building these homes are so important. They'll provide women in need with a safe place to live, while ensuring they have a strong support network in an affordable, secure and stable environment.
Minister for Families and Communities and Minister for Disability Services Natasha Maclaren-Jones said housing for those most in need is the priority, particularly those who have become homeless.
"We know the stigma of being homeless can mean people sleeping rough feel too embarrassed or ashamed to reach out for assistance," Ms Maclaren-Jones said.
"That's why we've ramped up outreach teams to engage with more people sleeping rough and offer them support towards finding safe and stable accommodation so that they can get a roof over their head and back on their feet."
Member for Oatley Mark Coure said the new housing complex would provide safe accommodation to women across the local area who are or at risk of becoming homeless.
"This initiative goes the heart of the NSW Government's want to ensure no one is left behind," Mr Coure said.
"Homelessness is an issue which can affect anyone for any number of reasons and this new complex will help to provide a safe and secure environment for vulnerable older women so that they can get back on their feet."
Women's Housing Company CEO Debbie Georgopoulos said they welcomed the much-needed new housing for older women.
"Women's Housing Company has worked with LAHC on developing this new program, specifically for older women to be able to age in place," Ms Georgopoulos said.
"With each development, we'll refine our understanding of the design and amenity to ensure the blocks are a successful addition to our social housing and the local community.
"Safe and secure housing like this provides a stable base for improvements to health and wellbeing and the Women's Housing Company will ensure women are linked to local services to feel connected and settle into their new homes."
Snapper Study Finds Three Populations
New research on snapper has revealed that there are more genetically distinct populations in the western part of its Australian range than previously understood.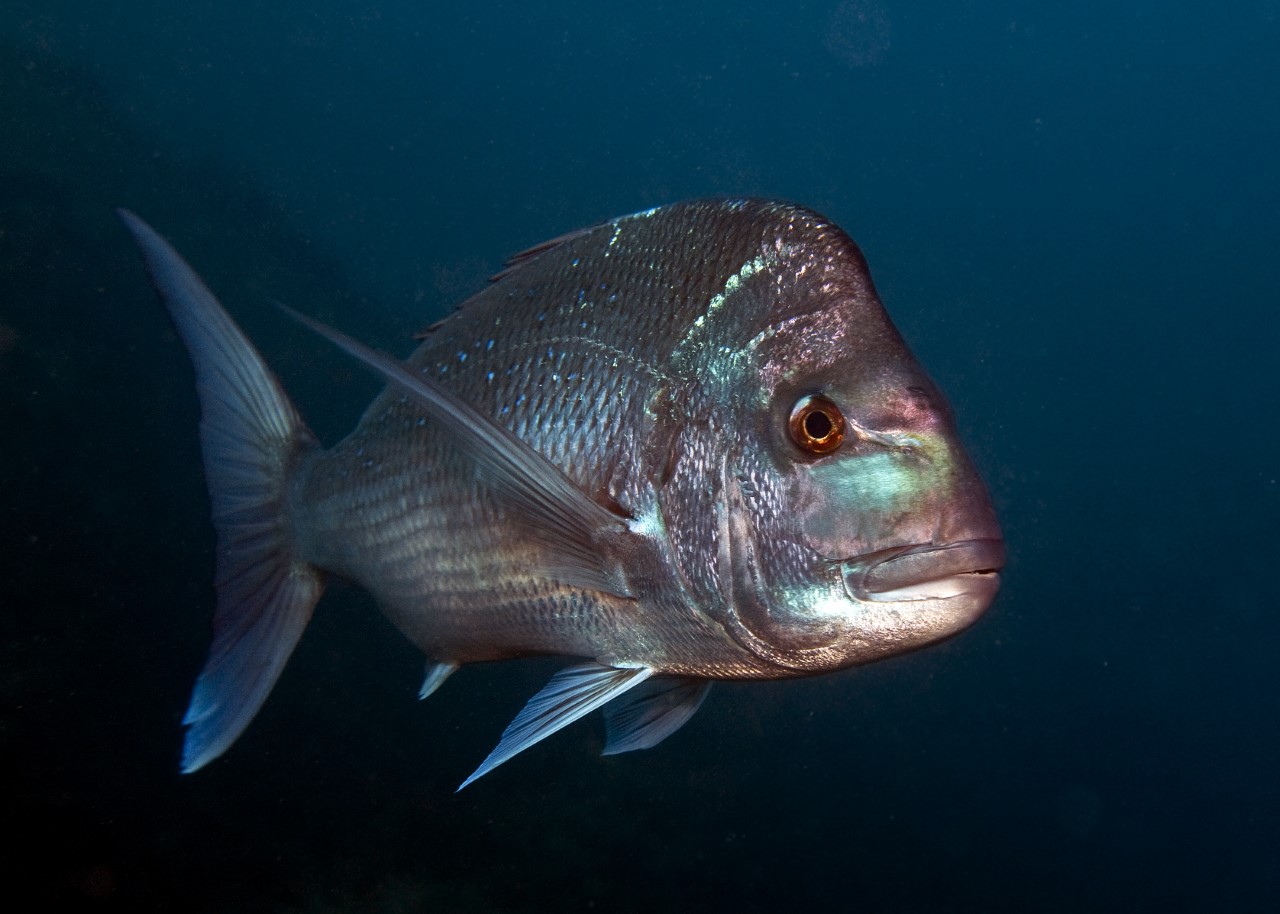 Australian snapper (Chrysophrys auratus). Photo courtesy David Harasti
The research, led by the Molecular Ecology Lab at Flinders University (MELFU) as well as government fisheries agencies, used a large genomic dataset of more than 10,000 DNA markers to uncover three different oceanic snapper (Chrysophrys auratus) populations between Shark Bay in Western Australia and Ceduna in South Australia.
Two of these snapper populations occurred in WA, with the northernmost one extending around 800 km from Shark Bay to Lancelin, and the second spanning about 600 km from Fremantle to Albany.
he west coast of SA is home to an additional unique snapper population that is genetically distinct from the two in WA.
Genetically distinct populations form when there is limited movement and interbreeding between groups of individuals occupying different geographical areas.
"Such knowledge is valuable from a sustainability perspective because genetically distinct populations may need to be managed differently as they could respond uniquely to fishing pressures", says Andrea Bertram, first author of the study published in the international journal Evolutionary Applications.
The use of contemporary genomic techniques has improved knowledge based on previous genetic work that suggested snapper form a single population from Shark Bay to Albany.
"The high resolving power of our large genomic dataset compared to the smaller ones used in the past is what allowed us to uncover the two distinct snapper populations in Western Australia", says MELFU director Professor Luciano Beheregaray.
The large geographical ranges of these three populations also suggests that snapper can make movements of several hundreds of kilometres.
While the differences between the populations means that snapper don't often move outside of their geographical boundaries, one fish from the SA population was found to have moved as far west as Busselton in the south-west corner of WA.
"Although it's not totally clear why snapper don't often venture across the boundaries between these populations, ocean currents and maintaining proximity to spawning and nursery habitats may be important," says WA fisheries scientist Dr David Fairclough, who is the second author on the new paper.
The results are now being discussed by fisheries scientists and managers to help improve snapper management across WA.
This research is part of a current ARC Linkage Project titled 'Fisheries Genomics of Snapper' which involves using genomic data to improve the management of wild snapper fisheries as well as the production of snapper through aquaculture.
The ARC project is a collaborative effort between MELFU, the government fisheries research groups in the five mainland Australian states as well as Plant and Food Research, New Zealand (equivalent to Australia's CSIRO).
The paper,
Fisheries genomics of snapper (Chrysophrys auratus) along the west Australian coast (2022)
, by A Bertram, D Fairclough, J Sandoval-Castillo, C Brauer, A Fowler, M Wellenreuther and LB Beheregaray, has been published as open access in the international journal Evolutionary Applications.
https://onlinelibrary.wiley.com/doi/10.1111/eva.13439
NSW Eyes The Future For Autonomous Vehicles
The NSW Government will invest $5 million for an on-road Connected and Automated Vehicle (CAV) Bus Trial to kick-start its plan to accelerate autonomous vehicles on NSW roads.
With driverless vehicles expected to commercially hit our streets in less than a decade, the Government's new NSW CAV Readiness Strategy sets out the State's pathway to ensure the road network is CAV-friendly in the future.
Minister for Customer Service and Digital Government Victor Dominello said he wanted NSW to be a world-leading adopter of CAV technologies to keep pace with the changing needs and expectations of customers.
"Vehicle connectivity and automation are game-changing technological innovations with the potential to sustainably transform the future mobility of people and goods," Mr Dominello said.
"Globally, these technologies are advancing rapidly and already appearing in vehicles on the market today.
"We're putting NSW in the front seat, with a Strategy and funding to back it up to prepare our road network, local industry, and the public for the roll out of this technology."
Minister for Metropolitan Roads Natalie Ward said the CAV Readiness Strategy sets out a faster, easier and safer future for commuters across the state.
"The NSW Government is advancing new technology that will revolutionise the way we travel," said Mrs Ward.
"The CAV Readiness Strategy outlines six priority areas focused on integrating this new technology into our transport system.
"This will include working within the national regulatory framework over the next five years, so we're ready for the safe commercial deployment of CAVs in Australia.
"Getting ahead of the game will make it easier to upskill our transport staff so customers have a seamless service when it is officially on our roads."
Minister for Regional Transport and Roads Sam Farraway said NSW had set several national and international firsts in autonomous vehicle technology including the world's first fully automated shuttle service in a public setting through the Coffs Harbour Busbot trial.
"The NSW Government is ready to embark on another Australian first - by investing $5 million for an on-road CAV bus trial that will see CAV systems developed and tested on full-sized, passenger-carrying buses in NSW," Mr Farraway said.
"Expressions of interest are open now, and Transport for NSW is calling on local and international technology leaders to partner with bus manufacturers and transport operators to deliver the trial of on-road connected and automated buses.
"This builds on what NSW has already achieved through autonomous shuttle trials, partnerships with local universities and investment in the Future Mobility Testing and Research Centre at Cudal.
"This is big picture thinking - by putting NSW one step ahead it will bring investment opportunities, knowledge and better customer outcomes."
The NSW CAV Readiness Strategy seeks to:
Test and deploy CAVs on the road network
Shape CAV policy, and customer outcomes
Get the road network ready for CAVs
Develop physical and digital CAV testing capabilities
Support freight services automation
Increase local CAV knowledge and skills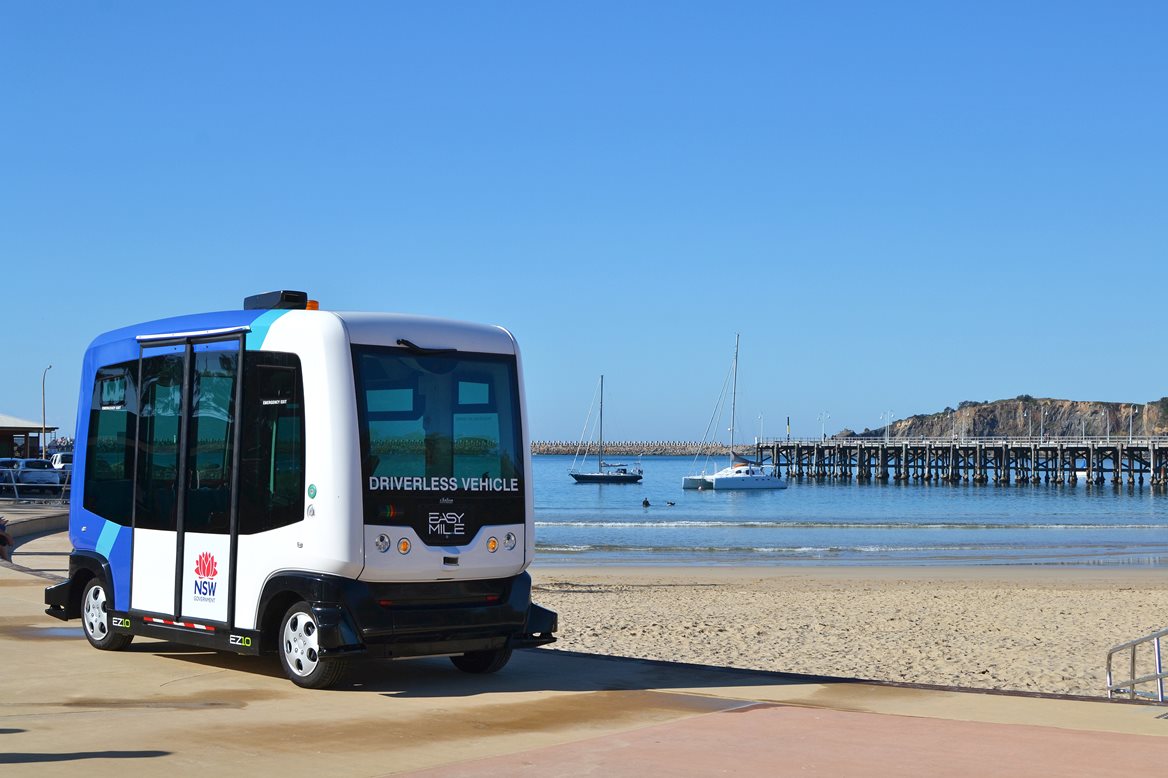 NSW Government Expanding The Dust Diseases Scheme And Protecting Worker Entitlements
The NSW Government today introduced the Workers Compensation (Dust Diseases) Amendment Bill 2022 to support the operation of the Dust Diseases Care Scheme.
The Scheme provides financial compensation and health care support to people affected by work related dust diseases. If passed, the Bill will simplify benefit calculations to ease the administrative burden on injured workers and their families.
The amendments will remove anomalies in historical legislation that could have given rise to inconsistencies in the calculation of benefits for injured workers. The changes will mean that all current benefit rates are protected and there is no reduction in entitlements.
Minister for Finance Damien Tudehope said the amendments will support the Dust Disease Authority to deliver the Scheme effectively.
"The passing of these amendments will contribute to improving the customer experience for workers in the Scheme by removing any potential ambiguity over their entitlements and simplify the calculation of benefits for historical claims." Mr Tudehope said.
The introduction of this Bill was brought forward in the same week that the NSW Government passed the Workers' Compensation (Dust Diseases) Amendment (Scheduled Diseases) Regulation 2022 (Regulation).
The Regulation ensures the expansion of the Schedule 1 list of diseases as recommended by an independent review conducted by Professor Tim Driscoll.
These diseases are based on a current, evidence-based understanding of work-related dust disease and include the following:
Diffuse dust-related pulmonary fibrosis
Hypersensitivity pneumonitis
Pneumoconiosis (any form)
Silica-induced carcinoma of the lung
Systemic sclerosis
"Developments in the protection of workers within the workers compensation scheme represent another important step to expanding and safeguarding support for injured workers, "This is an effort to modernise the Scheme with the interests of those who are gravely ill at the heart of these changes."
Western Sydney University, Charles Darwin University (CDU) And The Menzies Partner To Establish The Northern Territory's Own Medical School
Charles Darwin University (CDU), Western Sydney University and the Menzies School of Health Research have signed a Memorandum of Understanding (MoU) to support the establishment of the CDU Menzies School of Medicine, and growth of the Northern Territory's medical workforce.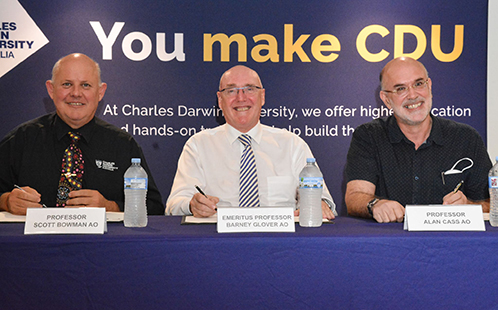 Western Sydney University – an Australian Medical Council accredited medical program curriculum partner – will collaborate with CDU to establish a high quality, relevant curriculum for the CDU Menzies School of Medicine. This is a critical step to enable the teaching of a medical program in the Territory and for the Territory.
The two universities will work together with Menzies to strengthen medical education, training, and research for the benefit of regional and remote communities. The MoU includes shared advocacy for commonwealth funded medical student places and promotes participation in medical education for First Nations, regional, rural and remote students.
Charles Darwin University Vice-Chancellor Professor Scott Bowman AO, Western Sydney University Vice-Chancellor and President Professor Barney Glover AO and Menzies School of Health Research Director Professor Alan Cass AO announced the collaboration in Darwin today and said the MOU would bring the three partners together to support medical workforce development.
"Western Sydney University, CDU and Menzies have a strong commitment to their local community and complementary values around improving health outcomes for regional Australians, so we're delighted to announce this collaboration," Professor Bowman said.
Professor Bowman said the MoU would help support the delivery of a CDU Menzies School of Medicine in the Northern Territory.
"The MoU with Western Sydney University is a major step forward for the CDU Menzies School of Medicine - as our program development progresses, it will provide an opportunity to draw on knowledge, experience and expertise that the university has in setting up a regional medical program focused on rural and remote medicine."
"Western Sydney University is the perfect partner for CDU. They have experience in guiding another regional university through the process of establishing their own Medical School. Their Vice-Chancellor formerly served in the same role at CDU, meaning this is a partnership predicated on a detailed understanding of the unique health requirements of the Northern Territory."
Western Sydney University Vice-Chancellor and President Professor Glover, who was formerly the Vice-Chancellor at CDU from 2009-13, highlighted that the MoU would focus on supporting a much-needed increase in the regional medical workforce while providing additional opportunities for research, training and community engagement.
"Western Sydney University is proud to collaborate in pursuit of a Northern Territory-focused Medical Program based at the CDU Menzies School of Medicine. Together, our institutions will work to jointly develop a new approach to delivering medical education in the Northern Territory," Professor Glover said.
"Importantly, the program will develop medical practitioners that have the skills and knowledge to serve their region, including rural and remote communities in northern Australia, providing a much-needed boost to the national medical workforce."
Menzies Director, Professor Alan Cass said this is an important step forward to developing a local program that provides training specifically focussed to prepare doctors to work in the cross-cultural context of health service delivery in the Northern Territory.
"This partnership provides a clear pathway to an independent NT-led medical school. We want to enable and support Territorians to become the doctors we need to address the health and wellbeing issues that are the priorities for our community."
The MoU will advocate for better health outcomes for Aboriginal and Torres Strait Islander peoples in Northern Australia, the development of the knowledge economy, and strengthening of the region's research capacity.
Cystic Fibrosis: Causal Treatment Suitable From Childhood
Cystic fibrosis remains an incurable genetic disorder which impairs lung function and significantly reduces life expectancy. A new combination drug therapy which addresses the disorder's underlying defects offers a promising new treatment approach. The use of this therapy had previously been limited to adolescents and adults. Designed to meet the highest standards of clinical practice, a study co-led by Charité -- Universitäts medizin Berlin has now confirmed that this combination therapy regimen is also beneficial to primary school-aged children. Earlier treatment means disease progression is likely to be significantly slowed. The researchers' findings have been published in the American Journal of Respiratory and Critical Care Medicine.
Characterized by the build-up of thick, sticky mucus, cystic fibrosis, also known as mucoviszidosis, is the most common fatal genetic disease in Germany. A defect in the CFTR ion channel (which sits on the surface of airway epithelial cells and transports salt and water) disrupts the normal fluid balance, resulting in highly viscous mucus. Cystic fibrosis primarily impairs the lungs, which get clogged by this viscous mucus and thus become less effective at clearing away pathogens. The result is chronic infection and airway inflammation, progressively impaired lung function, and difficulty breathing. In severe cases, a lung transplant may become necessary. People affected by the disease used to die before reaching adulthood. Today, average life expectancy is around 55 years. These gains in life expectancy are mainly due to improvements in symptomatic treatment.
Drugs which target not just the disease's symptoms but also its underlying molecular defects by improving CFTR channel function -- known as CFTR modulators -- only became available a few years ago. In approximately 90 percent of patients with cystic fibrosis, the underlying CFTR channel defect is caused by a specific fault in the CFTR gene known as the F508del mutation. A triple therapy combining three CFTR modulators (elexacaftor, tezacaftor and ivacaftor) has been available in Europe since August 2020. In patients with one copy of the F508del mutation, this triple combination therapy can restore ion channel function to approximately half the normal level, thereby producing noticeable improvements in lung function and quality of life.
"It was a milestone in the treatment of cystic fibrosis," explains first author Prof. Dr. Marcus Mall, Head of Charité's Department of Pediatric Respiratory Medicine, Immunology and Critical Care Medicine and Charité's Cystic Fibrosis Center.
He adds: "Unfortunately, until now, this treatment has only been available to patients aged 12 and over. This is because, traditionally, new drugs are first tested on and then authorized for use in adults. What we want to do, however, is administer this causal treatment as early as possible during the course of the disease in order to prevent irreversible lung damage. This is of course only possible if treatment starts during childhood. What we have been able to do now is to show that this can be done both safely and very effectively in primary school-aged children."
Prof. Mall and his international research partners studied the effects of this triple combination therapy in 121 children with cystic fibrosis. Participants were aged between 6 and 11 years and had at least one copy of the F508del mutation. The children were randomized to receive either the triple combination regimen or placebo for a duration of approximately six months. The study, which was conducted at centers in ten different countries, was designed as a randomized controlled trial -- the gold standard in clinical research.
"This type of clinical study remains too much of a rarity in pediatric drug development," says Prof. Mall, Einstein Professor at Charité and cystic fibrosis research lead at the German Center for Lung Research (DZL). "The inclusion of control groups is often neglected in pediatric research. Instead, adult data are used to extrapolate effects from adults to children. But children are not simply small adults. High-quality studies are therefore crucial to the development of safe and effective drugs for children."
Their recently published study showed that treatment significantly improved CFTR channel function, thereby enhancing the children's lung function and quality of life. The treatment had a good overall safety profile and was well tolerated, with side effects comparable to those observed in older patients.
"I was both surprised and delighted to see that, even this early in the disease trajectory and despite the brief treatment duration, the children experienced noticeable improvements," says Prof. Mall. "These findings contributed to the decision by the European Medicines Agency to expand the marketing authorization for this triple combination regimen to include children aged 6 and over. That means we are already in a position to treat children in this age group. I expect that the earlier initiation of treatment targeting the disease's causative defect will produce significant improvements to the long-term health of patients with cystic fibrosis."
As a next step, the research team plan to test whether the drug combination might be suitable for use in even younger children. Given cystic fibrosis forms part of the newborn screening program, the disease can now be diagnosed within the first few weeks of life. "That would place us in a position to start causal treatment for cystic fibrosis as early as early infancy, which would hopefully prevent even early-stage damage to the lungs and possibly even other organs like the pancreas. Very gradually, we are working our way closer to this target. Currently, we are testing the safety and efficacy of this triple combination therapy in children aged between 2 and 5 years," explains Prof. Mall.
The study discussed here was the first randomized, double-blind, placebo-controlled multicenter clinical trial to evaluate the safety and efficacy of the elexacaftor/tezacaftor/ivacaftor triple combination regimen in children with cystic fibrosis who were aged between 6 and 11 years and had at least one copy of the F508del mutation in addition to a second CFTR mutation which is unaffected by this treatment. A phase 3b clinical trial, the study was conducted across 34 trial centers in Germany, France, Spain, Denmark, the Netherlands, Switzerland, the United Kindgom, Australia, Canada and Israel. The study is registered on ClinicalTrials.gov (NCT 04353817). The clinical trial sponsor is Vertex Pharmaceuticals. Prof. Mall is one of three international study leads.
Marcus A Mall, Rossa Brugha, Silvia Gartner, Julian Legg, Alexander Moeller, Pedro Mondejar-Lopez, Dario Prais, Tacjana Pressler, Felix Ratjen, Philippe Reix, Paul D Robinson, Hiran Selvadurai, Florian Stehling, Neil Ahluwalia, Emilio Arteaga-Solis, Bote G Bruinsma, Mark Jennings, Samuel M. Moskowitz, Sabrina Noel, Simon Tian, Tanya G. Weinstock, Pan Wu, Claire E Wainwright, Jane C. Davies.
Efficacy and Safety of Elexacaftor/Tezacaftor/Ivacaftor in Children 6 Through 11 Years of Age with Cystic Fibrosis Heterozygous for F508del and a Minimal Function Mutation: A Phase 3B, Randomized, Placebo-Controlled Study.
American Journal of Respiratory and Critical Care Medicine, 2022; DOI:
10.1164/rccm.202202-0392OC
Girls Slip Through The Cracks Due To 'Referral Bias': Australian-First Study
Young girls are just as likely to be living with language difficulties despite more boys being referred for support services, according to a new Curtin-led study that seeks to shatter the "referral bias" and help parents advocate for their children.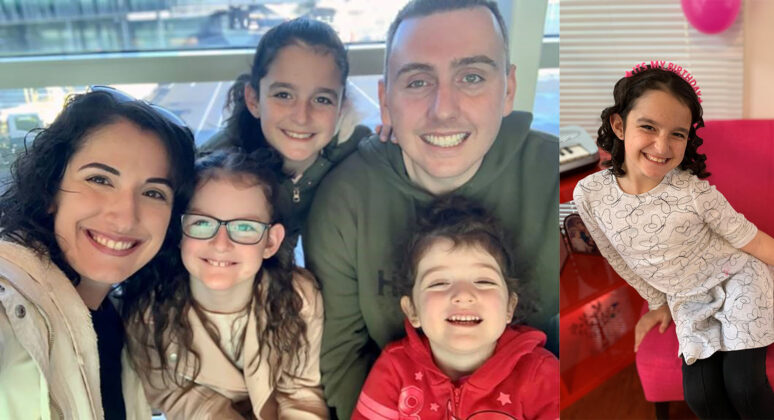 Perth couple Stephen and Santina Morphett are helping to raise awareness of Developmental Language Disorder after their 10-year-old daughter Aleysha was diagnosed in pre-primary.
The study – the first to detail the prevalence of Developmental Language Disorder (DLD) in Australian children – examined the language skills of more than 1,600 children aged 10 years as part of the Raine Study, the nation's longest-running public health study.
Published today in the Journal of Paediatrics and Child Health, it found the most significant predictor of a child being diagnosed with DLD at 10 years of age was being exposed to smoking during pregnancy, with the odds of meeting the criteria of DLD 2.56 times greater than mothers who did not smoke at 18 weeks gestation.
Lead author Dr Sam Calder, from the Curtin School of Allied Health, said he was concerned more young girls were not being diagnosed with DLD given the potentially life-long consequences of not receiving the appropriate care and support.
"This study suggests an alarming number of children aren't getting the help they need, meaning they may go their entire lives without realising a language disorder could explain why they had such a hard time learning at school or struggled in social situations more than their peers," Dr Calder said.
"Despite more young boys being referred for clinical services, our study found no significant difference between boys and girls meeting the criteria for DLD, pointing to a 'referral bias' for young boys.
"It is therefore vitally important for parents, educators and health professionals to be vigilant in advocating for young girls with language and learning challenges to ensure they receive the same support boys are receiving."
Co-author Dr Lizz Hill, also from the Curtin School of Allied Health, said the study showed about two kids in every WA classroom was likely to experience life-long language problems that may impact their psychological, academic, and vocational wellbeing and success.
"The study showed a higher proportion of 10-year-old children meeting the criteria for DLD were born preterm, exposed to smoking in pregnancy, had a father that did not live at home, and were read to less than once per week as a three-year-old," Dr Hill said.
"After analysing the experiences of more than 1,600 children, we found smoking in pregnancy was the most significant predictor of a child being diagnosed with DLD. It is critical that we identify and support these children early in order to promote the best possible outcomes. This includes raising awareness of the potential impact of smoking during pregnancy on a child's life-long language and communication skills."
DLD is a brain difference that makes talking and listening difficult, for no known reason.
Perth couple Stephen and Santina Morphett are helping to raise awareness of Developmental Language Disorder after their 10-year-old daughter Aleysha was diagnosed in pre-primary.
Mr and Mrs Morphett said it was important for people to take the time to learn about DLD because two children in every classroom, on average, would have this hidden condition yet community awareness remained extremely low.
As part of Aleysha's NDIS support, she has fortnightly speech therapy, a speech tutor to help with her homework for two hours a fortnight and she sees an OT fortnightly. This is maintaining her current skills to ensure she does not fall any further behind because of her DLD.
"We can't change the world but we can change Aleysha's world," Mr and Mrs Morphett said.
The study also involved experts from the Telethon Kids Institute and The University of Western Australia.
On October 14, Developmental Language Disorder Awareness Day will help to raise awareness of this little-known neurological condition that affects an average of two students in every class of 30.
The full paper, '
The Prevalence of and Potential Risk Factors for Developmental Language Disorder at 10 years in the Raine Study
',
can be viewed online here.
Established in 1989, the Raine Study is Australia's longest running public health study and one of the most successful multi-generational cohort studies anywhere in the world. Based in Perth, it has studied the same group of nearly 3,000 young Western Australians since before they were born, as well as their parents, grandparents and now their own children. Thirty years on, discoveries from the Raine Study continue to have significant impact on health policy, practice, and education through ground-breaking research that examines influences, pathways and outcomes through all aspects of human life. The Raine Study is a joint venture between The University of Western Australia, Curtin University, Telethon Kids Institute, Women and Infants Research Foundation, Edith Cowan University, Murdoch University and The University of Notre Dame Australia. Flinders University in South Australia and Newcastle University in New South Wales are Institutional Partners. The study receives additional funding support from the Raine Medical Research Foundation and National Health and Medical Research Council.
Evidence That Giant Meteorite Impacts Created The Continents
New Curtin research has provided the strongest evidence yet that Earth's continents were formed by giant meteorite impacts that were particularly prevalent during the first billion years or so of our planet's four-and-a-half-billion year history.

Dr Tim Johnson, from Curtin's School of Earth and Planetary Sciences, said the idea that the continents originally formed at sites of giant meteorite impacts had been around for decades, but until now there was little solid evidence to support the theory.
"By examining tiny crystals of the mineral zircon in rocks from the Pilbara Craton in Western Australia, which represents Earth's best-preserved remnant of ancient crust, we found evidence of these giant meteorite impacts," Dr Johnson said.
"Studying the composition of oxygen isotopes in these zircon crystals revealed a 'top-down' process starting with the melting of rocks near the surface and progressing deeper, consistent with the geological effect of giant meteorite impacts.
"Our research provides the first solid evidence that the processes that ultimately formed the continents began with giant meteorite impacts, similar to those responsible for the extinction of the dinosaurs, but which occurred billions of years earlier."
Dr Johnson said understanding the formation and ongoing evolution of the Earth's continents was crucial given that these landmasses host the majority of Earth's biomass, all humans and almost all of the planet's important mineral deposits.
"Not least, the continents host critical metals such as lithium, tin and nickel, commodities that are essential to the emerging green technologies needed to fulfil our obligation to mitigate climate change," Dr Johnson said.
"These mineral deposits are the end result of a process known as crustal differentiation, which began with the formation of the earliest landmasses, of which the Pilbara Craton is just one of many.
"Data related to other areas of ancient continental crust on Earth appears to show patterns similar to those recognised in Western Australia. We would like to test our findings on these ancient rocks to see if, as we suspect, our model is more widely applicable."
Dr Johnson is affiliated with The Institute for Geoscience Research (TIGeR), Curtin's flagship earth sciences research institute.
Tim E. Johnson, Christopher L. Kirkland, Yongjun Lu, R. Hugh Smithies, Michael Brown, Michael I. H. Hartnady.
Giant impacts and the origin and evolution of continents.
Nature, 2022; 608 (7922): 330 DOI:
10.1038/s41586-022-04956-y
Tiny Optical Sensors Could Put An End To Hospital Bed Sores
Tiny smart bed sensors embedded in hospital mattresses could put an end to painful and potentially life-threatening pressure sores, thanks to new technology developed by the University of South Australia.
UniSA scientists have designed minute optical fibre sensors, which can be attached to the upper surface of a mattress to monitor movement and record heart and respiratory rates.
The unobtrusive sensors can detect when a hospital patient turns over, leaves a bed, or just remains motionless, picking up their breathing.
Nurses can therefore be remotely alerted if a patient has not moved within a couple of hours, prompting them to adjust the patient's position.
Lead researcher Dr Stephen Warren-Smith says the technology could "significantly relieve" the burden on hospital staff having to constantly monitor patients for pressure sores.
"Each year, thousands of older Australians in hospitals and nursing homes experience pressure injuries, or ulcers, which take a long time to heal and can be fatal," Dr Warren-Smith says.
"At the very least these injuries can cause severe pain, disrupt sleep, affect their mood as well as their rehabilitation, mobility and quality of life."
Unlike the sensors that many people wear on their wrists to monitor physical activity and physiological signs, the optical fibre sensors are embedded in the same space as a person, but not on them physically.
Hospitals currently use weight-based sensors or cameras installed in the room to monitor patients, but both have limitations, Dr Warren-Smith says.
"Existing weight-based hospital sensors cannot predict when a patient leaves the bed until their feet touch the floor, leaving little time for nursing staff to respond in the event of a fall. Also, there are privacy issues with camera-based technology."
The optical fibre sensors are sensitive enough to record heart and respiration rates and can detect whether a person is in the bed, even if they remain stationary for long periods.
"Respiration rates are often the first sign that a patient is deteriorating. This normally requires devices to be attached to the patient, either on the chest, as a mask on the face, or ventilator. These can be restrictive and sometimes inappropriate in an aged care setting.
"Monitoring vital signs continuously, unobtrusively and cheaply via the mattress-embedded sensors is a far better solution for both patient and nurse," Dr Warren-Smith says.
The technology is explained in a
recent paper
published in the
Journal of Biomedical Optics
.
Down On Vitamin D? It Could Be The Cause Of Chronic Inflammation
Inflammation is an essential part of the body's healing process. But when it persists, it can contribute to a wide range of complex diseases including type 2 diabetes, heart disease, and autoimmune diseases.
Now, world-first genetic research from the University of South Australia shows a direct link between low levels of vitamin D and high levels of inflammation, providing an important biomarker to identify people at higher risk of or severity of chronic illnesses with an inflammatory component.
The study examined the genetic data of 294,970 participants in the UK Biobank, using Mendelian randomization to show the association between vitamin D and C-reactive protein levels, an indicator of inflammation.
Lead researcher, UniSA's Dr Ang Zhou, says the findings suggest that boosting vitamin D in people with a deficiency may reduce chronic inflammation.
"Inflammation is your body's way of protecting your tissues if you've been injured or have an infection," Dr Zhou says.
"High levels of C-reactive protein are generated by the liver in response to inflammation, so when your body is experiencing chronic inflammation, it also shows higher levels of C-reactive protein.
"This study examined vitamin D and C-reactive proteins and found a one-way relationship between low levels of vitamin D and high levels of C-reactive protein, expressed as inflammation.
"Boosting vitamin D in people with deficiencies may reduce chronic inflammation, helping them avoid a number of related diseases."
Supported by the National Health and Medical Research Council and published in the International Journal of Epidemiology the study also raises the possibility that having adequate vitamin D concentrations may mitigate complications arising from obesity and reduce the risk or severity of chronic illnesses with an inflammatory component, such as CVDs, diabetes, and autoimmune diseases.
Senior investigator and Director of UniSA's Australian Centre for Precision Health, Professor Elina Hyppönen, says these results are important and provide an explanation for some of the controversies in reported associations with vitamin D.
"We have repeatedly seen evidence for health benefits for increasing vitamin D concentrations in individuals with very low levels, while for others, there appears to be little to no benefit." Prof Hyppönen says.
"These findings highlight the importance of avoiding clinical vitamin D deficiency, and provide further evidence for the wide-ranging effects of hormonal vitamin D."
Ang Zhou, Elina Hyppönen.
Vitamin D deficiency and C-reactive protein: a bidirectional Mendelian randomization study.
International Journal of Epidemiology, 2022; DOI:
10.1093/ije/dyac087
Disclaimer: These articles are not intended to provide medical advice, diagnosis or treatment. Views expressed here do not necessarily reflect those of Pittwater Online News or its staff.