inbox and environment news: Issue 546
July 17 - 23, 2022: Issue 546
COVID-19 Oral Treatment Eligibility Expanded From July 11 2022
More people at higher risk of severe illness from COVID-19 will be able to access life-saving oral antiviral treatments from Monday 11 July.
The prescription-only oral treatments, Paxlovid and Lagevrio, have been found to be effective in treating mild to moderate COVID-19 in adults aged 18 years of age and older, who do not require supplemental oxygen, and who are at increased risk of progressing to hospitalisation.
Eligibility for oral COVID-19 treatments
The Pharmaceutical Benefits Advisory Committee recommended changes to the eligibility criteria of the oral treatments. This will take effect from Monday 11 July 2022.
Antiviral treatments taken as capsules or tablets may help stop COVID-19 infection from becoming severe. Courses of these antiviral treatments need to be started as soon as possible after symptoms from COVID-19 begin.
People at higher risk of severe illness are eligible for antiviral treatments:
Senior Australians and Aboriginal and Torres Strait Islander people
If you test positive for COVID-19, you may be eligible for antiviral treatments if you are:
70 years and older, regardless of risk factors and with or without symptoms
50 years or older with

2

additional risk factors
Aboriginal or Torres Strait Islander, 30 years or older and with

2

additional risk factors.
Risk factors for these groups include:
living in residential aged care
living with disability with multiple conditions and/or frailty (but not limited to living in supported accommodation)
neurological conditions like stroke or dementia and demyelinating conditions e.g. multiple sclerosis, Guillain-Barre Syndrome
chronic respiratory conditions including COPD, moderate or severe asthma
obesity or diabetes (type I or II requiring medication)
heart failure, coronary artery disease, cardiomyopathies
kidney failure or cirrhosis
living remotely with reduced access to higher level healthcare.
People aged 18 years and older
If you test positive for COVID-19 and are moderately to severely immunocompromised, you may be eligible for antiviral treatments.
Conditions include:
blood cancer or some red blood cell disorders (thalassemia, sickle cell disease)
transplant recipient
primary or acquired (HIV) immunodeficiency
chemotherapy or whole-body radiotherapy in the last 3 months
high dose corticosteroids or pulse corticosteroid therapy in the last 3 months
immunosuppressive treatments in the last 3 months
rituximab in the last 12 months
cerebral palsy or Down Syndrome
congenital heart disease
living with disability with multiple conditions and/or frailty.
How to get COVID-19 oral treatments
If you test positive, you should contact your doctor for advice about eligibility first.
If your doctor recommends oral antiviral treatments, you will need a prescription.
The medications are available at your local pharmacy with a prescription.
Your doctor can send the pharmacist your prescription electronically
so the medications can be either collected by a friend or family member (you will be in isolation having tested positive) or delivered to your home.
Information on accessing oral treatments for states and territories:
New South Wales
Chief Medical Officer's Statement On Standard Of Care On COVID-19 Oral Antiviral Treatments In Residential Aged Care Facilities
As Australia experiences another rise in transmission of COVID-19, it is as important as ever to protect our most vulnerable senior Australians.
Vaccines are proven to provide the best protection against COVID-19, however there are some individuals who are at higher risk for severe disease if they become infected with COVID-19. The oral antiviral treatments, molnupiravir (Lagevrio®) and nirmatrelvir and ritonavir (Paxlovid®) can be used by adult patients in high risk groups who do not require initiation of oxygen due to COVID-19 who are at increased risk of hospitalisation or death.
COVID-19 can be very serious for adults in high-risk groups, even when they are fully vaccinated. Oral antiviral treatments can save lives.
In response to the latest evidence on the effectiveness and safety of the medicines, the rate of uptake since they were made available on the Pharmaceutical Benefits Scheme (PBS) and the changing epidemiology of the virus, the independent, expert Pharmaceutical Benefits Advisory Committee (PBAC) has recommended expanded eligibility criteria for both COVID‑19 oral antiviral treatments. The Australian Government has accepted this recommendation and implemented it from Monday 11 July 2022.
All Australians aged 70 years or over who test positive to COVID-19, with or without symptoms, are able to access these oral antivirals on the PBS. Treatment should be offered to every person 70 years of age or older who tests positive for COVID-19 (regardless of setting), where clinically appropriate, within 24 hours of a positive test.
With the increased transmissibility of current COVID-19 variants, it is highly likely there will be an increase in residential aged care outbreaks and an increase in the number of residents infected. It is critical that oral treatments are accessible for every COVID positive resident 70 years of age or over.
To facilitate speedy access and best practice treatment in a residential aged care facility (RACF) setting, RACFs are encouraged to pre-assess any potentially eligible residents which should include:
discussing consent options for potential treatment with the aged care resident and relevant decision-maker;
identifying eligible aged care residents in RACF clinical management systems;
discussing potential medicine administration with the aged care resident's prescriber, GP, nurse practitioner and facility clinical care staff; and
ensuring a dispensing pathway is established with community pharmacy.
Primary care providers continue to play a pivotal role as the key contact for patient guidance on eligibility and risk factors and prescribing the best treatment where clinically appropriate.
Treatment should be commenced as soon as possible after a diagnosis of COVID-19 and within 5 days of symptom onset (or, for asymptomatic adults 70 years of age or older, as soon as possible after diagnosis by RAT or PCR is confirmed). Older people receiving oral antiviral treatments should be closely monitored for side effects.
A copy of this advice has been provided to the Aged Care Quality and Safety Commissioner, Janet Anderson PSM, who will consider this as best practice guidance as part of the Commission's role as the regulator of Australian Government funded aged care.
Older People Must Consent: Award Changes Affect Home Care Packages
The Older Persons Advocacy Network (OPAN) is calling upon sector stakeholders to work together to ensure older people are not adversely affected by changes to the conditions of aged care workers that come into effect today.
"It is a positive development that aged care workers are receiving more support through recent changes to the industry award, but we must ensure that older people are not worse off," OPAN CEO Craig Gear said.
"We are already experiencing distressed calls from older people who have been impacted by the new standards set by the Fair Work Commission for casual and part-time home care workers.
"In one particularly troubling case, the service provider suggested their care recipient take out a reverse mortgage to meet the shortfall in costs, this is obviously not acceptable."
The changes to the Social, Community, Home Care and Disability Services (SCHADS) industry award, which include two-hour minimum shifts, travel costs between jobs and a fee for "broken" shifts, are likely to affect more than 200,000 older people who receive home care packages.
"OPAN supports improved conditions to attract and retain skilled aged care workers," said Mr Gear.
"But these changes must be appropriately funded to ensure older people are not worse off.
"This might require additional supplements in rural and remote areas, where there are increased travel times, to cover morning and evening shifts."
Mr Gear also urged service providers to use effective rostering and other, innovative solutions to accommodate the needs of older people, many of whom can remain independent, in their own home, with short, regular support visits.
"The delivery of the two-hour block does not have to be with the same client and it doesn't have to be at the same location, so it's up to the providers to find a solution that works best."
OPAN has been working with the Department of Health and Aged Care on a set of
Home Aged Care Fact Sheets
, which have just been released.
Mr Gear also reminded older people that changes to their home care package could not be made without their consent and that OPAN's advocates offered free, independent, confidential support.
Contact OPAN's experienced and friendly team for support relating to aged care services, information or education sessions on 1800 700 600 from 8am to 8pm Monday to Friday and 10am to 4pm on Saturdays.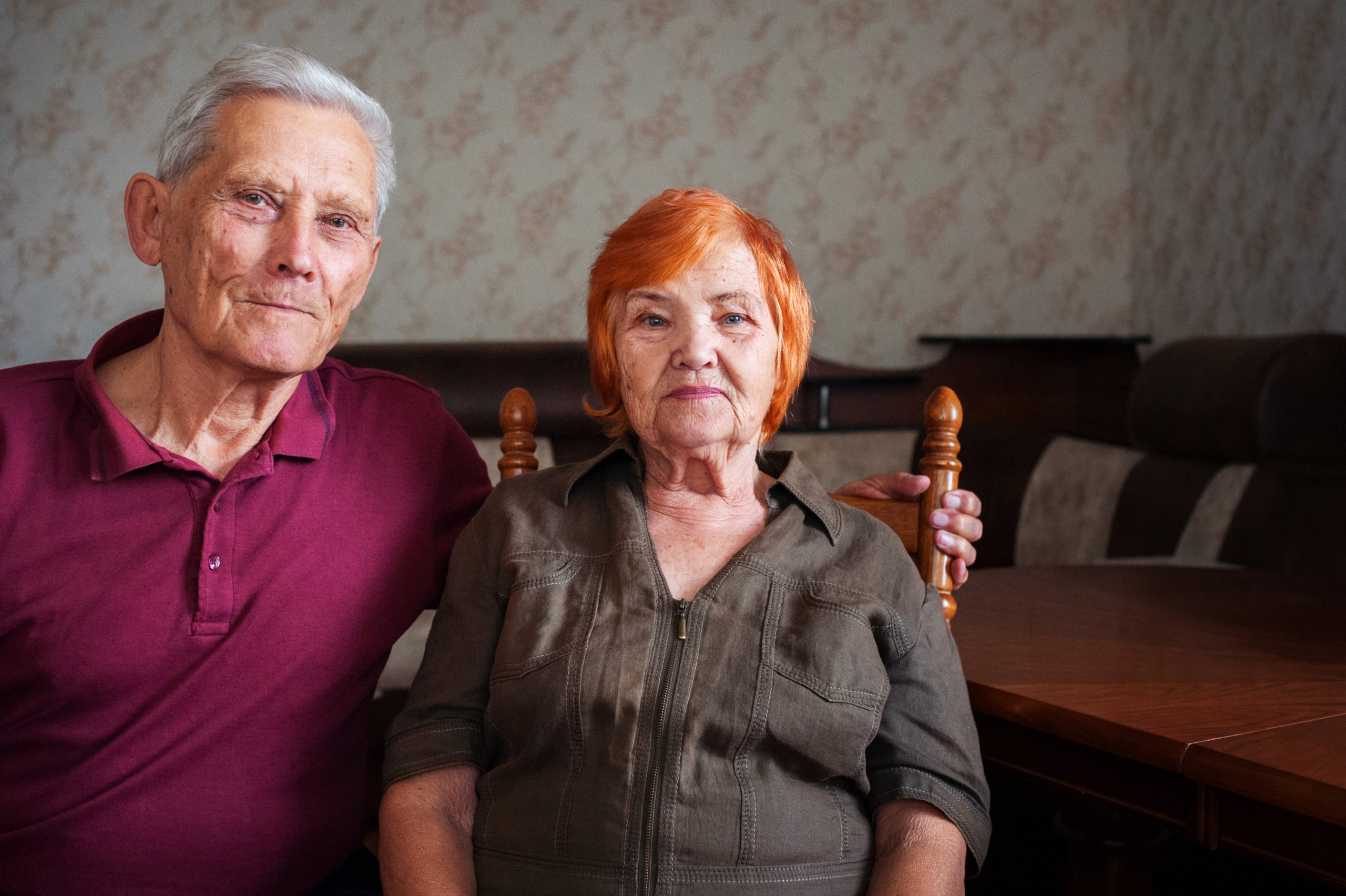 NSW Seniors Festival Grants Now Open
Local organisations and community groups can now apply for grant funding to host events and activities as part of the 65th annual NSW Seniors Festival.
Minister for Seniors Mark Coure said organisations can apply for grants up to $10,000 to help see their event be part of the largest celebration of seniors in the Southern Hemisphere.
"For 65 years, this festival has been celebrating our state's older people in recognition of the contributions they have made and continue to make to our great state," Mr Coure said.
"These grants give an opportunity for local organisations and groups to join in this massive celebration and help seniors connect with like-minded people, meet new friends, and even rekindle a passion for an old hobby."
Mr Coure said community organisations looking to apply for funding should make sure all seniors are able to join in.
"This is part of the NSW Government's commitment to ensuring older people remain active and connected within their communities no matter where they live, the language they speak and irrespective of their abilities," Mr Coure said.
"This year's festival, we saw grant recipients host some 140 different activities from dance classes to modified sports, computer classes and gardening workshops for the green thumbs."
Local councils, community groups and not-for-profit organisations across NSW are among those who can apply for a grant.
The Seniors Festival will run from 1 to 12 February 2023.
Applications for grants are open
from 4 July
to 1 August 2022.
Save the dates for next events!
NSW Seniors Christmas Concert: 13 December 2022
NSW Seniors Festival: Wednesday 1 February to Sunday 12 February 2023
Premier's Gala Concerts: Thursday 2 and Friday 3 February 2023
NSW Seniors Festival Expo: Thursday 2 and Friday 3 February 2023
UNSW Breathe Study
The BREATHE study at the University of New South Wales, Australia.
Join our research on chronic lung disease and masks.
Help develop first-time clinical valuable evidence in the world on using masks and respirators to prevent worsening of asthma, COPD, and other chronic lung diseases caused by bushfire smoke.
Do not hesitate to contact us if you have questions +61 2 93850082 or +61 2 9385 0964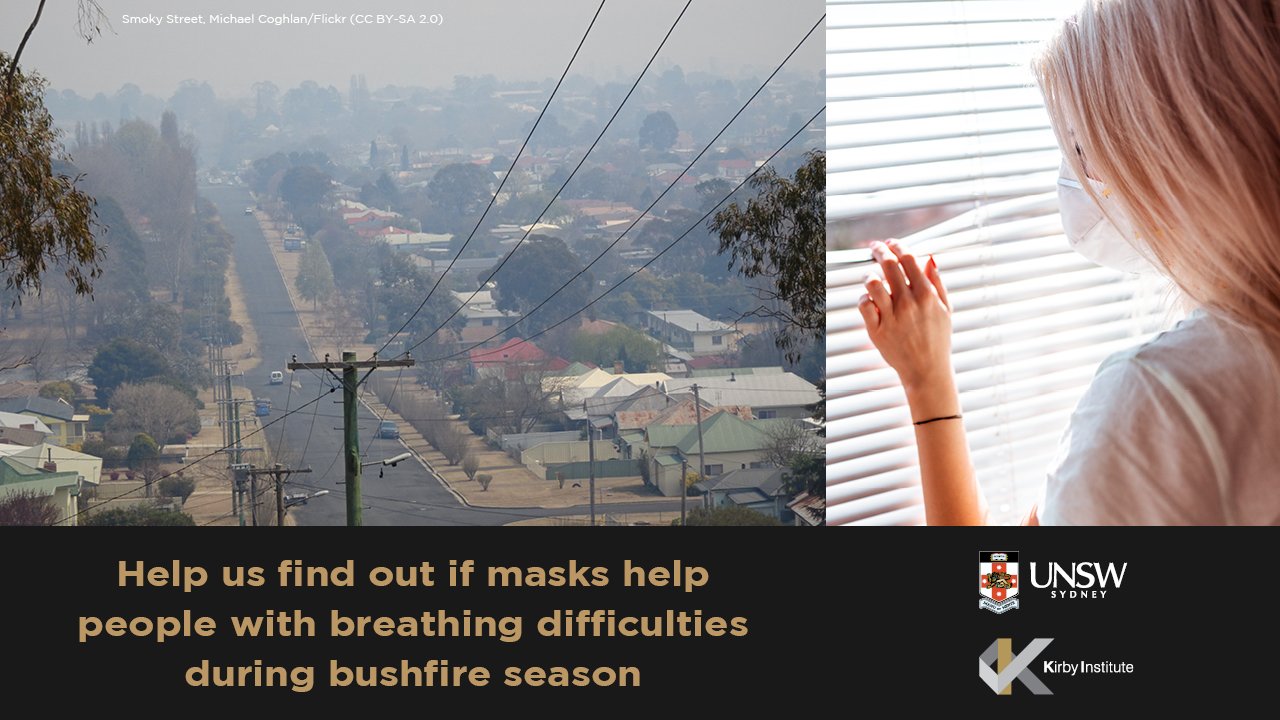 AvPals Term 3 2022: Training At Newport
Avpals are proud to present our training schedule for term 3 at the Newport Community Centre. You can enrol online, make inquiries online, even pay online. Spaces are limited. We are complying with every aspect of Covid Care.
The timetable is below: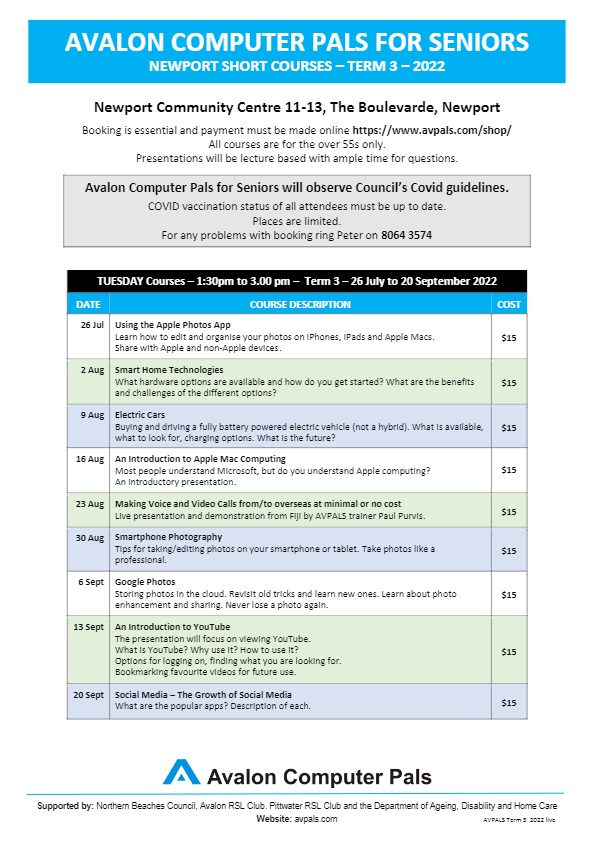 Rejoice
Conductor Carlos Alvarado
St John's Anglican Church, Dee Why
The program includes Handel's Coronation Anthems, Choruses from the Messiah and Elgar's Serenade for Strings.
A flyer is attached with further details.
Tickets go on sale on Wednesday June 8th at 8.00am
and will be available online at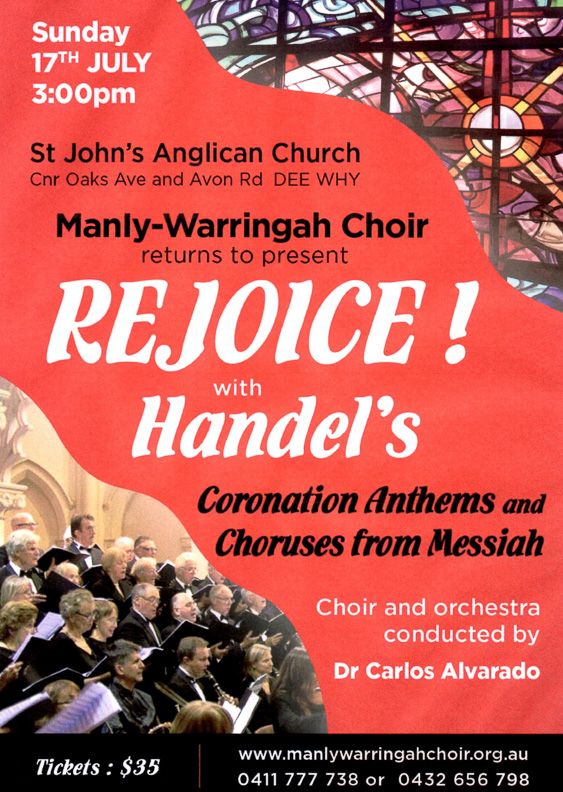 Virtual Reality App Trial Shown To Reduce Common Phobias
Results from a University of Otago, Christchurch trial suggest fresh hope for the estimated one-in-twelve people worldwide suffering from a fear of flying, needles, heights, spiders and dogs.
The trial, led by Associate Professor Cameron Lacey, from the Department of Psychological Medicine, studied phobia patients using a headset and a smartphone app treatment programme -- a combination of Virtual Reality (VR) 360-degree video exposure therapy and cognitive behavioural therapy (CBT).
Participants downloaded a fully self-guided smartphone
app called "oVRcome,"
developed by Christchurch tech entrepreneur Adam Hutchinson, aimed at treating patients with phobia and anxiety.
The app was paired with a headset to immerse participants in virtual environments to help treat their phobia.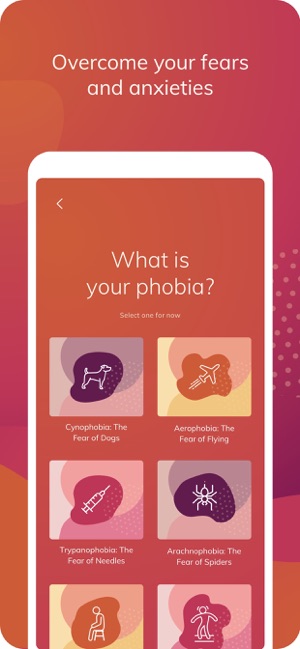 The results from the trial, just published in the Australian and New Zealand Journal of Psychiatry, showed a 75 per cent reduction in phobia symptoms after six weeks of the treatment programme.
"The improvements they reported suggests there's great potential for the use of VR and mobile phone apps as a means of self-guided treatment for people struggling with often-crippling phobias," Associate Professor Lacey says.
"Participants demonstrated a strong acceptability of the app, highlighting its potential for delivering easily accessible, cost-effective treatment at scale, of particular use for those unable to access in-person exposure therapy to treat their phobias."
A total of 129 people took part in the six-week randomised, controlled trial, between May 2021 and December 2021, with a 12-week follow-up. Participants needed to be aged between 18-64 years, have a fear of either flying, heights, needles, spiders and dogs. They were emailed weekly questionnaires to record their progress. Those experiencing adverse events could request contact from a clinical psychologist at any stage.
"Participants experiencing all five types of phobia showed comparable improvements in the Severity Measures for Specific Phobia scale over the course of the trial. The average severity score decreased from 28/40 (moderate to severe symptoms) to 7/40 (minimal symptoms) after six weeks. There were no participant withdrawals due to intervention-related adverse events.
"The oVRcome app involves what's called "exposure therapy," a form of CBT exposing participants to their specific phobias in short bursts, to build up their tolerance to the phobia in a clinically-approved and controlled way," Associate Professor Lacey says.
"Some participants reported significant progress in overcoming their phobias after the trial period, with one feeling confident enough to now book an overseas family holiday, another lining up for a Covid vaccine and another reporting they now felt confident not only knowing there was a spider in the house but that they could possibly remove it themselves."
The app programme consisted of standard CBT components including psychoeducation, relaxation, mindfulness, cognitive techniques, exposure through VR, and a relapse prevention model. Participants were able to select their own exposure levels to their particular phobia from a large library of VR videos.
"This means the levels of exposure therapy could be tailored to an individual's needs which is a particular strength. The more traditional in-person exposure treatment for specific phobias have a notoriously high dropout rate due to discomfort, inconvenience and a lack of motivation in people seeking out fears to expose themselves to. With this VR app treatment, triallists had increased control in exposure to their fears, as well as control over when and where exposure occurs," says Associate Professor Lacey.
The researchers say this trial was novel, due to the cost-effective availability of the app and headsets and the fact that multiple phobias were tested at once. They say most comparative VR studies to date have investigated high-end VR devices which are only available in research and limited clinical settings. One Dutch study examined a low-cost VR Dutch-language program using animated imagery that demonstrated improvement in fear-of-height symptoms, however this study only examined a single type of specific phobia.
Associate Professor Lacey says public demand to take part in the trial was unprecedented, demonstrating the increasing need and desire for phobia treatment in the community.
"An estimated ten per cent of New Zealanders have been hesitant to take part in the government's COVID-19 vaccination programme due to needle phobia. This hasn't been helped by a significant shortage of psychologists. A petition to Parliament last year claimed New Zealand is 1,000 psychologists short, causing ballooning wait times nationwide, making it difficult for people to access help if needed. We need to further research and explore the use of more cost-effective, easily-accessible, home-based solutions such as this oVRcome app, to provide people with the treatment and support they need."
This study builds on the Department of Psychological Medicine's existing research into structured psychotherapy for mental distress.
Cameron Lacey, Chris Frampton, Ben Beaglehole.
oVRcome – Self-guided virtual reality for specific phobias: A randomised controlled trial.
Australian & New Zealand Journal of Psychiatry, 2022; 000486742211107 DOI:
10.1177/00048674221110779
Kamahl Lights Up Christmas In July With Record Audience
More than 19,000 people tuned in across Australia to watch Kamahl's Christmas in July performance last week, Tuesday the 12th.
Residents broke out the tinsel in aged care homes from Silverchain Centre in Western Australia to Moonee Valley Friendship Club in Victoria and Regis in Tasmania.
Kamahl's golden voice even drew viewers from as far afield as New Zealand and Holland.
The OPAN event, in front of an exclusive live studio audience in Sydney, was a celebration of active ageing and a chance to reminisce through story and song.
Belrose resident Kamahl's set began with a heartfelt story and dedication to 102-year-old
Hazel Orson
, who spent time as his wardrobe mistress. She, along with other residents in her care home in Victoria had a festive celebration with roast and all the trimmings. A representative shared that Hazel was overwhelmed by his acknowledgement and song 'All I have to offer you is me'.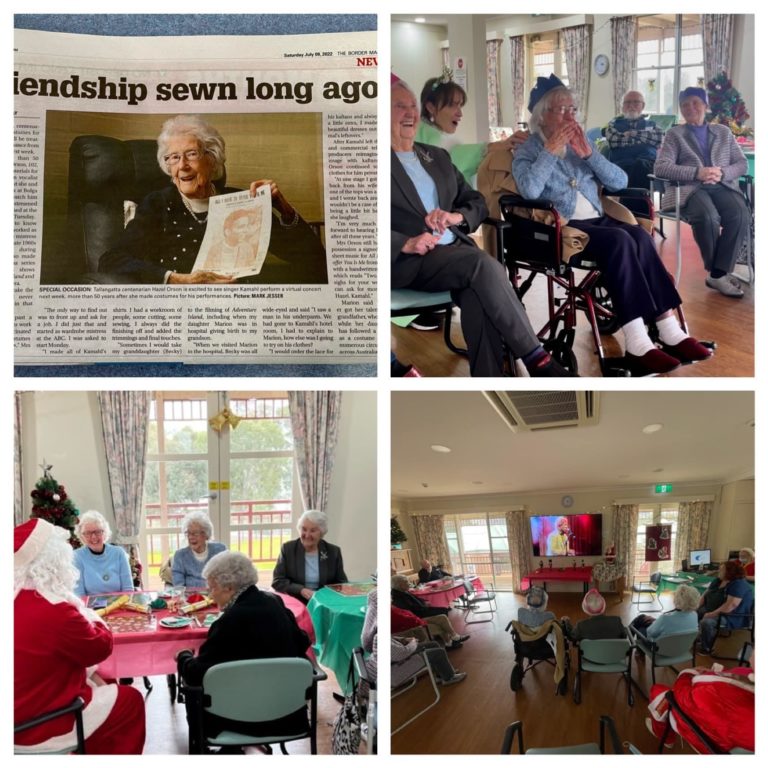 Credit: Tallangatta Health Service
The hour quickly passed by with festive Christmas songs, poems, stories, as well as some of his best-known songs like 'The Elephant song' and 'My way'.
At 87, Kamahl says, "You only retire from things that you don't like doing."
It was clear to see that he still very much enjoys being on stage. With each song he offered a piece of his life and history, an intimate conversation for the many people who grew up listening to his songs. He beautifully recited a heartfelt poem that he had even shared with Sir Donald Bradman.
The town I live in, the friends that I have found, the
people who just came here from nations all around.
Those who built this country,
the air of feeling free and the right to speak your own mind.
That's Australia to me.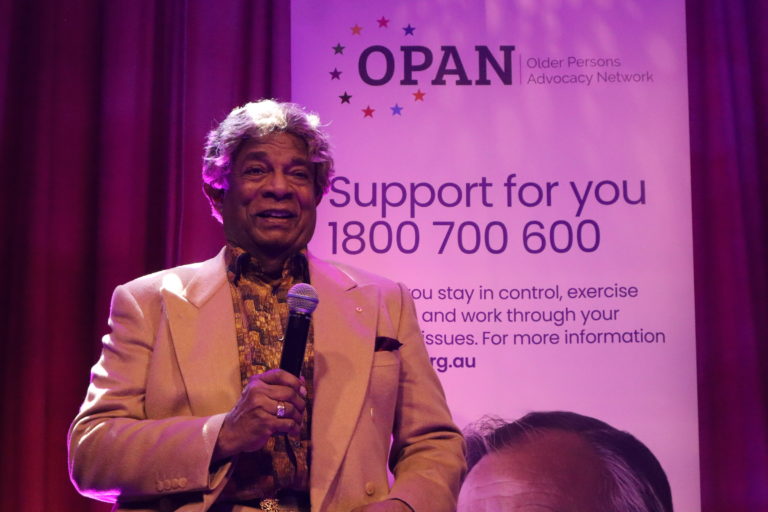 Kamahl wasn't the only older person on show. OPAN's CEO, Craig Gear OAM, who hosted the event spoke to a few special guests in the live audience including Val Fell OAM, a prolific member of OPAN's National Older Persons Reference Group and the Council of Elders. Last month she received the Medal of the Order of Australia for her dedicated service for people living with dementia.
Val was joined by Charles Linsell, another member of the National Older Persons Reference Group who spoke passionately about the importance of freedom and choice in aged care.
Danjiela Hlis, also a member of the National Older Persons Reference Group and Council of Elders joined via video stream. She explained that active ageing for her involves giving back to the community. Danjiela volunteers as a bicultural support worker for people who live with dementia and revert to their mother tongue.
Chris McCabe, an aged care advocate with OPAN's New South Wales member organisation
Seniors Rights Service
summed up what an advocate can do to
support
an older person working in conjunction with them; "In the first instance, I listen to you and hear what you've got to say. Then, we'll try together to tease out what the issues might be. And we'll come up with a bit of a plan going forward."
Report/photos; Older Person Advocacy Network (OPAN).
Join COTA NSW President To Discuss Older People Starting Businesses
Dear members, supporters, friends and colleagues
I hope you'll join me for COTA NSW's July webinar on
Thursday 21 July at 10.30am
, when we look at older people starting their own business.
Starting a business is seen as seen as a young person's game, but more and more people over 50 are taking on the challenge. Belying the stereotype of the older person who just wants to wind down, they are the fastest growing segment of entrepreneurs.
According to a recent article by SmartCompany, the majority are people who've had a change to their employment situation and are at an age where re-employment is difficult due to age discrimination. Others need the income, are simply not ready to retire or want a change to give them a new lease of life.
Often this requires re-training and an update or re-direction of their of digital skills, which can be a challenge at any age. But according to some research, with their life experience and access to capital, 'seniorpreneurs' are actually better at building businesses than their younger peers!
So what's behind this upsurge in business activity by older people? What kind of issues do you need to take into account when you start a business later in life? And what kind of effect can it have on your life?
Come to the July COTA NSW webinar to hear all about this fascinating topic.
Dr Alex Maritz,
Professor, Entrepreneurship at La Trobe University, who has conducted several studies on older people starting their own businesses
Natalie Yan-Chatonsky,
Founder and CEO of Full Time Lives, which 'offers an antidote to the retirement model' and provides 'ways to positively and meaningfully embark on the next chapter following mid-life career and lifestyle changes'.
Janne Sverdloff,
who left a secure career as a teacher in her 50s and started a business as a marriage and funeral celebrant, later expanded into being a death doula and grief counsellor.
Date: Thursday 21, 10.30 am to 12pm.
I'd love to see you there.
Register now
and pop it in your diary! We'll send you the details of how to log in once you register.
Best wishes,
Joan
President - Council on the Ageing (COTA) NSW
Board Director - COTA Australia
Chair - COTA Federation Council
Please note –
this is a zoom webinar, but you can dial in to listen using a landline. Just register, and you'll receive an email containing the phone number to call as well as the video log-in.
COTA NSW is producing a series of webinars on topics of concern to older people. I
f there is a topic you would like to see covered, please email us - Subject 'Webinar'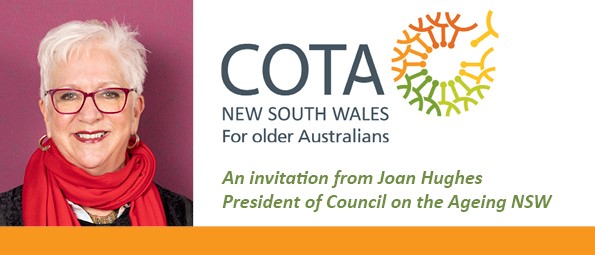 AMA And RACGP Call For Urgent Reinstatement Of COVID-19 Telehealth Items
The Australian Medical Association and Royal Australian College of General Practitioners have asked federal Health Minister Mark Butler to meet with them to discuss the reinstatement of COVID-19 telehealth items cancelled on July 1st.
In letters to the Minister, the AMA and RACGP urged the Government to immediately reverse the decision to let the telehealth items lapse, saying the telephone is a safe and effective means of delivering essential care to all Australians, especially during the worsening pandemic.
"These changes undermine the ability of patients to access their doctors, and in particular for GPs to prescribe antivirals for COVID-positive patients and will lead to costs elsewhere in the health system, including in overstretched hospitals," AMA President, Dr Omar Khorshid said.
"This decision means telephone access to doctors will be significantly limited, hitting vulnerable patients hardest, including those who do not have access to high bandwidth internet and those who can't operate the necessary IT systems."
Dr Khorshid said the item for telephone consults longer that 20 minutes with a GP - a key part of the Government's 'Living with Covid' strategy - was critical and must be restored.
"Prescribing antivirals is time consuming, requiring a GP to consider complex eligibility requirements, contraindications and drug interactions and then arrange for patients to obtain the medication while isolating. Even simple cases take thirty minutes to an hour to properly complete."
RACGO President, Professor Karen Price said given the growing number of COVID-19 cases and the unknown impacts of long COVID going forward, enabling access to longer telephone consultations was vital.
"GPs have told the RACGP the removal of Medicare patient rebates for longer phone consultations has reduced access to care and increased health gaps for vulnerable patients," Professor Price said.
"This includes rural communities, Aboriginal and Torres Strait Islander people, older people, people with disability and mental health concerns, many of whom already have poorer health outcomes than the general population," Dr Price said.
"Longer phone consultations are critical for GPs to provide care for patients with COVID-19 who may need antivirals. Given the growing number of COVID-19 cases, enabling access to longer telephone consultations is vital.
"The RACGP firmly believes all Australians deserve access to high quality care. And for this to happen telehealth should be available for all GP consultation types and lengths, with video and telephone items valued equally – nobody should be disadvantaged due to their circumstances."
'Will You Remember Being On This Show?' New Series Of You Can't Ask That Released
The latest series of the always-surprising ABC TV show, You Can't Ask That, has been released on iView, and includes an episode dedicated to dementia and the experiences of people living with dementia.
During the episode, several Dementia Australia Dementia Advocates were asked confronting questions, and we applaud them for answering with such honesty and in many cases, a big dose of humour.
Russell Martin, who was interviewed for the show, said he volunteered to be part of the episode so he could talk about what is it really like to live with dementia.
"When I put my name forward, I thought - you beauty! This will give people a perspective for what you will face when diagnosed with dementia," Russell said.
"Dementia is such a big amorphous of people on different paths, everyone has a slightly different twist, but it was good to show the challenge dementia brings in peoples' lives.
"I know the shock jock bits get more airtime and I feel sorry for anyone who watches this and has been diagnosed this week.
"But it's not all doom and gloom. I can still do a lot, two years after diagnosis and I've had more good than bad days.
"Don't get me wrong, I'd still get the pill to get rid of dementia if I could! But for me it's doing the things you want to do and get the support you need for the things you need. For example, someone comes and chops my wood now. That's not a bad outcome."
Russell was filmed near his farm in Orange, NSW.
"I was there three hours and at the end I was exhausted!
"I thought they did a good job at making me feel relaxed."
One of the first questions asked in the episode was "when did you realise you were losing your marbles?"
In the episode, Russell speaks about his experience of pouring himself a glass of wine at a friends' house and not getting the wine into the glass. It was one of the early signs his concentration was impacted and ultimately, led to him receiving his diagnosis.
His advice to other people who also live with dementia is to let people know about the diagnosis so they understand what you can and can't do, and then they can act appropriately when something like the wine incident happens.
"If you tell people what you can and cannot do, people can adapt," he said.
"I told everyone in my rotary club the week I was diagnosed so they knew what was happening.
"I've been included the same way as before, but people know what's possible and what's not.
"Also, a friend of mine knows I have trouble remembering names so every time she sees me she introduces herself by name – 'Hi Russ, it's Ellen'.
"It's a nice way to prompt me each time and then we can have a chat."
Some of the other questions asked included 'will you remember being on this show?'
Dementia Australia thanks all seven Dementia Advocates who participated in the filming for this episode – Russell, Val Schache, Theresa Flavin, Gwenda Darling, Kevyn Morris, and Sarah Ashton.
The episode on dementia is available on ABC iView now and also aired live on ABC TV at 9pm on 13 July.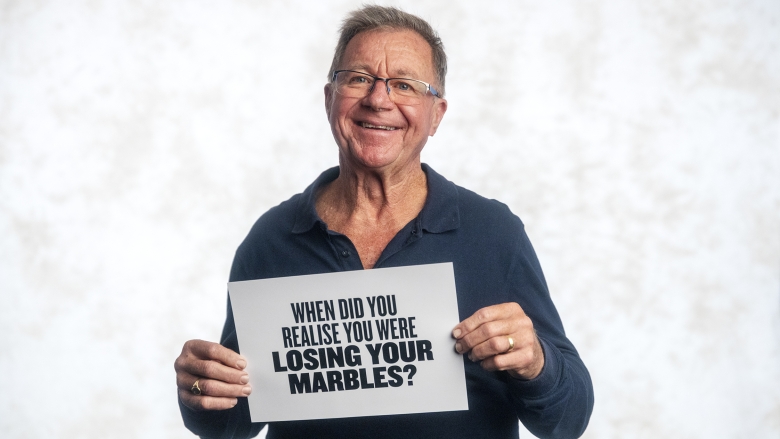 Revealing One Of The Driving Forces Of Alzheimer's
Alzheimer's disease, the most common form of dementia, currently has no cure or effective therapy, in part due to gaps in our understanding of how the progressive neurodegenerative disorder arises in the brain.
Now, a Flinders University study has shown how a protein called tau, a critical factor in the development of Alzheimer's disease, turns from normal to a disease state -- and demonstrates how this discovery could deliver a therapeutic target.
Published in the journal Science Advances, the team's findings provide hope for preventing the tau transformation process from happening, thereby keeping tau in a healthy state and avoiding toxic effects on brain cells.
"Alongside a small peptide called amyloid-beta, the tau protein is a central factor in Alzheimer's disease. Tau is necessary for the toxic effects on brain cells that then result in impaired memory function," says senior study author Dr Arne Ittner, Senior Research Fellow in Neuroscience in the Flinders Health and Medical Research Institute.
In the course of Alzheimer's disease development, tau accumulates in deposits inside brain cells. During this process, tau gets heavily modified, with various deposits made up of tau carrying multiple small changes at many different positions within the tau molecule.
While such changes to tau have been known to neuropathologists for decades, it remained unclear how tau arrives at this multi-modified stage. The new study has solved part of this mystery and provides a new mechanism to explain how tau gets progressively modified.
The study set out to answer whether one change at one specific spot in tau would make it easier for another spot to be modified. The team focussed on the relationship between tau and protein kinases, which are enzymes that introduce changes in tau.
"Usually, protein kinases target specific spots, called phosphorylation sites, in tau and other proteins, and introduce changes only at these specific spots," says study lead author Dr Kristie Stefanoska, Research Fellow in Dementia at Flinders University.
"However, we suspected that some of these enzymes are able to target several spots in tau and would do so even more efficiently if tau were already modified at one spot to begin with."
The researchers conducted a large experiment that included up to 20 different changes in tau and 12 enzymes, focussing on the most abundant type of change seen in tau from the brains of Alzheimer's patients.
While the study did discover that one change in tau does makes it easier for another change to be introduced, it was also able to identify "master sites" in tau, being specific spots that govern subsequent modifications at most of the other sites.
"By modifying these master sites, we were able to drive modification at multiple other spots within tau, leading to a similar state seen in the brains of Alzheimer's patients," says Dr Ittner.
The next step for the team was to see whether master sites could be targeted to reduce the toxic properties of tau in Alzheimer's, in a bid to improve memory function.
The current study employed mice that have both amyloid and tau and developed Alzheimer's-like symptoms, including memory deficits. The researchers found that mice did not develop memory deficits when they had a version of tau that lacked one of the identified master sites, compared with mice that had the usual version of tau.
The team will now investigate how its findings can be translated into a treatment.
"We have shown that this new concept has therapeutic potential, but future work is needed to understand the role of these master sites in health and disease," says Dr Stefanoska.
"Tau modification in Alzheimer's disease is a complicated process. Ours is the first study to link an initial change in tau with multi-site modification along the entire protein."
The authors say the new mechanism and the master sites at its centre could apply to a range of neurological disorders in which tau is involved, including Parkinson's disease, concussion-induced chronic brain injury and stroke.
"Slowing down the changes at master sites of tau in these diseases may put the brakes on tau toxicity and dementia," says Dr Ittner.
"This new mechanism helps us understand why there is extensive tau modification in Alzheimer's disease in the first place. This will assist researchers and clinicians in designing means for better and earlier diagnosis."
Kristie Stefanoska, Mehul Gajwani, Amanda R. P. Tan, Holly I. Ahel, Prita R. Asih, Alexander Volkerling, Anne Poljak, Arne Ittner.
Alzheimer's disease: Ablating single master site abolishes tau hyperphosphorylation
. Science Advances, 2022; 8 (27) DOI:
10.1126/sciadv.abl8809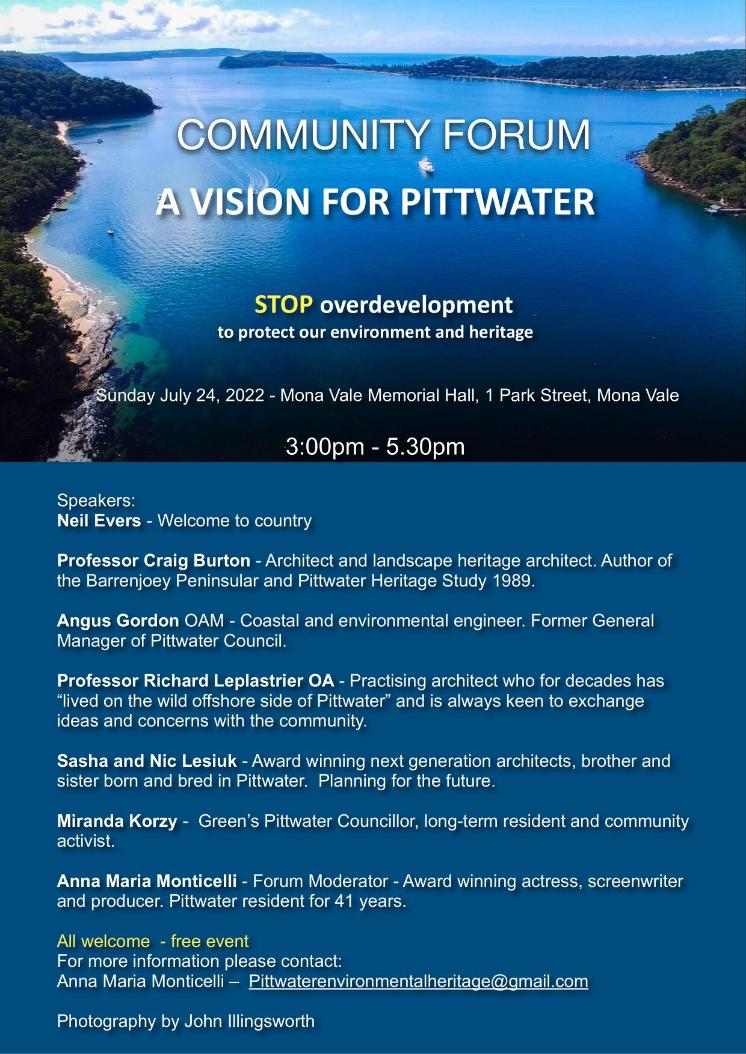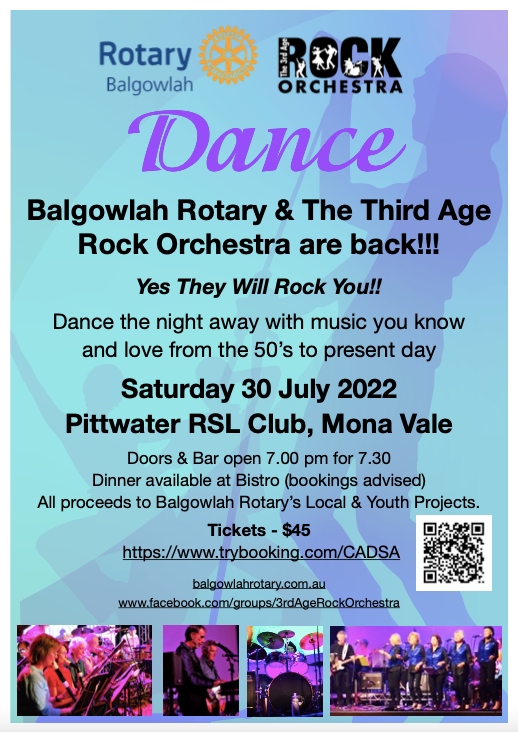 Gotcha4Life Cup 2022: Player Mental Fitness
Published July 14, 2022
Gus Worland, Gotcha4Life Founder chats to Manly Sea Eagles players Ben and Tom Trbojevic and Sydney Roosters Captain James Tedesco and player Sam Verrills about what it means to be mentally fit on and off the field.
NASA Reveals Webb Telescope's First Images Of Unseen Universe: Details Of These Pictures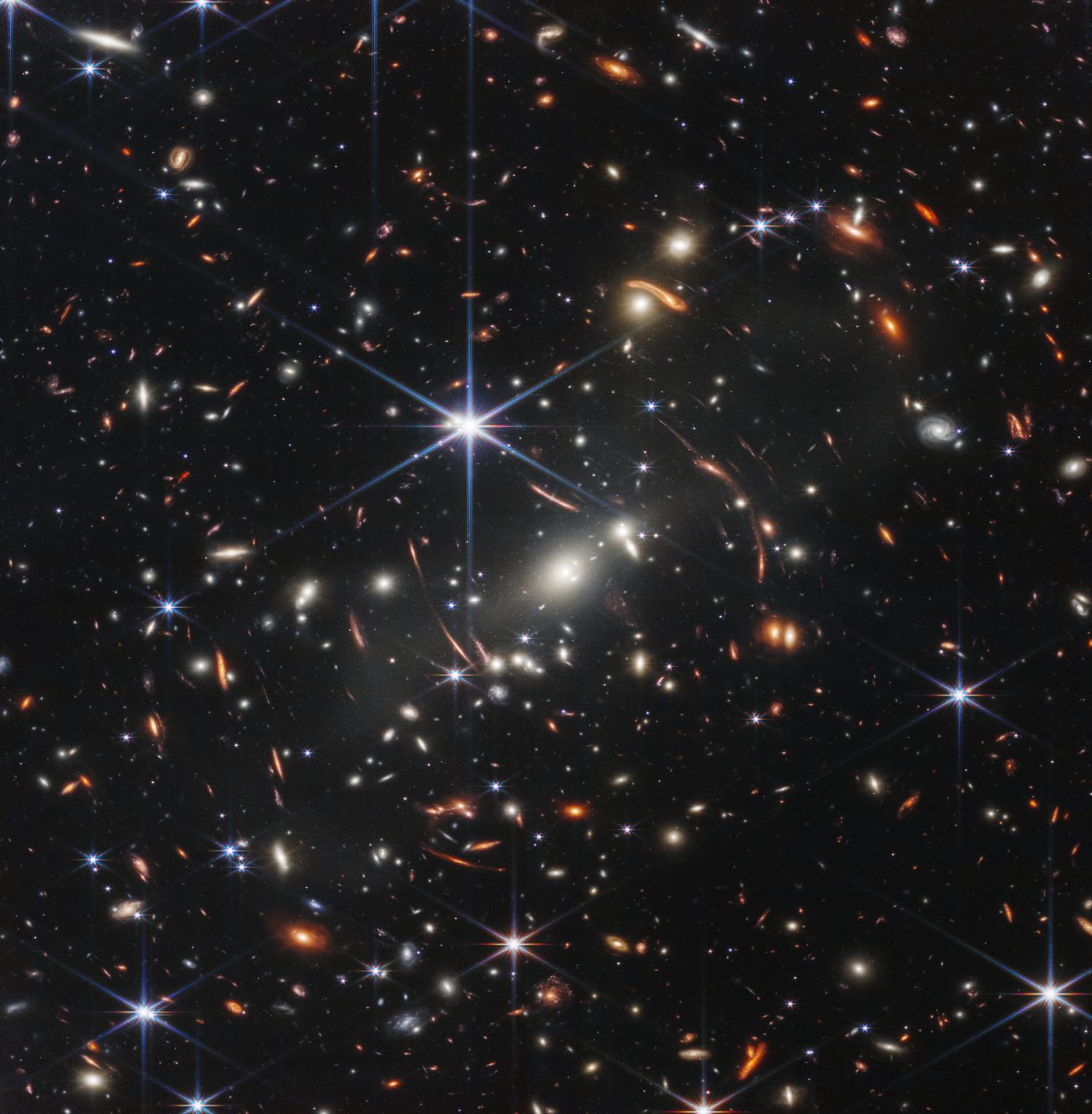 Image: NASA's James Webb Space Telescope has produced the deepest and sharpest infrared image of the distant universe to date. Known as Webb's First Deep Field, this image of galaxy cluster SMACS 0723 is overflowing with detail. Thousands of galaxies – including the faintest objects ever observed in the infrared – have appeared in Webb's view for the first time. This slice of the vast universe covers a patch of sky approximately the size of a grain of sand held at arm's length by someone on the ground.
President Joe Biden unveiled this image during a White House event Monday, July 11.
Credits: NASA, ESA, CSA, and STScI
June 12, 2022 - US Time - June 13, 2022 AEST
The dawn of a new era in astronomy is here as the world gets its first look at the full capabilities of NASA's James Webb Space Telescope, a partnership with ESA (European Space Agency) and CSA (Canadian Space Agency).
The full set of the telescope's first full-colour images and spectroscopic data, which uncover a collection of cosmic features elusive until now, released Tuesday, are available at:
https://www.nasa.gov/webbfirstimages
"Today, we present humanity with a ground-breaking new view of the cosmos from the James Webb Space Telescope – a view the world has never seen before," said NASA Administrator Bill Nelson. "These images, including the deepest infrared view of our universe that has ever been taken, show us how Webb will help to uncover the answers to questions we don't even yet know to ask; questions that will help us better understand our universe and humanity's place within it.
"The Webb team's incredible success is a reflection of what NASA does best. We take dreams and turn them into reality for the benefit of humanity. I can't wait to see the discoveries that we uncover – the team is just getting started!"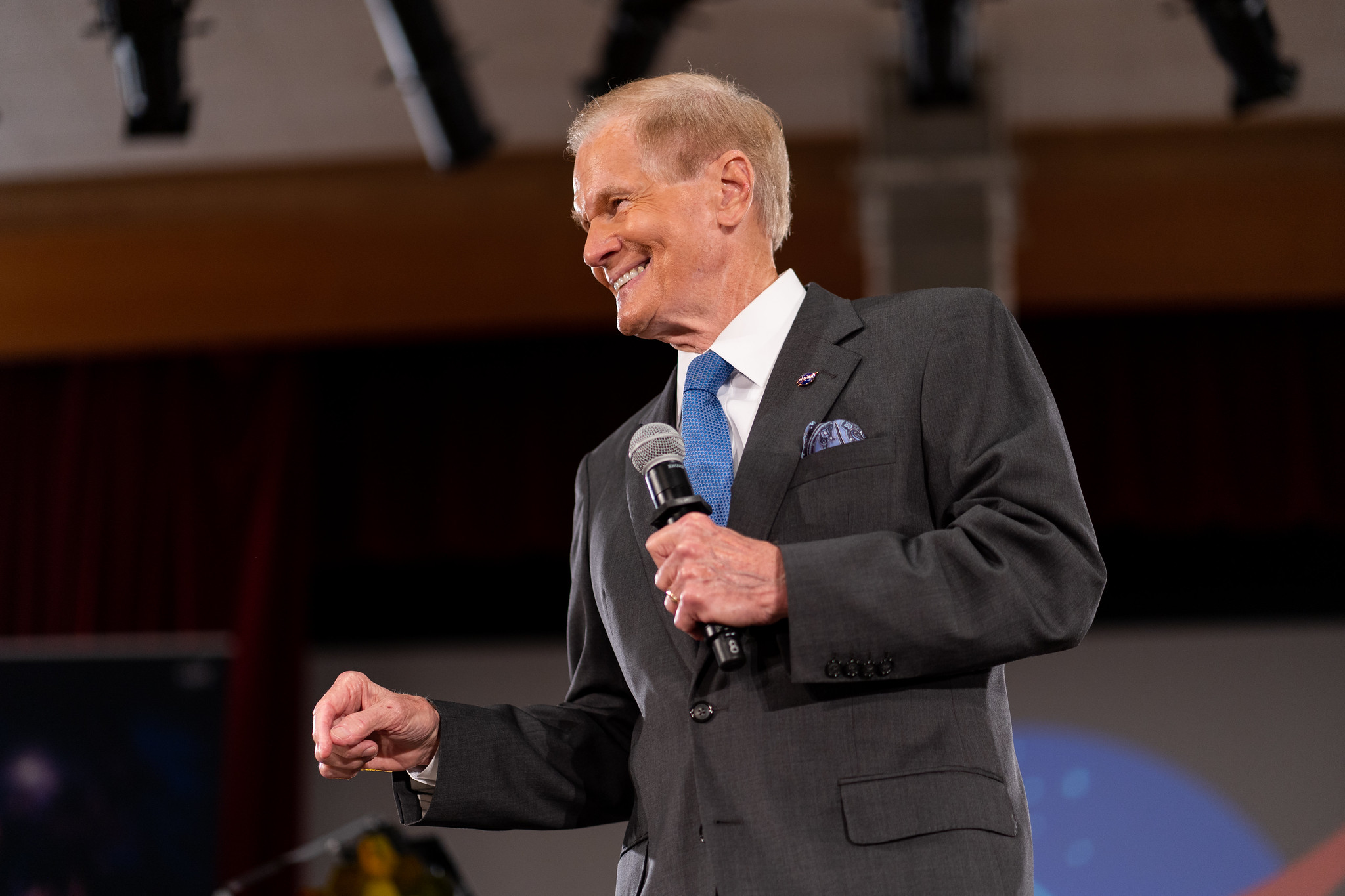 NASA Administrator Bill Nelson delivers remarks ahead of the release of the first images from NASA's James Webb Space Telescope, Tuesday, July 12, 2022, at NASA's Goddard Space Flight Center in Greenbelt, Md. The first full-color images and spectroscopic data from the James Webb Space Telescope, a partnership with ESA (European Space Agency) and the Canadian Space Agency (CSA), are a demonstration of the power of Webb as the telescope begins its science mission to unfold the infrared universe. Photo Credit: (NASA/Taylor Mickal)

NASA explores the unknown in space for the benefit of all, and Webb's first observations tell the story of the hidden universe through every phase of cosmic history – from neighbouring planets outside our solar system, known as exoplanets, to the most distant observable galaxies in the early universe.
"This is a singular and historic moment," said Thomas Zurbuchen, associate administrator for NASA's Science Mission Directorate. "It took decades of drive and perseverance to get us here, and I am immensely proud of the Webb team. These first images show us how much we can accomplish when we come together behind a shared goal, to solve the cosmic mysteries that connect us all. It's a stunning glimpse of the insights yet to come."
"We are elated to celebrate this extraordinary day with the world," said Greg Robinson, Webb program director at NASA Headquarters. "The beautiful diversity and incredible detail of the Webb telescope's images and data will have a profound impact on our understanding of the universe and inspire us to dream big."
Webb's first observations were selected by a group of representatives from NASA, ESA, CSA, and the Space Telescope Science Institute. They reveal the capabilities of all four of Webb's state-of-the-art scientific instruments:
SMACS 0723: Webb has delivered the deepest and sharpest infrared image of the distant universe so far – and in only 12.5 hours. For a person standing on Earth looking up, the field of view for this new image, a colour composite of multiple exposures each about two hours long, is approximately the size of a grain of sand held at arm's length. This deep field uses a lensing galaxy cluster to find some of the most distant galaxies ever detected. This image only scratches the surface of Webb's capabilities in studying deep fields and tracing galaxies back to the beginning of cosmic time.

WASP-96b (spectrum): Webb's detailed observation of this hot, puffy planet outside our solar system reveals the clear signature of water, along with evidence of haze and clouds that previous studies of this planet did not detect. With Webb's first detection of water in the atmosphere of an exoplanet, it will now set out to study hundreds of other systems to understand what other planetary atmospheres are made of.

Southern Ring Nebula: This planetary nebula, an expanding cloud of gas that surrounds a dying star, is approximately 2,000 light years away. Here, Webb's powerful infrared eyes bring a second dying star into full view for the first time. From birth to death as a planetary nebula, Webb can explore the expelling shells of dust and gas of aging stars that may one day become a new star or planet.

Stephan's Quintet: Webb's view of this compact group of galaxies, located in the constellation Pegasus, pierced through the shroud of dust surrounding the center of one galaxy, to reveal the velocity and composition of the gas near its supermassive black hole. Now, scientists can get a rare look, in unprecedented detail, at how interacting galaxies are triggering star formation in each other and how the gas in these galaxies is being disturbed.

Carina Nebula: Webb's look at the 'Cosmic Cliffs' in the Carina Nebula unveils the earliest, rapid phases of star formation that were previously hidden. Looking at this star-forming region in the southern constellation Carina, as well as others like it, Webb can see newly forming stars and study the gas and dust that made them.
"Absolutely thrilling!" said John Mather, Webb senior project scientist at NASA's Goddard Space Flight Center in Greenbelt, Maryland. "The equipment is working perfectly, and nature is full of surprising beauty. Congratulations and thanks to our worldwide teams that made it possible."
The release of Webb's first images and spectra kicks off the beginning of Webb's science operations, where astronomers around the world will have their chance to observe anything from objects within our solar system to the early universe using Webb's four instruments.
The James Webb Space Telescope launched Dec. 25, 2021, on an Ariane 5 rocket from Europe's Spaceport in French Guiana, South America. After completing a complex deployment sequence in space, Webb underwent months of commissioning where its mirrors were aligned, and its instruments were calibrated to its space environment and prepared for science.
The James Webb Space Telescope is the world's premier space science observatory. Webb will solve mysteries in our solar system, look beyond to distant worlds around other stars and probe the mysterious structures and origins of our universe and our place in it.
NASA Headquarters oversees the mission for the agency's Science Mission Directorate. NASA's Goddard Space Flight Center in Greenbelt, Maryland, manages Webb for the agency and oversees work on the mission performed by the Space Telescope Science Institute, Northrop Grumman, and other mission partners. In addition to Goddard, several NASA centers contributed to the project, including the agency's Johnson Space Center in Houston, Jet Propulsion Laboratory in Southern California, Marshall Space Flight Center in Huntsville, Alabama, Ames Research Center in California's Silicon Valley, and others.
For a full array of Webb's first images and spectra, including downloadable files, visit: https://webbtelescope.org/news/first-images
Details of the first images released run in the Park Bench Philosopher's Page this week, along with those images themselves. Information written by NASA, and Editor: Rob Garner
Be The Boss: I Want To Be A Ship's Captain
Have you ever thought about what you want to do once you're all grown up?
Commencing this Issue we'd like to share a few insights into all the careers youngsters and their older siblings have told us they'd like to do once they're 'BIG'. First off we begin with being a Ship's Captain - a job some of you may have a few ideas about through going sailing and being the Skipper of a crew of two or three.
Before we do though, it's important to note that a ship is a large vessel and differs from a boat in that a boat can be put on a ship, they are so big, whereas you could not really put a ship into a boat. Someone once told me that - so we probably all best remember it. One way to do that would be to think of those lifeboats you see on the decks of big ships - these fit onto a ship, and obviously would not be big enough for us to put the ship itself into them: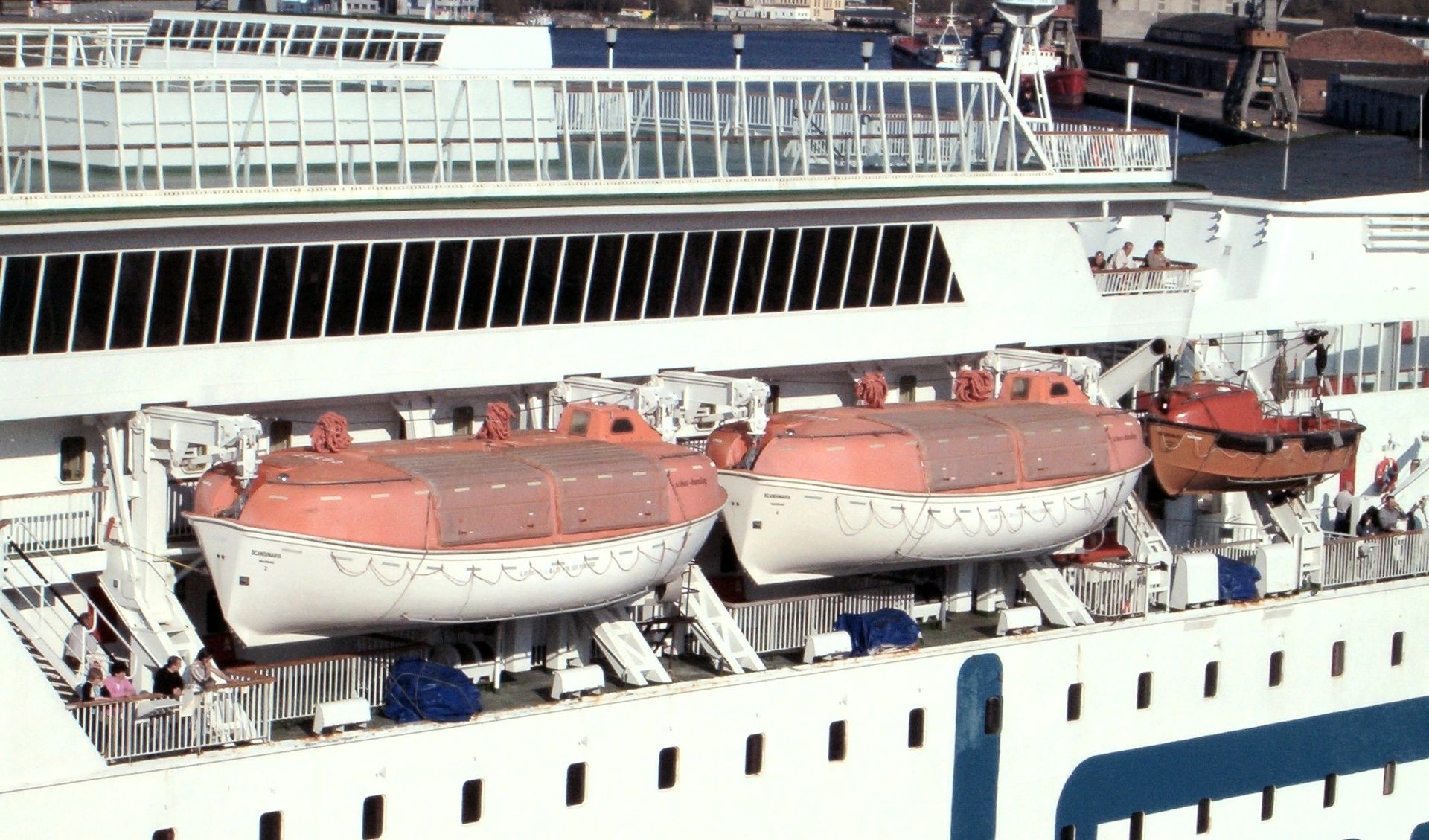 Partially enclosed lifeboats on a passenger liner - photo by Brosen

What Does A Ship's Captain Do?
A bit of research provided these answers:
The Ship Captain/Chief Mate is a licensed mariner who has overall command and control of the navigation, manoeuvring, cargo handling, stowage, communications and safe handling of the ship. He/She ensures that the ship complies with the local and international laws, as well as the port state and flag state policies. The Ship Captain/Chief Mate oversees operations and maintenance of all on-board equipment including machinery, engines and safety equipment and monitors the daily progress of the vessel to complete the voyage in a most efficient manner.
The Ship Captain/Chief Mate must adhere to the budget assigned for the voyage, and he/she is responsible for delivering the cargo safely. He/She oversees the crew in their tasks, monitoring the performance of all the crew and coordinating their work to ensure the voyage is completed. In the event of emergencies, the Ship Captain oversees search and rescue operations.
The Ship Captain/Chief Mate is an organised person with a strong eye for detail, and is astute to ascertain reasons why the vessel may not be seaworthy. He/She takes initiative and is able to work independently to resolve any problems effectively in the open sea. The Ship Captain/Chief Mate must pass the requirements of a colour vision test and must fulfil the requirements stipulated in the Standards of Training, Certification and Watchkeeping for Seafarers issued by the International Maritime Organisation.
Tasks:
Assess reported defects and damage to cargo spaces, hatch covers and ballast tanks, and take appropriate action.
Control adjustment of sail, stability and stress of ship.
Coordinate search and rescue operations.
Develop emergency and damage control plans, and handle emergency situations.
Establish watch-keeping arrangements and procedures.
Forecast weather and oceanographic conditions.
Lead and manage the ship's crew.
Maintain communications with relevant coastal states as per navigational passage.
Manage carriage of dangerous goods.
Manoeuvre and handle a ship in all conditions.
Monitor and control compliance with legislative requirements and measures.
Operate remote controls of propulsion plant and engineering systems and services.
Organise and manage the provisions of medical care on board ships.
Plan a voyage and conduct navigation.
Plan and ensure safe loading, stowage, securing and care during the voyage and unloading of cargoes.
Respond to navigational emergencies.
Another source of information found during doing our research tells us:
Ship captains tend to be predominantly enterprising individuals, which means that they are usually quite natural leaders who thrive at influencing and persuading others. They also tend to be realistic, which means that they often enjoy working outdoors or applying themselves to a hands-on project.

How Do You Become A Ship's Captain?
To be a ship captain requires several steps to gain appropriate education and experience relevant to the position. The training and licensing of maritime occupations is overseen by the International Maritime Organization, which regulates educational and licensing standards. Each organisation has a limited number of schools approved to train and prepare for the licensing exam. Qualifications for the licensing exam include earning a four year Bachelor of Science degree, with coursework in meteorology, navigation, and cargo management. After meeting these qualifications and passing a licensing exam, candidates may find work as a deck officer or third mate on board a ship.
The process of working up the ranks of the crew is strictly outlined in terms of time served as certain members of the crew. Once qualified to act as the third mate, a year of service is required to become the second mate. After becoming the second mate, another year of service, 13 weeks of classes, and the passing of multiple examinations are required to graduate to chief mate. And similarly, after becoming the chief mate, one more year of service is required to qualify for the master of vessels licensing, a vital step to becoming a ship captain.
The Navy (Royal Australian Navy) provides a second avenue in training to eventually become a ship captain, and often provides on-the-job training for positions that help you 'work your way up', such as officers, quartermasters, and ship operators. Training through the military typically requires a period of committed service and potential combat duties, following completion of the training period.
Beyond the basic outlined educational experience and licensing, becoming the captain of a ship also requires work experience and certain other licenses. A potential captain must be licensed to operate the particular size and type of boat they intend to supervise, and must have completed licensing in basic first aid and CPR training. Depending on the employer, they must also have logged a certain number of hours on a ship, and pass physical screenings.
Captains of ships typically have many years of experience in other roles before they assume the leadership position of captain. This helps them to build up their practical knowledge around the ship and understand how each crew member contributes to the smooth functioning of the ship when it sets sail. The best way to gain professional experience is by finding internships or volunteer positions while you're still at secondary school or university.
If you're in secondary school, your local community sailing clubs are places you can join to learn some hands-on experience. For university students, look for any extracurricular opportunities for boating. Alternatively, you may search for part-time job roles assisting a ship's captain as a crew member. Making the most of these opportunities can help to build your resume and knowledge while widening your 'industry network' - which is coming into contact with people who can share their knowledge with you.
Captain - Skipper
1 : the master of a ship especially : the master of a fishing, small trading, or pleasure boat. 2 : the captain or first pilot of an airplane. 3 : a person in a position of leadership especially : a baseball team's manager.
Coastal Pilot & Coast Waiter
Clearly there are lots of other maritime occupations you can think about as well. As a Coastal Pilot, you contribute to the safety of ships in particularly sensitive sea areas. To be qualified, the Australian Maritime Safety Authority (AMSA) need to verify your certificates. They also ask you to complete some additional qualifications.
You can find out more about that at: https://www.amsa.gov.au/qualifications-training/safety-and-navigation-training/how-become-coastal-pilot
As a Coast Waiter your work was defined as being a custom house officer who superintends the landing or shipping of goods for the coast trade.
Did you know that the house at the base of Barrenjoey Lighthouse and headland was actually originally the home of a local Coast Waiter? This is because, way back in the 1840's, when it was times where everyone sailed everywhere and to get to Australia, and Pittwater, you usually sailed a boat, people were smuggling goods into Australia via Pittwater!
Naughty!
This meant that those who were trying to look after everyone else had no way of checking on the quality of the goods they were smuggling in, and they may have poisoned someone, and they weren't paying any taxes or 'duties', and so hospitals to help the sick, or roads to get them to the hospitals, could not be built.
So in 1842 the Broken Bay Customs Station, at Barrenjoey, commenced. The 'Boss' was the Coast Waiter and they not only stopped the smuggling they also went out to help people who had problems during storms or because their ship was sinking. Other people do these jobs nowadays; a Coast Waiter is now called a Customs Official in a different department - while those who try to bring things into Australia illegally are usually dealt with by the Police and other officials, and those who need help while on the water have the Water Police and volunteers such as Marine Rescue Broken Bay deployed to save them.
One of Barrenjoey's-Broken Bay's longest serving Custom Waiters was a man called Albert Thomas Black. He and his wife Kate children were born at Barrenjoey while they were living there, serving as those who looked out for and after those in Pittwater. One of his great-grandsons, John, is still in Pittwater and one of the wonderful volunteers who keep youngsters sailing at Bayview Sailing Club - BYRA.
Albert Thomas Black, courtesy John Black, great grandson of A T Black.
Albert Black would also come aboard some of those BIG steamers that use to bring people to visit Pittwater for day trips during the 1860's and tell people about the places they were seeing - whether they were going up the Hawkesbury River or just cruising around Pittwater. He would also be keeping them safe from any changes he had seen since that steamer had last visited.
One great instance of Mr. Black helping out tourist visitors to our Pittwater, and this may be of interest to you who catch a ferry to Newport School and disembark at Newport Wharf, was in 1881 when future king and then Princes George and Albert visited Australia as youngsters.
Newport Wharf, the first version - which was then called 'Victoria Wharf' after these young princes grandmother - Queen Victoria, had just been completed, partly in anticipation of having these princes as guests and being able to take them on a scenic cruise around Pittwater and up the famed Hawkesbury aboard a steamer called the 'Pelican' - owned by the gentleman who had also built the wharf and the first version of the Newport Hotel.
The newspapers of then tells us they visited our area on Monday August 1st, 1881 - so around this time of year, but 141 years ago. That bit from that report reads:
Yesterday morning a party from Government House and the Detached Squadron made an excursion up the Hawkesbury, and fortunately the weather was so fine that every lovely scene on the river appeared to the best advantage.
The Royal Princes were of the party. At an early hour those engaging in the excursion left Man-o'-war Stairs, and proceeded in the steam launch Nea to Manly, whence they were conveyed by Mr. Boulton's coaches to Newport. There they were received by Mr. Jeannerett on board the steam launch Pelican. Barrenjoey was passed about 11 o'clock. At Barrenjoey Mr. A. T. Black and friends were invited on board the Pelican and the boat then proceeded up the river.
The day being beautifully clear, the scenery of the Hawkesbury was, seen to the best advantage, and was very much admired. Wiseman's Ferry was reached about 3 o'clock in the afternoon. The Pelican stopped at the wharf for a few minutes, and on the Princes appearing the residents assembled, and an address of royal welcome was read and presented to them by the master of the Public school, on behalf of the inhabitants of the village. The school children sang the " National Anthem," and those assembled then gave three hearty cheers for the Queen and the Princes. Prince Edward acknowledged the, compliment in a few appropriate words. The arrangements made by Mr. Jeannerett for the comfort and convenience of the party appeared to give great satisfaction. The Pelican resumed her journey, and we. up the river as far as Sackville Roach, at which spot the party disembarked, and drove thence to Windsor, returning from Windsor to Sydney by special train at night.
The Princes slept at Government House, and will probably remain guests of Lord Augustus Loftus for a few days, after which they will rejoin their old ship the Bacchante, which has now finished her coaling and provisioning.. THE DETACHED SQUADRON. (1881, August 2). The Sydney Morning Herald (NSW : 1842 - 1954), p. 5. Retrieved from http://nla.gov.au/nla.news-article13491533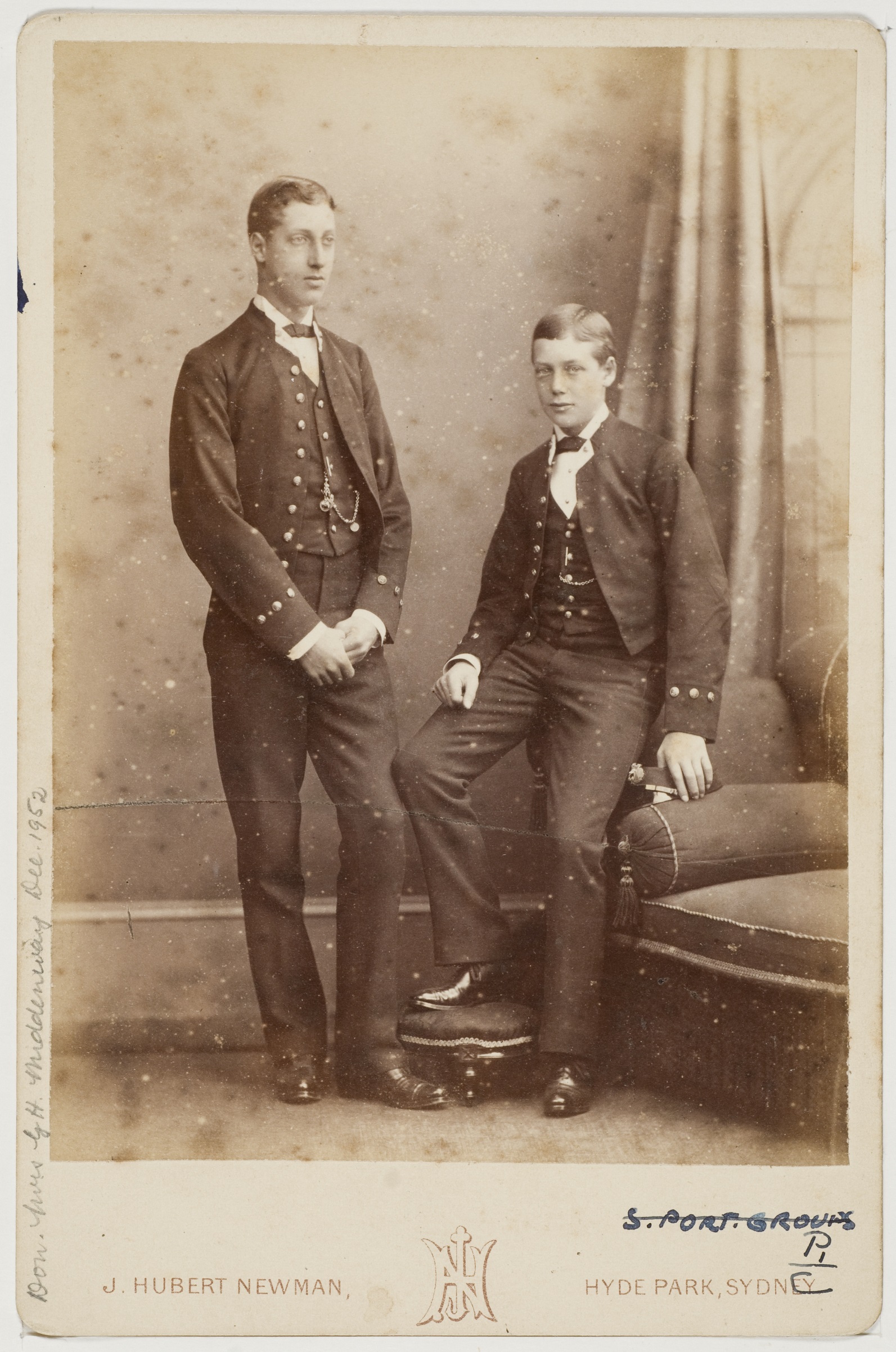 HRH Prince Albert Victor Christian Edward, Duke of Clarence, and HRH Prince George Frederick Ernest Albert of Wales as midshipmen in the Royal Navy, 1881 / photographer J. Hubert Newman, Sydney - photo courtesy of the State Library of NSW
The Royal brothers were sent as naval cadets on a three-year world tour aboard HMS Bacchante. Albert Victor was rated midshipman on his sixteenth birthday. They toured the British Empire, visiting the Americas, the Falkland Islands, South Africa, Australia, Fiji, the Far East, Singapore, Ceylon, Aden, Egypt, the Holy Land and Greece. By the time they returned to the UK, Albert Victor was eighteen.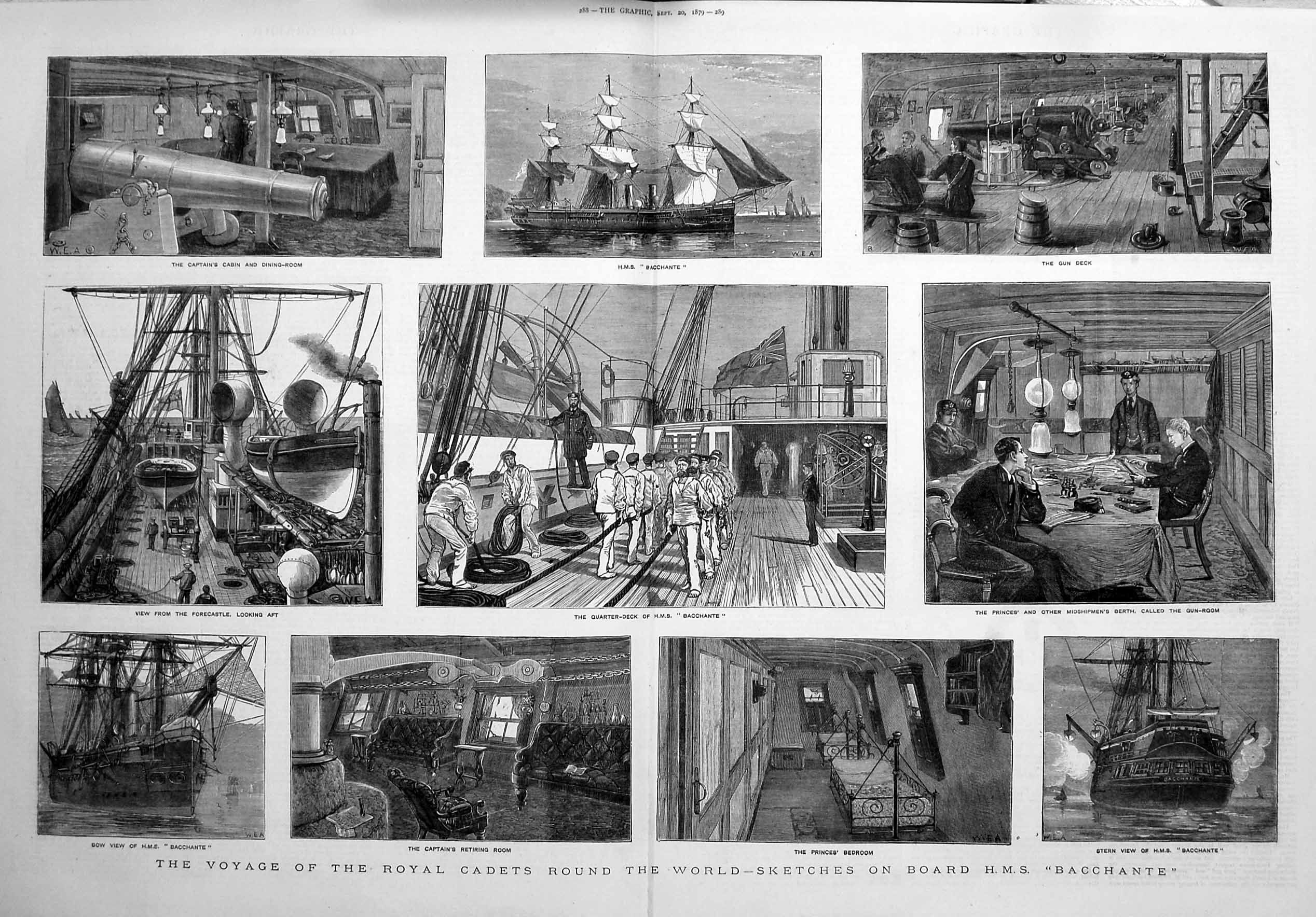 The Voyage of the Royal Cadets Round the World, Sketches on Board H.M.S. "Bacchante". Illustration for The Graphic, September 20, 1879. Captain's Cabin; Dining Room; Gun Deck; View from the Forecastle looking Aft; Quarter Deck; The Princes' and other Midshipmen's Berth called the Gun Room; Bow View; Captain's Retiring Room; the Princes' Bedroom; Stern View. By William Edward Atkins - The Graphic

Pretty cool huh?
For those who like to read more there's some pages in the magazine available for you:
You will find lots of others related to these subjects in the Contents page. Explore at will and whim - no exams here!
Next week - for those who like their lollies - I want to be a Confectioner!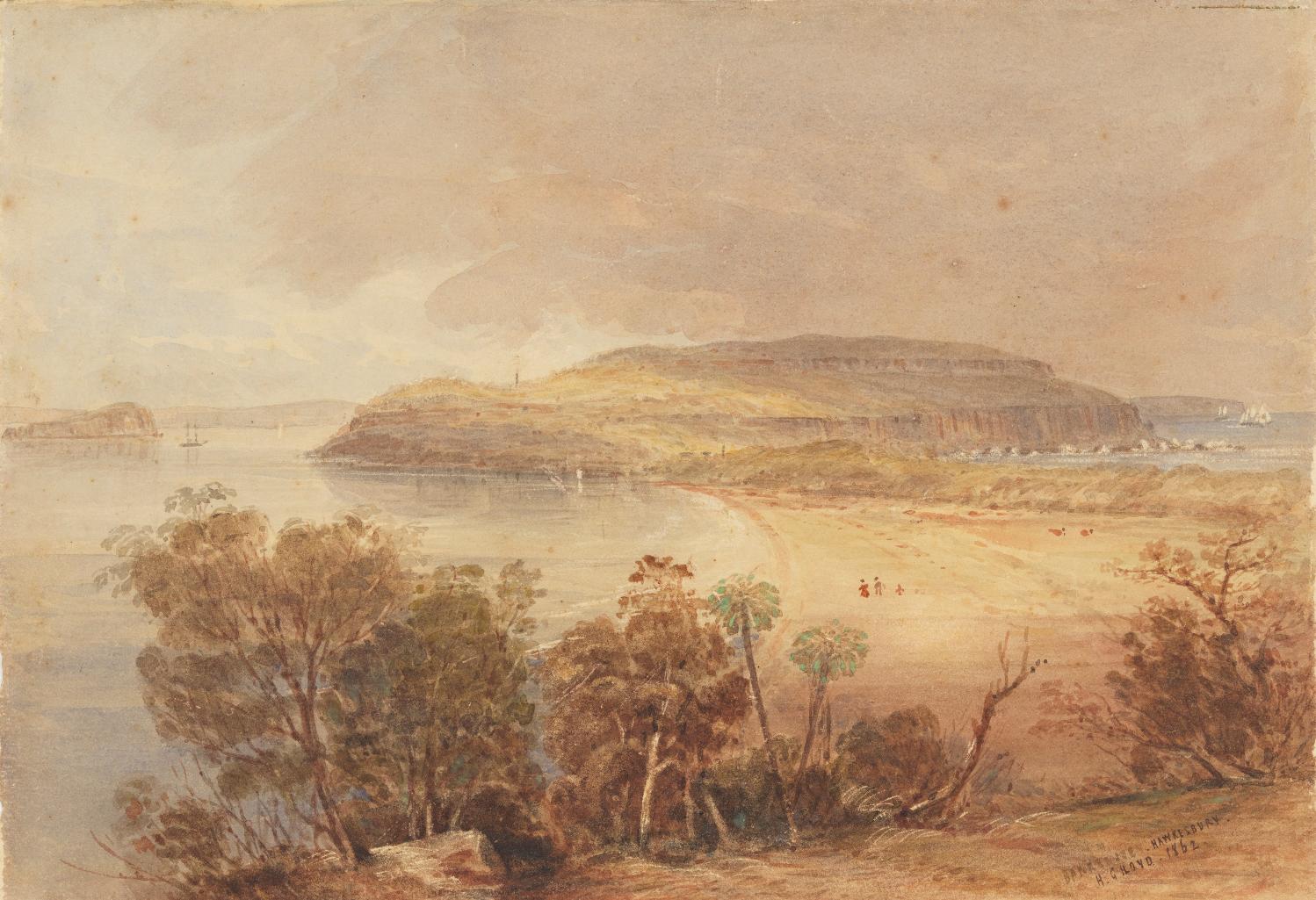 [View of]
Barrenjoey, Hawkesbury
,
1862
/ Henry Grant Lloyd, Item: 900984, Digitised: c073210001, courtesy State Library of NSW -
zoom in here
Birdsong Can Make You Happy: How To Make A Bird-Friendly Garden
Although we probably all knew this, scientists have found out through recent studies that birdsong is good for all our senses and for making happy thoughts. (The phantom chorus: birdsong boosts human well-being in protected areas).
How do we make sure we always have birdsong around us, whether in our own backyard, on the beach or estuary or walking through the bush?
By looking after their homes.
This lady is going to tell us more about how we can do that:
Coastal Collection – Starring 12 Charismatic Bird Species
By Birds in Backyards TV
These seaside scenes featuring 12 beautiful birds – Double-banded Plover (Charadrius bicinctus), Red-capped Plover (Charadrius ruficapillus), Pacific Golden Plover (Pluvialis fulva), Crested Tern (Thalasseus bergii), Red-necked Stint (Calidris ruficollis), Ruddy Turnstone (Arenaria interpres), Silver Gull (Chroicocephalus novaehollandiae), Kelp Gull (Larus dominicanus), Eastern Reef Egret (Egretta sacra), Sooty Oystercatcher (Haematopus fuliginosus), Little Pied Cormorant (Microcarbo melanoleucos) and Australian Raven (Corvus coronoides) – were captured across three autumn (2021) visits to Boat Harbour Aquatic Reserve, Kurnell (NSW, Australia). However our own wetlands, beaches and estuary foreshores are also great places to see birds!
Northern Beaches Youth Theatre At Warriewood: Christmas Play
Calling all 12-17 year olds!
Register now to be a part of our hilarious, fun and enchanting modern take on the old Dickens tale of the ghosts of Christmas past, present and future taking an old scrooge on a heartfelt awakening and the resulting realisation of all that makes a person good and wise. Mark Landon Smith's "Christmas Carol High School" is a play (not musical) with a modern take on the timeless classic. It uses a present day setting and a cast of cool, modern characters with throwbacks to old favourites for family-oriented fun.
We welcome any 12-17YO with the slightest, niggling interest in theatre to come along and have a go. There are many parts up for grabs and it's a great opportunity to give theatre a go if you're new, or put something on your resume if you're already honed and experienced. All while being part of an open, inclusive and warm community.
Rehearsals weekly Fridays 430-630pm
Show dates last week of November and first week of December with some extra rehearsals closer to show dates.
Sign up using the form (or bio link): https://form.jotform.com/221797029650865
Find out more at: https://www.facebook.com/NorthernBeachesYouthTheatre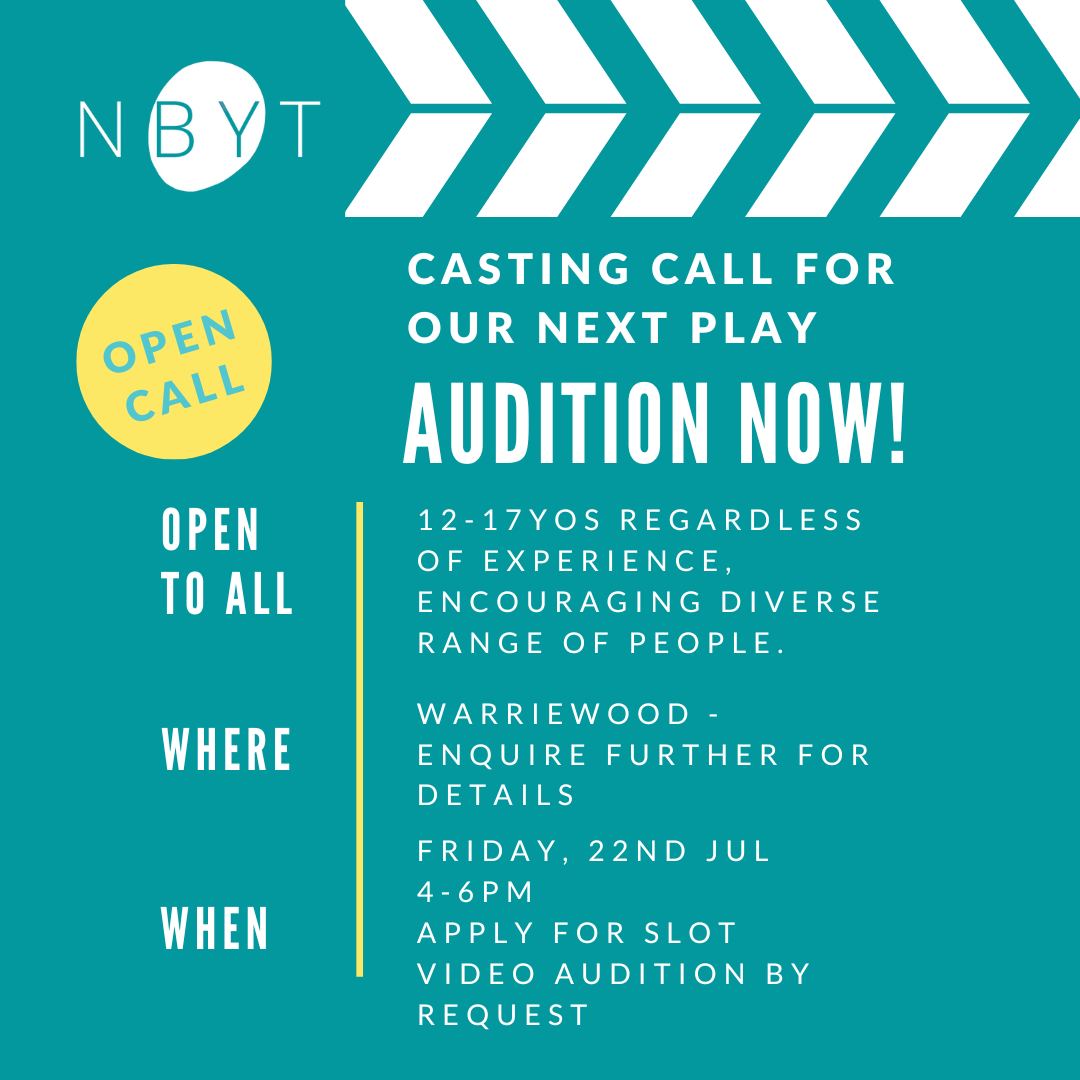 Art Competition To Remember Our ANZACS
Students across NSW are encouraged to get creative as the NSW Government together with RSL NSW launches an art competition to commemorate the 70th anniversary of the RSL and Schools Remember ANZAC Commemoration next year.
Minister for Education and Early Learning Sarah Mitchell is encouraging students to speak to their school and submit a design that will feature on the 2023 program and at an exhibition at the Anzac Memorial in Hyde Park.
"The NSW Government and the Department of Education has co-hosted this service with RSL NSW for 70 years, and we want to acknowledge this anniversary with a commemorative program to which the students in New South Wales can contribute," Ms Mitchell said.
"I invite any student across all three education sectors to participate and have the opportunity to be selected to have their artwork featured on the 2023 service program."
Minister for Transport and Veterans David Elliott said the annual commemoration at the Anzac Memorial in Hyde Park aims to educate and encourage younger Australians to learn about Australia's military history, whilst paying respect to the service and sacrifice of servicemen and servicewomen.
"This art competition is a great way for students in New South Wales to learn about our military history and design an artwork that reflects what it means to them. It could be about a family member who served in World War One, or a symbol of their service to our nation," Mr Elliott said.
"The annual RSL and Schools Remember ANZAC proceedings are incomparable, as they're delivered entirely by school students including the Master of Ceremonies, keynote address, readings, and musical accompaniment."
RSL NSW President Ray James said it was critical for the RSL to work with the Department of Education to ensure school students understood why Australians commemorated the service and sacrifice of those who have served in the Australian Defence Force.
"Commemorating significant moments in our military history is vital to Australia, as a people, a community, and a nation. RSL NSW takes this responsibility incredibly seriously as the custodians of the Anzac spirit. Future generations should never forget that the freedom they enjoy in Australia has been protected by the men and women who served in our armed and allied forces." Mr James said.
The RSL and Schools Remember ANZAC Commemoration was first held in 1953, co-hosted by RSL NSW and the Department of Education. Over the years the service has expanded to Catholic Schools NSW and the Association of Independent Schools NSW.
16 September 2022: Submissions close
Word Of The Week: Barrenjoey
Word of the Week returns in 2022 simply to throw some disruption in amongst the 'yeah-nah' mix.
Barrenjoey, which means 'young kangaroo', is in the lands of the Garigal people. Midden sites have been found on the headland and nearby in Ku-ring-gai Chase National Park – there are also axe-grinding grooves, cave art and rock engravings.

This has also been spelt Barranjoey, Baranjuee, Barranyu and Barranjull.

As a descriptive word it would indicate this headland was populated by kangaroos and wallabies.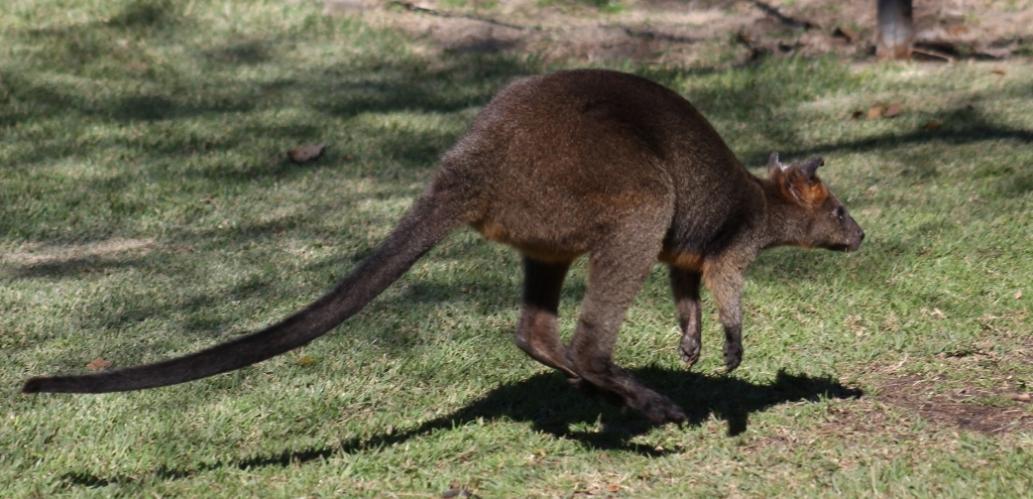 Cold Comfort Shipsterns In July
Published by SURFING VISIONS, July 8, 2022
Tim Bonython:
What we thought was a two day swell mission ended up being one. With a 15/16 second swell period, this day out at the world famous Aussie slab created some very entertaining rides/wipeouts especially with that step. There's only one wave on the planet that does this and its called Shipsterns Bluff. Featuring locals Danny Griffith, Marti Paradisis, Zeb Critchlow and up & coming 16 year old grommet Noah Hassett. Plus Sydney lads Wayne Cleveland & one of the best new surfers on the block, Max McGuigan. ENJOY
New Genetic Research On Remote Pacific Islands Yields Surprising Findings On World's Earliest Seafarers
New genetic research from remote islands in the Pacific offers fresh insights into the ancestry and culture of the world's earliest seafarers, including family structure, social customs, and the ancestral populations of the people living there today.
The work, described in the journal Science, reveals five previously undocumented migrations into a subregion of this area and suggests that about 2,500 to 3,500 years ago early inhabitants of these Pacific islands -- including Guam in the northern region and Vanuatu in the southwest -- had matrilocal population structures where women almost always remained in their communities after marriage while men more often moved out of their mothers' community to live with that of their wives'.
The practice is different from that of patrilocal societies where women are overwhelming the ones to leave their own community. These findings support the idea that the world's earliest seafarers were organized through female lineages.
The results come from a genome-wide analysis on 164 ancient individuals from 2,800 to 300 years ago as well 112 modern individuals. It was published by a team of researchers co-led by Harvard geneticists David Reich and Yue-Chen Liu, Ron Pinhasi at the University of Vienna, and Rosalind Hunter-Anderson, an independent researcher working in Albuqueque New Mexico.
"It's an unexpected gift to be able to learn about cultural patterns from genetic data," said David Reich, a professor in the Department of Human Evolutionary Biology and a professor of genetics at Harvard Medical School. "Today, traditional communities in the Pacific have both patrilocal and matrilocal population structures and there was a debate about what the common practice was in the ancestral populations. These results suggest that in the earliest seafarers, matrilocality was the rule.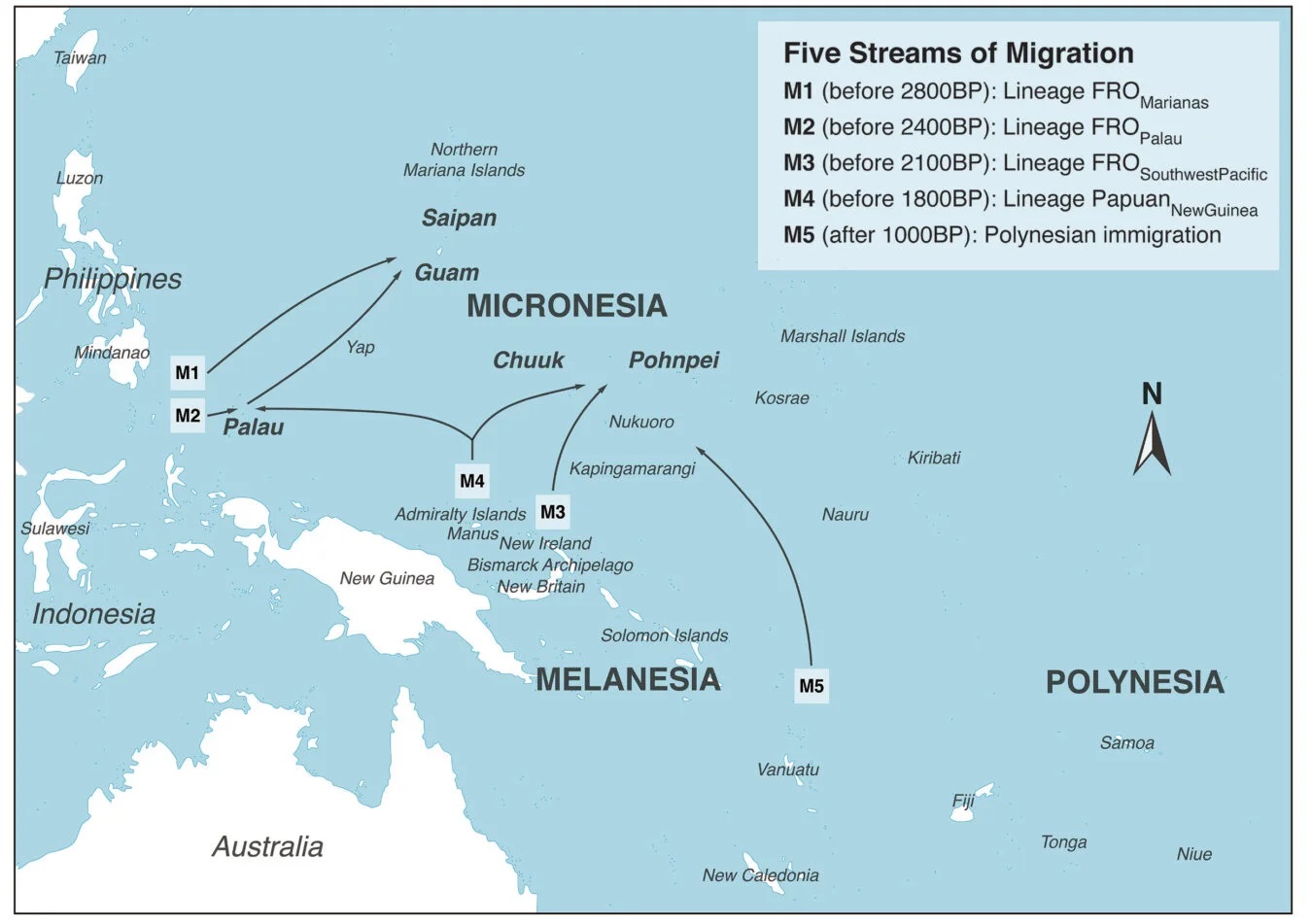 Map of migration routes. Credit: David Reich, Yue-Chen Liu, and Rosalind Hunter-Anderson

The genetic analysis compared early seafarers from Guam, Vanuatu, and Tonga -- living about 2500 to 3,000 years ago -- revealing that their mitochondrial DNA sequences, which humans only inherit from their biological mother, differed almost completely while sharing much more of the rest of their DNA. The only way this can happen is if migrants who left their communities to marry into new ones were almost always males.
"Females certainly moved to new islands, but when they did so they were part of joint movements of both females and males" explains Reich. "This pattern of leaving the community must have been nearly unique to males in order to explain why genetic differentiation is so much higher in mitochondrial DNA than in the rest of the genome."
The new study from an interdisciplinary team of geneticists and archeologists quintuples the body of ancient DNA data from the vast Pacific region called Remote Oceania, the last habitable place on earth to be peopled. It also provides surprising insights into the extraordinarily complex peopling of one of Remote Oceania's major subregions.
Humans arrived and spread through Australia, New Guinea, the Bismarck Archipelago, and the Solomon Islands beginning 50,000 years ago, but it wasn't until after 3,500 years ago that humans began living in Remote Oceania for the first time after developing the technology to cross open water in unique long-distance canoes.
This expansion included the region called Micronesia: about two thousand small islands north of the Equator including Guam, the Marshall Islands, the Caroline Islands, Palau, and the Northern Mariana Islands.
It's long been a mystery what the routes people took to arrive in the region. The revealing of five streams of migration into Micronesia helps bring clarity to this mystery and the origins of the people there today.
"These migrations we document with ancient DNA are the key events shaping this region's unique history," said Liu, a post-doctoral fellow in Reich's lab and the study's lead author. "Some of the findings were very surprising."
Of the five detected migrations, three were from East Asia, one from Polynesia, and a Papuan ancestry coming from the northern fringes of mainland New Guinea. The indigenous ancestry from New Guinea was a major surprise as a different stream of this migration -- one from New Britain, an island chain to the east of New Guinea -- was the source of the Papuan ancestry in the southwest Pacific and in Central Micronesia.
The researchers also found that present-day Indigenous people of the Mariana Islands in Micronesia, including Guam and Saipan, derive nearly all their pre-European-contact ancestry from two of the East Asian-associated migrations the researchers detected. It makes them the "only people of the open Pacific who lack ancestry from the New Guinea region," Liu said.
The researchers consulted with several Indigenous communities in Micronesia for the study. This is the fourth publication of original ancient DNA data from remote Pacific islands by Reich's group.
"It's important that when we do ancient DNA work, we don't just write a paper about the population history of a region and then move on," Reich said. "Each paper raises as many new questions as it answers, and this requires long term commitment to follow up the initial findings. In the Pacific islands there are so many open questions, so many surprises still to be discovered."
Yue-Chen Liu, Rosalind Hunter-Anderson, Olivia Cheronet, Joanne Eakin, Frank Camacho, Michael Pietrusewsky, Nadin Rohland, Alexander Ioannidis, J. Stephen Athens, Michele Toomay Douglas, Rona Michi Ikehara-Quebral, Rebecca Bernardos, Brendan J. Culleton, Matthew Mah, Nicole Adamski, Nasreen Broomandkhoshbacht, Kimberly Callan, Ann Marie Lawson, Kirsten Mandl, Megan Michel, Jonas Oppenheimer, Kristin Stewardson, Fatma Zalzala, Kenneth Kidd, Judith Kidd, Theodore G. Schurr, Kathryn Auckland, Adrian V. S. Hill, Alexander J. Mentzer, Consuelo D. Quinto-Cortés, Kathryn Robson, Douglas J. Kennett, Nick Patterson, Carlos D. Bustamante, Andrés Moreno-Estrada, Matthew Spriggs, Miguel Vilar, Mark Lipson, Ron Pinhasi, David Reich.
Ancient DNA reveals five streams of migration into Micronesia and matrilocality in early Pacific seafarers.
Science, 2022; 377 (6601): 72 DOI:
10.1126/science.abm6536
Road Injuries Are Killing Young People; And It's Hardly Slowing Down
New research led by UNSW Sydney reveals traffic-related fatalities and injuries are the biggest killers of young people worldwide - causing more deaths than communicable and non-communicable diseases or self-harm. The findings are published today in The Lancet Public Health in the first global analysis of transport and unintended injury-related morbidity and mortality of young people aged 10-24.
Using the latest data from the Global Burden of Disease (GBD) 2019 Study, the researchers analysed deaths and Disability-Adjusted Life Years (DALYs) from transport and unintentional injuries in adolescents across 204 countries in the past three decades. They found that despite transport injury death rates falling by a third since 1990, the number of deaths attributed to road fatalities for adolescents still increased in some countries.
"We've seen a high increase in the absolute number of injury-related deaths and DALYs, specifically in low and low-middle income countries. It indicates neglect for a growing population at risk of injury," says lead author Dr Amy Peden, research fellow with the School of Population Health at UNSW Medicine & Health.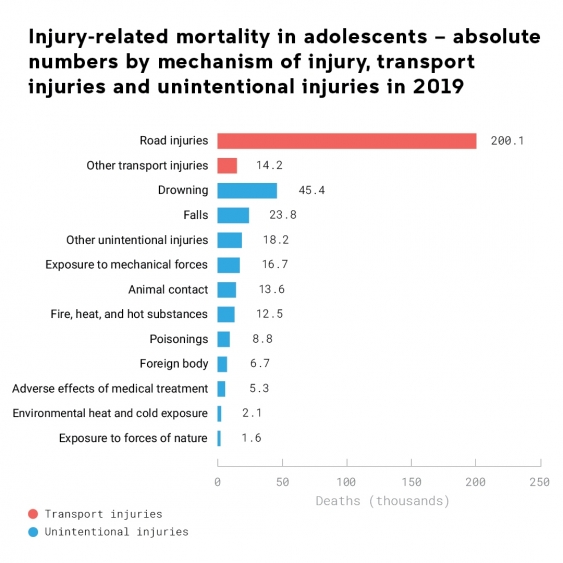 Transport and unintentional injuries are the biggest killers of young people. Image: UNSW Sydney.

Prevention progress stalling
According to the research, reductions in transport injury and death rates in high-income countries have slowed in the most recent decade. They dropped just 1.7 per cent a year between 2010 and 2019 compared to the fall of 2.4 per cent a year between 1990 and 2010.
"In high-income countries like Australia, there's been a real decline in progress. In the past 10 years, we've seen reductions in rates of road transport injury essentially stall, showing a lack of attention to the issue," Dr Peden says.
Adolescents are particularly vulnerable to injury risk due to increasing independence and risk-taking tendencies. However, there has been little research to date that has examined injury patterns in this vulnerable age group.
As other causes of mortality in young adults get more focus, Dr Peden says the lack of progress in reducing transport injury deaths only becomes more apparent.
"Despite being the leading cause of death in adolescents globally, it's been relatively neglected when you consider the strong action on other non-injury causes of death among adolescents," Dr Peden says.
There is also a growing burden of transport injuries in low-income countries, where the proportion of deaths almost doubled from 28 per cent in 1990 (74,713 of 271,772) to 47 per cent in 2019 (100,102 of 214,337).
Dr Peden says the shift in the burden of transport injury toward lower-income countries needs urgent assistance from the global community.
"Low socio-demographic index (SDI) countries are dealing with the challenges that come with rapid urbanisation, and as such, young people are at a greater risk of road traffic and other types of injury," Dr Peden says.
Global action on road safety
Making roads safer doesn't necessarily require radical solutions, Dr Peden says. It just needs a stronger commitment globally to promote safety behaviours.
"The prevention of road traffic injury is still not very well resourced compared to other causes of death of adolescents. So, the findings show a lack of investment in the issue from the global health community," Dr Peden says.
Graduated driver licensing, minimum drinking age laws, lower blood alcohol content levels for novice drivers, seat belt and helmet laws, and school zones have all shown to be effective in reducing injury-related harms when imposed. All-age interventions such as speed enforcement and drink driving enforcement are also effective in reducing road traffic deaths and should have increased focus, Dr Peden says.
The research also recommends promoting active transport infrastructure to prioritise alternative travel options and designing streets with the road safety needs of children and adolescents at the forefront of the planning.
"There are simple, affordable and proven interventions to reduce road traffic injuries that are not being applied or enforced," Dr Peden says. "Now is the time to step up global action on road safety and renew our efforts to safeguard adolescents from preventable injury."
The United Nations General Assembly is convening a high-level meeting on improving global road safety this month, focusing on investment in road safety.
"We have ambitious but necessary targets set out in the Decade for Action for Road Safety 2021-2030 to prevent at least 50 per cent of road traffic deaths and injuries by 2030," says Professor Rebecca Ivers, Head of UNSW School of Population Health and co-author of the paper.
"What we need now is the political will for change, backed by measurable action, financial support and the right mechanisms to implement solutions, especially in communities where the burden of road traffic injuries is greatest. This week's high-level meeting is an important step to give road safety the attention that's needed so we can save lives," Professor Ivers says.
"This entirely preventable public health issue does not occur in silos -- having safe transport systems is also directly linked to the kind of inter-sectoral action that can lead to sustainable cities and communities and to mitigate the impact of the climate crisis."
The next stage of the research will investigate the economic case for governments to invest in injury prevention interventions for adolescents and policy change worldwide, Dr Peden says.
The study was co-authored by Dr Patricia Cullen, Dr Holger Möller and Professor Rebecca Ivers from the School of Population Health and forms part of the injury workstream of the NHMRC Centre of Research Excellence: Driving Global Investment in Adolescent Health.
Amy E Peden et al.
Adolescent transport and unintentional injuries: a systematic analysis using the Global Burden of Disease Study 2019.
The Lancet Public Health, 2022; DOI:
10.1016/S2468-2667(22)00134-7
It Takes Three: The Genetic Mutations That Made Rice Cultivation Possible
Rice has a long history as a staple food in Japan and other parts of Asia. The results of a new study by an international research collaboration suggest that the emergence of cultivated rice from wild rice plants is the result of three gene mutations that make the seeds (i.e. the grains of rice) fall from the plant less easily.
In their investigations, the researchers discovered that each of the three mutations individually have little effect but when all three mutations are present the panicles of the rice plant retain more of their seeds- resulting in a greater crop yield.
It is believed that the domestication of wild rice began when our ancestors discovered and started to cultivate rice plants that do not drop their seeds easily, paving the way for stable rice production. It is hoped that these research results can contribute towards future improvements to the ease in which rice seeds fall (i.e. making the crop easier to thresh) and the development of high-yield rice cultivars where every grain can be harvested, reducing waste.
This discovery was made by an international collaboration which included researchers from Kobe University's Graduate School of Agriculture (Japan), the National Institute of Genetics (Japan), University College London (UK), the University of Warwick (UK), Yezin Agricultural University (Myanmar) and the Cambodian Agricultural Research and Development Institute.
These research findings were published online in the Proceedings of the National Academy of Sciences of the United States of America (PNAS) on June 23 (JST).
The researchers discovered the causal mutation in the qSH3 gene that is necessary to prevent rice seeds from falling (referred to as seed shattering).
In the qSH3 gene mutation, there is a single nucleotide substitution on the gene (YABBY). This mutation is found in the vast majority of cultivars for the world's most widely farmed rice species (indica and japonica).
The researchers found that plants with only the qSH3 gene mutation dropped their seeds naturally. However when the qSH3 mutation was combined with the previously reported sh4 gene mutation, the abscission layer (which is required for seed shattering) was partially inhibited.
Seeds still fell with the qSH3 and sh4 mutation-mediated partial inhibition of the abscission layer, however the addition of a mutation at SPR3 that causes closed panicle structure resulted in the majority of seeds remaining on the plant, thus increasing the crop yield.
An analysis of structural mechanics was performed to determine the relationship between panicle opening and closing and inhibition of the abscission layer. The results showed that with all three mutations present, shattering was suppressed and the seeds remained stably attached to the panicles.
It is thought that our hunter-gatherer ancestors happened to observe the visual characteristics (i.e. closed panicles) of certain rice plants that had a higher yield and began to cultivate them, paving the way for rice to become a staple crop.
Oryza sativa (often referred to as Asian rice in English) is widely grown and consumed worldwide. It is known to have originated from the wild rice weed Oryza rufipogon. It is believed that rice began to be cultivated when hunter gatherers in ancient times chose individual wild rice plants that had suitable characteristics for this purpose. Wild rice plants perform a seed shattering process which scatters their seeds, enabling them to propagate efficiently. However, when cultivating rice, this seed shattering must be suppressed in order to obtain a stable crop. In 2006, the sh4 gene was discovered: this gene is necessary for the commencement of seed shattering in plants including rice, and it was proposed that a mutation in this gene enabled the cultivation of rice. However the current research team showed that this sh4 mutation alone is insufficient to prevent seed shattering loss, suggesting that other gene mutations are also involved. With a focus on the early history of rice cultivation, this study brought together specialists in plant genetics, archaeobotany and structural mechanics to elucidate how increasing yields of rice came to be cultivated.
Seed shattering is caused by a structure called the abscission layer that is formed at the base of each rice seed. The researchers found that a single nucleotide substitution (from cytosine to thymine) in the DNA of the qSH3 gene is required to inhibit the abscission layer, in addition to the aforementioned sh4 gene mutation. This qSH3 gene mutation is found in the main types of rice that is cultivated worldwide (indica and japonica). Individual mutations related to seed shattering, for example in genes sh4 and qSH3, cannot prevent shattering in wild rice plants on their own. However, the researchers discovered that when sh4 and qSH3 mutations were combined, this partially inhibited the formation of the abscission layer, which is required for seed shattering. Despite this, they concluded that such a small inhibition would not be enough to produce a stable crop yield, as seeds drop easily in a natural environment. Thus, they decided to focus on panicle shape next. Panicle refers to the clusters of thin branches at the top of the rice plant that carry the seeds.
Wild rice has an open panicle structure which enables the seeds to fall easily. Through hybridization, the researchers produced 8 wild rice plants, each with a different combination of three gene mutations: a mutation at the SPR3 that causes the panicles to close, and the aforementioned sh4 and qSH3 mutations. They then investigated the yield of each plant. They found that individual mutations had little effect and that even combining two mutations did not result in a large yield increase. However, when all three gene mutations were present, the yield increased exponentially.
An analysis of the structural mechanics of the closed panicle alteration and the abscission layer inhibition revealed a complementary relationship between the two. The burden of gravity on the seed base's abscission layer is lower in closed panicle plants than in open panicle plants, which potentially brings about an even greater crop yield by further reducing seed shattering. 'Non-seed-shattering behavior' caused by sh4 and qSH3 mutations and 'closed panicles' caused by the SPR3 mutation are completely unrelated characteristics, however the incidental collaboration between these characteristics is considered to be what enabled rice to become a crop.
In the three arrows parable, 16th century Japanese warlord MORI Motonari gave each of his three sons an arrow and they were able to break the individual arrows easily. However, a bundle of three arrows is stronger and by showing his sons that three arrows together could not be broken, he explained that the three of them should work together govern the land. In rice cultivars, three mutations that have little effect on their own incidentally work together -- an important stepping stone towards the success of rice as a crop.
Rice has been a source of daily energy for people for thousands of years and some Japanese rice cultivars are considered cultural works of art. These research results not only reveal the seed shattering mechanism, they also give us insight into the long history behind the improvement of rice growing.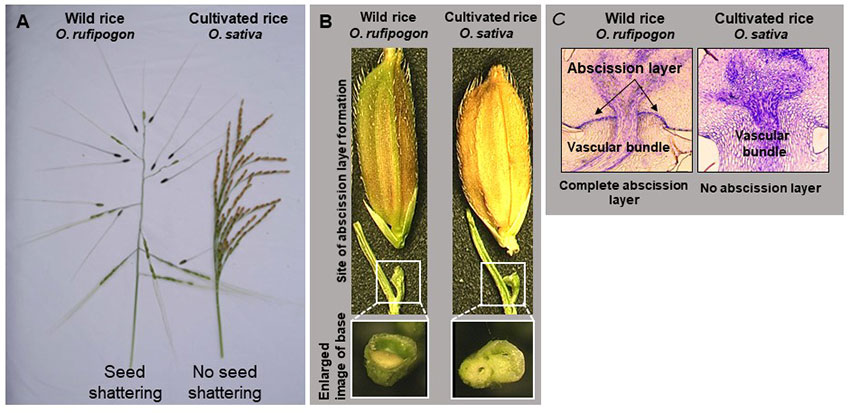 Figure 2: Seed shattering in wild rice and cultivated rice.
A. Comparison of the panicles of wild rice and cultivated rice:
When wild rice seeds ripen, seed shattering occurs in which they naturally fall to the ground.
B. Comparison of the seed bases between wild rice and cultivated rice:
Seed shattering is caused by the breakdown of the abscission layer that forms at the base of the seed.
C. Comparison of the structural positioning of the abscission layer in wild rice and cultivated rice:
In wild rice, abscission layers are fully formed around the vascular bundles. However, in cultivated rice (japonica), the abscission layer isn't formed at all.
Even though rice is an essential crop worldwide, it is still not fully understood how it was domesticated. Advances in agricultural techniques were accompanied by the development of rice cultivars that dropped their seeds less and less easily, suggesting that the acquirement of non-seed shattering behavior is the result of multiple gene mutations. It is hoped that by further investigating these mutations, the cultivation process for rice can be elucidated. In addition the amount of seed shattering could be controlled utilizing genes with many of these mutations, leading to the development of new rice cultivars where all the seeds produced by the plant can be harvested.
This research was funded by the following:
Japan Society for the Promotion of Science (JSPS) Grant-In-Aid for Scientific Research (C) (JP 18KO5594)
JSPS Postdoctoral Fellowship for Research in Japan (JP 16F16095)
JSPS Fund for the Promotion of Joint International Research (JP 15KK0280)
JSPS Bilateral Open Partnership Joint Research Projects (JPJSBP120189948/JPJSBP120219922)
Nikki Saneyoshi Foundation
Kinoshita Foundation
National Institute of Genetics (Japan) Joint Research Fund (NIG-JOINT 82A 2016-2018)
In addition, the wild rice accessions used in this study were provided by the National Institute of Genetics (Japan) and the National Bioresource Project (NBRP) of the Ministry of Education, Culture Sports, Science and Technology, Japan.
Ryo Ishikawa, Cristina Cobo Castillo, Than Myint Htun, Koji Numaguchi, Kazuya Inoue, Yumi Oka, Miki Ogasawara, Shohei Sugiyama, Natsumi Takama, Chhourn Orn, Chizuru Inoue, Ken-Ichi Nonomura, Robin Allaby, Dorian Q. Fuller, Takashige Ishii.
A stepwise route to domesticate rice by controlling seed shattering and panicle shape.
Proceedings of the National Academy of Sciences, 2022; 119 (26) DOI:
10.1073/pnas.2121692119
Discovery Could Inspire New Way To Detect Brain Abnormalities
RMIT (Melbourne) Scientists have taken a promising step towards a new generation of accurate, affordable and portable devices to detect concussion, epilepsy and dementia.
The international research team developed a laser-based diamond sensor that can measure magnetic fields up to 10 times more precisely than standard techniques. Their results are published in Science Advances.
Their innovation could help improve on existing magnetic-field sensing techniques for mapping brain activity to identify disorders. With sufficient funding and collaboration with industry, the team say they could develop a proof-of-concept device using their new sensor within five years.
Concussion in sport has been in the spotlight recently with prominent athletes sharing their stories about the significant ramifications of head injuries sustained during their careers. Meanwhile, about 250,000 Australians live with epilepsy, while nearly 500,000 Australians have some form of dementia.
The research is also relevant to a range of sectors beyond healthcare including mining, where it could lead to improved mineral exploration applications.
The study was led by Fraunhofer Institute for Applied Solid State Physics (IAF) in Germany -- one of the leading organisations for applied research in Europe -- working with RMIT University experts in diamond sensing technology Professor Andrew Greentree, Professor Brant Gibson and Dr Marco Capelli.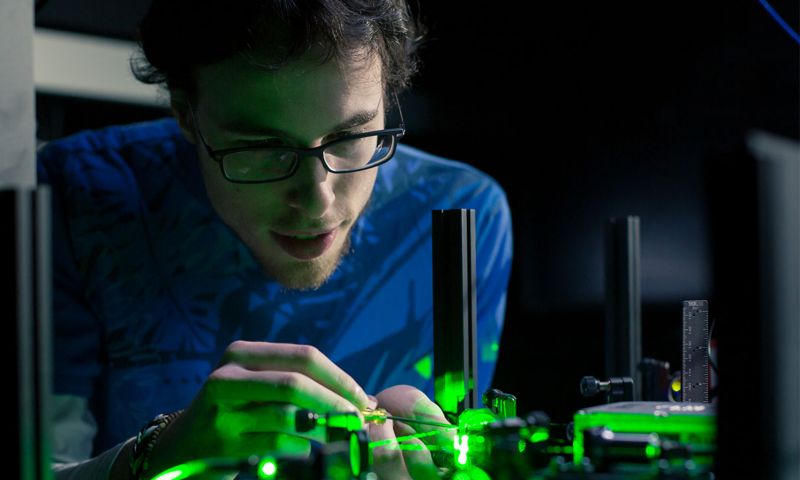 Dr Marco Capelli, one of the co-researchers, in the ARC Centre of Excellence for Nanoscale BioPhotonics laboratories at RMIT University. Photo: RMIT University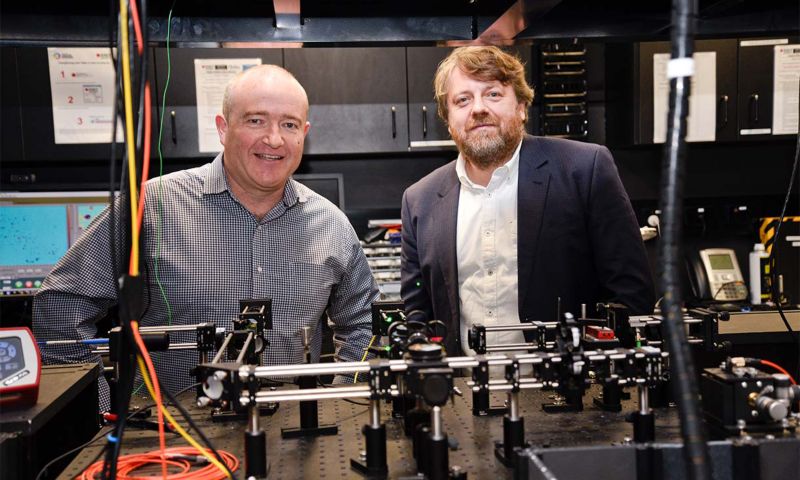 Co-researchers Professor Brant Gibson (left) and Professor Andrew Greentree in the ARC Centre of Excellence for Nanoscale BioPhotonics laboratories at RMIT University. Photo: RMIT University

What's the scientific breakthrough?
Diamond is already used for sensing magnetic fields, where the amount of light that comes from quantum defects in the diamond changes with the strength of the magnetic field.
The problem with today's approach is that most of that light is lost.
"Our breakthrough was to make a laser from the defects," Greentree said.
"By collecting all the light -- instead of just a small amount of it -- we can detect the magnetic field 10 times more precisely with our sensor compared with current best practice."
How would the portable brain imaging device work?
Today's magnetoencephalography, or MEG, technology is very sensitive, but also bulky, expensive to install and needs to operate at ultra-cold temperatures with liquid helium and patients must remain still.
"Current MEG machines are huge devices, with dedicated facilities, and they require magnetic shielding around them as well," Greentree said.
MEG technology based on the new diamond-laser sensor would be much smaller than today's devices, would operate at room temperature and could be fitted to patients who can move around.
"We really want to have something that we can place on a patient's head and we want them to be able to move around -- and there'd be no need for expensive liquid helium to operate such a device," Greentree said.
"With Alzheimer's, you want to be able to monitor the progression of the disease and know the effect of any treatments. It's similar with concussion, you want to be able to measure what's happening in the brain after each knock.
"With this MEG technology we envisage, you might be able to pick up early-onset dementia.
"With epilepsy, you could find out where it's occurring, and that would help you to better target interventions."
Fraunhofer's Dr Jan Jeske and Dr Felix Hahl were corresponding authors for this study, which also involved researchers at the National Institutes for Quantum and Radiological Science and Technology in Japan and The College of Staten Island in the United States.
Felix A. Hahl, Lukas Lindner, Xavier Vidal, Tingpeng Luo, Takeshi Ohshima, Shinobu Onoda, Shuya Ishii, Alexander M. Zaitsev, Marco Capelli, Brant C. Gibson, Andrew D. Greentree, Jan Jeske.
Magnetic-field-dependent stimulated emission from nitrogen-vacancy centers in diamond.
Science Advances, 2022; 8 (22) DOI:
10.1126/sciadv.abn7192
Tooth Isotopes Offer Window Into South Australia's Early Colonial History
Published in Australian Archaeology, the new research involved isotope analysis of teeth excavated from graves to determine how many people buried were born in South Australia or Britain, as part of scientific efforts by Flinders University experts deploying this technique for the first time in the state.
The archaeologists studied the origin of people in a free ground section of the cemetery to help construct a clear picture of colonial migration before 1880.
Lead Author and Flinders University Masters student, Christine Adams, says tooth enamel and dentine samples from the graves show one person was likely born in Adelaide, eight were originally from Britain and Ireland, and three could have been from either location.
"Only one person was likely born elsewhere according to our results. A total of 52 samples were tested, four samples per individual -- 26 for strontium, 26 for oxygen, and for both enamel and dentine. Strontium isotope samples were successfully analysed from the enamel and dentine of all individuals.
The finding that all individuals in this study may have, based on at least one isotope and dental material and supported by dietary data from the time, come from either Adelaide or the United Kingdom correlates well with the overwhelmingly British origin of colonists in South Australia and the cemetery's own records before 1880."
Flinders University co-author Associate Professor Ian Moffat says the study proves how isotope methods can be used to test the origin of case studies around Australia.
"This research technique is important for provenance studies where individuals could have migrated or moved substantial distances," he says. "This study also shows that strontium isotope methods can be used to test a specific hypothesis rather than just being used to confirm a general location."
Co-author and leader of the St Mary's research project, Flinders University's Professor Donald Pate, says the analysis combined a range of isotope investigations with further analysis of diets from previous studies.
"As the life history of these individuals is not well-documented in historical records, isotopic data provides important information about migration and mobility in a colonial South Australian population," says Professor Pate.
"Our records and data suggest the majority of individuals interred within the free ground section of St Mary's were either born in Britain or South Australia, but some may have migrated from other locations. Burial samples total 70 individuals at the cemetery, but degraded and missing tooth elements mean not all were suitable for investigation."
Professor Pate is a veteran of studies at the site. At the request of the church, research began at St Mary's Cemetery 20 years ago, with archaeologists painstakingly recovering remains from the free ground section ever since.
Christine Adams, Timothy D. Owen, F. Donald Pate, David Bruce, Kristine Nielson, Robert Klaebe, Maciej Henneberg, Ian Moffat.
'Do dead men tell no tales?' The geographic origin of a colonial period Anglican cemetery population in Adelaide, South Australia, determined by isotope analyses.
Australian Archaeology, 2022; 1 DOI:
10.1080/03122417.2022.2086200
From April 2022:
Grave Health Of Our Pioneer Settlers
In one of the first studies of its kind, Australian scientists have investigated the health and economic status of a group of migrant settlers to colonial South Australia from an examination of skeletal remains at the Anglican Parish of St Mary's in Adelaide.
The new research, published in reputed international publication PLOS ONE today, is the only bio-archaeological study examining evidence of changes in the teeth and bones of European settlers in the St Mary's-on-the-Sturt (Creek) area to gain new insights into the health and living conditions they faced in the new colony.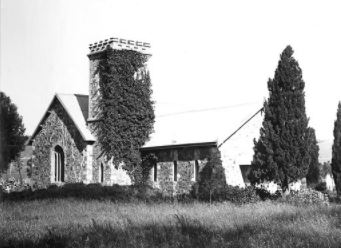 The St Mary's Anglican Church where some early settlers were buried in unmarked graves.

At the request of the parish, the long-running research commenced at St Mary's Cemetery 20 years ago when Flinders University archaeologists excavated a rear section of the cemetery which lacked any markers.
Based on follow-up studies by Flinders, University of Adelaide and international experts in bioanthropology, anatomy and dental development have now applied anatomical and micro-CT techniques to this unique archaeological sample.
"The non-custodial British colony of South Australia, established in 1836, offered fresh hope of a better life to the migrants than they may have experienced in Britain," says University of Adelaide PhD candidate and lead author Angela Gurr, an archaeology graduate from Flinders University.
"This cohort of early settlers buried in a section of St Mary's Anglican Church Cemetery between 1847 and 1927 was allocated for government-funded burials and were extremely interesting to investigate for abnormal manifestations associated with metabolic deficiencies."
The findings indicate that most of these abnormalities were the result of deficient diets in the new colony. Abnormal signs seen in bones were associated with deficiencies in vitamins C and D and iron.
In comparison to similar published data from two other 19th century British cemeteries – St Martin's in Birmingham, and St Peter's in Wolverhampton – the prevalence of vitamin C deficiency in the St Mary's sample was more, and that of vitamin D deficiency was less, indicating the prevalence of sunlight in South Australia.
The study showed that many of the changes occurred during the latter half of the individuals' life. Changes identified in teeth, particularly developmental defects, indicated that health stresses were experienced by some individuals during the foetal and first 25 years of the postnatal life
The location of burials at St Mary's Cemetery from the mid-1840s to 1860s showed differences in the economic status of migrants.
A decrease in the number of burials in the 'free ground' area of the cemetery from the 1870s reflected improvements in the local economy and the subsequent economic recovery of the colony.
Senior author and team leader Emeritus Professor Maciej Henneberg says the findings highlight the unpreparedness of the new colony for the settlement of the first migrants and the effects of living conditions on the new arrivals.
The rare skeletal sample from the free ground of St Mary's Anglican Church generate an opportunity to understand the effects of the establishment of the new colony on the health of these migrant settlers, says co-author Flinders Professor Donald Pate, who was involved in the St Mary's archaeological excavations.
"This body of work widens the understanding of the effects of early industrial colonisation on migrant health."
Conditions improved from the 1870s to 1920s when the number of burials decreased, suggesting a gradual improvement in the economic status of migrants – a trend reflected across the rest of the colony, researchers say.
The article,
Health effects of European colonization: An investigation of skeletal remains from 19th to early 20th century migrant settlers in South Australia (2022)
by Angela Gurr, Jaliya Kumaratilake, Alan Henry Brook, Stella Ioannou, F Donald Pate and Maciej Henneberg has been published in PLOS ONE DOI:
10.1371/journal.pone.0265878
Electric Vehicles Pass The Remote Road Test
Electrics vehicles can handle the distances required to travel to essential services in remote and regional Australia, according to a new study from The Australian National University (ANU).
According to co-author Dr Bjorn Sturmberg, the results show the use of electric vehicles in remote communities is more feasible than might be expected.
"We analysed the distances between people's homes and the nearest "service hub" towns -- where they might go to the do the shopping, for example," Dr Sturmberg, said.
"The vast majority of residents, or 93 per cent, could do those trips with even the lower-range of electric vehicles currently available on the Australian market. That's without needing to recharge en route."
Dr Sturmberg said given this, there's no excuse for leaving our remote communities out of the discussion.
"We need to do better -- electric vehicles shouldn't be left in the too hard basket. It's an unequitable and unfair path forward if remote and regional communities are the last ones left driving diesel vehicles, especially as they will be some of the most impacted by catastrophic climate change," Dr Sturmberg said.
"Yes the barriers are obvious -- large distances, unsealed roads. But the benefits are equally obvious. It's difficult and expensive to get diesel out to these communities, and electric engines are simpler and more robust than fuel engines."
Co-author Dr Francis Markham added there are some limits to what we know, and aspects that need further investigation.
"For example, we still don't have clear data on the impact of unsealed roads or different conditions on the effective range of electric vehicles," Dr Markham said.
"And information on the performance of electric vehicles in very hot conditions is still lacking. However, we are confident that electric vehicles do have a place in regional and remote Australia."
According to the researchers, transport is one of the key issues we need to tackle to limit the worst effects of climate change.
"The transport sector is responsible for 25 per cent of global emissions and more than 18 per cent of Australia's greenhouse gas pollution," Dr Sturmberg said.
"It must rapidly decarbonise -- and electric vehicles are going to be a crucial part of that decarbonisation."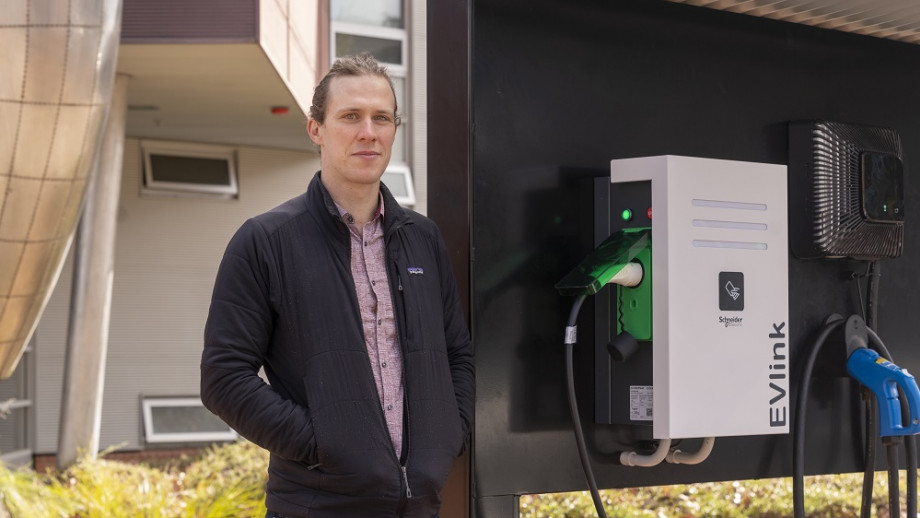 Dr Bjorn Sturmberg. Photo: Jamie Kidston/ANU

Keigan Demaria, Björn C. P. Sturmberg, Brad Riley, Francis Markham.
Exploring the feasibility of electric vehicle travel for remote communities in Australia.
Australian Geographer, 2022; 1 DOI:
10.1080/00049182.2022.2086720
Long Term High-Fat Diet Expands Waistline And Shrinks Brain
New research shows that fatty foods may not only be adding to your waistline but also playing havoc with your brain.

An international study led by UniSA neuroscientists Professor Xin-Fu Zhou and Associate Professor Larisa Bobrovskaya has established a clear link between mice fed a high-fat diet for 30 weeks, resulting in diabetes, and a subsequent deterioration in their cognitive abilities, including developing anxiety, depression and worsening Alzheimer's disease.
Mice with impaired cognitive function were also more likely to gain excessive weight due to poor metabolism caused by brain changes.
Researchers from Australia and China have published their findings in Metabolic Brain Disease.
UniSA neuroscientist and biochemist Associate Professor Larisa Bobrovskaya says the research adds to the growing body of evidence linking chronic obesity and diabetes with Alzheimer's disease, predicted to reach 100 million cases by 2050.
"Obesity and diabetes impair the central nervous system, exacerbating psychiatric disorders and cognitive decline. We demonstrated this in our study with mice," Assoc Prof Bobrovskaya says.
In the study, mice were randomly allocated to a standard diet or a high-fat diet for 30 weeks, starting at eight weeks of age. Food intake, body weight and glucose levels were monitored at different intervals, along with glucose and insulin tolerance tests and cognitive dysfunction.
The mice on the high-fat diet gained a lot of weight, developed insulin resistance and started behaving abnormally compared to those fed a standard diet.
Genetically modified Alzheimer's disease mice showed a significant deterioration of cognition and pathological changes in the brain while fed the high fat diet.
"Obese individuals have about a 55 per cent increased risk of developing depression, and diabetes will double that risk," Assoc Prof Bobrovskaya says.
"Our findings underline the importance of addressing the global obesity epidemic. A combination of obesity, age and diabetes is very likely to lead to a decline in cognitive abilities, Alzheimer's disease and other mental health disorders."
Jing Xiong, Isaac Deng, Sally Kelliny, Liying Lin, Larisa Bobrovskaya, Xin-Fu Zhou.
Long term high fat diet induces metabolic disorders and aggravates behavioural disorders and cognitive deficits in MAPT P301L transgenic mice.
Metabolic Brain Disease, 2022; DOI:
10.1007/s11011-022-01029-x
Hospital Readmissions For Asthma On The Rise Among Children
Hospital readmissions for asthma are increasing among children, according to a new study, highlighting the gaps in health care for the most common chronic paediatric illness.
The study, led by the Murdoch Children's Research Institute and published in the Journal of Asthma, found about one in three children, mostly pre-schoolers, are readmitted to hospital for asthma compared to one in five a decade ago.
Murdoch Children's Dr Katherine Chen said most asthma hospital presentations were preventable, emphasising the need for a holistic evaluation of each child's asthma management to prevent future readmissions.
The study involved 767 children, aged three to 18 years, who were admitted to three hospitals in Victoria between 2017-2018 with a diagnosis of asthma. It found 34.3 per cent were readmitted to hospital for asthma, with those aged three to five years accounting for 69.2 per cent. Of the 767 participants, 20.6 per cent were readmitted once and 13.7 per cent had two or more readmissions in 12 months.
"Our study highlighted gaps in the children's asthma care," Dr Chen said. Over a third of children hadn't had a review of their inhaler technique and only about a quarter were prescribed a preventer or asked to continue using it.
"Almost three quarters were discharged without a preventer medication and over 80 per cent did not have a follow-up clinic booked at the hospital, often reserved for children with difficult to control asthma. Most families therefore need to navigate their child's asthma follow-up with their GP."
Dr Chen said there had also been a recent spike in asthma admissions due to the rise in respiratory infections and children lacking immunity to common viruses following COVID-19 lockdowns.
Murdoch Children's Professor Harriet Hiscock said the findings confirmed the important role of GPs in paediatric asthma management and how targeted interventions at each hospital could reduce readmissions.
"Less than 10 per cent were readmitted within 30 days suggesting the importance of ongoing community care and longer-term asthma control," she said. The need to regularly review overall asthma management, minimise risk factors, arrange follow-up, and support optimum care in the community are key.
"Interactive digital symptom monitoring with specialist nurse support, home based education and a culturally tailored education program could also help."
Professor Hiscock said linked datasets were important for objectively measuring the burden of asthma cases on health services.
"Our current dataset cannot verify whether the follow-up appointment was attended, whether caregivers had arranged follow-up post discharge and if the medications were used as prescribed," she said. Integrating datasets such as health services and medication use into clinical care will improve the clinician's understanding of the child's asthma control and medication adherence and would assist in providing targeted treatments."
Asthma is the most common chronic paediatric illness in industrialised countries, affecting 8-10 per cent of children. In Australia, it is a leading cause of preventable paediatric hospital admissions.
Melbourne mum Megan Snelgrove's daughter Aurora, 10, who was diagnosed with asthma at age four, is readmitted to hospital two-three times a year for asthma.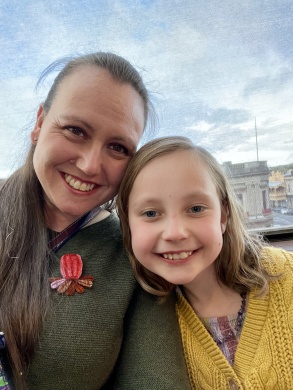 "We initially had challenges navigating the system because Aurora has a very specific type of asthma, hypersecretory asthma, which presents slightly differently to typical asthma and is treated in a different way.
"Aurora has a complicated case and it has been trial and error with her treatment. Ventolin doesn't help because it treats inflammation not secretions and this was very much misunderstood in our first few visits to the hospital. But since being followed up by the hospital's respiratory team things have improved."
Researchers from The Royal Children's Hospital, the University of Melbourne, Deakin University, University Hospital Geelong and Northern Health also contributed to the study.
Katherine YH Chen, Wanyu Chu, Renee Jones, Peter Vuillermin, David Fuller, David Tran, Lena Sanci, Shivanthan Shanthikumar, John Carlin, Harriet Hiscock.
Modifiable factors associated with paediatric asthma readmissions: a multi-center linked cohort study
. Journal of Asthma, 2022; 1 DOI:
10.1080/02770903.2022.2089996
The Murdoch Children's Research Institute (MCRI) is the largest child health research institute in Australia committed to making discoveries and developing treatments to improve child and adolescent health in Australia and around the world. They are pioneering new treatments, trialling better vaccines and improving ways of diagnosing and helping sick babies, children and adolescents. It is one of the only research institutes in Australia to offer genetic testing to find answers for families of children with previously undiagnosed conditions.
Funding:
The study is funded by the Melbourne Academic Centre for Health, Rapid Applied Research Translation 2.1 Grant.
Disclaimer: These articles are not intended to provide medical advice, diagnosis or treatment. Views expressed here do not necessarily reflect those of Pittwater Online News or its staff.