April 10 - 23, 2022: Issue 534
Ditching The NSW Design & Place Planning Reforms A Big Step Backwards over 60 Organisations state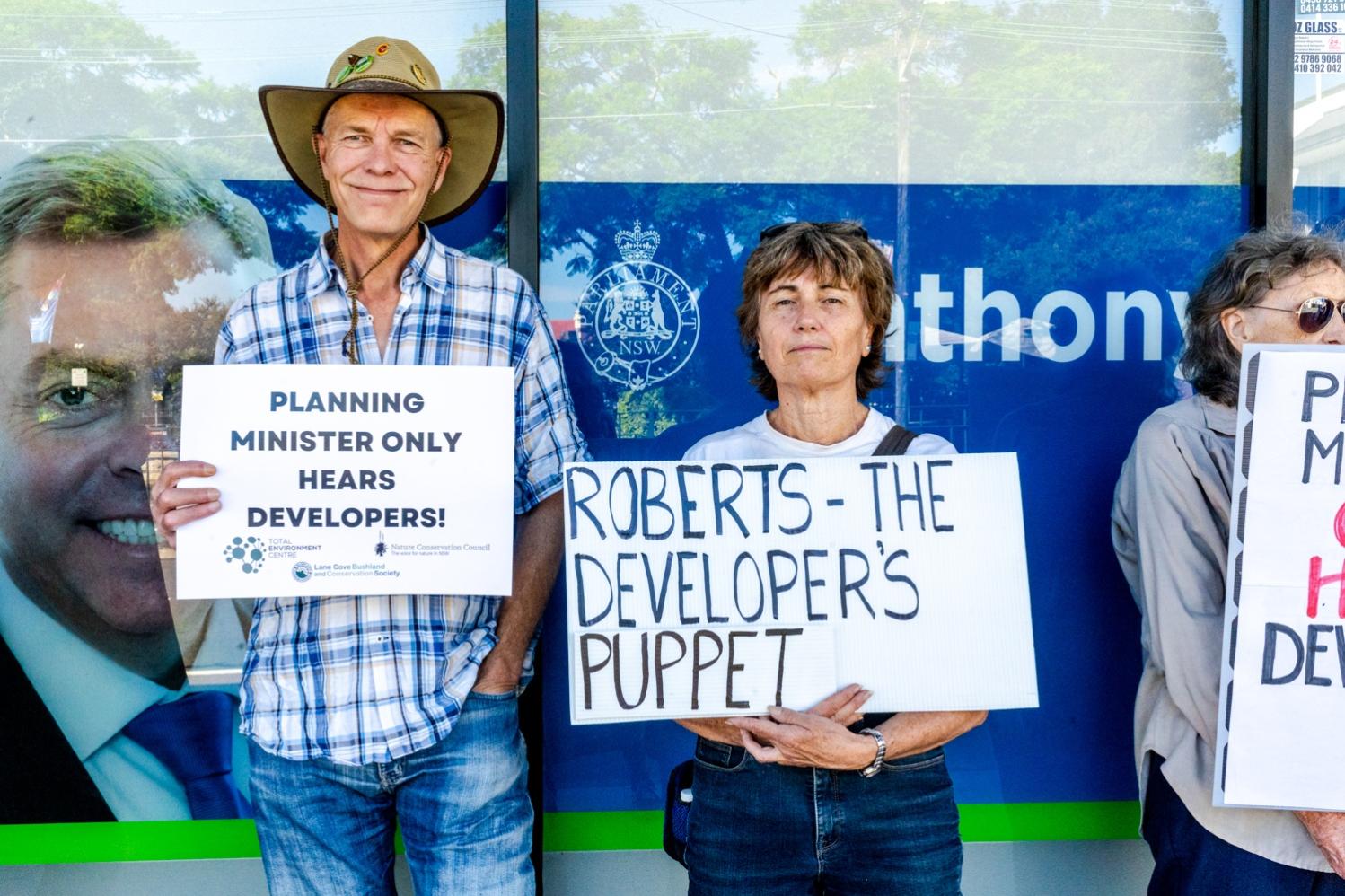 TEC members protesting outside Mr. Roberts electoral office on April 5th, 2022
The April 5th announcement by Minister for Planning, Anthony Roberts, to abandon the Design and Place planning reforms is an unequivocal step backwards for NSW according to the state's peak environment group, the NSW Nature Conservation Council, as well as the Australian Institute of Architects NSW, the Total Environment Centre and the Better Planning Network.
The dumping by NSW Planning Minister, Anthony Roberts of policies to safeguard communities from urban heat; flood and fire; and to expand tree canopy and green spaces - to protect millions of residents from global warming, should be repudiated by candidates in the upcoming Federal Election according to NSW Groups.
Jeff Angel, Director of Total Environment Centre said: "We know that climate change is a big concern in all parts of Sydney and NSW and the Minister's decision yesterday will embarrass the Liberal Party which is fighting prominent independent climate campaigns. The states control land use, and Anthony Roberts has undermined our national effort to combat global warming."
''Environment groups will be asking federal election candidates to reject the Perrottet government's anti-environment policy and call for a reversal of the decision by the Minister which pandered to the developer lobby. It's not a choice between more housing - and the environment and people's health – we can have both with intelligent and informed policies of the type developed over 2 years of consultation and research into the economic, social, health and environmental benefits – but now dumped.''
The Convener of Better Planning Network, Jan Primrose said: "The Draft Design and Place SEPP was a significant body of worthwhile work produced by Minister Roberts' own Department of Planning and Environment, the Government Architects Office and numerous experts. The Minister should not have summarily dumped the draft just because development industry lobbyists whinged that it could be too difficult for them or would reduce their exorbitant profits. Public interest should take precedence over vested interests. That is better planning."
Nature Conservation Council CEO, Chris Gambian said: "It is not lost on us that the new Minister made this announcement to an audience of property developers. Due to the influence of developer lobbyists, sustainability and resilience are no longer at the forefront of development in NSW, even while Western Sydney growth areas see ever-increasing extremes.''
"This is a really bad look for a government that sees itself as a leader in taking action on climate."
The groups said the campaign for a sustainable Sydney would continue in coming months.
The
Design and Place State Environmental Planning Policy
set a path for net zero, more tree canopy and green spaces, better ventilation of apartments, and resilience to heat, flood and fire threats, and requirements to assess where dwellings would be built, in particular whether they are in a flood zone or in a bushfire risk area registered by the NSW RFS. The proposed comprehensive Place and Design SEPP, which included
updates to the Apartment Design Guide, The Building Sustainability Index (BASIX), a new Urban Development Guide and Design Review Manual included
sustainability measures such as:
increasing targets for energy and thermal performance, which are also proposed to be increased in the National Construction Code, and new targets for embodied emissions;
new standards and reporting requirements for all non-residential developments, including a need to consider whether a development minimises greenhouse gas emissions and whether a development will be able to monitor its energy consumption over time;
a merit assessment pathway that allows a recognised professional to complete a sustainability assessment using accredits modelling software as an alternative to a BASIX assessment; and
developments to which the DP SEPP applies (except BASIX-affected development) will need to submit a 'Net Zero Ready Statement', containing information about:

e

stimated energy consumption and emissions;

efforts implemented for the building to achieve net zero emissions by 2035;

capacity to monitor and report emissions once constructed; and

for most non-residential development, evidence that non-renewable energy used by the building will be offset
These measures represent a significant leap forward in the NSW Government's efforts to improve sustainability and reduce emissions and are likely to require some adjustment from the development industry.
"Quite simply the concept of planning reform fatigue is real," Mr Roberts told an Urban Development Institute of Australia lunch in Sydney on Wednesday March 16, 2022.
"There have been some great policy reforms but there comes a stage when the rubber has got to hit the road, and that means putting aside some of those policy reforms and ideas to provide certainty to the industry." he stated.
Mr Roberts, a former planning minister who returned to the portfolio and replaced Rob Stokes late last year, indicated he may abandon the contentious Design and Place State Environmental Planning Policy at that point in time.
"We are just waiting on the final responses to that but from a personal point of view I detect that there are a lot of people who do not a have huge amount of support for it," Mr Roberts said.
The 'lot of people' has been described as The Urban Taskforce Australia, the Property Council of Australia and the Urban Development Institute of Australia, who were all scathing of the SEPP, and those they represent, leading some industry and media commentators to state that ''the developers now been put in charge of our urban future''.

NSW executive director of the Property Council of Australia Luke Achterstraat said it was better to be "doing two or three things really well rather than nine or 10 things not very well".
"Delivering more homes requires faster approvals, the release of properly planned land and greater accountability for councils that do not meet their housing targets," he said.
Urban Taskforce chief executive Tom Forrest said the Minister's Planning Principles were developed without industry consultation and needed to go, according to an
AFR report
published the same day.
In December 2021 The Property Council of Australia stated it was pleased that Planning Minister Rob Stokes had announced critical changes to planning proposals and rezoning processes at the Property Councils Revitalising our State breakfast event on December 15.
Mr Achterstraat said then he was happy to see changes to the 'rezoning review' process.
"In particular the removal of hostile councils from the assessment and approval of rezonings which have been recognised by the Department of Planning as having merit," he said.
On March 10th, 2022 the "State of the Land" report was released by the Urban Development Industry of Australia (UDIA) which highlighted an unprecedented levels of demand for new greenfield land, with a record breaking 76,100 lots sold across the combined capital cities in 2021, an increase of 33% over the previous year.
"The frenetic performance of the national greenfield sector has been a critical component of Australia's strong economic performance through the pandemic. While this has been great news for market confidence and strengthened a housing-led economic recovery, it is also a warning for Governments for the need to act now to ensure development-ready supply is brought online. Failing to do so, and quickly, will impede the economic recovery and further impact housing affordability." said Maxwell Shifman, National President of UDIA.
Greenfield describes new builds on undisturbed terrain, while brownfield refers to the continuation of existing projects or rebuilds on the site of older developments.
The term greenfield refers to buildings constructed on fields that were, literally, green.
On Tuesday April 5th Mr. Roberts made a return appearance at a lobbyist function, attending an Urban Taskforce luncheon where he told those attending he will not go ahead with the draft Design and Place State Environmental Planning Policy (SEPP) created by former Minister Rob Stokes.
The Property Council of Australia released a statement on the same day saying it has welcomed the NSW Government's decision to progress with sensible improvements to the BASIX (Building Sustainability Index) system and its restated commitment to housing supply.
Mr Achterstraat said throughout a very long period of consultation, industry had remained clear in its commitment to deliver strong sustainability outcomes.
"We have always supported objectives to create great places and deliver good design outcomes which are essential to the long-term success and sustainable growth of our cities and regional areas," Mr Achterstraat said.
"The Australian property industry leads the world in driving sustainable building design and operation and this is a key focus now and into the future."
Mr Achterstraat said the property industry is a critical stakeholder on the journey to net zero and a sustainable future.
"We are particularly supportive of increasing standards for energy and thermal performance in alignment with the latest National Construction Code, the implementation of requirements for embodied carbon and driving for buildings to be net zero in operation.
On the same date, April 5th, a Ministerial statement was issued by Mr. Roberts, which reads:
The NSW Government will update the BASIX standards alongside a range of other initiatives to help deliver more quality and affordable homes in communities across the State.

Minister for Planning and Minister for Homes Anthony Roberts announced the changes today, which will develop best practice for liveable and resilient communities – focusing on quality subdivisions, streets and public spaces and achieve net zero targets.

"I have asked the department to proceed with BASIX updates to help people build homes that are more comfortable, save people money on their power bills and contribute to our net zero target," Mr Roberts said.

"We want to make it easier to build quality, affordable homes – not harder. As I've said before, my focus is on changes that help us pave the way for more homes in liveable communities.

"We need to optimise land for homes while building communities that are sustainable and resilient.

"There are a number of policies already in place to build resilient communities that are designed to withstand the impact of climate change."

These include a direction issued by the Minister for Planning and Homes to ensure natural hazards are thoroughly considered in decision-making on land-use, the Flood-Prone Land Policy, and the natural hazards toolkit for councils.

The NSW Government will also consider any further measures in this regard concerning land use planning from the independent inquiry into floods, currently being conducted by Professor Mary O'Kane AC and Michael Fuller APM.

Recommendations regarding land-use are due to the NSW Government on 30 June 2022.

Following extensive consultation with industry and stakeholder groups the NSW Government will not introduce the State Environmental Planning Policy for Design and Place.
The Design and Place State Environmental Planning Policy (DP SEPP) 2021 webpage has been removed from the NSW Department of Planning website since Tuesday April 5th.

The draft SEPP proposed by Mr. Stokes and NSW State Architect Abbie Galvin was created after a two year planning process. An initial outlay of $2.3 billion was required to implement the policy, but was to result in $3.3 billion in benefits.

The nine planning principles introduced by Mr. Stokes have been revoked by Roberts as he believes, as is stated above, existing policies will help the state combat the effects of climate change.
However, there was a lot of support for the
Design and Place State Environmental Planning Policy
from communities and professional organisations
.
An Australian Institute of Architects NSW Chapter spokesperson says the decision by Mr. Roberts is a significant backward step.

"To downgrade these sensible policies now is a slap in the face for our communities, especially those recovering from extreme weather," their statement reads in the Sydney Morning Herald.
Green Building Council of Australia CEO Davina Rooney stated certain elements of the draft SEPP must be introduced.
"It is absolutely critical that elements on embodied carbon and net zero are retained. These are critical issues of our time."
On Wednesday April 6th the Green Building Council of Australia released a roadmap to decarbonise Australia's precincts – setting a net zero goal for new precincts by 2030, and existing precincts by 2050.
Nick Alsop, GBCA's Senior Manager of Market Engagement says the roadmap highlights that the precincts being designed now will have carbon impacts for generations, so it is important that the opportunities to reduce carbon are identified and acted on now.
"It's becoming increasingly clear that low carbon precincts will be a powerful solution to decarbonising our economy," Nick said.
"But we're also excited by the other benefits that we see in sustainable precincts – they're efficient, healthy, resilient and tread lightly on the planet. They offer developers the opportunity to demonstrate their commitment to sustainability, responding to the growing call to action that we are seeing from investors, shareholders and consumers.
The Climate Positive Roadmap for precincts defines the steps that need to be taken by all stakeholders to achieve the decarbonisation targets including:
embedding climate positive pathways into all stages of planning
committing to fossil-fuel-free precincts and ensure policy and planning processes support this ambition
removing the barriers to low carbon precinct energy solutions
driving lower upfront carbon in materials and construction activity
committing to delivering low carbon buildings in all precincts.
"We've seen some great examples of leaders in our sector already achieving these targets to drive carbon reductions in precincts that are now in operation and being enjoyed by communities," Nick said.
"Our report highlights some of these precincts through case studies, and we're really looking forward to continuing to add to this list as we see more sustainable precincts come to life."
The Climate Positive Roadmap for precincts was launched as part of the GBCA's TRANSFORM conference and can be
found here
.
"This is a bad day for the future of our towns and cities as the Perrottet Government seeks to placate greedy developers rather than implement sustainable urban development.''
said Nature Conservation Council Chief Executive, Chris Gambian.
"This comes on the very same day that yet another IPCC report told us in no uncertain terms that we need to act now to cut emissions. Experts are clear that the way we build is a key part of the equation.[i] NSW has experienced a month of catastrophic flooding. Climate impacts are here and now. The SEPP was an opportunity to both reduce emissions and provide resilience,"
"Just a fortnight ago I had what I thought to be an incredibly constructive meeting with Minister Roberts, where I believed we had a lot of common ground. It is disappointing that this announcement was made without so much as a phone call from his office"
"The work started by previous Planning Minister Stokes had been so important. A lot of meaningful cross- sector consultation went into the draft SEPP, and a lot of consensus and good-will was built.
"It is not lost on us that the new Minister made this announcement to an audience of property developers. We know where the planning experts, community and environment stakeholders stand in the queue for Minister Roberts' office, and it isn't at the front.
"Due to the influence of developer lobbyists, sustainability and resilience are no longer at the forefront of development in NSW, even while Western Sydney growth areas see ever increasing extremes.
"This is a really bad look for a government that sees itself as a leader in taking action on climate," said Mr Gambian.
"It is a relief that parts of the proposed reforms will be retained through a lift in BASIX standards. At the very least, new homes and large renovations should meet improved sustainability standards for energy, water use and thermal performance. But what about tree canopy for cooling hot streets and well-designed green spaces?
"It is clear the Minister must now take time to understand the value of the draft policy to the health and well-being of NSW residents and come back with something better than the status quo.
"We will keep campaigning for the government to live up to its responsibility to provide rules that will deliver liveable and sustainable housing in NSW."
NSW needs urban planning policies that ensure the following:
maximising energy efficiency and renewable energy to achieve net zero emissions for all new buildings
full electrification – no new fossil fuel gas connections
recognising embodied carbon in building materials, with a pathway to regulation
comprehensive electric vehicle charging and cycling infrastructure
maximum mature tree and bushland retention, canopy cover and green space
urban heat-ready buildings, which plan for future heat stress in a warming climate.
[i] https://science.anu.edu.au/news-events/news/australia-has-critical-role-tackling-climate-change
A local perspective comes from Dick Clarke,
Director of
Envirotecture, a design practice with nearly a hundred years of combined experience in designing and constructing affordable buildings with the least possible ecological impact.
Envirotecture is
a multi award winning practice, a successful business with a hard earned profile in the field.
Envirotecture
have worked with successive ministers and their departments over a twenty year period to improve planning and building regulation in practical and affordable ways.
Mr. Clarke
stated, ''
It is simply astounding that in the days following devastating floods in NSW and Queensland, the Minister would repeal restrictions on building on flood-prone land. It is equally astounding that just two years after the Black Summer bushfires that restrictions on building in high fire risk areas are repealed.''
''These decisions go against all of the evidence we have spent two decades gathering for sustainable resilient development. The Minister has effectively gone off-piste, disappearing into the heavily wooded forest of the vested interests of the property industry and profit at all costs mentality of some construction proprietor unions.''
''We call on the Minister to revoke these ill-considered decisions. We further call on the Minister to quell speculation that he has a totally wrecking agenda, where all policies with the fingerprints of his predecessor must be erased, in obedience to his masters with a vested interest in maintaining the unsustainable status quo.'' Mr. Clarke said
The
Environmental Planning and Assessment Regulation 2021
(NSW) (2021 Regulation) commenced on March 1st 2022. The 2021 Regulation has remade and reorganised the provisions of the
Environmental Planning and Assessment Regulation 2000
(NSW) (2000 Regulation).
It introduces some important changes aimed at increasing the efficiency of the planning system.
Also now under consideration is December 15th 2021 launched ''
A new approach to rezonings'' Discussion Paper
which is a proposal to speed up the process for changing planning rules on a particular piece of land – known as rezoning, and wherein it may be read:
''This new approach aims to ... by:
• simplifying the rezoning process and minimising duplication
.....
•
giving private proponents control and responsibility for rezoning requests
....
''
Our proposed approach aims to recognise private proponents as applicants, as they are in the development application process. This will give the private proponent the right to
:
• meet with the rezoning authority to discuss a potential request
•
submit a rezoning application and have it assessed and determined after public exhibition
•
appeal a decision made about a rezoning application
because of a delay
or dissatisfaction with a decision
Further, on March 14th, 2022 Planning Minister Roberts announced he had discontinued the Minister's Planning Principles to ensure focus remained on the government's priority of delivering a pipeline of housing supply.
Mr Roberts said that any principles must help in delivering the government's clear objective for the planning system – boosting the supply of new homes and housing affordability.
"
The Premier has given me a very clear priority
– delivering more homes and our principles must help me deliver on that priority," Mr Roberts said.
"I've also heard from our stakeholders that the necessary pace of reform due to our swift response to the pandemic has taken a toll.
"
I want to work with our stakeholders
on ways to boost the supply and affordability so as we do that I have discontinued the Minister's Planning Principles."
The Ministerial Direction giving effect to the Minister's Planning Principles has been revoked.
The State-wide Planning Principles were introduced in early December 2021, and commenced operation on March 1st 2022.
The former Minister for Planning and Public Spaces, the Hon Rob Stokes, introduced the Planning Principles with the stated intention of making statutory planning simpler, more consistent and more transparent. The Planning Principles were to be integrated into the State's strategic plans and planning instruments, which provide the key planning and development controls in NSW.
These emphasised sustainable development (particularly climate change mitigation and adaptation, and enhanced resilience), place-based thinking, integration of infrastructure, affordable housing, the conservation and management of natural resources, and early and sustained engagement with Aboriginal people.
On March 31st 2022 the Australian
Bureau
of
Statistics
released
the number of dwelling units and value of buildings approved in February. The number of dwellings approved in Australia rose 43.5% in February, in seasonally adjusted terms. This follows a 27.1% fall in January.
Private sector house approvals rose 16.5% in February, to 10,240, following a 16.3% decline in January. Private sector dwellings excluding houses rose 78.3%, following a 43.3% fall in January. In New South Wales 2,653 private sector houses and 5,543 units were approved.
By state, the number of dwelling approvals rose in Victoria (91.0%), New South Wales (48.8%), South Australia (35.9%), Tasmania (12.2%), and Western Australia (8.0%). Queensland was the only state to fall (-14.6%) in February, in seasonally adjusted terms.
Approvals for private sector houses rose in all mainland states: New South Wales (27.2%), Victoria (20.1%), Western Australia (11.5%), South Australia (7.6%) and Queensland (6.4%), in seasonally adjusted terms.
Now all they need is to find registered builders to complete
their
projects, with the industry recording a shortage of the same is likely to persist into 2023.
The National Construction Code (NCC) 2022 is expected to be adopted by states and territories from September 1st 2022
. This means that any of the changes scheduled into the
new NCC (Vol 1 & 2)
will not come into effect until this date.
The National Construction Code (NCC) sets the minimum energy efficiency standards for new buildings and major renovations in Australia and is updated every 3 years.
The Australian Building Codes Board will be holding a
series of seminars
on this throughout July and August in all capital cities.
Some of the more significant amendments proposed in the final stage included:
a stringency increase in the thermal performance of homes from the current level, equivalent to 6-stars NatHERS, to the equivalent of 7 stars
introducing whole-of-home annual energy use requirements (noting differences between Class 1 and 2 buildings)
a new set of Deemed-to-Satisfy elemental provisions for Class 2 buildings
new provisions designed to allow easy retrofit of on-site renewables and electric vehicle charging equipment for Class 2 to 9 buildings, and
enhanced condensation management provisions, including additional ventilation and wall vapour permeability requirements.
The proposed NCC 2022 changes would include:
Requiring the building fabric to achieve 7 stars
A significant rewrite of the DTS provisions of Part 3.12, set at a 7-star equivalence
Introducing new requirements for thermal bridging of steel framing
New whole of house provisions for determining the building services and potentially require solar PV panels for the building to offset the fixed appliances in the dwelling – likely to be a new ABCB calculator
Revising the verification using reference building method
Developing a new quantified Performance Requirement (based on a societal cost of energy metric).
Concurrent work being undertaken on upgrading the star rating tools (AccuRate, FirstRate5, BERS Pro and HERO) to be set at 7 star and to be whole of house rating tools.
Currently the star rating tools only assess the building fabric.
For Class 2 buildings and Class 4 parts of a building
Using star-rating tools, the whole apartment building will need to achieve an average of 7-stars with no apartment permitted to be less than 6-stars (under NCC 2019 it is set at 6-star average and no apartment less than 5-star)
Developing new elemental DTS provisions for Class 2 buildings set at 7-star equivalence
Developing a new verification using reference building method for Class 2 buildings
Introducing new requirements for thermal bridging of steel framing
Current state variations to the national energy efficiency provisions will be considered alongside the decision on the final NCC provisions.
The federal government's own analysis found that energy bill savings will be higher than the home loan cost to meet 7-Star standards, meaning households will have more money in their pocket from day one. Research by ClimateWorks Australia and ASBEC (Australian Built Environment Council) has found that delaying cost-effective improvements to energy efficiency requirements in the Code will cost $2 billion in wasted household energy bills to 2030, as well as locking in 15 million tonnes of carbon emissions.

A coalition of 55 community organisations across the social service, housing, energy and environment sectors has published an open letter calling for energy efficiency standards for new homes to be increased
.
"Lifting energy standards for new homes is a win-win-win: it cuts bills, cuts emissions, makes our homes more comfortable, and reduces pressure on the grid," said Paul Bowers, CEO of Renew.
"Renew's analysis shows that net zero homes are not only achievable now, but already leave households with more money in their pocket than a conventional home. The energy bill savings on efficient homes are higher than the home loan cost of meeting better standards – so households are better off from day one.
"Saving people money and cutting emissions at the same time should be a no-brainer, so this is a test for whether the government is serious about delivering on its net zero commitment."
ACOSS CEO, Dr Cassandra Goldie said "Raising minimum energy efficiency standards for new homes is essential to reducing poverty and inequality. It means everyone living in housing built in 2022 and beyond, including social housing and private rental, will benefit from cheaper energy bills and better health outcomes."
ClimateWorks Cities System Lead, Margot Delafoulhouze said "Australia can't afford to delay these changes.
"An estimated 1.1 million homes are expected to be built between 2022 and 2025. Our research shows that delaying cost-effective changes to the Code by just three years (for example, implementing changes in the 2025 Code instead of 2022) could cost $2 billion in household energy bills between now and 2030.''
In February 2022 the
Australian Building Codes Board stated they
would like practitioners to be aware of important dates for the release of NCC 2022, which include:
9 May 2022 – Preview available at ncc.abcb.gov.au (excluding energy efficiency and condensation)
1 September 2022 – Adoption by states and territories
''Building Ministers have agreed to delay the adoption of NCC 2022 in recognition of the disruption of the COVID-19 pandemic, and the impacts to industry during a difficult economic time. We hope the delayed adoption date will make it easier for industry to adjust, and the extended preview period provide time for users to become familiar with the changes before NCC 2022 is made mandatory under state and territory legislation.'' the statement reads
''The May preview of NCC 2022 will not include energy efficiency and condensation amendments as these have not yet been endorsed by Building Ministers
. Practitioners can still expect a preview of these amendments prior to adoption – and we will provide more information on that timing as it becomes available.''
The Building Ministers' Meeting (BMM) oversees policy and regulatory issues affecting Australia's building and construction industries. The BMM brings together Australian Government and state and territory government ministers with responsibility for building and construction. The Australian Government minister responsible for the building industry chairs the BMM. (
The BMM was previously the Building Ministers' Forum (BMF), a change that came out of the Conran review of ministerial forums).
Building Ministers' Meeting members include for the Commonwealth; Senator the Hon Jonno Duniam, Assistant Minister for Industry Development and for NSW, the Hon Eleni Petinos MP, Minister for Small Business and Minister for Fair Trading, who was placed in the portfolio in December 2021.
The Building Ministers' Meeting Communiqué of March 28 2022 states Commonwealth, state and territory Building Ministers met today to discuss residential energy efficiency and building readiness for emerging technologies and accessible housing provisions for the 2022 edition of the National Construction Code (NCC) and the Australian Building Codes Board (ABCB) Strategic Plan 2022.
''Ministers met with industry representatives to discuss how building standards can assist residential energy efficiency provisions which are expected in modern homes. Ministers welcomed the opportunity to hear industry perspectives on possible changes with the NCC 2022.''
Further, the
Communiqué states:
Building Ministers received an update on the work of the ABCB in preparing improved residential energy efficiency provisions for NCC 2022. The ABCB advised Ministers that analysis is nearing completion and there are opportunities to improve residential energy efficiency with a net benefit to households in most parts of the country.




Building Ministers have provided direction to the ABCB to finalise its work as soon as possible and bring forward final advice mid-year for Ministers to make a final decision.




The work of the ABCB was initiated in mid-2019 at the request of Energy and Building Ministers. Ministers are pursuing these improvements as part of a broader national effort to manage cost of living pressures for households, while making a strong positive contribution to decarbonising our economy.




Residential energy efficiency requirements have not increased since 2010. Ministers identified there are community expectations for both energy efficiency and accessibility in modern homes. It is important for all sectors of the economy to contribute to emissions reduction measures, including the building and construction industry. This is an area where change is needed, as part of emissions reduction measures across all sectors to achieve national policy objectives to reduce Australia's emissions to net zero by 2050, while growing our economy and supporting jobs.
Ministers agreed to meet again in July 2022
to discuss the Decision RIS,
NCC 2022,
ABCB Business Plan, ABCB Intergovernmental Agreement
and the Industry Representative appointment
.
The Australian Building Codes Board is made up of eighteen members including a Chair, the head of each state and territory building administration, a Commonwealth building policy representative,
up to seven industry representatives,
and a representative of the Australian Local Government Association.
In its discussion on the 'current situation', the Scoping Study noted that one of the key changes to the residential energy efficiency provisions introduced by NCC 2019, was improvements to the reference building Verification Method (VM) (V2.6.2.2), to limit the software that that can be used and include more detail around modelling inputs to prevent gaming.




The term 'gaming' generally refers to the intentional misuse of the reference building VM to achieve a sub-optimal outcome, whilst giving the impression that the Performance Requirement has been met.




This can occur when the specific input requirements of V2.6.2.2 are not complied with when practitioners use NatHERS in conjunction with the VM. In particular, this applies to the temperature settings and the unique features of the proposed house.66 Whilst the issue of 'gaming' was first identified in relation to the 2016 version of V2.6.2.2, it nonetheless attracted several comments in the Scoping Study. However, not all of these comments specifically referred to the reference building VM.




In these comments the following key issues were raised:

• Competitive pressure on practitioners who do not engage in the practice.

• Any new Performance Requirements should be stringent enough to prevent new forms of gaming emerging once they are implemented.

• A general perception that the use of modelling software lacks transparency and is seen by some as a 'black box' process. Furthermore, some suggested this issue could be exacerbated by extending modelling to a whole-of-house approach.

• The trustworthiness of the reference building VM is dependent on the integrity of the practitioner using it.



Many of the responses submitted by practitioners expressed concern that increases in complexity and stringency of the energy efficiency provisions is driving an increased reliance on specialist consultants and/or modelling software. This, in turn, increases compliance costs for practitioners (e.g. for software licence fees and consultant fees).




In addition to these costs, some comments also noted that reliance on specialist third-party consultants also increases the amount of design co-ordination required on each project, which also consumes time and, therefore, has a cost.




There is also a related concern that practitioners may be able to use a consultant's report to hide energy efficiency losses within complex calculations, thereby making detection of non-compliant designs difficult.

These issues and costs were described in the following quote, taken from the submission by Ajar Architects:
As an architect, it is not cost effective for my clients to pay me to do the energy assessment anymore, it costs 75% less than my fees to pay a consultant to do the same energy assessment work. My concern is that the consultants use programs with built-in assumptions that no one has reviewed for many years. To increase regulations and not review the accuracy of assumptions is flawed.
The two key issues raised by practitioners in response to the Scoping Study were the complexity of the energy efficiency provisions, and the proposal to set a floor area threshold for the use of elemental DTS Provisions.
Overall, the (121) submissions received through the ABCB Consultation Hub expressed general support for the proposed approach and scope of the residential energy efficiency provisions outlined in the Scoping Study.
Question 1 asked which of the two options outlined in the Scoping Study best achieves both the Trajectory's objectives and the ABCB's IGA obligations. In general, (107) submissions supported either Option 1 or Option 2, with 74 indicating a preference for Option 1 while 22 submissions did not support either Option 1 or Option 2.
Option 1 involves a set of provisions which would result in residential buildings having a level of thermal comfort equivalent to 7 stars NatHERS and NZRE, (based on the societal cost of energy) for the regulated building services, i.e. space conditioning, heated water systems, lighting and pool and spa pumps.
Option 2 involves a set of provisions which would result in residential buildings having a level of thermal comfort equivalent to 7 stars NatHERS and a moderate amount of annual energy use for the regulated building services.
The two options will enable a 'whole-of-house' approach to be used to achieve compliance. In particular, compliance through Verification Methods (or whole-of-house tools) and, to a limited extent, the elemental DTS Provisions will allow some trading between the energy efficiency of building services, and allow limited offsetting with on-site renewable energy.
'Testing the two options enabled the ABCB to identify the most appropriate provisions for adoption in NCC 2022 and whether a transitional period should be applied. If the less stringent Option 2 is chosen, the development of Option 1 will nevertheless provide industry with an indication of the provisions that may be adopted in a future version of the NCC' the report states.
In Conclusion the report states:
The issue of technology-neutrality and the future of gas as a household fuel attracted significant comment, both for and against. Many of the stakeholders who opposed a technology/fuel neutral NCC did so on the basis of a belief that gas should be phased out over time. However, the fuel-neutral approach is consistent with the Trajectory and the general approach to Code authoring. Furthermore, the future of gas as a household fuel may be more appropriately dealt with through energy policy, rather than building policy.




Concerns were raised that on-site renewable energy should not be allowed to tradeoff minimum building fabric performance, although this was not proposed in the Scoping Study. The approach proposed in the Scoping Study addresses this concern, where minimum building fabric performance is regulated by a separate Performance Requirement that does not allow trade-off with other building elements.




Respondents overwhelmingly supported the recommended baseline levels of energy efficiency for residential building services that were specified in the Trajectory. There was also support for the current NatHERS compliance pathway, as well as its possible expansion to accredit whole-of-house tools. BASIX also received relatively strong support as a whole-of-house tool.




The proposal to investigate provisions that would facilitate the future installation of on-site renewable energy equipment and EV charging was generally supported. However, the investigation will need to consider the likely technology and uptake of on-site renewables and EVs.



Although there is much community groups support for the range of measures to be introduced through the National Construction Code (NCC) 2022 at a Commonwealth level, the announcement by the ABCB that the NCC 2022 does not, as yet, include energy efficiency and condensation amendments as these have not yet been endorsed by Building Ministers, along with the raft of announcements by the New South Wales government and Mr. Roberts indicate what their response may be at the July 2022 meeting.
*© Commonwealth of Australia and States and Territories 2019, published by the
Australian Building Codes Board.