Inbox and Environment news: Issue 530
March 13 - 19, 2022: Issue 530
Port Jackson Shark Egg
The recent rains and storms have brought a lot of rubbish onto our beaches and the estuary beaches - one such item is this Port Jackson shark egg that we spotted on Station Beach at Pittwater.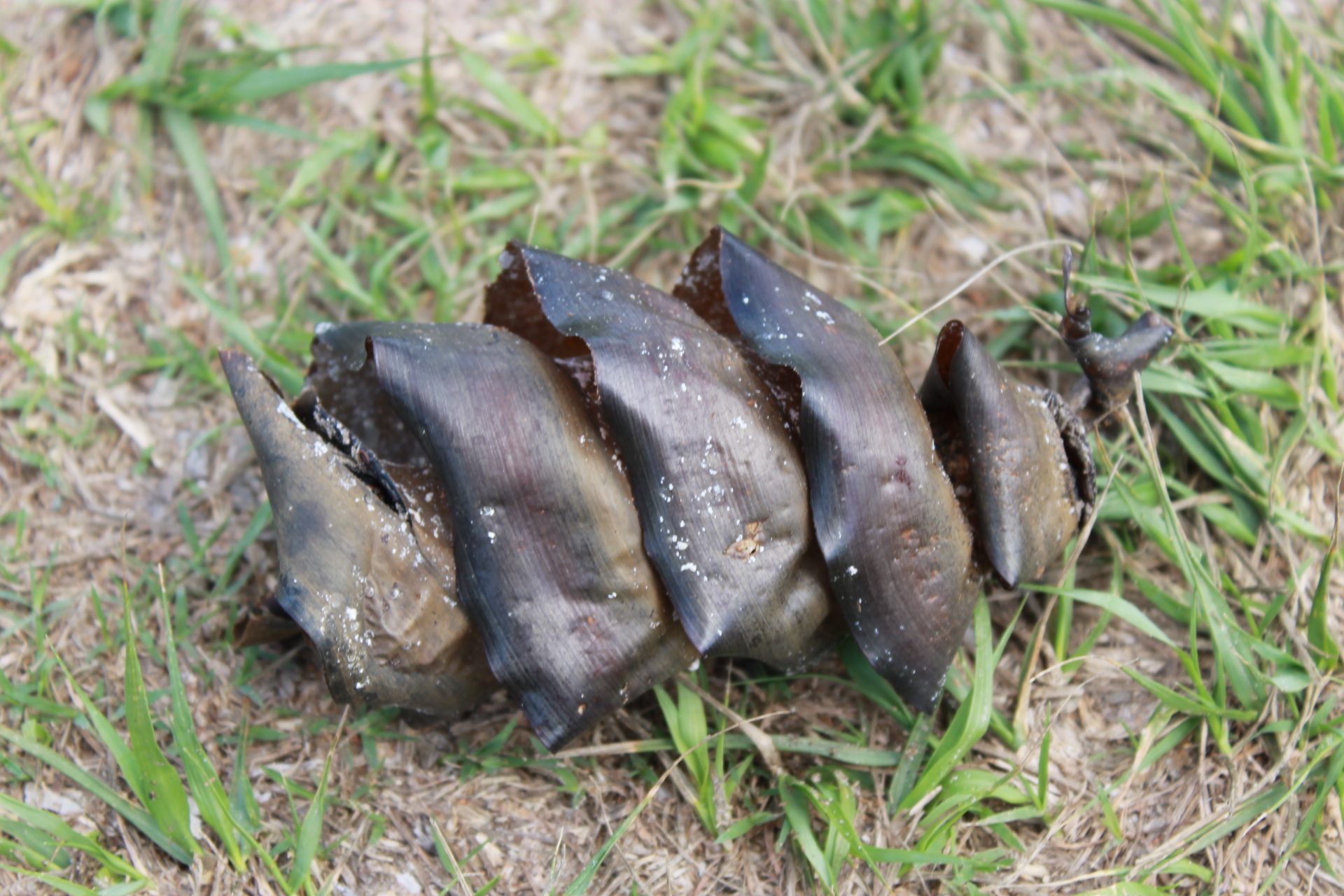 The Port Jackson shark (Heterodontus portusjacksoni) is a nocturnal, oviparous (egg laying) type of bullhead shark of the family Heterodontidae, found in the coastal region of southern Australia, including the waters off Port Jackson. It has a large, blunt head with prominent forehead ridges and dark brown harness-like markings on a lighter grey-brown body, and can grow up to 1.65 metres (5.5 ft) long. They are the largest in the genus Heterodontus.
The Port Jackson shark is a migratory species, traveling south in the summer and returning north to breed in the winter. It feeds on hard-shelled mollusks, crustaceans, sea urchins, and fish. Identification of this species is very easy due to the pattern of harness-like markings that cross the eyes, run along the back to the first dorsal fin, then cross the side of the body, in addition to the spine in front of both dorsal fins.
These sharks are are oviparous, meaning that they lay eggs rather than give live birth to their young. The species has an annual breeding cycle which begins in late August and continues until the middle of November. During this time, the female lays pairs of eggs every 8-17 days. As many as eight pairs can be laid during this period. The eggs mature for 10–11 months before the hatchlings, known as neonates, can break out of the egg capsule.

Port Jackson shark adults are often seen resting in caves in groups, and prefer to associate with specific sharks based on sex and size. Juvenile Port Jackson sharks, on the other hand, do not appear to be social. A captive study showed that these juveniles did not prefer to spend time next to other sharks, even when they were familiar with each other (i.e. tank mates). Juvenile Port Jackson sharks have unique personality traits, just like humans. Some were bolder than others when exploring a novel environment and they also reacted differently to a stressful situation (in choosing a freeze or flight response).
Juvenile Port Jackson sharks are also capable of learning to associate bubbles, LED lights, or sounds with receiving a food reward, can distinguish different quantities (i.e. count), and can learn by watching what other sharks are doing.
At least in some of these lab experiments males are shyer than females and boldness increases with consecutive trials of the same experiment. In experiments with different music genres, none of the sharks tested learned to discriminate between a jazz and a classical music stimulus.
Port Jackson Sharks are considered harmless to humans, although the teeth, whilst not large or sharp, can give a painful bite.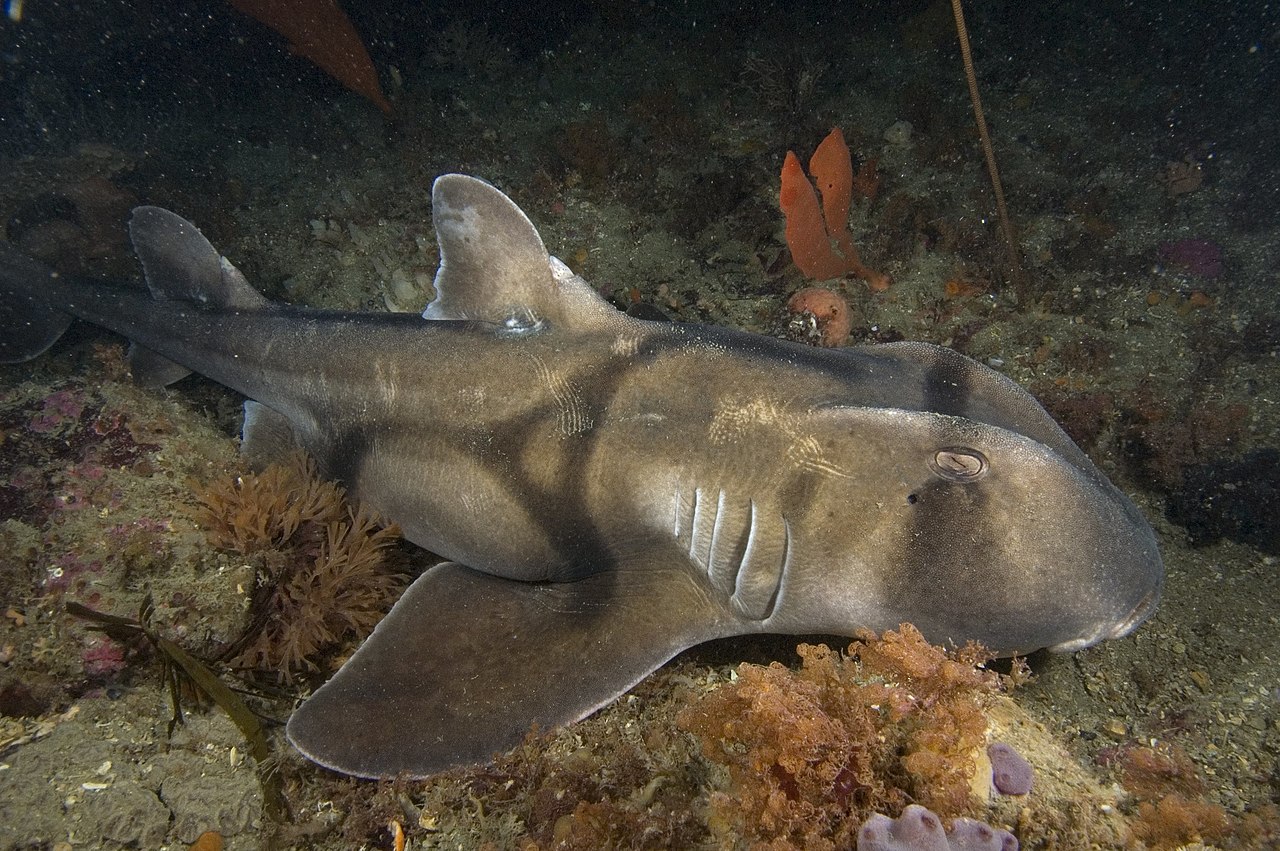 Heterodontus portusjacksoni. Photo: Mark Norman, Museums Victoria
Curious Kids: what is the largest penguin that ever lived?
Jacob C. Blokland
,
Flinders University
What is the largest penguin that ever lived? – Casey, age 6, Perth

Hi Casey, thanks for this great question!
Today the largest living penguin is the emperor penguin, which lives in Antarctica and is about one metre tall. The appropriately named little penguin is the smallest, standing only about as high as a ruler.
But penguins have swum in Earth's oceans for more than 62 million years – and they were not always these sizes. Long before humans walked the Earth, some penguins would have stood as tall as a grown-up person.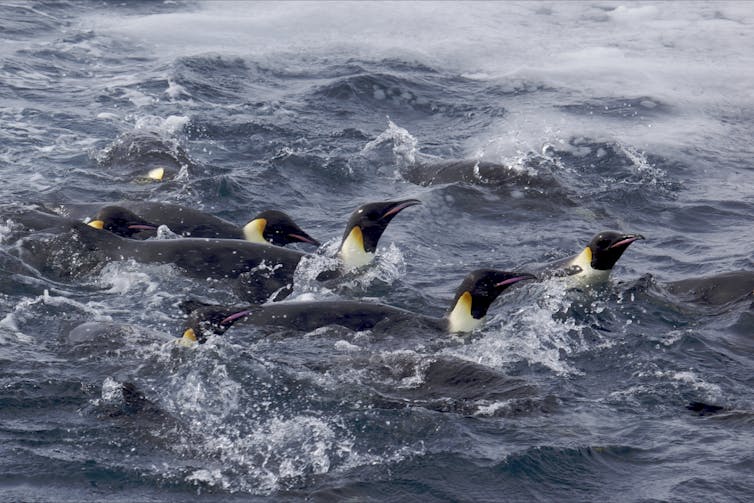 Diving In
To understand how penguins once got so big, we need to go back to the very first ones.
The closest relatives of penguins today can actually fly through the air. These include petrels and the soaring albatrosses.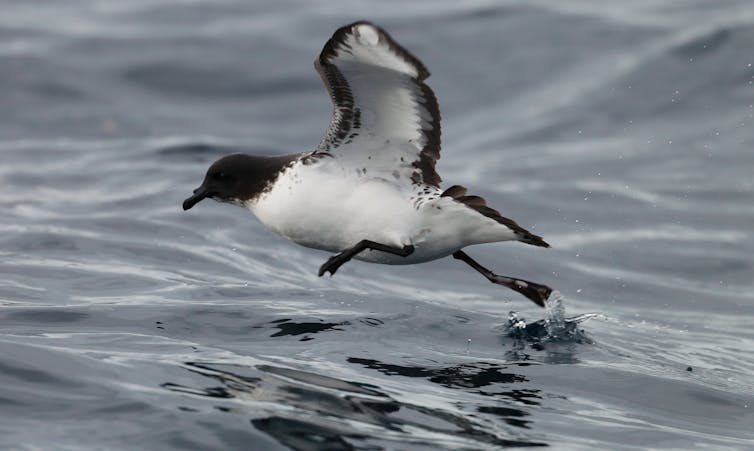 While waddling penguins might seem quite different to these seabirds, they're quite alike in a number of ways. They share similarities in their skeletons, and both share distant relatives (great, great grandparents going back millions of years) that flew in the air.
Penguins can't fly in the air anymore. Instead, they "fly" through the water — and doing both well isn't an option.
For birds, water is a lot harder to fly through than air. But penguins have certain qualities that allow them to do this.
The wings of penguins are flippers. These are great for moving underwater, but not very helpful for flying above it. Their heavy bodies help them dive further and deeper so they can hunt for food. But being heavier makes flying in the air difficult.
While penguins' distant relatives were small seabirds, over many years they gave up flight to become professional swimmers. The bigger they were, and the stronger their bones, the better they could dive.
Because penguins have heavier and stronger bones than air-flying birds, this means their bones are less likely to break. It also means we are more likely to find them as fossils (what's left behind from ancient life) long after they die.
In fact, the bones of one kind of giant penguin (Kairuku waewaeroa) were discovered by school children.
Room To Grow
The asteroid that wiped out the dinosaurs (except birds!) 66 million years ago gave the distant relatives of penguins the perfect chance to go swimming.
Many of the animals that would have eaten them in the sea were gone, which meant they could go underwater without worrying about being eaten.
The oldest penguin bones we have belonged to birds that lived only a few million years after the asteroid hit, and come from Aotearoa, or New Zealand. These are similar to the bones of today's penguins, so we think penguins probably stopped flying in the air some time soon after the asteroid event.
Some of these first penguins were enormous. One was the gigantic Kumimanu biceae, which was probably 1.7 metres tall (the same size as many human adults).
Kumimanu may have been one of the largest penguins ever. It probably weighed 100kg, whereas the emperor penguin weighs less than half of that.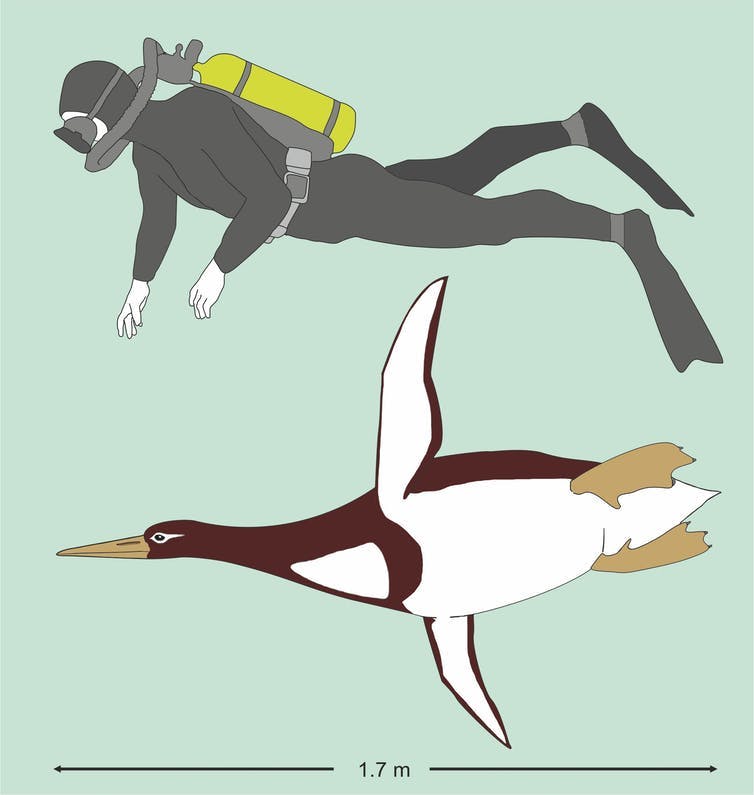 While many giant penguins lived in the millions of years after Kumimanu, the only penguin that may have been larger was the huge Palaeeudyptes klekowskii, which swam off the coast of Antarctica more than 34 million years ago. This penguin may have been two metres tall and weighed 115kg!.
As for what happened to giant penguins, they vanished about 15 million years ago and no one really knows why. There are still many questions, but with more fossil discoveries, we might find some answers!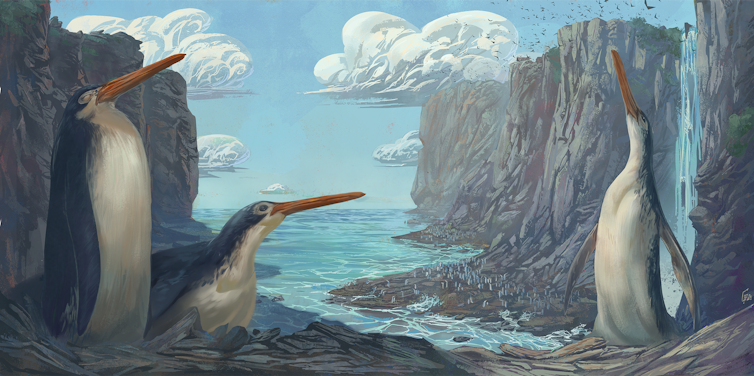 Jacob C. Blokland, Vertebrate Palaeontology PhD Candidate and Casual Academic, Flinders University
This article is republished from The Conversation under a Creative Commons license. Read the original article.
COTA CE's Corner March 2022: Election Time
Australia is now only weeks from a Federal Election, and COTA Australia has been working across all parties to push for the best possible policies for older people. The challenges are vast, and many of the differences are substantial, but we should be encouraged by the focus that many of our concerns are receiving. At the same time, we need to maintain caution about commentators misrepresenting the positions of different parties. While it is terrific to have older people getting the attention we deserve, the risk of being used as a political football is real.
As COTA Australia has been developing our policy agenda for the next term of government, some areas are clear. We need a commitment from all parties to implement the recommendations of the Aged Care Royal Commission in a timely fashion. The timetable for implantation matters, and the details are going to be important. There is a real risk of the current process of careful implementation being abandoned, and a slap-dash solution being applied. That would end in tears. Likewise, some of the big issues the government has not responded to need commitments. Aged Care workers need better training, better careers, and better pay, and we need more of them. The Government make clear that it will support and fund substantial across the board pay rises to be determined by the Fair Work Commission in the current work value case.
Retirement incomes are another policy area often contested at election. Much like in aged care, the theatrics can sometimes be far more damaging than useful. Instead of taking the wise words and insightful findings of the Retirement Income Review, many seem keener on fighting off fantasies. Neither the age pension, nor the family home, is at risk from either of the major parties… but there are ways the system should be improved. For example, paying superannuation during periods of carers' leave and parental leave would make the system fairer, and future retirements more secure.
Social inclusion, and ensuring people are not excluded because of lack of access to digital technology is a growing issue. Part of the problem is nobody taking responsibility for it. Australia does not have a whole-of-government ageing strategy. We should. This would include digital inclusion policies that ensure offline options are available, and supports are available to older people (and others) who want assistance to participate.
Finally, an issue that has stayed in the "not quite" basket for far too long… dental care. Bad teeth and gums are expensive, but not fixing them is even more expensive. The health of too many older Australians is being damaged by the lack of access to timely, affordable, high quality dental care throughout their lives. Dental health really should be part of Medicare. We will continue to push for major dental health policies from both parties this election year.
Dementia Patients Struggle To Cope With Change Because Of Damage To General Intelligence Brain Networks
People with dementia struggle to adapt to changes in their environment because of damage to areas of the brain known as 'multiple demand networks', highly-evolved areas of the brain that support general intelligence, say scientists at the University of Cambridge.
There are many different types of dementia, such as Alzheimer's disease and frontotemporal dementia (FTD), which are characterised by the build-up of different toxic proteins in different parts of the brain. This means that the symptoms of dementia vary, and can include problems with memory, speech, behaviour or vision. But one symptom seen across every type of dementia is a difficulty in responding to unexpected situations.
Dr Thomas Cope from the MRC Cognition and Brain Science Unit and Department of Clinical Neurosciences at the University of Cambridge said: "At the heart of all dementias is one core symptom, which is that when things change or go unexpectedly, people find it very difficult. If people are in their own environment and everything is going to plan, then they are OK. But as soon as the kettle's broken or they go somewhere new, they can find it very hard to deal with."
To understand why this happens, Dr Cope and colleagues analysed data from 75 patients, all of whom are affected by one of four types of dementia that affect different areas of the brain. The patients, together with 48 healthy controls, listened to changing sounds while their brain activity was recorded by a magnetoencephalography machine, which measures the tiny magnetic fields produced by electrical currents in the brain. Unlike traditional MRI scanners, these machines allow very precise timing of what is happening in the brain and when. The results of their experiment are published today in the Journal of Neuroscience.
During the scan, the volunteers watched a silent film -- David Attenborough's Planet Earth, but without its soundtrack -- while listening to a series of beeps. The beeps occurred at a steady pattern, but occasionally a beep would be different, for example a higher pitch or different volume.
The team found that the unusual beep triggered two responses in the brain: an immediate response followed by a second response around 200 milliseconds -- a fifth of a second -- a later.
The initial response came from the basic auditory system, recognising that it had heard a beep. This response was the same in the patients and healthy volunteers.
The second response, however, recognised that the beep was unusual. This response was much smaller among the people with dementia than among the healthy volunteers. In other words, in the healthy controls, the brain was better at recognising that something had changed.
The researchers looked at which brain areas activated during the task and how they were connected up, and combined their data with that from MRI scans, which show the structure of the brain. They showed that damage to areas of the brain known as 'multiple demand networks' was associated with a reduction in the later response.
Multiple demand networks, which are found both at the front and rear of the brain, are areas of the brain that do not have a specific task, but instead are involved in general intelligence -- for example problems solving. They are highly evolved, found only in humans, primates and more intelligent animals. It is these networks that allow us to be flexible in our environment.
In the healthy volunteers, the sound is picked up by the auditory system, which relays information to the multiple demand network to be processed and interpreted. The network then 'reports back' to the auditory system, instructing it whether to carry on or to attend to the sound.
"There's a lot of controversy about what exactly multiple demand networks do and how involved they are in our basic perception of the world," said Dr Cope. "There's been an assumption that these intelligence networks work 'above' everything else, doing their own thing and just taking in information. But what we've shown is no, they're fundamental to how we perceive the world.
"That's why we can look at a picture and immediately pick out the faces and immediately pick out the relevant information, whereas somebody with dementia will look at that scene a bit more randomly and won't immediately pick out what's important."
While the research does not point to any treatments that may alleviate the symptom, it reinforces advice given to dementia patients and their families, said Dr Cope.
"The advice I give in my clinics is that you can help people who are affected by dementia by taking a lot more time to signpost changes, flagging to them that you're going to start talking about something different or you're going to do something different. And then repeat yourself more when there's a change, and understand why it's important to be patient as the brain recognises the new situation."
Although their study only looked at patients with dementia, the findings may explain similar phenomena experienced by people living with conditions such as schizophrenia, where brain networks can become disrupted.
The research was funded by the Medical Research Council and National Institute for Health Research, with additional support from Wellcome, the Biotechnology and Biological Sciences Research Council and the James S McDonnell Foundation.
Dr Cope is a fellow at Murray Edwards College, Cambridge.
Thomas E. Cope, Laura E. Hughes, Holly N. Phillips, Natalie E. Adams, Amirhossein Jafarian, David Nesbitt, Moataz Assem, Alexandra Woolgar, John Duncan, James B. Rowe.
Causal evidence for the multiple demand network in change detection: auditory mismatch magnetoencephalography across focal neurodegenerative diseases.
The Journal of Neuroscience, 2022; JN-RM-1622-21 DOI:
10.1523/JNEUROSCI.1622-21.2022
Stealth Nanomedicines Combat Cancer And Cut Toxic Effects Of Chemo
Nanomedicines -- typically drugs hidden within nanoscopic fatty membranes ('liposomes') -- have potential to transform chemotherapy treatments, improving drug delivery and reducing toxic side effects for thousands of cancer patients every year.
Now, world first research conducted by the University of South Australia has identified that the frequently used chemotherapy drug (5-FU or Fluorouracil) is 100 per cent more effective at targeting tumours (rather than surrounding tissues) when administered using an optimised liposomal formulation.
Using a minimally invasive sampling technique known as micro-dialysis this is the first time that the biodistribution of 5-FU liposome formulations has been quantified in this way -- something that could not be achieved as effectively using current imaging approaches.
In Australia, about 150,000 new cases of cancer are diagnosed each year. It is a leading cause of death worldwide accounting for nearly 10 million deaths a year (nearly one in six deaths).
Chemotherapy is regularly used to treat many cancers, with 5-FU being an important drug used in treatment. Side effects of this drug can include nausea and vomiting, fatigue, hair loss, diarrhea or constipation, weight fluctuations, frequent infections, and mouth sores.
Lead researcher and co-Director at UniSA's Centre for Pharmaceutical Innovation, Professor Clive Prestidge, says the discovery could change the way chemotherapy is administered, providing a better quality of life for thousands of cancer patients.
"Chemotherapy is regularly administered to treat many different types of cancers, including breast and colon cancers, but one of the major setbacks of 5-FU is that it does not distribute well to tumour issues and can cause high levels of off-target damage," Prof Prestidge says.
"As a result, many patients suffer adverse effects and can get very sick during treatment.
"Liposomal formulations present great opportunities for safer and more effective cancer medications because they prolong the retention of encapsulated drugs and can better target tumours. But optimising them for chemotherapy drugs has always proved challenging.
"Our micro-dialysis approach is the first to quantify how liposomal-specific delivery of 5-FU can reduce tumour growth with fewer toxic side effects, so it has the potential to dramatically transform many cancer treatments and deliver better outcomes for people with cancer."
Wen Wang, Paul Joyce, Kristen Bremmell, Robert Milne, Clive A. Prestidge.
Liposomal 5-Fluorouracil Polymer Complexes Facilitate Tumor-Specific Delivery: Pharmaco-Distribution Kinetics Using Microdialysis.
Pharmaceutics, 2022; 14 (2): 221 DOI:
10.3390/pharmaceutics14020221
New Program Makes Access To Residential Aged Care Volunteers Easier Than Ever
The Australian Government has released a new residential aged care facilities (RACFs) program, to help address the decline in volunteer numbers during the COVID-19 pandemic.
The re-engaging volunteers into residential aged care facilities program allows RACFs to nominate themselves for non-clinical support staff.
The program recognises the importance of emotional support, companionship and tackling social isolation in senior Australians. Volunteers can assist in several ways, including:
leisure activities (e.g. reading, music)
access to and supervision in outdoor spaces or the community
physical activity and exercise
companionship, conversation and social engagement
mobilising support in aid of above activities
culturally specific and individually appropriate support
administration support (e.g. answering calls, internal message running, restocking of PPE).
To sign up or learn more information about the program, visit our
program page
.
Damage To Inner Ear System Predicts Fall Risk Among People With Alzheimer's Disease
A Johns Hopkins Medicine study of about 50 people with Alzheimer's disease has added to evidence that damage to the inner ear system that controls balance is a major factor in patients' well-documented higher risk of falling.
Overall, the researchers say, their study found that impairment of the vestibular system was linked to a 50% increase in the risk of falling for patients with Alzheimer's compared with patients who have Alzheimer's and normal vestibular function.
The study, published Feb. 14 in the Journal of Alzheimer's Disease, is believed to be one of the first to demonstrate the vestibular system as an important contributor to loss of balance and fall risk among the Alzheimer's population. Alzheimer's is a progressive neurological disease that destroys memory and other important mental functions. There is no cure, and although medications and management strategies can temporarily improve symptoms, falls contribute to substantial disability in patients, the investigators say.
"Falls are a major problem in people with Alzheimer's disease, who fall at twice the rate compared with healthy older adults, and this often leads to injury, nursing home placement and early mortality," says senior author Yuri Agrawal, M.D., professor of otolaryngology-head and neck surgery at the Johns Hopkins Medicine University School of Medicine. The new study, she says, was designed to better understand the root causes of the high fall rate and identify specific interventions to reduce it.
For the study, the research team recruited 48 people diagnosed with mild or moderate Alzheimer's who were seen at the Johns Hopkins Memory and Alzheimer's Treatment Center and the Johns Hopkins Alzheimer's Disease Research Center between March 2018 and January 2020. The mean age of participants was 65, and 27 were male. The team examined the link between vestibular impairment and falls in the patient cohort over a two-year period.
Impairment of the vestibular system, which consists of a group of canals and bony structures deep in the inner ear, is a common cause of dizziness, vertigo and balance issues, even in generally healthy people. Impairment causes these issues with higher frequency in older populations, so focusing on this system as a source of risk in patients with Alzheimer's made sense, investigators note.
Specifically, the researchers used devices that can track responses to eye and head movement to stimulate and mirror vestibular function. Subjects who had vestibular function impairment on these tests over time were 50% more likely to fall compared with individuals with normal vestibular function. Agrawal says that loss of vestibular function leads to an increased sway, causing unstable balance which in turn leads to more falls.
"We call the vestibular system the sixth hidden sense because it functions almost at a subconscious level. It's always 'on' and operates normally to keep us oriented as we move through space, sensing what's up and what's down and around us," Agrawal says. "The system automatically feeds that information to the brain as other sensory organs such as the eyes or ears do. But unlike closing one's eyes or plugging one's ears, people cannot wilfully control it. So, when its impaired, people experience vertigo, a disorienting, inability to navigate the world."
Agrawal says most Alzheimer's research has understandably focused on reducing or preventing memory loss and other cognitive impairment, but suggests that additional attention to the vestibular system has the potential to improve the quality of life of people with Alzheimer's.
"Vestibular impairment is treatable with balance exercises performed under the care of a physical therapist," she says. "That could enhance the quality of life for both patients and caregivers."
The research team says a clinical trial is already underway to assess the value of vestibular therapy in preventing falls in Alzheimer's patients.
Kevin Biju, Esther Oh, Paul Rosenberg, Qian-Li Xue, Paul Dash, M. Haroon Burhanullah, Yuri Agrawal.
Vestibular Function Predicts Balance and Fall Risk in Patients with Alzheimer's Disease.
Journal of Alzheimer's Disease, 2022; 1 DOI:
10.3233/JAD-215366
The Seekers; I'll Never Find Another You
Some Of The World's Lowest Rates Of Dementia Found In Amazonian Indigenous Groups
As scientists around the world seek for solutions for Alzheimer's disease, a new study reveals that two indigenous groups in the Bolivian Amazon have among the lowest rates of dementia in the world.
An international team of researchers found among older Tsimane and Moseten people, only about 1% suffer from dementia. In contrast, 11% of people age 65 and older living in the United States have dementia, according to the Alzheimer's Association.
"Something about the pre-industrial subsistence lifestyle appears to protect older Tsimane and Moseten from dementia," said Margaret Gatz, the lead study author and professor of psychology, gerontology and preventive medicine at the Center for Economic and Social Research at the USC Dornsife College of Letters, Arts and Sciences.
Researchers used computed tomography (CT) brain scan images, cognitive and neurological assessments and culturally appropriate questionnaires -- facilitated by a local team of trained translators and Bolivian physicians -- to diagnose dementia and cognitive impairment among the Tsimane and Moseten.
The study, published in Alzheimer's & Dementia: The Journal of the Alzheimer's Association, found only five cases of dementia among 435 Tsimane people and just one case among 169 Moseten age 60 and over.
In the same over-60 groups, the research team diagnosed about 8% of Tsimane and 10% of Moseten with mild cognitive impairment (MCI), which is typically marked by early stage memory loss or decline of other cognitive ability, such as language or spatial perception. The study's authors pointed out these rates are more comparable to MCI in high-income countries like the U.S.
Researchers were surprised to find that the study participants found to have dementia or MCI frequently had unusual and prominent calcifications of their intracranial arteries. These study participants frequently displayed parkinsonian symptoms during neurological examinations and cognitive deficits in attention, spatial awareness and executive functioning.
Although calcifications were more common among the cognitively impaired, researchers also observed these vascular calcifications in the CT scans of those without dementia or MCI. They say more research is needed to understand the role of vascular factors as well as infectious and inflammatory disorders -- which are highly prevalent in these populations -- along with other risks for dementia. To this end, the research team is currently returning to all the Tsimane and Moseten villages to revisit those who were previously assessed.
A Tsimane family travels upstream in the local river. (Photo/Courtesy of Michael Gurven, UC Santa Barbara)

Comparing dementia among Tsimane, Moseten and other indigenous peoples
The roughly 17,000 Tsimane remain physically very active throughout their lifespans as they fish, hunt and farm with hand tools and gather food from the forest. The 3,000 Moseten also reside in rural villages and engage in subsistence agricultural work. Unlike the more isolated Tsimane, they live closer to towns and have schools, access to clean water and medical services, and are more likely to be literate.
The study authors compared their results to a systematic review of 15 studies of indigenous populations in Australia, North America, Guam and Brazil. That earlier review found dementia prevalence ranging from 0.5% to 20% among indigenous older adults.
The fact that indigenous populations in other parts of the world have high rates of dementia may be due to a higher amount of contact with -- and adoption of lifestyles of -- their non-indigenous neighbors. They also face greater risks of diabetes, hypertension, alcohol abuse, obesity and cardiovascular disease.
These dementia risk factors are extremely low among the Tsimane and Moseten populations. Prior research published in The Lancet showed the Tsimane people have extraordinarily healthy hearts in older age and the lowest prevalence of coronary atherosclerosis (a disease that shows in the form of fatty deposits inside arteries) of any population known to science. This distinction may be linked to their subsistence lifestyle.
Another study published last year in The Journal of Gerontology -- led by USC assistant professor Andrei Irimia, also a co-author on the new publication -- found that the Tsimane experience less brain atrophy than their American and European peers.
Researchers say in contrast to the Tsimane, lifestyle factors in higher-income countries -- including lack of physical activity and diets rich in sugars and fats -- contribute to heart disease and may also accelerate brain aging.
A race for Alzheimer's disease solutions
Aging is the most important known risk factor for Alzheimer's and other dementias. Converging evidence points to low formal education, midlife hypertension and diabetes, cardiovascular diseases, physical inactivity and -- most recently -- air pollution as the major modifiable risk factors for dementia and Alzheimer's disease.
An aging global population, along with the proliferation of those modifiable risk factors, will lead to a tripling of the number of people with dementia worldwide by 2050, to more than 152 million, according to estimates.
"We're in a race for solutions to the growing prevalence of Alzheimer's disease and related dementias," said Hillard Kaplan, a study co-author and professor of health economics and anthropology at Chapman University who has studied the Tsimane for two decades. "Looking at these diverse populations augments and accelerates our understanding of these diseases and generate new insights."
"By working with populations like the Tsimane and the Moseten, we can get a better understanding of global human variation and what human health was like in different environments before industrialization," said Benjamin Trumble, a study co-author and an associate professor in the School of Human Evolution and Social Change and the Center for Evolution and Medicine at Arizona State University. "What we do know is the sedentary, urban, industrial life is quite novel when compared with how our ancestors lived for more than 99% of humanity's existence."
Margaret Gatz, Wendy J. Mack, Helena C. Chui, E. Meng Law, Giuseppe Barisano, M. Linda Sutherland, James D. Sutherland, Daniel Eid Rodriguez, Raul Quispe Gutierrez, Juan Copajira Adrian, Jesus Bani Cuata, Amy R. Borenstein, Ellen E. Walters, Andrei Irimia, Christopher J. Rowan, L. Samuel Wann, Adel H. Allam, Randall C. Thompson, Michael I. Miyamoto, David E. Michalik, Daniel K. Cummings, Edmond Seabright, Angela R. Garcia, Paul L. Hooper, Thomas S. Kraft, Caleb E. Finch, Gregory S. Thomas, Jonathan Stieglitz, Benjamin C. Trumble, Michael D. Gurven, Hillard Kaplan. Prevalence of dementia and mild cognitive impairment in indigenous Bolivian forager‐horticulturalists. Alzheimer's & Dementia, 2022; DOI:
10.1002/alz.12626
Heavy Water - Waynes World
published March 7, 2022 by Surfing Visions/ Tim Bonython
After returning home from 3 and half months at Nazare Portugal, 26 hours later i am lucky enough to score a very raw & angry Cape Solander. The East coast of Australia including Sydney has copped so much rain that its turned the ocean into a brown foam that's supposably not good for your health. This edit will show you the reason why. I spend the morning following Wayne Cleveland plus longtime OURS regulars Jesse Polock & James Adams. Plus local legend Kipp Caddy, Maxime Rayor, Zac Martin and backhand specialists Max McGuigan & Kirk Flintoff. Slab master Dylan Longbottom scores the bomb of the day and also tows his daughter Summa into a couple. They name this spot Cape Fear for a reason. Watch and you will understand why. Enjoy.
Word Of The Week: Worth
Word of the Week returns in 2022 simply to throw some disruption in amongst the 'yeah-nah' mix.
first known usage - pre 12th century
from Old English weorthan, related to Old Frisian wertha, Old High German werth, Old Norse verthr, Gothic wairths. Archaic; property, wealth. Excellence of character.
adjective
1. equivalent in value to the sum or item specified.
2. sufficiently good, important, or interesting to be treated or regarded in the way specified.
noun
1. the level at which someone or something deserves to be valued or rated.
2. the amount that could be achieved or produced in a specified time.
Premier's Reading Challenge Now Open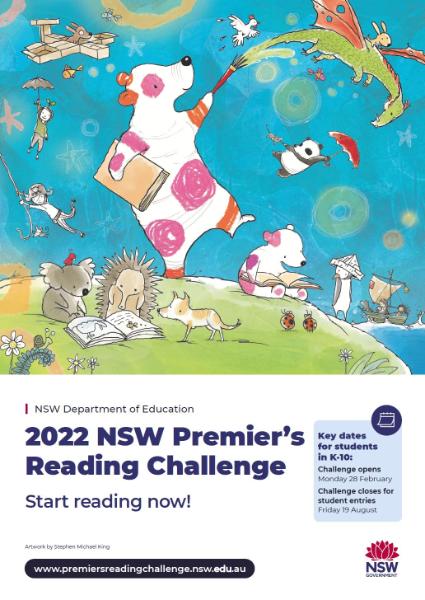 The Premier's Reading Challenge marks its 21st anniversary starting this year, with children encouraged to join the party - by reading lots of books!
The Challenge aims to encourage a love of reading for leisure and pleasure in students, and to enable them to experience quality literature.
First started in 2002, the Challenge has grown in both student participation and completion numbers every year since its inception.
Premier Dominic Perrottet said despite disruptions from COVID-19 in 2021, participation in the Challenge was up almost 3 per cent (440,000 students) with individual books read reaching almost 9 million.
"It's wonderful to see that the Challenge continues to grow, encouraging generations to enjoy reading," Mr Perrottet said.
"The challenge encourages students to extend reading beyond the classroom where they can read for pleasure and knowledge."
Minister for Education and Early Learning Sarah Mitchell said this year's motto "stories that stay with you" was very suitable following the years we have had.
"Reading is so beneficial for students' lives, it sharpens their knowledge and strengthens writing and vocabulary – but just as importantly it makes for happier, more creative kids who take that with them into adulthood," Ms Mitchell said.
"Reading is a gift that unlocks future success for students. I'm excited for this year's challenge to start."
New booklist update
The first new booklist update for 2022 is
now available
, with 230 new titles added for students to read as part of the challenge.
The Premier's Reading Challenge begins on Monday, 28 February and is
open for student entries until Friday, 19 August.
Students from government, independent, Catholic and home schools in Kindergarten to Year 10 can participate.
Young And Emerging Artists Showcase Talents At MAG&M
Talented young artists from across the Northern Beaches will showcase their work at the Manly Art Gallery & Museum from 25 March until 1 May 2022.
The annual Express Yourself exhibition features the works of over 50 HSC Visual Art students.
Northern Beaches Mayor Michael Regan commended the 2021 cohort of visual art students who produced outstanding works during a very challenging period.
"We are proud to display these impressive artworks from such talented and resilient young artists at Manly Art Gallery & Museum," Mayor Regan said.
"Express Yourself features a broad range of expressive artforms that explore contemporary issues such as isolation, gender identity and the environment.
"The exhibition showcases the very best from our high-quality secondary schools, attracts new and younger audiences to our regional gallery and helps to nurture and inspire the next generation of local artists."
The winners of the $5,000 Theo Batten Bequest Youth Art Award and the $3,000 Manly Art Gallery & Museum Society Youth Art Award will be announced on Friday 25 March. These two awards are granted annually to students featured in the exhibition.
Visitors are encouraged to vote for their favourite artwork in the KALOF People's Choice Award which is announced at the end of the exhibition period.
Three awards are granted annually to students featured in the exhibition: MAG&M Society Youth Art Award, Theo Batten Bequest Youth Art Award and KALOF People's Choice Award.
Participating schools:
Barrenjoey High School
Covenant Christian School
Davidson High School
Forest High School
Killarney Heights High School
Mater Maria College
Narrabeen Sports High School
NBSC - Balgowlah Boys Campus
NBSC - Cromer Campus
NBSC - Freshwater Senior Campus
NBSC - Mackellar Girls Campus
NBSC - Manly Selective Campus
Northern Beaches Christian School
Oxford Falls Grammar School
Pittwater High School
St Augustine's College
St Luke's Grammar School
St Paul's Catholic College
Stella Maris Catholic College
The Pittwater House Schools
Exhibition: 25 March - 1 May 2022, 10am - 5pm daily (excluding Mondays)
PUBLIC PROGRAMS:
MAG&M Society preview
Friday 25 March, 9 – 10am
MAG&M Society members are invited to a special preview of Express Yourself 2022.
Friday 25 March, 5.30 – 6.30pm
Teachers are invited to a special preview of Express Yourself 2022. Be inspired by the extraordinary creative talent of over 50 young emerging artists from the 20 secondary schools on the Northern Beaches.
Tuesday 29 March, 10 – 11am
Enjoy a special guided tour by MAG&M exhibition curator Bronwen Davies, of selected works by HSC Visual Art students from the 20 secondary schools across the Northern Beaches.
GALLERY DETAILS:
Manly Art Gallery & Museum
West Esplanade Reserve, Manly NSW 2095
Open Tue – Sun, 10am – 5pm (closed Mondays & Public Holidays)
Free entry
T: 02 9976 1421
E: artgallery@northernbeaches.nsw.gov.au
Instagram: magamnsw
www.magam.com.au
Ocean Film Festival World Tour 2022
Avalon Friday 25 Mar 6:30pm - TICKETS
39 Old Barrenjoey Rd, Avalon Beach
Designed to mesmerise and enthral, the Ocean Film Festival World Tour showcases a 3 hour celebration of our oceans comprised of sublime footage taken above and below the water's surface. This unique collection of short films from around the globe document the beauty and power of the ocean, and celebrate the divers, surfers, swimmers and oceanographers who live for the sea's salt spray; who chase the crests of waves; and who marvel at the mysteries of the big blue.
The films feature captivating cinematography, complete with awe-inspiring underwater scenes and fast-paced wave sequences that have been captured from unbelievable vantage points.
Inspiring and thought-provoking, the Ocean Film Festival World Tour is filled with moving footage, touching interviews and insightful narrations. Each of the festival's films conveys a deep respect and appreciation for the world's oceans and the creatures that call them home.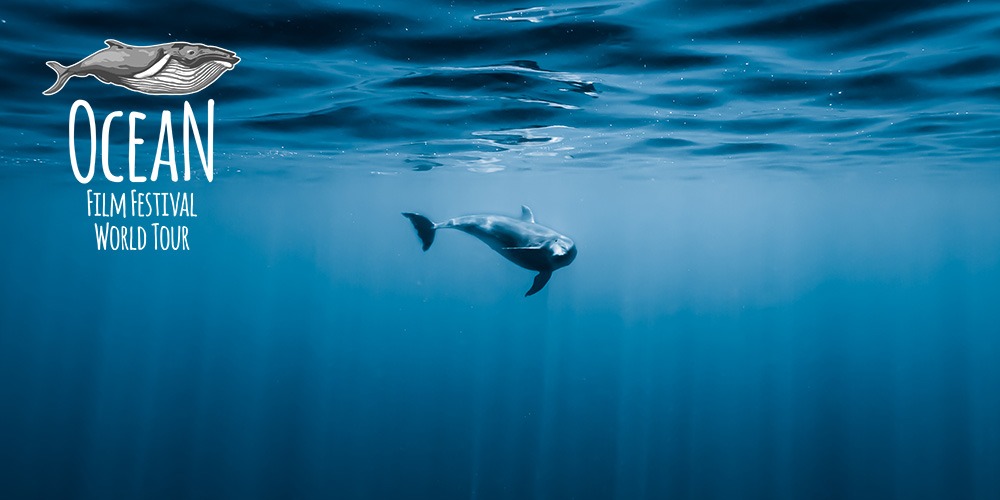 SORRY NO REFUNDS : SEATING IS NOT ALLOCATED.
In the event of a COVID lockdown, this event will be postponed and your tickets will be automatically transferred to the new date. You will receive an email confirming this change. If you can't make the new date you will be offered a refund.
Photo credit: John Kowitz @j.kowitz
Military History Lesson On Offer For Students
Students studying modern history can now apply for a Premier's Anzac Memorial Scholarship, which will provide opportunities to develop their knowledge and understanding of the history of Australians at war.
Premier Dominic Perrottet said up to 20 selected students would join a two-week study tour to significant historical sites to learn about the service of Australian men and women in the World Wars and other conflicts.
"This offers a unique learning experience that complements the NSW History Syllabus, which enhances and reflects on history studies in the classroom," Mr Perrottet said.
"I encourage students in Year 10 and 11 with a keen interest in history to apply as this is a hands-on learning opportunity to represent their school and community."
Minister for Transport and Veterans David Elliott said the 2022 study tour will take place during the Term 3 school holidays (26 September to 7 October) and will visit locations in Sydney, regional NSW and the ACT.
"The tour will be accompanied by a military historian to teach students about our nation's military past and help them understand the importance of commemoration," Mr Elliott said.
"This is an especially important tour in 2022, a year that commemorates 80 years since our veterans fought for our freedom during the Second World War."
One of the 2021 scholars, Ryan Muscat from Marian Catholic College Kenthurst, described the tour as truly incredible.
"It was a once in a lifetime experience, not just because of the fascinating stops but the friendships that I made with my fellow scholars," Ryan said. "It helped me to better appreciate the breadth and scale of sacrifice that personnel from NSW have made in the defence of Australia and how our state's role continues to evolve."
Eligible students can apply online by submitting a short personal essay, a letter of recommendation, a parent consent form and a copy of a marked history assignment.
Registrations close on 28 March 2022.
Bruno Mars - Just The Way You Are (2010)
"Just the Way You Are" is the debut solo single by American singer-songwriter Bruno Mars. It is the lead single from his debut studio album, Doo-Wops & Hooligans (2010). The song was written by Mars, Philip Lawrence, Ari Levine, Khalil Walton and Needlz and produced by the former three, under their alias, the Smeezingtons along with Needlz. It was released in the United States to contemporary hit radio on August 10, 2010. The track was released in the United Kingdom on September 19, 2010, as "Just the Way You Are (Amazing)". The song's lyrics compliment a woman's beauty.
The debut single received mixed reviews from music critics, who praised the Smeezingtons' production but dubbed its lyrics as sappy and corny. It won Best Male Pop Vocal Performance at the 53rd Annual Grammy Awards. The song peaked at number one on the US Billboard Hot 100, Australia, Canada, New Zealand and in the United Kingdom charts and peaked in the top five in other countries. It was certified thirteen times platinum by the Recording Industry Association of America (RIAA), seven times platinum by the Australian Recording Industry Association (ARIA) and diamond by Music Canada (MC). "Just the Way You Are" was the best-selling digital single of 2011, selling more than 12.5 million copies, thus joining an elite group of best-selling singles worldwide.
The music video, directed by Ethan Lader, was released on September 8, 2010, and features Peruvian born Australian actress Nathalie Kelley.
Maroon 5 - Moves Like Jagger Ft. Christina Aguilera (Band Edit - 2011)
"Moves Like Jagger" is a song by American band Maroon 5 featuring singer Christina Aguilera. It was released by A&M Octone Records on June 21, 2011, as the fourth and final single from the re-release of the group's third studio album Hands All Over (2010). The song was written by Adam Levine, Ammar Malik, Benny Blanco, and Shellback; the latter two are also the producers. "Moves like Jagger" is a disco and electropop song and is backed by synths and electronic drums. The lyrics refer to a male's ability to impress a love interest with his dance moves, which he compares to those of Mick Jagger, the lead singer of the Rolling Stones.
"Moves like Jagger" was well received by some music critics, who praised the song's chorus. Praise also went to the vocals of Levine and Aguilera, with critics pointing out solid chemistry between the two. Likewise, the song was a commercial success, going on to top the charts in over 18 countries. In the United States, "Moves like Jagger" became the band's second (after 2007's "Makes Me Wonder") and Aguilera's fifth number-one single and is among the best-selling singles of all time. The song also made Aguilera the second female artist to score a number-one hit in the 1990s, 2000s, and 2010s, which in turn made her the fourth woman to score number-one singles in three different decades.
The music video was directed by Jonas Åkerlund. The video features old video footage of Jagger and his iconic dance moves. "Moves like Jagger" was nominated for a Grammy Award for Best Pop Duo/Group Performance at the 54th Grammy Awards but lost to "Body and Soul" by Tony Bennett and Amy Winehouse. The song was first performed in June 2011 on an episode of The Voice (where Levine and Aguilera both served as coaches).
Internationally, the song was the ninth-best-selling digital single of 2011 with sales of 7 million copies.[2] After Wham!'s "Last Christmas" finally topped the charts in 2021, "Moves like Jagger" became the UK's biggest-selling single never to top the charts. The song was certified Diamond by the Recording Industry Association of America (RIAA) in 2021.[
TAFE NSW Helps Young Newport Student Gain Foothold In Tourism And Events Industry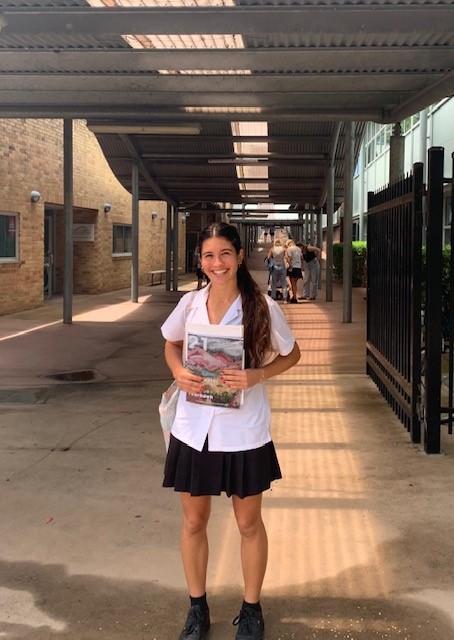 March 8, 2022
TAFE NSW is helping school leavers kick-start their careers in the travel, events and tourism industry with credit towards their HSC.
According to data released by the Australian Industry and Skills Committee, employment levels in the Events sector are projected to almost double in the next three years - from 25,900 in 2021 to 46,900 by 2025.[2]
Newport local and TAFE NSW Northern Beaches student Esme Sergi finished first in the state in the HSC Tourism, Travel and Events Examination. She studied a Certificate III in Events at TAFE NSW Northern Beaches while completing her HSC at Northern Beaches Secondary College Freshwater Senior Campus.
"I decided to study this course at TAFE NSW as I was very interested in learning the logistics of an event, and gaining real-world practical skills in tourism and travel as part of my HSC," Esme said.
"I wanted to learn about the industry, in the hope that it will eventually help me in a future career in events management."
Esme took on a range of volunteer roles and work experience to understand the concepts involved in working in the industry. Now that she's finished her HSC, she's already landed a job working at The Boathouse in wedding events. She's continuing her studies in 2022 with the Diploma of Event Management at TAFE NSW.
"My experience of studying travel, tourism and events at TAFE NSW during year 11 and 12 was a very positive and enjoyable one.
"The teachers were all very supportive and knowledgeable, I was able to meet many new friends and I enjoyed learning both in the classroom and through practical work experience opportunities."
TAFE NSW Team Leader of Tourism, Travel and Events, Maryanne Metry said Esme's state-topping result in the HSC was a testament to her commitment to excellence in the tourism and events industries.  
"Esme's exceptional results in the HSC reflect not just her hard work and dedication, but also the quality, hands-on training TAFE NSW provides students to help them reach their career ambitions and ensure we have a skilled and capable workforce of the future," Ms Metry said. 
"I have no doubt Esme will go on to be a great ambassador for TAFE NSW and enjoy a successful career in the events industry."
TAFE NSW offers over 40 Vocational Education and Training (VET) courses to study as part of the HSC in areas including animal studies, plumbing, automotive, maritime operations, IT, hospitality, and fitness.
NSW Residents In Hospital With Japanese Encephalitis
March 7-10, 2022
NSW Health can confirm two people with Japanese encephalitis virus (JEV) are currently being treated in hospital and is continuing to urge the public to be vigilant and safeguard themselves against mosquito bites.
Both people are residents of the NSW-Victoria border region – a man from the Corowa area and a child from the Wentworth area in the far south west of NSW. They are both currently being treated in hospitals in Victoria. The man remains in a serious condition in ICU. The child has been discharged from ICU but continues to receive hospital care due to the serious nature of their illness.
On March 9, sadly, NSW Health can confirm a man from the Griffith region who was aged in his 70s died in a Sydney hospital on February 13. Post-mortem testing subsequently found he had contracted the JE virus, which was confirmed today (Wednesday). NSW Health expresses its sincere condolences to his loved ones.
A fourth NSW resident was confirmed to have Japanese encephalitis (JE) on Thursday, March 10.
Several more people in NSW are undergoing further testing for JE, and more cases are expected to be confirmed over the coming days and weeks.
Locally acquired cases of JE have never previously been identified in NSW in animals or humans. Since late February 2022, the JE virus has been confirmed in samples from pig farms in NSW, Queensland, Victoria and South Australia.
JEV is a viral illness spread by mosquitoes. It can infect animals and humans and has been confirmed in samples from a number of pig farms in regional NSW.
The virus cannot be transmitted between humans, and it cannot be caught by eating pork or pig products. Locally acquired cases of JEV have never previously been identified in NSW in animals or humans.
Mosquito control activities are being carried out in the vicinity of farms where pigs are confirmed to have been infected by JEV and NSW Health is arranging vaccination of workers on affected farms.
There is no specific treatment for JEV, which can cause severe neurological illness with headache, convulsions and reduced consciousness in some cases.
Dr Marianne Gale, NSW Health Acting Chief Health Officer, said the best thing people throughout the state can do to protect themselves and their families against JEV is to take steps to avoid mosquito bites.
"We are working closely with the NSW Department of Primary Industries and other states and territories to determine the extent to which the virus is circulating," Dr Gale said.
'Unfortunately, our recent wet weather has led to very high mosquito numbers, so we need the community to be particularly vigilant and take steps to avoid mosquito bites.
"We know mosquitoes are most active between dusk and dawn, and we need people planning activities near waterways or where mosquitoes are present to be especially cautious, particularly those in the vicinity of the Murray River and its branches."
Simple actions you can take to avoid mosquito bites include:
Avoid going outdoors during peak mosquito times, especially at dawn and dusk.
Wear long sleeves and pants outdoors (reduce skin exposure). Also wear shoes and socks where possible. There are insecticides (e.g. permethrin) available for treating clothing for those spending extended periods outdoors.
Apply repellent to all areas of exposed skin, especially those that contain DEET, picaridin, or oil of lemon eucalyptus which are the most effective against mosquitoes. The strength of a repellent determines the duration of protection with the higher concentrations providing longer periods of protection. Always check the label for reapplication times.
Reapply repellent after swimming. The duration of protection from repellent is also reduced with perspiration, such as during strenuous activity or hot weather so it may need to be reapplied more frequently.
Apply the sunscreen first and then apply the repellent. Be aware that DEET-containing repellents may decrease the sun protection factor (SPF) of sunscreens so you may need to re-apply the sunscreen more frequently.
For children in particular - most skin repellents are safe for use on children aged three months and older when used according to directions, although some formulations are only recommended for children aged 12 months and older - always check the product. Infants aged less than three months can be protected from mosquitoes by using an infant carrier draped with mosquito netting that is secured along the edges.
Be aware of the peak risk times for mosquito bites. Avoid the outdoors or take preventive actions (such as appropriate clothing and skin repellent) between dawn and dusk when most mosquitoes become active, especially close to wetland and bushland areas.
If camping, ensure the tent has fly screens to prevent mosquitoes entering.
Mosquito coils and other devices that release insecticides can assist reducing mosquito bites but should be used in combination with topical insect repellents.
Reduce all water holding containers around the home where mosquitoes could breed. Mosquitoes only need a small amount of liquid to breed.
For further information on mosquito-borne disease and ways to protect yourself go to
Vector borne disease resources
.
Fact sheets on specific mosquito-borne diseases, including Japanese encephalitis Ross River virus and Barmah Forest virus, are available at
Vector borne disease fact sheets
.
$69 Million For Japanese Encephalitis Virus (JEV) Response
March 11, 2022: The Hon Greg Hunt MP, Minister for Health and Aged Care
The Australian Government will invest $69 million to control the spread of the Japanese encephalitis virus (JEV).
Program initiatives aim to prevent exposure to the disease through vaccination and mosquito management systems, to protect people and animals most at risk during the current outbreak.
A multiportfolio response will implement control and public health measures. Key elements of the control package include:
$28.18 million to purchase additional JEV vaccines – to be available from late March and into April
$17.5 million to support jurisdictions with mosquito surveillance and control activities
$5 million for public health communication to ensure people are aware of risk and how to prevent infection
$3.5 million for essential supplies to ensure sustained laboratory capacity and capability to test for JEV in humans
$4 million to support enhance surveillance activities, such as modelling, geospatial analysis and conducting a serosurvey to better understand and map areas with higher risk of a JEV outbreak
$10 million for DAWE will enable support to state and territory agriculture departments in their response to this emergency including surveillance.
Minister for Health and Aged Care, Greg Hunt, said there were currently 15 confirmed human cases of JEV in New South Wales, Queensland, South Australia and Victoria.
"Sadly, it has been confirmed two people, one in Victoria and one in NSW, have died of JEV and I offer my condolences to their families, friends and community," Minister Hunt said.
"This package will expand and enhance current mosquito control and surveillance strategies and continue our support to states and territories to limit the number of people and animals who are exposed to JEV.
"The Australian Government will also procure vaccines and distribute equitably to states and territories.
"The Communicable Diseases Network Australia (CDNA), in consultation with the Australian Technical Advisory Group on Immunisation (ATAGI), has prioritised people for vaccination with direct exposure or close-proximity to pigs and mosquitos, and those with high-level occupational exposures in the risk areas.
"There are other simple steps we can all take to prevent contact with infected mosquitos, such as using repellent containing picaridin or DEET on all exposed skin, wearing loose fitting clothing when outside, and ensuring that accommodation is properly fitted with mosquito nettings or screens."
There are two human JEV vaccines available on the Australian market, Imojev (Sanofi-Aventis Australia) and JEspect (Seqirus).
Imojev is a single dose vaccine which supports broad use and rapid vaccination, however it not suitable for pregnant women or people who are immunocompromised. JEspect, is given in two dose course and is suitable for most people who can't receive the Imojev vaccine.
State and Territory Public Health units are co-ordinating and implementing the priority vaccination program, with initial vaccinations underway.
Minister for Agriculture and Northern Australia and Deputy Leader of the Nationals, David Littleproud, said mosquito trapping and control is being conducted at all infected piggeries, with movement restrictions in place for properties in Victoria, Queensland, New South Wales and South Australia.
"JEV is a mosquito-borne viral disease that can cause reproductive losses in pigs and, in some cases, encephalitis in horses," Minister Littleproud said.
"Commercially produced pork meat or pork products are safe to consume and there are no food safety concerns.
"Our departments are working very closely with their state government counterparts and affected animal industries to ensure a swift and coordinated response.
"We are working with the pig industry to implement appropriate mosquito control measures and trapping and sampling.
"A national surveillance plan is being developed to identify and locate infected mosquitoes, birds, pigs—including feral pigs—horses and humans.
"Anyone who works with pigs or horses should be aware of this disease and protect themselves from being bitten by mosquitos.
"If you suspect an animal is showing signs of the disease, you must report it by contacting your local veterinarian or calling the national Emergency Animal Disease Watch.
"You should also take steps to protect your animals from mosquitoes—for instance, by applying a safe insect repellent and putting a summer rug on horses."
JEV was declared a Communicable Disease Incident of National Significance on March 4 2022 by the Chief Medical Officer.
Landmark Agreement Begins A New Era For Mental Health Care In NSW
More than $383 million will be invested into mental health and suicide prevention support and services in New South Wales over the next five years, following the signing of a new bilateral agreement between the Commonwealth and NSW governments.
This agreement and additional funding will ensure NSW residents are guaranteed the essential services they need and deserve.
The funding includes:
$121.3 million for universal aftercare services in New South Wales to support individuals following a suicide attempt and / or suicidal crisis.
$106.1 million will be invested into headspace to substantially expand and enhance services, ensuring it can reach more young people across the state.
$84.5 million to establish 14 new adult Head to Health treatment centres, including five new centres and nine satellite centres across the state.
$35.9 million to establish Head to Health Kids Hubs to improve access to multidisciplinary team care for children
$15.7 million to improve perinatal mental health screening and enhance capture and reporting of national consistent perinatal mental health data.
$14.7 million to ensure all people in New South Wales who are bereaved or impacted by suicide can access postvention support services.
$4.9 million to implement a Distress Intervention Trial Program to prevent and reduce suicidal behaviour.
In addition to these initiatives, the Commonwealth and NSW governments will substantially deepen their partnership in the mental health and suicide prevention system, through greater data sharing and evaluation of services, closer integration of referral pathways, and working together on the regional planning and commissioning of services. The bilateral agreement will also build and support the mental health and suicide prevention workforce, including the peer workforce.
NSW will become the first state in the country to commit to ongoing universal aftercare for residents discharged from hospital following a suicide attempt. Two trial sites will also be established in NSW for aftercare services for people who have experienced a suicidal crisis without being admitted to hospital.
Young Australians across NSW will also have better access to mental health services, with headspace receiving a significant boost in funding to substantially expand and enhance services.
By the end of 2026, staffing levels will be increased at 31 headspace services across NSW, and three new centres will be established.
These services will be well integrated with local NSW services to ensure a supportive transition for those experiencing severe and complex mental ill health.
Fourteen new adult Head to Health treatment centres will also be established, including five new centres and nine satellite centres across the state, operating under a 'no wrong door approach'.
This is in addition to the state's first Head to Health centre that opened in Penrith late last year and will continue to support Australians in the 'missing middle' and those who are too unwell for the general primary care system but not unwell enough to require inpatient hospital services or intensive state-based community care.
Care will be delivered by multidisciplinary teams consisting of psychiatrists, general practitioners, psychologists, alcohol and drug specialists, mental health nurses, social workers, occupational therapists, mental health workers and lived experience workers.
To support children aged 0-12 years, the Morrison and Perrottet Governments will establish four Head to Health Kids mental health and wellbeing centres. These centres will provide multidisciplinary support for infants, children and their parents, and improve early intervention outcomes for children's mental health.
Other key initiatives include state-wide postvention support for families and carers who have been bereaved by suicide, additional perinatal mental health support for new and expectant parents, and the establishment of two distress intervention trials to reach people in crisis earlier and provide immediate support.
Implementation of these initiatives will be informed by people with a lived experience of mental ill-health and suicide, including their carers and families. This will be important to achieving a mental health and suicide prevention system that is person-centred and consumer focused.
Minister for Health and Aged Care, Greg Hunt said the agreement will ensure people in NSW will have access to more support, when and where they need it.
"This landmark partnership between the Commonwealth and NSW will have a significant impact on the lives of many Australians across the state, including young Australians and children, who have been impacted by the COVID-19 pandemic," Minister Hunt said.
NSW Minister for Women, Regional Health and Mental Health said this investment will support the NSW Government's efforts to work towards its ambitious target of zero suicides.
"From launching the world's largest suicide prevention training program to opening 20 Safe Havens as places of safety and refuge for those in distress, we're serious about reducing the heartbreaking impact of suicide in NSW. This landmark agreement with the Commonwealth Government will help us to open more services in regional areas that bear a significant amount of that pain and loss," Mrs Taylor said.
"I commend the Prime Minister and Ministers Hunt and Coleman for their commitment to supporting the mental health and wellbeing of NSW residents."
Assistant Minister to the Prime Minister for Mental Health and Suicide Prevention, David Coleman, said the bilateral agreement means NSW becomes the first state in Australia to commit to universal aftercare for all residents who are discharged from hospital following a suicide attempt.
"We know the risk of suicide is greatest in the days and weeks following discharge from hospital due to a previous suicide attempt, yet not everyone in this group receives follow up care. These people are amongst our most vulnerable, and through this agreement we are committing to do everything we can to support them."
The bilateral agreement forms part of the National Mental Health and Suicide Prevention Agreement, which has been endorsed in-principle by the Commonwealth and all state and territory governments and is expected to be finalised in the coming weeks.
The National Agreement considers key mental health reports and inquiries including recommendations from the Productivity Commission's Inquiry into Mental Health and the National Suicide Prevention Adviser's Final Advice. It outlines actions to build a comprehensive, coordinated, consumer focused and compassionate mental health and suicide prevention system to support all Australians.
The National Agreement will clarify roles and responsibilities; progress improvements in the mental health services available to adults, children and youth; improve data collection, sharing and evaluation; reduce gaps in the system of care; expand and enhance the workforce, including the peer workforce; and work to improve mental health and suicide prevention for all Australians, across a range of settings.
The Commonwealth continues to negotiate similar bilateral arrangements with all other states and territories.
The Morrison Government has invested a historic $2.3 billion in the National Mental Health and Suicide Prevention Plan through the 2020-21 Budget to deliver significant reform of the mental health system and ensure that all Australians have access to high quality, person-centred care as we emerge from the COVID-19 pandemic.
This brings the health portfolio expenditure in mental health and suicide prevention services and supports in 2021–22 to a record high of $6.5 billion.
Australians needing support throughout the COVID-19 pandemic can access the Beyond Blue Coronavirus Wellbeing Support Service any time via telephone at 1800 512 348 or online at coronavirus.beyondblue.org.au
Anyone experiencing distress can also seek immediate advice and support through Lifeline (13 11 14), Kids Helpline (1800 55 1800), or the Government's digital mental health gateway, Head to Health.
If you are concerned about suicide, living with someone who is considering suicide, or bereaved by suicide, the Suicide Call Back Service is available at 1300 659 467 or www.suicidecallbackservice.org.au
Young Australians needing support can access free services through Kids Helpline (1800 55 1800), their local headspace or online through eheadspace (https://headspace.org.au/eheadspace/).
National Science Week 2022 Grants Announced: NSW Events List
A quantum technology road trip, robotics competitions and an inflatable digestive system 'poo palace' are just some of the science projects being supported by the Federal Government's 2022 National Science Week grants.
The 2022 school theme for National Science Week is 'Glass: More than meets the eye' and is based on the UN International Year Of Glass. National Science Week 2022 will run from 13-21 August.
Those announced for NSW include:
Western Sydney Parklands Trust
Why do we need to recycle? Where does my food come from? Why is it dangerous for us if coral dies? Who restores habitats and why is it important?
In a series of workshops and activities presented by Sydney's science community, Science in the Scrub will answer these questions through hands-on experiments, stimulating curiosity in a new generation of scientists. It's a free, outdoor family and community event, held in the midst of the nature of the Cumberland Plain Woodlands of Western Sydney.
Project/event locations: NSW & online
Indigenous Science Experience @ Redfern
What can Aboriginal astronomy tell us about the night sky? How is our native flora used in bush medicine and soap making? How do Indigenous Australians make axes from stone and other artefacts? What can deadly science tell us about seaweed, birdlife, engineering, textiles, and more? What can we learn about sustainable living from 60,000+ years of Indigenous culture?
The Indigenous Science Experience at Redfern is a celebration of Indigenous and Western science, and Indigenous youth and Elder achievements. This four-day event at the Redfern Community Centre will demonstrate the value of traditional and contemporary Indigenous knowledge in science and technology, and the relevance of science to our everyday lives. Indigenous students from National Indigenous Science Education Program (NISEP) partner schools will assist in demonstrating activities.
Project/event location: NSW
Science in the Swamp – Dinosaurs and Superpowers
Centennial Park & Moore Park Trust
Which animals are the fastest, the strongest, have the best vision, or the best hearing? Learn the science of nature's superpowers, wander the wetlands, try daytime astronomy, ID a frog, meet Centennial Park's bats, and learn about Indigenous knowledge from Deadly Ed. Science in the Swamp returns to Centennial Parklands for a free, outdoor family and community event celebrating science and providing a range of diverse and exciting hands–on science activities accessible for all ages.
Science in the Swamp is a partnership between Centennial Parklands and a series of science exhibition providers.
Project/event location: NSW
Discover local Sea Country Stories by visual experiences such as sitting in a bark canoe, spearfishing flounder by Moon phases, and using Indigenous astronomy to understand the seasons. Guests will be immersed in virtual experiences (360 videos, drone and virtual reality) that celebrate Australian Indigenous marine science with stories from around the country. Cultural icon and Ngarrindjeri elder Uncle Major Moogy will guide participants in their ocean literacy journey and inspire the next generation of Sea Country custodians.
Project/event location: SA
The Mobile Poo Palace – An inside look at the digestive system
Hunter Medical Research Institute
Follow the food and take a tour of the digestive system in the oversized, inflatable Mobile Poo Palace. Interactive food experiments will inspire and engage students as they learn about digestion, gut health, medical research, the human body, and water treatment.
Touring schools, farmer's markets and community centres in the Hunter region, this portable giant installation is a series of rooms and tunnels that mimic the journey food takes along the digestive tract, with hands-on experiments and educational experiences along the way.
Project/event location: NSW
Sustainable Fishing for a Big Blue Future
Marine Stewardship Council
Many Australians love seafood or love fishing – how do we make sure we're not having too much of a good thing? Four Marine Stewardship Council-certified fisheries are drawing on marine science and innovation to play their part in combatting overfishing, reducing bycatch and maintaining healthy aquatic ecosystems. Shoppers can play their part by learning what to look for when buying seafood.
Find out about sustainable fishing from the fishers and marine conservation experts involved with:
The Northern Prawn Fishery in Darwin, Northern Territory
Goolwa Pipis Fishery in Adelaide, South Australia
Geraldton Fishermen's Co-operative Ltd in Geraldton, Western Australia
Mures Tasmania in Hobart, Tasmania
Project/event locations: NSW & online
Gardening below the surface: restoring seagrass with Operation Posidonia
Sydney Institute of Marine Science
The NSW coastline has endangered underwater seagrass meadows badly in need of restoration. Posidonia australis seagrass meadows provide habitat for native aquatic species, improve water quality, help stabilise the seabed, and can capture carbon up to 35 times faster than tropical rainforests.
Experts from Operation Posidonia share the science behind the restoration of these habitats in NSW estuaries through workshops, a field trip and collaborative art projects. Focusing on underwater seagrass meadows found in two of NSW's most developed coastal areas, the project equips participants with the knowledge and skills to become active citizen scientists in their own communities.
Project/event locations: NSW & online
Pocket Astronomy in Pocket-Sized Towns
What do towns have that the city lacks? Darker skies and a better view of the Milky Way!
Bright young Macquarie University astronomy and astrophysics students will tour four towns in four days, equipped with a portable planetarium, telescopes and astronomical expertise. Students and university staff will deliver planetarium shows, science outreach talks and evening telescope viewings to these regional communities. Participants will also learn about light pollution, preserving the night sky, and Warrumbungle National Park – Australia's first 'Dark Sky Park'.
Each town will receive a telescope as a gift, along with training on their use so that communities can continue to explore the stars.
Project/event location: NSW
Inspiring the MidCoast with eDNA Science
Manning Valley Neighbourhood Services
What and who is lurking in the waters of the Manning River? Community DNA detectives will help scientists find DNA fragments in water samples to help detect fish, crayfish, eels, riverine frogs, rakali, platypus and the threatened Manning River turtle.
Expert university researchers will demonstrate the techniques of eDNA metabarcoding and involve community members in sampling waterways to survey their wildlife. The project will conclude with an interactive webinar and Q&A, where the participants will discuss the results of their surveys with university researchers and environmental practitioners, gaining a hands-on understanding of the natural environment.
Project/event locations: NSW & online
Girl Guides Association of NSW
Girls aged 10 to 17 from the ACT and surrounding area will get together for a Science Camp with researcher role models for fun demonstrations, hands-on workshops, nighttime astronomy, and even a bit of personalised lab-coat decorating.
Greenlight for Girls (g4g) is an international initiative to inspire girls to pursue their studies in science, technology, engineering and mathematics. The girls who take part in the g4g workshops will do activities that demonstrate the links between science and everyday life. In the process, they'll meet fellow science-enthusiasts their own age from different schools and backgrounds, build their confidence, and hear stories from women in science role models.
Project/event location: ACT
Another Antarctica: Envisaging Antarctic Futures
Antarctica affects the global climate and climate change is affecting Antarctica. For most people, it's an alien landscape, but it's also full of life and a vital barometer for climate change.
Another Antarctica: Envisaging Antarctic Futures is an interactive exhibition that presents Antarctic science, policy and different perspectives in a gallery space. It brings researchers and artists together to imagine potential futures for this important ecosystem. Guests will learn about Antarctic research with a series of interactive presentations and workshops within the gallery. Children and teenagers can also discover Antarctica on their own with hands–on scientific and artistic activities run by scientists and artists.
Project/event location: NSW
Reading Builds Resilience Among At-Risk Kids; New Australian Study
As children settle back into a new school year, families are being encouraged to read to their children at home, as new research from the University of South Australia shows that reading aloud can triple a child's resilience at school, particularly for children at-risk.
Focussing on early primary-aged children who had suffered abuse or neglect, the study explored factors that could modify the negative effects of adverse life circumstances, finding that one of the biggest predictors of resilience in both boys and girls in struggling families was being read to at home.
While reading to children at home has long been associated with school readiness and scholastic outcomes, this is the first study that has shown the benefits of reading to mitigate some of the detrimental trajectories of child maltreatment.
In Australia in 2021, nearly 300,000 children aged 0-17years had one or more child protection notifications with 105,000 the subject of an investigation and nearly 50,000 the subject of substantiated abuse or neglect.
The study found that victims of child maltreatment are generally more developmentally vulnerable than their peers at the start of school.
Lead researcher, Professor Leonie Segal says there is an acute need to support these children and their families, before the children start school, with reading being a key factor for success.
"A good start to school is predictive of later outcomes, so it's vital that we not only identify those at risk early on, but also find ways to support children's emotional, social and physical development, before they start school," Prof Segal says.
"Reading out loud can create many positive outcomes for children. As a shared experience between parent and child, it encourages connection, while also directly contributing to child development through exposure to words and stories.
"Children in families that are struggling to create a nurturing environment will especially benefit from reading with a parent or carer, improving their resilience and keeping them developmentally more on track, despite their adversity exposure."
The study analysed data covering 65,083 children who had completed the Early Australian Development Census (AEDC) at 5 to 6 years old, when starting primary school, identifying 3414 high-risk children who had experienced maltreatment.
Boys were found to be developmentally behind girls, particularly those who had been exposed to abuse or neglect.
Prof Segal says the education sector must look at strategies to better support boys in early learning environments.
"Our study found that boys had a much higher risk of being developmentally behind than girls, as did children living in remote or rural areas, and those with a physical, sensory, or learning disability. All these groups need far greater supports," Prof Segal says.
"Paying particular attention to boys, especially those who are victims of child maltreatment is critical. Encouraging parents to read to their boys while valuable, is not enough, the onus is on the education sector to identify other mechanisms to support boys."
"This could include recruiting more male educators into early childhood settings and ensuring learning approaches are sensitive to the specific needs of boys."
"Males currently make up less than five per cent of the early childhood education workforce, with their presence in primary schools also declining. Boosting the gender balance among educators could be an important step to helping boys."
"Understanding which attributes can help young children to be more resilient -- or conversely which factors can put them at greater risk -- can form the basis of interventions for child victims of maltreatment to improve life trajectories."
"Every child deserves the chance for a bright future. We must not overlook those most at risk."
Jason M. Armfield, Lesley-Anne Ey, Carole Zufferey, Emmanuel S. Gnanamanickam, Leonie Segal.
Educational strengths and functional resilience at the start of primary school following child maltreatment.
Child Abuse & Neglect, 2021; 122: 105301 DOI:
10.1016/j.chiabu.2021.105301
More Alcohol=Less Brain: Association Begins With An Average Of Just One Drink A Day
Even light-to-moderate drinking is associated with harm to the brain, according to a new study. Researchers analysed data from more than 36,000 adults that found a link between drinking and reduced brain volume that begins at an average consumption level of less than one alcohol unit a day -- the equivalent of about half a beer -- and rises with each additional drink.
The research, using a dataset of more than 36,000 adults, revealed that going from one to two drinks a day was linked with changes in the brain equivalent to aging two years. Heavier drinking was associated with an even greater toll. The science on heavy drinking and the brain is clear: The two don't have a healthy relationship. People who drink heavily have alterations in brain structure and size that are associated with cognitive impairments.
But according to a new study, alcohol consumption even at levels most would consider modest -- a few beers or glasses of wine a week -- may also carry risks to the brain. An analysis of data from more than 36,000 adults, led by a team from the University of Pennsylvania, found that light-to-moderate alcohol consumption was associated with reductions in overall brain volume.
The link grew stronger the greater the level of alcohol consumption, the researchers showed. As an example, in 50-year-olds, as average drinking among individuals increases from one alcohol unit (about half a beer) a day to two units (a pint of beer or a glass of wine) there are associated changes in the brain equivalent to aging two years. Going from two to three alcohol units at the same age was like aging three and a half years. The team reported their findings in the journal Nature Communications.
"The fact that we have such a large sample size allows us to find subtle patterns, even between drinking the equivalent of half a beer and one beer a day," says Gideon Nave, a corresponding author on the study and faculty member at Penn's Wharton School. He collaborated with former postdoc and co-corresponding author Remi Daviet, now at the University of Wisconsin-Madison, and Perelman School of Medicine colleagues Reagan Wetherill -- also a corresponding author on the study -- and Henry Kranzler, as well as other researchers.
"These findings contrast with scientific and governmental guidelines on safe drinking limits," says Kranzler, who directs the Penn Center for Studies of Addiction. "For example, although the National Institute on Alcohol Abuse and Alcoholism recommends that women consume an average of no more than one drink per day, recommended limits for men are twice that, an amount that exceeds the consumption level associated in the study with decreased brain volume,"
Ample research has examined the link between drinking and brain health, with ambiguous results. While strong evidence exists that heavy drinking causes changes in brain structure, including strong reductions in gray and white matter across the brain, other studies have suggested that moderate levels of alcohol consumption may not have an impact, or even that light drinking could benefit the brain in older adults.
These earlier investigations, however, lacked the power of large datasets. Probing massive quantities of data for patterns is the specialty of Nave, Daviet, and colleagues, who have conducted previous studies using the UK Biobank, a dataset with genetic and medical information from half a million British middle-aged and older adults. They employed biomedical data from this resource in the current study, specifically looking at brain MRIs from more than 36,000 adults in the Biobank, which can be used to calculate white and gray matter volume in different regions of the brain.
"Having this dataset is like having a microscope or a telescope with a more powerful lens," Nave says. "You get a better resolution and start seeing patterns and associations you couldn't before."
To gain an understanding of possible connections between drinking and the brain, it was critical to control for confounding variables that could cloud the relationship. The team controlled for age, height, handedness, sex, smoking status, socioeconomic status, genetic ancestry, and county of residence. They also corrected the brain-volume data for overall head size.
The volunteer participants in the Biobank had responded to survey questions about their alcohol consumption levels, from complete abstention to an average of four or more alcohol units a day. When the researchers grouped the participants by average-consumption levels, a small but apparent pattern emerged: The gray and white matter volume that might otherwise be predicted by the individual's other characteristics was reduced.
Going from zero to one alcohol units didn't make much of a difference in brain volume, but going from one to two or two to three units a day was associated with reductions in both gray and white matter.
"It's not linear," says Daviet. "It gets worse the more you drink."
Even removing the heavy drinkers from the analyses, the associations remained. The lower brain volume was not localized to any one brain region, the scientists found.
To give a sense of the impact, the researchers compared the reductions in brain size linked with drinking to those that occur with aging. Based on their modeling, each additional alcohol unit consumed per day was reflected in a greater aging effect in the brain. While going from zero to a daily average of one alcohol unit was associated with the equivalent of a half a year of aging, the difference between zero and four drinks was more than 10 years of aging.
In future work, the authors hope to tap the UK Biobank and other large datasets to help answer additional questions related to alcohol use. "This study looked at average consumption, but we're curious whether drinking one beer a day is better than drinking none during the week and then seven on the weekend," Nave says. "There's some evidence that binge drinking is worse for the brain, but we haven't looked closely at that yet."
They'd also like to be able to more definitively pin down causation rather than correlation, which may be possible with new longitudinal biomedical datasets that are following young people as they age.
"We may be able to look at these effects over time and, along with genetics, tease apart causal relationships," Nave says.
And while the researchers underscore that their study looked only at correlations, they say the findings may prompt drinkers to reconsider how much they imbibe.
"There is some evidence that the effect of drinking on the brain is exponential," says Daviet. "So, one additional drink in a day could have more of an impact than any of the previous drinks that day. That means that cutting back on that final drink of the night might have a big effect in terms of brain aging."
In other words, Nave says, "the people who can benefit the most from drinking less are the people who are already drinking the most."
Remi Daviet, Gökhan Aydogan, Kanchana Jagannathan, Nathaniel Spilka, Philipp D. Koellinger, Henry R. Kranzler, Gideon Nave, Reagan R. Wetherill.
Associations between alcohol consumption and gray and white matter volumes in the UK Biobank.
Nature Communications, 2022; 13 (1) DOI:
10.1038/s41467-022-28735-5
Physicists Discover Method For Emulating Nonlinear Quantum Electrodynamics In A Laboratory Setting
On the big screen, in video games and in our imaginations, lightsabers flare and catch when they clash together. In reality, as in a laser light show, the beams of light go through each other, creating spiderweb patterns. That clashing, or interference, happens only in fiction -- and in places with enormous magnetic and electric fields, which happens in nature only near massive objects such as neutron stars. Here, the strong magnetic or electric field reveals that vacuum isn't truly a void. Instead, here when light beams intersect, they scatter into rainbows.
A weak version of this effect has been observed in modern particle accelerators, but it is completely absent from our daily lives or even normal laboratory environments.
Yuli Lyanda-Geller, professor of physics and astronomy in the College of Science at Purdue University, in collaboration with Aydin Keser and Oleg Sushkov from the University of New South Wales in Australia, discovered that it is possible to produce this effect in a class of novel materials involving bismuth, its solid solutions with antimony and tantalum arsenide.
With this knowledge, the effect can be studied, potentially leading to vastly more sensitive sensors as well as supercapacitors for energy storage that could be turned on and off by a controlled magnetic field.
"Most importantly, one of the deepest quantum mysteries in the universe can be tested and studied in a small laboratory experiment," Lyanda-Geller said. "With these materials, we can study effects of the universe. We can study what happens in neutron stars from our laboratories."
Keser, Lyanda-Geller and Sushkov applied quantum field theory nonperturbative methods used to describe high-energy particles and expanded them to analyze the behavior of so-called Dirac materials, which recently became the focus of interest. They used the expansion to obtain results that go both beyond known high-energy results and the general framework of condensed matter and materials physics. They suggested various experimental configurations with applied electric and magnetic fields and analyzed best materials that would allow them to experimentally study this quantum electrodynamic effect in a nonaccelerator setting.
They subsequently discovered that their results better explained some magnetic phenomena that had been observed and studied in earlier experiments.
U.S. Department of Energy, Office of Basic Energy Sciences; Division of Materials Sciences and Engineering; and the Australian Research Council, Centre of Excellence in Future Low Energy Electronics Technologies
Aydın Cem Keser, Yuli Lyanda-Geller, Oleg P. Sushkov.
Nonlinear Quantum Electrodynamics in Dirac Materials.
Physical Review Letters, 2022; 128 (6) DOI:
10.1103/PhysRevLett.128.066402
The 'Equal-Opportunity Jerk' Defense: Rudeness Can Obfuscate Gender Bias
If you're an "equal-opportunity jerk," does that mean you can't also be sexist? New research shows that many people think so -- and consider men to be gender blind when they're rude, condescending, and berating to women and men equally. 
To highlight the common view that men aren't deemed sexist when they're rude to both men and women, researchers asked subjects to share their perceptions of tweets from former President Donald Trump lambasting men and women, fictitious stories of managers' treatment of male and female employees, and surveys of sexist behavior. 
According to the study, being a jerk to men creates "an illusion of impartiality, giving sexist perpetrators plausible deniability." This can lead people to falsely conclude that gender bias doesn't underlie rude behavior, making them less likely to recognize sexism. 
"We found that a man does not seem sexist if he treats everyone -- both men and women -- poorly," said Peter Belmi, associate professor of leadership and organizational behavior at the University of Virginia Darden School of Business and lead author of the study. "This is problematic because sexism and rudeness are not mutually exclusive. Men who are sexist can be -- and often are -- rude toward other men."
The research shows that gender blindness can be exploited to refute accusations of sexism, he added. For example, perpetrators may highlight instances in which they've been rude to men as evidence that they aren't sexist. 
A popular understanding of sexism is discrimination toward women based solely on their sex. Under this definition, a man would not be sexist if he were a jerk to both sexes. The researchers defined sexism more broadly, however, as attitudes, beliefs, or behaviours that reflect, foster, or promote negative or pejorative stereotypes about women.
"Men may believe that rather than 'supporting women,' an alternative solution to creating gender parity is to 'treat everyone horribly,'" Belmi added. 
He emphasized that previous research has focused on gender blindness's benefit in fostering workplace gender diversity and inclusion. The current study highlights the shortcomings of this ideology. 
The researchers conducted a series of studies, using online participants and students from professional schools, to determine whether sexism is tougher to recognize when men express rudeness to other men as well as women. 
A two-part survey of about 1,100 employed men measured their self-reported rudeness toward male and female colleagues at work and their attitudes and beliefs about women. 
Another study asked participants to read tweets written by Trump during his presidency that contained sexist comments about women; some participants also read tweets that berated men. 
Next, the researchers asked participants to read a series of stories, some about managers making sexist comments to female workers and others about managers speaking rudely to male subordinates, too. Participants were also asked to identify whether those managers needed gender-bias and anger-management training. 
In each experiment, participants failed to recognize sexism when the perpetrator was rude or berating to men. However, they identified sexist behavior when only women were treated poorly. In other words, "equal-opportunity jerks" were viewed as gender blind. Also, the more participants perceived an offender being a jerk to other men, the more they diminished the need for gender-bias training. 
"When a sexist manager is rude toward men, it may appear as though he is not sexist," Belmi said. "Thus, women victimized by his behavior will have a more difficult time proving that he is sexist. Rudeness can therefore protect perpetrators."
The findings show that rudeness across genders creates a barrier to addressing sexism. The researchers suggested that future studies should examine whether rudeness can conceal other types of discrimination -- for example, by creating illusions of colour-blindness or authenticity.
"Blatant, unambiguous, and obvious forms of sexist conduct continue to exist," Belmi said. "Our findings suggest that one reason for their persistence is that observers may not recognize that everyday acts of rudeness can serve as a convenient mask for bias against women." 
Peter Belmi, Sora Jun, Gabrielle S. Adams.
The "Equal-Opportunity Jerk" Defense: Rudeness Can Obfuscate Gender Bias.
Psychological Science, 2022; 095679762110404 DOI:
10.1177/09567976211040495
Global Warming Projected To Increase Health Burden From Hyponatremia
Global warming is likely to increase the number of people requiring hospitalization due to critically low sodium levels in the blood, a condition known as hyponatremia. A new study from Karolinska Institutet in Sweden projects that a temperature rise of 2 degrees Celsius would increase the burden on hospitals from hyponatremia by almost 14 percent. The findings are published in The Journal of Clinical Endocrinology and Metabolism.
"Our study is the first to provide precise estimates of how temperature influences the risk of hyponatremia, findings that could be used to inform healthcare planning for adapting to climate change," says Buster Mannheimer, adjunct senior lecturer at the Department of Clinical Science and Education, Södersjukhuset, Karolinska Institutet and the study's first author.
Climate change is expected to trigger a rise in average global temperatures in the coming decades, resulting in a myriad of heat-related consequences for human health. One of those is hyponatremia, which can occur from a variety of diseases such as heart, renal and liver failure as well as from excessive sweating or fluid intake that dilute the sodium concentration in the blood.
Our bodies need sodium to maintain normal blood pressure, support the function of nerves and muscles and regulate the fluid balance in and around our cells. If blood sodium levels drop, it can lead to nausea, dizziness, muscle cramps, seizures and even coma.
It is well known that hyponatremia cases increase in the summer months. Still, data on temperature thresholds above which risks amplify have been lacking, complicating clinical planning and predictions of health burden in future climate scenarios.
Women and elderly at risk
In the current study, the researchers linked data on Sweden's entire adult population to information on 24-hour mean temperatures over a nine-year period. In that time, more than 11,000 were hospitalized with a principal diagnosis of hyponatremia, most of whom were women with a median age of 76. Average daily temperatures ranged from -10 to 26 degrees Celsius.
The researchers found an almost tenfold increased risk for hospitalization due to hyponatremia on the hottest days compared with the coolest periods. Women and elderly carried the greatest risk, with individuals 80 years or older 15 times more likely to be hospitalized for hyponatremia during heat waves. The incidence of hyponatremia was largely stable from -10 to 10 degrees Celsius but increased rapidly at temperatures above 15.
When the researchers applied the data to a prognostic model forecasting global warming of 1 or 2 degrees Celsius, in line with IPCC climate projections for 2050, they found that hospital admissions due to hyponatremia could be expected to increase by 6.3 percent and 13.9 percent, respectively.
Increased health burden
"We believe these estimates are quite conservative seeing as we didn't account for secondary diagnoses of hyponatremia, extreme weather events or an aging population," says Jonatan Lindh, associate professor at the Department of Laboratory Medicine, Karolinska Institutet, and co-last author of the study. "Without adaptive measures, this suggests that over the next decades rising global temperatures alone will increase the burden of hyponatremia on healthcare systems."
It should be noted that Sweden is in the continental climate zone, with buildings adapted mostly for cold temperatures. Therefore, the thresholds observed in this study may be representative for cool temperate regions only.
The study was partially funded by Cebix incorporated. Two authors report previous consultancy fees from Otsuka Pharma Scandinavia AB, outside the submitted work.
Buster Mannheimer, Alin Sterea-Grossu, Henrik Falhammar, Jan Calissendorff, Jakob Skov, Jonatan D Lindh.
Current and future burdens of heat-related hyponatremia - a nationwide register-based study.
The Journal of Clinical Endocrinology & Metabolism, 2022; DOI:
10.1210/clinem/dgac103
New Species Of Extinct Vampire-Squid-Like Cephalopod Is The First Of Its Kind With 10 Functional Arms
New research led by scientists at the American Museum of Natural History and Yale shows that the oldest ancestors of the group of animals that includes octopuses and vampire squids had not eight but 10 arms. The study, which describes a new species of vampyropod based on a 328-million-year-old fossil that had not been previously described, pushes back the age of the group by nearly 82 million years. The details are published today in the journal Nature Communications.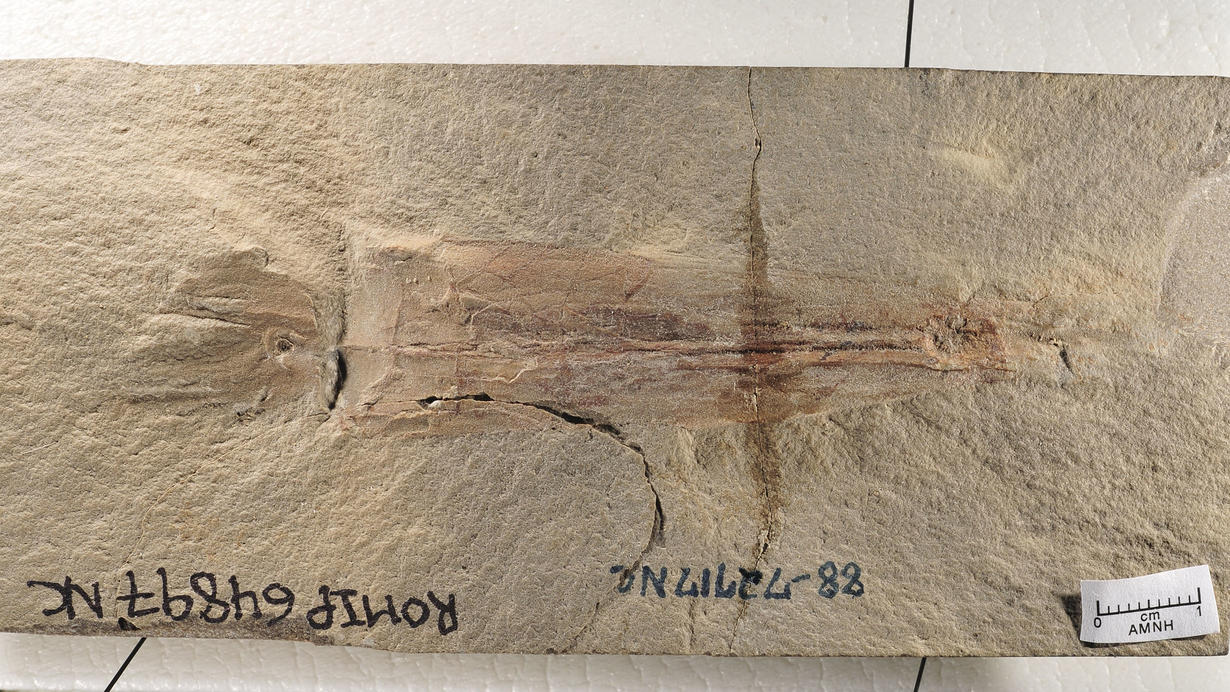 An exceptionally well-preserved vampyropod fossil from the collections of the Royal Ontario Museum (ROM) that the new study is based on. The fossil was originally discovered in what is now Montana and donated to ROM in 1988. S. Thurston/© AMNH

"This is the first and only known vampyropod to possess 10 functional appendages," said lead author Christopher Whalen, a postdoctoral researcher in the Museum's Division of Paleontology and a National Science Foundation postdoctoral fellow in Yale's Department of Earth & Planetary Sciences.
Vampyropods are soft-bodied cephalopods typically characterized by eight arms and an internalized chitinous shell or fin supports. Because they lack hard structures, Vampyropoda are not well represented in the fossil record. The new study is based on an exceptionally well-preserved vampyropod fossil from the collections of the Royal Ontario Museum (ROM). Originally discovered in what is now Montana and donated to ROM in 1988.
Whalen and coauthor Neil Landman, a curator emeritus in the Museum's Division of Paleontology, identified the fossil specimen as a completely new genus and species that dates to about 328 million years old, making it the oldest known vampyropod and extending the fossil record of the group by about 82 million years. In the new study, they also describe its 10 arms -- all with preserved suckers -- corroborating previous scientific arguments that the common ancestor of vampyropods had 10 arms as well.
"The arm count is one of the defining characteristics separating the 10-armed squid and cuttlefish line (Decabrachia) from the eight armed octopus and vampire squid line (Vampyropoda). We have long understood that octopuses achieve the eight arm count through elimination of the two filaments of vampire squid, and that these filaments are vestigial arms," said Whalen. "However, all previously reported fossil vampyropods preserving the appendages only have 8 arms, so this fossil is arguably the first confirmation of the idea that all cephalopods ancestrally possessed ten arms."
Two of the cephalopod's arms appear to have been elongated relative to the other eight arms, and its torpedo-shaped body is reminiscent of today's squids. The fossil was given the name Syllipsimopodi bideni. The genus name is derived from the Greek word "syllípsimos" for "prehensile" and "pódi" for "foot" -- because this is the oldest known cephalopod to develop suckers, allowing the arms, which are modifications of the molluscan foot, to better grasp prey and other objects. The species name is to honor the recently inaugurated (at the time of paper submission) 46th President of the United States, Joseph R. Biden.
"Syllipsimopodi may have filled a niche more similar to extant squids, a midlevel aquatic predator," said Landman. "It is not inconceivable that it might have used its sucker-laden arms to pry small ammonoids out of their shells or ventured more inshore to prey on brachiopods, bivalves, or other shelled marine animals."
Based on the age, characters, and phylogenetic position, the fossil challenges the predominant arguments for vampyropod origins, and the authors propose a new model for coleoid (internally shelled cephalopod) evolution.
Christopher D. Whalen, Neil H. Landman.
Fossil coleoid cephalopod from the Mississippian Bear Gulch Lagerstätte sheds light on early vampyropod evolution.
Nature Communications, Mar. 8, 2022; DOI:
10.1038/s41467-022-28333-5
Disclaimer: These articles are not intended to provide medical advice, diagnosis or treatment. Views expressed here do not necessarily reflect those of Pittwater Online News or its staff.