February 13 - 19, 2022: Issue 526
The Sydney Edible Garden Trail 2022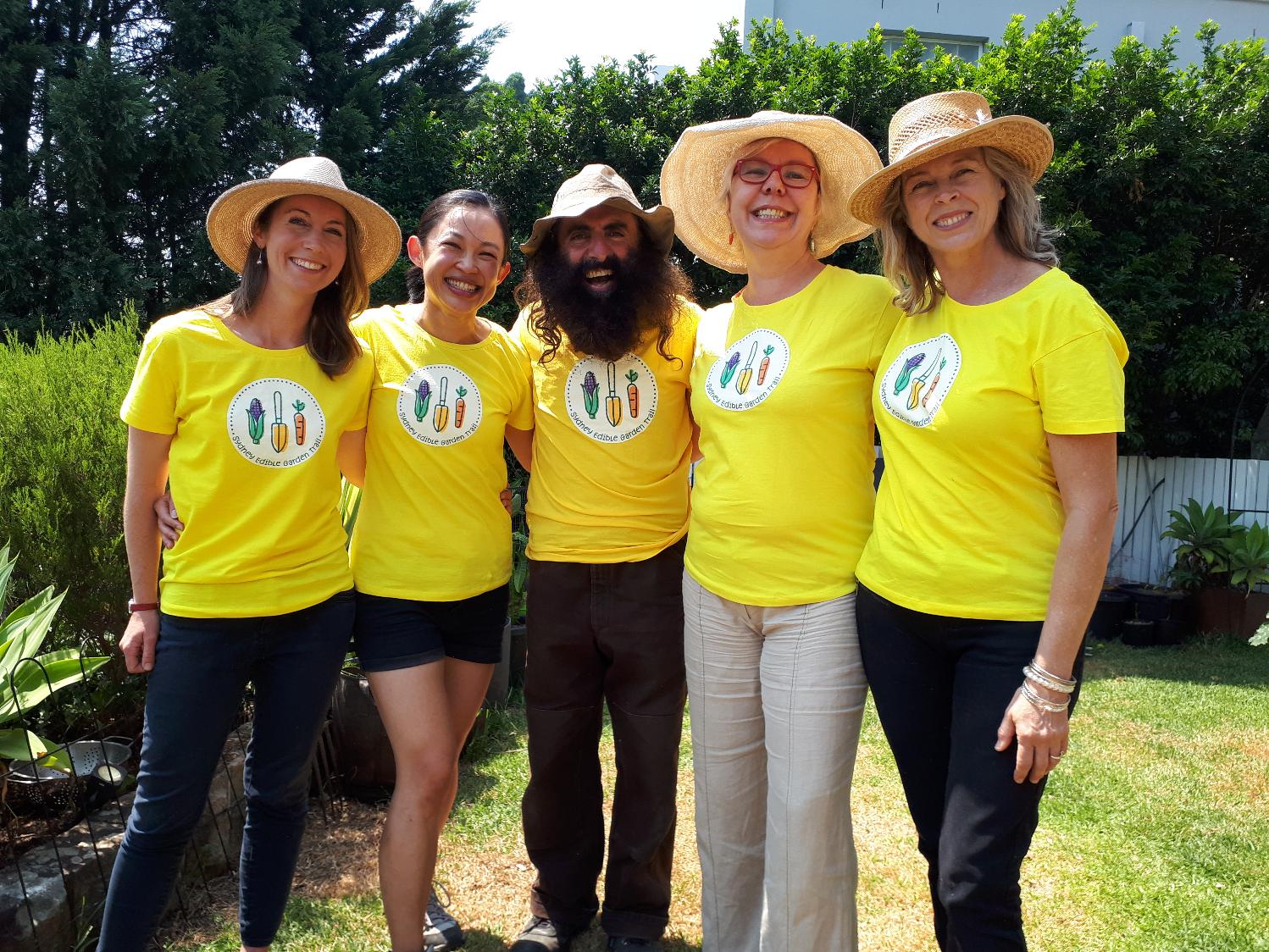 Costa and the SEGT team (l to r): Laurie Green, Nita Lo, Margaret Mossakowska and Bridget Kennedy
Peek inside some of Sydney's private backyard fruit and veggie gardens this March, and discover their secrets to living sustainably.
Whether you're a new or experienced gardener, the best way to learn how to grow juicy fruit and vegetables in your own backyard is to talk to a gardener who's already doing it. Sydneysiders will have the opportunity to do this over the weekend of 26 & 27 March 2022 when over 50 suburban, community and school gardens will open for the Sydney Edible Garden Trail (SEGT).
Matthew Elphick, one of the garden hosts who participated last year, was inspired to reopen his garden again this year. He's looking forward to the 2022 trail, saying "It was so wonderful to open last year and have people come through the garden and see how excited they are. You get to see the garden through their eyes, things that you don't think much about, they find amazing. It's such a great opportunity to meet like-minded people."
With the motto "We don't just grow food, we grow sustainable communities", SEGT arranges for gardens to open to the public and allocates profits from ticket sales towards building stronger community and school gardens through a grants program with 8 gardens provided with grants in 2021.
This year the trail is extending to the wider Sydney metropolitan area with many new gardens included. Tickets are now on sale at https://sydneyediblegardentrail.com/tickets/
Those in our area listed so far for the 2022 edition of SEGT include:
Newport Community Garden
We are a membership based Community Garden of local neighbours who get together to learn about organic gardening, sustainable living, socialise and have a good time!
NCG has been running for over 8 years and from humble beginnings is now a vibrant, sustainable and inviting space with over 35 garden beds, compost bays, worms farms and native bee hive, green house, water tanks and garden shed.
We grow organic fruits, vegetable and herbs. We cultivate our compost, make our own natural pesticides and grow from seeds saved from our seasonal harvest.
It's not just hard work, we are very social too and always finish the day with a cuppa and chat with local community members.
In November 2021 Newport Community Garden were announced as one of fifty SEGT GRANT RECIPIENTS 2021.
The grant will be used to attract local birdlife and bees by planting some native bush food plants and others native plants.
Newport Community Garden Profile of the Week
"The glory of gardening: hands in the dirt, head in the sun, heart with nature. To nurture a garden is to feed not just on the body, but the soul." - Alfred Austin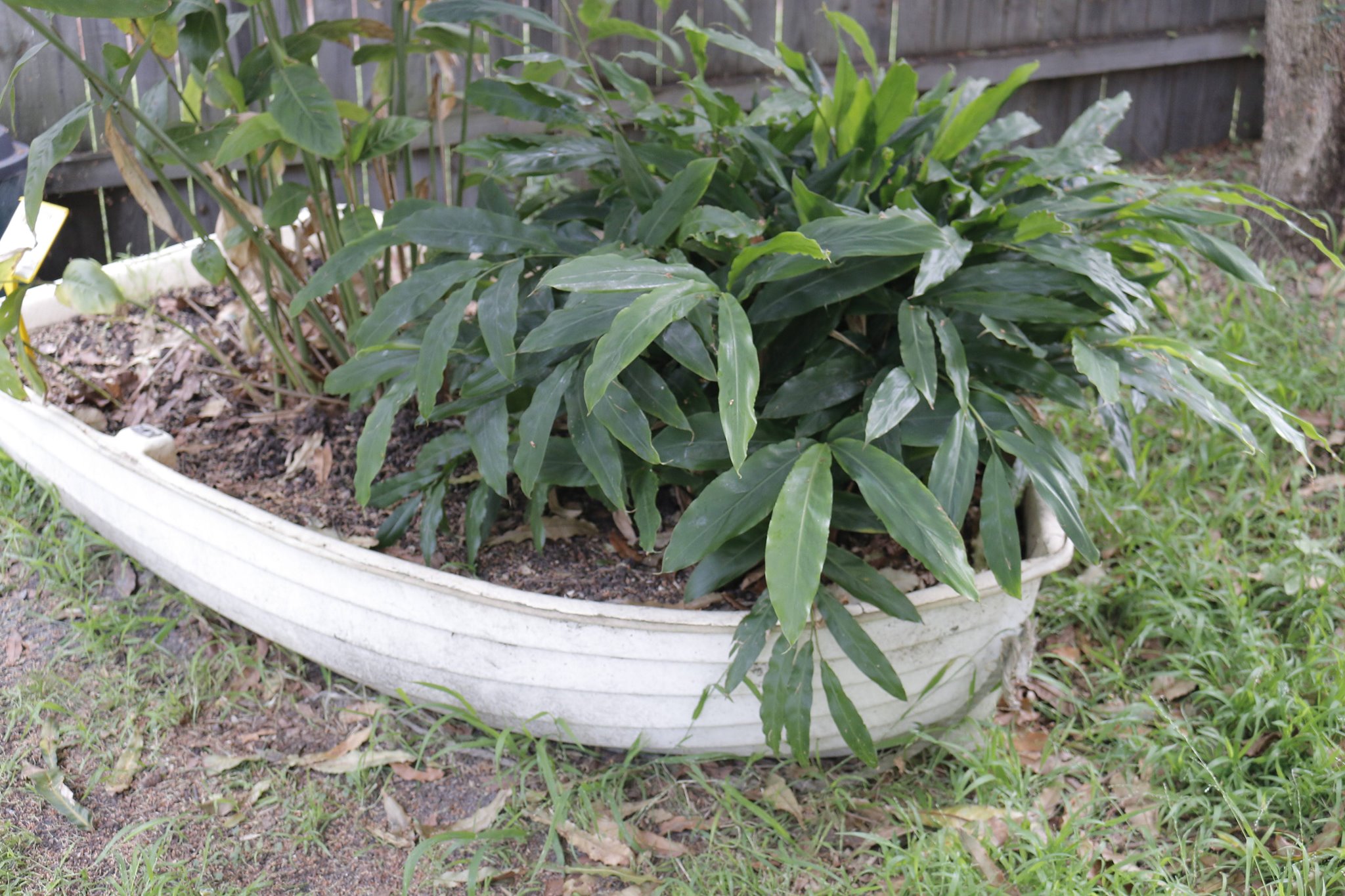 Great reuse of an old boat in the Newport Community Garden
Urban Greenspace Garden - Forestville
Once a typical Forestville block with hedges, lawns, sandstone outcrops, poor clay soils, and a sixties brick veneer cottage – this westerly aspect garden is now a foodscaped oasis hosting chooks, rabbits, bees, blue tongue lizards to name but a few. It is where I test concepts, plant combinations, spacings and grow as much food as I can. The garden has been through several iterations as I hone my design and horticulture skills with the landscaping coming to completion this summer (if my back holds out!)
One of the first things I did when we moved in was to rip up the front lawn and put veggie beds right up to the footpath. Very few people go past without stopping for a look or a chat and it has been – hands down – the best way to meet the neighbourhood.
Kimbriki Ecohouse and Garden
Located within Kimbriki Resource and Recycle Centre at Terrey Hills, the Eco House and Garden provides visitors with a peaceful and thriving greenspace in the heart of a working 'tip'! The design is based on Permaculture Principles and the 4 R's – Rethink, Reduce, Reuse, Recycle. Features include a strawbale composting toilet building, hempcrete demonstration building, propagation nurseries, compost and worm farming areas, eco hop and shaded seated areas.
The Eco Garden was established in 1999 using State Government Funding that had been allocated to help educate residents on how to reduce the most polluting component of their personal waste stream – the organic fraction, otherwise known as garden vegetation and food scraps. The Eco Garden provides residents with a space to learn how to compost their organic household waste and use that compost to create home gardens and nurture their personal environment.
Following on from the popularity of the Eco Garden, Kimbriki's Eco House was built entirely from recycled and repurposed materials opening in 2011. It operates as Kimbriki's core educational centre running onsite school education programs and community workshops for more than 3000 children and adults each year.
Seaforth Public School kitchen garden
Seaforth Public School kitchen garden is an AAEE award winning learning space for K-6 students. The Science curriculum is taught outside. Learning happens IN the environment ABOUT the environment and FOR the environment. Sustainability is the key to this established edible garden. The students learn ways of rethinking, reducing, reusing and recycling from seed collecting to harvesting to sharing the food together as part of the Stephanie Alexander Kitchen Program. A successful school / community composting and worm farm system is showcased.
For over 10 years this garden has grown many different edible plants tended to by students and community members. Orchard plants, banana groves, wicking beds, traditional vegie beds, coffee, dragon fruit, herb garden and some unusual plants like yacon and ice-cream bean tree. Importantly the garden celebrates the diverse culture of Indigenous bush foods, many endemic to the Sydney area such as Native Rasberry, Fingerlime, Pigface, Dianella, Lemon Myrtle and River Mint. Seaforth garden also hosts a diversity of pollinators like native stingless bees, blue banded bees and many invertebrates. Chickens live in the hen house and the brush turkeys visit after hours.
Winona Sustainable House and Garden
The Winona Sustainable House and Garden features original buildings dating back to 1914 with some pre-20th century features. The owners have lived here for almost 40 years. Over this time, in response to environmental issues worldwide, they have worked hard to progress zero waste and sustainability practices as a way of life.
Around 2 decades ago the owners participated in a Permaculture Design Course. This experience inspired them, with the help of friends and working bees, to establish growing food and managing chickens.
Since 2003 the Winona Sustainable House and Garden has been open for tours for Solar House Day, Sustainable House Day and Permaculture Day. The property boasts a 23,000L rainwater tank, a two phase reed bed grey water treatment system, solar hot water, solar power and a dry composting toilet (Rotaloo).
In recent years the garden has received much appreciated hard work by the cottage tenants who take great interest and delight in finding better ways to utilise each area of the garden, guided by permaculture design principles. The garden currently features veggie patches, a banana grove, fruit trees, ponds, European honey bees, a greenhouse, composting, worm farms, native trees, animal habitat and chickens.
You can see all the gardens on this year's SEGT at: sydneyediblegardentrail.com/gardens
More than 700 people from 80 different geographical areas visited the gardens on the 2021 Trail. Typical of their comments were:
"Great to see a variety of gardens, including private and community gardens and the passion people have to share their journey with others."

"I gained new ideas and encouragement for my own small vegetable, herb, and flower gardens this spring."
ABOUT SEGT
The Sydney Edible Garden Trail, is an annual urban edible garden trail celebrating the many ways that Sydney residents are creating food security and building self-reliance, saving money and the environment, while enjoying the health benefits of homegrown fruit and veg. Our aim is to encourage and inspire growing edible produce in street gardens, home gardens and public spaces across Sydney.
This community event also showcases sustainable practices such as mulching for water conservation, recycling and composting to increase soil fertility and reduce landfills, planting to encourage bees, home food production to increase food security, and organic growing techniques to reduce chemical use.
SEGT is a volunteer-run, community not-for-profit event with profits going to building and improving school and community edible gardens.
Find out more at: www.sydneyediblegardentrail.com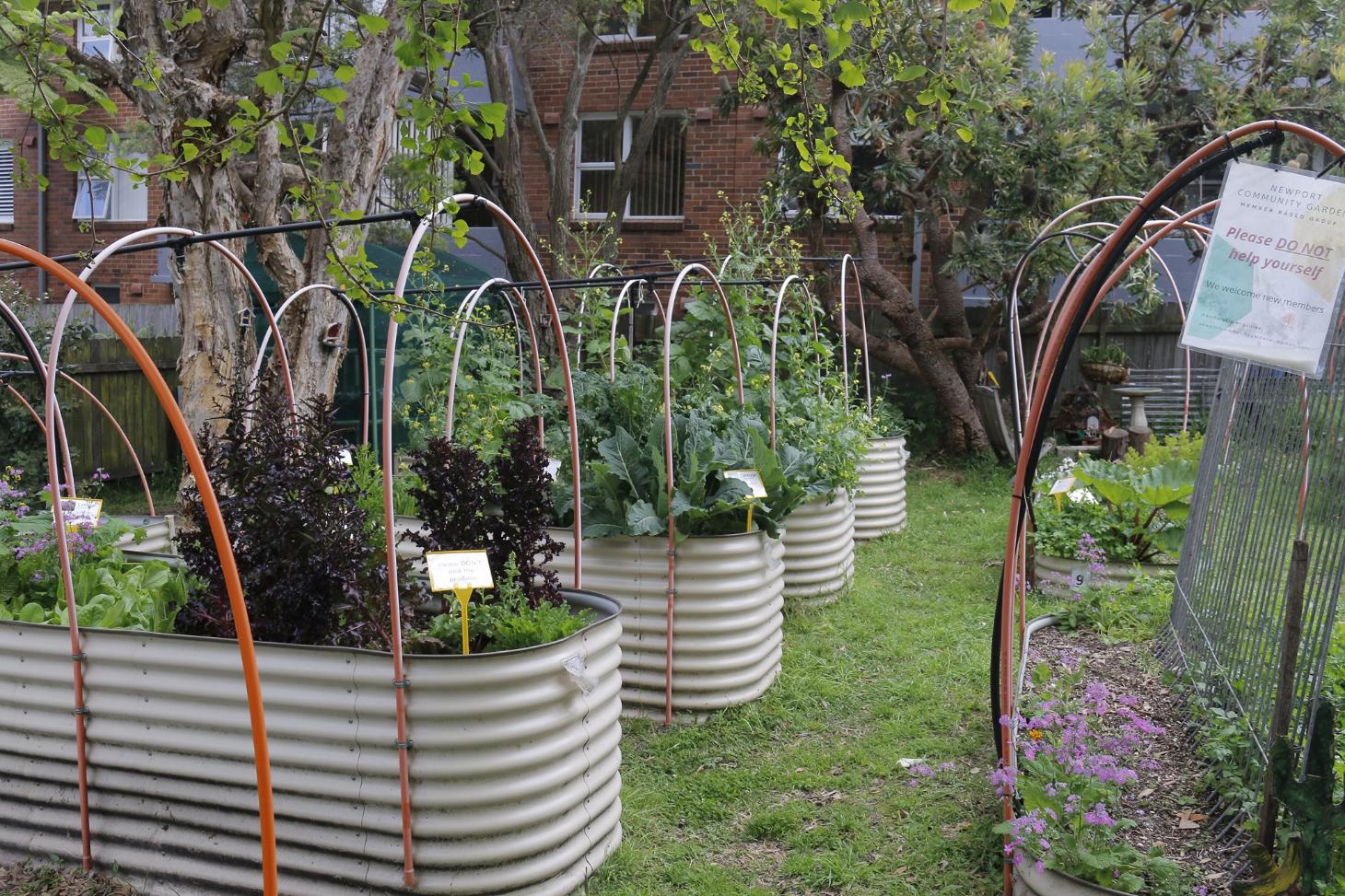 Newport Community Garden members regularly harvest great food for their home kitchens.