Inbox and environment news:Issue 547
July 24 - 30, 2022: Issue 547
Inaugural Gotcha4Life Cup 2022: July 28
The inaugural Gotcha4Life Cup will take place this Thursday, July 28th at Brookvale Oval.
The Sydney Roosters and Manly Warringah Sea Eagles have joined forces with Gotcha4Life to raise funds and awareness in support of mental fitness in their Round 20 match.
Gotcha4Life is a not-for-profit foundation with a goal of zero suicides, taking action by delivering mental fitness programs that engage, educate and empower schools, sporting clubs, workplaces and community groups.
The Sea Eagles have been supported by Premier Partner Shaw and Partners Financial Services, who will be donating $100,000 to the Gotcha4Life Foundation in honour of this game.
''We're proud to be partnering with the Sea Eagles and Gotcha4Life Foundation on this important initiative, and to do what we can to help educate and empower Australians on taking positive action towards their own mental fitness'' Earl Evans, Co-CEO of Shaw and Partners, stated in an interview with the Manly Sea Eagles this week.
The Gotcha4Life logo will be displayed below the Shaw and Partners logo on the Manly Sea Eagles special jerseys for this Round. These jerseys, donated by Dynasty Sport, will then be auctioned off after the game to raise more funds for Gotcha4Life.
Roosters match-worn and player-issued jerseys will also be auctioned off with all proceeds going to Gotcha4Life, with the opportunity for Roosters Members and supporters to make a bid when the Auction Site becomes live.
''The reason these two teams will now play for the Gotcha4life Cup is that we have ambassadors in both sides in James Tedesco and Sam Verrills from the Roosters, and Daly Cherry Evans and the Trbojevic brothers for Manly.'' Gus Worland, Gotcha4Life Founder said this week.
"Having my team the Roosters against my Gotcha4life mate Hugh Jackman's team will be awesome. We've been watching our teams play each other since the early 70s. We've spent many days at 'Brookie' and the old Sydney Sports Ground munching on pies and running for the corner post at full-time."
Beyond a bit of friendly rivalry on and off the field, Mr. Worland said there's a message he wants everyone to take home from the match.
"The key thing we want everyone who watches this match to take away is that mental fitness is as important as physical fitness. You need to train to be your best and it really helps to have a coach,'' Worland added.
"When we talk about training, from a mental fitness point-of-view, we're talking about anything you do to ensure that you're in a good mental state to overcome the stresses and challenges that everyday life throws at us".
"This game is special. We're all on the same team off the field fighting mental health and fitness concerns,'' Tom Trbojevic said.
"A lot of people go through many different challenges. If you don't have that strong mate group, it's harder to get through.
"It's really important to make sure you go beyond someone saying they're good to find out how they're really feeling. People often put on a on a front. It's important that we break that down to address any issues they may have."
You can learn more about Gotcha4Life and the great programs being run through this organisation here: www.gotcha4life.org
In the video below, Gus Worland, Gotcha4Life Founder chats to Manly Sea Eagles players Ben and Tom Trbojevic and Sydney Roosters Captain James Tedesco and player Sam Verrills about what it means to be mentally fit on and off the field.
In related news, two local athletes have been selected for the first ever Australian Schoolgirls Team that will tour overseas this coming September.
Be The Boss: I Want To Be A Confectioner
Confectionery Makers operate machines and perform routine tasks to make and wrap confectionery. Confectioners mix, shape and cook sweeteners and other ingredients to produce confectionery, including chocolate, toffee and other lollies.
To become a confectioner you usually have to complete a traineeship. Entry requirements may vary, but employers generally require Year 10 and a certificate II or III in food processing will be useful.
Duties & Tasks of a Confectioner
Confectioners:
Examine production schedules to determine confectionery types and quantities to be made
Check the cleanliness and operation of equipment before beginning production
Weigh, measure, mix, dissolve and boil ingredients in pans
Operate equipment that refines and tempers chocolate
Assist with coating chocolate bars and preparing chocolate products
Control temperature and pressure in cookers used to make boiled sweets, starch-moulded products, caramels, toffees, nougat and chocolate centres
Operate equipment to compress sugar mixes into sweets
Check batch consistency using a stainless steel spatula or measuring equipment such as a refractometer
Sort and inspect finished or partly finished products.
Tasks
Weighs, measures, mixes, dissolves and boils ingredients..
Moves products from production lines into storage and shipping areas..
Operates machines to process food product..
Monitors product quality before packaging by inspecting, taking samples and adjusting treatment conditions when necessary.
Packages products.
Operates heating, chilling, and similar equipment..
Cleans equipment, pumps, hoses, storage tanks, vessels and floors, and maintains infestation control programmes..
Adds materials, such as spices and preservatives, to food.
Working conditions for a Confectioner
Most confectioners work full time. Senior confectioners provide on-the-job training to junior employees and coordinate work in a team environment.
Employment Opportunities for a Confectioner
Most confectioners are employed by confectionery manufacturers and work in factories. With more experience, confectioners can be involved in developing confectionery items with new textures, colours and flavours. With experience, and sometimes further training, it is possible to progress to leading hand, supervisory or management positions.
Candy, also called sweets (British English) or lollies (Australian English, New Zealand English), is a confection that features sugar as a principal ingredient. The category, called sugar confectionery, encompasses any sweet confection, including chocolate, chewing gum, and sugar candy. Vegetables, fruit, or nuts which have been glazed and coated with sugar are said to be candied.
Physically, candy is characterized by the use of a significant amount of sugar or sugar substitutes. Unlike a cake or loaf of bread that would be shared among many people, candies are usually made in smaller pieces. However, the definition of candy also depends upon how people treat the food. Unlike sweet pastries served for a dessert course at the end of a meal, candies are normally eaten casually, often with the fingers, as a snack between meals. Each culture has its own ideas of what constitutes candy rather than dessert. The same food may be a candy in one culture and a dessert in another.
The word candy entered the English language from the Old French çucre candi ("sugar candy"). The French term could have earlier word roots in the Arabic qandi, Persian qand and Sanskrit khanda, all words for sugar.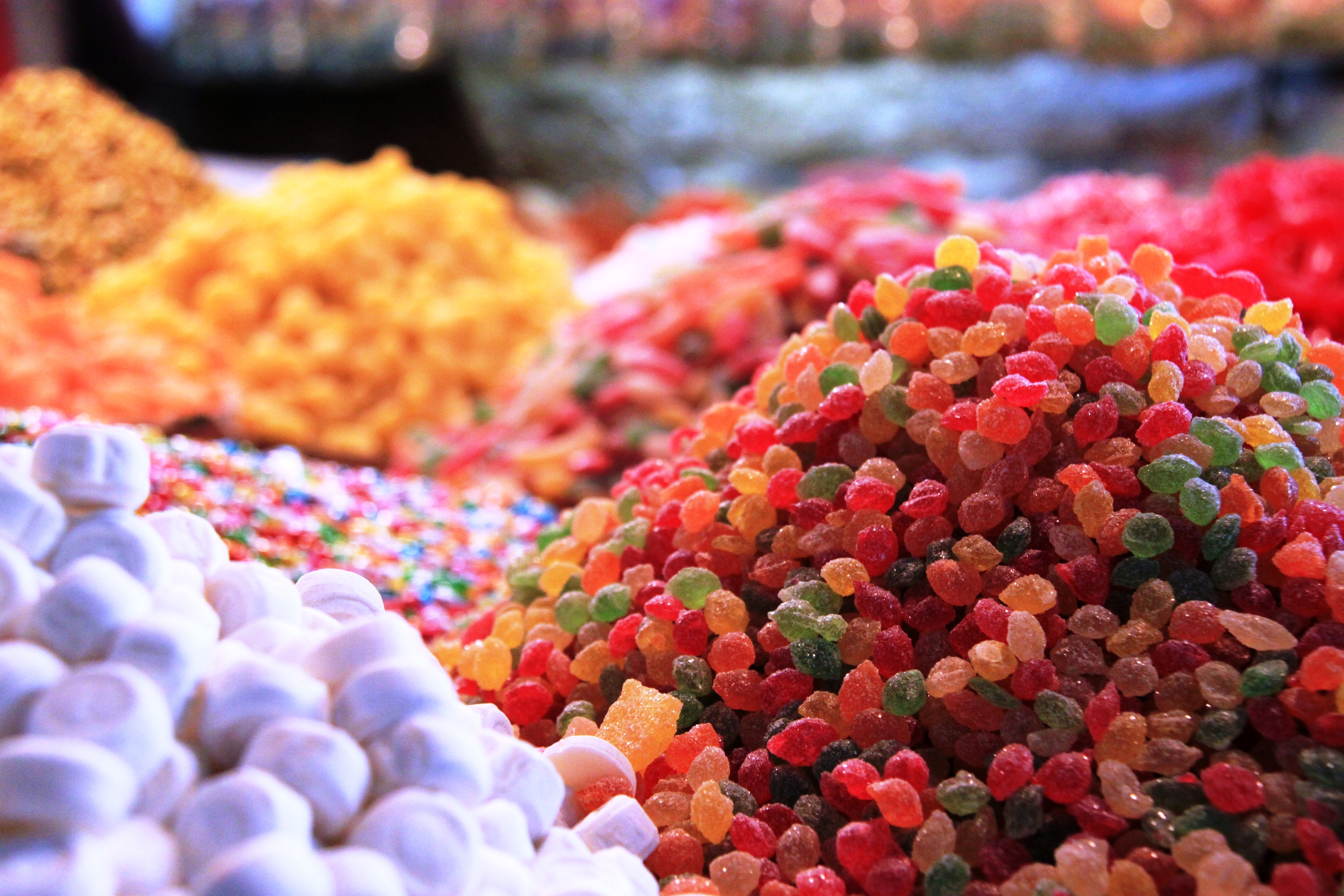 Candy at a souq in Damascus, Syria. Photo: Elisa Azzali

Sugarcane is indigenous to tropical South and Southeast Asia. Pieces of sugar were produced by boiling sugarcane juice in ancient India and consumed as khanda.] Between the 6th and 4th centuries BCE, the Persians, followed by the Greeks, discovered the people in India and their "reeds that produce honey without bees". They adopted and then spread sugar and sugarcane agriculture.
Before sugar was readily available, candy was based on honey. Honey was used in Ancient China, the Middle East, Egypt, Greece and the Roman Empire to coat fruits and flowers to preserve them or to create forms of candy. Candy is still served in this form today, though now it is more typically seen as a type of garnish.
Chocolatier
A chocolatier can be defined as someone who makes and sells confectionery made from chocolate. They may be responsible for the whole process from start to finish, from devising a recipe, through to making the product, and finally packaging, displaying and selling. They may be salaried or self-employed and can become a Master Chocolatier once they have acquired the relevant skills and experience. They may work in a specialist chocolate shop, whether artisanal, independent or part of a worldwide group, or indeed as part of a professional kitchen or at the production facilities of a chocolate manufacturer.

Chocolate is a food product made from roasted and ground cacao seed kernels, that is available as a liquid, solid or paste, on its own or as a flavoring agent in other foods. Cacao has been consumed in some form since at least the Olmec civilization (19th-11th century BCE), and the majority of Mesoamerican people ─ including the Maya and Aztecs ─ made chocolate beverages.
The seeds of the cacao tree have an intense bitter taste and must be fermented to develop the flavour. After fermentation, the seeds are dried, cleaned, and roasted. The shell is removed to produce cocoa nibs, which are then ground to cocoa mass, unadulterated chocolate in rough form. Once the cocoa mass is liquefied by heating, it is called chocolate liquor. The liquor may also be cooled and processed into its two components: cocoa solids and cocoa butter. Baking chocolate, also called bitter chocolate, contains cocoa solids and cocoa butter in varying proportions, without any added sugar. Powdered baking cocoa, which contains more fiber than cocoa butter, can be processed with alkali to produce dutch cocoa. Much of the chocolate consumed today is in the form of sweet chocolate, a combination of cocoa solids, cocoa butter or added vegetable oils, and sugar. Milk chocolate is sweet chocolate that additionally contains milk powder or condensed milk. White chocolate contains cocoa butter, sugar, and milk, but no cocoa solids.
Chocolate is one of the most popular food types and flavours in the world, and many foodstuffs involving chocolate exist, particularly desserts, including cakes, pudding, mousse, chocolate brownies, and chocolate chip cookies. Many candies are filled with or coated with sweetened chocolate. Chocolate bars, either made of solid chocolate or other ingredients coated in chocolate, are eaten as snacks. Gifts of chocolate moulded into different shapes (such as eggs, hearts, coins) are traditional on certain Western holidays, including Christmas, Easter, Valentine's Day, and Hanukkah. Chocolate is also used in cold and hot beverages, such as chocolate milk and hot chocolate, and in some alcoholic drinks, such as crème de cacao.
In 2019 we ran a page about some of the earlier chocolate makers in Australia - you can find that in Old Australian Chocolates Back On The Market: The Cherry Ripe Song. You can also read about the History of Darrell Lea sweets, lollies, liquorice and chocolate on their website at: https://dlea.com.au/our-story/ while the Cadbury factory, in Tasmania, was opened in 1922.
Some of the earliest Confectioners of local lollies were at Manly.
Until the 16th century, no European had ever heard of the popular drink from the Central American peoples. Christopher Columbus and his son Ferdinand encountered the cocoa bean on Columbus's fourth mission to the Americas on 15 August 1502, when he and his crew stole a large native canoe that proved to contain cocoa beans among other goods for trade.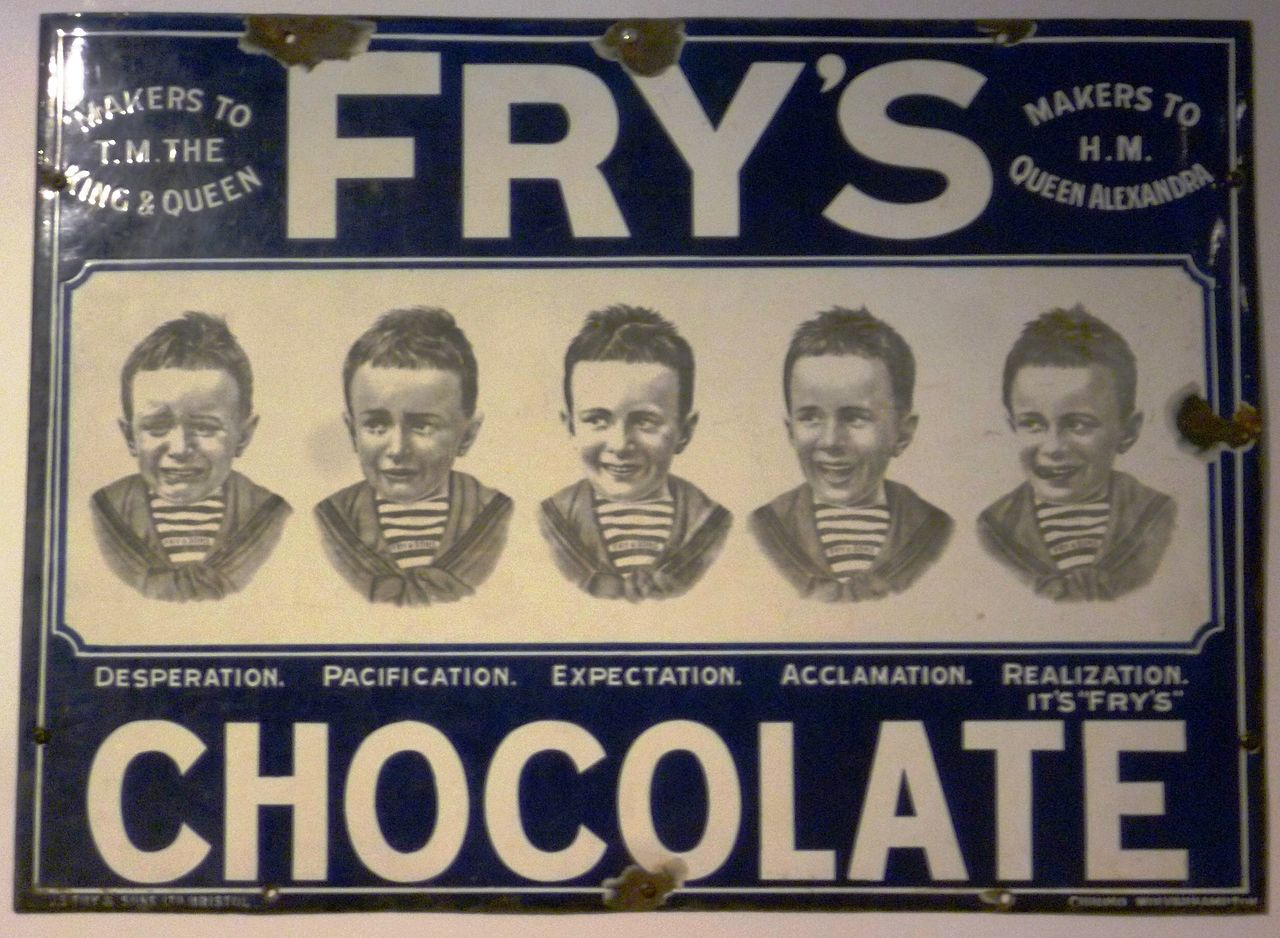 Fry's produced the first chocolate in solid state in 1847, which was then mass-produced as Fry's Chocolate Cream in 1866.
J. S. Fry & Sons, Ltd. better known as Fry's, was a British chocolate company owned by Joseph Storrs Fry and his family. Beginning in Bristol in the 18th century, the business went through several changes of name and ownership, becoming J. S. Fry & Sons in 1822. In 1847, Fry's produced the first solid chocolate bar. The company also created the first filled chocolate sweet, Cream Sticks, in 1853. Fry is most famous for Fry's Chocolate Cream, the first mass-produced chocolate bar, which was launched in 1866, and Fry's Turkish Delight, launched in 1914.
Fry, alongside Cadbury and Rowntree's, was one of the big three British confectionery manufacturers throughout much of the nineteenth and twentieth centuries, and all three companies were founded by Quakers. The company became a division of Cadbury in the early twentieth century.
Confectioner as a job information courtesy The Good Universities Guide, Australia.
Northern Beaches Youth Theatre At Warriewood: Christmas Play
Calling all 12-17 year olds!
Register now to be a part of our hilarious, fun and enchanting modern take on the old Dickens tale of the ghosts of Christmas past, present and future taking an old scrooge on a heartfelt awakening and the resulting realisation of all that makes a person good and wise. Mark Landon Smith's "Christmas Carol High School" is a play (not musical) with a modern take on the timeless classic. It uses a present day setting and a cast of cool, modern characters with throwbacks to old favourites for family-oriented fun.
We welcome any 12-17YO with the slightest, niggling interest in theatre to come along and have a go. There are many parts up for grabs and it's a great opportunity to give theatre a go if you're new, or put something on your resume if you're already honed and experienced. All while being part of an open, inclusive and warm community.
Rehearsals weekly Fridays 430-630pm
Show dates last week of November and first week of December with some extra rehearsals closer to show dates.
Sign up using the form (or bio link): https://form.jotform.com/221797029650865
Find out more at: https://www.facebook.com/NorthernBeachesYouthTheatre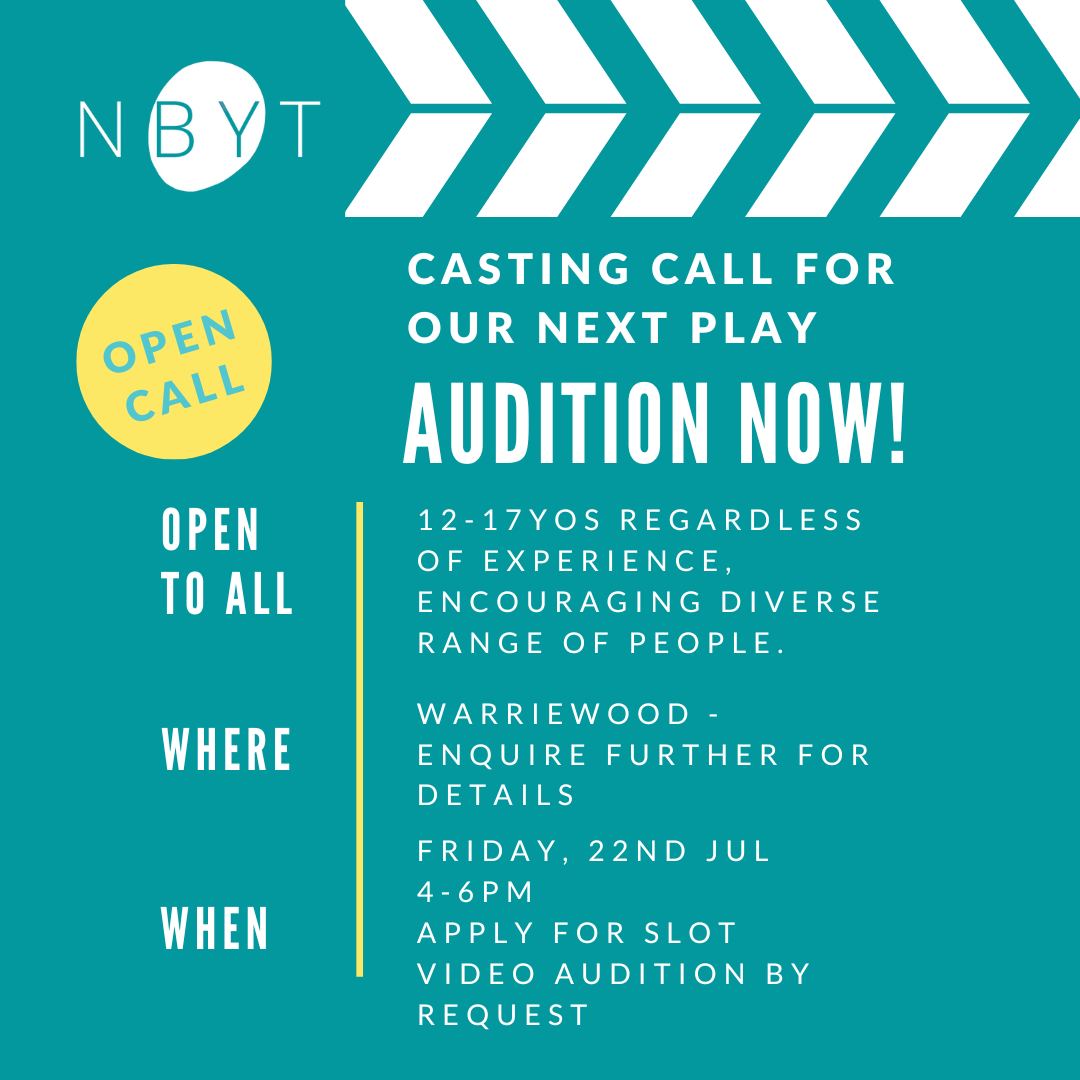 Art Competition To Remember Our ANZACS
Students across NSW are encouraged to get creative as the NSW Government together with RSL NSW launches an art competition to commemorate the 70th anniversary of the RSL and Schools Remember ANZAC Commemoration next year.
Minister for Education and Early Learning Sarah Mitchell is encouraging students to speak to their school and submit a design that will feature on the 2023 program and at an exhibition at the Anzac Memorial in Hyde Park.
"The NSW Government and the Department of Education has co-hosted this service with RSL NSW for 70 years, and we want to acknowledge this anniversary with a commemorative program to which the students in New South Wales can contribute," Ms Mitchell said.
"I invite any student across all three education sectors to participate and have the opportunity to be selected to have their artwork featured on the 2023 service program."
Minister for Transport and Veterans David Elliott said the annual commemoration at the Anzac Memorial in Hyde Park aims to educate and encourage younger Australians to learn about Australia's military history, whilst paying respect to the service and sacrifice of servicemen and servicewomen.
"This art competition is a great way for students in New South Wales to learn about our military history and design an artwork that reflects what it means to them. It could be about a family member who served in World War One, or a symbol of their service to our nation," Mr Elliott said.
"The annual RSL and Schools Remember ANZAC proceedings are incomparable, as they're delivered entirely by school students including the Master of Ceremonies, keynote address, readings, and musical accompaniment."
RSL NSW President Ray James said it was critical for the RSL to work with the Department of Education to ensure school students understood why Australians commemorated the service and sacrifice of those who have served in the Australian Defence Force.
"Commemorating significant moments in our military history is vital to Australia, as a people, a community, and a nation. RSL NSW takes this responsibility incredibly seriously as the custodians of the Anzac spirit. Future generations should never forget that the freedom they enjoy in Australia has been protected by the men and women who served in our armed and allied forces." Mr James said.
The RSL and Schools Remember ANZAC Commemoration was first held in 1953, co-hosted by RSL NSW and the Department of Education. Over the years the service has expanded to Catholic Schools NSW and the Association of Independent Schools NSW.
16 September 2022: Submissions close
Word Of The Week: Sail
Word of the Week returns in 2022 simply to throw some disruption in amongst the 'yeah-nah' mix.
noun
1. a piece of material extended on a mast to catch the wind and propel a boat or ship or other vessel; "all the sails were unfurled". 2. a wind-catching apparatus attached to the arm of a windmill.
verb
1. travel in a boat with sails, especially as a sport or recreation. 2. move smoothly and rapidly or in a stately or confident manner.
From: Old English segel (noun), Old English segl "sail, veil, curtain," from Proto-Germanic *seglom (source also of Old Saxon, Swedish segel, Old Norse segl, Old Frisian seil, Dutch zeil, Old High German segal, German Segel), of obscure origin with no known cognates outside Germanic (Irish seol, Welsh hwyl "sail" are Germanic loan-words). In some sources (Klein, OED) referred to PIE root *sek- "to cut," as if meaning "a cut piece of cloth."
Old English segilan (verb) "travel on water in a ship by the action of wind upon sails; equip with a sail," from the same Germanic source as sail (n.); cognate with Old Norse sigla, Middle Dutch seghelen, Dutch zeilen, Middle Low German segelen, German segeln. Later extended to travel over water by steam power or other mechanical agency. The meaning "to set out on a sea voyage, leave port" is from c. 1200. Extended sense of "float through the air; move forward impressively" is by late 14c., as is the sense of "sail over or upon."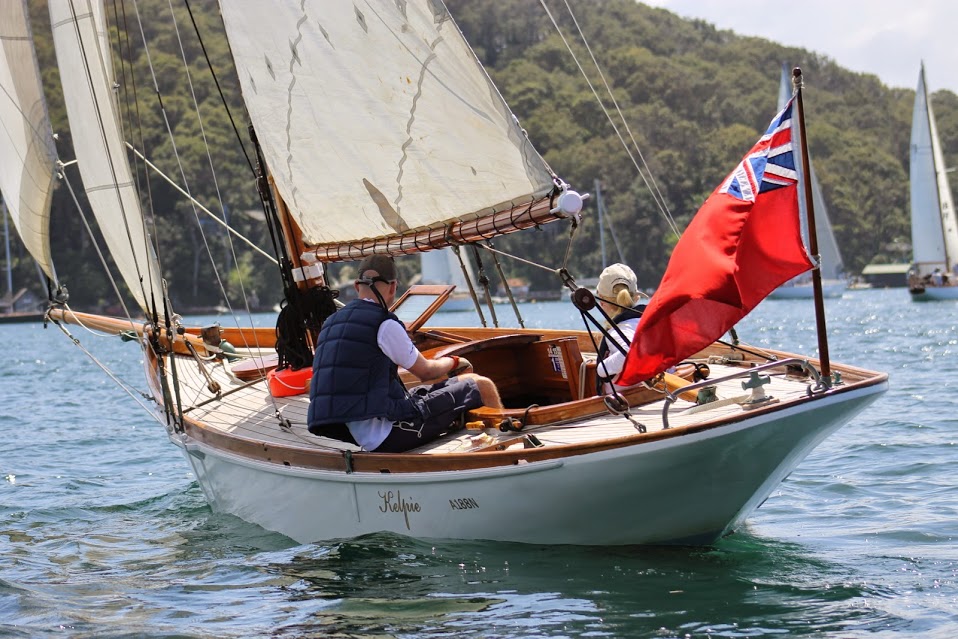 Christopher Cross: Sailing (1980)
Most Soothing Sir David Attenborough Moments
By BBC Earth: July 2022
Meeting the world's smallest lemur, watching the miracle of chicks hatching and describing his love for fossils: here are 26 minutes of some of the most soothing Sir David Attenborough moments.
Warning Over Risky Social Media Craze Of Eating Unidentified Mushrooms
An explosion of colourful and interesting mushrooms has excited people who are foraging for fungi – but they are being warned to simply look and not touch.
Mushroom hunters have become the latest craze to sweep social media, going viral for their tips on how to find species that are edible and cook them up at home.
But with many of the videos from overseas and Australia's mushrooms still not that well understood, people are being advised that even if the species look similar, they could do serious damage.
Calls to the NSW Poisons Information Centre have increased this year, as well as hospital admissions, because of people eating wild mushrooms.
Chief Scientist at the Australian Institute of Botanical Science, Dr Brett Summerell, says the general rule is to simply take a photo of an interesting mushroom, unless you're with an expert.
"Seriously, if people are out there it is best not to pick them and eat them because we've had some serious issues from people doing that," he says.
"One of the things that happens in Europe, where they have a long history and culture of picking mushrooms, is they have a lot of posters up during the mushroom season, so it's really well controlled from that point of view.
"Our species are not well understood, we still have a lot of work to do on the taxonomy and understanding the different species so it's critically important you don't pick them and eat them just because you think they look like the ones on Instagram."
With conditions ripe for mushrooms at the moment, Dr Summerell says there are many species to see.
"Some of them superficially look like mushrooms you see in the shops," he says. "They're fantastic things to photograph, spectacular to put on social media and they do play a critical role in our ecosystems as the great decomposers."
"They're turning over nutrients, providing the food that then goes back to plants. Many also have an intimate relationship with tree roots."
Dr Summerell says there are a few species that are toxic and cause diseases, and can do anything from kill you to give you a bad case of gastro.
"Oyster mushrooms and field mushrooms look like the ones in the stores but they might be ghost mushrooms (Omphalatus nidiformis) or yellow stainers (Agaricus xanthodermus) which often give a nasty case of gastro," he says.
"The death cap mushrooms (Amanita phalloides) you see in Canberra, Adelaide and Melbourne around oak trees, they can cause liver failure and even kill people. And the related fly agaric (Amanita muscaria) (with its very attractive red and white cap) are also toxic and very common at the moment."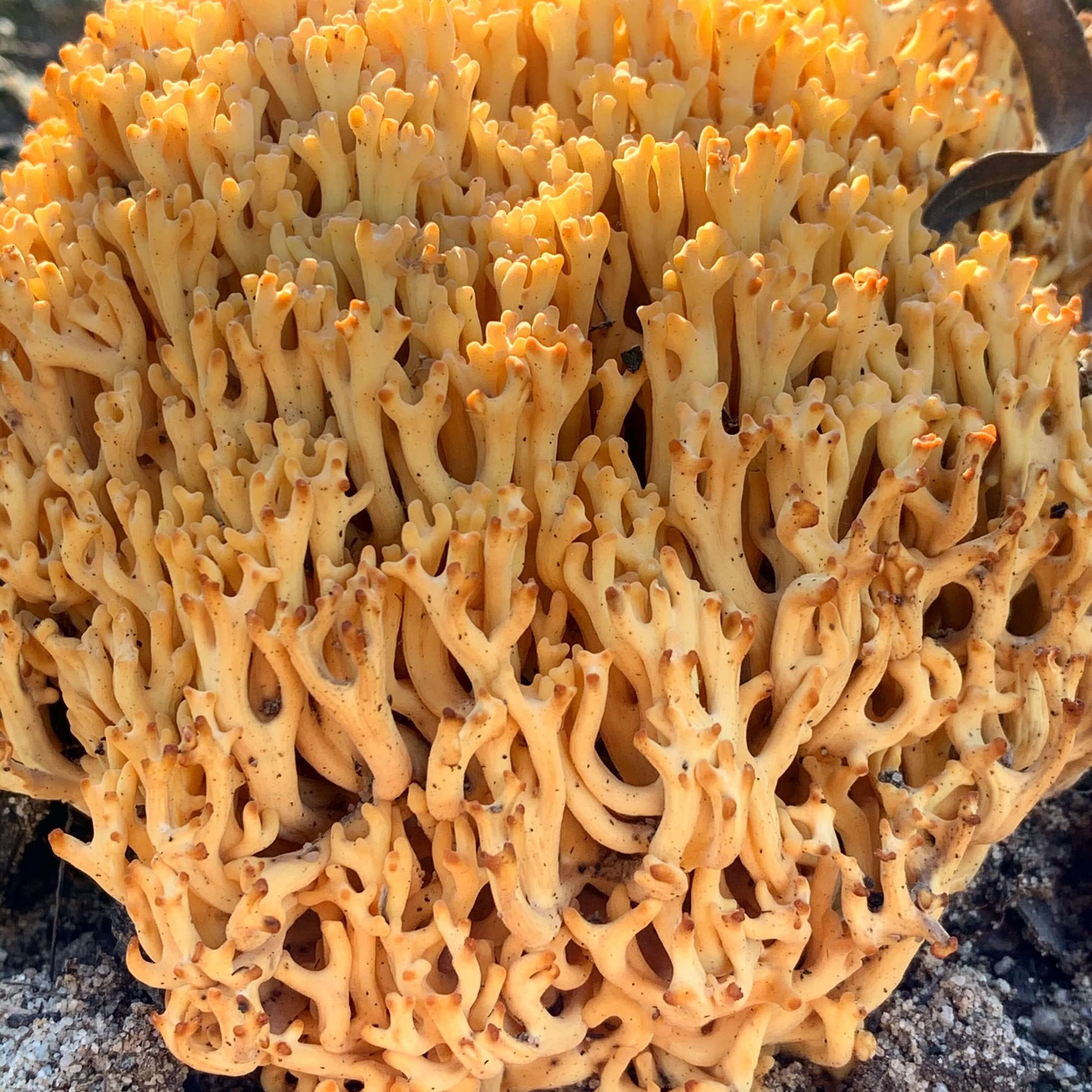 Ramaria fungi at Mount Tomah, NSW.
Where there are mushrooms, there is likely other slime
It isn't just mushrooms fruiting now because they love the wet weather and cool temperatures. "Mould is a huge problem at the moment," Dr Summerell says.
"Mushrooms around, or even in, your home can mean other issues such as damp problems or rotting wood."
Dr Summerell says a 70 per cent solution of metho or clove oil works best to get rid of mould. Moulds are a huge group of fungi that are loving the humid conditions and have an enormous capacity to reproduce very quickly by producing masses of spores. Treatments will inevitably need to be repeated.
Meanwhile, anyone concerned about an increase of moss or algae at their home, which can cause slips, should just use high pressure water cleaners and a hard scrubbing brush.
"We've had unprecedented levels of rainfall over a long period of time which are ideal conditions for these organisms to thrive," Dr Summerell says.
"Driveways have been completely colonised by mosses. It's quite a unique set of circumstances and amazing to see it in such an urban environment."
While Dr Summerell says moss will continue to grow and get thicker, the cooler winter temperatures will eventually slow growth down, at least a little.
Report: STEPHANIE BEDO, Mt Annan Botanical Garden.
Drones Take To Skies To 'Plant' Seeds At Australia's Biggest Botanic Garden: Mount Annan
Cutting-edge drone technology is being used at the Australian Botanic Garden Mount Annan to restore native vegetation on degraded land.
AirSeed Technologies is working with Western Sydney University and the Australian Institute of Botanical Science (opens in new window)Opens in a new window on a half a million-dollar research project which involves native seed pods being spread across targeted Garden sites using drones.
Drones are widely used for forestry purposes but this project is investigating their use to establish a wide diversity of local Cumberland Plain native plants, which the Western Sydney garden is home to.
More than 52 million hectares of Australia is now considered degraded land.
The Garden's Curator Manager Michael Elgey said the affected land at Mount Annan was previously a dense forest of the invasive weed African olive.
"After decades of olive invasion there were very few native species remaining," he said.
"This project is a fantastic opportunity to re-establish the original native Cumberland Plain vegetation and create habitat on these 'ground zero' cleared olive sites.
"Seeds have been specially collected from our existing conservation areas at the Garden and we hope to establish Cumberland Plain Woodland and Western Sydney Dry Rainforest communities which are now critically endangered."
Lead researcher Associate Professor Rachael Gallagher, from Western Sydney University's Hawkesbury Institute for the Environment, said due to the state of Australia's degraded land, we urgently needed scalable solutions which would allow us to restore diverse native vegetation.
"We can't meet the significant goals of national and global restoration programs by sticking with the status quo," Dr Gallagher said.
"We urgently need new techniques which reduce seed wastage and are capable of planting lots of species fast which will lead to benefits for both carbon sequestration and biodiversity".
Project partner investigator at the Australian PlantBank, Dr Peter Cuneo, said this type of direct seeding had the potential to revolutionise native vegetation establishment and ecological restoration in Australia.
"The drones contain pre-formed seed pods which contain seed, nutrients and microbial inoculants that will support seedlings as they germinate from the pellet pods and establish when conditions are right," Dr Cuneo said.
AirSeed spokesperson Andrew Walker, CEO and Co-Founder, said "the novel fusion between AirSeed's biotech and drone technology is reshaping the economics of large-scale ecological restoration practices".
Royal Botanic Gardens and Domain Trust Chief Executive Denise Ora said many people didn't realise the important research being done at the Institute, on everything from tiny seeds to giant trees.
"Whether they are out in the field collecting specimens or undertaking studies in our state-of-the-art laboratories, our scientists are working hard to ensure we find ways to protect and conserve valuable plant species for future generations," she said.
10,000 Aussie Workers Set To Develop Lung Cancer From Silica Dust: Study
As many as 10,000 Australians are predicted to develop lung cancer in their lifetime from being exposed to silica dust, new Curtin University modelling has found amid warnings more than half a million Australian workers are currently exposed to the harmful dust.
Engineered stone – used mainly for kitchen benchtops – is a particularly potent source of silica dust. This dust is also found naturally in many building and construction products including sand, soil, stone, concrete and mortar, as well as being used in the manufacture of building products such as bricks, tiles and glass.
For the past 60 years, silicosis had been very rare in Australia but the increased use of engineered stone in kitchen benchtops is driving a re-emergence of the disease, prompting the Australian Government to set up the National Dust Diseases Taskforce. Last month, Safe Work Australia also released a Consultation Regulation Impact Statement that proposes options for managing the risks of exposure and is currently open for public submissions.
As the result of a study commissioned by the Australian Council of Trade Unions, Curtin University researchers used a unique method to predict how many Australians would develop lung cancer in their lifetime as the result of their exposure to silica dust in a specific year.
Lead researcher Dr Renee Carey, from the Curtin School of Population Health, said the modelling provided the best available estimate of the future number of lung cancer and silicosis cases that would result from workplace exposure to silica.
"Our modelling predicts more than 10,000 Australians will develop lung cancer and up to 103,000 workers will be diagnosed with silicosis as the result of their current exposure to silica dust at work," Dr Carey said.
"We estimated that more than half a million Australian workers are currently exposed to silica dust across various industries, including construction, mining and quarrying, and manufacturing jobs."
Co-author John Curtin Distinguished Professor Lin Fritschi, also from the Curtin School of Population Health, said banning engineered stone would save lives – almost 100 lung cancers and a thousand silicosis cases could be prevented.
"While a complete ban of engineered stone would be the best option, it is possible to reduce the health impacts of working with engineered stone by various methods such as mandatory wet-cutting or on-tool dust extraction, as long as these methods are combined with the consistent use of high-quality respiratory protection," Professor Fritschi said.
"The damage from other types of silica-containing materials could be reduced by using better dust suppression techniques on mine and construction sites, and using wet-cutting during concrete cutting and grinding."
Dr Carey said further research was needed and better estimates may be possible as new information becomes available.
By estimating how many of Australia's adult population in 2016 were exposed to silica dust at work, and then modelling the number of lung cancer cases that would occur over their lifetime, the team was able to predict that one per cent – or 10,390 – of those lung cancer cases could be attributed to a person's occupational exposure to silica dust.
The International Agency for Research on Cancer classified crystalline silica as a Group 1 (definite) carcinogen in 1997 and 2012.
The full report,
The future burden of lung cancer and silicosis from occupational silica exposure in Australia: A preliminary analysis
, can be
viewed online here
.
Wearing Your Fitness On Your Sleeve Is Great For The Heart
New findings from Australian researchers have endorsed what millions of people around the world believe: fitness trackers, pedometers and smart watches motivate us to exercise more and lose weight.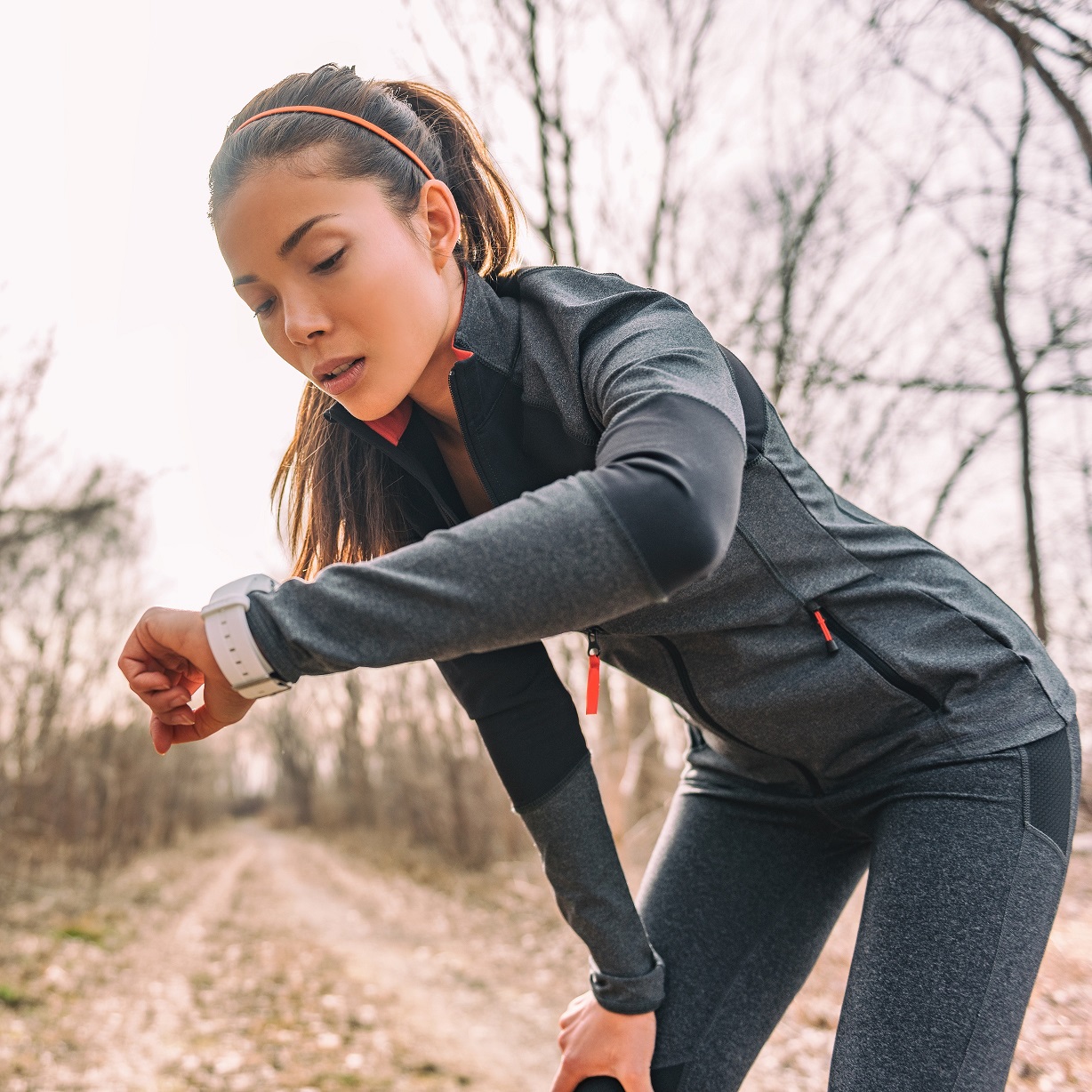 Wearable activity trackers encourage us to walk up to 40 minutes more each day (approximately 1800 more steps), resulting in an average 1kg weight loss over five months.
Researchers from the University of South Australia reviewed almost 400 studies involving 164,000 people across the world using wearable activity trackers (WATs) to monitor their physical activity.
Their findings, published in
Lancet Digital Health
today, underline the value of low-cost interventions to tackle a growing epidemic of health conditions partially caused by a lack of exercise, including cardiovascular disease, stroke, type 2 diabetes, cancers, and mental illness.
Lead researcher UniSA PhD candidate Ty Ferguson says despite the popularity of WATs, there is widespread scepticism about their effectiveness, accuracy, and whether they fuel obsessive behaviours and eating disorders, but the evidence is overwhelmingly positive.
"The overall results from the studies we reviewed shows that wearable activity trackers are effective across all age groups and for long periods of time," Ferguson says. "They encourage people to exercise on a regular basis, to make it part of their routine and to set goals to lose weight."
The 1kg weight loss may not seem a lot, but researchers say from a public health perspective it is meaningful.
"Bearing in mind these were not weight loss studies, but lifestyle physical activity studies, so we wouldn't expect dramatic weight loss," says UniSA Professor Carol Maher, co-author of the review.
"The average person gains about 0.5 kg a year in weight creep so losing 1kg over five months is significant, especially when you consider that two thirds of Australians are overweight or obese."
Between 2014 and 2020, the number of wearable activity trackers shipped worldwide increased by almost 1500 per cent, translating to a global spend of $2.8 billion in 2020.
Apart from the extra physical activity and weight loss attributed to WATs, there is some evidence that fitness trackers also help lower blood pressure and cholesterol in people with type 2 diabetes and other health conditions.
"The other reported benefit is that WATs improved depression and anxiety through an increase in physical activity," Ferguson says.
Anti-Rejection Medication And Immunotherapy Kicks Cancer And Protects Kidney Transplants
Adding immunotherapy to standard anti-rejection medication could change the lives of thousands of kidney transplant patients with incurable cancer, as new research shows it can reduce this risk of organ rejection and eliminate cancer in a quarter of patients.
Conducted by researchers at the Royal Adelaide Hospital and the University of South Australia, the world-first study showed that a dual combination of transplant anti-rejection drugs and immune checkpoint inhibitors* not only reduced organ rejection rates to 12 per cent (from 40-50 per cent) but also eradicated cancer cells in 25 per cent of patients.
Immune checkpoint inhibitors are drugs that block proteins called checkpoints. These checkpoints help keep immune responses from being too strong but can also keep T-cells from killing cancer cells. When these checkpoints are blocked, the T-cells can kill cancer cells more effectively.
UniSA researcher and renal specialist at the Royal Adelaide Hospital, Associate Professor Rob Carroll, says these findings are a gamechanger for kidney transplant patients with incurable cancer.
"Cancer is a leading cause of death in kidney transplant recipients with the rate of cancer being three-times higher in this group, than in the general population," Assoc Prof Carroll says.
"The terrible irony is that the immunosuppressants that patients must always take to stop their immune systems attacking their transplants, are also the medicines that stops the immune system getting rid of pre-cancer cells.
"To correct this imbalance, our study tested the efficacy of maintaining baseline anti-rejection drugs (to protect the transplant) and adding immune checkpoint inhibitors (to attack the cancer).
"The patients responded well with lower rates of organ rejection to 12 per cent, compared to previous reports and eliminating cancers cells in 25 per cent of patients.
"It's a massive advancement for kidney transplant patients; a whole new lease on life."
Robert P Carroll, Michael Boyer, Val Gebski, Bronwyn Hockley, Julie K Johnston, Svjetlana Kireta, Hsiang Tan, Anne Taylor, Kate Wyburn, John R Zalcberg.
Immune checkpoint inhibitors in kidney transplant recipients: a multicentre, single-arm, phase 1 study.
The Lancet Oncology, 2022; DOI:
10.1016/S1470-2045(22)00368-0
Researcher Links Real Encounter With 'Milky Seas' To Satellite Pictures
Milky seas -- the rare phenomenon of glowing areas on the ocean's surface that can cover hundreds of square miles -- are not new to scientists at Colorado State University. They have previously demonstrated the use of satellites to see these elusive phenomena. What was missing were photographic observations of milky seas observed from the Earth's surface and from space at the same time.
Until now.
In a new paper in Proceedings of the National Academy of Sciences, Steven Miller, professor in the Department of Atmospheric Science and director of CSU's Cooperative Institute for Research in the Atmosphere, compares satellite observations of a 2019 milky sea event off the coast of Java, to photographic evidence from the sailing ship Ganesha, a 16-meter private yacht. The yacht happened to be sailing in the milky seas at the same time. Unsure of what they had encountered, the yacht's crew provided CSU their enlightening footage after learning of its expertise in satellite observations, and Miller's particular interest in capturing milky seas from space.
Miller has previously compared satellite observations to tales from maritime lore to try to understand how the rarely-encountered mystery of the deep works.
A 100,000-square-kilometer bioluminescent milky sea south of Java, as seen from space on Aug. 2, 2019, and from the Earth's surface by the private yacht Ganesha. In the nighttime photo, the first of its kind, the ship's deck appears as a dark silhouette against the glowing waters. Credit: Steven Miller/Cooperative Institute for Research in the Atmosphere at CSU

Can we observe milky seas up close?
The crew of the Ganesha described the sea as a "luminous snowfield." A crew member recounted what she saw: "Both the colour and intensity of the glow was akin to glow-in-the-dark stars/stickers, or some watches that have glowing parts on the hands…a very soft glow that was gentle on the eyes."
GoPro and smartphone photographs clearly show the glow of the ocean, spreading from horizon to horizon, shining through the rails of the boat. A comparison image that has been edited to reflect the perception of the crew at the time accounts for difficulties in capturing such low-light signals on commercial, non-optimized photographic hardware.
According to the captain of the Ganesha, the glow appeared to be emanating from a fair depth below the ocean's surface -- perhaps as deep as 30 feet. A bucket of water that was drawn from the glowing sea contained many pinpoints of steady light, instead of the flashing or sparkling light observed by more commonly experienced forms of marine bioluminescence. As described briefly in the paper, this sheds some light onto the hypotheses of milky seas. Some ideas for milky sea formation suggest a "surface slick" of bioluminescence, but the observations from the Ganesha suggest that the phenomenon happens over a much deeper volume, providing information for researchers studying the phenomenon to consider.
With the Ganesha crew's descriptions of their encounter, along with GPS-reported track logs and dates in hand, Miller was able to match satellite images from the Day-Night Band (DNB) sensor aboard NOAA's SNPP and NOAA-20 satellites.
Piecing together the data, Miller found the Ganesha's track intercepted the southern part of the glowing seas. Despite being far from the brightest region of this milky sea -- an area where some of the clouds, also observed by the Day-Night Band sensor, appeared as dark silhouettes against the glowing waters, the Ganesha was still sailing through a region of ocean whose glow was readily detectable from 500 miles above in space.
Measuring the amount of light seen by the instrument for both the actual track of the Ganesha and a hypothetical transect through the brightest area of the milky seas provides the numbers needed to start to understand how these light displays develop. Moreover, knowing how the ocean appears from the surface gives researchers more context on what they're seeing from space. Importantly, with the eyewitness confirmation in hand, confidence in the space-based measurements skyrockets, Miller said, as they become a viable resource to help future expeditions guide research vessels target and study milky seas in detail.
'The biggest missing link'
Opportunities to study unresolved scientific mysteries are exceedingly rare in modern science, which is why these never-before-seen observations are so compelling, Miller said. Understanding what a satellite sees, and what's actually happening on the ground (or in this case, the ocean) requires observations that, often, scientists just can't get.
"The biggest missing link in our study from last year [on Day-Night Band-based milky sea detection and highlighting the 2019 Java event] was the lack of ground truth," Miller said. "But this current study provides it. It was a great relief to get this contact from the Ganesha crew."
Moving forward, CSU's ground-breaking and leading research capabilities in satellite observations may provide new opportunities to learn about one of the rarest and most mysterious happenings in the ocean.
"With our ability in the scientific community to see these phenomena from space, we hope more in-person witnesses will come forward, connecting more pieces in the puzzle of scientific exploration," Miller said.
Miller's professional aspirations range from the high, un-trespassed sanctity of space to the high seas. "Above all, I dream of one day being on a vessel as we cross into a vast milky sea, all of us diving in and basking in its glow! I know, not very scientific, but what inspires us!"
Steven D. Miller.
Boat encounter with the 2019 Java bioluminescent milky sea: Views from on-deck confirm satellite detection.
Proceedings of the National Academy of Sciences, 2022; 119 (29) DOI:
10.1073/pnas.2207612119
COVID-19 Patients More Likely To Develop Cardiovascular Diseases And Diabetes Soon After Infection
Patients who contract COVID-19 face a higher risk of developing cardiovascular diseases and diabetes, particularly in the three months following infection, according to a new study by Emma Rezel-Potts, Martin Gulliford, and colleagues of King's College London, United Kingdom, publishing July 19 in the open access journal PLOS Medicine
.
Scientists are increasingly recognizing COVID-19 as a multi-system condition that can cause disease throughout the body, likely by triggering pathways that cause inflammation. In the new study, researchers investigated whether a sample of COVID-19 patients developed new cases of diabetes and cardiovascular diseases at higher rates than a sample of people who have never had the disease in the year following infection. They analyzed anonymized medical records from more than 428,000 COVID-19 patients, and the same number of control individuals, matched by age, sex, and family practice. The analysis showed that COVID-19 patients had 81% more diagnoses of diabetes in the first four weeks after contracting the virus and that their risk remained elevated by 27% for up to 12 weeks after infection. COVID-19 was also associated with a six-fold increase in cardiovascular diagnoses overall, mainly due to the development of pulmonary embolism (blood clots in the lungs) and irregular heartbeat. The risk of a new heart disease diagnosis began to decline five weeks after infection and returned to baseline levels or lower within 12 weeks to one year.
The researchers conclude that COVID-19 infection is associated with an increased risk of cardiovascular disorders and diabetes, but fortunately, there does not appear to be a long-term increase in the incidence of these conditions for patients who have contracted the virus. Based on these findings, they recommend that doctors advise their patients who are recovering from COVID-19 to reduce their risk of diabetes through a healthy diet and exercise.
Coauthor Ajay Shah adds, "The information provided by this very large population-based study on the longer-term effects of COVID-19 on development of cardiovascular conditions and diabetes will be extremely valuable to doctors managing the millions of people who have had COVID-19 by now. It is clear that particular vigilance is required for at least the first 3 months after COVID-19."
Lead author Emma Rezel-Pottsconcludes, "Use of a large, national database of electronic health records from primary care has enabled us to characterise the risk of cardiovascular disease and diabetes mellitus during the acute and longer-term phases following Covid-19 infection. Whilst it is in the first four weeks that Covid-19 patients are most at risk of these outcomes, the risk of diabetes mellitus remains increased for at least 12 weeks. Clinical and public health interventions focusing on reducing diabetes risk among those recovering from Covid-19 over the longer-term may be very beneficial."
Emma Rezel-Potts, Abdel Douiri, Xiaohui Sun, Phillip J. Chowienczyk, Ajay M. Shah, Martin C. Gulliford.
Cardiometabolic outcomes up to 12 months after COVID-19 infection. A matched cohort study in the UK.
PLOS Medicine, 2022; 19 (7): e1004052 DOI:
10.1371/journal.pmed.1004052
Shockwave Caused By Tonga Underwater Eruption May Help Scientists Predict Future Tsunami
Using data from the eruption of the underwater volcano near Tonga in 2022, a research group at Nagoya University in Japan has used disturbances in the Earth's upper atmosphere to track the airwaves that cause tsunami. Their findings may lead to speedier predictions of these giant waves.
Every minute is crucial when warning people caught in the path of a tsunami. After the 2004 Indian Ocean earthquake, a tsunami in Indonesia reached Sri Lanka in less than two hours. Eight hours later, it arrived on the coast of Kenya. If there had been a way to notify people about the dangers of a tsunami in those faraway areas, it may have been possible to save at least some of the 230,000 victims.
A research group led by Assistant Professor Atsuki Shinbori, Associate Professor Yuichi Otsuka, and Associate Professor Nozomu Nishitani of the Institute for Space-Earth Environmental Research (ISEE), Nagoya University, in collaboration with the National Institute of Information and Communications Technology and the University of Electro-Communications, believes that it may be possible to predict tsunami faster by tracking the atmospheric disturbances caused by the airwaves they create. Their findings were reported in Earth, Planets and Space.
When a tsunami occurs, it deforms the lower atmosphere and generates oscillations of sound and gravity waves, causing disturbances of the electrons in the upper atmosphere, also called the ionosphere. Radio waves, such as those used in GPS and satellite broadcasting/communications, also pass through this part of the atmosphere. As a result, the disturbances caused by a natural disaster produce errors in the positional information supplied by GPS satellites.
Shinbori and his group used satellites and radar to examine these errors following the 2022 undersea volcanic eruption off the coast of Tonga in the South Pacific. They found that the eruption of the underwater volcano caused waves of air pressure that spread as far as Australia and Japan. These waves oscillated the lower part of the ionosphere. This generated an electric field that was then transmitted at high speed to the upper ionosphere. To their surprise, the researchers detected the electron changes much earlier than the air pressure waves that caused the tsunami.
The structures of the disturbance over Japan and Australia, interestingly, also mirrored each other. Despite being in different hemispheres, they occurred almost simultaneously because they disturbed the electrons in the magnetic field lines, the magnetic lines that radiate from the south to the north magnetic pole. The team calculated the speed of these disturbances and found the electromagnetic wave along the magnetic field lines travelled at 1000 kilometers (621.4 miles) per second. This was far faster than the air pressure wave, which traveled at the speed of sound (a comparatively slower 315 meters (0.2 miles) per second).
"We captured the signal of the ionospheric disturbance caused by the air pressure wave about three hours before the pressure wave originating from the volcanic eruption believed to have triggered the tsunami in Japan," Shinbori explains. "In short, the significance of these results can be divided into two aspects: the scientific aspect of a coupled system, and the disaster prevention aspect of preparedness for severe events such as tsunamis."
Future applications of the technique are already being considered. "Statistical analysis of ionospheric disturbances during volcanic eruptions and seismic events may make it possible to estimate tsunami wave heights and sizes from ionospheric disturbance signals in the future," Shinbori says. "Ionospheric disturbances may be a new step forward in tsunami alerts."
This research was supported by a Grant-in-Aid for Specially Promoted Research (KAKENHI) from the Japan Society for the Promotion of Science (JSPS), which began in FY2016, "Study of dynamical variation of particles and waves in the inner magnetosphere using ground-based network observations (PWING Project)."
Atsuki Shinbori, Yuichi Otsuka, Takuya Sori, Michi Nishioka, Septi Perwitasari, Takuo Tsuda, Nozomu Nishitani. E
lectromagnetic conjugacy of ionospheric disturbances after the 2022 Hunga Tonga-Hunga Ha'apai volcanic eruption as seen in GNSS-TEC and SuperDARN Hokkaido pair of radars observations.
Earth, Planets and Space, 2022; 74 (1) DOI:
10.1186/s40623-022-01665-8
Disclaimer: These articles are not intended to provide medical advice, diagnosis or treatment. Views expressed here do not necessarily reflect those of Pittwater Online News or its staff.