July 24 - 30, 2022: Issue 547
Inaugural 2022 Australian Schoolgirls Team Named - Local Athletes Selected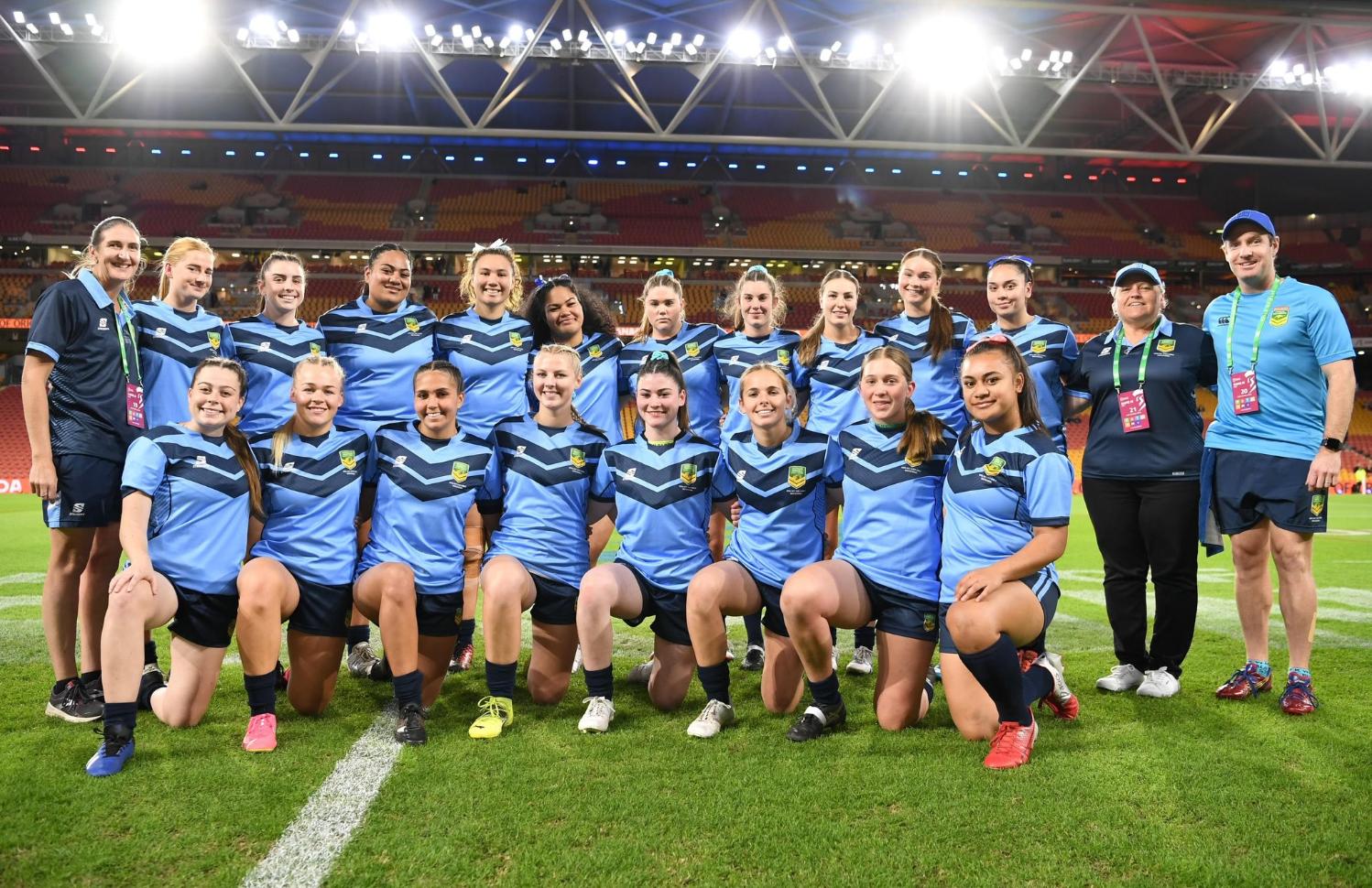 The combined NSW/ACT team prior to the Origin III curtain-raiser. ©NRL Photos
On Friday July 22nd local players Ally Bullman and Piper Simon were named as part of the inaugural Australian Schoolgirls Rugby League side has been selected following the curtain-raiser match between a combined NSW and ACT team against Queensland played prior to the Origin III at Suncorp Stadium On July 13th.
Ally Bullman was co-captain of the NSW ACT Girl's U18's Schools Rugby League with Georgia Willey.

Ally was named NSW Player of the Match in the pre-Origin III School Girls competition, stating afterwards:
''I'm honoured to have had the opportunity to co-captain and represent my state in the first ever NSW School Girls Rugby League Team, blessed and grateful to have received the NSW Player of the Match.

Playing at Suncorp stadium as the curtain raiser for Origin 3, under the big lights, was a dream come true and an experience I'll never forget.''
The match, which was won 30-6 by the Maroons in the lead-up to Game Three, was the final selection trial for the inaugural Australian Schoolgirls side, which will travel and play internationally in fixtures in September this year.
Illawarra-based coach Melissa Spero picked the Australian team alongside selectors Samantha Economos and Jim Look following the game on Wednesday night.
Ms Spero said in an interview with NRL "This pathway is a really big opportunity for not only the girls but the staff as well and I'm really excited to be able to lead that.
"It'd be awesome to see a similar pathway to what the boys have, although it doesn't necessarily have to be the same, we've just got to grow it to be a go-to pathway for Schoolgirls.
NRL states the introduction of an Australian Schoolgirls is another monumental step for women's rugby league with not only expansion at the elite level but participation rates and an increase of programs in schools on the rise.
The 2022 Schoolboys side was announced on July 11th with the program celebrating its 50th anniversary since the 1972 tour.
"If little boys can grow up and aspire to play in the Australian Schoolboys jumper then it makes common sense we have the same opportunity for girls," said NRL General Manager of player pathways, Brad Donald.
"We're seeing a lot of hard work to get into schools and provide the same opportunities to females as we do the males in our game development programs."
The list of those selected show 12 of the 17 players are from Queensland, with NSW's Raiders fullback Georgia Willey, Eels five-eighth Tallara Bamblett and Roosters Indigenous Academy hooker Ally Bullman in the key playmaking positions.
2022 Australian Schoolgirls
Georgia Willey (Erindale College, Wanniassa)
Piper Simons (Stella Maris College, Manly)
Tia Jordyn Vasilovski (Caroline Chisholm College, Glenmore Park)
Litia Fusi (Westfield SHS, Fairfield)
Ebony Rafstrand-Smith (Keebra Park SHS, Southport)
Sienna Lofipo (Marsden SHS, Waterford West)
Tallara Bamblett (The Hills SHS, Seven Hills)
Lillian Yarrow (Emmaus College Rockhampton)
Ally Bullman (Narrabeen SHS)
Eliza Lopamaua (Woodridge SHS)
Shaylee Joseph (Mabel Park SHS, Slacks Creek)
Latisha Smythe (Endeavour SHS, Caringbah)
Tavarna Papalii (Keebra Park SHS, Southport)
India Seeto (Marsden SHS, Waterford West)
Theophelia Mosby – Nona (Kirwan SHS)
Aerielle Hobbler (Mareeba SHS)
Tiresa Elika (Ipswich SHS, Brassall)
Coaching Staff
Coach: Melissa Spero (Warilla High School)
Manager: Scott Whybird (Mareeba State High School)
Assistant Coach: (Sherree Bush – Catholic Sport Office Canberra/Goulburn)
Trainer: Jayden Best (Stretton State College)
Piper Simon and Ally Bullman were also named in November 2021 as part of the Waratahs U17 Youth Girls 7s Squad.
Piper also plays with the Manly Mermaids and was named in the Open Australian Schoolgirls National Rugby's 7s merit team after competing in the National's championship at Knox during the holidays. She captained the NSW 1 Open 7s team, which won the championship and Piper was named Player of the GF and Players' Player.
Last week saw her playing at the State of Origin curtain raiser against QLD as part of the first ever combined NSW/ACT Schoolgirls open rugby league team. She was picked into this team when competing as part of the NSWCCC team. Piper is incredibly talented in so many sports, playing union, league, touch, soccer and is apparently very hard to catch in a sprint race.
Friday's announcement shows the passion these two young women have for their sports, along with all their hard work and commitment, is paying off.
Congratulations Ally and Piper on being selected for the first ever Australian Schoolgirls Rugby League team - an outstanding achievement.