September 17 - 23, 2017: Issue 330
Fight To Recover Pittwater Council Continues Past Election Day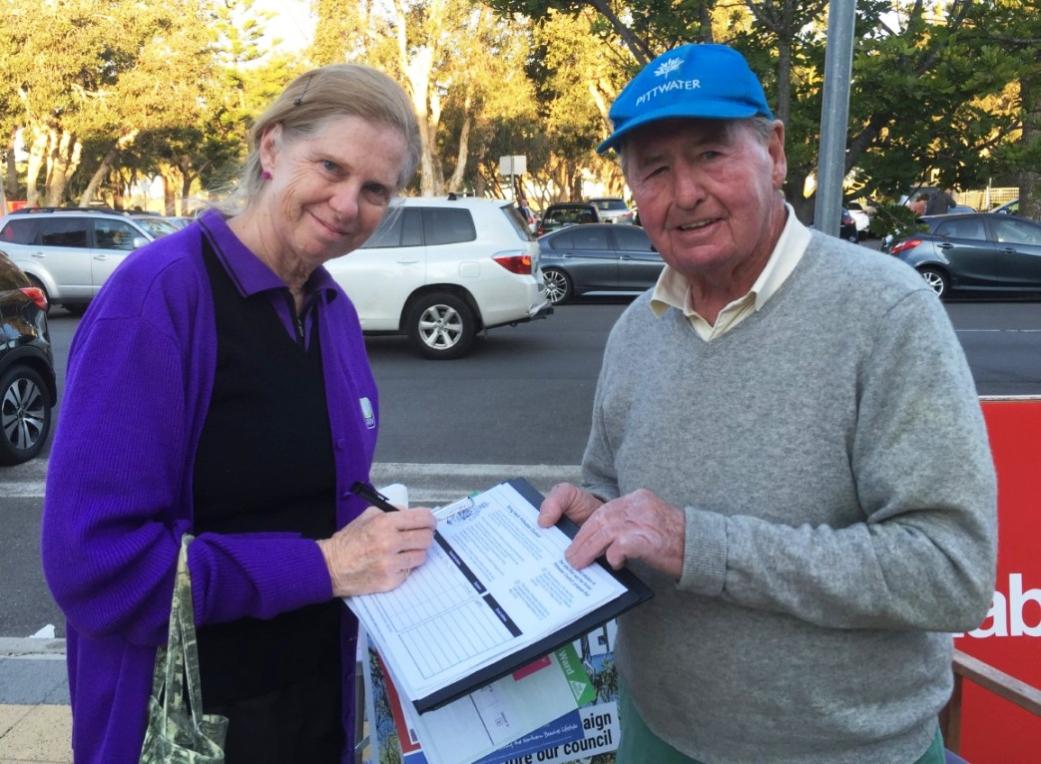 Gathering more signatures - Bob Grace and another willing signer
Fight to Recover Pittwater Council Continues Past Election Day
September 16, 2017: Media Release - Protect Pittwater Association
The fight to recover Pittwater Council will continue despite elections going ahead last week for Northern Beaches Council, campaigners for the return of the former council say.
Protect Pittwater Association president Bob Grace said the group, set up to recover Pittwater Council, had collected more than 1,000 signatures during pre-poll and on election day.
Mr. Grace, a former Pittwater councillor, said the election on September 9 for Northern Beaches Council would not stop the movement to regain Pittwater.
He was joined by Save Our Councils Coalition President Brian Halstead collecting signatures outside the Avalon Recreation Centre booth on election day.
"We ain't going away," Mr Grace said.
"We are now stronger than ever - with so many signatures gathered during the election and more and more people wanting to join the action to recover our council.
"The feeling I got from the community on election day is that people would still really like their council back."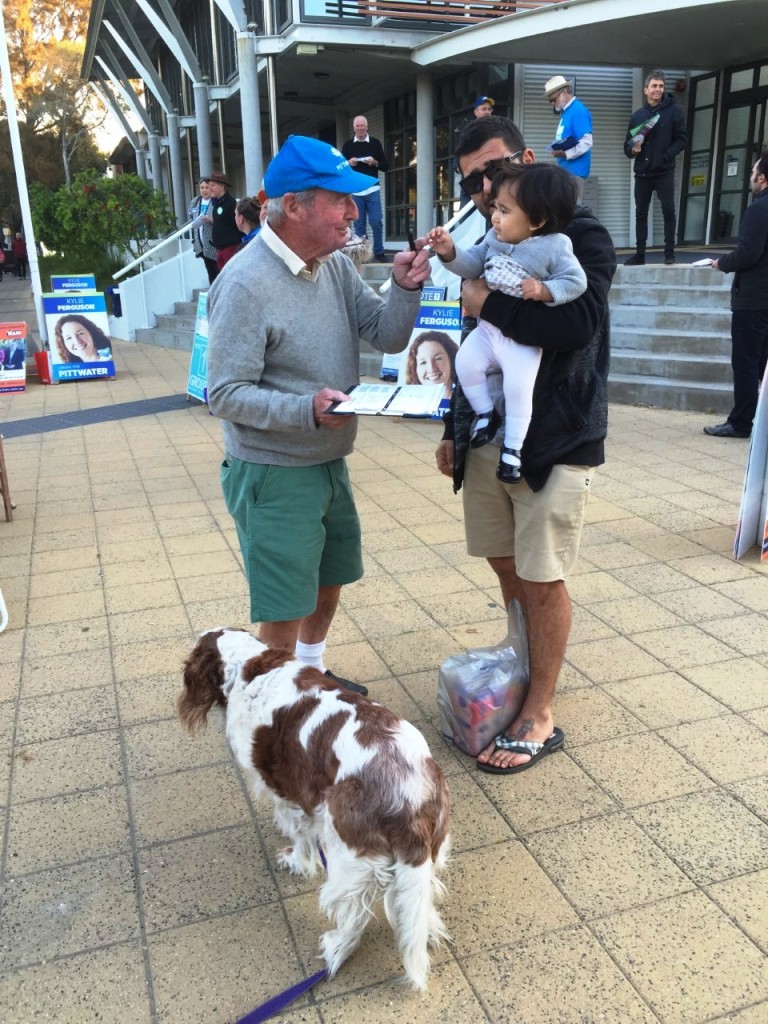 Bob Grace at Avalon Rec. Centre - Local Government election day
Another former Pittwater councillor Sue Young, said she and her husband Tony were joined by other community members at pre-polling in Mona Vale during the two weeks before the election, talking to voters and gathering signatures.
"What upset most people was that their views hadn't been considered (by the government) before the merger and they were concerned about the size of the new council and prospect of overdevelopment," Ms Young said.
"To me it was important to be there with the Protect Pittwater sign to let people know that it's not over yet."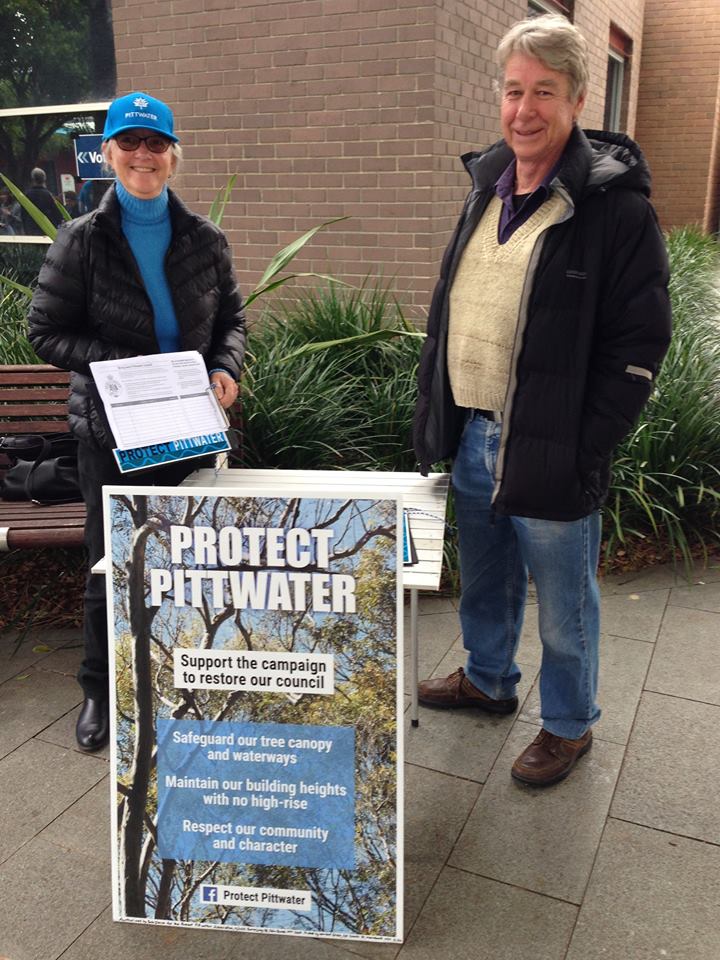 Sue and Tony Young collecting signatures at pre-poll booths at Mona Vale.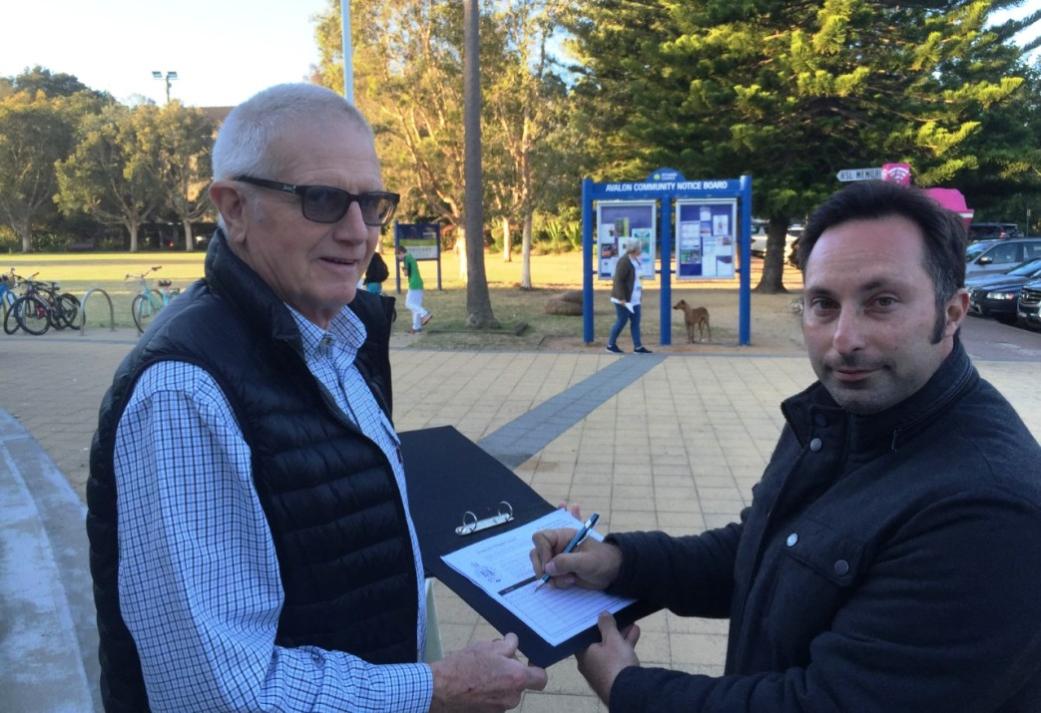 Gathering more signatures - Save Our Councils Coalition President Brian Halstead and another willing signer

Previously:
Pittwater - Amalgamation Proposal
+ NSW Government's White Paper + Proposed Local Government Reforms + Fit For the Future
Pittwater Council Community Forum on Amalgamation and Planning - May 2013
Pittwater - To Be Or Not To Be?
Hands Off Pittwater !! - Media Releases on the Dee Why Community Consultation on the Future Directions for Local Government proposals
Transcription of Speakers at Independent Local Government Review - Dee Why, 4th of June, 2013
Front Page Issue 115 - Amalgamation and Transcription of Community Consultation by ILG
NSW Government's White Paper - Issue 116
Hon Rob Stokes Hosts Roundtable Discussion On Council Mergers from Hon. Rob Stokes and People for Pittwater
Pittwater Council submissions on the White Paper – A new planning system for NSW and the Draft Metropolitan Strategy for Sydney and Future Directions for NSW Local Government – Twenty Essential Steps
Presentation by Better Planning Network at Mona Vale Memorial Hall on the NSW Government's White Paper
Bigger is Better Theory on Council Amalgamations De-bunked by Mayors Townsend and Hay of Pittwater and Manly (New Report: AN ASSESSMENT OF SGS REPORT LOCAL GOVERNMENT STRUCTURAL CHANGE: OPTIONS ANALYSIS) - published 6 September 2013 - Professor Brian Dollery
ONE NORTHERN BEACHES COUNCIL OUT OF THE QUESTION: At its 13 October, 2014 meeting, Pittwater's councillors reviewed the NSW Government's local government reform package 'Fit for the Future' (FFTF), which was released in September 2014. The proposal, reconfirming the Independent Local Government Review Panel's recommendations that Pittwater be merged with Manly and Warringah to form one council, was rejected.
One 'mega council' Would Be A Disaster for Pittwater - Pittwater residents are satisfied with Council - NSW government's Fit for the Future package includes amendments that make it harder for councils to prove they are financially viable, write Professor Brian Dollery and Joseph Drew - Front Page Issue 189
Artspot 2015 Opened with Aplomb
Pittwater Council to Purchase Avalon Beach Bowling & Recreation Club's Green 3 - Keeping our Community's Future 'Fitting' + Front Page Issue 211
Pittwater Uprising Again by 'Pittwater Scout' + Front Page Issue 212
Community News Issue 212 - May 2015: Local Government Reform - Have your say
NSW Government's "Fit For The Future" process erodes democracy and local lifestyle by 'Pittwater Scout'
Public Meeting on Proposed Local Government Reforms Indicates Forthcoming Backlash Against NSW State Government - Community Votes 'No' Amalgamation Again
SHOROC Shenanigans - Amalgamation Ploy to Undermine 'Scale and Capacity'? + Community News Issue 216
New Data Proves Overwhelming Support for Pittwater to Stay As We Are + Fit for the Future timeline makes mockery of fair process from Pittwater Council and LGNSW
Save Our Councils Coalition Launched – State MP's Join their the Ranks Against Forced Amalgamations from SOCC
Community News Archives - June 2015
Pittwater Declares Autonomy: FFTF IPART Required Documents Lodged
NO Amalgamation Chant Becomes Louder in Pittwater: Rally at Local MP's Office + Front Page Issue 234
Pittwater Residents attend NO Amalgamation Rally in Hunters Hill - Front Page Issue 235
Front Page Issue 236: Pittwater Residents Maintain NO Amalgamation Stance at Rosehill...
Keeping Pittwater Independent Stance Persists: Media Releases Monday 12th October to Friday 16th October, 2015 relating to FFTF Reforms by LGNSW, IPART, State and Pittwater Council
Front Page Issue 237: NO FORCED AMALGAMATION RALLY at Winnererremy Bay Park Thursday 29 October 5pm
FFTF Facilitators Found Faulty: 'No Amalgamation' Chant Continues: + Front Page Issue 238
A Greater Pittwater Option Discussed at Public Meeting on Proposed Council Amalgamations: Some Attendees Suggest A Statewide Referendum
Two Council Model Option Preferred to Mega Council Pittwater and Manly Mayors Announce: Mosman Stands Firm
Pittwater Prefers to Remain Pittwater: Greater Pittwater Option Forwarded as Second Preference: Cr. Hegarty's Address at Council Meeting of November 16, 2015
NSW Government Announces Amalgamation Proposal Plans: Reactions and What's Next in Process - 2016
Having Your Say on Local Government and Council Proposals: Written Submissions and Public Inquiry at Mona Vale Feb. 2nd, 2016
Community News February 2016: VOICES of PITTWATER - community leaders on amalgamation
Pittwater Residents Urged to Have Their Say on Proposed Council Changes - Passionate residents speak out at Public Inquiry Meetings
Pittwater's Future Down to A Numbers Game? Warringah Council's Bid to Have it ALL Revives New/Old One Council Proposal -Community News March 2016
Pittwater Asked to Have Its Say On Council Amalgamations AGAIN
Pittwater Residents Reject Mega Council Proposal at Public Inquiry Meetings - Written Submissions To Close on April 8th
Front Page Issue 257 Community Have Their Say on Proposed Amalgamation
Front Page Issue 258: Community Have Their Say on Proposed Amalgamation
Front Page Issue 259: Community Voices on Amalgamation
Front Page Issue 260 - Pittwater Councillors Passed Motion to Commence Legal Proceedings Against Forced Amalgamation Overturned Due to 'No Substance' to Grounds Raised
Pittwater is STILL Pittwater: Residents - Sacked Councillors Discuss Options: Legal action and second Secession to begin discussed
Mona Vale Place Plan: Have You Say By November 13, 2016 - community dismayed at draft slating six storey buildings for Mona Vale

Mona Vale Place Plan Meeting Discloses Salient Points And Communitys' Objections

Administrator's Message: draft Mona Vale Place Plan

Community News Issue 291 - Administrators Minute November 22nd, 2016
Mona Vale Rally on Mona Vale Place Plan Reopens Recent Wounds - Pittwater Council's MVPP List echoes Greater Sydney Commissions List for Mona Vale

Renewed Calls To Return Pittwater Council To Pittwater By Pittwater People in Wake of Recent Retirement Announcements: Issue 298

Community News Issue 299 : Council Amalgamations Windback: Community Feedback This Week: Issue 299
Calls To Restore Pittwater Council Persist: Issue 300

Community News Issue 304: Interview with Hon. Rob Stokes on Mona Vale Hospital
Save Mona Vale Park Protest against B-Line Destruction of The Village Green space reignites calls for Protection of Pittwater
Resident Birds Baffled By B-Line Sleight Of Hand: Where Did All Our Trees Go?
Forced Amalgamations Hit "Procedural Fairness" Snag That May Bring Every Imposed Merger Completely Undone
'Don't Be Developed Out Of Pittwater' Rally At Mona Vale's Memorial Hall: Motion to Fight to Restore Pittwater Council Passed Unanimously

Protect Pittwater Community Forum: 7 P.M. Tuesday May 16 At Pittwater RSL - What impact will the new government body - the Greater Sydney Planning Commission – have on Pittwater? How will development approvals be carried out? How can we recover our local Pittwater Council?

One Year On: Amalgamation STILL Rejected: May 2017 Issue 312 + Front Page Issue 312

Pittwater Community Forum Supports Legal Action To Restore Council - Protect Pittwater launched + Front Page Issue 313

Crowd-funding Appeal for Legal Action to Protect Pittwater Launching on Tuesday - contact points fixed + Front Page Issue 314

Huge Response To Pittwater Crowd-Funding Campaign To Reinstate Pittwater and Demerge + Front Page Issue 315

Protect Pittwater Campaign Grows and Prepares to Join Careel Bay Marina Winter Festival Next Weekend by Miranda Korzy + Front Page Issue 316

Careel Bay Marina Winter Festival 2017: + Community News Issue 317

The Local Government Amendment (Amalgamation Referendums) Bill 2017 Passes Upper House: gives residents in councils that have been forcibly amalgamated the right to a binding vote on de-amalgamation - goes to Lower House first week of August + Front Page Issue 318

Community Expresses Dissatisfaction With B-Line To Newport Proposal and Reduction of L90 Service - Newport SLSC carpark to meet Mona Vale shortfall and be used as bus terminus, 100 buses a day turning through Newport + changing from L90 to B-Line services will make a longer commute for current longest bus run in Sydney + Front Page Issue 318
Protect Pittwater Community Backed Group Engages Lawyers For Action On Council Restoration

B-Line Terminating At Newport Won't Work: Community Residents Groups Alternative - Residents Groups Meeting with Project Team notes there will be no community feedback sought prior to new timetable being published, no through city services covering the 'Newport Loop' during peak hours, Newport Surf Club carpark to be used as commuter carpark, proposed L90 cuts during peak hour

Pittwater Calls For Pittwater To Be Restored: We're Not Backing Down - Not Going Away, after NSW Premier's Announcement amalgamations of councils fighting in court against forced mergers will not proceed + Front Page Issue 323

Pittwater Locals Disappointed by Delay in Plebiscite Bill

Residents Should Not Fear Demerger Costs - visiting Greens MLC states - de-amalgamation bill to be debated again in September, petition calling on the state government to reconstitute Pittwater Council within its former boundaries, President of Protect Pittwater Bob Grace states this community group is seeking further legal advice and 'the fact that we seceded 20-odd years ago has some significance'

Fight for Pittwater Continues as Voters Go to the Polls from Protect Pittwater Community Group

Warriewood Proposal A Taste Of Things To Come: Greens State

Local Government Election Results Show Very High Informal Vote Rate

Community Groups Input Seemingly Ignored In B-Line Consultations