June 14 - 20, 2015: Issue 218
Avalon Tattoo 2015 – 10th Celebration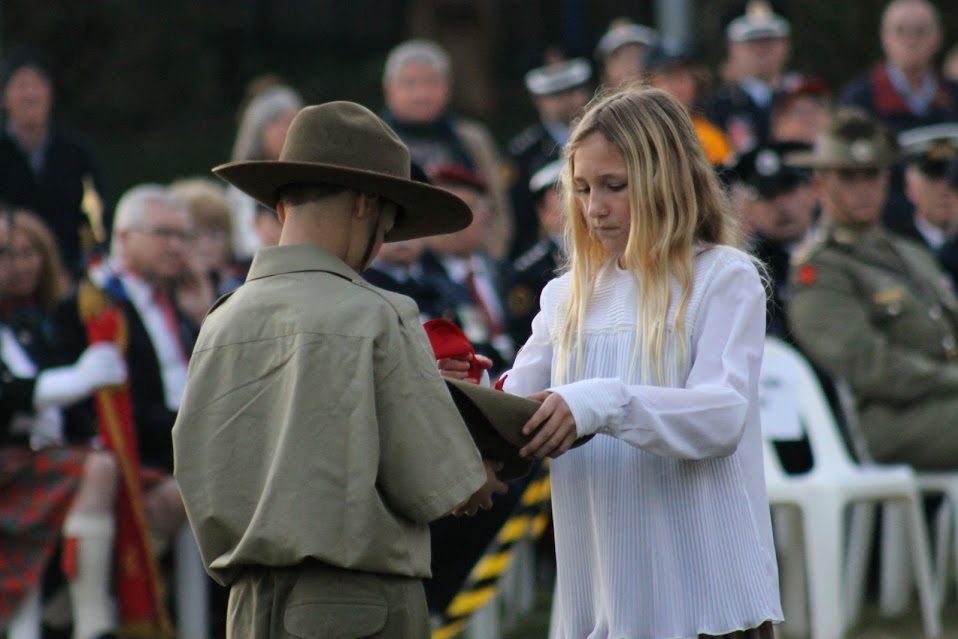 Avalon Public School students yesterday - WWI Tribute - many did not come home. AJG pic.
Everyone came for those magnificent Pipe Bands of course, but there were a few steal your heart moments as part of the 10th Annual Avalon Tattoo. The first, a standout, was the dramatic performance given by the Avalon Public School to the tune of Abide by Me. This simple yet eloquent demonstration of how Australians were before the Great War, WWI, and some came home, and some did not, left, in the words of Mayor Of Pittwater Jacqueline Townsend, and Member for Mackellar, the Hon. Bronwyn Bishop, 'not a dry eye'.
Another moment, also wonderfully coached in a song both sacred and endeared, was this year's French Commemoration of the June 18 Address by De Gaulle and a stirring renditions of the Marseilles, played by one of the pipers and joined in by more than just a few in the crowd.
A third was the Tribute to our Community and Emergency Services' for their contribution during the April 2015 storms by the Hon. Rob. Stokes MP.
More HERE
Save Our Councils Coalition Launched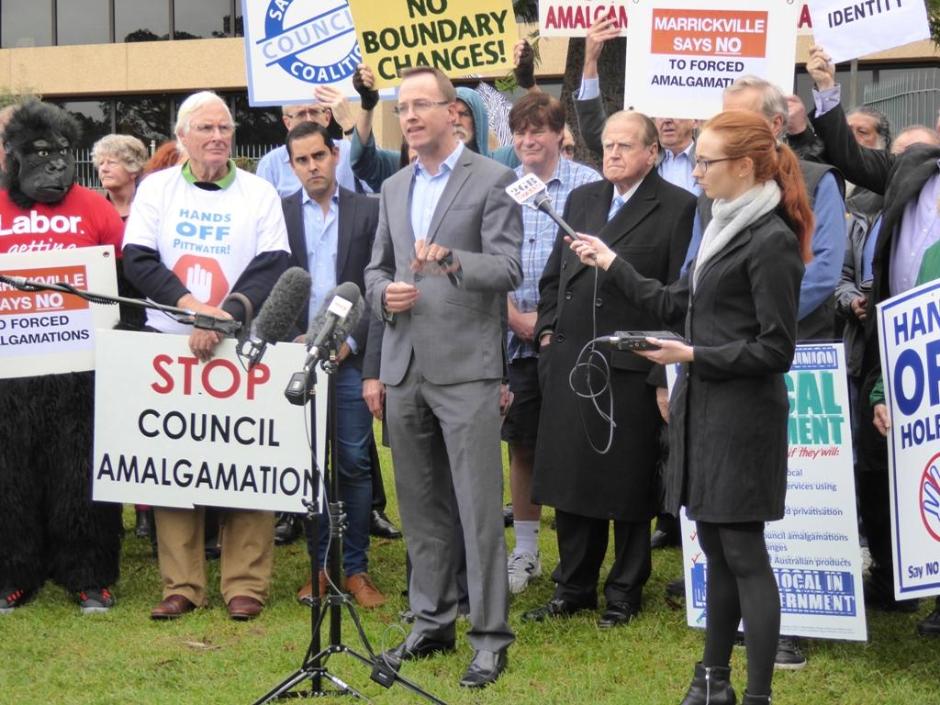 Greens MP David Shoebridge addresses residents of all councils across Sydney who attended the launch of the Save Our Councils coalition, flanked by Independent MP Alex Greenwich and Christian Democrats MP Fred Nile. "Forced amalgamations are so unpopular, so anti-democratic, that everyone from the Christian Democrats to Labor to the Shooters and the Greens are standing together to oppose them in Parliament," Greens MP David Shoebridge said on Thursday. - Picture supplied by Pittwater attendees.
The Save Our Councils coalition is saying: "Save Our Communities" and calling on all MPs to show respect for their local communities and their right to participate in their local council.
Residents across NSW are unhappy with the Baird Government's plan to force Councils to amalgamate and many believe amalgamations should only proceed where the community of each local government area has voted in a referendum in favour of amalgamation.
"We are calling on all MPs to reject any legislation or government action which would force any existing councils to amalgamate," said Mosman Councillor and SOCC organiser Carolyn Corrigan.
Pittwater residents and Councillors attended the launch of this coalition at the Tree of Knowledge, behind Parliament House, on Thursday June 11th.
More HERE
BL's Blast Off 2015 – Celebrating 10 Great Years of Surfing Festival Fun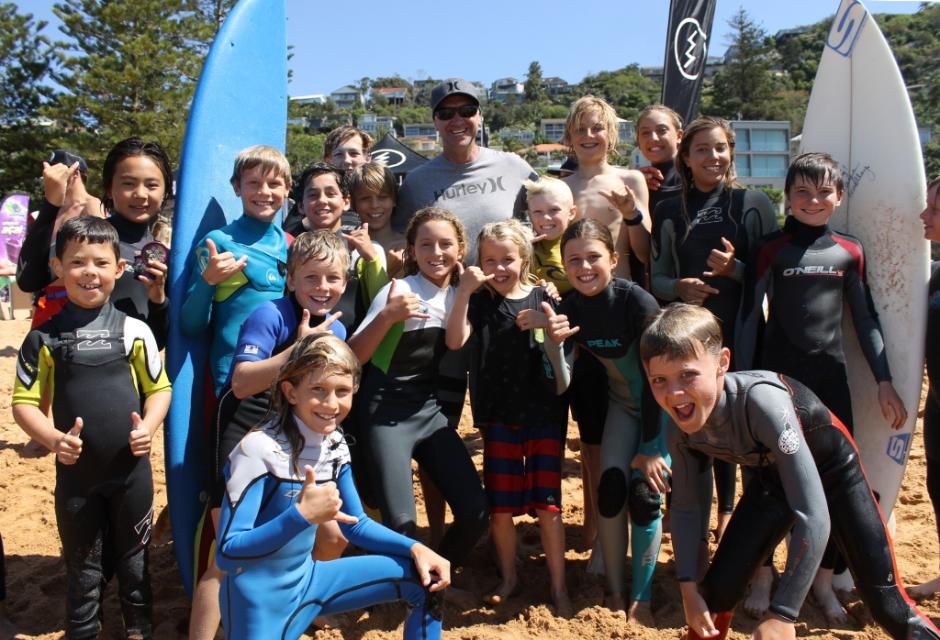 Barton Lynch with BL's Blast Off surfers - 2013 - A J Guesdon picture.
Entries for the 2015 Blast Off opened on Friday June 12th and there's already only a few spots left. This year Barton Lynch and the team celebrate 10 years of junior surfing development through the Hurley BL's Blast Off presented by beecraft.
Over this time the growth and development of so many young surfers, some of whom are now competing on the world stage, has stamped this family friendly all fun surfing festival as the one you want to begin in and many who start when knee high go through all divisions of age groups before graduating to waves elsewhere.
BL is also MC with Wendy Harmer at the stupendous International Day of Surfing Celebration at Harbord Diggers on June 19th, the big annual fundraiser for the Surfrider Foundation to support their ocean and beach saving works. The celebration kicks off in the afternoon with barefoot bowling and finishes with the great Celibate Rifles.
We spoke to Barton Lynch yesterday to gain a few insights into the 10th anniversary of Hurley's BL's Blast Off and also what's happening at this year's Northern Beaches International Day of Surfing event.
Interview HERE
RPAYC's Stacey Jackson's Historic Win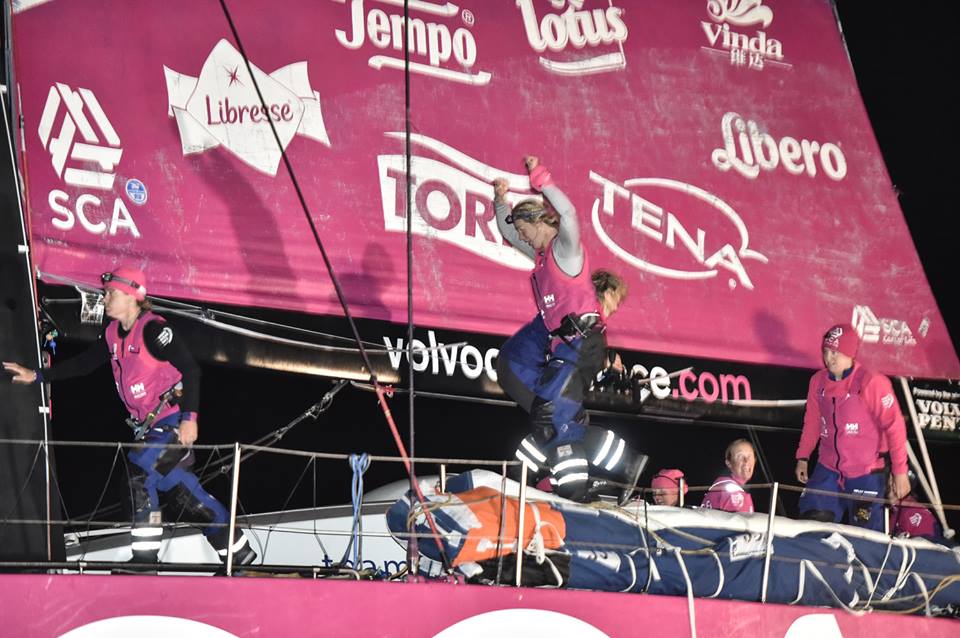 Stacey Jackson with the all women's SCA Team Team SCA crossing the finish line in Lorient
Photo by Ricardo Pinto / Volvo Ocean Race
2015 Tryge Halvorsen Trophy Winner from the RPAYC, Stacey Jackson, who is part of the all womens SCA Team, have been the first all female crew to win a leg in the Volvo Ocean Race in 25 years!!!
Known as Leg 8, the penultimate leg of the race, the sailing came to an end in Lorient after 3.5 days at sea, with an historic win for Team SCA on Thursday, June 11th this week. The Volvo Ocean Race is the world's toughest sailing event, where the elite of the sailing profession battle it out on the most treacherous oceans. It is a nine-month marathon on the seas, passing through four oceans and five continents. You can follow this iconic battle on high seas HERE. The girls Team SCA have a website HERE and Facebook page HERE
RPAYC Sailors have been doing well elsewhere in Australian Winter Sailing off the Queensland coast – RPAYC sailor and lady skipper Jill Connell shares a report this week on the Etchells Winter Championships in this Issue's Aquatics page.
TEDxPittwater: The Art of Being PITTWATER!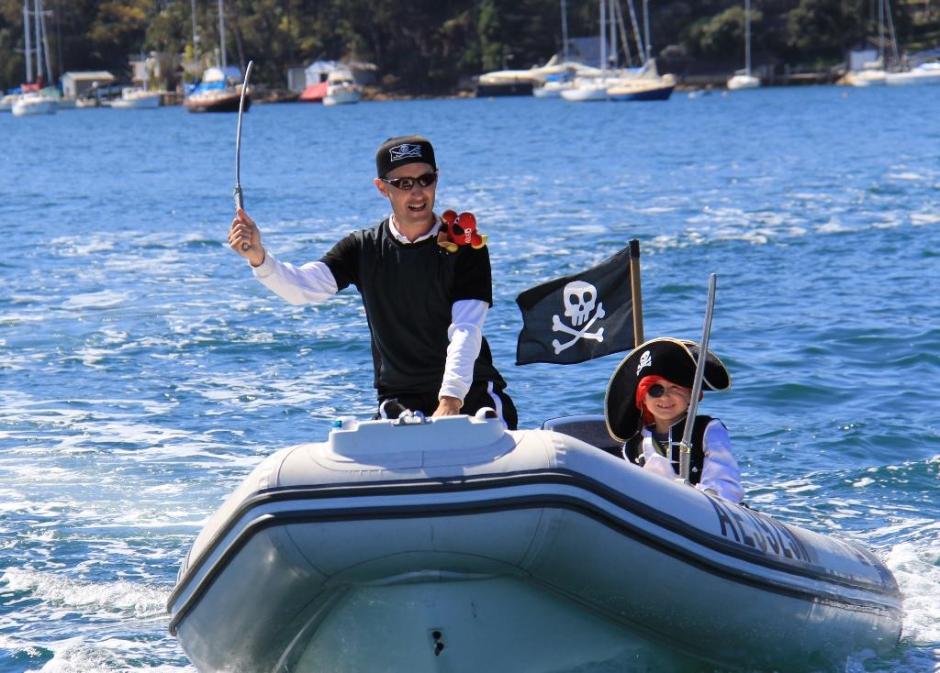 Rob Tulk with co-pirate at Avalon Sailing Club Opening Day!
There's something for your mind, your body, your heart and your soul in this year's featured speakers for TedxPittwater: The Art of Being Pittwater. All have refined great ideas into dynamic workings, and certainly know about 'the art of'. This week we'd like to share an insight into one of these, a gentleman who sustains and extends the age old profession of naval architecture.
Rob Tulk is a Naval Architect based in Warriewood. He designs and builds high performance boats with one, two or three hulls. Rob will be talking about the art and science behind designing these innovative vessels, the largest super yacht ever built in Australia and the future of Sydney Ferries fleet.
More HERE
This is Avalon - Winter Solstice Festival Sunday 21st of June 2015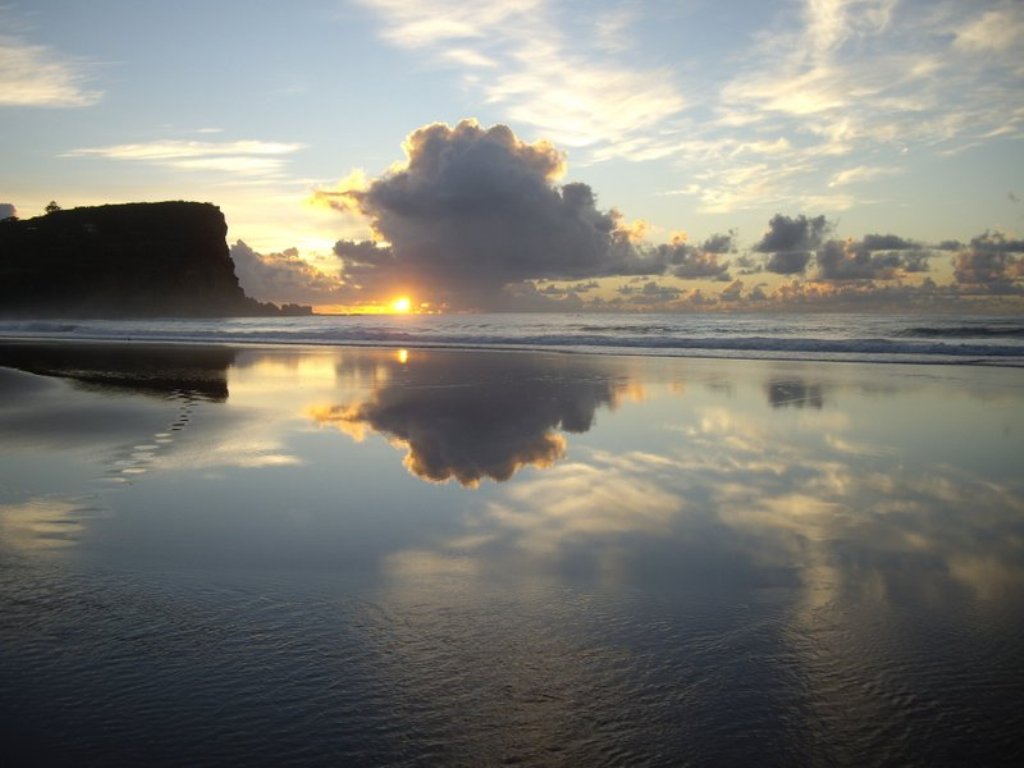 Avalon Sunrise - Reflected - Picture by Geoff Clarke
The Avalon Palm Beach Business Chamber Inc. invites everybody to the inaugural This is Avalon -Winter Solstice Festival. This will be a wonderful celebration of how vibrant and brilliantly blue Pittwater is at this time of year.
The day begins at 5.45am with yoga at Avalon Beach Surf clubhouse and watching the sunrise through a great surfboard Stonehenge installation on beach and culminates with a Lantern Parade in Dunbar Park at 4.30pm and Fire Twirling performance (5pm -6pm) this great new initiative by the Avalon Beach Palm Beach Business Chamber.
For more de-light-ful inspirations you could join Bookoccino for a free event with Fred Watson an Astronomer and author of the books 'Star Craving Mad', 'Stargazer the Life and Times of the Telescope'. Or stroll back to the beach for Sea Shepherd doing whale watching talks from the Southern Headland from 8am.
Pittwater Online's own Lynda Hill, the best and most accurate Astrologer we've ever met, will be doing Readings at Ozzie Mozzie Nets, a lady poetess in the afternoon, free bicycle safety checks, native plants to refurbish those lost in recent storms and you can take the littlies into Dunbar Park, there's games and workshops galore!
If you're not part of the festival yet, and want to be, Ros Marsh advised us yesterday there are still a few spots for Not For Profits to be a part of this first Winter Solstice Festival – and the team are still looking for a few extra volunteers or local community /school fundraising events to assist with activities. In decades to come you will be able to say "I was there!"
Full list of all events and times and more HERE
Pittwater in Winter - June Colours 2015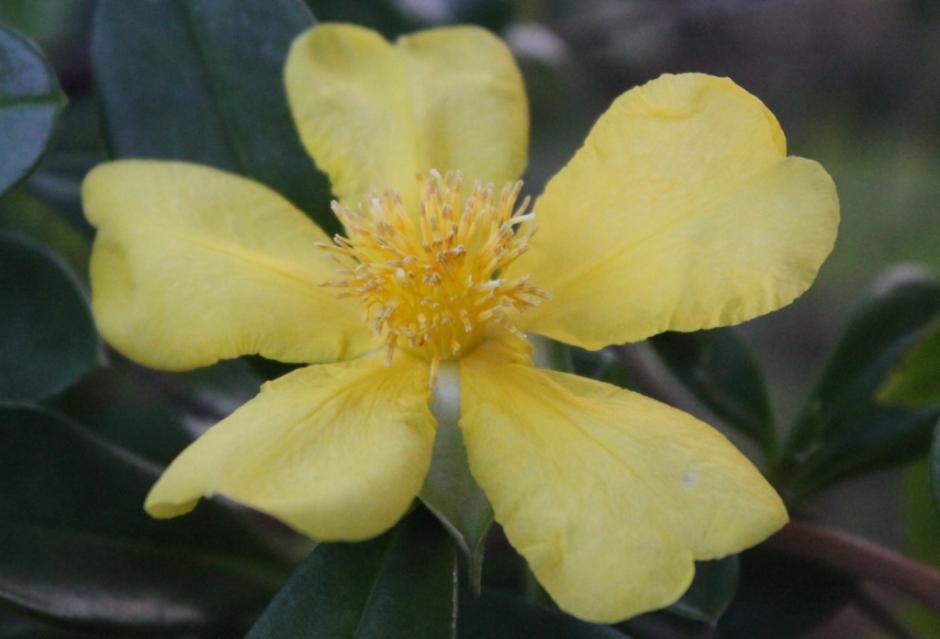 Pittwater Online News is Published 8 a.m. Every Sunday Morning and is By, For and About Pittwater - and all that adjoins her green hills and blue waters.
8 a.m. - Winter - 6 a.m. Summer