June 11 - 17, 2017: Issue 316

RPAYC Showcase Sailing To Prince Harry For The 2018 Invictus Games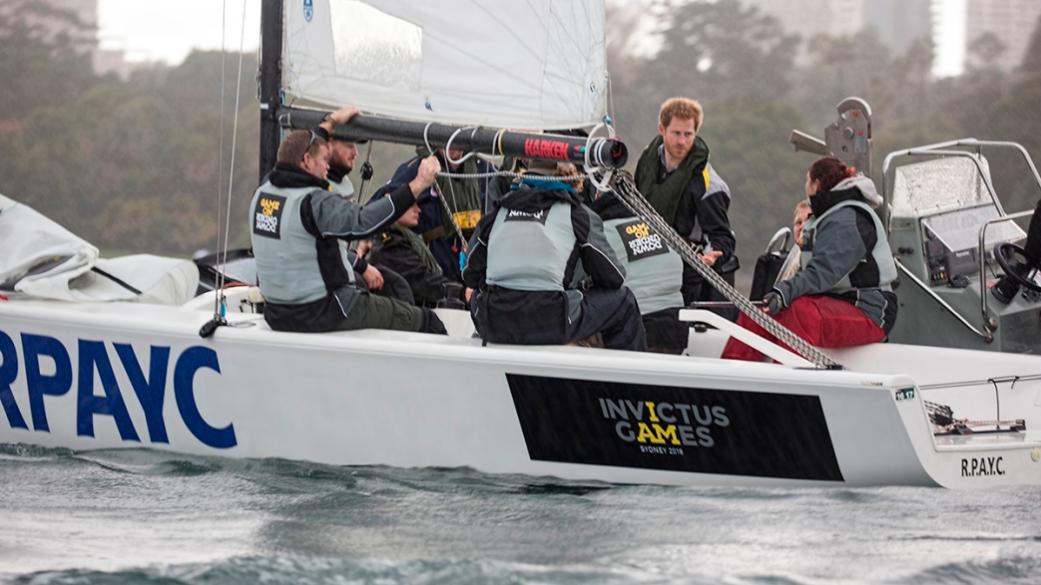 Prince Harry greeting the participants - photo Beth Morley, Sports Sailing Photography

The Royal Prince Alfred Yacht Club has featured heavily in the launch of the 2018 Invictus Games as part of a sailing demonstration showcasing the sport in front of an iconic Sydney back drop with Prince Harry, senior Invictus organisers, RPAYC Members and many other distinguished guests watching on.

The RPAYC was asked to conduct the sailing demonstration on the back of their successful sailing program with veterans and the Soldier On Australia charity.
Prince Harry, Founder and Patron of the Invictus Games Foundation officially launched the countdown to the fourth Invictus Games at Admiralty House marking 500 days until the opening ceremony.
Speaking in front of athletes and distinguished guests Prince Harry said "Sydney will soon be the custodian of the Invictus spirit and the focus for hundreds of men and women using the Invictus Games to motivate their recovery from physical and mental injuries."
"I know that people across the country – from Perth to Sydney, from Darwin to Adelaide – will embrace the Invictus Games and show their support for competitors from their local towns and right across the country. I have no doubt that the Sydney public will make these games their own."
"The Invictus Games are coming to Australia – game on down under!"
RPAYC Club Coach Tom Spithill, along with Commodore Ian Audsley and Integrated disAbled Sailing Board of Governors representative Norm Weaver co-ordinated an excellent display of sailing which cemented the earlier decision announcing the inclusion of sailing in the 2018 Games for the first time.
Chair of the Sydney 2018 Invictus Games, Lieutenant General Peter Leahy, earlier revealed that the sport of sailing will debut on the 2018 competition schedule. "Sailing will be contested on Sydney Harbour and what a wonderful backdrop it will provide."
The RPAYC will also be the organising authority for the 2018 Games.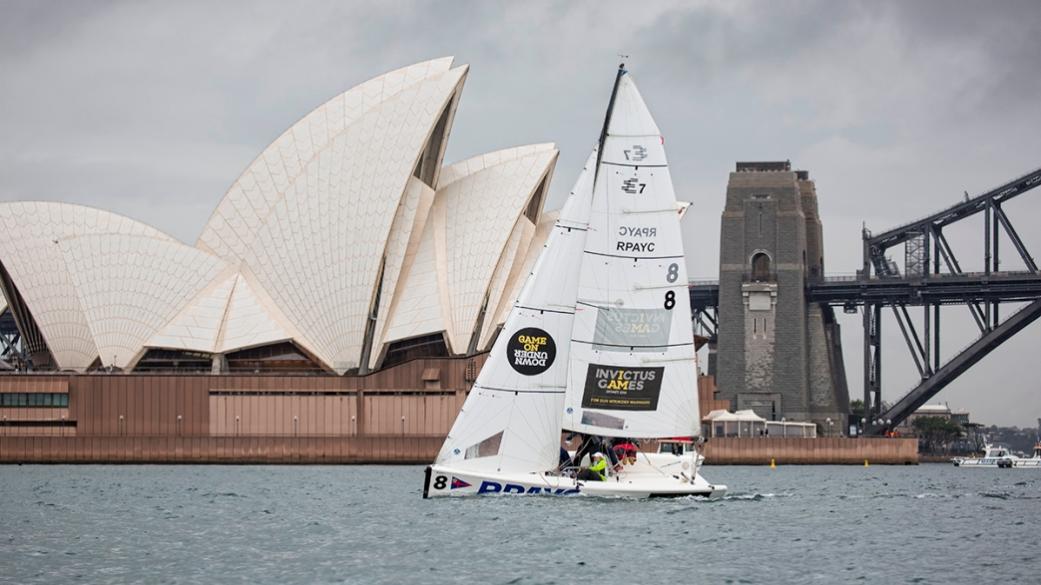 Pre race sailing with great Sydney backdrop
- photo Beth Morley, Sports Sailing Photography
Protect Pittwater Campaign Grows: Prepares To Join Winter Festivities Next Weekend
The fighting fund to restore Pittwater Council continues to grow as the campaign prepares to join Winter Festival at Careel Bay marina next weekend.
Protect Pittwater president Bob Grace said the group was stunned by the level of support for the campaign, having reached its crowd-funding target of $10,000 last Sunday, less than a week after going live the previous Tuesday.
Residents were continuing to donate - with the fund now at over $13,000 - and offers of help for the campaign were streaming in.
"Thank you, thank you, to all those people who have contributed and helped us reach our crowd-funding target," Mr Grace said.
"We are now in a position to seek legal advice and at a meeting this week will decide which lawyers to choose.
"If that advice is positive, we will take legal action.
"However, we are still accepting donations to the crowd-funding campaign because the more we have to spend on our legal team the greater our options."
Visit:
www.chuffed.org/project/protect-pittwater
Mr Grace said members of the Protect Pittwater Association would have a stall at the Careel Bay Winter Festival next Saturday and would be able to talk about the campaign with visitors.

"This is a great family festival and we will be there with a stall so that the Mums and Dads will be able to chat to us about why we are so passionate about Pittwater," Mr Grace said.

"Careel Bay marina is unique. The Winter Festival with its wooden boats is a great community gathering and is what Pittwater is all about."

Copies of a petition asking the state government to restore Pittwater Council would also be available for residents to sign at the festival – to be held at the Careel Bay Marina, at the end of George Street in Avalon.
Careel Bay Marina Annual Winter Festival
Saturday 17th June: 8.30 am to 3pm
There's an array of Local Artists, Market stalls, Live Music, Food and drinks, Children's Activities, Classic Timber Boats.
Celebrating World Ocean Day With Valerie Taylor AM At Palm Beach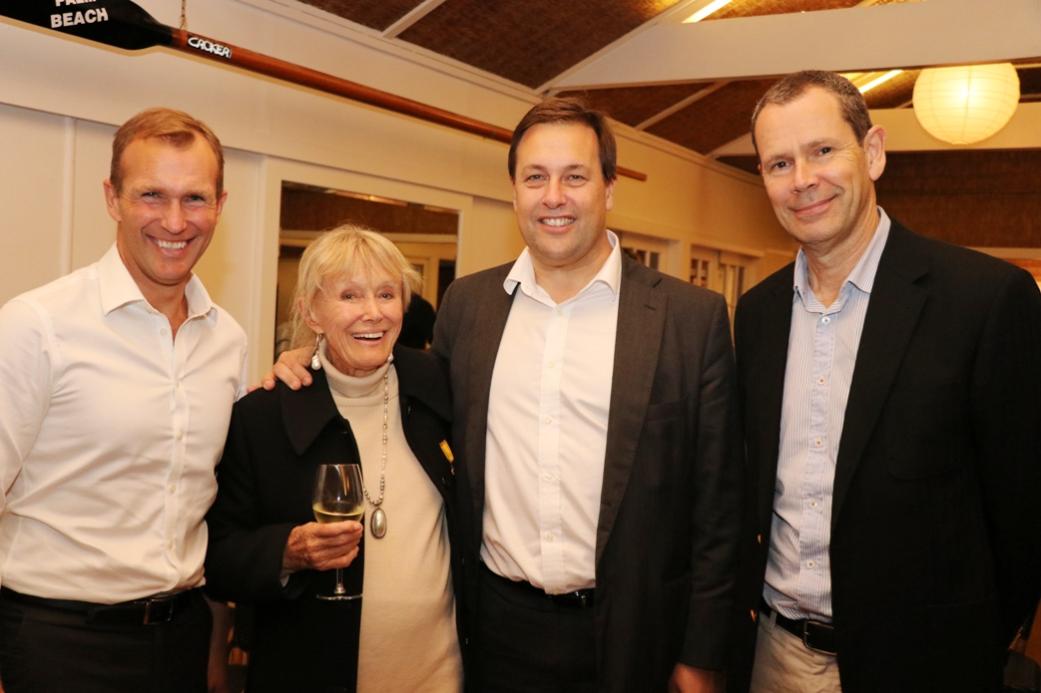 MP for Pittwater Rob Stokes, Valerie Taylor AM, MP for Mackellar Jason Falinski, Dr. Barry Traill
On Monday, June 5th, Federal Member for Mackellar, Jason Falinski, celebrated World Ocean Day with the State Member for Pittwater Rob Stokes MP, the Save Our Marine Life partnership, and special guest Valerie Taylor AM at Palm Beach.
The evening included a special screening of Curl Curl duo James Sherwood's and Danielle Ryan's (Bluebottle Films) The Last Sea Treasure - an exploration of the Coral Sea – the cradle to the Great Barrier Reef and one of the last places on Earth where ocean giants still thrive.
Valerie fears that her second love after husband Ron, the ocean, is threatened and at 81, is putting up a fight for its life. The oceanographic legend has been giving talks everywhere The Last Sea Treasure has been shown in recent months around Australia.
"When we started out, the cinematography was a way to make money, to pay off the house," she says. "Then I got to know the marine animals and ecosystems, and it became much more than that.
"In 1965, we did a six-month dive trip for the Belgian Scientific Expedition to the Great Barrier Reef. The footage we shot is in the University of Liège.
It's become part of history because the places we filmed no longer exist. They're changed. We went back to the reef in 1970 on another six-month job and already we could see an incredible change. Crystalclear water had become murky. Fertiliser run-off from the cane fields had increased. Great algal blooms would come, settle on the coral and kill it.
"When we first went into the ocean, there were so many fish and they were so tame that we never thought we could get them all. It seemed impossible. But over the years, from pollution and overfishing, we have made a huge dent. Suddenly, they're not there anymore."
Diving in the Coral Sea, Valerie has seen illegal fishing first-hand. "One time, out on Marion Reef," Valerie explains, "we were rammed by a Japanese boat that was fishing illegally. There was no law out there. They were putting nets across the passes and catching everything. Not just fish – turtles, everything!"
Valerie has advocated strongly for marine parks in Australia and internationally. "They're not the only solution," she says, "but they can save a lot of rare marine creatures from extinction. We don't have enough of them and we don't protect them properly."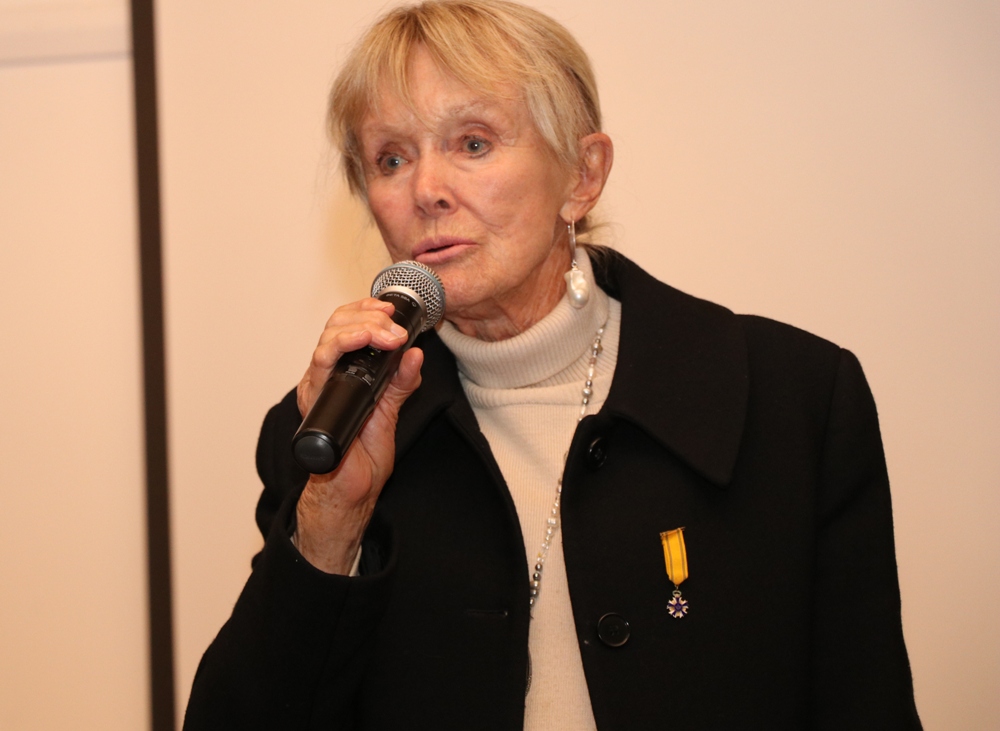 Mr Falinski said: "We all share a love for our ocean up here on the Northern Beaches, so much of our lives are based around it. Marine parks, their implementation, management and conservation, is an issue that our community cares about immensely. I have heard the many voices that have written to me, sought meetings, and called my office, and I want to reaffirm my commitment to represent your views in Federal Parliament. I stand firm in my support for the national network of marine parks."

Mr Falinski made a speech to Parliament last month arguing for the marine park network, he urged all attendees to sign a petition showing their support for this cause that he could take to the Minister for the Environment and Energy, the Hon. Josh Frydenberg MP.
Petition
I support our national network of marine parks, welcome the inclusion of $56 million in the 2016 Federal Budget to fund their implementation and management, and urge the Government to keep them operational, without reducing high level sanctuary protection (including our Coral Sea Sanctuary).
The petition gathered over a hundred signatures on the night, and will be circulated online over the weekend, before it's presented by Mr Falinski to the Minister next week when Parliament sits.
More HERE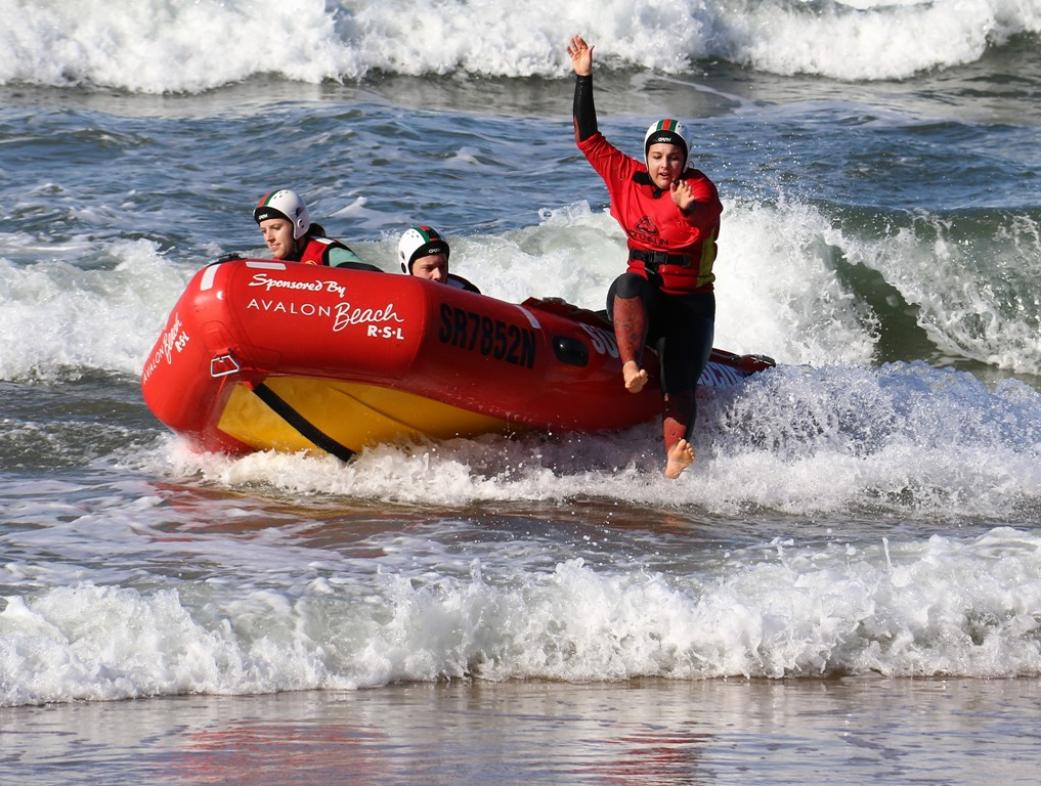 Avalon Beach SLSC In Action at Round 3 of 2017 IRB Premiership Series - photo by Richard Cole, 2017
An exciting finish to the 2017 IRB Premiership Series looms after another strong weekend of rubber ducky racing at Ocean Beach SLSC on the state's Central Coast.
Multiple clubs across each division pressed their claims for overall honours ahead of the final round in a fortnight's time.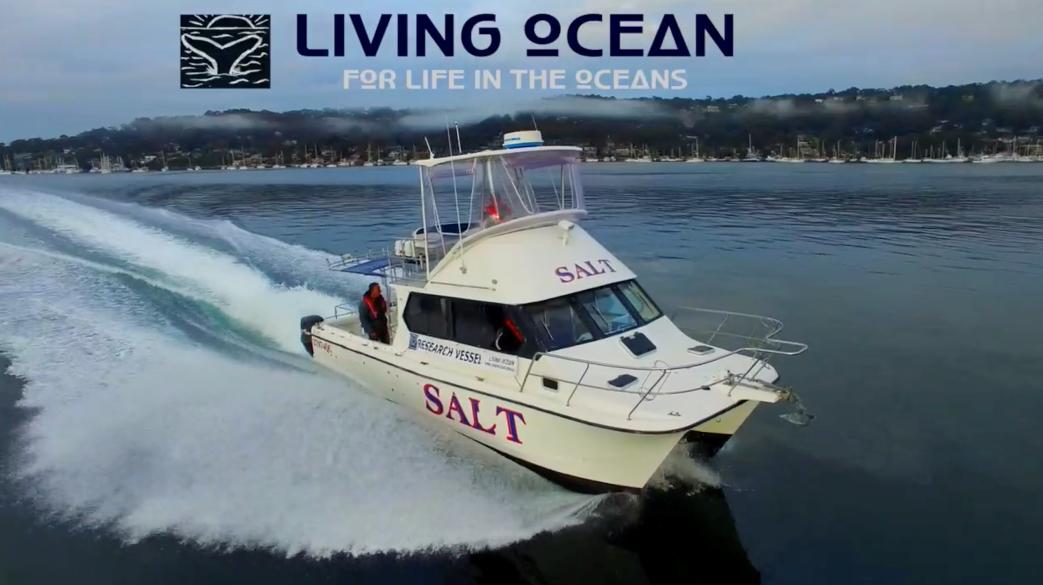 Each Whale Migration Season the team from Living Ocean's Centre for Marine Studies, comprising researchers and volunteers study, from sea and land, the humpback whales that migrate along Australia's East Coast. The study – licensed by State and Commonwealth agencies including an Ethics Committee – continues an innovative research program that the team began in 2004.
Every Winter trip the Living Ocean Team make each season costs around $450.00 in fuel alone. Living Ocean are currently seeking a Sponsor for this research for the 2017 season, or would like to hear from those who have great fundraising ideas to keep this vital program going.
Over the last few years Living Ocean's data has starkly revealed that areas off Sydney proposed for commercial sand mining are high-use areas for whales and could be stated to be 'whale highways' where the mammals are using familiar sea channels and the floor of the sea, as landmarks, to find the way they swim, and have swum, north or south.
This data has become particularly more relevant due to the fact that one company is currently seeking to run 2D Seismic tests within the zones the Living Ocean Team patrol each Whale Migration Season during the third quarter of this year - July to September 2017.
Who are Living Ocean - 'For Life in the Ocean' - what else do they do?
Past Features Archives (pre 2014)
Pittwater Online News was selected for preservation by the State Library of New South Wales and National Library of Australia. This title is scheduled to be re-archived regularly.
Archived Issues (2014 on) may be accessed here: pandora.nla.gov.au/tep/143700