October 19 - 25, 2014: Issue 185
ONE NORTHERN BEACHES COUNCIL OUT OF THE QUESTION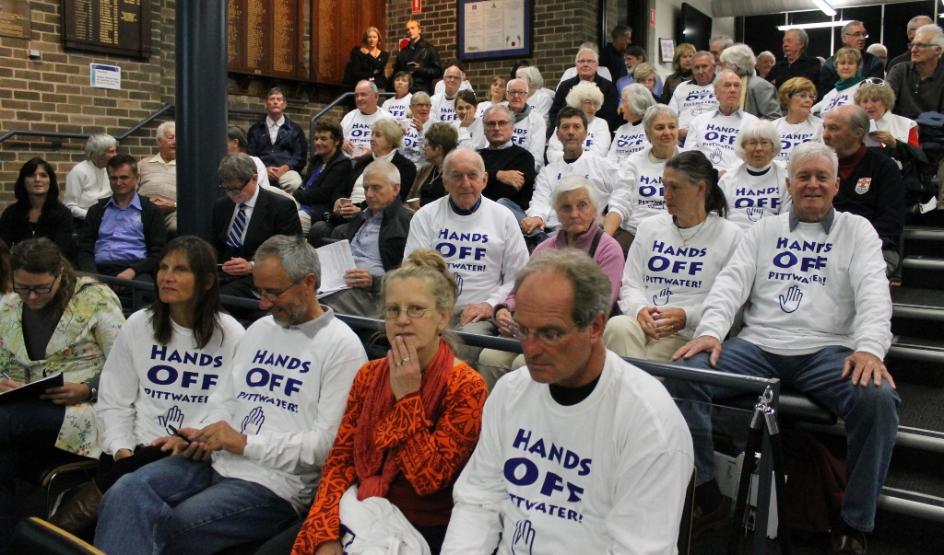 ONE NORTHERN BEACHES COUNCIL OUT OF THE QUESTION
October 14, 2014
At its 13 October meeting, Pittwater's councillors reviewed the NSW Government's local government reform package 'Fit for the Future' (FFTF), which was released in September 2014.
The proposal, which reconfirms the Independent Local Government Review Panel's recommendations that Pittwater be merged with Manly and Warringah to form one council, was rejected.
Mayor for Pittwater Jacqueline Townsend said based on strong community sentiment, Council remains committed to advocating for a strong and independent Pittwater Council providing local representation and delivering local services to the people of Pittwater.
"Last year the people of Pittwater spoke and they didn't want one mega Northern Beaches council," Cr Townsend said. "We will again put the question to them, in the context of the latest reform package," Mayor Townsend said.
Discussion at the council meeting addressed the many shortcomings of the FFTF package, including the overarching concern that a merger of all three Northern Beaches councils actually has no substantiated social or economic benefits for the peninsular.
"There is a lot of talk about the financial carrots being dangled to lure councils, including Pittwater, into voluntarily merging but I have to question any local financial benefit to the reform.
"These apparent 'savings' remain unsubstantiated, not to mention the costs associated with the formation of a new council would actually consume most of the grants awarded," she added.
All NSW councils identified for merger must take part in facilitated discussions with neighbouring councils to examine all options and agree on proposals, in-line with the NSW Government's scale and capacity mandate. All proposals being put forward must garner the support of neighbouring councils or they will simply not be accepted.
Mayor Townsend and Pittwater Council General Manager Mark Ferguson will meet with their Manly and Warringah counterparts later this month/in November for a discussion."Our council will discuss reform options with our neighbouring councils, but the Pittwater community has already responded in the negative to the one council approach for the Northern Beaches," she said.
"The independent Panel has already asked our community what it thought of one council for the Northern beaches, we responded. We are not going to respond again to that proposal. We will however consider if there is another formation of the SHOROC councils that does bring benefit to our community," Mayor Townsend said.
The Pittwater community retain a strong local focus and are passionate about local representation, delivering local services to residents as well as protecting the environmental, historic, urban and social contexts characterising Pittwater today.
"It is possible that the people of Pittwater may be open to the idea of a boundary change; but we won't know for certain until we have discussed all options with our neighbouring councils and then taken those ideas back to the community," Cr Townsend added.
Mayor Townsend said that although Pittwater Council has proven it is financially sustainable, and performs well in delivering services and representing its residents, she is supportive to the NSW Government's requests to undertake a self-assessment.
"I think we owe it to the people of Pittwater to conduct regular diligence checks so I fully support going through the self-assessment exercise that the Baird government has requested of us," Cr Townsend said.
Council stands by the two submissions - made in June 2013 and April 2014 - to the Independent Local Government Panel emphasising that Pittwater Council is financially sustainable, is fiscally responsible and continues to meet the needs of the Pittwater community.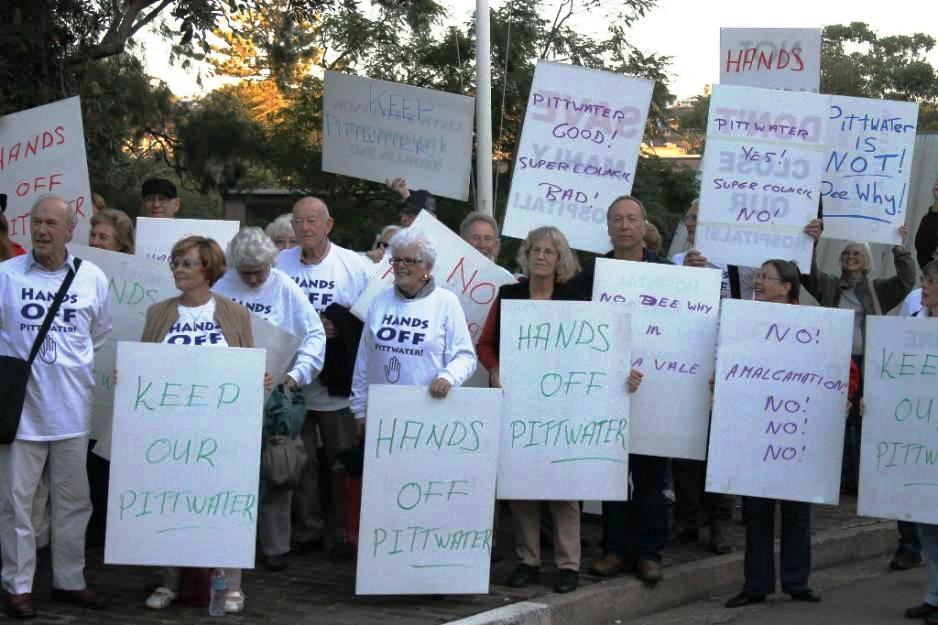 A small portion of the Pittwaterians who gathered outside Warringah Council chambers at dusk on Tuesday 4th of June 2013 to hear rallying words from former mayor of Pittwater Harvey Rose, President of The Save Mona Vale Hospital Committee, Eunice Raymond, Palm Beach and Whale Beach Residents Association members and Friends of Currawong's Shane Withington.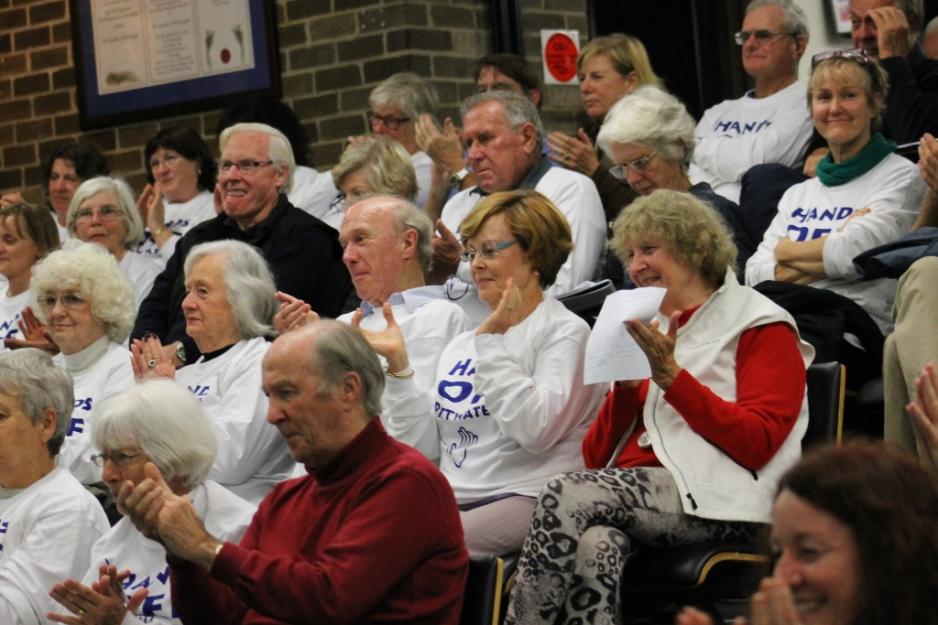 Full House at Warringah Council Chambers on Tuesday 4th of June, 2013 for Community Consultation on the NSW Government's Future Directions for Local Government Consultation paper.