September 3 - 9, 2017: Issue 328
Warriewood Proposal a Taste of Things to Come: Greens state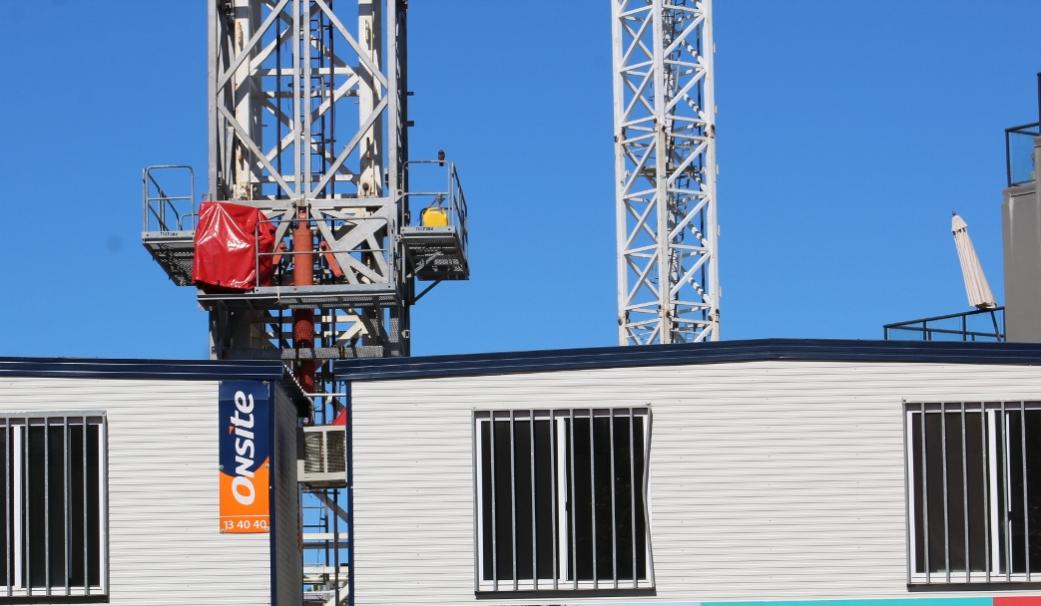 Warriewood Proposal a Taste of Things to Come: Greens
Northern Beaches Greens
Media Release
September 2, 2017
A new Warriewood development proposal for five storey blocks of flats is an example of the pressure to increase building heights that Pittwater will experience under the new Northern Beaches Council, the Greens say.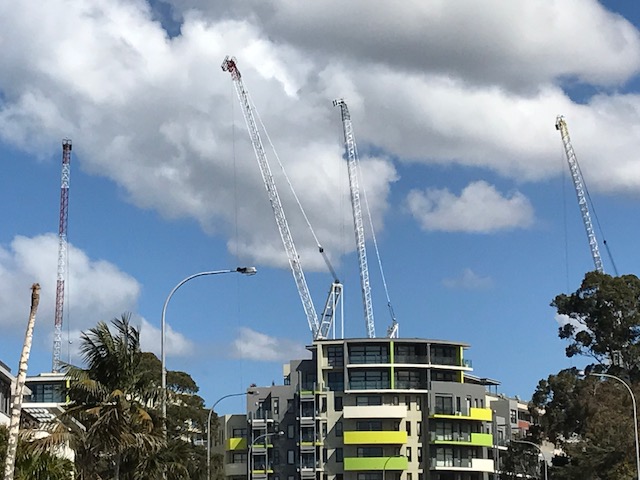 Dee Why's Crane skyscape
Greens candidate for Pittwater Miranda Korzy said the planning application for 2 Orchard Street proposes to increase the maximum building heights for the lot from the current zoning of 10.5 metres to 17.5 metres (or five storeys), with an extra 102 dwellings.
The application uses the B-line bus as part of its justification for the rezoning and specifies how it conforms to the Greater Sydney Commission's North District Plan, Ms Korzy said.
"Pittwater will come under unprecedented pressure for development with state government plans to increase density in the area and because it has removed most of the council's planning powers," she said.
"Developments over $5 million will go straight to a so-called independent planning panel (Independent Hearing and Assessment Panel - IHAP's), most of whose members are chosen – either directly or indirectly - by the planning minister and are likely to come from the construction industry.
"Residents will have to stay vigilant to ensure that we do not end up with new dwellings that block by block, overtake the existing planning regulations for Pittwater."
Ms Korzy said that development approvals have skyrocketed in the former Warringah Council area since 2013, raising fears the same may be in store for Pittwater.
An analysis of Australian Bureau of Statistics data by the Greens shows that 801 homes were approved in the former Warringah area in 2016, more than double the NSW government's target of 400 for that year.
The 2016 figure was a dramatic increase on that of 2013, when 343 dwellings were approved in Warringah.
"With the NSW government's plans under the Greater Sydney Commission for an extra 180,000 people to be housed between Manly, Macquarie Uni and Palm Beach, we will be under increased pressure to accept more concrete and high-rise on the beaches.
"The local community is outraged by developments such as at Frenchs Forest, where the voices of the people have been ignored.
"The Greens will not tolerate this kind of overdevelopment extending to Pittwater and, with the help of our state MPs, will work to regain Pittwater Council and control over our planning destiny."
CITY PLAN STRATEGY & DEVELOPMENT P/L -
PLANNING PROPOSAL - 204 & 206 GARDEN ST & 2 ORCHARD ST, WARRIEWOOD 23/48
Residual Site Area
The residual site area is made up of three distinct precincts:
Precinct 1 - six residential lots fronting Orchard Street. This has been approved for subdivision and will contain six detached dwellings. There is no intention to change the development controls applying to these dwellings. The site area of Precinct 1 is 2,465m².
Precinct 2 - 20 detached dwellings which front Garden Street and the internal road in the site. The site area of Precinct 2 is 6,919m².
Precinct 3 - five residential flat buildings comprising approx 152 units and parkland fronting Garden Street (residential flat buildings comprising studio and 1, 2 and 3 bedroom units). The site area of Precinct 3 is 8482m².
Preliminary Notification of Planning Proposal for 2 Orchard St Warriewood - PP0002/17.
The draft Proposal relates to 2 Orchard Street, 204 and 206 Garden Street, Warriewood (also known as 226-266 Garden Street, Warriewood) and seeks to permit 4 and 5 storey residential flat buildings by
amending the Pittwater Local Environmental Plan 2014
to:
Increase the residential dwelling density assigned to the affected properties under Clause 6.1 Warriewood Valley Release Area to permit an additional 102 dwellings.
Increase the permitted maximum height of buildings on the western portion of the site from 10.5 metres to 14.5 metres and 17.5 metres.

The applicant is City Plan Services
Council invites you to comment before we decide whether to support the draft Planning Proposal. This notification is not a public exhibition for the purposes of the
Environmental Planning and Assessment Act 1979
but represents preliminary non-statutory notification prior to reporting to Council.
A strategic planning assessment of the draft Planning Proposal and all submissions received will be reported to Council. Council at that stage will decide whether or not to support the rezoning concept and begin the formal process.
The draft Planning Proposal and supporting material will be publicly available from
2 September 2017 until 2 October 2017
, copies of the material will be available for viewing at Council's Customer Service Centres at 1 Park Street, Mona Vale; 725 Pittwater Road, Dee Why and 1 Belgrave Street, Manly during business hours, or online on the
Your Say project page.
Any person may make a written submission to Council in relation to the draft Planning Proposal. If you intend to do so, you should make yourself aware of any obligation you might have in relation to
Political Donations and Gifts Disclosure.
Please note that all submissions are public documents and are made available on request. Comments received may also be reproduced in future Council reports.
Submissions can be made
·
Online
or
· In writing – marked 'Planning Proposal – Orchard St Warriewood PP0002/17', mailed to Northern Beaches Council, 725 Pittwater Road, Dee Why NSW 2099 or
· By
email
Submissions close Monday 2 October 2017.
Please direct all telephone enquiries to Gordon Edgar, Principal Planner, on 9970 1294.
Have Your say at
HERE