January 4 - 10, 2015: Issue 196
Artspot 2015 Opened with Aplomb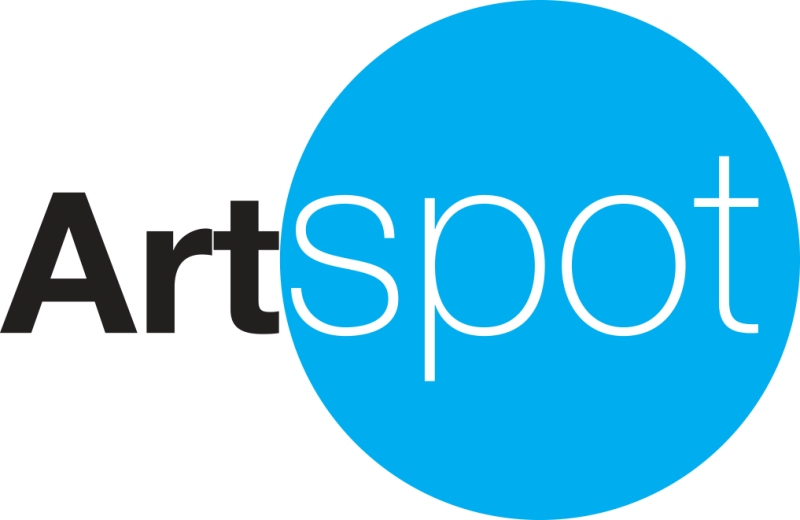 Artspot 2015 Opened with Aplomb
A very crowded Avalon Community Centre showed the second ever Artspot – a biannual celebration of art show where you can buy beautiful works from premier artists, has quickly become one of Sydney's popular events. Running until January 11th, Artspot 2015 combines the availability of works in many mediums with a number of activities associated with participating artists, including Talks, Workshops for Children and Adults and Demonstrations – a Program Schedule which can be referred to in a previous article by one of the Artspot 2015 organisers, Cindy Goode Milman.
See: Artspot 2015 - Interactive Talks, Demonstrations and Workshops for Kids and Adults
Meredith Rasdall, also a mainstay in Artspot 2015, and an initiator of the very popular Artfest (for Children), fulfilled the duties of MC. After thanking sponsors Pittwater Community Arts, G Brothers Mercedes Benz, Raine and Horne Palm & Avalon Beach, Baillie Lodges, Enliven Pittwater and Avalon Palm Beach Business Chamber Inc. as well as providers of bubbles, Stoney Wines. Thanks also went to Go Kat Go in Avalon, By The Sea Bookkeeping, Hayden and Sara for doing the flowers, Avalon Beach SLSC Nippers and musician Jarrod West.
Meredith asked all to please bid on the charity Artspots this year, stressing that a core value of Artspot is to give back. The focus for this year's Artspot nominated charity is the Sharing Stories Foundation, founded by Liz Thompson, a photographer, writer, radio producer, documentary filmmaker, and Pittwater lady. Liz brought some beautiful books to show attendees, and told the audience about this great initiative of sharing traditional stories chosen by Elders from 14 indigenous communities from around Australia. The illustrations in these 14 books were all done by children in these communities and there is also a Teacher's Resource available.
The Sharing Stories Foundation aims to, from their website,:
SharingStories Foundation supports the maintenance and strengthening of Aboriginal and Torres Strait Island cultures and languages. We implement innovative, community based digital storytelling programs, work with senior cultural custodians to map Song Cycles and Ancestral Creation tracks on Country, and develop interactive digital platforms to hold language and culture for future generations.
Find out more at: sharingstoriesfoundation.org
The silent auction closes on January the 10th of January at 4 p.m. and there are some great works by the artists on offer –make sure you don't miss out!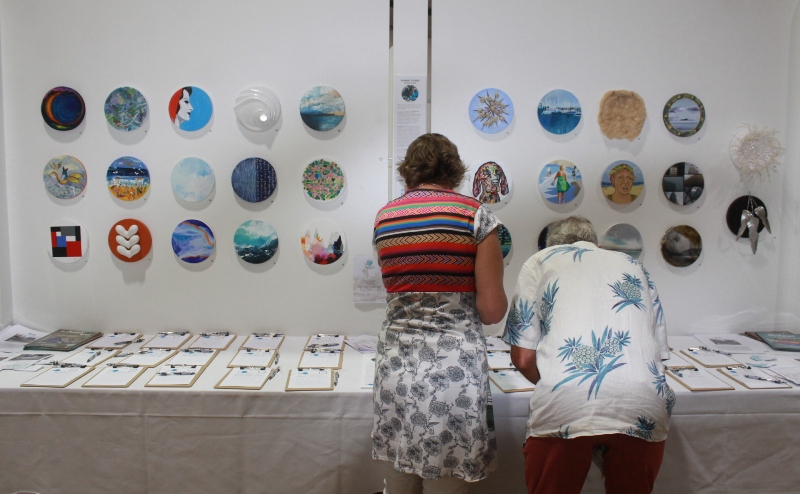 Artspot 2015 - works for Silent Auction
MC Rasdall then introduced the gentleman who had been asked to officially open Artspot 2015, Richard Leplastrier, with the following words:
" I have the honour to ask Richard Leplastrier to officially open Artspot 2015. A seminal figure in Australian architecture an architectural education. He eschews publicity and his built works are secret treasures to be discovered. He received national recognition in 1999 through the award of the Gold Medal of the Royal Australian Institute of Architects and international recognition through receipt of the 2004 'Spirit of Nature Wood Architecture Award'., established in Finland by the Wood in Culture Association, this award is granted every second year for architectural excellence.
He uses resources close by in an endeavour to minimise the impact on the environment. His favourite material is wood. His architecture is an ode to Nature.
Mr. Leplastrier worked in the office of Jørn Utzon from 1964 to 1966 assisting with documentation of the Sydney Opera House, spending 18 months in Kyoto studying traditional Japanese architecture.
An avid sailor, he has also made boats.
George's Bay, Cloudy Bay and Lovett Bay are sites of his renowned projects – Richard is a man of place – just as a lot of the works on display here area response to our Pittwater place.
I welcome Richard to open our show."
Mr Leplastrier prefaced his official opening by engaging the audience with where they were:
"I have travelled overseas to talk with you here tonight, all the way from the Western Shores (of Pittwater) to discuss some interesting issues with you tonight.
One of the wonderful women who rang earlier said 'five minutes – is that ok?' – I said 'yeah, sure' – but I'd like to take a little bit longer than that if possible.
The first thing to say is, and I think it's important, Landscape makes People, Nature makes Culture, and then Culture informs Nature- and how does it do that?; it does it through Art.
And that puts it succinctly for me, and for most of us here, Art is always at the touching point of Culture and Society. I wish to God our politicians, especially in the federal sphere, would understand that.
Calls of 'hear, hear' from audience.
While I'm on the subject, don't be misled by Warringah Shire Council into coalescing all of our councils together – that would be a great mistake.
Local places of great beauty need local politicians and community associations to develop the best in them.
Applause from the audience.
The third thing I'd like to share briefly with you is about Avalon.
Avalon is one of the many fantastic places up this great necklace of beaches that runs from Manly to Barrenjoey – but Avalon is special – and why is that?
Well, if you get right above Avalon, 30 thousand feet, 40 thousand feet and look down, you'll understand this – it is the intersection of two very strong valleys. One of them comes along Central road and links to Pittwater, the smooth water, the other starts to the south and comes down through the golf course. Those two valleys intersect – and if they are valleys they have water in them, and the water would have intersected just about here, where our main intersection is – that's why there's a right angular intersection here at Avalon.
I thought it's really important for us to realise that we have to pull the connections of this place together. Not disparate, but bring them together – connection, nexus, come together – and if you look up on the southwest ridge above here you will find the most amazing aboriginal cave that was the center of living for the indigenous people here. It looks to the smooth water, and to the rough water – it's brilliant.
Where are those connections in this place? Well they've been blitzed totally.
A friend told me on the phone yesterday that the drainage system for Avalon goes out through Careel Bay. What an amazing thing that is – in other words this central part of Avalon, where the waters come through and connect, connects to Careel Bay.
If you go for a walk along that stormwater channel done by traffic engineers, not by artists, then we have the possibility of making those reconnections.
So, I just want to say to you that the local art exhibitions, just like this, are the most important touchstones for any community because the artists are the Seers of a community. That's why it is so fantastic to have this tonight – and I have great pleasure in declaring this exhibition open."
Rousing applause greeted this declaration while Meredith Rasdall closed with, "Thank you everyone – go and buy some art."
And with so many great works in the main room and throughout the centre, you may have to peruse for a while before your heart tells which it must have for keeps.
Artspot 2015 runs from 3 - 11 January 2015 featuring 28 high calibre artists at Avalon Recreational Centre from 10 – 6pm.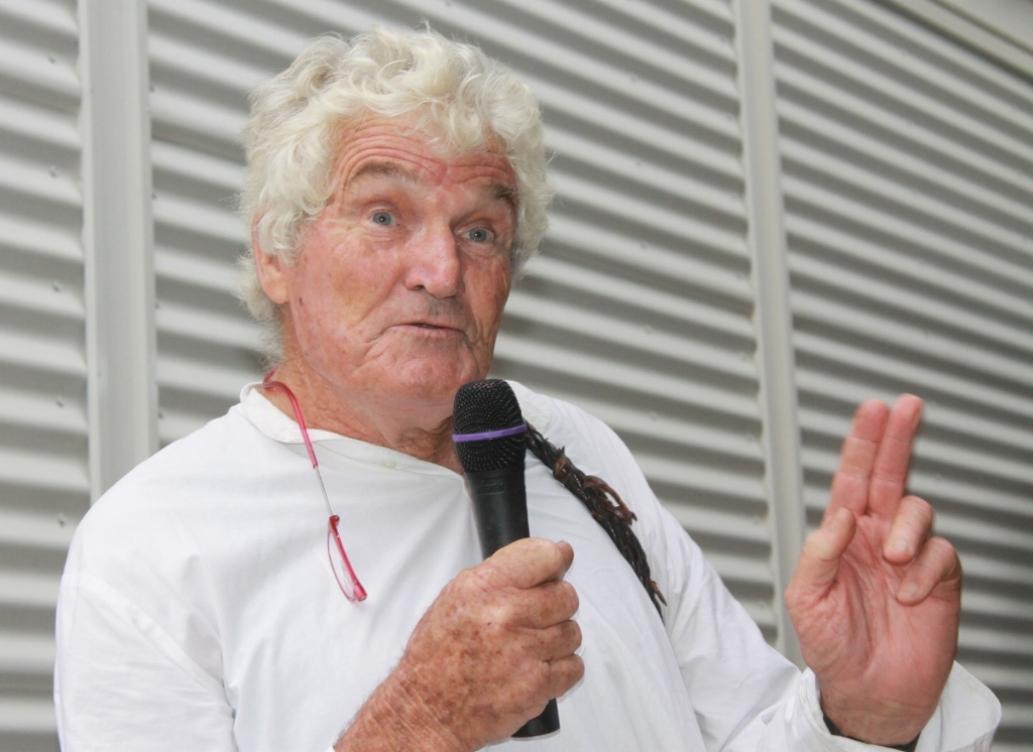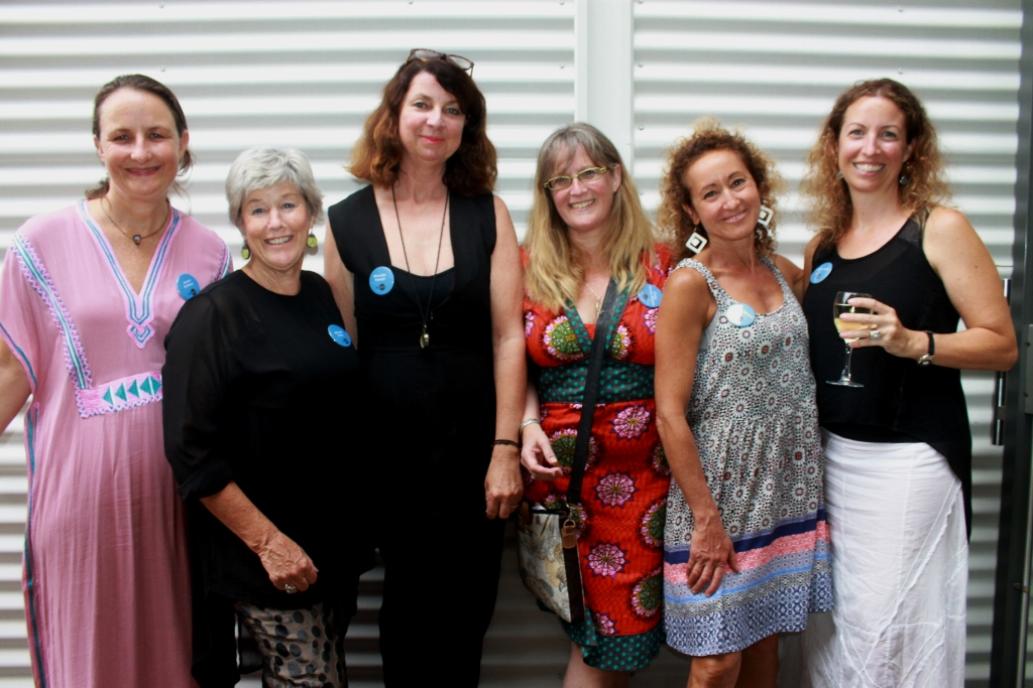 The ladies behind Artspot 2015 (l to r): Jacqui Giuliano, Michele Petrie, Meredtih Rasdall, Cindy Goode Milman, Nada Herman, Jessica Watts.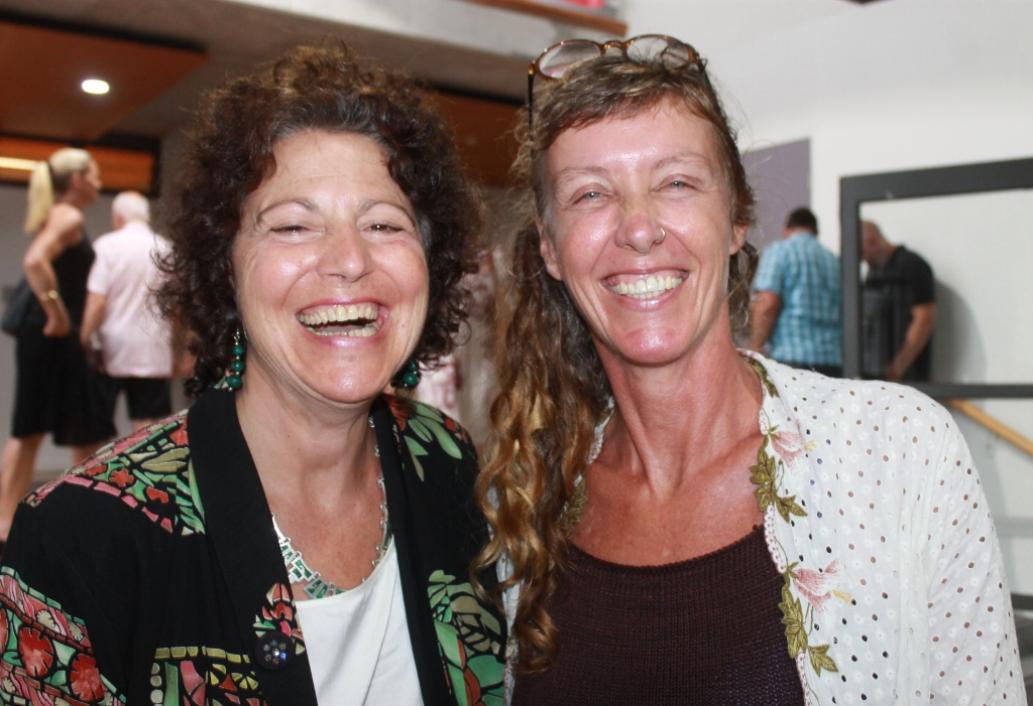 Brynnie Goodwil and Liz Thompson - Sharing Stories Foundation.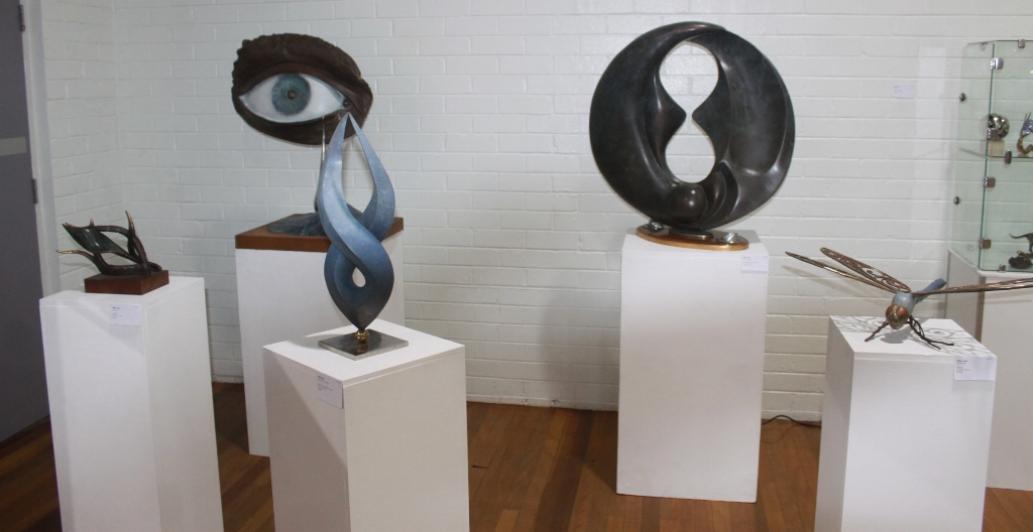 Report and pictures by A J Guesdon, 2015.