May 21 - 27, 2017: Issue 313
Pittwater Community Forum Supports Legal Action To Restore Council

Pittwater Community Forum Supports Legal Action to Restore Council
May 19, 2017
A community meeting in a packed auditorium at Mona Vale has endorsed the formation of a new coalition to campaign for the return of Pittwater Council.
Residents at the meeting endorsed the strategy for a two-pronged approach involving possible legal action and a petition.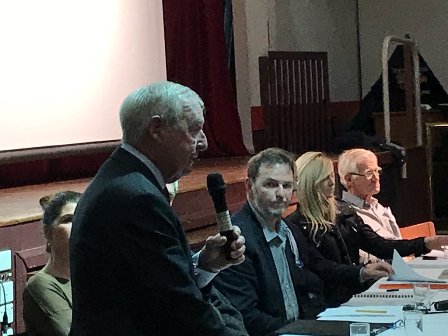 Former Pittwater Councillor Bob Grace said he and a group of community members had formed a new association, Protect Pittwater, with the idea of litigating to restore the council.
Its members include another former Pittwater councillor Sue Young, businessman David Wenden, Northern Beaches Greens Convenor Pip Rey and a former Pittwater Mayor Lynne Czinner.
Mr Grace estimated that to seek legal advice and prepare a statement of claim would cost between $5,000 and $10,000 - so the group was setting up crowd-funding page to finance it.
"I urge you, if you want Pittwater back, we have to fight now," Mr Grace told the meeting, asking residents to contribute generously.
" … I hope that when we get the advice from the (legal) counsel, we will institute not only legal action but an interim mandatory injunction – to restrain the Northern Beaches Council from acting as if Pittwater is part of it."
In response to Mr Grace's call: "Are you prepared to fight for this?", residents responded with a resounding "Yes."
When speaking to Mr. Grace on Friday he stated, "When you look at the recent decisions regarding Ku-Ring-Gai and Woollhara council, we believe we have a good case and can win. We would certainly not require so much (funding) of what they have had to do to get to this stage - we would only have to fit within the decisions made there, and we do."

Above: Bob Grace speaking at Protect Pittwater Community Forum, to his left, MC Mike Hall, and community speakers Zoe Daly and Graeme Jessup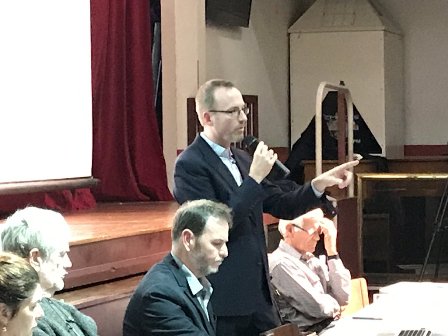 Greens MLC and local government spokesperson David Shoebridge recommended a second strategy for the new association's campaign, with a petition to the state government.
"There is a process where, if you get 250 residents or 10 per cent of the former Pittwater area to sign on to a lawful petition, you can actually (go to) the minister and demand a public inquiry about de-amalgamation," Mr Shoebridge said.
However, Mr Shoebridge agreed Pittwater residents had a good basis to commence legal proceedings, following the success of the Kur-ring-gai action and Woolhahra winning the right to appeal in the High Court.
"There's a lesson there about the reality of power in NSW," he told the forum hosted by Northern beaches Greens.
"They won't listen to you unless you have something to actually make them listen to you.
"That's what court proceedings do."
Right: David Shoebridge speaking at Protect Pittwater Community Forum
Founding convenor of the independent Better Planning Network, Corinne Fisher, told residents that by banding together to campaign for the restoration of Pittwater they would have a lot of power.
"I've learned that you generally don't convince politicians with rational argument," she said.
"You mostly convince politicians because power is on your side.
"Any politician cares about keeping their position and if you can present a threat to them securing their position again … then that means you have power on your side and can achieve the win you're after."
Right: SOS Green Spaces campaigner and founding convenor of Better Planning Network, Corinne Fisher

Craig Boaden, President of Pittwater Forever - a coalition of 18 residents' groups – said his members had agreed to support the new association.
And Friends of Mona Vale spokesman Mark Edwards kicked off fundraising for Protect Pittwater with a $200 donation from the group, along with Mr Shoebridge who donated $100.
To contact or find out how to donate to Protect Pittwater email info@protectpittwater.org.au
Report by Miranda Korzy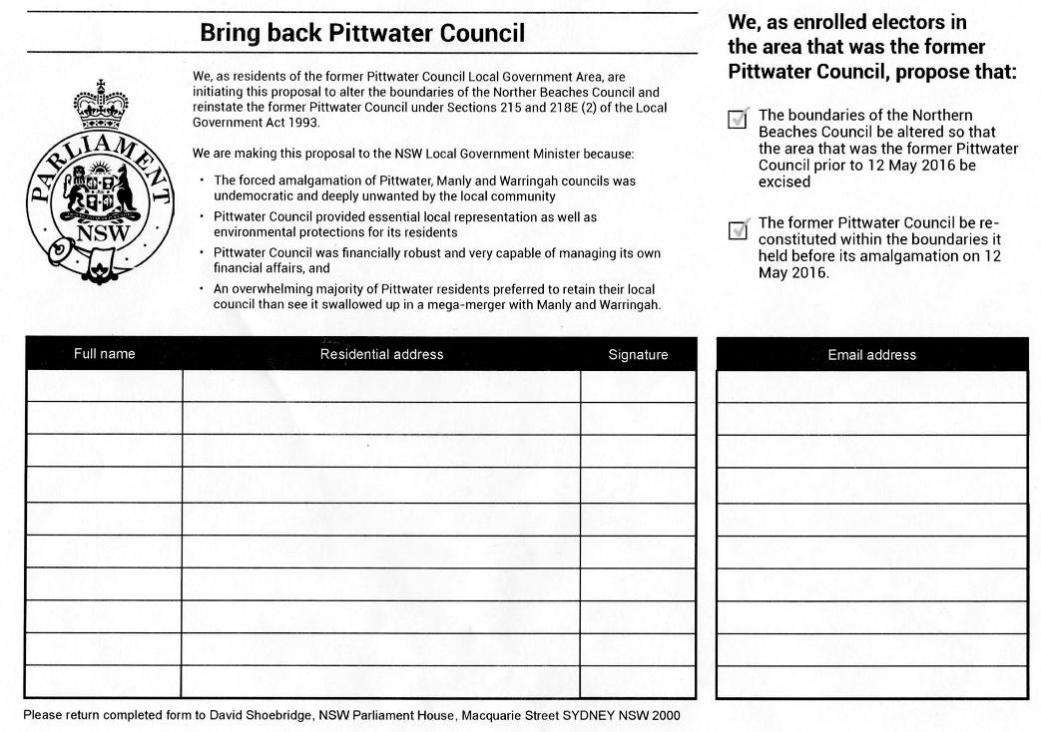 Bring Back Pittwater Council Petition - PDF Version for Printing
Simply click on 'save as' and then print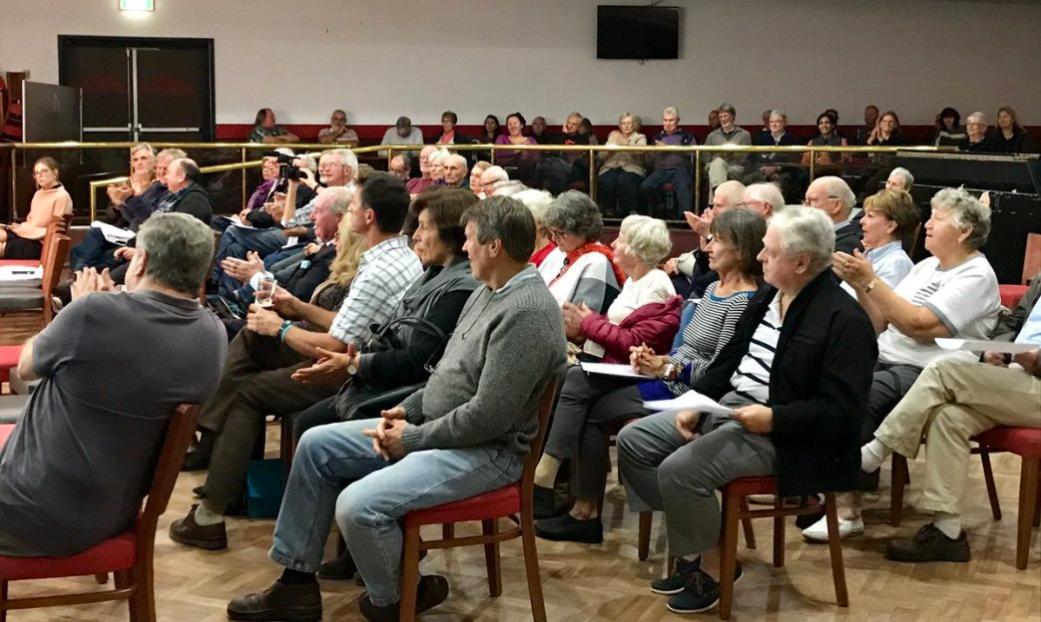 Attendees at the Protect Pittwater Community Forum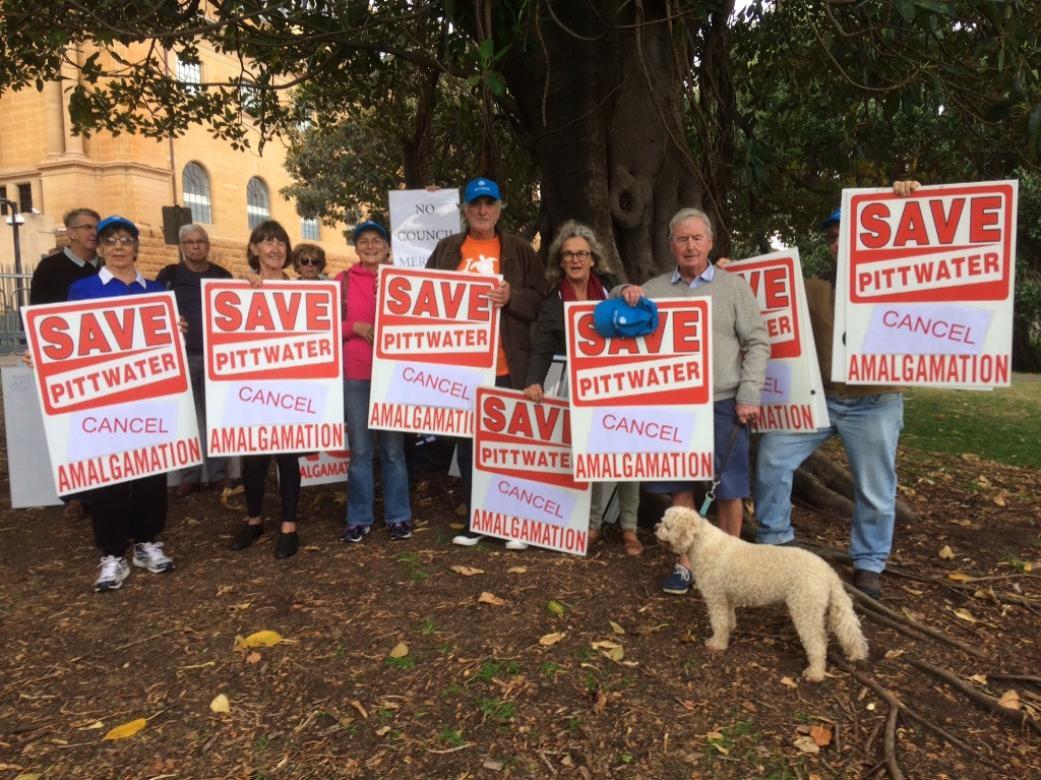 Previously:
Pittwater Council Community Forum on Amalgamation and Planning - May 2013
Pittwater - To Be Or Not To Be?
Hands Off Pittwater !! - Media Releases on the Dee Why Community Consultation on the Future Directions for Local Government proposals
Transcription of Speakers at Independent Local Government Review - Dee Why, 4th of June, 2013
Front Page Issue 115 - Amalgamation and Transcription of Community Consultation by ILG
NSW Government's White Paper - Issue 116
Hon Rob Stokes Hosts Roundtable Discussion On Council Mergers from Hon. Rob Stokes and People for Pittwater
Pittwater Council submissions on the White Paper – A new planning system for NSW and the Draft Metropolitan Strategy for Sydney and Future Directions for NSW Local Government – Twenty Essential Steps
Presentation by Better Planning Network at Mona Vale Memorial Hall on the NSW Government's White Paper
Bigger is Better Theory on Council Amalgamations De-bunked by Mayors Townsend and Hay of Pittwater and Manly (New Report: AN ASSESSMENT OF SGS REPORT LOCAL GOVERNMENT STRUCTURAL CHANGE: OPTIONS ANALYSIS) - published 6 September 2013 - Professor Brian Dollery
ONE NORTHERN BEACHES COUNCIL OUT OF THE QUESTION: At its 13 October, 2014 meeting, Pittwater's councillors reviewed the NSW Government's local government reform package 'Fit for the Future' (FFTF), which was released in September 2014. The proposal, reconfirming the Independent Local Government Review Panel's recommendations that Pittwater be merged with Manly and Warringah to form one council, was rejected.
One 'mega council' Would Be A Disaster for Pittwater - Pittwater residents are satisfied with Council - NSW government's Fit for the Future package includes amendments that make it harder for councils to prove they are financially viable, write Professor Brian Dollery and Joseph Drew - Front Page Issue 189
Artspot 2015 Opened with Aplomb
Pittwater Council to Purchase Avalon Beach Bowling & Recreation Club's Green 3 - Keeping our Community's Future 'Fitting' + Front Page Issue 211
Pittwater Uprising Again by 'Pittwater Scout' + Front Page Issue 212
Community News Issue 212 - May 2015: Local Government Reform - Have your say
NSW Government's "Fit For The Future" process erodes democracy and local lifestyle by 'Pittwater Scout'
Public Meeting on Proposed Local Government Reforms Indicates Forthcoming Backlash Against NSW State Government - Community Votes 'No' Amalgamation Again
SHOROC Shenanigans - Amalgamation Ploy to Undermine 'Scale and Capacity'? + Community News Issue 216
New Data Proves Overwhelming Support for Pittwater to Stay As We Are + Fit for the Future timeline makes mockery of fair process from Pittwater Council and LGNSW
Save Our Councils Coalition Launched – State MP's Join their the Ranks Against Forced Amalgamations from SOCC
Community News Archives - June 2015
Pittwater Declares Autonomy: FFTF IPART Required Documents Lodged
NO Amalgamation Chant Becomes Louder in Pittwater: Rally at Local MP's Office + Front Page Issue 234
Pittwater Residents attend NO Amalgamation Rally in Hunters Hill - Front Page Issue 235
Front Page Issue 236: Pittwater Residents Maintain NO Amalgamation Stance at Rosehill...
Keeping Pittwater Independent Stance Persists: Media Releases Monday 12th October to Friday 16th October, 2015 relating to FFTF Reforms by LGNSW, IPART, State and Pittwater Council
Front Page Issue 237: NO FORCED AMALGAMATION RALLY at Winnererremy Bay Park Thursday 29 October 5pm
FFTF Facilitators Found Faulty: 'No Amalgamation' Chant Continues: + Front Page Issue 238
A Greater Pittwater Option Discussed at Public Meeting on Proposed Council Amalgamations: Some Attendees Suggest A Statewide Referendum
Two Council Model Option Preferred to Mega Council Pittwater and Manly Mayors Announce: Mosman Stands Firm
Pittwater Prefers to Remain Pittwater: Greater Pittwater Option Forwarded as Second Preference: Cr. Hegarty's Address at Council Meeting of November 16, 2015
NSW Government Announces Amalgamation Proposal Plans: Reactions and What's Next in Process - 2016
Having Your Say on Local Government and Council Proposals: Written Submissions and Public Inquiry at Mona Vale Feb. 2nd, 2016
Community News February 2016: VOICES of PITTWATER - community leaders on amalgamation
Pittwater Residents Urged to Have Their Say on Proposed Council Changes - Passionate residents speak out at Public Inquiry Meetings
Pittwater's Future Down to A Numbers Game? Warringah Council's Bid to Have it ALL Revives New/Old One Council Proposal -Community News March 2016
Pittwater Asked to Have Its Say On Council Amalgamations AGAIN
Pittwater Residents Reject Mega Council Proposal at Public Inquiry Meetings - Written Submissions To Close on April 8th
Front Page Issue 257 Community Have Their Say on Proposed Amalgamation
Front Page Issue 258: Community Have Their Say on Proposed Amalgamation
Front Page Issue 259: Community Voices on Amalgamation
Front Page Issue 260 - Pittwater Councillors Passed Motion to Commence Legal Proceedings Against Forced Amalgamation Overturned Due to 'No Substance' to Grounds Raised
Pittwater is STILL Pittwater: Residents - Sacked Councillors Discuss Options: Legal action and second Secession to begin discussed
Mona Vale Place Plan: Have You Say By November 13, 2016 - community dismayed at draft slating six storey buildings for Mona Vale

Mona Vale Place Plan Meeting Discloses Salient Points And Communitys' Objections

Administrator's Message: draft Mona Vale Place Plan

Community News Issue 291 - Administrators Minute November 22nd, 2016
Mona Vale Rally on Mona Vale Place Plan Reopens Recent Wounds - Pittwater Council's MVPP List echoes Greater Sydney Commissions List for Mona Vale

Renewed Calls To Return Pittwater Council To Pittwater By Pittwater People in Wake of Recent Retirement Announcements: Issue 298

Community News Issue 299 : Council Amalgamations Windback: Community Feedback This Week: Issue 299
Calls To Restore Pittwater Council Persist: Issue 300

Community News Issue 304: Interview with Hon. Rob Stokes on Mona Vale Hospital
Save Mona Vale Park Protest against B-Line Destruction of The Village Green space reignites calls for Protection of Pittwater
Resident Birds Baffled By B-Line Sleight Of Hand: Where Did All Our Trees Go?
Forced Amalgamations Hit "Procedural Fairness" Snag That May Bring Every Imposed Merger Completely Undone- Ku-Ring-Gai Wins Court Case
'Don't Be Developed Out Of Pittwater' Rally At Mona Vale's Memorial Hall: Motion to Fight to Restore Pittwater Council Passed Unanimously

Protect Pittwater Community Forum: 7 P.M. Tuesday May 16 At Pittwater RSL - What impact will the new government body - the Greater Sydney Planning Commission – have on Pittwater? How will development approvals be carried out? How can we recover our local Pittwater Council?

One Year On: Amalgamation STILL Rejected: Woollahara Granted High Court Appeal May 2017 Issue 312