October 4 - 10, 2015: Issue 234
NO Amalgamation Chant Becomes Louder in Pittwater: Rally at MP's Office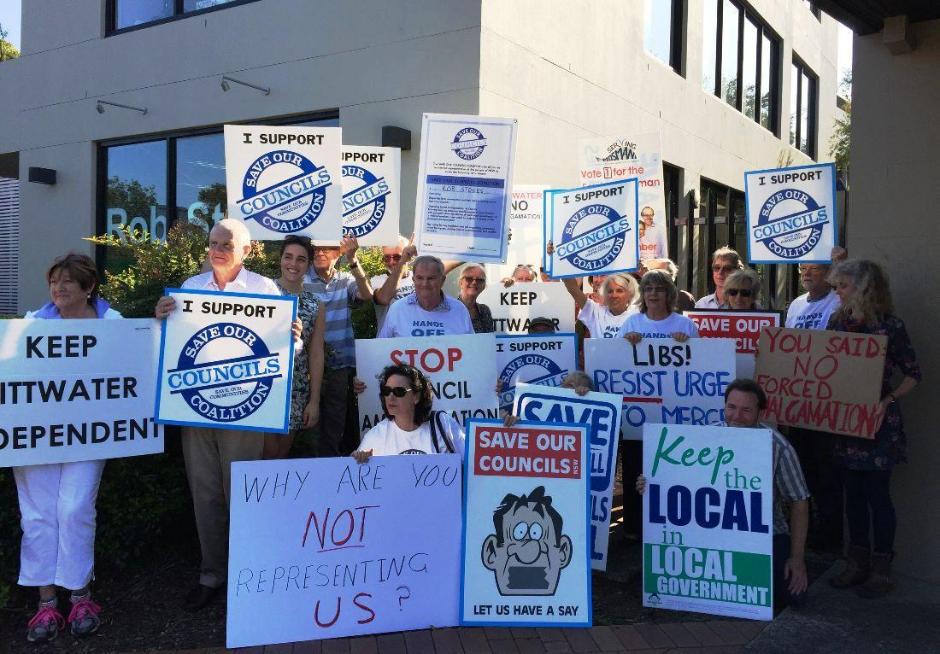 Pittwater and Warringah Residents show Local Pittwater MP A Few Signs that Need to be Read - Thursday October 1st, 2015
Residents and councillors take the "No Forced Amalgamation" message to Planning Minister Rob Stokes' electorate office.
On Thursday 1 October 2015 a Rally held outside Rob Stokes Electorate Office in Mona Vale to state Pittwater will not willingly accede to any amalgamation with Manly or Warringah also blasted continued talk of forced amalgamations as an assault on the rights of residents who have elected their Local Government representatives and an insult to the people who voted for their State Government representatives.
"Liberal MPs in safe Coalition-held seats are being placed on notice by their local communities that an overwhelming majority of people do not support the Baird Government's forced council amalgamation policy," said Save Our Councils spokeswoman and Save Our Strathfield member Nella Gaughan.
More than 85 per cent of residents in the Pittwater LGA are against forced amalgamation and members of the Pittwater Forever group are determined to fight to keep their local council from being swallowed up by a mega council.
The State Government has indicated it would support amalgamation of Pittwater, Warringah and Manly Councils.
But Lynne Czinner from Pittwater Forever says a council taking in the entire Northern Beaches region would be far too big and remove residents' ability to consult a "local" councilor.
"We are not against local government reform but we are dead against forced amalgamations," Ms Czinner said.
"Whichever way you look at it, amalgamating councils on the Northern Beaches would be a disaster for local democracy and effective representation," she said.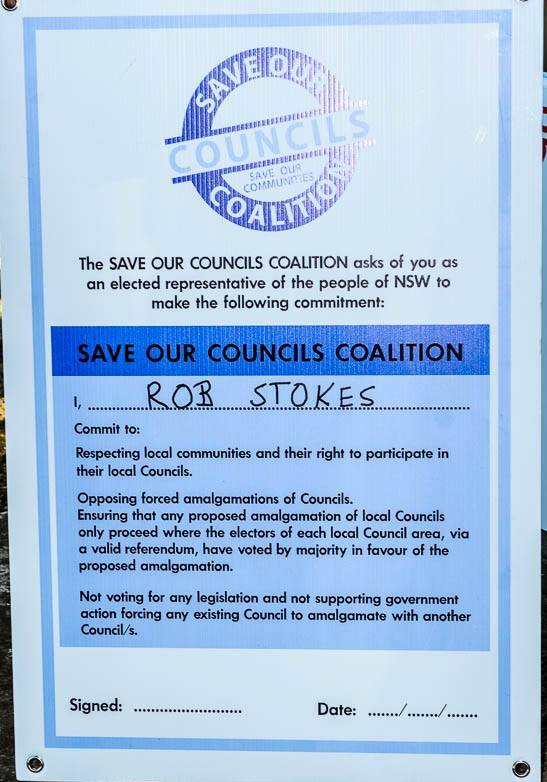 People from Palm Beach to Hunters Hill, Mosman, North Sydney and from Scotland Island and even Warringah attended Thursday's rally.
"It was great turn out at short notice and demonstrates how unpopular the threat by the Premier of forcing Council amalgamations really is, particularly among those who are longer term residents in Pittwater, and indeed in any of the smaller Council areas, who have experienced, first hand, the advantages of having a small Council and the ability that gives residents to participate in local decision making. "Ms Czinner said on Friday.
"We delivered the SOCC pledge to Rob's office and hope he will be the first Liberal MP and important member of Cabinet who has the courage of his convictions, and will sign it.
The pledge reiterates to our local Members of Parliament what the community which voted for them reasonably expects of them."
That is that they,
Respect their local communities and that community's right to have and participate in a local council
Ensure amalgamation of local councils only proceed where the community of each local council area, via a valid referendum, has voted by majority in favour of the proposed amalgamation
Not vote for any legislation and not supporting government action to force any existing council to amalgamate with another council.
On October 16th the IPART Fit For The Future decisions will be released to the Minister for Local Government, Hon. Paul Toole.
In related news , Marcia Doheny, who was announced as being appointed to the position of Chief Executive, Office of Local Government on Monday 27 April 2015, has resigned this week.
"I congratulate Ms Doheny on her appointment. I am confident that she will provide strong and effective leadership.
"I look forward to working closely with Ms Doheny, and harnessing her extensive experience in local government in the significant time ahead for our State. We share the goal of supporting councils to become Fit for the Future and working to strengthen communities across NSW." The Minister for Local Government, Paul Toole stated in April.
Ms Doheny's appointment took effect from 20 April 2015. Mr Toole saidat that time Ms Doheny is an experienced public servant, having previously worked in senior positions at the former Department of Commerce and the Department of Planning. For the past six years, Ms Doheny had worked with the City of Sydney Council as its General Counsel, Director Legal & Governance.
This week's Media Release from the Minister for Local Government:
OFFICE OF LOCAL GOVERNMENT EXECUTIVE CHANGES
Tuesday, 29 September 2015
Minister for Local Government Paul Toole today said the Chief Executive of the Office of Local Government Marcia Doheny would leave the organisation for personal reasons.
"Marcia Doheny has informed the Secretary of the Department of Planning and Environment (DPE) that for personal reasons it is her intention not to continue in the role of Chief Executive," Mr Toole said. "I would like to pay credit to Ms Doheny for her contribution to OLG, in particular setting in place the strategic framework for reform.
"I welcome Tim Hurst, Executive Director – Regions at the Department of Planning and Environment, to act in the role of OLG Chief Executive.
"In his current role Mr Hurst oversees the work of DPE in the regions, including the important relationship with local government.
"He has a two decade long career with the NSW public service, including as Executive Director of Economic Development and Transport Policy at the Department of Premier and Cabinet and as the CFO at Arts NSW."
PITTWATER SAYS NO TO FORCED AMALAGAMATION
By Pittwater Pathways: Published on 1 Oct 2015
Demonstration at Minister for Planning Rob Stoke's Pittwater Office.