October 11 - 17, 2015: Issue 235
Lion Island Challenge Celebrates 10th Year with Perfect Blue Skies and Waters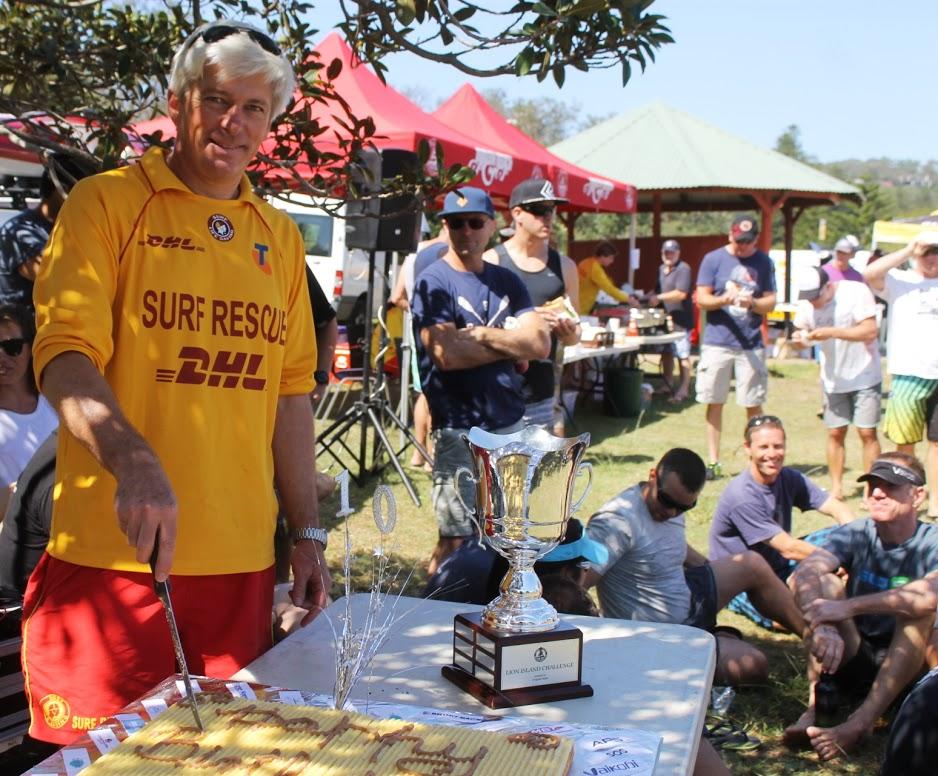 Richard Cole, President of Avalon Beach SLSC, cuts the 10th Lion Island Challenge Birthday cake!
Saturday the 10th day of the 10th month for 2015 was the also the day the 10th year for the Lion Island Challenge. The Lion Island Challenge is part of the Paddle NSW Ocean Series this year and hosted by Avalon Beach SLSC. The Challenge is an ocean paddling race for ocean racing skis, SLSA skis, OC's, paddleboards and SUPs which starts and finishes on the Pittwater side of Palm Beach.
Former Olympic and Australian marathon champion Saša Vujanić took 1st place and the Lion Island Challenge Cup with Bondi to Watsons Bay 2015 winner Tommy Woodriff just seconds behind.
More HERE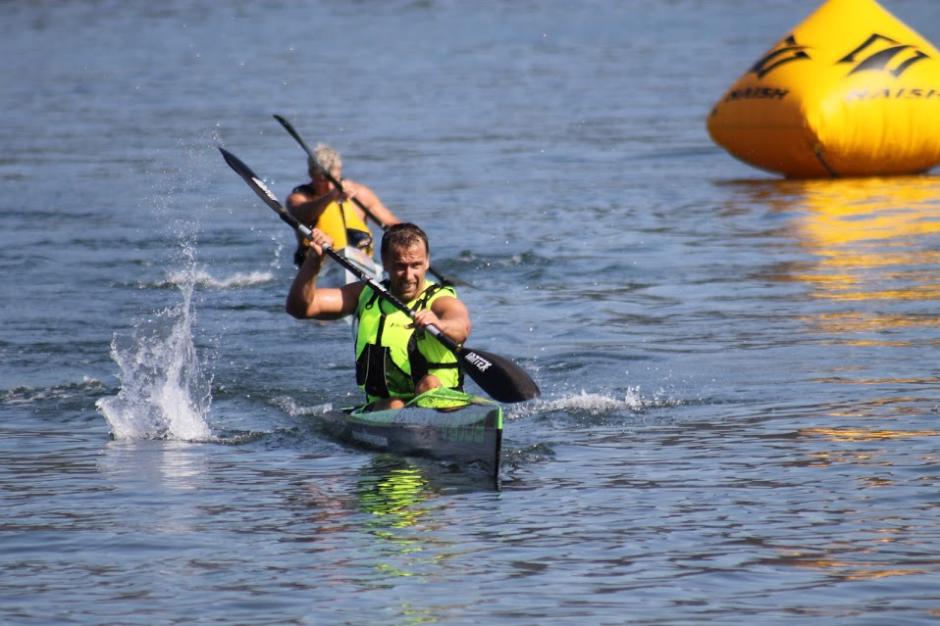 Saša Vujanić and Tommy Woodriff racing back to Station Beach yesterday.
MC38 Spring Regatta 2015 on Pittwater Hosts: Royal Prince Alfred Yacht Club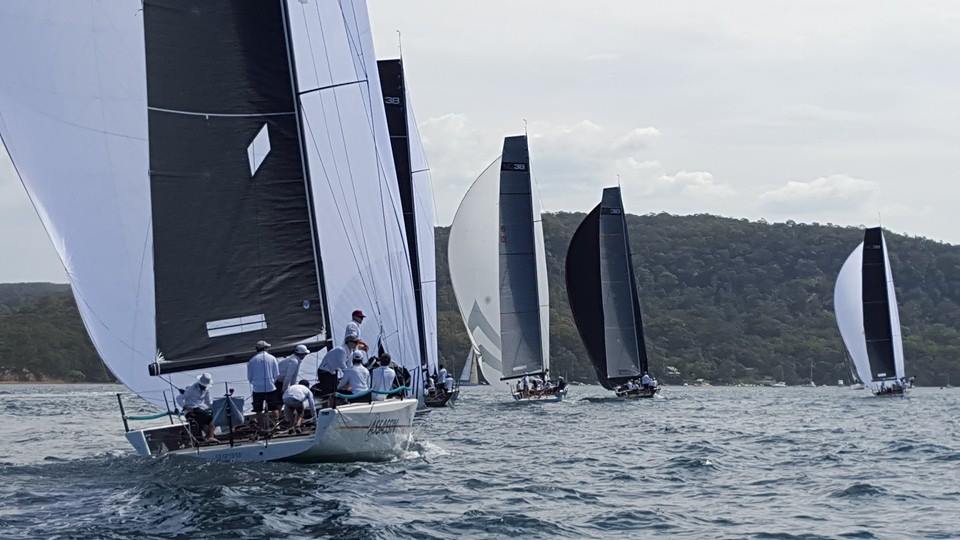 MC38 Fleet on Pittwater, Saturday October 10th, 2015 - photo by Crosbie Lorimer.
Pittwater served up its usual antipasto plate of varying wind strength and direction on day one of the MC38 Spring Regatta, the penultimate event of the 2015 Australian season championship.
In light and shifty nor'easters the combination of tactician David Chapman, Colin Beashel on mainsheet and North Sail's Richie Allanson on jib and kite trim, combined with the usual high standard of crew work befitting the current Australian champions, drove Leslie Green's Ginger to the series lead by one point after four races.
The 2015 Spring Regatta for MC38s is part of the Royal Prince Alfred Yacht Club's annual flagship fundraising Link Healthcare Islands weekend for its Integrated disAbled Sailing (IdS) program
Day One report by Lisa Ratcliff HERE
Pittwater Residents attend NO Amalgamation Rally in Hunters Hill
Hunters Hill Raises the Colours - No Forced Amalgamations! - by Pittwater Pathways: Published on 11 October, 2015
On Friday October 9th Pittwater residents and Councillors attended the Save Hunters Hill Municipality and Hunters Hill Council launch of the 'Flying the Colours' campaign to celebrate their community and make a stand against forced amalgamations.
This week the Local Government NSW Conference will be held with Premier MIke Baird and the Minister for Local Government Paul Toole both scheduled to address the 2015 Conference
Local Government NSW is the peak industry association that represents the interests of all 152 NSW general purpose councils, 12 special purpose councils and the NSW Aboriginal Land Council.
Since August of this year reports have been appearing stating the 'no forced amalgamation' statements at the outset of the lengthy 'reform' process for local government have shifted to the opposite.
" The reported Baird Government plan to unilaterally sack NSW Councils and replace them with administrators would be an outrageous breach of faith which would make a complete mockery of the council reform process, the Local Government sector said today.
Local Government NSW President Keith Rhoades AFSM said that - if true - reports of a proposal taken to Cabinet by Local Government Minister Paul Toole would vindicate the very worst fears of councils and communities by confirming the Government's plot to crush local democracy." LGNSW stated in a release on August 16th, 2015.
May be a few interesting days at this year's LGNSW Conference...
Lock Crowther Multihull Regatta 2015: 20th Anniversary of Everyone Wins!!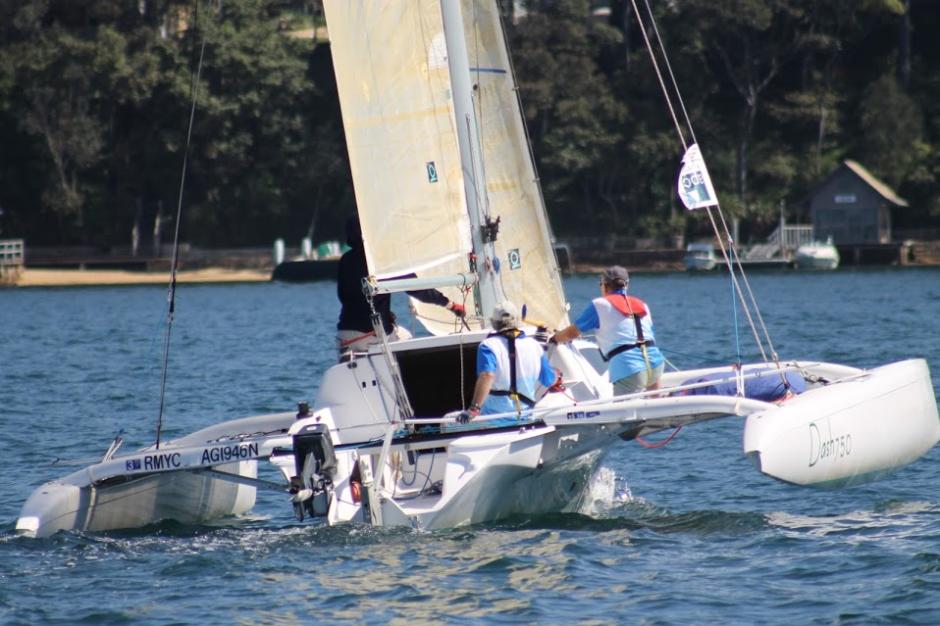 Alan Brand's XENA - winner of LCMR 2015 - A J Guesdon photo
Lock Crowther Multihull Regatta 2015: 20th Anniversary Presentation Dinner; Xena Takes the Trophy – Top Gun wins Overall Line Honours and OMR - Ron Bickerstaff's De Ja Vu takes 1st place PHS for Division 2, Greg Bridges' Windspeed 31 secures Line Honours for Division 2 in 2015.
The 2015 APC Logistics Lock Crowther Multihull Regatta held 2nd to 4th of October 2015 and hosted by the Royal Motor Yacht Club's Multihull Division was the 20th Anniversary of one of the best fun regattas on the annual multihull race calendar, Australia wide.
On Sunday evening, October 4th, Stephen (Steve) Barton was MC for the Presentation Dinner and prize-giving and had all laughing with his witticisms throughout.
Jason Waterhouse, current international number one ranked ISAF Olympic Multihull Class Nacra 17 skipper and current no 2 ranked Extreme 40 Catamaran Skipper, was Guest Speaker and gave an inspiring insight into his passion for sailing from an early age.
More HERE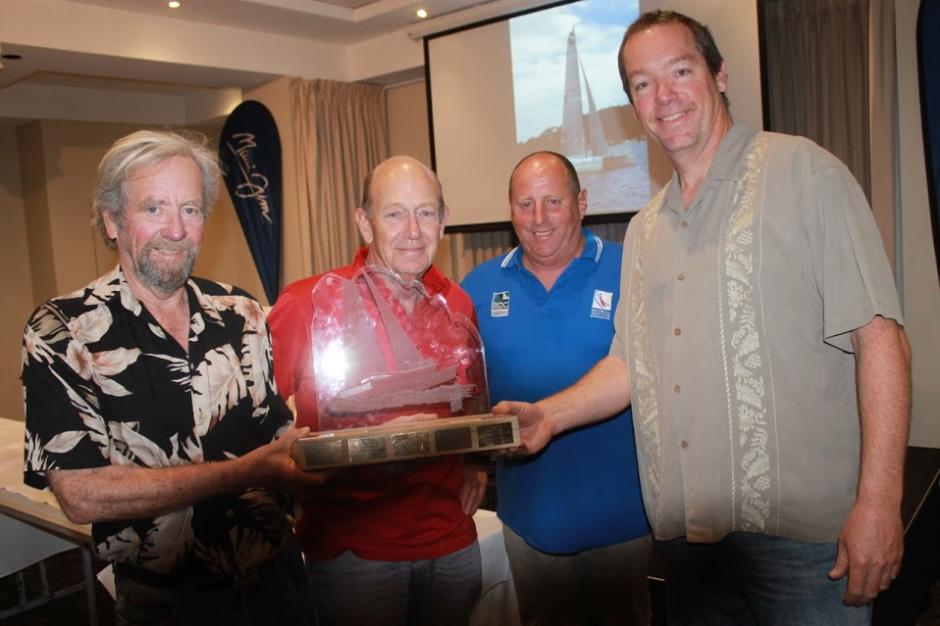 Lto R: Alan Brand (XENA) John Mitchell, Stephen Barton and Brett Crowther. A J Guesdon photo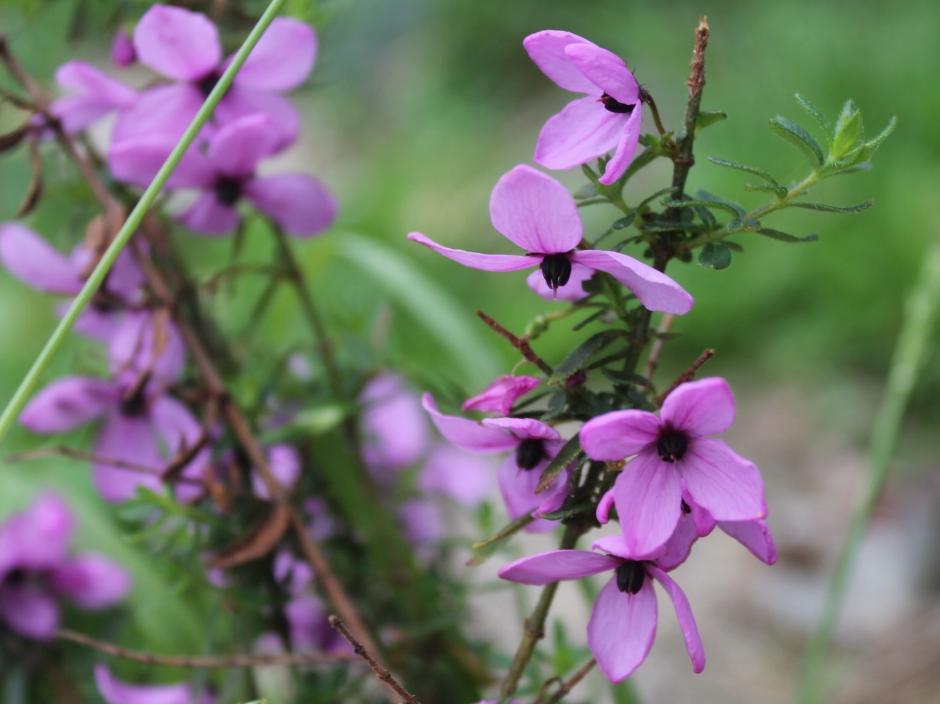 Tetratheca juncea — Black-eyed Susan - Australian Bushflower. Picture by A J Guesdon, 2015