May 31 - June 6, 2015: Issue 216
Daniel Fitzgibbon and Liesl Tesch Win Gold in the Netherlands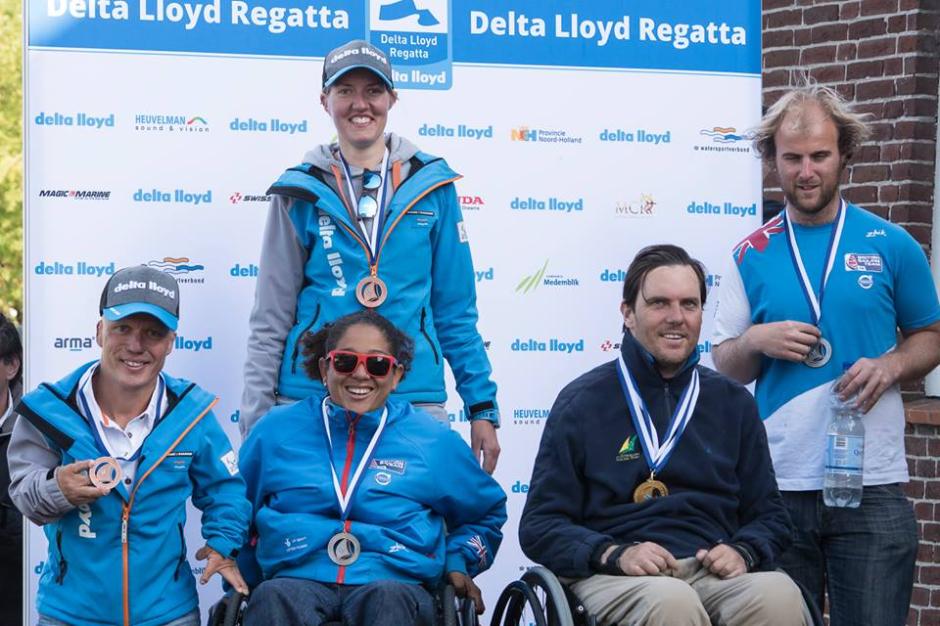 Dan Fitzgibbon presented with his medal
Royal Prince Alfred Yacht Club member Daniel Fitzgibbon and Liesl Tesch have won gold at the Delta Lloyd Regatta this morning (our time) at their first European regatta of the year the Delta Lloyd Regatta. This event is the biggest sailing event in the Netherlands for Olympic and Paralympic classes.
The top two nations, with three golds apiece, were Australia and hosts the Netherlands. Australian sailors also picked up a silver and a bronze.
The Delta Lloyd Regatta is part of the EUROSAF Champions Sailing Cup and is held yearly. Apparently the Aussies found it 'Really really cold."
Paralympic Gold medallists Daniel Fitzgibbon and Liesl Tesch, winners of the World Cups in Melbourne and Miami, raced in a fleet of eighteen, including Australian Sailing Team members Ame Barnbrook and Brett Pearce, who kicked off their 2015 international season in Medemblik.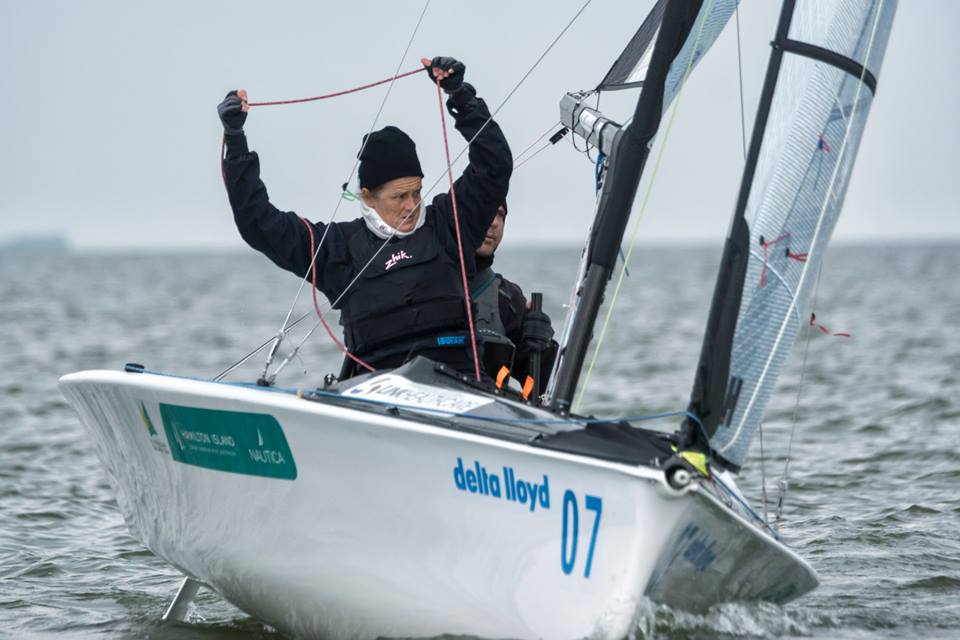 Liesl in action - Picture © Sander van der Borch
9th Commemoration Service for Indigenous Veterans - Hyde Park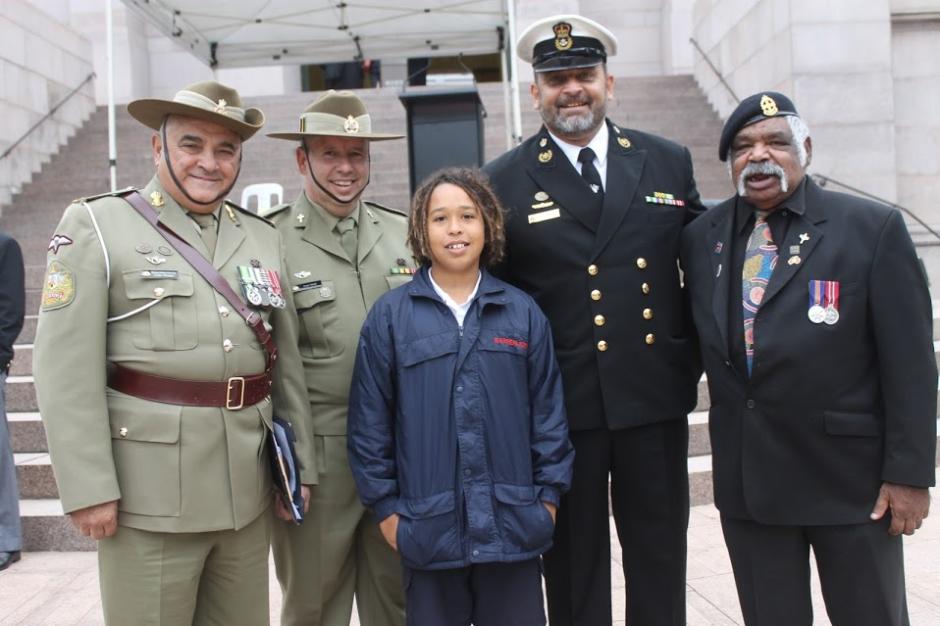 Oliver Wyatt with (L to R): Warrant Officer Class One Colin Watego, Indigenous Australian Army chaplain, Ivan Grant, Indigenous Adviser to Chief of Navy, Chief Petty Officer Ray Rosendale, Trevor Wilson - who travelled from Coffs Harbour for the Service.
Doreen Cherry OAM, accompanied by Barrenjoey High School student Oliver Wyatt, attended the 9th Commemoration Service for Aboriginal and Torres Strait Islander Veterans to pay their respects and to lay a wreath of behalf of the Land Women's Army. The Service was held at the ANZAC Memorial in Hyde Park South of Friday May 29th.
The Key Address was given by His Excellency General The Honourable David Hurley AC DSC (Ret'd), Governor of New South Wales, while the Veterans Address was given by Warrant Officer Class One Colin Watego (Army).
More HERE
SHOROC Shenanigans - Amalgamation Ploy to Undermine 'Scale and Capacity'?
COUNCIL AMALGAMATION & PITTWATER - PUBLIC MEETING 19 MAY 2105 - by Pittwater Pathways - Published 27 May 2015
Curiouser and Curiouser ...
On Saturday May 30th Warringah Council placed a lovely video of the Northern Beaches on their Facebook Page with the words "Unite. Don't split the northern beaches."
On May 26th, Tuesday, a motion at Waringah Council's Meeting, put forward by Cr Jose Menano-Pires, President of The Forest Branch of the Liberal Party, was "That: a. The Administration component of SHOROC be immediately abolished - a minimum saving of $597,016 Financial Year 2015/16."
On May 27th Pittwater Council issued a Media Release: "It's not about saving money – it's about Warringah Council undermining SHOROC, an organisation that works well, to instead ensure its own agenda at the expense of others," Pittwater Council's General Manager Mark Ferguson stated.
Pittwater Mayor Jacqueline Townsend stated, "SHOROC has received the highest honour for excellence in NSW Planning in 2014, winning The Planning Institute of Australia's President's Award for its Shaping Our Future strategy."
Perhaps Warringah does need to look at their books though, having been knocked back by IPART in June 2014 for special variation annual increases of 6.1%, 6.0%, 6.0% and 5.9% over 4 years for a cumulative increase of 26.25% by 2017/18.
People in Warringah are only going to have to pay 9.4% more by 2018, a shortfall of 17% that may need to be found and met elsewhere.
SHOROC's website states; "Councils participating in our tenders currently include Manly, Mosman, Pittwater, Warringah, Willoughby, Hornsby, Ku-ring-gai, Lane Cove, Hunters Hill and Ryde." so perhaps the award winning SHOROC, of working together but remaining independent councils, may just have to miss them when SHOROC meets in August of this year.
Meanwhile, back in the world of where people say what they mean, and mean what they say, on Friday May 29th, in the afternoon, the LGNSW Submission on IPART FFTF Assessment Methodology was released.
Local Government NSW (LGNSW) is the peak industry association that represents the interests of all 152 NSW general purpose councils, 12 special purpose councils and the NSW Aboriginal Land Council.
LGNSW has made a comprehensive submission to the Independent Pricing and Regulatory Tribunal (IPART) Consultation Paper on the Methodology for Assessment of Council Fit for the Future Proposals. The LGNSW submission restates their long-term policy of no forced amalgamations and calls for real improvements to the funding framework for local government as part of any reform proposal. The first key comments in response to IPART's specific questions is:
• IPART needs to clarify how a variety of factors will impact on the assessment of scale and capacity. Population minimums and target council numbers should not be introduced into the assessment process.
More in Community News.
Pittwater Waterbirds - World Oceans Day 2015 - June 8th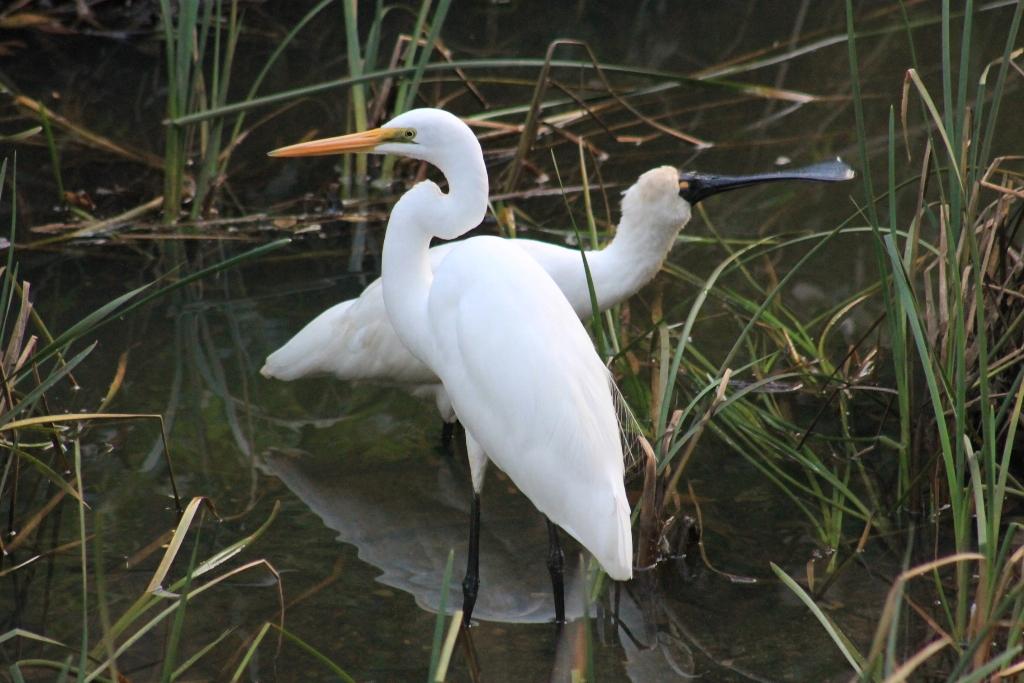 Great egret Ardea alba and Royal spoonbill Platalea regia - picture by A J Guesdon, 29.5.2015
World Oceans Day runs next weekend, the June Queen's Birthday long weekend and this year falls on Monday the 8th. This will be a great day to get out and celebrate Pittwater's beauty, especially all her ocean and aquatic beauties and these wonderful birds.
For a little added inspiration this week's Pictorial celebrates some of the many kinds of waterbirds we've photographed during the past few years.