May 15 - 21 2016: Issue 263
Pittwater is STILL Pittwater: Residents - Sacked Councillors Discuss Options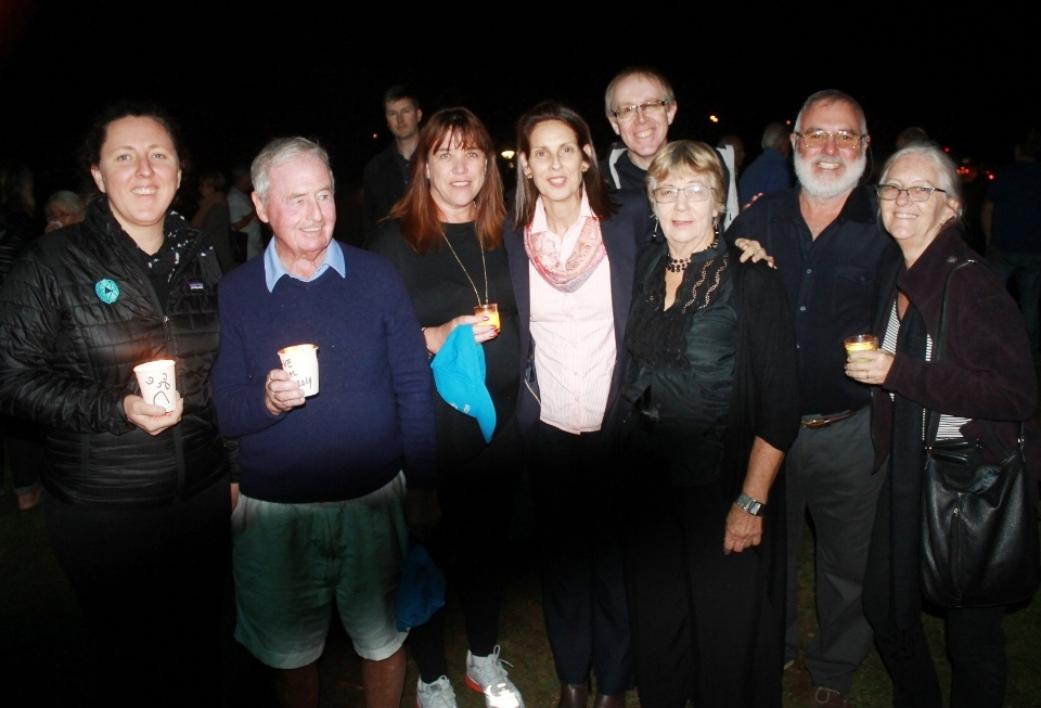 L to r: Pittwater Council Councillors Selena Griffith, Bob Grace, Julie Hegarty, Mosman Deputy Mayor, Carolyn Corrigan and Mosman Councillor Tom Sherlock, Lynne Czinner (Pittwater Councillor for 16 years, Deputy Mayor 1999-2002, Pittwater Mayor 2004/2005) General Manager at Pittwater Council for 9 years, Cr. Sue Young, Pittwater Council - in the Village Park, Mona Vale, May 13, 2016.
After the state government's Proclamation announcing the immediate dissolving of Pittwater Council on Thursday and initial anger had abated, a 'Wake for Pittwater' was held on Friday May 13th, 'Black Friday', at which the possibilities of how to retain or reinstate local democracy for
those who live in
Pittwater, and whether to continue to fight for Pittwater was discussed.
A recounting of the growing 'comedy of errors', including remembering a chunk of a former Pittwater park once sold to developers by Warringah where now stands a block of units, or the most recent 'Inquiry' at Dee Why where one Warringah advocate was heard to complain of her soccer club losing its funding due to Pittwater's secession decades ago and the Pittwater rate funded support of all things out of Pittwater suddenly drying up as a 'submission', the resilient 'never say die' spirit Pittwater is most well known for meant there were more smiles than tears at the 'wake'.
Councillors Hegarty, Young, Grace and Griffith thanked everyone in the community for all their support during the past years of proposed amalgamation processes stating that although they were disappointed with the announced outcomes they were even more disappointed with the processes used and all the anger that has resulted in the community.
The four Pittwater councillors, still without any formal notification of their dismissal, who found their email passwords changed
on Thursday the 12th
without any notification of that occurring either, an experience unlike the messages and forwarding politely occurring in other areas, have decades of experience in local government between them and proven track records of listening to those they were voted in to represent and delivering what residents have requested of them.
On Friday they asked the community to be understanding and supportive of Pittwater Council staff who would be also be uncertain about what's next at present and doing their utmost to get any work required of them done.
They reiterated they would still like to hear from the community what they want to happen next, whether they were happy to settle for a merged council or would they prefer to persist in trying to keep Pittwater as is, or was. The options discussed were the possibility of pursuing legal action as a community should the outcome of Woollahra's legal case prove their case, citing that although there are various legal challenges being pursued by other councils, the non-release of the KPMG report remains a key point in each.
Cr. Grace expressed disappointment that the Council Meeting scheduled for Monday May 16th was stopped by this announcement as a second Motion to pursue legal action had been tabled.
From the Pittwater Council website, retrieved Friday May 12th:
16 May Council Meeting - CANCELLED
Notice of Motion - Second Legal Advice - (Submitted by Cr Grace)
Meeting Council Date: 16 May 2016
NOTICE OF MOTION
BACKGROUND
Nil.
MOTION
1.
That Council seek a second legal advice from Dr C Birch, SC, or Mr Peter King, Barrister, as a matter of urgency, as to whether Council has a case to initiate legal action against the Minister for Local Government in respect of the proposed mergers. Such advice to give an indication of the chances of success and grounds for such action.
2.
If advice is that Council has a reasonable chance of success, then court documents be prepared as a matter of urgency to initiate proceedings.
3.
That interim court proceedings be commenced as a matter of urgency to seek undertakings from the Minister that no action be taken against Pittwater Council before such legal proceedings are determined.
4.
In the event that present proceedings by other councils are determined adversely for such councils then Council reconsider whether to continue its action or withdraw.
Previously at:
http://portal.pittwater.nsw.gov.au/common/Output/DataworksAccess.aspx?id=D73jFo97kuE%253d&ext=docx
See prior:
Pittwater Councillors Passed Motion to Commence Legal Proceedings Against Forced Amalgamation Overturned Due to 'No Substance' to Grounds Raised
Another option raised was beginning the process of secession again, inviting the very recently excised from the original Pittwater suburbs of Ingleside, Elanora and North Narrabeen to 'come on home'.
"We've done it before, we can do it again."
Was answered with "Yes!" by those attending.
As with many areas in recent days, voting for independents at the upcoming Federal election, as another way to get the message of 'wrong!' through, formed part of the options list.
Deputy Mayor of Mosman Carolyn Corrigan and Mosman Councillor Tom Sherlock joined the 'Wake', urging people to not give up, stating that Mosman Council, having chosen to pursue legal action, were certain they had a case to put. Cr. Sherlock said they had been looking at the Delegates reports and found those sighted to be very similar, suggesting they may just be templates where names are changed.
Mr. Sherlock also stated Pittwater may have grounds for legal action on 'procedural fairness' since an official decision had been made for Pittwater.
"If there's one thing that you know in Pittwater it's that communities are important. When you get a council that stretches from Palm Beach to Manly, with almost 300 hundred thousand people, you know that that is a region, not a community. " and, "In my view what's coming forward as an administration is going to fail, and it's going to cost a lot of money. At the end of the day we're social animals and we need to connect. That's the way people around the world govern themselves."
Deputy Mayor of Mosman Council Carolyn Corrigan, a spokesperson for
Save Our Councils Coalition
, stated that on Thursday May 19th groups from Waverly and Woollahra would be picketing Malcolm Turnbull's office, all welcome, that they had commitments to Local Democracy from candidates in his electorate and urged everyone to keep up the pressure.
Mosman's Deputy Mayor said Premier Baird was now 'rubber stamping his own cabinet' as advertisements for the merged councils commenced on Wednesday May 11th, appearing prior to the
Thursday May 12th morning meeting
of the Executive Council (informally and more commonly, the Cabinet of New South Wales) at Government House with His Excellency General The Honourable David Hurley AC DSC, Governor of New South Wales, and prior to the announcement of council dismissals and administrations.

Local Government NSW President Keith Rhoades said on Friday, "We all know the reform process has been one of ever-moving goalposts,"
"Each time councils cleared a barrier - whether it was to prove they were financially fit for the future, to show amalgamations were vehemently opposed by their community, or to submit their own merger proposals - the requirements were hastily changed.
"Promises of no forced amalgamations were broken, the scheduled election date for merged councils has now been pushed back, and financial support for mergers has been cut - so it's past time that the Government live up to its commitments and do what it has told the sector and community it would."
Clr Rhoades said the Government originally promised amalgamating metropolitan councils up to $22.5 million to assist with the costs of amalgamation - $10.5 million for each newly merged council plus an extra $3 million for each additional 50,000 head of population over 250,000. That offer has now been cut by more than 50% to a maximum of $10 million.
Similarly, the original package offer to merged regional councils ranged between $5 million for a two-council amalgamation and $13.5 million for a four council merger - an amount now reduced to a maximum of $5 million.
"To try to buy off community opposition, the Government announced a Stronger Communities fund for community infrastructure project, with an ill-defined "up to" $15 million for merged Sydney councils and "up to" $10 million for merged regional councils," Clr Rhoades said.
"But that money won't assist with merger costs - it is a one-off payment for an infrastructure project that will then need to be maintained at ongoing ratepayer expense.
"The Government has played pretty fast and loose with the truth through this process, and if they're serious about stronger councils they need to stop playing semantics and deliver the financial support promised."
Clr Rhoades also took the opportunity to pay tribute to communities and the sector for the extremely hard-fought battle undertaken to protect local democracy and representation.
"Ultimately, the legislation governing local government means forced mergers have gone ahead…"
The date of the first election of the councillors of a new council has been relegated to 9 September 2017 by the state government's Minister for Local Government.
"A fantastical lapse of months compared to the '30 days' allocated to councils to on demand-answer what amalgamation 'options' they will forward in 50 words or less, or the six weeks allocated to Inquiries of forgone conclusions,"

In the 15 month meantime, unelected administrators, appointed by the current state government, and those one minute described as 'outgoing' and in the next breath as the 'interim council', also 100% unelected, have a few Proclamation dates to meet.
For example:
22 Strategic planning
(1) The day by which a new council must have an operational plan is 1 August 2016.
Key information about the new council:
Population: 263,413
Area (sq Km): 254
Number of Wards: 5
Number of councillors per ward: 3
Compare:
Mackellar is an electorate of 233 square kilometres
Warringah is an electorate covering 68 sq.km
Electorate of Pittwater 190.16 sq, km
Electorate of Manly 31.68 square kilometres
Electorate of Wakehurst 40.9 square kilometres
Information you may wish to access:
The Proclamation in full is here:
www.legislation.nsw.gov.au/regulations/2016-242.pdf
A few extracts:
Amalgamated areas
(1) The areas specified in the Table to this subclause are amalgamated to constitute new areas when this Proclamation commences with:
(a) the name specified beside the areas in the Table, and
(b) the boundaries shown for each area on the maps kept in the register of public
surveys on the amalgamation day and having the identifier numbers specified
beside the new areas in the Table.
Table
(2)
The councils of the areas amalgamated by this Proclamation are dissolved.
(3) Schedules 1–17 contain provisions relating to the areas, and councils of those areas, established by this clause.
22 Strategic planning
(1) The day by which a new council must have an operational plan is 1 August 2016.
(2) The day by which a new council must review its community strategic plan, following the first election for the council, is 1 July 2018.
(3) The day by which a new council must establish a new delivery program, following the first election for the council, is 1 July 2018.
(4) The delivery program is to be for the period commencing on 1 July 2018 and ending on 30 June 2021.
23 Payment of outstanding rates, charges and feesAny rates, annual charges or other fees payable to a former council
in respect of any land in the area of a new council, that were not paid before the amalgamation day or for which payment is due after that day,
are payable to the new council.24 Authorisation of expenditure pending operational planA new council may hold a meeting for the purposes of approving expenditure
and voting money for the period from 1 July 2016 until the adoption by the council of the first operational plan for the council.
25 Rating structure and categorisation of land for rating purposes
(1) This clause applies to the levying of rates for the 2016/2017 rating year.
(2) The structure for rates applied by a former council to rates levied for a parcel of land in a former area for the 2015/2016 rating year is to be applied by the new council to that parcel.
(3) The category or sub-category applied to a parcel of land in a former area for rating purposes for the 2015/2016 rating year is to be applied by the new council to that parcel.
(4) It does not matter that different rating structures apply to different parcels because of subclause (2).
(5) This clause does not prevent a person from applying for a review of a category under section 525 of the Act or from making an appeal under section 526 of the Act.
(6)
The rating structure is to be reviewed within the first term of the new council
following the first election of the council.
26 Calculation of notional general income for rating purposes
(1) A new council's notional general income for 2016/2017 is to be determined by adding together the amount of general income for each of the former areas in the area of the new council, determined as if the amalgamation effected by this Proclamation had not taken place.
Schedule 13 Provisions for Northern Beaches Council
1 Definition
In this Schedule:
new council means the Northern Beaches Council.
2 Description of area
The Northern Beaches area is the area of that name with the boundaries as shown on the map referred to in the Table to clause 4 (1) of this Proclamation kept in the register of public surveys on the amalgamation day.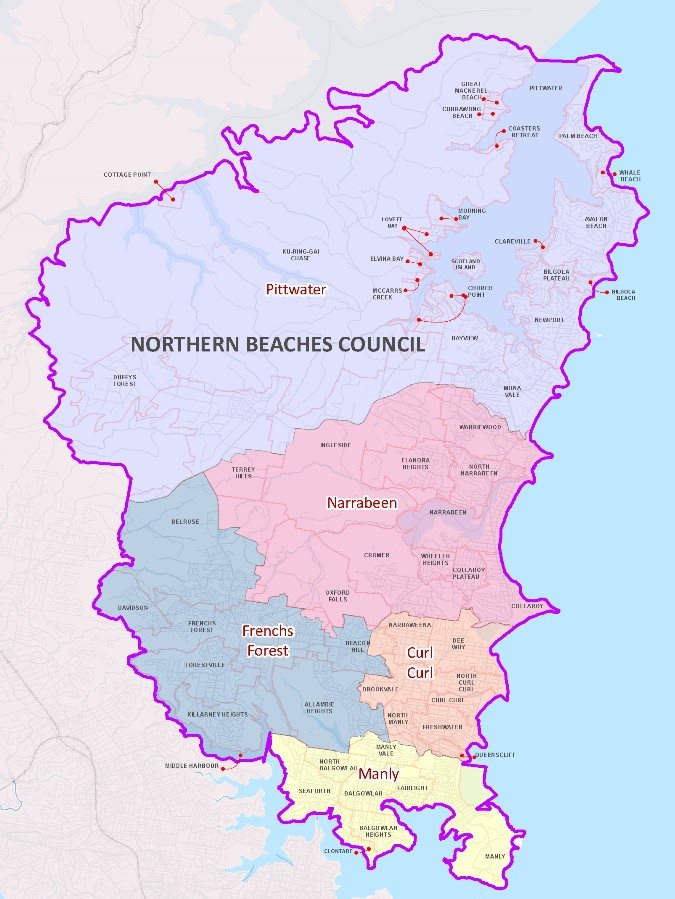 3 Administrator of new council during initial period
Dick Persson is appointed as the Administrator of the new council.
4 Interim general manager
The interim general manager of the new council is Mark Ferguson.
5 Deputy general managers
The deputy general managers of the new council are Henry Wong and Rik Hart.
6 Number of councillors
The number of councillors to be elected to the new council at its first election is 15.
7 Ward structure
The new council is to be divided into 5 wards having the boundaries shown for the Northern Beaches area on the map with the identifier number PP5001-W kept in the register of public surveys on the amalgamation day.
8 Code of meeting practice
The code of meeting practice of the former Manly Council is to be the code of meeting practice of the new council until it is amended or replaced in accordance with the Act.