November 16 - 22, 2014: Issue 189
One 'mega council' Would Be A Disaster for Pittwater - people and place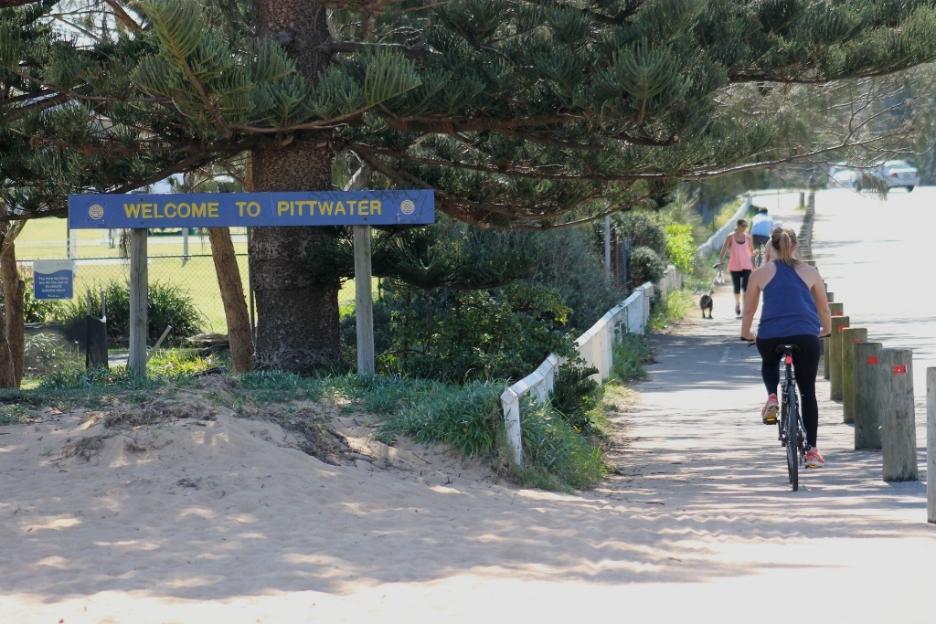 Welcome to Pittwater! - A J Guesdon picture.
Mayor for Pittwater Jacqueline Townsend has slammed an article in a local newspaper that appeared earlier this week quoting Professor Graham Sansom, who said Pittwater people "are quite justified in wanting to see an arrangement in place to protect their quality of life, but it's not a reason not to have a merger".
"Quality of life is the number one reason we are vehemently against a merge into a 'mega council'. Pittwater people will lose the very fabric of what makes a local community local," said Cr Townsend.
"While the idea of a 'mega council' might look good on a spreadsheet, the good management of the social, economic and environmental pillars of the entire Northern Beaches peninsular is unsustainable," she adds.
Earlier in November 2014 Professor Brian Dollery stated that the NSW government's Fit for the Future package includes 'amendments' that make it harder for councils to prove they are financially viable.
This week the results of a survey carried out to gauge resident satisfaction with our Council found 91% more than happy with our Council's Performance... and yet this 24 years of success, continuously rating above LGA benchmarks, is subject to inane remarks to perpetuate a stuck record mentality that continues to ignore not only the figures, and how they add up, but also the ecological, environmental and community ethos, and its undiminished integrity, at the heart of Pittwater and her people.
Will this be the last time Pittwater people have to state quietly, and even loudly for those with their fingers stuck in their ears, "KEEP YOUR HANDS OFF PITTWATER!"...??
No, it isn't:
'The state government is supporting the Independent Local Government Review Panel's recommendation that Pittwater Council amalgamate with our neighbouring councils – Warringah and Manly – to form one Council.
The Fit For the Future package outlines a roadmap for local government and is asking Councils to demonstrate that we are 'fit for the future'. The first stage in this process will require Council to complete a self-assessment against a set of criteria to be announced in October 2014.
Subsequent to this, Pittwater Council will also be required to submit a proposal to the Office of Local Government by 30 June 2015 demonstrating its ability to meet 'scale and capacity criteria' and how we intend to become fit for the future.' (1)
And who is paying the costs incurred for these 'required submissions'?....you, the ratepayer, are.
More HERE
1. From Pittwater Council's Local Government Reform webpage at: www.pittwater.nsw.gov.au/council/local_government_reform
Northern Beaches Palliative and Supportive Care Silver Jubilee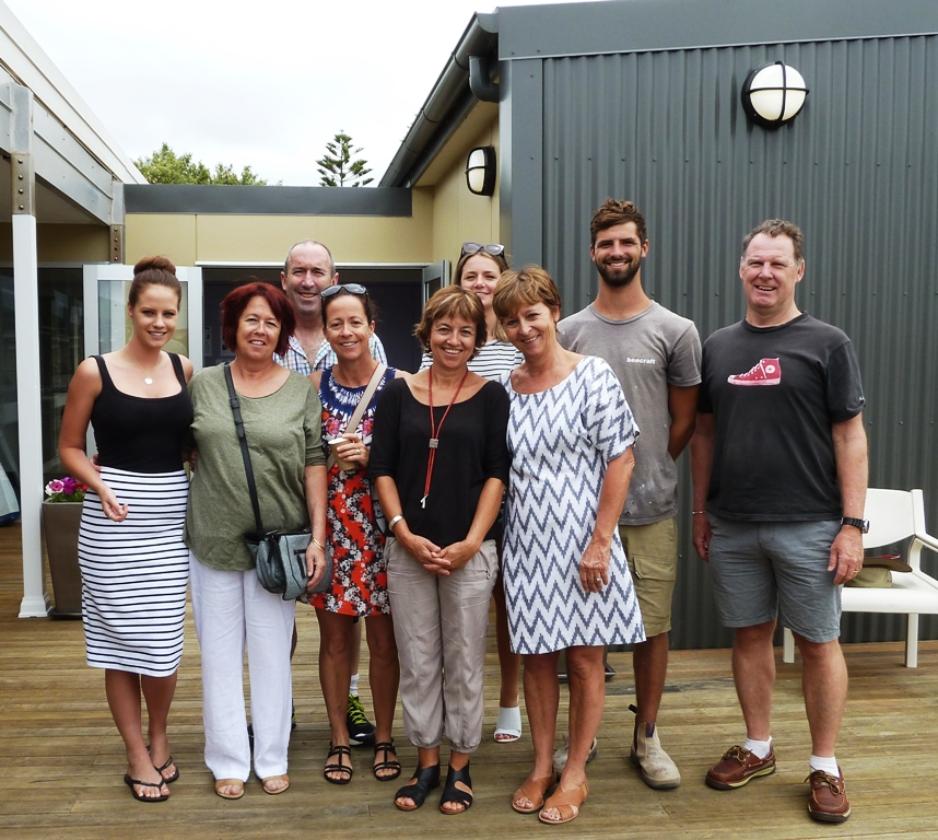 The family of Dr John Doran - picture courtesy Jo-Ann Steeves, President, Friends of Northern Beaches Palliative Care branch United Hospital Auxiliaries NSW Inc.
Northern Beaches Palliative and Supportive Care observed its twenty-fifth birthday on Saturday November 15th, 2014 at the Cora Adcock Palliative Care Centre, Mona Vale Hospital. Since inception it has served thousands of people with life-limiting illness, in the community and in their homes from Palm Beach to Manly and from the ocean to the Roseville Bridge.
The team of specially qualified medical and allied health professionals and volunteers welcomed many who have known the service and others who visited for information.
Joining the celebration of the silver milestone was the family of founder Dr John Doran. They remember the beginning of their father's vision and are gratified that the work has grown to its current status of care on our peninsula.
Newport SLSC's Gary Cook Receives SLSA President's Medal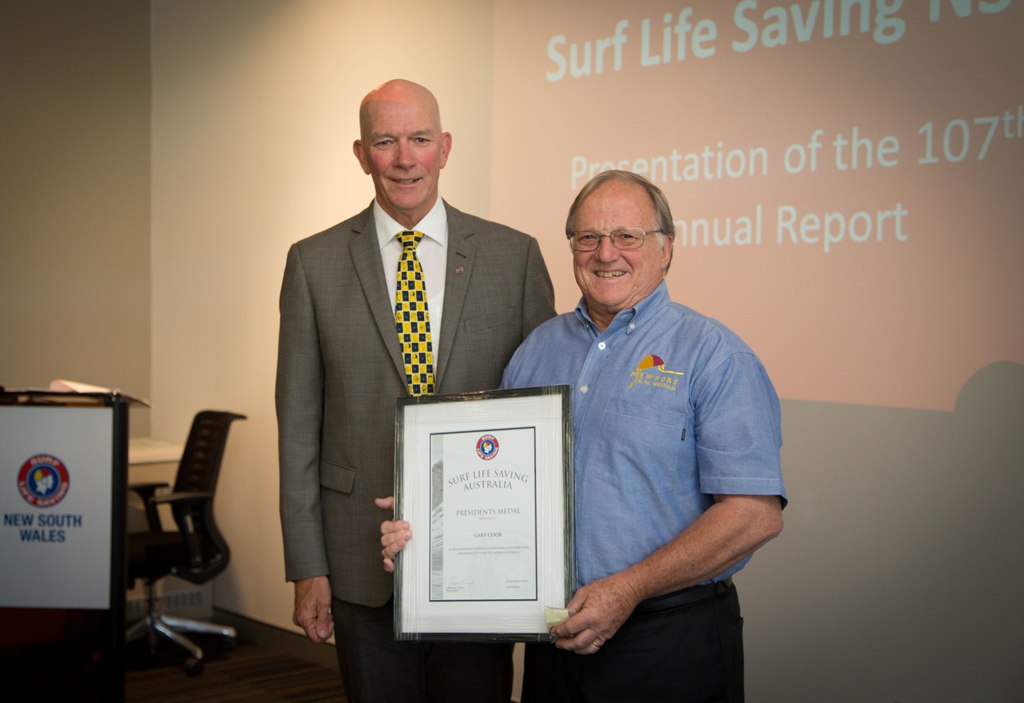 Mr Graham Ford, President of SLSA, presenting Gary with his President's Medal Certificate and Medal.
One of the outstanding members of the Newport SLSC we have had the privilege to run as a Profile of the Week was presented with the surf Life Saving Australia's President's Medal on Friday November 7th at the headquarters at Belrose.
The SLSA President' Medal was first introduced in 2007 when there were three levels of Awards established - Life Membership, President's Medal and Sustained Service Certificate. Prior to this there was only the Life Membership category.
To put this Award into some form of perspective there are currently approximately 100 living SLSA Life Members and there have been 41 President's Medals awarded since 2007 out of a total SLSA Australia wide membership of close to 167,000 people.
More HERE
New Fire Trucks For Pittwater's Rural Fire Service Brigades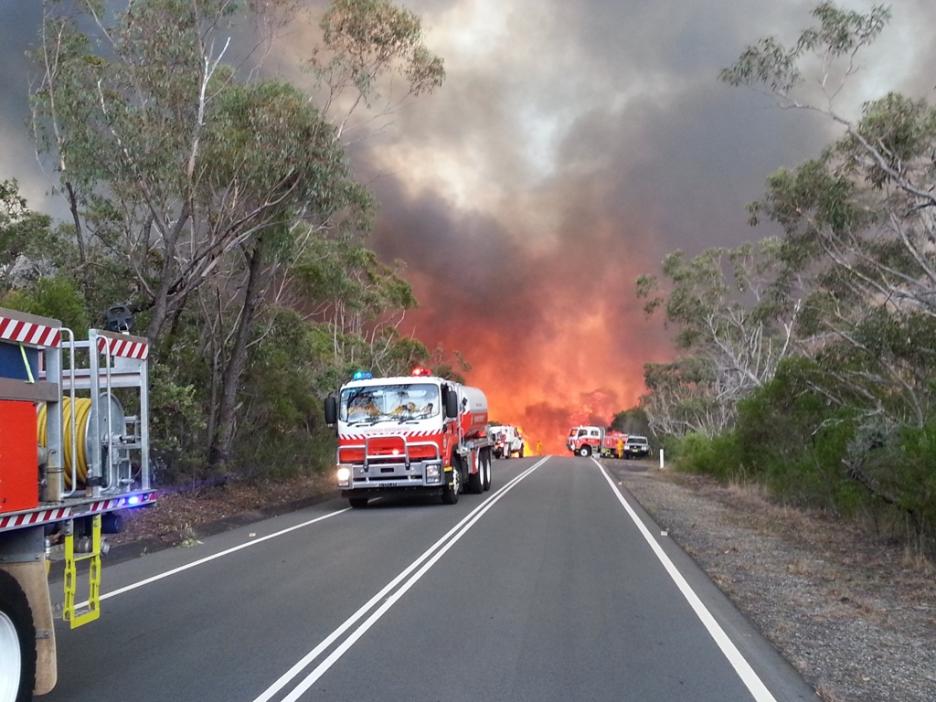 West Head fire - January 2013 - picture supplied.
Member for Pittwater Rob Stokes has announced this week that five new fire trucks will be provided to Rural Fire Service brigades throughout Pittwater.
The NSW Government is investing over $30 million to continue upgrading the State's Rural Fire Service fleet and brigades in Pittwater including Cottage Point, Scotland Island, Duffys Forest, Coal and Candle and the District Headquarters at Terrey Hills will be among the beneficiaries.
"These new fire trucks will provide a welcome boost for our local brigades," Rob Stokes said.
More HERE
Pittwater Community Arts 10th Annual Art Show and Birthday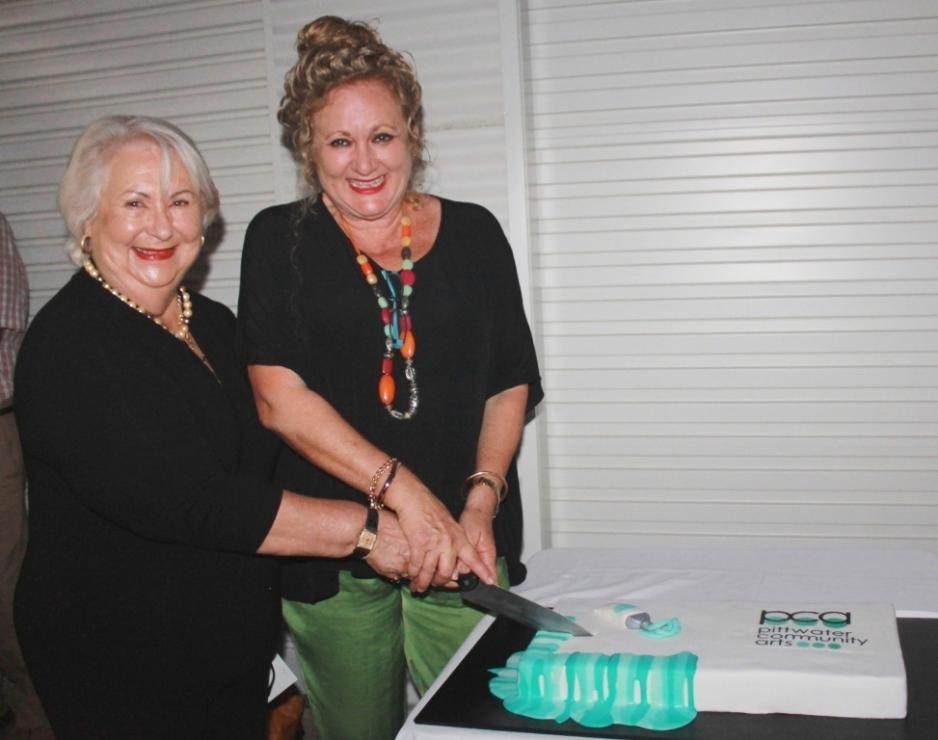 Lorrie Morgan and Debby Waters - PCA - picture by A J Guesdon, 2014.
Avalon Community Centre hosted the opening of the 10th annual exhibition of Pittwater Community Arts (PCA) on Friday evening. This was also an occasion to celebrate the 10th birthday of this wonderful community organisation.
The Knitters Guild had prepared a specially knitted cake and the great team at Enliven Pittwater, through Pittwater Council's offices, had organised a second wonderful edible celebration – cake all round!
To highlight 10th birthday celebrations this year the Avalon-Palm Beach Chamber of Commerce provided a First, Second and Third prizes for works displayed, judged by Ben Hedstrom. These works will have a rosette next to them when you visit the exhibition.
Over 500 works are on display this year and today (Sunday 16th of November) is the final opportunity for you to secure something unique and wonderful.
More HERE
NSW 10/50 Vegetation Clearing Code Fast Tracks Tree Destruction For Wrong Reasons - Protest Held at Mona Vale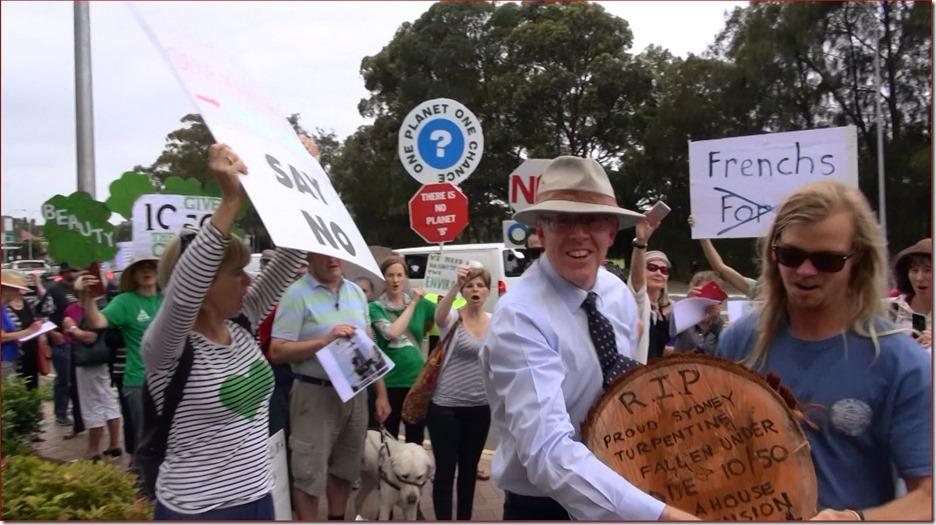 10/50 Code Protest at Mona Vale on Monday November 10th - picture courtesy John Illingsworth.
About 100 people rallied to call for a moratorium on the 10/50 vegetation clearing code on Monday 10th of November.
The code is designed to reduce the risk of bushfires but because its basis for action is self-assessment, many trees and under scrubbing is being destroyed not for bushfire protection but to enhance views, remove trees in the way of a development application, get rid of annoying leaves on the lawns or car and so on. At present we are losing around 10 trees a day under this code.
More HERE
OnIslands at Eramboo - November 2014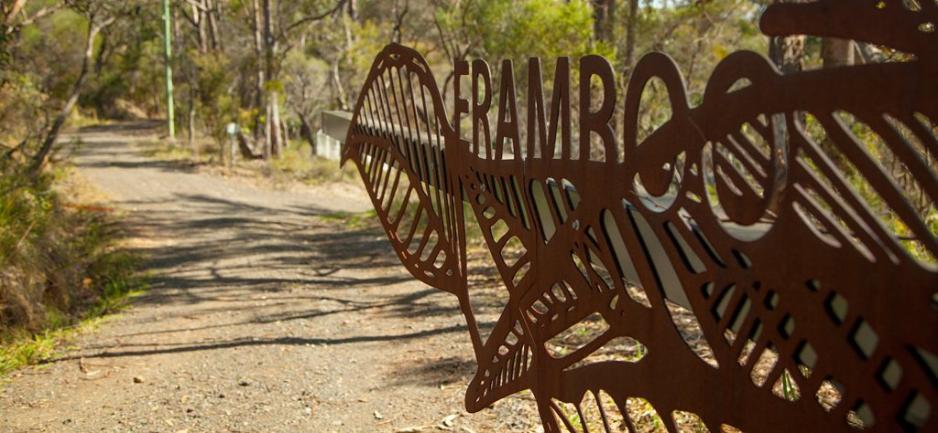 The beautiful grounds of Eramboo at Terrey Hills hosts OnIslands until November 30th -picture supplied.
OnIslands is a groundbreaking creative arts project being undertaken on the Northern Beaches of Sydney this November at Eramboo, Terrey Hills. 'OnIslands' Eramboo is a three week curated arts festival including an exhibition of site specific collaborative art works and installations, Workshops, Artist and Curator Talks, Performance, Art, Music, Interactivity. On Islands Eramboo : Creative Collaboration Public Arts Festival will run Saturdays and Sundays 15th - 30th November 2014 10 am - 4pm
More HERE