inbox and environment news: Issue 548
July 31 - August 6, 2022: Issue 548
Be The Boss: I Want To Be A Builder
To become a builder, you usually have to complete a VET qualification in building and construction (Carpenter Craftsan's Certificate for instance). As subjects and prerequisites can vary between institutions, you should contact your chosen institution for further information. You can also become a builder by studying construction management or building at university. To get into these courses you usually need to gain your Senior Secondary Certificate of Education. Prerequisite subjects, or assumed knowledge, in one or more of English and mathematics are normally required. Universities have different prerequisites and some have flexible entry requirements or offer external study. Contact the institutions you are interested in for more information.

Personal requirements for a Builder
Good communication and interpersonal skills
Management and leadership skills
Good planning and organisational skills
Aptitude for technical activities
Strong physical ability to handle the workload
Decision making and problem solving abilities
Being a Builder can be a tough job, and you can't be afraid to get your hands (literally) dirty if you want to make a career out of it, but there are plenty of benefits to working in building and construction, and Open Collages (Australian) are going to share a few of them with you.
1. Your job doubles as a daily workout routine
Working in the building and construction industry can be physically demanding, and there is a certain level of fitness that is required. You'll be lifting, pushing, pulling and hauling things across the job site, as well as using machinery and equipment. But unlike an office job, where you'll be stuck behind a desk all day, working as a Builder means that you'll be keeping active all day, every day. In time, you'll see how this will improve your overall fitness levels.
2. Create a strong network
Working on different sites throughout the year means that you'll be working alongside a variety of people with a wide range of skills. Over time, you'll build a strong network of contacts and friends. And you never know where those connections and friendships might take you.
3. Being a Builder pays well
As a Tradie, you'll be earning around $1458 per week, according to the government's Job Outlook website. This jumps all the way up to $3450 per week for Construction Managers.
4. Work anywhere
The building and construction industry isn't one that's limited by geography, whether you live in one of the country's major cities or in a regional town. As the population of regional areas continues to grow, so will the demand for new infrastructure.
5. Early start means early finish
While construction sites usually start pretty early (around 7am), this just means that you get to knock off sooner! While most office jobs finish at around 5-6pm, Builders can expect to finish earlier than this – which means you have more hours in the day for 'me' time. Head to the gym, catch up with mates, join a local sports team or just enjoy extra time at home with your family and doing the things you love.
6. You don't have to wait for a home renovator
As a professional Builder, you'll be able to take care of your own home renovations without having to hire someone else. And if there's something you can't take care of yourself, or if you need another pair of hands, you can call in a favour from that strong network group we mentioned earlier.
7. Get plenty of sunshine
If you really can't stand the thought of working behind a desk, then becoming a Builder is the perfect career move for you. You'll be spending a lot of time outdoors, which also means you'll be getting a healthy dose of Vitamin D every day! Vitamin D is actually incredibly important when it comes to building strong bones and teeth, as well as helping the immune system to function. Just remember to wear the right kind of protective clothing and sunscreen.
8. Job stability and reliability
In 2019, the building and construction industry employed 1.5million workers in Australia. That's a whopping 9% of the total workforce.³ By 2023, it's predicted there will be at least another 118,800 jobs created, which is a growth of 10%. And while the industry itself has slowed down due to the COVID-19 pandemic, by no means has it stopped. In fact, the building and construction industry may be the key to helping the Australian economy recover.
Are you thinking of starting a career in building and construction?
Open Colleges has a number of building and construction courses that will teach you the skills and knowledge you need to begin your career or take the next step up the (career) ladder. Our courses have been designed by vocational experts, which means that everything covered in your course will be relevant and up to date, while adhering to the highest industry standards. We have three building and construction courses available to study online:
CPC50210 Diploma of Building and Construction (Building)
CPC40110 Certificate IV in Building and Construction (Building)
CPC50210 Diploma of Building and Construction (Building) (Western Australia)
Triangular Tri Scale Ruler for: Architects, Engineers and Builders reading Building/Construction Plans

Builder as a job information courtesy Australian Open Colleges and The Good Universities Guide, Australia.
Art Competition To Remember Our ANZACS
Students across NSW are encouraged to get creative as the NSW Government together with RSL NSW launches an art competition to commemorate the 70th anniversary of the RSL and Schools Remember ANZAC Commemoration next year.
Minister for Education and Early Learning Sarah Mitchell is encouraging students to speak to their school and submit a design that will feature on the 2023 program and at an exhibition at the Anzac Memorial in Hyde Park.
"The NSW Government and the Department of Education has co-hosted this service with RSL NSW for 70 years, and we want to acknowledge this anniversary with a commemorative program to which the students in New South Wales can contribute," Ms Mitchell said.
"I invite any student across all three education sectors to participate and have the opportunity to be selected to have their artwork featured on the 2023 service program."
Minister for Transport and Veterans David Elliott said the annual commemoration at the Anzac Memorial in Hyde Park aims to educate and encourage younger Australians to learn about Australia's military history, whilst paying respect to the service and sacrifice of servicemen and servicewomen.
"This art competition is a great way for students in New South Wales to learn about our military history and design an artwork that reflects what it means to them. It could be about a family member who served in World War One, or a symbol of their service to our nation," Mr Elliott said.
"The annual RSL and Schools Remember ANZAC proceedings are incomparable, as they're delivered entirely by school students including the Master of Ceremonies, keynote address, readings, and musical accompaniment."
RSL NSW President Ray James said it was critical for the RSL to work with the Department of Education to ensure school students understood why Australians commemorated the service and sacrifice of those who have served in the Australian Defence Force.
"Commemorating significant moments in our military history is vital to Australia, as a people, a community, and a nation. RSL NSW takes this responsibility incredibly seriously as the custodians of the Anzac spirit. Future generations should never forget that the freedom they enjoy in Australia has been protected by the men and women who served in our armed and allied forces." Mr James said.
The RSL and Schools Remember ANZAC Commemoration was first held in 1953, co-hosted by RSL NSW and the Department of Education. Over the years the service has expanded to Catholic Schools NSW and the Association of Independent Schools NSW.
16 September 2022: Submissions close
Word Of The Week: Positive
Word of the Week returns in 2022 simply to throw some disruption in amongst the 'yeah-nah' mix.
adjective
1. consisting in or characterized by the presence rather than the absence of distinguishing features.
2. constructive, optimistic, or confident.
noun
1. a desirable or constructive quality or attribute. 2. a positive photographic image, especially one printed from a negative. 3. with no possibility of doubt; definite.
4. (of a quantity) greater than zero. 5. containing, producing, or denoting an electric charge opposite to that carried by electrons.
Grammar; denoting the primary degree of an adjective or adverb, which expresses simple quality without qualification.
Philosophy; dealing only with matters of fact and experience; not speculative or theoretical.
From late Middle English: from Old French positif, -ive or Latin positivus, from posit- 'placed', from the verb ponere. The original sense referred to laws as being formally 'laid down', which gave rise to the sense 'explicitly laid down and admitting no question', hence 'certain'.
Further: early 14c., originally a legal term meaning "formally laid down, decreed or legislated by authority" (opposed to natural), from Old French positif (13c.) and directly from Latin positivus "settled by agreement, positive" (opposed to naturalis "natural"), from positus, past participle of ponere "put, place".
The sense of "absolute" is from mid-15c. Meaning in philosophy of "dealing only with facts" is from 1590s. Sense broadened to "expressed without qualification" (1590s), then, of persons, "confident in opinion" (1660s). The meaning "possessing definite characters of its own" is by 1610s. The mathematical use for "greater than zero" is by 1704. Psychological sense of "concentrating on what is constructive and good" is recorded from 1916. Positive thinking is attested from 1953. The sense in electricity is from 1755.
Daryl Hall & John Oates - You Make My Dreams (Official HD Video)
Frank Sinatra: That's Life (Remastered 2008)
I've been up and down and over and out
And I know one thing
Each time I find myself
Flat on my face
I pick myself up and get
Back in the race
Pete Townshend - Let My Love Open The Door
Music video by Pete Townshend performing Let My Love Open The Door. (C) 1980 Eel-Pie Recording Productions Ltd.

Gardens Connecting Communities
Published by the Royal Botanic Gardens and Domain, July 25, 2022
The Royal Botanic Gardens and Domain Trust's Community Greening program is committed to taking its expertise 'beyond the garden walls and serving the broader community through innovative community-led gardens.
When Community Greening participants were surveyed about direct impacts on their lives, the feedback demonstrated 85% positive effect on health and 91% said it had a positive effect on their community; 73% are exercising more and 61% are eating better.
Community Greening is a non-profit program, which depends on government funding and private donations to operate.
Learn more about Community Greening: www.botanicgardens.org.au
Book Of The Month: August 2022 - Kamilaroi, And Other Australian Languages By William Ridley(1819-1878)
Publication date: 1875, Publisher: Sydney, N.S.W., T. Richards, government printer
noun
1. a member of a group of Australian Aboriginal peoples of north-eastern New South Wales.
2. the language of the Kamilaroi.
adjective; relating to the Kamilaroi or their language.
The Gamilaraay or Kamilaroi language is a Pama–Nyungan language of the Wiradhuric subgroup found mostly in south-eastern Australia. It is the traditional language of the Gamilaraay (Kamilaroi), an Indigenous Australian people. It has been noted as endangered, but the number of speakers grew from 87 in the 2011 Australian Census to 105 in the 2016 Australian Census. Thousands of Australians identify as Gamilaraay, and the language is taught in some schools.
Wirray Wirray, Guyinbaraay, Yuwaalayaay, Waalaraay and Gawambaraay are dialects; Yuwaalaraay/Euahlayi is a closely related language.
The name Gamilaraay means 'gamil-having', with gamil being the word for 'no'. Other dialects and languages are similarly named after their respective words for 'no'. (Compare the division between langues d'oïl and langues d'oc in France, distinguished by their respective words for 'yes'.)
Spellings of the name, in the language itself, include Goomeroi; Kamilaroi; Gamilaraay and Gamilaroi.
According to Robert Fuller of the Department of Indigenous Studies at Macquarie University and his colleagues, the Gamilaraay and Euahlayi peoples are a cultural grouping of north and northwest New South Wales (NSW), and the Gamilaraay dialect groups are known as Gamilaraay and Yuwaalaraay, while the Euahlayi (Euayelai) have a similar but distinct language.
Southern Aboriginal guides led the surveyor John Howe to the upper Hunter River above present-day Singleton in 1819. They told him that the country there was "Coomery Roy [=Gamilaraay] and more further a great way", meaning to the north-west, over the Liverpool Ranges (see O'Rourke 1997: 29). This is probably the first record of the name.
A basic wordlist collected by Thomas Mitchell in February, 1832, is the earliest written record of Gamilaraay.
Presbyterian missionary William Ridley studied the language from 1852 to 1856.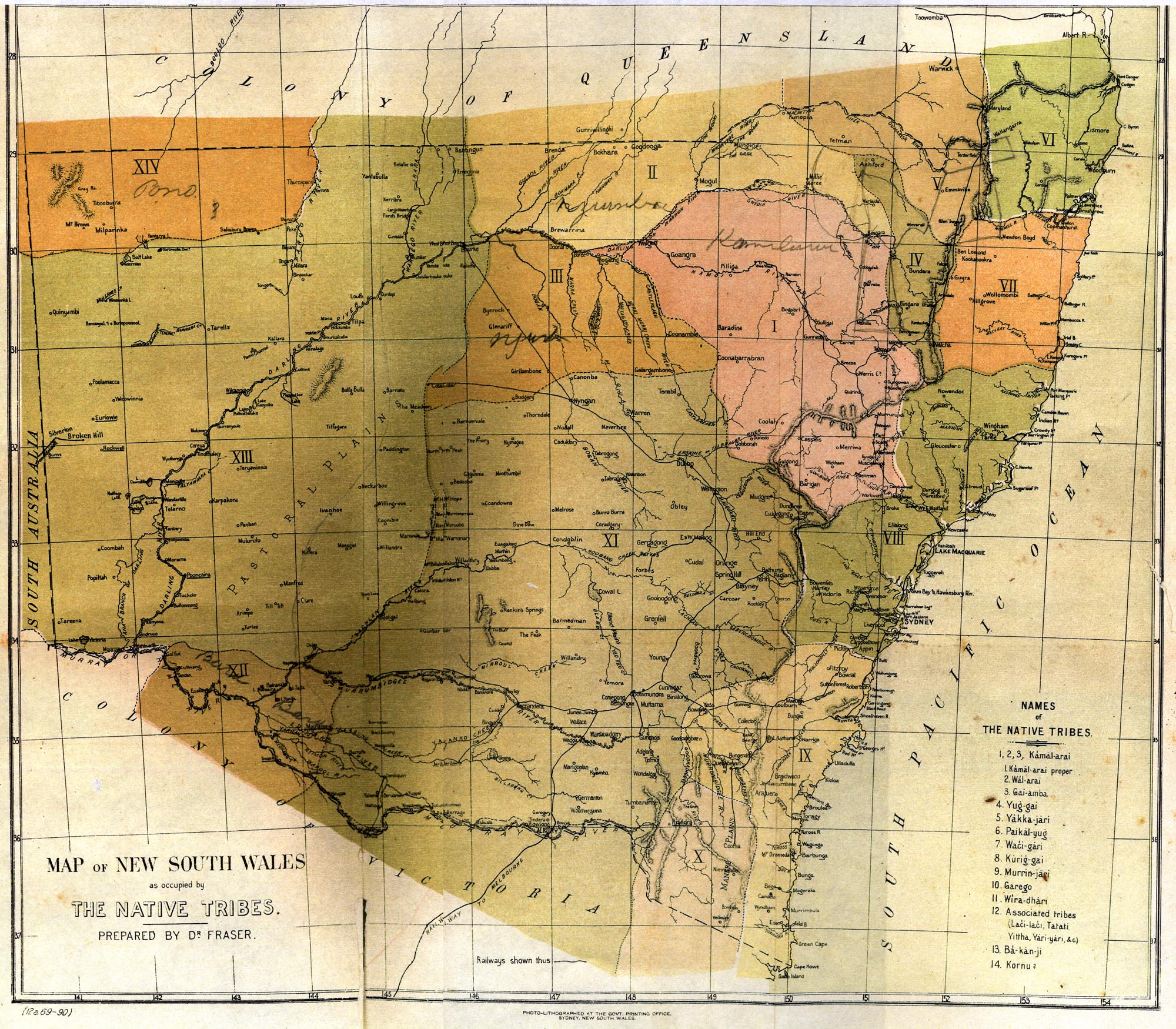 A map of the tribes of New South Wales, published in 1892. Gamilaraay is marked I.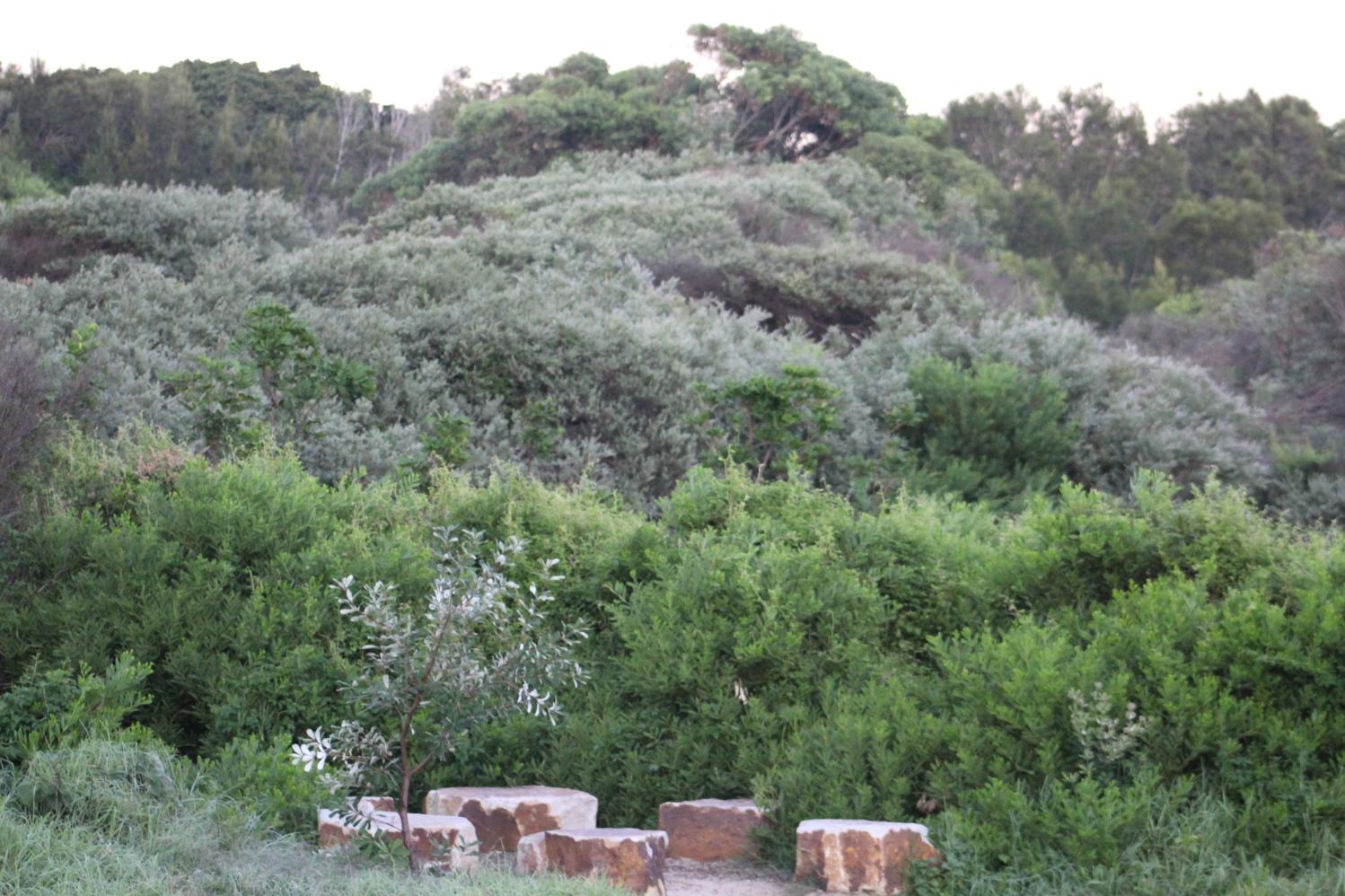 Older Australians Welcome Albanese Government's High Priority On Aged Care Reform As Bills Introduced On First Day Of Government Business
The introduction of two aged care reform Bills on the first business day of the 47th parliament is unprecedented and indicates a welcome priority for aged care reform, says Council on the Ageing (COTA) Australia, the peak body and leading advocate for older Australians.
Two aged care reform Bills are being introduced in this first business session – the Aged Care and Other Legislation Amendment (Royal Commission Response) Bill 2022 continues the implementation of the former government's aged care reform measures at the earliest possible moment; while the Care Amendment (Implementing Care Reform) Bill 2022 implements the additional reforms that were a Labor election commitment and outlined in Anthony Albanese's Budget Reply speech.
"These Bills are crucial steps in a reform process that when fully implemented will ensure Australia will finally enjoy the quality aged care system all older Australians deserve", says COTA Australia Chief Executive, Ian Yates AM; "and to have them introduced today is testament to the fact that Aged Care Minister Anika Wells, strongly supported by Health and Aged Care Minister Mark Butler, has hit the ground running in her new portfolio."
COTA Australia is urging the Parliament to ensure the Aged Care and Other Legislation Amendment (Royal Commission Response) Bill 2022 is passed swiftly through the Parliament in the current sitting fortnight. The Bill implements 14 recommendations of the Aged Care Royal Commission, including new residential care funding, Star Ratings for aged care providers, an Independent Pricing Authority for aged care services, greater financial and prudential oversight of providers, a code of Conduct for aged care staff, and stronger governance requirements for providers.
Mr Yates said "It was very disappointing that this Bill did not pass the last Parliament, as it has led to delays in getting key reforms underway, but that is now water under the bridge. Reintroducing it today is excellent; it has already been through Senate Committee scrutiny and parliamentary debate and should be passed forthwith.
"The Care Amendment (Implementing Care Reform) Bill 2022 provides for the implementation of election commitments, including three further Royal Commission recommendations. It includes registered nurses being onsite 24 hours a day, 7 days a week by mid-2023; giving the government the power to cap home care package fees and remove exit fees; and the publication of information on what providers spend on care, nursing, food, maintenance, cleaning and administration, and profits. This Bill will go through the normal Senate Committee process.
"Consumers have long argued for greater transparency of information from and about providers, who have been protected by outdated legal provisions, and have declined to take their own steps to explain how they use taxpayer and resident funds" Mr Yates said; "so we welcome the transparency provisions in this Bill, as well as the other measures.
"We want to see this Bill also dealt with by Parliament as a priority measure and enacted as soon as possible. The Labor Government has an election mandate for these measures and older people have been waiting too long for reform. This is about the right of older people to receive quality care, adequately funded services, strong consumer protections and transparency – we can't afford to wait any longer," Mr Yates said.
100,000 Seniors Now Using Digital Seniors Card
Seniors in NSW are continuing to embrace digital with more than 100,000 people now taking advantage of the digital Seniors Card.
Minister for Customer Service and Digital Government Victor Dominello said while there would always be a non-digital version, it was great to see so many seniors taking advantage of the digital option to access discounts and benefits on dining out, entertainment and travel.
"This milestone shows the seniors of NSW are confidently using digital products and demonstrates the real impact and benefits these solutions can have in all age groups," Mr Dominello said.
"After a successful pilot in March involving 4,000 people, we are currently seeing more than 30,000 people getting their digital Seniors Card each month.
"We are now looking at ways we can continue to expand the program with a focus on businesses, and we are developing an application process similar to the successful Dine & Discover NSW program which will enable many more to easily sign up."
Minister for Seniors Mark Coure said it was great to see 100,000 people take up the digital option in just a few months.
"The Seniors Card has come a long way since it was first introduced in 1992—it is now the largest program of its kind in Australia," Mr Coure said.
"For 30 years, it has been helping ease the cost of living for card holders by providing access to discounts and rebates at shops, travel, entertainment, and professional services providers.
"There are more than 6,500 businesses and service providers with discounts, and I encourage more to follow."
To find instructions on how to add a digital Seniors or Senior Savers Card to the Service NSW app, or to learn more visit
Service NSW
Researcher Awarded For Infection Work
The 2022 Commonwealth Health Minister's Award for Excellence in Health and Medical Research has been awarded to a leading researcher tackling healthcare-associated infection, Professor Brett Mitchell from Avondale University.
One in 10 patients in an Australian hospital acquires an infection during their stay. This is a major cause of complications and a significant burden on the healthcare system.
The Health Minister's Award recognises Professor Mitchell's outstanding research in infection control, as well as his vision to generate evidence for practical approaches to prevent common healthcare-associated infections.
This Award is given annually to the top-ranked recipient of a National Health and Medical Research Council (NHMRC) Investigator Grant in the Emerging Leadership Level 2 category in the previous year's round.
With his Investigator Grant, Professor Mitchell is working towards the prevention of infections that occur as a consequence of receiving healthcare – in both hospital and community settings – providing a strong foundation for transformation of clinical practice and policy, in Australia and internationally.
With this Award, Professor Mitchell will receive a further $50,000 to support his research in addition to his $1.5 million five-year Investigator Grant.
Professor Brett Mitchell completed his PhD at the Australian Catholic University in 2013. He was Professor in Nursing at The University of Newcastle School of Nursing and Midwifery and is now Professor of Health Services Research and Nursing at Avondale University.
The Investigator Grant scheme is one of NHMRC's flagship funding schemes and provides five-year funding security for high-performing researchers by providing a salary and a research support package. It is extremely competitive with many high-quality applications from exceptional researchers received in each round.
The Hon Mark Butler MP, Minister for Health and Aged Care, said, "Infection control is a major health concern globally, particularly in the face of rising resistance to antimicrobial drugs. Professor Mitchell's research is critical in finding ways to stop infection before it starts.
"My congratulations to Professor Mitchell. This award recognises the excellence of his research, drawing on his clinical nursing experience, and his role in finding evidence-based solutions to prevent infection in clinical settings.
"Professor Mitchell's research demonstrates the value of working with local health networks, hospitals and industry partners to find practical solutions to a major and growing health problem."
Inflation And The Aged Pension The Hare And The Tortoise
National Seniors Australia says today's inflation figure shows the pension is again playing catch up with the soaring cost of living.
Australia's peak, not-for-profit consumer and advocacy organisation for older Australians, says the figure of 6.1% (the highest since 2001) has already outstripped the last increase to the pension of just $20.10 per fortnight back in March.
National Seniors Chief Advocate, Ian Henschke says pensioners will have to wait months for any respite.
"The next increase is not until September and by then inflation will have leapt ahead of the pension and they will be left even further behind," Mr Henschke said.
"It's like the hare and the tortoise, no sooner do we try to get ahead of the cost of living and any increase has already been gobbled up by soaring inflation."
National Seniors says when there is runaway inflation, the pension should be adjusted quarterly.
"Clearly adjusting the pension twice a year when we have runaway inflation is not fair," said Mr Henschke.
He also says the 'Let Pensioners Work' campaign should be adopted by the government at this time of high cost of living and record job vacancies.
"Our research shows that almost 20% of pensioners say they would consider a return to work and their prime reason is because they need the money.
"If pensioners could work without losing so much of their pension and just pay income tax like everyone else it would be a win for them and a win for the economy."
Housing Taxation In OECD Countries: New Report
The latest Organisation for Economic Cooperation and Development (OECD) report into housing and taxation has revealed that homes in Australia are disproportionately in the hands of older and wealthier Australians. This, according to the OECD report, is a direct result of how our current taxation system and benefits are structured.
In Australia, there is no capital gains tax on your principal place of residence, which the OECD report suggests mostly benefits higher-income and wealthier households, and is a drain on government budgets. The value of this exemption in 2021 was $64 billion, making it the largest tax concession.
The OECD recommends the Australian Government "consider capping the capital gains tax exemption … to ensure that the highest-value gains are taxed" and that this could help ease the pressure on house prices.
Economists have long argued that the current 50% capital gains tax discount allows wealthier investors to flip properties at a profit with minimal tax impacts, which ends up costing the government $10 billion a year.
The report suggests young people are being locked out of the housing market, which is increasingly being dominated by richer, older men with almost 80% of the CGT discount benefits going to those aged over 50 and women receiving less than 40% of these benefits.
The report indicated that between 1981 and 2016, home ownership for households aged 25 to 34 dropped by 40 percentage points for the lower 20% of income earners and 7 percentage points for their counterparts in the top 20% of income earners.
"In Australia, the decline in home ownership rates between generations has been significantly more pronounced for bottom-income households than for top-income households," the report noted.
"High-income households hold a disproportionately large share of housing debt but lower-income households with mortgages generally face higher debt burdens.
"Home ownership and housing wealth are strongly associated with age. Older households tend to have high levels of housing wealth but low levels of income, raising potential liquidity concerns linked to the taxation of housing.
"Evidence also shows that home ownership rates have been declining for younger generations, particularly lower-income and lower-wealth households."
Access the Housing Taxation in OECD Countries
online here
AvPals Term 3 2022: Training At Newport
Avpals are proud to present our training schedule for term 3 at the Newport Community Centre. You can enrol online, make inquiries online, even pay online. Spaces are limited. We are complying with every aspect of Covid Care.
The timetable is below: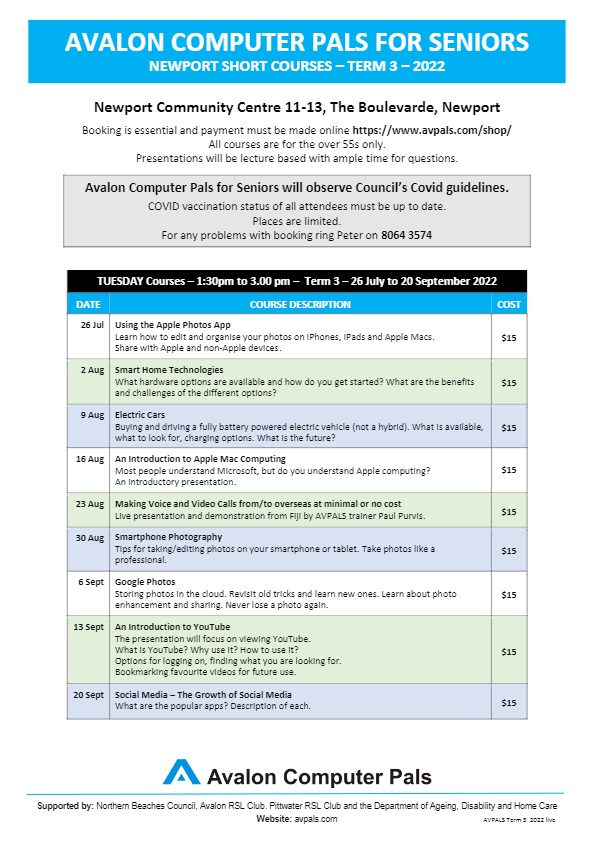 Delivering A Plan To Fix Aged Care
The Australian Government, the Albanese Ministry, introduced legislation today to deliver our commitments to fix the crisis in aged care, and usher in a new funding model for residential aged care.
The Aged Care Amendment (Implementing Care Reform) Bill 2022 will require a qualified registered nurse to be on site in every residential aged care home 24 hours a day, seven days a week, ensuring older Australians living in residential aged care receive immediate care when needed.
The former Morrison Government ignored the Royal Commission's recommendation that nursing homes should have a RN on site 24/7, the incumbent government states
''We are also delivering on our election commitment to improve transparency in the aged care system, with the Bill introducing measures to monitor the costs associated with aged care, placing greater responsibility on providers to be transparent and fair.
This will see the publication of more information about providers' operations including what they are spending money on.
The legislation also delivers on our election commitment to stop the rorting of Home Care fees, by placing a cap on how much can be charged in administration and management fees.
This means home care users can be confident their money is going directly to care – not the bottom line of providers.
Also introduced today, the Aged Care and Other Legislation Amendment (Royal Commission Response) Bill 2022 contains nine measures to implement urgent reforms to the aged care system, and responds to 17 recommendations of the final report of the Royal Commission into Aged Care Quality and Safety.
The Royal Commission Response Bill provides the legislative framework for the new AN-ACC funding model for residential aged care homes, which will replace the outdated Aged Care Funding Instrument in October 2022.
This framework will offer more equitable funding, better matched to providers' costs in delivering the care residents need.
It also extends the functions of the Independent Health and Aged Care Pricing Authority, which will lead to better price-setting for aged care homes.
Other measures enshrine transparency and accountability of approved providers, and improve quality of care and safety for older Australians receiving aged care services.
This includes the Star Ratings System, which will see the Department of Health and Aged Care publish a comparison rating for all residential aged care services by the end of 2022; an extension of the Serious Incident Response Scheme to all in home care providers from 1 December 2022, meaning increased protection for older Australians from preventable incidents, abuse and neglect; and a new Code of Conduct for approved providers, their workforce and governing persons.''
Prime Minister, Anthony Albanese said, "We are wasting no time getting on with the job with fixing the aged care system.
"The introduction of this legislation is the first step towards delivering new funding, more staff and better support to the sector, while improving transparency and accountability.
"We are using this first sitting week of the 47th Parliament to take important first steps towards fixing aged care and protecting vulnerable Australians, while addressing the challenges in our economy. "
Minister for Health and Aged Care, Mark Butler said,
"We're delivering on our commitment to putting nurses back into nursing homes and improve transparency in aged care.
" Every person with a loved one living in residential aged care expects, is the peace of mind in knowing aged care residents have access to clinical care from a qualified, registered nurse when they need it, 24 hours a day, every day."
"This legislation delivers on the Government's major reform agenda to protect the safety, dignity and wellbeing of every older Australian accessing aged care services."
Minister for Aged Care, Anika Wells said,
"This Implementing Care Reform Bill will put nurses back into nursing homes; it will put a stop to high administration and management fees for home care, which means more dollars go to care and support; and it will improve integrity and accountability for residential aged care homes."
"We have introduced urgent legislation for a new funding model that will increase funding to aged care providers that was left languishing by the former Government because they couldn't work with the Senate."
"This legislation demonstrates our commitment to making public what aged care providers are spending their money on, ensuring a fair and transparent system for our older Australians and their families and carers."
"24/7 registered nurses in residential aged care is a significant and much needed change to ensure high quality care for older Australians. This will be supported by the initiatives we have in place to grow and boost the skills of aged care nurses."
"Publishing Star Rating for residential aged care homes will help people meaningfully compare services to make the right choice for themselves or their loved ones"
Capability Review Of The Aged Care Quality And Safety Commission
The Australian Government, the Albanese Ministry, has announced it will conduct a capability review of the Aged Care Quality and Safety Commission.
Minister for Aged Care the Hon. Anika Wells today confirmed that the capability review would proceed after the former Morrison Government failed to act on the Royal Commission recommendation.
"Australians told us that quality and safety in aged care is of utmost importance, and the Albanese Labor Government is progressing this review," Minister Wells said.
"The Aged Care Quality and Safety Commission is responsible for protecting and improving the safety, health, wellbeing and quality of life for older Australians receiving funded aged care services.
"It is critical that the Commission is fit for purpose."
This review will consider whether the Aged Care Quality and Safety Commission has the appropriate resources, workforce, necessary regulatory and investigatory skills, clinical knowledge, assessment skills and enforcement skills, to meet its regulatory responsibilities and keep older Australians safe.
The review will report back in the first half of 2023.
"We will continue to work closely with the Commission to deliver the significant reforms introduced to Parliament, including the extension of the Serious Incident Response Scheme to in-home care, introduction of a new Code of Conduct, establishment of Star Ratings, and new provider governance reforms," Minister Wells said.
The appointment of an independent reviewer with the appropriate expertise and experience to deliver such an important piece of work will be announced shortly.
Clues To Age-Related Macular Degeneration Revealed
Better diagnosis and treatment of the incurable eye disease age-related macular degeneration is a step closer, thanks to the discovery of new genetic signatures of the disease.
Scientists from the Garvan Institute of Medical Research, the University of Melbourne, the Menzies Institute for Medical Research at the University of Tasmania and the Centre for Eye Research Australia, reprogrammed stem cells to create models of diseased eye cells, and then analysed DNA, RNA and proteins to pinpoint the genetic clues.
"We've tested the way that differences in people's genes impact the cells involved in age-related macular degeneration. At the smallest scale we've narrowed down specific types of cells to pinpoint the genetic markers of this disease," says joint lead author Professor Joseph Powell, Pillar Director of Cellular Science at Garvan. "This is the basis of precision medicine, where we can then look at what therapeutics might be most effective for a person's genetic profile of disease."
Age-related macular degeneration, or AMD is the progressive deterioration of the macular -- a region in the centre of the retina and towards the back of the eye -- leading to possible impairment or loss of central vision. Around one in seven Australians over the age of 50 is affected, and about 15 per cent of those aged over 80 have vision loss or blindness.
The underlying causes of the deterioration remain elusive, but genetic and environmental factors contribute. Risk factors include age, family history and smoking.
The research is published today in the journal Nature Communications.
The researchers took skin samples from 79 participants with and without the late stage of AMD, called geographic atrophy. Their skin cells were reprogrammed to revert to stem cells called induced pluripotent stem cells, and then guided with molecular signals to become retinal pigment epithelium cells, which are the cells affected in AMD.
Retinal pigment epithelium cells line the back of the retina and are essential to the health and functioning of the retina. Their degeneration is associated with the death of photoreceptors, which are light-sensing neurons in the retina that transmit visual signals to the brain and are responsible for the loss of vision in AMD.
Analysis of 127,600 cells revealed 439 molecular signatures associated with AMD, with 43 of those being potential new gene variants. Key pathways that were identified were subsequently tested within the cells and revealed differences in the energy-making mitochondria between healthy and AMD cells, rendering mitochondrial proteins as potential targets to prevent or alter the course of AMD.
Further, the molecular signatures can now be used for screening of treatments using patient-specific cells in a dish.
"Ultimately, we are interested in matching the genetic profile of a patient to the best drug for that patient. We need to test how they work in cells relevant to the disease," says co-lead of the study Professor Alice Pébay, from the University of Melbourne.
Professor Powell and co-lead authors Professor Pébay, and Professor Alex Hewitt from the Menzies Institute for Medical Research in Tasmania and the Centre for Eye Research Australia, have a long-running collaboration to investigate the underlying genetic causes of complex human diseases.
"We have been building a program of research where we're interested in stem cell studies to model disease at very large scale to do screening for future clinical trials," says Professor Hewitt.
In another recent study, the researchers uncovered genetic signatures of glaucoma -- a degenerative eye disease causing blindness -- using stem cell models of the retina and optic nerve.
The researchers are also turning their attention to the genetic causes of Parkinson's and cardiovascular diseases.
Anne Senabouth, Maciej Daniszewski, Grace E. Lidgerwood, Helena H. Liang, Damián Hernández, Mehdi Mirzaei, Stacey N. Keenan, Ran Zhang, Xikun Han, Drew Neavin, Louise Rooney, Maria Isabel G. Lopez Sanchez, Lerna Gulluyan, Joao A. Paulo, Linda Clarke, Lisa S. Kearns, Vikkitharan Gnanasambandapillai, Chia-Ling Chan, Uyen Nguyen, Angela M. Steinmann, Rachael A. McCloy, Nona Farbehi, Vivek K. Gupta, David A. Mackey, Guy Bylsma, Nitin Verma, Stuart MacGregor, Matthew J. Watt, Robyn H. Guymer, Joseph E. Powell, Alex W. Hewitt, Alice Pébay.
Transcriptomic and proteomic retinal pigment epithelium signatures of age-related macular degeneration
. Nature Communications, 2022; 13 (1) DOI:
10.1038/s41467-022-31707-4
Chores, Exercise, And Social Visits Linked To Lower Risk Of Dementia
Physical and mental activities, such as household chores, exercise, and visiting with family and friends, may help lower the risk of dementia, according to a new study published in the July 27, 2022, online issue of Neurology®, the medical journal of the American Academy of Neurology. The study looked at the effects of these activities, as well as mental activities and use of electronic devices in people both with and without higher genetic risk for dementia.
"Many studies have identified potential risk factors for dementia, but we wanted to know more about a wide variety of lifestyle habits and their potential role in the prevention of dementia," said study author Huan Song, MD, PhD, of Sichuan University in Chengdu, China. "Our study found that exercise, household chores, and social visits were linked to a reduced risk of various types of dementia."
The study involved 501,376 people from a UK database without dementia with an average age of 56.
Participants filled out questionnaires at the beginning of the study, including one on physical activities. They were asked how often they participated in activities such as climbing a flight of stairs, walking, and participating in strenuous sports. They were also asked about household chores, job-related activities, and what kind of transportation they used, including walking or biking to work.
Participants completed another questionnaire on mental activities. They were asked about their education level, whether they attend adult education classes, how often they visit with friends and family, visit pubs or social clubs or religious groups, and how often they use electronic devices such as playing computer games, watching TV, and talking on the phone.
Additionally, participants reported whether they had any immediate family members with dementia. This helped researchers determine if they had a genetic risk for Alzheimer's disease. Study participants were followed an average of 11 years. At the end of the study, 5,185 people had developed dementia.
After adjusting for multiple factors such as age, income, and smoking, researchers found that most physical and mental activities studied showed links to the risk of dementia. Importantly, the findings remain after considering the high correlations and interactions of these activities. People who were highly engaged in activity patterns including frequent exercises, household chores, and daily visits of family and friends had 35%, 21%, and 15% lower risk of dementia, respectively, compared to people who were the least engaged in these activity patterns.
Researchers also looked at dementia incidence rates by identified activity patterns. The rate in people who exercised frequently was 0.45 cases for every 1,000 person-years compared to 1.59 for people who rarely exercised. Person-years take into account the number of people in a study as well as the amount of time spent in the study. Those who frequently did household chores had a rate of 0.86 cases for every 1,000 person-years compared to 1.02 for people who rarely did household chores. People who visited family daily had a rate of 0.62 cases for every 1,000 person-years compared to 0.8 cases for those who only visited friends and family once every few months.
"Our study has found that by engaging more frequently in healthy physical and mental activities people may reduce their risk of dementia," Song said. "More research is needed to confirm our findings. However, our results are encouraging that making these simple lifestyle changes may be beneficial."
The researchers found that all participants benefited from the protective effect of physical and mental activities, whether or not they had a family history of dementia.
A limitation of the study was that people reported their own physical and mental activity, so they may not have remembered and reported these activities correctly.
The study was supported by National Natural Science Foundation of China, West China Hospital, Sichuan University, and National Clinical Research Center for Geriatrics.
Jianwei Zhu, Fenfen Ge, Yu Zheng, Yuanyuan Qu, Wenwen Chen, Huazhen Yang, Lei Yang, Fang Fang, Huan Song.
Physical and Mental Activity, Disease Susceptibility, and Risk of Dementia A Prospective Cohort Study Based on UK Biobank.
Neurology, 2022 DOI:
10.1212/WNL.0000000000200701
Extra Cheers For The Green And Gold
Pubs and clubs are set to receive a major boost, after the NSW Government extended trading hours for upcoming major sports events, including the FIFA World Cup soccer finals, ICC Men's T20 World Cup cricket finals and the Commonwealth Games.
Minister for Hospitality and Racing Kevin Anderson said the late night trading hours will support the State's venues and encourage sports fans to come together to watch all the live action on big screens.
"The NSW Government's trading extensions for major sports and cultural events have become increasingly popular as more people get out and about and socialise in licensed venues," Mr Anderson said.
"The late night trading not only supports hospitality businesses and the economy, it also gives sports fans the chance to head to their local to watch these great sporting events and cheer on the green and gold.
ClubsNSW CEO Josh Landis welcomed the announcement and said the extended trading hours will give venues across the State a major boost.
"We know the past few years have been tough for our clubs, and it's proactive decisions like this by the NSW Government that are key to helping them in their recovery," Mr Landis said.
"Extending trading hours during major sporting events will be great for the community, and I urge people to get out and give back to the venues that support them."
Australian Hotels Association CEO John Whelan said there's no better place to watch Aussie athletes compete than down at your local.
This trading extension really is a victory for common-sense and we thank Minister Anderson for the initiative after what's been an incredibly difficult time for hotels across NSW," Mr Whelan said.
The extended trading hours do not apply to takeaway alcohol sales. Venues already approved to trade during or beyond the extended hours can operate as usual.
Local hospitality businesses are currently benefiting from extended Alfresco dining measures, which the NSW has recently announced to further support the industry.
"The temporary measures have been incredibly successful and a huge boost to the industry, so extending them has given hospitality businesses greater certainty for at least another 18 months," Mr Anderson said.
"The uptake has largely been in the CBD, which has been great because it suffered so significantly during the pandemic. We would also love to see more regional venues take up this opportunity and consider permanent options that reflect the community's desire to dine outdoors year-round."

UNSW Multilingual Graduates Set To Help The State's Diverse Communities
The new interpreters will play a crucial role in ensuring language is not a barrier to accessing information or services within communities.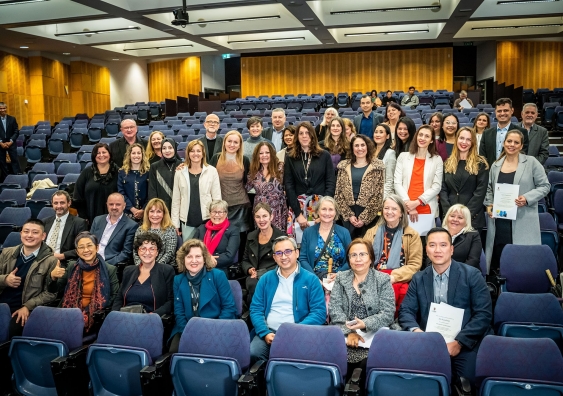 With a growing number of people in NSW speaking a language other than English, interpreters are more important than ever. Photo: UNSW
More than 40 multilingual students are set to bolster the NSW government's interpreting ranks after successfully completing its Interpreting Scholarship program, facilitated by UNSW Sydney.
Multicultural NSW and UNSW worked together to develop the 20-week, micro-credential to qualify bilingual candidates to sit for the National Accreditation Authority for Translators and Interpreters (NAATI) Certified Provisional Interpreter examination. A passing grade will allow them to work as interpreters for Multicultural NSW, where they will also receive additional mentoring and professional development.
Minister for Multiculturalism Mark Coure said the new graduates will be welcome additions among the state's interpreting professionals.
"Multicultural NSW is Australia's leading provider of interpreting services, and each of these graduates has a chance to join its ranks and fill shortages in key languages," Mr Coure said.
In 2020, Multicultural NSW recognised a gap in the supply of demand for language-specific interpreters and approached UNSW – a world leader in interpreting pedagogy and research – to develop a course to train suitable bilingual candidates and address the increasing shortfall of professional interpreters.
Translation services in more languages
Interpreters play a crucial role in ensuring that language is not a barrier to accessing information or services within communities and UNSW collaborated with Multicultural NSW to extend its course offerings to include more languages as needed in the community.
"Interpreting is a very difficult and demanding profession that requires high level training of competent bilinguals," said course designer and convenor Professor Sandra Hale. "Training opportunities for many community languages have been limited in Australia. UNSW is very excited to work with Multicultural NSW to fill this critical gap, to ensure that non-English speakers in NSW can access quality interpreting services to remove the language barrier and enable their full participation in society."
Among the key languages the new interpreters will be covering include Filipino, Greek, Hungarian, Indonesian, Italian, Macedonian, Nepali, Portuguese, Serbian, Thai, Turkish, and Vietnamese.
Mr Coure said with a growing number of people in NSW speaking a language other than English, interpreters are more important than ever.
"The latest census data shows us that more NSW residents are speaking a language other than English at home. Those numbers will continue to grow as more of the world's citizens choose to find a brighter future in our great state," Mr Coure said.
Translators supporting their communities
"This scholarship program is about tapping into the availability of these languages in NSW, where we can create job opportunities for people to use their language skills and in turn help their communities."
Turkish-Australian student Sena Uzun said she felt the course had prepared her well for community interpreting after completing a bachelor's degree in translating and interpreting in her former homeland of Turkey.
"I think what Australia is doing in terms of providing support, and services to multicultural and linguistically diverse communities is very important," Ms Uzun said.
Thai-born Lydia Armour said she felt she was better equipped to support her Wollongong Thai community after the course.
"The level of support from Multicultural NSW and the depth of knowledge from lecturers, tutors and the Thai tutor was amazing," Ms Armour said.
"I'm very invested in my Thai community and this is an important way that I can ensure everyone has fairer and more equitable access to services and information."
ADA Short Courses is a new initiative at UNSW's Faculty of Arts, Design & Architecture.
"ADA Short Courses showcase the faculty's expertise in equitably disseminating cutting-edge research with real-world impacts, benefiting our communities. They build skills, enrich careers, and accessibly promote lifelong learning to a wider audience," said ADA Academic Director Nicholas Apoifis.
In 2019 the NSW government committed to providing scholarships to 400 multilingual students over four years, with 265 having already completed the program.
New Tool Uncovers 'Elegant' Mechanism Responsible For Antibiotic Tolerance In Golden Staph
An international team of researchers, including those from UNSW's School of Biotechnology & Biomolecular Sciences, have applied a promising new tool -- CLASH -- to capture hundreds of undiscovered mechanisms of gene regulation in a strain of multi-drug resistant Staphylococcus aureus (MRSA).
The 500 mechanisms uncovered by the new tool were based on the mRNA of S. aureus. Normally serving merely as instructions for making proteins, these newly revealed mRNAs were controlling other genes in S. aureus through direct interactions -- regulating the bacteria's very own genetic information and antibiotic tolerance.
Among those RNAs found was a mechanism that thickens the bacteria's cell wall -- a change commonly seen in clinical strains of MRSA that are tolerant to last-line antibiotics -- potentially identifying new targets for antibiotic treatment. Their work has been published in Nature Communications.
"Before our study, only three other mRNAs had been shown to regulate bacterial RNA," says co-author Associate Professor Jai Tree. "It's relatively rare. But looking at our CLASH data was the real surprise. We found that in Staphylococcus aureus, there was evidence for 543 regulatory mRNAs interactions."
"This is a shift from our current understanding of gene regulation in bacteria."
This system of adaptation in S. aureus has remained undetected due to a lack of tools for broadly capturing RNA interactions. In other disease-causing bacteria, related techniques rely on the presence of particular proteins, proteins that don't seem to function in S. aureus.
If mRNA can be compared to copied pages from a recipe book, the regulatory mRNAs in S. aureus have eschewed the chef and begun dictating the pace and production of their own meals.
"When a gene (DNA) is transcribed into RNA, a little bit of extra sequence is transcribed from either side -- like the aglets of a shoelace -- these are termed the 'untranslated regions' or UTRs," says A/Prof Tree. "It's these UTRs of mRNAs in S. aureus that are performing a regulatory role.
"And where a typical UTR is 40 to 50 bases long, we found that around one-third of the UTRs in S. aureus are 100 bases long -- which is long. This likely adds an entirely new layer of gene regulation."
The particular strain of S. aureus used in this study was taken from a patient with MRSA septicaemia who was treated for 42 days with our 'last-line of defence' and most effective antibiotic: vancomycin. Since S. aureus do not acquire vancmycin tolerance extraneously from other S. aureus but evolve it through a series of mutations, the researchers analysed this strain using CLASH to understand how they were becoming vancomycin tolerant.
"One of the mRNA UTRs we discovered was a regulatory RNA that promotes an enzyme involved in cell wall thickening. It's this thickening that is consistent with vancomycin-tolerant S. aureus," says A/Prof Tree.
"We found evidence of over 500 mRNA-mRNA interactions occuring in S. aureus -- information uncovered by CLASH that allows us to ascribe functions to many regulatory RNAs in S. aureus - often for the first time.
"The 'superbug', multi-drug resistant Staphylococcus aureus, is a major problem in both healthcare and community settings," says A/Prof. Tree. "Treatment options for MRSA septicaemia -- infections that enter the blood -- are limited to last-line antibiotics, and the treatment of choice is vancomycin.
"Vancomycin is an antibiotic that blocks assembly of a new cell wall in S. aureus. If the bacterium can't make a new cell wall during division, it explodes. Those S. aureus tolerant to vancomycin have thicker cell walls, likely limiting antibiotic at the site of cell wall synthesis."
By revealing one of the mechanism of vancomycin tolerance in S.aureus, the once hidden line of defence is made visible for our offensive, 're-sensitising' resistant S. aureus to vancomycin again.
"There has been renewed interest in using 'antisense RNA' that can be delivered into the bacterial cell, penetrating the cell wall and binding RNAs within the cell. In this way, we might be able to co-administer an antisense RNA with vancomycin -- the antisense RNA would make MRSA sensitive and the vancomycin would kill the cell," says A/Prof Tree.
While the functions of some mRNAs in S. aureus have been ascribed, there remains a lot of work to do -- especially given the varied mechanisms behind vancomycin-tolerance S. aureus.
"The next steps are to understand if [the regulatory RNA we've already isolated] is required for a broad spectrum of other, clinical strains of vancomycin-tolerant S. aureus. These are genetically heterogenous isolates and one of the difficulties has been the multitude of methods of becoming vancomycin tolerant.
"So we would like to understand if targeting the regulatory RNA would be a useful approach for many different vancomycin tolerant strains. Although we don't know exactly what all the mRNAs are doing, our next step is to identify the really important ones."
Daniel G. Mediati, Julia L. Wong, Wei Gao, Stuart McKellar, Chi Nam Ignatius Pang, Sylvania Wu, Winton Wu, Brandon Sy, Ian R. Monk, Joanna M. Biazik, Marc R. Wilkins, Benjamin P. Howden, Timothy P. Stinear, Sander Granneman, Jai J. Tree.
RNase III-CLASH of multi-drug resistant Staphylococcus aureus reveals a regulatory mRNA 3′UTR required for intermediate vancomycin resistance.
Nature Communications, 2022; 13 (1) DOI:
10.1038/s41467-022-31177-8
New Study Challenges Old Views On What's 'Primitive' In Mammalian Reproduction
Which group of mammals has the more "primitive" reproductive strategy -- marsupials, with their short gestation periods, or humans and other placental mammals, which have long gestation periods? For decades, biologists viewed marsupial reproduction as "more primitive." But University of Washington scientists have discovered that a third group of mammals, the long-extinct multituberculates, had a long gestation period like placental mammals. Since multituberculates split off from the rest of the mammalian lineage before placentals and marsupials had even evolved, these findings question the view that marsupials were "less advanced" than their placental cousins.
It's hard to imagine life on Earth without mammals. They swim in the depths of the ocean, hop across deserts in Australia and travel to the moon.
This diversity can be deceiving, at least when it comes to how mammals create the next generation. Based on how they reproduce, nearly all mammals alive today fall into one of two categories: placental mammals and marsupials. Placentals, including humans, whales and rodents, have long gestation periods. They give birth to well-developed young -- with all major organs and structures in place -- and have relatively short weaning periods, or lactation periods, during which young are nursed on milk from their mothers. Marsupials, like kangaroos and opossums, are the opposite: They have short gestation periods -- giving birth to young that are little more than fetuses -- and long lactation periods during which offspring spend weeks or months nursing and growing within the mother's pouch, or marsupium.
For decades, biologists saw the marsupial way of reproduction as the more "primitive" state, and assumed that placentals had evolved their more "advanced" method after these two groups diverged from one another. But new research is testing that view. In a paper published July 18 in The American Naturalist, a team led by researchers at the University of Washington and its Burke Museum of Natural History and Culture present evidence that another group of mammals -- the extinct multituberculates -- likely reproduced in a placental-like manner. Since multituberculates split off from the rest of the mammalian lineage before placentals and marsupials evolved, these findings question the view that marsupials were "less advanced" than their placental cousins.
"This study challenges the prevalent idea that the placental reproductive strategy is 'advanced' relative to a more 'primitive' marsupial strategy," said lead author Lucas Weaver, a postdoctoral researcher at the University of Michigan who conducted this study as a UW doctoral student. "Our findings suggest that placental-like reproduction either is the ancestral reproductive route for all mammals that give birth to live young, or that placental-like reproduction evolved independently in both multituberculates and placentals."
Multituberculates arose about 170 million years ago in the Jurassic. Most were small-bodied creatures, resembling rodents. For much of their history, multituberculates were the most abundant and diverse group of mammals. But scientists know very little about their life history, including how they reproduced, because of their generally poor fossil record. The last multituberculates died out about 35 million years ago.
Weaver reasoned that the microscopic structure of fossilized bone tissues can house useful life-history information about multituberculates, such as their growth rate. Working under co-author Gregory Wilson Mantilla, a UW professor of biology and curator of vertebrate palaeontology at the Burke Museum, Weaver and his colleagues obtained cross sections of 18 fossilized femurs -- the thigh bone -- from multituberculates that lived approximately 66 million years ago in Montana.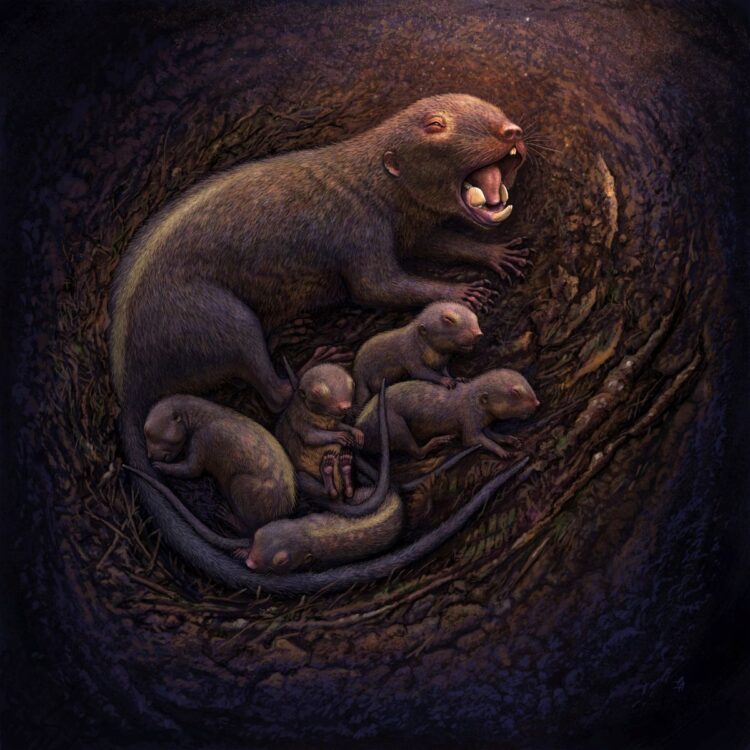 An artistic rendering of multituberculates from the genus Mesodma — a mother with her litter of offspring — who lived in western North America about 60 to 70 million years ago. Fossil evidence indicates that these creatures were the most abundant mammals in western North America just before and directly after the mass extinction event 66 million years ago that killed off the dinosaurs. Image: Andrey Atuchin

All 18 samples showed the same structural organization: a layer of disorganized bone "sandwiched" between an inner and outer layer of organized bone. Disorganized bone, or woven bone, indicates rapid growth and is so named because, under a microscope, the layers of bone tissue are laid out in a crisscrossed fashion. In organized bone, which reflects slower growth, layers are parallel to one another.
The researchers then examined femoral cross sections taken from 35 small-bodied mammalian species that are living today -- 28 placentals and seven marsupials, all from Burke Museum collections. Nearly all of the placental femurs showed the same "sandwich" organization as the multituberculates. But all of the marsupial femurs consisted almost entirely of organized bone, with only a sliver of disorganized bone.
The team believes that this stark difference likely reflects their divergent life histories.
"The amount of organized bone in the outermost layer, or cortex, of the femur strongly correlates with the length of the lactation period," said Weaver. "Marsupials have long lactation periods and a lot of organized bone in the outermost cortex. The opposite is true for placentals: a short lactation period and much less organized bone in the outermost cortex."
The outermost layer of organized bone was laid down after birth as the femur's diameter increased. For tiny marsupial newborns, bones must grow much more to reach adult size, so they deposit a greater amount of outer organized bone compared to placentals, according to Weaver.
"This is compelling evidence that multituberculates had a long gestation and a short lactation period similar to placental mammals, but very different from marsupials," said Weaver.
Based on this correlation, the researchers estimate that multituberculates had a lactation period of approximately 30 days -- similar to today's rodents.
These findings cast further doubt on an old view that marsupials have a "more primitive" and placentals a "more advanced" reproductive strategy. The common ancestor of multituberculates, placentals and marsupials may have had a placental-like mode of reproduction that was retained by placentals and multituberculates. Alternatively, multituberculates and placentals could have evolved their long-gestation and short-lactation reproductive methods independently.
Future studies of multituberculate life history may clarify which explanation is true, as well as other outstanding questions of this, and other, ancient branches of our mammalian family tree.
"The real revelation here is that we can cut open fossil bones and examine their microscopic structures to reconstruct the intimate life history details of long-extinct mammals," said Wilson Mantilla. "That's really incredible to me."
Additional co-authors are former UW undergraduate researcher Henry Fulghum, now a graduate student at Indiana University; UW postdoctoral researcher David Grossnickle; UW graduate students William Brightly and Zoe Kulik; and Megan Whitney, a UW doctoral alum and current postdoctoral researcher at Harvard University. The research was funded by the National Science Foundation, the UW, the Burke Museum, the Society of Vertebrate Paleontology, the Paleontological Society and the American Society of Mammalogists.
Lucas N. Weaver, Henry Z. Fulghum, David M. Grossnickle, William H. Brightly, Zoe T. Kulik, Gregory P. Wilson Mantilla, Megan R. Whitney.
Multituberculate Mammals Show Evidence of a Life History Strategy Similar to That of Placentals, Not Marsupials.
The American Naturalist, 2022; 000 DOI:
10.1086/720410
Weak Handgrip Strength May Signal Serious Health Issues
Muscle strength is a powerful predictor of mortality that can quickly and inexpensively be assessed by measuring handgrip strength. In a new study, researchers developed cut-off points that apply to the general population, while also considering the correlation of handgrip strength with gender, body height, and aging to be used in medical practice.
Most people do not give a second thought to doing things like opening pickle jars or carrying groceries, but handgrip strength is an effective screening tool for different health conditions. If someone's handgrip strength is low, it might be an indication of underlying health problems -- and not only in older individuals: handgrip strength has been linked to health conditions already in younger adulthood. A large number of studies have shown that low handgrip strength may be a manifestation of health conditions related to heart and lung problems. Some studies have also found that those with low handgrip strength have a lower life expectancy.
What is missing for clinical practice, are empirically meaningful cut-off points that apply to the general population, while also considering the correlation of handgrip strength with gender and body height, as well as the decline in handgrip strength as a result of normal aging.
In their study just published in the journal BMJ Open, IIASA researcher Sergei Scherbov; Sonja Spitzer, a postdoctoral researcher at the Wittgenstein Centre for Demography and Global Human Capital and the University of Vienna; and Nadia Steiber from the University of Vienna, endeavoured to shed light on at what level of handgrip strength a doctor should consider sending a patient for further examination. The results of the study provide standardized thresholds that directly link handgrip strength to remaining life expectancy, thus enabling practitioners to detect patients with an increased mortality risk early on.
"In general, handgrip strength depends on gender, age, and the height of a person. Our task was to find the threshold related to handgrip strength that would signal a practitioner to do further examinations if a patient's handgrip strength is below this threshold. It is similar to measuring blood pressure. When the level of blood pressure is outside of a particular range, the doctor can either decide to prescribe a particular medicine or to send the patient to a specialist for further examination," explains Scherbov.
Handgrip strength is measured by squeezing a dynamometer with one hand. In the study, the patient is asked to perform two attempts with each hand, the best trial being used for measurement. There is a special protocol for this process as the values may depend on whether the test was performed in a standing or a sitting position, among other considerations.
In contrast to earlier studies, the authors compared individuals' handgrip strength not with a healthy reference population, but with individuals who are comparable in terms of sex, age, and body height. The findings indicate an increase in mortality risk at a threshold that is more sensitive compared to that estimated in earlier studies. In fact, the results show that a handgrip strength that is only slightly below the average of a comparable population (considering a person's sex, age, and body height) is indicative of health conditions leading to earlier death. A stronger handgrip compared to other people of the same age, sex, and body height was not found to reduce the mortality risk.
"Handgrip strength is a cheap and easy to perform test, but it may help with early diagnosis of health problems and other underlying health conditions. Monitoring the handgrip strength of the elderly (and in fact middle-aged people) may provide great benefits for the public health of aging populations. Our findings make it clear that handgrip strength is a very precise and sensitive measure of underlying health conditions. Therefore, we suggest it to be used as a screening tool in medical practice," notes Steiber.
"It is important to point out that we are not suggesting that people should train handgrip strength in particular to decrease mortality risks. Most likely, if someone improves their handgrip strength through exercises, there will be no or very little impact on their overall health. However, low handgrip strength may serve as an indicator of disability because it reflects a low muscle strength, which is associated with a higher risk of death. A healthy lifestyle and exercise are still the best approaches to sustain good health or to improve it in the long term," Spitzer concludes.
Sergei Scherbov, Sonja Spitzer, Nadia Steiber.
Thresholds for clinical practice that directly link handgrip strength to remaining years of life: estimates based on longitudinal observational data.
BMJ Open, 2022; 12 (7): e058489 DOI:
10.1136/bmjopen-2021-058489
University Of Melbourne Researchers Discover Gene That Promotes Muscle Strength During Exercise
Researchers have identified a gene that promotes muscle strength when switched on by physical activity, unlocking the potential for the development of therapeutic treatments to mimic some of the benefits of working out.
Published in Cell Metabolism, the University of Melbourne-led study showed how different types of exercise change the molecules in our muscles, resulting in the discovery of the new C18ORF25 gene that is activated with all types of exercise and responsible for promoting muscle strength. Animals without C18ORF25 have poor exercise performance and weaker muscles.
Project lead Dr Benjamin Parker said by activating the C18ORF25 gene, the research team could see muscles become much stronger, without them becoming necessarily bigger.
"Identifying this gene may impact how we manage healthy aging, diseases of muscle atrophy, sports science and even livestock and meat production. This is because promoting optimal muscle function is one of the best predictors of overall health," Dr Parker said.
"We know exercise can prevent and treat chronic diseases including diabetes, cardiovascular disease and many cancers. Now, we hope that by better understanding how different types of exercise elicits these health promoting effects at the molecular level, the field can work towards making new and improved treatment options available."
In the study, a collaboration between Dr Parker and Professors Erik Richter and Bente Kiens of the University of Copenhagen, Denmark, the team were able to identify the molecular similarities and differences between different types of exercise in human muscle biopsies by analysing proteins and how they change within cells.
"To identify how genes and proteins are activated during and after different exercises, we performed an analysis of human skeletal muscle from a cross-over intervention of endurance, sprint and resistance exercise," Dr Parker said.
The experimental design allowed researchers to compare signalling responses between the exercise modalities in the same individual, relative to their pre-exercise level. This meant they could monitor how an individual responded to different types of exercise directly in their muscles.
Importantly, it also allowed the study team to identify genes and proteins that consistently change across all individuals and all types of exercise, leading to the discovery of the new gene.
This work was funded by the Australian National Health and Medical Research Council project grant (APP1122376), a Diabetes Australia grant, a University of Melbourne Driving Research Momentum Grant, and a NHMRC Emerging Leader Investigator Grant (APP2009642) to Dr Benjamin Parker.
Ronnie Blazev, Christian S. Carl, Yaan-Kit Ng, Jeffrey Molendijk, Christian T. Voldstedlund, Yuanyuan Zhao, Di Xiao, Andrew J. Kueh, Paula M. Miotto, Vanessa R. Haynes, Justin P. Hardee, Jin D. Chung, James W. McNamara, Hongwei Qian, Paul Gregorevic, Jonathan S. Oakhill, Marco J. Herold, Thomas E. Jensen, Leszek Lisowski, Gordon S. Lynch, Garron T. Dodd, Matthew J. Watt, Pengyi Yang, Bente Kiens, Erik A. Richter, Benjamin L. Parker.
Phosphoproteomics of three exercise modalities identifies canonical signalling and C18ORF25 as an AMPK substrate regulating skeletal muscle function.
Cell Metabolism, 2022; DOI:
10.1016/j.cmet.2022.07.003
The World's Largest Omnivore Is A Whale Shark
Marine scientists have discovered that whale sharks eat plants, making the iconic fish the world's largest omnivore.

Whale sharks are filter feeders and have long been observed eating krill at Western Australia's Ningaloo Reef.
But when researchers analysed biopsy samples from whale sharks at the reef, they discovered the animals were actually eating a lot of plant material.
"This causes us to rethink everything we thought we knew about what whale sharks eat," said Australian Institute of Marine Science fish biologist Dr Mark Meekan. "And, in fact, what they're doing out in the open ocean."
The finding makes whale sharks -- which have been reported up to 18m long -- the world's largest omnivore.
"On land, all the biggest animals have always been herbivores," Dr Meekan said.
"In the sea we always thought the animals that have gotten really big, like whales and whale sharks, were feeding one step up the food chain on shrimp-like animals and small fishes.
"Turns out that maybe the system of evolution on land and in the water isn't that different after all."
The research was published in the journal Ecology.
To find out exactly what the whale sharks were eating, the researchers collected samples of possible food sources at the reef, from tiny plankton to large seaweed.
They then compared the amino acids and fatty acids in the plankton and plant material to those in the whale sharks.
Dr Meekan said the whale shark tissue contained compounds found in Sargassum, a type of brown seaweed common at Ningaloo, which breaks off the reef and floats at the surface.
"We think that over evolutionary time, whale sharks have evolved the ability to digest some of this Sargassum that's going into their guts," he said.
"So, the vision we have of whale sharks coming to Ningaloo just to feast on these little krill is only half the story. They're actually out there eating a fair amount of algae too."
CSIRO Oceans and Atmosphere organic biogeochemist Dr Andy Revill, who analysed the whale shark tissue using compound-specific stable isotope analysis, said the technology allowed scientists to study what animals were using for energy and growth, not just what they were eating.
"Something like a whale shark, which swims through the water with its mouth open, is going to ingest a lot of different things," he said.
"But you don't know how much of that has been used by the animal and how much just goes straight out the other end.
"Whereas stable isotopes, because they're actually incorporated into the body, are a much better reflection of what the animals are actually utilising to grow."
Biological oceanographer Dr Patti Virtue, from the University of Tasmania's Institute for Marine and Antarctic Studies, said she was surprised by the whale shark's biochemical signature.
"It's very strange, because in their tissue they don't have a fatty acid or stable isotope signature of a krill-feeding animal," she said.
The researchers also caught whale shark poo with a net and analysed it.
"The poo did show that they were eating krill," Dr Virtue said. "But they're not metabolising much of it."
This AIMS whale shark research project is supported by Santos and INPEX as Joint Venture participants in the Van Gogh Development.
M. G. Meekan, P. Virtue, L. Marcus, K. D. Clements, P. D. Nichols, A. T. Revill.
The world's largest omnivore is a fish
. Ecology, 2022; DOI:
10.1002/ecy.3818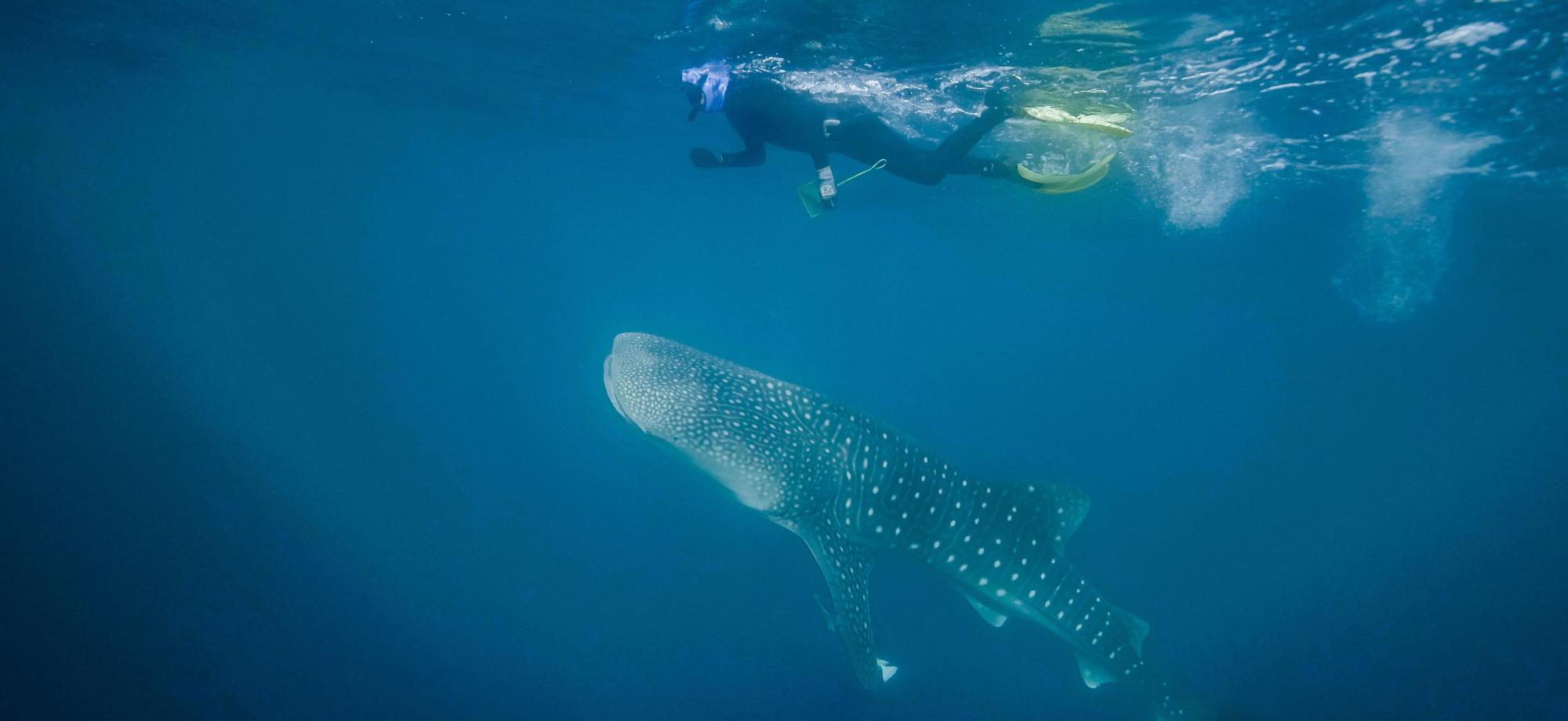 Feature Image by Andre Rerekura, copyrigth AIMS
Disclaimer: These articles are not intended to provide medical advice, diagnosis or treatment. Views expressed here do not necessarily reflect those of Pittwater Online News or its staff.