Inbox and Environment News: Issue 545
July 3 - 16, 2022: Issue 545
Art Competition To Remember Our ANZACS
Students across NSW are encouraged to get creative as the NSW Government together with RSL NSW launches an art competition to commemorate the 70th anniversary of the RSL and Schools Remember ANZAC Commemoration next year.
Minister for Education and Early Learning Sarah Mitchell is encouraging students to speak to their school and submit a design that will feature on the 2023 program and at an exhibition at the Anzac Memorial in Hyde Park.
"The NSW Government and the Department of Education has co-hosted this service with RSL NSW for 70 years, and we want to acknowledge this anniversary with a commemorative program to which the students in New South Wales can contribute," Ms Mitchell said.
"I invite any student across all three education sectors to participate and have the opportunity to be selected to have their artwork featured on the 2023 service program."
Minister for Transport and Veterans David Elliott said the annual commemoration at the Anzac Memorial in Hyde Park aims to educate and encourage younger Australians to learn about Australia's military history, whilst paying respect to the service and sacrifice of servicemen and servicewomen.
"This art competition is a great way for students in New South Wales to learn about our military history and design an artwork that reflects what it means to them. It could be about a family member who served in World War One, or a symbol of their service to our nation," Mr Elliott said.
"The annual RSL and Schools Remember ANZAC proceedings are incomparable, as they're delivered entirely by school students including the Master of Ceremonies, keynote address, readings, and musical accompaniment."
RSL NSW President Ray James said it was critical for the RSL to work with the Department of Education to ensure school students understood why Australians commemorated the service and sacrifice of those who have served in the Australian Defence Force.
"Commemorating significant moments in our military history is vital to Australia, as a people, a community, and a nation. RSL NSW takes this responsibility incredibly seriously as the custodians of the Anzac spirit. Future generations should never forget that the freedom they enjoy in Australia has been protected by the men and women who served in our armed and allied forces." Mr James said.
The RSL and Schools Remember ANZAC Commemoration was first held in 1953, co-hosted by RSL NSW and the Department of Education. Over the years the service has expanded to Catholic Schools NSW and the Association of Independent Schools NSW.
16 September 2022: Submissions close
Large Triassic Amphibian Tracks At Northern Sydney Beach
Published June 24, 2022 by Pittwater Pathways
Paul Cronk cracked the jackpot with his latest fossil find. It will soon be subject to intense expert analysis - expect to hear more about it.
Paracyclotosaurus (meaning "Near Wheeled Lizard") is an extinct genus of temnospondyl amphibian, which would have appeared similar to today's salamander – but much larger, at up to 2.3 metres (7.5 ft) long. It lived in the Middle Triassic period, about 235 million years ago, and fossils have been found in Australia, India, and South Africa.
Although they could live on dry land, Paracyclotosaurus probably spent most of its time in water. They had flattened bodies and elongated heads, almost 60 centimetres (2 ft) long, that vaguely resembled those of modern crocodiles.
The type species P. davidi is only known from one complete specimen recovered from Australia. It was discovered by quarry miners in a brick pit in St. Peters in Sydney, New South Wales. The discovery, made in 1910, was from a large ironstone nodule within Ashfield Shale which contained the nearly complete skeleton. The reconstruction was finished in July 1914, and was initially determined to be closely related to Cyclotosaurus. The original bone of the P. davidi holotype specimen was in very bad condition, but after the bone was removed from the hard ironstone matrix, casts were made from the matrix mold, and a mould was made from those casts. Casts of the original bone show a fair amount of detail.

Paracyclotosaurus davidi - giant temnospondyl from Late Triassic of Australia. Image Creator: Dmitry Bogdanov

Paracyclotosaurus davidii was named after Sir Edgeworth David, the man who arranged for the British Museum (Natural History) to acquire the specimen.
Word Of The Week: Winter
Word of the Week returns in 2022 simply to throw some disruption in amongst the 'yeah-nah' mix.
noun; the coldest season of the year, in the northern hemisphere from December to February and in the southern hemisphere from June to August.
adjective; (of fruit) ripening late in the year.
verb; (especially of a bird) spend the winter in a particular place - "birds wintering in the Channel Islands"
From; winter, coldest season of the year, between autumn and spring; the name comes from an old Germanic word that means "time of water" and refers to the rain and snow of winter in middle and high latitudes according to some sources. Others state the English word winter comes from the Proto-Germanic noun *wintru-, whose origin is unclear. Several proposals exist, a commonly mentioned one connecting it to the Proto-Indo-European root *wed- 'water' or a nasal infix variant *wend-
Compare; As an adjective in Old English. The Anglo-Saxons counted years in "winters," as in Old English ænetre "one-year-old;" and wintercearig, which might mean either "winter-sad" or "sad with years." Old Norse Vetrardag, first day of winter, was the Saturday that fell between Oct. 10 and 16. winter (v.) and gheim- Proto-Indo-European root meaning "winter." It forms all or part of: chimera; chiono-; hiemal; hibernacle; hibernal; hibernate; hibernation; Himalaya.
It is the hypothetical source of/evidence for its existence is provided by: Sanskrit heman "in winter;" Hittite gimmant-, Armenian jmern, Greek kheima, Latin hiems, Old Church Slavonic zima, Lithuanian žiema "winter;" Greek khion "snow."
Ash Barty's Mindset Coach Ben Crowe On Redefining Success = Learning To Love Yourself:
The ABC's 7.30 Report with Leigh Sales, ran June 29, 2022-
please watch this - there are some great and 100% true messages in this - Ed. xxx
Flu Vaccination Linked To 40% Reduced Risk Of Alzheimer's Disease
People who received at least one influenza vaccine were 40% less likely than their non-vaccinated peers to develop Alzheimer's disease over the course of four years, according to a new study from UTHealth Houston.
Research led by first author Avram S. Bukhbinder, MD, a recent alumnus of McGovern Medical School at UTHealth Houston, and senior author Paul. E. Schulz, MD, the Rick McCord Professor in Neurology at McGovern Medical School, compared the risk of Alzheimer's disease incidence between patients with and without prior flu vaccination in a large nationwide sample of U.S. adults aged 65 and older.
An early online version of the paper detailing the findings is available in advance of its publication in the Aug. 2 issue of the Journal of Alzheimer's Disease.
"We found that flu vaccination in older adults reduces the risk of developing Alzheimer's disease for several years. The strength of this protective effect increased with the number of years that a person received an annual flu vaccine -- in other words, the rate of developing Alzheimer's was lowest among those who consistently received the flu vaccine every year," said Bukhbinder, who is still part of Schulz's research team while in his first year of residency with the Division of Child Neurology at Massachusetts General Hospital. "Future research should assess whether flu vaccination is also associated with the rate of symptom progression in patients who already have Alzheimer's dementia."
The study -- which comes two years after UTHealth Houston researchers found a possible link between the flu vaccine and reduced risk of Alzheimer's disease -- analyzed a much larger sample than previous research, including 935,887 flu-vaccinated patients and 935,887 non-vaccinated patients.
During four-year follow-up appointments, about 5.1% of flu-vaccinated patients were found to have developed Alzheimer's disease. Meanwhile, 8.5% of non-vaccinated patients had developed Alzheimer's disease during follow-up.
These results underscore the strong protective effect of the flu vaccine against Alzheimer's disease, according to Bukhbinder and Schulz. However, the underlying mechanisms behind this process require further study.
"Since there is evidence that several vaccines may protect from Alzheimer's disease, we are thinking that it isn't a specific effect of the flu vaccine," said Schulz, who is also the Umphrey Family Professor in Neurodegenerative Diseases and director of the Neurocognitive Disorders Center at McGovern Medical School. "Instead, we believe that the immune system is complex, and some alterations, such as pneumonia, may activate it in a way that makes Alzheimer's disease worse. But other things that activate the immune system may do so in a different way -- one that protects from Alzheimer's disease. Clearly, we have more to learn about how the immune system worsens or improves outcomes in this disease."
Alzheimer's disease affects more than 6 million people living in the U.S., with the number of affected individuals growing due to the nation's aging population. Past studies have found a decreased risk of dementia associated with prior exposure to various adulthood vaccinations, including those for tetanus, polio, and herpes, in addition to the flu vaccine and others.
Additionally, as more time passes since the introduction of the COVID-19 vaccine and longer follow-up data becomes available, Bukhbinder said it will be worth investigating whether a similar association exists between COVID-19 vaccination and the risk of Alzheimer's disease.
Avram S. Bukhbinder, Yaobin Ling, Omar Hasan, Xiaoqian Jiang, Yejin Kim, Kamal N. Phelps, Rosemarie E. Schmandt, Albert Amran, Ryan Coburn, Srivathsan Ramesh, Qian Xiao, Paul E. Schulz.
Risk of Alzheimer's Disease Following Influenza Vaccination: A Claims-Based Cohort Study Using Propensity Score Matching.
Journal of Alzheimer's Disease, 2022; 1 DOI:
10.3233/JAD-220361
Centrelink Payment Changes From 1 July 2022
Due to indexation, many of the thresholds used to determine payment eligibility and rates will change. Find out how much in this National Seniors overview.
Means tested government payments have rules, which the government uses to determine whether you are eligible and how much you get.
From 1 July 2022, around one million pensioners will benefit from annual increases in the areas, limits, and deeming thresholds that are free from means testing.
This means there will be an increase to the amount of income or assets an Age Pension, Disability Support Pension, or Carer Payment recipient can earn or own before their payment is affected.
How are they changing?
Under the income test you will now be able to earn up to $190 per fortnight (instead of $180) from any income source without affecting your pension payment (not counting the Work Bonus of $300 per fortnight for employment income).
The threshold at which your pension stops under the income test will increase to $2,165.20 per fortnight ($56,295.20 per year) for a single pensioner on 1 July 2022. The income test threshold for couples will also increase to $3,313.60 per fortnight ($86,153.60 per year)
The assets test threshold used to determine when you lose the pension has increased by:
$9,500 for a single homeowner
$14,000 for a homeowning couple
$17,500 for a single non-homeowner
$22,000 for a non-homeowning couple.
Deeming rate thresholds used to determine your deemed income from your assets have also increased. Assets up to the threshold attract the lower deeming rate of 0.25% and any above the threshold is deemed to earn a higher 2.25%. From 1 July 2022, the deeming threshold for a single pensioner will be $56,400 (up from $53,600) and for a couples the threshold will be $93,600 (up from $89,000).
While these changes are incremental, they will result in real increases in pension payments. This is especially important given the ongoing rise in living costs.
Some retirees previously on the cusp of receiving a pension but not eligible, may now find they are eligible because of the threshold increases, especially if the value of their assets has declined during the recent falls in the stock market.
It's therefore important to check with Centrelink if your circumstances have changed to see if you are eligible for a pension payment and other concessions.
No Time For Complacency In Battle With COVID-19
Read the opinion piece from Minister Butler on COVID-19
The Hon Mark Butler MP, Minister for Health and Aged Care
It's hard to believe that just over a year ago New South Wales was going into their devastating Delta lockdown.
This winter, life is pretty much back to normal; workers are going into work, kids are back at school, and parents and kids are shivering through weekend sport.
Without daily press conferences, it's easy to forget we're still in a global pandemic and that we face very real challenges this winter.
There are currently tens of thousands of new COVID-19 cases reported every day, and thousands of Australians in hospital with the disease. Hundreds of Australians are dying every week.
We also have the significant threat of influenza for the first time in years.
To get through winter, we need to increase third and fourth doses of COVID-19 vaccinations.
The health advice is clear: you are not fully protected against the Omicron variant unless you have at least a third dose of the vaccine.
New research from the National Centre for Immunisation Research and Surveillance has found a (third) booster vaccine dose provides 65 per cent greater protection against hospitalisation or death from the Omicron variant, compared to just two doses.
That is why you will see new advertisements from the Government over the next few weeks urging Australians to stay up to date with your vaccinations, especially boosters.
And we need to protect our children. Unlike COVID-19, young children are one of the at-risk groups for influenza.
Almost 60 per cent of people admitted to hospital with a condition associated with the flu have been children under the age of 16.
My message to parents is to protect their kids – particularly those under the age of five – through vaccination.
For people in at-risk population groups, free annual flu shots are available through the Australian Government's National Immunisation Program. This includes all children aged from six months to under five years, people aged 65 years and older, pregnant women and Aboriginal and Torres Strait Islander people from the age of six months.
While vaccination is the best possible defence for COVID-19, there are new oral treatments that can be taken at home which are very effective at preventing serious disease. Our research indicates that the vast bulk of the Australian population are still not aware of these treatments and uptake is low.
These oral antivirals must be taken as soon as possible—right after symptoms appear.
If you're aged over 65, or over 50 and an Aboriginal or Torres Strait Islander person or if you are immunocompromised, speak to your doctor about whether these new medications are right for you.
Develop a plan in the event you get COVID. If you get a positive test, ring your GP and seek a telehealth appointment immediately.
It's clear we still have a tough winter ahead of us. Hospitals and the health system are under very real pressure.
But we do have the tools to get through winter safely
With COVID-19 and the flu posing significant threats to the health of the Australian population this winter, the message is clear: get vaccinated.
To parents of young children not yet vaccinated against the flu, make an appointment – today.
If you or a loved one have not had a flu vaccine this year, make an appointment – today.
And if you're eligible for a COVID-19 vaccine booster and haven't had it, make a booking – today. It's safe to have both at the same time.
DSS Scam Alert
The Department of Social Services (DSS) recently received reports that members of the public have been contacted via email by an individual or individuals claiming that there is a "secure message" from DSS. If you receive the below email,
please delete it and do not select or open any attachments or links.
DSS officers do not:
contact members of the public seeking personal information, or,
email members of the public without them having contacted DSS.
It is a serious matter to impersonate a Commonwealth public official, and may be considered a criminal offence in some circumstances.
What to do if approached or if you need assistance
If approached in this manner,
do not give any personal information
. If you are uncomfortable with the nature of the email do not attempt to engage with the individual/individuals.
We encourage you to report incidents of this nature to Scamwatch. You can visit Scamwatch on
www.scamwatch.gov.au
.
If you have already provided information to a caller or are concerned that a crime has been or may be committed, please contact the police or the Australian Competition and Consumer Commission (ACCC).
Origin Penalised $17 Million For Customer Hardship Breaches
Origin Energy Electricity Limited and other Origin related entities (together, Origin) have been ordered by the Federal Court to pay penalties totalling $17 million for failing to comply with their obligations to protect customers experiencing hardship and payment difficulties, in proceedings brought by the Australian Energy Regulator (AER).
This is the largest total penalty ever imposed for breaches of the National Energy Retail Law and Rules.
Origin admitted that the automated processes it put in place in relation to its customers experiencing hardship and payment difficulties resulted in it breaching its hardship obligations on more than 100,000 occasions, over a period of nearly four years between January 2018 and October last year. In total, more than 90,000 customers were affected from four states across New South Wales, ACT, Queensland, and South Australia.
Origin also admitted that its automated processes for dealing with customers experiencing hardship and payment difficulties resulted in it breaching its own hardship policies and the retail rules by
unilaterally establishing new customer payment plans if the customer's previous payment plan had been cancelled for non-payment, while failing to consider a customers' capacity to pay,
increasing a customer's payment amounts following a review of the customer's usage, while failing to consider the customers' capacity to pay, and
cancelling customer payment plans where it was unable to discuss with the customer a review of their payment plan, including in circumstances where customers were continuing to make their payments under the existing plans.
AER Chair Clare Savage welcomed the Court's decision as a clear reminder that automation can be a dangerous substitute for human interaction when it comes to customers experiencing financial hardship who are on payment plans, who each have unique circumstances and experiences that can change over time.
"Applying automated inflexible processes across thousands of customers without considering whether they can actually meet the payments shows a complete disregard of the hardship obligations in the national energy laws, which are designed to protect customers in vulnerable situations," Ms Savage said.
"When a retailer automates aspects of its hardship program, it needs to ensure it continues to offer individualised and tailored solutions to customers and has regard to a customers' circumstances as the rules require.
"For many customers, being unable to afford a necessity like electricity is distressing enough. If a customer is not afforded the protections under the laws and rules it may push them closer to debt collection and disconnection, causing even greater distress," Ms Savage said.
"This record $17 million penalty reflects the seriousness of the breaches by Origin and should send a strong deterrence message to all energy retailers that they must maintain and implement their hardship policies in accordance with the law, to protect customers experiencing financial distress.
"This message is even more important in the current market conditions where customers are facing significant cost of living pressures, including as a result of recent energy price rises," she said.
The Court also ordered Origin to pay $200,000 in legal costs and establish a compliance and training program to improve the way it deals with hardship customers and those experiencing financial difficulties.
Origin cooperated with the AER by admitting breaches of the National Energy Retail Law and Rules, making joint submissions with the AER to the Court in respect of penalties and consenting to the other orders made by the Court.
The National Energy Retail Law and Rules impose legal obligations on energy retailers in respect of their treatment of customers experiencing financial difficulties.
The AER's compliance and enforcement priorities this year have included a specific focus on "effective identification of residential consumers in financial difficulty and offer of payment plans that have regard to the consumer's capacity to pay."
Origin's conduct was first brought to the attention of the AER by the South Australian and New South Wales Energy Ombudsman schemes, which received a number of individual complaints.
Life-Saving Blood Tests For All NSW And ACT Newborns
In an Australian first, all NSW and ACT babies will be offered testing for two rare but potentially fatal genetic disorders, thanks to a NSW Government boost of $1.3 million each year.
From 1 July 2022, parents of all new babies in NSW and the ACT will be offered free tests for both Severe Combined Immunodeficiency (SCID) and Spinal Muscular Atrophy (SMA) within 48-72 hours of their baby's birth.
Health Minister Brad Hazzard said the NSW Government is permanently adding the two tests to the NSW Newborn Screening Program following a successful four-year trial as part of a research pilot program at the Sydney Children's Hospitals Network.
"NSW is leading the way in funding newborn screening to ensure treatments can be provided as early as possible to halt the debilitating, sometimes fatal, impact of these disorders," Mr Hazzard said.
"The screening tests will be provided to around 100,000 babies each year, saving the lives of up to 13 newborns likely to have these genetic disorders, including 10 from SMA and three from SCID.
"I urge other states and territories to screen newborns for both these genetic disorders as we are doing in NSW to give babies with SMA or SCID the best chance of survival."
SMA occurs in one in 10,000 births and causes progressive muscle wastage and weakness. It is the leading genetic cause of infant death and, without treatment, newborns have a life expectancy of around nine months.
SCID occurs in one in 40,000 births and results in a weakened immune system. It is usually fatal in a baby's first year of life due to infection. However, most babies with the disorder (around 94 per cent) will survive if they are provided life-saving stem cell treatment before they are three and a half months old.
"With newborns receiving these tests for SMA and SCID in their first three days, parents can have greater confidence their baby will thrive in their first year of life," Mr Hazzard said.
For an overview of the panel of tests offered by the NSW Newborn Screening Program, please
visit the SCHN website
No More Binge Eating: Signal Pathway In The Brain That Controls Food Intake Discovered
A group of researchers has developed an entirely novel approach to treating eating disorders. The scientists showed that a group of nerve cells in the hypothalamus (so-called AgRP, agouti-related peptide neurons) control the release of endogenous lysophospholipids, which in turn control the excitability of nerve cells in the cerebral cortex, which stimulates food intake. In this process, the crucial step of the signalling pathway is controlled by the enzyme autotaxin, which is responsible for the production of lysophosphatidic acid (LPA) in the brain as a modulator of network activity. The administration of autotaxin inhibitors can thereby significantly reduce both excessive food intake after fasting and obesity in animal models
. The article 'AgRP neurons control food intake behaviour at cortical synapses via peripherally-derived lysophospholipids' has now appeared in
Nature Metabolism
.
Eating disorders and especially obesity are one of the most common causes of a variety of diseases in industrialized societies worldwide, especially cardiovascular diseases with permanent disabilities or fatal outcomes such as heart attacks, diabetes, or strokes. The Robert Koch Institute reported in 2021 that 67 per cent of men and 53 percent of women in Germany are overweight. 23 per cent of adults are severely overweight (obese). Attempts to influence eating behaviour with medication have so far proved ineffective. A novel therapy that modulates the excitability of networks that control eating behaviour would be a decisive step towards controlling this widespread obesity.
The research team found an increased rate of obesity and the attendant type II diabetes in people with impaired synaptic LPA signalling. A group led by Professor Johannes Vogt (Faculty of Medicine, University of Cologne), Professor Robert Nitsch (Faculty of Medicine, University of Münster) und Professor Thomas Horvath (Yale School of Medicine, New Haven, USA) has now shown that control of the excitability of neurons in the cerebral cortex by LPA plays an essential role in the control of eating behaviour: AgRP neurons regulate the amount of lysophosphatidylcholine (LPC) in the blood. Through active transport, LPC reaches the brain, where it is converted by the enzyme autotaxin (ATX) into LPA, which is active at the synapse. Synaptic LPA signals stimulate specific networks in the brain, thus leading to increased food intake.
In the mouse model, after a period of fasting an increase in LPC in the blood led to an increase in stimulating LPA in the brain. These mice showed typical food-seeking behaviour. Both could be normalized by administrating autotaxin inhibitors. Obese mice, on the other hand, lost weight when these inhibitors were administered continuously. Johannes Vogt explained: 'We saw a significant reduction in excessive food intake and obesity through gene mutation and pharmacological inhibition of ATX. Our fundamental findings on the LPA-controlled excitability of the brain, which we have worked on for years, therefore also play a central role for eating behaviour.' Robert Nitsch sees the findings as an important step towards new drug development: 'The data show that people with a disturbed synaptic LPA signalling pathway are more likely to be overweight and suffer from type II diabetes. This is a strong indication of a possible therapeutic success of ATX inhibitors, which we are currently developing together with the Hans Knöll Institute in Jena for use in humans.'
These findings on the excitation control of neuronal networks in eating behaviour through lysophospholipids and the new therapeutic possibilities they suggest could in future contribute not only to treating eating disorders, but also neurological and psychiatric illnesses.
Heiko Endle, Guilherme Horta, Bernardo Stutz, Muthuraman Muthuraman, Irmgard Tegeder, Yannick Schreiber, Isabel Faria Snodgrass, Robert Gurke, Zhong-Wu Liu, Matija Sestan-Pesa, Konstantin Radyushkin, Nora Streu, Wei Fan, Jan Baumgart, Yan Li, Florian Kloss, Sergiu Groppa, Nils Opel, Udo Dannlowski, Hans J. Grabe, Frauke Zipp, Bence Rácz, Tamas L. Horvath, Robert Nitsch, Johannes Vogt.
AgRP neurons control feeding behaviour at cortical synapses via peripherally derived lysophospholipids
. Nature Metabolism, 2022; 4 (6): 683 DOI:
10.1038/s42255-022-00589-7
Ice Age Wolf DNA Reveals Dogs Trace Ancestry To Two Separate Wolf Populations
An international group of geneticists and archaeologists, led by the Francis Crick Institute, have found that the ancestry of dogs can be traced to at least two populations of ancient wolves. The work moves us a step closer to uncovering the mystery of where dogs underwent domestication, one of the biggest unanswered questions about human prehistory.
Dogs are known to have originated from the gray wolf, with this domestication occurring during the Ice Age, at least 15,000 years ago. But where this happened, and if it occurred in one single location or in multiple places, is still unknown.
Previous studies using the archaeological record and comparing the DNA of dogs and modern wolves have not found the answer.
In their study, published in Nature today (29 June), the researchers turned to ancient wolf genomes to further understanding of where the first dogs evolved from wolves. They analysed 72 ancient wolf genomes, spanning the last 100,000 years, from Europe, Siberia and North America.
The remains came from previously excavated ancient wolves, with archaeologists from 38 institutions in 16 different countries contributing to the study. The remains included a full, perfectly preserved head from a Siberian wolf that lived 32,000 years ago. Nine different ancient DNA labs then collaborated on generating DNA sequence data from the wolves.
By analysing the genomes, the researchers found that both early and modern dogs are more genetically similar to ancient wolves in Asia than those in Europe, suggesting a domestication somewhere in the east.
However, they also found evidence that two separate populations of wolves contributed DNA to dogs. Early dogs from north-eastern Europe, Siberia and the Americas appear to have a single, shared origin from the eastern source. But early dogs from the Middle East, Africa and southern Europe appear to have some ancestry from another source related to wolves in the Middle East, in addition to the eastern source.
One possible explanation for this dual ancestry is that wolves underwent domestication more than once, with the different populations then mixing together. Another possibility is that domestication happened only once, and that the dual ancestry is due to these early dogs then mixing with wild wolves. It is not currently possible to determine which of these two scenarios occurred.
Anders Bergström, co-first author and post-doctoral researcher in the Ancient Genomics lab at the Crick, says: "Through this project we have greatly increased the number of sequenced ancient wolf genomes, allowing us to create a detailed picture of wolf ancestry over time, including around the time of dog origins."
"By trying to place the dog piece into this picture, we found that dogs derive ancestry from at least two separate wolf populations -- an eastern source that contributed to all dogs and a separate more westerly source, that contributed to some dogs."
The team are continuing the hunt for a close ancient wolf ancestor of dogs, which could reveal more precisely where domestication most likely took place. They are now focusing on genomes from other locations not included in this study, including more southerly regions.
As the 72 ancient wolf genomes spanned around 30,000 generations, it was possible to look back and build a timeline of how wolf DNA has changed, tracing natural selection in action.
For example, they observed that over a period of around 10,000 years, one gene variant went from being very rare to being present in every wolf, and is still present in all wolves and dogs today. The variant affects a gene, IFT88, which is involved in the development of bones in the skull and jaw. It is possible that the spread of this variant could have been driven by a change in the types of prey available during the Ice Age, giving an advantage to wolves with a certain head shape, but the gene could also have other unknown functions in wolves.
Pontus Skoglund, senior author and group leader of the Ancient Genomics lab at the Crick, says: "This is the first time scientists have directly tracked natural selection in a large animal over a time-scale of 100,000 years, seeing evolution play out in real time rather than trying to reconstruct it from DNA today."
"We found several cases where mutations spread to the whole wolf species, which was possible because the species was highly connected over large distances. This connectivity is perhaps a reason why wolves managed to survive the Ice Age while many other large carnivores vanished."
"Similar whole-genome time series from the Ice Age, in humans or other animals, could provide new information about how evolution happens."
Anders Bergström, David W. G. Stanton, Ulrike H. Taron, Laurent Frantz, Mikkel-Holger S. Sinding, Erik Ersmark, Saskia Pfrengle, Molly Cassatt-Johnstone, Ophélie Lebrasseur, Linus Girdland-Flink, Daniel M. Fernandes, Morgane Ollivier, Leo Speidel, Shyam Gopalakrishnan, Michael V. Westbury, Jazmin Ramos-Madrigal, Tatiana R. Feuerborn, Ella Reiter, Joscha Gretzinger, Susanne C. Münzel, Pooja Swali, Nicholas J. Conard, Christian Carøe, James Haile, Anna Linderholm, Semyon Androsov, Ian Barnes, Chris Baumann, Norbert Benecke, Hervé Bocherens, Selina Brace, Ruth F. Carden, Dorothée G. Drucker, Sergey Fedorov, Mihály Gasparik, Mietje Germonpré, Semyon Grigoriev, Pam Groves, Stefan T. Hertwig, Varvara V. Ivanova, Luc Janssens, Richard P. Jennings, Aleksei K. Kasparov, Irina V. Kirillova, Islam Kurmaniyazov, Yaroslav V. Kuzmin, Pavel A. Kosintsev, Martina Lázničková-Galetová, Charlotte Leduc, Pavel Nikolskiy, Marc Nussbaumer, Cóilín O'Drisceoil, Ludovic Orlando, Alan Outram, Elena Y. Pavlova, Angela R. Perri, Małgorzata Pilot, Vladimir V. Pitulko, Valerii V. Plotnikov, Albert V. Protopopov, André Rehazek, Mikhail Sablin, Andaine Seguin-Orlando, Jan Storå, Christian Verjux, Victor F. Zaibert, Grant Zazula, Philippe Crombé, Anders J. Hansen, Eske Willerslev, Jennifer A. Leonard, Anders Götherström, Ron Pinhasi, Verena J. Schuenemann, Michael Hofreiter, M. Thomas P. Gilbert, Beth Shapiro, Greger Larson, Johannes Krause, Love Dalén, Pontus Skoglund.
Grey wolf genomic history reveals a dual ancestry of dogs.
Nature, 2022; DOI:
10.1038/s41586-022-04824-9
Bacteria's Shapeshifting Behaviour Clue To New Treatments For Urinary Tract Infections
Urinary tract infections are both very common and potentially very dangerous. More than half of all Australian women will suffer from a UTI in their lifetime, and nearly one in three women will have an infection requiring treatment with antibiotics before the age of 24.
Around 80 per cent of UTIs are caused by uropathogenic E. coli (UPEC), which is increasingly resistant to antibiotics. E. coli-related death due to antimicrobial resistance is the leading cause of bacterial fatalities worldwide.
Uropathogenic E. coli filaments expressing Green Fluorescent Protein (GFP) after exfoliation from bladder cells, captured using epi fluorescence microscopy. Credit: Australian Institute for Microbiology and Infection, UTS

In a bid to aid discovery of new treatment options, researchers at the University of Technology Sydney (UTS) are using state-of-the-art microscopy to pinpoint how these bacteria spread and multiply.
Dr Bill Söderström and Associate Professor Iain Duggin, of the Australian Institute for Microbiology and Infection at UTS, said their latest research examined the shapeshifting behaviour of UPEC. During a UTI infection cycle, the bacteria form spaghetti-like filaments hundreds of times their normal lengths before reverting to their original form.
The study, which is published in Nature Communications, used a human bladder cell infection model to generate the filaments, and look at their reversal back to rod shape.
"While we don't fully understand why they do this extreme lifestyle make-over, we know they must revert to their original size before they can reinfect new bladder cells," Dr Söderström said.
"We used advanced microscopy to follow two key cell division proteins and their localisation dynamics during reversal. We found that the normal rules for regulation of cell division in bacteria does not fully apply in filaments," Dr Söderström said.
"By giving the first clues into how the reversal of filamentation is regulated during infection, we may be laying the foundation for identifying new ways to combat UTIs."
Associate Professor Duggin said the long filaments formed by the bacteria appeared to break open the infected human cells, through a previously unknown mechanism called infection-related filamentation (IRF).
"The devastating eruption of these bacteria from the cells of the bladder that they invade probably contributes to the extensive damage and pain experienced during a UTI," Associate Professor Duggin said.
"Our goal is to identify why and how the bacteria do this remarkable feat in the hope of enabling alternative treatments or preventions."
FACTS ABOUT URINARY TRACT INFECTIONS
Around 50-60 per cent of all women will have a UTI during their lifetime
One in four women who have had a UTI will experience another within 12 months
Nearly 1 in 3 women will develop a UTI that needs treatment with antibiotics before the age of 24
More than one course of antibiotics is often needed due to increased antibiotic resistance in bacteria
Urinary tract infections acquired in hospital (eg, through catheters) account for 380,000 extra hospital bed days a year
Complicated UTIs have a mortality rate as high as one in three
Bill Söderström, Matthew J. Pittorino, Daniel O. Daley, Iain G. Duggin.
Assembly dynamics of FtsZ and DamX during infection-related filamentation and division in uropathogenic E. coli.
Nature Communications, 2022; 13 (1) DOI:
10.1038/s41467-022-31378-1
The Octopus' Brain And The Human Brain Share The Same 'Jumping Genes'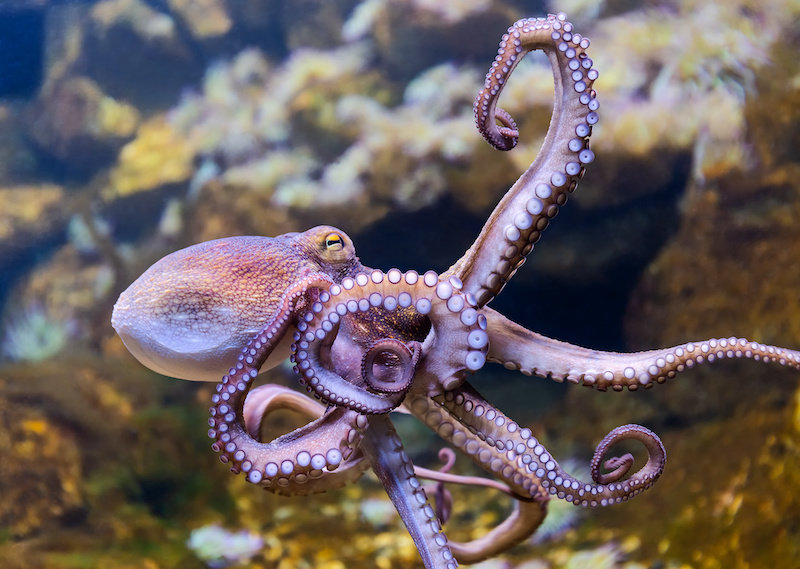 The octopus is an exceptional organism with an extremely complex brain and cognitive abilities that are unique among invertebrates. So much so that in some ways it has more in common with vertebrates than with invertebrates. The neural and cognitive complexity of these animals could originate from a molecular analogy with the human brain, as discovered by a research paper recently published in
BMC Biology
and coordinated by Remo Sanges from SISSA of Trieste and by Graziano Fiorito from Stazione Zoologica Anton Dohrn of Naples. The research shows that the same 'jumping genes' are active both in the human brain and in the brain of two species, Octopus vulgaris, the common octopus, and Octopus bimaculoides, the Californian octopus. A discovery that could help us understand the secret of the intelligence of these fascinating organisms.
Sequencing the human genome revealed as early as 2001 that over 45% of it is composed by sequences called transposons, so-called 'jumping genes' that, through molecular copy-and-paste or cut-and-paste mechanisms, can 'move' from one point to another of an individual's genome, shuffling or duplicating. In most cases, these mobile elements remain silent: they have no visible effects and have lost their ability to move. Some are inactive because they have, over generations, accumulated mutations; others are intact, but blocked by cellular defense mechanisms. From an evolutionary point of view even these fragments and broken copies of transposons can still be useful, as 'raw matter' that evolution can sculpt.
Among these mobile elements, the most relevant are those belonging to the so-called LINE (Long Interspersed Nuclear Elements) family, found in a hundred copies in the human genome and still potentially active. It has been traditionally though that LINEs' activity was just a vestige of the past, a remnant of the evolutionary processes that involved these mobile elements, but in recent years new evidence emerged showing that their activity is finely regulated in the brain. There are many scientists who believe that LINE transposons are associated with cognitive abilities such as learning and memory: they are particularly active in the hippocampus, the most important structure of our brain for the neural control of learning processes.
The octopus' genome, like ours, is rich in 'jumping genes', most of which are inactive. Focusing on the transposons still capable of copy-and-paste, the researchers identified an element of the LINE family in parts of the brain crucial for the cognitive abilities of these animals. The discovery, the result of the collaboration between Scuola Internazionale Superiore di Studi Avanzati, Stazione Zoologica Anton Dohrn and Istituto Italiano di Tecnologia, was made possible thanks to next generation sequencing techniques, which were used to analyze the molecular composition of the genes active in the nervous system of the octopus.
"The discovery of an element of the LINE family, active in the brain of the two octopuses species, is very significant because it adds support to the idea that these elements have a specific function that goes beyond copy-and-paste," explains Remo Sanges, director of the Computational Genomics laboratory at SISSA, who started working at this project when he was a researcher at Stazione Zoologica Anton Dohrn of Naples. The study, published in BMC Biology, was carried out by an international team with more than twenty researchers from all over the world.
"I literally jumped on the chair when, under the microscope, I saw a very strong signal of activity of this element in the vertical lobe, the structure of the brain which in the octopus is the seat of learning and cognitive abilities, just like the hippocampus in humans," tells Giovanna Ponte from Stazione Zoologica Anton Dohrn.
According to Giuseppe Petrosino from Stazione Zoologica Anton Dohrn and Stefano Gustincich from Istituto Italiano di Tecnologia "This similarity between man and octopus that shows the activity of a LINE element in the seat of cognitive abilities could be explained as a fascinating example of convergent evolution, a phenomenon for which, in two genetically distant species, the same molecular process develops independently, in response to similar needs."
"The brain of the octopus is functionally analogous in many of its characteristics to that of mammals," says Graziano Fiorito, director of the Department of Biology and Evolution of Marine Organisms of the Stazione Zoologica Anton Dohrn. "For this reason, also, the identified LINE element represents a very interesting candidate to study to improve our knowledge on the evolution of intelligence."
Giuseppe Petrosino, Giovanna Ponte, Massimiliano Volpe, Ilaria Zarrella, Federico Ansaloni, Concetta Langella, Giulia Di Cristina, Sara Finaurini, Monia T. Russo, Swaraj Basu, Francesco Musacchia, Filomena Ristoratore, Dinko Pavlinic, Vladimir Benes, Maria I. Ferrante, Caroline Albertin, Oleg Simakov, Stefano Gustincich, Graziano Fiorito, Remo Sanges.
Identification of LINE retrotransposons and long non-coding RNAs expressed in the octopus brain.
BMC Biology, 2022; 20 (1) DOI:
10.1186/s12915-022-01303-5
Octopus. Credit: © Henner Damke / stock.adobe.com
Disclaimer: These articles are not intended to provide medical advice, diagnosis or treatment. Views expressed here do not necessarily reflect those of Pittwater Online News or its staff.