Inbox and Environment News: Issue 542
June 12 -18, 2022: Issue 542
Public Health Alert: High-Dose MDMA (Ecstasy) Circulating In NSW
NSW Health is warning of high-dose MDMA, commonly known as ecstasy tablets, circulating in the community after tablets seized by NSW Police contained more than two times the average dose of MDMA per tablet.
The tablets are pink in colour, irregular shaped and are marked with an Audi logo.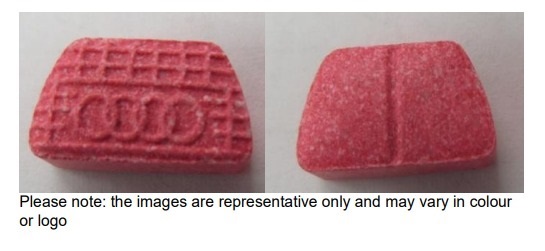 High dose MDMA tablets have recently been found in NSW (average dose of 196 mg). This is more than twice the amount usually contained in MDMA tablets circulating in NSW.

Medical Director of the NSW Poisons Information Centre, Dr Darren Roberts, said consuming high doses of MDMA has been linked to cases of serious illness and death in NSW.
"It can cause severe agitation and paranoia, raised body temperature, seizures or fits, irregular heart rhythm and death," Dr Roberts said.
"While one MDMA tablet alone can cause life-threatening toxicity, the risk is greatly increased if high doses or multiple MDMA tablets are consumed over a short period, or if MDMA is consumed in combination with other stimulants, such as cocaine."
Dr Roberts urged anyone who was unwell from MDMA to immediately call Triple Zero.
"Importantly, look after your mates. If you feel unwell, or if your friend feels unwell, do something about it. Don't ignore it. You won't get into trouble for seeking medical care," he said.
For images and more information on the high dose MDMA (ecstasy) visit the
NSW Health website
Feeling really hot and sweaty, light headedness, rigid muscles (e.g. difficulty walking), confusion or agitation, racing pulse/heart, feeling aggressive, uncontrolled repetitive movements, vomiting, seizures, difficult to rouse / unconscious.
Seek help immediately
from your nearest emergency department or
call Triple Zero (000). Start CPR if someone is not breathing.
For information about the potential adverse effects of MDMA, please contact the NSW Poisons Information Centre on 13 11 26.
For support and information on drug, alcohol and other substance, please contact: The Alcohol and Drug Information Service: 1800 250 015. This is a 24/7 service offering confidential and anonymous telephone counselling and information.
Free Training To Deliver In-Demand Winter Skills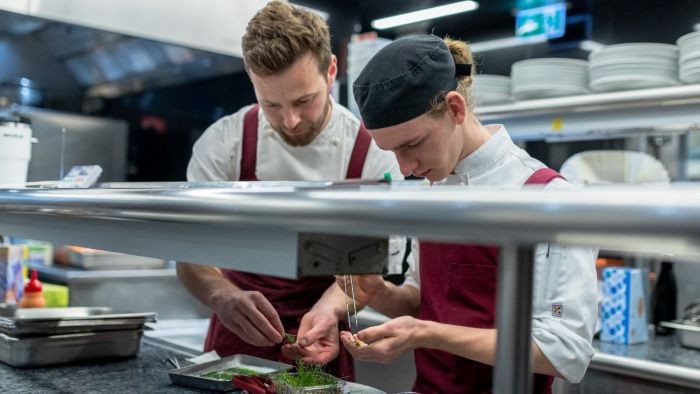 More than 1,500 fee-free training places are up for grabs as part of the NSW Government's Winter Skills program, which aims to get people skilled for a bumper winter tourism and hospitality season.
Deputy Premier and Minister for Regional NSW Paul Toole said in-demand short courses would be on offer across parts of regional NSW to help people gain on-the-job experience while supporting local industries.
"The NSW Government has consulted with local businesses and industry groups to identify the key skills needed this winter season," Mr Toole said.
"So whether it's learning how to be a tour guide, pouring a beer at a pub, making a coffee at a local café, or lending a hand across the wine regions, regional NSW is keen to have you."
Minister for Skills and Training Alister Henskens said
the program will train people to work in the ski industry and related hospitality roles, bar tenders, wait staff and more
, to help businesses meet demand for workers.
"NSW's winter getaway destinations will be packed with people this season, so now is the perfect time for people looking to get skilled and work in some of the most beautiful places in our state," Mr Henskens said.
"Following the success of the Winter Skills campaign last year, the program has been expanded to include the Snowy Mountains, Blue Mountains, Southern Highlands, Hunter Valley and the Central West."
Some of the courses available include Food Safety Supervision, Statement of Attainment in Hospitality, Statement of Attainment in Outdoor Recreation and Statement of Attainment in Public Safety.
Minister for Hospitality and Racing Kevin Anderson said the State's pubs, clubs, restaurants, bars and other hospitality businesses have been impacted over the past few years.
"
From Perisher to Thredbo to villages packed with fireplace warmed restaurant and cellar doors, we want to make sure our hospitality venues continue to be the lifeblood for local communities
," Mr Anderson said.
"This initiative will ensure our local hospitality businesses have access to a pipeline of skilled and job-ready workers, helping address industry needs and skills shortages as a result of the pandemic and the gradual re-emergence of international travel."
HSC Artists In Virtual Exhibition
The creative force of the 2021 HSC visual arts students will be available for the world to see when ARTEXPRESS Virtual 2022 launched on Wednesday 25 May.
The exhibition features bodies of work by 52 accomplished visual arts students from across all school sectors and regions of NSW.
Now in its third year, the exhibition uses world-leading 3D technology to create an authentic gallery experience in the virtual world where viewers can "walk" around artworks and virtually lift them up.
ARTEXPRESS Virtual 2022 curator and Wyndham College Creative and Performing Arts head teacher, Ron Pratt, said the quality of the work on show was astonishing.
"The diversity of materials and inspired ideas that have emerged, highlight the resilience of these students and the commitment they had for their art practice and creative selves," Mr Pratt said.
"When viewing this year's showcase we should reflect that these works were completed when NSW was under its harshest lockdown laws and many students' access to resources, support and equipment along with their school classroom was limited," Mr Pratt said.
ARTEXPRESS Virtual 2021, which used the same technology, had more than 78,000 visits to its website with the painting At Face Value, by Riverside Girls High School student Adina Carapetian, the most viewed artwork with 1181 views.
The ARTEXPRESS Virtual exhibition has been nominated for the Museums Australasia Multimedia and Publication Design Award which will be announced next month.
ARTEXPRESS is a partnership between the New South Wales Department of Education and the New South Wales Education Standards Authority. The National Art School is the Launch Venue Partner for ARTEXPRESS Virtual 2022.
Example of works on Exhibition:
Northern Beaches Secondary College Mackellar Girls Campus
Drawing
Charcoal, paper
My body of work explores the current sense of apathy regarding the climate crisis. Using stop-motion animation I represent two diametrically opposed processes: a manufactured machine that contributes to the ruination of the Earth; and a natural ecosystem that works as a filter and serves to protect the Earth. My intent is to condemn rapacious modern consumerism and its resulting negligence of the exponential degradation of the natural world, and to offer a reminder of the ways in which the Earth works to undo the harm we inflict upon it.
My artmaking practice has been influenced by the study and interpretation of the artist William Kentridge, Felix in Exile.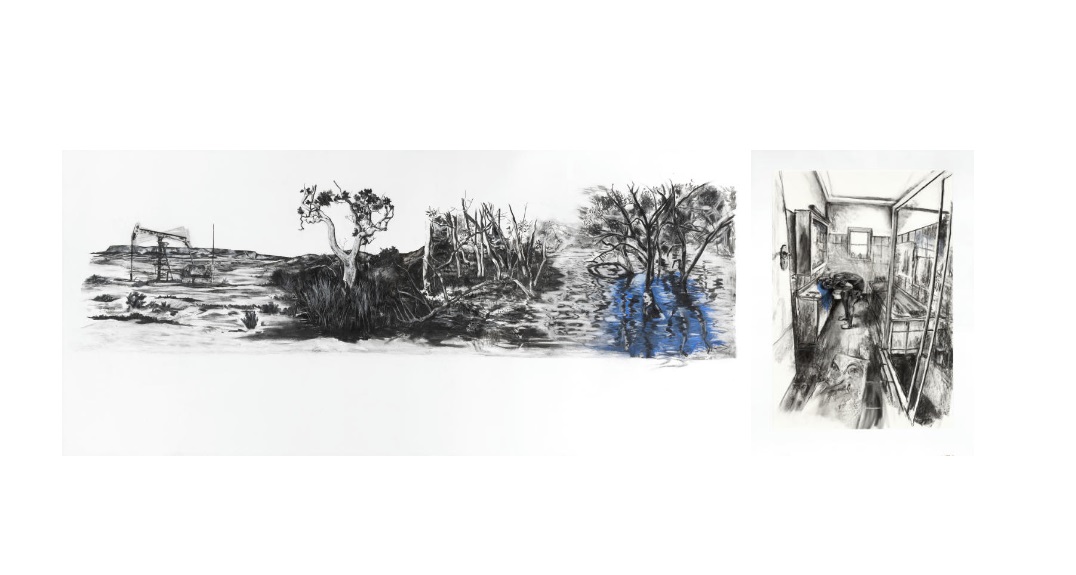 Students To Tour Hiroshima And Pearl Harbor
Six high school students across NSW will have the chance to visit historic WWII sites in Japan and Hawaii as part of the ClubsNSW Premier's WWII Memorial Tour.
Premier Dominic Perrottet said in order to secure this trip of a lifetime high school students can submit a 1000-word essay which answers the question 'Are the lessons of WWII still relevant today?'
"Six students will be given the opportunity to visit the sites of some of the most defining moments in World War II history." Mr Perrottet said.
"I'm encouraging
Year 11 students aged 16 and 17 to submit a 1000-word essay detailing how the lessons of World War II are still relevant today
."
Minister for Transport and Veterans David Elliott said this initiative will see successful students embark on an 11-day tour of historic WWII sites in Hiroshima, Japan and Pearl Harbor, Hawaii.
"The attack on Pearl Harbor and atomic bombing of Hiroshima are two of the most pivotal moments in the Second World War." Mr Elliott said.
"The ClubsNSW Premier's WWII Memorial Tour will provide opportunities for students to develop their knowledge and understanding of the history of World War II."
ClubsNSW CEO Josh Landis welcomed the launch of the ClubsNSW Premier's WWII Memorial Tour, and said ClubsNSW is proud to teach a new generation about significant moments in history.
"This is a fantastic opportunity for high school students to revisit a defining moment in our history and learn about the contributions and sacrifices made by those on the front line," Mr Landis said.
"Clubs and the veteran community are intrinsically linked and ClubsNSW is incredibly proud to support this program. I call on all our member clubs to encourage their local students to submit an essay for a chance to be selected for this exclusive overseas experience."
The group will depart Sydney on Thursday 21 July and return on Sunday 31 July. Year 11 students must be aged 16 or 17.
Entries are open until 5pm on 13 June 2022.
Dorothea Mackellar Poetry Awards 2022: Entries Close June 30th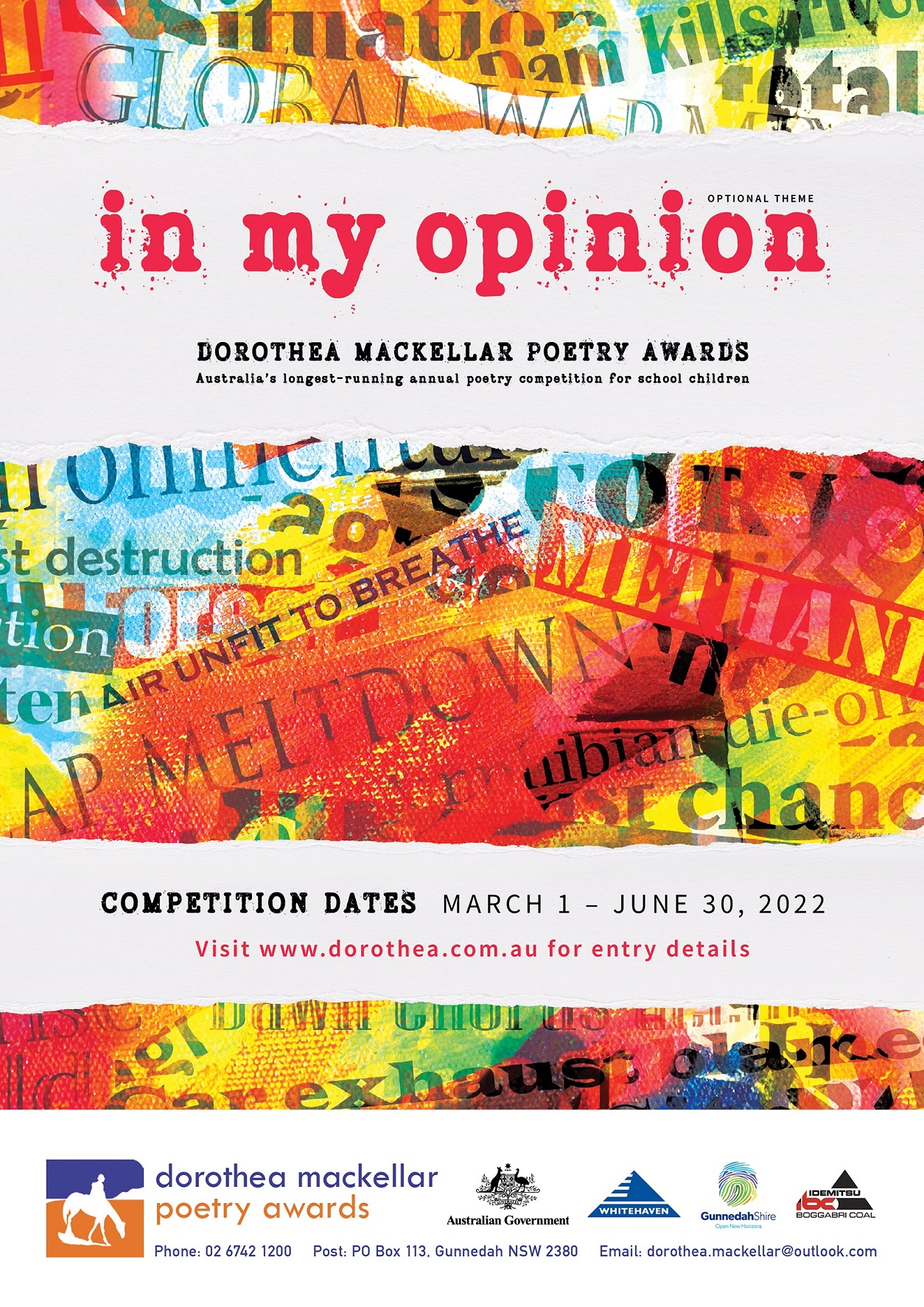 Details and more at: https://dorothea.com.au/
There's also a special History page running this Issue for you - the Australian poet Dorothea Mackellar, after whom the Electorate of Mackellar is named, had a house here in Pittwater at Lovett Bay.
"Our poets are encouraged to take inspiration from wherever they may find it, however if they are looking for some direction, competition participants are invited to use this year's optional theme to inspire their entries."
In 2022, the Dorothea Mackellar Memorial Society has chosen the theme "In My Opinion."
As always, it is an optional theme. The Society encourages students to write about topics and experiences that spark their poetic genius (in whatever form they choose.)
HOW TO ENTER
PLEASE SEE HERE FOR A DETAILED PDF ON ENTRY INSTRUCTIONS FOR TEACHERS AND PARENTS.
ONLINE SUBMISSION
Primary school and secondary school entries can be submitted anytime during the competition period. Visit: https://dorothea.com.au/how-to-enter/
Word Of The Week: Serendipity
Word of the Week returns in 2022 simply to throw some disruption in amongst the 'yeah-nah' mix.
Serendipity is an unplanned fortunate discovery. Serendipity is a common occurrence throughout the history of product invention and scientific discovery. Serendipity is also seen as a potential design principle for online activities that would present a wide array of information and viewpoints, rather than just re-enforcing a user's opinion.

From
Serendipity is a noun, coined in the middle of the 18th century (January 28th, 1754) by author Horace Walpole (he took it from the Persian fairy tale
The Three Princes of Serendip
). The princes, he told his correspondent, were "always making discoveries, by accidents and sagacity, of things which they were not in quest of." The name comes from Serendip, an old Persian name for Sri Lanka (Ceylon), hence Sarandib by Arab traders. It is derived from the Sanskrit
Siṃhaladvīpaḥ
(Siṃhalaḥ, Sri Lanka + dvīpaḥ, island).
The adjective form is serendipitous, and the adverb is serendipitously. A serendipitist is "one who finds valuable or agreeable things not sought for."
Examples of serendipity in inventions include:
The Post-It Note, which emerged after 3M scientist Spencer Silver produced a weak adhesive, and a colleague used it to keep bookmarks in place on a church hymnal.
Silly Putty, which came from a failed attempt at synthetic rubber.
The microwave oven. Raytheon scientist Percy Spencer first patented the idea behind it after noticing that emissions from radar equipment had melted the candy in his pocket.
The Velcro hook-and-loop fastener. George de Mestral came up with the idea after a bird hunting trip when he viewed cockleburs stuck to his pants under a microscope and saw that each burr was covered with tiny hooks.
The Popsicle, whose origins go back to San Francisco where Frank Epperson, age 11, accidentally left a mix of water and soda powder outside to freeze overnight.
The antibiotic penicillin, which was discovered by Sir Alexander Fleming after returning from a vacation to find that a Petri dish containing staphylococcus culture had been infected by a Penicillium mold, and no bacteria grew near it.
Online:
Serendipity is a design principle for online activity that would present viewpoints that diverge from those participants already hold. Harvard Law professor Cass Sunstein argues that such an "architecture of serendipity" would promote a healthier democracy. Like a great city or university, "a well-functioning information market" provides exposure to new ideas, people, and ways of life, "Serendipity is crucial because it expands your horizons. You need that if you want to be free." The idea has potential application in the design of social media, information searches, and web browsing.
Spin Doctors - Two Princes (1991)
John Hiatt - Have A Little Faith In Me (1987)
Indigo Girls - Closer To Fine (1989)
Joni Mitchell Big Yellow Taxi + Both Sides Now (1966 - These Live BBC Editions From 1969)
Judy Garland at 100: more than just a star, Garland shaped the modern movie musical
Tribute To Wal Williams OAM
In NSW Parliament, June 7, 2022 - by The Hon Rob Stokes, MP for Pittwater—Minister for Infrastructure, Minister for Cities, and Minister for Active Transport
It is with a heavy heart that I acknowledge the life and legacy of Wal Williams, OAM. He was a World War II veteran who passed away on Saturday at the RSL ANZAC Village in Narrabeen at the age of 99. A local legend in Pittwater, Wal made a valuable contribution to raising awareness of the sacrifice and suffering of prisoners of war during the Second World War in the Pacific between 1941 and 1945. Born in Northbridge in 1922, Wal grew to be an excellent swimmer and represented the Northbridge Swimming Club at the NSW State Championships. This skill would later help save his life. Not long after war broke out, Wal enlisted in the permanent army and then joined the Second Australian Imperial Force in November 1941. Wal was underage and needed permission to join up. His father, a Gallipoli veteran of the Light Horse, did not want Wal to be a soldier but eventually gave his permission.
In December 1941, following the Japanese attacks on Pearl Harbor and Malaya, Wal's unit sailed to Singapore to reinforce the 2/19th Battalion, which had suffered casualties just north of Singapore. In one of the strange quirks of history, the 2/19th was commanded by one of my ancestors, Lieutenant Colonel Charles Anderson. Together with his unit, Wal fought a fierce defensive battle for several days. Coinciding with heavy attacks elsewhere on the island's perimeter and on its water supply, and with supplies and ammunition dwindling, the difficult decision was made to surrender Singapore on 15 February 1942. Wal, along with tens of thousands of Allied soldiers, nurses and civilians, was taken prisoner. He would go on to spend three and a half years as a prisoner of the Japanese. At first interned at the infamous Changi prison camp, Wal was then put to work on the Burma‑Thailand Railway—with my uncle, Hugh Johnson—for two years, and would later be transported to Japan.
In September 1944, as a prisoner on his way to Japan aboard the Rakuyo Maru, an American submarine—unaware that 1,300 Allied prisoners were onboard—fired a torpedo, sinking the Japanese prison ship. Treading water for 24 hours, Wal and a handful of mates survived being strafed by Japanese aircraft, only to be picked up by another Japanese ship which took them to Japan. Only 159 Allied prisoners were pulled from the water alive. Wal survived barbaric hard labour in Japan and the Allied firebombing of Tokyo and Yokohama, and finally returned to Australia at the end of October 1945. Following the war, Wal travelled to Papua New Guinea to work on boats, and upon his return to Sydney he met his late wife, Helen. Wal became an auctioneer. He and Helen raised their son on the northern beaches of Sydney, after Wal opened a second‑hand furniture shop at Narrabeen.
Wal was heavily involved in the RSL, being recognised for his work with a Medal of the Order of Australia in 2021. He was passionate about raising awareness of the little‑known history of the thousands of Australian and Allied prisoners of war, nurses and civilians who were lost at sea aboard Japanese ships as the result of Allied action. This included the Montevideo Maru, which was sunk 80 years ago next month with the loss of all 1,054 Allied prisoners and civilians aboard. Wal worked tirelessly to have the memory of those Allied service personnel and civilians who died on Japanese prisoner of war [POW] ships recognised with a memorial on Robert Dunn Reserve at the south end of Mona Vale Headland. But, in an act of bureaucratic bastardry, the New South Wales Government at the time and the local council denied permission for the erection of the memorial. Therefore, it was incredibly hurtful and, quite simply, outrageous when a memorial to the Japanese submariners entombed in their vessel off Bungan Beach was erected on North Mona Vale Headland. We now have an opportunity to right this wrong.
One of the last things Wal learned about was the decision of the council. I am so pleased that veterans Minister David Elliott has given significant funding, together with council, to ensure that Wal's memorial can finally be built, in the location originally intended, on the south end of Mona Vale Headland. One of the very last things that Wal did was to approve the wording for the memorial. It is interesting that it is positioned on the southern headland at Mona Vale, because it is an unwitting but poignant reconciliation of the tragedy of war—Japanese invaders remembered at one headland, allied POWs remembered at the other, all linked by the new coastal walkway along a beachfront which was covered in barbed wire during the war and in front of a golf course built by survivors of the Great War, including my grandfather, Keith Stokes.
Wal is survived by his son Neil, grandsons Robert and Nicholas, and a great‑granddaughter, Sophia. I feel connected to Wal because his story is shared by families like mine and so many others across Australia. Thank you, Wal, for your service and your incredible life. Lest we forget.
__________________________________________________
Wal's Profile from 2017 runs again this week - a Tribute to a lovely gentle man and a contributor over all of his life to community.
World Elder Abuse Awareness Day 2022
World Elder Abuse Awareness Day (WEAAD) is commemorated each year on 15 June to highlight one of the worst manifestations of ageism and inequality in our society, elder abuse.
Elder abuse is any act which causes harm to an older person and is carried out by someone they know and trust such as a family member or friend. The abuse may be physical, social, financial, psychological or sexual and can include mistreatment and neglect.
World Elder Abuse Awareness Day 2022: Significance
World Elder Abuse Awareness Day is a day dedicated to educating people about the injustices that the elderly face across the world whether verbal, physical, or emotional. Elders are esteemed in many societies, and rightly so. Their life experiences, memories, and perspectives are treasured for the lessons they can teach younger people. And if elderly people aren't encouraged to pass on the knowledge and skills they've gained during their lives, the culture as a whole will suffer. Research suggests that 4 to 6 percent of the elderly suffer from some kind of abuse, most of which go unreported. This day is to make sure we remain focused on our elders, ensuring they lead a life of high quality and dignity.
WEAAD was officially recognised by the United Nations General Assembly in December 2011, following a request by the International Network for the Prevention of Elder Abuse (INPEA), who first established the commemoration in June 2006.
According to WHO estimates, 1 in 6 people over 60 years of age suffers from abuse. That means nearly 141 million people globally. This number may be much higher as neglect, abuse and violence of older people are among the most hidden and underrepresented violations of human rights.
This year, WEAAD coincides with two important events. The first is the start of the United Nations
Decade of Healthy Ageing
(2021-2030). This marks the beginning of ten years of concerted, catalytic and sustained collaboration with diverse stakeholders on improving the lives of older people, their families and their communities. The second is the 20th milestone of the Second World Assembly on Ageing and the fourth review and appraisal of the implementation of the Madrid International Plan of Action on Ageing (MIPAA). These provide an opportunity to generate renewed momentum for international action to advance the ageing agenda.
MIPAA represents the first time Governments agreed to link questions of ageing to other frameworks for social and economic development and human rights. The 159 Member States who signed onto the MIPAA reaffirmed the commitment to spare no effort to protect human rights and fundamental freedoms, including the right to development.
In many parts of the world elder abuse occurs with little recognition or response. It is a global social issue which affects the health, well-being, independence and human rights of millions of older people around the world, and an issue which deserves the attention of all in the community.
According to WHO, prevalence rates or estimates exist only in selected developed countries – ranging from 1 to 10 per cent. Although the extent of elder mistreatment is unknown, its social and moral significance is obvious.
Individuals, communities, municipalities and organisations will come together across the globe to hold events on 15 June that raise awareness of elder abuse.
Advancing Equality For Older People
A new report by HelpAge International clarifies States' obligations to tackle ageism and age discrimination and provides key insights into the importance of a dedicated international legal instrument and comprehensive anti-discrimination laws.
The report examines and compares the legal frameworks for prohibiting age discrimination in 12 States, analysing them for consistency with international legal standards. It identifies the principal gaps, inconsistencies and barriers which prevent the realisation of the rights to equality and non-discrimination for older people while highlighting good practices and promising developments.
According to the World Health Organization (WHO), 50% of people worldwide are ageist. That's a scary fact when you realise that by 2050 one in six of us will be aged 65 or over. Securing equality for older people is in everyone's interest because every single one of us is getting older.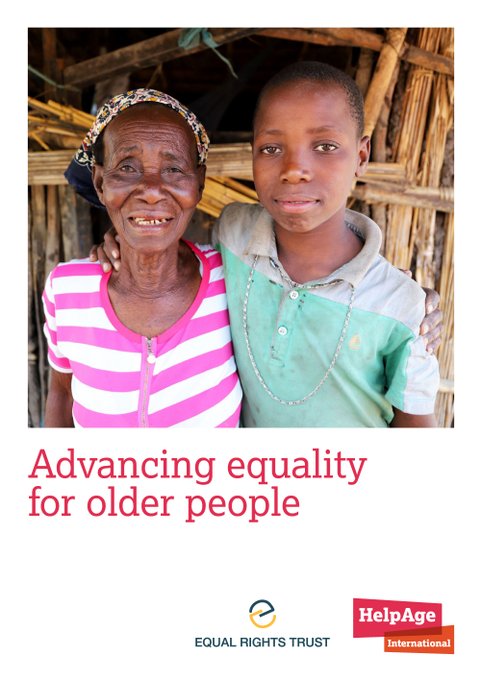 Seniors Rights Service Visiting The Central West
Do you have a concern that could benefit from access to free legal advice relating to Retirement Village Communities, Land Lease Communities and people living in Strata buildings?
Our team of experienced solicitors will be in the Central West and Orana from 14 to 17 June 2022 to hold a series of consultations and legal information sessions.
We will be holding legal clinics to allow local residents to seek specialist advice on a range of issues and concerns they may have relating to their living arrangements.
Attending one of our legal sessions would benefit anyone who is experiencing legal difficulties or challenges in their retirement village or other supported accommodation where advice from a solicitor may assist.
Tuesday 14 June, 4 – 6pm – Dubbo
Connecting Community Services, 31-33 Church Street, Dubbo
Thursday 16 June, 9.15 – 11.15am – Orange
The Hive, 25-27 McNamara Street, Orange
Friday 17 June, 2 – 4pm – Parkes
Neighbourhood Central, 80 Currajong Street, Parkes
Each consultation will be allocated an initial 20 minutes to allow the solicitor to assess your issue and to arrange follow-up or referral as needed. Please bring any relevant papers with you to the session.
Our solicitors will also be conducting community education sessions in a number of local retirement villages advising residents on their rights and obligations as members of these communities.
Seniors Rights Service provide free and confidential advice, aged care advocacy and support, and legal advice to seniors across New South Wales.
Your rights. Your voice. Free and confidential.
Seniors Rights Service is a community organisation dedicated to protecting and advancing the rights of older people, particularly vulnerable and disadvantaged groups.
What Older People Think: COTA NSW Report Released
COTA NSW has released the 2022 edition of their 50+ report, which has found that older people in NSW support a number of issues that have long been contentious in public discussion.
Entitled What Older People think…, the report is based on a survey of 6,390 older Australians aged 50+ in New South Wales, including some newsletter readers, as well as eight focus groups exploring the issues in greater depth. The issues looked at included climate change, Indigenous recognition, sources of news and portrayal of older people in the media.
We found majority support for action on climate change, including mitigation and adaptation measures, the recognition of Aboriginal and Torres Strait Islander people in the Australian constitution and the contribution that culturally diverse communities have made to our community.
Most older people no longer source their news from print newspapers. However, a significant majority are concerned that it is getting harder to access information and services without using the internet, and many find it difficult to keep up with the pace of technological change.
The research also looked at intergenerational conflict, finding that most respondents did not see it as an issue. About half thought that things were worse for young people today, with housing affordability and HECS debts cited as the main concerns, while others thought the greater opportunities for women meant that things were better now.
The results of this research provide important insights for decision makers and the broader populace to be cognisant of the diversity of older people's experiences, socio economic background and stage of life to ensure that the all older people are heard, and that decisions are not made on the basis of inaccurate stereotypes.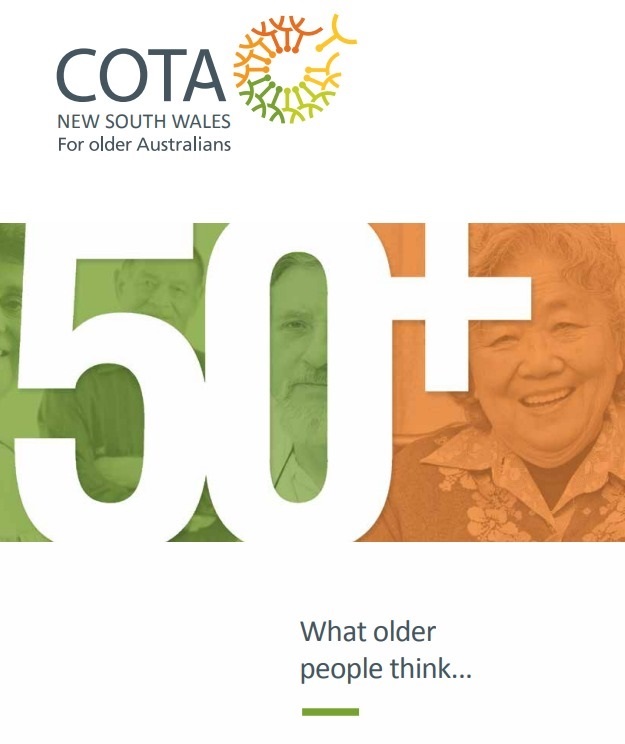 Moving Pictures – Changing How We Look At Dementia
Moving Pictures is a multimedia, multi-lingual project collaboration between National Ageing Research Institute and Curtin University which aims to change the way we look at dementia, especially in immigrant communities.
Limited awareness of dementia in these communities often results in delayed diagnosis, poorer prognosis, and a higher burden of care on families and health systems.
Moving Pictures aims to change this through the production of short films co-produced with people from culturally and language diverse backgrounds. The Moving Pictures team has so far produced 15 short films with Hindi-, Tamil-, Mandarin-, Cantonese- and Arabic-speaking communities.
For each language, there are three films: Detection and Diagnosis, Navigating Care, and the Carer Journey.
The films are based on the stories and lived experiences of carers of people living with dementia, and the expert views of key service providers.
The project aims to encourage lifestyle choices and changes to prevent the onset of the disease. There are practical tips, as well as information about services that are available to families caring for someone living with dementia.
Currently almost 480,000 people live with some form of dementia in Australia, and this is projected to increase to over 1 million people by 2058 without a major medical breakthrough.
Nearly 30% of Australians aged over 65 were born overseas, mainly in non-English speaking countries, and there are growing concerns that the prevalence of dementia in some CALD communities could increase by more than 650% in the years to come.
Tax Time Scams And How To Avoid Them
Unscrupulous individuals prey on older Australians at tax time. National Seniors provides an overview of how to identify these scams and what to do next.
Tax time can cause a lot of confusion and stress for many of us. This stress can be amplified when you receive an SMS or email from someone insisting you owe the tax office money. So, what can you do to make sure you don't end up falling for one of these scams?
The Australian Tax Office (ATO) has reported a new scam doing the rounds in April 2022: the fake TFN and ABN scam.
The scammer poses as somebody who can help you set up a tax file number (TFN) or an Australian Business Number (ABN) for a fee. Instead, they will take your money and personal information but never deliver the promised service.
What does it look like?
Usually, the scammer will put up an advertisement on social media sites such as Facebook, Twitter, or Instagram which will include a link to a legitimate-looking website. Individuals who click on this advert will be asked to hand over personal information and pay for the service, which will never occur.
How to avoid this scam:
Setting up a TFN and ABN is free. If you need assistance setting one up, you can do so through a tax agent registered with the
Tax Practioners Board
. If you see an advert on social media or receive an unsolicited text message or email from somebody claiming they can help you set up a TFN or ABN, treat it with extreme caution. Never give out your personal details unless you are certain of who you are dealing with.
Another new scam that is on the rise this year is where a scammer will masquerade as the ATO and tell the victim they are suspected of being involved in a cryptocurrency tax evasion.
What does it look like? Individuals have reported being contacted by SMS or email by somebody who claims to be from the ATO. They will then be asked to 'connect their wallet' and provide information via a link. The link will take the victim to a fake myGov page designed to steal personal information.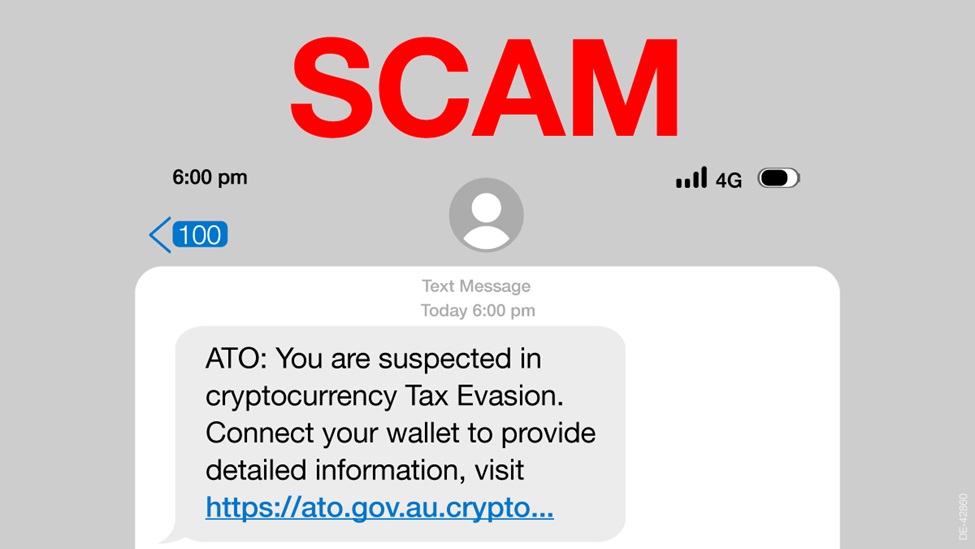 Example scam message. Source ATO website.
How to avoid this scam: If you receive this kind of SMS or email, do not click on the link. The real ATO will never send an SMS or email with a link to login to their online services. The real ATO may send a text or email requesting you contact them but will never ask for personal information. If in doubt, call the ATO's official phone number on 1800 008 540 to double check.
Many scammers use fear tactics to get their victims to hand over their personal details and money, and one of the most common is the fake tax debt scam.
Scammers will pretend to be from the ATO, telling the victim they have a tax debt that must be paid immediately.
What it looks like:
Scammers may contact via text, phone call, or email and masquerade as a member of the ATO. They will often threaten you with arrest if you do not pay immediately and will usually demand payment in the form of a gift card or to a personal account.
How to avoid this scam:
The real ATO will never threaten you with immediate arrest, send a pre-recorded message to your phone, demand payment through gift card or bank transfer, or insist you stay on the line until the payment has been made. If the ATO does ring you, it always be through a 'No Caller ID' listing, instead of a specific phone number.
If you're ever unsure, hang up and call the ATO on 1800 008 540 to confirm if it's real.
On the opposite end of the spectrum, scammers might lure victims with the promise of money. A common form of this scam is the tax refund scam.
What it looks like: Scammers will email the victim, claiming to be the ATO and promising a tax refund (see example below). They will then ask the victim to update their financial details on an attached form to process the refund. They will then steal money from account details provided.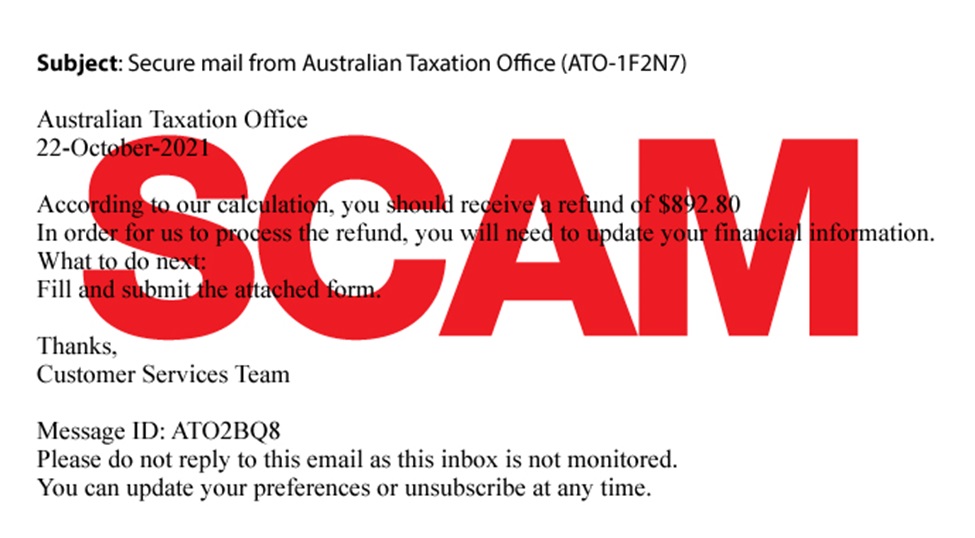 Example scam email. Source ATO website
How to avoid this scam: If you receive an email like the above, do not open any attachments or click on any links. Call the ATO on 1800 008 540 to confirm if it's real.
Other tax related scams
There are several other scams doing the rounds, you can see the full list of known scams and what to look for on the
ATO website
.
What to do if you've been scammed
If you've lost money or given personal details to a scammer, you may not see your money again. However, you can limit further damage and loss. The federal government's
Scamwatch website
recommends the below steps if this has happened to you:
Contact people you know:

Let your friends and family know what's happened.

Contact your financial institution:

If you've provided your bank or credit card details to the scammer, contact your financial institution immediately. They may be able to stop the transaction, perform a 'charge back' to your credit card (reverse the transaction) or close your bank account.

Recover your stolen identity:

If you have had your identity stolen, get in touch with contact IDCARE, a government website that will work with you to plan a response. Visit the IDCARE website or call 1800 595 160. You can also apply for a Commonwealth Victims' Certificate to support your claim that you've been a victim of identity crime and help re-establish credentials.

Report the scam to authorities:

Report scams to the ACCC via the Report a Scam website. Depending on the type of scam, you may also need to report it to the ATO, Centrelink, Medicare, the ACCC, the police, and the Australian Securities and Investments Commission. You should also report the scam to your telecommunications provider, email service, and/or the social media platform (depending how you were first contacted).

Change your online passwords:

If any of your online accounts have been compromised, change your password immediately. Most websites will have instructions for how you can recover a hacked account if you're unable to get into it.

Set up two-factor authentication for online accounts:

Two (or three factor) authentication offers an extra layer of protection. Along with your username and password, most two-factor authentication will set up a second step such as entering a code sent to your phone or email. This makes it harder for hackers to access your account without first gaining access to your phone or email. Most websites will have instructions for how to set this up for your online account.
NSW Government Responds To Grants Review Recommendations
The NSW Government has announced its support or support in principle for all of the recommendations of the Grants Administration Review to ensure any public money invested in grants programs is spent fairly, effectively, and transparently.
The Grants Administration Review was led by the Department of Premier and Cabinet (DPC) in partnership with the Productivity Commissioner, Mr Peter Achterstraat AM.
The Review delivered 19 recommendations that, when put in place, are designed to deliver value for money by ensuring that the administration, assessment, and assurance of grants programs in NSW is in line with best practice.
The government has confirmed its support, or support in principle, for all of the recommendations.
Premier Dominic Perrottet said the NSW Government has asked DPC to lead the implementation of the recommendations as swiftly as possible.
"Grants are an important part of everyday life in our state – from sports clubs to disaster recovery, business assistance to COVID support programs – and we need to do everything we can to ensure every dollar of grant money is appropriately directed and invested," Mr Perrottet said.
"In a representative democracy it is of course important that elected officials retain some discretion in the administration of grants programs. However, the NSW Government is committed to ensuring this discretion is exercised as fairly, transparently and effectively as possible.
"The NSW Government typically spends around $4 billion every year on grants, and that has increased significantly as we have responded to support people through bushfires, the pandemic, droughts and floods.
"Grants need to be delivered fairly and deliver value for the NSW taxpayer and I am committed to seeing positive changes put in place as swiftly as possible."
Some key reforms that the government will now implement include:
Replacing the current Good Practice Guide to Grants with the new Grants Administration Guide (to be issued under a Premier's Memorandum).
The establishment of a cross-agency "community of practice" comprising officials with expertise in grants administration, that will be tasked with developing resources to support compliance with the Guide and exploring opportunities for collaboration across government on grants.
Audit Office Of New South Wales: Transport 2021
The results of the Transport cluster agencies' financial statement audits for the year ended 30 June 2021.
Unmodified financial statement audit opinions were issued for all Transport cluster agencies. Resolution of issues delayed signing the Transport Asset Holding Entity of NSW (TAHE) until 24 December 2021. Matters relating to TAHE are also reported in the report on State Finances 2021.
Emphasis of Matter - TAHE
An Emphasis of Matter paragraph was included in TAHE's audit opinion to draw attention to uncertainty associated with:
future access and licence fees that are subject to re-signed agreements
an additional $4.1 billion of funding that is outside the forward estimates period
a significant portion of the fair value of TAHE's non-financial assets is reflected in the terminal value, which is outside the ten-year contract period to 30 June 2031, and the risk that TAHE will not be able to negotiate contract terms to support current projections.
TAHE's transition from RailCorp also changed its valuation of assets to an income approach, resulting in a $20.3 billion decrease to the fair value. The fair value decrease was because the cash flows were not sufficient to support the previous recorded value.
TAHE corrected a misstatement of $1.2 billion relating to the valuation of its assets. This followed significant deliberation on key judgements and assumptions, with TAHE adopting risk assumptions in its valuation that were not in line with comparable benchmarks.
Emphasis of Matter - State Transit Authority of New South Wales
An Emphasis of Matter paragraph was included in the State Transit Authority of NSW's (the Authority) audit opinion to draw attention to the financial statements not prepared on a going concern basis. This was because the NSW Government put the Authority's bus contracts out to competitive tender and accordingly, management assessed the Authority's principal activities are not expected to operate for a full 12 months after 30 June 2021.
The implementation of AASB 1059 'Service Concession Arrangements: Grantors' resulted in a net increase in assets of $23.5 billion across the Transport cluster.
The 2020–21 audits identified six high risk and 45 moderate risk issues across the cluster. Fourteen of the moderate risk issues were repeat issues, including information technology controls around management of user access for key financial systems and payroll processes.
The high risk issues, in addition to those related to TAHE and previously reported in the report on State Finances 2021, include:
absence of conflict of declarations related to land acquisition processes at Transport for NSW

no evidence of conflict of interest declarations obtained by TAHE from consultants and contractors regarding involvement in other engagements.
TAHE needs to:
finalise revised commercial agreements to reflect fees detailed in a Heads of Agreement signed on 18 December 2021
prepare robust projections and business plans to support the required rate of return.
NSW Treasury and TAHE should monitor the risk that control of TAHE assets could change in the future.
Transport for NSW needs to significantly improve its processes to ensure all key information is identified and shared with the Audit Office.
Transport agencies should implement a process to ensure conflicts of interest declarations are completed for land acquisitions and applied consistently across the cluster.
Transport agencies should implement a process to capture all contracts and agreements entered to ensure:
agencies are aware of contractual obligations
financial reporting implications are assessed, particularly with respect to leases, revenue and service concession arrangements.
The Transport cluster plans and delivers infrastructure and integrated services across all modes of transport. This includes road, rail, bus, ferry, light rail, cycling and walking. There are 11 agencies in the cluster.
$128b road and maritime system infrastructure assets as at 30 June 2021
100% unqualified audit opinions were issued on agencies 30 June 2021 financial statements
26 monetary misstatements were reported in 2020–21
$24.9b rail systems infrastructure assets as at 30 June 2021
6 high risk management letter findings were identified
37% of reported issues were repeat issues
Screen Time, Alcohol, And Poor Sleep For Girls: How The Pandemic Has Impacted Teens In Australia
Australian teens had overall improvements in sleep over the two years and some improvements in dietary choices during lockdown, however these were offset by increases in already concerning levels of screen time and worrying trends of alcohol use and poor sleep among girls.
Led by the University of Sydney and published in BMJ Open today, the study adds important new data to the growing chorus of concern around the long-term impacts of COVID-19 on young people. It also emphasises the importance of tailoring support and interventions to address specific concerns and groups -- such as adolescent girls -- who appear to be most impacted.
"We know these lifestyle risk behaviours are common among young people, but we also know they are key predictors of chronic diseases later in life, such as cancer, cardiovascular disease and mental disorders," said lead author Dr Lauren Gardner, Research Fellow at the Matilda Centre for Research Excellence in Mental Health and Substance Use in the Faculty of Medicine and Health.
"It's important that we understand how to best support young Australians moving forward, regardless of the course of the pandemic, and invest in prevention and health promotion activities."
The research drew on self-reported longitudinal survey data from 983 Australian adolescents (average age 12.6 years at baseline) enrolled in the The Health4Life Study.
It analysed data over a two-year period from before (2019) to during the COVID-19 pandemic (2021) -- looking at the 'Big 6' health behaviours: diet, physical activity, recreational screen time, sleep and alcohol and tobacco use.
The researchers also examined if differences over time were associated with gender and lockdown status across three Australian states -- New South Wales, Queensland and Western Australia.
Compared to pre-pandemic levels, there were increases in the prevalence of excessive recreational screen time (86% to 94%), insufficient fruit intake (20% to 30%), and increased alcohol (2% to 10%) and tobacco use (1% to 4%)*.
Overall, the prevalence of insufficient sleep decreased over the two-year period (by 26%), regardless of lockdown status.
Being in lockdown was associated with improvements in sugar sweetened beverage consumption (39% lower than those not in lockdown) and discretionary food intake (27% lower than those not in lockdown).
For females, there was an increase in the prevalence of insufficient sleep (24% higher than males) and alcohol use* (134% higher than males).
Although the prevalence of insufficient physical activity and insufficient vegetable intake did not change over time, nor were there differences based on lockdown status, these behaviours remain concerning, with 82% not achieving 60 minutes of moderate-to-vigorous physical activity per day and 84% not eating the recommended five serves of vegetables per day.
*The increase in alcohol and tobacco use over time was expected as the cohort aged and remained relatively low, however, the greater increase in alcohol use among females was unexpected.
"The Health4Life study gave us a unique opportunity to assess changes in key health behaviours in a large and geographically diverse sample. Due to Australia's state-based public health restrictions, approximately one-third of the sample was subjected to the Greater Sydney stay-at-home orders at the second time point, allowing us to look at how different levels of restrictions impacted these behaviours," said Dr Gardner.
Comparison to the international experience
Director of the Matilda Centre, Professor Maree Teesson said the new study reinforces other international research highlighting the varied impact of the COVD-19 pandemic across countries and within regions.
"The full extent of the impact of the pandemic on children and young people is being recognised internationally. This study is the first to examine those impacts on Australian teens," said Professor Teesson.
"We need a COVID recovery plan -- as proposed by Australia's Mental Health Think Tank -- that helps our young people get back on track for a healthier future."
"Supporting young people to improve or maintain positive health behaviours is important. Research such as this can help us start to understand the interplay between health behaviours and mental health to ensure we provide targeted interventions to those who need it the most."
Lauren Anne Gardner, Jennifer Debenham, Nicola Clare Newton, Cath Chapman, Fiona Elizabeth Wylie, Bridie Osman, Maree Teesson, Katrina Elizabeth Champion.
Lifestyle risk behaviours among adolescents: a two-year longitudinal study of the impact of the COVID-19 pandemic
. BMJ Open, 2022; 12 (6): e060309 DOI:
10.1136/bmjopen-2021-060309
Red Pandas Face A Fractured Future
The much-loved red panda is renowned for its tree-climbing ability and adorable nature, but new research shows the endangered mammal is being driven closer to extinction.
University of Queensland PhD candidate Damber Bista, who tracked red pandas in Nepal over a 12-month period from Queensland using GPS telemetry, has found that human impact is causing the mammal to restrict its movements which is further fragmenting their habitat.
Mr Bista said it was a worrying sign.
"Our research findings show that current patterns of habitat fragmentation and forest exploitation, from infrastructure projects such as new roads, are placing the red panda under increased threat," Mr Bista said.
"Because of this, red pandas are changing their activity to minimise their interactions with disturbances, such as humans, dogs, or livestock, and this is drastically interfering with natural interactions between the animals, resulting in population isolation."
Mr Bista has been studying red pandas for several years and in late 2019 he travelled to Nepal, where he tagged red pandas with collars which allow him to track their movements by satellite.
He returned to Australia in January 2020, with the intention of returning to Nepal within a few months to continue monitoring the animals and install cameras in the field, but COVID-19 hit.
"The satellite tracking allowed me to monitor the red pandas remotely here in Brisbane, while I relied on my friends and colleagues in Nepal to install cameras and conduct the field surveys," he said.
"It was a surreal experience, I would spend many hours a day during COVID lockdowns in my home, watching the movement of red pandas in Nepal on my computer."
There was one red panda which he kept a close eye on.
An adult male "Chintapu," named after the location he was found, was known for its roaming nature and in one 24 hour period the mammal travelled 5km which is unheard of for a typical red panda.
So, what was it after -- fresh bamboo, or perhaps a wild blossom delicacy? "It was during breeding season," Mr Bista explained.
Other red pandas that Mr Bista followed closely for 12-months included a female "Paaruhaang," named after a local deity, a female "Mechaachaa" meaning daughter, and "Ninaammaa" which means Queen of the Sky in local dialect.
There was also "Brian," named after the founder of the Red Panda Network.
Mr Bista's research was the fifth known global study conducted on wild red pandas, and only the second in Nepal.
"It's difficult to know how many red pandas are left in the world, but it is estimated that 10,000 are left in the wild, and between 500 to 1000 are in Nepal," he said.
"With the findings from this study showing fragmentation of their habitat, together with a previous study on the impacts of poaching, I am concerned about the future of this species.
"While red pandas can adapt to habitat impacts to some extent, they may be susceptible to local extinction under these conditions, placing the wider population of the species at risk."
Mr Bista said the dwindling amount of wild forest forces the red panda into situations where it must decide on whether to live closer to predators or adapt to co-exist with humans.
"As you'd expect, it's in an animal's best interest to avoid its predators, but as we continue to build more roads and infrastructure, that drastically reduces the capacity for red pandas to do this," he said.
"As the availability of suitable forests shrink, it's up to the red panda to weigh up its options on how to best survive.
"This trade-off can lead to an increased risk of mortality and population decline in the long run."
He said this underpinned the need to minimise human-induced disturbances, which is one of the recommendations made in the study.
"Our recommendation is for human activities to be strictly regulated during most if not all biologically crucial times such as mating, dispersal and birthing seasons," Mr Bista said.
"As for conservation programs, we recommend they focus on identifying ecologically sensitive areas, maintaining habitat continuity, and minimising projects that will disturb habitats, such as building roads and herding livestock.
"If road construction can't be avoided, we suggest avoiding core areas and restrictions on speed limits and noise, and for an increase in wildlife crossings in high-risk areas."
The research is published in Landscape Ecology.
This research was a collaborative effort between The University of Queensland, University of Southern Queensland, the Red Panda Network, and Rotterdam Zoo.
Damber Bista, Greg S. Baxter, Nicholas J. Hudson, Sonam Tashi Lama, Peter John Murray.
Effect of disturbances and habitat fragmentation on an arboreal habitat specialist mammal using GPS telemetry: a case of the red panda.
Landscape Ecology, 2021; 37 (3): 795 DOI:
10.1007/s10980-021-01357-w
Intersecting Light Beams Key In Transformative 3D Printer Potential
QUT researchers have used intersecting light beams to control chemical reactions in an advanced material, paving the way for future use in 3D printers that print entire layers, instead of single points, at a time.
Queensland University of Technology's Centre for Materials Science interdisciplinary research team, made up of Dr Sarah Walden, Leona Rodrigues, Dr Jessica Alves, Associate Professor James Blinco, Dr Vinh Truong, and ARC Laureate Fellow Professor Christopher Barner-Kowollik, have published their research in Nature Communications.
Dr Walden said light was a particularly desirable tool for activating chemical processes, because of the precision it offered in starting a reaction.
"Most of the work QUT's Soft Matter Materials Group researchers have done in the past with light has been to use a laser beam to start and stop a chemical reaction along the entire volume where the light strikes the material," Dr Walden said.
"In this case, we have two different coloured light beams, and the reaction only occurs where the two beams intersect.
"We use one colour of light to activate one molecule, and the second colour of light to activate another molecule. And where the two light beams meet, the two activated molecules react to form a solid material.
"Normally, in a 3D printer, the inkjet moves around in two dimensions, slowly printing one 2D layer before moving up to print another layer on top.
"But using this technology, you could have a whole two-dimensional sheet activated, and print the entire sheet at once."
Professor Barner-Kowollik said such two colour activated materials are currently very rare.
"This project is about proving the viability of the ink for future generation of printers," he said.
Professor Barner-Kowollik, whose career is focused on the power and possibilities of light in materials science, was recently recognised with Australia's highest prize for chemistry, the 2022 David Craig medal, awarded by the Australian Academy of Science.
Professor Barner-Kowollik said one of the challenges of the project was to find two molecules that could be activated by two different colours of light and then have them react together.
"This is where the innovation comes from," Professor Barner-Kowollik said.
"You want a molecule to be activated with one colour of light but not the other colour, and vice versa.
"That's not easy to find, it's actually quite hard to find."
Dr Truong, after much work, was able to find two molecules that reacted to the lights in the required manner and combined to form a very solid material.
"In our chemical design, both light activated processes are reversible," Dr Truong said.
"Hence we can control exactly when and where the solid material may form."
The researchers are from QUT's School of Chemistry and Physics.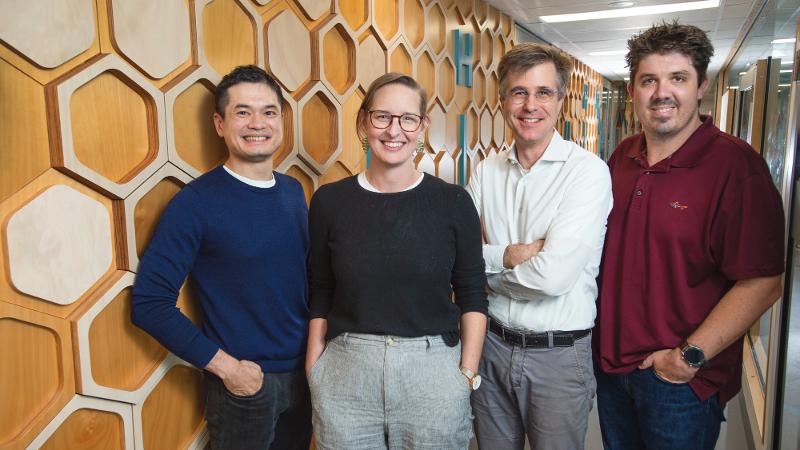 Sarah L. Walden, Leona L. Rodrigues, Jessica Alves, James P. Blinco, Vinh X. Truong, Christopher Barner-Kowollik.
Two-colour light activated covalent bond formation
. Nature Communications, 2022; 13 (1) DOI:
10.1038/s41467-022-30002-6
DNA Shed From Colon Cancers Into Bloodstream Successfully Guides Chemotherapy After Surgery
A new research study showed that circulating tumor DNA (ctDNA) -- genetic material shed from tumors into the bloodstream -- can identify stage II colon cancer patients who can most benefit from chemotherapy following surgery and spare other patients the need for this form of treatment.
The multi-institutional, international study, led by researchers at the Johns Hopkins Kimmel Cancer Center and WEHI in Melbourne, Australia, found that testing for ctDNA after surgery and directing chemotherapy to ctDNA-positive patients reduced the use of chemotherapy overall without compromising recurrence-free survival.
There are several prior research studies demonstrating that circulating tumor DNA can be detected in blood and that the presence of ctDNA post-surgery predicts a risk of cancer recurrence. However, this is believed to be the first clinical study showing that the measurement of circulating tumor DNA prior to therapy may benefit patients.
These findings will be published in the New England Journal of Medicine and presented at the annual meeting of the American Society of Clinical Oncology on June 4.
"Previous studies have theorized that ctDNA measurements might be useful in guiding patient management, and this study provides real-world clinical evidence that supports these theories," says Bert Vogelstein, M.D., Clayton Professor of Oncology, co-director of the Ludwig Center at Johns Hopkins and a Howard Hughes Medical Institute investigator. Vogelstein and group were the first to show that colon cancer is caused by a sequence of genetic mutations and showed that DNA shed from tumors could be detected in blood, stool and other body fluids.
Currently, the use of chemotherapy in stage II colon cancer, which is defined as a colon cancer that has grown through the wall of the colon but does not extend to the lymph nodes or other organs, is controversial. There is no consensus among cancer experts on its benefit. This study was aimed at helping solve the controversy by assessing whether ctDNA could be used to provide a more precise prediction of recurrence risk after surgery. Patients who were ctDNA-negative could be spared the toxicities of chemotherapy, and those who had remaining cancer could receive chemotherapy to attack the lingering malignant cells.
In the study, 455 patients with stage II colon cancer were randomized after surgery 2:1 to standard treatment or ctDNA-guided management. Of these patients, 153 received standard management, which includes monitoring over time for recurrence or chemotherapy. An additional 302 patients underwent blood tests within seven weeks after surgery to search for ctDNA. If ctDNA was detected, patients received fluoropyrimidine or oxaliplatin-based chemotherapy. If ctDNA was not detected, patients did not receive chemotherapy.
The ctDNA-guided approach reduced the use of chemotherapy compared with the standard management group (15.3% of patients in the ctDNA-guided group received chemotherapy versus 27.9% in the standard management group). The two- and three-year survival with no cancer recurrence was similar between the ctDNA-guided group and the standard management group.
"Stage II colon cancer presents a unique challenge," explains Anne Marie Lennon, M.B.B.Ch., Ph.D., professor of medicine, and director of the division of gastroenterology and hepatology. "In stage I colon cancer, patients do not receive chemotherapy because their prognosis for survival is over 90%. The risk of discomfort and toxicities from the therapy outweigh the benefits it can provide. On the other hand, every stage III colon cancer patient currently receives chemotherapy because the risk of relapse is high."
The goal of chemotherapy in colon cancer is to eradicate micrometastases, cancer cells not yet visible on radiologic images that travel through the bloodstream and cause the cancer to come back or spread it to other parts of the body. Using ctDNA to detect these invisible cells can now identify which patients are most likely to have micrometastases and, therefore, are most likely to benefit from chemotherapy.
"Using ctDNA to guide treatment, a stage II colon cancer patient who is negative for ctDNA has a lower chance of cancer recurrence than the average stage I colon cancer patient, so we have an opportunity to change clinical practice," says Joshua Cohen, a lead author of the study and M.D./Ph.D. candidate at the Johns Hopkins University School of Medicine.
The researchers hope these findings will stimulate the study of ctDNA in patients with other stages of colon cancer and other types of cancer. In future studies, the researchers will explore patients with early-stage pancreatic cancer and stage III colon cancer to see if ctDNA can similarly identify patients who are most likely to benefit from more aggressive chemotherapy than is currently used. They also plan to explore whether the presence of residual ctDNA can be used to help optimize the management of individual patients following surgery or other forms of therapy.
Using ctDNA to stratify treatments among patients is part of the movement toward precision medicine -- individualized care that tailors therapies to the unique characteristics of a cancer.
The researchers also believe the findings will provide opportunities to test promising new drugs in patients with earlier stages of cancer.
"All drugs work better in patients with cancers that are detected relatively early, before they have given rise to large metastatic masses. However, new drugs are usually first tested in patients whose cancers are very advanced," says Vogelstein. "We hope that ctDNA analysis will enable testing of new drugs in patients with early-stage cancers and micrometastases, when the new drugs are most likely to save lives."
In addition to Vogelstein, Cohen, Lennon, other researchers were Kamel Lahouel, Ph.D., Yuxuan Wang, M.D., Ph.D., Janine Ptak, M.S., Natalie Silliman, B.S., Lisa Dobbyn, B.A., Maria Popoli, M.S., Ralph Hruban, M.D., Nicholas Papadopoulos, Ph.D., Kenneth Kinzler, Ph.D., and Cristian Tomasetti from Johns Hopkins, and Jeanne Tie, M.D., Serigne Lo, Ph.D., Suzanne Kosmider, M.B.B.S., Jeremy Shapiro, M.B.B.S., Margaret Lee, M.B.B.S., Sam Harris, M.B.B.S., Adnan Khattak, M.B.B.S., Matthew Burge, M.B.B.S. Marion Harris, M.B.B.S., James Lynam, M.B.B.S., Louise Nott, M.B.B.S., Fiona Day, Ph.D., Theresa Hayes, M.B.B.S., Sue-Anne McLachlan, M.B.B.S., Belinda Lee, M.B.B.S., and Peter Gibbs, M.D., from the Walter and Eliza Hall Institute of Medical Research, Peter MacCallum Cancer Centre, or University of Melbourne in Melbourne, Australia.
This research was supported by the Australian National Health and Medical Research Council, the Marcus Foundation, the Virginia and D.K. Ludwig Fund for Cancer Research, Lustgarten Foundation, the Conrad R. Hilton Foundation, the Sol Goldman Charitable Trust, John Templeton Foundation, National Institutes of Health (CA62924, CA009071, GM136577, CA06973) and the Eastern Health Research Foundation Linda Williams Memorial Grant.
Bert Vogelstein, Kenneth Kinzler and Nickolas Papadopoulos are founders of and hold equity in Thrive Earlier Detection, an Exact Sciences Company. Kenneth Kinzler and Nickolas Papadopoulos are consultants to Thrive Earlier Detection, an Exact Sciences Company. Bert Vogelstein, Kenneth Kinzler, Nickolas Papadopoulos and Joshua Cohen are consultants to and own equity in Haystack Oncology. Nickolas Papadopoulos and Kenneth Kinzler are on the board of directors of Haystack Oncology. The companies named above have licensed previously described technologies related to the work described in this paper from The Johns Hopkins University. Bert Vogelstein, Kenneth Kinzler, Nickolas Papadopoulos and Joshua Cohen are inventors on some of these technologies. Licenses to these technologies are or will be associated with royalty payments to the inventors as well as to The Johns Hopkins University.
Jeanne Tie, Joshua D. Cohen, Kamel Lahouel, Serigne N. Lo, Yuxuan Wang, Suzanne Kosmider, Rachel Wong, Jeremy Shapiro, Margaret Lee, Sam Harris, Adnan Khattak, Matthew Burge, Marion Harris, James Lynam, Louise Nott, Fiona Day, Theresa Hayes, Sue-Anne McLachlan, Belinda Lee, Janine Ptak, Natalie Silliman, Lisa Dobbyn, Maria Popoli, Ralph Hruban, Anne Marie Lennon, Nicholas Papadopoulos, Kenneth W. Kinzler, Bert Vogelstein, Cristian Tomasetti, Peter Gibbs.
Circulating Tumor DNA Analysis Guiding Adjuvant Therapy in Stage II Colon Cancer.
New England Journal of Medicine, 2022; DOI:
10.1056/NEJMoa2200075
Alignment Of Planets This June
From June 10 a rare chance to see all five bright planets in the sunrise direction presents itself. Mercury will be lowest in the sky; Venus continues its early morning dominance as it slides lower towards the horizon; Mars brightens, making it easier to spot and identify; Jupiter gleams high in the sky as dawn approaches; and Saturn finishes out this rare planet parade.
This rare phenomenon has not occurred since December 2004, and this year, the distance between Mercury and Saturn will be smaller, according to Sky & Telescope.
As June progresses, Mercury will become brighter and easier to see, according to Diana Hannikainen, observing editor of Sky & Telescope. The rest of the planets should be consistently visible to the naked eye, she added.
The delightful view of all five naked-eye planets will greet early risers throughout the month of June. While seeing two or three planets close together (in what's known as a conjunction) is a rather common occurrence, seeing five is somewhat more rare. And what's even more remarkable about this month's lineup is that the planets are arranged in their natural order from the Sun.
Throughout the month of June, shortly before the Sun rises, viewers could see Mercury, Venus, Mars, Jupiter, Saturn — in that order — stretching across the sky from low in the east to higher in the south. Mercury will be tougher to spot: Early in the month, viewers will need an unobstructed eastern horizon as well as binoculars to potentially see the little world. As the month wears on, Mercury climbs higher and brightens significantly, making it easier to see, and thus completing the planetary lineup.
June 24:
According to
Sky & Telescope
magazine, the planetary lineup this morning is even more compelling. To begin with, Mercury will be much easier to snag, making the five-planet parade that much more accessible. And you'll have about an hour to enjoy the sight, from when Mercury pops above the horizon to when the rising Sun washes it out of the sky. But the real bonus is the waning crescent Moon positioned between Venus and Mars, serving as a proxy Earth. By this time of month, the planets are spread farther across the sky — the distance between Mercury and Saturn will be 107°.
The best time to view the five planets is in the 30 minutes before sunrise. The night before you plan to view the alignment, check when the sun will rise in your area. In Sydney the sun rises at 6.55 am - so 6.30am will be prime viewing time.
Image: At dawn on June 24th, the crescent Moon joins the planetary lineup. It's conveniently placed between Venus and Mars, serving as a proxy Earth. Image: Sky & Telescope illustration
Disclaimer: These articles are not intended to provide medical advice, diagnosis or treatment. Views expressed here do not necessarily reflect those of Pittwater Online News or its staff.