Inbox and environment news: Issue 541
June 5 -11, 2022: Issue 541
World Environment Day 2022: June 5th + World Oceans Day 2022: June 7th
World Environment Day 2022
The
2022 World Environment Day campaign #OnlyOneEarth
calls for collective, transformative action on a global scale to celebrate, protect and restore our planet.
World Environment Day on 5 June is the biggest international day for the environment. Led by the United Nations Environment Programme (UNEP) and held annually since 1973, the event has grown to be the largest global platform for environmental outreach, with millions of people from across the world engaging to protect the planet.
World Environment Day is a global platform for inspiring positive change. With over 150 countries participating, this UN international day engages governments, businesses, civil society, schools, celebrities, cities and communities, raising awareness and celebrating environmental action.
Individuals can be drivers of change through their support for businesses and governments. The actions of these larger entities can have a transformational impact, potentially locking in sustainable consumption and production behaviours for the decades to come.
Each year, World Environment Day is hosted by a different country where the official celebrations take place. The host country for 2022 was Sweden.
2022 is a historic milestone for the global environmental community. It marks 50 years since the 1972 United Nations Conference on the Human Environment, widely seen as the first international meeting on the environment. The 1972 Stockholm Conference spurred the formation of environment ministries and agencies around the world and kickstarted a host of new global agreements to collectively protect the environment. It was also where the goals of poverty alleviation and environmental protection became linked, paving the way for the Sustainable Development Goals. At the Stockholm Conference, the idea of World Environment Day was formalised, with the first one being celebrated in 1973.
Hundreds of speakers attending Stockholm+50 have called for real commitment to urgently address global environmental concerns and for a just transition to sustainable economies that work for all people.
The two-day international meeting concluded with a
statement from co-hosts Sweden and Kenya
, drawn from Member States and stakeholders through the meeting's plenaries and leadership dialogues. The statement contains several recommendations for an actionable agenda, including, among others, placing human well-being at the centre of a healthy planet and prosperity for all; recognizing and implementing the right to a clean, healthy and sustainable environment; adopting systemwide changes in the way our current economic system works, and accelerate transformations of high impact sectors.
"We believe that we have – collectively – mobilized and used the potential of this meeting. We now have a blueprint of acceleration to take further," Sweden's Minister for Climate and the Environment, Annika Strandhäll, said in her closing remarks. "Stockholm+50 has been a milestone on our path towards a healthy planet for all, leaving no one behind."
Stockholm+50 featured four plenary sessions in which leaders made calls for bold environmental action to accelerate the implementation of the 2030 Agenda and the Sustainable Development Goals. Three leadership dialogues, hundreds of side events – including several youth-led sessions – and webinars, as well as series of regional multi-stakeholder consultations in the run-up to the meeting enabled thousands of people around the world to engage in discussions and put forward their views.
"The variety of voices and bold messages that have emerged from these two days demonstrate a genuine wish to live up to the potential of this meeting and build a future for our children and grandchildren on this, our only planet," said Keriako Tobiko, Kenya's Cabinet Secretary for the Environment. "We didn't just come here to commemorate, but to build forward and better, based on the steps taken since 1972."
"We came to Stockholm 50 years after the UN Conference on the Human Environment knowing that something must change. Knowing that if we do not change, the triple planetary crisis of climate change, nature and biodiversity loss, and pollution and waste will only accelerate," said Inger Andersen, Secretary-General of Stockholm+50 and Executive Director of the UN Environment Programme.
"Now we must take forward this energy, this commitment to action to shape our world," she added.
Stockholm+50: a healthy planet for the prosperity of all – our responsibility, our opportunity" (Stockholm+50) was an international meeting, hosted by the Government of Sweden, convened by the United Nations General Assembly to be held in Stockholm, Sweden, from 2-3 June 2022. It commemorated 50 years since the 1972 UN Conference on the Human Environment, which made the environment a pressing global issue for the first time. Some 113 countries attended, and participants adopted a series of principles on the environment, including the Stockholm Declaration and Action Plan for the Human Environment. The UN Environment Programme (UNEP) was created as a result of the conference.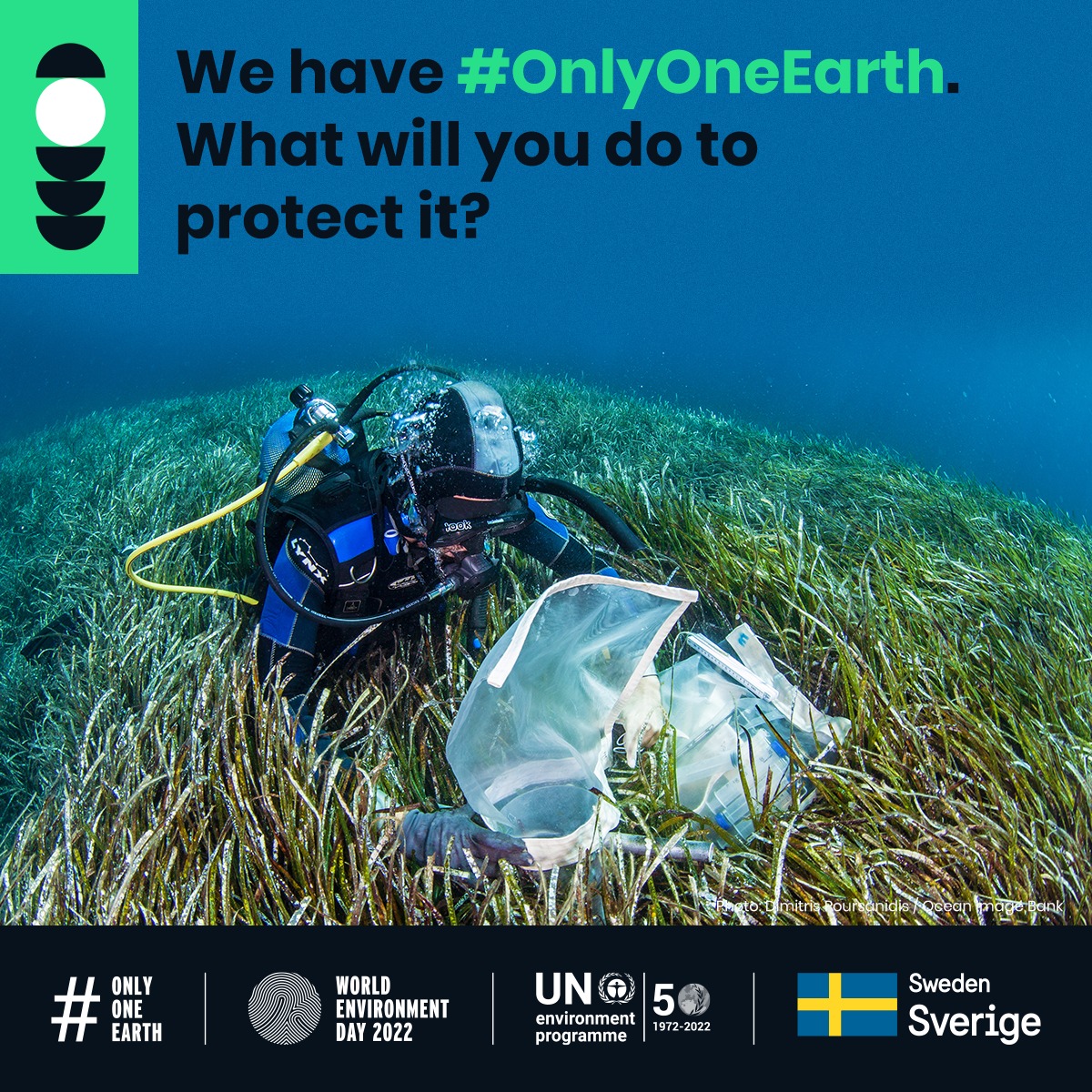 This year's United Nations World Oceans Day,
on 8 June 2022, will highlight the theme Revitalization: Collective Action for the Ocean
.
The ocean connects, sustains, and supports us all. Yet its health is at a tipping point and so is the well-being of all that depends on it. As the past years have shown us, we need to work together to create a new balance with the ocean that no longer depletes its bounty but instead restores its vibrancy and brings it new life.
Oceans Day was first declared as 8 June, 1992 in Rio de Janeiro at the Global Forum, a parallel event at the United Nations Conference on Environment and Development (UNCED) which provided an opportunity for non-government organizations (NGOs) and civil society to express their views on environmental issues.
The Declaration was inspired by an event organized on that day by the Oceans Institute of Canada and supported by the Canadian Government: "OCEANS DAY AT GLOBAL FORUM – THE BLUE PLANET". The programme featured international experts, opinion leaders and those in a position to speak for the oceans' contributions to sustaining the Blue Planet.
Global wellbeing is at risk – and it's in large part because we haven't kept our promises on the environment – UN Secretary-General António Guterres said on Thursday.
Although there have been successes in protecting the planet since 1972, including rescuing the ozone layer, Mr. Guterres warned that "Earth's natural systems cannot keep up with our demands".
"Lead us out of this mess", he urged delegates at the Swedish summit convened by the UN General Assembly, in a call for action against a "triple planetary crisis" that's been caused by the climate emergency – "that is killing and displacing ever more people each year" – biodiversity loss – which threatens "more than three billion people" – and pollution and waste, "that is costing some nine million lives a year".
All nations should do more to protect the basic human right to a clean, healthy environment for everyone, Mr. Guterres insisted, focusing in particular on "poor communities, women and girls, indigenous peoples and the generations to come".
Part of the solution lies in dispensing with Gross Domestic Product (GDP) as a gauge of countries' economic clout, the Secretary-General continued, describing it as an accounting system "that reward(s) pollution and waste".
He added: "Let us not forget that when we destroy a forest, we are creating GDP. When we overfish, we are creating GDP. GDP is not a way to measure richness in the present situation in the world."
After calling on all nations to commit further to implementing the 17 Sustainable Development Goals and following the 2015 Paris Agreement to tackle these threats, the Secretary-General also insisted that greater efforts were needed to bring emissions to net zero by 2050.
"Hot air is killing us," he said, repeating his call to all countries to
abandon fossil fuel subsidies and invest in renewable energy
, while developed nations should "at least double" their support to poorer countries so that they can adapt to a growing number of climate shocks.
Stressing that nations have already cooperated to protect the planet on many fronts, Mr. Guterres noted that the final touches are expected to be added to a new global biodiversity framework to reverse nature loss by 2030.
Work is also ongoing to establish a treaty to tackle plastics pollution, the UN chief continued, and the 2022 UN Ocean Conference in Lisbon, is expected to galvanize efforts to save our seas.
"If we do these things we can avert climate catastrophe, end a growing humanitarian and inequality crisis and promote inclusive and sustainable development," he said, adding that "every government, business and individual has a role to play".
Conference convenor, General Assembly President Abdulla Shahid, said there was a simple truth all need to acknowledge: "human progress cannot occur on an earth that is starved of its own resources, marred by pollution, and is under relentless assault from a climate crisis of its own making.
He said recent climate action initiatives such as a plastics pollution treaty push, "give me hope", but they needed to be integrated into a much broader effort.
"We need solutions that address the common bottlenecks affecting the entire environment agenda, which will in turn accelerate the implementation of the 2030 Agenda, and promote resilient and sustainable recovery from the pandemic."

Long Reef Slump
by Pittwater Pathways; Cliff recession at Long Reef accelerates with global warming and accompanying intense rainfall. Published May 8, 2022
Sonar Used To Locate Underwater Dangers On Hawkesbury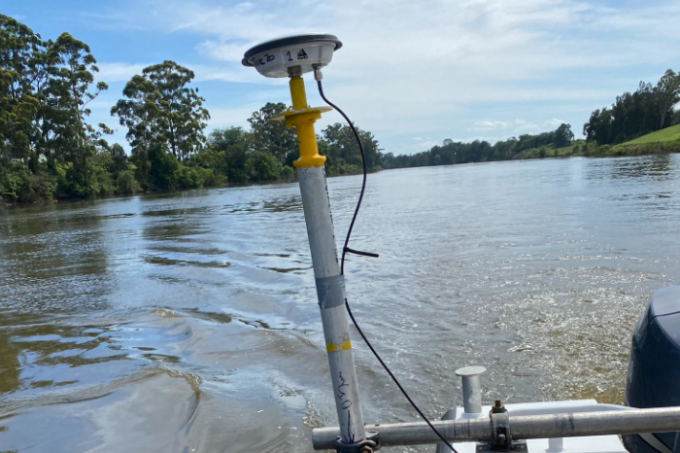 The NSW EPA has announced an advanced sonar program has started surveying NSW rivers for hazardous submerged debris across the State following this year's destructive floods with shoreline clean-up crews coming in behind to remove those debris once located.
The NSW Environment Protection Authority (EPA)-led program removes dangerous obstacles to navigation and water safety – including giant tree trunks and water tanks – out of our rivers.
EPA Director Arminda Ryan said the Sonar (submerged debris) Clean-up Program was uncovering submerged and dangerous debris washed into the Hawkesbury and other rivers during the recent floods.
"By using the latest technology available our aim is to make this recovery as thorough and efficient as possible," Ms Ryan said.
The strength of the Sonar Program is its ability to reveal otherwise invisible hazards. Sonar Technology mounted on boats sends out sound waves and measures returning echoes to detect large items on the riverbed.
Based on what has been found on shoreside clean-ups hazards are expected to include items as diverse as chemical drums, farming equipment, large tree branches and even caravans.
Ms Ryan said the Sonar Program was just one part of a combined NSW Government agency effort with the EPA working closely with Transport for NSW to secure and mark hazardous debris prior to removal.
"Transport for NSW has provided the EPA with 11 priority locations for surveying in the Hawkesbury River. OceanWatch Australia have provided a further two priority locations. Transport for NSW will also provide priority locations for surveying on the North Coast," Ms Ryan said
"The program covers a broad area and will see a wide variety of man-made and natural hazardous debris removed from waterways extending from the Hawkesbury River to the Queensland border."
Ms Ryan said the shoreline clean-up had already removed more than 6800 cubic meters of eligible flood debris across NSW since the beginning of March, which is more than 340, 8-tonne tip trucks.
"The communities in flood impacted areas have been through very tough times in the past couple of years and the extension of these programs will support communities with their recovery from the floods," Ms Ryan said.
"These clean-ups will take time and we ask people to remain patient but also to be safe around the water if they are assisting with clean-up or using local beaches and waterways."
The EPA was able to move quickly on this work to help communities recover from the devastating floods and extreme weather of this year by extending flood recovery programs that were already underway following the 2021 floods – like the Sonar Program.
Members of the community can assist the clean-up of their local area by reporting flood debris to the Environment Line on 131 555 or info@epa.nsw.gov.au
Chemical Clean Out: June 2022 At Mona Vale
Where: Mona Vale Beach Car Park; Surfview Road, Mona Vale
When: Sat 25, Sun 26 June 2022, 9am - 3:30pm
The safe way to dispose of potentially hazardous household chemicals is at a Household Chemical CleanOut event. These events are free services held across NSW on specified dates.
Before you attend a Chemical CleanOut event, please place all materials in the rear of your vehicle. On arrival, remain in your vehicle and our contractor will collect your items. Contractors onsite will be wearing personal protective equipment and following social distancing measures.
Use CleanOut to safely dispose of household chemicals that could cause harm to human health and the environment if not disposed of correctly. Check dates and locations for Household Chemical CleanOut events.
What can I take to a Household Chemical CleanOut event?
You can take household quantities of the following household chemicals and items – up to a maximum of 20 litres or 20 kilograms of a single item.
Solvents and household cleaners
Floor care products
Ammonia-based cleaners
Pesticides and herbicides
Poisons
Pool chemicals
Hobby chemicals
Motor fuels
Fluorescent globes and tubes
Acids and alkalis
Smoke detectors
Paint and paint-related products
Gas bottles
Fire extinguishers
Car and household batteries
Motor oils and cooking oils
CleanOut events held in the Sydney, Illawarra and Hunter regions are open to all NSW residents, unless expressly stated, and are organised through the NSW EPA.
Plastic Bag Ban Commences From June 1st In NSW
Marking a major pivot away from single-use plastics, the NSW Government's ban on lightweight plastic bags will come into force on Wednesday this week.
Minister for Environment James Griffin said the lightweight plastic bag ban is the first of many plastic items being banned in New South Wales this year.
'I think all of us can see the impact plastic pollution is having on our environment, which is why we're making major changes in New South Wales this year,' Mr Griffin said.
'The ban on lightweight single-use bags comes into place from 1 June, and then from November, we're banning more problematic plastics, such as cutlery and plates.
'Single-use plastic is used by many of us for just a few convenient minutes, but it remains in our environment for many years, eventually breaking into microplastics.
'Single-use plastic items and packaging make up 60% of all litter in New South Wales. By stopping the supply of problematic plastic in the first place, we're helping prevent it from entering our environment as litter, or going into landfill.
'We each have the power to make positive environmental change at an individual level, and I encourage everyone to choose to go plastic-free as often as they can.'
The NSW Government passed the Plastic Reduction and Circular Economy Act 2021 in November, and introduced the Plastics Action Plan last year.
The ban will prevent almost 2.7 billion items of plastic litter from entering the environment in New South Wales over the next 20 years.
In addition to the June 1st lightweight plastic bag ban, from November 1st the NSW Government is banning:
single-use plastic straws, stirrers, cutlery, plates, bowls and cotton buds

expanded polystyrene food ware and cups

rinse-off personal care products containing plastic microbeads.
So-called 'compostable' and 'bioplastic' alternatives to the above items are also being banned.
That's because they don't biodegrade unless they're treated in an industrial composting facility, creating just as much of a problem as conventional plastic.
To ensure small businesses are ready for the changes this year, the NSW Government engaged the National Retail Association (NRA) to deliver a comprehensive retailer education campaign.
Minister for Small Business Eleni Petinos said the NSW Government is supporting more than 40,000 businesses across New South Wales to phase-out single-use plastics.
'The NSW Government has worked with stakeholders to support small businesses to understand how they will be affected, how to comply with new laws and what alternatives they can use to single-use plastics,' Ms Petinos said.
'Through the NRA, we're running a retailer education campaign, conducting store visits, and providing online webinars and resources to help businesses make the adjustment away from single-use plastics.'
The NRA has launched a free hotline (1800 844 946) to offer businesses, community organisations and consumers advice on the single-use plastic bans.
Reminder:
Avalon Boomerang Bags
workshops happen
at the Avalon Recreational Centre on Tuesdays from 11.30am - 3pm
. Helpers welcome - you don't need to know how to sew, there are other things you can do. Stay and have a chat. Boomerang Bags is a grassroots community movement that aims to tackle plastic pollution at its source.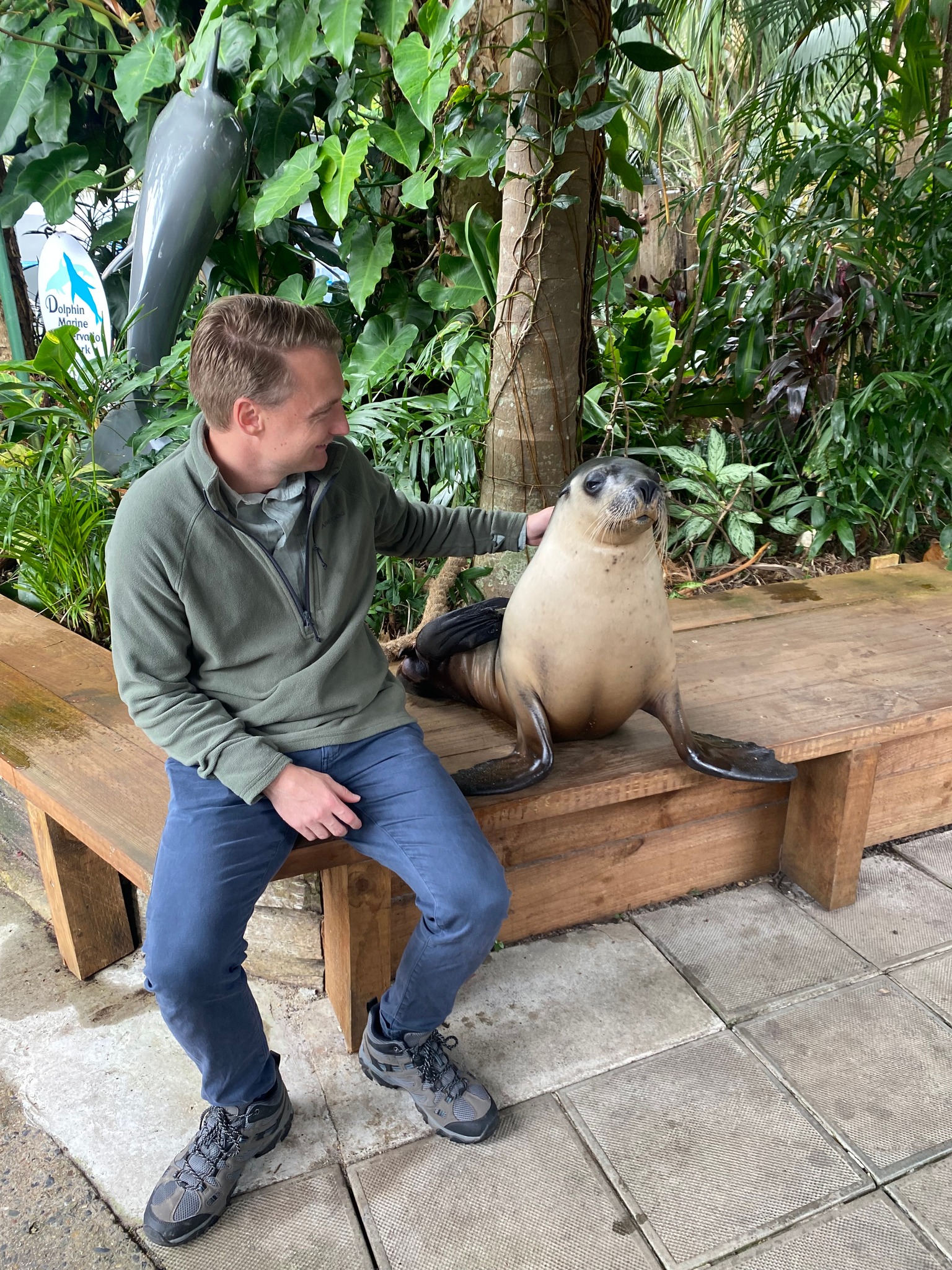 Photo: MP for Manly and
Minister for Environment James Griffin with an aquatic friend who will be finding less plastic in their home shortly. Follow the link on this poster to find out more, At: HERE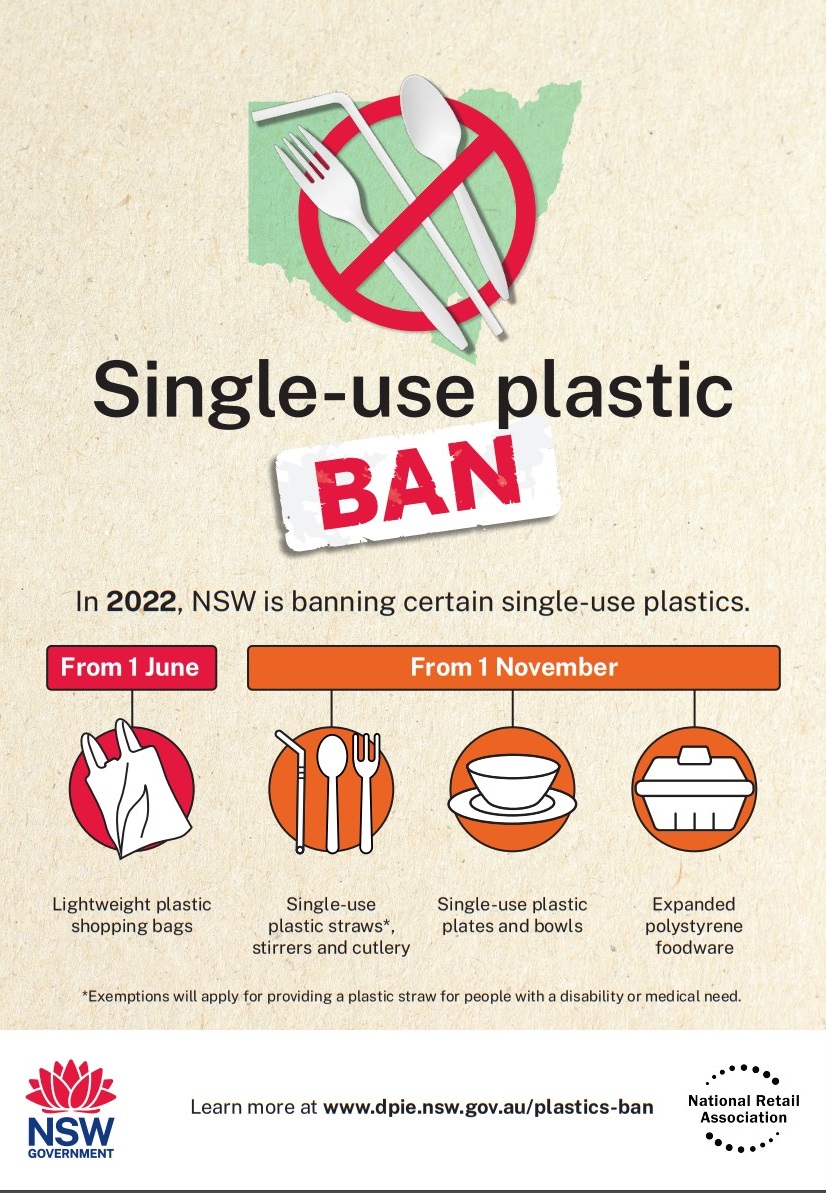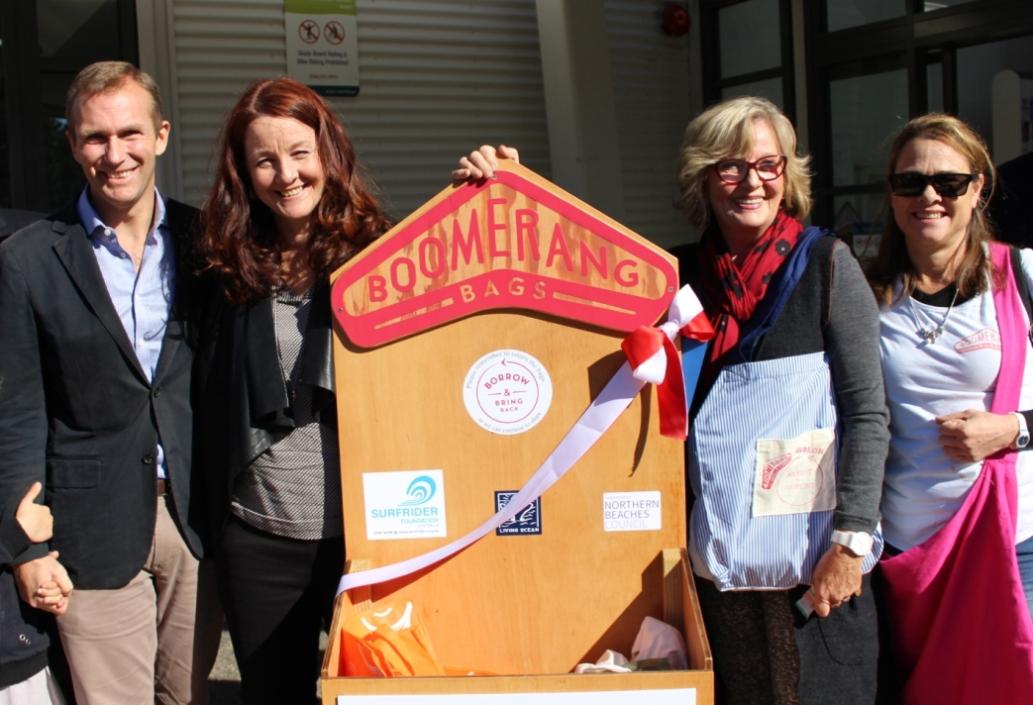 Launch of Boomerang Bags - June 2016: Picture (l to r): Hon. Rob Stokes, MP for Pittwater and NSW Minister for Planning, Former Deputy Mayor of Pittwater, Kylie Ferguson, and Laurel Wood and Kirsty Giles: the ladies then heading up Avalon Boomerang Bags - A J Guesdon photo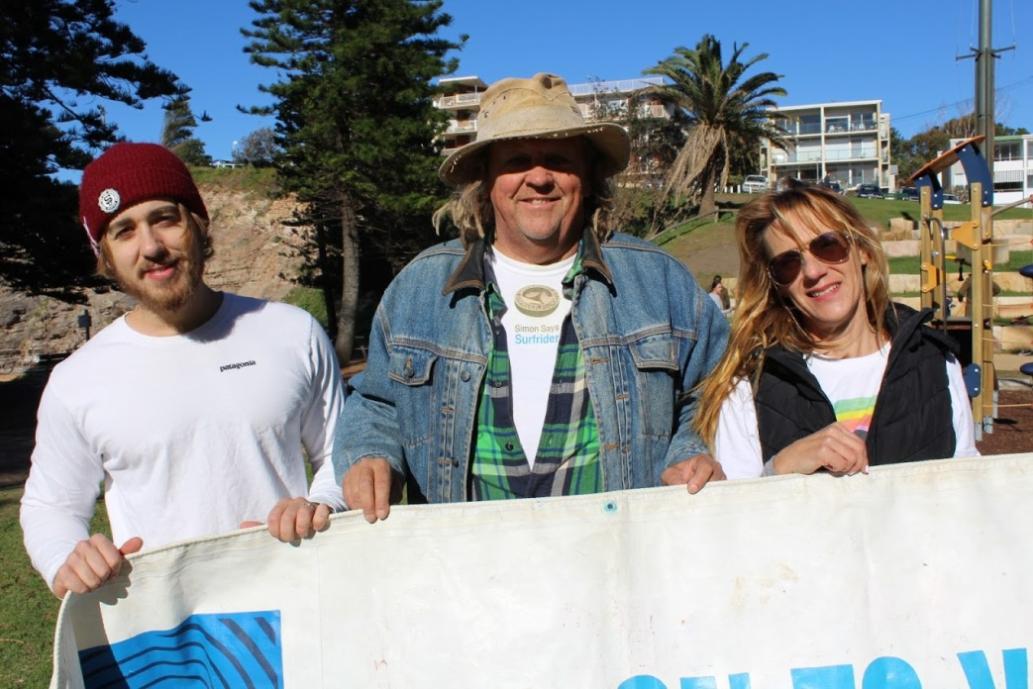 Northern Beaches Surfrider Foundation members Brendan Donohoe (middle) with Jesse and Rowan Hanley - who organise Beach Clean Upsand have campaigned for a plastics ban in NSW. A J Guesdon photo.
Sydney Wildlife Rescue And Care Course: June 2022
The next Sydney Wildlife Rescue and Care Course starts on 4 June 2022, so you can learn how to rescue, rehabilitate and release our sick, injured and orphaned native birds and animals – just like these Pacific Black Ducklings which were saved by our volunteer Tracey.
The course involves two parts:
Part 1 is a self-paced online course over 3 weeks which should take about 12 hours to complete.
Part 2 is a practical hands-on, in person, instructional training session conducted over a half-day on a weekend.
We urgently need volunteers across the Sydney metropolitan area, so if you're wildlife-loving and would like to meet like-minded people to help our native birds and animals, please consider enrolling. More information is available on this link:
https://smws.wildapricot.org/RCC-Trainee-Application-Form
Living Ocean Traditional Welcome To Country For The Southern Humpback Whale Migration: June 24
Environmental organisation Living Ocean is proud to host a traditional indigenous Whale Welcome to Ocean Country to be held at 7:30AM on Friday 24 June at the Avalon Surf Club, 558 Barrenjoey Road, Avalon Beach. Details of the great whale census, to be held by collaborative partner ORRCA on 26 June, will also be announced at this event.
Tens of thousands of Humpback Whales are expected to migrate north along the East Coast of Australia from June to September. Traditionally the local indigenous people, the Garigal of the Guringai whose totem is the whale, have always welcomed the migration to their Ocean Coast.
Local elder Uncle Neil will perform a smoke ceremony, followed by whale songs on the didgeridoo, and finally the local community will call the whales in the traditional way by squeaking their feet in the sands of Avalon Beach.
The annual Southern Hemisphere whale migration is one of nature's most spectacular events, with these magnificent animals travelling up to 10,000 kilometres. However, it's not just about their journey, as the importance of whales in terms of climate change is staggering when you consider each great whale captures 33 tons of CO2 on average, taking that carbon out of the atmosphere for centuries. At the same time, whales supply the ocean with the nutrients required to grow phytoplankton, which capture ~40% of all CO2 produced. Just a 1% increase in phytoplankton thanks to whales would capture hundreds of millions of tonnes of CO2, equivalent to 2 billion trees.
David Cousins, Living Ocean Vice President, says 'the preservation of the marine ecosystem to boost whale populations is paramount, as the lungs of our planet actually reside in the ocean.'
Living Ocean is a not-for-profit organisation which operates as a centre for marine studies with a focus on marine animal behaviour, macro and micro plastics, and marine environment processes. They promote awareness of human impact on the ocean through research, education, creative activation and support of others who sustain ocean health and integrity.
The role of the ocean is fundamental as it regulates rainfall and droughts, holds 97% of our planets water, and is the greatest carbon sink on earth, far surpassing all vegetation. Therefore, the impact of ocean health is profound.
Living Ocean strives to promote and educate on the importance of ocean health as necessary to the survival of all life (human, animal and botanical) on earth.
The Welcome to Ocean Country for the Southern Hemisphere's great whales will be held at 7:30AM on Friday 24 June at the Avalon Surf Club, 558 Barrenjoey Road, Avalon Beach.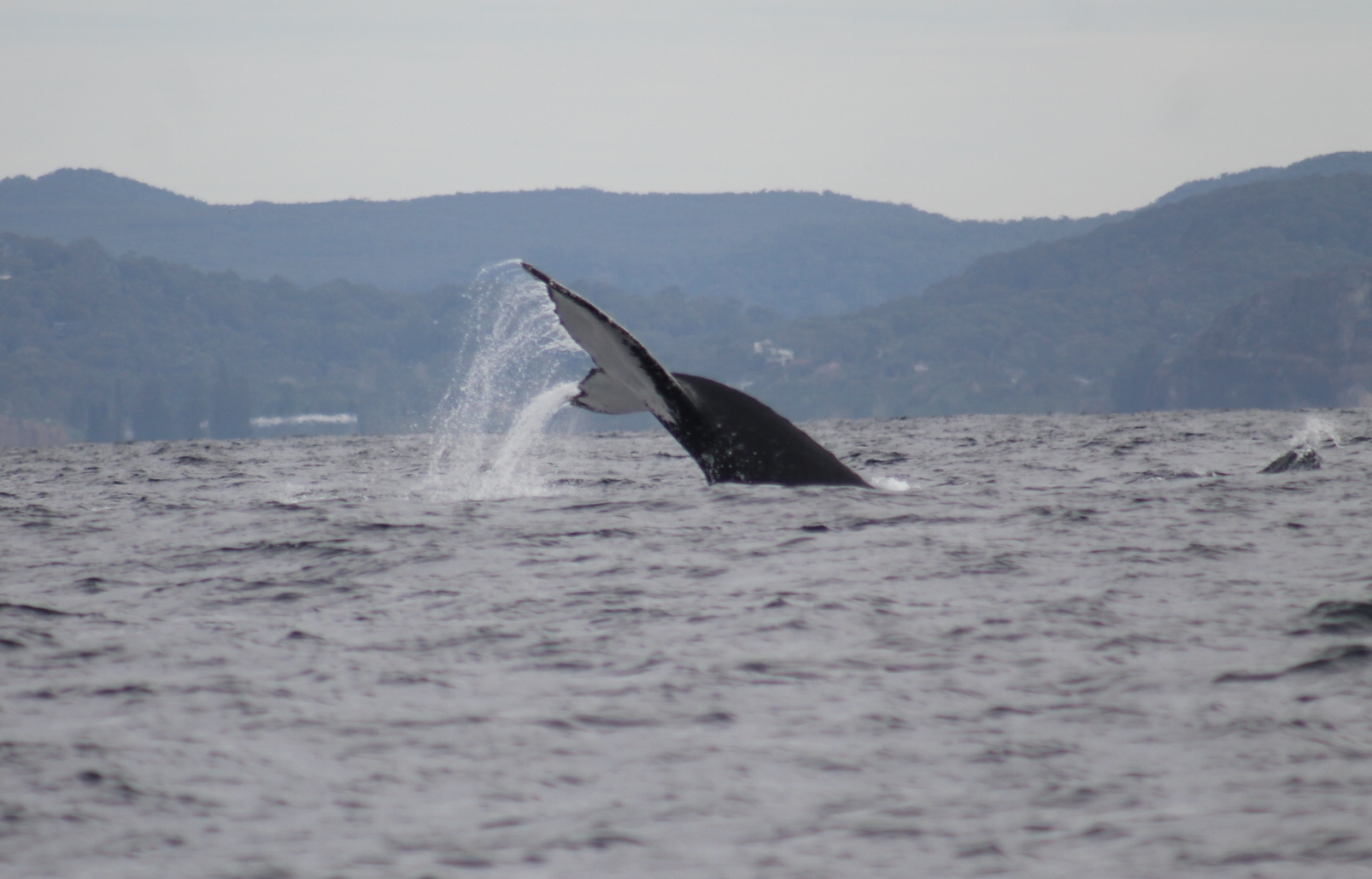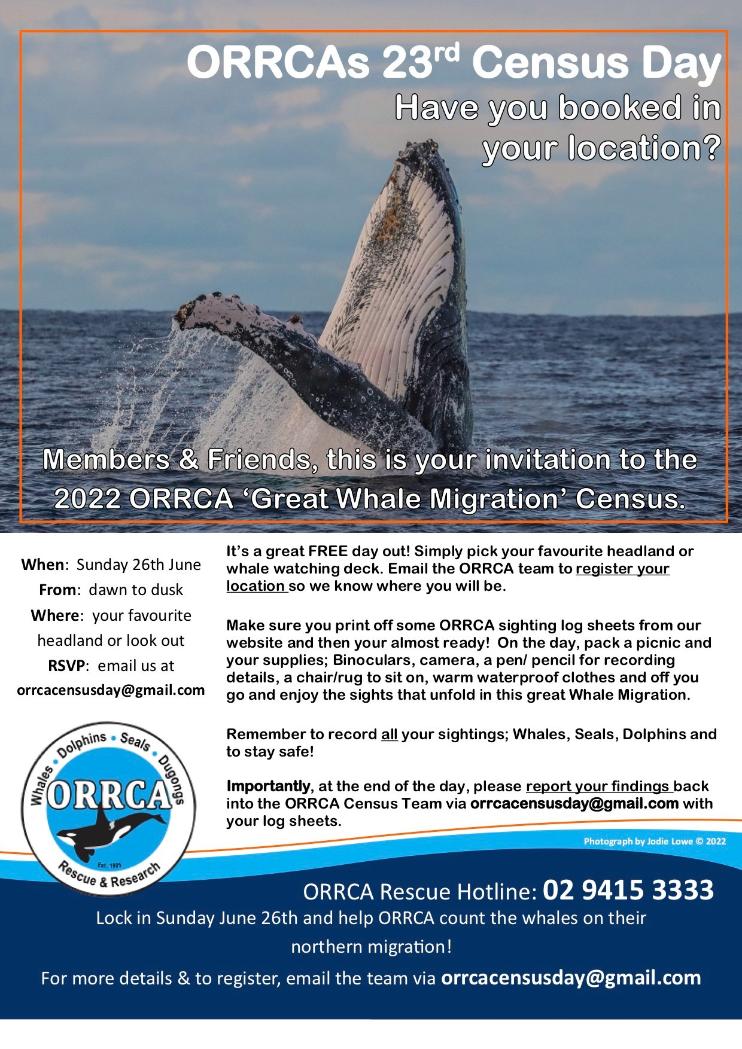 Local Wildlife Rescuers And Carers State That Ongoing Heavy Rains Are Tough For Us But Can Be Tougher For Our Wildlife:
Birds and possums can be washed out of trees, or the tree comes down, nests can disintegrate or hollows fill with water
Ground dwelling animals can be flooded out of their burrows or hiding places and they need to seek higher ground
They are at risk crossing roads as people can't see them and sudden braking causes accidents
The food may disappear - insects, seeds and pollens are washed away, nectar is diluted and animals can be starving
They are vulnerable in open areas to predators, including our pets
They can't dry out and may get hypothermia or pneumonia
Animals may seek shelter in your home or garage.
You can help by:
Keeping your pets indoors
Assessing for wounds or parasites
Putting out towels or shelters like boxes to provide a place to hide
Drive to conditions and call a rescue group if you see an animal hit (or do a pouch check or get to a vet if you can stop)
If you are concerned take a photo and talk to a rescue group or wildlife carer
There are 2 rescue groups in the Northern Beaches:
Sydney Wildlife: 9413 4300
WIRES: 1300 094 737
Please be patient as there could be a few enquiries regarding the wildlife.
Generally Sydney Wildlife do not recommend offering food but it may help in some cases. Please ensure you know what they generally eat and any offerings will not make them sick. You can read more on feeding wildlife here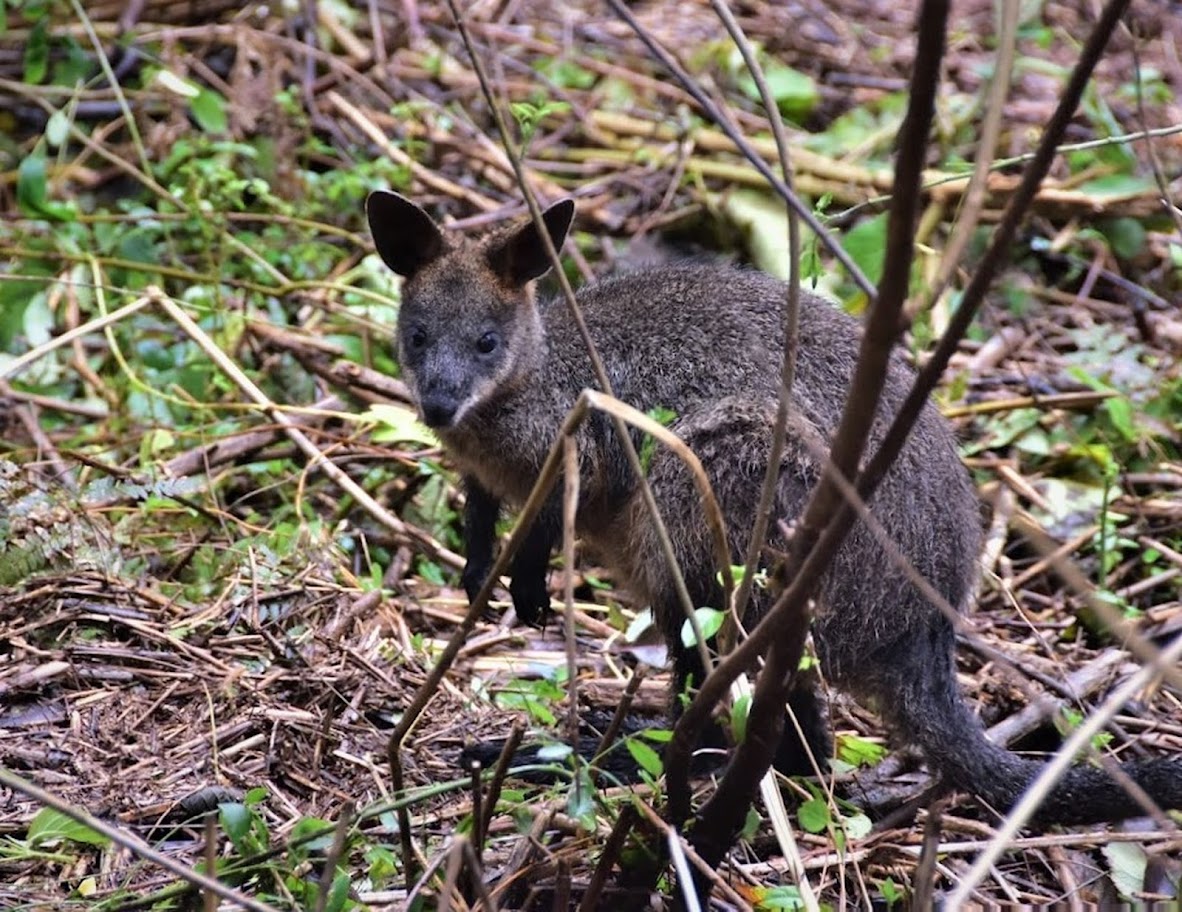 Information courtesy Ed Laginestra, Sydney Wildlife volunteer. Photo: Warriewood Wetlands Wallaby by Kevin Murray, March 2022.
Aviaries + Possum Release Sites Needed
Pittwater Online News has interviewed
Lynette Millett OAM
(WIRES Northern Beaches Branch)
needs more bird cages of all sizes for keeping the current huge amount of baby wildlife in care safe or 'homed' while they are healed/allowed to grow bigger to the point where they may be released back into their own home.
If you have an aviary or large bird cage you are getting rid of or don't need anymore, please email via the link provided above.
There is also a pressing need for release sites for brushtail possums - a species that is very territorial and where release into a site already lived in by one possum can result in serious problems and injury.
If you have a decent backyard and can help out, Lyn and husband Dave can supply you with a simple drey for a nest and food for their first weeks of adjustment.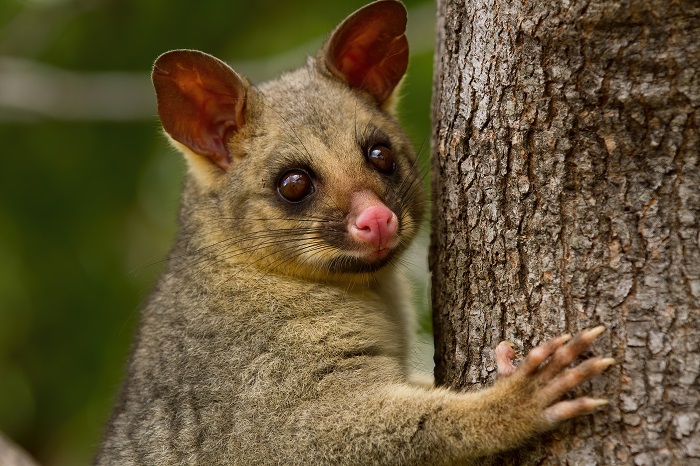 Sydney Wildlife Rescue: Helpers Needed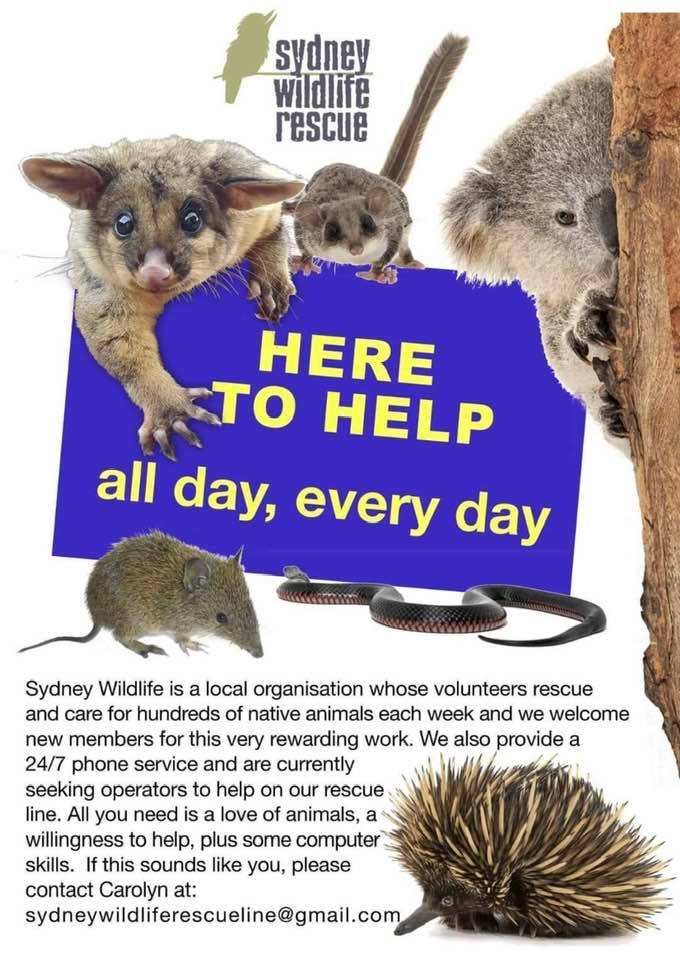 Five Year Extension To Wood Supply Agreements
Timber processors on the flood-affected NSW North Coast have been given certainty to invest in their businesses and equipment, following the NSW Government's announcement of a five-year extension to existing wood supply agreements.
Deputy Premier Paul Toole said the additional five-year deal has aligned the expiry date for all timber supply contracts right across the region, and confirmed the government's support for the hardwood timber sector.
"Most agreements on the North Coast were due to end in 2023, while others run through to 2028, but now these critical timber mills have all been put on the same timeline to help provide investment and business certainty," Mr Toole said.
"The timber industry plays a critical role on the North Coast and employs hundreds of locals, so extending the current agreements will help future-proof local processors, whether they're a small family business or a larger operator," Mr Toole said.
"This brings immediate relief to the local industry, which generates about $349 million each year, and is a timely manufacturing boost for the hardwood products that are processed here."
Minister for Agriculture and Western NSW Dugald Saunders says timber is the ultimate renewable product, and it is critical for governments to nurture the industry so we can keep using it well into the future.
"Timber supports our towns, and the stock grown on the north coast goes towards essential materials that we use every day, including power poles, wharf piles, bridge decking, flooring and transport pallets," Mr Saunders said.
"Under the Regional Forest Agreements, NSW has committed to growing and re-growing timber in an environmentally responsible manner, to meet community demand in a sustainable way.
Wood is sold under long-term agreements because processing requires specialised facilities, equipment and training. When existing agreements expire, market processes are undertaken to ensure the forests can provide the amount of timber required. Timber supply is forecast over a 100-year period, but must be reviewed every five years.
Forestry Corporation carried out an additional review ahead of schedule, to take into account the impact of the 2019-20 fires.
"While the fires were widespread, the good news is that many native species are resilient to fire, and the recent heavy rains have seen North Coast forests grow and recover well," Mr Saunders said.
"We're lucky enough to have been able to maintain solid timber stocks to fulfil the extended agreements and beyond."
However the NSW Nature Conservation Council has condemned the extension.
"This decision flies the face of
advice from the Natural Resources Commission
, which assessed the public forests estate after the Black Summer bushfires," Nature Conservation Council Forests Campaigner Wilson Harris said.
"Those fires hit state forests hard, ripping through more than 830,000 hectares of the native forest estate, more than 80%.
"Despite the devastation and against the advice of the Natural Resources Commission, the NSW Government has insisted on cutting down native forests at the same rate as before the fires.
"That has multiplied and concentrated the ecological harm being inflicted on our dwindling native forest estate.
"Today's decision is reckless and will push forest species closer to the brink.
"Forestry Corporation keeps putting the profits of the resources sector ahead of our wildlife and forests and the interests of the vast majority of citizens who want these priceless assets protected.
"Victoria and Western Australia have both announced they will end native forest logging to preserve the forests they have left. NSW should do the same."
NSW Planning Department's Latest Coal Mine Recommendation
The NSW Planning Department's recommendation in favour of a coal mine expansion that would send nearly 900 million tonnes of carbon dioxide into the atmosphere and blanket nearby Muswellbrook in air pollution is an outrage, says Lock the Gate Alliance.
The department described the MACH Energy owned Mount Pleasant expansion as "approvable" this afternoon, and referred it on to the Independent Planning Commission (IPC).
The expansion would be responsible for 876 million tonnes of CO2e over its 22 year lifespan, making it the most carbon polluting project ever assessed by the IPC.
In its assessment report, the department acknowledges existing community concerns over dust and noise from coal mining, but recommends the expansion occur anyway.
Lock the Gate Alliance NSW coordinator Nic Clyde said with communities across Australia suffering from the impacts of the climate change extreme weather, and Hunter families experiencing worse air quality than most across the country, the department's recommendation was appalling.
"Muswellbrook was recently found to have the worst air quality in the state thanks to its coal mines and power stations. The Mount Pleasant coal mine is literally on the doorstep of town and making it larger is going to worsen this problem," he said.
"For the Planning Department to endorse this coal mine expansion shows callous disregard for Upper Hunter residents suffering from respiratory problems.
"Local air pollution, coupled with the mine's gargantuan carbon emissions should have clearly ruled out this coal mine expansion project.
"For the department to recommend another coal mine expansion so soon after a Federal Election in which a huge number of Australians voted for greater action to mitigate climate change shows there is an urgent need for a reset by Premier Perrottet and his government. Planning decisions must meet community expectations, and the community clearly expects governments to do better when it comes to climate action.
"The department claims it 'acknowledges that a global transition away from fossil fuels' is required under the Paris Agreement, but in the next breath recommends approval of a project with the largest greenhouse footprint of any new coal project ever assessed by the NSW IPC. It's madness."
Greens NSW MP Abigail Boyd, Spokesperson for Energy and Spokesperson for the Hunter Valley, said
"This decision by the NSW Liberal-National government is yet another example of the arrogance and ignorance that has led Australia to be an international climate pariah.
"Less than a fortnight after a resounding federal defeat the Coalition government has proven themselves incapable of learning or listening to the public when it comes to our environment.
"The Treasurer and Minister for Energy Matt Kean likes to cast himself as some bastion of climate change action, but he and his government are just as hopelessly complicit in wanton climate destruction as Barnaby Joyce and Scott Morrison.
"NSW saw a record number of safe Liberal seats turn Teal in the federal election, and across the country we saw a surge of support for the Greens, and it's hard to imagine the NSW voting public will be any more forgiving of this climate criminality when the time comes to decide on our political leaders in next year's State election.
"We urgently need a moratorium on new coal and gas projects across the country. It's now incumbent on the newly elected federal Labor government to intervene swiftly to prevent this massively destructive fossil fuel project from going ahead," said Ms Boyd.
NSW Must Deliver Robust, Climate-Ready Water Resource Plans As A Matter Of Urgency
The Federal Government and water management agencies must use all available powers to make NSW deliver robust, climate-ready Water Resource Plans (WRPs) as required under the Basin Plan as a matter of urgency, the
Nature Conservation Council states.
The Nature Conservation Council supports the Commonwealth Inspector-General of Water Compliance Troy Grant who has called on the Federal Government to use its Water Act 'step-in' powers to make NSW deliver its Water Resource Plans.
Under the Murray-Darling Basin Plan, NSW agreed to submit Water Resource Plans for 20 catchments by July 2019. While NSW did eventually submit the plans, the Murray-Darling Basin Authority rejected them as inadequate. Two have since been resubmitted (but not yet approved) while 18 others are outstanding.
"These critical plans are now almost three years overdue," Nature Conservation Council Water Campaigner Mel Gray said.
"For far too long, Federal National Party Water Ministers have enabled NSW to subvert the Murray-Darling Basin Plan, but happily that era is over.
"After the change of government federally and the appointment of Tanya Plibersek as Water Minister, NSW has nowhere to hide.
"The state Water Minister Kevin Anderson MP is now under immense pressure to deliver what NSW promised 10 years ago when it signed the Murray Darling Basin Plan, including robust, climate-ready Water Resource Plans.
"These plans are not just abstract documents. They have real-world implications for the health of river ecosystems and communities.
"Delaying robust, climate-ready Water Resource Plans further will hurt communities, First Nations' peoples and wildlife across the basin.
"We urge Minister Plibersek to use all her powers to ensure this happens as a matter of urgency."
New Virus Variant Threatens The Health Of Bees Worldwide
A dangerous variant of the deformed wing virus is on the rise worldwide. The virus infects honeybees, causing their wings to atrophy and the animals to die. The new variant, which has already replaced the original strain of the virus in Europe, is spreading to other regions of the world and causing entire bee colonies to collapse. This has been shown in a study by an international research team led by Martin Luther University Halle-Wittenberg (MLU), which analysed data on the spread of virus variants over the past 20 years. The paper appeared in the International Journal for Parasitology: Parasites and Wildlife.
Deformed wing virus (DWV) is transmitted by the parasitic Varroa mite. "These mites not only transmit viruses between honeybees, they also eat the bees' tissues," explains Professor Robert Paxton, a bee researcher from MLU. He has been studying the spread of various pathogens in honeybees and wild bees for many years. "Deformed wing virus is definitely the biggest threat to honeybees," adds Paxton. The original strain of the virus ("DWV-A") was discovered in Japan in the early 1980s and the new variant "DWV-B" was first identified in the Netherlands in 2001. "Our laboratory studies have shown that the new variant kills bees faster and is more easily transmitted," says Paxton.
The team led by the zoologist wanted to find out how widespread in nature the new variant has become. To figure this out the researchers evaluated roughly 3,000 datasets for honeybees, large earth bumblebees and Varroa mites from the database NCBI. The datasets contain clues about the genetic material of the viruses. They also investigated the first scientifically documented references to the "DWV-B" variant for numerous countries. "Our analyses show that the new variant has already gained a foothold in Europe and that it will only be a matter of time before it is the dominant form around the world," says Paxton. In the 2000s, the new variant was mainly found in Europe and Africa, the homeland of the honeybee. It was discovered in North and South America in the early 2010s, and in Asia in 2015. The virus variant has now been detected on all major landmasses with the exception of Australia. According to the researchers, this could be because the Varroa mite has not yet been able to spread widely there.
Evidence of the virus was also found in samples taken from large earth bumblebees. "Whether the virus will have similarly devastating consequences in bumblebees and other wild bees remains uncertain. So far, commercial bumblebee colonies infected with the virus are not dying at a significantly higher rate," says Paxton. There are various ways to protect honeybees from the Varroa mite and the virus: "The most important thing is to pay attention to hygiene in the hive. Here, simple measures can help to protect not only one's own colony from Varroa, but also wild bees that no one else is looking after," Paxton concludes.
As pollinators of many wild and cultivated plants, honeybees play a major role in fruit yields and in preserving biodiversity. The loss of honeybee colonies is therefore viewed with concern by experts around the world.
Robert J. Paxton, Marc O. Schäfer, Francesco Nazzi, Virginia Zanni, Desiderato Annoscia, Fabio Marroni, Diane Bigot, Eoin R. Laws-Quinn, Delphine Panziera, Christina Jenkins, Hassan Shafiey.
Epidemiology of a major honey bee pathogen, deformed wing virus: potential worldwide replacement of genotype A by genotype B.
International Journal for Parasitology: Parasites and Wildlife, 2022; 18: 157 DOI:
10.1016/j.ijppaw.2022.04.013
Dendrobium Mine Extension Project: Have Your Say (Again)
Plans for the extension of the Dendrobium longwall mine in the Illawarra are now being publicly exhibited. The NSW government has relisted this as a "State Significant Development" - despite the Independent Planning Commission refusing permission because it would cause damage to our water.
It's right underneath the Greater Sydney water catchment.
This will involve Longwall mining which is known to damage reservoirs, cracks rock beds and increases the presence of heavy metals in our water. That's why nowhere else in the world allows longwall mining underneath their publicly owned water catchments.
The expansion will also damage local biodiversity and threatened ecological communities, and cause irreversible damage to 58 identified Aboriginal cultural artefacts.
The Project proposes to extend the mine life at the Dendrobium Mine to the end of 2041.
Political Stitch Up Over Dendrobium Abandons Community, Climate, And Water, Favours Coal Mining Company Residents State
Illawarra residents opposed to coal mining beneath the drinking water catchment and their supporters have labelled the revised Dendrobium coal mine expansion a "political stitch up" after the Independent Planning Commission's earlier rejection of the project was overruled.
In response to the IPC's rejection of the destructive project, the NSW Government took the unprecedented step of declaring the coal mine "state significant infrastructure".
South32 has today released a revised Environmental Impact Statement for the project, which claims the mine's direct impacts will be reduced, but shows the project would still threaten nationally significant upland swamps and the drinking water catchment relied on by Illawarra and Sydney residents.
Lock the Gate Alliance NSW coordinator Nic Clyde said
a decision about the project would go straight to NSW Planning Minister Anthony Roberts without the transparent scrutiny that would occur if it were to return to the IPC for consideration.
"South32 could write that magical fairies will protect our drinking water and it wouldn't matter because the assessment of this project is now a political decision, rather than assessment that undergoes a considered and transparent process by independent commissioners," he said.
"This is the only coal mine in the state's history that has been declared state significant infrastructure. This is a mine being assessed on a political basis, not a scientific one, and Sydney's drinking water is not safe as a result.
"The
NSW Government's political intervention has removed the community's objection rights and that's outrageous and undemocratic
.
"The IPC previously rejected South32's claim that coal from Dendrobium was needed for the continuation of the Bluescope steelworks. This erroneous claim was the justification the NSW Government used to declare it state significant infrastructure, and is contrary to the findings made by the IPC.
"South32 still refuses to consider the less damaging bord and pillar method of mining, despite the IPC, NSW Government, and Wollongong Coal considering it an acceptable method just eight kilometres north at Russell Vale.
"As the saying goes, you can roll a turd in glitter, but it's still a turd. South32's revised Dendrobium proposal puts the security of Sydney's drinking water catchment at risk and that stinks."
Deidre Stuart, from Illawarra grass roots network fighting the Dendrobium extension Protect Our Water Catchment Incorporated, said, "Our group is already in the NSW Land and Environment Court defending the IPC refusal decision of the original expansion proposal. And now at the same time, the NSW Government has introduced a new, fast-track process for South32 to have its new proposal assessed, side lining the IPC.
"We in the community operate in good faith and we feel utterly betrayed by our government over its handling of a coal mine expansion that was rightfully rejected by the IPC.
"What's undeniable is that this proposal will still trash Aboriginal cultural heritage sites, drain upland swamps that are recognised as nationally significant, and threaten our drinking water.
"The Perrottet Government must not risk all this just so a private company can continue to mine coal in our drinking water catchment area.
"The Dendrobium expansion will be responsible for more than 87 million tonnes of greenhouse gas emissions at a time when the world cannot afford to burn any more fossil fuels if humanity wants to avoid the most catastrophic consequences of the climate crisis.
"Our drinking water must be protected at all costs. It is more important than coal, and must be protected from any expansion of Dendrobium, particularly one that is not subject to the same degree of scrutiny as the former, already rejected proposal."
Deep Sea Ears Map Migration Of Fin Whales
An international science team has been eavesdropping on the second largest animal on earth, the fin whale, using deep-sea sound recorders designed and built by the Australian Antarctic Division (AAD) to collect data in the remote waters off Antarctica.
Dr Brian Miller, marine mammal acoustician with the AAD, said a total of 285,000 hours of recording was collected from 2002 to 2019 across 15 ocean sites around east Antarctica and Australia.
"We tracked the largest animal you've never heard of by detecting nearly a million extremely powerful sounds that we can't actually hear," Dr Miller said.
Until now, seasonal migrations of fin whales from polar to temperate waters have been reported in the Northern Hemisphere, but not in the Southern Hemisphere between Antarctica and Australia.
A study by scientists from Curtin University, AAD, Ensta Bretagne (France) and NIWA (New Zealand), published in 'Frontiers in Marine Science', analyses the seasonal presence of fin whales from a total of 812,144 recorded calls.
Fin whales communicate with distinctively repetitive acoustic pulses at specific frequencies, commonly at 20 Hz, which are below the range of human hearing.
Passive acoustic monitoring is a cost-effective technique to map the distribution of whale species over time, where microphones are dropped off ships to record sound thousands of metres deep on the seabed over a year or more, before being retrieved.
Lead author Meghan Aulich of Curtin University is undertaking her PhD research to identify the soundscape ecology of the fin whale in Antarctic and Australian waters, and verified the more than 800,000 calls used in this study.
"By 'listening' to the marine world over the past two decades we gained new knowledge of the contemporary distribution and migrations of fin whales through the Indian, Pacific, and Southern Oceans," she said.
"We identified two migratory pathways, from the Indian Ocean sector of Antarctica to the west coast of Australia, and from the Pacific sector of Antarctica to the east coast of Australia."
"Fin whales are present in Australian waters from around May to October on east and west coasts, with the longest seasonal presence detected at Cape Leeuwin in WA, at the earliest in April and the latest in November."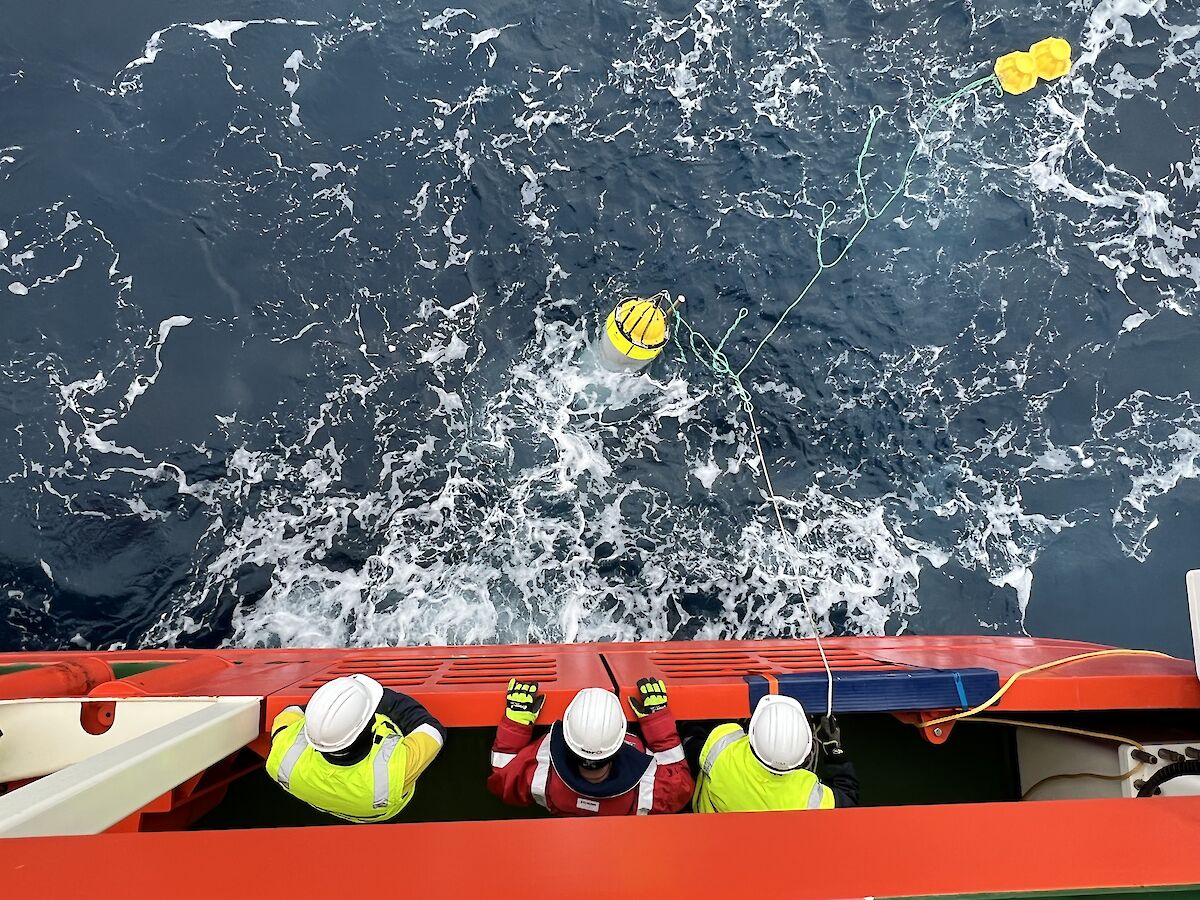 Retrieving a moored acoustic recorder in the Southern Ocean (Photo: Sachie Yasuda)
Described as the 'greyhound of the sea' for its fast swimming speed, the fin whale is the second-longest species of cetacean after the blue whale, up to 27 metres long with an estimated maximum weight of 120 tonnes.
The Southern Hemisphere sub-species of fin whale (Balaenoptera physalus quoyi) is listed as vulnerable on the IUCN Red List.
Industrial whaling in the 20th century reportedly killed over 725,000 fin whales in the Southern Hemisphere, with the southern population now thought to number less than 40,000.
The scientists said understanding where and when the fin whales move in the Southern Hemisphere is vital to inform the conservation management of this vulnerable sub-species, especially with ongoing threats of population decline from climate change and habitat disturbance.
"From the acoustic information we recovered in this study, we believe there is limited mixing between the whales in east and west migration routes, which is preliminary evidence for separate sub-populations between the Indian and Pacific sectors," Ms Aulich said.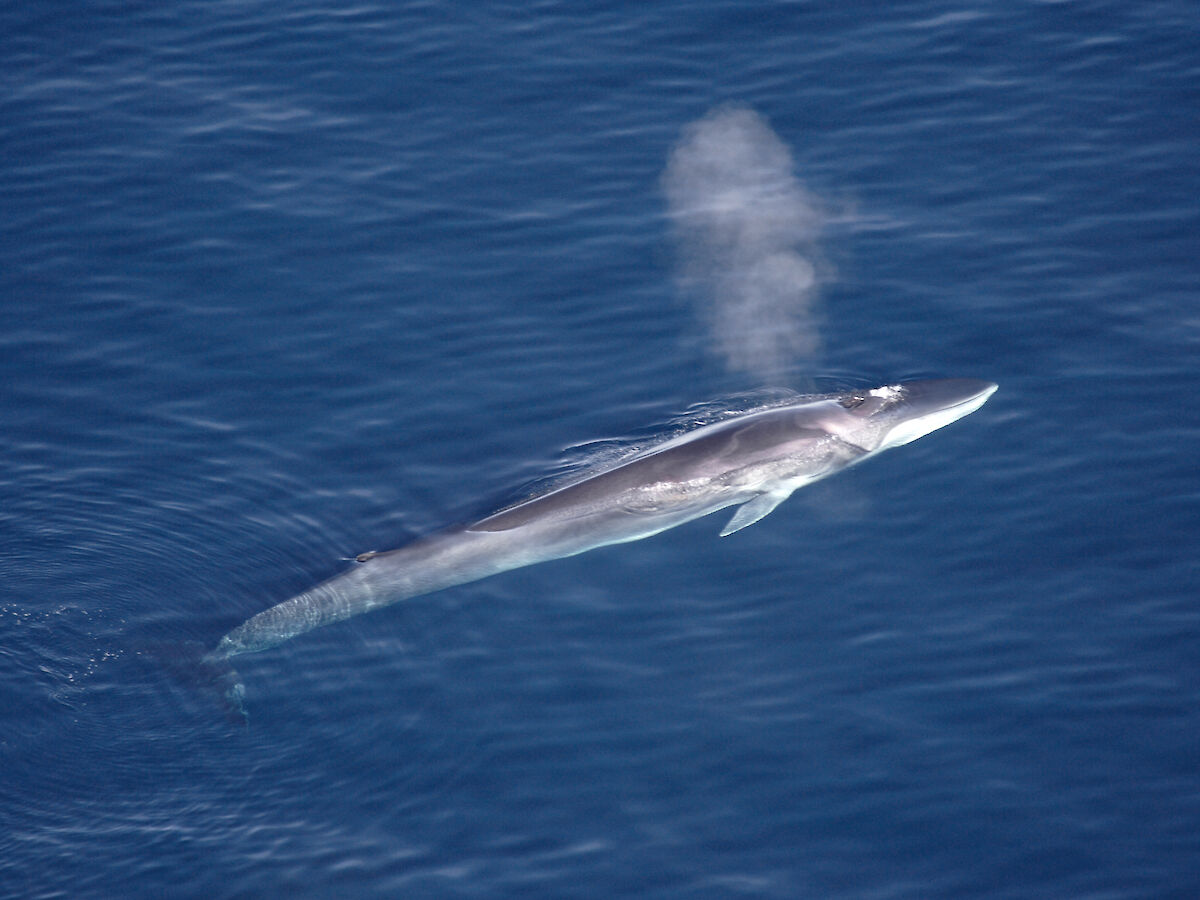 A fin whale surfaces in Greenland. The fin whale is the second-longest species of cetacean after the blue whale, up to 27 metres long with an estimated maximum weight of 120 tonnes. (Photo: Aqqa Rosing-Asvid
Avalon Golf Course Bushcare Needs You
We're so short of helpers we've had to cancel for the time being. Meanwhile the weeds will go gangbusters.
We used to meet on the second Wednesday afternoon of each month. Could you come if we worked on another day or time? say a morning, or on a weekend day?
Contact Geoff Searl on 0439 292 566 if you'd like to help. He'd love to hear from you.
We have fun using the Tree Popper, here with our supervisor from Dragonfly Environmental. We can lever out quite big Ochnas, aka Mickey Mouse plant from Africa. We want to bring back the bush, not let the weeds win!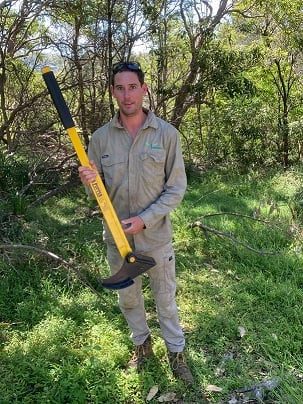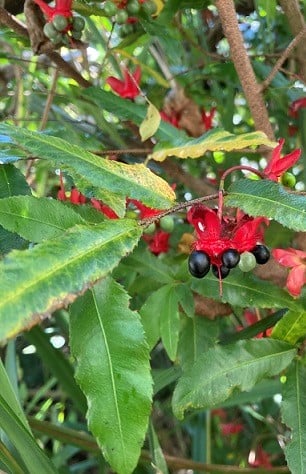 Ochna or Mickey Mouse plant has yellow flowers in spring, then lots of green berries that turn black when ripe. Seedlings come up in hundreds. Ochna has a very strong taproot but the steady pressure of the Tree Popper lifts the plant out of the ground easily. The alternative control is repeated scraping and painting with Roundup, very slow and time consuming. If you have an Ochna you cant remove, you can enjoy the flowers, then PLEASE prune it so that berries can't develop.
Bushcare In Pittwater
For further information or to confirm the meeting details for below groups, please contact Council's Bushcare Officer on 9970 1367
BUSHCARE SCHEDULES
Where we work Which day What time
Avalon
Angophora Reserve 3rd Sunday 8:30 - 11:30am
Avalon Dunes 1st Sunday 8:30 - 11:30am
Avalon Golf Course 2nd Wednesday 3 - 5:30pm
Careel Creek 4th Saturday 8:30 - 11:30am
Toongari Reserve 3rd Saturday 9 - 12noon (8 - 11am in summer)
Bangalley Headland 2nd Sunday 9 to 12noon
Bayview
Winnererremy Bay 4th Sunday 9 to 12noon
Bilgola
North Bilgola Beach 3rd Monday 9 - 12noon
Algona Reserve 1st Saturday 9 - 12noon
Plateau Park 1st Friday 8:30 - 11:30am
Church Point
Browns Bay Reserve 1st Tuesday 9 - 12noon
McCarrs Creek Reserve Contact Bushcare Officer To be confirmed
Clareville
Old Wharf Reserve 3rd Saturday 8 - 11am
Elanora
Kundibah Reserve 4th Sunday 8:30 - 11:30am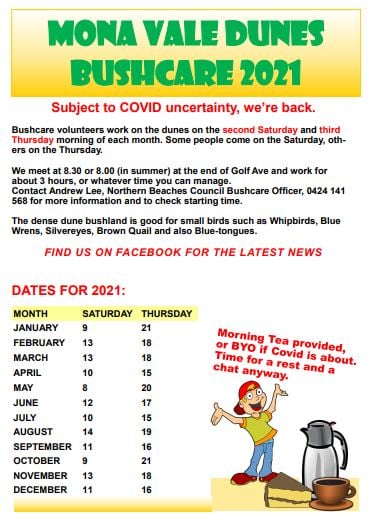 Mona Vale
Mona Vale Beach Basin 1st Saturday 8 - 11am
Mona Vale Dunes 2nd Saturday +3rd Thursday 8:30 - 11:30am
Newport
Bungan Beach 4th Sunday 9 - 12noon
Crescent Reserve 3rd Sunday 9 - 12noon
North Newport Beach 4th Saturday 8:30 - 11:30am
Porter Reserve 2nd Saturday 8 - 11am
North Narrabeen
Irrawong Reserve 2nd Saturday 2 - 5pm
Palm Beach
North Palm Beach Dunes 3rd Saturday 9 - 12noon
Scotland Island
Catherine Park 2nd Sunday 10 - 12:30pm
Elizabeth Park 1st Saturday 9 - 12noon
Pathilda Reserve 3rd Saturday 9 - 12noon
Warriewood
Warriewood Wetlands 1st Sunday 8:30 - 11:30am
Whale Beach
Norma Park 1st Friday 9 - 12noon
Western Foreshores
Coopers Point, Elvina Bay 2nd Sunday 10 - 1pm
Rocky Point, Elvina Bay 1st Monday 9 - 12noon

Gardens And Environment Groups And Organisations In Pittwater
New Shorebirds WingThing For Youngsters Available To Download
A Shorebirds WingThing educational brochure for kids (A5) helps children learn about shorebirds, their life and journey. The 2021 revised brochure version was published in February 2021 and is available now. You can download a file copy here.
If you would like a free print copy of this brochure, please send a self-addressed envelope with A$1.10 postage (or larger if you would like it unfolded) affixed to: BirdLife Australia, Shorebird WingThing Request, 2-05Shorebird WingThing/60 Leicester St, Carlton VIC 3053.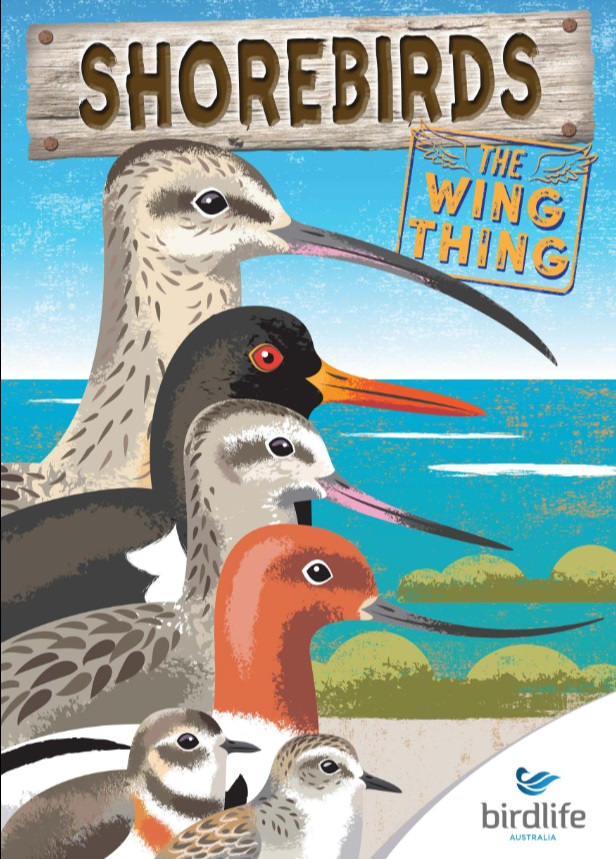 Shorebird Identification Booklet
The Migratory Shorebird Program has just released the third edition of its hugely popular Shorebird Identification Booklet. The team has thoroughly revised and updated this pocket-sized companion for all shorebird counters and interested birders, with lots of useful information on our most common shorebirds, key identification features, sighting distribution maps and short articles on some of BirdLife's shorebird activities.
The booklet can be downloaded here in PDF file format: http://www.birdlife.org.au/documents/Shorebird_ID_Booklet_V3.pdf
Paper copies can be ordered as well, see http://www.birdlife.org.au/projects/shorebirds-2020/counter-resources for details.
Download BirdLife Australia's children's education kit to help them learn more about our wading birdlife
Shorebirds are a group of wading birds that can be found feeding on swamps, tidal mudflats, estuaries, beaches and open country. For many people, shorebirds are just those brown birds feeding a long way out on the mud but they are actually a remarkably diverse collection of birds including stilts, sandpipers, snipe, curlews, godwits, plovers and oystercatchers. Each species is superbly adapted to suit its preferred habitat. The Red-necked Stint is as small as a sparrow, with relatively short legs and bill that it pecks food from the surface of the mud with, whereas the Eastern Curlew is over two feet long with a exceptionally long legs and a massively curved beak that it thrusts deep down into the mud to pull out crabs, worms and other creatures hidden below the surface.
Some shorebirds are fairly drab in plumage, especially when they are visiting Australia in their non-breeding season, but when they migrate to their Arctic nesting grounds, they develop a vibrant flush of bright colours to attract a mate. We have 37 types of shorebirds that annually migrate to Australia on some of the most lengthy and arduous journeys in the animal kingdom, but there are also 18 shorebirds that call Australia home all year round.
What all our shorebirds have in common—be they large or small, seasoned traveller or homebody, brightly coloured or in muted tones—is that each species needs adequate safe areas where they can successfully feed and breed.
The National Shorebird Monitoring Program is managed and supported by BirdLife Australia.

This project is supported by Glenelg Hopkins Catchment Management Authority and Hunter Local Land Services through funding from the Australian Government's National Landcare Program. Funding from Helen Macpherson Smith Trust and Port Phillip Bay Fund is acknowledged.
The National Shorebird Monitoring Program is made possible with the help of over 1,600 volunteers working in coastal and inland habitats all over Australia.
The National Shorebird Monitoring program (started as the Shorebirds 2020 project initiated to re-invigorate monitoring around Australia) is raising awareness of how incredible shorebirds are, and actively engaging the community to participate in gathering information needed to conserve shorebirds.
In the short term, the destruction of tidal ecosystems will need to be stopped, and our program is designed to strengthen the case for protecting these important habitats.
In the long term, there will be a need to mitigate against the likely effects of climate change on a species that travels across the entire range of latitudes where impacts are likely.
The identification and protection of critical areas for shorebirds will need to continue in order to guard against the potential threats associated with habitats in close proximity to nearly half the human population.
Here in Australia, the place where these birds grow up and spend most of their lives, continued monitoring is necessary to inform the best management practice to maintain shorebird populations.
BirdLife Australia believe that we can help secure a brighter future for these remarkable birds by educating stakeholders, gathering information on how and why shorebird populations are changing, and working to grow the community of people who care about shorebirds.

To find out more visit: http://www.birdlife.org.au/projects/shorebirds-2020/shorebirds-2020-program
Aussie Bread Tags Collection Points
Collecting bread tags enables us to provide wheelchairs that change the life of disabled people in need, as well as keeping the tags out of landfill to help to preserve the environment.
Bread Tags for Wheelchairs was started in South Africa in 2006 by Mary Honeybun. It is a community program where individuals and organisations collect bread tags, which are sold to recyclers. The money raised pays for wheelchairs for the less fortunate which are purchased through a local pharmacy. Currently about 500kg of bread tags are collected a month in South Africa, funding 2-3 wheelchairs.
We have been collecting bread tags nationally in Australia since September 2018 and now have more than 100 collection points across the country. In February 2019 we started local recycling through Transmutation - Reduce, Reuse and Recycle in Robe, SA, where our tags are recycled into products such as door knobs and bowls. Tags from some states are still sent to South Africa where a plastics company called Zibo recycles them into seedling trays.
These humble bits of polystyrene can make a real difference so get your friends, family, school, workplace and church involved. Ask school tuck shops and boarding school kitchens, child care centres, aged care facilities, hospitals, cafes and fast food outlets to collect for you - they get through a lot of bread!
All the information and signage for collecting or setting up a public collection point is
on our website
.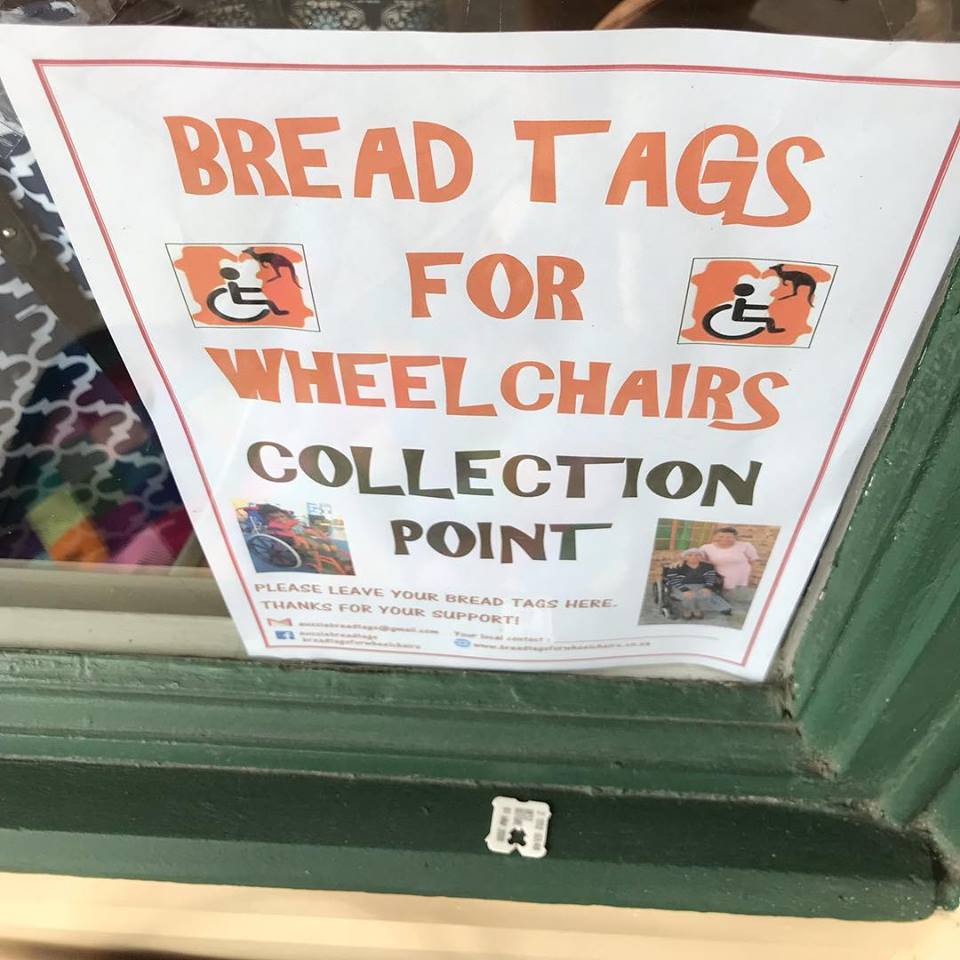 Helping Households With Energy Bills
Households experiencing difficulty paying their energy bills will be able to access up to $1,600 a year in help after Treasurer and Energy Minister Matt Kean increased support payments on May 26, 2022.
The Energy Accounts Payment Assistance (EAPA) program has helped 49,000 NSW households experiencing short-term financial hardship with their energy bills. From Monday May 29, 2022,
each application will have its limit increased from $300 to $400, up to a maximum of $1,600 a year.
"Eligible customers can receive payment assistance of up to $400 per application for electricity and up to $400 per application for gas bills twice a year," Mr Kean said.
"This means the annual maximum limit of vouchers has increased from $1,200 to $1,600 per household."
The boost to assistance for electricity and gas bills comes as the Australian Energy Regulator released its final determination today showing NSW energy customers on standing offers will face price increases from July 1.
The price increases are driven primarily by external factors including the Russian invasion of Ukraine which has affected supply and led to global price pressures on coal and gas. Extreme weather events in NSW and Queensland have also had an impact on prices.
The extra assistance is part of a $330 million per year package the NSW government is providing which also includes energy rebates to around 1 million households.
"With cost-of-living pressures increasing, colder weather arriving and days shortening, we want to make sure households in NSW not only keep the lights on but keep their families safe, warm and comfortable," Mr Kean said.
Eligible households can also apply for different rebates including the Low Income Household Rebate, Gas Rebate, Family Energy Rebate, and Seniors Energy Rebate.
Around 800,000 households received the Low Income Household Rebate last year and 286,000 received the Gas Rebate.
"I encourage all households to shop around to find the best deal for their energy," Mr Kean said.
Customers can see what they are eligible for by using the
Service NSW Savings Finder
,
phoning 13 77 88
or visiting a Service NSW centre.
Households and small businesses can also use the free and independent Australian Government service –
Energy Made Easy
– to compare energy plans.
National Seniors Welcomes New Aged Care Ministers
National Seniors Australia welcomes new Ministers, Mark Butler, Anika Wells and Ged Kearney to their respective health and aged care portfolios, noting a wealth of experience and youthful energy to the roles.
National Seniors Chief Advocate, Ian Henschke says appointing Mark Butler as Health and Aged Care Minister is most welcome, given he held the role in a previous Labor government and was the shadow minister for Health and Aged Care in the last parliament.
"National Seniors is looking forward to continuing our relationships with Mark Butler and Ged Kearney which are well established," Ian Henschke said.
"We will also be seeking a meeting with Anika Wells as a priority to welcome her to her new ministry and provide her with the detailed National Seniors research into the priorities in aged care, especially home care.
"The process of responding to the recommendations of the Royal Commission into Aged Care Quality and Safety is well underway.
"Given the Commissioners' deadlines for reform will expire this parliamentary term, it is essential the new government gets the policies and implementation right.
"There is a huge public expectation to end the neglect and abuse in aged care," said Mr Henschke.
National Seniors has also thanked outgoing Prime Minister Scott Morrison for establishing the Royal Commission which was called to restore the public's "faith" in aged care.
End The 'Do Nothing' Decade For Seniors With Disabilities: Joint Statement By Organisations
It's time to end a decade of inaction over support for seniors with disabilities.
Right now, people over 65 with significant disabilities are denied the same care, support and services delivered to other Australians, simply because of their age.
To ensure the new Government and Parliament make this a priority, disability and aged care organisations are advocating the benefits of three straightforward reforms that can make an immediate difference:
A short term funding solution for people with high intensity support needs so they can receive the same standard care and support as other Australians with disabilities, regardless of when they were acquired.
A fair and transparent consultation process that prioritises the needs, choices and goals of people with disabilities aged over 65.
A streamlined solution that works for older people with severe disabilities as well as aged care and disability service providers.
We cannot wait for the Disability Royal Commission or other reviews to be complete before tackling this issue. The new Albanese Government can act now to deliver equality and fairness for people over 65 with disabilities.
These are the facts:
If you acquire a disability after you turn 65, there is no disability support available to fund your care.
If you were eligible for the NDIS during your life but were not accepted before you turned 65, you are not eligible for any Federal Government disability support.
People with disabilities over 65 must rely on Home Care Packages that are currently capped at $52,000 each However, the proper care for a 65+ year old person with quadriplegia costs more than $200,000 a year.
Funding and care shortfalls are currently met by family members who leave their jobs to become carers and sell their homes to fund support.
The current gap in funding places unbearable pressure on older partners who have their own care and support They now spend their time fighting for funding in a complex system that should empower and support them.
These aged care and disability organisations are committed to working positively with the new Albanese Government. There is nothing more important than ensuring all Australians with disabilities get the care, support and funding they need.
Australian Disability & Aged Care Organisation:
Council on the Ageing Australia:
Council on the Ageing (COTA) Australia is the peak body for all older Australians, advocating for their rights and needs to government and the community. Older Australians should be entitled to equal rights with all other Australians.
Forward Ability Support (formerly ParaQuad NSW):
Forward supports people living with spinal cord injury by providing clinical services, home & living support, resources and scholarships. They deliver services in NSW, Queensland and the Northern Territory.
National Disability Services (NDS)
:
NDS is Australia's peak body for non-government disability service organisations, representing over 1150 non- government service providers. Collectively, NDS members operate several thousand services for Australians with all types of disability.
Physical Disability Council of NSW (PDCN)
: PDCN is the peak body representing people with physical disabilities across NSW. This includes people with a range of physical disability issues, from young children and their representatives to aged people, who are from a wide range of socio-economic circumstances and live-in metropolitan, rural and regional areas of NSW.
Spinal Cord Injuries Australia:
SCIA supports and advocates for people living with spinal cord injury and neurological conditions nation-wide.
SpinalCure Australia:
SpinalCure Australia is Australia's leading not for profit promoting and funding medical research to cure spinal cord injury.
Spinal Life Australia:
Spinal Life Australia, established in 1960, is an advocate and service provider with specialist knowledge and services for people with spinal cord injury and other physical disabilities. Our vision is for people with physical disability to live in an equitable, inclusive, integrated community, independently able to access every aspect of, and contribute to, the fabric of their region.
Tax Time Scams And How To Avoid Them
Unscrupulous individuals prey on older Australians at tax time. National Seniors provides an overview of how to identify these scams and what to do next.
Tax time can cause a lot of confusion and stress for many of us. This stress can be amplified when you receive an SMS or email from someone insisting you owe the tax office money. So, what can you do to make sure you don't end up falling for one of these scams?
The Australian Tax Office (ATO) has reported a new scam doing the rounds in April 2022: the fake TFN and ABN scam.
The scammer poses as somebody who can help you set up a tax file number (TFN) or an Australian Business Number (ABN) for a fee. Instead, they will take your money and personal information but never deliver the promised service.
What does it look like?
Usually, the scammer will put up an advertisement on social media sites such as Facebook, Twitter, or Instagram which will include a link to a legitimate-looking website. Individuals who click on this advert will be asked to hand over personal information and pay for the service, which will never occur.
How to avoid this scam:
Setting up a TFN and ABN is free. If you need assistance setting one up, you can do so through a tax agent registered with the
Tax Practioners Board
. If you see an advert on social media or receive an unsolicited text message or email from somebody claiming they can help you set up a TFN or ABN, treat it with extreme caution. Never give out your personal details unless you are certain of who you are dealing with.
Another new scam that is on the rise this year is where a scammer will masquerade as the ATO and tell the victim they are suspected of being involved in a cryptocurrency tax evasion.
What does it look like? Individuals have reported being contacted by SMS or email by somebody who claims to be from the ATO. They will then be asked to 'connect their wallet' and provide information via a link. The link will take the victim to a fake myGov page designed to steal personal information.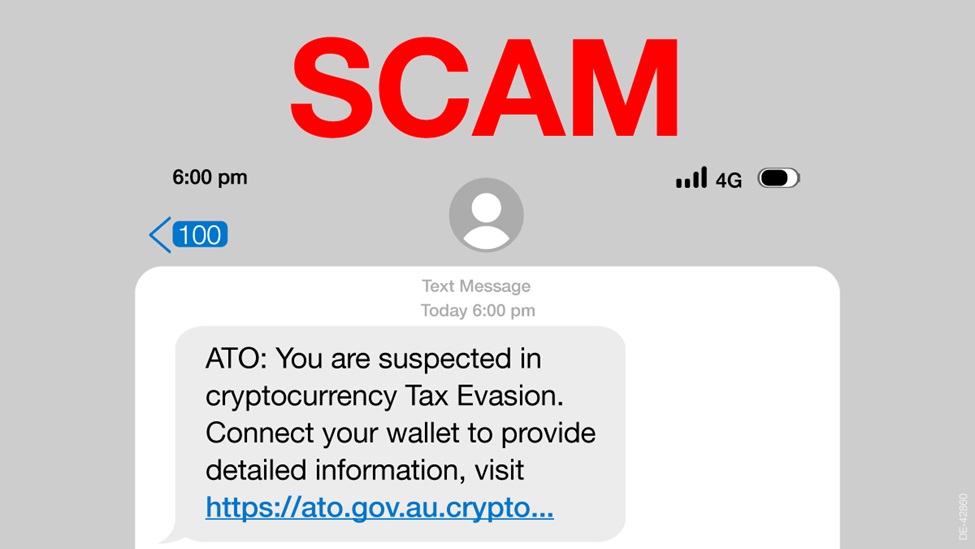 Example scam message. Source ATO website.
How to avoid this scam: If you receive this kind of SMS or email, do not click on the link. The real ATO will never send an SMS or email with a link to login to their online services. The real ATO may send a text or email requesting you contact them but will never ask for personal information. If in doubt, call the ATO's official phone number on 1800 008 540 to double check.
Many scammers use fear tactics to get their victims to hand over their personal details and money, and one of the most common is the fake tax debt scam.
Scammers will pretend to be from the ATO, telling the victim they have a tax debt that must be paid immediately.
What it looks like:
Scammers may contact via text, phone call, or email and masquerade as a member of the ATO. They will often threaten you with arrest if you do not pay immediately and will usually demand payment in the form of a gift card or to a personal account.
How to avoid this scam:
The real ATO will never threaten you with immediate arrest, send a pre-recorded message to your phone, demand payment through gift card or bank transfer, or insist you stay on the line until the payment has been made. If the ATO does ring you, it always be through a 'No Caller ID' listing, instead of a specific phone number.
If you're ever unsure, hang up and call the ATO on 1800 008 540 to confirm if it's real.
On the opposite end of the spectrum, scammers might lure victims with the promise of money. A common form of this scam is the tax refund scam.
What it looks like: Scammers will email the victim, claiming to be the ATO and promising a tax refund (see example below). They will then ask the victim to update their financial details on an attached form to process the refund. They will then steal money from account details provided.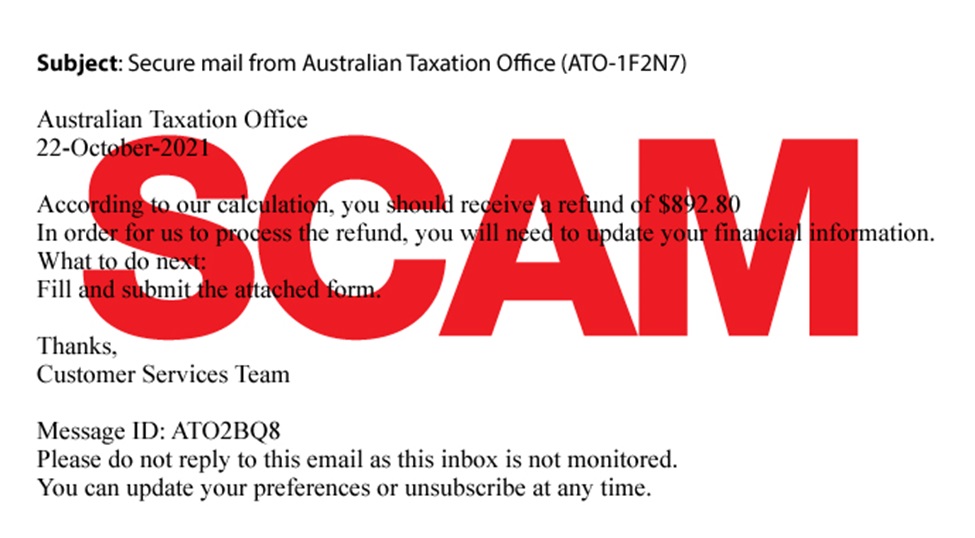 Example scam email. Source ATO website
How to avoid this scam: If you receive an email like the above, do not open any attachments or click on any links. Call the ATO on 1800 008 540 to confirm if it's real.
Other tax related scams
There are several other scams doing the rounds, you can see the full list of known scams and what to look for on the
ATO website
.
What to do if you've been scammed
If you've lost money or given personal details to a scammer, you may not see your money again. However, you can limit further damage and loss. The federal government's
Scamwatch website
recommends the below steps if this has happened to you:
Contact people you know:

Let your friends and family know what's happened.

Contact your financial institution:

If you've provided your bank or credit card details to the scammer, contact your financial institution immediately. They may be able to stop the transaction, perform a 'charge back' to your credit card (reverse the transaction) or close your bank account.

Recover your stolen identity:

If you have had your identity stolen, get in touch with contact IDCARE, a government website that will work with you to plan a response. Visit the IDCARE website or call 1800 595 160. You can also apply for a Commonwealth Victims' Certificate to support your claim that you've been a victim of identity crime and help re-establish credentials.

Report the scam to authorities:

Report scams to the ACCC via the Report a Scam website. Depending on the type of scam, you may also need to report it to the ATO, Centrelink, Medicare, the ACCC, the police, and the Australian Securities and Investments Commission. You should also report the scam to your telecommunications provider, email service, and/or the social media platform (depending how you were first contacted).

Change your online passwords:

If any of your online accounts have been compromised, change your password immediately. Most websites will have instructions for how you can recover a hacked account if you're unable to get into it.

Set up two-factor authentication for online accounts:

Two (or three factor) authentication offers an extra layer of protection. Along with your username and password, most two-factor authentication will set up a second step such as entering a code sent to your phone or email. This makes it harder for hackers to access your account without first gaining access to your phone or email. Most websites will have instructions for how to set this up for your online account.
Sea Eagles Help Launch Fit For Life Program
Manly Warringah Sea Eagles and the NSW Police Force have joined together to launch a new Fit For Life program on the Northern Beaches.
Launched on Tuesday at Northern Beaches PCYC, Dee Why, the Fit for Life program is aimed at developing confidence, life skills and positive influences through mental and physical well-being activities.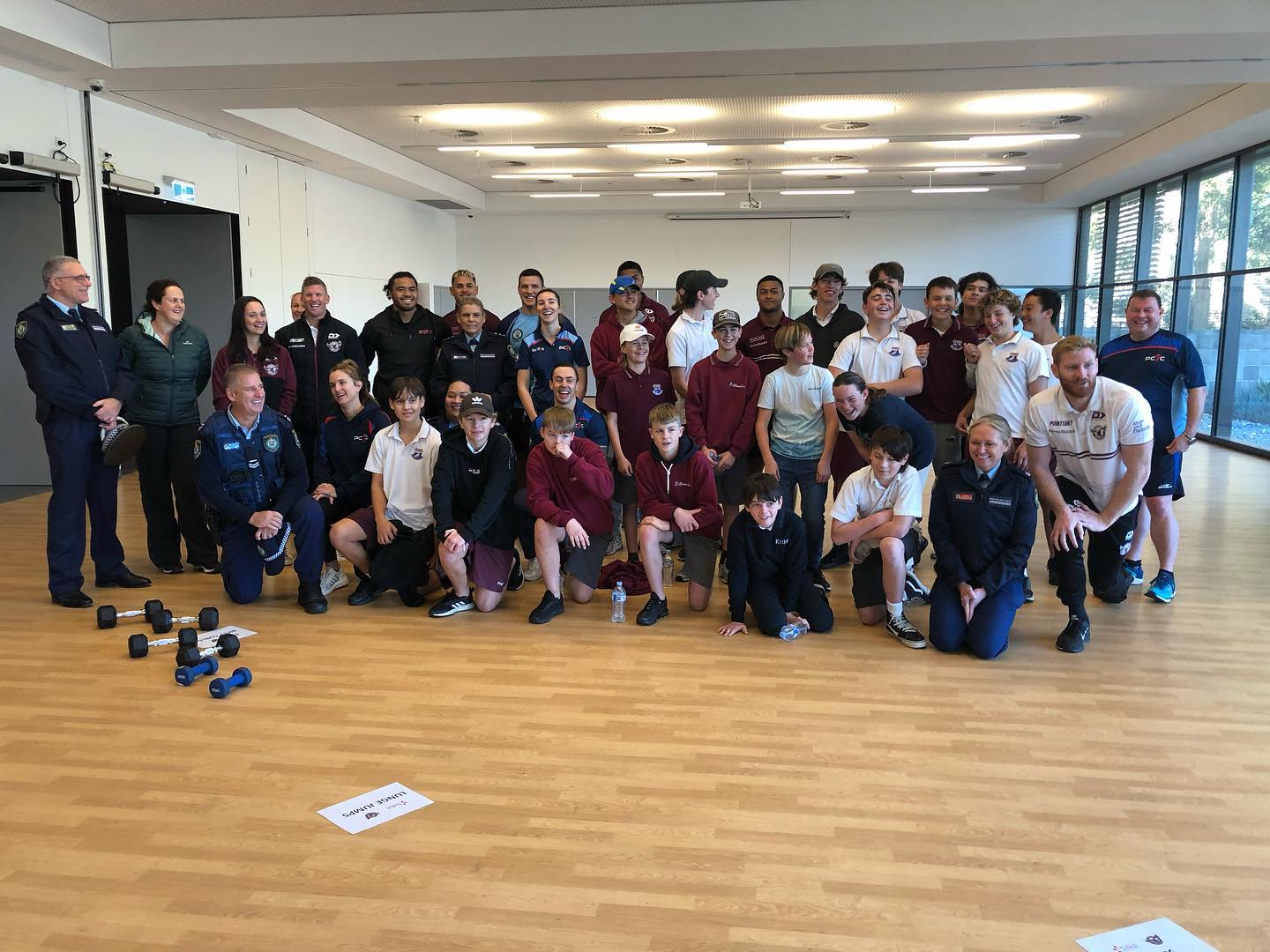 Twenty-one students from Pittwater High School were joined by Sea Eagles NRL player Brad Parker and Manly Pathways players Cameron Brown, Latu Fainu, and Samuela Fainu, for a morning fitness session before heading to school.
''As a Northern Beaches local, it's great to see there is a safe place for the young kids to hopefully become better versions of themselves.'' - Brad Parker



"We have missed these types of community engagements because of Covid over the past couple of years."
Pittwater High Deputy Principal, Carol Roulston, said it was great to have the Sea Eagles involved in the program.
"Pittwater High School has been associated with PCYC for four years now. Every Tuesday, I bring students to Dee Why to participate in this valuable program,'' Roulston said.
"The students thoroughly enjoy seeing the players, who they look up to as community role models.
"Over the years the students who have participated have engaged with getting scholarships, apprenticeships, and advice from the Police who run the program."
Sea Eagles Elite Pathways Manager, Kristie Fulton, said the club was proud to be behind the program.
"The Sea Eagles have a long-standing association with the Northern Beaches PCYC through the work of our Careers Coach, Glenn Moore, so it's a natural extension for us to partner on this initiative and involve players across all levels of the club,'' Fulton said.
"Our partnership not only supports local youth but it also benefits our players as they are actively contributing to their local community in a valued way by imparting their knowledge and experience as athletes to help guide young men and women."
PCYC Chief Executive Officer, Dominic Teakle, said the new partnership with sporting codes would strengthen Fit For Life programs and help put a stop to young people making poor choices.
"Through physical fitness, nutrition and social engagement, Fit For Life aims to improve overall well-being as well as prevent and divert youth from offending behaviours," Teakle said.
NSW Police Force Inspector, Carlene Mahoney, was pleased with the program's launch on the Northern Beaches.
"We are excited that other sporting codes are also joining our program and we look forward to more clubs including, the AFL, Cricket NSW, NSW Rugby and A-Leagues soccer," Mahoney said.
"This will allow the partnership to spread across NSW and run at metropolitan, regional and remote PCYC locations, enabling the project to reach youth across all of NSW".
Report and photo by Manly Media/Pittwater HS
Investing In Youth Key To Strengthening Harmony In NSW
A stronger and more harmonious future rests with young people, and that is why the NSW Government is investing in communities and offering funding to groups running youth-focused initiatives that promote social cohesion.
Minister for Multiculturalism Mark Coure said through the Community Partnership Action (COMPACT) Program, non-for-profit and community groups will be able to apply for a share of $1.5 million to run programs and projects that empower young people to build social harmony and put an end racism.
"It is one thing to denounce racism and hate, but we will never be truly rid of it in NSW without meaningful action," Mr Coure said.
"The NSW Government recognises one of those actions must be to empower young people to promote social harmony in their communities.
"This funding will go towards programs that not only help achieve that but will also secure a more peaceful and cohesive future for NSW."
Mr Coure said the COMPACT Program is a first of its kind in Australia, which focuses on building social cohesion and community resilience.
"To date, the NSW Government has invested in programs such as the creation of the Islamophobia Register Australia, providing support to victims of these hateful attacks and working with other victim groups to present a united front against all hate crimes," Mr Coure said.
"Programs, such as this one, have engaged tens of thousands of young people and empowered them to build inter-cultural and inter-faith harmony in their communities, securing a brighter future for NSW families.
"This is only possible through the NSW Government's strong economy, which means more money for key programs."
Applications close 5pm on Friday, 10 June 2022.
Learn more about the COMPACT grants program
Affirmative Consent Becomes Law In NSW
New affirmative consent reforms that simplify, strengthen and modernise the laws around sexual consent come into effect in New South Wales today.
Attorney General Mark Speakman said the new laws make it clear that if you want to engage in sexual activity with someone, then they need to do or say something to show consent, or you need to do or say something to seek consent.
"These laws set clearer boundaries for consensual sex, reinforce the basic principle of common decency that consent is a free choice involving mutual and ongoing communication, and reinforce that consent should not be presumed," Mr Speakman said.
Under the new affirmative consent laws:
- You can't assume someone is consenting because they don't say no. Silence is not consent.
- Consent is an ongoing process. A person can change their mind and withdraw their consent at any time.
- A person can't consent if they're so intoxicated that they can't choose or refuse to participate.
- Consent can only be given freely and voluntarily. If you force or coerce your partner into sex, it's not consensual.
- Consent must be present for every sexual act. If someone consents to one sexual act, it doesn't mean they've consented to others.
- A person can't consent if they're asleep or unconscious.
Mr Speakman said the reforms are only one part of tackling sexual violence in the community.
"The consent reforms are not just about holding perpetrators to account, but changing social behaviour with clearer rules of engagement to drive down the rate of sexual assaults," he said.
"The NSW Government is committed not just to ensuring our laws are fit for purpose, but also to ensuring all members of community have the knowledge, understanding and skills they need to develop and maintain respectful relationships.
"The law reforms are accompanied by education campaigns to assist this, including phase 3 of the NSW Government's "
Make No Doubt- site
" campaign which was launched on 25 May 2022."
Mr Speakman said the NSW Government has worked with agencies over the last six months to ensure judicial officers, prosecutors, defence lawyers and police are well-informed about the changes to consent law.
Resources for lawyers and judges include the NSW Judicial Commission's Criminal Trial Courts Bench Book, which is being updated to include the reforms.
Five new jury directions will be available for judges to give at trial to address common misconceptions about consent, to ensure a complainant's evidence is assessed fairly.
The directions will clarify that:
- sexual assault can occur in many different situations, including between acquaintances or people who are married or in a relationship
- sexual offences aren't always accompanied by violence, threats or physical injuries
- there is no normal or typical response to being sexually assaulted, and juries must not rely on preconceived ideas about how people respond to a sexual assault
- trauma may affect people differently, which means some people may show signs of emotional distress when giving evidence and some may not, and
- it should not be assumed that a person consented because of their behaviour, such as the way a person is dressed or the fact that they have consumed alcohol or drugs.
The NSW Government will produce targeted education programs for judges, lawyers and police about changes to consent law.
The reforms follow a comprehensive review by the NSW Law Reform Commission, involving extensive community consultation and more than 190 submissions.
The NSW Government undertook further consultation on the drafting with more than 20 stakeholders, including service providers, prosecutors, defence lawyers, experts and academics to avoid any unintended consequences for the legal system.
"The NSW Government will take an active and engaged approach to implementation and monitoring of the reforms," Mr Speakman said.
"The Act includes specific provisions requiring a statutory review to be conducted three years after the commencement of the reforms.
"The three-year review will be supported by a Bureau of Crime Statistics and Research analysis of key criminal justice markers, which may include policing outcomes, court outcomes, appeals, sentences, time to justice, and the characteristics of victims and defendants."
The reforms will apply to an offence committed, or alleged to have been committed, on or after 1 June 2022. Amendments to criminal procedure will apply to proceedings that commence on or after 1 June 2022.
Students To Tour Hiroshima And Pearl Harbor
Six high school students across NSW will have the chance to visit historic WWII sites in Japan and Hawaii as part of the ClubsNSW Premier's WWII Memorial Tour.
Premier Dominic Perrottet said in order to secure this trip of a lifetime high school students can submit a 1000-word essay which answers the question 'Are the lessons of WWII still relevant today?'
"Six students will be given the opportunity to visit the sites of some of the most defining moments in World War II history." Mr Perrottet said.
"I'm encouraging
Year 11 students aged 16 and 17 to submit a 1000-word essay detailing how the lessons of World War II are still relevant today
."
Minister for Transport and Veterans David Elliott said this initiative will see successful students embark on an 11-day tour of historic WWII sites in Hiroshima, Japan and Pearl Harbor, Hawaii.
"The attack on Pearl Harbor and atomic bombing of Hiroshima are two of the most pivotal moments in the Second World War." Mr Elliott said.
"The ClubsNSW Premier's WWII Memorial Tour will provide opportunities for students to develop their knowledge and understanding of the history of World War II."
ClubsNSW CEO Josh Landis welcomed the launch of the ClubsNSW Premier's WWII Memorial Tour, and said ClubsNSW is proud to teach a new generation about significant moments in history.
"This is a fantastic opportunity for high school students to revisit a defining moment in our history and learn about the contributions and sacrifices made by those on the front line," Mr Landis said.
"Clubs and the veteran community are intrinsically linked and ClubsNSW is incredibly proud to support this program. I call on all our member clubs to encourage their local students to submit an essay for a chance to be selected for this exclusive overseas experience."
The group will depart Sydney on Thursday 21 July and return on Sunday 31 July. Year 11 students must be aged 16 or 17.
Entries are open until 5pm on 13 June 2022.
Dorothea Mackellar Poetry Awards 2022: Entries Close June 30th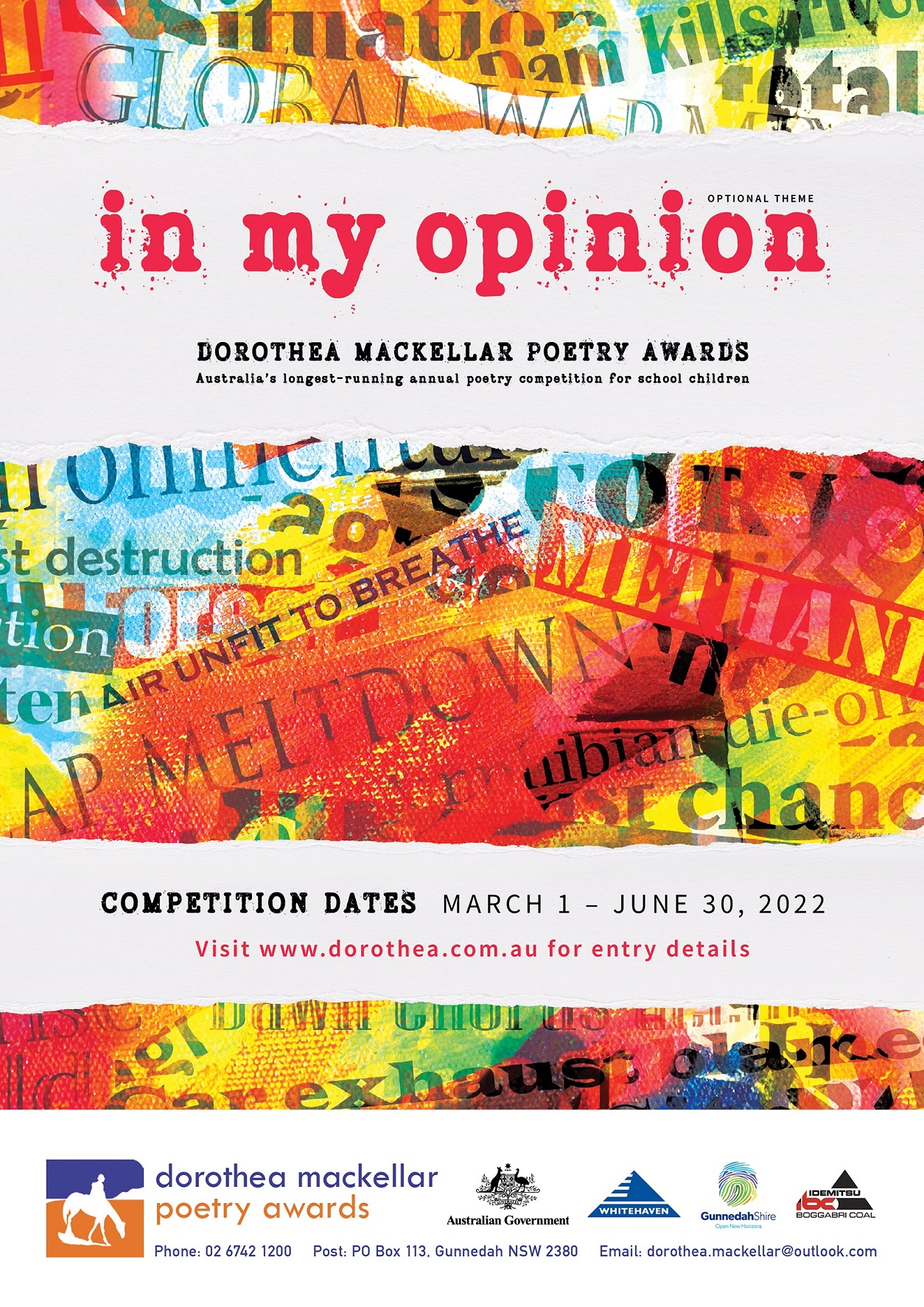 Details and more at: https://dorothea.com.au/
There's also a special History page running this Issue for you - the Australian poet Dorothea Mackellar, after whom the Electorate of Mackellar is named, had a house here in Pittwater at Lovett Bay.
"Our poets are encouraged to take inspiration from wherever they may find it, however if they are looking for some direction, competition participants are invited to use this year's optional theme to inspire their entries."
In 2022, the Dorothea Mackellar Memorial Society has chosen the theme "In My Opinion."
As always, it is an optional theme. The Society encourages students to write about topics and experiences that spark their poetic genius (in whatever form they choose.)
HOW TO ENTER
PLEASE SEE HERE FOR A DETAILED PDF ON ENTRY INSTRUCTIONS FOR TEACHERS AND PARENTS.
ONLINE SUBMISSION
Primary school and secondary school entries can be submitted anytime during the competition period. Visit: https://dorothea.com.au/how-to-enter/
Word Of The Week: Citizen
Word of the Week returns in 2022 simply to throw some disruption in amongst the 'yeah-nah' mix.
1: a native or naturalised person who owes allegiance to a government and is entitled to protection from it: a member of a state 2: an inhabitant of a city or town. 3: a civilian as distinguished from a specialized servant of the state. 4. (obsolete) An ordinary person, as opposed to nobles and landed gentry on one side and peasants, craftsmen, and laborers on the other. [17th–19th c.] 5.
(now historical, usually capitalized) A term of address among French citizens during the French Revolution or towards its supporters elsewhere; (later, dated) a term of address among socialists and communists. [from 18th c.]
Synonym: (term of address among communists) comrade
There are 3 kinds of citizen; citizenship by birth; citizenship by registration; and citizenship by naturalisation.

From citizen (n.) c. 1300, citisein (fem. citeseine) "inhabitant of a city or town," from Anglo-French citesein, citezein "city-dweller, town-dweller, citizen" (Old French citeien, 12c., Modern French citoyen), from cite (city) + -ain (see -ian). From Middle English city, citie, citee, cite, from Old French cité, from Latin cīvitās ("citizenry; community; a city with its hinterland"), from cīvis ("native; townsman; citizen"), from Proto-Indo-European *ḱey- ("to lie down, settle; home, family; love; beloved").
Cognate with Old English hīwan pl ("members of one's household, servants"). See hewe. Doublet of civitas. Mostly displaced native Old English burg, whence Modern English burg.
Citizenship comes from the Latin and Greek words for city, because in the earlier days of human governments, people identified themselves as belonging to cities more than countries. Citizenship is more than merely living somewhere. If you have citizenship, you have a whole set of rights that non-citizens might not have.
John Farnham & Melbourne Symphony Orchestra (2009) - You're The Voice
Orson Welles Talks About Citizen Kane In A 11-Minute 1960 Interview
New Zealand Prime Minister Jacinda Ardern Delivers Commencement Address At Harvard University
May 27, 2022 (AEST) New Zealand Prime Minister Jacinda Ardern addresses 8000 graduates at the Harvard commencement speech attacking online disinformation and got a standing ovation for her comments on gun reform.
For the citizens of today and tomorrow.
If you cry while watching movies, it is probably a sign of your emotional strength
$43 Million Investment To Support Return Of Me-Mel To Aboriginal Community
The NSW Government has committed $43 million to supporting the transfer of a Sydney Harbour island to the Aboriginal community, and commenced the first step in the official transfer process.
In one of the first NSW Budget 2022-23 announcements, Premier Dominic Perrottet said returning Me-Mel (Goat Island) to the Aboriginal community is a personal priority.
"Returning Me-Mel to the Aboriginal community is the right thing to do, and it helps deliver on my commitment of improving outcomes and opportunities for Aboriginal people across all parts of Government," Mr Perrottet said.
"A big part of my commitment is ensuring the island is remediated before it's transferred to the Aboriginal community.
"Through the NSW Budget 2022-23, we're delivering $42.9 million to regenerate and restore Me-Mel, and ultimately pave the way for the transfer back to the Aboriginal community."
Treasurer Matt Kean said the significant NSW Budget funding will go towards important maintenance and safety work that will help ensure Me-Mel can be safely enjoyed for generations to come.
"This $43 million investment from the NSW Government demonstrates that we're dedicated to improving outcomes for the Aboriginal community," Mr Kean said.
"This funding over four years will go towards work such as repairing seawalls and buildings, improving the wharf and access, upgrading services such as water and sewers, and removing contaminants like asbestos."
Me-Mel is listed on the NSW State Heritage Register and has a rich and diverse array of important Aboriginal, historical and natural heritage values, including more than 30 buildings and other structures dating from the 1830s to the 1960s.
Minister for Environment and Heritage James Griffin said the official process to transfer Me-Mel to the Aboriginal community is now underway through the opening of an Expressions of Interest.
"It's easy to see why Me-Mel is such a cherished Aboriginal site - it sits in the middle of magnificent Sydney Harbour, surrounded by a vibrant ecosystem," Mr Griffin said.
"This is a significant transfer from the NSW Government to the Aboriginal community and we need to ensure it's done right, which is why the National Parks and Wildlife Service (NPWS) is now calling for Expressions of Interest to join the Me-Mel Transfer Committee."
Minister for Aboriginal Affairs Ben Franklin said the Committee will make recommendations for the transfer to Aboriginal ownership, and help determine how the island is managed and used into the future.
"The Me-Mel Transfer Committee includes Aboriginal people and NSW Government agency representatives, and importantly, its establishment is supported by the Metropolitan Local Aboriginal Land Council (MLALC)," Mr Franklin said.
"Me-Mel holds great significance to Aboriginal people, including in the creation story Boora Birra, where the great eel spirit created the water courses known today as Sydney Harbour."
Metropolitan Local Aboriginal Land Council Deputy Chair Yvonne Weldon said acknowledging and respecting all histories so they can be respectfully enjoyed by everyone will help healing and progress.
"Me-Mel is a place where we can go to be within our culture, pass culture on to our younger generations and share with other people," Ms Weldon said.
"Me-Mel is an opportunity for truth telling, and it's about recognising the past and unlocking the future."
Me-Mel is a complex site and a range of expert advice, including legal, heritage, planning, and governance will be offered to the Committee to help it develop a plan and a business case for future ownership and management of the island.
Me-Mel will continue being managed by NPWS until the transfer is finalised. It will remain open to the public through NPWS.
Community Representative nominations for the Transfer Committee should be received by close of business on Monday 27 June 2022
.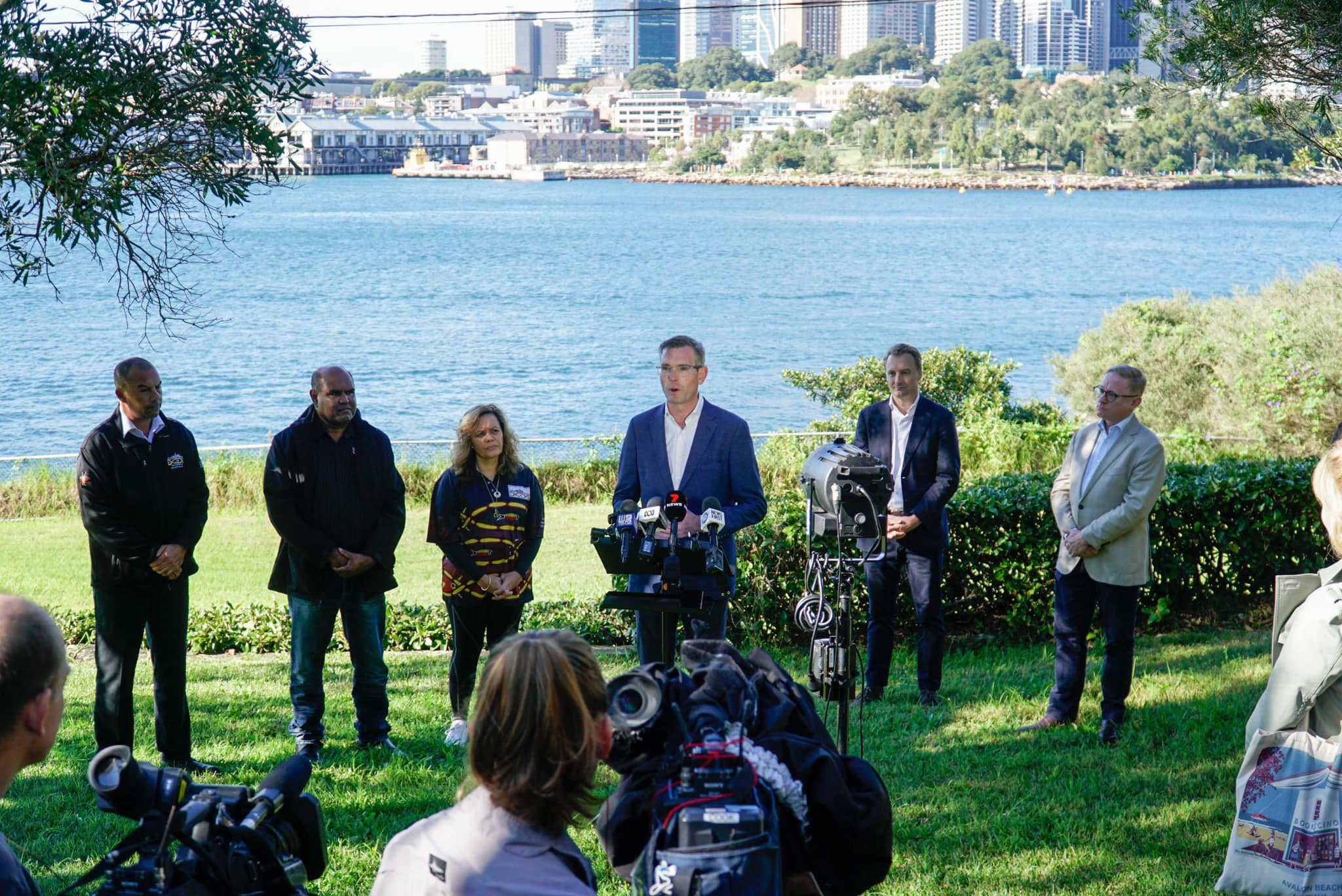 Sydney Gateway Flyover Taking Off Next To Airport
The first four of 17 massive concrete headstocks, each weighing more than a full Boeing 737, have been installed at Mascot as part of the NSW Government's $2.6 billion Sydney Gateway project.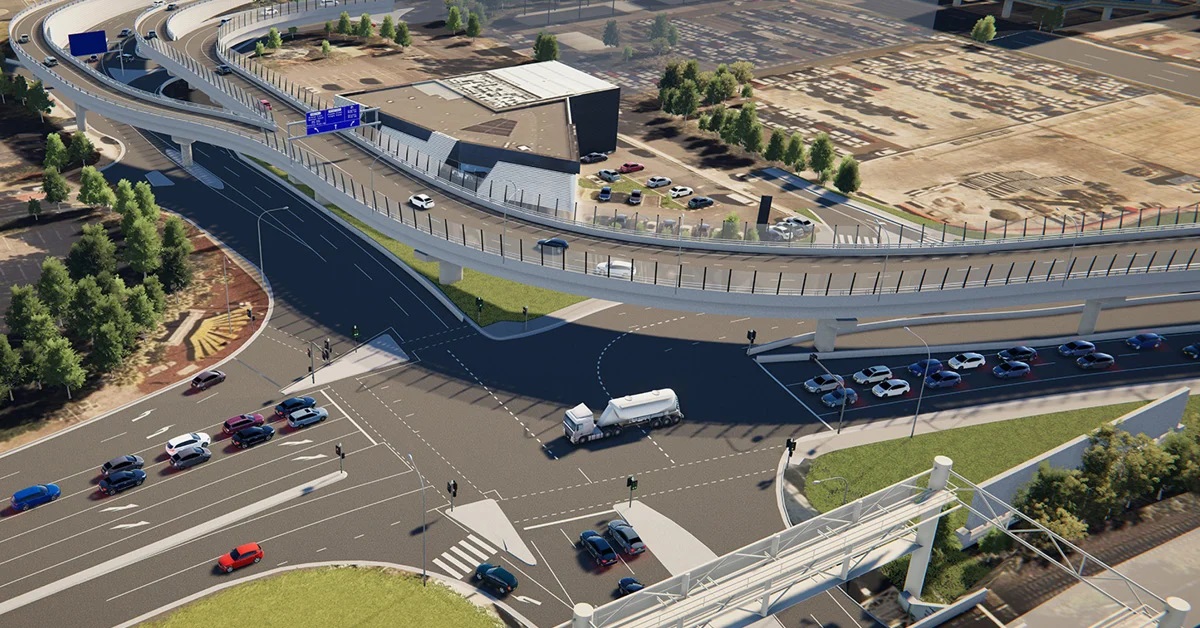 The headstocks each stand at more than six metres tall and will support an 800-metre flyover road, connecting motorists to Sydney Airport with a toll-free connection.
Premier Dominic Perrottet said it was yet another milestone in the NSW Government's $110 billion infrastructure pipeline.
"This is a transformative project that will get people to and from Sydney Airport faster, supporting more than 4000 construction and manufacturing jobs, while modernising our road network," Mr Perrottet said.
"This is yet another example of the NSW Government's decade of delivery, which has transformed Greater Sydney and NSW while vastly improving quality of life for residents and businesses.
"It is because of our strong economic management that we are able to continue to deliver both the mega projects and the smaller scale community projects that make such a big difference to how people live their lives each day."
Minister for Infrastructure, Cities and Active Transport Rob Stokes said 17 headstocks weighing more than 90 tonnes each would be installed to support the flyover road.
"Businesses in Western Sydney and Regional NSW have been integral to this project, with the headstocks manufactured in Picton using steel made in Western Sydney, all to support 34-metre long steel and concrete girders made in Maitland," Mr Stokes said.
"Sydney Gateway is great news for local residents also, giving them an additional three kilometres of new pedestrian and cycle paths along the Alexandra Canal.
"Over the past decade, NSW has gone from being laggards to leaders on infrastructure and Sydney Gateway is yet another example of how we're delivering a brighter future for NSW families."
Minister for Metropolitan Roads Natalie Ward said Sydney Gateway will have the capacity to carry 100,000 vehicles daily and slash travel times to and from the airport when it opens to traffic at the end of 2024.
"One of the key features of Sydney Gateway is the landmark Australian steel arch bridge connecting to the International Terminal, that will be wider than the Sydney Harbour Bridge," Mrs Ward said.
"This project will help slash travel times from Parramatta to Sydney Airport by up to 40 minutes in the morning peak, bypassing 26 sets of traffic lights.
"In addition to the travel time savings, the Sydney Gateway will also deliver stunning Indigenous artwork and designs on the flyover, walls, underpass and paths making for an iconic entrance to Australia's largest airport for travellers and motorists."
Ultrasound-Guided Microbubbles Boost Immunotherapy Efficacy
Researchers at The University of Texas MD Anderson Cancer Center have developed an ultrasound-guided cancer immunotherapy platform that generates systemic antitumor immunity and improves the therapeutic efficacy of immune checkpoint blockade. The findings from the preclinical study were published today in Nature Nanotechnology.
As the first-of-its-kind platform, the Microbubble-assisted UltraSound-guided Immunotherapy of Cancer (MUSIC) approach employs nanocomplexes combined with microbubbles to effectively deliver cyclic guanosine monophosphate-adenosine monophosphate (cGAMP), an immunotransmitter involved in anticancer immunity, into antigen-presenting cells (APCs). Inside the APCs, the microbubbles release cGAMP to activate the GMP-AMP synthase (cGAS)-stimulator of interferon genes (STING) pathway, which stimulates type I interferon responses that are essential for priming tumor-specific T cells.
In the preclinical study, the MUSIC strategy demonstrated a complete tumor eradication rate of 60% when administered as monotherapy in breast cancer models. When combined with an anti-PD-1 antibody, MUSIC significantly improved antitumor responses with minimal toxicity effects, including enhanced primary tumor control and decreased systemic disease progression. In addition, the combination therapy demonstrated superior survival benefit, with a 76% increase in median survival compared to either therapy alone.
"By investigating the mechanisms of action in producing a robust STING activation, we identified a new strategy to activate both the innate and adaptive antitumor immune responses," said Wen Jiang, M.D., Ph.D., assistant professor of Radiation Oncology and the study's co-senior author. "Our findings show that the MUSIC strategy is capable of paving the way toward novel image-guided strategies for targeted cancer immunotherapy."
Immunotherapy has transformed cancer treatment, offering clinical benefits for patients with treatment-refractory metastatic cancers such as melanoma, non-small cell lung cancer and renal cell cancer. However, not all patients respond to immune checkpoint blockade. Therefore, developing a more effective immunotherapy strategy to benefit larger numbers of cancer patients with localized and metastatic disease remains an unmet clinical need.
"Although the majority of cancer immunotherapies have focused on boosting the adaptive branch of the body's immune system, there has been a growing realization that both the innate and adaptive branches of the body's immune system need to be engaged to generate optimal antitumoral immunity," Jiang said. "This understanding has led to the development of new immunotherapies that target the regulators of innate immune systems, including the cGAS-STING pathway."
Natural agonists, such as cyclic dinucleotides, activate the cGAS-STING pathway, but concerns over poor cytosolic entry, serum stability and systemic toxicity have been major limitations for clinical translation. To overcome these challenges, Jiang and his collaborators developed MUSIC as the first-ever image-guided cancer immunotherapy strategy that uses antibody targeting to activate STING in APCs through delivery of molecular drugs.
Because the microbubbles also serve as contrast agents for ultrasound, the researchers use ultrasound scanners to image the tumour and to precisely identify the location where the microbubbles have accumulated. After confirming the microbubbles are bound to the tumours, the researchers activate ultrasonic frequencies, which cause the microbubbles to oscillate and burst, creating transient pores in the cell membrane that allow nucleic acids to be transferred directly into the cell cytosol. This technique, called sonoporation, previously has been used on tumour cells, but the MUSIC platform is the first to bind nanocomplexes to microbubbles to deliver cGAMP immunotransmitters directly into APCs.
"The beauty of our platform is that ultrasound machines are already clinically available in many outpatient settings and microbubbles are FDA-approved contrast agents for ultrasound imaging," Jiang said. "Therefore, we expect there is a very real opportunity to translate MUSIC into a clinic application to benefit cancer patients."
The same concept and design principle behind the MUSIC platform's microbubble technology could be readily translated to nanoscale systems for targeted systemic delivery and activation of innate immune sensors under image guidance for cancer immunotherapy applications, Jiang added.
"Our MUSIC platform is exciting because it provides a new framework for developing image-guided immunotherapy by using acoustically responsive biomaterials to enable efficient, targeted and robust immune activation to produce potent antitumor effects while minimizing systemic toxicity," Jiang said. "The versatility of the MUSIC platform could potentially be applied to targeted delivery of other immune-stimulating agents, such as nucleotide-based vaccines, mRNAs and other gene therapies for multiple human diseases."
Xuefeng Li, Sina Khorsandi, Yifan Wang, Julien Santelli, Kristin Huntoon, Nhu Nguyen, Mingming Yang, DaeYong Lee, Yifei Lu, Ruoqi Gao, Betty Y. S. Kim, Caroline de Gracia Lux, Robert F. Mattrey, Wen Jiang, Jacques Lux.
Cancer immunotherapy based on image-guided STING activation by nucleotide nanocomplex-decorated ultrasound microbubbles.
Nature Nanotechnology, 2022; DOI: 1
0.1038/s41565-022-01134-z
What's In A Name? Glimmers Of Evolution In Naming Babies, Choosing A Dog
Maverick was first used as a baby name after a television show called "Maverick" aired in the 1950s, but its popularity rose meteorically in 1986 with the release of the movie "Top Gun." Today, it is even used for baby girls.
The name Emma peaked in popularity in the late 1800s, declined precipitously through the first half of the 1900s, then shot back up to be one of the most popular names of the early 2000s. Linda peaked somewhere in the late 1940s and Daniel in the mid-1980s. But each rise in popularity was followed by an equally steep decline.
So, what's in a name -- or, at least, what's in a baby name trend? University of Michigan evolutionary biologist Mitchell Newberry has found that the more popular a name becomes, the less likely future parents are to follow suit. Same goes for popular dog breeds: Dalmatians today are a tenth as popular as they were in the 1990s.
Newberry, an assistant professor of complex systems, says examining trends in the popularity of baby names and dog breeds can be a proxy for understanding ecological and evolutionary change. The names and dog breed preferences themselves are like genes or organisms competing for scarce resources. In this case, the scarce resources are the minds of parents and dog owners. His results are published in the journal Nature Human Behaviour.
Newberry looks at frequency-dependent selection, a kind of natural selection in which the tendency to copy a certain variant depends on that variant's current frequency or popularity, regardless of its content. If people tend to copy the most common variant, then everyone ends up doing roughly the same thing. But if people become less willing to copy a variant the more popular it becomes, it leads to a greater diversity of variants.
"Think of how we use millions of different names to refer to people but we almost always use the same word to refer to baseball," Newberry said. "For words, there's pressure to conform, but my work shows that the diversity of names results from pressures against conformity."
These trends are common in biology, but difficult to quantify. What researchers do have is a complete database of the names of babies over the last 87 years.
Newberry used the Social Security Administration baby name database, itself born in 1935, to examine frequency dependence in first names in the United States. He found that when a name is most rare -- 1 in 10,000 births -- it tends to grow, on average, at a rate of 1.4% a year. But when a name is most common -- more than 1 in 100 births -- its popularity declines, on average, at 1.6%.
"This is really a case study showing how boom-bust cycles by themselves can disfavour common types and promote diversity," Newberry said. "If people are always thirsting after the newest thing, then it's going to create a lot of new things. Every time a new thing is created, it's promoted, and so more rare things rise to higher frequency and you have more diversity in the population."
Using the same techniques they applied to baby names, Newberry and colleagues examined dog breed preferences using a database of purebred dog registrations from the American Kennel Club. They found boom-bust cycles in the popularity of dog breeds similar to the boom-bust cycles in baby names.
The researchers found a Greyhound boom in the 1940s and a Rottweiler boom in the 1990s. This shows what researchers call a negative frequency dependent selection, or anti-conformity, meaning that as frequency increases, selection becomes more negative. That means that rare dog breeds at 1 in 10,000 tend to increase in popularity faster than dogs already at 1 in 10.
"Biologists basically think these frequency-dependent pressures are fundamental in determining so many things," Newberry said. "The long list includes genetic diversity, immune escape, host-pathogen dynamics, the fact that there's basically a one-to-one ratio of males and females -- and even what different populations think is sexy.
"Why do birds like long tails? Why do bamboos take so long to flower? Why do populations split into different species? All of these relate at a fundamental level to either pressures of conformity or anticonformity within populations."
Conformity is necessary within species, Newberry says. For example, scientists can alter the order of genes on a fly's chromosomes, and it does not affect the fly at all. But that doesn't happen in the wild, because when that fly mates, its genes won't pair with its mate's, and their offspring will not survive.
However, we also need anticonformity, he says. If we all had the same immune system, we would all be susceptible to exactly the same diseases. Or, Newberry says, if the same species of animal all visited the same patch of land for food, they would quickly eat themselves out of existence.
"Life is this dance of when do we have to cohere, and when do we have to separate?" he said. "Natural selection is incredibly hard to measure. You're asking, for an entire population, who lived, who died and why. And that's just a crazy thing to try to ask. By contrast, in names, we literally know every single name for the entire country for a hundred years."
Mitchell G. Newberry, Joshua B. Plotkin.
Measuring frequency-dependent selection in culture.
Nature Human Behaviour, 2022; DOI:
10.1038/s41562-022-01342-6
Perplexing Fish-Like Fossil Finally Classified
For the first time since its discovery 130 years ago one of the most mysterious fossil vertebrates has finally been classified, increasing our possible understanding of the first animals to crawl on Earth.
"This strange animal has baffled scientists since its discovery in 1890 as a puzzle that's been impossible to solve," Dr Daisy (Yuzhi) Hu, researcher and PhD graduate from The Australian National University (ANU), said.
Palaeospondylus gunni is a mysterious fish-like fossil vertebrate with a strange set of morphological features, including a lack of teeth and dermal bones in the fossil record.
The small animal with an eel-like body lived approximately 390 million years ago. Despite its age, its position on the evolutionary tree has remained unclear, until now.
Research led by the University of Tokyo in conjunction with ANU and the Evolutionary Morphology Laboratory RIKEN, has uncovered that the specimen was likely one of the earliest ancestors of four-limbed animals.
"Morphological comparisons of this animal have always been extremely challenging for scientists," Dr Hu said.
"However, recent improvements in high resolution 3D segmentation and visualisation have made this previously impossible task possible.
"Finding a specimen as well preserved as the ones we used is like winning the lottery, or even better!"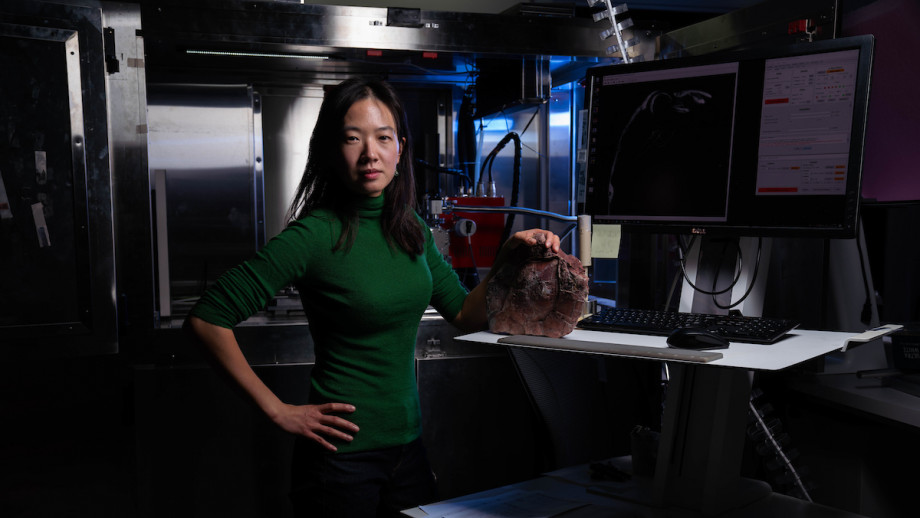 Dr Daisy (Yuzhi) Hu with fossil. Photo: Tracey Nearmy, ANU

Previously damaged or incorrectly preserved specimens of the animal have meant that placing this fossil on the evolutionary tree has always been a challenge.
The researchers found that Palaeospondylus was most likely a member of Sarcopterygii, a group of lobe-finned fishes, due to its cartilaginous skeleton and the absence of paired appendages.
"Despite the investigation, it is still hard to determine what the animal was with 100 per-cent accuracy," Dr Hu said.
The new findings mean that scientists could unlock a range of unknown morphological features and evolutionary history of four-limbed animals.
"Even with this new information, long-lasting investigations with the joint effort of scientists from around the world is needed to give us the perfect answer of what actually is Palaeospondylus gunni."
Tatsuya Hirasawa, Yuzhi Hu, Kentaro Uesugi, Masato Hoshino, Makoto Manabe, Shigeru Kuratani.
Morphology of Palaeospondylus shows affinity to tetrapod ancestors
. Nature, 2022; DOI:
10.1038/s41586-022-04781-3
Disclaimer: These articles are not intended to provide medical advice, diagnosis or treatment. Views expressed here do not necessarily reflect those of Pittwater Online News or its staff.