Inbox and environment news: Issue 539
May 22 - 28, 2022: Issue 539
Maths The Solution To Future Careers
New maths resources are set to open the door to a world of possibilities for NSW public school students.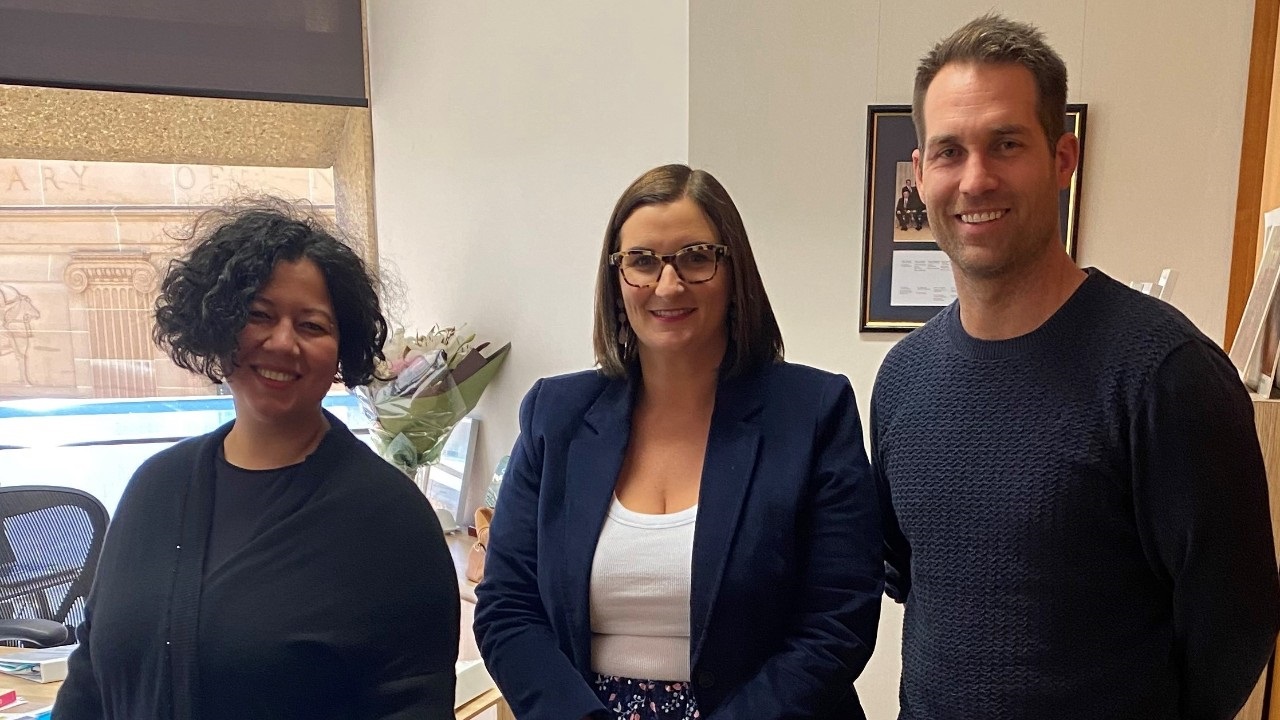 Singer Mahalia Barnes, Minister for Education and Early Learning Sarah Mitchell and The Block star Dan Reilly. Photo: NSW Dept. of Education
Exciting new ambassadors are showing students where maths can take them in their future careers, as part of a NSW Government campaign to change perceptions of maths among young people
Minister for Education and Early Learning Sarah Mitchell said maths was more than just a subject learned in school as she joined The Block star Dan Reilly and singer Mahalia Barnes to kick start the new phase of the campaign.
"Having strong maths skills opens a world of possibility for young people," Ms Mitchell said.
"Maths develops capabilities for life and provides students with lasting fundamental skills in problem-solving, analysis and reasoning, which are relevant to most careers."
The latest campaign links parents to new resources within the Everyday Maths hub, bringing new maths solutions, challenges, games and fun experiences into students' homes.
"These new resources encourage and support parents, carers and students from various backgrounds to think and act mathematically outside the school gates," Ms Mitchell said.
"Parents do not need to be a maths whizz to help their children succeed, taking a positive and proactive attitude to the maths at home leads to better grades in the classroom."
A new feature of the hub is a dedicated culturally and linguistically diverse (CALD) section across five different languages and more than 30 new pieces of content related to financial literacy, mathematics in careers, and mathematics in the modern world.
Dan Reilly said things like working out angles, lengths and areas are essential on The Block and that it's maths skills like these that make a career in building and construction possible.
Mahalia Barnes said helping her daughters with their relationship to maths is essential to their music.
"I'm helping them along their journey as they discover the patterns and progressions we see in maths that helps us with our music," Mahalia said.
The #MathsTrainsBrains campaign is part of the NSW Mathematics Strategy, a seven-year program aimed at helping students develop the mathematical skills and understanding they need to succeed in life.
Recently, feedback on the Year 3-10 Mathematics syllabuses was provided during public consultation as part of NSW's vital Curriculum Reform agenda.
The draft syllabuses continue to strengthen mathematics and numeracy skills across every year level and build on the fundamental work already being implemented in Kindergarten to Year 2 mathematics.
The final syllabuses will be available to schools later in 2022 for implementation from 2023.
NSW Health Seizes More Than $1 Million Of Illegal Nicotine Vapes
NSW Health has seized more than $1 million worth of illegal e-cigarettes and liquids containing nicotine since January 2022.
The seizures so far this year bring the total amount of illegal product seized since 1 July 2020 to more than $3 million.
NSW Chief Health Officer, Dr Kerry Chant, said retailers were being put on notice, if they are acting illegally, they will face the consequences.
"We are cracking down on the illegal sale of nicotine e-cigarettes and liquids and taking a zero-tolerance approach to those who sell them," Dr Chant said.
"NSW Health regularly conducts raids on retailers across the state to protect young people from these harmful devices. You will be caught, illegal items will be seized, and you could face prosecution, resulting in being fined or even jailed."
"The harmful impacts of vaping on young people cannot be underestimated. People think they are simply flavoured water but in reality, in many cases they are ingesting poisonous chemicals that can cause life threatening injuries."
Since 1 October 2021, products containing nicotine are only available for people over the age of 18 when prescribed by a medical practitioner for smoking cessation purposes. These products are only available from an Australian pharmacy or via importation into Australia with a valid prescription.
For all other retailers in NSW, the sale of e-cigarettes or e-liquids containing nicotine is illegal. This also includes online sales. The maximum penalty for illegally selling them is $1,650 per offence, six-months in prison or both, under the Poisons and Therapeutic Goods Act.
Retailers and individuals can also be prosecuted for selling e-cigarette products to minors, with maximum penalties:
For individuals, up to $11,000 for a first offence, and up to $55,000 for a second or subsequent offence;
For corporations, up to $55,000 for a first offence, and up to $110,000 for a second or subsequent offence.
NSW Health is committed to reducing the prevalence of e-cigarette and tobacco use, and in 2021-22 has invested $18.3 million towards tobacco and e-cigarette control.
Raids are being stepped up on the back of the 'Do you know what you're vaping?' information campaign which was launched in March 2022 by the NSW Government. The campaign raises awareness of the harmful chemicals found in vapes including those found in cleaning products, nail polish remover, weed killer and insecticide.
To accompany the information campaign which appeared on buses as well as online social channels, a vaping toolkit was launched. The toolkit comprises factsheets and other resources for young people aged 14 to 17 years, parents and carers, teachers and schools, to educate about the harms of vaping.

Major Milestone For Fee-Free Training In NSW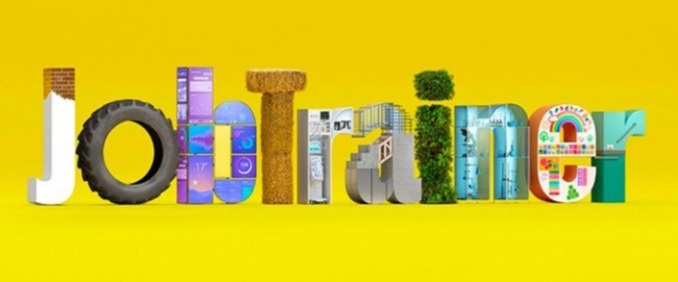 NSW is enjoying a fee-free training boom with more than 200,000 enrolments recorded under JobTrainer, a program helping people get skilled for in-demand jobs.
Premier Dominic Perrottet said the NSW Government's strong economic management means we can deliver programs such as JobTrainer to equip people with the skills they need to get their first job, a new job or a better job.
"The NSW Government is turbocharging the take-up of vocational education and training to create a strong pipeline of skilled and qualified workers, which is helping secure a brighter future for NSW families," Mr Perrottet said.
"Our record infrastructure program is creating enormous demand for jobs and our investment in fee-free training is helping meet that demand so we can continue to build what matters to make daily life better.
"The success of the JobTrainer program is helping strengthen our economy, which means more money for services, community amenity and less pressure on households."
Training under the program is fee-free and fully funded for eligible people wanting to upskill or reskill.
The NSW Government has expanded the eligibility criteria for the program to target more in-demand industries, including construction, manufacturing, transport, logistics, aged care, disability care, childcare and digital skills.
JobTrainer has also supported more than 5,000 women into construction-related courses through the
Built for Women initiative
.
Minister for Skills and Training Alister Henskens said the number of people commencing apprenticeships and traineeships in NSW has sky-rocketed since the launch of the program.
"JobTrainer is all about helping people get the skills they need for the job they want, while helping drive our economic recovery from the pandemic," Mr Henskens said.
"Whether you're a young person exploring your career or someone wanting to re-skill for an in-demand industry, JobTrainer can provide the fee-free training to help you kick-start your journey."
JobTrainer is a joint State and Federal funded program, which is injecting $637 million into the NSW skills and training market.
Dorothea Mackellar Poetry Awards 2022: Entries Close June 30th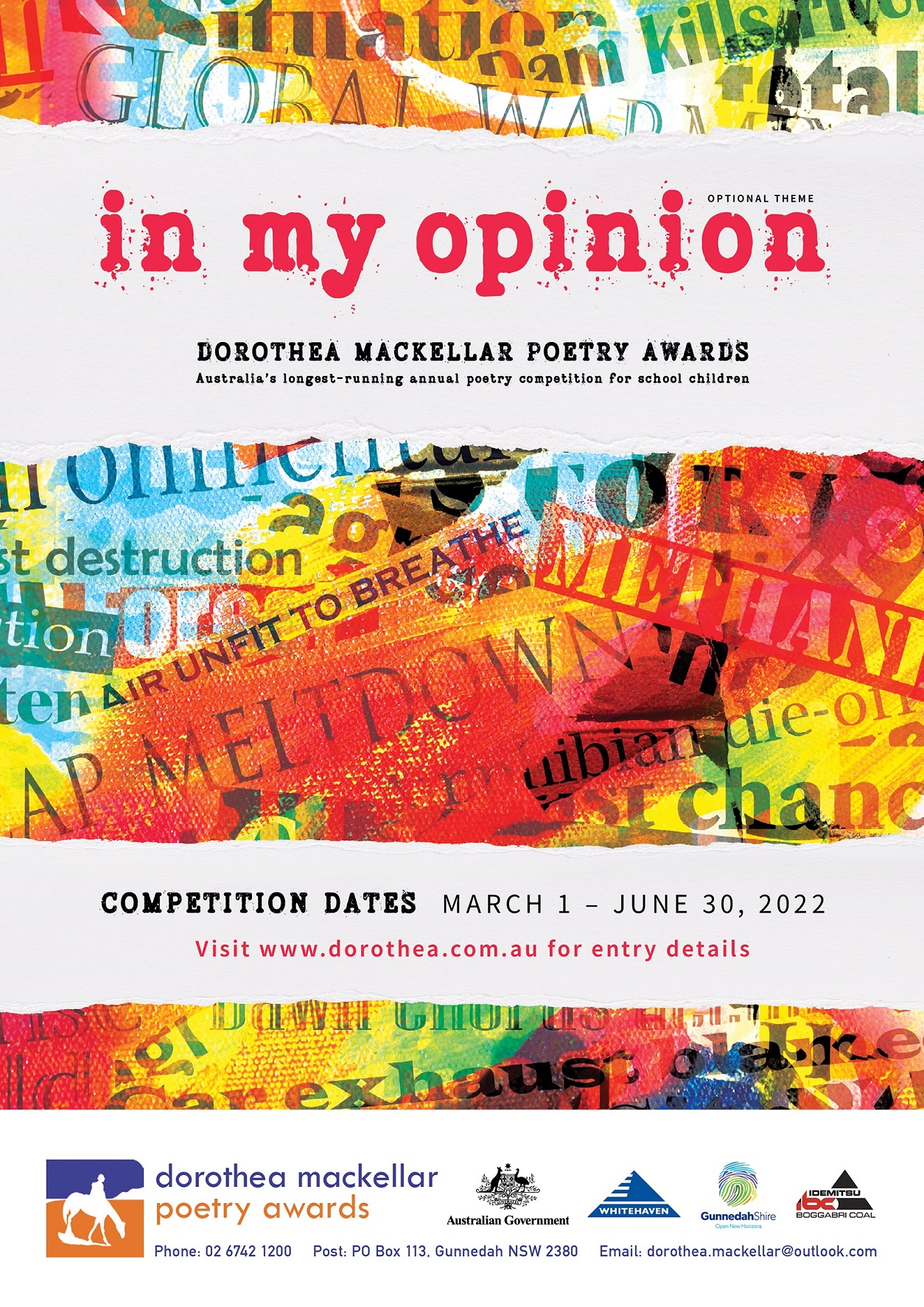 Details and more at: https://dorothea.com.au/
There's also a special History page running this Issue for you - the Australian poet Dorothea Mackellar, after whom the Electorate of Mackellar is named, had a house here in Pittwater at Lovett Bay.
"Our poets are encouraged to take inspiration from wherever they may find it, however if they are looking for some direction, competition participants are invited to use this year's optional theme to inspire their entries."
In 2022, the Dorothea Mackellar Memorial Society has chosen the theme "In My Opinion."
As always, it is an optional theme. The Society encourages students to write about topics and experiences that spark their poetic genius (in whatever form they choose.)
HOW TO ENTER
PLEASE SEE HERE FOR A DETAILED PDF ON ENTRY INSTRUCTIONS FOR TEACHERS AND PARENTS.
ONLINE SUBMISSION
Primary school and secondary school entries can be submitted anytime during the competition period. Visit: https://dorothea.com.au/how-to-enter/
Local Women Named In Australian Gridiron Squad
Newport rugby's Kirisitiana Osborne has been named to play for Australia in the Australian Women's Outback Travel Squad for the Women's World Championship of Gridiron to be played in Finland in July 2022. Kirisitiana is one of three Northern Sydney Gridiron Club Rebels players named this week as part of a 45 women Australian squad,
with Keira Boots and
Brooke Mugridge being the other Rebels players.
Kevin Wilson, Head Coach of the Australian Women's Outback, made the announcement on Thursday May 5th, stating;
''I am confident these athletes will uphold with pride, the honour of being an Australian representative and will conduct themselves as ambassadors for the sport in true Australian spirit.''
Gridiron Australia is the recognised governing body of American Football in Australia. Ter are, to date, 121 teams and 3175 players of this sport across Australia in all places except the Northern Territory.

The 2022 International Federation of American Football (IFAF) World Championship, is taking place in Vantaa, Finland from July 28-August 8.
The lineup will include the host nation and defending European Champion Finland, along with the reigning World Champions, Team USA. They will be joined by the 2017 World Championship silver and bronze medallists, Canada and Mexico, as well as the 2019 European silver and bronze medallists, Sweden and Great Britain, the 2015 European bronze medallists, Germany, and Australia, which was coached at the 2017 World Championship by Dr. Jen Welter. Dr. Welter became the NFL's first female coach in 2015.

The Northern Sydney Gridiron club's website states the club was founded in 2014 by former club president Stephen Armstrong. Stephen grew up on the Northern Beaches, but moved to Perth after school. He had a successful stint playing football in WA for the Perth Blitz before relocating home to NSW in 2013. After playing one season with the UNSW Raiders he decided to start his own football club.
Stephen sent a proposal to the sports governing body, Gridiron NSW, and was put in contact with a man by the name of Scott Davoren. Scott was a former North Western Predator who had been out of the game for a few years but was more than willing to help establish a new club. The word was put out in early 2014 on the clubs newly formed Facebook page and after a hugely successful first turn out the founding members of the club made the decision to push forward and get on the pitch for the upcoming season.
The club considered several names including The Spartans, Saxons, Owls and even the Redbacks in honour of the historical Manly side from the 1990s. In the end it was unanimously decided to settle on the mantle of the Rebels.
Fast forward to today, and the club has moved forward in leaps and bounds. The Division 1 men's team was the first team to record a win in their initial season in GNSW history, and have since had playoff berths in the 2016 and 2017 seasons, barely missing out on a spot in the Waratah Bowl in 2017. The club has grown exponentially since its inception, developing its colts and women's programs to the same level of success, as can be seen from this week's announcement.
If you want to try it out there's an event coming up locally in a few weeks time: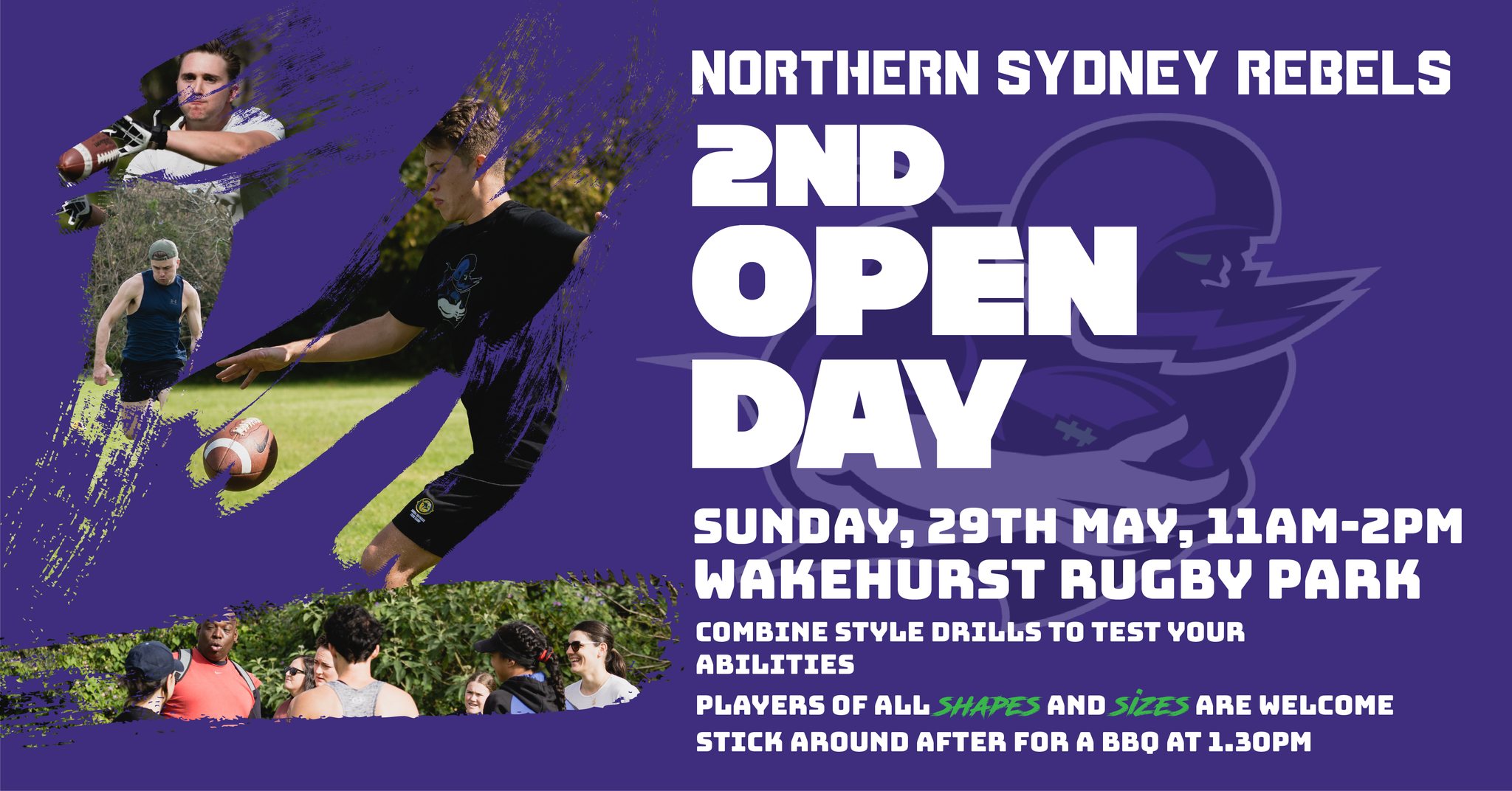 Young Writers' Competition 2022
Young people across the Northern Beaches are encouraged to enter this year's Young Writers' Competition for their chance to be published.
Now in its 13th year, the annual competition is open to students from kindergarten to grade 12 who live or go to school on the Northern Beaches. The theme of this year's competition is 'rise'.
"The Northern Beaches is home to some very talented young writers, and I continue to be blown away by the creativity and skill of entrants in our annual Young Writers' Competition," Mayor Michael Regan said.
"It's time for young writers to once again rise and shine and show us what they've got. More than 500 stories were submitted in last year's competition, and we suspect this year will be just as competitive."
Entrants can write on any topic or theme but must include a derivation of the word 'rise'. Entries will be grouped by age and judged according to characterisation, originality, plot, and language.
Four finalists will be chosen in each age category and invited to a presentation night on Wednesday 10 August, where a winner, runner-up, and two highly commended prizes are awarded.
Finalists from each category will have their stories published in an eBook which is added to the Northern Beaches Council Library collection.
Entries close Tuesday 31 May 2022. Entrants must be members of the Northern Beaches Council Library Service.
Complete the online entry form and attach your story as a Word document. If your story is hand-written, then a clear, readable photo or scanned PDF can be submitted.
Not a member of the library? Don't worry, Council will use this form to create a membership for you. Just mark 'no' under the library member field in the online form. If you are a member and unsure of your library card number, just mark 'yes' in the library member field in the online form and Council will find your library membership number.
Entries are judged according to characterisation, originality, plot and use of language and arranged into six different age group categories.
Four finalists are chosen in each age category and invited to a presentation night where a winner, runner-up and two highly commended prizes are awarded. Finalists from each category will have their stories published in an eBook that will be added to Council's collection.
For more information visit Council's library.
Word Of The Week: Breathe
Word of the Week returns in 2022 simply to throw some disruption in amongst the 'yeah-nah' mix.
Verb
1. to take in oxygen from (the surrounding medium, esp air) and give out carbon dioxide; respire.
2. (intransitive) to exist; be alive
3. (intransitive)
to rest to regain breath, composure, etc
4. (intransitive)
(esp of air) to blow lightly
5. (intransitive) machinery
a. to take in air, esp for combustion
b. to equalise the pressure within a container, chamber, etc, with atmospheric pressure
6. (transitive) phonetics
to articulate (a speech sound) without vibration of the vocal cords
7. to exhale or emit
8. (transitive) to impart; instil 9. (transitive) to speak softly; whisper 10. (transitive) to permit to rest 11. (intransitive) (of a material) to allow air to pass through so that perspiration can evaporate
Word origin - 13th Century from Breath - from Middle English brethen < breth, breath, 'to burn', from Old English braeth, related to braedan 'to burn', Old English brǣth 'smell, scent', from Old English ēþian and orþian ("to breathe"); as well as Middle English anden, onden, from Old Norse anda ("to breathe"), of Germanic origin; related to brood. Old High German bradam 'heat, breath'.
The Corrs - Breathless [Official Video]
Breathless is the first single by The Corrs from their third studio album, In Blue, released 2009.
Air That I Breathe – The Hollies, 1974
Nick Cave & The Bad Seeds - Breathless
Jimi Hendrix - The Wind Cries Mary(Live In Stockholm 1967)
Louis Armstrong - What A Wonderful World (Original Spoken Intro Version) ABC Records 1967 - Take A Deep Breath And Just Exhale!
Sydney Pro Junior At Manly Beach: Ellie Harrison And Levi Slawson Win
Report by World Surf League
Ellie Harrison (AUS) and Levi Slawson (USA) have won the Harvey Norman Sydney Pro Junior Women's and Men's divisions at Manly Beach on Sydney's Northern Beaches. The finals day enjoyed high performance clean 2 to 3 feet surf and both finals saw high scores and multiple lead changes.
As a lead in to the Challenger Series event which began on Tuesday, almost 100 competitors turned out vying for WSL Pro Junior points as they look to lock in a spot at the 2022 World Surf League (WSL) World Junior Championships later this year.
For Victoria's Ellie Harrison, today's win sees her increase her lead on the Australian Pro Junior Series rankings and the young surfer who turns 17 years of age later this week is superbly placed to qualify for the WSL World Junior Finals at the end of the year. The top two ranked surfers from each region qualify for the finals and with Sierra Kerr (Gold Coast/Qld) placing runner-up today, she also improved her overall 2nd placed ranking and both Ellie and Sierra are strongly positioned to hold down these qualifying positions.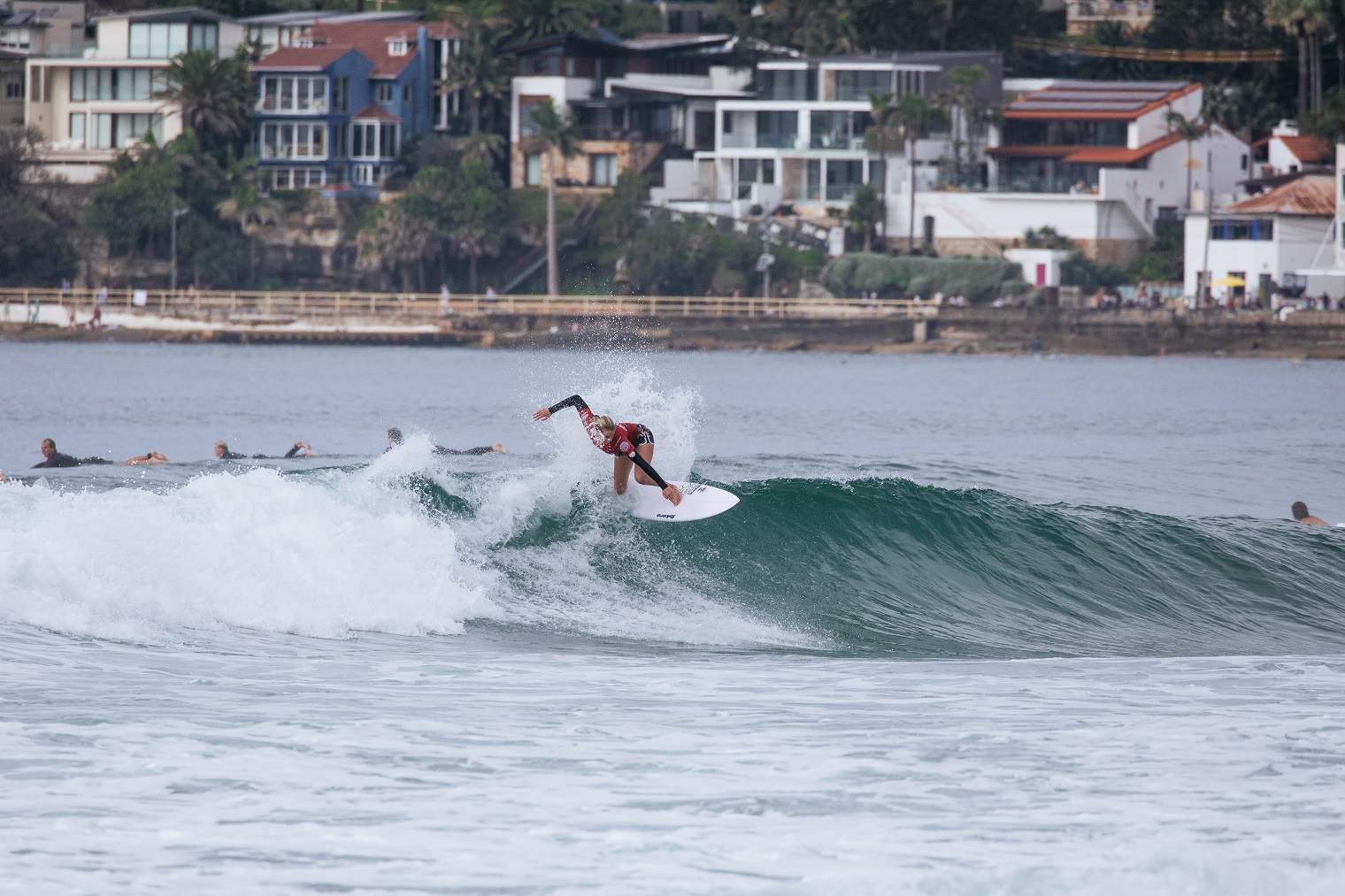 Ellie Harrison.
Credit: WSL / Cait Miers
"My goal for this year has always been to win the Pro Junior Series and qualify for the WSL World Junior Finals and today's result certainly get me closer to getting there but there's still a few events remaining so I have to remain focused" said Harrison. "This has been a fun event and the waves are small but they are also quite good allowing for plenty of scoring potential so it's pleasing to take a win in Sydney."
Isabella Caldow (Qld/Sunshine Coast) and Jesse Starling (NSW/North Narrabeen) placed 3rd and 4th in today's final.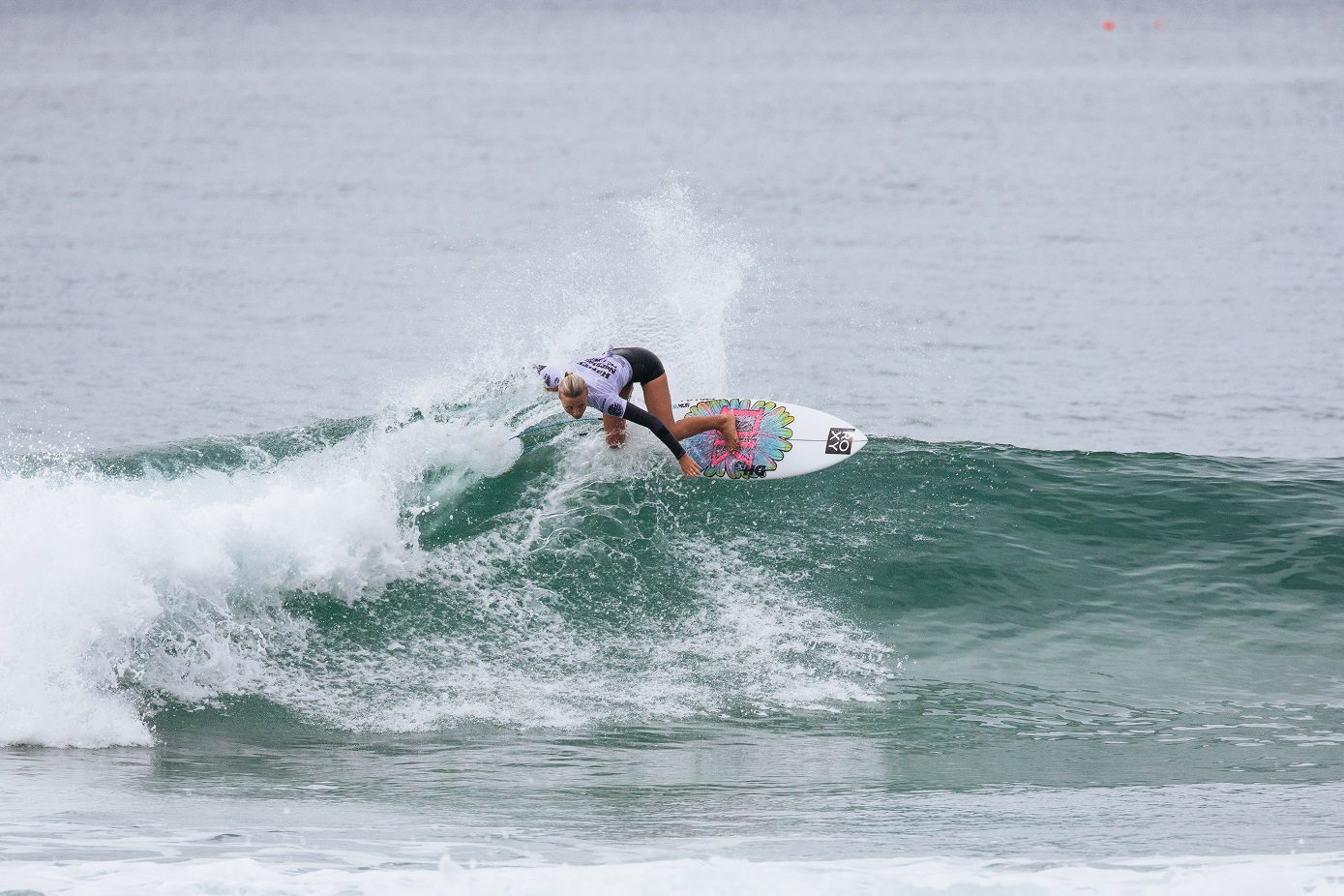 Jesse Starling.
Credit: WSL / Cait Miers
Men's Pro Junior winner Levi Slawson (USA) only gained a late entry into this event when a spot became vacant in the draw yesterday. The talented exciting Californian surfer is here to surf the main WSL Challenger Series event which begins on Tuesday but used the opportunity to surf the Pro Junior to warm-up for the main event.
"Surfing against Australia's top Pro Juniors was the ideal way for me get familiar with the waves at Manly Beach" said Slawson. "Every heat has been hard fought and the final was amazing with all four of us scoring big and all a chance of winning right to the end - I'm stoked to take the win and I'm ready for the Challenger event."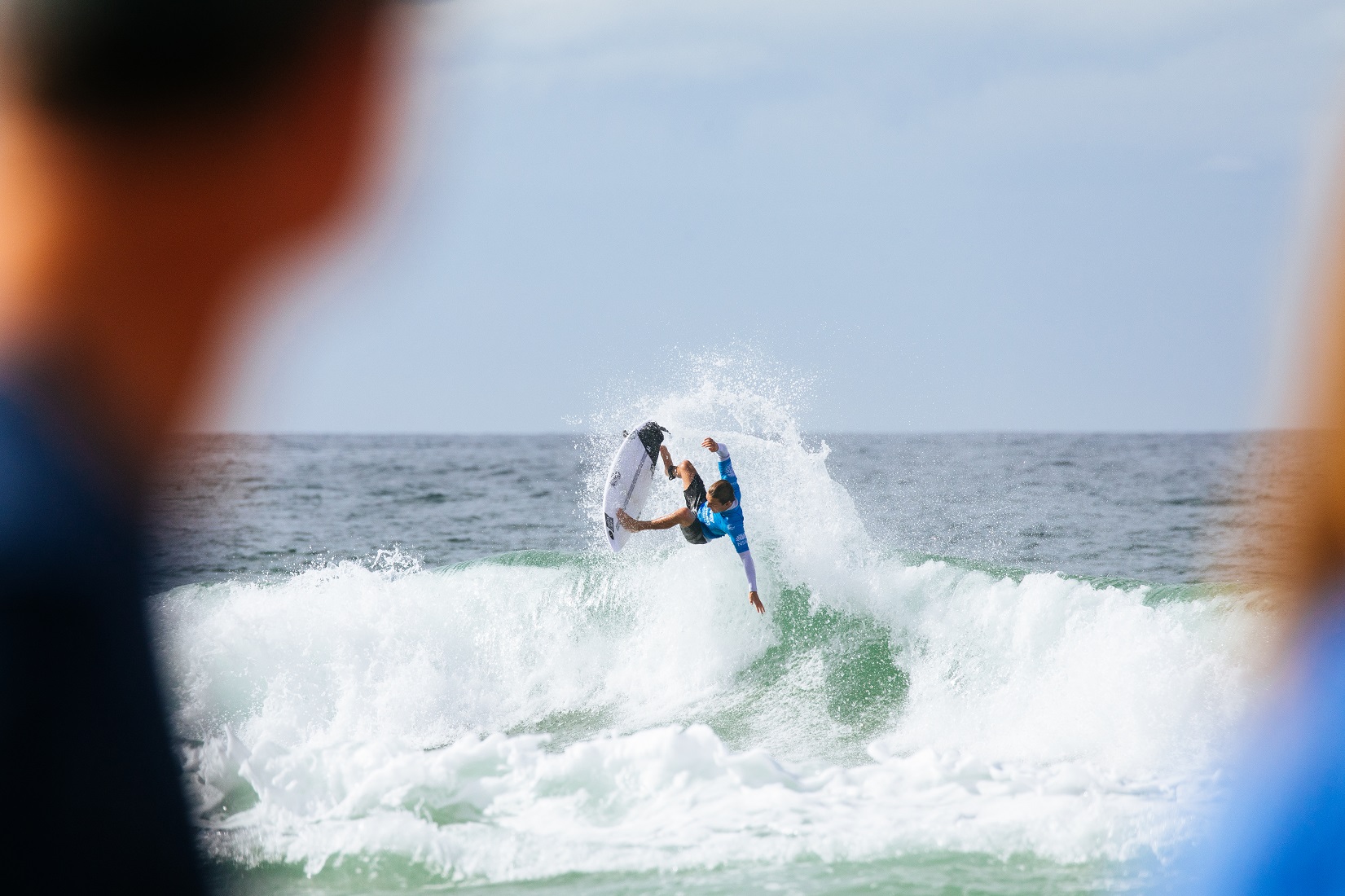 Levi Slawson.
Credit: WSL / Cait Miers
Slawson defeated Marlon Harrison (Qld/Gold Coast) in a high quality final with Taj Stokes (Qld/Sunshine Coast) 3rd and Ty Richardson (Qld/Gold Coast) in 4th.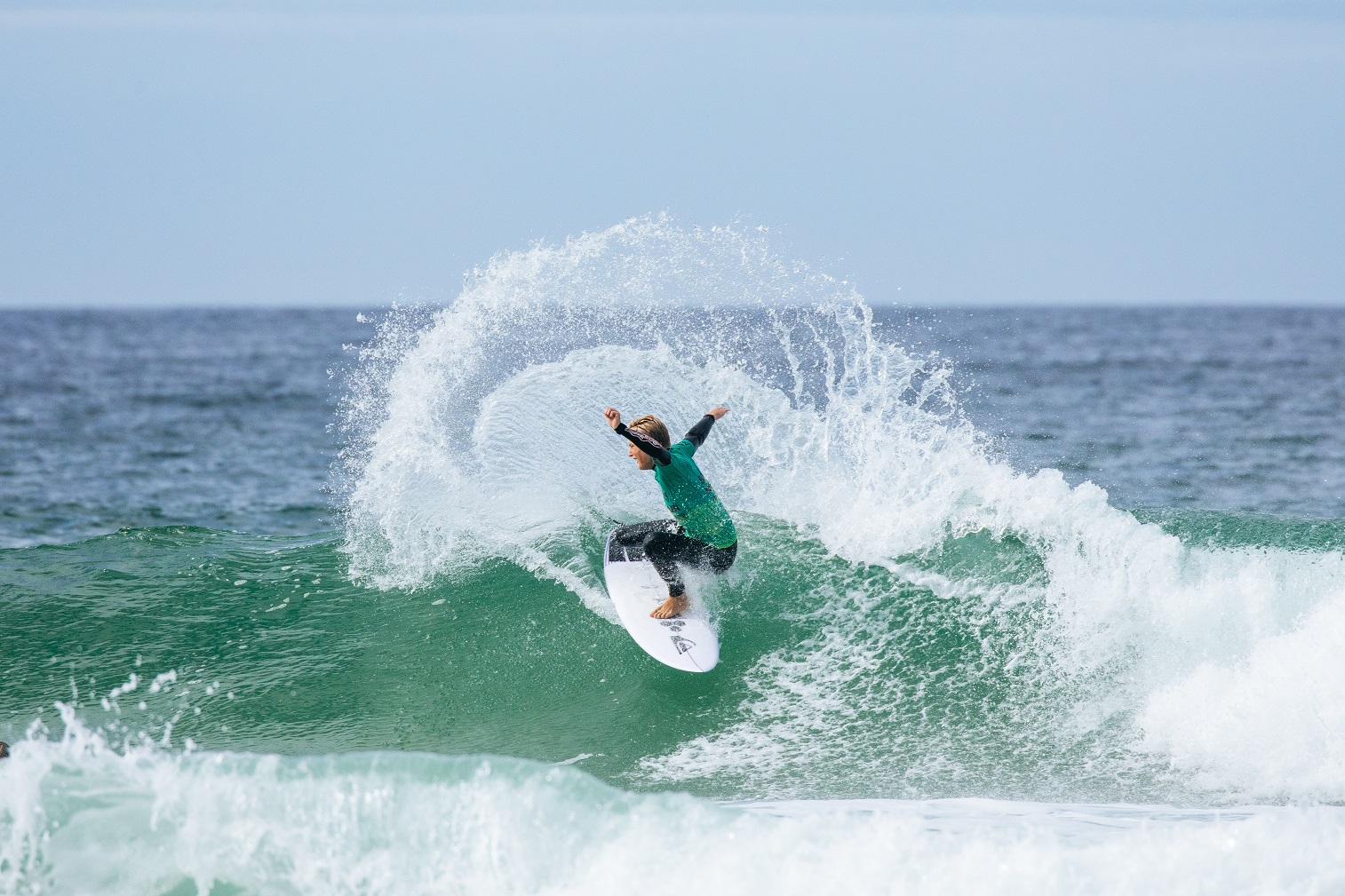 Marlon Harrison.
Credit: WSL / Cait Miers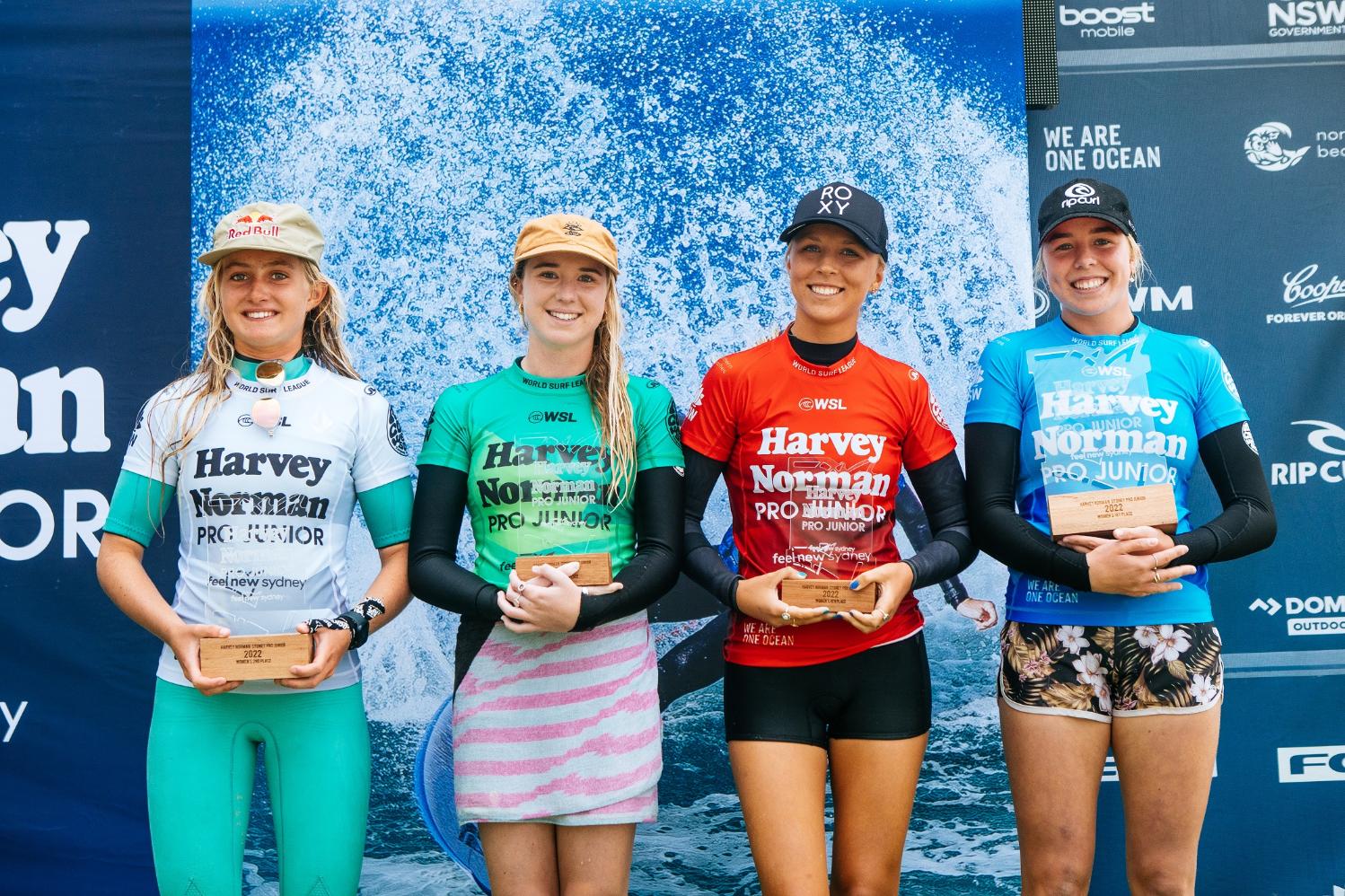 Sydney Pro Junior at Manly Beach Harvey Norman Pro Junior Winners.
Credit: WSL / Cait Miers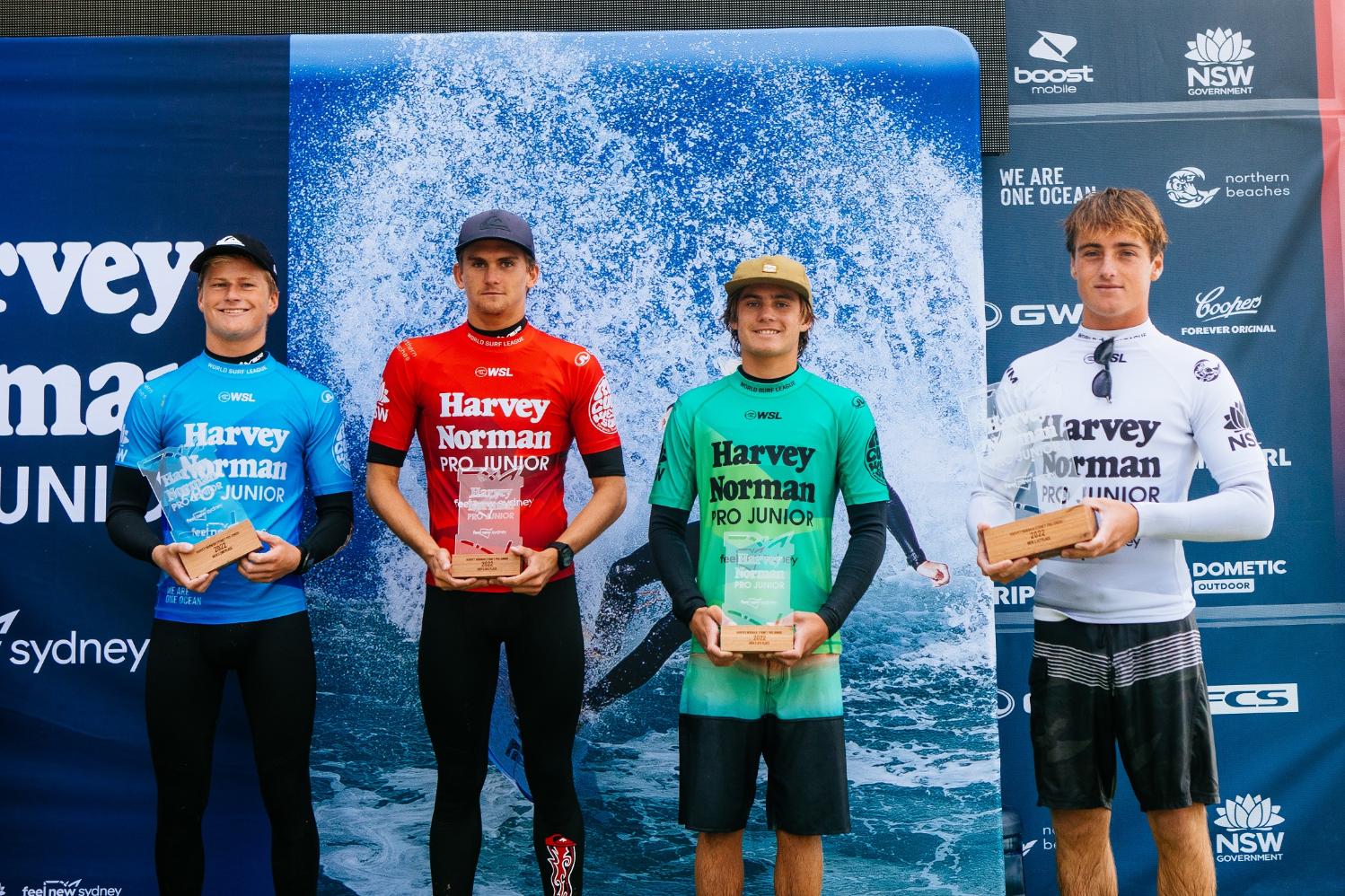 Sydney Pro Junior at Manly Beach Harvey Norman Pro Junior Winners.
Credit: WSL / Cait Miers
Stimulating Brain Circuits Promotes Neuron Growth In Adulthood; Improving Cognition And Mood
We humans lose mental acuity, an unfortunate side effect of aging. And for individuals with neurodegenerative conditions such as Alzheimer's and Parkinson's, the loss of cognitive function often accompanied by mood disorders such as anxiety is a harrowing experience. One way to push back against cognitive decline and anxiety would be to spur the creation of new neurons. For the first time, University of North Carolina School of Medicine scientists have targeted a specific kind of neuron in mice to increase the production of neural stem cells and spur on the creation of new adult neurons to affect behaviour.
Targeting these cells, as reported in the journal Nature Neuroscience, modulated memory retrieval and altered anxiety-like behaviours in mice. Essentially, the UNC scientists boosted the electrical activity between cells in the hypothalamus and the hippocampus to create new neurons -- an important process called neurogenesis.
"Targeting the hypothalamic neurons to enhance adult hippocampal neurogenesis will not only benefit brain functions," said senior author Juan Song, PhD, associate professor of pharmacology, "but also holds the potential to treat cognitive and affective deficits associated with various brain disorders."
Most neurons we carry for life were created before we were born and get organized during early childhood. But such neurogenesis continues into adulthood and throughout life. In fact, one of the reasons for cognitive decline and anxiety, and even diseases such as Alzheimer's, is the suspension of neurogenesis.
Song, a member of the UNC Neuroscience Center, has been studying the detailed interplay between brain cells that keep neurogenesis chugging along. She knew that adult hippocampal neurogenesis plays a critical role in memory and emotion processing, and that neural circuit activity -- think 'electrical activity' -- regulates this process in a constantly changing manner.
What no one knew is whether this neural circuit activity could be manipulated to spur neurogenesis to such a degree that the effect would be seen as a changed behaviour, such as better memory or less anxiety.
To see the effect of modulating neural activity, the Song lab conducted experiments led by co-first authors Ya-Dong Li, PhD, and Yan-Jia Luo, PhD, both postdoctoral fellows. They used optogenetics -- essentially a method using light to trigger neuronal activity -- in a small brain structure called supramammillary nucleus (SuM). The SuM is located inside the hypothalamus region of the brain; it helps manage things from cognition to locomotion and sleep/wakefulness.
When Song's researchers chronically stimulated the SuM neurons, they discovered a robust promotion of neurogenesis at multiple stages. They observed increased production of neural stem cells and the creation of new adult-born neurons with enhanced properties. Optogenetic stimulation of these new neurons then altered memory and anxiety-like behaviors.
"We also show that the SuM neurons are highly responsive when the mice experienced new things in their environment," Song said. "In fact, in a new environment, mice require these cells for neurogenesis."
Impaired adult hippocampal neurogenesis correlates with many pathological states, such as aging, neurodegenerative diseases, and mental disorders. "Therefore," Song added, "targeting the hypothalamic neurons to enhance adult hippocampal neurogenesis will not only benefit brain functions but also holds the potential to treat cognitive and affective deficits associated with various brain disorders."
Ya-Dong Li, Yan-Jia Luo, Ze-Ka Chen, Luis Quintanilla, Yoan Cherasse, Libo Zhang, Michael Lazarus, Zhi-Li Huang, Juan Song.
Hypothalamic modulation of adult hippocampal neurogenesis in mice confers activity-dependent regulation of memory and anxiety-like behavior.
Nature Neuroscience, 2022; 25 (5): 630 DOI:
10.1038/s41593-022-01065-x
New Tool To Create Hearing Cells Lost In Aging
Hearing loss due to aging, noise and certain cancer therapy drugs and antibiotics has been irreversible because scientists have not been able to reprogram existing cells to develop into the outer and inner ear sensory cells -- essential for hearing -- once they die.
But Northwestern Medicine scientists have discovered a single master gene that programs ear hair cells into either outer or inner ones, overcoming a major hurdle that had prevented the development of these cells to restore hearing.
The study was published in Nature May 4.
"Our finding gives us the us the first clear cell switch to make one type versus the other," said lead study author Jaime Garcia-Anoveros, professor of anesthesia, neurology and neuroscience at Northwestern University Feinberg School of Medicine. "It will provide a previously unavailable tool to make an inner or outer hair cell. We have overcome a major hurdle."
About 8.5 percent of adults aged 55 to 64 in the U.S. have disabling hearing loss. That increases to nearly 25 percent of those aged 65 to 74 and 50 percent of those who are 75 and older, reports the Centers for Disease Control.
Currently, scientists can produce an artificial hair cell, but it does not differentiate into an inner or outer cell, which provide different essential functions to produce hearing. The discovery is a major step towards developing these specific cells.
"It's like a ballet" as cells crouch and leap
The death of outer hair cells made by the cochlea are most often the cause of deafness and hearing loss. The cells develop in the embryo and do not reproduce. The outer hair cells expand and contract in response to the pressure of sound waves and amplify sound for the inner hair cells. The inner cells transmit those vibrations to the neurons to create the sounds we hear.
"It's like a ballet," Garcia-Anoveros says with awe as he describes the coordinated movement of the inner and outer cells. "The outers crouch and jump and lift the inners further into the ear.
"The ear is a beautiful organ. There is no other organ in a mammal where the cells are so precisely positioned. (I mean, with micrometric precision). Otherwise, hearing doesn't occur."
The master gene switch Northwestern scientists discovered that programs the ear hair cells is TBX2. When the gene is expressed, the cell becomes an inner hair cell. When the gene is blocked, the cell becomes an outer hair cell. The ability to produce one of these cells will require a gene cocktail, Garcia-Anoveros said. The ATOH1 and GF1 genes are needed to make a cochlear hair cell from a non-hair cell. Then the TBX2 would be turned on or off to produce the needed inner or outer cell.
The goal would be to reprogram supporting cells, which are latticed among the hair cells and provide them with structural support, into outer or inner hair cells.
"We can now figure out how to make specifically inner or outer hair cells and identify why the later are more prone to dying and cause deafness," Garcia-Anoveros said. He stressed this research is still in the experimental stage.
Jaime García-Añoveros, John C. Clancy, Chuan Zhi Foo, Ignacio García-Gómez, Yingjie Zhou, Kazuaki Homma, Mary Ann Cheatham, Anne Duggan.
Tbx2 is a master regulator of inner versus outer hair cell differentiation.
Nature, 2022; DOI:
10.1038/s41586-022-04668-3
Ultra-Powerful Brain Scanners Offer Hope For Treating Cognitive Symptoms In Parkinson's Disease
Ultra-powerful 7T MRI scanners could be used to help identify those patients with Parkinson's disease and similar conditions most likely to benefit from new treatments for previously-untreatable symptoms, say scientists.
Both Parkinson's disease and a related disorder, progressive supranuclear palsy (PSP), are progressive brain diseases that not only affect movement but also damage motivation and cognition. These latter symptoms can have a major impact on a patient's outcome, affecting their survival and general wellbeing, as well as the stress and costs for families.
To understand the causes of these cognitive symptoms, researchers at the University of Cambridge used a new ultra-high strength '7T' MRI scanner at the Wolfson Brain Imaging Centre to measure changes in the brains of people with Parkinson's disease, PSP, or in good health. 7T refers to the strength of the magnetic field; most MRI scanners tend to be 3T or below.
The results are published today in the journal Movement Disorders.
Patients with Parkinson's disease and PSP are often treated with drugs such as L-DOPA, which compensate for the severe loss of dopamine. But, dopamine treatment does little for many of the non-motor symptoms. That is why scientists have begun to turn their attention to noradrenaline, a chemical that plays a critical role in brain functions including attention and arousal, thinking and motivation.
Professor James Rowe from the Department of Clinical Neurosciences at the University of Cambridge, who led the study, said: "Noradrenaline is very important for brain function. All of our brain's supply comes from a tiny region at the back of the brain called the locus coeruleus -- which means 'the blue spot'. It's a bit like two short sticks of spaghetti half an inch long: it's thin, it's small, and it's tucked away at the very base of the brain in the brain stem."
A study last year from Professor Rowe's team, examining brains donated to the Cambridge Brain Bank, found that some people with PSP had lost as much as 90% of the noradrenaline-producing locus coeruleus.
The question the team wanted to answer was: how could this tiny region be studied in patients who are still alive? Previous MRI scanners have not had the resolution to measure the region in living patients.
"The locus coeruleus is a devil to see on a normal scanner," said Professor Rowe. "Even good hospital scanners just can't see it very well. And if you can't measure it, you can't work out how two people differ: who's got more, who's got less? We've wanted MRI scanners to be good enough to do this for some time."
While most scanners can show structures at the level of detail of a grain of rice, 7T scanners, which have ultra-strong magnetic fields, can provide resolution at the size of a grain of sand. The scanners allowed the team to examine the locus coeruleus of their subjects and confirm that the greater the level of damage to this region, the more severe their symptoms of apathy and the worse they performed at cognitive tests.
The findings offer the hope of new treatments for these symptoms. A number of drugs that boost noradrenaline have already been through clinical trials for other conditions and hence have been shown to be safe and well tolerated. Professor Rowe and colleagues are now leading a clinical trial at Cambridge University Hospitals NHS Foundation Trust to see if these drugs alleviate symptoms in PSP.
Dr Rong Ye from the Department of Clinical Neurosciences at the University of Cambridge, the study's joint first author, said: "Not every PSP or Parkinson's patient is going to benefit from noradrenaline-boosting drugs. They're more likely to benefit those people with damage to their locus coeruleus -- and the greater the damage, the more benefit they're likely to see.
"The ultra-powerful 7T scanner may help us identify those patients who we think will benefit the most. This will be important for the success of the clinical trial, and, if the drugs are effective, will mean we know which patients to give the treatment to. In the long term, this will prove more cost-effective than giving noradrenaline boosters to patients who ultimately would see no benefit."
It is thought that in PSP, damage to the locus coeruleus is caused by a build-up of the junk protein tau. When noradrenaline breaks down, it appears to trigger changes in the tau protein that lead to its build-up. This then damages the same cells that produce noradrenaline, leading to a vicious circle. A similar situation may occur in Parkinson's disease
The research was supported by Parkinson's UK, the Cambridge Centre for Parkinson-Plus, the China Scholarship Council, the Australian National Health and Medical Research Council, Fitzwilliam College, the Association of British Neurologists, Patrick Berthoud Charitable Trust, the Medical Research Council, James S. McDonnell Foundation, Wellcome Trust and the NIHR Cambridge Biomedical Research Centre.
Rong Ye, Claire O'Callaghan, Catarina Rua, Frank H. Hezemans, Negin Holland, Maura Malpetti, P. Simon Jones, Roger A. Barker, Caroline H. Williams‐Gray, Trevor W. Robbins, Luca Passamonti, James Rowe.
Locus Coeruleus Integrity from 7 T MRI Relates to Apathy and Cognition in Parkinsonian Disorders.
Movement Disorders, 2022; DOI:
10.1002/MDS.29072
Higher Antioxidant Levels Linked To Lower Dementia Risk
People with higher levels of antioxidants in their blood may be less likely to develop dementia, according to a study published in the May 4, 2022, online issue of Neurology®, the medical journal of the American Academy of Neurology.
The study found that people with the highest levels of the antioxidants lutein and zeaxanthin and beta-cryptoxanthin in their blood were less likely to develop dementia decades later than people with lower levels of the antioxidants.
Lutein and zeaxanthin are found in green, leafy vegetables such as kale, spinach, broccoli and peas. Beta-cryptoxanthin is found in fruits such as oranges, papaya, tangerines and persimmons.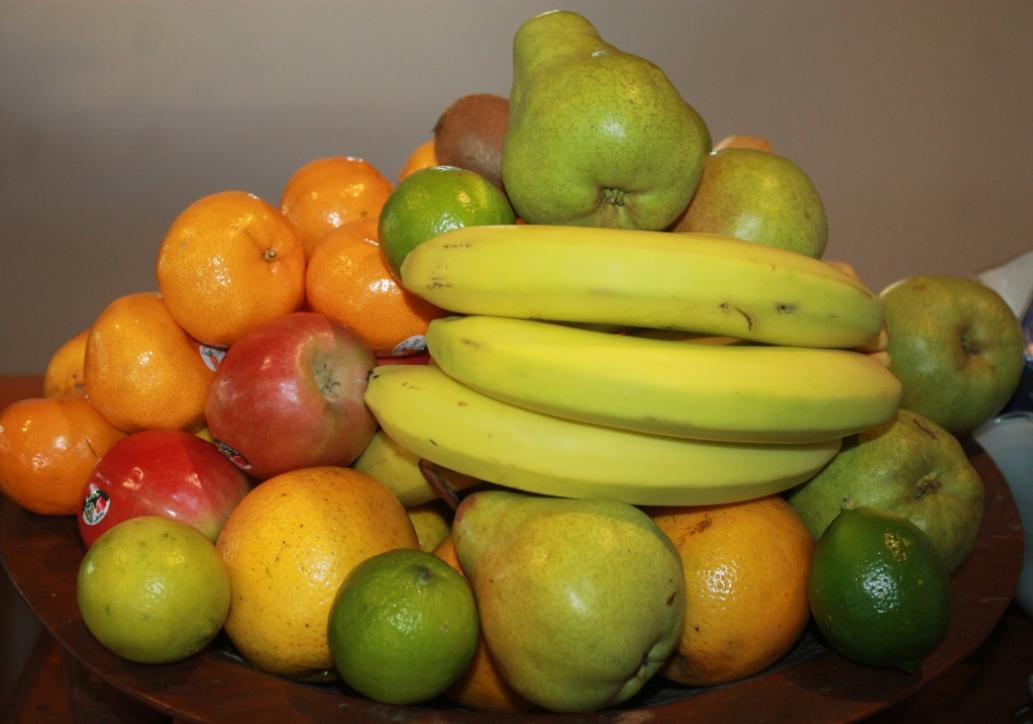 "Extending people's cognitive functioning is an important public health challenge," said study author May A. Beydoun, PhD, MPH, of the National Institutes of Health's National Institute on Aging in Baltimore, Maryland. "Antioxidants may help protect the brain from oxidative stress, which can cause cell damage. Further studies are needed to test whether adding these antioxidants can help protect the brain from dementia."
The study involved 7,283 people who were at least 45 years old at the beginning of the study. They had a physical exam, interview and blood tests for antioxidant levels at the beginning of the study. They were then followed for an average of 16 years to see who developed dementia.
The participants were divided into three groups based on their levels of antioxidants in the blood. People with the highest amounts of lutein and zeaxanthin were less likely to develop dementia than those with lower levels. Every standard deviation increase in lutein and zeaxanthin levels, approximately 15.4 micromols/liter, was associated with a 7% decrease in risk of dementia. For beta-cryptoxanthin, every standard deviation increase in levels, approximately 8.6 micromols/liter, was associated with a 14% reduced risk of dementia.
"It's important to note that the effect of these antioxidants on the risk of dementia was reduced somewhat when we took into account other factors such as education, income and physical activity, so it's possible that those factors may help explain the relationship between antioxidant levels and dementia," Beydoun said.
A limitation of the study is that antioxidant levels were based on one measurement of blood levels and may not reflect people's levels over their lifetime.
The study was supported by the National Institute on Aging, part of the National Institutes of Health.
May A. Beydoun, Hind A Beydoun, Marie T. Fanelli-Kuczmarski, Jordan Weiss, Sharmin Hossain, Jose Atilio Canas, Michele Kim Evans, Alan B. Zonderman.
Association of Serum Antioxidant Vitamins and Carotenoids With Incident Alzheimer Disease and All-Cause Dementia Among US Adults.
Neurology, 2022; 10.1212/WNL.0000000000200289 DOI:
10.1212/WNL.0000000000200289
The Numbers Don't Lie: Australia Is Failing At Maths And We Need To Find A New Formula To Arrest The Decline
Divide, subtract, add, multiply: whatever way you cut it, Australia is heading in one direction when it comes to global maths rankings -- downwards.
From an OECD mathematics ranking of 11 in the world 20 years ago, Australian secondary students are now languishing in 29th place out of 38 countries, according to the most recent statistics.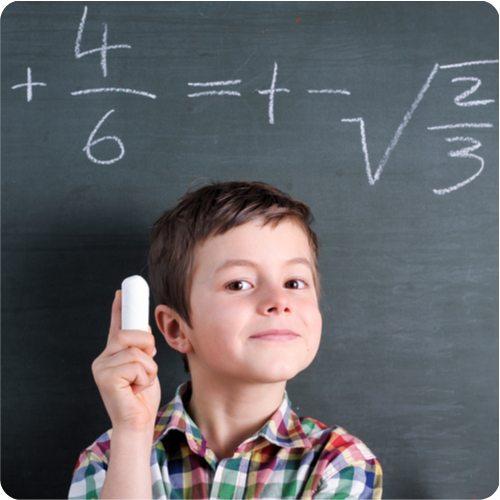 The sliding maths rankings have created widespread debate over whether curriculum changes are needed in our schools, but a new international paper co-authored by University of South Australia cognitive psychologist Dr Fernando Marmolejo-Ramos could provide part of the solution.
In the latest edition of Integrative Psychology and Behavioural Science, Dr Marmolejo-Ramos and researchers from China and Iran explain why simple gestures such as hand motions are important in helping students understand mathematical concepts.
"Many people struggle with mathematics and there is a lot of anxiety around it because it is an abstract topic," Dr Marmolejo-Ramos says. "You see the numbers, equations and graphs, but unless you engage human motor and sensory skills, they can be very difficult to grasp."
To get maths concepts across, it is important to bring together language, speech intonation, facial expressions and hand gestures, particularly the latter, the researchers say.
"Using your hands to create triangular, spherical, circular shapes and straight lines, reflecting the formulas you are trying to explain, is vital. It helps our brain better understand the concepts and commit them to memory."
Gestures are body movements that are learnt from infancy, usually before speech, so they are ingrained in humans as a way of processing and acquiring new knowledge.
Dr Marmolejo-Ramos says hand gestures are more relevant in teaching mathematics than other subjects because they engage our sensorimotor skills to help students interpret numbers more effectively.
The shift from face-to-face teaching towards online learning in the past two years due to the COVID-19 pandemic has made it even more challenging for maths students, Dr Marmolejo-Ramos says.
"When the only input you have is from a screen and a set of headphones, it is more difficult to use tools and gestures on screen. It's not impossible, however, and if online learning is going to become more widespread, then hand gestures should be incorporated into the online teaching."
"People struggle with mathematics for several reasons. It's progressively demanding but if you grasp the basics, the curve is not as steep."
"Gestures Enhance Executive Functions for the Understanding of Mathematical Concepts" is published in the Integrative Psychological and Behavioural Science journal. It is authored by Omid Khatin-Zadeh from the University of Electronic Science and Technology, China; Dr Zahra Eskandari from the Chabahar Maritime University, Iran; and Dr Fernando Marmolejo-Ramos from the University of South Australia.
The OECD's Programme for International Student Assessment (PISA) assesses 15-year-olds' maths, science and reading skills every three years. The most recent assessment in 2019 show that Australia's performance in maths has been declining since 2003.
On average, Australian maths students are 14 months behind than where they were 20 years ago, with 46 per cent of 15-year-olds failing to meet the national standard of proficiency in mathematics.
Omid Khatin-Zadeh, Zahra Eskandari, Fernando Marmolejo-Ramos.
Gestures Enhance Executive Functions for the Understating of Mathematical Concepts
. Integrative Psychological and Behavioral Science, 2022; DOI:
10.1007/s12124-022-09694-4
Desktop Air Curtain System Prevents Spread Of COVID-19 In Hospital Settings
In efforts to prevent the spread of COVID-19, miniaturizing air curtains for hospital wards, labs, and other health care settings is gaining traction as a viable solution to inadequate face masks or when social distancing is not a realistic option.
In AIP Advances, published by AIP Publishing, researchers in Japan developed a desktop air curtain system (DACS) that blocks all incoming aerosol particles.
"We envisage this system will be effective as an indirect barrier for use in blood-testing labs, hospital wards, and other situations where sufficient physical distance cannot be maintained, such as at a reception counter," co-author Kotaro Takamure said.
An air curtain, or air door, is a fan-powered ventilation system that creates an air seal over an entryway. Hospitals use them to prevent ambulance fumes and other contaminants from reaching the inside of an emergency room.
One challenge in developing smaller air curtains is fully blocking emitted aerosol particles over time because it is difficult to maintain the air wall over a long distance. As a result, the devices gradually lose air-discharge intensity, creating a turbulent flow that allows infected aerosol particles to escape into the surrounding environment.
The DACS contains a discharge and suction port to help address this problem. A generator at the top of the DACS produces the airflow, which is guided to the suction port at the bottom of the device. This prevents airflow dispersion, thus leading to the collection of all the aerosol particles at the suction port. A high-efficiency particulate air (HEPA) filter can be installed inside the suction port for air purification.
The researchers are developing an accompanying virus inactivation system equipped with ultraviolet light that connects to the suction port. After the air is sanitized with the UV light, it is recirculated to maintain airflow of the air curtain and air pressure in the room.
The researchers tested their device by using an air compressor connected to a mannequin to simulate breathing. Dioctyl sebacate, a widely used solvent that spreads easily, was added to the airflow to create aerosol particles. Particle image velocimetry and high-speed cameras were used to determine the DACS's blocking effect.
The aerosol particles approaching the DACS abruptly bent toward the suction port, signifying that air curtain flow fully blocked all incoming aerosol particles.
When the researchers placed the mannequin's arm through the DACS to imitate a blood-collection scenario, they found the airflow above the arm was disrupted. However, the aerosol blocking performance remained unaffected.
The DACS was tested on patients during blood collection at Nagoya University Hospital. The researchers are looking at lowering the suction port, so the arm can be placed below the heart for proper blood collection.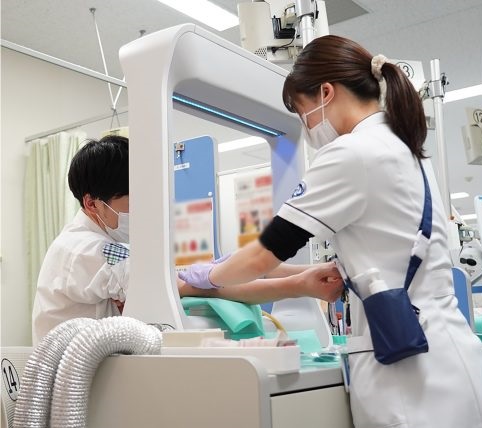 DACS tested on patient at Nagoya University Hospital CREDIT: Junki Mikami (FUIGO)

Kotaro Takamure, Yasuaki Sakamoto, Tetsuya Yagi, Yasumasa Iwatani, Hiroshi Amano, Tomomi Uchiyama.
Blocking effect of desktop air curtain on aerosols in exhaled breath
. AIP Advances, 2022; 12 (5): 055323 DOI:
10.1063/5.0086659
Improved Wind Forecasts Save Consumers Millions In Energy Costs
Wind energy is occupying an increasingly large share of the energy landscape, which comes with an increasing reliance on the intermittent nature of wind.
Utilities must be able to predict wind patterns accurately and far in advance to determine how much additional energy they must produce from other sources. A bad prediction can cost the utility a lot of money, and those costs are then passed on to consumers. Conversely, a good prediction can result in substantial savings for those same customers.
In Journal of Renewable and Sustainable Energy, by AIP Publishing, scientists from Colorado State University and the National Oceanic and Atmospheric Administration determined that by increasing the accuracy of weather forecasts over the last decade, consumers netted at least $384 million in energy savings during that time.
The researchers based their predictions on NOAA's High Resolution Rapid Refresh (HRRR) model, which continuously provides daily weather forecasts for every part of the United States. Part of these forecasts include wind speed and direction data, which utilities can employ to gauge how much energy their turbines will produce.
Every few years, NOAA releases an updated version of the HRRR model and spends a year testing it out while keeping the previous model in place. During that testing year, NOAA researchers compare each model's forecasts to actual conditions to measure just how much each model improved over its predecessor.
"We were able to compare these models, side by side, and see when one model makes a better prediction than the other," said author Martin Shields. "And what we see over time is that the models get better at predicting wind, and that generates additional savings for utility consumers."
As expected, the newer models performed better, but the team wanted to quantify just how much better. Every difference between a predicted wind speed and a measured wind speed has a cost associated with it, from either needless operational costs or the price of extra electricity from the wholesale market.
By looking at the difference in errors from each model, the researchers were able to put a dollar amount on each upgraded model.
During the overlap model period in 2015 and again in 2017, the team calculated that if utilities had been using the newer model instead of the older one, they would have saved millions, most of which would have been passed on to consumers.
"The researchers at NOAA have been struggling for a long time to put a value on their forecast," said Shields. "They know their models are getting better, they know that people use those in important economic decisions, but they have a hard time quantifying exactly what the value of that is."
The researchers plan to turn their attention to HRRR's cost savings due to cloud cover forecasts on solar power.
Hwayoung Jeon, Brad Hartman, Harvey Cutler, Rebecca Hill, Yuchen Hu, Tao Lu, Martin Shields, David D. Turner.
Estimating the economic impacts of improved wind speed forecasts in the United States electricity sector.
Journal of Renewable and Sustainable Energy, 2022; 14 (3): 036101 DOI:
10.1063/5.0081905
MRNA Vaccines Like Pfizer And Moderna Fare Better Against COVID-19 Variants Of Concern
A comparison of four COVID-19 vaccinations shows that messenger RNA (mRNA) vaccines -- Pfizer-BioNTech and Moderna -- perform better against the World Health Organization's variants of concern (VOCs) than viral vector vaccines -- AstraZeneca and J&J/Janssen. Although they all effectively prevent severe disease by VOCs, the research, publishing May 17 in the open access journal PLOS Medicine, suggests that people receiving a viral vector vaccine are more vulnerable to infection by new variants.
By March 2022, COVID-19 had caused over 450 million confirmed infections and six million reported deaths. The first vaccines approved in the US and Europe that protect against serious infection are Pfizer-BioNTech and Moderna, which deliver genetic code, known as mRNA, to the bodies' cells, whereas Oxford/AstraZeneca and J&J/Janssen are viral vector vaccines that use a modified version of a different virus -- a vector -- to deliver instructions to our cells. Three vaccines are delivered as two separate injections a few weeks apart, and J&J/Janssen as a single dose.
Marit J. van Gils at the University of Amsterdam, Netherlands, and colleagues, took blood samples from 165 healthcare workers, three and four weeks after first and second vaccination respectively, and for J&J/Janssen at four to five and eight weeks after vaccination. Samples were collected before, and four weeks after a Pfizer-BioNTech booster.
Four weeks after the initial two doses, antibody responses to the original SARS-CoV-2 viral strain were highest in recipients of Moderna, followed closely by Pfizer-BioNTech, and were substantially lower in those who received viral vector vaccines. Tested against the VOCs -- Alpha, Beta, Gamma, Delta and Omicron -- neutralizing antibodies were higher in the mRNA vaccine recipients compared to those who had viral vector vaccines. The ability to neutralize VOCs was reduced in all vaccine groups, with the greatest reduction against Omicron. The Pfizer-BioNTech booster increased antibody responses in all groups with substantial improvement against VOCs, including Omicron.
The researchers caution that their AstraZeneca group was significantly older, because of safety concerns for the vaccine in younger age groups. As immune responses tend to weaken with age, this could affect the results. This group was also smaller because the Dutch government halted use for a period.
van Gils concludes, "Four COVID-19 vaccines induce substantially different antibody responses."
Marit J. van Gils, Ayesha Lavell, Karlijn van der Straten, Brent Appelman, Ilja Bontjer, Meliawati Poniman, Judith A. Burger, Melissa Oomen, Joey H. Bouhuijs, Lonneke A. van Vught, Marleen A. Slim, Michiel Schinkel, Elke Wynberg, Hugo D. G. van Willigen, Marloes Grobben, Khadija Tejjani, Jacqueline van Rijswijk, Jonne L. Snitselaar, Tom G. Caniels, Alexander P. J. Vlaar, Maria Prins, Menno D. de Jong, Godelieve J. de Bree, Jonne J. Sikkens, Marije K. Bomers, Rogier W. Sanders.
Antibody responses against SARS-CoV-2 variants induced by four different SARS-CoV-2 vaccines in health care workers in the Netherlands: A prospective cohort study.
PLOS Medicine, 2022; 19 (5): e1003991 DOI:
10.1371/journal.pmed.1003991
Early Earth: Tungsten Isotopes In Seawater Provide Insights Into The Co-Evolution Of Earth's Mantle And Continents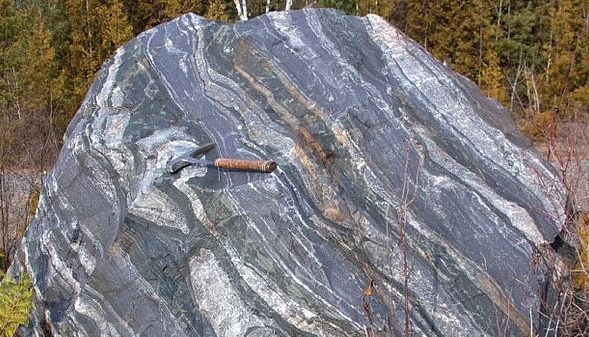 In a study published in the journal Nature Communications, Andrea Mundl-Petermeier and Sebastian Viehmann of the Department of Lithospheric Research at the University of Vienna have demonstrated that a new geochemical archive -- 182Tungsten in banded iron formations -- can be used to simultaneously trace both the evolution of the Earth's mantle and continents throughout Earth's history. This offers new opportunities to better understand the Precambrian Earth in the future.
In order to investigate how the Earth's mantle developed in the early Earth period, the short-lived 182Hafnium-182Tungsten isotope system has been in the focus before: 182Tungsten indicates, among other things, how much the Earth was exposed to intense meteorite impacts towards the end of its formation and how quickly Earth's mantle mixed and homogenized with these meteoritic components throughout Earth's history.
However, until now, magmatic rocks from different, but very limited relicts of ancient continents -- for example, Australia or South Africa -- had to be studied for these isotopes. Andrea Mundl-Petermeier and Sebastian Viehmann from the Department of Lithospheric Research at the University of Vienna and colleagues at the University of Cologne and Jacobs University Bremen, now discovered a new geochemical archive published it in the journal Nature Communications: tungsten isotope signatures in banded iron formations (BIFs), which predominantly formed in the Precambrian, i.e., between 3.8 billion and about 540 million years ago.
Evolution of the Earth's mantle and the continents
Using the 2.7 billion-year-old iron formation from the Temagami greenstone belt in Canada, the team was able to reconstruct that iron- and silica-rich layers deposited from seawater can simultaneously record the evolution of the Earth's mantle and crust. With state-of-the-art instruments from the GeoCosmoChronology group and the new Geoscience Solid State Mass Spectrometry (GeoIsotopes) Core Facility at the Department of Lithospheric Research, the research team obtained high-precision isotope measurements of individual bright quartz and dark iron layers.
"With the help of high-precision measurement methods, we were able to resolve small but distinct differences in 182W of individual layers," says Andrea Mundl-Petermeier from the Department of Lithospheric Research.
The new approach now tackles the long-standing questions regarding mantle and crust evolution from a seawater perspective: banded iron ores are formed by chemical deposition from the ocean.
"The BIFs studied from the Temagami area thus directly represent seawater chemistry 2.7 billion years ago," explains geologist Sebastian Viehmann: "We are looking at the Earth at that time from the perspective of the ocean."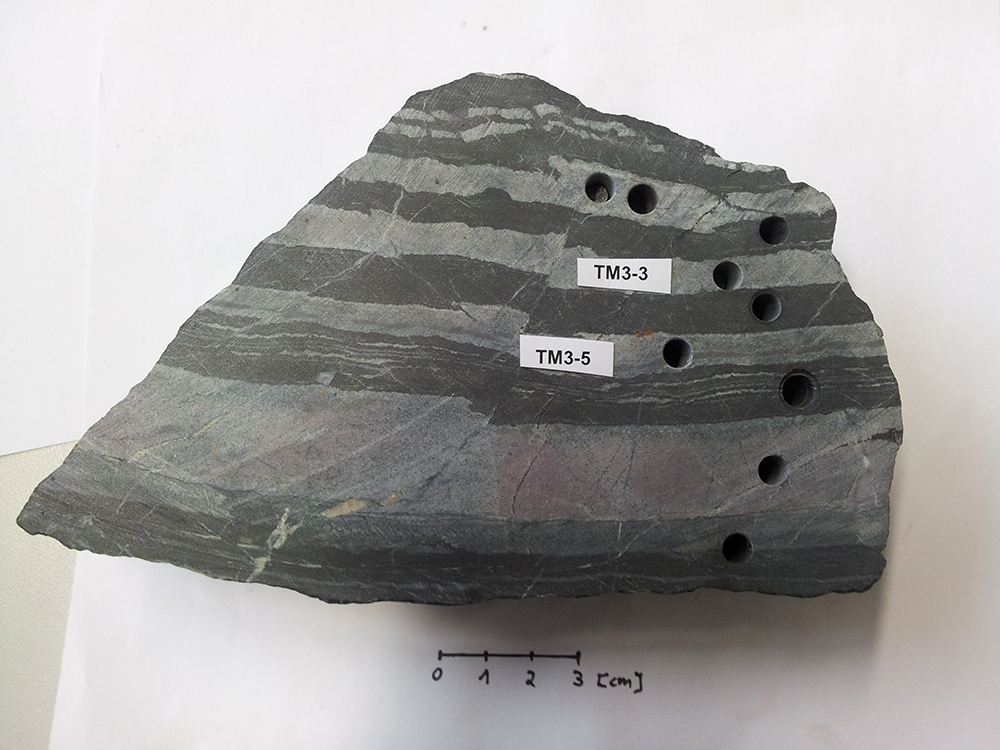 Using the 2.7 billion-year-old iron formation from the Temagami greenstone belt in Canada, the team was able to reconstruct that both iron- and silica-rich layers of the BIF deposited from seawater provide information on the evolution of the Earth's mantle and crust, respectively. © Sebastian Viehmann

A. Mundl-Petermeier, S. Viehmann, J. Tusch, M. Bau, F. Kurzweil, C. Münker.
Earth's geodynamic evolution constrained by 182W in Archean seawater.
Nature Communications, 2022; 13 (1) DOI:
10.1038/s41467-022-30423-3
In text Image (top): In a study published in the journal Nature Communications, Andrea Mundl-Petermeier and Sebastian Viehmann from the Department of Lithospheric Research have demonstrated that a new geochemical archive - 182Tungsten in banded iron formations - can be used to simultaneously trace both the evolution of the Earth's mantle and continents through Earth's history. © David Diekrup 2011
What We're Still Learning About How Trees Grow
What will happen to the world's forests in a warming world? Will increased atmospheric carbon dioxide help trees grow? Or will extremes in temperature and precipitation hold growth back? That all depends on whether tree growth is more limited by the amount of photosynthesis or by the environmental conditions that affect tree cell growth -- a fundamental question in tree biology, and one for which the answer wasn't well understood, until now.
A study led by University of Utah researchers, with an international team of collaborators, finds that tree growth does not seem to be generally limited by photosynthesis but rather by cell growth. This suggests that we need to rethink the way we forecast forest growth in a changing climate, and that forests in the future may not be able to absorb as much carbon from the atmosphere as we thought.
"A tree growing is like a horse and cart system moving forward down the road," says William Anderegg, an associate professor in the U's School of Biological Sciences and principal investigator of the study. "But we basically don't know if photosynthesis is the horse most often or if it's cell expansion and division. This has been a longstanding and difficult question in the field. And it matters immensely for understanding how trees will respond to climate change."
The study is published in Science and is funded by the U.S. Department of Agriculture, the David and Lucille Packard Foundation, the National Science Foundation, the U.S. Department of Energy and the Arctic Challenge for Sustainability II.
We learned the basics in elementary school -- trees produce their own food through photosynthesis, taking sunlight, carbon dioxide and water and turning it into leaves and wood.
There's more to the story, though. To convert carbon gained from photosynthesis into wood requires wood cells to expand and divide.
So trees get carbon from the atmosphere through photosynthesis. This is the trees' carbon source. They then spend that carbon to build new wood cells -- the tree's carbon sink.
If the trees' growth is source-limited, then it's limited only by how much photosynthesis the tree can carry out and tree growth would be relatively easy to predict in a mathematical model. So rising carbon dioxide in the atmosphere should ease that limitation and let trees grow more, right?
But if instead the trees' growth is sink-limited, then the tree can only grow as fast as its cells can divide. Lots of factors can directly affect both photosynthesis and cell growth rate, including temperature and the availability of water or nutrients. So if trees are sink-limited, simulating their growth has to include the sink response to these factors.
The researchers tested that question by comparing the trees' source and sink rates at sites in North America, Europe, Japan and Australia. Measuring carbon sink rates was relatively easy -- the researchers just collected samples from trees that contained records of growth. "Extracting wood cores from tree stems and measuring the width of each ring on these cores essentially lets us reconstruct past tree growth," says Antoine Cabon, a postdoctoral scholar in the School of Biological Sciences and lead author of the study.
Measuring carbon sources is tougher, but doable. Source data was measured with 78 eddy covariance towers, 30 feet tall or more, that measure carbon dioxide concentrations and wind speeds in three dimensions at the top of forest canopies, Cabon says. "Based on these measurements and some other calculations," he says, "we can estimate the total forest photosynthesis of a forest stand."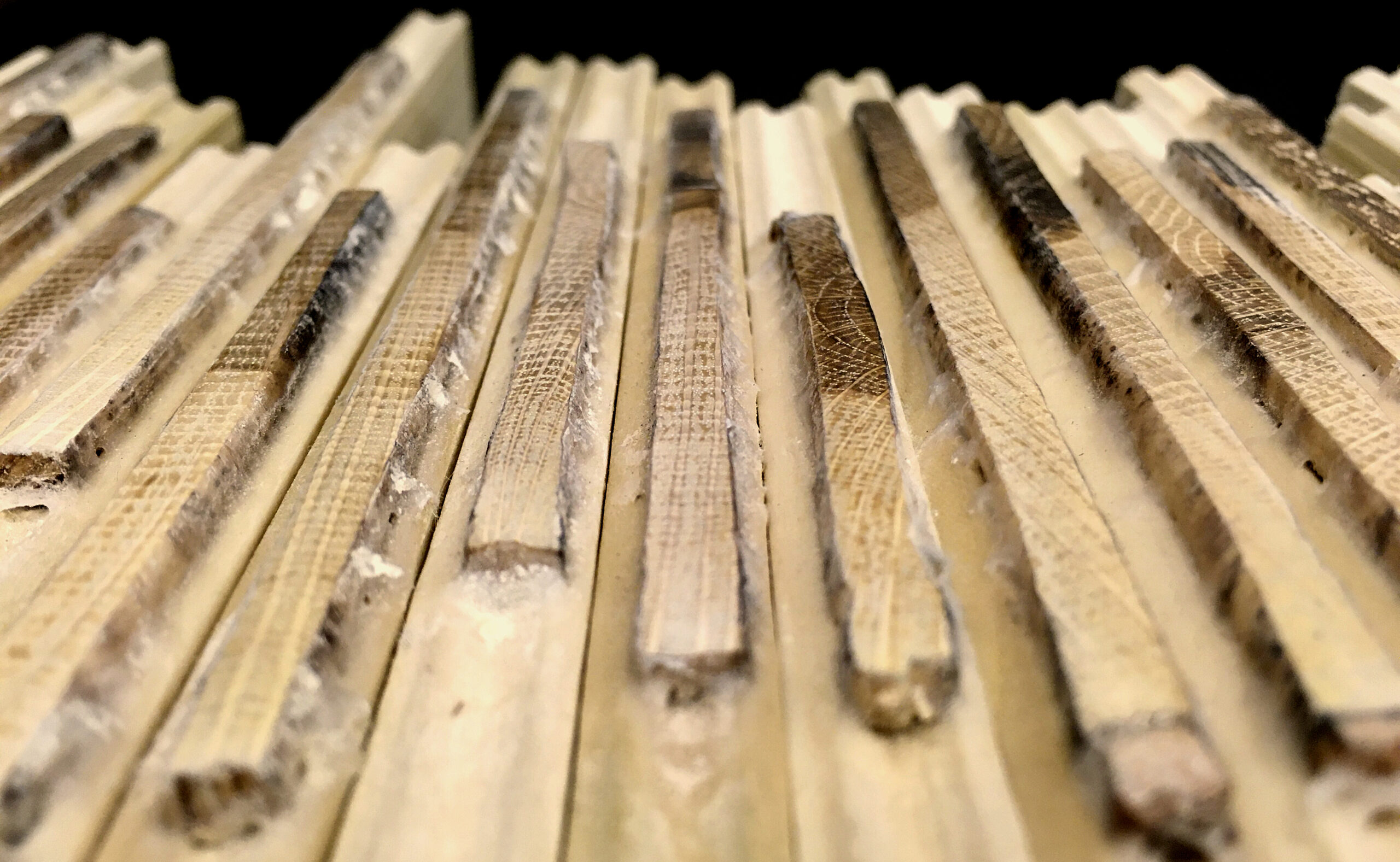 Wood cores prepared for measuring ring width. PHOTO CREDIT: Antoine Cabon

The researchers analysed the data they collected, looking for evidence that tree growth and photosynthesis were processes that are linked, or coupled. They didn't find it. When photosynthesis increased or decreased, there was not a parallel increase or decrease in tree growth.
"Strong coupling between photosynthesis and tree growth would be expected in the case where tree growth is source limited," Cabon says. "The fact that we mostly observe a decoupling is our principal argument to conclude that tree growth is not source-limited."
Surprisingly, the decoupling was seen in environments across the globe. Cabon says they did expect to see some decoupling in some places, but "we did not expect to see such a widespread pattern."
The strength of coupling or decoupling between two processes can lie on a spectrum, so the researchers were interested in what conditions led to stronger or weaker decoupling. Fruit-bearing and flowering trees, for example, exhibited different source-sink relationships than conifers. More diversity in a forest increased coupling. Dense, covered leaf canopies decreased it.
Finally, coupling between photosynthesis and growth increased in warm and wet conditions, with the opposite also true: that in cold and dry conditions, trees are more limited by cell growth.
Cabon says that this last finding suggests that the source vs. sink issue depends on the tree's environment and climate. "This means that climate change may reshape the distribution of source and sink limitations of the world forests," he says.
A new way to look forward
The key takeaway is that vegetation models, which use mathematical equations and plant characteristics to estimate future forest growth, may need to be updated. "Virtually all these models assume that tree growth is source limited," Cabon says.
For example, he says, current vegetation models predict that forests will thrive with higher atmospheric carbon dioxide. "The fact that tree growth is often sink limited means that for many forests this may not actually happen."
That has additional implications: forests currently absorb and store about a quarter of our current carbon dioxide emissions. If forest growth slows down, so do forests' ability to take in carbon, and their ability to slow climate change.
Other authors of the study include Steven A. Kannenberg, University of Utah; Altaf Arain and Shawn McKenzie, McMaster University; Flurin Babst, Soumaya Belmecheri and David J. Moore, University of Arizona; Dennis Baldocchi, University of California, Berkeley; Nicolas Delpierre, Université Paris-Saclay; Rossella Guerrieri, University of Bologna; Justin T. Maxwell, Indiana University Bloomington; Frederick C. Meinzer and David Woodruff, USDA Forest Service, Pacific Northwest Research Station; Christoforos Pappas, Université du Québec à Montréal; Adrian V. Rocha, University of Notre Dame; Paul Szejner, National Autonomous University of Mexico; Masahito Ueyama, Osaka Prefecture University; Danielle Ulrich, Montana State University; Caroline Vincke, Universit. Catholique de Louvain; Steven L. Voelker, Michigan Technological University and Jingshu Wei, Polish Academy of Sciences.
Antoine Cabon, Steven A. Kannenberg, Altaf Arain, Flurin Babst, Dennis Baldocchi, Soumaya Belmecheri, Nicolas Delpierre, Rossella Guerrieri, Justin T. Maxwell, Shawn McKenzie, Frederick C. Meinzer, David J. P. Moore, Christoforos Pappas, Adrian V. Rocha, Paul Szejner, Masahito Ueyama, Danielle Ulrich, Caroline Vincke, Steven L. Voelker, Jingshu Wei, David Woodruff, William R. L. Anderegg.
Cross-biome synthesis of source versus sink limits to tree growth.
Science, 2022; 376 (6594): 758 DOI:
10.1126/science.abm4875
New University Of South Australia Micro Device Injects A Boost To IVF Success
A research team led by the University of Adelaide, in partnership with medical technology company Fertilis, has delivered a ground-breaking new micro-device to streamline the only fertility treatment procedure available for men with low sperm counts.
The first-of-its-kind device will allow more IVF clinics to offer Intracytoplasmic Sperm Injection (ICSI) as a treatment, while several IVF procedures, such as embryo culture, embryo cryopreservation and in vitro maturation, will also be improved by using the device.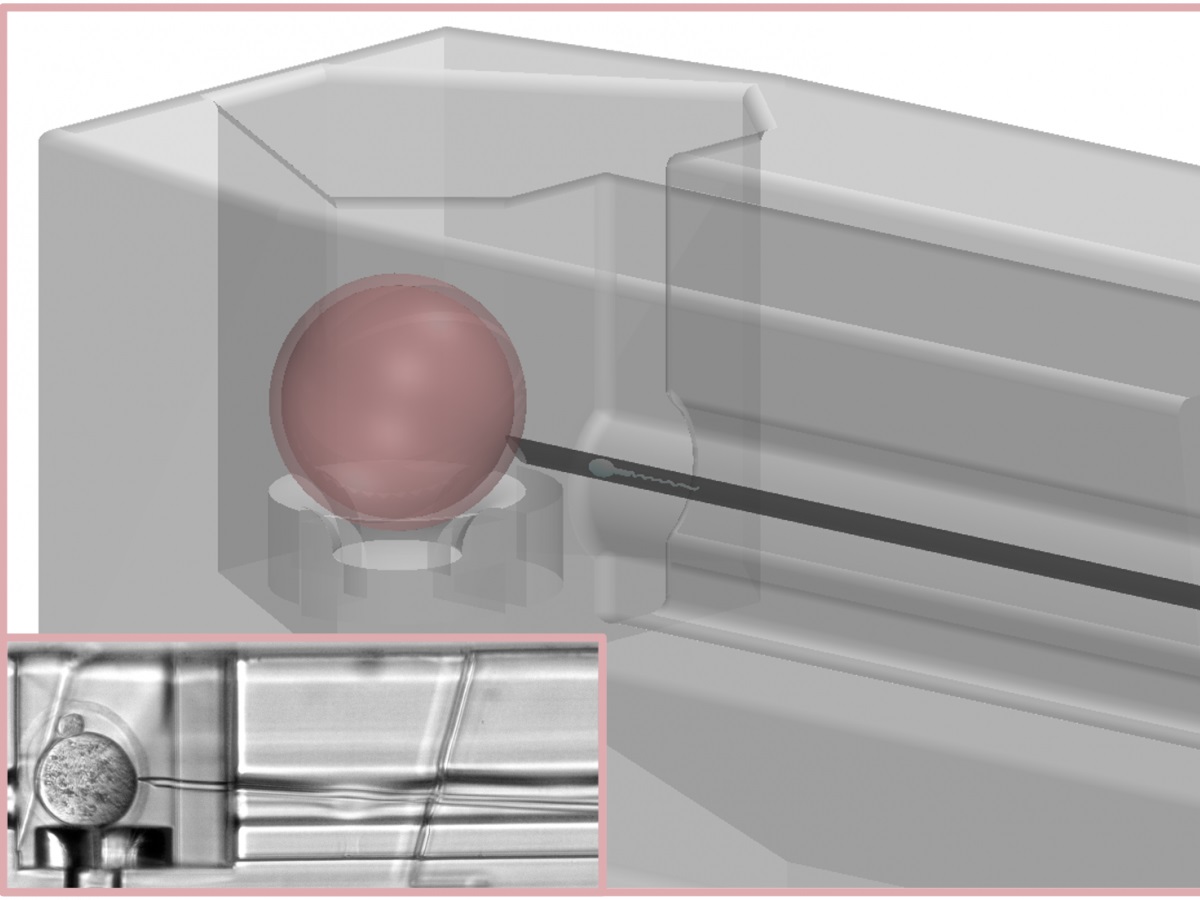 Intracytoplasmic Sperm Injection (ICSI) device. Image: UniSA
ICSI is a slow and difficult procedure which involves the injection of a single sperm into an egg for fertilisation, and it can only be carried out by experienced embryologists.
This new technology -- smaller than a pinhead in size -- holds up to 10 eggs in segregated positions for quicker injection, making it easier for embryologists to track and avoid the risk of errors.
Lead researcher Dr Kylie Dunning, from the University of Adelaide's Robinson Research Institute, said the device will cut treatment time in half, require less training for embryologists with less expensive equipment than current ICSI treatment and improve access to the procedure for more patients.
"The development of this new, innovative approach is an important breakthrough for people wanting to start a family who haven't been able to due to male infertility," Dr Dunning said.
"By removing the need for the pipette that normally holds the unfertilised egg in position during ICSI, this device simplifies the injection process, reduces dependency on a high level of technical experience and will dramatically improve embryo production.
"This discovery removes significant barriers to treatment for people with infertility and will improve IVF success."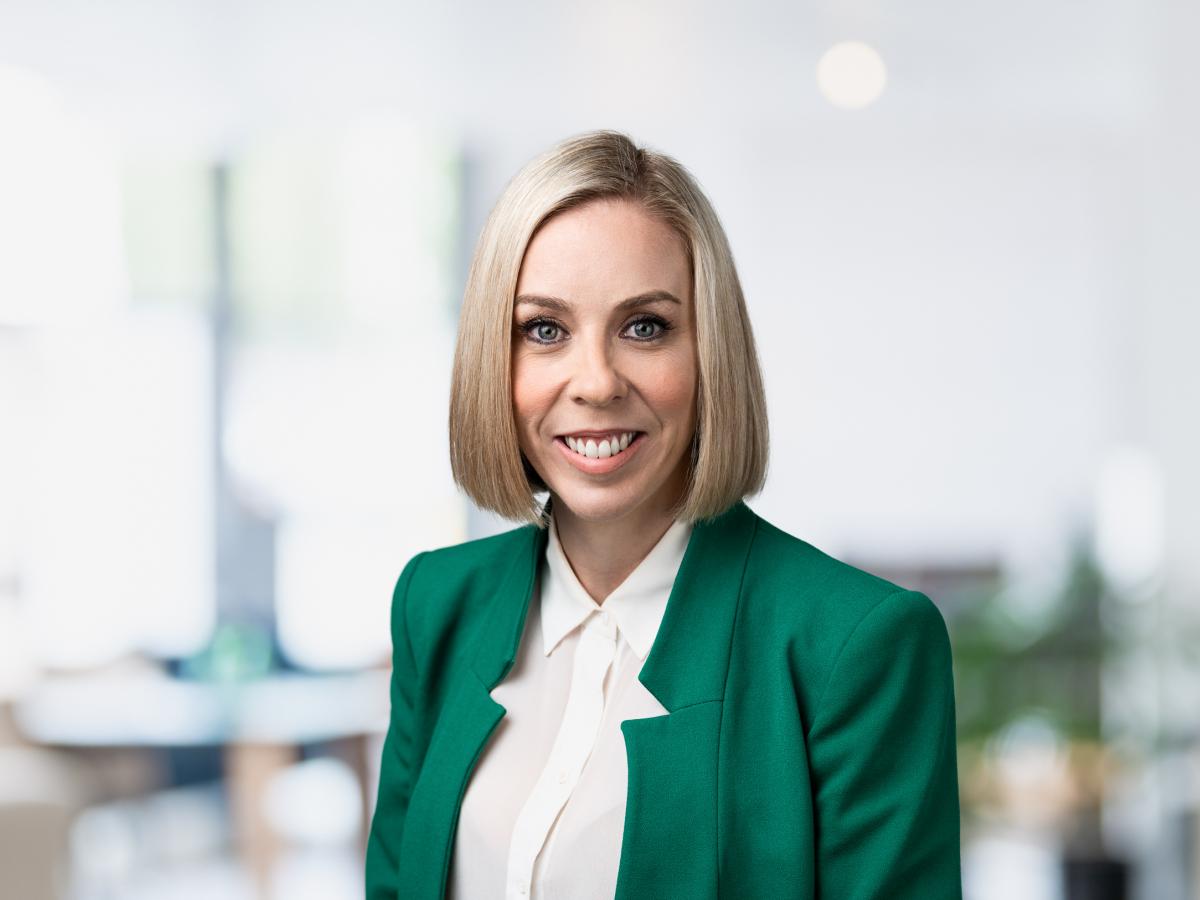 Dr Kylie Dunning. Photo: UniSA

Device inventor and Fertilis co-founder, Professor Jeremy Thompson, said his company is excited to bring the breakthrough device to market.
"Where IVF science has excelled, technology has tended to stagnate -- until now," Professor Thompson said.
"ICSI hasn't changed since its discovery 30 years ago. Continued innovation in the IVF lab like this is the only way we will boost success and reduce the financial and emotional burden for patients."
The device will undergo global clinical trials in 2022.
This cutting-edge development would not have been possible without the support of the Australian Research Council and The Hospital Research Foundation Group.
Paul Flynn, Chief Executive Officer of the Hospital Research Foundation Group, said the organisation has been proud to support Dr Dunning's research during the past three years to improve IVF success rates.
"This device is set to be a game changer for thousands of hopeful parents who need to rely on ICSI," Mr Flynn said.
Primary author, Suliman Yagoub, is a PhD candidate in the School of Biomedicine at The University of Adelaide.
Suliman H. Yagoub, Jeremy G. Thompson, Antony Orth, Kishan Dholakia, Brant C. Gibson, Kylie R. Dunning.
Fabrication on the microscale: a two-photon polymerized device for oocyte microinjection
. Journal of Assisted Reproduction and Genetics, 2022; DOI:
10.1007/s10815-022-02485-1
Validation Brings New Predictive Capability To Global Megafire Smoke Impacts
Satellite- and ground-based observations of Australia and British Columbia blazes help increase resolution of models.
New research modelling smoke from two recent megafires sets the stage for better forecasting of how emissions from these global-scale events will behave and impact temperatures. As huge wildfires become more common under climate change, increased attention has focused on the intensity and duration of their emissions, which rival those of some volcano eruptions.
Megafires in British Columbia in 2017 and Australia in 2019-2020 injected massive amounts of smoke into the stratosphere, allowing first-ever detailed satellite- and ground-based measurements of such cataclysms. Using that data for validation, a Los Alamos National Laboratory-led team modelled the behaviour and impacts of the smoke as it rose from the lower atmosphere into the high-riding stratosphere, then circulated the globe. The research appeared in the Journal of Geophysical Research -- Atmospheres.
"This is the only time we've tracked the global scale smoke phenomenon with satellite- and ground-based observations, which allows us to improve the model and understand the impact," said Manvendra Dubey, project lead and co-author of the paper published this week in the Journal of Geophysical Research: Atmospheres. "The models and measurements are coming together to enhance predictability."
"As fire regimes change and enter new paradigms of behaviour under future climate change, data from past fires can't be used for prediction and assessment," said Gennaro D'Angelo, a co-author on the paper and research scientist at Los Alamos.
"The models are the only way you can forecast their smoke effects," Dubey said. "For instance, observations of the Australian fire showed that black carbon got a boost from solar heating and rose to 30 kilometers in the stratosphere, which made the plume last longer, about 16 months. Our model accounts for this self-heating phenomenon predicted by the late Robert C. Malone at Los Alamos in the 1980s -- and our new study unequivocally validates it."
Plumes have cooling effect
The 2019-2020 Australian megafire injected huge amounts of smoke and soot into the atmosphere that were observed, with global impacts on temperature as this study shows. Shading from the Australian plume lasted a few months. That effect lowered temperatures in the southern hemisphere about 0.2 degrees Celsius, information that has implications for global climate change models.
The smaller plume from the 2017 British Columbia fires did not trigger similar cooling. The study highlights when and how megafire smoke impacts global climate, much like volcanic sulphate and ash injections do.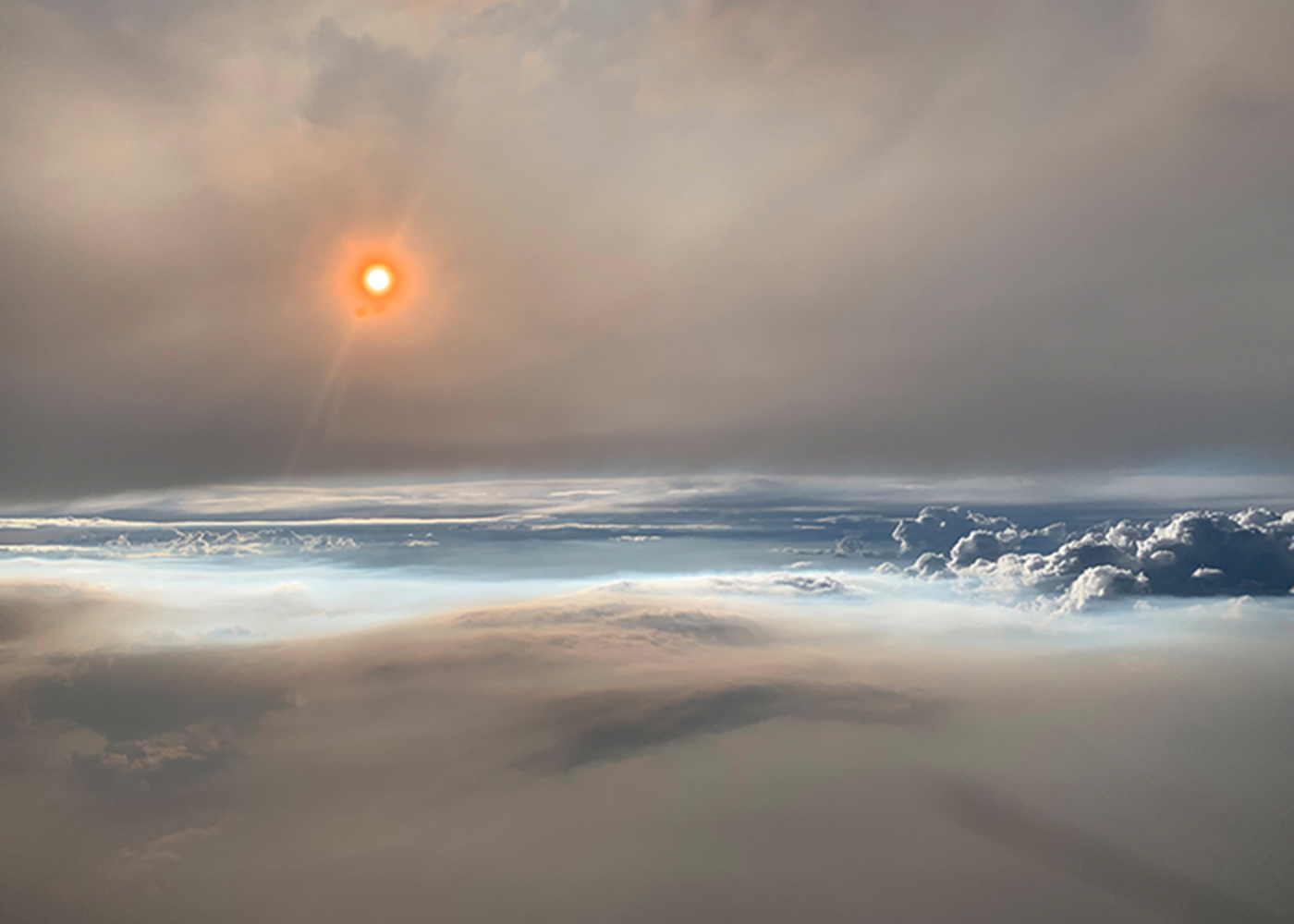 Recent megafires in Australia and British Columbia have injected unprecedented amounts of smoke into the stratosphere. Modelling led by Los Alamos National Laboratory will help predict the effects of similar future events. Credit: David Peterson, FIREX-AQ

Gennaro D'Angelo, Steve Guimond, Jon Reisner, David A. Peterson, Manvendra Dubey.
Contrasting Stratospheric Smoke Mass and Lifetime From 2017 Canadian and 2019/2020 Australian Megafires: Global Simulations and Satellite Observations.
Journal of Geophysical Research: Atmospheres, 2022; 127 (10) DOI:
10.1029/2021JD036249
Scientists Identify Characteristics To Better Define Long COVID
A research team supported by the National Institutes of Health has identified characteristics of people with long COVID and those likely to have it. Scientists, using machine learning techniques, analyzed an unprecedented collection of electronic health records (EHRs) available for COVID-19 research to better identify who has long COVID. Exploring de-identified EHR data in the National COVID Cohort Collaborative (N3C), a national, centralized public database led by NIH's National Center for Advancing Translational Sciences (NCATS), the team used the data to find more than 100,000 likely long COVID cases as of October 2021 (as of May 2022, the count is more than 200,000). The findings appeared May 16 in The Lancet Digital Health.
Long COVID is marked by wide-ranging symptoms, including shortness of breath, fatigue, fever, headaches, "brain fog" and other neurological problems. Such symptoms can last for many months or longer after an initial COVID-19 diagnosis. One reason long COVID is difficult to identify is that many of its symptoms are similar to those of other diseases and conditions. A better characterization of long COVID could lead to improved diagnoses and new therapeutic approaches.
"It made sense to take advantage of modern data analysis tools and a unique big data resource like N3C, where many features of long COVID can be represented," said co-author Emily Pfaff, Ph.D., a clinical informaticist at the University of North Carolina at Chapel Hill.
The N3C data enclave currently includes information representing more than 13 million people nationwide, including nearly 5 million COVID-19-positive cases. The resource enables rapid research on emerging questions about COVID-19 vaccines, therapies, risk factors and health outcomes.
The new research is part of a related, larger trans-NIH initiative, Researching COVID to Enhance Recovery (RECOVER), which aims to improve the understanding of the long-term effects of COVID-19, called post-acute sequelae of SARS-CoV-2 infection (PASC). RECOVER will accurately identify people with PASC and develop approaches for its prevention and treatment. The program also will answer critical research questions about the long-term effects of COVID through clinical trials, longitudinal observational studies, and more.
In the Lancet study, Pfaff, Melissa Haendel, Ph.D., at the University of Colorado Anschutz Medical Campus, and their colleagues examined patient demographics, health care use, diagnoses and medications in the health records of 97,995 adult COVID-19 patients in the N3C. They used this information, along with data on nearly 600 long COVID patients from three long COVID clinics, to create three machine learning models to identify long COVID patients.
In machine learning, scientists "train" computational methods to rapidly sift through large amounts of data to reveal new insights -- in this case, about long COVID. The models looked for patterns in the data that could help researchers both understand patient characteristics and better identify individuals with the condition.
The models focused on identifying potential long COVID patients among three groups in the N3C database: All COVID-19 patients, patients hospitalized with COVID-19, and patients who had COVID-19 but were not hospitalized. The models proved to be accurate, as people identified as at risk for long COVID were similar to patients seen at long COVID clinics. The machine learning systems classified approximately 100,000 patients in the N3C database whose profiles were close matches to those with long COVID.
"Once you're able to determine who has long COVID in a large database of people, you can begin to ask questions about those people," said Josh Fessel, M.D., Ph.D., senior clinical advisor at NCATS and a scientific program lead in RECOVER. "Was there something different about those people before they developed long COVID? Did they have certain risk factors? Was there something about how they were treated during acute COVID that might have increased or decreased their risk for long COVID?"
The models searched for common features, including new medications, doctor visits and new symptoms, in patients with a positive COVID diagnosis who were at least 90 days out from their acute infection. The models identified patients as having long COVID if they went to a long COVID clinic or demonstrated long COVID symptoms and likely had the condition but hadn't been diagnosed.
"We want to incorporate the new patterns we're seeing with the diagnosis code for COVID and include it in our models to try to improve their performance," said the University of Colorado's Haendel. "The models can learn from a greater variety of patients and become more accurate. We hope we can use our long COVID patient classifier for clinical trial recruitment."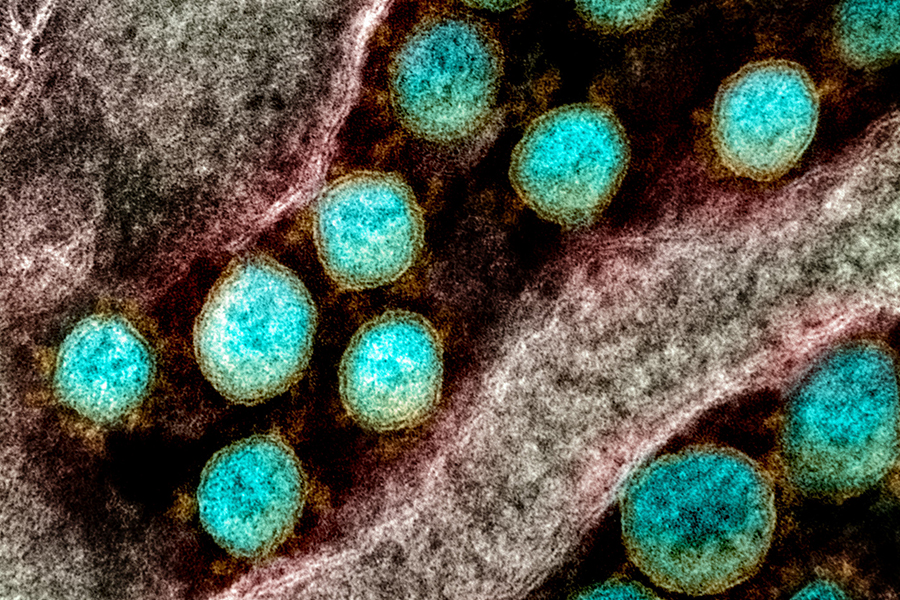 Transmission electron micrograph of SARS-CoV-2 virus particles, isolated from a patient. Image captured and colour-enhanced at the NIAID Integrated Research Facility (IRF) in Fort Detrick, Maryland. (NIAID)
Emily R Pfaff, Andrew T Girvin, Tellen D Bennett, Abhishek Bhatia, Ian M Brooks, Rachel R Deer, Jonathan P Dekermanjian, Sarah Elizabeth Jolley, Michael G Kahn, Kristin Kostka, Julie A McMurry, Richard Moffitt, Anita Walden, Christopher G Chute, Melissa A Haendel, Carolyn Bramante, David Dorr, Michele Morris, Ann M Parker, Hythem Sidky, Ken Gersing, Stephanie Hong, Emily Niehaus.
Identifying who has long COVID in the USA: a machine learning approach using N3C data.
The Lancet Digital Health, 2022; DOI:
10.1016/S2589-7500(22)00048-6
Disclaimer: These articles are not intended to provide medical advice, diagnosis or treatment. Views expressed here do not necessarily reflect those of Pittwater Online News or its staff.