Inbox and environment news: Issue 537
May 8 - 14, 2022: Issue 537
Friends Of Narrabeen Lagoon Catchment Forum: May 2022 - Speaker - Prof. Dennis Foley On The Aboriginal Heritage Of The Narrabeen Lagoon Catchment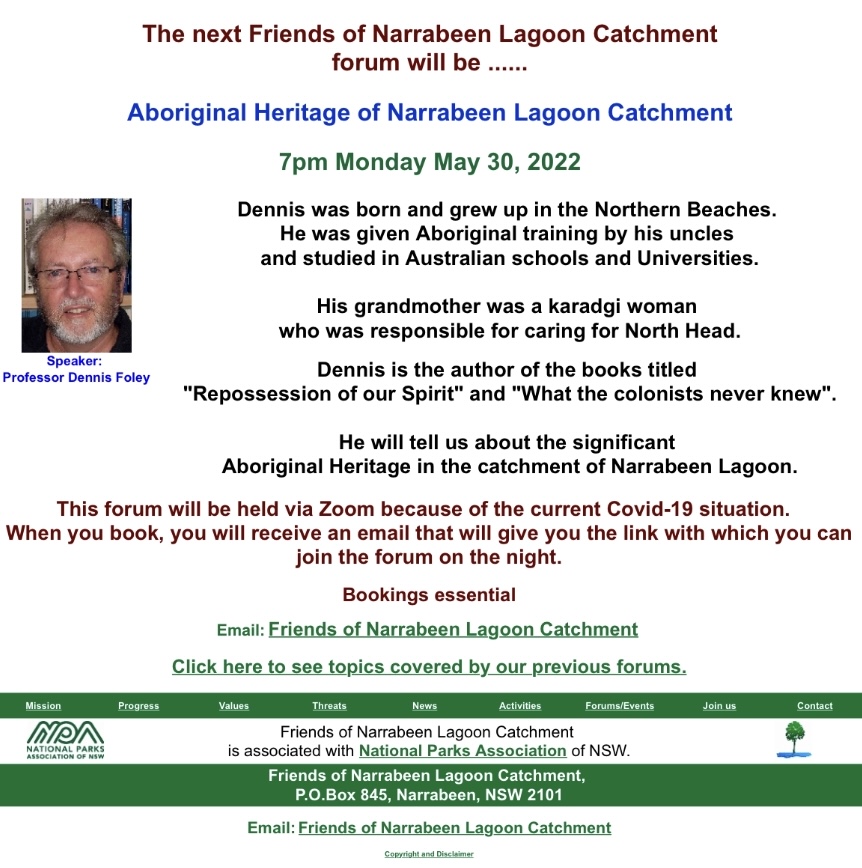 Local Wildlife Rescuers And Carers State That Ongoing Heavy Rains Are Tough For Us But Can Be Tougher For Our Wildlife:
Birds and possums can be washed out of trees, or the tree comes down, nests can disintegrate or hollows fill with water
Ground dwelling animals can be flooded out of their burrows or hiding places and they need to seek higher ground
They are at risk crossing roads as people can't see them and sudden braking causes accidents
The food may disappear - insects, seeds and pollens are washed away, nectar is diluted and animals can be starving
They are vulnerable in open areas to predators, including our pets
They can't dry out and may get hypothermia or pneumonia
Animals may seek shelter in your home or garage.
You can help by:
Keeping your pets indoors
Assessing for wounds or parasites
Putting out towels or shelters like boxes to provide a place to hide
Drive to conditions and call a rescue group if you see an animal hit (or do a pouch check or get to a vet if you can stop)
If you are concerned take a photo and talk to a rescue group or wildlife carer
There are 2 rescue groups in the Northern Beaches:
Sydney Wildlife: 9413 4300
WIRES: 1300 094 737
Please be patient as there could be a few enquiries regarding the wildlife.
Generally Sydney Wildlife do not recommend offering food but it may help in some cases. Please ensure you know what they generally eat and any offerings will not make them sick. You can read more on feeding wildlife here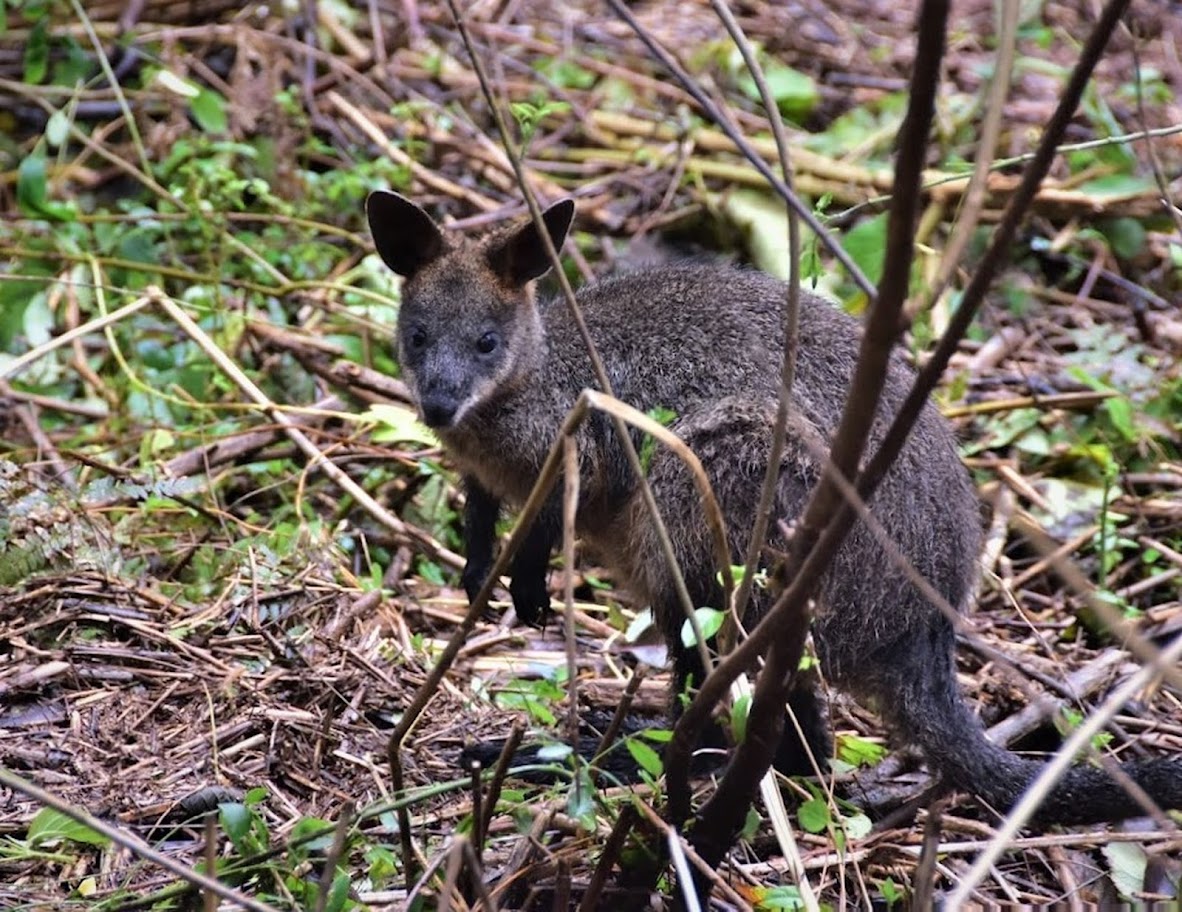 Information courtesy Ed Laginestra, Sydney Wildlife volunteer. Photo: Warriewood Wetlands Wallaby by Kevin Murray, March 2022.
Pittwater Natural Heritage Association (PNHA) Autumn 2022 Newsletter
Our PNHA Newsletter 91 is now on our website. We've been busy!
Below: Pastel Flower
Pseuderanthemum variabile
flowers can be white, pink or mauve, about as big as a violet. It is a tiny herb of shady rainforest or wet eucalyptus forest, north of Bega in NSW. It spreads by seed and rhizomes. More: in:
https://resources.austplants.com.au/plant/pseuderanthemum-variabile/
This one is in Spotted Gum forest at Newport.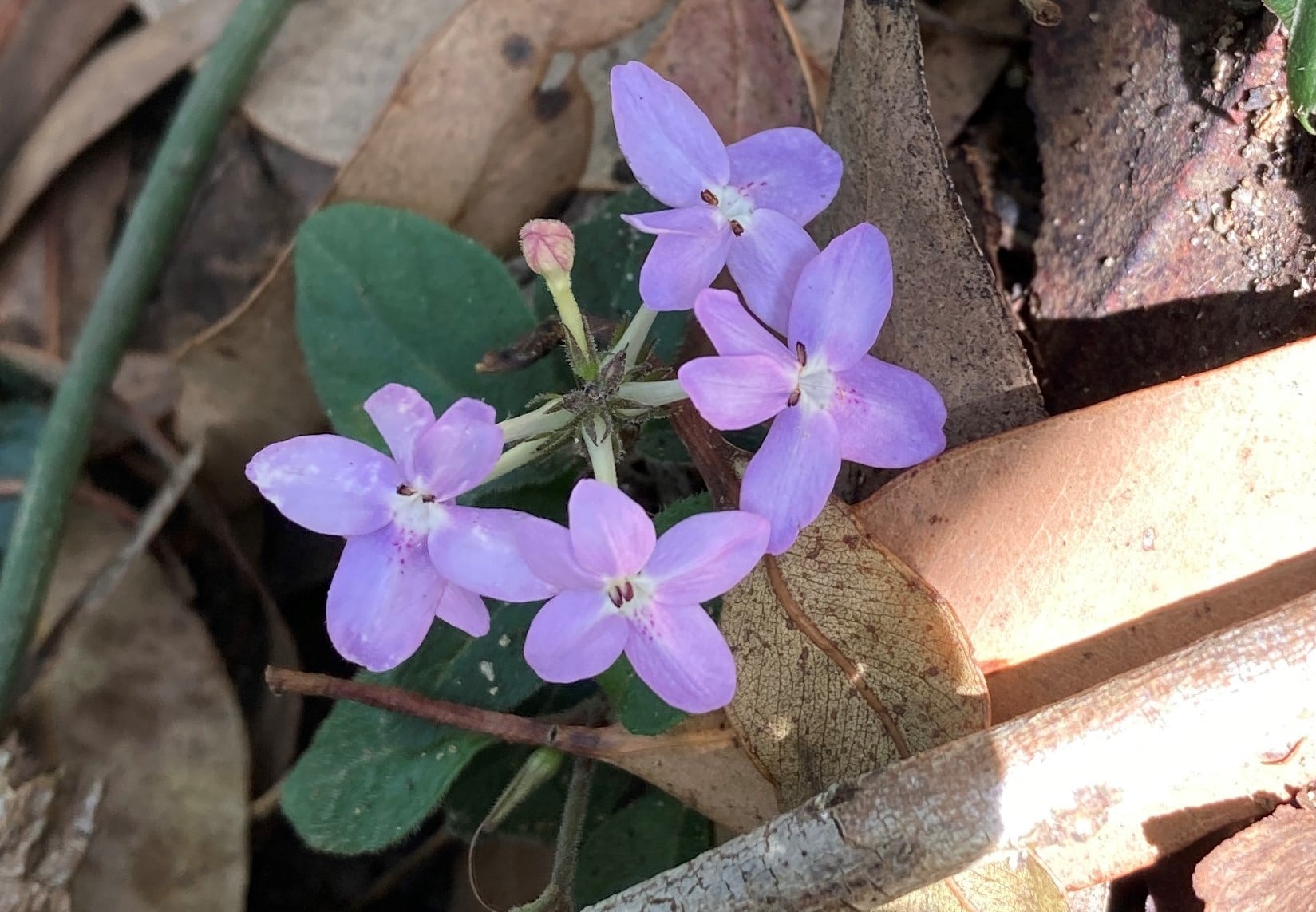 Photo: PNHA
Cassia Flowering Now: Dispose Of This Weed To Stop The Spread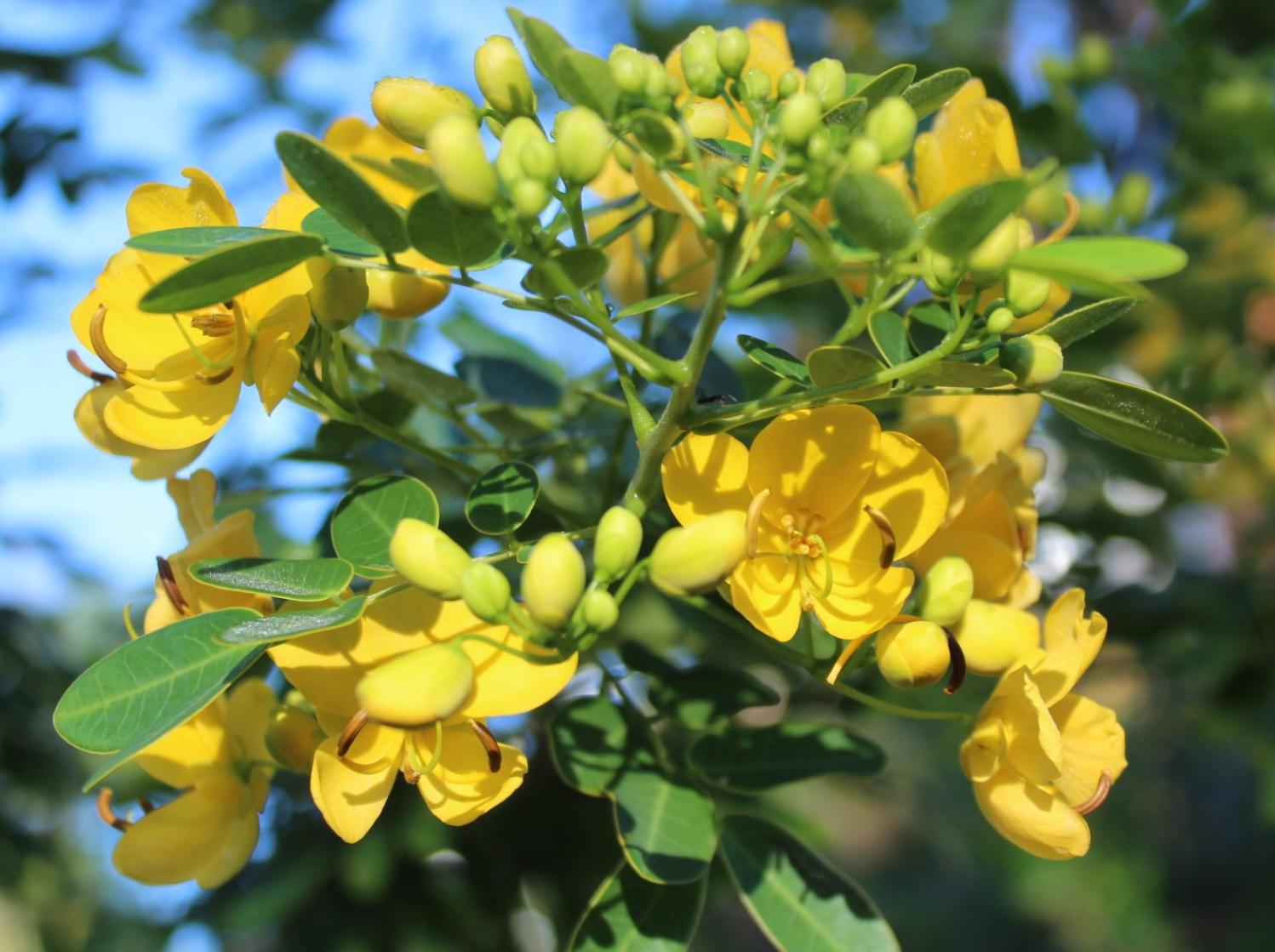 Cassia (Senna pendula). Also known as Senna and Arsenic Bush. Originating in South American, Cassia is a perennial sprawling multi-stemmed shrub or tree up to 5m tall.
This
weed
replaces native vegetation and establishes in a wide range of native plant communities, including coastal heath and scrubland, hind dunes and riparian corridors. The large seed pods are eaten by birds and other animals. You may be seeing this bright burst of yellow everywhere as it is c
urrently flowering -

please pull out and get rid of if you have in your garden

.
Darkinjung Plans For 600 Homes On Central Coast's
Lake Munmorah
Now On Exhibition: Closes May 24
The NSW Department of Planning and Environment has announced a proposal to build up to 600 homes and help Aboriginal people take greater control of their land on the Central Coast, is now on exhibition for community feedback.
The Department's Executive Director of Local and Regional Planning Malcolm McDonald said the community could help shape Lake Munmorah's growth, by sharing its views on the Darkinjung Local Aboriginal Land Council project.
"Showcasing this proposal to the public represents a significant milestone in Darkinjung's journey, to use its land to reap economic rewards for local Aboriginal people and deliver much-needed new homes," Mr McDonald said.
"The
55-hectare site
lays the foundations for a new park and up to 600 homes at various price points, close to existing services and jobs, not just for the Traditional Owners but everyone on the Central Coast.
"The proposal balances development with environmental conservation by protecting 21-hectares of untouchable bushland, home to wildlife such as the masked owl."
Mr McDonald said progressing the rezoning proposal marked another step toward reconciliation.
"This proposal is a gamechanger for Lake Munmorah, boosting housing supply, promoting cultural heritage, strengthening self-determination, and locals are encouraged to have their say," he said.
"We will continue to work with Darkinjung to identify how its land can best be planned, managed, and developed.
"This is one of three Darkinjung projects currently being assessed under a streamlined planning system, to support the local Aboriginal community. It follows the 2020 approval for an industrial hub in Wallarah, with the potential to create 1,200 new jobs."
Darkinjung is the largest non-government landowner on the Central Coast and is one of 120 Local Aboriginal Land Councils in NSW.
Following the application of avoidance and mitigation measures, the BAM assessment identified the following biodiversity credits required to offset the impacts of the Project:
•
1407 credits for swift parrot
,36 credits for wallum froglet, and 857 credits for black-eyed Susan.
• 577 credits for PCT 1636 Scribbly Gum – Red Bloodwood – Angophora inopina heathy woodland on lowlands of the Central Coast.
• 225 credits for PCT 1638 Smooth- barked Apple – Red Bloodwood – Brown Stringybark – Hairpin Banksia heathy open forest of coastal lowlands.
• 48 credits for PCT 1724 Broad- leaved paperbark – Swamp Oak – Saw Sedge swamp forest on coastal lowlands of the Central Coast and Lower North Coast.
Swift Parrot Conservation status in NSW: Endangered - Commonwealth status: Critically Endangered
On the mainland they occur in areas where eucalypts are flowering profusely or where there are abundant lerp (from sap-sucking bugs) infestations. Favoured feed trees include winter flowering species such as Swamp Mahogany Eucalyptus robusta, Spotted Gum Corymbia maculata, Red Bloodwood C. gummifera, Forest Red Gum E. tereticornis, Mugga Ironbark E. sideroxylon, and White Box E. albens. Commonly used lerp infested trees include Inland Grey Box E. microcarpa, Grey Box E. moluccana, Blackbutt E. pilularis, and Yellow Box E. melliodora.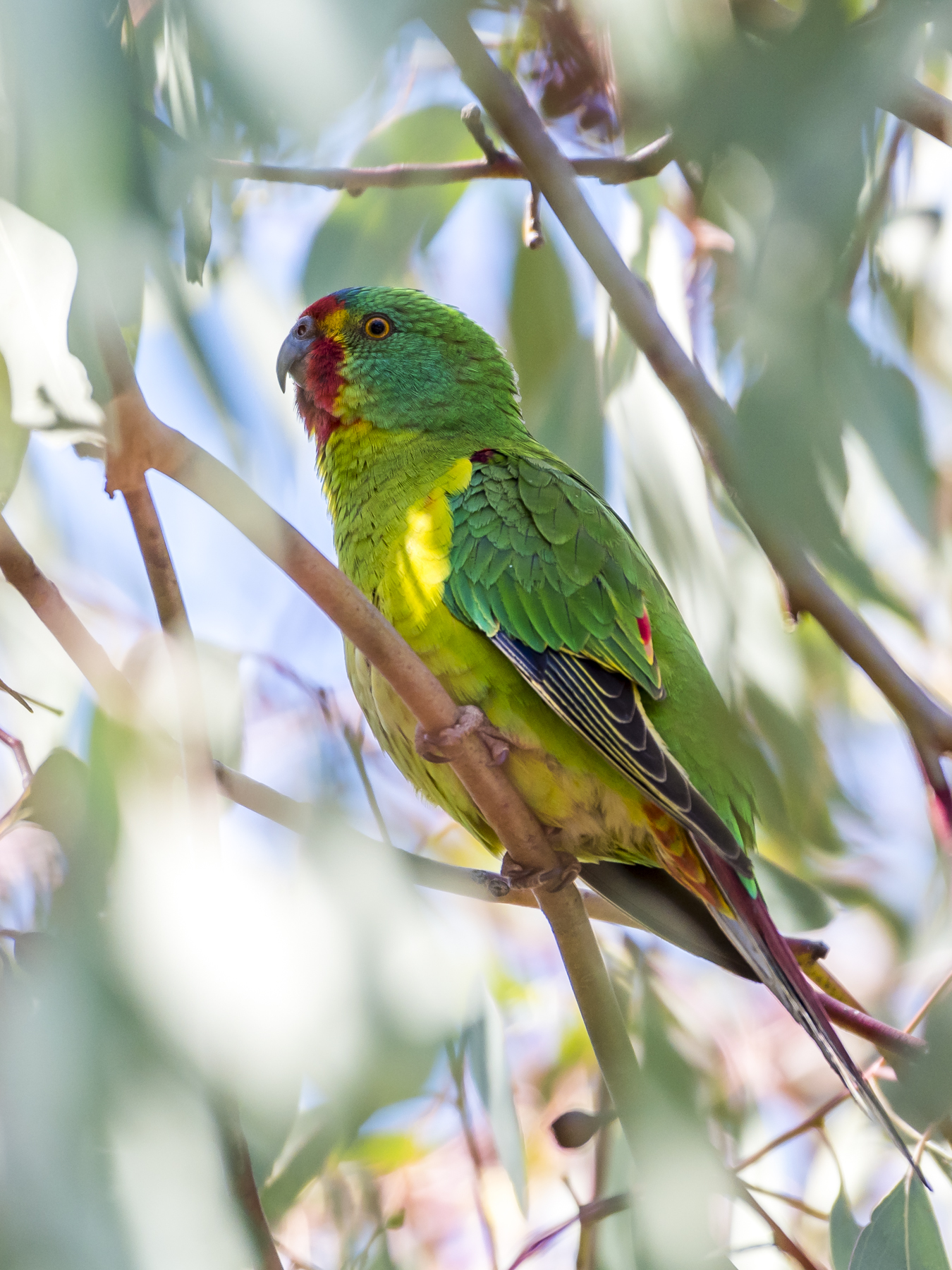 Swift Parrot Photo: Gunjan Pandey
Dendrobium Mine Extension Project: Have Your Say (Again)
Plans for the extension of the Dendrobium longwall mine in the Illawarra are now being publicly exhibited. The NSW government has relisted this as a "State Significant Development" - despite the Independent Planning Commission refusing permission because it would cause damage to our water.
It's right underneath the Greater Sydney water catchment.
This will involve Longwall mining which is known to damage reservoirs, cracks rock beds and increases the presence of heavy metals in our water. That's why nowhere else in the world allows longwall mining underneath their publicly owned water catchments.
The expansion will also damage local biodiversity and threatened ecological communities, and cause irreversible damage to 58 identified Aboriginal cultural artefacts.
The Project proposes to extend the mine life at the Dendrobium Mine to the end of 2041.
Political Stitch Up Over Dendrobium Abandons Community, Climate, And Water, Favours Coal Mining Company Residents State
Illawarra residents opposed to coal mining beneath the drinking water catchment and their supporters have labelled the revised Dendrobium coal mine expansion a "political stitch up" after the Independent Planning Commission's earlier rejection of the project was overruled.
In response to the IPC's rejection of the destructive project, the NSW Government took the unprecedented step of declaring the coal mine "state significant infrastructure".
South32 has today released a revised Environmental Impact Statement for the project, which claims the mine's direct impacts will be reduced, but shows the project would still threaten nationally significant upland swamps and the drinking water catchment relied on by Illawarra and Sydney residents.
Lock the Gate Alliance NSW coordinator Nic Clyde said
a decision about the project would go straight to NSW Planning Minister Anthony Roberts without the transparent scrutiny that would occur if it were to return to the IPC for consideration.
"South32 could write that magical fairies will protect our drinking water and it wouldn't matter because the assessment of this project is now a political decision, rather than assessment that undergoes a considered and transparent process by independent commissioners," he said.
"This is the only coal mine in the state's history that has been declared state significant infrastructure. This is a mine being assessed on a political basis, not a scientific one, and Sydney's drinking water is not safe as a result.
"The
NSW Government's political intervention has removed the community's objection rights and that's outrageous and undemocratic
.
"The IPC previously rejected South32's claim that coal from Dendrobium was needed for the continuation of the Bluescope steelworks. This erroneous claim was the justification the NSW Government used to declare it state significant infrastructure, and is contrary to the findings made by the IPC.
"South32 still refuses to consider the less damaging bord and pillar method of mining, despite the IPC, NSW Government, and Wollongong Coal considering it an acceptable method just eight kilometres north at Russell Vale.
"As the saying goes, you can roll a turd in glitter, but it's still a turd. South32's revised Dendrobium proposal puts the security of Sydney's drinking water catchment at risk and that stinks."
Deidre Stuart, from Illawarra grass roots network fighting the Dendrobium extension Protect Our Water Catchment Incorporated, said, "Our group is already in the NSW Land and Environment Court defending the IPC refusal decision of the original expansion proposal. And now at the same time, the NSW Government has introduced a new, fast-track process for South32 to have its new proposal assessed, side lining the IPC.
"We in the community operate in good faith and we feel utterly betrayed by our government over its handling of a coal mine expansion that was rightfully rejected by the IPC.
"What's undeniable is that this proposal will still trash Aboriginal cultural heritage sites, drain upland swamps that are recognised as nationally significant, and threaten our drinking water.
"The Perrottet Government must not risk all this just so a private company can continue to mine coal in our drinking water catchment area.
"The Dendrobium expansion will be responsible for more than 87 million tonnes of greenhouse gas emissions at a time when the world cannot afford to burn any more fossil fuels if humanity wants to avoid the most catastrophic consequences of the climate crisis.
"Our drinking water must be protected at all costs. It is more important than coal, and must be protected from any expansion of Dendrobium, particularly one that is not subject to the same degree of scrutiny as the former, already rejected proposal."
Aviaries + Possum Release Sites Needed
Pittwater Online News has interviewed
Lynette Millett OAM
(WIRES Northern Beaches Branch)
needs more bird cages of all sizes for keeping the current huge amount of baby wildlife in care safe or 'homed' while they are healed/allowed to grow bigger to the point where they may be released back into their own home.
If you have an aviary or large bird cage you are getting rid of or don't need anymore, please email via the link provided above.
There is also a pressing need for release sites for brushtail possums - a species that is very territorial and where release into a site already lived in by one possum can result in serious problems and injury.
If you have a decent backyard and can help out, Lyn and husband Dave can supply you with a simple drey for a nest and food for their first weeks of adjustment.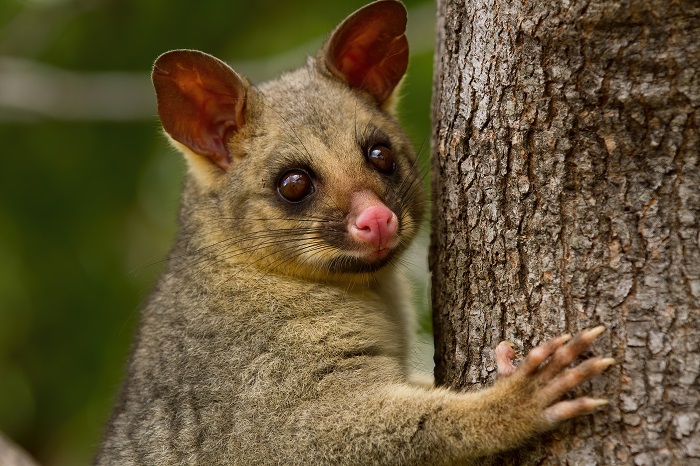 Sydney Wildlife Rescue: Helpers Needed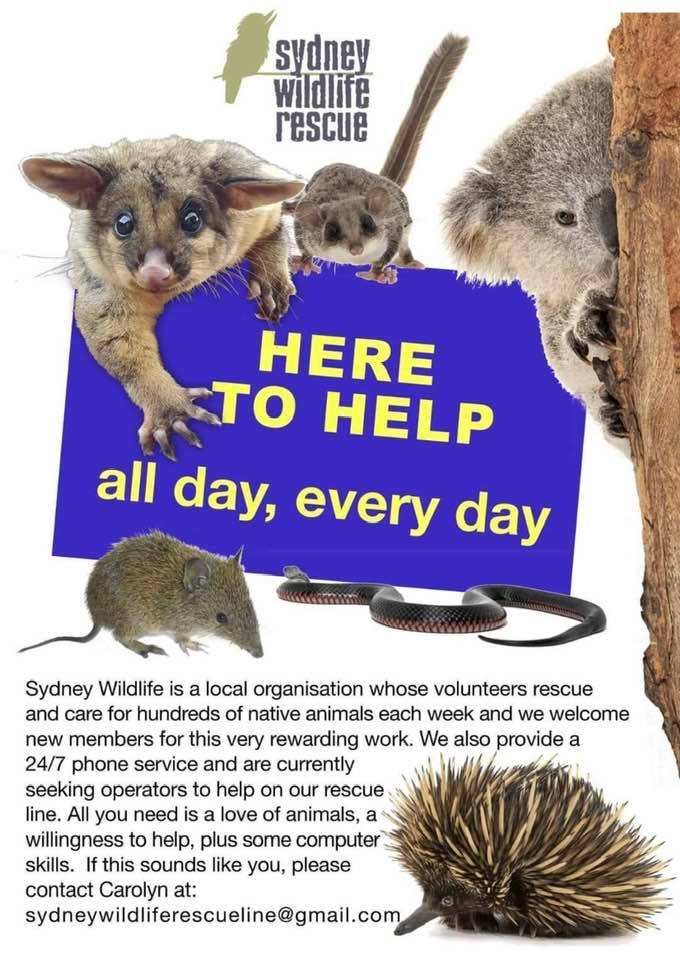 Avalon Golf Course Bushcare Needs You
We're so short of helpers we've had to cancel for the time being. Meanwhile the weeds will go gangbusters.
We used to meet on the second Wednesday afternoon of each month. Could you come if we worked on another day or time? say a morning, or on a weekend day?
Contact Geoff Searl on 0439 292 566 if you'd like to help. He'd love to hear from you.
We have fun using the Tree Popper, here with our supervisor from Dragonfly Environmental. We can lever out quite big Ochnas, aka Mickey Mouse plant from Africa. We want to bring back the bush, not let the weeds win!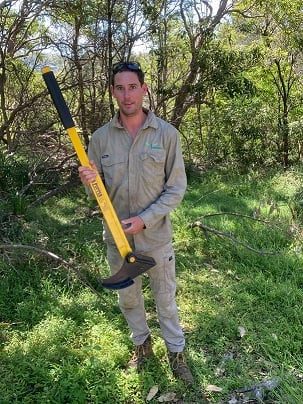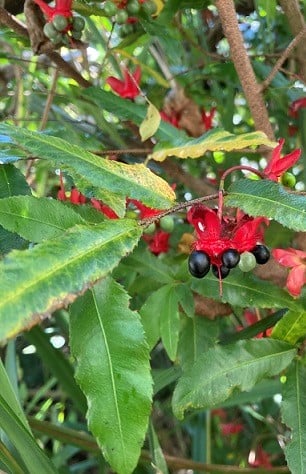 Ochna or Mickey Mouse plant has yellow flowers in spring, then lots of green berries that turn black when ripe. Seedlings come up in hundreds. Ochna has a very strong taproot but the steady pressure of the Tree Popper lifts the plant out of the ground easily. The alternative control is repeated scraping and painting with Roundup, very slow and time consuming. If you have an Ochna you cant remove, you can enjoy the flowers, then PLEASE prune it so that berries can't develop.
Bushcare In Pittwater
For further information or to confirm the meeting details for below groups, please contact Council's Bushcare Officer on 9970 1367
BUSHCARE SCHEDULES
Where we work Which day What time
Avalon
Angophora Reserve 3rd Sunday 8:30 - 11:30am
Avalon Dunes 1st Sunday 8:30 - 11:30am
Avalon Golf Course 2nd Wednesday 3 - 5:30pm
Careel Creek 4th Saturday 8:30 - 11:30am
Toongari Reserve 3rd Saturday 9 - 12noon (8 - 11am in summer)
Bangalley Headland 2nd Sunday 9 to 12noon
Bayview
Winnererremy Bay 4th Sunday 9 to 12noon
Bilgola
North Bilgola Beach 3rd Monday 9 - 12noon
Algona Reserve 1st Saturday 9 - 12noon
Plateau Park 1st Friday 8:30 - 11:30am
Church Point
Browns Bay Reserve 1st Tuesday 9 - 12noon
McCarrs Creek Reserve Contact Bushcare Officer To be confirmed
Clareville
Old Wharf Reserve 3rd Saturday 8 - 11am
Elanora
Kundibah Reserve 4th Sunday 8:30 - 11:30am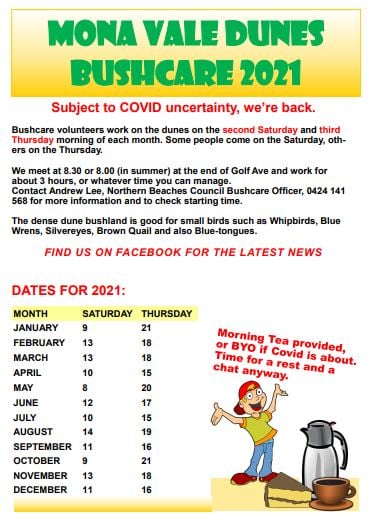 Mona Vale
Mona Vale Beach Basin 1st Saturday 8 - 11am
Mona Vale Dunes 2nd Saturday +3rd Thursday 8:30 - 11:30am
Newport
Bungan Beach 4th Sunday 9 - 12noon
Crescent Reserve 3rd Sunday 9 - 12noon
North Newport Beach 4th Saturday 8:30 - 11:30am
Porter Reserve 2nd Saturday 8 - 11am
North Narrabeen
Irrawong Reserve 2nd Saturday 2 - 5pm
Palm Beach
North Palm Beach Dunes 3rd Saturday 9 - 12noon
Scotland Island
Catherine Park 2nd Sunday 10 - 12:30pm
Elizabeth Park 1st Saturday 9 - 12noon
Pathilda Reserve 3rd Saturday 9 - 12noon
Warriewood
Warriewood Wetlands 1st Sunday 8:30 - 11:30am
Whale Beach
Norma Park 1st Friday 9 - 12noon
Western Foreshores
Coopers Point, Elvina Bay 2nd Sunday 10 - 1pm
Rocky Point, Elvina Bay 1st Monday 9 - 12noon

Gardens And Environment Groups And Organisations In Pittwater
Up Close With Gang-Gang Cockatoo Feeding On Conesticks – Blue Mountains
By Birds in Backyards TV
These up-close scenes of a young male Gang-gang Cockatoo (Callocephalon fimbriatum) were captured on a rainy late March (2022) day from the Little Switzerland Trail on the Kings Tableland plateau in the Blue Mountains (NSW, Australia). Despite the weather, several birds were sighted, including a cockatoo-fest: Nine Gang-gangs, ten Yellow-tailed Black Cockatoos, five Glossy Black Cockatoos and two Sulphur-crested Cockatoos. Only the first two species were within camera range on this occasion. The closing footage of a female Glossy Black Cockatoo was collected around the same location (Little Switzerland-Chester Trail circuit) the following day.
It's always a thrill to spot the bright red heads of male Gang-gang Cockatoos, standing out from the foliage like waratah blooms. Of course, the females have their own beauty, with their filamentous grey crest and orange-yellow fringing on their underparts creating a barred effect. Juvenile Gang-gangs have similar underparts and a rudimentary grey crest. In the immature stage – as seen here – the young male develops his red features but still has aspects of juvenile plumage. To see close-up views of an adult male and adult female, please check out our previous production https://youtu.be/5LTowYCegqA from the Capertee Valley on western edge of the Greater Blue Mountains World Heritage Area.
Gang-gang Cockatoos are mostly found in temperate forest of south-east Australia, but will visit more open habitats such as grassy woodland and heathland, and parks, gardens and road verges in search of food. In general, the diet of any cockatoo is largely determined by bird and beak size. As one of our smallest cockatoos (only the Cockatiel is smaller), Gang-gangs prefer softer, more accessible seed pods (e.g. Petrophile pulchella aka Conesticks, as shown in this video, Acacias, Eucalypts and Callistris) and fruits of some exotic plants (e.g. Hawthorn and Cotoneaster). Note that the Glossy Black Cockatoo in the final scene is eating the seeds of harder she-oak pods, but a Conesticks plant is closer to camera.
Although Gang-gangs are relatively flexible in their food choices, this hasn't saved them from declining numbers throughout their range. They are listed as Vulnerable in NSW and Endangered federally. Two strongholds have traditionally been the Australian Capital Territory (ACT), where this bird is the faunal emblem, and the Blue Mountains in NSW. Alas, this once-common breeding nomad of the Mountains (who also moves altitudinally in response to seasonal change) is harder to find now, especially in the lower Mountains. There are fewer sightings in all parts of the Mountains, but the upper Mountains has had the least decline and Gang-gangs remain a likely treat for residents thereabouts. As to why the decline, it's a familiar story of habitat loss and degradation, made worse by the fires of 2019-20.
Global Big Day Bird Count Is Coming!!
For the first time ever a NSW National Parks and Wildlife Service team is participating in this
global 24 hour birdwatching event
to get out and about and do some serious bird watching.
This is a day where a worldwide effort pays dividends for collecting important conservation data.
NSW national parks are habitat for more than 400 native bird species and at the heart of this exercise is shining a light on the really important work that's happening under our Saving our Species program and through our National Parks and Wildlife Service.
Good luck to team NSW National Parks for the
eBird
Global Big Day on 14 May
- let's see if they can spot all of our 375 target native bird species!
Be a part of birding's biggest team! Global Big Day is an annual celebration of the birds around you. No matter where you are, join us virtually on 14 May, help celebrate World Migratory Bird Day, and share the birds you find with eBird.
Participating is easy—you can even be part of Global Big Day from home. If you can spare 5 or 10 minutes, report your bird observations to eBird online or with our free eBird Mobile app. If you have more time, submit several checklists of birds throughout the day. You never know what you might spot. Your observations help us better understand global bird populations through products like these animated abundance maps brought to you by eBird Science.
Last year, Global Big Day brought birders together virtually from more countries than ever before. More than 51,000 people from 192 countries submitted 134,000 checklists with eBird, setting four new world records for a single day of birding. Will you help us surpass last year's records? However you choose to participate, please always put safety first and follow your local guidelines.
Get an eBird account: eBird is a worldwide bird checklist program used by millions of birders. It's what allows us to compile everyone's sightings into a single massive Global Big Day list—while at the same time collecting the data to help scientists better understand birds. Sign up here. It's 100% free from start to finish.
Watch birds on 14 May: It's that simple. You don't need to be a bird expert or go out all day long, even 10 minutes of birding from home counts. Global Big Day runs from midnight to midnight in your local time zone. You can report what you find from anywhere in the world.
Enter what you see and hear in eBird: You can enter your sightings via our website or download the free eBird Mobile app to make submitting lists even easier. Please enter your checklists before 17 May to be included in our initial results announcement.
Watch the sightings roll in: During the day, follow along with sightings from more than 170 countries in real-time on our Global Big Day page.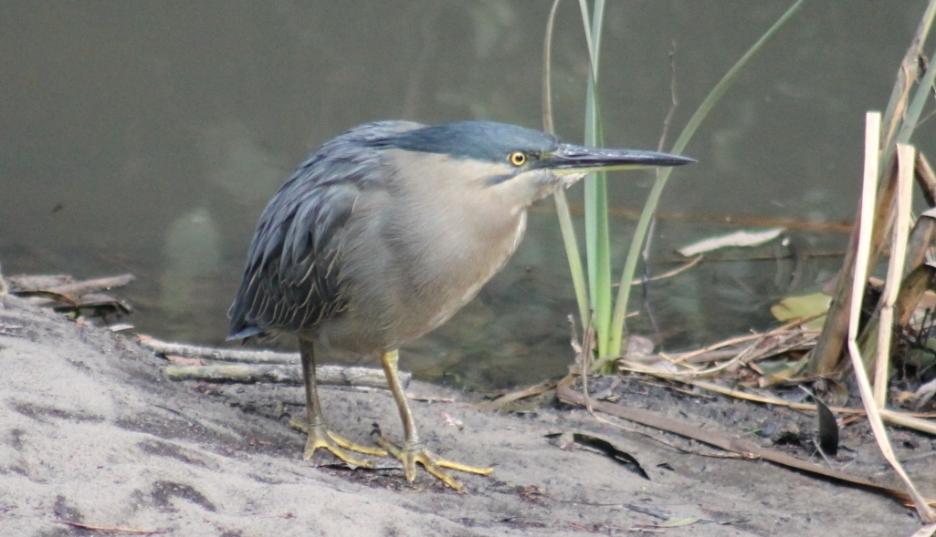 Mangrove or Striated Heron Butorides striata - Careel Creek - photo by A J Guesdon
Gardens Of Stone Officially Protected In Perpetuity: Draft Plan Of Management And Draft Master Plan - Have Your Say
Eighty rare and threatened animal species and 16 threatened ecological communities will be better protected after the iconic Gardens of Stone was officially reserved as a State Conservation Area.
The gazettal this week follows a $50 million NSW Government commitment to establish an eco-adventure tourism destination in the central west of NSW.
The more than 30,000 hectare area near Lithgow features ancient rock pagodas, highland swamps, Aboriginal cultural sites and sandstone cliffs.
Deputy Premier and Minister for Regional NSW Paul Toole said
the reserve's planned centrepiece, the world-class Lost City Adventure Experience
, will support regional jobs and draw an estimated 200,000-plus extra visitors to the region each year.
"The first-of-its-kind Lost City Adventure Experience will be one of the State's biggest ever regional ecotourism projects that will be a tourism attraction generating millions of dollars for the local economy," Mr Toole said.
"The park will feature Australia's longest zip line, rock climbing, a spectacular elevated canyon walk, 4WD and mountain bike tracks, and family-friendly camping areas, making it an unbeatable regional NSW destination."
The first stage of the Lost City Adventure experience is expected to open in 2023.
Minister for Tourism Stuart Ayres said the NSW National Parks and Wildlife Service (NPWS) is calling for expressions of interests from experienced commercial operators.
"Expressions of interest are now open to create world-class eco-adventure experiences within the Gardens of Stone State Conservation Area, which links Wollemi and Blue Mountains National Parks," Mr Ayres said.
"The EOI also covers the construction and operation of eco-friendly, serviced accommodation and guided walking experiences in partnership with NPWS to cater for bushwalkers and nature lovers tackling the planned multi-day Wollemi Great Walk."
Minister for Environment James Griffin said proclaiming the former Newnes, Wolgan and Ben Bullen State Forest as the Gardens of Stone State Conservation Area ensures it is protected for future generations.
"Protecting the Gardens of Stone as a State Conservation Area is a win-win. Not only are we conserving magnificent landscapes and biodiversity, we're also boosting the local economy with jobs, and hundreds of thousands of visitors," Mr Griffin said.
"This area is home to about 80 rare and threatened species, including koalas, spotted-tailed quolls, regent honeyeaters and the Wolgan Snow gum.
"These species will be protected in the new park, creating a lasting legacy for our future generations.
"There is also a significant cultural landscape of great importance to Wiradjuri people, and we're committed to working with traditional owners during the establishment of the reserve."
Since 2019, the NSW Government has secured 600,000 hectares for addition to the national park estate to protect threatened habitats, wildlife and cultural heritage in perpetuity.
All Gardens of Stone SCA visitor infrastructure will be subject to environmental and cultural heritage assessments.
Consultation on the Gardens of Stone SCA draft plan of management and draft master plan is open until 5 July 2022.
The draft master plan proposes a range of high-quality, immersive, nature-based visitor experiences including:
the 'Lost City Adventure Experience', which will be a key attraction of the park offering one of the longest zip-lines in Australia and exhilarating via ferrata (supported rock climbing) experiences.
the 'Wollemi Great Walk' with eco-style accommodation and facilities, linking Gardens of Stone State Conservation Area to Wollemi National Park.
an extensive network of purpose-built mountain bike tracks, catering for a range of abilities with connections to Lithgow township.
all weather four-wheel drive designated touring routes
family-friendly designated camping areas.
The draft master plan proposes a range of visitor experience improvements and the following visitor precincts:
State Mine Gully and Lost City Precinct
Carne Creek and former Plantation Precinct
Birds Rock Precinct
Long Swamp Precinct.
Other proposed works include new and upgraded camping areas, lookouts, bush walking tracks, viewing platforms, parking, wayfinding signs, interpretation and a range of supporting visitor amenities, which are sensitive to the natural environment.
The draft master plan represents conservation in action, presenting a framework that provides for great experiences that go hand-in-hand with protecting the park's natural and cultural values.
The master plan is underpinned by the following guiding principles, providing a foundation for the planning and delivery of visitor experiences:
Environment and habitat
Heritage and scenic amenity
Visitation
Vehicular access
4WD access
Bush wallking experiences
Mountain biking
Adventure experiences and tourism
Camping
Services and Facilities
The final master plan and its delivery will be consistent with the Gardens of Stone State Conservation Area Plan of Management (currently being prepared).
The
draft Master Plan
and
draft plan of management
are being exhibited together to provide people with a clearer understanding of what's being proposed for the future management of the Gardens of Stone State Conservation Area and the information necessary to enable feedback.
Central-West Orana Renewable Energy Zone Tender Shortlist Announced
Three groups have been shortlisted for a central role in establishing Australia's first renewable energy zone, a key component of NSW's energy infrastructure plans to put downward pressure on electricity bills.
The short-listed tenderers for the Central-West Orana renewable energy zone (REZ) transmission network are:
ACE Energy, comprising Acciona, Cobra and Endeavour Energy
Network REZolution, comprising Pacific Partnerships, UGL, CPB Contractors and APA Group
NewGen Networks, comprising Plenary Group, Elecnor, Essential Energy and SecureEnergy
The network operator will be responsible for designing, financing, building, operating and maintaining the network infrastructure for the Central-West Orana REZ. The new grid connections will include energy hubs and new high-capacity transmission lines.
Deputy Premier Paul Toole said the announcement was an exciting milestone for this modern day power station.
"The network operator will play a critical role in the REZ by connecting power from energy suppliers, including wind and solar farms, and distributing it to energy consumers across the State," Mr Toole said.
Treasurer and Minister for Energy Matt Kean said the Central-West Orana REZ will play a pivotal role in the State's plans to deliver a cheaper, cleaner and more reliable energy sector under the Electricity Infrastructure Roadmap.
"Combining generation and storage with poles and wires, the REZ will capitalise on economies of scale to deliver energy to homes and businesses in NSW," Mr Kean said.
Minister for Western NSW and Dubbo electorate Dugald Saunders said the REZ would bring investment and jobs to the area.
"The REZ will bring more than $5 billion of new private investment to the Central-West Orana region, around 3,900 peak jobs during construction and a suite of community initiatives to be funded by renewable generation projects," Mr Saunders said.
Energy Corporation of NSW (EnergyCo) will soon invite the shortlisted tenderers to respond to a Request for Proposal, with the contract to be awarded in 2023.
Air Attack Training To Build Fire Fighting Strength
Almost 100 firefighting and aviation experts have descended on Dubbo this weekend for the Rural Fire Service (RFS) Aviation Forum, bringing together firefighters and personnel from the State Emergency Service and National Parks and Wildlife Service.
Minister for Emergency Services and Resilience and Minister for Flood Recovery Steph Cooke joined Member for the Dubbo electorate Dugald Saunders and Assistant Commissioner Ben Millington at the State Training Academy for the forum and a demonstration of the state-of-the-art aviation simulator.
"This forum is an important opportunity for firefighters and other personnel to collaborate, hone their skills and workshop emerging technologies will improve the safety of the communities they protect," Ms Cooke said.
"The air attack training being undertaken utilises new technology which simulates air attack missions in a mock aircraft, helping our firefighters gain life-like experience in aircraft operations and communications.
"This training is vital because we know our aviation crews perform the crucial roles of supporting our firefighters on the ground as well as intelligence-gathering reconnaissance missions."
Minister for Environment James Griffin said a dozen aerial firefighting, training and coordination specialists from the National Parks and Wildlife Service (NPWS) are attending the forum.
"Our NPWS team has access to more than 1,000 trained firefighters, and with some of our National Parks only accessible by air, we have many aviation specialists whose expert knowledge is used to battle fires around New South Wales," Mr Griffin said.
"This forum is a great opportunity for our specialists to hone their skills and develop relationships with other agency experts, road test and learn about new equipment."
Dubbo will soon be home to a new $8 million Aviation Centre of Excellence to ensure RFS volunteers are prepared for the future, and a Memorial Garden to remember those who have lost their lives while on duty.
Mr Saunders said a Large Air Tanker and multi-purpose helicopter will also be accommodated at Dubbo in advance of the next fire season.
"The work our emergency services personnel do is second-to-none and to see such valuable resources like the Marie Bashir and helicopters based regionally is important for Dubbo and our surrounding communities," Mr Saunders said.
Ceremony Marks Return Of Bulagaranda To Aboriginal Owners
Aboriginal owners today celebrated the return of almost 600 hectares of land west of Armidale under a joint management agreement with the NSW Government.
Minister for Environment and Heritage James Griffin said traditional owners hosted a special ceremony to mark the land hand back.
"The Anaiwan and Armidale people have been waiting a long time for this transfer, and it's with great pride that we are able to finalise the process today," Mr Griffin said.
"This joint management agreement with the National parks and Wildlife Service is helping to protect cultural heritage, while forging partnerships between traditional owners and the NSW Government.
"Bulagaranda has immense cultural significance for the traditional owners. Handing it back means traditional owners have control of local decision-making, and ensures they can continue to have a physical and spiritual connection to their country."
Bulagaranda (Mount Yarrowyck) Aboriginal Area is a 586 hectare site located about 30 kilometres west of Armidale, featuring important rock art.
As part of the land transfer, the name of the site was changed to Bulagaranda (Mount Yarrowyck) Aboriginal Area, in recognition of its heritage and importance to the Anaiwan and Armidale people.
Through this agreement, the Anaiwan and Armidale Local Aboriginal Land Councils hold the land on behalf of the registered Aboriginal owners, and will manage it in partnership with the National Parks and Wildlife Service.
Minister for Aboriginal Affairs Ben Franklin said this is a historic agreement between the Anaiwan People and the NSW Government, and has been a long time coming.
"I would like to acknowledge and celebrate the ongoing advocacy, resilience and perseverance of the Anaiwan people with the handback of Bulagaranda," Mr Franklin said.
"Today is a triumphant one, where the community and those who worked so hard to achieve this can celebrate and reflect on their achievements for Bulagaranda being handed back to the traditional owners."
Aboriginal owner Greg Livermore said the ceremony was a celebration of the return of country to the Aboriginal owners who are connected to Bulagaranda.
"I never thought when I was standing here in February 1983 when Mount Yarrowyck Nature Reserve was opened that I would come back here in April 2022 and have it returned to me as an Aboriginal owner.
"Bulagaranda, always was and always will be Aboriginal land."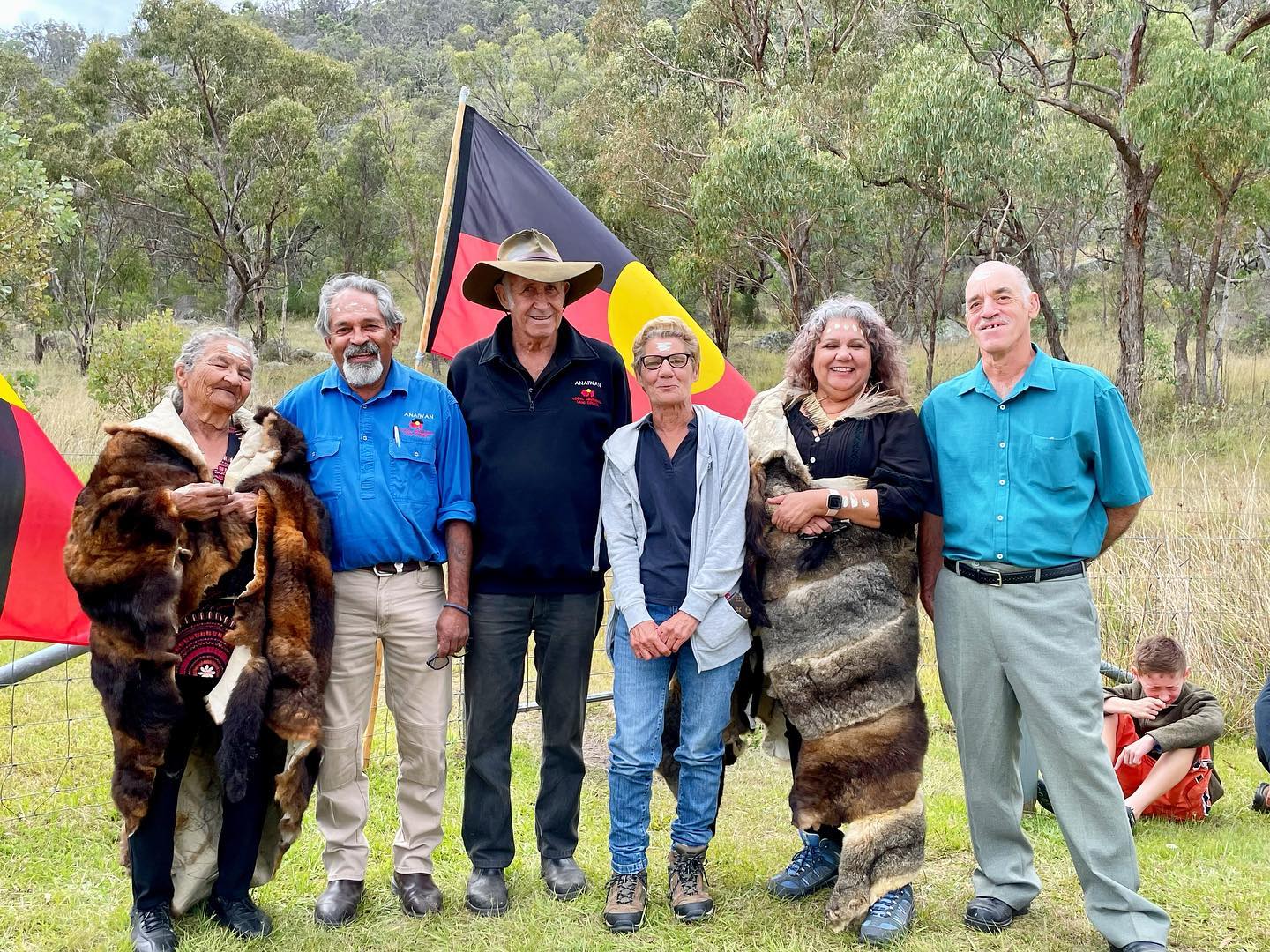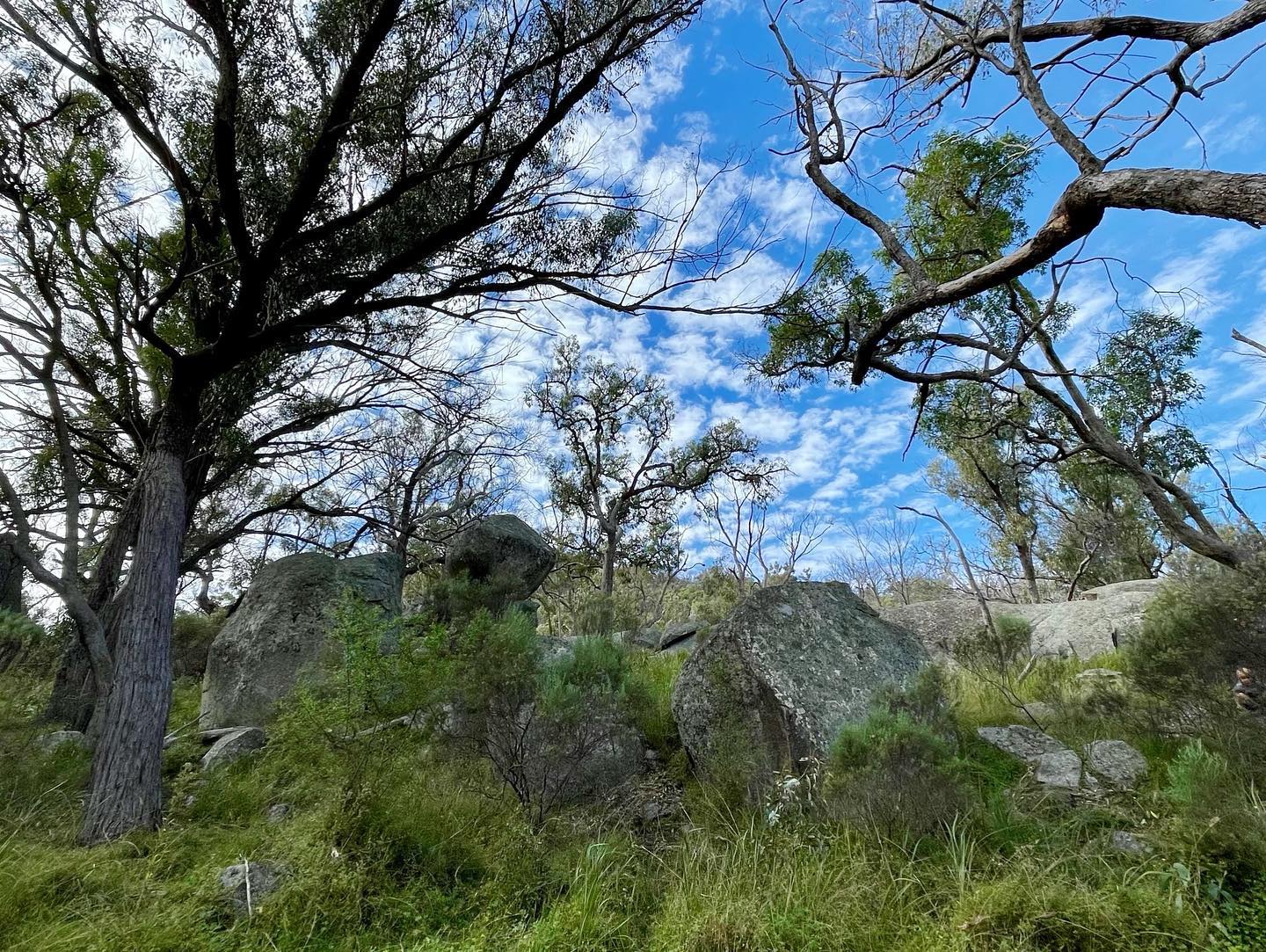 A board of management will be established for the park, with the majority of registered Aboriginal owners to be responsible.
The name Bulagaranda is derived from words in the Anaiwan language referring to the Turkey dreaming that is associated with the landscape in and surrounding the park.
New Shorebirds WingThing For Youngsters Available To Download
A Shorebirds WingThing educational brochure for kids (A5) helps children learn about shorebirds, their life and journey. The 2021 revised brochure version was published in February 2021 and is available now. You can download a file copy here.
If you would like a free print copy of this brochure, please send a self-addressed envelope with A$1.10 postage (or larger if you would like it unfolded) affixed to: BirdLife Australia, Shorebird WingThing Request, 2-05Shorebird WingThing/60 Leicester St, Carlton VIC 3053.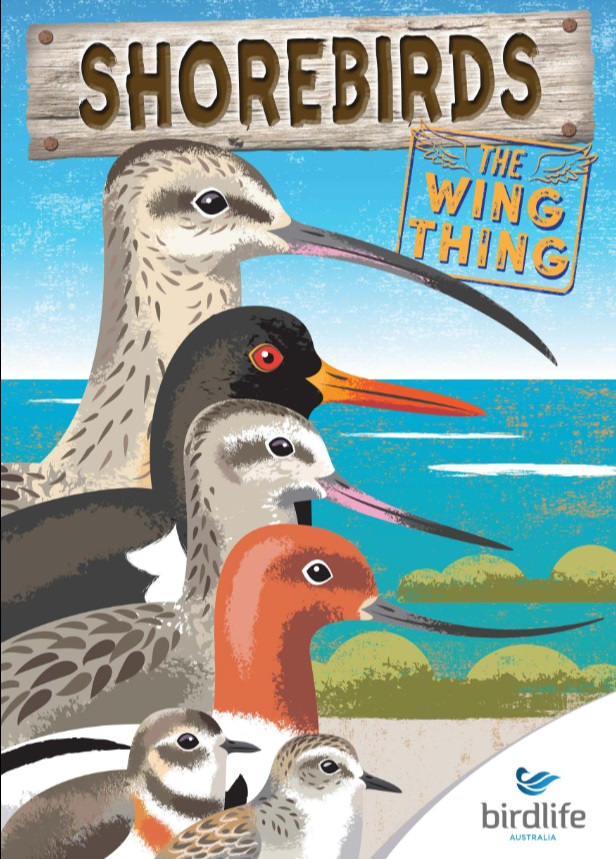 Shorebird Identification Booklet
The Migratory Shorebird Program has just released the third edition of its hugely popular Shorebird Identification Booklet. The team has thoroughly revised and updated this pocket-sized companion for all shorebird counters and interested birders, with lots of useful information on our most common shorebirds, key identification features, sighting distribution maps and short articles on some of BirdLife's shorebird activities.
The booklet can be downloaded here in PDF file format: http://www.birdlife.org.au/documents/Shorebird_ID_Booklet_V3.pdf
Paper copies can be ordered as well, see http://www.birdlife.org.au/projects/shorebirds-2020/counter-resources for details.
Download BirdLife Australia's children's education kit to help them learn more about our wading birdlife
Shorebirds are a group of wading birds that can be found feeding on swamps, tidal mudflats, estuaries, beaches and open country. For many people, shorebirds are just those brown birds feeding a long way out on the mud but they are actually a remarkably diverse collection of birds including stilts, sandpipers, snipe, curlews, godwits, plovers and oystercatchers. Each species is superbly adapted to suit its preferred habitat. The Red-necked Stint is as small as a sparrow, with relatively short legs and bill that it pecks food from the surface of the mud with, whereas the Eastern Curlew is over two feet long with a exceptionally long legs and a massively curved beak that it thrusts deep down into the mud to pull out crabs, worms and other creatures hidden below the surface.
Some shorebirds are fairly drab in plumage, especially when they are visiting Australia in their non-breeding season, but when they migrate to their Arctic nesting grounds, they develop a vibrant flush of bright colours to attract a mate. We have 37 types of shorebirds that annually migrate to Australia on some of the most lengthy and arduous journeys in the animal kingdom, but there are also 18 shorebirds that call Australia home all year round.
What all our shorebirds have in common—be they large or small, seasoned traveller or homebody, brightly coloured or in muted tones—is that each species needs adequate safe areas where they can successfully feed and breed.
The National Shorebird Monitoring Program is managed and supported by BirdLife Australia.

This project is supported by Glenelg Hopkins Catchment Management Authority and Hunter Local Land Services through funding from the Australian Government's National Landcare Program. Funding from Helen Macpherson Smith Trust and Port Phillip Bay Fund is acknowledged.
The National Shorebird Monitoring Program is made possible with the help of over 1,600 volunteers working in coastal and inland habitats all over Australia.
The National Shorebird Monitoring program (started as the Shorebirds 2020 project initiated to re-invigorate monitoring around Australia) is raising awareness of how incredible shorebirds are, and actively engaging the community to participate in gathering information needed to conserve shorebirds.
In the short term, the destruction of tidal ecosystems will need to be stopped, and our program is designed to strengthen the case for protecting these important habitats.
In the long term, there will be a need to mitigate against the likely effects of climate change on a species that travels across the entire range of latitudes where impacts are likely.
The identification and protection of critical areas for shorebirds will need to continue in order to guard against the potential threats associated with habitats in close proximity to nearly half the human population.
Here in Australia, the place where these birds grow up and spend most of their lives, continued monitoring is necessary to inform the best management practice to maintain shorebird populations.
BirdLife Australia believe that we can help secure a brighter future for these remarkable birds by educating stakeholders, gathering information on how and why shorebird populations are changing, and working to grow the community of people who care about shorebirds.

To find out more visit: http://www.birdlife.org.au/projects/shorebirds-2020/shorebirds-2020-program
Aussie Bread Tags Collection Points
Collecting bread tags enables us to provide wheelchairs that change the life of disabled people in need, as well as keeping the tags out of landfill to help to preserve the environment.
Bread Tags for Wheelchairs was started in South Africa in 2006 by Mary Honeybun. It is a community program where individuals and organisations collect bread tags, which are sold to recyclers. The money raised pays for wheelchairs for the less fortunate which are purchased through a local pharmacy. Currently about 500kg of bread tags are collected a month in South Africa, funding 2-3 wheelchairs.
We have been collecting bread tags nationally in Australia since September 2018 and now have more than 100 collection points across the country. In February 2019 we started local recycling through Transmutation - Reduce, Reuse and Recycle in Robe, SA, where our tags are recycled into products such as door knobs and bowls. Tags from some states are still sent to South Africa where a plastics company called Zibo recycles them into seedling trays.
These humble bits of polystyrene can make a real difference so get your friends, family, school, workplace and church involved. Ask school tuck shops and boarding school kitchens, child care centres, aged care facilities, hospitals, cafes and fast food outlets to collect for you - they get through a lot of bread!
All the information and signage for collecting or setting up a public collection point is
on our website
.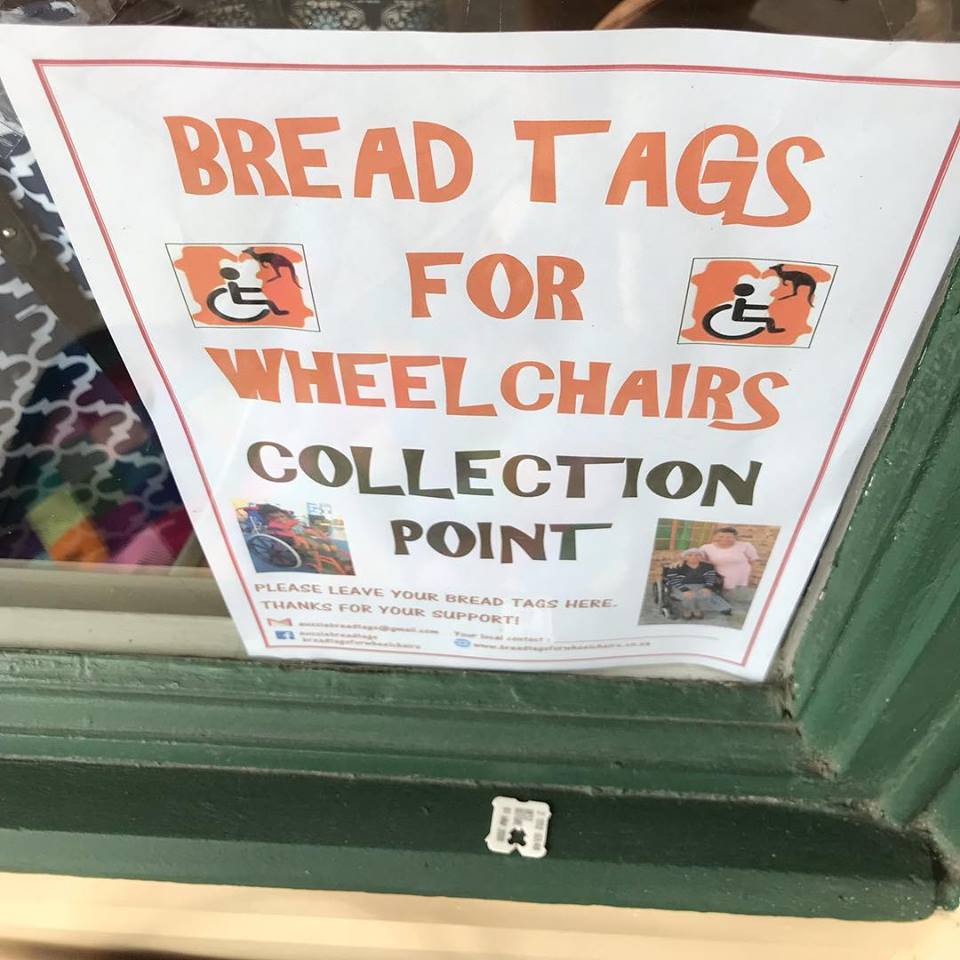 Seniors Urged To Be Vigilant Against Scams
Senior Australians are being urged to stay vigilant against scams, as the total cost swindled from older consumers skyrockets to over $11 million last year.
The Australian Competition and Consumer Commission (ACCC) received 16,915 reports from seniors that had been scammed in 2021.
Minister for Fair Trading Eleni Petinos said $6.7 million had been lost through
false billing scams, where scammers request payment through fake invoices for goods or services which were never ordered.
"In one case, a consumer lost $760,000 when their mortgage broker's email had been compromised
," Ms Petinos said.
Online shopping scams
cost Australian seniors $1.8 million last year. A common example of this is the purchase of a motor home online via fake websites.
Ms Petinos said any scammers targeting older Australians will be met with the full force of the law.
"Targeting vulnerable Australians is abhorrent behaviour. Fair Trading has a zero-tolerance approach to any fraudsters ripping off hard-working people," Ms Petinos said.
"Be wary of any requests for money. Another red flag is being asked to transfer money via an unusual payment method such as preloaded debit cards, gift cards or virtual currency."
Minister for Seniors Mark Coure said it is disgusting to see criminals deliberately target society's older people.
"Seniors deserve better than to be preyed on by low-life criminals and defrauded of their life savings," Mr Coure said.
"Older people have worked their whole lives to make NSW the great state it is today. Anyone taking advantage of seniors should have the book thrown at them."
NSW Fair Trading has a guide with up-to-date information for seniors
about their consumer rights and how to deal with unscrupulous operators. To read the guide, visit the
Fair Trading NSW website
.
The Aging and Disability Commission also has a range of resources available to help people better understand abuse, neglect and exploitation of older people and adults with disability.
Seniors' Stories Volume 8
Do you enjoy telling a story?
Are you passionate about expressing creativity in writing?
This year's Seniors' Stories writing competition is now open and
the theme is 'Celebrating Diversity
'.
The top 100 stories will be published by NSW Seniors Card and distributed to the authors and libraries across the state.
Authors will also have the opportunity to have their stories published in their native language/language spoken other than English.
Submissions are open until May 21 2022.
All Seniors Card and Senior Savers Card members are encouraged to apply!
The competition is open to all New South Wales Seniors cardholders.
Seniors Card Membership Number must be included on the entry form.
Seniors Card Membership, competition entry and Workshops are FREE.
The theme for this year is: 'Celebrating Diversity.'
Story length max. 1,000 words (Poetry not accepted). Excess word count will be immediately disqualified (the story title is exempt from the word count).
Multiple entries may be submitted but only one will be published. No entries will be accepted outside the stated competition dates and times; the link to submit your entry closing promptly 6pm, 21st May, 2022.
The top 100 entries will be published in the Seniors Card anthology to be released in November 2022.
The judge's decision is final, and no correspondence will be entered into.
Entries to be submitted online via the interactive Entry Form found on the FAW NSW website www.fawnsw.org.au available from 9.00am Saturday 9 April. Your story can be submitted along with the Entry Form.
Due to the requirement of the printer, entries to be in digital form. (Help for non-computer users available on 0417 403 720 – leave your name and contact number).
Entries must be a Word document, not a PDF or Jpeg. Please Note: Filename for your attached document should match the Story Title, which must NOT be the theme name.
Entries sent in a format other than Word cannot be accepted.
Entries should be typed in 12pt font, double spaced.
AUTHOR NAME SHOULD ONLY APPEAR ON THE ENTRY FORM, NOT THE STORY.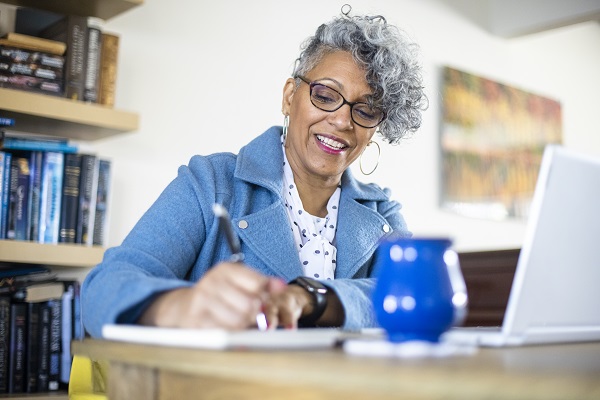 National Heart Week
It's National Heart Week and with heart disease the leading cause of death in Australia it is important that we all take steps to improve our heart health. It only takes three minutes to find
out your heart age.
Visit the Heart Age Calculator and the Heart Foundation to find out how you can reduce your risk of heart disease and stroke:
http://ow.ly/9L1z50IWGLh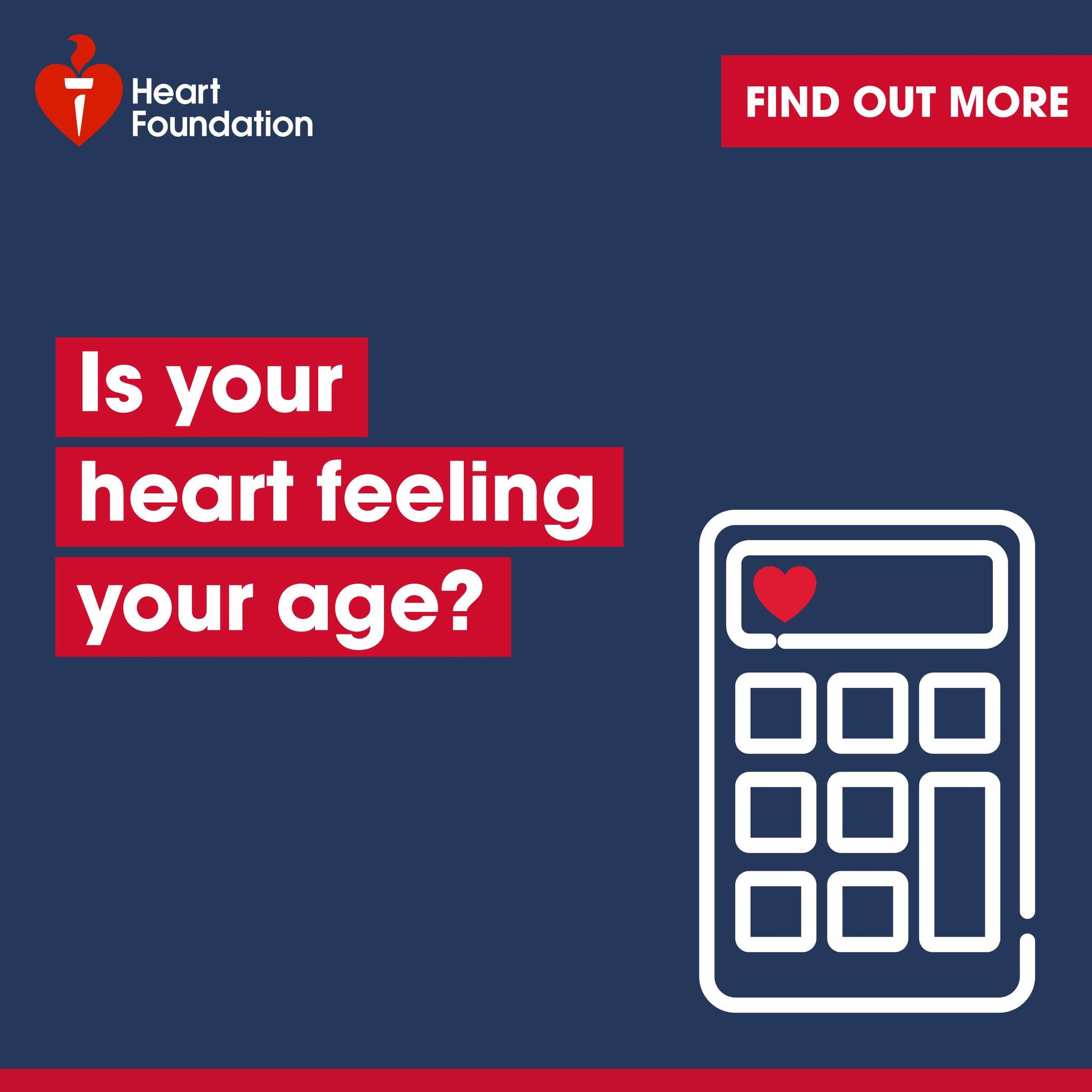 Election 2022: Information You Need To Know
We go to the polls on 21 May to vote for a new Commonwealth Government and the Australian Electoral Commission (AEC) has great resources and advice about voting to suit your situation and circumstances.
Here are some key topics and frequently asked questions about voting that should help make sure your vote is counted.
Can I vote electronically?
No. The AEC conducts federal elections in accordance with the Commonwealth Electoral Act 1918. The introduction of electronic voting would require legislative change, which is a matter for Parliament.
Will there be COVID-19 safety measures at polling places?
There will be a range of COVID-19 safety measures at polling places, which include the requirement for election staff to be vaccinated and to wear a face mask.
There will also be things that we have become used to like physical distancing and using hand sanitiser. These may slow down the process, so please be kind to the polling staff.
Electoral Commissioner Tom Rogers has said, "Australians can feel comfortable to vote in-person this federal election. With most of us able to lead our daily lives in the community you can take comfort that we'll have more COVID-19 safety measures in place at voting venues than your local shops."
You can vote early, either in-person or by post, if on election day you:
are outside the electorate where you are enrolled to vote
are more than 8km from a polling place
are travelling
are unable to leave your workplace to vote
are seriously ill, infirm, or due to give birth shortly (or caring for someone who is)
are a patient in hospital and can't vote at the hospital
have religious beliefs that prevent you from attending a polling place
are in prison serving a sentence of less than three years or otherwise detained
are a silent elector
have a reasonable fear for your safety.
Consider your options carefully. Voting early in-person may be a better option than voting by post.
How does postal voting work?
While elections are in-person community events, Australians who can't make it in-person, can apply for a postal vote.
Political parties can send postal vote applications in the mail or you might get a text message linking you back to a party website.
What if someone has mobility difficulties or is living with a disability?
While the AEC uses accessible polling places wherever possible, if you find it difficult to get to a polling place on election day, you can apply to become a General Postal Voter to receive your ballot papers in the mail. The AEC also provides mobile polling to some hospitals and nursing homes (see below).
If you have a physical disability that prevents you from writing, someone else may complete and sign an enrolment form for persons unable to sign their name on your behalf.
Some people may also require additional support to enrol and vote, such as people with an intellectual, cognitive or psychosocial disability. The AEC provides a range of 'Easy read guides' for people who have difficulty reading and understanding written information.
Will mobile voting be available in health care and residential care settings?
Given the higher COVID-19 risk in health and aged care settings it is unlikely that mobile voting teams will be able to visit all aged care facilities or hospitals.
During the federal election people in these facilities will be able to apply for a postal vote or visit a nearby in-person voting centre. The AEC will have teams in regular contact with relevant facilities to provide support.
A relative has dementia. What should I do?
People in the early stages of dementia, who are still capable of understanding the nature and significance of enrolment and voting, may be able to continue to enrol and vote.
You should speak with the person and with their doctor to determine if they maintain the capacity to understand the voting process.
If someone is unable to understand the nature or significance of voting in a federal election, then an application can be made to have them removed from the electoral roll. This application can be made by a family member, carer or friend but must be accompanied by a medical certificate that attests to the circumstances.
Source: Australian Electoral Commission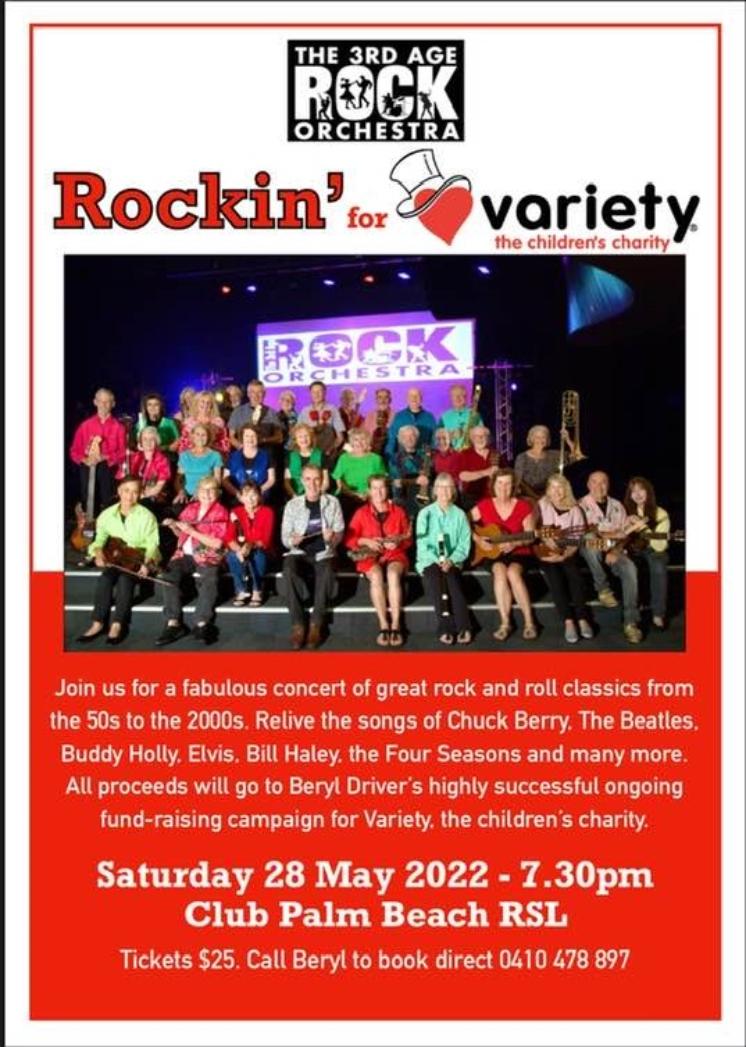 The Beatles - Here Comes The Sun
From the Beatles YouTube Channel
Study Of Promising Alzheimer's Marker In Blood Prompts Warning About Brain-Boosting Supplements
Elevated levels of an enzyme called PHGDH in the blood of older adults could be an early warning sign of Alzheimer's disease, and a study led by the University of California San Diego provides new evidence to support this claim. In analysing brain tissue, researchers observed a trend consistent with their previous findings in blood samples: expression levels of the gene coding for PHGDH were consistently higher in adults with different stages of Alzheimer's disease, even the early stages before cognitive symptoms manifested.
The findings also prompt caution against the use of dietary supplements that contain the amino acid serine as a remedy for Alzheimer's disease. Because PHGDH is a key enzyme in the production of serine, the increased PHGDH expression found in Alzheimer's patients suggests that the rate of serine production in the brain is also increased, and thus, taking additional serine may not be beneficial, the researchers warned.
Researchers led by Sheng Zhong, a professor of bioengineering at the UC San Diego Jacobs School of Engineering, and Xu Chen, a professor of neurosciences at UC San Diego School of Medicine, published their findings May 3 in Cell Metabolism.
The new study builds on earlier work by Zhong and colleagues that first identified PHGDH as a potential blood biomarker for Alzheimer's disease. The researchers had analysed blood samples of older adults and found a steep increase in PHGDH gene expression in Alzheimer's patients, as well as in healthy individuals approximately two years before they were diagnosed with the disease.
The results were promising, and the researchers were curious if this increase could be linked back to the brain. In their new study, they show that this indeed is the case.
"It's exciting that our previous discovery of a blood biomarker is now corroborated with brain data," said Zhong. "Now we have strong evidence that the changes we see in human blood are directly correlated to changes in the brain in Alzheimer's disease."
The researchers analysed genetic data collected from post-mortem human brains from subjects in four different research cohorts, each made up of 40 to 50 individuals 50 years and older. The subjects consisted of Alzheimer's patients, so-called "asymptomatic" individuals (people without cognitive problems and without an Alzheimer's diagnosis, but whose post-mortem brain analyses showed early signs of Alzheimer's-related changes), and healthy controls.
The results showed a consistent increase in PHGDH expression among Alzheimer's patients and asymptomatic individuals in all four cohorts compared to the healthy controls. Moreover, expression levels were higher the more advanced the disease. This trend was also observed in two different mouse models of Alzheimer's disease.
The researchers also compared the subjects' PHGDH expression levels with their scores on two different clinical assessments: the Dementia Rating Scale, which rates a person's memory and cognitive ability, and Braak staging, which rates the severity of Alzheimer's disease based on the brain's pathology. The results showed that the worse the scores, the higher the expression of PHGDH in the brain.
"The fact that this gene's expression level directly correlates with both a person's cognitive ability and disease pathology is remarkable," said Zhong. "Being able to quantify both of these complex metrics with a single molecular measurement could potentially make diagnosis and monitoring progression of Alzheimer's disease much simpler."
The findings come with implications for serine supplements, which are advertised to improve memory and cognitive function. The key player responsible for making serine in the body is PHGDH. Some researchers have proposed that PHGDH expression is reduced in Alzheimer's disease, and that boosting serine intake could help with treatment and prevention. Clinical trials are already underway to test serine treatments in older adults experiencing cognitive decline.
But with their data consistently showing increased PHGDH expression in Alzheimer's, the researchers posit that serine production may likely be increased in this disease, contrary to what some other groups claim.
"Anyone looking to recommend or take serine to mitigate Alzheimer's symptoms should exercise caution," said co-first author Riccardo Calandrelli, who is a research associate in Zhong's lab.
The researchers are looking to study how changing PHGDH gene expression will affect disease outcomes. The approach could lead to new therapeutics for Alzheimer's.
A San Diego-based biotechnology startup co-founded by Zhong, called Genemo, is working to develop a PHGDH blood test for early detection of Alzheimer's disease.
Xu Chen, Riccardo Calandrelli, John Girardini, Zhangming Yan, Zhiqun Tan, Xiangmin Xu, Annie Hiniker, Sheng Zhong.
PHGDH expression increases with progression of Alzheimer's disease pathology and symptoms.
Cell Metabolism, 2022; 34 (5): 651 DOI:
10.1016/j.cmet.2022.02.008
CE's Corner
May 5, 2022: COTA Australia
The 2022 Federal Election is so far proving to be positive for Older Australians. Not only are we seeing competing but strong commitments from the major parties on fixing aged care, but also policy releases from many parties in a range of other areas including retirement incomes, concessions, lowering the cost of PBS medicines, and more. See below on this page.
We made our recommendations in that way, rather than for "election policies", because Older Australians are better off when there is consensus, rather than contest, about the policies that matter to and directly affect us. COTA Australia will continue to work with everyone across the Parliament for the benefit of Older Australians, no matter the outcome of the election.
In pursuit of our policy recommendations, we have also invited a number of relevant Ministers and Shadow Ministers to join us in a series of conversations on our Facebook Page (accessible with or without a Facebook account).
You can access recordings of those events at
https://www.facebook.com/cotaAus
, and I will email newsletter subscribers with updates as we announce extra speakers in coming weeks.
As well as our Agenda for Government, we prepared two other important publications this election – a Candidates Guide, which we have been sending to candidates as they were announced since last October; and a Journalists Guide to the 2022 Federal Election which we launched to an online forum of journalists and have distributed to a wide range of media. We recently publicly released both of these and there are links to them below. We also have print copies if you would like one.
In the 15 years since the 2007 election, when neither major party announced a policy on aged care, we've come a long way. Whilst the last term of Parliament was seemingly dominated by the pandemic, we also had the Aged Care Royal Commission, the Retirement Income Review, and seemingly a developing consensus to support a stronger Superannuation system and guarantee the Age Pension well into the future. The next Parliament will have many challenges, and we hope Members and Senators work together across the chambers to keep the momentum up to make Australia a better place for older people.
Best Regards
Policies For Older People At The 2022 Federal Election
Recommendation 1: Government adopt a Co-design Framework and Guidelines, and require annual reporting by Departments on co-design approaches with the full diversity of Older people for policy development and program delivery.
Recommendation 2: Establish a Productivity Commission inquiry into the costs of ageism in Australia, including particular terms of reference in relation to workplaces and health services.
Recommendation 3: Develop a whole-of-government strategy for older Australians and an ageing Australia, with annual reports of achievements against the strategy's objectives and its action plans.
Recommendation 4: All parties to commit to and fund the whole of the integrated package of recommendations and timelines from the Aged Care Royal Commission, with the exception of the funding and financing recommendations.
Recommendation 5: By 30 June 2023, no one will wait more than one month from registration for care to receipt of a home service.
Recommendation 6: Advise the Fair Work Commission of government support for a substantial increase in aged care workers award rates of pay, and commit to funding the Fair Work Commission's decision on the current Work Value case.
Recommendation 7: Consult on and deliver a comprehensive Government response to the Retirement Income Review 2020 by June 2023.
Recommendation 8: Commission a review of the adequacy of the Age Pension to maintain fair and appropriate living standards in retirement for every person dependent on the full rate of pension, with particular reference to ensuring appropriate parity with general living standards.
Recommendation 9: Change the Age Pension asset taper rate from $3.00/$1,000 to $2.25/$1,000.Recommendation 10: Review the design and settings of the age pension work bonus and income testing policies to further encourage part-time, casual, seasonal, or self-employed work by age pension recipients.
Recommendation 11: Provide an opt-in alternative to pension deeming rates where a person can elect to advise actual earnings from financial products.
Recommendation 12: Mandate that superannuation funds be required to provide a 'retirement income projection' and other information on optimising retirement income, to fund members, at least every five years from age 45, based on a standardised set of criteria and variables set by APRA.
Recommendation 13: Create a regulated category of financial 'digital advice' from superannuation funds to members to provide non-personal but segmented advice on retirement income related decision-making.
Recommendation 14: Uncap the number of Medicare funded allied health sessions.
Recommendation 15: Develop and fund a specific program to increase access to mental health services by older people.
Recommendation 16: Extend Medicare to include oral and dental health.
Recommendation 17: Prior to the implementation of Recommendation 16, fund up to $1,000 of oral health and dental care treatments per year, initially supporting older people on low incomes and people receiving aged care, including those in a nursing home. In addition, fund an ongoing, sustainable and higher-level the National Partnership Agreement on Public Dental Services to support state and territory public dental services.
Recommendation 18: Establish a roundtable to discuss solutions to match older workers with jobs for older applicants, including through use of online job boards.
Recommendation 19: Remove the requirement for older Australians who qualify for the disability pension to participate in the Job Support Program.
Recommendation 20: Strengthening the Career Transition Assistance (CTA) program through guaranteed ongoing funding, increased promotion to mature job seekers and improving referral pathways.
Recommendation 21: Develop a rolling ten year National Housing Strategy in cooperation with all States and Territories, with the involvement of Local Government and industry, that will significantly enhance the availability of secure, affordable, appropriate housing of choice for the diversity of the Australian population.
Recommendation 22: Increase availability of affordable rentals suitable for older women.
Recommendation 23: Government should fund trials of innovative housing models such as cooperative housing or co-ownership models, and shared equity models, appropriate for older women.
Recommendation 24: Establish an Inquiry into policy measures to better alleviate housing stress for people on low incomes in both the short and longer terms. In the interim, increase the maximum Commonwealth Rent Assistance (CRA) rates by at least 50% immediately.
Recommendation 25: Fund the States and Territories to build sufficient public, social and low cost private housing to eliminate their waiting lists within the next two terms of Federal Parliament, including reinstating a National Rent Affordability Scheme (NRAS) type scheme, with better targeted criteria, to encourage building of more affordable low cost private rental properties.
Recommendation 26: Direct and fund the Australian Law Reform Commission to undertake a review of age discrimination legislation in Australia with a view to developing laws that address age discrimination as a systemic issue that requires a variety of measures in order to reduce and eradicate it.
Recommendation 27: Initiate an independent review to recommend policy measures to address systemic problems causes of older women's poverty including redressing the gender pay gap within and between industries, paying superannuation during periods of Parental Leave and Carer's Leave, reducing the cost of childcare, and other measures.
Recommendation 28: Ensure that domestic and family violence support services are inclusive of older women.
Recommendation 29: Consult on and fund the implementation of a 10 year strategy to Respond to the Abuse of Older Australians 2024-2033.
Recommendation 30: Continue to fund and implement the current National Plan to Respond to the Abuse of Older Australians 2019-2023, and commit to development of a more robust, detailed and accountable Plan for 2024 to 2033, which needs to be substantially better funded.
Recommendation 31: Fund the process of leading the States and Territories in the development of nationally consistent enduring Powers of Attorney (POA) laws, followed by a national register of POAs.
Recommendation 32: Task all Government Departments building digital platforms with ensuring older people are consulted in their design and implementation, and the diversity of digital users (including a mix of skills, accessibility and other aspects) is respected and incorporated in the design and operation of digital platforms and services.
Recommendation 33: Develop nationwide education and support programs for older Australians to maintain online and offline engagement with Government.
Recommendation 34: Implement solutions that reduce the increasing cost of using digital platforms to enable effective and equitable digital access and autonomy, including by considering options to:
Recommendation 35: Allow the use of State Government issued photo/age Cards on a voluntary basis for proof of identify via government digital ID verification services, in the same way that driver's license can be used.
Recommendation 36: Conduct a national consultation, including consultation with isolated older people, to develop a national response to social isolation through for social inclusion and participation initiatives.
Recommendation 37: The 47th Parliament should repeal the Federal Euthanasia Laws Act 1997, to allow Australian citizens in the ACT and NT the same rights as those in States to decide whether or not to adopt Voluntary Assisted Dying laws.
Study Preserves Memory In Mice Offering Promising New Basis For Active Immunization Against Alzheimer's Disease
During experiments in animal models, researchers at the University of Kansas have discovered a possible new approach to immunization against Alzheimer's disease (AD).
Their method uses a recombinant methionine (Met)-rich protein derived from corn that was then oxidized in vitro to produce the antigen: methionine sulfoxide (MetO)-rich protein. This antigen, when injected to the body, goads the immune system into producing antibodies against the MetO component of beta-amyloid, a protein that is toxic to brain cells and seen as a hallmark of Alzheimer's disease. The findings have been just published in the peer-reviewed open-access journal Antioxidants.
"As we age, we have more oxidative stress, and then beta-amyloid and other proteins accumulate and become oxidized and aggregated -- these proteins are resistant to degradation or removal," said lead researcher Jackob Moskovitz, associate professor of pharmacology & toxicology at the KU School of Pharmacy. "In a previous 2011 published study, I injected mouse models of Alzheimer's disease with a similar methionine sulfoxide-rich protein and showed about 30% reduction of amyloid plaque burden in the hippocampus, the main region where damage from Alzheimer's disease occurs."
The MetO-rich protein used by Moskovitz for the vaccination of AD-model mice is able to prompt the immune system to produce antibodies against MetO-containing proteins, including MetO-harboring beta-amyloid. The introduction of the corn-based MetO-rich protein (antigen) fosters the body's immune system to produce and deploy the antibodies against MetO to previously tolerated MetO-containing proteins (including MetO-beta-amyloid), and ultimately reduce the levels of toxic forms of beta-amyloid and other possible proteins in brain.
In the new follow-up study, Moskovitz and his co-authors injected the MetO-rich protein into 4-month-old AD-model mice that were genetically modified to develop the familial form of Alzheimer's disease. Subsequent testing showed that this approach provoked the mice's immune systems into producing antibodies that could alleviate the presence of AD phenotypes at an older age (10-month-old mice).
"This treatment induced the production of anti-MetO antibody in blood-plasma that exhibits a significant titer up to at least 10 months of age," according to the authors.
Moskovitz's KU co-authors on the Antioxidants study are Adam Smith, assistant professor of pharmacology & toxicology; Kyle Gossman and Benjamin Dykstra, graduate students in Smith's lab; and Philip Gao, director of the Protein Production Group at the Del Shankel Structural Biology Center.
In a series of tests, the KU researchers assessed the memory of injected mice against similar mice that didn't receive the corn-based methionine sulfoxide.
"We measured short-term memory capability through a 'Y' maze, and that's very important in Alzheimer's disease -- because when people get Alzheimer's, their short-term memory is going away, while the old memories are still there," Moskovitz said. "You put a mouse in a maze shaped like a 'Y' so they can go either the left or right arm. But then you introduce a third arm in the middle and if they recognize the third arm as new, they'll spend more time exploring that new arm because they have curiosity. If they don't even notice there's a third arm -- because they forget it the minute after they saw it -- they will spend more time in right or left."
According to Moskovitz, there was a roughly 50% improvement in the memory of mice injected with the methionine sulfoxide (MetO)-rich protein versus the control.
In another experiment, mice were tasked with locating a platform in a water maze.
"We gave them six days to learn, and even the ones with Alzheimer's eventually learn the location of the platform -- but we found after the second day there was a big difference, the injected mice with the antigen learn much faster than the nonimmunized mice," Moskovitz said. "Then we remove the platform to see if they remember where the platform was just by memory, not by looking. And again, we saw a big difference. The antigen-immunized mice remember and spend more time in the vicinity of the platform they were trained on compared to the nonimmunized control mice."
In addition to short-term memory improvement, the study showed the antigen-injected mice exhibited better long memory capabilities, reduced beta-amyloid levels in both blood-plasma and the brain, as well as "reduced beta-amyloid burden and MetO accumulations in astrocytes in hippocampal and cortical regions; reduced levels of activated microglia; and elevated antioxidant capabilities (through enhanced nuclear localization of the transcription factor Nrf2) in the same brain regions."
The researchers found the data collected in the study likely are translational, suggesting active immunization "could give a possibility of delaying or preventing AD onset."
Moskovitz said such an immunization could be given to people as the risk of Alzheimer's disease increases later in life, "around the time people are told to go get a colonoscopy for the first time in their 50s or 60s," he said. "Further booster shots could maintain immunization, a process which people are so familiar with from the COVID vaccines."
An active immunization would represent an improvement over current passive immunization regimes because the methionine sulfoxide antigen prods the immune system into producing its own antibodies. In passive immunization, antibodies are directly injected into the body but can have severe toxic side effects (such as brain encephalitis) as well as being prone to rejection by the immune system as non-self-antibodies over time.
Moskovitz said the next steps in this line of research would be to conduct pre-clinical and clinical trials in humans in conjunction with the sponsorship of interested pharmaceutical companies.
Adam S. Smith, Kyle R. Gossman, Benjamin Dykstra, Fei Philip Gao, Jackob Moskovitz.
Protective Effects against the Development of Alzheimer's Disease in an Animal Model through Active Immunization with Methionine-Sulfoxide Rich Protein Antigen.
Antioxidants, 2022; 11 (4): 775 DOI:
10.3390/antiox11040775
Nationwide Search For 16-20 Year Old Male Soccer Players For New TV Series
McGregor Casting is currently casting a new Television Series based on teenagers in Year 11 & 12 and are continuing their search for a few roles.
They are looking for folks who are teenagers (or people who still REALLY look like teenagers!) who are BASED IN AUSTRALIA to audition. They are looking for males aged between 16-20 who play soccer at a very high level. Please note: they are completely open to seeing people with no acting experience!
Applicants must be available to shoot in Sydney between late June - early September 2022.
To apply, please
fill in the form here
and include a few clear pictures of yourself. If they feel you are suitable for this (or any other role they are currently casting) they will be in contact.
Please help them out by reading all the information provided carefully before emailing us with questions!
Initial applications due: Monday 9th May, 9am AEDT.
May Is Rotary Youth Service Month
Rotary's Youth Service Programs have a long history of developing young leaders, and providing for health and education projects to make the world a better place. These programs make it a priority to create world peace and understanding while exposing youth to the ideals of "Service Above Self." Youth Service is important because youth are our future.
Did you know that anyone over the age of 18 can join Rotary?
In our club, we have a great combination and balance of highly experienced Rotarians and young energetic ones as well, providing fresh ideas and diversity of thought.
This week, we are pleased to host Sam Wilkins of Northern Beaches Rotaract, who will tell us all about how young people can become involved.
Details of our next meeting are:
Date Wednesday, 11 May 2022
Venue Avalon RSL
Meeting Time 7pm upstairs - function room (or join us for meal in the bistro from 6 pm)
Contact Details and More Information:
Phone (02) 8005 0711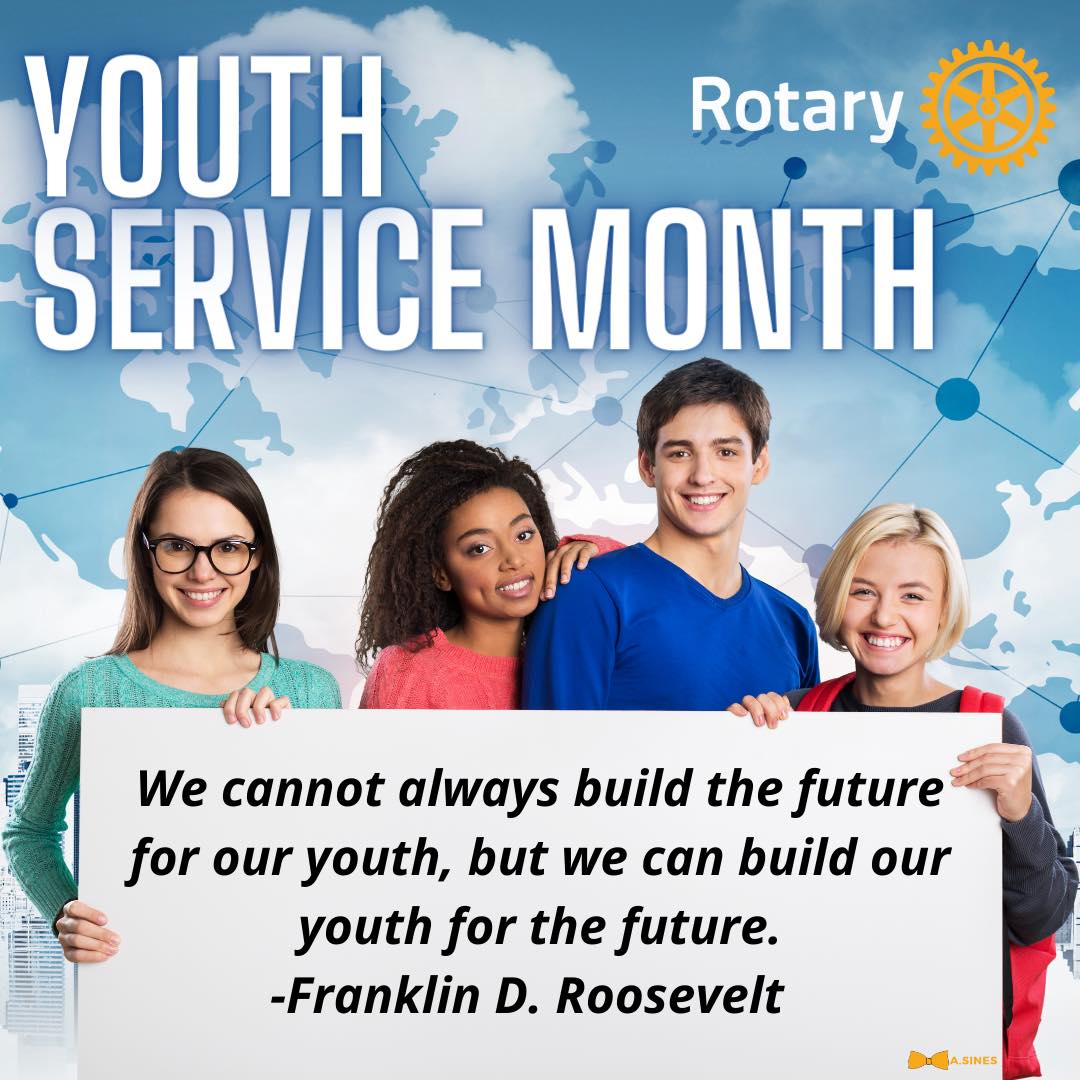 Local Women Named In Australian Gridiron Squad
Newport rugby's Kirisitiana Osborne has been named to play for Australia in the Australian Women's Outback Travel Squad for the Women's World Championship of Gridiron to be played in Finland in July 2022. Kirisitiana is one of three Northern Sydney Gridiron Club Rebels players named this week as part of a 45 women Australian squad,
with Keira Boots and
Brooke Mugridge being the other Rebels players.
Kevin Wilson, Head Coach of the Australian Women's Outback, made the announcement on Thursday May 5th, stating;
''I am confident these athletes will uphold with pride, the honour of being an Australian representative and will conduct themselves as ambassadors for the sport in true Australian spirit.''
Gridiron Australia is the recognised governing body of American Football in Australia. Ter are, to date, 121 teams and 3175 players of this sport across Australia in all places except the Northern Territory.

The 2022 International Federation of American Football (IFAF) World Championship, is taking place in Vantaa, Finland from July 28-August 8.
The lineup will include the host nation and defending European Champion Finland, along with the reigning World Champions, Team USA. They will be joined by the 2017 World Championship silver and bronze medallists, Canada and Mexico, as well as the 2019 European silver and bronze medallists, Sweden and Great Britain, the 2015 European bronze medallists, Germany, and Australia, which was coached at the 2017 World Championship by Dr. Jen Welter. Dr. Welter became the NFL's first female coach in 2015.

The Northern Sydney Gridiron club's website states the club was founded in 2014 by former club president Stephen Armstrong. Stephen grew up on the Northern Beaches, but moved to Perth after school. He had a successful stint playing football in WA for the Perth Blitz before relocating home to NSW in 2013. After playing one season with the UNSW Raiders he decided to start his own football club.
Stephen sent a proposal to the sports governing body, Gridiron NSW, and was put in contact with a man by the name of Scott Davoren. Scott was a former North Western Predator who had been out of the game for a few years but was more than willing to help establish a new club. The word was put out in early 2014 on the clubs newly formed Facebook page and after a hugely successful first turn out the founding members of the club made the decision to push forward and get on the pitch for the upcoming season.
The club considered several names including The Spartans, Saxons, Owls and even the Redbacks in honour of the historical Manly side from the 1990s. In the end it was unanimously decided to settle on the mantle of the Rebels.
Fast forward to today, and the club has moved forward in leaps and bounds. The Division 1 men's team was the first team to record a win in their initial season in GNSW history, and have since had playoff berths in the 2016 and 2017 seasons, barely missing out on a spot in the Waratah Bowl in 2017. The club has grown exponentially since its inception, developing its colts and women's programs to the same level of success, as can be seen from this week's announcement.
If you want to try it out there's an event coming up locally in a few weeks time: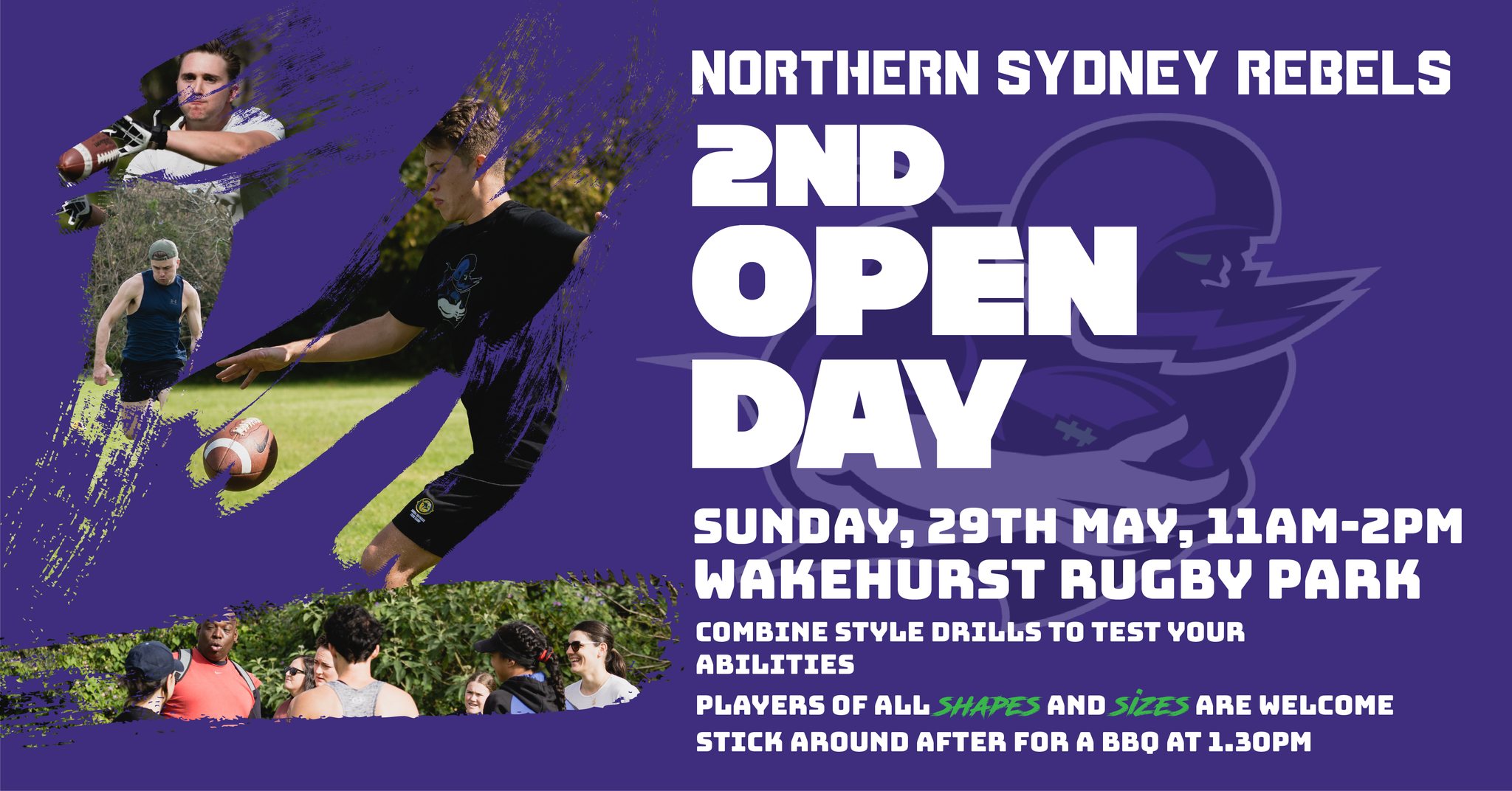 2022 Australian Surfing Awards - Top 10 Surf Photos Of The Year Announced
Australian surf photography has continued to go from strength to strength in the past twelve months as evident in the epic submissions for the 2022 Surf Photo of The Year Award category.
With a mix of icons and up-and-comers putting their best images forward for judging there was a great variety of land and water based frames for the judges to adjudicate on.
As it is every year, the Surf Photo of The Year Award was hotly contested with the top ten images of an extremely high standard. For the tenth year running the submissions were judged by a panel of thirteen high-profile individuals within the surfing industry.
Chris Mater, CEO, Surfing Australia, said, " Everyone always looks forward to seeing captivating high quality images as produced in the Surf Photo of The Year Award category each and every year, 2021 being no different. Congratulations to everyone that submitted their work and a special mention to the epic top ten images. Good luck on the night!"
The Australian Surfing Awards is proudly supported by the Queensland Government, through Tourism and Events Queensland, and features on the It's Live! in Queensland events calendar.
2022 Australian Surf Photo of The Year Top Ten (In no particular order)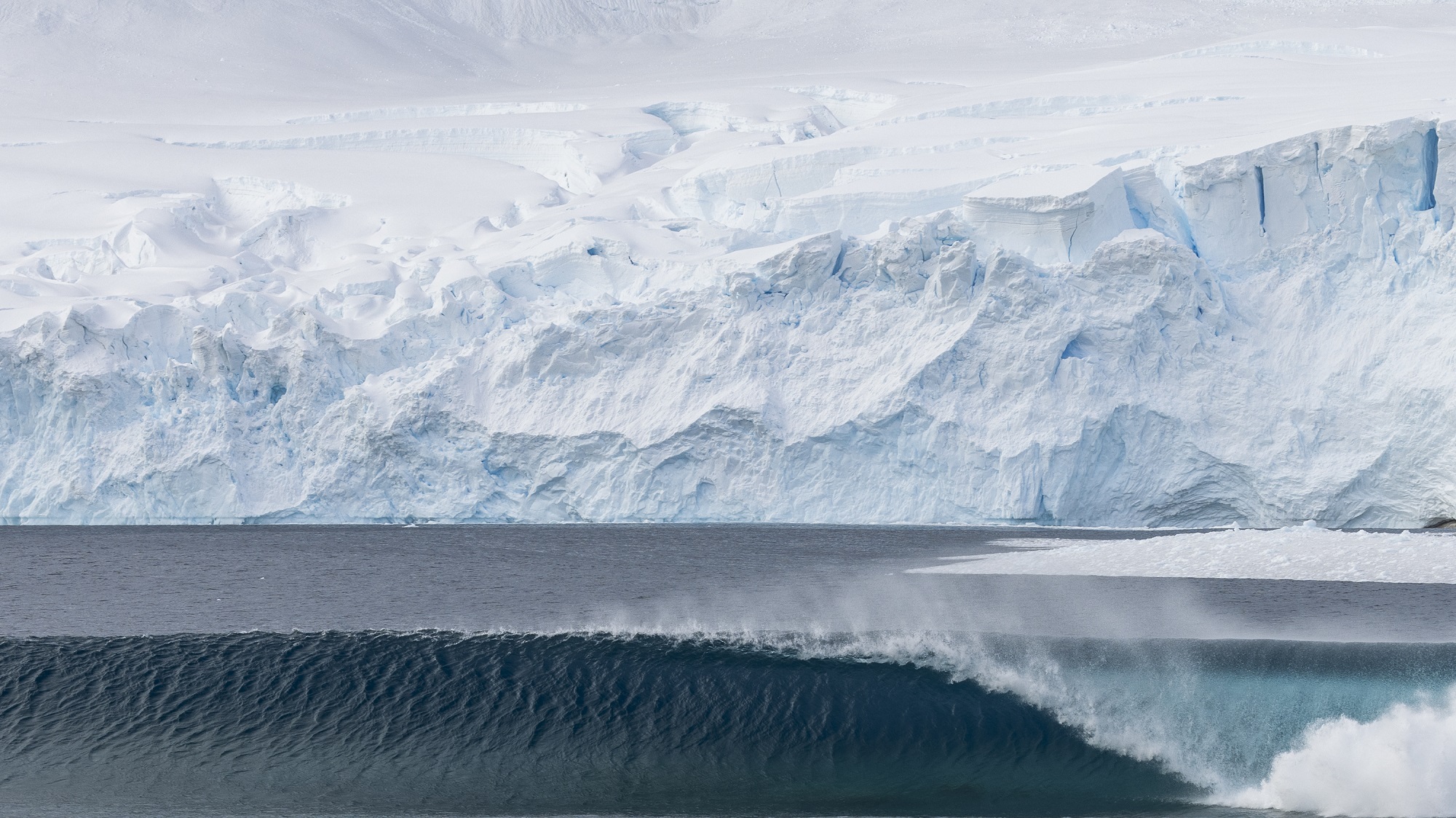 Andrew Peacock 'Unridden Antarctica'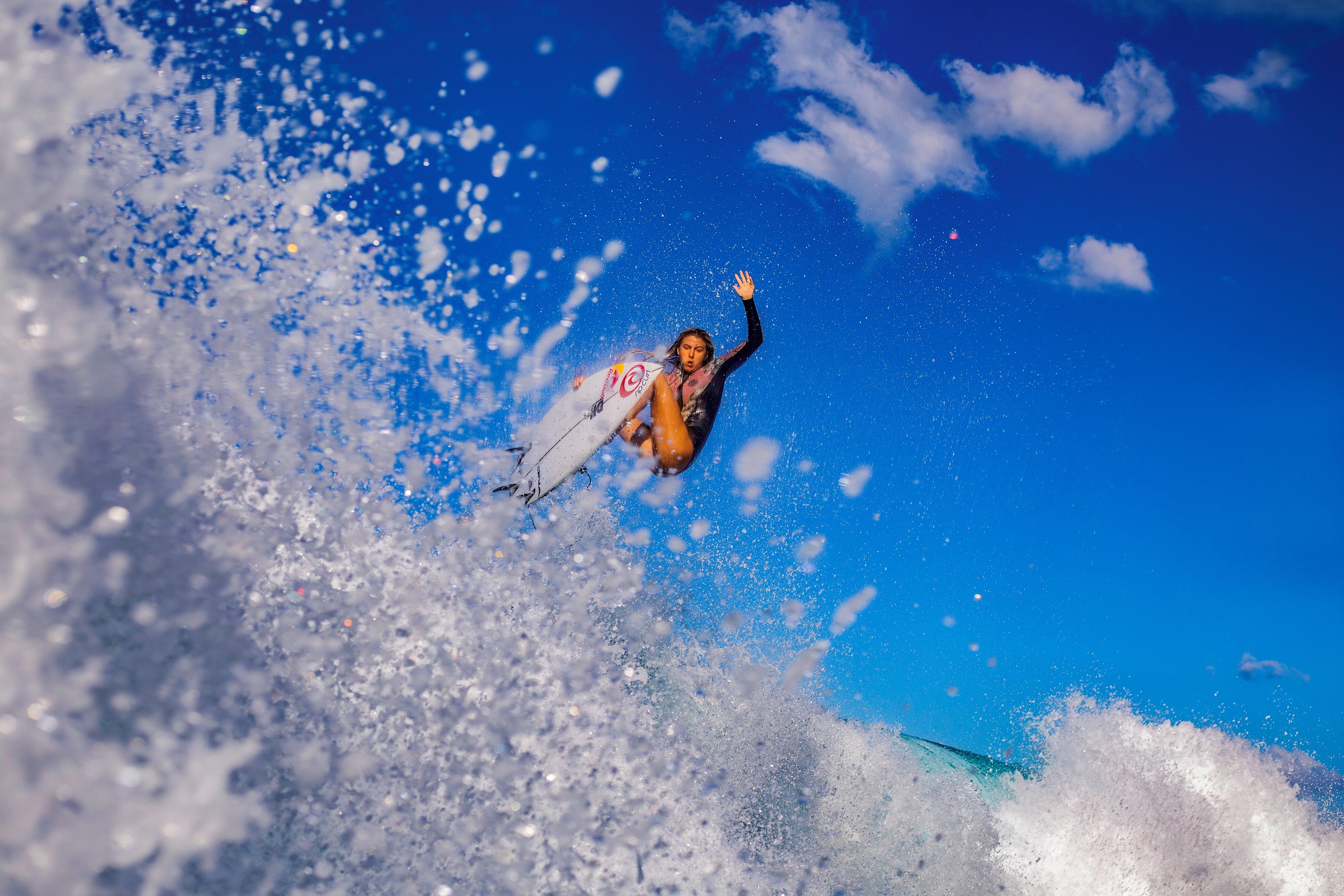 Trav Don Johnson 'Molly in Flight'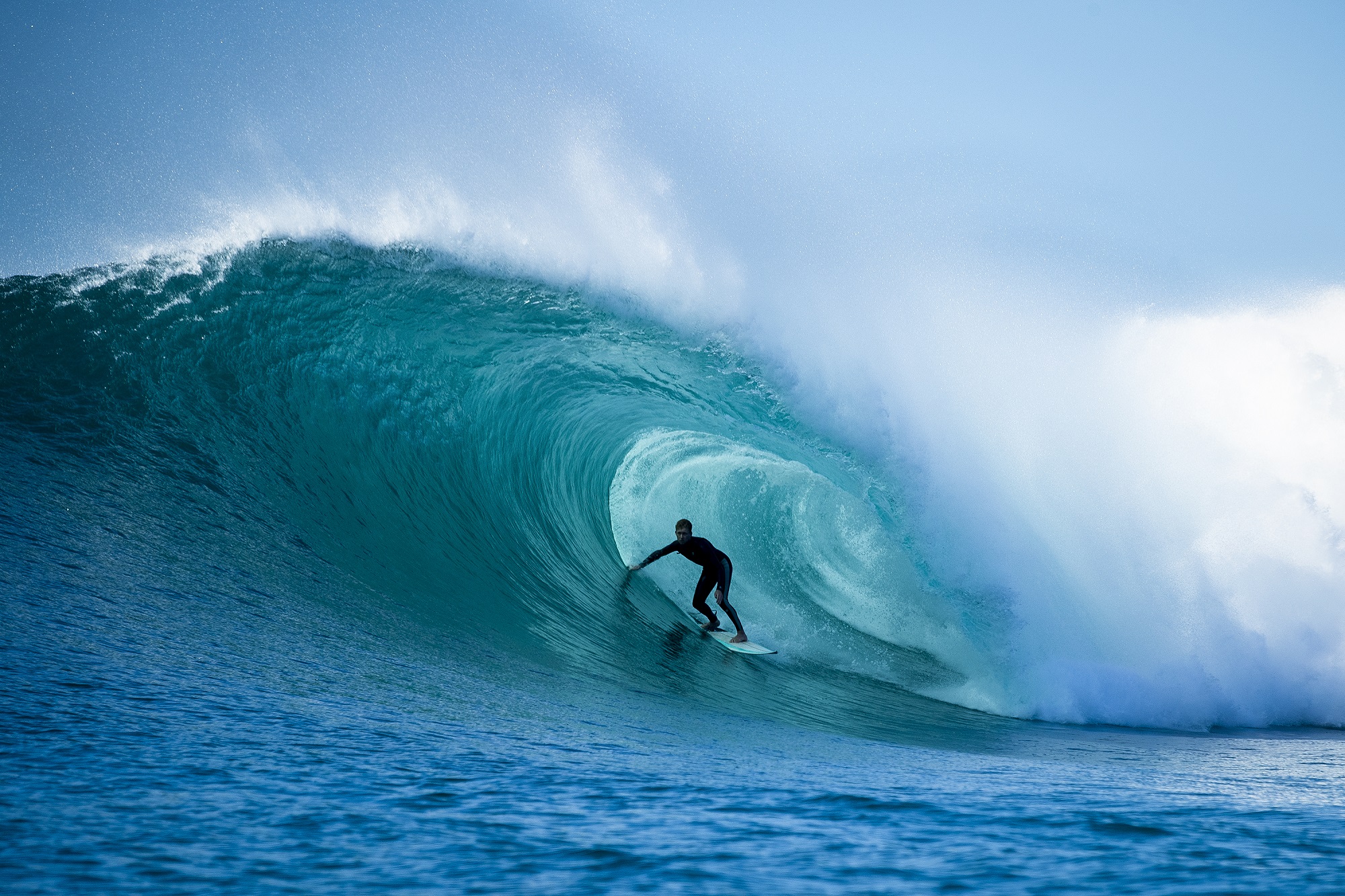 Nathan Tyack 'Clancy Dawson'
Ted Grambeau 'Maya Gaberia'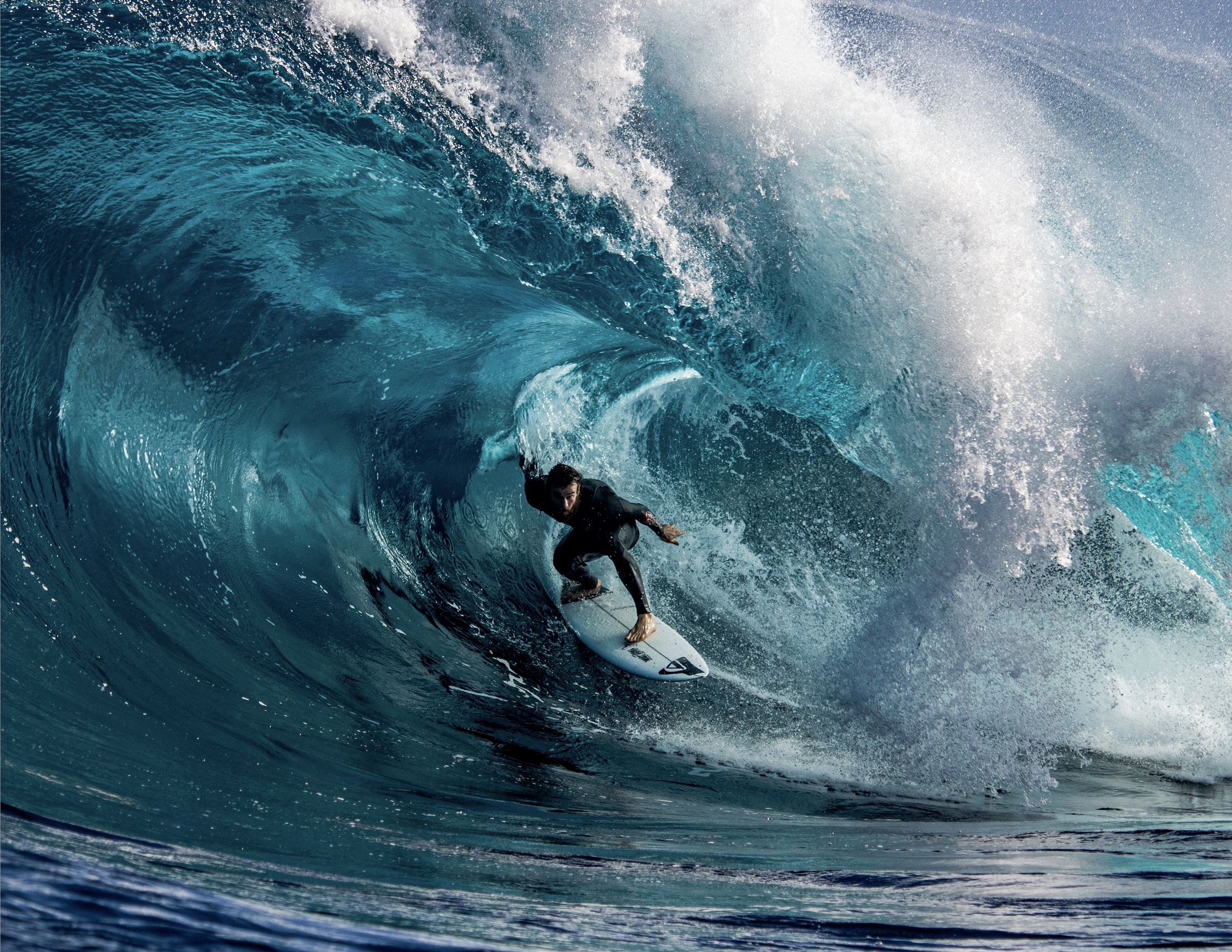 Adam Crane 'Mikey Wright'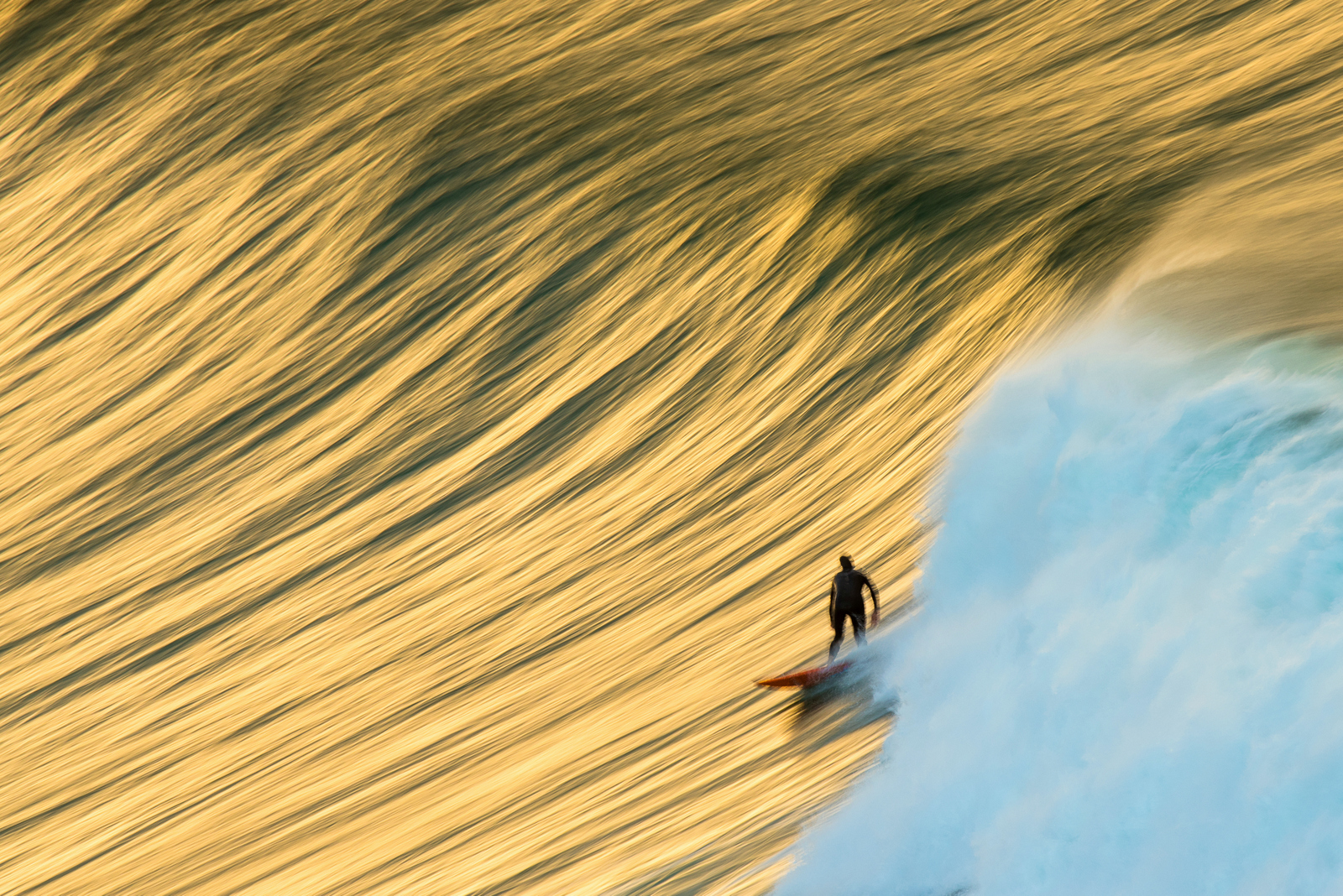 Peter Jovic 'Slide Into The Gold'
Trav Don Johnson 'In A Phone Booth'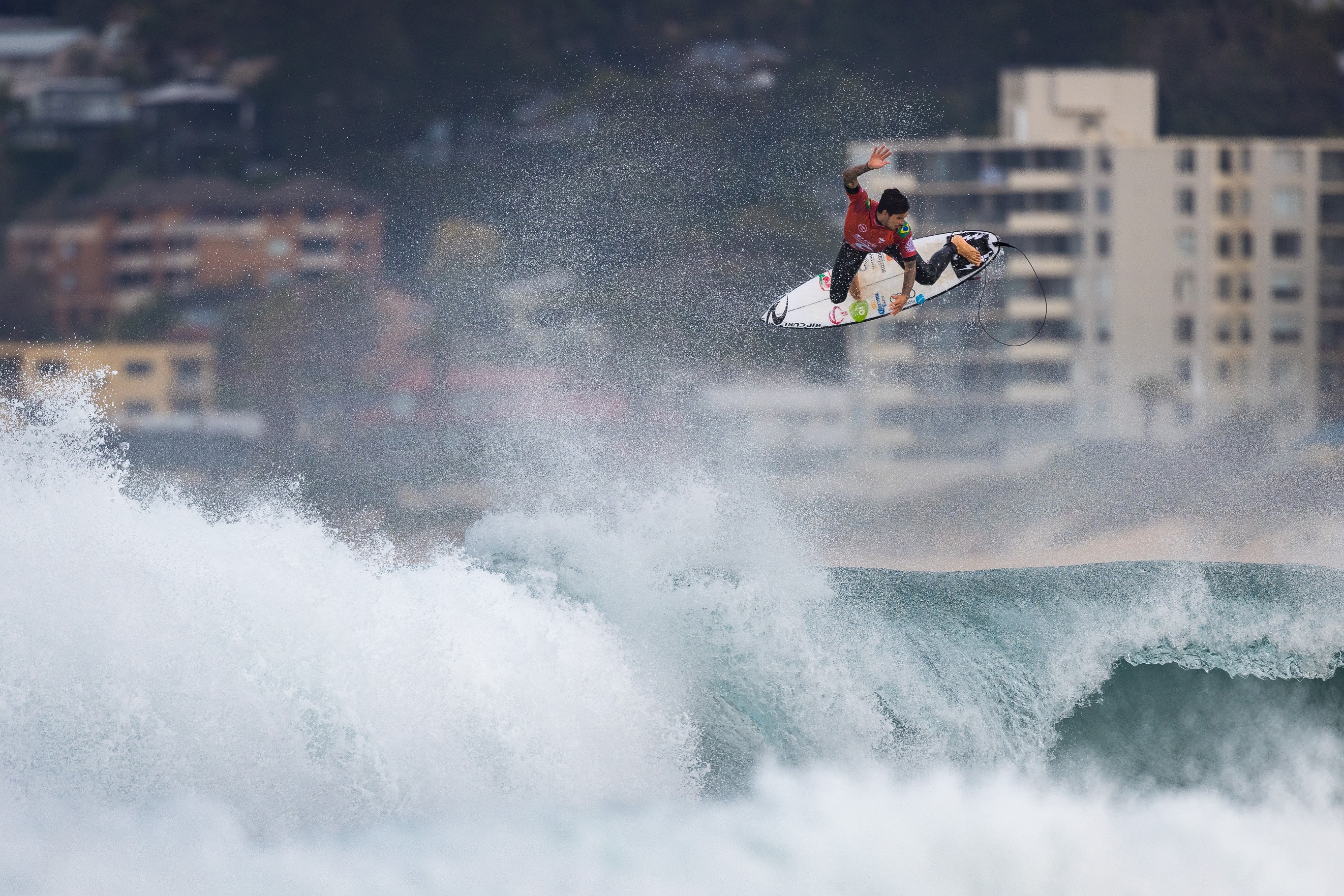 Dan Hayward 'Super Medina'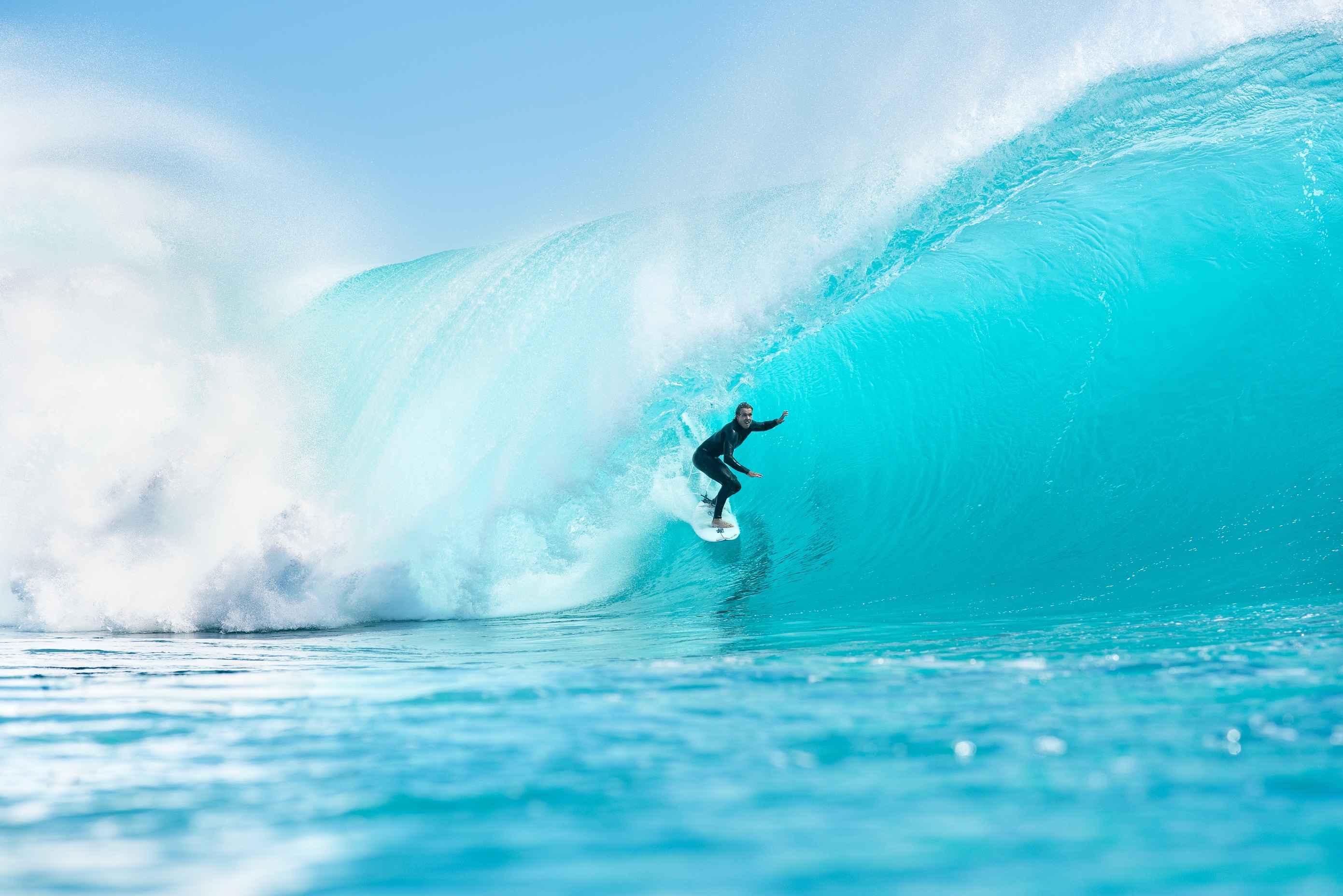 Jack O'Grady 'Jacob Willcox One Last Pump'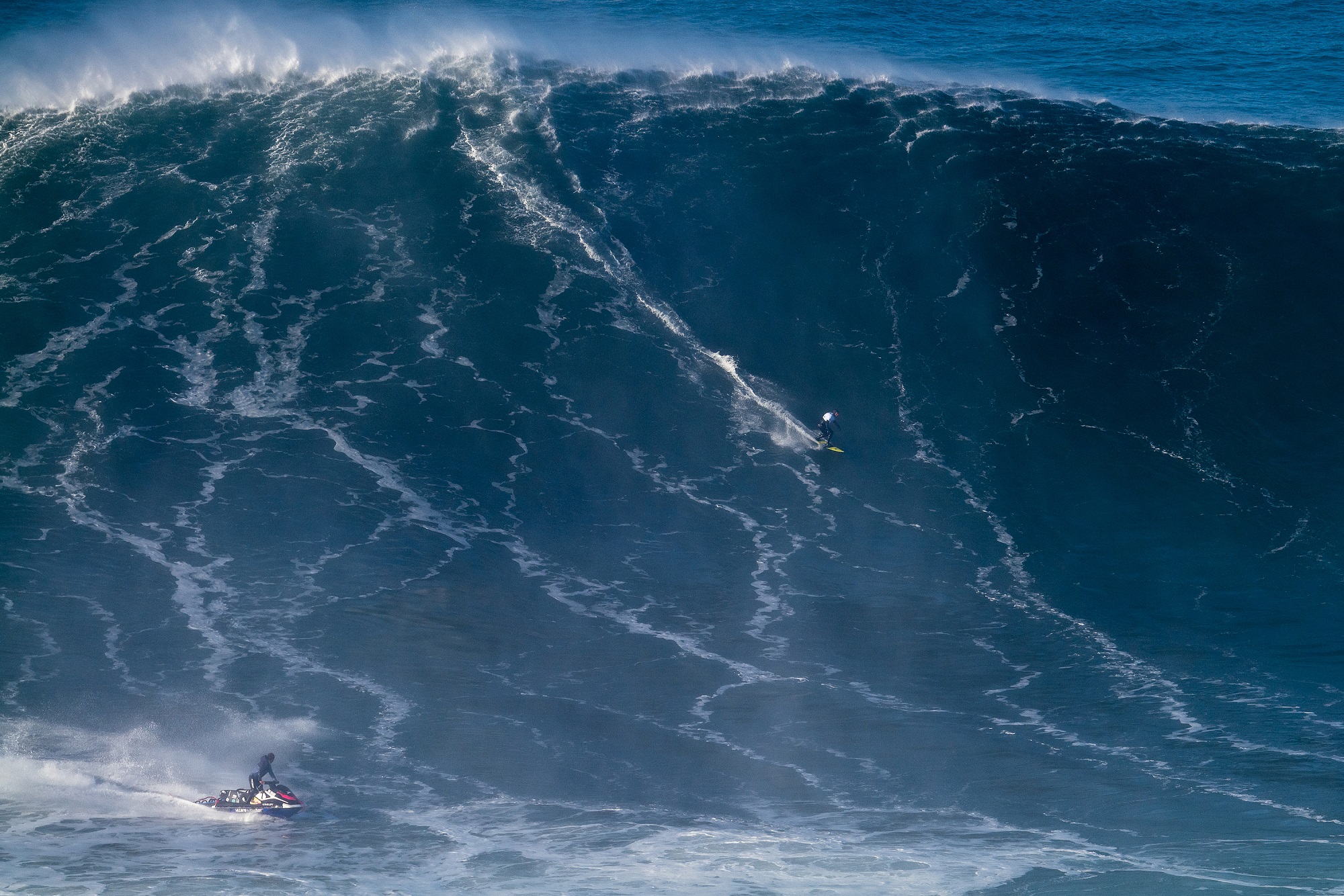 Ted Grambeau 'Nic Von Rupp'​​​​​​
World-renowned Surf Journalist Nick Carroll continues in the role of Curator of the Australian Surfing Awards incorporating the Hall of Fame.
The Australian Surfing Awards incorporating the Hall of Fame is proudly supported by Tourism and Events Queensland, QT Gold Coast, Griffith University, Reeftip Drinks Co, Zambrero, ACCIONA, Modus Operandi, Andrew Peace Wines and OnStone.
Eta Aquariid Meteor Shower Is Set To Light Up Our Skies
Every May southern observers get a special treat – the Eta Aquariid meteor shower. This year conditions promise to be perfect, making it the ideal opportunity for some autumnal meteor observation. The forecast peak for this year's Eta Aquariids falls on the morning of Saturday, May 7 AEDT. The Moon will be well out of the way, so meteors won't be lost in its glare.
Meteors showers are named for the constellation in which their radiant lies. So the Eta Aquariids have a radiant near the star Eta Aquarii – the tenth-brightest star in Aquarius. The Eta Aquariids, named after the Aquarius constellation, derive from the debris of Halley's Comet, the well-known comet that is visible from earth every 76 years, according to NASA. The last time the comet was spotted in our sky was in 1986, and it won't appear again until 2061.
To see the Eta Aquariids, you'll need to wait until the radiant rises – before that, the body of the Earth gets in the way. In the southern hemisphere
the Eta Aquariid radiant rises in the east at around 1:30 to 2am,
local time.
The Eta Aquariids are the second best shower of the year for people in Australia. They can put on a spectacular show - but don't expect to see meteors falling like snowflakes. When the radiant first rises above the horizon, at around 1.30am, meteors from the shower will be few and far between. If you see five or six Eta Aquariids in that first hour, you should probably count yourself lucky.
Predictions of the peak vary and the shower still should be visible in the hours before dawn on May 4, 5,6 and 7, 2022, according to EarthSky.
The shower will remain active until May 27.
While the Eta Aquariids are visible from both the Northern Hemisphere and Southern Hemisphere, they are best viewed in the Southern Hemisphere where the meteors will rise the highest in the night sky, according to NASA.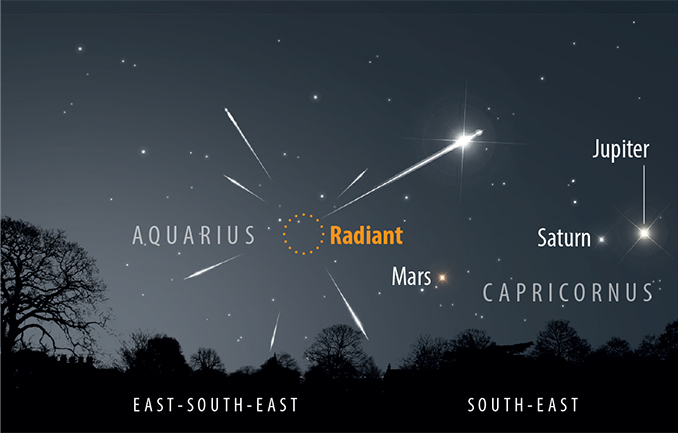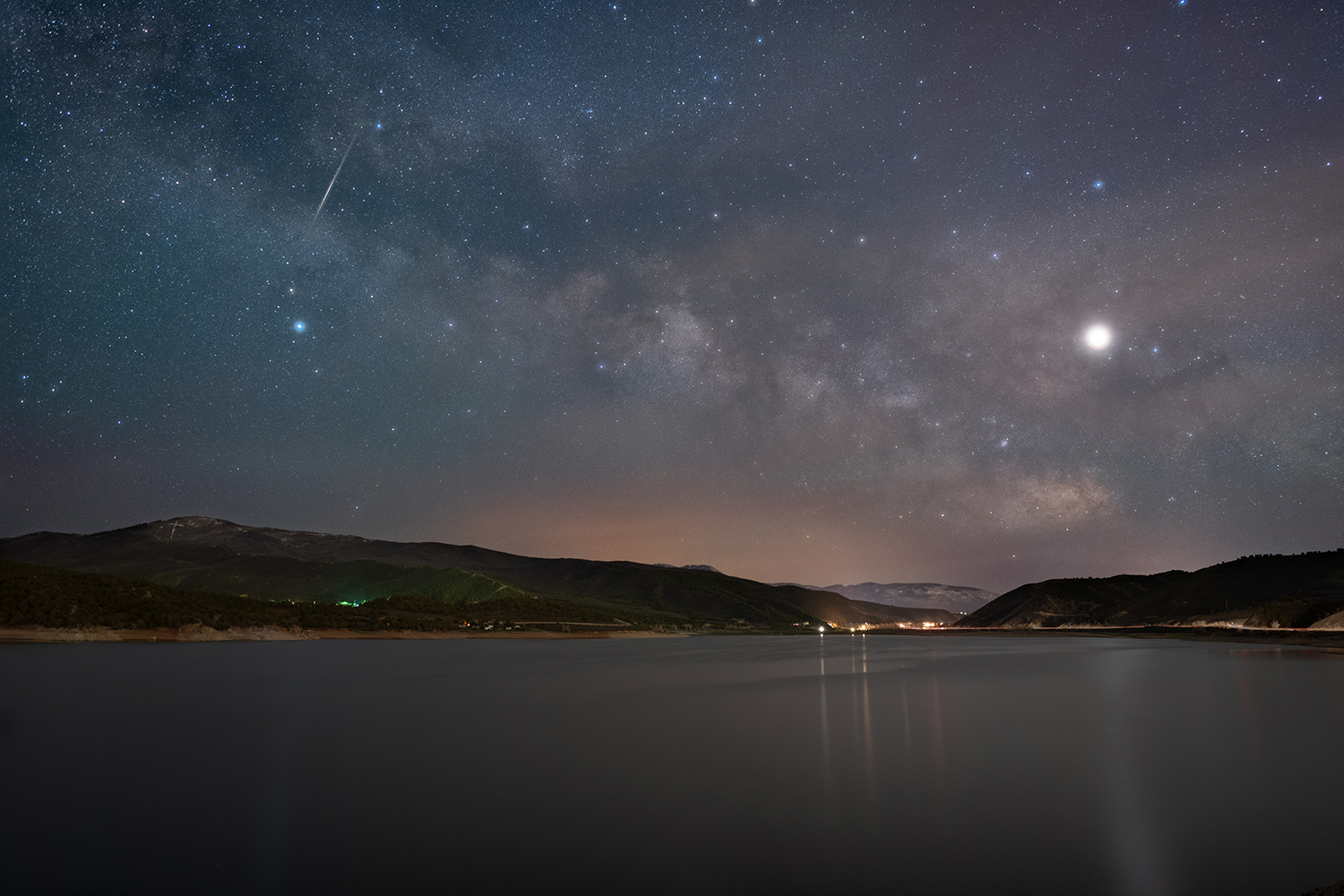 HSC Exam Timetable Released
Students undertaking their HSC this year can start planning their exam weeks with the release of the 2022 timetable.

Today 76,000 NSW students will receive their personalised timetable for the 2022 written HSC exams.
HSC written
exams will start on Wednesday 12 October 2022 with English Paper 1 and finish on Friday 4 November 2022
.
Minister for Education Sarah Mitchell said the release of the HSC timetable marks the final stage of the school journey for Year 12 students.
"The release of the HSC timetable confirms for the Class of 2022 that they are on the home straight of their high school education," Ms Mitchell said.
"These students have managed an incredibly challenging final two years of school. They should be proud of what they've achieved and I wish them all the best in their HSC exams."
Management of the HSC is no small feat, with this year's schedule running across 18 days, involving around 76,000 students, 126 exams and 780 exam centres.
NESA CEO Paul Martin said planning the HSC exam timetable was a complex process, designed to ensure every student has an opportunity to show what they know.
"Each year, we work to ensure that the HSC timetable for each student is as fair and equitable as possible, so everyone has the opportunity to be at their best for the written exams," said Mr Martin.
"NESA has been working hard to consolidate the lessons we learnt from running the HSC during a pandemic and are ready to put what we have learnt in place to further full proof the HSC for 2022."
All 2022 HSC students can access their timetable on Students Online from 9am today. The full 2022 HSC written exam timetable will be available here at 10am:
Up Close With Gang-Gang Cockatoo Feeding On Conesticks – Blue Mountains
These up-close scenes of a young male Gang-gang Cockatoo (Callocephalon fimbriatum) were captured on a rainy late March (2022) day from the Little Switzerland Trail on the Kings Tableland plateau in the Blue Mountains (NSW, Australia). Despite the weather, several birds were sighted, including a cockatoo-fest: Nine Gang-gangs, ten Yellow-tailed Black Cockatoos, five Glossy Black Cockatoos and two Sulphur-crested Cockatoos. Only the first two species were within camera range on this occasion. The closing footage of a female Glossy Black Cockatoo was collected around the same location (Little Switzerland-Chester Trail circuit) the following day.
It's always a thrill to spot the bright red heads of male Gang-gang Cockatoos, standing out from the foliage like waratah blooms. Of course, the females have their own beauty, with their filamentous grey crest and orange-yellow fringing on their underparts creating a barred effect. Juvenile Gang-gangs have similar underparts and a rudimentary grey crest. In the immature stage – as seen here – the young male develops his red features but still has aspects of juvenile plumage. To see close-up views of an adult male and adult female, please check out our previous production https://youtu.be/5LTowYCegqA from the Capertee Valley on western edge of the Greater Blue Mountains World Heritage Area.
Gang-gang Cockatoos are mostly found in temperate forest of south-east Australia, but will visit more open habitats such as grassy woodland and heathland, and parks, gardens and road verges in search of food. In general, the diet of any cockatoo is largely determined by bird and beak size. As one of our smallest cockatoos (only the Cockatiel is smaller), Gang-gangs prefer softer, more accessible seed pods (e.g. Petrophile pulchella aka Conesticks, as shown in this video, Acacias, Eucalypts and Callistris) and fruits of some exotic plants (e.g. Hawthorn and Cotoneaster). Note that the Glossy Black Cockatoo in the final scene is eating the seeds of harder she-oak pods, but a Conesticks plant is closer to camera.
Although Gang-gangs are relatively flexible in their food choices, this hasn't saved them from declining numbers throughout their range. They are listed as Vulnerable in NSW and Endangered federally. Two strongholds have traditionally been the Australian Capital Territory (ACT), where this bird is the faunal emblem, and the Blue Mountains in NSW. Alas, this once-common breeding nomad of the Mountains (who also moves altitudinally in response to seasonal change) is harder to find now, especially in the lower Mountains. There are fewer sightings in all parts of the Mountains, but the upper Mountains has had the least decline and Gang-gangs remain a likely treat for residents thereabouts. As to why the decline, it's a familiar story of habitat loss and degradation, made worse by the fires of 2019-20.
Young Writers' Competition 2022
Young people across the Northern Beaches are encouraged to enter this year's Young Writers' Competition for their chance to be published.
Now in its 13th year, the annual competition is open to students from kindergarten to grade 12 who live or go to school on the Northern Beaches. The theme of this year's competition is 'rise'.
"The Northern Beaches is home to some very talented young writers, and I continue to be blown away by the creativity and skill of entrants in our annual Young Writers' Competition," Mayor Michael Regan said.
"It's time for young writers to once again rise and shine and show us what they've got. More than 500 stories were submitted in last year's competition, and we suspect this year will be just as competitive."
Entrants can write on any topic or theme but must include a derivation of the word 'rise'. Entries will be grouped by age and judged according to characterisation, originality, plot, and language.
Four finalists will be chosen in each age category and invited to a presentation night on Wednesday 10 August, where a winner, runner-up, and two highly commended prizes are awarded.
Finalists from each category will have their stories published in an eBook which is added to the Northern Beaches Council Library collection.
Entries close Tuesday 31 May 2022. Entrants must be members of the Northern Beaches Council Library Service.
Complete the online entry form and attach your story as a Word document. If your story is hand-written, then a clear, readable photo or scanned PDF can be submitted.
Not a member of the library? Don't worry, Council will use this form to create a membership for you. Just mark 'no' under the library member field in the online form. If you are a member and unsure of your library card number, just mark 'yes' in the library member field in the online form and Council will find your library membership number.
Entries are judged according to characterisation, originality, plot and use of language and arranged into six different age group categories.
Four finalists are chosen in each age category and invited to a presentation night where a winner, runner-up and two highly commended prizes are awarded. Finalists from each category will have their stories published in an eBook that will be added to Council's collection.
For more information visit Council's library.
Word Of The Week: Meliorist
Word of the Week returns in 2022 simply to throw some disruption in amongst the 'yeah-nah' mix.
noun: PHILOSOPHY
meliorist
- the belief that the world can be made better by human effort.
Meliorism (Latin melior, better) is the idea that progress is a real concept leading to an improvement of the world. It holds that humans can, through their interference with processes that would otherwise be natural, produce an outcome which is an improvement over the aforementioned natural one.
Meliorism, as a conception of the person and society, is at the foundation of contemporary liberal democracy and human rights and is a basic component of liberalism.
There are several broad characteristics that define liberalism that distinguish it from other doctrines and political systems (authoritarian system for example or a nation ruled by or through a religion). In the words of John Gray (born 1948 -English political philosopher and author with interests in analytic philosophy and the history of ideas) he emphasises what he believes all liberals have in common. He identifies
four basic elements
of a highly abstract conception of man and society which he believes liberals of all quarters adhere to, and which sets them apart from non-liberals:
"Common to all variants of the liberal tradition is a definite conception, distinctively modern in character, of man and society. What are the elements of this conception? It is

individualist

, in that it asserts the moral primacy of the person against the claims of any social collectivity:

egalitarian

, inasmuch as it confers on all men the same moral status and denies the relevance to legal or political order of differences in moral worth among human beings;

universalist

, affirming the moral unity of the human species and according a secondary importance to specific historic associations and cultural forms; and

meliorist

in its affirmation of the corrigibility and improvability of all social institutions and political arrangements. It is this conception of man and society which gives liberalism a definite identity which transcends its vast internal variety and complexity." (Gray 1995:xii, author"s own emphases).
Another important understanding of the meliorist tradition comes from the American Pragmatic tradition. You can read about it in the works of Lester Frank Ward, William James, and John Dewey. In James' works, however, meliorism does not pinpoint to progressivism and/or optimism. For James meliorism stands in the middle between optimism and pessimism, and treats the salvation of the world as a probability rather than a certainty or impossibility.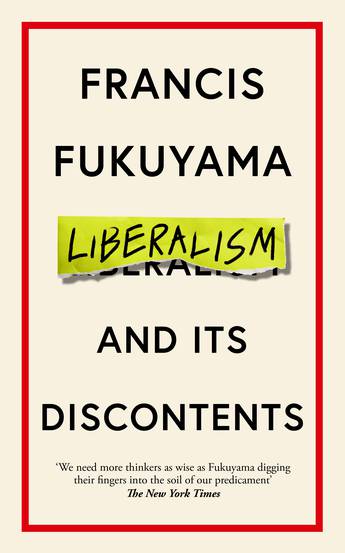 Getting a copy of Yoshihiro
Francis Fukuyama's
'Liberalism and its Discontents' - published this month (May 2022), also provides some great definitions and context. The 'blurb' for this does not do it credit, nevertheless:
''A defence of liberalism by the renowned political philosopher.




Liberalism - the comparatively mild-mannered sibling to the more ardent camps of nationalism and socialism - has never been so divisive as today. From Putin's populism, the Trump administration and autocratic rulers in democracies the world over, it has both thrived and failed under identity politics, authoritarianism, social media and a weakened free press the world over.




Since its inception following the post-Reformation wars, liberalism has come under attack from conservatives and progressives alike, and today is dismissed by many as an 'obsolete doctrine'. In this brilliant and concise exposition, Francis Fukuyama sets out the cases for and against its classical premises: observing the rule of law, independence of judges, means over ends, and most of all, tolerance.




Pithy, to the point, and ever pertinent, this is political dissection at its very best.''
He explains how liberalism was developed to allow tolerance of others so we'd all stop killing each other in the 17th century, examines the resurgence of nationalism which focuses on excluding others and restricting the rights of some, and lead to WW's I and II, as well as defining what threatens its development and use as a protection against the machinations of autocratic governments. Law being set apart from government is also discussed, and laws, such as those that versed the Civil Rights made in 1950's- 1960-'s America. Through nonviolent protest, the civil rights movement of the 1950s and '60s broke the pattern of public facilities' being segregated by "race" in the South and achieved the most important breakthrough in equal-rights legislation for African Americans since the Reconstruction period (1865–77).
For another, current example, the fracas happening in the USA at present about Roe versus Wade case and the Supreme Court stacked by Trump picks on the premise that they follow Republican agenda besmirches that liberalist institution's ability (the Supreme Court) to protect Americans from the politicisation of that institution, and that law in particular - which was actually won on the individuals right to privacy.
In the words of ABC reporter Sarah Ferguson (Unprecedented leak could signal end of abortion rights in the United States - Wednesday May 4, 7.30 Report)
''The final decision is expected shortly.

If it follows the arguments laid out in this extraordinary leaked draft,

the stench of politics, as Justice Sotomayor predicted, will cling to the Supreme Court and calls for its reformation will surely grow stronger.''
Yoshihiro Francis Fukuyama (born October 27, 1952) is an American political scientist, political economist, and writer. Francis Fukuyama is a Senior Fellow at Stanford University. He has previously taught at Johns Hopkins University and George Mason University, alongside serving as a researcher at the RAND Corporation and Deputy Director for the State Department's policy planning staff. His six previous books were also published by Profile.
Marvin Gaye - What's Going On
(Official Video 2019 - 50th anniversary edition of this song - originally published during Vietnam war protests)
What's Going On is a concept album with most of its songs segueing into the next and has been categorized as a song cycle. The narrative established by the songs is told from the point of view of a Vietnam veteran returning to his home country to witness hatred, suffering, and injustice. Gaye's introspective lyrics explore themes of drug abuse, poverty, and the Vietnam War. He has also been credited with promoting awareness of ecological issues before the public outcry over them had become prominent (Mercy Mercy Me).
What's Going On stayed on the Billboard Top LPs for over a year and became Gaye's second number-one album on Billboard's Soul LPs chart, where it stayed for nine weeks. The title track, which had been released in January 1971 as the album's lead single, hit number two on the Billboard Hot 100 and held the top position on Billboard's Soul Singles chart five weeks running. The follow-up singles "Mercy Mercy Me (The Ecology)" and "Inner City Blues (Make Me Wanna Holler)" also reached the top 10 of the Hot 100, making Gaye the first male solo artist to place three top ten singles on the Hot 100 from one album.
Creedence Clearwater Revival - Fortunate Son
"Fortunate Son" is a song by the American rock band Creedence Clearwater Revival released on their fourth studio album, Willy and the Poor Boys in November 1969. It was previously released as a single, together with "Down on the Corner", in September 1969. It soon became an anti-war movement anthem and an expressive symbol of the counterculture's opposition to U.S. military involvement in the Vietnam War and solidarity with the soldiers fighting it. The song has been featured extensively in pop culture depictions of the Vietnam War and the anti-war movement.
The song reached number 14 on the United States charts on November 22, 1969, the week before Billboard changed its methodology on double-sided hits. The tracks combined to climb to number 9 the next week, on the way to peaking at number 3 three more weeks later, on 20 December 1969. It won the RIAA Gold Disc award in December 1970. Pitchfork Media placed it at number 17 on its list of "The 200 Greatest Songs of the 1960s". Rolling Stone placed it at number 99 on its "500 Greatest Songs of All Time" list. In 2013, the song was added to the National Recording Registry by the Library of Congress for being "culturally, historically, or aesthetically significant."
Helen Reddy - I Am Woman (1971)
"I Am Woman" is a song written by Australian musicians Helen Reddy and Ray Burton. Performed by Reddy, the first recording of "I Am Woman" appeared on her debut album I Don't Know How to Love Him, released in May 1971, and was heard during the closing credits for the 1972 film Stand Up and Be Counted. The song came near the apex of the counterculture era and, by celebrating female empowerment, became an enduring anthem for the women's liberation movement. Following Reddy's death in September 2020, the song peaked at number 2 on the Australian digital sales chart.
Sting - Englishman In New York
"Englishman in New York" is a song by English singer Sting, from his second studio album ...Nothing Like the Sun, released in October 1987. Sting wrote the song about the famous eccentric and gay icon Quentin Crisp, who is the "Englishman" of the title. The song was composed not long after Crisp had moved from London to an apartment in the Bowery in Manhattan. Quentin Crisp (born Denis Charles Pratt; 25 December 1908 – 21 November 1999) was an English writer, humourist and actor.
Bob Marley - Get Up, Stand Up (Live At Munich, 1980)
Peak Towers Certifier In China At Time Of Final Inspection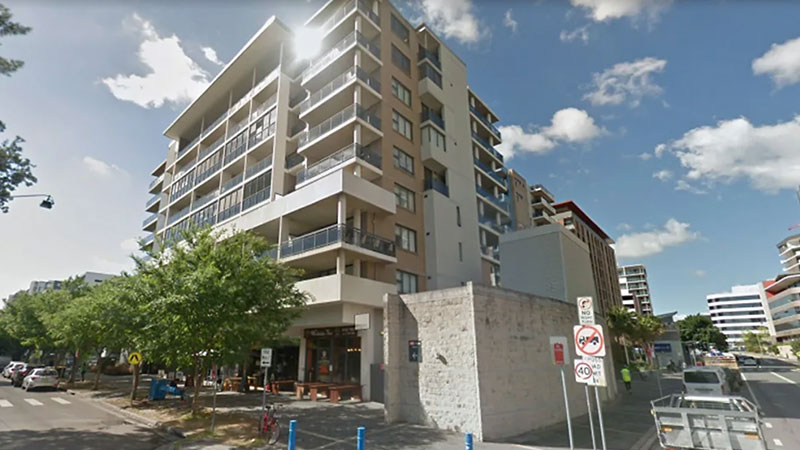 A NSW Fair Trading investigation has revealed that notorious building certifier Maurice Freixas contravened state planning laws when he issued dodgy construction and occupation certificates (OC) for the Peak Towers apartments.
Mr Freixas had already been issued with a lifetime ban by NSW Fair Trading, but further investigations that reviewed Border Force and mobile phone records reveal that he was in China when he claimed to have carried out the final inspection at Peak Towers.
NSW Fair Trading Minister Eleni Petinos said investigators found Maurice Freixas, formerly of Dix Gardner, failed to carry out the statutorily required final inspection of the completed building before issuing a June 2019 occupation certificate on 108 units, worth $22 million.
"We've issued a lifetime ban to Mr Freixas and this should serve as a stern warning to any unscrupulous certifier that you will be met with the full force of the law," Ms Petinos said.
"The legislation is clear, a certifier must carry out a full and proper final inspection of a building. This is something that cannot be done from overseas.
"Certification work is a crucially important function with potential impacts on public safety and all certifiers must carry out their work to the highest standard or they will face severe consequences."
Other failings were also found to exist in the certifier's sign-off of four other buildings where construction certifications were issued where the buildings would not comply with relevant requirements of the Building Code of Australia.
Mr Freixas is now the third private certifier from Dix Gardner to have their registration cancelled following investigations by state regulators. Dix Gardner can no longer offer certification services in NSW.
Anyone with complaints is encouraged to contact NSW Fair Trading on 13 32 20 or visit the NSW Fair Trading website
Electric Vehicles Break The Barrier In NSW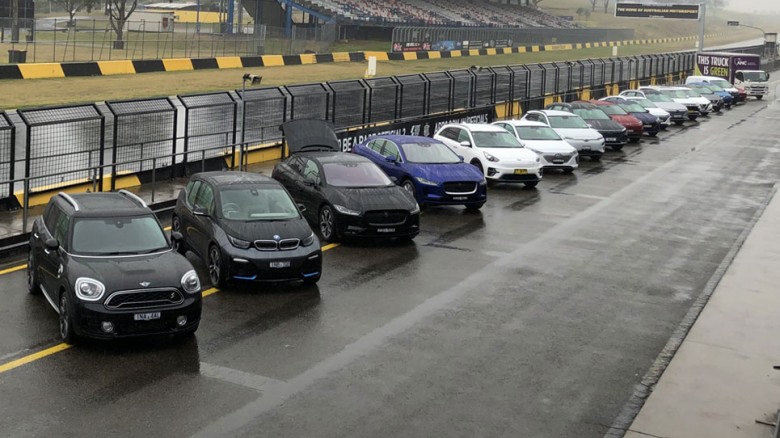 Electric vehicles will now be able to make the drive from Sydney all the way to Broken Hill, after the final piece of the network of fast chargers along the Barrier Highway was switched on.
Deputy Premier and Minister for Regional NSW Paul Toole said the chargers at Wilcannia and Cobar formed part of the 20 sites rolling out across the regions under a $3 million partnership between the NSW Government and the NRMA to deliver the country's biggest network of EV charging stations.
"Now that we've rolled out the final chargers along the Barrier Highway, located at Wilcannnia, Cobar, Dubbo, Parkes, Orange and Lithgow, it means drivers travel no more than 300 kilometres to recharge their vehicles when making the 1000-kilometre journey between Sydney and Broken Hill," Mr Toole said.
"These charging stations are transforming the way EV drivers move around, helping to support tourism in regional centres along the Barrier, New England, Sturt, Hume, Newell and Kamilaroi highways.
"And once we roll out our network by 2023, most EV drivers will be no more than 150 kilometres from an EV charging station, allowing people to travel to Broken Hill, Moree and Bourke, and to link up with major routes in Queensland, Victoria and South Australia."
Treasurer and Minister for Energy Matt Kean said the Barrier Highway network completion would open up opportunities for EV drivers to visit regional NSW.
"Rolling out chargers across NSW will ensure everyone can enjoy the benefits of electric vehicles," Mr Kean said.
"Under the State's EV strategy, the NSW Government is co-investing a further $171 million in charging infrastructure so drivers can be confident they can drive their EVs whenever and wherever they want to."
Minister for Regional Transport Sam Farraway said completing the charging network across the more than 1150-kilometre journey is an important milestone for regional NSW.
"The completion of this route will help cater for the increasing take-up of electric vehicles across the state and the NSW Government will continue to roll out the necessary infrastructure for their take-up," Mr Farraway said.
"Not only is this a win for EV drivers across the Barrier Highway, but it will also open up the region to more tourists and more travel.
"These fast chargers can charge a vehicle in 30 minutes and are located in the heart of each town to allow visitors to get out and explore, spending money in local shops and picking up a coffee or meal that will support the local economy.
"The charger at Wilcannia will have symbolic meaning for the area, with the units decorated with artwork painted by Indigenous artist Eddy Harris, who was born and raised in Wilcannia, to represent the river and fish that are so important to the region."
Minister for Agriculture and Western NSW Dugald Saunders says the fast chargers are a game changer which will make the regions more accessible to all.
"The charging network will bring more motor traffic and therefore more visitors to our amazing regional communities", Mr Saunders said.
"Increasing the range of the EV network is great way technology is opening up the bush to the city to really put these towns on the map."
NRMA Head of Electric Vehicle Charging & Partnerships Suzana Barbir said the unveiling of the Wilcannia and Cobar chargers would open up the region to visitors and give more choice to local residents looking to make the switch to electric vehicles.
"Electric Vehicles are the future of motoring in Australia and the NRMA is committed to making the transition to electric vehicles smooth and beneficial for our members and all Australian motorists.
Cobar Shire Council Mayor Peter Abbott said it was exciting to be turning on the final charger along the Barrier Highway.
"The charging station in Cobar will ensure that electric vehicles can be catered for as they visit Cobar and our outback," Mr Abbott said.
Transport for NSW and the NRMA are providing chargers for other routes that will connect NSW with Victoria, Queensland and South Australia.
Hydroponic Plants To Detox PFAS-Contaminated Water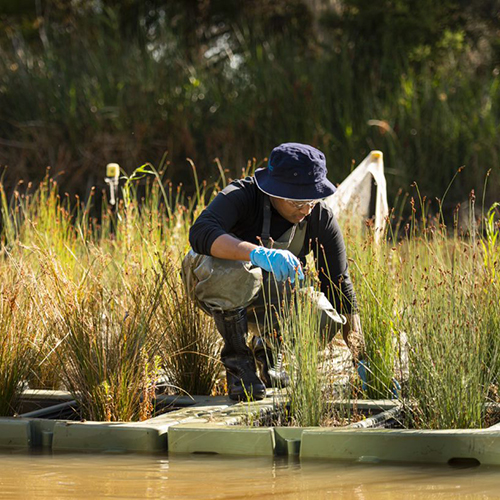 New research from the University of South Australia is helping to remediate the 'indestructible' PFASs as scientists show that Australian native plants can significantly remediate PFAS pollutants through floating wetlands to create healthier environments for all.
Conducted in partnership with CSIRO and the University of Western Australia, the research found that PFAS chemicals (per- and poly-fluoroalkyl substances) can be removed from contaminated water via Australian native rushes -- Phragmites australis, Baumea articulata, and Juncus kraussii.
Phragmites australis, otherwise known as the common reed, removed legacy PFAS contaminants by 42-53 per cent from contaminated surface water (level: 10 µg/L).
According to the US Environmental Protection Agency, exposure to PFAS may lead to a range of health issues including a decline in fertility, developmental delays in children, increased risk of some cancers, a reduced immune system, higher cholesterol, and risk of obesity.
UniSA and CSIRO researcher Dr John Awad says that this research could alleviate many of these environmental and health risks by providing a clean, green, and cost-effective method to remove PFAS from the environment.
"PFASs are often referred to as 'forever chemicals' because they don't break down, instead accumulating in the environment and in our bodies where they can cause adverse health effects," Dr Awad says.
"In Australia, PFAS concerns often relate to the use of firefighting foam -- especially legacy firefighting foam -- which accumulates in the surface water of our waterways.
"Our research tested the effectiveness of Australian rushes to remove PFAS chemicals from stormwater, finding that Phragmites australiswas the most effective at absorbing chemicals through its roots and shoots."
The study used constructed floating wetlands as a mechanism for plants to grow hydroponically. Dr Awad says floating wetlands present a novel and flexible way for natural remediation systems.
"Constructed floating wetlands can be readily installed into existing urban environments, such as holding reservoirs and retention basins, making them highly manoeuvrable and adaptable to local waterways," Dr Awad says.
"Plus, as this innovative water treatment system does not require pumping or the ongoing addition of chemicals, it is a cost-effective remediation system for PFAS removal.
"Add native plants to the mix and we have delivered a truly clean, green and environmentally-friendly method for removing toxic PFAS chemicals from contaminated water."
So far, the floating wetlands system has only been examined under control laboratory conditions for PFAS remediation and the research team is looking forward to testing it in the real world, under natural conditions.
This research is being carried out at the UniSA Mawson Lakes campus. PFAS has not been detected in or around Mawson lakes.
John Awad, Gianluca Brunetti, Albert Juhasz, Mike Williams, Divina Navarro, Barbara Drigo, Jeremy Bougoure, Joanne Vanderzalm, Simon Beecham.
Application of native plants in constructed floating wetlands as a passive remediation approach for PFAS-impacted surface water.
Journal of Hazardous Materials, 2022; 429: 128326 DOI:
10.1016/j.jhazmat.2022.128326
Could Exercise Counteract Cardiotoxic Chemotherapy For Women With Breast Cancer?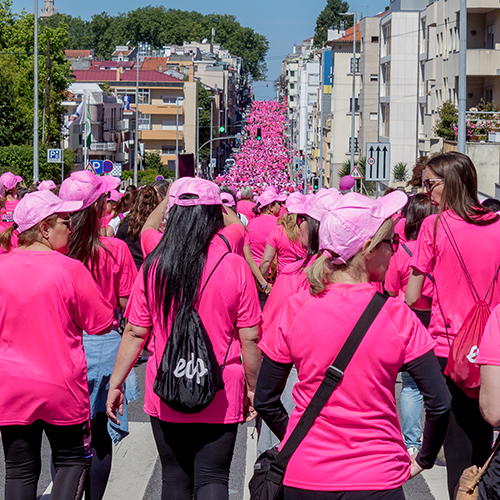 When you're a breast cancer survivor, the last thing you need is another health scare. So, it's concerning to know that up to 48 per cent of breast cancer patients will go on to fight heart disease as a direct result of chemotherapy.
Now, new research from the University of South Australia is exploring how to mitigate the irreversible damage associated with cardiotoxic chemotherapies and protect the heart from damage.
Conducted by UniSA PhD candidate James Murray with UniSA's Dr Rebecca Perry, Professor Eva Bezak and Dr Hunter Bennett, the multi-disciplinary study is assessing the impact of exercise on preventing cardiac damage and dysfunction while reducing other well-known side-effects of chemotherapy.
In Australia, more than 17,000 Australian women are diagnosed with breast cancer each year. Globally, these cases reach more than 2.3 million women, and 685 000 deaths. It is estimated that a woman has a one in 52 (1.9 per cent) risk of dying from breast cancer by age 85.
Murray says the study could change the fundamental care model for breast cancer patients.
"Chemotherapy for breast cancer is associated with many side-effects including fatigue, nausea, pain, depression and anxiety. But it's also known to increase the risk of heart disease, leading to heart failure, heart muscle damage and arrythmias, all of which significantly impact functional capacity and quality of life," Murray says.
"Understandably, chemotherapy patients often have little energy or desire to exercise. In fact, our research already shows that many women undergoing chemotherapy are fearful of doing exercise because they worry that it will further stress their bodies while already weakened by chemo.
"Yet as exercise is known to improve many side-effects of chemotherapy ­- as well as improve health more generally - it stands to reason that it may also be a protective factor for the heart. And we are keen to see how healthy interventions can prevent negative effects of chemotherapy.
"In this study, we're investigating how structured exercise can improve heart function in women who are undergoing chemotherapy to treat breast cancer.
"So, rather than using lifelong medical interventions to manage chemotherapy-associated complications, we're hoping that exercise could be a preventative intervention for cardiotoxic chemotherapy, with the added bonus of improving traditional side effects of cancer treatment such as fatigue."
Lost Value Of Landfilled Plastic In US
With mountains of plastic waste piling up in landfills and scientists estimating that there will be more plastics by weight than fish in the ocean by 2050, the growing environmental challenge presented to the world by plastics is well understood. What is less well understood by the scientific community is the lost energy opportunity. In short, plastic waste is also energy wasted.
Scientists at the U.S. Department of Energy's (DOE's) National Renewable Energy Laboratory (NREL) calculated the energy value of landfilled plastic waste in 2019 was enough to supply 5% of the power used by the country's transportation sector, or 5.5% by the industrial sector.
They also provided a look at how much plastic waste has been deposited in landfills, on a regional, state, and county level, and the problem is bigger than previously believed. NREL estimates the amount of plastic waste in the United States is 44 million metric tons. Using a slightly different methodology, the U.S. Environmental Protection Agency puts the figure at 32.2 million metric tons.
"For us to tackle plastic waste pollution, we really need to understand better where those resources are," said Anelia Milbrandt, a senior research analyst at NREL and co-author of a new paper, "Quantification and evaluation of plastic waste in the United States," published in the journal Resources, Conservation & Recycling. "We would like to bring awareness to communities about the potential for these materials."
Her NREL co-authors are Kamyria Coney, Alex Badgett, and Gregg Beckham. A senior research fellow, Beckham heads the BOTTLE Consortium, a collaborative launched last year in an effort to address the waste-plastics problem.
By identifying areas with large quantities of plastic waste, the scientists are hoping to highlight the economic opportunities that could arise by recovering their value through different processes. Only about 5% of the waste plastic in the United States was recycled in 2019, while 86% was left in landfills. The rest was burned to generate electricity.
NREL's analysis of the discarded plastics examined seven materials -- variously used to make bottles, CDs, milk jugs, take-out containers, and bags, among other items. Communities across the country spent about $2.3 billion on plastic waste disposal in 2019.
The researchers noted the amount of landfilled plastic waste in the United States has been increasing because of several factors, including low recycling rates, population growth, consumer preference for single-use plastics, and low disposal fees in certain parts of the country. The problem has been exacerbated by China's refusal beginning in 2017 to import nonindustrial plastic waste from the United States.
Developing new recycling techniques for plastics would create incentives for a circular economy, where what once was discarded would be reused instead of virgin plastics. The market value of landfilled plastic ranges from $4.5 billion to $9.9 billion, or $7.2 billion on average, the researchers estimated. The embodied energy in the waste plastic -- an indicator of how much energy it took to manufacture the materials -- equates to about 12% of the country's energy consumption by the industrial sector.
Some types of plastic are separated and recycled, chiefly polyethylene terephthalate (commonly known as PET), used to make soda bottles; and high-density polyethylene, used for milk jugs and shampoo bottles, but these still represent a significant percentage of plastics found in landfills.
The filmy plastic used for bags is among the most prevalent type found in landfills.
The researchers pointed out two possible solutions for the plastics not being recycled: Develop new products that rely on these plastics to encourage their sorting and collection, and develop advanced sorting technologies that could eventually lead to increased use of recycled materials.
"I'm hoping this paper also increases awareness for industry and investors to look for opportunities," Milbrandt said.
The amount of plastic waste correlates with population size. California, Texas, and Florida are the three most populous states and also have the largest amount of landfilled plastic waste. New York, however, is fourth for population, but it ships much of its waste outside of the state.
"Plastic waste is not just an environmental issue. It's a waste management issue. It's also a land use issue because landfills are closing in many areas," Milbrandt said. "What do we do with all that waste? It has to go somewhere. I believe local governments and industry developers will see a benefit of this report by providing them information to support decisions."
DOE's Bioenergy Technologies Office funded the research.
NREL is the U.S. Department of Energy's primary national laboratory for renewable energy and energy efficiency research and development. NREL is operated for the Energy Department by the Alliance for Sustainable Energy, LLC.
Anelia Milbrandt, Kamyria Coney, Alex Badgett, Gregg T. Beckham.
Quantification and evaluation of plastic waste in the United States.
Resources, Conservation and Recycling, 2022; 183: 106363 DOI:
10.1016/j.resconrec.2022.106363
B12 Deficiency Harms Young Children's Development
Vitamin B12 deficiency in infants leads to poor motor development and anaemia, according to a study from Burkina Faso conducted by the University of Copenhagen and Médecins Sans Frontières. B12 deficiency is an enormous, yet overlooked problem, and the food relief we currently supply is not helping. According to the researchers, the problem calls for new solutions.
In Denmark, cases of poor psychomotor development are regularly seen in young children raised on vegan diets, though such outcomes are preventable with daily B12 supplements. But for children in low-income countries, the chances of ever meeting their vitamin B12 requirements are far worse. This is reflected in widespread B12 deficiency among young children in Burkina Faso, according to a study from the University of Copenhagen conducted in collaboration with Médecins Sans Frontières (Doctor's Without Borders). The results have been published in the journal Plos Medicine.
A lack of vitamin B12 doesn't just potentially lead to anaemia, it can damage the nervous system. And for young children, B12 is crucial for brain development.
"Among the many children who participated in our study, we found a strong correlation between vitamin B12 deficiency and poor motor development and anaemia," says Henrik Friis, first author of the study and a professor at the University of Copenhagen's Department of Nutrition, Exercise and Sports.
For many years, there has been a focus on vitamin A, zinc and iron deficiencies when it comes to malnutrition across the globe, whereas there is a paucity of research on B12 deficiency.
"B12 deficiency is one of the most overlooked problems out there when it comes to malnutrition. And unfortunately, we can see that the food relief we provide today is not up to the task," says Henrik Friis, who has worked with nutrition and health in low-income countries for many years.
Over 1,000 children with acute malnutrition aged 6-23 months participated in the study. The children's B12 levels were measured both before and after three months of daily food relief rations containing the recommended B12 content. When the study began, two-thirds of the children had either low or marginal levels of B12.
Short term food relief does not fill up B12 stores
"During the period when children were provided with food relief, their B12 levels increased, before decreasing considerably once we stopped the programme. Despite provisioning them with food relief for three months, their stores remained far from topped up. This, when a typical food relief programme only runs for four weeks," says Henrik Friis.
Even after three months of food relief, one third of the children continued to have low or marginal levels of B12 stored. The unfortunate explanation is that there is a cap on how much B12 can be absorbed.
"A child's gut can only absorb 1 microgram of B12 per meal. So, if a child is lacking 500 micrograms, it will take much longer than the few weeks that they have access to emergency food relief," explains Vibeke Brix Christensen, a paediatrician and medical advisor to Médecins Sans Frontières and co-author of the study.
"Furthermore, longer-term relief programmes aren't realistic, as humanitarian organizations are trying to reduce the duration of treatment regimens with the aim of being able to serve a larger number of children for the same amount of money," continues Vibeke Brix Christensen.
She points out that it might make a difference to divide the necessary amount of vitamin B12 across several meals, which would probably allow children to absorb the same amount of B12 each time. But the problem is that if widespread B12 deficiency appears among children in low-income countries, it is difficult to do anything about it.
New solutions needed on the table
Preventing B12 deficiency would be the best course of action. Unfortunately, lasting solutions have yet to become readily available according to Professor Friis.
Because our bodies cannot produce B12 on their own, we need to have it supplied to us through animal-based products or synthetic supplements. However, in many low-income countries, access to animal-based foods is incredibly difficult for the general population. One might wonder, are tablets or fortified foodstuffs the way to prevention?
"Possibly, but the problem in low-income countries is poorly resourced and weak health care systems. Handing out tablets to millions and millions of people is not cost-effective. And to enrich foods with B12, it must be added to foodstuffs that are accessible to the poor. This requires industrial expansion, as many people currently eat only what they can produce themselves. Furthermore, it requires legislation that it is not based on voluntary participation," says Henrik Friis, who has greater faith in other types of solutions:
"Individual households could be incentivized to keep chickens and perhaps goats, which a mother could manage and use to provide access to animal-based foodstuffs. Finally, work needs to be done to develop fermented products with B12 producing bacteria -- something that doesn't yet exist, but towards which researchers and companies are already working," concludes Henrik Friis.
The researchers are in dialogue with UNICEF's Supply Division, based in Copenhagen, about how products to treat moderate to acute malnutrition can be improved.
B12 deficiency can be transmitted from mother to child. If a mother is B12 deficient, her child will be born B12 deficient as well, before receiving breast milk with too little B12 in it. A child's B12 deficiency can affect the formation and regeneration of their intestinal cells. Consequently, the child's capacity to absorb B12 and other vital nutrients will be reduced. In this way, B12 deficiency contributes to the development of malnutrition.
Since 2010, the Department of Nutrition, Exercise and Sports (NEXS) at the University of Copenhagen has worked with the WHO and UNICEF, among others, with a focus on improving the emergency food relief used to combat childhood malnutrition.
According to UNICEF, approximately 200 million children under the age of five suffer from malnutrition worldwide. Malnutrition contributes to the death of three million children every year.
Acute malnutrition in children is characterized by children who are too thin in proportion to their height. Globally, it is estimated that approximately 50 million children are acutely malnourished, with two thirds of these suffering from moderate malnutrition and the remaining third suffering from severely acute malnutrition.
Today, only about 20% of severely malnourished children receive emergency food relief.
1,609 children from Burkina Faso with moderate to acute malnutrition participated in the study. The researchers were able to measure cobalamin serum levels in 1,192 of these children.
The children received three different types of food relief rations, all of which met with WHO standards.
The study is a reanalysis of data collected in Burkina Faso under the research project TREATFOOD.
Henrik Friis, Bernardette Cichon, Christian Fabiansen, Ann-Sophie Iuel-Brockdorff, Charles W. Yaméogo, Christian Ritz, Ruth Frikke-Schmidt, André Briend, Kim F. Michaelsen, Vibeke B. Christensen, Suzanne Filteau, Mette F. Olsen.
Serum cobalamin in children with moderate acute malnutrition in Burkina Faso: Secondary analysis of a randomized trial.
PLOS Medicine, 2022; 19 (3): e1003943 DOI:
10.1371/journal.pmed.1003943
Affirmative Action Bans Had 'Devastating Impact' On Diversity In Medical Schools
New UCLA-led research finds that in states with bans on affirmative action programs, the proportion of students from underrepresented racial and ethnic minority groups in U.S. public medical schools fell by more than one-third by five years after those bans went into effect.
The findings are particularly timely given medical schools' increasing emphasis on health equity, including a push to ensure greater diversity among physicians in the workforce.
The study will be published May 3 in the peer-reviewed journal Annals of Internal Medicine.
"We know that a more diverse physician workforce leads to better care for racial- and ethnic-minority patients," said Dr. Dan Ly, the study's lead author, an assistant professor of medicine in the division of general internal medicine and health services research at the David Geffen School of Medicine at UCLA. "But we have made such poor progress in diversifying our physician workforce.
"Our research shows that bans on affirmative action, like the one California passed in 1996, have had a devastating impact on the diversity of our medical student body and physician pipeline."
The researchers examined enrolment data from 1985 through 2019 for 53 medical schools at public universities, focusing on students from underrepresented racial and ethnic groups: Black, Hispanic, American Indian or Alaska Native, and Native Hawaiian or other Pacific Islander. The authors studied medical schools at public universities, not private ones, because states' bans on affirmative action applied to public postsecondary institutions.
Of the medical schools, 32 were in 24 states without affirmative action bans. And 21 were in eight states that banned affirmative action during that period -- Arizona, California, Florida, Michigan, Nebraska, Oklahoma, Texas and Washington. Those states' affirmative action bans were enacted from 1997 to 2013; Texas' ban was reversed in 2003.
In the year before the bans were implemented, underrepresented students made up an average of 14.8% of the total enrolment of those states' public medical schools. By five years later, the research found, enrolment of underrepresented students at those schools had fallen by 37%.
The authors note some limitations to their analysis. The data may have also captured the indirect effects of affirmative action on undergraduate admissions, public discussion of affirmative action bans may have affected medical school enrolment even before the bans were implemented, some students may not have fully identified with the mutually exclusive racial and ethnic groups defined by the study, and the researchers did not assess the possibility that some schools without bans did not consider race or ethnicity in their admission decisions.
But the findings could lead to a better understanding of the lag in diversifying the medical student body and the physician workforce.
"As our country has spent the last two years weaving through the twin pandemics of racial health disparities amplified by COVID-19 and structural racism at large, our findings are critically important," said co-author Dr. Utibe Essien, an assistant professor of medicine at the University of Pittsburgh. "As we observed, affirmative action bans have resulted in a loss of underrepresented physicians, who could have been at the front lines of caring for vulnerable populations throughout the pandemic and helping to alleviate disparities in care.
"My hope is that our findings will help provide policymakers with the tools to push back against affirmative action bans, not just for the diversity of the physician workforce, but for the equal and just health of our society."
The study's other authors are Andrew Olenski of Columbia University and Dr. Anupam Jena of Harvard University.
Dan P. Ly, Utibe R. Essien, Andrew R. Olenski, Anupam B. Jena.
Affirmative Action Bans and Enrolment of Students From Underrepresented Racial and Ethnic Groups in U.S
. Public Medical Schools. Annals of Internal Medicine, 2022; DOI:
10.7326/M21-4312
Beetle Iridescence A Deceptive Form Of Warning Colouration
A new study published today in Animal Behaviour shows for the first time that brilliant iridescence and gloss found in some animals can have a protective function by working as a form of deceptive warning colouration, and that it is the key feature of iridescence, its changing colours, that is important for this effect.
This striking form of structural coloration in which the hue and intensity of colours will vary depending on the angle of view, has also evolved independently in everything from birds such as magpies and starlings, to many insects such as rose chafers, rosemary beetles and in the demoiselle.
By looking at its biological functions, a team of researchers at Bristol University's CamoLab investigated why this vivid metallic coloration has evolved so may times in the animal kingdom, and what makes this striking form of animal coloration such a successful anti-predator strategy. The team had previously discovered that iridescence can act as a highly efficient form of camouflage, but whether such striking forms of structural coloration could also protect prey post-detection, and if so, what optical properties were important for this effect, remained unknown until now.
Lead author Dr. Karin Kjernsmo of the University of Bristol's School of Biological Sciences said: "One of the challenges when studying the functions of such highly reflective structural colouration has been to separate the effects of the changeability of colours, the hallmark of iridescence, from the effects of simply having multiple colours at the same time, and also to separate the effects of gloss from the effects of iridescence."
They tested if and how iridescence could provide a survival benefit to prey post-detection by presenting both iridescent and non-iridescent, as well as glossy and matte versions of the two, to birds that had no previous experience with such prey, and then looked at the birds' willingness to attack the prey. They found that iridescence significantly reduced the attack-willingness of the birds, and that gloss also had an independent effect.
"Here we have, for the first time, effectively managed to test for each of these two effects on their own, and shown that both iridescence and gloss can protect prey even post-detection, providing yet another adaptive explanation for the evolution and widespread existence of iridescence" Dr. Kjernsmo added.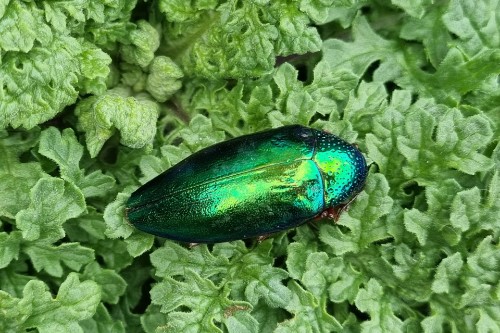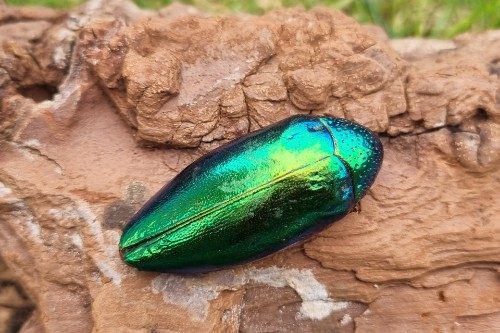 Jewel beetle (Sternocera sp.) iridescence can protect prey via camouflage and by acting as a form of deceptive warning colouration. Photos: Dr. Karin Kjernsmo

Karin Kjernsmo, Anna M. Lim, Rox Middleton, Joanna R. Hall, Leah M. Costello, Heather M. Whitney, Nicholas E. Scott-Samuel, Innes C. Cuthill.
Beetle iridescence induces an avoidance response in naïve avian predators.
Animal Behaviour, 2022; 188: 45 DOI:
10.1016/j.anbehav.2022.04.005
$10 Million Investment Fuels Promising Treatments For Inflammatory Lung Disease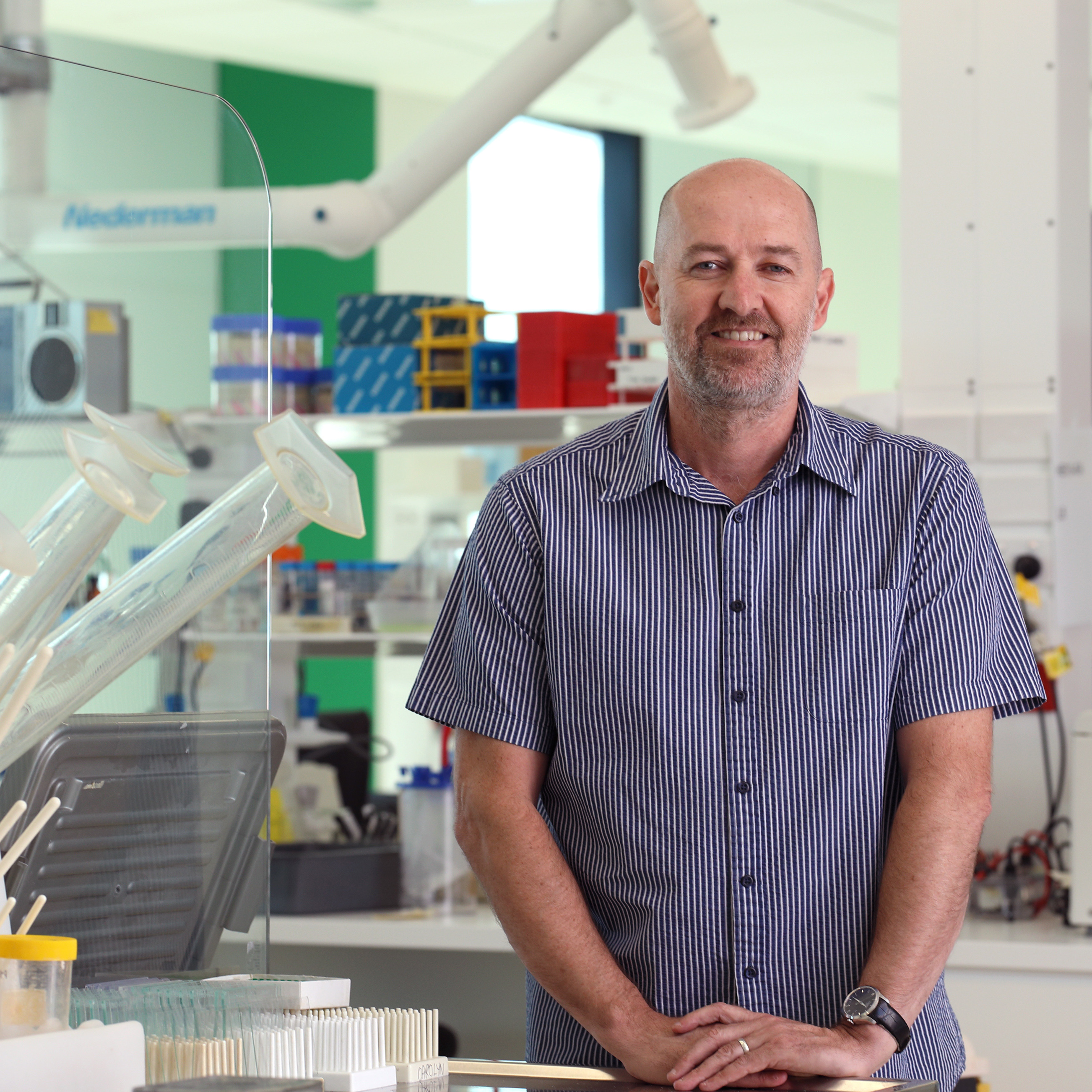 A UniSA world leader in inflammatory cell signalling, Professor Stuart Pitson, will draw on $10 million seed funding in a collaboration with Monash University to develop better treatments for inflammatory lung diseases that affect approximately 550 million people globally.
Prof Pitson, based in the Centre for Cancer Biology, is the Chief Scientific Officer and co-founder of new Australian biotech company Ankere Therapeutics, which launched today.
Ankere will harness research into inflammation from Prof Pitson's lab with small molecule chemistry from Associate Professor Bernard Flynn of Monash University's Institute of Pharmaceutical Sciences.
Inflammatory lung diseases include asthma, chronic obstructive pulmonary disease (COPD), pulmonary fibrosis, chronic and acute bronchitis, emphysema and cystic fibrosis, with some types having a survival rate as poor as 3-5 years post diagnosis.
"Some of these diseases have no cure, but Ankere hopes to develop better treatments for many sufferers," Prof Pitson says.
"Ankere is an example of how a strong partnership between researchers with a shared area of focus has the potential to address the most pressing health concerns.
"The combination of research, expertise and capital at Ankere will support the project to advance its highly promising discovery which has the potential to lead to new therapies targeting inflammation."
The funding round was jointly led by IP Group and Brandon Capital, through Brandon BioCatalyst, and will support the company through its pre-clinical development and into clinical trials.
About Ankere Therapeutics
Ankere Therapeutics 'Ankere' is venture-backed company focused on developing new pharmaceutical agents that target inflammatory conditions, particularly those of the lung. The company was founded by Associate Professor Bernard Flynn Monash University Institute of Pharmaceutical Sciences (MIPS) and Professor Stuart Pitson (University of South Australia) and built on decades of research. Ankere is striving to develop transformative therapies based on excellent science that will enable people to live long and healthy lives.
About the Centre for Cancer Biology
Based in Adelaide, South Australia, the Centre for Cancer Biology is a Medical Research Institute which carries out a world-class program of innovative research, making breakthrough discoveries in the fundamental causes of cancer, and translating these discoveries into new ways to prevent and treat this group of diseases. The CCB is an alliance between SA Pathology and the University of South Australia and boasts the largest concentration of cancer research in South Australia. The CCB is a member of Brandon BioCatalyst and the Association of Australian Medical Research Institutes (AAMRI).
Photo: Professor Stuart Pitson
Disclaimer: These articles are not intended to provide medical advice, diagnosis or treatment. Views expressed here do not necessarily reflect those of Pittwater Online News or its staff.