inbox and environment news: Issue 535
April 24 - 30, 2022: Issue 535
AvPals Newport Small Group Courses Return
It is hard to believe that 10 years ago, Avpals started our short courses at Newport. Since then, hundreds of seniors across the area have been trained in the use of several types of modern technology. We have run courses on iPad, tablets, iPhone, Samsung phones, windows ten and eleven, google photos, safe online dating, staying safe online, genealogy, legacy, buying and selling on eBay and more, plus many special lectures.
We are proud that we have brought seniors right up there to be the equal of their children and grandchildren with technology.
The Covid lockdown presented problems as we could not do face to face teaching, but we solved that with well attended Zoom lessons. We were happy to teach the use of QR codes and the use of smart phones during the pandemic.
Term 2 at Newport community centre will go back to basics with technology each week on Tuesdays (26 April – 28 June) at 1.30 pm to allow you to catch up on new developments and matters that have worried you and problems that need solving over the pandemic lockdown.
There will be a different presentation each week of 30-40 mins with a 10-minute break and plenty of time to help resolve any problems you may have with Q & A.
These small group courses are held on Tuesdays at the Newport Community Centre. Bookings and payment for a course ($15 per course) can be done
HERE
. All the details for the current term are shown below: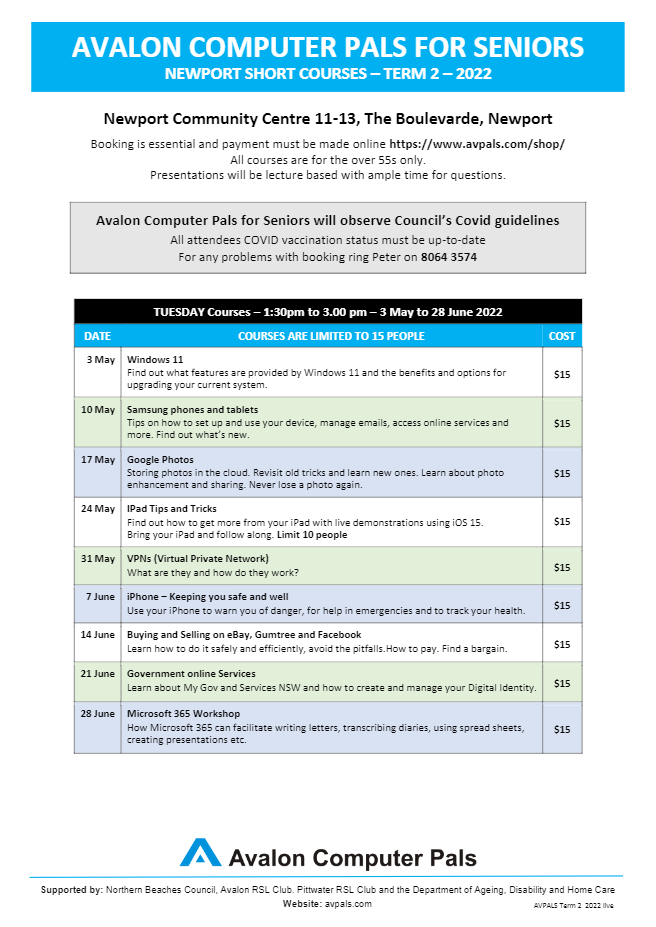 Policy Recommendations For The 47th Parliament
Council on the Ageing (COTA) Australia, the peak body and leading advocate for older Australians, has today, April 14, 2022, released its Agenda for the next Government and Parliament on the needs of older Australians.
The Agenda covers 12 public policy areas and includes 37 recommendations for the 47th Parliament of Australia. This wide-ranging policy agenda sets out opportunities to improve the lives of older Australians for whomever forms government, and the 47th Parliament as a whole.
The key public policy areas that need to be addressed include a Whole of Government approach to ageing, Aged Care, Retirement Living, Health, Older Workers, Housing, Age Discrimination, Older Women, Elder Abuse, Digital Inclusion, Social Inclusion, and Voluntary Assisted Dying Laws.
COTA Chief Executive, Ian Yates AM, said the Agenda sets out a positive set of opportunities for the next Government and Parliament to improve the lives of older people.
"We are not apportioning blame for the past. Both major parties have things to be proud of, and failings, but our focus is on what can be achieved in the next three years. That's what matters to older people, and indeed their families, which is really all Australians," Mr Yates said.
Address ageism and age discrimination
"Ageism – negative messages about ageing – is endemic. Australian Human Rights Commission (AHRC) research in 2021 says that 83% of Australians believe ageism is a problem in Australia, and 63% have experienced it in the last five years. Ageism is expressed in many ways, including laws and policies that harm older people, employment discrimination, exclusion from health and other services, and social isolation.
"It's time to remove ageism from Australia – especially to strengthen age discrimination legislation so it's actually effective, because it's a failure now – and tackling it in employment services and the healthcare system is a priority. That includes putting oral and dental healthcare in Medicare as originally intended 50 years ago. In the meantime, a special program of oral and dental health support to older Australian of up to $1,000 per year should be introduced immediately.
"Elder Abuse is widespread, poorly identified, and often difficult to prove. While often highlighted as an issue in nursing homes, elder abuse is far more common, and far less reported, in the community – usually from family members and close friends and sometimes lawyers.
"Physical, sexual, psychological, emotional, and financial elder abuse are crimes that occur every day in every neighbourhood in Australia – city, country, rich, and poor. Much more concerted action by Governments is long overdue. If elder abuse was child sex abuse, or gender violence, it would not be tolerated. It's time that applied to older people. Government and Parliament must act.
"A major process of transformative reform is underway after the recent Royal Commission into Aged Care. A new human rights based Aged Care Act must increase the rights of older people, improve transparency and place the older person at the centre of the care delivered.
"Older people need and want choice and control over how they live their lives, in both home care and residential. No one should wait more than month for home care – all parties must commit to this. Poor quality operators should be forced out of the industry.
"Fixing the aged care system will take some years, and any negative changes in the current Government's comprehensive policy response will delay the urgent timetable of reform. Bu the government's response to the workforce challenges now being faced is inadequate and the Opposition's commitment is welcome if it can be delivered – but we need to see all their aged care reform policy, especially on Support at Home.
"Every previous aged care reform has been resisted by aged care providers on the basis of self-interested arguments about the pace of change and taking exception on the margins to reform proposals. And they are doing it again in lobbying both the Opposition, which has not committed to the Government reforms, and to the Government in the election context."
"It's time aged care providers realise that the aged care system is about older people who need support and care, in ways that enable them to maintain their independence. It is not about having their lives managed by providers and government.
"Ensuring that the Government reform package, much of which was directly advocated by COTA, is delivered fully and in a timely manner will be a challenge for the next Government and the 47th Parliament of Australia.
Better Retirement income policy
"Retirement income policy, which has too often been treated as a political football in Australia, also needs to be addressed. Rather than playing politics, we would like to see straightforward policy changes to make the system fairer, and more effective.
"Australia should stamp out unfounded speculation that the Age Pension may not be there in the future by establishing a bipartisan "Pension Guarantee".
"Rather than use their superannuation to provide a better standard of living, many older people live frugally, in fear of their own longevity, and end up dying with large superannuation balances that only benefit their inheritors. This must change.
Whole of government Ageing Strategy
"A whole of government Ageing Strategy would ensure initiatives for older people are better coordinated, and ageism doesn't impede good development and delivery of innovative and responsive services. As Government increases its digital services footprint, and the population continues to age, ensuring a coordinated engagement with older people has never been more important.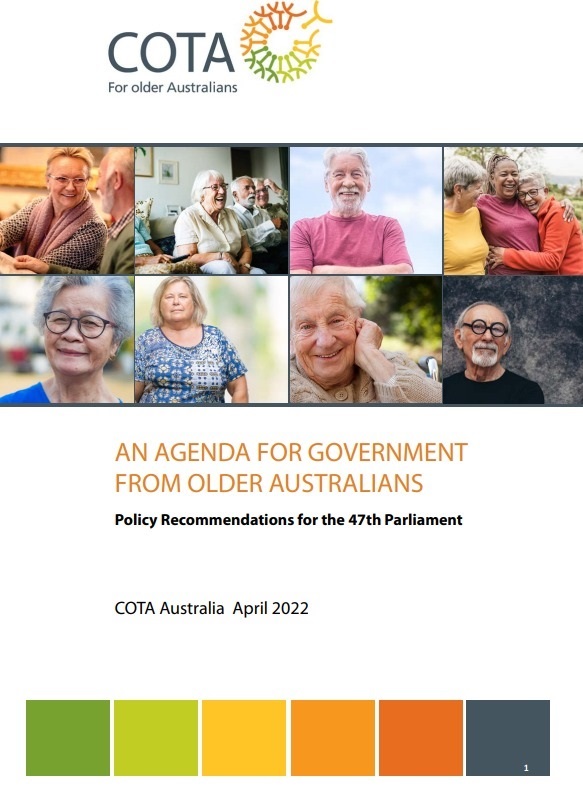 Fake News, Retirement Taxes And What We Should Talk About
April 21, 2022: COTA Australia
A number of retirees have been contacting us, and other organisations have contacted us, concerned that if Labor wins the election, they will introduce a "retirees tax." Or a "death tax". Neither is correct. We have been in discussion with the Labor Party, read their policies, and done our own investigations. We are satisfied that this is a scare campaign without a factual basis.
COTA Australia has strongly criticised this sort of fake campaign designed to scare older voters. The Liberal Party and their allies should stop frightening older people with this sort of campaign, just as we have said Labor should desist from their fake news campaign about threats to the pension.
Unfortunately, these fake news campaigns distract from good policies that both parties are offering Older Australians this election, such as in aged care. We have come a long way since the 2007 election when neither major party had a policy on aged care.
There are still many policies to be released, but it is already clear that both sides can be praised for their policies on fixing Australia's aged care system.
This focus on scare campaigns also distracts from discussion of real policy issues that neither major party has spoken about – like an oral and dental health scheme for older people, or reviewing the age pension income test and Work Bonus, or many other matters COTA has identified in our statement of policy priorities.
COTA Australia will continue to praise, and criticise, both sides of politics based on their policies for Older Australians and their approach to our constituencies. We are calling on the next Parliament to enact our Agenda for Government from Older Australians. So far this election, we have seen both major parties commit to some parts of it, but we are hopeful for a lot more commitment.
Election 2022: Information You Need To Know
We go to the polls on 21 May to vote for a new Commonwealth Government and the Australian Electoral Commission (AEC) has great resources and advice about voting to suit your situation and circumstances.
Here are some key topics and frequently asked questions about voting that should help make sure your vote is counted.
Can I vote electronically?
No. The AEC conducts federal elections in accordance with the Commonwealth Electoral Act 1918. The introduction of electronic voting would require legislative change, which is a matter for Parliament.
Will there be COVID-19 safety measures at polling places?
There will be a range of COVID-19 safety measures at polling places, which include the requirement for election staff to be vaccinated and to wear a face mask.
There will also be things that we have become used to like physical distancing and using hand sanitiser. These may slow down the process, so please be kind to the polling staff.
Electoral Commissioner Tom Rogers has said, "Australians can feel comfortable to vote in-person this federal election. With most of us able to lead our daily lives in the community you can take comfort that we'll have more COVID-19 safety measures in place at voting venues than your local shops."
You can vote early, either in-person or by post, if on election day you:
are outside the electorate where you are enrolled to vote
are more than 8km from a polling place
are travelling
are unable to leave your workplace to vote
are seriously ill, infirm, or due to give birth shortly (or caring for someone who is)
are a patient in hospital and can't vote at the hospital
have religious beliefs that prevent you from attending a polling place
are in prison serving a sentence of less than three years or otherwise detained
are a silent elector
have a reasonable fear for your safety.
Consider your options carefully. Voting early in-person may be a better option than voting by post.
How does postal voting work?
While elections are in-person community events, Australians who can't make it in-person, can apply for a postal vote.
Political parties can send postal vote applications in the mail or you might get a text message linking you back to a party website.
What if someone has mobility difficulties or is living with a disability?
While the AEC uses accessible polling places wherever possible, if you find it difficult to get to a polling place on election day, you can apply to become a General Postal Voter to receive your ballot papers in the mail. The AEC also provides mobile polling to some hospitals and nursing homes (see below).
If you have a physical disability that prevents you from writing, someone else may complete and sign an enrolment form for persons unable to sign their name on your behalf.
Some people may also require additional support to enrol and vote, such as people with an intellectual, cognitive or psychosocial disability. The AEC provides a range of 'Easy read guides' for people who have difficulty reading and understanding written information.
Will mobile voting be available in health care and residential care settings?
Given the higher COVID-19 risk in health and aged care settings it is unlikely that mobile voting teams will be able to visit all aged care facilities or hospitals.
During the federal election people in these facilities will be able to apply for a postal vote or visit a nearby in-person voting centre. The AEC will have teams in regular contact with relevant facilities to provide support.
A relative has dementia. What should I do?
People in the early stages of dementia, who are still capable of understanding the nature and significance of enrolment and voting, may be able to continue to enrol and vote.
You should speak with the person and with their doctor to determine if they maintain the capacity to understand the voting process.
If someone is unable to understand the nature or significance of voting in a federal election, then an application can be made to have them removed from the electoral roll. This application can be made by a family member, carer or friend but must be accompanied by a medical certificate that attests to the circumstances.
Source: Australian Electoral Commission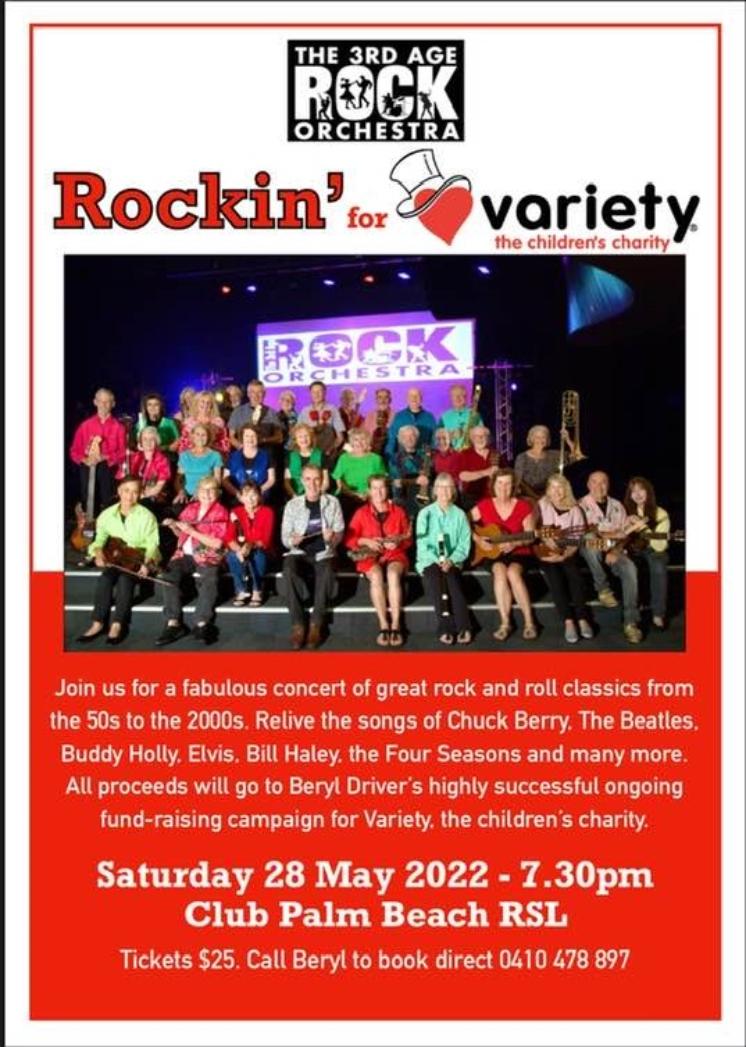 Frankie Valli & The Four Seasons - Who Loves You (Official Music Video)
Calming Overexcited Neurons May Protect Brain After Stroke
A new study has prompted scientists to reconsider a once-popular yet controversial idea in stroke research.

Neuroscientists believed that, in the aftermath of a stroke, calming overexcited neurons might prevent them from releasing a toxic molecule that can kill neurons already damaged by lack of oxygen. This idea was supported by studies in cells and animals, but it lost favour in the early 2000s after numerous clinical trials failed to improve outcomes for stroke patients.

But a fresh approach has yielded evidence that the idea may have been discarded too hastily. The new findings are available online in the journal

Brain

.
By scanning the whole genomes of nearly 6,000 people who had experienced strokes, researchers at Washington University School of Medicine in St. Louis identified two genes associated with recovery within the pivotal first 24 hours after stroke. Events -- good or bad -- that occur in the first day set stroke patients on their courses toward long-term recovery. Both genes turned out to be involved in regulating neuronal excitability, providing evidence that overstimulated neurons influence stroke outcomes.
"There's been this lingering question about whether excitotoxicity really matters for stroke recovery in people," said co-senior author Jin-Moo Lee, MD, PhD, the Andrew B. and Gretchen P. Jones Professor and head of the Department of Neurology. "We can cure stroke in a mouse using blockers of excitotoxicity. But in humans we performed numerous clinical trials, and we couldn't move the needle. Every last one of them was negative. In this study, out of 20,000 genes, the top two genetic hits point to mechanisms involving neuronal excitation. That's pretty remarkable. This is the first genetic evidence that shows excitotoxicity matters in people and not just in mice."
Every year nearly 800,000 people in the U.S. have ischemic strokes, the most common kind of stroke. Ischemic strokes occur when a clot blocks a blood vessel and cuts off oxygen to part of the brain, triggering sudden numbness, weakness, confusion, difficulty speaking or other symptoms. Over the next 24 hours, some people's symptoms continue to worsen while others' stabilize or improve.
In the 1990s, Dennis Choi, MD, PhD, then head of the Department of Neurology at Washington University, performed ground-breaking research on excitotoxicity in stroke. He and others showed that stroke can cause neurons to release large amounts of glutamate, a molecule that transmits excitatory messages between neurons. Glutamate is constantly being released by neurons as part of the normal functioning of the nervous system, but too much all at once can be toxic. Efforts to translate this basic research into therapies for people did not pan out, and eventually pharmaceutical companies let their anti-excitotoxic drug development programs lapse.
But Lee, who formerly worked on excitotoxicity with Choi, did not give up. He teamed up with genetics researcher and co-senior author Carlos Cruchaga, PhD, the Barbara Burton and Reuben M. Morriss III Professor of Neurology and a professor of psychiatry; first author Laura Ibañez, PhD, an assistant professor of psychiatry; and co-author Laura Heitsch, MD, an assistant professor of emergency medicine and of neurology, to tackle the question of what drives post-stroke brain injury. The team identified people who had experienced strokes, and they looked for genetic differences between those who naturally recovered substantial function in the first day and those who did not.
As members of the International Stroke Genetics Consortium, the research team was able to study 5,876 ischemic stroke patients from seven countries: Spain, Finland, Poland, the United States, Costa Rica, Mexico and South Korea. They measured each person's recovery or deterioration over the first day using the difference between their scores on the National Institutes of Health (NIH) Stroke Scale at six and 24 hours after symptoms first appeared. The scale gauges a person's degree of neurological impairment based on measures such as the ability to answer basic questions such as "How old are you?"; to perform movements such as holding up the arm or leg; and to feel sensation when touched.
The researchers performed a genome wide association study by scanning the participants' DNA for genetic variations related to the change in their NIH stroke scale scores. The top two hits were genes that coded for the proteins ADAM23 and GluR1. Both are related to sending excitatory messages between neurons. ADAM23 forms bridges between two neurons so that signalling molecules such as glutamate can be passed from one to the other. GluR1 is a receptor for glutamate.
"We started with no hypotheses about the mechanism of neuronal injury," Cruchaga said. "We started with the assumption that some genetic variants are associated with stroke recovery, but which ones they are, we did not guess. We tested every single gene and genetic region. So the fact that an unbiased analysis yielded two genes involved in excitotoxicity tells us that it must be important."
In the years since anti-excitotoxic drug development was abandoned, clot-busting drugs have become the standard of care for ischemic stroke. Such drugs aim to restore blood flow so that oxygen -- and anything else in the bloodstream, including medication -- can reach affected brain tissue. Consequently, experimental neuroprotective therapies that failed in the past might be more effective now that they have a better chance of reaching the affected area.
"We know that that first 24-hour period has the greatest impact on outcomes," Lee said. "Beyond 24 hours, there's diminishing returns in terms of influence on long-term recovery. Right now, we don't have any neuroprotective agents for that first 24 hours. Many of the original studies with anti-excitotoxic agents were performed at a time when we weren't sure about the best trial design. We've learned a lot about stroke in the last few decades. I think it's time for a re-examination."
Laura Ibanez, Laura Heitsch, Caty Carrera, Fabiana H. G. Farias, Jorge L. Del Aguila, Rajat Dhar, John Budde, Kristy Bergmann, Joseph Bradley, Oscar Harari, Chia-Ling Phuah, Robin Lemmens, Alessandro A. Viana Oliveira Souza, Francisco Moniche, Antonio Cabezas-Juan, Juan Francisco Arenillas, Jerzy Krupinksi, Natalia Cullell, Nuria Torres-Aguila, Elena Muiño, Jara Cárcel-Márquez, Joan Marti-Fabregas, Raquel Delgado-Mederos, Rebeca Marin-Bueno, Alejandro Hornick, Cristofol Vives-Bauza, Rosa Diaz Navarro, Silvia Tur, Carmen Jimenez, Victor Obach, Tomas Segura, Gemma Serrano-Heras, Jong-Won Chung, Jaume Roquer, Carol Soriano-Tarraga, Eva Giralt-Steinhauer, Marina Mola-Caminal, Joanna Pera, Katarzyna Lapicka-Bodzioch, Justyna Derbisz, Antoni Davalos, Elena Lopez-Cancio, Lucia Muñoz, Turgut Tatlisumak, Carlos Molina, Marc Ribo, Alejandro Bustamante, Tomas Sobrino, Jose Castillo-Sanchez, Francisco Campos, Emilio Rodriguez-Castro, Susana Arias-Rivas, Manuel Rodríguez-Yáñez, Christina Herbosa, Andria L. Ford, Alonso Gutierrez-Romero, Rodrigo Uribe-Pacheco, Antonio Arauz, Iscia Lopes-Cendes, Theodore Lowenkopf, Miguel A. Barboza, Hajar Amini, Boryana Stamova, Bradley P. Ander, Frank R Sharp, Gyeong Moon Kim, Oh Young Bang, Jordi Jimenez-Conde, Agnieszka Slowik, Daniel Stribian, Ellen A. Tsai, Linda C. Burkly, Joan Montaner, Israel Fernandez-Cadenas, Jin-Moo Lee, Carlos Cruchaga.
Multi-ancestry GWAS reveals excitotoxicity associated with outcome after ischaemic stroke.
Brain, 2022; DOI:
10.1093/brain/awac080
Word Of The Week: Family
Word of the Week returns in 2022 simply to throw some disruption in amongst the 'yeah-nah' mix.
from Latin: familia

The word family came into English in the fifteenth century. Its root lies in the Latin word famulus, "servant". The first meaning in English was close to our modern word "household" — a group of individuals living under one roof that included blood relations and servants
In Ancient Rome, familia not only named one's immediate family but could also extended to one's "clan" and even "slaves" as they were considered part of one's household
noun
1. a group of people who are related to each other, such as a mother, a father, and their children. 2. a group of people who care about each other because they have a close relationship or shared interests. 3. a pair of adult animals and their babies. 4. a large group of related types of animal or plant. 5. a group of things that are related or have similar qualities
Family Songs: A Mix
sung by Holly Palmer - featured in the new Paul Rudd/Steve Coogan film Ideal Home
Sister Sledge: We Are Family (1979)
The Hollies: He Ain't Heavy He's My Brother (1970)
Sly & The Family Stone - Everyday People (1968)
Paul Simon - Loves Me Like a Rock (1973)
Eddie Fisher - Oh! My Papa (1954)
Jimmy Barnes - Working Class Man (1986)
Gerry & The Pacemakers - You'll Never Walk Alone (1963)
Junior Lifesaver Of The Year 2022
Published April 21, 2022 by Surf Life Saving NSW
Our 2022 Junior Lifesaver of the Year participants loved their week long camp learning and developing new skills to take back to their clubs and teach up and coming lifesavers.
Turimetta Beach
photo taken Thursday April 21st, 2022 by Joe Mills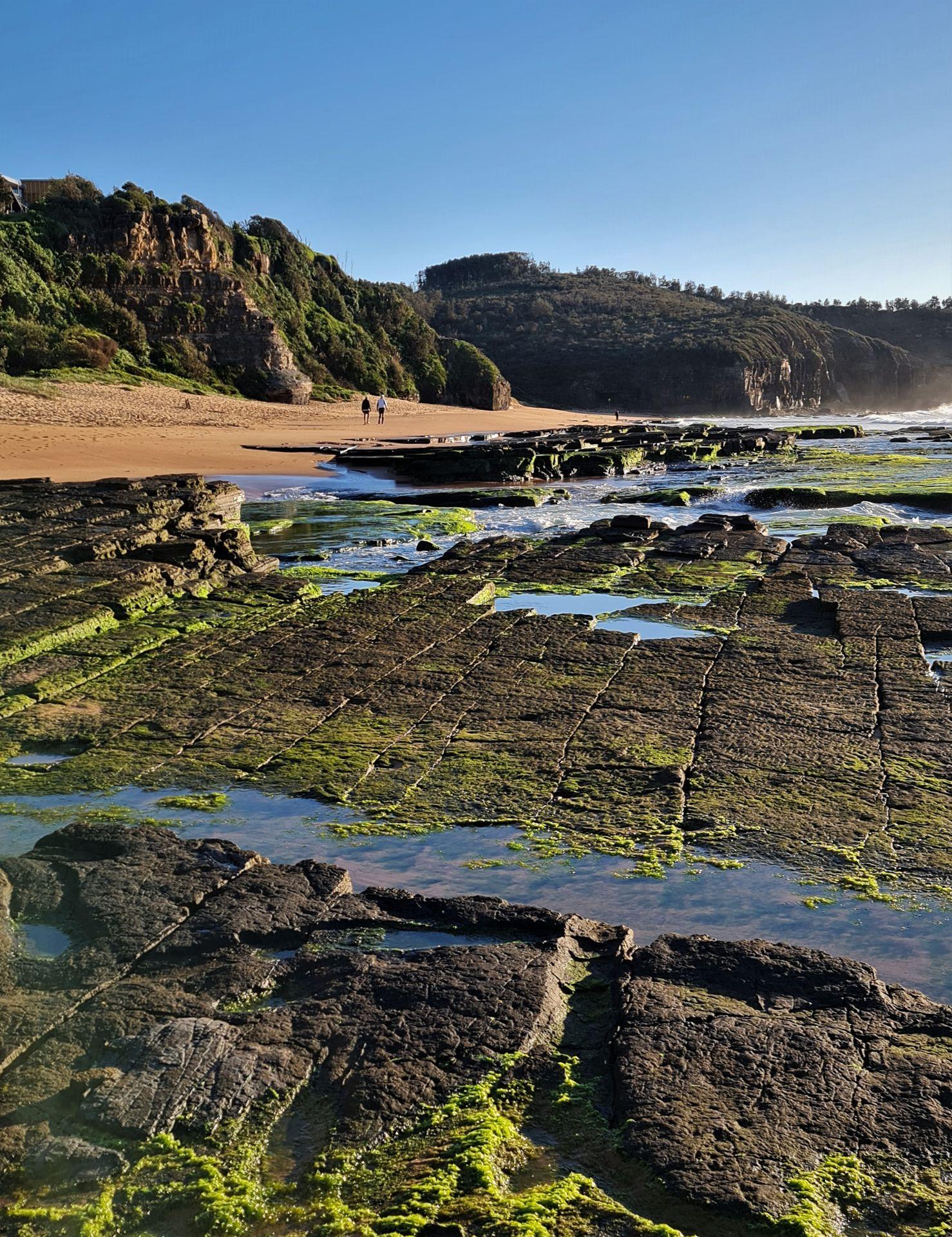 Banana Songs
This week we've been remembering banana songs or songs about bananas from our childhood while eating bananas - which are pretty good at the moment. In fact, today, I'm going to make a banana and date cake the whole family loves while the oven is on cooking dinner. I put lots of bananas, yoghurt and honey in this cake I make so that even though everyone thinks 'I'm eating cake' they're also eating something which is filled with things that are good for them. The leftover cake will be put into lunchboxes this coming week as everyone heads back to work and school.
Bananas are a great fruit and are a healthy source of fibre, potassium, vitamin B6, vitamin C, and various antioxidants and phytonutrients. We LOVE them.
Anyway; here's a few banana songs, commencing with one from a show I used to watch when I was your age and including one I thought was about bananas, but may not have been about bananas at all - I still sing it anyway. We hope you enjoy them and have a bit of a dance around.
Have a great week back at school!
Al; the Editor.
The Banana Splits Opening and Closing Theme 1968 - 1970: The Banana Splits are four funny animal characters who featured in a late 1960s children's variety show made for television. The costumed hosts of the show were Fleegle (guitar, vocals), Bingo (drums, vocals), Drooper (bass, vocals) and Snorky (keyboards, effects). The Banana Splits Adventure Hour was an hour-long, packaged television program that featured both live action and animated segments.
Each show represented a meeting of the "Banana Splits Club", and the wraparounds featured the adventures of the club members, who doubled as a musical quartet, meant to be reminiscent of The Beatles and (especially) their NBC counterpart, The Monkees. The main characters were Fleegle, a beagle; Bingo, a gorilla; Drooper, a lion, and Snorky (called "Snork" in the theme song lyrics), an elephant. Fleegle would assume the role as leader of the Banana Splits and preside at club meetings.
Mah-Na, Mah-Na
(or "Mah Nà Mah Nà", composed by Piero Umiliani) By the muppets (this is the one I thought was a banana song) - the original 1969 version runs below this one with two pink cows and animal
Sesame Street - One Banana
Harry Belafonte - Banana Boat Song (live) 1997
Harry Belafonte (born Harold George Bellanfanti Jr.; March 1, 1927) is an American singer, songwriter, activist, and actor. One of the most successful Jamaican-American pop stars, as he popularised the Trinbagonian Caribbean musical style with an international audience in the 1950s. His breakthrough album Calypso (1956) was the first million-selling LP by a single artist. Mr. Belafonte is known for his recording of "The Banana Boat Song", with its signature lyric "Day-O". He has recorded and performed in many genres, including blues, folk, gospel, show tunes, and American standards. He has also starred in several films, including Carmen Jones (1954), Island in the Sun (1957), and Odds Against Tomorrow (1959).
Belafonte considered the actor, singer and activist Paul Robeson a mentor and was a close confidant of Martin Luther King Jr. in the Civil Rights Movement in the 1950s and 1960s. As he later recalled, "Paul Robeson had been my first great formative influence; you might say he gave me my backbone. Martin King was the second; he nourished my soul."
Throughout his career, Belafonte has been an advocate for political and humanitarian causes, such as the Anti-Apartheid Movement and USA for Africa. Since 1987, he has been a UNICEF Goodwill Ambassador. Mr. Belafonte acts as the American Civil Liberties Union celebrity ambassador for juvenile justice issues.
He has won three Grammy Awards (including a Grammy Lifetime Achievement Award), an Emmy Award, and a Tony Award. In 1989, he received the Kennedy Center Honors. He was awarded the National Medal of Arts in 1994. In 2014, he received the Jean Hersholt Humanitarian Award at the Academy's 6th Annual Governors Awards.
Mr. Belafonte was born Harold George Bellanfanti Jr. at Lying-in Hospital on March 1, 1927, in Harlem, New York, the son of Jamaican-born parents Melvine (née Love), a housekeeper, and Harold George Bellanfanti Sr., who worked as a chef. His mother was the child of a Scottish Jamaican mother and an Afro-Jamaican father, and his father was the child of a black mother and a Dutch-Jewish father of Sephardic Jewish descent. Harry, Jr. was raised Catholic.
From 1932 to 1940, he lived with one of his grandmothers in her native country of Jamaica, where he attended Wolmer's Schools. Upon returning to New York City, he attended George Washington High School after which he joined the United States Navy and served during World War II.
Bananas in Pyjamas Theme Song
Young Writers' Competition 2022
Young people across the Northern Beaches are encouraged to enter this year's Young Writers' Competition for their chance to be published.
Now in its 13th year, the annual competition is open to students from kindergarten to grade 12 who live or go to school on the Northern Beaches. The theme of this year's competition is 'rise'.
"The Northern Beaches is home to some very talented young writers, and I continue to be blown away by the creativity and skill of entrants in our annual Young Writers' Competition," Mayor Michael Regan said.
"It's time for young writers to once again rise and shine and show us what they've got. More than 500 stories were submitted in last year's competition, and we suspect this year will be just as competitive."
Entrants can write on any topic or theme but must include a derivation of the word 'rise'. Entries will be grouped by age and judged according to characterisation, originality, plot, and language.
Four finalists will be chosen in each age category and invited to a presentation night on Wednesday 10 August, where a winner, runner-up, and two highly commended prizes are awarded.
Finalists from each category will have their stories published in an eBook which is added to the Northern Beaches Council Library collection.
Entries close Tuesday 31 May 2022. Entrants must be members of the Northern Beaches Council Library Service.
Complete the online entry form and attach your story as a Word document. If your story is hand-written, then a clear, readable photo or scanned PDF can be submitted.
Not a member of the library? Don't worry, Council will use this form to create a membership for you. Just mark 'no' under the library member field in the online form. If you are a member and unsure of your library card number, just mark 'yes' in the library member field in the online form and Council will find your library membership number.
Entries are judged according to characterisation, originality, plot and use of language and arranged into six different age group categories.
Four finalists are chosen in each age category and invited to a presentation night where a winner, runner-up and two highly commended prizes are awarded. Finalists from each category will have their stories published in an eBook that will be added to Council's collection.
For more information visit Council's library.
Crucial Link Found Between Arthritis, Liver Disease And A Common Genetic Condition
New Edith Cowan University (ECU) research has identified a crucial link between arthritis and the risk of serious liver disease in people with Australia's most common genetic condition.
An estimated 100,000 Australians carry the high-risk genotype for Hemochromatosis, a condition affecting people of northern European descent which sees the body accumulate too much iron.
It can lead to many complications, one of the most serious being advanced hepatic fibrosis, which affects the liver and can lead to cirrhosis and liver cancer.
However, early detection of advanced hepatic fibrosis can assist clinicians in identifying those most at risk and reducing the impact or occurrence of future complications.
ECU researchers collaborating with colleagues at the QIMR Berghofer Institute for Medical Research have discovered arthritis is a strong predictor for development of clinically important liver problems in people with Hemochromatosis.
Published in the Mayo Clinic Proceedings, the research studied 112 people with Hemochromatosis.
Of the 19 people with advanced stage 3-4 liver fibrosis, 84 per cent also had arthritis.
However, of the 65 subjects without arthritis, only 5 per cent had advanced hepatic fibrosis.
Senior author Professor John Olynyk said these results had many implications for those living with Hemochromatosis, or at risk of developing it.
"Since hepatic fibrosis improves with treatment, it is important to accurately determine the presence or absence of advanced hepatic fibrosis when patients are evaluated," he said.
"We recommend people with hemochromatosis who present with arthritis be properly evaluated for the presence of advanced hepatic fibrosis."
Professor Olynyk said the study could also save many people from undergoing unnecessary procedures.
"Those with hemochromatosis but who do not have arthritis at diagnosis are highly unlikely to have advanced hepatic fibrosis, which may negate the need for an initial liver biopsy," he said.
"Instead, they can be monitored for the development of fibrosis via non-invasive methods."
Professor Olynyk said the link with arthritis could help diagnose more people with Hemochromatosis, which can often be difficult due to many symptoms being relatively non-specific and common in the general population.
"People of the correct background presenting with arthritis or liver disease should always be evaluated for potential Hemochromatosis -- especially when it is not clear as why the problem exists," he said.
Lauren Andersson, Lawrie W. Powell, Louise E. Ramm, Grant A. Ramm, John K. Olynyk.
Arthritis Prediction of Advanced Hepatic Fibrosis in HFE Hemochromatosis.
Mayo Clinic Proceedings, 2022; DOI:
10.1016/j.mayocp.2022.02.017
Anglo-Saxon Kings Were Mostly Veggie But Peasants Treated Them To Huge Barbecues
Very few people in England ate large amounts of meat before the Vikings settled, and there is no evidence that elites ate more meat than other people, a major new bioarchaeological study suggests. Its sister study also argues that peasants occasionally hosted lavish meat feasts for their rulers. The findings overturn major assumptions about early medieval English history.
'You are what you eat' isotopic analysis of over 2,000 skeletons by far the largest of its kind.



Early medieval diets were far more similar across social groups than previously thought.
Peasants didn't give kings food as exploitative tax, they hosted feasts suggesting they were granted more respect than previously assumed.
Surviving food lists are supplies for special feasts not blueprints for everyday elite diets.
Some feasts served up an estimated 1kg of meat and 4,000 Calories in total, per person.
Picture medieval England and royal feasts involving copious amounts of meat immediately spring to mind. Historians have long assumed that royals and nobles ate far more meat than the rest of the population and that free peasants were forced to hand over food to sustain their rulers throughout the year in an exploitative system known as feorm or food-rent.
But a pair of Cambridge co-authored studies published today in the journal Anglo-Saxon England present a very different picture, one which could transform our understanding of early medieval kingship and society.
While completing a PhD at the University of Cambridge, bioarchaeologist Sam Leggett gave a presentation which intrigued historian Tom Lambert (Sidney Sussex College). Now at the University of Edinburgh, Dr Leggett had analysed chemical signatures of diets preserved in the bones of 2,023 people buried in England from the 5th - 11th centuries. She then cross-referenced these isotopic findings with evidence for social status such as grave goods, body position and grave orientation. Leggett's research revealed no correlation between social status and high protein diets.
That surprised Tom Lambert because so many medieval texts and historical studies suggest that Anglo-Saxon elites did eat large quantities of meat. The pair started to work together to find out what was really going on.
They began by deciphering a food list compiled during the reign of King Ine of Wessex (c. 688-726) to estimate how much food it records and what its calorie content might have been. They estimated that the supplies amounted to 1.24 million kcal, over half of which came from animal protein. The list included 300 bread rolls so the researchers worked on the basis that one bun was served to each diner to calculate overall portions. Each guest would have received 4,140 kcal from 500g of mutton; 500g of beef; another 500g of salmon, eel and poultry; plus cheese, honey and ale.
The researchers studied ten other comparable food lists from southern England and discovered a remarkably similar pattern: a modest amount of bread, a huge amount of meat, a decent but not excessive quantity of ale, and no mention of vegetables (although some probably were served).
Lambert says: "The scale and proportions of these food lists strongly suggests that they were provisions for occasional grand feasts, and not general food supplies sustaining royal households on a daily basis. These were not blueprints for everyday elite diets as historians have assumed."
"I've been to plenty of barbecues where friends have cooked ludicrous amounts of meat so we shouldn't be too surprised. The guests probably ate the best bits and then leftovers might have been stewed up for later."
Leggett says: "I've found no evidence of people eating anything like this much animal protein on a regular basis. If they were, we would find isotopic evidence of excess protein and signs of diseases like gout from the bones. But we're just not finding that."
"The isotopic evidence suggests that diets in this period were much more similar across social groups than we've been led to believe. We should imagine a wide range of people livening up bread with small quantities of meat and cheese, or eating pottages of leeks and whole grains with a little meat thrown in."
The researchers believe that even royals would have eaten a cereal-based diet and that these occasional feasts would have been a treat for them too.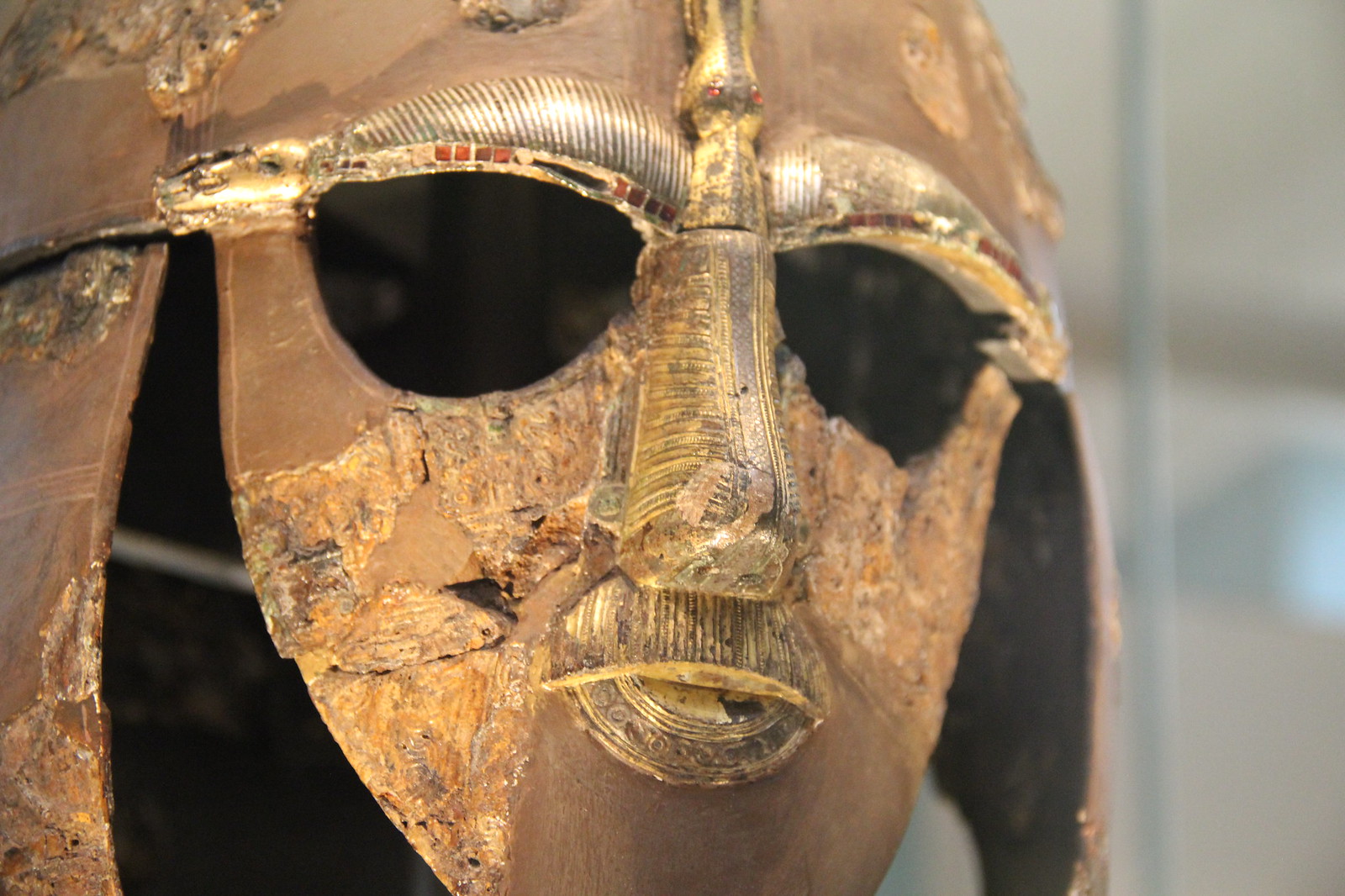 Helmet from Sutton Hoo. Photo: Gary Todd

These feasts would have been lavish outdoor events at which whole oxen were roasted in huge pits, examples of which have been excavated in East Anglia.
Lambert says: "Historians generally assume that medieval feasts were exclusively for elites. But these food lists show that even if you allow for huge appetites, 300 or more people must have attended. That means that a lot of ordinary farmers must have been there, and this has big political implications."
Kings in this period - including Rædwald, the early seventh-century East Anglian king perhaps buried at Sutton Hoo - are thought to have received renders of food, known in Old English as feorm or food-rent, from the free peasants of their kingdoms. It is often assumed that these were the primary source of food for royal households and that kings' own lands played a minor supporting role at best. As kingdoms expanded, it has also been assumed that food-rent was redirected by royal grants to sustain a broader elite, making them even more influential over time.
But Lambert studied the use of the word feorm in different contexts, including aristocratic wills, and concludes that the term referred to a single feast and not this primitive form of tax. This is significant because food-rent required no personal involvement from a king or lord, and no show of respect to the peasants who were duty-bound to provide it. When kings and lords attended communal feasts in person, however, the dynamics would have been very different.
Lambert says: "We're looking at kings travelling to massive barbecues hosted by free peasants, people who owned their own farms and sometimes slaves to work on them. You could compare it to a modern presidential campaign dinner in the US. This was a crucial form of political engagement."
This rethinking could have far-reaching implications for medieval studies and English political history more generally. Food renders have informed theories about the beginnings of English kingship and land-based patronage politics, and are central to ongoing debates about what led to the subjection of England's once-free peasantry.
Leggett and Lambert are now eagerly awaiting the publication of isotopic data from the Winchester Mortuary Chests which are thought to contain the remains of Egbert, Canute and other Anglo-Saxon royals. These results should provide unprecedented insights into the period's most elite eating habits.
Sam Leggett, Tom Lambert.

Food and Power in Early Medieval England: a lack of (isotopic) enrichment.

Anglo-Saxon England, 2022; 1 DOI: 10.1017/S0263675122000072
Tom Lambert, Sam Leggett.

Food and Power in Early Medieval England: Rethinking Feorm.

Anglo-Saxon England, 2022; 1 DOI: 10.1017/S0263675122000084
Microplastics In The Food Chain: Blue Mussels Absorb Pollution In Southern Australia
Plastic rubbish is everywhere and now broken-down microplastics have been found in variable concentrations in blue mussels and water within the intertidal zone at some of southern Australia's most popular and more remote beaches.
Flinders University researchers warn that this means microplastics are now finding their way into human food supplies -- including wild-caught and ocean-farmed fish and seafood sourced from the once pristine Southern Ocean and gulf waters of South Australia.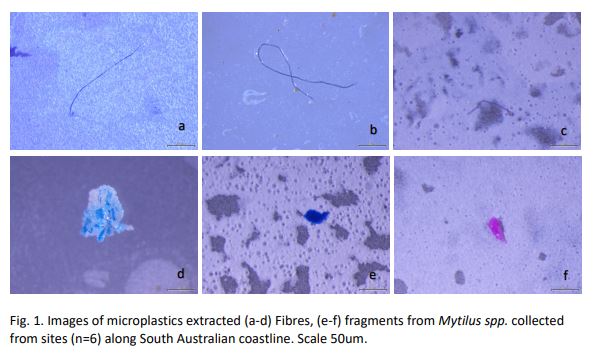 "Our findings shed light on the urgent need to prevent microplastic pollution by working with the communities, industries and government to protect these fragile marine systems," says Professor Karen Burke da Silva, senior author of a new article just published in Science of the Total Environment.
The Flinders University research team sampled varying levels of microplastics on 10 popular beaches across South Australia, from Coffin Bay and Port Lincoln on the West Coast to Point Lowly and Whyalla on the Spencer Gulf, to popular Adelaide metropolitan beaches along with Victor Harbor, Robe and Kangaroo Island.
"Low to medium levels of microplastics (less than 5mm in size) measured in the common blue mussel (Mytilus spp.), a filter feeder affected by ecosystem conditions, were measured to analyse the main kinds of pollution affecting the environment, and single-use plastic was the main offender," Professor Burke da Silva says.
Microplastics are ubiquitous in our marine environment and tend to be more abundant in mussel samples near larger towns and cities, with levels four times higher at Semaphore Beach compared to more remote Ceduna on Eyre Peninsula.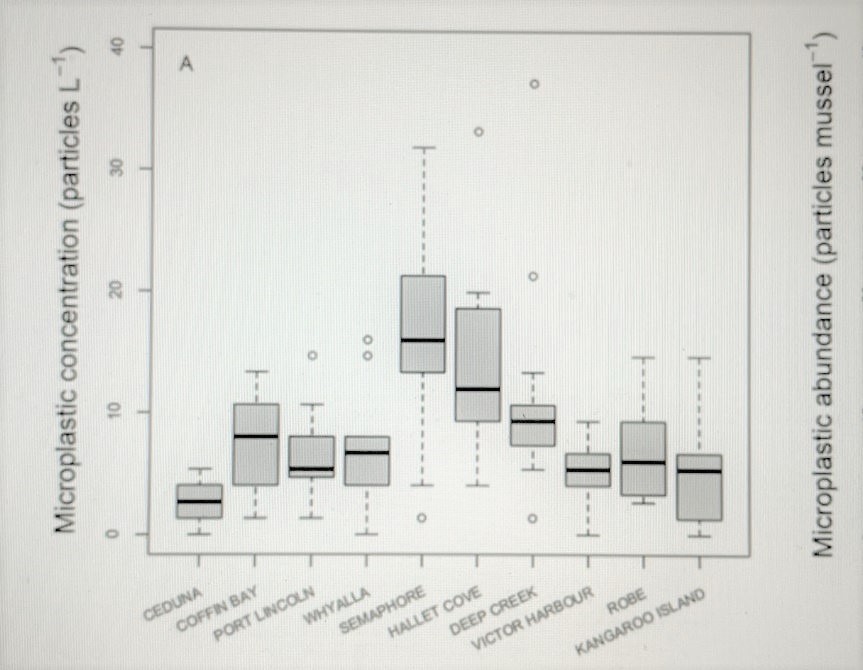 Diagram compares microplastic concentration in samples from 10 SA locations.

"By investigating microplastic load in the mussel, we call attention to the implications of microplastic pollution on South Australia's unique marine ecosystems and on the local human food chain," says Janet Klein, the first author of the article.
Microplastic contamination at Semaphore Beach and then Hallett Cove up to four times higher than tests run at Ceduna, and twice as high as Coffin Bay on Eyre Peninsula.
Trillions of microplastic particles exist in the world's oceans, with the highest concentrations recently found in the shallow sea floor sediment off Naifaru in the Maldives (at 278 particles kg -1 ) and lowest reported in the surface waters of the Antarctic Southern Ocean (3.1 x 10-2 particles per m3 ).
For the first time, the new Flinders University study measured the presence of microplastics in South Australia's coastline, in areas important both for shipping, fishing and tourism, along with other industries and local communities.
Microplastic concentration in the SA intertidal water was found to be low to moderate (mean = 8.21 particles l−1 ± 4.91) relative to global levels and microplastic abundance in mussels (mean = 3.58 ± 8.18 particles individual−1) -- within the range also reported globally.
Plastic types include polyamide (PA), polyethylene (PE), polypropylene (PP), acrylic resin, polyethyleneterephthalate (PET) and cellulose, which suggests both synthetic and semi-synthetic particles from single-use, short-life cycle products, fabrics, ropes and cordage from the fishing industry.
"The areas examined include some biodiversity hotspots of global significance -- including the breeding ground of the Great Cuttlefish in the Northern Spencer Gulf and marine ecosystems more diverse than the Great Barrier Reef (such as Coffin Bay), so cleanup and prevention measures are long overdue," says Professor Burke da Silva.
"Apart from the harvesting of blue mussels, we also need to consider the impact of microplastic particles entering other parts of the human food chain with microplastic pollution expected to increase in the future."
Janet R. Klein, Julian Beaman, K. Paul Kirkbride, Corey Patten, Karen Burke da Silva.
Microplastics in intertidal water of South Australia and the mussel Mytilus spp.; the contrasting effect of population on concentration.
Science of The Total Environment, 2022; 831: 154875 DOI:
10.1016/j.scitotenv.2022.154875
Nylon Cooking Bags, Plastic-Lined Cups Can Release Nanoparticles Into Liquids
Nylon cooking bags and plastic-lined cardboard cups are conveniences many people rely on, but a new study in ACS' Environmental Science & Technology suggests that they are an underappreciated source of nanoparticles. They report that the plastic in these products release trillions of nanometer-sized particles into each litre of water that they come in contact with. That sounds like a lot, but the team notes that these levels are under the regulatory limits for consumption.
Food-grade plastics come into contact with a variety of foods and drinks that people consume every day. For instance, nylon cooking bags help keep food moist in the oven and make clean-up easier for slow cookers. Likewise, plastic-lined paper cups are designed to keep liquids hot and prevent them from leaking out.
Previous studies have shown that some plastic materials, including polypropylene baby bottles and polyethylene terephthalate tea bags, can shed microscopic and nanoscale particles into heated liquids, though the human health implications of ingesting these particles are unclear. So, Christopher Zangmeister and colleagues wanted to see whether food-grade plastic films can also be a source of small plastic particles.
The researchers poured room temperature or hot water into nylon slow cooker bags and low density polyethylene-lined cardboard cups from different retailers. After keeping the slow cooker hot for an hour, the researchers found that 35 trillion plastic nanoparticles leached into the litre of water in each bag. When the team put hot liquid in 12-fluid-ounce cups for 20 minutes, 5.1 trillion plastic nanoparticles per litre leached out. Both materials released considerably fewer nanosized particles into room temperature water. Finally, the researchers calculated that a person would have to drink 13 cups of hot water from a plastic-lined cup or half a litre of water from the cooking bag to consume the equivalent of one nanoplastic particle for every seven cells in a person's body. But they also note that the number of particles that migrated from the food-grade plastics into both the room temperature and hot water are still well below the levels for safe human consumption, according to U.S. Food and Drug Administration limits.
The authors received funding from the U.S. National Institute of Standards and Technology.
Christopher D. Zangmeister, James G. Radney, Kurt D. Benkstein, Berc Kalanyan.
Common Single-Use Consumer Plastic Products Release Trillions of Sub-100 nm Nanoparticles per Liter into Water during Normal Use
. Environmental Science & Technology, 2022; DOI:
10.1021/acs.est.1c06768
Cortisol In Shelter Dog Hair Shows Signs Of Stress
Despite the good care, a shelter can be a stressful environment for dogs. Researchers at Utrecht University investigated if the amount of the hormone cortisol in hair indicates the levels of stress that dogs experience before, during and after their stay in the shelter.
There is no difference between the cortisol levels of dogs when they enter the shelter and the control group of domestic dogs. After six weeks in the shelter, cortisol levels in the hair appear to have increased by one-third (on average from 16 pg/mg to 21.8 pg/mg). In measurements six weeks and six months after adoption, cortisol levels lowered, moving in the direction of the values at admission to the shelter. The results were published in the scientific journal Scientific Reports on 21 April 2022.
The stress hormone cortisol accumulates in hair, in humans but also in animals. By measuring cortisol levels in hair, researchers can get an idea of the stress response and recovery over weeks or months -- depending on the length of the hair examined. This technique has been used extensively in humans and other species, and some fifteen scientific studies have been carried out in dogs so far.
"In addition to the cortisol measurements in hair, we also measured cortisol values in the dogs' urine. This gives a short-term picture while the hair measurements show the long term," researcher Janneke van der Laan explains.
The researchers examined hair of 52 shelter dogs at four moments: just before admission, after six weeks in the shelter, six weeks after adoption and six months after adoption. They compared the cortisol values before admission with those of twenty domestic dogs, which were similar in terms of breed, age and sex.
Van der Laan: "We took daily measurements in the shelter for over a year. After adoption, the new owners -- after clear instructions -- cut the dogs hair and sent it to us. They were helpful and enthusiastic, and were very interested in what their dog had experienced before adoption."
More cortisol in small dogs
A surprising result is that smaller dogs generally have higher cortisol levels than larger dogs. "We have also seen this pattern in previous studies, for example in a study on the resting pattern of shelter dogs. We don't have a clear hypothesis about why that is, but it is interesting and is an area of focus for future research."
All the examined shelter dogs were in the same shelter. Of course there are significant differences between shelters, not only within the Netherlands but also internationally. In The Netherlands, dogs are usually kept individually, while in other countries they are often kept in groups.
"We know that a shelter is not a stress-free environment for dogs, even though staff members do their best to achieve the highest possible welfare," Van der Laan says. "Even if you organise a shelter in the best possible way, there are still stress factors, such as crowds of other dogs and not being able to go outside as often as usual. And most important: the dog is gone from their old, familiar environment."
The shelter in this study has a pioneering role in improving the welfare of dogs: they use glass walls instead of bars to reduce noise pollution for the dogs, for example. "The fact that we measured an increased amount of cortisol even in this shelter, suggests that this will also be the case in other shelters," Van Der Laan said.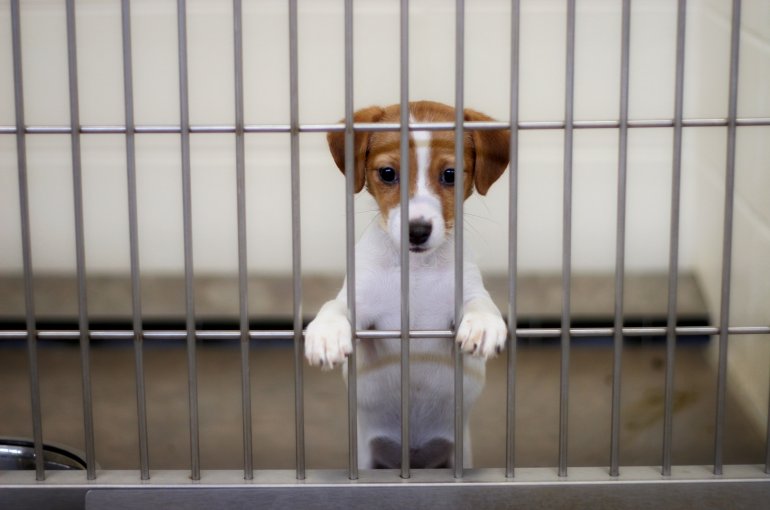 Janneke Elisabeth van der Laan, Claudia Maureen Vinke, Saskia Stefanie Arndt.
Evaluation of hair cortisol as an indicator of long-term stress responses in dogs in an animal shelter and after subsequent adoption.
Scientific Reports, 2022; 12 (1) DOI:
10.1038/s41598-022-09140-w
Indiana Jones Was Right All Along: Research Shows The Smaller The Scorpion The Deadlier
Researchers in NUI Galway have shown, for the first time, that smaller species of scorpions, with smaller pincers, have more potent venoms compared to larger species with robust claws.

The scientists tested the theory from Indiana Jones and the Kingdom of the Crystal Skull, which warned of the dangers of small scorpions, and that "when it comes to scorpions, the bigger the better."
While this may have simply been a throwaway movie line from the adventurous archaeologist Indiana Jones, the research shows there is truth to it.
The team of scientists at NUI Galway's Ryan Institute put the quip to the test by analysing 36 species of scorpions to show that larger scorpions have less potent venoms and really are better in terms of avoiding a nasty sting.
The results of the research have published in the international journal Toxins.
It shows the smallest scorpions in their analysis, like the Brazilian yellow scorpion, where over 100 times more potent than the largest species they studied, such as the rock scorpion.
The potency pattern was not just about body size, but also pincer size, with venoms found in species with the smallest pinchers, including the South African thick-tail scorpion, which is more than 10 times more potent compared to species with the largest and most robust pinchers, such as the Israeli gold scorpion.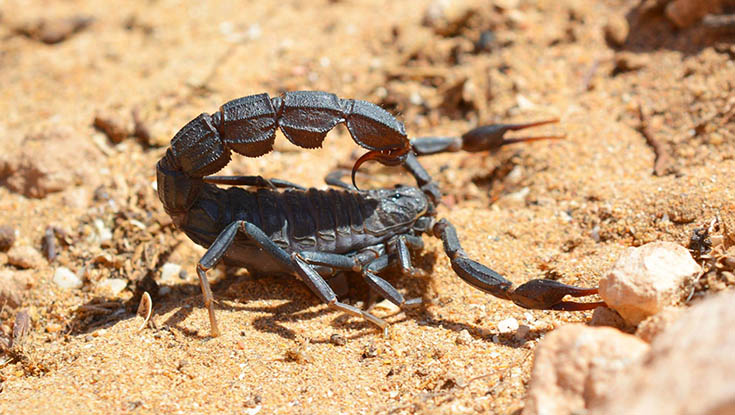 Androctonus mauretanicus in Morocco. Credit: Dr Michel Dugon
Dr Kevin Healy, Lecturer of Zoology at NUI Galway and senior author of the study, said: "Outside of entertaining movie trivia there are good evolutionary reason to expect the results and important medical implications for such patterns."
The researchers highlighted that while scorpions use both their venomous sting and their pinchers to capture prey and for defence there is an evolutionary trade-off between these weapons. Energy used to make bigger pincers means less energy is available for its chemical arsenal. This results in larger scorpions which can use their physical size are less reliant on venoms, while smaller species have evolved more potent venoms.
Dr Healy added: "When we look at the most potent, and dangerous, scorpion venoms we find they tend to be associated with species such as the deathstalker which are relatively small. In contrast, the biggest species such as rock scorpions have venoms that are likely to only cause slight pain."
Alannah Forde, an NUI Galway graduate student and lead author of the study, said: "Not only did we find that bigger is better -- when it comes to people being stung -- we also found that bigger pincers are better when it comes to assessing the danger level of a scorpion. While species such as large-clawed scorpion might be small to medium in size, they mainly rely on their large pincers instead of their relatively weak venom."
Scorpion stings are a global health problem with more than 1 million cases and thousands of deaths every year. Identifying the species involved with a sting is vital for treatment, hence general rules such as "bigger is better" are often used to help with treatment.
The team aim to test these evolutionary rules to what makes some species more potent to help develop better medical approaches to scorpion stings.
Dr Michel Dugon, Head of the Venom System Lab at NUI Galway and a senior author of the study, said: "As scientists, our job is also to put popular wisdom to the test. Most victims hospitalised with severe symptoms following scorpion stings are children below the age of 15. Identifying the species responsible is essential to administer the correct treatment, and a simple rule such as 'bigger is better' is a first small step toward saving lives."
Alannah Forde, Adam Jacobsen, Michel M. Dugon, Kevin Healy.
Scorpion Species with Smaller Body Sizes and Narrower Chelae Have the Highest Venom Potency.
Toxins, 2022; 14 (3): 219 DOI:
10.3390/toxins14030219
Fewer Smartphones = More Well-Being
We blame smartphone use for a number of negative consequences, ranging from neck pain to addictive behaviour. Privat-Dozentin Dr. Julia Brailovskaia and her team set out to determine whether our lives are actually better without smartphones, or rather: how much less smartphone use per day is good for us. The psychologist from the Mental Health Research and Treatment Center at Ruhr-Universität Bochum (RUB) had around 200 test participants each do without their smartphones completely for a week, reduce their daily use by one hour or use the smartphone in the same way as before. Their findings show: in the long term, those who reduced their use fared best. The researcher report in the Journal of Experimental Psychology: Applied from 7 April 2022.
How much smartphone use is good for us?
On average, we spend more than three hours a day glued to our smartphone screens. We google, look for directions, check emails or the weather, shop, read the news, watch films, hang out on social media. It seems reasonable to suspect that all this is not good for us. Studies have shown that smartphone use is linked to problems such as less physical activity, obesity, neck pain, impaired performance, and addiction-like behavior -- to name just a few. "The smartphone is both a blessing and a curse," says Julia Brailovskaia.
Her team wanted to know: how much smartphone is good for us? To this end, the researchers compared the effect of complete smartphone abstinence versus a reduction in time spent daily looking at the screen and versus continued use without any changes. They recruited 619 people for their study and divided them randomly into three groups. 200 people put their smartphone completely aside for a week. 226 reduced the amount of time they used the device by one hour a day. 193 people didn't change anything in their behaviour.
Physical activity, cigarettes, life satisfaction, anxiety, depression
The researchers interviewed all participants about their lifestyle habits and well-being immediately after the intervention, one month and four months later. How much did they engage in physical activity? How many cigarettes did they smoke a day? How satisfied with their life did they feel? Did they show any signs of anxiety or depression? "We found that both completely giving up the smartphone and reducing its daily use by one hour had positive effects on the lifestyle and well-being of the participants," as Julia Brailovskaia sums up the results. "In the group who reduced use, these effects even lasted longer and were thus more stable than in the abstinence group."
It's not necessary to do completely without
The one-week intervention changed the participants' usage habits in the long term: even four months after the end of the experiment, the members of the abstinence group used their smartphone on average 38 minutes less per day than before. The group who had spent one hour less per day with the smartphone during the experiment used it as much as 45 minutes less per day after four months than before. At the same time, life satisfaction and time spent being physically active increased. Symptoms of depression and anxiety as well as nicotine consumption decreased. "It's not necessary to completely give up the smartphone to feel better," concludes Brailovskaia. "There may be an optimal daily usage time."
Julia Brailovskaia, Jasmin Delveaux, Julia John, Vanessa Wicker, Alina Noveski, Seokyoung Kim, Holger Schillack, Jürgen Margraf.
Finding the "sweet spot" of smartphone use: Reduction or abstinence to increase well-being and healthy lifestyle?! An experimental intervention study.
. Journal of Experimental Psychology: Applied, 2022; DOI:
10.1037/xap0000430
Spatial Maps Of Melanoma
Melanoma is a somewhat unusual cancer -- one that blooms before our very eyes, often on sun-exposed skin, and can quickly become deadly as it turns our own skin against us and spreads to other organs.
Fortunately, when caught early, melanoma can often be cured by simple surgery, and there are now better treatments for advanced cases, including immunotherapies that prime a patient's immune system to fight off the cancer.
However, much remains unknown about melanoma, including the details of how it develops in the earliest stages, and how to best identify and treat the most dangerous early cases.
Now, a team at Harvard Medical School has created spatial maps at the single-cell level that reveal, in unprecedented detail, how melanoma cells and nearby cells, including immune cells, interact as a tumour develops.
The maps, described in Cancer Discovery, offer insights into how interactions between cells change as melanoma advances, and how cancer cells suppress the immune system as they take over.
"The main purpose was to understand the early events in melanoma that lead to the development of a tumour," said lead author Ajit Nirmal, a research fellow at Harvard Medical School.
The HMS team is building the maps into a melanoma atlas that will be freely available to the scientific community as part of the National Cancer Institute's Human Tumour Atlas Network. They hope that eventually, the atlas can serve as a jumping-off point for scientists to study how to prevent melanoma and how to treat it in its nascent stages before it becomes full-blown cancer. The ultimate goal of these efforts is to aid doctors in diagnosing melanoma and to help them prescribe tailored treatment based on each patient's individual tumour profile.
"This was an opportunity to study melanoma at its inception, and collect a resource of information that we can share with the community," said Sandro Santagata, an HMS associate professor of pathology at Brigham and Women's Hospital and co-senior author on the paper with Peter Sorger, the HMS Otto Krayer Professor of Systems Pharmacology.
In recent years, a considerable amount of melanoma research has focused on two areas: DNA sequencing of early tumour samples to understand the genetic changes that occur as this particular cancer arises and single-cell RNA sequencing of the tumour's immediate surroundings -- the so-called tumour microenvironment -- to profile the types of cells present. However, researchers have remained largely in the dark about how tumour cells and nearby cells are physically arranged in space, and how these cells interact on a molecular level as melanoma develops.
"What we still do not know is how the microenvironment is organized to allow a tumour to grow," Nirmal said. "In theory, immune cells are supposed to identify tumour cells and kill them off very quickly, but clearly something has gone wrong, and that's one of the primary reasons why we want spatial resolution."
Such spatial resolution, along with fine-scale molecular data, became possible to achieve only recently with the advent of more advanced single-cell imaging technologies, including cyclic immunofluorescence, orCyCIF, a multiplexed imaging technique developed by the Sorger lab.
In the new paper, the researchers combined CyCIF imaging data with 3D high-resolution microscopy and fine-scale RNA sequencing to create maps capturing where cells are located and how they interact as normal tissue morphs into melanoma.
"We're able to see everything from normal skin to early lesions to invasive melanoma, sometimes all in one piece of tissue," Santagata said. "You end up with this map of how melanoma is developing right in front of you."
The maps reveal what Santagata describes as "the battle between tumour cells and immune cells" that results in melanoma succumbing when immune cells are victorious, and melanoma progressing when tumour cells win.
Specifically, the maps showed that in the earliest stages of melanoma, so-called precursor lesions were composed of similar types and proportions of cells as normal skin, but these cells had a drastically different pattern of interaction, which included signs of immunosuppression.
"This indicates that there's probably some level of restructuring within the tumour microenvironment that could potentially aid the development of the tumour," Nirmal said.
In early melanoma, PD-L1 -- a protein that suppresses the immune system and allows cancer to flourish -- was not expressed in tumour cells but was present in adjacent immune cells called myeloid cells. As the tumor grew, PD-L1-expressing myeloid cells interacted increasingly with T cells primed to kill tumour cells. This interaction between immune cells, rather than between cancer cells and immune cells, may be a mechanism the cancer uses to tamp down the immune system so it can progress unchecked.
"That may mean that the immune system is being suppressed, or inactivated, by itself, and not directly by the cancer," Sorger said.
Immunotherapies that inhibit PD-L1 and its binding partner PD-1 and thereby unleash the immune system against the tumour have revolutionized treatment for advanced melanoma. However, not all patients with melanoma respond, and these therapies have not been as effective at treating some other cancers. Thus, Sorger hopes that basic research on PD-L1 expression will provide a foundation for understanding which patients with melanoma are most likely to benefit from immunotherapies and how scientists can make the therapies work in more cancers. The insights may also illuminate therapeutic strategies for melanomas that remain resistant to available treatments.
In more advanced melanoma, the state of the cancer cells differed depending on their physical location. Cells in the middle of a tumour that were surrounded by other cancer cells behaved markedly differently from cells on the outer edges of the tumour that could interact with nearby immune cells and stromal cells. This finding suggests that this cellular mixed bag -- known as tumour heterogeneity -- may partly be due to epigenetic changes that occur in tumour cells as they interact with other cell types, Nirmal said. Understanding tumour heterogeneity is important, he added, for understanding why and how some parts of a tumour survive treatment, while others do not, especially in the context of therapies that target specific molecular pathways.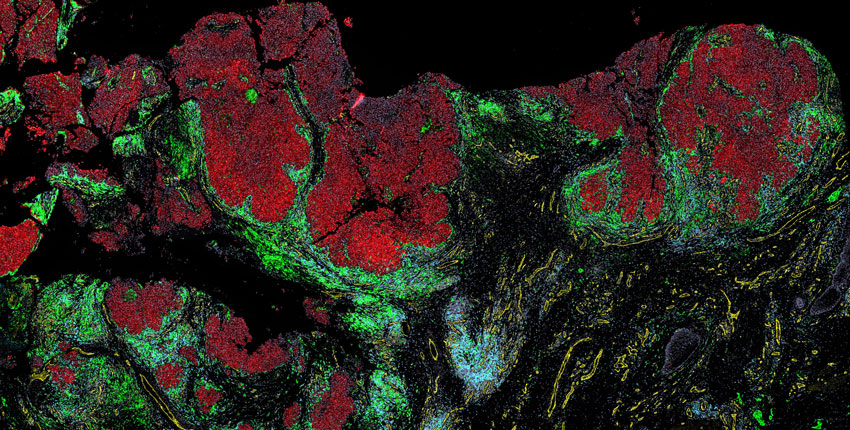 Invasive melanoma cells (red) surrounded by two types of immune cells: myeloid cells (green) and T cells (blue). In this case, the immune cells are unable to infiltrate the tumor and kill the cancer cells. Image: Ajit Johnson Nirmal, Zoltan Maliga, and Connor Jacobson

Taken together, the findings demonstrate that "these local environments involve many more physical interactions between cells than we might have thought," Sorger said. "The cells are actually in an incredibly dense, communicating network."
"The neighbourhoods of the tumour cells and the interactions between cells tell us how the tumour may progress, and that's an entirely new form of biomarker that hasn't been applied before," Santagata added. "With these new spatial maps, we have the ability to link cellular interactions with physiologic behaviour, and, eventually, clinical outcomes."
With the paper, the researchers are releasing the largest imaging-based melanoma dataset to date -- and the entire dataset will be freely available through Minerva, an online visualization tool the lab developed to make complex data easier to understand and use. Now, the team is working on adding more melanoma samples to the project, with the goal of gaining a better understanding of which features and interactions can be considered typical.
"We want to be able to say what happens recurrently, rather than idiosyncratically. Quantity has a quality all its own, and so scaling this is a critical step," Sorger said.
The researchers are building the maps into an open-source melanoma atlas within the Human Tumour Atlas Network that captures the full range of molecular interactions between cells in different stages of disease. They envision the atlas having a similar impact as earlier atlases of cancer genomics, including The Cancer Genome Atlas. Ultimately, they hope that their work will propel novel insights in melanoma that lead to precision-targeted individualized treatments based on a patient's tumour characteristics.
"There is no precision medicine without diagnostics," Sorger said, yet 85 to 90 percent of cancers are diagnosed based on tissue samples alone. He thinks the process of diagnosing and treating melanoma could be improved by incorporating multiplexed imaging techniques, like CyCIF, that provide fine-scale molecular information about the tumour ecosystem and comparing results to a melanoma atlas.
The study was funded by the NIH (U2C-CA233262; K99- CA256497), the Ludwig Center at HMS, the NCI (R50-CA252138), the Finnish Medical Foundation, and the Relander Foundation.
Additional authors include Zoltan Maliga, Tuulia Vallius, Alyce Chen, Connor Jacobson, Roxanne Pelletier, Clarence Yapp, Raquel Arias-Camison, and Yu-An Chen of HMS; and Christine Lian, George Murphy, and Brian Quattrochi of Brigham and Women's Hospital.
Ajit J. Nirmal, Zoltan Maliga, Tuulia Vallius, Brian Quattrochi, Alyce A. Chen, Connor A. Jacobson, Roxanne J. Pelletier, Clarence Yapp, Raquel Arias-Camison, Yu-An Chen, Christine G. Lian, George F. Murphy, Sandro Santagata, Peter K. Sorger.
The spatial landscape of progression and immunoediting in primary melanoma at single cell resolution
. Cancer Discovery, 2022; DOI:
10.1158/2159-8290.CD-21-1357
Designing The Perfect Piece Of Chocolate
We like some foods, and dislike others. Of course, the way food tastes is important, but mouthfeel, and even the sound that food makes when we bite it, also determine whether we enjoy the eating experience. Is it possible to design edible materials that optimize this enjoyment? Physicists and food researchers show that indeed it is.
In research that was published in Soft Matter this week, researchers from the University of Amsterdam, Delft University, and Unilever, demonstrate that the mouthfeel of an edible substance can be designed, just like properties of many other materials can. That is: they create metamaterials, materials that are not found in nature but that are carefully constructed in the lab. Their building material of choice is not wood, concrete or glass -- they build their materials from chocolate.
As both professional and amateur bakers know very well, chocolate is not an easy material to work with. Simply heating it up and cooling it down can turn soft chocolate into much more brittle tempered chocolate, or vice versa. Therefore, the first challenge for the researchers was to get their building material under control. They did this by very carefully heating it up, adding some cold chocolate, cooling it down again… and then putting it in a 3D printer. This allowed them to print essentially any shape of chocolate material they wanted, while guaranteeing that the base material always had the same properties.
The first shape of edible material that the scientists experimented with was an S-shaped chocolate with many twists. The goal was to test how this material would break and how that breaking would be experienced in the mouth. Not surprisingly, the breaking properties depended strongly on the direction of 'biting'. When the chocolate was pressed from above, many different cracks occurred one after another, but when pressed in the direction perpendicular to the picture, usually only a single crack occurred. This was tested mechanically, as in the picture linked to below, but also by feeding the chocolates to a panel of 10 -- very willing -- test persons. Both the mechanical tests and the test panel confirmed moreover that the ease of bite was better in the direction shown in link to the picture below.
The more cracks, the better
Most people enjoy the experience of food crackling down in their mouths -- the more cracks, the better. Having shown that such an experience can be designed, the researchers now tried some different structures, searching for a structure where the number of cracks can be 'programmed' into the material.
It turned out that spiral-shaped chocolate metamaterials like the ones displayed above have quite interesting and tunable properties. Not only does the number of windings directly control the number of cracks when the material is pressed mechanically; the test panel could also clearly distinguish between less and more cracks when eating the chocolates. Moreover, sound recordings showed that the sound the chocolates makes when being bitten reflects the number of cracks, adding to an enjoyable eating experience.
The perfect piece of chocolate
The final question was of course: is designing an enjoyable eating experience a matter of trial and error, or can nice edible materials actually be designed and fine-tuned before creating them? The researchers found that with a well-chosen mathematical model, they can indeed optimize certain shapes of chocolates with respect to, for example, their resistance to break when bitten from certain directions.
The design of edible metamaterials had not been studied before. The new research opens the door to ways to design foods that are enjoyable to eat -- and more generally, to design materials that optimize the interaction between humans and matter.
André Souto, Jian Zhang, Alejandro M. Aragón, Krassimir P. Velikov, Corentin Coulais.
Edible mechanical metamaterials with designed fracture for mouthfeel control.
Soft Matter, 2022; 18 (15): 2910 DOI:
10.1039/D1SM01761F
Australian Orthopaedic Surgeons Not Complying With Advertising Guidelines
April 21, 2022 by Emi Berry, UNSW
Advertising guideline violations include unverified claims of reputation and skill, new study reveals.
"Misleading online information can have serious implications for informed patient decision making," says A/Prof Sam Adie. Photo: Shutterstock
The internet can be a double-edged sword for patients seeking health information, particularly in terms of direct-to-consumer advertising. In a paper
recently published
in
The Medical Journal of Australia
, researchers at UNSW Sydney revealed a considerable proportion of orthopaedic surgeons who are members of the Australian Orthopaedic Association (AOA) did not comply with AOA and Australian Health Practitioner Regulation Agency (AHPRA) advertising guidelines.
Orthopaedic surgeons specialise in diagnosing and treating musculoskeletal injuries and diseases. This includes problems relating to bones, joints, ligaments, muscles, and tendons. The surgeries they perform range from elective procedures such as joint replacement surgery to emergency surgery on patients with musculoskeletal injuries.
A breach of online advertising standards
The study included 81 randomly selected Australian Orthopaedic Association surgeons, and a list of 59 surgeons who appeared in the top Google search result list. From these two sample groups, the researchers found 64 per cent of randomly selected orthopaedic surgeons, and 81 per cent of surgeons who appeared in the top Google search results did not comply with medical board and association online advertising guidelines.  
In the AOA random sample, most of the non-compliance was due to misleading or deceptive advertising, arousing unreasonable expectations of benefit, using testimonials, and making claims of superior performance. Reasons for non-compliance among the AOA Google sample were similar, with a high proportion also non-compliant due to referencing specific brand names on their websites and failing to declare if a commercial relationship exists with these brands.
The lead author of the paper, A/Prof Sam Adie says the exploratory analysis found non-compliance to the AHPRA guidelines was higher in the AOA Google sample compared to the AOA random sample. The researchers found the level of compliance to be influenced by the state they operated in, but not by geographic location – for example rural versus metropolitan – or sub-specialty.
"Patients are increasingly relying on online health information to inform their medical care, so it's important to recognise that misleading online information can have serious implications for informed patient decision making," explains A/Prof Adie.
A/Prof Sam Adie, who is a conjoint senior lecturer at St George and Sutherland Clinical School at UNSW Medicine & Health says the high degree of advertising non-compliance found in the study demonstrates a need for greater care to be taken by surgeons regarding the information they publish online.  
"Stricter enforcement of advertising guidelines by AHPRA and AOA may also be needed to protect patients from misleading advertising."
Not just happening in Australia
The researchers note previous studies conducted overseas demonstrated poor quality advertising material on orthopaedic surgeon websites, with websites containing exaggerated and subjective information with no scientific references.
"Our study is consistent with overseas studies, suggesting that poor quality online material may be typical in orthopaedic surgery. Our study is the first to examine the nature of online information published by Australian orthopaedic surgeons," says A/Prof Adie.
"It was surprising to find the high prevalence of advertising that blatantly violates advertising guidelines. The guidelines are clear, and there are many online resources available for advertisers to determine if their advertising is compliant – particularly with the AHPRA guidelines. This suggests to us that surgeons or those responsible for their online material don't fully understand or are not aware of the guidelines or are intentionally violating guidelines to gain commercial advantage."
The impact on patient care
A/Prof Adie says the potential impact on patient care is of concern. "A recent systematic review found that the internet and physicians are the most frequently utilised sources of health information by patients. This is important, since misleading or deceptive advertising may interfere with informed patient decision making, as well as increase patient demand for specific treatments. It may also lead to inappropriate use of health care resources and adoption of novel technologies with uncertain efficacy."
The methods used in the study were designed to gain a representative sample of advertising material patients may encounter when accessing information about orthopaedic surgeons. The AOA random sample was taken from 500 AOA members who elected to make their details publicly available. The sample size calculation estimated that a sample of 81 surgeons would be required to gain a 95% confidence level of +10 percentage points.
"Previous research has found that patients are most likely to visit webpages linked in top search results. So, we obtained our AOA Google sample by searching for "orthopaedic surgeon" and the name of the major city in each of the eight Australian states and territories. We then took the top eight search results. Therefore, our results can be seen as a good reflection of advertising material published by AOA members overall and is reflective of advertising material that is likely to be encountered by patients," explains A/Prof Adie.
The study provides evidence for the level of non-compliant advertising among Australian orthopaedic surgeons. "However, what remains unanswered are the actual implications of these online advertisements in an Australian context, including the effect on patient perceptions of required treatments, brands of implants, and treatment expectations. Additionally, we only looked at compliance among orthopaedic surgeons, and there are very few Australian studies examining online advertising among other medical and surgical specialities."
Windows To The Soul: Pupils Reveal 'Aphantasia' - The Absence Of Visual Imagination
Visual imagination -- or rather, the lack of it -- can be verified by measuring pupil dilation, thereby providing the first physiological evidence of aphantasia, new research shows.
The study, led by researchers from UNSW Sydney and published in eLife, found that the pupils of people with aphantasia did not respond when asked to imagine dark and light objects, while those without aphantasia did.
To first gauge the pupillary reflex of non-aphantasic people, the researchers sought 42 study participants, self-reported as having a visual imagination, and fitted them with glasses to track their eye movements and pupil sizes.
Participants were then exposed to bright or dark shapes against a grey background, which predictably evoked pupillary constriction in response to bright shapes (comparable to looking up at a bright sky) and pupillary dilation in response to dark shapes (after switching a light off).
Next, to test visual imagery -- the mind's capacity to visualise objects -- participants were asked to simply imagine those same light or dark shapes (with their eyes open, for their pupils to be tracked) and subsequently report the 'vividness' of that imagery.
The researchers found that even in response to imagined bright and dark shapes, the participants' pupils still constricted and dilated appropriately, a pupillary response that was larger in those reporting greater imagery vividness.
"The pupillary reflex is an adaption that optimises the amount of light hitting the retina," says Professor Joel Pearson, senior author on the paper. "And while it was already known that imagined objects can evoke so-called 'endogenous' changes in pupil size, we were surprised to see more dramatic changes in those reporting more vivid imagery. This really is the first biological, objective test for imagery vividness."
Testing for a lack of imagination
Finally, with the link between visual imagery and pupillary response established, the researchers sought to test the effect in aphantasic individuals. The researchers repeated the study with 18 participants self-reporting aphantasia.
Exposing participants to bright and dark shapes, the researchers found that aphantasic individuals exhibited the same pupillary response as the general population: constriction to bright, dilation to dark.
However, during the study's second component where participants were asked to visualise those same shapes, the pupillary response of aphantasic individuals did not significantly differ in response to imagined dark versus imagined bright objects.
"One of the problems with many existing methods to measure imagery is that they are subjective, that is to say they rely on people being able to accurately assess their own imagery. Our results show an exciting new objective method to measure visual imagery," says Prof Pearson, "and the first physiological evidence of aphantasia. With over 1.3 million Australians thought to have aphantasia, and 400 million more internationally, we are now close to an objective physiological test, like a blood test, to see if someone truly has it."
To ensure the aphantasic participants were really attempting imagery, the researchers included a further experimental condition, requesting aphantasic individuals to visualise four shapes, instead of one.
While the pupils of those with aphantasia showed no difference when imagining light versus dark objects, they did show a difference imagining one versus four objects, suggesting more mental effort, thereby negating an explanation of non-participation by aphantasic individuals.
"Our pupils are known to get larger when we are doing a more difficult task," says Lachlan Kay, PhD candidate in the Future Minds Lab, UNSW. "Imagining four objects simultaneously is more difficult than imagining just one. The pupils of those with aphantasia dilated when they imagined four shapes compared to one, but did not change based on the whether the shapes were bright or dark. This indicated that the participants with aphantasia were indeed trying to imagine in this experiment, just not in a visual way."
"The aphantasic pupil response to the four objects condition is also a really exciting finding," adds Prof Pearson, "because for the first time we have strong biological evidence that those with aphantasia are really trying to create a mental image, putting to rest claims that they may simply not be attempting to create a mental image."
"These findings are also really interesting in regard to memory and aphantasia," said Dr Rebecca Keogh, Postdoctoral research fellow based at Macquarie University and another author of the study. "Our previous work has shown that aphantasic individuals are able to perform visual working memory tasks, remembering many images for a short period of time, without using visual imagery.
"These findings further highlight the wide variability of the human mind that can often remain hidden until we ask someone about their internal experiences or invent new ways to measure the mind. It reminds us that just because I remember or visualise something one way, doesn't mean everyone does."
What's next for aphantasia research? A look into the future…
Next, Prof Pearson and his team at the Future Minds Lab plan to investigate how this new method could be scaled up and run online to allow a global, efficient and objective measurement of imagery and aphantasia.
"This really is an exciting time. We are very close to having objective, reliable tests for extreme imagery, aphantasia and hyperphantasia (extremely strong visual imagery) that could be scaled up to run online for millions of people everywhere," says Prof Pearson.
"We know that thinking in pictures or not affects the number of details in lifelong memories, how emotional we get when reading, and how we hold things in short term memory. This new method will allow us to understand the brain mechanisms of extreme imagery and the global implications for how we think, make decisions and feel."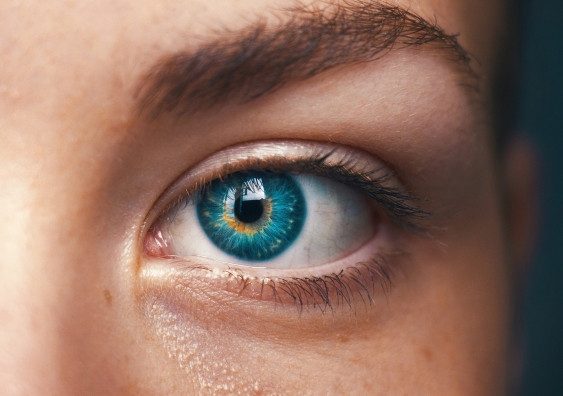 The pupillary reflex is an adaption that optimises the amount of light hitting the retina, changing, even, in response to imagined objects - not so for aphantasic individuals. Photo: Unsplash/Amanda Dalbjorn

Rebecca Keogh, Lachlan Kay, Thomas Andrillon, Joel Pearson.
The pupillary light response as a physiological index of aphantasia, sensory and phenomenological imagery strength
. eLife, 2022; 11 DOI:
10.7554/eLife.72484
Extracellular Vesicles Offer New Insights Into Treating Endocrine Disorders
In a new Scientific Statement released today, the Endocrine Society describes the importance of extracellular vesicles as a new research target for understanding the causes of certain endocrine disorders such as cancer and diabetes and discovering new treatments for these disorders.
During the last decade, endocrine researchers have shown great interest in extracellular vesicles and their hormone-like role in cell-to-cell communication. The statement provides insight into the functions of extracellular vesicles, which are secreted from all cells into biological fluids and carry endocrine signals that allow interactions between cells and distant sites in the body.
"We're really excited about this new area of research that can help us better understand how people develop common endocrine conditions such as diabetes, obesity and cancer," said Carlos Salomon Ph.D., D.Med.Sc., M.Sc., B.Sc., Associate Professor of The University of Queensland in Brisbane, Australia. "The statement highlights the likely uses of extracellular vesicles in detecting and monitoring disease progression and their role as next-generation drug delivery vehicles."
Extracellular vesicles can help researchers better understand how to diagnose endocrine-related conditions including cancer and predict its progression. The role of extracellular vesicles as a cancer biomarker may extend to predicting real-time response to therapy.
Extracellular vesicles are also involved in understanding the cause and treatment of diabetes, obesity and heart disease. Recent studies have shown the potential of extracellular vesicles, particularly ones derived from stem cells, in treating diabetes. Research into the vesicles provides insights into the causes of insulin resistance and glucose intolerance in obesity.
Extracellular vesicles play an important role in the development of heart disease and could be useful for predicting risk. They also serve as biomarkers for high blood pressure and could have a therapeutic and blood pressure-lowering role.
"We hope this statement brings awareness to the significance of extracellular vesicles in endocrinology and encourages more research on their potential as biomarkers and therapeutics," Salomon said.
Other authors of this statement are: Saumya Das of Massachusetts General Hospital and Harvard Medical School in Boston, Mass.; Uta Erdbrügger of the University of Virginia in Charlottesville, Va.; Raghu Kalluri of the University of Texas MD Anderson Cancer Center in Houston, Texas; Sai Kiang Lim of the Institute of Molecular and Cell Biology in Singapore; Jerrold M. Olefsky of the University of California-San Diego in La Jolla, Calif.; Gregory E. Rice of Inoviq Limited in Australia; Susmita Sahoo of the Icahn School of Medicine at Mount Sinai in New York, N.Y.; W. Andy Tao of Purdue University in West Lafayette, Ind.; Pieter Vader of Utrecht University and UMC Utrecht in Utrecht, the Netherlands; Qun Wang of Shandong University in Jinan, China; and Alissa M. Weaver of Vanderbilt University School of Medicine and Vanderbilt University Medical Center in Nashville, Tenn.
Endocrinologists are at the core of solving the most pressing health problems of our time, from diabetes and obesity to infertility, bone health, and hormone-related cancers. The Endocrine Society is the world's oldest and largest organization of scientists devoted to hormone research and physicians who care for people with hormone-related conditions.
The Society has more than 18,000 members, including scientists, physicians, educators, nurses and students in 122 countries. To learn more about the Society and the field of endocrinology, visit our site at
www.endocrine.org
.
Carlos Salomon, Saumya Das, Uta Erdbrügger, Raghu Kalluri, Sai Kiang Lim, Jerrold M Olefsky, Gregory E Rice, Susmita Sahoo, W Andy Tao, Pieter Vader, Qun Wang, Alissa M Weaver.
Extracellular Vesicles and Their Emerging Roles as Cellular Messengers in Endocrinology: An Endocrine Society Scientific Statement
. Endocrine Reviews, 2022; DOI:
10.1210/endrev/bnac009
Disclaimer: These articles are not intended to provide medical advice, diagnosis or treatment. Views expressed here do not necessarily reflect those of Pittwater Online News or its staff.