inbox and environment news: Issue 525
February 6 - 12, 2022: Issue 525
Vale Glenn Wheatley
Glenn Wheatley died on 1 February 2022 at the age of 74 due to health complications caused by COVID-19. He is one of thousands of Seniors we have lost to this disease.
Mr. Wheatley was married to the actress Gaynor Martin and they had one son and two daughters.
Mr. Wheatley shifted base between Sydney and Melbourne over the years. In June 2012 while walking his son's dog, Danko, he had part of his middle finger chewed off trying to intervene when another dog attacked.
Glenn Dawson Wheatley (23 January 1948 – 1 February 2022) was an Australian musician, talent manager and music promoter. Mr.
Wheatley began his career as a musician in Brisbane in the mid-1960s and in the late 1960s became nationally famous in the leading pop/rock band The Masters Apprentices as bass guitarist. He subsequently formed a media empire which included radio stations and artists management.
In late 1974, Beeb Birtles, Graham Goble and Derek Pellicci (ex-Mississippi) and Glenn Shorrock (ex-Axiom) met with Wheatley in London. With Wheatley as manager, they agreed to reconvene in Melbourne in early 1975. They decided their new band would establish itself in the United States. Wheatley's first-hand experiences of the rip-offs in the 1960s music scene, combined with working in music management in the UK and the US in the early 1970s, allowed him to help Little River Band become the first Australian group to enjoy consistent commercial and chart success in the US.
After the Little River Band was dropped by Capitol Records in 1986, Wheatley returned to Australia and began managing an old friend, singer John Farnham, who had been a leading star in the 1960s but was reduced to playing club gigs before replacing Glenn Shorrock in 1982 as lead singer of Little River Band. Wheatley mortgaged his own house to help pay for the recording of Farnham's 1986 comeback album, Whispering Jack. The gamble paid off and re-established Farnham as a major singing star and the album became (and remains) the biggest-selling Australian album of all time by a local artist.
Mr. Wheatley is also known for discovering Delta Goodrem, helping her to achieve major success.
In a statement released alongside one from the Wheatley family, the Farnhams said they were "devastated at the loss of our friend".
"We also obviously feel for his family as well," the statement reads.
"With his passing so many people have lost a part of their lives. We will miss you Glenn."
A statement from Mr. Wheatley's family says he passed away surrounded by his wife of nearly four decades, Gaynor, his son Tim and daughters Kara and Samantha, and confirmed he had died from complications caused by COVID-19.
"[Glenn] had an enthusiasm that was unmatched and believed that anything was possible," the statement from Wheatley's family reads.
"He gave everything to support projects he believed in, whether they were ultimately successful or not."
His son added: "He treated roadies, artists and fans with the same love and respect, and had time for everyone.
"He would leave Rod Laver Arena after a John Farnham concert and carry my amp into [St Kilda pub] the Espy.
"Everything he did was for his family. He regarded his family as his greatest achievement."
In a statement posted to their Facebook page, The Masters Apprentices said they were "deeply saddened" by Wheatley's death.
"He has left his mark forever on Australian Music," they said.
Former Little River Band member Glenn Shorrock also paid tribute to his longtime friend.
Shorrock told the ABC Wheatley would be greatly missed.
"He was a great negotiator and he was a great champion of Australian music, both here and, of course, overseas," he said.
"He thought Australian musicians were getting a raw deal, and we did get a raw deal in those days.
"He fought for better royalty rates and more money for struggling musicians."
Morning Of The Earth: 50th Anniversary Screening At Cremorne
Morning of the Earth 50th Anniversary screening with director Q&A Wed March 9 at the Hayden Orpheum Picture Palace, Cremorne. Beautifully remastered in 4K. One show only! Tickets: http://ow.ly/Rkhc30s774W
AvPals: Suspension Of Activities Until March 2022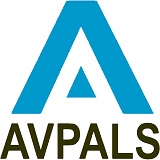 AvPals regret to announce the suspension of all our activities until March 2022. This is of course due to the ongoing Covid issues. We can see no reason why we should not resume normal training in early March 2022 and we invite you to follow
this webpage
or read our newsletters.
Subscribe HERE
if you do not receive our newsletters.
Apply now for one-to-one training in 2022
Add your name to the wait list at Avalon for future school terms. Complete the form
HERE
. Remember to click the Submit button after completing the form. You will not be enrolled or be required to pay until you hear from our coordinator.
Avalon Computer Pals (AVPALS) help seniors learn and improve their computer and technology skills. Avpals is a not-for-profit organisation run by volunteers. Since 2000, we have helped thousands of seniors from complete beginners to people who need to improve or update their skills. We offer "one to one" personal tuition or special short courses. Small class workshops are run at the Newport Community Centre on Tuesday afternoons.
One-to-one training is provided at our rooms in Avalon, under the Maria Regina Catholic Church, 7 Central Road, Avalon Beach.
Brain Function Boosted By Daily Physical Activity In Middle-Aged And Older Adults
A new study by researchers at University of California San Diego School of Medicine adds to the canon of research associating physical activity with cognitive performance, this time using 90 middle-aged and older subjects who wore accelerometers while physically active and completed mobile cognitive testing from home.
"The future of lifestyle interventions really needs to be remote-based," said Raeanne Moore, PhD, associate professor in the Department of Psychiatry at UC San Diego School of Medicine and principal investigator of the study. "The pandemic has made this especially clear."
On the days their physical activity increased, the study found, the 50- to 74-year-old participants performed more effectively on an executive function task, and on the days when their physical activity decreased, so too did their cognitive performance.
The findings published Jan. 31, 2022 in the journal JMIR mHealth and uHealth.
"It was a very linear relationship," Moore said. "We hypothesized that we would find this, but we couldn't be sure because we weren't telling people to increase their physical activity. They just did what they do every day."
First author Zvinka Zlatar, PhD, a clinical psychologist at UC San Diego School of Medicine, added: "Future interventions, in which we ask people to increase their physical activity, will help us determine if daily changes in physical activity lead to daily gains in cognition measured remotely or vice versa."
The correlation between physical activity and cognition remained when adjustments were made for various co-morbidities, such as HIV status, age, sex, education and race/ethnicity. But it held only for persons who function dependently -- who rely on others to perform the tasks of daily living, such as managing household activities or paying the bills.
"For them, physical activity may have a greater benefit on daily, real-world cognitive performance," Moore said, a finding consistent with research into Alzheimer's disease and related dementias.
Though it didn't fall within the purview of this study, Moore speculated that, because functionally independent adults likely perform more cognitively stimulating and social activities, which are known to have positive impacts on brain health, physical activity may have less of an impact on cognition.
Moore and Zlatar said their work has implications for the development of novel digital health interventions to preserve brain health in aging.
"We don't know yet if there's a cumulative, long-term effect to these small daily fluctuations in cognition," Zlatar said. "That's something we plan to study next -- to see if performing physical activity at different intensities over time, in unsupervised settings, can produce long-term improvements in brain health and sustained behavior change."
Zvinka Z Zlatar, Laura M Campbell, Bin Tang, Spenser Gabin, Anne Heaton, Michael Higgins, Joel Swendsen, David J Moore, Raeanne C Moore.
Daily Level Association of Physical Activity and Performance on Ecological Momentary Cognitive Tests in Free-living Environments: A Mobile Health Observational Study.
JMIR mHealth and uHealth, 2022; 10 (1): e33747 DOI:
10.2196/33747
New Imaging Method Reveals Causes Of Cerebral Oedema
Cerebral oedema is a dangerous complication in many brain-related conditions such as strokes. Researchers at the Institute of Neurobiology at Heinrich Heine University Düsseldorf (HHU) have developed a new measurement method in collaboration with colleagues from Bonn and with the involvement of a Berlin-based optoelectronics company that enables better understanding of the cellular causes of cerebral oedema. In the latest issue of the Journal of the American Society for Neuroscience they describe how the TRPV4 ion channel in particular plays an important role.
Our brain is well-protected by the bone of the skull. However, many illnesses lead to swelling of the cerebral tissue, which is referred to as "cerebral oedema." As the brain cannot expand within the skull, this swelling often results in a dangerous rise in intercranial pressure. This in turn damages further brain cells and may, for example in the case of causative strokes, further impair blood supply to the brain.
There are many causes of cerebral oedema, yet even today there are few therapeutic approaches for treating them successfully. Consequently, many patients require an operation to remove part of the skull bone -- a so-called craniotomy -- to ensure sufficient space for the brain. However, this operation is not without risks -- and it does not eliminate the dangerous swelling.
In collaboration with the company Picoquant, Professor Dr. Christine Rose and her team from the Institute of Neurobiology at HHU have now developed a new method with which they can depict the changes that lead to the swelling of nerve cells in real time. This imaging method, known as "rapidFLIM" (Fluorescence Lifetime IMaging), permits the depiction of cellular processes at an unprecedented temporal resolution. Professor Dr. Christian Henneberger from the University of Bonn provided further conceptual support.
In the paper they have now published, the researchers recreated the conditions to which nerve cells are exposed during an ischaemic stroke in the laboratory. Dr. Jan Meyer, one of the two lead authors of the study, says: "Using rapidFLIM we can show that a breakdown in cellular energy supply -- one of the principal side effects of a stroke -- results in nerve cells quickly becoming charged with sodium ions. This in turn is a key cause of the subsequent swelling of cells."
Dr. Niklas Gerkau, co-lead author, adds: "Previous methods were unable to depict properly how this sodium charging develops over time and its extent. Combining rapidFLIM with our high-resolution, multi-photon microscopy opens up new perspectives for us and allows a better understanding of the sodium regulation of nerve cells."
In their study, the researchers also discovered a previously unknown mechanism for this fatal sodium charging in which the TRPV4 ion channel in the nerve cells plays a key role. This channel is instrumental in determining how much of the element sodium enters the cell. Professor Rose comments: "The TRPV4 channel is a promising starting point for limiting cellular damage and infarction size after an ischaemic stroke."
Jan Meyer, Niklas J. Gerkau, Karl W. Kafitz, Matthias Patting, Fabian Jolmes, Christian Henneberger, Christine R. Rose.
Rapid Fluorescence Lifetime Imaging Reveals That TRPV4 Channels Promote Dysregulation of Neuronal Na in Ischemia.
The Journal of Neuroscience, 2022; 42 (4): 552 DOI:
10.1523/JNEUROSCI.0819-21.2021
Property Industry Wipeout Dementia 2022
The Centre for Healthy Brain Ageing (CHeBA) is excited to announce that
the Property Industry Wipeout Dementia is back at Bondi Beach on Friday, 25 March 2022!
After many postponements due to the COVID-19 pandemic, we cannot wait to be back on the beach and in the water.
We are enormously grateful to our sponsors who have demonstrated dedication, kindness and patience through this last year.
The addition of three new teams sets the stage for an unprecedented level of competition. With their eyes locked on the championship and the highest fundraiser title, 64 surfers representing more than 50 companies across the property industry are about to begin preparations and fundraising.
Since 2017 the property industry has joined Wipeout Dementia Ambassadors Richard Grellman AM (Chairman, IPH Limited and former Chairman of ASP International) and 1978 World Surfing Champion Wayne "Rabbit" Bartholomew AM to give back to the community in a meaningful way by raising funds for critical dementia research.
Taking advantage of the Australian penchant for beaches and surfing, the March goal is to raise $300,000 in support of The Dementia Momentum, a CHeBA initiative to advance large-scale, big data research into prevention of dementia.
Reforming The Care System – Seniors Wanted
You're invited to contribute to building a new $17.7 billion aged care system and ensuring its better than the current one. Here's how.
The Commonwealth Department of Health has set up an
Ageing and Aged Care Engagement Hub
to enable everyday Australians to contribute to the reform of the troubled aged care system. Visit: https://agedcareengagement.health.gov.au/blog/
The Hub was created as part of the government's commitment to seek guidance from older Australians to ensure the new age care system is fit for purpose and prioritises their needs and those of their families.
You can have your say with activities including online surveys, taking part in focus groups or online consultations, or you can share your views in writing. There is also an option to register your interest for future activities.
Visit: agedcareengagement.health.gov.au/get-involved/
The key findings of these activities will be made available to the public, so we can see how our views and contributions have been used by the government.
Driving aged care reforms
National Seniors Australia has been involved in the reform process since day one of the Royal Commission into Aged Care Quality and Safety. To transform age care into a service people want and welcome, we have advocated to have older peoples' experiences and views must be incorporated into every stage of the process.
In our recent
Co-designing Aged Care
report, you told us seniors overwhelming believe older people should be consulted and involved from the start in designing the aged care system.
The Royal Commission recommendations are being implemented by the Department of Health with over 70 projects now underway and funded by a $17.7 billion package of support.
In addition, reform is also being driven by non-government organisations such as universities. They are also looking to seniors to provide their views and lived experience.
The University of Technology Sydney is currently hosting a survey on how the Aged Care Quality and Safety Commission can improve how they communicate with home care consumers, their families and carers.
Safest Omicron Face Masks Revealed
Compulsory face masks are back. But some are better than others. Here's what you need to know.
Over recent weeks, medical experts have increasingly waded into the debate about which face masks best protect against the highly contagious Omicron variant. While the debate continues, most agree we should ditch those cloth and surgical masks.
As with other COVID-19-related things, Omicron has changed everything. It's aerosolised, meaning it's tiny particles float in the air, making it so easy to spread from person-to-person.
According to the World Health Organisation, it is not yet clear whether infection with Omicron causes more severe disease compared to infections with other variants, including Delta.
Preliminary data suggests that there are increasing rates of hospitalisation in South Africa, but this may be due to increasing overall numbers of people becoming infected, rather than a result of specific infection with Omicron.
There is currently no information to suggest that symptoms associated with Omicron are significantly different from those typical of other variants, despite the community belief that it is 'less severe'.
Infectious diseases specialist, Dr Paul Griffin, told ABC News that N95 masks provide more protection, but were not normally recommended for widespread use in the community because they are more expensive and challenging to wear.
"Any mask is better than no mask — they will still help," Dr Griffin says.
"We see so many people with masks that are perfectly fine but don't cover their nose.
"The main thing is still that people wear them properly."
Australia's Infection Control Expert Group says a mask or respirator is not a substitute for other precautions to prevent the spread of COVID-19 including getting tested, staying home when unwell, physical distancing, good internal ventilation, hand hygiene and cough etiquette (such as covering your nose and mouth with your arm when coughing and sneezing).
N95 masks, also known as P2 masks in Australia, are particulate filter respirators.
They are also sold under the name KN95.
These masks filter out very fine particles and help protect against droplet and airborne transmission.
Why were we told to wear cloth masks at first?
It was initially assumed SARS-CoV-2 spread via droplets (in coughs and sneezes) which caused infection when they landed on the mouth, nose or eyes. For such particles, a cloth or surgical mask is an efficient form of source control to protect others from virus emitted by the wearer.
Now it's understood the virus is airborne. Virus-laden particles build up in the air over time indoors because of breathing and speaking.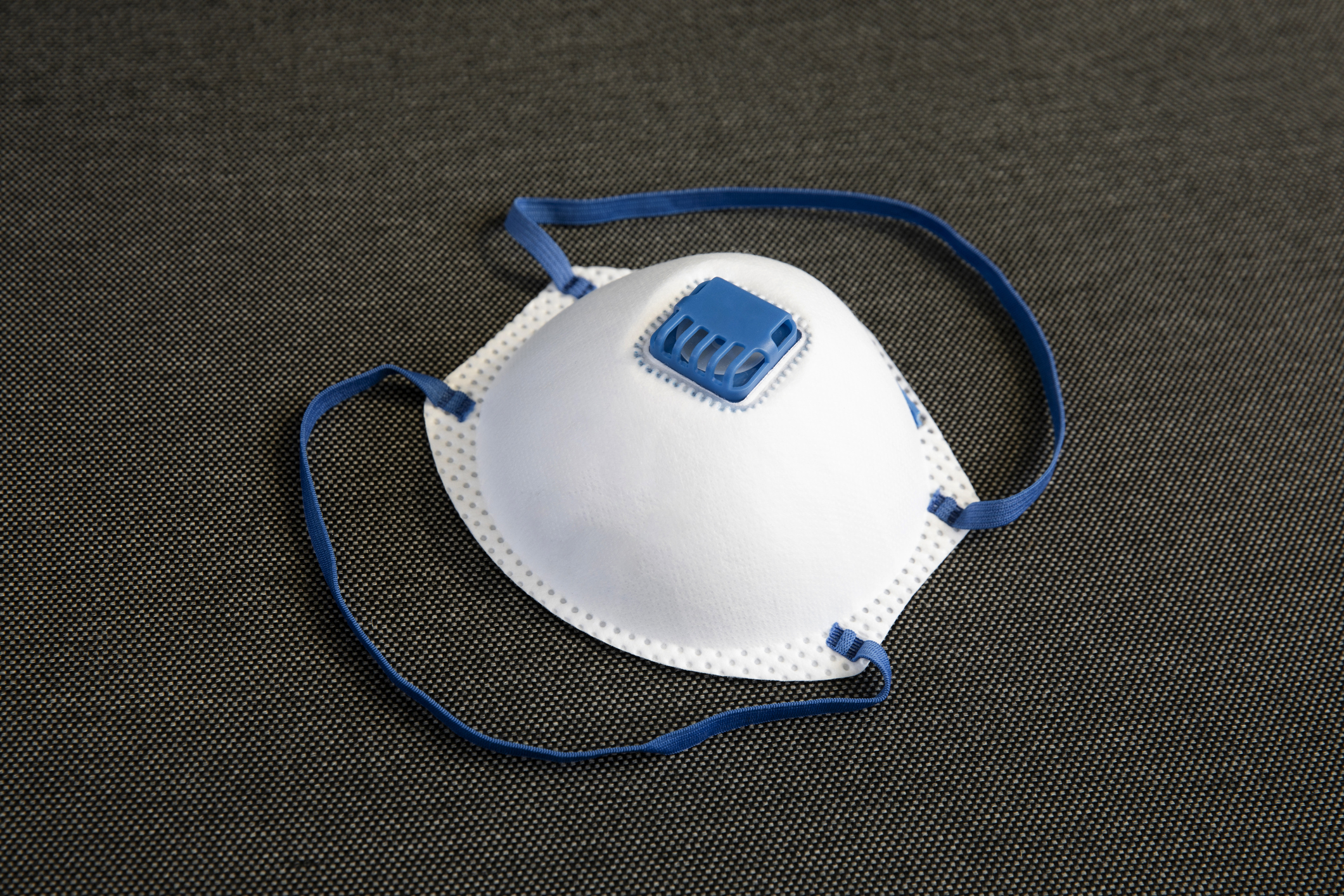 I really like my cloth mask. Is it OK to keep wearing it?
Cloth masks are not made to any particular standard, so their properties and quality vary considerably and may not offer the best protection against Omicron.
In general, they are poor filters of small airborne particles, however they are still better protection than no mask at all. If you can't get hold of a respirator, you can improve protection of a surgical or cloth mask.
According to The Conversation writers, options include "double masking" by wearing a tight-fitting cloth mask over a surgical mask. You can also "knot and tuck" a surgical mask by tying the sides and tucking the remainder inside. Finally, a well-designed cloth mask (with three layers) can perform as well as a good quality surgical mask.
What if I can't afford or get my hands on a N95 respirator?
The Conversation has reported the Korean KF94 and Chinese KN95s are cheaper alternatives that provide better protection than a surgical or cloth mask. Beware counterfeits, such as those without a GN stamp to show they meet manufacturing standards.
In other face mask news – blue is beautiful!
On a lighter note, a University of Cardiff study suggests men wearing a blue surgical face mask are perceived as being most attractive.
Apparently, the pandemic has changed our psychology in how we perceive the wearers of masks. In their pre-pandemic research, participants said they associated masks with disease and would avoid people who wore them.
The study, published in the peer-reviewed journal Cognitive Research: Principles and Implications, asked 43 women to rate the attractiveness of 40 male faces, with and without different types of masks and coverings.
Researchers were surprised by the results, which suggests faces are considered most attractive when covered by medical face masks.
"This may be because we're used to healthcare workers wearing blue masks and now, we associate these with people in caring or medical professions," researcher suggested.
Sources: ABC News Source 1, ABC News Source 2, Canstar, The Conversation
Junior Irukandjis Team Presented By Woolworths Announced For 2022 ISA Juniors Campaign - Congratulations Gabi Spake - Kobi Clemments!
Tuesday 1st February, 2022: from Surfing Australia
The Junior Irukandjis Surfing Team presented by Woolworths has been announced ahead of the 2022 ISA World Junior Surfing Championship in El Salvador on May 27th – June 7th.
The number one ranked athletes from Under 16 and 18 Girls and Boys divisions automatically qualify for the team.
Surfing Australia Talent Pathway Coach and 2005 Women's World Champion Chelsea Hedges said: "ISA Junior event brings a high calibre of competition; it is a big achievement to be selected for this team and an amazing opportunity for Australia's best junior athletes to get a taste of what their future could be at an Olympic Games."
Woolworths comes on board as the presenting rights partner to the team which aligns perfectly with their focus on Grassroots junior surfing.
Woolworths Head of Community and Sponsorships, Sarah De La Mare said "Woolworths are committed to junior sport and we're incredibly proud to be the foundation sponsor of the Junior Irukandji's Surfing Team. We're so excited to watch these young athletes represent our great surfing nation on the world stage and wear the junior Irukandji's green and gold for the first time."
2022 JUNIOR IRUKANDJIS SURFING TEAM PRESENTED BY WOOLWORTHS
​​​​​​U18 Girls
Keira Buckpitt
Ellie Harrison
Gabi Spake
U18 Boys
Kobi Clements
Lennix Smith
Jarvis Earle
U16 Girls
Willow Hardy
Isi Campbell
Sierra Kerr
U16 Boys
Eden Hasson
Willis Droomer
Hughie Vaughan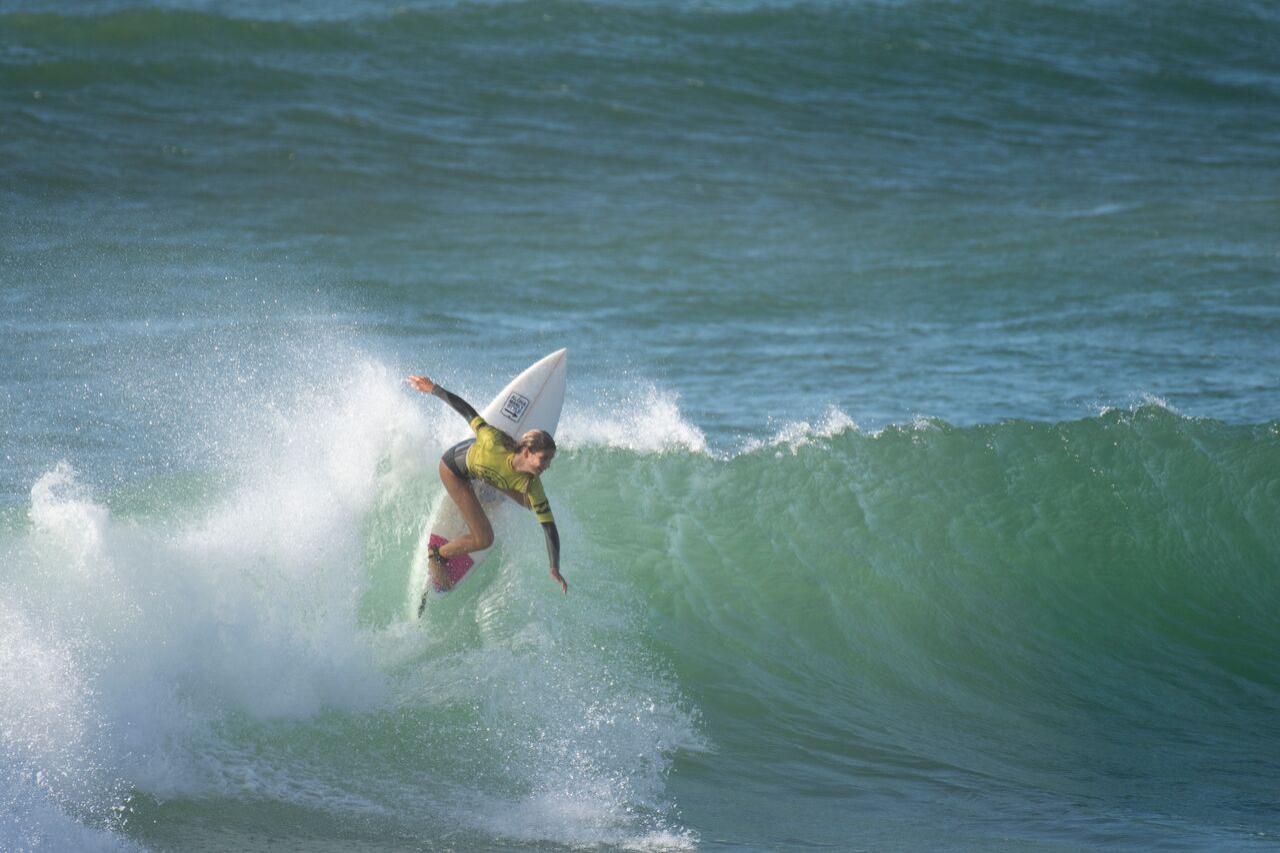 Gabi Spake - photo by Ethan Smith/Surfing NSW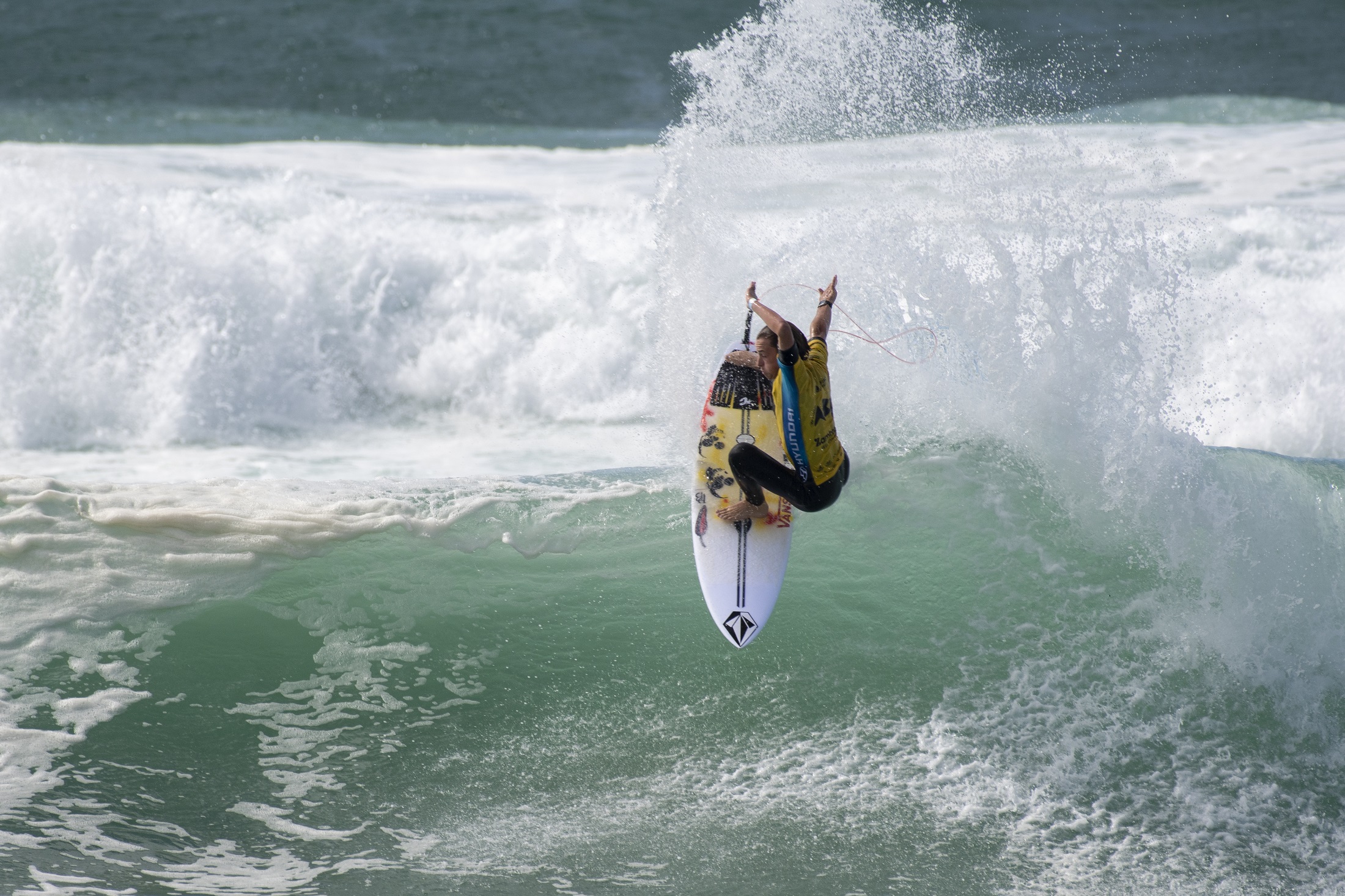 Kobi Clements -
photo by Ethan Smith/Surfing NSW
IOC Session Approval Of Surfing For Inclusion In The Sports Programme Of The LA28 Olympic Games
At the 139th International Olympic Committee (IOC) Session today, held in Beijing, China, Surfing was approved to be included on the Initial Sports Program for LA28. Following a vote of the IOC Membership, Surfing is now integrated into the group of 28 Olympic sports.
Today's announcement solidifies Surfing as a long-term fixture in the Olympic Programme. The ISA President confirmed his and the ISA's excitement to potentially showcase the sport's great value in the Brisbane 2032 Olympic Games, where Surfing is an essential part of the culture of Australia's Gold Coast.
ISA President, Fernando Aguerre, said: "From the beginning of my Presidency, 27 years ago, it was my dream and hope to show that Surfing was worthy of long-term inclusion in the Olympic Games. Today is a truly wonderful day when that dream becomes a permanent reality. My heart is full of gratitude at this time of celebration for all surfers and fans of wave-riding.
"This is a humbling moment for the ISA and for me personally. I would like to offer my deepest thanks to the IOC President and the IOC Members for their belief in Surfing and the value we continue to bring to the Games, as we showed in Tokyo. I would also like to express my gratitude to our friends and leaders at LA28 for believing in and supporting our inclusion.
"We have always known that Surfing was a natural fit for LA28.
As the official sport of California, surfing is action, youth and energy combined. And we have a powerful connection to the natural environment and sustainable living. A perfect recipe for the future of the Games Programme.
"We are excited to be part of a new future for the Olympic Games. Together, we are stronger. Together, we are bringing a new age of Olympism. Together, we are making a better world through Surfing and sports."
LA28 Chairperson, Casey Wasserman, said: "The LA28 Games have always been about bringing more freshness, youthful energy and creativity into the Olympic and Paralympic movement. Los Angeles is a place unlike any other and it will be incredible to host surfing, skateboarding and climbing as iconic West Coast sports alongside Olympic fan favourites."
Word Of The Week: Perfidious
Word of the Week returns in 2022 simply to throw some disruption in amongst the 'yeah-nah' mix.
Perfidious: of, relating to, or characterised by perfidy
plural perfidies
Definition of perfidy
1: the quality or state of being faithless or disloyal : TREACHERY. 2: an act or an instance of disloyalty
perfidious adjective
perfidiously adverb
perfidiousness noun
Synonyms
disloyal, faithless, false, fickle, inconstant, recreant, traitorous, treacherous, unfaithful, untrue
Antonyms
constant, dedicated, devoted, devout, down-the-line, faithful, fast, loyal, staunch (also stanch), steadfast, steady, true
Choose the Right Synonym for perfidious
FAITHLESS, FALSE, DISLOYAL, TRAITOROUS, TREACHEROUS, PERFIDIOUS mean untrue to what should command one's fidelity or allegiance. FAITHLESS applies to any failure to keep a promise or pledge or any breach of allegiance or loyalty. faithless allies FALSE stresses the fact of failing to be true in any manner ranging from fickleness to cold treachery. betrayed by false friends DISLOYAL implies a lack of complete faithfulness to a friend, cause, leader, or country. disloyal to their country TRAITOROUS implies either actual treason or a serious betrayal of trust. traitorous acts punishable by death TREACHEROUS implies readiness to betray trust or confidence. a treacherous adviser PERFIDIOUS adds to FAITHLESS the implication of an incapacity for fidelity or reliability. a perfidious double-crosser
Did you know?
We wouldn't lie to you about the history of "perfidious" - even though the word itself suggests deceitfulness. The modern English meaning of "perfidious" remains faithful to that of its Latin ancestor, perfidus, which means "faithless." English speakers have used "perfidious" to mean "treacherous" since at least 1572. One of the earliest known uses of the term can be found in Act V, scene iii of Shakespeare's All's Well That Ends Well: the "perfidious slave" Parolles is thought to be an unreliable witness; he'll say whatever suits his purpose, whether true or not. In contemporary usage, "perfidious" not only implies treacherousness, but an inability to be reliable or honourable.
Much Ado About Nothing On The Island This February
While on words, wordsmithing and the like - a Shakespeare play is on offer in Catherine Park on Scotland Island again this Summer.
Much Ado About Nothing is a comedy by William Shakespeare thought to have been written in 1598 and 1599. The play was included in the First Folio, published in 1623.
The play is set in Messina and revolves around two romantic pairings that emerge when a group of soldiers arrive in the town. The first, between Claudio and Hero, is nearly altered by the accusations of the villain, Don John. The second romance, between Claudio's friend Benedick and Hero's cousin Beatrice, takes center stage as the play goes on, with both characters' wit and banter providing much of the humour.
Through "noting" (sounding like "nothing", and meaning gossip, rumour, overhearing), Benedick and Beatrice are tricked into confessing their love for each other, and Claudio is tricked into believing that Hero is not a maiden (virgin). The title's play on words references the secrets and trickery that form the backbone of the play's comedy, intrigue, and action.
Definite Department of 'do yourself a grow your self favour in 2022' if you can get there. The Sunday Session will be preceded by a LOVE theme in the 2C's caff, with possibly a few buskers adding music to the birdsong already in place - Church Point Ferries can get you there: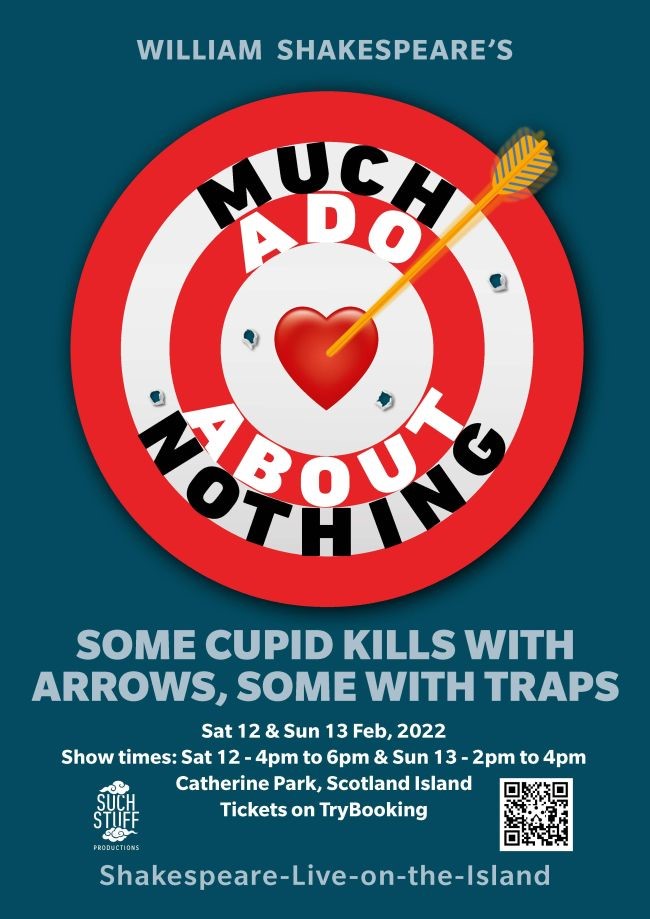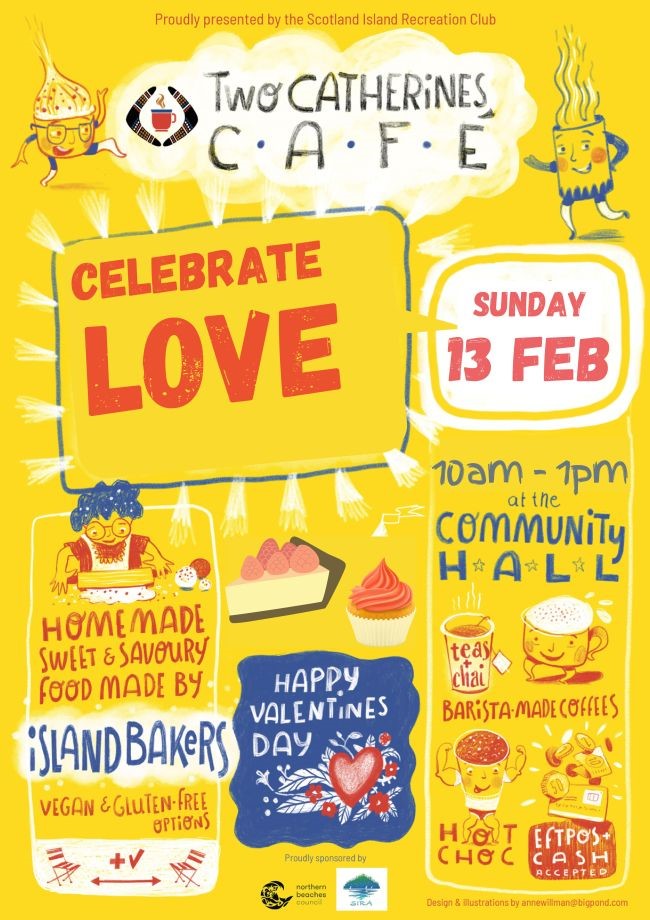 Applications Now Open For NSW Youth Advisory Council 2022
Young community leaders and passionate advocates from across NSW are being encouraged to nominate for the 2022 NSW Youth Advisory Council (YAC) with applications opening today.
Advocate for Children and Young People, Ms Zoë Robinson said that is more important than ever for young people to come forward to have their say on the policies and services that affect them.
"In the last few years young people in NSW have been at the centre of a rapidly changing environment. It is important that they are a key part of decisions that affect their lives and being on the YAC is one way of doing that," Ms Robinson said.
"All NSW young people, aged 12 to 24 years, who want to advocate on behalf of their peers are welcome to apply. We want to hear from people with diverse backgrounds and a broad range of life experiences that reflect the diversity of the 2.5 million young people in our State," Ms Robinson added.
The 12 member Council has a statutory role to advise the NSW Government on issues of importance to young people. They meet regularly throughout the year to provide advice to the Government and the Advocate and to monitor and evaluate policies and legislation which affect young people. One of the key priorities of the Youth Advisory Council is promoting a diverse range of views, including the voices of rural and regional young people.
"Throughout their 12 month tenure, YAC members will have an opportunity to engage with and give advice to government on a broad range priorities. In recent years the YAC have advised on the NSW curriculum, the Statement of Consent, COVID communications, consultation projects and much more.
"As Advocate, I cannot do the work that I do without the trusted advice of the YAC," Ms Robinson added.
YAC members are sought from all over NSW, from all backgrounds and life experiences to reflect the diversity of young people living in NSW. Young people from all walks of life are invited to apply, as the more diverse the council members are, the more insightful the results are.
Applications are open until Sunday 13 March 2022
, for more information and to complete an application visit
www.acyp.nsw.gov.au
Morning Of The Earth: 50th Anniversary Screening At Cremorne
Morning of the Earth 50th Anniversary screening with director Q&A Wed March 9 at the Hayden Orpheum Picture Palace, Cremorne. Beautifully remastered in 4K. One show only! Tickets: http://ow.ly/Rkhc30s774W
At Seventeen
Janis Ian 1975
Janis Ian (born Janis Eddy Fink; April 7, 1951) is an American singer-songwriter who was most commercially successful in the 1960s and 1970s. Her signature songs are the 1966/67 hit "Society's Child (Baby I've Been Thinking)" and the 1975 Top Ten single "At Seventeen", from her LP Between the Lines, which in September 1975 reached no. 1 on the Billboard album chart.
Janis is also a columnist and science fiction author.
Born in Farmingdale, New Jersey, Janis entered the American folk music scene while still a teenager in the mid-1960s. Most active musically in that decade and the 1970s, she has continued recording into the 21st century. She has won two Grammy Awards, the first in 1975 for "At Seventeen" and the second in 2013 for Best Spoken Word Album, for her autobiography, Society's Child, with a total of ten nominations in eight different categories.

Janis was raised on a farm, and attended East Orange High School in East Orange, New Jersey, and the New York City High School of Music & Art. Both sets of grandparents (from Kiev, Ukraine, Tashkent, Uzbekistan and Poland) had emigrated, via England in about 1918 and lived in the New York-New Jersey area. Her parents, Victor, a music teacher, and Pearl, a college fundraiser, were Jewish-born liberals who ran several summer camps in upstate New York.
As a child, Ian admired the work of folk musicians such as Joan Baez and Odetta. Starting with piano lessons at the age of two (at her own insistence), Ian, by the time she entered her teens, was playing the organ, harmonica, French horn and guitar. At the age of 12, she wrote her first song, "Hair of Spun Gold", which was subsequently published in the folk publication Broadside and was later recorded for her eponymous debut album. In 1964, she legally changed her name to Janis Ian, taking her brother Eric's middle name as her new surname.
At the age of 14, Ian wrote and recorded her first hit single, "Society's Child (Baby I've Been Thinking)", about an interracial romance forbidden by a girl's mother and frowned upon by her peers and teachers. Produced by George "Shadow" Morton and released three times from 1965 to 1967, "Society's Child" became a national hit upon its third release after Leonard Bernstein featured it in a late-April 1967 CBS TV special titled Inside Pop: The Rock Revolution.
The song's theme of interracial relationships was considered taboo by some radio stations, who withdrew or banned it from their playlists accordingly. In her 2008 autobiography Society's Child, Ian recalls receiving hate mail and death threats as a response to the song and mentions that a radio station in Atlanta that played it was burned down. In July 1967, "Society's Child" reached no. 14 on the Billboard Hot 100. The single sold 600,000 copies and the album sold 350,000 copies.
At the age of 16, Ian met comedian Bill Cosby backstage at a Smothers Brothers show where she was promoting "Society's Child". Since she was underage, she was accompanied by a chaperone while touring. After her set, Ian had been sleeping with her head on her chaperone's lap (an older female family friend). According to Ian in a 2015 interview, she was told by her then manager that Cosby had interpreted their interaction as "lesbian" and as a result "had made it his business" to warn other television shows that Ian wasn't "suitable family entertainment" and "shouldn't be on television" because of her sexuality, thus attempting to blacklist her. Although Ian would later come out, she states that at the time of the encounter with Cosby she had only been kissed once, by a boy she had a crush on, in broad daylight at summer camp.
Ian relates on her website that, although "Society's Child" was originally intended for Atlantic Records and the label paid for her recording session, Atlantic subsequently returned the master to her and quietly refused to release it. Ian relates that years later, Atlantic's president at the time, Jerry Wexler, publicly apologised to her for this. The single and Ian's 1967 debut album (which reached no. 29 on the charts) were finally released on Verve Forecast. In 2001, "Society's Child" was inducted into the Grammy Hall of Fame, which honours recordings considered timeless and important to music history. Her first four albums were released on a double CD entitled Society's Child: The Verve Recordings in 1995.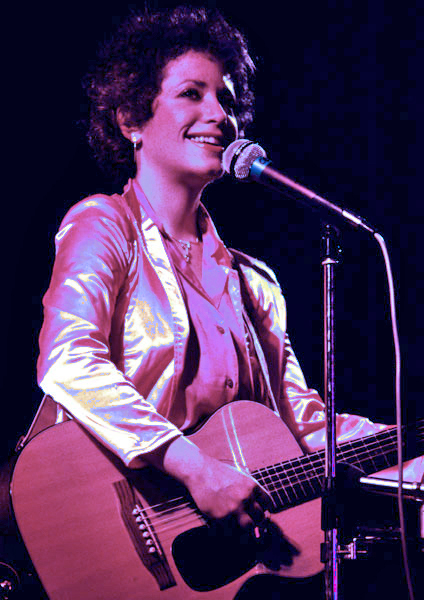 Janis Ian performing in concert, 1981. Photo courtesy Eddie
"Society's Child" stigmatised Ian as a one-hit wonder until her most successful US single, "At Seventeen", was released in 1975. "At Seventeen" is a bittersweet commentary on adolescent cruelty, the illusion of popularity and teenage angst, from the perspective of a narrator looking back on her earlier experience. The song was a major hit as it charted at no. 3 on the Billboard Hot 100, hit number one on the Adult Contemporary chart and won the 1976 Grammy Award for Best Pop Vocal Performance - Female, beating out Linda Ronstadt, Olivia Newton-John and Helen Reddy.
Janis appeared as the first musical guest on the series premiere of Saturday Night Live on October 11, 1975, performing "At Seventeen" and "In the Winter". The album Between the Lines was also a smash and reached number one on Billboard′s album chart. The album would be certified platinum for sales of over one million copies sold in the US. Another measure of her success is anecdotal: on Valentine's Day 1977, Ian received 461 valentine cards, having indicated in the lyrics to "At Seventeen" that she never received one as a teenager.
"Fly Too High" (1979), produced by disco producer Giorgio Moroder, was Ian's contribution to the soundtrack of the Jodie Foster film Foxes and was also featured on Ian's 1979 album Night Rains. It also became another international hit, reaching number one in many countries, including South Africa, Belgium, Australia, Israel and the Netherlands, and going gold or platinum in those countries and others. Another country where Ian has achieved a high level of popularity is Japan: Ian had two Top 10 singles on the Japanese Oricon charts, "Love Is Blind" in 1976 and "You Are Love" in 1980. Ian's 1976 album Aftertones also topped Oricon's album chart in October 1976. "You Are Love (Toujours Gai Mon Cher)" is the theme song of Kinji Fukasaku's 1980 movie Virus. Ian cut several other singles specifically for the Japanese market, including 1998's "The Last Great Place".
Janis is an outspoken critic of the Recording Industry Association of America (RIAA), which she sees as acting against the interests of musicians and consumers. Consequently, she has released several of her songs for free download from her website.
"I've been surprised at how few people are willing to get annoyed with me over it," she laughs. "There was a little backlash here and there. I was scheduled to appear on a panel somewhere and somebody from a record company said if I was there they would boycott it. But that's been pretty much it. In general, the entire reaction has been favourable. I hear from a lot of people in my industry who don't want to be quoted, but say 'yeah, we're aware of this and we'd like to see a change too.'"
Along with science fiction authors Eric Flint and Cory Doctorow, she has argued that their experience provides conclusive evidence that free downloads dramatically increased hard-copy sales, contrary to the claims of RIAA and NARAS.
Janis' latest solo studio album,
The Light At The End Of The Line
, was made available at the official Janis Ian website in January 21st, 2022.
Visit: https://janisian.com/hot-news/
Here too it is explained that buying direct from the Artist ensures a better outcome for the Artist.
'At Seventeen' - a hit in Australia too, plays below.
Bio overview sourced from Wikipedia and Janis' website.
Researchers Study Impact Of Waves Created By Recreational Boats On Shorelines - Vegetation
A new study by researchers in the University of Minnesota College of Science and Engineering's St. Anthony Falls Laboratory found that popular wakesurf boats require a greater distance from the shoreline and other boats compared to more typical recreational boats. This distance is needed to reduce the potential impact of their larger waves.
The results provide key insights into differences between specialized wakesurfing boats and more typical recreational boats operating on lakes and rivers. It also provides baseline data that can be used for future decision-making.
Wakesurfing, which requires a boat capable of generating a large surfing wave, has become a popular pastime for some Minnesotans while sparking concerns in others about shoreline erosion, water quality, and safety. However, robust scientific data on the size and impact of wakesurf boat waves has been lacking.
"Minnesotans love their lakes, and they love their boats," said Jeff Marr, one of the lead researchers on the study and associate director of engineering and facilities at the St. Anthony Falls Lab. "Some of my best memories are of boating, waterskiing, and fishing with family and friends on lakes. This research isn't about trying to limit enjoyment of lakes for boaters, but it seeks to provide the data needed to ensure our lakes can be enjoyed by all for generations to come."
In an effort to provide scientific data on boat-generated waves, the researchers carefully examined these waves by measuring the maximum height, total energy, and maximum power of the waves (defined as wake waves) produced by four recreational boats -- two wakesurf boats and two more typical recreational boats. Using sensors and data collection hardware, the researchers also measured how the wake waves changed as they moved away from the boats and toward shore.
The researchers carried out the evaluation of the four boats in fall 2020 under a range of speeds, weight, and other conditions on Lake Independence in Maple Plain, Minnesota.
The findings reveal that wake waves produced by wakesurf boats during wakesurfing are not only higher, but they also require greater distance to decrease to the same height as wake waves from more typical recreational boats.
When researchers compared the wake waves of the four boats during their most typical mode of operations, the data indicated that wakesurf boats require distances greater than 500 feet from the shoreline/docks and other boats (or the distance of a little less than 1.5 football fields) to decrease their wake wave characteristics to levels similar to the non-wakesurf boats.
When researchers compared the wake waves of the four boats under conditions that generated the largest wake wave, the data indicated that wakesurf boats require distances greater than 425 feet from the shoreline/docks and other boats to decrease their wake wave characteristics to levels similar to the non-wakesurf boats.
In both modes of operation, the suggested distance from shoreline/docks for wakesurf boats is more than twice the distance of the 200 feet currently recommended by Minnesota guidelines for common recreational boats.
Under both slow and fast speed conditions, the wakesurf boats produced the largest waves in terms of height, energy, and power when compared to the non-wakesurf boats.
Larger, more energetic waves need to travel a greater distance to decrease in wave height, energy, and power.
This report establishes an important baseline for the study of wake waves produced by wakesurf boats -- a topic of growing interest across the country.
"We quickly learned that boat wave impacts were not just a Minnesota concern. We have received inquiries about our research from many others throughout the U.S.," said Andy Riesgraf, another lead researcher on the project and researcher at the University's St. Anthony Falls Lab. "We're hoping this study will provide a pathway for shared use of our lakes and rivers."
The researchers say this study gives legislators, lake associations, boat manufacturers, and property owners new information about the operation of wakesurf boats and other recreational boats on Minnesota's lakes.
But the researchers also see it as just the beginning. This foundational work has been critical as they design further studies, with future research aimed at propeller wash interactions with lake bottoms and an examination of the impact of large waves on aquatic vegetation and shorelines.
How The Connections Inside Bird Brains Work Together
Nagoya University physiologists have furthered understanding of the bird neural circuitry that allows them to distinguish where a specific sound is coming from. Their findings, published in the journal Science Advances, could help scientists understand the basics of how mammalian brains compute the time difference between a single sound arriving at each individual ear, known as 'interaural time difference'. This ability is an integral component of sound localization.
"Animals can perform accurate interaural time difference detection for sounds of a wide range of frequencies," explains Rei Yamada, who specializes in cell physiology at Nagoya University's Graduate School of Medicine. The nerve circuitry for this process is so specialized that the many branches extending from a single nerve cell, called dendrites, receive a specific sound frequency from one or the other ear. But it's not yet clear exactly how all of this works together to enable interaural time difference detection.
Yamada and his colleague Hiroshi Kuba wanted to understand more about this process. They conducted laser experiments on chicken brain slices by stimulating excitatory receptors on a part of the brain responsible for sound localization. This was followed by simulation experiments to clarify the meaning of their initial findings.
They discovered that nerve junctions, called synapses, were particularly clustered at the ends of specialized long dendrites dedicated to conducting signals from low-frequency sounds. Counterintuitively, this clustering reduced the strength of signal transmission along the length of the dendrite so that it was smaller by the time it reached the nerve cell. This process, however, enabled the nerve cell to tolerate intense inputs arriving through dendrites dedicated to each ear, thereby maintaining its ability to conduct the necessary time difference and location computing activities.
"Many animals, including humans, use the time difference of a sound reaching both ears as a clue for sound source localization," says Yamada. "We would like to examine whether the association we found between neural function and structure is universally common in other species. Expanding our research to mammalian brains will be important to understand the basic principle of interaural time difference detection that birds and animals have in common with humans."
Rei Yamada, Hiroshi Kuba.
Dendritic synapse geometry optimizes binaural computation in a sound localization circuit.
Science Advances, 2021; 7 (48) DOI:
10.1126/sciadv.abh0024
What Is Your Dog's Lifespan?: You Might Be Surprised
How old is your dog in human years? And what factors contribute to a long and healthy life for a dog?

For years, it's been generally accepted that "dog years" are roughly human years times seven -- that a 1-year-old puppy is like a 7-year-old child, and an 11-year-old elderly dog is like a 77-year-old senior citizen. But it's actually much more complicated, say experts.
Part of the problem is that while humans have clear metrics for healthy aging, little is known about "normal aging" for our four-legged friends. Big dogs tend to age the fastest -- maybe 10 times faster than humans -- while little breeds may live to be 20 years old, with "dog years" about five times human years.
The Dog Aging Project, founded in 2018, is by far the most ambitious project tackling the question of canine longevity, enrolling and studying tens of thousands of dogs of all sizes, breeds and backgrounds to develop a thorough understanding of canine aging. Their open-source dataset will give veterinarians and scientists the tools to assess how well a specific dog is aging and will set the stage for further research into healthy aging -- in both dogs and people.
The researchers detailed their project and its potential implications for both human and veterinary medicine in an article published in the current issue of the journal Nature. One of their most intriguing avenues of inquiry will analyze the DNA of exceptionally long-lived dogs, the "super-centenarians" of the dog world.
"This is a very large, ambitious, wildly interdisciplinary project that has the potential to be a powerful resource for the broader scientific community," said Joshua Akey, a professor in Princeton's Lewis-Sigler Institute for Integrative Genomics and a member of the Dog Aging Project's research team. "Personally, I find this project exciting because I think it will improve dog, and ultimately, human health."
Akey, a dog lover with a 5-year-old rescue dog named Abby and a 1-year-old purebred lab named Zoey, co-leads the genetics analyses with Elinor Karlsson at the Broad Institute.
"We are sequencing the genomes of 10,000 dogs," Akey said. "This will be one of the largest genetics data sets ever produced for dogs, and it will be a powerful resource not only to understand the role of genetics in aging, but also to answer more fundamental questions about the evolutionary history and domestication of dogs."
The Dog Aging Project (DAP) expects to run for at least 10 years. To date, more than 32,000 dogs have joined the "DAP Pack," as the researchers call their canine citizen scientists.
"We are still recruiting dogs of all ages, all breeds -- purebred or mixed breeds, all sizes, all across the United States," said William Thistlethwaite, a graduate student who works with Akey in the Lewis-Sigler Institute. "Especially puppies and young dogs up to 3 years old."
When a dog joins the Pack, their owners agree to fill out annual surveys and take measurements of their dogs for the duration of the project; some may be asked to collect cheek swabs for DNA sampling. In addition, the DAP team works with veterinarians across the country who assist by submitting fur, fecal, urine and blood samples of select Pack members.
The researchers hope to identify specific biomarkers of canine aging. They anticipate that their findings will translate to human aging, for several reasons: Dogs experience nearly every functional decline and disease of aging that people do; the extent of veterinary care parallels human healthcare in many ways; and our dogs share our lived environments, a major determinant of aging and one that cannot be replicated in any lab setting.
"Given that dogs share the human environment and have a sophisticated health care system but are much shorter-lived than people, they offer a unique opportunity to identify the genetic, environmental and lifestyle factors associated with healthy lifespan," said Dr. Daniel Promislow, the principal investigator for the National Institute on Aging grant that funds the project and a professor of biology at the University of Washington (UW) College of Arts and Sciences and of laboratory medicine and pathology at the UW School of Medicine.
In particular, the researchers want to look at 300 oldest dogs in the Pack to see if they can identify the keys to their longevity. "One part of the project that I am super excited about is a 'super-centenarian' study, comparing the DNA of exceptionally long-lived dogs to dogs that live to the average age for their breed," said Akey, the Princeton geneticist. "This is the first study of its kind in dogs (to my knowledge), and I think it's a clever way of trying to find genetic differences that contribute to exceptional longevity."
Within a few months, the team plans to open their enormous dataset -- fully anonymized -- to share with scientists around the world. Researchers from many different fields will have the opportunity to contribute to the study in countless different ways, based on their interests.
"It is an honor to share our work with the scientific community," said Kate Creevy, lead author on the paper and DAP's chief veterinary officer. "The Dog Aging Project is creating a resource with the power to transform veterinary medicine, aging research, and many scientific and non-scientific fields of inquiry."
Kate E. Creevy, Joshua M. Akey, Matt Kaeberlein, Daniel E.L. Promislow and The Dog Aging Project Consortium.
The Dog Aging Project: an Open Science study of ageing in companion dogs.
Nature, 2022 DOI:
10.1038/s41586-021-04282-9
Novel Nanoparticle SARS-CoV-2 Vaccine Combines Immune Focusing And Self-Assembling Nanoparticles To Elicit More Potent Protection
The first generation of COVID-19 vaccines have been highly effective, but also have limitations: their efficacy can wane without a booster shot, and they may be less effective against some variants. Now scientists at The Wistar Institute have developed a more targeted vaccine that, in animal studies, shows stronger, broader, and more durable protection in a single, low dose.
The vaccine combines three technologies -- immune focusing, self-assembling nanoparticles, and DNA delivery -- into a single platform for the first time. In addition to its other advantages, the vaccine could be stored at room temperature, making it potentially easier to transport to remote or developing locations than existing mRNA vaccines, which require specialised cold storage.
"This is among the first next-generation vaccines that will have more advanced features and broader protection," said Daniel Kulp, Ph.D., associate professor in the Vaccine & Immunotherapy Center at The Wistar Institute and corresponding author of the study.
The paper, "Nucleic acid delivery of immune-focused SARS-CoV-2 nanoparticles drive rapid and potent immunogenicity capable of single-dose protection," was published in the journal Cell Reports.
Existing vaccines include an unmodifided receptor binding domain of SARS-CoV-2 spike protein. The new vaccine includes a rationally engineered receptor binding domain using computational and structure-based design methodologies. The energinered receptor binding domain blocks 'immune distracting' sites and can therefore elicit stronger levels of protective, neutralizing antibodies.
Researchers then used naturally self-assembling proteins to form nanoparticles which display these highly engineered immunogens. By arranging themselves into structures that resemble an actual virus, the nanoparticles are more easily recognized by the immune system and transported to the germinal centers, where they activate B cells which produce protective antibodies.
Using nucleic acid vaccine delivery technology similar to mRNA, the nanoparticle vaccine is encoded in DNA and delivered into cells thereby giving genetic instructions for the body to build the immunogen internally. This is an advance over traditional vaccines that must be manufactured in specialized factories through complex vaccine production processes. In contrast to other vaccines, Dr. Kulp noted that one advantage of the DNA platform is that it doesn't require refrigeration and it can also be quickly reformulated to target new variants.
In animal models, researchers found that the DNA delivered immune-focused nanoparticle vaccine produced much higher levels of neutralizing antibodies than the vaccine that wasn't immune-focused.
"A difficulty with current vaccines is that neutralizing antibodies decline over time," Kulp said. The nanoparticle vaccine produced durable responses after a single immunization out to six months in mice, unlike what we are seeing with current SARS-CoV-2 vaccines in people.
The ultimate test for SARS-CoV-2 vaccine candidates is protection from death in SARS-CoV-2 challenge experiments. The researchers found that in a lethal challenge model 100% of mice who received the immune-focused nanoparticle vaccine were protected from death with a single low dose. Most mice who received the standard, non-immune focused vaccine died within 10 days of challenge.
The vaccine assessment was conducted in both wild-type mice and mice that were genetically engineered to mimic human immune systems, he noted.
Even without being updated, the immune-focused vaccine showed a comparable level of antibody production to Delta, and other variants, Kulp said. That's partly because of the immune focusing approach itself, he noted; in blocking parts of the receptive binding domain for the purpose of inhibiting non-neutralizing antibodies, it also blocks many of the areas affected by spike protein mutations. Studies on the Omicron variant are underway.
Researchers are seeking funding to begin human trials of the vaccine.
Co-author David B. Weiner, Ph.D., executive vice president, director of the Vaccine & Immunotherapy Center and the W.W. Smith Charitable Trust Professor in Cancer Research, at The Wistar Institute, said the vaccine could provide a needed step forward to improve protection against COVID-19.
"Current vaccine effects on reducing transmission of SARS-CoV-2 variants of concern including Delta and Omicron could be improved for their breadth of protection as well as their immune potency," Weiner said. "This study demonstrates that using a nucleic acid approach combined with in vivo structural assembly of a glycan immune-focused nanoparticle drives single protection and neutralization against diverse variants of concern in a dose-sparing formulation. Additional studies of this vaccine approach for SARS-CoV-2 appear timely and important."
Kylie M. Konrath, Kevin Liaw, Yuanhan Wu, Xizhou Zhu, Susanne N. Walker, Ziyang Xu, Katherine Schultheis, Neethu Chokkalingam, Himanshi Chawla, Jianqiu Du, Nicholas J. Tursi, Alan Moore, Jared Adolf-Bryfogle, Mansi Purwar, Emma L. Reuschel, Drew Frase, Matthew Sullivan, Benjamin Fry, Igor Maricic, Viviane M. Andrade, Christel Iffland, Max Crispin, Kate E. Broderick, Laurent M.P.F. Humeau, Ami Patel, Trevor R.F. Smith, Jesper Pallesen, David B. Weiner, Daniel W. Kulp.
Nucleic acid delivery of immune-focused SARS-CoV-2 nanoparticles drives rapid and potent immunogenicity capable of single-dose protection.
Cell Reports, 2022; 38 (5): 110318 DOI:
10.1016/j.celrep.2022.110318
Mechanism Revealed Behind Loss Of Smell With COVID-19
Researchers have discovered a mechanism that may explain why COVID-19 patients lose their sense of smell.

Published online February 2 in the journal

Cell

, the new study found that infection with the pandemic virus, SARS-CoV-2, indirectly dials down the action of olfactory receptors (OR), proteins on the surfaces of nerve cells in the nose that detect the molecules associated with

odours

.
Led by researchers from NYU Grossman School of Medicine and Columbia University, the new study may also shed light on the effects of COVID-19 on other types of brain cells, and on other lingering neurological effects of COVID-19 like "brain fog," headaches, and depression.
Experiments showed that the presence of the virus near nerve cells (neurons) in olfactory tissue brought an inrushing of immune cells, microglia and T cells, that sense and counter infection. Such cells release proteins called cytokines that changed the genetic activity of olfactory nerve cells, even though the virus cannot infect them, say the study authors. Where immune cell activity would dissipate quickly in other scenarios, in the brain, according to the team's theory, immune signaling persists in a way that reduces the activity of genes needed for the building of olfactory receptors.
"Our findings provide the first mechanistic explanation of smell loss in COVID-19 and how this may underlie long COVID-19 biology," says co-corresponding author Benjamin tenOever, PhD, professor in the Department of Microbiology at NYU Langone Health. "The work, in addition to another study from the tenOever group, also suggests how the pandemic virus, which infects less than 1 % of cells in the human body, can cause such severe damage in so many organs."
One unique symptom of COVID-19 infection is loss of smell without the stuffy nose seen with other infections like the common cold, researchers say. In most cases, the smell loss lasts only a few weeks, but for more than 12 percent of COVID-19 patients, olfactory dysfunction persists in the form of ongoing reduction in the ability to smell (hyposmia) or changes in how a person perceives the same smell (parosmia).
To gain insight into COVID-19-induced smell loss, the current authors explored the molecular consequences of SARS-CoV-2 infection in golden hamsters and in olfactory tissue taken from 23 human autopsies. Hamsters represent a good model, being mammals that both depend more on the sense of smell than humans, and that are more susceptible to nasal cavity infection.
The study results build on the discovery over many years that the process which turns genes on involves complex 3-D relationships, where DNA sections become more or less accessible to the cell's gene-reading machinery based on key signals, and where some DNA chains loop around to form long-range interactions that enable the stable reading of genes. Some genes operate in chromatin "compartments" -- protein complexes that house the genes -- that are open and active, while others are compacted and closed, as part of the "nuclear architecture."
In the current study, experiments confirmed that SARS-CoV-2 infection, and the immune reaction to it, decreases the ability of DNA chains in chromosomes that influence the formation of olfactory receptor building to be open and active, and to loop around to activate gene expression. In both hamster and human olfactory neuronal tissue, the research team detected persistent and widespread downregulation of olfactory receptor building. Other work posted by these authors suggests that olfactory neurons are wired into sensitive brain regions, and that ongoing immune cell reactions in the nasal cavity could influence emotions, and the ability to think clearly (cognition), consistent with long COVID.
Experiments in hamsters recorded over time revealed that downregulation of olfactory neuron receptors persisted after short-term changes that might affect the sense of smell had naturally recovered. The authors say this suggests that COVID-19 causes longer-lasting disruption in chromosomal regulation of gene expression, representing a form of "nuclear memory" that could prevent the restoration of OR transcription even after SARS-CoV-2 is cleared.
"The realization that the sense of smell relies on "fragile" genomic interactions between chromosomes has important implications," says tenOever. "If olfactory gene expression ceases every time the immune system responds in certain ways that disrupts inter-chromosomal contacts, then the lost sense of smell may act as the "canary in the coalmine," providing any early signals that the COVID-19 virus is damaging brain tissue before other symptoms present, and suggesting new ways to treat it."
In a next step, the team is looking into whether treating hamsters with long COVID with steroids can restrain damaging immune reactions (inflammation) to protect nuclear architecture.
Journal References:
Marianna Zazhytska, Albana Kodra, Daisy A. Hoagland, Justin Frere, John F. Fullard, Hani Shayya, Natalie G. McArthur, Rasmus Moeller, Skyler Uhl, Arina D. Omer, Max E. Gottesman, Stuart Firestein, Qizhi Gong, Peter D. Canoll, James E. Goldman, Panos Roussos, Benjamin R. tenOever, Jonathan B. Overdevest, Stavros Lomvardas.
Non-cell autonomous disruption of nuclear architecture as a potential cause of COVID-19 induced anosmia.
Cell, 2022; DOI:
10.1016/j.cell.2022.01.024
Daisy A. Hoagland, Rasmus Møller, Skyler A. Uhl, Kohei Oishi, Justin Frere, Ilona Golynker, Shu Horiuchi, Maryline Panis, Daniel Blanco-Melo, David Sachs, Knarik Arkun, Jean K. Lim, Benjamin R. tenOever.
Leveraging the antiviral type I interferon system as a first line of defense against SARS-CoV-2 pathogenicity.
Immunity, 2021; 54 (3): 557 DOI:
10.1016/j.immuni.2021.01.017
Research Shows Depression And Anxiety Spiked In Pregnant Women During COVID-19 Pandemic
The COVID-19 pandemic caused a spike in depression and anxiety in expectant mums, a new study by the University of Essex has revealed.

The research found social support protected against anxiety symptoms associated with the pandemic but highlighted changes to maternity services forced by lockdown and other restrictions likely hit mental health.
It is speculated in the BMC Pregnancy and Childbirth-published paper that the removal of appointments and other changes to face-to-face contact may have affected well-being.
The senior author, Dr Silvia Rigato, said it was vital to "protect maternal wellbeing during pregnancy and beyond" and "to ensure that all children, and their new families, are given the best possible start in life."
The study found there was a spike in reported depression rates of 30 per cent from pre-pandemic levels, from 17 per cent to 47 per cent -- with anxiety rates also jumping up 37 per cent in expecting mothers to 60 per cent.
The peer-reviewed study of 150 women took place during the height of the Coronavirus crisis between April 2020 and January 2021 -- before the vaccination programme rolled out -- and was led by Dr Maria Laura Filippetti and Dr Rigato, researchers at the Essex Babylab in the University of Essex.
The paper showed that prenatal trauma, such as the one experienced during the COVID-19 pandemic, can significantly amplify vulnerability to mental health problems.
It also emerged from the study that pregnant women with higher depressive symptoms reported feeling less attached to their unborn babies.
Dr Rigato said: "While this result is in line with previous observations that women's mood during pregnancy influences the early relationship with her child, it reinforces the need for authorities to support women throughout their pregnancy and the postnatal period in order to protect their health and their infants' development."
Importantly, the research also revealed the positive effect that social support plays in protecting expecting mothers' mental health.
The authors found women who considered the impact of COVID-19 to be more negative showed higher levels of anxiety.
Crucially though, help from partners, family and friends, and the NHS acted as a protective factor and was associated with fewer negative symptoms.
Dr Filippetti said more must be done to help women during this vulnerable time in their lives.
She said: "The high rates of depression and anxiety during the pandemic highlighted by our study suggest that expectant women are facing a mental health crisis that can significantly interfere and impair mother-infant bonding during pregnancy, and can potentially impact on childbirth outcome, as well as later infant and child development."
It is now hoped the research will be used to help understand how the pandemic affected children's development, mum's mental health post-partum and how dads coped through pregnancy and beyond.
Maria Laura Filippetti, Alasdair D. F. Clarke, Silvia Rigato.
The mental health crisis of expectant women in the UK: effects of the COVID-19 pandemic on prenatal mental health, antenatal attachment and social support.
BMC Pregnancy and Childbirth, 2022; 22 (1) DOI:
10.1186/s12884-022-04387-7
Towards Greener Smart Cities With Machine Learning-Based 'Sleep Schedules'
The concept of smart cities is founded on sophisticated cellular networks that would not only connect humans in the future but also humans to other smart devices. However, this would also require huge energy consumption. In the wake of climate change, this can make matters worse for our environment by increasing the greenhouse gas emissions. Thus, we not only need smart cities but also greener smart cities.
One way to address this issue is by switching off base stations (BSs), radio transmitters/receivers that serve as the hub of the local wireless network, when they have little to no traffic load. Laboratory testing has shown that active BSs consume as much as 60% of the maximum energy consumption even under no traffic load and switching them off can bring it down to 40%. However, there is a trade-off: putting BSs to sleep makes their traffic logs unavailable, which also reduces the accuracy of traffic prediction. Is there a way to avoid this compromise between accuracy and sustainability?
The answer, according to a new study, seems to be "yes." The study, led by Professor Ryoichi Shinkuma from Shibaura Institute of Technology (SIT), Japan, and his colleagues, Associate Professor Kaoru Ota from Muroran Institute of Technology, Japan and Associate Professor Takehiro Sato from Kyoto University, Japan, proposed a novel scheme that not only reduced energy consumption but demonstrated a higher traffic prediction accuracy compared to the benchmark schemes! This paper was published in Volume 35, Issue 6 of the journal IEEE Network Magazine on November/December 2021.
How did the researchers achieve this remarkable feat? Prof. Shinkuma explains, "We applied software defined network (SDN) and edge computing to a cellular network such that each BS is equipped with an SDN switch, and an SDN controller can turn off any BS according to the traffic prediction results. An edge server collects the traffic logs through the SDN switches and predicts traffic volume using machine learning (ML)."
The ML method used by the researchers decided which BSs could be put into "sleep mode" based on the importance of their traffic logs in improving the prediction accuracy. Thus, BSs with low contribution to the accuracy for previous time slots were put to sleep at the next slot to save energy.
To validate their scheme, the researchers used real-world mobile traffic data collected over two months and compared its performance against that of two benchmark schemes. To their delight, the new scheme outperformed the benchmark schemes in its robustness against reducing the number of active BSs and different BS sets.
Could this study be a harbinger of greener cellular networks and smart cities? Prof. Shinkuma is optimistic.
"By intelligently controlling the operation of BSs, renewable energy sources could be used to power future networks and, depending on the availability of renewable energy resource, the sleep schedules of the BSs can be determined," he speculates.
Ryoichi Shinkuma, Naoki Kishi, Kaoru Ota, Mianxiong Dong, Takehiro Sato, Eiji Oki.
Smarter Base Station Sleeping for Greener Cellular Networks.
IEEE Network, 2021; 35 (6): 98 DOI:
10.1109/MNET.110.2100224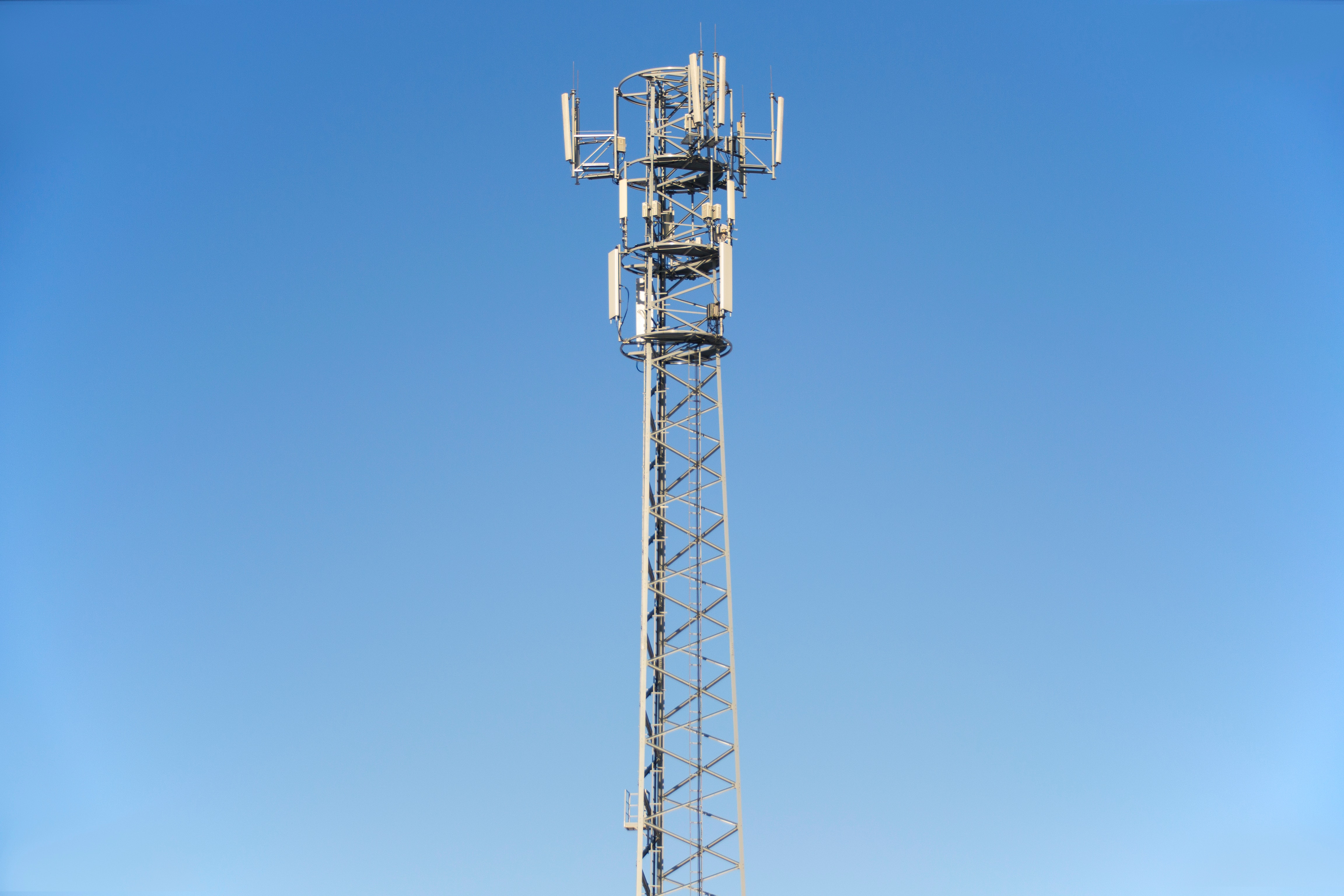 A Base station in a cellular network. Base stations (BSs) are the hubs for local cellular networks. Recently, researchers from Japan have proposed a novel scheme based on machine learning to reduce energy consumption in BSs while maintaining high traffic prediction accuracy Photo courtesy: PhotoMIX Company from Pexels

Power At Sea: Towards High-Performance Seawater Batteries
Despite the many potential applications of seawater batteries (SWBs), the limited performance of available materials has hindered their commercialization. To tackle this issue, scientists have developed a novel co-doped carbon material for the anode of SWBs. Their straightforward synthesis route and the high performance of the developed anode material will pave the way for the widespread adoption of SWBs, which are safer and less expensive than lithium-ion batteries.
Lithium-ion batteries have taken the world by storm thanks to their remarkable properties. However, the scarcity and high cost of lithium has led researchers to look for alternative types of rechargeable batteries made using more abundant materials, such as sodium. One particularly promising type of sodium-based battery is seawater batteries (SWBs), which use seawater as the cathode.
Though SWBs are environmentally benign and naturally firesafe, the development of high-performance anode materials at a reasonable cost remains a major bottleneck that prevents commercialization. Traditional carbon-based materials are an attractive and cost-efficient option, but they have to be co-doped with multiple elements, such as nitrogen (N) and sulfur (S), to boost their performance up to par. Unfortunately, currently known synthesis routes for co-doping are complex, potentially dangerous, and don't even yield acceptable doping levels.
In a recent study, a team of scientists from Korea Maritime and Ocean University led by Associate Professor Jun Kang have found a way out of this conundrum. Their paper, which was made available online on December 22, 2021 and published in Volume 189 of Carbon on April 15, 2022, describes a novel synthesis route to obtain N/S co-doped carbon for SWB anodes.
Termed 'plasma in liquid,' their procedure involves preparing a mixture of precursors containing carbon, N, and S and discharging plasma into the solution. The result is a material with high doping levels of N and S with a structural backbone of carbon black. As proved through various experiments, this material showed great potential for SWBs, as Dr. Kang remarks: "The co-doped anode material we prepared exhibited remarkable electrochemical performance in SWBs, with a cycling life of more than 1500 cycles at a current density of 10 A/g."
The potential maritime applications of SWBs are many, since they can be safely operated while completely submerged in seawater. They can be used to supply emergency power in coastal nuclear power plants, which is difficult when using conventional diesel generators in the event of a disastrous tsunami. Additionally, they can be installed on buoys to aid in navigation and fishing. Perhaps most importantly, SWBs could be literally life-saving, as Dr. Kang explains: "SWBs can be installed as a power source for salvage equipment on passenger ships. They would not only supply a higher energy density than conventional primary batteries, but also enable stable operation in water, thereby increasing survival probabilities."
Overall, this novel synthesis method for co-doped carbon anodes might just be the answer we need to make SWBs reach new heights.
Hyeon-Su Yang, Mun-Won Park, Kwang-Ho Kim, Oi Lun Li, Tae-In Jeon, Jun Kang.
Facile in situ synthesis of dual-heteroatom-doped high-rate capability carbon anode for rechargeable seawater-batteries.
Carbon, 2022; 189: 251 DOI:
10.1016/j.carbon.2021.12.066
Disclaimer: These articles are not intended to provide medical advice, diagnosis or treatment. Views expressed here do not necessarily reflect those of Pittwater Online News or its staff.