Inbox and Environment News: Issue 533
April 3 - 9, 2022: Issue 533
Ban The Release Of Balloons In NSW Petition
Balloons cause serious issues for our marine reptiles and seabirds. When helium balloons are released, they burst, fall into our oceans and resemble food for these animals. Unfortunately, balloons can easily become trapped in the digestive system resulting in death. There is currently a petition in the NSW Legislative Council
for NSW
to follow other states and ban the release of helium balloons. If you have a spare moment please sign the petition below. Closes April 25, 2022:
Ella: Green Turtle Rescued From Manly
Ella was discovered at Shelly Beach in Manly looking extremely unwell and was rescued by Australian Seabird Rescue Central Coast on April 18th, 2020.
The rescue at Shelley Beach was by ASRCC volunteers Silke and Paul who brought this sick turtle in for care after a photo was seen on a diving page.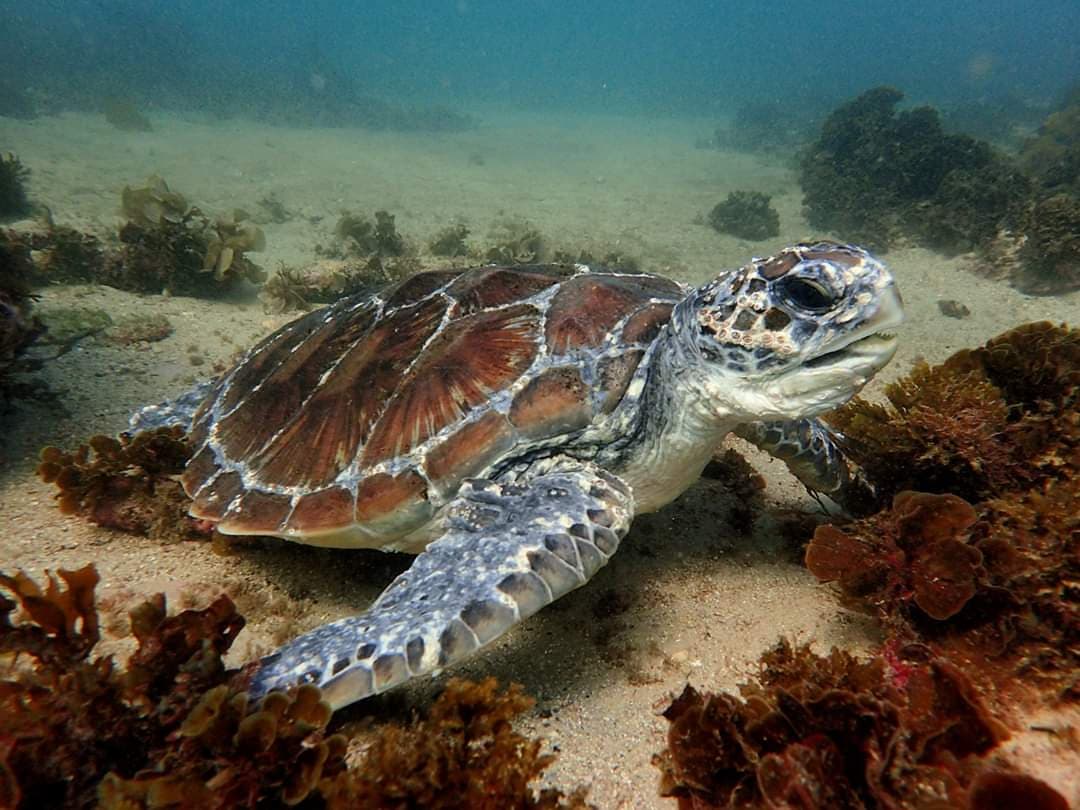 Under water photo credit - Ian Donato
Ella was examined and it was discovered that she is suffering from a severe case of pneumonia and septicaemia. She was placed in care with Australian Seabird Rescue where it was found a balloon and attached streamers were the problem
Ella is lucky to actually still be alive - imagine being only 47cm long and having a balloon with 2.5mtrs of streamer attached but also a plastic bag in your stomach! Ella excreted the plastic bag on April 28th, while the balloon and tie attached was passed on April 25th.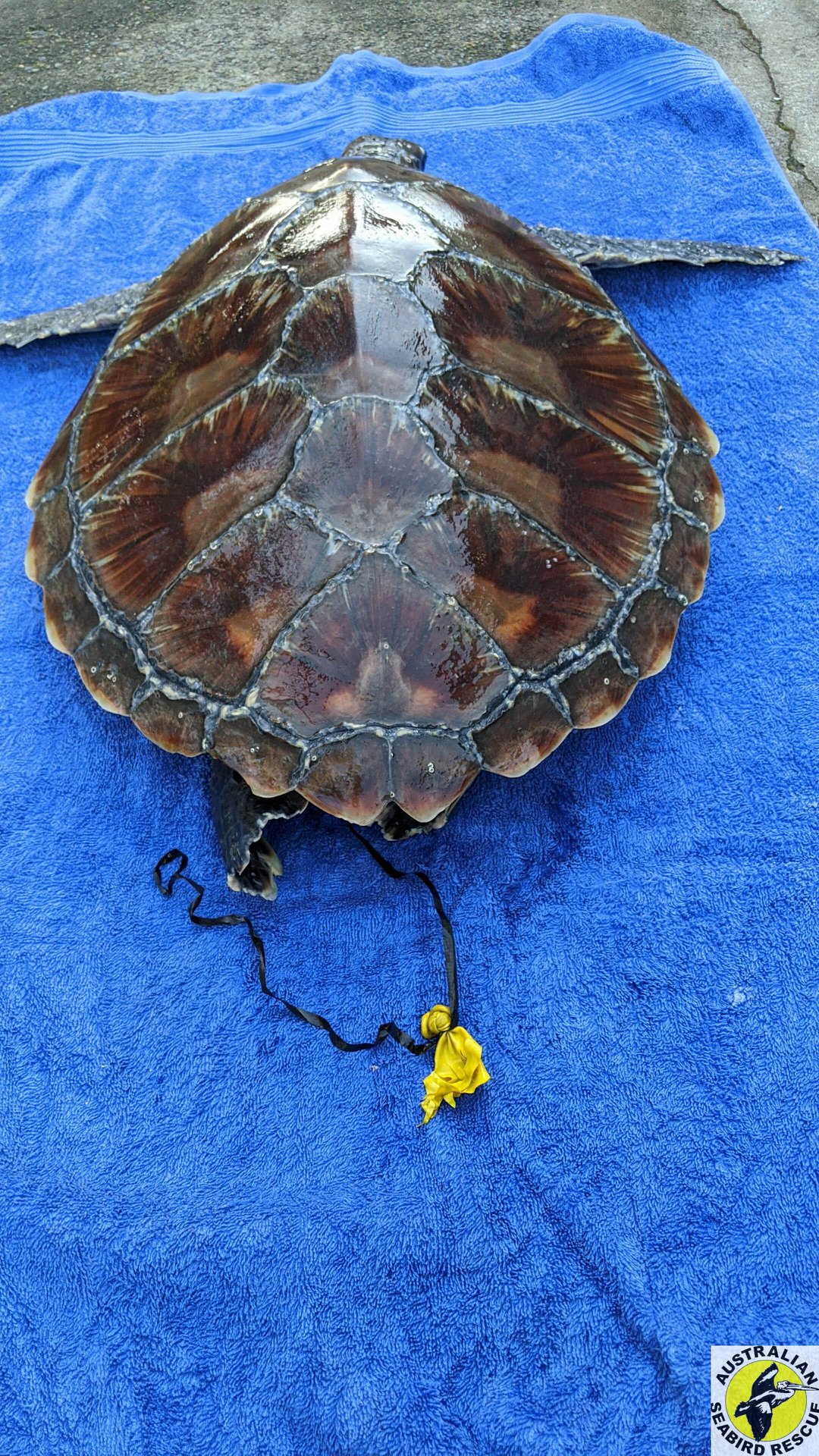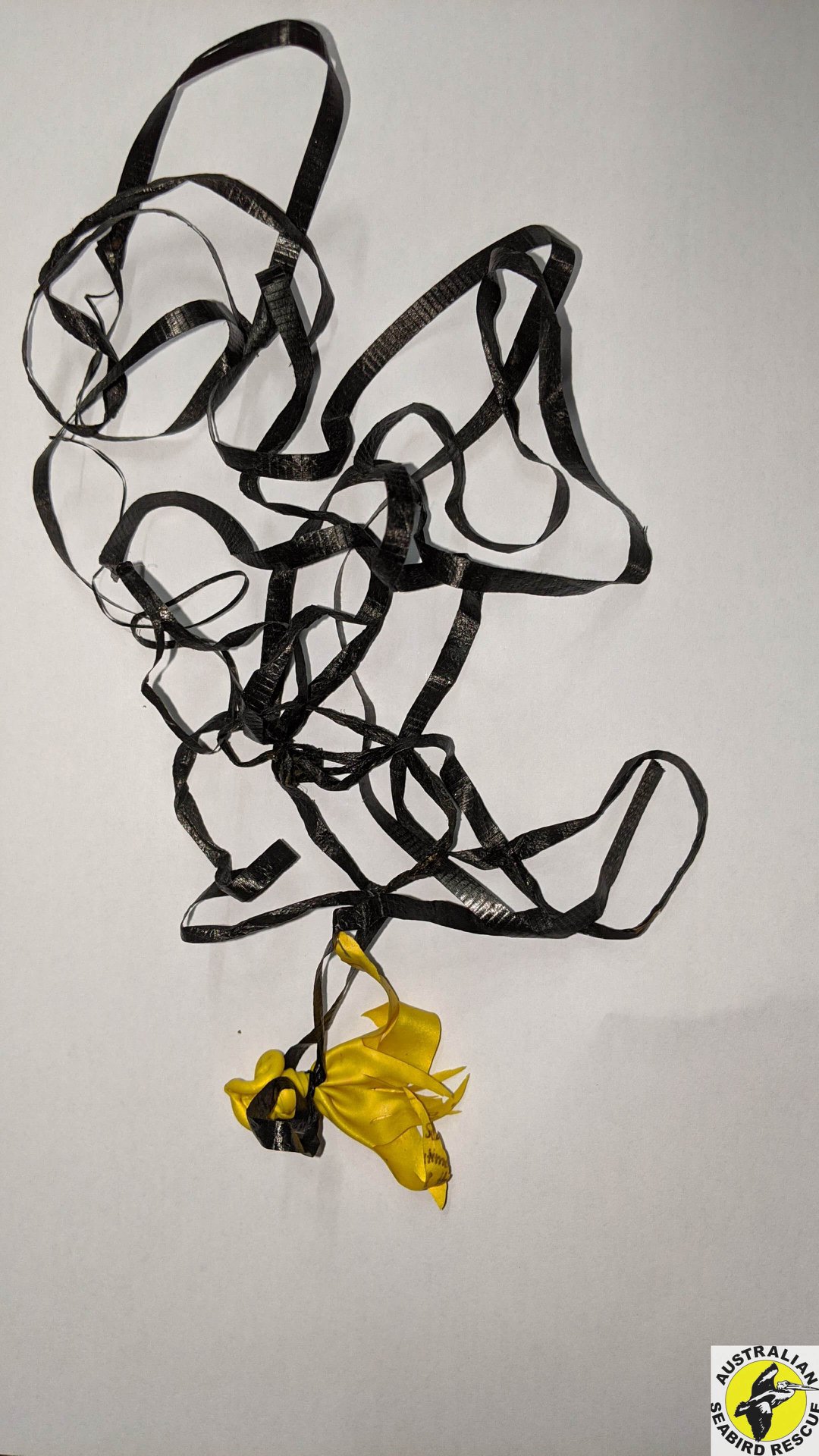 Balloons are in the top three most harmful waste items to wildlife. Birds and turtles not only ingest balloons, they actively select them as food. This is because a burst balloon often resembles a jellyfish, the natural food sources of many marine species like turtles.
Ingesting balloons, and the clips and strings attached to them, can cause intestinal blockages and results in a slow painful death through starvation. Marine animals don't have the gastrointestinal pH levels to breakdown a balloon and for turtles, it may also cause floating syndrome. Trapped gases in the gut can cause a turtle to become buoyant, unable to dive for food—making them vulnerable to boat strikes and leading to starvation and severe dehydration.
Wildlife, both terrestrial and marine, can also become entangled in balloon ribbons or strings, causing injury or death through drowning, suffocation, or an inability to feed and avoid predators.
Even if balloons are disposed of "safely" they go to landfill where it may take up to 1,000 years to decompose, leaching potentially toxic substances into the soil and water.
Extra photos by and courtesy Australian Seabird and Turtle Rescue Central Coast
Local Wildlife Rescuers And Carers State That Ongoing Heavy Rains Are Tough For Us But Can Be Tougher For Our Wildlife:
Birds and possums can be washed out of trees, or the tree comes down, nests can disintegrate or hollows fill with water
Ground dwelling animals can be flooded out of their burrows or hiding places and they need to seek higher ground
They are at risk crossing roads as people can't see them and sudden braking causes accidents
The food may disappear - insects, seeds and pollens are washed away, nectar is diluted and animals can be starving
They are vulnerable in open areas to predators, including our pets
They can't dry out and may get hypothermia or pneumonia
Animals may seek shelter in your home or garage.
You can help by:
Keeping your pets indoors
Assessing for wounds or parasites
Putting out towels or shelters like boxes to provide a place to hide
Drive to conditions and call a rescue group if you see an animal hit (or do a pouch check or get to a vet if you can stop)
If you are concerned take a photo and talk to a rescue group or wildlife carer
There are 2 rescue groups in the Northern Beaches:
Sydney Wildlife: 9413 4300
WIRES: 1300 094 737
Please be patient as there could be a few enquiries regarding the wildlife.
Generally Sydney Wildlife do not recommend offering food but it may help in some cases. Please ensure you know what they generally eat and any offerings will not make them sick. You can read more on feeding wildlife here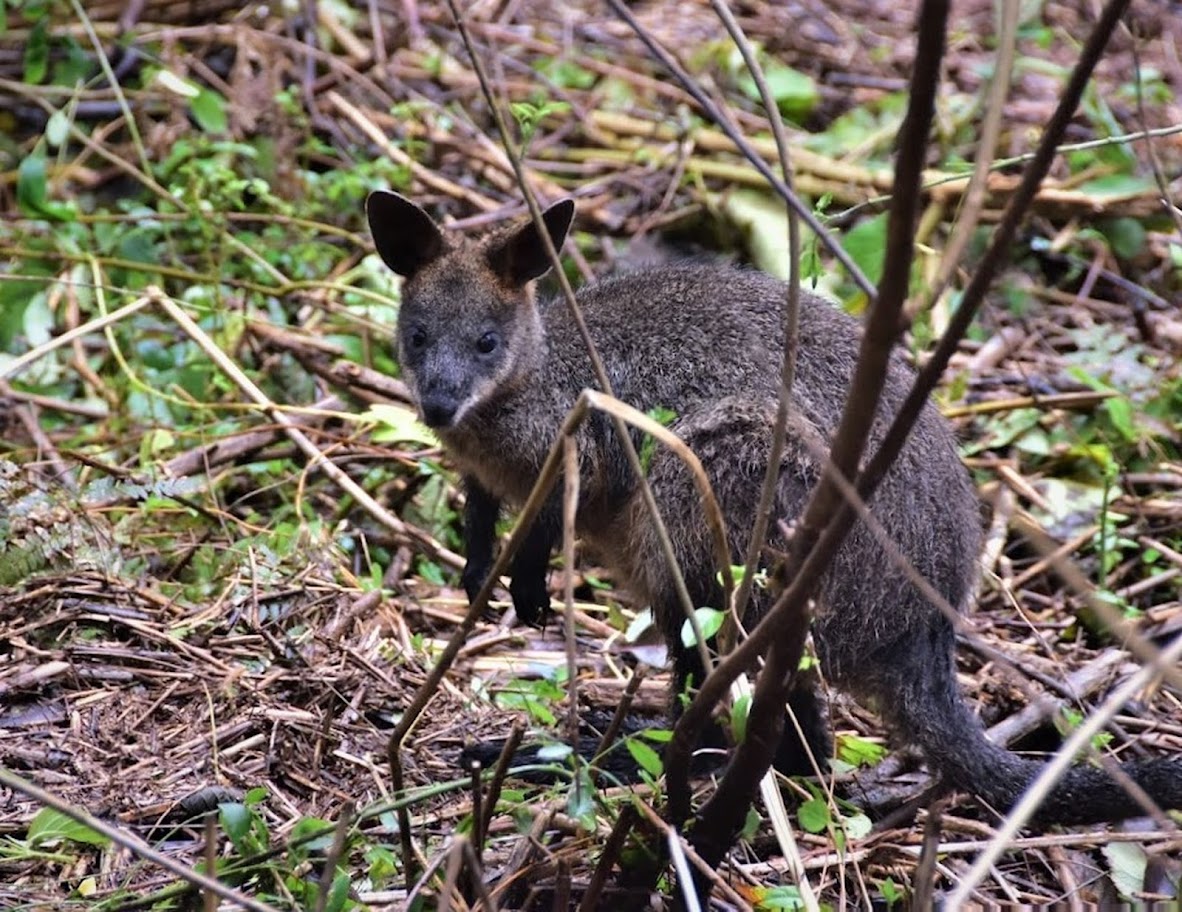 Information courtesy Ed Laginestra, Sydney Wildlife volunteer. Photo: Warriewood Wetlands Wallaby by Kevin Murray, March 2022.
Join The Fight Against Foxes On The Northern Beaches
Northern Beaches residents are invited to hear how they can join the fight against foxes in their area at a free online event on April 5th.
A joint initiative between NSW DPI, Greater Sydney Local Land Services and Northern Beaches Council, the webinar will feature a range of expert speakers and local information.
Greater Sydney LLS Senior Biosecurity officer Gareth Cleal said the event would give residents advice and information based on real life scenarios and experiences.
"There is no doubt foxes are becoming more and more prominent in urban areas of Sydney and the Northern Beaches is not immune," he said.
"We regularly receive reports of fox sightings in the area and there are simple steps residents can take to help reduce their impact."
Mr Cleal said foxes were attracted by food scraps and domestic pets like chickens and rabbits.
"Residents can help by ensuring compost bins are kept secure and properly closed, keeping household rubbish in a secure location, feeding domestic pets inside, ensuring food is not left outside and wherever possible, keeping pets inside overnight," he said.
"Keeping yards in check by tidying gardens, weeding to reduce fox harbour and housing backyard chickens in secure, fox-proof enclosures rather than free ranging will also help."
The webinar will feature presentations from local pest animal experts, and cover topics including:
How to minimise impacts to your pets and native wildlife
Recording/reporting foxes into FoxScan - https://www.foxscan.org.au/
An update on local programs
The webinar will be held on Tuesday, 5 April 2022 from 7pm. RSVP via https://bit.ly/3qq5aIK or email feralscan@feralscan.org.au.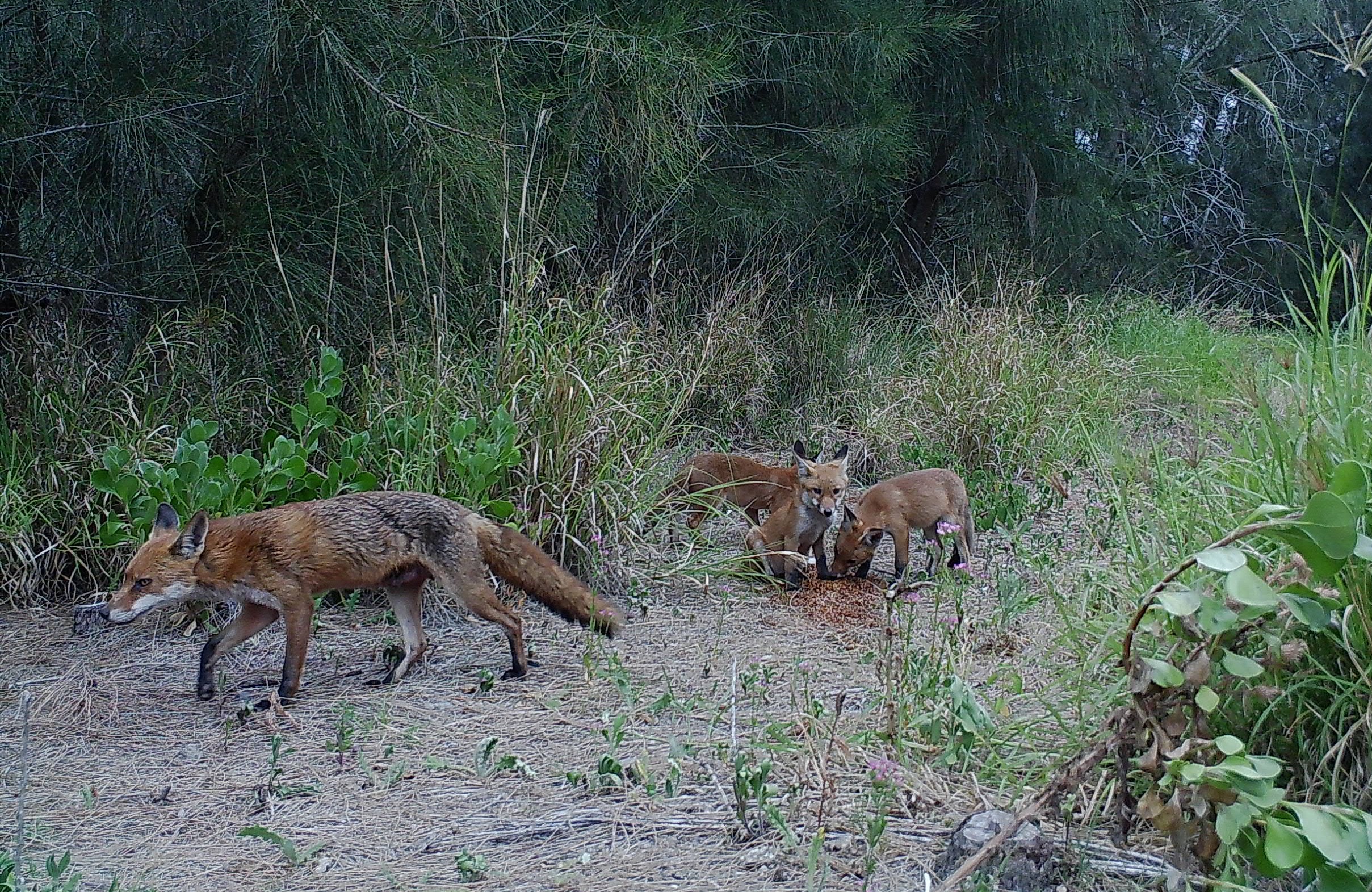 Bookoccino Discussion Events
Bookoccino are hosting free discussion/debates on several election issues coming up on Sundays in April.
First one is this Sunday 3 April from 4-6pm on Climate Change (at the bookstore).
There will also be a federal candidates debate on 1 May at the Avalon Community/Rec Centre from 4-6pm too.
All of these events are free and open to all.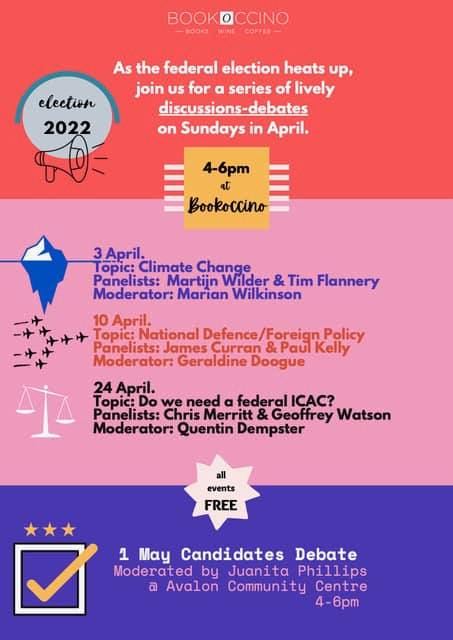 Long Reef Fishcare Free Guided Walks
Our next (and final walk for this season) will be held on Easter Sunday - 17 April 2022.
DPI Fishcare volunteers will lead a FREE, guided walk/wander onto the rock-platform where marine life in the rockpools, bird life & geology will be discussed & displayed. This is a great family activity & suitable for most ages. Duration – approximately 2 hours.
Bookings are essential and places are limited. Attendees are to wear appropriate attire and footwear, no bare feet or thongs permitted.
Each booking must be made by a responsible parent, one booking per person. Please note group bookings are not available.
As COVID-19 restrictions will still apply, attendees agree to comply with the requirements of the current NSW public health orders and venue COVID safety plans. Hand sanitiser will be available for you to use at entry and exit points. Please do not attend if you are sick or displaying any cold or flu symptoms.
NSW DPI Long Reef Guided Walks are run with the assistance of Fishcare Volunteers and are proudly supported using funds from the Recreational Fishing Trust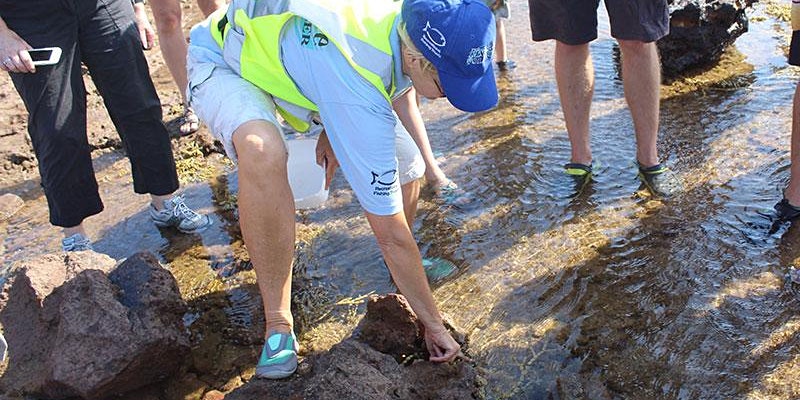 Friends Of Narrabeen Lagoon Catchment Forum: May 2022 - Speaker - Prof. Dennis Foley On The Aboriginal Heritage Of The Narrabeen Lagoon Catchment
Pittwater Natural Heritage Association (PNHA) Autumn 2022 Newsletter
Our PNHA Newsletter 91 is now on our website. We've been busy!
Below: Pastel Flower
Pseuderanthemum variabile
flowers can be white, pink or mauve, about as big as a violet. It is a tiny herb of shady rainforest or wet eucalyptus forest, north of Bega in NSW. It spreads by seed and rhizomes. More: in:
https://resources.austplants.com.au/plant/pseuderanthemum-variabile/
This one is in Spotted Gum forest at Newport.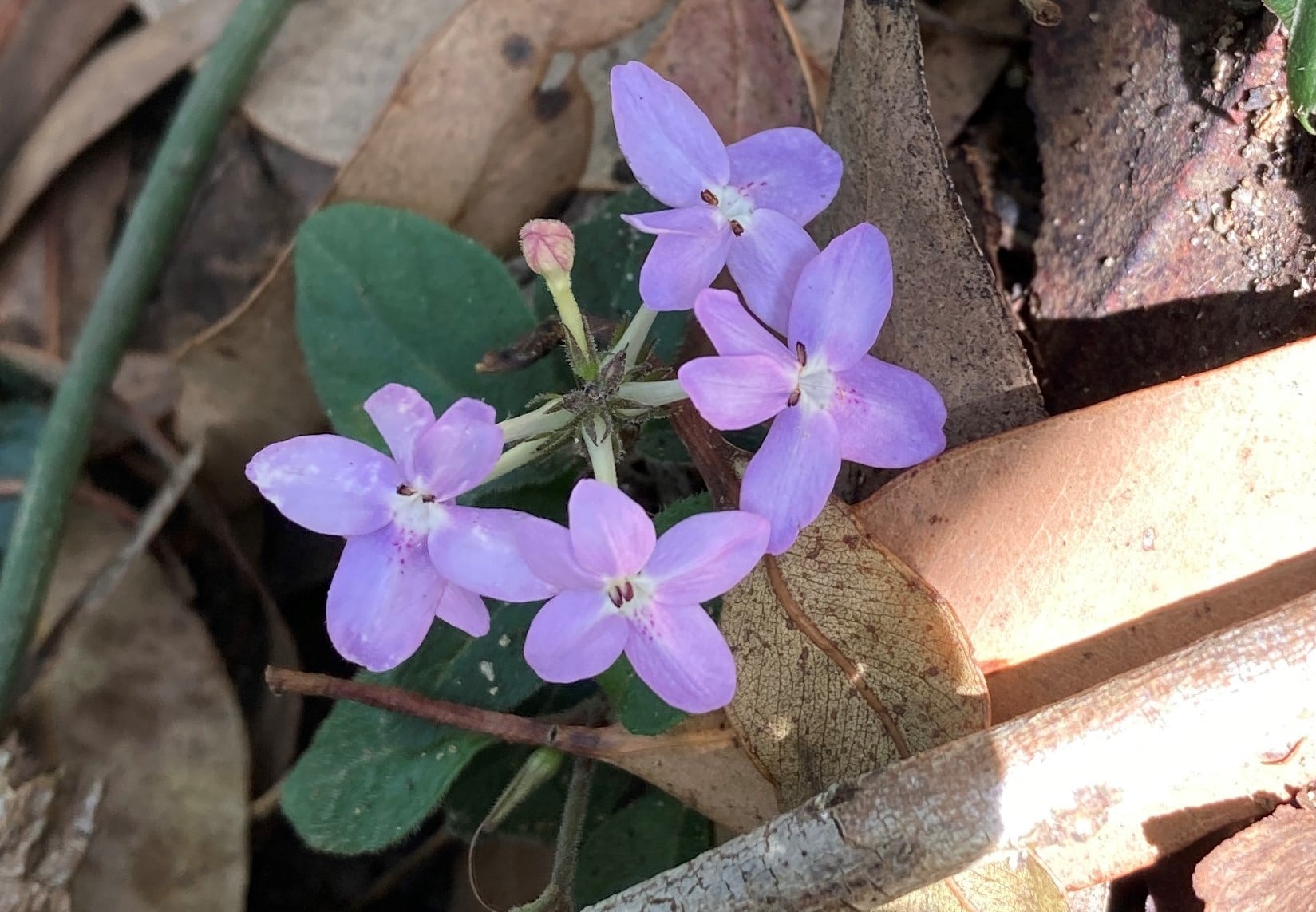 Photo: PNHA
Sulphur-Crested Cockatoo Mucking About
Spotted at Careel Bay this week - Like all parrots, cockatoos are zygodactyl (of a bird's feet; having two toes pointing forward and two backward). This, along with the use of their beak, gives them the ability to use their feet much like we use our hands and helps make them terrific climbers! Having the ability to climb is a necessity for birds that live and nest in thick forests. It's hard to fly through dense, leafy branches, and even tougher to get to the fruit or nuts that are their primary foods, but because cockatoos can climb through tree branches so well, they can easily get to the treats they want. These birds are also able to hold their food in one foot while balancing on the other.
The Sulphur-crested Cockatoo's normal diet consists of berries, seeds, nuts and roots. It also takes handouts from humans. Feeding normally takes place in small to large groups, with one or more members of the group watching for danger from a nearby perch.

Cockatoos often "play" with each other, performing intricate aerial manoeuvres or crazy antics, such as hanging upside down while perched, just for the "fun" of it - as this one was this week! These activities serve as a form of exercise for the birds, and strengthen social bonds. - Info: BirdLife Astralia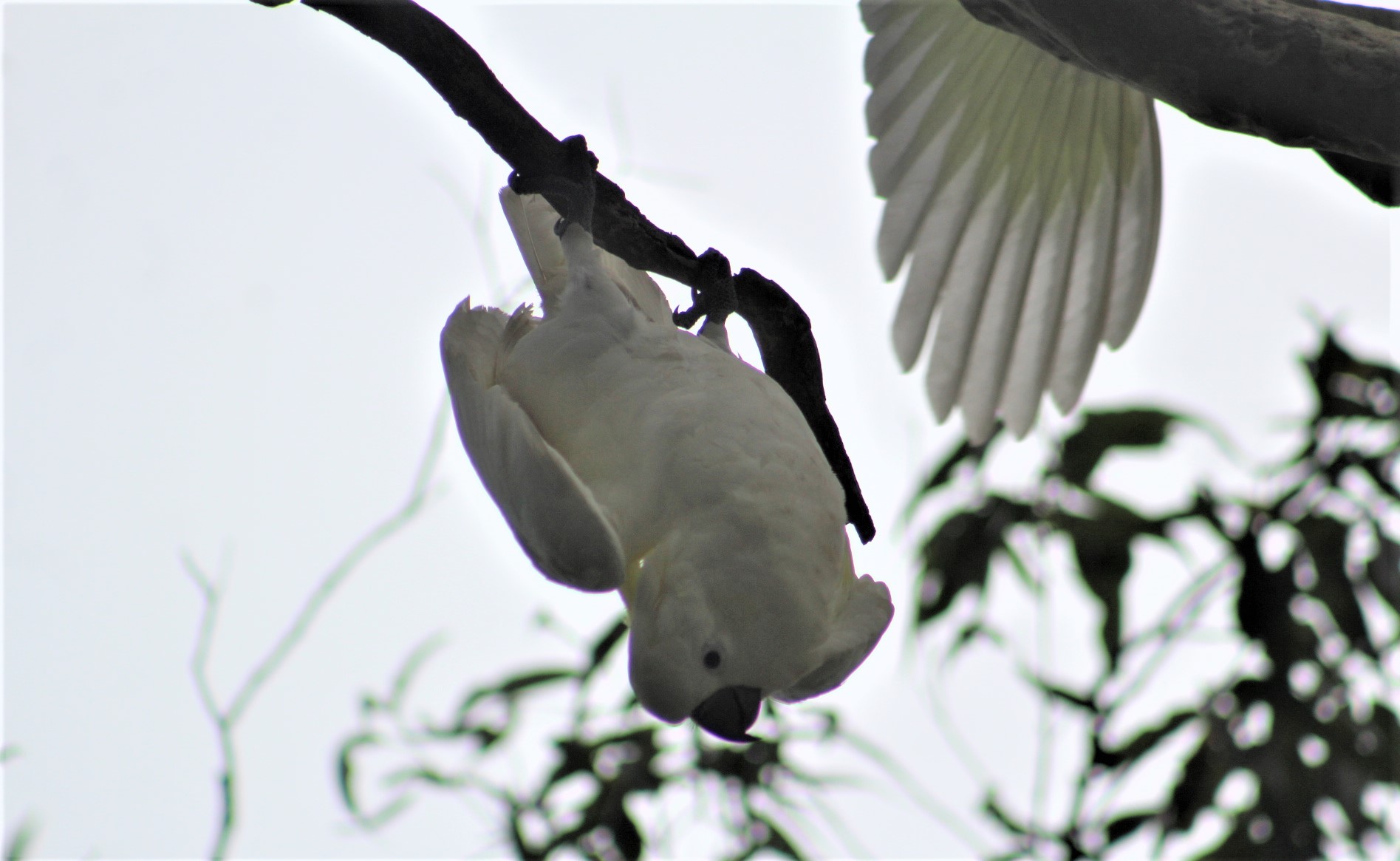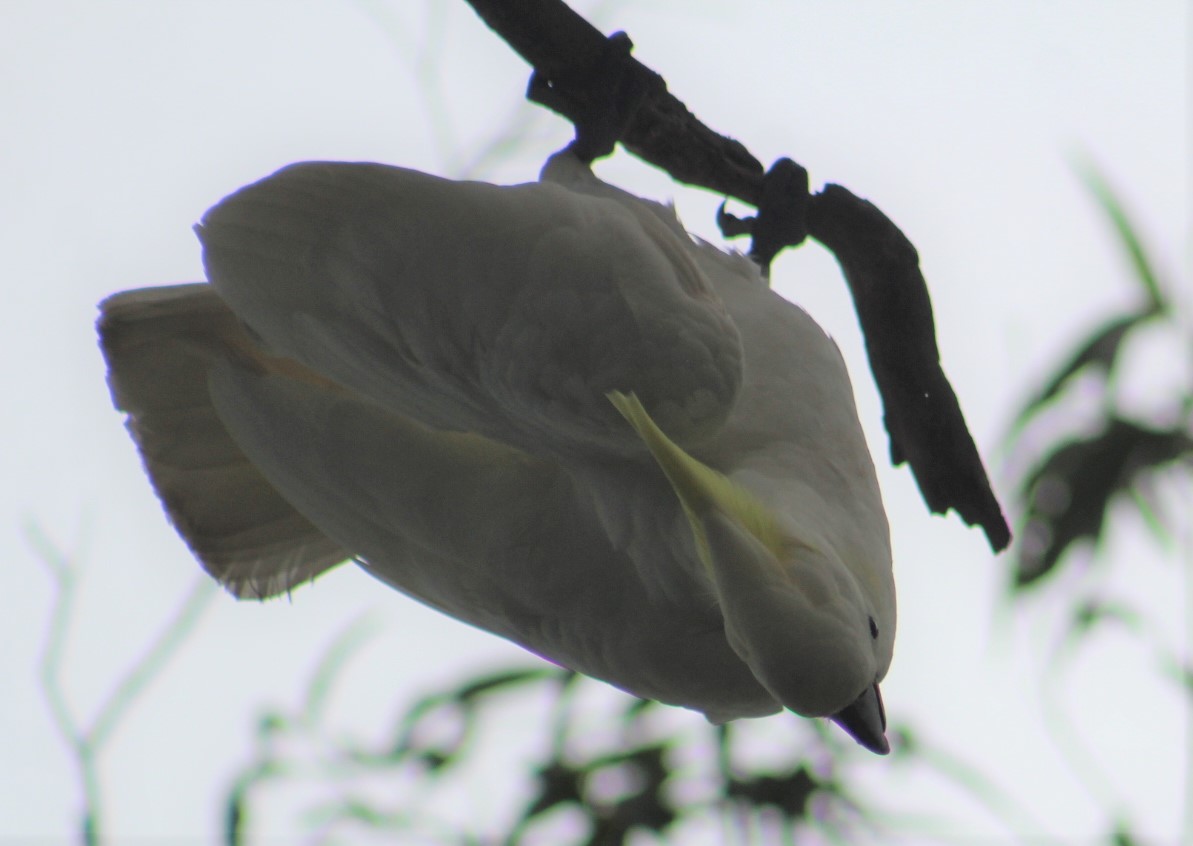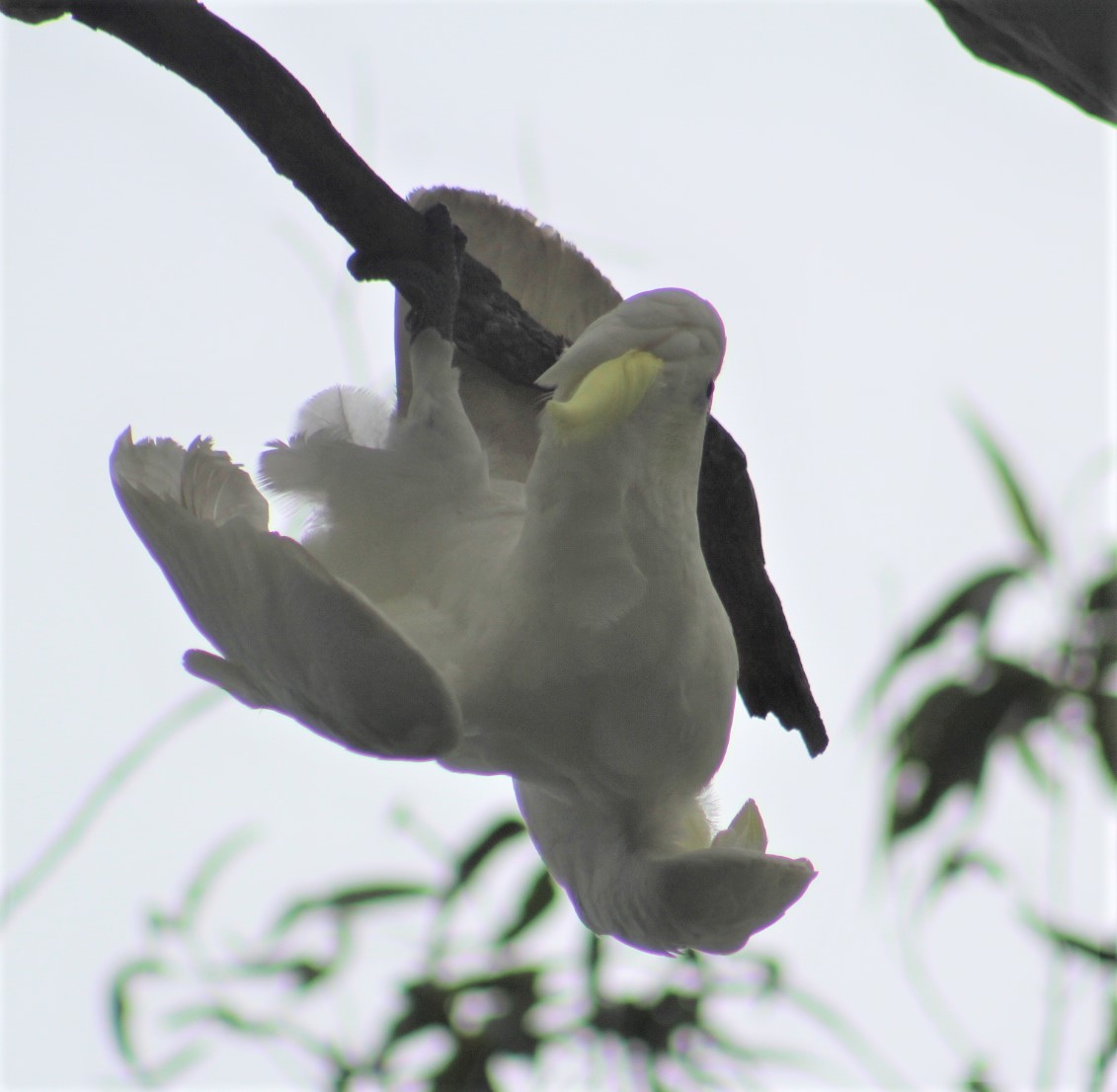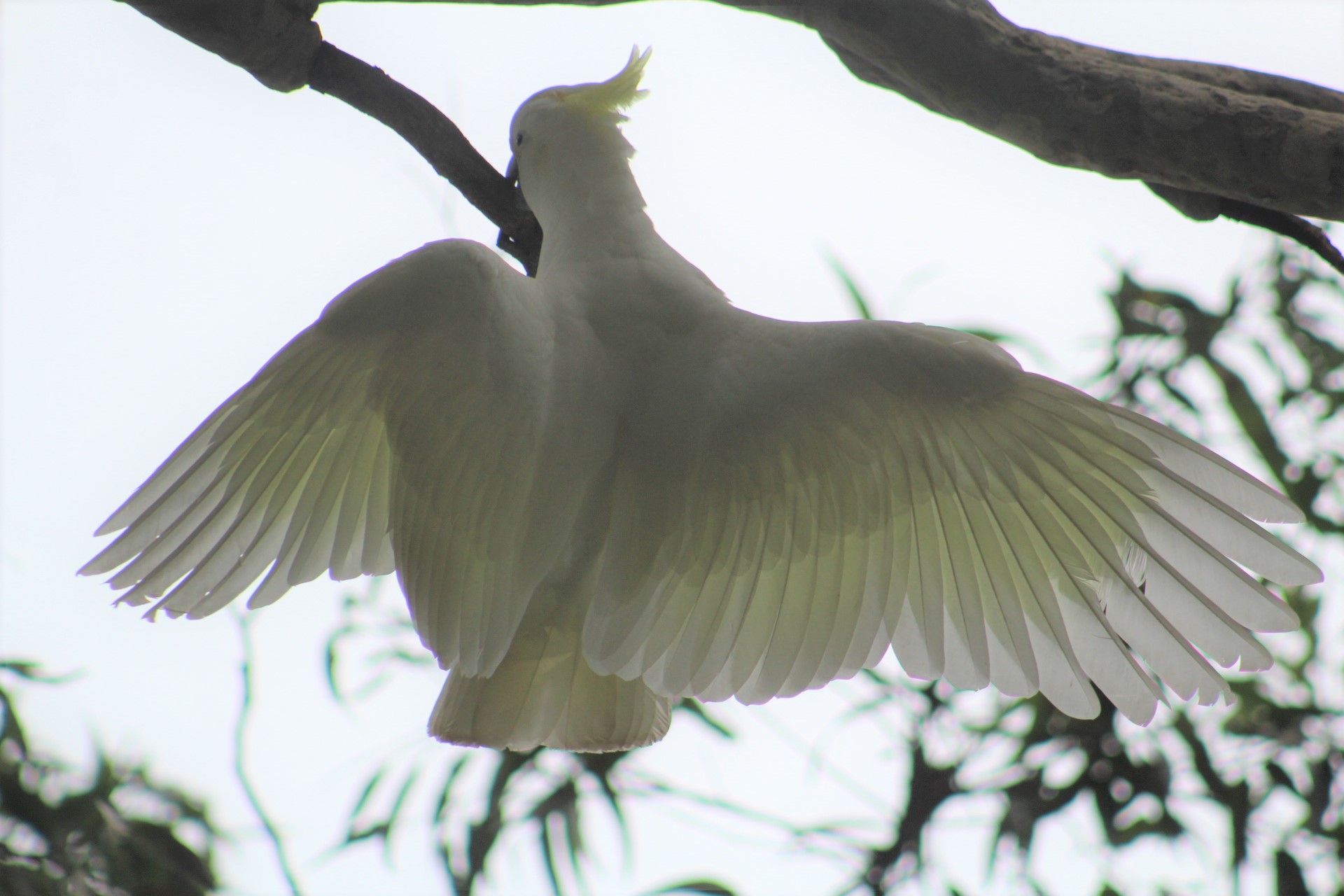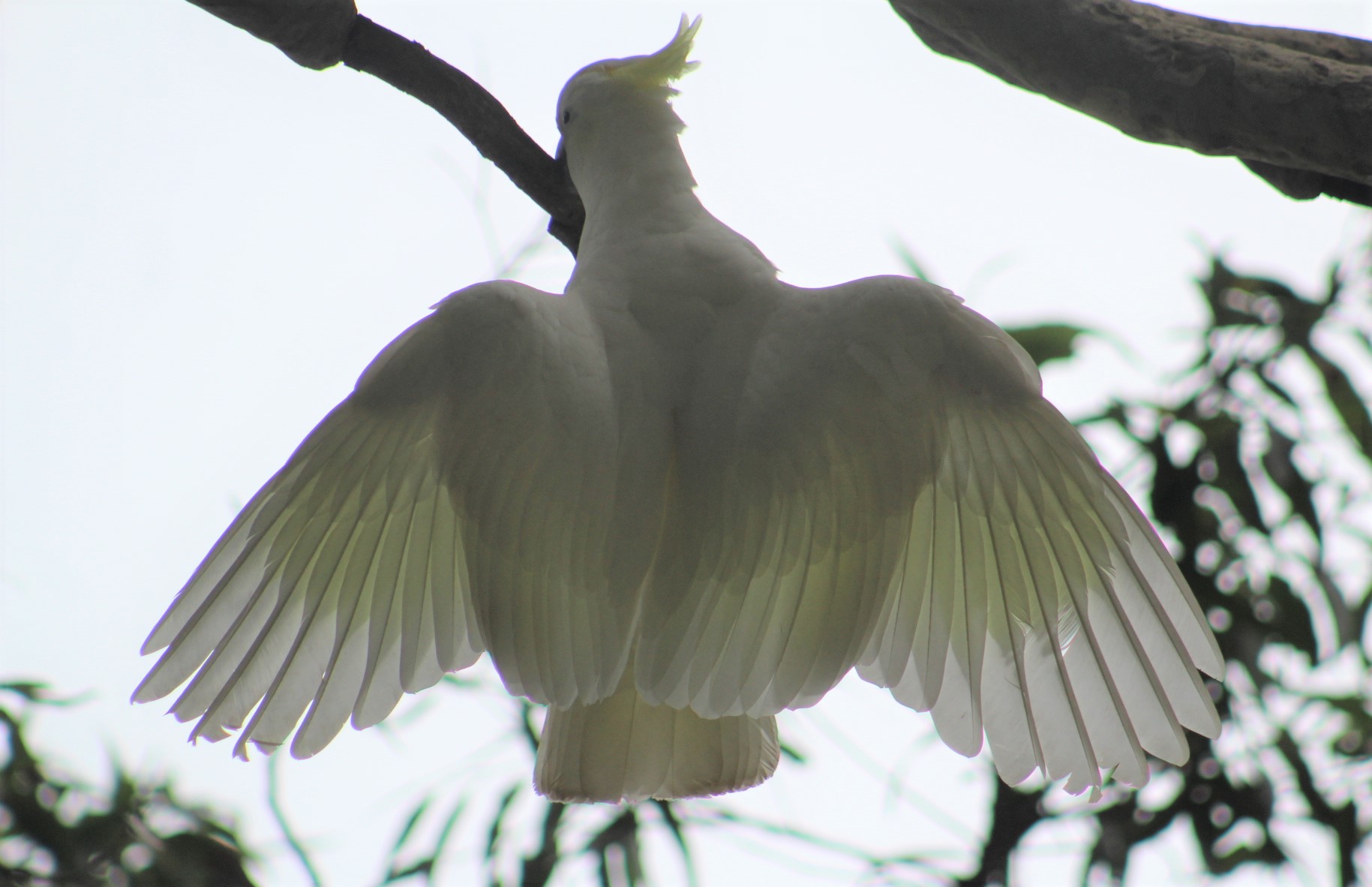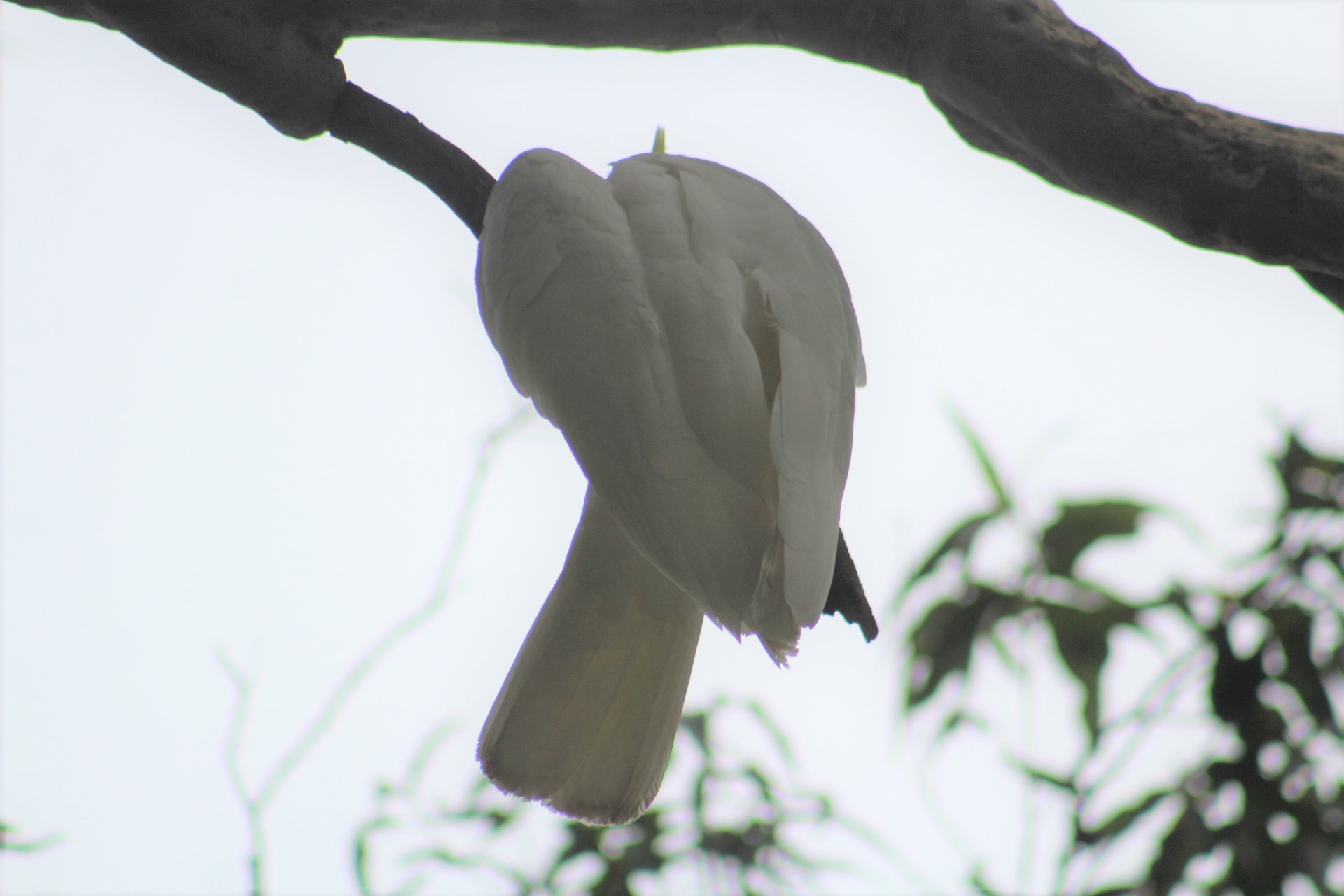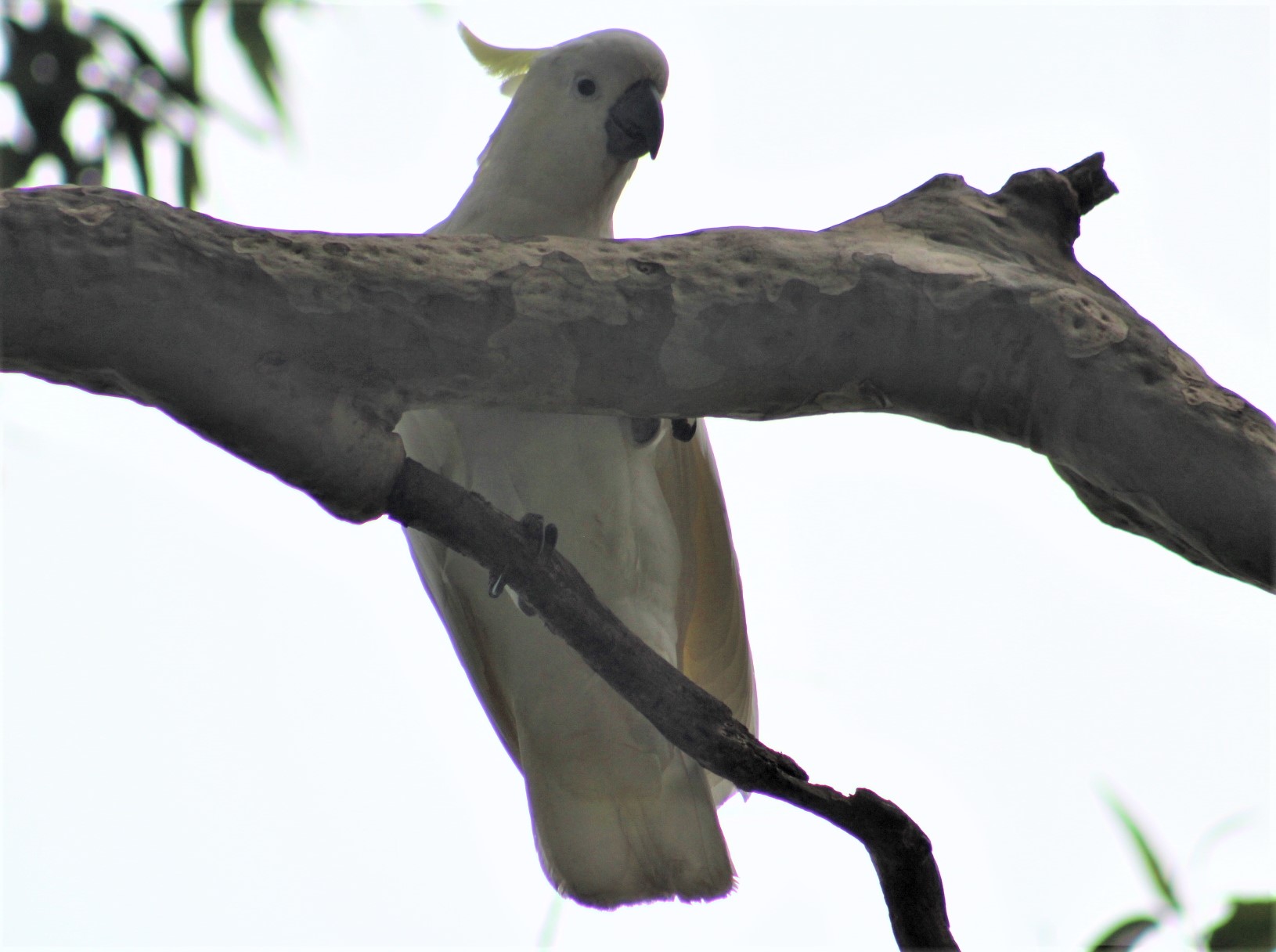 Photos: A J Guesdon, March 29, 2022
Long-Billed Corella
The long-billed corella or slender-billed corella (Cacatua tenuirostris) is a cockatoo native to Australia, which is similar in appearance to the little corella. This species is mostly white, with a reddish-pink face and forehead, and has a long, pale beak, which is used to dig for roots and seeds. It has reddish-pink feathers on the breast and belly.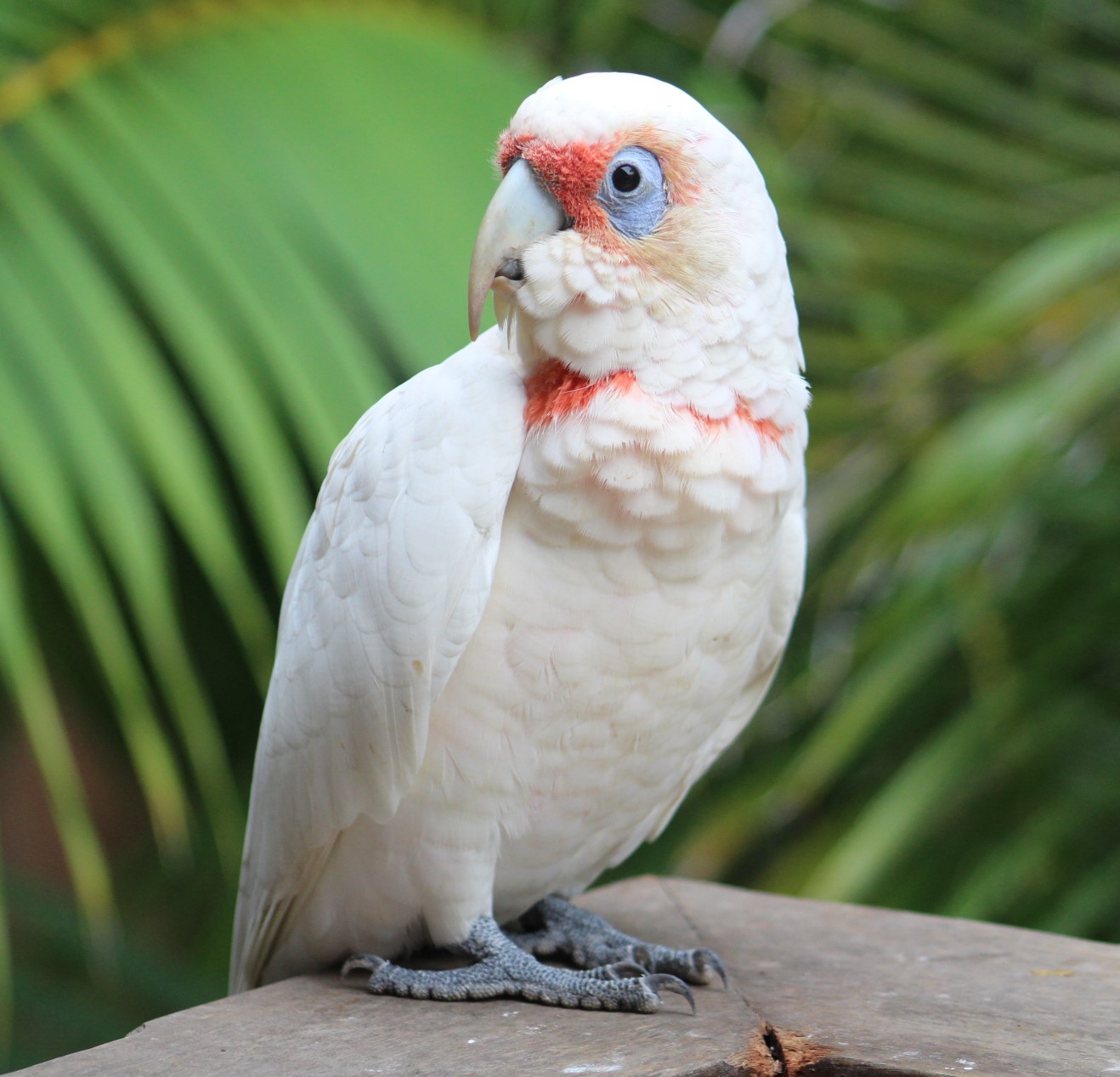 The long-billed corella does not have any recognised subspecies. The first formal written description was by German naturalist Heinrich Kuhl in 1820. It is one of several related species of cockatoos called corellas and classified in the subgenus Licmetis within the genus Cacatua, members of which are known as "white cockatoos".
The adult long-billed corella measures from 38 to 41 cm in length, has a wingspan around 80–90 cm, and averages 567 g in weight. It has a long, bone-coloured beak, and a rim of featherless, bluish skin around the eyes. The plumage is predominantly white with reddish feathers around the eyes and lores. The underside of the wings and tail feathers are tinged with yellow.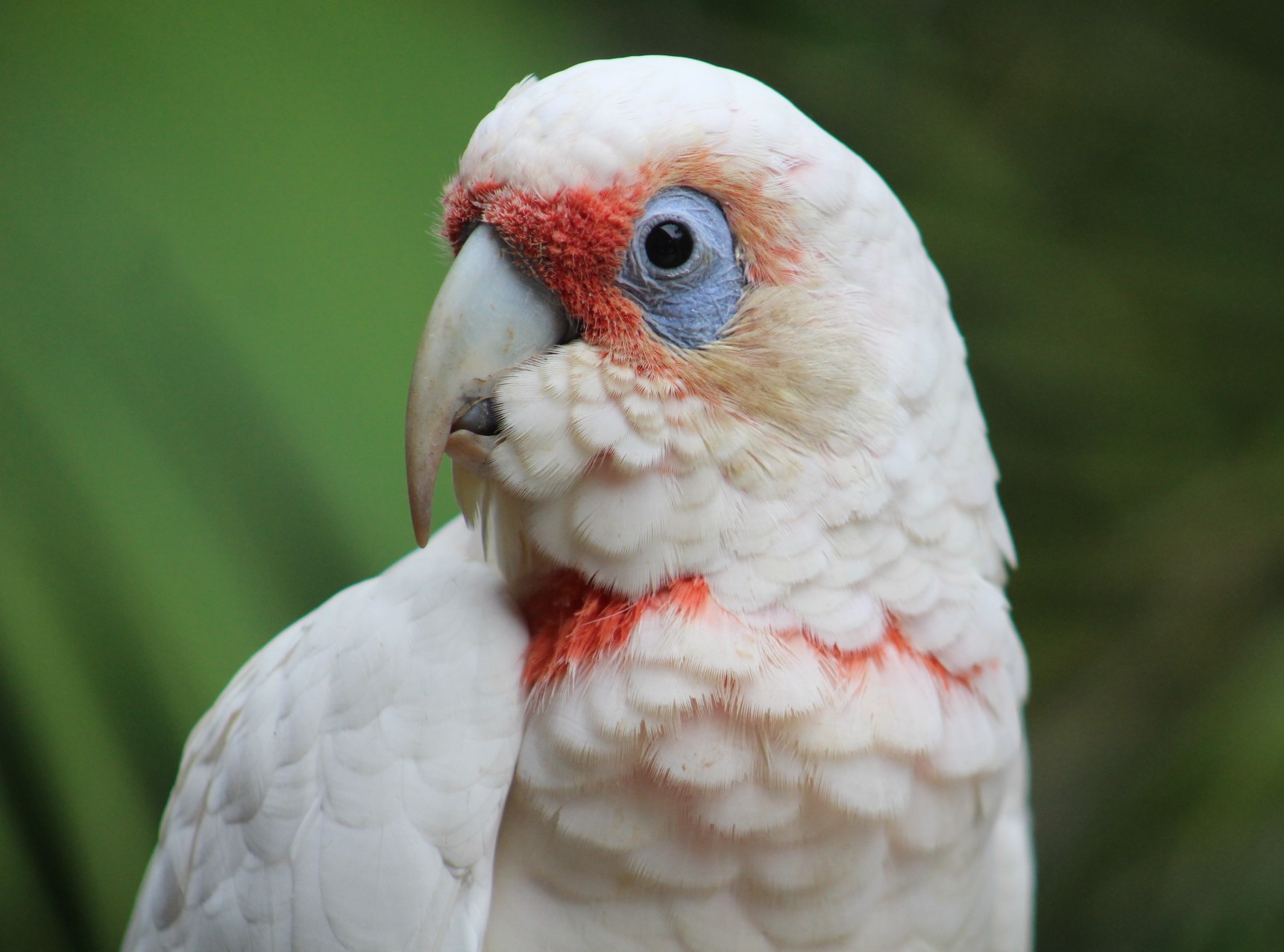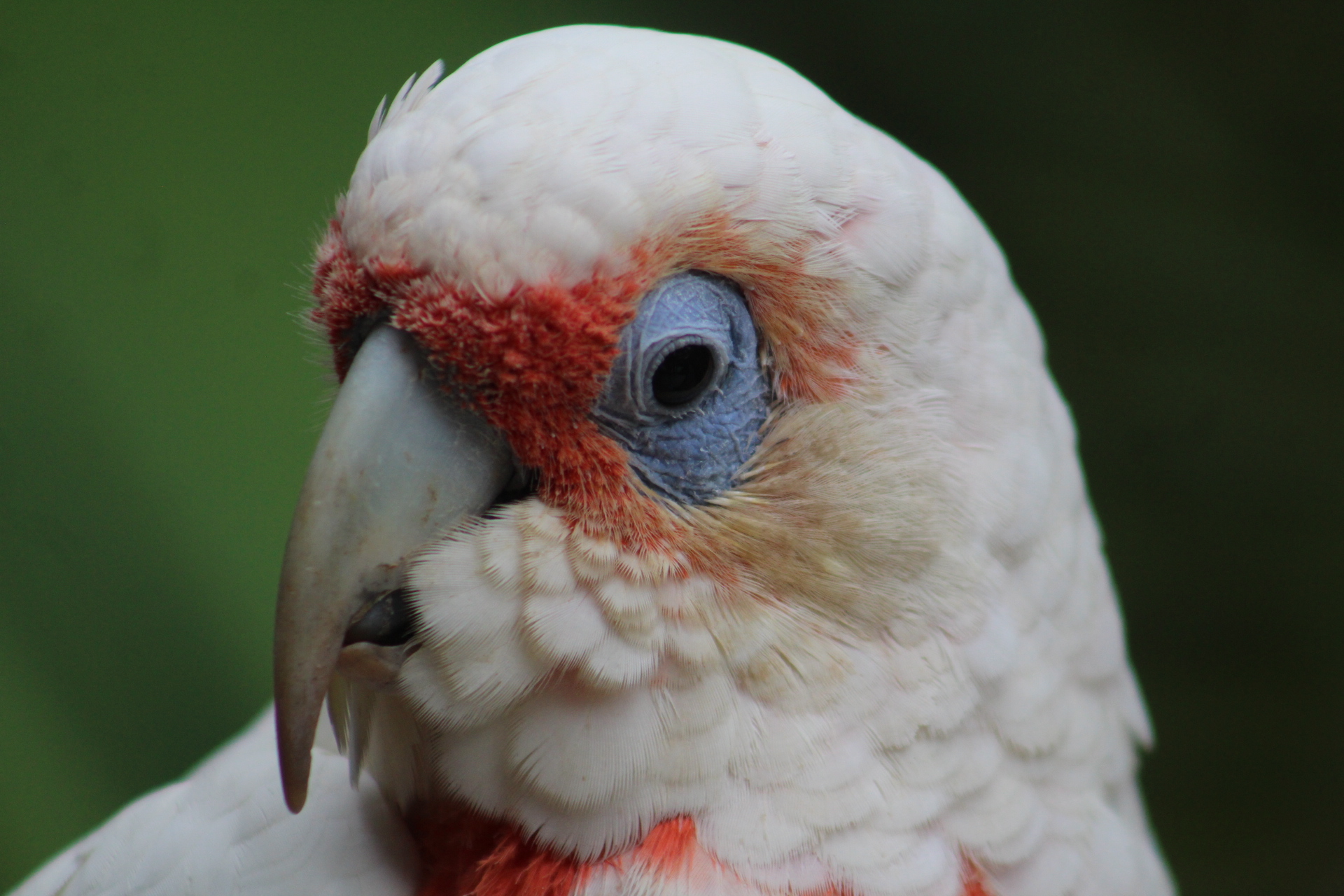 The long-billed corella can be found in the wild in Victoria and south-eastern New South Wales. It has extended its range since the 1970s into Melbourne, Victoria and can now be found in Tasmania, South Australia and southeast Queensland. A transplanted population resides in Perth, Western Australia as of the mid-1980s, which has conservation implications as this species may hybridize with the endangered western corella.
The long-billed corella is found in grassy woodlands and grasslands, including pasture, fields of agricultural crop, and urban parks.
Breeding generally takes place in Austral winter to spring (from July to November). Long-billed corellas form monogamous pairs and both sexes share the task of building the nest, incubating the eggs, and caring for the young. Nests are made in decayed debris, the hollows of large old eucalypts, and occasionally in the cavities of loose gravely cliffs. Around 2–3 dull white, oval eggs are laid on a lining of decayed wood. The incubation period is around 24 days and chicks spend about 56 days in the nest.
The long-billed corella typically digs for roots, seeds, corms, and bulbs, especially from the weed onion grass. Native plants eaten include murnong Microseris lanceolata, but a substantial portion of the bird's diet now includes introduced plants.
The call of the long-billed corella is a quick, quavering, falsetto currup!, wulluk-wulluk, or cadillac-cadillac combined with harsh screeches.
Long-billed corellas are now popular as pets in many parts of Australia, although they were formerly uncommon, and their captive population has stabilised in the last decade. This may be due to their ability to mimic words and whole sentences to near perfection. The long-billed corella has been labelled the best "talker" of the Australian cockatoos, and possibly of all native Psittacines.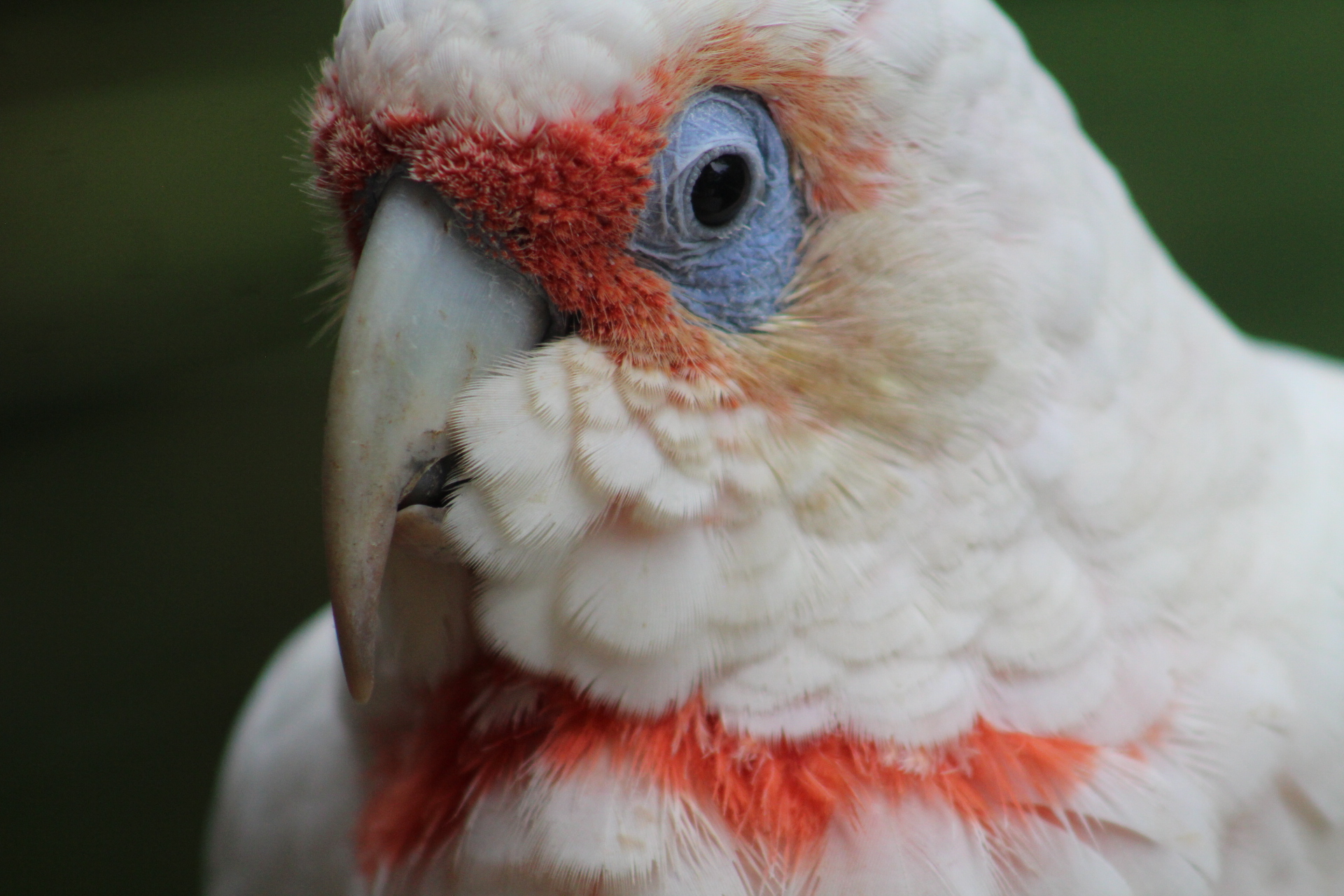 Information: BirdLife Australia. Photos: A J Guesdon, March 29, 2022, Careel Bay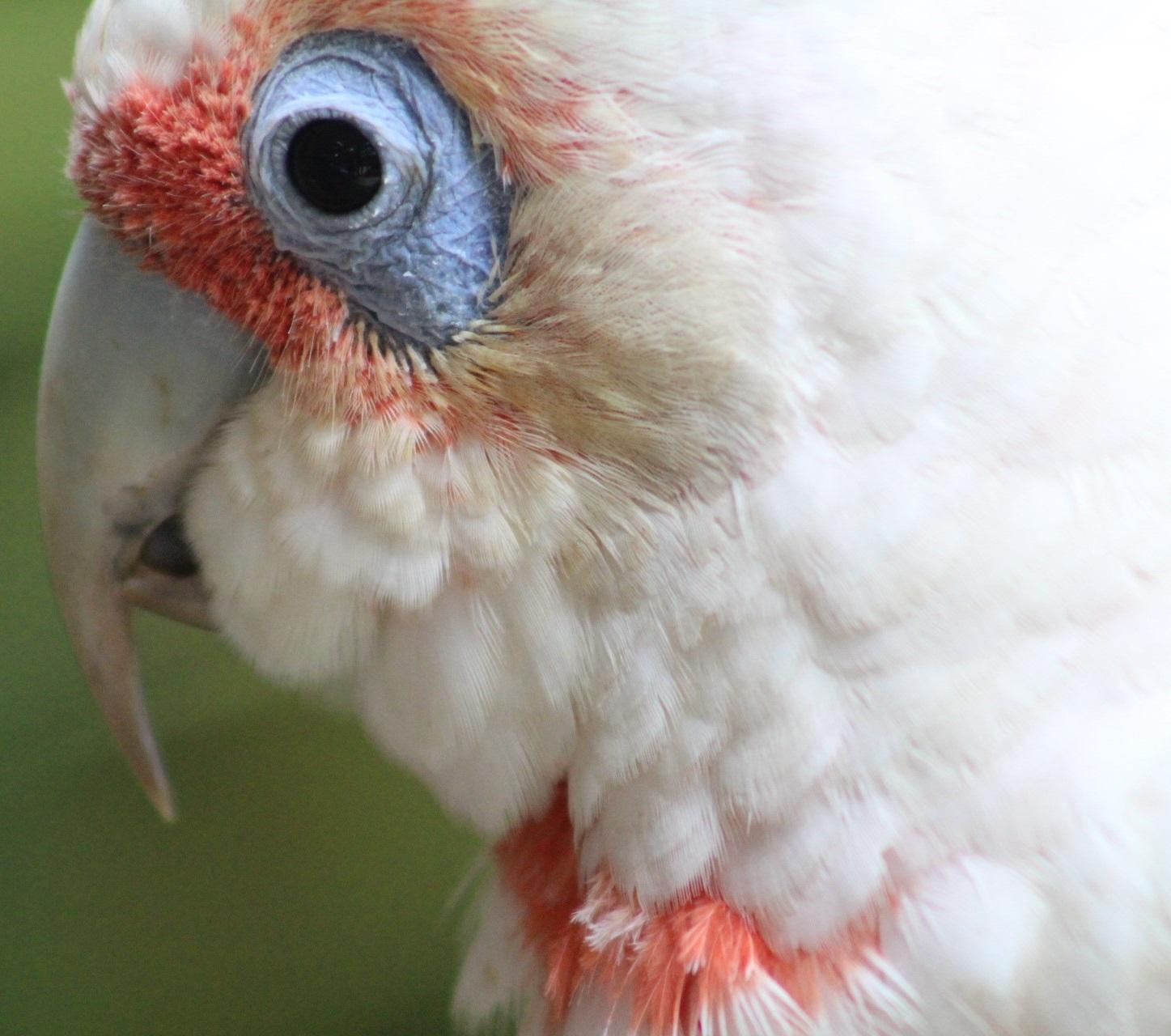 Aviaries + Possum Release Sites Needed
Pittwater Online News has interviewed
Lynette Millett OAM
(WIRES Northern Beaches Branch)
needs more bird cages of all sizes for keeping the current huge amount of baby wildlife in care safe or 'homed' while they are healed/allowed to grow bigger to the point where they may be released back into their own home.
If you have an aviary or large bird cage you are getting rid of or don't need anymore, please email via the link provided above.
There is also a pressing need for release sites for brushtail possums - a species that is very territorial and where release into a site already lived in by one possum can result in serious problems and injury.
If you have a decent backyard and can help out, Lyn and husband Dave can supply you with a simple drey for a nest and food for their first weeks of adjustment.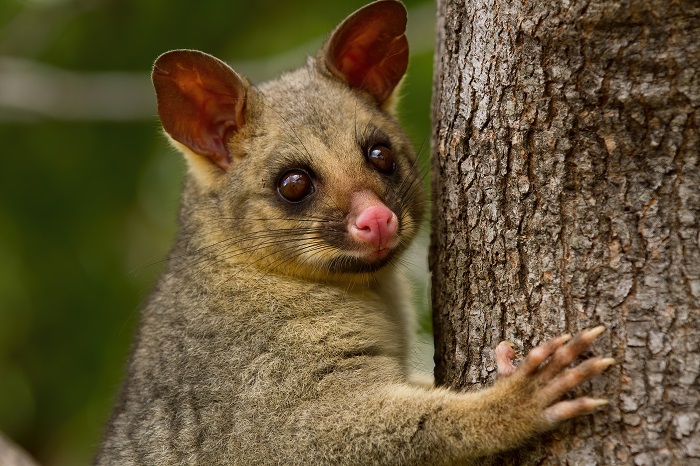 Asparagus Fern Flowering Now: Dispose Of This Weed To Stop The Spread
While on weeds, one of PIttwater's worst weed is asparagus fern and it's flowering now. Its scent is like Bubble Gum, sickly sweet. You can see the berries developing.
If this is on your land you can you cut off the stems and catch those berries before they turn white then red, that will stop the spread.
Please wear gloves when doing so as this plant has spikes.
Put the stems plus berries into your green bin.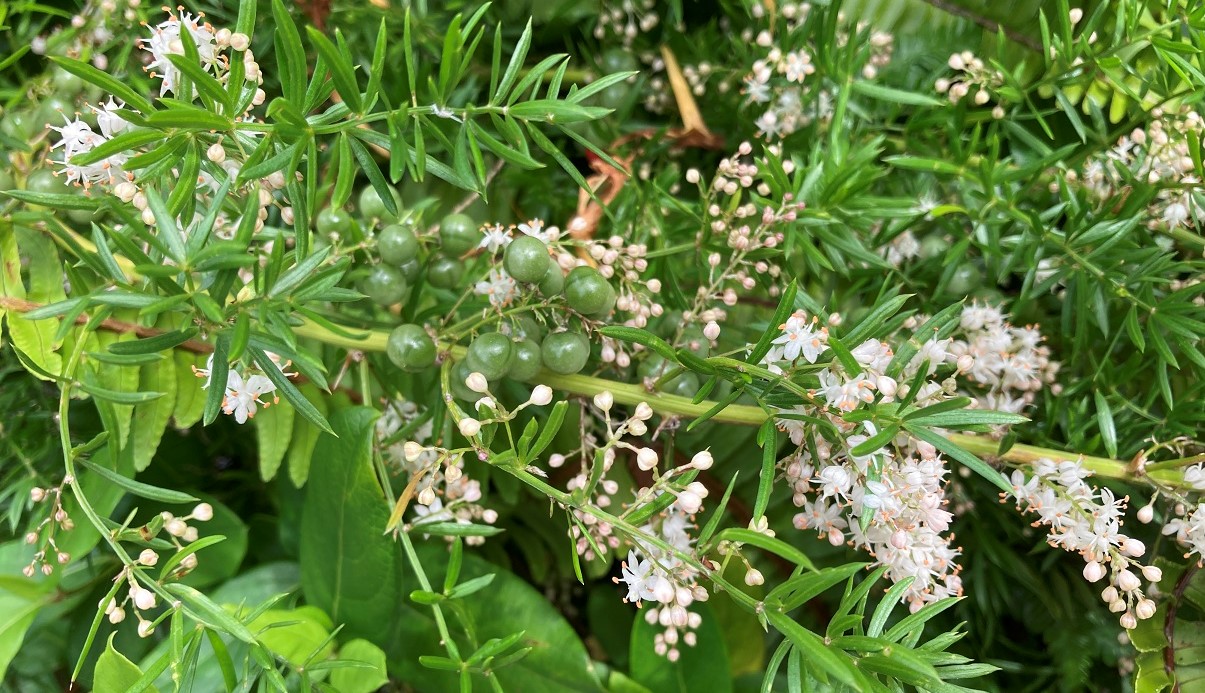 Photo: courtesy PNHA
Sydney Wildlife Rescue: Helpers Needed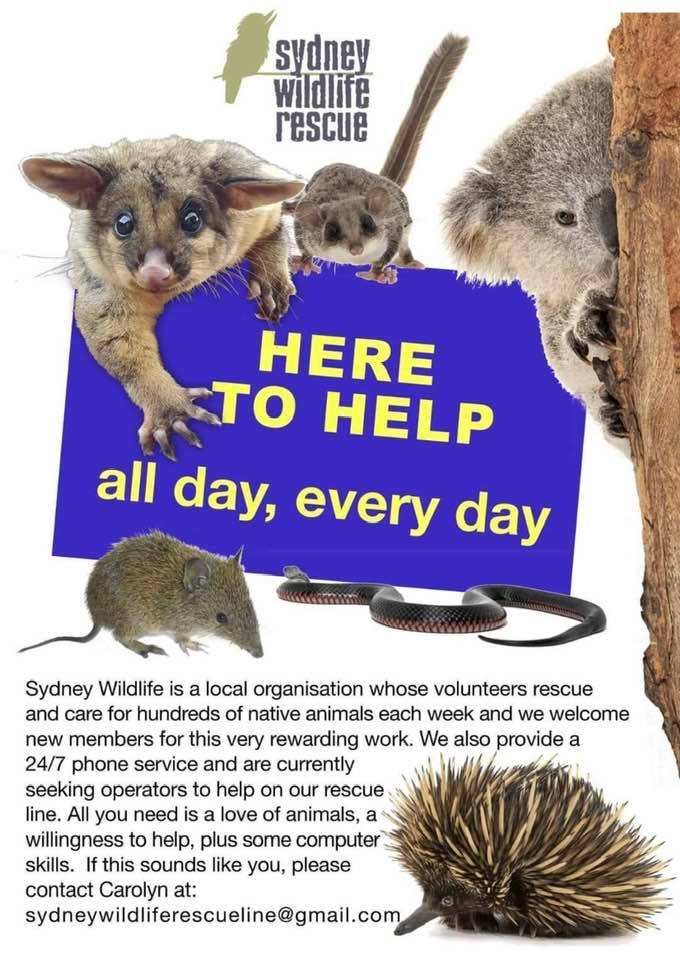 Bushcare In Pittwater
For further information or to confirm the meeting details for below groups, please contact Council's Bushcare Officer on 9970 1367
BUSHCARE SCHEDULES
Where we work Which day What time
Avalon
Angophora Reserve 3rd Sunday 8:30 - 11:30am
Avalon Dunes 1st Sunday 8:30 - 11:30am
Avalon Golf Course 2nd Wednesday 3 - 5:30pm
Careel Creek 4th Saturday 8:30 - 11:30am
Toongari Reserve 3rd Saturday 9 - 12noon (8 - 11am in summer)
Bangalley Headland 2nd Sunday 9 to 12noon
Bayview
Winnererremy Bay 4th Sunday 9 to 12noon
Bilgola
North Bilgola Beach 3rd Monday 9 - 12noon
Algona Reserve 1st Saturday 9 - 12noon
Plateau Park 1st Friday 8:30 - 11:30am
Church Point
Browns Bay Reserve 1st Tuesday 9 - 12noon
McCarrs Creek Reserve Contact Bushcare Officer To be confirmed
Clareville
Old Wharf Reserve 3rd Saturday 8 - 11am
Elanora
Kundibah Reserve 4th Sunday 8:30 - 11:30am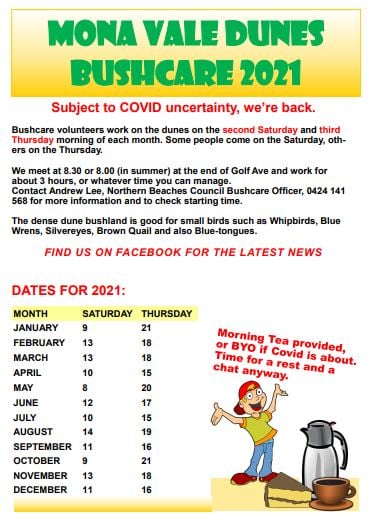 Mona Vale
Mona Vale Beach Basin 1st Saturday 8 - 11am
Mona Vale Dunes 2nd Saturday +3rd Thursday 8:30 - 11:30am
Newport
Bungan Beach 4th Sunday 9 - 12noon
Crescent Reserve 3rd Sunday 9 - 12noon
North Newport Beach 4th Saturday 8:30 - 11:30am
Porter Reserve 2nd Saturday 8 - 11am
North Narrabeen
Irrawong Reserve 2nd Saturday 2 - 5pm
Palm Beach
North Palm Beach Dunes 3rd Saturday 9 - 12noon
Scotland Island
Catherine Park 2nd Sunday 10 - 12:30pm
Elizabeth Park 1st Saturday 9 - 12noon
Pathilda Reserve 3rd Saturday 9 - 12noon
Warriewood
Warriewood Wetlands 1st Sunday 8:30 - 11:30am
Whale Beach
Norma Park 1st Friday 9 - 12noon
Western Foreshores
Coopers Point, Elvina Bay 2nd Sunday 10 - 1pm
Rocky Point, Elvina Bay 1st Monday 9 - 12noon

Gardens And Environment Groups And Organisations In Pittwater
Illegal Logging To Be Made Legal: New Powers Create Moving Goalposts On Logging Laws And Quash Community Rights To Consultation
Legislation gives the power to Victorian senior bureaucrats or the Environment Minister to vary logging laws, without public consultation.

By removing community rights to public consultation, the legislation is expected to undermine the ability of community groups and citizen scientists to hold government logging agency VicForests to account.

The Victorian government intends to change an important legal principle known as the Precautionary Principle, this change is likely to impact several community court cases brought against VicForests for alleged breaches of logging laws.
Legislation passed today creates the power for a Victorian senior bureaucrat or Environment Minister to vary logging laws, without public consultation.
The Conservation Forests and Lands Amendment Bill 2022 was passed by the Victorian Legislative Council tonight.
"It is of serious concern that a minister or senior bureaucrat now has the power to change logging rules at the stroke of a pen, without requiring public consultation, scientific advice or consideration of impacts on the environment," says the Wilderness Society's Alice Hardinge.
"These new powers of legislation and logging rule changes won't fix the ongoing destruction of high conservation value forests, make the crisis in the Victorian wood and fibre industry go away or provide certainty for businesses wishing to remove exposure to risk of unsustainable and illegal logging within their supply chains," says Alice Hardinge.
The legislation is also expected to undermine the ability of community groups and citizen scientists to hold government logging agency VicForests to account, where breaches to environmental laws in public forests occur that are intended to limit damage to forest health, clean water, and wildlife.
Under these new powers, the Victorian government has indicated its intention to vary the precautionary principle, which is supposed to prevent damage to the environment in situations of scientific uncertainty. This is likely to impact several court cases involving allegations of breaches to the law by VicForests.
"While the Andrews government is claiming to perhaps be interpreting, or 'clarifying' the law, this appears to be a thinly veiled mechanism to doing so in a manner that takes a weak position for protecting and restoring forests and wildlife," says Alice Hardinge.
Victorians want a wood and fibre industry they can be proud of, and forests for future generations to enjoy—yet these new powers appear to be a step in the opposite direction, the Wilderness Society states.
New Hope's Renewable Energy Shift Warmly Welcomed
Lock the Gate Alliance has warmly congratulated New Hope Coal on its decision to abandon its Stage 3 New Acland expansion and instead transition its business to a wholly renewable energy company.
The formerly coal focused resources company had been under sustained pressure from farmers and community groups for more than a decade to abandon its Stage 3 expansion due to the threat it posed to prime farmland and the underground water table.
The now abandoned thermal coal mine expansion would have threatened the production of 10 million litres of milk each year from local dairies and would have required 3.5 million litres of water each day, leading to a 47 metre groundwater drawdown over at least 1200 square kilometres of prime agricultural land.
New Hope was also facing increasing criticism from investors over its stubborn unwillingness to move with the times and embrace fossil fuel free energy.
Speaking from a paddock not far from the town of Acland, whose last remaining houses would have been destroyed to make way for the expansion, local dairy cow Bessie (stud name, Tandurngabah Highland Queen the Fourth) welcomed New Hope's decision.
"New Hope's udderly lacklustre attempts at rehabilitation at its New Acland mine site couldn't feed half a herd of goats, let alone a quality milker like me," she said.
"Once the high quality farmland of the Downs is ripped up for coal mining, it simply cannot be restored.
"The fine people of Queensland want their milk fresh and of good quality, and thanks to New Hope's decision to scrap the New Acland expansion, that's what they'll continue to get.
"As a discerning dairy cow, I have a thirst for clean, fresh water on my farm. I'm over the moon that New Hope won't be putting our water at risk anymore.
"I and the rest of my herd warmly welcome New Hope's decision to moove out of coal and into renewable energy.
"We look forward to watching the Darling Downs grow and prosper thanks to sustainable jobs in renewable energy and farming, rather than the boom and bust cycle of fossil fuels."
Arrow's Million Dollar Fine A Pittance For Its Owners But A Start For QLD
The million dollar fine handed to Shell/PetroChina joint venture coal seam gas company Arrow Energy is a small start to cracking down on the rogue industry in Queensland, but much more needs to be done, according to Lock the Gate Alliance.
It's unlikely a $1 million fine will act as a significant deterrent to a company like Shell (Arrow's parent company), which recently posted a profit of more than $19 billion.
The fine follows sustained pressure on Arrow and the Palaszczuk Government following revelations Arrow illegally drilled deviated wells beneath farmers' land without the farmers' knowledge and without prior access agreements, a legal requirement in Queensland.
Lock the Gate Alliance Queensland spokesperson Ellie Smith said while the fine fell well short, it was an important first step for the Palaszczuk Government.
"This is ultimately just a slap on the wrist for a massive multinational company like Shell/PetroChina and it won't stop them doing it again," she said.
"The gas company clearly should have been prosecuted for illegally drilling under farms without farmers' consent or even knowledge.
"The company's behaviour was reckless and illegal, and caused farmers significant distress.
"Minor changes to company procedures won't fix this. Farmers want an unequivocal right to say no to mining on or under their land and Queenslanders want the farms that produce their food and fibre protected and prioritised over short term, damaging gas.
"The unconventional gas industry has left a trail of destruction across some of the best farmland in Queensland over the past decade, draining water bores, contaminating farmland and causing land to subside.
"Despite what the Palaszczuk Government believes, gas companies and farming cannot coexist.
"Gas is a fossil fuel like any other, and is driving catastrophic climate change events like the devastating east coast floods so many are still recovering from.
"What we need now is a full, independent and transparent review of the industry in Queensland.
"We need farmers to be given the unequivocal legal right to refuse gas companies on their property. Anything less will result in repeated violations by companies like Arrow Energy."
$4 Billion Industry Response To Hydrogen Hubs
The Hunter and Illawarra Hydrogen Hubs have received a major boost with more than $4 billion in potential investment proposed in response to a recent call for expressions of interest the NSW State government announced on March 28.
Acting Premier Paul Toole said this huge commercial interest shows how much the regions are set to benefit with renewable energy and new low carbon technologies.
"Hydrogen Hubs will provide huge economic benefits for the Hunter and Illawarra, helping to secure jobs of the future," Mr Toole said.
"It also represents a huge export potential for our state, with the international market for green hydrogen expected to meet 24% of the global energy demand by 2050, estimated to be worth $900 billion."
Treasurer and Energy Minister Matt Kean said the overwhelming response includes private sector plans to develop up to 5900MW of electrolyser capacity, more than eight times our 700MW target.
"The market has spoken. This is an overwhelming level of commercial interest and it shows our policies are sending the right signals to energy investors, making NSW the go to state for energy investment," Mr Kean said.
"Twenty-one individual projects have told us they want to produce almost 268,000 tonnes of green hydrogen each year, which is enough to fuel 26,000 trucks. Hydrogen is integral to decarbonising many parts of the economy, including heavy industry and heavy transport."
The NSW Government has committed $70 million to accelerate the development of Hydrogen Hubs in New South Wales, starting with the Hunter and Illawarra.
Hydrogen Hubs will be pivotal in helping NSW scale up the emerging green hydrogen industry by working with industry to support innovation and minimise the cost of infrastructure. To learn more see Developing hydrogen hubs for NSW
Avalon Golf Course Bushcare Needs You
We're so short of helpers we've had to cancel for the time being. Meanwhile the weeds will go gangbusters.
We used to meet on the second Wednesday afternoon of each month. Could you come if we worked on another day or time? say a morning, or on a weekend day?
Contact Geoff Searl on 0439 292 566 if you'd like to help. He'd love to hear from you.
We have fun using the Tree Popper, here with our supervisor from Dragonfly Environmental. We can lever out quite big Ochnas, aka Mickey Mouse plant from Africa. We want to bring back the bush, not let the weeds win!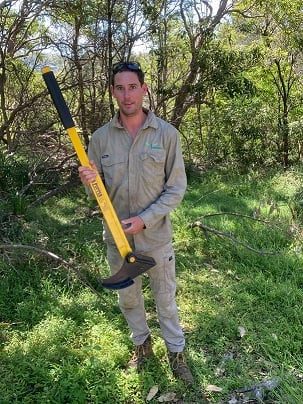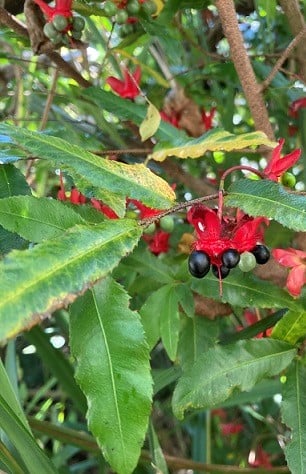 Ochna or Mickey Mouse plant has yellow flowers in spring, then lots of green berries that turn black when ripe. Seedlings come up in hundreds. Ochna has a very strong taproot but the steady pressure of the Tree Popper lifts the plant out of the ground easily. The alternative control is repeated scraping and painting with Roundup, very slow and time consuming. If you have an Ochna you cant remove, you can enjoy the flowers, then PLEASE prune it so that berries can't develop.
New Shorebirds WingThing For Youngsters Available To Download
A Shorebirds WingThing educational brochure for kids (A5) helps children learn about shorebirds, their life and journey. The 2021 revised brochure version was published in February 2021 and is available now. You can download a file copy here.
If you would like a free print copy of this brochure, please send a self-addressed envelope with A$1.10 postage (or larger if you would like it unfolded) affixed to: BirdLife Australia, Shorebird WingThing Request, 2-05Shorebird WingThing/60 Leicester St, Carlton VIC 3053.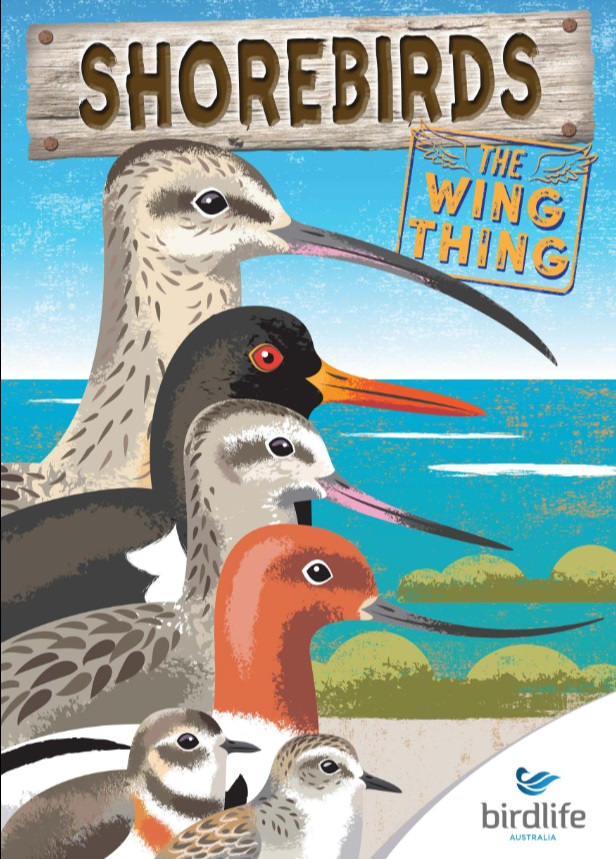 Shorebird Identification Booklet
The Migratory Shorebird Program has just released the third edition of its hugely popular Shorebird Identification Booklet. The team has thoroughly revised and updated this pocket-sized companion for all shorebird counters and interested birders, with lots of useful information on our most common shorebirds, key identification features, sighting distribution maps and short articles on some of BirdLife's shorebird activities.
The booklet can be downloaded here in PDF file format: http://www.birdlife.org.au/documents/Shorebird_ID_Booklet_V3.pdf
Paper copies can be ordered as well, see http://www.birdlife.org.au/projects/shorebirds-2020/counter-resources for details.
Download BirdLife Australia's children's education kit to help them learn more about our wading birdlife
Shorebirds are a group of wading birds that can be found feeding on swamps, tidal mudflats, estuaries, beaches and open country. For many people, shorebirds are just those brown birds feeding a long way out on the mud but they are actually a remarkably diverse collection of birds including stilts, sandpipers, snipe, curlews, godwits, plovers and oystercatchers. Each species is superbly adapted to suit its preferred habitat. The Red-necked Stint is as small as a sparrow, with relatively short legs and bill that it pecks food from the surface of the mud with, whereas the Eastern Curlew is over two feet long with a exceptionally long legs and a massively curved beak that it thrusts deep down into the mud to pull out crabs, worms and other creatures hidden below the surface.
Some shorebirds are fairly drab in plumage, especially when they are visiting Australia in their non-breeding season, but when they migrate to their Arctic nesting grounds, they develop a vibrant flush of bright colours to attract a mate. We have 37 types of shorebirds that annually migrate to Australia on some of the most lengthy and arduous journeys in the animal kingdom, but there are also 18 shorebirds that call Australia home all year round.
What all our shorebirds have in common—be they large or small, seasoned traveller or homebody, brightly coloured or in muted tones—is that each species needs adequate safe areas where they can successfully feed and breed.
The National Shorebird Monitoring Program is managed and supported by BirdLife Australia.

This project is supported by Glenelg Hopkins Catchment Management Authority and Hunter Local Land Services through funding from the Australian Government's National Landcare Program. Funding from Helen Macpherson Smith Trust and Port Phillip Bay Fund is acknowledged.
The National Shorebird Monitoring Program is made possible with the help of over 1,600 volunteers working in coastal and inland habitats all over Australia.
The National Shorebird Monitoring program (started as the Shorebirds 2020 project initiated to re-invigorate monitoring around Australia) is raising awareness of how incredible shorebirds are, and actively engaging the community to participate in gathering information needed to conserve shorebirds.
In the short term, the destruction of tidal ecosystems will need to be stopped, and our program is designed to strengthen the case for protecting these important habitats.
In the long term, there will be a need to mitigate against the likely effects of climate change on a species that travels across the entire range of latitudes where impacts are likely.
The identification and protection of critical areas for shorebirds will need to continue in order to guard against the potential threats associated with habitats in close proximity to nearly half the human population.
Here in Australia, the place where these birds grow up and spend most of their lives, continued monitoring is necessary to inform the best management practice to maintain shorebird populations.
BirdLife Australia believe that we can help secure a brighter future for these remarkable birds by educating stakeholders, gathering information on how and why shorebird populations are changing, and working to grow the community of people who care about shorebirds.

To find out more visit: http://www.birdlife.org.au/projects/shorebirds-2020/shorebirds-2020-program
Aussie Bread Tags Collection Points
Collecting bread tags enables us to provide wheelchairs that change the life of disabled people in need, as well as keeping the tags out of landfill to help to preserve the environment.
Bread Tags for Wheelchairs was started in South Africa in 2006 by Mary Honeybun. It is a community program where individuals and organisations collect bread tags, which are sold to recyclers. The money raised pays for wheelchairs for the less fortunate which are purchased through a local pharmacy. Currently about 500kg of bread tags are collected a month in South Africa, funding 2-3 wheelchairs.
We have been collecting bread tags nationally in Australia since September 2018 and now have more than 100 collection points across the country. In February 2019 we started local recycling through Transmutation - Reduce, Reuse and Recycle in Robe, SA, where our tags are recycled into products such as door knobs and bowls. Tags from some states are still sent to South Africa where a plastics company called Zibo recycles them into seedling trays.
These humble bits of polystyrene can make a real difference so get your friends, family, school, workplace and church involved. Ask school tuck shops and boarding school kitchens, child care centres, aged care facilities, hospitals, cafes and fast food outlets to collect for you - they get through a lot of bread!
All the information and signage for collecting or setting up a public collection point is
on our website
.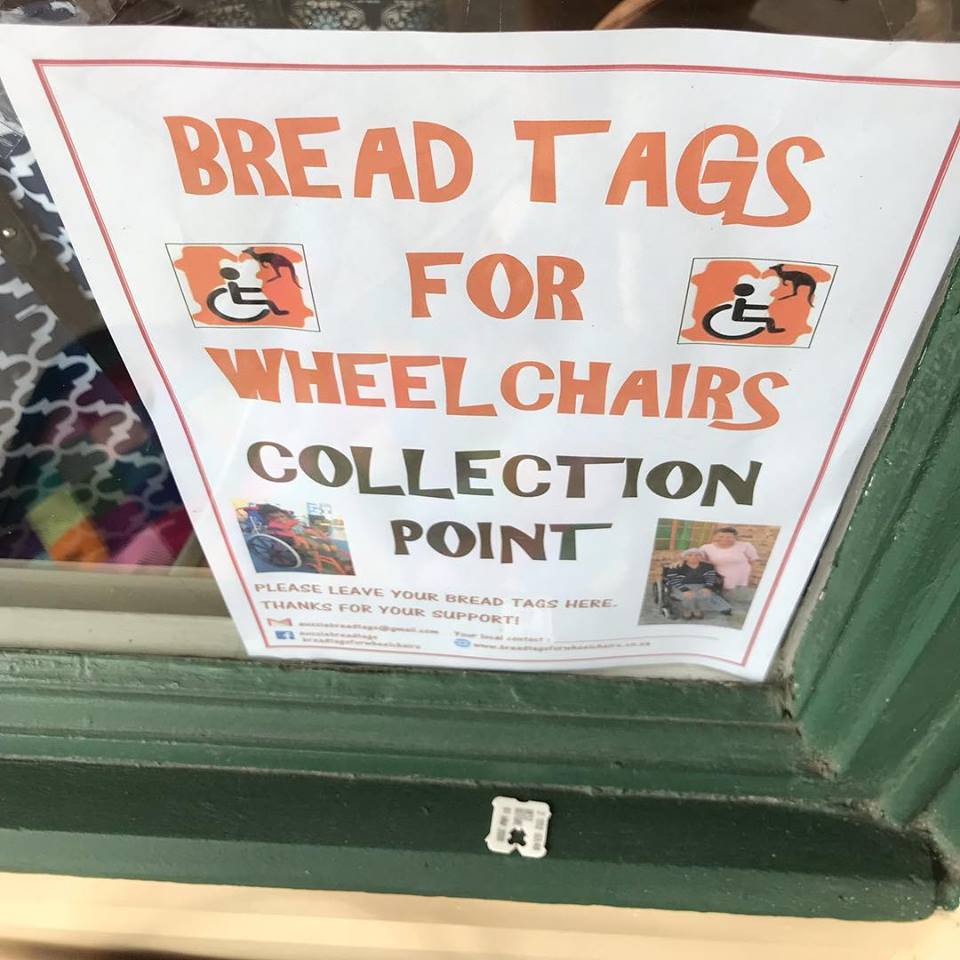 Reflections On The Federal Budget
March 29, 2022: COTA Australia
Tonight, I have been in Parliament watching the Federal Budget on behalf of Older Australians. The budget will help your hip pocket and provide more aged care funding. We will need to see more accountability from aged care providers about their spending of this extra money.
This budget sets the scene for a Federal Election campaign over the coming weeks, with the hope of older Australians now pinned on election announcements for vital services like oral and dental health.
From what I've seen, there is not as much change in this budget as there has been in the recent years – but that's not necessarily bad news. Tonight's budget reaffirmed the Government's commitment to the aged care reform process based on the recommendations of last year's Royal Commission into Aged Care Quality and Safety. The budget announced a further $468.3 million to support aged care services, bringing the total investment to $18.8B.
The continued investment maintains the rolling out of 80,000 home care packages over 2021-2023, funds 33,800 new training places for aged care workers, 8,400 new respite service, and delivers funding to link nursing homes with community pharmacists and on-site pharmacists to improve medication management and safety.
The Government will also implement, from 1 October 2022, a new residential aged care funding model that includes an additional $34.60 per bed, per day. Each nursing home around the country will have a target for the number of minutes of care they must deliver based on the clinical needs of their residents. This will be based on the initial stage recommended by the Royal Commission of 200 minutes per resident per day. The new star rating system will score a nursing home out of five on how well they met their target without publishing the exact minutes of care they should have delivered for the funding they received, versus the number of minutes they actually delivered.
While the increased transparency included in the Government's reform package is appreciated, more transparency is required to ensure funding is being spent as it is intended.
Tonight's budget also includes a $1.5 billion investment to provide a one off $250 payment to around 6 million Australians, around half of whom are pensioners. Also announced was a 50% reduction to the fuel excise for 6 months, reducing the price of petrol by 22.1 cents per litre. These new investments build on the 2.1% indexation to increase the age pension by $20.10 for singles and $30.20 for couples per fortnight announced earlier in March 2020 which is based on historical cost increases over July to December 2021. Waiting another six months for indexation to catch up to the price hikes being experienced now would not have been a viable option for many people living from pension payment to pension payment.
We call on the Government to commit to publish as part of their star rating system – how many minutes of care each nursing home is being funded to deliver, compared to the number of minutes they actually delivered. Australian families deserve to know.
We continue to call on Government to consider a permanent solution for pensioners on the cost of digital engagement. In the modern world, the cost of internet connections, computers, mobile phones are no longer optional. For many people on welfare payments who don't own their home, these things are out of reach, and the consequences are awful.
We were disappointed that the Government's cost of living relief for middle income wage earners did not include low to middle income self-funded retirees living only off their superannuation.
We continue to look to the Government and Opposition for their response to the Royal Commission's recommendation for a seniors' dental program. Funding oral health is critical to maintaining quality of life in aged care and in the community. We are disappointed such a program was not in tonight's Budget. It is long overdue.
Budget Delivers Relief But Not Reform
National Seniors Australia welcomes funding to relieve rising living costs but is disappointed with the lack of longer-term structural reform to make the pension system simpler and fairer.
Chief Advocate Ian Henschke said Australia's peak body for older Australians is also pleased there are additional funds for residential aged care but disappointed with lack of targeted measures to help people receive in-home care and eliminate the wait list.
"Pensioners and Commonwealth Seniors Health Card Holders welcome the Federal Government's one-off payment of $250 to help with soaring cost-of-living prices. However, if a landlord increases rent by as little as $5 a week, this money is gone – and rent is only one example," Mr Henschke said.
"National Seniors Australia has long called for an Independent Pension Tribunal to ensure the pension rate is adequate for all, and not used as political football to kick around at elections."
Fuel Excise cut by 22.1 cents a litre from midnight
Mr Henschke said older Australians welcome the Federal Government's 6 month cut in the fuel excise to blunt skyrocketing petrol prices. Another option is to work with state and territory governments to deliver free public transport for seniors, as the South Australian and the Tasmanian Governments are doing.
Mr Henschke said older Australians, especially those with limited super, welcome the 12-month extension of the 50 per cent reduction in the minimum drawdown to help ease worry in these uncertain times.
"Many older Australians don't understand why they're forced to withdraw set amounts of savings from superannuation. They worry this will erode their nest egg and therefore their income later in life, when they face unknown medical and aged care costs."
National Seniors Australia is surprised the Federal Government hasn't taken the opportunity to let pensioners work by exempting employment income from the Age Pension Income Test. This measure would also provide billions of dollars to boost GDP.
Mr Henschke said this policy is strongly backed by business and the wider community. It would have been a game changer for pensioners with limited savings who don't see the point in working when they lose 50 cents in the dollar plus tax if they do more than one day's work.
"If Australia had the same participation rate as New Zealand – there'd be as many as 400,000 additional pensioners in the workforce. It's a missed opportunity to solve workforce shortages, boost incomes and Australia's GDP at a crucial time.
An extra $28 per bed per day is being provided for better food and more hours of care in residential aged care. However, National Seniors is disheartened with the lack of further investment in home care.
"While the government has significantly cut the waitlist over the past three years, it's in danger of going backwards if there are not enough workers to meet demand. An additional $48.5m for 15,000 low fee and free training places will not be effective unless it is targeted at the right people and is accompanied with a wage increase."
"National Seniors Australia recommended a Mature Age Traineeship Program to help meet these urgent front line workforce needs, and a downsizing incentive to help people stay safe in their own home and out of residential aged care, but neither were adopted. We also hoped for more affordable supported social housing for the growing number of impoverished pensioners as an alternative to residential aged care."
Cost Of Living Increases And The Age Pension
Last week, pensioners received the biggest boost to their Age Pension payments, but with cost-of-living skyrocketing, is this going to be enough?
Every year, Centrelink indexes Age Pension payment rates in March and September to keep it in line with inflation.
On 20 March 2022, a 2.1% indexation was applied to the Age Pension, Disability Support Pension, and Carer Payment. Rates increased by $20.10 a fortnight for singles to $987.60 and by $30.20 a fortnight for couples (combined) to $1,488.80. This is equivalent to $1.43 per day for singles and $2.15 per day for couples.
Asset test limits also increased, which allow more senior Australians to access a part pension. For single homeowners the asset limit has been boosted by $6,750 to $599,750 and for homeowner couples by $10,000 to $901,500.
Largest increase since 2013
Social Services Minister Anne Ruston said 2.1% increase was the "largest increase since 2013".
While this statement may be true, we've also experienced the sharpest increase in inflation since 2014.
The 2.1% indexation applied to the Age Pension also still lags behind the December 2.6% trimmed mean annual Consumer Price Index (CPI) average released by the Australian Bureau of Statistics (ABS).
This means the increase in cost of household goods is greater than the relative increase applied to the Age Pension, putting further strain on pensioners' budgets.
Pensions and allowances are adjusted to maintain their value against increased cost of living expenses. This is known as indexation and occurs in line with the CPI, which is the official measure of inflation used in Australia by the ABS.
CPI measures quarterly changes in the price of a 'basket of goods and services' which account for a high proportion of expenditure for metropolitan households.
The CPI is calculated four times a year for each three-month period ending 31 March, 30 June, 30 September and 31 December.
Historically, the CPI base quarter used for the March Age Pension indexation is December and June for the September indexation. This means the Age Pension indexation typically lags behind the latest inflation figures by 3 to 6 months.
As an example, the Age Pension rose by 1.6% in September 2021. This was the same rate as the CPI trimmed mean inflation for June 2021, but behind the September quarter's 2.1%. This means cost of goods rose higher than the increase pensioners received to their payments (and therefore, their money doesn't go as far).
Pensioners struggling with rising cost-of-living
While National Seniors welcomes changes to the pension rate and assets test, the cost-of-living expenses still outstrip the pension increase, making it very hard for people reliant on the pension, especially those paying rent as house prices and rents surge.
National Seniors members have been telling us their rent, groceries, fuel, and other goods and services are all rapidly increasing, while at the same time, superannuation funds and other investments have taking a hit from recent market downturns.
With rising cost of living pressures and the next Age Pension indexation not due until September, many pensioners will be left worse off despite the recent payment increase.
One way the government could alleviate the pressure on pensioners could be to allow those who want to work, be able to do so without having their pension reduced or cut. National Seniors is campaigning for changes to the Age Pension income tests to allow pensioners who want to work and pay tax to be able to.
Pensioners lose 50 cents from their pension for every dollar they earn. Those earnings are also subject to income tax, disincentivising pensioners from working. An income test exemption for pensioners with limited savings would allow them to keep up with rising living expenses and help employers who are struggling with worker shortages.
Along with changing the Age Pension income test rules, National Seniors is working hard to get the government make the below changes as well as part of our Fix Pension Poverty and Better Housing campaigns:
Establishing an Age Pension Tribunal to independently set the Age Pension rate

. They would take responsibility for calculating a fair and adequate pension rate. It would work out the pension rate and any supplements based on need and circumstance.

Increase the maximum rate of Commonwealth Rent Assistance

. On average, a pensioner receives only a third of what is needed to pay the rent. Older renters are hit particularly hard by recent rent increases, which lowers their living standards and increases their risk of homelessness. Indexation is currently applied to rent assistance, however the current CPI is well below recent rent increases.

Provide a subsidy to connect to the NBN or other internet service.

Without access to the internet, older people become disadvantaged in an increasingly digital world. Providing a subsidy to connect to the NBN or another appropriate internet service will help older people stay connected.

Expand the provision of basic dental care for pensioners, including those in aged care.

Dental care is essential to health and wellbeing, especially as we age. A healthy mouth enables people to eat, speak and socialise without pain, discomfort or embarrassment. Poor oral health is also linked to chronic diseases, including stroke and cardiovascular disease.
Saga Of A City
Made by the National Film Board in 1956. Directed by Jack S Allan.
A film of Sydney, capital of New South Wales and Australia's largest city, with its harbour and beaches. Includes surfing at Manly on boards around 84 feet long!! Ok; perhaps 65 feet long....
Older Australians Advocates Urge Senate To Pass Aged Care Reform Bill
Aged care consumer and carer organisations, led by Council on the Ageing (COTA) Australia, are urging the Senate to pass the Aged Care Reform Bill in the next two days and get much-needed reforms in place, including an independent pricing authority, a Code of Conduct for aged care workers and providers, and new powers for the Quality and Safety Commission.
COTA Australia, Older Persons Advocacy Network (OPAN), National Seniors Australia, Carers Australia, Dementia Australia and the Federation of Ethnic Communities Councils of Australia are calling on all Senators to support the Bill's quick passage – which the government should bring on as a high priority – warning that older Australians can't afford for reforms to be further delayed until well beyond the Federal Election.
"We only have three sitting days left for the Senate to pass this legislation, or it cannot be passed until well after the election," says Ian Yates AM, Chief Executive of COTA Australia,
"And that would mean very substantial delays in implementing key Royal Commission recommendations that will support and protect people in aged care."
"Consumer and carer peak bodies fully understand that some Senators want to see even more comprehensive reforms in this Bill, but the time for that debate is next year when the new Aged Care Act will be introduced.''
Craig Gear, CEO of OPAN said: "This Bill is about allowing the government's current reform package to advance. These reforms were recommended by the Royal Commission, and the Bill has already been reviewed and recommended by the Senate Community Affairs Committee."
"It is simply essential that the Bill's measures are enacted as fast as possible. This is about the right of older people to receive quality care, adequate funding, strong protection and transparency right now."
The Aged Care Reform Bill No 2 includes:
The new residential aged care funding tool
The creation of an Independent Pricing Authority for aged care
The registration of aged care workers and a Code of Conduct for workers and providers
Giving the Aged Care Quality and Safety Commission power to ban people who do the wrong thing
Publication of provider financial statements for better transparency
Strengthening controls over the use of restrictive practices in aged care
Stronger governance requirements on aged care providers
Have You Heard Of Walking Netball?
To celebrate Seniors Week, we encourage you to give it a try! Programs are running in Ballina, Penrith, Manly Warringah, South West Rocks, Illawarra, Newcastle & Sutherland Shire.
For more information go to playwalkingnetball.com.au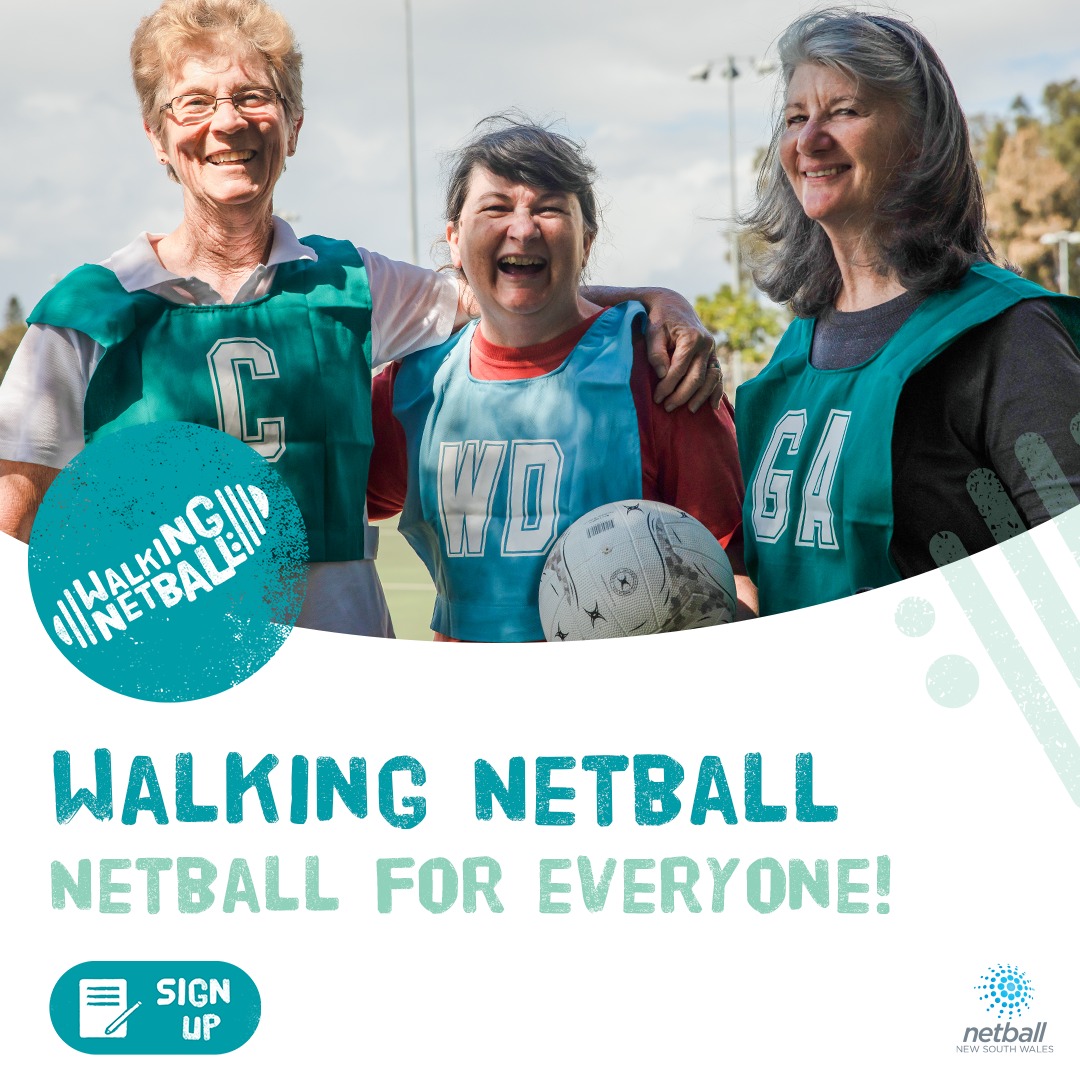 Meet Your Local Seniors Groups Mini Expo: Newport - Friday 8 April 2022: 1.00pm - 4.00pm
There are many local seniors groups on the Northern Beaches and no matter your hobby or interest, there's a group out there for you. You will also hear presentations about local services, health and wellbeing, as well as enjoy special guest performances.
Also come along for free vouchers and lucky door prizes. Don't miss a special performance by the the Third Age Jazz Rock Fusion - who are members of U3A Northern Beaches, Rock Orchestra.
Free transport can be arranged, phone Easylink: 9919 0700. Conditions apply.
Venue: Newport Community Centre, 11-13 The Boulevarde, Newport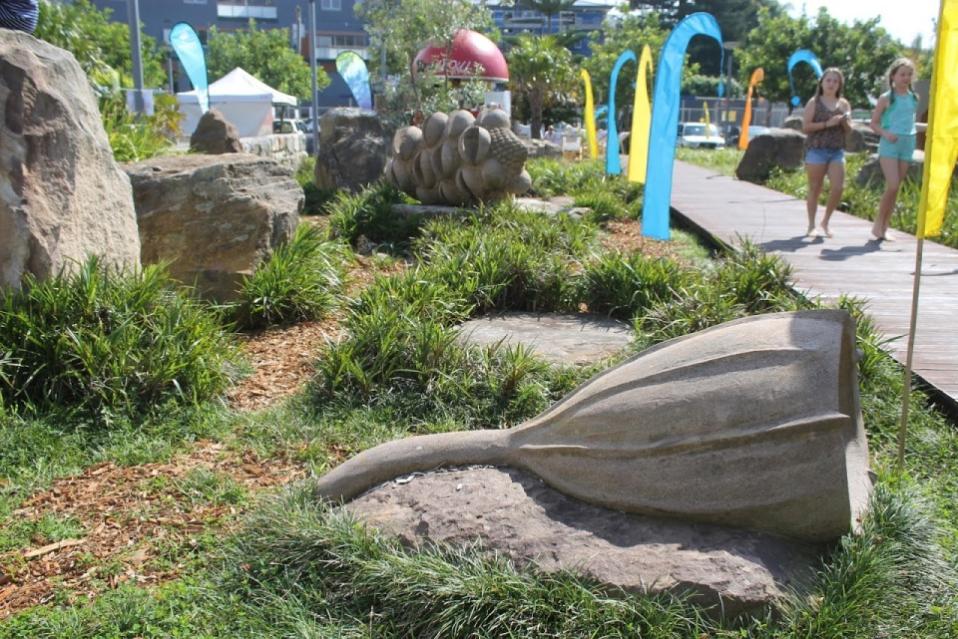 Improving Food And Nutrition In Aged Care
New compulsory reporting on food and nutrition in residential aged care has revealed the amount providers spend each day, per person, has increased significantly.
Since 1 July 2021, the Australian Government has provided an additional $10 per day per resident to eligible residential aged care providers.
By the end of December 2021, approximately $350 million was distributed to residential aged care providers to improve the delivery of care and services including food and nutrition.
To continue to receive this 2021 Basic Daily Fee supplement, providers are required to report to the Department of Health every three months on food and nutrition expenditure, and the quality of daily living services provided to residents.
Data collected through a new quarterly reporting system shows that the average spend on food and nutrition for residents has risen considerably since the Royal Commission into Aged Care Quality and Safety cited $6 per day as found in a 2017 study.
From July to December 2021, the average spend per person per day in residential care was more than $12.
Minister for Senior Australians and Aged Care Services, Richard Colbeck, said the supplement should be used by providers to improve health and nutrition outcomes.
"Aged care residents deserve food that is both nutritious and appetising," Minister Colbeck said.
"While providing appropriate food for some residents can be challenging, it is a fundamental responsibility of aged care providers and a right of all aged care residents."
Of all 2600 residential care services which self-reported the data through My Aged Care the average daily spend was approximately $13.94 in Q1 and $14.27 in Q2.
Among the 75 per cent of services that reported expenditure on food and ingredients as on-site only, the average expenditure was $12.25 in Q1 and $12.44 in Q2.
Minister Colbeck said less than two per cent of providers reported spending under $6 per resident, per day despite the additional funding.
He said the Department of Health will refer any provider spending less than $10 per resident per day, to the Aged Care Quality and Safety Commission to consider regulatory action.
"Providers have a responsibility to ensure the health and wellbeing of residents – but also that this funding is being used appropriately," Minister Colbeck said.
"The Basic Daily Fee supplement was provided to residential aged care services to improve the delivery of care and services to senior Australians, with a focus on food and nutrition – that is what residents and their families expect.
"A spend less than $10 by any provider is no longer a satisfactory outcome. Residents deserve more."
Minster Colbeck said the Basic Daily Fee supplement is just one of several actions the Government is taking on food, and both Government and consumers will be expecting sector leadership to drive real change in response.
Additional actions being taken by the Government to improve food and nutritional outcomes include:
Asking 20 per cent of senior Australians in residential aged care whether they like the food, as part of consumer experience interviews, and publishing the service level results on star ratings later in 2022;
Requiring residential aged care providers to collect and report on the new Quality Indicators, including unplanned weight loss, and publishing the service level results on star ratings later from December 2022; and
The urgent review of the Aged Care Quality Standards, which includes a focus on food and nutrition.
Minister Colbeck said the Australian Government remains committed to ensuring senior Australians not only receive high quality and safe care, but have the best possible quality of life.
"While there is no doubt the pandemic has created extra difficulties for all aged care services, these issues are being worked through in collaboration with the sector," Minister Colbeck said.
The quarterly self-reporting on food and nutrition, including oral health and meal preparation, allows the Government to work more closely with the sector to improve food practices.
The reports were developed in consultation with dietitians, nutrition experts and the aged care sector.
Rod Stewart: Rhythm Of My Heart - 1991
3D Printing Shaping Learning For Blind And Low Vision Students
From the NSW Department of Education
More than 1,000 blind or low vision public school students in NSW are benefiting from access to 3D models, which can be created at their school with a 3D printer.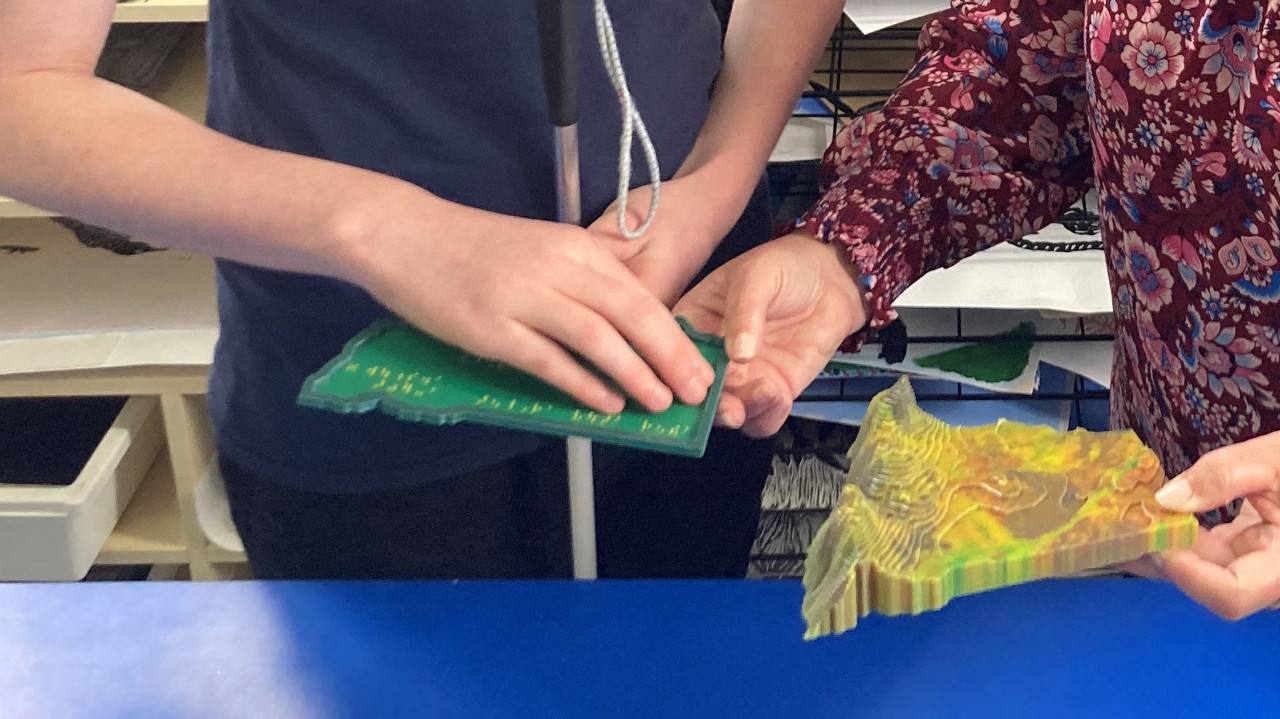 Hands on geography lesson
The NSW Department of Education has developed a growing library of files for printing more than 70 3D resources, aligned to the curriculum and opening a world of learning possibilities for students who are blind or have low vision.
Minister for Education and Early Learning, Sarah Mitchell said that these learning resources, including tactile globes and components of the brain, are world leading examples of inclusive education.
"This is incredible and innovative work by our inclusion specialists. 3D prints of human anatomy are making learning biology easier for students with a vision impairment who would traditionally have used simpler raised line diagrams to help build understanding in the course," Ms Mitchell said.
"3D prints of different components of the brain show the complexity of how the pieces fit together and also inside the skull.
"We've also found that the models are loved by and are enhancing engagement with learning for all students, not only those who are blind or have low vision," Ms Mitchell said.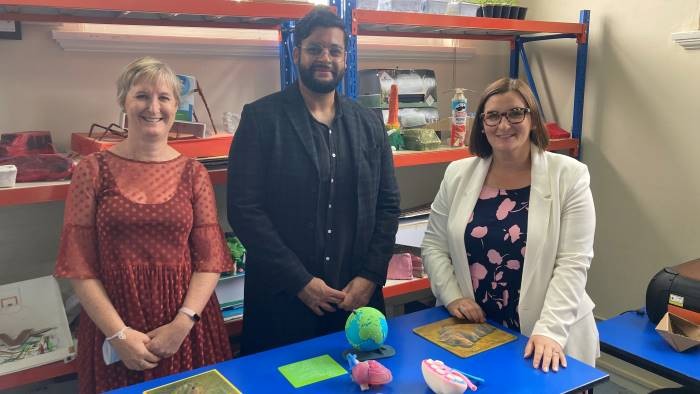 Louise Farrell, Director Inclusive Education; project officer Navkaran Virdi and Minister for Education Sarah Mitchell
Along with developing innovative curriculum materials for students who are blind and vision impaired, the Department has also commissioned a variety of research into best practice for inclusive education.
"We are also releasing today a series of externally researched reports to continue strengthening our approach to inclusive education and improving learning outcomes for students with disability," Ms Mitchell said.
The result of two and half years of research and development, schools can print the new 3D materials on their own 3D printer, or borrow one from the Department's central store.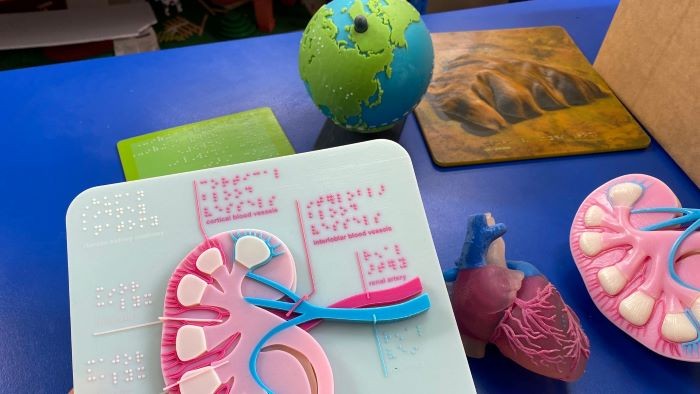 3D printed kidneys, heart, globe and Uluru
Photos: NSW Dept. of Education
Annie Lennox - Money Can't Buy It
Released 1992 from the album Diva.
Ann Lennox OBE (born 25 December 1954) is a Scottish singer-songwriter, political activist and philanthropist.
Ann Lennox was born in Aberdeen, Scotland, in 1954. Lennox recalls, "When I was very young, we had a salmon pink Dansette record player. Someone gave me birthday money and the first record I think I bought was Mary Poppins followed by Procul Harum's "Whiter Shade of Pale". Both records are magical and transporting. I used to visit my grandparents in the countryside and would always go into the recesses of a cupboard to pull out a box full of old 78 rpm records which I'd play over and over again, especially the Vilja song from The Merry Widow, which I was obsessed with. My dad blew my mind when I was six years old because he built his own Gramophone. He had the albums for every Rodgers & Hammerstein musical and he switched his homebuilt record player on and you heard this crackling sound and then 'Boom!' I remember walking to school singing "I Enjoy Being A Girl".
To buy a vinyl album, you had to record player and you have to have speakers, and this is a great thing because that means people are going to listen to your music not on a cell phone, but they're going to listen to it out of a sound system, which is what we all did when we were growing up. The important thing about vinyl releases is that people buy them and actually put them on the turntable and listen to a side, because we chose the tracks to be played in a particular order, and that was really important."
In the 1970s she studied at the Royal Academy of Music. Her flute teacher in a final report wrote "Ann has not always been sure of where to direct her efforts, though lately she has been more committed. She is very, very able, however." In the 70s Ann Lennox remarked "I have had to work as a waitress, barmaid, and shop assistant to keep me when not in musical work."
In 1976 she was part of a band called Dragon's Playground, who appeared on ITV's New Faces talent show.
After achieving moderate success in the late 1970s as part of the new wave band the Tourists, she and fellow musician Dave Stewart went on to achieve international success in the 1980s as Eurythmics.
Lennox and Stewart met in 1975 in a restaurant in London, where Lennox worked at that time. They first played together in 1976 in the punk rock band The Catch. After releasing one single as The Catch in 1977, the band evolved into The Tourists. Stewart and Lennox were also romantically involved. The Tourists achieved some commercial success, but the experience was reportedly an unhappy one. Personal and musical tensions existed within the group, whose main songwriter was Peet Coombes, and legal wranglings happened with the band's management, publishers and record labels. Lennox and Stewart felt the fixed band line-up was an inadequate vehicle to explore their experimental creative leanings and decided their next project should be much more flexible and free from artistic compromise. They were interested in creating pop music, but wanted freedom to experiment with electronics and the avant-garde.
It was in a hotel in Wagga Wagga, Australia, while playing around with a portable mini-synthesizer that Lennox and Stewart decided to become a duo. Calling themselves Eurythmics (after the pedagogical exercise system that Lennox had encountered as a child, they decided to keep themselves as the only permanent members and songwriters, and involve others in the collaboration "on the basis of mutual compatibility and availability". The duo signed to RCA Records. At this time, Lennox and Stewart also split as a couple.
The duo released their first studio album, In the Garden, in 1981 to little success, but went on to achieve global acclaim when their second album Sweet Dreams (Are Made of This), was released in 1983. The title track became a worldwide hit which topped the charts in various countries including the US. The duo went on to release a string of hit singles and albums before they split up in 1990. By this time, Stewart was a sought-after record producer, while Lennox began a solo recording career in 1992 with her debut album Diva.
After the Eurythmics split, Annie Lennox had a successful solo career. She has received eight Brit Awards, a UK equivalent to the Grammy Awards in the USA. Her Brit Awards include her 1992 debut solo album Diva, Bare (2003), and Songs of Mass Destruction (2007).
In October 2014, Lennox released her sixth solo album, Nostalgia. The album is a collection of Lennox's childhood favourite soul, jazz and blues songs. In May 2019, Lennox released Lepidoptera, containing four extemporised piano songs. The EP serves as a companion piece to Lennox's art installation, "Now I Let You Go..." at MASS MoCA. It is Lennox's first independently distributed record.
Lennox appeared on stage at the 1988 Nelson Mandela 70th Birthday Concert and commenced activist work with the Sing Foundation afterwards.[75] In 1990, Lennox recorded a version of Cole Porter's "Ev'ry Time We Say Goodbye" for the Cole Porter tribute album Red Hot + Blue, a benefit for AIDS awareness. A video was also produced. Lennox has been a public supporter of Amnesty International and Greenpeace for many years, and she and Dave Stewart donated all of the profits from Eurythmics' 1999 Peacetour to both charities. Concerned by Tibet freedom,[78] she supported Amnesty International campaigns for the release of Tibetan prisoners Palden Gyatso and Ngawang Choephel.
Lennox was a signatory to the "No war on Iraq" campaign started in 2003, her album "Songs of Mass Destruction" and her rendition of "Dark Road" were deeply critical of the war. In conversation with Melvyn Bragg in 2006, she expressed her anger at how the UK was misled over Iraq's alleged 'weapons of mass destruction'.
After being forced to pull out of performing at Live Aid held at Wembley Stadium in 1985 due to a serious throat infection, Lennox appeared at Live 8 held in Hyde Park, London in 2005.
In June 2010, Lennox was named as a UNESCO Goodwill Ambassador for AIDS, a role that continues as of August 2013. Lennox also works with other organisations such as Oxfam, Amnesty International and the British Red Cross in regard to the issue. Lennox also supports the Burma Campaign UK, a non-governmental organisation that addresses the suffering in Burma and promotes democratisation.
In December 2010, it was confirmed that Lennox was in the New Years Honours List and would become an Officer of the Order of the British Empire (OBE) in recognition of her humanitarian work. She received the award from Queen Elizabeth II at Buckingham Palace on 28 June 2011.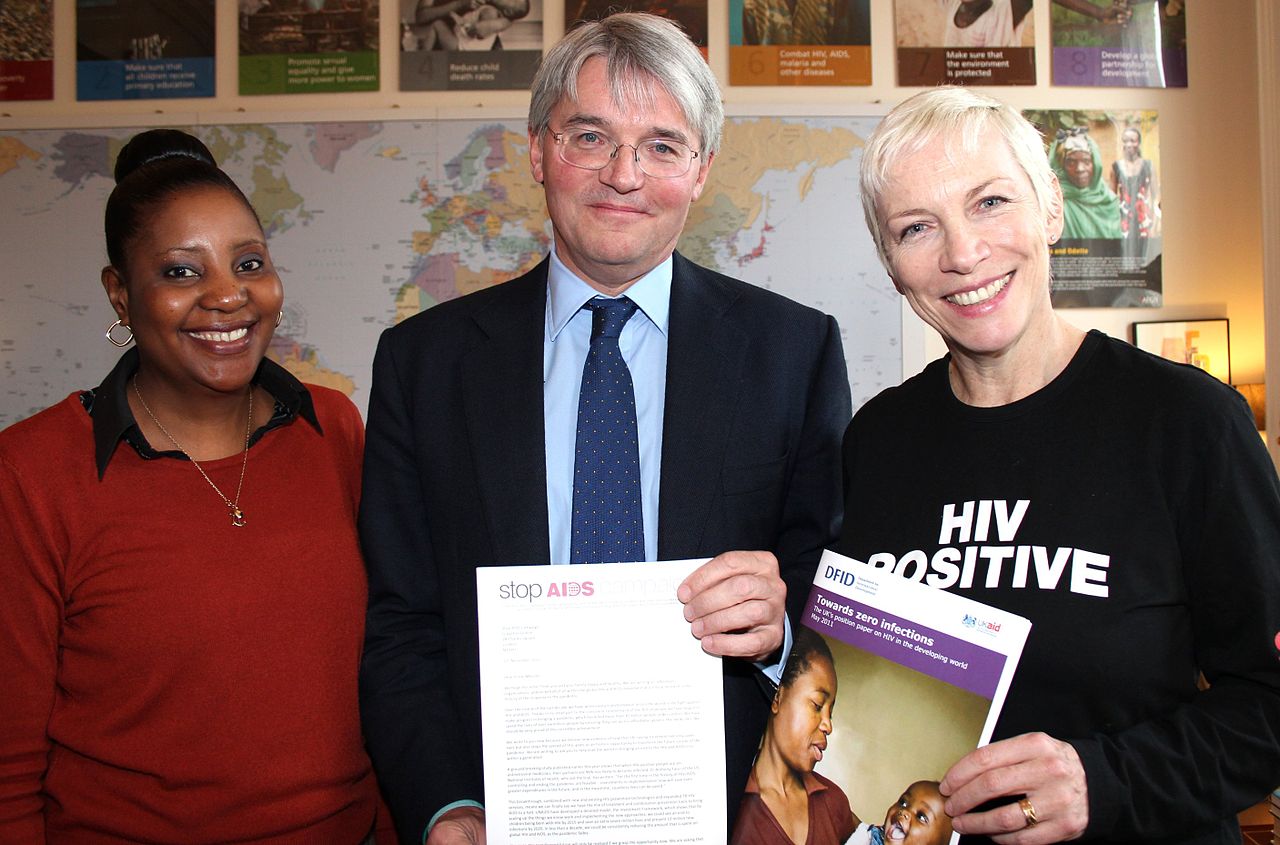 HIV campaigners, Memory Sachikonye (left) and Lennox (right) meet with the UK's Secretary of State for International Development Andrew Mitchell in December 2011. Photo: DFID UK Department for International Development - Flickr: Memory and Annie call on UK to lead efforts to bring end to AIDS
In 2015, Lennox attended, performed at and hosted several charitable events including: the 50th Amnesty International Annual Conference where she was a guest speaker, Elton John and David Furnish's at home Gala in aid of the Elton John Aids Foundation where she performed, held a screening of He Named Me Malala, and hosted a Mothers2mothers 15th Anniversary gala. In 2016 Lennox was awarded the Elle Style Awards 'Outstanding Achievement' award, and the Royal Scottish Geographical Society award, the Livingstone Medal, in recognition of her outstanding contribution to the fight against AIDS and support of women's rights.
Lennox has been married three times - with second husband, Israeli film and record producer Uri Fruchtmann, she had two daughters, Lola and Tali. A son, Daniel, was stillborn in 1988.
Annie is agnostic, a feminist, and became a vegetarian at age 29.

"Money Can't Buy It" was written by Annie Lennox. The "it" in the song is "the power to set you free" and "peace of mind." You can't buy it with money, you can't get it with sex, and you can't get it with drugs. The only path to being set free, and peace of mind is "love alone." And love's spin-offs are "the power of creation" and the "good vibration."

Word Of The Week: Art
Word of the Week returns in 2022 simply to throw some disruption in amongst the 'yeah-nah' mix.
The word "art" is derived from the Latin ars, which originally meant "skill" or "craft." These meanings are still primary in other English words derived from ars, such as "artifact" (a thing made by human skill) and "artisan" (a person skilled at making things).

noun
1: skill acquired by experience, study, or observation (the art of making friends) the expression or application of human creative skill and imagination, typically in a visual form such as painting or sculpture, producing works to be appreciated primarily for their beauty or emotional power. The various branches of creative activity, such as painting, music, literature, and dance.
2: a branch of learning: (one of the humanities). Archaic : learning, scholarship
3: the conscious use of skill and creative imagination especially in the production of aesthetic objects (the art of painting landscapes, also : works so produced; a gallery for modern art)
5. Archaic : a skilful plan
6: decorative or illustrative elements in printed matter
Artisan: a worker in a skilled trade, especially one that involves making things by hand.
Northern Beaches Environmental Art & Design Prize 2022 Open For Entries: Prize Pool Over $40,000 - Entries From Across Australia Invited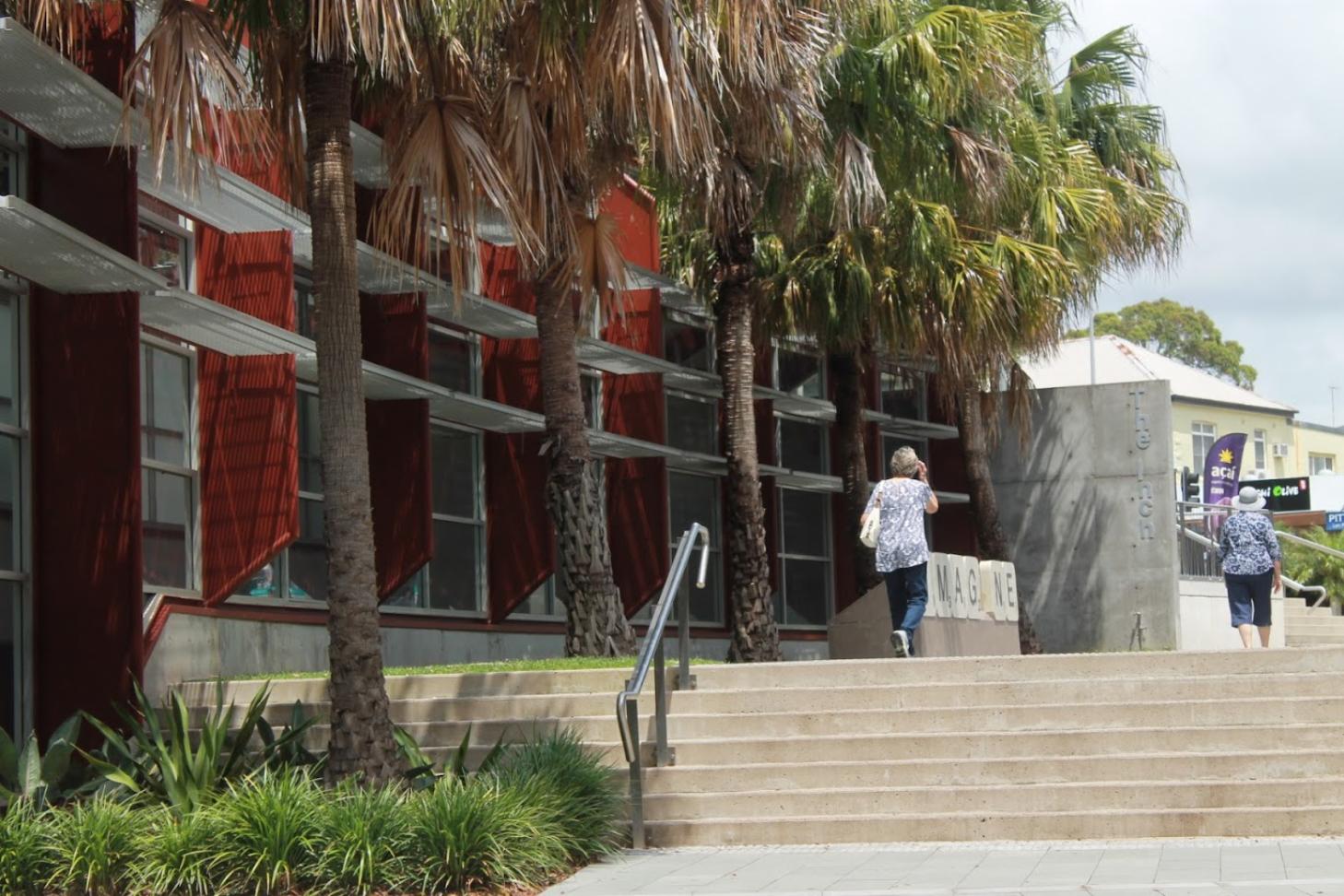 Entries are now open for the Northern Beaches Environmental Art & Design Prize (the Prize) 2022 with artists and designers across Australia invited to apply.
This is the second edition of the non-acquisitive Prize running from 5 – 28 August 2022 with nine categories and a prize pool over $40,000.
How are you responding to our climate emergency? What are your innovative and creative ideas for a better future? How are you advocating for our planet through your creative practice?
Artists and designers, are agents of change, often taking the lead in responding to environmental or societal challenges. This year the Northern Beaches Council are calling on artists and designers Australia-wide, to share their unique perspectives and creative ideas for positive change in the 2022 Environmental Art & Design Prize.
Northern Beaches Mayor Michael Regan said participants are invited to submit works celebrating a brighter, greener future, focusing on the natural world, environmental renewal, regeneration, and the circular economy.
"Artists and designers are agents of change, often taking the lead in responding to environmental or societal challenges.
"This national art prize is looking for innovative ideas for the future. It is a unique opportunity to be a part of a pivotal conversation, to help amplify this urgent topic as well as garner career development and visibility.
"Our commitment and passion for the environment is evident by creating the Prize – Australia's first environmental art and design prize. Last year's inaugural event saw astounding submissions across the visual art and design categories. We expect the artwork themes to grow and change each year as the national conversation evolves on environmental issues and I can't wait to see what inspiring pieces are submitted this year," Mayor Regan said.
Entries close 11 May.
The categories encompass a range of contemporary practices, from fashion and design to ceramics, painting, photography, digital media, functional and textile design and more.
This year, winners will be awarded by an esteemed external judging panel of leading creative practitioners and thinkers including:
Dr Michael Mossman, a Kuku Yalanji man and Lecturer, University of Sydney School of Architecture Design & Planning, Australian Artist, Janet Laurence and Kit Willow, a leading Australian luxury fashion designer.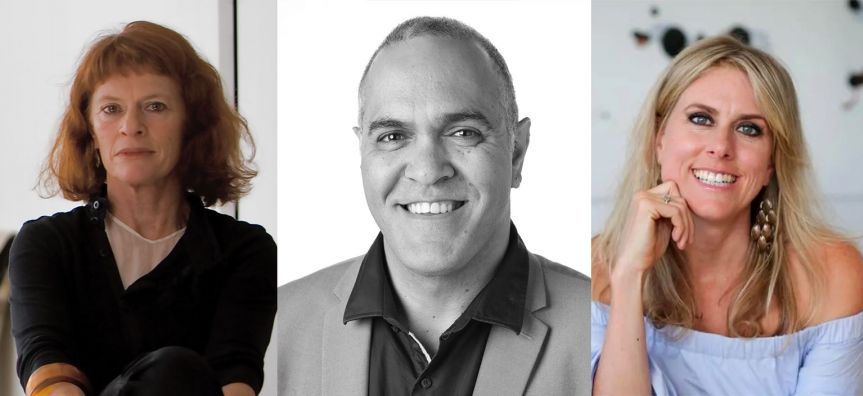 Categories:
Artists and designers are encouraged to apply in one or two of the following categories:
Open, $5,000 each category
Ceramics & Small Sculpture
Functional Design (eg: architecture, urban design, a prototype of an object/product, furniture)
Wearable Design (fashion)
Digital Work, Film and Video
Interdisciplinary Collaboration (eg: art & science; design & engineering)
Painting
Works on Paper and Photography
Young Artists & Designers, $2,000 each category and age as at 11 May 2022
Ages 7 - 12 years

Ages 13 - 18 years
People's choice ($1,000 each venue)
Visitors to each venue are encouraged to vote for their favourite work.
Key dates:
Entries open: 10am, Wednesday 16 March
Entries close: 5pm, Wednesday 11 May
Finalists announced: 25 May
Prize winners announced: Friday 6 August
Exhibition dates: 5-28 August 2022 - The Prize will be shown over two weeks at Manly Art Gallery & Museum, Creative Space North Curl Curl, and the new Mona Vale Creative Pop Up Gallery (Level 1, Mona Vale Civic Centre).
People's Choice Awards announced: Final week of exhibition (27-28 August)
View the Terms and Conditions for all the details and submit entries via Council's website, at: www.northernbeaches.nsw.gov.au/things-to-do/arts-and-culture/northern-beaches-environmental-art-and-design-prize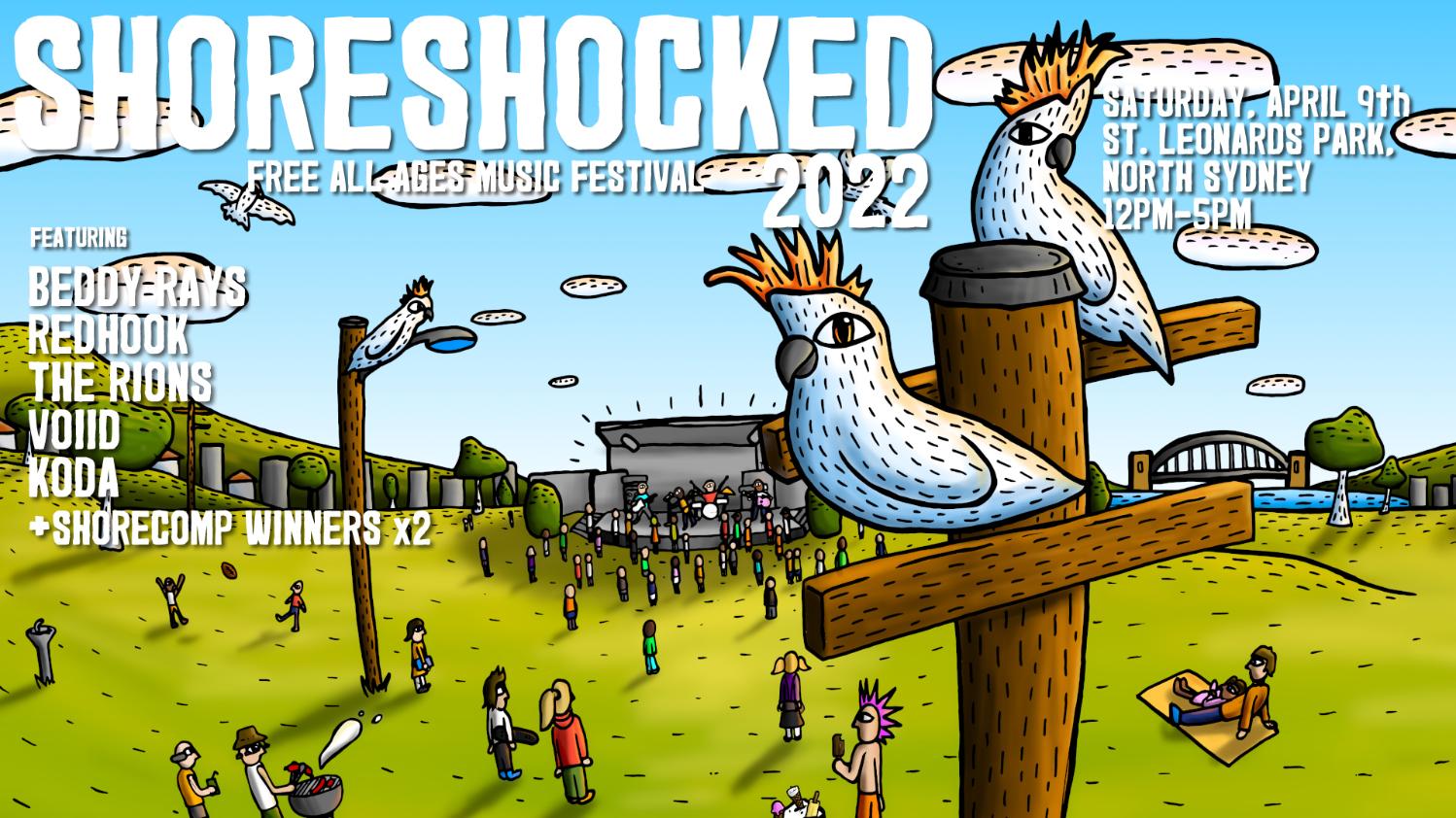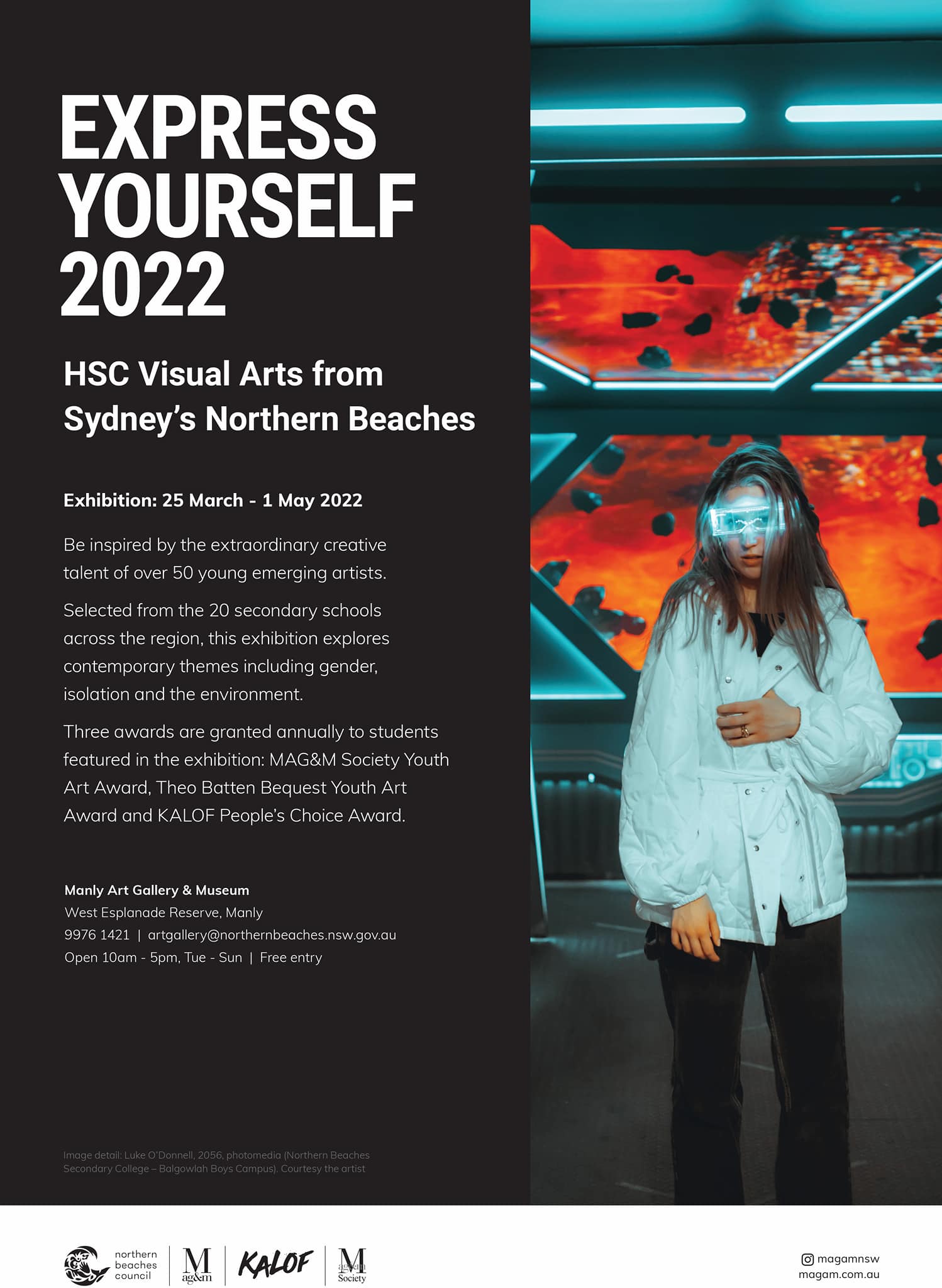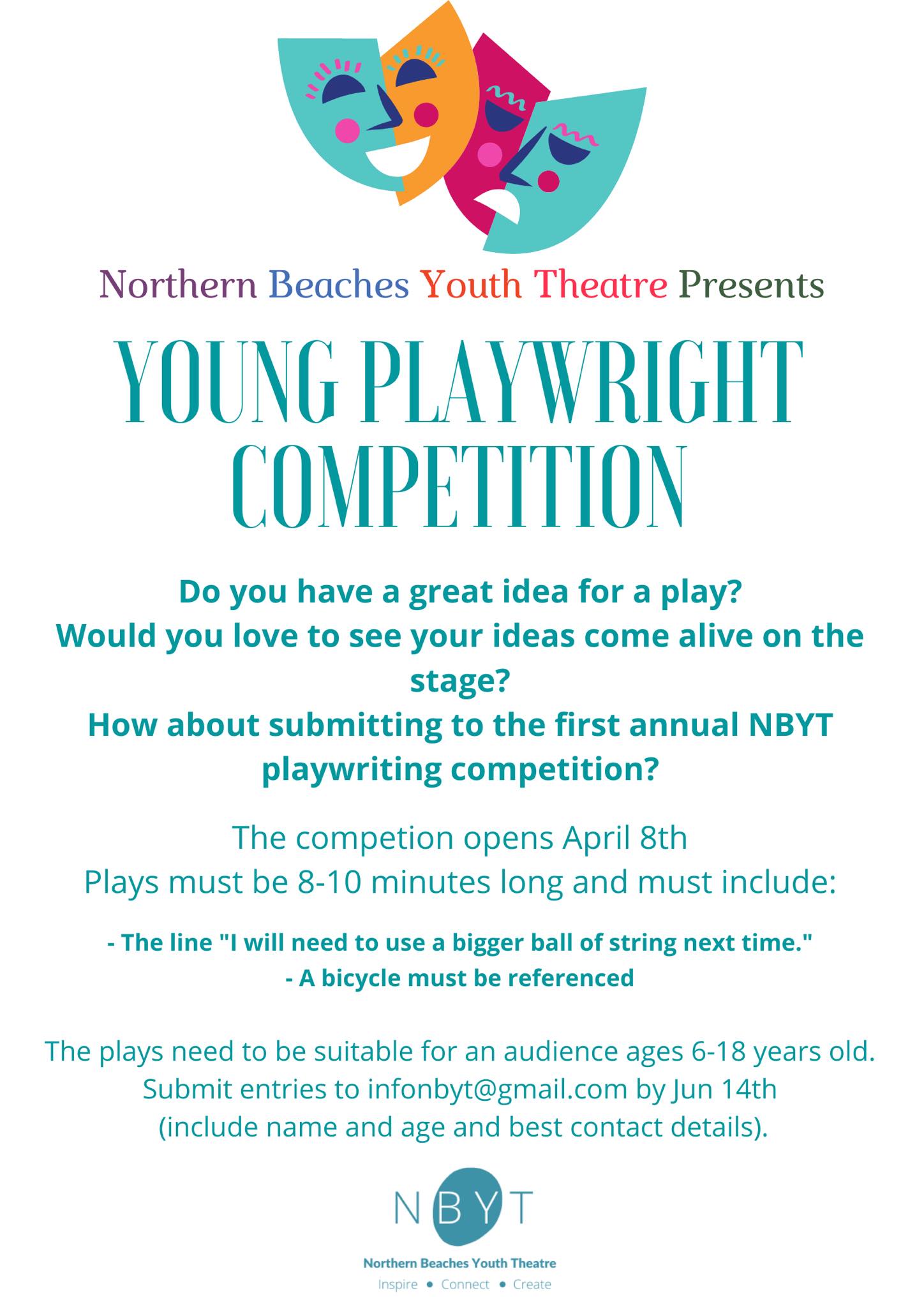 Surf Movie On The Big Screen: Featuring The Big Wave Project II
Published March 28, 2022 by Surfing Visions - Tim Bonython
TIM BONYTHON'S LATEST ANTICIPATED FILM
4 YEARS IN THE MAKING – 6K & 8K OCEAN CINEMATOGRAPHY -
THE LATEST INSIDE STORIES OF THE GREATEST HISTORIC SWELL EVENTS IN THE WORLD OF BIG WAVE SURFING narrated by legendary big wave surfer Tom Carroll.
NEW SOUTH WALES SCREENINGS
SYDNEY; NORTH, SYDNEY PREMIERE at CREMORNE –
Hayden Orpheum
TUES 17 MAY
6:45PM SHARP!
BOOK NOW
SYDNEY; EAST & SOUTH
RANDWICK
The Ritz
WED 18 MAY
7PM
BOOK NOW
MIRANDA - Event cinema
THURS 19 MAY
7PM
BOOK NOW
SOUTH COAST
WARRAWONG (Kembla, Wollongong, Shellharbour , Kiama area)
Gala Twin Cinemas
FRI 20 MAY
6h30PM
BOOK NOW
ULLADULLA - Arcadia Cinemas
SAT 21 MAY
5:00PM
BOOK NOW
CENTRAL COAST
AVOCA BEACH - Avoca Beach Picture theatre
SUN 29 MAY
630PM
BOOK NOW
KOTARA– NEWCASTLE - Event cinemas
TUES 1 JUNE
6H30PM
BOOK NOW
NORTH COAST
BYRON BAY - Byron Theatre
FRI 27 MAY
7PM
BOOK NOW
SYNOSPIS
The journey in the heart of big wave surfing continues with this sequel of acclaim surf documentary The Big Wave Project.
This production has taken Tim around the planet to interview the world's most renowned big wave surfers and to record the biggest and most death-defying waves. It's a narrative that will scare viewers as much as it will exhilarate.
How monsters waves can be surfed both in paddle and tow? Is there any limits? What are the stories behind the biggest waves too big to paddle?
The Big Wave Project 2 takes on answering those questions by traveling to all the big wave spots on the planet with the world's most respected big wave surfers.
Locations include: Nazaré (Portugal) – the home of the biggest ridable wave, The Right, Shipsterns (Australia), Cloudbreak (Fiji) and Teahupo'o (Tahiti), Mavericks and Jaws ( USA)
Featuring legendary Hawaiian surfers Kai Lenny, Ian Walsh, Kohl Christensen. Aussies Jamie Mitchell, Kipp Caddy & Brad Norris. In Europe Nic Von Rupp, Conor Maguire & Tom Lowe. In Tahiti, Kauli Vaast, Matahi Drollet & Arrihoe Tefaafana.
This sequel documentary bring up very special inside story like how big wave surfing has changed at Mavericks with Jeff Clarke, or covering unique moment of bravery with the story of Ramon Navarro's greatest moment at Fiji's Cloudbreak.
This doco will not be complete without Nazare, the new Mecca of big wave surfing, with Kai Lenny, Andrew Cotton & world record holders Maya Gabreia & Rodrigo Koxa who share their feelings on the biggest waves EVER surfed. Plus hot off the press that historic February 2022 swell where
some serious contenders went down for a possible new Guinness World Record for the biggest wave.
The Big Wave Project 2 is a made for the big screen, a show that you don't want to miss!!
It is a documentary narrated by Australian big wave legend and world champion Tom Carroll.
The Big Wave Project 2 is directed by Australian Academy of Cinema and Television Arts (AACTA) award-winning cinematographer and multi-award winning surf film producer, Tim Bonython, who has four decades of experience in filming and documenting surfing.
To really feel the energy this show is a gotta see on the BIG SCREEN!
Tim will be in attendance at each show.
For further information, please contact: sandrine@surfingvisions.com TARGET DEMOGRAPHIC
All genders – all ages of Ocean enthusiasts
Filmed and Directed by Tim Bonython
Editor and co-director Kleber Estorilio
Executive producer Sandrine Bonython
Producer Tim and Sandrine Bonython
Macca Makeover
Published March 28, 2022 by the Australian Antarctic Division
The Australian Antarctic Division (AAD) has completed a massive resupply of Macquarie Island research station following two weeks of intense efforts by RSV Nuyina and station teams.
Book Of The Month - April 2022: My Brilliant Career - By Miles Franklin
My Brilliant Career is a 1901 novel written by Miles Franklin. It is the first of many novels by Stella Maria Sarah Miles Franklin (1879–1954), one of the major Australian writers of her time. It was written while she was still a teenager, as a romance to amuse her friends. Franklin submitted the manuscript to Henry Lawson who contributed a preface and took it to his own publishers in Edinburgh. The popularity of the novel in Australia and the perceived closeness of many of the characters to her own family and circumstances as small farmers in New South Wales near Goulburn caused Franklin a great deal of distress and led her to withdrawing the novel from publication until after her death. Shortly after the publication of My Brilliant Career, Franklin wrote a sequel, My Career Goes Bung, which would not be published until 1946.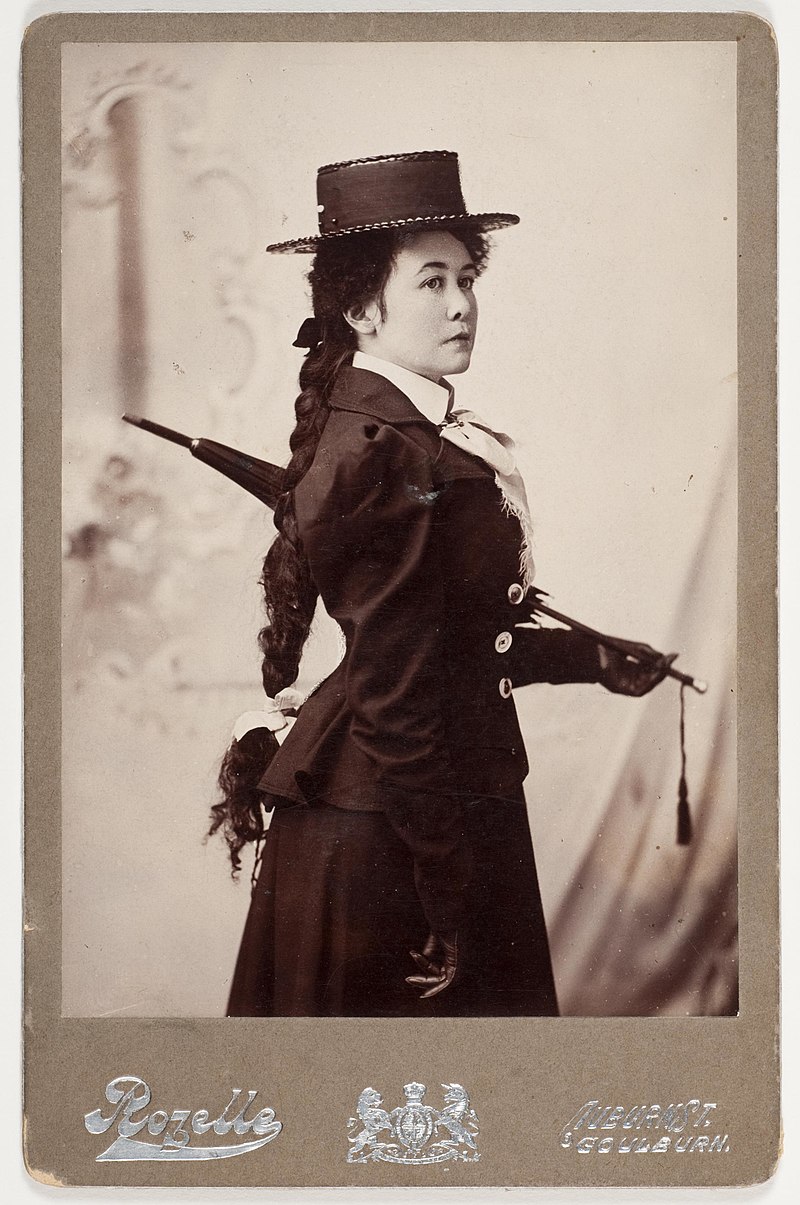 Miles Franklin in 1901, courtesy State Library of New South Wales collection
Stella Maria Sarah Miles Franklin (14 October 1879 – 19 September 1954), known as Miles Franklin, was an Australian writer and feminist who is best known for her novel My Brilliant Career, published by Blackwoods of Edinburgh in 1901. While she wrote throughout her life, her other major literary success, All That Swagger, was not published until 1936.
She was committed to the development of a uniquely Australian form of literature, and she actively pursued this goal by supporting writers, literary journals, and writers' organisations. She has had a long-lasting impact on Australian literary life through her endowment of a major annual prize for literature about "Australian Life in any of its phases", the Miles Franklin Award. Her impact was further recognised in 2013 with the creation of the Stella Prize, awarded annually for the best work of literature by an Australian woman.
Franklin was born at Talbingo, New South Wales, and grew up in the Brindabella Valley on a property called Brindabella Station. She was the eldest child of Australian-born parents, John Maurice Franklin and Susannah Margaret Eleanor Franklin, née Lampe, who was the great-granddaughter of Edward Miles (or Moyle) who had arrived with the First Fleet in the Scarborough with a seven-year sentence for theft. Her family was a member of the squattocracy. She was educated at home until 1889 when she attended Thornford Public. During this period she was encouraged in her writing by her teacher, Mary Gillespie (1856–1938) and Tom Hebblewhite (1857–1923) editor of the local Goulburn newspaper.
In 1906, Franklin moved to the US and undertook secretarial work for Alice Henry, another Australian, at the National Women's Trade Union League in Chicago, and co-edited the league's magazine, Life and Labor. Her years in the US are reflected in On Dearborn Street (not published until 1981), a love story that uses American slang in a manner not dissimilar to the early work of Dashiell Hammett. Also while in America she wrote Some Everyday Folk and Dawn (1909), the story of a small-town Australian family, which uses purple prose for deliberate comic effect. She suffered regular bouts of ill health and entered a sanatorium for a period in 1912 In 1915, she travelled to England and worked as a cook and earned some money from journalism. In March 1917 Franklin volunteered for war work in the Ostrovo Unit of the Scottish Women's Hospitals during the Serbian campaigns of 1917–18. She served as a cook and later matron's orderly in a 200-bed tent hospital attached to the Serbian army near Lake Ostrovo in Macedonian Greece from July 1917 to February 1918.
Was made staff cook against my will. ... Then Miss Brown made a row with everyone & insisted on being head. I just let 'em muddle along and take no notice as I've had a year's training in London of English ways. Will think my own thoughts and write a book if the plot comes into my head.

— Miles Franklin (personal diary), describing her wartime service
From 1919 to 1926 Franklin worked as Secretary with the National Housing and Town Planning Association in London. She organised a women's international housing convention in 1924. Her life in England in the 1920s gave rise to Bring the Monkey (1933), a satire on the English country house mystery novel. The book reveals Franklin's views on nationality and class. Unfortunately the book was a literary and commercial failure.
Franklin resettled in Australia in 1932 after the death of her father in 1931. During that decade she wrote several historical novels of the Australian bush, although most of these were published under the pseudonym "Brent of Bin Bin". New South Wales State Librarian, Dagmar Schmidmaier, said "Miles increasingly feared that nothing she wrote matched the success of My Brilliant Career and resorted to writing under different names, including the bizarre pseudonym Brent of Bin Bin, to protect herself from poor reviews." However, All That Swagger was published under her own name in 1936, winning the S. H. Prior Memorial Prize. Franklin also won the S. H. Prior Memorial Prize in 1939 together with Kate Baker for their collaborative work 'Who Was Joseph Furphy?'.
Throughout her life, Franklin actively supported Australian literature. She joined the Fellowship of Australian Writers in 1933 and the Sydney PEN Club in 1935. She encouraged young writers such as Jean Devanny, Sumner Locke Elliott and Ric Throssell and she supported the new literary journals, Meanjin and Southerly. Miles entertained literary figures at her home in Carlton, NSW. An autograph book known as Miles Franklin's Waratah Book held by the State Library of NSW was used for autographs and inscriptions. Guests were encouraged to drink tea from the Waratah Cup and to write in the Waratah Book.
Miles Franklin's waratah cup and saucer 1904. This cup is part of the collection of the State Library of NSW
In 1937, Franklin declined appointment as an Officer of the Order of the British Empire.
It has been alleged that Franklin was a member of the pro-isolationist, anti-war and anti-semitic Australia First Movement as she attended three public meetings of the AFM in December 1941, and had a close association with its leaders. In fact Franklin was vehemently opposed to the political views of each of the leaders of the AF movement, Adela Pankhurst Walsh and P.R. Stephenson, as evidenced by her diary entries and correspondence at the time - "Reds or pinks or 'rightists' all showed their ignorance" she wrote after one attendance, and of Stephenson "I could not have anything to do with his politics". Her long-time association with 'Inky' Stephenson was a literary one, and her attendance at these large public meetings should be seen in the context of the Japanese Attack on Pearl Harbor (7 December 1941) and the high political temperature of the time. Franklin was staunchly anti-war and, traumatised by her WWI experiences, very much feared a war on Australian soil at this time. In this period of her life Franklin was a constant attendee and speaker at various cultural and literary events. Her message centred on free speech and the championing of Australian literature.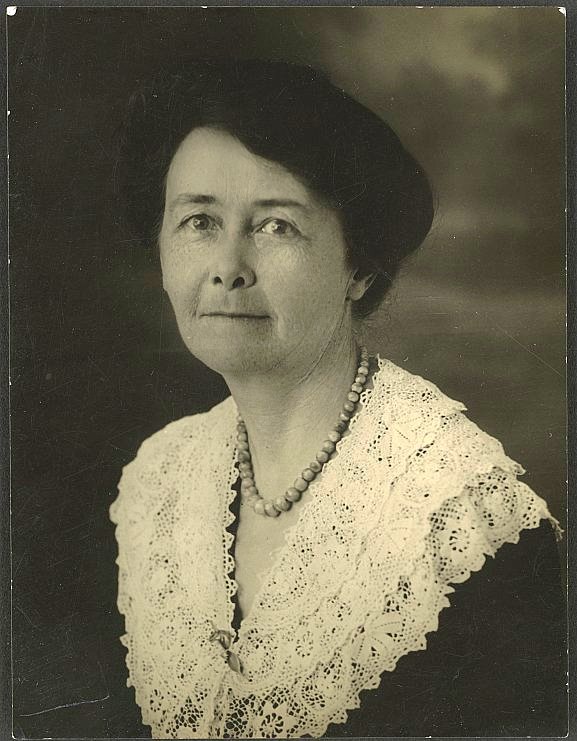 Franklin, c.1940s
While Miles Franklin had many suitors, she never married. She died on 19 September 1954, aged 74 and her ashes were scattered in Jounama Creek, Talbingo close to where she was born.
Biography: Wikipedia
New Shorebird Identification Booklet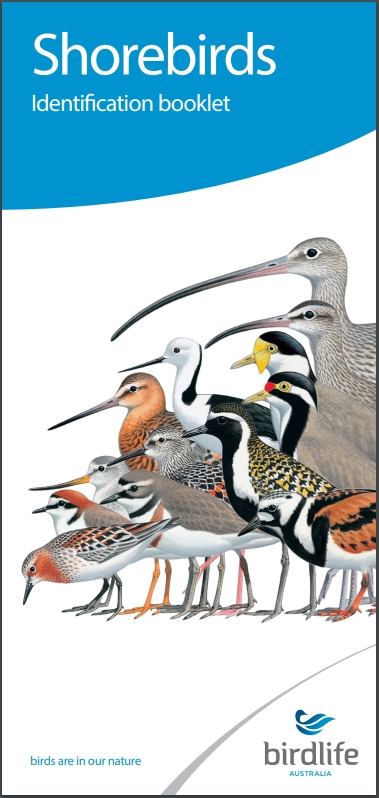 The Migratory Shorebird Program has just released the third edition of its hugely popular Shorebird Identification Booklet. The team has thoroughly revised and updated this pocket-sized companion for all shorebird counters and interested birders, with lots of useful information on our most common shorebirds, key identification features, sighting distribution maps and short articles on some of BirdLife's shorebird activities.
The booklet can be downloaded here in PDF file format: http://www.birdlife.org.au/documents/Shorebird_ID_Booklet_V3.pdf
Paper copies can be ordered as well, see http://www.birdlife.org.au/projects/shorebirds-2020/counter-resources for details.
Download BirdLife Australia's children's education kit to help them learn more about our wading birdlife
Shorebirds are a group of wading birds that can be found feeding on swamps, tidal mudflats, estuaries, beaches and open country. For many people, shorebirds are just those brown birds feeding a long way out on the mud but they are actually a remarkably diverse collection of birds including stilts, sandpipers, snipe, curlews, godwits, plovers and oystercatchers. Each species is superbly adapted to suit its preferred habitat. The Red-necked Stint is as small as a sparrow, with relatively short legs and bill that it pecks food from the surface of the mud with, whereas the Eastern Curlew is over two feet long with a exceptionally long legs and a massively curved beak that it thrusts deep down into the mud to pull out crabs, worms and other creatures hidden below the surface.
Some shorebirds are fairly drab in plumage, especially when they are visiting Australia in their non-breeding season, but when they migrate to their Arctic nesting grounds, they develop a vibrant flush of bright colours to attract a mate. We have 37 types of shorebirds that annually migrate to Australia on some of the most lengthy and arduous journeys in the animal kingdom, but there are also 18 shorebirds that call Australia home all year round.
What all our shorebirds have in common—be they large or small, seasoned traveller or homebody, brightly coloured or in muted tones—is that each species needs adequate safe areas where they can successfully feed and breed.
The National Shorebird Monitoring Program is managed and supported by BirdLife Australia.

This project is supported by Glenelg Hopkins Catchment Management Authority and Hunter Local Land Services through funding from the Australian Government's National Landcare Program. Funding from Helen Macpherson Smith Trust and Port Phillip Bay Fund is acknowledged.
The National Shorebird Monitoring Program is made possible with the help of over 1,600 volunteers working in coastal and inland habitats all over Australia.
The National Shorebird Monitoring program (started as the Shorebirds 2020 project initiated to re-invigorate monitoring around Australia) is raising awareness of how incredible shorebirds are, and actively engaging the community to participate in gathering information needed to conserve shorebirds.
In the short term, the destruction of tidal ecosystems will need to be stopped, and our program is designed to strengthen the case for protecting these important habitats.
In the long term, there will be a need to mitigate against the likely effects of climate change on a species that travels across the entire range of latitudes where impacts are likely.
The identification and protection of critical areas for shorebirds will need to continue in order to guard against the potential threats associated with habitats in close proximity to nearly half the human population.
Here in Australia, the place where these birds grow up and spend most of their lives, continued monitoring is necessary to inform the best management practice to maintain shorebird populations.
BirdLife Australia believe that we can help secure a brighter future for these remarkable birds by educating stakeholders, gathering information on how and why shorebird populations are changing, and working to grow the community of people who care about shorebirds.

To find out more visit: http://www.birdlife.org.au/projects/shorebirds-2020/shorebirds-2020-program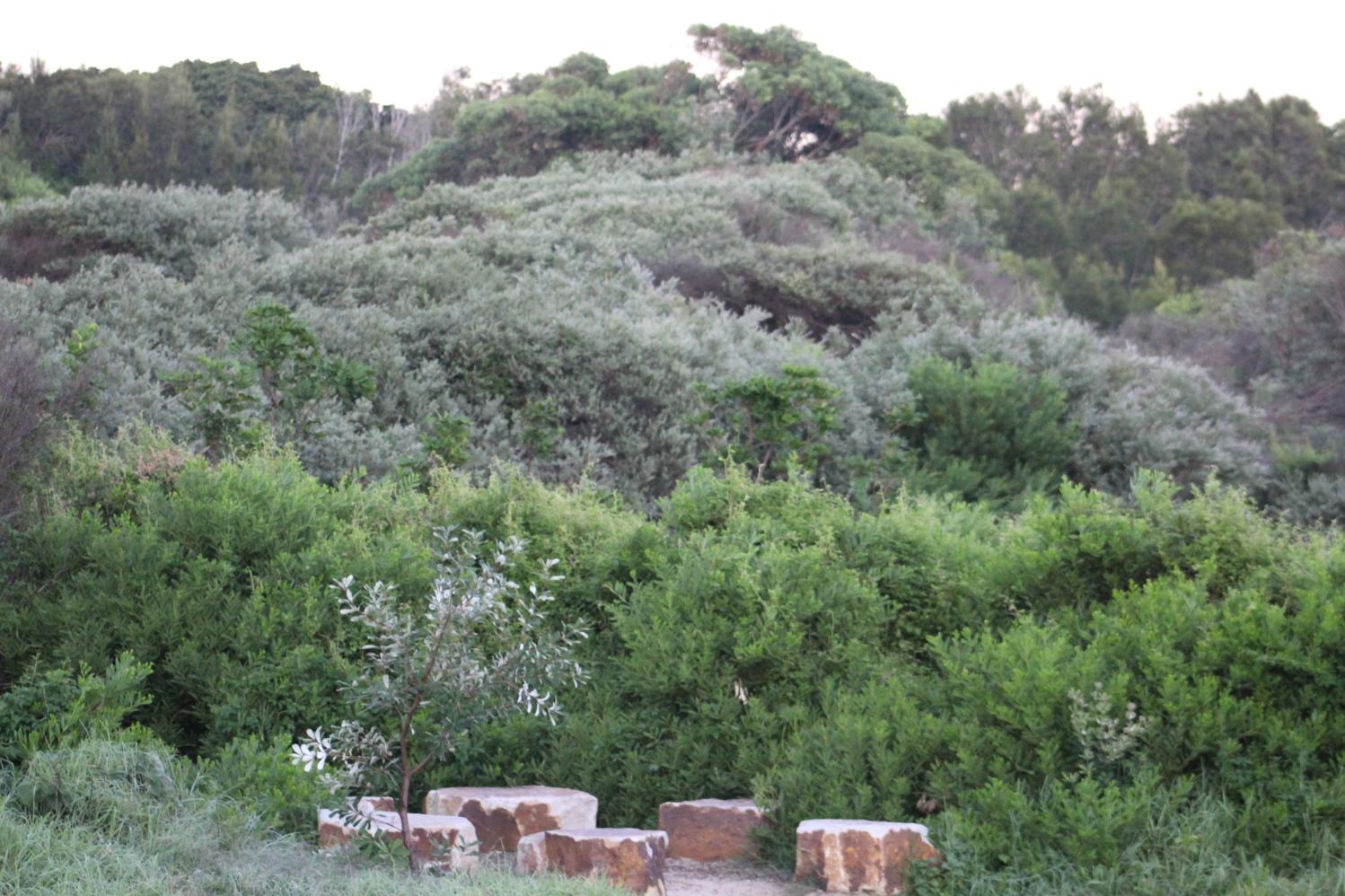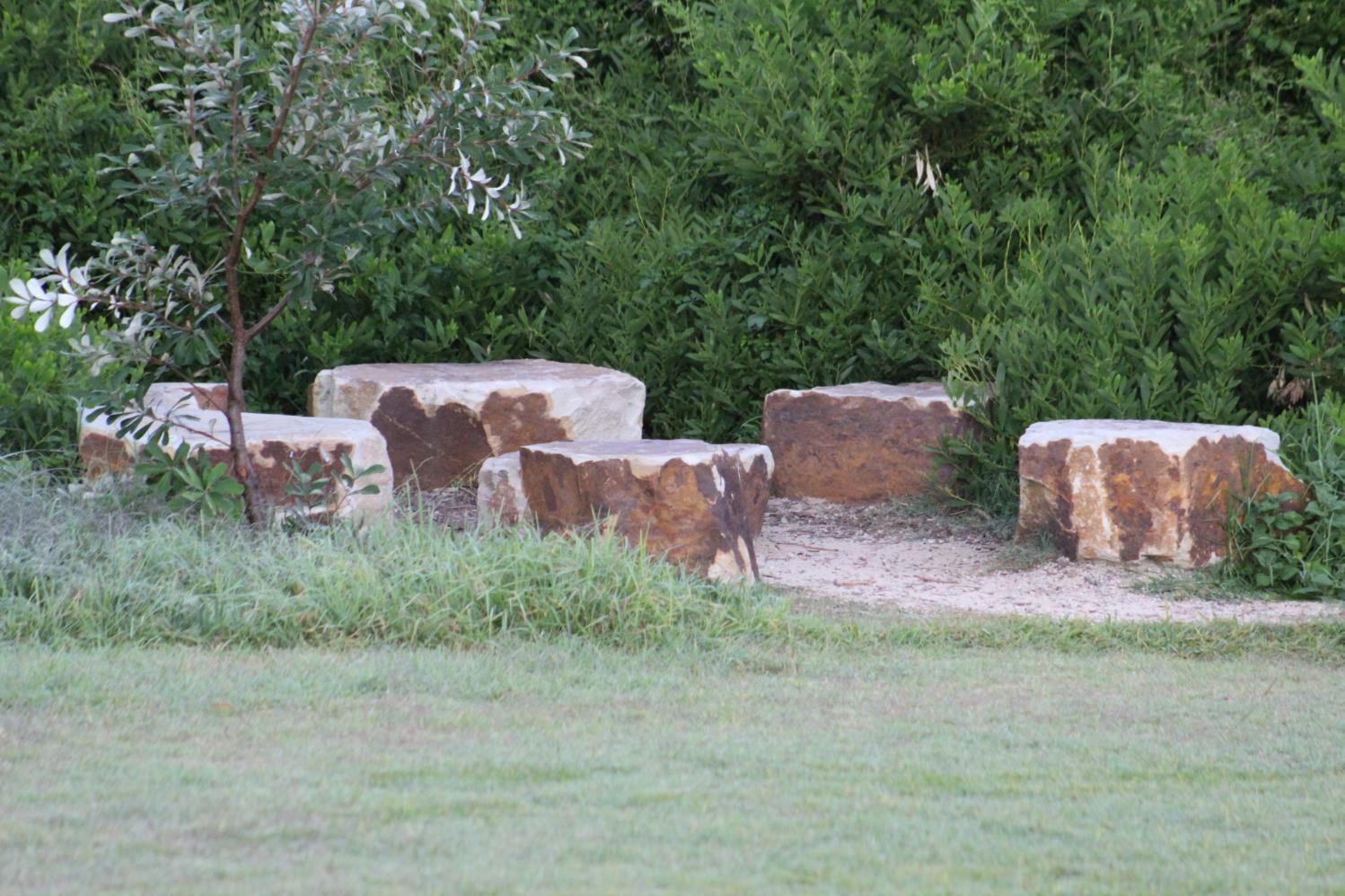 Evidence Of Brain Changes In Those At Risk Of Bipolar Disorder Captured With MRI Scans: UNSW
A brain imaging study of young people at high risk of developing bipolar disorder has for the first time found evidence of decreased connections between key areas of the brain in late adolescence.
Up until now, medical researchers knew that bipolar disorder was associated with reduced communication between brain networks that are involved with emotional processing and thinking, but how these networks developed prior to the condition was a mystery.
The researchers used diffusion-weighted magnetic imaging (dMRI) technology to scan the brains of 183 individuals over a two-year period. They examined the progressive changes in the brain scans of people with high genetic risk of developing the condition over a two-year period, before comparing them with a control group of people with no risk.
People with a parent or sibling who has bipolar disorder are considered high genetic risk, and are 10 times more likely to develop the condition than people without the close family link. In the brain image scans of 97 people with high genetic risk of bipolar disorder, the researchers noted a decrease in connectivity between regions of the brain devoted to emotion processing and cognition between the two scans during the two years between scans.
But in the control group of 86 people with no family history of mental illness, they observed the opposite: an increase in the neural connections between these same regions, when the adolescent brain matures to become more adept at the cognitive and emotional reasoning required in adulthood.
Scientia Professor Philip Mitchell AM, a practising academic psychiatrist with UNSW Medicine & Health, says the findings raise new ideas about treatment and intervention in bipolar disorder developing in young people with a higher risk.
"Our study really helps us understand the pathway for people at risk of bipolar," he says.
"We now have a much clearer idea of what's happening in the brains of young people as they grow up."
Prof. Mitchell says that being a clinician as well as a researcher, he sees first-hand how young people can have their lives suddenly turned upside down when they experience their first manic episode.
"We see a lot of bright, capable kids really enjoying life and then bipolar disorder can be a huge impediment to what they want to achieve.
"With our new knowledge about what actually happens in the brain as at-risk teenagers approach adulthood, we have the opportunity to develop new intervention strategies to either stop the condition in its tracks, or reduce the impact of the illness."
Professor Michael Breakspear, who led the team at HMRI and the University of Newcastle that carried out the analysis of the dMRI scans, says the study illustrates how advances in technology can potentially bring about life-changing improvements to the way that mental illnesses can be treated.
"The relatives of people with bipolar disorder – especially the siblings and children – often ask about their own future risk, and this is a question of high personal concern," he says.
"It's also an issue for their doctors, as the presence of bipolar disorder has important medication implications.
"This study is an important step in having imaging and genetic tests we can perform to help identify those likely to develop bipolar disorder, before they develop disabling and stressing symptoms of the disorder. This would bring psychiatry closer to other branches of medicine where screening tests are part of standard care."
The researchers stress that more research is needed before changes are made to current modes of treatment. It also would not be practical, nor cheap, for all people with a genetic risk of developing bipolar disorder to have brain scans to see if the brain is showing signs of reduced connections.
"The significant finding of our study is that there is progressive change in the brains of young people with risk of bipolar which suggests how important intervention strategies might be," says Prof. Mitchell.
"If we can get in early, whether that's training in psychological resilience, or maybe medications, then we may be able to prevent this progression towards major changes in the brain."
Dr. Gloria Roberts, a postdoctoral researcher working primarily on the project since 2008 with UNSW Medicine & Health, has seen how new onsets of mental illness in youth at risk of developing bipolar disorder can significantly impact psychosocial functioning and quality of life.
"By advancing our understanding of the neurobiology of risk as well as resilience in these high-risk individuals we have the opportunity to intervene and improve the quality of life in individuals who are most at-risk."
As a result of the new findings, the researchers are planning to do a third follow-up scan of participants in the study. They are also in the early stages of developing online programs that assist in the development of resilience while providing young people with skills in managing anxiety and depression, which they hope will reduce their chances of developing bipolar disorder.
Retired mother of two Patricia* knows first-hand how bipolar disorder can be passed down through family lines, having had a late husband who lived with the condition and one of her two children also developing it.
"My husband had it, and he believed his father and his grandfather had it," Patricia says.
"It's also distantly in my own family. My husband and I were both very interested in contributing towards finding out more about it. We both believed very firmly that the answers lie in neuroscience."
So when she found out about a study that sought to scan brains of people with and without risk of bipolar disorder, she thought it was a great opportunity to contribute. Her daughter had been diagnosed in her mid-teens, but her brother was not affected – both are now in their early 30s.
"I would love for them to find a way of eliminating it," Patricia says of research into bipolar disorder.
"It causes so much strife for the people that have it, and it's very hard on the loved ones. I know that there are some people that have some periods of mania where they feel quite good. But that's not everybody. Many of them feel irritable when they're manic. And many people have mixed depression and mania, so it's not a nice disease."
She says her children might help researchers find out what might be protecting those at risk who don't go on to develop the disease.
"So you know, if they can learn more and even come up with some way of controlling it, we're happy to help."
* Name changed for privacy reasons
Lifeline 24 hr Crisis support - 13 11 14

Beyond Blue 24 hr support line - 1300 22 4636
Lack Of Sleep Increases Unhealthy Abdominal Fat
New research from Mayo Clinic shows that lack of sufficient sleep combined with free access to food increases calorie consumption and consequently fat accumulation, especially unhealthy fat inside the belly.
Findings from a randomized controlled crossover study led by Naima Covassin, Ph.D., a cardiovascular medicine researcher at Mayo Clinic, show that lack of sufficient sleep led to a 9% increase in total abdominal fat area and an 11% increase in abdominal visceral fat, compared to control sleep. Visceral fat is deposited deep inside the abdomen around internal organs and is strongly linked to cardiac and metabolic diseases.
The findings are published in the Journal of the American College of Cardiology, and the study was funded by the National Heart, Lung and Blood Institute.
Lack of sufficient sleep is often a behaviour choice, and this choice has become increasingly pervasive. More than one-third of adults in the U.S. routinely do not get enough sleep, in part due to shift work, and smart devices and social networks being used during traditional sleep times. Also, people tend to eat more during longer waking hours without increasing physical activity.
"Our findings show that shortened sleep, even in young, healthy and relatively lean subjects, is associated with an increase in calorie intake, a very small increase in weight, and a significant increase in fat accumulation inside the belly," says Virend Somers, M.D., Ph.D., the Alice Sheets Marriott Professor of Cardiovascular Medicine, and principal investigator of the study.
"Normally, fat is preferentially deposited subcutaneously or under the skin. However, the inadequate sleep appears to redirect fat to the more dangerous visceral compartment. Importantly, although during recovery sleep there was a decrease in calorie intake and weight, visceral fat continued to increase. This suggests that inadequate sleep is a previously unrecognized trigger for visceral fat deposition, and that catch-up sleep, at least in the short term, does not reverse the visceral fat accumulation. In the long term, these findings implicate inadequate sleep as a contributor to the epidemics of obesity, cardiovascular and metabolic diseases," says Dr. Somers.
The study cohort consisted of 12 healthy people who were not obese, each spending two 21-day sessions in the inpatient setting. Participants were randomly assigned to the control (normal sleep) group or restricted sleep group during one session and the opposite during the next session, after a three-month washout period. Each group had access to free choice of food throughout the study. Researchers monitored and measured energy intake; energy expenditure; body weight; body composition; fat distribution, including visceral fat or fat inside the belly; and circulating appetite biomarkers.
The first four days were an acclimation period. During this time, all participants were allowed nine hours in bed to sleep. For the following two weeks, the restricted sleep group was allowed four hours of sleep and the control group maintained with nine hours. This was followed by three days and nights of recovery with nine hours in bed for both groups.
The participants consumed more than 300 extra calories per day during sleep restriction, eating approximately 13% more protein and 17% more fat, compared to the acclimation stage. That increase in consumption was highest in the early days of sleep deprivation and then tapered off to starting levels during the recovery period. Energy expenditure stayed mostly the same throughout.
"The visceral fat accumulation was only detected by CT scan and would otherwise have been missed, especially since the increase in weight was quite modest -- only about a pound," Dr. Covassin says. "Measures of weight alone would be falsely reassuring in terms of the health consequences of inadequate sleep. Also concerning are the potential effects of repeated periods of inadequate sleep in terms of progressive and cumulative increases in visceral fat over several years."
Dr. Somers says behavioural interventions, such as increased exercise and healthy food choices, need to be considered for people who cannot easily avoid sleep disruption, such as shift workers. More study is needed to determine how these findings in healthy young people relate to people at higher risk, such as those who are already obese, or have metabolic syndrome or diabetes.
Naima Covassin, Prachi Singh, Shelly K. McCrady-Spitzer, Erik K. St Louis, Andrew D. Calvin, James A. Levine, Virend K. Somers.
Effects of Experimental Sleep Restriction on Energy Intake, Energy Expenditure, and Visceral Obesity.
Journal of the American College of Cardiology, 2022; 79 (13): 1254 DOI:
10.1016/j.jacc.2022.01.038
Spirituality Can Improve Quality Of Life For Heart Failure Patients
Numerous studies have shown that spirituality can help improve quality of life for people with chronic diseases like cancer. According to a literature review published today in JACC Heart Failure, spirituality can also have a positive impact on quality of life for heart failure patients. It further concludes spirituality should be considered a potential target for palliative care interventions to improve patient-centered and clinical outcomes in these individuals.
"Patients who have heart failure experience a poorer quality of life compared to their peers, with high levels of depression, anxiety and spiritual distress," said Rachel S. Tobin, MD, resident in Internal Medicine at Duke University Hospital, and lead author of the study. "Contributing to diminished quality of life is the fact that heart failure, unlike many other chronic diseases, is very unpredictable and can lead to hopelessness, isolation and altered self-image."
The American College of Cardiology and other major cardiovascular societies recommend palliative care for heart failure patients. Spirituality is a core domain of palliative care, with the goal of identifying and addressing spiritual concerns and providing patients with appropriate spiritual and religious resources. However, limited research has been conducted on spirituality's impact on patients with heart failure, and there are no known tools designed to measure it.
According to the researchers, spirituality is hard to define, but they reference several definitions that describe spirituality as how individuals find meaning and purpose in life, which can be separate from religious beliefs.
For instance, the Institute of Medicine defines spirituality as "the needs and expectations which humans have to find meaning, purpose and value in their life. Such needs can be specifically religious, but even people who have no religious faith or are not members of an organised religion have belief systems that give their lives meaning and purpose."
Researchers conducted a review of 47 articles in order to explore the current knowledge of spirituality in heart failure patients; describe associations between spirituality and quality of life, as well as patient outcomes; and propose clinical applications and future directions for spirituality in this population. There were approximately 10 varying instruments used to measure spirituality, some simple, others complex. Key data examined include:
In the Palliative Care in Heart Failure (PAL-HF) trial, spiritual well-being improved in patients randomized to a palliative care intervention compared to usual care as evaluated by FACIT-Sp. ?The FICA spiritual history tool was also used to gather information on spirituality.
Patients randomized to palliative care had increased quality of life as measured by Kansas City Cardiomyopathy Questionnaire (KCCQ) and Functional Assessment of Chronic Illness Therapy-Palliative Care (FACIT-Pal). They were also found to have lower levels of anxiety and depression.
Another study found that after a 12-week mail-based psychosocial intervention, patients completing the intervention had higher quality of life as measured by KCCQ, as well as less depression and searching for meaning. Out of the 33 patients included, 85.7% felt that the intervention was worthwhile. In a pilot study, spiritual counseling was associated with improved quality of life, although there was no control group to determine if the effect was significant.
"The literature suggests not only can spirituality improve quality of life for the patient, it can help support caregivers and potentially help heart failure patients from needing to be readmitted to the hospital," Tobin said. "What we have suggested and are now doing is developing a spirituality screening tool, similar to ones used to screen for depression. This can be used to identify heart failure patients in palliative care who are at risk for spiritual distress. However, this is just a start. More research needs to be done."
Rachel S. Tobin, Michael F. Cosiano, Christopher M. O'Connor, Mona Fiuzat, Bradi B. Granger, Joseph G. Rogers, James A. Tulsky, Karen E. Steinhauser, Robert J. Mentz.
Spirituality in Patients With Heart Failure.
JACC: Heart Failure, 2022; DOI:
10.1016/j.jchf.2022.01.014
Lung Damage May Persist Long After COVID-19 Pneumonia
Some people recovering from COVID-19 pneumonia have CT evidence of damage to their lungs that persists a full year after the onset of symptoms, according to a new study published in the journal Radiology.
The COVID-19 pandemic, caused by the novel severe acute respiratory syndrome coronavirus type 2 (SARS-CoV-2), has considerably increased the demand for acute and post-acute healthcare worldwide.
COVID-19's short-term effects on the lungs, such as pneumonia, are well documented. Much less is known about the illness' long-term effects on the lungs.
As part of an Austria-based observational study on the development of lung disease in patients with SARS-CoV-2 infection, researchers looked at patterns and rates of improvement of chest CT abnormalities in patients one year after COVID-19 pneumonia. CT has been an important imaging tool in the workup of patients suspected of having COVID-19.
The researchers assessed lung abnormalities on chest CT in 91 participants, mean age 59 years, at several points over one year after the onset of COVID-19 symptoms.
At one year, CT abnormalities were present in 49, or 54%, of the 91 participants. Of these 49 participants, two (4%) had received outpatient treatment only, while 25 (51%) were treated on a general hospital ward and 22 (45%) had received intensive care unit (ICU) treatment.
"The observed chest CT abnormalities from our study are indicative of damaged lung tissue," said study co-author Anna Luger, M.D., from the Department of Radiology at Innsbruck Medical University in Innsbruck, Austria. "However, it is currently unclear if they represent persistent scarring, and whether they regress over time or lead to pulmonary fibrosis."
While CT abnormalities decreased in initial follow-ups, 63% of participants with abnormalities did not show any further improvement after six months. Age over 60 years, critical COVID-19 severity and male gender were associated with persistent CT abnormalities at one year.
Evidence from the SARS-CoV-1 outbreak of 2002 to 2004 shows that lung abnormalities may remain detectable even after decades, but do not show any progression, according to study co-author Leonhard Gruber, M.D., from the Department of Radiology at Innsbruck Medical University. Recent studies, though, have shown a risk of progression of lung abnormalities such as the ones depicted on CT.
"In a recently published clinical study of our CovILD interdisciplinary working group, we were able to show that the severity of acute COVID-19, protracted systemic inflammation and the presence of residual chest CT abnormalities are strongly related to persistently impaired lung function and clinical symptoms," said study co-author Christoph Schwabl, M.D., from Innsbruck Medical University.
The study underscores radiology's role in helping identify patients at risk for post-COVID-19 consequences and assisting in COVID-19 follow-up management.
"In the end, long-term follow-up, both clinical and radiological, is necessary to gather more information about the course and clinical role of persisting SARS-CoV-2 related chest CT abnormalities," said study senior author Gerlig Widmann, M.D., chief thoracic radiologist at Innsbruck Medical University.
The researchers intend to continue gathering data on patients with persistent CT abnormalities.
Anna K. Luger, Thomas Sonnweber, Leonhard Gruber, Christoph Schwabl, Katharina Cima, Piotr Tymoszuk, Anna K. Gerstner, Alex Pizzini, Sabina Sahanic, Anna Boehm, Maximilian Coen, Carola J. Strolz, Ewald Wöll, Günter Weiss, Rudolf Kirchmair, Gudrun M. Feuchtner, Helmut Prosch, Ivan Tancevski, Judith Löffler-Ragg, Gerlig Widmann.

Chest CT of Lung Injury 1 Year after COVID-19 Pneumonia: The CovILD Study

. Radiology, 2022; DOI: 10.1148/radiol.211670
Ann N. Leung.

COVID-19 Pandemic: The Road to Recovery

. Radiology, 2022; DOI: 10.1148/radiol.220488
Residual Water From The Food Industry Gives Seaweed Cultivation A Boost
Process water from the food industry is an excellent fertiliser in land-based seaweed cultivation. Not only does the seaweed grow faster; its protein content also multiplies. In this way, process water can go from being a cost to becoming a resource in the food industry.
Can macroalgae, such as sea lettuce, become a competitive source of protein in the foods of the future the way soybeans are today? Seaweed naturally has a lower protein content than soybeans, but with fertilizer that difference decreases.
A scientific article from researchers at the University of Gothenburg and Chalmers University of Technology shows that process water from food production can serve as an excellent fertilizer in seaweed cultivation. The seaweed grew more than 60 per cent faster, and the protein content quadrupled with the addition of process water.
"The protein content of soybeans is about 40 per cent. By using process water, we have increased the protein content in the seaweed to more than 30 per cent," says Kristoffer Stedt, a doctoral student at the Department of Marine Sciences at the University of Gothenburg.
We already know that algae grow better in the vicinity of fish farms in the sea due to nutrients in fish faeces that spread in the water. Process water from food industries is often rich in nitrogen and phosphorus in a similar way.
The researchers tested four different types of seaweed and added process water from several different food producers -- from the herring industry, salmon farming, shellfish processors, and a manufacturer of oat milk. A certain amount of process water with a controlled content of nitrogen was added to the seaweed cultivation. After eight days the researchers analysed the results.
"We included oat milk to achieve cultivation that was completely vegan. And it turned out that all different types of process water worked well as fertilizer for the seaweed," says Stedt.
Food production requires large amounts of water, and taking care of the process water is currently a cost for producers. But this water can be turned into a valuable resource.
"We think that you could have land-based cultivations of algae, such as sea lettuce, near a herring factory, for example. Seaweed cultivation can cleanse large portions of the nutrients from the process water. That brings us closer to a sustainable approach, and the companies have another leg to stand on," says Stedt.
No off-taste for the seaweed
The researchers were worried that the seaweed would be tainted by the process water. Not everyone may appreciate herring-flavoured sea lettuce. But test panels did not note any impact on the taste of the seaweed from the process water.
In the future, Kristoffer Stedt and his colleagues will focus on scaling up the experiments with seaweed cultivation. They will use process water from the herring industry, which showed very promising results, and focus on the species Ulva fenestrata (sea lettuce).
"We need to conduct tests in larger volumes as a first step in a controlled environment. But we believe that this may be an alternative source of protein in future foods. It could also be a completely circular system if we used cultivated seaweed as feed for salmon culture on land and used the process water to fertilize the seaweed cultivation," says Stedt.
Great need for new protein sources
An estimated 10 billion people will live on Earth by 2050,
and there is a great demand for sustainably produced food protein. Between 2000 and 2018, the production of seaweed tripled, reaching 32 million tonnes. Almost 99 per cent is produced in the Far East.
In the research project CirkAlg, researchers from the University of Gothenburg and Chalmers University of Technology are collaborating on processes that can generate a new Swedish marine protein source in a resource-efficient way through both cultivation and processing of seaweed.
"In addition to boosting the seaweed's protein content with process water, we are looking at several ways to extract the proteins from the algae for use in other foods in the same way as protein is extracted from soybeans today. However, this presents a challenge, because the protein in seaweed is bound more tightly than in the soybeans," says Ingrid Undeland, a professor of food science at the Department of Biology and Biological Engineering at Chalmers. She is also the coordinator for CirkAlg.
Kristoffer Stedt, João P. Trigo, Sophie Steinhagen, Göran M. Nylund, Bita Forghani, Henrik Pavia, Ingrid Undeland.
Cultivation of seaweeds in food production process waters: Evaluation of growth and crude protein content.
Algal Research, 2022; 63: 102647 DOI:
10.1016/j.algal.2022.102647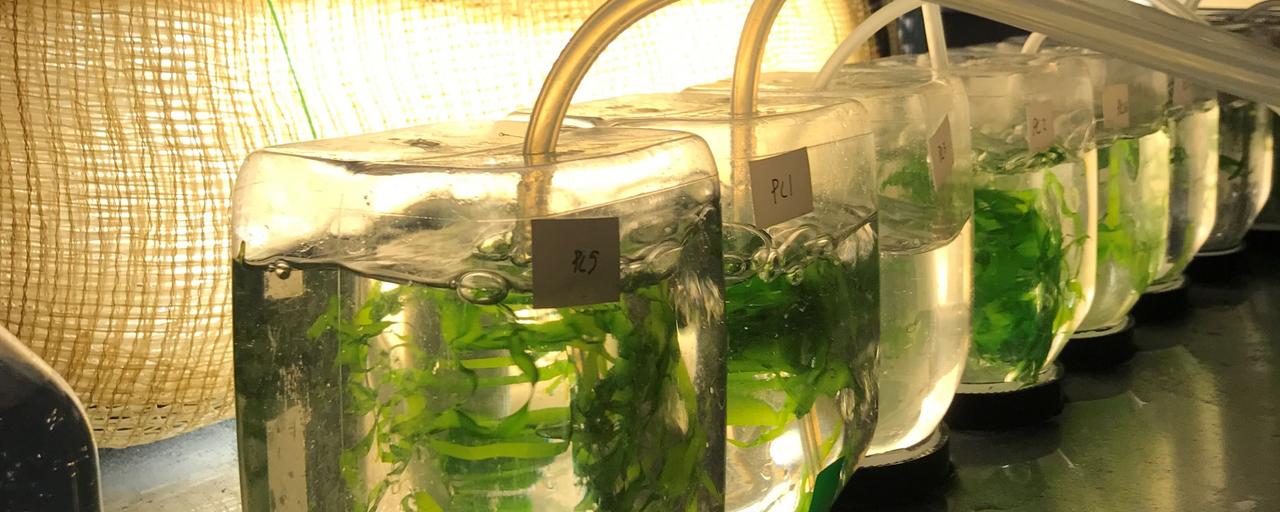 A certain amount of process water with a controlled content of nitrogen was added to the seaweed cultivation. The result showed that the seaweed grew more up to 60 per cent faster, and the protein content quadrupled with the addition of process water.Photo: Kristoffer Stedt

An Approach To Treating A Severe Congenital Myopathy
The diagnosis is rare, but devastating -- children with congenital muscle disorders often never learn to walk. Until now, there was no chance of recovery, but researchers at the University of Basel and University Hospital Basel are now presenting a possible therapeutic approach for the first time.
Professor Susan Treves remembers seeing one child affected by the condition at the age of six months. The boy seemed more like a newborn, she recalls. Today, several years later and thanks to intensive physiotherapy, he is at least able sit. "He made it," says the researcher. There is as yet no cure for children like this one. Their first priority is survival. Another child with mutations in the same gene as the boy mentioned above, did not survive. However, his genetic alterations now form the basis of a therapeutic approach presented by the research group led by Susan Treves and Professor Francesco Zorzato in the scientific journal eLife.
The affected gene contains the blueprint for a calcium channel called RYR1 in skeletal muscle. The mutations render the gene useless, and this has severe consequences for muscle function. The researchers used the gene alterations found in a patient, as a template to develop a mouse model for this type of congenital myopathy. "The mice don't die, but their muscle system is severely impaired," says Treves. "They're smaller, and move much less." With a combination of two drugs, however, the research team was able to significantly improve muscle function and movement of the mice.
Genetic material overload
The therapy is based on the observation that certain enzymes are produced in excessive quantities in the skeletal muscles of affected patients. These enzymes -- histone deacetylases and DNA methyltransferases, to be specific -- affect the density of the packaging of the genetic material. This makes genes less accessible to the cellular machinery that reads them and translates them into instructions for protein production.
Treves and her team used inhibitors against these enzymes, which are already approved as cancer drugs or are being tested in clinical trials. The treatment brought about a significant improvement in the ability of the mice to move, although they remained smaller than healthy animals from the same litter. Importantly, the researchers did not observe any adverse side effects during the study period.
The approach is still far from being a clinically applicable therapy, says Treves. "But it's a first step in the right direction." In their next step, the researchers aim to further optimize the treatment and test combinations of newly developed drugs targeting the same enzymes to achieve even better effects. "We anticipate around about two more years of optimization and testing before we can initiate a phase I clinical trial," she says.
For Susan Treves and Francesco Zorzato, these first promising results represent a milestone victory after more than 10 years of research -- especially as Zorzato was the one who first isolated the gene affected in these muscle disorders years ago. "We've now succeeded in bridging the gap from the isolation of the affected gene to a therapeutic approach," says Treves.
Alexis Ruiz, Sofia Benucci, Urs Duthaler, Christoph Bachmann, Martina Franchini, Faiza Noreen, Laura Pietrangelo, Feliciano Protasi, Susan Treves, Francesco Zorzato.
Improvement of muscle strength in a mouse model for congenital myopathy treated with HDAC and DNA methyltransferase inhibitors
. eLife, 2022; 11 DOI:
10.7554/eLife.73718
Good News For Coffee Lovers: Daily Coffee May Benefit The Heart
Drinking coffee -- particularly two to three cups a day -- is not only associated with a lower risk of heart disease and dangerous heart rhythms but also with living longer, according to studies being presented at the American College of Cardiology's 71st Annual Scientific Session.
These trends held true for both people with and without cardiovascular disease. Researchers said the analyses -- the largest to look at coffee's potential role in heart disease and death -- provide reassurance that coffee isn't tied to new or worsening heart disease and may actually be heart protective.
"Because coffee can quicken heart rate, some people worry that drinking it could trigger or worsen certain heart issues. This is where general medical advice to stop drinking coffee may come from. But our data suggest that daily coffee intake shouldn't be discouraged, but rather included as a part of a healthy diet for people with and without heart disease,"
said Peter M. Kistler, MD, professor and head of arrhythmia research at the Alfred Hospital and Baker Heart Institute in Melbourne, Australia, and the study's senior author.
"We found coffee drinking had either a neutral effect -- meaning that it did no harm -- or was associated with benefits to heart health."
Kistler and his team used data from the UK BioBank, a large-scale prospective database with health information from over half a million people who were followed for at least 10 years. Researchers looked at varying levels of coffee consumption ranging from up to a cup to more than six cups a day and the relationship with heart rhythm problems (arrhythmias); cardiovascular disease, including coronary artery disease, heart failure and stroke; and total and heart-related deaths among people both with and without cardiovascular disease. Patients were grouped by how much coffee they reported drinking each day: 0, <1, 1, 2-3, 4-5, >5 cups/day. Coffee drinking was assessed from questionnaires completed upon entry into the registry. Overall, they either found no effect or, in many cases, significant reductions in cardiovascular risk after controlling for exercise, alcohol, smoking, diabetes and high blood pressure that could also play a role in heart health and longevity.
For the first study, researchers examined data from 382,535 individuals without known heart disease to see whether coffee drinking played a role in the development of heart disease or stroke during the 10 years of follow up. Participants' average age was 57 years and half were women. In general, having two to three cups of coffee a day was associated with the greatest benefit, translating to a 10%-15% lower risk of developing coronary heart disease, heart failure, a heart rhythm problem, or dying for any reason. The risk of stroke or heart-related death was lowest among people who drank one cup of coffee a day. Researchers did observe a U-shaped relationship with coffee intake and new heart rhythm problems. The maximum benefit was seen among people drinking two to three cups of coffee a day with less benefit seen among those drinking more or less.
The second study included 34,279 individuals who had some form of cardiovascular disease at baseline. Coffee intake at two to three cups a day was associated with lower odds of dying compared with having no coffee. Importantly, consuming any amount of coffee was not associated with a higher risk of heart rhythm problems, including atrial fibrillation (AFib) or atrial flutter, which Kistler said is often what clinicians are concerned about. Of the 24,111 people included in the analysis who had an arrhythmia at baseline, drinking coffee was associated with a lower risk of death. For example, people with AFib who drank one cup of coffee a day were nearly 20% less likely to die than non-coffee drinkers.
"Clinicians generally have some apprehension about people with known cardiovascular disease or arrhythmias continuing to drink coffee, so they often err on the side of caution and advise them to stop drinking it altogether due to fears that it may trigger dangerous heart rhythms," Kistler said. "But our study shows that regular coffee intake is safe and could be part of a healthy diet for people with heart disease."
Although two to three cups of coffee a day seemed to be the most favourable overall, Kistler said that people shouldn't increase their coffee intake, particularly if it makes them feel anxious or uncomfortable.
"There is a whole range of mechanisms through which coffee may reduce mortality and have these favourable effects on cardiovascular disease," he said. "Coffee drinkers should feel reassured that they can continue to enjoy coffee even if they have heart disease. Coffee is the most common cognitive enhancer -- it wakes you up, makes you mentally sharper and it's a very important component of many people's daily lives."
So how might coffee beans benefit the heart? People often equate coffee with caffeine, but coffee beans actually have over 100 biologically active compounds. These substances can help reduce oxidative stress and inflammation, improve insulin sensitivity, boost metabolism, inhibit the gut's absorption of fat and block receptors known to be involved with abnormal heart rhythms, Kistler said.
In a third study, researchers looked at whether there were any differences in the relationship between coffee and cardiovascular disease depending on whether someone drank instant or ground coffee or caffeinated or decaf. They found, once again, two to three cups a day to be associated with the lowest risk of arrhythmias, blockages in the heart's arteries, stroke or heart failure regardless of whether they had ground or instant coffee. Lower rates of death were seen across all coffee types. Decaf coffee did not have favourable effects against incident arrhythmia but did reduce cardiovascular disease, with the exception of heart failure. Kistler said the findings suggest caffeinated coffee is preferable across the board, and there are no cardiovascular benefits to choosing decaf over caffeinated coffees.
There are several important limitations to these studies. Researchers were unable to control for dietary factors that may play a role in cardiovascular disease, nor were they able to adjust for any creamers, milk or sugar consumed. Participants were predominantly white, so additional studies are needed to determine whether these findings extend to other populations. Finally, coffee intake was based on self-report via a questionnaire fielded at study entry. This should be considered when interpreting the study findings, though Kistler noted that research suggests people's dietary habits don't change much in adulthood or over time. Kistler said the results should be validated in randomized trials.
The study, "
Effects of Habitual Coffee Consumption on Incident Cardiovascular Disease, Arrhythmia, and Mortality: Findings from UK BioBank
," will be
presented on Sunday, April 3, 2022.
The second related study, "
Regular Coffee Intake is Associated with Improved Mortality in Prevalent Cardiovascular Disease
," will be presented virtually on
Saturday, April 2, 2022
.
The third related study, "
Ground, Instant, or Decaffeinated Coffee? Impact of Different Coffee Subtypes on Incident Arrhythmia, Cardiovascular Disease and Mortality
," will be presented on
Sunday, April 3, 2022
.
ACC.22 will take place April 2-4, 2022, in Washington, DC, bringing together cardiologists and cardiovascular specialists from around the world to share the newest discoveries in treatment and prevention. Follow @ACCinTouch, @ACCMediaCenter and #ACC22 for the latest news from the meeting.

Improving Asphalt Road Pavement Using Engineered Nano Mineral Composites
A novel and eco-friendly nano asphalt binder has been developed by researchers at Swansea University and the Technical University of Braunschweig.

The product generates a new class of warm mix asphalt (WMA) additive that significantly reduces energy consumption while simultaneously minimising vapours and greenhouse gas emissions during the production of asphalt mixtures when compared to conventional asphalt, it also works effectively at a large scale.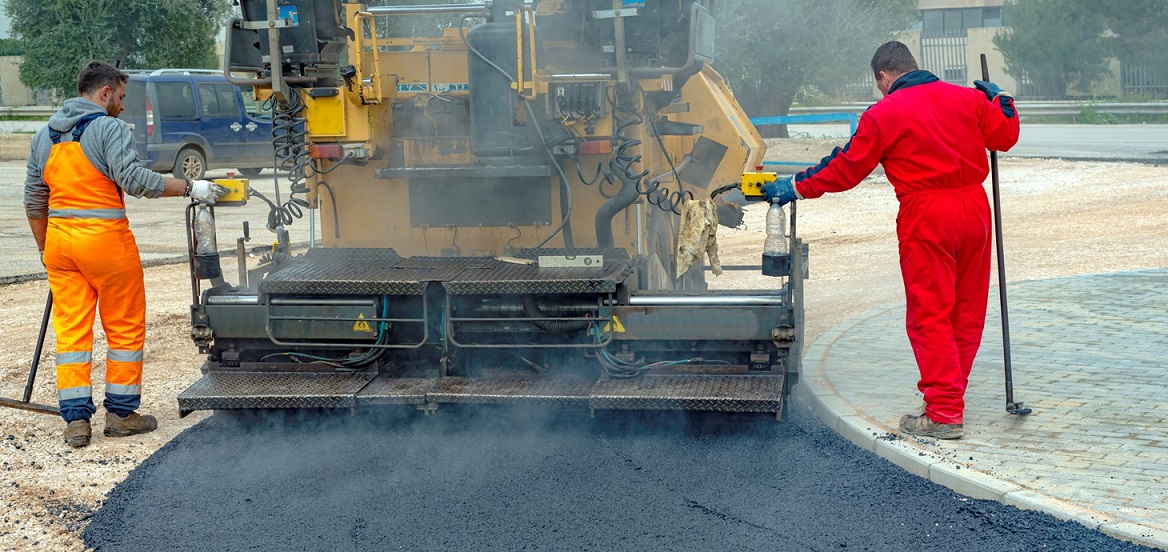 To achieve net-zero carbon emissions, Highways UK is increasing the adoption of WMA as a standard across its supply chain. When compared to conventional hot-mix asphalts, WMA technologies can provide increased efficiency and reduce carbon production, with CO2 reductions of up to 15%. WMAs are produced at temperatures of up to 40°C lower than ordinary asphalt, therefore, switching to them would save roughly 61,000 tonnes of CO2 each year in the UK, which is the equivalent of reducing 300 million miles of automobile travel.
To address these issues in WMA technology, a team from the Braunschweig Pavement Engineering Centre (ISBS) at the Technische Universität Braunschweig and Energy Safety Research Institute (ESRI) at Swansea University have discovered the potential for engineered clay/fumed silica nanocomposites to be used as an anti-aging binder that can not only serve to reduce temperatures but also overcome significant limitations caused by moisture susceptibility.
Lead researcher Dr Goshtasp Cheraghian of the Technical University of Braunschweig said, "The study given fills the technical gap in WMA technology. Our nanocomposite is a cost-effective and non-toxic substance that can have a significant impact on WMA stability."
Dr Sajad Kiani of ESRI said: "Typically, asphalt binders are susceptible to aging due to heat, air, sunlight, and water, that have a detrimental effect on the pavement quality, reducing durability. We found that the addition of mineral-reinforced particle will not only decrease oxidation and aging of asphalt but also improve road pavement lifespan and decrease asphalt-related emissions."
Professor Andrew Barron, the Founder and Director of ESRI and the Sêr Cymru Chair of Low Carbon Energy and Environment at Swansea University, said "Compared to commercial materials, our solution requires lower concentrations (less than 0.3 wt.%) of additives due to their superior surface activity, and as such has the potential to solve some of the challenges associated with, less durable the roads."
Dr Cheraghian summarises: "Our results on the molecular interaction between nanoparticles and asphalt binders could pave the way for novel nanotechnology applications in asphalt engineering."
Goshtasp Cheraghian, Michael P. Wistuba, Sajad Kiani, Ali Behnood, Masoud Afrand, Andrew R. Barron.
Engineered nanocomposites in asphalt binders
. Nanotechnology Reviews, 2022; 11 (1): 1047 DOI:
10.1515/ntrev-2022-0062
Disclaimer: These articles are not intended to provide medical advice, diagnosis or treatment. Views expressed here do not necessarily reflect those of Pittwater Online News or its staff.