Inbox and environment news:Issue 528
February 27 - March 5, 2022: Issue 528
Local Wildlife Rescuers And Carers State That Ongoing Heavy Rains Are Tough For Us But Can Be Tougher For Our Wildlife:
Birds and possums can be washed out of trees, or the tree comes down, nests can disintegrate or hollows fill with water
Ground dwelling animals can be flooded out of their burrows or hiding places and they need to seek higher ground
They are at risk crossing roads as people can't see them and sudden braking causes accidents
The food may disappear - insects, seeds and pollens are washed away, nectar is diluted and animals can be starving
They are vulnerable in open areas to predators, including our pets
They can't dry out and may get hypothermia or pneumonia
Animals may seek shelter in your home or garage.
You can help by:
Keeping your pets indoors
Assessing for wounds or parasites
Putting out towels or shelters like boxes to provide a place to hide
Drive to conditions and call a rescue group if you see an animal hit (or do a pouch check or get to a vet if you can stop)
If you are concerned take a photo and talk to a rescue group or wildlife carer
There are 2 rescue groups in the Northern Beaches:
Sydney Wildlife: 9413 4300
WIRES: 1300 094 737
Please be patient as there could be a few enquiries regarding the wildlife.
Generally Sydney Wildlife do not recommend offering food but it may help in some cases. Please ensure you know what they generally eat and any offerings will not make them sick. You can read more on feeding wildlife here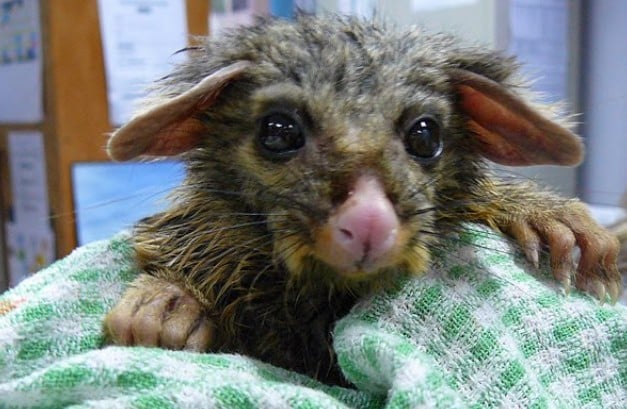 Information courtesy Ed Laginestra, Sydney Wildlife volunteer. Photo: from Esther Andrews.
Aviaries + Possum Release Sites Needed
Pittwater Online News has interviewed
Lynette Millett OAM
(WIRES Northern Beaches Branch)
needs more bird cages of all sizes for keeping the current huge amount of baby wildlife in care safe or 'homed' while they are healed/allowed to grow bigger to the point where they may be released back into their own home.
If you have an aviary or large bird cage you are getting rid of or don't need anymore, please email via the link provided above.
There is also a pressing need for release sites for brushtail possums - a species that is very territorial and where release into a site already lived in by one possum can result in serious problems and injury.
If you have a decent backyard and can help out, Lyn and husband Dave can supply you with a simple drey for a nest and food for their first weeks of adjustment.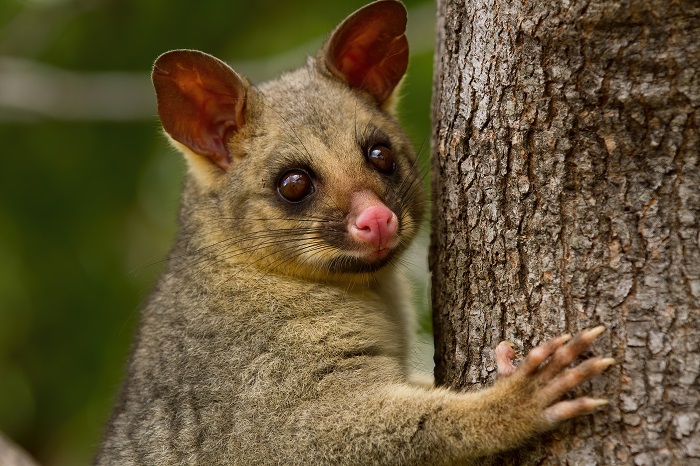 Australia's Eucalypt Of The Year Voting Is Open For The 5th Year!
Tuesday 15 February 2022
Get ready to witness eco passion because voting for the 2022 Eucalypt of the Year opens today. Celebrating its 5th birthday, the much loved - and highly contested - Eucalypt of the Year award is sure to bring out the competitive spirit in gumtree lovers across the country.
"The 2022 Eucalypt of the Year gives everyone the opportunity to celebrate their own personal favourites with the winning species to be announced on National Eucalypt Day (23 March) by Eucalypt Australia, says Linda Baird, CEO Eucalypt Australia.
"From John Williamson's 'Home Among The Gumtrees' to May Gibbs' 'Snugglepot and Cuddlepie', eucalypts feature in the fabric of Australians' lives.
"In a time of uncertainty, gum trees provide Australians with a constant in our lives, synonymous with the unique beauty of our country", says Ms Baird.
National Eucalypt Day is Australia's biggest annual celebration of eucalypts held every year to celebrate and promote Australia's eucalypts and what they mean to our lives and hearts.
There are over 900 eucalypt species across the continent – from the towering Mountain Ash of south eastern Australia, to the haunting Ghost Gum of the outback, to the Western Australian Mottlecah aka The Rose of the West with flowers as big as your palm, it will be exciting to see which eucalypt will take out this year's gong.
People can vote for their favourite eucalypt from a shortlist of 25 species, including our own local
Angophora costata,
until 20th March
on the Eucalypt Australia website:
www.eucalyptaustralia.org.au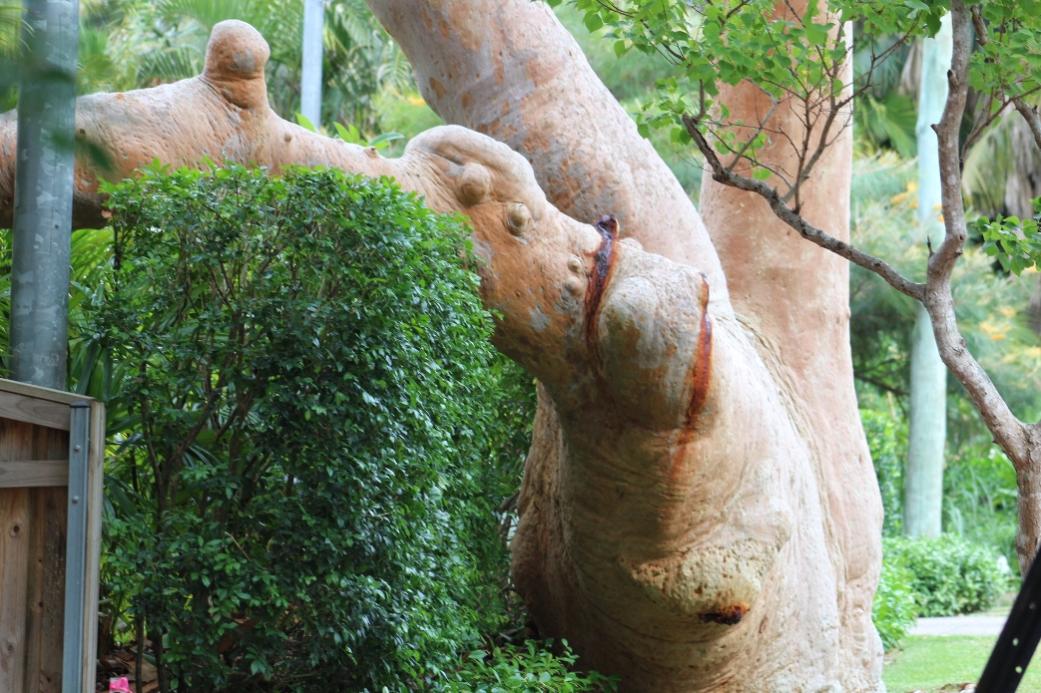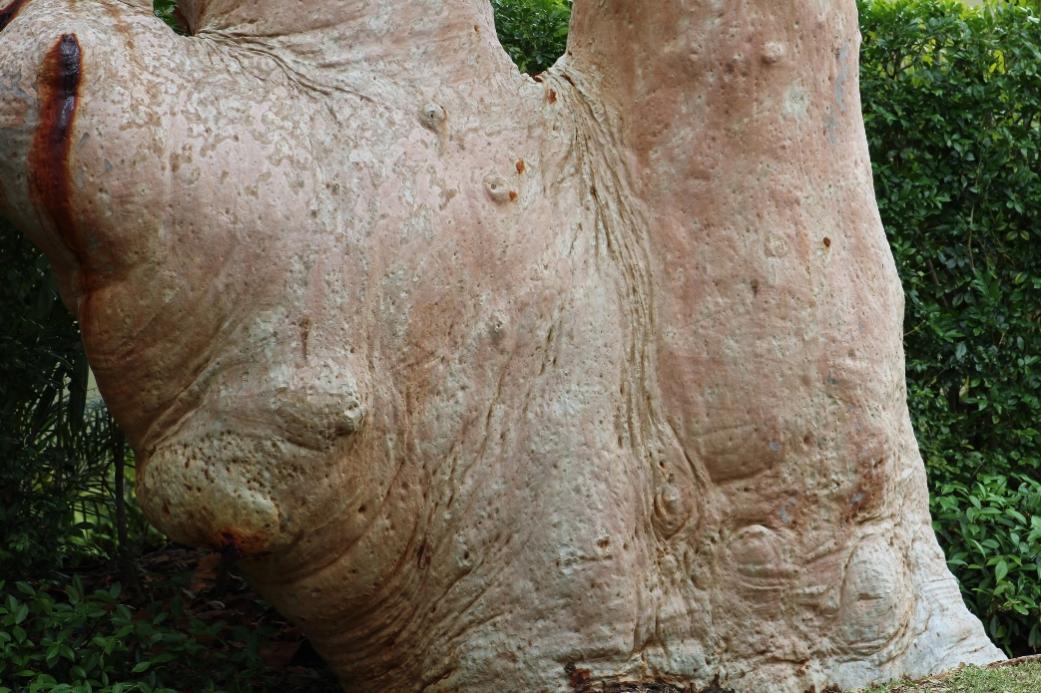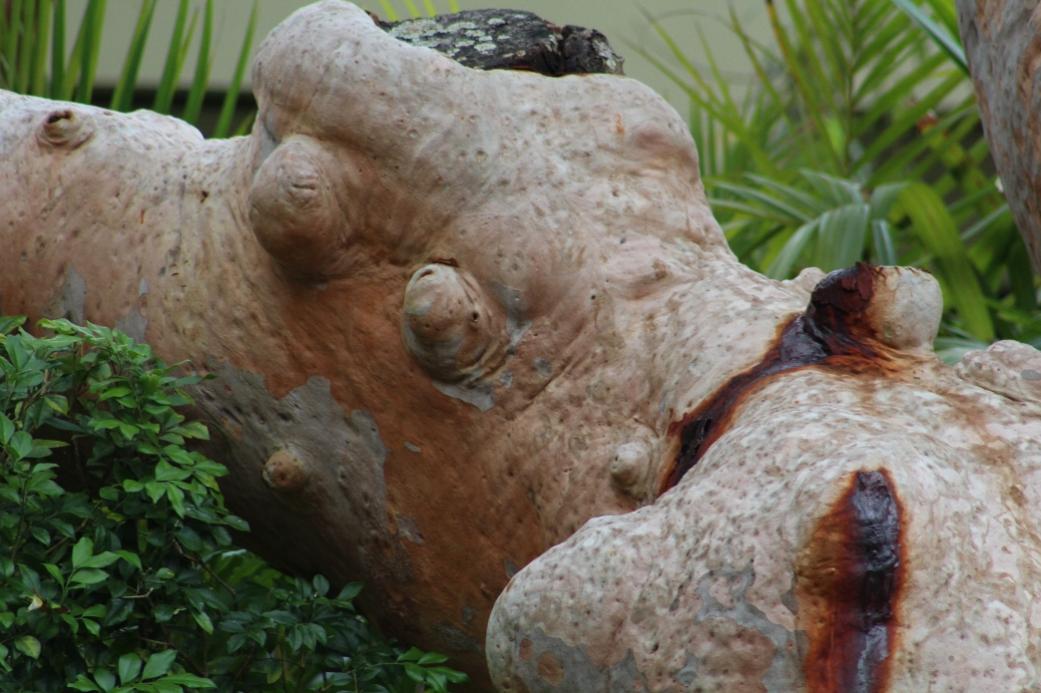 Clean Up Australia Day: Sunday March 6; 2022 - Local Sites List
The official Clean Up Australia Day is Sunday 6 March 2022 but we encourage you to get involved any day that suits you...we know Australia's waste challenges go beyond one day.

Participants agree to honour the spirit of the Clean Up Australia ethos when participating in and conducting activities. Participants must be:
Committed to making a positive difference to the community and environment: activities should be inspiring, engaging and respectful of the local community.
A volunteer movement: people cannot be charged to be involved in activities nor can activities be conducted for commercial or financial gain.
Committed to the safety of volunteers: activities must be carried out in accordance with the local laws and regulations relevant to the activity.
Uniting communities as part of a national campaign: participants must respect the presence and activities of other participants in their proximity.
Welcoming to communities of all nations, cultures, races and faiths: participants and activities must respect political, cultural, and religious differences and beliefs
Non-partisan: participants and activities must not imply endorsement of partisanship by Clean Up Australia.
Local sites for 2022 - will update here as more become available:
Koorangi Reserve and Woorarra Lookout Reserve Elanora Heights: Monday 28th February 17:30 - 19:30
1st Elanora Guides will clean up the 2 parks and streets in between them and the Guide Hall which is on Elanora Road on Monday the 28/2.
Meeting Point: Koorangi Reserve Koorangi Avenue, Elanora Heights.
Site Supervisor: Linda Pearce
West Pittwater (Elvina, Lovett and Morning Bays): Saturday March 5th, 2022: 9am to 10
Meeting Point: Head to your nearest public wharf, grab a bag or partner with someone, and ensure your collection is back at the wharf by 10am Sunday 6th for Toby to pick-up on the Laurel May. ** We suggest you do your clean up on Saturday 5th during low tide **
Site Supervisor: Melinda Broughton
Coasters Retreat: Sunday March 6 2022 at 9am
Meeting Point: Fire brigade fire shed
Site Supervisor: Wilma Taylor
Scotland Island: Sunday March 6, 2022: 9am to 1pm
Site Supervisor: Cass Gye
Church Point Ferry Wharf: Sunday March 6, 2022: 9am to 1pm
Meeting Point: Church Point Ferry Wharf
Site Supervisor: Cass Gye
Bayview Sea Scouts Hall Bayview Park, Bayview: Sunday March 6, 2022; 8.30 to 12pm
Scouts NSW (Bayview Sea Scouts- all ages) are hosting a Clean Up Australia Day at 1st Bayview Sea Scout Hall, Bayview Park (next to the Tennis club) 1678 Pittwater Road Bayview NSW 2104. Taking care of our environment, showing leadership and building community are central to the scouting ethos. Please come to the proposed "Clean Up Australia Day" event starting at 8:30 am to 12:00 pm at our scout hall event to clean up our local parks and waterways around Winnererremy Bay, Bayview.
Meeting Point: The Clean Up Australia Day Bayview meeting place is 1st Bayview Sea Scout Hall, Bayview Park (next to the Tennis club) 1678 Pittwater Road Bayview NSW 2104. Parking is available at Bayview Tennis Club car park or Bayview Dog park car park adjacent to Winnererremy Bay, Bayview.
Site Supervisor: Kristel Kay Ness
Newport Beach: Sunday March 6, 2022: 10.30am to 12.30
Meeting Point: Bert Payne Park (picnic tables behind the surf club)
Site Supervisor: Matt James
Narrabeen Creek on Boondah Road Warriewood: Sunday March 6, 2022: at 10am
Let's clean up the creek!
Meeting Point: Lot 1 Boondah Road, Warriewood - Narrabeen Creek
Site Supervisor: Michael Todd
Elanora Heights at Park. near cnr Woorarra Ave and Coolangatta Ave: Sunday March 6, 2022 at 9am
Let's get together and give back.
I'll register our group for a site, we can all do our bit and then settle down for a well earned BBQ lunch nearby and check out the view.
Meeting Point: Its a obvious park, it has a few swings and park bench etc
Site Supervisor: Tom Knox
Bilarong Reserve on Narrabeen Lagoon: Sunday March 6, 2022 at 9am
This will be our third annual Clean Up Event on Narrabeen Lagoon. Northern Beaches Council does an excellent job of cleaning up the pathways and reserves around the waterway. Unfortunately they can't reach the edges of the lagoon between the reserves. Those are the areas we paddle to in our kayaks. We equip everyone with bags and rakes and gather bottles, foam, picnic utensils - and even a fully upholstered car seat last year. We retrieve an amazing amount of stuff. We are fully supported by Northern Beaches, who send trucks through to collect our rubbish at the end of the day. We recruit local volunteers who willingly give up their time.
Meeting Point: Scout Hall, Bilarong Reserve, Wakehurst Parkway, Narrabeen
Site Supervisor: Tony Carr
Wimbledon Reserve, Narrabeen: Sunday March 6th, 9am to 12pm
1st Elanora Heights will be based at Wimbledon Reserve for Clean Up Australia Day from 9pm till noon. The main area to remove rubbish from will be Sanctuary Island and surrounding foreshore.
The Scout Group will have canoes and PFD's as well as a support boar for transporting participants.
Meeting Point: Wimbledon Reserve end of Wimbledon Avenue
Site Supervisor: Ricki Shires
Clean Up Australia Day at Bilgola Beach: Monday March 7, 2022: 3:00 - 05:00
Meeting Point: We will meet at Bilgola Surf Club
Site Supervisor: Claudette Good
To contact any of the above site supervisors to join in, and please join in, enter your postcode to
www.cleanupaustraliaday.org.au/join-a-clean-up
and click on the site you want to help out at and then click on contact site supervisor to right hand side of that page, or just turn up and help out.
Asparagus Fern Flowering Now: Dispose Of This Weed To Stop The Spread
While on weeds, one of PIttwater's worst weed is asparagus fern and it's flowering now. Its scent is like Bubble Gum, sickly sweet. You can see the berries developing.
If this is on your land you can you cut off the stems and catch those berries before they turn white then red, that will stop the spread.
Please wear gloves when doing so as this plant has spikes.
Put the stems plus berries into your green bin.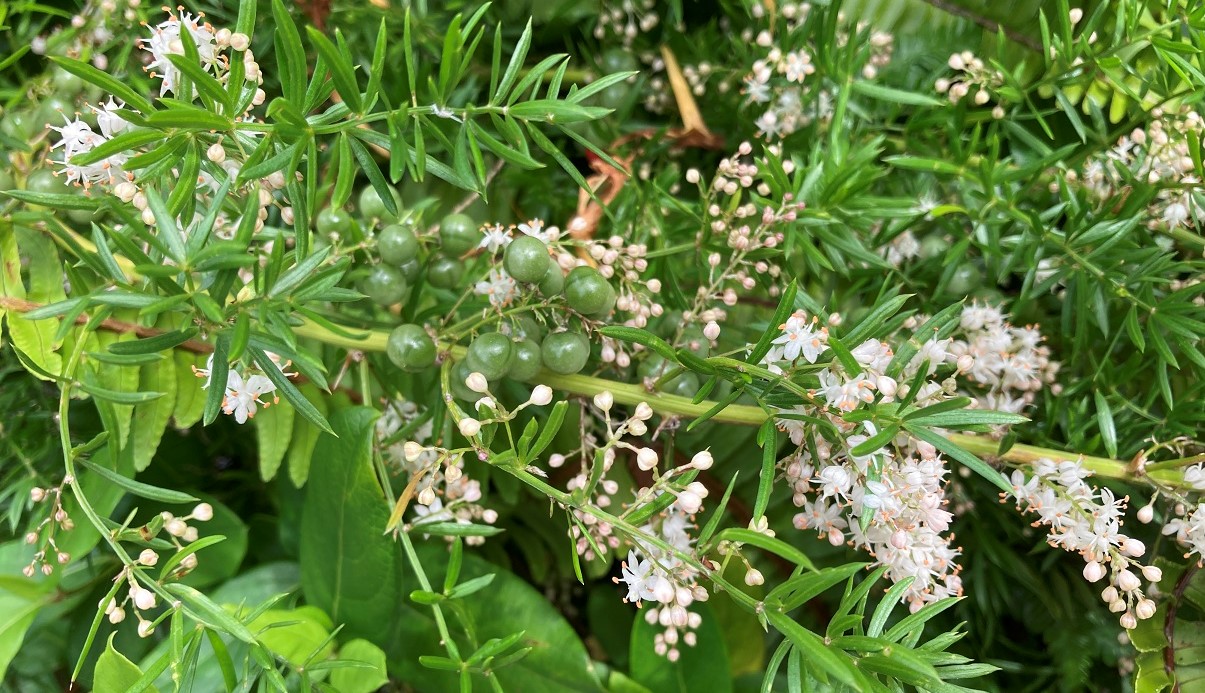 Photo: courtesy PNHA
Friends Of Narrabeen Lagoon Catchment - Next Forum
Zoom Meeting; 7pm Monday February 28. Speaker: Jayden Walsh
Topic: The Pan Gnammas, Rock-gardens, Rainforests and Conifers of the Narrabeen Lagoon Catchment
Pan gnammas occur across Australia, mainly in granites and sandstones. They typically are water holes in rock surfaces with steep or sloping sides, flat floors, depths up to about 25 cm but more usually around 10cm.
Ecologist and local resident Jayden Walsh will be leading us on a journey through the Narrabeen Lagoon catchment, taking us to some of the most interesting and varied places in the area.
After a decade of intensive off-track exploration within the catchment, Jayden will show many photos and talk about places, plants, animals and history rarely encountered by most due to their remoteness and difficult terrain.
From pan gnammas of the ancient sandstone escarpments to rainforests only several thousand years old, the diversity of the area's landforms and soils dictate an ever-changing and rich diversity of life.
The beauty of our Catchment will be revealed in a presentation not to be missed, so come and hear Jayden discuss some of the many reasons we fight to protect our area.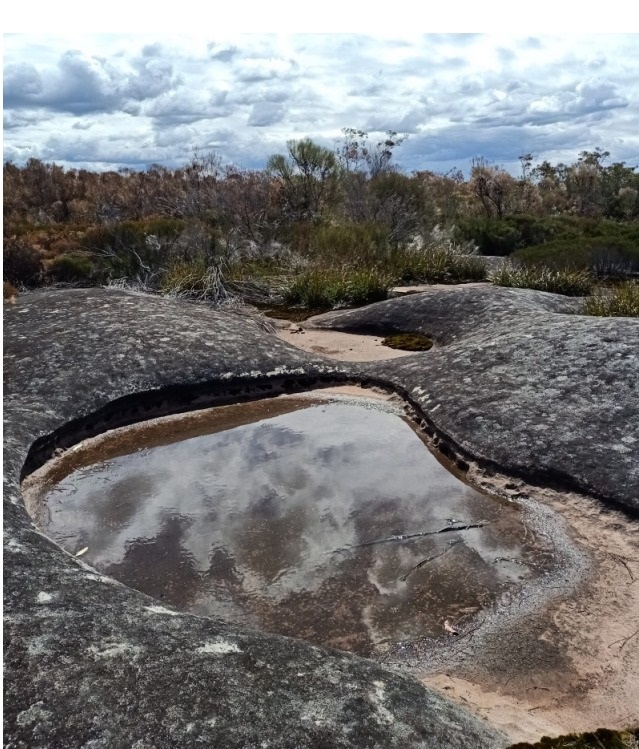 Image: Pan gnamma in Narrabeen Lagoon Catchment. Photo credit: Jayden Walsh/FoNLC
Powerhouse Brookvale - Australia's First Urban Renewable Energy Zone: Launch February 28
Imagine this.
A clean, green, mini-power plant in the city where local businesses get paid for energy they collect from their roof; where cars and trucks are powered by the sun; where residences and businesses share energy storage; where having solar panels on your roof is not just smart, it's normal.
Brookvale is already a powerhouse for renewable energy. There are panels on car showrooms, hotels and office blocks, boutique brewers and coffee roasters. But there is room for so much more.
If we can cover 50% of Brookvale's suitable roofs we'll have 70,000 solar panels producing up to 20 mW. That's the size of a small power station.
Powerhouse Brookvale Launch
Mon 28th Feb 2022, 5:00 Pm - 6:00 Pm AEDT
Join us for a beer and a chat at the launch of the Solar Alliance at The Truck Bar, 4 Pines Brewery, Brookvale at 5pm on February 28, 2022.
ABC presenter Craig Reucassel (The Chaser, War on Waste and many more...) will introduce guests including Zali Steggall MP and talk to the Solar Alliance team about their plans to turn Brookvale into an Urban Renewable Energy Zone.
Find out how to save money (and the planet) with solar. Meet your local business neighbours, meet your local, state and federal reps, and share in the Solar Alliance vision for Brookvale.
First beer is on the house!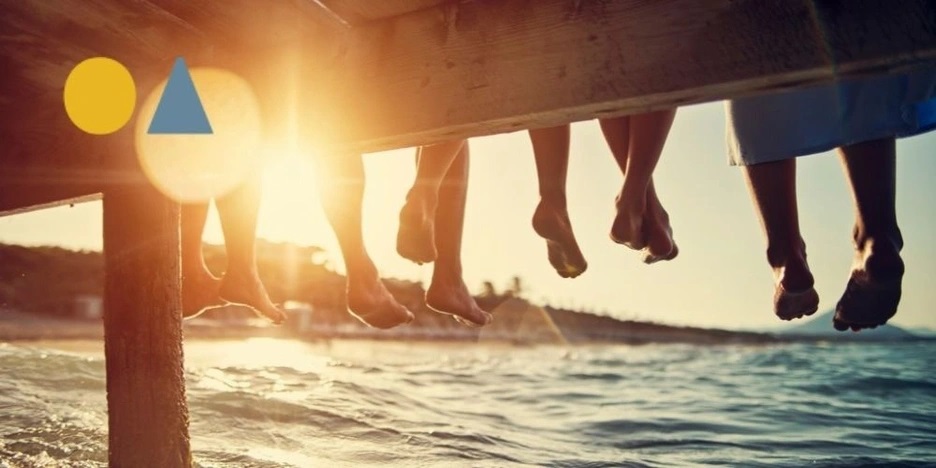 The Big Switch With Saul Griffith: Electrify Everything!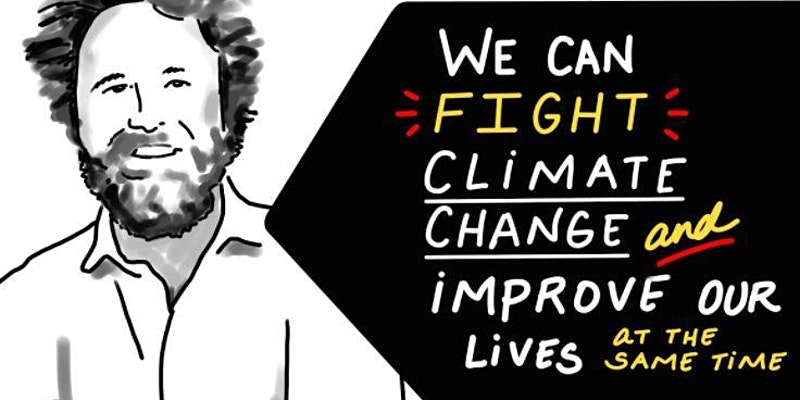 When: Wed, 23 March 2022; 6:30 PM – 8:00 PM
'The point is, we don't have to be perfect to solve climate change. We just need to be electric.' - Saul Griffith
Climate change is a planetary emergency. We have to do something now – but what? Australian visionary Saul Griffith has a plan.
Saul's new book, 'The Big Switch'
lays out a detailed blueprint – optimistic but feasible – for fighting climate change while creating millions of new jobs and a healthier environment.
Saul will be in conversation with Barbara Albert from 100% Renewables to explain exactly what it would take to transform our infrastructure, update our grid and adapt our households to an all electric future.
Billionaires may contemplate escaping our worn-out planet on a private rocket ship to Mars, but the rest of us, Griffith says, will stay and fight for the future.
Saul Griffith
is a scientist, engineer, inventor and father who wants to leave his kids a better world. The data convinces Saul that it is still rational to have hope.
Saul is the co-founder and chief scientist at Rewiring Australia and Rewiring America, nonprofits dedicated to decarbonising those countries (and the world) by electrifying everything.
Barbara Albert
is the Co-CEO 100% Renewables, speaker, podcast host of the Driving Net Profit with Zero Emissions show and award-winning author of Energy Unlimited – Four Steps to 100% Renewable Energy.
She is passionate about business and sustainability and believes that reaching net-zero emissions is achievable and profitable when done right. She believes in the importance of sharing stories of organisations leading in climate action so that others can learn from their experience.
This webinar is proudly run in partnership with six Northern Sydney Councils - Ku-ring-gai Council, Lane Cove Council, Mosman Council, North Sydney Council, City of Ryde and Willoughby Council. Each Council strongly supports renewable energy and electrification as a response to climate change.
The webinar will be run live digitally via the Zoom platform. You will receive a reminder and link to access the session the week before the webinar.
Bushcare In Pittwater
For further information or to confirm the meeting details for below groups, please contact Council's Bushcare Officer on 9970 1367
BUSHCARE SCHEDULES
Where we work Which day What time
Avalon
Angophora Reserve 3rd Sunday 8:30 - 11:30am
Avalon Dunes 1st Sunday 8:30 - 11:30am
Avalon Golf Course 2nd Wednesday 3 - 5:30pm
Careel Creek 4th Saturday 8:30 - 11:30am
Toongari Reserve 3rd Saturday 9 - 12noon (8 - 11am in summer)
Bangalley Headland 2nd Sunday 9 to 12noon
Bayview
Winnererremy Bay 4th Sunday 9 to 12noon
Bilgola
North Bilgola Beach 3rd Monday 9 - 12noon
Algona Reserve 1st Saturday 9 - 12noon
Plateau Park 1st Friday 8:30 - 11:30am
Church Point
Browns Bay Reserve 1st Tuesday 9 - 12noon
McCarrs Creek Reserve Contact Bushcare Officer To be confirmed
Clareville
Old Wharf Reserve 3rd Saturday 8 - 11am
Elanora
Kundibah Reserve 4th Sunday 8:30 - 11:30am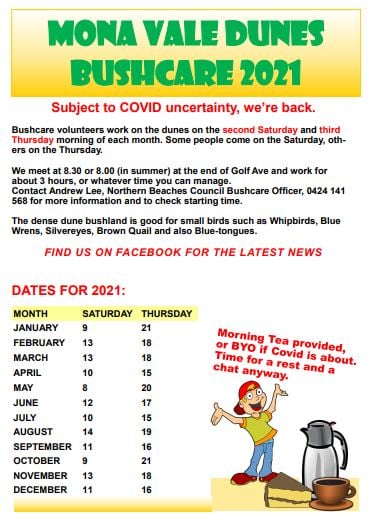 Mona Vale
Mona Vale Beach Basin 1st Saturday 8 - 11am
Mona Vale Dunes 2nd Saturday +3rd Thursday 8:30 - 11:30am
Newport
Bungan Beach 4th Sunday 9 - 12noon
Crescent Reserve 3rd Sunday 9 - 12noon
North Newport Beach 4th Saturday 8:30 - 11:30am
Porter Reserve 2nd Saturday 8 - 11am
North Narrabeen
Irrawong Reserve 2nd Saturday 2 - 5pm
Palm Beach
North Palm Beach Dunes 3rd Saturday 9 - 12noon
Scotland Island
Catherine Park 2nd Sunday 10 - 12:30pm
Elizabeth Park 1st Saturday 9 - 12noon
Pathilda Reserve 3rd Saturday 9 - 12noon
Warriewood
Warriewood Wetlands 1st Sunday 8:30 - 11:30am
Whale Beach
Norma Park 1st Friday 9 - 12noon
Western Foreshores
Coopers Point, Elvina Bay 2nd Sunday 10 - 1pm
Rocky Point, Elvina Bay 1st Monday 9 - 12noon

Gardens And Environment Groups And Organisations In Pittwater
Sydney Wildlife Rescue: Helpers Needed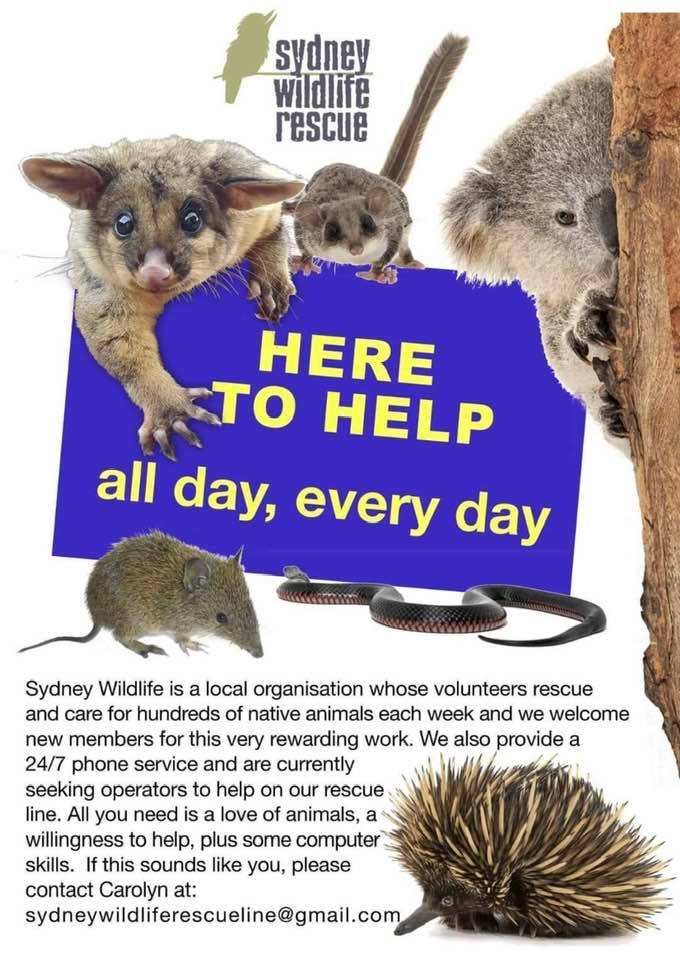 Avalon Golf Course Bushcare Needs You
We're so short of helpers we've had to cancel for the time being. Meanwhile the weeds will go gangbusters.
We used to meet on the second Wednesday afternoon of each month. Could you come if we worked on another day or time? say a morning, or on a weekend day?
Contact Geoff Searl on 0439 292 566 if you'd like to help. He'd love to hear from you.
We have fun using the Tree Popper, here with our supervisor from Dragonfly Environmental. We can lever out quite big Ochnas, aka Mickey Mouse plant from Africa. We want to bring back the bush, not let the weeds win!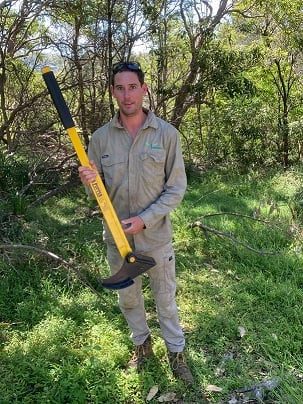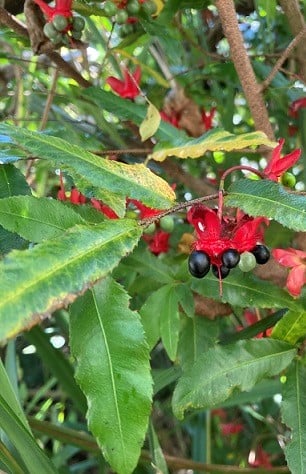 Ochna or Mickey Mouse plant has yellow flowers in spring, then lots of green berries that turn black when ripe. Seedlings come up in hundreds. Ochna has a very strong taproot but the steady pressure of the Tree Popper lifts the plant out of the ground easily. The alternative control is repeated scraping and painting with Roundup, very slow and time consuming. If you have an Ochna you cant remove, you can enjoy the flowers, then PLEASE prune it so that berries can't develop.
New Shorebirds WingThing For Youngsters Available To Download
A Shorebirds WingThing educational brochure for kids (A5) helps children learn about shorebirds, their life and journey. The 2021 revised brochure version was published in February 2021 and is available now. You can download a file copy here.
If you would like a free print copy of this brochure, please send a self-addressed envelope with A$1.10 postage (or larger if you would like it unfolded) affixed to: BirdLife Australia, Shorebird WingThing Request, 2-05Shorebird WingThing/60 Leicester St, Carlton VIC 3053.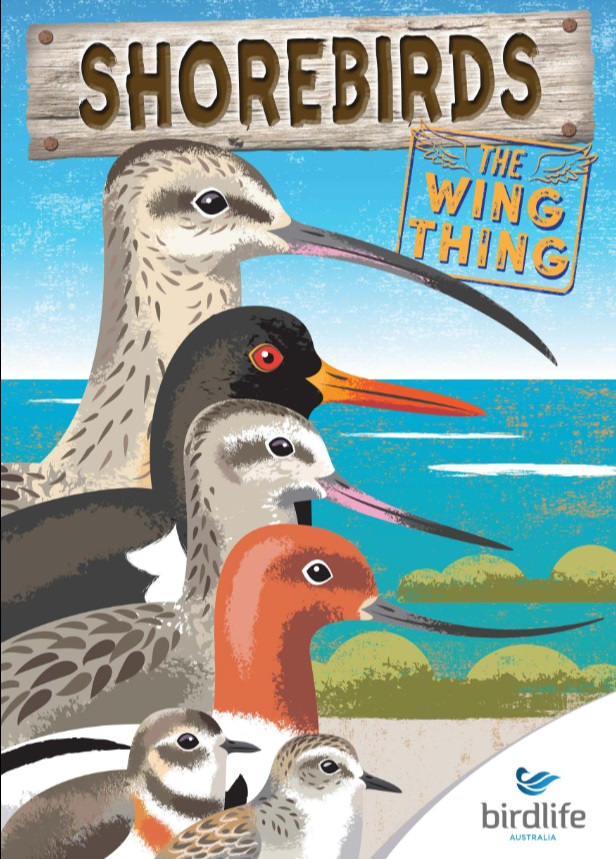 Shorebird Identification Booklet
The Migratory Shorebird Program has just released the third edition of its hugely popular Shorebird Identification Booklet. The team has thoroughly revised and updated this pocket-sized companion for all shorebird counters and interested birders, with lots of useful information on our most common shorebirds, key identification features, sighting distribution maps and short articles on some of BirdLife's shorebird activities.
The booklet can be downloaded here in PDF file format: http://www.birdlife.org.au/documents/Shorebird_ID_Booklet_V3.pdf
Paper copies can be ordered as well, see http://www.birdlife.org.au/projects/shorebirds-2020/counter-resources for details.
Download BirdLife Australia's children's education kit to help them learn more about our wading birdlife
Shorebirds are a group of wading birds that can be found feeding on swamps, tidal mudflats, estuaries, beaches and open country. For many people, shorebirds are just those brown birds feeding a long way out on the mud but they are actually a remarkably diverse collection of birds including stilts, sandpipers, snipe, curlews, godwits, plovers and oystercatchers. Each species is superbly adapted to suit its preferred habitat. The Red-necked Stint is as small as a sparrow, with relatively short legs and bill that it pecks food from the surface of the mud with, whereas the Eastern Curlew is over two feet long with a exceptionally long legs and a massively curved beak that it thrusts deep down into the mud to pull out crabs, worms and other creatures hidden below the surface.
Some shorebirds are fairly drab in plumage, especially when they are visiting Australia in their non-breeding season, but when they migrate to their Arctic nesting grounds, they develop a vibrant flush of bright colours to attract a mate. We have 37 types of shorebirds that annually migrate to Australia on some of the most lengthy and arduous journeys in the animal kingdom, but there are also 18 shorebirds that call Australia home all year round.
What all our shorebirds have in common—be they large or small, seasoned traveller or homebody, brightly coloured or in muted tones—is that each species needs adequate safe areas where they can successfully feed and breed.
The National Shorebird Monitoring Program is managed and supported by BirdLife Australia.

This project is supported by Glenelg Hopkins Catchment Management Authority and Hunter Local Land Services through funding from the Australian Government's National Landcare Program. Funding from Helen Macpherson Smith Trust and Port Phillip Bay Fund is acknowledged.
The National Shorebird Monitoring Program is made possible with the help of over 1,600 volunteers working in coastal and inland habitats all over Australia.
The National Shorebird Monitoring program (started as the Shorebirds 2020 project initiated to re-invigorate monitoring around Australia) is raising awareness of how incredible shorebirds are, and actively engaging the community to participate in gathering information needed to conserve shorebirds.
In the short term, the destruction of tidal ecosystems will need to be stopped, and our program is designed to strengthen the case for protecting these important habitats.
In the long term, there will be a need to mitigate against the likely effects of climate change on a species that travels across the entire range of latitudes where impacts are likely.
The identification and protection of critical areas for shorebirds will need to continue in order to guard against the potential threats associated with habitats in close proximity to nearly half the human population.
Here in Australia, the place where these birds grow up and spend most of their lives, continued monitoring is necessary to inform the best management practice to maintain shorebird populations.
BirdLife Australia believe that we can help secure a brighter future for these remarkable birds by educating stakeholders, gathering information on how and why shorebird populations are changing, and working to grow the community of people who care about shorebirds.

To find out more visit: http://www.birdlife.org.au/projects/shorebirds-2020/shorebirds-2020-program
Aussie Bread Tags Collection Points
Collecting bread tags enables us to provide wheelchairs that change the life of disabled people in need, as well as keeping the tags out of landfill to help to preserve the environment.
Bread Tags for Wheelchairs was started in South Africa in 2006 by Mary Honeybun. It is a community program where individuals and organisations collect bread tags, which are sold to recyclers. The money raised pays for wheelchairs for the less fortunate which are purchased through a local pharmacy. Currently about 500kg of bread tags are collected a month in South Africa, funding 2-3 wheelchairs.
We have been collecting bread tags nationally in Australia since September 2018 and now have more than 100 collection points across the country. In February 2019 we started local recycling through Transmutation - Reduce, Reuse and Recycle in Robe, SA, where our tags are recycled into products such as door knobs and bowls. Tags from some states are still sent to South Africa where a plastics company called Zibo recycles them into seedling trays.
These humble bits of polystyrene can make a real difference so get your friends, family, school, workplace and church involved. Ask school tuck shops and boarding school kitchens, child care centres, aged care facilities, hospitals, cafes and fast food outlets to collect for you - they get through a lot of bread!
All the information and signage for collecting or setting up a public collection point is
on our website
.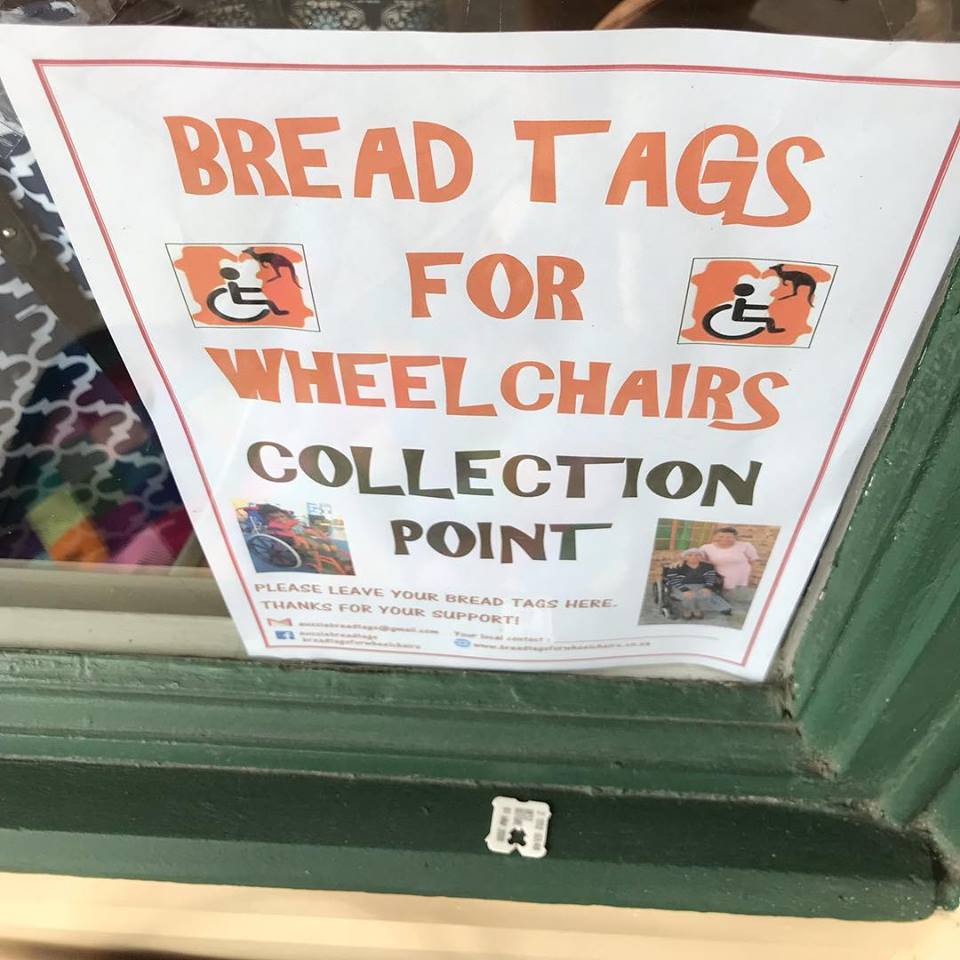 Profile of the Week
The Community Capital Foundation Is Driving A Campaign To Change The Dial On Local Youth Mental Health
With mental health charities doing it tough and rising rates of youth struggling, Community Capital Foundation want to shift the dial through a campaign to increase awareness, identify organisations making a difference and help raise the capital to contribute to their next grants program.
Late last year, self-harm and suicidal ideation were up 31 per cent for children and teenagers compared with 2020, according to the NSW Government's Health report.
In partnership with Connecting the Dots, by award-winning Canadian film director Noemi Weis, Community Capital Foundation will host five film screenings followed by panel discussions with mental health experts, local organisations and youth representatives to discuss how we can collectively improve youth mental health in 2022.
Running across Sydney's North, Community Capital Foundation have partnered with local organisations, including One Eighty, Burdekin, Headspace, Kyds, Streetwork and the Avalon Youth Hub.
Connecting the Dots is the first feature documentary of its kind to offer a raw and intimate look at youth mental health from a global youth perspective. With heart-felt poignant stories of lived experience, the film exclusively showcases young voices from around the world breaking barriers surrounding youth mental health. Through highly cinematic and character driven storytelling, Connecting the Dots is emotional, reflective and hopeful. Our young leaders are speaking up. It's time to listen.
Following the screening, a panel with young people, clinicians and youth services representatives will discuss some of the key themes from the film, including the local impact on the community. You will also have a chance to join in and ask questions.
Please note that this film includes young people speaking openly about their mental health and the panel discussion may be discussing sensitive topics relating to mental health. This event is also restricted to ages 16+ (only ages 16 years and above are permitted to attend).
You can book here or via the Eventbrite links above. For the cinema screenings Students will be charged $9.95, Adults $19.95. The Online Session is FREE. More in this week's Profile.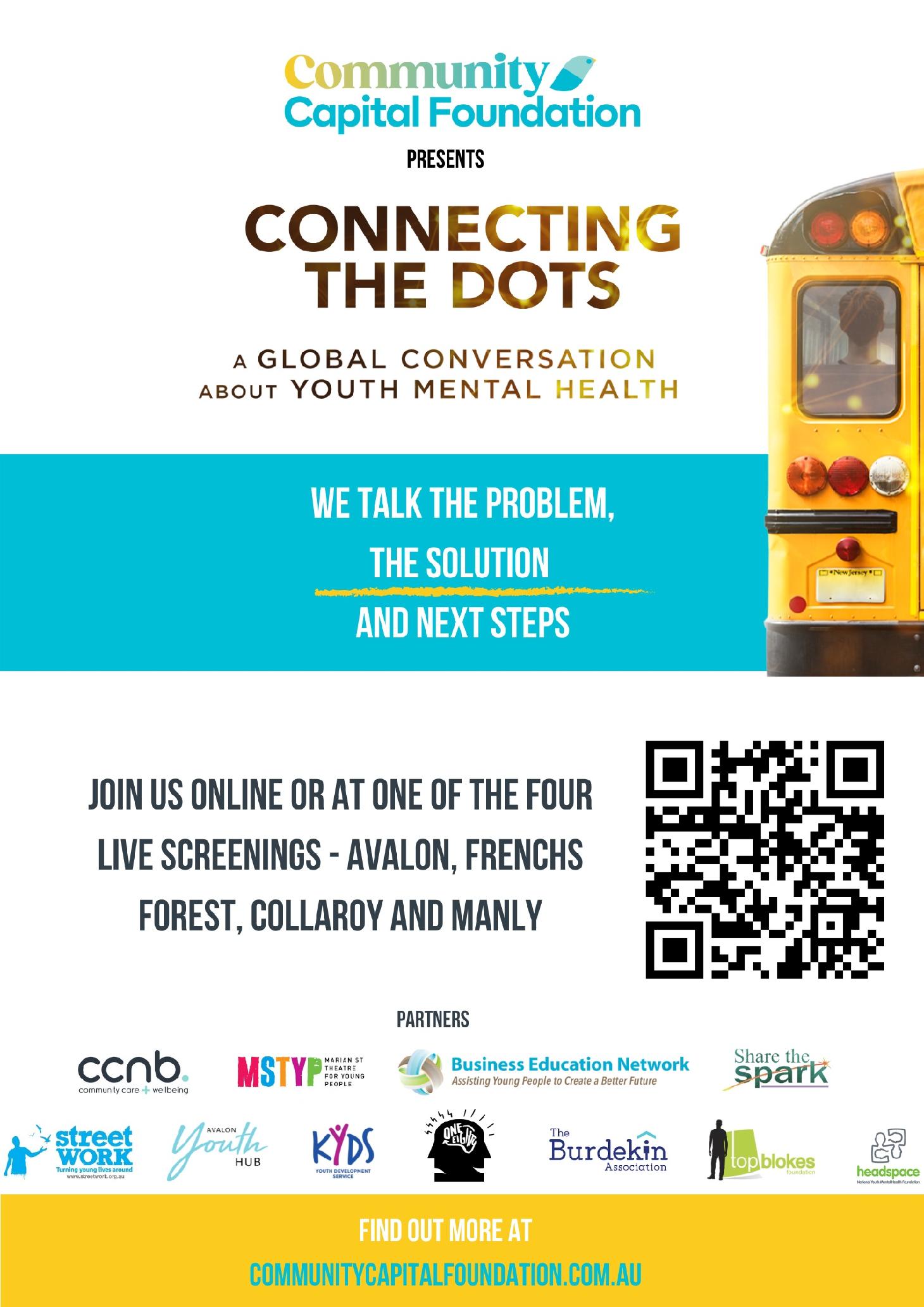 John J. Francis "Simple Ben": 1973
Formed part of the Morning of the Earth soundtrack.
John Francis McGregor is an Australian singer, songwriter, musician, recording engineer, producer, and radio presenter. He was born in 1945 in Murwillumbah and raised on the outskirts of Newcastle.
Francis rose to prominence, in the early 1970s, with the hit single "Play Mumma, Sing Me A Song;" and the song "Simple Ben," which featured on the Morning Of The Earth (Original Film Soundtrack).
His music career started in the early 1960s with Newcastle R&B band "The Sorrows."
In 1970, he took up an invitation by David Gibson to move to Sydney and try out as a sound engineer at Copperfield Sound Studios. This lead to managing the studio. Over four years, in addition to engineering, mixing and producing for other artists and groups, Francis released five singles and four albums.
In 1976, Francis joined the Sydney "youth counterculture" radio station 2JJ (current day triple your yays). For about ten years, he hosted the Friday and Saturday midnight-to-dawn shifts - he was very very good.
Info courtesy Discography.
Two version run below for you:
Word Of The Week: Subversive
Word of the Week returns in 2022 simply to throw some disruption in amongst the 'yeah-nah' mix.
Adjective
First known use was 14th century
Middle English, from Anglo-French, from Late Latin subversion-, subversio, from Latin subvertere
Something that is subversive is intended to weaken or destroy a political system or government. The act of subverting : the state of being subverted especially : a systematic attempt to overthrow or undermine a government or political system by persons working secretly from within
obsolete : a cause of overthrow or destruction
Synonyms: seditious, inflammatory, incendiary, underground
Subversion is literally the "turning over" of something. In the 1950s and '60s, many people worried about communist subversion of the Australian government, though they often saw subversive activities where none existed. Nondemocratic governments often claim that anyone who disagrees with them or joins a demonstration is a subversive. Subversion isn't always quite so serious a matter though; when words like weekend, sandwich, job, and camping started being used by the French, for example, some of them began claiming that America was subverting their language.
Bonus Old Track This Week; Five - Keep On Movin' (1999)
Military History Lesson On Offer For Students
Students studying modern history can now apply for a Premier's Anzac Memorial Scholarship, which will provide opportunities to develop their knowledge and understanding of the history of Australians at war.
Premier Dominic Perrottet said up to 20 selected students would join a two-week study tour to significant historical sites to learn about the service of Australian men and women in the World Wars and other conflicts.
"This offers a unique learning experience that complements the NSW History Syllabus, which enhances and reflects on history studies in the classroom," Mr Perrottet said.
"I encourage students in Year 10 and 11 with a keen interest in history to apply as this is a hands-on learning opportunity to represent their school and community."
Minister for Transport and Veterans David Elliott said the 2022 study tour will take place during the Term 3 school holidays (26 September to 7 October) and will visit locations in Sydney, regional NSW and the ACT.
"The tour will be accompanied by a military historian to teach students about our nation's military past and help them understand the importance of commemoration," Mr Elliott said.
"This is an especially important tour in 2022, a year that commemorates 80 years since our veterans fought for our freedom during the Second World War."
One of the 2021 scholars, Ryan Muscat from Marian Catholic College Kenthurst, described the tour as truly incredible.
"It was a once in a lifetime experience, not just because of the fascinating stops but the friendships that I made with my fellow scholars," Ryan said. "It helped me to better appreciate the breadth and scale of sacrifice that personnel from NSW have made in the defence of Australia and how our state's role continues to evolve."
Eligible students can apply online by submitting a short personal essay, a letter of recommendation, a parent consent form and a copy of a marked history assignment.
Registrations close on 28 March 2022.
Applications Now Open For NSW Youth Advisory Council 2022
Young community leaders and passionate advocates from across NSW are being encouraged to nominate for the 2022 NSW Youth Advisory Council (YAC) with applications opening today.
Advocate for Children and Young People, Ms Zoë Robinson said that is more important than ever for young people to come forward to have their say on the policies and services that affect them.
"In the last few years young people in NSW have been at the centre of a rapidly changing environment. It is important that they are a key part of decisions that affect their lives and being on the YAC is one way of doing that," Ms Robinson said.
"All NSW young people, aged 12 to 24 years, who want to advocate on behalf of their peers are welcome to apply. We want to hear from people with diverse backgrounds and a broad range of life experiences that reflect the diversity of the 2.5 million young people in our State," Ms Robinson added.
The 12 member Council has a statutory role to advise the NSW Government on issues of importance to young people. They meet regularly throughout the year to provide advice to the Government and the Advocate and to monitor and evaluate policies and legislation which affect young people. One of the key priorities of the Youth Advisory Council is promoting a diverse range of views, including the voices of rural and regional young people.
"Throughout their 12 month tenure, YAC members will have an opportunity to engage with and give advice to government on a broad range priorities. In recent years the YAC have advised on the NSW curriculum, the Statement of Consent, COVID communications, consultation projects and much more.
"As Advocate, I cannot do the work that I do without the trusted advice of the YAC," Ms Robinson added.
YAC members are sought from all over NSW, from all backgrounds and life experiences to reflect the diversity of young people living in NSW. Young people from all walks of life are invited to apply, as the more diverse the council members are, the more insightful the results are.
Applications are open until Sunday 13 March 2022
, for more information and to complete an application visit
www.acyp.nsw.gov.au
Morning Of The Earth: 50th Anniversary Screening At Cremorne
Morning of the Earth 50th Anniversary screening with director Q&A Wed March 9 at the Hayden Orpheum Picture Palace, Cremorne. Beautifully remastered in 4K. One show only! Tickets: http://ow.ly/Rkhc30s774W
Singing In The Brain
For the first time, MIT neuroscientists have identified a population of neurons in the human brain that lights up when we hear singing, but not other types of music.

These neurons, found in the auditory cortex, appear to respond to the specific combination of voice and music, but not to either regular speech or instrumental music. Exactly what they are doing is unknown and will require more work to uncover, the researchers say.
"The work provides evidence for relatively fine-grained segregation of function within the auditory cortex, in a way that aligns with an intuitive distinction within music," says Sam Norman-Haignere, a former MIT postdoc who is now an assistant professor of neuroscience at the University of Rochester Medical Center.
The work builds on a 2015 study in which the same research team used functional magnetic resonance imaging (fMRI) to identify a population of neurons in the brain's auditory cortex that responds specifically to music. In the new work, the researchers used recordings of electrical activity taken at the surface of the brain, which gave them much more precise information than fMRI.
"There's one population of neurons that responds to singing, and then very nearby is another population of neurons that responds broadly to lots of music. At the scale of fMRI, they're so close that you can't disentangle them, but with intracranial recordings, we get additional resolution, and that's what we believe allowed us to pick them apart," says Norman-Haignere.
Norman-Haignere is the lead author of the study, which appears today in the journal Current Biology. Josh McDermott, an associate professor of brain and cognitive sciences, and Nancy Kanwisher, the Walter A. Rosenblith Professor of Cognitive Neuroscience, both members of MIT's McGovern Institute for Brain Research and Center for Brains, Minds and Machines (CBMM), are the senior authors of the study.
In their 2015 study, the researchers used fMRI to scan the brains of participants as they listened to a collection of 165 sounds, including different types of speech and music, as well as everyday sounds such as finger tapping or a dog barking. For that study, the researchers devised a novel method of analyzing the fMRI data, which allowed them to identify six neural populations with different response patterns, including the music-selective population and another population that responds selectively to speech.
In the new study, the researchers hoped to obtain higher-resolution data using a technique known as electrocorticography (ECoG), which allows electrical activity to be recorded by electrodes placed inside the skull. This offers a much more precise picture of electrical activity in the brain compared to fMRI, which measures blood flow in the brain as a proxy of neuron activity.
"With most of the methods in human cognitive neuroscience, you can't see the neural representations," Kanwisher says. "Most of the kind of data we can collect can tell us that here's a piece of brain that does something, but that's pretty limited. We want to know what's represented in there."
Electrocorticography cannot be typically be performed in humans because it is an invasive procedure, but it is often used to monitor patients with epilepsy who are about to undergo surgery to treat their seizures. Patients are monitored over several days so that doctors can determine where their seizures are originating before operating. During that time, if patients agree, they can participate in studies that involve measuring their brain activity while performing certain tasks. For this study, the MIT team was able to gather data from 15 participants over several years.
For those participants, the researchers played the same set of 165 sounds that they used in the earlier fMRI study. The location of each patient's electrodes was determined by their surgeons, so some did not pick up any responses to auditory input, but many did. Using a novel statistical analysis that they developed, the researchers were able to infer the types of neural populations that produced the data that were recorded by each electrode.
"When we applied this method to this data set, this neural response pattern popped out that only responded to singing," Norman-Haignere says. "This was a finding we really didn't expect, so it very much justifies the whole point of the approach, which is to reveal potentially novel things you might not think to look for."
That song-specific population of neurons had very weak responses to either speech or instrumental music, and therefore is distinct from the music- and speech-selective populations identified in their 2015 study.
In the second part of their study, the researchers devised a mathematical method to combine the data from the intracranial recordings with the fMRI data from their 2015 study. Because fMRI can cover a much larger portion of the brain, this allowed them to determine more precisely the locations of the neural populations that respond to singing.
"This way of combining ECoG and fMRI is a significant methodological advance," McDermott says. "A lot of people have been doing ECoG over the past 10 or 15 years, but it's always been limited by this issue of the sparsity of the recordings. Sam is really the first person who figured out how to combine the improved resolution of the electrode recordings with fMRI data to get better localization of the overall responses."
The song-specific hotspot that they found is located at the top of the temporal lobe, near regions that are selective for language and music. That location suggests that the song-specific population may be responding to features such as the perceived pitch, or the interaction between words and perceived pitch, before sending information to other parts of the brain for further processing, the researchers say.
The researchers now hope to learn more about what aspects of singing drive the responses of these neurons. They are also working with MIT Professor Rebecca Saxe's lab to study whether infants have music-selective areas, in hopes of learning more about when and how these brain regions develop.
The research was funded by the National Institutes of Health, the U.S. Army Research Office, the National Science Foundation, the NSF Science and Technology Center for Brains, Minds, and Machines, the Fondazione Neurone, and the Howard Hughes Medical Institute.
Sam V. Norman-Haignere, Jenelle Feather, Dana Boebinger, Peter Brunner, Anthony Ritaccio, Josh H. Mcdermott, Gerwin Schalk, Nancy Kanwisher.
A neural population selective for song in human auditory cortex.
Current Biology, 2022 DOI:
10.1016/j.cub.2022.01.069
Fish Generate Movable Pairs Of Vortices To Propel Them Forward Like Body Waves
Swimming in complex underwater environments, fish are unmatched when it comes to motion control and flexibility. For decades, researchers have been inspired to copy nature's most gifted swimmers to optimise underwater vehicle propulsion and manoeuvrability.
Although the relation between the movement of the tail, or caudal fin, and the transient shapes and motion of the water environment is well known in fish mechanics, there has been little focus on how pressure fields affect thrust generation and control to propel fish.
In Physics of Fluids, published by AIP Publishing, researchers at the Harbin Engineering University in China showed that fish, through precise control of body fluctuations, generate movable vortex pairs of high- and low-pressure regions that enable them to swim. The findings provide the groundwork in the design of flexible structures for a high-performance underwater bionic propeller.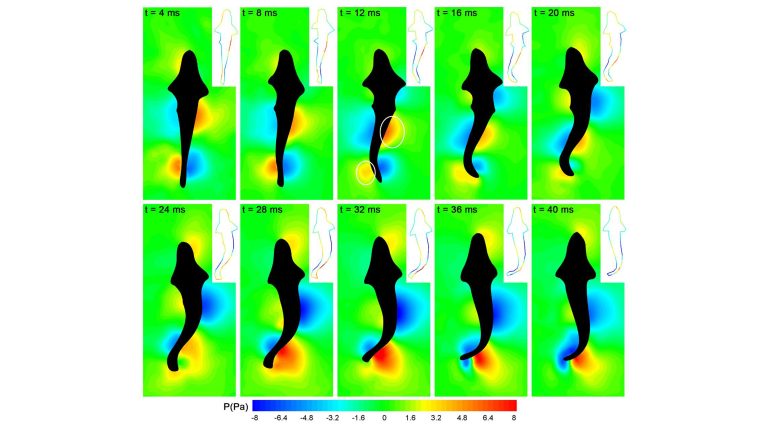 Pressure field distribution of zebrafish during a complete tail swing; white circles around the vortex patterns in the third image denote high-pressure zones. CREDIT: Yun-fei Kuai
The researchers used particle image velocimetry and high-speed cameras to analyse the spontaneous swimming of zebrafish in a tank. A fish accelerates when it bends its caudal fin -- attached to the vertebral column -- to one side and then returns to the neutral position as the fish straightens its body. In this completion of a single tail swing, the researchers discovered the formation of two vortex cores at the wake spinning in opposite directions.
These cores constitute a low-pressure and high-pressure region on opposite sides of the fish. The researchers found the pull generated by the low-pressure area and the thrust produced by the high-pressure area together provide the propulsion power of the zebrafish.
The movement of these high- and low-pressure regions jointly promoted the acceleration of the fluid mass backward while pushing fluid outward at the tip of the caudal fin. When the fish body was J-shaped, the high-pressure area slid to the rear of the caudal fin, and the low-pressure area slid to the front of the caudal fin.
The caudal fin used the low-pressure area to drive the fluid toward the body and generate a vertical upward pull on the fin. The high-pressure area pushed the fluid away at the crest and generated an upward thrust on the caudal fin. Repetition of this process enabled the zebrafish to move continuously.
"The entire zebrafish in the swimming process is regarded as a body wave," co-author Yang Han said. "Whether they accelerated forward or changed directions, the fish maintained a wavelike motion at all points of the body from the start of movement."
Chun-yu Guo, Yun-fei Kuai, Yang Han, Peng Xu, Yi-wei Fan, Chang-dong Yu.
Hydrodynamic analysis of propulsion process of zebrafish
. Physics of Fluids, 2022; 34 (2): 021910 DOI:
10.1063/5.0076561
One In Three Young People Say They Felt Happier During Lockdown
One in three young people say their mental health and wellbeing improved during COVID-19 lockdown measures, with potential contributing factors including feeling less lonely, avoiding bullying and getting more sleep and exercise, according to researchers at the universities of Cambridge and Oxford.
As the COVID-19 pandemic swept the world, many countries imposed strict lockdown measures, with workplaces and businesses closing and people forced to remain at home. Measures also included school closures, with exceptions for young people whose parents were classified as essential workers and those considered 'vulnerable', for example children under the care of social services and those in families or social situations deemed by schools to be of concern.
Several studies have reported that the lockdown had a negative impact on the mental health and wellbeing of young people, but this effect has not been uniformly reported, with a number of studies suggesting that some young people may have benefited from lockdown.
Emma Soneson, a PhD student and Gates Scholar at the Department of Psychiatry, University of Cambridge, said: "The common narrative that the pandemic has had overwhelmingly negative effects on the lives of children and young people might not tell the full story. In fact, it seems as though a sizeable number of children and young people may have experienced what they felt was improved wellbeing during the first national lockdown of 2020.
"After hearing from patients in our clinical practice and informally from several parents and young people that they thought the lockdown was beneficial for their or their child's mental health, we decided to look at this trend."
Ms Soneson and colleagues explored this issue using the OxWell Student Survey, a large, school-based survey of students aged eight to 18 years living in England. More than 17,000 students took part in the June/July 2020 survey, during the tail end of the first national lockdown, answering questions about their experiences of the pandemic, school, home life, and relationships, among others. The results of their research have been published in European Child and Adolescent Psychiatry.
The team found that one in three students thought their mental wellbeing had improved during the first lockdown. In fact, an almost identical number of students fell into each of the three categories: their mental wellbeing had improved; there had been no change; or they had experienced a deterioration to their wellbeing.
The highest proportions of students who reported improved mental wellbeing were among those who were in school every day (39%) and most days (35%), while the highest proportion of students who reported worse wellbeing were those who attended just once or twice (39%).
Students who felt they had had better wellbeing during lockdown were more likely than their peers to report positive lockdown experiences of school, home, relationships, and lifestyle. For example, compared with their peers, a greater percentage of students reporting better wellbeing also reported decreases in bullying, improved relationships with friends and family, less loneliness, better management of schoolwork, more sleep, and more exercise during lockdown compared with before.
Professor Peter Jones, also from Department of Psychiatry at the University of Cambridge, said: "What we've seen is a complex mix of factors that affect whether a child's mental health and wellbeing was affected by the lockdown. These range from their mental health before the pandemic through to their relationships with their families and peers, and their attitudes towards school."
While previous studies have reported young people worrying about the impact of lockdown on friendships, nearly half of those who reported improved mental wellbeing in this new study reported feeling less left out and lonely and having better relationships with friends and family. In part, this may be because access to digital forms of social interaction can mitigate the negative effects of reduced face-to-face contact. With many parents and carers at home, there was also potential for improved family relationships.
One specific aspect of peer relationships that changed during the pandemic was bullying. The researchers found that most young people who had been bullied in the past year reported that the bullying had reduced. The proportion that reported that they were bullied less than before lockdown was higher for those who reported improved wellbeing (92%) than for those who reported no change (83%) or deterioration in their wellbeing (81%).
For approximately half of the young people who reported improved mental wellbeing, lockdown was associated with improvements in sleep and exercise -- for example, 49% of those who reported improved mental wellbeing reported sleeping more, compared with 30% of those who reported no change and 19% of those who reported deterioration.
Family relationships also clearly played a part: the proportion of students who reported that they were getting along with household members better than before lockdown was higher for the group who reported improved mental wellbeing (53%) than for the groups who reported no change (26%) or deterioration (21%), with a similar pattern for getting along with friends (41%, 26%, and 27% respectively).
Professor Mina Fazel from the Department of Psychiatry at the University of Oxford said: "While the pandemic has undoubtedly had negative consequences for many, it is important to keep in mind that this is not the case for all children and young people. We are interested in how we can learn from this group and determine if some of the changes can be sustained in order to promote better mental health and wellbeing moving forward."
Some of the school-related factors that may have influenced how a young person responded to the lockdown include: the increased opportunities for flexible and tailored teaching that encouraged different styles of learning; smaller class sizes and more focused attention from teachers for those attending school; and later waking times and more freedom during the school day.
The research was supported by Gates Cambridge, the National Institute for Health Research, the Westminster Foundation and UK Research and Innovation.
Emma Soneson is a PhD student at Clare College, Cambridge.
Emma Soneson, Stephen Puntis, Nikki Chapman, Karen L. Mansfield, Peter B. Jones, Mina Fazel.
Happier during lockdown: a descriptive analysis of self-reported wellbeing in 17,000 UK school students during Covid-19 lockdown.
European Child & Adolescent Psychiatry, 2022; DOI:
10.1007/s00787-021-01934-z
Evidence Grows For Vaping's Role In Gum Disease
A series of new studies by researchers at NYU College of Dentistry highlights how e-cigarettes alter oral health and may be contributing to gum disease. The latest, published in mBio, finds that e-cigarette users have a unique oral microbiome -- the community of bacteria and other microorganisms -- that is less healthy than nonsmokers but potentially healthier than cigarette smokers, and measures worsening gum disease over time.
"To our knowledge, this is the first longitudinal study of oral health and e-cigarette use. We are now beginning to understand how e-cigarettes and the chemicals they contain are changing the oral microbiome and disrupting the balance of bacteria," said Deepak Saxena, who led the research with Xin Li; both are professors of molecular pathobiology at NYU College of Dentistry.
Gum disease affects nearly half of U.S. adults over 30 years of age. Smoking cigarettes is a known risk factor for developing gum disease, but less is known about the impact of e-cigarettes -- which vaporize nicotine and other chemicals -- on oral health, especially the long-term consequences of vaping.
The researchers studied the oral health of 84 adults from three groups: cigarette smokers, e-cigarette users, and people who have never smoked. Gum disease was assessed through two dental exams six months apart, during which plaque samples were taken to analyze the bacteria present.
All participants had some gum disease at the start of the study, with cigarette smokers having the most severe disease, followed by e-cigarette users. After six months, the researchers observed that gum disease had worsened in some participants in each group, including several e-cigarette users.
A key indicator of gum disease is clinical attachment loss, measured by gum ligament and tissue separating from a tooth's surface, leading the gum to recede and form pockets. These pockets are breeding grounds for bacteria and can lead to more severe gum disease. In a study of the same participants published in Frontiers in Oral Health, the research team found that clinical attachment loss was significantly worse only in the e-cigarette smokers -- not non-smokers and cigarette smokers -- after six months.
The researchers then analysed the bacteria found in the plaque samples and determined that e-cigarette users have a different oral microbiome from smokers and nonsmokers -- building on findings the team previously reported in iScience and Molecular Oral Microbiology.
While all groups shared roughly a fifth of the types of bacteria, the bacterial makeup for e-cigarette users had strikingly more in common with cigarette smokers than nonsmokers. Several types of bacteria, including Selenomonas, Leptotrichia, and Saccharibacteria, were abundant in both smokers and vapers compared to nonsmokers. Several other bacteria -- including Fusobacterium and Bacteroidales, which are known to be associated with gum disease -- were particularly dominant in the mouths of e-cigarette users.
When plaque samples were gathered and analyzed in the six-month follow-up, the researchers found greater diversity in bacteria for all groups studied, yet each group maintained its own distinct microbiome.
"Vaping appears to be driving unique patterns in bacteria and influencing the growth of some bacteria in a manner akin to cigarette smoking, but with its own profile and risks to oral health," said Fangxi Xu, a junior research scientist in Saxena's lab and the study's co-first author.
An altered immune response
The researchers found that the distinct microbiome in e-cigarette users was correlated with clinical measures of gum disease and changes to the host immune environment. In particular, vaping was associated with different levels of cytokines -- proteins that help regulate the immune system. Certain cytokines are linked to an imbalance in oral bacteria and can worsen gum disease by making people prone to inflammation and infection.
TNFα, a cytokine that causes inflammation, was significantly elevated among e-cigarette users. In contrast, cytokines IL-4 and IL-1β were lower among e-cigarette users; IL-4 tends to be reduced in people with gum disease and increases after treatment, which suggests that certain bacteria in the mouths of e-cigarette users may be actively suppressing immune responses.
The researchers concluded that the distinct oral microbiome of e-cigarette users elicits altered immune responses, which along with clinical markers for gum disease illustrate how vaping presents its own challenge to oral health.
"E-cigarette use is a relatively new human habit," said Scott Thomas, an assistant research scientist in Saxena's lab and the study's co-first author. "Unlike smoking, which has been studied extensively for decades, we know little about the health consequences of e-cigarette use and are just starting to understand how the unique microbiome promoted by vaping impacts oral health and disease."
Scott C. Thomas, Fangxi Xu, Smruti Pushalkar, Ziyan Lin, Nirali Thakor, Mridula Vardhan, Zia Flaminio, , Alireza Khodadadi-Jamayran, Rebeca Vasconcelos, Adenike Akapo, Erica Queiroz, Maria Bederoff, Malvin N. Janal, Yuqi Guo, Deanna Aguallo, Terry Gordon, Patricia M. Corby, Angela R. Kamer, Xin Li, Deepak Saxena.

Electronic Cigarette Use Promotes a Unique Periodontal Microbiome.

mBio, Feb. 22, 2022; DOI: 10.1128/mbio.00075-22
Fangxi Xu, Eman Aboseria, Malvin N. Janal, Smruti Pushalkar, Maria V. Bederoff, Rebeca Vasconcelos, Sakshi Sapru, Bidisha Paul, Erica Queiroz, Shreya Makwana, Julia Solarewicz, Yuqi Guo, Deanna Aguallo, Claudia Gomez, Donna Shelly, Yindalon Aphinyanaphongs, Terry Gordon, Patricia M. Corby, Angela R. Kamer, Xin Li, Deepak Saxena.

Comparative Effects of E-Cigarette Aerosol on Periodontium of Periodontitis Patients.

Frontiers in Oral Health, 2021; 2 DOI: 10.3389/froh.2021.729144
Smruti Pushalkar, Bidisha Paul, Qianhao Li, Jian Yang, Rebeca Vasconcelos, Shreya Makwana, Juan Muñoz González, Shivm Shah, Chengzhi Xie, Malvin N. Janal, Erica Queiroz, Maria Bederoff, Joshua Leinwand, Julia Solarewicz, Fangxi Xu, Eman Aboseria, Yuqi Guo, Deanna Aguallo, Claudia Gomez, Angela Kamer, Donna Shelley, Yindalon Aphinyanaphongs, Cheryl Barber, Terry Gordon, Patricia Corby, Xin Li, Deepak Saxena.

Electronic Cigarette Aerosol Modulates the Oral Microbiome and Increases Risk of Infection

. iScience, 2020; 23 (3): 100884 DOI: 10.1016/j.isci.2020.100884
Fangxi Xu, Smruti Pushalkar, Ziyan Lin, Scott C. Thomas, Julia Kishanie Persaud, Maria A Sierra, Mridula Vardhan, Rebeca Vasconcelos, Adenike Akapo, Yuqi Guo, Terry Gordon, Patricia M Corby, Angela R. Kamer, Xin Li, Deepak Saxena.

Electronic cigarette use enriches periodontal pathogens.

Molecular Oral Microbiology, 2022; DOI: 10.1111/omi.12361
Are Pandemic-Related Stressors Impacting Uninfected People's Brain Health?
New research indicates that for some individuals -- even those who have steered clear of becoming infected with SARS-CoV-2 -- societal and lifestyle disruptions during the COVID-19 pandemic may have triggered inflammation in the brain that can affect mental health. The study, which was conducted by a team led by investigators at Massachusetts General Hospital (MGH), is published in Brain, Behavior, and Immunity.
Beyond causing a staggering number of infections and deaths, the COVID-19 pandemic has led to significant social and economic disruptions that have impacted the lives of a large swath of the world's population in multiple ways. Also, since the start of the pandemic, the severity and prevalence of symptoms of psychological distress, fatigue, brain fog, and other conditions have increased considerably in the United States, including among people not infected with SARS-CoV-2.
To obtain a better understanding of the effects of the pandemic on brain and mental health, researchers analyzed brain imaging data, conducted behavioral tests, and collected blood samples from multiple uninfected volunteers -- 57 before and 15 after lockdown/stay-at-home measures were implemented to limit the pandemic's spread.
After lockdowns, the study participants demonstrated elevated brain levels of two markers of neuroinflammation -- translocator protein (measured using positron emission tomography) and myoinositol (measured using magnetic resonance spectroscopy) -- compared with pre-lockdown participants. Blood levels of two inflammatory markers -- interleukin-16 and monocyte chemoattractant protein-1 -- were also elevated in post-lockdown participants, although to a lesser extent.
Participants who reported a higher burden of symptoms related to mood and mental and physical fatigue showed higher levels of translocator protein in certain brain regions, compared with those reporting little or no symptoms. Also, higher post-lockdown translocator protein levels correlated with the expression of several genes involved in immune functions.
"While COVID-19 research has seen an explosion in the literature, the impact of pandemic-related societal and lifestyle disruptions on brain health among the uninfected has remained under-explored," says lead author Ludovica Brusaferri, PhD, a postdoctoral research fellow at MGH and Harvard Medical School. "Our study demonstrates an example of how the pandemic has impacted human health beyond the effects directly caused by the virus itself."
Senior author Marco L. Loggia, PhD, co-director of the Center for Integrative Pain NeuroImaging at MGH and Harvard Medical School notes that acknowledging a role of neuroinflammation in the symptoms experienced by many during the pandemic might point to possible strategies to reduce them. "For instance, behavioral or pharmacological interventions that are thought to reduce inflammation -- such as exercise and certain medications -- might turn out to be helpful as a means of reducing these vexing symptoms."
Loggia adds that the findings also provide further support to the notion that stressful events might be accompanied by brain inflammation. "This could have important implication for developing interventions for a broad number of stress-related disorders," he says.
The study was supported by the National Institutes of Health and The Landreth Family Foundation.
Ludovica Brusaferri, Zeynab Alshelh, Daniel Martins, Minhae Kim, Akila Weerasekera, Hope Housman, Erin J. Morrissey, Paulina C. Knight, Kelly A. Castro-Blanco, Daniel S. Albrecht, Chieh-En Tseng, Nicole R. Zürcher, Eva-Maria Ratai, Oluwaseun Akeju, Meena M. Makary, Ciprian Catana, Nathaniel D. Mercaldo, Nouchine Hadjikhani, Mattia Veronese, Federico Turkheimer, Bruce R. Rosen, Jacob M. Hooker, Marco L. Loggia.
The pandemic brain: Neuroinflammation in non-infected individuals during the COVID-19 pandemic.
Brain, Behavior, and Immunity, 2022; 102: 89 DOI:
10.1016/j.bbi.2022.02.018
Sonic Advance: How Sound Waves Could Help Regrow Bones
Researchers have used sound waves to turn stem cells into bone cells, in a tissue engineering advance that could one day help patients regrow bone lost to cancer or degenerative disease.
The innovative stem cell treatment from researchers at RMIT University in Melbourne, Australia, offers a smart way forward for overcoming some of the field's biggest challenges, through the precision power of high-frequency sound waves.
Tissue engineering is an emerging field that aims to rebuild bone and muscle by harnessing the human body's natural ability to heal itself.
A key challenge in regrowing bone is the need for large amounts of bone cells that will thrive and flourish once implanted in the target area.
To date, experimental processes to change adult stem cells into bone cells have used complicated and expensive equipment and have struggled with mass production, making widespread clinical application unrealistic.
Additionally, the few clinical trials attempting to regrow bone have largely used stem cells extracted from a patient's bone marrow -- a highly painful procedure.
In a new study published in the journal Small, the RMIT research team showed stem cells treated with high-frequency sound waves turned into bone cells quickly and efficiently.
Importantly, the treatment was effective on multiple types of cells including fat-derived stem cells, which are far less painful to extract from a patient.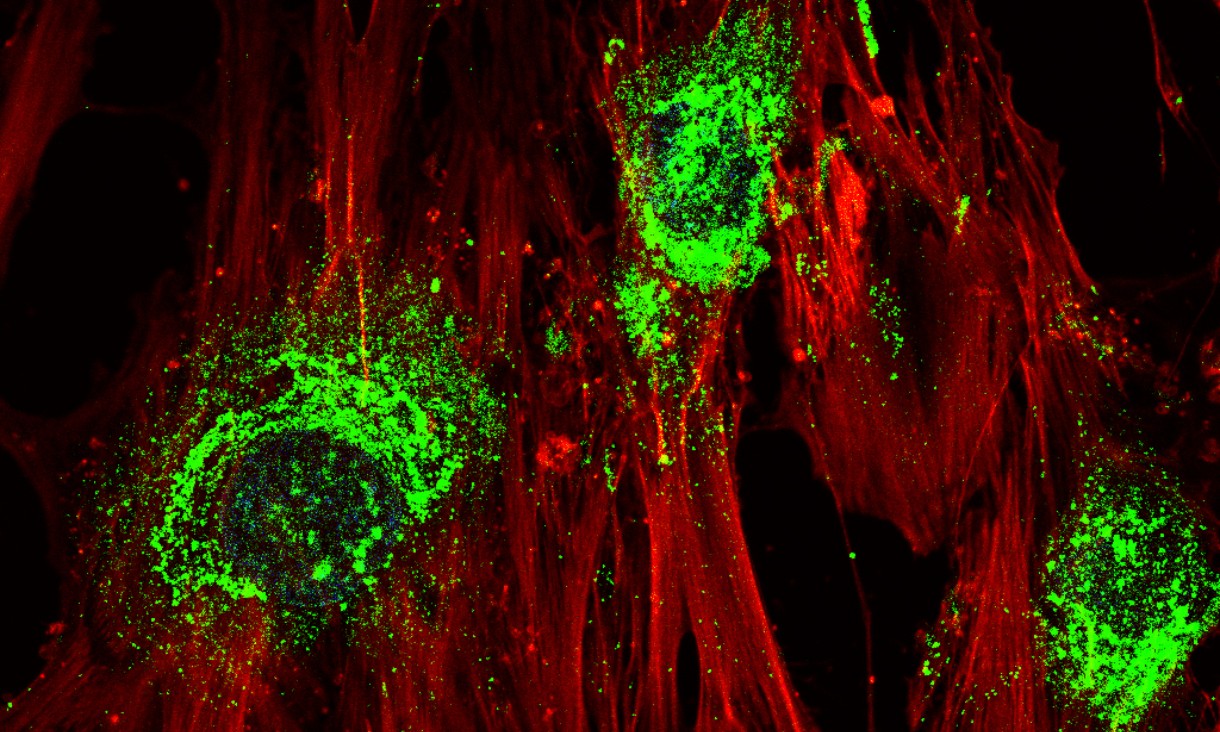 A magnified image showing adult stem cells in the process of turning into bone cells after treatment with high-frequency sound waves. Green colouring shows the presence of collagen, which the cells produce as they become bone cells. Magnification: 60X. Photo: RMIT Melbourne.

Co-lead researcher Dr Amy Gelmi said the new approach was faster and simpler than other methods.
"The sound waves cut the treatment time usually required to get stem cells to begin to turn into bone cells by several days," said Gelmi, a Vice-Chancellor's Research Fellow at RMIT.
"This method also doesn't require any special 'bone-inducing' drugs and it's very easy to apply to the stem cells.
"Our study found this new approach has strong potential to be used for treating the stem cells, before we either coat them onto an implant or inject them directly into the body for tissue engineering."
The high-frequency sound waves used in the stem cell treatment were generated on a low-cost microchip device developed by RMIT.
Co-lead researcher Distinguished Professor Leslie Yeo and his team have spent over a decade researching the interaction of sound waves at frequencies above 10 MHz with different materials.
The sound wave-generating device they developed can be used to precisely manipulate cells, fluids or materials.
"We can use the sound waves to apply just the right amount of pressure in the right places to the stem cells, to trigger the change process," Yeo said.
"Our device is cheap and simple to use, so could easily be upscaled for treating large numbers of cells simultaneously -- vital for effective tissue engineering."
The next stage in the research is investigating methods to upscale the platform, working towards the development of practical bioreactors to drive efficient stem cell differentiation.
The multi-disciplinary research, across the RMIT schools of Science and Engineering, was supported by funding through Australian Research Council Discovery Project grants.
Lizebona August Ambattu, Amy Gelmi, Leslie Y. Yeo.
Short‐Duration High Frequency MegaHertz‐Order Nanomechanostimulation Drives Early and Persistent Osteogenic Differentiation in Mesenchymal Stem Cells.
Small, 2022; 2106823 DOI:
10.1002/smll.202106823
Molecular 'Culprit' Caught Driving Cell Death And Inflammation
A WEHI-led study has identified a molecular 'culprit' responsible for causing damaging levels of cell death and inflammation in the body. The findings could lead to improved treatment options for a range of conditions driven by inflammatory cell death, including the SARS-CoV-2 virus.
Cell death is an important part of the body's immune response to infection. When uncontrolled, however, it can cause harmful amounts of inflammation in otherwise healthy organs and tissue. The research team uncovered how an overproduction of the molecule nitric oxide, which the protein caspase-8 helps to produce, caused dangerous levels of cell death. They showed that arresting the function of caspase-8 could prevent unregulated cell death and inflammation.
Published in Immunity, the findings highlight the potential to create drugs that block caspase-8 and nitric oxide to prevent this novel inflammatory cell death process. Manipulating this cell death pathway could lead to new and improved treatments for people living with inflammatory disease.
The study was led by PhD student Daniel Simpson, Associate Professor James Vince and Dr Rebecca Feltham from WEHI, in collaboration with researchers from Monash University, Australian National University, the Hudson Institute of Medical Research and Germany's Cologne University.
Nitric oxide and the protein that enables its production, caspase-8, have been shown to cause a unique form of cell death that can drive excessive levels of inflammation in the body.
The team showed that blocking the activity of caspase-8 and nitric oxide in a preclinical SARS-CoV-2 model reduced the severity of inflammation and infection.
The findings suggest targeting this novel cell death pathway could create new therapeutics for a range of diseases where damaging levels of nitric oxide, cell death and inflammation occur including asthma, inflammatory bowel disease and COVID-19.
While nitric oxide is critical to the body's circulatory and nervous systems, the recent findings link an overproduction of the molecule with excessive levels of cell death and inflammation. Cell death is critical for a healthy immune response, however, too much of it can send the immune system into overdrive and trigger inflammatory disease.
Associate Professor James Vince said the team was surprised to uncover that nitric oxide was a 'killer culprit' responsible for driving excessive cell death in the newly discovered inflammatory cell death pathway.
"Our research into the combined actions of pathogen and host inflammatory molecules in the cell death process led us directly to nitric oxide," Associate Professor Vince said.
"This led us to discover how nitric oxide is the major driving force of cell death in this particular pathway. Our study showed levels of this molecule ramped up when immune cells sensed viral and pathogenic threats. The more nitric oxide that was made, the more likely it was that cells would die."
Collaborating with WEHI infectious disease researchers Professor Marc Pellegrini, PhD student James Cooney, Dr Marcel Doerflinger and Dr Kathryn Davidson, the team found that blocking the production of nitric oxide and the cell death protein caspase-8 reduced the severity of disease in a preclinical SARS-CoV-2 infection model.
Lead researcher and PhD student Daniel Simpson said removing caspase-8 or nitric oxide in these models most likely stops cells from dying and causing tissue damage, highlighting the potential to use caspase-8 as a drug target that could block excessive cell death and the subsequent inflammatory response.
"While this is still preliminary data, we believe blocking the function of caspase-8, or the production of nitric oxide, would prevent damaging levels of inflammation," he said.
The team leveraged WEHI's CRISPR technology systems to genetically dissect the new cell death pathway and further understand the role of the key genes involved.
Dr Rebecca Feltham said that DNA editing technology was used to create mutations in genes to determine which genes facilitated nitric oxide production in this cell death pathway.
"Coupled with our COVID-19 models, this technology allowed us to understand the exact role of caspase-8. Being able to understand and manipulate key genes in this pathway could lead to exciting new treatment options for diseases where damaging nitric oxide has been suggested to occur such as asthma, inflammatory bowel disease and the SARS-CoV-2 virus," she said.
The research was supported by NHMRC, the German Research Foundation, the Leukemia and Lymphoma Society and the Australian Research Council. Wehi authors: Daniel Simpson, Jiyi Pang, Ashley Weir, Isabella Kong, Maryam Rashidi, James Cooney, Kathryn Davidson, Sebastian Hughes, Liana Mackiewicz, Merle Dayton,Holly Anderton, Marcel Doerflinger,Yexuan Deng, Allan Shuai Huang, Sandra Nicholson, Joanna Groom, Marco Herold, Edwin Hawkins, Andreas Strasser, John Silke, Marc Pellegrini and Rebecca Feltham.
Daniel S. Simpson, Jiyi Pang, Ashley Weir, Isabella Y. Kong, Melanie Fritsch, Maryam Rashidi, James P. Cooney, Kathryn C. Davidson, Mary Speir, Tirta M. Djajawi, Sebastian Hughes, Liana Mackiewicz, Merle Dayton, Holly Anderton, Marcel Doerflinger, Yexuan Deng, Allan Shuai Huang, Stephanie A. Conos, Hazel Tye, Seong H. Chow, Arfatur Rahman, Raymond S. Norton, Thomas Naderer, Sandra E. Nicholson, Gaetan Burgio, Si Ming Man, Joanna R. Groom, Marco J. Herold, Edwin D. Hawkins, Kate E. Lawlor, Andreas Strasser, John Silke, Marc Pellegrini, Hamid Kashkar, Rebecca Feltham, James E. Vince.
Interferon-γ primes macrophages for pathogen ligand-induced killing via a caspase-8 and mitochondrial cell death pathway.
Immunity, 2022; DOI:
10.1016/j.immuni.2022.01.003
Disclaimer: These articles are not intended to provide medical advice, diagnosis or treatment. Views expressed here do not necessarily reflect those of Pittwater Online News or its staff.