February 27 - March 5, 2022: Issue 528

The Community Capital Foundation Is Driving A Campaign To Change The Dial On Local Youth Mental Health
With mental health charities doing it tough and rising rates of youth struggling, Community Capital Foundation want to shift the dial through a campaign to increase awareness, identify organisations making a difference and help raise the capital to contribute to their next grants program.
Late last year, self-harm and suicidal ideation were up 31 per cent for children and teenagers compared with 2020, according to the NSW Government's Health report.
In partnership with Connecting the Dots, by award-winning Canadian film director Noemi Weis, Community Capital Foundation will host five film screenings followed by panel discussions with mental health experts, local organisations and youth representatives to discuss how we can collectively improve youth mental health in 2022.
Running across Sydney's North, Community Capital Foundation have partnered with local organisations, including One Eighty, Burdekin, Headspace, Kyds, Streetwork and the Avalon Youth Hub.
Connecting the Dots is the first feature documentary of its kind to offer a raw and intimate look at youth mental health from a global youth perspective. With heart-felt poignant stories of lived experience, the film exclusively showcases young voices from around the world breaking barriers surrounding youth mental health. Through highly cinematic and character driven storytelling, Connecting the Dots is emotional, reflective and hopeful. Our young leaders are speaking up. It's time to listen.
"The film gives a voice to our future leaders, who, through sharing their lived experience - articulate the problems and potential solutions.
Community Capital Foundation will then work directly with Northern Sydney's youth to identify ideas needing community support. In addition, they're asking local individuals and businesses to contribute to their Youth Impact Fund for a giving program this year," says the Foundation's manager, Jessie Williams
Community Capital Foundation are hosting the following screening events followed by in-person expert panel discussions to raise awareness and change positive youth mental health.
Following the screening, a panel with young people, clinicians and youth services representatives will discuss some of the key themes from the film, including the local impact on the community. You will also have a chance to join in and ask questions.
Please note that this film includes young people speaking openly about their mental health and the panel discussion may be discussing sensitive topics relating to mental health.
This event is also restricted to ages 16+ (only ages 16 years and above are permitted to attend).
You can book here or via the Eventbrite links for each session above. For the cinema screenings Students will be charged $9.95, Adults $19.95. The Online Session is FREE.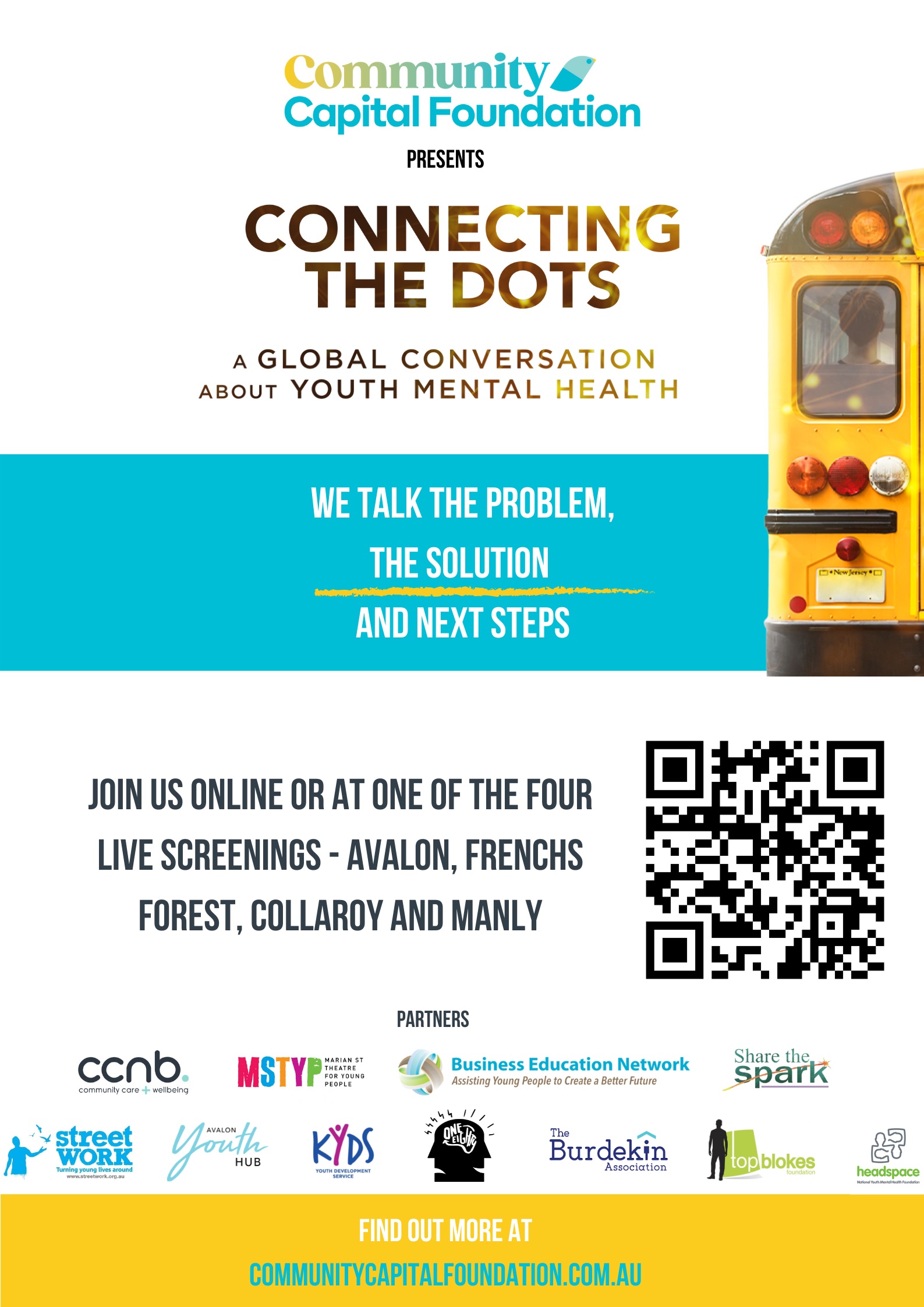 Community Capital Foundation is an initiative by local Northern Beaches organisation, Community Care Northern Beaches.
Community Care Northern Beaches is a not-for-profit, community-based organisation. They provide impartial information, advice and guidance to support people to access health and community services.
Their focus is to support people, their families and carers to navigate the health and social care systems to access the services they require, when they require them.
They support our communities through grant-giving and community-building initiatives that positively impact our local backyard.
Their initial round of grants prioritised applications that are outcome-based and focused on aiming to reduce social isolation and loneliness and/or build community connection. Grants range from $5,000 – $50,000 and are available to organisations that deliver a meaningful proportion of their work to people that reside in the Northern Sydney Region.
''Our mission is to support organisations to develop and/or enhance the capacity of the community by strengthening the connections of the people they serve.''

Visit the Community Capital Foundation website to find out more.
Since 2019, they have donated $111,000 to programs eradicating Indigenous youth disadvantage, building male youth resilience and respect for themselves and others. They also have programs supporting victims of domestic violence, over 65's people, people living with a disability and a range of other support initiatives.
The Community Capital Foundation is led by a group of dedicated and committed people that has a mission to build communities from the inside out.

Social isolation, loneliness and unemployment are the top risks for suicide and no thanks to COVID-19, our community has lost many of the natural protective factors for our young people.

Let's help this Community Capital Foundation initiative on youth mental health. Join one of their five screenings either online or across our area this Autumn.

"When a flower doesn't grow, you change the environment around it. As communities, we need to learn how to create safe and empowering spaces for young people to achieve their best mental health," says Community Capital Foundation's Youth Ambassador, and 2021 Mental Health Advocate of the Year, Emily Unity.
Below runs the trailer for Connecting the Dots