inbox and environment news: Issue 523
January 23-29, 2022: Issue 523
Summer Babies 1: Butcher Bird + A 1953 Insight On These By Bill Grayden
The pair of butcher birds that live in the Pittwater Online yard have produced two youngsters this season and have been busy feeding the same with cicadas and other insects - it's been getting quite deafening with the sound of cicadas lately, so food enough for them.
What has been great to witness is the way in which the caught insect is shown to the youngster and then placed in a tree branch fork with encouraging noises, teaching the young one how to place their food and then eat it.
When the chick leaves the nest it will remain with its mother until almost fully grown. Young Butcherbirds tend to trail behind their mother and squeak incessantly while she catches food. They will stay around for a year and even help the parents bring up the next season's chicks.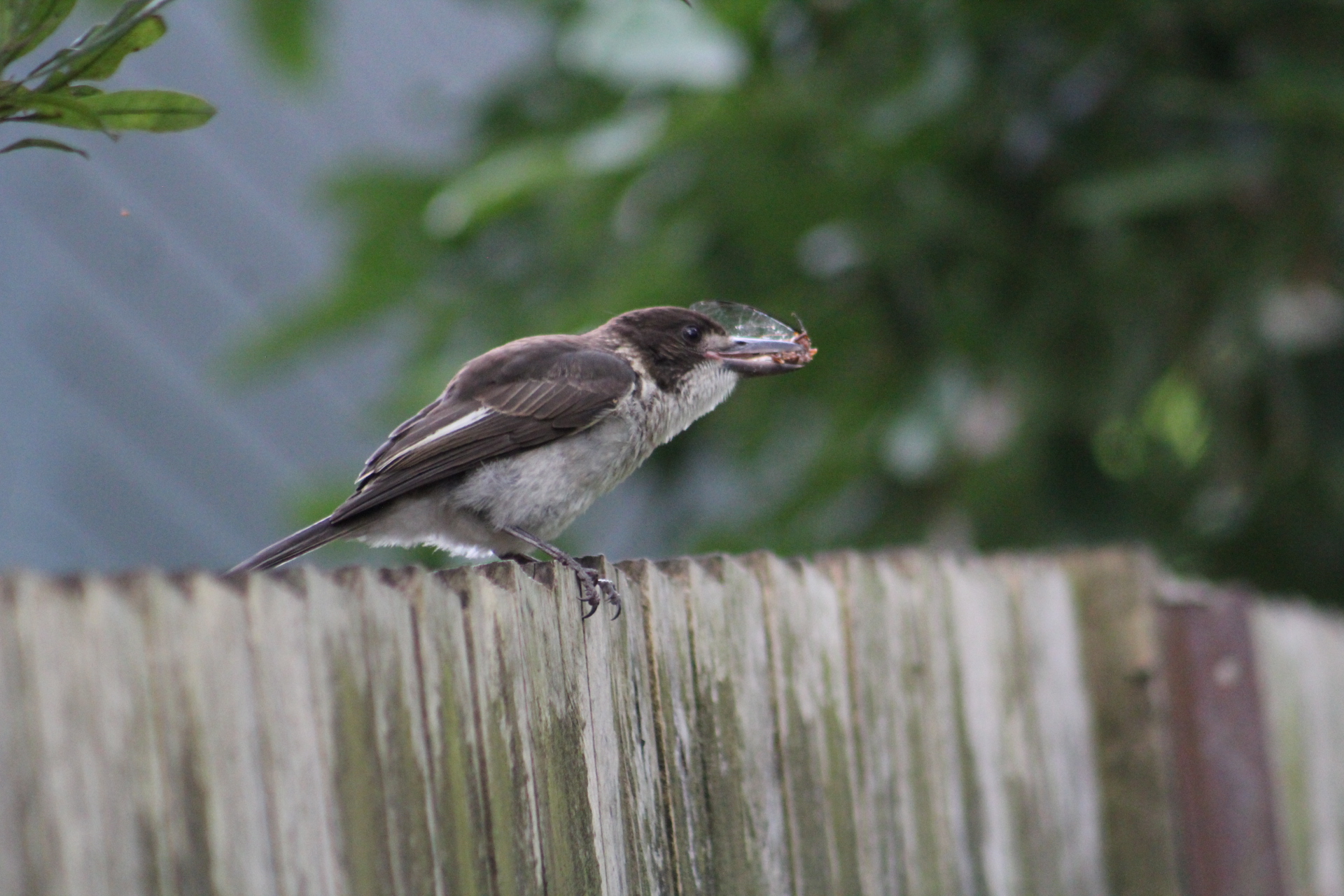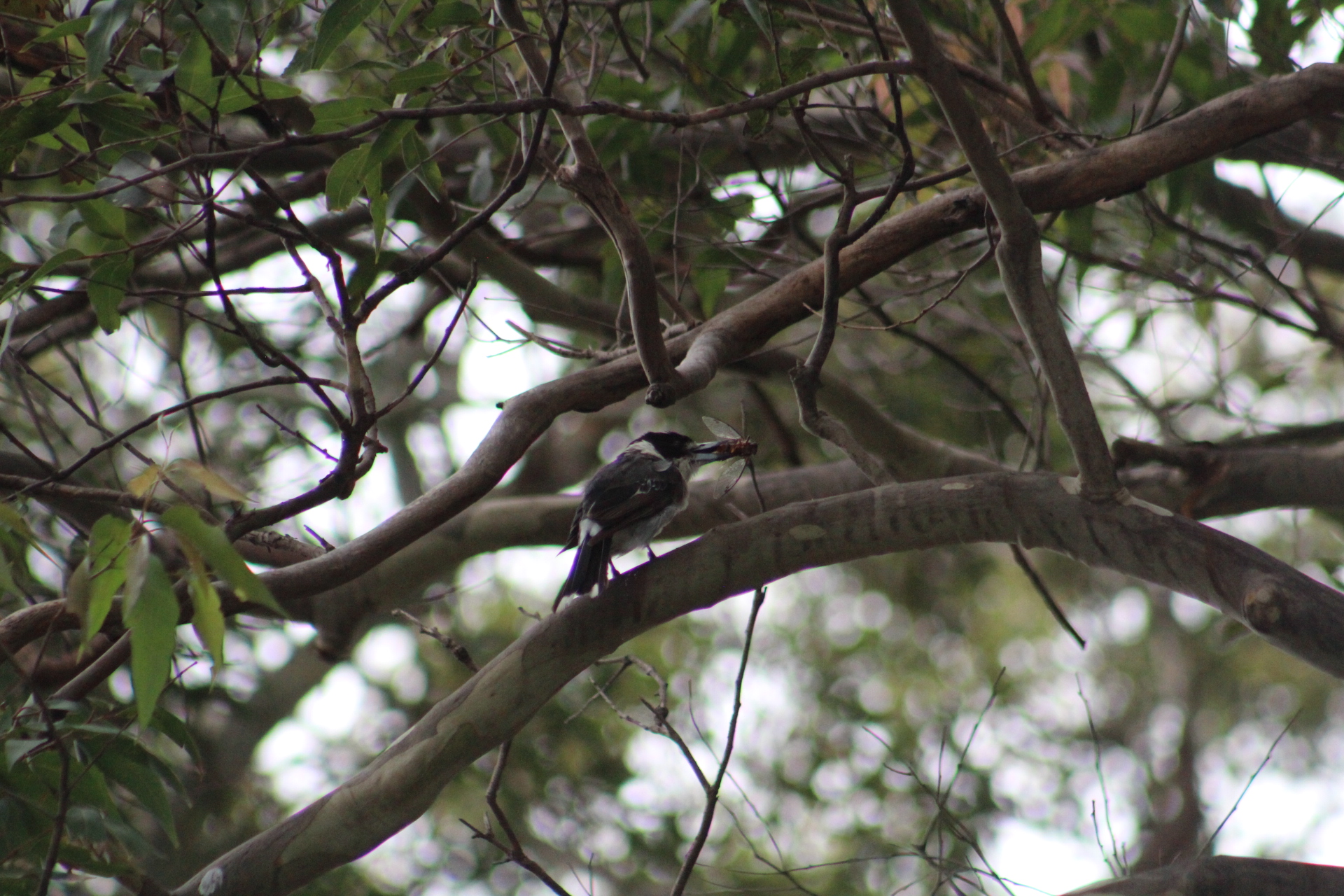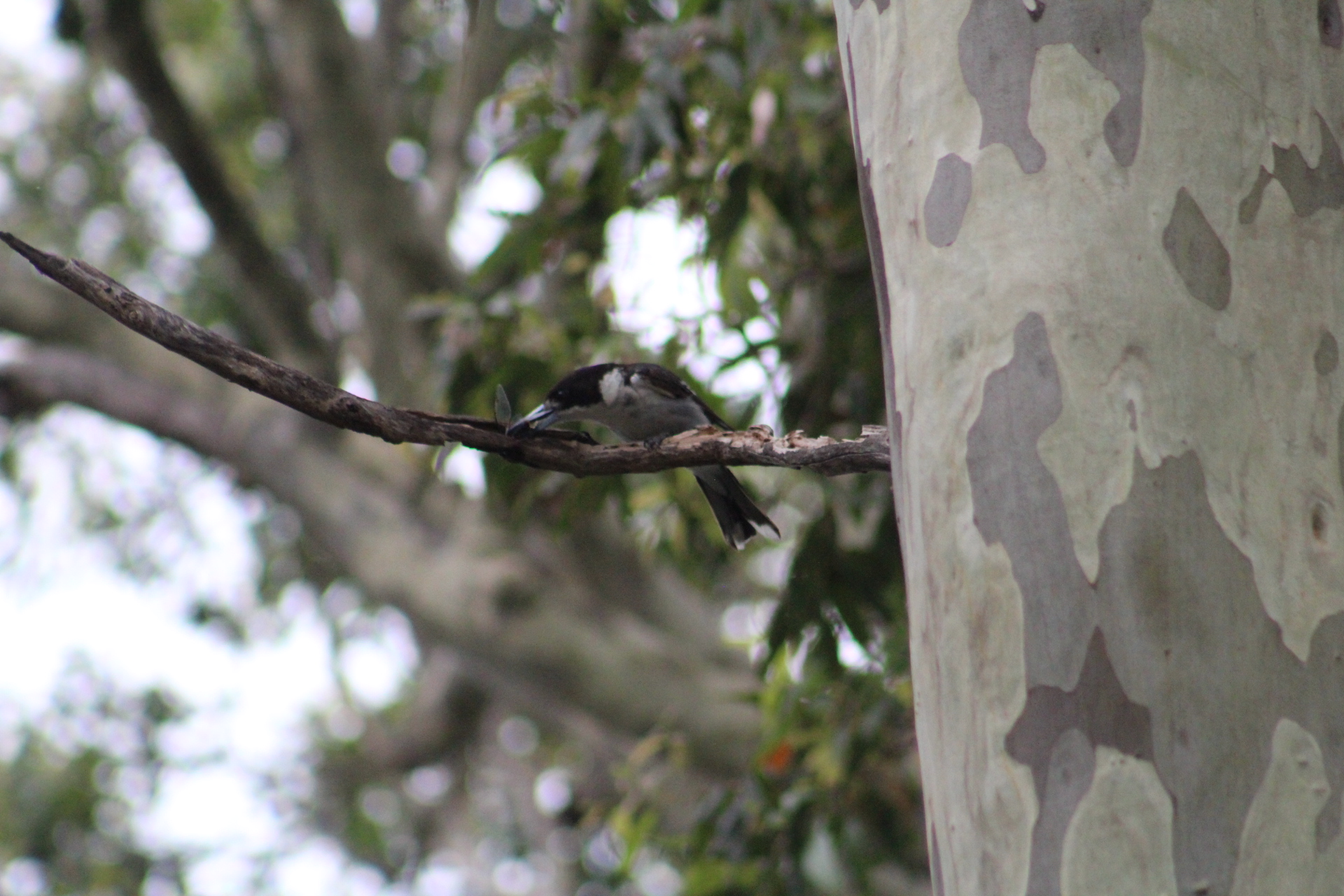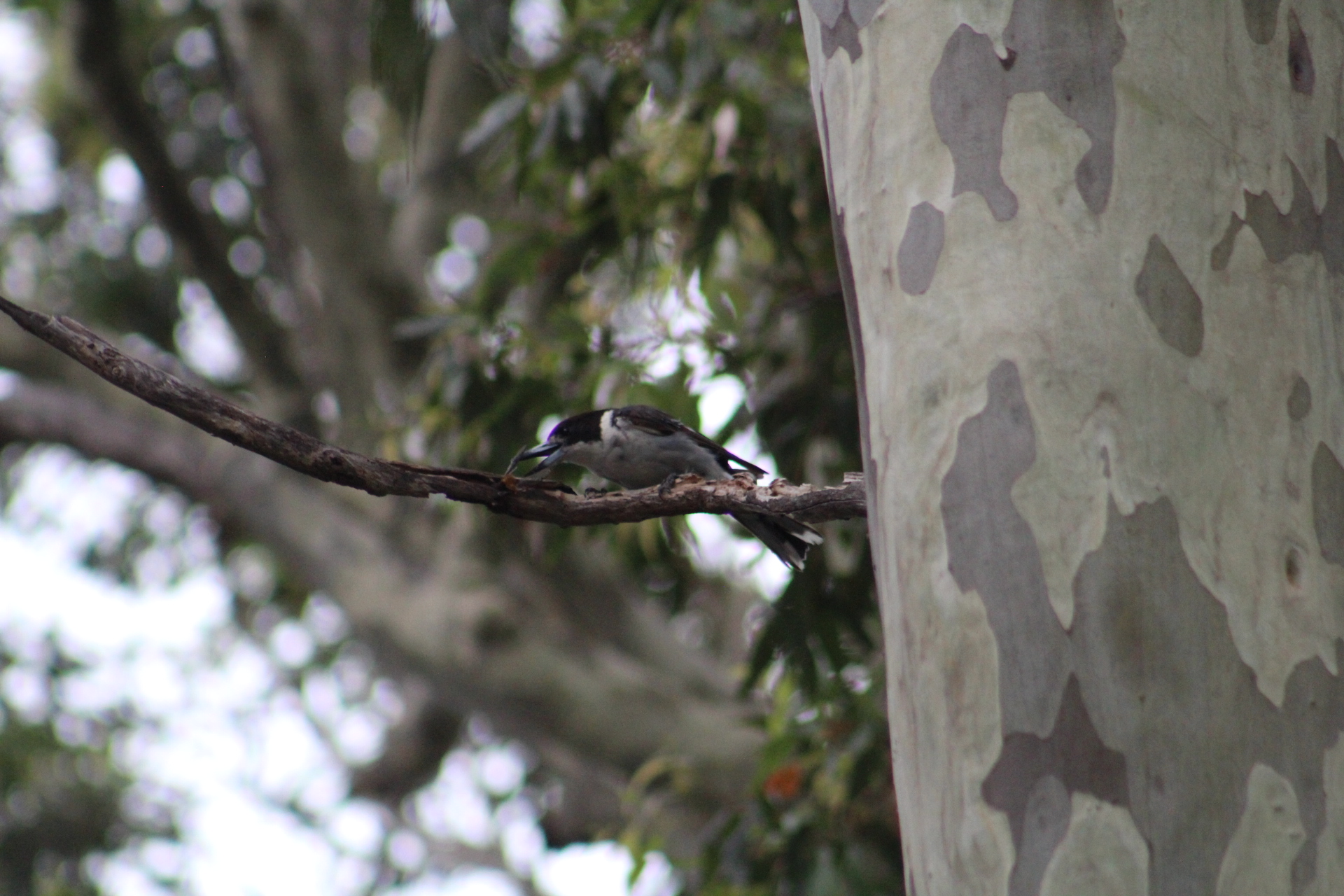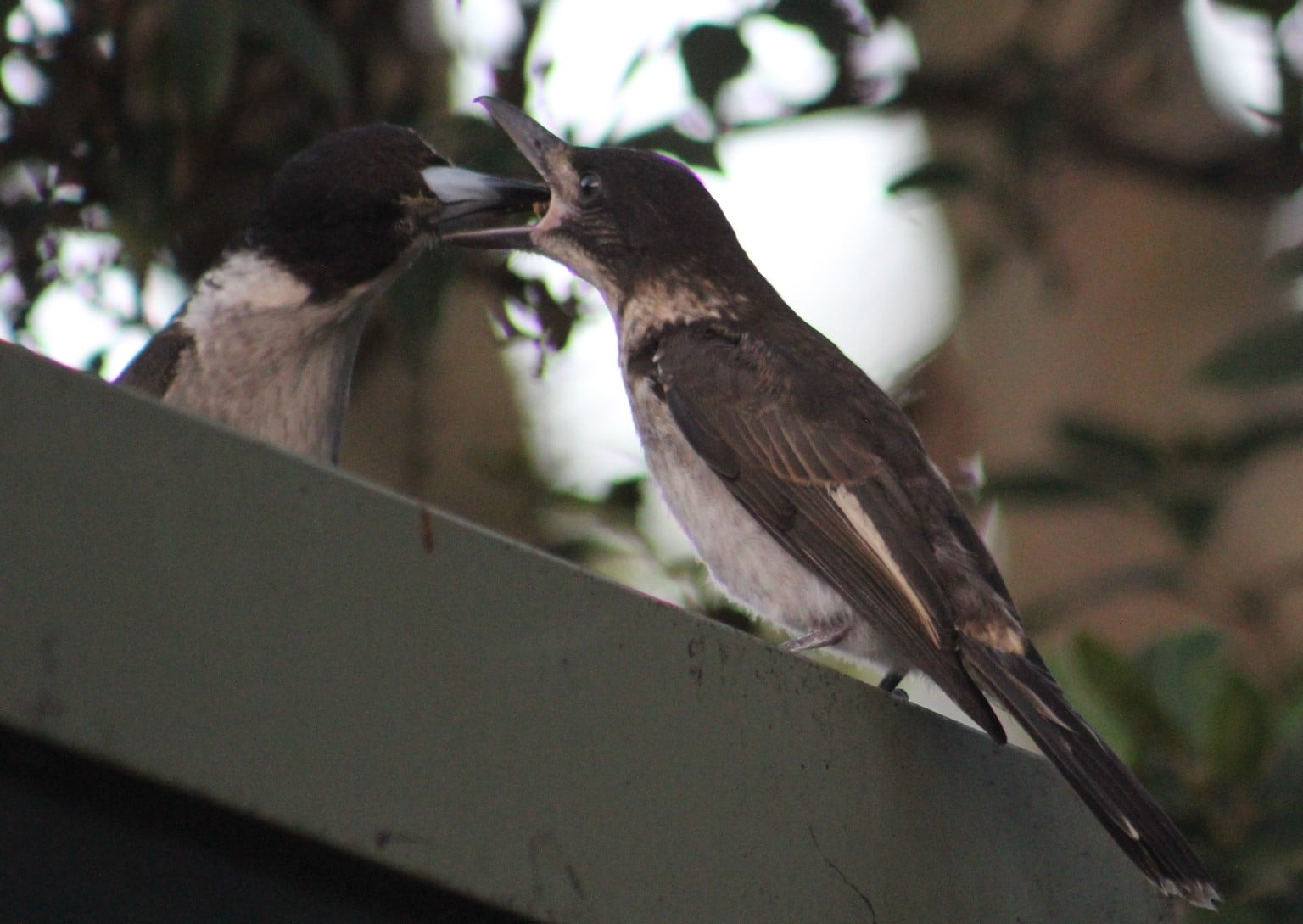 Those that live beside us seem quite used to our presence and allow close observation or will even come to the window to sing their
delightful
imitation songs of other birds.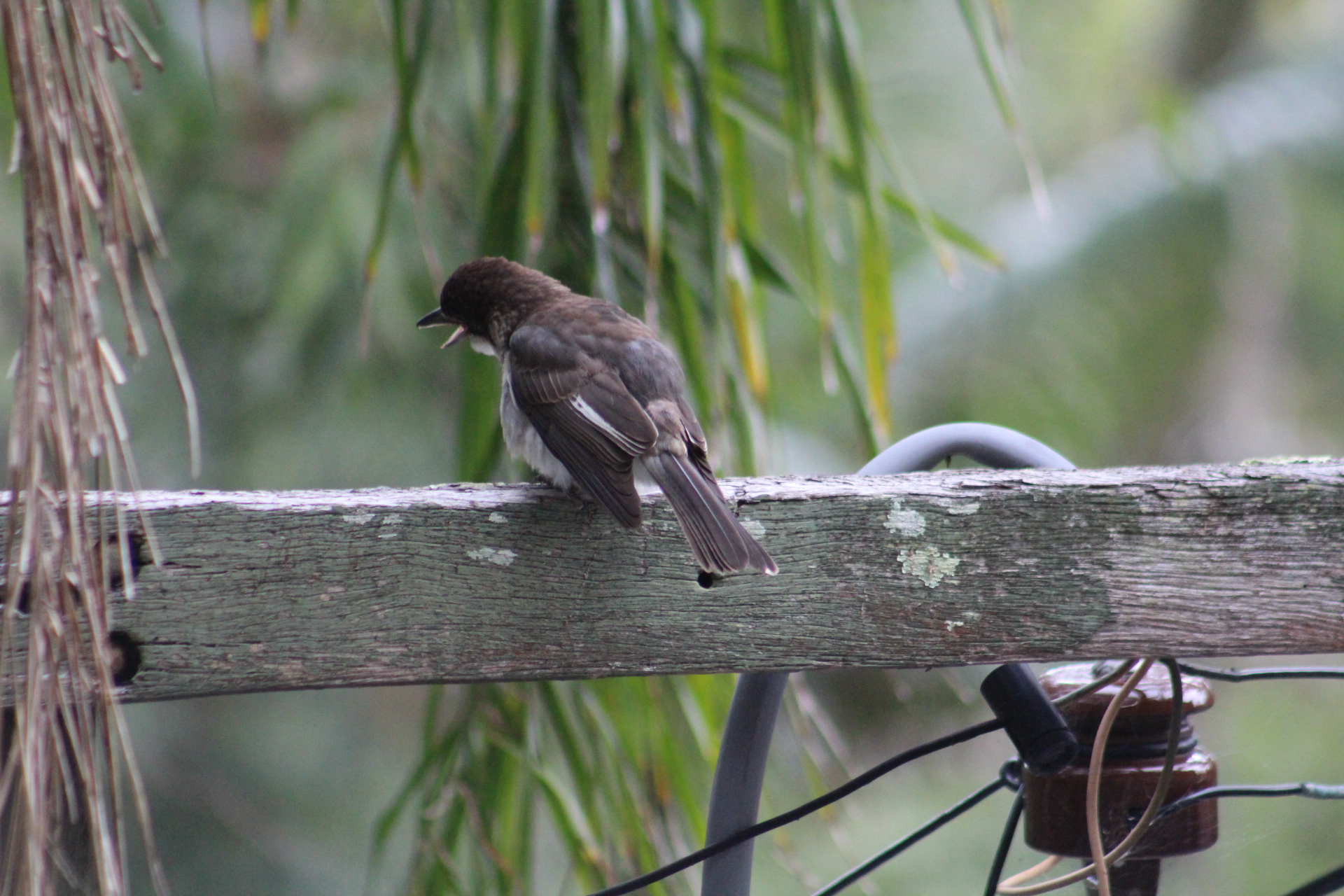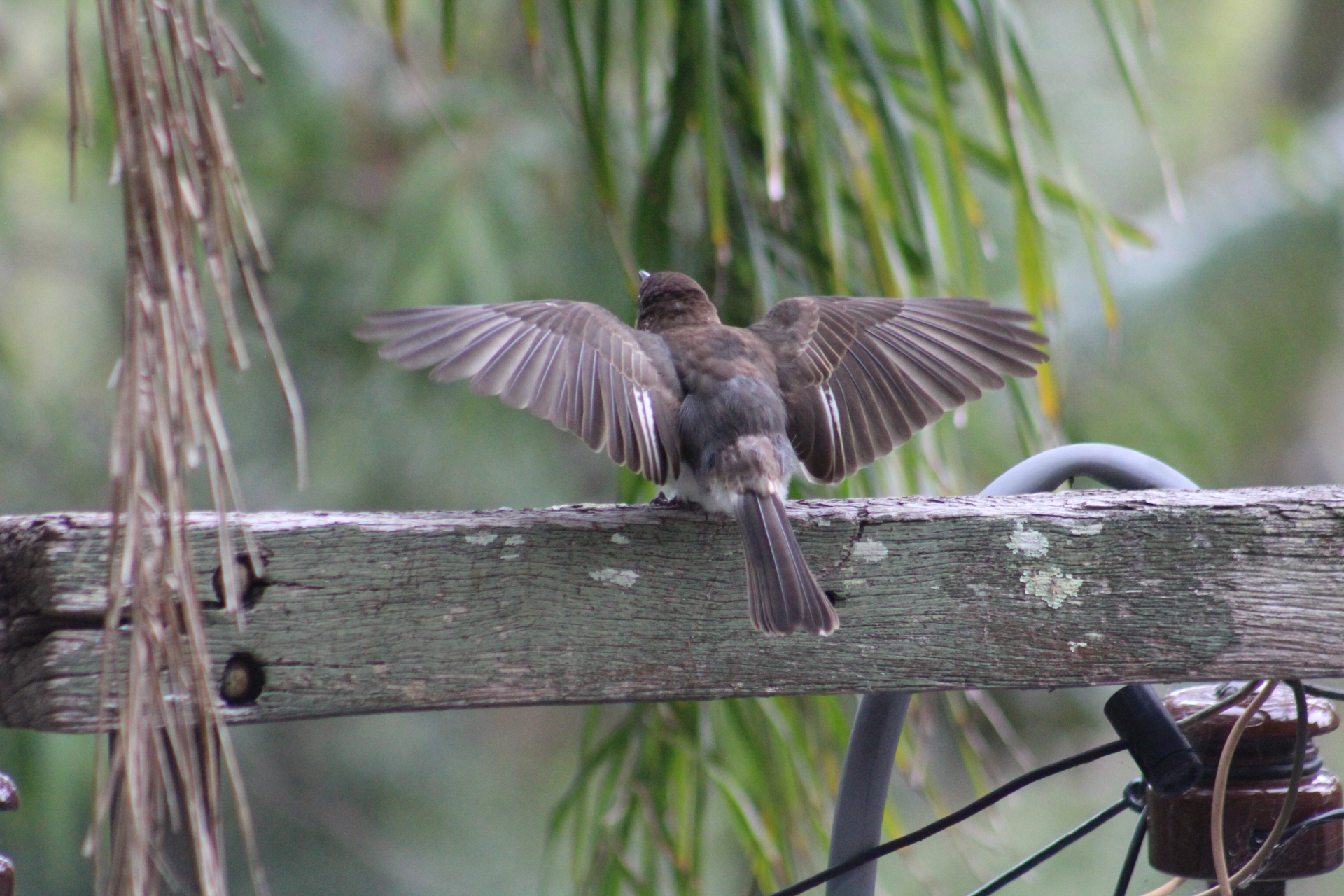 They will also feed other 'babies' according to a 1953 report by Bill Grayden.
William Leonard Grayden AM (born Wilbur Ives, 5 August 1920) is an Australian former politician. He was a member of parliament across six decades, serving in the Western Australian Legislative Assembly (1947–1949, 1956–1993) and the Australian House of Representatives (1949–1954). A World War II veteran, he served as a Liberal with the exception of a brief period as an independent. Grayden was a backbencher in federal parliament, but later held ministerial office in the state government of Charles Court (1974–1978, 1980–1982). His brother David and grandfather Nat Harper were also members of parliament.
Mr. Grayden was born Wilbur Ives in Bickley, Western Australia. He was one of three children born to Ethel May Harper and Aubrey Leonard Ives, including his younger brother David who also entered politics. His father participated in the landing at Anzac Cove on 25 April 1915, and lost a lung after being shot by a Turkish sniper. The marriage broke up and his mother gave the children their step-father's surname after she remarried. Mr. Grayden is the maternal grandson of Western Australian businessman and politician Nat Harper.
Bill was educated at state schools and then at Perth Technical College, as part of an apprenticeship commenced in 1938 as a motor mechanic with Winterbottom Motors. He attempted to enlist in the Australian Army when the Second World War broke out in September 1939, but was rejected. He succeeded the following year after lying about his age. Grayden joined the 2/16th Infantry Battalion as a private, but was soon promoted to corporal and then selected to attend Officer Training School in Bonegilla. He served on the Syrian campaign and then in 1942 was sent to New Guinea, where he took part in the Kokoda Track campaign, the Battle of Buna–Gona, and the Markham and Ramu Valley campaign. He ended the war in Borneo and took part in the Battle of Balikpapan. His remarkable expereinces were captured in the book Kokoda Lieutenant (2015). He turned 100 in 2020 and hopefully is still hearing the wonderful songs being sung by this lovely birds.
Below is the item we found:
"Do Try This Scorpion," Said The Butcher Bird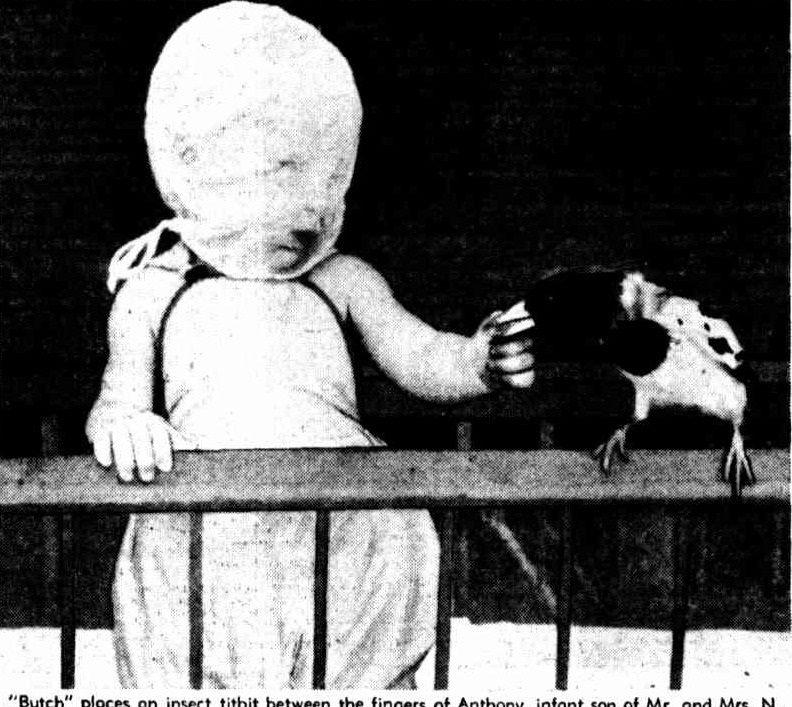 "Butch" places an insect titbit between the fingers of Anthony, infant son of Mr. and Mrs. N. Guise, at Warrie station. The net over the babe's head protects him from the bird's feeding attempts as well as flies.
Most of us regard the tale of Romulus' and Remus, supposed founders of Rome, as fabulous. But here is a tale, equally fantastic and even more delightful, and-unlike the Romulus and Remus story -fully documented. Western Australia has provided the first authenticated instance of a bird-and a. butcher bird at that adopting a human baby.
Thirty miles West of Roy Hill station and 200 miles south of Port Hedland, is Warrie station. The mile upon mile of mulga scrub of the Murchison has given way to rolling downs and gaunt. red hills. The zone is hot and dry and only spinifex will survive there. The occasional trees, apart from the flood gums in the watercourses, are dwarfed and stunted, but Warrie is regarded as a reliable station. Spinifex, though not as palatable to sheep as mulga and saltbush, is better able to withstand drought. Galahs, white cockatoos and parrots of all kinds abound there, though the arid nature of the country has prevented the intrusion of less hardy birds of the south.
"Butch," an Australian butcher bird, and his brothers are among the few exceptions. Common in the south, and frequently hated by city dwellers for their predatory habits, butcher birds assume a new standing in the north.
Regarded by those who know them as the sweetest singers in the. Australian bush, butcher birds have another quality which endears them to bushmen.. They have an unusual attachment for man. Every camp in the bush will almost invariably be regarded as home by a butcher bird. Quiet and trusting and seemingly without fear of the occupants of the camp, they herald the day with the sweetest song of the Australian bush. When the camp is astir and the morning meal is being prepared the most interested spectator is the butcher bird from his vantage point on the nearest tree
Afterwards, when the coast .is clear, he descends to breakfast at leisure on the scraps. He does this methodically and with a studied air. This is his right. He is accepted and encouraged Thenceforth the bird takes his place in the camp life.
"Butch," of Warrie station, became part of the family in a rather different fashion. Rescued from death, at the hands of an aboriginal child while still a fledgling, he or she, for the bird's sex is still in doubt, was reared by Mrs. Nick Guise, wife of the station manager. Although allowed complete freedom, he refused to leave the station homestead. For almost two years he remained there, always on hand for the daily call -the call which would send him flying down to sit on the hand or shoulder of Mrs. Guise and accept the titbits that were specially reserved for him. On a diet of insects and household scraps "Butch" grew rapidly. He became a handsome bird with bold black and white plumage and bright, intelligent, inquiring eyes. His friendly, knowing ways endeared him to all.
One day Mrs. Guise returned to the station with a new addition to her family; a son Anthony. "Butch" grasped the significance of the new arrival and reacted in a way which was to make bird history.
As in the past he had regarded his presence in the household as fitting into the scheme of things, now, without fuss or bother, he took upon himself responsibility for the child. "Butch" did not question what his responsibilities were. A baby required one thing - food. "Butch" was unhampered by scientific notions of child feeding. Around him lay his larder. The regularity with which a baby had to be fed was decided, as far as butcher birds are concerned, thousands of years ago. Deep inside, this one instinct told him what to do. Mrs. Guise walked out of the kitchen next morning to find "Butch" sitting on the baby's head, trying to thrust a soft white grub down her baby's throat. Because of the flies, babies in the North often wear a fly net which covers their heads, unless they are protected by a net over their cot. Thenceforth Anthony always had a net over his cot or a veil over his head.
Many times daily, for the first few days, "Butch" would appear with an insect for the child. Sometimes it was a tasty grasshopper or a juicy centipede, and occasionally a toothsome scorpion, all of them safely crushed. If the baby was left for a moment, "Butch" would be there with his offering, attempting to thrust it into the mouth of the child. When it was not possible to do that, "Butch" would attempt to rake the insect into the hand of the child by drawing his beak through the child's fingers. Though thwarted in his efforts to feed the baby, "Butch" continued his task resolutely.
As the weeks went by "Butch" became aware that the baby was due to be weaned. By this time all young butcher birds should be able to fend for themselves. "Butch" apparently thought that he had now discharged his responsibilities. By tapering off the feeding occasions, the youngster should learn to feed himself. It was clear that "Butch" was satisfied that he had acquitted himself well.
I passed through Warrie station when "Butch" was feeding the baby. When I returned to Perth a few weeks later, I wrote to Mrs. Guise suggesting that, in the interests of science, it would be of value to keep a 'close record of "Butch's"' exploits suggested, among other things, 'that a' chart should be kept of the times each day that ''Butch'' arrived with food for the baby and of what the food consisted. Unfortunately the weaning process had begun and the full record for which I'd hoped did not eventuate.
Mrs. Guise writes thus to me of ''Butch'' whom she assumes to be female
''She does not appear to be a fast flyer or to move fast, yet it is amazing to see her pick a fly out of the air as it flies past, without haste or apparent speed. There is no snapping. Her eyesight is marvellous and any small creature moving within a wide radius has little chance against her deceptively slow swoop.
The varied assortment of insects and reptiles which 'Butch' brought along would have delighted her own young. After making a peculiar noise, reserved for these occasions, she would retire a short distance, seem very disgusted at her failure, but would finally eat the offering.
Quite undeterred, she continued to try to feed the baby at irregular intervals throughout the day for many weeks. After a time she tapered off, but now, although the boy is eight months old, often arrives with some special luxury such as a small lizard or scorpion. The process is, however, now being reversed and the boy feeds the bird.''
I passed through Warrie station again a few weeks ago. ''Butch'' was no longer at the homestead. The station people do not know why he left. They speculate over a cup of tea occasionally as to whether ''Butch' left in search of a mate, or whether it was simply the call of the bush.
At odd times on the run, however, when those who live on the station are crutching or marking lamb or repairing a windmill, a little black and white bird, smaller than a pigeon and with a powerful beak, may appear from out of the shimmering heat and alight on a shoulder or arm. ''Butch'' has never forgotten his friends. He stays a while then flies off about his tasks.
Up Warrie way, people hope that the friendly heart of this little black and white bird will continue to find joy in the sunrise for many seasons to come.
They really are the most delightful birds, each with its very own nature, and help keep the garden's insects balance as well as awake us each dawn with their wonderful songs.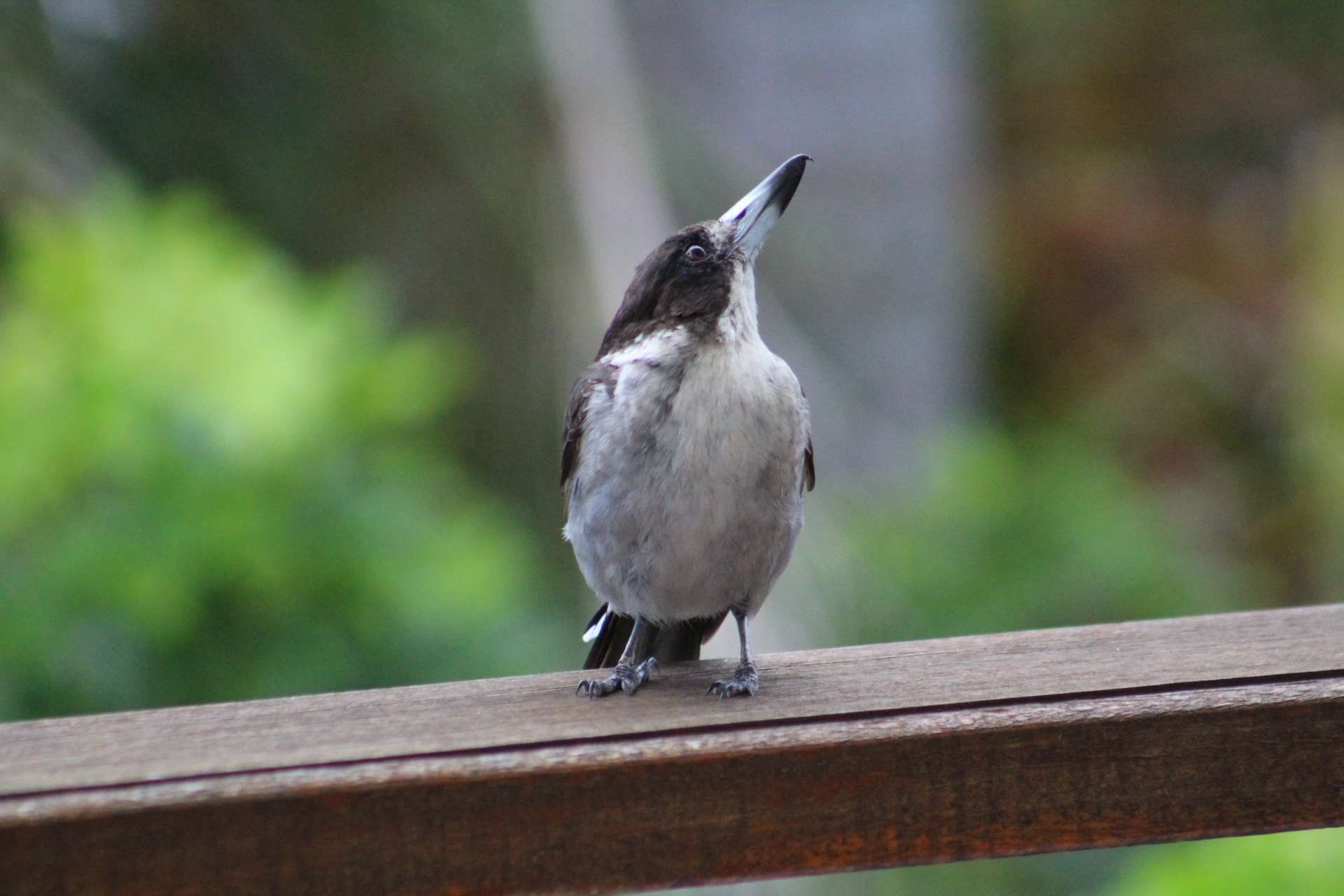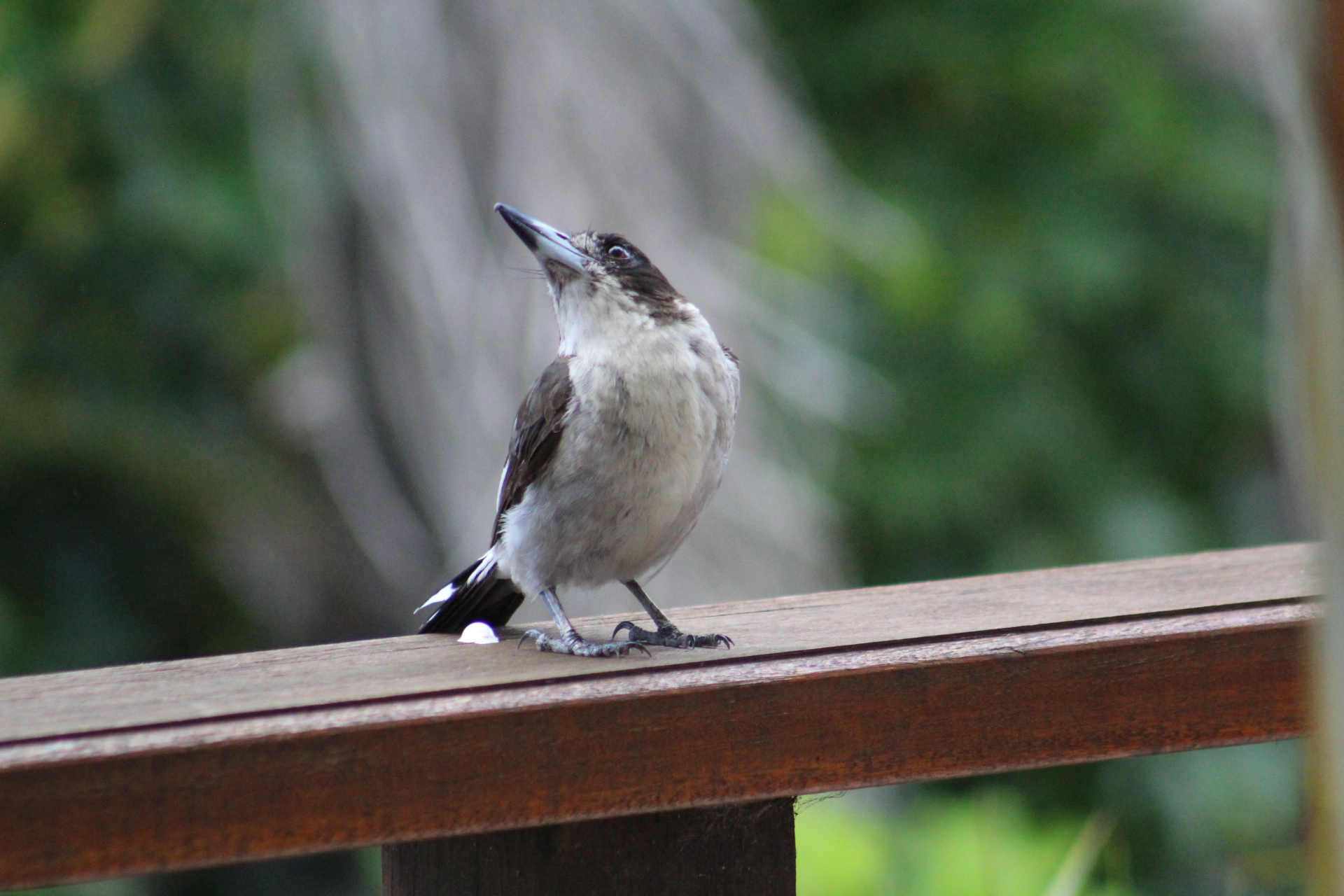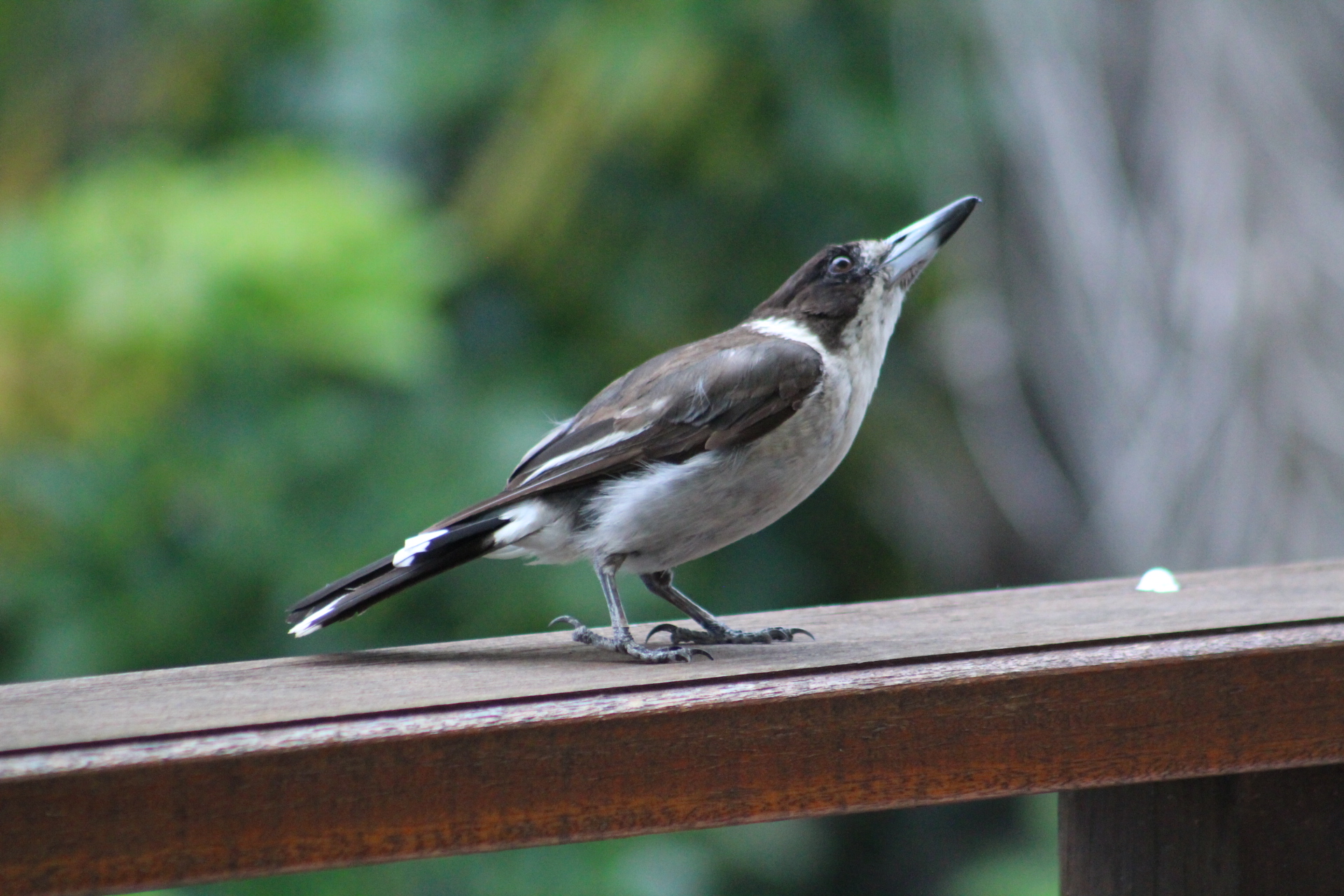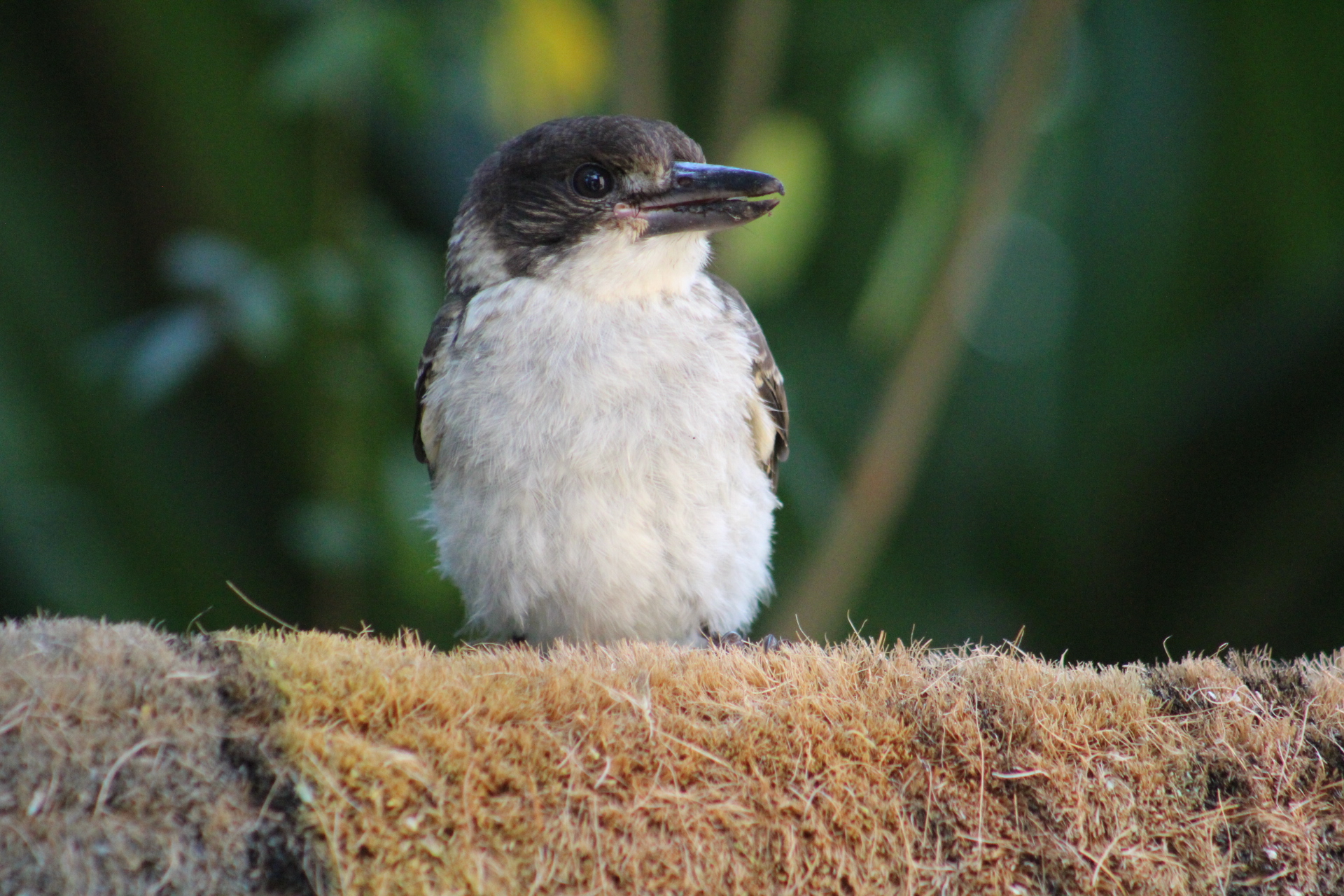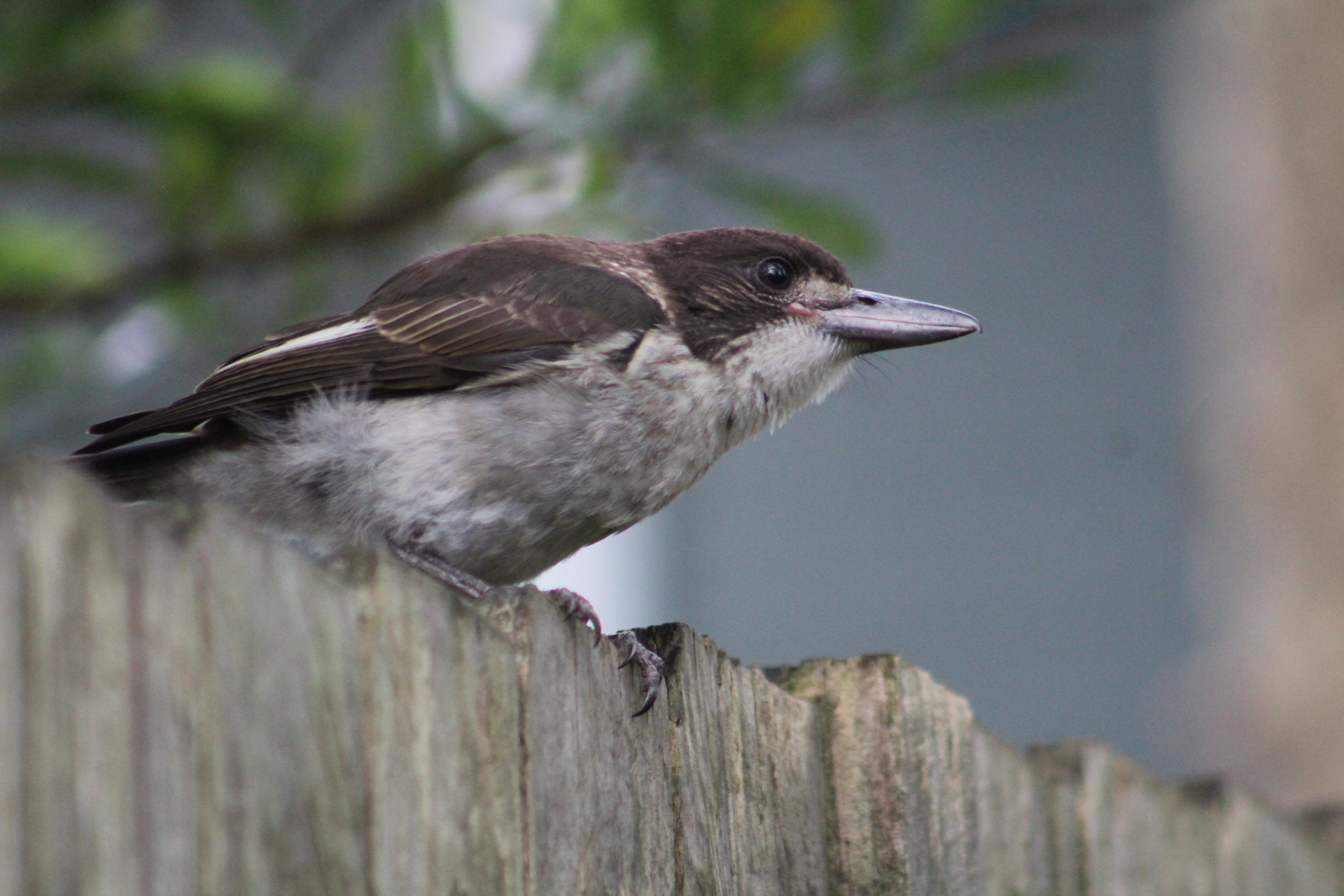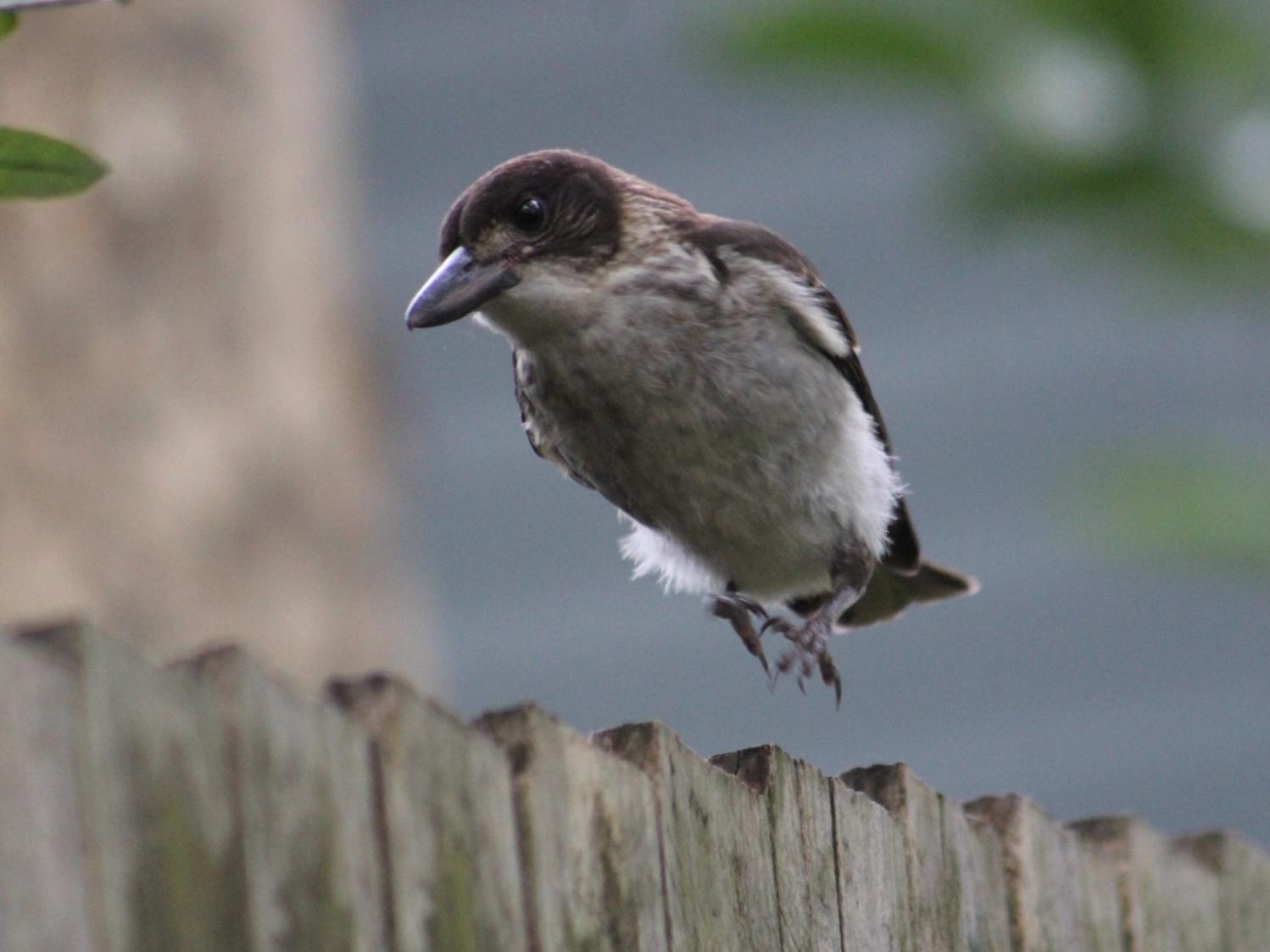 Summer Babies 2: Bluetongue Lizard
Warriewood gentleman Joe Mills took these lovely photos on Saturday January 22nd, 2022, telling us;
''Met this little baby Bluetongue Lizard in our garden bed today. He was about 3 inches long (8 cm). Looked for the rest of the family but did not find. Good luck on his life ventures.''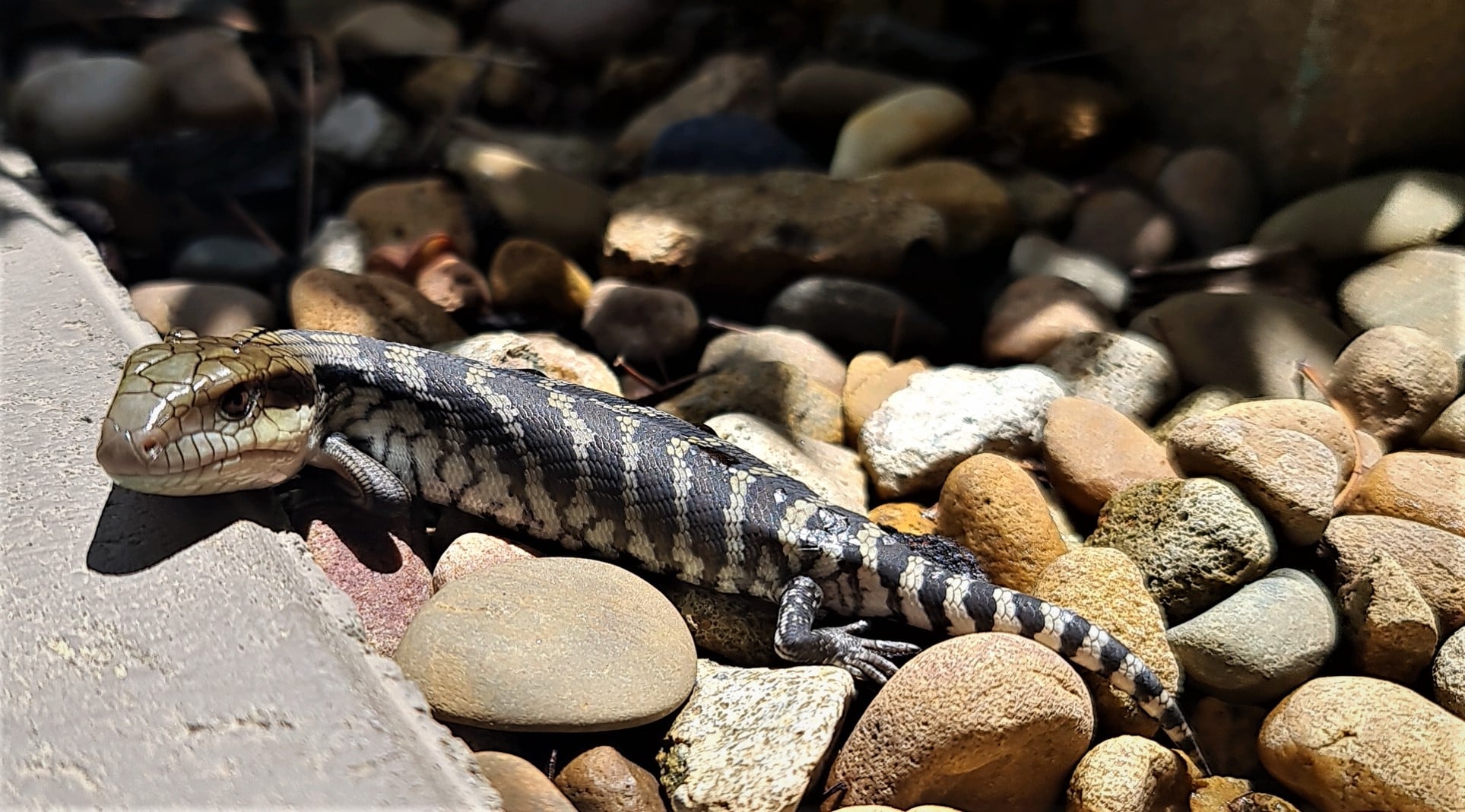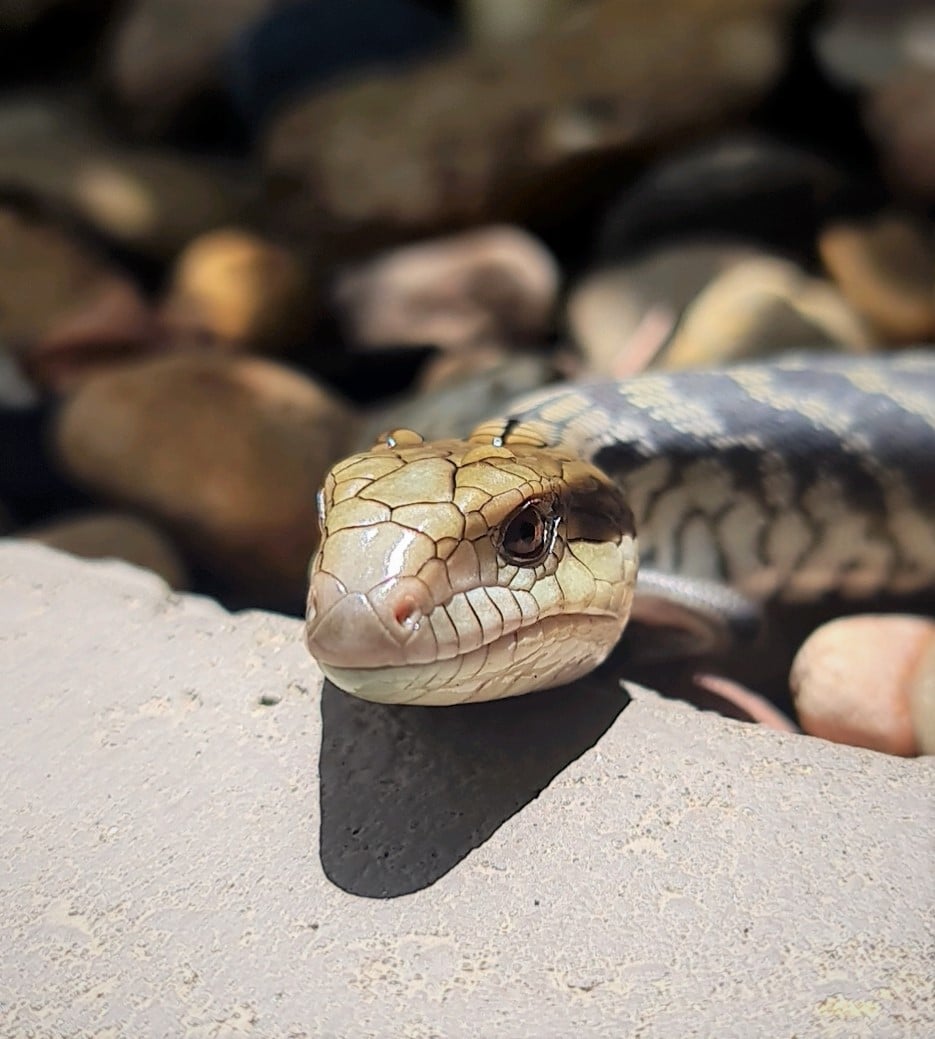 Avalon Dunes Bushcare
Avalon Dunes are really special and need our special care. Tiny birds like Blue Wrens like the thick bush, but we need to get rid of weeds that will take the place of good bird habitat.
We'll be back on Sunday February 6, meeting at 8.30 near the Montessori School, off Tasman Rd.
We're concentrating on chasing Morning Glory, peacefully weeding and chatting in the shade. Quite a bit is left for next time though.
Can you give us a hand?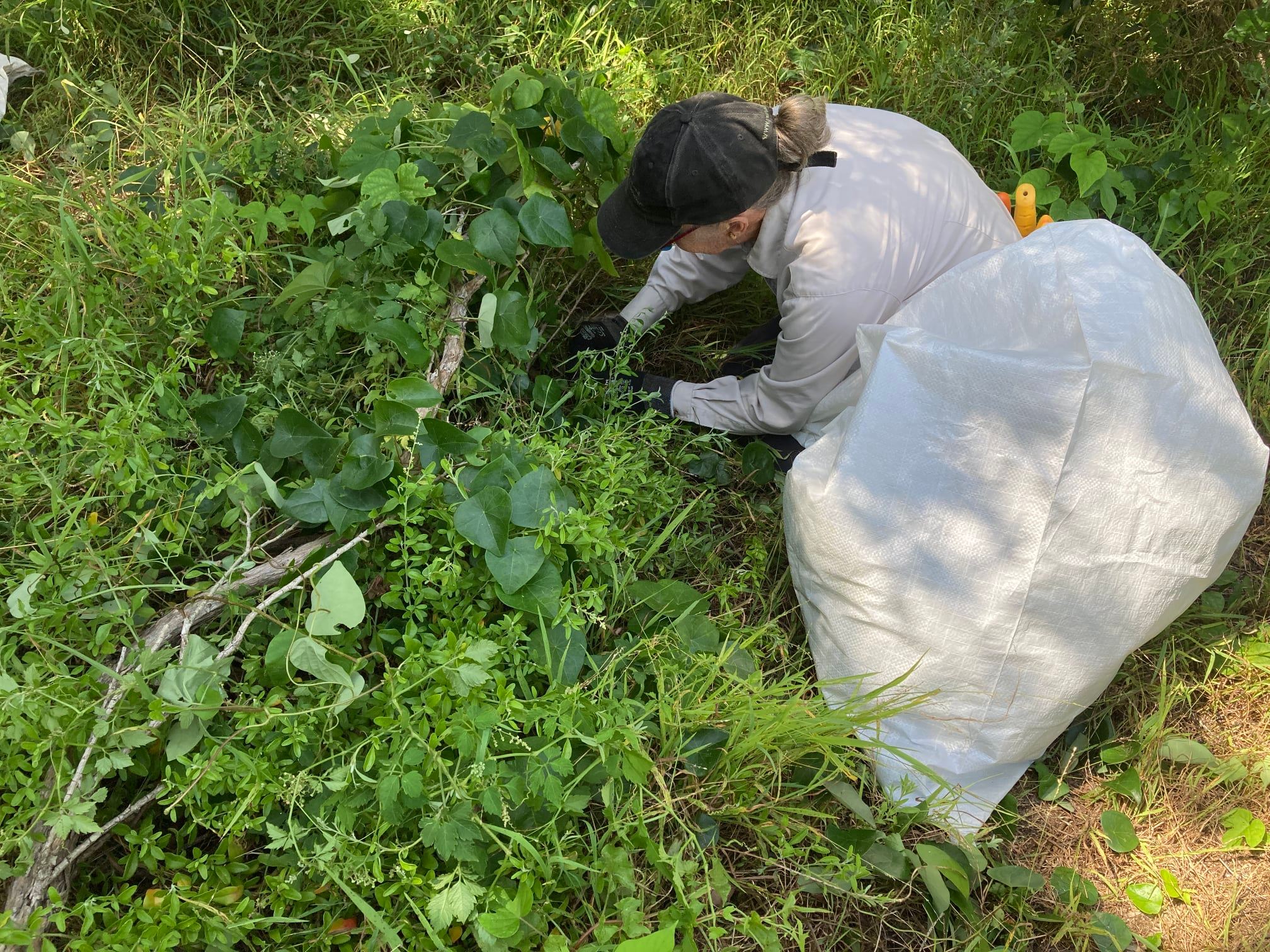 World Wetlands Day 2022
The 2nd February 2022 is the first year that World Wetlands Day will be observed as a United Nations international day, following its adoption by the General Assembly on 30th August 2021.
The theme for the 2022 edition is Wetlands Action for People and Nature, and it highlights the importance of actions that ensure that wetlands are conserved and sustainably used. It's an appeal to invest financial, human and political capital to save the world's wetlands from disappearing and to restore those we have degraded.
You can find materials to download, key messages and suggested actions to take on the
event website
.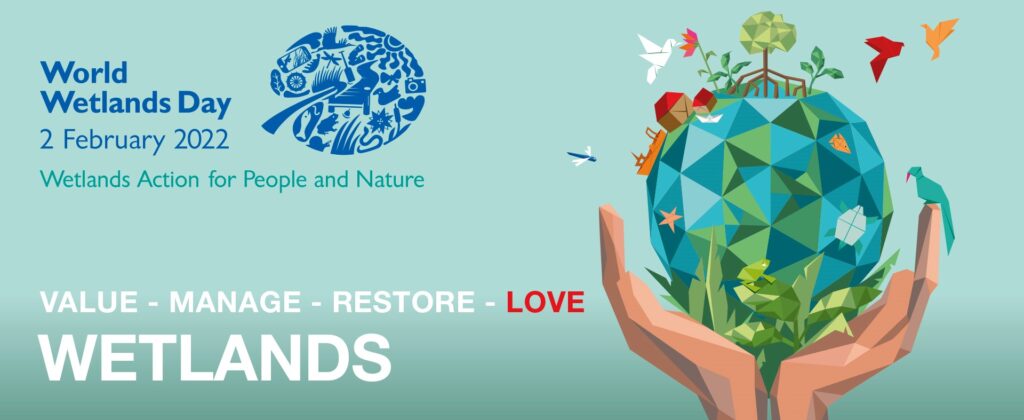 Birds Flock To Breed In North-West NSW Wetlands
The biggest wetland bird breeding event in the Macquarie Marshes and Gwydir Wetlands in a decade is well under way ahead of World Wetland Day on 2 February.
National Parks and Wildlife Service Acting Director, John Whittall, said recent floods had filled wetland systems and major bird breeding is happening right now, including at Narran Lake Nature Reserve.
"It's been a joy to see the wetlands spring back to life after the drought across the whole of northern NSW to enable what is now the biggest breeding event since 2012," John said.
"We're all very excited. The wetlands are internationally significant breeding grounds so it's fantastic to see mass breeding as we celebrate this year's World Wetland Day's theme of 'Wetlands Action for People and Nature'.
"NPWS have done 350 hours of aerial pest species shooting over the wetlands in the last 2 years, as well as follow up ground programs, to give the birds the best chance of breeding success possible."
NPWS Project Officer, Conservation Dr Joanne Ocock who is part of a multi-agency team monitoring the wetlands said: "Vegetation has returned as brilliant green islands in the semi-arid landscape providing waterbirds with plenty of nest-building material and we have seen the egrets and ibis in particular nesting in their thousands.
"The birdlife has been overwhelming and everyone has their favourites. I can't go past the incredibly pretty freckled and blue-billed ducks. They are threatened species and it's great to see them gather in such significant numbers.
"It's not just about the birds, we are also seeing baby frogs in enormous numbers. While some may just look at them as bird food, as a frog expert I think they are beautiful in their own right." she said.
Visitors are welcome to experience this remarkable event by visiting the Waterbird Lagoon bird hide at the Gwydir Wetlands State Conservation Area about 70 kilometres from Moree. Roads have reopened after the floods but visitors are asked to drive with care.
The best time to visit for the best bird watching experience is early morning or evening. For further information visitors should call Narrabri NPWS office on 6792 7300.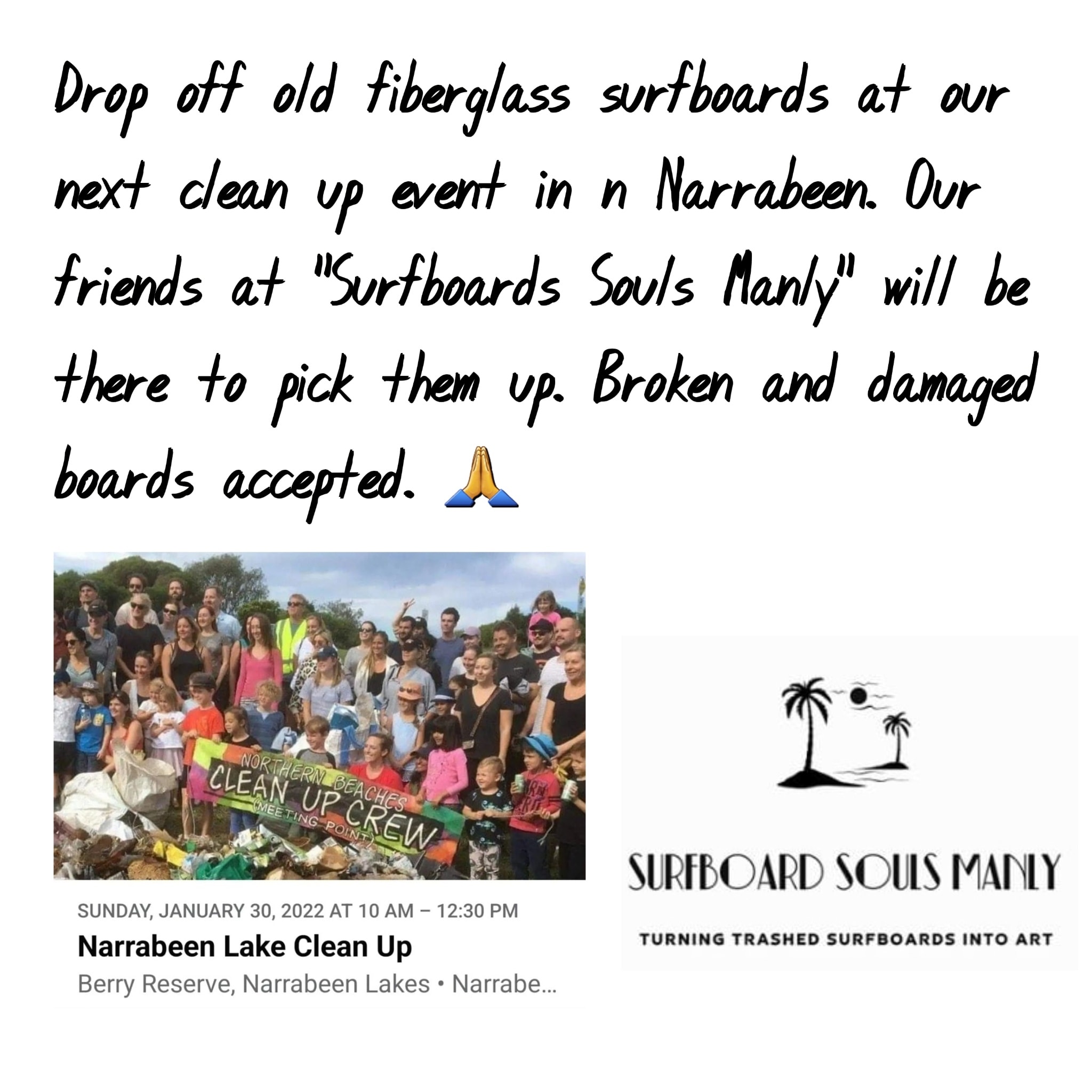 Bushcare In Pittwater
For further information or to confirm the meeting details for below groups, please contact Council's Bushcare Officer on 9970 1367
BUSHCARE SCHEDULES
Where we work Which day What time
Avalon
Angophora Reserve 3rd Sunday 8:30 - 11:30am
Avalon Dunes 1st Sunday 8:30 - 11:30am
Avalon Golf Course 2nd Wednesday 3 - 5:30pm
Careel Creek 4th Saturday 8:30 - 11:30am
Toongari Reserve 3rd Saturday 9 - 12noon (8 - 11am in summer)
Bangalley Headland 2nd Sunday 9 to 12noon
Bayview
Winnererremy Bay 4th Sunday 9 to 12noon
Bilgola
North Bilgola Beach 3rd Monday 9 - 12noon
Algona Reserve 1st Saturday 9 - 12noon
Plateau Park 1st Friday 8:30 - 11:30am
Church Point
Browns Bay Reserve 1st Tuesday 9 - 12noon
McCarrs Creek Reserve Contact Bushcare Officer To be confirmed
Clareville
Old Wharf Reserve 3rd Saturday 8 - 11am
Elanora
Kundibah Reserve 4th Sunday 8:30 - 11:30am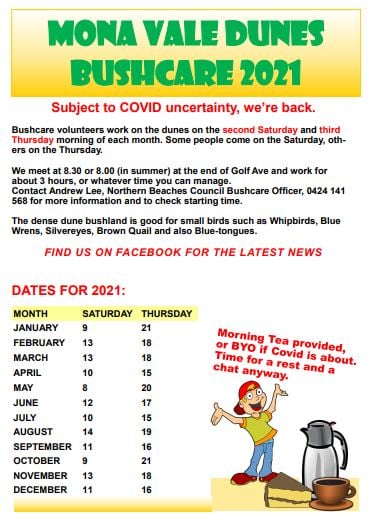 Mona Vale
Mona Vale Beach Basin 1st Saturday 8 - 11am
Mona Vale Dunes 2nd Saturday +3rd Thursday 8:30 - 11:30am
Newport
Bungan Beach 4th Sunday 9 - 12noon
Crescent Reserve 3rd Sunday 9 - 12noon
North Newport Beach 4th Saturday 8:30 - 11:30am
Porter Reserve 2nd Saturday 8 - 11am
North Narrabeen
Irrawong Reserve 2nd Saturday 2 - 5pm
Palm Beach
North Palm Beach Dunes 3rd Saturday 9 - 12noon
Scotland Island
Catherine Park 2nd Sunday 10 - 12:30pm
Elizabeth Park 1st Saturday 9 - 12noon
Pathilda Reserve 3rd Saturday 9 - 12noon
Warriewood
Warriewood Wetlands 1st Sunday 8:30 - 11:30am
Whale Beach
Norma Park 1st Friday 9 - 12noon
Western Foreshores
Coopers Point, Elvina Bay 2nd Sunday 10 - 1pm
Rocky Point, Elvina Bay 1st Monday 9 - 12noon

Gardens And Environment Groups And Organisations In Pittwater
Sydney Wildlife Rescue: Helpers Needed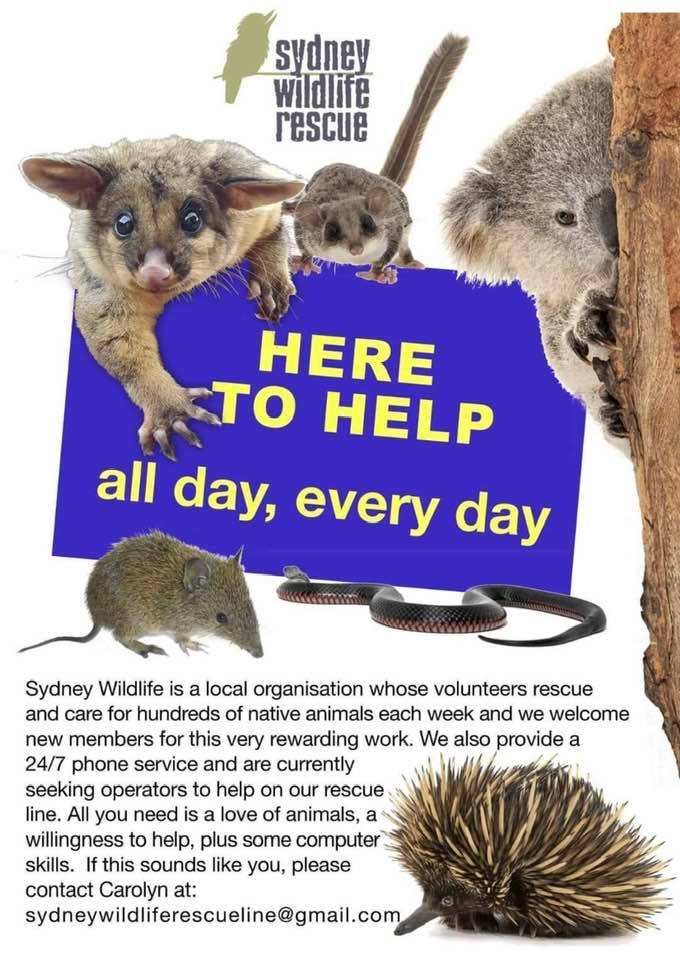 Citizen Scientists Needed To Help Record Impact Of Fires On Biodiversity
January 18, 2022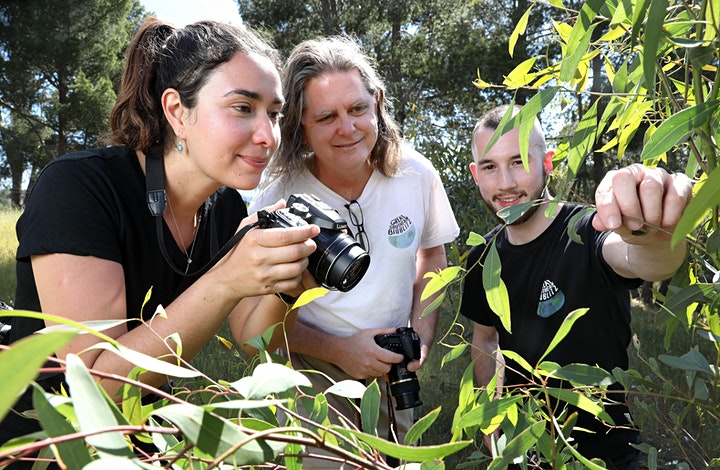 UNSW Sydney scientists are behind a citizen science event that will document the bushfire recovery of plants, animals and fungi across three bushfire affected regions in New South Wales.
The Big Bushfire BioBlitz starting on February 25 is a series of weekend-long events which will generate new evidence on the impacts of large-scale fire on biodiversity.
The BioBlitzes will take place in the Gondwana Rainforests of Washpool National Park, the Blue Mountains World Heritage Area, and Murramarang National Park on the south coast.
Thomas Mesaglio, iNaturalist curator and PhD candidate at the UNSW Evolution & Ecology Research Centre, said that the BioBlitzes will give people the opportunity to contribute meaningful biodiversity data that inform our understanding of how the environment recovers after large scale bushfires, and in turn contribute to research and conservation.
"A 'bioblitz' is a focused effort to record as many species as possible in a defined location within a limited period of time," Mr Mesaglio said.
"Citizen science events such as bioblitzes provide an invaluable opportunity to maximise the amount of data collection, intensely focusing on particular areas, as well allowing people of all skill levels to be involved.
"Participants get to interact with and learn from experts, and also offer their own local expertise and insights to the experts, so it's a fantastic two-way transfer of knowledge.
"These events are also great for motivating participants to become long-term contributors to citizen science platforms such as iNaturalist."
Experts – including from one of the partner scientific organisations, the Australian Museum – will lead biodiversity events over the weekends.
Casey Kirchhoff, PhD candidate at the UNSW Centre for Ecosystem Science, founded the Environment Recovery Project on the iNaturalist website after the devastating Southern Highlands' Morton bushfire destroyed her Wingello home in January 2020.
"Citizen scientists have been really motivated since the 2019-2020 bushfires," Mrs Kircchoff said.
"We've already had over 17,500 observations of bushfire recovery submitted to the Environment Recovery Project.
"We've been delayed by COVID-19, but it's great to finally have the opportunity to engage more directly with some of the bushfire impacted communities through citizen science at the bioblitzes.
"The more observations we can collect, the more we will know about the impact of the fires on our environment."
While not everyone will be able to make it to an in-person bioblitz, everyone who can access a bushfire-impacted area right across Australia is encouraged to participate.
"The Big Bushfire BioBlitz iNaturalist project will be open to every citizen scientist keen to 'bioblitz' their own area, no matter if they're in Western Australia or Kangaroo Island," Mrs Kirchhoff said.
The iNaturalist community has more than 88 million biodiversity records and links to Australia's leading open-access biodiversity data platform, the Atlas of Living Australia, where everybody from scientists and policymakers to the general public can access a wealth of biodiversity information.
The bioblitzes are supported through the Australian government's Regional Bushfire Recovery Fund and UNSW's Centre for Ecosystem Science, in partnership with the Atlas of Living Australia, Minderoo's Fire and Flood Resilience Initiative and the Australian Citizen Science Association.
BioBlitz 1: Blue Mountains, Friday 25 February – Sunday 27 February 2022

BioBlitz 2: Washpool National Park, Friday 4 March – Sunday 6 March 2022

BioBlitz 3: Murramarang National Park, Friday 11 March – Sunday 13 March 2022
Register for the Big Bushfire BioBlitz.
The Atlas of Living Australia is Australia's national biodiversity data infrastructure funded by the National Collaborative Research Infrastructure Strategy (NCRIS) and hosted by Australia's national science agency, CSIRO. image; Scientists are hoping that people of all skill levels will get involved in the forthcoming 'bioblitzes' which will see citizen scientists record as many species as possible over three weekends. Photo: Dean Martin 2021 (CC-BY-NC).
Aboriginal Land Claim Granted On Reserve At Naremburn
January 17, 2022
A total of 1.51 hectares of Crown land will be transferred to the ownership of the Metropolitan Local Aboriginal Land Council after an Aboriginal land claim was approved over the Talus Street Reserve at Naremburn, on Sydney's north shore.
Talus Street Reserve, at the headwater of Flat Rock Creek, features bushland, walking tracks, picnic tables, eight tennis courts, a clubhouse and parking area.
The land claim by the NSW Aboriginal Land Council was granted after the land was found to be claimable on the date of the claim, after Willoughby City Council leases on the site had been ruled invalid by the Supreme Court.
Agreement will be sought from the land council to create easements to ensure continued public access on walking trails, and for site maintenance access when needed.
Sections of land will be retained for the essential public purposes of a public road, public access, maintenance, and stormwater.
Metropolitan Local Aboriginal Land Council chair Allan Murray said the land will support social, cultural and economic benefits for the Aboriginal community, which in turn benefits the broader community.
"As the new owners, we look forward to moving ahead and undertaking the necessary due diligence of working with the community to understand who the stakeholders, users of the site and surrounding communities are," Mr Murray said.
"Once we know this, and with our members' support, Metropolitan LALC will be able to make an informed decision and plan for the site's future. This is an exciting time for Metropolitan LALC and our membership."
Willoughby City Council, which previously managed the reserve, welcomed the 'momentous' decision to transfer the land under the Aboriginal Lands Rights Act 2016.
"We respect and support the NSW Government's decision to grant the claim made by the Land Council as the owners and custodians of this beautiful land. Willoughby Council is committed to working collaboratively and positively with the Land Council to ensure a smooth transition," Willoughby Mayor Cr Tanya Taylor said.
"On behalf of the community, Council acknowledges the rich indigenous history of the Gammeraygal people in the area. The transfer will embed this significant indigenous heritage, drive cultural and social outcomes as it affirms Aboriginal Land Rights and supports reconciliation."
Image: Talus Street Reserve
NSW Campaigns Clean-Up And Reduce Litter
January 19, 2022
An independent evaluation of the state's Litter Prevention Program has shown litter has reduced by 43 per cent as part of the NSW Environment Protection Authority's (EPA) successful Waste Less, Recycle More campaigns since 2012.
The EPA has received a positive evaluation of its nine-year Litter Prevention Program that shows the reductions in litter surpassed the former Premier's Priority 2020 40 per cent target and has allowed us to set ambitious future litter reduction targets.
EPA Executive Director, Engagement, Education and Programs, Liesbet Spanjaard said this encouraging result has enabled the setting of a new target of reducing litter by a further 60 per cent by 2030, outlined in the Waste and Sustainable Materials Strategy 2041.
"Over-achieving on the former Premier's Priority target and reducing litter by 43 per cent enables us to continue to expand on the successful path that the Waste Less Recycle More campaigns have laid out," Ms Spanjaard said.
"The independent evaluation demonstrates that the Litter Prevention Program is providing value for money. Evidence in the report indicates that the program provides a net economic benefit to the people of NSW both through direct savings on litter clean-up and through indirect effects of improved amenity in communities and reduced environmental harm."
Highlights of the nine-year $50 million Litter Prevention Program include:
The introduction and success of Return and Earn, the NSW Container Deposit Scheme
Introduced in 2017 as an initiative to reduce beverage container litter, already over 6.5 billion containers have been returned through the scheme's network of over 620 return points. Return and Earn has contributed to an overall 52 per cent reduction in the volume of drink container litter in NSW in the last four years and has provided over $28 million in fundraising revenue for charities and community groups.
An innovative marine litter campaign
To reduce the growth of litter in our waterways and oceans and its detrimental effect on marine life, we launched an exciting marine litter campaign in March 2021. The campaign features Rocky the Lobster and his band, Rage against the Polystyrene with the new smash hit Don't be a Tosser song. The initiative builds on the successful Don't be A Tosser Campaign.
Stand-out results from the world-leading Cigarette Butt Litter Prevention Trial
In 2018, the EPA led a collaborative behaviour change trial in partnership with 16 local councils to understand what strategies are effective in reducing cigarette butt littering behaviour. Outcomes show binning rates increased from 38 per cent to 58 per cent (a 53 per cent increase in binning behaviour). For some strategies a peak binning rate of 76 per cent was achieved (a 144 per cent increase in binning behaviour). For more information, see the report and supporting video.
The EPA will build on these achievements to meet the new 60 per cent reduction target outlined in the Waste and Sustainable Materials Strategy 2041. For details of the evaluation report, visit the EPA website.
Promise Delivered On Protecting Liverpool Plains Land
More than 6,000 hectares of high biodiversity land on the Liverpool Plains will be protected for good by the NSW Government, as part of the finalisation of a $100 million agreement with Shenhua Watermark Coal Pty Limited (Shenhua).
Deputy Premier Paul Toole said the government's acquisition of the parcels of land delivers on a commitment to protect those areas, enhance native biodiversity, and help preserve key koala habitat.
"This is the beginning of a new era for farmers and the wider community on the Liverpool Plains, ending years of uncertainty," Mr Toole said.
"From today, this land will be actively managed by the Local Land Services on behalf of the government to safeguard the areas with environmental and cultural significance."
The land acquired from Shenhua includes sites at Breeza, Barraba, Mt Watermark and Tambar Springs.
Minister for Agriculture Dugald Saunders said the NSW Government is committed to not only protecting the landscape and its threatened species, but also ensuring neighbouring agricultural operations continue to thrive.
"The Liverpool Plains is home to not only some of the best agricultural land in the country but some of the most beautiful country as well," Mr Saunders said.
"This is a major boost to the protection and conservation of more than 6000 hectares of high biodiversity land and will be done in consultation with the region's Indigenous groups, environmental groups, local councils and other stakeholders.
"By working together, we can ensure the best environmental, cultural and production outcomes are achieved across the Liverpool Plains."
In April 2021 the NSW Government and the China Shenhua Energy Company Limited (Shenhua) (Shenhua Watermark Coal Pty Ltd) have reached a $100 million agreement in which Shenhua will withdraw its mining lease application and surrender its development consent for the Shenhua Watermark Coal project.
The then NSW Treasurer Dominic Perrottet said the NSW Government is committed to supporting the common sense, responsible development of our high-quality coal resources, however we are a balanced government, and we also need to protect prime agricultural land.
"The cancellation of this project will mean that no open cut coal mining can occur in the area. Coal will of course continue to be an important part of our economy and is essential to supporting jobs, and the NSW Government continues to support coal exploration in areas where it makes sense," Mr Perrottet said.
The agreement includes:
certainty for local landholders and communities
prime agricultural farmland to be preserved through the relinquishment of the Shenhua Watermark development consent and exploration licence, and the prohibition of future coal mining projects on this site
the acquisition of more than 6000 hectares of high biodiversity land to be managed by Local Land Services including the protection of habitat for koalas and other endangered species
protecting significant Indigenous cultural sites and artefacts
ensuring that water that would have been taken by the mine can continue to be used for agriculture and other productive uses.
Past Eight Years Warmest Since Modern Recordkeeping Began
January 13, 2022
Earth's global average surface temperature in 2021 tied with 2018 as the sixth warmest on record, according to independent analyses done by NASA and the National Oceanic and Atmospheric Administration (NOAA).
Continuing the planet's long-term warming trend, global temperatures in 2021 were 1.5 degrees Fahrenheit (0.85 degrees Celsius) above the average for NASA's baseline period, according to scientists at NASA's Goddard Institute for Space Studies (GISS) in New York. NASA uses the period from 1951-1980 as a baseline to see how global temperature changes over time.
Collectively, the past eight years are the warmest years since modern recordkeeping began in 1880. This annual temperature data makes up the global temperature record -- which tells scientists the planet is warming.
According to NASA's temperature record, Earth in 2021 was about 1.9 degrees Fahrenheit (or about 1.1 degrees Celsius) warmer than the late 19th century average, the start of the industrial revolution.
"Science leaves no room for doubt: Climate change is the existential threat of our time," said NASA Administrator Bill Nelson. "Eight of the top 10 warmest years on our planet occurred in the last decade, an indisputable fact that underscores the need for bold action to safeguard the future of our country -- and all of humanity. NASA's scientific research about how Earth is changing and getting warmer will guide communities throughout the world, helping humanity confront climate and mitigate its devastating effects."
This warming trend around the globe is due to human activities that have increased emissions of carbon dioxide and other greenhouse gases into the atmosphere. The planet is already seeing the effects of global warming: Arctic sea ice is declining, sea levels are rising, wildfires are becoming more severe and animal migration patterns are shifting. Understanding how the planet is changing -- and how rapidly that change occurs -- is crucial for humanity to prepare for and adapt to a warmer world.
Weather stations, ships, and ocean buoys around the globe record the temperature at Earth's surface throughout the year. These ground-based measurements of surface temperature are validated with satellite data from the Atmospheric Infrared Sounder (AIRS) on NASA's Aqua satellite. Scientists analyse these measurements using computer algorithms to deal with uncertainties in the data and quality control to calculate the global average surface temperature difference for every year. NASA compares that global mean temperature to its baseline period of 1951-1980. That baseline includes climate patterns and unusually hot or cold years due to other factors, ensuring that it encompasses natural variations in Earth's temperature.
Many factors affect the average temperature any given year, such as La Nina and El Nino climate patterns in the tropical Pacific. For example, 2021 was a La Nina year and NASA scientists estimate that it may have cooled global temperatures by about 0.06 degrees Fahrenheit (0.03 degrees Celsius) from what the average would have been.
A separate, independent analysis by NOAA also concluded that the global surface temperature for 2021 was the sixth highest since record keeping began in 1880. NOAA scientists use much of the same raw temperature data in their analysis and have a different baseline period (1901-2000) and methodology.
"The complexity of the various analyses doesn't matter because the signals are so strong," said Gavin Schmidt, director of GISS, NASA's leading center for climate modelling and climate change research. "The trends are all the same because the trends are so large."
NASA's full dataset of global surface temperatures for 2021, as well as details of how NASA scientists conducted the analysis, are publicly available from GISS (https://data.giss.nasa.gov/gistemp).
GISS is a NASA laboratory managed by the Earth Sciences Division of the agency's Goddard Space Flight Center in Greenbelt, Maryland. The laboratory is affiliated with Columbia University's Earth Institute and School of Engineering and Applied Science in New York.
For more information about NASA's Earth science missions, visit: https://www.nasa.gov/earth
Kurri Gas Plant Approval Gives Fresh Cabinet The Same Old Stink: Lock The Gate Alliance NSW - Climate Council
December 21, 2021
The state approval of the Kurri Kurri gas fired power station is a disappointing decision at a time when the world needs to embrace more renewable energy and zero carbon technology, not more polluting fossil fuel projects, states the Lock the Gate Alliance NSW .
On December 20th, 2021 the NSW Government's Planning Portal issued a notification advising stakeholders the plant had been approved. The Planning Department then retracted that approval, before the approval was later uploaded to its website. The announcement came the same day new NSW Premier Dominic Perrottet announced his Cabinet, and just days after, on 12 December 2020, the Hunter Power Project (Kurri Kurri Gas-Fired Power Station) was declared as a critical State significant infrastructure project by order under Clause 12 of Schedule 5 of State Environmental Planning Policy (State and Regional Development) 2011.
The change to becoming a State significant infrastructure project was unannounced, unlike that change to a State significant infrastructure project for the Dendrobium Coal Mine Extension Project.
The Independent Planning Commissions of NSW refused consent for the development application Dendrobium Coal Mine Extension Project (SSD8294) in accordance with Part 4 of the Environmental Planning and Assessment Act 1979 (the Act) on February 5th, 2021.
The state's planning authority found the impacts of the project outweighed the benefits.
In its reasons it said "the level of risk posed by the project has not been properly quantified and based on the potential for long-term and irreversible impacts — particularly on the integrity of a vital drinking water source for the Macarthur and Illawarra regions, the Wollondilly Shire and Metropolitan Sydney drinking water — it is not in the public interest".
The IPC also raised concerns about the longwall design, the degradation of watercourses and loss of swampland.
On Saturday December 4, 2021 Deputy Premier and Minister responsible for Resources Paul Toole said a proposal to extend Dendrobium coal mine had been declared State Significant Infrastructure (SSI) due to its importance to Port Kembla steelworks and its thousands of employees, signifying the current state government incumbents have no plans or no ideas how to shift this workforce to employment taht will not pollute the water they too will drink or save the significant environmental areas this project will impact, irreversibly.

The Kurri Kurri gas fired power station approval was signed by the then Minister for Environment and Planning, Pittwater MP Rob Stokes.
Lock the Gate Alliance NSW spokesperson Nic Clyde said it was the worst kind of Christmas present.
"The NSW Government has gifted the people of NSW not coal, but gas under the Christmas tree this year. We think most people would have preferred renewable energy, not more of the same old polluting fossil fuels," he said.
"This is a $610m white elephant that Australia doesn't need, it will waste scarce public funding that is desperately needed elsewhere, and it will drive up energy prices, not bring them down.
"It's anticipated it will only operate two percent of the time, but will be creating local and greenhouse pollution when it does.
"Worse still, the plant could incentivise Santos to proceed with its destructive Narrabri coal seam gasfield - so people in NSW can expect more damage to land and water and higher energy costs to boot."
Australia's Climate Council states the May 2021 announcement by the Morrison Government it will commit up to $600 million of public funds to the new gas-fired power station at Kurri Kurri, in the New South Wales Hunter Valley, is utilising 'sneaky,' unallocated funding from the Federal Budget to put public money towards the 660 megawatt open cycle gas turbine, which will be built by the government-owned company Snowy Hydro Limited.
''Building a government-owned fossil fuel gas power station in the middle of a climate crisis is the equivalent of asking the Australian public to jump onto a sinking ship without a safety raft.'' the Climate Council stated
Victory For NT Community As Pitt's Methodology Renders Empire Fracking Grants Void
December 23, 2021
Protect Country Alliance wholeheartedly congratulates the Environment Centre NT on its hard fought victory against Resource Minister Keith Pitt's foolish decision to grant millions in public funds to fracking company Empire Energy's subsidiary Imperial Energy.
With the Environmental Defenders Office, the ECNT took Mr Pitt to the Federal Court and argued that he had failed to make proper inquiries into a range of matters before granting Imperial Energy $21 million for its NT fracking program.
Today, the Court ruled in the ECNT's favour, finding the government's decision to enter into the contract with Empire Energy was legally unreasonable, because it occurred while legal proceedings were underway. The contracts are now considered void.
"This decision exposes the appalling and reckless behaviour of Mr Pitt, who arrogantly approved the grants despite an active legal case and thus breached common law model litigant obligations," said Protect Country Alliance spokesperson Dan Robins.
"This reveals yet again that the Morrison Government's rush to throw billions in public money at gas giants is blatant corporate welfare that undermines our democracy.
"This case also opens the door to a range of future legal challenges against government ministers who fail to act in accordance with the law when making decisions about fracking projects.
"Thanks to the tremendous hard work of the ECNT and Environmental Defenders Office, a line has been drawn in the sand.
"Keith Pitt's decision to spend taxpayer money on the fracking industry was always questionable, and now, thanks to today's ruling, we know he made a grave error in the eyes of the law.
"Territorians don't want to see public money wasted on fracking projects that will threaten groundwater, that are opposed by Traditional Owners, and that will drive the climate crisis and ever more terrifying extreme weather events."
Territory Frack Fest Free For All: Origin Exploration Plan A Terrifying Indicator Of What's To Come
January 14, 2022
Origin Energy's newly released Environment Management Plan for four exploratory frack wells in the Northern Territory provides a terrifying glimpse into the future and the water that will be required if full scale production goes ahead, according to Protect Country Alliance.
The EMP, which was published yesterday, concerns Origin's Amungee and Velkerri projects, which will host two new wells each and are located southeast of Daly Waters. It brings the number of exploratory fracking wells owned by Origin in the area to six in total.
The plan reveals the company expects to use 525 million litres of water during the three year project, which it will access from the Gum Ridge formation - the equivalent of about 210 Olympic sized swimming pools.
The sheer volume of water required for the exploratory project prompted concern from local pastoralists and Traditional Owners, however these concerns were brushed aside by Origin in its EMP. Several pastoralist water bores surround Origin's project which rely on the Gum Ridge formation.
The documents also reveal fracking the four wells will lead to the creation of about 56 million litres of salt-heavy wastewater.
PCA also has concerns about the use of phytotoxins in Origin's fracking fluid concoction, owing to the presence of stygofauna (aquatic animals that live in groundwater) in aquifers beneath the drilling site that may be impacted.
As well, Origin plans to use chemicals described as "possible carcinogens" in its fracking fluid slurry.
PCA spokesperson Graeme Sawyer said the sheer amount of water required for just four wells offered a deeply concerning window into how much water would be lost if the fracking industry reached production phase in the Territory.
"The impact of Origin's exploratory fracking wells on Territory groundwater aquifers is worrying enough, but this is really just the tip of the iceberg if the company decides to ramp up to full throttle production," he said.
"Origin will be using vast quantities of groundwater to drill and frack and that will come at a huge cost to cultural values, other water users, and the environment.
"What's also worrying is the NT Gunner Government is still yet to implement a water allocation plan for the Beetaloo. It's paved the way for the thirsty frackers, but with no way to know how water will be safeguarded for communities.
"The experience in Queensland and the USA shows us that once commercial production begins, fracking wells multiply like pockmarks across the landscape, polluting waterways, and industrialising rural landscapes with a network of well pads, pipelines, and access roads.
"We can't allow this destruction in the Territory and we certainly can't afford the climate risks of these projects - Territory weather extremes are already severe and rapidly worsening.
"The use of toxins in fracking fluid that are harmful to stygofauna demonstrates the importance of Strategic Regional Environmental and Baseline Assessment (SREBA).
"Unfortunately this unfinished process has already been mired in controversy and accusations of government bias in favour of the fracking industry."
Fracking Queensland's Lake Eyre Basin Could Unleash 300 Million Tonnes Of GHG Each Year: New Report Findings
January 13, 2022
New expert analysis undertaken by Professor Ian Lowe reveals the shocking amount of greenhouse gas emissions that would be released if the fracking industry is allowed to develop gasfields in the Queensland Channel Country floodplains of the Lake Eyre Basin.
Professor Lowe's report reveals that even under a "low development" scenario, fracking in the basin would make it nearly impossible for the Queensland Palaszczuk Government to meet its stated 2030 GHG emissions reduction targets.
Under a "high development" scenario, the fracking industry in the basin would be responsible for about 190 million tonnes per annum of fugitive and domestic emissions, and 300 million tonnes of emissions if the burning of the gas was taken into account. Australia's annual domestic GHG emissions are roughly 500 million tonnes.
Professor Lowe's report reveals the high emissions figures are because:
The petroleum resources in the Lake Eyre Basin contain extremely high levels of carbon dioxide (around 30%), which would have to be vented or otherwise disposed of, making them some of the most polluting gasfields in Australia.
Production of gas inevitably also results in direct methane leakage (known as fugitive emissions) and methane is a very potent greenhouse gas.
Professor Lowe said, "If we are serious about net zero emissions by 2050, then it is criminally irresponsible for governments to be approving new fossil fuel projects.
"Approving fracking in the Channel Country would ensure the Queensland Government fails to meet its stated emissions reduction target."
The release of the report comes after the Palaszczuk Government was accused of conducting "sham consultation" with Traditional Owners and the wider community in the Channel Country, after it approved Origin Energy petroleum leases across more than 250,000 hectares near Windorah.
Lock the Gate Alliance Queensland spokesperson Ellie Smith urged the Palaszczuk Government to honour its past election promises and protect the floodplains of the Lake Eyre Basin from fracking.
She said Professor Lowe's report showed sacrificing the floodplains to fracking would make the job of emissions reductions in every other sector of the state's economy that much harder.
"This report confirms what we have long suspected - fracking this unique and spectacular part of Queensland will release a carbon bomb at a time when the world desperately needs to reduce greenhouse gas emissions," she said.
"If the Lake Eyre Basin is opened up to fracking the Queensland Palaszczuk Government will need to find its planned emissions reductions elsewhere.
"That means manufacturing businesses, agriculture, the transport sector, and Queensland households will all have to make up for the extra emissions of between 16 and 40 million tonnes of CO2 equivalent every year on top of existing reduction commitments just so companies like Origin can rip through another precious part of our state for profit.
"Sacrificing Queensland's Lake Eyre Basin rivers and floodplains to fracking will harm the communities and the world class organic beef industry of Far Western Queensland.
"It will threaten the Channel Country's free flowing desert rivers, which are among the last desert rivers not seriously compromised by human activity on the planet.
"It would be a travesty to allow thousands of fracking gas wells, roads and pipelines to destroy these floodplains in order to build the dirtiest, most polluting gasfields in Australia."
previously:
In 2020, a leaked document revealed the Queensland Government's own scientists deemed fracking the sensitive Channel Country floodplains of the Lake Eyre Basin too risky.
New Fracking Plan For The Kimberley
January 18, 2021
A new fracking project in the Great Sandy Desert area of WA's Kimberley region that will require nearly 18 million litres of water is the thin edge of the wedge as the McGowan Government continues to roll out the red carpet to the oil and gas industry, states the WA Lock the Gate Alliance.
The WA Environmental Protection Authority today published Theia Energy's proposal to drill two "exploration" wells on the company's tenement south east of Broome, giving the public just six days to respond.
While the application is for one vertical and one horizontal well, with plans by Theia to frack the horizontal well, the company has previously flagged intentions to build thousands of wells across its tenements, by comparing the Kimberley's resources to that of the Eagle Ford Shale in the USA, where 24,000 wells have been drilled since 2008.
Media has also reported previously that the company is targeting "as much as 57 billion barrels of oil in the desert location". If such a plan was realised, it would make Theia Australia's largest oil producer.
The company's new plan also reveals the exploratory drilling project would result in the creation of nearly eight million litres of "flowback" or waste water from only two wells.
"This is typically what we expect from fracking companies - they start off with a handful of exploratory wells, and once production approval is granted, they build frack fields that spread like spider webs across the landscape," said Lock the Gate Alliance WA spokesperson Claire McKinnon.
"It's extremely concerning that for just one exploratory well, Theia plans to use 18 million litres of water from a local aquifer beneath a desert. The amount of water that would be required for a fully fledged fracking industry in the Kimberley is truly terrifying.
"Fracking projects leak massive plumes of climate-heating methane into the atmosphere. The fugitive emissions from Theia's frack field will fuel the climate crisis even before the gas or oil is burnt.
"Australia is the driest inhabited continent on earth, and the place where Theia wants to frack is among the driest places in Australia. Water is so very precious here - it should not be sacrificed to dirty, polluting fracking companies.
"It is madness the McGowan Government is even considering these fracking projects. They must be rejected."
Draft Cycling Strategy For NSW's National Parks
The Draft Cycling Policy, Draft Cycling Strategy and Draft Cycling Strategy: Guidelines for Implementation is on public exhibition until 30 January 2022.
The scope of this new strategy is broad. It includes all types of cycling experiences in our parks. It is complemented with a more detailed set of guidelines for implementation and updates to our Cycling policy.
The Draft Cycling policy builds upon our experience from previous versions and has been updated in parallel to the draft strategy. It identifies in a legislative framework where cycling is permissible in parks.
The Draft Cycling Strategy outlines our vision, objectives and priorities for the provision of cycling experiences.
The Draft Cycling Strategy: Guidelines for Implementation provides further details on the processes and procedures that National Parks and Wildlife Service (NPWS) will apply to assess, approve, manage and monitor cycling opportunities within NPWS estate as detailed in the Cycling Strategy.
The draft Cycling Strategy sets a precedent for managing the conservation of natural and cultural heritage values in our parks as a priority and then allows for the development of compatible cycling opportunities. Not all cycling activities will be suitable in all parts of parks.
The draft Cycling Strategy details a clear framework for how we seek to provide for, and manage, cycling opportunities within parks. The processes for cyclists to work with National Parks and Wildlife Service are made clear. We intend to work collaboratively with stakeholders and other land managers to tackle key challenges including, unauthorised tracks, the safety and enjoyment of visitors on multi-use trails and the provision of park visitor facilities.
The draft Guidelines for Implementation address the way we will deliver the Cycling Strategy, including the approval process for new tracks and networks, the rehabilitation of unauthorised tracks, how we will work with external parties (including volunteer groups) and our management of cycling experiences. These documents will replace the Sustainable Mountain Biking Strategy 2011.
Public online presentation
You are invited to an online public presentation on Wednesday, 1 December, 12:00 – 1:00pm. Please register to attend this presentation.
Your feedback on the draft Cycling Policy, strategy and implementation guideline documents is valued. Our response to your submission will be based on the merits of the ideas and issues you raise rather than just the quantity of submissions making similar points. For this reason, a submission that clearly explains the matters it raises will be the most effective way to influence the finalisation of the plan.
Submissions are most effective when we understand your ideas and the outcomes you want for park management. Some suggestions to help you write your submissions are:
write clearly and be specific about the issues that are of concern to you
note which part or section of the document your comments relate to
give reasoning in support of your points - this makes it easier for us to consider your ideas and will help avoid misinterpretation
tell us precisely what you agree/disagree with and why you agree or disagree
suggest solutions or alternatives to managing the issue if you can.
Have your say by Thursday 30 January 2022.
There are three ways to provide feedback:
Formal submission: Address: Manager, NPWS Planning Evaluation and Assessment Locked Bag 5022 Parramatta NSW 2124
Home Design To Drive Energy Bills Down
November 22, 2021
New sustainability standards for homes will save residents up to $980 a year on energy bills and reduce the State's carbon footprint as we move to net-zero emissions by 2050.
The Building Sustainability Index (BASIX) is a key assessment tool that ensures new homes are comfortable to live in regardless of the temperature, are more energy efficient and save water.
Minister for Planning and Public Spaces Rob Stokes said BASIX had prevented 12.3 million tonnes of greenhouse gas over the past 17 years – equivalent to taking 2.5 million cars off the road.
"These proposed increases in standards will see more energy-efficient homes from Double Bay to Dubbo and beyond, with better design, better insulation, more sunlight and more solar panels," Mr Stokes said.
"We want to lift BASIX standards even higher to drive down emissions further, saving another 150,000 tonnes a year and helping to achieve net-zero emissions by 2050.
"Better design will keep your home naturally cooler in summer and warmer in winter, so you won't be turning the heater or air conditioner on as often.
Energy bills are expected to reduce significantly as a result of the new BASIX standards:
Savings of up to $190 each year for people living in high-rise apartments;
Savings of up to $850 each year for people living in new Western Sydney houses; and
Savings of up to $980 a year for people living in new houses in the regions.
"To showcase the benefits of these new measures, we're inviting up to 10 builders to test the proposed BASIX requirements ahead of its official roll out next year," Mr Stokes said.
These new targets complement work underway, such as planting one million trees and investing $4.8 million to make building materials more environmentally friendly.
The community is encouraged to provide feedback on the proposed BASIX changes by Monday 31 January, 2022 at planningportal.nsw.gov.au/BAS IX- standards
New University Of QLD Conservation Tool Calculates The Optimal Time To Spend Researching A Habitat Before Protecting It
January 13, 2022
Deciding when to stop learning and take action is a common, but difficult decision in conservation. Using a new method, developed by researchers at The University of Queensland, The University of British Columbia and CSIRO (Australia's national science agency), this trade-off can be managed by determining the amount of time to spend on research at the outset. The findings are published in the British Ecological Society journal Methods in Ecology and Evolution.
The work provides guidelines on the effective allocation of resources between habitat identification and habitat protection, predicting the optimal time to spend learning even when relatively little is known about a species and its habitat. Determining the optimal timing for habitat protection is vital if we are to ensure effective, long-term protection.
Dr Abbey Camaclang, The University of Queensland and lead author of the study, said: "Habitat protection can be more effective when we know more about species and their habitat needs, but delaying protection to improve our knowledge can result in continued habitat loss and population declines."
Using a simple model, the new method calculates how long we should spend improving our knowledge of a species' habitat before deciding which areas to protect, based upon an estimated rate of habitat loss and speed of acquiring knowledge. The researchers tested the method on two threatened species, the koala and northern abalone (a sea snail). They found that optimal time to spend learning is short when the threats are high. When habitat loss is low, the species benefit from greater knowledge, leading to an increased proportion of the species' habitat being protected.
Dr Camaclang explained: "Delaying habitat protection to improve our knowledge may sometimes be beneficial, but it is often better to protect habitats immediately rather than wait for more information when rates of habitat loss are high."
Professor Possingham, one of the co-authors at The University of Queensland, added "All too often ecologists will delay action on the ground to seek more and more data, ignoring the fact that time and money are limited resources in conservation."
Protecting habitat is the most valuable action for conservation, but it requires understanding the habitat requirements for the species of interest. Timely decisions can save species from extinction, but acting too soon might lead to protecting the wrong habitat -- a costly decision that is often irreversible.
The optimal timing for habitat protection also depends on the amount of non-habitat we can afford to protect. Any land that is incorrectly identified as habitat and protected unnecessarily can lead to conflict with other land uses.
The new method developed in this study has potential to be used in other areas of conservation decision-making. For example, to minimize the impact of harvesting wild plants and animals or manage the detrimental effects of invasive species. The approach can also be built on further, to provide guidance on optimising on-the-ground surveys, thus enabling conservationists to use time and funds most efficiently.
Abbey E. Camaclang, Iadine Chadès, Tara G. Martin, Hugh P. Possingham. Predicting the optimal amount of time to spend learning before designating protected habitat for threatened species. Methods in Ecology and Evolution, 2022; DOI: 10.1111/2041-210X.13770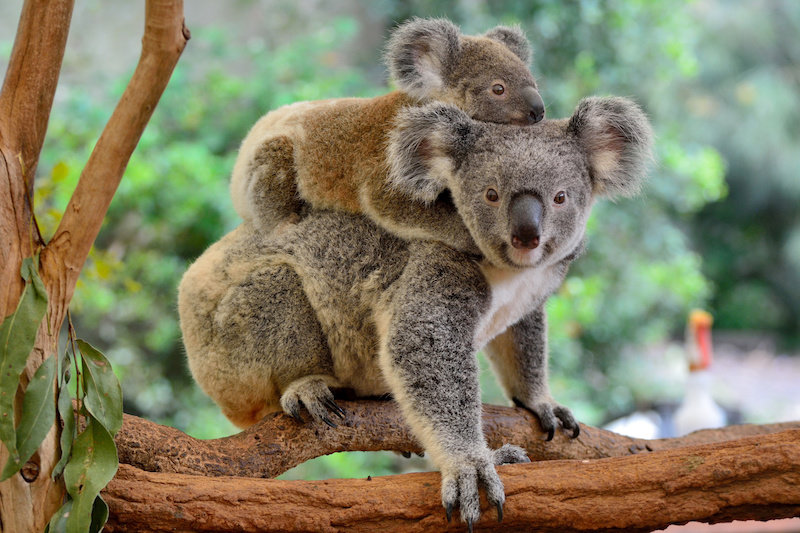 The study investigates how long we should spend improving our knowledge of a species' habitat before deciding which areas to protect, using the koala and northern abalone as examples

Lost Birds And Mammals Spell Doom For Some Plants: Animal-Dispersed Plants' Ability To Keep Pace With Climate Change Reduced By 60%
January 13, 2022
In one of the first studies of its kind, researchers have gauged how biodiversity loss of birds and mammals will impact plants' chances of adapting to human-induced climate warming.
More than half of plant species rely on animals to disperse their seeds. In a study featured on the cover of this week's issue of Science, U.S. and Danish researchers showed the ability of animal-dispersed plants to keep pace with climate change has been reduced by 60% due to the loss of mammals and birds that help such plants adapt to environmental change.
Researchers from Rice University, the University of Maryland, Iowa State University and Aarhus University used machine learning and data from thousands of field studies to map the contributions of seed-dispersing birds and mammals worldwide. To understand the severity of the declines, the researchers compared maps of seed dispersal today with maps showing what dispersal would look like without human-caused extinctions or species range restrictions.
"Some plants live hundreds of years, and their only chance to move is during the short period when they're a seed moving across the landscape," said Rice ecologist Evan Fricke, the study's first author.
As climate changes, many plant species must move to a more suitable environment. Plants that rely on seed dispersers can face extinction if there are too few animals to move their seeds far enough to keep pace with changing conditions.
"If there are no animals available to eat their fruits or carry away their nuts, animal-dispersed plants aren't moving very far," he said.
And many plants people rely on, both economically and ecologically, are reliant on seed-dispersing birds and mammals, said Fricke, who conducted the research during a postdoctoral fellowship at the University of Maryland's National Socio-Environmental Synthesis Center (SESYNC) in collaboration with co-authors Alejandro Ordonez and Jens-Christian Svenning of Aarhus and Haldre Rogers of Iowa State.
Fricke said the study is the first to quantify the scale of the seed-dispersal problem globally and to identify the regions most affected. The authors used data synthesized from field studies around the world to train a machine-learning model for seed dispersal, and then used the trained model to estimate the loss of climate-tracking dispersal caused by animal declines.
He said developing estimates of seed-dispersal losses required two significant technical advances.
"First, we needed a way to predict seed-dispersal interactions occurring between plants and animals at any location around the world," Fricke said.
Modelling data on networks of species interactions from over 400 field studies, the researchers found they could use data on plant and animal traits to accurately predict interactions between plants and seed dispersers.
"Second, we needed to model how each plant-animal interaction actually affected seed dispersal," he said. "For example, when an animal eats a fruit, it might destroy the seeds or it might disperse them a few meters away or several kilometres away."
The researchers used data from thousands of studies that addressed how many seeds specific species of birds and mammals disperse, how far they disperse them and how well those seeds germinate.
"In addition to the wake-up call that declines in animal species have vastly limited the ability of plants to adapt to climate change, this study beautifully demonstrates the power of complex analyses applied to huge, publicly available data," said Doug Levey, program director of the National Science Foundation's (NSF) Directorate for Biological Sciences, which partially funded the work.
The study showed seed-dispersal losses were especially severe in temperate regions across North America, Europe, South America and Australia. If endangered species go extinct, tropical regions in South America, Africa and Southeast Asia would be most affected.
"We found regions where climate-tracking seed dispersal declined by 95%, even though they'd lost only a few percent of their mammal and bird species," Fricke said.
Fricke said seed-disperser declines highlight an important intersection of the climate and biodiversity crises.
"Biodiversity of seed-dispersing animals is key for the climate resilience of plants, which includes their ability to continue storing carbon and feeding people," he said.
Ecosystem restoration to improve the connectivity of natural habitats can counteract some declines in seed dispersal, Fricke said.
"Large mammals and birds are particularly important as long-distance seed dispersers and have been widely lost from natural ecosystems," said Svenning, the study's senior author, a professor and director at Aarhus University's Center for Biodiversity Dynamics in a Changing World. "The research highlights the need to restore faunas to ensure effective dispersal in the face of rapid climate change."
Fricke said, "When we lose mammals and birds from ecosystems, we don't just lose species. Extinction and habitat loss damage complex ecological networks. This study shows animal declines can disrupt ecological networks in ways that threaten the climate resilience of entire ecosystems that people rely upon."
NSF's Levey said, "Through SESYNC and other NSF investments, we are enabling ecologists to forecast what will happen to plants when their disperser 'teammates' drop out of the picture in the same way we predict outcomes of sports games."
The research was supported by NSF (1639145), the Villum Foundation (16549) and the Aarhus University Research Foundation (AUFF-F-2018-7-8) and is published in Science, January 2022 edition.
Evan C. Fricke, Alejandro Ordonez, Haldre S. Rogers and Jens-Christian Svenning. The effects of defaunation on plants' capacity to track climate change. Science, 2022 DOI: 10.1126/science.abk3510
Researchers Find Nonnative Species In Oahu Play Greater Role In Seed Dispersal
January 11, 2022
University of Wyoming researchers headed a study that shows nonnative birds in Oahu, Hawaii, have taken over the role of seed dispersal networks on the island, with most of the seeds coming from nonnative plants.
"Hawaii is one of the most altered ecosystems in the world, and we are lucky enough to examine how these nonnative-dominated communities alter important processes, such as seed dispersal," says Corey Tarwater, an assistant professor in the UW Department of Zoology and Physiology. "What we have found is that not only do nonnative species dominate species interactions, but that these nonnative species play a greater role in shaping the structure and stability of seed dispersal networks than native species. This means that loss of a nonnative species from the community will alter species interactions to a greater extent than loss of a native species."
Tarwater was the anchor author of a paper, titled "Ecological Correlates of Species' Roles in Highly Invaded Seed Dispersal Networks," which was published Jan. 11 in the Proceedings of the National Academy of Sciences (PNAS).
Jeferson Vizentin-Bugoni, a postdoctoral researcher at UW and the U.S. Army Research Laboratory at the time of the research, is the paper's lead author. He performed most analyses and conceptualized and outlined the first version of the manuscript.
Becky Wilcox, of Napa, Calif., a recent UW Ph.D. graduate and now a postdoctoral researcher, and Sam Case, of Eden Prairie, Minn., a UW Ph.D. student in the Program in Ecology as well as in zoology and physiology, worked with Tarwater. The two aided in field data collection, processing all of the footage from the game cameras, and assisted in writing the paper. Patrick Kelley, a UW assistant research scientist in zoology and physiology, and in the Honors College, helped with developing project ideas, data processing and management, and writing the paper.
Other researchers who contributed to the paper are from the University of Hawaii, University of Illinois, Northern Arizona University and the U.S. Army Corps of Engineers in Champaign, Ill.
"This is one of the first studies showing that nonnative species can take over the most important roles in seed dispersal networks. This means that Oahu's ecosystems have been so affected by species extinctions and invasions that most of the seeds dispersed on the island belong to nonnative plants, and most of them are dispersed by nonnative birds," Vizentin-Bugoni says. "This forms what has been called 'ecological meltdown,' which is a process occurring when nonnative mutualistic partners benefit each other and put the system into a vortex of continuous modification."
Seed dispersal by animals and birds is one of the most crucial ecosystem functions. It is linked to plant population dynamics, community structure, biodiversity maintenance and regeneration of degraded ecosystems, according to the paper.
Before Hawaii became the extinction and species invasion capital of the world, its ecological communities were much more diverse. Experts estimate that, in the last 700 years, 77 species and subspecies of birds in the Hawaiian Archipelago have gone extinct, accounting for 15 percent of bird extinctions worldwide.
"The Hawaiian Islands have experienced major changes in flora and fauna and, while the structure of seed dispersal networks before human arrival to the islands is unknown, we know from some of our previous work, recently published in Functional Ecology, that the traits of historic seed dispersers differ from the traits of introduced ones," Case says. "For instance, some of the extinct dispersers were larger and could likely consume a greater range in seed sizes compared to the current assemblage of seed dispersers."
Because of the large number of invasive plants and the absence of large dispersers, the invasive dispersers are incompletely filling the role of extinct native dispersers, and many native plants are not being dispersed, Tarwater says. On the island of Oahu, 11.1 percent of bird species and 46.4 percent of plant species in the networks are native to the island. Ninety-three percent of all seed dispersal events are between introduced species, and no native species interact with each other, the paper says.
"Nonnative birds are a 'double-edged sword' for the ecosystem because, while they are the only dispersers of native plants at the present, most of the seeds dispersed on Oahu belong to nonnative plants," Vizentin-Bugoni says. "Many native plant species have large seeds resulting from coevolution with large birds. Such birds are now extinct, and the seeds cannot be swallowed and, thus, be dispersed by the small-billed passerines now common on Oahu."
Researchers compiled a dataset of 3,438 faecal samples from 24 bird species, and gathered 4,897 days of camera trappings on 58 fruiting species of plants. It was determined that 18 bird species were recorded dispersing plant species.
In contrast to predictions, the traits that influence the role of species in these novel networks are similar to those in native-dominated communities, Tarwater says.
"In particular, niche-based traits, such as degree of frugivory (animals that feed on fruit, nuts and seeds) and lipid content, rather than neutral-based traits, such as abundance, were more important in these nonnative-dominated networks," Tarwater says. "We can then use the niche-based traits of dispersers and plants to predict the roles species may play in networks, which is critical for deciding what species to target for management."
Tarwater adds that the roles of different species in Oahu's seed dispersal networks can be predicted by the species' ecological traits. For example, the research group found that bird species that consume a greater amount of fruit in their diets are more likely to disperse seeds from a greater number of plant species. Likewise, the team found that plants that fruit for extended periods of time have smaller seeds and have fruits rich in lipids, will get dispersed more frequently.
"Land managers can use these ecological traits to identify species that can be removed or added to a system to improve seed dispersal," Tarwater explains. "For example, removal of highly important nonnative plants or the addition of native plants with traits that increase their probability of dispersal, could aid in restoration efforts."
Kelley and Tarwater obtained funding for the project. The research was funded by a U.S. Department of Defense award, UW, University of Hawaii, University of New Hampshire and Northern Arizona University.
"This upcoming year, we will be experimentally removing one nonnative plant species that is incredibly important for network structure and examining how the seed dispersal network changes in response," Tarwater says. "The results of this experiment can inform land managers as to whether removal of a highly invasive plant will improve seed dispersal for the remaining native plants, or whether it does not."
Jeferson Vizentin-Bugoni, Jinelle H. Sperry, J. Patrick Kelley, Jason M. Gleditsch, Jeffrey T. Foster, Donald R. Drake, Amy M. Hruska, Rebecca C. Wilcox, Samuel B. Case, Corey E. Tarwater. Ecological correlates of species' roles in highly invaded seed dispersal networks. Proceedings of the National Academy of Sciences, 2021; 118 (4): e2009532118 DOI: 10.1073/pnas.2009532118
Avalon Golf Course Bushcare Needs You
We're so short of helpers we've had to cancel for the time being. Meanwhile the weeds will go gangbusters.
We used to meet on the second Wednesday afternoon of each month. Could you come if we worked on another day or time? say a morning, or on a weekend day?
Contact Geoff Searl on 0439 292 566 if you'd like to help. He'd love to hear from you.
We have fun using the Tree Popper, here with our supervisor from Dragonfly Environmental. We can lever out quite big Ochnas, aka Mickey Mouse plant from Africa. We want to bring back the bush, not let the weeds win!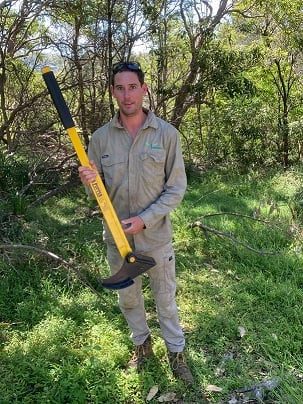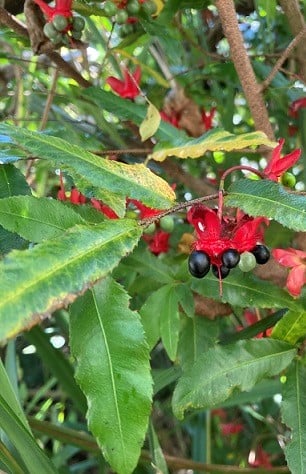 Ochna or Mickey Mouse plant has yellow flowers in spring, then lots of green berries that turn black when ripe. Seedlings come up in hundreds. Ochna has a very strong taproot but the steady pressure of the Tree Popper lifts the plant out of the ground easily. The alternative control is repeated scraping and painting with Roundup, very slow and time consuming. If you have an Ochna you cant remove, you can enjoy the flowers, then PLEASE prune it so that berries can't develop.
Students Defy Lockdown With HSC Glory
Students who endured the toughest lockdown restrictions during NSW's COVID-19 lockdown last year have shone in the HSC First in Course list. Of the 89 schools represented in the First in Course release announced today, 14 of the 33 government schools included are located in the Local Government Areas of concern that suffered the highest infection rates.
Students in these areas were unable to attend their schools for more than 16 weeks and were subject to strict rules around their movements outside their homes.
Deb Summerhayes, executive director of the Metropolitan South and West School Performance Directorate, said the success of these students was amazing news that should be celebrated.
"This is an amazing achievement from students who were significantly impacted by the lockdowns in the LGAs of concern," she said.
"The outstanding results are a testament to the commitment, hard work and resilience of the students and the dedication and relentless focus of their teachers and schools in ensuring continuity of learning and wellbeing support throughout an incredibly challenging 2021."
Among those honoured was Prairiewood High School's Michelle Ung, who was one of three girls to share the top spot in Advanced English.
Michelle was supported in her studies with the Public Education Foundation Agnus Borsody scholarshipExternal link and recently received a Susan & Isaac Wakil FoundationExternal link scholarship to help her undertake tertiary study in 2022.
Prairiewood High School principal Belinda Giudice paid tribute to the 2021 HSC cohort.
"We are incredibly proud of Michelle and the entire 2021 HSC cohort. Students' have displayed strong resilience and work ethic whist teachers and leaders have balanced high academic standards with genuine care for student wellbeing," she said.
Michelle said while she was confident she had done well, she had not expected to top the State.
The child of Cambodian refugees, she said her parents considered it a great achievement and were extremely proud.
She admitted the lockdown had not made the HSC experience easy and said the study bubbles at school in Term 4 had been a great help.
"It was very difficult under lockdown. There were many challenges and finding the right study techniques was hard," she said.
Michelle, who is planning to study a Bachelor of Commerce/Law at UNSW, said her teachers had been great motivators.
"They would give us a lot of pep talks especially during our zoom lessons to keep us going," she said.
Other First in Course places from students from schools within the LGAs of concern went to:
Roaa Amhed, Arabic Continuers, Beverly Hills Girls High
Melissa Tieve, Chinese Continuers, Bonnyrigg High School
Andjela Nikolic, Business Services Examination, Bossley Park High School
Elena Stojcevski, Business Studies, East Hills Girls Technology High School
Daania Alameddine, Family and Community Studies, Fairvale High School
Moksh Bhatia, Investigating Science, Hurlstone Agricultural High School
Ayeshah Baig, German Beginners, Mitchell High School
Marcin Konczyk, Polish Continuers, Secondary College of Languages Ashfield Boys Campus
Princess Marcos, Filipino Continuers, Secondary College of Languages Bankstown Girls Campus
Christina Solyom, Hungarian Continuers, Secondary College of Languages Bankstown Girls Campus
Teona Petreska, Macedonian Continuers, Secondary College of Languages Bankstown Girls Campus
Ting Jun Liang, Chinese in Context, Secondary College of Languages Birrong Boys Campus
Marta Abicic, Croatian Continuers, Secondary College of Languages Liverpool Boys Campus
Lisa David, Khmer Continuers, Secondary College of Languages Liverpool Girls Campus
Anika Popovic, Serbian Continuers, Secondary College of Languages Liverpool Girls Campus
Lovisha Gangwani and Harkirat Singh, Punjabi Continuers, Secondary College of Languages The Hills Sports Campus.
In other results Hornsby Girls High School had three First in Course spots with two secured by Kate Chipman, who topped the State in English Extension 1 and Modern History, and Jessica Lui earning the Legal Studies award.
First in Course announcements include Alysha Airey, Northern Beaches Secondary College Manly Campus, First in Course; Japanese Extension, Andre Stefan Mitchell, Northern Beaches Secondary College Manly Campus, First in Course; Physics.

North Sydney Boys High and Sydney Boys High also had three first places while Merewether High School in Newcastle had two top places.
The NSW School of Languages had six First in Course winners while the Secondary College of Languages secured 17 winners across its various campuses.
Hornsby Girls High principal Dr Justin Briggs said the school was "incredibly proud of all of our students for the amazing effort they have put into their studies".
"Kate, our school captain, is an outstanding and highly disciplined young woman with the world at her feet. To achieve a first place in the HSC is an incredible achievement.
"Well done also to Jessica, who has also performed at a very high level throughout her studies. Some very good news for our school community."
Kate, who will go to the Australian National University to complete a double degree in International Studies and Politics, Philosophy and Economics, said she was "very, very, very surprised" by the result.
"I'm totally shocked but very happy," she said.
While Hornsby Girls High was not in an LGA of concern, Kate was impacted as her home was within the hard lockdown zone and she missed over a term of face-to-face learning.
The teenager said she had not done anything special in those two subjects, but credited her success down to great teachers and enjoying the subjects.
"I had two really amazing teachers who were really supportive during lockdown and went above and beyond in being available on zoom and emails and [English and Modern History] were my two favourite subjects so I just genuinely enjoyed them."
First in Course winners from public schools were spread across the State with Jadzia Wolff, from Kingscliff High School near the Queensland border, one of four students to top Drama.
Eight students shared the Advanced Mathematics First in Course honour including Karina Kuang, from Willoughby Girls High, who was one of two girls included in the list, along with Fort Street High School student Gordon Huang and Sarfaraz Ahmed from Sydney Boys High School.
Sydney Boys High School's Hanyang Zheng secured Mathematics Extension 1 and Luchith Thenuwara, from Baulkham Hills High School was first in Mathematics Extension 2.
NSW Secondary College of Languages principal Sana Zreika said 2021 has been particularly challenging for the students.
"This was a uniquely impacted HSC cohort, who had engaged with online learning twice in their preliminary year, only to be faced with a return to remote learning in the lead-up to their final school assessment and the HSC itself,". she said.
More than 3,000 students at SCL transitioned to online learning for an extended period in Term 3 and Term 4 in 2021, and 872 HSC candidates successfully completed their Trial examinations online.
"Our HSC students have demonstrated extraordinary strength, adaptability and resilience," Ms Zreika said.
About 76,000 HSC students who sat at least one exam in 2021 received their results by SMS, email and online from January 20th.
Minister for Education Sarah Mitchell said 149 certificates will be presented to 139 students, with nine topping more than one course.
"The future looks so bright for the inspiring young people who we will celebrate today, and for all HSC students who showed great perseverance and resilience in their final years of school," Ms Mitchell said
"Combined with their abilities and skills, First in Course recipients have shown what can be achieved when there is a real commitment to learning – a quality which will hold them in good stead for the future.
"I am sure the Class of 2021 are already looking to the future and are ready to take on work, training and further studies.
"As always, my thanks goes to the experienced and dedicated NSW teachers who, along with family and friends, have supported and encouraged these young people to achieve at the top of their class."
All Round Achievers, Top Achievers and Distinguished Achievers are published on the NESA website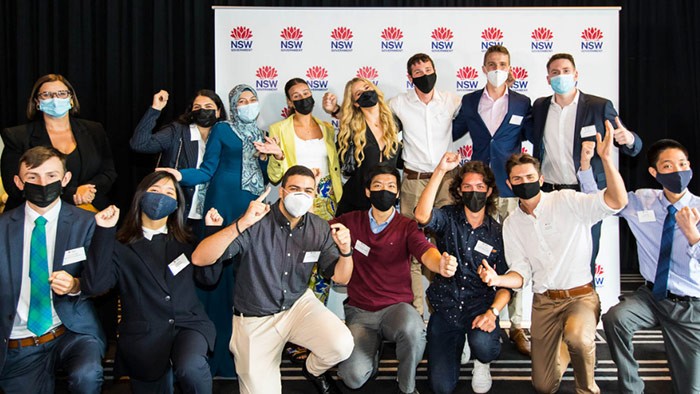 Top of the State: NSW Education Minister Sarah Mitchell with some of the students from the First in Course ceremony held on January 19, 2022. NSW Dept. of Education photo

"Islas Afortunadas" - Fire Island
published January 17 2022 by Surfing Visions (Tim Bonython)
I am an Aussie who thought Nazare's big waves was the only Atlantic spot that could excite me due to the monstrous surf it manufacturers. But when i went to this island group i realised there is a lot more to be discovered in the big wave domain. "Islas Afortunadas" - Fire Island is one of a series of volcanic islands that has some serious slabbing waves that really stand up as world class only if you have the balls to surf them. Mostly reef breaks Fire Island's slabs are not for the up & comers. Enjoy..
Good Vibrations
Published January 13, 2022 by the Australian Antarctic Division
They're the loudest sounds you'll never hear! Antarctic blue and fin #whales have the most powerful calls on earth, but their very low frequency makes them inaudible to humans. New science provides the first estimates of the power or 'source level' of these calls in the southern hemisphere.
AvPals: Suspension Of Activities Until March 2022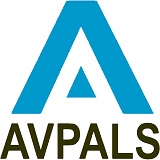 AvPals regret to announce the suspension of all our activities until March 2022. This is of course due to the ongoing Covid issues. We can see no reason why we should not resume normal training in early March 2022 and we invite you to follow
this webpage
or read our newsletters.
Subscribe HERE
if you do not receive our newsletters.
Apply now for one-to-one training in 2022
Add your name to the wait list at Avalon for future school terms. Complete the form
HERE
. Remember to click the Submit button after completing the form. You will not be enrolled or be required to pay until you hear from our coordinator.
Avalon Computer Pals (AVPALS) help seniors learn and improve their computer and technology skills. Avpals is a not-for-profit organisation run by volunteers. Since 2000, we have helped thousands of seniors from complete beginners to people who need to improve or update their skills. We offer "one to one" personal tuition or special short courses. Small class workshops are run at the Newport Community Centre on Tuesday afternoons.
One-to-one training is provided at our rooms in Avalon, under the Maria Regina Catholic Church, 7 Central Road, Avalon Beach.
New 'Council Of Elders' To Champion Concerns Of Older Australians
Fourteen eminent Australians – including National Seniors Australia CEO John McCallum – have been appointed to the inaugural aged care Council of Elders, to ensure your voice is heard by government.
Older Australians will now have a strong, formal voice to government on aged care matters with the establishment of a new Council of Elders. This new governance arrangement was one of the key recommendations emerging from the Royal Commission into Aged Care Quality and Safety.
The Council of Elders will provide guidance to the government on many aspects of aged care and ageing generally, but focus in particular on the quality and safety of care, and the rights and dignity of older Australians.
Fourteen members were appointed to the Council on 24 December, including National Seniors Australia CEO, John McCallum. Professor McCallum joins 2021 Senior Australian of the Year Dr Miriam-Rose Ungunmerr Baumann AM, dementia advocate Gwenda Darling, writer and carer Danijela Hlis, Age Discrimination Commissioner Kay Patterson AO, indigenous campaigner Professor Tom Calma AO and Council Chair Ian Yates AM.
Minister for Health and Aged Care, Greg Hunt said Council members were selected based on their strong expertise, diverse backgrounds, and lived experience to help ensure aged care meets the needs and expectations of senior Australians, their families and carers, and the Australian community.
"Council members, all appointed for two-year terms, will provide advice to government, coordinate feedback from senior Australians and their families and communities, and help to build community awareness of ageing and aged care matters," Minister Hunt said.
Professor John McCallum said the creation of the council was a positive development for seniors across Australia.
"There have been many committees established to implement Royal Commission recommendations, but this Council was without a doubt the most innovative and controversial. It has the chance to be broader in its scope (than the other committees) and bring fresh ideas into play."
Professor McCallum said making sure the collective voices of National Seniors Australia members and senior Australians is his top priority as a member of the Council.
"This Council follows in the footsteps of many successful Councils of Elders internationally and in our indigenous communities. National Seniors' representation on this Council will allow us to bring the voices of our large membership base and followers directly to the attention of government. I'm listed on the Council as an 'activist' and intend to be one!"
Dried Goji Berries May Provide Protection Against Age-Related Vision Loss
Regularly eating a small serving of dried goji berries may help prevent or delay the development of age-related macular degeneration, or AMD, in healthy middle-aged people, according to a small, randomized trial conducted at the University of California, Davis.
AMD is the leading cause of vision loss in older people, and is estimated to affect more than 11 million in the United States and 170 million globally.
"AMD affects your central field of vision and can affect your ability to read or recognize faces," said Glenn Yiu, a co-author of the study and an associate professor in the Department of Ophthalmology and Vision Sciences.
The researchers found that 13 healthy participants aged 45 to 65 who consumed 28 grams (about one ounce, or a handful) of goji berries five times a week for 90 days increased the density of protective pigments in their eyes. In contrast, 14 study participants who consumed a commercial supplement for eye health over the same period did not show an increase.
The pigments that increased in the group that ate goji berries, lutein and zeaxanthin, filter out harmful blue light and provide antioxidant protection. Both help to protect the eyes during aging.
"Lutein and zeaxanthin are like sunscreen for your eyes," said lead author Xiang Li, a doctoral candidate in the Nutritional Biology Program.
"The higher the lutein and zeaxanthin in your retina, the more protection you have. Our study found that even in normal healthy eyes, these optical pigments can be increased with a small daily serving of goji berries," said Li.
The study was published in the journal Nutrients.
Berries used for eye health in China
Goji berries are the fruit of Lycium chinense and Lycium barbarum, two species of shrubby bushes found in northwest China. The dried berries are a common ingredient in Chinese soups and are popular as herbal tea. They are similar to raisins and eaten as a snack.
In Chinese medicine, goji berries are said to have "eye brightening" qualities. Li grew up in northern China and became curious whether there were any physiological properties to "eye brightening."
"Many types of eye diseases exist, so it is not clear which disease 'eye brightening' is targeting," said Li.
She researched the bioactive compounds in goji berries and found they contain high quantities of lutein and zeaxanthin, which are known to reduce the risk of eye diseases related to AMD. The form of zeaxanthin in goji berries is also a highly bioavailable form, according to Li, meaning it is readily absorbed in the digestive system so the body can use it.
The current treatment for intermediate stages of AMD uses special dietary supplements, called AREDS, that contain vitamins C, E, zinc, copper and lutein and zeaxanthin. No known therapy has yet been shown to impact early stages of AMD.
The cause of AMD is complex and multifactorial, according to Yiu, and involves a mix of genetic risks, age-associated changes, and environmental factors like smoking, diet and sun exposure. Early stages of AMD do not have symptoms; however, physicians can detect AMD and other eye problems during a regular comprehensive eye exam.
"Our study shows goji berries, which are a natural food source, can improve macular pigments of healthy participants beyond taking high-dose nutritional supplements," said Yiu. "The next step for our research will be to examine goji berries in patients with early-stage AMD."
Although the results are promising, the researchers note that the study size was small and more research will be needed.
Xiang Li, Roberta R. Holt, Carl L. Keen, Lawrence S. Morse, Glenn Yiu, Robert M. Hackman.
Goji Berry Intake Increases Macular Pigment Optical Density in Healthy Adults: A Randomized Pilot Trial
. Nutrients, 2021; 13 (12): 4409 DOI:
10.3390/nu13124409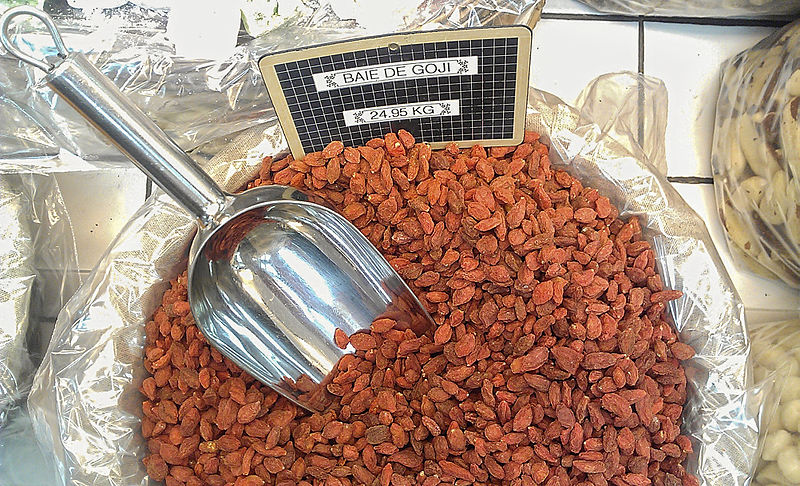 dried goji berries. Photo: Myrabella

Exercise Alters Brain Chemistry To Protect Aging Synapses
When elderly people stay active, their brains have more of a class of proteins that enhances the connections between neurons to maintain healthy cognition, a UC San Francisco study has found.
This protective impact was found even in people whose brains at autopsy were riddled with toxic proteins associated with Alzheimer's and other neurodegenerative diseases.
"Our work is the first that uses human data to show that synaptic protein regulation is related to physical activity and may drive the beneficial cognitive outcomes we see," said Kaitlin Casaletto, PhD, an assistant professor of neurology and lead author on the study, which appears in the January 7 issue of Alzheimer's & Dementia: The Journal of the Alzheimer's Association.
The beneficial effects of physical activity on cognition have been shown in mice but have been much harder to demonstrate in people.
Casaletto, a neuropsychologist and member of the Weill Institute for Neurosciences, worked with William Honer, MD, a professor of psychiatry at the University of British Columbia and senior author of the study, to leverage data from the Memory and Aging Project at Rush University in Chicago. That project tracked the late-life physical activity of elderly participants, who also agreed to donate their brains when they died.
"Maintaining the integrity of these connections between neurons may be vital to fending off dementia, since the synapse is really the site where cognition happens," Casaletto said. "Physical activity -- a readily available tool -- may help boost this synaptic functioning."
More Proteins Mean Better Nerve Signals
Honer and Casaletto found that elderly people who remained active had higher levels of proteins that facilitate the exchange of information between neurons. This result dovetailed with Honer's earlier finding that people who had more of these proteins in their brains when they died were better able to maintain their cognition late in life.
To their surprise, Honer said, the researchers found that the effects ranged beyond the hippocampus, the brain's seat of memory, to encompass other brain regions associated with cognitive function.
"It may be that physical activity exerts a global sustaining effect, supporting and stimulating healthy function of proteins that facilitate synaptic transmission throughout the brain," Honer said.
Synapses Safeguard Brains Showing Signs of Dementia
The brains of most older adults accumulate amyloid and tau, toxic proteins that are the hallmarks of Alzheimer's disease pathology. Many scientists believe amyloid accumulates first, then tau, causing synapses and neurons to fall apart.
Casaletto previously found that synaptic integrity, whether measured in the spinal fluid of living adults or the brain tissue of autopsied adults, appeared to dampen the relationship between amyloid and tau, and between tau and neurodegeneration.
"In older adults with higher levels of the proteins associated with synaptic integrity, this cascade of neurotoxicity that leads to Alzheimer's disease appears to be attenuated," she said. "Taken together, these two studies show the potential importance of maintaining synaptic health to support the brain against Alzheimer's disease."
Kaitlin Casaletto, Alfredo Ramos‐Miguel, Anna VandeBunte, Molly Memel, Aron Buchman, David Bennett, William Honer.
Late‐life physical activity relates to brain tissue synaptic integrity markers in older adults.
Alzheimer's & Dementia, 2022; DOI:
10.1002/alz.12530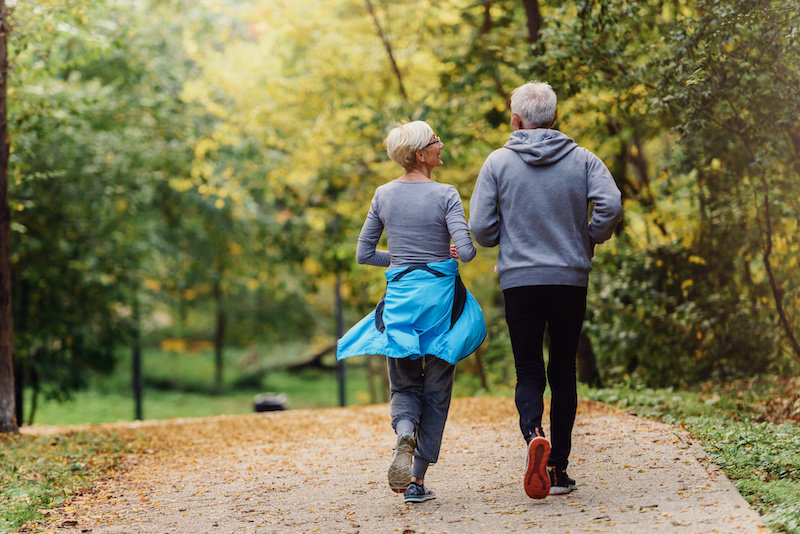 Couple jogging in the park (stock image). Credit: © lordn / stock.adobe.com

Heart Disease Causes Early Brain Dysfunction And Can Treble Key Alzheimer's Protein
Heart disease can directly cause brain dysfunction early on which could lead to dementia and can treble the amount of an Alzheimer's protein in the brain, say scientists.
The new research, published in eLife, has found that heart disease causes a breakdown of a key brain function which links brain activity and blood flow, meaning the brain gets less blood for the same amount of activity.
This is happening in heart disease patients before the build up of fat in the brain's blood vessels (atherosclerosis) and is a prelude to dementia. Until now it has been unclear how some forms of vascular dementia can happen years before atherosclerosis in the brain.
The researchers also discovered that the combination of heart disease and a genetic predisposition for Alzheimer's Disease trebles the amount of beta-amyloid, a protein that builds up and triggers Alzheimer's, and increases the levels of an inflammatory gene (IL1) in the brain.
Dr Osman Shabir, lead author of the study from the University of Sheffield's Neuroscience and Healthy Lifespan Institutes, said: "Alzheimer's Disease is the most common form of dementia worldwide and heart disease is a major risk factor for both Alzheimer's and dementia. The new findings are key to furthering our understanding of the links between heart disease and dementia.
"We've discovered that heart disease in midlife causes the breakdown of neurovascular coupling, an important mechanism in our brains which controls the amount of blood supplied to our neurons. This breakdown means the brain doesn't get enough oxygen when needed and in time this can lead to dementia."
The team have since been awarded a three year grant by the British Heart Foundation to look at the use of an arthritis drug which targets IL1 to see if it could reverse or reduce the brain dysfunction seen to be caused by heart disease.
The team also found that brain injuries can also worsen brain blood flow regulation, supporting observations that patients' symptoms often worsen after injuries or falls.
Osman Shabir, Ben Pendry, Llywelyn Lee, Beth Eyre, Paul S Sharp, Monica A Rebollar, David Drew, Clare Howarth, Paul R Heath, Stephen B Wharton, Sheila E Francis, Jason Berwick.
Assessment of neurovascular coupling and cortical spreading depression in mixed mouse models of atherosclerosis and Alzheimer's disease.
eLife, 2022; 11 DOI:
10.7554/eLife.68242
Study Finds Anticoagulant Has Beneficial Side-Effects For COVID-19 Patients
Clotting problems and resulting complications are common in COVID-19 patients. Researchers at the Medical University of Vienna have now shown that a member of the anticoagulant group of drugs not only has a beneficial effect on survival of COVID-19 patients, but also influences the duration of active infection with the SARS-CoV-2 coronavirus. The results were recently published in the journal Cardiovascular Research.
Coronavirus disease (COVID-19) is a multifaceted infectious disease. While, at the start of the global pandemic, it was assumed that COVID-19 was primarily a disease of the lungs, it is now known that several functional systems in the human body are affected following infection with the pathogen SARS-CoV-2. One of these functional systems is blood clotting. COVID-19 patients have an increased risk of thromboses and embolisms, such as strokes, pulmonary or myocardial infarctions, and even deep vein thromboses. The use of drugs that inhibit blood clotting has been part of the treatment guidelines for COVID-19 since July 2020. "These complications during hospitalisation have a direct impact on the well-being of patients and increased the risk of dying from COVID-19," reports David Pereyra from MedUni Vienna's Department of General Surgery, who is first author of the publication. The underlying coagulopathy is still not fully understood.
COVID-19 triggers unique clotting problems
"The coagulopathy observed in COVID-19 patients is novel and differs in many respects from previously known coagulation problems," says Alice Assinger, group leader at the Institute of Vascular Biology and Thrombosis Research at the Medical University of Vienna and last author of the publication, "COVID-19-associated coagulopathy displays characteristics that, although partially comparable with other coagulation diseases, cannot be fully explained by them." Alice Assinger's group therefore started to look for an explanation for this sub-condition of COVID-19 in the spring of 2020, in an early phase of the pandemic.
In a multi-centre analysis of COVID-19 patients in Vienna, Linz and Innsbruck, the group observed that COVID-19-associated coagulopathy occurs almost exclusively in patients requiring intensive care or in patients who die as a result of COVID-19. Although anticoagulant drugs improve the survival of COVID-19 patients, they show no effect on immunological processes related to blood coagulation (immunothrombosis).
Low-molecular-weight heparin curtails duration of infection
The analyses showed, however, that the period of active SARS-CoV-2 infection is curtailed in patients treated with low-molecular-weight heparin, the most commonly used anticoagulant. "In patients who receive this drug, infection time is an average of four days shorter than in patients who are not treated with low-molecular-weight heparin. We were surprised to see that low-molecular-weight heparin may have a direct effect on coronavirus and its infectivity," said David Pereyra. Experimental data show that heparin can inhibit the ability of SARS-CoV-2 to bind to cells, thereby preventing them from being infected.
These observations were made in the context of a close collaboration between the three hospitals involved -- the Favoriten Hospital in Vienna, the Innsbruck Regional Hospital Innsbruck and the Johannes Kepler University Hospital in Linz -- as well as through the active exchange between basic researchers and clinicians," says Alice Assinger, underscoring the relevance of good cooperation during the COVID-19 pandemic for a better understanding of the disease and its treatment.
David Pereyra, Stefan Heber, Waltraud C Schrottmaier, Jonas Santol, Anita Pirabe, Anna Schmuckenschlager, Kerstin Kammerer, Daphni Ammon, Thomas Sorz, Fabian Fritsch, Hubert Hayden, Erich Pawelka, Philipp Krüger, Benedikt Rumpf, Marianna T Traugott, Pia Glaser, Christa Firbas, Christian Schörgenhofer, Tamara Seitz, Mario Karolyi, Ingrid Pabinger, Christine Brostjan, Patrick Starlinger, Günter Weiss, Rosa Bellmann-Weiler, Helmut J F Salzer, Bernd Jilma, Alexander Zoufaly, Alice Assinger. Low-molecular-weight heparin use in coronavirus disease 2019 is associated with curtailed viral persistence: a retrospective multicentre observational study. Cardiovascular Research, 2021; DOI: 10.1093/cvr/cvab308
Under A Moon Spell: Shark Attacks Related To Lunar Phases
New research from LSU and the University of Florida suggests that more shark attacks occur during fuller phases of the moon.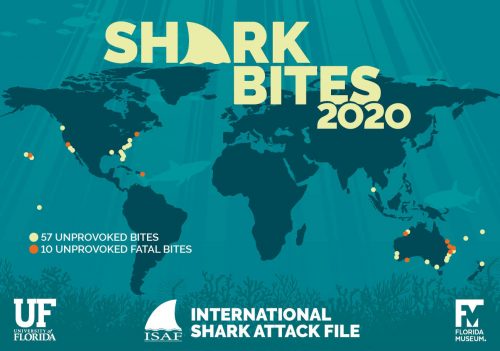 While the exact cause remains unclear, the researchers found that more shark attacks than average occur during periods of higher lunar illumination and fewer attacks than average occur during periods of lower illumination. Many different types of animals show behaviours that are linked to moon phases yet few studies to date have looked at the connections between lunar phases and shark attacks.
What makes this research important is the abundance of data the researchers analysed. Their findings are based on a global shark attack record collected during a 55-year period from 1960 to 2015 from the International Shark Attack File housed in the Florida Museum of Natural History at the University of Florida.
Being able to crunch numbers for shark attacks across the globe and over the course of decades revealed a clear correlation between lunar phases and shark attacks, although the reasons why remain unknown.
"It's not a matter of more light at night for sharks to see. Most shark attacks occur in the daylight. However, the moon can exert other forces on Earth and its oceans in ways that are much more subtle -- for example, the gravitation pull that we see affect the tides," said Steve Midway, LSU associate professor and researcher on the project.
His combined expertise in fisheries ecology and statistical analyses in the College of the Coast & Environment's Department of Oceanography & Coastal Sciences allowed him to add a unique perspective to this research.
The scientists say it is still too early to demonstrate that lunar illumination is a causative factor for shark attacks. However, their new data serves as a building block towards better understanding shark attacks and could be useful for developing recommendations for water-based recreational activities in the future.
"The abundance of data we have would suggest that there is something there that's worth continuing to look at," Midway said.
Lindsay A. French, Stephen R. Midway, David H. Evans, George H. Burgess.
Shark Side of the Moon: Are Shark Attacks Related to Lunar Phase?
Frontiers in Marine Science, 2021; 8 DOI:
10.3389/fmars.2021.745221
Image: Map of all 2020 Shark Bites from the International Shark Attack File's 2020 Annual Report courtesy International Shark Attack File
Changes In Sleep And Biological Rhythms From Late Pregnancy To Postpartum Linked To Depression And Anxiety
A set of parameters including sleep and biological rhythm variables are closely associated with the severity of depressive and anxiety symptoms, starting in the third trimester of pregnancy to the third postpartum month, according to a new study.
The three-month period before and after giving birth is a vulnerable time for women's mental health. It is estimated that 15 to 18 per cent of women experience anxiety and seven to 13 per cent experience depression during this peripartum period. In addition, nearly 10 per cent of women experience clinical levels of comorbid anxiety and depression during this time.
In the largest observational study to date investigating changes in sleep and biological rhythms during the peripartum period, researchers identified several variables that are linked to depression and anxiety. Most notably, changes in the circadian quotient (the strength of the circadian rhythms), the average amount of activity during nighttime rest, and the amount of fragmentation of nighttime rest were strongly linked to higher depressive and anxiety symptoms.
"Our findings highlight the importance of stabilizing the internal biological clock during the peripartum period to maintain healthy mood and minimize anxiety," said Benicio Frey, senior author of the study and professor in the department of psychiatry and behavioural neurosciences at McMaster University.
"Given the findings, future efforts should be made to standardize evidence-based interventions targeting these biological rhythms variables identified by our team, either as treatment or prevention strategies."
Frey and his research team conducted the study from the Women's Health Concerns Clinic at St. Joseph's Healthcare Hamilton. This clinic specializes in psychiatric disorders during the peripartum, premenstrual, and perimenopausal periods.
Researchers recruited 100 women, 73 of whom they followed from the start of the third trimester to three months postpartum. They analyzed subjective and objective measures of sleep, biological rhythms, melatonin levels, and light exposure using a variety of tools, including questionnaires, actigraphs (wearable sleep monitors), laboratory assays, and other methods.
Interestingly, the findings indicate that certain biological rhythms variables may be important to depressive symptoms at specific points along the peripartum timeline. For instance, higher fragmentation of nighttime rest was linked to a decrease in depressive symptoms at six to 12 weeks postpartum -- a period that tends to coincide with a higher risk of developing postpartum depression.
Support for the study was provided in part by The Research Institute of St. Joe's Hamilton and the Teresa Cascioli Charitable Foundation Research Award in Women's Health.
Anastasiya Slyepchenko, Luciano Minuzzi, James P. Reilly, Benicio N. Frey.
Longitudinal Changes in Sleep, Biological Rhythms, and Light Exposure From Late Pregnancy to Postpartum and Their Impact on Peripartum Mood and Anxiety.
The Journal of Clinical Psychiatry, 2022; 83 (2) DOI:
10.4088/JCP.21m13991
How A Contagious Cancer Spread Among Clams
A contagious blood cancer jumped from one species of clam to another and spread among clams living in the Atlantic Ocean and Mediterranean Sea, shows a study published today in eLife.
The findings add to evidence that cancers may spread among different species of bivalve shellfish and suggest that human activities may be inadvertently contributing to the spread of these cancers to new locations and species.
Contagious cancers have been identified in dogs, Tasmanian devils, and bivalves such as clams and mussels. These diseases usually spread among individuals of the same species. But previous studies have documented at least two cases of contagious cancers spreading among bivalve species.
"We set out to confirm whether a leukemia-like blood cancer found in some bivalves also infects Venus verrucosa, otherwise known as warty venus clams that are found in the seas of southern Europe," says Daniel García-Souto, a postdoctoral researcher in genetics at the University of Santiago de Compostela -- USC, Galicia, Spain, and a co-first author of the study alongside Alicia Bruzos and Seila Diaz at USC.
The researchers collected 345 warty venus clams from the coastal areas of Spain, Portugal, France, Ireland and Croatia. They found a type of blood cancer called hemic neoplasia in warty venus clams collected from two different coastal regions of Spain. One group of infected clams was found along the country's Atlantic coast, while the other group was found more than 1,000 nautical miles away in the Mediterranean Sea.
The team used a technique called whole-genome sequencing to reveal that the cancer originated in a single clam, later became infectious, and spread among warty venus clams. The cancer contained genetic sequences from both the warty venus clam and another unknown species of clam. By comparing the unknown genetic sequence to a genetic database of bivalve species, the researchers were able to identify the mystery clam as Chamelea gallina, or the striped venus clam.
Further testing of DNA taken from the cell mitochondria and nucleus in both clam species confirmed that the cancer had jumped from the striped venus clam to the warty venus clams.
"The genetic similarity of the cancer cells found in warty venus clams in both the Atlantic Ocean and Mediterranean Sea suggests that human shipping activities may have transported the cancer from one region to another," says co-first author Alicia Bruzos, who was a Researcher PhD Student at USC at the time the study was carried out, and is now at the Francis Crick Institute in London, UK. This idea is supported by a previous study in eLife* which showed that mussels carried a contagious cancer across the Atlantic by hitching a ride on ships.
The team now hopes to carry out further studies to determine the age of the tumours in their clam specimens and to explore for how long cancer may have been spreading among these species.
"Our work confirms that contagious cancers can jump between marine clam species," concludes senior author José Tubío, Researcher in Genomes and Disease at USC. "As this may pose a potential threat to marine ecology, we need to keep studying and monitoring pathogens including cancers to help protect these species."
Seila Diaz, Alicia L Bruzos, Daniel Garcia-Souto, Sara Rocha, Ana Pequeño-Valtierra, Camila F Roman-Lewis, Juana Alonso, Rosana Rodriguez, Damian Costas, Jorge Rodriguez-Castro, Antonio Villanueva, Luis Silva, Jose Maria Valencia, Giovanni Annona, Andrea Tarallo, Fernando Ricardo, Ana Bratoš Cetinić, David Posada, Juan Jose Pasantes, Jose MC Tubio.
Mitochondrial genome sequencing of marine leukaemias reveals cancer contagion between clam species in the Seas of Southern Europe.
eLife, 2022; 11 DOI:
10.7554/eLife.66946
Scientists Uncover 'Resistance Gene' In Deadly E. Coli
Scientists have pinpointed a gene that helps deadly E. coli bacteria evade antibiotics, potentially leading to better treatments for millions of people worldwide.
The University of Queensland-led study found a particular form of the bacteria -- E. coli ST131 -- had a previously unnoticed gene that made it highly resistant to commonly prescribed antibiotics.
Professor Mark Schembri, from UQ's School of Chemistry and Molecular Biosciences, said this 'resistance gene' can spread incredibly quickly.
"Unlike gene transfer in humans, where sex is required to transfer genes, bacteria have genetic structures in their cells -- called plasmids -- that are traded quickly and easily between each other," Professor Schembri said.
"This resistance gene is in one such plasmid and is swiftly making E. coli ST131 extremely resistant to widely prescribed fluoroquinolone antibiotics.
"These antibiotics are used to treat a wide range of infections, including urinary tract infections (UTIs), bloodstream infections and pneumonia.
"Importantly, this gene works with other resistance genes to achieve resistance at a level greater than the highest antibiotic concentrations that we can achieve during treatment.
"So we're going to have to rethink our treatment plan, and strive to create antibiotics that can tackle these infections in spite of this antibiotic resistance mechanism."
The findings have given the team the first clues to explain how antibiotic-resistant E. coli ST131 has emerged and spread so quickly around the world.
E. coli causes more than 150 million infections each year, primarily urinary tract infections (UTIs).
It's also one of the most common causes of sepsis, a disease that kills around 11 million people every year.
Now researchers' sights are set on creating better treatments to stop E. coli ST131 infections in their tracks.
"We've lost a critical part of our armoury to treat UTI and sepsis, but there's still hope," Professor Schembri said.
"Now that we understand the impact of this plasmid-mediated antibiotic resistance gene, we can devise more tailored treatment strategies.
"These might include new combinations of antibiotics, or even alternative non-antibiotic drugs that block E. coli ST131 infection."
Study lead author, Dr Minh-Duy Phan, said this information could also be used to more efficiently track emerging resistance against critical last-line antibiotics.
"Resistance against antibiotics like carbapenems and polymyxins is emerging rapidly in some parts of the world, and we found the fluoroquinolone resistance gene we characterised in our study is often linked to such resistance," Dr Phan said.
"Evolution has provided E. coli with this gene, but I'm confident that human ingenuity can still prevail against this deadly bacterium."
Minh-Duy Phan, Kate M. Peters, Laura Alvarez Fraga, Steven C. Wallis, Steven Hancock, Nguyen Thi Khanh Nhu, Brian Forde, Michelle J. Bauer, David L. Paterson, Scott A Beatson, Jeffrey Lipman, Mark A. Schembri.
Plasmid-mediated ciprofloxacin resistance imparts a selective advantage on Escherichia coli ST131.
Antimicrobial Agents and Chemotherapy, 2021; DOI:
10.1128/aac.02146-21
One In Five Future Thyroid Cancers Linked To Excess Weight
Avoiding excess weight, especially obesity, should be a priority for thyroid cancer prevention, the first study to evaluate future thyroid cancer burden in Australia has found.
The world-first study published in the International Journal of Cancer and led by Dr Maarit Laaksonen from UNSW's School of Mathematics and Statistics, found that one in five future thyroid cancers in Australia is attributable to current levels of overweight and obesity.
Dr Laaksonen, a senior lecturer in Data Science, says this is concerning as the prevalence of obesity in Australia has doubled during the last two decades, with 75 per cent of Australian men and 60 per cent of Australian women being overweight or obese.
"This finding translates to close to 10,000 thyroid cancers in the next 10 years," Dr Laaksonen says. "Obesity explains 75 per cent of this burden in Australia."
The main authority for cancer research, the International Agency for Research on Cancer, has concluded that body fatness is a causal risk factor of thyroid cancer.
But Dr Laaksonen says this is the first time a study has evaluated the thyroid cancer burden attributable to current levels of overweight and obesity and compared this burden by sex.
Thyroid cancer is one of the few cancers that is 2-3 times as common in women as in men, but Dr Laaksonen says the study found that the future thyroid cancer burden attributable to overweight/obese is higher for men compared with women.
Being overweight or obese explains two in five thyroid cancers in men, and one in 10 thyroid cancers in women.
"It is still not well understood what causes the sex difference in overweight/obesity-related thyroid cancer risk," Dr Laaksonen says.
"But our findings add evidence to the urgent need to halt and reverse the current global trend in weight gain, especially obesity and especially in men."
Dr Laaksonen says while this study defines what is linked to one in five thyroid cancers in Australia, it's not well understood what explains the remainder.
"Other lifestyle factors do not appear to be implicated but ionizing radiation exposure, iodine deficiency and some genetic factors and family history are known to increase the thyroid cancer risk. Thyroid cancer is a bit like prostate cancer that its risk factors are not yet very well understood."
The study findings were based on seven Australian cohort studies involving 370,000 participants, which enabled the evaluation of less common cancers such as thyroid cancer.
"We linked the data from these seven studies, which all ascertained the participants' Body Mass Index [BMI] at study baseline, with national cancer and death databases, which allowed us to estimate the strength of BMI-cancer and BMI-death associations during the follow-up," Dr Laaksonen says.
"We estimated up-to-date prevalence of overweight and obesity in the Australian population from the latest National Health Survey from 2017-2018, and then combined the strength of association and exposure prevalence estimates to estimate population attributable fractions [PAF].
The PAFs describe what fraction of future cancers at the population level is explained by current exposure. We did this by applying advanced PAF methods which I developed."
The advanced PAF methods allow for unbiased disease burden estimates, as well as for the comparison of preventable disease burden by population subgroups in the study. "These methods require access to large cohort data," Dr Laaksonen says.
As prevalence of overweight/obesity is higher in men than women it adds to the sex difference in thyroid cancer burden.
"Finally, we multiplied the PAF estimates by the projected numbers of thyroid cancers in the next ten years (2021-2030) to get the absolute numbers of thyroid cancers that are expected to occur due to body fatness," Dr Laaksonen says.
The aim of the project, which was jointly funded by the National Health and Medical Research Council and the Cancer Institute NSW, was to evaluate for the first time preventable future burden of cancer in Australia and its determinants.
The team involved in this study includes collaborators and representatives of the seven cohort studies on which the study was based on.
They are from various Australian universities, institutes and Cancer Councils.
Dr Laaksonen has previously published findings on preventable lung, colorectal, breast, endometrial, ovarian, pancreatic, kidney, bladder and head and neck cancers.
The data scientist is a member of an international team that has recently received a $550,000 grant from the World Cancer Research Fund to expand the cancer burden analyses internationally.
"This grant is a fantastic opportunity to use my methods to inform global cancer control. Our collaboration includes experts at Cancer Council Victoria, University of Melbourne, University of New South Wales and Harvard University," she says.
Her next steps include a study on the preventable burden of stomach and oesophageal cancers, and a summary paper on preventable cancer burden in Australia across all cancers.
Maarit A. Laaksonen, Robert J. MacInnis, Karen Canfell, Jonathan E. Shaw, Dianna J. Magliano, Emily Banks, Graham G. Giles, Julie E. Byles, Tiffany K. Gill, Paul Mitchell, Vasant Hirani, Robert G. Cumming, Claire M. Vajdic.
Thyroid cancers potentially preventable by reducing overweight and obesity in Australia: a pooled cohort study.
International Journal of Cancer, 2021; DOI:
10.1002/ijc.33889
Epstein-Barr Virus May Be Leading Cause Of Multiple Sclerosis
Multiple sclerosis (MS), a progressive disease that affects 2.8 million people worldwide and for which there is no definitive cure, is likely caused by infection with the Epstein-Barr virus (EBV), according to a study led by Harvard T.H. Chan School of Public Health researchers.
Their findings were published online in Science on January 13, 2022.
"The hypothesis that EBV causes MS has been investigated by our group and others for several years, but this is the first study providing compelling evidence of causality," said Alberto Ascherio, professor of epidemiology and nutrition at Harvard Chan School and senior author of the study. "This is a big step because it suggests that most MS cases could be prevented by stopping EBV infection, and that targeting EBV could lead to the discovery of a cure for MS."
MS is a chronic inflammatory disease of the central nervous system that attacks the myelin sheaths protecting neurons in the brain and spinal cord. Its cause is not known, yet one of the top suspects is EBV, a herpes virus that can cause infectious mononucleosis and establishes a latent, lifelong infection of the host. Establishing a causal relationship between the virus and the disease has been difficult because EBV infects approximately 95% of adults, MS is a relatively rare disease, and the onset of MS symptoms begins about ten years after EBV infection.
To determine the connection between EBV and MS, the researchers conducted a study among more than 10 million young adults on active duty in the U.S. military and identified 955 who were diagnosed with MS during their period of service
.
The team analysed serum samples taken biennially by the military and determined the soldiers' EBV status at time of first sample and the relationship between EBV infection and MS onset during the period of active duty. In this cohort, the risk of MS increased 32-fold after infection with EBV but was unchanged after infection with other viruses. Serum levels of neurofilament light chain, a biomarker of the nerve degeneration typical in MS, increased only after EBV infection. The findings cannot be explained by any known risk factor for MS and suggest EBV as the leading cause of MS.
Ascherio says that the delay between EBV infection and the onset of MS may be partially due the disease's symptoms being undetected during the earliest stages and partially due to the evolving relationship between EBV and the host's immune system, which is repeatedly stimulated whenever latent virus reactivates.
"Currently there is no way to effectively prevent or treat EBV infection, but an EBV vaccine or targeting the virus with EBV-specific antiviral drugs could ultimately prevent or cure MS," said Ascherio.
Other Harvard Chan School researchers who contributed to this study include Kjetil Bjornevik, Marianna Cortese, Michael Mina, and Kassandra Munger.
Funding for this study came the National Institute of Neurological Disorders and Stroke, National Institutes of Health (NS046635, NS042194, and NS103891), the National Multiple Sclerosis Society (PP-1912-35234), the German Research Foundation (CO 2129/ 1-1), the National Institutes of Health (DP5- OD028145), and the Howard Hughes Medical Institute.
Kjetil Bjornevik, Marianna Cortese, Brian C. Healy, Jens Kuhle, Michael J. Mina, Yumei Leng, Stephen J. Elledge, David W. Niebuhr, Ann I. Scher, Kassandra L. Munger, Alberto Ascherio.
Longitudinal analysis reveals high prevalence of Epstein-Barr virus associated with multiple sclerosis
. Science, 2022 DOI:
10.1126/science.abj8222
Disclaimer: These articles are not intended to provide medical advice, diagnosis or treatment. Views expressed here do not necessarily reflect those of Pittwater Online News or its staff.