inbox and environment news: Issue 524
January 30 - February 5, 2022: Issue 524
Summer Babies 2022: Channel-Billed Cuckoo Pair Being Fed By Currawong
The Pittwater Spotted Gums in our yard are at present deafening with the sound of Black Prince cicadas. These are a feast for local birds and particularly this year as the mother of the pied currawong pair that lives here is spending all day everyday catching them to feed to the pair of Channel-billed cuckoos they are raising this year instead of a nest of their own young. When we're not being deafened by the cicadas, the constant cries for 'food, more food!' from the cuckoos can be heard.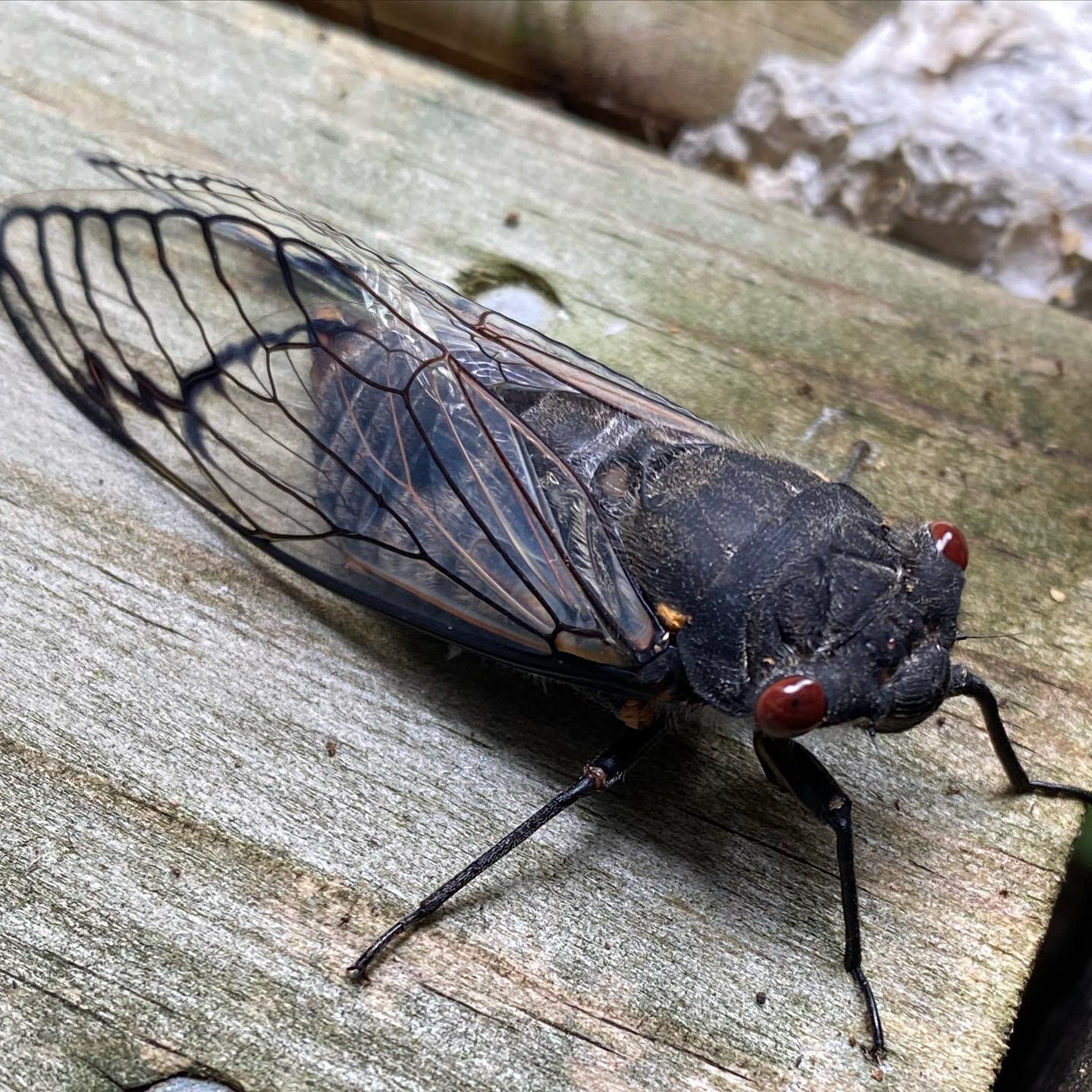 Black Prince Cicada, Psaltoda plaga, - at Elanora, November 20, 2020 - photo by Selena Griffith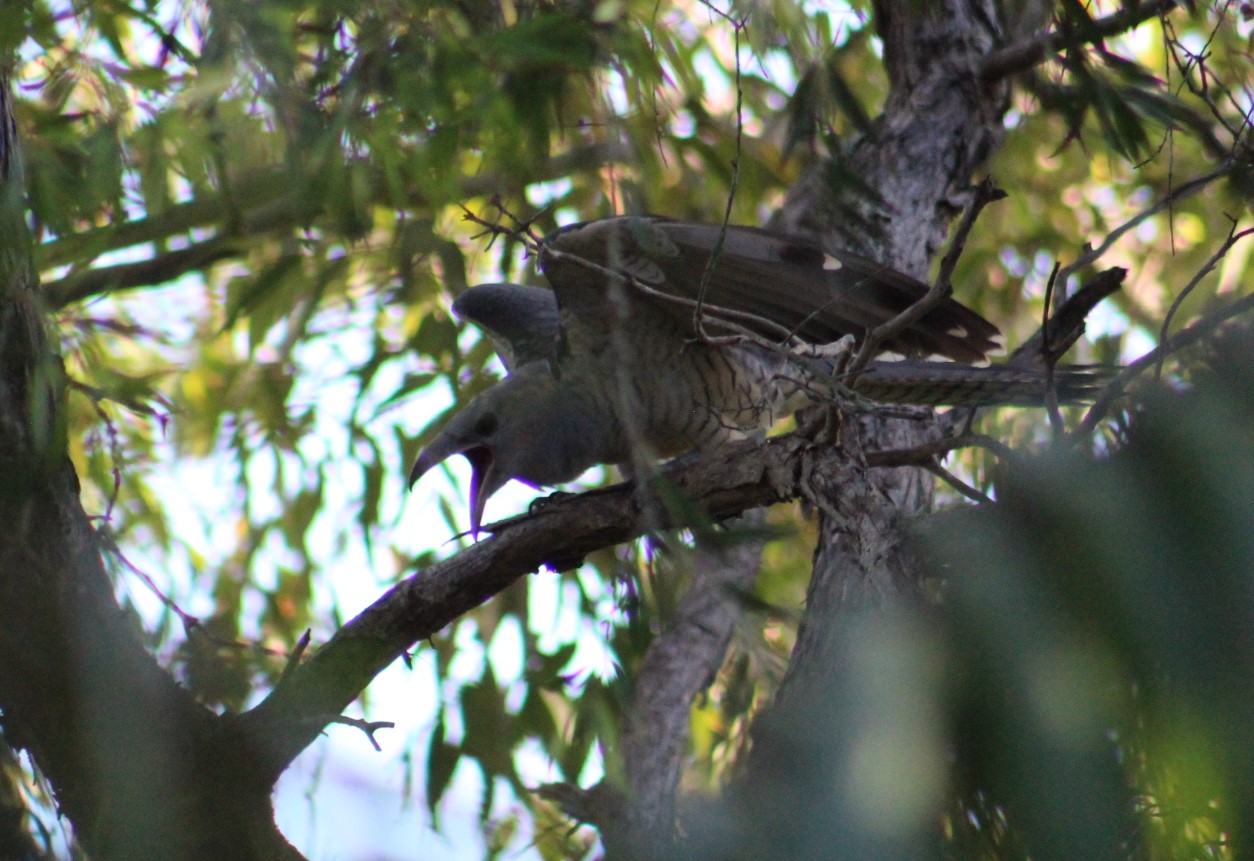 calling for food
feed me! Feeed me!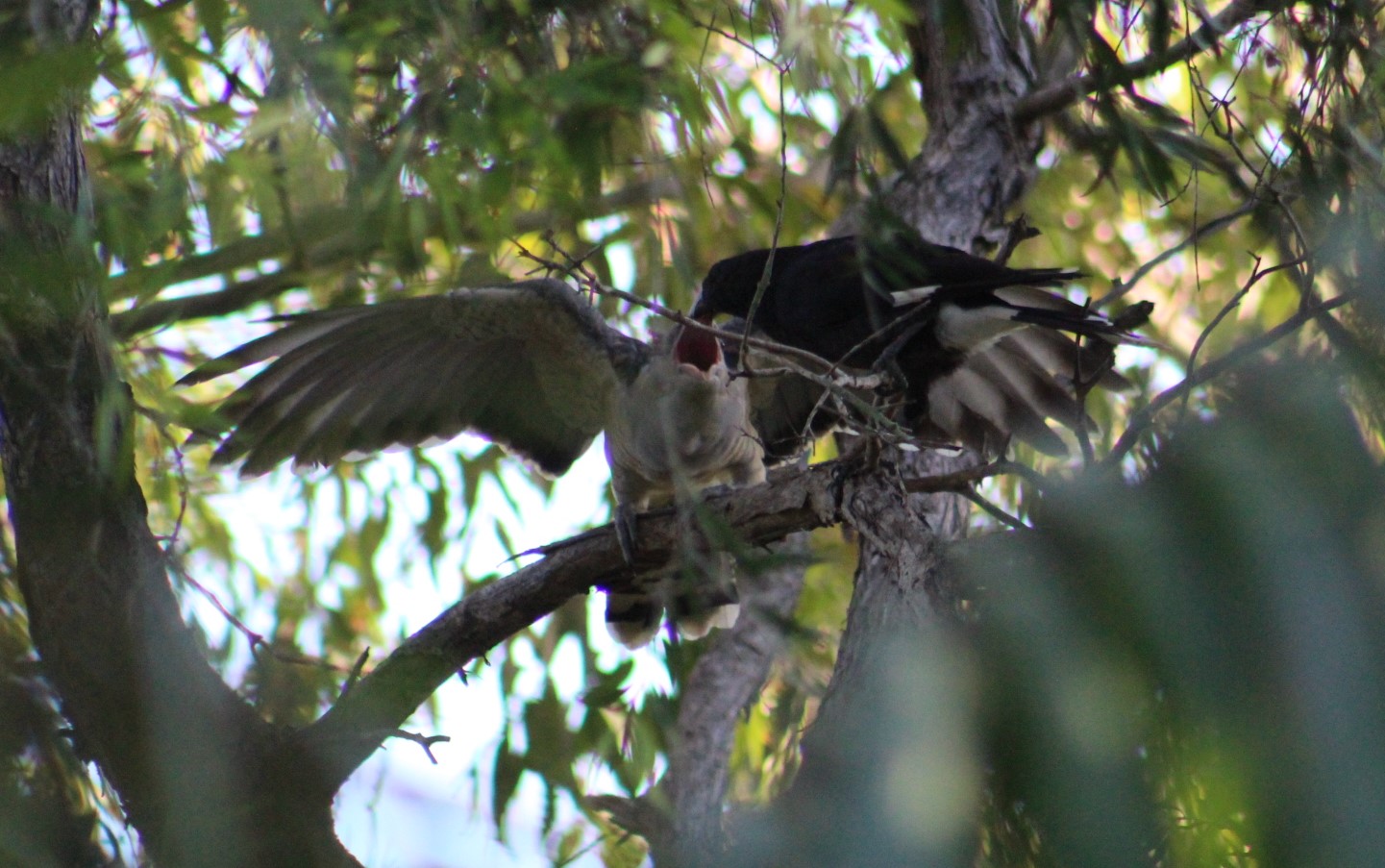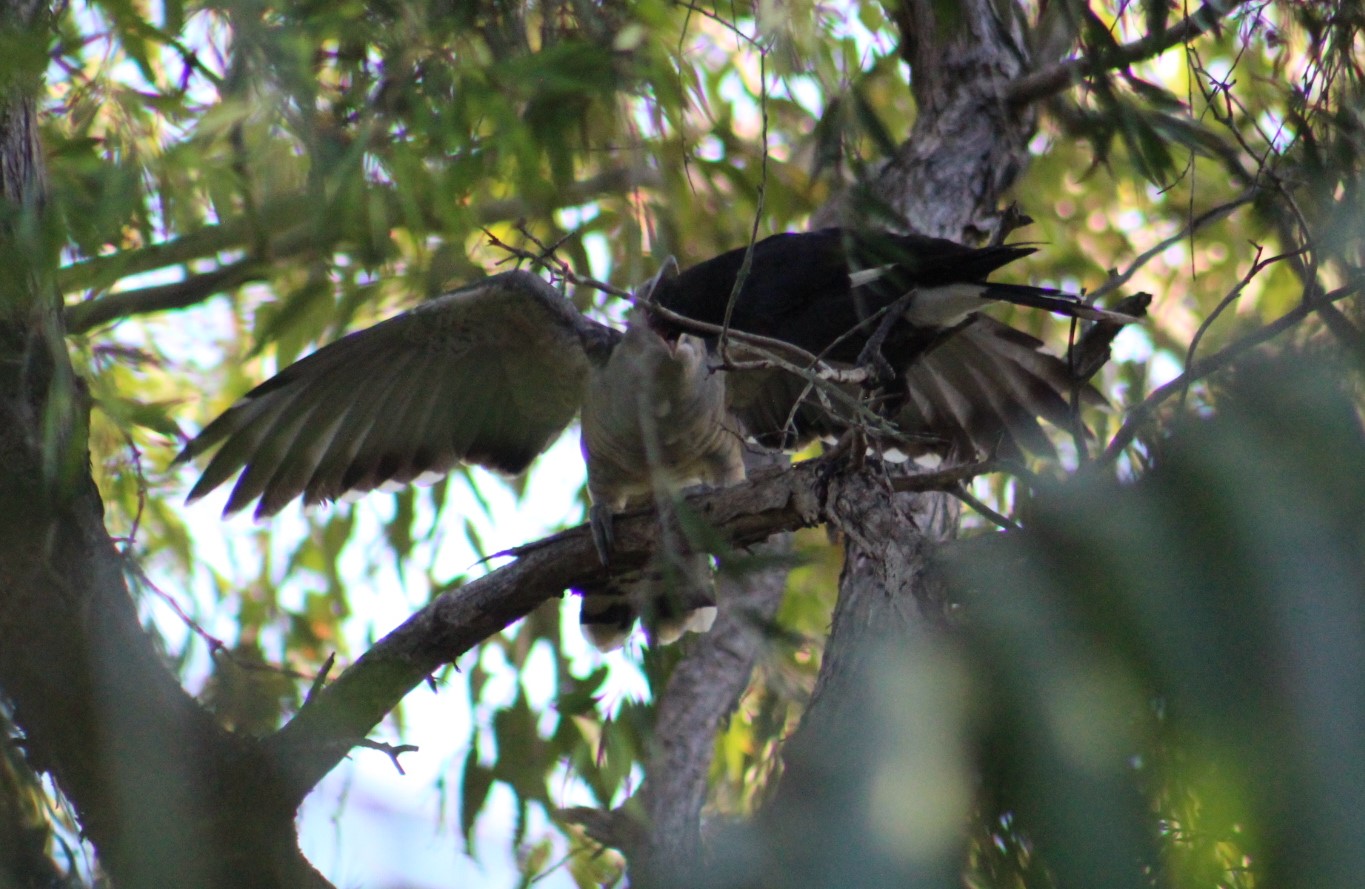 The Currawong sticks its head right in the cuckoos mouth to give it food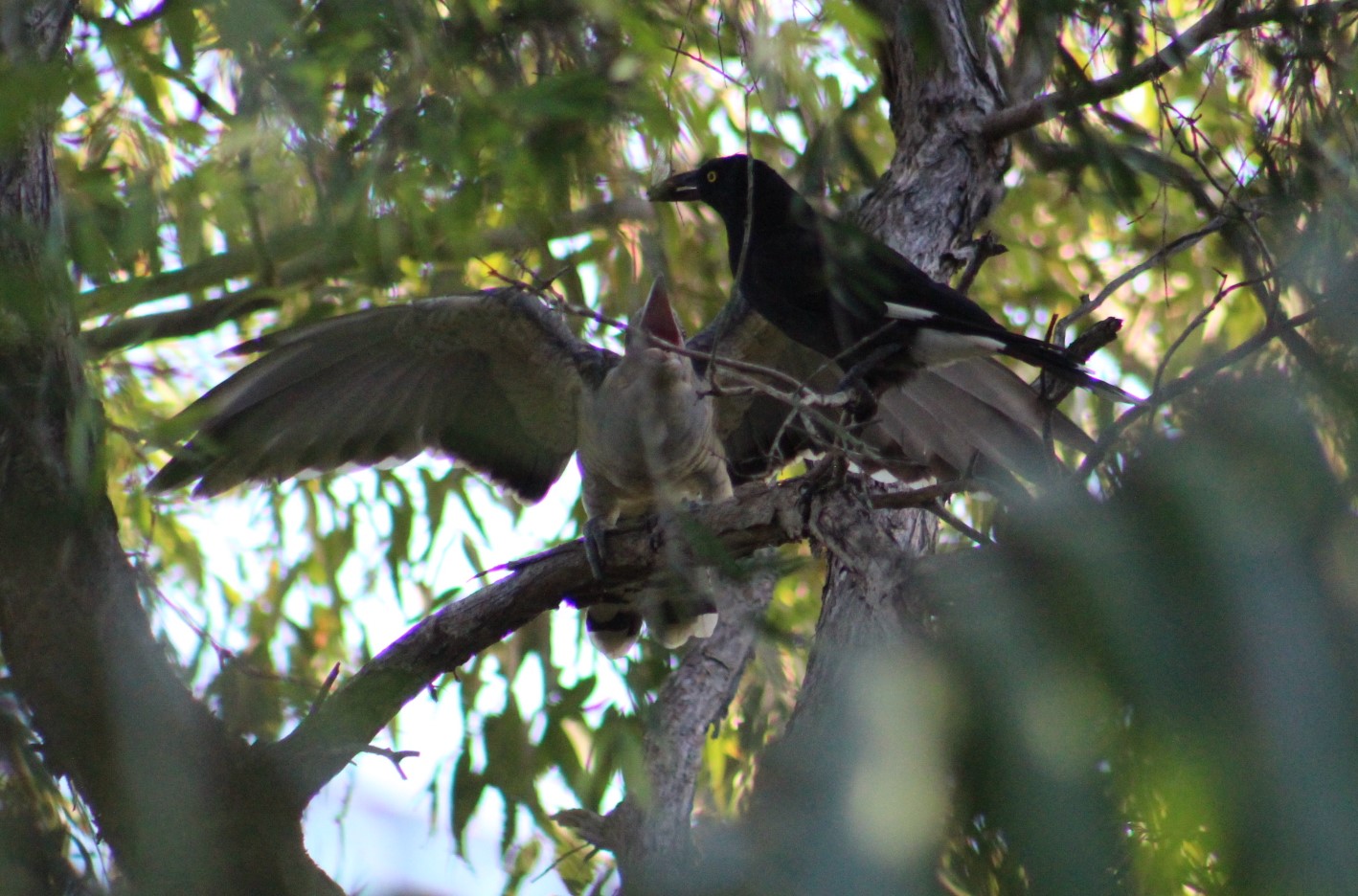 you can just see the cicada the currawong has caught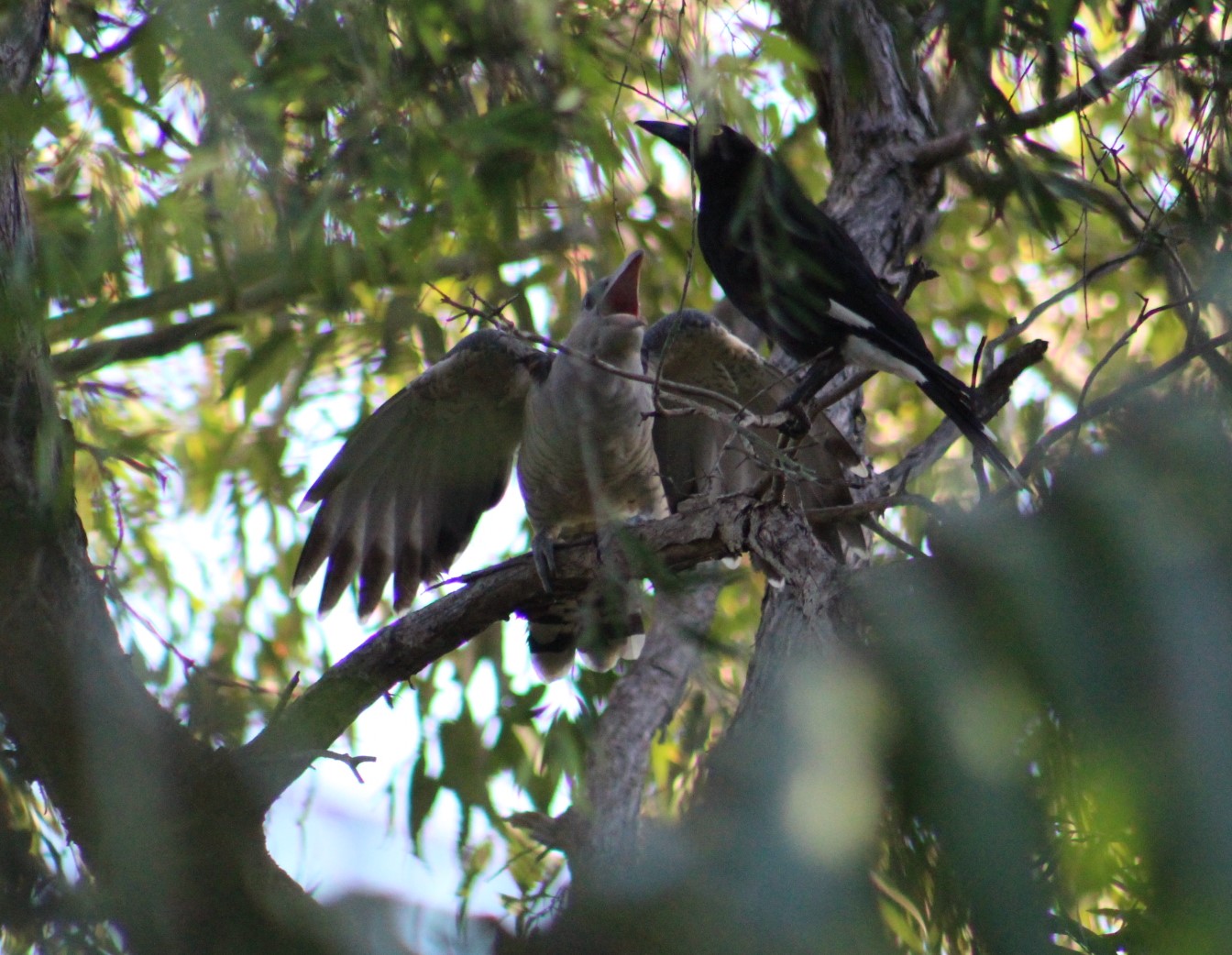 More! More! I need MORE food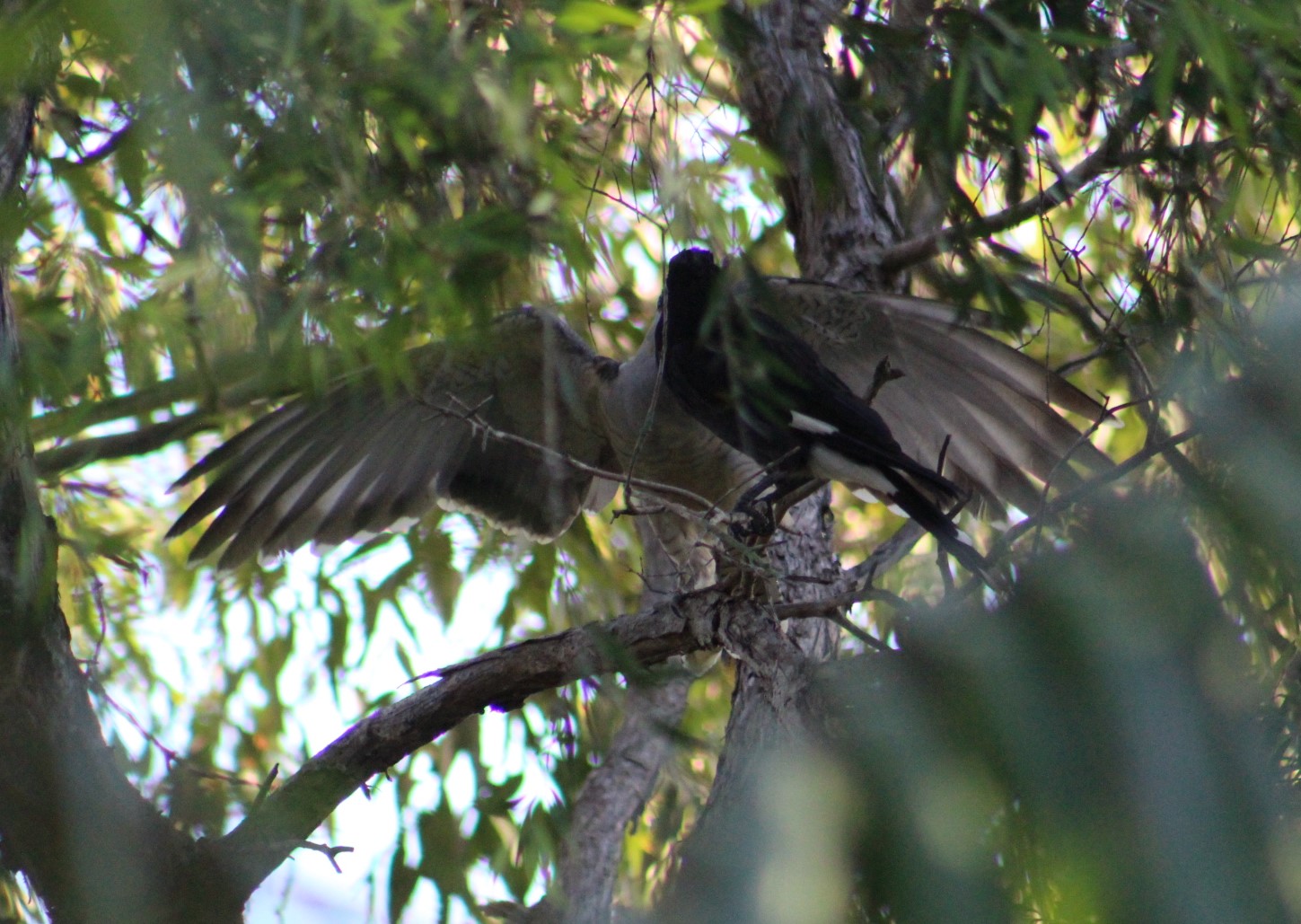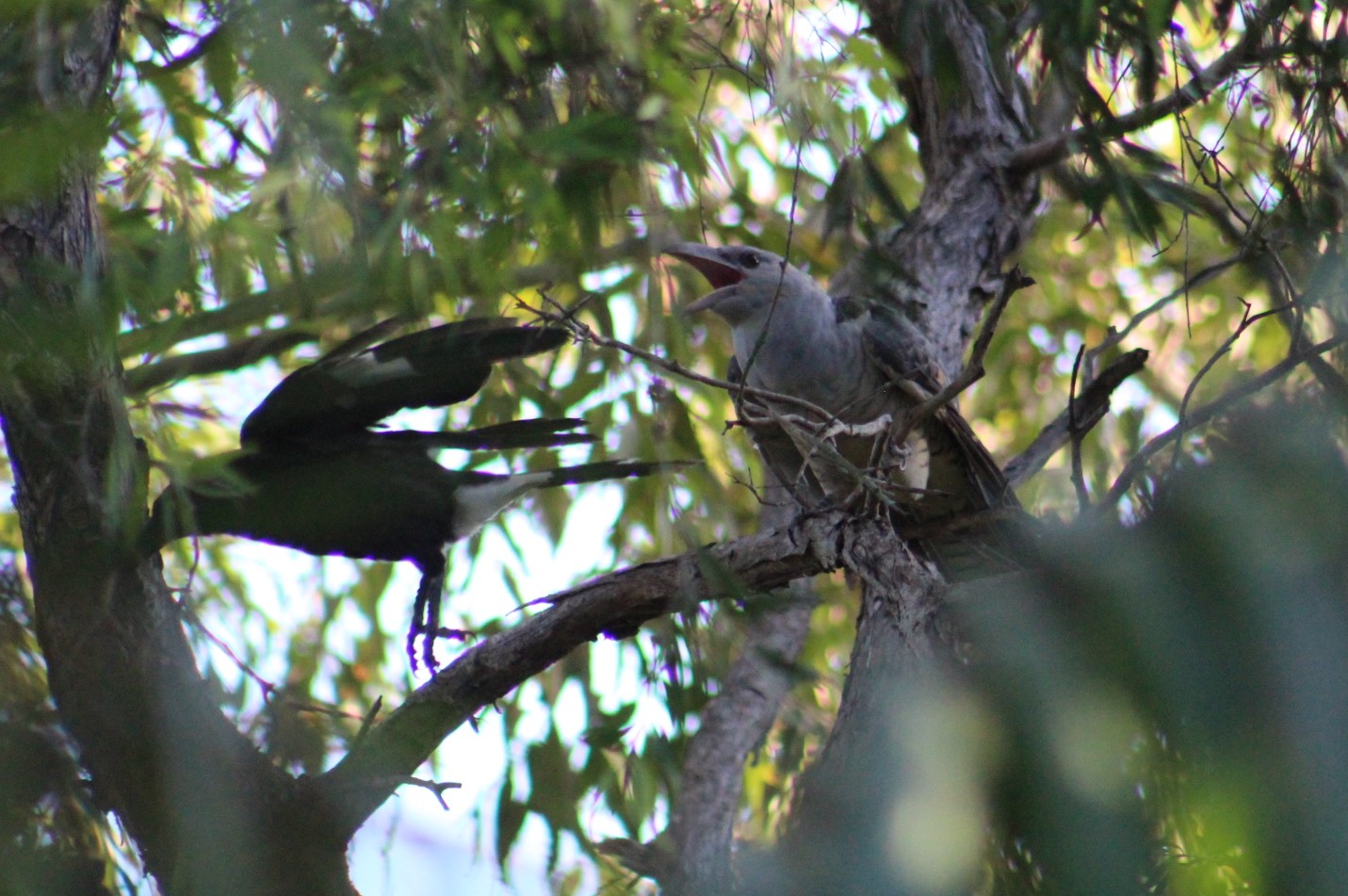 the currawong takes off to catch more cicadas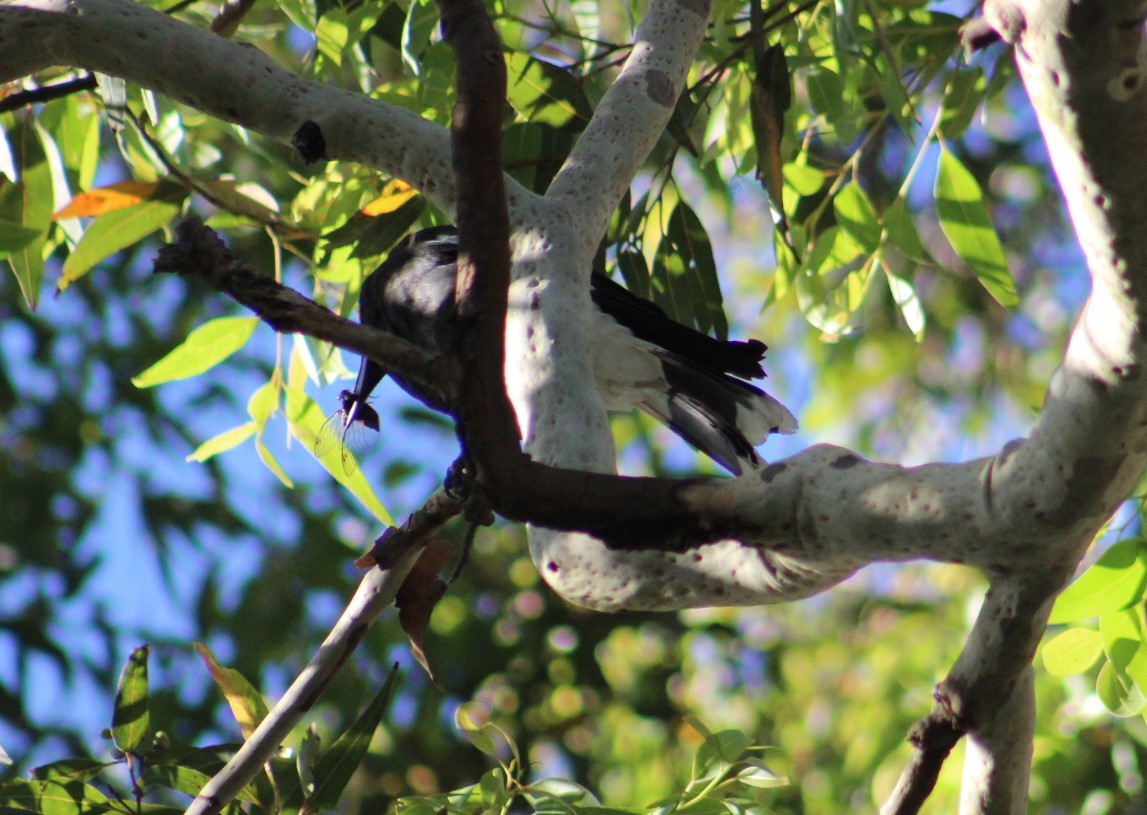 caught one!
Feed me! Feed me!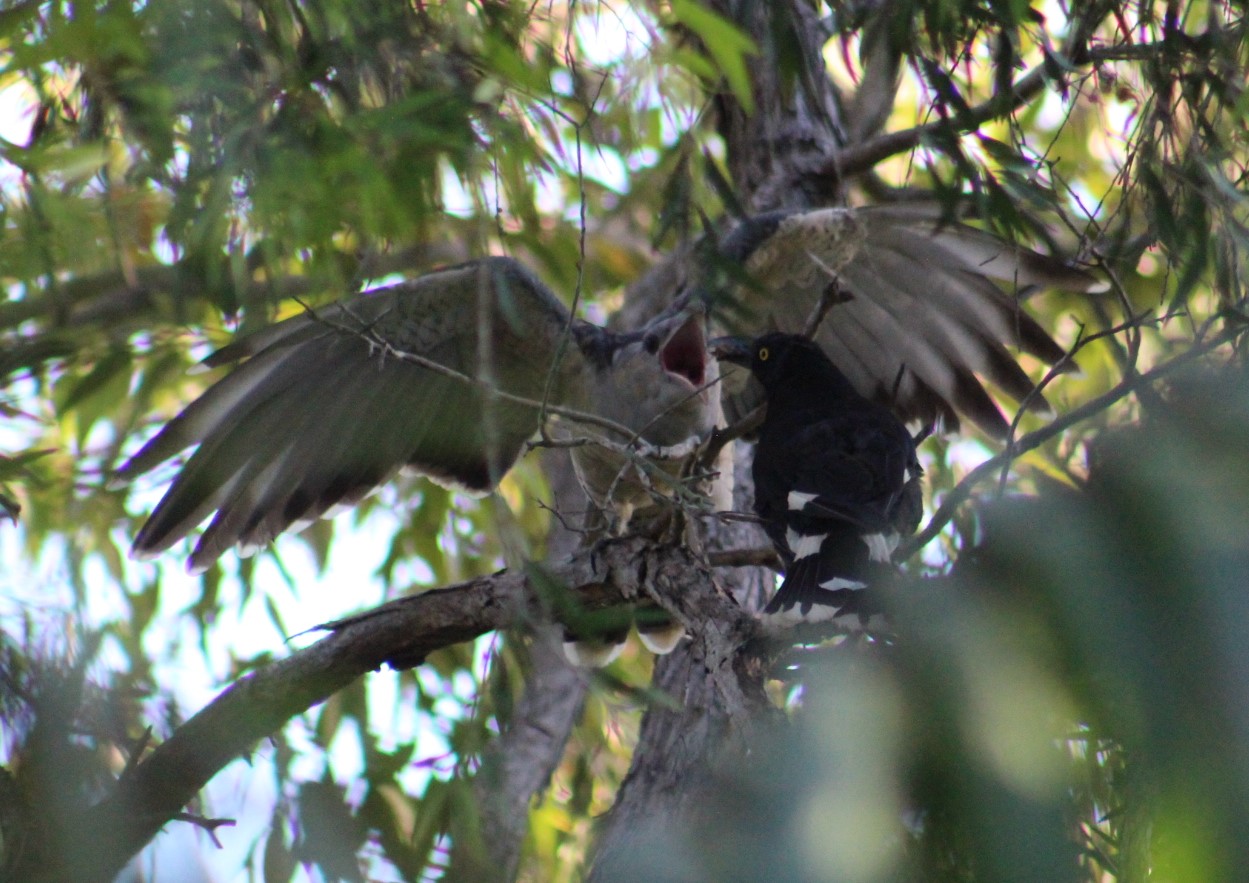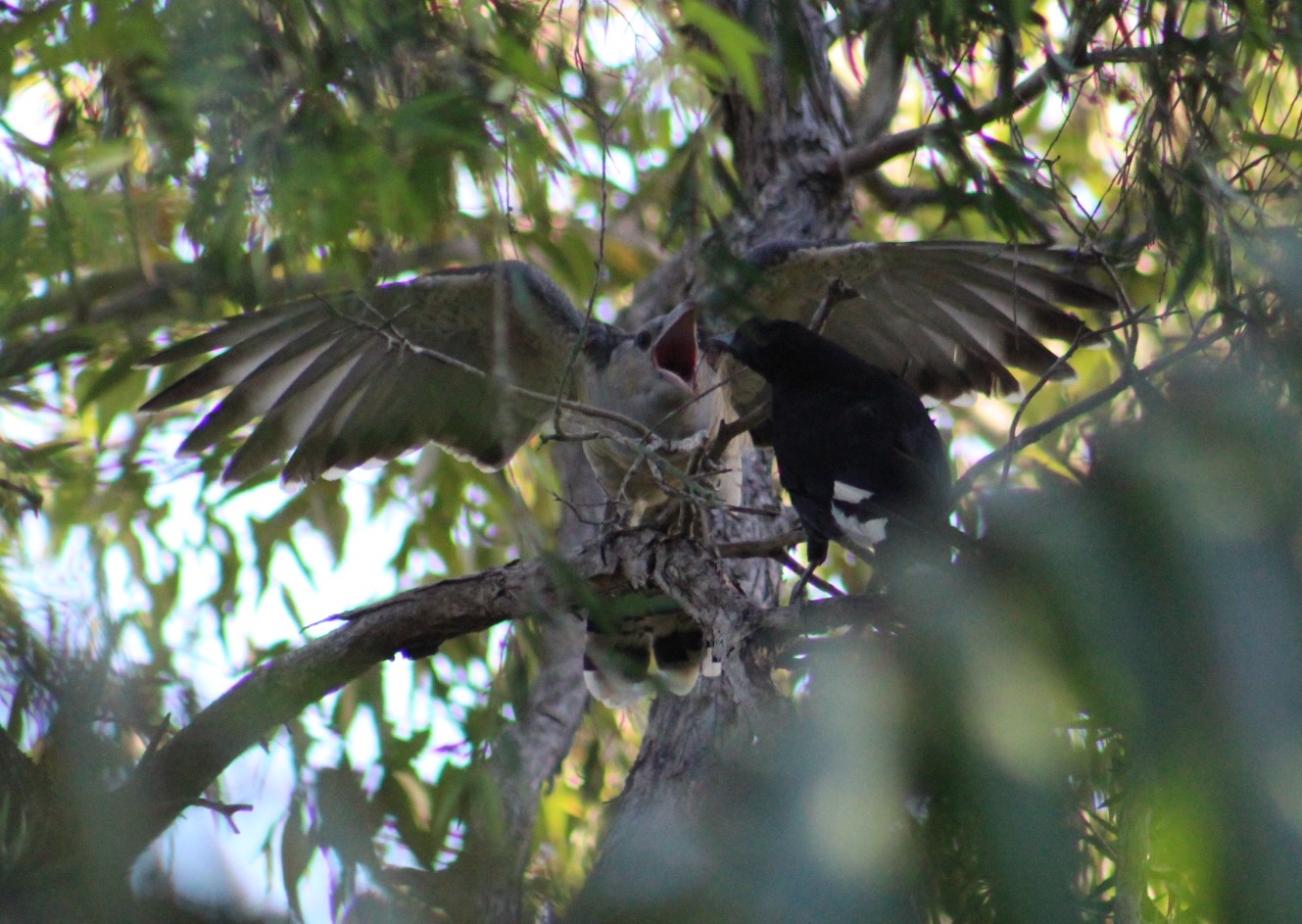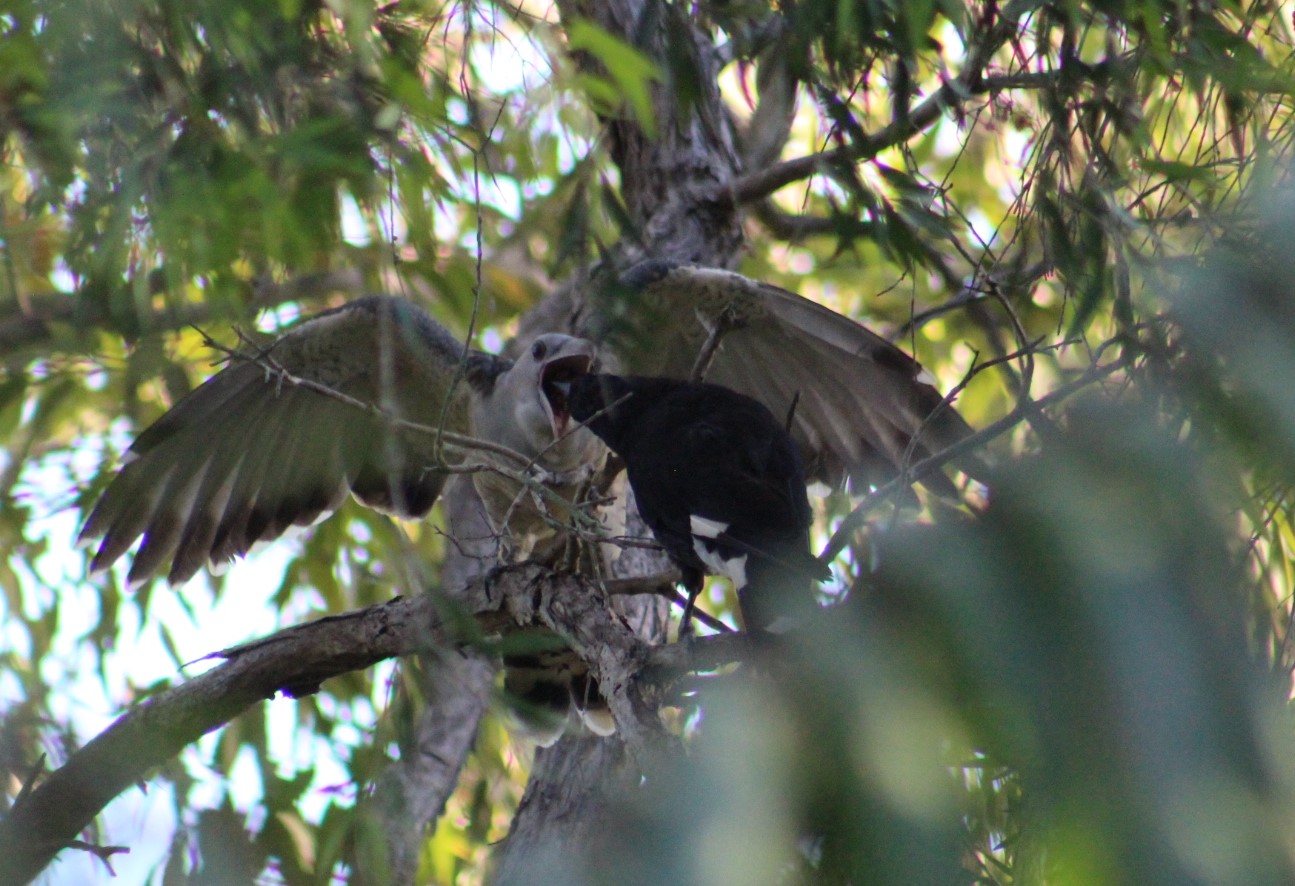 down the hatch!
BirdLife Australia tells us;
Of the dozen or so species of cuckoos that occur in Australia, the Channel-billed Cuckoo (Scythrops novaehollandiae) is the largest. Being a cuckoo, it lays its eggs in the nest of another bird, and being a large cuckoo, it must lay its eggs in the nest of another large bird. The species usually chosen as foster parents are Pied Currawongs, Australian Magpies, crows and ravens, although occasionally eggs are laid in the mud-nests of White-winged Choughs or Magpie-larks, and very occasionally in the nests of birds of prey.
The Channel-billed Cuckoo lays its eggs in the nests of the Australian Magpie, Gymnorhina tibicen, the Pied Currawong, Strepera graculina and members of the crow family (Corvidae). Unlike many other cuckoos, the young birds do not evict the host's young or eggs from the nest, but simply grow faster and demand all the food, thus starving the others.
The favoured foods of the Channel-billed Cuckoo are native figs and native fruits, though some seeds and insects.
Apart from the Channel-billed Cuckoo's large size, its massive pale, down-curved bill, grey plumage (darker on the back and wings) and long barred tail make it difficult to confuse it with any other bird. In flight the long tail and long wings give the bird a crucifix-shaped (cross-shaped) silhouette. Young Channel-billed Cuckoos have more mottled buff, brown and grey plumage. Although they are not nocturnal birds (night birds) in the strict sense, Channel-billed Cuckoos are notorious for calling all night long during the breeding season. This species is sometimes known as the Storm-bird or Stormbird.
The Channel-billed Cuckoo migrates to northern and eastern Australia from New Guinea and Indonesia between August and October each year. The birds leave Australia in February or March to return to where they came from - north.
So this currawong mother, who must be exhausted trying to feed these large juvenile pair, will finally get a from the feeding of these Summer Babies.
The Pied Currawong's nest is a bowl of sticks, lined with grasses and other soft material. The material is gathered by both sexes, but the female builds the nest, which is placed in a high tree fork, up to 20 m above the ground. The female incubates the eggs, and the male feeds her. The male also supplies food to the female for the first week after the chicks hatch and she feeds the chicks.

Photos: A J Guesdon.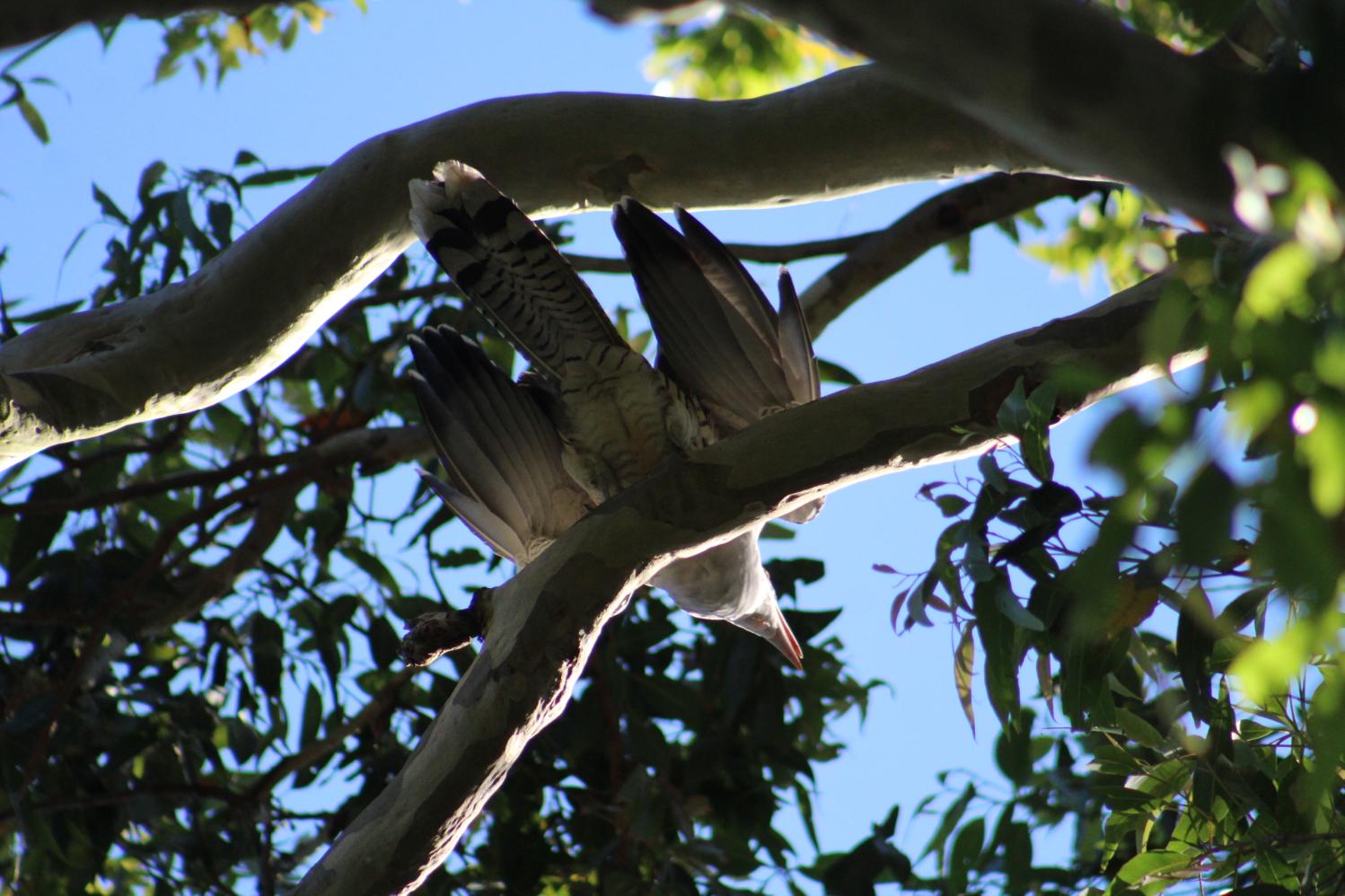 Dollarbird Babies
While on baby birds - Kerry Ritson took this photo this week of a pair of baby Dollar Birds in a tree hollow this week. This underlines how important it is to look after our local trees.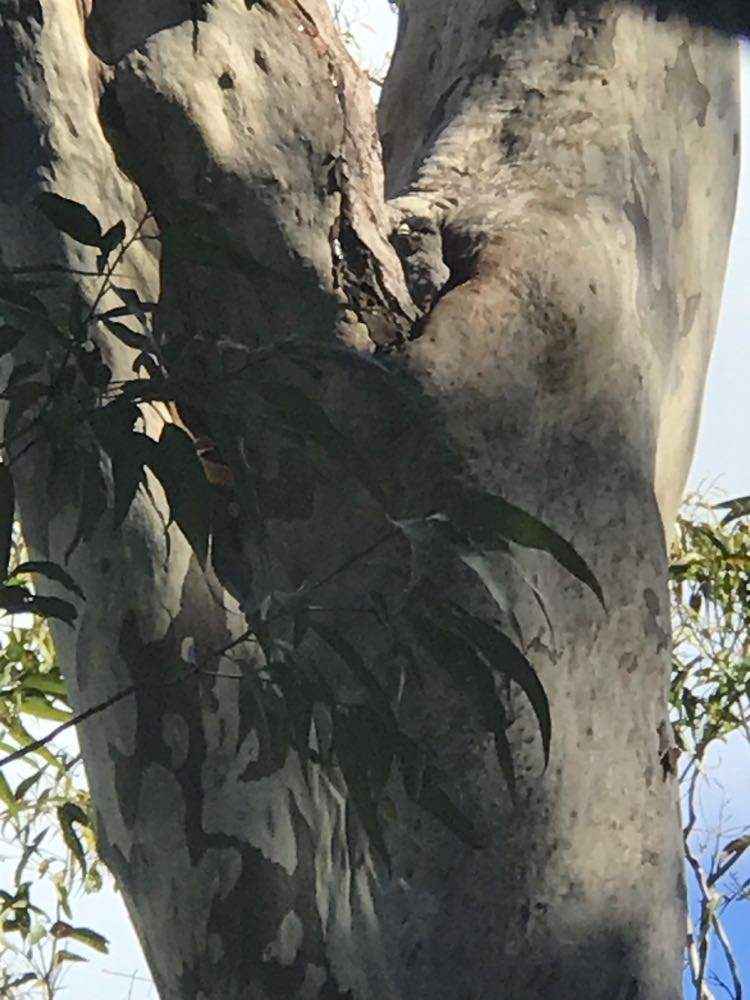 The Dollarbird (Eurystomus orientalis) gets its unusual name because it has a large, prominent white spot on each wing, visible when the bird is in flight; these spots were considered to resemble silver dollars. Dollarbirds are often seen flying around in forests and woodlands, especially near wetlands, especially where bare branches extend above the forest canopy or over water. They launch from these perches in pursuit of flying insects, which are grabbed in the bill and brought back to the perch, where they are eaten.
Dollarbirds feed almost exclusively on flying insects. They search for food from a conspicuous perch and then capture it in skilful aerial pursuits, before returning to the same perch.
During breeding season, pairs of Dollarbirds are often seen flying in characteristic rolling flights. These flights are more common in the evening, and are accompanied by cackling calls. The white eggs are laid in an unlined tree hollow and are incubated by both adults. The young birds are also cared for by both parents. The same nesting site may be used for several years.
The Dollarbird arrives in northern and eastern Australia in September each year to breed. In March or April the birds return to New Guinea and adjacent islands to spend their winter. When in Australia they will inhabit open wooded areas, normally with mature, hollow-bearing trees suitable for nesting or alongside our creeks and waterways where their food, mainly flying insects, is also in abundance at this time of year. During their breeding season pairs of Dollarbirds are often seen flying in characteristic rolling flights. These flights are more common in the evening, and are accompanied by cackling calls. The white eggs are laid in an unlined tree hollow and are incubated by both adults. The young birds are also cared for by both parents. The same nesting site may be used for several years.
The Anula tribe of Northern Australia associate the dollar-bird with rain, and call it the rain-bird. A man who has the bird for his totem can make rain at a certain pool. He catches a snake, puts it alive into the pool, and after holding it under water for a time takes it out, kills it, and lays it down by the side of the creek. Then he makes an arched bundle of grass stalks in imitation of a rainbow, and sets it up over the snake. After that all he does is to sing over the snake and the mimic rainbow; sooner or later the rain will fall. They explain this procedure by saying that long ago the dollar-bird had as a mate at this spot a snake, who lived in the pool and used to make rain by spitting up into the sky till a rainbow and clouds appeared and rain fell. From Sir James George Frazer (1854–1941). The Golden Bough. 1922. Ch. 2. The Magical Control of Rain.
Here's some images of a pair taken at Carell creek in 2013: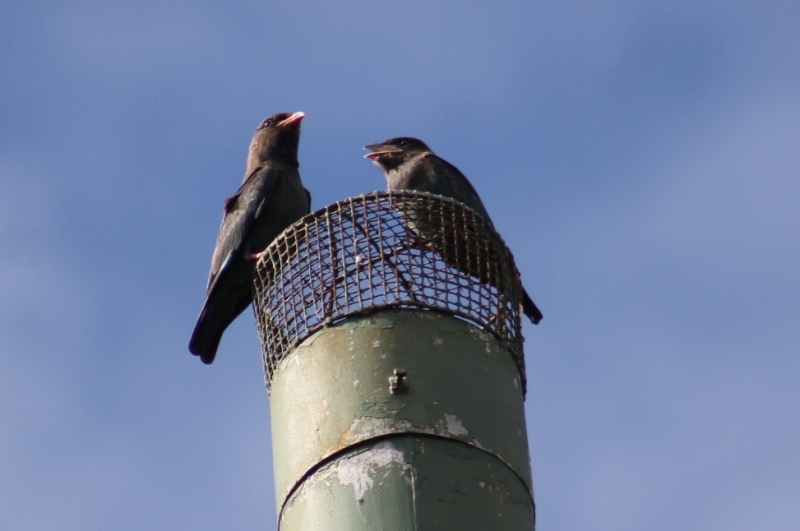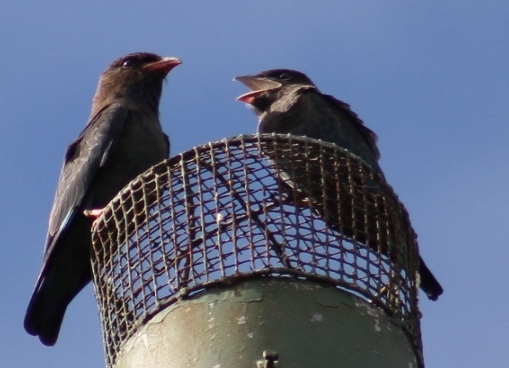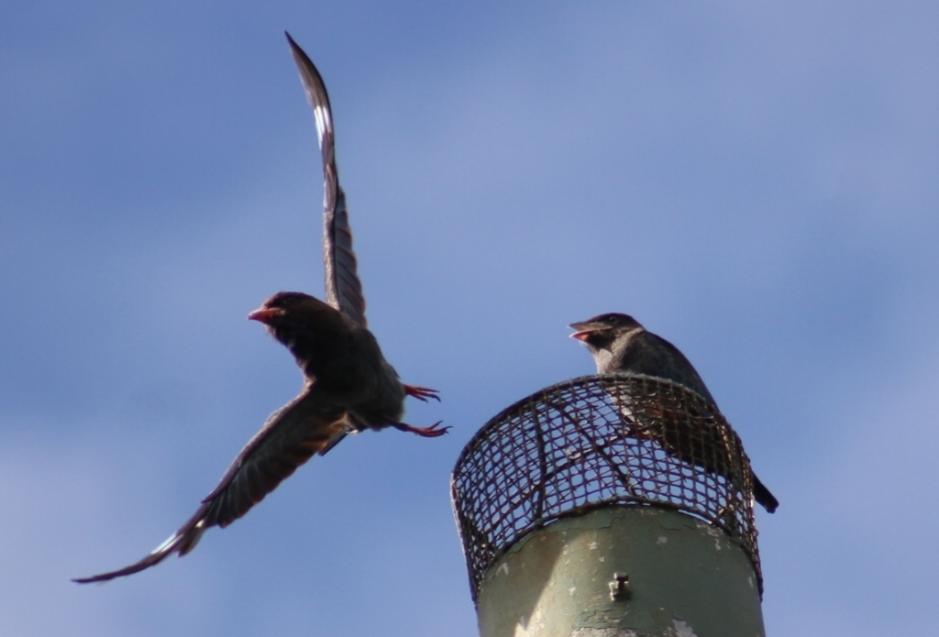 2013 Dollarbird photos: A J Guesdon.
Narrabeen's Octopus
Joe Mills has been down to Narrabeen rock shelf this week and shares these great photos of an octopus.
Joe says;
''Our local Narrabeen Rock Pool is a real aquarium, especially at low tide. These pics of an octopus were taken yesterday, January 24th, right alongside one wall of the pool. The occy was not scared or shy, and came within a couple of feet from me alongside the rock wall. I thought he was going to come out of the water. It was very exhilarating. See if you can identify the baby octopus disguising himself as a rock. ''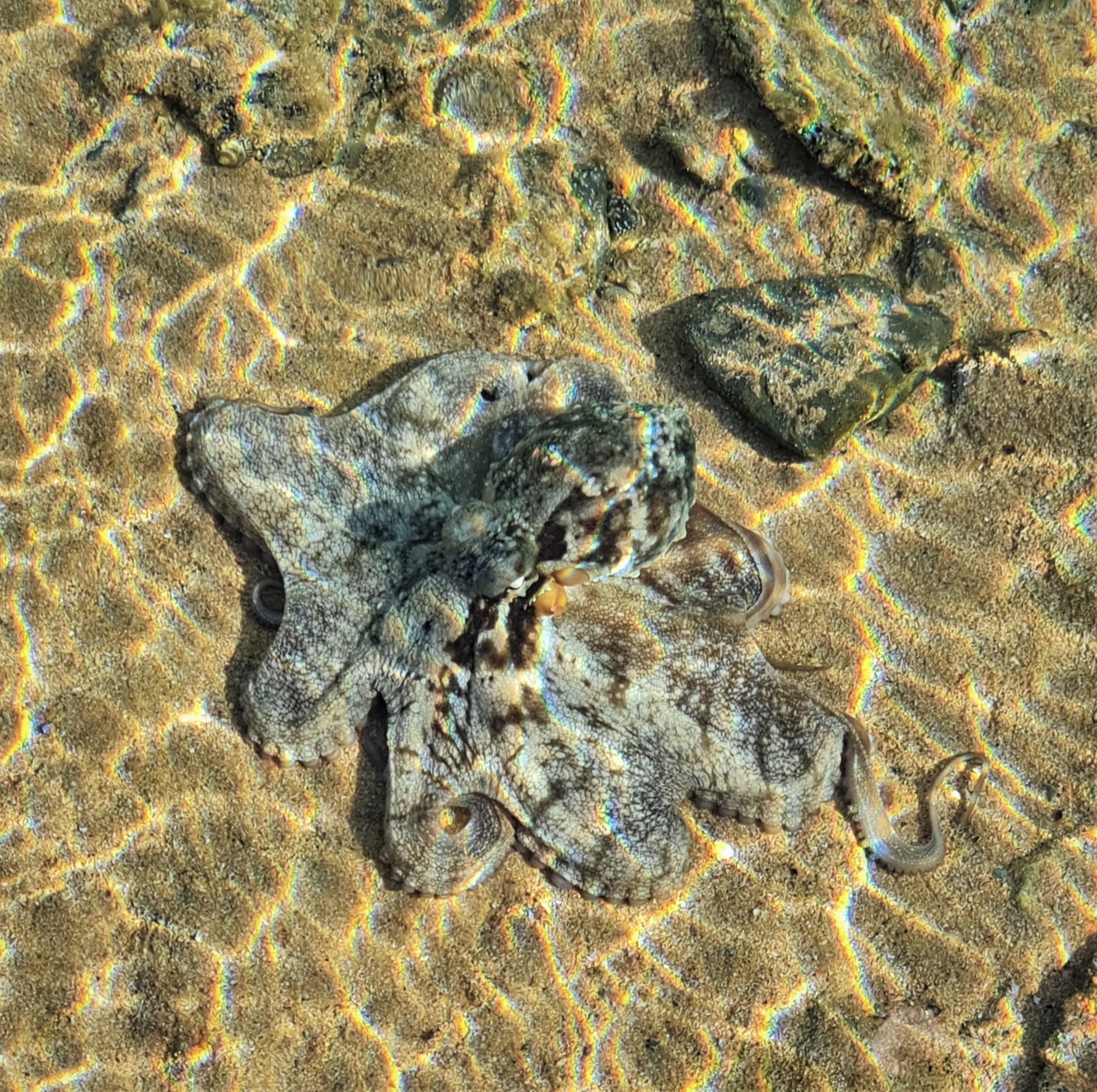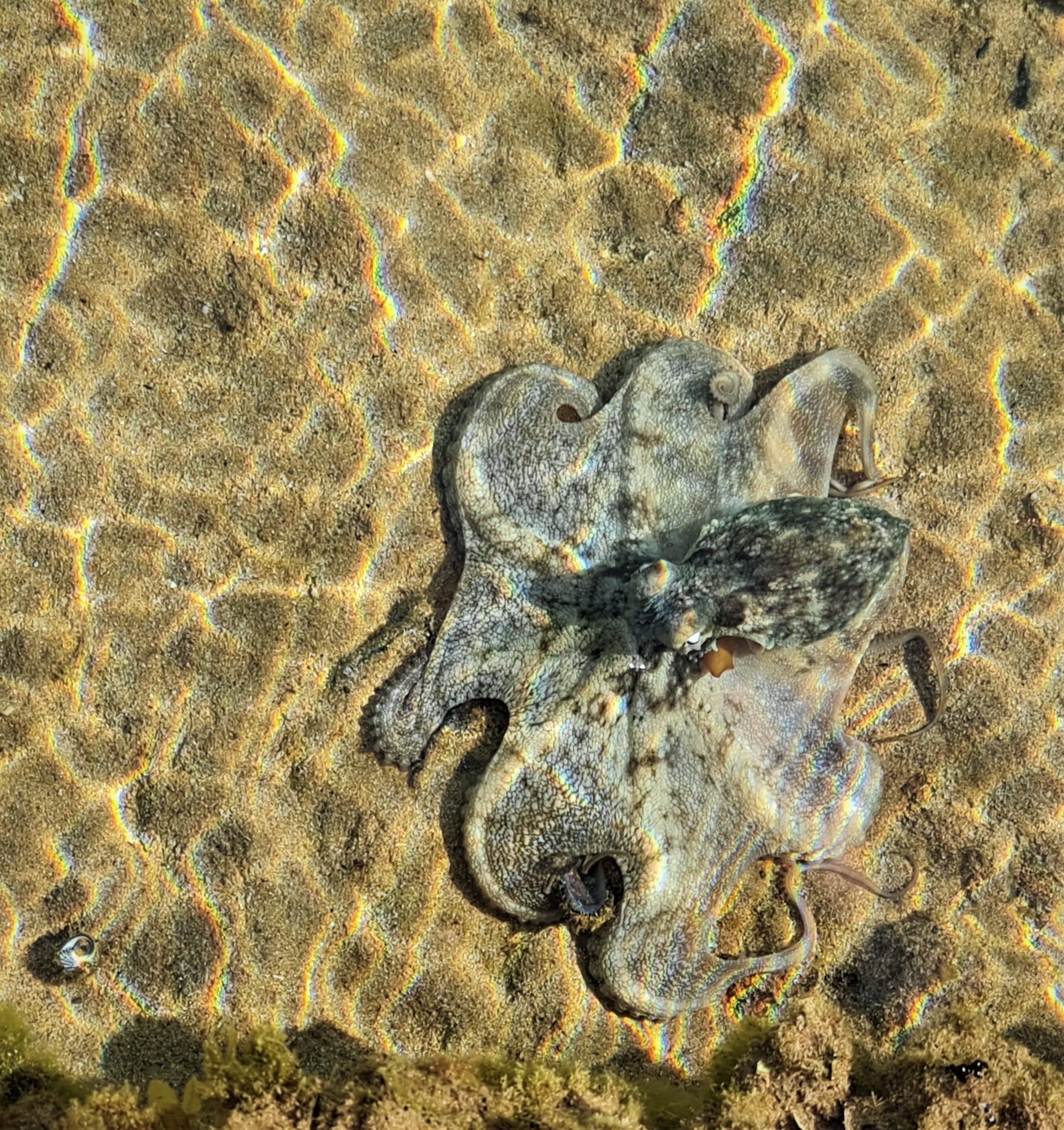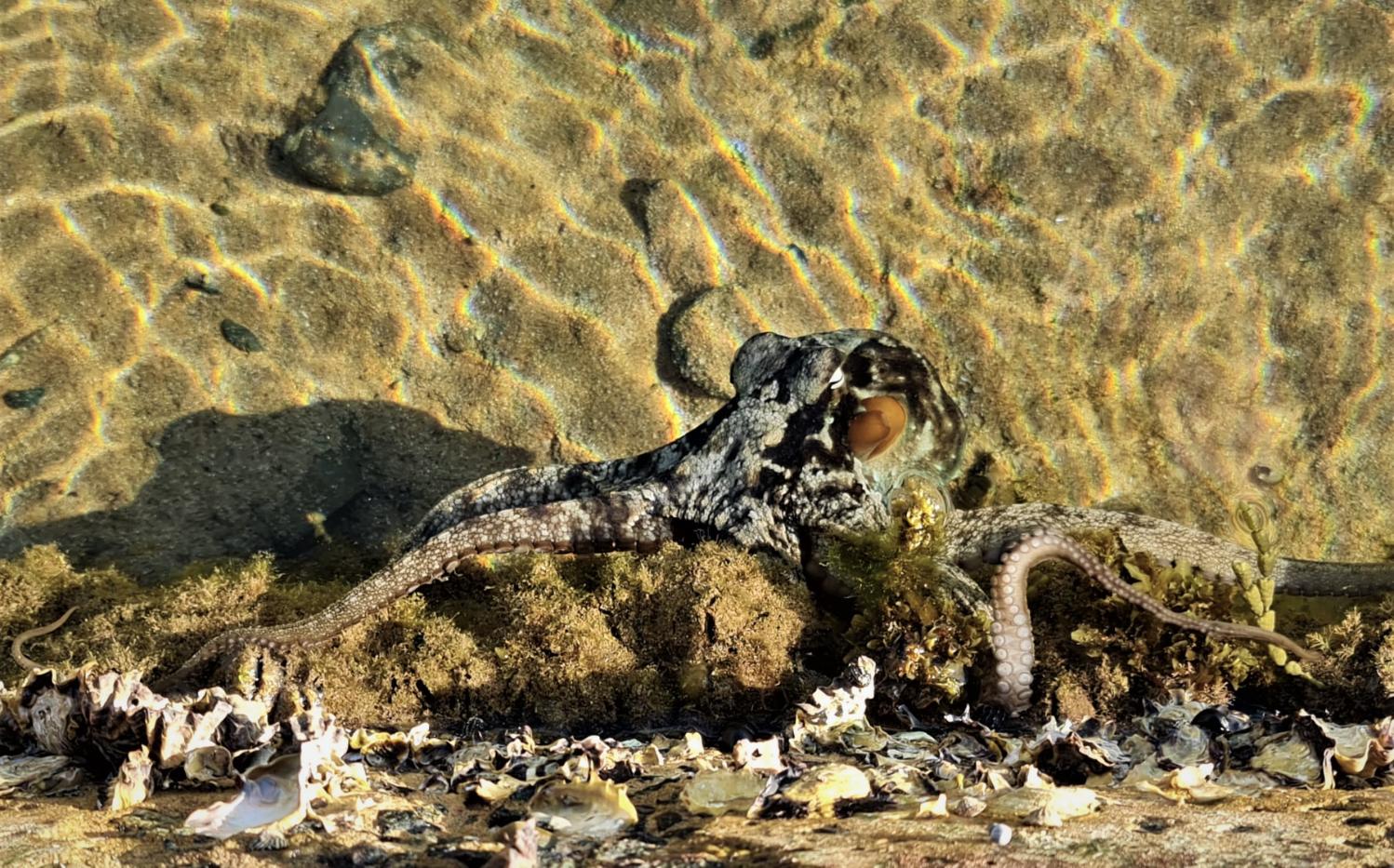 Avalon Dunes Bushcare
Avalon Dunes are really special and need our special care. Tiny birds like Blue Wrens like the thick bush, but we need to get rid of weeds that will take the place of good bird habitat.
We'll be back on Sunday February 6, meeting at 8.30 near the Montessori School, off Tasman Rd.
We're concentrating on chasing Morning Glory, peacefully weeding and chatting in the shade. Quite a bit is left for next time though.
Can you give us a hand?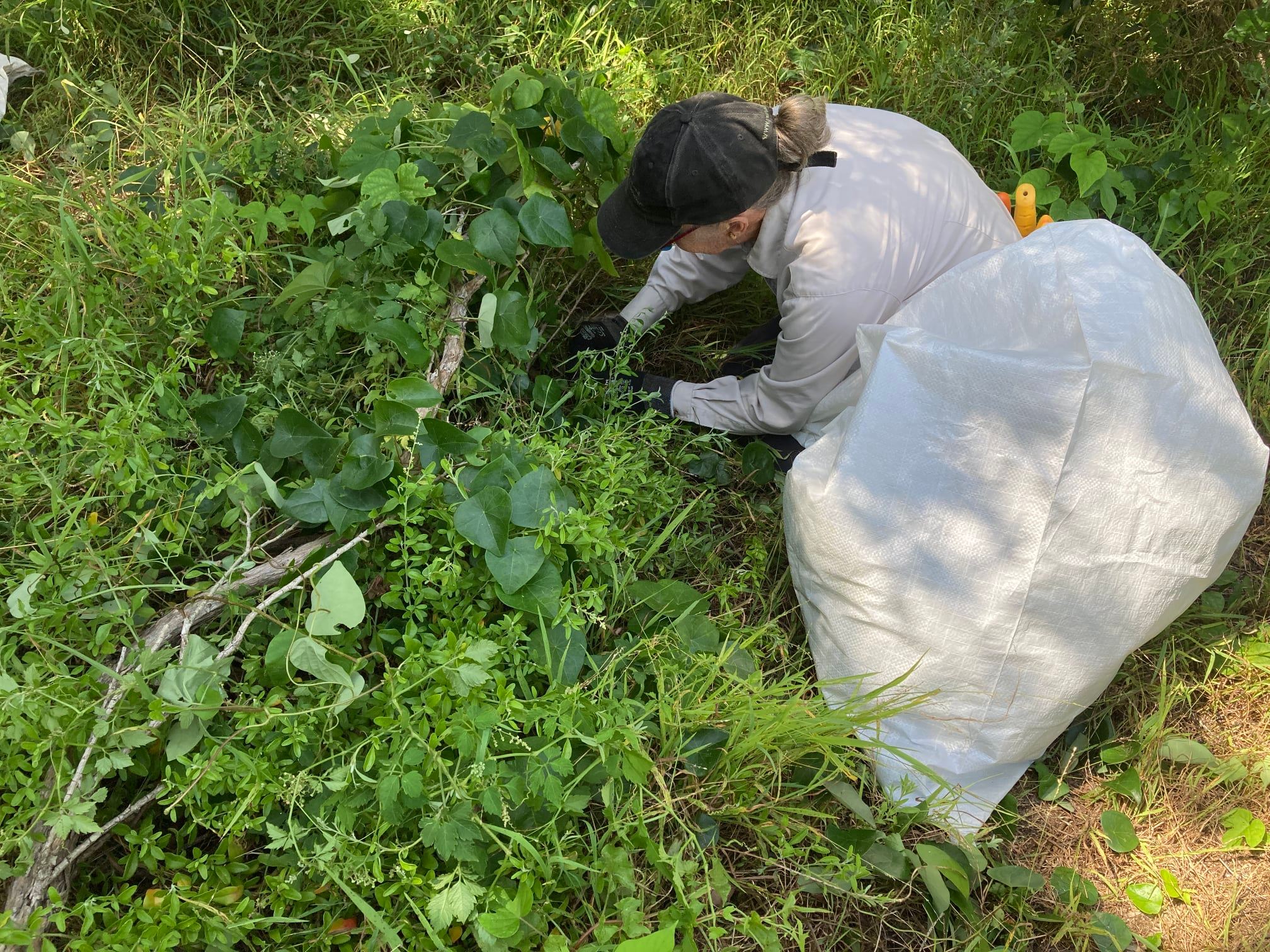 World Wetlands Day 2022
The 2nd February 2022 is the first year that World Wetlands Day will be observed as a United Nations international day, following its adoption by the General Assembly on 30th August 2021.
The theme for the 2022 edition is Wetlands Action for People and Nature, and it highlights the importance of actions that ensure that wetlands are conserved and sustainably used. It's an appeal to invest financial, human and political capital to save the world's wetlands from disappearing and to restore those we have degraded.
You can find materials to download, key messages and suggested actions to take on the
event website
.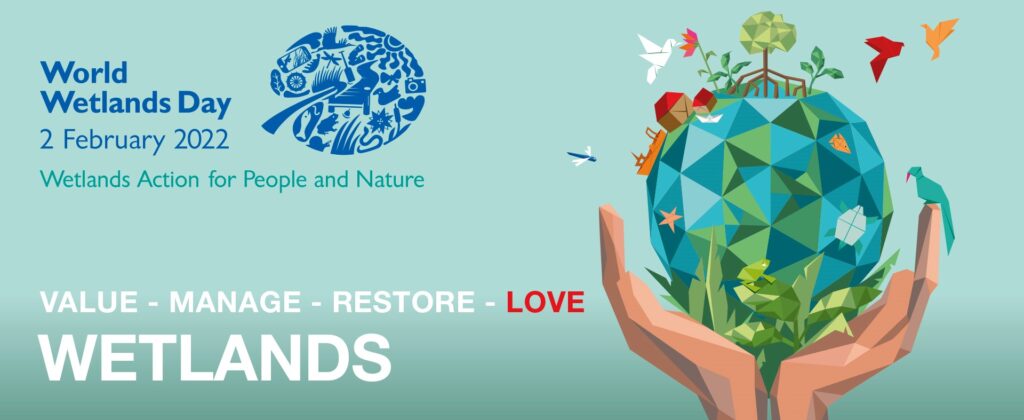 Birds Flock To Breed In North-West NSW Wetlands
The biggest wetland bird breeding event in the Macquarie Marshes and Gwydir Wetlands in a decade is well under way ahead of World Wetland Day on 2 February.
National Parks and Wildlife Service Acting Director, John Whittall, said recent floods had filled wetland systems and major bird breeding is happening right now, including at Narran Lake Nature Reserve.
"It's been a joy to see the wetlands spring back to life after the drought across the whole of northern NSW to enable what is now the biggest breeding event since 2012," John said.
"We're all very excited. The wetlands are internationally significant breeding grounds so it's fantastic to see mass breeding as we celebrate this year's World Wetland Day's theme of 'Wetlands Action for People and Nature'.
"NPWS have done 350 hours of aerial pest species shooting over the wetlands in the last 2 years, as well as follow up ground programs, to give the birds the best chance of breeding success possible."
NPWS Project Officer, Conservation Dr Joanne Ocock who is part of a multi-agency team monitoring the wetlands said: "Vegetation has returned as brilliant green islands in the semi-arid landscape providing waterbirds with plenty of nest-building material and we have seen the egrets and ibis in particular nesting in their thousands.
"The birdlife has been overwhelming and everyone has their favourites. I can't go past the incredibly pretty freckled and blue-billed ducks. They are threatened species and it's great to see them gather in such significant numbers.
"It's not just about the birds, we are also seeing baby frogs in enormous numbers. While some may just look at them as bird food, as a frog expert I think they are beautiful in their own right." she said.
Visitors are welcome to experience this remarkable event by visiting the Waterbird Lagoon bird hide at the Gwydir Wetlands State Conservation Area about 70 kilometres from Moree. Roads have reopened after the floods but visitors are asked to drive with care.
The best time to visit for the best bird watching experience is early morning or evening. For further information visitors should call Narrabri NPWS office on 6792 7300.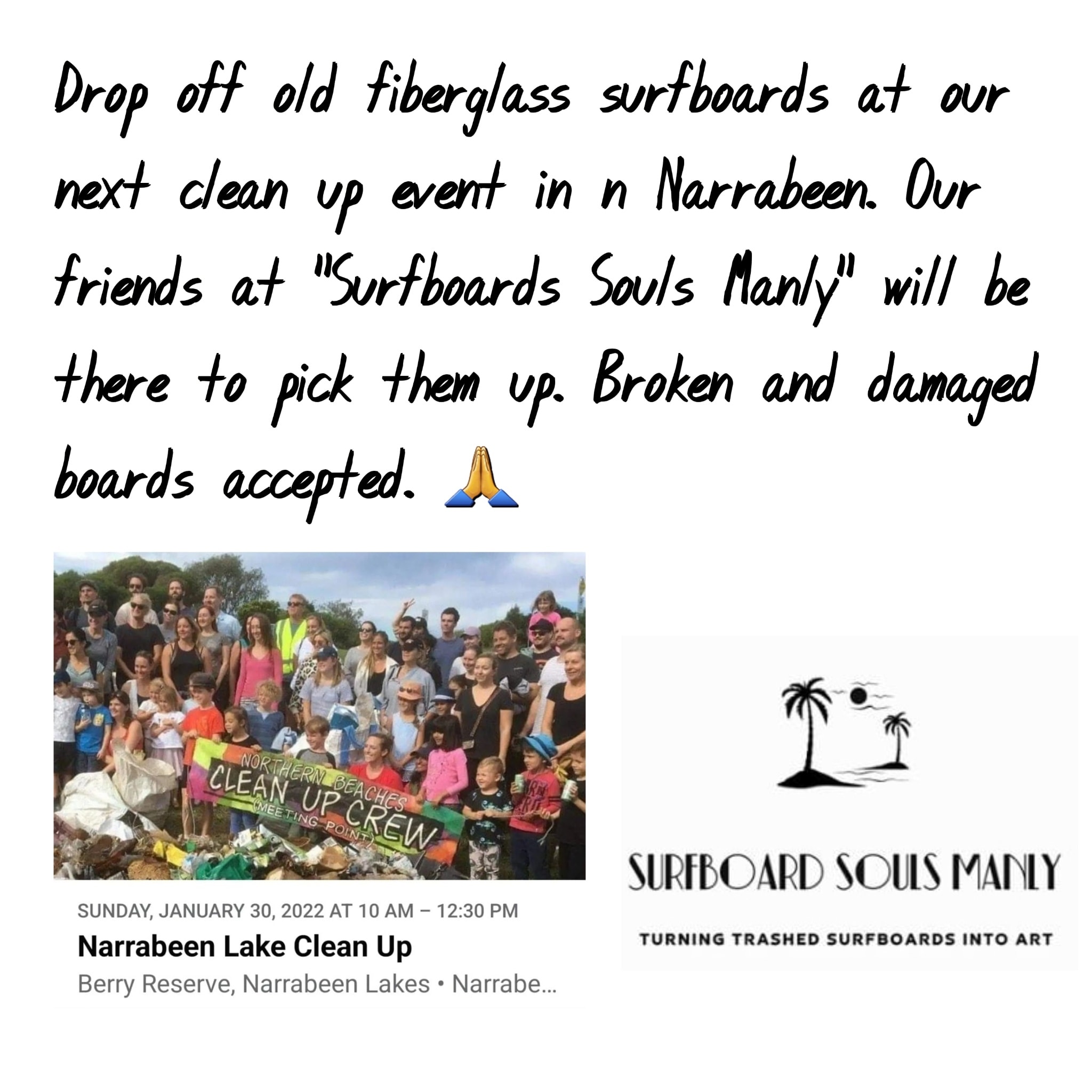 Bushcare In Pittwater
For further information or to confirm the meeting details for below groups, please contact Council's Bushcare Officer on 9970 1367
BUSHCARE SCHEDULES
Where we work Which day What time
Avalon
Angophora Reserve 3rd Sunday 8:30 - 11:30am
Avalon Dunes 1st Sunday 8:30 - 11:30am
Avalon Golf Course 2nd Wednesday 3 - 5:30pm
Careel Creek 4th Saturday 8:30 - 11:30am
Toongari Reserve 3rd Saturday 9 - 12noon (8 - 11am in summer)
Bangalley Headland 2nd Sunday 9 to 12noon
Bayview
Winnererremy Bay 4th Sunday 9 to 12noon
Bilgola
North Bilgola Beach 3rd Monday 9 - 12noon
Algona Reserve 1st Saturday 9 - 12noon
Plateau Park 1st Friday 8:30 - 11:30am
Church Point
Browns Bay Reserve 1st Tuesday 9 - 12noon
McCarrs Creek Reserve Contact Bushcare Officer To be confirmed
Clareville
Old Wharf Reserve 3rd Saturday 8 - 11am
Elanora
Kundibah Reserve 4th Sunday 8:30 - 11:30am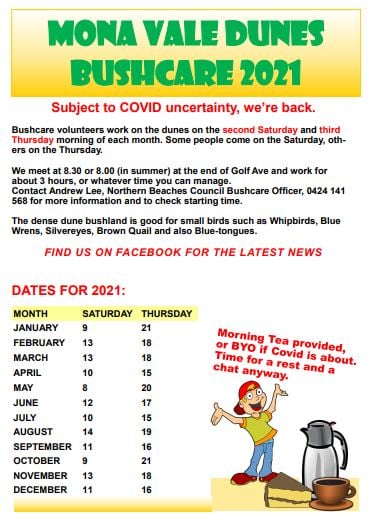 Mona Vale
Mona Vale Beach Basin 1st Saturday 8 - 11am
Mona Vale Dunes 2nd Saturday +3rd Thursday 8:30 - 11:30am
Newport
Bungan Beach 4th Sunday 9 - 12noon
Crescent Reserve 3rd Sunday 9 - 12noon
North Newport Beach 4th Saturday 8:30 - 11:30am
Porter Reserve 2nd Saturday 8 - 11am
North Narrabeen
Irrawong Reserve 2nd Saturday 2 - 5pm
Palm Beach
North Palm Beach Dunes 3rd Saturday 9 - 12noon
Scotland Island
Catherine Park 2nd Sunday 10 - 12:30pm
Elizabeth Park 1st Saturday 9 - 12noon
Pathilda Reserve 3rd Saturday 9 - 12noon
Warriewood
Warriewood Wetlands 1st Sunday 8:30 - 11:30am
Whale Beach
Norma Park 1st Friday 9 - 12noon
Western Foreshores
Coopers Point, Elvina Bay 2nd Sunday 10 - 1pm
Rocky Point, Elvina Bay 1st Monday 9 - 12noon

Gardens And Environment Groups And Organisations In Pittwater
Sydney Wildlife Rescue: Helpers Needed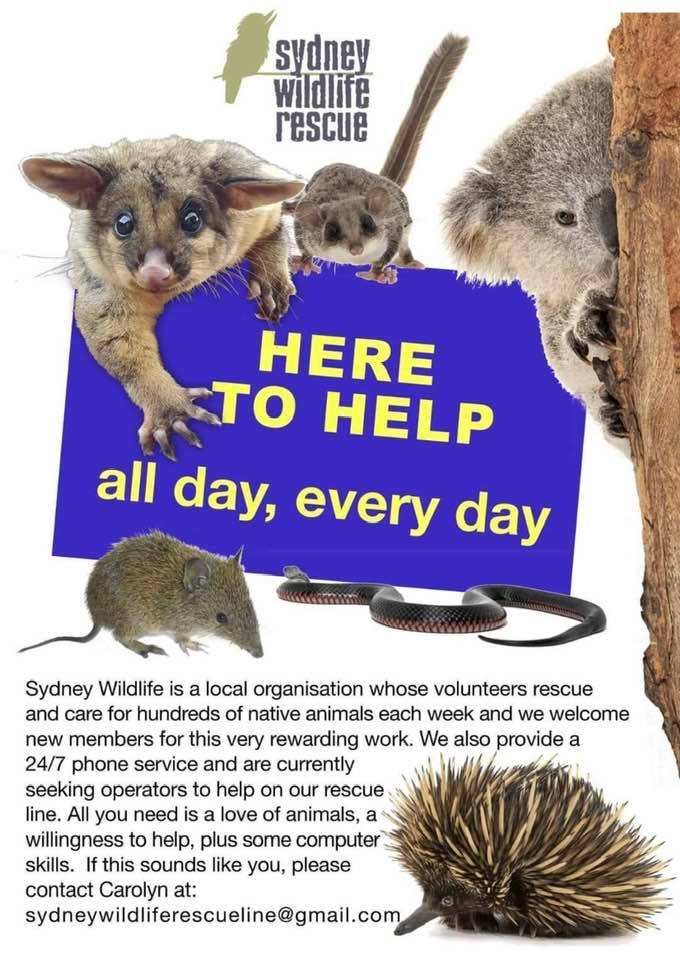 Citizen Scientists Needed To Help Record Impact Of Fires On Biodiversity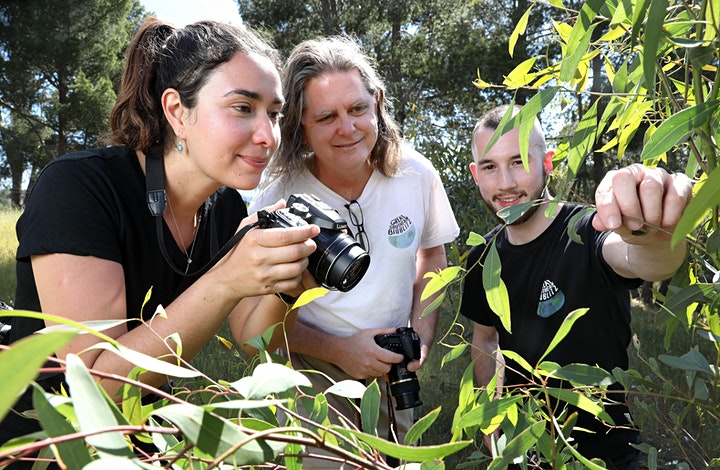 UNSW Sydney scientists are behind a citizen science event that will document the bushfire recovery of plants, animals and fungi across three bushfire affected regions in New South Wales.
The Big Bushfire BioBlitz starting on February 25 is a series of weekend-long events which will generate new evidence on the impacts of large-scale fire on biodiversity.
The BioBlitzes will take place in the Gondwana Rainforests of Washpool National Park, the Blue Mountains World Heritage Area, and Murramarang National Park on the south coast.
Thomas Mesaglio, iNaturalist curator and PhD candidate at the UNSW Evolution & Ecology Research Centre, said that the BioBlitzes will give people the opportunity to contribute meaningful biodiversity data that inform our understanding of how the environment recovers after large scale bushfires, and in turn contribute to research and conservation.
"A 'bioblitz' is a focused effort to record as many species as possible in a defined location within a limited period of time," Mr Mesaglio said.
"Citizen science events such as bioblitzes provide an invaluable opportunity to maximise the amount of data collection, intensely focusing on particular areas, as well allowing people of all skill levels to be involved.
"Participants get to interact with and learn from experts, and also offer their own local expertise and insights to the experts, so it's a fantastic two-way transfer of knowledge.
"These events are also great for motivating participants to become long-term contributors to citizen science platforms such as iNaturalist."
Experts – including from one of the partner scientific organisations, the Australian Museum – will lead biodiversity events over the weekends.
Casey Kirchhoff, PhD candidate at the UNSW Centre for Ecosystem Science, founded the Environment Recovery Project on the iNaturalist website after the devastating Southern Highlands' Morton bushfire destroyed her Wingello home in January 2020.
"Citizen scientists have been really motivated since the 2019-2020 bushfires," Mrs Kircchoff said.
"We've already had over 17,500 observations of bushfire recovery submitted to the Environment Recovery Project.
"We've been delayed by COVID-19, but it's great to finally have the opportunity to engage more directly with some of the bushfire impacted communities through citizen science at the bioblitzes.
"The more observations we can collect, the more we will know about the impact of the fires on our environment."
While not everyone will be able to make it to an in-person bioblitz, everyone who can access a bushfire-impacted area right across Australia is encouraged to participate.
"The Big Bushfire BioBlitz iNaturalist project will be open to every citizen scientist keen to 'bioblitz' their own area, no matter if they're in Western Australia or Kangaroo Island," Mrs Kirchhoff said.
The iNaturalist community has more than 88 million biodiversity records and links to Australia's leading open-access biodiversity data platform, the Atlas of Living Australia, where everybody from scientists and policymakers to the general public can access a wealth of biodiversity information.
The bioblitzes are supported through the Australian government's Regional Bushfire Recovery Fund and UNSW's Centre for Ecosystem Science, in partnership with the Atlas of Living Australia, Minderoo's Fire and Flood Resilience Initiative and the Australian Citizen Science Association.
BioBlitz 1: Blue Mountains, Friday 25 February – Sunday 27 February 2022

BioBlitz 2: Washpool National Park, Friday 4 March – Sunday 6 March 2022

BioBlitz 3: Murramarang National Park, Friday 11 March – Sunday 13 March 2022
Register for the Big Bushfire BioBlitz.
The Atlas of Living Australia is Australia's national biodiversity data infrastructure funded by the National Collaborative Research Infrastructure Strategy (NCRIS) and hosted by Australia's national science agency, CSIRO. image; Scientists are hoping that people of all skill levels will get involved in the forthcoming 'bioblitzes' which will see citizen scientists record as many species as possible over three weekends. Photo: Dean Martin 2021 (CC-BY-NC).
NSW Planning Department Recommends Approval Of Climate Wrecking Whitehaven Coal Mine; Admits Policy Incoherence
Lock the Gate Alliance has slammed the NSW Planning Department for recommending approval for a Whitehaven owned coal mine expansion that would be responsible for nearly half a billion tonnes of carbon emissions, and likely cause a 10m drop in groundwater levels.
The company's 11 million tonne per annum Narrabri Underground expansion would create more than 30 million tonnes of direct greenhouse pollution, and 456 million tonnes of downstream emissions. It would also cause major subsidence in the Pilliga Forest and reduce water flowing into the Namoi River.
The Independent Planning Commission uploaded the
assessment referral
for the project today (January 19). Unusually, the report includes a candid admission from the department that NSW has no coherent policy to consider and determine the acceptable impact of new coal mining projects on climate change (see page 73). It also queried whether the project's purported economic benefits were accurate, given the extent of the greenhouse emissions (see page 87).
Whitehaven admits that at least nine farmer-owned water bores would be impacted if its expansion is built, however Lock the Gate Alliance believes the company has underestimated the number of bores that will be drained.
The decision by the department to list the project as "approvable" comes despite media reports last year revealing department officials criticised Whitehaven's application, and described the company's predicted water impacts as "counterintuitive" and "inconsistent."
Lock the Gate Alliance spokesperson Georgina Woods said, "Whitehaven's Narrabri Underground expansion would mean this coal mine is responsible for the highest volume of direct and indirect carbon emissions of any coal project determined by the Independent Planning Commission to date. This is clearly unacceptable at a time when the world desperately needs to reduce greenhouse gas pollution and avoid worsening the climate crisis.
"The department's decision to recommend approval to this huge new source of greenhouse pollution is particularly infuriating because, for the first time, the department actually sought advice about the project's carbon emissions. The department's admission that New South Wales has no coherent policy about how to prevent and manage the greenhouse emissions of the state's coal mines is damning, but that policy failure should not mean this damaging project gets waved through.
"The department has admitted that accurate economic costing of this climate change impact would reduce its purported benefits. By our calculation, if Whitehaven Coal had honestly assessed this issue, this coal mine would have a net negative impact on the economy of New South Wales.
"The expansion would drain groundwater from a region that has only recently emerged from a devastating drought. It's going to fuel climate change and contribute to droughts likely becoming more frequent and more intense in the North West.
"Namoi Valley farmers have long suffered due to Whitehaven's cavalier attitude to the law. The company has been warned, fined, or prosecuted for serious misconduct at its NSW coal mines more than 40 times in recent years.
"This is a company with no coherent climate change policy, an environmental crime wrap sheet as long as your arm, and a serious trust deficit with the local community. It's up to the Independent Planning Commission now to stop this reckless expansion from proceeding."
The NSW Department of Planning & Environment has finalised its whole-of-government assessment of the proposed
Narrabri Underground Coal Mine – Stage 3 Extension Project (SSD 10269)
and it has come to the Independent Planning Commission NSW for determination under ministerial delegation.
The Minister for Planning has requested that the Commission conduct a public hearing into the carrying out of the Project prior to determining the SSD application for it.
Professor Mary O'Kane (Chair of the Commission), Professor Snow Barlow and Professor Chris Fell AO have been appointed to determine this SSD application.
They will host the public hearing from 8:30am AEDT on Monday 14 February 2022 to hear directly from community members.
Due to the ongoing COVID-19 pandemic, the Commission will conduct this public hearing remotely with registered speakers participating via tele- and/or videoconference.
If you wish to apply to speak at the electronic public hearing, you must
complete the registration form on the IPC website
by no later than 12pm AEDT on Wednesday 9 February 2022. Once speakers who wish to participate in the public hearing are registered, they will be provided additional information on how to join the hearing and the technical support available to them.
In the interests of openness and transparency, a transcript of the public hearing will also be published on the Commission's website.
If you want to have your say on this project but are unable to participate in the public hearing, you can submit your comments in writing to the Commission up to one week (seven days) after the public hearing via email, post or our online portal:
www.ipcn.nsw.gov.au/have-your-say
WaterNSW Flushes South32'S Number 2 Dendrobium Extension Plan
The NSW Government body charged with the protection and management of the state's drinking water supplies has highlighted serious concerns over drinking water loss in response to South32's revised Dendrobium coal mine extension proposal.
A new application for South32's Dendrobium coal mine extension was granted State Significant Infrastructure (SSI) status after the project was rejected by the Independent Planning Commission last year due in part to the "unacceptable impact" it would have on the drinking water supply for more than five million people. The company's revised plan means roughly up to three billion litres of water each year would still be lost from the catchment if the mine extension is built.
The decision to list the project as SSI means that the state's Planning Minister can ignore a number of regulations when determining whether to approve it, including the requirements of the State Environmental Planning Policies designed to protect Sydney Drinking Water Catchment.
In its response to South32's "scoping report" for the project, uploaded today, WaterNSW has flagged a number of serious concerns about the mine extension's potential impact on the drinking water catchment area including:
"WaterNSW does not support (South32's) proposal to offset surface water take for the revised Dendrobium Area 5 Extension Project as suggested in the Scoping Report.




"The [Independent Expert Panel on Mining in the Catchment] has highlighted that the mine design adopted for mining in Dendrobium Mine Areas 1, 2 and 3 has resulted in surface water losses that are very significant compared to other mines in the Special Areas like Metropolitan Mine and Russell Vale Colliery.




"A rigorous analysis must be presented as to how this additional water lost, because of this mining, will be 'made up' or replaced into the future.




"There is a knowledge gap and inadequate studies done with regards to groundwater recharge rates.




"(South32) needs to consider mine design options to avoid/minimize surface water losses and options for treating and returning underground mine water back into the Sydney drinking water catchment."
WaterNSW identified 16 points where South32 had failed to include crucial information in its revised plan, and also called on the company to:
Revise its plan so the risks of cracks and subsidence to threatened upland swamps above the mine are reduced: "WaterNSW will only support the consideration of watercourse and swamp rehabilitation and water offsets for the Area 5 Extension Project as a Contingency Measure."
Assess the mine's impacts on water features like rockbars/pools and waterfalls on "an individual basis".
WaterNSW also notes that "Increasing climate variability means that, without action, we could face a shortage of drinking water with more and longer periods of severe drought".
Deidre Stuart, from Illawarra grass roots network fighting the Dendrobium extension Protect Our Water Catchment Incorporated said WaterNSW's criticism showed South32's Dendrobium extension was still "not in the public interest and if approved by the Planning Minister, would not meet community expectations".
"As WaterNSW has rightfully pointed out, the Greater Sydney region and the Illawarra is at serious risk of unprecedented drought as the climate crisis intensifies," she said.
"Building a new coal mine extension that will drain away the drinking water we rely on is reckless. It is also reckless that the government would even consider allowing avoidable drying out of the water catchment which helps protect us from increased bushfire risk in a warming climate.
"Sydney is the only large metropolis in the world that allows longwall coal mining beneath its public drinking water catchment.
"It's fundamentally unfair that the independent process that rejected this extension has been disregarded, even while the company is bizarrely still fighting that decision in court."
Lock the Gate Alliance NSW spokesperson Nic Clyde said: "WaterNSW's scathing assessment backs our argument that an independent assessment of South32's Dendrobium revised extension is required.
"We're confident that if this were to occur, the IPC would again rule the mine's impacts on Sydney and the Illawarra's drinking water catchment is too great.
"The NSW Government took the decision away from the IPC because it didn't like the last outcome. We need independence and scientific rigour when it comes to protecting our precious drinking water catchments, not ham fisted politically motivated decisions.
"To date, the political justification for sidelining the IPC has been an argument about securing Bluescope's coking coal supply, yet the IPC did not find there was a clear dependency between the Dendrobium project and Bluescope's needs."
Taxpayers Fork Out For Most Expensive Water Ever
The Federal Government today committed Australian taxpayers to effectively pay a record $20,000 per megalitre to recover water in the Murrumbidgee Irrigation Area.
[1]
Federal Environment Minister Keith Pitt has announced the government will allocate $126 million for water efficiency infrastructure to recover possibly just 7.4 gigalitres of water, with only 6.3 gigalitres to be returned to the environment
"That means every megalitre of water saved will cost taxpayers $20,076," Nature Conservation Council Acting Chief Executive Jacqui Mumford said.
"That's almost eight times the most recent price paid for the permanent trade of general security access to water on the open market in the Murrumbidgee. [2] By some estimates, this is the most expensive water yet in Murray-Darling River system.
"It's a scandalous waste of taxpayers' money. There are far cheaper and more effective ways to meet the targets of the Murray-Darling Basin Plan.
"If all water cost this much, the $13 billion Murray-Darling Basin fund would only buy 647.5 GL, about 20 per cent the 3,200 gigalitres required to be recovered under the Basin Plan.
"And where is the government's cost-benefit analysis to show value for money? Or how about its water recovery calculations?
"Water buy-backs are a far cheaper way to achieve the same result, and the result is more certain than forecast gains from water efficiency measures, which are highly uncertain." [3]
Ms Mumford asked why the Morrison Government was giving irrigators 1,100 megalitres under this arrangement, rather than returning that water to the environment to restore natural river flows.
"With climate change making less water available, such large sums should be used to diversify regional economies rather than subsidise already planned works of private irrigation schemes," Ms Mumford said
"Reports show that each dollar spent on human services like hospitals and schools creates four times as many jobs as spending on infrastructure upgrades." [4]
REFERENCES
[1] Murrumbidgee Irrigation says $126 million grant will allow it halve its water losses, ABC, 18-1-21.
[2] See Key Water, Last Trades.
[3] On the permanent trade market, it would cost $2,450/ML to by water access on the Murrumbidgee. See Key Water, Last Trades.
[4] Modelling variants of the Murray-Darling Basin Plan in the context of adverse conditions in the Basin, Glyn Wittwer Centre of Policy Studies, Victoria University, March 2020.
Murray Cod Stocks Surpass One Million
Minister for Agriculture and Western NSW Dugald Saunders today helped release 5,000 Murray Cod fingerlings in the Macquarie River at Dubbo, taking the total number of Murray Cod stocked in NSW waterways in 2021-22 to 1.27 million, eclipsing previous records.
Mr Saunders said today's final stocking event capped off a record-breaking season, smashing the previous state stocking record of 780,000 back in 2006-07.
"Stocking over a million fingerlings into NSW waterways is crucial to strengthening the Murray Cod populations and this record-breaking year is monumental following years of crippling drought," Mr Saunders said.
The Murray Cod fingerlings were the progeny of fish rescued in a joint operation involving DPI Fisheries and volunteer fishers during the 2019 drought, as part of the NSW Government's $10 million Native Fish Drought Response.
"I wish to take this opportunity to acknowledge and thank all of the local recreational fishers and the community for the work they did to assist the NSW Department of Primary Industries (DPI) to rescue fish during the previous severe drought conditions," Mr Saunders said.
"Their efforts were critical in being able to rescue the fish and be able to breed their progeny for release back into the system. The rescued fish have contributed over 500,000 fish that have been released into NSW waterways over the past two years."
The Murray Cod fingerlings were bred at the NSW DPI Fisheries' flagship fish hatchery at Narrandera, as part of the State's largest-ever breeding program.
Since November 2021, Murray Cod fingerlings have been released at over 50 sites across NSW including:
90,000 in the Macquarie River at Dubbo, Narromine, Trangie and Warren;
93,000 at Blowering Dam;
110,000 at Copeton Dam;
125,000 to Wyangala Dam; and
120,000 in the Darling River at Menindee, Louth and Bourke.
Mr Saunders said the NSW DPI Fisheries is committed to breeding two million native fish each year as part of the Native Fish Stocking Program, to keep NSW lakes and rivers well stocked.
"Stocking this impressive number of fish would not have been possible without the help of local communities, fishing clubs and volunteers," Mr Saunders said.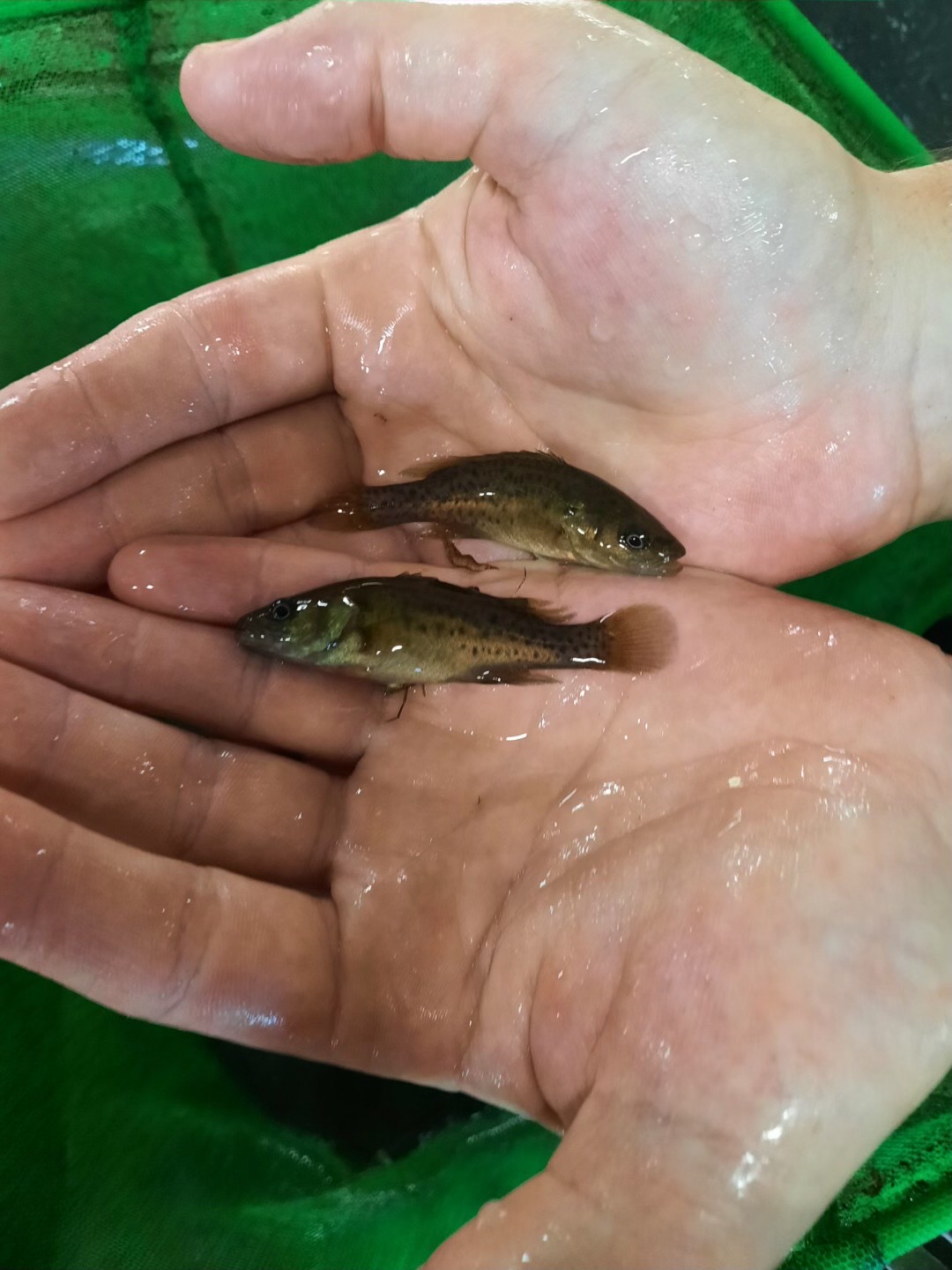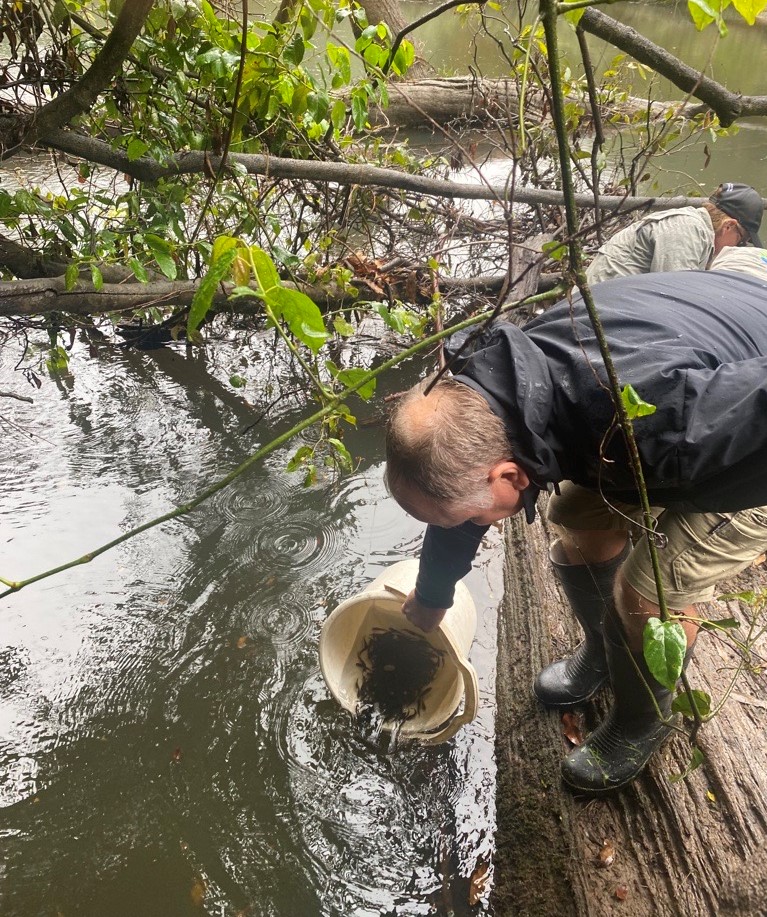 Photos: NSW DPI Fisheries

New Economic Model Finds Wetlands Provide Billions In Filtration Value
Southern Ontario wetlands provide $4.2 billion worth of sediment filtration and phosphorus removal services each year, keeping our drinking water sources clean and helping to mitigate harmful and nuisance algal blooms in our lakes and rivers.
A new study from the University of Waterloo uses economic valuation to help us understand the importance of Southern Ontario's wetlands for water filtration -- particularly as these sensitive ecosystems continue to be lost by conversion to agriculture or urban development.
"Wetlands naturally filter out phosphorus and sediments from water, but their value is often greatly overlooked," said Tariq Aziz, who carried out the study during his PhD and postdoctoral work in Waterloo's Department of Earth and Environmental Science. "By calculating the economic value of wetland filtration and comparing it to the costs of engineered interventions, we hope to reinforce the importance of protecting our wetlands."
The total value of $4.2 billion in sediment and phosphorus filtration services was found based on the average rate of sediment accretion in each type of wetland in Southern Ontario and estimating how much the removal and disposal of the same amounts of sediment and phosphorus in stormwater management facilities in Ontario would cost.
This is the first economic valuation study to separate the values of the major types of wetlands in Southern Ontario: marshes, bogs, swamps, and fens. "We found that marshes were the most valuable wetland type for sediment and phosphorus filtration, based on the removal rates per hectare," said Aziz. "However, because swamps make up 87 per cent of Southern Ontario's wetlands, they contribute about 80 per cent of the overall filtration services we benefit from, at a value of about $3.4 billion per year."
This study also calculated how much it would cost to replace wetlands' existing phosphorus filtration function with three different human-engineered solutions. Building artificially constructed wetlands would cost an average of $2.9 billion per year to replace the free phosphorus filtration service our natural wetlands currently provide. Implementing agricultural Best Management Practices to remove an equivalent phosphorus load would cost society $13 billion annually, while expanding current wastewater treatment capacity to replace wetlands' filtration service would cost $164 billion per year.
Tariq Aziz, Philippe Van Cappellen.
Economic valuation of suspended sediment and phosphorus filtration services by four different wetland types: A preliminary assessment for southern Ontario, Canada.
Hydrological Processes, 2021; 35 (12) DOI:
10.1002/hyp.14442
Urban Greening 'Not A Panacea' For Dealing With Extreme Weather
Urban greening is unlikely to provide a single fix for tackling extreme weather events brought on by climate change, scientists have suggested.
A team led by researchers from Cardiff University has shown that the majority of cities around the world will not be able to reduce instances of heatwaves and flooding at the same time through the introduction of strategies such as green roofs, living walls, vegetated urban spaces and parks.
Publishing their findings today in the journal Nature Communications, the team show that the cooling or flood-reducing potential of green urban spaces depends strongly on the prevailing climate of the city in question, with flood protection likely to be more successful in arid environments, whilst a cooling effect more likely in more humid climates.
Urban areas each have unique climates that pose significant risks, even more so as climate change increases the likelihood and severity of extreme weather events in the future.
Heatwaves within our cities can be attributed to the urban heat island effect (UHI), caused by the predominance of concrete and steel that absorb and retain heat, and the lack of cooling by water evaporating from plants. Flooding is part of the urban stream syndrome (USS), whereby city structures and systems negatively affect the natural runoff of rainwater back into the environment.
To tackle these problems, a commonly proposed strategy is to implement urban greening in our cities in the form of green roofs, living walls, vegetated urban spaces or parks.
Not only can these measures reduce the UHI and USS effects in our cities, they can also support local wildlife, reduce pollution and improve the general wellbeing of local populations.
In their study, the team used global climate model outputs and weather information from 175 cities around the world spanning 15 years of daily observations, from 2000 to 2015.
This data was used in conjunction with theories taken from soil science to calculate water infiltration into soils, which act like a sponge to reduce rainwater runoff, and the evaporation of water from plants, which can induce the desired cooling effect.
"Our research found that the ability of urban greening to mitigate local flooding and excess heat is not automatic nor, in some areas, even possible," said lead author of study Dr Mark Cuthbert, from Cardiff University's School of Earth and Environmental Sciences.
"Local and regional climatic conditions significantly impact the capacity of urban soils and plant growth to simultaneously defend against flooding and extreme heating. In fact, our findings indicate that in many, possibly the majority, of global cities, urban greening will not be able to mitigate cooling and flooding at the same time."
The team also found that increasing variability in rainfall patterns due to climate change may reduce the performance of thinner green structures, such as green roofs, more quickly compared to larger greened areas with thicker soils and root systems.
They say these things must be considered by urban planners in order to find the best solution for each individual city, with a balance needed between performance, cost and viability.
"While urban greening may not be a panacea, our results show what's possible in designing the cities of the future," Dr Cuthbert concluded.
The research was led by Cardiff University in conjunction with scientists at the University of New South Wales, Karlsruhe Institute of Technology and Nottingham Trent University.
M. O. Cuthbert, G. C. Rau, M. Ekström, D. M. O'Carroll, A. J. Bates.
Global climate-driven trade-offs between the water retention and cooling benefits of urban greening.
Nature Communications, 2022; 13 (1) DOI:
10.1038/s41467-022-28160-8
Scientists Discover New Avian Immunological Pathway
A research team led by a biomedical scientist at the University of California, Riverside, has discovered a new immune pathway in chickens that viruses -- such as those that tend to infect birds, humans, and animals and spread diseases like influenza or Crimean-Congo hemorrhagic fever -- may be targeting.
The discovery, which has implications also for diseases affecting other birds, sheds greater light on birds' immune responses to zoonotic viruses -- specifically, how those may differ from responses seen in humans.
"Understanding these differences is critical to better understanding birds as potential reservoirs of human pathogens," said Scott Pegan, a professor of biomedical sciences in the UC Riverside School of Medicine, who led the study published in Frontiers in Immunology. "Additionally, it allows researchers to better understand the immune pathways that might lead to effective vaccines for agriculture use in poultry."
Birds lack a protein in their cells called ISG15. Found in mammals and other non-avian reptiles, ISG15 in those species helps mount an effective immune response to viral infection. Serving as a messenger molecule, ISG15 helps stabilize host and viral proteins and regulate many antiviral responses. Instead, birds have OASL proteins that help produce a robust immune response to viral infection. Pegan and his team focused on chicken immunity.
"We found chicken OASL contains features resembling those found in mammalian ISG15s," Pegan said. "Our analysis of OASL sequences from six diverse bird species indicate that these features are likely conserved among avian OASLs."
The team found avian OASLs have a sequence motif of amino acids, namely, LRLRGG, within what is known as a ubiquitin-like domain. This motif allows OASL to attach to other host proteins as a means to stimulate certain host antiviral pathways.
"This has never been shown before," Pegan said. "We found OASL in birds has this unique LRLRGG motif at one end and it's very functional. Additionally, the region of the protein this motif belongs to has a similar 3D atomic structure of ISG15. This, along with findings related to what it can attach to within cells, suggests that OASL plays at least part of the role in birds that ISG15 would have played."
Pegan explained that to suppress the human immune system, a virus contains a protein that performs two jobs: remove ISG15 as well as ubiquitin, which a small protein that helps regulate the processes of other proteins in the body from host and viral proteins. Compared to these small proteins, OASLs are four times larger and with other areas carrying out different functions. Although mammals have OASL proteins, they lack this additional motif to conjugate to other proteins, suggesting that birds may have evolved to centralize functions carried out by ISG15 and other immune pathways. This immunological pathway in birds, which is a substitute for ISG15, is what Pegan's team discovered.
"We now know a new immune pathway in chickens," he said. "Viruses appear to be evolutionarily geared to try to interfere with this pathway. Such information allows us to develop better vaccines and treatments that seek to optimize triggering this pathway to help chickens ward off disease. It also allows animal husbandry programs to further enhance this pathway's potency leading to poultry that is more resistant to disease."
The research was supported by grants from the National Institutes of Health and Department of Defense; and, in part, by the Centers for Disease Control and Prevention and Oak Ridge Institute for Science and Education.
Justin D. Shepard, Brendan T. Freitas, Sergio E. Rodriguez, Florine E. M. Scholte, Kailee Baker, Madelyn R. Hutchison, Jaron E. Longo, Holden C. Miller, Brady M. O'Boyle, Aarushi Tandon, Peng Zhao, Neil J. Grimsey, Lance Wells, Éric Bergeron, Scott D. Pegan.
The Structure and Immune Regulatory Implications of the Ubiquitin-Like Tandem Domain Within an Avian 2'-5' Oligoadenylate Synthetase-Like Protein
. Frontiers in Immunology, 2022; 12 DOI:
10.3389/fimmu.2021.794664
Forest Emissions Scheme Makes 'Tiny' Contribution To Indonesia's Paris Targets
More than 70 million tons of carbon were prevented from being released into the atmosphere under a deforestation emissions reduction scheme in Indonesia -- but researchers point out this is only 3 per cent of the total required by Indonesia's Nationally Defined Contribution (NDC) under the Paris Agreement.
Indonesia is home to the world's third largest span of tropical rainforest and is one of the largest greenhouse gas emitters -- from 2000-2016 it was responsible for around a quarter of global emissions from deforestation, forest degradation, peatland decomposition and fires.
In 2011 Norway began a partnership with Indonesia to reduce carbon emissions from deforestation through a moratorium on granting new licences for palm oil, logging and timber concessions.
The partnership, part of the international framework for Reducing Emissions from Deforestation and Forest Degradation (REDD+) established at COP13, saw Norway pledge $1billion to Indonesia as a performance based payment for carbon emissions reductions in the forestry sector. Under the REDD+ approach Norway committed to pay $5 per ton of carbon if the forest-rich tropical country reduced its emissions from deforestation.
The study, by a group of researchers including Professor Ben Groom, Dragon Capital Chair in Biodiversity Economics at the University of Exeter Business School, analysed the effectiveness of the scheme, and asked whether Norway received good carbon value for its money.
The researchers compared satellite data from 2004-2018 on forest cover inside the moratorium area, initially spanning 69 million hectares of forest land, with a control area outside the moratorium.
They divided forest cover throughout Indonesia into 400,000 grid squares and then matched grid squares inside and outside the moratorium area, ensuring they were comparing similar areas of forested land. The impact was measured by comparing trends before and after the 2010 moratorium.
The researchers calculated that the moratorium had resulted in 67.8-86.9 million tons of carbon emissions reductions, with dryland forest inside the moratorium area having on average 0.65% higher forest cover compared with similar areas outside the moratorium.
But on peatlands, which are huge natural stores of carbon, the study found that the moratorium had zero effect.
The researchers said that while they found the scheme had been moderately successfully, the impact was "tiny" compared with the nationally determined contributions (NDCs) for carbon reduction set out in the Paris Agreement.
"Our estimates suggest a 3-4 per cent annual contribution to Indonesia's NDC of a 29% emissions reduction by 2030, which is only a small dent in Indonesia's overall commitment," said Professor Groom.
"This is a problem because in Indonesia around 65 per cent of emissions are from forest areas so the forest sector is a very important place to stop emissions coming from if they're going to meet their NDC commitments for the Paris Agreement.
"The scale of the finance needs to be much bigger for implementation to be effective."
In 2019 Norway agreed to pay Indonesia $56.2 million for preventing the estimated emission of 11.23 million tons of carbon in 2017.
This estimate of performance used the average deforestation rates for the whole of Indonesia rather than just the moratorium area, so is not an accurate measure of whether the programme was effective, said the researchers.
Using well-established policy impact methods to estimate carbon emissions reductions, the researchers calculated that over the period 2011-17 the moratorium was more effective than this calculation suggests, meaning that for $56m Norway effectively bought carbon emissions reductions at a rate of less than $1 per ton.
"We find that Norway should probably been paying a lot more because the impact starts much earlier, from 2013 we estimate some modest but statistically significant changes, yet the payment was only calculated for 2017, with no proper counterfactual." said Professor Groom.
While the carbon pricing was a "good deal" for Norway and global emissions reductions, Professor Groom adds that the agreement, which ended in 2021, could be seen as unfair towards Indonesia.
"Norway is looking for ways to invest its wealth by investing in this global public good: carbon emissions reductions. In the end there should be more efforts like Norway's in the world.
"However, the global benefits of mitigating climate change, which economists measure using the social cost of carbon, is far greater than the $5 per ton they were paying -- the US government uses $50 per ton, New York State $125 per ton, many argue it is higher still- so while Norway got a good deal, and cost-effective carbon policy is important, it wasn't necessarily fair from an Indonesian perspective not to get a greater share of the global benefits. Maybe perceptions of fairness were driving the failure in this otherwise positive bilateral arrangement."
Ben Groom, Charles Palmer, Lorenzo Sileci.
Carbon emissions reductions from Indonesia's moratorium on forest concessions are cost-effective yet contribute little to Paris pledges
. Proceedings of the National Academy of Sciences, 2022; 119 (5): e2102613119 DOI:
10.1073/pnas.2102613119
Southern Ocean Storms Cause Outgassing Of Carbon Dioxide
Storms over the waters around Antarctica drive an outgassing of carbon dioxide into the atmosphere, according to a new international study with researchers from the University of Gothenburg. The research group used advanced ocean robots for the study, which provides a better understanding of climate change and can lead to better global climate models.
The world's southernmost ocean, the Southern Ocean that surrounds Antarctica, plays an important role in the global climate because its waters contain large amounts of carbon dioxide. A new international study, in which researchers from the University of Gothenburg participated, has examined the complex processes driving air-sea fluxes of gasses, such as carbon dioxide.
Storms bring carbon dioxide-rich waters to the surface
The research group is now delivering new findings that shed light on the area's important role in climate change.
"We show how the intense storms that often occur in the region increase ocean mixing and bring carbon dioxide-rich waters from the deep to the surface. This drives an outgassing of carbon dioxide from the ocean to the atmosphere. There has been a lack of knowledge about these complex processes, so the study is an important key to understanding the Southern Ocean's significance for the climate and the global carbon budget," says Sebastiaan Swart, professor of oceanography at the University of Gothenburg and co-author of the study.
Facilitates better climate models
Half of all carbon dioxide bound in the world's oceans is found in the Southern Ocean. At the same time, climate change is expected to result in more intense storms in the future. Therefore, it is vital to understand the storms' impact on the outgassing of carbon dioxide into the atmosphere, the researchers point out.
"This knowledge is necessary to be able to make more accurate predictions about future climate change. Currently, these environmental processes are not captured by global climate models," says Marcel du Plessis at the University of Gothenburg, who also participated in the study.
Pioneering ocean robotics
Measuring the inaccessible and stormy waters around Antarctica for a long period of time is a real challenge, which the researchers tackled with the help of unique robot technology. For several months, autonomous ocean robots; drones and ocean gliders, collected data from the surface and through to depths of one kilometer.
"This pioneering technology gave us the opportunity to collect data with long endurance, which would not have been possible via a research vessel. Thanks to these ocean robots we can now fill important knowledge gaps and gain a better understanding of the importance of the ocean for the climate, says Sebastiaan Swart.
The contributions to the study from University of Gothenburg have been supported by the Knut and Alice Wallenberg Foundation through the Wallenberg Academy Fellows Program and the Swedish Research Council.
Sarah-Anne Nicholson, Daniel B. Whitt, Ilker Fer, Marcel D. du Plessis, Alice D. Lebéhot, Sebastiaan Swart, Adrienne J. Sutton, Pedro M. S. Monteiro.
Storms drive outgassing of CO2 in the subpolar Southern Ocean
. Nature Communications, 2022; 13 (1) DOI:
10.1038/s41467-021-27780-w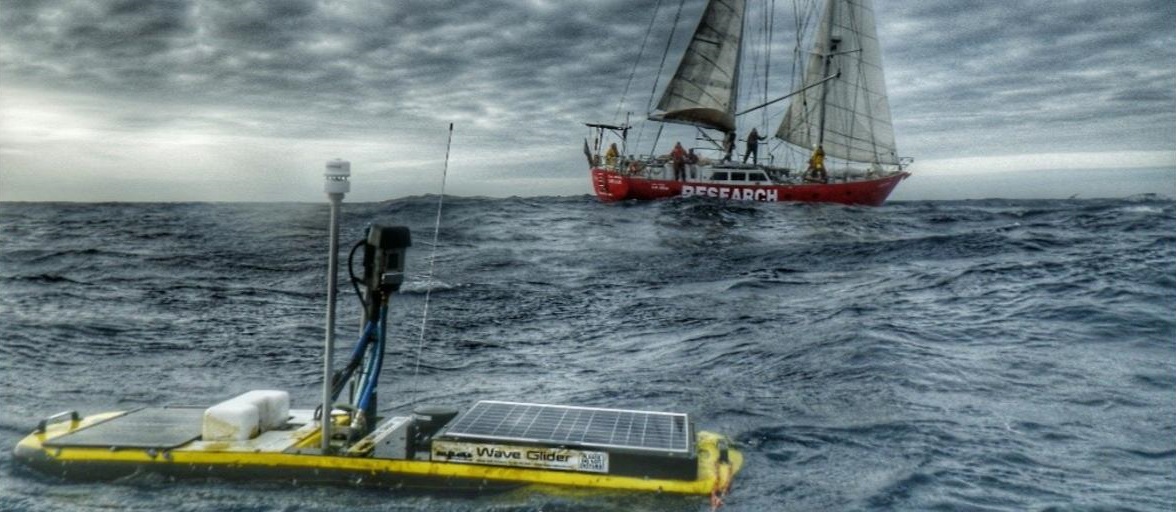 Researchers have examined the inaccessible waters around Antarctica using unique robot technology, and find that ocean storms in the region lead to outgassing of carbon dioxide into the atmosphere. Photo: Fred Fourie
Avalon Golf Course Bushcare Needs You
We're so short of helpers we've had to cancel for the time being. Meanwhile the weeds will go gangbusters.
We used to meet on the second Wednesday afternoon of each month. Could you come if we worked on another day or time? say a morning, or on a weekend day?
Contact Geoff Searl on 0439 292 566 if you'd like to help. He'd love to hear from you.
We have fun using the Tree Popper, here with our supervisor from Dragonfly Environmental. We can lever out quite big Ochnas, aka Mickey Mouse plant from Africa. We want to bring back the bush, not let the weeds win!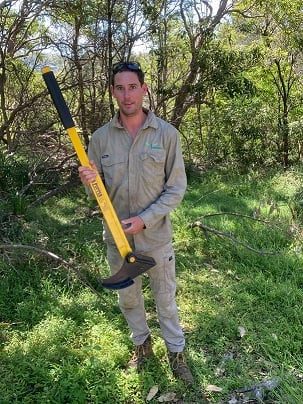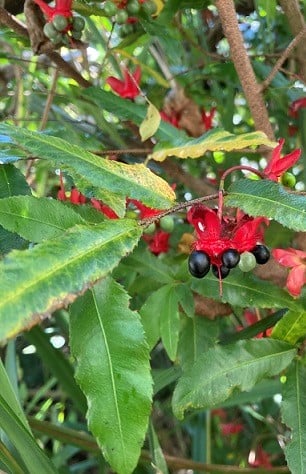 Ochna or Mickey Mouse plant has yellow flowers in spring, then lots of green berries that turn black when ripe. Seedlings come up in hundreds. Ochna has a very strong taproot but the steady pressure of the Tree Popper lifts the plant out of the ground easily. The alternative control is repeated scraping and painting with Roundup, very slow and time consuming. If you have an Ochna you cant remove, you can enjoy the flowers, then PLEASE prune it so that berries can't develop.
New Shorebirds WingThing For Youngsters Available To Download
A Shorebirds WingThing educational brochure for kids (A5) helps children learn about shorebirds, their life and journey. The 2021 revised brochure version was published in February 2021 and is available now. You can download a file copy here.
If you would like a free print copy of this brochure, please send a self-addressed envelope with A$1.10 postage (or larger if you would like it unfolded) affixed to: BirdLife Australia, Shorebird WingThing Request, 2-05Shorebird WingThing/60 Leicester St, Carlton VIC 3053.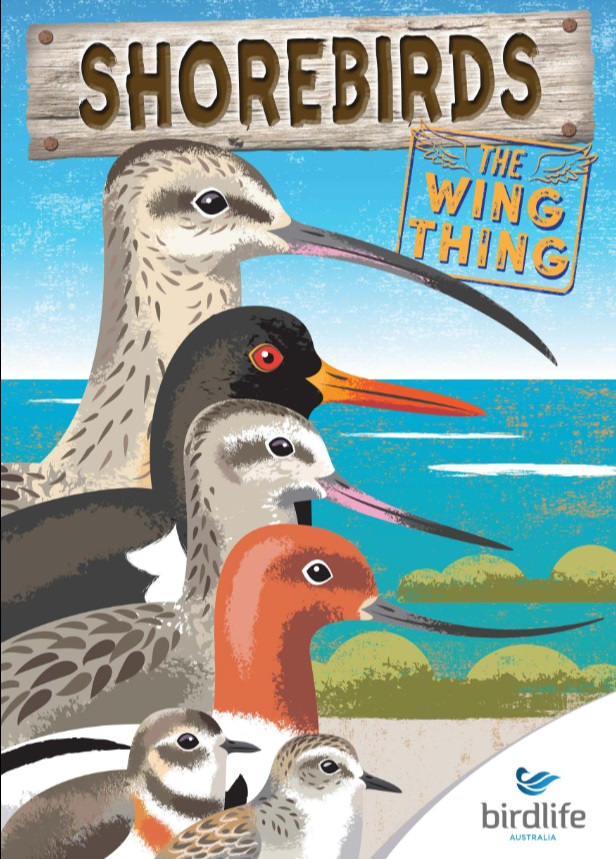 Shorebird Identification Booklet
The Migratory Shorebird Program has just released the third edition of its hugely popular Shorebird Identification Booklet. The team has thoroughly revised and updated this pocket-sized companion for all shorebird counters and interested birders, with lots of useful information on our most common shorebirds, key identification features, sighting distribution maps and short articles on some of BirdLife's shorebird activities.
The booklet can be downloaded here in PDF file format: http://www.birdlife.org.au/documents/Shorebird_ID_Booklet_V3.pdf
Paper copies can be ordered as well, see http://www.birdlife.org.au/projects/shorebirds-2020/counter-resources for details.
Download BirdLife Australia's children's education kit to help them learn more about our wading birdlife
Shorebirds are a group of wading birds that can be found feeding on swamps, tidal mudflats, estuaries, beaches and open country. For many people, shorebirds are just those brown birds feeding a long way out on the mud but they are actually a remarkably diverse collection of birds including stilts, sandpipers, snipe, curlews, godwits, plovers and oystercatchers. Each species is superbly adapted to suit its preferred habitat. The Red-necked Stint is as small as a sparrow, with relatively short legs and bill that it pecks food from the surface of the mud with, whereas the Eastern Curlew is over two feet long with a exceptionally long legs and a massively curved beak that it thrusts deep down into the mud to pull out crabs, worms and other creatures hidden below the surface.
Some shorebirds are fairly drab in plumage, especially when they are visiting Australia in their non-breeding season, but when they migrate to their Arctic nesting grounds, they develop a vibrant flush of bright colours to attract a mate. We have 37 types of shorebirds that annually migrate to Australia on some of the most lengthy and arduous journeys in the animal kingdom, but there are also 18 shorebirds that call Australia home all year round.
What all our shorebirds have in common—be they large or small, seasoned traveller or homebody, brightly coloured or in muted tones—is that each species needs adequate safe areas where they can successfully feed and breed.
The National Shorebird Monitoring Program is managed and supported by BirdLife Australia.

This project is supported by Glenelg Hopkins Catchment Management Authority and Hunter Local Land Services through funding from the Australian Government's National Landcare Program. Funding from Helen Macpherson Smith Trust and Port Phillip Bay Fund is acknowledged.
The National Shorebird Monitoring Program is made possible with the help of over 1,600 volunteers working in coastal and inland habitats all over Australia.
The National Shorebird Monitoring program (started as the Shorebirds 2020 project initiated to re-invigorate monitoring around Australia) is raising awareness of how incredible shorebirds are, and actively engaging the community to participate in gathering information needed to conserve shorebirds.
In the short term, the destruction of tidal ecosystems will need to be stopped, and our program is designed to strengthen the case for protecting these important habitats.
In the long term, there will be a need to mitigate against the likely effects of climate change on a species that travels across the entire range of latitudes where impacts are likely.
The identification and protection of critical areas for shorebirds will need to continue in order to guard against the potential threats associated with habitats in close proximity to nearly half the human population.
Here in Australia, the place where these birds grow up and spend most of their lives, continued monitoring is necessary to inform the best management practice to maintain shorebird populations.
BirdLife Australia believe that we can help secure a brighter future for these remarkable birds by educating stakeholders, gathering information on how and why shorebird populations are changing, and working to grow the community of people who care about shorebirds.

To find out more visit: http://www.birdlife.org.au/projects/shorebirds-2020/shorebirds-2020-program
Aussie Bread Tags Collection Points
Collecting bread tags enables us to provide wheelchairs that change the life of disabled people in need, as well as keeping the tags out of landfill to help to preserve the environment.
Bread Tags for Wheelchairs was started in South Africa in 2006 by Mary Honeybun. It is a community program where individuals and organisations collect bread tags, which are sold to recyclers. The money raised pays for wheelchairs for the less fortunate which are purchased through a local pharmacy. Currently about 500kg of bread tags are collected a month in South Africa, funding 2-3 wheelchairs.
We have been collecting bread tags nationally in Australia since September 2018 and now have more than 100 collection points across the country. In February 2019 we started local recycling through Transmutation - Reduce, Reuse and Recycle in Robe, SA, where our tags are recycled into products such as door knobs and bowls. Tags from some states are still sent to South Africa where a plastics company called Zibo recycles them into seedling trays.
These humble bits of polystyrene can make a real difference so get your friends, family, school, workplace and church involved. Ask school tuck shops and boarding school kitchens, child care centres, aged care facilities, hospitals, cafes and fast food outlets to collect for you - they get through a lot of bread!
All the information and signage for collecting or setting up a public collection point is
on our website
.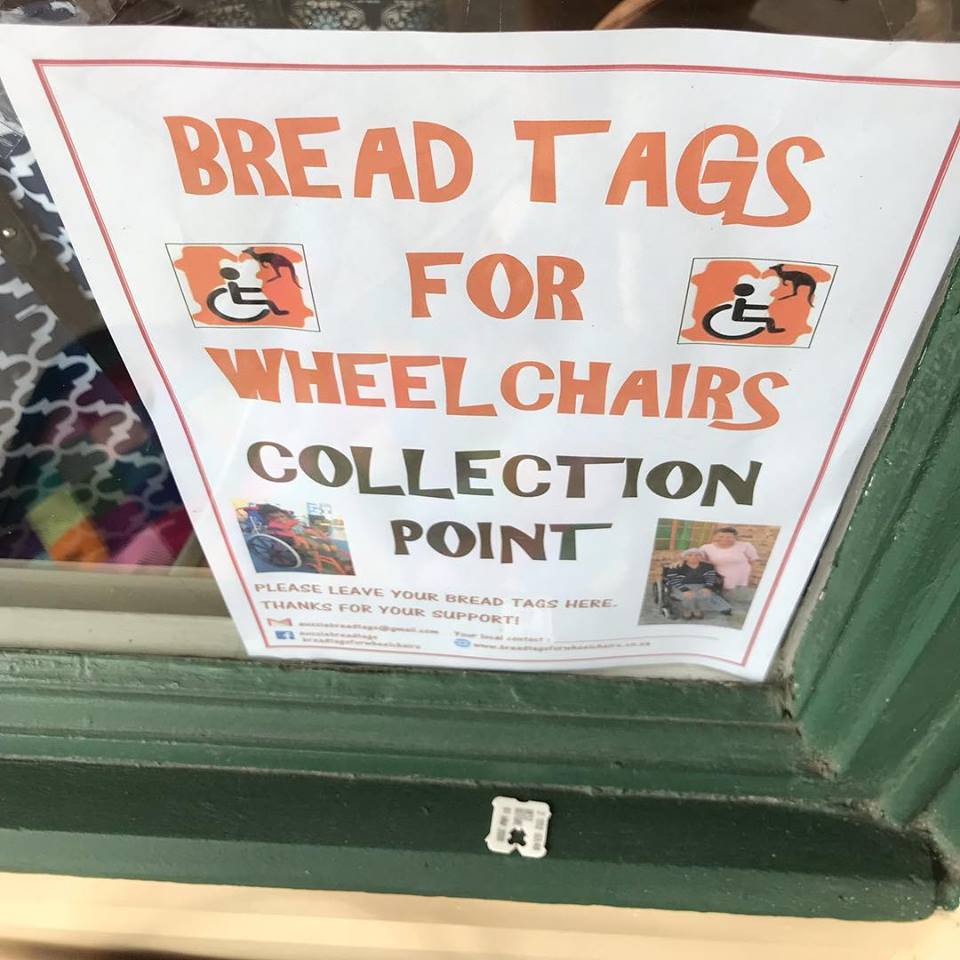 Morning Of The Earth: 50th Anniversary Screening At Cremorne
Morning of the Earth 50th Anniversary screening with director Q&A Wed March 9 at the Hayden Orpheum Picture Palace, Cremorne. Beautifully remastered in 4K. One show only! Tickets: http://ow.ly/Rkhc30s774W
Eric Haakonssen & Andy King To Take Up Critical Roles In High Performance Program
January 27, 2022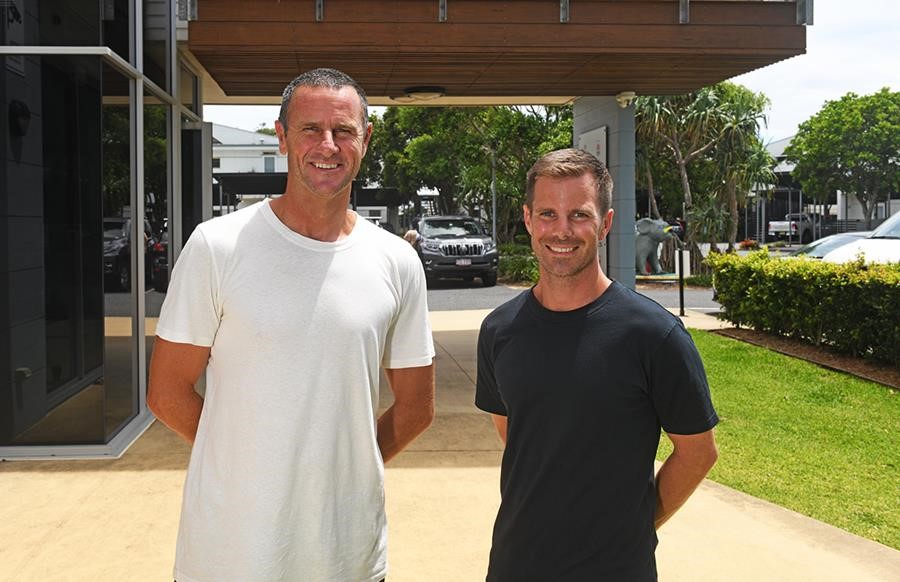 New Surfing Australia Head Coach Andy King with new Performance Support & Podium Manager Eric Haakonssen. CREDIT: Surfing Australia
In what is a major announcement moving towards the Paris 2024 Olympics and beyond, Surfing Australia's High Performance Program has signed on PHD Sports Scientist and Performance Support Specialist Eric Haakonssen as the Performance Support & Podium Manager along with Andy King as the program's new National Head Coach.
Haakonssen joins the team after an outstanding stint with the Australian Cycling Team, working across BMX Freestyle, BMX Race and Road disciplines that has included Gold Medal winning Olympic campaign with the likes of Logan Martin.
Having grown up skating and surfing, the three-Olympic-Cycle veteran is ready to make a difference in Aussie surfing.
"I'm excited to be joining Surfing Australia's already accomplished high-performance program and supporting Australian surfers towards success in Paris and beyond. I'm passionate about honouring the rich history of surfing in Australia and working within this world-class high-performance program towards strengthening the team's competitive edge," said Haakonssen.
Previously in the role of Surfing Australia National Coach, Andy King needs no introduction to anyone in the surf industry. Having coached Gabriel Medina to his most recent World Title in 2021 and experienced the Olympic arena at the Tokyo games, King's resume has only strengthened since his last stint with the organisation.
With more than fifteen years of experience coaching at the highest level, King brings a wealth of knowledge and experience to the High Performance Department and can't wait to see how many medals 'The Irukandjis' can bring home from Paris 2024.
"This (upcoming Olympic period) is the biggest stage in our sport, held at the biggest and best location in the surfing world. I'm so honoured to ride with the Australian team into this battle. Tahiti will truly showcase what our sport is all about and it is overwhelming to have this opportunity," said King.
National High Performance Director Kate Wilcomes is equally as excited about the opportunity.
"With just over two and a half years until our next Olympic Games I am extremely confident in the experience and expertise both Eric and Andy bring to the campaign. I believe our Aussie athletes and their support teams will have an advantage with them in their corner and myself and the rest of the team are really looking forward to them starting in the next few weeks," said Wilcomes.
Scientists Regrow Frog's Lost Leg
For millions of patients who have lost limbs for reasons ranging from diabetes to trauma, the possibility of regaining function through natural regeneration remains out of reach. Regrowth of legs and arms remains the province of salamanders and superheroes.
But in a study published in the journal Science Advances, scientists at Tufts University and Harvard University's Wyss Institute have brought us a step closer to the goal of regenerative medicine.
On adult frogs, which are naturally unable to regenerate limbs, the researchers were able to trigger regrowth of a lost leg using a five-drug cocktail applied in a silicone wearable bioreactor dome that seals in the elixir over the stump for just 24 hours. That brief treatment sets in motion an 18-month period of regrowth that restores a functional leg.
Many creatures have the capability of full regeneration of at least some limbs, including salamanders, starfish, crabs, and lizards. Flatworms can even be cut up into pieces, with each piece reconstructing an entire organism. Humans are capable of closing wounds with new tissue growth, and our livers have a remarkable, almost flatworm-like capability of regenerating to full size after a 50% loss.
But loss of a large and structurally complex limb -- an arm or leg -- cannot be restored by any natural process of regeneration in humans or mammals. In fact, we tend to cover major injuries with an amorphous mass of scar tissue, protecting it from further blood loss and infection and preventing further growth.
Kickstarting Regeneration
The Tufts researchers triggered the regenerative process in African clawed frogs by enclosing the wound in a silicone cap, which they call a BioDome, containing a silk protein gel loaded with the five-drug cocktail.
Each drug fulfilled a different purpose, including tamping down inflammation, inhibiting the production of collagen which would lead to scarring, and encouraging the new growth of nerve fibers, blood vessels, and muscle. The combination and the bioreactor provided a local environment and signals that tipped the scales away from the natural tendency to close off the stump, and toward the regenerative process.
The researchers observed dramatic growth of tissue in many of the treated frogs, re-creating an almost fully functional leg. The new limbs had bone structure extended with features similar to a natural limb's bone structure, a richer complement of internal tissues (including neurons), and several "toes" grew from the end of the limb, although without the support of underlying bone.
The regrown limb moved and responded to stimuli such as a touch from a stiff fiber, and the frogs were able to make use of it for swimming through water, moving much like a normal frog would.
"It's exciting to see that the drugs we selected were helping to create an almost complete limb," said Nirosha Murugan, research affiliate at the Allen Discovery Center at Tufts and first author of the paper. "The fact that it required only a brief exposure to the drugs to set in motion a months-long regeneration process suggests that frogs and perhaps other animals may have dormant regenerative capabilities that can be triggered into action."
The researchers explored the mechanisms by which the brief intervention could lead to long-term growth. Within the first few days after treatment, they detected the activation of known molecular pathways that are normally used in a developing embryo to help the body take shape.
Activation of these pathways could allow the burden of growth and organization of tissue to be handled by the limb itself, similar to how it occurs in an embryo, rather than require ongoing therapeutic intervention over the many months it takes to grow the limb.
Animals naturally capable of regeneration live mostly in an aquatic environment. The first stage of growth after loss of a limb is the formation of a mass of stem cells at the end of the stump called a blastema, which is used to gradually reconstruct the lost body part. The wound is rapidly covered by skin cells within the first 24 hours after the injury, protecting the reconstructing tissue underneath.
"Mammals and other regenerating animals will usually have their injuries exposed to air or making contact with the ground, and they can take days to weeks to close up with scar tissue," said David Kaplan, Stern Family Professor of Engineering at Tufts and co-author of the study. "Using the BioDome cap in the first 24 hours helps mimic an amniotic-like environment which, along with the right drugs, allows the rebuilding process to proceed without the interference of scar tissue."
Next Steps in Frogs and Mammals
Previous work by the Tufts team showed a significant degree of limb growth triggered by a single drug, progesterone, with the BioDome. However, the resulting limb grew as a spike and was far from the more normally shaped, functional limb achieved in the current study.
The five-drug cocktail represents a significant milestone toward the restoration of fully functional frog limbs and suggests further exploration of drug and growth factor combinations could lead to regrown limbs that are even more functionally complete, with normal digits, webbing, and more detailed skeletal and muscular features.
"We'll be testing how this treatment could apply to mammals next," said corresponding author Michael Levin, Vannevar Bush Professor of Biology in the School of Arts & Sciences, director of the Allen Discovery Center at Tufts, and associate faculty member of the Wyss Institute.
"Covering the open wound with a liquid environment under the BioDome, with the right drug cocktail, could provide the necessary first signals to set the regenerative process in motion," he said. "It's a strategy focused on triggering dormant, inherent anatomical patterning programs, not micromanaging complex growth, since adult animals still have the information needed to make their body structures."
Nirosha J. Murugan, Hannah J. Vigran, Kelsie A. Miller, Annie Golding, Quang L. Pham, Megan M. Sperry, Cody Rasmussen-Ivey, Anna W. Kane, David L. Kaplan, Michael Levin.
Acute multidrug delivery via a wearable bioreactor facilitates long-term limb regeneration and functional recovery in adult Xenopus laevis.
Science Advances, 2022; 8 (4) DOI:
10.1126/sciadv.abj2164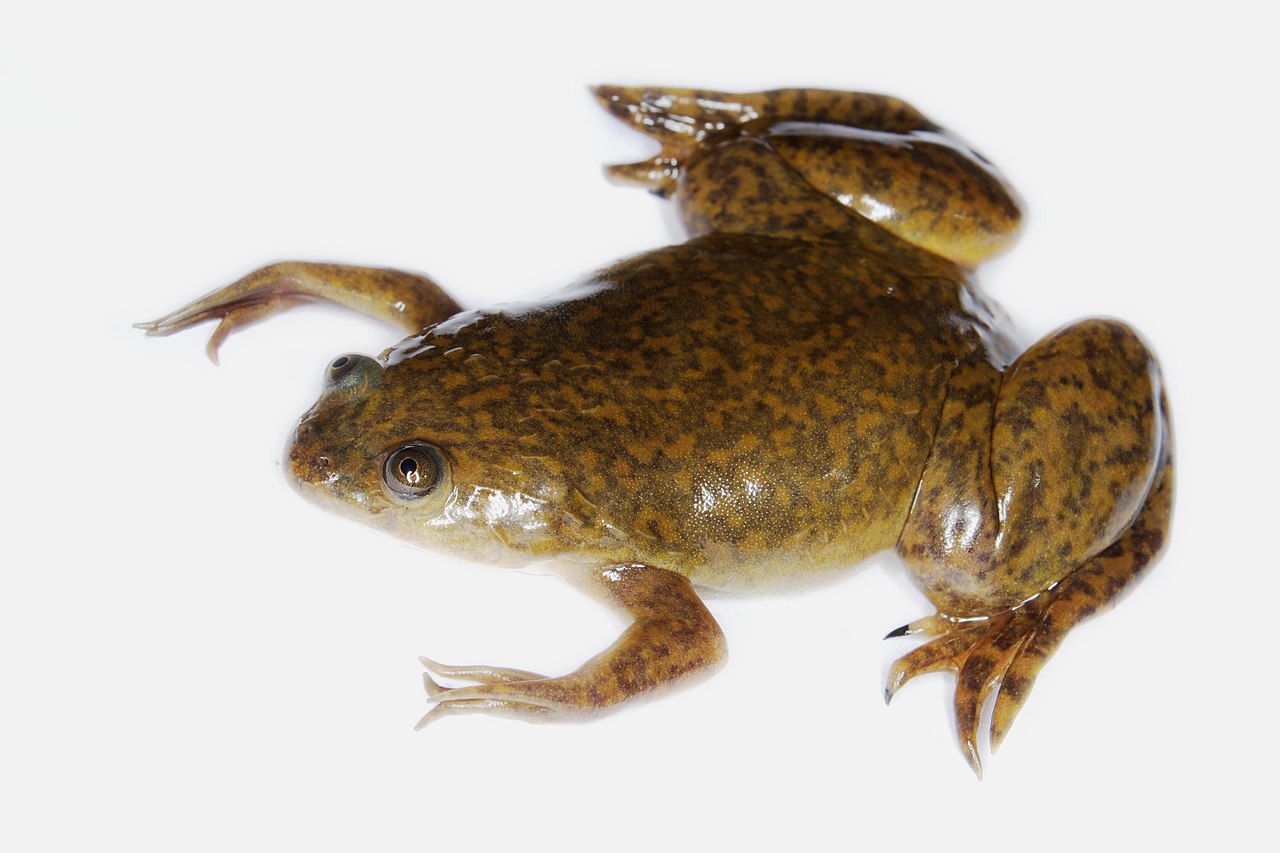 African clawed frog (Xenopus laevis), from Chimanimani in Manicaland, Zimbabwe. Photo: Brian Gratwicke

Constant Tinnitus Is Linked To Altered Brain Activity
There has to date been no reliable objective method of diagnosing tinnitus. Researchers from Karolinska Institutet in Sweden now show that brainstem audiometry can be used to measure changes in the brain in people with constant tinnitus. The study has been published in The Journal of Clinical Investigation.
Tinnitus is currently not classified as a distinct disorder, but as a symptom with many possible causes, such as impaired hearing, noise, disease or stress. Tinnitus is often described as a phantom sound that is only audible to the sufferer. Today, some 20 per cent of the Swedish population has some form of tinnitus, and the risk increases with age.
The degree of tinnitus severity is currently defined by a process of self-rating. A study by scientists at Karolinska Institutet conducted in collaboration with the company Decibel Therapeutics has now shown that auditory brainstem responses (ABR) is a possible objective diagnostic tool in identifying people with constant tinnitus. ABR measures the activity of the brain in response to a specific sequence of sound stimuli.
"We believe that our ABR method can be sufficiently sensitive to be used as a diagnostic tool," says Christopher R. Cederroth, researcher at the Department of Physiology and Pharmacology, Karolinska Institutet. "The method measures the actual neural alterations in the brainstem in people with constant tinnitus, which could become a future biomarker.
Acknowledgement for patients
ABR has previously been put forward as a tool for measuring tinnitus, but it has not reached scientific consensus. No earlier study has, however, included as many participants as this one. Here, the researchers have done ABR measurements on 405 individuals, 228 with tinnitus and 177 without. They observed in people with constant tinnitus a clear difference in the measures when compared to people without tinnitus, or people who rated their tinnitus as occasional.
"We need an objective diagnostic method for tinnitus, both to acknowledge the condition to sufferers and to promote the development of new therapies," says Christopher R. Cederroth. "Our study suggests a causal relationship between such alterations in the brain's neural activity and the development of constant tinnitus, but we need to do more studies to verify this. We also need to determine if our method can measure a therapeutic benefit."
The researchers also followed over 20,000 people with no or varying degrees of tinnitus in order to track how the symptoms develop over time. Here the researchers showed that people with occasional tinnitus are at increased risk of developing constant tinnitus, especially if it recurs often. The study also found that for those who already experience constant tinnitus, the chances are that the problem will persist.
"It's important to know that if you've had recurring tinnitus, you're more likely to develop lasting tinnitus," adds Dr Cederroth. "We need to spread this information so that people with occasional tinnitus become aware of the risks and have the chance to act preventatively."
Niklas K. Edvall, Golbarg Mehraei, Martin Claeson, Andra Lazar, Jan Bulla, Constanze Leineweber, Inger Uhlén, Barbara Canlon, Christopher R. Cederroth.
Alterations in auditory brainstem response distinguish occasional and constant tinnitus.
Journal of Clinical Investigation, 2022; DOI:
10.1172/JCI155094
New Study Suggests Two Paths Toward 'Super Immunity' To COVID-19
New laboratory research from Oregon Health & Science University reveals more than one path toward robust immunity from COVID-19.

A new study finds that two forms of immunity -- breakthrough infections following vaccination or natural infection followed by vaccination -- provide roughly equal levels of enhanced immune protection.
The new study published online today in the journal Science Immunology.
"It makes no difference whether you get infected-and-then-vaccinated, or if you get vaccinated-and-then-a-breakthrough infection," said co-senior author Fikadu Tafesse, Ph.D., assistant professor of molecular microbiology and immunology in the OHSU School of Medicine. "In either case, you will get a really, really robust immune response -- amazingly high."
The research follows an OHSU study published in December that described extremely high levels of immune response following breakthrough infections -- so-called "super immunity." That study was the first to use multiple live SARS-CoV-2 variants to measure cross-neutralization of blood serum from breakthrough cases.
The new study found that it doesn't matter whether someone gets a breakthrough infection or gets vaccinated after a natural infection. In both cases, the immune response measured in blood serum revealed antibodies that were equally more abundant and more potent -- at least 10 times more potent -- than immunity generated by vaccination alone.
The study was done before the emergence of the omicron variant, but researchers expect the hybrid immune responses would be similar with the new highly transmissible variant.
"The likelihood of getting breakthrough infections is high because there is so much virus around us right now," Tafesse said. "But we position ourselves better by getting vaccinated. And if the virus comes, we'll get a milder case and end up with this super immunity."
Researchers recruited a total of 104 people, all OHSU employees who were vaccinated by the Pfizer vaccine, and then carefully divided them into three groups: 42 who were vaccinated with no infection, 31 who were vaccinated after an infection, and 31 who had breakthrough infections following vaccination. Controlling for age, sex and time from vaccination and infection, the researchers drew blood samples from each participant and exposed the samples to three variants of the live SARS-CoV-2 virus in a Biosafety Level 3 lab on OHSU's Marquam Hill campus.
They found both of the groups with "hybrid immunity" generated greater levels of immunity compared with the group that was vaccinated with no infection.
A path toward endemic COVID
With the wildly contagious omicron variant now circulating across the globe, the new findings suggest each new breakthrough infection potentially brings the pandemic closer to the end.
"I would expect at this point many vaccinated people are going to wind up with breakthrough infections -- and hence a form of hybrid immunity," said senior co-author Bill Messer, M.D., Ph.D., assistant professor of molecular microbiology and immunology and medicine (infectious diseases) in the OHSU School of Medicine
Over time, the virus will run into an ever-expanding pool of human immunity.
OHSU scientists say they haven't tested multiple rounds of natural infection, although many people will likely find themselves in that category given that millions of people in the United States and around the world remain entirely unvaccinated. With the spread of the highly contagious omicron variant, many unvaccinated people who were previously infected are likely to confront the virus again.
For that group, previous research reveals a much more variable level of immune response than vaccination, Messer said.
"I can guarantee that such immunity will be variable, with some people getting equivalent immunity to vaccination, but most will not," he said. "And there is no way, short of laboratory testing, to know who gets what immunity. Vaccination makes it much more likely to be assured of a good immune response."
Senior co-author Marcel Curlin, M.D., agreed.
"Immunity from natural infection alone is variable. Some people produce a strong response and others do not," said Curlin, associate professor of medicine (infectious diseases) in the OHSU School of Medicine and director of OHSU Occupational Health. "But vaccination combined with immunity from infection almost always provides very strong responses.
"These results together with our previous work point to a time when SARS-CoV-2 may become a mostly mild endemic infection like a seasonal respiratory tract infection instead of a worldwide pandemic."
In addition to Tafesse, Messer and Curlin, co-authors included Timothy Bates, Savannah McBride, Hans Leier, Gaelen Guzman, Zoe Lyski, Devin Schoen, Bradie Winders, Joon-Yong Lee of the Pacific Northwest National Laboratory and David Xthona Lee.
The study was funded by a grant from the M.J. Murdock Charitable Trust; an unrestricted grant from the OHSU Foundation; the National Institutes of Health, training grant T32HL083808 and grant R01AI145835; and OHSU Innovative IDEA grant 1018784.
The study authors acknowledge the research participants for their generous contributions; OHSU's COVID-19 serology study team and the OHSU Occupational Health Department for recruitment and sample acquisition; and the OHSU clinical laboratory under the direction of Donna Hansel, M.D., Ph.D., and Xuan Qin, Ph.D., for SARS-CoV-2 testing and reporting.
Timothy A. Bates, Savannah K. McBride, Hans C. Leier, Gaelen Guzman, Zoe L. Lyski, Devin Schoen, Bradie Winders, Joon-Yong Lee, David Xthona Lee, William B. Messer, Marcel E. Curlin, Fikadu G. Tafesse.
Vaccination before or after SARS-CoV-2 infection leads to robust humoral response and antibodies that effectively neutralize variants
. Science Immunology, 2022; DOI:
10.1126/sciimmunol.abn8014
Timothy A. Bates, Savannah K. McBride, Bradie Winders, Devin Schoen, Lydie Trautmann, Marcel E. Curlin, Fikadu G. Tafesse.
Antibody Response and Variant Cross-Neutralization After SARS-CoV-2 Breakthrough Infection.
JAMA, 2022; 327 (2): 179 DOI:
10.1001/jama.2021.22898
New Study Validates Benefits Of Convalescent Plasma For Some COVID-19 Patients
Transfusions of blood plasma donated by people who have already recovered from infection with the pandemic virus may help other patients hospitalized with COVID-19, a new international study shows.
The treatment, known as convalescent plasma, is still considered experimental by the U.S. Food and Drug Administration (FDA). Plasma contains antibodies, blood proteins that are part of the immune system. Shaped so they can attach to the virus that causes COVID-19, SARS-CoV-2, antibodies glom onto and tag it for removal from the body, researchers say.
Led by researchers at NYU Grossman School of Medicine, the study showed that among 2,341 men and women, those who received an injection of convalescent plasma soon after hospitalization were 15% less likely to die within a month from COVID-19 than those who did not receive convalescent plasma or those who received an inactive saline placebo.
Notably, the researchers found that the biggest benefits for the therapy were among patients most at risk for severe complications because of pre-existing conditions, such as diabetes or heart disease. The treatment, which contains antibodies and other immune cells needed to fight the infection, also appears to benefit those with type A or AB blood.
"Our results show that, overall, patients hospitalized with COVID-19 may derive modest benefit from convalescent plasma, with some patient subgroups benefiting more than others," says study lead investigator and biostatistician Andrea Troxel, ScD. With respect to the groups most likely to benefit, the FDA on Dec. 28, 2021, revised the Emergency Use Authorization for convalescent plasma, limiting its use to patients with diseases that suppress their immune systems, or that receive medical treatments with the same effect.
"Patients with co-existing disease were most likely to show improvement from convalescent plasma, probably because they have the most difficulty producing antibodies to fight their infection," adds Troxel. "The infused plasma boosts their body's ability to fight the virus, but only in the early stage of the disease and before the illness overwhelms their body."
The current study findings, published in the journal JAMA Network Open online Jan. 25, come from the pooling of patient information from eight recently completed studies in the United States, Belgium, Brazil, India, the Netherlands, and Spain on the effects of convalescent plasma for COVID-19.
These benefits of the treatment are only likely to become clear as more data from the trials become available, says Troxel, a professor in the Department of Population Health at NYU Langone. This is because the data from individual trials are too small to show the treatment's overall impact on subsets of patients, she says. Some individual studies have showed the therapy to be ineffective or of limited value.
Study co-investigator Eva Petkova, PhD, says the team is using its study data to create a scoring system of patient descriptors, including age, stage of COVID-19, and co-existing diseases, making it easier for clinicians to calculate who stands to benefit most from use of convalescent plasma.
"Our treatment benefit index is designed to serve as a quick and effective tool for physicians to use in deciding when to administer convalescent plasma for COVID-19," says Petkova, a professor in the Departments of Population Health and Child and Adolescent Psychiatry at NYU Langone.
For the study, researchers grouped all patient information from smaller, separate clinical investigations about convalescent plasma therapy, including trials at NYU Langone, Albert Einstein College of Medicine and Montefiore Medical Center, Zuckerberg San Francisco General Hospital, and the University of Pennsylvania in Philadelphia. Researchers hoped any benefits or disadvantages in treatment would be easier to spot among the largest possible sample of patients. All trials were randomized and controlled, meaning that the patient had a random chance of being assigned to receive convalescent plasma or not to receive it.
Included in the analysis were data from another multicenter U.S. study published separately in December 2021 in JAMA Internal Medicine. That study in 941 patients hospitalized with COVID-19 showed that patients receiving high doses of convalescent plasma therapy and not on other medications, such as remdesivir or corticosteroids, were likely to benefit from the blood plasma treatment. Study co-primary investigator Mila Ortigoza, MD, PhD, an assistant professor in the Departments of Medicine and Microbiology at NYU Langone, says these initial results supported the idea that convalescent plasma could be a feasible treatment option, especially when other therapies are not yet available, as at the beginning of a pandemic.
In addition, convalescent plasma collected from previously infected and subsequently vaccinated donors (VaxPlasma) would contain antibodies in high enough quantities and diversity that could provide added protection against emerging viral variants, says Ortigoza. Viruses typically mutate genetically (acquire random changes in their DNA or RNA codes) over the course of any pandemic. For this reason, convalescent plasma has the potential to offer effective treatment more quickly after such mutations than treatment types that tend to become less effective with time and must undergo a re-design process to address a new variant, such as monoclonal antibody treatments.
Besides Troxel, Petkova, and Ortigoza, other NYU Langone researchers involved in the studies are Keith Goldfeld, DrPh; Mengling Liu, PhD; Hyung Park, PhD; Thaddeus Tarpey, PhD; Yinxiang Wu, MA; Danni Wu, MS; Yi Li, MS; Corita Grudzen, MD; and Judith Hochman, MD. Other study investigators include Anup Agarwal, MD; Gunjan Kumar, MD; and Aparna Mukherjee, MD, PhD; at the Indian Council of Medical Research in New Delhi; Cristina Avendaño-Sola, MD; Rafael Duarte, MD, PhD, and Arantxa Sancho-Lopez, MD; at the Hospital Universitario Puerta de Hierro Majadahonda in Madrid, Spain; Emma Bainbridge, MD, MPH; Priscilla Hsue, MD; and Annie Luetkemeyer, MD; at the University of California San Francisco; Katherine Bar, MD; and Pamela Shaw, PhD; at the University of Pennsylvania in Philadelphia (now at Kaiser Permanente); Timothy Devos, MD, PhD; and Geert Meyfroidt, MD, PhD; at Katholieke Universiteit in Leuven, Belgium; André Nicola, MD, PhD; at the University of Brasilia in Brazil; Liise-Anne Pirofski, MD, PhD; and Hyun-Ah Yoon, MD; at Albert Einstein College of Medicine in New York City; Bart Rijnders, MD, PhD; and Casper Rokx, MD, PhD; at Erasmus University in the Netherlands; and Elliott Antman, MD, at Harvard University in Boston. Funding support for the studies was provided by National Institutes of Health grant UL1TR001445.
Hyung Park, Thaddeus Tarpey, Mengling Liu, Keith Goldfeld, Yinxiang Wu, Danni Wu, Yi Li, Jinchun Zhang, Dipyaman Ganguly, Yogiraj Ray, Shekhar Ranjan Paul, Prasun Bhattacharya, Artur Belov, Yin Huang, Carlos Villa, Richard Forshee, Nicole C. Verdun, Hyun ah Yoon, Anup Agarwal, Ventura Alejandro Simonovich, Paula Scibona, Leandro Burgos Pratx, Waldo Belloso, Cristina Avendaño-Solá, Katharine J Bar, Rafael F. Duarte, Priscilla Y. Hsue, Anne F. Luetkemeyer, Geert Meyfroidt, André M. Nicola, Aparna Mukherjee, Mila B. Ortigoza, Liise-anne Pirofski, Bart J. A. Rijnders, Andrea Troxel, Elliott M. Antman, Eva Petkova.
Development and Validation of a Treatment Benefit Index to Identify Hospitalized Patients With COVID-19 Who May Benefit From Convalescent Plasma
. JAMA Network Open, 2022; 5 (1): e2147375 DOI:
10.1001/jamanetworkopen.2021.47375
Mila B. Ortigoza, Hyunah Yoon, Keith S. Goldfeld, Andrea B. Troxel, Johanna P. Daily, Yinxiang Wu, Yi Li, Danni Wu, Gia F. Cobb, Gillian Baptiste, Mary O'Keeffe, Marilou O. Corpuz, Luis Ostrosky-Zeichner, Amee Amin, Ioannis M. Zacharioudakis, Dushyantha T. Jayaweera, Yanyun Wu, Julie V. Philley, Megan S. Devine, Mahalia S. Desruisseaux, Alessandro D. Santin, Shweta Anjan, Reeba Mathew, Bela Patel, Masayuki Nigo, Rabi Upadhyay, Tania Kupferman, Andrew N. Dentino, Rahul Nanchal, Christian A. Merlo, David N. Hager, Kartik Chandran, Jonathan R. Lai, Johanna Rivera, Chowdhury R. Bikash, Gorka Lasso, Timothy P. Hilbert, Monika Paroder, Andrea A. Asencio, Mengling Liu, Eva Petkova, Alexander Bragat, Reza Shaker, David D. McPherson, Ralph L. Sacco, Marla J. Keller, Corita R. Grudzen, Judith S. Hochman, Liise-anne Pirofski, and the CONTAIN COVID-19 Consortium for the CONTAIN COVID-19 Study Group.
Efficacy and Safety of COVID-19 Convalescent Plasma in Hospitalized Patients.
JAMA Internal Medicine, 2021; DOI:
10.1001/jamainternmed.2021.6850
New Hair Dyes Avoid Allergic Reactions
A bad dye job is bad enough on its own, but an itchy and irritating allergic reaction to it is even worse. And people who become allergic to hair dye can develop reactions to many other common substances, transforming a simple cosmetic treatment into a big problem. Now, researchers reporting in ACS Sustainable Chemistry & Engineering have developed a range of permanent hair dyes that avoid the allergenic properties of traditional formulations.
When applied as hair colour, paraphenylenediamine (PPD) -- a common ingredient in permanent dyes -- undergoes a chemical reaction that turns the hair a dark colour that won't wash out over time. This reaction, however, can also produce compounds that bind proteins in the user's skin, causing allergic responses, such as eczema and facial swelling. PPD can also sensitize users to other substances, including a compound commonly found in sunscreens and cosmetics, as well as common pigment and ink compounds.
Alternatives have been proposed, but they generally are not water-soluble, and the safety of some of the compounds are not well understood. Gopalakrishnan Venkatesan and colleagues wanted to create new alternatives that would avoid the problems of PPD while still providing permanent hair coloring.
The team prepared seven dyes based on PPD with modifications to the aromatic amine core. The modifications were chosen to potentially make the compounds less reactive toward proteins and less able to be absorbed into skin. All seven compounds permanently coloured hair samples, producing a range of hues from rosy pinks to deep blacks that did not fade, even after three weeks of daily washing. The team then examined the dyes in a test commonly used in the cosmetics industry to determine if a product is a skin sensitizer.
Five of the modified dyes were "weak" sensitizers, whereas PPD was "moderate." Another test showed that the new compounds generated a reduced inflammatory response in cells compared to PPD. These results suggest that the new dyes can effectively color hair while also avoiding the potential allergenic and sensitization risks of more traditional ones.
The authors acknowledge funding from the National University of Singapore.
Gopalakrishnan Venkatesan, Yuri Dancik, Yub Raj Neupane, Aneesh V. Karkhanis, Paul Bigliardi, Giorgia Pastorin.
Synthesis and Assessment of Non-allergenic Aromatic Amine Hair Dyes as Efficient Alternatives to Paraphenylenediamine.
ACS Sustainable Chemistry & Engineering, 2022; 10 (2): 838 DOI:
10.1021/acssuschemeng.1c06313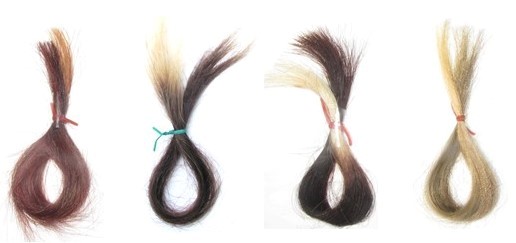 Newly developed non-allergenic hair dyes offer effective hair coloring without the safety risks of traditional permanent hair dyes.
Credit: Adapted from ACS Sustainable Chemistry & Engineering 2022, DOI: 10.1021/acssuschemeng.1c06313
Faulty BRCA Genes Linked To Prostate And Pancreatic Cancers
Faulty versions of the BRCA1 and BRCA2 genes are well known to increase the risk of breast cancer in men and women, and in ovarian cancer. Now BRCA1 and BRCA2 have been linked to several other cancers, including those that affect men.
A study published today in the Journal of Clinical Oncology has provided the strongest evidence to date of these links and helped researchers estimate more accurately the associated risk.
Since these genes were discovered in the mid 90s, numerous studies have explored possible links between BRCA1 and BRCA2 mutations and other cancers. However, these studies had small sample sizes, resulting in imprecise estimates of cancer risk. Being able to estimate the risks accurately is important for informing cancer prevention and screening strategies and providing genetic counselling to those at greatest risk. BRCA mutations are uncommon, affecting around 1 in 300-400 people in the population.
To further investigate these risk estimates, a team led by researchers at the University of Cambridge, funded by Cancer Research UK, analysed data from almost 3,200 families with one or more members with the BRCA1 mutation and almost 2,200 families with members carrying the BRCA2 mutation. The families had all been recruited to the Consortium of Investigators of Modi?ers of BRCA1/2. The researchers examined the associations with 22 primary cancers.
From the data, the researchers estimated that men who carry a BRCA2 mutation have a 27% risk of developing prostate cancer by the time they are 80 years old, more than double the rate compared to non-carriers. BRCA1 mutations were not associated with an increase in prostate cancer risk.
Carrying a defective copy of either BRCA1 or BRCA2 more than doubled an individual's risk of pancreatic cancer to 2.5-3% by age 80.
The mutations were also found to increase the risk of stomach cancer, though the researchers caution that because of the rarity of this form of cancer, the number of patients in their datasets was small.
Mutations in both genes significantly increased the risk of breast cancer in men, though the disease is still very rare, accounting for less than 1% of all male cancer cases in the UK. While a BRCA1 mutation increased a man's risk of developing breast cancer more than four-fold to 0.4% by age 80, a BRCA2 mutation increased this risk by 44 times to 3.8% by age 80. It is estimated that 38 out of 1,000 male carriers of the BRCA2 mutation will develop breast cancer by age 80.
The researchers were unable to find compelling evidence that mutations were linked to increased risk of some other cancers which were previously thought to be linked to faulty BRCA genes, such as melanoma.
Cancer Research UK says that people who are worried about their risk of cancer should talk to their GP. GPs can refer patients to a genetics clinic if they think someone has a strong family history and might be at an increased risk.
Professor Antonis Antoniou from the Department of Public Health and Primary Care at the University of Cambridge, who led the research, said: "These large datasets of patients have allowed us to estimate with much greater accuracy the extent to which faulty BRCA1 and BRCA2 genes increase the risk of several cancers. We've known for some time that they're linked to breast and ovarian cancer, but there's been uncertainty about other cancers."
Professor Marc Tischkowitz from the Department of Medical Genetics at the University of Cambridge added: "The link between BRCA2 and prostate cancer and pancreatic cancer is now much clearer, thanks to the data we've analysed. We have also identified a potential link with stomach cancer, but this is based on small numbers and needs further study. Our data suggests that there is no strong link between BRCA2 and melanoma, which may provide greater clarity to BRCA2 gene carriers.
"Overall, the results will add to our knowledge on optimising cancer screening and early detection strategies for people who are known to carry these faulty genes."
Michelle Mitchell, Chief Executive of Cancer Research UK, said: "Our scientists helped to discover BRCA over 25 years ago and established that faults in these genes increase breast cancer risk. This study has built on that vital knowledge, giving us some important new insights into BRCA genes and the likely risks of developing prostate and pancreatic cancer.
"Cancers caused by inherited faulty BRCA genes are relatively rare, and other factors like age, smoking, diet and other preventable factors contribute to a person's risk.
"Improving our understanding of how faults in our genes are associated with certain cancers puts us in a much better position to pinpoint those at a higher risk of developing cancer."
Shuai Li, Valentina Silvestri, Goska Leslie, Timothy R. Rebbeck, Susan L. Neuhausen, John L. Hopper, Henriette Roed Nielsen, Andrew Lee, Xin Yang, Lesley McGuffog, Michael T. Parsons, Irene L. Andrulis, Norbert Arnold, Muriel Belotti, Åke Borg, Bruno Buecher, Saundra S. Buys, Sandrine M. Caputo, Wendy K. Chung, Chrystelle Colas, Sarah V. Colonna, Jackie Cook, Mary B. Daly, Miguel de la Hoya, Antoine de Pauw, Hélène Delhomelle, Jacqueline Eason, Christoph Engel, D. Gareth Evans, Ulrike Faust, Tanja N. Fehm, Florentia Fostira, George Fountzilas, Megan Frone, Vanesa Garcia-Barberan, Pilar Garre, Marion Gauthier-Villars, Andrea Gehrig, Gord Glendon, David E. Goldgar, Lisa Golmard, Mark H. Greene, Eric Hahnen, Ute Hamann, Helen Hanson, Tiara Hassan, Julia Hentschel, Judit Horvath, Louise Izatt, Ramunas Janavicius, Yue Jiao, Esther M. John, Beth Y. Karlan, Sung-Won Kim, Irene Konstantopoulou, Ava Kwong, Anthony Laugé, Jong Won Lee, Fabienne Lesueur, Noura Mebirouk, Alfons Meindl, Emmanuelle Mouret-Fourme, Hannah Musgrave, Joanne Ngeow Yuen Yie, Dieter Niederacher, Sue K. Park, Inge Sokilde Pedersen, Juliane Ramser, Susan J. Ramus, Johanna Rantala, Muhammad U. Rashid, Florian Reichl, Julia Ritter, Andreas Rump, Marta Santamariña, Claire Saule, Gunnar Schmidt, Rita K. Schmutzler, Leigha Senter, Saba Shariff, Christian F. Singer, Melissa C. Southey, Dominique Stoppa-Lyonnet, Christian Sutter, Yen Tan, Soo Hwang Teo, Mary Beth Terry, Mads Thomassen, Marc Tischkowitz, Amanda E. Toland, Diana Torres, Ana Vega, Sebastian A. Wagner, Shan Wang-Gohrke, Barbara Wappenschmidt, Bernhard H. F. Weber, Drakoulis Yannoukakos, Amanda B. Spurdle, Douglas F. Easton, Georgia Chenevix-Trench, Laura Ottini, Antonis C. Antoniou.
Cancer Risks Associated With BRCA1 and BRCA2 Pathogenic Variants.
Journal of Clinical Oncology, 2022; DOI:
10.1200/JCO.21.02112
Using The Eye As A Window Into Heart Disease
Scientists have developed an artificial intelligence (AI) system that can analyse eye scans taken during a routine visit to an optician or eye clinic and identify patients at a high risk of a heart attack.
Doctors have recognised that changes to the tiny blood vessels in the retina are indicators of broader vascular disease, including problems with the heart.
In the research, led by the University of Leeds, deep learning techniques were used to train the AI system to automatically read retinal scans and identify those people who, over the following year, were likely to have a heart attack.
Deep learning is a complex series of algorithms that enable computers to identify patterns in data and to make predictions.
Writing in the journal Nature Machine Intelligence, the researchers report that the AI system had an accuracy of between 70% and 80% and could be used as a second referral mechanism for in-depth cardiovascular investigation.
The use of deep learning in the analysis of retinal scans could revolutionise the way patients are regularly screened for signs of heart disease.
Professor Alex Frangi, who holds the Diamond Jubilee Chair in Computational Medicine at the University of Leeds and is a Turing Fellow at the Alan Turing Institute, supervised the research. He said: "Cardiovascular diseases, including heart attacks, are the leading cause of early death worldwide and the second-largest killer in the UK. This causes chronic ill-health and misery worldwide.
"This technique opens-up the possibility of revolutionising the screening of cardiac disease. Retinal scans are comparatively cheap and routinely used in many optician practices. As a result of automated screening, patients who are at high risk of becoming ill could be referred to specialist cardiac services.
"The scans could also be used to track the early signs of heart disease."
The study involved a worldwide collaboration of scientists, engineers and clinicians from the University of Leeds; Leeds Teaching Hospitals' NHS Trust; the University of York; the Cixi Institute of Biomedical Imaging in Ningbo, part of the Chinese Academy of Sciences; the University of Cote d'Azur, France; the National Centre for Biotechnology Information and the National Eye Institute, both part of the National Institutes for Health in the US; and KU Leuven in Belgium.
The UK Biobank provided data for the study.
Chris Gale, Professor of Cardiovascular Medicine at the University of Leeds and a Consultant Cardiologist at Leeds Teaching Hospitals NHS Trust, was one of the authors of the research paper.
He said: "The AI system has the potential to identify individuals attending routine eye screening who are at higher future risk of cardiovascular disease, whereby preventative treatments could be started earlier to prevent premature cardiovascular disease."
During the deep learning process, the AI system analysed the retinal scans and cardiac scans from more than 5,000 people. The AI system identified associations between pathology in the retina and changes in the patient's heart.
Once the image patterns were learned, the AI system could estimate the size and pumping efficiency of the left ventricle, one of the heart's four chambers, from retinal scans alone. An enlarged ventricle is linked with an increased risk of heart disease.
With information on the estimated size of the left ventricle and its pumping efficiency combined with basic demographic data about the patient, their age and sex, the AI system could make a prediction about their risk of a heart attack over the subsequent 12 months.
Currently, details about the size and pumping efficiency of a patient's left ventricle can only be determined if they have diagnostic tests such as echocardiography or magnetic resonance imaging of the heart. Those diagnostic tests can be expensive and are often only available in a hospital setting, making them inaccessible for people in countries with less well-resourced healthcare systems -- or unnecessarily increasing healthcare costs and waiting times in developed countries.
Sven Plein, British Heart Foundation Professor of Cardiovascular Imaging at the University of Leeds and one of the authors of the research paper, said: "The AI system is an excellent tool for unravelling the complex patterns that exist in nature, and that is what we have found here -- the intricate pattern of changes in the retina linked to changes in the heart."
Andres Diaz-Pinto, Nishant Ravikumar, Rahman Attar, Avan Suinesiaputra, Yitian Zhao, Eylem Levelt, Erica Dall'Armellina, Marco Lorenzi, Qingyu Chen, Tiarnan D. L. Keenan, Elvira Agrón, Emily Y. Chew, Zhiyong Lu, Chris P. Gale, Richard P. Gale, Sven Plein, Alejandro F. Frangi.
Predicting myocardial infarction through retinal scans and minimal personal information.
Nature Machine Intelligence, 2022; DOI:
10.1038/s42256-021-00427-7
'Smart Saddle' Could Help Equestrians Hit Their Stride
Skilled equestrians make advanced riding manoeuvres, like jumps, spins and piaffes, look effortless. But good riding requires balance and subtle cues to the horse, many of which are given through the rider's posture, seat and legs. Now, researchers reporting in ACS Nano developed a prototype "smart saddle" that could help equestrians improve their biomechanics. Moreover, the self-powered saddle can alert others when a rider takes a fall.
Big data collection and analysis are becoming important components of many competitive sports because they provide real-time information on athletes' performance and fitness. However, most systems are powered by batteries, often making them bulky and inflexible. In contrast, small, lightweight triboelectric nanogenerators (TENGs), which convert mechanical energy into electricity, are being tested for a variety of applications, from harvesting the energy of ocean waves to charging cell phones through walking. In addition to powering themselves, TENGs can convert mechanical stimuli, such as pressure, touch or motion, into electrical signals. Ding Nan, Baodong Chen, Zhong Lin Wang and colleagues wanted to adapt TENGs to a smart saddle for challenging and potentially dangerous equestrian sports.
The researchers made a thin, flexible, disk-shaped TENG that flattens when depressed and then rebounds when the pressure is removed. Under pressure, the internal layers of the TENG compress, transferring electrons from one electrode to another and generating a current, which stops when the pressure is released.
The team placed an array of seven TENGs on the top surface of a saddle so they could detect differences in pressure in various regions of the seat. Electrical signals from the array revealed whether a rider was leaning forward, sitting in an upright position or leaning backward. The smart saddle also detected when a person was standing up and sitting down (a motion called "posting" in the equestrian world). When a rider falls off, the system can transmit a wireless signal to alert others, a safety feature that could allow an injured rider to be quickly found and treated, which is especially important when riding alone. The self-powered smart saddle, which has a response time of 16 milliseconds, could someday provide real-time statistical data and fall detection to equestrians and their coaches, the researchers say.
The authors acknowledge funding from the Natural Science Foundation of Beijing Municipality, the National Natural Science Foundation of China, the National Key R&D Project from Ministry of Science and Technology, the Beijing Municipal Science and Technology Commission, the Inner Mongolia scientific and technological achievements transformation project and the Inner Mongolia autonomous region major science and technology program.
Yutao Hao, Jing Wen, Xiaobo Gao, Ding Nan, Juan Pan, Yuhan Yang, Baodong Chen, Zhong Lin Wang.
Self-Rebound Cambered Triboelectric Nanogenerator Array for Self-Powered Sensing in Kinematic Analytics
. ACS Nano, 2022; 16 (1): 1271 DOI:
10.1021/acsnano.1c09096
Young-Onset Cancers Rise And Experts Don't Know Why: Flinders University
Rising numbers of young men and women aged under 50 suffering from gastrointestinal cancers -- as reflected in a new study in South Australia -- is worrying international experts.
The long-term SA Cancer Registry data provides compelling evidence of a 'significant' increase in young-onset (18-50 years) gastrointestinal adenocarcinomas (cancers) over the past three decades, with Flinders University and other researchers calling for greater efforts to understand and address the growing problem.
"The trend observed in the young cohort of esophageal, stomach, colon and rectum, and pancreas cancer cases was not mirrored in older individuals aged over 50 years," says lead author Associate Professor Savio Barreto, with fellow researchers at Flinders University, SA Health and University of California, Los Angeles (UCLA) in a new article in Cancers.
"This increased incidence, though apparent in both sexes, was more pronounced in men compared to women.
"Improved survival in the young-onset cohort was only seen in patients with colorectal cancers, but not those with cancer of the esophagus, stomach and pancreas.
The study calls for a concerted effort to determine the socio-demographic factors underlying this disturbing trend so that that preventative strategies can be developed.
Between 1990 and 2017, the registry recorded a total 28,566 patients diagnosed with colorectal, pancreatic, stomach or esophageal adenocarcinomas. Of these, 2129 (7.5%) were aged between 18-50 years.
The number of young adults with these cancers progressively increased from 650 in the 1990s (incidence rate of 9.3/100,000 people) to 759 in the last 8 years of the study (2010-2017, incidence rate of 12.89/100,000 people).
The incidence rate for these cancers has increased by 1% each year for males aged 18 to 50 years, says co-lead author Professor Claire Roberts.
"The biggest concern is that we don't know what the causes for this disturbing trend are," says Professor Claire Roberts, a Matthew Flinders Fellow at Flinders University.
"Young-onset carcinogenesis is an area that warrants urgent research. We need to identify potentially modifiable factors that could enable us to stem the rising incidence rates."
As well as the likely roles of nutrition, including poor quality diets and obesity, and drug and alcohol use, experts say exposures of these kinds before birth, and in early life, could accelerate cancer development resulting in a younger age at cancer diagnosis.
Other socio-demographic factors that need to be investigated include susceptibility of different ethnic groups and impacts of the levels of education and income, Associate Professor Barreto and UCLA Professor Stephen Pandol say in another new paper in Frontiers of Oncology (DOI: 10.3389/fonc.2021.653289).
The good news is that survival rates for gastrointestinal adenocarcinomas have progressively improved over the last 28 years for individuals over the age of 50 years, the researchers say. But, this improvement has not been apparent in younger adults, in general, except for those with colorectal cancer.
The study authors intend to apply for funding to find answers to the questions this research has raised.
Dominique Schell, Shahid Ullah, Mark E. Brooke-Smith, Paul Hollington, Marina Yeow, Christos S. Karapetis, David I. Watson, Stephen J. Pandol, Claire T. Roberts, Savio G. Barreto.
Gastrointestinal Adenocarcinoma Incidence and Survival Trends in South Australia, 1990–2017.
Cancers, 2022; 14 (2): 275 DOI:
10.3390/cancers14020275
New Test To Screen Newborns For Rare Genetic Disorders Paves The Way For Earlier Diagnosis And Treatment
A newly developed test to screen for three rare genetic disorders simultaneously in newborns was feasible, reliable and scalable, according to a new study.
The research, led by the Murdoch Children's Research Institute (MCRI), reported that screening for Prader Willi, Angelman and Dup15q syndromes using the new type of test would open new avenues for earlier diagnosis and treatment, paving the way for the three chromosome 15 imprinting disorders to be added to newborn bloodspot screening programs (heel prick test) for the first time.
The study, published in The Journal of the American Medical Association Network Open, was the first to validate the use of a low-cost, specialised screening method called Methylation Specific-Quantitative Melt Analysis (MS-QMA), developed by MCRI researchers, for these disorders at a large scale.
The one-step test can be used to screen for the three conditions simultaneously, by looking at the number of chemical modifications or marks called methylation added to affected genes, which are not present at such high or low levels in children without these disorders.
The Victorian State Government provided a $100,000 grant to MCRI as part of the 2018 Victorian Medical Research Acceleration Fund to support the development of the new screening method for the rare disorders. Medical Research Minister Jaala Pulford visited MCRI recently to see how the test worked and to learn more about its potential.
The study first checked for accuracy, with the test correctly distinguishing most of the 167 samples from people who had one of the disorders. It was then tested on 16,579 newborns in Victoria with the test identifying two with Prader Willi, two with Angelman and one with Dup15q.
The three disorders are characterised by varying degrees of intellectual disability, autism, behavioural problems, seizures and/or severe obesity. About 135 babies are born with one of these disorders each year in Australia, but the disorders are not included in newborn screening programs, and many go undiagnosed in the first year of life.
MCRI Associate Professor David Godler said a key reason why these disorders were not included in current newborn screening programs was the lack of a test with low laboratory costs that could work at a population scale.
"Tests are currently only performed on those suspected of having these disorders, and only if features are recognised by a child's doctor, and subsequently referred for appropriate testing," he said. "This is not the case with newborn screening where testing is performed on all newborns before symptoms become apparent."
Associate Professor Godler said the study found the cost, disorder prevalence and accuracy of MS-QMA as a first-tier test were in line with other conditions currently included in newborn screening programs. The study reported that in the 16,579 newborns screened, the probability of those with a positive screening test truly having the disease using MS-QMA was 67 per cent, 33 per cent and 44 per cent for Angelman, Prader Willi and combined detection of chromosome 15 imprinting disorders, respectively.
"Having a high positive predictive value is important for newborn screening as it ensures that there is lower number of false positive results that need to be repeated, leading to lower overall laboratory costs, less work for maternity services in obtaining a repeated blood sample and minimises the psychological effect on families," Associate Professor Godler said.
MCRI Professor David Amor said that if these findings were replicated in future independent studies, adding these chromosome 15 imprinting disorders to newborn screening programs would allow for earlier diagnosis and using targeted interventions as they emerge, such as gene therapy for Angelman syndrome.
"For Prader Willi, diagnosis in infancy allows for early initiation of growth hormone treatment to improve long term health outcomes," he said. "For Angelman and Dup15q, most infants do not receive an early diagnosis that would allow intervention in the first year of life. But such early diagnosis, if available through newborn screening, could prevent the diagnostic odyssey, reduce medical costs and the significant stress and anxiety currently experienced by the families while they await a diagnosis."
Melbourne's Chrissy Cimino's son Elliott, 4, was diagnosed with Angelman syndrome at 14 months.
As a baby Elliott couldn't sit upright, never cried or babbled and struggled to put on weight. After searching for a diagnosis for months, Chrissy said she was relieved to finally have the answer.
"There were a lot of red flags that were missed, and I knew in my gut that something wasn't right," she said. I kept persisting with medical appointments and I did my own research. It was such a relief to have that diagnosis so we could finally start medical interventions."
But Chrissy said if Elliott had been diagnosed through a newborn screening program, his motor and cognitive skills wouldn't be as poor.
"We couldn't get him on the NDIS until he was two and half so we missed out on years of intensive physio and speech and occupational therapies. He is almost five and he still isn't walking. If he was diagnosed earlier we could have helped him a lot sooner."
Doris Hamilton-Brown's son Lewis, 2, was diagnosed with Prader Willi at four weeks of age.
Doris said due to being born small for gestational age, Lewis was taken to the neonatal unit but failed to improve.
"After Lewis failed to get better the doctors started to look at genetic reasons," she said. "The diagnosis was unexpected and tough to hear but getting answers meant we could intervene early."
Lewis started growth hormone treatment at seven months, which will help with muscle bulk, reduce fat mass, increase physical activity levels and improve attainment of developmental and cognitive milestones.
"He has just started walking and while he is non-verbal he can understand verbal cues and communicate what he needs," Doris said.
She said having a test for Prader Willi and other chromosome 15 imprinting disorders on newborn screening programs would remove a lot of angst, guilt and uncertainty for parents.
"We were lucky that Lewis was able to start treatments and therapies fairly early on but for many families the diagnosis can come late and intervention is delayed," Doris said.
Researchers from The Royal Children's Hospital, the University of Melbourne, E.D.G. Innovations and Consulting, Hunter Genetics, University of Kansas Medical Centre, University of Padua, Città della Speranza, Greenwood Genetic Center, University of Chile and the Victorian Clinical Genetics Services also contributed to the study.
David E. Godler, Ling Ling, Dinusha Gamage, Emma K. Baker, Minh Bui, Michael J. Field, Carolyn Rogers, Merlin G. Butler, Alessandra Murgia, Emanuela Leonardi, Roberta Polli, Charles E. Schwartz, Cindy D. Skinner, Angelica M. Alliende, Lorena Santa Maria, James Pitt, Ronda Greaves, David Francis, Ralph Oertel, Min Wang, Cas Simons, David J. Amor.
Feasibility of Screening for Chromosome 15 Imprinting Disorders in 16 579 Newborns by Using a Novel Genomic Workflow.
JAMA Network Open, 2022; 5 (1): e2141911 DOI:
10.1001/jamanetworkopen.2021.41911
$13m For National Eating Disorder Research Centre: Sydney University
The Australian Government Department of Health has awarded the University of Sydney a $13 million four-year grant, which will fund the establishment of the Australian Eating Disorders Research and Translation Centre.
InsideOut Institute for Eating Disorders, a partnership between the University of Sydney and Sydney Local Health District, will lead a national consortium of partners to develop the Centre and implement the Australian Eating Disorders Research & Translation Strategy.
The Centre will coordinate a national approach to eating disorder research and translate findings into practice, with the goal of reducing the burden on Australians living with an eating disorder and their loved ones.
Eating disorders are serious, complex mental illnesses with significant physical and mental health impacts, high mortality rates and low rates of detection. It is estimated that approximately 1 million Australians are living with an eating disorder, which is 4 percent of the population. Eating disorders also have one of the highest mortality rates of any mental illness.
The Centre will be led by InsideOut Institute, and will be supported by a research ecosystem within the university and a consortium of national partners.
InsideOut Director Associate Professor Sarah Maguire said until recently, research innovation in the field of eating disorders has been hampered by insufficient resourcing and lack of a coherent vision and plan. She says today's announcement is an important first step in addressing inequities in funding for eating disorder research and translation.
"InsideOut is honoured to lead the national consortium to drive this change," said Associate Professor Maguire.
"This announcement is about the future. It's about supporting and enabling much-needed scientific breakthroughs that help prevent illness, that get people better and ensure our treatments don't inadvertently cause harm."
Major University of Sydney partners in the research ecosystem include the Charles Perkins Centre, Brain and Mind Centre, Lambert Initiative, Sydney Policy Lab, the Faculty of Medicine and Health and the Faculty of Science.
Professor Stephen Simpson, Academic Director of the Charles Perkins Centre, said:
"Having the Australian Eating Disorder Research and Translation Centre based at the Charles Perkins Centre with colleagues at InsideOut Institute and in collaboration with the Brain and Mind Centre and the Faculties of Medicine and Health and Science represents a major step in our rich multidisciplinary strategy at the University of Sydney to address the enormous challenges to health and wellbeing posed by disordered eating."
This announcement is about the future. It's about supporting and enabling much-needed scientific breakthroughs that help prevent illness, that get people better and ensure our treatments don't inadvertently cause harm -

Associate Professor Sarah Maguire



Professor Patrick McGorry, executive director of Orygen, which will be a lead partner in the national consortium said:
"The award of this Research Grant to the University of Sydney and partners, including Orygen, to support a long overdue wave of innovation and research in eating disorders could not have come at a more critical time with a new surge in eating disorders during the pandemic.
"Orygen is delighted to have the opportunity to work in a collaborative partnership with Inside Out at the University of Sydney to create a fresh approach to the understanding, prevention and treatment of eating disorders.
"We are very grateful to the Federal government for devoting vital new research funding to this neglected public health priority."
Professor Ian Hickie, co-director of the Brain and Mind Centre said there is an urgent need for really novel and truly innovative research that can save lives that are otherwise lost or ruined by these devastating disorders.
"This Centre will strive for major breakthroughs, with particular emphasis on those interventions that can be delivered early in the course of illness, at scale, and lead to sustained recovery."
InsideOut Director Professor Stephen Touyz said the Australian Government should be commended for this investment.
"For the first time, this centre will bring together the country's leading researchers to develop an integrated research agenda to transform the lives of those with the lived experience of an eating disorder. This initial funding is an important start."
Professor Ian Caterson, Clinical Director, Sydney Local Health District, welcomes the initiative.
"Eating disorders are complex diseases and produce much distress and illness in those who suffer them - and their families and carers. They produce a range of mental health, social and medical issues and are seen by many in health as difficult to treat.
"This initiative will help Sydney Local Health District and the University of Sydney continue to develop an effective, strong integrated care model which tackles the range of issues those with eating disorders can experience and make equitable, accessible care available to many more."
All of the Centre's activities will be informed by people with lived experience of eating disorders and with Aboriginal & Torres Strait Islander peoples.
"I feel honoured to have been asked to co-Lead the Lived Experience Program workstream, which InsideOut is proposing. The Lived Experience Program that will work across all aspects of the Centre, including governance committees, all workstreams, and all research areas, is ground-breaking," said Shannon Calvert, lived experience advisor at the Inside Out Institute.
The Centre's governance structure will include a governing council led by independent Chair Ms Robyn Kruk AO, an executive working party, and a scientific committee which will design a transparent and robust process for the funding of research trials. It will also be informed by an international expert advisory group comprising world-leading eating disorder researchers and innovative thinkers.
National partners include Orygen, Latrobe University, Monash University, Monash Biomedicine Discovery Institute, Australian National University, Deakin University, Black Dog Institute, University of Western Australia, University of Queensland (Institute for Molecular Bioscience) and QIMR Berghofer Medical Research Institute.
The InsideOut Institute – a collaboration between Sydney Local Health District and the University of Sydney's Charles Perkins Centre – aims to ensure every Australian living with an eating disorder has access to the best possible care by rethinking eating disorders from the 'inside out'. Visit
 insideoutinstitute.org.au
Disclaimer: These articles are not intended to provide medical advice, diagnosis or treatment. Views expressed here do not necessarily reflect those of Pittwater Online News or its staff.