inbox and environment news: Issue 515
October 24 - 30, 2021: Issue 515
Common Sense Consent Reforms Closer To Becoming NSW Law
Common sense reforms to make sexual consent laws easier to follow and ensure more effective prosecutions of sexual offences will be introduced to NSW Parliament today.
Attorney General and Minister for Prevention of Domestic and Sexual Violence Mark Speakman said the proposed Bill, Crimes Legislation Amendment (Sexual Consent Reforms) Bill 2021, will reinforce the basic principle of common decency that consent is a free choice involving mutual and ongoing communication, and that consent should not be presumed.
"Today brings us another step closer to implementing these important reforms that will set clearer boundaries for consensual sex and better support victim-survivors who courageously come forward to report sexual assault," Mr Speakman said.
"If you want to have sex with someone, then you need to do or say something to find out if they want to have sex with you too – under our reforms, it's that simple.
"We have listened to calls for change and consulted on these reforms with victim-survivors and legal experts to introduce the best possible Bill to Parliament that will simplify our laws and help to address rates of sexual violence."
The Bill builds on legislative drafting suggested as part of the NSW Law Reform Commission (LRC) Report 148opens in new window, and will also make clear that a person doesn't consent to sexual activity unless they said or did something to communicate consent.
An accused's belief that consent existed will not be reasonable in the circumstances unless the accused said or did anything – within a reasonable time before or at the time of the sexual activity – to find out whether the other person consents to the sexual activity. This requirement will not apply to an accused person who had a cognitive or mental health impairment that caused them not to say or do anything to ascertain consent.
"This affirmative model of consent is not onerous. It does not require a written or video agreement or a script, or stifle spontaneity, as some have suggested," Mr Speakman said.
Survivor Advocate and Director from Rape & Sexual Assault Research & Advocacy, Saxon Mullins, said today was a momentous win for victim-survivors and experts who've contributed to this cause for years, using their voices to advocate for an affirmative consent model.
"These reforms mean so much to so many survivors who understand first hand the difference this bill can make," Ms Mullins said.
"It has been three years since I came forward to share my own story, and while progress can feel slow, I know this bill is a huge leap forward and will see NSW leading the way in consent law around the country."
NSW Police Commissioner Mick Fuller said a clear definition of consent was vital when dealing with sexual assault matters, to ensure effective prosecutions.
"Victims of sexual assault who courageously come forward need to know that they are fully supported – both at the investigative stage but also through the judicial process," Commissioner Fuller said.
"Reforms which provide clarity in a legal sense about consent are welcomed by police. As a frontline agency that often sees the devastating impact of these crimes first hand, I fully support the Government's reforms to consent laws which will improve victim outcomes and boost confidence in the judicial process."
Minister for Education Sarah Mitchell said that all school sectors were committed to tackling the issues of consent and sexual assault, demonstrated through a shared Statement of Intent to deliver greater engagement with students, staff, police and parents.
"Schools and parents can play a powerful role in supporting these reforms and helping to promote greater communication between young people, around the dinner table, and at school about consent and healthy relationships," Ms Mitchell said.
"We've improved resources in the classroom for teachers and students, and supports for parents and carers to build greater understanding of these critical issues."
The full suite of reforms also includes:
clarification that a person does not consent unless, at the time of the sexual activity, they freely and voluntarily agree to the sexual activity;
five new jury directions available for judges to give at trial to address common misconceptions about sexual assault and behavioural responses, and to ensure the evidence of complainants is assessed fairly;
targeted education programs for judges, legal practitioners and police;
a research project to improve our understanding of victim-survivor experiences with the criminal justice process; and
community awareness campaigns that will build on the success of #MakeNoDoubt.
A Bill to give effect to the reforms will be introduced to NSW Parliament today. The reforms are then expected to become law in mid-2022. Once the Bill has been introduced in NSW Parliament, you can read
more about it here
.
I
f you or someone you know has experienced sexual assault, support is available from those who are trained to help: call 1800RESPECT on 1800 737 732 or NSW Rape Crisis on 1800 424 017.
Telestroke Provides Life-Saving Care To NSW Residents
​More than 1,000 patients who experienced a stroke in NSW's regional and rural areas have benefited from life-changing treatment thanks to the NSW Telestroke Service.
The innovative service provides 24/7 access to life-saving stroke diagnosis and treatment, connecting patients and local doctors with specialist stroke physicians via video consultation.
"Telestroke's 1000th patient milestone exemplifies the world-class virtual care being delivered across the state," said Dr Nigel Lyons, NSW Health Deputy Secretary, Health System Strategy and Planning.
"This vital service enables time-critical diagnosis and treatment for patients in regional and rural areas," said Dr Lyons.
Professor Ken Butcher, Medical Director of the NSW Telestroke Service and Director of Clinical Neuroscience at Sydney's Prince of Wales Hospital, said the NSW Telestroke Service is an important weapon in the fight against stroke, which is one of Australia's biggest killers and a leading cause of disability.
"Using Telestroke, clinicians harness cutting-edge technology to deliver better outcomes for patients exhibiting signs of stroke," said Professor Butcher.
"Multi-modal imaging allows clinicians to see where the stroke is in the brain and make better clinical decisions – irrespective of a patient's location."
One of the 1,000 patients thankful for Telestroke is Nina, a nurse and mother-of-three young children from Northern NSW. When Nina woke at 4.30am with her arm and leg moving uncontrollably, her husband drove her to hospital.
Upon arrival at The Tweed Hospital, emergency staff used Telestroke to connect with Newcastle-based Neurologist Dr Carlos Garcia-Esperon, who assessed Nina and prescribed vital blood clot-busting medicine.
"My family was so relieved that I received instant specialist care. By 9pm that night I was back to normal, thanks to Telestroke," Nina said.
The Stroke Foundation is helping to raise awareness of Telestroke as it rolls out to even more rural and regional locations across the state.
Sixteen hospitals across regional and rural NSW are connected to the $21.7 million NSW Telestroke Service, which is jointly funded by the NSW and Commonwealth Governments and will expand to 23 sites by June 2022.
Implementation of the NSW Telestroke Service is a collaboration between Sydney's Prince of Wales Hospital, eHealth NSW, the Agency for Clinical Innovation and the NSW Ministry of Health.
Health Leader To Advance Indigenous Genomics
Internationally-acclaimed Aboriginal researcher and clinician Dr Alex Brown will take up a new appointment as Professor of Indigenous Genomics as part of a new strategic partnership between Perth's Telethon Kids Institute and The Australian National University (ANU).
Telethon Kids Institute Board Chair and ANU Chancellor, the Hon Julie Bishop, said the appointment reflected a joint commitment of both organisations to working with community to improve the health and wellbeing of Aboriginal and Torres Strait Islander people.
"Professor Brown is widely regarded as one of Australia's top Aboriginal clinician researchers. His work has already had a significant impact in improving health care and services, and also in the way we conduct research in partnership with Indigenous communities to ensure the greatest relevance and results," Ms Bishop said.
"The field of genomics unlocks the information in our DNA to enable personalised, more targeted approaches to preventions and treatments. Professor Brown's work in this area will help to ensure that Aboriginal and Torres Strait Islander people are very much part of this exciting new frontier in medicine."
Professor Brown has long associations with both organisations, having served on the governing boards of the ANU National Centre for Indigenous Genomics and Telethon Kids Institute, as well as being the scientific lead on the Institute's 1000 Families Initiative.
"This role is a great opportunity for me to leverage the strengths of two highly regarded organisations to bring new capacity and focus to this program of work," he said.
"There is no population that suffers the long-term consequences of early life challenges more than our Aboriginal and Torres Strait Islander people and our program of research will combine genomics, precision medicine and public health to address this."
Professor Brown's priorities will be to:
Support community awareness and genomic literacy to underpin informed participation and empowerment in research
Establish ethical, culturally and socially appropriate ways of conducting genomic research in partnership with communities
Document and understand the diversity of Indigenous peoples and the drivers of disease in different communities
Deepen understanding of biology and enhance knowledge of complex diseases among Indigenous Australians to directly improve health outcomes
Translate scientific understandings of genomic diversity into enhanced and targeted delivery of health care within Indigenous health services
Develop the capacity of the Indigenous genomics workforce
Dean of the ANU College of Health and Medicine, Professor Russell Gruen, welcomed the partnership with Telethon Kids Institute and the opportunities Professor Brown's appointment brings for serving society, and particularly Indigenous people, through transformational research.
"Professor Brown is leading population genomics to a new level, and will now align his own deep expertise with that of the Telethon Kids Institute and the National Centre for Indigenous Genomics at ANU to advance human health, and ensure people everywhere can benefit from such great science," he said.
Telethon Kids Executive Director Professor Jonathan Carapetis AM, said Professor Brown's appointment reinforces the Institute's ambition to be the global leader in Indigenous child health research.
"Professor Brown is driven by integrity, respect and deep compassion. We are very excited to have his wisdom, expertise and leadership guiding our commitment to see real change for WA Aboriginal children and families, to make sure we can grow up the next generation of Aboriginal children to become leaders."
The ANU and Telethon Kids strategic partnership will drive a common agenda for research excellence and internationally significant scientific outcomes, as well as facilitate the training of higher degree by research students and the development of early-mid career researchers.
Professor Brown and his team will take up their new positions in 2022 and be based at the Institute's Adelaide office.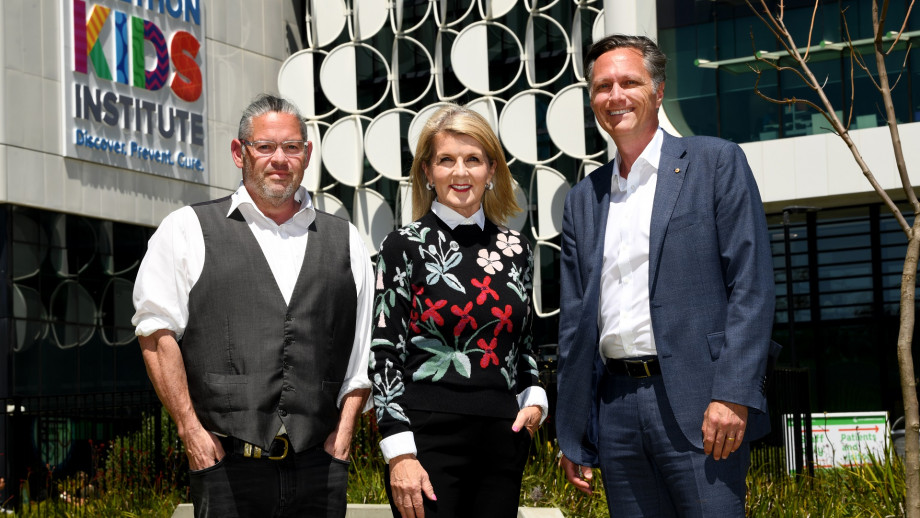 Photo: Professor Alex Brown (left), ANU Chancellor the Hon. Julie Bishop, and Telethon Kids Executive Director Jonathan Carapetis AM. Photo: Telethon Kids Institute
A New Treatment For Glaucoma?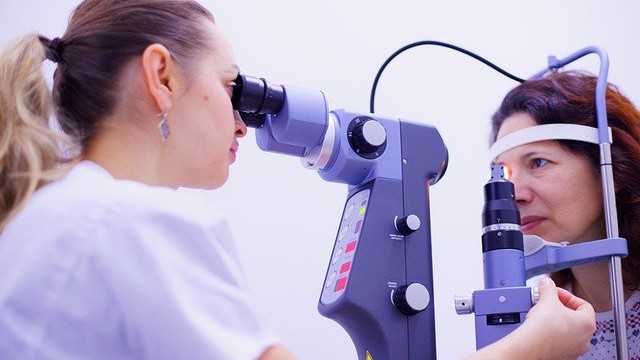 A Northwestern Medicine study in mice has identified new treatment targets for glaucoma, including preventing a severe pediatric form of glaucoma, as well as uncovering a possible new class of therapy for the most common form of glaucoma in adults.
In people with high pressure glaucoma, fluid in the eye doesn't properly drain and builds up pressure on the optic nerve, leading to vision loss. It affects 60 million people worldwide and is the most common cause of blindness in people over 60 years old.
While there are a few treatments available for open angle glaucoma, the most common form of glaucoma in adults (eye drops, oral medication, laser treatments), there are no cures, and a severe form of glaucoma in children between birth and three years old known as primary congenital glaucoma can only be treated with surgery.
"Although primary congenital glaucoma is much rarer than open angle glaucoma, it is devastating for children," said corresponding author Dr. Susan Quaggin, chief of nephrology and hypertension in the Department of Medicine at Northwestern University Feinberg School of Medicine. "New treatments and new classes of treatments are urgently needed to slow vision loss in both forms.
Using gene editing, the scientists in the study developed new models of glaucoma in mice that resembled primary congenital glaucoma. By injecting a new, long-lasting and non-toxic protein treatment (Hepta-ANGPT1) into mice, the scientists were able to replace the function of genes that, when mutated, cause glaucoma. With this injectable treatment, the scientists also successfully prevented glaucoma from ever forming in one model. This same therapy, when injected into the eyes of healthy adult mice, reduced pressure in the eyes, supporting it as a possible new class of therapy for the most common cause of glaucoma in adults (high intraocular pressure open angle glaucoma).
The next step is to develop the appropriate delivery system for the successful new protein treatment in patients and bring it to production, Quaggin said.
Additionally, the scientists used bioinformatics and single cell RNA sequence data to understand and identify glaucoma pathways that can be explored in the future for additional therapeutic targets for the disease, such as ones that regulate communication with a specialized blood vessel in the eye (Schlemm's canal) that is important for draining fluid and maintaining normal eye pressure.
"Having a treatment that can promote remodelling and/or growth of a defective Schlemm's canal to treat glaucoma would be fantastic," Quaggin said. "These studies are the first step to that goal.
"Our hope is that this study leads to the first targeted therapy that effectively promotes (aqueous humor) fluid outflow from the front of an eye, reversing the underlying biologic defect in patients with glaucoma."
Other Northwestern co-authors are Ben Thompson (first), Dr. Jing Jin, Pan Liu and medical student Raj Purohit. This study builds on major teamwork and an ongoing collaboration with University of Madison-Wisconsin co-authors Terri Young and Stuart Thomson.
Benjamin R. Thomson, Pan Liu, Tuncer Onay, Jing Du, Stuart W. Tompson, Sol Misener, Raj R. Purohit, Terri L. Young, Jing Jin, & Susan E. Quaggin.
Cellular crosstalk regulates the aqueous humor outflow pathway and provides new targets for glaucoma therapies.
Nature Communications, 2021 DOI:
10.1038/s41467-021-26346-0
New Fibres Can Make Breath-Regulating Garments
A new kind of fibre developed by researchers at MIT and in Sweden can be made into clothing that senses how much it is being stretched or compressed, and then provides immediate tactile feedback in the form of pressure, lateral stretch, or vibration. Such fabrics, the team suggests, could be used in garments that help train singers or athletes to better control their breathing, or that help patients recovering from disease or surgery to recover their breathing patterns.
The multi-layered fibres contain a fluid channel in the centre, which can be activated by a fluidic system. This system controls the fibres' geometry by pressurizing and releasing a fluid medium, such as compressed air or water, into the channel, allowing the fibre to act as an artificial muscle. The fibres also contain stretchable sensors that can detect and measure the degree of stretching of the fibres. The resulting composite fibres are thin and flexible enough to be sewn, woven, or knitted using standard commercial machines.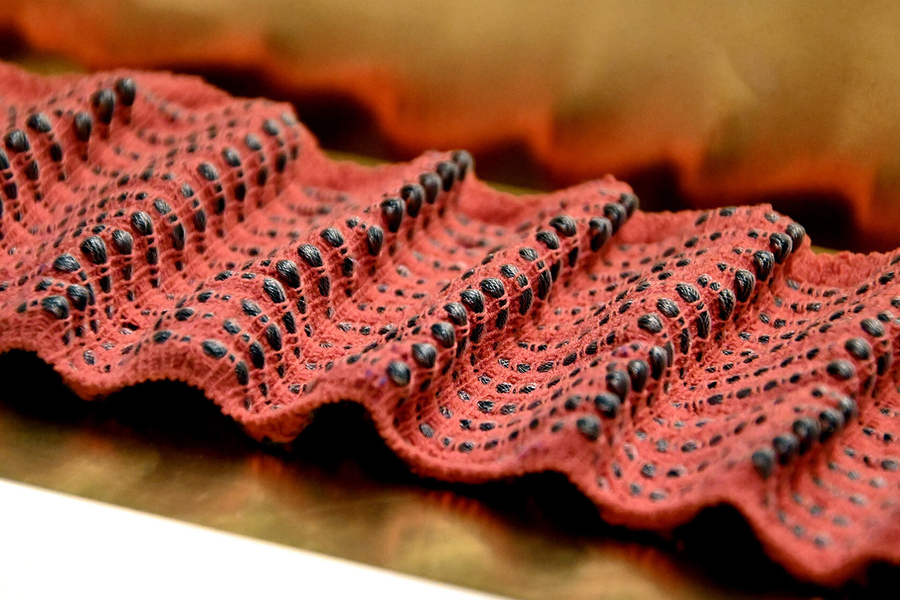 OmniFibers - courtesy of the researchers.

The fibres, dubbed OmniFibers, are being presented this week at the Association for Computing Machinery's User Interface Software and Technology online conference, in a paper by Ozgun Kilic Afsar, a visiting doctoral student and research affiliate at MIT; Hiroshi Ishii, the Jerome B. Wiesner Professor of Media Arts and Sciences; and eight others from the MIT Media Lab, Uppsala University, and KTH Royal Institute of Technology in Sweden.
The new fibre architecture has a number of key features. Its extremely narrow size and use of inexpensive material make it relatively easy to structure the fibres into a variety of fabric forms. It's also compatible with human skin, since its outer layer is based on a material similar to common polyester. And, its fast response time and the strength and variety of the forces it can impart allow for a rapid feedback system for training or remote communications using haptics (based on the sense of touch).
Afsar says that the shortcomings of most existing artificial muscle fibers are that they are either thermally activated, which can cause overheating when used in contact with human skin, or they have low power efficiency or arduous training processes. These systems often have slow response and recovery times, limiting their immediate usability in applications that require rapid feedback, she says.
As an initial test application of the material, the team made a type of undergarment that singers can wear to monitor and play back the movement of respiratory muscles, to later provide kinaesthetic feedback through the same garment to encourage optimal posture and breathing patterns for the desired vocal performance. "Singing is particularly close to home, as my mom is an opera singer. She's a soprano," she says. In the design and fabrication process of this garment, Afsar has worked closely with a classically trained opera singer, Kelsey Cotton.
"I really wanted to capture this expertise in a tangible form," Afsar says. The researchers had the singer perform while wearing the garment made of their robotic fibres, and recorded the movement data from the strain sensors woven into the garment. Then, they translated the sensor data to the corresponding tactile feedback. "We eventually were able to achieve both the sensing and the modes of actuation that we wanted in the textile, to record and replay the complex movements that we could capture from an expert singer's physiology and transpose it to a nonsinger, a novice learner's body. So, we are not just capturing this knowledge from an expert, but we are able to haptically transfer that to someone who is just learning," she says.
Though this initial testing is in the context of vocal pedagogy, the same approach could be used to help athletes to learn how best to control their breathing in a given situation, based on monitoring accomplished athletes as they carry out various activities and stimulating the muscle groups that are in action, Afsar says. Eventually, the hope is that
such garments could also be used to help patients regain healthy breathing patterns after major surgery or a respiratory disease such as Covid-19, or even as an alternative treatment for sleep apnoea
(which Afsar suffered from as a child, she says).
The physiology of breathing is actually quite complex, explains Afsar, who is carrying out this work as part of her doctoral thesis at KTH Royal Institute of Technology. "We are not quite aware of which muscles we use and what the physiology of breathing consists of," she says. So, the garments they designed have separate modules to monitor different muscle groups as the wearer breathes in and out, and can replay the individual motions to stimulate the activation of each muscle group.
Ishii says he can foresee a variety of applications for this technology. "Everybody has to breathe. Breathing has a major impact on productivity, confidence, and performance," he says. "Breathing is important for singing, but also this can help when recovering from surgery or depression. For example, breathing is so important for meditation."
The system also might be useful for training other kinds of muscle movements besides breathing, he says. For example, "Many of our artists studied amazing calligraphy, but I want to feel the dynamics of the stroke of the brushes," which might be accomplished with a sleeve and glove made of this closed-loop-feedback material. And Olympic athletes might sharpen their skills by wearing a garment that reproduces the movements of a top athlete, whether a weightlifter or a skier, he suggests.
The soft fiber composite, which resembles a strand of yarn, has five layers: the innermost fluid channel, a silicone-based elastomeric tube to contain the working fluid, a soft stretchable sensor that detects strain as a change in electrical resistance, a braided polymer stretchable outer mesh that controls the outer dimensions of the fiber, and a nonstretchy filament that provides a mechanical constraint on the overall extensibility.
Afsar plans to continue working on making the whole system, including its control electronics and compressed air supply, even more miniaturized to keep it as unobtrusive as possible, and to develop the manufacturing system to be able to produce longer filaments. In coming months, she plans to begin experiments in using the system for transferring skills from an expert to a novice singer, and later to explore different kinds of movement practices, including those of choreographers and dancers.
The research was supported by the Swedish Foundation for Strategic Research. The team included Ali Shtarbanov, Hila Mor, Ken Nakagaki, and Jack Forman at MIT, Kristina Hook at KTH Royal Institute of Technology, and Karen Modrei, Seung Hee Jeong, and Klas Hjort at Uppsala University, Sweden.
Ozgun Kilic Afsar, Ali Shtarbanov, Hila Mor, Ken Nakagaki, Jack Forman, Karen Modrei, Seung Hee Jeong, Klas Hjort, Kristina Höök, Hiroshi Ishii.
OmniFiber: Integrated Fluidic Fiber Actuators for Weaving Movement based Interactions into the 'Fabric of Everyday Life'. UIST '21: The 34th Annual ACM Symposium on User Interface Software and Technology, October 2021
Pages 1010%u20131026 DOI:
10.1145/3472749.3474802
Mushroom Consumption May Lower Risk Of Depression
Mushrooms have been making headlines due to their many health advantages. Not only do they lower one's risk of cancer and premature death, but new research led by Penn State College of Medicine also reveals that these superfoods may benefit a person's mental health.
Penn State researchers used data on diet and mental health collected from more than 24,000 U.S. adults between 2005 and 2016. They found that people who ate mushrooms had lower odds of having depression.
According to the researchers, mushrooms contain ergothioneine, an antioxidant that may protect against cell and tissue damage in the body. Studies have shown that antioxidants help prevent several mental illnesses, such as schizophrenia, bipolar disorder and depression.
"Mushrooms are the highest dietary source of the amino acid ergothioneine -- an anti-inflammatory which cannot be synthesized by humans," said lead researcher Djibril Ba, who recently graduated from the epidemiology doctoral program at the College of Medicine. "Having high levels of this may lower the risk of oxidative stress, which could also reduce the symptoms of depression."
White button mushrooms, which are the most commonly consumed mushroom variety in the U.S., contain potassium, which is believed to lower anxiety. In addition, certain other species of edible mushrooms, especially Hericium erinaceus, also known as Lion's Mane, may stimulate the expression of neurotrophic factors such as nerve growth factor synthesis, which could have an impact on preventing neuropsychiatric disorders including depression.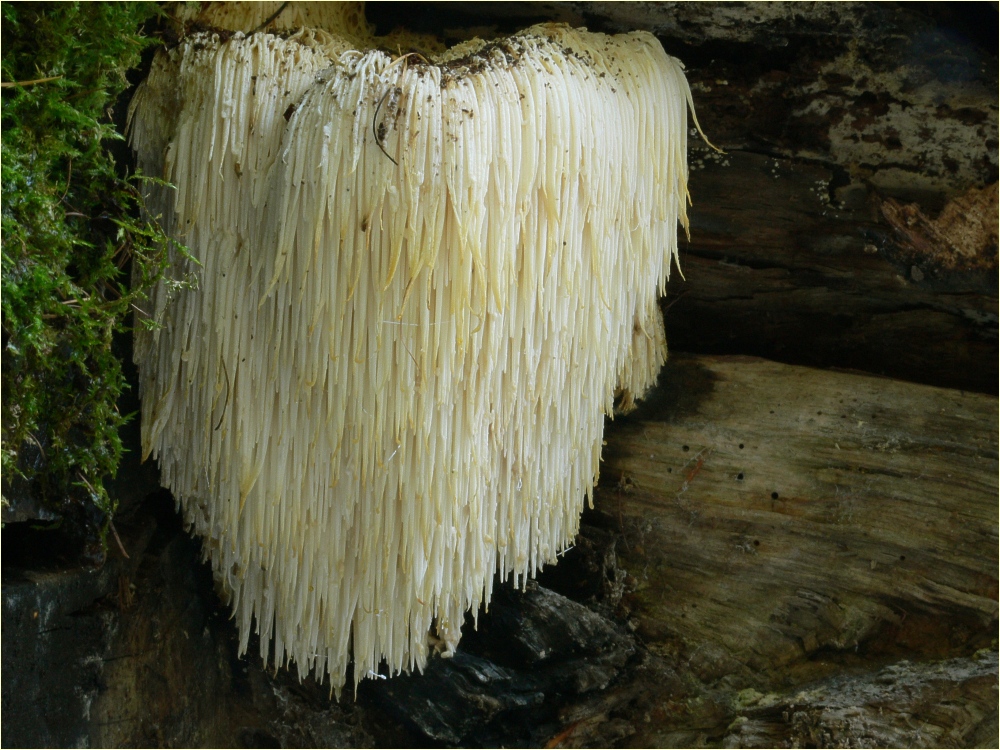 Hericium erinaceus. Photo credit: eigene arbeit von Lebrac

According to the researchers, college-educated, non-Hispanic white women were more likely to eat mushrooms. The average age of surveyed participants was 45, and the majority (66%) were non-Hispanic white people. The investigators observed a significant association between mushroom consumption and lower odds of depression after accounting for socio-demographics, major risk factors, self-reported diseases, medications and other dietary factors. They said, however, that there was no clear additional benefit with relatively high mushroom intake.
"The study adds to the growing list of possible health benefits of eating mushrooms," said Joshua Muscat, a Penn State Cancer Institute researcher and professor of public health sciences.
The team conducted a secondary analysis to see if the risk of depression could be lowered by replacing a serving of red or processed meat with a serving of mushrooms each day. However, findings show that this substitution was not associated with lower odds of depression.
Prior to this research, there have been few studies to examine the association between mushroom consumption and depression, and the majority have been clinical trials with fewer than 100 participants. The researchers said this study highlights the potential clinical and public health importance of mushroom consumption as a means of reducing depression and preventing other diseases.
The researchers noted some limitations that could be addressed in future studies. The data did not provide details on the types of mushrooms. As a result, the researchers could not determine the effects of specific types of mushrooms on depression. Food codes issued by the U.S. Department of Agriculture were used to determine mushroom intake; therefore, some entries may have been misclassified or inaccurately recorded.
John Richie and Xiang Gao from Penn State Cancer Institute; Laila Al-Shaar and Vernon Chinchilli from Penn State College of Medicine; and Robert Beelman from Penn State College of Agricultural Sciences also contributed to this research. The researchers declare no conflicts of interest or specific funding support.
Djibril M. Ba, Xiang Gao, Laila Al-Shaar, Joshua E. Muscat, Vernon M. Chinchilli, Robert B. Beelman, John P. Richie.
Mushroom intake and depression: A population-based study using data from the US National Health and Nutrition Examination Survey (NHANES), 2005–2016
. Journal of Affective Disorders, 2021; 294: 686 DOI:
10.1016/j.jad.2021.07.080
Fish Might Be Able To Distinguish Colour More Effectively Than Humans
Researchers have revealed that non-mammalian vertebrates might have a much more simple and effective way of deciphering between colour and greyscale information than humans.
Tom Baden, Professor of Neuroscience and others from his lab at the University of Sussex were investigating how zebrafish respond and decipher between different wavelengths, or colours of light.
Prof Baden said: "Zebrafish, unlike humans, have four types of cone-photoreceptors, specialised neurons in the retina which respond to light. These four types are often called red, green, blue and UV. The assumption is that each should do what it says on the tin -- red should respond to red light, green to green light, and so on. However, we found that this isn't the case."
In the first ever direct in-vivo measurements of 'colour tuning' from a vertebrate photoreceptor, Prof Baden and his team, collaborating with researchers at the University of Tübingen, Germany and Baylor College of Medicine in Texas, USA, found that zebrafish can decipher colour in a much simpler way to humans. Their study, published by Science Advances, describes how 'red cones' responded to brightness, i.e. black or white information, while 'green cones' responded to colour information.
Prof Baden explained: "In basic principles, colour vision requires visual circuits to disentangle brightness from colour information. In nature, these are fundamentally entwined so to disentangle them is no trivial task, which in some cases can require quite a lot of neurons.
"In humans, some of these are distributed all over the eyes and brain in ways that are still far from understood. In contrast, zebrafish solve this basic problem themselves at the earliest possible site, in the synapse of the photoreceptors themselves."
From an evolutionary perspective, Prof Baden explains that this "fish strategy" is probably much closer to the 'origin of vision' in vertebrates.
In contrast, during the age of the dinosaurs, humans' early mammalian ancestors are thought to have escaped to the forests and adopted a nocturnal lifestyle. In the process, they lost all but two of their cone-photoreceptor types, resulting in most mammals being dichromatic -- only able to see in two colours. Dogs, cats, horses, even hamsters and mice, can all distinguish blues from greens, but none of them can readily distinguish greens from reds. Accordingly, we imagine them to see the world in colours that may be similar to what a red-green colour-blind human might experience.
Unlike other mammals, humans and the evolutionary lineage of gorillas and chimpanzees, much later evolved to become trichromatic, regaining some of the lost abilities in colour vision. However, this occurs in a much more complicated way, which requires a lot of computation, thought to be performed by the brain rather than within the eye. This is a complex process and means that distinguishing between some colours has to be learnt in early infancy through the developing cortex.
Prof Baden said: "Our study essentially shows that vertebrates like zebrafish, and presumably most non mammalian vertebrates like other fish, birds, reptiles and amphibians, can actually solve this fundamental 'colour puzzle' right at the first synapse of vision. In comparison, humans are stuck with this overly complicated 'knock-off' strategy because of early mammalian ancestry!"
The study also references links to insects, as flies also have four such 'colour vision photoreceptors', determining colour in exactly the same way as the zebrafish despite evolving completely independently.
In a follow-up paper, due to be published in Current Biologysoon (Bartel et al. Curr Biol, in press), the researchers use the same technique to investigate the second layer of processing in the retina, the so-called bipolar cells. Expanding on the above results, they show that at this second layer of processing, zebrafish represent three (rather than the previous two) types of colour contrast. This "third" is built by comparing UV- to all other wavelength, and it bears striking resemblance to one of the two colour channels that humans use -- the so called "blue-yellow" system.
Together, the papers imply that the human blue-yellow system is truly ancient, predating the split of tetrapods from fish almost 400 million years ago. It seems that when it comes to seeing colour, we do at least share some traits with essentially all vertebrates that see colour.
Takeshi Yoshimatsu, Philipp Bartel, Cornelius Schröder, Filip K. Janiak, François St-Pierre, Philipp Berens, Tom Baden.
Ancestral circuits for vertebrate colour vision emerge at the first retinal synapse.
Science Advances, 2021; 7 (42) DOI:
10.1126/sciadv.abj6815
Philipp Bartel, Takeshi Yoshimatsu, Filip K. Janiak, Tom Baden.
Spectral inference reveals principal cone-integration rules of the zebrafish inner retina.
Current Biology, 2021; DOI:
10.1016/j.cub.2021.09.047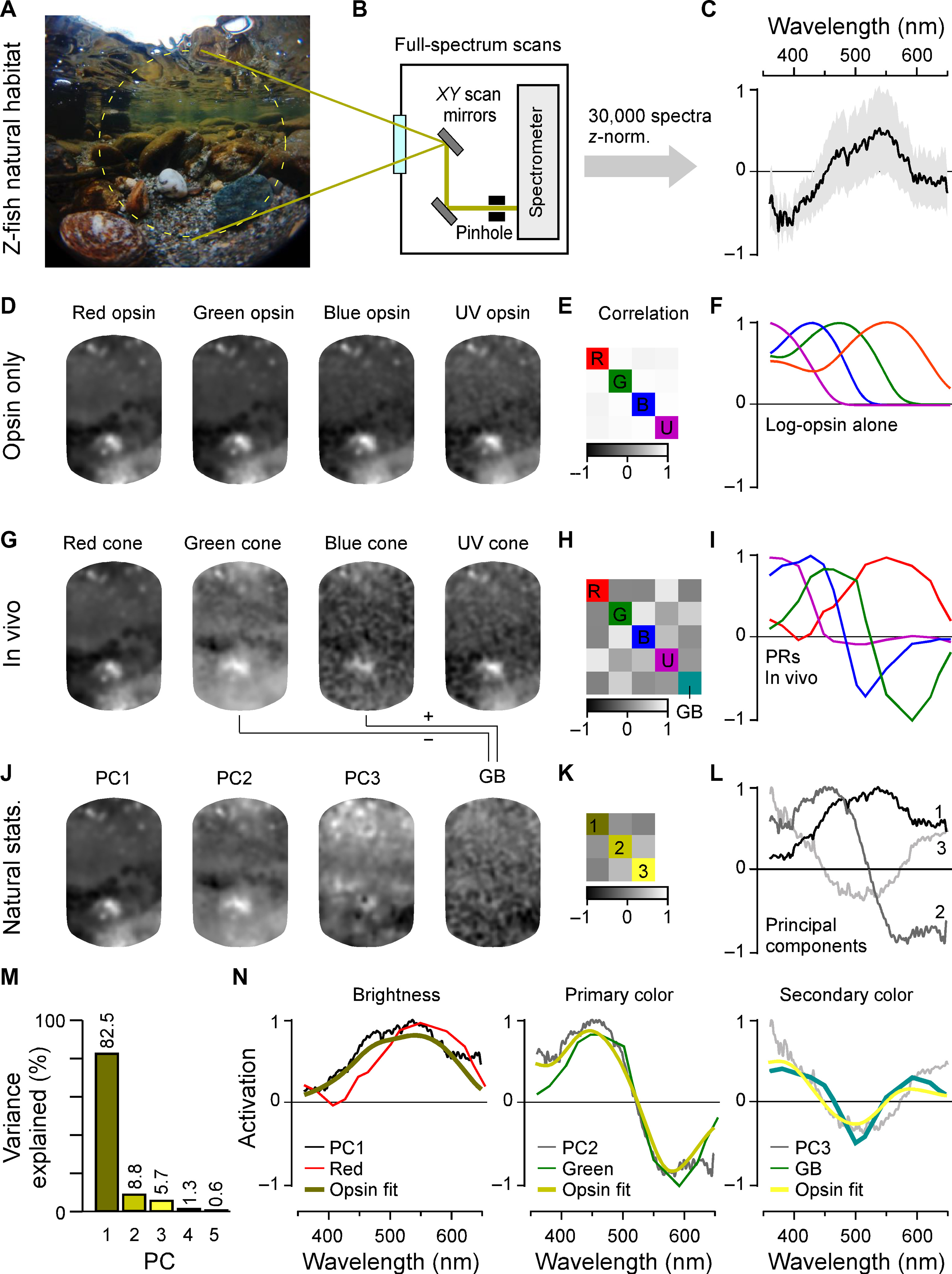 Fig. 5. In vivo cone tunings efficiently represent statistics of natural light.(A to C) Hyperspectral data acquisition from zebrafish natural visual world. A 60° window around the visual horizon of an example scene recorded in the zebrafish natural habitat (A) was sampled at 1000 equispaced points with a custom-built spectrometer-based scanner (13) (B) to yield 1000 individual spectral readings from that scene. (C) Summary of the pooled and z-normalized data from n = 30 scenes (30,000 spectra) with mean ± SD [data from (14)]. Photo credit (A): Tom Baden, University of Sussex. (D to L) Reconstructions and analysis of the example scene as seen through different spectral filters: (D to F) log-opsin spectra, (G to I) cone in vivo tunings, and (J to L) based on the first three PCs that emerge from the hyperspectral data shown in (C). From left to right: (D, G, and J) example scene [from (A)] reconstructed on the basis of opsin/in vivo/PC tunings as indicated, (E, H, and K) correlation matrices between these respective reconstructions, and (F, I, and L) the actual tunings/PCs. A fifth element GB (for "green/blue") is computed for in vivo tunings as contrast between green and blue cone tunings (cf. fig. S5). (M) Percent variance explained by the first five PCs (l). (N) Superposition of cone in vivo tunings (colored lines), PCs, and a linear R/G/B/U log-opsin fit to the respective PC (yellow; Methods). The latter fit can be seen as the biologically plausible optimum match to a given PC that can be achieved in a linear regime. Credit: Ancestral circuits for vertebrate color vision emerge at the first retinal synapse

How Marsh Grass Protects Shorelines
Marsh plants, which are ubiquitous along the world's shorelines, can play a major role in mitigating the damage to coastlines as sea levels rise and storm surges increase. Now, a new MIT study provides greater detail about how these protective benefits work under real-world conditions shaped by waves and currents.
The study combined laboratory experiments using simulated plants in a large wave tank along with mathematical modeling. It appears in the journal Physical Review -- Fluids, in a paper by former MIT visiting doctoral student Xiaoxia Zhang, now a postdoc at Dalian University of Technology, and professor of civil and environmental engineering Heidi Nepf.
It's already clear that coastal marsh plants provide significant protection from surges and devastating storms. For example, it has been estimated that the damage caused by Hurricane Sandy was reduced by $625 million thanks to the damping of wave energy provided by extensive areas of marsh along the affected coasts. But the new MIT analysis incorporates details of plant morphology, such as the number and spacing of flexible leaves versus stiffer stems, and the complex interactions of currents and waves that may be coming from different directions.
This level of detail could enable coastal restoration planners to determine the area of marsh needed to mitigate expected amounts of storm surge or sea-level rise, and to decide which types of plants to introduce to maximize protection.
"When you go to a marsh, you often will see that the plants are arranged in zones," says Nepf, who is the Donald and Martha Harleman Professor of Civil and Environmental Engineering. "Along the edge, you tend to have plants that are more flexible, because they are using their flexibility to reduce the wave forces they feel. In the next zone, the plants are a little more rigid and have a bit more leaves."
As the zones progress, the plants become stiffer, leafier, and more effective at absorbing wave energy thanks to their greater leaf area. The new modeling done in this research, which incorporated work with simulated plants in the 24-meter-long wave tank at MIT's Parsons Lab, can enable coastal planners to take these kinds of details into account when planning protection, mitigation, or restoration projects.
"If you put the stiffest plants at the edge, they might not survive, because they're feeling very high wave forces. By describing why Mother Nature organizes plants in this way, we can hopefully design a more sustainable restoration," Nepf says.
Once established, the marsh plants provide a positive feedback cycle that helps to not only stabilize but also build up these delicate coastal lands, Zhang says. "After a few years, the marsh grasses start to trap and hold the sediment, and the elevation gets higher and higher, which might keep up with sea level rise," she says.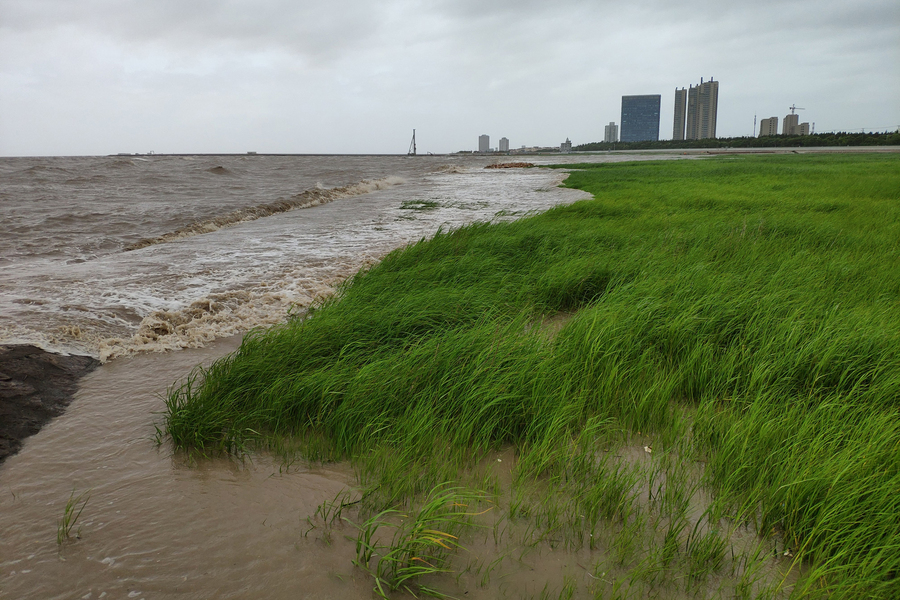 Examples of Spartina alterniflora in China. Photo credit: Xiaoxia Zhang

Awareness of the protective effects of marshland has been growing, Nepf says. For example, the Netherlands has been restoring lost marshland outside the dikes that surround much of the nation's agricultural land, finding that the marsh can protect the dikes from erosion; the marsh and dikes work together much more effectively than the dikes alone at preventing flooding.
But most such efforts so far have been largely empirical, trial-and-error plans, Nepf says. Now, they could take advantage of this modeling to know just how much marshland with what types of plants would be needed to provide the desired level of protection.
It also provides a more quantitative way to estimate the value provided by marshes, she says. "It could allow you to more accurately say, '40 meters of marsh will reduce waves this much and therefore will reduce overtopping of your levee by this much.' Someone could use that to say, 'I'm going to save this much money over the next 10 years if I reduce flooding by maintaining this marsh.' It might help generate some political motivation for restoration efforts."
Nepf herself is already trying to get some of these findings included in coastal planning processes. She serves on a practitioner panel led by Chris Esposito of the Water Institute of the Gulf, which serves the storm-battered Louisiana coastline. "We'd like to get this work into the coatal simulations that are used for large-scale restoration and coastal planning," she says.
The work was partly supported by the National Science Foundation and the China Scholarship Council.
Xiaoxia Zhang, Heidi Nepf.
Wave damping by flexible marsh plants influenced by current.
Physical Review Fluids, 2021; 6 (10) DOI:
10.1103/PhysRevFluids.6.100502
Titan's River Maps May Advise Dragonfly's 'Sedimental' Journey
With future space exploration in mind, a Cornell-led team of astronomers has published the final maps of Titan's liquid methane rivers and tributaries -- as seen by NASA's late Cassini mission -- so that may help provide context for Dragonfly's upcoming 2030s expedition.
The fluvial maps and details of their accuracy were published in the Planetary Science Journal (August 2021.) In addition to the maps, the work examined what could be learned by analyzing Earth's rivers by using degraded radar data -- similar to what Cassini saw.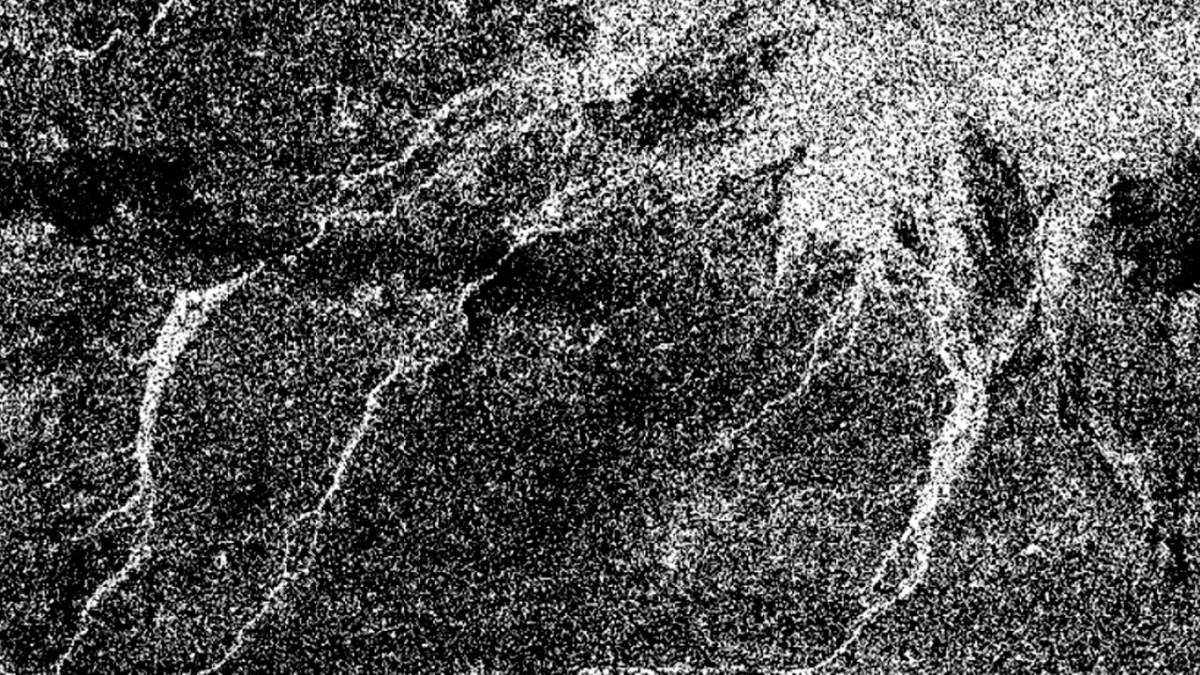 A radar image from the Cassini spacecraft of Titan's liquid methane and ethane rivers and tributaries.NASA/JPL - Provided

Like water on Earth, liquid methane and ethane fill Titan's lakes, rivers and streams. But understanding those channels -- including their twists and branch-like turns -- is key to knowing how that moon's sediment transport system works and the underlying geology.
"The channel systems are the heart of Titan's sediment transport pathways," said Alex Hayes, associate professor of astronomy in the College of Arts and Sciences. "They tell you how organic material is routed around Titan's surface, and identifies locations where the material might be concentrated near tectonic or perhaps even cryovolcanic features.
"Further, those materials either can be sent down into Titan's liquid water interior ocean, or alternatively, mixed with liquid water that gets transported up to the surface," Hayes said.
Larger than the planet Mercury and fully shrouded in a dense nitrogen and methane atmosphere, Titan is the only other place in the solar system with an active hydrologic system, which includes rain, channels, lakes and seas.
"Unlike Mars, it's not 3.6 billion years ago when you would have seen lakes and channels on Titan. It's today," Hayes said. "Examining Titan's hydrologic system represents an extreme example comparable to Earth's hydrologic system -- and it's the only instance where we can actively see how a planetary landscape evolves in the absence of vegetation."
Julia Miller '20 led the detailed work of examining Cassini's Synthetic Aperture Radar (SAR) images of Titan's surface, looking for fluvial characteristics and then comparing those images to those available on Earth.
On Earth, fluvial geomorphology is typically studied with topographic data and high-resolution visible images, but that was not available for Titan. Instead, Miller used Earth-based radar images and degraded them to match the Cassini radar images of Titan.
This way, Miller could understand the limits of the Cassini dataset and know which results are robust for analysis using low, roughly 1-kilometer resolution data.
"Although the quality and quantity of Cassini SAR images put significant limits on their utility for investigating river networks," Miller said, "they can still be used to understand Titan's landscape at a fundamental level."
River shapes say a lot. "You can use sort of what the river looks like to try to say some things about the type of material that it's flowing through, or like how steep the surfaces, or just what went on in that region," Miller said. "This is using the rivers as a starting point, to then, ideally, learn more about the planet."
The Dragonfly mission to Titan is slated to launch in 2027 and is scheduled to arrive at Titan in 2034.
Said Hayes: "These maps will provide context for understanding things that Dragonfly finds locally and regionally, and will help to place Dragonfly's result into global context."
This project was funded by NASA and the European Space Agency.
J. W. Miller, S. P. D. Birch, A. G. Hayes, M. J. Malaska, R. M. C. Lopes, A. M. Schoenfeld, P. M. Corlies, D. M. Burr, T. G. Farr, JT Perron.
Fluvial Features on Titan and Earth: Lessons from Planform Images in Low-resolution SAR.
The Planetary Science Journal, 2021; 2 (4): 142 DOI:
10.3847/PSJ/ac0245
People Want To Use Bleach And Antiseptic For COVID And Are Calling Us For Advice
by DARREN ROBERTS, NICOLE WRIGHT
Through our work at the New South Wales Poisons Information Centre, we're used to receiving calls from concerned parents about what to do if their child has accidentally drunk some cleaning product. We also take calls from health professionals for advice on how to manage poisonings.
But over the past 18 months, we've seen an increasing number of people calling us about home remedies to prevent or cure COVID-19, particularly during an outbreak. They're calling for advice before using items such as bleach or disinfectant. Or they're calling to ask about side-effects after gargling, spraying or bathing in them.
When asked about the reason for using such products, callers say they did not know they could be harmful. Some say they thought it was better to do something, rather than nothing.
We're concerned about the use of unproven COVID-19 home remedies. Here are some of the more common ones people have called our 24-hour poisons information service about, the types that can need medical care.
1. Inhaling hydrogen peroxide
Hydrogen peroxide is used in household disinfectants, chlorine-free bleaches, stain removers and hair dyes. And people have been calling about inhaling products containing hydrogen peroxide as a fine mist (called nebulising).
Hydrogen peroxide (1-1.5 per cent) mouthwashes have been recommended as an antiseptic before a dental procedure. However, results about whether it kills SARS-CoV-2, the virus that causes COVID-19, are conflicting.
Nebulising hydrogen peroxide can cause irritation and swelling to the nose, throat and lungs. People can develop a cough and become short of breath; it can cause persistent damage to the lungs. These symptoms can be misinterpreted as a lung infection. If you have COVID-19, nebulising hydrogen peroxide can make you sicker and prolong your recovery.
People also report nausea and vomiting after nebulising hydrogen peroxide. The risk is increased with solutions of higher concentrations, although we do not believe any concentration is safe.
2. Gargling or swallowing antiseptics
People have also called about gargling or swallowing strong antiseptics. These can cause irritation, swelling and pain to the mouth, as well as vomiting, diarrhoea and stomach pains.
Gargling or swallowing corrosive household cleaning products, such as the type you'd use in your kitchen or bathroom, is particularly unsafe. This can lead to life-threatening injuries, including rupture and bleeding of the upper gut, between the mouth and stomach.
A recently promoted home remedy is gargling antiseptics containing povidone-iodine.
Some low concentration (0.5-1 per cent) of products containing povidone-iodine can be gargled. And povidone-iodine (0.5 per cent) mouthwash has been recommended before a dental procedure to prevent transmission of SARS-CoV-2.
Small pilot studies have suggested that similar low-strength gargle and nasal sprays may shorten the survival of SARS-CoV-2 in the nose and mouth. But these results should be confirmed in larger studies.
Although some people are allergic to povidone-iodine, low concentration solutions are usually safe when applied in the nose or mouth for a few months.
However, many products contain much higher concentrations of povidone-iodine and other chemicals designed for use on the skin.
So swallowing, gargling or inserting these products in the nose is not recommended.
Read more: You're much less likely to get long COVID if you've been vaccinated
3. Bathing in bleach or disinfectant
Bathing in household cleaning products (such as bleach or disinfectant), or applying them directly to the skin, can cause mild-to-moderate irritation and rashes.
Burns can occur with stronger products.
Routinely spraying disinfectants into face masks, and then breathing in the fumes and residue for a prolonged period, can also harm.
This can result in irritation to the throat and lungs, dizziness, headache and nausea.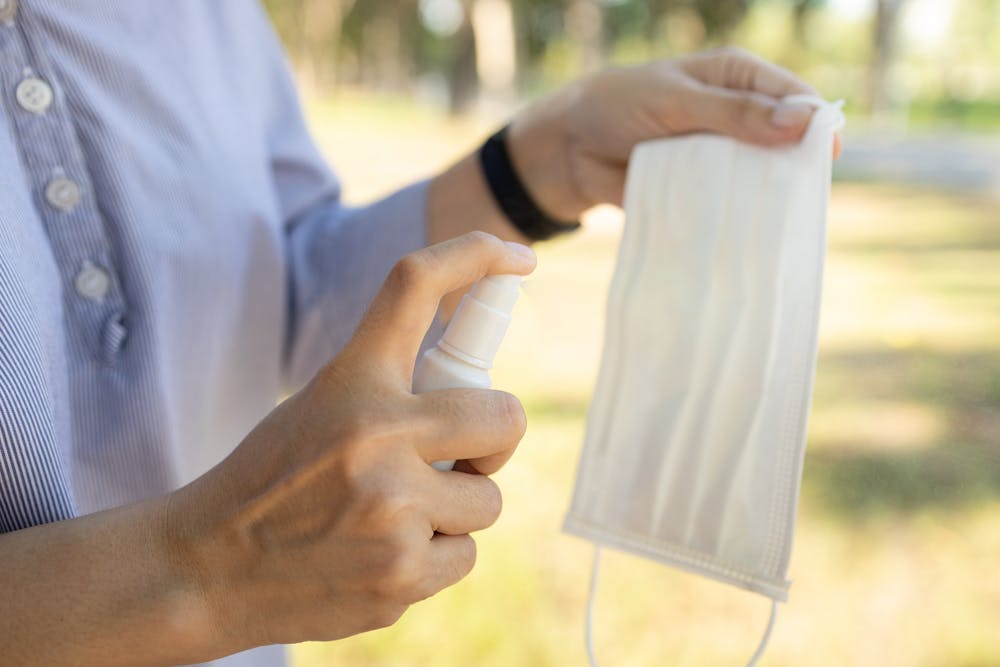 If you spray your face mask, you'll breathe in the fumes. Shutterstock

5. Taking high-dose vitamins
Taking over-the-counter supplements, including vitamins, for a prolonged period is also a concern as high doses can have side-effects:
vitamin C can cause kidney stones
zinc can cause loss of taste or smell
vitamin D can cause high concentrations of calcium in the blood, with effects including headache, thirst and, uncommonly, seizures.
COVID-19 is arguably the most confusing time in recent history for making decisions about our health care. While people debate if any of these proposed home remedies work, it is essential to also consider their potential harms.
Deaths and other complications are reported in people overseas due to well-meaning use of proposed treatments and home remedies. We hope to avoid this in Australia.
If this article raises concerns for you or for someone you know about a COVID-19 home remedy, call the Poisons Information Hotline from anywhere in Australia on 131 126. This evidence-base advice is available 24 hours a day. For life-threatening symptoms, call 000.
Darren Roberts, Conjoint Associate Professor in clinical pharmacology and toxicology, UNSW and Nicole Wright, Clinical Educator, Faculty of Pharmacy, University of Sydney
This article is republished from The Conversation under a Creative Commons license. Read the
original article
.
Disclaimer: These articles are not intended to provide medical advice, diagnosis or treatment. Views expressed here do not necessarily reflect those of Pittwater Online News or its staff.