Inbox and Environment news: Issue 514
October 17 - 23, 2021: Issue 514
Aussie Backyard Bird Count 2021
The 2021 event will run from October 18‒24 during National Bird Week. Register as a counter today at: https://aussiebirdcount.org.au/
The Aussie Backyard Bird Count is one of Australia's biggest citizen science events. This year is our eighth count, and we're hoping it will be our biggest yet!
Join thousands of people around the country in exploring your backyard, local park or favourite outdoor space and help us learn more about the birds that live where people live.
Taking part in the Aussie Backyard Bird Count is a great way to connect with the birds in your backyard, no matter where your backyard happens to be. You can count in a suburban garden, a local park, a patch of forest, down by the beach, or the main street of town. ⁠
To take part, register on the website today, then during the count you can use the web form or the app to submit your counts. Just enter your location and get counting ‒ each count takes just 20 minutes!
Not only will you be contributing to BirdLife Australia's knowledge of Aussie birds, but there are also some incredible prizes on offer. ⁠
Head over to the Aussie Backyard Bird Count website to find out more.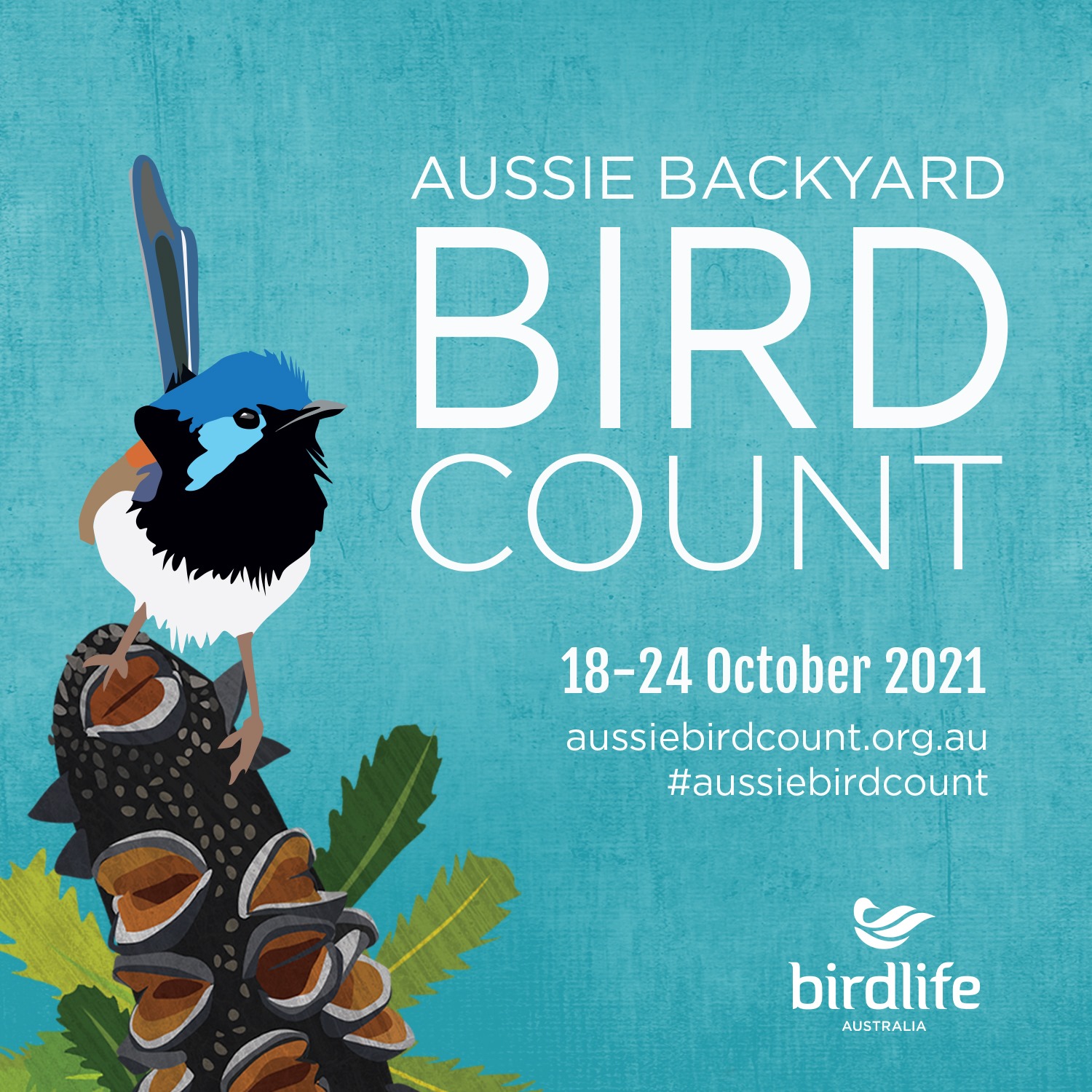 Spotted Gums Go Bright Green When It's Raining
Nice amount of rain for our bush, wildlife and gardens this week. It's also that time of year when Spotted gums are going red in places - getting ready to shed old bark. Like most smooth-barked eucalypts, the bark sheds in early Summer.
AJG pics.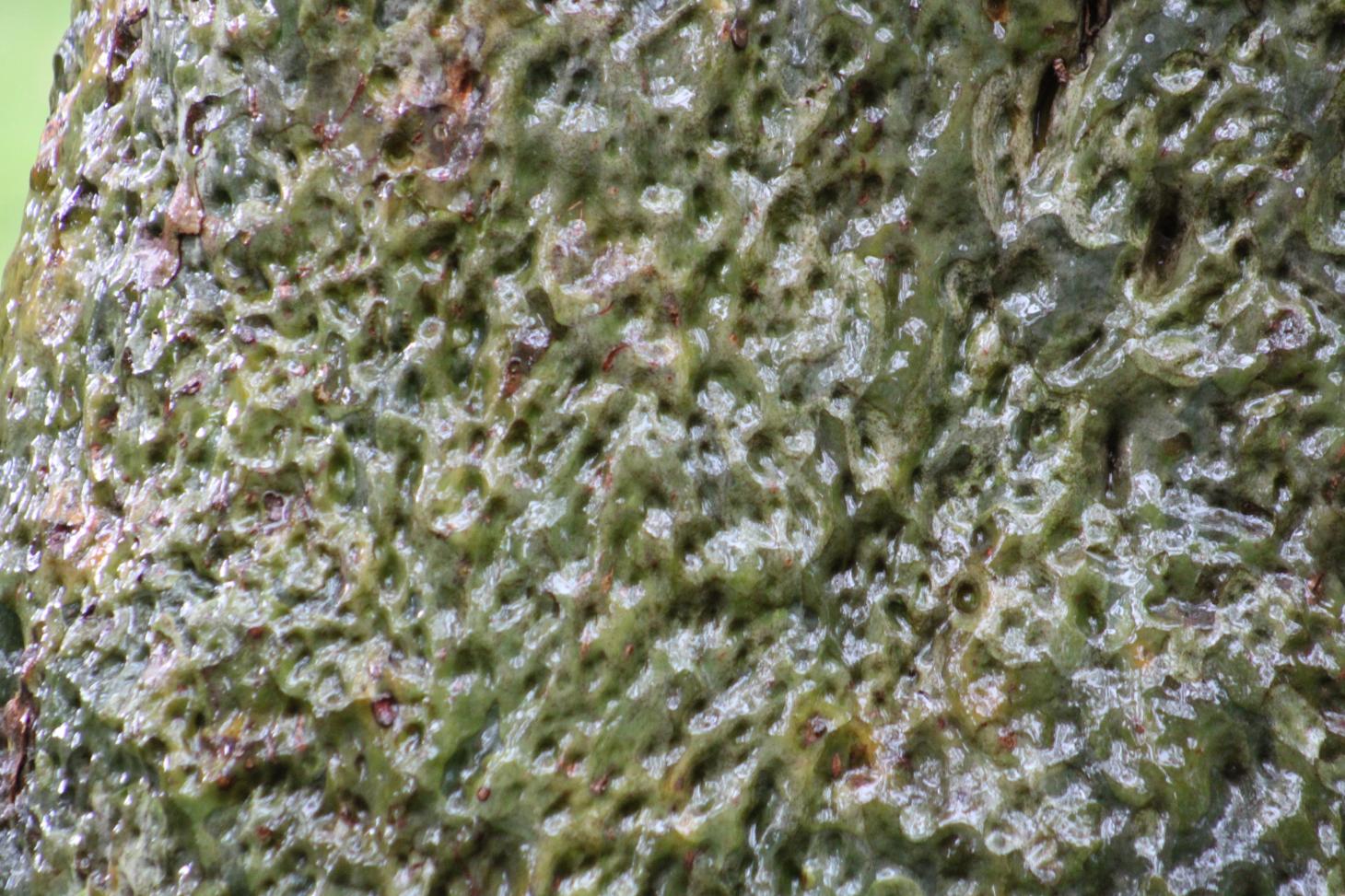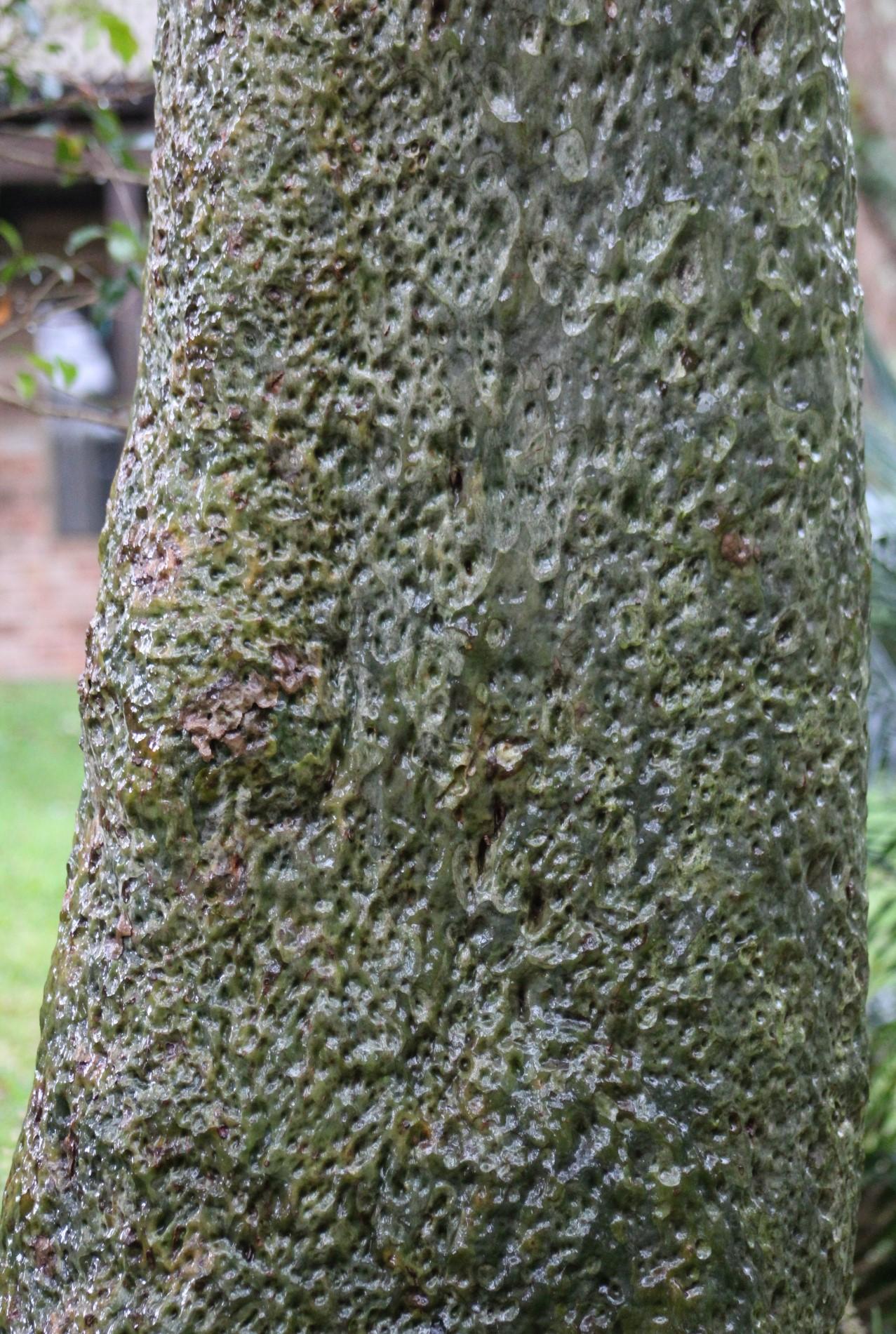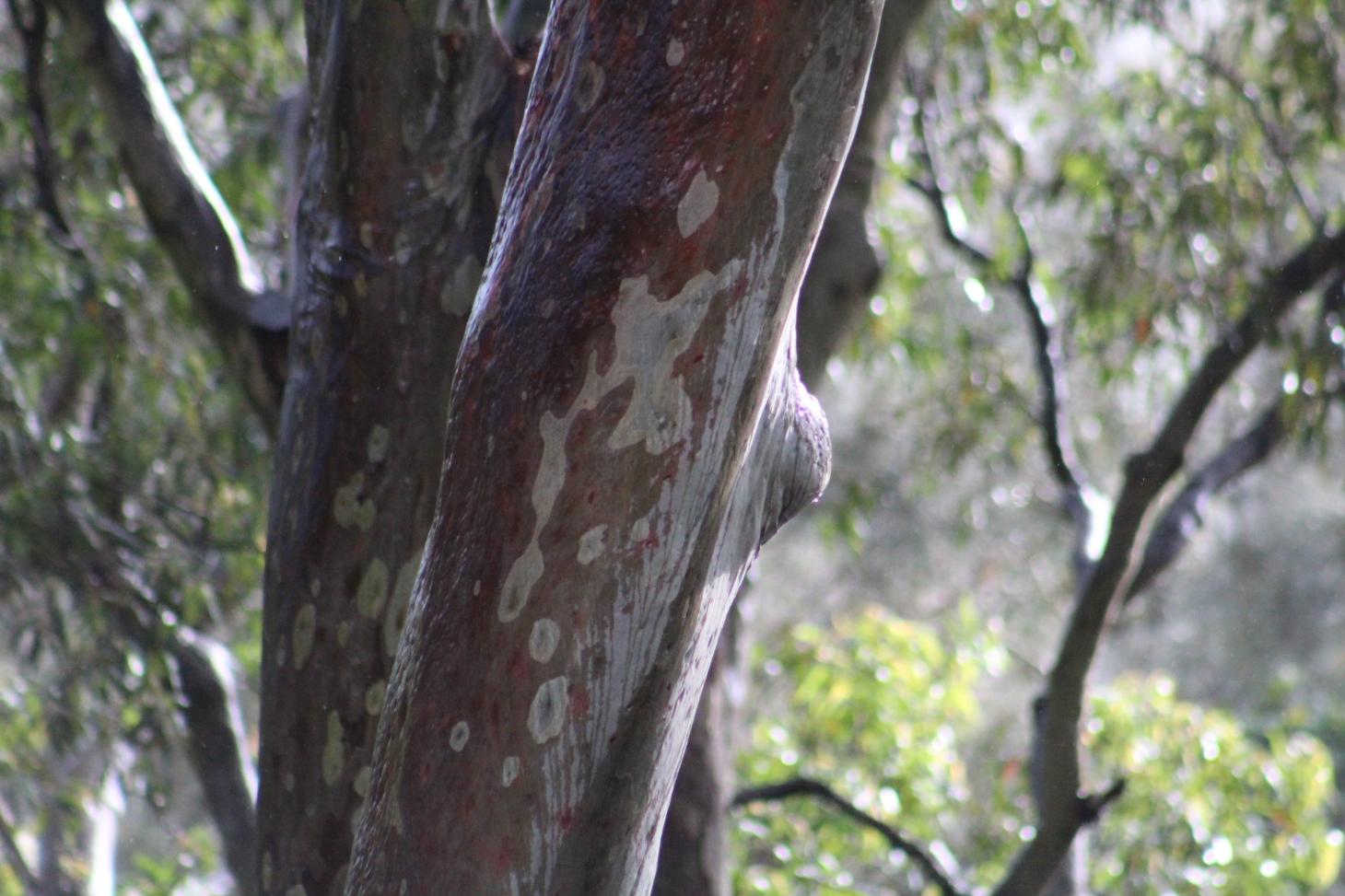 The Flannel Flower: Australia's Symbol For Mental Health Awareness During Mental Health Month - October
There are HEAPS of Flannel Flowers out at present. In Aboriginal or Indigenous Lore and storytelling they are a flower of close relationships, intimacy and healing, and sharing those healing pathways for people.
The Flannel Flower, an Australian native, has been chosen as the national symbol to promote mental health awareness in Australia.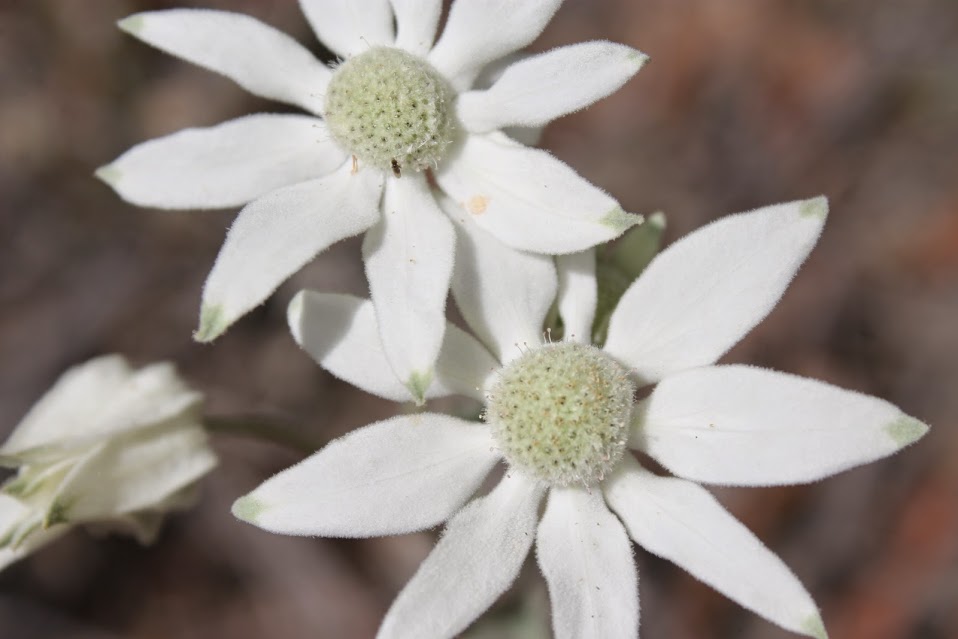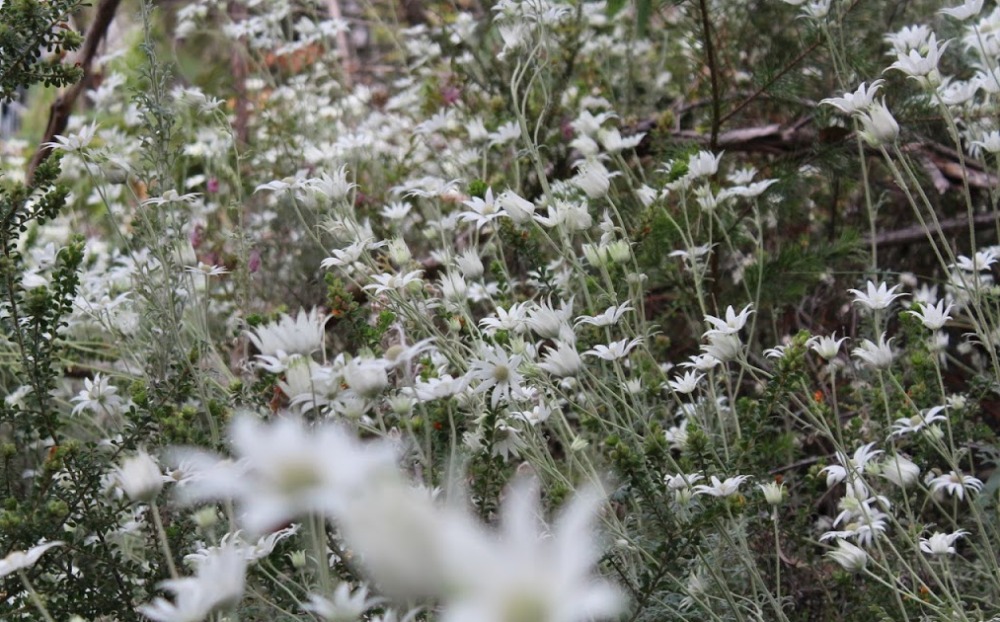 The Australian bush has an inherent beauty and strength. It is also known for its extremes of weather and landscape. Varieties of the Flannel Flower are commonly found growing wild in the bush throughout Australia. The Flannel Flower, as with all native Australian plants, needs to be adaptable and enduring in order to survive.
In the same way all of us, regardless of our life circumstances, develop resilience and the ability to adapt to change, in order to maintain good mental health.
Being open and empathetic to a person's expression of distress can assist in the recovery of a person living with mental health illnesses and change the negative attitudes of our society as a whole.
R U OK? inspire and empower everyone to meaningfully connect with the people around them and start a conversation with those in their world who may be struggling with life.
You don't need to be an expert to reach out - just a good friend and a great listener.
Use these four steps and have a conversation that could change a life:
1. Ask R U OK?
2. Listen
3. Encourage action
4. Check in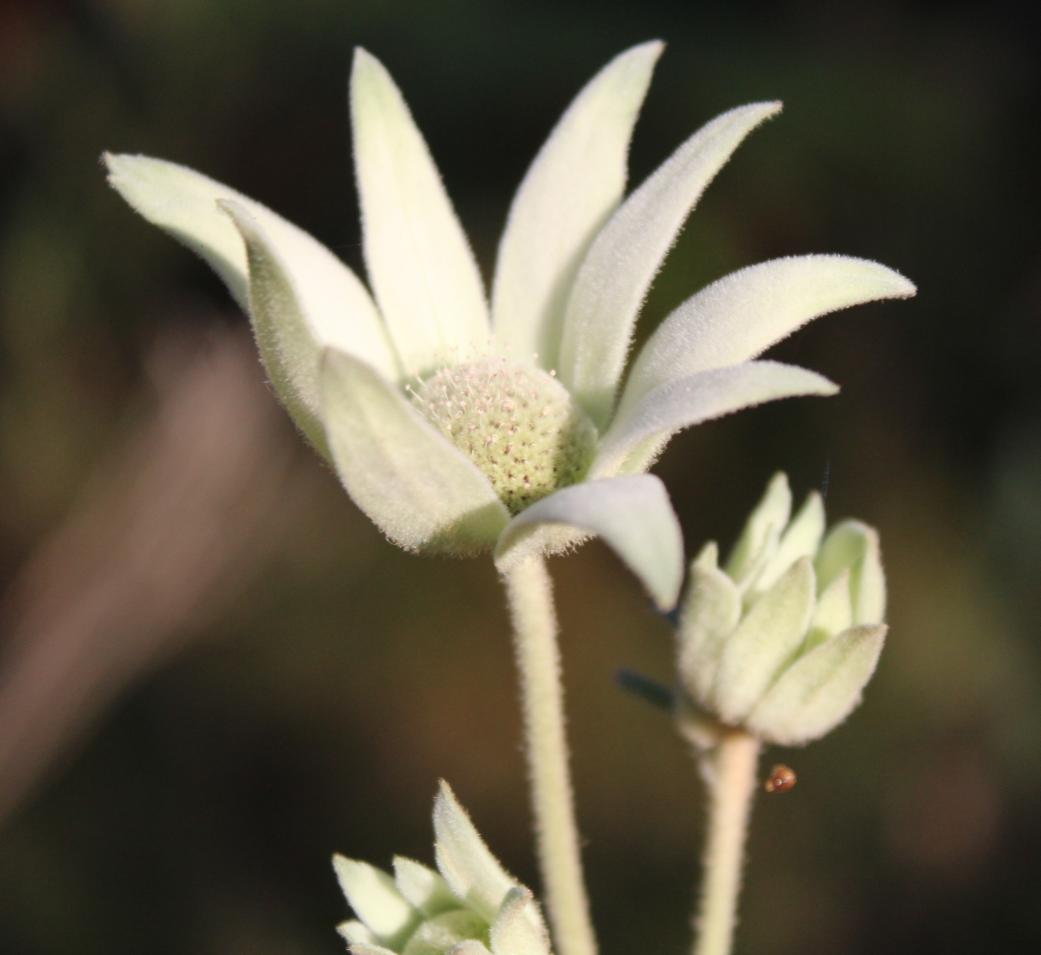 Tuckeroo Becoming Troublesome In Pittwater
Tuckeroos, now a weed in the area, with hundreds of seedlings being seen in bushland, the dunes, will displace everything else if we don't pull up seedlings. Indian/Common Mynas feeding on these in Mona Vale and flying off to feed their offspring in recent weeks, mean more may appear.
Planting tuckeroos as a safe street tree started about 15 years ago by Council landscape architects, oblivious to the warnings they would become a weed by Natural Environment staff. Although they are a native plant, they are not native to Pittwater, as they were never seen in 1991, when some bush regeneration sites commenced.
The fruit is an orange to yellow capsule with three lobes. There is a glossy dark brown seed inside each lobe. The seeds are covered in a bright orange aril. Fruit ripens from October to December, attracting many birds including Australasian figbird, olive-backed oriole and pied currawong.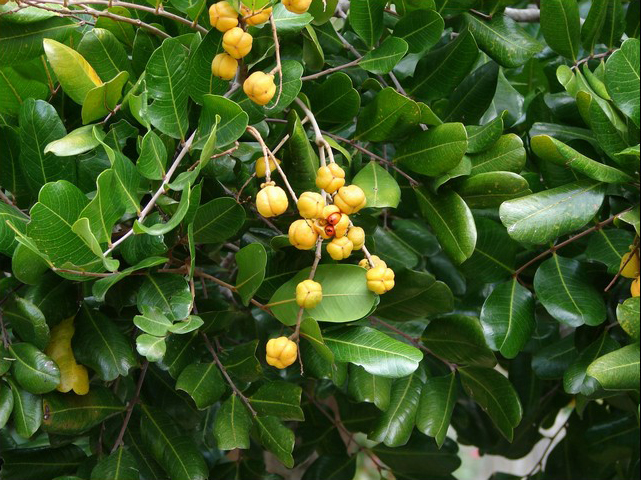 Image per Wikipedia
If you see seedlings sprouting, please pull them out so we can maintain the diversity of other plant species and the wildlife that needs these.
Waratahs: Look But Don't Steal
The NSW Government announced on Friday rangers and volunteers have applied a non-toxic blue paint to waratah petals and stems to deter flower pickers. Thieves caught blue-handed may face a $300 fine.
If you see one when out walking please look but don't touch. Native plants are an important part of these ecosystems.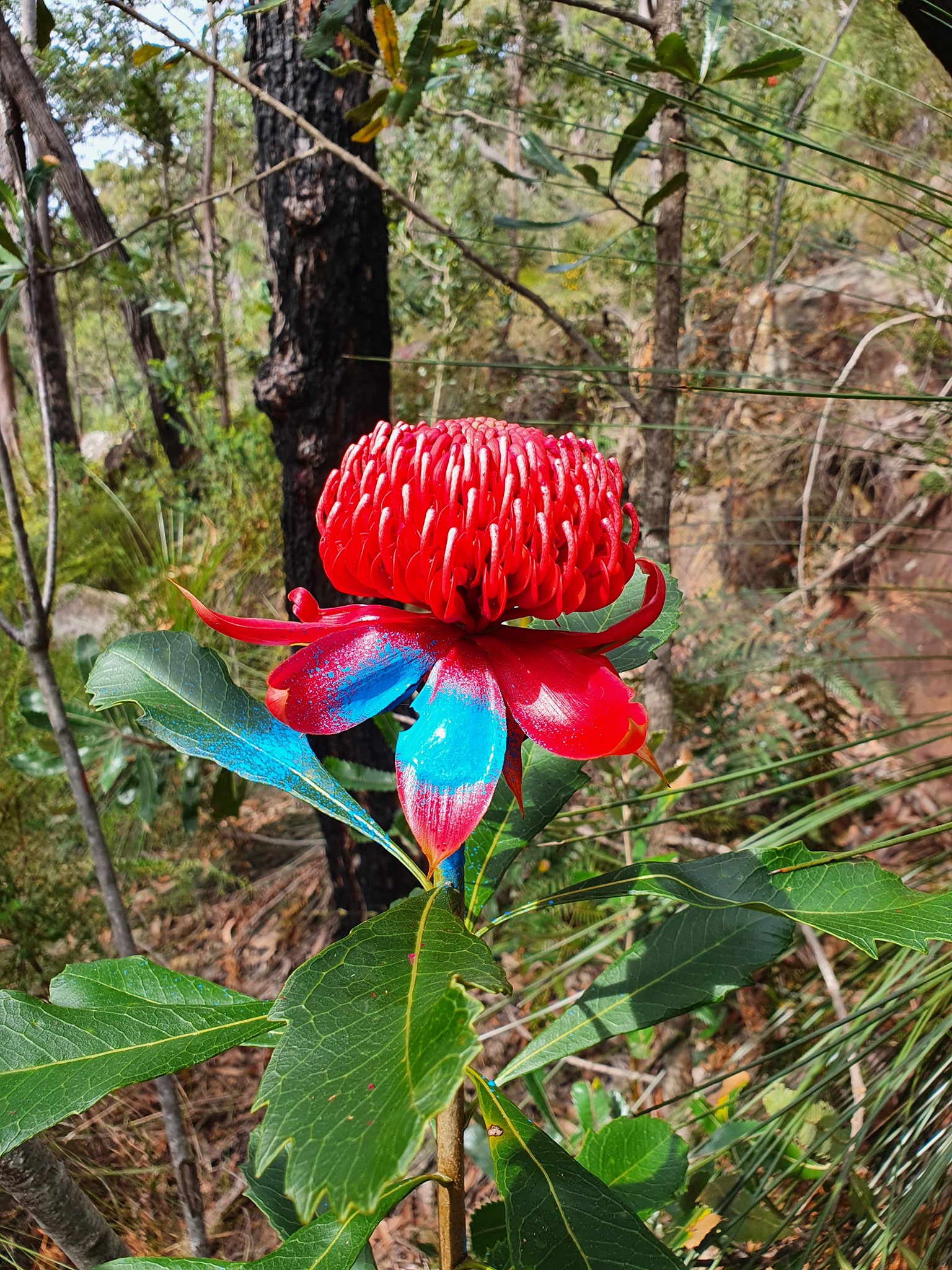 Broken Bay - Australian Long Nosed Fur Seals
published October 11, 2021 by Pittwater EcoWarriors
Birds In Your Garden: Wish You Had More?
If you plant hybrid Grevilleas that flower constantly, you will not get small birds.
Noisy Miners defend these as a year-round source of nectar.
Their family groups set up territories and gang up furiously on any smaller birds that come by. They can kill them and also destroy their nests.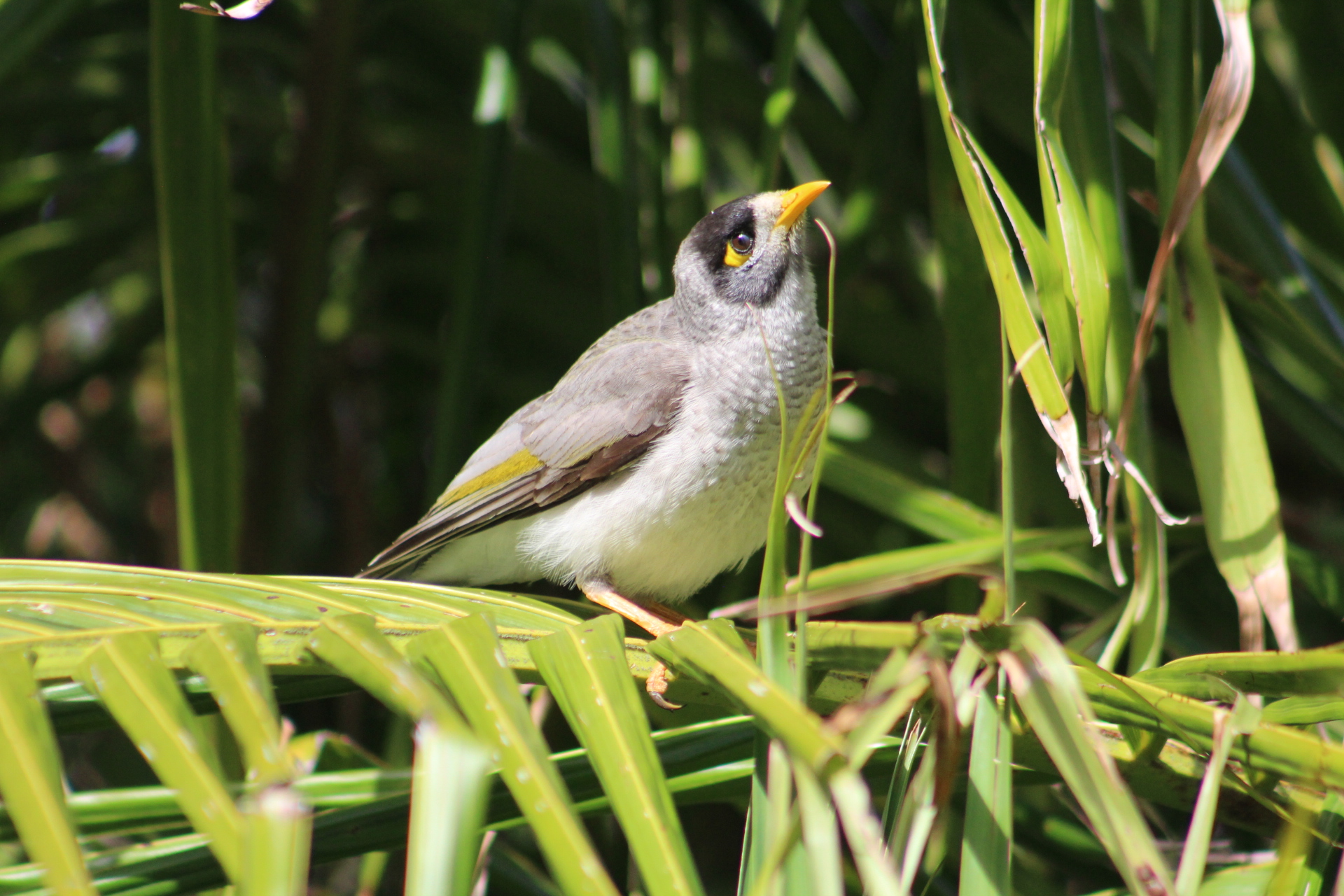 Information courtesy Pittwater Natural Heritage Association (PNHA). Photos: Joe Mills - Honey Gem Grevillea, AJG - Noisy Miner
Avalon Preservation Association 2021 AGM
Thursday 11th November, 2021, 7pm
Ocean Room, Avalon Beach Surf Club
Speaker:
Angus Gordon OAM, Civil Engineer with a Masters in Water and Coastal Engineering.
Angus has served as an expert to United Nations.
Title of Talk: "Global Warming, Is it Real?"
Avalon Preservation Association
PO Box 1 Avalon Beach 2107
November 2021 Forum For Friends Of Narrabeen Lagoon Catchment: Fishing Bats And Water Rats (Rakali)
7pm Monday November 29, 2021 by Zoom
Brad Law, Geoff Williams and Yianni Mentis
Dr Brad Law and Dr Geoff Williams will tell us about the behaviours and environmental requirements of two fascinating species of aquatic mammals
- Fishing Bats and Water Rats (Rakali) - that forage in, on and near Narrabeen Lagoon.
Yianni Mentis will explain how Northern Beaches Council is working to protect the environment, especially the water quality, needed by these aquatic creatures.
Dr Brad Law is a Principal Research Scientist at the Forest Science Unit of the Department of Primary Industries
Dr Geoff Williams is the Director of the Australian Platypus Conservancy
Yianni Mentis is Executive Manager or Environment and Climate Change at Northern Beaches Council.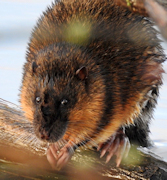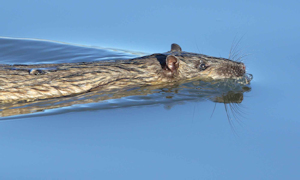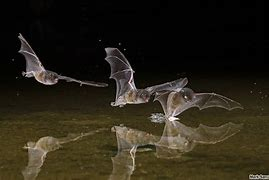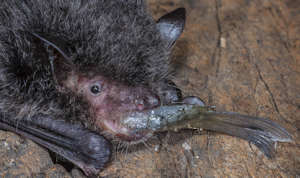 We hope that members of the local community will start to look for Fishing Bats and Water Rats (Rakali) AUSTRALIA'S NATIVE "OTTER" in and around Narrabeen Lagoon and report all reliable sightings for entry into the Atlas of Living Australia.
Migratory Bird Season
A reminder that many of the birds that migrate to our area are arriving exhausted from having flown thousands of miles to be here. Please keep yourselves and your pets away from these shores during these months. They need their rest.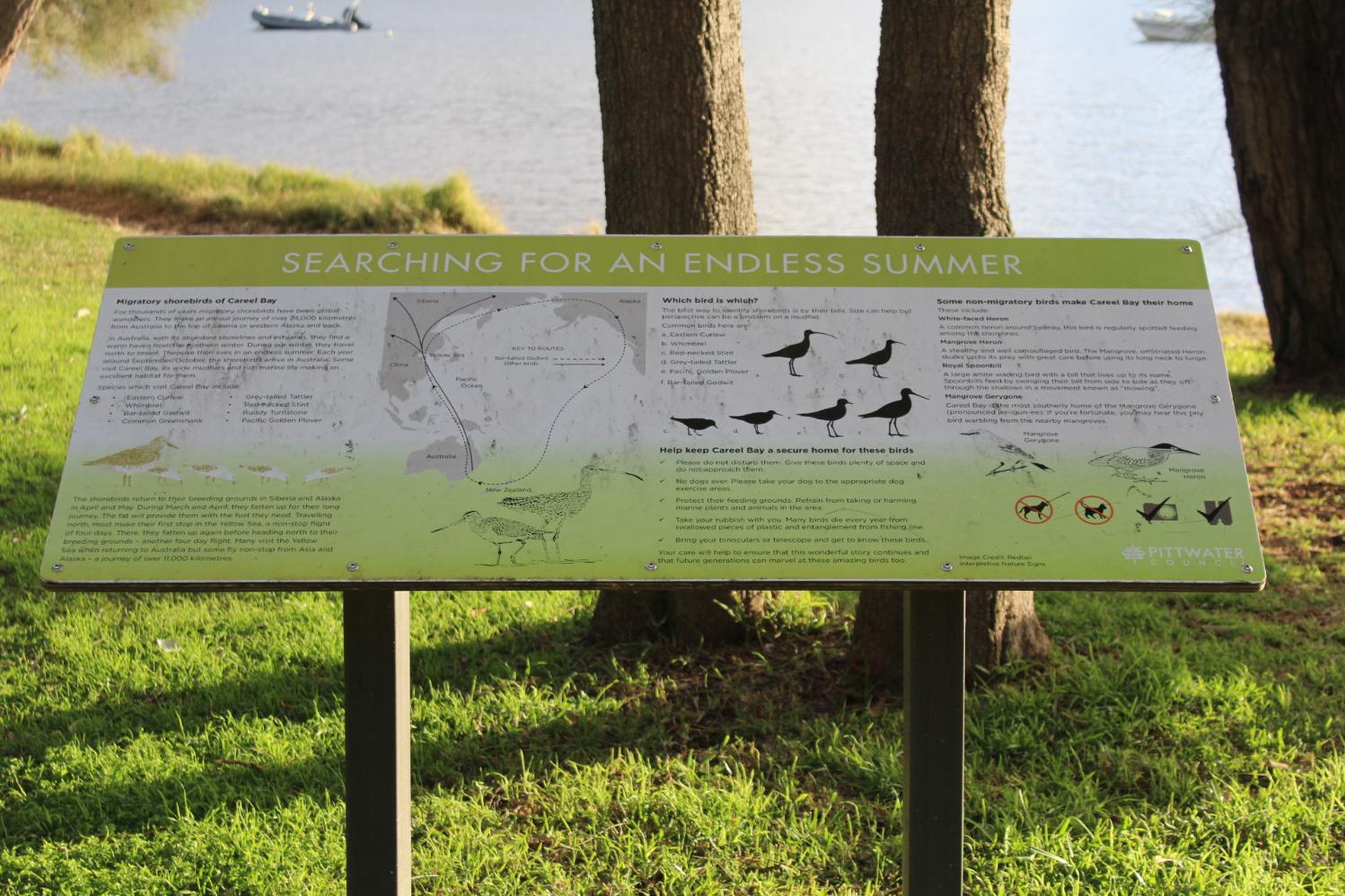 Baby Wildlife Season
Sydney Wildlife volunteer carers are reminding residents that it's baby season in the wildlife world.
If you find a Joey on its own, it needs help. A sub-adult may be ok, but a Joey is not. If you find one, please try to contain it and keep it safe from predators and exposure and call either Sydney Wildlife (Sydney Metropolitan Wildlife Services) or WIRES. If you find a dead possum (ringtail or brushtail), check the pouch for a Joey. Brushtails generally have one but ringtails will have 2, sometimes three. If you are unable to, that's ok, but please call it in to a wildlife organisation so someone can attend to it.
Sydney Wildlife Rescue - 02 9413 4300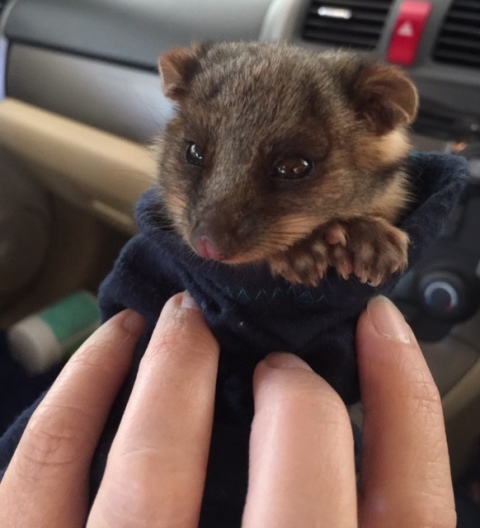 Harry the ringtail possum. Sydney Wildlife photo
NSW Government Oversight Of Kangaroo Industry Lacks Transparency, Monitoring And Compliance Parliamentary Inquiry Finds
A New South Wales Parliamentary Inquiry into the Health and Wellbeing of Kangaroos and Other Macropods handed down its report on Friday October 15, 2021, with recommendations to the Government that include strengthening monitoring and compliance around animal welfare and reviewing the way in which annual harvest quotas for kangaroos are determined.
The Upper House committee included members of the government, opposition and crossbench and held three hearings to inquire into the practices of the commercial and non-commercial kangaroo industries in New South Wales, including the key assumptions and modelling underpinning the way in which harvest quotas are set.
Cate Faehrmann, Greens MP and Chair of the Inquiry said, "The committee heard disturbing evidence of animal cruelty and of landholders being harassed by shooters on neighbouring properties and we don't believe the government is doing enough to prevent this.
"We were convinced by doubts raised about the modelling and methodology underpinning kangaroo kill quotas and have recommended that the Natural Resources Commission review the current methodology for estimating macropod populations in New South Wales.
"The killing of kangaroos for non-commercial purposes was a major line of inquiry for the committee. We found that the National Parks and Wildlife Service does not have adequate systems in place to monitor compliance with licence conditions for the non-commercial culling of kangaroos.
"The committee was moved to hear the testimony of Aboriginal elders and educators who made clear the deep and ongoing cultural and spiritual importance of kangaroos to First Nations peoples, and the distressing impact that the disrespectful treatment and killing of kangaroos has on them.
"Environment Minister Matt Kean is set to sign off on a new 5-year Commercial Kangaroo Harvest Management Plan before the end of this year. The committee is seeking a commitment from him that he not endorse the new Harvest Management Plan until the recommendations of this inquiry have been considered.
"As Chair of the Committee, I support this Report and its findings and recommendations and want to thank all members for their contributions and genuine willingness to work together on the issues that arose throughout the inquiry. This Inquiry has exposed the kangaroo industry in NSW to some much needed scrutiny and, if all of these recommendations are implemented, will lead to improvements.
"However, there were a number of stronger recommendations and findings in my Chair's draft report that were not supported. I was personally convinced by the evidence presented by stakeholders that the kangaroo industry is unnecessary, unsustainable and cruel and I did not find the evidence provided by the NSW Government in response to these assertions convincing," Ms Faehrmann said.
An overview of the committee's key findings and recommendations are:
the current methodology used by the Department of Planning, Industry and Environment to produce estimates of New South Wales' macropod populations lacks transparency
the National Parks and Wildlife Service does not have adequate systems to monitor compliance with licence conditions for the non-commercial culling of kangaroos
That there is a lack of monitoring and regulation at the point-of-kill during both commercial and non-commercial killing of kangaroos
That the shooting of kangaroos has a profound impact on the mental health of some Aboriginal people, kangaroo carers and rescuers
That the use of exclusion fencing has the potential to cause disruption to kangaroo migration as well as access to habitat, food and water.
That the Department of Planning, Industry and Environment amend planning policies to

require assessment of the impact on kangaroos located within peri-urban developments when

assessing development applications;

That the National Parks and Wildlife Service:

work with relevant local councils to identify local nature reserves and corridors for resident kangaroo populations on the peri-urban fringe
develop a plan for protecting further areas of kangaroo habitat in New South Wales through creation of reserves and national parks.

That the Department of Planning, Industry and Environment investigate new technologies for

counting kangaroo populations such as the use of infra-red and other camera drone technology.

That the NSW Government:

undertake extensive and genuine consultation with Aboriginal peoples to seek their

views regarding the commercial and non-commercial culling of kangaroos, and ensure

these views are given serious consideration in the development of all future kangaroo

management plans

incorporate the genuine involvement of Aboriginal peoples in the management of

kangaroo populations.

That the NSW Government conduct a review of the impact of exclusion fencing on macropod

populations, and that the report be publicly released when complete.

That the Department of Planning, Industry and Environment investigate new technologies for

counting kangaroo populations such as the use of infra-red and other camera drone technology.

That the Department of Planning, Industry and Environment use video imaging of kangaroo

populations when surveying populations from aircrafts and make this footage publicly available

on its website.

That the Natural Resources Commission review the current methodology for estimating

macropod populations in New South Wales.

That the Natural Resources Commission establish an independent panel of ecologists to

examine the scientific evidence for assumptions used in the Kangaroo Management Plan that

refer to kangaroo 'abundance', annual population growth, the impact of migration on population

counts and the attrition of kangaroos in drought.
That the Department of Planning, Industry and Environment identify, and independently

verify, the biological growth rate for each macropod species to better inform setting sustainable

quotas under future Commercial Kangaroo Harvest Management Plans.

That when setting population estimates and harvest quotas, the Department of Planning,

Industry and Environment must take into consideration climatic factors such as drought. In

times of declared drought, reassessment of quotas should be conducted based on changed

conditions, rather than have quotas made on out of date population estimates.

That the Minister for Energy and Environment not endorse the new Commercial Kangaroo Harvest

Management Plan until the recommendations of this inquiry have been considered.

That the Department of Planning, Industry and Environment collect and publicly release data

on all joey deaths occurring in the commercial kangaroo industry, including in-pouch, at-foot,

and joeys at-foot who have fled.

That the Department of Planning, Industry and Environment include in the Commercial Kangaroo

Harvest Management Plan 2022-2026 a requirement that commercial harvesters include the number

of orphaned joeys when calculating the count for filling quotas.

That the Department of Planning, Industry and Environment conduct a full review of the

systems for issuing and compliance monitoring of licences to harm kangaroos. The review

should aim to increase the rigour and transparency of the licensing and compliance monitoring

processes, be conducted in consultation with stakeholders, and be made public.

That the NSW Government review the 2018 changes to licences to harm kangaroos as a matter

of urgency and provide a report to Parliament within 12 months.

That the National Parks and Wildlife Service employ additional compliance officers to

proactively monitor and investigate the non-commercial industry's compliance with the code of

practice as well as specific cruelty allegations.

That the National Parks and Wildlife Service work with RSPCA NSW to ensure the prompt

reporting and investigation of breaches of regulatory compliance and cruelty allegations in

regards to kangaroos and other wildlife.

That the National Park and Wildlife Service make it mandatory for persons licensed to harm

kangaroos to notify their neighbours, as far as is reasonably practicable, before they commence

shooting.

That the Department of Planning Industry and Environment, specifically including the National

Parks and Wildlife Service, and the NSW Police Force, work together to:

clarify the current investigation and enforcement framework in dealing with complaints concerning kangaroo shooting
establish a central database to receive, handle or refer complaints to responsible government agencies
ensure more satisfactory responses to complaints relating to kangaroo shooting.
Further information about the inquiry, including submissions, transcripts of public hearings and the final report,
Health and wellbeing of kangaroos and other macropods in New South Wales
, can be found on the
committee's website
.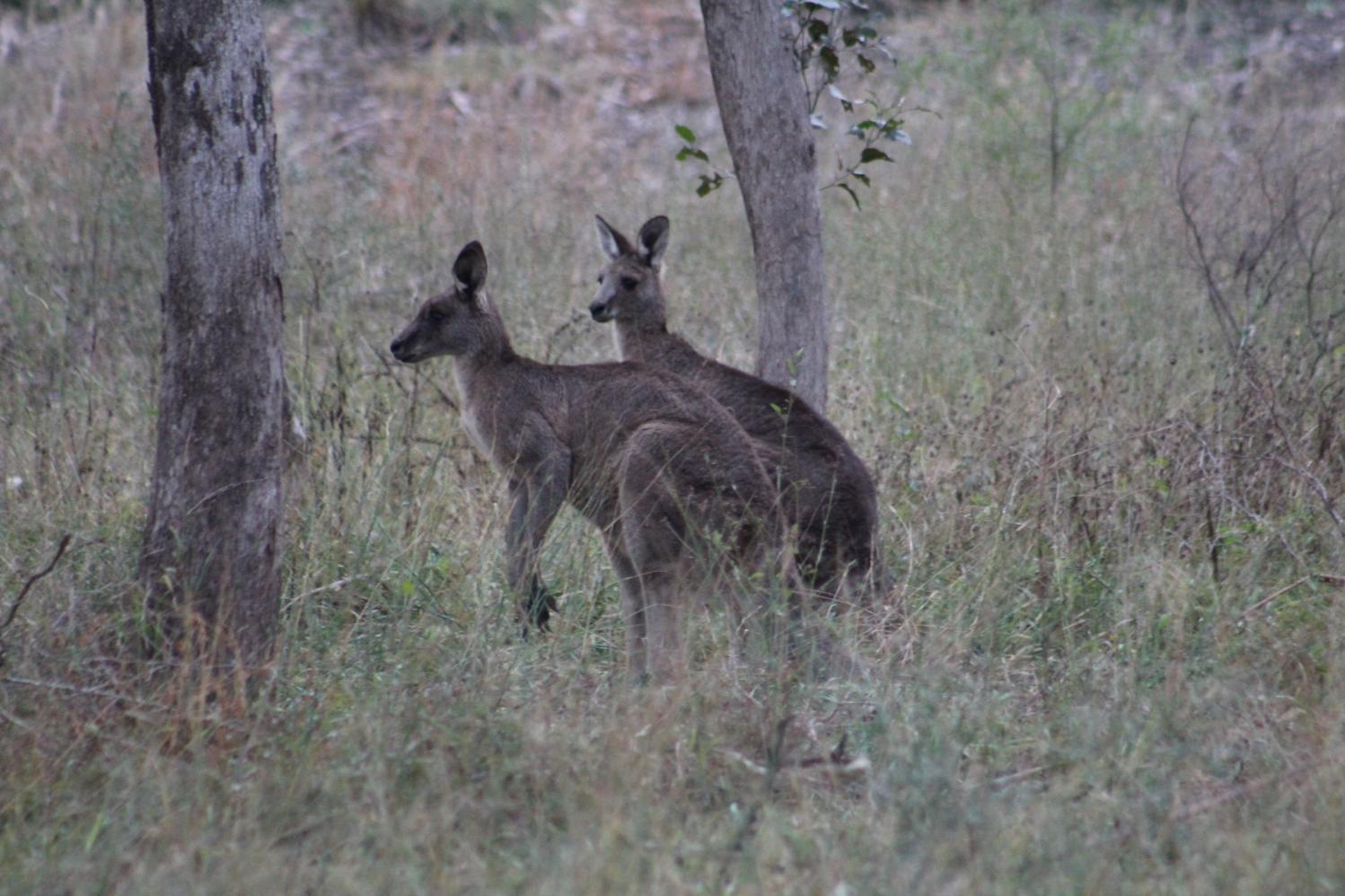 Crown Land Award Finalists Announced
Finalists have been announced for two prestigious Crown land awards in the 2021 Community Achievement Awards for Regional NSW/ACT.
Each year the Department of Planning, Industry and Environment supports the Crown Land Manager Excellence Award, and also the Individual Excellence in Crown Land Management Award, to highlight outstanding community service, dedication and commitment by volunteer Crown land boards and individuals.
Minister for Water, Property and Housing Melinda Pavey said there was about 34 million hectares of Crown land in NSW, making up about 42 per cent of the State and providing homes for community-focused organisations, showgrounds, recreation parks, nature reserves and businesses.
"We would be lost without the thousands of volunteers who help us manage Crown land to deliver social, environmental and economic benefits for their local communities," Mrs Pavey said.
"I congratulate each of the Finalists and wish them the best of luck at the grand final night on Friday 11th February."
The Finalists for the Crown Land Manager Excellence Award are:
Deep Water Land Manager Hall Committee of Glen Innes
Byrangery Grass Reserve Land Manager
Glen Innes & District Historical Society Inc.
Old Bega Hospital Reserve Land Manager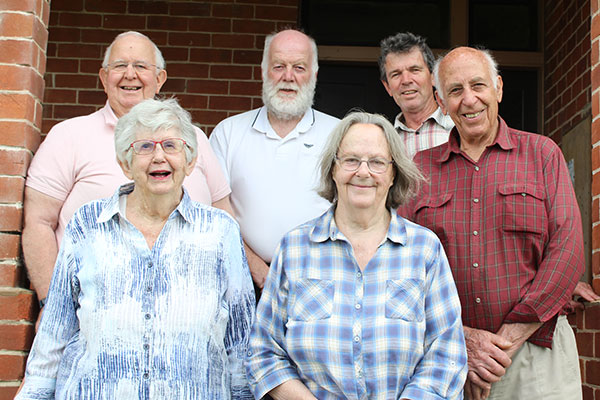 The volunteer board of the Old Bega Hospital

Deep Water Land Manager Hall Committee of Glen Innes is small but big-hearted. Composed of four board members, the Committee manages the Deep-Water School of Arts Hall. They handle maintenance, work health and safety, security matters, and access. They maintain important documents and attend regular information and training sessions while ensuring the Hall is compliant in every regard. The Hall has been the epicentre of the rural community for over 100 years. In 2020, the Committee embarked on an ambitious upgrade program. They proactively sought government funding and trained at Grant Funding workshops. With the help of the Deepwater Community, they were granted $100,000 funding.
Byrangery Grass Reserve Land Manager of Federal is dedicated to creating a refuge for endangered fauna and flora. The 15-hectare reserve is set aside exclusively for Wildlife Habitat. The Byrangery Grass Reserve Land Manager consists of six local volunteers. They fulfil statutory obligations around meetings and reporting, apply for funding, raise funds, guide interest groups, form collaborations and monitor improvements in the ecosystem. They successfully sorted and received a $650,000 Bush Connects Grant, which helped control exotic species and regenerate native forest through seed bank germination. Over the last six years, they have focused on a Walking Track Project to improve users' experience.
Glen Innes & District Historical Society Inc. has been serving as a custodian of the cultural heritage of the Glen Innes & District community since 1968. The Historical Society functions as a community chronicle, recording and informing successive generations through artefacts, documents and records at the Land of the Beardies Museum History House Museum and Research Centre. The Land of the Beardies occupies the former Glen Innes & District Hospital, which is listed as a heritage building. Over the past three years, the Society has been actively engaged in repairing and refurbishing the buildings, storage facilities and display areas. The Society has 255 members.
Old Bega Hospital Reserve Land Manager has committed to restoring a community hub ravished by bushfire. The Old Bega Hospital (OBH) Reserve covers 1.603 hectares. The historical reserve precinct includes the OBH Main Building, which was ravaged by bushfires in 2004. This left a void in the community as the OBH was an active community cultural hub. The OBH Board is the land manager of the Reserve, with Patricia Jones as Chair since 2007. Since the fire, the Board has set the strategic goal of sourcing grant funding to restore and renovate the main building. After 16 years, the OBH received grants totalling $3,421,000 in 2019.
The Finalists for the Individual Excellence in Crown Land Management Award are:
Patricia Jones of Bega
Stephen Thatcher of Muswellbrook
Louise Jenkins of Cooma
William West of Balmoral
Patricia Jones of Bega has demonstrated sustained commitment. In 2007, Pat became Chair of the Board of the Old Bega Hospital (OBH) Reserve, a Community Cultural Centre that is home to community groups and used for markets, festivals and private functions. Before joining the Board in 2003, Patricia was a member of Spinners and Weavers, one of the resident groups at the OBH. As Chair, Pat manages all aspects of board meetings and wrote most of the original funding applications. In 2019, Pat and the OBH Board successfully received grants totaling $3,421,000 to restore the OBH Main Building, which was ravaged by bushfires in 2004.
Stephen Thatcher of Muswellbrook has been the Chairman of the Board of the Lake Liddell Recreation Area Reserve Land Manager since 2004. The Board ensures the implementation of the Draft Strategic Plan which prioritises enabling growth, commercial opportunities and sustainable progress; expanding green space; strengthening and supporting evolving community, and working with Aboriginal communities to realise the potential of their land rights. Stephen oversees the implementation of the Code of Conduct for the Reserve, manages conflicts of interests and ensures documentation of work health and safety requirements. He was instrumental in having Scouts, Landcare and the community involved in planting 20,000 plants over the years.
Louise Jenkins of Cooma is a member of the North Ridge Reserve Advisory Committee. The Committee manages the North Ridge Reserve, a 123-hectare bushland that supports a large number of native plant species, and mammals, reptiles and birds. Louise helped improve the condition and management of the Reserve, particularly when the Committee was disbanded as a result of Council amalgamations. She initiated the application of a grant for the improvement of the Reserve's amenities, including the walking tracks, signage, access and parking infrastructure. During the Covid-19 pandemic, she conducted publicly accessible Covid-safe walks within the Reserve to maintain local community physical and mental wellbeing.
William West of Balmoral has been a member of the Bribbaree Showground Trust since 1982. Bill is ensuring the grounds are preserved for future generations to come. He became Trust Chairman in 1984. In 1997, he became secretary/treasurer. For 37 years, Bill has tirelessly worked for the Showground. Now at 72, he vows to continue supervising the Showground, cleaning up the grounds after each event, cleaning the toilets, checking the tanks and doing everything he can to maintain the grounds in pristine condition. With extensive knowledge of the workings of the grounds, Bill has drawn up comprehensive maps of its power and water systems.
Five category winners in the annual awards will receive $2,000 in prizes and a trophy. The other category winner will receive a trophy and television exposure on PRIME7.
All finalists will go into a People's Choice Award which is run through a Facebook page;
www.facebook.com/NSWACTCAA
where you can like the page and vote for your favourite finalist. The winner will be announced at an Awards Gala Presentation Dinner.
Reputex Report: NT Fracking Plans Will Cost Billions And Triple Australia's Greenhouse Emissions
A new in-depth economic and climate analysis reveals it is unlikely gas companies could make money from fracking the Northern Territory's Beetaloo Basin while also fully and accurately offsetting their domestic lifecycle greenhouse gas emissions.
It also shows how fracking the Beetaloo at the scale promoted by governments and industry would massively contribute to Australia's greenhouse gas emissions, at a time when climate commitments are under an international spotlight. Despite this, the Morrison Government continues to funnel public money towards fracking companies operating in the NT.
RepuTex is a leading provider of modelling and forecasting services for the Australian renewable energy, electricity, and carbon markets and state and federal governments.
In Brief:
The Reputex Report - Analysis of Beetaloo Gas Basin Emissions & Carbon Costs - was commissioned by Lock the Gate Alliance. It calculates potential NT fracking industry growth and the climate mitigation required under three scenarios - low, mid, and high.
Fracking expansion 2.5 times annual greenhouse emissions; Australia's overall annual emissions are now around 520 Mt, meaning if the fracking industry expands in the NT as governments plan, it would be responsible for about two and a half times Australia's annual greenhouse emissions. Based on government and industry gas resource estimates, the report finds Beetaloo GHG emissions would be up to 1.4 billion tonnes under a high production scenario over 20 years.
Cost of offsetting will be $3-$22 Billion; Based on conservative emissions calculations for methane, the report then calculates the 'carbon liability', i.e. the cost of offsetting emissions using Australian Carbon Credit Units (ACCUs), to range from $3 Billion (low scenario) to $22 Billion over 20 years.
Gas will be commercially unviable; The Reputex Report concludes, "In line with NT policy and Recommendation 9.8 of the Pepper Inquiry, the inclusion of carbon costs is likely to have significant implications for the commercial viability of Northern Territory gas basin projects, with potential for emissions liabilities to add between $1 - $2.5 per GJ to the cost of Beetaloo basin gas, varying with the modelled production scenario."
In terms of Australia's carbon budget in the event global warming is kept to Paris Agreement levels, the report notes: "The development of the Beetaloo Sub-basin under a mid to high scenario... is likely to have a significant impact on Australia's remaining carbon budget, with modelled outcomes representing between 3 to 5 per cent of Australia's remaining carbon budget remaining (2°C scenario). For a 1.5°C scenario Beetaloo Sub-basin gas could represent 10 to 27 per cent of Australia's total carbon budget."
The report notes in its conclusion: "Beetaloo basin gas emissions represent a large source of additional GHG emissions entering the Australian economy at a time when rapid global emission reductions are necessary to limit the effects of global warming. To this end, new oil and gas fields from 2021 have been modelled by the IEA to be inconsistent with a net-zero pathway."
Darwin based Protect Country NT spokesperson Graeme Sawyer said, "This timely Reputex report confirms what we have long suspected and what the NT Gunner Government likely already knows - there is no cost effective way to mitigate the climate catastrophe fracking the Beetaloo would unleash.
"The cost of fracking is out of the ballpark even before you add costs associated with offsets and carbon capture and storage, as the Morrison and Gunner governments plan.
"Gas from the Beetaloo will be among the most expensive gas in the world. This report is a conservative calculation of what all the real costs actually are, and it's clear fracking the Beetaloo is madness both economically and environmentally."
Lock the Gate Alliance national coordinator Naomi Hogan said investors pumping money into companies that want to frack the Beetaloo should pay heed to the Reputex report's findings.
"The Gunner Government is bound by its promises to uphold the recommendations of the Pepper Inquiry, which set in stone the need for fracking companies to not cause a net increase in emissions," she said.
"This report reveals trying to frack the Beetaloo does not stack up economically. No wonder fracking companies have so eagerly asked for handouts from Australian taxpayers.
"It's expensive gas and it's highly polluting. Fracking the Northern Territory will take Australia in the wrong direction.
"This report clearly outlines that the push by governments and gas companies for large-scale fracking across the Northern Territory will lead to a massive increase in Australia's pollution. There needs to be a reality check here. We can't frack our way out of the climate crisis.
"Offsets are often dubious at best - this report now proves there's no way it can be done that makes any business sense whatsoever."
Bylong Coal Mining Saga Set To Continue
The Bylong Valley community is devastated after coal company KEPCO confirmed this week it had sought leave to appeal the latest rejection of its Bylong project in the High Court.
The South Korean Government-owned corporation's legal representatives sent its appeal to the Bylong Valley Protection Alliance's legal representatives at the Environmental Defenders Office this morning.
The move follows the rejection of KEPCO's mooted Bylong Valley coal mine by the Independent Planning Commission, a decision that has subsequently been upheld by the NSW Land and Environment Court, and the Court of Appeal.
The IPC rejected the coal mine in 2019 due to the impact it would have had on water, highly productive farming country, and the climate, and the subsequent legal decisions have upheld that ruling.
KEPCO is facing increasing domestic pressure to give up its fruitless foray in the Bylong Valley, with the Korea National Assembly Budget Office (NSBO) recently revealing KEPCO had so far lost USD $405M in its pursuit of the Bylong coal mine.
As well, in January 2020 KEPCO's board marked down the value of its Bylong mining rights from $AUD642 million to zero in a report to the South Korean stock exchange.
Bylong Valley Protection Alliance President Phillip Kennedy said, "It's bloody devastating that a multinational coal company can continue putting a small farming community like ours through the wringer after its mine has been rejected three times.
"We can't believe KEPCO is still trying to build this polluting coal mine after the IPC clearly explained it posed too great a threat to the soils and water we rely on.
"We think it's dangerous to pursue new coal mines as the climate crisis alarm bells ring louder and world leaders prepare for the Glasgow Climate Change Conference."
Greater Sydney Water Strategy Open For Feedback
The NSW Government has launched the draft Greater Sydney Water Strategy, an unprecedented 20-year roadmap to providing a safe, secure and sustainable water supply for Sydney, the Illawarra and the Blue Mountains.
Minister for Water, Property and Housing Melinda Pavey said the Strategy, now on public exhibition, will guide water management to 2040 to support economic growth, meet the needs of the growing population and prepare for our changing climate.
"A secure water supply is vital and this plan ensures we are able to support economic growth as we recover from the pandemic and set the foundations for the future," Mrs Pavey said.
"We need to plan now for how our growing city and region will use water wisely as Sydney's population is set to grow to 7.1 million by 2041.
"During the most recent drought, our dam levels depleted faster than we've experienced since records began – at a rate of 20 per cent per year.
"Thankfully our dams are now full, but we need to act decisively to secure sustainable water for the long-term – by exploring options for new water sources not dependent on rainfall, by conserving more, and by doing more with less."
Options for consultation in the draft Strategy include:
Improving water recycling, leakage management and water efficiency programs, which could result in water savings of up to 49 gigalitres a year by 2040.
Extending a water savings program, which has been piloted in over 1000 households and delivered around 20 per cent reduction in water use per household and almost $190 in savings per year for household water bills.
Consideration of running the Sydney Desalination Plant full-time to add an extra 20 gigalitres of water per year.
Expanding or building new desalination plants to be less dependent on rainfall.
Investigating innovations in recycled water to improve sustainability.
Making greater use of stormwater and recycled water to cool and green the city and support recreational activities.
The draft Strategy also proposes improvements to the decision making process for water restrictions to better reflect prevailing conditions and forecasting.
"Instead of having inflexible trigger points, decision makers will use a new holistic approach to consider things like rainfall events, inflows to dams and dam depletion rates, water demand and weather forecasts," Mrs Pavey said.
"The draft Greater Sydney Water Strategy is a critical part of the NSW Government's plan to grow the NSW economy and I encourage the community and industry to have their say."
The Department of Planning, Industry and Environment will hold public webinars and information sessions during September and October.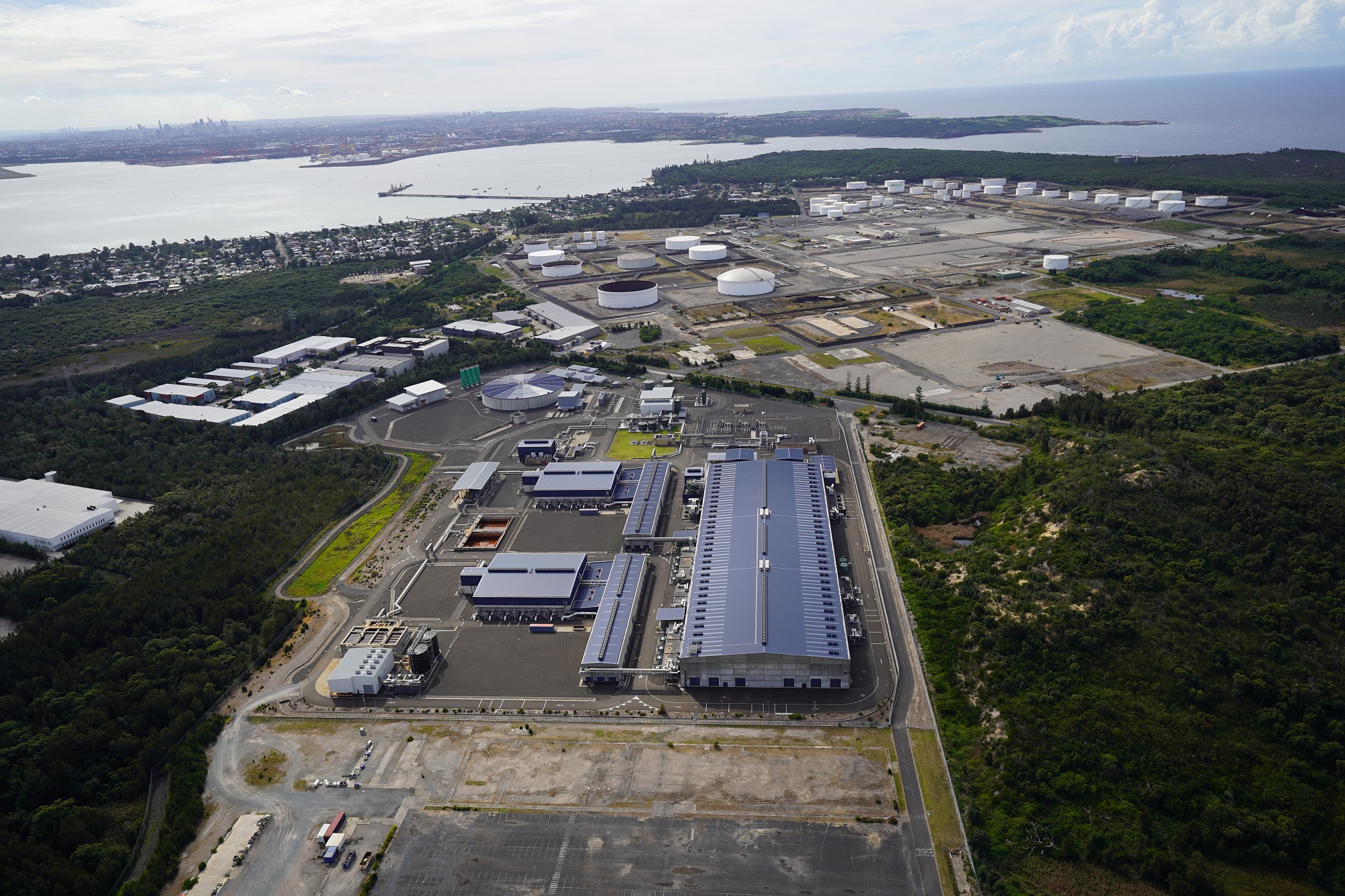 Sydney Desalination Plant May 2021. Photo: Catherine Parker (WaterCommsDPIE)

Warragamba Dam Raising Project EIS On Public Exhibition
The Environmental Impact Statement (EIS) for the proposed Warragamba Dam Raising Project for flood mitigation is on public exhibition from the 29th of September 2021, for a period of 45 days
closing on the 12th of November 2021, during which public submissions will be received.
In May 2017, the NSW Government released the Hawkesbury-Nepean Valley Flood Risk Management Strategy – 'Resilient Valley, Resilient Communities.'
The strategy is designed specifically for the valley as the most flood-prone region in NSW, if not Australia. It is a long-term plan to minimise significant risks to life and livelihoods; damage to urban and rural property; and, the major dislocation of economic activity from rapid, deep flooding.
It is the framework for the government, councils, businesses and communities to work together to reduce and manage flood risk in the valley.
The strategy recommends that raising Warragamba Dam to create a flood mitigation zone of around 14 metres is the best option to reduce the risks to life, property and community assets posed by floodwaters from the extensive Warragamba River catchment.
While a range of other infrastructure and non-infrastructure outcomes are included in the strategy and must be part of the solution for managing ongoing risk, no other mitigation measures can achieve the same risk reduction as the Warragamba Dam Raising Proposal.
WaterNSW, as owner and operator of the dam, is consulting widely about the effects and benefits of the proposal to inform the environmental assessment, concept design and, subject to all planning approvals, a business case to assist decision-making in 2022 about whether to proceed with these major flood mitigation works.
Visit the project portal and virtual engagement room to review the EIS document, interact with explanatory material, make submissions and register to attend webinars.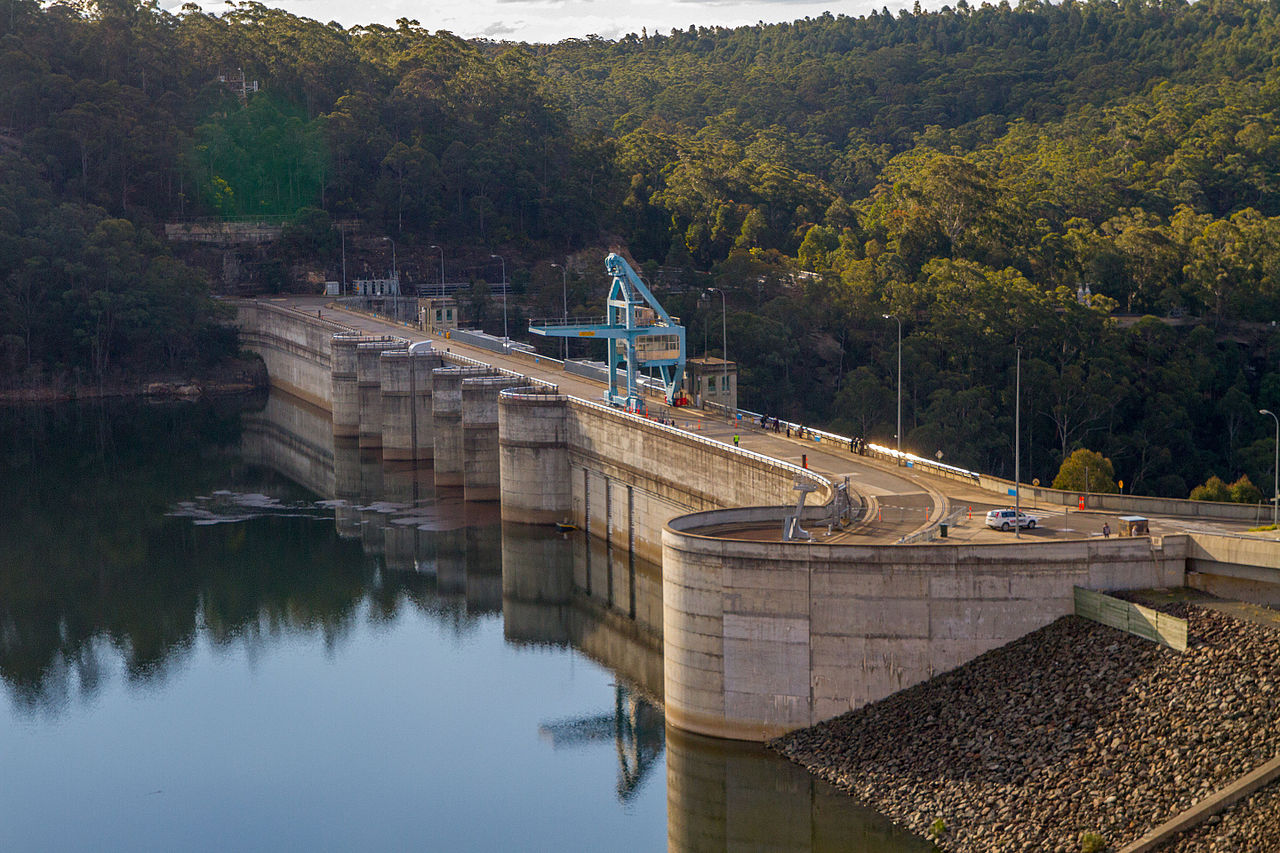 Warragamba Dam, NSW. Photo: Maksym Kozlenko

NSW Government Plan To Revitalise Peat Island And Mooney Mooney Released
The NSW Government's proposal to breathe new life into old assets and open Peat Island to the public, while also revitalising Mooney Mooney with new housing, community facilities and job opportunities, has been released.
"For over a century Peat Island has been closed off to the public and the NSW Government is working to unlock this under-utilised publicly-owned land in this stunning Hawkesbury River setting," Mr Crouch said.
Key features of the proposal include:
Nearly 270 new homes at Mooney Mooney to deliver more housing supply,
Retention of nine unlisted historical buildings on the island, and four on the mainland, to be restored and used for new community and commercial opportunities,
New retail and café or restaurant opportunities,
Approximately 9.65 hectares of open space, including opportunities for walking and cycling tracks, parklands and recreational facilities,
Retention of the chapel and surrounding land for community use, and
10.4 hectares of bushland dedicated as a conservation area.
"The NSW Government has been consulting widely, culminating in this rezoning proposal that strikes a balance between future land uses and achieving the best social and economic outcomes for the Mooney Mooney community."
Minister for Water, Property and Housing Melinda Pavey said the proposal will provide more than two kilometres of public access to the Hawkesbury River foreshore and Peat Island, opening it up for the first time in 100 years, as well as the opportunity for tourism uses including short-stay tourist accommodation.
"This is an area of great significance to the region, local and Aboriginal communities, and many other stakeholders, including those with links to Peat Island's institutional past," Mrs Pavey said.
"Any future uses will recognise and protect the site's significant Aboriginal and European heritage."
To ensure everyone has an opportunity to understand the NSW Government's vision for Peat Island and Mooney Mooney, community information webinars will be held over coming weeks. Details will be available shortly.
Mrs Pavey said in parallel to the broader community engagement on the proposal, the NSW Government would continue to work with the Peat Island/Mooney Mooney Community Reference Group on the future of the area's community facilities and public spaces.
"At the heart of this will be how the Peat Island chapel precinct at Mooney Mooney can be retained by the community and put to its best possible use," Mrs Pavey said.
The rezoning proposal will also remain
open to feedback from the public until Monday, 20 December 2021.
Threatened Tasmanian Forests Gain Legal Protection
Last month, Tasmanian white gum wet forests, which are found in the river valleys of northern, eastern, and southern Tasmania, were recognised as Critically Endangered and listed as a Threatened Ecological Community (TEC) under federal environment legislation. The white gum forests join several other listed ecological communities across Tasmania, including black gum forests and giant kelp marine forests. Acknowledging the serious decline of ecological communities with a TEC listing provides these communities—and the animals that live within them—legal protection against further decline and a chance at recovery.
Humane Society International nominated the white gum forest, which is home to native species such as eastern and spotted-tail quolls, Tasmanian devils, azure kingfishers, Tasmanian wedge-tailed eagles, forty spotted pardalotes, and several species of threatened burrowing crayfish, back in 2016. Sadly, Tasmanian white gum forest has declined in extent by at least 90-95% since colonisation, with only around 6,500 ha remaining. The forests continue to be threatened by climate change, loss of old-growth and fragmentation.
While it is unfortunate that this ecological community has declined so much that it requires listing, legal recognition of the white gum ecological community of Tasmania as Critically Endangered can bring with it a raft of legal protections that will hopefully begin to foster recovery. Furthermore, greater protections for ecological communities means greater protection for the native species that live within them, making such listings a powerful tool for protecting a host of Tasmania's biodiversity in one fell swoop. Regrettably, the Minister has decided not to require a recovery plan for these forests—which is an increasing and concerning trend with a cash strapped environment department.
Other Tasmanian ecological communities, such as forests dominated by black gum or Brookers gum, Eucalyptus ovata - Callitris oblonga Forest, Giant Kelp Marine Forests, and Lowland Temperate Grasslands of Tasmania, have also been nominated by Humane Society International and subsequently listed for further protections under the Environment Protection and Biodiversity Conservation Act 1999.
Evan Quartermain, Head of Programs for Humane Society International, said, "The umbrella benefits offered to a number of threatened species mean TECs should be a priority for conservation and recovery planning. Achieving a listing can feel like a double-edged sword. It is unfortunate that so many ecological communities need to be listed in the first place, but listing is a significant first step toward recovery."
Humane Society International is now responsible for 38 of 92 national TEC listings, with several more currently under assessment or awaiting a decision from the Minister.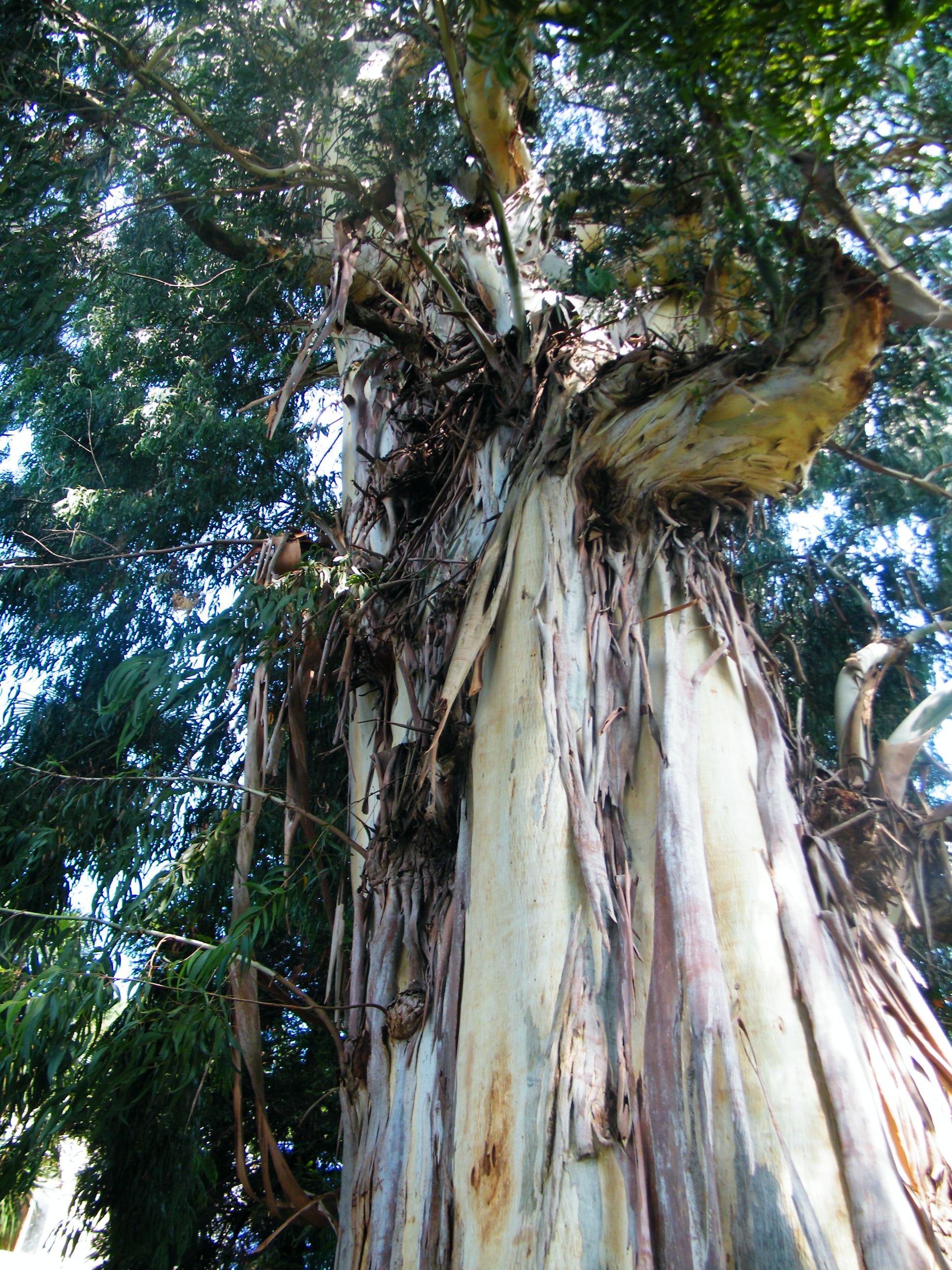 Trunk of Eucalyptus viminalis - photo courtesy Mr. Rosewater

Bushcare In Pittwater
For further information or to confirm the meeting details for below groups, please contact Council's Bushcare Officer on 9970 1367
BUSHCARE SCHEDULES
Where we work Which day What time
Avalon
Angophora Reserve 3rd Sunday 8:30 - 11:30am
Avalon Dunes 1st Sunday 8:30 - 11:30am
Avalon Golf Course 2nd Wednesday 3 - 5:30pm
Careel Creek 4th Saturday 8:30 - 11:30am
Toongari Reserve 3rd Saturday 9 - 12noon (8 - 11am in summer)
Bangalley Headland 2nd Sunday 9 to 12noon
Bayview
Winnererremy Bay 4th Sunday 9 to 12noon
Bilgola
North Bilgola Beach 3rd Monday 9 - 12noon
Algona Reserve 1st Saturday 9 - 12noon
Plateau Park 1st Friday 8:30 - 11:30am
Church Point
Browns Bay Reserve 1st Tuesday 9 - 12noon
McCarrs Creek Reserve Contact Bushcare Officer To be confirmed
Clareville
Old Wharf Reserve 3rd Saturday 8 - 11am
Elanora
Kundibah Reserve 4th Sunday 8:30 - 11:30am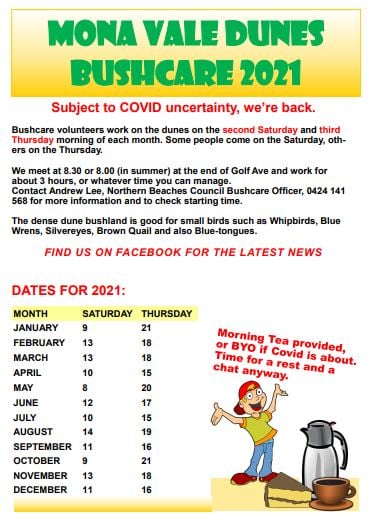 Mona Vale
Mona Vale Beach Basin 1st Saturday 8 - 11am
Mona Vale Dunes 2nd Saturday +3rd Thursday 8:30 - 11:30am
Newport
Bungan Beach 4th Sunday 9 - 12noon
Crescent Reserve 3rd Sunday 9 - 12noon
North Newport Beach 4th Saturday 8:30 - 11:30am
Porter Reserve 2nd Saturday 8 - 11am
North Narrabeen
Irrawong Reserve 2nd Saturday 2 - 5pm
Palm Beach
North Palm Beach Dunes 3rd Saturday 9 - 12noon
Scotland Island
Catherine Park 2nd Sunday 10 - 12:30pm
Elizabeth Park 1st Saturday 9 - 12noon
Pathilda Reserve 3rd Saturday 9 - 12noon
Warriewood
Warriewood Wetlands 1st Sunday 8:30 - 11:30am
Whale Beach
Norma Park 1st Friday 9 - 12noon
Western Foreshores
Coopers Point, Elvina Bay 2nd Sunday 10 - 1pm
Rocky Point, Elvina Bay 1st Monday 9 - 12noon

Gardens And Environment Groups And Organisations In Pittwater
Avalon Golf Course Bushcare Needs You
We're so short of helpers we've had to cancel for the time being. Meanwhile the weeds will go gangbusters.
We used to meet on the second Wednesday afternoon of each month. Could you come if we worked on another day or time? say a morning, or on a weekend day?
Contact Geoff Searl on 0439 292 566 if you'd like to help. He'd love to hear from you.
We have fun using the Tree Popper, here with our supervisor from Dragonfly Environmental. We can lever out quite big Ochnas, aka Mickey Mouse plant from Africa. We want to bring back the bush, not let the weeds win!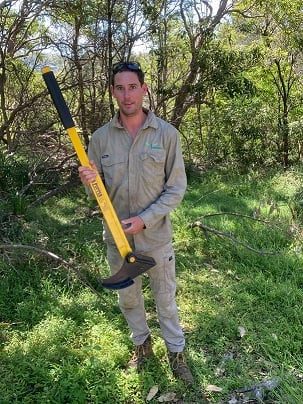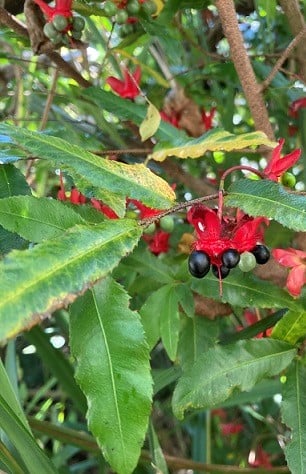 Ochna or Mickey Mouse plant has yellow flowers in spring, then lots of green berries that turn black when ripe. Seedlings come up in hundreds. Ochna has a very strong taproot but the steady pressure of the Tree Popper lifts the plant out of the ground easily. The alternative control is repeated scraping and painting with Roundup, very slow and time consuming. If you have an Ochna you cant remove, you can enjoy the flowers, then PLEASE prune it so that berries can't develop.
New Shorebirds WingThing For Youngsters Available To Download
A Shorebirds WingThing educational brochure for kids (A5) helps children learn about shorebirds, their life and journey. The 2021 revised brochure version was published in February 2021 and is available now. You can download a file copy here.
If you would like a free print copy of this brochure, please send a self-addressed envelope with A$1.10 postage (or larger if you would like it unfolded) affixed to: BirdLife Australia, Shorebird WingThing Request, 2-05Shorebird WingThing/60 Leicester St, Carlton VIC 3053.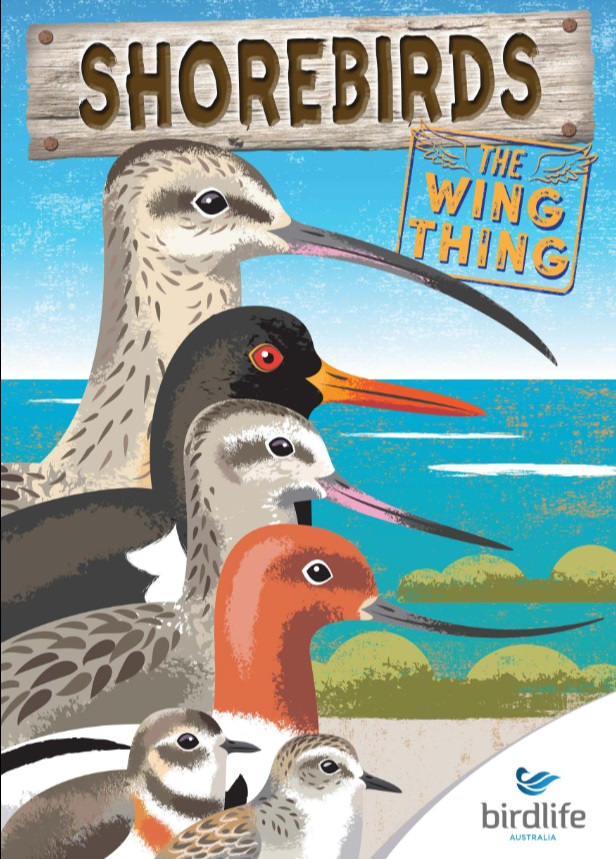 Shorebird Identification Booklet
The Migratory Shorebird Program has just released the third edition of its hugely popular Shorebird Identification Booklet. The team has thoroughly revised and updated this pocket-sized companion for all shorebird counters and interested birders, with lots of useful information on our most common shorebirds, key identification features, sighting distribution maps and short articles on some of BirdLife's shorebird activities.
The booklet can be downloaded here in PDF file format: http://www.birdlife.org.au/documents/Shorebird_ID_Booklet_V3.pdf
Paper copies can be ordered as well, see http://www.birdlife.org.au/projects/shorebirds-2020/counter-resources for details.
Download BirdLife Australia's children's education kit to help them learn more about our wading birdlife
Shorebirds are a group of wading birds that can be found feeding on swamps, tidal mudflats, estuaries, beaches and open country. For many people, shorebirds are just those brown birds feeding a long way out on the mud but they are actually a remarkably diverse collection of birds including stilts, sandpipers, snipe, curlews, godwits, plovers and oystercatchers. Each species is superbly adapted to suit its preferred habitat. The Red-necked Stint is as small as a sparrow, with relatively short legs and bill that it pecks food from the surface of the mud with, whereas the Eastern Curlew is over two feet long with a exceptionally long legs and a massively curved beak that it thrusts deep down into the mud to pull out crabs, worms and other creatures hidden below the surface.
Some shorebirds are fairly drab in plumage, especially when they are visiting Australia in their non-breeding season, but when they migrate to their Arctic nesting grounds, they develop a vibrant flush of bright colours to attract a mate. We have 37 types of shorebirds that annually migrate to Australia on some of the most lengthy and arduous journeys in the animal kingdom, but there are also 18 shorebirds that call Australia home all year round.
What all our shorebirds have in common—be they large or small, seasoned traveller or homebody, brightly coloured or in muted tones—is that each species needs adequate safe areas where they can successfully feed and breed.
The National Shorebird Monitoring Program is managed and supported by BirdLife Australia.

This project is supported by Glenelg Hopkins Catchment Management Authority and Hunter Local Land Services through funding from the Australian Government's National Landcare Program. Funding from Helen Macpherson Smith Trust and Port Phillip Bay Fund is acknowledged.
The National Shorebird Monitoring Program is made possible with the help of over 1,600 volunteers working in coastal and inland habitats all over Australia.
The National Shorebird Monitoring program (started as the Shorebirds 2020 project initiated to re-invigorate monitoring around Australia) is raising awareness of how incredible shorebirds are, and actively engaging the community to participate in gathering information needed to conserve shorebirds.
In the short term, the destruction of tidal ecosystems will need to be stopped, and our program is designed to strengthen the case for protecting these important habitats.
In the long term, there will be a need to mitigate against the likely effects of climate change on a species that travels across the entire range of latitudes where impacts are likely.
The identification and protection of critical areas for shorebirds will need to continue in order to guard against the potential threats associated with habitats in close proximity to nearly half the human population.
Here in Australia, the place where these birds grow up and spend most of their lives, continued monitoring is necessary to inform the best management practice to maintain shorebird populations.
BirdLife Australia believe that we can help secure a brighter future for these remarkable birds by educating stakeholders, gathering information on how and why shorebird populations are changing, and working to grow the community of people who care about shorebirds.

To find out more visit: http://www.birdlife.org.au/projects/shorebirds-2020/shorebirds-2020-program
Aussie Bread Tags Collection Points
Collecting bread tags enables us to provide wheelchairs that change the life of disabled people in need, as well as keeping the tags out of landfill to help to preserve the environment.
Bread Tags for Wheelchairs was started in South Africa in 2006 by Mary Honeybun. It is a community program where individuals and organisations collect bread tags, which are sold to recyclers. The money raised pays for wheelchairs for the less fortunate which are purchased through a local pharmacy. Currently about 500kg of bread tags are collected a month in South Africa, funding 2-3 wheelchairs.
We have been collecting bread tags nationally in Australia since September 2018 and now have more than 100 collection points across the country. In February 2019 we started local recycling through Transmutation - Reduce, Reuse and Recycle in Robe, SA, where our tags are recycled into products such as door knobs and bowls. Tags from some states are still sent to South Africa where a plastics company called Zibo recycles them into seedling trays.
These humble bits of polystyrene can make a real difference so get your friends, family, school, workplace and church involved. Ask school tuck shops and boarding school kitchens, child care centres, aged care facilities, hospitals, cafes and fast food outlets to collect for you - they get through a lot of bread!
All the information and signage for collecting or setting up a public collection point is
on our website
.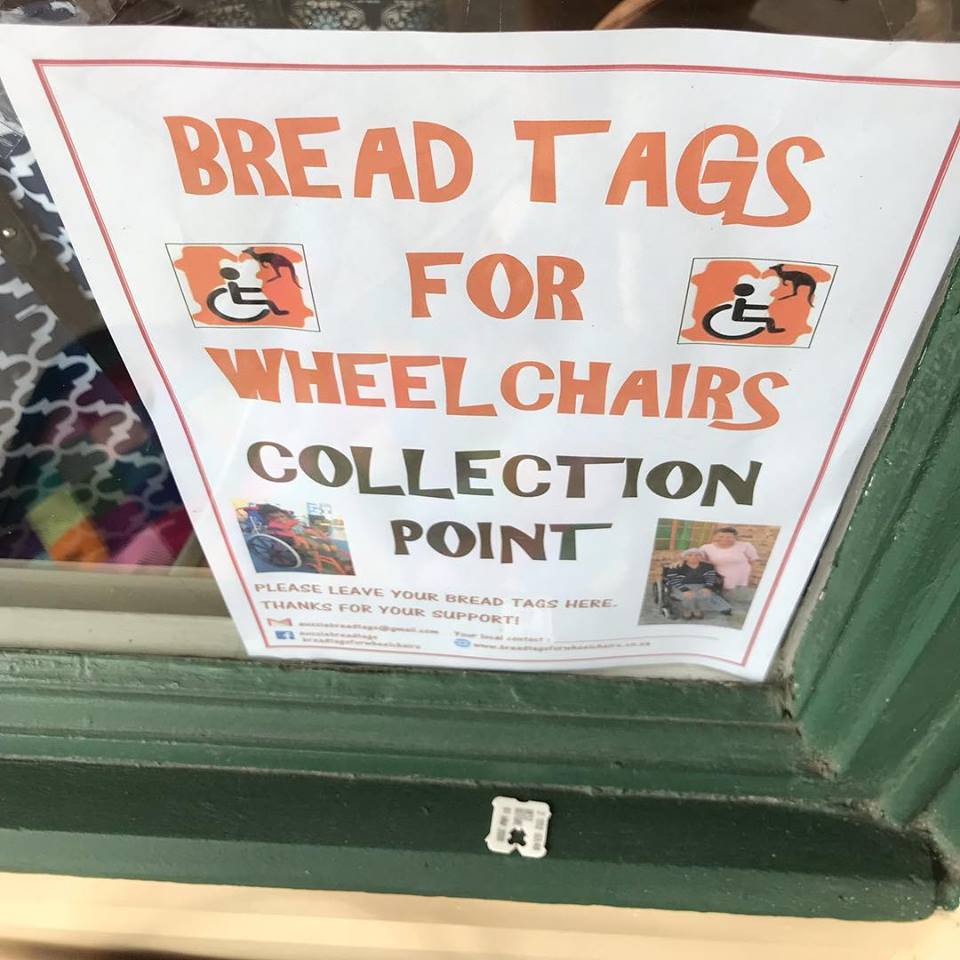 Children Who Eat More Fruit And Veggies Have Better Mental Health
Children who eat a better diet, packed with fruit and vegetables, have better mental wellbeing -- according to new research from the University of East Anglia.
A new study published today is the first to investigate the association between fruit and vegetable intakes, breakfast and lunch choices, and mental wellbeing in UK school children.
It shows how eating more fruit and veg is linked with better wellbeing among secondary school pupils in particular. And children who consumed five or more portions of fruit and veg a day had the highest scores for mental wellbeing.
The study was led by UEA Health and Social Care Partners in collaboration with Norfolk County Council.
The research team say that public health strategies and school policies should be developed to ensure that good quality nutrition is available to all children before and during school to optimise mental wellbeing and empower children to fulfil their full potential.
Lead researcher Prof Ailsa Welch, from UEA's Norwich Medical School, said: "We know that poor mental wellbeing is a major issue for young people and is likely to have long-term negative consequences.
"The pressures of social media and modern school culture have been touted as potential reasons for a rising prevalence of low mental wellbeing in children and young people.
"And there is a growing recognition of the importance of mental health and wellbeing in early life -- not least because adolescent mental health problems often persist into adulthood, leading to poorer life outcomes and achievement.
"While the links between nutrition and physical health are well understood, until now, not much has been known about whether nutrition plays a part in children's emotional wellbeing. So, we set out to investigate the association between dietary choices and mental wellbeing among schoolchildren."
The research team studied data from almost 9,000 children in 50 schools across Norfolk (7,570 secondary and 1,253 primary school children) taken from the Norfolk children and Young People's Health and wellbeing Survey.
This survey was commissioned by the Public Health department of Norfolk County Council and the Norfolk Safeguarding Children Board. It was open to all Norfolk schools during October 2017.
Children involved in the study self-reported their dietary choices and took part in age-appropriate tests of mental wellbeing that covered cheerfulness, relaxation, and having good interpersonal relationships.
Prof Welch said: "In terms of nutrition, we found that only around a quarter of secondary-school children and 28 per cent of primary-school children reported eating the recommended five-a-day fruits and vegetables. And just under one in ten children were not eating any fruits or vegetables.
"More than one in five secondary school children and one in 10 primary children didn't eat breakfast. And more than one in 10 secondary school children didn't eat lunch.
The team looked at the association between nutritional factors and mental wellbeing and took into account other factors that might have an impact -- such as adverse childhood experiences and home situations.
Dr Richard Hayhoe, also from UEA's Norwich Medical School, said: "We found that eating well was associated with better mental wellbeing in children. And that among secondary school children in particular, there was a really strong link between eating a nutritious diet, packed with fruit and vegetables, and having better mental wellbeing.
"We also found that the types of breakfast and lunch eaten by both primary and secondary school pupils were also significantly associated with wellbeing.
"Children who ate a traditional breakfast experienced better wellbeing than those who only had a snack or drink. But secondary school children who drank energy drinks for breakfast had particularly low mental wellbeing scores, even lower than for those children consuming no breakfast at all.
"According to our data, in a class of 30 secondary school pupils, around 21 will have consumed a conventional-type breakfast, and at least four will have had nothing to eat or drink before starting classes in the morning.
"Similarly, at least three pupils will go into afternoon classes without eating any lunch. This is of concern, and likely to affect not only academic performance at school but also physical growth and development.
"Another interesting thing that we found was that nutrition had as much or more of an impact on wellbeing as factors such as witnessing regular arguing or violence at home.
Prof Welch said: "As a potentially modifiable factor at an individual and societal level, nutrition represents an important public health target for strategies to address childhood mental wellbeing.
"Public health strategies and school policies should be developed to ensure that good quality nutrition is available to all children both before and during school in order to optimise mental wellbeing and empower children to fulfil their full potential."
Richard Hayhoe, Boika Rechel, Allan B Clark, Claire Gummerson, S J Louise Smith, Ailsa A Welch.
Cross-sectional associations of schoolchildren's fruit and vegetable consumption, and meal choices, with their mental well-being: a cross-sectional study.
BMJ Nutrition, Prevention & Health, 2021; e000205 DOI:
10.1136/bmjnph-2020-000205
Screen Time Linked To Risk Of Myopia In Young People
A new study published in one of the world's leading medical journals has revealed a link between screen time and higher risk and severity of myopia, or short-sightedness, in children and young adults.
The open-access research, published this week in The Lancet Digital Health, was undertaken by researchers and eye health experts from Singapore, Australia, China and the UK, including Professor Rupert Bourne from Anglia Ruskin University (ARU). The authors examined more than 3,000 studies investigating smart device exposure and myopia in children and young adults aged between 3 months old and 33 years old.
After analysing and statistically combining the available studies, the authors revealed that high levels of smart device screen time, such as looking at a mobile phone, is associated with around a 30% higher risk of myopia and, when combined with excessive computer use, that risk rose to around 80%.
The research comes as millions of children around the world have spent substantial time using remote learning methods following the closure of schools due to the COVID-19 pandemic.
Professor Bourne, Professor of Ophthalmology in the Vision and Eye Research Institute at Anglia Ruskin University (ARU), said: "Around half the global population is expected to have myopia by 2050, so it is a health concern that is escalating quickly. Our study is the most comprehensive yet on this issue and shows a potential link between screen time and myopia in young people.
"This research comes at a time when our children have been spending more time than ever looking at screens for long periods, due to school closures, and it is clear that urgent research is needed to further understand how exposure to digital devices can affect our eyes and vision. We also know that people underestimate their own screen time, so future studies should use objective measures to capture this information."
Joshua Foreman, Arief Tjitra Salim, Anitha Praveen, Dwight Fonseka, Daniel Shu Wei Ting, Ming Guang He, Rupert R A Bourne, Jonathan Crowston, Tien Y Wong, Mohamed Dirani.
Association between digital smart device use and myopia: a systematic review and meta-analysis
. The Lancet Digital Health, 2021; DOI:
10.1016/S2589-7500(21)00135-7
Unprecedented Rise Of Heat And Rainfall Extremes In Observational Data
A 90-fold increase in the frequency of monthly heat extremes in the past ten years compared to 1951-1980 has been found by scientists in observation data. Their analysis reveals that so-called 3-sigma heat events, which deviate strongly from what is normal in a given region, now on average affect about 9 percent of all land area at any time. Record daily rainfall events also increased in a non-linear way -- on average, 1 in 4 rainfall records in the last decade can be attributed to climate change. Already today, extreme events linked to human-caused climate change are at unprecedented levels, the scientists say, and they must be expected to increase further.
"For extreme extremes, what we call 4-sigma-events that have been virtually absent before, we even see a roughly 1000-fold increase compared to the reference period. They affected about 3 percent of global land area in 2011-20 in any month," says lead-author Alexander Robinson from Complutense University of Madrid, Spain, and Potsdam Institute for Climate Impact Research, Germany. "This confirms previous findings, yet with ever-increasing numbers. We are seeing extremes now which are virtually impossible without the influence of global warming caused by greenhouse gas emissions from burning fossil fuels." The term 'sigma' refers to what scientists call a standard deviation.
For example, 2020 brought prolonged heat waves to both Siberia and Australia, contributing to the emergence of devastating wildfires in both regions. Both events led to the declaration of a local state of emergency. Temperatures at life-threatening levels have hit parts of the US and Canada in 2021, reaching almost 50°C. Globally, the record-breaking heat extremes increased most in tropical regions, since these normally have a low variability of monthly temperatures. As temperatures continue to rise, however, record-breaking heat will also become much more common in mid- and high-latitude regions.
1 in 4 rainfall records is attributable to climate change
Daily rainfall records have also increased. Compared to what would have to be expected in a climate without global warming, the number of wet records increased by about 30 percent. This implies that 1 in 4 records is attributable to human-caused climate change. The physics background to this is the Clausius-Clapeyron relation, which states that air can hold 7 percent more moisture per degree Celsius of warming.
Importantly, already-dry regions such as western North America and South Africa have seen a reduction in rainfall records, while wet regions such as central and northern Europe have seen a strong increase. Generally, increasing rainfall extremes do not help to alleviate drought problems.
Small temperature increase, disproportionally big consequences
Comparing the new data with the already quite extreme previous decade of 2000-2010, the data show that the land area affected by heat extremes of the 3-sigma category roughly doubled. Those deviations which are so strong they have previously been essentially absent, the 4-sigma events, newly emerged in the observations. Rainfall records have increased a further 5 percentage points in the last decade. The seemingly small amount of warming in the past ten years, just 0.25°C, has thus pushed up climate extremes substantially.
"These data show that extremes are now far outside the historical experience. Extreme heat and extreme rainfall are increasing disproportionally," says co-author Stefan Rahmstorf, from the Potsdam Institute for Climate Impact Research. "Our analysis confirms once again that for the impacts of global heating on us humans, every tenth of a degree matters."
Alexander Robinson, Jascha Lehmann, David Barriopedro, Stefan Rahmstorf, Dim Coumou.
Increasing heat and rainfall extremes now far outside the historical climate
. npj Climate and Atmospheric Science, 2021; 4 (1) DOI:
10.1038/s41612-021-00202-w
Strange Radio Waves Emerge From The Direction Of The Galactic Centre
Astronomers have discovered unusual signals coming from the direction of the Milky Way's centre. The radio waves fit no currently understood pattern of variable radio source and could suggest a new class of stellar object.
"The strangest property of this new signal is that it is has a very high polarisation. This means its light oscillates in only one direction, but that direction rotates with time," said Ziteng Wang, lead author of the new study and a PhD student in the School of Physics at the University of Sydney.
"The brightness of the object also varies dramatically, by a factor of 100, and the signal switches on and off apparently at random. We've never seen anything like it."
Many types of star emit variable light across the electromagnetic spectrum. With tremendous advances in radio astronomy, the study of variable or transient objects in radio waves is a huge field of study helping us to reveal the secrets of the Universe. Pulsars, supernovae, flaring stars and fast radio bursts are all types of astronomical objects whose brightness varies.
"At first we thought it could be a pulsar -- a very dense type of spinning dead star -- or else a type of star that emits huge solar flares. But the signals from this new source don't match what we expect from these types of celestial objects," Mr Wang said.
The discovery of the object has been published today in the Astrophysical Journal.
Mr Wang and an international team, including scientists from Australia's national science agency CSIRO, Germany, the United States, Canada, South Africa, Spain and France discovered the object using the CSIRO's ASKAP radio telescope in Western Australia. Follow-up observations were with the South African Radio Astronomy Observatory's MeerKAT telescope.
Mr Wang's PhD supervisor is Professor Tara Murphy also from the Sydney Institute for Astronomy and the School of Physics.
Professor Murphy said: "We have been surveying the sky with ASKAP to find unusual new objects with a project known as Variables and Slow Transients (VAST), throughout 2020 and 2021.
"Looking towards the centre of the Galaxy, we found ASKAP J173608.2-321635, named after its coordinates. This object was unique in that it started out invisible, became bright, faded away and then reappeared. This behaviour was extraordinary."
After detecting six radio signals from the source over nine months in 2020, the astronomers tried to find the object in visual light. They found nothing.
They turned to the Parkes radio telescope and again failed to detect the source.
Professor Murphy said: "We then tried the more sensitive MeerKAT radio telescope in South Africa. Because the signal was intermittent, we observed it for 15 minutes every few weeks, hoping that we would see it again.
"Luckily, the signal returned, but we found that the behaviour of the source was dramatically different -- the source disappeared in a single day, even though it had lasted for weeks in our previous ASKAP observations."
However, this further discovery did not reveal much more about the secrets of this transient radio source.
Mr Wang's co-supervisor, Professor David Kaplan from the University of Wisconsin-Milwaukee, said: "The information we do have has some parallels with another emerging class of mysterious objects known as Galactic Centre Radio Transients, including one dubbed the 'cosmic burper'.
"While our new object, ASKAP J173608.2-321635, does share some properties with GCRTs there are also differences. And we don't really understand those sources, anyway, so this adds to the mystery."
The scientists plan to keep a close eye on the object to look for more clues as to what it might be.
"Within the next decade, the transcontinental Square Kilometre Array (SKA) radio telescope will come online. It will be able to make sensitive maps of the sky every day," Professor Murphy said. "We expect the power of this telescope will help us solve mysteries such as this latest discovery, but it will also open vast new swathes of the cosmos to exploration in the radio spectrum."
Video showing an artist's impression of signals from space:
Optimal Blood Pressure Helps Our Brains Age Slower
People with elevated blood pressure that falls within the normal recommended range are at risk of accelerated brain ageing, according to new research from The Australian National University (ANU).
The research also found optimal blood pressure helps our brains stay at least six months younger than our actual age. The researchers are now calling for national health guidelines to be updated to reflect their important findings.
The ANU study, published in Frontiers in Aging Neuroscience, found participants with high blood pressure had older and therefore less healthy brains, increasing their risk of heart disease, stroke and dementia.
Participants with an elevated blood pressure, but within the normal range, also had older looking brains and were at risk of health problems.
"This thinking that one's brain becomes unhealthy because of high blood pressure later in life is not completely true," Professor Nicolas Cherbuin, Head of the ANU Centre for Research on Ageing, Health and Wellbeing, said.
"It starts earlier and it starts in people who have normal blood pressure."
Normal blood pressure is defined by pressure below 120/80, whereas an optimal and healthier blood pressure is closer to 110/70.
The new research comes after a large international study found the number of people over 30 with high blood pressure has doubled globally.
Cardiologist and co-author of the study, Professor Walter Abhayaratna, said if we maintain optimal blood pressure our brains will remain younger and healthier as we age.
"It's important we introduce lifestyle and diet changes early on in life to prevent our blood pressure from rising too much, rather than waiting for it to become a problem," he said.
"Compared to a person with a high blood pressure of 135/85, someone with an optimal reading of 110/70 was found to have a brain age that appears more than six months younger by the time they reach middle age."
The ANU team, in collaboration with colleagues in Australia, New Zealand and Germany, examined more than 2,000 brain scans of 686 healthy individuals aged 44 to 76.
The blood pressure of the participants was measured up to four times across a 12-year period. The brain scan and blood pressure data was used to determine a person's brain age, which is a measure of brain health.
Lead author, Professor Cherbuin, said the findings highlight a particular concern for young people aged in their 20s and 30s because it takes time for the effects of increased blood pressure to impact the brain.
"By detecting the impact of increased blood pressure on the brain health of people in their 40s and older, we have to assume the effects of elevated blood pressure must build up over many years and could start in their 20s. This means that a young person's brain is already vulnerable," he said.
Professor Abhayaratna said the research findings show the need for everyone, including young people, to check their blood pressure regularly.
"Australian adults should take the opportunity to check their blood pressure at least once a year when they see their GP, with an aim to ensure that their target blood pressure is closer to 110/70, particularly in younger and middle age groups," he said.
"If your blood pressure levels are elevated, you should take the opportunity to speak with your GP about ways to reduce your blood pressure, including the modification of lifestyle factors such as diet and physical activity."
Nicolas Cherbuin, Erin I. Walsh, Marnie Shaw, Eileen Luders, Kaarin J. Anstey, Perminder S. Sachdev, Walter P. Abhayaratna, Christian Gaser.
Optimal Blood Pressure Keeps Our Brains Younger.
Frontiers in Aging Neuroscience, 2021; 13 DOI:
10.3389/fnagi.2021.694982
'Pet Prep' Could Be Key To Disaster Survival
James Cook University researchers in Australia have discovered most pet owners have inadequate plans for their pets if a natural disaster strikes -- but disaster response planners may be able to turn this into a positive.
Dr Yetta Gurtner from JCU's Centre for Disaster Studies said it's well known that human-animal relationships can inhibit effective emergency responses and evacuations, and cause premature returns to dangerous areas.
She said the states and territories have many different policies regarding the accommodation of pets in emergency shelters.
"Given the varied contexts and capacities, people who own animals should seek advice from local authorities for up-to-date information specific to local circumstances.
"In the Townsville survey, 71 per cent indicated they were uncertain whether local government shelters allowed pets and almost 4 per cent believed, falsely, that companion animals other than recognised assistance animals were allowed in Queensland storm shelters," said Dr Gurtner.
She said if pet owners do not want to leave their pets behind if they need to evacuate in a disaster, they should ensure their plans include appropriate arrangements for their pets.
"The desire to safeguard animals in an emergency situation can ultimately result in human fatalities, and people who risk their safety for the welfare of animals remain a significant emergency management issue," said Dr Gurtner, who supervised the study.
The researchers conducted a survey of 242 pet owners in Townsville -- a city exposed to many natural disaster threats -- and found the majority of pet owners were uncertain or underprepared in the event of an emergency.
Dr Gurtner said about half indicated that they did not have a household disaster kit and/or evacuation plan, and of those who did, only 39 per cent included contingencies for the evacuation of all their pets.
"Importantly, 91 per cent indicated they would not be willing to leave pets behind," said Dr Gurtner.
She said other studies had found that only 70 per cent of people who were advised to leave their home during a disaster complied and many were unwilling to leave pets behind. In some cases, family members or carers stayed to protect their animals while the remainder of their household evacuated.
Dr Gurtner said the twin phenomena of under-preparedness for disaster and affection for pets may present an opportunity for emergency planners.
"Other researchers have suggested the 'pets as a protective factor' principle in which companion animal guardianship can actually motivate owners to be proactive in disaster risk management planning.
"They suggest that focusing on individual disaster preparedness 'for the sake of your pet' will deliver better engagement for planning for pet evacuation and self-reliance that will, in turn, yield higher human survival rates," said Dr Gurtner.
She said the states and territories have many different policies regarding the accommodation of pets in emergency shelters.
"Given the varied contexts and capacities, people who own animals should seek advice from local authorities for up-to-date information specific to local circumstances.
"In the Townsville survey, 71 per cent indicated they were uncertain whether local government shelters allowed pets and almost 4 per cent believed, falsely, that companion animals other than recognised assistance animals were allowed in Queensland storm shelters," said Dr Gurtner.
She said if pet owners do not want to leave their pets behind if they need to evacuate in a disaster, they should ensure their plans include appropriate arrangements for their pets.
Disclaimer: These articles are not intended to provide medical advice, diagnosis or treatment. Views expressed here do not necessarily reflect those of Pittwater Online News or its staff.