inbox and environment news: Issue 513
October 10 - 16, 2021: Issue 513
AMA Warns Against Privatising Aged Care Assessments
The AMA is urging the Australian Government to scrap plans that could potentially privatise the assessment process for aged care services, warning the move would risk the health of older Australians and open the system up to conflicts of interest.
The Government abandoned similar plans last year after strong opposition from state governments, aged care advocates and medical peak bodies.
AMA President Dr Omar Khorshid has written to the Minister for Senior Australians and Aged Care Services, the Hon Senator Richard Colbeck, expressing his concern with the market approach to aged care assessments.
The AMA has long supported a single assessment workforce but believes it must remain with the state and territory health services, and be based on Aged Care Assessment Teams (ACAT), rather than the Regional Assessment Services (RAS) model that only assesses lower needs.
While a proposal to replace ACATs and RAS with a single assessment process was a recommendation of the Royal Commission into Aged Care Quality and Safety, the Commissioners did not recommend privatisation.
The AMA says the Government's response, that will rely on a tender process, leaves assessments open to privatisation and conflicts of interest, with providers likely to seek to take on this role.
"Aged care assessments must remain independent of aged care providers and be delivered by health professionals, especially geriatricians who are trained in dealing with the complex medical needs of the frail and elderly," Dr Khorshid said.
"The Royal Commission's recommendation was very clear that assessors must be independent from providers because they are effectively deciding on a person's level of funding for aged care services like home care packages, among other things.  
"State operated public hospitals and ACATs have the necessary medical expertise and are independent of aged care providers, who should never be allowed to assess health needs as well as recommend and supply services for older Australians.
"A market-based approach is a recipe for aged care service providers to put profits before patients.   
"The Government's plan will see states and territories required to tender for a job they already do well, creating a whole lot of unnecessary inefficiency. It's a complete waste of time.
"Also, the Government's preferred approach risks around $130 million being stripped from the public health system to go to private providers, undermining the independence that currently exists.
"If an older person becomes unwell because their condition changes, something is missed during an assessment or the services they are referred to are not adequate, they will most likely end up in a public hospital and need to go through the same assessment process all over again.
"This adds extra bureaucracy, fragments care, and means poorer outcomes for patients. It would also put extra pressure on our already over-stretched public hospitals with older Australians waiting longer in hospital beds while an assessment with an external company is arranged.
"The intention of the Royal Commissioners was to reduce bureaucracy in getting better health care to our older loved ones, but these plans would do the opposite and potentially impact many more people through the increased inefficiency.
"The Government needs to focus on the many aspects of aged care that are currently not working, instead of dismantling one of the few parts of the system that actually works well and simply needs more support," Dr Khorshid said.  
Aged Care Provider Reports To Strengthen Individual Care
Food and nutrition for aged care residents across Australia will come into sharp focus as providers deliver their first reports under mechanisms to strengthen individual care.
In a continued response to the Royal Commission into Aged Care Quality and Safety, the online reporting will improve transparency and standards, as providers receive increased funding through the basic daily fee of $10 per resident per day.
Residential aged care providers were required to commit to reporting on their services, in particular food and nutrition, as a prerequisite to receiving the funding boost.
The initiative aims to improve and strengthen one-on-one care for senior and vulnerable Australians in residential aged care settings across the country, and is part of the overall $17.7 billion the Australian Government is providing in response to the Royal Commission report.
Minister for Health and Aged Care, Greg Hunt, and Minister for Senior Australians and Aged Care Services, Richard Colbeck, said 99 per cent of providers had taken up the 2021 Basic Daily Fee supplement, which requires a commitment from them to provide good quality services with a focus on food and nutrition.
"Such a strong take up must be commended and we now expect that all aged care providers will use these funds to deliver improved care, including food and nutrition, to senior Australians."
"Food and nutrition is so important to keep our senior Australians healthy. The Department of Health is working with dietitians and nutrition experts to ensure the reports capture useful information, and most importantly improves the health of people living in aged care."
Minister for Senior Australians and Aged Care Services, Richard Colbeck, said the 2021 Basic Daily Fee is part of a $3.22 billion investment by Government into residential aged care which includes the increased supplement.
In the first month alone, the Government has paid out over $53.7 million to support providers through the 2021 basic daily fee.
"This is a significant investment towards improving the care which senior Australians, their families and the community rightly expect in residential aged care," Minister Colbeck said.
The 2021 basic daily fee reporting process is now open through the My Aged Care portal and must be completed by 21 October 2021, recording expenditure and hours, including spending on food and ingredients.
"We also require providers to detail how they are working to improve their daily living service offerings including food and nutrition, to gauge how the sector is delivering more for the senior Australians in their care," Minister Colbeck said.
The information will be used to provide insights into sector trends, to inform future policy, and may be used by the Aged Care Quality and Safety Commission for the purposes of regulatory intelligence. It is intended sector wide information and insights on food and nutrition will be made publicly available.
Providers who do not submit a report by the due date will have their basic daily fee supplements suspended until the report is submitted. Given that there is no option for back-payment, providers are encouraged to submit these as soon as possible.
The Morrison Government is also investing a further $14.2 million to review and strengthen the quality standards in residential aged care, with a focus on governance, diversity, dementia, food and nutrition.
Hip Fracture Care – Not All It's Cracked Up To Be
Did you know twenty-thousand hip fractures occur each year in Australia and New Zealand, and five per cent of patients die of the injury?
Hip fracture is a common and life-changing injury for older people, whose bones are weaker and prone to breaking from a fall – and new research from the Australian and New Zealand Hip Fracture Registry (ANZHFR) reveals a significant difference in patient care across hospitals after a hip fracture.
Early walking is important in restoring movement and in reducing post-operative complication. It's recommended that hip fracture patients start walking the day after surgery and at least once a day after that. While it is reported that 90 per cent of people are offered this opportunity by their health care providers on the first day, only 47 per cent of people actually take it up.
Co-Chair of ANZHFR and Principal Research Fellow at NeuRA, Professor Jacqueline Close, said there is a huge difference between hospitals and their performance. While one hospital may get 90 per cent of their patients out of bed the day after surgery, another may get 20 to 30 per cent – and that can have serious consequences for patient recovery.
"The results show that there is work to be done to better understand why this variation exists between hospitals – as getting people moving after a hip fracture is key to achieving what is important to our patients – getting home and being independent," she said.
The ANZHFR report does show some ongoing improvements in several of the recommended patient pre-surgery assessments including cognition and delirium, and pain management.
The number of people leaving hospital after osteoporosis treatment is still low (27 per cent), without much improvement over time.
The data from this year's report will be used to provide feedback to the stakeholders of the Registry, so that the outcomes of hip fracture care continue to improve across Australia and New Zealand.
The hip is made up of a ball and socket joint where the pelvis and thigh bone (femur) meet. When the thigh bone breaks near where the ball fits into the socket, this is known as a hip fracture.
What causes a hip fracture?
A fall is the most common cause of a hip fracture. As we get older, our strength and balance can reduce and our bones become thinner due to conditions like osteoporosis. This means that we are more likely to fall and when we do, our bones more likely to break – a fall from standing height can sometimes be enough to cause a fracture.
What is the treatment for a hip fracture?
Most people need an operation to fix the broken bone, relieve pain and enable them to get back on their feet as soon as possible.
The type of operation required depends on which part of the hip has been broken and includes:
A partial hip replacement for the ball
A total hip replacement for both the ball and socket
Screws and possibly a plate to hold the fracture in place
A metal rod through the thigh bone to secure the fracture
For some, surgery may not be the best option, so it is recommended to speak to your healthcare provider first.
Nominations Open For Australia's First Council Of Elders On Aged Care
Nominations are now open for members of Australia's first-ever Council of Elders – a panel of representatives charged with providing advice and feedback on aged care issues around the country.
In another important response to the Royal Commission into Aged Care Quality and Safety, the council will be established as part of the Australian Government's comprehensive $17.7 billion reinforcement of the sector.
Minister for Health and Aged Care, Greg Hunt, and Minister for Senior Australians and Aged Care Services, Richard Colbeck, said in keeping with both awareness initiatives, the Council of Elders will ensure older Australians and the issues they face, are at the heart of Australia's generational reforms.
"Our aged care reforms are all about providing respect, care and dignity to senior Australians, and we want to ensure the voices of those senior Australians are heard at the highest levels in this process," Minister Hunt said.
"The Council of Elders will have about 10 members appointed from nominations right across Australia, including rural, regional and remote areas."
Successful nominees will represent the diverse life experiences and characteristics of senior Australians and bring the views and perspectives of others to the table.
"The Council of Elders will be consumer focused," Minister Hunt said. 'Its members will be independent of government and must not be affiliated with aged care services providers'.
Council members will have a lived understanding of aged care and must be able to engage with their community, the Government and ministers on aged care reforms.
Minister Colbeck said in addition to public nominations, interest had also been sought from peak bodies and community organisations representing senior Australians.
"Council of Elders members are expected to represent the views of older Australians, so they will remain independent of any of the organisations that may put their name forward," Minister Colbeck said.
"The guidance and feedback from council members will help keep us on track as the Morrison Government continues to work closely with aged care stakeholders and providers on a path to offering higher-quality individual needs-based care."
The Council of Elders will provide advice to the Minister for Health and Aged Care and the Minister for Senior Australians and Aged Care Services, and also to the National Aged Care Advisory Council (NACAC) which is also being established under the aged care reforms.
The Council of Elders chair will also have a seat on the NACAC to directly share the perspective of senior Australians with this group.
Information relating to nominations can be
found here
.
The nomination process will close 15 October 2021
, with the membership of the Council of Elders to be announced later this year.
The Historic Palm Grove At The Royal Botanic Garden Sydney
Published October 6, 2021 by the Royal Botanic Gardens and Domain
Take a virtual tour of one of our oldest and most valuable collections of plants. First planted with palms in 1862, our Palm Grove contains over 300 species of palms from all around the world.
Aged Care Residents To Welcome Back Visitors
Aged care facilities across Australia will be opened to visitors under a plan agreed to by National Cabinet.
IN NSW From 11 October 2021 two visitors per day aged 12 years and over will be permitted to visit a resident in an aged care facility if they are fully vaccinated and their second dose was received at least 14 days prior to their visit. Children under 12 are not be permitted to enter an aged care facility.
By 31 October 2021 any health practitioners attending a residential aged care facility under arrangement by the resident must have at least 1 dose of a COVID-19 vaccination.
Greater Sydney still includes Wollongong and the Blue Mountains.
The Australian Health Protection Principal Committee (AHPPC), has outlined the principles to remove restrictions on visitation to residential aged care facilities.
Minister for Health and Aged Care, Greg Hunt, and Minister for Senior Australians and Aged Care Services, Richard Colbeck welcomed the endorsement of these principles saying it marked an important opportunity to reduce the impacts of social isolation in residential care settings.
"Aged care providers have a responsibility to support the wellbeing of their residents and we know this can be improved through face-to-face visitors, whether it be family, friends, advocates or people providing cultural or community support," Minister Hunt said.
"Older people in residential care should be able to take advantage of reduced restrictions and participate in activities outside facilities such as outdoor exercise and visits with friends and family.
"We encourage states and territories to implement these principles through their public health orders, following a similar easing of visitor restrictions in New South Wales."
Two fully vaccinated visitors at one time will be welcomed back for each resident across the state from 11 October.
Under the advice to National Cabinet, the AHPPC strongly encourages all visitors in other states and territories to receive both jabs before the consider visiting a loved one.
A move to mandatory vaccination for visitors may be considered later.
While the AHPPC acknowledges re-opening visitation may increase the risk of COVID-19 cases in facilities, it says decisions to limit visitation must be proportionate and take into account the impacts of social isolation on resident health and wellbeing.
Access should only be limited in accordance with best practice management if a facility is affected by an outbreak in the local area.
Minister Colbeck said the majority of providers had already shown leadership when it came to implementing infectious control plans.
"Providers and residential aged care administrators should carefully follow this advice and ensure that access by visitors is undertaken using appropriate COVID-safe precautions such as location check-in, social distancing, and the appropriate use of personal protective equipment," Minister Colbeck said.
In addition, AHPPC recommends providers should consider offering infection prevention and control advice and training to regular visitors so they can be aware of the precautions used in the RACF.
Work to update visitation guidelines will also be undertaken including updates to the Industry Code for Visiting Residential Aged Care Homes during COVID-19 and the National Aged Care Visitation Guidelines.
Jurisdiction specific plans will also consider aged care visitation as part of a broader strategy for when community vaccination targets are achieved.
Minister Colbeck said increasing COVID-19 vaccination rates in the community meant the risk to older people of serious illness or death was reduced.
"Importantly, as at 1 October, 86.5 per cent of residents and 83.8 per cent of residential aged care workers are fully vaccinated," Minister Colbeck said.
"Where restrictions have been reduced, I urge residential aged care providers to take every step to support visitors such as screening visitors at entry, encouraging the use of masks, and monitoring the use of common areas to support social distancing."
The Industry Code for Visiting Residential Aged Care Homes during COVID-19 can be
found here
.
Australian Native Bees On The Brink After 2019/2020 Fires
The number of threatened Australian native bee species is expected to increase by nearly five times after the devastating Black Summer bushfires in 2019-20, new research led by Flinders University has found
.
With 24 million hectares of Australia's land area burnt, researchers say the casualties are clear among bee fauna and other insects and invertebrates after studying 553 species (about one-third of Australia's known bee species) to assess the long-term environmental damage from the natural disaster.
"Our research is a call for action, from governments and policymakers, to immediately help these and other native populations most in danger," says lead author Flinders University PhD candidate James Dorey, who is now a postdoctoral researcher at the Yale University Center for Biodiversity and Global Change.
Of the bees studied, nine species were assessed as Vulnerable and two more Endangered as a result of the multiple fire fronts in the 2019-20 bushfires that also destroyed approximately 3000 homes and killed or displaced an estimated 3 billion animals.
The new study published in Global Change Biology warns widespread wildfire and forest fire damage is being repeated all around the world, from North America and Europe to the Congo and Asia, causing catastrophic impacts on biodiversity and sudden and marked reduction in population sizes of many species.
"In these circumstances, there is a need for government and land managers to respond more rapidly to implement priority conservation management actions for the most-affected species in order to help prevent extinctions," says Mr Dorey.
"Conserving insects and other less visible taxa should also be a factor in restoring and preserving some of the hundreds of bees that may not yet have been studied or recorded."
He says the study forms a foundation for assessment of other taxa in Australia or on other continents where species are understudied and not registered on datasets or by the International Union for Conservation of Nature Red List of Threatened Species (IUCN Red List).
"Climate change is increasing the frequency of natural disasters like wildfire, which impacts our wildlife," says fellow author Dr Stefan Caddy-Retalic, from The University of Adelaide and University of Sydney.
"Our study shows that we can assess the likely impact of natural disasters on poorly studied species, even when we can't physically visit the field to do surveys."
"Listing severely-impacted species on the IUCN red list and under Australian law represents our best approach to lobby governments to act," he says, adding native bees are very important providers of ecosystem services including pollination, but most are poorly known.
"Most people aren't aware of just how vulnerable our native bees are because they are not widely studied," adds Flinders University researcher Olivia Davies, another of the 13 authors on the major paper. "The fact that no Australian bees are listed by the IUCN shows just how neglected these important species are."
The study, which recommends 11 Australian bee species (just 2% of those analysed) as priority taxa for listing as IUCN Threatened species, also demonstrates a new model for "using the data we already have to understand how natural disasters are likely to impact key species and their ecosystems."
"Being able to collect targeted data will always be the gold standard but we shouldn't let data gaps stop us from acting to protect species we know are vulnerable," Dr Dorey concludes.
The collaborative study includes researchers from Flinders University's Laboratory of Evolutionary Genetics and Sociality, the South Australian Museum, University of Adelaide, Curtin University, University of Sydney, University of Melbourne, Murdoch University and Charles Darwin University.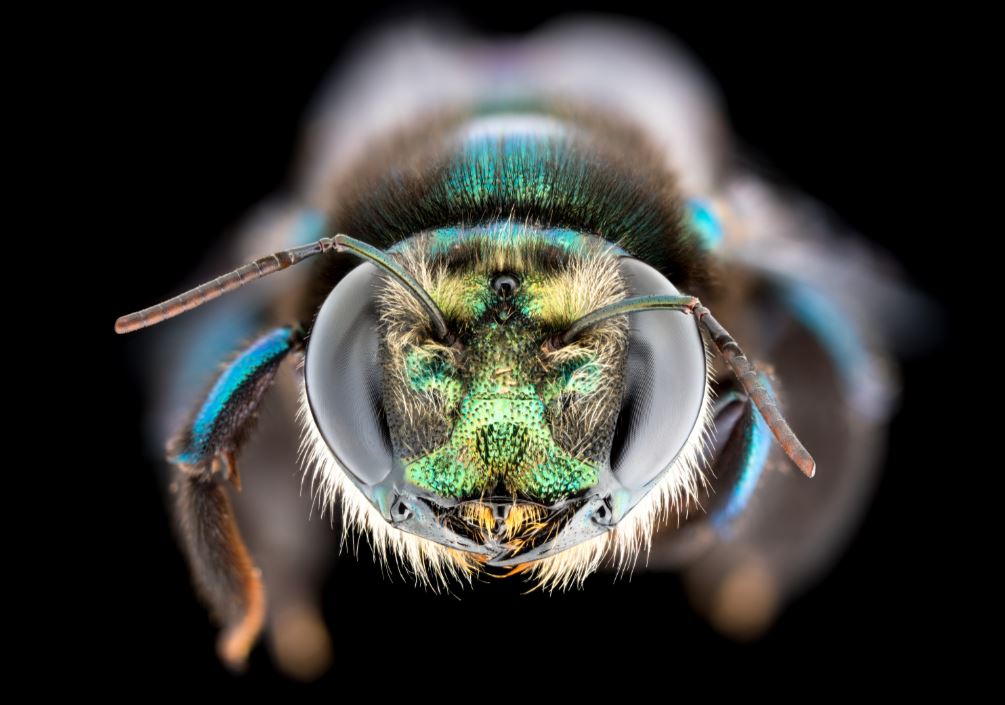 Closeup of a golden-green carpenter bee. James Dorey Photography

James B. Dorey, Celina M. Rebola, Olivia K. Davies, Kit S. Prendergast, Ben A. Parslow, Katja Hogendoorn, Remko Leijs, Lucas R. Hearn, Emrys J. Leitch, Robert L. O'Reilly, Jessica Marsh, John C. Z. Woinarski, Stefan Caddy‐Retalic.
Continental risk assessment for understudied taxa post‐catastrophic wildfire indicates severe impacts on the Australian bee fauna.
Global Change Biology, 2021; DOI:
10.1111/gcb.15879
Earliest Evidence Yet Of Huge Hippos In Britain
Palaeobiologists have unearthed the earliest evidence yet of hippos in the UK.
Excavations at Westbury Cave in Somerset, led by University of Leicester PhD student Neil Adams, uncovered a million-year-old hippo tooth which shows the animal roamed Britain much earlier than previously thought.
In a new study published in the Journal of Quaternary Science and co-authored with researchers from Royal Holloway, University of London, the tooth is identified as belonging to an extinct species of hippo called Hippopotamus antiquus, which ranged across Europe in warm periods during the Ice Age.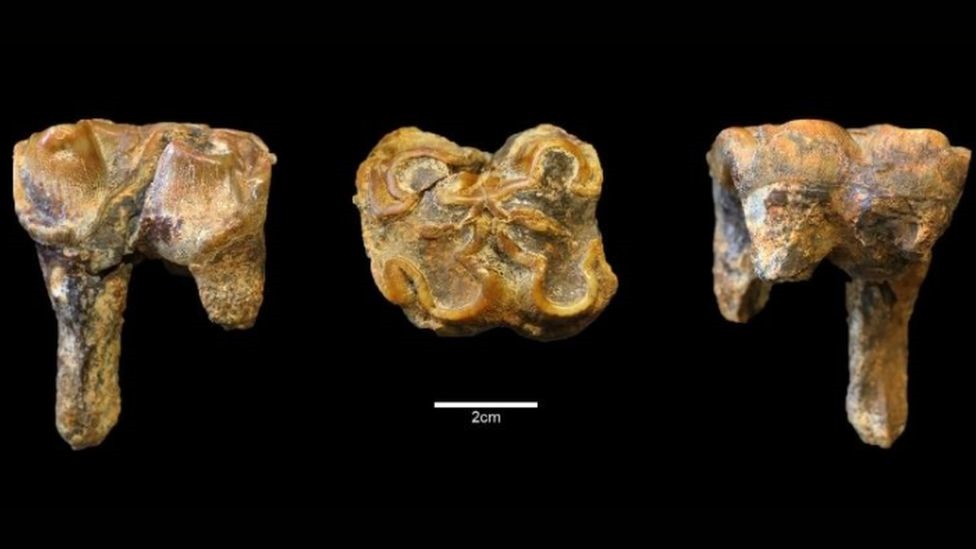 Credit: University of Leicester/Neil Adams

It was much larger than the modern African hippo, weighing around 3 tonnes, and was even more reliant on aquatic habitats than its living relative.
Research demonstrates that the fossil is over one million years old, eclipsing the previous record of hippo in the UK by at least 300,000 years and filling an important gap in the British fossil record.
Neil Adams, PhD researcher in the Centre for Palaeobiology Research at the University of Leicester and Earth Collections Project Officer at the Oxford University Museum of Natural History, said:
"It was very exciting to come across a hippo tooth during our recent excavations at Westbury Cave. It is not only the first record of hippo from the site, but also the first known hippo fossil from any site in Britain older than 750,000 years.
"Erosion caused by the coming and going of ice sheets, as well as the gradual uplift of the land, has removed large parts of the deposits of this age in Britain. Our comparisons with sites across Europe show that Westbury Cave is an important exception and the new hippo dates to a previously unrecognised warm period in the British fossil record."
Scientists know remarkably little about the fauna, flora and environments in Britain between about 1.8 and 0.8 million years ago, a key period when early humans were beginning to occupy Europe.
But new research at Westbury Cave is helping to fill in this gap. It shows that during this interval there were periods warm and wet enough to allow hippos to migrate all the way from the Mediterranean to southern England.
Professor Danielle Schreve, Professor of Quaternary Science at Royal Holloway and co-author of the study, said:
"Hippos are not only fabulous animals to find but they also reveal evidence about past climates. Many megafaunal species (those over a tonne in weight) are quite broadly tolerant of temperature fluctuations but in contrast, we know modern hippos cannot cope with seasonally frozen water bodies.
"Our research has demonstrated that in the fossil record, hippos are only found in Britain during periods of climatic warmth, when summer temperatures were a little warmer than today but most importantly, winter temperatures were above freezing."
By examining the European fossil record, the research team show that the Westbury Cave hippo was likely to have lived during a particularly warm period around 1.1 to 1.0 million years ago.
Hippo remains of this age are known from Germany, France and the Netherlands and the new fossil from Somerset represents a previously unknown part of this colonisation of northwest Europe.
Neil F. Adams, Ian Candy, Danielle C. Schreve.
An Early Pleistocene hippopotamus from Westbury Cave, Somerset, England: support for a previously unrecognized temperate interval in the British Quaternary record.
Journal of Quaternary Science, 04 October 2021 DOI:
10.1002/jqs.3375
Hidden Mangrove Forest In The Yucatan Peninsula Reveals Ancient Sea Levels
Deep in the heart of the Yucatan Peninsula, an ancient mangrove ecosystem flourishes more than 200 kilometres (124 miles) from the nearest ocean. This is unusual because mangroves -- salt-tolerant trees, shrubs, and palms -- are typically found along tropical and subtropical coastlines.
A new study led by researchers across the University of California system in the United States and researchers in Mexico focuses on this luxuriant red mangrove forest. This "lost world" is located far from the coast along the banks of the San Pedro Martir River, which runs from the El Petén rainforests in Guatemala to the Balancán region in Tabasco, Mexico.
An aerial view of the San Pedro Mártir River in Tabasco, Mexico. Credit: Octavio Aburto
Because the red mangrove (Rhizophora mangle) and other species present in this unique ecosystem are only known to grow in salt water or somewhat salty water, the binational team set out to discover how the coastal mangroves were established so deep inland in fresh water completely isolated from the ocean. Their findings were published Oct. 4 in the Proceedings of the National Academy of Sciences.
Integrating genetic, geologic, and vegetation data with sea-level modelling, the study provides a first glimpse of an ancient coastal ecosystem. The researchers found that the San Pedro mangrove forests reached their current location during the last interglacial period, some 125,000 years ago, and have persisted there in isolation as the oceans receded during the last glaciation.
The study provides a snapshot of the global environment during the last interglacial period, when the Earth became very warm and polar ice caps melted entirely, making global sea levels much higher than they are today.
"The most amazing part of this study is that we were able to examine a mangrove ecosystem that has been trapped in time for more than 100,000 years," said study co-author Octavio Aburto-Oropeza, a marine ecologist at Scripps Institution of Oceanography at UC San Diego and a PEW Marine Fellow. "There is certainly more to discover about how the many species in this ecosystem adapted throughout different environmental conditions over the past 100,000 years. Studying these past adaptations will be very important for us to better understand future conditions in a changing climate."
Combining multiple lines of evidence, the study demonstrates that the rare and unique mangrove ecosystem of the San Pedro River is a relict -- that is, organisms that have survived from an earlier period -- from a past warmer world when relative sea levels were six to nine meters (20 to 30 feet) higher than at present, high enough to flood the Tabasco lowlands of Mexico and reach what today are tropical rainforests on the banks of the San Pedro River.
The study highlights the extensive landscape impacts of past climate change on the world's coastlines and shows that during the last interglacial, much of the Gulf of Mexico coastal lowlands were under water. Aside from providing an important glimpse of the past and revealing the changes suffered by the Mexican tropics during the ice ages, these findings also open opportunities to better understand future scenarios of relative sea-level rise as climate change progresses in a human-dominated world.
Carlos Burelo, a botanist at the Universidad Juárez Autónoma de Tabasco and a native of the region, drew the attention of the rest of the team towards the existence of this relict ecosystem in 2016. "I used to fish here and play on these mangroves as a kid, but we never knew precisely how they got there," said Burelo. "That was the driving question that brought the team together."
Burelo's field work and biodiversity surveys in the region established the solid foundation of the study. His remarkable discovery of the ancient ecosystem is documented in "Memories of the Future: the modern discovery of a relict ecosystem," an award-winning short film produced by Scripps alumnus Ben Fiscella Meissner (MAS MBC '17).
Felipe Zapata and Claudia Henriquez of UCLA led the genetic work to estimate the origin and age of the relict forest. Sequencing segments of the genomes of the red mangrove trees, they were able to establish that this ecosystem migrated from the coasts of the Gulf of Mexico into the San Pedro River over 100,000 years ago and stayed there in isolation after the ocean receded when temperatures dropped. While mangroves are the most notable species in the forest, they found nearly 100 other smaller species that also have a lineage from the ocean.
"This discovery is extraordinary," said Zapata. "Not only are the red mangroves here with their origins printed in their DNA, but the whole coastal lagoon ecosystem of the last interglacial has found refuge here."
Paula Ezcurra, science program manager at the Climate Science Alliance, carried out the sea-level modeling, noting that the coastal plains of the southern Gulf of Mexico lie so low that a relatively small change in sea level can produce dramatic effects inland. She said a fascinating piece of this study is how it highlights the benefits of working collaboratively among scientists from different disciplines.
"Each piece of the story alone is not sufficient, but when taken together, the genetics, geology, botany, and field observations tell an incredible story. Each researcher involved lent their expertise that allowed us to uncover the mystery of a 100,000+ year-old forest," said Ezcurra, an alumna of Scripps Oceanography (MAS CSP '17).
The field work was led by the ecologists on the team -- Octavio Aburto-Oropeza, Paula Ezcurra, Exequiel Ezcurra of UC Riverside, and Sula Vanderplank of Pronatura Noroeste. Visiting the study sites several times starting in 2016, they collected rocks, sediments and fossils to analyze in the lab, helping them pinpoint evidence from the past that is consistent with a marine environment.
The authors note that the region surrounding the study sites was systematically deforested in the 1970s by a misguided development plan; the banks of the San Pedro River were only spared because the bulldozers could not reach it. The area is still threatened by human activities, so the researchers stressed the need to protect this biologically important area in the future.
"We hope our results convince the government of Tabasco and Mexico's environmental administration of the need to protect this ecosystem," they said. "The story of Pleistocene glacial cycles is written in the DNA of its plants waiting for scientists to decipher it but, more importantly, the San Pedro mangroves are warning us about the dramatic impact that climate change could have on the coastal plains of the Gulf of Mexico if we do not take urgent action to stop the emission of greenhouse gases."
Octavio Aburto-Oropeza, Carlos Manuel Burelo-Ramos, Exequiel Ezcurra, Paula Ezcurra, Claudia L. Henriquez, Sula E. Vanderplank, and Felipe Zapata.
Relict inland mangrove ecosystem reveals Last Interglacial sea levels.
PNAS, 2021 DOI:
10.1073/pnas.2024518118
Exposure To Deadly Urban Heat Worldwide Has Tripled In Recent Decades
A new study of more than 13,000 cities worldwide has found that the number of person-days in which inhabitants are exposed to extreme combinations of heat and humidity has tripled since the 1980s. The authors say the trend, which now affects nearly a quarter of the world's population, is the combined result of both rising temperatures and booming urban population growth. The study was published today in the Proceedings of the National Academy of Sciences.
Over recent decades, hundreds of millions have moved from rural areas to cities, which now hold more than half the world's population. There, temperatures are generally higher than in the countryside, because of sparse vegetation and abundant concrete, asphalt and other impermeable surfaces that tend to trap and concentrate heat -- the so-called urban heat island effect.
"This has broad effects," said the study's lead author, Cascade Tuholske, a postdoctoral researcher at Columbia University's Earth Institute. "It increases morbidity and mortality. It impacts people's ability to work, and results in lower economic output. It exacerbates pre-existing health conditions."
The researchers combined infrared satellite imagery and readings from thousands of ground instruments to determine maximum daily heat and humidity readings in 13,115 cities, from 1983 to 2016. They defined extreme heat as 30 degrees Centigrade on the so-called "wet-bulb globe temperature" scale, a measurement that takes into account the multiplier effect of high humidity on human physiology. A wet-bulb reading of 30 is the rough equivalent of 106 degrees Fahrenheit on the so-called "real feel" heat index -- the point at which even most healthy people find it hard to function outside for long, and the unhealthy might become very ill or even die.
To come up with a measure of person-days spent in such conditions, the researchers matched up the weather data with statistics on the cities' populations over the same time period. The population data was provided in part by Columbia's Center for International Earth Science Information Network, where Tuholske is based.
The analysis revealed that the number of person-days in which city dwellers were exposed went from 40 billion per year in 1983 to 119 billion in 2016 -- a threefold increase. By 2016, 1.7 billion people were being subjected to such conditions on multiple days.
Sheer urban population growth accounted for two-thirds of the exposure spike, while actual warming contributed a third. That said, the proportions varied from region to region and city to city.
The most-affected cities tend to cluster in the low latitudes, but other areas are being affected, too. The worst-hit city in terms of person-days was Dhaka, the fast-growing capital of Bangladesh; it saw an increase of 575 million person-days of extreme heat over the study period. Its ballooning population alone -- 4 million in 1983, to 22 million today -- caused 80 percent of the increased exposure. This does not mean that Dhaka did not see substantial warming -- only that population growth was even more rapid. Other big cities showing similar population-heavy trends include Shanghai and Guangzhou, China; Yangon, Myanmar; Bangkok; Dubai; Hanoi; Khartoum; and various cities in Pakistan, India and the Arabian Peninsula.
On the other hand, some other major cities saw close to half or more of their exposure caused by warming climate alone versus population growth. These included Baghdad, Cairo, Kuwait City, Lagos, Kolkata, Mumbai, and other big cities in India and Bangladesh. The populations of European cities have been relatively static, so increases in exposure there were driven almost exclusively by increased warmth. The researchers found that 17 percent of the cities studied added an entire month of extreme-heat days over the 34-year study period.
"A lot of these cities show the pattern of how human civilization has evolved over the past 15,000 years," said Tuholske, pointing out that many are located in warm climates where humidity is delivered by big river systems. This made them attractive for farming and eventually urbanization. "The Nile, the Tigris-Euphrates, the Ganges. There is a pattern to the places where we wanted to be," he said. "Now, those areas may become uninhabitable. Are people really going to want to live there?"
In the United States, about 40 sizable cities have seen rapidly growing exposure, mainly clustered in Texas and the Gulf Coast. In many, the causes of the rises have been varying combinations of both increasing population and increasing heat. These include Houston, Dallas-Fort Worth, San Antonio and Austin, Tex., along with Pensacola and other cities in Florida. In some, population growth is the main driver. These include Las Vegas; Savannah, Ga.; and Charleston, S.C. In others, it is almost exclusively fast-rising heat: Baton Rouge, La.; Gulfport, Miss.; and Lake Charles and Houma, La. One major outlier: the bayside city of Providence, R.I., where rising exposure was 93 percent due to warmer, more humid weather.
Because the period covered by the study ran only through 2016, the data did not include the series of record heat waves that raked the U.S. Northwest and southern Canada this summer, killing hundreds of people.
The study is not the first to document the dangers of excessive urban heat; among others, last year a separate Earth Institute team showed that combinations of heat and humidity literally beyond the limits of outdoor human survival have been briefly popping up around the world. The newer study led by Tuholske adds to the picture by quantifying on a granular level how many people are being affected in each location, and the degree to which exposure is being driven by population versus climate. The authors say this information should help urban planners come up with better-targeted strategies to help citizens adapt.
Kristina Dahl, a climate researcher at the Union of Concerned Scientists, said the study "could serve as a starting point for identifying ways to to address local heat issues," such as planting trees and modifying rooftops with lighter colours or vegetation so they don't trap so much heat. "This study shows that it will take considerable, conscientious investments to ensure that cities remain liveable in the face of a warming climate," she added.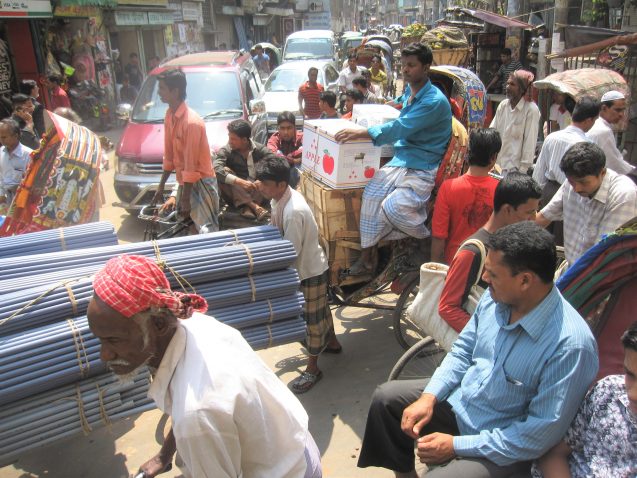 Above; street scene in Dhaka, the densely packed capital of Bangladesh. It has been getting hotter there, but population growth is even more rapid—five times over since the 1980s. (Kevin Krajick/Earth Institute)

Cascade Tuholske, Kelly Caylor, Chris Funk, Andrew Verdin, Stuart Sweeney, Kathryn Grace, Pete Peterson, Tom Evans.
Global urban population exposure to extreme heat
. Proceedings of the National Academy of Sciences, 2021; 118 (41): e2024792118 DOI:
10.1073/pnas.2024792118
Sandwich-Style Construction: Toward Ultra-Low-Energy Exciton Electronics
A new 'sandwich-style' fabrication process placing a semiconductor only one atom thin between two mirrors has allowed Australian researchers to make a significant step towards ultra-low energy electronics based on the light-matter hybrid particles exciton-polaritons.
The breakthrough, led by the Australian National University, demonstrated robust, dissipationless propagation of an exciton mixed with light bouncing between the high-quality mirrors.
Conventional electronics relies on flowing electrons, or 'holes' (a hole is the absence of an electron, ie a positively-charged quasiparticle).
However, a major field of future electronics focusses instead on use of excitons (an electron bound to a hole) because, in principle, they could flow in a semiconductor without losing energy by forming a collective superfluid state. And excitons in novel, actively studied atomically-thin semiconductors are stable at room temperature.
Atomically-thin semiconductors are thus a promising class of materials for low-energy applications such as novel transistors and sensors. However, precisely because they are so thin, their properties, including the flow of excitons, are strongly affected by disorder or imperfections, which can be introduced during fabrication.
The ANU-led FLEET team -- with colleagues at Swinburne University and FLEET Partner institution Wroclaw University -- has coupled the excitons in an atomically-thin material to light to demonstrate for the first time their long-range propagation without any dissipation of energy, at room temperature.
When an exciton (matter) binds with a photon (light), it forms a new hybrid particle -- an exciton-polariton. Trapping light between two parallel high-quality mirrors in an optical microcavity allows this to happen.
In the new study, a new 'sandwich-style' fabrication process for the optical microcavity allowed the researchers to minimise damage to the atomically-thin semiconductor and to maximise the interaction between the excitons and the photons. The exciton-polaritons formed in this structure were able to propagate without energy dissipation across tens of micrometres, the typical scale of an electronic microchip.
MICROCAVITY CONSTRUCTION IS THE KEY
A high-quality optical microcavity that ensures the longevity of light (photonic) component of exciton-polaritons is the key to these observations.
The study found that exciton-polaritons can be made remarkably stable if the microcavity is constructed in a particular way, avoiding damage of the fragile semiconductor sandwiched between the mirrors during fabrication.
"The choice of the atomically-thin material in which the excitons travel is far less important," says lead and corresponding author Matthias Wurdack.
"We found that construction of that microcavity was the key," says Matthias, "And while we used tungsten sulfide (WS2) in this particular experiment, we believe any other atomically-thin TMDC material would also work."
(Transition metal dichalcogenides are excellent hosts for excitons, hosting excitons that are stable at room temperature and interact strongly with light).
The team built the microcavity by stacking all its components one by one. First, a bottom mirror of the microcavity is fabricated, then a semiconductor layer is placed onto it, and then the microcavity is completed by placing another mirror on top. Critically, the team did not deposit the upper mirror structure directly onto the notoriously fragile atomically-thin semiconductor, which is easily damaged during any material deposition process.
"Instead, we fabricate the entire top structure separately, and then place it on top of the semiconductor mechanically, like making a sandwich," says Matthias.
"Thus we avoid any damage to the atomically-thin semiconductor, and preserve the properties of its excitons."
Importantly, the researchers optimised this sandwiching method to make the cavity very short, which maximized the exciton-photon interaction.
"We also benefitted from a bit of serendipity," say Matthias. "An accident of fabrication that ended up being key to our success!"
The serendipitous 'accident' came in the form of an air gap between the two mirrors, making them not strictly parallel.
This wedge in the microcavity creates a voltage/potential 'slope' for the exciton-polaritons, with the particles moving either up or down the incline.
The researchers discovered that a proportion of exciton-polaritons travel with conservation of total (potential and kinetic) energy, both up and down the incline. Travelling down the slope, they convert their potential energy into equal amount of kinetic energy, and vice versa.
That perfect conservation of total energy means no energy is being lost in heat (due to 'friction'), which signals 'ballistic' or dissipationless transport for polaritons. Even though the polaritons in this study do not form a superfluid, the absence of dissipation is achieved because all scattering processes that lead to energy loss are suppressed.
"This demonstration, for the first time, of ballistic transport of room-temperature polaritons in atomically-thin TMDCs is a significant step towards future, ultra-low energy exciton-based electronics," says group leader Prof Elena Ostrovskaya (ANU).
Apart from creating the potential "slope," that same fabrication accident created a potential well for exciton-polaritons. This enabled the researchers to catch and accumulate the travelling exciton-polaritons in the well -- an essential first step for trapping and guiding them on a microchip."
LONG-RANGE, ROOM-TEMPERATURE FLOW OF EXCITON-POLARITONS
Furthermore, the researchers confirmed that exciton-polaritons can propagate in the atomically-thin semiconductor for tens of micrometres (easily far enough for functional electronics), without scattering on material defects. This is in contrast to excitons in these materials, the travel length of which is dramatically reduced by these defects.
Moreover, the exciton-polaritons were able to preserve their intrinsic coherence (correlation between signal at different points in space and time), which bodes well for their potential as information carriers.
"This long-range, coherent transport was achieved at room temperature, which is important for development of practical applications of atomically-thin semiconductors" said Matthias Wurdack.
If future excitonic devices are to be a viable, low-energy alternative to conventional electronic devices, they must be able to operate at room temperature, without the need for energy-intensive cooling.
"In fact, counterintuitively, our calculations show that the propagation length is getting longer at higher temperatures, which is important for technological applications," said Matthias.
As well as funding from the Australian Research Council (Centre of Excellence program) the authors also acknowledge the technical support for sample fabrication from the Australian National Fabrication Facility (ANFF) ACT node, support by the Foundation for Polish Science (FNP) START program, and European Research Council (ERC) UnLimit2D project.
The dissipationless transport of exciton-polaritons is one candidate physical phenomena in realising a low-energy exciton transistor.
Prof Ostrovskaya leads FLEET's research theme 2, which seeks to create exciton-polariton condensates (collective states that can display superfluidity) in atomically-thin semiconductors to achieve electrical current flow with minimal wasted dissipation of energy in a proposed new generation of near-zero resistance, ultra-low energy electronic devices, sought by FLEET.
M. Wurdack, E. Estrecho, S. Todd, T. Yun, M. Pieczarka, S. K. Earl, J. A. Davis, C. Schneider, A. G. Truscott, E. A. Ostrovskaya.
Motional narrowing, ballistic transport, and trapping of room-temperature exciton polaritons in an atomically-thin semiconductor.
Nature Communications, 2021; 12 (1) DOI:
10.1038/s41467-021-25656-7
Ultra-Short Flashes Of Light Illuminate A Possible Path To Future Beyond-CMOS Electronics
Ultrashort pulses of light are proven indistinguishable from continuous illumination, in terms of controlling the electronic states of atomically-thin material tungsten disulfide (WS2).
A new, Swinburne-led study proves that ultrashort pulses of light can be used to drive transitions to new phases of matter, aiding the search for future Floquet-based, low-energy electronics.
There is significant interest in transiently controlling the band-structure of a monolayer semiconductor by using ultra-short pulses of light to create and control exotic new phases of matter.
The resulting temporary states known as Floquet-Bloch states are interesting from a pure research standpoint as well as for a proposed new class of transistor based on Floquet topological insulators (FTIs).
In an important finding, the ultra-short pulses of light necessary for detecting the formation of Floquet states were shown to be as effective in triggering the state as continuous illumination, an important question that, until now, had been largely ignored.
A CONTINUOUS WAVE OR ULTRASHORT-PULSES: THE PROBLEM WITH TIME
Floquet physics, which has been used to predict how an insulator can be transformed into an FTI, is predicated on a purely sinusoidal field, ie continuous, monochromatic (single wavelength) illumination that has no beginning or end.
To observe this phase transition, however, only ultrashort pulses offer sufficient peak intensities to produce a detectable effect. And there's the rub.
Turning even the purest light source on or off introduces a wide range of additional frequencies to the light's spectrum; the more abrupt the switching, the more broadband the spectrum. As a result, ultrashort pulses like those used here don't conform to the assumptions upon which Floquet physics is based.
"Ultrashort pulses are about as far as you can possibly get from a monochromatic wave," says Dr Stuart Earl at Swinburne University of Technology (Australia).
"However, we've now shown that even with pulses shorter than 15 optical cycles (34 femtoseconds, or 34 millionths of a billionth of a second), that just doesn't matter."
PUMP-PROBE SPECTROSCOPY OF ATOMIC MONOLAYER ELICITS AN INSTANTANEOUS RESPONSE
Dr Earl, with collaborators from the Australian National University and the ARC Centre for Future Low-Energy Electronic Technologies (FLEET), subjected an atomic monolayer of tungsten-disulfide (WS2) to light pulses of varying length but the same total energy, altering the peak intensity in a controlled manner.
WS2 is a transition metal dichalcogenide (TMD), a family of materials investigated for use in future 'beyond CMOS' electronics.
The team used pump-probe spectroscopy to observe a transient shift in the energy of the A exciton of WS2 due to the optical Stark effect (the simplest realisation of Floquet physics). Thanks to their use of a sub-bandgap pump pulse, the signal they measured, which persisted only for as long as the pulse itself, was due to interactions between equilibrium and photon-dressed virtual states within the sample.
"It might sound odd that we can harness virtual states to manipulate a real transition" says Dr Earl. "But because we used a sub-bandgap pump pulse, no real states were populated."
"The WS2 responded instantaneously, but more significantly, its response depended linearly on the instantaneous intensity of the pulse, just as if we'd turned on a monochromatic field infinitely slowly, that is, adiabatically" explains Professor Jeff Davis, also at Swinburne University of Technology. "This was an exciting finding for our team. Despite the pulses being extremely short, the states of the system remained coherent"
An adiabatic perturbation is one that is introduced extremely slowly, so that the states of the system have time to adapt, a crucial requirement for FTIs. While ultrashort pulses shouldn't be compatible with this requirement, this result provides clear evidence that for these atomic monolayers, they do. This now enables the team to attribute any evidence of non-adiabatic behaviour to the sample, rather than to their experiment.
These findings now enable the FLEET team to explore Floquet-Bloch states in these materials with an above-bandgap pulse, which, theoretically, should drive the material into the exotic phase known as a Floquet topological insulator. Understanding this process should then help researchers to incorporate these materials into a new generation of low-energy, high-bandwidth, and potentially ultrafast, transistors.
Systems exhibiting dissipationless transport when driven out of equilibrium are studied within FLEET's Research theme 3, seeking new, ultra-low energy electronics to address the rising, unsustainable energy consumed by computation (already 8% of global electricity, and doubling every decade).
S. K. Earl, M. A. Conway, J. B. Muir, M. Wurdack, E. A. Ostrovskaya, J. O. Tollerud, J. A. Davis.
Coherent dynamics of Floquet-Bloch states in monolayer WS2 reveals fast adiabatic switching.
Physical Review B, 2021; 104 (6) DOI:
10.1103/PhysRevB.104.L060303
Undiagnosed Endometriosis Compromises Fertility Treatment
Women with undiagnosed endometriosis will have difficulty falling pregnant without IVF, according to a University of Queensland study.
UQ School of Public Health researcher, Dr Katrina Moss, said women whose endometriosis went undiagnosed until after they began fertility treatment ended up doing more cycles, used treatments that aren't recommended, and were less likely to have a baby.
"By contrast, our study found women who were diagnosed with endometriosis before fertility treatment experienced the same outcomes as those without the condition," Dr Moss said.
In Australia, 1 in 9 women are diagnosed with endometriosis and 40 per cent of these experience infertility.
Dr Moss said Australian women can wait between 4 and 11 years before being diagnosed with endometriosis, and delayed diagnosis reduced the chances of fertility treatments being successful.
"In our national study of 1322 women, 35 per cent of participants had endometriosis and one-third of those weren't diagnosed until after they started their fertility treatment," Dr Moss said.
"Women who were diagnosed late were 4 times more likely to do a lot of cycles, sometime up to 36 cycles of fertility treatment," she said.
"They were also 33 per cent less likely to report a birth."
Fertility specialist and UQ Centre for Clinical Research Professor Hayden Homer said early diagnosis of endometriosis and early access to IVF created a level playing field, as the same outcomes were recorded for women who did not have the condition.
"It is highly advantageous to diagnose endometriosis before starting fertility treatment and to adjust the treatment accordingly," Professor Homer said.
"Otherwise, women are less likely to have a child and face a higher financial and psychological treatment burden.
"It is critical to remain highly vigilant about the possibility of endometriosis amongst women who are thinking about fertility treatment, especially in the presence of severe pelvic pain."
This study used data from the Australian Longitudinal Study on Women's Health (ALSWH).
K M Moss, J Doust, H Homer, I J Rowlands, R Hockey, G D Mishra.
Delayed diagnosis of endometriosis disadvantages women in ART: a retrospective population linked data study.
Human Reproduction, 2021 DOI:
10.1093/humrep/deab216
Disclaimer: These articles are not intended to provide medical advice, diagnosis or treatment. Views expressed here do not necessarily reflect those of Pittwater Online News or its staff.