Inbox and environment News: Issue 497
June 6 - 12, 2021: Issue 497
Stolen Generations Survivors Face Poorer Health And Wellbeing Outcomes Than Other Indigenous Australians: New Report Released
More than 27,000 Aboriginal and Torres Strait Islander people aged 50 years and over in 2018–19 were survivors of the Stolen Generations, according to new estimates in a report by the Australian Institute of Health and Welfare (AIHW).
The report, commissioned by the Healing Foundation, finds that Stolen Generations survivors aged 50 and over face poorer outcomes across a range of health and social measures when compared to other Indigenous and non-Indigenous Australians of the same age.
Aboriginal and Torres Strait Islander Stolen Generations aged 50 and over: updated analyses for 2018–19, updates a 2018 AIHW report, using data from the Australian Bureau of Statistics' (ABS) 2018–19 National Aboriginal and Torres Strait Islander Health Survey.
'In 2018–19, there were an estimated 33,600 Stolen Generations survivors, including 27,200 aged 50 and over,' said AIHW spokesperson Dr Fadwa Al-Yaman.
'The 27,200 people aged 50 years and over comprised 1 in 5 (21%) of Indigenous Australians in that age group. A greater proportion were women (59%) than men (41%), and 28% were aged 65 and over.'
Stolen Generations survivors faced many socioeconomic challenges, with 71% relying on government payments as the main source of income, 66% not owning a home, 63% living in households that didn't have access to emergency funds and 43% having had days without money for basic living expenses in the past year.
Compared to Indigenous Australians in the same age group who were not removed from their families, Stolen Generations survivors aged 50 and over were 1.7 times as likely to experience discrimination, 1.5 times as likely to be a victim of actual or threatened harm, 1.4 times as likely to have a severe or profound disability, 1.4 times as likely to have poor mental health, and 0.6 times as likely to own a home (or 1.8 times as likely not to own a home).
Compared to non-Indigenous Australians who participated in the 2017–18 National Health Survey, Stolen Generations survivors aged 50 years and over were 3 times as likely to have a severe or profound disability, 2.7 times as likely to have poor mental health, and 2.2 times as likely to have government payments as their main income source.
The estimated 27,200 Stolen Generations survivors aged 50 and over is substantially higher than the 13,800 survivors estimated in the 2018 AIHW report, which analysed data from the 2014–15 National Aboriginal and Torres Strait Islander Health Survey.
'While this is a large increase, it is likely that, over time, Aboriginal and Torres Strait Islander people who were removed from their families as children are becoming more willing to report their experiences,' Dr Al-Yaman said.
'In addition, a higher number of people were aged 50 and over in 2018–19 than in 2014–15 due to ageing.'
In 2018–19, 8,400 (30.9%) of the estimated 27,200 Stolen Generation survivors aged 50 and over lived in NSW; 5,900 (21.5%) in Queensland; and 4,900 (17.9%) in Western Australia. Most (81%) lived in non-remote locations, which was similar to the distribution of the broader Indigenous population.
In 2018–19, approximately 142,200 Indigenous people aged 18 and over were the descendants of members of the Stolen Generations. This included 13,200 people who were themselves also Stolen Generations survivors.
Healing Foundation CEO Ms. Fiona Cornforth said that the AIHW report provides important data on the 'gap within the gap' – the difference in health and wellbeing outcomes between Stolen Generations survivors and Aboriginal and Torres Strait Islander peoples who were not removed.
'The AIHW report demonstrates the extent to which this 'extra' gap stems from removal,' Ms. Cornforth said.
'This data is hugely beneficial as we work towards healing for Stolen Generations survivors and their descendants.'
Dr Al-Yaman noted that in 2022, all living Stolen Generations survivors will be aged 50 years and over.
'Understanding the experiences of Stolen Generations survivors aged 50 and over is important to ensure they can access appropriate health, disability, welfare and other services as they age,' Dr Al-Yaman said.
Australia Leads Project That Will Burst The Hubble Bubble
Australian scientists will help construct one of the world's most powerful ground-based telescopes that promises to see further and clearer than the Hubble Space Telescope and unlock mysteries of the early Universe.

The team will develop a new, world-first instrument that will produce images three times sharper than Hubble under the multimillion dollar project.
The MAVIS instrument will be fitted to one of the eight-metre Unit Telescopes at the European Southern Observatory's (ESO's) Very Large Telescope in Chile, to remove blurring from telescope images caused by turbulence in Earth's atmosphere. MAVIS will be built over seven years at a cost of $57 million.
The MAVIS consortium is led by The Australian National University (ANU), and involves Macquarie University, Italy's National Institute for Astrophysics (INAF) and France's Laboratoire d'Astrophysique (LAM).
MAVIS Principal Investigator Professor François Rigaut, from the ANU Research School of Astronomy and Astrophysics, said atmospheric turbulence is like the phenomenon of objects appearing blurry on the horizon during a hot day.
"MAVIS will remove this blurring and deliver images as sharp as if the telescope were in space, helping us to peer back into the early Universe by pushing the cosmic frontier of what is visible," he said.
"The ability to deliver corrected optical images, over a wide field of view using one of the world's largest telescope, is what makes MAVIS a first-of-its kind instrument, and means we will be able to observe very faint, distant objects.
"We will be able to use the new technology to explore how the first stars formed 13 billion years ago, as well as how weather changes on planets and moons in our Solar System."
Associate Professor Richard McDermid, the MAVIS project scientist based at Macquarie University, said the project represents a significant milestone for Australia's growing relationship with ESO, and the nation's space research and work.
"MAVIS demonstrates that Australia can not only participate in the scientific life of the observatory, but can also be a core player in helping ESO maintain its leadership by developing unique and competitive instruments using Australian expertise," he said.
Professor Matthew Colless, Director of the ANU Research School of Astronomy and Astrophysics, said the coming decade represents a very exciting time for astronomy.
"ESO and Australia entered a 10-year strategic partnership in 2017, a partnership that the Australian astronomy community has embraced with enthusiasm," he said.
"In return for building MAVIS, the consortium will get guaranteed observing time with the instrument, as well as a financial contribution from ESO for its hardware.
"From space, with the likes of the James Webb Space Telescope, and with ground-based facilities such as ESO's Extremely Large Telescope, astronomers will explore the Universe in more depth than ever.
"By delivering the sharpest view possible using visible light, MAVIS will be a unique and powerful complement to these future large facilities, which target infrared wavelengths."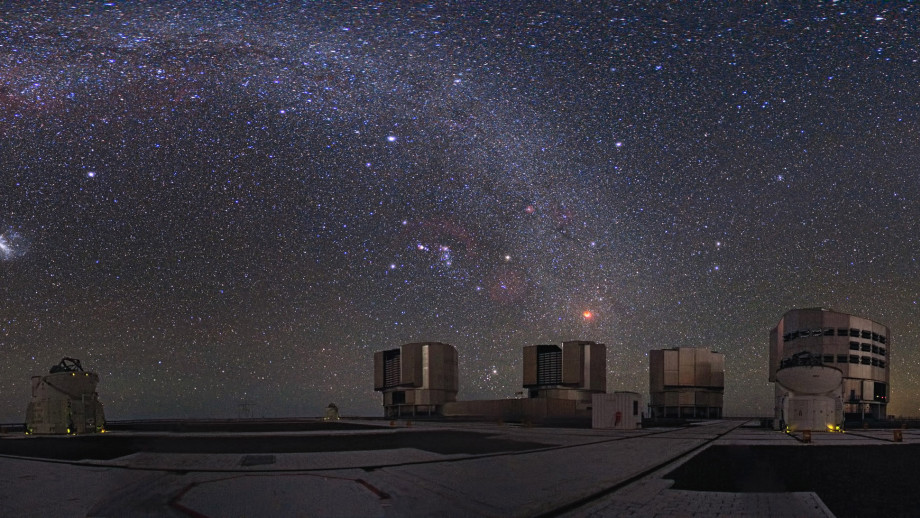 ESO's Very Large Telescope at Cerro Paranel. Image Credit: ESO
MAVIS, which stands for Multi-conjugate-adaptive-optics Assisted Visible Imager and Spectrograph, will make full use of the Very Large Telescope's sophisticated Adaptive Optics Facility, which has powerful laser guide stars and an adaptive mirror that can be deformed hundreds of times per second to correct for the atmospheric blur. MAVIS will include two more adaptive mirrors and other systems to better correct these distortions.
Astronomy Australia Limited (AAL) supports the Australian Government in the Strategic Partnership with ESO by managing domestic arrangements and funding for the AAO - the national optical instrumentation capability. AAL funding for the AAO's MAVIS project is awarded via the National Collaborative Research Infrastructure Strategy (NCRIS) program, an Australian Government initiative. AAL also oversees activities and stakeholder communications to ensure Australian astronomers get the best information and access to ESO.
$24 Million To Fund Innovation Solutions From NSW Small Businesses
The NSW Government today launched a new initiative for small and medium-sized businesses (SMEs), which will receive $24 million in funding over its first two years.
The establishment of the Small Business Innovation Research (SBIR) program was the first Priority Action recommended in the Turning Ideas into Jobs – Accelerating Research & Development in NSW Action Plan, launched by Premier Gladys Berejiklian on 25 January 2021.
"The Action Plan stressed the increasing need to be proactive in supporting and attracting new businesses, especially in future industries that will sustain economic growth, productivity and employment," Ms Berejiklian said.
"The SBIR program will provide competitive grants for SMEs to find and commercialise innovative solutions to NSW Government agencies for five well-defined problems".
Parliamentary Secretary to the Premier Gabrielle Upton MP encouraged business to get involved.
"The program will tackle important challenges including assisting vision-impaired customers navigate the public transport network, increasing the resilience of regional and remote communications networks, quantify the number and extent of koalas in NSW, reduce contamination in wastewater and reducing PPE waste in the health system," Ms Upton said.
"The SBIR program will not only support NSW SMEs to develop innovative solutions to government challenges, but the challenges have been specifically chosen to ensure that the successful SMEs can also sell their solutions to other customers in local and international markets."
David Gonski AC, Chair of the Advisory Council of eminent leaders who guided the NSW Action Plan, welcomed the SBIR program launch.
"The impact of COVID-19 on economic growth and job creation makes the task to commercialise more R&D an urgent one," Mr Gonski said.
"Rapidly translating ideas into new products and services will be integral to our recovery from the pandemic."
The NSW Chief Scientist & Engineer Professor Hugh Durrant-Whyte said research and development was the key to delivering problem solving solutions.
"Like the Medical Devices Fund and Physical Sciences Fund, the SBIR program is an excellent example of the NSW Government's commitment to leverage the capacity of SMEs' NSW-based R&D to address the state's most pressing problems and provide solutions which deliver a social, environmental, health or economic benefit," Professor Durrant-Whyte said.
Overweight Or Obesity Worsens Liver-Damaging Effects Of Alcohol
The largest study of its kind has found people in the overweight or obese range who drink alcohol are at greater risk of liver disease and mortality.

Led by the University of Sydney's Charles Perkins Centre, the study looked at medical data from nearly half a million people and found having overweight or obesity considerably amplified the harmful effects of alcohol on liver disease and mortality.
"People in the overweight or obese range who drank were found to be at greater risk of liver diseases compared with participants within a healthy weight range who consumed alcohol at the same level," said senior author and research program director Professor Emmanuel Stamatakis from the Charles Perkins Centre and the Faculty of Medicine and Health.
"Even for people who drank within alcohol guidelines, participants classified as obese were at over 50 percent greater risk of liver disease."
The researchers drew upon data from the UK Biobank -- a large-scale biomedical cohort study containing in-depth biological, behavioural, and health information from participants in the United Kingdom (UK).
According to the researchers, this is one of the first and largest studies looking at increased adiposity (overweight or obesity) and level of alcohol consumption together, in relation to future liver disease.
Information was examined from 465,437 people aged 40 to 69 years, with medical and health details collected over an average of 10.5 years.
The findings were published in the European Journal of Clinical Nutrition.
Lead author Dr Elif Inan-Eroglu, a postdoctoral research fellow with the Charles Perkins Centre, said the results suggest people carrying excess weight may need to be more aware of risks around alcohol consumption.
"With the most recent data suggesting two in three people -- or 67 percent of the Australian population are in the overweight or obesity range, this is obviously a very topical issue."
The researchers reviewed data on participants classified as overweight/obese based on their body mass index (BMI) and waist circumference, self-reported alcohol consumption according to UK alcohol guidelines, and liver disease incidence and liver disease as cause of death.
BMI is based on both weight and height. A BMI of over 25 denotes overweight, and over 30 denotes obesity. For waist circumference, researchers used the World Health Organization (WHO) classification: normal (<80 cm for women, <94 cm for men), overweight (>80 cm for women, >94 cm for men), and obese (>88 cm for women, >102 cm for men).
The level of risk was given a number called a 'hazard ratio'. The higher the number than 1, the higher the risk.
- People who drank above UK alcohol guidelines had, compared to within guideline drinkers:
o A nearly 600 percent higher risk of being diagnosed with alcoholic fatty liver disease (5.83 hazard ratio).
o A nearly 700 percent higher risk of death caused by alcoholic fatty liver disease (6.94 hazard ratio).
- People with overweight or obesity who drank within or above alcohol guidelines had over 50 percent greater risk of developing liver disease compared to normal weight participants who consumed alcohol at the same level.
Elif Inan-Eroglu, Bo-Huei Huang, Matthew N. Ahmadi, Nathan Johnson, Emad M. El-Omar, Emmanuel Stamatakis.
Joint associations of adiposity and alcohol consumption with liver disease-related morbidity and mortality risk: findings from the UK Biobank.
European Journal of Clinical Nutrition, 2021; DOI:
10.1038/s41430-021-00923-4
Carp Diem: Pest Seizes On Post 100 Year Flood Conditions - Native Fish At Risk
The recent one in 100 flood event is set to reverse carp eradication efforts in the Murray-Darling, a UNSW scientist says.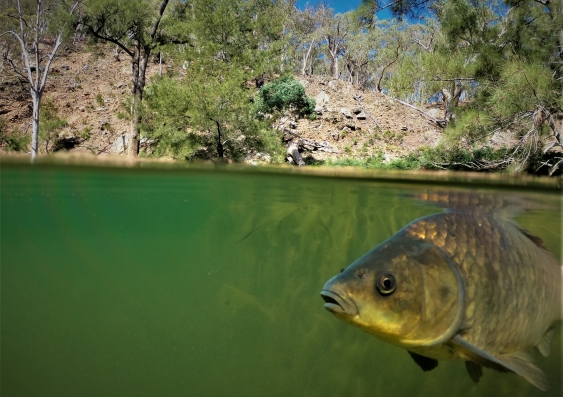 European carp are an introduced pest which can travel big distances. Photo: Derrick Cruz.
UNSW scientists say the floods in March are essential for rivers and native fish species in NSW, but they fear that European Carp numbers will repopulate to even greater levels and reverse eradication efforts.
He says carp thrive in floods and will now have access to a huge area of inundated floodplain, allowing them to expand across habitats.
"European Carp are able to travel huge distances, and floods allow them to migrate across water bodies that may not have been accessible before the floods, because many rivers are now connected," the fish ecologist in the School of Biological, Earth and Environmental Sciences says.
Carp is an introduced pest which already accounts for 90 per cent of the weight of all fish, or biomass, in some areas of the Murray-Darling Basin.
It causes significant environmental and economic impacts because it competes with native fish.
Prior to the floods, carp eradication efforts in certain riverways included carp musters, electrofishing and trapping, exclusion of carp from breeding areas, and stranding spawning carp in floodplain habitats by lowering water levels.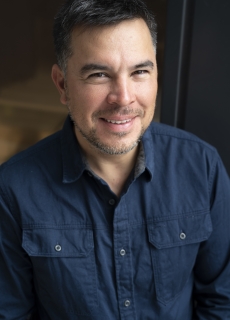 Mr Cruz says carp can have extremely large numbers of offspring.
"If only one per cent of carp eggs survive to adulthood, we're still facing an influx of potentially millions of carp across the Murray-Darling over the coming years," he says.
The floods may allow carp to "outcompete native fishes through habitat disturbance and competition for limited resources".
Carp can also survive blackwater events whereas native freshwater fish often perish in the events, and this may happen in coming months, Mr Cruz says.
Blackwater events occur when a body of water which hasn't been inundated with water in a long time is flooded, causing a build-up of biomatter that degrades and promotes high microbial activity, which can starve the water of oxygen.
"Carp have a special adaptation to air breathe. They can actually rise out of the water and take gulps of air, like mammals," Mr Cruz says.
"They're able to use that air to survive in very oxygen deprived environments through this adaptation, but our native freshwater species of fish don't have that ability and often don't survive."
European carp are native to both Eastern Europe and Western Asia and were released in Australia in the mid-1800s and early 1900s.
The spread of carp throughout the Murray-Darling Basin was assisted by widespread flooding in the mid-1970s.
Mr Cruz says events like these recent large floods can reverse eradication efforts.
"We need to identify innovative ways of restricting carp, while allowing flooding," he says.
Director of the Centre for Ecosystem Science at UNSW, Professor Richard Kingsford, says the way in which the rivers and 'delivery channels' for irrigated agriculture and towns have been operated has favoured carp and the pest's ability to breed during floods.
However, Prof. Kingsford says the focus should be on building up native species and conditions.
"Floods are essential for the rivers," Prof. Kingsford says.
"We need to reinstate the flooding on the floodplain and try and build up the numbers of native fish species."
Upper right: Derrick Cruz from Centre for Marine Science and Innovation. Photo: Supplied.
Space Junk: Houston, We Have A Problem
When we think of space, we think big and empty but when it comes to Earth's orbit, it's cluttered with millions of pieces of garbage that we call space junk.
The junk — or space debris — is made up of uncontrollable human-made items that remain in orbit long after they've served their original purpose. The scale of debris ranges from the very large including discarded stages from rocket and satellite launches, through to smaller metal pieces such as nuts and bolts, all the way down to particles such as paint flakes.
At its smallest, the space junk may only be one millimetre in size, but there are thousands of pieces bigger than a pizza box causing problems.
According to the latest European Space Agency statistical modelling, there are approximately 34,000 objects greater than 10 centimetres in orbit, but up to 128 million items between one millimetre and one centimetre floating around. Objects smaller than 10 centimetres cannot be tracked conventionally.
Satellite systems expert Dr Joon Wayn Cheong, from UNSW School of Electrical Engineering and Telecommunications, says that as humans launch more objects into space, this debris may increasingly threaten the safety of satellites and human astronauts.
"Space junk poses a particular risk for space missions that involve human life," he says.
"This is particularly important for the International Space Station, since careful consideration needs to be made about the orbital path of space junk before spacewalk exercises are conducted.
"The biggest issue with these objects is that they cannot be tracked or controlled. If we can control them, we can easily ensure they avoid and manoeuvre around nearby objects."
However, when space junk collides into other orbiting satellites, or larger pieces of space junk, it can break into smaller bits of debris – further fuelling the problem.
"It's called the Kessler Syndrome. This phenomenon describes the exponential growth of contamination in our orbits, where debris begets more debris, and sadly, there's not enough money or resources in the world to clean up all the space junk properly."
It's hard to think that objects smaller than the size of a toothpick can cause so much damage but in space, anything is possible.
"Space debris can travel up to 10 kilometres per second which has the same impact of being hit by a small cricket ball at 100 kilometres per hour," says Dr Cheong.
"The exterior of satellites is often covered in solar panels, which consist of brittle glass. So regardless of how small the debris it collides with, the satellite will be likely damaged, and therefore more debris is created.
"These satellites are vulnerable - they're not designed to be smashed."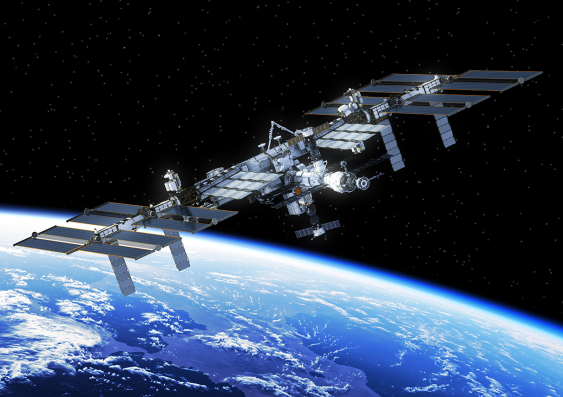 To protect the lives of human astronauts, the International Space Station schedule spacewalks to ensure they avoid space junk in the same orbital path. Image: Shutterstock
Like the property market, orbit real estate is limited and competitive.
One of the more important orbits is the geostationary orbit, referred to as the geosynchronous equatorial orbit (GEO), which is located at an altitude of 35,000 kilometres from the Earth's surface. It is considered one of the most valuable orbits and is occupied by many telecommunication and broadcast satellites.
"Space junk contaminates the orbits it occupies; it uses up the orbital slot that another functional, more useful satellite could occupy," says Dr Cheong.
"We're seeing an increasing trend of space agencies and companies sending many satellites into much higher orbits, primarily the upper Low Earth Orbit (LEO), and in some cases the GEO orbit.
"But they get into a situation where they lose control of these satellites, or they stop functioning completely but still continue to occupy the orbit for 10 to 15 years and there's no way of retrieving them."
This creates a problem where non-functional satellites end up occupying prime real estate, he says.
"And as time goes by, their position in space becomes more and more precious because there are fewer orbital paths available to send up new satellites for important purposes such as communications, positioning, earth observation and other technologies."
As Deputy Director at UNSW Australian Centre for Space Engineering (ASCER), Dr Cheong led the team that built Australia's first operational CubeSat in space - UNSW-EC0.
He says there are more sustainable ways of undertaking experimental space missions – by putting them in lower orbits where they passively re-enter earth within one to two years with near-zero risk of collision. When satellites reach the end of their life, Dr Cheong says they should either be moved to a graveyard orbit or deorbited back to Earth, to reduce the risk of collision with other satellites.
"Graveyard orbits are at a much higher altitude and do not interfere with common operational orbits," he says.
"For the satellites that are closer to Earth, you can move them to an even lower orbit and let gravity pull them back down to Earth and they decay faster as they move through the gradually thicker atmosphere beneath it.
"For the satellites that are further away, they should be moved to a graveyard orbit.
"The onus is on the spacecraft operators to ensure they have enough fuel at the end of their mission to make a conscious decision about what to do with the satellite – just don't dump it and further pollute our orbits."
Out of sight, out of mind
Dr Cheong says there should be an international effort to clean up the junk in space.
"One of the problems with space junk is the lack of accountability. It is difficult for these agencies and companies to admit their satellite has failed – which makes collision with debris inescapable', says Dr Cheong.
"As for tiny undetectable debris, if we don't know it's up there, we can't account for it in future space missions. This increases the chances of future collision."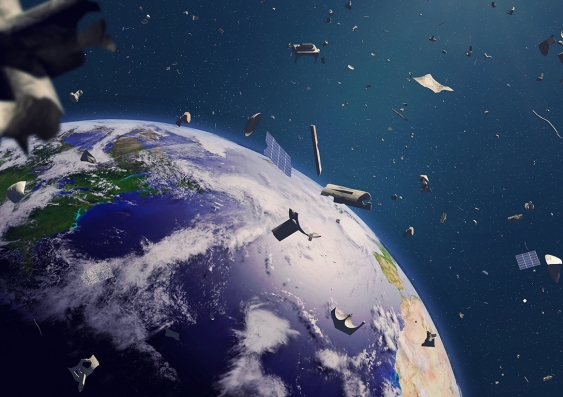 Even the smallest pieces of space debris can cause significant damage to satellites and human astronauts in space. Image: Shutterstock

Plastic In Galapagos Seawater, Beaches And Animals
Plastic pollution has been found in seawater, on beaches and inside marine animals at the Galapagos Islands.

A new study -- by the University of Exeter, Galapagos Conservation Trust (GCT) and the Galapagos Science Center -- found plastic in all marine habitats at the island of San Cristobal, where Charles Darwin first landed in Galapagos.
At the worst "hotspots" -- including a beach used by the rare "Godzilla" marine iguana -- more than 400 plastic particles were found per square metre of beach.
Plastic was also found inside more than half of the marine invertebrates (such as barnacles and urchins) studied, and on the seabed.
The findings suggest most plastic pollution in Galapagos -- a world-famous biodiversity haven -- arrives on ocean currents.
The study also identifies Galapagos marine vertebrates most at risk from swallowing plastic or getting entangled -- including scalloped hammerheads, whale sharks, sea lions and sea turtles.
"The pristine image of Galapagos might give the impression that the islands are somehow protected from plastic pollution, but our study clearly shows that's not the case," said Dr Ceri Lewis, of Exeter's Global Systems Institute.
"The highest levels of plastic we found were on east-facing beaches, which are exposed to pollution carried across the eastern Pacific on the Humboldt Current.
"These east-facing beaches include Punta Pitt, a highly polluted site that is home to Godzilla marine iguanas which -- like so much Galapagos wildlife -- are found nowhere else in the world.
"There are less than 500 Godzilla marine iguanas in existence, and it's concerning that they are living alongside this high level of plastic pollution."
Speaking about microplastic particles found inside marine invertebrates, lead author Dr Jen Jones, of GCT, said: "These animals are a crucial part of food webs that support the larger species that famously live on and around the Galapagos Islands.
"The potential health effects of plastic ingestion on marine animals are largely unknown, and more research is needed."
The study's findings include:
Just 2% of "macroplastic" (items and fragments larger than 5mm) was identified as coming from the islands. The true figure could be higher, but the findings strongly suggest most plastic arrives on ocean currents.
These macroplastics were found at 13 of 14 sandy beaches studied, with 4,610 items collected in total. Large microplastics (1-5mm) sieved from the surface 50mm of sand were found at 11 of 15 sites tested.
Significant accumulations of plastic were found in key habitats including rocky lava shores and mangroves.
Microplastics were found in low concentrations in all seabed and seawater samples, with higher concentrations at the harbour suggesting some local input.
All seven marine invertebrate species examined were found to contain microplastics. 52% of the 123 individuals tested contained plastic.
To analyse the possible impact of plastic on Galapagos marine vertebrates such as sea lions and turtles, the researchers reviewed 138 studies of plastic ingestion and entanglement among such species worldwide.
They also considered where in Galapagos each species is known to be found, and considered their conservation status on the IUCN Red List of Threatened Species.
Based on this, the study identifies 27 species in need of urgent monitoring and mitigation.
Dr Jones, who led the study as part of her PhD at Exeter, said: "Our study highlights how far plastic pollution travels, and how it contaminates every part of marine ecosystems.
"Given the level of pollution we have found in this remote location, it's clear that plastic pollution needs to stop at source.
"You can't fix the problem just by cleaning beaches."
Dr David Santillo, of the Greenpeace Research Laboratories at the University of Exeter, said: "This situation is only going to get worse if we don't dramatically change our use of plastics."
Last year, the research team won a £3.3 million grant from the UK government to investigate and address plastic pollution in the Eastern Pacific.
However, the grant has been reduced by 64% and may be cancelled after the first year due to Official Development Assistance (ODA) cuts announced in March.
Jen S. Jones, Adam Porter, Juan Pablo Muñoz-Pérez, Daniela Alarcón-Ruales, Tamara S. Galloway, Brendan J. Godley, David Santillo, Jessica Vagg, Ceri Lewis.
Plastic contamination of a Galapagos Island (Ecuador) and the relative risks to native marine species.
Science of The Total Environment, 2021; 789: 147704 DOI:
10.1016/j.scitotenv.2021.147704
Revealing The Mysteries Of Stonefish Venom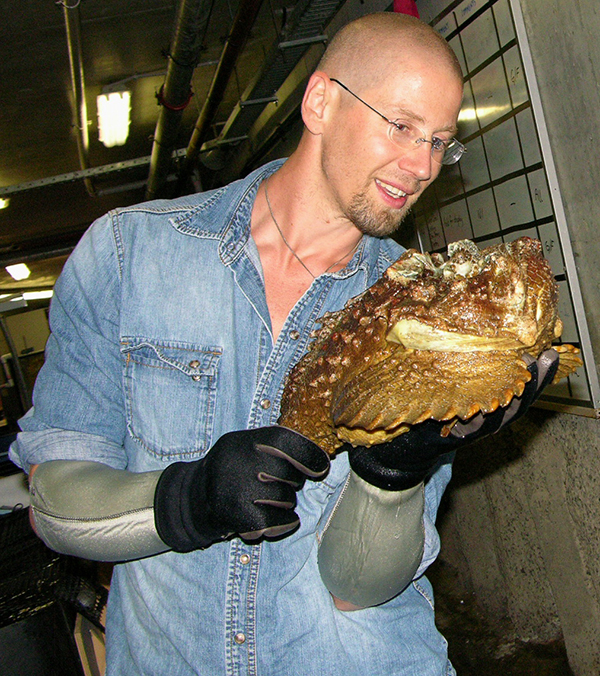 June 1, 2021
University of Queensland scientists working to unlock the mysteries Australia's deadly stonefish have made a discovery which could change how sting victims are treated in the future.
Stonefish are the most venomous fish in world and are found throughout shallow coastal waters of the northern half of Australia.
Study co-author Associate Professor Bryan Fry said previous studies have not been able to uncover all of the mechanisms at play in stonefish venom because of the way the venom was tested.
"There's a couple of reasons previous studies haven't been able to thoroughly decipher the toxicological mysteries of stonefish venom," Dr Fry said.
"But we've discovered a big one -- labs were previously analysing only freeze-dried venom, as the venom is often dried in order to make it more stable for transportation and storage.
"By testing freshly milked venom our analysis revealed that the process of freeze-drying destroys paralytic neurotoxic activity of the sample, a key activity we're observing.
"Any lab studies using freeze dried venom therefore wouldn't recover all of the paralytic activity or some other functional activities of the venom, which is important, since stonefish antivenom is made using freeze dried venom.
"This means there's a possibility that current antivenom may not fully neutralise the paralytic effects in human stonefish envenomation, but this definitely needs more study.
"We'd also like to strongly emphasise that the paralytic effects are historically not the dominant lethal effect of the venom and in some cases don't even manifest.
"Patients should definitely be treated using the current antivenom formulation currently available, which work well."
PhD candidate Mr Richard Harris said the study also revealed how the venom of stonefish can disrupt, or potentially stop, the heart and paralyse other muscles.
He said the research showed that the neurotoxic effects of stonefish venom blocks the heart's smooth muscle nerve receptors, which leads to an alteration of the heart's rate and rhythm.
"Intriguingly, the venom works in a similar way to venom of the nerve-blocking death adder -- a dangerous Australian snake," Mr Harris said.
Dr Fry said the research was only possible thanks to new advanced automated and robotic equipment at UQ's Australian Biomolecular Interaction Facility (ABIF) established by major funding from the Australian Research Council.
The facility has the only machine in the southern hemisphere capable of conducting binding kinetic experiments in such a high throughput manner.
"We've only been able to uncover the inner workings of stonefish venom thanks to a machine known as the Octet HTX -- the Rolls Royce of biomolecular interaction technology," Dr Fry said.
"We're excited about what else we can do with this technology and the insights it will offer into the world's deadliest creatures, helping us develop world-leading treatments."
Richard J. Harris, Nicholas J. Youngman, Weili Chan, Frank Bosmans, Karen L. Cheney, Bryan G. Fry.
Getting stoned: Characterisation of the coagulotoxic and neurotoxic effects of reef stonefish (Synanceia verrucosa) venom.
Toxicology Letters, 2021; 346: 16 DOI:
10.1016/j.toxlet.2021.04.007
Image above right: UQ's Associate Professor Bryan Fry holding a stonefish that has had its venom freshly milked.

Parasites May Accumulate In Spleens Of Asymptomatic Individuals Infected With Malaria
Malaria, a disease caused mainly by the parasites Plasmodium falciparum and Plasmodium vivax, (P. vivax) is associated with over 400,000 deaths each year. Previously, the spleen was assumed to mostly play a role in parasite destruction, as it eliminates malaria parasites after antimalarial treatment. A study published in the open access journal PLOS Medicine by Steven Kho and Nicholas Anstey at Menzies School of Health Research, Australia, and international colleagues, suggests that in chronic P. vivax infections, malaria parasites survive and replicate via a previously undetected lifecycle within the spleen.
A large biomass of intact asexual-stage malaria parasites accumulates in the spleen of asymptomatic human subjects infected with Plasmodium vivax (P. vivax). However, the mechanisms underlying this intense reaction are unknown. To better understand the accumulation of malaria parasites in the spleen, researchers examined the spleen tissue in twenty-two individuals naturally exposed to P. vivax and P. falciparum undergoing splenectomy in Papua, Indonesia between 2015-2017. The authors then analysed the density of infection, parasites and immature red blood cells, as well as their distribution throughout the spleen.
The researchers found that the human spleen is a reservoir for immature red blood cells that are targeted by P. vivax for invasion, and that the examined spleens contained a substantial hidden biomass of malaria parasites, with densities hundreds to thousands of times higher than in circulating peripheral blood, suggesting an undetectable endosplenic lifecycle in asymptomatic P. vivax infections. The study had several limitations, such as the small sample size and asymptomatic status of all individuals included in the study. Future research should include acute, symptomatic malaria cases.
According to the authors, "Our findings provide a major contribution to the understanding of malaria biology and pathology and provide insight into P. vivax specific adaptations that have evolved to maximise survival and replication in the spleen."
Steven Kho, Labibah Qotrunnada, Leo Leonardo, Benediktus Andries, Putu A. I. Wardani, Aurelie Fricot, Benoit Henry, David Hardy, Nur I. Margyaningsih, Dwi Apriyanti, Agatha M. Puspitasari, Pak Prayoga, Leily Trianty, Enny Kenangalem, Fabrice Chretien, Valentine Brousse, Innocent Safeukui, Hernando A. del Portillo, Carmen Fernandez-Becerra, Elamaran Meibalan, Matthias Marti, Ric N. Price, Tonia Woodberry, Papa A. Ndour, Bruce M. Russell, Tsin W. Yeo, Gabriela Minigo, Rintis Noviyanti, Jeanne R. Poespoprodjo, Nurjati C. Siregar, Pierre A. Buffet, Nicholas M. Anstey. E
valuation of splenic accumulation and colocalization of immature reticulocytes and Plasmodium vivax in asymptomatic malaria: A prospective human splenectomy study.
PLOS Medicine, 2021; 18 (5): e1003632 DOI:
10.1371/journal.pmed.1003632
Disclaimer: These articles are not intended to provide medical advice, diagnosis or treatment. Views expressed here do not necessarily reflect those of Pittwater Online News or its staff.