inbox and environment news:Issue 507
August 22 - 28, 2021: Issue 507
Antarctic Flagship Nuyina On Her Way Here
Published August 20, 2021 by the Australian Antarctic Division
The Australian flag is flying on the nation's new icebreaker RSV Nuyina (noy-yee-nah) for the first time after a ceremony in the Netherlands yesterday.
The event in Vlissingen was the official transfer of the ship from its European build team, marking the final stage of a 1900-day journey from contract signing to handover.
The design and build of the vessel has been a multi-national effort between the Australian Antarctic Division, the vessel operator Serco, Danish concept designers Knud E Hansen, Dutch engineering and detailed design team Damen, and the construction team at Damen Shipyards Galati in Romania.
RSV Nuyina will now undergo some final preparations ahead of its eight-week journey to its new home port of Hobart.
Nuyina is a Tasmanian Aboriginal word meaning 'Southern Lights'. It is pronounced noy‑yee‑nah

The Southern Lights, also known as aurora australis, are an atmospheric phenomenon formed over Antarctica that reaches northwards to light up Australian – and particularly Tasmanian – skies. Australia's current long serving icebreaker the RSV Aurora Australis bears the name of the Southern Lights, while the first Australian Antarctic ship, Sir Douglas Mawson's SY Aurora was named after the same phenomenon.
The name RSV Nuyina continues this theme and forms another chapter in the story of connection between Australia and Antarctica, which has played out historically over the past century and geologically over a much longer time frame, continually watched over by the dancing green curtains of light.
RSV Nuyina recognises the long connection that Tasmanian Aboriginal people have with the evocative Southern Lights, to which they gave a name in their language. Tasmanian Aboriginal people were the most southerly on the planet during the last ice age. The adaptability and resilience of the Tasmanian Aborigines, who travelled in canoes to small islets in the Southern Ocean, are qualities emulated by our modern-day Antarctic expeditioners as they travel south.
The ship name was suggested by Australian schoolchildren through the 'Name our Icebreaker' competition, which was designed to engage Australian students and expand their understanding of Antarctica, its environment, climate, history and Australia's role there.
Aboriginal language was the inspiration for a fifth of all the valid ship names submitted by Australian children. In many of the competition entries, students spoke of their desire for reconciliation and recognition of Australian Aborigines. Using an Aboriginal name for the new ship would acknowledge all the children who wanted to recognise the interwoven history of Aboriginal people and the great southern land – Antarctica.
Palawa kani is the language spoken by Tasmanian Aborigines today. It draws on extensive historical and linguistic research of written records and spoken recordings, and Aboriginal cultural knowledge. Not enough remains of any of the original six to 12 original languages to form a full language today, so palawa kani combines authentic elements from many of these languages. It flourishes in Aboriginal community life, with three generations of children having grown up learning it, and features increasingly in public life, including in gazetted Tasmanian place names.
Australia's new Antarctic icebreaker RSV Nuyina was constructed in Damen Shipyards, Romania. Construction commenced in late May 2017, with a steel cutting ceremony, while a keel laying ceremony in August saw the first building-block of the ship consolidated in the drydock. Some earlier build images run here for you.
Siege Of The South 1931
Published August 17, 2021 by the Australian Antarctic Division
Frank Hurley documents Australia's rich history of scientific exploration of the Australian Antarctic Territory.
Researchers Develop Real-Time Lyric Generation Technology To Inspire Song Writing: Have A Go!
Music artists can find inspiration and new creative directions for their song writing with technology developed by Waterloo researchers.
LyricJam, a real-time system that uses artificial intelligence (AI) to generate lyric lines for live instrumental music, was created by members of the University's Natural Language Processing Lab.
The lab, led by Olga Vechtomova, a Waterloo Engineering professor cross-appointed in Computer Science, has been researching creative applications of AI for several years.
The lab's initial work led to the creation of a system that learns musical expressions of artists and generates lyrics in their style.
Recently, Vechtomova, along with Waterloo graduate students Gaurav Sahu and Dhruv Kumar, developed technology that relies on various aspects of music such as chord progressions, tempo and instrumentation to synthesize lyrics reflecting the mood and emotions expressed by live music.
As a musician or a band plays instrumental music, the system continuously receives the raw audio clips, which the neural network processes to generate new lyric lines. The artists can then use the lines to compose their own song lyrics.
"The purpose of the system is not to write a song for the artist," Vechtomova explains. "Instead, we want to help artists realize their own creativity. The system generates poetic lines with new metaphors and expressions, potentially leading the artists in creative directions that they haven't explored before."
The neural network designed by the researchers learns what lyrical themes, words and stylistic devices are associated with different aspects of music captured in each audio clip.
For example, the researchers observed that lyrics generated for ambient music are very different than those for upbeat music.
The research team conducted a user study, inviting musicians to play live instruments while using the system.
"One unexpected finding was that participants felt encouraged by the generated lines to improvise," Vechtomova said. "For example, the lines inspired artists to structure chords a bit differently and take their improvisation in a new direction than originally intended. Some musicians also used the lines to check if their improvisation had the desired emotional effect."
Another finding from the study highlighted the co-creative aspect of the experience. Participants commented that they viewed the system as an uncritical jamming partner and felt encouraged to play their musical instruments even if they were not actively trying to write lyrics.
Since LyricJam went live in June this year, over 1,500 users worldwide have tried it out.
The team's research, to be presented at the International Conference on Computations Creativity this September, has been pre-published on arXiv. Musicians interested in trying out LyricJam can access it at https://lyricjam.ai.
Olga Vechtomova, Gaurav Sahu, Dhruv Kumar. LyricJam: A system for generating lyrics for live instrumental music. Submitted to arXiv, 2021 [abstract]
NSW Sustainability Awards Now Open For Entry
The NSW Sustainability Awards are now open and accepting entries from eligible NSW participants across a range of categories from biodiversity to net zero initiatives.
Energy and Environment Minister Matt Kean said the awards will allow New South Wales to showcase some of our best and brightest minds on a national stage with winners automatically entered into the prestigious Banksia National Sustainability Awards.
"New South Wales leads the country when it comes to generating ideas on sustainability, these awards will not only showcase those ideas but also celebrate the people that are making our world better," Mr Kean said.
"Entrants for these awards will join a community of sustainability champions who are reimagining the future of New South Wales and the world."
Inspired by the United Nations 2030 Global Goals and NSW's commitment to reaching net zero by 2050, these awards will salute individuals, communities and businesses for their innovation and excellence in environmental and social leadership.
The 8 awards categories include:
NSW Net Zero Action Award
NSW Biodiversity Award
NSW Circular Transition Award
NSW Clean Technology Award
NSW Large Business Transformation Award
NSW Small to Medium Business Award
NSW Youth as our Changemakers Award
Minister's Young Climate Champion Award
The awards will be presented and run by the Banksia Foundation in partnership with the NSW Government.
Entries for the awards are expected to close on September 15
with winners announced by the end of this year. The winners of the National Banksia awards will be announced in March 2022.
NSW Clean Technology Award

: Recognises outstanding initiatives by an organisation or organisations in collaboration that show- case efficient resources through renewable energy, low emissions technology, and appreciable pollution reduction (beyond compliance) of Australia's water, air, and land.

NSW Biodiversity Award

: Recognises outstanding initiatives by an organisation or organisations in collaboration that protect our habitat, flora and/or fauna to ensure Australia's ecosystems are secured and flourish for future generations.

NSW Circular Transition Award

: Recognises outstanding achievements in innovative design in waste and pollution systems and products, through to regenerating strategies. The award will go to a company that has adopted a technology, initiative or project that is helping the business move from a linear to a circular model.

NSW Large Business Transformation Award

: Recognises outstanding achievements that demonstrate business and values alignment with multiple UN Sustainable Development Goals and by integrating sustainability principles and practices across business activities.

NSW Youth as our Changemakers Award

:

Recognises young innovators aged between 18-35 years, who bring fresh perspectives, bold ideas and compelling initiatives that align with any or the multiple UN SDG's.

NSW Net Zero Action Award

: Recognises organisations, (company, business association, NGOs) that can demonstrate a tangible program or initiative that evidences transition toward a 1.5-Degree goal, through a publicly communicated net zero commitment, plus data, disclosures and investments to support it.

NSW Small to Medium Business Award

: Recognises outstanding achievements that demonstrate business and values alignment with multiple UN Sustainable Development Goals and by integrating sustainability principles and practices across business activities.

Minister's Young Climate Champion Award

:

The Minister's Young Climate Champion Award recognises young innovators aged under 18 years who bring bold ideas for a safe and thriving climate future that align with any of the UN SDGs.

Young and passionate minds who have taken outstanding actions that benefit the sustainability of their communities and help address climate change will be showcased in this award, which is a celebration of young people with drive, commitment and a passion for sustainability and the environment.
NESA Media Statement: HSC Major Projects
This means teachers will provide a mark or estimate for their students' major projects in:
Drama
Textiles and Design
Design and Technology
Industrial Technology
Visual Arts
Students will need to submit their projects by the
published due dates
and teachers will have until 22 October to submit marks to NESA.
When providing a mark or estimate, teachers will take into consideration any impact of COVID-19 restrictions on students' work.
Teacher provided marks will be moderated by NESA to ensure equity across the state.
The decision was made to limit the movement of NESA markers within and beyond Greater Sydney and is in line with Health advice for protecting the health and safety of everyone involved in the HSC exams.
The following major projects (that are submitted online) will continue to be marked online by NESA markers (unless an application for special consideration is made):
English Extension 2
Music 1 (compositions)
Music 2 and Extension (compositions and musicology)
Society and Culture Personal Interest Project
The Special Consideration Program is already in place for students completing language oral and performance exams across the state.
Written exams will go ahead from October 19 and NESA is working closely with NSW Health to ensure strict COVID-safe protocols are in place.
More Time To Prepare For HSC
By NSW Dept. of Education
HSC students will be given more time to work on their major projects and to prepare for exams to reduce the impact of the current COVID-19 lockdown.
The NSW Education Standards Authority (NESA) COVID-19 Response Committee has announced additional changes to the 2021 HSC timetable to give students additional time to prepare for upcoming HSC exams.
In recognition of the evolving COVID-19 situation and in line with health advice, NESA will:
Extend the hand in date for all major projects by two weeks. The hand-in date for Industrial Technology has been extended by four weeks
Reschedule Drama performance exams to run from 6 to 17 September
Music performance exam continue as scheduled, running from 30 August to 10 September
Reschedule the written exams to begin one week later on 19 October with HSC results out on 17 December.
Committee chair Professor Peter Shergold said students could still receive their results, ATAR and university offers this year despite written exams being delayed by a week.
"We know students want certainty about their exams, our priority is to limit disruption to HSC students," he said.
"Our aim is to give students as much clarity as possible so they can focus on their studies, their goals and their personal wellbeing.
"We recognise that students and schools across the state are operating under a variety of different circumstances. We will outline a special illness and misadventure process and any other contingency arrangements needed to ensure equity and fairness for all students."
NESA chief executive officer Paul Martin said the priority for NESA and the school sectors was providing considered advice to students that aligned with the health advice and was fair to the whole cohort.
"The changes to the exam timetables mean all students have some additional time to prepare for exams or complete their project," Mr Martin said.
"We learnt a lot about our processes in the HSC last year and I am confident that we can apply those lessons this year."
Earlier this week, oral language exams were rescheduled to start on 14 August.
COVID safe exam practices, including minimising school groups mixing, mandatory masks for everyone except the student during the exam, and Perspex screens will be in place at the oral language exams.
"Markers, many of whom are teachers, have an enormous undertaking ahead of them. I want to thank the teaching profession for all that they have done this year to support students," Mr Martin said.
"I can assure markers and exam supervisors that their safety, as well as the students, is our priority."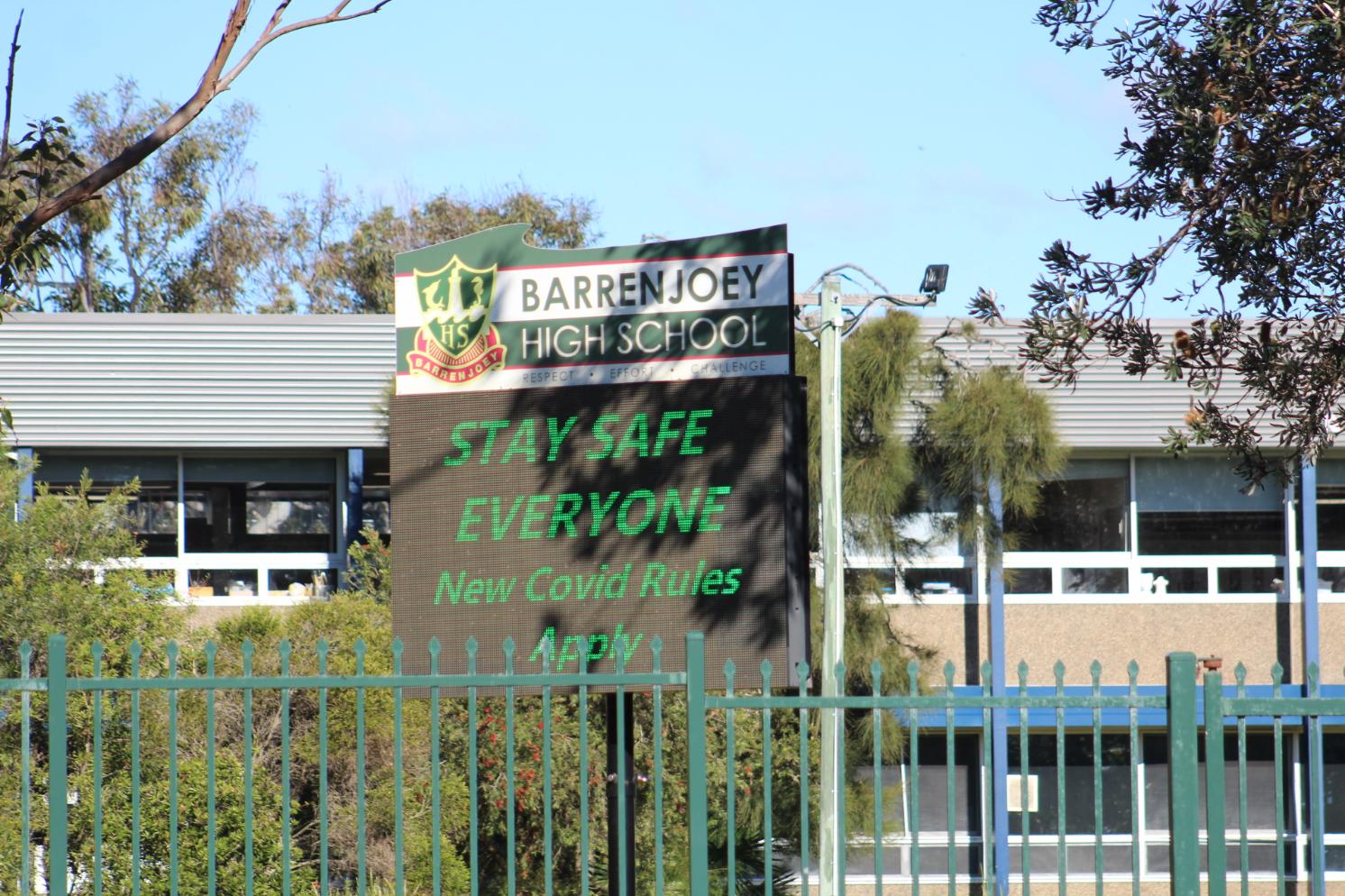 Stay Healthy - Stay Active: HSC 2021
Stay active, keep connected and look after yourself during the HSC this year!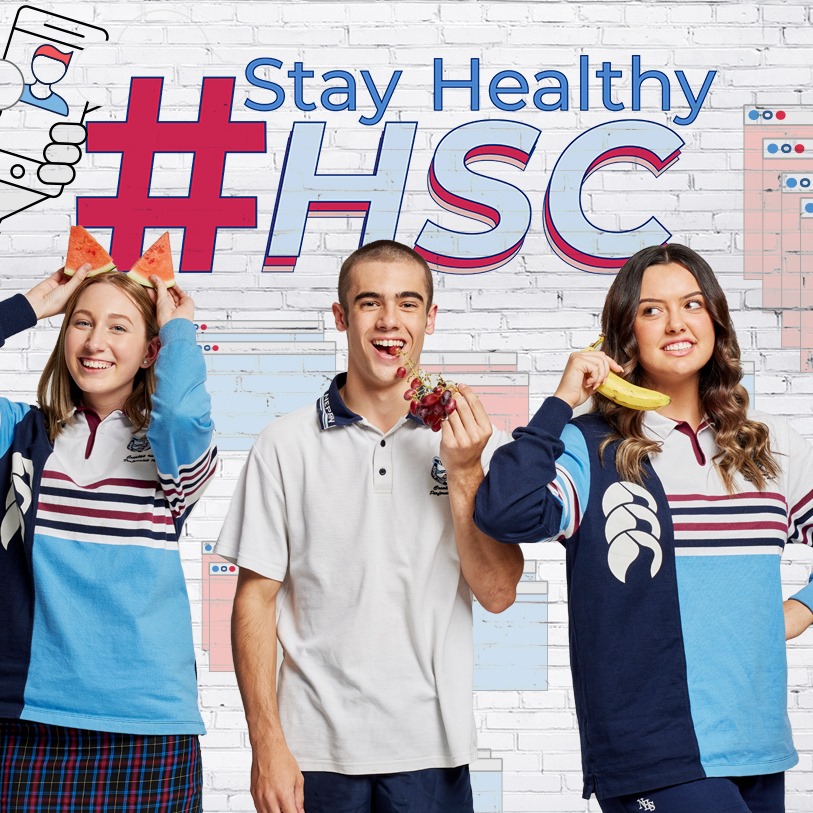 Star Trek And NASA: Celebrating The Connection
Gene Roddenberry would have been 100 years old on Aug. 19, 2021, and we at NASA celebrate his legacy. As creator of the legendary Star Trek saga, Roddenberry's vision continues to resonate.
In the documentary "NASA on the Edge of Forever: Science in Space," host NASA astronaut Victor Glover stated, "Science and Star Trek go hand-in-hand." The film explores how for the past 55 years, Star Trek has influenced scientists, engineers, and even astronauts to reach beyond. While the International Space Station doesn't speed through the galaxy like the Starship Enterprise, much of the research conducted aboard the orbiting facility is making the fiction of Star Trek come a little closer to reality.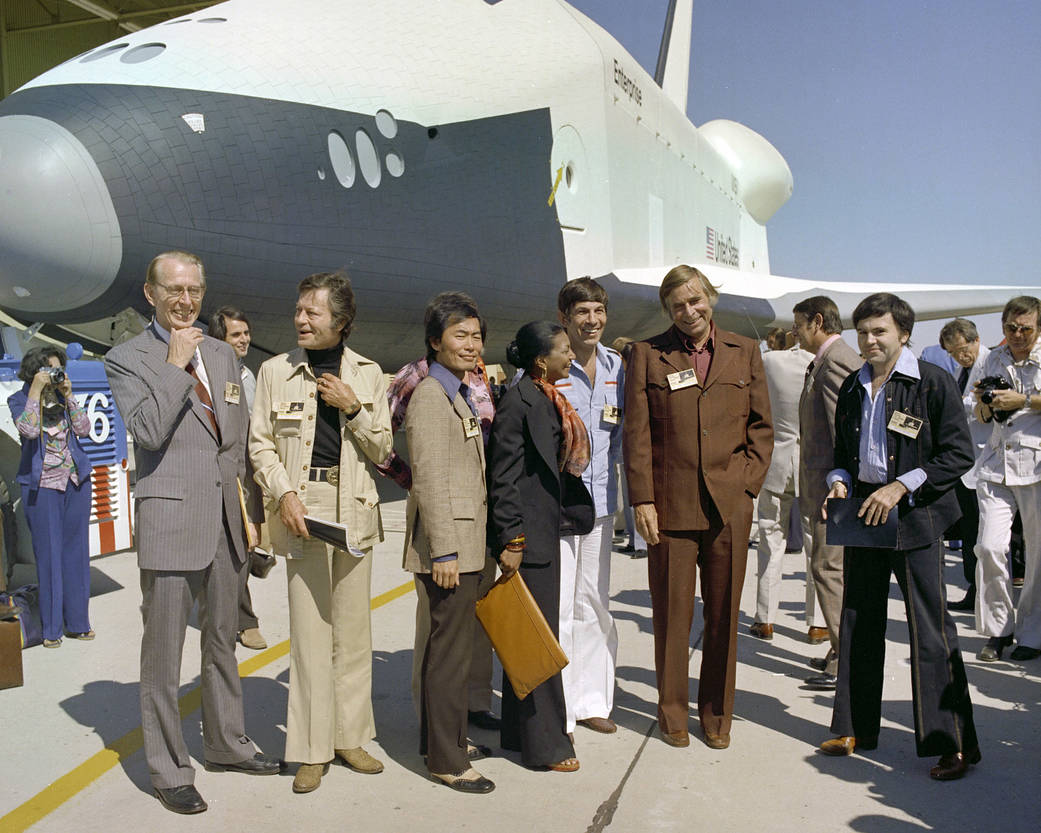 In this image, the then Dryden Flight Research Center (now Armstrong) hosted the Star Trek crew in 1976 for the rollout of space shuttle Enterprise. In front, from left: NASA Administrator James Fletcher, and the show's stars DeForest Kelley, George Takei, Nichelle Nichols, Leonard Nimoy, show creator Gene Roddenberry, and Walter Koenig.
#Roddenberry100.
Image Credit: NASA
Aurora Australis Lights Up The Sky
This image, taken from aboard the International Space Station, shows the aurora australis as it streams across the Earth's atmosphere as the station orbited 271 miles above the southern Indian Ocean in between Asia and Antarctica.
Named for the Roman goddess of dawn, the aurora is a captivating display of light in the night sky. The aurora borealis and aurora australis — also called the northern lights and southern lights — occur at the northern and southern poles.
Image Credit: NASA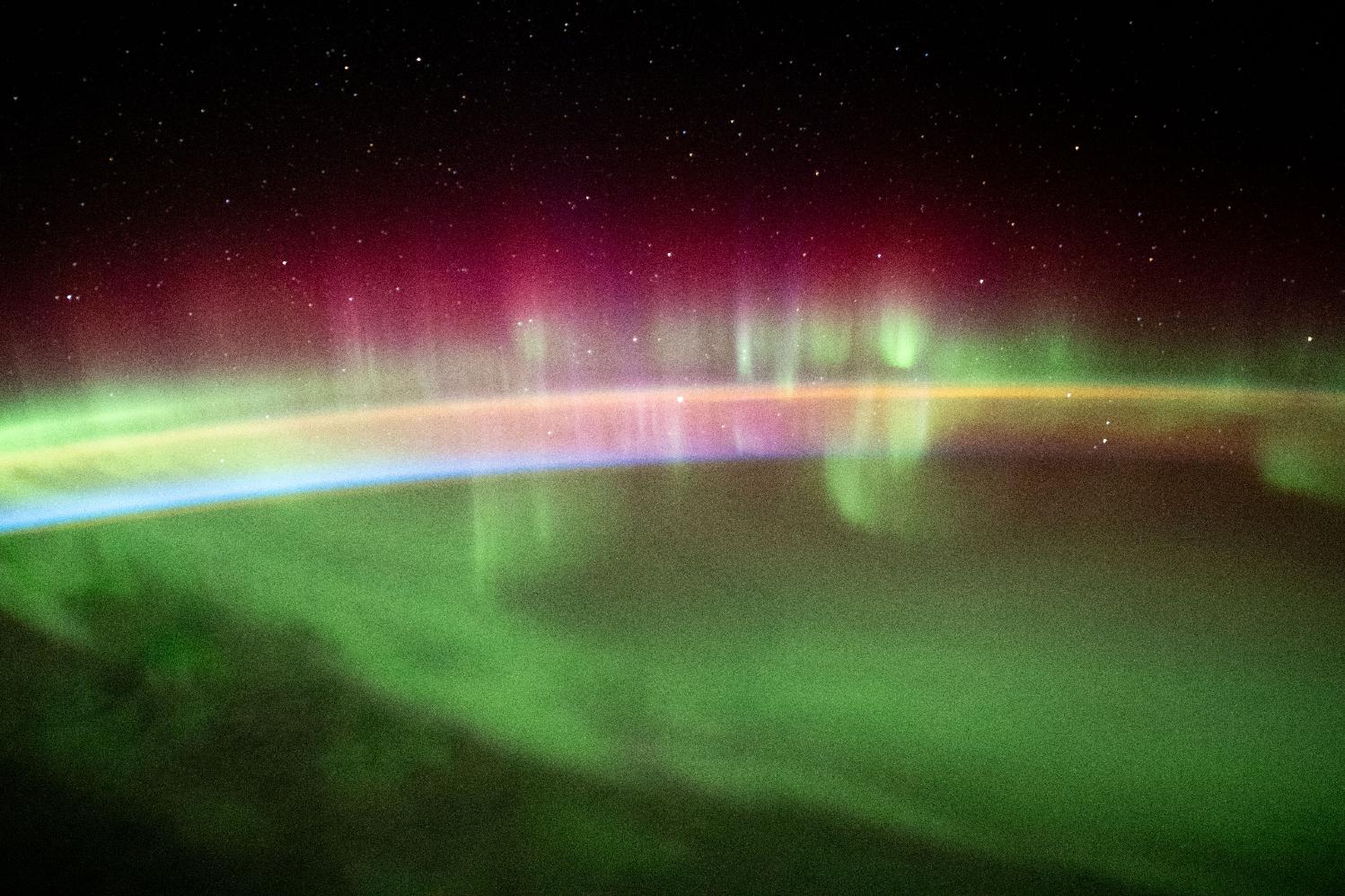 UQ Leads Climate Action As First Australian University To Provide Carbon Literacy Training
Helping individuals and organisations tackle the climate crisis is the focus of an Australian-first training program adopted by The University of Queensland.
After a successful pilot, UQ Business School became an accredited partner with the Carbon Literacy Project as the first university in Australia to launch a Carbon Literacy Program.
Director for the United Nations (UN) Principles for Responsible Management Education (PRME) for the UQ Business School Dr Cle-Anne Gabriel, climate expert Dr Saphira Rekker and PRME manager Roxane Valier-Brasier are leading the program.
Dr Gabriel said Carbon Literacy was a term used to describe the knowledge and capacity to act on climate change, and that the program would align efforts between individuals and organisations.
"We're empowered to partner with the
Carbon Literacy Project
to help the community and organisations understand the impact of their daily activities on the climate, and highlight the steps they need to take to reduce their carbon footprint and advocate change," Dr Gabriel said.
After completing the short course, participants undergo a pledge and assessment to become certified as Carbon Literate via the Carbon Literacy Project – a global not-for-profit organisation specialising in climate-action training that has certified more than 20,000 people worldwide.
Carbon Literacy Project co-founder Phil Korbel said partnering with UQ was an important step in spreading awareness about climate change and would give participants the tools to reduce emissions at a personal and corporate level.
"The partnership with UQ is ground-breaking for the Australian education sector and helps to build a network of Carbon Literacy training to embed climate action throughout the institution and broader public," Mr Korbel said.
"UQ's vision for Carbon Literacy aligns with this UN's Intergovernmental Panel on Climate Change (IPCC) report released last week, which underlines the need for all sectors to get on board with the fight to minimise the climate crisis.
"Carbon Literacy is a professional skill set that applies to all subject specialisms, and UQ will make that skill set a reality."
UQ is also partnering with other Australian universities to roll out the Carbon Literacy Program nationally.
PRME manager Ms Valier-Brasier said it was crucial to build a greater understanding of carbon impacts in Australia and globally.
"We're contributing to the development of a Carbon Literate Australia and will foster collaborative partnerships to help provide access to the training anywhere in the country," she said.
To help amplify the national Carbon Literacy capability, participants can also apply to become a trainer once they are certified by the UQ Carbon Literacy Program.
The program will open during UQ's Sustainability Week on Monday 16 August.
I
t will train more than 100 people online on the first day and 1000 people by the end of the year.
Backing And Supporting Young Australians Through Our Youth Policy Framework
August 12, 2021: The Hon Alan Tudge MP, Minister for Education and Youth and The Hon Luke Howarth MP, Assistant Minister for Youth and Employment Services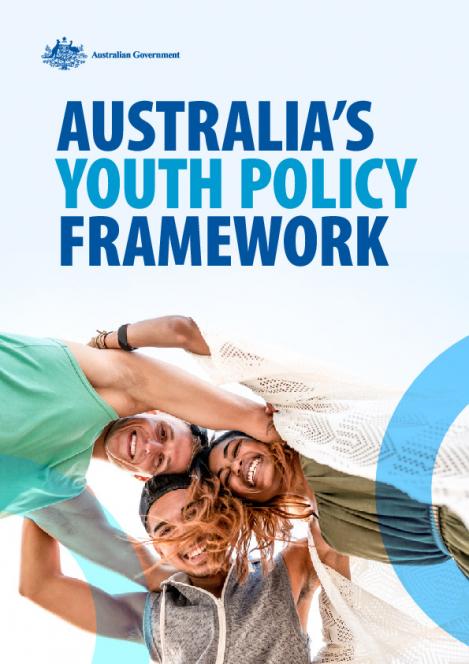 The Australian Government has today released the new Australian Youth Policy Framework, as part of ongoing and extensive consultation with young Australians.
The framework acknowledges the challenges faced by young Australians, particularly from the impacts of COVID-19, and outlines the Government's significant supports in education, employment, mental health and community engagement.
It also provides an important snapshot of Australia's 3.2 million young people and recognises the important role they play in our nation.
Minister for Education and Youth Alan Tudge said the framework aimed to look beyond the pandemic with optimism.
"Young Australians have been hit particularly hard by recent bushfires, floods and the COVID-19 pandemic, but they have also shown incredible resilience," Minister Tudge said.
"Missing out on schooling, sport, community events, key life moments, and time with family and friends has taken a significant toll, but there is much to be optimistic about."
"As our vaccine program ramps up and we see an end to lockdowns, this framework will help ensure we are focused on programs that keep our young people happy, healthy, safe and thriving."
"We're ensuring they have purpose and support and the best opportunities to succeed in the things that matter most to them including school, university and finding a job."
Assistant Minister for Youth and Employment Services Luke Howarth said the measures focus on listening to young people and giving them a greater say in what matters to them most.
"As we emerge from the pandemic, young people have a seat at the table and a say in securing Australia's recovery and building for the future." Assistant Minister Howarth said.
"I would like to thank the young people who participated in the consultations that led to this framework, be that in person or online.
"We remain focused on bringing hope to young people and our conversation will continue. We want all young Australians to be healthy, safe and empowered to reach their full potential."
Corinna's Career Head Start Thanks To TAFE NSW
Muswellbrook teen Corinna Brown always knew she wanted to be a nurse. So when she had the opportunity to kickstart her career early, she jumped at the chance to enroll in the TAFE NSW Certificate III in Health Services Assistance course as part of her HSC.
The move paid off for the now 18-year-old who was recently named Health, Wellbeing and Community Services Student of the Year (North) in the TAFE NSW Excellence Awards.
Completing her Health Services Assistance course last year while still at high school meant Corinna was already qualified to work as an Assistant in Nursing when she began a Diploma of Nursing this year at the TAFE NSW Tighes Hill campus.
With the Hunter Valley's health care and social assistance industry forecast to grow by 11.9 per cent in the next five years, Corinna's skills have been in high demand.
"As part of my course in high school, I had the opportunity to work one day each week at Muswellbrook Hospital," Corinna said.
"I continued this after I graduated, and now I also work at Singleton Hospital and in a Muswellbrook aged care facility.
"Studying at TAFE has been a great experience, and the teachers have been fantastic by providing me with flexibility when I needed it for work and study.
"It's made me even more certain that nursing is what I want to do, and ultimately, I'd like to be a midwife."
Acting Head Teacher Lynne Jenkinson said Corinna's high-school based study meant she got practical experience in nursing very early, which was a crucial part of making sure it really was her dream job.
"Corinna is a kind, considerate and compassionate student with a talent for nursing," Ms Jenkinson said.
"As a high school student, Corinna had to travel over two hours one day each week to her TAFE classes at Maitland, while working another day at the hospital. She juggled this with her other HSC subjects and school classes.
"Her Certificate III studies also mean Corinna has a head start on her peers and is able to easily understand the course content for the Diploma of Nursing."
For more information about kickstarting your career while still at school, visit
www.tafensw.edu.au
or call 131 601.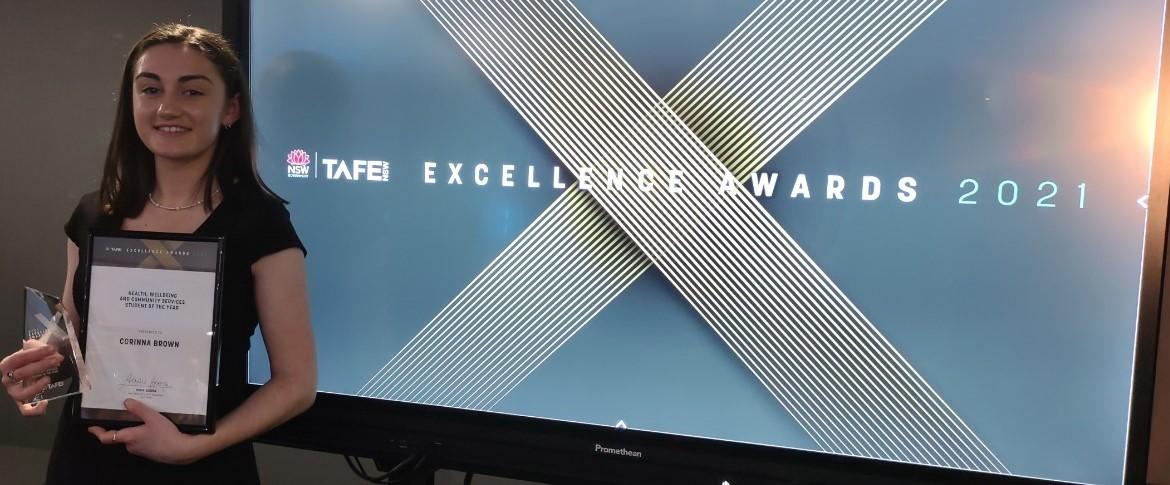 TAFE Fee-Free Online Courses Available For 16-24 Year Olds
The JobTrainer program provides young people and job seekers with low cost and fee-free* training courses to help you develop new skills, improve job prospects and kickstart your career. JobTrainer's fee-free training programs are available in various industries and include full qualifications and skillsets.
TAFE NSW fee-free* JobTrainer short courses (Statement of Attainment – SOA), certificates and diplomas are currently open for enrolment, so you can enrol now and upskill faster. Exciting new training courses are being added all the time, so check back regularly.
*Eligibility criteria apply.
To be eligible for a fully subsidised place you must meet Smart and Skilled eligibility guidelines which are:
live or work in NSW
be an Australian Citizen, a permanent resident, a New Zealand citizen, or a humanitarian visa holder
have left school
AND meet one of the following criteria:
aged from 16 - 24 inclusive, or
in receipt of a Commonwealth Government benefit, or
an unemployed person, or
people expected to become unemployed
Worth Noting: Get A Haircut & Get A Real Job - Boomers Vs. Gen. Z
The above article is interesting as it mentions that every generation never stops trying to look after their children and grandchildren, even when and after they've left the home nest.
The core of the American hippie movement during the 1960s and '70s were twenty-somethings who belonged to what demographers call the baby-boom generation and what Generation Z refers to as Boomers. Although a majority of them were NOT hippies, the hippy values held sway over the politics, pop culture and eventually mainstream society.
Hippies developed their own distinctive lifestyle, whereby they constructed a sense of marginality. Hippies were also known for their unique style, favouring long hair and casual, often unconventional, dress, sometimes in "psychedelic" colours. They loved Nature and favoured a vegetarian diet; the first 'generation' to do so. They spoke up and out, protested against pollution, destroying the environment and war - particularly the Vietnam War.

Baby boomers were born between 1946 and 1964. They're currently between 57-75 years old , Gen X: Gen X was born between 1965 and 1979/80 and is currently between 41-56 years old, Gen Y: Gen Y, or Millennials, were born between 1981 and 1994/6. Gen Z is the newest generation, born between 1997 and 2012. They are currently between 6 and 24 years old.

Be interesting to see what Generation A comes up with - should we commence again running through the alphabet, demographically, to define what defines a generation and its influence on our society.
Musically, many would instantly have a song 'pop up' that reminds them of this exhortation by any 'older' generation to do their best and become their best self. Although most of this devolves onto the way you 'look', despite the "don't judge a book by its cover" metaphorical phrase that means one should not judge the worth or value of something by its outward appearance alone, being around since 1860. A form of this first appeared in George Eliot's The Mill on the Floss (1860), when Mr. Tulliver discusses a Daniel Defoe story, saying how it [the book] was beautifully bound;
'The History of the Devil' by Daniel Defoe; not quite the right book for a little girl," said Mr. Riley, "How came it among your books, Tulliver?"

Maggie looked hurt and discouraged, while her father said, "Why, it's one o' the books I bought at Partridge's sale. They was all bound alike, it's a good binding, you see, and I thought they'd be all good books. There's Jeremy Taylor's 'Holy Living and Dying' among 'em ; I read in it often of a Sunday." (Mr. Tulliver felt somehow a familiarity with that great writer because his name was Jeremy); "and there 's a lot more of 'em, sermons mostly, I think ; but they 've all got the same covers, and I thought they were all o' one sample, as you may say. But it seems one mustn't judge by th' outside. This is a puzzlin' world.
The phrase is also attributed to a 1944 edition of the African journal American Speech: "You can't judge a book by its binding." It was popularised even more when it appeared in the 1946 murder mystery Murder in the Glass Room by Lester Fuller and Edwin Rolfe: "You can never tell a book by its cover."

Moving forward Gen Xers are reminded of the song made popular by George Thorogood 'Get a Haircut' which has Australian origins.
"Get a Haircut" is a rock song by George Thorogood and the Destroyers. It was released as a single from the 1992 album Haircut. The song was written by Bill Birch and David Avery. Mr. Thorogood recalls being at a club in Australia called the Black Marlin watching some of the performers. He liked "Get A Haircut", asked them who wrote it and decided to cover it. Thorogood began playing the song in 1970, but only decided to record it in 1992 because he had trouble getting the riff down in the studio. It peaked at number 2 on the Hot Mainstream Rock Tracks on August 28, 1992. "Get a Haircut" was the No. 1 most played song in Canada on FM radio. "Get a Haircut" has since become one of George Thorogood's signature songs, and has become a staple of classic rock radio.

In a 1993 interview Mr. Thorogood stated;
"We were at this place in Australia called the Black Marlin watching a couple of guys performing. We liked one of the songs and asked them who had written it. Birch and Avery were the guys who wrote it. This was at Lee Marvin's old hangout."




Thorogood is a big fan of the late actor. "We dedicated a song to him. Some writer for the L.A. Times wrote a story that had some psychologist saying the song had a bad message. The writer called Lee about it, but Lee said the song was cool."
There doesn't seem to be any connection, as yet defined, to the Australian slang phrase 'not here to get a haircut' but the fact that we have a clearly have a few Australian phrases or idioms related to hair indicates some of us are obviously into a hair thing. The phrase '
not here to get a haircut'
is defined as meaning a more polite, but sarcastic way, of saying that something is so obvious.
Example: 'Bloke' 1: Hey are going to go to the bar to grab a beer? Bloke 2: Well I'll tell you what champ, we're not here to get a haircut.
So why does 'Get a Haircut' serve as a reminder that the grandmother and grandfather, the elder aunts and uncles and carers, along with your own dear ma and pa and unofficial 'mums and dads' once also kicked up their heels and indulged in outrageous and poor fashion choices and haircuts (check out 'beehives') or the lack of that they giggle over today ['didn't we look ....'] ? - simply that; we were all young once, all indulged in what we thought looked good or just suited our temperament at that stage of our lives, all have made mistakes (light-bulb moment for one of my brothers years ago; 'you know mum and dad aren't perfect - they're just trying to do the best they can all the time - you should give them a break, and give yourself a break too') and some of us even grew our hair long because;
a) I'm a girl - some of us have long hair!!!
b) I couldn't be bothered to get a haircut
c) I'm making a visible statement about our opposition to everything and, also, why are girls the only ones who get to grow their hair long?
d) It looks cool man - it's a fashion/societal/my tribe/non-statement
The lyrics penned by Birch and Avery read:
I was a rebel from the day I left school
Grew my hair long and broke all the rules
I'd sit and listen to my records all day
With big ambitions of where I could play
My parents taught me what life was about
So I grew up the type they warned me about
They said my friends were just an unruly mob
And I should get a haircut and get a real job
Get a haircut and get a real job
Clean your act up and don't be a slob
Get it together like your big brother Bob
Why don't you get a haircut and get a real job
I even tried that nine to five scene
I told myself that it was all a bad dream
I found a band and some good songs to play
And now I party all night, I sleep all day
I met this chick she was my number one fan
She took me home to meet her mommy and dad
They took one look at me and said (oh my god)
Get a haircut and get a real job
Get a haircut and get a real job
Clean your act up and don't be a slob
Get it together like your big brother Bob
Why don't you get a haircut and get a real job
Get a real job, why don't you get a real job
Get a real job, why don't you get a real job
I hit the big time with my rock 'n' roll band
The future's brighter now than I'd ever planned
I'm ten times richer than my big brother Bob
But he, he's got a haircut he's got a real job
Get a haircut and get a real job
Clean your act up and don't be a slob
Get it together like your big brother Bob
Why don't you get a haircut and get a real job
Get a real job, why don't you get a real job
Get a real job, why don't you get a real job
George's rendition runs below - prior to that is a 'Boomer' speaking and then singing about Woodstock - that now iconic music festival attended by US 'Boomers'. There were several music festivals held here too - the Pilgrimage for Pop organised by the Sydney-based rock outfit of the time, the Nutwood Rug Band, played at Ourimbah on January 24th and 25th 1970, the Nimbin Aquarius Festival that ran 12 to 23 May 1973, which was actually the 4th and last of these festivals, the first being the Australian Universities Arts Festival which was held in Sydney in 1967, and the Sunbury Pop Festival, held on George Duncan's farm along Jacksons Creek, 3.5 km south of Sunbury and 2 km north-east of Diggers Rest in Victoria.
My children's 'grandparents', my own mum and dad, went to the first Bell's Beach surfing comp. - mum was pregnant with my older brother at the time, wore 'groovy' flares - even into the 1970's, and I remember mum racing into the lounge room of a Sunday night when Countdown was finishing on the television to bop along to Bryan Ferry's 'Let's Stick Together' - which was played over and over and over during 1976. Dad favoured Neil Diamond.
They also like jazz - the works of The Ink Spots and other aficiandoes echoes through the chambers of my childhood.
And being protective of your youngsters does not go away - especially in the realm of trying to deflect any criticism [or hurt] of them when they venture outside of the home nest - and that is defined as 'everywhere outdoors' .... I can tell you for a fact a mild form of panic immediately rears up and stays until you walk back in the door again.
It's just the way we're built.
Ok; Joni - a 'Boomer' herself - with a 'bonus' from her about carparks; Big Yellow Taxi .... as well as Mr. Ferry, who was with model Jerry Hall at that stage; you will see a younger her in that clip, and even one from those 1970's days of driving to and from anywhere with dad and mum when Mr. Diamond would play at full roar in our Holden Statesman.
''Turn it up dad! Can you turn this one up dad?''
No verbal response - just more volume! 😊😊😊😊😊😊😊😊😊😊😊😊😊🤣
Sydney University 'Inroads' Program: Anxiety And Alcohol Program Reaches Youth Via Social Media
Successful free online program amended for covid, avoids stigma
New program reduces anxiety and problem drinking by reaching youth via digital media - where they spend much of their time
How do you help young people living with anxiety, impacted by the pandemic, and at risk of drinking alcohol excessively to cope with the uncertainty, stress and anxiety? Research led by the University of Sydney has found that a free online program is helping, and are using social media to get to youth on their medium of choice.
Led by the University of Sydney's Matilda Centre, researchers developed the Inroads program for young adults with concerns about anxiety and drinking. Now with new funding support from the Australian Department of Health, the online program is freely available to help youth cope with the challenges of ongoing pandemic. Trial results just released show that the program is associated with significant improvements in anxiety symptoms and reductions in harmful alcohol use.
"The Inroads program is designed to be easy for young people to access and is the first to address both anxiety and alcohol issues, which are often linked," said study lead, Associate Professor Lexine Stapinski.
"We sought to avoid the stigma some people feel with face-to-face sessions and reached out where young people spend much of their time – on TikTok, Instagram, and other social media."
The clinical trial evaluated the Inroads program combined with follow-up phone/email support from a psychologist, compared to a control group receiving only factsheets encouraging safe alcohol use. Now, the program has gone fully online (with triggers to alert researchers if support from a psychologist is required) to enable it to be accessed at scale. It is now open to Australians aged 17-30.
A new animated video campaign on the Inroads Facebook says: "Many young Australians experience anxiety, stress, nervousness or worry; it's also common to rely on alcohol to cope. Sound like you? Visit
inroads.org.au
today."
Key findings from the trial:
The average number of daily drinks more than halved, to 1.53 drinks a day.
Episodes of binge drinking (5+ standard drinks in a session) fell from about twice a week to less than once a week (3.8 times each month).
Before using the Inroads program, 90 percent of people had clinically significant anxiety symptoms, which reduced to 43 percent after using the Inroads program.
The Inroads participants and control group experienced similar alcohol reductions in the short term (2 months), but only participants receiving the Inroads program maintained these improvements at the six-month checkpoint. Participants who received the Inroads program also reported reduced symptoms of anxiety and stress compared to the control group.
Associate Professor Stapinski said that in response to COVID-19, an additional trial of the program was launched this year that assesses whether the program helps mitigate the impacts of the pandemic on young people's stress, anxiety and alcohol use.
"Young Australians have reported that their anxiety got worse as a result of the pandemic," said Dr Stapinski, from the Faculty of Medicine and Health.
"Drinking to cope with anxiety and stress has also risen according to recent surveys, so we are pleased to be able to provide a tool to help during these times of lockdown and uncertainty."
The paper notes the program fills a critical gap: "Despite the developmental connections identified between anxiety and alcohol use… there are no existing youth-focused interventions that target anxiety symptoms, hazardous alcohol use and the interconnections between them."
The Inroads program, developed by the University of Sydney, comprises five weekly web-based modules, taking about 30 minutes each, including written information, videos, participant reflection and interactive exercises.
The program is evidence based, using cognitive behavioural therapy, where participants are guided to think realistically and take a stepped approach to facing their fears. It also encourages participants to explore their motivations to change and set goals.
The program is tailored to 'emerging adulthood' as a key window of opportunity for intervention to prevent problem behaviours establishing.
123 eligible participants were recruited to the study between 19 December 2017 and 11 September 2018 via a comprehensive, targeted strategy including media coverage, social media, distribution of flyers at educational institutions, and referral from youth services. Eligible participants were i) aged between 17 to 24 years and living in Australia, ii) reporting hazardous levels of alcohol use, and iii) reporting at least mild anxiety symptoms.
With the second program trial just launched, it will likely extend into mid-next year.
Emerging adults aged 17 to 30 are encouraged to register to participate in the program, at inroads.org.au.
The trial was funded by Australian Rotary Health and the National Health and Medical Research Council. The Inroads program is currently available through funding provided by the Australian Government Department of Health.
Next Steps For Digital Agriculture In Australia
Technology has improved our lives in numerous ways, but how often do we give up on new systems when they break down or seem too hard to use? This is the challenge facing the billion-dollar Australian agribusiness industry, where important innovations in digital agriculture have not yet been widely adopted.
"There have been great advances in digital agriculture in Australia," Curtin researcher Dr Elizabeth Jackson says. "But the problem we're seeing is in the adoption of these new systems. And that's not a technology issue, but a human issue, which impacts businesses and our supply chain."
Dr Jackson argues that a greater uptake in new digital technologies would significantly advance Australia's food production supply chain by improving meat quality, creating greater profits for farmers and, importantly, enhancing standards of animal welfare.
"Creating value is essential for Australian food in the global market. Our competitors overseas can produce meat and grain for a lot less, so if we want to keep enjoying the prices we receive for our goods, we have to offer a premium product."
And that's where advances in digital agriculture come in.
"We have a really exciting new technology called DEXA," she enthuses. "It's a machine that can measure meat, fat and bone in a carcass before it's further processed.
"What we want is the meat component of an animal because that's where the value is. So, if we build a system of payment based on meat quality, and feed the information back to the producers, it's a real monetary incentive for farmers to produce better-quality animals. And better-quality animals are animals raised with higher standards, so we lift animal welfare standards across the supply chain.
"Our competitors overseas can produce meat and grain for a lot less, so if we want to keep enjoying the prices we receive for our goods, we have to offer a premium product."
Despite the promise of these improvements, DEXA technology remains prohibitively expensive for many meat processors and has yet to be widely adopted.
"DEXA is understandably too costly for many smaller meat processors," says Dr Jackson. "But we're also seeing issues with the adoption of traceability technology like electronic identification (EID)."
EID technology has been developed to monitor sheep throughout the supply chain, using electronic ear tags.
"The ear tags help trace the provenance of the sheep, which is a great selling point for consumers, enhancing their confidence in the quality of the meat. But despite the clear added value to the Australian meat industry, we're having difficulty with its adoption."
Dr Jackson has been working closely with industry to identify the reasons why.
"What I hear from industry is that the slow adoption of this technology is down to price and on-farm practicality," she says. "But a major reason is that producers lack the support systems and motivation to embrace these new technologies."
"We need to build better support mechanisms around these technologies to increase producer confidence and uptake."
Another critical issue for producers is animal welfare. While new technologies are often centred on enhancing animal wellbeing, when they break down, the result is the exact opposite.
Dr Jackson shares the example of sensor technology.
"Many Australian farms are in vast, remote areas where it is costly and time-consuming to monitor animals in person," she explains. "New sensor technology enables farmers to monitor their livestock remotely."
For example, the technology can be used to monitor the welfare of pregnant cows and calves in ultra-remote locations.
"One of the most stressful times in a cow's life is when she's pregnant and giving birth," explains Dr Jackson. "But in these remote locations, some cows may never see a human. Electronic identification can monitor the cows during this crucial pre-natal period and alert the farmer to any distress."
While the technology offers significant cost and time savings, farmers are concerned about the consequences should the technology fail.
"Losing a cow due to pregnancy or birth would be disastrous."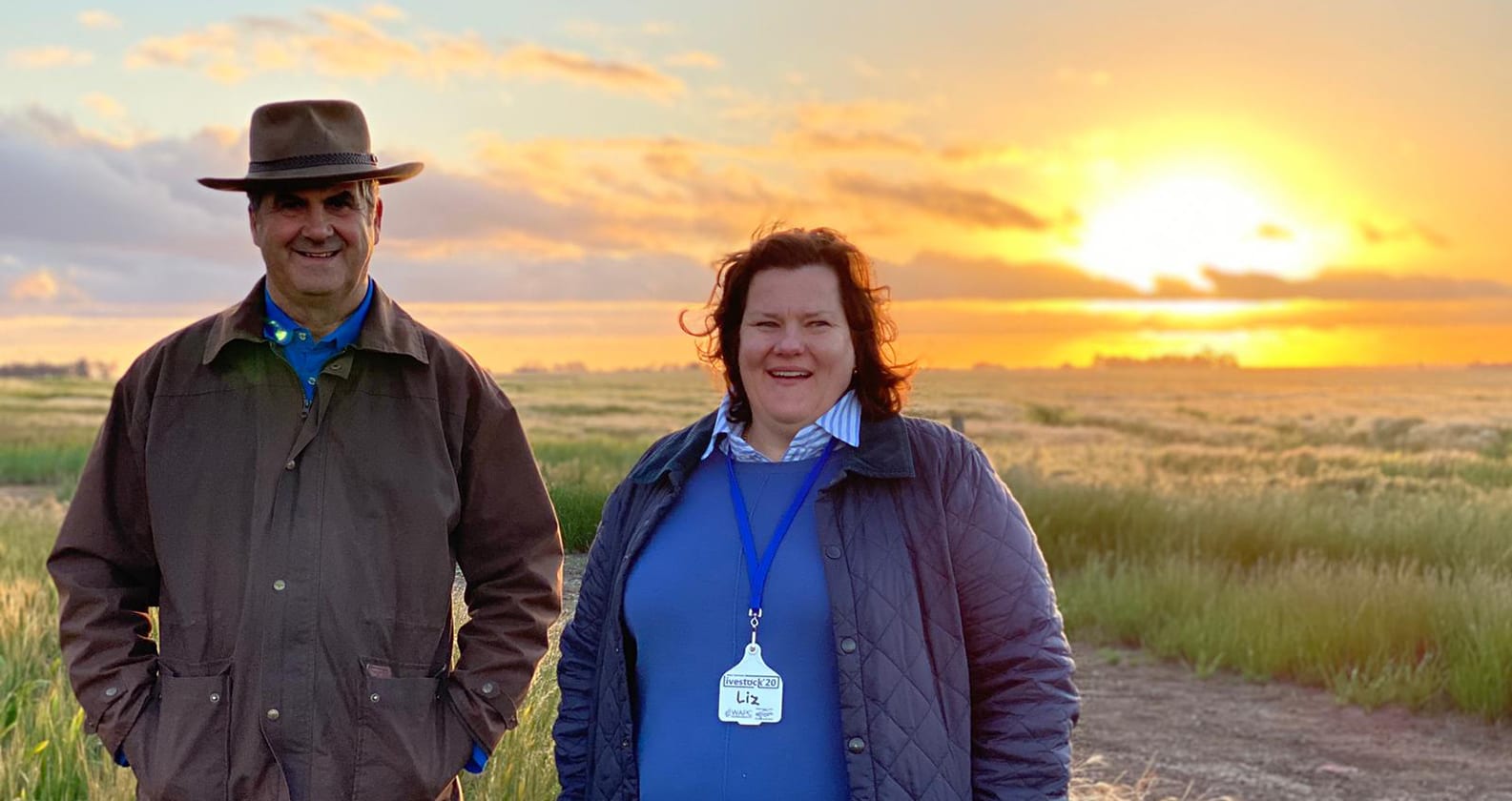 Livestock Council of WA Farmers President David Slade with Dr Elizabeth Jackson. Photo: Jessica Wallace, WA Farmers.
Dr Jackson says a new system to monitor remote watering points is enjoying greater success, due to an innovative support network devised by local farmers.
"As I mentioned, many Australian farms are enormous," she says. "It takes a huge amount of time and money to check on livestock watering points. But watering points need monitoring because they're often in arid conditions, and frequently service livestock and wildlife."
Farmers are now able to monitor these watering points remotely from their phones.
"It's a fantastic innovation and everyone is really happy with it, until the technology breaks down, as new technologies often do," Dr Jackson says. "It's unforgiveable for animals to be deprived of water, so there is a great risk farmers will 'dis-adopt' the system because of the high-stakes consequences of its failure."
But a group of farmers in Western Australia has banded together to find a solution.
"This group has got together to fund a local support service," explains Dr Jackson. "They've said, 'We want this to work, and if the system breaks down, you don't have to call a tech support centre that might be based overseas, we've got someone locally who can speak to you and help you out."
"It's a great example of how we can build businesses and supply chains differently to facilitate the adoption of digital innovations so they continue into the future."
Dr Jackson hopes her research into these supply chain technologies will encourage the development of further support systems.
"If we can encourage producers to embrace these new technologies, there will be tremendous benefits for Australian agribusiness," she says. "It's about putting the right support systems in place and understanding that the adoption of digital agriculture is not merely a technological process, but a social one."
UQ Leads Climate Action As First Australian University To Provide Carbon Literacy Training
Helping individuals and organisations tackle the climate crisis is the focus of an Australian-first training program adopted by The University of Queensland.
After a successful pilot, UQ Business School became an accredited partner with the Carbon Literacy Project as the first university in Australia to launch a Carbon Literacy Program.
Director for the United Nations (UN) Principles for Responsible Management Education (PRME) for the UQ Business School Dr Cle-Anne Gabriel, climate expert Dr Saphira Rekker and PRME manager Roxane Valier-Brasier are leading the program.
Dr Gabriel said Carbon Literacy was a term used to describe the knowledge and capacity to act on climate change, and that the program would align efforts between individuals and organisations.
"We're empowered to partner with the
Carbon Literacy Project
to help the community and organisations understand the impact of their daily activities on the climate, and highlight the steps they need to take to reduce their carbon footprint and advocate change," Dr Gabriel said.
After completing the short course, participants undergo a pledge and assessment to become certified as Carbon Literate via the Carbon Literacy Project – a global not-for-profit organisation specialising in climate-action training that has certified more than 20,000 people worldwide.
Carbon Literacy Project co-founder Phil Korbel said partnering with UQ was an important step in spreading awareness about climate change and would give participants the tools to reduce emissions at a personal and corporate level.
"The partnership with UQ is ground-breaking for the Australian education sector and helps to build a network of Carbon Literacy training to embed climate action throughout the institution and broader public," Mr Korbel said.
"UQ's vision for Carbon Literacy aligns with this UN's Intergovernmental Panel on Climate Change (IPCC) report released last week, which underlines the need for all sectors to get on board with the fight to minimise the climate crisis.
"Carbon Literacy is a professional skill set that applies to all subject specialisms, and UQ will make that skill set a reality."
UQ is also partnering with other Australian universities to roll out the Carbon Literacy Program nationally.
PRME manager Ms Valier-Brasier said it was crucial to build a greater understanding of carbon impacts in Australia and globally.
"We're contributing to the development of a Carbon Literate Australia and will foster collaborative partnerships to help provide access to the training anywhere in the country," she said.
To help amplify the national Carbon Literacy capability, participants can also apply to become a trainer once they are certified by the UQ Carbon Literacy Program.
The program will open during UQ's Sustainability Week on Monday 16 August.
It will train more than 100 people online on the first day and 1000 people by the end of the year.
UNSW Partners With UK Government To Transform Ocean Accounting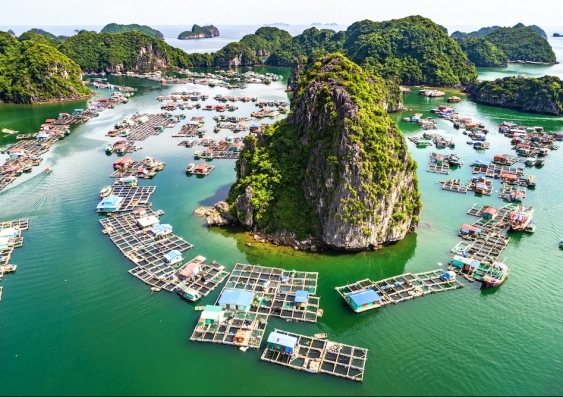 The UK government has announced a $1.8 million initial contribution to the Global Ocean Accounts Partnership (GOAP), coordinated by UNSW Sydney. The GOAP is one of the first projects announced under the first £16.2 million in funding from the UK's £500 million Blue Planet Fund. Established to tackle climate change, restore ocean health and reduce poverty in developing countries, the Blue Planet Fund is financed from the UK's overseas aid budget. This round of funded projects will increase marine protection, tackle plastic pollution and the decline of global coral reefs.
The UK's investment in the GOAP builds on the first global dialogue on ocean accounting at UNSW in late 2019. The University and the UN Economic and Social Commission for Asia and the Pacific (ESCAP) co-hosted representatives of 18 governments on campus to explore options for technical and policy collaboration.
"This announcement by the UK government is welcomed by UNSW and is an important recognition of the shared responsibility for our natural environment," UNSW President and Vice-Chancellor Professor Ian Jacobs said.
"It is incumbent upon all countries to collaborate and draw on the rich knowledge in our universities to support peoples whose wellbeing relies on the sustainability of our ocean."
Measurement of progress for the ocean economy currently focuses on production indicators such as contribution to gross domestic product (GDP). With current data and technology, it's now possible for all countries in the future to account for the status of the natural wealth of the ocean – the most important measure of progress towards sustainability of the ocean economy. The development and integration of ocean accounts into existing national accounts can provide a dynamic evidence base that goes beyond a single indicator of production to reflect the full value of the ocean economy.
The $1.8 million Blue Planet funding will provide strategic support for the GOAP, including scaling of pilot projects in five developing countries – in Africa and the Asia Pacific – and facilitation of increased global technical and policy collaboration. Global research collaboration will enable the development of common technical guidelines, supporting the UN Statistical Commission's efforts to adopt internationally standardised guidance for ocean accounting by 2023. Technical guidance on ocean accounting for project and program developers and managers will facilitate comparable tracking of progress towards sustainable development across key social, environmental and economic indicators.
UNSW's contributions to the collaboration will be led by Dr Ben Milligan, an interdisciplinary Scientia Fellow based at UNSW faculties of Law & Justice, Science and Business. Dr Milligan is director of the GOAP Secretariat, which the University has hosted since 2019.
"The ocean is one of our most precious assets and our well-being depends on a healthy ocean. This project is an exciting step towards ensuring that decision-makers around the world can account – and be held to account – for how the ocean is changing over time and how our decisions about the ocean affect society and the economy for better or worse," Dr Milligan said.
The project links expertise across UNSW, spanning marine science, data science, accounting and economics, and ocean law and governance.
"The ocean is warming, acidifying, deoxygenating, and we have been replacing protein with plastic around the globe. If we are to thrive beyond this decade, we must work together at a frantic pace to firstly halt and then reverse the damage to our shared environmental assets.
"Our future depends on the work of Dr Milligan and his team assisting in the creation of highly integrated governance and accounting for our rapidly changing ocean and coasts," UNSW Dean of Science Professor Emma Johnston said.
The project is supported by the UNSW Institute for Global Development (IGD) and UNSW Global Water Institute (GWI), both of which have played key roles in delivery of work to date. Hosted by UNSW Law & Justice, it also forms a key part of the faculty's new Sustainable Development Reform Hub, which seeks to co-develop a cluster of enduring change-making collaborations with external stakeholders through a consultation process and seed funding.
Australian government seed funding will grow community of practice
UNSW, partnering with Madras School of Economics (MSE), has also received funding to further the development and use of ocean accounting under the Australia-India Indo-Pacific Oceans Initiative Partnership (AIIPOIP) program. Senator Marise Payne, Australia's Minister for Foreign Affairs, recently announced the inaugural grants. In a media release, she said the program "reiterates Australia's strong commitment to working with close regional partners in delivering an open, inclusive, resilient, prosperous and rules-based maritime order".
The UNSW–MSE partnership will support a growing community of practice developing ocean accounting. The team will tackle a range of ocean challenges, including marine plastic pollution, developing ways to measure where the plastic is coming from and how much may be reaching the ocean.
UNSW Science Scientia PhD candidate in marine sciences Jordan Gacutan, one of the members of the GOAP Secretariat team led by Dr Milligan, said both Australia and India face several challenges in maritime ecology.
"This partnership with Madras School of Economics will strengthen our ability to deliver a concerted international response to shared ocean challenges, such as the rapid loss of key ecosystems and the increase in harmful plastic pollutants.
"By understanding how much we rely on ocean ecosystems, and how much we stand to lose from their deterioration, we can better mobilise the resources and investment needed for ecosystems to thrive into the future," Mr Gacutan said.
Many More Meat-Free Mondays Needed To Sustain World Population Of 9 Billion
The global food system could be pushed to breaking point unless major changes happen in the next 20 years.

That's the view of food and health expert Professor Johannes le Coutre, from UNSW's School of Chemical Engineering, who says a major reduction in meat consumption is not only more environmentally sustainable, but could also help to reduce the impact of climate change.
Professor le Coutre took part in a discussion on The Future of Food as part of a Centre for Ideas event at the start of National Science Week.
He says that reducing traditional meat consumption will have a dramatic and beneficial effect on the planet, given the fact that livestock systems are currently estimated to be responsible for around 14 per cent of global greenhouse gas emissions – compared to an estimated 2 per cent for the aviation industry.
And with the world's population predicted to grow by around 1 billion within the next two decades, trying to feed so many people in the same way we do today will simply not be possible.
"We can look at health, and the role that food plays, in terms of three pillars – individual health, planetary health and economic health. And they are all intertwined," Professor le Coutre says.
"As part of that we need to look at climate change, at sustainability, at biodiversity and also how food impacts on our individual health.
"Meat consumption clearly is a significant culprit on a global scale, which is linked to massive feed production and the use of arable land and water to keep all that livestock alive and growing to meet the demands of our current food system.
"The figures don't add up, especially when the estimates are for 9 billion people on the planet in 20 years or so. We already have 800 million people who are going to sleep hungry each night, and 110 million people globally who are suffering from acute hunger.
"Some people say the food system right now is broken. I don't believe it is, but we will certainly be breaking it if we just continue doing things the way they were done in the 20th Century."
Novel meat and meat substitutes on the menu
Professor le Coutre says the main goal in terms of the future of food is to ensure that everyone on the planet has access to good quality nutrition, with hunger levels dramatically reduced or even eliminated completely.
He is a leading researcher in cellular agriculture – that is the process by which meat can be produced in food-grade facilities using cells taken from animals without killing them. The process is not limited to food only. Other products such as collagen or leather are also within the scope of potential products.
Cell-based meat could be the key to revolutionising not only our diets, but also the entire farming system given the fact that over 1 billion tonnes of animal feed has to be produced every year just to ensure current global meat demand is met.
Prof. le Coutre does not think that mammalian based meat consumption will ever be totally replaced, and he predicts that other organisms such as insects can become an increasingly important sources of protein for people across the planet in the decades to come.
"I do not think we will ever totally eliminate traditional animal-based meat – that will always be in our food system, and in our supermarkets and on our plates. And that's OK, because we all need to be eating a balanced diet.
"But it needs to be at a much higher price point, like $25 for a real animal steak rather than $12 currently," he says.
"In the future, our shops will sell a more diverse selection of products including animal-based meat, plant-based meats and cell-based meats, but this will not happen overnight."
"This change in the foods we eat could be absolutely historic, and we are in the transition period right now. If we have a meaningful representation of cell-based meat on our supermarket shelves in 5-10 years, then that would be a really good result.
"In 20 or 30 years, if we start to see a dent in the consumption of animals, then again that will be a big success. But it will go slowly."
Although research and development of slaughter-free meat has already produced some exciting results, one of the major hurdles to overcome is fully commercialising it.
"The big issue for cell-based meat is one of scaling, and also of cost. How long is it going to take to produce 1kg and what is the price going to be?" Prof. le Coutre says.
"The final product needs to be able to compete with traditional animal-based meat in terms of cost, otherwise consumers are always going to choose the cheaper option.
"But it's really important that the traditional meat industry is not scared and alienated by all these new concepts and technologies. There will always be beautiful Wagyu beef and Porterhouse steaks and that's great – as long as the price point is appropriate."
One of the near future innovations is the commercial production of insects as food – touted as being high in nutrition, as well as rich in protein, omega-3 fatty acids, iron, zinc, folic acid and vitamins.
"Some people might think insects are horrible and they could never eat them," Prof. le Coutre says.
"But insects are one of the four classes that make up the group biologists call Arthropods, and one of the other classes in the group are crustaceans – that is prawns and shrimps and crabs and lobsters, which many people happily consume.
"So, if people think of it in that way, the 'yuck factor' is gone and there is definitely potential for increased consumption of insects in global diets."
Pollinators: First Global Risk Index For Species Declines And Effects On Humanity
Disappearing habitats and use of pesticides are driving the loss of pollinator species around the world, posing a threat to "ecosystem services" that provide food and wellbeing to many millions -- particularly in the Global South -- as well as billions of dollars in crop productivity.
This is according to an international panel of experts, led by the University of Cambridge, who used available evidence to create the first planetary risk index of the causes and effects of dramatic pollinator declines in six global regions.
The bees, butterflies, wasps, beetles, bats, flies and hummingbirds that distribute pollen, vital for the reproduction of over 75% of food crops and flowering plants -- including coffee, rapeseed and most fruits -- are visibly diminishing the world over, yet little is known of the consequences for human populations.
"What happens to pollinators could have huge knock-on effects for humanity," said Dr Lynn Dicks from Cambridge's Department of Zoology. "These small creatures play central roles in the world's ecosystems, including many that humans and other animals rely on for nutrition. If they go, we may be in serious trouble."
Dicks assembled a 20-strong team of scientists and indigenous representatives to attempt an initial evaluation of the drivers and risks for pollinator declines worldwide. The research is published today in Nature Ecology & Evolution.
The top three global causes of pollinator loss are habitat destruction, followed by land management -- primarily the grazing, fertilizers and crop monoculture of farming -- and then widespread pesticide use, according to the study. The effect of climate change comes in at number four, although data are limited.
Perhaps the biggest direct risk to humans across all regions is "crop pollination deficit": falls in quantity and quality of food and biofuel crops. Experts ranked the risk of crop yield "instability" as serious or high across two-thirds of the planet -- from Africa to Latin America -- where many rely directly on pollinated crops through small-holder farming.
"Crops dependent on pollinators fluctuate more in yield than, for example, cereals," said Dicks. "Increasingly unusual climatic phenomena, such as extreme rainfall and temperature, are already affecting crops. Pollinator loss adds further instability -- it's the last thing people need."
A major 2016 report to which Lynn Dicks contributed suggested there has been up to a 300% increase in pollinator-dependent food production over the past half century, with an annual market value that may be as much as US$577 billion.
Reduced species diversity was seen as a high-ranking global risk to humans, which not only risks food security but a loss of "aesthetic and cultural value." These species have been emblems of nature for millennia, argue the experts, and too little consideration is given to how their declines affect human wellbeing.
"Pollinators have been sources of inspiration for art, music, literature and technology since the dawn of human history," said Dicks. "All the major world religions have sacred passages about bees. When tragedy struck Manchester in 2017, people reached for bees as a symbol of community strength."
"Pollinators are often the most immediate representatives of the natural world in our daily lives. These are the creatures that captivate us early in life. We notice and feel their loss. Where are the clouds of butterflies in the late summer garden, or the myriad moths fluttering in through open windows at night?"
"We are in the midst of a species extinction crisis, but for many people that is intangible. Perhaps pollinators are the bellwether of mass extinction," said Dicks.
Loss of access to "managed pollinators" such as industrial beehives was ranked as a high risk to North American society, where they boost crops including apples and almonds, and have suffered serious declines from disease and 'colony collapse disorder'.
The impact of pollinator decline on wild plants and fruits was viewed a serious risk in Africa, Asia-Pacific and Latin America -- regions with many low-income countries where rural populations rely on wild-growing foods.
In fact, Latin America was viewed as the region with most to lose. Insect-pollinated crops such as cashew, soybean, coffee and cocoa are essential to regional food supply and international trade right across the continent. It is also home to large indigenous populations reliant on pollinated plants, with pollinator species such as hummingbirds embedded in oral culture and history.
Asia Pacific was another global region where pollinator decline was perceived to pose serious risks to human well-being. China and India are increasingly reliant on fruit and vegetable crops that need pollinators, some of which now require people to pollinate by hand.
The researchers caution that not enough is known about the state of pollinator populations in the Global South, as evidence of decline is still primarily from wealthy regions such as Europe (where at least 37% of bee and 31% of butterfly species are in decline). Pollination deficits and biodiversity loss were seen as the biggest risks to Europeans, with potential to affect crops ranging from strawberries to oilseed rape.
Dr Tom Breeze, co-author and Ecological Economics Research Fellow at the University of Reading, said: "This study highlights just how much we still don't know about pollinator decline and the impacts this has on human societies, particularly in parts of the developing world.
"While we have data on how pollinators are doing in regions like Europe, there are significant knowledge gaps in many others. More research is needed on a global level so we can really understand the problems we face, and how we might address them."
Lynn V. Dicks, Tom D. Breeze, Hien T. Ngo, Deepa Senapathi, Jiandong An, Marcelo A. Aizen, Parthiba Basu, Damayanti Buchori, Leonardo Galetto, Lucas A. Garibaldi, Barbara Gemmill-Herren, Brad G. Howlett, Vera L. Imperatriz-Fonseca, Steven D. Johnson, Anikó Kovács-Hostyánszki, Yong Jung Kwon, H. Michael G. Lattorff, Thingreipi Lungharwo, Coleen L. Seymour, Adam J. Vanbergen & Simon G. Potts.
A global-scale expert assessment of drivers and risks associated with pollinator decline.
Nature Ecology & Evolution, 2021 DOI:
10.1038/s41559-021-01534-9
Histamine Could Be A Key Player In Depression
Bodily inflammation dampens levels of a 'feel-good molecule' and antidepressants' ability to boost them, according to new research in mice.
The findings, from researchers at Imperial College London and University of South Carolina, add to mounting evidence that inflammation, and the accompanying release of the molecule histamine, affects a key molecule responsible for mood in the brain -- serotonin.
If replicated in humans, the findings -- which identify histamine as a 'new molecule of interest' in depression -- could open new avenues for treating depression, which is the most common mental health problem worldwide.
Inflammation -- a blanket term describing an immune response -- triggers the release of histamine in the body. This increases blood flow to affected areas to flood them with immune cells. While these effects help the body fight infections, both long-term and acute inflammation is increasingly linked to depression. Inflammation accompanies infections but can also be caused by stress, allergic responses and a host of chronic diseases such as diabetes, obesity, cancer and neurodegenerative diseases.
Lead author Dr Parastoo Hashemi, from Imperial's Department of Bioengineering, said: "Inflammation could play a huge role in depression, and there is already strong evidence that patients with both depression and severe inflammation are the ones most likely not to respond to antidepressants.
"Our work shines a spotlight on histamine as a potential key player in depression. This, and its interactions with the 'feel-good molecule' serotonin, may thus be a crucial new avenue in improving serotonin-based treatments for depression."
Serotonin, often referred to as the 'feel-good molecule', is a key target for depression-tackling drugs. Commonly prescribed selective serotonin reuptake inhibitors (SSRIs) inhibit the re-absorption of serotonin in the brain, allowing it to circulate for longer and improve mood.
However, although SSRIs bring relief to many who take them, a growing number of individuals are resistant to their effects. Researchers think one reason for this could lie in the specific interactions between chemical messengers, or neurotransmitters, including serotonin and histamine.
With this in mind, researchers set out to investigate the relationship between histamine, serotonin, and SSRIs.
They created serotonin-measuring microelectrodes and put them into the hippocampus of the brains of live mice, an area known to regulate mood. The technique, known as fast scan cyclic voltammetry (FSCV), allowed them to measure brain serotonin levels in real time without harming the brain, as they are biocompatible and only five micrometers wide.
After placing the microelectrodes, they injected half the mice with lipopolysaccharide (LPS), an inflammation-causing toxin found in some bacteria, and half the mice with a saline solution as a control.
Brain serotonin levels dropped within minutes of LPS injection, whereas they remained the same in control mice, demonstrating how quickly inflammatory responses in the body translate to the brain and affect serotonin. LPS is unable to cross the protective blood-brain barrier and could therefore not have caused this drop directly.
On further examination they found that the histamine in the brain was triggered by the inflammatory response and directly inhibited the release of serotonin, by attaching to inhibitory receptors on the serotonin neurons. These inhibitory receptors are also present on human serotonin neurons, so this effect might translate to people.
To counter this, the researchers administered SSRIs to the mice, but they were much less able to boost serotonin levels than in control mice. They posited that this is because the SSRIs directly increased the amount of histamine in the brain, cancelling out its serotonin boosting action.
The researchers then administered histamine reducing drugs alongside the SSRIs to counter histamine's inhibitory effects, and saw serotonin levels rise back to control levels. This appears to confirm the theory that histamine directly dampens serotonin release in the mouse brain. These histamine reducing drugs cause a whole-body reduction in histamine and are distinct from antihistamines taken for allergies, which block histamine's effects on neurons.
A new molecule of interest
The researchers say that if their work translates to humans it could help us towards eventually diagnosing depression by measuring chemicals like serotonin and histamine in human brains.
They also say the findings open new avenues to explore histamine as a causative agent of depression, including potentially developing novel drugs that reduce histamine in the brain.
Because the work was done in animals, more research will be needed to know if the concepts translate to humans. However, it is not currently feasible to use microelectrodes to make similar measurements in human brains, so the researchers are now looking at other ways to get a snapshot of the brain by looking at other organs which use serotonin and histamine, like the gut.
Pain, which accompanies inflammation, can also change neurotransmitter levels -- but previous research shows that in similar models, these changes last a few minutes, whereas the serotonin drop shown in this research lasted much longer, ruling out pain as a reason for the serotonin decrease.
Dr Hashemi added: "Inflammation is a whole-body response and is therefore hugely complex. Depression is similarly complex, and the chemicals involved are affected in myriad ways by both genetic and environmental factors. Thus we need to look at more complex models of depression behaviours in both mice and humans to get a fuller picture of both histamine and serotonin's roles in depression."
Melinda Hersey, Srimal Samaranayake, Shane N. Berger, Navid Tavakoli, Sergio Mena, H. Frederik Nijhout, Michael C. Reed, Janet Best, Randy D. Blakely, Lawrence P. Reagan, Parastoo Hashemi.
Inflammation-Induced Histamine Impairs the Capacity of Escitalopram to Increase Hippocampal Extracellular Serotonin.
The Journal of Neuroscience, 2021; 41 (30): 6564 DOI:
10.1523/JNEUROSCI.2618-20.2021
'Missing Jigsaw Piece': Engineers Make Critical Advance In Quantum Computer Design
Quantum engineers from UNSW Sydney have removed a major obstacle that has stood in the way of quantum computers becoming a reality: they discovered a new technique they say will be capable of controlling millions of spin qubits -- the basic units of information in a silicon quantum processor.
Until now, quantum computer engineers and scientists have worked with a proof-of-concept model of quantum processors by demonstrating the control of only a handful of qubits.
But with their latest research, published today in Science Advances, the team have found what they consider 'the missing jigsaw piece' in the quantum computer architecture that should enable the control of the millions of qubits needed for extraordinarily complex calculations.
Dr Jarryd Pla, a faculty member in UNSW's School of Electrical Engineering and Telecommunications says his research team wanted to crack the problem that had stumped quantum computer scientists for decades: how to control not just a few, but millions of qubits without taking up valuable space with more wiring, using more electricity, and generating more heat.
"Up until this point, controlling electron spin qubits relied on us delivering microwave magnetic fields by putting a current through a wire right beside the qubit," Dr Pla says.
"This poses some real challenges if we want to scale up to the millions of qubits that a quantum computer will need to solve globally significant problems, such as the design of new vaccines.
"First off, the magnetic fields drop off really quickly with distance, so we can only control those qubits closest to the wire. That means we would need to add more and more wires as we brought in more and more qubits, which would take up a lot of real estate on the chip."
And since the chip must operate at freezing cold temperatures, below -270°C, Dr Pla says introducing more wires would generate way too much heat in the chip, interfering with the reliability of the qubits.
"So we come back to only being able to control a few qubits with this wire technique," Dr Pla says.
The solution to this problem involved a complete reimagining of the silicon chip structure.
Rather than having thousands of control wires on the same thumbnail-sized silicon chip that also needs to contain millions of qubits, the team looked at the feasibility of generating a magnetic field from above the chip that could manipulate all of the qubits simultaneously.
This idea of controlling all qubits simultaneously was first posited by quantum computing scientists back in the 1990s, but so far, nobody had worked out a practical way to do this -- until now.
"First we removed the wire next to the qubits and then came up with a novel way to deliver microwave-frequency magnetic control fields across the entire system. So in principle, we could deliver control fields to up to four million qubits," says Dr Pla.
Dr Pla and the team introduced a new component directly above the silicon chip -- a crystal prism called a dielectric resonator. When microwaves are directed into the resonator, it focuses the wavelength of the microwaves down to a much smaller size.
"The dielectric resonator shrinks the wavelength down below one millimetre, so we now have a very efficient conversion of microwave power into the magnetic field that controls the spins of all the qubits.
"There are two key innovations here. The first is that we don't have to put in a lot of power to get a strong driving field for the qubits, which crucially means we don't generate much heat. The second is that the field is very uniform across the chip, so that millions of qubits all experience the same level of control."
Although Dr Pla and his team had developed the prototype resonator technology, they didn't have the silicon qubits to test it on. So he spoke with his engineering colleague at UNSW, Scientia Professor Andrew Dzurak, whose team had over the past decade demonstrated the first and the most accurate quantum logic using the same silicon manufacturing technology used to make conventional computer chips.
"I was completely blown away when Jarryd came to me with his new idea," Prof. Dzurak says, "and we immediately got down to work to see how we could integrate it with the qubit chips that my team has developed.
"We put two of our best PhD students on the project, Ensar Vahapoglu from my team, and James Slack-Smith from Jarryd's.
"We were overjoyed when the experiment proved successful. This problem of how to control millions of qubits had been worrying me for a long time, since it was a major roadblock to building a full-scale quantum computer."
Once only dreamt about in the 1980s, quantum computers using thousands of qubits to solve problems of commercial significance may now be less than a decade away. Beyond that, they are expected to bring new firepower to solving global challenges and developing new technologies because of their ability to model extraordinarily complex systems.
Climate change, drug and vaccine design, code decryption and artificial intelligence all stand to benefit from quantum computing technology.
Next up, the team plans to use this new technology to simplify the design of near-term silicon quantum processors.
"Removing the on-chip control wire frees up space for additional qubits and all of the other electronics required to build a quantum processor. It makes the task of going to the next step of producing devices with some tens of qubits much simpler," says Prof. Dzurak.
"While there are engineering challenges to resolve before processors with a million qubits can be made, we are excited by the fact that we now have a way to control them," says Dr Pla.
Ensar Vahapoglu, James P. Slack-Smith, Ross C. C. Leon, Wee Han Lim, Fay E. Hudson, Tom Day, Tuomo Tanttu, Chih Hwan Yang, Arne Laucht, Andrew S. Dzurak, Jarryd J. Pla.
Single-electron spin resonance in a nanoelectronic device using a global field.
Science Advances, 2021; 7 (33): eabg9158 DOI:
10.1126/sciadv.abg9158
Disclaimer: These articles are not intended to provide medical advice, diagnosis or treatment. Views expressed here do not necessarily reflect those of Pittwater Online News or its staff.