inbox and environment news: Issue 505
August 8 - 14, 2021: Issue 505
Surf Life Saving Sydney Northern Beaches Branch: Awards Of Excellence 2021

The SLS SNB Branch Awards of Excellence were announced on Friday August 6, 2021 from among the
hundreds of nominees
in all categories and from all clubs. The event was held as an online function that provided an opportunity to congratulate winners on their achievements. Branch winners announced progress to the SLSNSW Awards of Excellence which are being held virtually on the 28th of August.
The SLS SNB Awards of Excellence winners announced were:
Harry Ragan Outstanding Service Award - Cameron Powell of Warriewood
Raymond Matthew Brown Radio Operator Award - Ian Poole of Manly
President's Award - Peter Kinsey of Long Reef
Patrol Audit 97% - North Narrabeen SLSC
Patrol Audit 96% - Dee Why SLSC, Narrabeen Beach SLSC, Warriewood SLSC
Club of the Year - Warriewood SLSC
Congratulations to the following members who have been presented with Life Membership and Distinguished Service Awards for their contributions to Surf Life Saving
Tracey Hare-Boyd of North Steyne
Tracey Lake of Narrabeen Beach
Tony Hilliger of North Narrabeen
Bernie Burrows of North Steyne
Gordon Lang of Palm Beach
David Murray of North Curl Curl
Kieran Menzies of Newport
Allen Lakeman of Dee Why
The late Annie Gleeson of Manly
Congratulations to the following 2021 Services Team and Community Education Award Winners:
Services Team - Nippers Dolphins & Marlins by Newport SLSC
Community Education Program - Community Resuscitation by Queenscliff SLSC
Congratulations to Victoria O'Halloran of Manly, who has won the 2021 Administrator of the Year Award.
Congratulations to the following 2021 Surf Sports Award Winners:
Athlete - Jemma Smith of Newport
Coach - Luke Morrison of Newport
Masters Athlete - Shannon Job of North Steyne
Official - Steve Haggett of North Narrabeen
Surf Sports Team - 6 Person R&R Team from Freshwater
Young Athlete - Dominque Melbourn of North Curl Curl
Congratulations to the following 2021 Education Award Winners:
Assessor - Barry Antella OAM of Queenscliff
Facilitator - Peter Fenley of Bilgola
Trainer - Emily Buckle of Dee Why
Congratulations to the following 2021 Member Services Award Winners:
Youth Volunteer - Sam Capell of Newport
Volunteer - Tom Waters of Avalon Beach
Innovation - 24 Hour Row by Nathan & Melissa Wellings of Avalon Beach
Congratulations to the following 2021 Lifesaving Award Winners:
Rescue of the Year - North Steyne SLSC, March 2021
Patrol Captain - Nick Fewtrell of Bungan Beach
Support Services Member - Peter Probert of Newport
Youth Surf Life Saver - Emily Thornton of Queenscliff
Youth Surf Life Saver (Highly Commended) - Anna le Blang of Mona Vale
Surf Life Saver - Rod McGibbon of Bungan Beach
Bright Sparks Light Up This Year's Young Writers Competition
Friday, 6 August 2021
This year's Northern Beaches Young Writers Competition has produced hundreds of literary bright 'sparks'.
Northern Beaches Council congratulates all the winners and finalists, who were announced this week.
Now in its twelfth year, the challenge this year was to write a short story based on the theme 'spark'.
Mayor Michael Regan said he was amazed at the depth of talent and passion of young writers on the Northern Beaches.
"2021 saw nearly 500 stories submitted by talented students from kindergarten to grade 12.
"After the past tumultuous year and a half, it was great to see such a diverse range of very uplifting, creative interpretations of the 'spark' theme.
"Our young writers found inspiration in sparks of joy, the sparkle of diamonds and fireworks, as well as sparks of embers, reflecting the terror of bushfires.
" I would like to acknowledge and thank the judges who had the very difficult job of whittling the field down to 24 entries as well as the many teachers, school librarians and parents who inspire a love of literacy in our young people.
"And of course, I want to thank the hundreds of students who lit a spark under their imagination to produce such an amazing mix of thought-provoking, funny and touching stories."
All 24 winning stories are available as an eBook from the Libraries' website.
Borrow ebook: https://northernbeacheslibraries.overdrive.com/media/6456621
Humpback Whale Feeding Off Warriewood
Published by Sydney Drone Life, August 4, 2021
Rip Curl GromSearch Gears Up To Make A Solid Return In 2021: Entries For NSW Event Open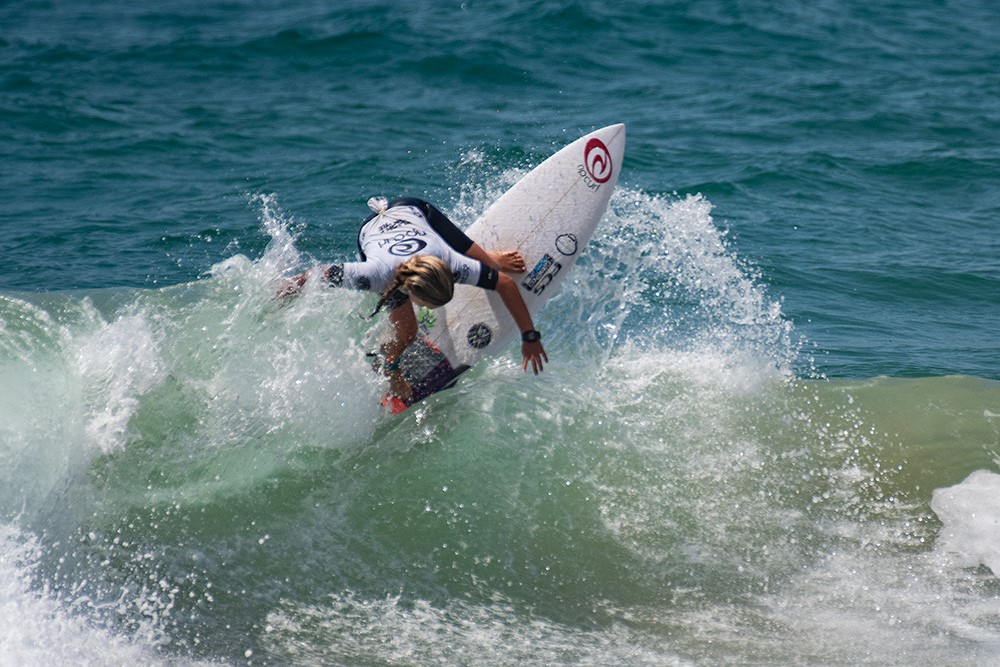 The world-renowned Rip Curl GromSearch series is set to continue in three key surfing locations on Australia's east coast in 2021.
The Australian Rip Curl GromSearch series will focus on providing junior surfers from around the country with a series of fun events allowing participants to enjoy surfing with their friends, as well as providing an elite-level competition in a safe environment.
"Rip Curl is stoked to commit to the GromSearch series this year. It's been a tricky year for groms and their families with COVID-19 restrictions, so we want to continue to support the next generation of surfers," commented Rip Curl Event Manager Mark Flanagan. "Again, we know there might be challenges to run the series, but we'll work with the appropriate authorities and be guided by the official regulations to get grommets in the water."
Each event will be run in conjunction with the state surfing associations and will adhere to the appropriate health and safety regulations.
The 2021 series will include a GromSearch national ranking, allowing surfers to gain points for each result achieved. The top-ranked surfers at the end of the three-event series will qualify for the Rip Curl GromSearch National Final (in their respective divisions).
2018 GromSearch National Champion and current Australian World Surf League (WSL) Qualifying Series (QS) leader Molly Picklum said: "The Rip Curl GromSearch is an awesome series that is one of the solid foundation events for any aspiring junior surfer. It was an important step in my development and gave me experience against Australia's best."
Molly has put her experience to good use in the professional ranks and is looking to begin her campaign on the WSL Challenger Series in the coming weeks.
The Australian GromSearch National Final will be held for qualifying athletes in 2022.
More information on individual events, entry dates and procedures, points allocation and any other updates to follow.
2021 Rip Curl GromSearch Series dates:
*all dates and locations to be confirmed, pending COVID-19 restrictions and regulations.
GromSearch Vic – Jan Juc – September 18-19 (entries open Tuesday, 10 August 2021 at 4 pm)
GromSearch NSW – Newcastle – Sept 30 – October 3 (entries open Thursday, 5 August 2021)
GromSearch Qld – Location TBC – Dec 13 – 16
National Final – TBC
Divisions:
16 and Under Girls, 14 and Under Girls, 12 and Under Girls
16 and Under Boys, 14 and Under Boys, 12 and Under Boys
The series provides the opportunity for groms to surf with crew from around the country and developing their competitive game. As participants progress through to the finals they get the chance to test their skills against Australia's best, providing valuable experience competing against elite-level talent. The impressive list of previous GromSearch competitors that are currently on the WSL world tour is a testament to the quality of the series.
Current WSL World Tour athletes that were GromSearch finalists include:
Tyler Wright*, Steph Gilmore*, Carissa Moore*, Sally Fitzgibbons, Malia Manuel, Nikki Van Dijk, Tatiana Weston-Webb, Bronte McCaulay, Caroline Marks, Macy Callaghan, Brisa Hennessy, Isabella Nichols & Bethany Hamilton. (*Note: GromSearch competitors have won the last 13 WSL women's World Titles).
Current Men's WSL World Tour athletes that were GromSearch finalists include:
Gabriel Medina*, Owen Wright, Italo Ferreira*, Jordy Smith*, Kolohe Andino*, Filipe Toledo*, Kanoa Igarashi*, Wade Carmichael, Ryan Callinan, Leonardo Fioravanti, Connor O'Leary, Seth Moniz, Griffin Colapinto & Morgan Cibilic.
(*note: the top 6 surfers of the final 2019 WSL World Tour rankings are all former GromSearch finalists).
IMAGE CREDIT: Ethan Smith / Surfing NSW
Sydney Surf Pro Secures Dates For 2022 WSL Challenger Series
The World Surf League is excited to announce it will be returning to Sydney's Northern Beaches in 2022 with the Sydney Surf Pro Challenger Series event which will run at the iconic Manly Beach from May 17- 24.
The eight-day event will see 160 of the world's best surfers battle it out at Manly Beach as they look to secure their spot on the 2023 Championship Tour (CT).
"We can't wait to return to Sydney in 2022," said WSL APAC General Manager Andrew Stark. "After an incredible
one-off CT event at North Narrabeen this year
and a strong debut Challenger Series event at Manly in 2020, to get back and continue our tradition at Manly is really exciting. Having one of only eight of the Challenger Series events globally at Manly is a testament to the importance of this place in the world of competitive surfing."
The Sydney Surf Pro is supported by the NSW Government through Destination NSW.
The second of three competitive tiers for the world's best surfers, the 2022 WSL Challenger Series will feature 96-man and 64-woman fields, drawn from the seven WSL Regional Qualifying Series around the world. Challenger Series surfers will compete for a chance to advance to the elite WSL CT in 2023, with surfers counting their best five of eight results on the Challenger Series in hopes of finishing in the Top 10 men's and Top 5 women's spots by the end of the season.
The 2022 WSL Challenger Series will consist of eight events, beginning at Snapper Rocks on Australia's Gold Coast, Australia from May 7 – 15 and concluding in Haleiwa, Hawai'i from November 26 – December 7.
The 2022 WSL Challenger Series Schedule*:
Gold Coast, Australia – May 7 – 15, 2022
Manly, Australia – May 17 – 24, 2022
Ballito, South Africa – July 20 – 27, 2022
Huntington Beach, USA – July 30 – August 7, 2022
Ericeira, Portugal – October 1 – 9, 2022
Landes, France – October 15 – 23, 2022
Piha, New Zealand – November 5 – 13, 2022
Haleiwa, Hawai'i – November 26 – December 7, 2022
NSW Minister for Jobs, Investment, Tourism and Western Sydney Stuart Ayres said: "The Sydney Surf Pro celebrates the features of our city and lifestyle that make Sydney an unforgettable destination to visit, and we're looking forward to welcoming thousands of athletes, officials, and supporters to enjoy Manly next May."
Member for Manly James Griffin said: "Manly has a long, proud history as an Australian surf capital for board riders of all abilities, from amateurs riding their first waves at local surf schools to the world's best, who have been competing here since the first world championship in 1964."
"We are thrilled to partner with the WSL and welcome the Surf Pro back to Manly next year," said Northern Beaches Mayor Michael Regan. "The event is great for our local economy, gives our community a chance to see some of the best surfers in the world and our local surfers get to surf at home."
*All tour stops and dates are subject to change due to applicable COVID-19 related restrictions, including global travel restrictions.
The health and safety of athletes, staff, and the local community are of the utmost importance and the WSL has a robust set of procedures in place to keep everyone safe. These plans are unique to each Tour stop.
Dylan Moffat in action at Narrabeen earlier this year. Credit: © WSL / Cait Miers
Tim Bonython's Surfing Visions Available For Exhale Moments
Local photographer and filmmaker Tim has put up a collection of of big wave surf edits now showing on his YouTube SURFING VISIONS channel. These free videos for your entertainment have been uploaded so you can have five minutes or longer of BIG waves every time you need to at present as well as some of the great interviews done over the years by this crew.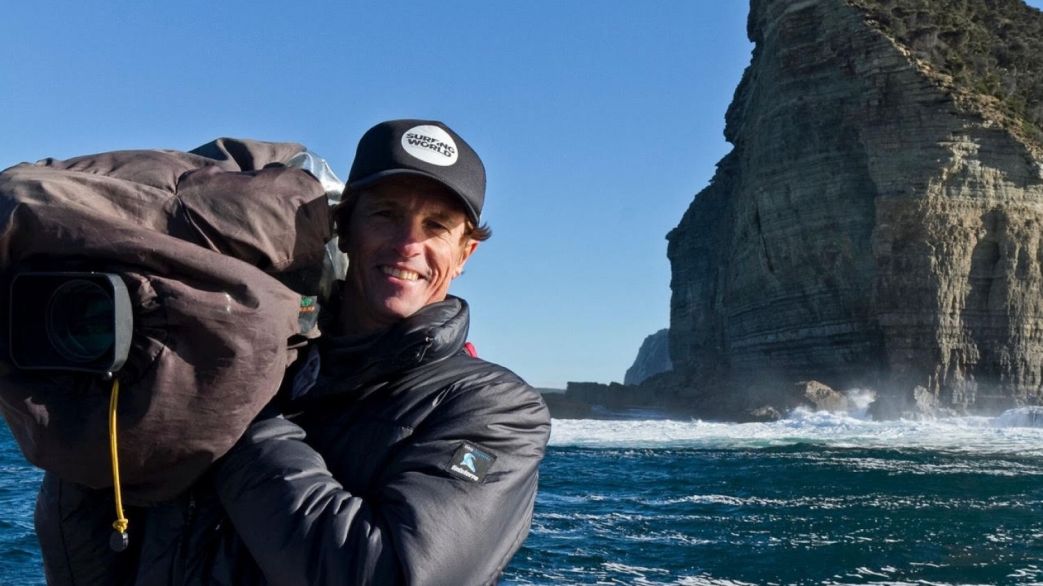 Tim Bonython filming at Shipsterns, Tasmania. From 2018 when he won the Australian Surfing Award for Surf Video of the Year:
The Big Wave Project
NSW Sustainability Awards Now Open For Entry
The NSW Sustainability Awards are now open and accepting entries from eligible NSW participants across a range of categories from biodiversity to net zero initiatives.
Energy and Environment Minister Matt Kean said the awards will allow New South Wales to showcase some of our best and brightest minds on a national stage with winners automatically entered into the prestigious Banksia National Sustainability Awards.
"New South Wales leads the country when it comes to generating ideas on sustainability, these awards will not only showcase those ideas but also celebrate the people that are making our world better," Mr Kean said.
"Entrants for these awards will join a community of sustainability champions who are reimagining the future of New South Wales and the world."
Inspired by the United Nations 2030 Global Goals and NSW's commitment to reaching net zero by 2050, these awards will salute individuals, communities and businesses for their innovation and excellence in environmental and social leadership.
The 8 awards categories include:
NSW Net Zero Action Award
NSW Biodiversity Award
NSW Circular Transition Award
NSW Clean Technology Award
NSW Large Business Transformation Award
NSW Small to Medium Business Award
NSW Youth as our Changemakers Award
Minister's Young Climate Champion Award
The awards will be presented and run by the Banksia Foundation in partnership with the NSW Government.
Entries for the awards are expected to close on September 15
with winners announced by the end of this year. The winners of the National Banksia awards will be announced in March 2022.
NSW Clean Technology Award

: Recognises outstanding initiatives by an organisation or organisations in collaboration that show- case efficient resources through renewable energy, low emissions technology, and appreciable pollution reduction (beyond compliance) of Australia's water, air, and land.

NSW Biodiversity Award

: Recognises outstanding initiatives by an organisation or organisations in collaboration that protect our habitat, flora and/or fauna to ensure Australia's ecosystems are secured and flourish for future generations.

NSW Circular Transition Award

: Recognises outstanding achievements in innovative design in waste and pollution systems and products, through to regenerating strategies. The award will go to a company that has adopted a technology, initiative or project that is helping the business move from a linear to a circular model.

NSW Large Business Transformation Award

: Recognises outstanding achievements that demonstrate business and values alignment with multiple UN Sustainable Development Goals and by integrating sustainability principles and practices across business activities.

NSW Youth as our Changemakers Award

:

Recognises young innovators aged between 18-35 years, who bring fresh perspectives, bold ideas and compelling initiatives that align with any or the multiple UN SDG's.

NSW Net Zero Action Award

: Recognises organisations, (company, business association, NGOs) that can demonstrate a tangible program or initiative that evidences transition toward a 1.5-Degree goal, through a publicly communicated net zero commitment, plus data, disclosures and investments to support it.

NSW Small to Medium Business Award

: Recognises outstanding achievements that demonstrate business and values alignment with multiple UN Sustainable Development Goals and by integrating sustainability principles and practices across business activities.

Minister's Young Climate Champion Award

:

The Minister's Young Climate Champion Award recognises young innovators aged under 18 years who bring bold ideas for a safe and thriving climate future that align with any of the UN SDGs.

Young and passionate minds who have taken outstanding actions that benefit the sustainability of their communities and help address climate change will be showcased in this award, which is a celebration of young people with drive, commitment and a passion for sustainability and the environment.
Flexible School Model For HSC Students
A flexible operating model for schools across Greater Sydney has been announced today, providing the opportunity for HSC students to access their schools safely from August 16.
Under the model, secondary schools will operate under an updated COVID safety plan, jointly developed by NSW Health and Education, to provide opportunities for essential curriculum delivery, wellbeing support and check-ins for HSC students as they complete their final year.
School assessments and trial exams will be completed at home across all schools in Greater Sydney.
Individual school plans will leverage their physical spaces and timetables to minimise mixing between students and support physical distancing and will only involve small groups of students at any one time. Clear guidelines will be provided to schools so they can create their plans.
Minister for Education and Early Childhood Learning Sarah Mitchell said the government would continue to follow health advice while prioritising HSC students to access their schools for essential education and wellbeing support where this cannot be delivered online.
"Education is essential, and we must provide our HSC students the opportunity to receive the curriculum and wellbeing support they need during the last few months of their schooling," Ms Mitchell said.
"A comprehensive and flexible model will allow schools to provide HSC students essential lessons and check-ins with teachers sensibly and safely."
HSC students living or learning in the eight LGAs of concern (Blacktown, Campbelltown, Canterbury-Bankstown, Cumberland, Fairfield, Georges River, Liverpool and Parramatta) will not return to school yet.
HSC students from the LGAs of concern will also not return to school if they go to school outside those LGAs. Schools in the areas of concern will be asked to prepare for HSC students' return in the coming weeks, allowing time for their vaccinations to be given, and take effect.
Minister for Health Brad Hazzard said vaccines were essential to NSW's recovery.
"The vaccination hub for HSC students living or learning in the eight LGAs opens on Monday, and we strongly encourage every eligible student to take up the opportunity to protect themselves and their loved ones," Mr Hazzard said.
Qudos Bank Arena will be available from 9 August as a vaccination hub for Year 12 students in the eight local government areas of concern.
Special Program For Most-Impacted HSC Students
The NSW Education Standards Authority (NESA) has announced a new program of special consideration to address significant impacts of COVID-19 on HSC oral language exams, performance exams and major work submissions.
COVID-19 Response Committee chair Professor Peter Shergold said the program was designed to support students who had experienced significant disruption or disadvantage.
"We recognise that students in Greater Sydney have had varying levels of access to specialist equipment and a quiet place to study as they prepare for upcoming oral language exams, performance exams and to hand in major works," Professor Shergold said.
"This is about ensuring that every student is able to have the opportunity to demonstrate what they have learned to the best of their ability, despite the impact of COVID-19."
Under the program, where there has been significant disruption or disadvantage due to COVID-19, schools can apply for an individual student or group of students to receive a mark from their teacher, rather than from a NESA marker.
NESA will issue guidelines so teachers can provide a mark that takes into account the impact of COVID-19 on a student's preparation for the exam or major work.
To ensure equity, these marks will be moderated by NESA.
The COVID Special Consideration Program is available to students in schools under Level 4 restrictions who have experienced significant disruption as they prepare for:
Language oral exams
Performance exams
Submission of major projects.
NESA chief executive officer Paul Martin said this was about being flexible in unprecedented times and putting the mental and physical wellbeing of students first.
"We want students, their families and their teachers to be assured that despite disruptions, the hard work of students will be recognised," Mr Martin said.
"Students will have the opportunity to receive an HSC and move on to the next chapter of their lives.
"I also want to sincerely thank teachers across the state, who will play an integral role in this special consideration process. Teachers have been instrumental in getting students to this point, not only as educators but advocates for their student's safety and wellbeing.
"Teachers know that they know their students best and will be able to attest to any disadvantage faced."
To best support teachers and students NESA has also:
Provided safety rules for markers and students during HSC Dance, Drama and Music rehearsals and exams
Extended the due date for assessment marks to 8 October
Revised the oral language exam timetable to start on 21 August.
"The health and safety of students, school and exam staff is our priority. Strict COVID safety measures will be in place for all HSC exams and students will be required to follow the public health orders and other health advice at the time of the exam," Mr Martin said.
Students who are unable to submit their work or undertake an exam due to self-isolation, flu like symptoms or school closures can apply for regular illness and misadventure.
More Time To Prepare For HSC
By NSW Dept. of Education
HSC students will be given more time to work on their major projects and to prepare for exams to reduce the impact of the current COVID-19 lockdown.
The NSW Education Standards Authority (NESA) COVID-19 Response Committee has announced additional changes to the 2021 HSC timetable to give students additional time to prepare for upcoming HSC exams.
In recognition of the evolving COVID-19 situation and in line with health advice, NESA will:
Extend the hand in date for all major projects by two weeks. The hand-in date for Industrial Technology has been extended by four weeks
Reschedule Drama performance exams to run from 6 to 17 September
Music performance exam continue as scheduled, running from 30 August to 10 September
Reschedule the written exams to begin one week later on 19 October with HSC results out on 17 December.
Committee chair Professor Peter Shergold said students could still receive their results, ATAR and university offers this year despite written exams being delayed by a week.
"We know students want certainty about their exams, our priority is to limit disruption to HSC students," he said.
"Our aim is to give students as much clarity as possible so they can focus on their studies, their goals and their personal wellbeing.
"We recognise that students and schools across the state are operating under a variety of different circumstances. We will outline a special illness and misadventure process and any other contingency arrangements needed to ensure equity and fairness for all students."
NESA chief executive officer Paul Martin said the priority for NESA and the school sectors was providing considered advice to students that aligned with the health advice and was fair to the whole cohort.
"The changes to the exam timetables mean all students have some additional time to prepare for exams or complete their project," Mr Martin said.
"We learnt a lot about our processes in the HSC last year and I am confident that we can apply those lessons this year."
Earlier this week, oral language exams were rescheduled to start on 14 August.
COVID safe exam practices, including minimising school groups mixing, mandatory masks for everyone except the student during the exam, and Perspex screens will be in place at the oral language exams.
"Markers, many of whom are teachers, have an enormous undertaking ahead of them. I want to thank the teaching profession for all that they have done this year to support students," Mr Martin said.
"I can assure markers and exam supervisors that their safety, as well as the students, is our priority."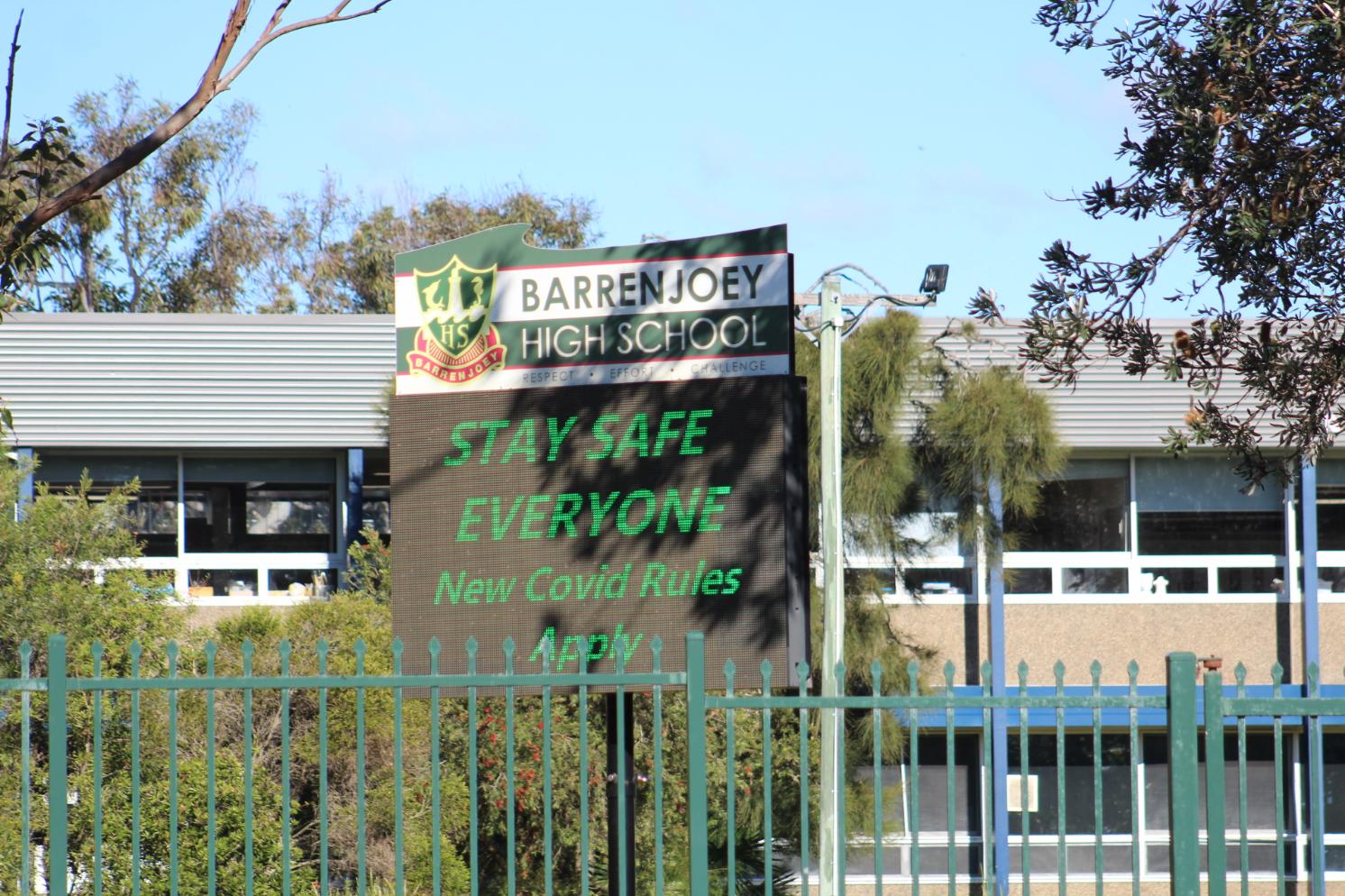 HSC Online Help
Just do your routine like you normally do and remember school finishes at 3-4pm!
Stay Healthy - Stay Active: HSC 2021
Stay active, keep connected and look after yourself during the HSC this year!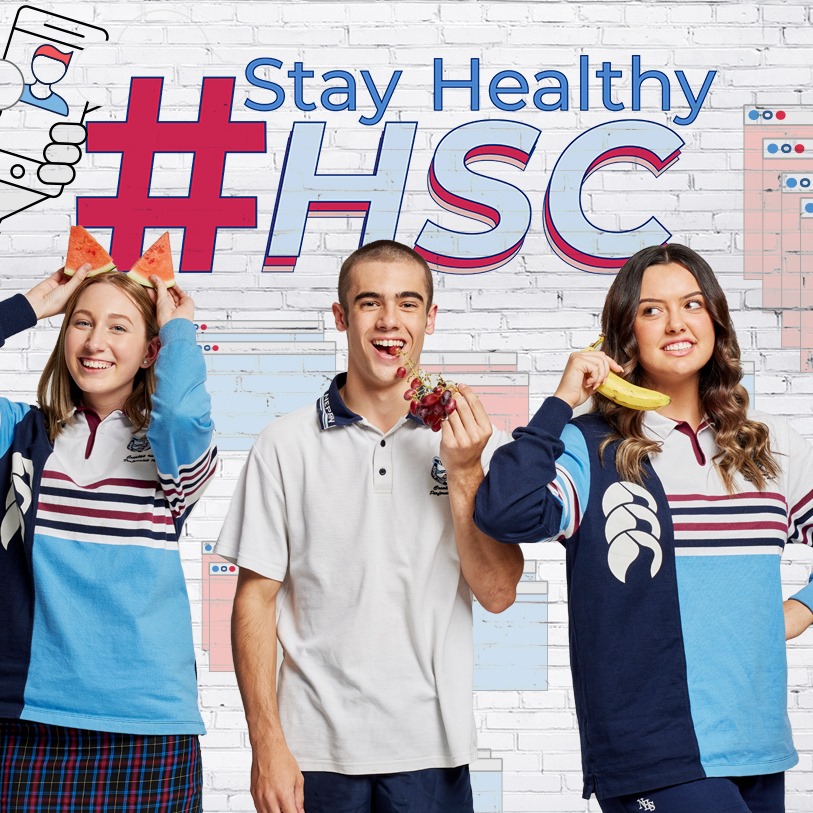 Sydney Metro: Under Harbour Track Laying
Published August 2nd, 2021 by Transport for NSW
First published: July 2021
Track laying has finished in one of the Sydney Metro railway tunnels under Sydney Harbour, marking a major milestone in the Metro from Chatswood to the city to Bankstown.
On June 17 2021 Premier Gladys Berejiklian and Minister for Transport and Roads Andrew Constance inspected the completed tracks on the Blues Point side of the northbound tunnel, which is about 40 metres below the harbour's surface.
The tracks in these tunnels connect the future Barangaroo and Victoria Cross (North Sydney) Metro Stations.
"Around 50,000 people will have worked on this incredible city-shaping project by the time services start in 2024, with about 800 involved in the tunnel fit out and 5000 currently working on the project," Ms Berejiklian said.
"It will take just three minutes to travel between the new Victoria Cross Station at North Sydney to Barangaroo Station using the tunnels, transforming the way we travel around our great city."
Track laying in the southbound Metro harbour tunnel has reached 30 per cent and will be complete by the end of July.
"The 800 metre-section of track in the northbound Metro harbour tunnel is complete, after 1200 railway sleepers and 2,100 tonnes of concrete were installed," Mr Constance said.
"More than 4000 tonnes of Australian steel has been used for the 31 kilometres of tracks from Chatswood to Sydenham, including 200 tonnes under the Harbour."
Sydney Metro line-wide contractors Systems Connect, a joint venture between CPB Contractors and UGL Limited, took over the harbour tunnels in December last year to lay the tracks and fit out the tunnels.
Metro trains will start running through the harbour tunnels in 2024, extending the North West Metro, into the city and beyond to Bankstown.
New stations are being delivered at Crows Nest, Victoria Cross, Barangaroo, Martin Place, Pitt Street and Waterloo, along with new underground platforms at Central Station.
Below run two recent videos published by Transport for NSW that give great insights into what's happening and how that has been done.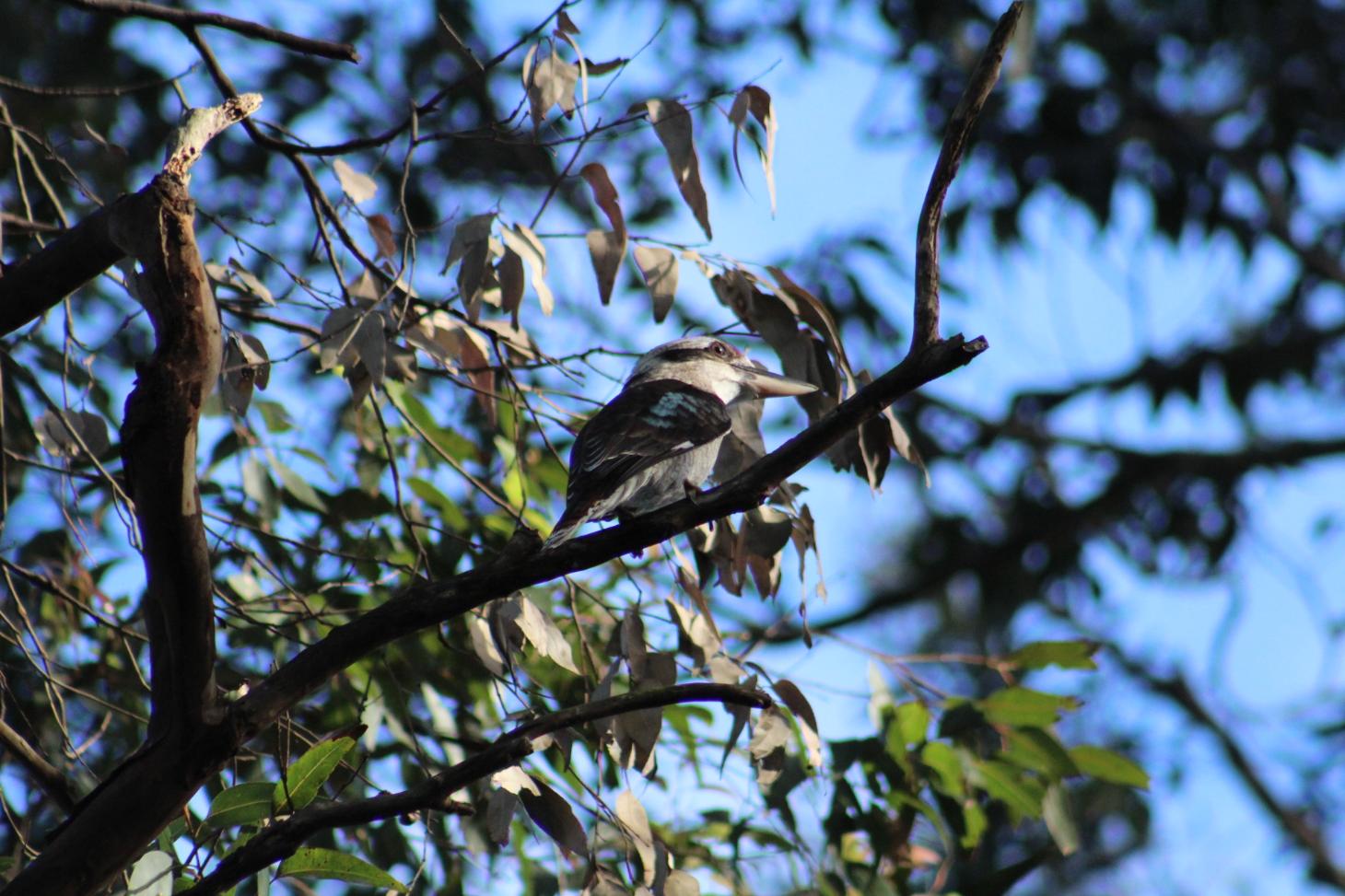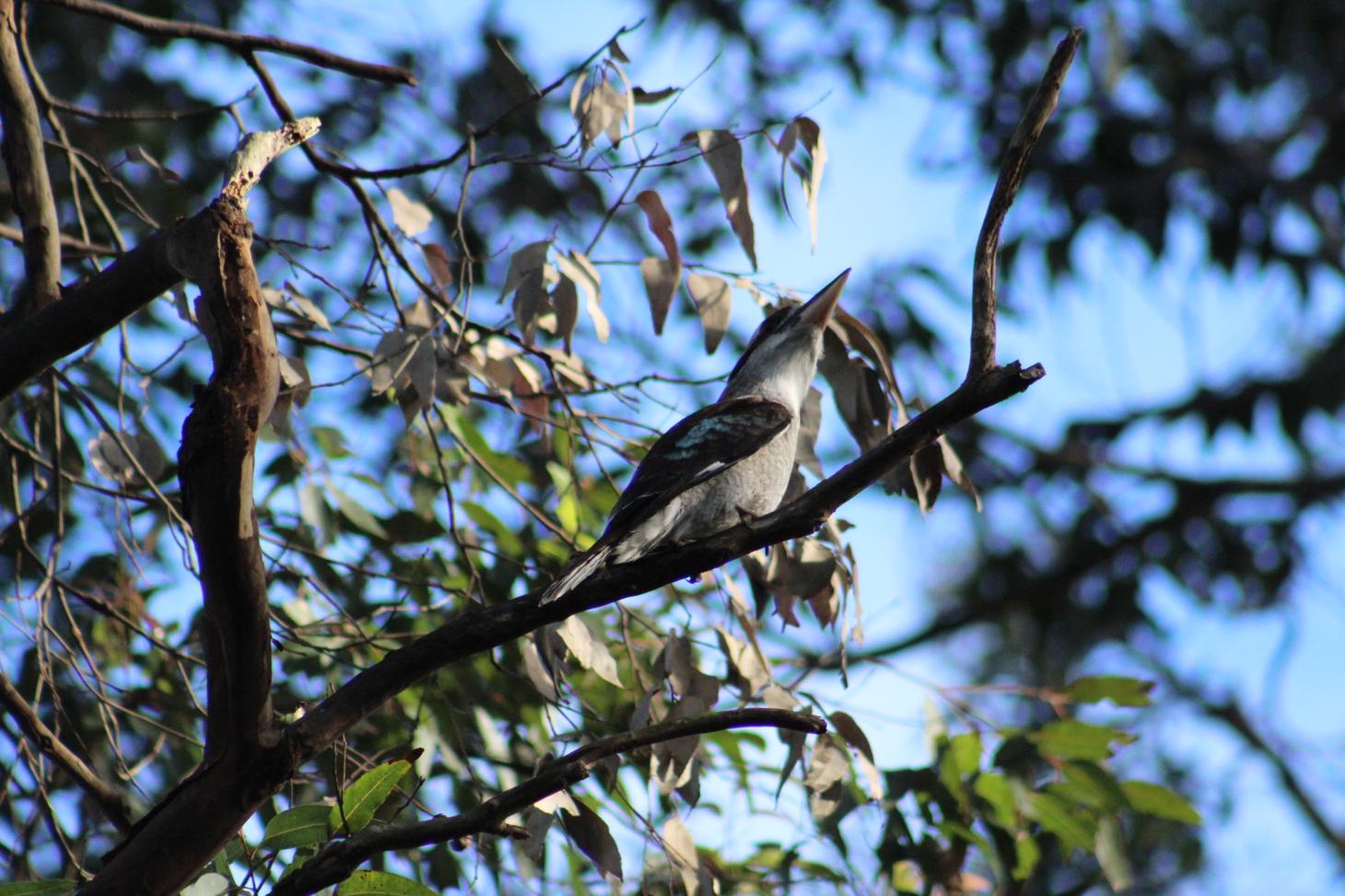 Support For Senior Australians As COVID-19 Restrictions Continue
Senior Australians affected by ongoing lockdowns can access vital support services to ensure they stay socially connected and maintain their health.
Minister for Senior Australians and Aged Care Services, Richard Colbeck, said it was important older Australians and their families - particularly those living across hardest-hit local government areas in New South Wales and South East Queensland - understood what was available.
"Challenges remain for senior and vulnerable Australians as we continue to navigate the impact of the pandemic, particularly the effect of the Delta strain," Minister Colbeck said.
"Staying connected and healthy has never been more important.
"Aged care services remain open and available to those who need them, especially for isolated Australians."
The Older Persons COVID-19 Support Line (1800 171 866) is an important first step for any older Australians who need support or assistance.
Additionally, Australian Government has provided the Older Persons Advocacy Network (OPAN) with $4.3 million to help deliver education, information and advocacy services for senior Australians and their families.
This extends to making information accessible for residential aged care residents and their families in areas most affected by lockdowns.
OPAN also offers a Wellbeing Check service to ensure the provision of emotional or social support, particularly for those people who have reduced or cancelled home care services due to pandemic concerns.
It is available to both Home Care Package or Commonwealth Home Support program recipients.
"We know due to concerns about COVID-19, some senior Australians have reduced or cancelled their in-home aged care services," Minister Colbeck said.
"We want to ensure people have the best information when making these decisions, as reduction of services may negatively impact health and wellbeing."
Minister Colbeck said vaccination remained the key defence against COVID-19.
Almost 80 per cent of senior Australians aged 70 years and over have received a first dose COVID-19 vaccine, which demonstrates strong demand.
In addition, more than 86 per cent of people of any age in residential aged care have received their first dose and 83 per cent are fully vaccinated.
"Vaccination is the best protection against hospitalisation and death due to COVID-19," Minister Colbeck said. "Jabs can now be arranged through your GP, Commonwealth vaccination clinic or state and territory run vaccination clinics."
For senior Australians with mobility issues, it is encouraged that you contact your GP to discuss the possibility of a home visit to receive your vaccination.
The Government continues to strongly encourage all in‑home and community aged care workers to get vaccinated.
Senior Australian COVID-19 support numbers and advocacy supports:
Older Persons COVID-19 Support Line - 1800 171 866
Australian Centre for Grief and Bereavement - 1800 22 22 00
My Aged Care Contact Centre - 1800 200 422
Older Persons Advocacy Network (OPAN) - 1800 700 600 www.opan.com.au
A translation and interpreter service is available to access the above numbers (131 450). Senior Australians who require an interpreter can call this number select the language they speak and provide one of the COVID-19 support numbers to access the information in their own language.
Mental health services are also available for COVID-19 support:
Scientists Find The Missing Link In Our Body's Blood Pressure Control
University of Virginia School of Medicine researchers have determined the location of natural blood-pressure barometers inside our bodies that have eluded scientists for more than 60 years.
These cellular sensors detect subtle changes in blood pressure and adjust hormone levels to keep it in check. Scientists have long suspected that these barometers, or "baroreceptors," existed in specialized kidney cells called renin cells, but no one has been able to locate the baroreceptors until now.
The new findings, from UVA Health's Maria Luisa S. Sequeira-Lopez and colleagues, finally reveal where the barometers are located, how they work and how they help prevent high blood pressure (hypertension) or low blood pressure (hypotension). The researchers hope the insights will lead to new treatments for high blood pressure.
"It was exhilarating to find that the elusive pressure-sensing mechanism, the baroreceptor, was intrinsic to the renin cell, which has the ability to sense and react, both within the same cell," said Sequeira-Lopez, of UVA's Department of Paediatrics and UVA's Child Health Research Center. "So the renin cells are sensors and responders."
The existence of a pressure sensor inside renin cells was first proposed back in 1957. It made sense: The cells had to know when to release renin, a hormone that helps regulate blood pressure. But even though scientists suspected this cellular barometer had to exist, they couldn't tell what it was and whether it was located in renin cells or surrounding cells.
Sequeira-Lopez and her team took new approaches to solving this decades-old mystery. Using a combination of innovative lab models, they determined that the baroreceptor was a "mechanotransducer" inside renin cells. This mechanotransducer detects pressure changes outside the cell, then transmits these mechanical signals to the cell nucleus, like how the cochlea in our ear turns sound vibrations into nerve impulses our brain can understand.
The researchers have unlocked exactly how the baroreceptors work. They found that applying pressure to renin cells in lab dishes triggered changes within the cells and decreased activity of the renin gene, Ren1. The scientists also compared differences in gene activity in kidneys exposed to lower pressure and those exposed to higher pressure.
Ultimately, when the baroreceptors detect too much pressure outside the renin cell, production of renin is restricted, while blood pressure that is too low prompts the production of more renin. This marvelous mechanism is vital to the body's ability to maintain the correct blood pressure. And now, after more than 60 years, we finally understand how and why.
"I feel really excited about this discovery, a real tour de force several years in the making. We had a great collaboration with Dr. [Douglas] DeSimone from the Department of Cell Biology," Sequeira-Lopez said. "I am also excited with the work to come, to unravel the signaling and controlling mechanisms of this mechanotransducer and how we can use the information to develop therapies for hypertension."
Hirofumi Watanabe, Brian C. Belyea, Robert L. Paxton, Minghong Li, Bette J. Dzamba, Douglas W. DeSimone, R. Ariel Gomez, Maria Luisa S. Sequeira-Lopez.
Renin Cell Baroreceptor, a Nuclear Mechanotransducer Central for Homeostasis.
Circulation Research, 2021; 129 (2): 262 DOI:
10.1161/CIRCRESAHA.120.318711
In Memory Of Hal Wootten, Founding Dean Of UNSW Law & Justice
Emeritus Professor Hal Wootten passed away during the night of 27 July, leaving behind a world where the law can finally meet justice.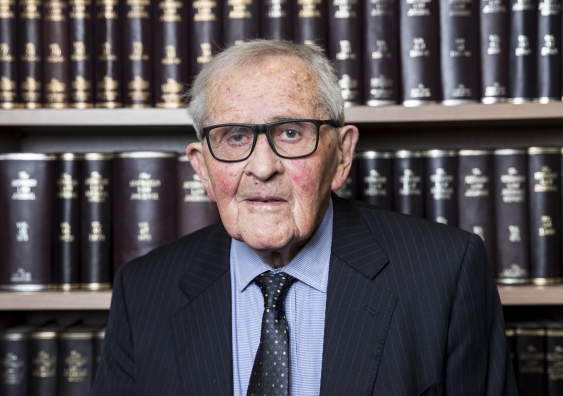 Emeritus Professor Hal Wootten AC QC, founding Dean of UNSW Law & Justice. Photo: Supplied.
"A law school should have and communicate to its students a keen concern for those on whom the law bears harshly."
These were the echoing words of Emeritus Professor John Halden Wootten AC QC that formed the guiding principle of the faculty since it first opened its doors on 1 March 1971.
Prof. Wootten joined UNSW as the founding Dean of the Faculty of Law & Justice along with 219 undergraduate students in its inaugural class.
"Although Prof. Wootten would have been 99 in December, I am sure his death will come as something of a shock to many. His energy, his undimmed interest in the state of the world and his constant example of the responsibilities we have to people facing adversity and injustice gave him a near immortal quality," said Professor Andrew Lynch, Acting Dean of the Faculty of Law & Justice.
Prof. Wootten's progressive vision for the faculty
This year, the faculty is celebrating 50 years and its new name, "Law & Justice", aptly reflects Prof. Wootten's vision and purpose.
"As founding Dean, Hal Wootten set UNSW Law & Justice on a stellar trajectory. But more than just creating a faculty with an excellent international reputation, Hal Wootten instilled in his students a sense of social justice and compassion," said Professor Ian Jacobs, President and Vice-Chancellor, UNSW Sydney.
Back in 1971, Prof. Wootten's vision for the faculty was ahead of its time and his mission was that the law was capable of doing more for the community it served.
"This vision of a different kind of law school has two corollaries: first, black letter law must be set in its social, historical, political and economic contexts; secondly, learning happens best through mutually respective interaction between teacher and students," said Professor David Dixon, former Dean of Law, 2006-2016.
A strong advocate of the inquisitive mind, Prof. Wootten encouraged students and educators to think critically about systems and institutions, the social context in which the law must operate and the need for reforms for a world that is just.
Prof. Wootten also worked towards making education democratic and inclusive and encouraged students to discuss points of legal argument with their teachers in smaller classes. This approach created a safe space where all opinions were respected and valued – a key requirement for the advancement of legal practice in Australia and beyond.
Prof. Wootten's devoted career to law and justice
Prof. Wootten's career was long and significant. He helped to establish and run the first Aboriginal Legal Service and was one of the Commissioners leading the Royal Commission into Aboriginal Deaths in Custody in addition to his outstanding judicial work. But he retained a great affection and pride in what he achieved at UNSW – and the faculty has benefitted enormously from the course on which he set for it over 50 years ago.
In 1973, Prof. Wootten left UNSW for the Supreme Court of New South Wales, where he served for a decade.
Prof. Wootten's "post-judicial career was remarkably diverse and significant", Prof. Lynch said. "He was Chairman of the Australian Press Council from 1984-86 and then President of the Australian Conservation Foundation between 1985-89.
"The latter role placed Hal amongst a somewhat eclectic group to have headed the ACF that includes Prince Philip, Duke of Edinburgh, Sir Garfield Barwick and Peter Garrett.
"And of course, he was one of the five commissioners who led the Royal Commission into Aboriginal Deaths in Custody from 1987-91."
His role with the commission reflected his lifelong commitment to righting the wrongs suffered by Indigenous Australians. Prof. Wootten served as a Deputy President of the Native Title Tribunal between 1994-97.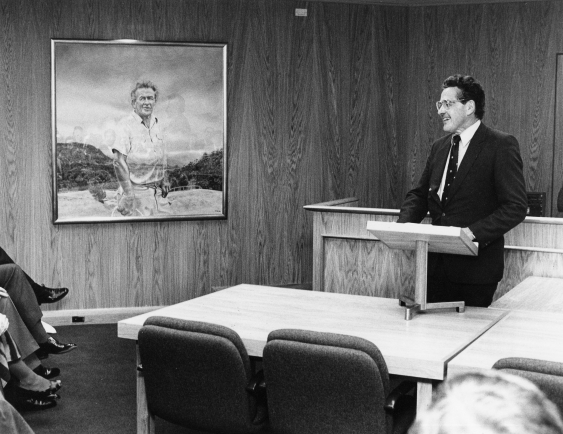 Emeritus Professor Hal Wootten AC QC, founding Dean of UNSW Faculty of Law & Justice, with his portrait by Ted Markstein, at the opening of the Hal Wootten Moot Court. Photo: Supplied.
In his last 15 years, Prof. Wootten renewed his connection with UNSW via the annual lecture bearing his name, support for students, and the extraordinarily successful Palestinian PhD program that saw future leaders of Palestine come to UNSW to undertake PhDs.
"He was particularly proud of setting up the first program to get First Nations students into law school, producing early leaders such as Bob Bellear and Pat O'Shane, going on to 130+ graduates and programs adopted by all leading law schools," Prof. Dixon said.
"While generations of colleagues have contributed to this success, his distinctive achievement was to build an institution whose commitments and priorities have stayed fresh through decades of change. At the core is an idea of legal professionalism, built on basic principles of justice and the rule of law, involving service to the whole community: First Nations people as well as commercial law firms; refugees as well as government departments; the disadvantaged and marginalised as well as the rich and powerful," he said.
Today, Prof. Wootten leaves behind a world where legal practice has made room for inclusivity and diversity.
Prof. Wootten built the school with the conviction that students mattered for two reasons. Firstly, because students are entitled to expect a learning experience that will help them develop their "intellectual, professional, moral, social and citizenship potentials" but also because they provide the next generation of lawyers.
"Law students matter because lawyers matter and the law matters," Prof. Wootten once said.
Rather than competing with other law schools, Prof. Wootten said law schools should work together as "partners in the tasks of providing Australia, and increasingly the world, with the kind of legal education and training, professional legal advice, legal thinking and legal innovation, and understanding of the roles of law and legal institutions, that can underpin the survival and spread of the rule of law, of democratic society and of individual and social justice".
"Life is not about the pursuit of wealth... It is about nurturing and respecting that precious self, and realising its potential to do worthwhile things, however small the nudges you give to the world may seem."
The Faculty of Law & Justice will continue the work of Prof. Wootten through The Hal Wootten 50th Anniversary Scholarship to provide under-privileged students access to legal education and promote diversity in the legal industry; and The Hal Wootten Lecture series to commemorate his founding vision for the Faculty.
NSW Government Powers On Hillston Radar
Deputy Premier John Barilaro and Minister for Agriculture and Western NSW Adam Marshall today announced the completion of a state-of-the-art weather radar at Hillston in western NSW, delivering the second of three Doppler radars as a key election commitment for regional NSW.
"Last year we built and launched a Doppler radar in Brewarrina, today we are powering on the second radar in Hillston, and a third radar at Yeoval is under construction, significantly improving coverage right across Western NSW," Mr Barilaro said.
"With the radar now live in Hillston, it means real-time wind and rain activity information is brought to farmers and the community providing hundreds of kilometres of extra coverage.
"These radars will protect lives, and help reduce damage from fires and floods by providing improved, vital information to emergency services to predict weather warnings including wind velocity.
"Communities were crying out for better coverage to help make informed decisions, especially primary producers, which is why the NSW Government stepped up with a $24.5 million investment to fix the black spot."
Mr Marshall said the new data would provide a wealth of information for farmers.
"The new radars will support primary producers to make timely, informed decisions, such as knowing when to sow, harvest or move their stock, and affords them added confidence when the need arises to quickly adapt their plans," Mr Marshall said.
"These radars can detect rain drops, hail, bushfire plumes, rain intensity, and wind velocity from up to 200 kilometres away – vastly improving real-time weather services for the community.
"These radars are a game-changer for agriculture in western NSW."
The three new stations mean NSW will soon have eight Doppler radars as part of a growing network of more than 60 weather radars operated by the Australian Government's Bureau of Meteorology.
The benefits include:
tracking of the location and strength of wind changes using Doppler technology
improved rain image quality
improved severe storm prediction by detecting weather systems such as tornadoes and intense rain during storms that can cause damage
enhanced information for emergency services with better fire plume height estimation and detection of fire-generated thunderstorms
increased accuracy and reliability of the radar.
The new Hillston radar is a result of a $24.5 million investment from the NSW Government to construct three Doppler radars in partnership with the Bureau of Meteorology and remove the weather radar 'blackspot' covering regional New South Wales.
This is part of the Bureau of Meteorology's program to deliver the most significant uplift to Australia's radar and observation network in a generation.
Learning Foreign Languages Can Affect The Processing Of Music In The Brain
Research has shown that a music-related hobby boosts language skills and affects the processing of speech in the brain. According to a new study, the reverse also happens -- learning foreign languages can affect the processing of music in the brain.
Research Director Mari Tervaniemi from the University of Helsinki's Faculty of Educational Sciences investigated, in cooperation with researchers from the Beijing Normal University (BNU) and the University of Turku, the link in the brain between language acquisition and music processing in Chinese elementary school pupils aged 8-11 by monitoring, for one school year, children who attended a music training programme and a similar programme for the English language. Brain responses associated with auditory processing were measured in the children before and after the programmes. Tervaniemi compared the results to those of children who attended other training programmes.
"The results demonstrated that both the music and the language programme had an impact on the neural processing of auditory signals," Tervaniemi says.
Learning achievements extend from language acquisition to music
Surprisingly, attendance in the English training programme enhanced the processing of musically relevant sounds, particularly in terms of pitch processing.
"A possible explanation for the finding is the language background of the children, as understanding Chinese, which is a tonal language, is largely based on the perception of pitch, which potentially equipped the study subjects with the ability to utilise precisely that trait when learning new things. That's why attending the language training programme facilitated the early neural auditory processes more than the musical training."
Tervaniemi says that the results support the notion that musical and linguistic brain functions are closely linked in the developing brain. Both music and language acquisition modulate auditory perception. However, whether they produce similar or different results in the developing brain of school-age children has not been systematically investigated in prior studies.
At the beginning of the training programmes, the number of children studied using electroencephalogram (EEG) recordings was 120, of whom more than 80 also took part in EEG recordings a year later, after the programme.
In the music training, the children had the opportunity to sing a lot: they were taught to sing from both hand signs and sheet music. The language training programme emphasised the combination of spoken and written English, that is, simultaneous learning. At the same time, the English language employs an orthography that is different from Chinese. The one-hour programme sessions were held twice a week after school on school premises throughout the school year, with roughly 20 children and two teachers attending at a time.
"In both programmes the children liked the content of the lessons which was very interactive and had many means to support communication between the children and the teacher" says Professor Sha Tao who led the study in Beijing.
Mari Tervaniemi, Vesa Putkinen, Peixin Nie, Cuicui Wang, Bin Du, Jing Lu, Shuting Li, Benjamin Ultan Cowley, Tuisku Tammi, Sha Tao.
Improved Auditory Function Caused by Music Versus Foreign Language Training at School Age: Is There a Difference?
Cerebral Cortex, 2021; DOI:
10.1093/cercor/bhab194
Exercise Improves Health Through Changes On DNA
While it is widely known that regular physical exercise decreases the risk of virtually all chronic illnesses, the mechanisms at play are not fully known. Now scientists at the University of Copenhagen have discovered that the beneficial effects of physical exercise may in part result from changes to the structure of our DNA. These changes are referred as 'epigenetic'.
DNA is the molecular instruction manual found in all our cells. Some sections of our DNA are genes, which are instructions for building proteins -- the body's building blocks -- while other sections are called enhancers that regulate which genes are switched on or off, when, and in which tissue. The scientists found, for the first time, that exercise rewires the enhancers in regions of our DNA that are known to be associated with the risk to develop disease.
"Our findings provide a mechanism for the known beneficial effects of exercise. By connecting each enhancer with a gene, we further provide a list of direct targets that could mediate this effect," says Professor Romain Barrès from the Novo Nordisk Foundation Center for Basic Metabolic Research, the senior author of the research, which was published in Molecular Metabolism.
Exercise improves health of organs including the brain
The team of scientists hypothesized that endurance exercise training remodels the activity of gene enhancers in skeletal muscle. They recruited healthy young men and put them through a six-week endurance exercise program. The scientists collected a biopsy of their thigh muscle before and after the exercise intervention and examined if changes in the epigenetic signature of their DNA occurred after training.
The scientists discovered that after completing the endurance training program, the structure of many enhancers in the skeletal muscle of the young men had been altered. By connecting the enhancers to genetic databases, they discovered that many of the regulated enhancers have already been identified as hotspots of genetic variation between individuals -- hotspots that have been associated with human disease.
The scientists speculate that the beneficial effects of exercise on organs distant from muscle, like the brain, may largely be mediated by regulating the secretion of muscle factors. In particular, they found that exercise remodels enhancer activity in skeletal muscle that are linked to cognitive abilities, which opens for the identification of exercise training-induced secreted muscle factors targeting the brain.
"Our data provides evidence of a functional link between epigenetic rewiring of enhancers to control their activity after exercise training and the modulation of disease risk in humans," says Assistant Professor Kristine Williams, the lead author of this study.
Kristine Williams, Germán D. Carrasquilla, Lars Roed Ingerslev, Mette Yde Hochreuter, Svenja Hansson, Nicolas J. Pillon, Ida Donkin, Soetkin Versteyhe, Juleen R. Zierath, Tuomas O. Kilpeläinen, Romain Barrès.
Epigenetic rewiring of skeletal muscle enhancers after exercise training supports a role in the whole-body function and human health.
Molecular Metabolism, 2021; 101290 DOI:
10.1016/j.molmet.2021.101290
Testing And Treating Newborns For Spinal Muscular Atrophy: Saving Lives And Healthcare Costs
Spinal muscular atrophy (SMA), a type of motor neurone disease, is one of the deadliest genetic illnesses an infant can be diagnosed with. Caused by a missing or faulty gene called 'SMN1', the disease causes muscles to shrink and become weaker, limiting a baby's ability to sit, walk, crawl, or even hold their head up.
Medical advances in gene therapy – a type of therapy that replaces the defective gene with a functioning copy – have given hope to families, with a recent trial showing that most treated infants are meeting
normal infant developmental milestones
. But the SMA drug comes with a big price tag: in the United States, it costs $US2.1 million, where it's the most expensive single-dose treatment in the world.
But now, new research from UNSW Sydney's
Centre for Big Data Research in Health
shows that testing all Australian newborns for this disease, and using the gene therapy for early treatment, is still cheaper in the long run than our current treatment methods – and better yet, it will help save lives.
"Our study shows that new therapies like gene therapy aren't only getting the best benefit for patients diagnosed early, but also for society," says co-author Associate Professor Michelle Farrar, a paediatric neurologist based at UNSW and Sydney Children's Hospital.
"SMA is currently only diagnosed and treated once symptoms appear. But by the time an infant or child with SMA presents with symptoms, they've already lost 90 per cent of their nerves."
There is no known cure for SMA, which affects around one in 10,000 newborns in Australia. Without treatment, most babies with type 1 SMA – the most common type of the disease – don't make their second birthday.
The research team assessed the costs of including SMA in the
newborn bloodspot screening program
– a routine test for Australian babies that detects around 25 rare genetic conditions and metabolic disorders – and using gene therapy to treat the disease before symptoms begin. While the gene therapy drug, Zolgensma, doesn't have a list price in Australia yet, the team used a potential cost range based on international prices.
They compared the costs and associated health outcomes of this early testing and treatment method to the current practice of diagnosing and treating children after symptoms appear. They factored in the costs of screening, diagnosis, ongoing treatments and therapies, and parents pausing their career to look after their child.
But even when the highest price tag was given to the gene therapy drug, it was still cheaper in the long term than our current method.
"In the long term, newborn screening for SMA coupled with gene therapy would save $US2.4 million per 100,000 babies screened – roughly the number of babies born in NSW each year," says lead author of the study Dr Sophy Shih, a health economist from UNSW Medicine & Health who looked at the costs and benefits over a 60-year timeframe.
"Gene therapy would also provide an extra 85 life years in full health per 100,000 babies, measured by quality-adjusted life-years – a metric we routinely use in health economics to evaluate the health benefits of a particular treatment."
Dr Shih says this result is what health economists call a 'dominant intervention': in other words, an intervention that isn't only lifesaving, but also cost saving.
"Pairing newborn screening with early gene therapy treatment will help save lives and improve the quality of life of babies born with SMA, as well provide cost savings for governments," she says.
"This is the best possible outcome from a cost-effectiveness study."
A/Prof. Farrar has been working with children with neuromuscular and rare neurogenetic disorders for over 15 years. She says that up until 2018, SMA was the most common cause of infant genetic death.
"As a neurologist, diagnosing an infant with SMA was one of those moments that just made your heart fall into your stomach," says A/Prof. Farrar. "The best you ever saw the infant was when you diagnosed them.
"But new genetic treatments are really changing the outcomes and survival rates of these babies. Early diagnosis and treatment of SMA can be transformative and significantly change the course of the disease."
The SMA gene therapy drug, delivered as an intravenous infusion, is no ordinary medical treatment. Unlike current SMA treatment methods (which are injected into the spine on an ongoing basis), gene therapy treatment is given as a single injection.
"This is an innovative clinical and economic model, where a single administration of a gene therapy can potentially have a lifetime of benefits," says A/Prof. Farrar. The treatment takes place at specialised medical centres and is delivered alongside pre- and post- dosing care.
"There's a large up-front cost, but the burden of repeated treatments and costs over a lifetime aren't present. We're hopeful that we will also see the health benefits continue over a lifetime."
Gene therapy is a quickly evolving area of research, and while early results are promising, scientists will learn more about long-term outcomes as more clinical trials take place. This cost-effectiveness study is based on current modelling, but Dr Shih says it's important to note it may change as the results of new clinical trials emerge.
"I hope to develop this work from a modelling study to a trial-based analysis," says Dr Shih.
"A global multi-centre study of gene therapy for SMA is set to be published later this year, so we'll have the opportunity to test the model with real-world data."
The World Health Organization has a list of criteria for adding new conditions to newborn screening programs. This includes the acceptability of the test, its
ability to improve health outcomes
, and the model of care – but the health economics of it also have to make sense.
It's now up to the states and territories, who look after the logistical and financial side of the rollout, to decide if they'll proceed with including it – which is where cost-effectiveness studies like this one come in.
"By linking therapy with newborn screening, you're getting value for money and better health outcomes," says A/Prof. Farrar.
"It's a win-win."
The researchers would like to acknowledge the contribution and support of Luminesce Alliance - Innovation for Children's Health, a not-for-profit established with the support of the NSW Government to coordinate and integrate paediatric research.
Reducing The Cost Of Medicines Through New PBS Listings
August 2, 2021: The Hon Greg Hunt MP, Minister for Health and Aged Care
From August 1, the Australian Government is listing a number of new medicines on the Pharmaceutical Benefits Scheme (PBS) to support thousands of Australians with spinal muscular atrophy (SMA), high cholesterol and chronic migraine.
Australians patients with spinal muscular atrophy (SMA) types 1, 2 or 3a who are aged 18 years or under when treatment begins will have subsidised access to Evrysdi® (risdiplam), which is being listed on the PBS for the first time.
Spinal muscular atrophy is a rare inherited genetic muscle wasting disease characterised by a loss of motor neurons. It causes progressive muscle weakness and wasting, and its most severe forms can cause paralysis and death.
One in 10,000 births in Australia are affected by SMA and the disease is the number one genetic cause of death of babies under two in Australia. There is no known cure for SMA.
One in 35 people in Australia unknowingly carry the SMA gene. Being a carrier does not mean you are affected by the condition.
Evrysdi® is an oral form of treatment for SMA. It is a less invasive treatment option for patients compared to spinal injections which may also reduce the frequency of visits to specialist hospitals. Without PBS subsidy, around 100 Australians a year will pay more than $123,000 for treatment.
Australians suffering from hypercholesterolaemia (elevation of cholesterol in the blood) will have access to a new treatment, Praluent® (alirocumab), which lowers cholesterol levels and can reduce a person's risk of a heart attack or stroke.
Hypercholesterolaemia results in abnormally high levels of cholesterol in the blood, can lead to blockages in the arteries, hardening of the arterial walls, and a higher risk of a heart attack or stroke without proper treatment.
The treatment will be available to Australians with severe forms of hypercholesterolaemia and without PBS subsidy, more than 20,000 Australians would pay around $6,500 per year for this treatment.
Also, being listed for the first time is Ajovy® (fremanezumab), which will be available to Australians with chronic migraine.
It is estimated around 20 per cent of the population live with migraine or experience migraine attacks at some stage in their lives. Migraine often appear in childhood, adolescence or early adulthood, but affect the greatest number of people between 35 and 45 years of age who experience migraine attacks.
Without PBS subsidy, around 10,000 Australians would pay around $6,700 per year for this new treatment.
This follows a recent listing earlier this year by the Government of Emgality® (galcanezumab), which means Australians will now have a choice between two treatment options for chronic migraine.
Earlier this month, we also announced from August 1, Keytruda® (pembrolizumab) will be extended on the PBS for the treatment of Australians with colorectal cancer, a type of bowel cancer.
These new listings with save Australians and their families thousands of dollars for these treatments, which will now only cost them $41.30 per script or just $6.60 if they have a concession card.
These listings has been recommended by the independent Pharmaceutical Benefits Advisory Committee.
Since 2013, the Coalition Government has approved more than 2,700 new or amended listings on the PBS.
This represents an average of around 30 listings or amendments per month – or one each day – at an overall investment by the Government of $13.5 billion.
The Australian Government's commitment to ensuring Australians can access affordable medicines, when they need them, remains rock solid.'
Why Uncertainty Makes Us Change Our Behaviour -- Even When We Shouldn't
People around the world dramatically changed their shopping behaviours at the start of the COVID-19 pandemic.

Faced with new uncertainty, shoppers began stocking up on basic household items -- especially toilet paper -- to account for the new unknown. This buying frenzy led to shortages, even though, in most cases, there would have been enough to go around if people only purchased what they needed.
According to a study led by the UNSW Sydney, reactive behaviour like this isn't unusual, but a common way to handle unexpected uncertainty.
In fact, unexpected uncertainty is such a powerful motivator for change that it often prompts us to adjust our behaviour -- even when it's not good for us.
"When people experience an unexpected change in their environment, they start looking for ways to lessen that uncertainty," says lead author of the study Dr Adrian Walker, who completed this research as part of his PhD in psychology at UNSW Science. "They can change their behaviour and decision-making strategies to try and find a way to regain some sense of control.
"Surprisingly, our study found that unexpected uncertainty caused people to change their behaviours even when they would have been better off sticking to an old strategy."
The behavioural study, recently published in The Journal of Experimental Psychology: Learning, Memory, and Cognition, is the first to show the type of uncertainty we experience -- that is, whether it is expected or unexpected -- plays a key role in our reaction.
For example, a city worker who knows their morning commute takes anywhere from 30 to 50 minutes wouldn't be surprised by a 50-minute trip. On the other hand, a country driver would be very surprised if their predictable 30-minute trip suddenly took 50 minutes.
To test how people respond to unexpected change, the researchers tasked study participants with selling a pair of objects to one of two subjects -- in this scenario, aliens -- in a virtual simulation. Their task was simple: get as many points (or 'alien dollars') as possible.
Participants needed to choose which alien to sell a pair of chemicals to, but only one of the chemicals determined how much the alien would pay. They needed to work out which chemical and alien combination would earn them the greatest rewards.
An initial group of 35 participants were familiarised with the task and quickly learnt that one strategy (say, Option A) gave the better offer of 15 points. But midway through the experiment, the reward pattern changed, and Option A now gave a random number between 8 and 22 points.
"As soon as we added an element of uncertainty, the participants started looking for new ways to complete the task," says Dr Walker. "The kicker is that in all cases, the best thing they could do was use their old strategy."
Dr Walker says the pandemic -- and our different responses to it -- is a large-scale example of unexpected uncertainty.
"Everything changed very suddenly at the start of COVID-19," he says.
"Many of us were suddenly all working from home, changing how we shop, and changing how we socialise. The rules we were living by beforehand no longer applied, and there was -- and still is -- no clear answer about when or how the pandemic will end.
"Different people tried all sorts of things -- like panic shopping -- to reduce this new uncertainty and return to 'normal'. But as we've seen, not all of these reactive strategies were good in the long run."
While unexpected uncertainty led to dramatic responses, expected uncertainty had the opposite effect.
During the second phase of the trial, the researchers introduced uncertainty in a gradual way to a different group of 35 participants. Option A's usual 15 points changed to 14-16 points, then 13-17 points, until the uncertainty rose to 8-22 points.
"The participants' behaviour didn't change dramatically, even though the uncertainty eventually reached the same levels as in the first experiment," says Dr Walker.
"When uncertainty was introduced gradually, people were able to maintain their old strategies."
While this specific experiment was designed for the original strategy to be the most beneficial, Dr Walker says other research has shown the harm in not changing behaviour when faced with gradual change.
"We can see this pattern in a lot of real-world challenges, like the climate change crisis," says Dr Walker.
"When change is slow and barely noticeable, there's no sudden prompt to change our behaviour, and so we hold to old behaviours.
"Trying to get action on climate change is a lot like the boiling frog fable. If you put a frog in a pot and boil the water, it won't notice the threat because the water is warming gradually. When it finally notices, it is too late to jump out."
Professor Ben Newell, the Deputy Head of UNSW School of Psychology, was one of the researchers involved in the project. He says an important next step in this research is translating insights about how people react to uncertainty in the lab to engaging people in climate action.
"If we can identify the triggers for exploring new alternatives, then we might overcome the inertia inherent in developing new, sustainable behaviours," says Prof. Newell.
Being certain about uncertainty
Uncertainty is something humans face every day, whether it's how bad traffic will be or what questions might be asked in an exam.
But the COVID-19 pandemic has thrown a new layer of uncertainty to major areas of our lives, like career, health, and living circumstances.
"While this study isn't the whole picture for human behaviour during the pandemic, it can help explain why so many people looked for new ways to add certainty to their lives," says Dr Walker, who is now a researcher in the School of Psychiatry at UNSW Medicine & Health.
Co-author Dr Tom Beesley, formerly of UNSW and now based at Lancaster University, says "Dr Walker's work really helps us understand how people develop a representation of the uncertainty they are facing, and how they might cope, or not cope, with that.
"My lab is trying to formalise this relationship in a computational model of behaviour, so that we can make clearer predictions about what we might expect to happen under different conditions of uncertainty."
While Dr Walker's research is now focused on psychiatric epidemiology, he is interested to see where future research in this area goes -- especially in predicting individual responses to uncertainty.
"Given how many decisions we make under uncertainty in our everyday lives, the more we can understand about how these decisions are made, the more we hope to enable people to make good decisions," says Dr Walker.
Adrian R. Walker, Danielle J. Navarro, Ben R. Newell, Tom Beesley.
Protection from uncertainty in the exploration/exploitation trade-off.
. Journal of Experimental Psychology: Learning, Memory, and Cognition, 2021; DOI:
10.1037/xlm0000883
Common Weed Could Spell Bellyache For Gluten Intolerant
New research has identified proteins in a common weed which could play havoc for Australian farmers growing gluten-free crops, such as millet, buckwheat and sorghum, and people suffering from gluten intolerance.
The gluten-like proteins found in ryegrass could be mixing with crops commonly used as gluten-free products or wheat replacements and causing a reaction among people with coeliac disease or gluten intolerance.
The work, led by Edith Cowan University (ECU) and Australia's national science agency, CSIRO, identified the proteins in 10 cultivars of ryegrass (Lolium species), a costly and invasive family of weeds commonly found in Australian cereal crops.
Dr Sophia Escobar-Correas, a researcher based at ECU and CSIRO said the team identified 19 proteins found in ryegrass which had similar properties to gluten proteins.
"We have developed a method to detect these ryegrass proteins that allows us to distinguish them from other grains," she said.
"While these proteins aren't strictly defined as gluten, they have the potential to trigger reactions for people who are coeliac and those with a gluten intolerance."
This fundamental research helps understand whether ryegrass might be a problem so science can start to determine the impact it might -- or might not -- be having and devise solutions that give the best outcomes if it is.
Dr Escobar-Correas said the next step is to undertake clinical studies to investigate whether these proteins trigger a coeliac response.
"If these proteins cause a reaction for people with gluten intolerance, then it's important that we develop tests to detect their presence in food products which are otherwise gluten-free," she said.
Professor Michelle Colgrave from ECU and CSIRO was a co-author on the research and said it has identified an important potential challenge for gluten-free products
"In 2019, the global market for gluten-free foods was worth around $6.3 billion and its growth shows no sign of slowing," she said.
"This research will help give consumers and producers confidence that products labelled as gluten-free are free from other proteins which may trigger reactions resulting from agricultural co-mingling."
The WA Department of Primary Industries and Regional Development defines a close relative of the species studied in this project, annual ryegrass as one of the most serious and costly weeds across Southern Australia.
Several cultivars of ryegrass are used as feed for livestock and is commonly used as a turf for sports pitches, particularly winter sports, and is famously the grass of choice for tennis courts at Wimbledon.
Sophia Escobar-Correas, James A. Broadbent, Alicja Andraszek, Sally Stockwell, Crispin A. Howitt, Angéla Juhász, Michelle L. Colgrave.
Perennial Ryegrass Contains Gluten-Like Proteins That Could Contaminate Cereal Crops
. Frontiers in Nutrition, 2021; 8 DOI:
10.3389/fnut.2021.708122
Disclaimer: These articles are not intended to provide medical advice, diagnosis or treatment. Views expressed here do not necessarily reflect those of Pittwater Online News or its staff.