inbox and environment news: Issue 498
June 13 - 19, 2021: Issue 498
Local Opportunities: Youth Advisory Group + Plan And Run A Youth Event
Council are currently seeking people for their
Youth Advisory Group
. They want to hear from young people
aged 12 - 21
to help shape the future of our area.
You can be the voice of youth programs, events and services and tell them what's important to you. You will meet new like-minded friends and bring your ideas to life, encouraging positive change in your community and amongst peers.
Upskill yourself and enjoy benefits like free entry to youth events including band nights. You will attend monthly meetings and have access to various training throughout the year.
Read the
Terms of Reference
and
Complete your details on the Application Form by Sunday 27 June 2021
.
Council are also looking for young people
aged 15 to 25
years old to participate in an exciting
new youth event.
Through a series of workshops run by industry professionals, you will have the opportunity to develop skills in project management and event planning. Then it's all up to you! In teams, you will plan, organise and run an event for youth on the Northern Beaches.
This is your chance to make a difference in your local community, meet new people and learn valuable job-ready skills. If you have any questions about the project, please contact the library.
Expressions of interest close Sunday 27 June
. Please note, you must live, work or go to school/educational institution on the Northern Beaches.
NSW Young Environmental Citizens Of The Year
A Year 7 support unit class has shown the power of collaboration after winning a NSW environment award. The su

pport unit class at Coonabarabran High School has been awarded the prestigious title of NSW Young Environmental Citizens of the Year.
The award was announced by NSW Environment Minister Matt Kean on the weekend to coincide with World Environment Day.
The Coonabarabran High School D7 Support Unit Class' was acknowledged for its environmental leadership in developing eco-sustainability programs and its significant contributions to the school's Return and Earn program.
It is the second award the students have received this year after they were honoured during the Warrumbungle Shire Council Australia Day ceremony with the Young Environmental Citizen of the Year Award.
Mr Kean said the students at Coonabarabran High were "making a real difference in their local communities and setting an important example for others to follow".
"The youngsters are an inspiration to all schools around the state," Mr Kean said.
Head teacher, Support Unit Sharon Rankmore said the students had been recognised at the school's assembly this week to mark their achievements.
"We are so proud our students," she said. "Their leadership has been a true positive in our school.
"This award is a significant achievement for the class because it reinforces to them their potential and the power of collaborative action."
Mrs Rankmore said the recycling program started when the Coonabarabran High School Support Unit was first opened in 2005.
It involved students entering classrooms to collect the recycling boxes and transferring the contents to the collection centre.
The program was expanded in 2019 across the three support unit classes when eco-sustainability units were integrated into the Support Unit's Science program with the help of a grant that led to the establishment of a learning garden.
Mrs Rankmore said they would use the award winnings to "grow' the recycling program to include composting food scraps from recess and lunch.
This would be used in the food gardens the students maintained for their food technology classes.
"It's gratifying to know that a small group of students with disabilities in a small, rural NSW town are recognised for contributing to the health of the planet," Mrs Rankmore said.
"This award will highlight the great learning that occurs in NSW public schools and in particular how we strive to ensure that our environments are inclusive of all students.
"For our community this recognition will certainly enhance the self-esteem of all involved - students, staff, and their families."​
Past and present students who have been a part of the recycling program, from left: Aurora Price, School Learning Support Officer Venessa Houley, Alex Park, Tabitha Ward, Will Turner, Randall Rumbel and Chloe Snape.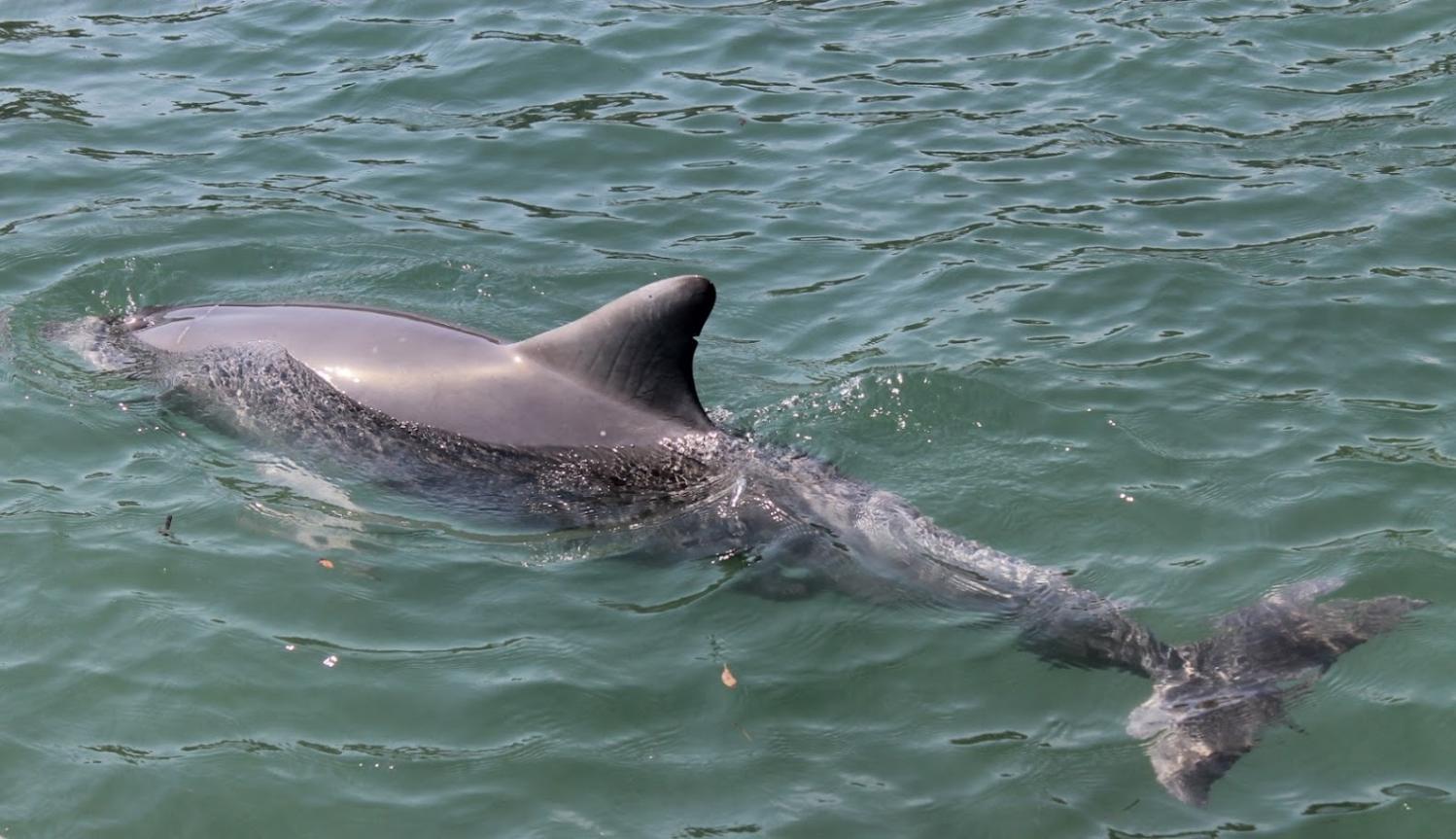 Dolphin in Pittwater
; randomly placed in your page this week for no apparent reason other than providing you with 3 seconds of 'oh, lovely, a dolphin!'. AJG photo.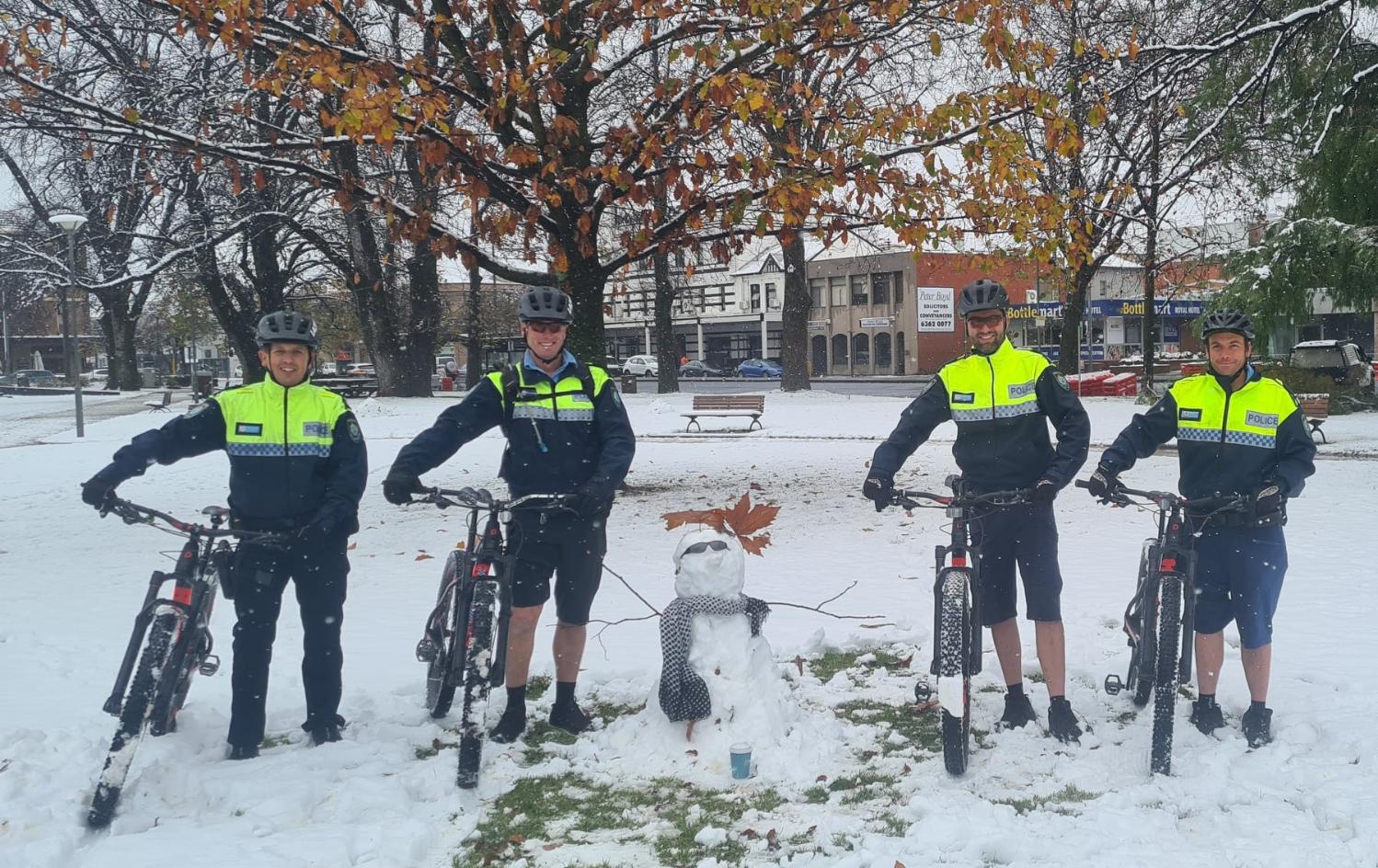 Legends of the cold
; check out these wonderful human beings, in shorts and on duty at Orange this week - so, if you thought it was slightly like Tasmania here this week, it was even more so in our western rural areas of the state. image by and courtesy NSW Police (photo) on Facebook. A great reminder that if you're having problems, the police are your mates!
The caption that went with this was; ''This local was a bit frosty, but soon warmed up once we got him a scarf and coffee. #snowpatrol''.
Council Among Those To Showcase Local Acts On Make Music Day
Six grant recipients will receive a share of $90,000 in funding from the NSW Government to stage free live music events throughout the state as part of the annual global event, Make Music Day.
Minister for Planning and Public Spaces Rob Stokes congratulated the successful funding recipients who will each receive $15,000 which can be used to help fund live music events.
"
On June 20 and 21, public spaces across
the state will come alive, showcasing great local talent with live performances," Mr Stokes said.
"We know that the live music industry was one of the hardest hit during the pandemic and we're keen to support them by using our public spaces for this series of free performances."
The successful applicants are:
Northern Beaches Council

- 50 musicians performing 45-minute sets across four locations including the

Manly Corso, Berry Markets at Narrabeen Lagoon and Mona Vale Village Park and Dee Why Town Centre.

City of Parramatta Council and Sydney Olympic Park Authority

- events in multiple public spaces including Parramatta Square, Cathy Freeman Park, Jacaranda Square, The Abattoir Heritage Precinct, Epping Railway Station and more, featuring 30 acts from Western Sydney's live music scene;

Yours and Owls Event - Wollongong

's Globe Lane will be transformed to present Full Set Fest, to showcase grassroots and promising artists in the Illawarra;

Lisa Farrawell - in a First Nations-led initiative

, local musicians will perform live on an outdoor stage for the Crescent Head community;

Blacklight Collective

- for a one-day pop-up program in Coffs Harbour featuring dozens of local artists performing electronica, contemporary, Indian classical, percussion, jazz and more;

and

Leeton Shire Council

– for two acts including a soul, afrobeat and electronic artists to the Leeton Skate Park
Minister for the Arts Don Harwin said the funding was a fantastic opportunity to support local artists after the music sector was hit hard by COVID-19.
"Make Music Day recognises the joy that music brings to our lives," Mr Harwin said.
"We are proud to invest in this initiative which celebrates our local musicians and enables them to showcase their talents and share their sounds as part of this free world-wide music extravaganza."
Make Music Day is part of the NSW Government's annual Festival of Place, which is a rolling program that highlights the importance and beauty of great public spaces and was introduced in response to the COVID-19 pandemic.
Local events will occur on Sunday June 20th from 10am to 4pm.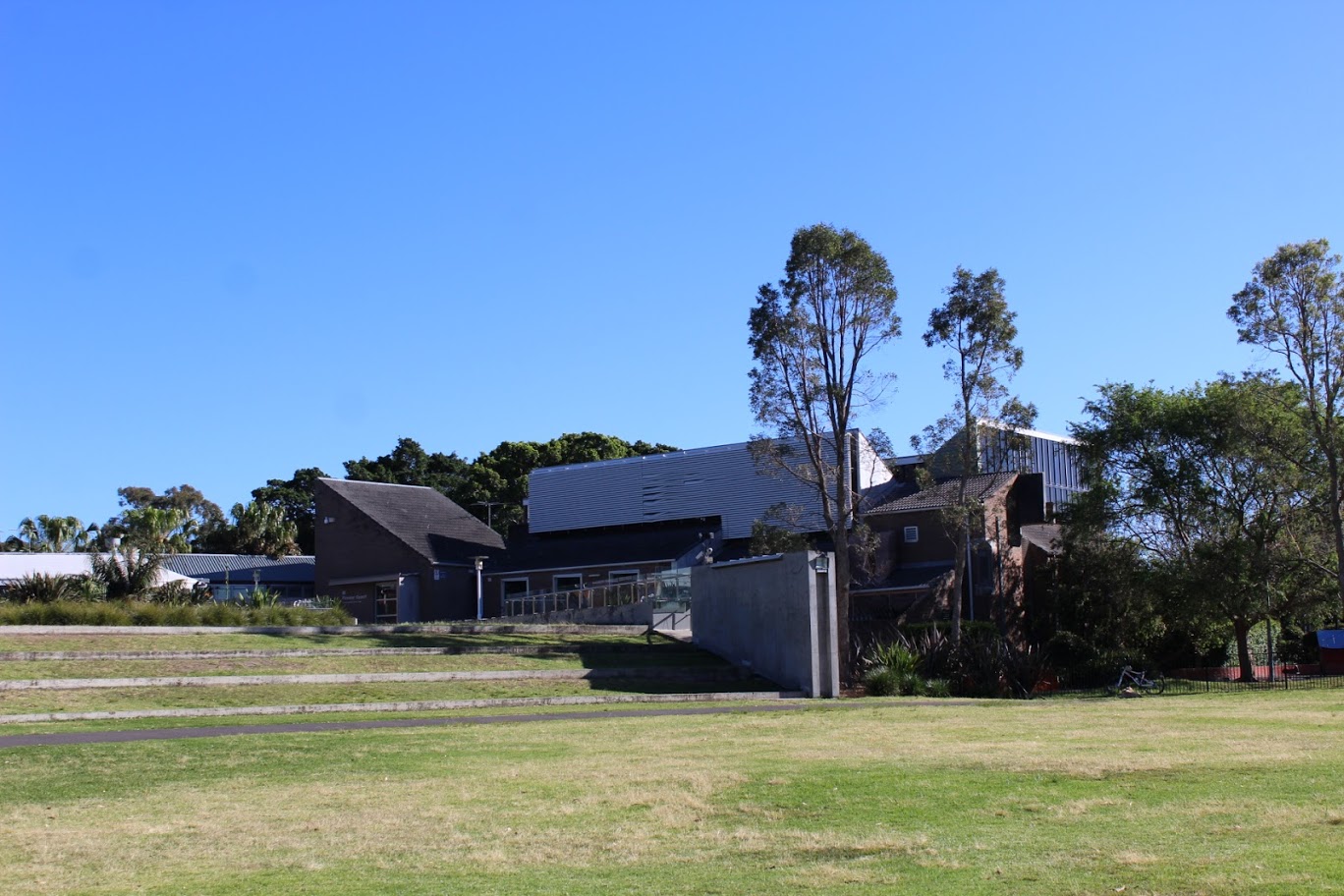 Mona Vale Village Park - one venue for Make Music Day 2021
Danica's Career Sets Sail Thanks To TAFE NSW

A Double Bay local, originally from Serbia, has credited TAFE NSW with helping her to land a dream job at a at an iconic local sailing club, with plans to open her own hospitality business one day.
According to the ABS, women make up just 33 per cent of small business owners.
After graduating from a Business and Law degree in her home country, 26-year-old Danica Milosavljevic studied a
Certificate IV in New Small Business and a Diploma of Business at TAFE NSW
Ultimo. She is now studying an Advanced Diploma of Business while working as an Assistant Bar Manager at Australian 18 Footers in Double Bay.
"When I arrived in Australia, I was looking to gain practical skills and the TAFE NSW course has been perfect for me. It's given me the skills and confidence to excel in my current position and hopefully open my own health food bar or café one day," Ms Milosavljevic said.
"I've enjoyed gaining hands on skills which can be applied to a variety of different industries and roles, and the knowledge, support, and guidance teachers like Frank Cremona provided me, particularly during the COVID-19 lockdown, was invaluable."
Acting Head Teacher of Business Frank Cremona said Danica is an exceptional student with a thirst for knowledge.
"Danica approaches all of her work with positivity and through her studies at TAFE NSW she is now equipped with job-ready skills which will no doubt serve her well in her future endeavours. She has a bright future ahead of her," Mr Cremona said.
"TAFE NSW courses in Business are perfect for students like Danica who are looking to grow their technical and interpersonal skills and strengthen their knowledge of managing systems, budgets, business strategy, operational execution, effective team management, and marketing," Mr Cremona said.
To find out more about studying business courses at TAFE NSW, phone 13 16 01 or visit 
tafensw.edu.au
. 
Sound Education Leads To Blockbuster Career
Meadowbank local Peter Climpson has hit the big time and found his dream gig – supporting the NSW film industry boom as an audio engineer on feature films and lifestyle and reality television.

After school, Mr Climpson wasn't sure what he wanted to do but when his mum suggested he try the Certificate IV in Screen and Media (Television) at TAFE NSW he was keen to give it a go.
"It wasn't until I arrived that I realised the TAFE NSW St Leonards television production studios had just had a six-million-dollar upgrade and now had better facilities than most television studios in Sydney," Mr Climpson said.
"I quickly realised how close the teachers were to the industry, many were part time teachers still actively working and practising their craft in the film and television industry. You can't buy the connections I made at TAFE NSW."
Mr Climpson completed the
Certificate IV in Screen and Media (Television)
before continuing his studies with a
Diploma of Music Industry (Sound Production)
to consolidate his skills. Peter's teacher Peter Gage said it's a great time to be working in post-production as big-budget international blockbusters shooting in Australia are forecast to continue being a significant source of demand for local firms.
"The current film and television industry boom in NSW is driving up demand for skilled workers in the creative industries and creating opportunities for sound engineers and technicians," Mr Gage said.
"The NSW Government has injected $175 million into the sector through the Made in NSW fund to support the attraction to NSW of significant international and domestic feature film and major TV drama productions.
"It's a really exciting time to be in the industry and I encourage anyone considering a career in film or television to take a look at the range of courses on offer at TAFE NSW and let us help you get your foot in the door."
In 2019 Mr Climpson worked on the feature film 'Outback' as Sound Designer, which was sold to Lionsgate and is currently streaming on Stan. He will soon complete work on another highly anticipated feature film - 'Risen'.
Mr Climpson says TAFE NSW was pivotal in helping him get his start in the industry, paired with a strong work ethic and dedication to the craft.
"The hands-on training at TAFE NSW was a significant draw card, there's really no other way to learn what we do, than to do it.
"One of the best things I did while I was at TAFE NSW was work experience during the holiday breaks. This was a massive advantage because by the end of my course I had already had some experience, which was a lot more than what most other people who graduated in my year did.
"I think anyone considering studying at TAFE NSW should take it very seriously. You'll get more out of the experience if you go all in and really apply yourself. Everything I know has come from someone else and it's a gift when someone passes on that knowledge and advice."
To find out more about the range of courses available at TAFE NSW including the
Certificate IV in Screen and Media
, visit
www.tafensw.edu.au
or call 131 601.
Helena's On Her Way To A Ferry Impressive Career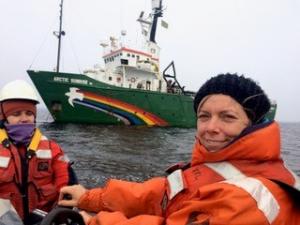 With Australia relying on sea transport for 99% of exports and Newcastle being the world's largest coal export port, it makes sense that TAFE NSW Newcastle offers a wide range of maritime courses.
A former Web Manager is well on her way to becoming a fully qualified
Chief Mate
with the skills required to safely manage and operate any type of merchant ship thanks to TAFE NSW.
Helena de Carlos is studying a
Bachelor of Applied Science (Nautical Science)
after starting her career as the Web Manager at Greenpeace, where she was given the opportunity to join a ship to Papua New Guinea to advocate for Forest Action.
After a taste of life on the water Helena took some time off and hitchhiked around on boats in the Caribbean to get some seafaring experience.
"I volunteered as a Deckhand at Greenpeace and decided a life at sea is what I love so I'm now working towards a qualification as Chief Mate.
"Working on ships is an adventure, I have been able to tick off everything on my bucket list. Some of my favourites have been the Arctic Circle, Antarctica, the Amazon and Rio. I'd encourage anyone who has an interest in maritime to start with a Certificate I in Maritime Operations at TAFE NSW and I guarantee they'll be hooked."
TAFE NSW Newcastle Head Maritime Studies
teacher Carmen Blanco, who has spent 30 years at sea and ashore in the Australian Maritime Industry, said career seafarers travel from across the globe to our doorstep to earn specialised maritime certifications such as Chief Mate, Master and Watchkeeper Deck.
"Many don't realise TAFE NSW Newcastle is the only East Coast provider of the world's highest seafarer qualification. The training students receive locally is recognised internationally as best-in-class. TAFE NSW is well known globally for our high quality teachers, facilities and technology," said Captain Blanco.
"Our maritime studies qualifications, offered in partnership with the University of Tasmania, are recognised internationally and enjoy a solid reputation for authenticity. This is something several other countries cannot attest to; many seafarers find their qualifications aren't recognised outside their own country so they need to become certified elsewhere."
Australia's largest training provider, TAFE NSW offers over 1200 courses, from certificates to degrees.
Many can be studied online via TAFE Digital
, when and where it suits. Visit
www.tafensw.com.au
or call 131 601.
Night Drive For Learners
Do you know a learner driver who would benefit from this program?
The
first Tuesday of every month officers
from the Traffic and Highway Patrol Command - NSW Police Force, with members of Fire and Rescue NSW, take part in Night Drive for Learners. A free program hosted by Australian Racing Drivers' Club and Driving Solutions.
The free program gives learner drivers the opportunity to build confidence in their driving by having 2 hours of free driving around the track at Sydney Motorsport Park.
As a value add officers setup a mock RBT site where drivers can practice driving through the site and the drivers and their supervisors can ask questions of the officers. Fire and Rescue NSW drive around the track with the learners, randomly engaging their lights and sirens.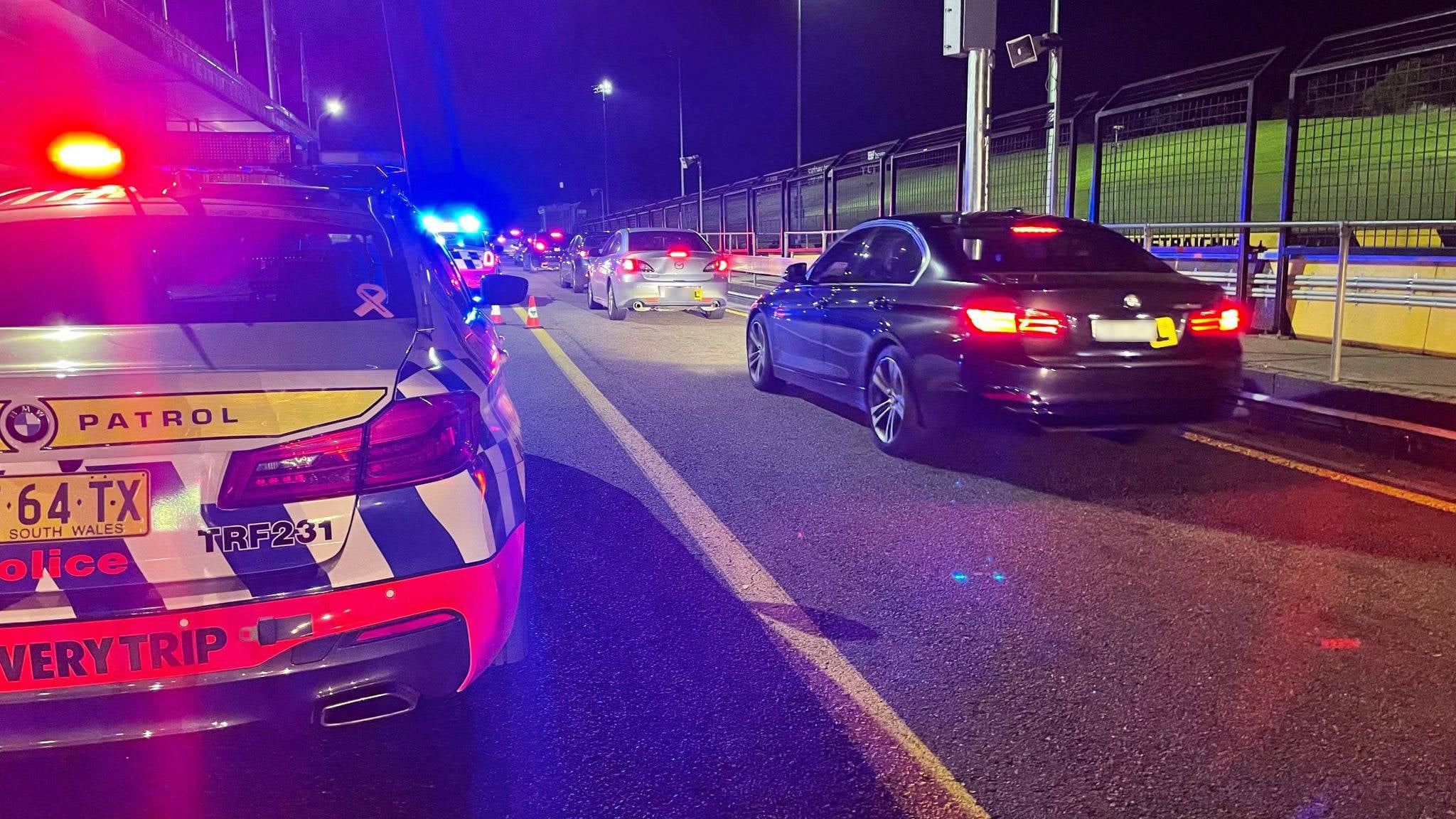 Photo: NSW Police Force
Karuah Mother Tour
Karuah is the new project from
James Lange
, an Avalon Beach raised, northern rivers based up and coming artist.
Karuah began writing and performing since the age of 13 and over the years has shared the stage with the likes of Angus and Julia Stone, Ocean Alley, Lime Cordiale, The Rubens, Kyle Lionhart, Iluka and The Veronicas, to name a few. Mainly performing to small intimate audiences where the listener can truly 'drop in', Karuah has headlined tours of Australia with his previous releases 'Wildplum' and 'Insight'.
Karuah has also supported Kyle Lionhart for his 'So Close' tour in 2019, and has made the stage at Bluesfest 2019 and South Coast Soul Fest 2018/19.
James is currently undertaking his Mother Tour and will be in his home town at the end of this month to support the release of his first single Mother from his debut album. Mother was written during Australia's Fight For the Bight campaigns in late 2019, and so contains underlying notes of activism and empowerment. Expanding on his coined genre 'Ethereal Folk' Karuah indulges the listener through an almost meditative journey with hints of Bon Iver, Ry X and Ben Howard.
Karuah - Mother Tour - Avalon Beach
Fri., 25 June 2021: 6:00 pm – 9:00 pm
Avalon Baptist Church, 2 George Street, Avalon Beach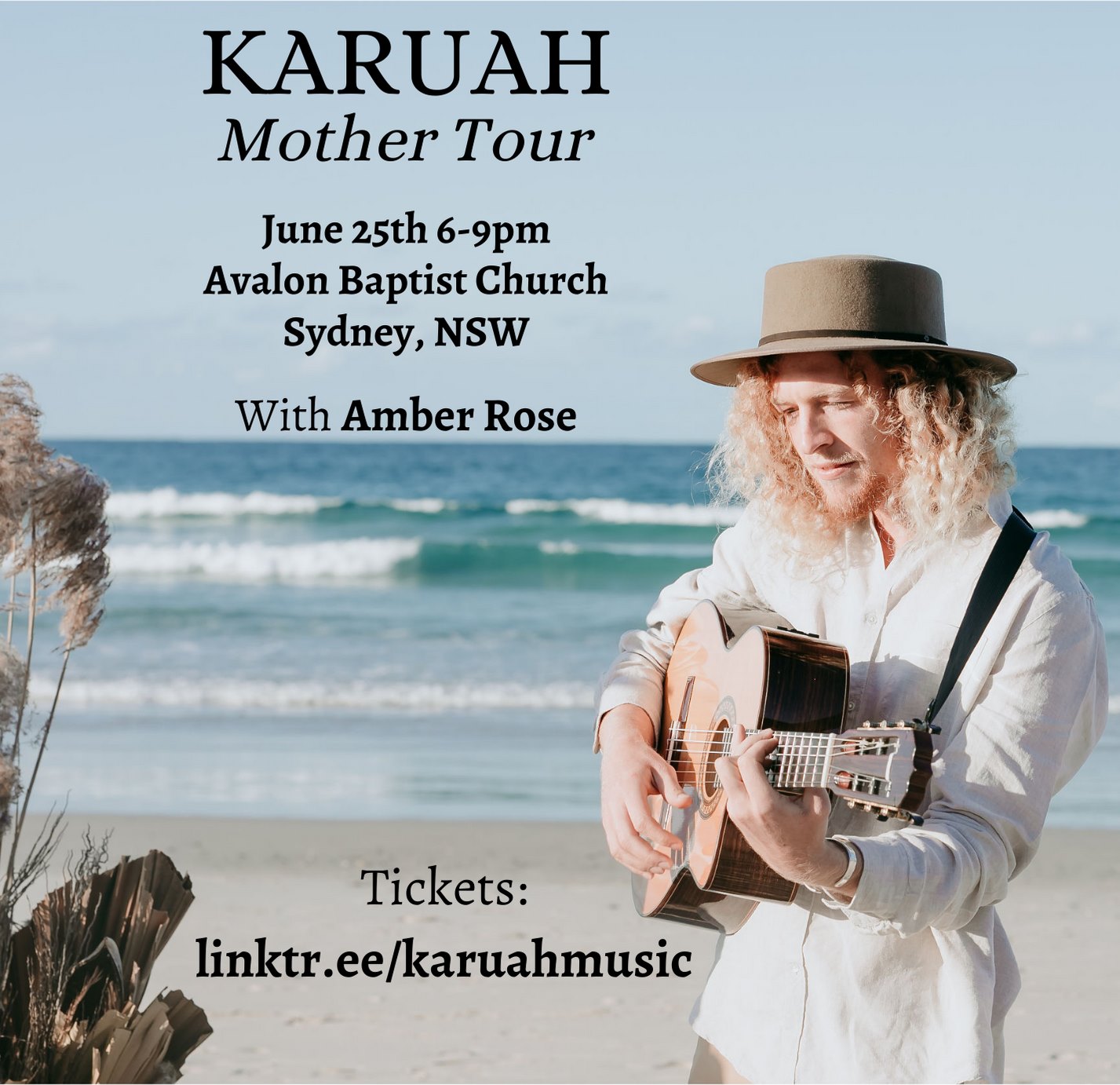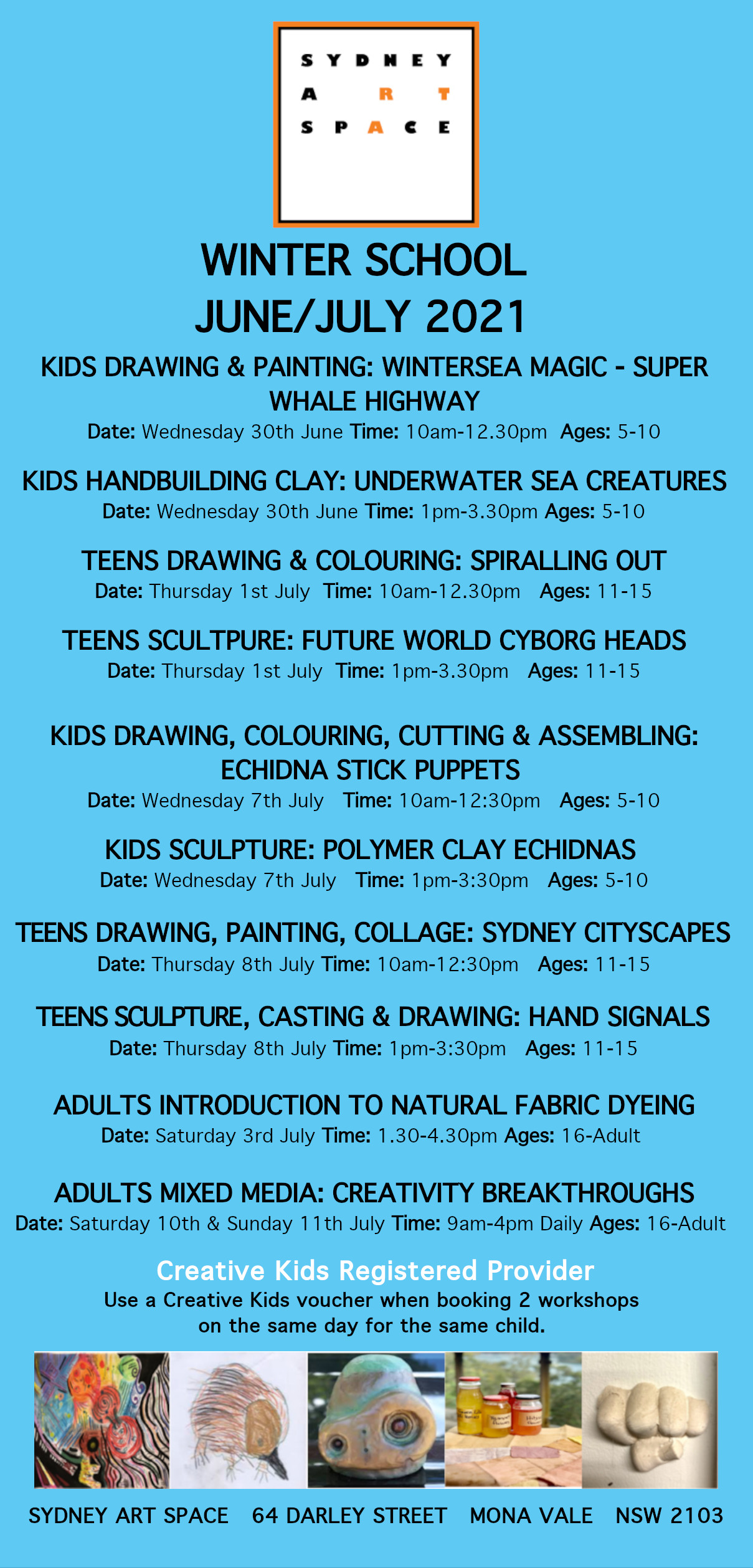 Dorothea Mackellar Poetry Competition 2021 Entries Now Open
2021 OPTIONAL THEME: "RICH AND RARE"
''Our poets are encouraged to take inspiration from wherever they may find it, however if they are looking for some direction, competition participants are invited to use this year's optional theme to inspire their entries."
In 2021, the Dorothea Mackellar Memorial Society has chosen the theme "Rich and Rare." As always, it is an optional theme, so please write about whatever topic sparks your poetic genius.
For a copy of the wonderful theme poster, please click here.
HOW TO ENTER
*PLEASE NOTE: If you're registering as an individual student, put your HOME address in your personal details and not your SCHOOL'S address! The address you list is where your participation certificate will be posted!*
ONLINE SUBMISSION
(primary school and secondary school, anytime during the competition period)
Teacher/parent - registration completed online (invoice will be emailed within 2 weeks of registration)
Log in to your page.
Enter student details and submit poem(s) (cut and paste or type in poem content direct to the webpage) PLEASE DO NOT UPLOAD POEMS AS ATTACHMENTS AS THAT FUNCTION IS FOR POSTAL ENTRIES ONLY.
Repeat step 3 for every student/individual poem.
PLEASE SEE HERE FOR A DETAILED PDF ON ENTRY INSTRUCTIONS FOR TEACHERS AND PARENTS.
USEFUL TIPS
Have a read of the judges' reports from the previous year. They contain some very helpful advice for teachers and parents alike!
It is recommended for schools to appoint a coordinator for the competition.
Only a teacher/parent can complete the registration form on behalf of the student/child.
Log-in details: username is the email address and a password of your choice.
Log-in details can be given to other teachers/students for poem submission in class/at home.
Log-in as many times as necessary during the competition period.
Teachers can view progress by monitoring the number and content of entries.
Individual entries are accepted if the school is not participating or a child is home schooled. Parent needs to complete the registration form with their contact details. Please indicate 'individual entry' under school name and home postal address under school address.
Invoice for the entry fee will be sent to the registered email address within 2 weeks.
'Participation certificate only' option available for schools where pre-selection of entries has been carried out. Poems under this option will not be sent to judges, students will still receive participation certificate for their efforts.
Please read the Conditions of Entry before entering. Entries accepted: March 1 to June 30, results announced during early September.
Visit: https://www.dorothea.com.au/How-to-Enter-awards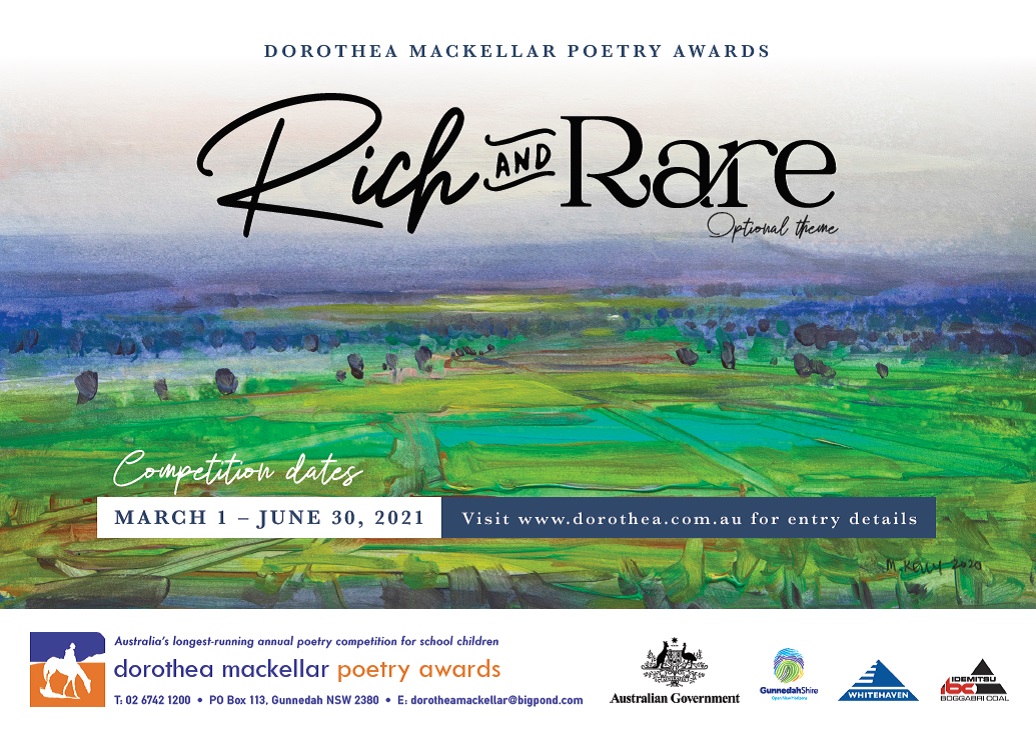 First Insights From The Serious Incident Response Scheme
Serious Incident Response Scheme (SIRS) indicates that aged care residential providers have been working hard to implement and fine-tune their approach to incident management.
In the first six weeks of the scheme
(from 1 April to 12 May 2021),
the Aged Care Quality and Safety Commission has received 1,876 notifications which fall into the Priority 1 reportable incident category
- that is, an incident in a residential aged care service that has caused, or could potentially have caused physical or psychological injury to a consumer, requiring medical or psychological treatment.
Each of these notifications is assessed by the Commission for the purpose of identifying whether further information is required from the service and/or regulatory action is warranted by the Commission.
The most common type of reported incident was unreasonable use of force, followed by neglect.
Commissioner Janet Anderson PSM said "The notifications received to date indicate that providers are responding actively and swiftly to their new reporting obligations under SIRS."
A key part of SIRS is the requirement for providers to have in place an effective incident management system to reduce injuries and other incidents impacting consumers, and to respond appropriately to incidents if and when they occur.
Ms Anderson said, "An aged care organisation which has an effective incident management system is well-positioned to collect and use incident data to build a learning culture, helping staff to prevent similar incidents from occurring and to better protect the health, safety and wellbeing of aged care consumers."
This is the first in a series of insight reports on SIRS that will aim to reflect back to the sector relevant data and information drawn from serious incident notifications and the regulatory treatment of these notifications. Information from incident notifications informs the Commission's broader regulatory actions and also indicates areas where the Commission can clarify and build on its initial SIRS guidance.
SIRS is a new initiative that aims to help prevent and reduce the risk of abuse and neglect of older Australians in residential services. It complements existing provider obligations under the Aged Care Act and strengthens responsibilities for providers to prevent and manage incidents. It requires providers to use incident data to drive quality improvement, and to report serious incidents. Providers notify the Commission of reportable incidents by completing a notification form on the My Aged Care Provider Portal.
The
SIRS Insight report
is available on the Commission's website. Detailed guidance about SIRS and the new reporting obligations is also available on the Commission's website.
COTA NSW/Challenger Research Highlights Age Discrimination In The Workforce
New research into the treatment of older workers shows that many mature-age employees report experiencing discrimination in the workforce due to their age, and believe they are not receiving the same opportunities provided to other workers.
Experience, Knowledge and Commitment: Valuing Older Workers examines the employment challenges facing people over 50. The research found there are more instances of older employees having been laid off compared to their younger colleagues, while a stigma remains around their competency with technology and openness to change.
Older women in non-managerial roles, working part-time or on a casual basis, are more likely to report experiences of aged-based discrimination.
The research is part of a joint initiative by COTA NSW and Challenger and is aimed at addressing the underemployment of people over 50. Importantly, the research considers the issue from the perspective of both Australian employers and employees.
"Australia's mature-aged workforce is skilled and able – and older people are healthier than at any other time in history," said COTA NSW CEO Meagan Lawson.
"But due to stigma and discrimination, there are fewer employment opportunities for people aged over 50."
Key takeaways from the research include:·
Many employers are unaware of age discrimination in the workforce but are willing to do something about it once it's been identified.
Businesses need support to understand how they are tracking, and the steps they can take to improve employment of mature workers.
Older workers believe a change in attitude by employers would help them financially and emotionally.· There's a great diversity within mature aged workers.
Ageing of the workforce is a critical challenge for the economy.
In 1976 there were seven working people for every non-working person. In 2016 that had fallen to four to one, and according to the NSW Intergenerational Report, it will be two to one by 2056.
The benefits to individuals and the community go well beyond finance. Workforce participation is linked to better health outcomes and other positive well-being indicators. But the research shows many mature age workers feel they don't get a fair go, with excuses ranging from over-qualification and younger managers feeling threatened, to poor cultural fit and bad for the corporate image.
"There is significant value to individuals, the community and the economy in supporting older people to work as long as they wish,"
Challenger Chief Executive Officer Richard Howes said. "Increasing workforce participation for older Australians will not only help improve overall wellbeing but also contributes to financial security for a better retirement."
Half the employers surveyed for the research thought they were doing enough to support older workers. While most employers have general workplace bullying, discrimination and equal opportunities polices in place, only a minority had specific policies that covered age discrimination in detail.
"Older workers should be more valued for the expertise, skills and experience they bring to the workplace, and building awareness around the issue of age discrimination with employers and employees of all ages is a key opportunity," Ms Lawson said.
COTA NSW and Challenger are developing a toolkit to help employers implement age friendly practices. It includes improved education for managers to address unconscious bias and improve hiring practices, as well as programs to help promote flexible working arrangements and anti-age discrimination policies.
The toolkit will be available later in the year and will include initiatives: to forge stronger connections between workers of all ages within an organisation and; how to better train mature age jobseekers.
"While not all older workers are the same, some uniform initial steps should be taken to address the issue of age bias," Ms Lawson said. "There needs to be better education and training, more rigorous internal policies and structures, greater cross pollination among workers, and better access to job opportunities for older workers.
NSW Government's Cost Of Living Service
The NSW Government's popular Cost of Living Service is being expanded as part of the 2021-22 NSW Budget.
$6.6 million in funding will help customers right across the state to access the full range of benefits available to them from the service and a further $7.6 million from the Department of Customer Service will be redirected towards upgrading the service.
Service NSW will also hire extra staff, which will allow for up to 500 customers a day to benefit from the service.
This means that potentially every minute someone will save up to $600 per appointment.
This support will make it easier for customers to find and apply for government rebates and savings, access personalised support with face-to-face appointments gradually resuming from 1 July 2021.
Premier Gladys Berejiklian said easing the cost of living for households remains a top priority for the Government in the 2021-22 NSW Budget.
"There are up to 70 savings offered by the Government, and more than $4 billion has been collectively saved by families since the program commenced in July 2017," Ms Berejiklian said.
"Service NSW is a one-stop shop that takes the hassle out of finding savings by putting all the relevant information under the one roof."
Treasurer Dominic Perrottet said this year's Budget would continue to drive our economic recovery from COVID by ensuring more people had money in their pockets to spend on the things that matter most to them.
"This increased investment will give more people the support they need to help them create a better future for themselves and their families," Mr Perrottet said.
"A simple appointment could potentially save you hundreds of dollars. Whether it is Active Kids vouchers, energy rebates or Toll Relief, there are hundreds and sometimes thousands of dollars' worth of savings out there to help make life that little bit easier."
Minister for Digital and Minister for Customer Service Victor Dominello said specialised staff are on hand to do the heavy lifting for customers.
"Gone are the days of having to visit multiple websites and waste time calling different agencies. Our specialised one-stop shop staff can help customers identify their eligibility for savings and help them claim them," Mr Dominello said.
"There have been 70,000 cost of living appointments since July 2018, with the average saving per appointment almost $600, which means more money being spent on the things that matter most.
"As the popularity of this program continues to grow, Service NSW will ensure more staff are made available to best support NSW residents."
Examples of other savings available include pensioner travel vouchers, Low Income Household Rebate and the Regional seniors travel card.
The following are savings among different Service NSW Centres for cost of living appointments:
Centre
Savings
Highest Individual Saving
Central Coast Centres
$2,524,000
$14,000
Macarthur
$937,000
$1,793
Armidale
$1,400,000
$10,000
COTA Australia: Policy Alert No 18 Federal Budget 2021
Aged Care Reform was the centrepiece of this year's Federal Budget, both in policy and financial terms. Responding to the recommendations of the Royal Commission into Aged Care Quality and Safety the Morrison Government announced a comprehensive package of reforms with a total additional expenditure over four years of almost $18 billion. This was the largest increase in any portfolio of government in this Budget.
Apart from aged care there are not huge gains in this Budget. There are a number of welcome measures in retirement income policy, and some small steps on increasing workforce participation. However, there is no substantive new support for mature age employment and support for vulnerable groups like pensioners and Jobseeker recipients who rent is still missing. Long-term solutions are still needed to ensure vulnerable older Australians are adequately supported.
COTA Australia have examined the aged care reform package in detail later but will start with some of the measures in other areas.
New Research: Having A Say In Aged Care Co-Design
Older Australians overwhelmingly want a seat at the table when it comes to designing a new era in aged care following the Royal Commission, according to new research by National Seniors Australia.
The survey by National Seniors of 4,562 older Australians found that:
Australian seniors are passionate about older people being involved at all levels of aged care system reform.
Seniors currently feel that opportunities for them to be involved as co-designers of age care are minimal.
Seniors are wary of tokenistic gestures of engagement such as consultation processes that invite contributions but do not act on them.
Seniors are not just aged care recipients - many have valuable experience and expertise they can contribute in making changes to the aged care system.
National Seniors CEO and Director of Research, Professor John McCallum says the response highlights the risk of inherent ageism if it's left to just bureaucrats alone to redesign aged care.
"The Royal Commission presented us with a once in a generation opportunity to get this right. We have no choice. We must listen to the voices of the people who will be most impacted by the new Aged Care Act."
The research was co-released with the EveryAGE Counts campaign which said that co-designing aged care reform with older people tackles ageism at its root.
"Of course older people can and must be co-designers of the aged care system. The reason they have been largely excluded to date can be put down to ageism, pure and simple," said EveryAGE Counts Director Marlene Krasovitsky.
"Older people bring perspective, insight and in many cases valuable expertise to the design process. They must be around the table."
National Seniors has also suggested this research be used in the Federal Government's search for a Council of Elders in helping reform aged care as recommended by the Royal Commission.
Nurse-Led Home Blood Transfusions Highlight New Trend In Healthcare
A trend from hospital to home-based care, accelerated during COVID-19, looks set to continue with the first evidence in Australia that regular blood transfusions can be safely performed in residential homes and aged care facilities.
The joint study, undertaken by the University of South Australia, the Royal District Nursing Service and SA Health, investigated 1790 blood transfusions involving 533 patients in South Australian homes and aged care facilities over a 15-year period.
Key findings included:
The system used to deliver blood products to the patients was efficient and safe;
There was less than one percent of adverse reactions, with these reactions not being serious and able to be managed by a registered nurse;
The gender and age of the patient and their setting (including aged care facilities) was not a barrier to receiving a blood transfusion at home, and did not influence the risk of an adverse reaction.
The study overwhelmingly supports home blood transfusions for medically stable patients, according to UniSA lead researcher Dr Rebecca Sharp.
"Hospitals can be alienating and strange places for older people, especially those who have dementia," Dr Sharp says. "It is better for eligible patients if a trained nurse can go to their home and perform the blood transfusion, following strict procedures."
Study co-author and RDNS National Nursing Director Ms Lisa Turner says the research highlights RDNS meeting the growing trend of health care being delivered at home, not in hospitals, and leading the drive for the evidence base to support future care.
"Blood transfusions are not straightforward procedures, and our nurses are highly trained and specially skilled to conduct the transfusions safely in people's homes," Ms Turner says. "The RDNS is one of very few providers in Australia able to do this at any sort of scale, which is testament to our nurses' expertise.
"Because we're able to perform blood transfusions in homes safely, it has the added benefit of reducing the burden on our hospitals and public health system by freeing up beds and resources that can redirected towards other critical care."
The study authors welcome the shift in healthcare from hospitals to homes in recent years as it cost effective, preserves, hospital beds, and better supports patient wellbeing.
"Treatment delivered at home is continuing to grow in importance – even more so during COVID – and our study shows that blood transfusions for stable patients could move in this direction too," the authors say.," the authors say.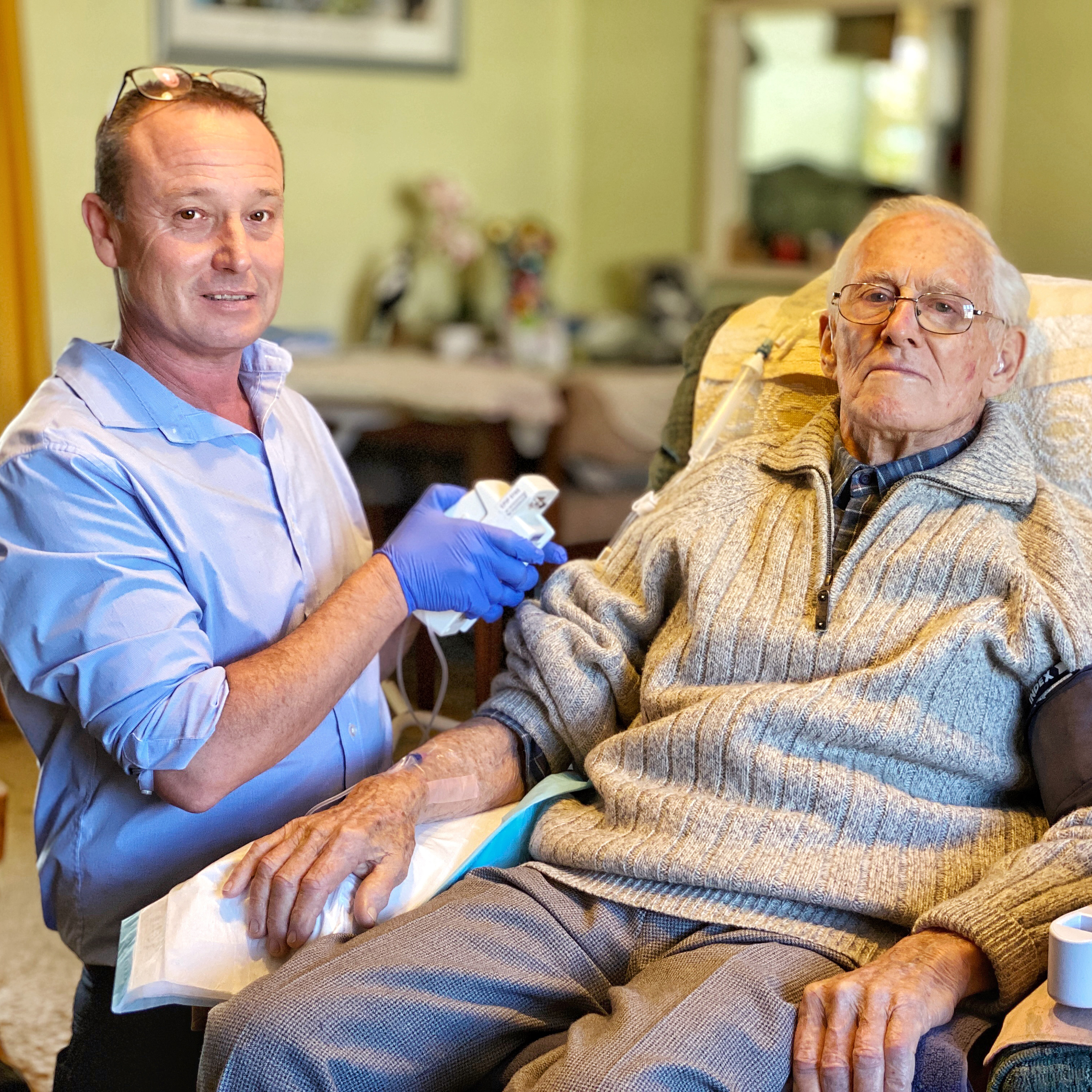 Photo: Registered nurse Daniel Allmand giving a blood transfusion to RDNS client, Hartley.
Young Australians And COVID-19: More Depression And Anxiety, But Less Alcohol-Related Harm
Young Australians experienced an increase in depression and anxiety during COVID-19 restrictions in 2020 but consumed less alcohol, a new report by the National Drug and Alcohol Research Centre (NDARC) at UNSW Sydney says.

Concerningly, their increased mental health issues weren't offset by greater help-seeking from mental health professionals.
The researchers used survey data from 1927 young people – with a median age of 22 – as part of the Australian Parental Supply of Alcohol Longitudinal Study (APSALS) cohort. They found half the cohort rated their mental health as having worsened in May-June 2020, when compared to August 2019 – March 2020.
"Young people may disproportionately experience certain stressors associated with the pandemic, such as reduced casual working hours and disruption to other structured activities like tertiary education," says Ms Emily Upton, Research Officer at NDARC and Clinical Psychologist.
The report found that despite the surge in generalised anxiety and depression, there was no increased uptake of young people seeking out mental health support from health professionals.
"Young people generally have low engagement with mental health treatment and rely more on self-reliance strategies to cope with mental health problems," says Ms Upton.
Lag in young people accessing support
The report found that although the Australian government introduced initiatives to increase access to mental health support during the pandemic, there may be a lag in young Australians accessing this support.
"Cost is a key barrier to treatment access for young people. Reduction in income during the pandemic may be a factor in continued low rates of help-seeking and while government rebates are available, these do not cover the entire cost of psychological treatment," says Ms Upton.
In another report using the same APSALS survey data, the researchers found alcohol use among young people during the COVID-19 pandemic decreased.
Dr Philip Clare, Biostatistician at The Prevention Research Collaboration, University of Sydney, says overall alcohol consumption among young people during the restrictions in May and June 2020 declined. "It went down by 17 per cent compared to February 2020, and there was a 34 per cent decline in the rate of alcohol-related harms."
The report found that changes in consumption appear to be driven by the COVID-19 restrictions.
Increase in drinking 'virtually'
"Young people generally consume more alcohol outside of the home, so we would expect alcohol consumption to decline during COVID-19 restrictions. However, we saw an increase in drinking alone and drinking 'virtually' with others," says Dr Clare.
"Similarly, the decline in alcohol-related harms may be driven by the fact that drinking was more likely to occur alone or 'virtually' with others due to the need to isolate, which reduces the risk of harms such as fighting with strangers, and traffic accidents."
The report stresses that alcohol-related trends in young people are also important to understand so the relevant harm reduction strategies can be implemented.
"Although drinking and harms decreased, we could see an increase in future due to loss in tolerance," said Dr Clare.
People can access free and confidential advice about alcohol and other drugs by calling the National Alcohol and Other Drug Hotline – 1800 250 015.
World First From Australian University: New Drug To Halt Dementia After Multiple Sports Related Head Injuries
A world-first international study led by the University of South Australia has identified a new drug to stop athletes developing dementia after sustaining repeated head injuries in their career.
The link between concussion and neurogenerative diseases is well established, but new research findings could halt the progression of chronic traumatic encephalopathy (CTE) in sportspeople who sustain repeated blows to the head.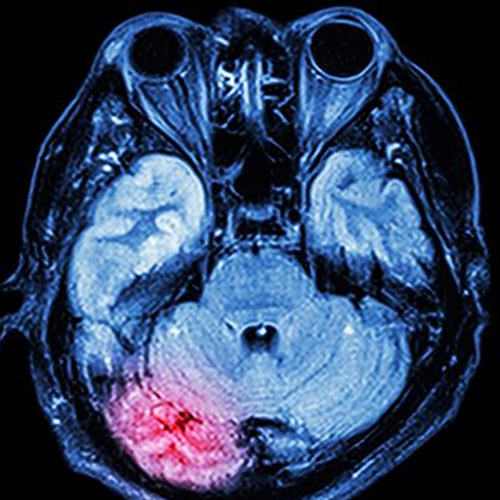 Red area shows where the brain is inflamed after concussion. Image:
UniSA
CTE is a progressive and fatal brain disease associated with the accumulation of a protein known as hyperphosphorylated tau which affects cognition and behaviour.
In a paper published in Scientific Reports, UniSA Emeritus Professor Bob Vink and colleagues show how repeated concussions can cause CTE and a way to block it with a specially developed drug.
The findings will potentially have significant implications for athletes who play contact sports -- such as boxers and footballers -- as well as military veterans sustaining head injuries in conflict.
The team of researchers from Adelaide, Melbourne and the United States say the brain releases a neurotransmitter called substance P in the event of a head injury, causing abnormal amounts of the tau protein to collect inside neurons.
"Tau protein tangles are a feature of CTE, which reportedly leads to memory problems, confusion, personality changes, aggression, depression and suicidal thinking," Prof Vink says.
"Our research shows that by blocking substance P with a specific drug, we can prevent the tau protein tangles from developing in the brain and causing neurological problems."
The treatment was successfully tested in animal models, giving hope that CTE can be prevented in humans.
Prof Vink says the next step is human clinical trials, but that could take several years given that currently CTE can only be diagnosed post-mortem.
A study of 14,000 Americans over 25 years, published in Alzheimer's and Dementia in March, showed that people who sustained even one head injury were 25 per cent more likely to develop dementia later in life. This risk increased with multiple traumatic brain injuries.
The Guardian also reported in April that an analysis of late AFLW player Jacinta Barclay's brain uncovered neurological damage at age 29, highlighting the risks of repeated concussions to both sexes. Previous research has focused on the impact of brain injuries in male athletes, but females are more likely to sustain concussions.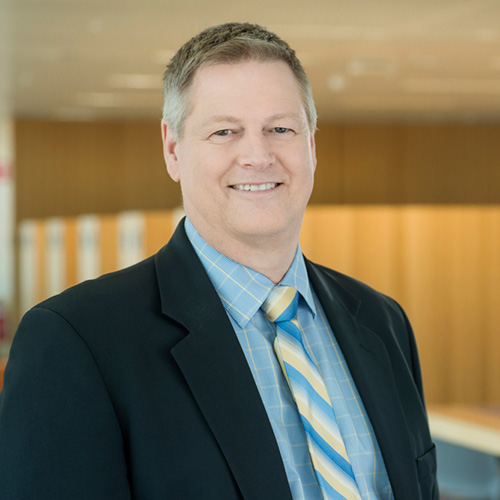 Professor Robert Vink.
Image:
UniSA
Frances Corrigan, Ibolja Cernak, Kelly McAteer, Sarah C. Hellewell, Jeffrey V. Rosenfeld, Renée J. Turner, Robert Vink.
NK1 antagonists attenuate tau phosphorylation after blast and repeated concussive injury
. Scientific Reports, 2021; 11 (1) DOI:
10.1038/s41598-021-88237-0
Fundamental Advance In Understanding T Cell Immunity
Monash University researchers have provided a fundamental advance regarding how T cells become activated when encountering pathogens such as viruses.
The recent study published in Science, co-led by Professor Nicole La Gruta, Professor Jamie Rossjohn and Professor Stephanie Gras with first author Dr Pirooz Zareie from the Monash Biomedicine Discovery Institute, have found that T Cells need to recognise pathogens in a particular orientation in order to receive a strong activating signal.
T cells play a key role in the immune system by eliminating invading pathogens, such as viruses, and it is crucial to understand the factors that determine how and why T cells become activated after recognizing these pathogens.
T cells express on their surface a T cell receptor (TCR) that recognizes and binds to virus fragments (antigens) presented by infected cells. This recognition event can lead to T cell activation and killing of infected cells.
"The central issue is that there are millions of different T cell receptors (TCRs) in the human body, and a vast array of viruses, making it difficult to understand the rules around how T cell receptor recognition of a virus drives T cell activation. Indeed, it is a problem that has remained contentious for over 25 years" says Professor La Gruta.
"Our study has shown that the orientation in which the T cell receptor binds is a primary factor determining whether the T cell receives an activating signal," Professor La Gruta said.
"This is an advance in our fundamental understanding of how a T cell needs to 'see' pathogenic antigens in order to be activated," she said. "It has clarified a critical mechanism essential for effective T cell immunity. It is also relevant to the ongoing development of immunotherapies that aim to boost the activation of T cells."
Dr Pirooz Zareie stated: "a combination of technologies, including super-resolution microscopy, X-ray crystallography at the Australian Synchrotron, biochemical assays and using in vitro and in vivo experimental models from a variety of labs led to the findings."
The study represented a cross-disciplinary collaboration between researchers from the University of Utah, National University of Singapore, University of New South Wales and Monash University.
Pirooz Zareie, Christopher Szeto, Carine Farenc, Sachith D. Gunasinghe, Elizabeth M. Kolawole, Angela Nguyen, Chantelle Blyth, Xavier Y. X. Sng, Jasmine Li, Claerwen M. Jones, Alex J. Fulcher, Jesica R. Jacobs, Qianru Wei, Lukasz Wojciech, Jan Petersen, Nicholas R.J. Gascoigne, Brian D. Evavold, Katharina Gaus, Stephanie Gras, Jamie Rossjohn, Nicole L. La Gruta.
Canonical T cell receptor docking on peptide–MHC is essential for T cell signaling.
Science, 2021; 372 (6546): eabe9124 DOI:
10.1126/science.abe9124
UNSW Researcher Named 2021 Young Tall Poppy
Childhood cancer researcher Dr Orazio Vittorio has received a 2021 Young Tall Poppy Science Award for his work in developing treatments for childhood cancers.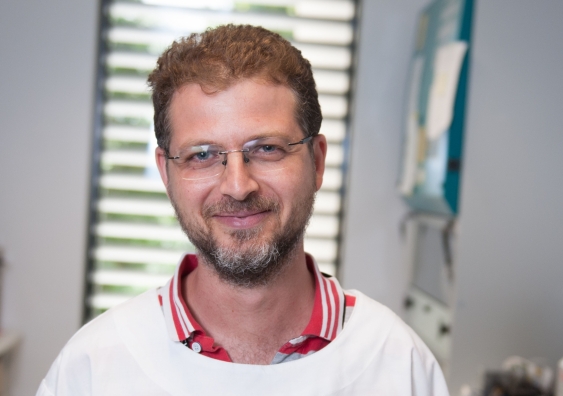 Dr Orazio Vittorio has been named a NSW Tall Poppy for excellence in scientific research and science communication. Photo: Children's Cancer Institute
A leading UNSW researcher has been recognised in the 2021 NSW Young Tall Poppy Science Awards.
Dr Orazio Vittorio from UNSW Medicine & Health and Children's Cancer Institute has been named a NSW Tall Poppy for his ground-breaking research and exceptional commitment to increasing science literacy in the community.
The Tall Poppy Science Awards, an initiative of the Australian Institute of Policy and Science (AIPS), acknowledge excellence in research and commitment to communicating science to a broad audience. The awards are held in each state to celebrate researchers across science, engineering and mathematics.
Dr Vittorio is among 10 researchers in New South Wales who have been recognised and will receive their awards at a ceremony in the coming weeks.
"I'm honoured to receive this award," Dr Vittorio said. "I am passionate about improving survival rates in kids with cancers like brain tumours, where we haven't seen any real improvement in the last 20 years."
Dr Vittorio's work has made major contributions to understanding neuroblastoma biology and to developing effective treatments for this and other aggressive childhood cancers. His discovery of the key role copper plays in cancer immune evasion – particularly that high levels of copper block an immune cell's ability to recognise tumours – is a world-first achievement. His development of anti-cancer therapeutics is also internationally recognised.
Read more about Orazio Vittorio: 'Science saved my life': one doctor's incredible journey from cancer researcher to cancer survivor
"I am an innovator. I like to look in directions where no one has looked before. If you want to achieve something you never had, you need to do something you have never done," he said.
UNSW Dean of Medicine & Health Professor Vlado Perkovic congratulated Dr Vittorio on receiving the prestigious award.
"Dr Vittorio is highly deserving of this award," Professor Perkovic said. "His work on the role of copper in neuroblastoma – one of the deadliest childhood cancers – is exciting and raises the possibility of treatments being developed that will use the knowledge to improve outcomes.
"It's through the work of outstanding scientists like Dr Vittorio that we discover new treatments which can offer hope to sufferers of cruel diseases such as neuroblastoma. I am thrilled to have him on our team at UNSW Medicine & Health."
Dr Vittorio has also been recognised for his exceptional commitment to raising STEM awareness and increasing science literacy in the wider community. He regularly engages with the public and media to promote the value of scientific research and advocates for increased support for early-career researchers. Through the Children's Cancer Institute, he has also been involved in the popular "Kick Cancer's Butt" program, informing high school students about childhood cancer research.
Sugar Overload In Childhood May Be A Recipe For Long-Term Problems
Children who consume too much sugar could be at greater risk of becoming obese, hyperactive, and cognitively impaired, as adults, according to the results of a new study of mice led by QUT and published by Frontiers in Neuroscience.
The study resulted in a reduced risk of sugar-induced weight gain and other health problems when the mice were given a much smaller daily dose of sucrose, supporting World Health Organisation calls for a reduction in sugar intake by humans.
One of the lead authors, Queensland University of Technology neuroscientist Professor Selena Bartlett, says many children, adolescents, and adults in more than 60 countries, including Australia, have a diet consisting of more than four times the sugar (100g) recommended by the World Health Organisation (25g per person per day).
"More work needs to be done in the investigation of the long-term effects of sugar on adolescents and adults but our results with the mouse model are very promising," said Professor Bartlett.
"Recent evidence shows obesity and impulsive behaviours caused by poor dietary habits leads to further overconsumption of processed food and beverages but the long-term effects on cognitive processes and hyperactivity from sugar overconsumption, beginning at adolescence, are not known," said Professor Bartlett.
"Our study found long-term sugar consumption (a 12-week period with the mice which started the trial at five weeks of age) at a level that significantly boosts weight gain, elicits an abnormal and excessive stimulation of the nervous system in response to novelty. It also alters both episodic and spatial memory. These results are like those reported in attention deficit and hyperactivity disorders.
"Human trials would need to be done but it suggests a link to the long-term overconsumption of sugar, beginning at a young age, which occurs more commonly in the Western Diet and an increased risk of developing persistent hyperactivity and neurocognitive deficits in adulthood."
Professor Bartlett said while the concept of 'sugar addiction' and the classification of sugar as a substance of abuse were still being debated, there is increasing evidence of overlap in the brain circuitry and molecular signalling pathways involved in sugar consumption and drug abuse.
"People consume sugar and food to regulate energy balance, but also for pleasure and comfort. This hedonistic desire for palatable food is reward-driven and overeating can impact upon and even override our ability to regulate," Professor Bartlett said.
"It is increasingly considered that unrestricted consumption of high-sugar food and beverages within the Western Diet might be linked to the increased obesity epidemic. A strong association between attention-deficits/hyperactivity disorders and being overweight or obese have also been revealed.
"Taken together, these data suggest that sugar-induced obesity may participate to the developing pathogenesis of ADHD-like symptoms in western countries. In children, high sugar consumption correlates with hyperactivity and in adults, with inattention and impulsivity.
"What has been unclear though, is whether chronic overconsumption of sucrose -- starting from childhood -- would have the same negative impact on our nervous system, emotions or cognition throughout adulthood as other addictive drugs.
"This study on mice goes a long way to resolving that question. Our results show for the first time that long-term consumption of sucrose leads to significant weight gain and produces persistent hyperactivity and learning impairments."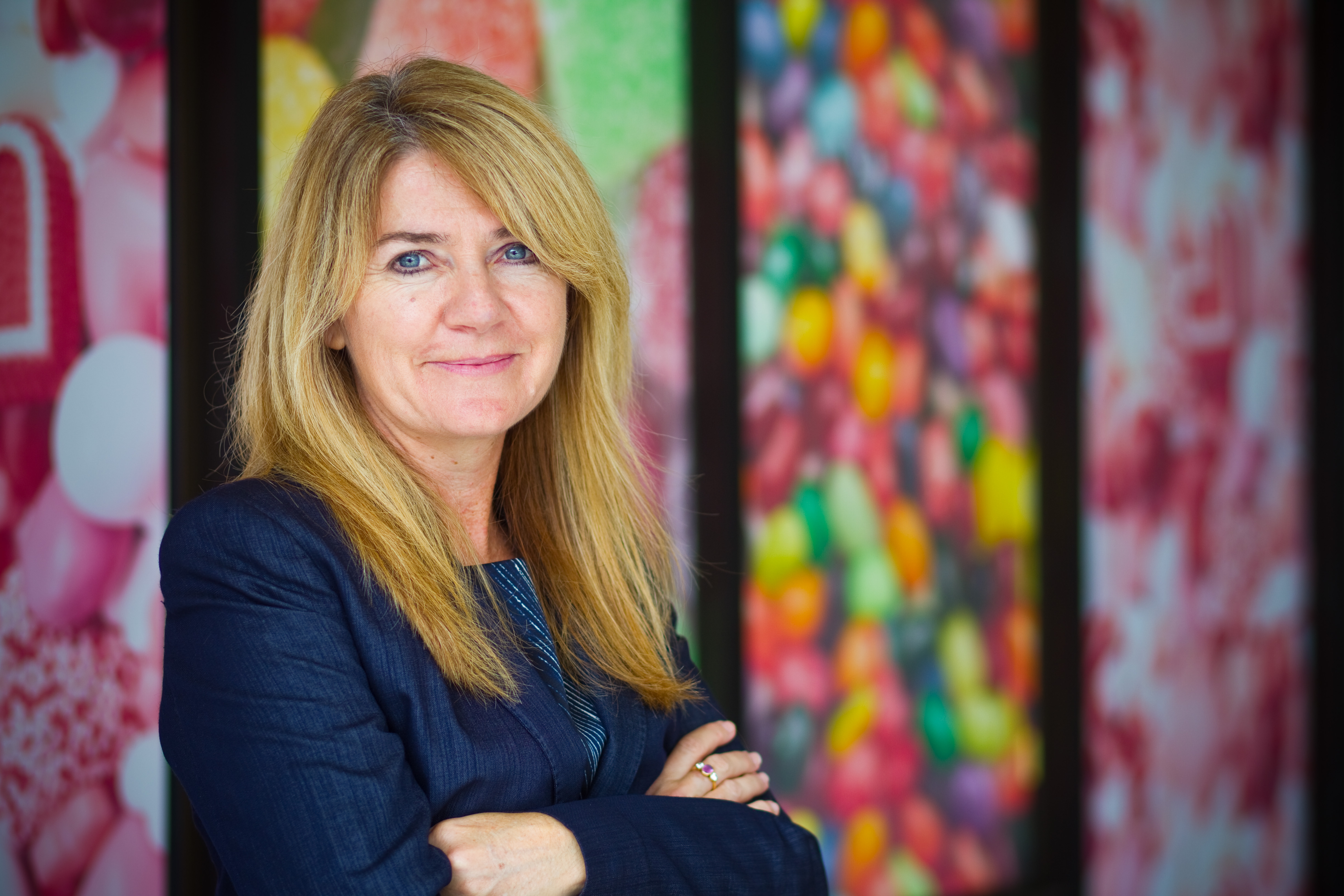 QUT neuroscientist Professor Selena Bartlett

Co-lead author Dr Arnauld Belmer added that while the overall sugar consumption has dropped since the mid-1990s, obesity rates have climbed.
"This rise in obesity rates could result from a delayed effect of excess sugar, suggesting that adult obesity may be driven by high sugar intake over a life span," Dr Belmer said.
"Interestingly, our investigation with the mice found reducing the daily sucrose intake four-fold did prevent sugar-induced increase in weight gain, supporting the WHO's recommendation to restrict sugar intake by this amount would be effective. It could also limit the other negative consequences including hyperactivity and cognitive impairment."
Kate Beecher, Ignatius Alvarez Cooper, Joshua Wang, Shaun B. Walters, Fatemeh Chehrehasa, Selena E. Bartlett, Arnauld Belmer.
Long-Term Overconsumption of Sugar Starting at Adolescence Produces Persistent Hyperactivity and Neurocognitive Deficits in Adulthood.
Frontiers in Neuroscience, 2021; 15 DOI:
10.3389/fnins.2021.670430
$264 Million Data Centre Approved For Macquarie Park
A new $264 million data centre in Macquarie Park has been given the green light by the NSW Government paving the way for 450 new jobs.
Minister for Planning and Public Spaces Rob Stokes said the new centre would provide vital support to the growing digital economy.
"Our increased reliance on digital technologies means the demand for the physical infrastructure underpinning these technologies is growing," Mr Stokes said.
"Fast-tracking data centre assessments are a key part of the NSW Government's planning reforms because they are vital to supporting our economic growth."
Member for Ryde Victor Dominello said the new data centre would be a welcome addition to Macquarie Park's thriving business district.
"The data centre will create 400 construction jobs and up to 50 operational jobs, a significant boost for the area," Mr Dominello said.
Construction of the data centre is expected to begin in September and be operational by March 2023.
This approval follows recent reforms and proposed changes to planning rules to support the faster delivery of data centres throughout NSW.
The state significant development threshold of $50 million for these types of developments has been lowered to $30 million until May 2023, with extra resources included to get them through the planning system more quickly.
The NSW Government is also considering feedback on proposed changes to planning rules that could see some data centres set up as complying development, subject to strict conditions.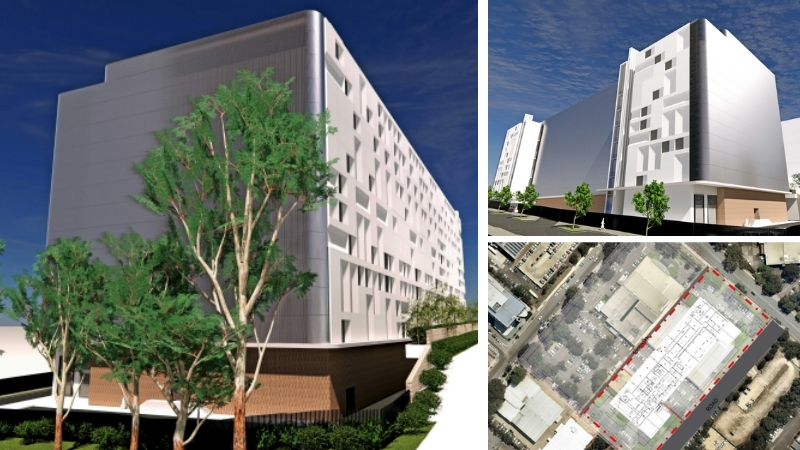 Less Aviation During The Global Lockdown Had A Positive Impact On The Climate
High levels of aviation drive global warming, not only through greenhouse gas emissions, but also through additional clouds. This is the conclusion reached by scientists at Leipzig University, Imperial College London and the Institut Pierre-Simon Laplace in Paris. They studied the extent to which cirrus clouds caused by aircraft occurred during the global hard lockdown between March and May 2020, and compared the values with those during the same period in previous years. The study was led by Johannes Quaas, Professor of Theoretical Meteorology at Leipzig University, and has now been published in Environmental Research Letters.
Cirrus clouds, known for their high, wispy strands, contribute to warming the climate. When cirrus clouds occur naturally, large ice crystals form at an altitude of about 36 kilometres, in turn reflecting sunlight back into space -- albeit to a small extent. However, they also prevent radiated heat from escaping the atmosphere, and thus have a net heating effect. This is the dominant effect in cirrus clouds.
When the weather conditions are right, condensation trails form behind aircraft. These may persist and spread to form larger cirrus clouds. In this case, their effect on the climate is much greater than that of narrow contrails alone.
The researchers led by Professor Quaas analysed satellite images of clouds in the northern hemisphere, between 27° and 68° North, in the period from March to May 2020. They then compared these with images from the same period in previous years. "Crucially, our studies reveal a clear causal relationship. Since clouds vary considerably depending on the weather, we would not have been able to detect the effects of air traffic in this way under normal circumstances. The period of lockdown due to the COVID-19 pandemic offered a unique opportunity to compare clouds in air traffic corridors at very different traffic levels.
Analysis of the data collected showed that nine per cent fewer cirrus clouds formed during the global lockdown, and that the clouds were also two per cent less dense," said Professor Quaas. "The study clearly demonstrates that aircraft contrails lead to additional cirrus clouds and have an impact on global warming." According to Professor Quaas, the data collected confirmed previous estimates based only on climate models: "Our study may improve the ability to simulate these effects in climate models."
Despite the team's findings, there has still not been enough research into the impact of aviation on global warming. A European research collaboration involving Professor Quaas's research group is currently investigating the precise mechanisms in detail. "The tough global lockdown has been helpful in terms of our research. In order to mitigate or even avoid the warming effect on the climate, flight routes could be adapted in the future to avoid cirrus cloud formation, for example by separating flight corridors," said the Professor of Theoretical Meteorology at Leipzig University.
Johannes Quaas, Edward Gryspeerdt, Robert Vautard, Olivier Boucher.
Climate impact of aircraft-induced cirrus assessed from satellite observations before and during COVID-19.
Environmental Research Letters, 2021; 16 (6): 064051 DOI:
10.1088/1748-9326/abf686
University Of Adelaide Study Finds Depression 50% Higher In Women With PCOS
Women diagnosed with Polycystic Ovary Syndrome (PCOS) are 1.5 times more likely to have symptoms of clinical depression than women without the condition, a new study from the University of Adelaide's Robinson Research Institute has found. This was the case whether or not women knew they had PCOS.
PCOS is a common endocrine disorder affecting around 12% of women. It is associated with a range of conditions including irregular periods, excess body hair, obesity and infertility. Despite being one of the most common endocrine conditions affecting women, there are few studies examining the pathways to diagnosis of PCOS.
Research indicates that receiving a formal diagnosis of PCOS is closely linked to seeking help for infertility, with women with diagnosed PCOS being four times more likely to have experienced difficulties becoming pregnant compared to undiagnosed women.
Researchers at the Robinson Research Institute undertook a community-based study of almost 1000 South Australian women that found around half of the 120 women with PCOS had not received a diagnosis by their early 30s.
"Our research and other findings point to depression in PCOS not simply being related to distressing symptoms, but possibly a physiological part of the condition itself." -
Professor Michael Davies
Lead author Dr Renae Fernandez said that attempting to start a family and having problems with fertility was a major predictor of receiving a PCOS diagnosis.
"This suggests that PCOS is commonly not identified until women attempt to get pregnant, meaning that they may be living with other distressing symptoms of PCOS for many years before they receive appropriate care and support."
"The study found that 50% of women with PCOS, regardless of whether they were diagnosed, had clinical depression symptoms. This was 50% higher than among women without PCOS, indicating the increased risk of depression linked to PCOS is not due to the process of diagnosis, but occurs before the diagnosis."
"These findings reinforce the recommendations of the International evidence-based guideline for the assessment and management of PCOS to screen all women with PCOS for depression and anxiety", said senior author Professor Michael Davies from the University of Adelaide's Robinson Research Institute.
"Our research and other findings point to depression in PCOS not simply being related to distressing symptoms, but possibly a physiological part of the condition itself."
This research has been funded by the National Health and Medical Research Council (NHMRC) Centre for Research Excellence in Polycystic Ovary Syndrome.
New Insights Into Survival Of Ancient Western Desert Peoples
Researchers at the University of Adelaide have used more than two decades of satellite-derived environmental data to form hypotheses about the possible foraging habitats of pre-contact Aboriginal peoples living in Australia's Western Desert.
As one of the most arid and geographically remote regions of Australia, the Western Desert has always presented severe challenges for human survival. Yet despite the harsh conditions, Aboriginal peoples have maintained an enduring presence, continuously adapting to environmental variations through complex socioeconomic strategies.
In the study published in Scientific Reports, the researchers used Earth Observation data to model the most suitable habitats for traditional foraging activities, identifying where surface water was most abundant and vegetation was greenest to infer which areas of the landscape past Aboriginal peoples were likely to have utilised. The study also drew on previous research into traditional subsistence and settlement practices, enabling researchers to estimate daily foraging range in proximity to water.
Lead author of the study, Postdoctoral Researcher Dr Wallace Boone Law, says the fine scale of the satellite model developed enabled the team to depict the highly variable nature of environmental and hence potential foraging habitats in the Western Desert.
"Where earlier studies depicted the Western Desert as a relatively uniform environment, our study shows the region to be highly dynamic and variable, both in its environmental conditions and foraging potential," Dr Law said.
"For example, desert dunefields were once thought to have been a periodic barrier to occupation, but our work shows this is not true for all sandridge deserts. Some dunefield areas offer good foraging habitats, particularly amongst interdunal swale areas.
"However, we also found that there are large, impoverished regions of the Western Desert that would have been extremely challenging for survival, based on terrain ruggedness and access to food and water resources.
"We believe it is likely that some of these poorly-suited foraging areas would have been difficult for survival for the past 21,000 years, and because Aboriginal peoples were highly knowledgeable about the distribution of resources across the Western Desert, we hypothesise those locations would have been rarely used in the past. And further, we predict that the archaeological record of these difficult habitats will point to ephemeral episodes of occupation.
"We suggest that some low-ranked areas of habitat suitability were resource-poor and not economically attractive to foraging activities, even in the best environmental circumstances," said Dr Law.
The researchers hope that archaeologists can use the study to explore many large areas of the Western Desert that have yet to be thoroughly investigated.
"Our findings highlight how future models of forager land use can be integrated with Earth Observation data to better comprehend the environmental complexity and fine scale of resource variability in these vast, remote and diverse places," said Dr Law.
"We hope our research into the changing environment in pre-contact Australia will assist with fostering a new era of research in partnership with Indigenous communities to provide further understanding of the industrious, versatile and resilient Aboriginal peoples of the Western Desert."
W. Boone Law, Peter Hiscock, Bertram Ostendorf, Megan Lewis.
Using satellite imagery to evaluate precontact Aboriginal foraging habitats in the Australian Western Desert.
Scientific Reports, 2021; 11 (1) DOI:
10.1038/s41598-021-89642-1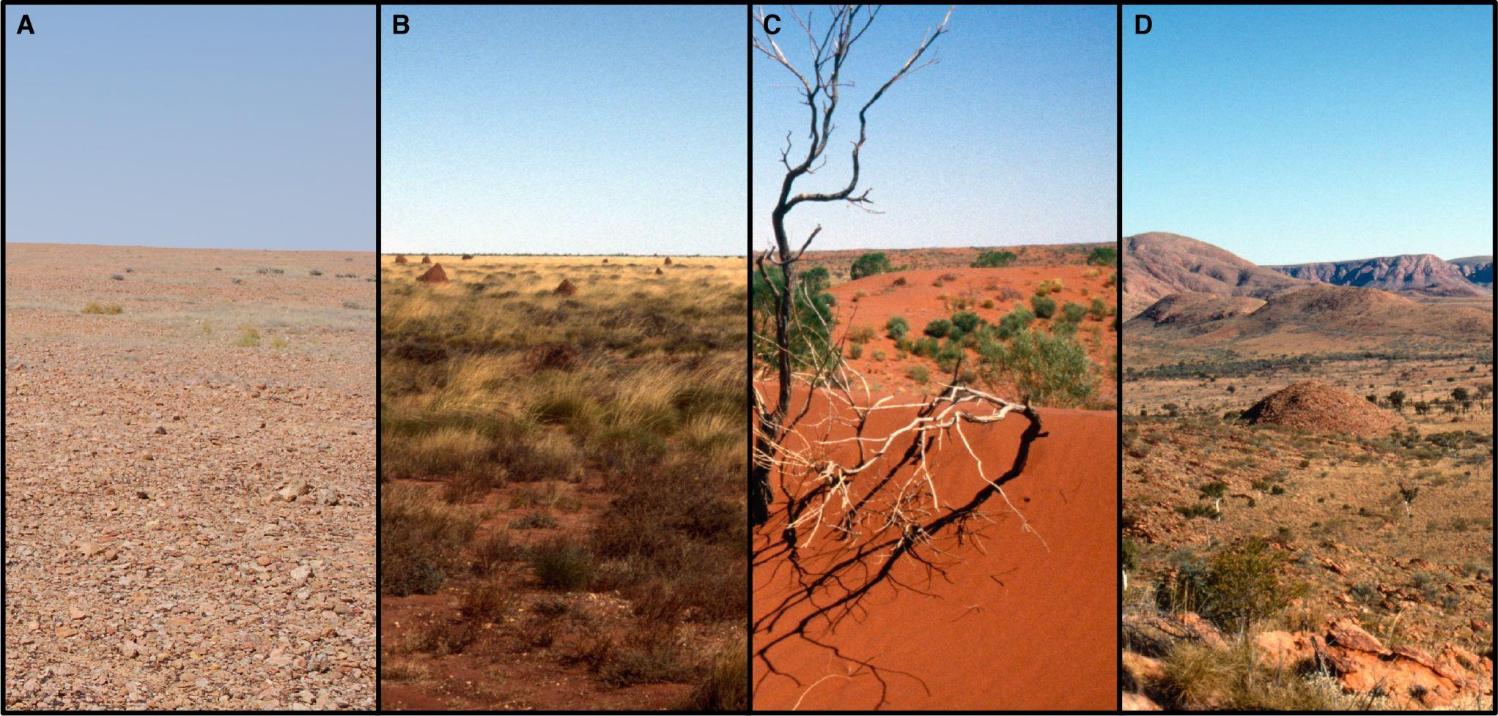 Land systems of the Western Desert include (A) stony plains, (B) sand plains, (C) sandridge desert and (D) montane desert uplands. These coarse-scale geographical units feature prominently in past ecological and archaeological models of precontact Aboriginal land use. Recent satellite modelling depicts the highly varied suitability of foraging habitats within these arid land systems. Photos: W. Boone Law.
Wildlife Researcher Awarded Forrest Research Foundation Prospect Fellowship
Wildlife ecologist and geneticist, Dr Brenton von Takach, has been awarded a Prospect Fellowship by the Forrest Research Foundation to conduct research at Curtin University's School of Molecular and Life Sciences.
The 18-month fellowship will allow Dr von Takach to investigate the genomic and ecological consequences of vertebrate species declines occurring worldwide as a result of habitat degradation, invasive species, land clearing and climate change, including Australia's own northern quoll and golden-backed tree-rat.
Curtin University Vice-Chancellor Professor Harlene Hayne commended Dr von Takach for being recognised by the Foundation, which supports outstanding post-doctoral researchers to carry out important projects.
"Research conducted in the public sphere at universities offers a unique opportunity to advance, create and disseminate knowledge and support for that research is crucial," Professor Hayne said.
"This fellowship recognises Dr von Takach's excellent work in this area to-date and will allow him to acquire further data to protect threatened or declining vertebrate species."
"This is particularly important in Australia, which has highly unique and diverse fauna and has been exceptionally vulnerable to the effects of environmental and land-use changes."
Dr von Takach receives one of eight Prospect Fellowships awarded by The Forrest Research Foundation this year.
Nicola Forrest AO said COVID-19 and the challenges of the past 12 months have had a huge impact on the Australian research community.
"We are proud Forrest Research Foundation has been able to move quickly to respond to this challenge with funding through the Prospect Fellowship program," Dr Forrest AO said.
"It's very exciting to welcome these exceptional new minds to Western Australia. It is wonderful they will continue their vital work here, and further strengthen our state's growing research community".
Driving research and innovation in Western Australia, the Forrest Research Foundation awards scholarships and fellowships to top-performing young intellects from around the world to conduct research across a broad range of disciplines at any of WA's five universities.
The Forrest Research Foundation was established in 2014, by Andrew and Nicola Forrest through their Minderoo Foundation.
Further information on the Fellowships can be found
online here
.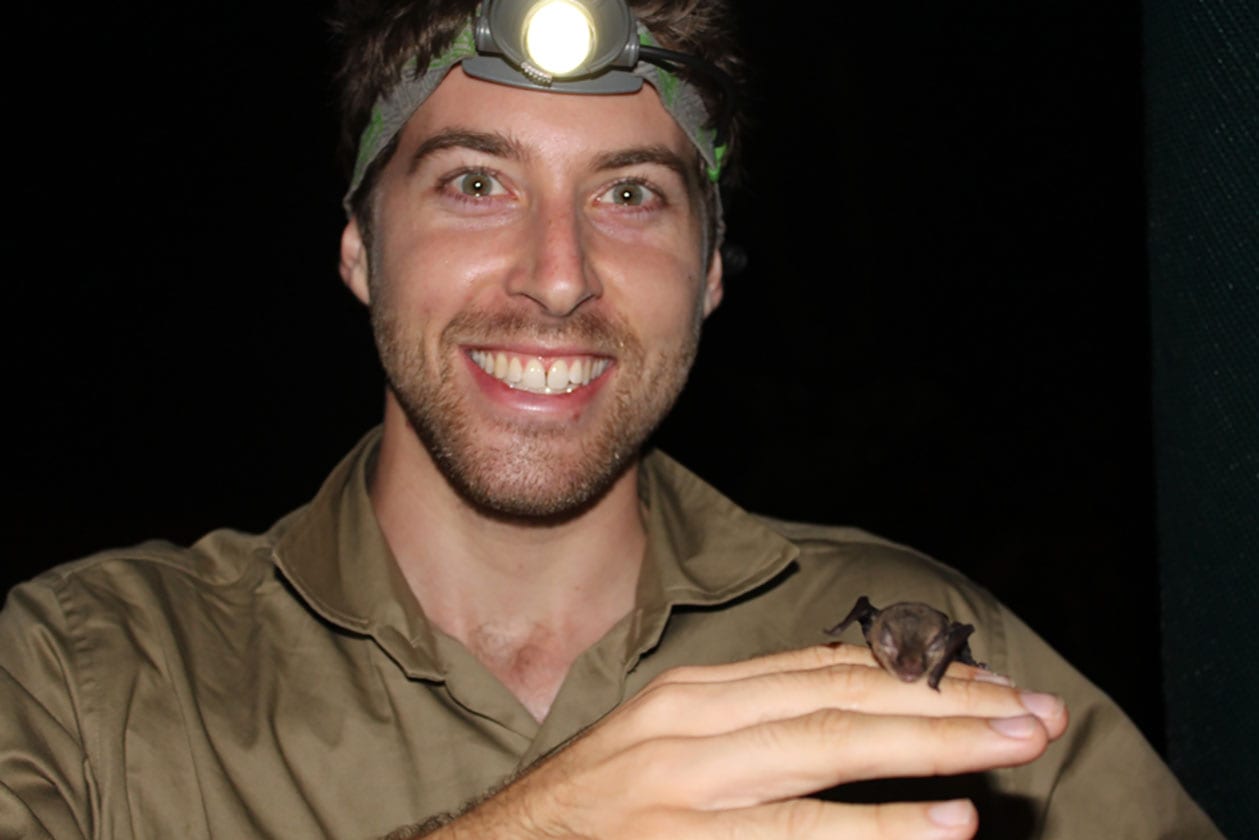 Dr Brenton von Takach. Image: Curtin University
Kookaburras Joined By Children In The Old Gum Tree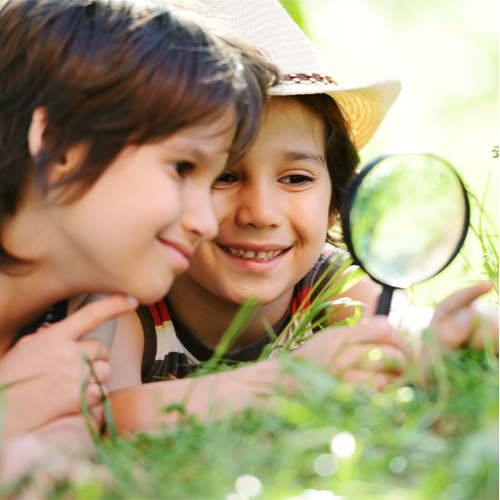 Maths next to a wildlife reserve? English under the shade of a gum tree? What about a science class wading through the wetlands?
The latter is not uncommon but new evidence is emerging that nature-based learning has a multitude of benefits for children that extend beyond a real-life botany class collecting wildflowers.
A University of South Australia review has found growing evidence that taking the classroom outdoors may improve physical activity, learning, mental health and wellbeing, engagement in class and social skills.
In a paper published in Environmental Education Research, UniSA PhD candidate Nicole Miller and her colleagues have summarised 20 studies of nature-based learning from across the globe over the past 18 years.
"The evidence suggests that taking the classroom outdoors could be a great way to include more incidental physical activities into a child's day," Miller says.
The link between learning in nature and lower obesity rates is not new, but more significant than ever, given that only 19 per cent of Australian children are meeting the World Health Organization's recommended levels of 60 minutes of moderate exercise a day.
"Globally, the figures are even worse, with a recent study of 12 countries showing that just 4.8 per cent of children aged between 5-19 years are doing moderate to vigorous exercise for an hour each day."
WHO estimates that at least 340 million children and teenagers are overweight or obese, including 24 per cent of Australian children (ABS statistics), increasing their risk of type 2 diabetes and heart disease later in life.
Nature-based learning can range from holding normal classes outdoors, to more strenuous activities such as constructing shelters, and group games.
Apart from the physical benefits, the evidence suggests that nature-based learning is more enjoyable and hands-on than in a traditional classroom, so children may be more likely to retain more knowledge and stay focused throughout the lesson.
Learning about the environment while in nature is an obvious benefit, but the researchers also referenced studies showing the mental health benefits in adults who had spent significant time in nature in their childhood.
"Previous research has found links that suggest adults with a low exposure to nature in childhood had significantly poorer mental health and a greater risk of psychiatric disorders," Miller says.
A 2017 study of 48 children in Germany found that children's stress levels significantly improved after nature-based learning in the forest. Also, a 2018 US study reported that learning outcomes improved students' focus and behaviour.
"While the evidence is growing, more research is needed because it is still unclear which elements of nature-based learning, such as type, duration, frequency, and location, provide the most benefits," Miller says.
Disclaimer: These articles are not intended to provide medical advice, diagnosis or treatment. Views expressed here do not necessarily reflect those of Pittwater Online News or its staff.