Inbox and environment news: Issue 510
September 12 - 18, 2021: Issue 510
2021 Centre For Volunteering Senior Volunteer Of The Year: Bilgola Plateau's Lyn Millett, Wildlife Carer
On Monday September 6th the Centre for Volunteering announced Lyn Millett as their Senior Volunteer of the Year.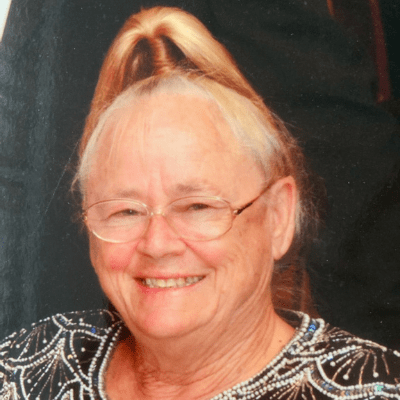 Lyn has volunteered for WIRES for 27 years. She readily shares expertise on possums and gliders by teaching new WIRES members throughout NSW; advises veterinarians; and gives talks to community groups such as scouts, schools, pre-schools, tree loppers, vet nurses and fire brigades. Lyn helps with research into possum diseases by collecting data for Sydney University's Veterinary Science Department.
This interesting article from 2018, penned by Lyn, shares some insights on a grant supplied by the NWC. The
NSW Wildlife Council
(NWC) is the State's peak body representing over 4,000 wildlife rescuers throughout NSW. Their goal is to improve the outcomes for Australian wildlife, especially those that are sick, injured or orphaned.
LYN MILLETT: WIRES NORTHERN BEACHES —NWC 2017 Grant—MATERIALS for 62 RINGTAIL POSSUM DREYS
As Possum Coordinator for the Northern Beaches Branch of WIRES I applied for the grant to be able to purchase hanging baskets for our carers to make homes for ringtails that had been hand raised or were released after rehabilitation had taken place. We always release our possums with a new home to get them started, even if they have only been in care for a short time for rehabilitation.
To this end the grant money ($500) purchased 125 hanging baskets with liners at a cost of $4.00 each. Using two we make a round basket with holes front and back for entrance and exit points. We cover them with a piece of shadecloth which makes them more durable in the long term when providing a home for hand raised groups (usually 4). Possum carers make their own drey or my husband, Dave Millett makes them up for carers to use.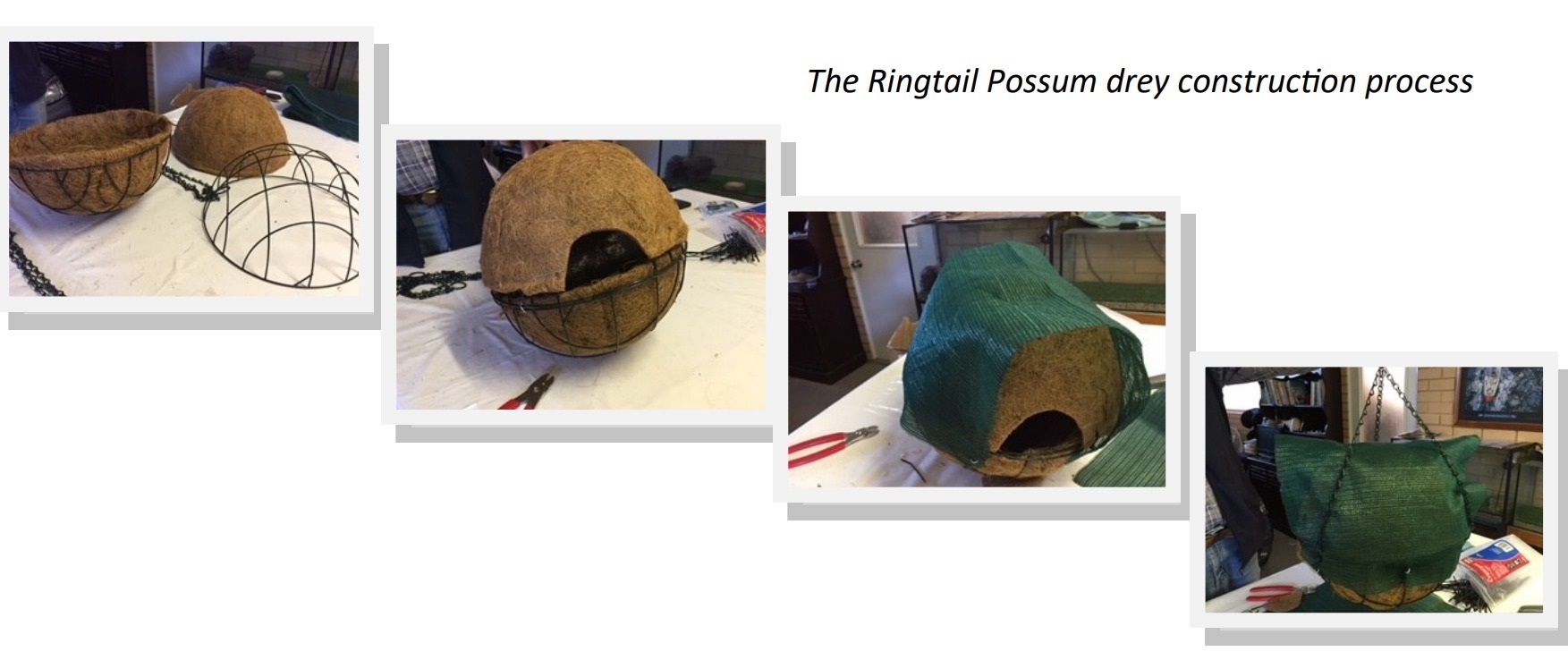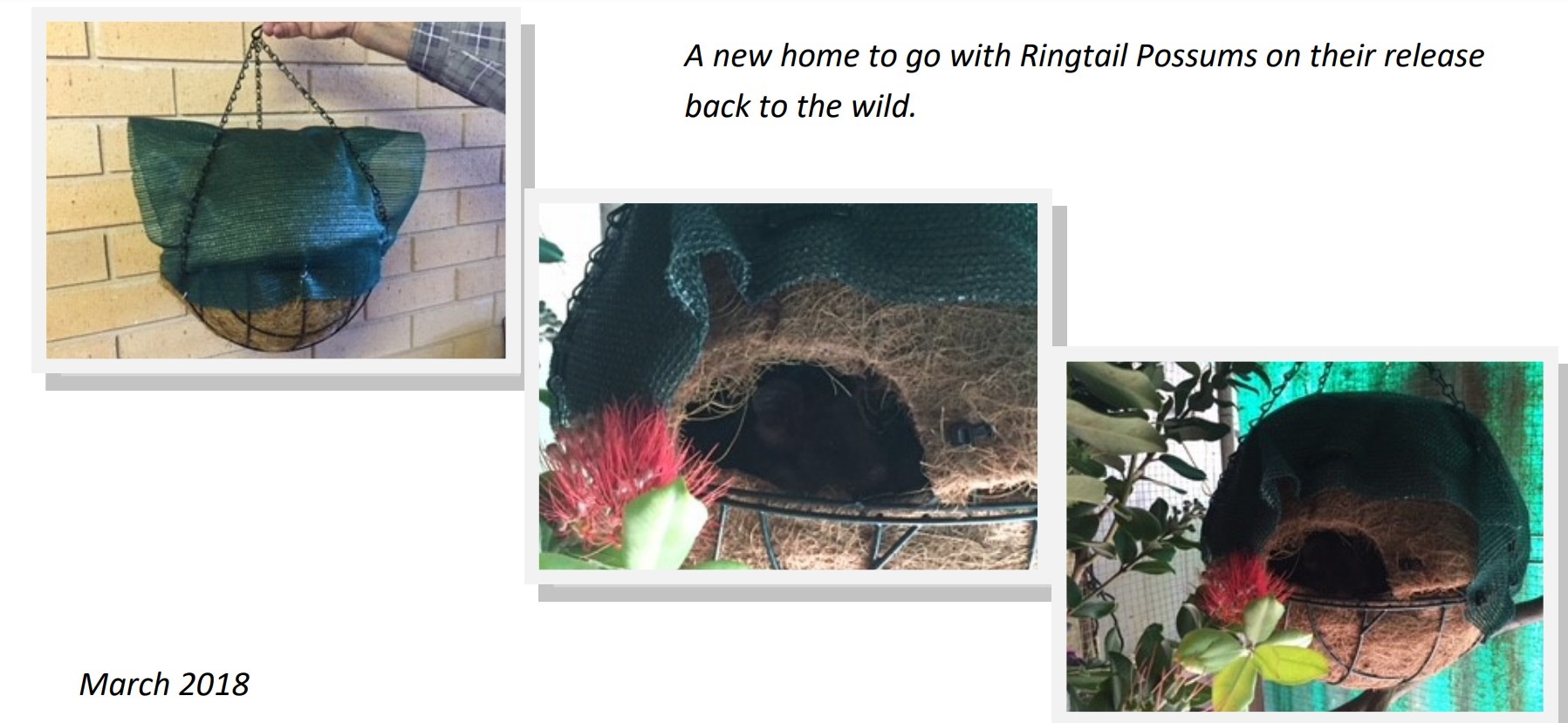 From October 2017 to March 2018 we have used 80 baskets (to make 40 drays). As we got into care 905 ringtails of various ages last year the branch carers have to pay out a lot of money for hanging baskets to house all these possums for release and therefore were very appreciative of the grant from the NWC to save them the out of pocket expense for this item.
Thanking NWC for this grant.
Bilgola Bends Clean-Up
Lisa Hewitt, the Avalon swim teacher behind such community initiatives such as sending food to drought stricken farmers a few years back and making and selling Service Personnel poppies during previous stay-at-home safety terms and then using that money to fund getting Christmas Hampers to beaches families, has, during the past few weeks, taken to the Bilgola Bends to collect rubbish and this week had a hand with another clean-up.
Apparently a
car could have been built with the car parts, it is a graveyard for push bikes, guttering, plastic bottles with bits of hose
protruding
from them along with about 60 large garbage bags of general rubbish.
All rubbish has been removed and disposed of correctly.
Cleaning up of this area falls under the jurisdiction of Transport for NSW but has clearly been let go at present. Better yet; don't dump your rubbish here and they won't need to clean up after you.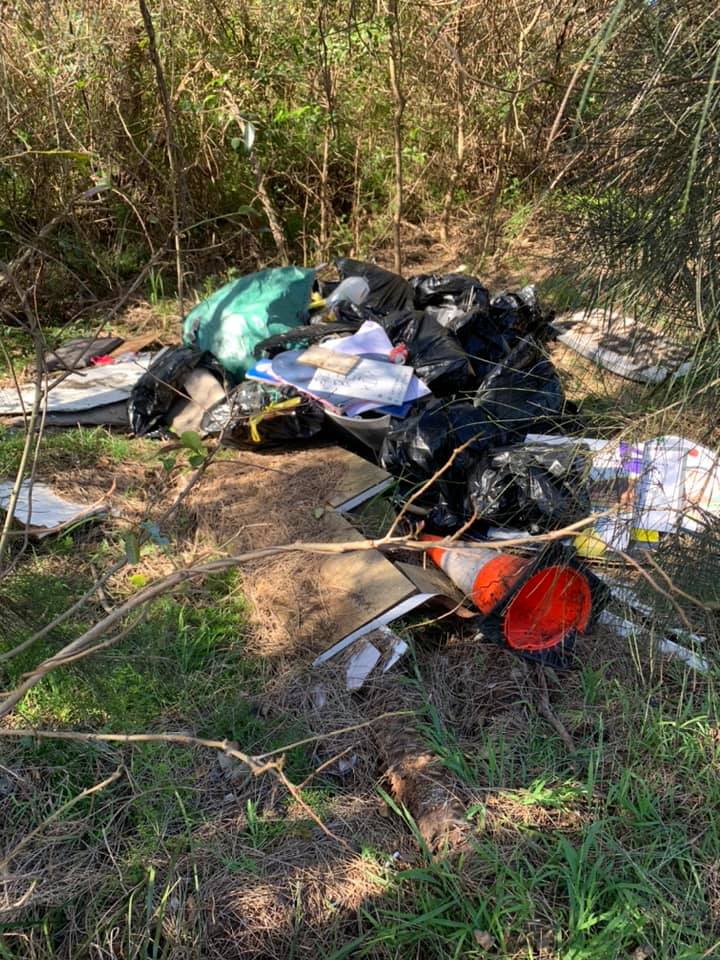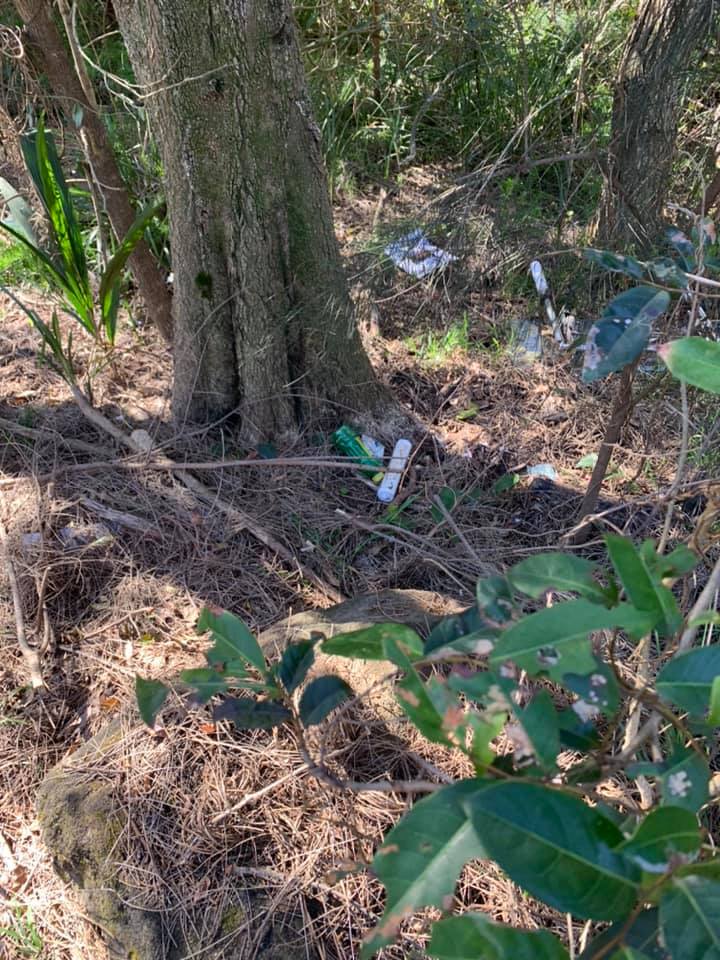 Photos by LH
Migratory Bird Season
A reminder that many of the birds that migrate to our area are arriving exhausted from having flown thousands of miles to be here. Please keep yourselves and your pets away from these shores during these months. They need their rest.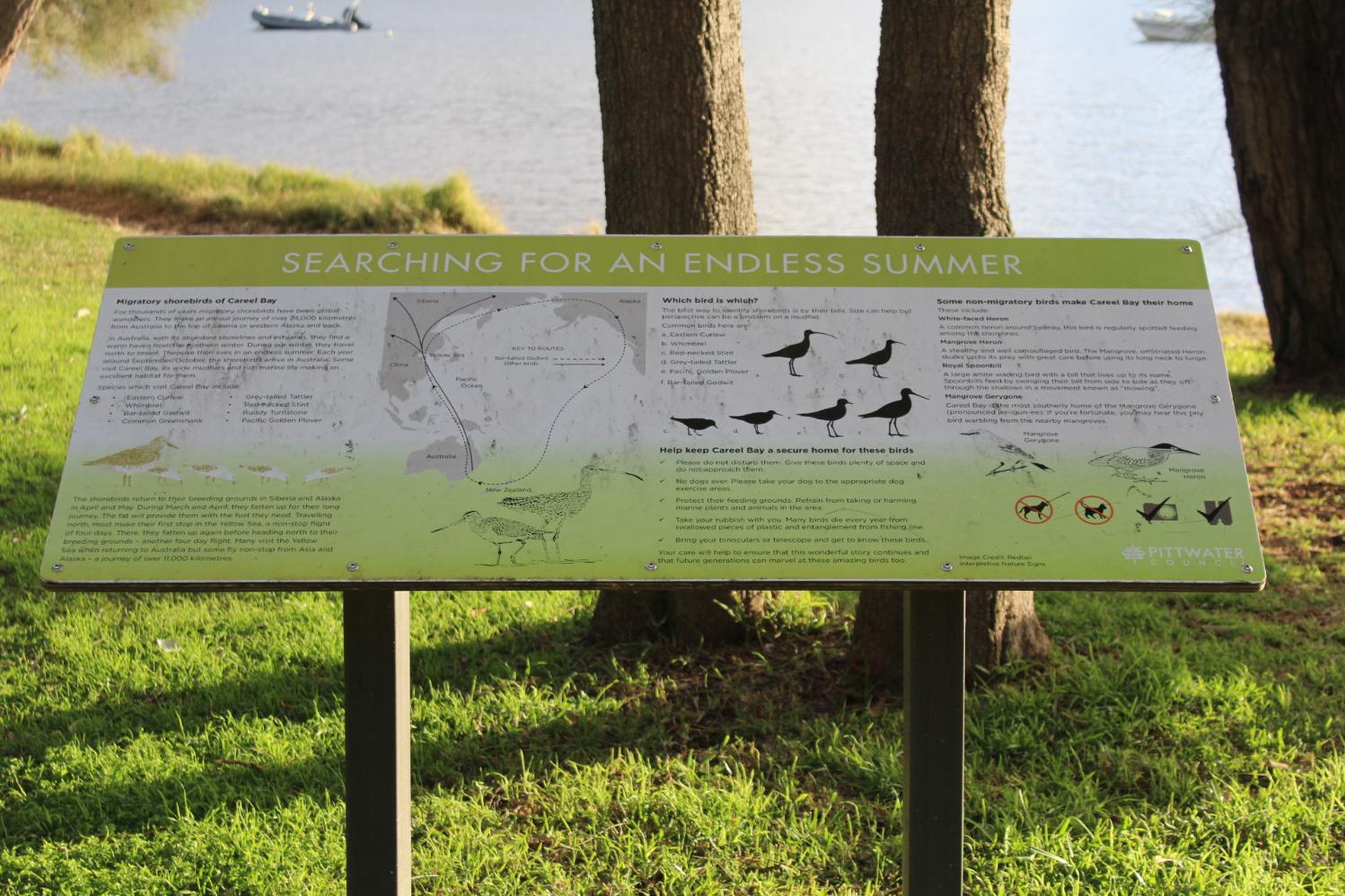 Baby Wildlife Season
Sydney Wildlife volunteer carers are reminding residents that it's baby season in the wildlife world.
If you find a Joey on its own, it needs help. A sub-adult may be ok, but a Joey is not. If you find one, please try to contain it and keep it safe from predators and exposure and call either Sydney Wildlife (Sydney Metropolitan Wildlife Services) or WIRES. If you find a dead possum (ringtail or brushtail), check the pouch for a Joey. Brushtails generally have one but ringtails will have 2, sometimes three. If you are unable to, that's ok, but please call it in to a wildlife organisation so someone can attend to it.
Sydney Wildlife Rescue - 02 9413 4300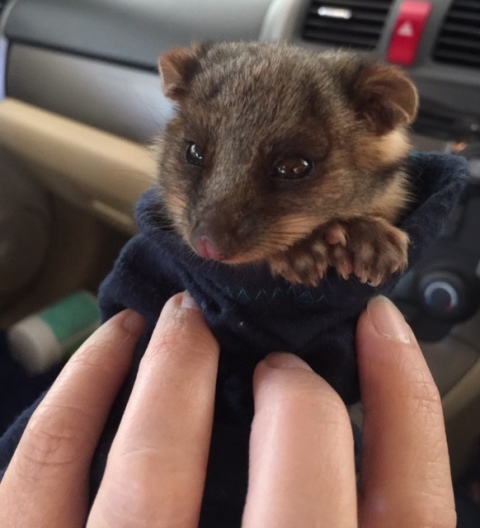 Harry the ringtail possum. Sydney Wildlife photo
September Is Koala Month & Biodiversity Month
From Sydney Wildlife Mobile Care Unit
September is a very special month for wildlife:

1. Threatened Species Day
2. September is Biodiversity month
3. September is also Save Our Koalas month
• National Threatened Species Day is commemorated across the country on 7th September to raise awareness of plants and animals at risk of extinction. It is held each year to commemorate the anniversary of the death of the last remaining Tasmanian tiger (also known as the thylacine) at Hobart Zoo in 1936.
• The month of September is National Biodiversity Month every year and is held to help promote the importance of protecting, conserving and improving biodiversity.
• September is also Save the Koala month. So many koalas were killed in the 2020 bush fires but their plight is only intensifying with the further destruction of their habitat through over-development and logging.
We would like to thank all of those who do their bit to protect wildlife. Rescuers, carers, veterinarians, veterinary staff, journalists, editors, National Parks staff, our Police, Firies, trained rescue dogs and their trainers, educators, politicians, environment preservers and concerned members of the public.
And our long-suffering but ever-patient planet.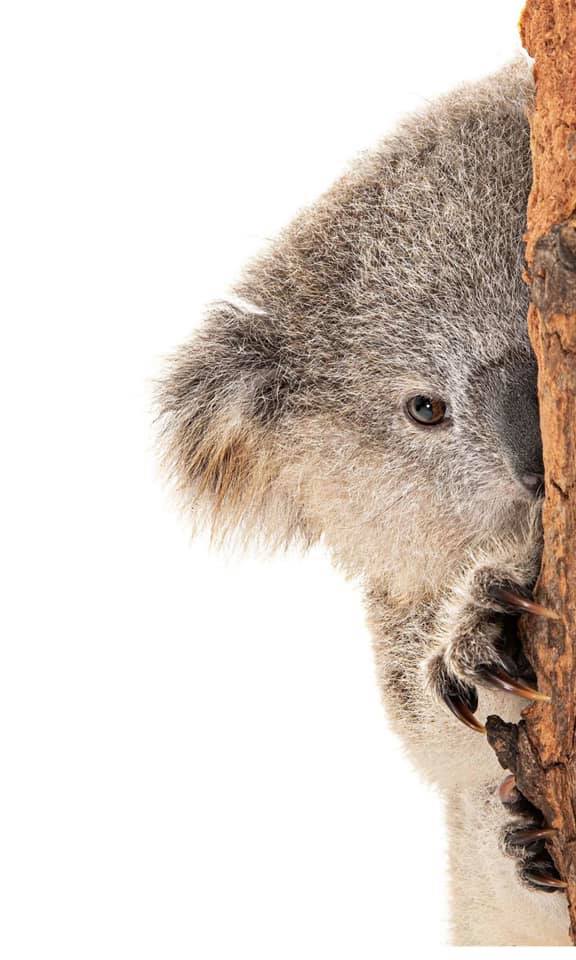 Photo: Harry the koala by Peter Sharp Tame and Wild
World Shorebirds Day 2021: New Documentary 'On The Right Track' Highlights Impact Of 4WD On Nesting Shorebirds
Every year the 6th of September is World Shorebird Day, celebrating the diversity of the many species of shorebirds which occur on all continents.
Australia is home to 18 species of resident shorebirds, and every year, more than a million shorebirds migrate to Australia from their breeding grounds in the northern hemisphere. Here, our coastal and freshwater wetlands provide critical habitat for these intercontinental voyagers to rest and refuel, in preparation for the long return journey to their breeding grounds.
But sadly, the odds are stacked against Australia's shorebirds. Every year, our coasts are becoming more crowded – packed with beach-goers, dogs, jet skis, boats, and off-road vehicles like 4WDs. The more popular a beach is with people, the more pressure our birds are under.
This World Shorebirds Day, BirdLife Australia are calling on the South Australian Government to get on the right track and address the irresponsible use of off-road vehicles that is causing damage to our coastal environments and to the critical breeding, feeding and nesting habitat of the birds that rely on these beaches for survival.
Beach driving by 4WD's is also allowed in NSW.
The evidence is clear – unless we better regulate driving on the beaches, migratory shorebird and beach-nesting bird populations will continue to decline.
Birds SA - Australia has launched a stunning documentary entitled On the Right Track, produced by committee member Davide Gaglio. This documentary aims to educate the public on the importance of sharing the beach respectfully with our beach-nesting birds and migratory shorebirds.
Our beaches aren't just our playgrounds – they are also incredibly important breeding and feeding habitat for some of Australia's most threatened birds.
You can watch Davide's documentary in full below.
NB: contains distressing images.
Coastal Collection – Starring 12 Charismatic Bird Species
September 9, 2021: BIBY TV
These seaside scenes featuring 12 beautiful birds – Double-banded Plover (Charadrius bicinctus), Red-capped Plover (Charadrius ruficapillus), Pacific Golden Plover (Pluvialis fulva), Crested Tern (Thalasseus bergii), Red-necked Stint (Calidris ruficollis), Ruddy Turnstone (Arenaria interpres), Silver Gull (Chroicocephalus novaehollandiae), Kelp Gull (Larus dominicanus), Eastern Reef Egret (Egretta sacra), Sooty Oystercatcher (Haematopus fuliginosus), Little Pied Cormorant (Microcarbo melanoleucos) and Australian Raven (Corvus coronoides) – were captured across three autumn (2021) visits to Boat Harbour Aquatic Reserve, Kurnell (NSW, Australia).
Boat Harbour is one of the best places in the Sydney region to see a range of shorebirds or waders (e.g. plovers) and seabirds (e.g. terns), as well as birds that inhabit the coastal vegetation (e.g. fairy-wrens) and open skies (e.g. raptors). For a full list, visit https://ebird.org/australia/hotspot/L... While the mix and number of birds can depend upon tidal and weather conditions, some patterns are enduring. For instance, migratory shorebirds who breed in the Northern Hemisphere (often the Arctic tundra) arrive in August-September after epic journeys. They then spend our spring-summer fattening up again for the return trip in March-April. Three of this type of bird are in this video: Pacific Golden Plover, Red-necked Stint and Ruddy Turnstone. (Note that immatures usually stay in Australia until the following breeding season at least. We suspect the single Pacific Golden Plover is one of these.) Yet one migratory shorebird species does things differently. The Double-banded Plover appears around the time the other migrants are preparing to leave. These plovers breed in New Zealand in the warm months and some overwinter in Australia. All the other birds shown here could be considered residents, albeit some with relatively local movements for breeding (e.g. offshore islands).
Originally we planned to cover four seasons in one production, starting with autumn 2021. As you can see, it was a very promising start! The footage exceeded our expectations and made us excited about the other seasons with their changing presence and appearance of various birds (i.e. breeding and non-breeding plumage). An early June visit already revealed the beginnings of the distinct breeding plumage of the Double-banded Plover. But then Sydney was struck with a Covid19 outbreak and lockdowns, which prevented our return. At the time of writing, it looks like late October 2021 might be our first opportunity. Too late to see the Double-banded Plovers departing for New Zealand in their dapper outfits. Given the uncertainty about 2021, we decided to present the autumn chapter on its own. At least it can remind us all of what we can look forward to post-lockdowns, especially those of us who don't live within 5km of the coast. How wonderful it will be to again breathe in the salty air and be soothed by the sound of waves...and the sight of nature's wonders.
Platypus To Make A Comeback In Australia's Oldest National Park
UNSW researchers are teaming up with WWF Australia, Taronga Zoo and NSW National Parks and Wildlife Service to bring platypuses back into the Royal National Park – an area where they haven't been seen in almost 50 years.
The iconic Australian mammal – famously known for its duck-like bill and egg laying ability – was
last recorded in the park in the 1970s, when a devastating chemical spill on the highway washed into park streams and likely wiped out resident platypuses.
This loss is part of a worrying trend that has seen platypuses decline across much of its traditional range due to habitat destruction, river regulation, predation by invasive species, and an increased frequency and severity of droughts and fires due to climate change.
"Our aim is to introduce an initial group of 10 platypuses back into the park late next year," says Dr Gilad Bino, leading the project from UNSW's Centre for Ecosystem Science (CES).
"We'll monitor how they settle in, with the hopes their population will start to grow and re-establish in the area and allow people a place to come and appreciate this unique animal."
NSW Environment Minister Matt Kean says this project will help ensure the platypus' future.
"The platypus is seen nowhere else on the planet and like so many of our other iconic native species its future is uncertain. Unfortunately, we have some of the worst extinction rates anywhere in the world and we have to make sure the platypus never makes that list," he says.
"With this initiative and through the leadership of some of our best minds at UNSW, the World Wildlife Fund's (WWF), Taronga Conservation Society Australia and National Parks are joining forces to ensure the platypus' future."
Researchers will begin this new project by surveying rivers in the 16,000 hectares of Royal National Park and nearby Heathcote National Park to identify suitable habitat and confirm, as is suspected, that all the platypuses have gone.
"Platypuses are hard to see and are mainly nocturnal, so we have to survey and assess the condition of all the rivers and creeks in the park," says Dr Bino. "This will allow us to verify the absence of platypus and it also means we can check which part of the rivers are suitable for reintroducing new individuals."
The team, working with WWF and Taronga, will also survey other platypus populations across NSW to determine where the species is doing well and where animals could be sourced for reintroduction into the rivers of Royal National Park and Heathcote National Park.
A mixture of 10 male and female platypuses will be released in the second half of 2022 with the support of animal health staff from Taronga Zoo. Platypuses will be fitted with acoustic tags – a technology the UNSW team has pioneered – so researchers can track their progress and any breeding activity for up to two years.
"We are planning to track the animals and their use of habitats in the river to make sure they survive and hopefully start reproducing soon after," says Dr Tahneal Hawke, a scientist on the UNSW team.
"There's a great opportunity to learn about their use of the river habitats of Royal National Park at the same time."
A recent study led by UNSW found the parts of Australia where platypuses live has shrunk by at least 22 per cent in the past 30 years.
"Platypuses are to our rivers what koalas are to our forests, but there's a risk they will disappear if we don't talk bold steps to reverse their decline," says Rob Brewster, WWF-Australia's Rewilding Program Manager.
"This project will combine rigorous scientific monitoring with on-ground action to return platypuses to rivers they once called home."
Platypuses have been successfully reintroduced to areas in the past, including rivers in Victoria between 2004-2006. A population was also established on Kangaroo Island between 1928-1946 and found to be still hanging on in a recent survey after the devastating 2019-2020 bushfires.
"Platypuses are resilient animals, but it's vital that we develop the capability to actively manage populations and do a better job at protecting their freshwater homes," says CES Professor Richard Kingsford.
"We want future generations to see platypuses in the rivers of the Royal and Heathcote National Parks and all the way down the east coast of Australia."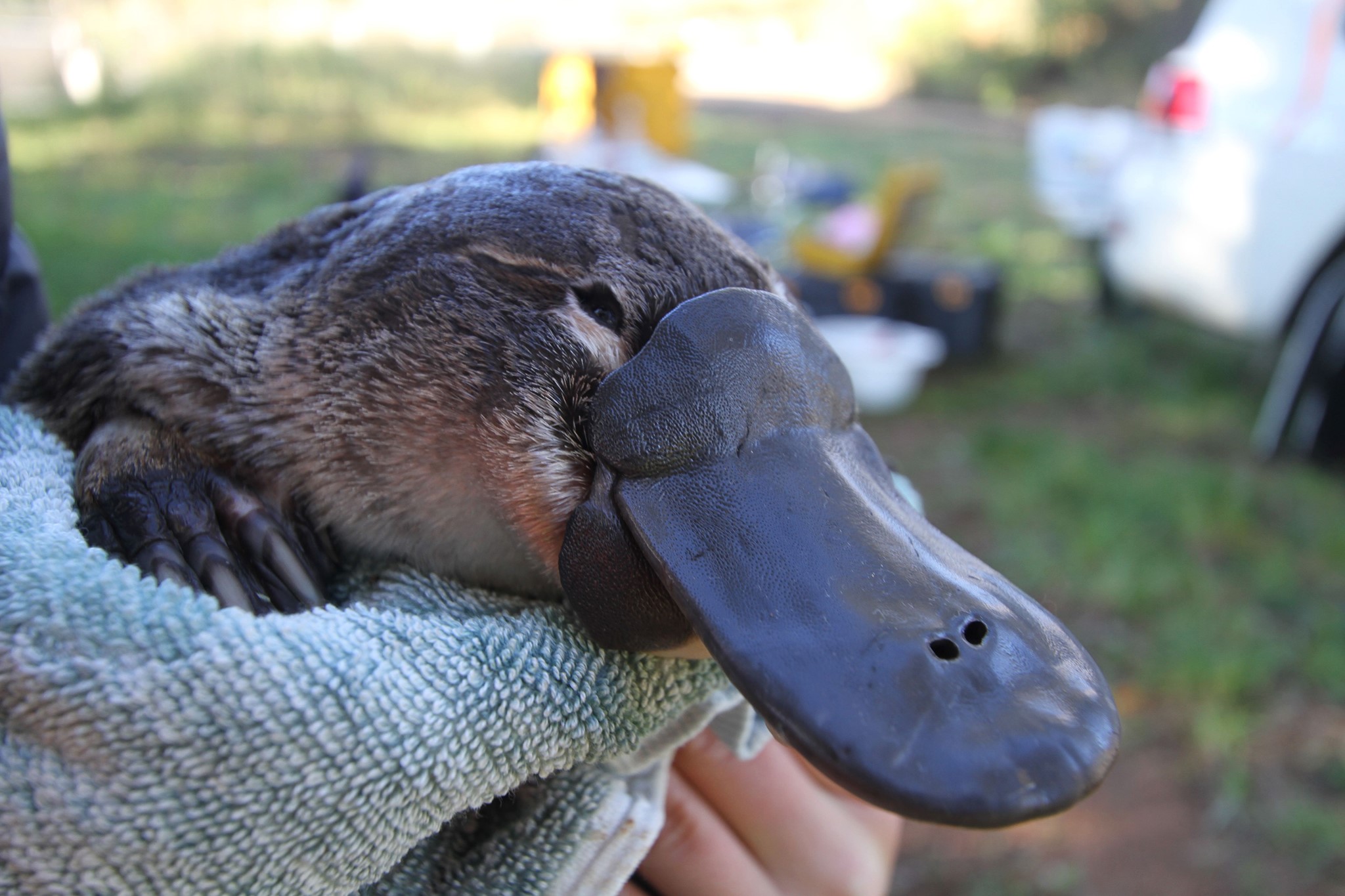 NPWS photo
UNSW Team Of Ecologists To Develop 'Ecological Balance Sheet' For Royal National Park
World-leading ecologist Professor Richard Kingsford and a team from the Centre for Ecosystem Science is helping the NSW government develop an ecological health monitoring plan for Royal National Park and adjacent Garrawarra State Conservation Area and Heathcote National Park, as part of NSW Parks & Wildlife Service's (NPWS) "scorecards" project. They are collaborating with a team of ecologists of the Australian National University (ANU), who are doing the same for Kosciuszko National Park.
Scorecards will aim to enhance the health of NSW national parks by tracking key ecological indicators and using that data to refine management actions.
Biodiversity continues to decline in NSW, even in some national parks – scorecards will enable NPWS to systematically collect and apply the critical information needed to design and deliver effective park management.
Australia's national parks make up 9.3 per cent of NSW across various desert, alpine and coastal ecosystems. Of the 1000 threatened species in NSW, more than 85 per cent are found on national park estate.
NPWS will develop scorecards across eight sites – nearly one-third of park estate – that represent the varied ecosystems right across NSW. The first two scorecards will be published online in late 2022 for Kosciuszko and Royal national parks.
Prof. Kingsford, Director of the Centre for Ecosystem Science at UNSW Science, is leading the development of the Royal National Park scorecard.
He's a conservation ecologist who has worked extensively across NSW and other parts of Australia.
"Tracking and reporting on changes in ecosystems is fundamental for our parks, allowing for effective use of our resources to achieve conservation," Prof. Kingsford said.
"It is really important to identify the conservation assets that we need to protect such as threatened species and iconic species and then focus on also monitoring the threats that affect them. This really allows managers to test the effectiveness of their management."
Scorecards will measure key ecological data for the first time, providing ongoing snapshots of what's happening with native plants and animals, important ecological processes, and threats to ecological health such as feral animals and weeds.
Key indicators used in scorecards will include threats (like feral animal populations such as deer or foxes), assets (such as changes in the populations of species), and changes in the functioning of ecological processes (such as nutrient cycling, fire regimes and habitat formation). The scorecards will also report on management activity and expenditure data.
Once NPWS has scientific scorecard data, it can effectively focus park management decisions, leading to improved conservation outcomes: park managers will be able to use scorecard metrics when making decisions around allocating resources to optimise the ecological return on investment in our national parks. For example, when metrics indicate deteriorating health, applicable management actions will be triggered.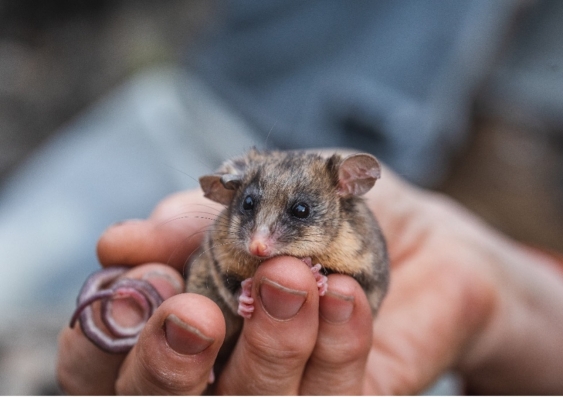 Threatened species such as the much-loved Mountain Pygmy-possum (Burramys parvus) will be among key indicator species monitored in Kosciuszko National Park. Photo: Alex Pike DPIE
This approach is unique: nowhere in the world is there a similar scheme operating which integrates ecological health indicators and financial data into national park decision-making.
"Leveraging science to optimise our parks' ecological health is key at this critical time," said Atticus Fleming, Deputy Secretary NSW NPWS.
ANU Professor David Lindenmayer AO will lead the development of an ecological health monitoring plan for Kosciuszko, the second scorecard that's part of the initial project.
The $10 million pilot program will run over four years, supported by a $7 million grant from the NSW government through its Environmental Trust and philanthropic investment of $1 million.
Keeping Cats And Wildlife Safe: Poll
RSPCA NSW is partnering with 10 councils including the local council on a research project that will help keep cats and wildlife safe.
Could you please take part in this survey, even if you don't own a cat?
Cats - domestic and feral - along with foxes - have had a terrible impact on Australia's fauna.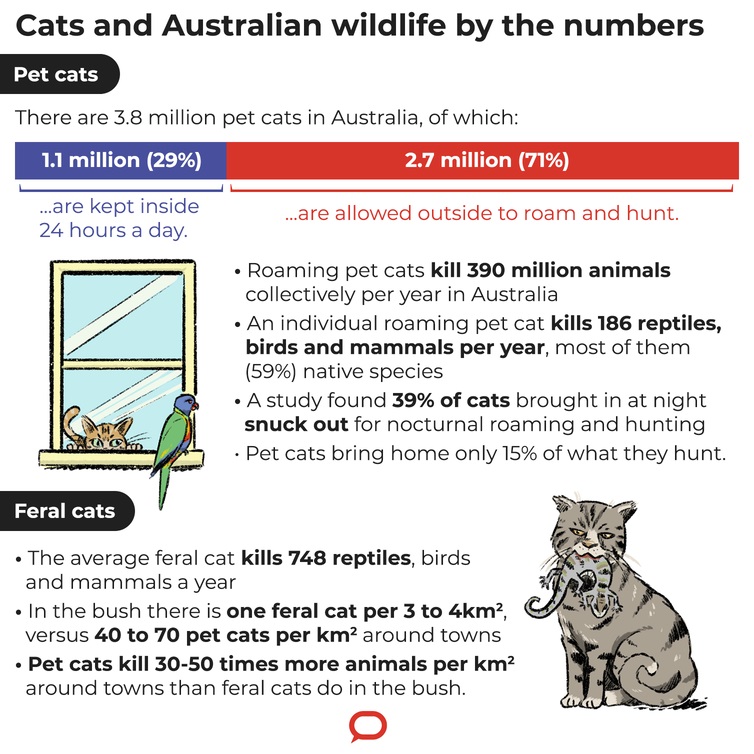 Seven Personality And Behaviour Traits Identified In Cats
September 7, 2021
Researchers at the University of Helsinki have developed a new comprehensive questionnaire for surveying feline personality and behaviour. A dataset of more than 4,300 cats representing 26 breed groups revealed seven personality and behaviour traits, with significant differences observed between breeds.
Cats are our most common pets, and feline behaviour is increasingly being investigated due to a range of behavioural problems. Another topic of interest in addition to behaviour traits is personality since it can be connected to behavioural problems.
"Compared to dogs, less is known about the behaviour and personality of cats, and there is demand for identifying related problems and risk factors. We need more understanding and tools to weed out problematic behaviour and improve cat welfare. The most common behavioural challenges associated with cats relate to aggression and inappropriate elimination," says doctoral researcher Salla Mikkola from the University of Helsinki and the Folkhälsan Research Center.
Seven feline personality and behaviour traits
In a questionnaire designed by Professor Hannes Lohi's research group, personality and behaviour were surveyed through a total of 138 statements. The questionnaire included comprehensive sections on background and health-related information. By employing, among other means, factor analysis to process the data, seven personality and behaviour traits in all were identified.
Activity/playfulness
Fearfulness
Aggression towards humans
Sociability towards humans
Sociability towards cats
Litterbox issues (relieving themselves in inappropriate places, precision in terms of litterbox cleanliness and substrate material)
Excessive grooming
"While the number of traits identified in prior research varies, activity/playfulness, fearfulness and aggression are the ones from among the traits identified in our study which occur the most often in prior studies. Litterbox issues and excessive grooming are not personality traits as such, but they can indicate something about the cat's sensitivity to stress," Mikkola adds.
Differences in the prevalence of traits seen between breeds
In addition to individuals, clear personality differences can be found between breeds. In other words, certain personality and behaviour traits are more common among certain cat breeds.
"The most fearful breed was the Russian Blue, while the Abyssinian was the least fearful. The Bengal was the most active breed, while the Persian and Exotic were the most passive. The breeds exhibiting the most excessive grooming were the Siamese and Balinese, while the Turkish Van breed scored considerably higher in aggression towards humans and lower in sociability towards cats. We had already observed the same phenomenon in a prior study," says Professor Hannes Lohi from the University of Helsinki and the Folkhälsan Research Center.
The researchers wish to emphasise that no pairwise comparisons between breeds were carried out at this juncture.
"We wanted to obtain a rough idea of whether there are differences in personality traits between breeds. In further studies, we will utilise more complex models to examine factors that affect traits and problematic behaviour. In these models, we will take into consideration, in addition to its breed, the cat's age, gender, health and a wide range of environmental factors," Mikkola says.
Assessing reliability and validity
Feline behaviour and personality can be studied, for example, through questionnaires aimed at cat owners. Such questionnaires can measure feline behaviour in the long term and in everyday circumstances, which is impossible in behavioural tests. Furthermore, cats do not necessarily behave in test settings in a way typical of themselves. Due to their subjective nature, the reliability of the questionnaires must be assessed before the data can be exploited further.
"Internationally speaking, our study is the most extensive and significant survey so far, and it provides excellent opportunities for further research. The reliability of prior feline behavioural questionnaires has not been measured in such a versatile manner, nor are they as comprehensive as this one. Establishing reliability is key to making further analyses worthwhile and enabling the reliable identification of various risk factors," says Lohi.
The researchers reached out to cat owners who responded to the questionnaire one to three months ago, requesting them to fill out the questionnaire again or ask another adult living in the same household to respond to the questionnaire regarding the same cat. The goal was to assess the questionnaire's reliability both temporally and between respondents. Based on two additional datasets accumulated through this method, it was possible to evaluate the reliability of the questionnaire temporally and between respondents.
"By comparing the responses, we noted that the responses provided for the same cat were very similar, while the personality and behaviour traits were found to be reproducible and reliable. We also examined the validity of the questionnaire or whether it measures what it intended to measure. In these terms, too, the questionnaire functioned well," says Mikkola.
The research conducted by Lohi's group will make it possible to identify genetic, environmental and personality factors relating to problematic feline behaviour.
Salla Mikkola, Milla Salonen, Emma Hakanen, Sini Sulkama, Hannes Lohi. Reliability and Validity of Seven Feline Behavior and Personality Traits. Animals, 2021; 11 (7): 1991 DOI: 10.3390/ani11071991
Image: Compilded by Milla Salonen from photos of Heikki Siltala (catza.net/fi)
Bird Malaria Spreading Via Global 'Hotspots'
Bird species across the globe are suffering and dying from a type of malaria and, while these strains are not infectious to humans, they're spreading quickly through global transmission hotspots.
An international team, including The University of Queensland's Dr Nicholas Clark, has been conducting research to understand where and why the disease has been spreading so rapidly.
"Avian malaria now affects somewhere between 13 and 14 per cent -- on average -- of all wild birds worldwide," Dr Clark said.
"It's caused by a group of blood parasites -- known as haemosporidian parasites -- and, much like human malaria, is transmitted via blood-feeding insects like mosquitos.
"It can't harm humans but is known to have significant impacts on bird populations.
"For example, when avian malaria was introduced into Hawaii in the late 1800s to early 1900s, it was one of the major causes of extinction of about one-third of the 55 known species of Hawaiian honeycreepers.
"We've found that there are hotspots transmitting these parasites across the world.
"The most significant hotspot was in the Sahara-Arabian region, with local hotspots in North America, Europe and Australia, depending on different parasite variants.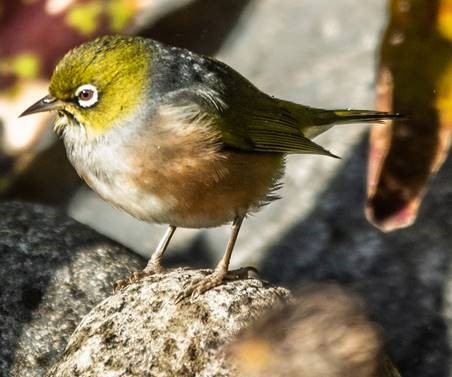 "In fact, here in Australia, some of these blood parasites are causing high infection rates in our songbirds, including silvereyes (
Zosterops lateralis
) and many species of honeyeaters (the Meliphagidae family)."
The research team compiled and analysed what is likely the largest data set of wild bird infections with avian malaria parasites to date, with more than 53,000 wild birds examined.
They combined infection data with remotely sensed environmental data, such as climate or forest conditions, and bird life history information, such as body size and migration patterns, into computer models to identify which factors best described the infection risk with avian malaria parasites.
Dr Konstans Wells, who leads the Biodiversity and Health Ecology research group at Swansea University, said predicting which conditions facilitate the infection of wild birds with avian malaria is crucial for understanding infectious disease hazards.
"Since each bird species is unique in its ecological niche and is differently exposed to disease-transmitting insects during breeding and migration, infection risks are not the same for different bird species," he said.
"Conditions that enable infection in different areas across the world are completely context-dependent.
"For example, long distance migrating birds were more likely to be infected in some continents but less likely in others.
"There's no easy answer with so many factors at play, but we're going to continue to research to find out how to best protect the world's bird species from this deadly disease."
Alan Fecchio, Nicholas J. Clark, Jeffrey A. Bell, Heather R. Skeen, Holly L. Lutz, Gabriel M. De La Torre, Jefferson A. Vaughan, Vasyl V. Tkach, Fabio Schunck, Francisco C. Ferreira, Érika M. Braga, Camile Lugarini, Wanyoike Wamiti, Janice H. Dispoto, Spencer C. Galen, Karin Kirchgatter, M. Cecilia Sagario, Victor R. Cueto, Daniel González‐Acuña, Mizue Inumaru, Yukita Sato, Yvonne R. Schumm, Petra Quillfeldt, Irene Pellegrino, Guha Dharmarajan, Pooja Gupta, V. V. Robin, Arif Ciloglu, Alparslan Yildirim, Xi Huang, Leonardo Chapa‐Vargas, Paulina Álvarez‐Mendizábal, Diego Santiago‐Alarcon, Serguei V. Drovetski, Olof Hellgren, Gary Voelker, Robert E. Ricklefs, Shannon J. Hackett, Michael D. Collins, Jason D. Weckstein, Konstans Wells, Pauline Kamath.
Global drivers of avian haemosporidian infections vary across zoogeographical regions.
Global Ecology and Biogeography, 2021; DOI:
10.1111/GEB.13390
Silvereye photographed at Warriewood Wetlands by Michael Mannington.
Ancient Marsupial 'Junk DNA' Might Be Useful After All Scientists Say
Fossils of ancient viruses are preserved in the genomes of all animals, including humans, and have long been regarded as junk DNA. But are they truly junk, or do they actually serve a useful purpose?
Researchers at UNSW Sydney, who examined the DNA and RNA of 13 Australian marsupial species, believe that viral fossils may be helping protect animals from infection.
"These viral fragments have been retained for a reason. Over millions of years of evolution, we would expect all DNA to change, however these fossils are preserved and kept intact," says doctoral student and lead researcher Emma Harding, from UNSW's School of Biotechnology and Biomolecular Sciences.
"Our study shows how the viruses buried in the animals' DNA are used to make what we call non-coding RNAs, which carry out tasks inside the animal cells such as protecting against outside infection.
"The animal DNA has basically grabbed a viral sequence -- which used to harm it -- and ends up using it for its own benefit."
If Ms Harding is right, her theory may have important implications for our understanding of the role of viral fossils in our own DNA and the animal kingdom in general. For example, viral fossils can be turned into RNA that binds specifically to the virus -- and destroys it -- if it tries to infect the cell again.
"This could be a mechanism similar to vaccination, but is inherited through generations. By keeping a viral fossil, the cell is immunised against future infection.
"If we can show it occurring in marsupials, it may also be occurring in other animals, including humans.
"So if we look more closely at the viral fossils inside our DNA, we could potentially get clues about how they may be protecting us," Ms Harding says.
To understand how Ms Harding arrived at her conclusions, it's worth stepping back a hundred million years to a time when Australia was once part of the Gondwanaland super-continent along with South America, Africa and Antarctica.
Scientists think the first marsupials originated in South America and later migrated to Australia via Antarctica. The lack of competing mammals in these southern regions may have allowed the marsupials to further evolve, with about 250 species now living in Australia, and about 120 in South America.
Ms Harding says when we look at the genetic makeup of Australian marsupials, the presence of viral fossils, known as endogenous viral elements (EVEs), are like time stamps marking when an animal was infected.
"My research looks at EVEs in Australian marsupials to firstly identify what types of viruses have integrated, and secondly investigate if they play an active role in the marsupial cells.
"One of the EVEs I found was from the Bornaviridae family of viruses, which first entered the animals' DNA during the time of the dinosaurs when the South American and Australian landmasses were still joined together.
"Bornaviridae viruses were previously thought to have evolved 100 million years ago. But the one I found in almost every marsupial DNA we looked at puts it at 160 million years old -- so it was great to be able to contribute to our knowledge of evolutionary history.
"By understanding how viruses have evolved, we can predict how they may change in the future, and plan strategies to prevent outbreaks."
The researchers examined multiple transcriptomes -- the collection of all RNA in a cell -- of Tasmanian devils, tammar wallabies, long-nosed bandicoots, fat-tailed dunnarts, bare-nosed wombats, koalas and sugar gliders. They also looked at single transcriptomes of a false antechinus, Southern brown bandicoot, striped possum, Western pygmy possum, brushtail possum and a yellow-footed rock wallaby.
They used the genetic sequence of modern viruses, such as Ebola and Zika, to hunt through the transcriptomes and look for matches -- fragments of ancient marsupial viruses. The benefit of searching through the transcriptome rather than the genome is that it finds viral fragments that are still 'switched on' and transcribed -- making RNA in the cells of marsupials, as opposed to stagnant fossils.
"Transcription is evidence that the EVEs are active in cells and possibly doing something functional," says Ms Harding.
Out of more than 130 known viral families, three were seen again and again throughout the marsupial species.
Bornaviridae, Filoviridae and Parvoviridae are commonly seen in eutherian (or placental) mammals, including humans. Ms Harding says she noticed a unique trend in marsupials where different parts of the viral genomes were retained as fossils over time.
"It was interesting to see that the DNA blueprints for two viral proteins -- the nucleocapsid, which is the shell of the virus, as well an enzyme essential for replication -- were very common in the marsupial.
"Our hypothesis is that these two proteins are good targets for antiviral defence, therefore copies of them have been kept in the genome. These copies can block areas of the incoming viral genome so the virus cannot properly make these proteins. Without the proteins, it cannot replicate and the immune system can clear the infection."
The researchers also found evidence for small RNA molecules which are known to target and break down foreign viral RNA strands, adding more weight to the virus-fighting hypothesis.
"I found that some EVEs were spliced from the genome to create siRNA and piRNA -- two types of molecules that are used in the immune system of plants and animals including humans," Ms Harding says.
"These RNA molecules were enriched in the testis of the male marsupials, and may be helping to protect future offspring from viral infections. Marsupials have a very different development to other mammals, and are born without a fully functional immune system, so these small molecules may help them defend them while they are still growing."
The study was based on the available RNA sequence data of 35 samples from 13 marsupials. Ms Harding hopes future laboratory research will prove their role in viral immunity, which could lead to the development of novel RNA antivirals against a large range of viruses.
Emma F Harding, Alice G Russo, Grace J H Yan, Paul D Waters, Peter A White.
Ancient Viral Integrations in Marsupials: A Potential Antiviral Defence.
Virus Evolution, 2021; DOI:
10.1093/ve/veab076
Certainty For NSW Community And Industry On Energy From Waste
The NSW Government has today released the Energy From Waste Infrastructure Plan, providing certainty for communities and investors and creating opportunities for NSW to lead the way in the delivery of world-class alternative energy projects.
Deputy Premier, Minister for Regional NSW and Minister responsible for Resources John Barilaro said the Plan outlines how the NSW Government will support innovative ways of managing waste, drive investment into the bush and provide certainty for communities.
"The NSW Government is delivering waste to energy facilities to help power a manufacturing renaissance and bring jobs to regional NSW," Mr Barilaro said.
"These modern facilities will be located strategically to service the whole state, aimed at driving waste out of landfill and into the circular economy, using state-of-the-art technology to maximise regional economic and employment benefits."
The Plan makes clear where new thermal waste to energy facilities can and cannot proceed, identifying the West Lithgow Precinct, Parkes Special Activation Precinct, Richmond Valley Regional Jobs Precinct and Southern Goulburn-Mulwaree Precinct as priority locations to host these operations.
Minister for Energy and Environment Matt Kean said the plan is the final piece of the waste management puzzle and builds on the NSW Waste and Sustainable Materials Strategy and Plastics Plan released earlier this year.
"This is about getting the balance right between supporting investment in NSW, driving a circular economy and reducing carbon emissions, while also respecting the concerns of local communities," Mr Kean said.
"The Plan ensures new thermal waste to energy projects are co-located with transport links and complimentary industries, and kept away from high density residential areas.
"It also allows proposals which involve existing industrial facilities switching to more environmentally friendly waste-derived fuels."
Under the Plan, operators of energy from waste projects will be required to make emissions data available to the community in real time online, to boost community confidence and transparency.
The Infrastructure Plan builds on the existing Energy from Waste Policy Statement that was informed by advice from the NSW Chief Scientist and Engineer and sets the most rigorous air quality and environmental controls for energy from waste projects in the world.
You can also find some FAQs here:
Central Coast Factory Fined For Discharging Wastewater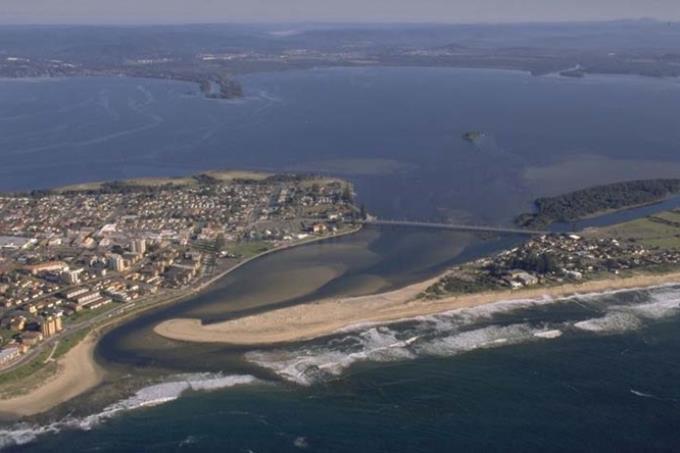 An Australian food company has been fined by the NSW Environment Protection Authority for allegedly discharging wastewater into a local waterway from its food production factory near Wyong.
The EPA fined Australian Health & Nutrition Association LTD (Sanitarium) $15,000, the largest fine the EPA is able to issue under its legislation, for a dirty water discharge into a local creek and lake, which can damage sensitive aquatic plants and animals.
The spill happened in February when Sanitarium was transferring wastewater to the sewer using a temporary piping arrangement. Pipework dislodged from the sewer manhole and the wastewater ran into a waterway.
EPA Director Regulatory Operations Adam Gilligan said Sanitarium allegedly did not have adequate checks in place and did not notice the dislodged pipework for at least three hours.
"A large quantity of wastewater flowed into a tributary of Ourimbah Creek, which flows into Tuggerah Lake," Mr Gilligan said.
"When we analysed the discharged wastewater we found it was highly alkaline, which can damage sensitive aquatic environments.
"Aquatic life can be affected when pH levels rise too high or change rapidly."
The EPA's water quality analysis revealed a clear impact from the discharge in the downstream sampling location when compared with the upstream sampling results.
"This incident should be a reminder to everyone both in community and industry – spills of any kind can severely damage the health of our waterways, and the people and animals that rely on them."
Members of the public are encouraged to report any water pollution incidents to Enviro Line on 131 555.
Fisheries Officers Crackdown On Non-Compliance
Fishers who flout the law are on notice after Minister for Agriculture Adam Marshall revealed a more 44 per cent increase in fines since 2018, as part of the NSW Government's blitz on protecting and enhancing the state's aquatic resources.
Mr Marshall said there were 3,172 fines issued in 2020 under the Fisheries Management Act 1994, up from 2,782 in 2019 and 2,230 in 2018.
"This crack-down is part of our continued commitment to ensure a sustainable future for fishing," Mr Marshall said.
"Our fishers are incredibly passionate and the vast majority of them do the right thing, but unfortunately a small minority think they can get away with breaking the rules.
"Rules are there for a reason and the Fisheries Management Act 1994 protects and promotes access to resources, including for Aboriginal cultural fishing purposes.
"I won't apologise for coming down on repeat offenders.
"Issuing fines is not about Government walking around with a big stick, but rather working with the community to ensure our fishing resources are available for everyone, including our future generations who will also love to wet a line."
Mr Marshall said Fisheries Officers worked closely with various fishing communities and run compliance programs across the state, while also promoting the sustainable growth of commercial and recreational fishing and aquaculture.
"NSW Department of Primary Industries Fisheries undertakes a risk-based compliance program, with a multi-faceted approach to the protection of resources," Mr Marshall said.
"It is critical we take steps to allow our fish stocks and the habitats they depend on to flourish and protecting these resources through risk based and outcomes focused compliance is a crucial part of ensuring that this happens."
Photo: Minister for Agriculture Adam Marshall (left) with Acting District Fisheries Officer Ron Smith, image courtesy NSW DPI
Brisbane To Pilot New Recycle Mate App
Recycling enthusiasts in Brisbane have been selected to pilot and help improve a new app that will tell every Australian, no matter where in Australia they live or travel to, how to recycle correctly.
The new Recycle Mate app will be piloted in Brisbane in the leadup to the national launch of the app at the end of the month. The Assistant Minister for Waste Reduction and Environmental Management Trevor Evans today called on the Brisbane community to test drive the new app and play a part in helping Australia get its recycling right.
"This cutting edge new app, developed by Australian Council of Recycling (ACOR) is Australia's first photo recognition recycling app," Minister Evans said. "Users photograph an item and then immediately find out where it can be recycled, refurbished or disposed of, based on their geolocation.
"Brisbane now has a unique opportunity to help shape and inform Australia's first community driven recycling app. The app already contains the information that recyclers think the community wants to know, and now is the opportunity for the Brisbane community to provide their feedback on recycling.
"I encourage all Brisbane residents to download the app and test it out. This will help the developers get it right for the rest of Australia and help us reduce our waste," Minister Evans said.
Suzanne Toumbourou, CEO of the Australia Council of Recycling (ACOR) said the Brisbane community was being asked to join this national recycling initiative by using the app.
"The app's artificial intelligence is trained every time someone uploads a photo to the Recycle Mate database, continually improving the program. Australians have a proven desire to recycle correctly and reduce what goes to landfill, but often feel unsure if they are always getting it right," said Ms Toumbourou. "This app will contribute to helping all Australians recycle better.
Brisbane Civic Cabinet City Standards Chair Kim Marx said Brisbane residents were already taking steps to reduce waste to landfill and the free Recycle Mate app would boost their efforts.
"Brisbane residents have demonstrated that they're working hard to improve their recycling habits and this handy app will help take the guesswork out of recycling everyday household items," Cr Marx said.
"Since 2012, our residents have reduced the percentage of recyclables being incorrectly disposed of in household rubbish bins to 15% in 2020, down from 28%.
"It's fantastic to see Brisbane residents be some of the first in Australia to pilot this cutting-edge photo recognition technology, so I want to see as many people as possible jump on their phones and download the app so we can show how clean and green our city really is."
Assistant Minister Evans said that getting the app right is important in helping Australia move to a circular economy in which when a product is no longer useful or required for its initial purpose, it is either reused, remanufactured or recycled for use in another product or process.
"When Australians get their recycling right, it helps us to recycle more of our waste resources so that they can be processed and made into valuable new products, as well as protecting our unique environment by keeping our waste out of landfill.
"Another major benefit is that the app helps us avoid contamination and wish cycling. Contamination occurs when materials are sorted into the wrong recycling bin and can lead to recycling resources being sent to landfill. Wish cycling is when people simply throw something into the recycling bin, and contaminate it, in the hope that it can be recycled.
"The new RecycleMate app will help make sure that we dispose of products properly all the time, no matter where we are. Every question asked and every photo taken by app users provides feedback about what the community wants to know about recycling and helps the program to continually grow," said Minister Evans.
Recycle Mate is an initiative of the Australian Council of Recycling (ACOR) with $2 million in funding support from the Australian Government's Environment Restoration Fund program. Adaptation Environmental Support (Adaptation) is the program delivery partner.
To download the app, Brisbane residents can go to the Apple App Store or Google Play Store.
Bushcare In Pittwater
For further information or to confirm the meeting details for below groups, please contact Council's Bushcare Officer on 9970 1367
BUSHCARE SCHEDULES
Where we work Which day What time
Avalon
Angophora Reserve 3rd Sunday 8:30 - 11:30am
Avalon Dunes 1st Sunday 8:30 - 11:30am
Avalon Golf Course 2nd Wednesday 3 - 5:30pm
Careel Creek 4th Saturday 8:30 - 11:30am
Toongari Reserve 3rd Saturday 9 - 12noon (8 - 11am in summer)
Bangalley Headland 2nd Sunday 9 to 12noon
Bayview
Winnererremy Bay 4th Sunday 9 to 12noon
Bilgola
North Bilgola Beach 3rd Monday 9 - 12noon
Algona Reserve 1st Saturday 9 - 12noon
Plateau Park 1st Friday 8:30 - 11:30am
Church Point
Browns Bay Reserve 1st Tuesday 9 - 12noon
McCarrs Creek Reserve Contact Bushcare Officer To be confirmed
Clareville
Old Wharf Reserve 3rd Saturday 8 - 11am
Elanora
Kundibah Reserve 4th Sunday 8:30 - 11:30am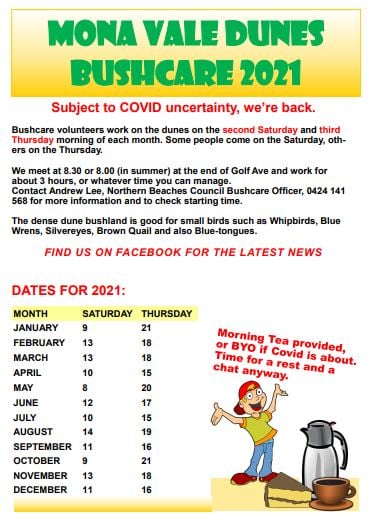 Mona Vale
Mona Vale Beach Basin 1st Saturday 8 - 11am
Mona Vale Dunes 2nd Saturday +3rd Thursday 8:30 - 11:30am
Newport
Bungan Beach 4th Sunday 9 - 12noon
Crescent Reserve 3rd Sunday 9 - 12noon
North Newport Beach 4th Saturday 8:30 - 11:30am
Porter Reserve 2nd Saturday 8 - 11am
North Narrabeen
Irrawong Reserve 2nd Saturday 2 - 5pm
Palm Beach
North Palm Beach Dunes 3rd Saturday 9 - 12noon
Scotland Island
Catherine Park 2nd Sunday 10 - 12:30pm
Elizabeth Park 1st Saturday 9 - 12noon
Pathilda Reserve 3rd Saturday 9 - 12noon
Warriewood
Warriewood Wetlands 1st Sunday 8:30 - 11:30am
Whale Beach
Norma Park 1st Friday 9 - 12noon
Western Foreshores
Coopers Point, Elvina Bay 2nd Sunday 10 - 1pm
Rocky Point, Elvina Bay 1st Monday 9 - 12noon

Gardens And Environment Groups And Organisations In Pittwater
Avalon Golf Course Bushcare Needs You
We're so short of helpers we've had to cancel for the time being. Meanwhile the weeds will go gangbusters.
We used to meet on the second Wednesday afternoon of each month. Could you come if we worked on another day or time? say a morning, or on a weekend day?
Contact Geoff Searl on 0439 292 566 if you'd like to help. He'd love to hear from you.
We have fun using the Tree Popper, here with our supervisor from Dragonfly Environmental. We can lever out quite big Ochnas, aka Mickey Mouse plant from Africa. We want to bring back the bush, not let the weeds win!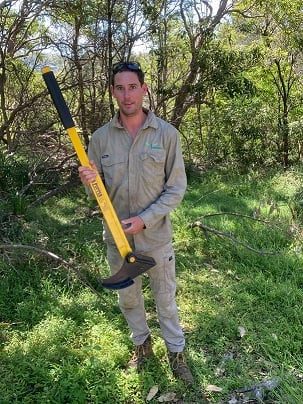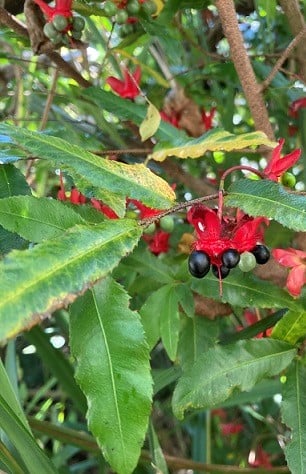 Ochna or Mickey Mouse plant has yellow flowers in spring, then lots of green berries that turn black when ripe. Seedlings come up in hundreds. Ochna has a very strong taproot but the steady pressure of the Tree Popper lifts the plant out of the ground easily. The alternative control is repeated scraping and painting with Roundup, very slow and time consuming. If you have an Ochna you cant remove, you can enjoy the flowers, then PLEASE prune it so that berries can't develop.
New Shorebirds WingThing For Youngsters Available To Download
A Shorebirds WingThing educational brochure for kids (A5) helps children learn about shorebirds, their life and journey. The 2021 revised brochure version was published in February 2021 and is available now. You can download a file copy here.
If you would like a free print copy of this brochure, please send a self-addressed envelope with A$1.10 postage (or larger if you would like it unfolded) affixed to: BirdLife Australia, Shorebird WingThing Request, 2-05Shorebird WingThing/60 Leicester St, Carlton VIC 3053.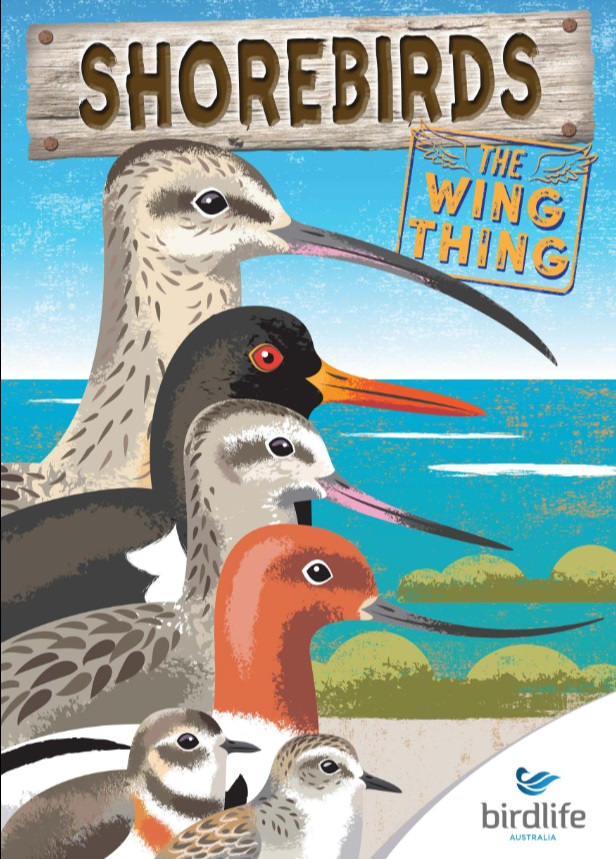 Shorebird Identification Booklet
The Migratory Shorebird Program has just released the third edition of its hugely popular Shorebird Identification Booklet. The team has thoroughly revised and updated this pocket-sized companion for all shorebird counters and interested birders, with lots of useful information on our most common shorebirds, key identification features, sighting distribution maps and short articles on some of BirdLife's shorebird activities.
The booklet can be downloaded here in PDF file format: http://www.birdlife.org.au/documents/Shorebird_ID_Booklet_V3.pdf
Paper copies can be ordered as well, see http://www.birdlife.org.au/projects/shorebirds-2020/counter-resources for details.
Download BirdLife Australia's children's education kit to help them learn more about our wading birdlife
Shorebirds are a group of wading birds that can be found feeding on swamps, tidal mudflats, estuaries, beaches and open country. For many people, shorebirds are just those brown birds feeding a long way out on the mud but they are actually a remarkably diverse collection of birds including stilts, sandpipers, snipe, curlews, godwits, plovers and oystercatchers. Each species is superbly adapted to suit its preferred habitat. The Red-necked Stint is as small as a sparrow, with relatively short legs and bill that it pecks food from the surface of the mud with, whereas the Eastern Curlew is over two feet long with a exceptionally long legs and a massively curved beak that it thrusts deep down into the mud to pull out crabs, worms and other creatures hidden below the surface.
Some shorebirds are fairly drab in plumage, especially when they are visiting Australia in their non-breeding season, but when they migrate to their Arctic nesting grounds, they develop a vibrant flush of bright colours to attract a mate. We have 37 types of shorebirds that annually migrate to Australia on some of the most lengthy and arduous journeys in the animal kingdom, but there are also 18 shorebirds that call Australia home all year round.
What all our shorebirds have in common—be they large or small, seasoned traveller or homebody, brightly coloured or in muted tones—is that each species needs adequate safe areas where they can successfully feed and breed.
The National Shorebird Monitoring Program is managed and supported by BirdLife Australia.

This project is supported by Glenelg Hopkins Catchment Management Authority and Hunter Local Land Services through funding from the Australian Government's National Landcare Program. Funding from Helen Macpherson Smith Trust and Port Phillip Bay Fund is acknowledged.
The National Shorebird Monitoring Program is made possible with the help of over 1,600 volunteers working in coastal and inland habitats all over Australia.
The National Shorebird Monitoring program (started as the Shorebirds 2020 project initiated to re-invigorate monitoring around Australia) is raising awareness of how incredible shorebirds are, and actively engaging the community to participate in gathering information needed to conserve shorebirds.
In the short term, the destruction of tidal ecosystems will need to be stopped, and our program is designed to strengthen the case for protecting these important habitats.
In the long term, there will be a need to mitigate against the likely effects of climate change on a species that travels across the entire range of latitudes where impacts are likely.
The identification and protection of critical areas for shorebirds will need to continue in order to guard against the potential threats associated with habitats in close proximity to nearly half the human population.
Here in Australia, the place where these birds grow up and spend most of their lives, continued monitoring is necessary to inform the best management practice to maintain shorebird populations.
BirdLife Australia believe that we can help secure a brighter future for these remarkable birds by educating stakeholders, gathering information on how and why shorebird populations are changing, and working to grow the community of people who care about shorebirds.

To find out more visit: http://www.birdlife.org.au/projects/shorebirds-2020/shorebirds-2020-program
Aussie Bread Tags Collection Points
Collecting bread tags enables us to provide wheelchairs that change the life of disabled people in need, as well as keeping the tags out of landfill to help to preserve the environment.
Bread Tags for Wheelchairs was started in South Africa in 2006 by Mary Honeybun. It is a community program where individuals and organisations collect bread tags, which are sold to recyclers. The money raised pays for wheelchairs for the less fortunate which are purchased through a local pharmacy. Currently about 500kg of bread tags are collected a month in South Africa, funding 2-3 wheelchairs.
We have been collecting bread tags nationally in Australia since September 2018 and now have more than 100 collection points across the country. In February 2019 we started local recycling through Transmutation - Reduce, Reuse and Recycle in Robe, SA, where our tags are recycled into products such as door knobs and bowls. Tags from some states are still sent to South Africa where a plastics company called Zibo recycles them into seedling trays.
These humble bits of polystyrene can make a real difference so get your friends, family, school, workplace and church involved. Ask school tuck shops and boarding school kitchens, child care centres, aged care facilities, hospitals, cafes and fast food outlets to collect for you - they get through a lot of bread!
All the information and signage for collecting or setting up a public collection point is
on our website
.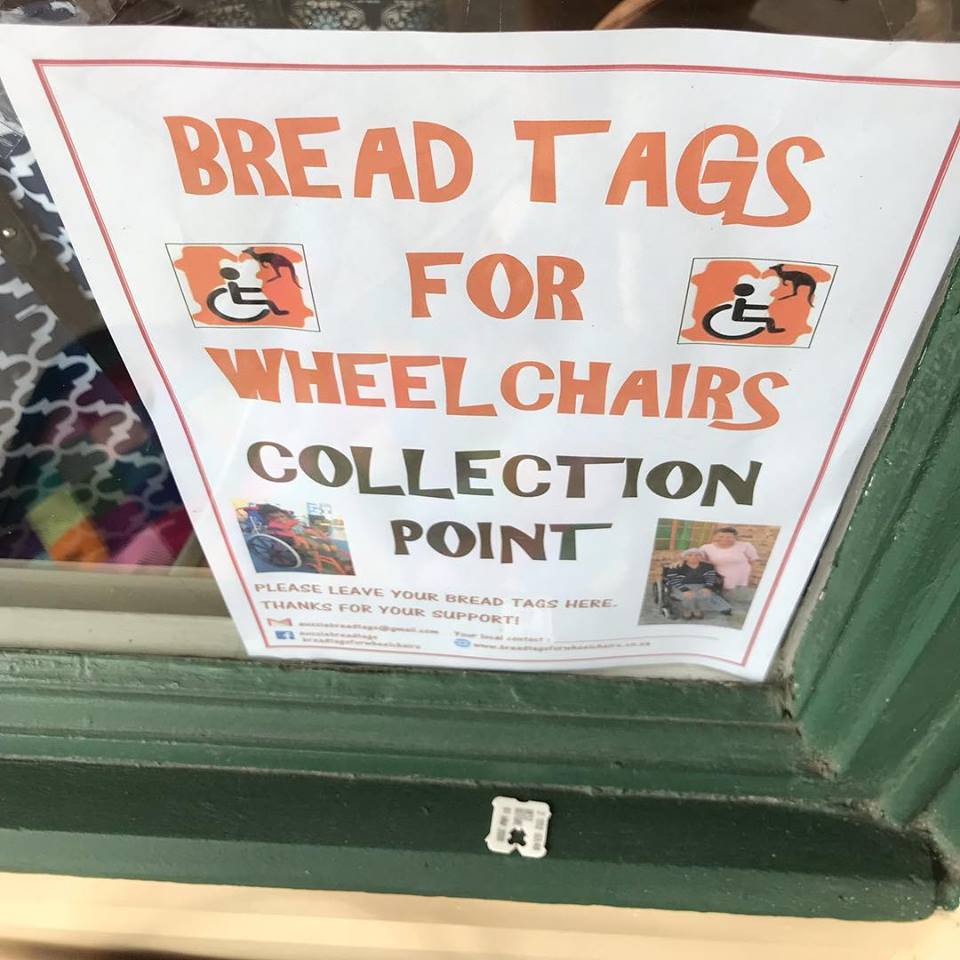 Full HSC To Go Ahead
September 10, 2021
Minister for Education Sarah Mitchell today announced that students will be able to sit their HSC exams and receive their results in time for university offers to be made.
The NSW Education Standards Authority (NESA) has issued a revised timetable, with 110 exams taking place over 19 days, ending on December 3rd.
Students will receive their ATARs on 20 January 2022, with their HSC results released on 24 January.
Ms Mitchell said that after a disruptive and stressful year, students now have the certainty of the timetable and eight weeks to focus on preparing for their exams.
"Being able to sit all their exams safely is the best and fairest outcome for our HSC students," Ms Mitchell said.
"Whether our students go on to university, vocational training or take on employment, it is important all of them are able to sit their exams and demonstrate what they know.
"I know that teachers, families and friends are supporting our HSC students every step of the way, and that the whole NSW community is wishing them well after a tough 18 months."
Chair of the NESA Board Professor Peter Shergold said that providing a fair, equitable and safe opportunity for students to receive the HSC in 2021 continues to be at the forefront of every decision made by NESA.
"Revising the timetable to start on 9 November and deliver results on 24 January required the reconfiguration of a massive logistical operation involving over 100,000 people," Professor Shergold said.
"I am grateful to the NSW Vice Chancellors Committee and the Universities Admission Centre (UAC) for their support, and for working with us to deliver an outcome which will see students receive their results and their university offers in a timely way."
Strict COVID safe protocols supported by NSW Health will be in place to protect students, exam supervisors and school staff when HSC exams start on November 9 2021.
The protocols for a COVID-safe HSC require exam supervisors to be fully vaccinated and strongly encourage eligible HSC students to receive two vaccine doses before exams start.
Other safety measures include:
Mandatory face masks for students and staff, indoors and outdoors
Check-in and health screening protocols for students and staff
Physical distancing between students and staff at all times
Minimising mingling of student groups
Keeping exam group sizes as small as possible
Desks spaced a minimum of 1.5 metres apart and exam rooms well ventilated
Hygiene marshals and regular cleaning of exam rooms.
An illness and misadventure process is available for students who are unable to attend an exam due to having a positive COVID-19 test result, or being a close contact.
68,710 students are on track to receive the HSC in 2021, according to the HSC Enrolment Snapshot which will be released on Monday by NESA.
View the 2021 HSC exam timetable: https://educationstandards.nsw.edu.au/wps/portal/nesa/11-12/hsc/key-dates-exam-timetables/hsc-written-exam-timetable
Celebrating 20 Years Of Young Writers
September 7, 2021
The creativity of Extension English 2 students from last year's HSC is showcased in a newly released anthology.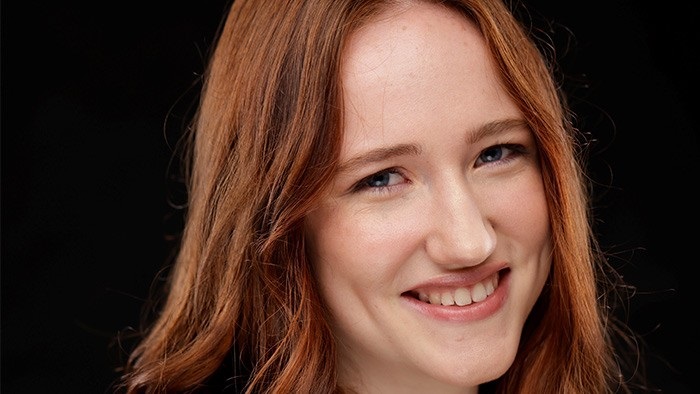 Complex story: Included in the anthology is Sienna Baker, from Randwick Girls High School.
As the Young Writers Showcase enters its 20th year, 18 impressive young writers from the 2020 HSC are being celebrated for their outstanding talents in writing.
Minister for Education Sarah Mitchell said over the past two decades, the Showcase had given audiences the opportunity to celebrate the gifts and creativity of HSC English Extension 2 students.
"For many of the students whose work is published, this is just the beginning of their wonderful journey into creativity, storytelling and production," Ms Mitchell said.
"The depth and breadth of work we see in the annual anthology is truly remarkable – the pieces not only showcase students' impressive writing ability, but also their view of the world, their values, and what's important to them."
Over the years, Young Writers has showcased more than 340 students' work, with many going on to use the skills they developed in the classroom in their future endeavours, including script writing, storytelling, podcasting and more.
Former Sydney Girls High student Nieshanka Nanthakrishnakumar had her major work published as part of NESA's Young Writers Showcase anthology in 2018, and said it gave her the confidence to pursue her passion in slam poetry.
Ms Nanthakrishnakumar has since gone on to perform at the Sydney Writers Festival, Vivid's 'I'm Not Racist, But....' comedy festival, the 2019 Melbourne Spoken Word Festival and the National Poetry Slam Australia.
"Being published straight out of school gave me the confidence I was initially lacking as a writer. As cliché as it sounds, it was one of the first times I felt 'seen' and it was extremely validating to know that people appreciated my work and wanted to hear what I had to say, especially as a person of colour artist," Ms Nanthakrishnakumar said.
"It demonstrated what I was capable of and encouraged me to seek new prospects. To this day, high school students who have read my piece in Young Writers, tell me that my work really resonated with them. It's exciting to know that my work is out there in the world to be accessed and appreciated by others. It's also pretty cool to be able to say you are a 'published' poet."
The young writers to feature in this years' showcase have been selected from more than 1,385 students who studied HSC English Extension 2 in 2020.
The Young Writers Showcase is usually launched at WordeXpress, a partnership between the State Library of NSW and NESA. Due to COVID restrictions, it will go ahead online this year.
Dr John Vallance, State Librarian at the State Library, said despite not being able to celebrate with the students in person, the public would still have the opportunity to witness the talented writers' work.
"If the young writers in this year's 20th anniversary showcase keep writing after they leave school, Australia's literary culture will be very bright. The State Library is here to encourage them all to do just that," Dr Vallance said.
The State Library will also offer workshops for current students and publish the students' reflections statements so that future English Extension 2 students can see how high the standard is.
You can read about the young writers who are included in this year's and the works they have created on the NSW Education Standards Authority website.
After Dark Photo Competition: Northern Beaches
Here's a great new photo competition just for locals.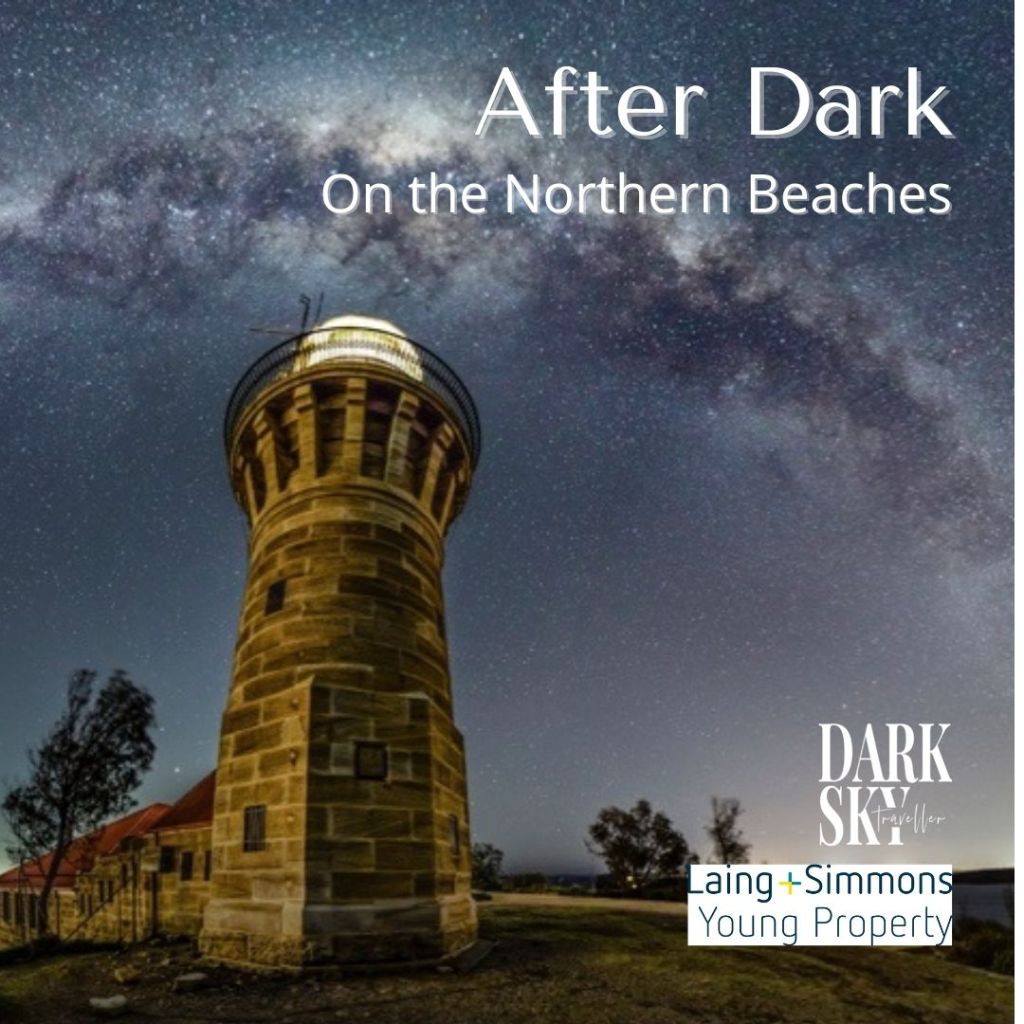 The Northern Beaches are one of the best places in Sydney to view the night sky and appreciate this wonderful asset.
Enter your image of the Northern Beaches taken between sunset and sunrise, go in the running for prizes, and share the beauty of the Northern Beaches LGA in a way not done before.
Proceeds from the event, go towards supporting the charity the
Australian Dark Sky Alliance
to support the ongoing conservation of the night time environment.
Entries close 19th September, 2021 - NB extended date
Details
There will be three categories of entry for the General section;
Land

– manmade and/or natural formations, wildlife, flora or fauna

Sea

– waterways, beaches, or marine areas, sea life

Sky

– aspects of the night sky, moon, starscapes, clouds or wildlife
Junior – under 16 years featuring any one of these categories.
All entries must be taken within the Northern Beaches LGA.
Images may be taken within the past 2 years, but must be taken between sunset and sunrise.
There is a limit of six (6) entries per category per photographer.
Still images must be submitted as JPG files with the longest side having a dimension no greater than 4,950 pixels in Adobe 1998 colour space, and no larger than 5Mb file size.
Entry fees are $10 for the first category entered and $10 for each subsequent category entered.
Up to six entries per category are permitted.
Fees should be paid by the PayPal gateway on the entry website. Credit and debit cards can be used on this gateway.
If entry payments are not received by the deadline, then the submitted entries will not be accepted for judging.
Still images must be submitted as JPG files with the longest side having a dimension no greater than 4,950 pixels in Adobe 1998 colour space, and no larger than 5Mb file size.
Entries will be accepted only from Australian residents of the Commonwealth of Australia and its Territories.
There will be two sections of entry – General and Junior (18 or younger)
There will be three categories of entry for the General Section; Portraying the night time environment featuring Land, Sea or Sky.
The Junior Section is for photographers 18 years old or younger and will have one open category.
All entries must be taken within the Northern Beaches LGA and must be taken between sunset and sunrise.
Images can be taken at any time of the year on or after 1 September 2019.
The top 5 images of each category will be judged by the organising committee and will be hung at the Studio, Careel Bay Marina for general public display.
Photographers represented in the top 5 images of each category will be notified that they are in the top 20 images (15 September 17:00 AEST).
There is a limit of six (6) entries per category per photographer.
In the case of images with multiple authors, the instigator of the image will be considered to be the principal author and the one who "owns" the image. The principal author MUST have performed the majority of the work to produce the image. All authors MUST be identified and named in the entry form along with their contributions to the production of the image.
Entries must be in digital form and will be accepted ONLY through submission via the dedicated website at: afterdark.myphotoclub.com.au
To preserve anonymity, the submitted image files should not contain identifying metadata.
For judging purposes, still images must be submitted as JPG files with the longest side having a dimension no greater than 4,950 pixels in Adobe 1998 colour space.
All photographs must have been taken no more than 2 years before the closing date of entry.
Entry fees are $20 for the first entry and $10 each subsequent entry. Fees should be paid by the PayPal gateway on the entry website. Credit and debit cards can be used on this gateway.
If entry payments are not received by the deadline, then the submitted entries will not be accepted for judging.
Photographers of the top 20 images (5 in each category) will be notified 15 September and images printed, framed and hung by the organising. Artists may choose to pay $55 for this service to be undertaken on their part or undertake printing and framing at their own cost. Images must be ready for hanging 17:00 (AEST) 29 September 2021.
Images will be listed on sale during the exhibition at the artist's discretion. $100 of the sale will be donated to the charity the Australasian Dark Sky Alliance.
Winners for the Land Scape, Sea Scape, Sky Scape and Youth entry will be announced Thursday 30th September 2021.
People's choice will confirmed by popular vote throughout the exhibition and will be announced on Saturday 30 October, 2021.
Submissions close at 24:00 (AEST) on Wednesday, 1 September 2021. No entries will be accepted past this date.
All winners should make an effort to attend the presentation of the awards on 30 September 2021
The winning entries will be exhibited for the entire Exhibition After Dark, at the Studio, Careel Bay Marina between 30 September and 2 November, 2021.
Permission to reproduce entries for publication to promote the competition and exhibitions and dark sky-related events and activities on the northern beaches will be assumed as a condition of entry. The copyright of the image remains with the author, and we will try to ensure that the author is credited where the image is used.
All entries must be true images, faithfully reflecting and maintaining the integrity of the subject. Entries made up of composite images taken at different times and/or at different locations and/or with different cameras will not be accepted. Image manipulations that produce works that are more "digital art" than true astronomical images, will be deemed ineligible. If there is any doubt about the acceptability of an entry, then the competition organisers should be contacted, before the entry is submitted, for adjudication on the matter at the following email address: marnie@darkskytraveller.com.au
If after the judging process, an image is subsequently determined to have violated the letter and/or the spirit of the rules, then that image will be disqualified. Any prizes consequently awarded for that image must be returned to the competition organisers.
The competition judges reserve the right to reject any entry that, in the opinion of the judges, does not meet the conditions of entry or is unsuitable for public display. The judges' decisions will be final.
Submission of an entry implies acceptance of all the conditions of entry and the decisions of the competition judges.
Entries Open: 24:00 (AEST) Sunday, 11 July 2021
Entries Close: 24:00 (AEST) Wednesday, 1 September 2021
Top 20 announced: 17:00 Wednesday, 15 September 2021
Photography bump in: Midday Wednesday 29 September 2021
Exhibition Launch and Presentation of Awards: Thursday 30 September 2021
Bump out – 2 November 2021
The Overall Winner: To be judged by David Malin, Fred Watson
Category Winner: An image deemed to be the best in that category as judged by the judging panel.
"The People's Choice": This will be judged by gathering votes obtained in the exhibition venue, and online.
Category Winner: $200 – to each of the image deemed to be the best in each of the four (4) category.
"The People's Choice": $200 – will be judged by gathering votes obtained in the exhibition venue, and online.
There will be three categories of entry for the General section;
Land – capturing manmade and/or natural formations, wildlife, flora or fauna associated with the night
Sea – capturing waterways, beaches, or marine areas, sea life associated with the night.
Sky – capturing aspects of the night sky, moon, stars capes, clouds or wildlife associated with the night sky.
There is a limit of six (6) entries per category per photographer.
All entries must be taken within the Northern Beaches LGA.
The Junior Section is for photographers 18 years old or younger and feature any one of the categories.
Award Winning CGI 3D Animated Short Film: "The Legend Of The Crabe Phare" - By Crabe Phare
A Graduation film by The talented Crabe Phare Team produced at SUPINFOCOM Valenciennes.
Co-Directed by :
Gaëtan BORDE, cargocollective.com/gaetanborde
Benjamin LEBOURGEOIS, lebourgeois-b.com
Alexandre VEAUX, alexv-portfolio.com
Mengjing YANG, catherine_sh@163.com
Claire VANDERMEERSCH. cargocollective.com/cleo2015
Original Soundtrack :
Valentin LAFORT http://www.valentinlafort.com/
Voice actor :
Andy DUPONT
End Title
Julien Loth
AWARDS :
Prix du Public - Panam Anim 2015
Prix du Public - Courts Devant 2015
Best Student Project - Siggraph 2016
Best Student Film - Anim'est 2016
Best 3D Animation Movie - Effets Stars 2016
Best European Student Film - Anim!Arte 2016
2nd Best International Student Film - Anim!Arte 2016
Prix du Public - Festival du Film Environnemental 2016
Prix Jeune Public - RISC 2016
Mention Spéciale - Plein la Bobine 2016
Special Mention - Multivision 2016
Prix du Jury Jeune - Savigny 2017
Audience Award - Cryptshow 2017
You can contact/follow us, on the facebook page : facebook.com/crabephare
John Lennon's Imagine At 50: A Deceptively Simple Ballad, A Lasting Emblem Of Hope
September 9, 2021
by Leigh Carriage, Senior Lecturer in Music, Southern Cross University
1971 was a tumultuous year. The counter-cultural movement of the 60s was still being felt. Demonstrations were held opposing the Vietnam War and in August, Australia and New Zealand withdrew their troops.
Apollo 15 landed on the moon. Feminist Gloria Steinem made her first address to women in America. Switzerland held a referendum on women's suffrage. In New York, John Lennon sat down at a brown model Z upright piano and began to write what would become an inter-generational, transnational phenomenon — and perhaps the gentlest of protest songs — Imagine.
Imagine was recorded on May 27, at Lennon's new home studio. The song was released to the world as part of the album of the same name (co-produced by Lennon, his wife Yoko Ono and Phil Spector), on September 9.
For three minutes and three seconds, the lyrics of this gentle ballad present a vision of unity and of hope. It is a space in which to dream of real change in the world.
As with all songs, the interpretations are as broad as the listeners. For many, it is a call for peace; for others it is a prayer.
The verse lyrics, partly based on poetry by Ono, remove all the central components that seem to separate us: violence, hate, borders, poverty, greed, governments, religion, consumerism and capitalism.
The final verse offers a vision of a unified world at peace.
You may say I'm a dreamer

But I'm not the only one

I hope someday you'll join us

And the world will live as one
Imagine would become Lennon's best-selling single of his solo career. In 2004, Rolling Stone labelled it third on its list of the greatest songs of all time, saying "we need it more than he ever dreamed".
Unpacking it musically
Imagine is often used to teach beginner music students, but it would be a mistake to think it is just a simple, soft rock, piano ballad.
This perception is due to Lennon's highly effective crafting. As a peace anthem, the song appears simple, but dig a little deeper, and you find layers of complexity and nuance.
Imagine was written in the key of C major, which has no sharps or flats, so it is melodically and harmonically playable and broadly accessible.
The melody is comprised of small intervals (the difference in pitch between two notes), and repeating small motives (a fragment of melody repeated, manipulated or re-positioned throughout the melody), all within a singable range of one octave.
The introduction to the song sets up a gentle sway between harmonic resolution and tension, like waves on a beach.
The third, longer phrase ("Imagine all the people") steps into a passage of unresolved tension. This culminates in a harmonic state of balance, like a broom standing on end. It can fall either way — forward into resolution (the next verse) or back into tension (the chorus). This balance is intensified as the rhythm section pauses and Lennon sings in falsetto.
Imagine there's no heaven

It's easy if you try

No hell below us

Above us, only sky

Imagine all the people

Livin' for today
The opening piano chords also create a sense of pushing into tension before falling back to resolution, linking to the dreamlike feeling of the lyrics. The third phrase, "imagine all the people" starts on the four chord and holds that tension until "living for today" lands on G, creating more stability.
Perhaps the most distinctive part of Imagine is the short piano riff between the vocal lines. This riff uses just three notes — A, A# and B — called "chromatic passing notes". Your ear thinks these notes will go up again, to the C chord. Instead, Lennon brings the listener's ear down to the G melody note, creating a gentle sense of unpredictability.
Imagine transports the listener. The lyrics lift the spirit. The easy rises and falls of the melody comfort. Lennon's familiar voice reassures.
A balm in times of crisis
Imagine has inspired an outstanding array of cover versions, sung by everyone from Elton John to Madonna. American singer Eva Cassidy's interpretation remains a particular favourite. Her expression and subtle reinterpretation of the melody, her note choices and phrasing, are breathtaking.
At times of crisis, people have often turned to this song. Queen covered Imagine the day after Lennon's death in 1980; Neil Young played it in the wake of 9/11.
After the 2015 terrorist attacks in Paris, people gathered on the streets as a man quietly played the song on a piano decorated with a peace symbol.
In March last year, at the beginning of the pandemic, Gal Gadot and other celebrities released a now ironically celebrated and much criticised version.
And last September, Melbourne students wrote their own version:
Imagine there's no Corona

And we can see our friends
Our interconnectedness and reliance on one another are our biggest strengths. 50 years after Lennon wrote the song, Imagine will accompany us along the way: a lasting emblem of hope.
2021 Surfing NSW Event Update
September 10, 2021
Due to the rapidly shifting COVID-19 pandemic and the current public health order in NSW, Surfing NSW has made the hard decision to cancel or postpone all of October's events until a later in 2021.
After consultation with all event stakeholders, local councils, Office or Sport and NSW Sport, the following events will be impacted:
October Events
Woolworths Surfer Grom Comp // Northern Beaches 9-10 October (postponed)
The event will be moved to 11th -12th December 2021.
Havaianas NSW Grommet State Titles // 22-25 October (cancelled)
The Under-14's division from the Havaianas NSW Grommet State Titles, will move to the Woolworths NSW Junior State Titles at Illawarra and form a part of the event schedule. Unfortunately, the Havaianas NSW Grommets State Titles event has had to be cancelled as there are no further available dates at Maroubra to run the competition in line with our entire NSW calendar of events. We look forward to bringing back this event in 2022. The Under-12's divisions are encouraged to enter the Woolworths Surfer Grom Comp Series at either Coffs Harbour, Kiama, Cronulla and Northern Beaches.
Woolworths NSW Junior State Titles presented by Ocean and Earth (postponed)
This event will be postponed to a later date in 2021 in Illawarra. This date is to be confirmed upon our next events update on October 6th. The following divisions U14's, U16's, U18's will all compete in this event in a revised straight knock-out format. If the Australian Junior Surfing Titles is cancelled, Surfing NSW will still aim to hold the NSW junior state titles for U18, U16 and U14 divisions in 2021 regardless (pending COVID-19 restrictions and timeframes at the time).
NSW High School State Titles at Illawarra (cancelled)
Due to the limited time available and return to school sport uncertainty, unfortunately, the NSW High School State Surfing Titles won't run for 2021. If the Australian High School Surfing Titles runs for 2021 Surfing NSW will determine a selection process in the near future. This selection process will be confirmed (if required) on October 6th aligned to the next events update.
Volkswagen Tradies Surfmasters (cancelled)
The Volkswagen Tradies Surfmasters event has been unfortunately cancelled as there are no further dates available in 2021 in line with our entire NSW calendar of events. We look forward to bringing back this event in 2022.
Aloha Manly Junior Teams Event pres. by Hurley // Manly, 28 - 29 September (postponed)
The event will be moved to 4-5 December 2021.
The highest priority is the health and safety of all competitors and their families, staff, and event partners, as well as the local community with all event decisions being made.
We will be offering full refunds for those who are affected by the current COVID-19 situation or cannot attend the rescheduled date, however, it is important to note that competitors will lose their spot once a refund has been processed. If they decide to enter the event again at a later date, they will be at the end of the waitlist if it is full.
Surfing NSW is monitoring the evolving COVID-19 situation and will provide all competitors with changes as they come to hand.
The next events update and confirmation of new dates for the Woolworths NSW Junior State Titles will be on Wednesday the 6th of October 2021. We will email, post on socials and our website.
If you would like to process a refund or have a query please email events@surfingnsw.com.au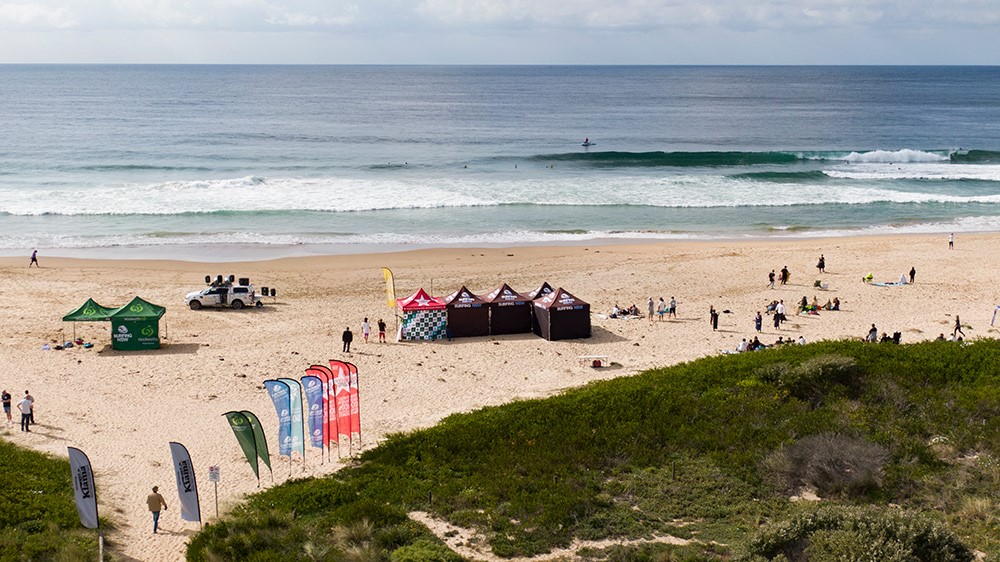 Photo: Ethan Smith / Surfing NSW
NESA Media Statement: HSC Major Projects
This means teachers will provide a mark or estimate for their students' major projects in:
Drama
Textiles and Design
Design and Technology
Industrial Technology
Visual Arts
Students will need to submit their projects by the
published due dates
and teachers will have until 22 October to submit marks to NESA.
When providing a mark or estimate, teachers will take into consideration any impact of COVID-19 restrictions on students' work.
Teacher provided marks will be moderated by NESA to ensure equity across the state.
The decision was made to limit the movement of NESA markers within and beyond Greater Sydney and is in line with Health advice for protecting the health and safety of everyone involved in the HSC exams.
The following major projects (that are submitted online) will continue to be marked online by NESA markers (unless an application for special consideration is made):
English Extension 2
Music 1 (compositions)
Music 2 and Extension (compositions and musicology)
Society and Culture Personal Interest Project
The Special Consideration Program is already in place for students completing language oral and performance exams across the state.
Written exams will go ahead from October 19 and NESA is working closely with NSW Health to ensure strict COVID-safe protocols are in place.
Stay Healthy - Stay Active: HSC 2021
Stay active, keep connected and look after yourself during the HSC this year!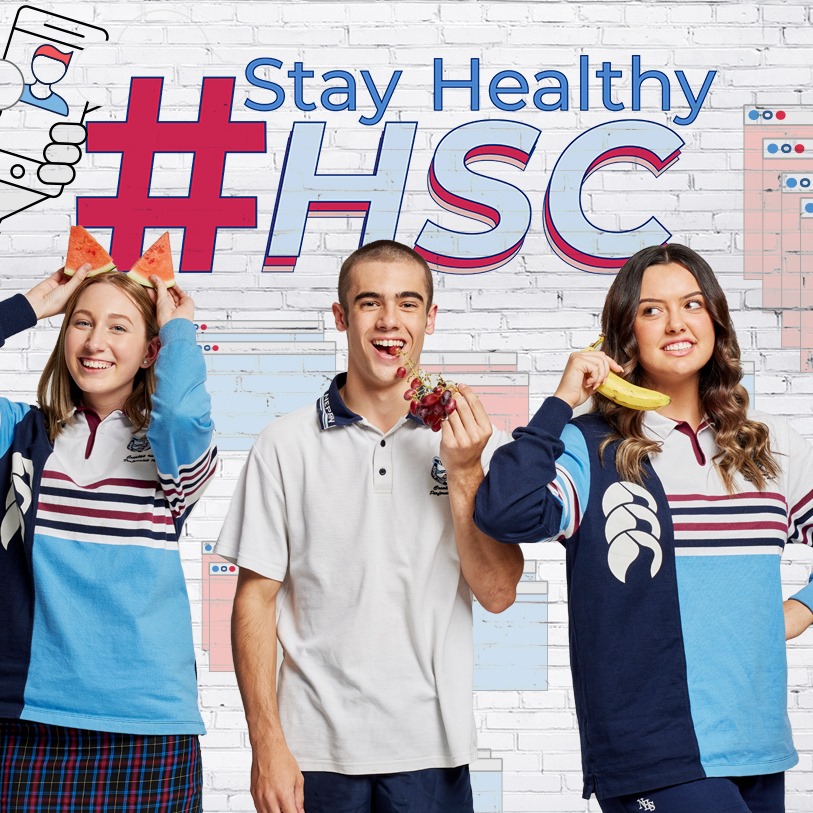 TAFE Fee-Free Online Courses Available For 16-24 Year Olds
The JobTrainer program provides young people and job seekers with low cost and fee-free* training courses to help you develop new skills, improve job prospects and kickstart your career. JobTrainer's fee-free training programs are available in various industries and include full qualifications and skillsets.
TAFE NSW fee-free* JobTrainer short courses (Statement of Attainment – SOA), certificates and diplomas are currently open for enrolment, so you can enrol now and upskill faster. Exciting new training courses are being added all the time, so check back regularly.
*Eligibility criteria apply.
To be eligible for a fully subsidised place you must meet Smart and Skilled eligibility guidelines which are:
live or work in NSW
be an Australian Citizen, a permanent resident, a New Zealand citizen, or a humanitarian visa holder
have left school
AND meet one of the following criteria:
aged from 16 - 24 inclusive, or
in receipt of a Commonwealth Government benefit, or
an unemployed person, or
people expected to become unemployed
A Universal Equation For The Shape Of An Egg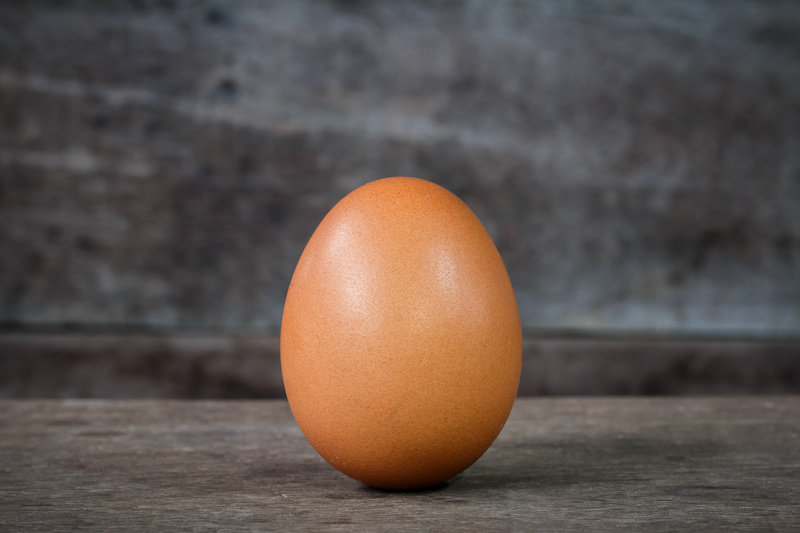 Researchers from the University of Kent, the Research Institute for Environment Treatment and Vita-Market Ltd have discovered a universal mathematical formula that can describe any bird's egg existing in nature, a feat which has been unsuccessful until now.
Egg-shape has long attracted the attention of mathematicians, engineers, and biologists from an analytical point of view. The shape has been highly regarded for its evolution as large enough to incubate an embryo, small enough to exit the body in the most efficient way, not roll away once laid, is structurally sound enough to bear weight and be the beginning of life for so many species. The egg has been called the "perfect shape."
Analysis of all egg shapes used four geometric figures: sphere, ellipsoid, ovoid, and pyriform (conical or pear-shaped), with a mathematical formula for the pyriform yet to be derived.
To rectify this, researchers introduced an additional function into the ovoid formula, developing a mathematical model to fit a completely novel geometric shape characterized as the last stage in the evolution of the sphere-ellipsoid, which it is applicable to any egg geometry.
This new universal mathematical formula for egg shape is based on four parameters: egg length, maximum breadth, shift of the vertical axis, and the diameter at one quarter of the egg length.
This long sought-for universal formula is a significant step in understanding not only the egg shape itself, but also how and why it evolved, thus making widespread biological and technological applications possible.
Mathematical descriptions of all basic egg shapes have already found applications in food research, mechanical engineering, agriculture, biosciences, architecture and aeronautics. As an example, this formula can be applied to engineering construction of thin walled vessels of an egg shape, which should be stronger than typical spherical ones.
This new formula is an important breakthrough with multiple applications including:
Competent scientific description of a biological object. Now that an egg can be described via mathematical formula, work in fields of biological systematics, optimization of technological parameters, egg incubation and selection of poultry will be greatly simplified.
Accurate and simple determination of the physical characteristics of a biological object. The external properties of an egg are vital for researchers and engineers who develop technologies for incubating, processing, storing and sorting eggs. There is a need for a simple identification process using egg volume, surface area, radius of curvature and other indicators for describing the contours of the egg, which this formula provides.
Future biology-inspired engineering. The egg is a natural biological system studied to design engineering systems and state-of-the-art technologies. The egg-shaped geometric figure is adopted in architecture, such as London City Hall's roof and the Gherkin, and construction as it can withstand maximum loads with a minimum consumption of materials, to which this formula can now be easily applied.
Darren Griffin, Professor of Genetics in the University of Kent and PI on the research, said: "Biological evolutionary processes such as egg formation must be investigated for mathematical description as a basis for research in evolutionary biology, as demonstrated with this formula. This universal formula can be applied across fundamental disciplines, especially the food and poultry industry, and will serve as an impetus for further investigations inspired by the egg as a research object."
Dr Michael Romanov, Visiting Researcher at the University of Kent, said: "This mathematical equation underlines our understanding and appreciation of a certain philosophical harmony between mathematics and biology, and from those two a way towards further comprehension of our universe, understood neatly in the shape of an egg."
Dr Valeriy Narushin, former visiting researcher at the University of Kent, said: "We look forward to seeing the application of this formula across industries, from art to technology, architecture to agriculture. This breakthrough reveals why such collaborative research from separate disciplines is essential."
Valeriy G. Narushin, Michael N. Romanov, Darren K. Griffin. Egg and math: introducing a universal formula for egg shape. Annals of the New York Academy of Sciences, 2021; DOI: 10.1111/nyas.14680
Chicken egg (stock image). Credit: © yuthana Choradet / stock.adobe.com
Australia Post Celebrates 100 Years Of Ginger Meggs
September 7, 2021
Australia Post is celebrating 100 years of Australia's much-loved waistcoat-wearing rascal, Ginger Meggs, with the release of three stamps featuring the work of creator Jimmy Bancks, and subsequent illustrators James Kemsley and Jason Chatfield.
The character of Ginger Meggs first appeared in "Gladsome Gladys", with the comic strip soon renamed "Us Fellers" and then, in 1939, "Ginger Meggs" and is Australia's most widely syndicated comic strip, having appeared in 129 newspapers in 34 countries.
Australia Post Group Manager Philatelic Michael Zsolt said the stamp issue is a wonderful look at the evolution and longevity of one of Australia's most recognisable characters.
"Ginger Meggs has been part of the Australian identity for generations, and comic strip readers around the world have looked forward to catching up on his everyday capers," Mr Zsolt said.
Perth-born, New York–based cartoonist and comedian Jason Chatfield has illustrated "Ginger Meggs" since 2007 and said he was honoured to see the stamps dedicated to the beloved character.
"The team at Australia Post have done an incredible job of encapsulating Ginger's spirit and the different artists' interpretations over the past century," he said.
"As the current custodian of Ginge, I am humbled that his 100th birthday falls under my tenure, and I'm grateful to Australia Post for taking such great care in celebrating him."
$1.10 Ginger Meggs playing cricket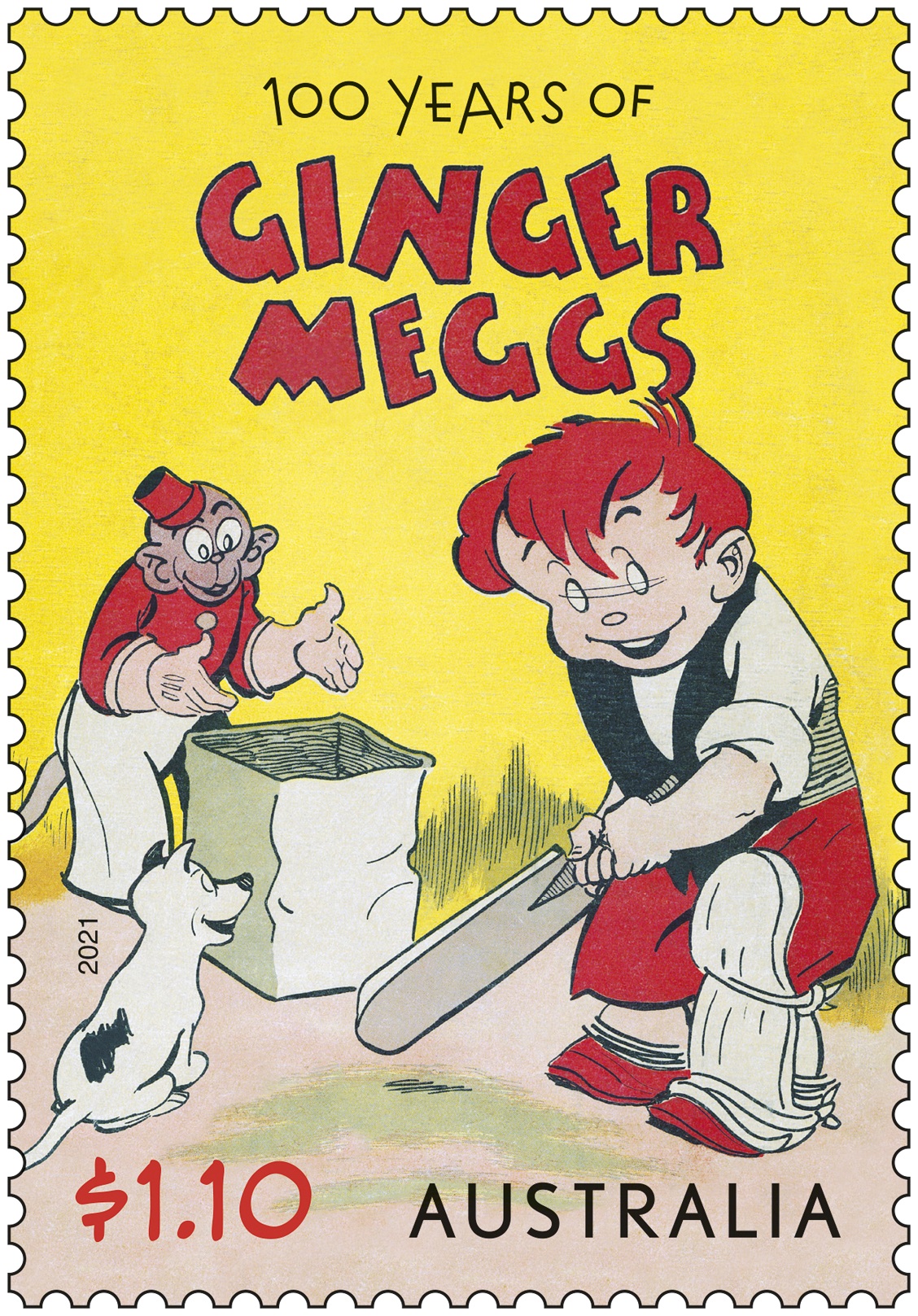 This design features a Jimmy Bancks' illustration from 1926 depicting a happy Ginger at a makeshift wicket, poised with bat in hand. Characters Tony and Mike play backstop and an eager fielder.
$1.10 Ginger Meggs with friends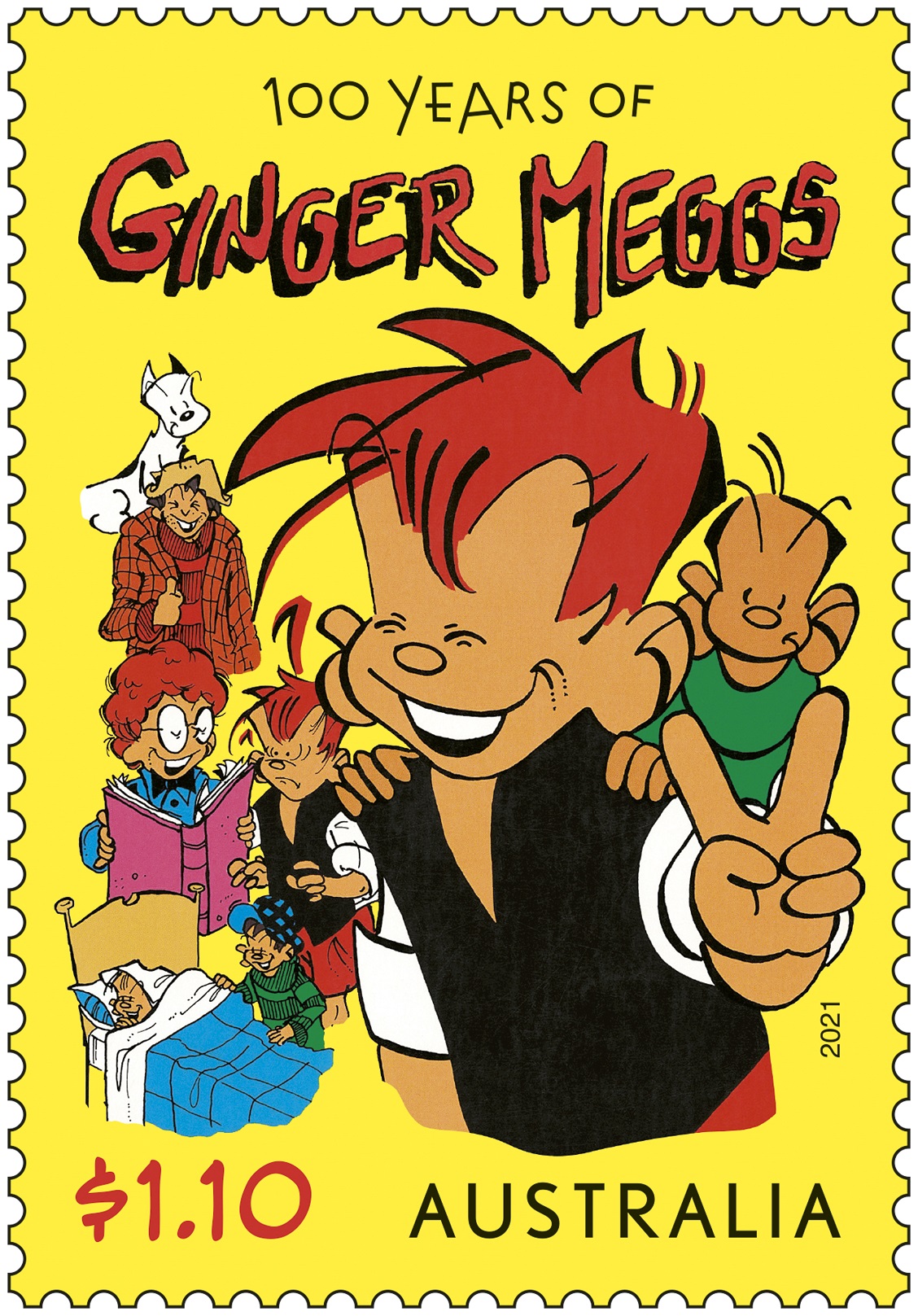 This stamp design features the work of James Kemsley as featured on the cover art of the 1989 kids' book Wake Up Ginger Meggs, which details the adventures of Ginger and his buddies Bennie and Chubb.
$1.10 Ginger Meggs at the fence
This design features the work of current "Ginger Meggs" artist Jason Chatfield and reproduces the key element of the cover artwork for the commemorative book, Bancks' Ginger Meggs, which is an illustrated collection of short stories written by Jimmy's great-great nephew Tristan Bancks.
The stamps and associated products, including a minisheet, stamp pack, first day cover, maxicard set and two stamp and coin covers, are on sale from today at participating Post Offices, via mail order on 1800 331 794, and online while stocks last.
For more information visit auspost.com.au/stamps or australiapostcollectables.com.au
First Wildlife Photographer Of The Year 2021 Images Revealed
Two Australians' images are among the Natural History Museum's Wildlife Photographer of the Year exhibition now in it's fifty-seventh year.
With a record-breaking number of entries from around the world, the judges of the fifty-seventh Wildlife Photographer of the Year have had the toughest job yet. The photographs are a compelling reminder of the importance of the variety and variability of life on Earth in securing the future of our planet, revealed just ahead of the first phase of the global UN conference of COP15 on biodiversity.
This year's Wildlife Photographer of the Year competition was the most competitive yet, attracting over 50,000 entries from photographers in 95 countries. Every entry was judged anonymously on its creativity, originality, and technical excellence by an international panel of industry experts.
The winning images, along with the two grand title winners, will be announced during a virtual awards ceremony, broadcast live from the Museum's famous Hintze Hall on the evening of Tuesday 12 October.
The Australian works are:
A Caring Hand (Douglas Gimesy)
An orphaned grey-headed flying fox rests at a wildlife shelter, after feeding on special formula milk.
Grey-headed flying foxes are endemic to eastern Australia where they play a key role in seed dispersal and pollination. The species is threatened by increasing heat-stress events as well as the destruction of their forest habitat and the encroachment of urban life.
Orphaned at just three weeks old, this pup will be weaned onto fruit at eight weeks and eventually flowering eucalyptus. After a few months, she will join a crèche and build up flight fitness, before being moved next to Melbourne's Yarra Bend bat colony for eventual release.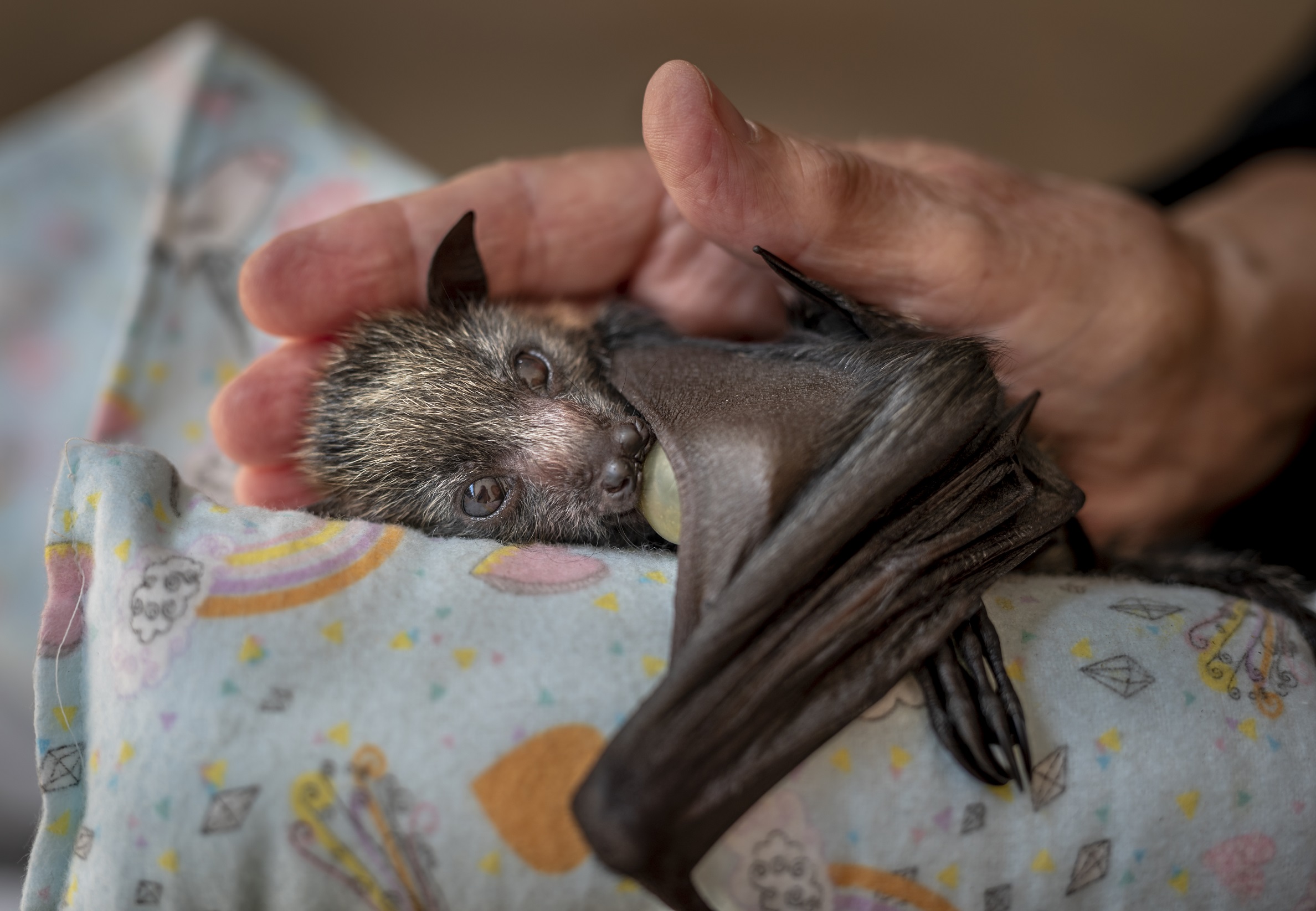 © Douglas Gimesy, Wildlife Photographer of the Year
Doug says ''I'm extremely honoured and humbled to share that my image 'A caring hand', has been awarded a Highly Commended in the Photojournalism category of this year's prestigious Wildlife Photographer of the Year (WPY) competition. ''
''My hope is the images and information I share, will inspire people to discover, value and protect the natural world. https://instagram.com/doug_gimesy''
Mushroom Magic (Juergen Freund)
A glowing ghost fungus blooms in hand-sized fruiting bodies from a dead tree in Queensland, Australia.
Mushroom Magic was Highly Commended in the 2021 Plants and Fungi category
Jurgen used a torch to explore the rainforest near his home, turning it off every few metres to search for the eerie glow of the ghost fungus.
Once he found it, Jurgen spent 90 minutes crouching on the damp, dark floor in order to photograph the fungus at different focal points. He eventually took eight five-minute exposures which he later merged to create one, sharp-focus image.
Scientists know that the ghost fungus makes light through a chemical reaction (luciferin oxidising in contact with the enzyme luciferase), however the reason why the fungus glows is a mystery. No spore‑dispersing insects seem to be attracted by the light, which is produced constantly and may just be a by-product of the fungi's metabolism.
Juergen says ''I am finally able to announce that my glowing fungi "Mushroom Magic" image is honoured Highly Commended in the PLANTS AND FUNGI category at this year's 57th Wildlife Photographer of the Year competition.
I vividly remember this full moon night when Stella and I photographed bright bioluminescent fungi in the middle of a tropical highland.''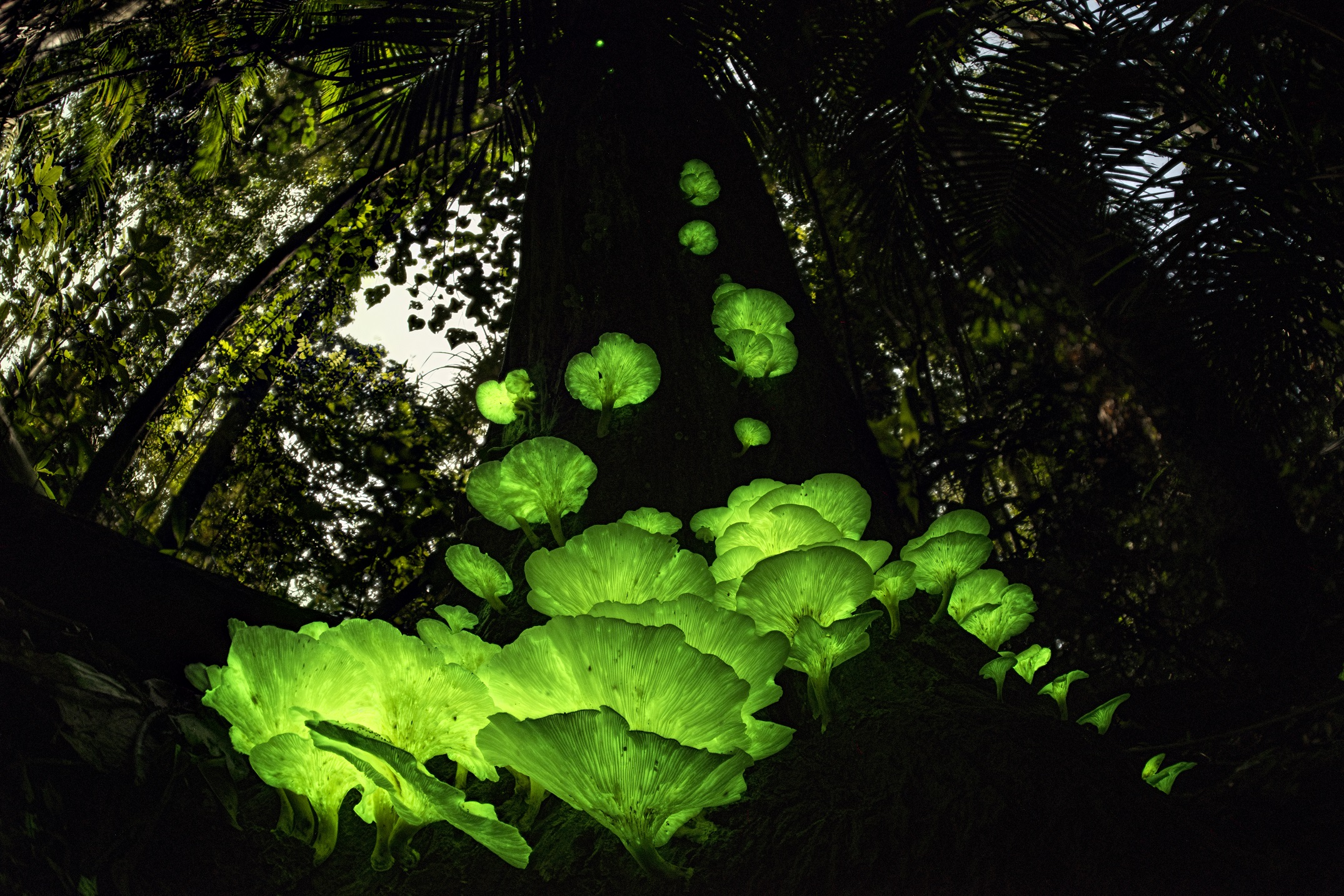 © Juergen Freund, Wildlife Photographer of the Year

From lynx making a comeback to a striking ecological disaster to Narwhal shrimp communicating at great depths; these are just some of the unique and fascinating images in a special selection of Highly Commended photographs that have been released ahead of the opening of the highly anticipated exhibition on Friday 15 October 2021, at the Natural History Museum in London.
Broadcast live from the Natural History Museum, the free event will once again be hosted by BBC presenters and wildlife experts Chris Packham and Megan McCubbin and feature photographers, Museum scientists and special guests.
Among the newly revealed Highly Commended images is Sergio Marijuán's young Iberian lynx framed in the doorway of an abandoned hayloft; a species that was once on the brink of extinction is now rising in numbers thanks to ongoing conservation efforts. Other images tell the story of nature under pressure, like the vibrant designs captured by Gheorghe Popa, which are the result of heavy metals from mining seeping into the river.
Chair of the judging panel, Roz Kidman Cox says, 'It was the overall quality of entries that took us by surprise. With most travel plans cancelled over the past year, photographers seem to have spent extra time considering what gems to submit. There are stand-out pictures of unforgettable scenes and encounters – those unique wild moments, skillfully framed, that result from knowledge, experience and planning – but also fresh, beautiful observations of nature close to home or in close-up. The result is a collection of both thought-provoking images and ones that, in these dark times, remind us of the joy and wonder to be had from nature.'
Dr Doug Gurr, Director of the Natural History Museum says, 'These extraordinary images showcase the rich diversity of life on Earth and spark curiosity and wonder. Telling the story of a planet under pressure, the Wildlife Photographer of the Year exhibition illuminates the urgent challenges we face and the collective action we need to take. This year's inspiring exhibition will move and empower audiences to advocate for the natural world.'
After the flagship exhibition is unveiled at the Natural History Museum, the 100 images will embark on a UK and international tour, bringing the emotive power of wildlife photography to millions of people, including those who live in Sydney.
Below run a selection from those early released highly commended images. Which is your favourite?
The Great Swim by Buddhilini de Soyza was Highly Commended in the 2021 Behaviour: Mammals category (leopards)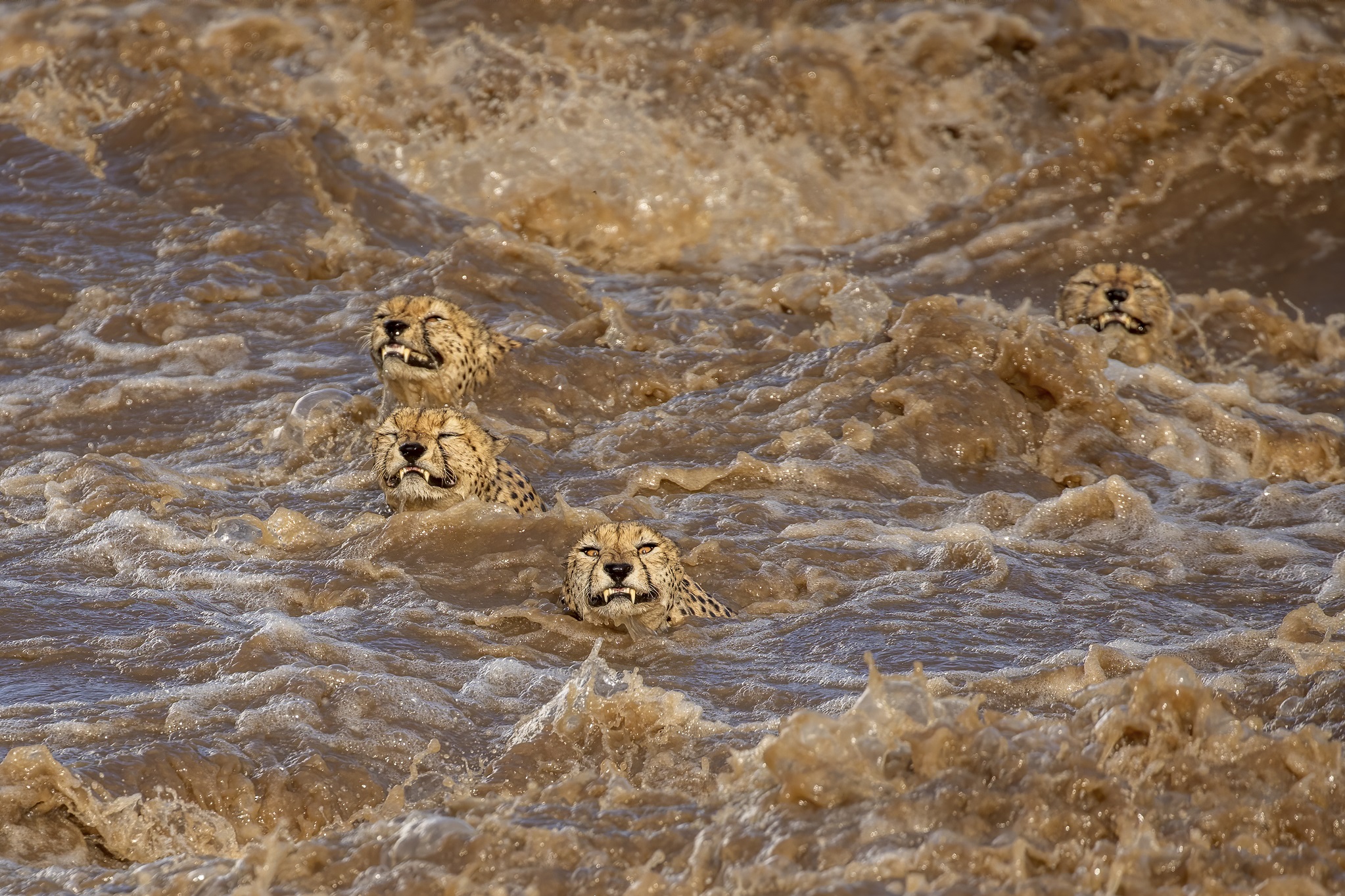 © Buddhilini de Soyza, Wildlife Photographer of the Year

Toxic Design (Gheorghe Popa)
Gheorghe was flying his drone over the Geamana Valley within Romania's Apuseni Mountains when he was struck by the unique colours and patterns of this small river.
Toxic Design was Highly Commended in the 2021 Natural Artistry category. While it may look beautiful, the unnatural colours are the result of toxic chemicals which flow downstream from the nearby Rosia Poieni mine which exploits one of the largest deposits of copper ore and gold in Europe.
The once picturesque valley has become a 'tailings pond' filled with an acidic cocktail, containing pyrite (fool's gold), iron and other heavy metals, laced with cyanide. These toxic materials have infiltrated the groundwater and threatened waterways more widely.
In the late 1970s, more than 400 families living in Geamana were forced to leave to make way for waste flowing in. Gheorghe hopes that his image will 'draw attention to the ecological disaster'.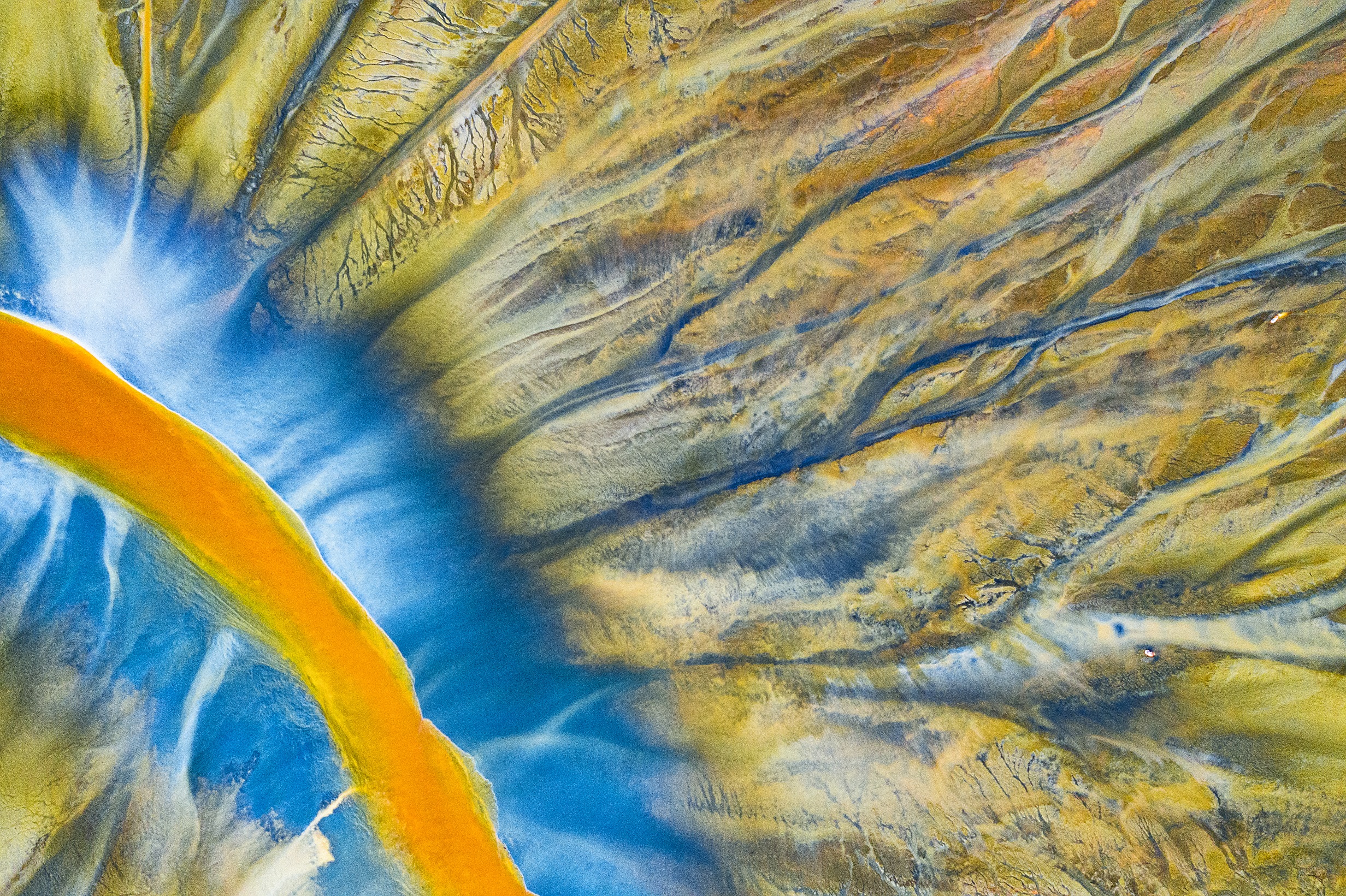 © Gheorghe Popa, Wildlife Photographer of the Year

Apollo Landing (Emelin Dupieux)
As dusk starts to fall, an Apollo butterfly settles on an oxeye daisy in the Haut-Jura Regional Nature Park on the French‑Swiss border.
Apollo Landing was Highly Commended in the 2021 11-14 Years category
The Apollo, a large mountain butterfly with a wingspan of up to 90 millimetres, has been affected by the warming climate and is now one of Europe's most threatened butterflies.
Emelin was on holiday when he found himself in an alpine meadow surrounded by butterflies. He had long dreamed of photographing an Apollo, so he set to work in the falling light to get his perfect shot.
Though slow flyers, the Apollos were constantly on the move and the gentle breeze meant the daisies were moving too.
After numerous adjustments of settings and focus, Emelin finally achieved his emblematic image: the whites standing out in stark contrast, and just daubs of colour from the yellow hearts of the daisies and the red eyespots of the Apollo.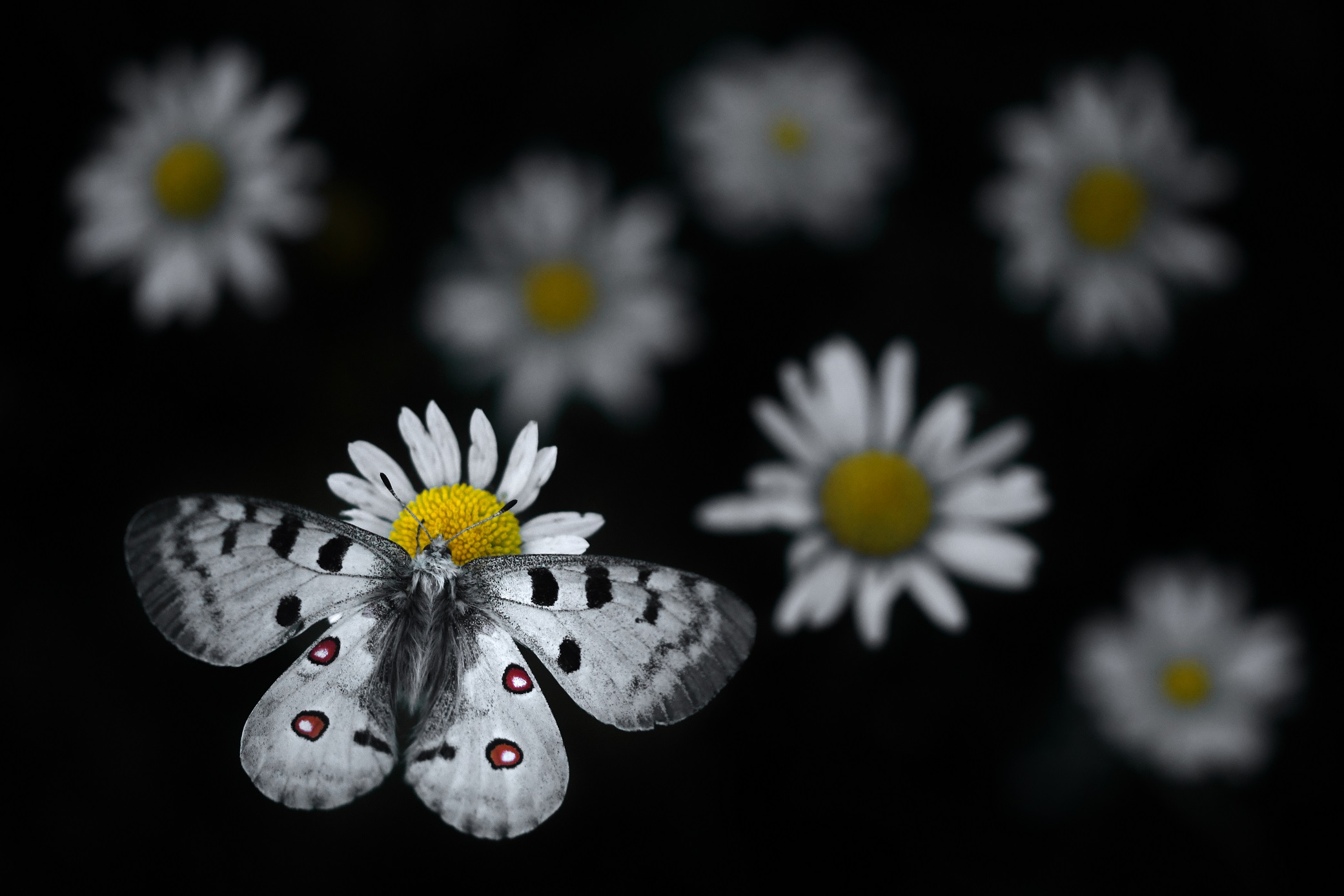 © Emelin Dupieux, Wildlife Photographer of the Year
Lockdown Chicks (Gagana Mendis Wickramasinghe)
10-year-old Gagana watched as three rose-ringed parakeet chicks emerged from their nest to greet their returning father.
Lockdown Chicks was Highly Commended in the 2021 10 Years and Under category
The family of parakeets had nested in a dead areca-nut palm in the backyard of Gagana's parents' home in Colombo, Sri Lanka. His parents had intentionally left the tree standing in the hopes of attracting wildlife. The tree proved to be an important source of entertainment as the island went into lockdown during the spring of 2020.
Gagana and his older brother spent hours experimenting with their cameras, sharing lenses and a tripod, in the hopes of getting a photo with the chicks showing themselves.
Also known as ring‑necked parakeets, these medium-sized parrots are native to Sri Lanka, India and Pakistan as well as parts of sub‑Saharan Africa, but feral populations are now found in many countries including the UK. Parakeets are a common sight in some urban settings, where they are known to breed in holes in brick walls.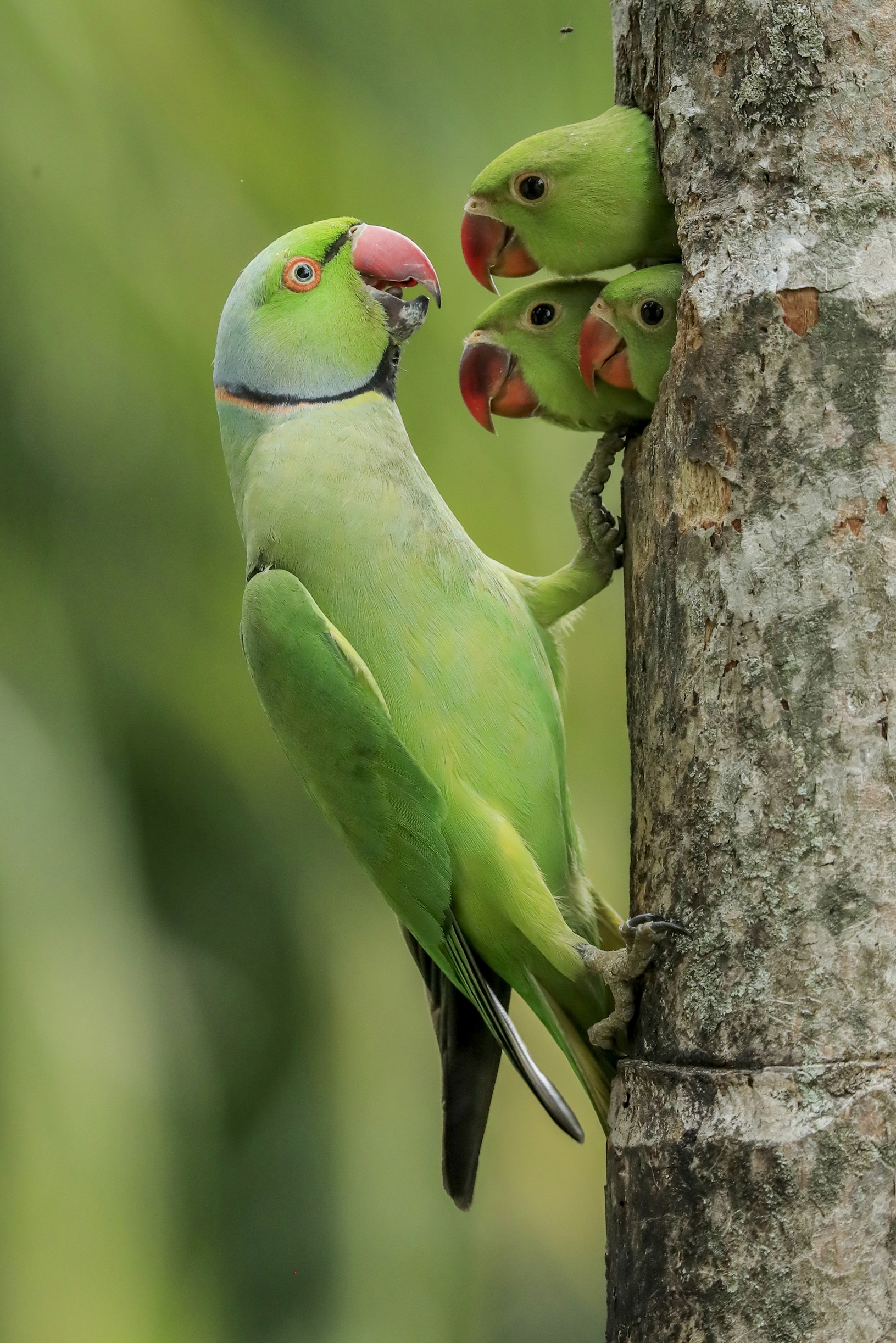 © Gagana Mendis Wickramasinghe, Wildlife Photographer of the Year
Deep Feelers (Laurent Ballesta)
In deep water off the French Mediterranean coast, a vibrant community of thousands of narwhal shrimps stay connected by their long outer antennae.
Deep Feelers was Highly Commended in the 2021 Underwater category
Laurent's photo shows each shrimp in touch with its neighbours via their antennae and suggests that, potentially, signals were being sent across a far‑reaching network. Research has shown that such contact is central to the shrimps' social behaviour, in pairing and competition.
Against the deep blue of the open water, floating among the feathery black coral - which is white when living - the translucent narwhal shrimps looked exceptionally beautiful with their red and white stripes, long orange legs and sweeping antennae.
These shrimps are fished commercially by bottom-trawling vessels which destroy the slow‑growing coral forests as well as the communities of shrimps that live among them.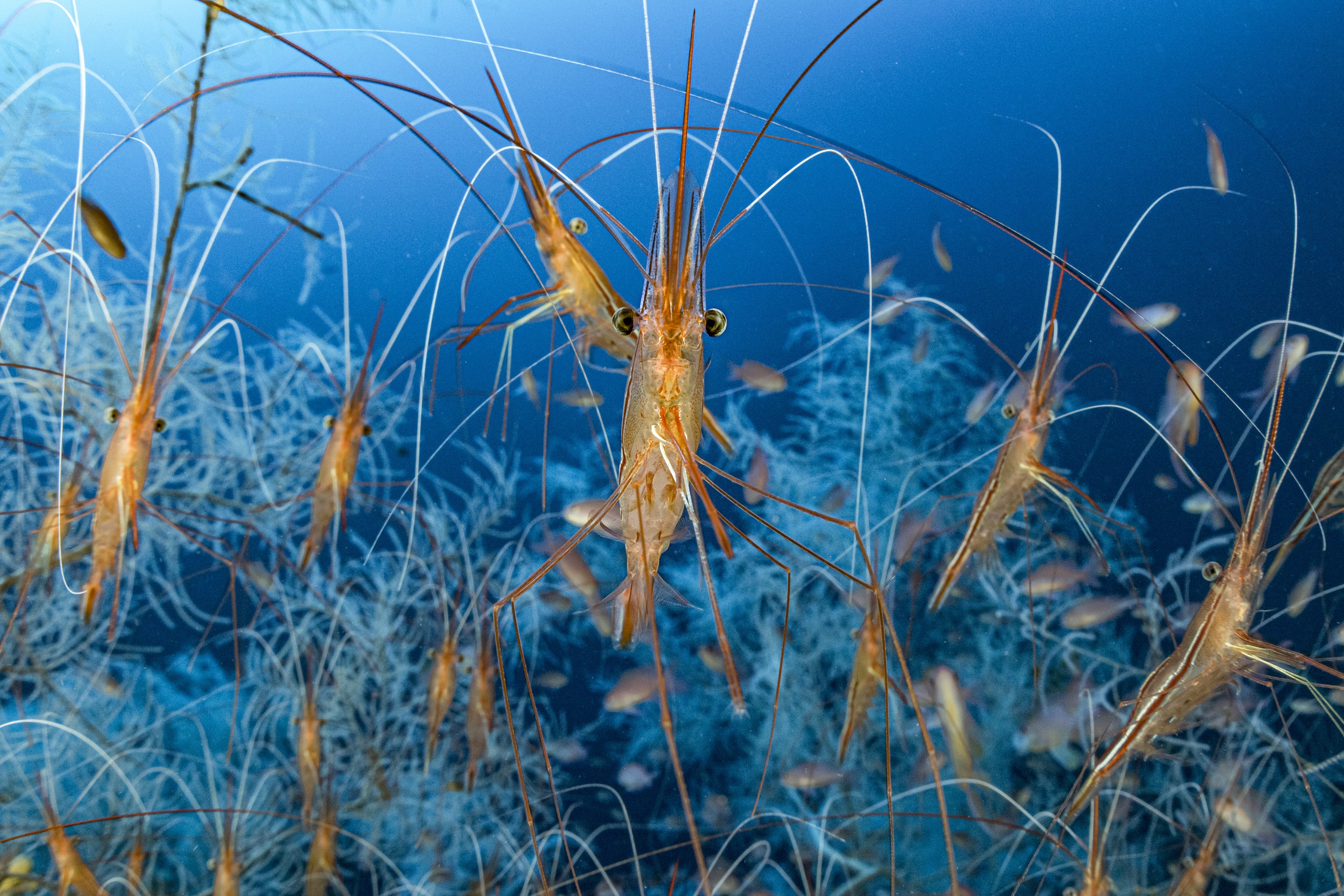 © Laurent Ballesta, Wildlife Photographer of the Year
Storm Fox (Jonny Armstrong)
A fox searches for salmon carcasses at the water's edge on a tiny island in Karluk Lake, Alaska.
Storm Fox was Highly Commended in the 2021 Animal Portraits category
As one of only two foxes on the tiny island, she was surprisingly bold. Jonny had followed this vixen over several days, watching her forage for berries, pounce after birds and playfully nip at the heels of a young brown bear.
Taking advantage of the dramatic light created by a storm rolling in, Jonny laid low on his chest, aiming for a low, wide angle.
Working with a manual flash, he preset the power for a soft spotlight - just enough to bring out the texture of her coat.
As the confident fox came closer, Jonny's companion and fellow researcher raised the diffused flash for him, piquing the curiosity of the fox.
When it looked up at the mysterious object Jonny got his atmospheric portrait which looks almost studio-shot, just in time before the storm rolled in and drenched the scene in rain.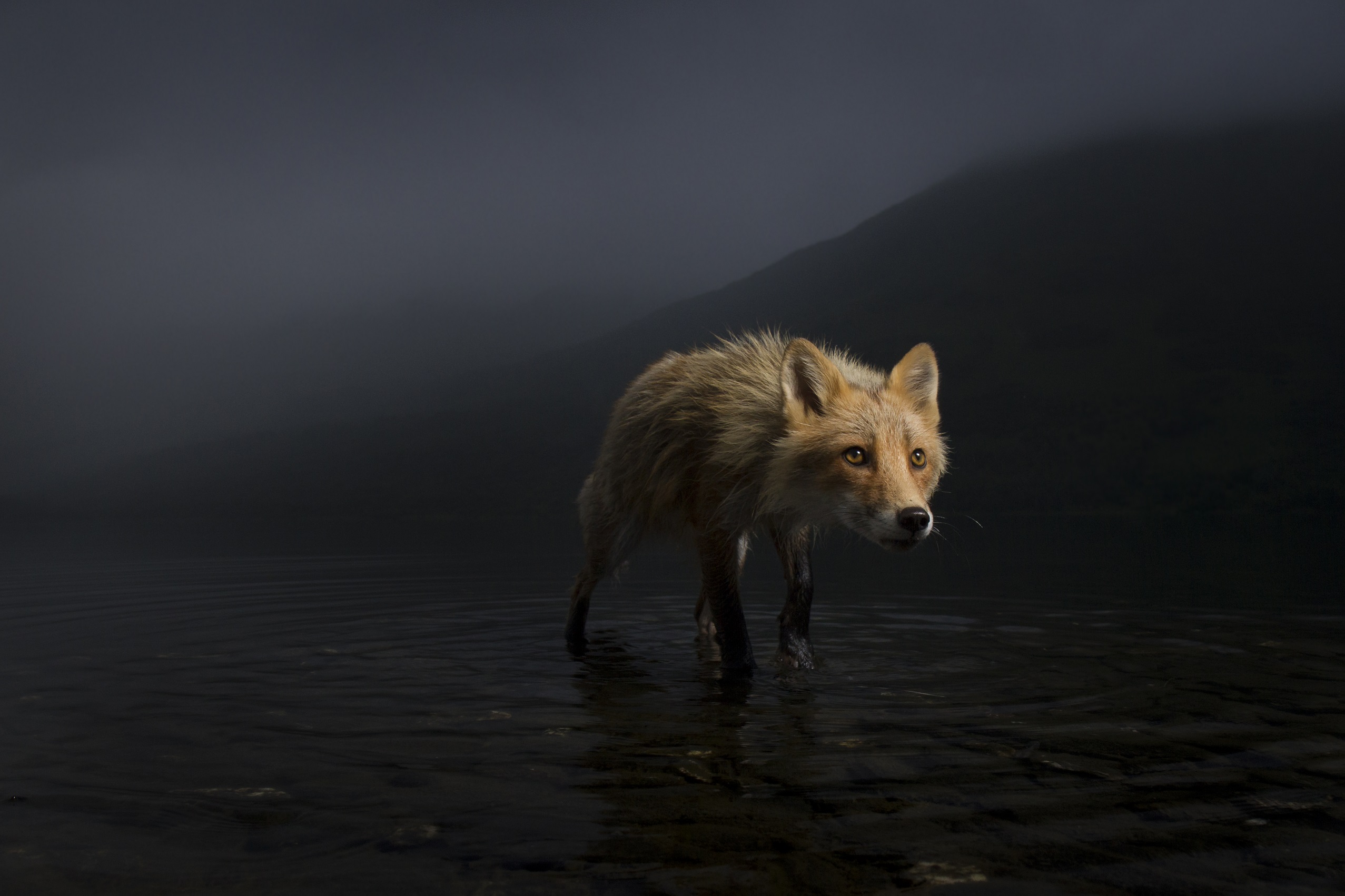 © Jonny Armstrong, Wildlife Photographer of the Year

Net Loss (Audun Rikardsen)
The devastating result of overfishing on our oceans. A mass of dead and dying herring cover the surface of the sea as far as the eye can see, just off the coast of Norway.
Net Loss was Highly Commended in the 2021 Oceans: The Bigger Picture category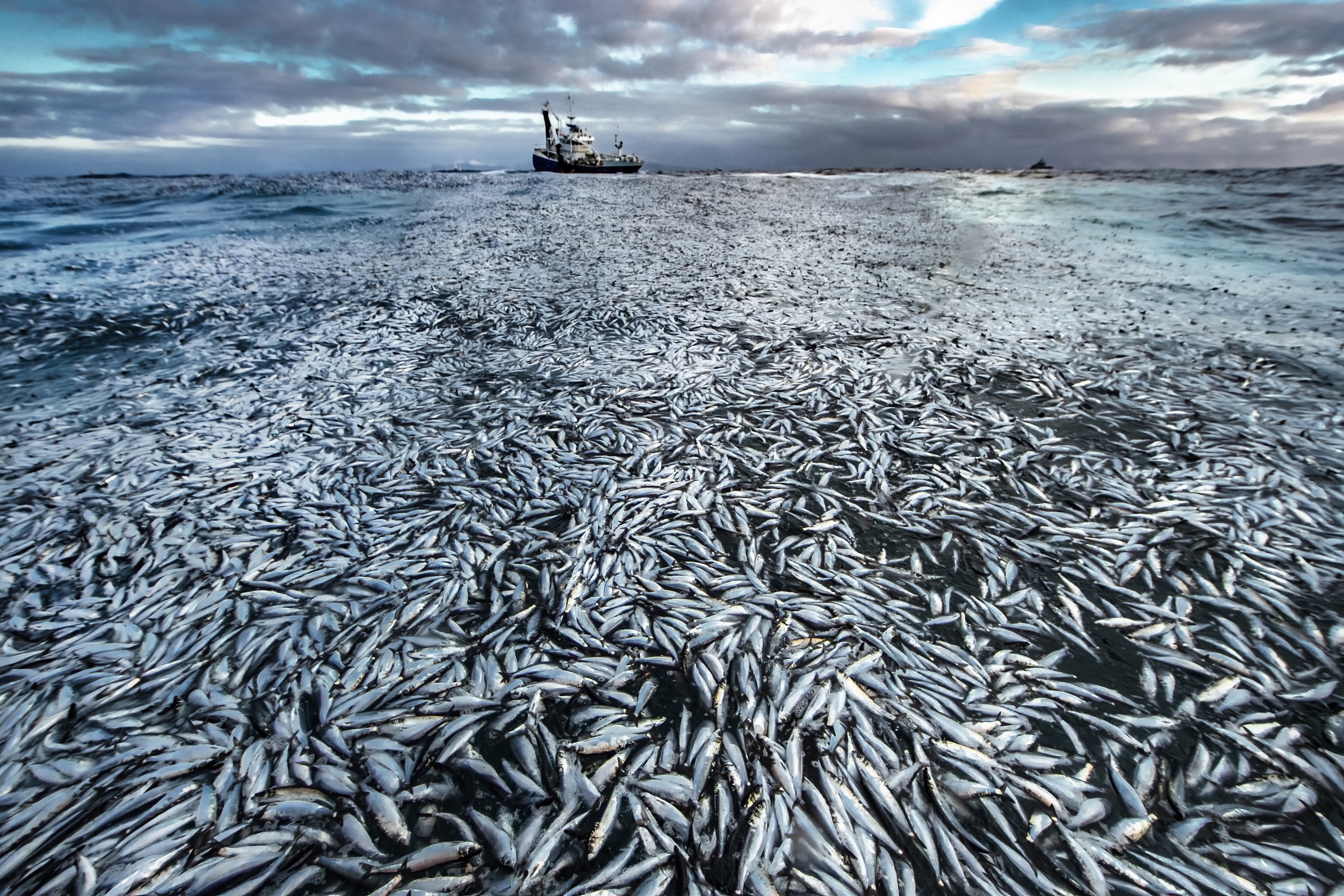 © Audun Rikardsen, Wildlife Photographer of the Year

From his position on board a Norwegian coastguard vessel, in the area to track killer whales, Audun was able to photograph the entire scene.
The boat had caught too many fish. When the net was winched up, it broke, releasing tonnes of crushed and suffocated animals back into the water. Audun's photos documented this crime against nature and were later used as evidence in a court case that resulted in a conviction and fine for the owner of the boat.
Overfishing poses a massive threat to our ocean ecosystems and according to the UN Food and Agriculture Organization, more than 60% of fisheries today are either fully fished or collapsed, and almost 30% are considered overfished.
Norwegian spring-spawning herring - part of the Atlantic herring population complex - was almost fished to extinction in the 1960s, in a classic example of how a combination of bad management, a lack of knowledge and greed can have a devastating and sometimes permanent effect on a whole ecosystem.
It took 20 years and a near‑ban on fishing for herring populations to recover. However, as Audun's picture shows, it is a recovery that needs continued monitoring.
Lynx on the Threshold (Sergio Marijuán)
Photographed through the doorway of an abandoned hayloft on a farm in eastern Sierra Morena, Spain, a young Iberian lynx pauses to survey its surroundings.
Lynx on the Threshold was Highly Commended in the 2021 Urban Wildlife category
The species was once widespread across the Iberian Peninsula of Spain and Portugal, but it declined following prolonged habitat loss, loss of prey and hunting and killing by farmers.
By 2002 there were fewer than 100 lynxes in Spain and none at all in Portugal.
Now, however, thanks to conservation practices, the Iberian lynx has escaped extinction and is fully protected across the region. Ongoing practices of rewilding, prey boosting and the creation of natural corridors and tunnels have helped numbers increase.
This individual is the latest in a family line to make use of the abandoned hayloft, where Sergio's carefully positioned camera-traps document family life.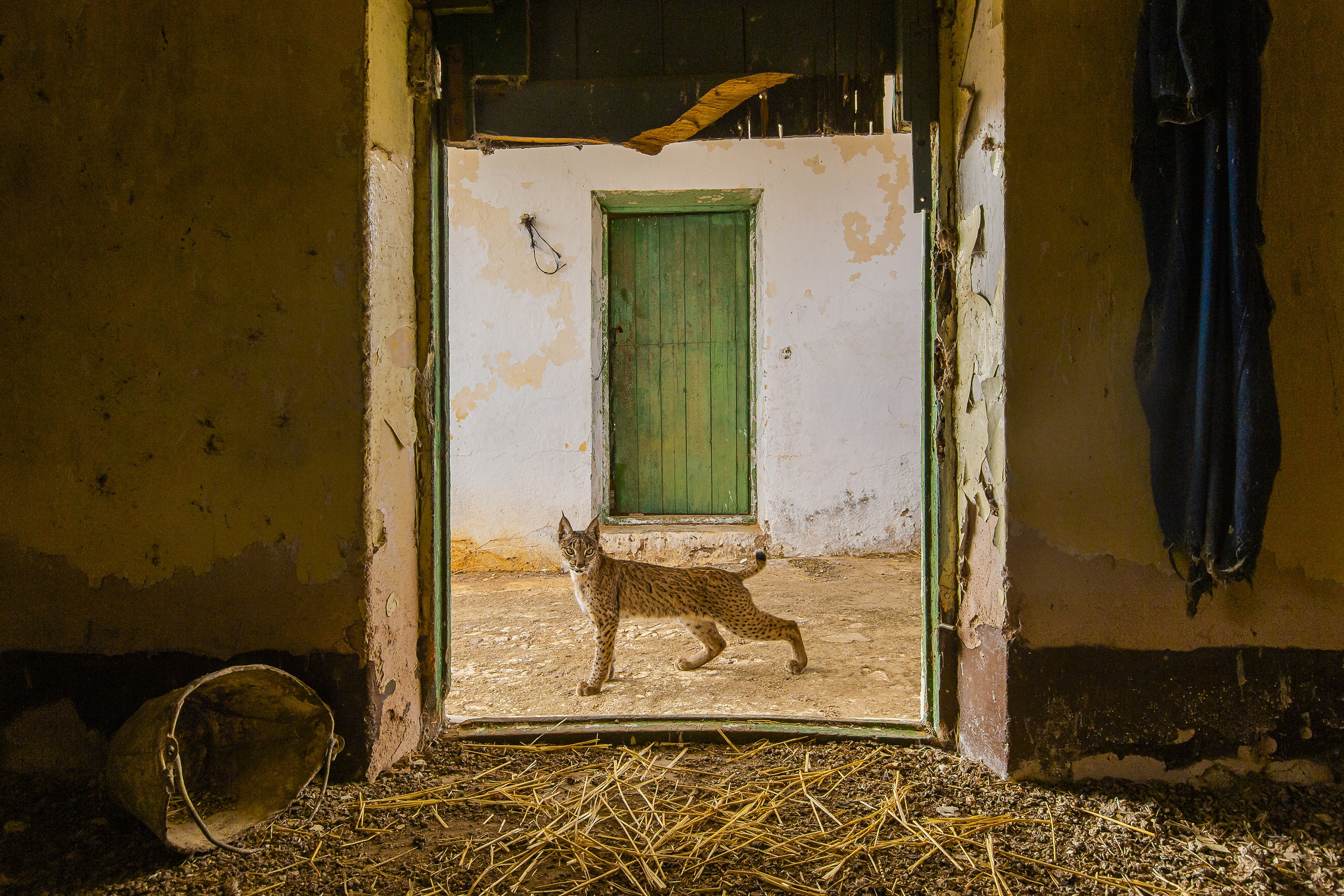 © Sergio Marijuán, Wildlife Photographer of the Year
Willoughby's Senior Volunteer Of The Year Award Goes To 92-Year-Old Resident
Willoughby resident and 92-year-old volunteer Kay Tang has been awarded Senior Volunteer of the Year at the North Shore regional ceremony of the 2021 Volunteer of the Year Awards.
For the last 24 years, Ms Tang has taught Japanese Folk Dance, Taiwanese Folk Dance and Flower Making at the MOSAIC Multicultural Centre in Chatswood. Although her classes are on hold due to lockdown, her undying passion and dedication to the community are phenomenal.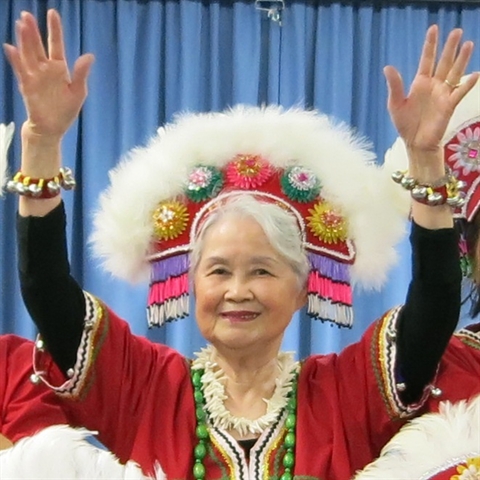 Through these community classes, Ms Tang provides stimulating cultural and educational activities for Willoughby City residents. As most of the students are first-generation migrants who are homesick, Ms Tang greatly assists their integration into the community while helping them to retain their cultural heritage at the same time.
Many of Ms Tang's students are also retirees or widows and they're often timid in the beginning but through her teaching, they soon become more confident. Their participation in a community group provides them with a sense of comradery and new meaning and purpose. As a result, their health and wellbeing are improved.
Ms Tang said, "I'm so pleased to have received this award. Thanks to our Mayor Gail Giles-Gidney who has given me encouragement at the ceremony. I received this award as a representative of the volunteer community at MOSIAC. I'm doing the same amount of work as every other volunteer and this award also belongs to all of the volunteers at MOSIAC."
For more than two decades, Ms Tang's folk dance groups have performed numerous times at Willoughby City Council events and cultural festivals. Their performances have become regular features at the City of Sydney's Matsuri Japanese Festival, Lane Cove Council's Lunar New Year Celebration and Wollongong's Nan Tian Temple. When Japanese and Taiwanese government delegates visit Willoughby, members of her traditional dance classes regularly perform for them.
Ms Tang works as an intermediary that brings a number of cultures together. She speaks English, Mandarin and Japanese. She culturally bridges the gap to connect community members and promote harmony. Ms Tang's outstanding volunteer work inspires other community members to become volunteers and make a contribution to society and Willoughby City Council.
Over the years, Ms Tang has received many awards including:
• International Year of Volunteers 2001 – presented by former Prime Minister of Australia John Howard
• Community Building Award 2007 – presented by former Willoughby City Council Mayor Patrick Reilly
• Volunteer of the Year Award 2017 – presented by Willoughby City Council Mayor Gail Giles-Gidney
• Highly Commended for the Arts and Culture Award of the NSW Premier's Harmony Medals - SBS Radio covered this recognition and it was broadcast to the Japanese and Chinese communities.
Can't See The Forest For The Trees
National Seniors Chief Advocate, Ian Henschke, questions whether tax minimisation schemes are the best way to address climate change.
I opened my local newspaper recently and realised the editor must have had their irony meter switched to 11. Directly opposite the Page 3 article about fires ravaging Greece and a report about the need to plant more trees to address global warming was a story about a forestry company wanting to torch 5 million tonnes of plantation timber on Kangaroo Island. This all coincided with the latest warnings from the Intergovernmental Panel on Climate Change. The burning question is how did this cluster of calamities come about?
To understand more, we need to go back to 1996. John Howard was newly elected as Prime Minister. During the 1997 UN climate conference in Kyoto, Australia said it was a special case and fought for a target for 2020 which was an 8% increase in our 1990 emissions. We also won what became known as the "Australia Clause" where we could offset our emissions by planting trees. Carbon credits became the new big thing.
Around this time, I went to Western Australia for Landline to film the millions of trees being planted by BP as part of their 'Beyond Petroleum' (BP) vision, where they used the carbon credits to offset their emissions.
All this post-Kyoto Protocol activity was built on the fact that trees soak up and store carbon dioxide – the greenhouse gas produced by burning coal, oil and gas.
Billions of dollars were invested, propped up by billions in tax concessions. Soon, plantations popped up all over the country, even on Kangaroo Island. The big attraction was the 'tax effective' side of the investment. The trouble is a boom industry based on a tax minimisation, rather than real profits, is bound to go bust.
When I filmed the vast expanse of newly planted bluegums on Kangaroo Island, I wondered – like the locals did – how they were going to be shipped to the mainland. They were also puzzled why a place known for bushfires caused by lightning strikes, and full of fire-loving plants had gotten involved in the eucalypt plantation industry. Skip forward to the fatal fires of January last year and we had the 'I told you so' moment.
I suspect some of you reading this will be already writing letters and emails saying the climate is always changing. That's probably why the fossil fuel lobby decided twenty-five years ago to start using the term climate change rather than global warming. But let's look at the facts. The burning of carbon-based fuels still supplies 85% of the world's energy.
In 1920, we pumped 3.5 billion tonnes of carbon dioxide into the atmosphere. Today, we pump ten times that amount every year. It sits above the Earth like an invisible blanket trapping the sun's warmth. So, is it surprising the average global temperature has gone up over the past century or that Italy just had a record high of 48.8 °C? Or that had we've had horrendous fires in quick succession in Europe and the USA – only a year after the ones we had here.
I worked on an ABC/BBC documentary in1999 called Emission Impossible which predicted the impacts of global warming – Google it and have a look, it's my 'I told you so' moment. I met Margaret Thatcher's Chief Adviser, Sir Crispin Tickell. He said he had no trouble convincing her to take action "because she understood the science." She had a chemistry degree from Oxford and was the first world leader to warn about climate change and push for a strategy to deal with it. She said we need "to make changes and sacrifices, so we do not live at the expense of future generations."
Sir Crispin – now 90, like his friend Sir David Attenborough, who is 95 – is another senior still fighting for a better future. Although he did tell me "I'm glad I'm in life's departure lounge not the arrival lounge, as I think the next generation is in for a very bumpy ride!"
A survey this year by National Seniors found 85 per cent of older Australians believe in climate change and three out of four of those want action, even if it increases living costs. Whoever wins the next election both at a state and federal level should take note. Perhaps create 'Better Future Bonds' so the billions in term deposits getting little or no interest could be invested usefully in renewable energy programs and tree planting.
Let's protect the trees we have left and recognise how much we need them – if only to keep cool in summer. Fight back against the planning laws that allow and almost encourage developers to cut them down. And remember the old proverb, 'the best time to plant a tree is twenty years ago' – just as long as it's not part of a tax minimisation scheme on Kangaroo Island!
National Seniors Healthy Earth, Healthier Future campaign
We have kicked off the campaign with a call to allow older Australians to invest in clean energy infrastructure.
Predicting Possible Alzheimer's With Nearly 100 Percent Accuracy
Researchers from Kaunas universities, Lithuania developed a deep learning-based method that can predict the possible onset of Alzheimer's disease from brain images with an accuracy of over 99 per cent. The method was developed while analysing functional MRI images obtained from 138 subjects and performed better in terms of accuracy, sensitivity and specificity than previously developed methods.
According to World Health Organisation, Alzheimer's disease is the most frequent cause of dementia, contributing to up to 70 per cent of dementia cases. Worldwide, approximately 24 million people are affected, and this number is expected to double every 20 years. Owing to societal ageing, the disease will become a costly public health burden in the years to come.
"Medical professionals all over the world attempt to raise awareness of an early Alzheimer's diagnosis, which provides the affected with a better chance of benefiting from treatment. This was one of the most important issues for choosing a topic for Modupe Odusami, a PhD student from Nigeria," says Rytis Maskeliūnas, a researcher at the Department of Multimedia Engineering, Faculty of Informatics, Kaunas University of Technology (KTU), Odusami's PhD supervisor.
Image processing delegated to the machine
One of the possible Alzheimer's first signs is mild cognitive impairment (MCI), which is the stage between the expected cognitive decline of normal ageing and dementia. Based on the previous research, functional magnetic resonance imaging (fMRI) can be used to identify the regions in the brain which can be associated with the onset of Alzheimer's disease, according to Maskeliūnas. The earliest stages of MCI often have almost no clear symptoms, but in quite a few cases can be detected by neuroimaging.
However, although theoretically possible, manual analysing of fMRI images attempting to identify the changes associated with Alzheimer's not only requires specific knowledge but is also time-consuming -- application of Deep learning and other AI methods can speed this up by a significant time margin. Finding MCI features does not necessarily mean the presence of illness, as it can also be a symptom of other related diseases, but it is more of an indicator and possible helper to steer toward an evaluation by a medical professional.
"Modern signal processing allows delegating the image processing to the machine, which can complete it faster and accurately enough. Of course, we don't dare to suggest that a medical professional should ever rely on any algorithm one-hundred-per cent. Think of a machine as a robot capable of doing the most tedious task of sorting the data and searching for features. In this scenario, after the computer algorithm selects potentially affected cases, the specialist can look into them more closely, and at the end, everybody benefits as the diagnosis and the treatment reaches the patient much faster," says Maskeliūnas, who supervised the team working on the model.
We need to make the most of data
The deep learning-based model was developed as a fruitful collaboration of leading Lithuanian researchers in the Artificial Intelligence sector, using a modification of well-known fine-tuned ResNet 18 (residual neural network) to classify functional MRI images obtained from 138 subjects. The images fell into six different categories: from healthy through the spectre of mild cognitive impairment (MCI) to Alzheimer's disease. In total, 51,443 and 27,310 images from The Alzheimer's Disease Neuroimaging Initiative fMRI dataset were selected for training and validation.
The model was able to effectively find the MCI features in the given dataset, achieving the best classification accuracy of 99.99%, 99.95%, and 99.95% for early MCI vs. AD, late MCI vs. AD, and MCI vs. early MCI, respectively.
"Although this was not the first attempt to diagnose the early onset of Alzheimer's from similar data, our main breakthrough is the accuracy of the algorithm. Obviously, such high numbers are not indicators of true real-life performance, but we're working with medical institutions to get more data," says Maskeliūnas.
According to him, the algorithm could be developed into software, which would analyse the collected data from vulnerable groups (those over 65, having a history of brain injury, high blood pressure, etc.) and notify the medical personnel about the anomalies related to the early onset of Alzheimer's.
"We need to make the most of data," says Maskeliūnas, "that's why our research group focuses on the European open science principle, so anyone can use our knowledge and develop it further. I believe that this principle contributes greatly to societal advancement."
The chief researcher, whose main area is focusing on the application of modern methods of artificial intelligence on signal processing and multimodal interfaces, says that the above-described model can be integrated into a more complex system, analysing several different parameters, for example, also monitoring eye movements' tracking, face reading, voice analysing, etc. Such technology could then be used for self-check and alert to seek professional advice if anything is causing concern.
"Technologies can make medicine more accessible and cheaper. Although they will never (or at least not soon) truly replace the medical professional, technologies can encourage seeking timely diagnosis and help," says Maskeliūnas.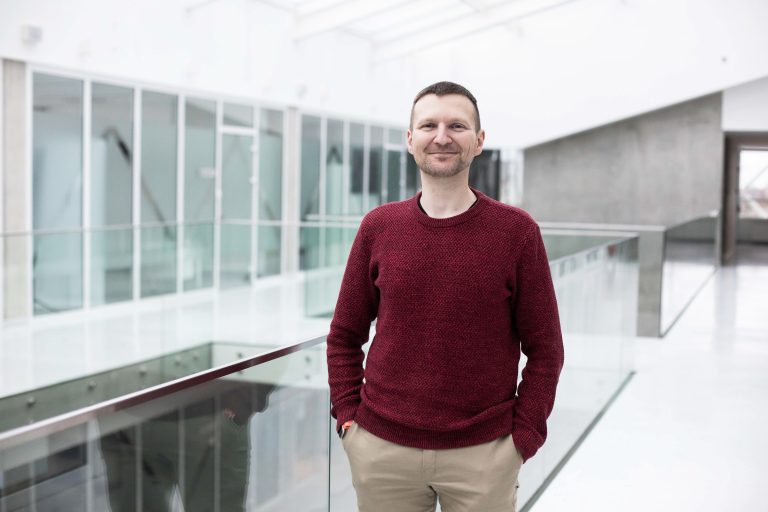 Prof Rytis Maskeliūnas, KTU Faculty of Informatics
Modupe Odusami, Rytis Maskeliūnas, Robertas Damaševičius, Tomas Krilavičius.
Analysis of Features of Alzheimer's Disease: Detection of Early Stage from Functional Brain Changes in Magnetic Resonance Images Using a Finetuned ResNet18 Network.
Diagnostics, 2021; 11 (6): 1071 DOI:
10.3390/diagnostics11061071
Study Identifies Ways To Reduce Hospitalisations For Older Australians
One in five South Australians will experience an unplanned hospitalisation or emergency department presentation within 90 days of undertaking an aged care assessment, according to new research by the University of South Australia and the South Australian Health and Medical Research Institute.
The large-scale study, which analysed the outcomes of 22,130 people who had an aged care eligibility assessment (ACAT), also found 25 predictors that identify older people most at risk of being hospitalised.
These risk factors include level of frailty, types of medications taken, and frequency of after-hours services use.
Lead researcher Professor Maria Inacio says the findings suggest that the ACAT, which 186,000 Australians undertake every year, is a promising period to implement programs targeted at reducing hospitalisation for older Australians.
"We can identify moderately well those most at risk of being hospitalised, meaning we can determine the older people who need the most follow up after their assessment," Prof Inacio says.
"If we provide targeted treatment or therapies during this time, we can not only provide better support to older people transitioning to care, but we could reduce overcrowding and ramping in our hospitals as well.
"We found 25 specific predictors of either hospitalisations or emergency department encounters, including recent history of high use of after-hours services, prior hospitalisation, and certain medications."
In 2018 in Australia, older people accounted for 16 per cent of the population and 42 per cent of the hospitalisations and 49 per cent of the days spent in hospital.
Prof Inacio, who oversees the national database Registry of Senior Australians, says reducing the amount of time older people spend in hospitals is better for everyone, and the study offers practical recommendations to help this happen.
"Our findings can help ensure older people have the best care, and their families, clinicians, and aged care providers are informed on how to best care for them," she says.
"Older people are usually on a lot of medication, for example. We found that after a certain number of medications they are at a higher risk of unplanned hospitalisations.
"Optimised medication management is one potential area that could be implemented through existing programs such as home medicine reviews. This is a Medicare-subsidised program for older people living in the community, yet it is not used as often as it should be.
"Frailty is also a significant predictor of hospitalisations, and this is another factor we could address following an ACAT assessment.
"If we invest in services and care that can help reduce frailty – things like encouraging physical exercise if possible, or comprehensive management with geriatric specialists and appropriate allied health professionals – we could improve older people's quality of life and reduce the impact on our hospitals at the same time."
The research paper 'Predictors of short-term hospitalisation and emergency department presentations in aged care' was published in the Journal of the American Geriatrics Society in June.
The study is part of the wider State Action on Avoidable Rehospitalisations and Unplanned Admissions in South Australia (STAAR-SA) project led by Professor Maria Crotty (Flinders University), Professor Gillian Harvey (Flinders University), and Prof Inacio (SAHMRI/UniSA). The project involves collaboration with SA Health, all state local health networks, and several stakeholders from both the health care and aged care sectors.
This study was funded by the National Health and Medical Research Council accredited Health Translation SA, through the Medical Research Future Fund Rapid Applied Research Translation Program.
Five Exercises To Stay Fit During Lockdown
Dr Mandy Hagstrom, an exercise physiologist at the School of Medical Sciences, UNSW takes you through five exercises you can do at home without needing any gym equipment.
Dementia Action Week
20 – 26 September 2021
Dementia impacts close to half a million Australians and almost 1.6 million Australians are involved in their care. The number of people living with dementia is set to double in the next 25 years.
With so many people impacted now and into the future, it is vital we clear up some of the prevailing misconceptions about dementia.
People living with dementia can live active and fulfilling lives many years after diagnosis. Despite this, they often experience discrimination. In a recent Dementia Australia survey, more than 70 per cent of people believed discrimination towards people with dementia is common or very common.
During Dementia Action Week 2021, Dementia Australia is providing simple and practical tips to:
Give a little support to a person living with dementia.
Give a little support to a carer, friend or family member of a person living with dementia.
Help healthcare professionals make their practice more dementia-friendly.
The concept for Dementia Action Week was developed in consultation with Dementia Advocates, who have a lived experience of dementia.
The 'A little support makes a big difference' campaign demonstrates that many people living with dementia can continue to live well for many years after their diagnosis. This year, the focus will also be on supporting and celebrating carers of people living with dementia.
Community organisations, partners and supporters, we encourage you to
register your interest
to receive further information about Dementia Action Week 2021.
Faster Horses Consulting's Inside Aged Care 2021 Report
Less than a third of respondents believe that staff are well trained (29 per cent), which is also a two-year low, according to Faster Horses Consulting's Inside Aged Care 2021 report.
The fourth iteration of the report, which was released last week, is based on data collected from more than 2,300 Australians in May and June 2021 about their attitudes and perceptions of the aged care industry.
It found that less than one in five people have a high level of trust in aged care (19 per cent), down from 22 per cent in 2020 and 2019 respectively.
Faster Horses director of social and government James Wunsch said the royal commission's final report and the impact of COVID-19 eroded trust in the sector.
Inside Aged Care 2021 tracks national perceptions of the aged care industry. Timing of the reports is as follows:
2018 – Pre Royal Commission
2019 – During Royal Commission
2020 – COVID-19
2021 – Post Royal Commission & ongoing COVID-19 challenges
The data highlights movement in public sentiment across these vitally important time periods.
The report covers a wide range of subjects that can be used by multiple audiences to build policy, guide investments and prioritise targeting approaches.
You will learn about:
The Australian public's views of the aged care industry, including (but not limited to) levels of trust, perceptions of openness and transparency, adequacy of funding and care levels
How well the industry performs across the Age Care Quality Standards
Demand for different types of care provided by the industry
Triggers to actively pursuing the care required
Emotional reaction to the potential need for aged care services
The perspectives of both family members and those receiving care of the industry and the service they receive
Brand performance nationally across spontaneous and prompted awareness, and provider consideration and imagery
Choice drivers motivating provider selection
Views on workforce challenges and key drivers of workforce shortages in the sector
Community views on the extent to which uptake of technology can drive improve the quality of age care provision
2021 Australian Museum Eureka Prizes Finalists
51 entries were shortlisted for 16 Australian Museum Eureka Prizes.
NSW Environment, Energy And Science (DPIE) Eureka Prize For Applied Environmental Research
Coral Nurture Program; University of Technology Sydney and Wavelength Reef Cruises
In a world-first, scientists are partnering with local tourism operators to implement a coral restoration project that is reaping benefits for the Great Barrier Reef and communities that rely on it. Since 2018, the Coral Nurture Program has undertaken widespread coral planting to boost the health of local reef sites and introduced a new industry model for stewardship.
FutureFeed; CSIRO; James Cook University; and Meat and Livestock Australia
Ruminants, such as cattle and sheep, are responsible for a large proportion of agricultural greenhouse gas emissions in the form of methane. A natural feed ingredient made from seaweed, FutureFeed, is significantly reducing methane contributions from red meat and dairy livestock while simultaneously increasing sector productivity, offering a solution to two major global challenges: climate change and hunger.
NSW Bushfire Hub; University of Wollongong; Western Sydney University; University of Tasmania; and UNSW
The NSW Bushfire Hub, a consortium of four research groups, undertook extensive research into the devastating Black Summer bushfires. Their findings addressed major knowledge gaps relating to droughts, fuel dynamics, and the social and environmental impacts of the fires — directly influencing many of the NSW Bushfire Inquiry recommendations and setting the future direction for fire management.
Eureka Prize For Excellence In Interdisciplinary Scientific Research
Lindell Bromham, Felicity Meakins, Xia Hua and Cassandra Algy; Australian National University; University of Queensland; and Karungkarni Art and Culture Aboriginal Corporation
Bringing together an Indigenous community member, linguist, mathematician and biologist, this team is studying Gurindji, an Indigenous language of northern Australia. Their research is developing new ways to understand the processes of language change and factors that help keep Indigenous languages strong and vibrant.
The Carbon Cybernetics Group; University of Melbourne; St Vincent's Hospital; National Vision Research Institute; Carbon Cybernetics; and RMIT University
The Carbon Cybernetics Group is dedicated to finding a functional cure for epilepsy. Using the unique properties of diamond and carbon fibres, the team is developing a miniaturised neural implant capable of predicting and stopping seizures — world-first technology that is giving real hope to people living with epilepsy.
Early in the COVID-19 pandemic, this multidisciplinary team of medical experts, engineers and scientists disproved long-held ideology on droplet transmission. They have successfully visualised aerosol flow, demonstrating greater variability in human respiratory aerosol dynamics than previously understood and laying the groundwork for development of high-performing cloth masks.
Australian Infectious Diseases Research Centre Eureka Prize For Infectious Diseases Research
Professor Julie Bines; Murdoch Children's Research Institute and University of Melbourne
Rotavirus is a major cause of death among children and despite evidence of vaccine effectiveness, significant barriers to access remain. Professor Julie Bines is leading the development of RV3-BB, a safe, effective and affordable newborn rotavirus vaccine that will prevent rotavirus gastroenteritis from birth, potentially saving thousands of lives.
Doherty COVID Immunity Group; University of Melbourne and Royal Melbourne Hospital, Doherty Institute
First to report on immune responses to COVID-19, the Doherty COVID Immunity Group is at the forefront of coronavirus pandemic research. Using biological samples collected by rapid detection platform SETREP-ID, their work has accelerated global immune research and underpinned further study on immune dysfunction in severe cases of COVID-19.
World Mosquito Program Impact Assessment Team; Monash University
Dengue is a major public health problem in tropical regions that conventional approaches to reducing mosquito populations have been unable to control. The World Mosquito Program Impact Assessment team has led epidemiological field trials that demonstrate the efficacy of a sustainable method for controlling dengue by releasing mosquitoes infected with the insect bacterium Wolbachia.
ANSTO Eureka Prize for Innovative Use of Technology
Professor Justin Gooding, Professor Maria Kavallaris AM, Dr Julio Ribeiro, Dr Aidan O'Mahony, Dr Robert Utama and Dr Lakmali Atapattu; UNSW; Australian Centre for NanoMedicine; Children's Cancer Institute; and Inventia Life Science Pty Ltd
While 3D cell culturing offers vastly enhanced models of cell structures than 2D methods, it remains slow and expensive. This team has developed a breakthrough bioprinting system that can rapidly produce 3D cell structures with unprecedented cell viability and tunability — a game-changer for cancer research and therapeutic development.
Membrane Team; Monash University; RMIT University; University of Texas and CSIRO
Global demand for lithium has increased dramatically over the past decade, but current extraction methods are time-consuming and require large amounts of harmful chemicals. The Membrane Team has developed a controlled filtration technology that can separate lithium from other unwanted impurities with remarkable precision, heralding a new era in sustainable battery production.
Team Chimera; University of Queensland; Monash University; and QIMR Berghofer Medical Research Institute
Mosquito-borne flavivirus infections are a significant global health challenge, with dengue alone causing 400 million infections per year. Team Chimera discovered that a benign virus infecting Australian mosquitoes holds the key to accelerating viral research and paving the way to designing new vaccines, diagnostic approaches and antiviral drugs.
Macquarie University Eureka Prize For Outstanding Early Career Researcher
Dr Emma Camp; University of Technology Sydney
Dr Emma Camp's discovery of corals thriving in extreme conditions is informing new adaptive management solutions in both Australia and abroad. Together with government and nature conservation agencies, she is developing improved management strategies for coral reefs worldwide, while using her work as a platform to advocate for action on climate change.
Associate Professor Rona Chandrawati; UNSW
Associate Professor Rona Chandrawati is a prominent researcher in colourimetric polymer sensor technology and a rising leader in the field of nanozyme development for drug delivery. Her innovative research has already found widespread application in areas including food safety, disease diagnosis and the treatment of glaucoma.
Dr Tess Reynolds; University of Sydney
As high-quality imaging becomes increasingly commonplace in medical diagnosis and treatment, so does the demand for minimally invasive procedures. Dr Tess Reynolds has developed ACROBEAT, a new technology that enables imaging and treatment hardware to operate in sync with the patient, delivering clearer, faster and safer medical images.
Defence Science And Technology Eureka Prize For Outstanding Science In Safeguarding Australia
Cross Domain Desktop Compositor; University of Melbourne; Defence Science and Technology Group; UNSW; and CSIRO's Data61
Simple, secure and trustworthy: easy to say, but often difficult to achieve. By combining a world-class secure operating system with novel hardware architecture, the Cross Domain Desktop Compositor team has defied the trend of increasing complexity in computing technologies to enable a new method for keeping sensitive information secure from internet attacks.
FOWI Work Systems Design Team; Curtin University
While the future Attack Class Submarines promise to deliver enhanced endurance and expanded capabilities, the design and build of these vessels involves significant technical, human and social challenges. Research undertaken by the FOWI Work Systems Design Team is driving the development of new systems that will optimise crew endurance, supporting future submariners to perform at high standards.
Strong Bond; Western Sydney University; and Defence Science and Technology Group
Using innovative nanotechnology, the Strong Bond team has developed a high-performance nanocomposite adhesive that has significant implications for national security capabilities. This durable material enables rapid patch repairs of military infrastructure and can also improve the resilience of structural joints and laminated composites used in a range of defence platforms.
UNSW Eureka Prize For Scientific Research
Professor Anita Ho-Baillie, Dr Martin Bucknall and Dr Lei Shi:University of Sydney and UNSW
Solar cells are traditionally made of silicon, but metal halide perovskites are emerging as the new class of solar material. Inexpensive, efficient and versatile, they are also prone to damage from heat and humidity — a limitation that has been successfully addressed by Professor Anita Ho-Baillie and her team. Their game-changing research represents an important step towards commercial viability of perovskite solar cells.
Associate Professor Diane McDougald and Dr Gustavo Espinoza Vergara; University of Technology Sydney
Associate Professor Diane McDougald and Dr Gustavo Espinoza-Vergara discovered that the bacterium responsible for cholera, Vibrio cholerae, becomes more virulent when passaging through a previously unknown vector. Their finding reveals where pathogenic bacteria hide before causing infectious disease outbreaks, which will have wide-ranging impacts on the development of control strategies.
Professor Justin J. Yerbury AM: University of Wollongong
Motor neuron disease (MND) was discovered more than a century ago, yet there is still no effective treatment. Research led by Professor Justin J. Yerbury has demonstrated that protein deposits found in motor neurons, the pathological hallmark of MND, result from dysfunction in a process known as protein homeostasis. This is a breakthrough discovery that is informing the search for new therapies.
Leadership
AstraZeneca Eureka Prize For Emerging Leader In Science
Associate Professor Kristin Carson-Chahhoud,
University of South Australia
Driven by her commitment to lung health and vision for a smoke-free Australia, Associate Professor Kristin Carson-Chahhoud is using innovative augmented reality technology to disrupt health communication. Her mentorship, advocacy and research leadership has led to high-impact public health outcomes in both respiratory medicine and tobacco control and sustained benefits for the broader community.
Associate Professor Brett Hallam, UNSW
Associate Professor Brett Hallam has established himself as an international leader in the field of photovoltaics. He supervises and mentors a growing, world-class research team to improve solar panel technologies, with the global solar energy sector experiencing the effects of his leadership and commitment.
Jane Tiller, Monash University
While genetic testing can effectively identify future disease risks, genetic discrimination by life insurers deters many at-risk Australians from pursuing clinical testing and critical genomic research. Jane Tiller's passionate pursuit for change has influenced meaningful and lasting policy decisions, shifting the direction of consumer protections against genetic discrimination in life insurance.
Eureka Prize For Leadership In Innovation And Science
Dr Dana M. Bergstrom, Australian Antarctic Division and University of Wollongong
For decades, Dr Dana M. Bergstrom has championed evidence-based science in biodiversity, biosecurity and the impacts of climate change. Skilled at science translation and distilling complexity, she has led the exploration of ecosystem collapse from Australia's tropics to Antarctica, delivering innovative options for modern conservation.
Professor Maria Kavallaris AM, UNSW and Children's Cancer Institute
Internationally renowned as an authority in cancer biology research and therapeutics, Professor Maria Kavallaris is a champion for childhood cancer. An innovator, advocate and powerful role model for young women in STEM, she has created an enduring legacy of excellence in both research and shaping the next generation of cancer research leaders.
Professor Sharon Robinson, University of Wollongong
A global leader in Antarctic environmental science, Professor Sharon Robinson is renowned for her pioneering research into the impacts of climate change on Antarctic ecosystems. She is committed to informing better environmental protection through policy change and public engagement, and championing interdisciplinary research, gender equity and inclusivity to create a supportive environment for all to thrive.
University Of Technology Sydney Eureka Prize For Outstanding Mentor Of Young Researchers
Professor Sara Dolnicar, University of Queensland
Witnessing the immense pressure young researchers face in today's academia, Professor Sara Dolnicar has made it her mission to support them in becoming masters of their trade. Through a series of successful programs, she is equipping her mentees with the academic and life skills required to build successful careers as independent scientists and pioneers of change.
Professor Karu Esselle, University of Technology Sydney
Professor Karu Esselle is passionate about nurturing young researchers, empowering them to think freely and critically, and supporting their integration into the wider scientific community. Driven by a desire to develop confident, skilled and workforce-ready graduates, he has implemented a range of programs and policies that facilitate their broader growth.
Dr Melina Georgousakis, Franklin Women
Dr Melina Georgousakis is committed to developing the next generation of Australia's researchers and ensuring that women are equally represented among them. Through the establishment of Franklin Women, she is providing the infrastructure for a sector-first mentoring program, delivering events and building a community to foster the establishment of new mentoring relationships.
Science Engagement
Department Of Industry, Science, Energy And Resources Eureka Prize For Innovation In Citizen Science
AUSMAP; Total Environment Centre and Macquarie University
The Australian Microplastic Assessment Project (AUSMAP) is a world-first, national citizen science program that empowers people of all ages to document microplastic pollution. An immersive experience, participants are educated on the prevalence of microplastics around our waterways and trained to collect scientifically valid data that is used to design effective mitigation strategies for plastic pollution.
EchidnaCSI Team; University of Adelaide; and Pelican Lagoon Research and Wildlife Centre
Echidnas are one of Australia's most iconic species, yet fundamental questions about their biology and ecology remain unanswered. The Echidna Conservation Science Initiative (EchidnaCSI) combines innovative community-based research with molecular and ecological approaches. The project has generated unprecedented data and samples at a national level, providing new insights into echidna biology and conservation.
Schools Weather and Air Quality (SWAQ) is the first school-based, comprehensive atmospheric monitoring network in Australia. With research-grade sensors deployed across schools in metropolitan Sydney, it provides real-time, publicly accessible, local meteorology and air quality data that can be used in science and maths curriculum-aligned classroom activities.
Finkel Foundation Eureka Prize For Long-Form Science Journalism
Kate Cole-Adams
Dr Dyani Lewis
Dr Jackson Ryan
Celestino Eureka Prize For Promoting Understanding Of Science
Dr Niraj Lal
Professor Veena Sahajwalla
Associate Professor Adriana Vergés
Australian Museum Eureka Prize For Science Journalism
Nicole Hasham, Wes Mountain, Anthea Batsakis, Sunanda Creagh, Ben Clark and Michael Lund
Patient Zero
Dr Jackson Ryan
Department Of Industry, Science, Energy And Resources Eureka Prize For STEM Inclusion
Little Scientists Australia
STEM Enrichment Academy
Corey Tutt and Team DeadlyScience
School Science
University Of Sydney Sleek Geeks Science Eureka Prize - Primary
Leon H. St Andrew's Cathedral School, NSW

- A self-proclaimed car enthusiast, Leon was fascinated by how his tiny toy cars defied gravity and travelled upside down around a loop track without falling to the floor. In Tour de Force, he uses a delightful combination of demonstrations, illustration and performance to examine the role of centripetal force in this natural phenomenon.

Zara M. PLC Sydney, NSW

- Big Problem: Coral Bleaching is an entertaining investigation into one of the most widespread issues affecting coral reefs. Inspired by her passion for the ocean, Zara sets out to educate viewers on some of the main causes of coral bleaching, the scientific process behind it and ways that everyone can work together to help minimise the issue.

Scarlett O. and Scarlett P. Oak Flats Public School, NSW

- If a super volcano erupted, the impacts would be widespread and catastrophic. In their film Super Volcanoes, Scarlett and Scarlett demonstrate the science behind these high magnitude eruptions and explain how they could be used as a source of power, providing green energy for future generations.
University Of Sydney Sleek Geeks Science Eureka Prize - Secondary
Jonathan D. Townsville Grammar School, Qld

- In Rewilding Earth, Jonathan discusses the implications of climate change and investigates how enhancing biodiversity could help address this pressing issue. Through a series of interviews, he shares community concerns about the future of climate change then draws on research to explain the process of rewilding.

Isaac N., Ethan P., Reuben R. and Alex S. Willetton Senior High School, WA

- The square-cube law states that as an object increases in size, its mass grows at a faster rate than its surface area. After considering whether it would be possible for Godzilla to exist, Isaac, Ethan, Reuben and Alex apply this principle to explore how large an animal could realistically get. Their film Square-Cube Law is a comprehensive presentation of the group's findings.

Sonya R. Eltham High School, Vic

- Have you ever contemplated what life would be like on Mars? In How to Get to Mars - A Big Question, Sonya uses clay modelling to explore a series of obstacles that humans would need to overcome before they could live on the Red Planet and proposes some practical solutions for each.
University Of Sydney Sleek Geeks Science - Highly Commended
Sleek Geeks Science Highly Commended - Primary School
A Big Solution to a Big Problem, Ashley E. and Marni H., Annandale North Public School, NSW; and Matilda E., Wenona School, NSW
Galapagos Tortoises, Vrinda K., PLC Sydney, NSW
Paterson's Curse, Lilian P., PLC Sydney, NSW,
The Biome in Your Belly, Anna S., Homeschool, NSW
Big Foamy Fountain, Kaiden S. and Luka S., Wahroonga Preparatory School, NSW
Big Filter, Big Impact on our Mangroves, Neomi V. and Hannah Y., Abbotsleigh Junior School, NSW
Sleek Geeks Science Highly Commended - Secondary School
Triangles are 180 degrees and the Universe is Flat, Aditya A., Cumberland High School, NSW
100 Years of Science, Jaidon A., James K. and Josip L., St Francis Catholic College, NSW
Life with Corals, Kesem B., Envirotech Education, Qld
Super Blanky, Owen B., Lindisfarne Anglican Grammar School, NSW
Great Big Jet Engines, Yasiru P., Cherrybrook Technology High School, NSW
2021 Eureka Prizes Award Ceremony
The 2021 Eureka Prize winners will be announced during a live broadcast event on Thursday 7 October, 2021
.
Below runs Rewilding Earth - Finalist, 2021 Sydney Sleek Geeks Science Eureka Prize — Secondary by Jonathan D., Townsville Grammar School, Qld.
Over 200 Health Journals Call On World Leaders To Address 'Catastrophic Harm To Health' From Climate Change
Over 200 health journals across the world have come together to simultaneously publish an editorial calling on world leaders to take emergency action to limit global temperature increases, halt the destruction of nature, and protect health.
While recent targets to reduce emissions and conserve biodiversity are welcome, they are not enough and are yet to be matched with credible short and longer term plans, it warns.
The editorial is published in leading titles from every continent including The BMJ, The Lancet, the New England Journal of Medicine, the East African Medical Journal, the Chinese Science Bulletin, the National Medical Journal of India, the Medical Journal of Australia, and 50 BMJ specialist journals including BMJ Global Health and Thorax.
Never have so many journals come together to make the same statement, reflecting the severity of the climate change emergency now facing the world.
The editorial is being published ahead of the UN General Assembly next week, one of the last international meetings taking place before the (COP26) climate conference in Glasgow, UK in November. This is a crucial moment to urge all countries to deliver enhanced and ambitious climate plans to honour the goals of the Paris Agreement, the international treaty on climate change adopted by 195 countries in 2015.
For decades, health professionals and health journals have been warning of the severe and growing impacts on health from climate change and the destruction of nature .
The impact on health and survival of extreme temperatures, destructive weather events, and the widespread degradation of essential ecosystems are just some of the impacts that we are seeing more of due to a changing climate.
They disproportionately affect the most vulnerable, including children and the elderly, ethnic minorities, poorer communities and those with underlying health conditions.
The editorial urges governments to intervene to transform societies and economies, for example, by supporting the redesign of transport systems, cities, production and distribution of food, markets for financial investments, and health systems.
Substantial investment will be needed, but this will have huge positive health and economic benefits, including high quality jobs, reduced air pollution, increased physical activity, and improved housing and diet, explain the authors.
Crucially, cooperation hinges on wealthy nations doing more, they say. In particular, countries that have disproportionately created the environmental crisis must do more to support low and middle income countries to build cleaner, healthier, and more resilient societies.
"As health professionals, we must do all we can to aid the transition to a sustainable, fairer, resilient, and healthier world," they write. "We, as editors of health journals, call for governments and other leaders to act, marking 2021 as the year that the world finally changes course."
Dr Fiona Godlee, Editor-in-Chief of The BMJ, and one of the co-authors of the editorial, said: "Health professionals have been on the frontline of the covid-19 crisis and they are united in warning that going above 1.5C and allowing the continued destruction of nature will bring the next, far deadlier crisis. Wealthier nations must act faster and do more to support those countries already suffering under higher temperatures. 2021 has to be the year the world changes course -- our health depends on it."
Seye Abimbola, Editor-in-Chief of BMJ Global Health, said: "What we must do to tackle pandemics, health inequities, and climate change is the same - global solidarity and action that recognise that, within and across nations our destinies are inextricably linked, just as human health is inextricably linked to the health of the planet."
Professor Alan Smyth, Joint Editor-in-Chief of Thorax, said: "Global warming affects the future of our planet and right now it is affecting the lung health of all of its inhabitants across all ages, from young to old. This editorial is a call to world leaders at COP26 to take immediate and proportionate action to limit the rise in global temperatures."
Lukoye Atwoli, Abdullah H Baqui, Thomas Benfield, Raffaella Bosurgi, Fiona Godlee, Stephen Hancocks, Richard Horton, Laurie Laybourn-Langton, Carlos Augusto Monteiro, Ian Norman, Kirsten Patrick, Nigel Praities, Marcel G M Olde Rikkert, Eric J Rubin, Peush Sahni, Richard Smith, Nicholas J Talley, Sue Turale, Damián Vázquez.
Call for emergency action to limit global temperature increases, restore biodiversity, and protect health.
BMJ, 2021; n1734 DOI:
10.1136/bmj.n1734
Social Housing Going Backwards In NSW
THE NSW Government is spending millions less on social housing every year and as a result social housing as a proportion of total housing stock has decreased consistently over the last ten years.
The St Vincent de Paul Society NSW commissioned Centre for Social Impact, a national research centre, to develop a
research report
on the social housing system in NSW.
The research found that NSW total spending on social housing in 2019-20 was $1.68 billion which is the lowest level of investment in five years. Given this reduction in spending it's no surprise that the social housing stock of NSW has decreased as a proportion of total housing.
The NSW Government has committed to build 9,386 new social housing properties from 2016-2026. This is despite calls from economists, housing specialists and service providers recommending 5,000 properties are needed to be built every year to match population growth.
Although housing stock development is down and social housing is receiving less funding, it was found that the number of households on the waiting list for NSW social housing has decreased.
In 2010, the number of applicants on the waiting list peaked at over 83,000, in 2020 that number dropped to just under 53,000. Researchers said that a change in the counting rules in 2017 meant that suspended applicants were no longer counted and thus made a significant contribution to this reduction.
Applicants are suspended and not counted on the waiting list if they are in hospital and unable to accept an offer, fail to respond to annual checks on eligibility, if they are a prior social housing tenant have debts of more than $500 from previous tenancies and are not making repayments, as well as several other reasons that revolve around an applicant behaving poorly to social housing staff.
The Combined Pensioners and Superannuant Association states that ''Instead of finding reasons to kick people off the social housing waiting list perhaps the NSW Government should be improving its service to understand why people are unable to repay debts or engage in actions that end up in suspension from the waiting list.
It is the responsibility of the NSW Government to ensure that all citizens of NSW have access to a basic human right – shelter. ''
''As a matter of absolute urgency, the NSW Government should commit to increasing social housing stock by at least 5,000 properties every year.'' the Association says
The Warming Climate Is Causing Animals To 'Shapeshift'
Climate change is not only a human problem; animals have to adapt to it as well. Some "warm-blooded" animals are shapeshifting and getting larger beaks, legs, and ears to better regulate their body temperatures as the planet gets hotter. Bird researcher Sara Ryding of Deakin University in Australia describes these changes in a review published September 7th in the journal Trends in Ecology and Evolution.
"A lot of the time when climate change is discussed in mainstream media, people are asking 'can humans overcome this?', or 'what technology can solve this?'. It's high time we recognized that animals also have to adapt to these changes, but this is occurring over a far shorter timescale than would have occurred through most of evolutionary time," says Ryding. "The climate change that we have created is heaping a whole lot of pressure on them, and while some species will adapt, others will not."
Ryding notes that climate change is a complex and multifaceted phenomenon that's been occurring progressively, so it is difficult to pinpoint just one cause of the shapeshifting. But these changes have been occurring across wide geographical regions and among a diverse array of species, so there is little in common apart from climate change.
Strong shapeshifting has particularly been reported in birds. Several species of Australian parrot have shown, on average, a 4%-10% increase in bill size since 1871, and this is positively correlated with the summer temperature each year. North American dark-eyed juncos, a type of small songbird, had a link between increased bill size and short-term temperature extremes in cold environments. There have also been reported changes in mammalian species. Researchers have reported tail length increases in wood mice and tail and leg size increases in masked shrews.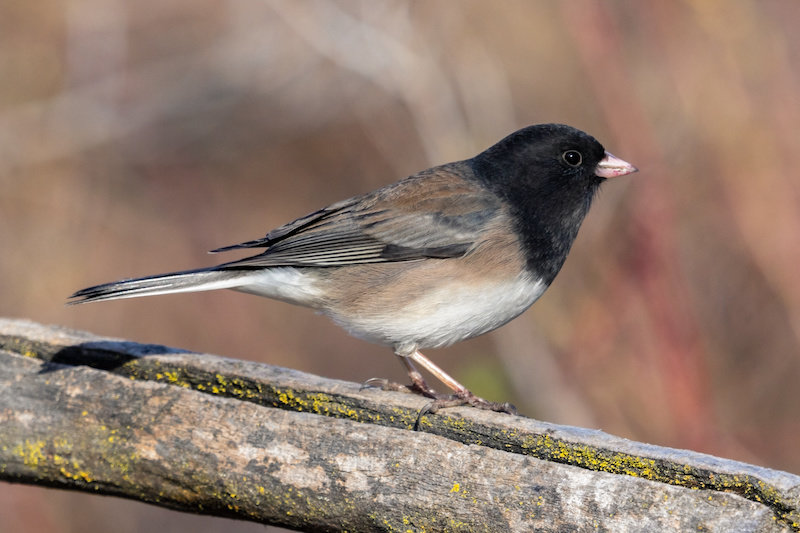 Dark-eyed junco (stock image). Credit: © Brian / stock.adobe.com

"The increases in appendage size we see so far are quite small -- less than 10% -- so the changes are unlikely to be immediately noticeable," says Ryding. "However, prominent appendages such as ears are predicted to increase -- so we might end up with a live-action Dumbo in the not-so-distant future."
Next, Ryding intends to investigate shapeshifting in Australian birds first-hand by 3D scanning museum bird specimens from the past 100 years. It will give her team a better understanding of which birds are changing appendage size due to climate change and why.
"Shapeshifting does not mean that animals are coping with climate change and that all is 'fine,' says Ryding. "It just means they are evolving to survive it -- but we're not sure what the other ecological consequences of these changes are, or indeed that all species are capable of changing and surviving."
The authors received financial support from the Australian Research Council Discovery Project, an Australian Research Council Future Fellowship, and a Natural Sciences and Engineering Research Council of Canada Discovery Grant.
Sara Ryding, Marcel Klaassen, Glenn J. Tattersall, Janet L. Gardner, Matthew R.E. Symonds.
Shape-shifting: changing animal morphologies as a response to climatic warming.
Trends in Ecology & Evolution, 2021; DOI:
10.1016/j.tree.2021.07.006
Blue-Tongue Vs Red-Bellied Black: An Australian Evolutionary Arms Race
Scientists have discovered that the humble blue-tongue lizard is largely resistant to the venom of the deadly red-bellied black snake, while giant carnivorous monitor lizards which feed on Australia's most venomous snakes are not.
The surprising finding was revealed after University of Queensland scientists compared the effects of various reptile blood plasmas when exposed to the venom.
UQ PhD candidate Nicholas Youngman said mammalian -- and particularly, human -- reactions had been heavily investigated, but very little was known about snake venom effects on other reptiles.
"It was a shock discovering that the eastern blue-tongue, along with the shingleback, showed resistance specifically to red black snake venom," Mr Youngman said.
"Since their resistance was so specific to only this snake species, it seems these lizards have evolved a special plasma component -- known as a serum factor -- in their blood.
"This prevents specific toxins in red-bellied black snake venom from clotting the lizards' plasma, which would lead to a rapid death in most other animals.
"This resistance doesn't mean they're completely immune, but it would give them a greater chance of survival, allowing them to escape or fight back.
"Much like how a COVID-19 vaccine doesn't mean you don't get sick at all, it just means you are less likely to die."
The research team analysed the effects of seven different Australian snake venoms on the plasma of two species of blue-tongued skinks and three species of monitor lizards that would interact with these snakes in the wild.
Associate Professor Bryan Fry, who heads UQ's Venom Evolution Lab, said the results also revealed that monitor lizards -- or goannas -- were not resistant to the snake venoms.
"You'd think that a goanna would be significantly resistant to the venom of any snake it was hunting and eating, but that isn't the case," Dr Fry said.
"Snake venom can only cause harm to goannas if it's injected into its body by the snake's fangs, it can't be absorbed directly through the skin.
"Goannas are heavily armoured and their scales act like medieval chain mail, with each containing a piece of bone, meaning venomous snakes' fangs struggle to pierce this armour.
"So -- unlike the slow, vulnerable blue-tongue lizard -- there's no pressure for goannas to evolve resistance; natural selection has invested in their armour and it's clearly working for them.
"These two divergent forms of resistance are fascinating examples of evolutionary novelty."
Nicholas J. Youngman, Joshua Llinas, Bryan G. Fry.
Evidence for Resistance to Coagulotoxic Effects of Australian Elapid Snake Venoms by Sympatric Prey (Blue Tongue Skinks) but Not by Predators (Monitor Lizards).
Toxins, 2021; 13 (9): 590 DOI:
10.3390/toxins13090590
Funding Awarded To Collaborative UNSW Research Projects
Developing an environmentally sustainable heating, ventilation, and air conditioning system and rock reinforcement for underground mines are two of the UNSW projects to have been awarded CRC-P grants.
UNSW Sydney researchers have been awarded over $5 million in funding from the federal government's Cooperative Research Centre Projects (CRC-P) program for four projects that will deliver a range of innovative technologies and create job opportunities in key manufacturing sectors, including in regional Australia.
More than $47 million was granted to 22 projects in the latest round of CRC-P program funding in a joint announcement by Minister for Industry, Science and Technology Christian Porter and Minister for Regionalisation, Regional Communications and Regional Education Senator Bridget McKenzie.
UNSW Pro Vice-Chancellor, Research, Professor Sven Rogge said he was pleased to see UNSW researchers working with industry and the community to develop products for commercial use.
"UNSW researchers have once again received funding for the greatest number of projects in the recent CRC-P funding round. It's pleasing to see UNSW researchers develop strong relationships with industry and community partners, translating research into positive outcomes for society," Prof. Rogge said.
Some of the projects include:
An environmentally sustainable heating, ventilation, and air conditioning system
A team led by Associate Professor Rukmi Dutta from UNSW Engineering will work alongside Conry Tech Development, Hargo Engineering and Automation Innovation to develop an innovative and cost competitive micro heating, ventilation, and air conditioning system (HVAC) for the global non-residential market.
The system is designed to harness clean energy, reduce energy consumption by over 50 per cent, use more environmentally friendly refrigerants, eliminate the use of fossil fuels, and help limit the spread of viruses within HVAC systems.
"Cooling consumes 24 per cent of Australia's power, and most air-conditioning systems use refrigerant known to have high global warming potential. An estimated 90 per cent of commercial heating systems burn natural gas and are unable to use clean energy," A/Prof Dutta said.
"Our project aims to cut carbon with cooling – a disruptive new HVAC technology, which will be a step-change for the industry as the smartphone was for the telecom industry."
Rock reinforcement for underground mines
A team led by Professor Serkan Saydam from UNSW Engineering will work alongside Jennmar Australia and JIMACK to design, develop and build Australian manufacturing for the world's highest capacity dynamic bolt support system.
The project will ensure safety and productivity in Australian underground mines remains world leading as they embark on mining deep and high-stressed orebodies, using lower cost large cave mining methods.
"To access deeper orebodies economically, mining companies need to implement new technologies to continue operating sustainably. One of the major hazards in deep underground mining is rockburst, defined as the violent, high velocity ejection of rock into an excavation resulting from seismic activity or high rock stress which may cause major disruptions and safety consequences," Prof. Saydam said.
"Considering such a health and safety challenge and substantial financial loss, the development of reliable ground support elements is paramount for mining operations. The dynamic bolts aimed to be developed by our project will address these issues.
"The most productive collaborations are strategic and long-term ones, and a shared research vision continues for a long-time founding deep professional ties, trust and shared benefits. UNSW is proud to have previously collaborated with Jennmar Australia in three ARC Linkage Projects."
A LoRa (long-range) based new network for underground mines
A team led by Dr Binghao Li from UNSW Engineering will work alongside Roobuck, Newcrest Mining and Roboworks to develop a LoRa (long-range) based low power wireless network which can achieve full coverage, provide a backup network, be quickly deployed for rescue work, and support new robotic applications for underground mines.
"The existing technologies for underground mines are costly, difficult to deploy and may fail in an emergency due to the loss of power or damage to communication cables. The LoRa based network can avoid all these problems and is an ideal complement for new mine IoT applications," Dr Li said.
A full list of the CRC-P grants can be found
here
.
Grim Warning For Aussie Species In Conservation Checklist
The first comprehensive list of the threats to Australia's most endangered plants and animals reveals blunt news about the future for some of the country's favourite species.
The University of Queensland-led study has compiled a data set, listing the threats to Australian species from habitat loss, fragmentation, and degradation.
Michelle Ward, a PhD candidate at UQ's School of Earth and Environmental Sciences said while it painted a grim picture for many plants and animals, it was not all bad news.
"This information can improve the conservation of some of Australia's most endangered plants and animals by providing conservation managers with more precise data to better direct their efforts," Ms Ward said.
"The database has been distributed to federal and state governments and conservation groups like Birdlife Australia, World Wide Fund for Nature, and the Nature Conservancy, who are using it to help inform their conservation actions.
"It brings together knowledge from experts across Australia and it has a range of applications -- not only to prioritise conservation work, but also to assess when developments might have significant impacts on species."
The list includes an in-depth analysis of almost 1800 plants and animals listed as threatened under Australian Commonwealth law -- including 1339 plants and 456 animals.
"More accurate conservation efforts are now possible due to the ability to categorise and address these threats facing our at-risk species," Ms Ward said.
"Looking at the data, conservation managers can see that mitigating habitat loss, invasive species, and disease, while also improving fire regimes and curtailing the impact of climate change wherever possible is crucial for curbing species decline."
Co-author Dr April Reside from UQ's School of Agriculture and Food Sciences said it showed in stark detail that some species faced extensive threats.
"Before now we didn't have comprehensive information on the threats to these species, and more importantly, the severity of those threats," Dr Reside said.
"For example, the swift parrot is facing 17 different threats including habitat loss from logging and agriculture, invasive weeds, and the many and varying effects of climate change.
"So now we know the range of threats that need to be addressed to save this iconic bird.
"Similarly, koalas face nine threats including habitat loss from agriculture and urban development, dog attacks and disease.
"With this information, we are now better equipped to protect the plants and animals that we cherish so much in Australia."
The study was carried out with the support of eight universities and seven conservation, environmental and ecological science organisations throughout Australia.
The research has been published in Ecology and Evolution.
Michelle Ward, Josie Carwardine, Chuan J. Yong, James E. M. Watson, Jennifer Silcock, Gary S. Taylor, Mark Lintermans, Graeme R. Gillespie, Stephen T. Garnett, John Woinarski, Reid Tingley, Rod J. Fensham, Conrad J. Hoskin, Harry B. Hines, J. Dale Roberts, Mark J. Kennard, Mark S. Harvey, David G. Chapple, April E. Reside.
A national‐scale dataset for threats impacting Australia's imperilled flora and fauna.
Ecology and Evolution, 2021; DOI:
10.1002/ece3.7920
Disclaimer: These articles are not intended to provide medical advice, diagnosis or treatment. Views expressed here do not necessarily reflect those of Pittwater Online News or its staff.