Inbox and environment news: Issue 506
August 15 - 21, 2021: Issue 506
Congratulations To The Rions - Unearthed Finalists
Great song!
They Want You Back!
Oxford Falls principal and teachers put together this funny, yet poignant, rendition of "Want You Back For Good" and emailed it to all their students. It was all shot in black and white to illustrate the lack of colour they feel without their kids… (Mrs Power in the library was the "pièce de resistance")
The empty buses, deserted classrooms, whisper-quiet playground and echoing hallways must be awful for these warm and giving educators to see, day in and day out.
HUGE shout-out to all the educators who are missing their students. We can't possibly express how much we appreciate all of you.
And to the best-of-the-best Oxford Falls Teachers - the kids miss you more than you can ever comprehend.
Thank You!
Keep Calm And Carry On - You've Got This!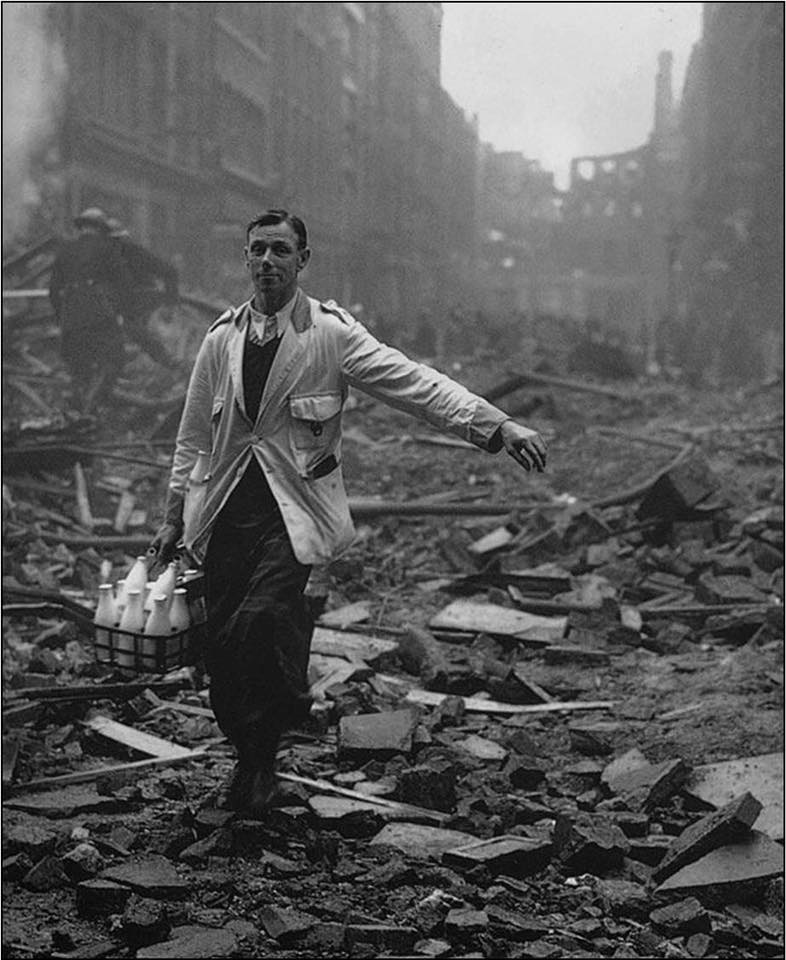 Milkman delivering milk despite London Blitz - October 9th, 1940 - photographer Fred Morley
Desiderata
Go placidly amid the noise and the haste, and remember what peace there may be in silence. As far as possible, without surrender, be on good terms with all persons.
Speak your truth quietly and clearly; and listen to others, even to the dull and the ignorant; they too have their story.
Avoid loud and aggressive persons; they are vexatious to the spirit. If you compare yourself with others, you may become vain or bitter, for always there will be greater and lesser persons than yourself.
Enjoy your achievements as well as your plans. Keep interested in your own career, however humble; it is a real possession in the changing fortunes of time.
Exercise caution in your business affairs, for the world is full of trickery. But let this not blind you to what virtue there is; many persons strive for high ideals, and everywhere life is full of heroism.
Be yourself. Especially do not feign affection. Neither be cynical about love; for in the face of all aridity and disenchantment, it is as perennial as the grass.
Take kindly the counsel of the years, gracefully surrendering the things of youth.
Nurture strength of spirit to shield you in sudden misfortune. But do not distress yourself with dark imaginings. Many fears are born of fatigue and loneliness.
Beyond a wholesome discipline, be gentle with yourself. You are a child of the universe no less than the trees and the stars; you have a right to be here.
And whether or not it is clear to you, no doubt the universe is unfolding as it should. Therefore be at peace with God, whatever you conceive Him to be. And whatever your labours and aspirations, in the noisy confusion of life, keep peace in your soul. With all its sham, drudgery and broken dreams, it is still a beautiful world. Be cheerful. Strive to be happy.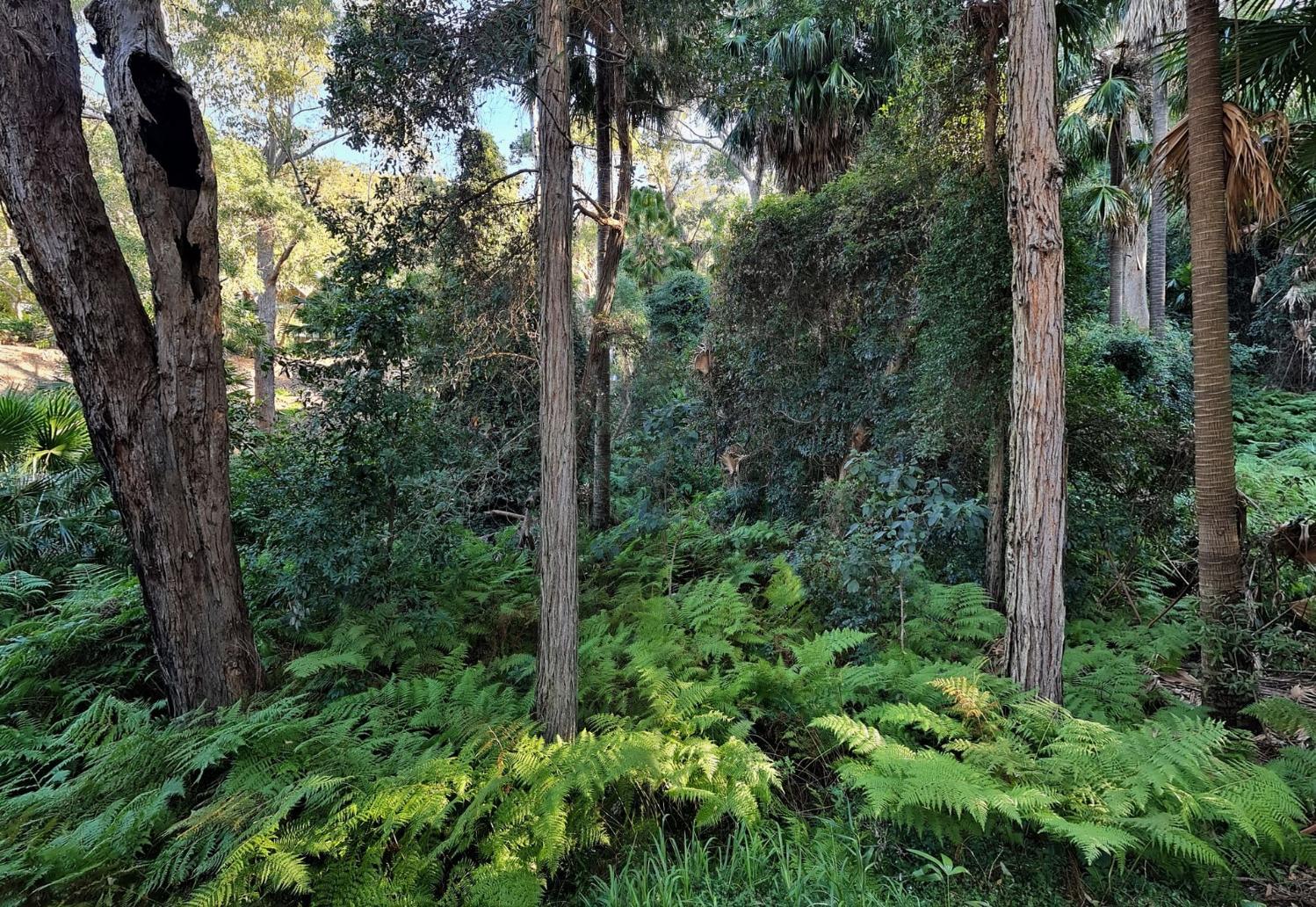 The Ingleside Escarpment - Fern Creek walk loop - Winter 2021 - photo by Joe Mills. More in this week's Pictorial.
Researchers Develop Real-Time Lyric Generation Technology To Inspire Song Writing: Have A Go!
Music artists can find inspiration and new creative directions for their song writing with technology developed by Waterloo researchers.
LyricJam, a real-time system that uses artificial intelligence (AI) to generate lyric lines for live instrumental music, was created by members of the University's Natural Language Processing Lab.
The lab, led by Olga Vechtomova, a Waterloo Engineering professor cross-appointed in Computer Science, has been researching creative applications of AI for several years.
The lab's initial work led to the creation of a system that learns musical expressions of artists and generates lyrics in their style.
Recently, Vechtomova, along with Waterloo graduate students Gaurav Sahu and Dhruv Kumar, developed technology that relies on various aspects of music such as chord progressions, tempo and instrumentation to synthesize lyrics reflecting the mood and emotions expressed by live music.
As a musician or a band plays instrumental music, the system continuously receives the raw audio clips, which the neural network processes to generate new lyric lines. The artists can then use the lines to compose their own song lyrics.
"The purpose of the system is not to write a song for the artist," Vechtomova explains. "Instead, we want to help artists realize their own creativity. The system generates poetic lines with new metaphors and expressions, potentially leading the artists in creative directions that they haven't explored before."
The neural network designed by the researchers learns what lyrical themes, words and stylistic devices are associated with different aspects of music captured in each audio clip.
For example, the researchers observed that lyrics generated for ambient music are very different than those for upbeat music.
The research team conducted a user study, inviting musicians to play live instruments while using the system.
"One unexpected finding was that participants felt encouraged by the generated lines to improvise," Vechtomova said. "For example, the lines inspired artists to structure chords a bit differently and take their improvisation in a new direction than originally intended. Some musicians also used the lines to check if their improvisation had the desired emotional effect."
Another finding from the study highlighted the co-creative aspect of the experience. Participants commented that they viewed the system as an uncritical jamming partner and felt encouraged to play their musical instruments even if they were not actively trying to write lyrics.
Since LyricJam went live in June this year, over 1,500 users worldwide have tried it out.
The team's research, to be presented at the International Conference on Computations Creativity this September, has been pre-published on arXiv. Musicians interested in trying out LyricJam can access it at https://lyricjam.ai.
Olga Vechtomova, Gaurav Sahu, Dhruv Kumar. LyricJam: A system for generating lyrics for live instrumental music. Submitted to arXiv, 2021 [abstract]
President George Washington's Farewell Address (1796)
Hopefully you are enjoying selecting and reading some of the inspirational Addresses in your August 'Book of the Month'. It's being reread here, to accompany you - a hardcopy form is on our library shelf.
A personal favourite is some of the paragraphs contained in President George Washington's Farewell Address of 1796.
George Washington (February 22, 1732 – December 14, 1799) was an American political leader, military general, statesman, and Founding Father of the United States, who served as the first president of the United States from 1789 to 1797. Washington presided at the Constitutional Convention of 1787, which established the Constitution of the United States and a federal government for the United States. Washington has been called the "Father of the Nation" for his manifold leadership in the formative days of this country.
Washington's Farewell Address is a letter written by American President George Washington as a valedictory to "friends and the fellow-citizens" after 20 years of public service to the United States. He wrote it near the end of his second term of presidency before retiring to his home at Mount Vernon in Virginia.
The letter was first published as The Address of Gen. Washington to the People of America on His Declining the Presidency of the United States in the American Daily Advertiser on September 19, 1796, about ten weeks before the presidential electors cast their votes in the 1796 election. It is a classic statement of republicanism, warning Americans of the political dangers which they must avoid if they are to remain true to their values. It was almost immediately reprinted in newspapers around the country, and later in pamphlet form.
The first draft was originally prepared by James Madison in June 1792, as Washington contemplated retiring at the end of his first term in office. However, he set it aside and ran for a second term because of heated disputes between Secretary of the Treasury Alexander Hamilton and Secretary of State Thomas Jefferson which convinced Washington that the growing tensions would rip apart the country without his leadership. This included the state of foreign affairs, and divisions between the newly formed Federalist and Democratic-Republican parties.
As his second term came to a close four years later, Washington prepared a revision of the original letter with the help of Hamilton to write a new farewell address to announce his intention to decline a third term in office. He reflects on the emerging issues of the American political landscape in 1796, expresses his support for the government eight years after the adoption of the Constitution, defends his administration's record and gives valedictory advice to the American people.
Although Iceland is generally held to be the oldest Parliament, the Althing starting in 930, and America was woefully late in giving women the right to vote, Americans did establish, as so eloquently spoken by U.S. President Abraham Lincoln in The Gettysburg Address, ''that government of the people, by the people, for the people, shall not perish from the earth.''

Much of what is said in this Address still rings true today, and, verses the high hopes as well as the cautions, the 'what to look out for' and what to expect our own representatives at local, state and federal level to adhere to or to hold them to should they appear to be faltering or choosing to 'do wrong' when the choice should always be to 'do what is right' - or as my dear departed dad used to say ' You can do whatever you want to do and be whatever you want to be, as long as you don't hurt another'.
He meant other people, but for those of us that love all the animals and all the plants or oceans that support these, the natural extension encompasses everything.
The majority of people who stand for public office are genuine, honourable and equipped with skills and knowledge to aid their pursuit of the betterment of not only their own species but of all other species and the life support system that supports this - the planet's environment. They have respect for the office they hold and the purpose for which it was created. This is enshrined in laws to facilitate their work, as in, for instance, the case of local government, Local Environment Plans and Development Control Plans, to guide the paid by you or your parents staff of these elected bodies in what is 'ok' to do and what not to do.
Although they are commonly called 'politicians' if standing for public office the truer aspiration is to be or become good and great statesmen and stateswomen. The accepted definition of a statesman or stateswoman is that they are the opposite of a politician. Politicians are thought of as people who will say or do anything to get elected or to gain power and then run their mates agenda once they are in office and tout barely believable responses to any subject, sometimes distressingly so if they are given a 'portfolio' and become the Minister for Flying Ducks and then are caught going duck shooting. A statesman or stateswoman is someone who does everything for the common good of the people and places he or she represents and where it's not all about the dollar but more about good custodianship, with a firm eye on generations yet to come. To call a person a statesman/woman is a mark of high regard for that person's integrity.
Some of you may be voting for the first time during the next few years - December of this year will see a local government election, the next NSW state election is due to be held on on March 25th 2023 to elect the 58th Parliament of New South Wales, including all 93 seats in the Legislative Assembly and 21 of the 42 seats in the Legislative Council, while the next Australian federal election will be held in or before 2022 to elect members of the 47th Parliament of Australia. All 151 seats in the House of Representatives (lower house) and 40 of the 76 seats in the Senate (upper house) will be up for election.
These stanzas from George Washington's Farewell, along with other inspirational and aspirational speeches in your Book of the Month, may help you to define what you expect those you vote for to do and not do, as it has been since this long long discussion, and now your place in it, commenced:
The unity of government which constitutes you one people is also now dear to you. It is justly so, for it is a main pillar in the edifice of your real independence, the support of your tranquillity at home, your peace abroad; of your safety; of your prosperity; of that very liberty which you so highly prize. But as it is easy to foresee that, from different causes and from different quarters, much pains will be taken, many artifices employed to weaken in your minds the conviction of this truth; as this is the point in your political fortress against which the batteries of internal and external enemies will be most constantly and actively (though often covertly and insidiously) directed, it is of infinite moment that you should properly estimate the immense value of your national union to your collective and individual happiness; that you should cherish a cordial, habitual, and immovable attachment to it; accustoming yourselves to think and speak of it as of the palladium of your political safety and prosperity; watching for its preservation with jealous anxiety; discountenancing whatever may suggest even a suspicion that it can in any event be abandoned; and indignantly frowning upon the first dawning of every attempt to alienate any portion of our country from the rest, or to enfeeble the sacred ties which now link together the various parts.
And:
To the efficacy and permanency of your Union, a government for the whole is indispensable.

No alliance, however strict, between the parts can be an adequate substitute; they must inevitably experience the infractions and interruptions which all alliances in all times have experienced. Sensible of this momentous truth, you have improved upon your first essay, by the adoption of a constitution of government better calculated than your former for an intimate union, and for the efficacious management of your common concerns. This government, the offspring of our own choice, uninfluenced and unawed, adopted upon full investigation and mature deliberation, completely free in its principles, in the distribution of its powers, uniting security with energy, and containing within itself a provision for its own amendment, has a just claim to your confidence and your support. Respect for its authority, compliance with its laws, acquiescence in its measures, are duties enjoined by the fundamental maxims of true liberty. The basis of our political systems is the right of the people to make and to alter their constitutions of government. But the Constitution which at any time exists, till changed by an explicit and authentic act of the whole people, is sacredly obligatory upon all. The very idea of the power and the right of the people to establish government presupposes the duty of every individual to obey the established government.




All obstructions to the execution of the laws, all combinations and associations, under whatever plausible character, with the real design to direct, control, counteract, or awe the regular deliberation and action of the constituted authorities, are destructive of this fundamental principle, and of fatal tendency

.

They serve to organize faction

, to give it an artificial and extraordinary force; to put, in the place of the delegated will of the nation the will of a party, often a small but artful and enterprising minority of the community; and, according to the alternate triumphs of different parties, to make the public administration the mirror of the ill-concerted and incongruous projects of faction, rather than the organ of consistent and wholesome plans digested by common counsels and modified by mutual interests.




However combinations or associations of the above description may now and then answer popular ends, they are likely, in the course of time and things, to become potent engines, by which cunning, ambitious, and unprincipled men will be enabled to subvert the power of the people and to usurp for themselves the reins of government, destroying afterwards the very engines which have lifted them to unjust dominion.




Towards the preservation of your government, and the permanency of your present happy state, it is requisite, not only that you steadily discountenance irregular oppositions to its acknowledged authority, but also that you resist with care the spirit of innovation upon its principles, however specious the pretexts.

One method of assault may be to effect, in the forms of the Constitution, alterations which will impair the energy of the system, and thus to undermine what cannot be directly overthrown.

In all the changes to which you may be invited, remember that time and habit are at least as necessary to fix the true character of governments as of other human institutions; that experience is the surest standard by which to test the real tendency of the existing constitution of a country; that facility in changes, upon the credit of mere hypothesis and opinion, exposes to perpetual change, from the endless variety of hypothesis and opinion; and remember, especially, that for the efficient management of your common interests, in a country so extensive as ours, a government of as much vigour as is consistent with the perfect security of liberty is indispensable. Liberty itself will find in such a government, with powers properly distributed and adjusted, its surest guardian. It is, indeed, little else than a name, where the government is too feeble to withstand the enterprises of faction, to confine each member of the society within the limits prescribed by the laws, and to maintain all in the secure and tranquil enjoyment of the rights of person and property.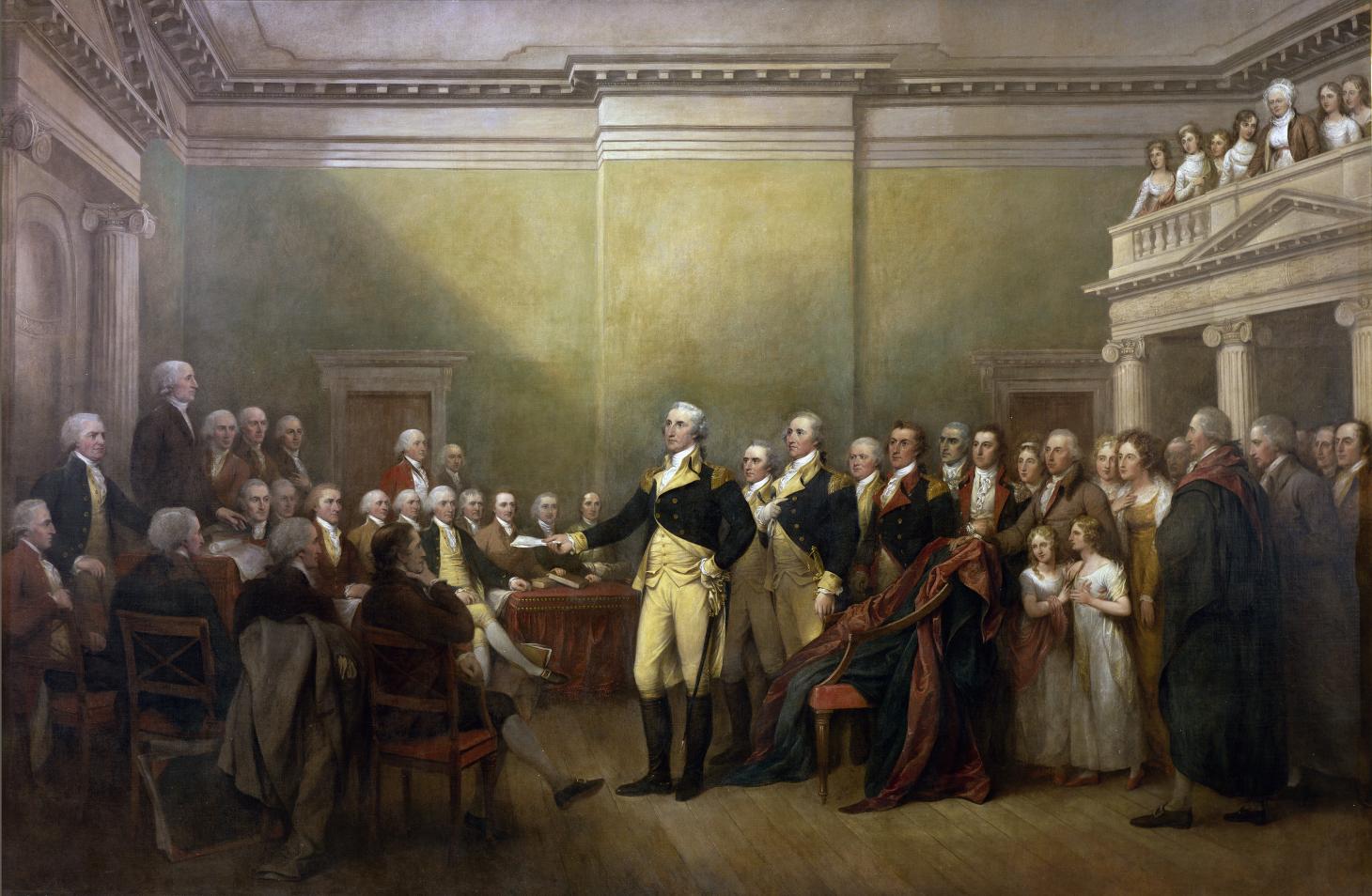 General George Washington Resigning His Commission
by John Trumbull (1824)
This painting depicts George Washington's resignation as commander-in-chief of the Army to the Congress, which was then meeting at the Maryland State House in Annapolis, on December 23, 1783. This action was of great significance in establishing civilian, rather than military rule, leading to a republic and democracy, rather than a dictatorship. Washington stands with two aides-de-camp addressing the president of the Congress, Thomas Mifflin, and others, such as Elbridge Gerry, Thomas Jefferson, James Monroe, and James Madison. Mrs. Washington and her three grandchildren are shown watching from the gallery, although they were not in fact present at the event. John Trumbull (1756–1843) was born in Connecticut, the son of the governor. After graduating from Harvard University, he served in the Continental Army under General Washington. He studied painting with Benjamin West in London and focused on history painting. This oil painting on canvas is now located in the United States Capitol rotunda in Washington D.C. Its dimensions are 365.76 cm × 548.64 cm (144.00 in × 216.00 in).
NSW Sustainability Awards Now Open For Entry
The NSW Sustainability Awards are now open and accepting entries from eligible NSW participants across a range of categories from biodiversity to net zero initiatives.
Energy and Environment Minister Matt Kean said the awards will allow New South Wales to showcase some of our best and brightest minds on a national stage with winners automatically entered into the prestigious Banksia National Sustainability Awards.
"New South Wales leads the country when it comes to generating ideas on sustainability, these awards will not only showcase those ideas but also celebrate the people that are making our world better," Mr Kean said.
"Entrants for these awards will join a community of sustainability champions who are reimagining the future of New South Wales and the world."
Inspired by the United Nations 2030 Global Goals and NSW's commitment to reaching net zero by 2050, these awards will salute individuals, communities and businesses for their innovation and excellence in environmental and social leadership.
The 8 awards categories include:
NSW Net Zero Action Award
NSW Biodiversity Award
NSW Circular Transition Award
NSW Clean Technology Award
NSW Large Business Transformation Award
NSW Small to Medium Business Award
NSW Youth as our Changemakers Award
Minister's Young Climate Champion Award
The awards will be presented and run by the Banksia Foundation in partnership with the NSW Government.
Entries for the awards are expected to close on September 15
with winners announced by the end of this year. The winners of the National Banksia awards will be announced in March 2022.
NSW Clean Technology Award

: Recognises outstanding initiatives by an organisation or organisations in collaboration that show- case efficient resources through renewable energy, low emissions technology, and appreciable pollution reduction (beyond compliance) of Australia's water, air, and land.

NSW Biodiversity Award

: Recognises outstanding initiatives by an organisation or organisations in collaboration that protect our habitat, flora and/or fauna to ensure Australia's ecosystems are secured and flourish for future generations.

NSW Circular Transition Award

: Recognises outstanding achievements in innovative design in waste and pollution systems and products, through to regenerating strategies. The award will go to a company that has adopted a technology, initiative or project that is helping the business move from a linear to a circular model.

NSW Large Business Transformation Award

: Recognises outstanding achievements that demonstrate business and values alignment with multiple UN Sustainable Development Goals and by integrating sustainability principles and practices across business activities.

NSW Youth as our Changemakers Award

:

Recognises young innovators aged between 18-35 years, who bring fresh perspectives, bold ideas and compelling initiatives that align with any or the multiple UN SDG's.

NSW Net Zero Action Award

: Recognises organisations, (company, business association, NGOs) that can demonstrate a tangible program or initiative that evidences transition toward a 1.5-Degree goal, through a publicly communicated net zero commitment, plus data, disclosures and investments to support it.

NSW Small to Medium Business Award

: Recognises outstanding achievements that demonstrate business and values alignment with multiple UN Sustainable Development Goals and by integrating sustainability principles and practices across business activities.

Minister's Young Climate Champion Award

:

The Minister's Young Climate Champion Award recognises young innovators aged under 18 years who bring bold ideas for a safe and thriving climate future that align with any of the UN SDGs.

Young and passionate minds who have taken outstanding actions that benefit the sustainability of their communities and help address climate change will be showcased in this award, which is a celebration of young people with drive, commitment and a passion for sustainability and the environment.
Furore Over 'Modern' Swimming Trunks At Avalon Beach
Did you know that Avalon Beach was once the centre for a revolt over objections to those 'new swimming trunks'? These were a form of the surf shorts that are so popular today.
With the development of new clothing materials, particularly latex and nylon, through the 1930s swimsuits gradually began hugging the body, with shoulder straps that could be lowered for tanning.
In the 1930's men began going without shirts when swimming. Bare-chested male swimwear became the norm by the end of the 1940s, including in competitive swimming events, in which men are not only bare-chested, but wear a swimming suit that is intended merely to meet public decency requirements. The norm of male bare-chestedness in swimwear extended to other competitive sports, such as professional boxing and professional wrestling.
From the newspapers of the past:
Warringah Ban Surf Trunks
WARRINGAH Shire Council decided last night to prohibit the wearing of trunks only in the surf on the beaches and reserves in the shire this season.
The matter came before the council in letters from several clubs, the honorary ranger of the shire (Mr. G. Dempster), Rev. Ebbs, of Manly, and Mr. E. L. Sanders, MLA. (Willoughby).
The surf clubs asked council to define its attitude on the new costumes. Mr. Sanders, M.L.A., drew attention to the "indecent costumes" worn by men at Avalon. The park ranger also referred to the new surf attire as "very indecent." Councillor Barber said that the question of the new costumes was very important. "It depends on the figure and the person wearing the costume," he said. ' "Men wore Vs. years ago."
"Segregate Them"
A voice: They did that here.
Cr. Barber: If it was not bad in those days, why is it bad to-day? Let surfers dress as they like so far as they are decent.
Cr. Hughes: If people wished to go into the water only in shorts they should be segregated.
People bathing in public should wear a neck-to-knee costume
. Warringah Bans Surf Trunks (
1934, October 23
).
The Daily Telegraph
(Sydney, NSW : 1931 - 1954), p. 9. Retrieved from http://nla.gov.au/nla.news-article246677775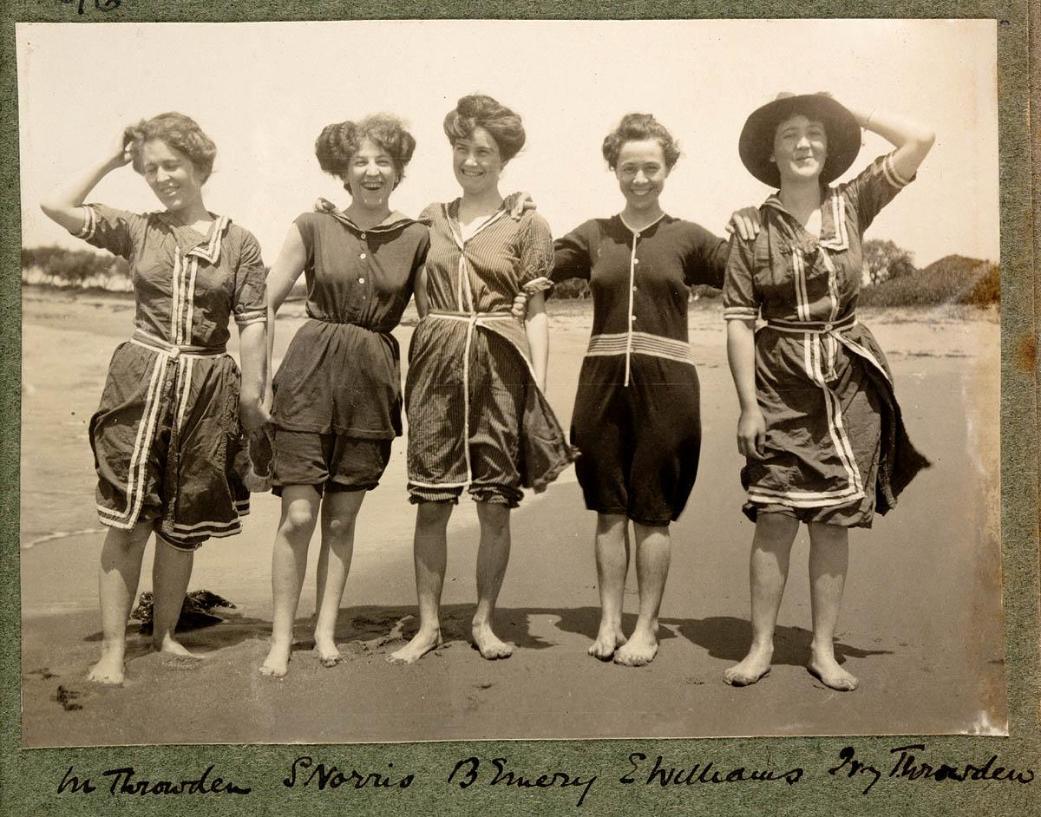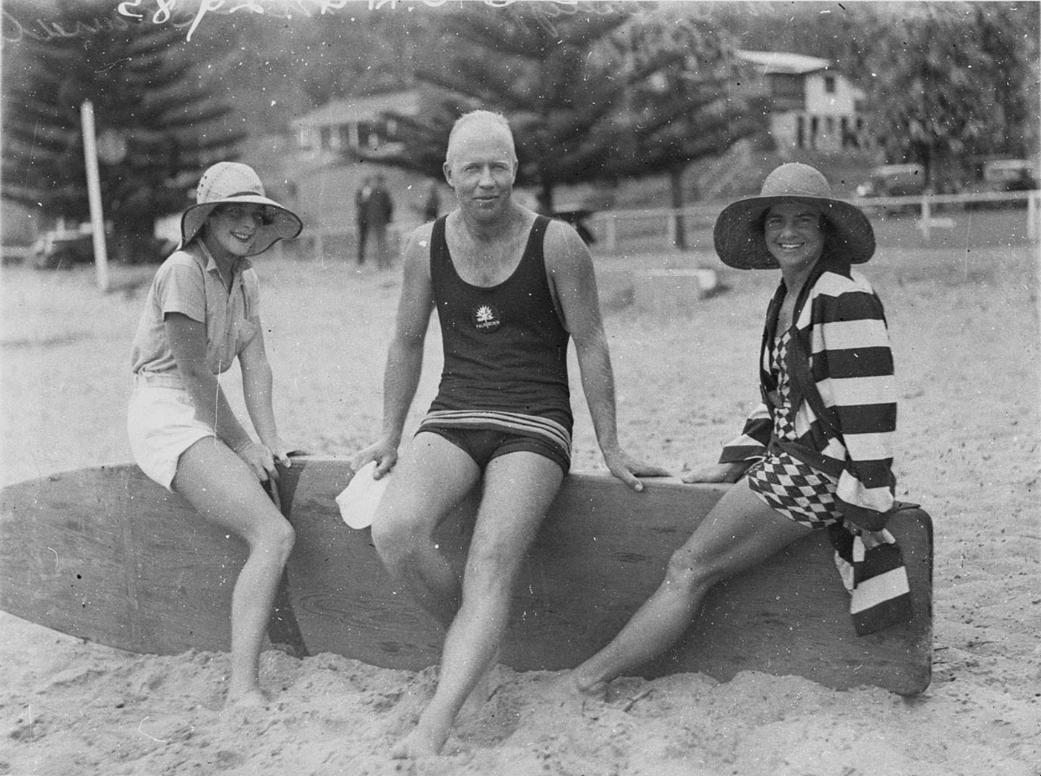 REFUSES TO POLICE SPOONER SHORTS BAN AND RESIGNS
OTHER CLUBS EXPECTED TO FOLLOW AVALON'S LEAD
MR. SPOONER'S determination to continue through the 1936 surf season the antique regulations forbidding trunks for men, is being met with revolt along the beaches. All the honorary beach inspectors of Avalon have resigned rather than participate in the enforcement of the distasteful provisions of Local Government Ordinance No. 52
The Avalon inspectors who have resigned are: G. Hanson, A. Rowe, and W. G. Simmonds (editor of "Surf in Australia"). They were followed by Mr. L. S. McDonald, honorary beach inspector of Freshwater.
There are signs that others will refuse to play the part of unpaid censors of beach wear while the present regulations arc in force. The Newport Club last year refused to appoint beach inspectors, and will appoint none this year. Members of the Newport Life-Saving Club said last night that they refused to act as "amateur policemen." This fresh move against the Spooner compulsory chest-protector for male bathers serves further to expose the ridiculous legal anomalies created by Local Government Ordinance No. 52.
"BEST COURSE"
Lawyers have declared that shorts worn on the beach for sun-bathing are not Illegal under Mr. Spooner's regulations, yet trunks for swimming are still proscribed. "We are not in sympathy with the present costume regulations and don't feel disposed to enforce them," said Mr. Simmonds. "In these circumstances we thought our best course was to resign. "Last year, on the beach, quite a number of men rolled their costumes down to the waist, and we never had any complaints from the public.
FILL IN FORMS
"We shall continue, of course, as members of the Avalon Surf Life-Saving Club."
Mr. Mr. R. G. Jamieson, Warringah Shire Clerk, said the council had written to all surf clubs in the shire, asking them to enforce the regulations, but Avalon was the only one that had replied so far. On Sunday week, Dee Why club-members will be asked to fill in the forms in which they undertake to enforce Local Government regulations on the beach. One of the officials of the club stated last night that it was most unlikely that any would accept the positions.
"REBEL" TALKS
One of the rebel inspectors, Mr. L. S. McDonald (Freshwater) , last night said: — "If the clubs take this lying down they deserve what they get. They have the whole situation in their hands and can effectively show Mr. Spooner their feelings. "I would be one of the first to wear trunks in an organised protest." One of the best-known amateur surf-men in New South Wales. Mr. Rupert Michaelis, said he was glad to see that other club members were refusing to carry out duties that he had declined a couple of years ago. Mr. Michaelis was captain of Cronulla club for many years. He refused to act as an honorary beach inspector, as he did not feel disposed to order people to wear shorts over their costumes. SURF PATROL IN REVOLT (
1936, November 26
).
The Daily Telegraph
(Sydney, NSW : 1931 - 1954), p. 2. Retrieved from http://nla.gov.au/nla.news-article246977140
Photos showing a mix of old and new styles in swimming trunks:
1. Women in bathing suits on Collaroy Beach, 1908, photographed by Colin Caird,courtesy State Library of NSW, Image No.: a845001h - Models from left to right: M. Throwden, S. Norris, B. Emery, E. Williams, Ivy Throwden.
2. Left to right. Miss Sue Russell,
John (Jack) Ralston
PBSLSC with
Alrema Samuels
on right circa 1934-36 with 9 foot surfboard. Image No.: hood_02985, courtesy State Library of NSW.
3. 'The boat shot (our first) is from 1938 and although the nameplate reads 'Avalon' it was most probably the original "Akubra" which Wally Simmonds obtained from his old club Queenscliff. The crew include Geoff Hanson (starboard side midships) brother Tom Hanson (sweep), Ted Sanders (Sanders Lane fame) on the port side in the hat and Peter Paterson (almost obscuring the sweep).' - Geoff Searl, February 2016
More Time To Prepare For HSC
By NSW Dept. of Education
HSC students will be given more time to work on their major projects and to prepare for exams to reduce the impact of the current COVID-19 lockdown.
The NSW Education Standards Authority (NESA) COVID-19 Response Committee has announced additional changes to the 2021 HSC timetable to give students additional time to prepare for upcoming HSC exams.
In recognition of the evolving COVID-19 situation and in line with health advice, NESA will:
Extend the hand in date for all major projects by two weeks. The hand-in date for Industrial Technology has been extended by four weeks
Reschedule Drama performance exams to run from 6 to 17 September
Music performance exam continue as scheduled, running from 30 August to 10 September
Reschedule the written exams to begin one week later on 19 October with HSC results out on 17 December.
Committee chair Professor Peter Shergold said students could still receive their results, ATAR and university offers this year despite written exams being delayed by a week.
"We know students want certainty about their exams, our priority is to limit disruption to HSC students," he said.
"Our aim is to give students as much clarity as possible so they can focus on their studies, their goals and their personal wellbeing.
"We recognise that students and schools across the state are operating under a variety of different circumstances. We will outline a special illness and misadventure process and any other contingency arrangements needed to ensure equity and fairness for all students."
NESA chief executive officer Paul Martin said the priority for NESA and the school sectors was providing considered advice to students that aligned with the health advice and was fair to the whole cohort.
"The changes to the exam timetables mean all students have some additional time to prepare for exams or complete their project," Mr Martin said.
"We learnt a lot about our processes in the HSC last year and I am confident that we can apply those lessons this year."
Earlier this week, oral language exams were rescheduled to start on 14 August.
COVID safe exam practices, including minimising school groups mixing, mandatory masks for everyone except the student during the exam, and Perspex screens will be in place at the oral language exams.
"Markers, many of whom are teachers, have an enormous undertaking ahead of them. I want to thank the teaching profession for all that they have done this year to support students," Mr Martin said.
"I can assure markers and exam supervisors that their safety, as well as the students, is our priority."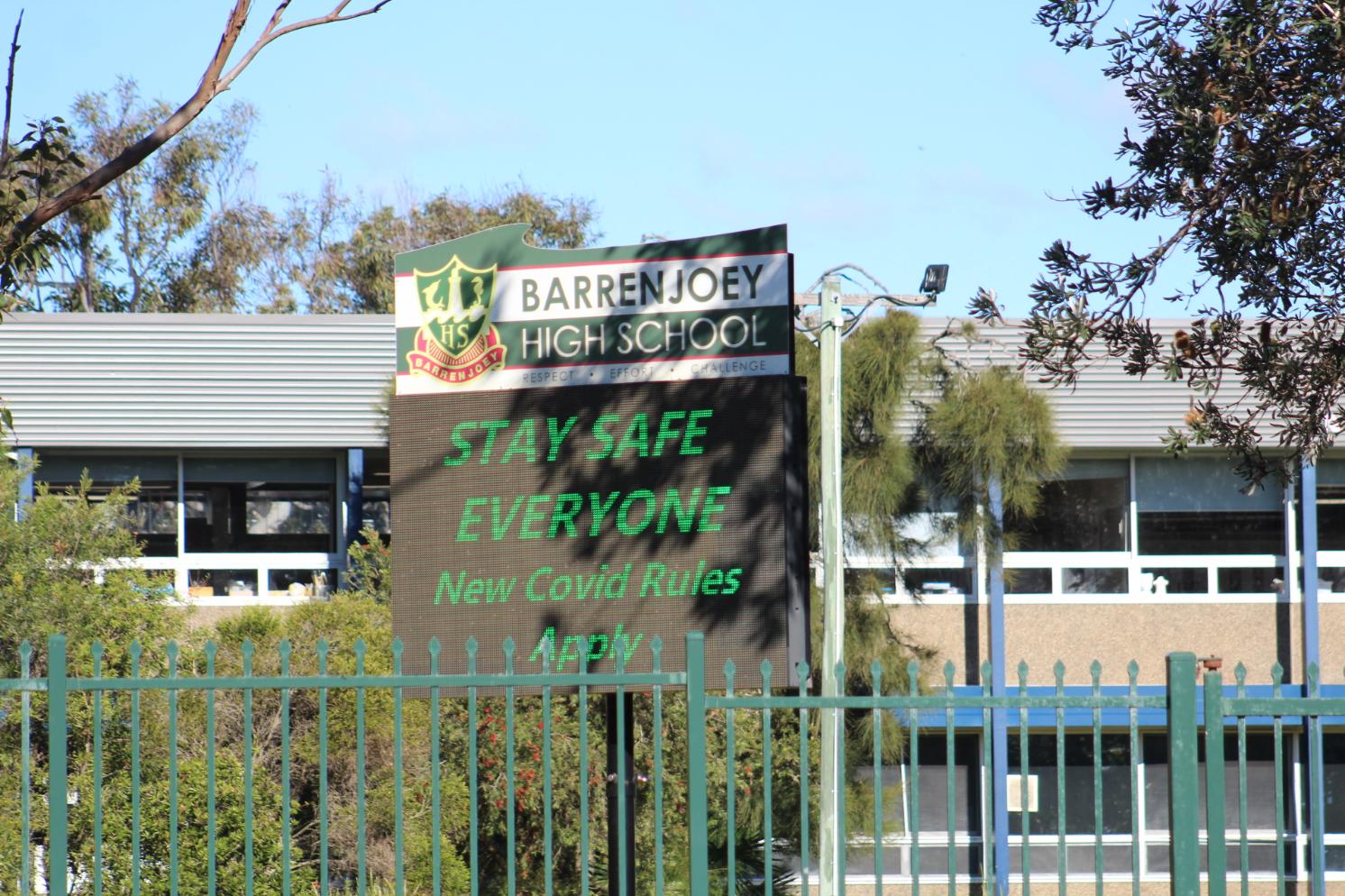 Stay Healthy - Stay Active: HSC 2021
Stay active, keep connected and look after yourself during the HSC this year!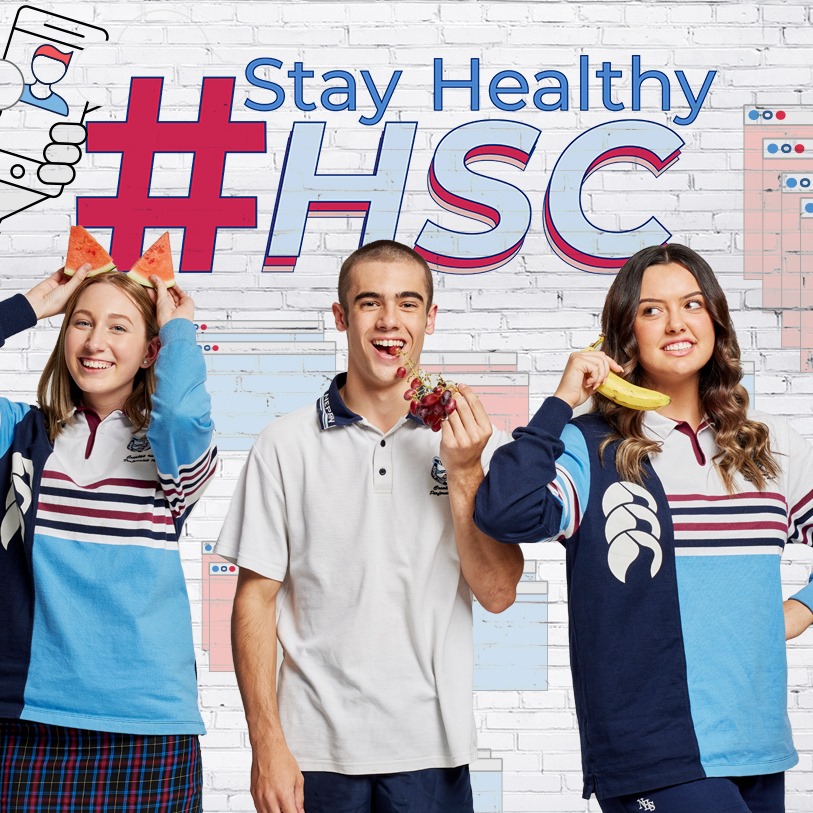 Meanwhile... Back At The Beach: Isolation Surfing In Avalon - A Short Film From Home By Tim Bonython
Researchers Find A 'Fearsome Dragon' That Soared Over Outback Queensland
Australia's largest flying reptile has been uncovered, a pterosaur with an estimated seven-metre wingspan that soared like a dragon above the ancient, vast inland sea once covering much of outback Queensland
.
University of Queensland PhD candidate Tim Richards, from the Dinosaur Lab in UQ's School of Biological Sciences, led a research team that analysed a fossil of the creature's jaw, discovered on Wanamara Country, near Richmond in North West Queensland.
"It's the closest thing we have to a real life dragon," Mr Richards said.
"The new pterosaur, which we named Thapunngaka shawi, would have been a fearsome beast, with a spear-like mouth and a wingspan around seven metres.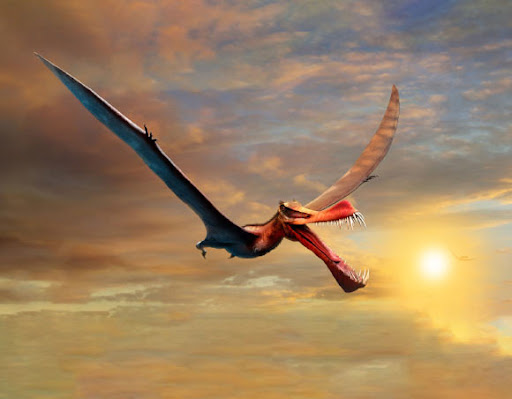 An artist's impression of the Thapunngaka shawi. UQ image.

"It was essentially just a skull with a long neck, bolted on a pair of long wings.
"This thing would have been quite savage.
"It would have cast a great shadow over some quivering little dinosaur that wouldn't have heard it until it was too late."
Mr Richards said the skull alone would have been just over one metre long, containing around 40 teeth, perfectly suited to grasping the many fishes known to inhabit Queensland's no-longer-existent Eromanga Sea.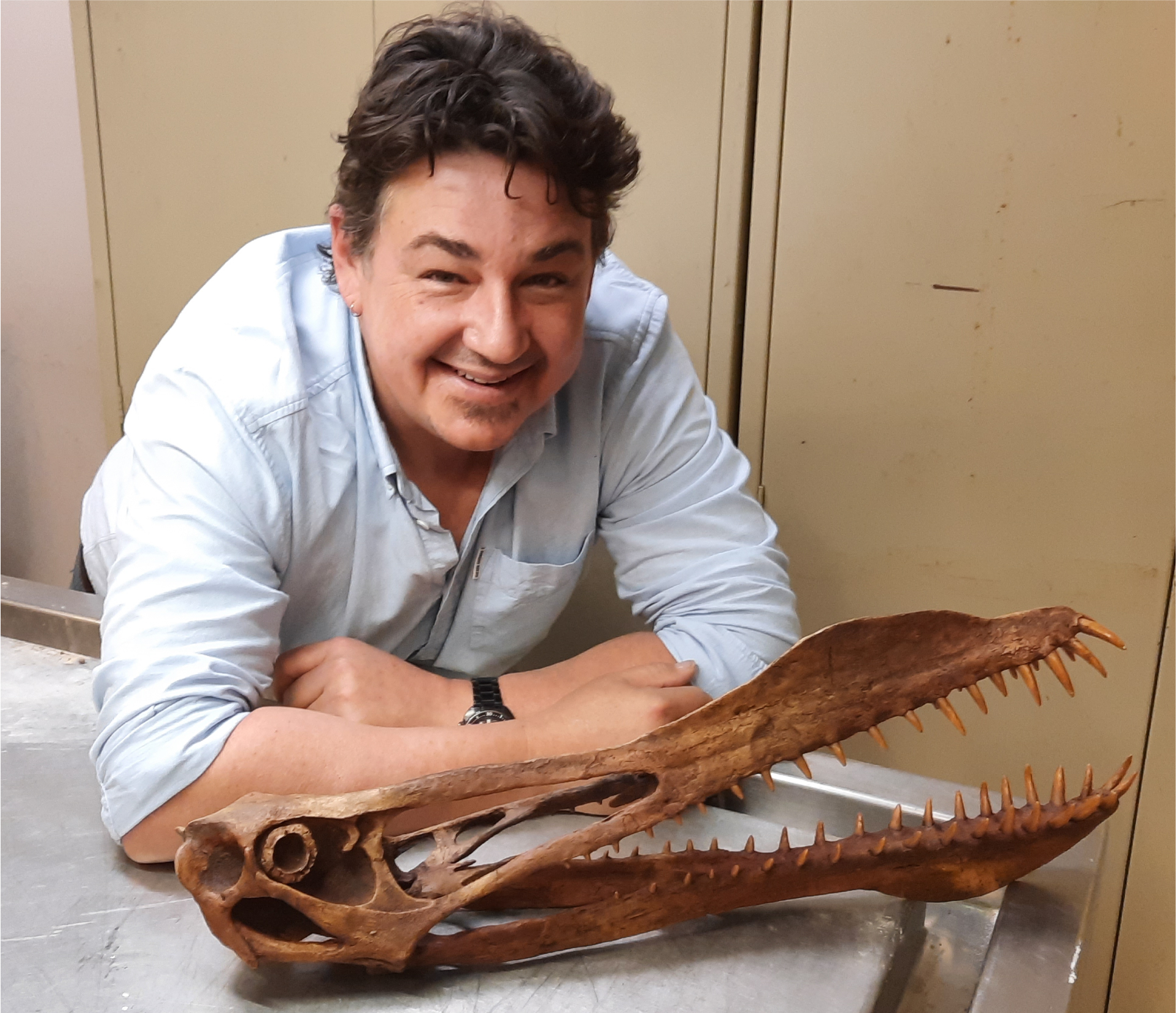 University of Queensland PhD candidate Tim Richards. UQ photo
"It's tempting to think it may have swooped like a magpie during mating season, making your local magpie swoop look pretty trivial -- no amount of zip ties would have saved you.
"Though, to be clear, it was nothing like a bird, or even a bat -- Pterosaurs were a successful and diverse group of reptiles -- the very first back-boned animals to take a stab at powered flight."
The new species belonged to a group of pterosaurs known as anhanguerians, which inhabited every continent during the latter part of the Age of Dinosaurs.
Being perfectly adapted to powered flight, pterosaurs had thin-walled and relatively hollow bones.
Given these adaptations their fossilised remains are rare and often poorly preserved.
"It's quite amazing fossils of these animals exist at all," Mr Richards said.
"By world standards, the Australian pterosaur record is poor, but the discovery of Thapunngaka contributes greatly to our understanding of Australian pterosaur diversity."
It is only the third species of anhanguerian pterosaur known from Australia, with all three species hailing from western Queensland.
Dr Steve Salisbury, co-author on the paper and Mr Richard's PhD supervisor, said what was particularly striking about this new species of anhanguerian was the massive size of the bony crest on its lower jaw, which it presumably had on the upper jaw as well.
"These crests probably played a role in the flight dynamics of these creatures, and hopefully future research will deliver more definitive answers," Dr Salisbury said.
The fossil was found in a quarry just northwest of Richmond in June 2011 by Len Shaw, a local fossicker who has been 'scratching around' in the area for decades.
The name of the new species honours the First Nations peoples of the Richmond area where the fossil was found, incorporating words from the now-extinct language of the Wanamara Nation.
"The genus name, Thapunngaka, incorporates thapun [ta-boon] and ngaka [nga-ga], the Wanamara words for 'spear' and 'mouth', respectively," Dr Salisbury said.
"The species name, shawi, honours the fossil's discoverer Len Shaw, so the name means 'Shaw's spear mouth'."
The fossil of Thapunngaka shawi is on display at Kronosaurus Korner in Richmond.
Timothy M. Richards, Paul E. Stumkat, Steven W. Salisbury. A
new species of crested pterosaur (Pterodactyloidea, Anhangueridae) from the Lower Cretaceous (upper Albian) of Richmond, North West Queensland, Australia.
Journal of Vertebrate Paleontology, 2021; e1946068 DOI:
10.1080/02724634.2021.1946068
Ficus Macrophylla F. Columnaris - Lord Howe Fig
Published by the Royal Botanic Gardens and Domain
This banyan fig grows only on Lord Howe Island, where a single tree covers a hectare. Find out more with horticulturist and manager of volunteer programs at the Royal Botanic Garden Sydney, Paul Nicholson.
Physical Activity Protects Children From The Adverse Effects Of Digital Media On Their Weight Later In Adolescence
Children's heavy digital media use is associated with a risk of being overweight later in adolescence. Physical activity protects children from the adverse effects of digital media on their weight later in adolescence.
A recently completed study shows that six hours of leisure-time physical activity per week at the age of 11 reduces the risk of being overweight at 14 years of age associated with heavy use of digital media.
Obesity in children and adolescents is one of the most significant health-related challenges globally. A study carried out by the Folkhälsan Research Center and the University of Helsinki investigated whether a link exists between the digital media use of Finnish school-age children and the risk of being overweight later in adolescence. In addition, the study looked into whether children's physical activity has an effect on this potential link.
The results were published in the Journal of Physical Activity and Health.
More than six hours of physical activity per week appears to reverse adverse effects of screen time
The study involved 4,661 children from the Finnish Health in Teens (Fin-HIT) study. The participating children reported how much time they spent on sedentary digital media use and physical activity outside school hours. The study demonstrated that heavy use of digital media at 11 years of age was associated with a heightened risk of being overweight at 14 years of age in children who reported engaging in under six hours per week of physical activity in their leisure time. In children who reported being physically active for six or more hours per week, such a link was not observed.
The study also took into account other factors potentially impacting obesity, such as childhood eating habits and the amount of sleep, as well as the amount of digital media use and physical activity in adolescence. In spite of the confounding factors, the protective role of childhood physical activity in the connection between digital media use in childhood and being overweight later in life was successfully confirmed.
Activity according to recommendations
"The effect of physical activity on the association between digital media use and being overweight has not been extensively investigated in follow-up studies so far," says Postdoctoral Researcher Elina Engberg.
Further research is needed to determine in more detail how much sedentary digital media use increases the risk of being overweight, and how much physical activity is needed, and at what intensity, to ward off such a risk. In this study, the amount of physical activity and use of digital media was reported by the children themselves, and the level of their activity was not surveyed, so there is a need for further studies.
"A good rule of thumb is to adhere to the physical activity guidelines for children and adolescents, according to which school-aged children and adolescents should be physically active in a versatile, brisk and strenuous manner for at least 60 minutes a day in a way that suits the individual, considering their age," says Engberg. In addition, excessive and extended sedentary activity should be avoided.
Elina Engberg, Marja H. Leppänen, Catharina Sarkkola, Heli Viljakainen.
Physical Activity Among Preadolescents Modifies the Long-Term Association Between Sedentary Time Spent Using Digital Media and the Increased Risk of Being Overweight
. Journal of Physical Activity and Health, 2021; 1 DOI:
10.1123/jpah.2021-0163
NSW DPIE Fast-Tracked Assessment Program: Audit Office Of NSW Report
July 27, 2021: Audit Office of NSW
This report examines the effectiveness of the Fast-tracked Assessment Program, administered by the Department of Planning, Industry and Environment (DPIE) between April 2020 and October 2020.
The program aimed to support the construction industry during the COVID-19 crisis by accelerating the final assessment stages for planning proposals and development applications.
DPIE selected projects and planning proposals for fast tracked assessment that demonstrated the potential to:
deliver jobs
progress to the next stage of development within six months of determination
deliver public benefit.
The audit assessed whether the Fast-tracked Assessment Program achieved its objectives while complying with planning controls.
Through tranches three to six of the program, DPIE successfully accelerated the final stages of 53 assessments. DPIE reported that 89 per cent of these proceeded to the next stage of development within six months.
Assessment of projects and planning proposals was compliant with legislation and other requirements. However, the audit found gaps in DPIE's management of conflicts of interest.
DPIE has not evaluated or costed the program and is not able to demonstrate the extent to which it provided support to the construction industry during COVID-19.
Aspects of the program have been incorporated into longer term reforms to create a new level of transparency over the progress and status of planning assessments.
strengthen controls over conflicts of interest

evaluate the Fast-tracked Assessment Program.
Construction industry support
The program aimed at providing immediate support to the construction industry during the COVID-19 crisis
59 projects and 42 planning proposals projects were assessed in six tranches
89%
of all fast-tracked assessments in tranches three to six progressed to the next stage of the planning process within six months of determination
In April 2020, the Department of Planning, Industry and Environment (DPIE) introduced programs aimed at providing immediate support to the construction industry during the COVID-19 crisis. One of these was the Fast-tracked Assessment Program. This program identified planning proposals and development applications (DAs), across six tranches, that were partially-assessed and could be accelerated to determination.
In accordance with the program objectives, the planning proposals and DAs selected for fast-tracked assessment had to:
deliver jobs – particularly in the construction industry
be capable of progressing to the next stage of development within six months of determination
deliver public benefit.
At the same time, the Fast-tracked Assessment Program was to lay a foundation for future reform of the planning system by piloting changes in the assessment process that could be adopted in the medium to long term.
This audit assessed whether the Fast-tracked Assessment Program achieved its objectives while complying with planning controls. The audit focused on tranches three to six of the program, which were determined between July 2020 and October 2020. The rationale for focusing on these four tranches was that the program design had been slightly modified after the first two tranches to address identified risks.
Through tranches three to six of the Fast-tracked Assessment Program, DPIE successfully accelerated the final stages of 53 assessments. DPIE's internal monitoring indicates that 31 DAs and 16 planning proposals selected in these tranches proceeded to the next stage of development within six months of determination. DPIE achieved this while also successfully managing the risk of non-compliance with planning controls arising from the accelerated process. While DPIE has incorporated components of the Fast-tracked Assessment Program into other longer-term reforms, it has not evaluated the program and is not able to demonstrate the extent to which the program provided support to the construction industry during COVID-19.
Between April and October 2020, DPIE adopted a case management approach to accelerate the final stages of assessment for 42 planning proposals and 59 DAs in six tranches. Tranches three to six were the focus of this audit and included 22 planning proposals and 31 DAs. Applicants involved in the program were expected to progress their projects to the next stage of development within six months of determination. While DPIE had no way of compelling applicants to do this and relied on non-binding commitments obtained from applicants, DPIE's internal monitoring indicates that 47 of the 53 applicants selected in tranches three to six honoured this commitment.
Fast-tracked assessment only applied to the final stages of assessment and required DPIE staff and other stakeholders to work towards a determination deadline. DPIE effectively used a case management approach to manage the risk that the accelerated timeframe could result in planning controls not being fully compliant with legislation. There is some room for improvement in the process, as four of 28 staff assessing planning proposals and DAs had not lodged current conflict of interest declarations.
Based on the results of and learnings from the Fast-tracked Assessment Program, DPIE has incorporated some elements of the program into other longer-term reforms. There is now increased transparency about when applicants can expect to receive a planning determination and DPIE has also introduced a case management approach for strategic and high priority planning applications. Applicants benefiting from case-managed assessment are now required to commit to a formal service charter that specifies the obligations of both DPIE and the applicant.
DPIE has not evaluated the Fast-tracked Assessment Program to understand the costs and benefits of the program, nor which aspects of the program were most effective as a basis for future reform.
Selection criteria were consistently applied when identifying projects for fast-tracking
The following three criteria were used to select planning proposals and DAs for fast-tracked assessment:
estimated number of jobs created, including both construction and ongoing jobs, calculated using an objective tool and based on the Capital Investment Value of each planning proposal or DA
DAs had to be capable of moving to construction within six months of determination and planning proposals had to be capable of lodging a DA within six months
demonstration of public benefit.
DPIE arranged for the Independent Commission Against Corruption (ICAC) to review the selection criteria and provide advice to mitigate risks in the selection process.
The selection criteria were consistently applied when selecting projects for accelerated or 'fast-tracked' assessment. There was no upper limit on the number of planning proposals and DAs that could be fast-tracked. All planning proposals and DAs that met the criteria could be included provided they were already in the DPIE system and the assessment was underway. DPIE staff reported that all planning proposals and DAs in DPIE's system that met the selection criteria were included in the program.
DPIE made public announcements about the planning proposals and DAs selected in each tranche, the number of estimated jobs enabled or created, and the timeframe for achieving determination.
The fast-tracked process of assessment managed the risk of non-compliance with planning controls, but there are gaps in the management of conflicts of interest
Assessment of planning proposals and DAs was compliant with legislative requirements and consultation requirements and in line with delegations. However, there were gaps in the management of conflicts of interest.
It is important that public servants involved in assessing DAs and planning proposals declare and manage any conflicts of interest as planning – in particular assessment of DAs – is a high-risk area for personal conflicts.
Four of 28 staff who were involved in assessing planning proposals and DAs did not have a conflict of interest declaration that was current during the fast-tracked assessment period. In addition, DPIE engaged a probity advisor for the program but did not check whether the advisor had any conflicts of interest relating to this program.
DPIE has not evaluated the costs, benefits and outcomes of the program
DPIE has not evaluated or costed the program. It is important that DPIE evaluates the costs and benefits of the approach, given that it was new and rapidly implemented, so that it can understand which aspects of the program were most effective as a basis for further reform.
When developments were selected for inclusion, DPIE made announcements in the media about the number of jobs created or enabled in each tranche. This will be difficult to evaluate as these are estimates and construction may take place over a number of years meaning that the number of jobs enabled by a development project may vary over those years. Also, the estimate includes ongoing jobs, some of which may not be realised for many years following determination.
There was no additional funding for this program but DPIE staff reported working additional hours to meet the determination deadlines. This approach is unlikely to be sustainable in the longer term and DPIE will need to consider what additional resourcing is required if some aspects of this program continue into the future. DPIE has also not fully evaluated the impact of prioritising some planning proposals and DAs over those that were not selected.
Implementing a differentiated assessment process over the longer term may introduce risks to impartiality if applicants lobby for accelerated assessment. Careful consideration of equity and impartiality should be given to the design of any further programs that prioritise some applicants over others.
Not all applicants involved in the program formally committed to or achieved their fast-tracking obligations
The intention of the program was to provide relief to the construction industry during and immediately following the COVID-19 crisis so it was important that the DAs selected for the program moved forward into construction within the six-month period to realise these benefits. Planning proposals selected for the program were expected to lead to a DA lodged within six months of determination.
DPIE managed the risk that DAs would not move forward into construction within six months by asking applicants to commit to this outcome in writing. However, DPIE is unable to demonstrate that this commitment was sought for three of the seven DAs we examined. In tranches five and six, DPIE introduced a condition of consent that required developers to report to the Secretary about construction status six months after determination.
DPIE is not able to compel applicants to commence construction within six months of their DA being approved as the Environmental Planning and Assessment Act 1979 (EP&A Act) allows for five years. With regard to planning proposals, there is no legislated time limit for lodging a DA following approval. However, ten of the 12 projects we examined met their six-month obligation. Overall, DPIE's internal monitoring indicates that 47 of the 53 applicants selected in tranches three to six progressed to the next stage of development within six months: 31 DAs and 16 planning proposals.
DPIE has incorporated learnings from the Fast-tracked Assessment Program into other longer-term reforms
The Fast-tracked Assessment Program was intended to form a foundation for future reform of the planning system. Aspects of the Fast-tracked Assessment Program have been incorporated into two longer-term reforms. Horizons Projects are partly-completed assessments expected to reach a determination in the following month. These are announced on a monthly basis. This is a new level of transparency over the progress and status of planning assessments.
The Priority Assessment Program selects strategic and high priority concept plans, planning proposals and DAs at an early stage in their assessment and applies a case management process to accelerate assessment timeframes. There is no expectation that assessment will be completed within one month as was the case with the fast-tracked assessments, but applicants participating in the Priority Assessment Program commit to assessment timeframes through a formal service charter that is signed by both the applicant and a DPIE representative.
By December 2021, the Department of Planning, Industry and Environment should:
1. strengthen controls over conflicts of interest to ensure that:
all officers complete an annual conflict of interest declaration
officers working on planning assessments do not have any unmitigated conflicts of interest
officers are not in a position to be influenced by another officer with a conflict of interest
advisors and consultants do not have any conflicts of interest
2. evaluate the Fast-tracked Assessment Program to:
quantify the costs and benefits of the case management approach
assess which aspects of the program were most effective as a basis for further reform
understand the impact on developments not accelerated.
New Report: COVID-19 Widens Australia's Stark Health Income Gap
UNSW Sydney and the Australian Council of Social Services (ACOSS) have released the Work, income and health inequity report, published by their Poverty and Inequality Partnership Project. It was written by researchers from the Centre for Health Equity Training, Research and Evaluation (CHETRE) and the Social Policy Research Centre (SPRC) at UNSW.
The Work, income and health inequity report seeks to understand the relationship between socio-economic disadvantage and health in Australia. It explores the health outcome indicators and socio-economic indicators currently available in national health surveys and how these health outcomes differ by socio-economic position.
Lead author of the report, UNSW Medicine & Health's Professor Evelyne de Leeuw who is Director of CHETRE, said it's clear that income and wealth help determine health outcomes in Australia.
"Our report shows those in the highest income group are more than twice as likely to be in good health than those in the lowest income group. Without urgent government action, the pandemic is only set to widen this inequality, with people on lower incomes already being left behind in the vaccine rollout. Many live in insecure, over-crowded housing or work in roles that can't be carried out from home. Health inequities are not a given; they are a consequence of how our societies work," Prof. de Leeuw said.
ACOSS CEO Dr Cassandra Goldie said the COVID-19 pandemic has exposed the stark inequities that impact our health across the country.
"People on the lowest incomes, and with insecure work and housing, have been at greatest risk throughout the COVID crisis. Now, they are the same people who are at risk of missing out in the vaccine rollout," Dr Goldie said.
"Our report shows that health inequities are built into our society. It shows that people on low incomes have the highest levels of psychological distress, and we know that the pandemic is increasing that distress. People on lower incomes are also at greater risk of chronic illnesses, which can make them more at risk to the impacts of the pandemic."
Improving health for all is not only about investing in our health system – it's also about income support, housing and community services, according to Dr Goldie.
"We must deliver on the basic economic supports and social determinants of health such as adequate and secure incomes and housing, including in lockdowns, so we can improve health for all and get through the COVID crisis.
"As the wealthiest country in the world, it is inexcusable that we have not tackled preventable health inequalities. Far too many people have poorer health outcomes by reason of preventable economic and social disadvantage."
People in the highest income group are twice as likely (60 per cent) to report their health status as good, very good or excellent, compared with only 33 per cent of those in the lowest income group.
People on social security payments under 65 were considerably more likely to have asthma (19 per cent) than those whose main income was wages or salary (11 per cent).
Half of people on social security payments under 65 report mental health conditions (50 per cent). This is over twice as many as those whose main source of income is wages or salary (18 per cent).
Over a third of people on social security payments under 65 report high psychological distress (36 per cent), compared with 10 per cent of people whose main source of income is wages or salary.
Computational Evaluation Of Drug Delivery Reveals Room For Inhalers Improvement
Increased air pollution in recent years has not only contributed to deteriorating environmental conditions in cities across the globe. It has also exacerbated health risks for the people who populate them, particularly those who suffer from pulmonary diseases, such as asthma or chronic obstructive pulmonary disease (COPD). These dynamics underscore the importance of work to increase the efficacy of drug delivery devices, such as inhalers, that administer active pharmaceutical ingredients to treat respiratory illnesses.
In Physics of Fluids, by AIP Publishing, researchers from India and Australia describe the results of their collaboration in developing a computational evaluation of drug delivery through both pressurized metered-dose inhalers and dry powder inhalers to determine how the process can be improved.
While inhalers have revolutionized the treatment of pulmonary diseases in the last few decades and are currently being used to administer drugs to patients infected by the COVID-19 virus, "their efficacy remains a great concern as only one-third of the total drug reaches the affected regions of the lungs," said co-author Suvash C. Saha, from the University of Technology Sydney. "As a result, the drug loss and cost of the treatment become higher."
Knowing an ability to predict aerosolized or powdered drug deposition in the lungs is vital to better understand targeted drug delivery, Saha and colleagues at the Motilal Nehru National Institute of Technology Allahabad, in India, created a computational model to evaluate where improvements can be made.
"At higher flow rates, inertial impaction is found to be responsible for deposition of drug particles in the upper portion of the airways but with lesser availability of drug particles in the distal region of the airways," said co-author Akshoy Ranjan Paul. "Additionally, at lower flow rates, there is not enough momentum to carry particles to the distal region. As a result, there should be an optimum flow rate [to achieve] maximum reach of drug particles in the distal region."
The researchers present a computational investigation of inhalation rates and drug particle sizes in a realistic human lung model. Using computation fluid dynamics, the study reveals that more drug particles are deposited in the right bronchi than in the left bronchi, which is relatively curved due its proximity to the heart. Key findings suggest the drugs should contain smaller-sized particles to enable their reach in the distal bronchi.
The research "is a notable example that demonstrates how the understanding of fluid mechanics, and the power of computational fluid dynamics, can inform more effective design of drugs and drug-administering devices," said Saha.
Anurag Tiwari, Anuj Jain, Akshoy R. Paul, Suvash C. Saha.
Computational evaluation of drug delivery in human respiratory tract under realistic inhalation.
Physics of Fluids, 2021; 33 (8): 083311 DOI:
10.1063/5.0053980
New Mothers' Sleep Loss Linked To Accelerated Aging
Too little sleep in first six months after birth can add 3 to 7 years to women's 'biological age,' UCLA scientists report.
When new mothers complain that all those sleepless nights caring for their new-borns are taking years off their life, they just might be right, UCLA research published this summer in the journal Sleep Health suggests.
Scientists studied 33 mothers during their pregnancies and the first year of their babies' lives, analysing the women's DNA from blood samples to determine their "biological age," which can differ from chronological age. They found that a year after giving birth, the biological age of mothers who slept less than seven hours a night at the six-month mark was three to seven years older than those who logged seven hours or more.
Mothers who slept less than seven hours also had shorter telomeres in their white blood cells. These small pieces of DNA at the ends of chromosomes act as protective caps, like the plastic tips on the ends of shoelaces. Shortened telomeres have been linked to a higher risk of cancers, cardiovascular and other diseases, and earlier death.
"The early months of postpartum sleep deprivation could have a lasting effect on physical health," said the study's first author, Judith Carroll, UCLA's George F. Solomon Professor of Psychobiology. "We know from a large body of research that sleeping less than seven hours a night is detrimental to health and increases the risk of age-related diseases."
While participants' nightly sleep ranged from five to nine hours, more than half were getting less than seven hours, both six months and one year after giving birth, the researchers report.
"We found that with every hour of additional sleep, the mother's biological age was younger," said Carroll, a member of the Cousins Center for Psychoneuroimmunology at UCLA's Jane and Terry Semel Institute for Neuroscience and Human Behavior. "I, and many other sleep scientists, consider sleep health to be just as vital to overall health as diet and exercise."
Carroll urged new mothers take advantage of opportunities to get a little extra sleep, like taking naps during the day when their baby is asleep, accepting offers of assistance from family and friends, and, when possible, asking their partner to help with the baby during the night or early morning. "Taking care of your sleep needs will help you and your baby in the long run," she said.
Co-author Christine Dunkel Schetter, a distinguished professor of psychology and psychiatry at UCLA, said the study results "and other findings on maternal postpartum mental health provide impetus for better supporting mothers of young infants so that they can get sufficient sleep -- possibly through parental leave so that both parents can bear some of the burden of care, and through programs for families and fathers."
Dunkel Schetter added that while accelerated biological aging linked to sleep loss may increase women's health risks, it doesn't automatically cause harm to their bodies. "We don't want the message to be that mothers are permanently damaged by infant care and loss of sleep," she emphasized. "We don't know if these effects are long lasting."
'This aisle is closed': Using epigenetics to determine biological age
The study used the latest scientific methods of analysing changes in DNA to assess biological aging -- also known as epigenetic aging, Dunkel Schetter said. DNA provides the code for making proteins, which carry out many functions in the cells of our body, and epigenetics focuses on whether regions of this code are "open" or "closed."
"You can think of DNA as a grocery store," Carroll said, "with lots of basic ingredients to build a meal. If there is a spill in one aisle, it may be closed, and you can't get an item from that aisle, which might prevent you from making a recipe. When access to DNA code is 'closed,' then those genes that code for specific proteins cannot be expressed and are therefore turned off."
Because specific sites within DNA are turned on or off with aging, the process acts as a sort of clock, Carroll said, allowing scientists to estimate individuals' biological age. The greater an individual's biological, or epigenetic, age, the greater their risk of disease and earlier death.
The study's cohort -- which included women who ranged in age from 23 to 45 six months after giving birth -- is not a large representative sample of women, the authors said, and more studies are needed to better understand the long-term impact of sleep loss on new mothers, what other factors might contribute to sleep loss and whether the biological aging effects are permanent or reversible.
Carroll and Dunkel Schetter reported last year that a mother's stress prior to giving birth may accelerate her child's biological aging, which is a form of "intergenerational transfer of health risk," Dunkel Schetter said.
Co-authors of the new study included researchers from the department of psychology, the department of psychiatry and biobehavioural sciences, and the department of human genetics and biostatistics at UCLA and from the psychology department at the University of Colorado at Colorado Springs.
Funding sources for the study included the Eunice Kennedy Shriver National Institute of Child Health and Human Development and the National Institute of Aging, both part of the National Institutes of Health.
Judith E. Carroll, Kharah M. Ross, Steve Horvath, Michele Okun, Calvin Hobel, Kelly E. Rentscher, Mary Coussons-Read, Christine Dunkel Schetter.
Postpartum sleep loss and accelerated epigenetic aging.
Sleep Health, 2021; 7 (3): 362 DOI:
10.1016/j.sleh.2021.02.002
Problems In Thinking And Attention Linked To COVID-19 Infection
Evidence of cognitive deficits in people who have recovered from COVID-19 has been discovered in a new study of over 80,000 individuals.

The research found that those with more severe COVID-19 symptoms scored lower on an online series of tests, with performance on reasoning and problem-solving tasks being most affected. Further analysis of the data indicated that those who received mechanical ventilation to help them breathe whilst in hospital had the greatest impairment on cognitive tasks.
Published in the journal EClinicalMedicine, the research was a collaboration between King's College London, Imperial College London and Cambridge University. It was part-funded by the UK Dementia Research Institute Care Research & Technology Centre and the National Institute of Health Research (NIHR) Maudsley Biomedical Research Centre.
A series of online tests, developed by first author on the study and Reader in Restorative Neuroscience at Imperial College London Dr Adam Hampshire had been opened up to the general public just before the pandemic for the BBC2 Horizon's Great British Intelligence test. In early 2020 the study team extended the questionnaires to gather information on SARS-CoV-2 infection, the symptoms experienced and the need for hospitalisation.
Out of the 81,337 who provided complete data, 12,689 people suspected they had COVID-19. Participants reported a range of severity of illness, with many experiencing respiratory symptoms whilst still being able to stay at home (3,559 participants). Nearly 200 were hospitalised (192 participants) and about a quarter of these (44 participants) required mechanical ventilation.
The time since illness onset was around 1-6 months, meaning the study could not draw any definitive conclusions about whether these effects on cognition were long-lasting.
Thinking problems and respiratory symptoms
The study found a relationship between deficits in overall cognitive performance and severity of respiratory symptoms experienced. The research also found that not all areas of thinking ability correlated in the same way with COVID-19 illness and that some abilities were spared, which included emotional discrimination (recognition of faces that were expressing the same emotion) and working memory (remembering where a sequence of squares appears on the screen). In comparison 'executive' tasks that required skills in reasoning (e.g. Deciding if relationships between words were similar) and problem solving (working out how many moves it would take to go from one arrangement to another) seemed to show the greatest deficit.
To understand the size of the deficits the authors compared the pattern of scores on the tests to cognitive changes that occur for other reasons. The effects in those hospitalised with mechanical ventilation were similar to the average cognitive decline seen over a period of ten years of ageing and equivalent to a seven-point difference in IQ.
Ruling out other explanations
The researchers carried out a series of checks to ensure these cognitive deficits were associated with COVID-19 and not explicable by other variables. These included separating out those who had a confirmed positive test for SARS-CoV-2 and demonstrating that the cognitive deficits were indeed greater in those with positive tests. Further checks suggested the results were not due to a minority with pre-existing conditions or on-going symptoms of COVID-19. Analysis also indicated that it was unlikely that the results could be explained by the fact that those who contracted more severe COVID-19 disease were less cognitively able before they were ill.
Dr Adam Hampshire, first author on the study, said: "Our study adds to an increasing body of research that is looking at different aspects of how COVID-19 might be impacting the brain and brain function. This research is all converging to indicate that there are some important effects of COVID-19 on the brain that need further investigation. Going forward it would be valuable to bring together brain imaging and cognitive tests with other information on mental health and everyday function, ideally in studies that track peoples' trajectories for months or even years. To really know what the long-term effects are for people will require people to be followed up over time."
New studies, such as COVID-19 Clinical Neuroscience Study (COVID-CNS), led by King's College London and University of Liverpool and the REACT Long COVID study, led by Imperial College London, are now applying these cognitive tools to study the long-term impacts of COVID-19.
"A critical question remains as to why some cognitive functions are more affected than others," said Mitul Mehta, Professor of Neuroimaging from King's College London and senior author on the study. "It is already known that hypoxia and mechanical ventilation are associated with cognitive deficits similar to those observed in this study, and there is now evidence of neurological complications in some patients, as well as psychiatric consequences. As we are coming through the third wave of the pandemic, there are more available options that can reduce the severity of COVID-19 such as vaccination and effective treatments whilst in hospital. The findings from this study suggest that by reducing the severity of illness through these different approaches we may also be able to reduce the severity of cognitive difficulties people may experience."
Adam Hampshire, William Trender, Samuel R Chamberlain, Amy E. Jolly, Jon E. Grant, Fiona Patrick, Ndaba Mazibuko, Steve CR Williams, Joseph M Barnby, Peter Hellyer, Mitul A Mehta.
Cognitive deficits in people who have recovered from COVID-19
. EClinicalMedicine, 2021; 101044 DOI:
10.1016/j.eclinm.2021.101044
Growing Evidence Of Vitamin K Benefits For Heart Health
New Edith Cowan University (ECU) research has found that people who eat a diet rich in vitamin K have up to a 34 percent lower risk of atherosclerosis-related cardiovascular disease (conditions affecting the heart or blood vessels).
Researchers examined data from more than 50,000 people taking part in the Danish Diet, Cancer, and Health study over a 23-year period. They investigated whether people who ate more foods containing vitamin K had a lower risk of cardiovascular disease related to atherosclerosis (plaque build-up in the arteries).
There are two types of vitamin K found in foods we eat: vitamin K1 comes primarily from green leafy vegetables and vegetable oils while vitamin K2 is found in meat, eggs and fermented foods such as cheese.
The study found that people with the highest intakes of vitamin K1 were 21 percent less likely to be hospitalised with cardiovascular disease related to atherosclerosis.
For vitamin K2, the risk of being hospitalised was 14 percent lower.
This lower risk was seen for all types of heart disease related to atherosclerosis, particularly for peripheral artery disease at 34 percent.
ECU researcher and senior author on the study Dr Nicola Bondonno said the findings suggest that consuming more vitamin K may be important for protection against atherosclerosis and subsequent cardiovascular disease.
"Current dietary guidelines for the consumption of vitamin K are generally only based on the amount of vitamin K1 a person should consume to ensure that their blood can coagulate," she said.
"However, there is growing evidence that intakes of vitamin K above the current guidelines can afford further protection against the development of other diseases, such as atherosclerosis.
"Although more research is needed to fully understand the process, we believe that vitamin K works by protecting against the calcium build-up in the major arteries of the body leading to vascular calcification."
University of Western Australia researcher Dr Jamie Bellinge, the first author on the study, said the role of vitamin K in cardiovascular health and particularly in vascular calcification is an area of research offering promising hope for the future.
"Cardiovascular disease remains a leading cause of death in Australia and there's still a limited understanding of the importance of different vitamins found in food and their effect on heart attacks, strokes and peripheral artery disease," Dr Bellinge said.
"These findings shed light on the potentially important effect that vitamin K has on the killer disease and reinforces the importance of a healthy diet in preventing it."
Next steps in the research
Dr Bondonno said that while databases on the vitamin K1 content of foods are very comprehensive, there is currently much less data on the vitamin K2 content of foods. Furthermore, there are 10 forms of vitamin K2 found in our diet and each of these may be absorbed and act differently within our bodies.
"The next phase of the research will involve developing and improving databases on the vitamin K2 content of foods.
"More research into the different dietary sources and effects of different types of vitamin K2 is a priority," Dr Bondonno said.
Additionally, there is a need for an Australian database on the vitamin K content of Australian foods (e.g. vegemite and kangaroo).
To address this need, Dr Marc Sim, a collaborator on the study, has just finished developing an Australian database on the vitamin K content of foods which will be published soon.
The paper 'Vitamin K intake and atherosclerotic cardiovascular disease in the Danish Diet Cancer and Health Study' was published in the Journal of the American Heart Association. The research is part of ECU's Institute of Nutrition Research.
It was a collaboration with researchers from the University of Western Australia, Royal Perth Hospital, Herlev & Gentofte University Hospital in Denmark and the Danish Cancer Society Research Centre.
The Institute for Nutrition Research was established as an ECU Strategic Research Institute in 2020. Find out more about their work.
Jamie W. Bellinge, Frederik Dalgaard, Kevin Murray, Emma Connolly, Lauren C. Blekkenhorst, Catherine P. Bondonno, Joshua R. Lewis, Marc Sim, Kevin D. Croft, Gunnar Gislason, Christian Torp‐Pedersen, Anne Tjønneland, Kim Overvad, Jonathan M. Hodgson, Carl Schultz, Nicola P. Bondonno.
Vitamin K Intake and Atherosclerotic Cardiovascular Disease in the Danish Diet Cancer and Health Study
. Journal of the American Heart Association, 2021; DOI:
10.1161/JAHA.120.020551
Starving Pneumonia-Causing Bacteria Of Its Favourite 'Food' Holds Promise For New Antibiotics
Australian researchers have revealed how the bacterium Streptococcus pneumoniae (pneumococcus) obtains the essential nutrient, manganese, from our bodies, which could lead to better therapies to target what is a life-threatening, antibiotic-resistant pathogen.
Pneumococcus is one of the world's deadliest organisms, responsible for more than one million deaths each year and is the leading infectious cause of mortality in children under five. It is the main cause of bacterial pneumonia, as well as a major cause of meningitis, sepsis and inner ear infections (otitis media).
Published today in Science Advances and after ten years of detailed investigations, researchers from the Peter Doherty Institute for Infection and Immunity (Doherty Institute) and the Bio21 Molecular Science & Biotechnology Institute (Bio21), along with collaborators at the Australian National University and Kyoto University, Japan, have determined the structure of the unique 'gateway' that pneumococcus uses to steal manganese from the body.
All organisms, including pathogens, need vitamins and minerals to survive. While researchers knew that manganese was critical for survival of the pneumococcus, how it took manganese from the body wasn't understood.
University of Melbourne Associate Professor Megan Maher, a laboratory head at Bio21, said they noticed the bacterium was drawing in nutrients in a regulated way.
"Eventually we discovered that this was due to a unique gateway that sits in the bacterium's membrane that opens and closes to specifically allow manganese in," said Associate Professor Maher.
"This is a completely new structure that has never been seen in a pathogen like this."
University of Melbourne Professor Christopher McDevitt, a laboratory head at the Doherty Institute, said the study's finding changes what we know about the pathogen's survival.
"Previously, it was thought that these gateways acted like Teflon coated channels in the sense that everything just flowed through," explained Professor McDevitt.
"Now we understand that it is selectively drawing the manganese in. Any disturbance of this gateway starves the pathogen of manganese, which prevents it from being able to cause disease."
It could hold the key to better and alternative therapies against the pneumococcus.
Although a pneumococcal vaccine does exist, it only provides limited protection against circulating strains, and antibiotic resistance rates are rapidly rising.
"It's a really attractive therapeutic target as it sits on the surface of the bacterium, and our bodies don't use this type of gateway," Professor McDevitt said
"At a time when we are seeing rising resistance to our first and last line antibiotics, and the emergence of 'superbugs', it is important that we think of new strategies to control this deadly organism."
Stephanie L. Neville, Jennie Sjöhamn, Jacinta A. Watts, Hugo MacDermott-Opeskin, Stephen J. Fairweather, Katherine Ganio, Alex Carey Hulyer, Aaron P. McGrath, Andrew J. Hayes, Tess R. Malcolm, Mark R. Davies, Norimichi Nomura, So Iwata, Megan L. O'Mara, Megan J. Maher, Christopher A. McDevitt.
The structural basis of bacterial manganese import
. Science Advances, 2021; 7 (32): eabg3980 DOI:
10.1126/sciadv.abg3980
Disclaimer: These articles are not intended to provide medical advice, diagnosis or treatment. Views expressed here do not necessarily reflect those of Pittwater Online News or its staff.