inbox and environment news: Issue 503
July 25 - 31, 2021: Issue 503
Biodiversity, Climate Change And The Fate Of Coral Reefs: International Group Of Calling For New Commitments And Actions
An international group of researchers representing thousands of coral scientists across the globe is calling for new commitments and actions by the world's policymakers to protect and restore coral reefs.
In a paper presented July 20 at the
International Coral Reef Symposium
, the scientists said that the coming decade will likely offer the last chance for policymakers at all levels to prevent coral reefs "from heading towards world-wide collapse."
The paper, developed by the
International Coral Reef Society
, pushes for three strategies to save the reefs: addressing climate change, improving local conditions and actively restoring coral.
"The model projections show that up to 30% of coral reefs will persist through this century if we limit global warming to 1.5 degrees Celsius," said Andréa Grottoli, distinguished professor of earth sciences at The Ohio State University, society president and a contributing author of the paper.
"But if we are to limit warming to 1.5 degrees, we have to do it now: The science and the models show that we have only a few years left to reduce carbon dioxide emissions that put us on that path. It has to happen this decade, or we won't make that target."
Coral reefs are at an inflection point, the researchers say. Stop climate change now -- and start to reverse it -- and some reefs might survive, with the possibility that they could be rebuilt in the future and provide the seeds to regrow damaged reefs elsewhere.
"From a coral reef perspective, we go from 30% of reefs surviving to only a few percent surviving if we don't act now," Grottoli said. "We are already faced with a grand challenge in trying to restore the reefs. Once we do eventually reduce carbon dioxide emissions and the planet is no longer warming at an accelerated rate, trying to restore from just a few percent is much more difficult."
This year, policymakers from around the world will create updated global frameworks for addressing both of those crises, via the upcoming Conference of the Parties to the United Nations Framework Convention on Climate Change (COP26) and the Conference of the Parties to the Convention on Biological Diversity (COP15). Grottoli said the society created its policy paper to influence those frameworks.
The society's paper makes three asks of policymakers:
Commit to addressing biodiversity loss and the effect climate change has had on coral reefs, ensure policies are ambitious enough to address those crises, and ensure that policies are implemented.
Build coordinated actions across related policy fields at all levels of governance, from local councils to international bodies. This includes efforts in conservation, management and restoration, as well as policies that address climate change adaptation, biodiversity and sustainable development.
Innovate new approaches to help coral adapt to climate change. Global warming is here, and adaptation is unavoidable. A small percentage of reefs and some coral species have been successfully managed. "Studies of these 'bright spots' provide important lessons to guide future actions, such as how local community participation can improve management outcomes," the scientists wrote.
"As bad as climate change has been for the last decades, we also have lost vast amounts of coral reefs through overfishing, pollution and other local actions, and we need to tackle both of those fronts simultaneously," said Nancy Knowlton, lead author of the paper and Sant Chair for Marine Science Emerita at the Smithsonian Institution's National Museum of Natural History.
"Climate change is important but it's important that these other things aren't neglected. There's no time for arguing about which is most important; we need to do all of them."
Coral reefs are crucial ecosystems, housing about a third of the known ocean species despite covering less than 0.1% of the world's oceans. They are also critical for local food supplies and economies. Reef-related tourism alone generates some $36 billion per year and the global economic value of reefs across all sectors approaches $10 trillion per year.
They are sources for important biochemical compounds, including drugs that treat cancer.
And they protect coasts from storm flooding: A healthy reef can break waves and buffer more than 90% of incoming wave height and energy. In the United States and its territories alone, according to the ICRS paper, the annual value of flood risk reduction provided by coral reefs is more than 18,000 lives affected by flooding and $1.8 billion. Without reefs, researchers have estimated that annual flood damage would more than double, and that flooding would increase by 69%.
But reefs are particularly susceptible to the negative effects of climate change, which causes ocean temperatures to increase and ocean waters to acidify. Those environmental changes can cause coral to bleach, stop growing and die.
"The window for opportunities to act both on coral reef adaptation and on climate change mitigation will soon close for good," said David Obura, contributing author to the paper and director of CORDIO East Africa, a nonprofit research organisation focused on coral reefs and sustainability in Africa. "We need a massive increase in commitment now and even more in coming years, coherence across all scales and jurisdictions, and innovation -- new mindsets, approaches and techniques. More than anything we need everyone to act, including us scientists by providing our approaches and knowledge, to do our part in saving coral reefs."
No Excuse To Continue Reliance On Fossil Fuels Says Leading Nano-Technologist
One of the leading thinkers in nano-science has called on the energy materials community to help finally put an end to the world's reliance on fossil fuels.
In a hard-hitting editorial published by Energy and Environmental Materials, Professor Ravi Silva, Director of the Advanced Technology Institute (ATI) at the University of Surrey, argues that there are no coherent excuses left to justify the use of fossil fuels. In his paper, Professor Silva challenges the scientific community to lead the world away from a reality where fossil fuels still account for 80 per cent of the energy mix.
While the cost of clean energy generation has plummeted over recent years, Professor Silva argues that significant innovations in advanced batteries and energy storage technologies are needed to meet the International Energy Agency's goal of the planet being carbon net-zero by 2050.
For example, the transportation sector would need to see a 15-fold rise in electric vehicle sales from 10m in 2020 to 145m in 2030 -- a goal entirely dependent on a leap in battery and energy storage technology, according to Professor Silva.
Professor Silva concludes that these unprecedented but much-needed goals are only possible if the scientific community usher in a new wave of energy materials that are cheap, easily deployable and have short payback times.
Professor Ravi Silva, Director of the ATI at the University of Surrey, said:
"The pandemic has been a truly horrific experience. However, one of the few positives that I can gather from the past two years is that it has allowed me to take stock and refocus on the incredible challenge of combatting climate change. It is increasingly clear that the energy materials community has a crucial role to play in weaning the world off fossil fuels.
"The cost of green energy is falling all the time -- in the UK, solar and wind generation is competitive with fossil fuels. But we need to look at improvements in thin-film technologies, new polymers and other hybrid materials that can boost energy capture capabilities while reducing the cost of production if we are to have a genuine green energy revolution."
S. Ravi P. Silva.
Now is the time for energy materials research to save the planet.
Energy and Environmental Materials, 2021 DOI:
10.1002/eem2.12233
How Green Is Your Plastic?
Despite the best efforts of industry to work towards sustainability, most plastics (or polymers) are still made using non-renewable fossil fuels. However, researchers have now found an economical method for producing biobased acrylate resins. The study, published in the journal Angewandte Chemie, shows how all the synthesis steps, from initial building blocks right up to polymerization, can be carried out in a single reactor (one pot), minimizing environmental impact.
Most varnishes, adhesives and paints are made from acrylate resins, which are polymers of acrylic acid esters and methacrylic acid esters. The raw materials that form these esters are acrylic or methacrylic acid, and alcohols. The alcohols give the plastics properties, such as softness or hardness, and water absorption or repulsion.
To make these polyacrylates and polymethacrylates more sustainable, Christophe Thomas and his team from the Institut de Recherche de Chimie in Paris, France, used alcohols from biobased or natural sources, rather than fossil sources. These included plant-based lauryl alcohol, menthol, tetrahydrogeraniol (a pheromone-like substance), vanillin, and ethyl lactate.
In addition to sustainability through renewable resources, the team also targeted synthesis in as few steps as possible, in other words a one-pot process. This meant they had to find catalysts that were suitable for several steps of the process, and also to finely tune all the other synthesis conditions, such as solvents, concentrations, and temperatures.
The first step in this kind of synthesis is the activation of acrylic or methacrylic acid. The researchers were able to identify catalysts from simple salts. These substances were also suitable for the next step, reacting the biobased alcohols with acrylic or methacrylic anhydride (a condensed form of the acids) to give the corresponding esters, which are the building blocks of the subsequent polymer.
"This monomer preparation step is highly efficient and allowed us to perform the polymerization in the same reactor," says Thomas. Thus, without purifying the intermediate products, the team was ultimately able to produce block copolymers, which are widely used in plastics production, from two or three different individual polymers produced separately.
The team's biobased plastics had a number of beneficial properties, depending on the monomers making them up. For example, the resin produced with a lactic acid side chain (poly(ELMA)) was hard and brittle, while the one produced with the more flexible tetrahydrogeraniol side chain (poly(THGA)) was pliable at room temperature. The authors emphasize the numerous available possibilities thanks to the wide variety of biobased alcohols at their disposal.
Aside from the versatility of the team's approach, their one-pot synthesis also helps reduce the environmental footprint. Since work-up solvents account for a large proportion of the E-factor, or environmental impact, of plastics synthesis, one-pot processes without work-up obviously greatly reduce this factor. Their most successful synthesis reduced the E-factor by three quarters, demonstrating the significance of this research.
Hugo Fouilloux, Wei Qiang, Carine Robert, Vincent Placet, Christophe M. Thomas.
Multicatalytic Transformation of (Meth)acrylic Acids: a One‐Pot Approach to Biobased Poly(meth)acrylates
. Angewandte Chemie International Edition, 2021; DOI:
10.1002/anie.202106640
New Evidence Of Menopause In Killer Whales
Scientists have found new evidence of menopause in killer whales -- raising fascinating questions about how and why it evolved.

Most animals breed throughout their lives. Only humans and four whale species are known to experience menopause, and scientists have long been puzzled about why this occurs.
Killer whales are a diverse species made up of multiple separate ecotypes (different types within a species) across the world's oceans that differ in their prey specialisation and patterns of social behaviour.
Previous studies have found menopause in an ecotype called "resident" killer whales whose social structure appears to favour "grandmothering" (females using their energy and knowledge to help their offspring and grand-offspring, rather than competing to breed themselves).
The new study looked at an ecotype of killer whales with a different social structure, where offspring are more likely to leave their mother -- and the evolutionary benefits of grandmothering are therefore reduced.
However, menopause was found to be strikingly similar in both killer whale ecotypes.
The research was carried out by the University of Exeter, DFO Canada, the Center for Whale Research, the University of Cambridge and the University of York.
"Previous research on the evolution of menopause has focussed on resident killer whales, where both males and females usually stay in the social group into which they were born," said lead author Mia Lybkær Kronborg Nielsen, of the University of Exeter.
"As a result, females become increasingly genetically related to the other members of the group as they age.
"At birth, their father is not in their family group and their relatedness to males in the group is comparatively low, but by later life, many of the group members are their children or grandchildren, increasing their average relatedness to the group.
"The new study looks at Bigg's killer whales, which may leave their birth group around the time of maturity.
"Some sons and daughters stay with their mother, but overall we predict a weaker pattern of increased relatedness to fellow group members as a whale ages.
"We expected this to be important in terms of menopause because weaker relatedness would appear to give females a weaker evolutionary reason to cease reproduction."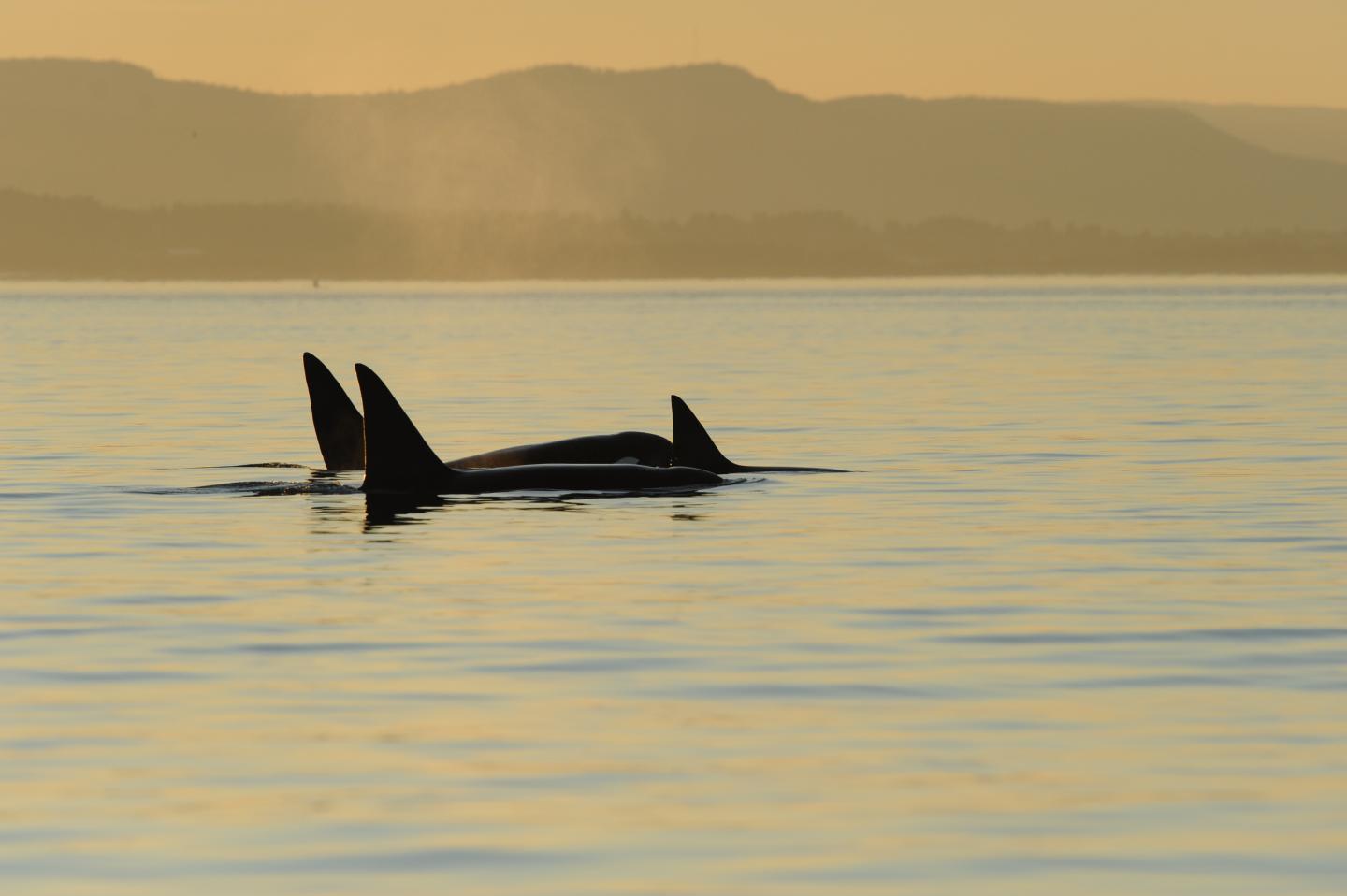 A group of Bigg's killer whales near the coast of Washington State, USA. Typically, groups consist of a female and 2-3 of her offspring. Credit Center for Whale Research

Using more than 40 years of data on Bigg's and resident whales, the researchers found a similar pattern of post-reproductive life for females -- accounting for more than 30% of adult years.
"These different whale populations both show increased female relatedness with age, but -- as this is stronger in resident than Bigg's killer whales -- it's not immediately clear why the age at menopause and the length of the post-reproductive lifespan seems to be the same in both," said Professor Darren Croft, of the University of Exeter.
"Based on theory, we would expect the effect to be stronger in resident killer whales.
"Further research using drones to study how grandmother killer whales help their offspring and grand-offspring in the different populations will allow us to investigate this, and in doing so learn more about how menopause evolved in whales and humans."
Thomas Doniol-Valcroze and Jared Towers, of DFO Canada, said: "This study highlights the value of long-term population studies in which individuals are documented throughout their lives.
"Not only do the results contribute to a better understanding of animal evolution, they have significant implications for conservation by shedding light on the importance of social structure for the recovery of these populations."
Despite living in overlapping waters in the northeast Pacific, these whale populations do not inter-breed.
The differing social structures are probably caused by prey availability.
Resident whales feed on salmon, which have historically been plentiful (though human activities have changed this), allowing the whales to live in larger groups.
Bigg's whales hunt mammals such as seals, and generally disperse into smaller groups to reduce competition -- there are only so many mouths that a seal kill will feed.
The study was funded by the Natural Environment Research Council and the Leverhulme Trust.
Mia Lybkær Kronborg Nielsen, Samuel Ellis, Jared R. Towers, Thomas Doniol‐Valcroze, Daniel W. Franks, Michael A. Cant, Michael N. Weiss, Rufus A. Johnstone, Kenneth C. Balcomb, David K. Ellifrit, Darren P. Croft.
A long postreproductive life span is a shared trait among genetically distinct killer whale populations.
Ecology and Evolution, 2021; 11 (13): 9123 DOI:
10.1002/ece3.7756
Climate Change Threatens Food Security Of Many Countries Dependent On Fish
Millions of people in countries around the world could face an increased risk of malnutrition as climate change threatens their local fisheries.

New projections examining more than 800 fish species in more than 157 countries have revealed how two major, and growing, pressures -- climate change and over-fishing -- could impact the availability of vital micronutrients from our oceans.
As well as omega-3 fatty acids, fish are an important source of iron, zinc, calcium, and vitamin A. A lack of these vital micronutrients is linked to conditions such as maternal mortality, stunted growth, and pre-eclampsia.
Analyses by an international team from the UK and Canada and led by scientists from Lancaster University reveal that climate change is the most pervasive threat to the supply of essential micronutrients from marine fish catches, and threatens the supply of vital micronutrients from fisheries in 40 per cent of countries. Fisheries micronutrient supplies were found to be less vulnerable to overfishing.
Countries among those whose fisheries micronutrient sources are at risk from climate change tend to be tropical nations and include East Asian and Pacific countries such as Malaysia, Cambodia, Indonesia, and Timor Leste, as well as Sub-Saharan African countries such as Mozambique and Sierra Leone.
This vulnerability to climate change for these nations' fisheries is particularly acute given dietary deficiencies in calcium, iron, zinc, and vitamin A are particularly prevalent in the tropics. And these tropical countries are also less resilient to disruptions of their fisheries by climate change because they strongly rely on fisheries to support their national economies and their population's diets and have limited societal capacity to adapt.
The study, which is outlined in the paper 'Micronutrient supply from global marine fisheries under climate change and overfishing', is published today by Current Biology.
Previous studies, most notably research into the micronutrient content of fish, which was led by Professor Christina Hicks and published by Nature, showed that fish are unequal when it comes to their nutritional content. A range of factors, such as diet, sea water temperature and energetic expenditure influence the amount of micronutrients that fish contain. Tropical fish tend to be richer in micronutrients than cold water species.
When it comes to resilience to climate change and fishing, again not all fish are equal. Earlier studies by Professor William Cheung and colleagues have shown large fish species that have a small range tend to be more vulnerable to climate change. While species that take longer to reach maturity and grow slower, are more vulnerable to fishing -- because it takes longer for their stocks to replenish.
Their findings show only a weak link between the micronutrient density of an individual fish species' and its vulnerability to climate change or overfishing.
However, when the scientists looked at countries' overall fisheries catches then their findings revealed a clear impact from climate change on the overall availability of micronutrients for around 40 per cent of nations -- threatening the food security of millions of people living in these countries.
A key reason for why climate change is such a threat comes down to the species of fish that the countries are targeting as part of their catches.
Some tropical nations' fishers are targeting micronutrient-dense species that have an increased vulnerability to climate change, such as Indian and short mackerels (Rastrelliger kanagurta and Rastrelliger brachysoma), bonga and hilsa shads (Ethmalosa fimbriata and Tenualosa ilisha) and dolphinfish (Coryphaena hippurus).
However, there is a silver-lining to the study's findings which offers some hope for the future. Some countries may be able to adapt their fisheries to switch from vulnerable species and instead target alternative micronutrient-rich species that are also resilient to both climate change and overfishing, but which are currently under-represented within catches.
Dr Eva Maire, of Lancaster University and Lead author of the study, said: "As climate change and over-fishing are significant and growing pressures on global fish stocks, it is essential for the dietary requirements of millions of people to know the extent that these pressures will have on the availability of micronutrients in our seas in the future.
"We have shown that climate change is the most pervasive threat to the supply of vital micronutrients for many countries around the world, and in particular in the tropics.
This study draws on the 'FishNutrients' model, a recently released finfish nutrient composition database.
"These data open up a whole new area of research and are crucial to address global food security challenges" said co-author Aaron MacNeil, Associate Professor in the Ocean Frontier Institute at Dalhousie University. "Our research highlights that efforts to improve food security and to tackle malnutrition there is a need to integrate fisheries, climate and food policies to secure these micronutrients for existing and future generations."
Professor William Cheung, co-author from the University of British Columbia, said: "As well as highlighting the growing threat of climate change to the food security of millions of people, our study also offers hope for the future. Armed with nutritional information about different fish species, many countries have the capacity to adapt their fisheries policies to target different more resilient fish species. By doing this then these nations can ensure a more reliable supply of micronutrients for their people."
This research was funded by the European Research Council, the Royal Society, the Leverhulme Trust and NSERC Canada.
Eva Maire, Nicholas A.J. Graham, M. Aaron MacNeil, Vicky W.Y. Lam, James P.W. Robinson, William W.L. Cheung, Christina C. Hicks.
Micronutrient supply from global marine fisheries under climate change and overfishing.
Current Biology, 2021 DOI:
10.1016/j.cub.2021.06.067
Rapidly Diversifying Birds In Southeast Asia Offer New Insights Into Evolution
New findings from zoologists working with birds in Southeast Asia are shining fresh light on the connections between animal behaviour, geology, and evolution -- underlining that species can diversify surprisingly quickly under certain conditions.
The zoologists, from Trinity College Dublin's School of Natural Sciences, sequenced DNA and took measurements and song recordings from Sulawesi Babblers (Pellorneum celebense), shy birds that live in the undergrowth on Indonesian islands.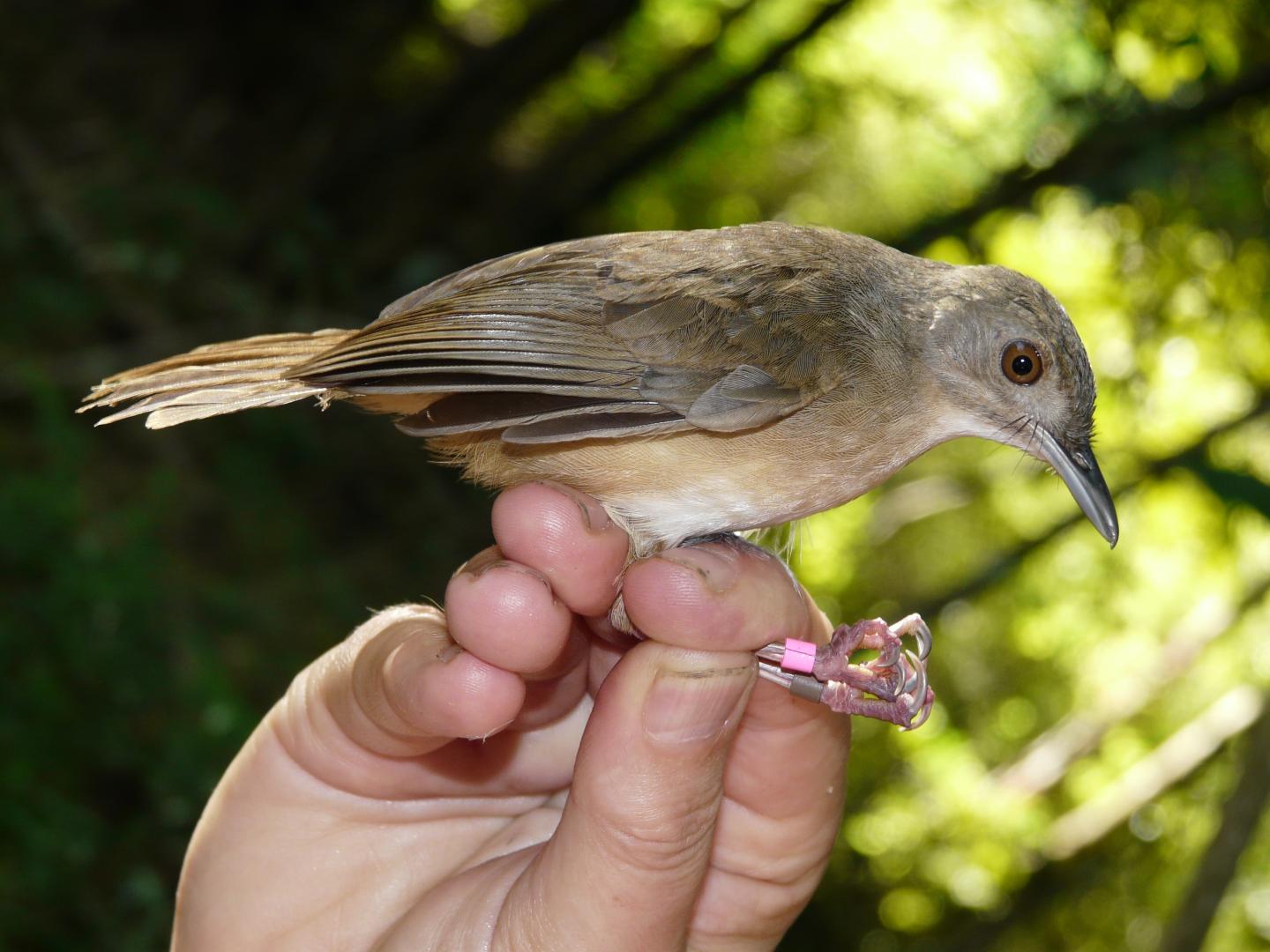 THE SULAWESI BABBLER, A PLAIN-LOOKING BROWN BIRD WITH INTERESTING THINGS TO TELL US ABOUT ISLAND EVOLUTION. CREDIT: TRINITY COLLEGE DUBLIN.

Although these islands were connected by land bridges just tens of thousands of years ago, and although the babblers look so similar that they are currently all considered a single subspecies, the new study shows that their DNA, body size and song have all changed in what is a very brief period of time from an evolutionary perspective.
The zoologists believe that this evolutionary divergence is likely facilitated by the babblers' understorey lifestyle, which limits the birds' movements even though they could easily fly between the islands if they chose to.
In the short time these islands have been isolated, the babbler subspecies have evolved to vary genetically from each other by as much as 1/3 as they do from more distantly related bird species that separated millions of years ago.
Fionn Ó Marcaigh, first author on the paper and a PhD Candidate in Trinity's School of Natural Sciences, said:
"Everyone has heard of Darwin's finches evolving completely different bill shapes on the Galápagos islands. The Galápagos are isolated out in the Pacific, so the birds there have had millions of years to evolve separately. But sometimes evolution can occur on much smaller scales of time and space and can be harder to detect just by looking at the animals in question.
"Unlike the Galápagos, the islands we looked at are just 20 km or less from the mainland. The more we study biodiversity, the more we realise is out there, as species and islands that have never been examined closely can turn out to be full of surprises.
"And a lot of it is under threat: in our study, the islands with the most distinct populations were those made of a particular rock type. This ultramafic rock is full of minerals like nickel, which get into the soil and change which plants can grow, to which the birds have to adapt. But that same nickel is being sought by mining companies so time is running out for the islands' biodiversity before we've even captured a full picture of it or understood how it's evolved."
The research, completed with the support of the Irish Research Council and collaborators in Universitas Halu Oleo, has just been published in Zoologischer Anzeiger: A Journal of Comparative Zoology.
Fionn Ó Marcaigh, David J. Kelly, Darren P. O'Connell, Daniel Dunleavy, Alice Clark, Naomi Lawless, Adi Karya, Kangkuso Analuddin, Nicola M. Marples.
Evolution in the understorey: The Sulawesi babbler Pellorneum celebense (Passeriformes: Pellorneidae) has diverged rapidly on land-bridge islands in the Wallacean biodiversity hotspot.
Zoologischer Anzeiger, 2021; 293: 314 DOI:
10.1016/j.jcz.2021.07.006
Using Snakes To Monitor Fukushima Radiation
Ten years after one of the largest nuclear accidents in history spewed radioactive contamination over the landscape in Fukushima, Japan, a University of Georgia study has shown that radioactive contamination in the Fukushima Exclusion Zone can be measured through its resident snakes.
The team's findings, published in the recent journal of Ichthyology & Herpetology, report that rat snakes are an effective bioindicator of residual radioactivity. Like canaries in a coal mine, bioindicators are organisms that can signal an ecosystem's health.
An abundant species in Japan, rat snakes travel short distances and can accumulate high levels of radionuclides. According to the researchers, the snakes' limited movement and close contact with contaminated soil are key factors in their ability to reflect the varying levels of contamination in the zone.
Hanna Gerke, an alumna of UGA's Savannah River Ecology Laboratory and the Warnell School of Forestry and Natural Resources, said tracked snakes moved an average of just 65 meters (approximately 213 feet) per day.
"Our results indicate that animal behaviour has a large impact on radiation exposure and contaminant accumulation," Gerke said. "Studying how specific animals use contaminated landscapes helps increase our understanding of the environmental impacts of huge nuclear accidents such as Fukushima and Chernobyl."
Why are snakes a good indicator of radioactive contamination?
James C. Beasley, Gerke's advisor during the study, said snakes can serve as better indicators of local contamination in the zone than more mobile species like East Asian raccoon dogs, wild boar and song birds.
"Snakes are good indicators of environmental contamination because they spend a lot of time in and on soil," said Beasley, associate professor at SREL and Warnell. "They have small home ranges and are major predators in most ecosystems, and they're often relatively long-lived species."
The team identified 1,718 locations of the snakes while tracking them for over a month in the Abukuma Highlands, approximately 15 miles northwest of the Fukushima Daiichi Nuclear Power Plant. The paper's findings reinforce the team's previous study published in 2020, which indicated the levels of radiocesium in the snakes had a high correlation to the levels of radiation in the soil where the snakes were captured.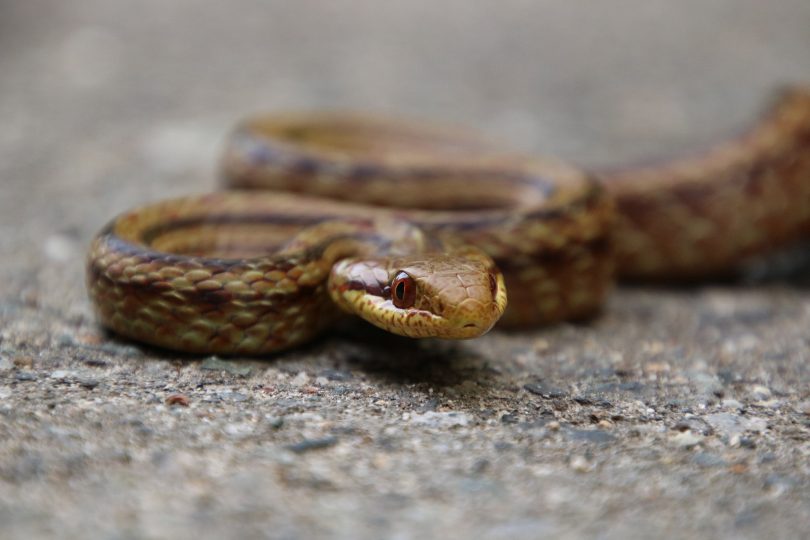 A Japanese rat snake crossing a rural road in the Fukushima Evacuation Zone in Japan. (Photo by Hannah Gerke)

To determine where the snakes were spending their time and how far they were moving, the team tracked nine rat snakes using a combination of GPS transmitters and manual very-high frequency tracking. Beasley said VHF transmitters allowed the team to physically locate a snake every few days to identify if it was underground or in arboreal habitat.
The researchers placed the transmitters on the rear back of the snakes. Tape was initially placed around the snakes. Then superglue was used to ensure the transmitters were secured to the tape. This allowed the transmitters to easily be removed from the animals at the conclusion of the study.
Working in the hilly, rugged terrain of abandoned villages and farms, the team located snakes in trees, grasslands and along roadside streams. Gerke said the snakes avoided the interior of conifer forests but were often found in deciduous forests, along forest edges and inside of abandoned buildings. More than half of the tracked snakes, she said, spent time in abandoned barns and sheds, which can help shield them from contamination in the surrounding soil.
During winter months, their risk of exposure likely increases when they seek shelter underground, close to the more heavily contaminated soils. Future work to clarify the link between the micro-habitat use of species like snakes and their contaminant exposure, as well as the potential health risks to snakes and other wildlife due to increased radiation exposure, will be critical to understanding the effects of the Fukushima Daiichi accident on local wildlife populations.
Hannah C. Gerke, Thomas G. Hinton, James C. Beasley.
Movement Behavior and Habitat Selection of Rat Snakes (Elaphe spp.) in the Fukushima Exclusion Zone.
Ichthyology & Herpetology, 2021; 109 (2) DOI:
10.1643/h2019282
More Buoyant Liquid-Proof Life Jackets And Swimsuits Developed
Summertime in the northern hemisphere is here, and that often means long, lazy days at the beach, water skiing and swimming. Life jackets and swimsuits are essential gear for these activities, but if not dried thoroughly, they can develop a gross, musty smell. Now, researchers reporting in ACS Applied Materials & Interfaces have developed a one-step method to create a buoyant cotton fabric for these applications that is also oil- and water-repellent.
Waterproof and oil-proof fabrics are in high demand for recreational water activities because of their low drag and self-cleaning properties. And while cotton is a popular fabric, it's hydrophilic, so most liquids and dirt can easily mess it up. To improve cotton's impermeability, previous researchers developed superamphiphobic coatings that were extremely water- and oil-repellant. But because they required multiple time-consuming steps to apply, these coatings were impractical for large-scale manufacturing. Others incorporated nanoparticles into their formulas, but there are concerns about these particles sloughing off and potentially harming the environment. Xiao Gong and Xinting Han wanted to develop a simple way to make a coating for cotton fabric so it would have superb liquid-repulsion properties and hold up in many challenging circumstances.
The researchers optimized a one-step process for a liquid-proof coating by mixing dopamine hydrochloride, 3-aminopropyltriethoxysilane and 1H,1H,2H,2H-perfluorodecyltriethoxysilane with a piece of cotton fabric for 24 hours. The three-part solution developed into a uniform, dark brown coating on the fabric. In tests, the treated cotton was impervious to many common liquids. The new solution also coated inner cotton fibers, making them liquid proof, too. In other tests, only strong acid and repeated washings reduced the material's water and oil resistance, respectively. Treated fabric soiled with fine sand was easy to clean with water, whereas water only wetted the control version. Finally, the material stayed afloat with up to 35 times its weight on it because of nanoscale air pockets that formed where the coating attached to the fabric, the researchers explain. They say their durable cotton fabric has great potential for applications where drag reduction and increased buoyancy are important, including swimsuits and life jackets.
Xinting Han, Xiao Gong.
In Situ, One-Pot Method to Prepare Robust Superamphiphobic Cotton Fabrics for High Buoyancy and Good Antifouling
. ACS Applied Materials & Interfaces, 2021; 13 (26): 31298 DOI:
10.1021/acsami.1c08844
15,000-Year-Old Viruses Discovered In Tibetan Glacier Ice
Scientists who study glacier ice have found viruses nearly 15,000 years old in two ice samples taken from the Tibetan Plateau in China. Most of those viruses, which survived because they had remained frozen, are unlike any viruses that have been catalogued to date.
The findings, published today in the journal Microbiome, could help scientists understand how viruses have evolved over centuries. For this study, the scientists also created a new, ultra-clean method of analyzing microbes and viruses in ice without contaminating it.
"These glaciers were formed gradually, and along with dust and gases, many, many viruses were also deposited in that ice," said Zhi-Ping Zhong, lead author of the study and a researcher at The Ohio State University Byrd Polar and Climate Research Center who also focuses on microbiology. "The glaciers in western China are not well-studied, and our goal is to use this information to reflect past environments. And viruses are a part of those environments."
The researchers analysed ice cores taken in 2015 from the Guliya ice cap in western China. The cores are collected at high altitudes -- the summit of Guliya, where this ice originated, is 22,000 feet above sea level. The ice cores contain layers of ice that accumulate year after year, trapping whatever was in the atmosphere around them at the time each layer froze. Those layers create a timeline of sorts, which scientists have used to understand more about climate change, microbes, viruses and gases throughout history.
Researchers determined that the ice was nearly 15,000 years old using a combination of traditional and new, novel techniques to date this ice core.
When they analysed the ice, they found genetic codes for 33 viruses. Four of those viruses have already been identified by the scientific community. But at least 28 of them are novel. About half of them seemed to have survived at the time they were frozen not in spite of the ice, but because of it.
"These are viruses that would have thrived in extreme environments," said Matthew Sullivan, co-author of the study, professor of microbiology at Ohio State and director of Ohio State's Center of Microbiome Science. "These viruses have signatures of genes that help them infect cells in cold environments -- just surreal genetic signatures for how a virus is able to survive in extreme conditions. These are not easy signatures to pull out, and the method that Zhi-Ping developed to decontaminate the cores and to study microbes and viruses in ice could help us search for these genetic sequences in other extreme icy environments -- Mars, for example, the moon, or closer to home in Earth's Atacama Desert."
Viruses do not share a common, universal gene, so naming a new virus -- and attempting to figure out where it fits into the landscape of known viruses -- involves multiple steps. To compare unidentified viruses with known viruses, scientists compare gene sets. Gene sets from known viruses are catalogued in scientific databases.
Those database comparisons showed that four of the viruses in the Guliya ice cap cores had previously been identified and were from virus families that typically infect bacteria. The researchers found the viruses in concentrations much lower than have been found to exist in oceans or soil.
The researchers' analysis showed that the viruses likely originated with soil or plants, not with animals or humans, based on both the environment and the databases of known viruses.
The study of viruses in glaciers is relatively new: Just two previous studies have identified viruses in ancient glacier ice. But it is an area of science that is becoming more important as the climate changes, said Lonnie Thompson, senior author of the study, distinguished university professor of earth sciences at Ohio State and senior research scientist at the Byrd Center.
"We know very little about viruses and microbes in these extreme environments, and what is actually there," Thompson said. "The documentation and understanding of that is extremely important: How do bacteria and viruses respond to climate change? What happens when we go from an ice age to a warm period like we're in now?"
Zhong, ZP., Tian, F., Roux, S. et al.
Glacier ice archives nearly 15,000-year-old microbes and phages.
Microbiome, 2021 DOI:
10.1186/s40168-021-01106-w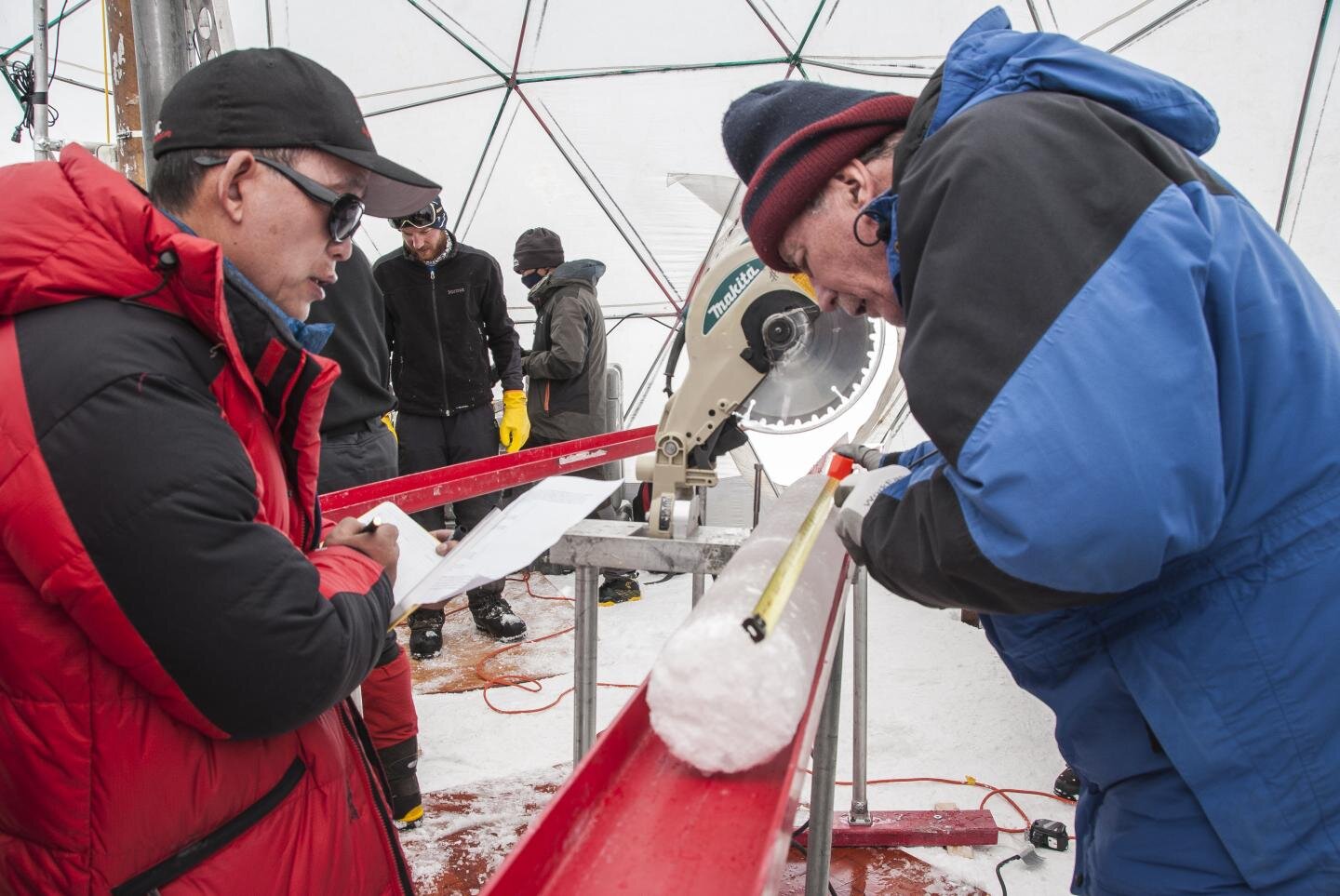 Yao Tandong, left, and Lonnie Thompson, right, process an ice core drilled from the Guliya Ice Cap in the Tibetan Plateau in 2015. The ice held viruses nearly 15,000 years old, a new study has found. Credit: Lonnie Thompson, The Ohio State University

Study Finds The Climate Impact Of Wild Pigs Greater Than A Million Cars
By uprooting carbon trapped in soil, wild pigs are releasing around 4.9 million metric tonnes of carbon dioxide annually across the globe, the equivalent of 1.1 million cars.

An international team led by researchers from The University of Queensland and The University of Canterbury have used predictive population models, coupled with advanced mapping techniques to pinpoint the climate damage wild pigs are causing across five continents.
UQ's Dr Christopher O'Bryan said the globe's ever-expanding population of feral pigs could be a significant threat to the climate.
"Wild pigs are just like tractors ploughing through fields, turning over soil to find food," Dr O'Bryan said.
"When soils are disturbed from humans ploughing a field or, in this case, from wild animals uprooting, carbon is released into the atmosphere.
"Since soil contains nearly three times as much carbon than in the atmosphere, even a small fraction of carbon emitted from soil has the potential to accelerate climate change.
"Our models show a wide range of outcomes, but they indicate that wild pigs are most likely currently uprooting an area of around 36,000 to 124,000 square kilometres, in environments where they're not native.
"This is an enormous amount of land, and this not only affects soil health and carbon emissions, but it also threatens biodiversity and food security that are crucial for sustainable development."
Using existing models on wild pig numbers and locations, the team simulated 10,000 maps of potential global wild pig density.
They then modelled the amount of soil area disturbed from a long-term study of wild pig damage across a range of climatic conditions, vegetation types and elevations spanning lowland grasslands to sub-alpine woodlands.
The researchers then simulated the global carbon emissions from wild pig soil damage based on previous research in the Americas, Europe, and China.
University of Canterbury PhD candidate Nicholas Patton said the research would have ramifications for curbing the effects of climate change into the future.
"Invasive species are a human-caused problem, so we need to acknowledge and take responsibility for their environmental and ecological implications," Mr Patton said.
"If invasive pigs are allowed to expand into areas with abundant soil carbon, there may be an even greater risk of greenhouse gas emissions in the future.
"Because wild pigs are prolific and cause widespread damage, they're both costly and challenging to manage.
"Wild pig control will definitely require cooperation and collaboration across multiple jurisdictions, and our work is but one piece of the puzzle, helping managers better understand their impacts.
"It's clear that more work still needs to be done, but in the interim, we should continue to protect and monitor ecosystems and their soil which are susceptible to invasive species via loss of carbon."
Christopher J. O'Bryan, Nicholas R. Patton, Jim Hone, Jesse S. Lewis, Violeta Berdejo‐Espinola, Derek R. Risch, Matthew H. Holden, Eve McDonald‐Madden.
Unrecognized threat to global soil carbon by a widespread invasive species.
Global Change Biology, 2021; DOI:
10.1111/gcb.15769
More Than 1.5 Million Children Lost A Primary Or Secondary Caregiver Due To The COVID-19 Pandemic
More than 1.5 million children around the world are estimated to have lost at least one parent, custodial grandparent, or grandparent who lived with them due to death related to COVID-19 during the first 14 months of the pandemic, according to a study published today in The Lancet. The study highlights orphanhood as an urgent and overlooked consequence of the pandemic and emphasizes that providing evidence-based psychosocial and economic support to children who have lost a caregiver must be a key part of responding to the pandemic.
The analysis used mortality and fertility data to model rates of COVID-19-associated orphanhood (death of one or both parents) and deaths of custodial and co-residing grandparents (ages 60-84) from March 1, 2020 to April 30, 2021, across 21 countries. This study was funded in part by the National Institute on Drug Abuse (NIDA), part of the National Institutes of Health.
In the paper, "COVID-19-associated deaths" referred to the combination of deaths caused directly by COVID-19 and those caused indirectly by other associated causes, such as lockdowns, restrictions on gatherings and movement, decreased access or acceptability of health care and of treatment for chronic diseases.
Traumatic experiences, such as the loss of a parent or caregiver, are associated with increases in substance use, mental health conditions, and other behavioral and chronic health conditions. NIDA supports research aimed at understanding the impact of trauma on young people, preventing substance use after experiencing hardship, and treating substance use in populations that experience trauma.
"Studies like this play a crucial role in illuminating the COVID-19 pandemic's long-lasting consequences for families and the future mental health and wellbeing of children across the globe," said NIDA Director Nora D. Volkow, M.D. "Though the trauma a child experiences after the loss of a parent or caregiver can be devastating, there are evidence-based interventions that can prevent further adverse consequences, such as substance use, and we must ensure that children have access to these interventions."
To estimate pandemic-associated orphanhood and caregiver deaths, the study used excess mortality and COVID-19 mortality data for 21 countries that accounted for 77% of global COVID-19 deaths during 2020 and early 2021. These include Argentina, Brazil, Colombia, England and Wales, France, Germany, India, Iran, Italy, Kenya, Malawi, Mexico, Nigeria, Peru, Philippines, Poland, Russian Federation, South Africa, Spain, United States, and Zimbabwe.
The authors estimate that 1,134,000 children lost a parent or custodial grandparent due to COVID-19-associated death. Of these, 1,042,000 children were orphaned of a mother, father, or both -- most lost one, not both parents. Overall, 1,562,000 children are estimated to have experienced the death of at least one parent or a custodial or other co-residing grandparent (or other older relative).
The countries with the highest numbers of children who lost primary caregivers (parents or custodial grandparents) included South Africa, Peru, United States, India, Brazil, and Mexico. The countries with rates of COVID-19-associated deaths among primary caregivers (>1/1000 children) included Peru, South Africa, Mexico, Brazil, Colombia, Iran, United States, Argentina, and Russia.
The study found that for every country, COVID-19 associated deaths were greater in men than women, particularly in middle- and older-ages. Overall, there were up to five times more children who lost a father than who lost a mother.
"We know from our research that loss of a parent or caregiver can upend children's lives and potentially affect their development if they are not in a stable home setting. If we take into consideration variants of concern or possible severity of illness among youth, we must not forget that the pandemic continues to pose a threat to parents and caregivers -- and their children," said Chuck A. Nelson, III, Ph.D., study author, Boston Children's Hospital.
While research on the science of substance use and addiction remains the primary focus of NIDA's work, NIDA is supporting COVID-19 research, and has issued over $15 million in funding for COVID-19-related projects since the start of the pandemic that could leverage current infrastructure, projects, or scientific knowledge and resources.
Susan D Hillis, H Juliette T Unwin, Yu Chen, Lucie Cluver, Lorraine Sherr, Philip S Goldman, Oliver Ratmann, Christl A Donnelly, Samir Bhatt, Andrés Villaveces, Alexander Butchart, Gretchen Bachman, Laura Rawlings, Phil Green, Charles A Nelson III, Seth Flaxman.
Global minimum estimates of children affected by COVID-19-associated orphanhood and deaths of caregivers: a modelling study
. The Lancet, July 20, 2021; DOI:
10.1016/S0140-6736(21)01253-8
Repairing Hearts With Deadly Funnel Web Spider Venom: Study
A potentially life-saving treatment for heart attack victims has been discovered from a very unlikely source -- the venom of one of the world's deadliest spiders.

A drug candidate developed from a molecule found in the venom of the Fraser Island (K'gari) funnel web spider can prevent damage caused by a heart attack and extend the life of donor hearts used for organ transplants.
The discovery was made by a team led by Dr Nathan Palpant and Professor Glenn King from The University of Queensland (UQ) and Professor Peter Macdonald from the Victor Chang Cardiac Research Institute.
Dr Palpant, from UQ's Institute for Molecular Bioscience (IMB), said the drug candidate worked by stopping a 'death signal' sent from the heart in the wake of an attack.
"After a heart attack, blood flow to the heart is reduced, resulting in a lack of oxygen to heart muscle," Dr Palpant said.
"The lack of oxygen causes the cell environment to become acidic, which combine to send a message for heart cells to die."
"Despite decades of research, no one has been able to develop a drug that stops this death signal in heart cells, which is one of the reasons why heart disease continues to be the leading cause of death in the world."
Dr Palpant tested the drug candidate, a protein called Hi1a, using beating human heart cells exposed to heart attack stresses to see if the drug improved their survival.
"The Hi1a protein from spider venom blocks acid-sensing ion channels in the heart, so the death message is blocked, cell death is reduced, and we see improved heart cell survival."
There are currently no drugs in clinical use that prevent the damage caused by heart attacks.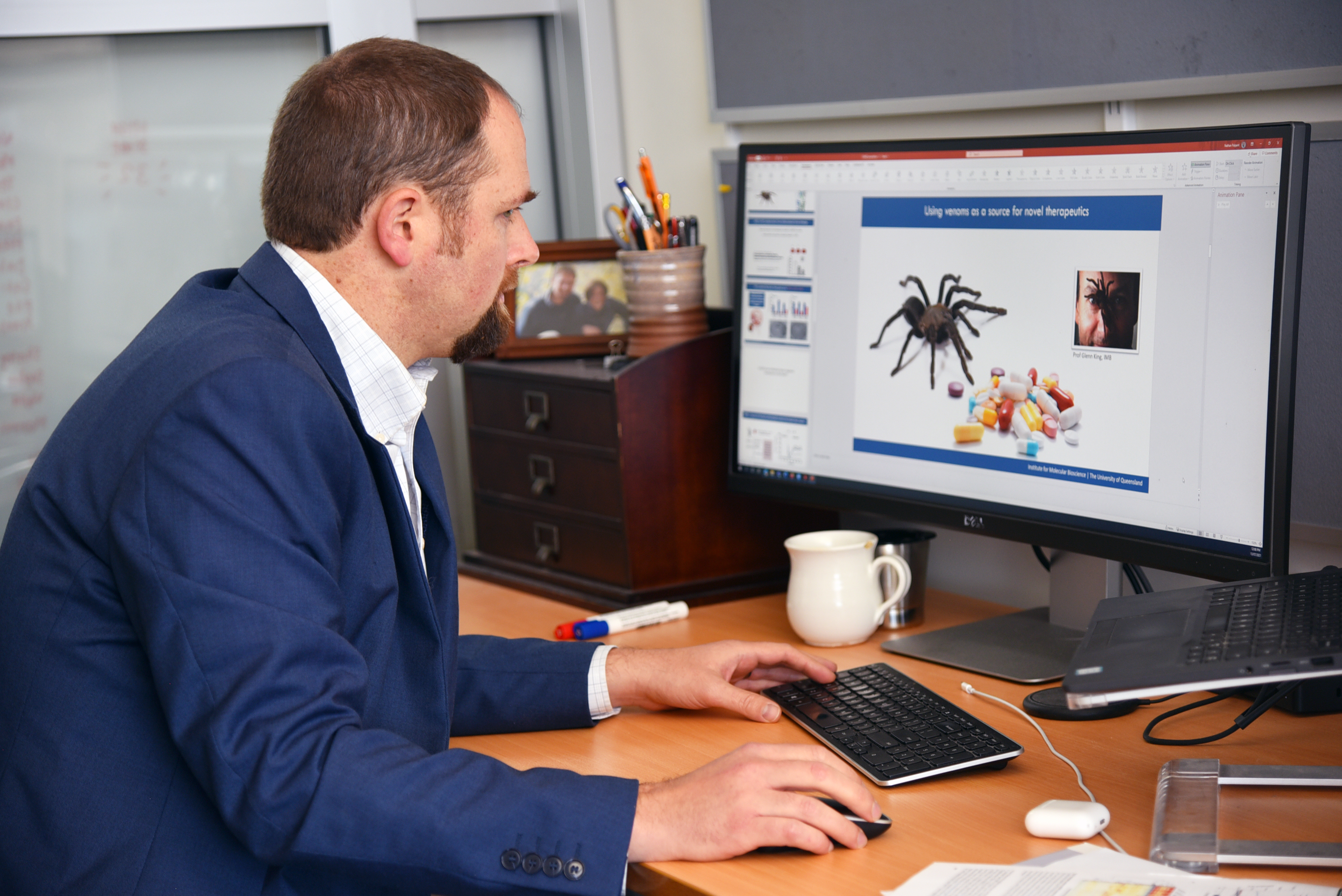 Victor Chang Cardiac Research Institute's Professor Macdonald said this incredible result had been decades in the making.
"This will not only help the hundreds of thousands of people who have a heart attack every year around the world, it could also increase the number and quality of donor hearts, which will give hope to those waiting on the transplant list," said Professor MacDonald.
Professor MacDonald, who is also a senior cardiologist at St Vincent's Hospital in Sydney, added: "The survival of heart cells is vital in heart transplants -- treating hearts with Hi1a and reducing cell death will increase how far the heart can be transported and improve the likelihood of a successful transplant.
"Usually, if the donor heart has stopped beating for more than 30 minutes before retrieval, the heart can't be used -- even if we can buy an extra 10 minutes, that could make the difference between someone having a heart and someone missing out. For people who are literally on death's door, this could be life-changing."
The discovery builds on earlier work by Professor King, who identified a small protein in the venom of the Fraser Island (K'gari) funnel-web spider that was shown to markedly improve recovery from stroke.
"We discovered this small protein, Hi1a, amazingly reduces damage to the brain even when it is given up to eight hours after stroke onset," Professor King said.
"It made sense to also test Hi1a on heart cells, because like the brain, the heart is one of the most sensitive organs in the body to the loss of blood flow and lack of oxygen.
"For heart attack victims, our vision for the future is that Hi1a could be administered by first responders in the ambulance, which would really change the health outcomes of heart disease."
"This is particularly important in rural and remote parts of Australia where patients and treating hospitals can be long distances apart -- and when every second counts."
Also, this could help for the transfer of donor hearts for cardiac transplantation -- allowing these donor hearts to be transported over longer distances and therefore increasing the network of available donors and recipients.
The protein has been tested in human heart cells, and the team are aiming for human clinical trials for both stroke and heart disease within 2-3 years.
The Heart Foundation's General Manager of Heart Health and Research, Bill Stavreski, welcomed the findings.
"About 57,000 Australians have a heart attack every year, and many result in permanent damage to the heart muscle, leading to heart failure, disability and reduced quality of life -- while more investigation is needed, this research may lead to a new way of reversing this damage in heart attack survivors."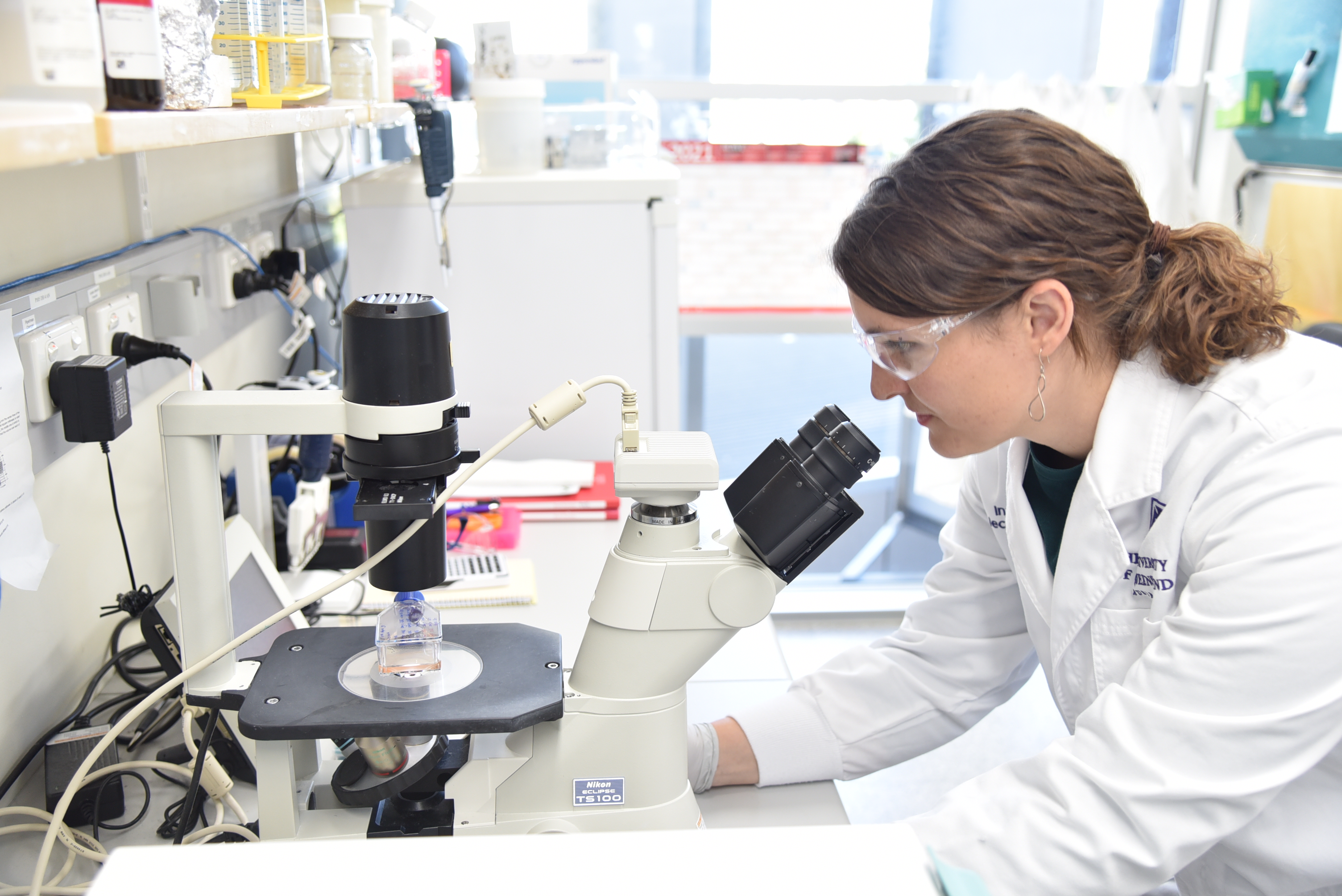 Meredith A. Redd, Sarah E. Scheuer, Natalie J. Saez, Yusuke Yoshikawa, Han Sheng Chiu, Ling Gao, Mark Hicks, Jeanette E. Villanueva, Yashutosh Joshi, Chun Yuen Chow, Gabriel Cuellar-Partida, Jason N. Peart, Louise E. See Hoe, Xiaoli Chen, Yuliangzi Sun, Jacky Y. Suen, Robert J. Hatch, Ben Rollo, Mubarak A.H. Alzubaidi, Snezana Maljevic, Gregory A. Quaife-Ryan, James E. Hudson, Enzo R. Porrello, Melanie Y. White, Stuart J. Cordwell, John F. Fraser, Steven Petrou, Melissa E. Reichelt, Walter G. Thomas, Glenn F. King, Peter S. Macdonald, Nathan J. Palpant.
Therapeutic Inhibition of Acid Sensing Ion Channel 1a Recovers Heart Function After Ischemia-Reperfusion Injury
. Circulation, 2021; DOI:
10.1161/CIRCULATIONAHA.121.054360
Images above: Dr Nathan Palpant and Dr Meredith Redd. Image Credit: UQ

Gold Mining-Related Deforestation In The Amazon
If you're wearing gold jewellery right now, there's a good chance it came from an illegal mining operation in the tropics and surfaced only after some rainforest was sacrificed, according to a team of University of Wisconsin-Madison researchers and alumni who studied regulatory efforts to curb some of these environmentally damaging activities in the Amazon.
The researchers, including UW-Madison geography Professor Lisa Naughton, investigated mining-related deforestation in a biodiverse and ecologically sensitive area of the Peruvian Amazon to see whether formalizing and legalizing these mining operations might curb some of their negative effects.
Their study, published June 2 in the journal Environmental Research Letters, was co-authored by a group including UW-Madison alumnae Nora Álvarez-Berríos, now studying land-use and climate impacts at the International Institute of Tropical Forestry, and Jessica L'Roe, now a geography professor at Middlebury College.
The team focused on an area around the Tambopata National Reserve in Peru from 2001 to 2014. During this time period, Naughton says, demand for gold rose, roads penetrated the region and mining surged. In turn, mining-related deforestation rose by almost 100,000 acres over their study period.
"Because the gold is in the sediment scattered under the forest floor, to extract the gold, you have to remove the forest and dig," Álvarez-Berríos says. "You have to cut a lot of the forest and excavate sensitive waterways."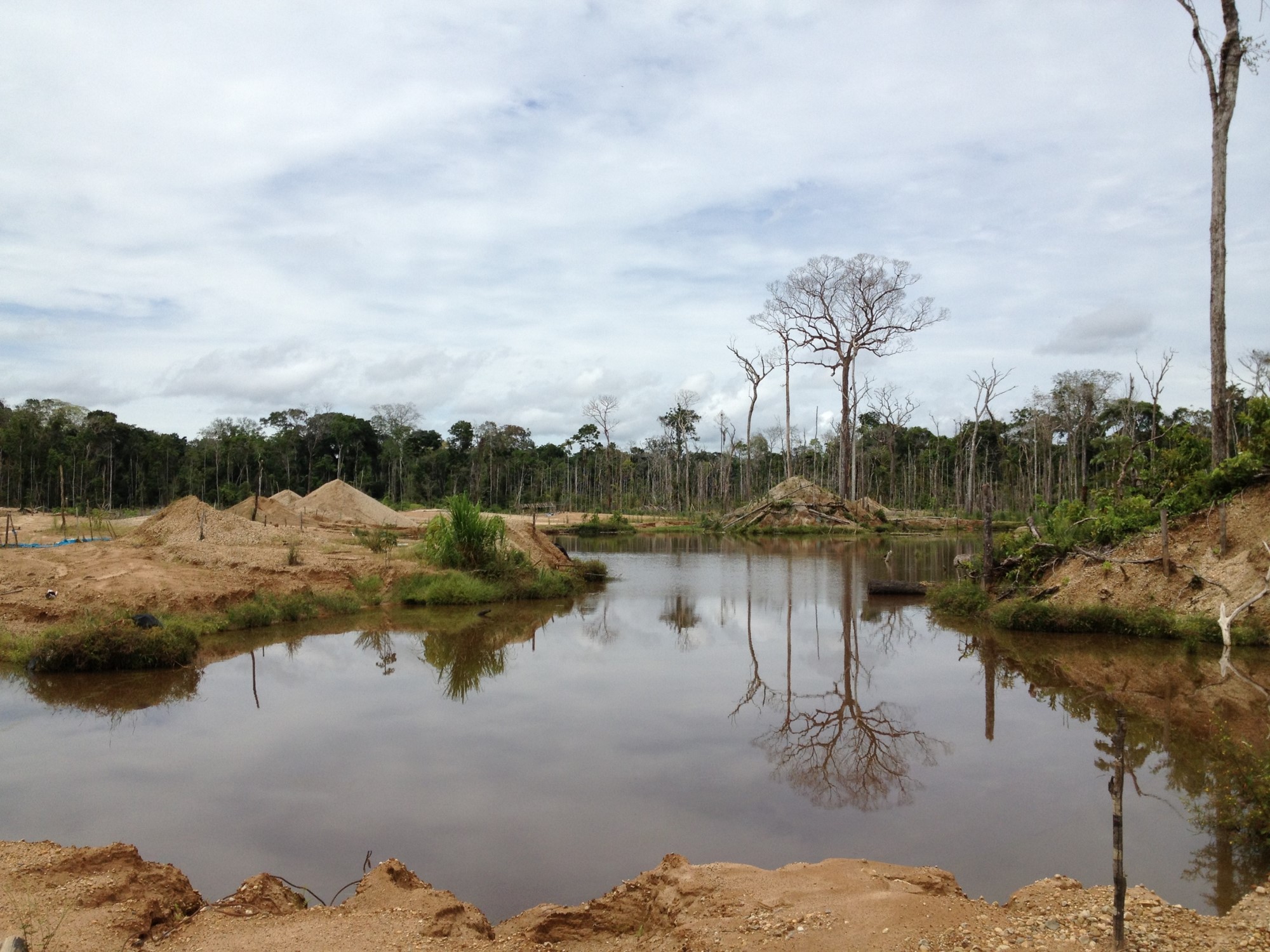 Most gold mines in the Peruvian Amazon are unregulated, small-scale operations, leaving governments without ways to protect the surrounding environment or track how much forest is lost to mining. COURTESY OF LISA NAUGHTON

While these mining operations are often called "artisanal" or "small-scale," in aggregate they are very destructive. In many countries they operate outside the law, and millions of people are involved across the tropics. Álvarez-Berríos says the typical first step to reducing the environmental impact of artisanal mining is bringing it under governmental oversight, formalizing the activity. That way, local agencies can manage the impacts and protect both ecologically sensitive areas and the economic well-being of poor mine workers.
"Peruvian authorities, like authorities in other gold-rush sites, have given up on trying to stop gold mining. They're trying to confine it and contain it," L'Roe says. "Most of the studies about formalization are mainly about trying to help the poor, or make it more fair for the poor. Seldom, almost never, as far as we can tell, have these formalization projects been assessed for their environmental impact. So that's what we were looking at."
During their study period, local agencies issued provisional titles to miners to conduct their operations safely. After receiving a provisional title, miners would, in theory, undergo a series of environmental impact and compliance assessments before they started work.
But, as L'Roe says they found, the regulation process took a long time. Many miners simply took their provisional title as a green light to start mining, and never went through with the environmental impact assessments. Over their study period, no mining operations made it through the full compliance process, and as such they found little evidence for improved environmental outcomes in formalized mining areas.
To assess environmental outcomes, the team used satellite imagery analysis to see how much of the forest had been cut down, as compared to areas without formalized mining regulations.
Naughton says while formalising mining has the potential to decrease environmental damage, it needs enforcement and regulations that match the local context. Formalisation without environmental impact assessment or enforcement could just encourage more damaging and dangerous mining, or the expansion of these operations under the pretence that what they're doing is legal.
But gold rushes are exactly what they sound like, Naughton says: rushed. They're fast, and slow formalisation processes with many steps and provisions and impact assessments often cannot keep up with the pace of extraction.
"To sort out in a fair way who owns what land, with what rights, that is a slow process," Naughton says. "This gold rush is explosive. By the time you have well-regulated and transparent public land and property rights, the forest will be gone."
The team plans to go back to Tambopata to present its results to local stakeholders. Many members of the community are already aware of the problems with mining formalization but have not had a chance to systematically study the environmental consequences. The three co-authors hope their study will set a precedent for monitoring formalization interventions in Tambopata and other tropical sites losing forest to mining. They are already sharing results and methods with colleagues concerned about gold mining impacts in Colombia, Brazil and Bolivia.
"We'll go back to our study site and share the results -- but in a humble way because folks there know that it hasn't worked well, and they know the problems," says Álvarez-Berríos. "So, yes, it's important to share it with that group of stakeholders and experts, but maybe even more important is to share the results and our methods and design for studying this problem with folks working in the many, many other areas where there's uncontrolled small-scale gold mining and where formalisation efforts are being launched with best intentions."
Nora Álvarez-Berríos, Jessica L'Roe, Lisa Naughton-Treves.
Does formalizing artisanal gold mining mitigate environmental impacts? Deforestation evidence from the Peruvian Amazon
. Environmental Research Letters, 2021; 16 (6): 064052 DOI:
10.1088/1748-9326/abede9
Disclaimer: These articles are not intended to provide medical advice, diagnosis or treatment. Views expressed here do not necessarily reflect those of Pittwater Online News or its staff.