Inbox and environment news: Issue 501
July 11 - 17, 2021: Issue 501
More Time To Have Your Say On Ingleside Housing Development Proposal
The exhibition of the draft Ingleside Place Strategy has been extended until Friday 23 July 2021.
The NSW Dept. of Planning states it knows the community wants more time to provide feedback on the place strategy, which is why they have extended the exhibition to now run more than twice as long as the standard four-week exhibition period.
If you missed attending any of their previous online and face-to-face information sessions, you can now see the online presentation and read an
updated frequently asked questions
The draft Ingleside Place Strategy is on public exhibition until Friday 23 July 2021.  
The draft place strategy outlines a plan for the development of Ingleside. It proposes a bushfire-safe community with up to 980 new dwellings and a new neighbourhood centre as well as welcoming public areas and attractive green spaces for people to relax and enjoy the outdoors.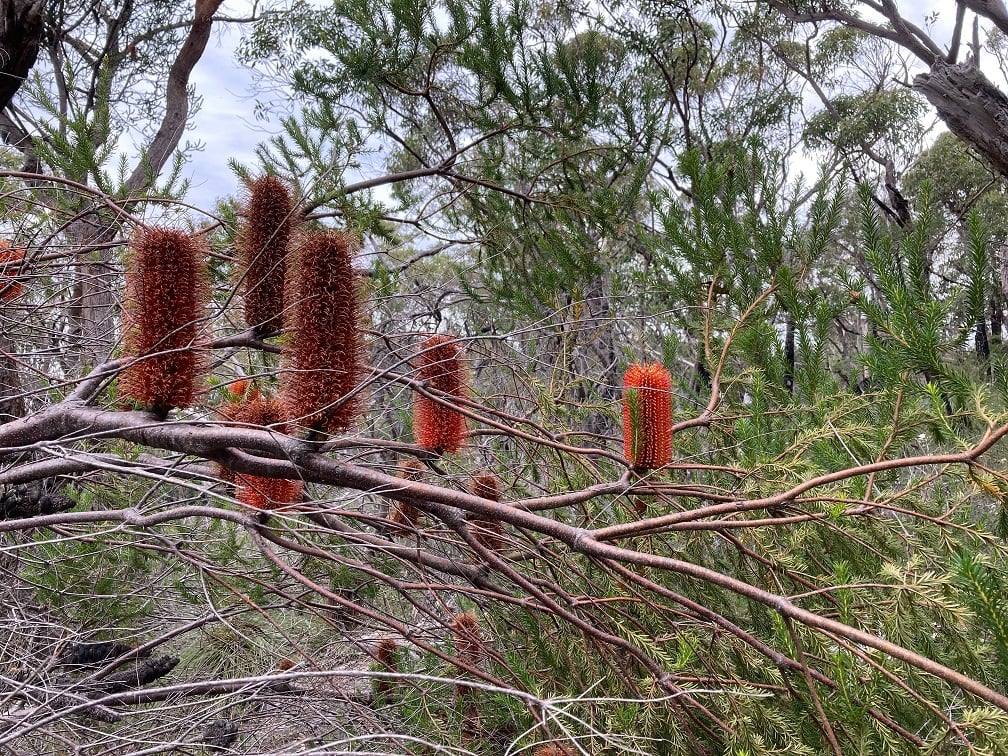 Photo: Waratah Rd Ingleside: this government owned bush is proposed to be cleared for housing. The Heath-leafed Banksia, Banksia ericifolia, on that site. PNHA photo
Sydney Man Sentenced For Waste Offences On The Hawkesbury River
The Land and Environment Court has fined a Sydney man $100,000 after he pleaded guilty to three environmental offences at a property on the banks of the Hawkesbury River near the small town of Spencer, NSW.
The man was prosecuted by the NSW Environment Protection Authority (EPA) for dumping about 21,000 tonnes of concrete, car parts, timber, plastic and asbestos. The EPA charged the man with offences of land pollution, unlawfully transporting waste and using the property as a waste facility.
The EPA alleged the offences occurred over the course of approximately 15 months between February 2015 and May 2016.
Sam Abbas pleaded guilty to three environmental offences at a property near the small Central Coast town of Spencer.
The NSW Environment Protection Authority charged the father-of-five with land pollution, unlawfully transporting waste and using the property as a waste facility between February 2015 and May 2016.
Mr Abbas said in his affidavit that he noticed a "large amount of waste material" on the property when it was purchased by his sister.
He thought the fill material he bought to cover the waste and make the property more level was "clean" and made of clay, shale and dirt.
Mr Abbas claimed when he realised some of it contained "demolition material" he directed it to be covered up, "in the belief that such covering would bury the material and ensure it did not enter the river".
He said he did not know the material deposited on the property could cause environmental harm until he read a report from the illegal dump squad.
"In hindsight, I should have been diligent and ensured that all fill placed on the property was clean," he said.
"I am deeply regretful that my actions have led to this result and without reservation apologise to both the court and the community for my actions and those who brought the material to the property at my request."
EPA Executive Director Regulatory Operations Carmen Dwyer said the EPA, in coordination with Gosford Council, were responsible for the individual being investigated and prosecuted.
"Following a thorough investigation by the EPA, the perpetrator has been brought to account for his actions", Ms Dwyer said.
In addition to the $100,000 in fines, the Defendant was ordered to pay the EPA's investigation costs of $80,000 and its legal costs.
The EPA has also issued the Sydney man with a clean-up notice which requires him to take steps to remediate the Property to remove the risk of ongoing harm to the environment.
Ms Dwyer said the consequences of committing waste offences such as these were abundantly clear.
"Rules and regulations around how to manage waste materials are clear and designed to reduce risks associated to the environment and the community.
"If you don't dispose of waste correctly, there will be consequences."
Prosecutions are one of a number of tools the EPA can use to achieve environmental compliance including formal warnings, official cautions, licence conditions, notices and directions. For more information about the EPA's regulatory tools, see the EPA Compliance Policy at www.epa.nsw.gov.au/legislation/prosguid.htm
EPA Fines Power Station Operator $15,000 For Alleged Water Pollution
The NSW Environment Protection Authority (EPA) has fined AGL Macquarie Pty Limited $15,000 for an alleged water pollution offence at its Bayswater Power Station.
The offence was for a discharge of fly ash slurry into Bayswater Creek from a leak in a pipeline at the power station.
Contractors monitoring the pumping of fly ash noticed a drop in flow rate on April 5th 2021 and immediately ceased pumping fly ash.
Their investigation identified that a hole had developed in the ash transfer pipeline, causing the discharge of the slurry overland and into the creek.
Power station staff notified the EPA of the incident and cleaned the material up.
EPA Director Regulatory Operations North Adam Gilligan said the incident had the potential to cause environmental harm.
"Fly ash slurry deposited over vegetation and settled out in Bayswater Creek which was running at the time following rain.
"This incident was similar, but smaller in scale, to an event in 2019 for which AGL Macquarie has entered into an enforceable undertaking.
"Under the enforceable undertaking, AGL Macquarie is continuing to assess and monitor the condition of the pipeline and has committed to replacing the aging pipeline," Mr Gilligan said.
"AGL Macquarie has applied for development consent to replace the pipeline. The EPA is continuing to work with the company to identify ways to better manage the pipeline and prevent further incidents."
Penalty notices are one of a number of tools the EPA can use to achieve environmental compliance, including formal warnings, official cautions, licence conditions, notices and directions and prosecutions.
For more information about the EPA's regulatory tools, see the EPA Compliance Policy on the EPA website.
150 Hectares Of Habitat Lost Each Day In NSW
Latest land clearing data shows 150 hectares of wildlife habitat is bulldozed or logged every day in NSW, almost twice the average annual rate recorded before the Coalition overhauled nature laws in 2016. [1]
The annual Statewide Land and Tree Study (SLATS) data shows 54,500 hectares of native forest were destroyed for farming, forestry and development in 2019.
"This astounding rate of deforestation is a disaster for wildlife and the climate. We call on the government to take urgent action to reverse the trend," Nature Conservation Council Chief Executive Chris Gambian said.
"In just one year we have lost an area of forest four times the size of Royal National Park. It is simply unsustainable.
"Using widely accepted data on wildlife population densities,
clearing on that scale would have killed up to 9 million animals - mammals, birds and reptiles – in just 12 months.
"After the government weakened land clearing laws in 2016, deforestation rates doubled and have remained at these dangerously high levels ever since.
"The Coalition promised its new laws would enhance protections for bushland and wildlife.
"These figures, and the rising number of threatened species, shows the laws completely fail to deliver on that promise.
"
More than 1,020 plants and animals are now threatened with extinction in NSW, about 20 more than when the scheme was introduced.
"The 74% of clearing is designated as 'unexplained' in this report shows the government has lost control of deforestation in NSW.
"We welcomed the government establishing new national parks over the past year, but the national parks system covers less than 10% of the state.
"The government must stop uncontrolled deforestation on private land and in state forests if it is going to tackle the extinction crisis."
Community Workshop Sheds Light On Microplastics In Hawkesbury-Nepean River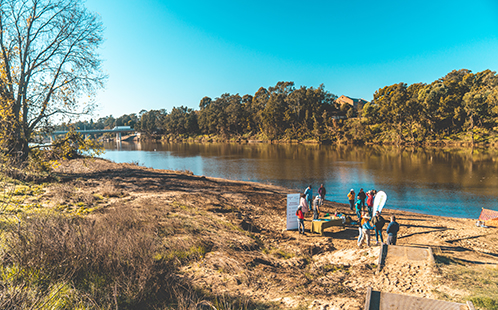 Western Sydney University researchers and students, in collaboration with Streamwatch and Greater Sydney Landcare, have joined community volunteers as part of a hands-on workshop to assess the number of microplastics present in the Hawkesbury-Nepean River.
The first 'Hawkesbury-Nepean Riverkeeper Community Day' saw the group come together on World Environment Day, 5 June, at Windsor Beach – a popular recreational area in the Hawkesbury region that was recently impacted by significant flooding.
Dr Michelle Ryan from the Western Sydney University's School of Science led the workshop and explained as much of current research into microplastics is focused on the oceans, there is a need to explore the impacts of this emerging pollutant on freshwater systems, including the Hawkesbury-Nepean.
"We were delighted to see a number of community members from a variety of backgrounds attend the workshop. Some volunteer regularly and others were just interested community members who care about improving the health of the waterway," said Dr Ryan.
"On the day, we split into four groups and ran transects on the high tide line. We then sifted for microplastics by putting sediment and sand through different size sieves into trays which we took back to the lab to examine under the microscope."
"The community also had the opportunity to look at samples from Yarramundi and Sackville, in addition to Windsor Beach, which had been collected and dried a few days previously."
The data collected will be formally analysed by Dr Ryan and her team at lab facilities at the University's Hawkesbury campus. The findings will inform the first 'report card' on the waterway to be released later this year.
"Indicative results show the community found up to six pieces of microplastic per gram of riverbank – this number is less than previous counts – and we believe the difference could be due to the recent flooding which resulted in a sand dump from upstream," commented Dr Ryan.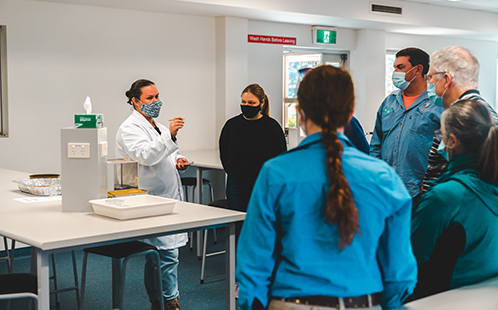 Catherine Welsh was one of the students on hand to support the day. Catherine is studying the Master of Philosophy at Western Sydney University's Hawkesbury campus and aspires to work in conservation.
"It was a great experience to be back in the field and the lab and to help guide members of the community through sampling. It also was lovely to connect with other students on the day that were helping out who were passionate about conserving the waterway," said Catherine.
"The Hawkesbury River is such an important river, it is used for agriculture, drinking water, recreation, and has cultural significance."
"It's vital to engage with the community and educate them on why we should protect our waterways, not only for us but for the biodiversity that live within the river, like the platypus."
Serene White studies the Master of Research and travelled from Gosford to help out on the day and contribute her research expertise.
"I helped set up the equipment at Windsor beach in the morning and then guided a group to collect four samples of sand. Later in the day at the lab, I helped the community members identify any microplastics they found under the microscope," explained Serene.
"These types of events are a great way to enrich my experience as a student as it shows research beyond a classroom setting. It really puts research in a practical sense, and it is a great experience for a young researcher like me."
"Citizen science is such a fundamental aspect of conservation as most research would not take place if it were not for community support. Holding community days is a great way to develop a sense of pride in the community to look after their local environment which in turn helps to carry on the legacy of research."
The Hawkesbury-Nepean Riverkeeper Community Day is an initiative of the Hawkesbury-Nepean Riverkeepers: A Waterkeeper Alliance. This original initiative is currently under renewal, with a new collaborative working group from Western Sydney University (comprising RCE Greater Western Sydney), Greater Sydney Local Land Services, Greater Sydney Landcare Network (GLSN) with Streamwatch and GLSN member groups: Cattai Hills Environment Network, Hawkesbury Nepean Landcare Network and Hawkesbury Environment Network.
Photo credit: Josh Newman
Draft National Recovery Plan For The Koala (Combined Populations Of Queensland, New South Wales And The Australian Capital Territory)
AWE have drafted a National Recovery Plan for the Koala (Phascolarctos cinereus) (combined populations of Queensland, New South Wales and the Australian Capital Territory). It is proposed that this plan be made under the Environment Protection and Biodiversity Conservation Act 1999 (EPBC Act). They invite you to comment on this draft national recovery plan
by 24 September 2021
.
What is the Draft National Recovery Plan for the Koala (combined populations of Queensland, New South Wales and the Australian Capital Territory)?
The combined population of Koalas in Queensland, New South Wales and the Australian Capital Territory are listed as threatened under the EPBC Act. The Koala populations of Victoria and South Australia are not listed as threatened under the EPBC Act and therefore are not covered by this recovery plan. The National Recovery Plan for the Koala identifies national-level strategic actions to support recovery of the EPBC Act listed Koala. It aligns with relevant state and territory planning, programs and strategies to ensure we are all working together to save the Koala.
What is the purpose of this consultation?
The 3-month public consultation process gives Australians the chance to have their say on the draft plan that sets out the research and management actions necessary to stop the decline, and support the recovery, of the nation's threatened Koalas.
All comments received during the public consultation period will be considered by the Minister for the Environment in making the final recovery plan.
Provide your feedback
We invite you to comment on this draft national recovery plan.
Who can respond to the consultation?
Everybody can have their say and we encourage feedback from members of the general public as well as representative organisations, land managers, community groups and the scientific community.
How long is the consultation open for?
Submit your feedback by 24 September 2021.
How can I provide my comments on the recovery plan?
To have your say, use our survey portal below to answer questions, upload a submission, or both.
Alternatively, you can send your submission via:
Post: Attn Koala Recovery Plan team
Protected Species and Communities Branch
Biodiversity Conservation Division
Department of Agriculture, Water and the Environment
GPO Box 858
Canberra ACT 2601
What next
We provide your feedback to the:
Threatened Species Scientific Committee
Minister for the Environment.
The Minister will consider the feedback received in making the final recovery plan, on advice of the Threatened Species Scientific Committee.
Conservation advice and listing assessment
Any relevant information arising from the listing assessment will be considered in the final version of the draft National Recovery Plan for the Koala.
Federal Consultation On Endangered Listing For The Koala Now Open - Closes July 30, 2021
Consultation on Species Listing Eligibility

and Conservation Actions:

Phascolarctos cinereus (Koala)
You are invited to provide your views and supporting reasons related to:
1) the eligibility of Phascolarctos cinereus (Koala) for inclusion on the EPBC Act
threatened species list in the Endangered category; and
2) the necessary conservation actions for the above species.
The purpose of this consultation document is to elicit additional information to better
understand the status of the species and help inform on conservation actions and further
planning. As such, the draft assessment should be considered to be tentative as it
may change following responses to this consultation process.
Evidence provided by experts, stakeholders and the general public are welcome. Responses
can be provided by any interested person.
Anyone may nominate a native species, ecological community or threatening process for
listing under the Environment Protection and Biodiversity Conservation Act 1999 (EPBC Act)
or for a transfer of an item already on the list to a new listing category. The Threatened
Species Scientific Committee (the Committee) undertakes the assessment of species to
determine eligibility for inclusion in the list of threatened species and provides its
recommendation to the Australian Government Minister for the Environment.
Responses are to be provided in writing by email to:
or by mail to:
The Director
Bushfire Affected Species Assessments Section
Department of Agriculture, Water and the Environment
John Gorton Building, King Edward Terrace
GPO Box 858
Canberra ACT 2601
Responses are required to be submitted by 30 July 2021.
_____________________________________________________________________________
Koala Listing Strengthens Call For An Independent Environmental Compliance Agency
The World Wide Fund for Nature-Australia today welcomed the recommendation to uplist koalas in eastern Australia from vulnerable to endangered, but said this could have been avoided.
The Threatened Species Scientific Committee, which advises the federal government, has made a tentative assessment (on page 51) that "the Committee considers that the Koala is eligible for listing as Endangered" in eastern Australia because of population declines.
There will now be a public inquiry to confirm that assessment. It follows WWF-Australia, IFAW and HSI nominating the koala to be listed as endangered last year.
"Had Australia put in place an independent compliance agency in 2012 when the koala in eastern Australia was first listed as vulnerable, we could have avoided this day. But we didn't, we kept on with business as usual," said Stuart Blanch, WWF-Australia Senior Manager, Towards Two Billion Trees.
In fact last year WWF-Australia revealed that destruction of koala habitat actually increased after the iconic marsupial was listed as "vulnerable" in Queensland, New South Wales and the ACT.
"There was little to no consequence for those who didn't follow our nature laws.
"If we don't instate an independent environmental compliance agency, then we'll keep marching our koalas to the extinction line across eastern Australia.
"This sad milestone could be a turning point for the Regeneration of Australia, but it requires reform and a commitment to a nature positive way forward.
"The decline of our Australian icon also shines the spotlight on why Australia needs to rise to meet the global ask of securing 30% of Australia's landscape under protection.
"While the government recently celebrated meeting ocean protection targets, it is failing to meet the 30% land protection targets being called for globally.
"Australia also needs to commit to a target at the climate COP that is koala safe, because climate change is causing extreme drought and bushfire conditions – major extinction threats to koalas alongside clearing.
"WWF is confident that Australia can not only turn around the sad decline of Australia's icon, but actually double the number of Koala's across Eastern Australia by 2050.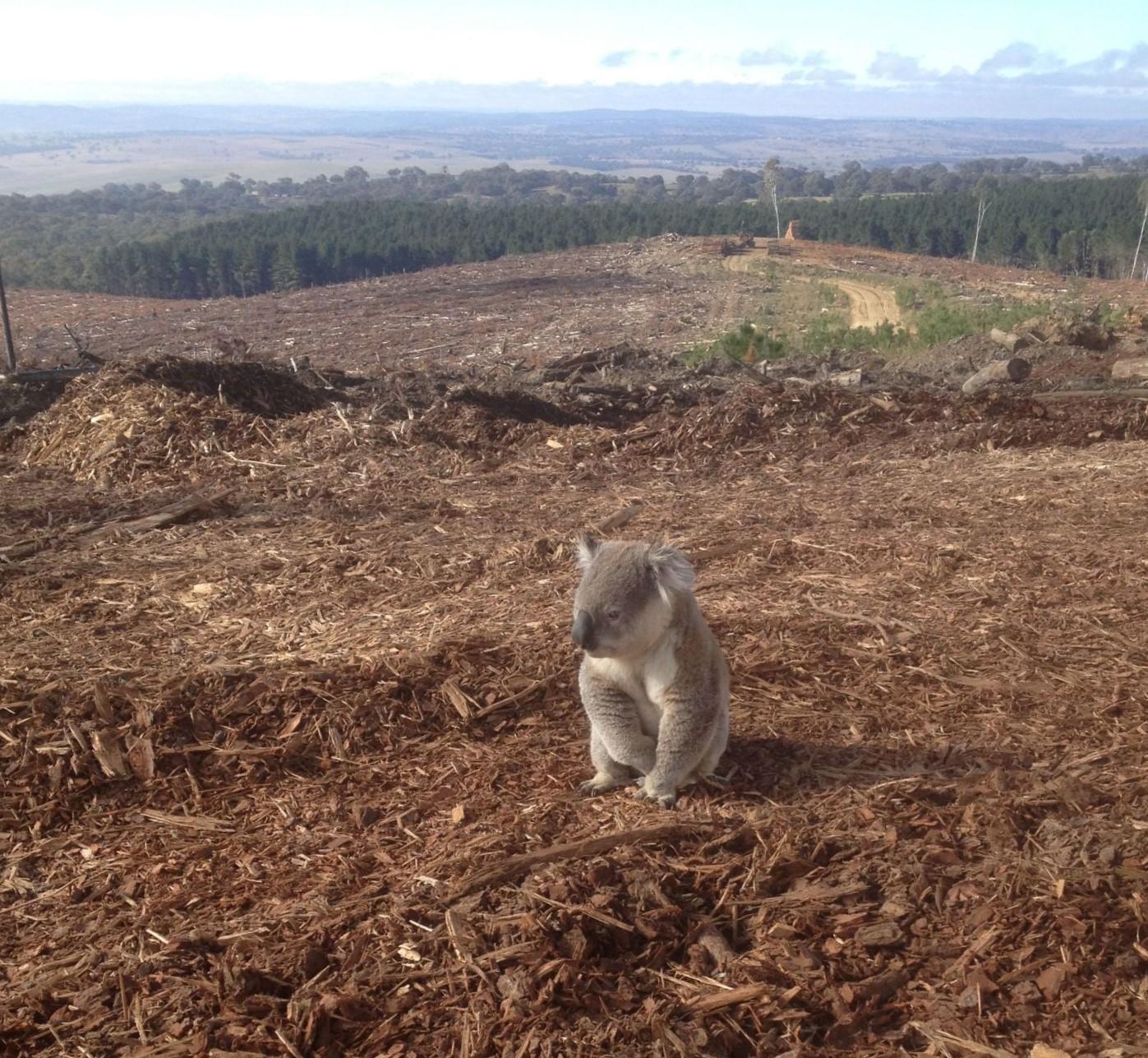 Gas-Fired Recovery Measures: Have Your Say - Closes August 2nd
July 5, 2021: Federal Government Dept. of Industry, Science, Energy and Resources.
The Australian Government's Gas-Fired Recovery Plan was announced on 15 September 2020. It is being delivered through actions that work to:
unlock supply
deliver an efficient pipeline and transportation network
empower gas customers.
As part of our ongoing engagement with stakeholders, we are undertaking further consultation to inform two key gas-fired recovery measures:
the National Gas Infrastructure Plan (NGIP)
the Future Gas Infrastructure Investment Framework.
This consultation builds on the previous consultations the Department undertook from 1 December 2020 to 31 March 2021. This is an additional targeted opportunity to provide your views.
Your feedback will help us better understand issues to consider before finalising the NGIP and designing the Investment Framework.
Submissions close on 2 August 2021.
NAIF Money For Central Queensland Coal Project
1 July 2021: The Hon Keith Pitt MP, Minister for Resources and Water,

Joint media release

with Assistant Minister for Northern Australia, the Hon Michelle Landry MP.
The Coalition Government is supporting mining jobs and exports in central Queensland through a Northern Australia Infrastructure Facility (NAIF) loan to the Olive Downs metallurgical coal project.
Minister for Resources, Water and Northern Australia Keith Pitt said the $900 million project in the Bowen Basin will support up to 700 jobs during construction and more than 500 new jobs for the region when fully operational.
"NAIF has approved a loan of $175 million to support the mine's first stage of development which includes rail, and transmission lines, water pipelines, access roads and a coal handling preparation plant," Minister Pitt said.
"Pembroke Resources' Olive Downs project will create jobs and opportunities for central Queensland and the nearby town of Moranbah, and will generate royalties and export income for Queensland and Australia for many years to come.
"Metallurgical coal is crucial for steelmaking, and is an important commodity for Australia's trading partners to help support their economic development."
"The NAIF investment will be an important contribution to a project which is expected to return more than $10 billion to the Australian economy over the mine's lifetime, and provide jobs for people in Moranbah, Dysart and Mackay."
The coal will be taken by rail to the coal terminal at Dalrymple Bay for export to key markets in Asia.
Assistant Minister for Northern Australia Michelle Landry said the investment was great news for the local economy and underlined the Australian Government's support for jobs and economic development in northern Australia.
"NAIF has committed more than $3 billion to 26 projects across northern Australia creating new opportunities and supporting thousands of jobs for people across the north," Assistant Minister Landry said.
"In Queensland, NAIF has approved $1.2 billion in loans to 11 projects, supporting jobs across the state.
"The Olive Downs project will create a jobs boom in Central Queensland, generate economic growth and reinforce the benefits of living and working in Australia's north."
When Will Politicians Heed Farmers' Concerns About Climate Change?
by Kelly O'Shanassy, Chief Executive Officer of the Australian Conservation Foundation
Farming communities are helping to drive Australia's sustainable future, but they continue to be abandoned by parts of a federal government seduced by the dollar signs of big mining.
With a federal election looming, farmers across Australia can rightly ask: Who's going to help us fight the impacts of climate change on our productive land – and on our hip pocket – as the threat of carbon tariffs continues to sound from our key trading partners?
Aussie farming communities know what climate damage looks like: from the droughts of 2018 and 2019, to more frequent and catastrophic bushfire seasons like those experienced in 2020, to widespread flooding across the eastern states in 2021.
As recently as 2017, the Bureau of Agricultural and Resource Economics and Sciences noted climate change had a significant impact on Australia's cropping farm productivity, with a 2–20% decrease in yield across south-eastern, eastern and south-western agricultural regions.
Most farmers also understand and back the science calling for dramatic cuts to carbon pollution this decade – supported by the world's top agriculture and energy agencies – despite the feet-dragging of national governments in many countries, including Australia.
The real story on climate change never has been (nor should be) about pitting city against country, producers against consumers, environment against business. But some irresponsible politicians continue to pitch everyday Australians against each other in an ideological proxy battle.
The shared interests of farmers and the environment movement have a long history.
The shared interests of farmers and the environment movement have a long history. Nowhere is it more evident than in Landcare. In the 1980s the Australian Conservation Foundation and the National Farmers Federation identified the need for community-based sustainable land management practices and created a new organisation to make it happen.
Last year the NFF voiced its support for a whole-of-economy target of net zero emissions by 2050. Broadly, the industry has started pursuing carbon neutral targets in the short-to-medium term for livestock, cropping and dairy.
Another body, Farmers for Climate Change, was created by producers who decided to take the lead in driving the climate conversation in response to largely absent governments.
As farmers deal with climate damage, many have taken mitigating action by improving their practices in favour of more efficient land management.
In Gippsland, locals recently met with federal Liberal MP Russell Broadbent to show the value and power of their work adapting their practices to meet the challenges of climate change.
Farmers are powerful advocates for climate action.
As a well-respected community that sees firsthand the impact of climate damage, farmers are powerful advocates for action.
But there is a ceiling to what individual communities and industries can achieve.
Australia and Scott Morrison's Liberal/National Coalition finds itself at a fork in the road, and at the moment of choice.
It's a choice between positive climate action with long-term benefits for our environment, people and international strategic and trading relationships, or continuing along the road of inaction, of land-destroying mining and short-term cash for long-term environmental and economic penalties.
Stubbornly, the Prime Minister hasn't moved from his desire to reach net-zero 'preferably' by 2050. This failure to commit has left Australia isolated from key allies and export markets, which are now threatening to impose 'carbon tariffs' on our products.
Many individual government MPs want stronger climate action and a concrete net-zero target.
And not just metropolitan representatives like Jason Falinski, Katie Allen and Trent Zimmerman. Regional members like Darren Chester in Victoria and Warren Entsch in far north Queensland have seen the risks that 'an increasingly warmer climate will mean for Australian agriculture in years to come.'
Fellow regional MP Russell Broadbent told his electorate billions of dollars in food exports would suffer if Europe, the UK or US imposed carbon tariffs on Australia.
If we take the path to a clean energy future, Australia effectively says 'yes' to supporting farming and agriculture. But it is the Prime Minister and his party room who must take the lead.
Pursuing a clean energy future and strong carbon reduction targets in 2030 and 2050 means more regional jobs through new infrastructure to capture, store and disseminate Australia's abundant wind and solar energy.
The flow-on benefits to agriculture are obvious: fewer severe droughts, floods and fires.
Such action also avoids the threat of two-thirds of the nation's agricultural output – the proportion that is exported – being slammed by border taxes from the US, UK and Europe, while Australia copes with an already strained trade relationship with China.
A positive climate agenda represents a vote of confidence in agriculture and our regions.
The alternative is the road we're on, where the Morrison Government refuses effective climate policy in the face of calls from a majority of Australians, entire industries, local councils, state government and international allies.
We cannot afford to continue down a road that neglects our farming communities and squanders the tremendous potential of our regions.
Kelly O'Shanassy is the Chief Executive Officer of the Australian Conservation Foundation
Public Money For Olive Downs Coal Mine Is Deeply Irresponsible
In response to Resources Minister Keith Pitt's announcement that the Morrison government will give $175 million from the Northern Australia Infrastructure Facility (NAIF) to support the Olive Downs coal project in Queensland's Bowen Basin, the Australian Conservation Foundation's Suzanne Harter said:
"While investors around the world are getting out of fossil fuels, and Australia's banks are becoming increasingly unwilling to finance coal projects due to their clear climate risks, the Morrison government is using public money to support coal.
"It seems investment in Olive Downs would not hold up for other investors, yet the Minister and the NAIF board have decided it is an acceptable use of public money.
"Recent amendments to the NAIF Act intentionally gave the federal resources and finance ministers greater powers to direct NAIF investments.
"It is deeply irresponsible to use public money to support a coal project in 2021 – flying in the face of overwhelming advice by scientists and even the International Energy Agency that a global pathway to net zero pollution by mid-century cannot include new coal or gas.
"Investing public money in coal defies Australia's own economic regulators, which see climate change as one of the greatest threats to our economic system and have determined that climate risk is a material risk.
"Australia's prudential regulator has advised all regulated entities it will assess the financial industry's exposure to climate change in an effort to improve resilience.
"Today's announcement follows Minister Pitt's use of regulation to provide uncompetitive, non-merit-based grants to companies that want to drill for gas in the Beetaloo Basin – against the wishes of many Traditional Owners and counter to global efforts to avoid catastrophic global warming."
Keith Pitt's Fracked Gas Cash Splash With Public Money
Mr Pitt states the $21M, from the previously announced $50M taxpayer-funded donation to fracking companies, will be used for three new fracking exploration wells at Empire Energy's EP187 exploration zone near the community of Borroloola.
Empire Energy, via its wholly owned subsidiary Imperial Oil and Gas, has already benefited substantially from taxpayer handouts, with the company the sole beneficiary of the Morrison Government's "gasroads" $174M subsidy as it progresses its takeover of Pangea, announced earlier this year.
Empire Energy is also a prolific political donor, having given $25,000 to both the Country Liberal Party and Territory Labor in the lead up to the last election (Source
here.
Follow Political Parties > Gifts received over the threshold > Aust Labor/Country Liberals).
The decision to throw more money at a gas project comes on the same day as AGL announced it would mothball one of four units at South Australia's biggest gas-fired power station in response to the influx of large-scale renewable energy and rooftop solar power alternatives which are pricing fossil fuels out of the market.
It also comes as a Senate Inquiry prepares to get underway into the regulation under which this grant has been made, with notice of a disallowance motion for it having been lodged.
"The Auditor General slammed the Federal Government just last week for flawed carpark grants made without merit, but here it is today throwing $21M in corporate handouts to a political donor - it stinks," said Protect Country Alliance spokesperson Graeme Sawyer.
"The gas and fracking industry is an expensive, polluting dinosaur and the renewables energy industry is an asteroid that's going to wipe it from the face of the earth, yet Keith Pitt fails to see it on the horizon.
"Not only is he blind to cheaper, less polluting and reliable renewable energy alternatives, but he has gifted a fracking company $21 million in public money when the Territory Government has not finished assessing Empire's environmental management plan.
"There is also so much that we still don't know about how fracking would impact the Territory's fragile environment and underground water network because the research hasn't been done, despite it being one of the key recommendations of the Pepper Inquiry.
"Keith Pitt needs to get his head out of the cretaceous period and, if he wants to throw public money at energy infrastructure, throw it at technology that hasn't already been superseded."
New NAIF Board To Steer The Next Phase Of Northern Investment
July 1, 2021: Media release - The Hon Keith Pitt MP, Minister for Resources and Water
Minister for Resources, Water and Northern Australia Keith Pitt has announced a new Chair and board members for the Northern Australia Infrastructure Facility (NAIF).
Minister Pitt said the new Chair and board members had the credentials to lead the
$5 billion NAIF through its next phase after Parliament approved reforms which widen the facility's investment options to support projects across northern Australia.
Minister Pitt said businesswoman and corporate leader Tracey Hayes from the Northern Territory has been appointed Chair of the NAIF Board for a three-year term.
Ms Hayes has extensive corporate and governance experience. A former Chair of the Darwin Waterfront Corporation and CEO of the Northern Territory Cattlemen's Association, Ms Hayes also serves on the Australia Indonesia Institute Board and the National Drought and Flood Response and Recovery Agency Advisory Board.
Ms Hayes takes over from Justin Mannolini (WA), who has been acting Chair since March. Mr Mannolini, who has extensive experience in investment banking and corporate governance, has been re-appointed to the Board for another three years.
Indigenous investment and community development specialist Kate George (WA) has also been reappointed to the NAIF board for three more years.
The new board member is project management specialist Stephen Margetic from the Northern Territory who will serve for three years from July 1.
"The appointments ensure the NAIF has the breadth of skills and leadership experience needed to lead the organisation through its next phase, with its mandate extended until July 2026 and a series of reforms which give NAIF more financial options to support opportunities, jobs and development in northern Australia," Minister Pitt said.
"I thank outgoing board members Belinda Murphy, Karla Way-McPhail and Bill Shannon for their work and contribution to NAIF, and for building NAIF into a key source of funding for development projects across the north."
Announcements will soon be made on two further NAIF board appointments and will include Queensland representation.
Since it started operations in 2016, NAIF has committed $2.9 billion in finance for projects which are forecast to generate $9.4 billion in economic benefit and support around 9,000 jobs.
Santos Decision Shows What's In Store For Farmers If Barilaro Refuses To Slay Zombies
A shocking lack of federal scrutiny over the Santos Narrabri gasfield revealed in new freedom of information documents serves as a warning for communities covered by zombie petroleum licences, according to Lock the Gate Alliance.
The Morrison Government's
decision brief
for the Santos Narrabri Gasfield reveals the company was able to water down a number of conditions made by the Environment Minister, leaving a federal approval which essentially mirrors that of the state approval.
The brief also shows many other ministers, including Prime Minister Scott Morrison, Angus Taylor, and Keith Pitt, unsurprisingly submitted comments enthusiastically welcoming the Santos proposal, and requesting that Minister Ley limit conditions.
The revelations come as a NSW Parliamentary Inquiry gets underway today into a Bill put forward by Independent MLC Justin Field, which, if passed, would permanently extinguish the petroleum licences that cover more than 4.5 million hectares of north west NSW.
They also come amid reports that Deputy Premier John Barilaro has refused to confirm which and how many expired petroleum licences would be extinguished in his soon to be released "Strategic Statement on Gas".
Lock the Gate Alliance NSW spokesperson Georgina Woods said all the zombie PELs should be extinguished.
"Allowing some PELs to remain while removing others would leave rural communities under the shadow of coal seam gas, just as they are working hard to emerge from intense drought and the upheaval of the Covid-19 pandemic," she said.
"To be resilient, rural communities must be freed from the scourge and uncertainty of coal seam gas.
"These licenses should have been extinguished long ago under the government's own "use it or lose it" policy. Santos has undertaken no work on them for more than six years.
"The Deputy Premier must not reward Santos and its corporate partners for sitting greedily on these unused gas licenses and threatening farming communities for so long."
Ms Woods said the Morrison Government's decision brief for the Santos Narrabri project revealed what would happen if zombie PELs were raised from the dead and gas companies were allowed to drill more wells.
"The Morrison Government appears to have simply ticked off the approval for Santos' destructive project with little further investigation, and after also allowing Santos itself to water down its few scant recommendations," she said.
"Blind support for this project from senior ministers is disturbing. Who can the public rely on to actually defend water resources and the fabric of rural life?
"The communities, farmers, forest and water that are harmed by gasfields deserve more than ham-fisted cheerleading from our most senior elected politicians.
"Environment Minister Sussan Ley should have referred Santos' project to the Independent Expert Scientific Committee on water, she should have requested the biodiversity plan. We still don't even know where Santos plans to drill its 850 gaswells.
"Instead, it appears other senior ministers egged her on to give a blank cheque to Santos, which will ultimately cost communities, the Great Artesian Basin, and the largest intact temperate woodland in eastern Australia, the Pilliga Forest."
Santos' requests which were approved include:
Removing a condition limiting indirect impacts to 181 hectares. Santos said indirect impacts, such as increased dust, weeds, and feral animal intrusion, "would be extensive across the project area", but had already been addressed by offsets.
Removal of specific reference to clearing limits and offset credit requirements for each protected matter.
Revised groundwater conditions.
Revised reporting requirements and definitions for the framework to categorise drilling fluid chemicals.
NSW State Government's Plans To Open Western NSW To Coal Mining Open For Feedback
Public consultation is now underway into the proposed release of land known as Hawkins and Rumker 160km north west of Sydney, with consultation over a third parcel - known as Ganguddy-Kelgoola still to come.
The three mooted coal release parcels cover 60,369 hectares in a region where the economy is currently built around sustainable agriculture and nature-focused tourism. There are also large areas of public land and more than 84% native vegetation cover.
Within the three "strategic coal release areas", the consultants found:
Forty-five recorded Aboriginal heritage sites and an additional 13 sites that are restricted and location data not supplied in the proposed coal release areas.
Twenty-two threatened fauna species and six threatened flora species including the koala, the critically endangered regent honeyeater and the endangered spotted-tailed quoll, as well as four plant species endemic to the Rylstone/western Wollemi area.
One thousand, eight hundred and fifty-four hectares of groundwater dependant ecosystems.
Six thousand, six hundred and thirty-four hectares of potential threatened ecological communities.
Thirty-six water bores.
One hundred and twenty kilometres of stream channels in good condition and 118 kilometres of stream channels classed as a high level of fragility.
The report also showed the potential coal release areas adjoin the Greater Blue Mountains World Heritage Area, stretching more than 100km along the western edge of the WHA.
The World Heritage Commission has asked the NSW Government for a cumulative impact assessment of mining impacts on the Greater Blue Mountains World Heritage Area. This assessment appears not to be complete, even though it was due by the end of 2020.
University of NSW environmental scientist, local, and writer, Dr Haydn Washington said, "The coal release areas are full of diverse and significant natural and cultural heritage.
"The Coricudgy and Nullo State Forests have already been recommended for addition to the World Heritage Area by the Greater Blue Mountains World Heritage Area Committee.
New Plan To Revitalise NSW's
Oldest Park By Installing Mountain Bike Trails
One of Sydney's most loved natural destinations, the spectacular Royal National Park is set for a major revitalisation.

Greater Sydney Branch Director Deon van Rensburg said the draft Plan of Management (PoM) maps out how the Park will be protected and showcased as one of the nation's most important natural areas.
"With around 6 million visits per year Royal National Park is one of Australia's most popular parks. It is also on Australia's National Heritage List as a place of outstanding significance to the nation," Mr van Rensburg said.
"Royal National Park together with nearby Heathcote National Park and Garrawarra State Conservation Area, protect one of the most biodiverse areas in Australia, supporting more than 1000 plant and 350 animal species, including some of the most significant vegetation remaining in the Sydney Basin.
"Management priorities include freshwater wetlands, heathlands, rainforest, shorelines and grassy woodlands that support the Parks' rich animal biodiversity.
"The world's second oldest national park, Royal is a stunning place and one of our most visited parks where sites like Wattamolla and Audley attract thousands of visitors every weekend.
"The Plan will guide the future management and protection of the natural and cultural values, while providing opportunities for people of all ages, cultures and abilities to enjoy these much-loved places.
"This includes improvements and restoration at popular visitor precincts including upgrades to the historic 82-year-old Audley Boatshed, providing undercover space for picnics and a new open pavilion so that visitors can continue to enjoy the beautiful Port Hacking River.
"At Wattamolla, another popular visitor precinct, new amenities include better picnic areas, access improvements and a new walking track to the beach.
"To manage sustainable mountain biking in these areas a Royal Parks Mountain Biking Plan is also available for public comment.
"This is a great way for the millions of people who love and use these Parks to have a say in how these precious natural assets are managed into the future," Mr van Rensburg said.
The Plan now on exhibition has been prepared with extensive consultation from key stakeholders and your views are important.
Bushcare In Pittwater
For further information or to confirm the meeting details for below groups, please contact Council's Bushcare Officer on 9970 1367
BUSHCARE SCHEDULES
Where we work Which day What time
Avalon
Angophora Reserve 3rd Sunday 8:30 - 11:30am
Avalon Dunes 1st Sunday 8:30 - 11:30am
Avalon Golf Course 2nd Wednesday 3 - 5:30pm
Careel Creek 4th Saturday 8:30 - 11:30am
Toongari Reserve 3rd Saturday 9 - 12noon (8 - 11am in summer)
Bangalley Headland 2nd Sunday 9 to 12noon
Bayview
Winnererremy Bay 4th Sunday 9 to 12noon
Bilgola
North Bilgola Beach 3rd Monday 9 - 12noon
Algona Reserve 1st Saturday 9 - 12noon
Plateau Park 1st Friday 8:30 - 11:30am
Church Point
Browns Bay Reserve 1st Tuesday 9 - 12noon
McCarrs Creek Reserve Contact Bushcare Officer To be confirmed
Clareville
Old Wharf Reserve 3rd Saturday 8 - 11am
Elanora
Kundibah Reserve 4th Sunday 8:30 - 11:30am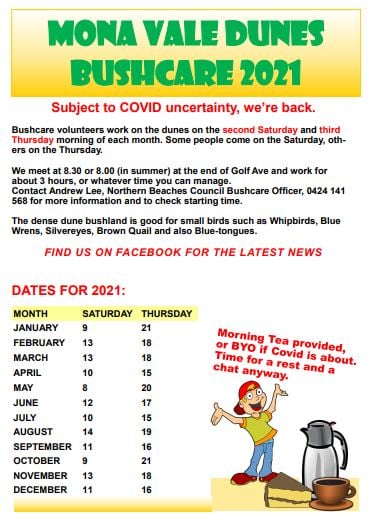 Mona Vale
Mona Vale Beach Basin 1st Saturday 8 - 11am
Mona Vale Dunes 2nd Saturday +3rd Thursday 8:30 - 11:30am
Newport
Bungan Beach 4th Sunday 9 - 12noon
Crescent Reserve 3rd Sunday 9 - 12noon
North Newport Beach 4th Saturday 8:30 - 11:30am
Porter Reserve 2nd Saturday 8 - 11am
North Narrabeen
Irrawong Reserve 2nd Saturday 2 - 5pm
Palm Beach
North Palm Beach Dunes 3rd Saturday 9 - 12noon
Scotland Island
Catherine Park 2nd Sunday 10 - 12:30pm
Elizabeth Park 1st Saturday 9 - 12noon
Pathilda Reserve 3rd Saturday 9 - 12noon
Warriewood
Warriewood Wetlands 1st Sunday 8:30 - 11:30am
Whale Beach
Norma Park 1st Friday 9 - 12noon
Western Foreshores
Coopers Point, Elvina Bay 2nd Sunday 10 - 1pm
Rocky Point, Elvina Bay 1st Monday 9 - 12noon

Gardens And Environment Groups And Organisations In Pittwater
Avalon Golf Course Bushcare Needs You
We're so short of helpers we've had to cancel for the time being. Meanwhile the weeds will go gangbusters.
We used to meet on the second Wednesday afternoon of each month. Could you come if we worked on another day or time? say a morning, or on a weekend day?
Contact Geoff Searl on 0439 292 566 if you'd like to help. He'd love to hear from you.
We have fun using the Tree Popper, here with our supervisor from Dragonfly Environmental. We can lever out quite big Ochnas, aka Mickey Mouse plant from Africa. We want to bring back the bush, not let the weeds win!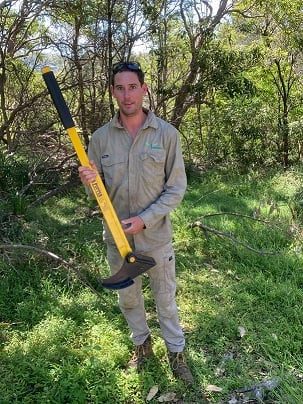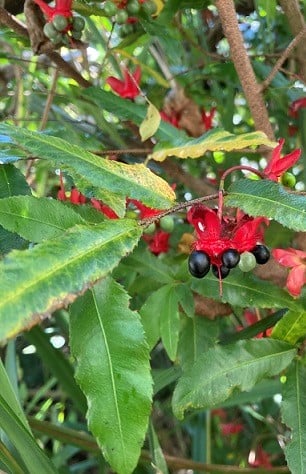 Ochna or Mickey Mouse plant has yellow flowers in spring, then lots of green berries that turn black when ripe. Seedlings come up in hundreds. Ochna has a very strong taproot but the steady pressure of the Tree Popper lifts the plant out of the ground easily. The alternative control is repeated scraping and painting with Roundup, very slow and time consuming. If you have an Ochna you cant remove, you can enjoy the flowers, then PLEASE prune it so that berries can't develop.
New Shorebirds WingThing For Youngsters Available To Download
A Shorebirds WingThing educational brochure for kids (A5) helps children learn about shorebirds, their life and journey. The 2021 revised brochure version was published in February 2021 and is available now. You can download a file copy here.
If you would like a free print copy of this brochure, please send a self-addressed envelope with A$1.10 postage (or larger if you would like it unfolded) affixed to: BirdLife Australia, Shorebird WingThing Request, 2-05Shorebird WingThing/60 Leicester St, Carlton VIC 3053.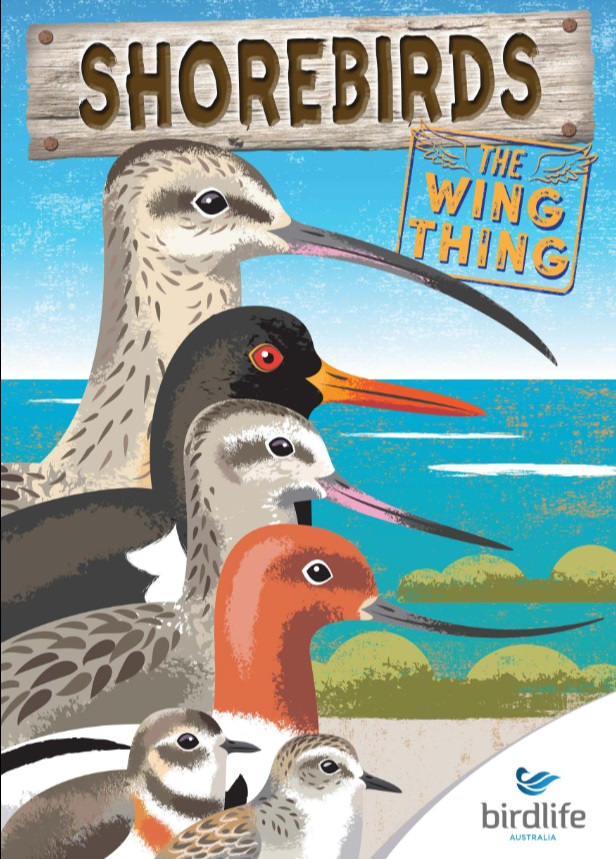 Shorebird Identification Booklet
The Migratory Shorebird Program has just released the third edition of its hugely popular Shorebird Identification Booklet. The team has thoroughly revised and updated this pocket-sized companion for all shorebird counters and interested birders, with lots of useful information on our most common shorebirds, key identification features, sighting distribution maps and short articles on some of BirdLife's shorebird activities.
The booklet can be downloaded here in PDF file format: http://www.birdlife.org.au/documents/Shorebird_ID_Booklet_V3.pdf
Paper copies can be ordered as well, see http://www.birdlife.org.au/projects/shorebirds-2020/counter-resources for details.
Download BirdLife Australia's children's education kit to help them learn more about our wading birdlife
Shorebirds are a group of wading birds that can be found feeding on swamps, tidal mudflats, estuaries, beaches and open country. For many people, shorebirds are just those brown birds feeding a long way out on the mud but they are actually a remarkably diverse collection of birds including stilts, sandpipers, snipe, curlews, godwits, plovers and oystercatchers. Each species is superbly adapted to suit its preferred habitat. The Red-necked Stint is as small as a sparrow, with relatively short legs and bill that it pecks food from the surface of the mud with, whereas the Eastern Curlew is over two feet long with a exceptionally long legs and a massively curved beak that it thrusts deep down into the mud to pull out crabs, worms and other creatures hidden below the surface.
Some shorebirds are fairly drab in plumage, especially when they are visiting Australia in their non-breeding season, but when they migrate to their Arctic nesting grounds, they develop a vibrant flush of bright colours to attract a mate. We have 37 types of shorebirds that annually migrate to Australia on some of the most lengthy and arduous journeys in the animal kingdom, but there are also 18 shorebirds that call Australia home all year round.
What all our shorebirds have in common—be they large or small, seasoned traveller or homebody, brightly coloured or in muted tones—is that each species needs adequate safe areas where they can successfully feed and breed.
The National Shorebird Monitoring Program is managed and supported by BirdLife Australia.

This project is supported by Glenelg Hopkins Catchment Management Authority and Hunter Local Land Services through funding from the Australian Government's National Landcare Program. Funding from Helen Macpherson Smith Trust and Port Phillip Bay Fund is acknowledged.
The National Shorebird Monitoring Program is made possible with the help of over 1,600 volunteers working in coastal and inland habitats all over Australia.
The National Shorebird Monitoring program (started as the Shorebirds 2020 project initiated to re-invigorate monitoring around Australia) is raising awareness of how incredible shorebirds are, and actively engaging the community to participate in gathering information needed to conserve shorebirds.
In the short term, the destruction of tidal ecosystems will need to be stopped, and our program is designed to strengthen the case for protecting these important habitats.
In the long term, there will be a need to mitigate against the likely effects of climate change on a species that travels across the entire range of latitudes where impacts are likely.
The identification and protection of critical areas for shorebirds will need to continue in order to guard against the potential threats associated with habitats in close proximity to nearly half the human population.
Here in Australia, the place where these birds grow up and spend most of their lives, continued monitoring is necessary to inform the best management practice to maintain shorebird populations.
BirdLife Australia believe that we can help secure a brighter future for these remarkable birds by educating stakeholders, gathering information on how and why shorebird populations are changing, and working to grow the community of people who care about shorebirds.

To find out more visit: http://www.birdlife.org.au/projects/shorebirds-2020/shorebirds-2020-program
Aussie Bread Tags Collection Points
Collecting bread tags enables us to provide wheelchairs that change the life of disabled people in need, as well as keeping the tags out of landfill to help to preserve the environment.
Bread Tags for Wheelchairs was started in South Africa in 2006 by Mary Honeybun. It is a community program where individuals and organisations collect bread tags, which are sold to recyclers. The money raised pays for wheelchairs for the less fortunate which are purchased through a local pharmacy. Currently about 500kg of bread tags are collected a month in South Africa, funding 2-3 wheelchairs.
We have been collecting bread tags nationally in Australia since September 2018 and now have more than 100 collection points across the country. In February 2019 we started local recycling through Transmutation - Reduce, Reuse and Recycle in Robe, SA, where our tags are recycled into products such as door knobs and bowls. Tags from some states are still sent to South Africa where a plastics company called Zibo recycles them into seedling trays.
These humble bits of polystyrene can make a real difference so get your friends, family, school, workplace and church involved. Ask school tuck shops and boarding school kitchens, child care centres, aged care facilities, hospitals, cafes and fast food outlets to collect for you - they get through a lot of bread!
All the information and signage for collecting or setting up a public collection point is
on our website
.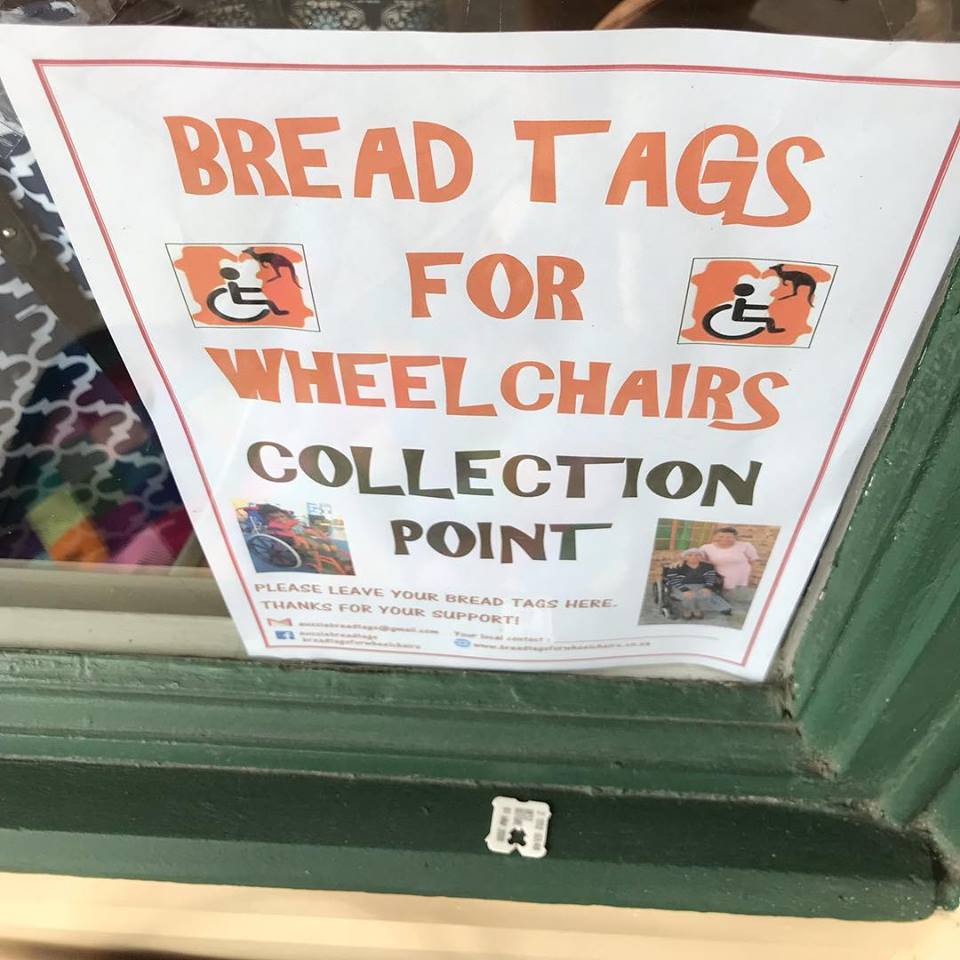 Canopy Keepers Art Challenge For Pittwater's Youngsters
Did you know that trees communicate using underground fungal networks? Or that, like us, they survive best in communities?
There's lots to find out about the hidden life of trees and so Canopy Keepers are inviting Pittwater primary students to create an image that reveals an aspect of the hidden life of trees. Drawings, diagrams, painting, mixed media and photos are all welcome. Chosen artworks will be made into a calendar for 2022 for sale (to cover costs) in the local community.
Get busy youngsters! Now is a great time to engage in a fun art challenge exploring our beautiful trees.
Email your work to cobbmilly@gmail.com by September 6th.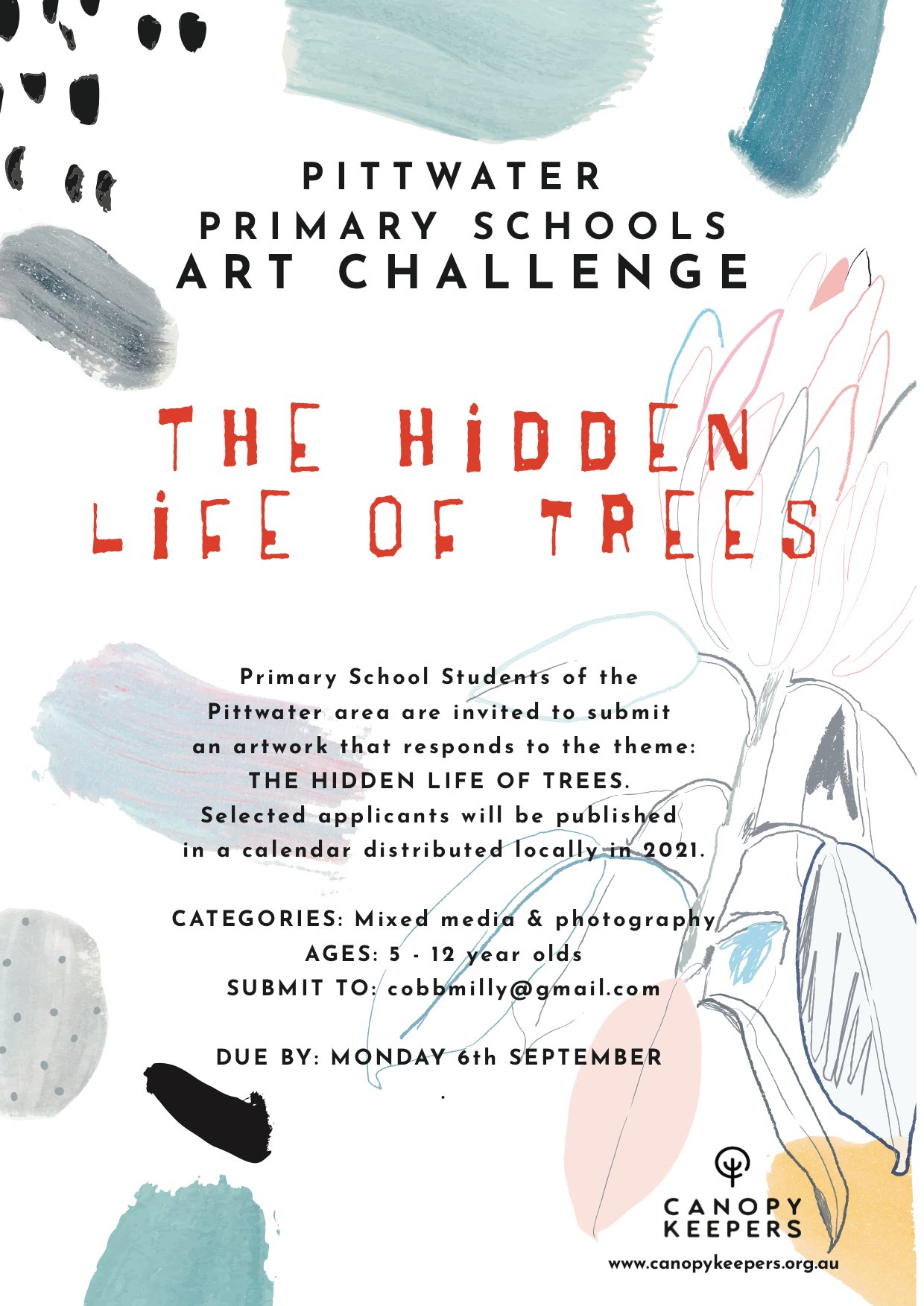 The Lighthouse Keeper
Published July 9, 2021 by NFSA
From the Film Australia Collection. Made by the National Film Board 1949. Directed by Lionel Trainor. The life of the lighthouse keeper is a lonely one, but his work is vital to the safeguard of shipping. His first duty is to care for the light which must be kept working accurately at all times. A six months supply of food must be kept in store. His children are taught by correspondence. The transmission of messages and warnings to ships in storms and back to the authorities on the mainland is a vital part of his work. The arrival of the supply ship brings a welcome break to the loneliness and monotony of his life. This film illustrates the life of the keeper on remote and barren Maatsuyker Island off the coast of Tasmania.
NSW State Archives Webinar - A Festival Of Film
NSW State Archives: published June 30, 2021
Did you know that we hold films in the NSW State Archives Collection? We are working hard to preserve and digitise our films. We take you through some of the films you can find here.
Phoenix Program Seeking Expressions Of Interest At Manly Warringah Kayak Club
Applications are invited for the second year of the MWKC Phoenix Programme on Narrabeen Lake. This Programme is designed to deliver athletes into State and National Pathway Programs.
At this stage the Club has set target dates for athlete testing as Wednesday 28 July and Sunday 01 August, but it may be subject to change (such as weather events) so please contact us to confirm.
If you are interested in applying for the Programme, please send an email to our Head Coach, Brett Worth at brettworth36@hotmail.com and provide the following details;
Athlete Name
Athlete DOB
Brief summary of paddling experience (if any)
Brief summary of other sporting interests / achievements.
If you would like to speak with someone prior to applying you can contact;
Brett Worth, MWKC Head Coach 0466 599 423 Peter Grimes, MWKC President 0418 221 042
Details are available at this link: www.mwkc.org.au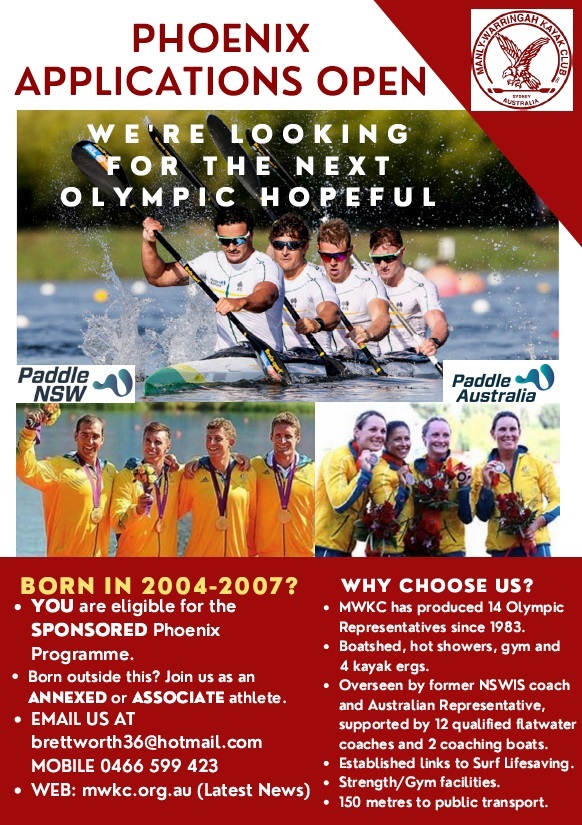 Setting 'Personal Best' Goals Helps Students - Especially Those Academically At-Risk
Setting personal best goals – what educational researchers call 'growth goal setting' – improves educational outcomes, according to new collaborative research by UNSW and the NSW Department of Education.
The researchers found growth goal setting was associated with significant gains in high school students' academic engagement: they reported improved perseverance, aspirations, attendance, and positive homework behaviour. The approach was particularly beneficial for previously low-achieving students and those from low socioeconomic status (SES) backgrounds.
The NSW Department of Education-funded study – an analysis of a survey involving more than 60,000 students – has implications for educational policy and practice.
UNSW Scientia Professor Andrew Martin, Associate Professor Rebecca Collie, and Dr Keiko Bostwick from the Faculty of Arts, Design and Architecture were co-authors of the study, along with Dr Emma Burns from Macquarie University. Prof. Martin, the lead author, says growth goal setting is all about outperforming one's previous best efforts or performance.
"It is fundamentally focused on self-improvement, such as investing more time or effort in a task or striving to achieve a higher result in the next test," Prof. Martin says.
"Goals can be related to process, such as studying for an exam over the weekend when previously a student wouldn't do study at weekends, or asking a teacher for help if the student usually wouldn't seek help.
"Or they can be outcome growth goals, so things like correctly spelling more words in this week's spelling quiz than last week's quiz, or doing better on the yearly science lab report than on the half-yearly report."
Does growth goal setting help everyone?
Prof. Martin says students' growth in education had been a topic of increasing interest and research in recent years.
"Research over the past decade has shown these approaches can have many benefits, such as improved engagement, learning, and achievement," Prof. Martin says.
"But we didn't know if focusing on growth would just help academically advantaged students and increase existing inequities, or if it may actually be beneficial for struggling students too, and therefore narrow the gaps instead."
Prof. Martin's prior research among students with attention-deficit/hyperactivity disorder (ADHD) already demonstrated growth goal setting was linked to increased engagement and achievement, particularly for students with ADHD.
"Our new study focused on other groups of students who may be academically at risk: students from low socioeconomic status (SES) backgrounds and those low in prior achievement," Prof. Martin says.
Growth goal setting beneficial across the board - and especially for disadvantaged learners
The researchers analysed data involving 61,879 high school students from 290 government schools across NSW. They looked at data collected in Term 1, 2018 and again in Term 1, 2019 by the NSW Department of Education's annual "Tell Them from Me" student survey. Students were in years 7-10 in 2018 and years 8-11 in 2019.
They analysed four sets of survey questions – student reports of growth goal setting, teachers' instructional support, academic engagement (perseverance, aspirations, attendance, and positive homework behaviour), and personal background attributes (such as SES and language background).
"For the sample as a whole, we found that growth goal setting was associated with significant gains in students' perseverance, aspirations, and positive homework behaviour," Prof. Martin says.
Crucially, growth goal setting was linked to particular benefits for groups of academically at-risk students.
"Aspirations to complete school and school attendance both improved for students with low prior achievement and students from low-SES backgrounds who participated in growth goal setting," Prof. Martin says.
Growth goal setting also reduced some existing gaps between advantaged students and those academically at risk.
"For example, growth goal setting had a significant bolstering effect for lower achieving students – helping to reduce the aspiration gap between low and high achieving students," Prof. Martin says.
"And it minimised differences in attendance between students from low- and high-SES backgrounds – in fact, low-SES students who had high striving for growth goals were among the highest school attenders," Prof. Martin says.
Ian McCarthy is a co-Director of Strategic Analysis and Research in the Department's Centre for Education Statistics and Evaluation (CESE) and also co-authored the study.
"We were also able to identify that explicit teaching practice, use of feedback, and being clear and organised in class are key teaching practices that support growth goal setting and student engagement," says Mr McCarthy.
Challenging and specific – and not in competition with others
The researchers say students can be taught how to set and strive for growth goals.
"To support students' growth goal setting, teachers should encourage them to set goals that are specific (so the student knows exactly what they are working towards), challenging (so the student pushes themselves to the next level), and focused on competing with themselves more than competing with other students," Prof. Martin says.
The researchers say they need to conduct further research to fully understand the causal mechanisms at play.
"One potential explanation is that a focus on personal progress and self-improvement can be motivating and inspiring," Prof. Martin says.
"If struggling students compare themselves to most other students, it is quite possible they will see academic success as something that's not achievable for them, which could make them feel inferior or disengaged.
"But when they are encouraged to focus on improving themselves first and foremost, academic success is suddenly within reach – it can seem a lot more realistic to exceed your own prior effort or previous test result than to outperform others."
According to Mr McCarthy at CESE, "With this evidence-base the department has developed further resources to support teachers and schools in implementing growth goal setting in the classroom."
The NSW Department of Education has published a
comprehensive guide
to growth goal setting that complements a broader analysis of
What Works Best
in terms of quality teaching practices that are known to support school improvement and enhance the learning outcomes of students.
How Learning Another Language Shapes The New You
Report by Ben Knight, UNSW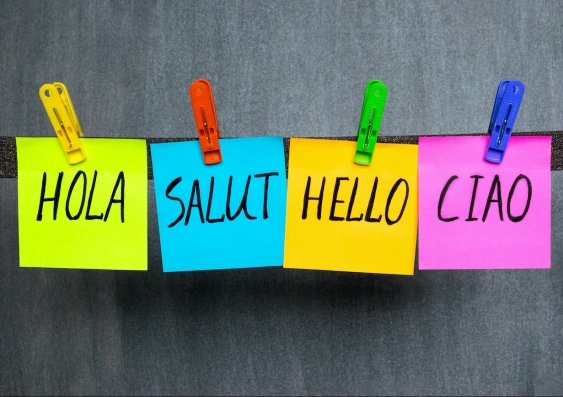 If you've ever found yourself lost in a city overseas and needing directions or looking to spice up your bland resume, there are probably many times you wished you could call upon another language. In any case, there's never been a better time to start learning another language than now, and there could be some unexpected upsides.
Language educator Associate Professor Andy Gao, UNSW School of Education, says there are many benefits to language learning. But aside from being a great hobby or addition to your resume, perhaps the most important is that it opens our perspectives. In his words, it fundamentally changes who we are.
"Learning languages is an enriching and rewarding experience, and there are many tangible benefits in terms of opening up different career options," A/Prof. Gao says. "But more importantly, learning a different language is an opportunity to expand your understanding of other people and their culture, including your own people and culture, and create a more enriching life."
Associate Professor Mira Kim, UNSW School of Humanities & Languages, agrees. The translation and interpreting studies expert says language learning can expand your horizons and your worldview. For example, reading a novel in its original language rather than the translation can give the reader a greater appreciation of linguistic and cultural diversity.
"If you can understand the language, then you have more intimate access to the knowledge that is constructed in the language," A/Prof. Kim says. "You can feel something you can't necessarily feel through translation…because language is not just about grammar or words, but it also expresses a lifestyle and a way of thinking."
"It can be a really humbling experience to learn another language because you will find it's not really easy to learn another language," she says. "It's really the best way to put yourself in other people's shoes."
When it comes to learning languages, A/Prof. Gao says, having the right motivation is essential. He says the key is making the language personally applicable.
"From second language acquisition research, we know that people who have personally relevant goals are more motivated to learn the language and put more effort into learning it," he says.
"So if we want to learn another language, then we shouldn't just think about it in material terms or academic pursuits. It should be relevant to life, and that way, we will find opportunities to learn the language by using it in a personally relevant way."
"It can be a really humbling experience to learn another language because you will find it's not really easy to learn another language."
A/Prof. Gao says we shouldn't fall into the trap of pursuing a language we don't actually want to learn. We also shouldn't be disheartened by a lack of progress in the beginning.
"Sometimes people will tell you that learning some languages will be more influential than the others. But if you don't enjoy it, then you're less likely to stick with it anyway.
"Instead, I would encourage people to start learning the language they think they're likely to find the most personal meaning in, whether that's the language relevant to their family history, or hobbies, or for travel."
While fluency may be the ultimate goal, perfection shouldn't get in the way of the joy of learning languages.
"It takes an enormous amount of time and effort for us to learn, let alone master. Just think about how much time we spend our learning the first language," he says. "So, we shouldn't let the challenge of gaining full language skills hurt the joy that comes from learning languages."
Developing global citizens
A/Prof. Gao says one of the challenges of learning languages is finding the space to practice in everyday life.
"If you're not in a multilingual country, then exposure can be difficult," he says.
"I think we see this play out here in terms of migration. With first-generation migration, you have people more likely to be bilingual. But [after that] usually becomes English speaking only because that's the language you use every day. So, I think we should look to find ways to encourage the learning of heritage languages a bit more."
As a primarily monolingual country, we should provide more practical incentives in our education system for language learning to help promote diversity, says A/Prof. Kim.
"Promoting bilingualism, or multilingualism for Australia will help us appreciate our cultural and linguistic diversity that we value so much. So, we need to encourage more people to learn another language not just as a hobby, but as a focus in the curriculum," she says.
"We might be able to provide practical incentives for the kids to continue to learn and maintain their heritage language or learn a foreign language through bonus points or exchange program opportunities for them, for instance."
"But we also need to fund strong language programs and departments to deliver quality language education from primary school right through to university."
Language education and encouraging learning another language can be a judicious way to help younger generations develop into engaged global citizens, she says.
"The more we engage with other languages, the more we may find that we are all human beings regardless of the different languages we speak."
"In the 21st century, you don't just belong to just one nation or one country. Identity is more about who you are and knowing your place in the world as a global citizen," she says.
"If we encourage an expectation that everyone learns another language, then some barriers that need breaking down will break down on their own."
Language education for life
A/Prof. Gao also says he would like to see a renewed focus on language education in schools, where students have more opportunities to pursue languages together with other studies.
"I think the language curriculum should allow students or schools to have choices about what they want to achieve in learning a language. Because the pursuit of learning language is very personalised, it's not something that is served well with measured outcomes or standardised testing," he says.
While learning in school can be a great introduction to languages, A/Prof. Gao says anyone can learn a new language at any time. In fact, practising a second language can also be a handy skill to have as we age.
"We see many examples of people learning languages at a later age, so we know that you can learn a language in any context," A/Prof. Gao says. "And when we grow older, we need to retain our active brains, and so being able to use different languages can help keep our brains active."
"I would encourage people to start learning the language they think they're likely to find the most personal meaning in, whether that's the language relevant to their family history, or hobbies, or for travel."
He also says that being aware of the language learning process can help us learn any subsequent languages.
"Much research evidence points to this direction because you've been through the process of learning a second language," he says. "So, you might develop some shortcuts that might make learning new languages less time-consuming."
The more languages we can learn, the more different lives we can experience, or at least appreciate, he says.
"The more we engage with other languages, the more we may find that we are all human beings regardless of the different languages we speak."
Neanderthal Artists? Bones Decorated Over 50,000 Years Ago
Since the discovery of the first fossil remains in the 19th century, the image of the Neanderthal has been one of a primitive hominin. People have known for a long time that Neanderthals were able to effectively fashion tools and weapons. But could they also make ornaments, jewellery or even art?
A research team led by the University of Göttingen and the Lower Saxony State Office for Heritage has analysed a new find from the Unicorn Cave (Einhornhöhle) in the Harz Mountains. The researchers conclude that, in fact, Neanderthals, genetically the closest relative to modern humans, had remarkable cognitive abilities. The results of the study were published in Nature Ecology and Evolution.
Working with the Unicornu Fossile society, the scientists have been carrying out new excavations at the Unicorn Cave in the Harz Mountains since 2019. For the first time, they succeeded in uncovering well-preserved layers of cultural artefacts from the Neanderthal period in the cave's ruined entrance area. Among the preserved remains from a hunt, an inconspicuous foot bone turned out to be a sensational discovery. After removing the soil sticking to the bone, an angular pattern of six notches was revealed. "We quickly realised that these were not marks made from butchering the animal but were clearly decorative," says the excavation leader Dr Dirk Leder of the Lower Saxony State Office for Heritage. The carved notches could then be analysed with 3D microscopy at the Department of Wood Biology and Wood Products at Göttingen University.
To make a scientific comparison, the team carried out experiments with the foot bones of today's cattle. They showed that the bone probably had to be boiled first in order to carve the pattern into the softened bone surface with stone tools and the work would take about 1.5 hours. The small ancient foot bone that had been discovered was identified as coming from a giant deer (Megaloceros giganteus). "It is probably no coincidence that the Neanderthal chose the bone of an impressive animal with huge antlers for his or her carving," says Professor Antje Schwalb from the Technical University of Braunschweig, who is involved in the project.
The team of Leibniz laboratory at Kiel University dated the carved bone at over 51,000 years using radiocarbon dating technology. This is the first time that anyone has successfully directly dated an object that must have been carved by Neanderthals. Until now, a few ornamental objects from the time of the last Neanderthals in France were known. However, these finds, which are about 40,000 years old, are considered by many to be copies of pendants made by anatomically modern humans because by this time they had already spread to parts of Europe. Decorative objects and small ivory sculptures have survived from cave sites of modern humans on the Swabian Alb in Baden-Württemberg and these were found at about the same time.
"The fact that the new find from the Unicorn Cave dates from so long ago shows that Neanderthals were already able to independently produce patterns on bones and probably also communicate using symbols thousands of years before the arrival of modern humans in Europe," says project leader Professor Thomas Terberger from Göttingen University's Department for Prehistory and Early History, and the Lower Saxony State Office for Heritage. "This means that the creative talents of the Neanderthals must have developed independently. The bone from the Unicorn Cave thus represents the oldest decorated object in Lower Saxony and one of the most important finds from the Neanderthal period in Central Europe."

The carved bone – a foot bone from a giant deer (Megaloceros giganteus) – found in the Unicorn Cave (inventory no. 46999448-423). Photo: V. Minkus, © NLD

Lower Saxony's Minister of Science Björn Thümler says: "Lower Saxony's archaeologists are always making discoveries that rewrite the history books. Now, research in the Unicorn Cave has revealed that the Neanderthals produced elaborate designs even before the arrival of modern humans -- yet another important new finding that completely revises our picture of prehistory."
Dirk Leder, Raphael Hermann, Matthias Hüls, Gabriele Russo, Philipp Hoelzmann, Ralf Nielbock, Utz Böhner, Jens Lehmann, Michael Meier, Antje Schwalb, Andrea Tröller-Reimer, Tim Koddenberg, Thomas Terberger.
A 51,000-year-old engraved bone reveals Neanderthals' capacity for symbolic behaviour.
Nature Ecology & Evolution, 2021; DOI:
10.1038/s41559-021-01487-z
Vast Majority Of Australians Prefer Funds For War Memorial Expansion To Be Spent Elsewhere
New research from the Australia Institute finds that one in two Australians would prefer the funds budgeted for the expansion of the Australian War Memorial to be spent on services such as health and education, a further one quarter (26%) of Australians would prefer the money to be spent on veterans' support services. Just 13% of Australians prefer the funds to be spent on the redevelopment of the Australian War Memorial.
The Australia Institute surveyed a nationally representative sample of 1,006 Australians about the proposed $500 million redevelopment of the Australian War Memorial in Canberra. The Memorial's redevelopment will include a southern entrance refurbishment of the main building, a new Anzac Hall connected to the main building, an extension to the Bean Building to establish a research centre, and public space improvements.
Key Findings:
Respondents were asked what they would prefer the money to be spent on:
One in two (49%) Australians would prefer the money to be spent on services like health and education, including 41% of Coalition and 56% of Labor voters.
A further one in four (26%) Australians would prefer the money to be spent on veterans' support services.
Just 13% of Australians would prefer the funds to be spent on the redevelopment of the Australian War Memorial.
Admiral (Ret'd) Chris Barrie – former Chief of Defence Force 1998-2002 said:
"This research by The Australia Institute confirms that the Australian public would prefer to see this money spent on support for veterans.
"The Australian War Memorial in its current form encourages reflection and tribute.
"As Chief of the Defence Force, I saw the solemn impact that the memorial had on foreign military visitors. It is, and should remain, a commemoration of those who lost their lives and those who survived but were deeply affected by war.
"This proposed expansion would see it become a place of cheap tourist entertainment. It is unconscionable.
"I urge the Government to reconsider the project, and to spend the money on services to assist veterans, such as support for people suffering from PTSD."
Brendon Kelson – Australian War Memorial Director 1990-94 said:
"The Federal Parliament and the Australian War Memorial are unique national symbols. They are central to our history and their integrity should be beyond the ambitions, vanities and whims of a passing few.
"The AWM project has created a historic crisis in the national capital – and its story. If it proceeds Australia and its people will have lost a national treasure.
"Once its purpose is lost sight of it will never recover and future generations will be the poorer for this shameful distortion of our history."
Major General (Ret'd) Steve Gower – Australian War Memorial Director 1996-2012:
"This survey by The Australia Institute confirms that there is widespread opposition to spending half a billion dollars on this project.
"The redevelopment, including the bulldozing of ANZAC Hall, is an act of vandalism.
"The project is only going ahead because the government has succumbed to pressure. The doubling of size for a display area in no way compensates for the heritage damage caused by the project.
"Given the lack of support and the damage to heritage, there is no excuse to go ahead with the project under the guise of supporting veterans. We should not be building a Khaki Disneyland."
Stewart Mitchell – former Head of Buildings and Services at Australian War Memorial said:
"The $500M development of the Australian War Memorial is a gross overreach and will have serious adverse impact on the heritage listed site.
"It's simply tragic to know that excellent concepts for development exist which provide the additional space required without destroying the site's National and Commonwealth Heritage listed attributes, and at considerably less cost.
This 'bigger is better' museum approach is a simplistic and narrow view of what is needed there, and does not value or understand the commemorative power of the existing site.
"The EPBC Act has failed to protect the Australian War Memorial from overdevelopment. Despite statements to the contrary, little attention has been paid to any recommendations for design amendment, including those from the government's own advisor on heritage matters, the Australian Heritage Council.
"All the identified impacts to the listed heritage values of the site remain in this development; and we are about to lose something which is extraordinary and unique."
Dr Sue Wareham – President of Medical Association for Prevention of War said:
"The poll from The Australia Institute is absolutely consistent with every other bit of evidence of strong opposition to the AWM redevelopment, including public submissions to formal processes and media comment.
"It's a national disgrace that the AWM's surveys, which they use to claim strong support for the project, had highly leading questions and biased information which was clearly intended to deliver the desired results. They should have engaged in more listening and less spruiking from the outset."
Shannon Battisson – National President-elect of Australian Institute of Architects said:
"This polling exposes yet again the Australian War Memorial's repeated attempts to mislead the people – and the parliament – about the level of public support for their redevelopment proposal in its current form.
"With only 13% of Australians surveyed supporting the expenditure and an overwhelming majority of submissions to both the NCA and Public Works Committee opposed, we call again for a rethink.
"The tremendous service of our current and former defence personnel can be better recognised without going down this destructive and deeply unpopular path."
Dr David Stephens – Convenor of Heritage Guardians said:
"It is good to have reliable polling data that supports Heritage Guardians' long-held feeling that the Memorial project is not wanted by most Australians. By contrast, the Memorial's own "surveys" have been notable for their leading questions, lack of context, and dishonest reporting. A project based on spin and misrepresentation should never have got this far."
Defamation Reforms To Become Law In NSW
The NSW Government is heralding a new era in national defamation law beginning tomorrow in jurisdictions covering over 85% of Australia's population.

NSW last year became the first state or territory to pass nationally agreed defamation reforms designed to unclog courts from trivial claims and support public interest journalism.
Attorney General Mark Speakman praised Victoria, Queensland and South Australia for also commencing the reforms on 1 July 2021. The Australian Capital Territory is expected to bring the reforms into force tomorrow as well.
"Tomorrow will mark a turning point for defamation law that will strike a better balance between protecting reputations and freedom of expression," Mr Speakman said.
"I urge remaining jurisdictions to implement the agreed legislation so Australia can have consistent and modern defamation laws."
In July 2020, the then Council of Attorneys-General agreed that each jurisdiction would act as quickly as possible to introduce the Model Defamation Amendment Provisions in their respective parliaments. Mr Speakman introduced the NSW legislation the following day.
At the March 2021 Meeting of Attorneys-General (MAG) it was agreed that all remaining jurisdictions would act to have the provisions commence as soon as possible after 1 July.
The MAG also decided to release a discussion paperopens in new window for the second stage of the project focused on reviewing online defamation.
NSW is leading an examination of how liable platforms such as search engines and social media sites should be for reputation-damaging material published by third parties online.
The discussion paper also asked whether defamation law discourages reporting alleged crimes and unlawful conduct to police, disciplinary bodies and employers. Work on this issue will be led by Victoria.
Submissions made in response to the Stage 2 Discussion Paper of the reforms are now being reviewed.
Australian Black Summer Bushfires Changes Songbird Plumage & Testosterone
Fire can put a tropical songbird's sex life on ice.

Following habitat-destroying wildfires in Australia, researchers found that many male red-backed fairywrens failed to moult into their red-and-black ornamental plumage, making them less attractive to potential mates. They also had lowered circulating testosterone, which has been associated with their showy feathers.
For the study published in the Journal of Avian Biology, the researchers also measured the birds' fat stores and the stress hormone corticosterone but found those remained at normal levels.
"Really, it ended up all coming down to testosterone," said Jordan Boersma, Washington State University doctoral student and lead author on the study. "There's no evidence that the birds were actually stressed. Wildfire was just interfering with their normal, temporal pattern of elevating testosterone and then producing that colourful plumage."
While the findings are specific to this tropical songbird, they may have implications for other species that don special coloration for mating, Boersma added.
"It could be a good way to gauge how healthy a population is if you know their normal level of ornamentation," he said. "If you see that there are very few males undergoing that transition, then there is probably something in their environment that's not ideal."
Without the elevated testosterone, male red-backed fairywrens are not so red. Instead they have drab, brown feathers much like their female counterparts. Ornamental feathers can make them stand out to predators and cause conflict with competing males. As Boersma puts it, the flashy feathers are "costly." Their only advantage is in attracting female fairywrens.
"The females prefer to mate with a male fairywren who is prettier," Boersma said. "Testosterone is just one of the mechanisms that they use to get their ornamentation."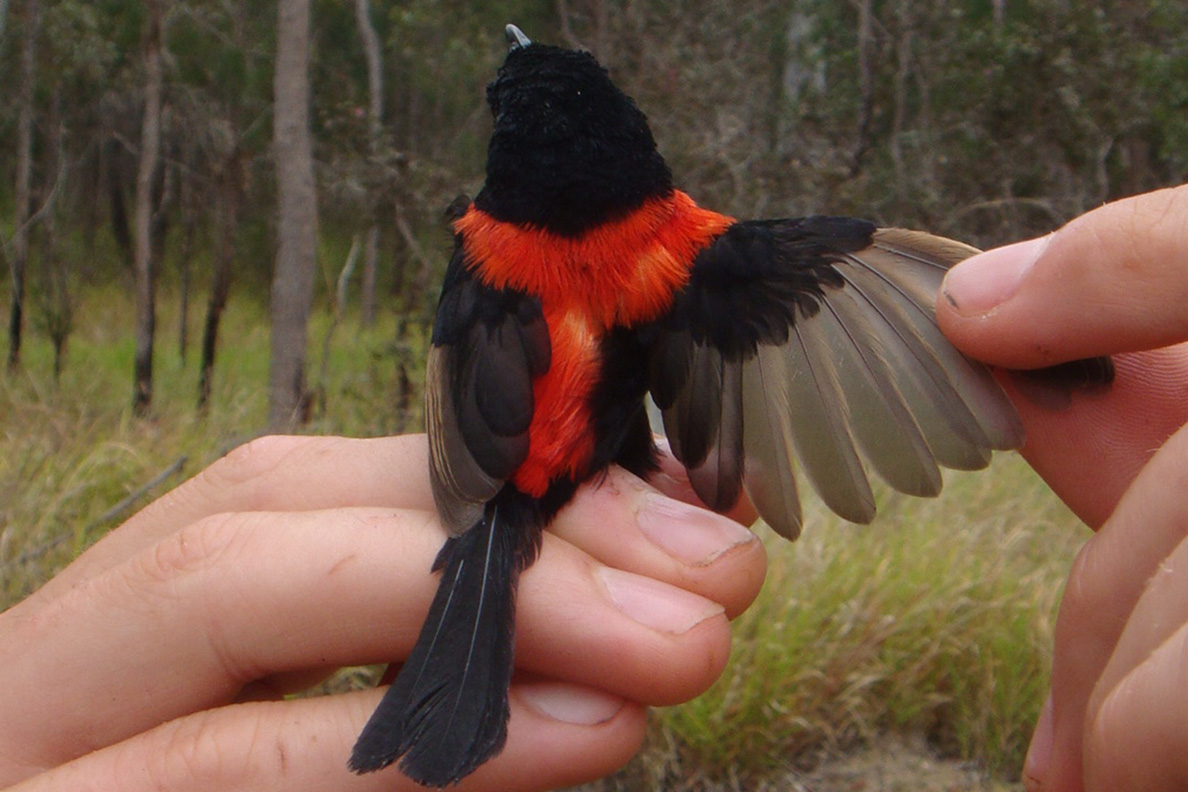 A male red-backed fairywren with its ornamental plumage. Photo: Doug Barron, WSU

In an earlier study, Boersma and his colleagues showed that testosterone helps the fairywren process pigments in their diet called carotenoids to create their colourful feathers. This study adds further evidence of that connection as well as the birds' response to wildfire.
While other research has looked at how wildfire impacts long-term survival of birds and other animals, this is one of the few studies that look at how wildfire may affect the birds' physiology.
Red-backed fairywrens are used to living with periodic wildfires, and the researchers suspect that the suppression of testosterone is an evolved response. Wildfires can destroy the birds' grassland nesting habitat, so it is a signal that it might not good time to raise their young. The male birds then may inhibit or delay breeding by remaining brown and unattractive to mates.
For this study, the researchers observed and took blood samples from the fairywrens for five years at two different sites in the tropical northeast part of Queensland state in Australia. This allowed them to compare birds living at times and places that experienced wildfire with those that did not.
The male red-backed fairywrens typically wait for the monsoon season to moult into their bright colours when the rains bring more of the insects they eat out into the open. The researchers wanted to be sure it was the wildfire and not a dry season that was affecting their testosterone levels and feather colour. During the study period, there was an unusually dry season, and the researchers observed minimal breeding among the birds, but yet the males were still producing ornamentation at a normal level. It was only post-fire that the many of the male birds stayed brown.
The researchers not only found that more males remained brown immediately following the wildfire event but also that the testosterone was lower in the brown males -- and lower in the population at large relative to previous years without fires.
Jordan Boersma, Douglas G. Barron, Daniel T. Baldassarre, Michael S. Webster, Hubert Schwabl.
Wildfire affects expression of male sexual plumage through suppressed testosterone circulation in a tropical songbird.
Journal of Avian Biology, 2021; DOI:
10.1111/jav.02757
Conservation Concern As Alien Aphid Detected On Kangaroo Island
An invasive species of aphid could put some threatened plant species on Kangaroo Island at risk as researchers from the University of South Australia confirm Australia's first sighting of Aphis lugentis on the Island's Dudley Peninsula.
It is another blow for Kangaroo Island's environment, especially following the Black Summer bushfires that decimated more than half the island and 96 per cent of Flinders Chase National Park.
Collected by wildlife ecologist Associate Professor Topa Petit and identified by colleagues from the WA Department of Primary Industries and Regional Development, the black aphids were found feeding on seedlings of Senecio odoratus, a native species of daisy, commonly known as the scented groundsel.
Of 16 native Senecio species on the island, at least ten are of conservation concern.
Originating from North America, the sap-sucking black aphids have spread across multiple continents over the past 20 years. This first record of the pest in Australia.
Assoc Prof Petit says the alien aphid species could threaten plants in the Compositae (daisy) family.
"Aphids were tended by several species of native ants that were feeding on their honeydew, showing easy integration for the pest in its new environment," Dr Petit says.
"The presence of Aphis lugentis on Kangaroo Island could have serious consequences on seedling survival of Senecio and related species -- as well as unknown ones for native ant communities."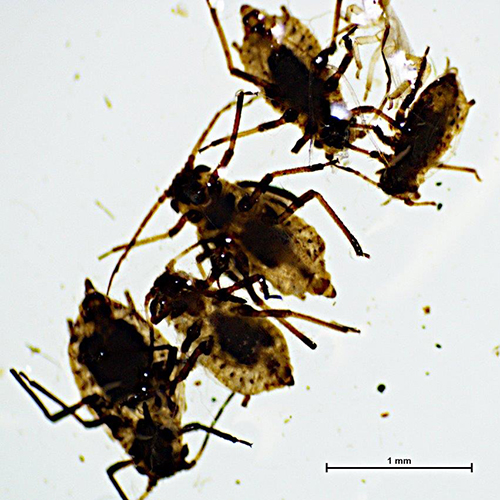 Photograph by S. Kakko & S. Petit

Currently, 1,257 of Australia's threatened and endangered species are directly affected by 207 invasive plants, 57 animals and three pathogens. The most recent estimates found the cost of controlling invasive species and economic losses to farmers in 2011-12 was A$13.6 billion.
Once established across Australia, invasive species can be very difficult to eradicate.
Entomology diagnostician Cameron Brumley from the Department of Primary Industries and Regional Development in Western Australia, and geneticists Monica Kehoe and Cuiping Wang, examined the aphid and found matching DNA in a collection from Hurstville, NSW, indicating the greater spread of aphid across Australia. Authorities have been alerted.
"It is still unclear how some fragile species of Kangaroo Island are coping following last year's bushfires, so I recommend that attention be paid to aphids present on plants related to daisies, on the island, but also on the mainland considering the likely presence of the aphid in other states. Its distribution needs to be mapped," Dr Petit says.
"This aphid was probably introduced to Australia on ornamental plants. Locally native plants and native gardens offer better habitats for native wildlife and lower invasion risks. We need to learn to appreciate our remarkable native flora."
Sophie Petit, John J. Weyland, Cameron Brumley, Monica A. Kehoe, Cuiping Wang.
First record of Aphis lugentis in Australia, tended by native ants on Senecio odoratus
. Austral Ecology, 2021; DOI:
10.1111/aec.13056
Australia has a long history of invasive species, with more than 3000 species introduced to Australia since 1770. Some of the most notorious examples of invasive species include:
The CANE TOAD - Introduced to Australia in the 1930s as a biological control for sugar cane beetles, its population has grown from 102 to more than 200 million, wreaking havoc on the Australian ecosystem at a rate of 50km every year.
PATERSON'S CURSE (or Salvation Jane) - This purple-flowering plant was introduced to Australian gardens in the 1880s, but quickly became a rampant weed. Now a target for biological control, it costs the Australian economy more than $250 million annually through lost productivity in pastures, control costs, and wool contamination.
European rabbits – Introduced for hunting and food in the 1850s, Australia's new rabbit population exploded, destroying crops, native flora, and land. Biological controls including the Myxoma Virus and the Rabbit Hemorrhagic Disease Virus have helped control populations.
RED FIRE ANTS – Native to South America, these are highly invasive, aggressive ants that have a venomous and repetitive sting that can cause painful pustules, and anaphylaxis. The Federal Government now has a ten-year, $411 million plan to eradicate red fire ants from Southeast Queensland.
Sunflower Peptide As 'Template' For Potential Analgesic
A naturally occurring peptide in sunflower seeds was synthetically optimised and has now been identified as a potential drug for treating abdominal pain or inflammation (in the gastrointestinal tract, abdominal area and/or internal organs). That is the finding of an international study led by Christian Gruber from MedUni Vienna's Institute of Pharmacology (Center for Physiology and Pharmacology), which was conducted jointly with the University of Queensland and Flinders University in Australia and has now been published.
The scientific aim of the study is to find analgesics that are only active in the periphery and do not cross the blood-brain barrier, as an alternative to commonly used synthetic opioids. Gruber explains the background: "Morphine was one of the first plant-based medicines and was isolated from the dried latex of poppies more than 200 years ago. It binds to opioid receptors in the brain and is still regarded as the main pillar of pain therapy. However, there is a high risk of opioid addiction, and an overdose -- as a result of this strong dependency -- inhibits the breathing centre in the brain, which can result in respiratory depression and, in the worst case, in death." For this reason, researchers throughout the world are trying to make analgesics safer and to find active drug molecules that do not have the typical opioid side-effects.
Sunflower extracts were to some extent used in traditional medicine for their anti-inflammatory and analgesic properties. In the current study, the scientists from Austria and Australia, primarily PhD student Edin Muratspahic, isolated the plant molecule that may be responsible for this effect. Medicinal chemistry methods were then used to optimise the so-called sunflower trypsin inhibitor-1 (SFTI-1), one of the smallest naturally occurring cyclic peptides, by 'grafting' an endogenous opioid peptide into its scaffold.
A total of 19 peptides were chemically synthesized based on the original SFTI-1 blueprint and pharmacologically tested. "One of these variants turned out to be our lead candidate for as potential innovative analgesic molecule, especially for pain in the gastrointestinal tract or in the peripheral organs. This peptide is extremely stable, highly potent and its action is restricted to the body's periphery. Its use is therefore expected to produce fewer of the typical side-effects associated with opioids," point out Gruber and Muratspahic.
The mode-of-action of the peptide is via the so-called kappa opioid receptor; this cellular protein is a drug target for pain relief, but is often associated with mood disorders and depression. The sunflower peptide does not act in the brain, hence there is much less risk of dependency or addiction. Furthermore, it selectively activates only the molecular signalling pathway that influences pain transmission but does not cause the typical opioid side-effects. The data of the animal model in the current study are very promising: the scientists see great potential for using this peptide in the future to develop a safe medication -- which could be administered orally in tablet form -- to treat pain in the gastrointestinal tract, and this drug could potentially also be used for related painful conditions, e.g. for inflammatory bowel disease.
The research of this MedUni Vienna laboratory led by Christian Gruber exploits the concept of using Nature's blueprint to develop optimised drugs. "We are searching through large databases containing genetic information of plants and animals, decoding new types of peptide molecules and studying their structure, with a view to testing them pharmacologically on enzymes or membrane receptors and ultimately utilizing them in the disease model," explains Gruber. Finally, potential drug candidates are chemically synthesised in a slightly modified form based on the natural blueprint, to obtain optimised pharmacological properties.
Edin Muratspahić, Nataša Tomašević, Johannes Koehbach, Leopold Duerrauer, Seid Hadžić, Joel Castro, Gudrun Schober, Spyridon Sideromenos, Richard J. Clark, Stuart M. Brierley, David J. Craik, Christian W. Gruber.
Design of a Stable Cyclic Peptide Analgesic Derived from Sunflower Seeds that Targets the κ-Opioid Receptor for the Treatment of Chronic Abdominal Pain
. Journal of Medicinal Chemistry, 2021; DOI:
10.1021/acs.jmedchem.1c00158
Food For Thought: Are Organic Foods Really Pesticide Free?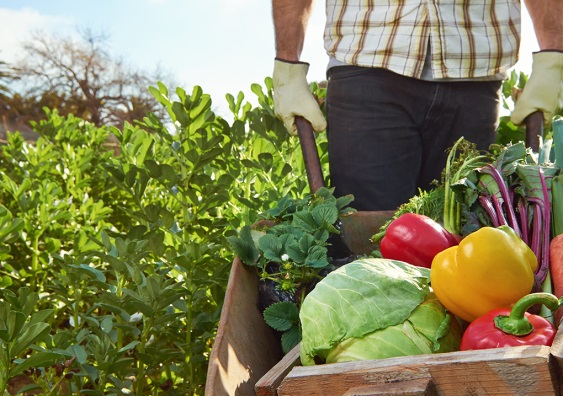 When you buy organic food, you don't always get food free from pesticides, a UNSW expert says.
As consumers, we've been conditioned to believe that organic foods are free from hormones and pesticides. Walk into any supermarket, you will find fresh produce, canned foods, poultry, and even personal hygiene products labelled as 'organic'.
But what does buying organic produce really mean?
Food and health expert, Associate Professor Jayashree Arcot from UNSW School of Chemical Engineering, says organic farms are only certified after they have been operating under organic principles for three years, and must pass an audit and review process.
"As consumers, we know that generally, organic foods are grown and processed without synthetic chemicals. Animals are raised without growth hormones or antibiotics on a 100 per cent organic diet," she says.
"However, what the consumers see labelled as organically grown food may not be organic, unless it has been certified.
"In the market, there are pesticides approved for organic agriculture – these are supposed to be low in toxicity compared to pesticides used in conventional farming.
"So just because you sell it as organic, it doesn't really mean it's pesticide free."
Unlike conventional farming practices, organic farming does not use synthetic chemical intervention. Instead, it focuses on sustaining the natural state of the soil, often implementing practices such as crop rotation which involves changing the crop after every harvest.
This traditional agriculture method maintains the biodiversity of the soil. For crops to flourish in an organic environment, A/Prof. Arcot says, the soil needs to undergo nitrogen fixation and farmers can achieve this by first growing pulse crops.
"Pulse crops, such as any type of legumes, are highly nitrogen-dense so they effectively feed the soil the nutrients it needs," she says.
"After harvest, the soil is nourished with nitrogen, and this provides natural nutrition for the next crop to grow."
In Australia, the levels of agricultural and chemical residues that are allowed in domestic and imported foods are set by Food Standards Australia and New Zealand (FSANZ).
A/Prof. Arcot says even though pesticides are used in conventional farming, the levels in our fresh produce are considered safe and are not high enough to be detrimental to our health.
"Australian fruits and veggies have very low levels of pesticides, in fact, even much lower than the minimum levels set by the Environmental Protection Agency in the US," she says.
"It's been shown that the levels of pesticides found in the produce we eat is actually a hundred times lower than the smallest dose that could be harmful to lab animals.
"So, people should not be alarmed if they do not purchase organic products."
Food labelling should help consumers make an informed decision, but it can often leave them even more confused.
In Australia, there is no mandatory certification requirement for organic produce sold domestically to consumers. Despite this, many organic businesses and farmers opt for organic certification anyway to boost consumer confidence.
While Department of Agriculture, Water and the Environment is responsible for any issues concerning organic policy matters, organic certification is owned and managed by private organisations approved by Australian Biosecurity and Inspection.
So where does that leave consumers?
"Many products carry a symbol or logo to show that they are certified organic but that is not always the case," says A/Prof Arcot.
"Unless it's certified by one of these organisations, there is no way of guaranteeing the authenticity of organic produce sold to consumers.
"The onus is on us, as consumers, to do our research before buying."
Out with the old, in with the new
If a non-organic farm decides they want to transition to organic farming, even though they may pass the certification requirements, it can still take a long time for the soil to transition, A/Prof. Arcot says.
"It takes longer to convert a conventional farm into an organic farm as the soil will reflect non-organic material in the conventional plots for many years," she says.
"Even if you stop today, it doesn't mean that your crops would magically turn into pesticide-free produce the next year – these processes can take years.
"The certification process needs to continue auditing even after farmers meet the National Standard of Organic and Biodynamic Produce."
Benefits outweigh the costs
If organic foods can still contain pesticides, why are consumers still paying a premium?
"Organic foods are generally more expensive because organic farming is labour intensive and there are much higher input costs," says A/Prof. Arcot.
"If you're not using pesticides or herbicides to ward off pests, then farmers need to do everything manually – that increases cost."
But A/Prof. Arcot says despite the low risks that pesticides pose, there are still good reasons for buying organic foods.
"A recent review on the effect of consumption of organic foods on health shows that there may be a reduced risk of allergic disease and of overweight and obesity," she says.
"But the study was ultimately inconclusive as consumers of organic foods tend to generally have healthier lifestyles which could confound the evidence.
"However, I believe the biggest winner is our environment. While organic farming typically has lesser yields, it has a smaller carbon footprint compared to conventional agriculture which is a large emitter of greenhouse gases.
"So, long-term there are health benefits to people if we reduce any emissions in our atmosphere."
Saturated Fatty Acid Levels Increase When Making Memories
Saturated fatty acid levels unexpectedly rise in the brain during memory formation, according to research, opening a new avenue of investigation into how memories are made.

Dr Tristan Wallis, from Professor Frederic Meunier's laboratory at UQ's Queensland Brain Institute (QBI), said traditionally, polyunsaturated fatty acids were considered important to health and memory, but this study highlighted the unexpected role of saturated fatty acids.
"We tested the most common fatty acids to see how their levels changed as new memories were formed in the brain," Dr Wallis said.
"Unexpectedly, the changes of saturated fat levels in the brain cells were the most marked, especially that of myristic acid, which is found in coconut oil and butter.
"In the kitchen, saturated fats are those which are solid at room temperature while unsaturated fats are normally liquid.
"The brain is the fattiest organ in the body, being 60 per cent fat, which provides energy, structure and assists in passing messages between brain cells.
"Fatty acids are the building blocks of lipids or fats and are vital for communication between nerve cells, because they help synaptic vesicles -- microscopic sacs containing neurotransmitters -- to fuse with the cell membrane and pass messages between the cells.
"We have previously shown that when brain cells communicate with each other in a dish, the levels of saturated fatty acids increase."
Researchers have found that fatty acid levels in the rat brain, particularly saturated fatty acids, increase as memories are formed, but when they used a drug to block learning and memory formation in rats, the fatty acid levels did not change.
The highest concentration of saturated fatty acids was found in the amygdala -- the part of the brain involved in forming new memories specifically related to fear and strong emotions.
Study contributor and QBI Director Professor Pankaj Sah said the work opened a new avenue on how memory was formed.
"This research has huge implications on our understanding of synaptic plasticity -- the change that occurs at the junctions between neurons that allow them to communicate, learn and build memories," Professor Sah said.
Tristan P. Wallis, Bharat G. Venkatesh, Vinod K. Narayana, David Kvaskoff, Alan Ho, Robert K. Sullivan, François Windels, Pankaj Sah, Frédéric A. Meunier.
Saturated free fatty acids and association with memory formation.
Nature Communications, 2021; 12 (1) DOI:
10.1038/s41467-021-23840-3
Thermal Imaging Offers Early Alert For Chronic Wound Care
New research shows thermal imaging techniques can predict whether a wound needs extra management, offering an early alert system to improve chronic wound care.

It is estimated that 1-2% of the population will experience a chronic wound during their lifetime in developed countries -- in the US, chronic wounds affect about 6.5 million patients with more than US$25 billion each year spent by the healthcare system on treating related complications.*
The Australian study shows textural analysis of thermal images of venous leg ulcers (VLUs) can detect whether a wound needs extra management as early as week two for clients receiving treatment at home.
The clinical study by RMIT University and Bolton Clarke, published in the Nature journal Scientific Reports, is the first to investigate textural analysis on VLUs using thermal images that do not require physical contact with the wound.
Researchers found the method, which provides information on spatial heat distribution in a wound, could accurately predict whether VLUs would heal in 12 weeks by the second week after baseline assessment.
This is because wounds change significantly over the healing trajectory, with higher temperatures signalling potential inflammation or infection while lower temperatures can indicate a slower healing rate due to decreased oxygen in the region.
Bolton Clarke Research Institute Senior Research Fellow Dr Rajna Ogrin said the current gold standard for predicting healing of VLUs -- conventional digital planimetry -- requires physical contact.
"A non-contact method like thermal imaging would be ideal to use when managing wounds in the home setting to minimise physical contact and therefore reduce infection risk," Ogrin said.
After showing that traditional thermal imaging methods do not give reliable results, the research team developed a new method for the analysis and used this in the clinical trial.
The new study, which involved 60 participants with VLUs, found thermal imaging offers an improvement on the current guidance for using digital imagery or planimetry wound tracings to detect the healing wounds by week four.
"The significance of this work is that there is now a method for detecting wounds that do not heal in the normal trajectory by week two using a non-contact, quick, objective and simple method," Ogrin said.
RMIT University Professor Dinesh Kumar said regular wound photography could not easily be used for accurate measurement of changes in wound size and other physiological parameters over time in the home care environment.
"This is because there are large variations between images due to changes in the lighting conditions, image quality and differences in camera angle across specific points in time," said Kumar, who leads the Biosignals for Affordable Healthcare group in RMIT's School of Engineering.
"Textural analysis of thermal images is resilient to these variations and is a time-efficient and cost-effective method to identify delayed healing of VLUs and improve patient outcomes."
* Source: Prevalence and incidence of chronic wounds and related complications: a protocol for a systematic review.
Mahta Monshipouri, Behzad Aliahmad, Rajna Ogrin, Kylie Elder, Jacinta Anderson, Barbara Polus, Dinesh Kumar.
Thermal imaging potential and limitations to predict healing of venous leg ulcers.
Scientific Reports, 2021; 11 (1) DOI:
10.1038/s41598-021-92828-2
Same Dance, Different Species: How Natural Selection Drives Common Behaviour Of Lizards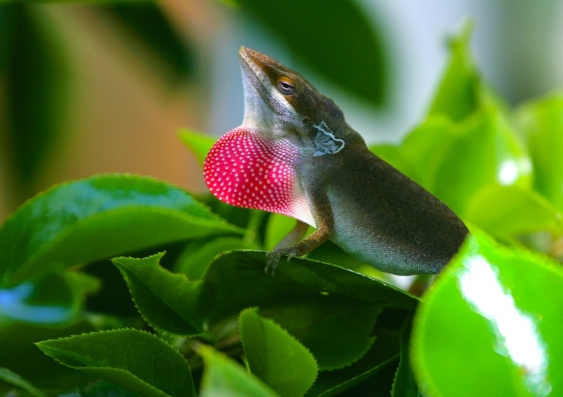 A surprising study by UNSW on the behaviour of unrelated lizards in very different parts of the world has demonstrated how evolution can lead to different species learning the same skills.

The study in

Ecology Letters

documents how the Anolis lizard species in the Caribbean, and the Draco lizard species in Southeast Asia, have solved the challenge of communicating with one another to defend territories and attract mates.
It found males from both species perform elaborate head bob and push up displays, and rapidly extend and retract their often large and conspicuously coloured dewlap, or throat fan, specifically in habitats with lots of wind-blown vegetation or low light.
The lizards occupy the same range of rainforest and grassland habitats, and therefore face the same problems when it comes to communicating to a potential mate or enemy in visually 'noisy' environments.
Remarkably, they have evolved the same strategy to cope with the same selection problems, lead author Dr Terry Ord from the Evolution & Ecology Research Centre at the UNSW School of Biological, Earth and Environmental Sciences says.
According to his research, this scenario of two unrelated lizards displaying similar behaviour shows that natural selection directs evolution towards the same common set of adaptive outcomes over and over again.
"The surprise is that lizards in both groups have evolved remarkably similar displays for communication, but they also tailor the production of those displays according to the prevailing conditions experienced at the time of display," Dr Ord says.
"That is, increasing the speed or the length of time they spend displaying the movements as the viewing conditions deteriorate.
"Really there should be essentially innumerable ways these lizards could have adapted their displays to remain effective, and there is strong evolutionary predictions that would lead us to expect this as well."
Dr Ord says what this study shows is that natural selection driving similarities between different species.
Formally, this is known as convergent evolution -- the independent origin of similar adaptations, he says.
"It seemed that these types of convergent, common adaptations are outcomes that would only really occur among species that are closely-related in some capacity," he says.
"The reason for this is a bit complicated and it rests on the fact that adaptations build on characteristics that a species already possesses."
"So, the longer species have evolved independently of each other, the less likely they would evolve the same adaptive solutions if they were exposed to the same change in the environment."
But what this study highlights, he says, is what many evolutionary ecologists have argued -- that natural selection is an extremely powerful process that can override the "baggage" of past history to produce the same adaptations.
"So if arm-waving is the most effective solution to some change in the environment, then natural selection would ultimately lead to its evolution rather than a more subtle (less effective) modification to an existing vocal call," he says.
"Evolutionary biologists are excited about convergent evolution because it gives us multiple examples of the same adaptation evolving time and time again in very different animals.?
"So it tells us what the challenges are faced by these animals and how they have solved it in terms of evolutionary adaptation."
The study documents this independent evolution of common communication strategies amongst groups that have evolved separately from each other for hundreds of millions of years.
Dr Ord says the striking similarities in communication strategies for maintaining an effective communication system in noisy conditions has evolved in various forms in many insects, fish, frogs, birds and mammals.
"For example, increasing the volume of calls when there's lots of acoustic background noise, or extending the length of those calls or even vibrational signals by spiders and such," Dr Ord says .
"The fact that many other groups of animals have also evolved thesesame adaptive strategies is even more extraordinary."
Terry J. Ord, Danielle A. Klomp, Thomas C. Summers, Arvin Diesmos, Norhayati Ahmad, Indraneil Das.
Deep‐time convergent evolution in animal communication presented by shared adaptations for coping with noise in lizards and other animals.
Ecology Letters, 2021; DOI:
10.1111/ele.13773
Anolis (pictured) lizards retract their dewlaps (throat fans) for the same reason as Draco lizards, which are unrelated to the species and live thousands of kilometres away. Photo: Shutterstock.

Report Sounds Alarm On Efficacy, Safety, Ethics Of Embryo Selection With Polygenic Scores
A special report published today in the New England Journal of Medicine raises serious questions about the benefits, risks and ethics of a new service -- which the authors call "embryo selection based on polygenic scores," or ESPS -- that allows in vitro fertilisation patients to select embryos with the goal of choosing healthier and even smarter children.
The multinational team of researchers describes the limitations of ESPS and warns of the risk that patients and even in vitro fertilization (IVF) clinicians may form the impression that ESPS is more effective and less risky than it is. The authors highlight that since the same gene often influences many different traits, ESPS designed to select for one trait can lead to the unintentional selection of adverse traits. They also warn about the potential of ESPS to alter population demographics, exacerbate socioeconomic inequalities and devalue certain traits.
If ESPS continues to be available to IVF patients, the researchers call on the Federal Trade Commission to develop and enforce standards for responsible communication about the service. The authors also call for a society-wide conversation about the ethical use of the technology and whether it should be regulated.
Polygenic scores are predictions of individual health and other outcomes derived from genome-wide association studies. Polygenic scores have been shown, in adults, to partially predict those outcomes. As the authors explain, however, their predictive power is significantly reduced when comparing embryos to one another.
"Polygenic scores are already only weak predictors for most individual adult outcomes, especially for social and behavioural traits, and there are several factors that lower their predictive power even more in the context of embryo selection," said Patrick Turley, assistant research professor of economics at the USC Dornsife College of Letters, Arts and Sciences and co-first author of the paper. "Polygenic scores are designed to work in a different setting than an IVF clinic. These weak predictors will perform even worse when used to select embryos."
Turley and colleagues modelled, for several diseases, the expected difference in the future individual's risk for the disease between using ESPS to select an embryo versus choosing an embryo at random among 10 viable embryos. In most cases, the absolute risk reduction from ESPS is very small. Moreover, these estimates are extremely uncertain, so much so that the effect of ESPS is swamped by background variation.
Multiple companies are now working with IVF clinics to offer ESPS to patients who want to select an embryo with a lower chance than other embryos of developing, as an adult, diabetes, cancer, heart disease, inflammatory bowel disease, Alzheimer's disease and schizophrenia. One company also offers ESPS for selecting embryos according to their predicted educational attainment, household income and cognitive ability. The founder of another company has not ruled out someday offering ESPS in some countries for skin color or above-average cognitive ability.
For ESPS to work, polygenic scores need to give at least moderately accurate predictions of whether the resulting individuals will have a certain trait or not. The genome-wide association studies that generate the polygenic scores sometimes suggest moderate or even large differences in actual outcomes between people with high versus low polygenic scores, but those differences are based on a sample of people from different families. However, as Turley and colleagues note, ESPS usually involves comparing members of the same family, which significantly lowers the predictive power of polygenic scores.
Additionally, for statistical reasons, genomewide association studies are conducted with people with similar ancestries. Unfortunately, for a variety of reasons, existing studies have disproportionately included people with European ancestries. As a result, most polygenic scores constructed today will be less predictive for people of other ancestries.
Finally, assessments of the predictive power of polygenic scores typically assume very similar environments for the generation that was enrolled in the original genome-wide association study and the generation that will be born as a result of ESPS. But by the time an embryo selected by ESPS is an adult, they may face a very different environment, which will lower predictive power.
Even if the limited effectiveness of ESPS is accurately communicated to patients, widespread use of ESPS raises other risks. For instance, the researchers warn that use of ESPS could exacerbate existing health and other disparities, as ESPS is largely only accessible to the relatively wealthy and currently best predicts outcomes among those with European ancestries. ESPS might also amplify prejudice and discrimination by signalling that existing people with traits that parents select against are less valuable.
"Some countries have authorities that decide which traits embryos can be tested for," said Michelle N. Meyer, assistant professor of bioethics and a legal scholar at Geisinger Health System and co-first author of the special report. "But in the U.S., there is a strong legal and ethical tradition of viewing reproductive decisions as matters of private individual choice. In the short term, the FTC should help establish what counts as adequate evidence to support claims about the expected benefits of ESPS and what counts as adequate information disclosure in this context."
The researchers also call for professional medical societies to develop policies and guidance in this space and for companies themselves to demonstrate that the information they provide to diverse customers is complete, accurate and well-understood.
They also say there needs to be a society-wide conversation about whether using existing legal frameworks to ensure accurate information about ESPS is sufficient, along with if limits on the use of ESPS should be adopted.
"Many individual reproductive decisions, aggregated over generations, can have profound societal consequences," said Daniel J. Benjamin, corresponding author and a professor at the UCLA Anderson School of Management and David Geffen School of Medicine. "Collectively, these decisions could alter population demographics, exacerbate inequalities and devalue traits that are selected against."
This research was supported by the National Institutes of Health, Open Philanthropy, the Ragnar Söderberg Foundation, the Pershing Square Fund for Research on the Foundations of Human Behaviour, the Robert Wood Johnson Foundation, the Russell Sage Foundation, the JPB Foundation, the National Health and Medical Research Council, the Stanley Family Foundation and the Australian Research Council.
Patrick Turley, Michelle N. Meyer, Nancy Wang, David Cesarini, Evelynn Hammonds, Alicia R. Martin, Benjamin M. Neale, Heidi L. Rehm, Louise Wilkins-Haug, Daniel J. Benjamin, Steven Hyman, David Laibson, Peter M. Visscher.
Problems with Using Polygenic Scores to Select Embryos.
New England Journal of Medicine, 2021; 385 (1): 78 DOI:
10.1056/NEJMsr2105065
Disclaimer: These articles are not intended to provide medical advice, diagnosis or treatment. Views expressed here do not necessarily reflect those of Pittwater Online News or its staff.