Inbox and Environment News: Issue 495
May 23 - 29, 2021: Issue 495
Proposal To Allow Dogs Offleash On To Mona Vale Beach And Palm Beach
Following continued lobbying by dog lobbyists the Council currently has a ''have your say'' listed in its projects page regarding allowing dogs offleash onto Mona Vale Beach and Palm Beach.
As with the 'Station Beach consultation' no REF is provided to inform residents of the relevant factors as part of the proposal.
You can provide feedback by:

The time for 'feedback'
closes Sunday June 6, 2021.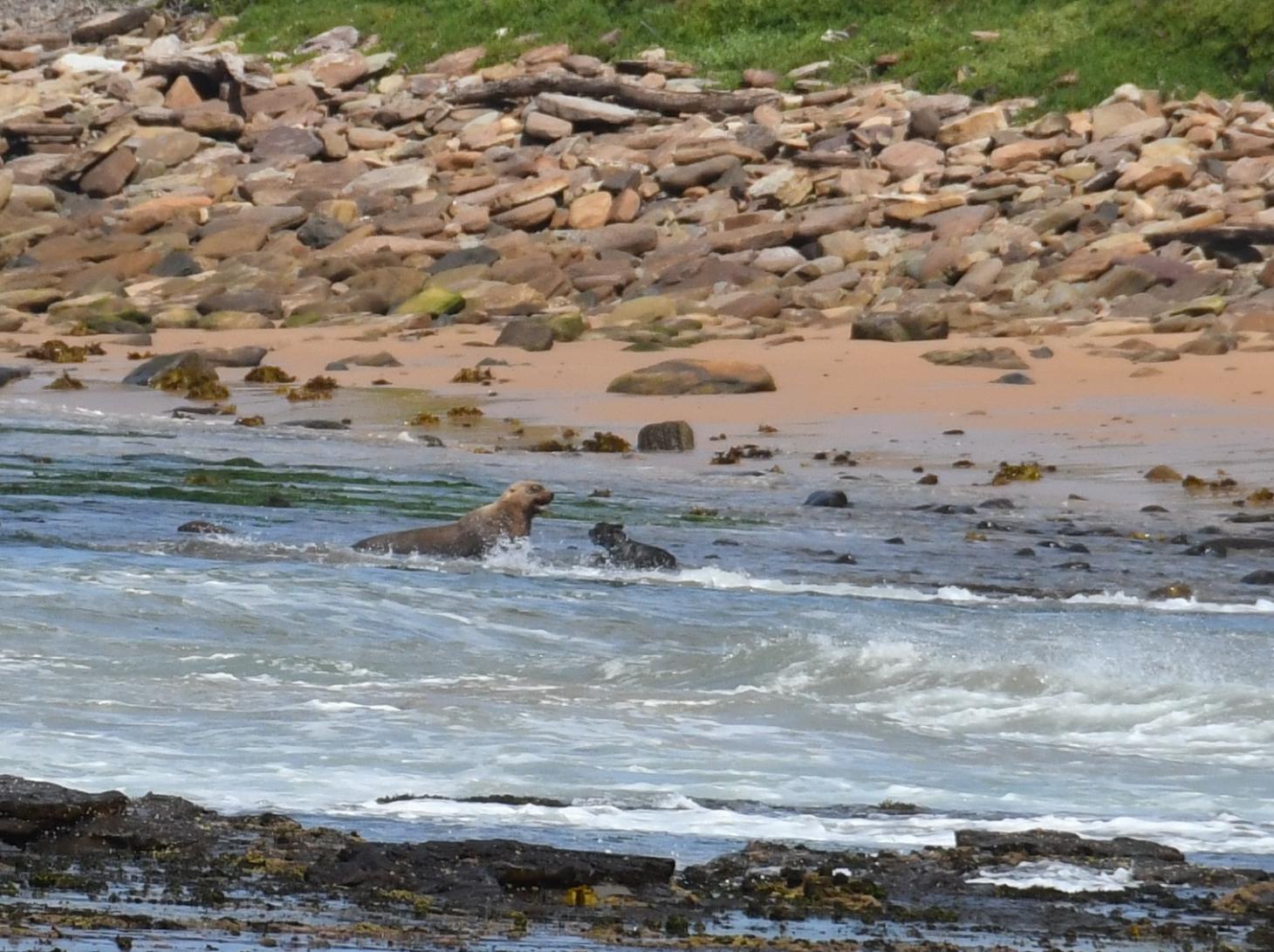 Pittwater Natural Heritage Association (PNHA): Mona Vale Dunes Planting Morning
We'll be planting trees and shrubs on Mona Vale dunes on Thursday June 17, 9-12pm, t
o complete our $12250 grant project there.
The Federal Government Communities Environment program has funded clearing of very dense weeds, and now it's time to have fun planting.
Meet at the end of Golf Ave and walk south to the golf ball shelter.
Any time you can spare will be wonderful.
Tools and Morning Tea provided.
Coast Banksias, Teatree, Correa, Myoporum and Dianella are some species we will plant.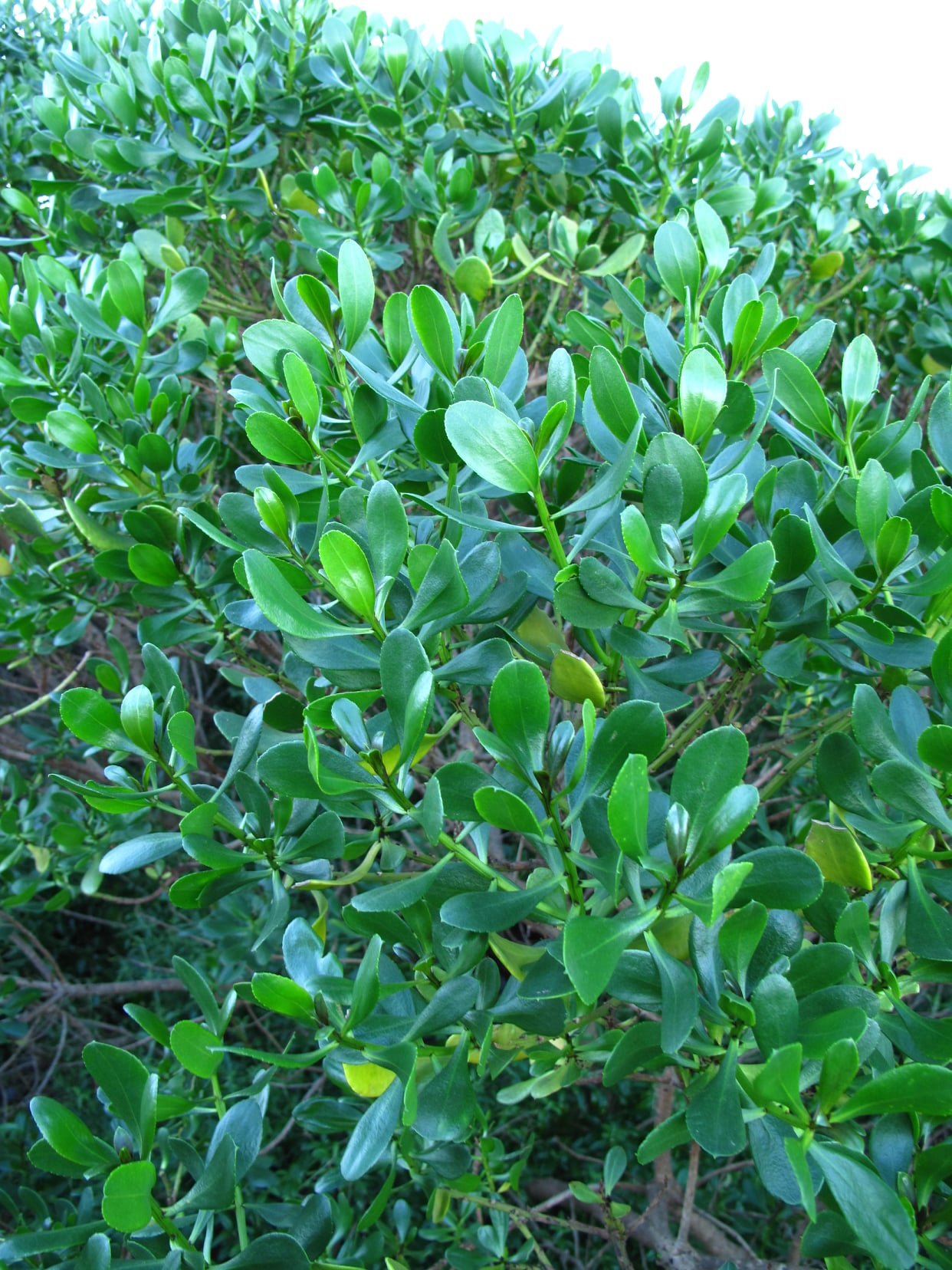 Coastal Boobialla, Myoporum insulare, is a glossy-leafed coastal shrub with tiny white flowers and green-black berries.

Sydney Wildlife: Registrations For The Next Rescue And Care Course Are Now Open - Commences June 19, 2021
Sydney Wildlife Rescue's accreditation course for new members (for rescue and rehabilitation of native wildlife) is now held online.
This is a self-paced course which provides the theoretical part of our training program - Part 1.
You must also complete Part 2 of the training which is a hands-on, in-person, instructional training session. This includes training in handling,
feeding, enclosure set-up and other aspects involved in caring for wildlife at your home.
You must complete both parts of this training program to be accredited to rescue & care for Sydney Wildlife Rescue.
The hands-on training is held within the branch nearest to where you live. Please
see the map here
of the Branch boundaries which make up Sydney Wildlife Rescue's geographical perimeter.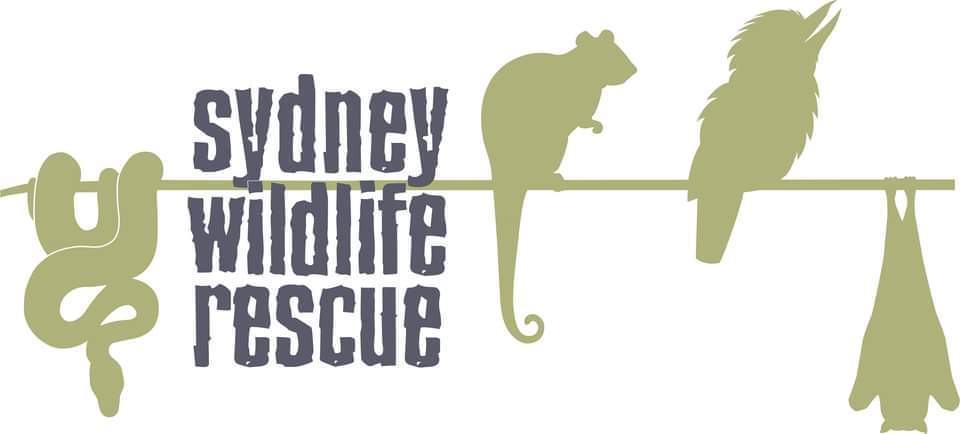 ORRCA News: 2021 Census Day And 2021 Art Comp.
ORRCA 'Splash of Creativity' Art Competition is OPEN.
We invite all creative members and friends of ORRCA to join in the fun! All entries will go into the running to win some ORRCA merchandise, feature on our social media sites and in our member newsletter.
This years rules are outlined below so get busy as
submissions close on the 5th of June 2021
!
Lets have some 'whaley' great fun!
Art Competition Rules:
* Create a cetacean inspired artwork of any description
* Like the ORRCA FB page and/or Instagram Page
* Post artwork publicly via your Facebook or Instagram account
WITH the hashtag #orrcacreatesasplash2021 AND the age
category they are entering (12 years and under, 13-18 years, 19 years and over)
* You are able to submit multiple entries
* Posts needs to be shared publicly so that the ORRCA team can
see artwork and hashtag
* All entries must be submitted by 5 June 2021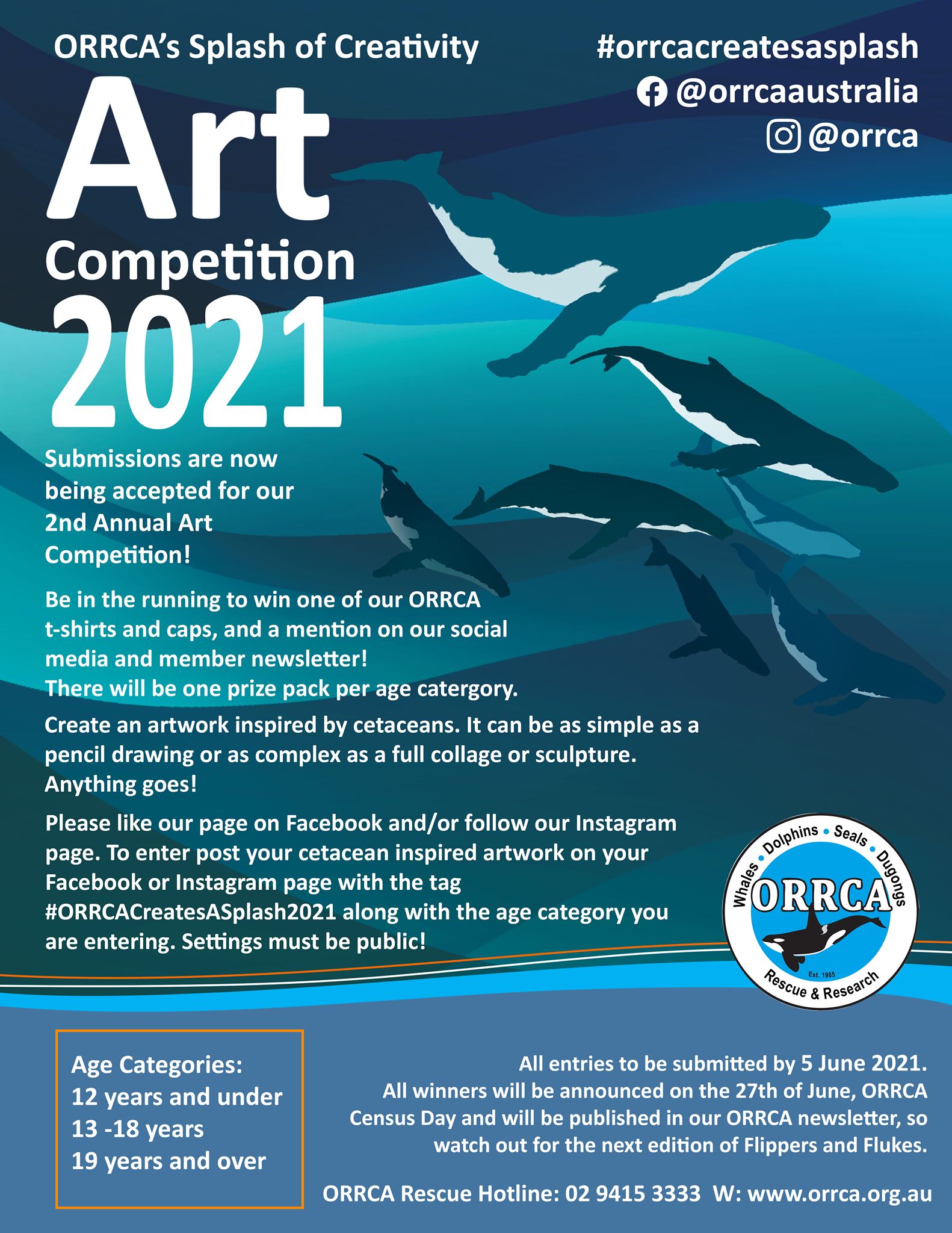 ORRCA Census Day 2021: Sunday June 27 2021
YOU ARE INVITED TO JOIN:

ORRCAs annual great whale migration census day.
This is a FREE event for all to join in.
From sun up to sun down.
Record all your sightings from your favourite whale watching location using an ORRCA data sheet and sending it into the team at the end of the day.
Email orrcacensusday@gmail.com for all the details as they unfold.
Can we beat last years count of 2,589 Humpbacks?
Be part of our annual whale watching day and help count how many whales move up our coastline on the last Sunday of June.
Newport Community Garden Autumn Harvest
Still harvesting some produce as we prep the beds for winter. Newport Community Garden is Newport residents creating sustainable gardens in public spaces; strengthening community, improving health, reconnecting with nature.
We meet every Saturday from 10am till about midday at Woolcott Reserve, Newport.
Everyone is welcome!!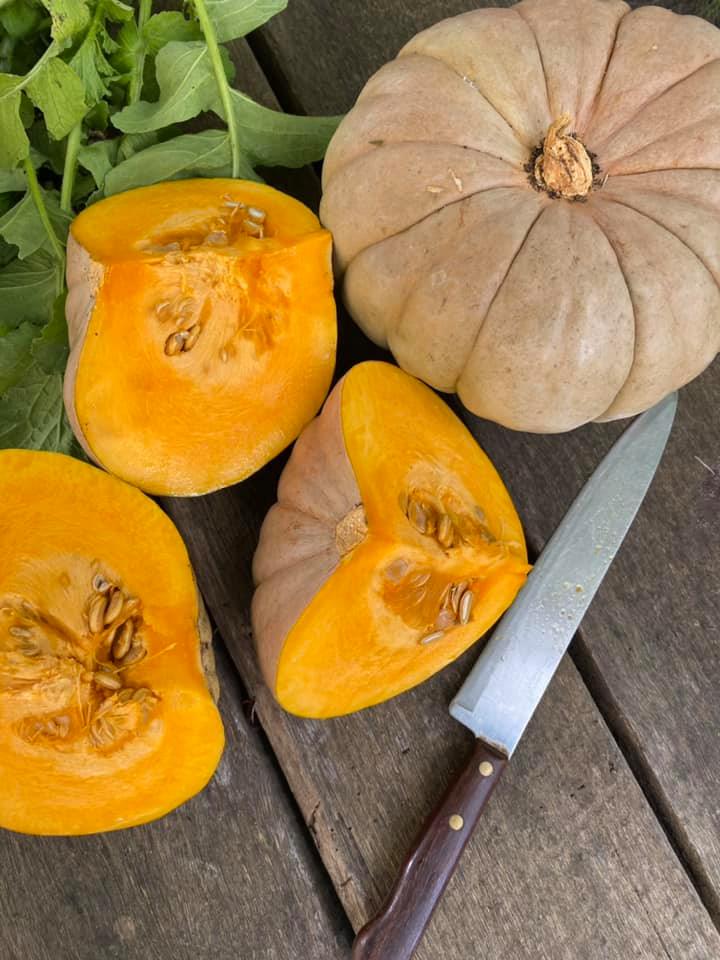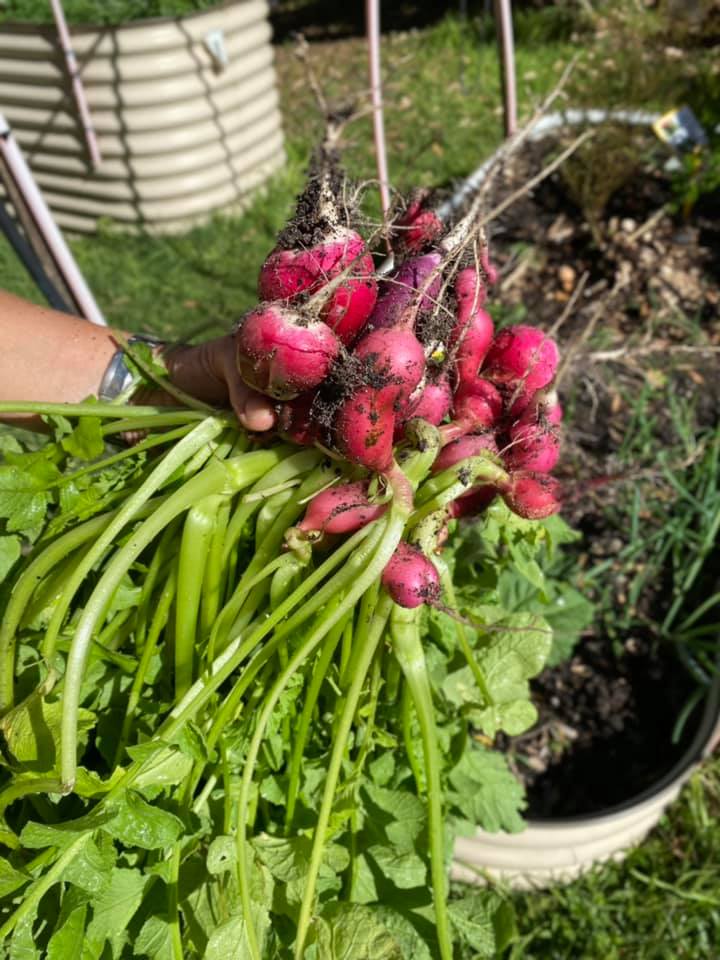 Friends Of Narrabeen Lagoon Catchment: Next Forum
Zoom Meeting- 7pm May 31st, 2021
Aboriginal Art and Occupation Sites of the Northern Beaches
Eric Keidge (Field Officer, NPWS) and Bob Conroy (formerly with NPWS) will be giving a presentation on their knowledge and experience in identifying, recording and protecting some of the Aboriginal art and occupation sites in the Northern Beaches area, including the Narrabeen Lagoon Catchment.
With due respect to those Aboriginal people past and present (and future) who identify with this area, the presentation will make reference to collaboration and special projects undertaken with the Aboriginal Heritage Office and the Metropolitan Local Aboriginal Land Council\, There will also be information given about site dating and significance.
Register to participate
in this Zoom session and you might find your future walks in Narrabeen Lagoon Catchment more interesting than before because you can see evidence of the rich Aboriginal heritage located here.
When you register, you will be emailed a link by which you can join the Zoom session at 7pm on May 31. Don't miss it! Register now by emailing: email@narrabeenlagoon.org.au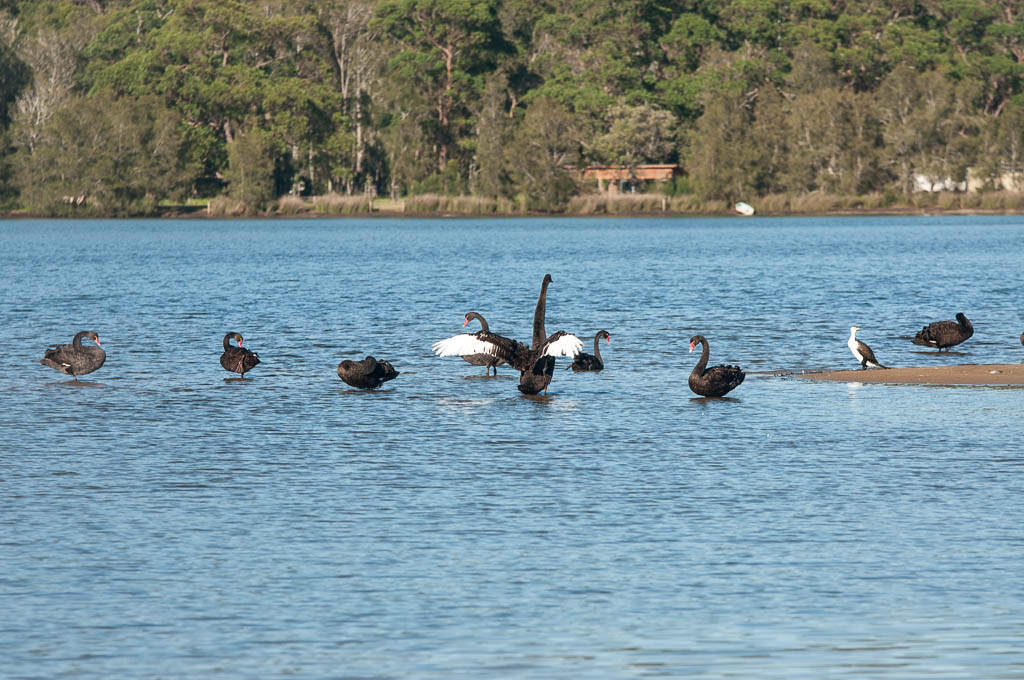 Avalon Community Garden
Avalon Community Garden's primary purpose is to foster, encourage and facilitate community gardening in Pittwater on a not-for-profit basis.
The garden was started in 2010 by a group of locals who worked in conjunction with the support of Barrenjoey High School to develop a space that could be used by the local community, to grow
vegetables, herbs, plants and flowers, and practice sustainable gardening techniques to benefit its members and the community overall.
The garden has been very successful and has grown and developed since its inception, in terms of its footprint, infrastructure, variety of produce and diversity of members. The garden welcomes new members all year round. Levels of contribution range from multiple times a week, to once a month. Your contribution is always welcome, and it is acknowledged people will have varying levels of commitment.
We encourage you to join and start enjoying the following benefits associated with community gardening:
They provide benefits for individuals and for the community as a whole. Community gardens provide education on gardening, recycling and sustainable use of natural resources.
They develop community connections and provide a means of engaging youth, children, the elderly and the disabled and otherwise marginalised individuals in mutually enjoyable and rewarding activities, thus helping to develop more functional and resilient communities.
People involved in community gardens say they improve wellbeing by increasing physical activity and reducing stress, providing opportunities to interact meaningfully with new friends, give time for relaxation and reflection as well as an opportunity to improve their interconnectedness with nature.
To get involved take a look around the site, join the Facebook group and come along and visit on a Sunday morning between 10 and 12 at the garden within Barrenjoey High School on Tasman Road, North Avalon.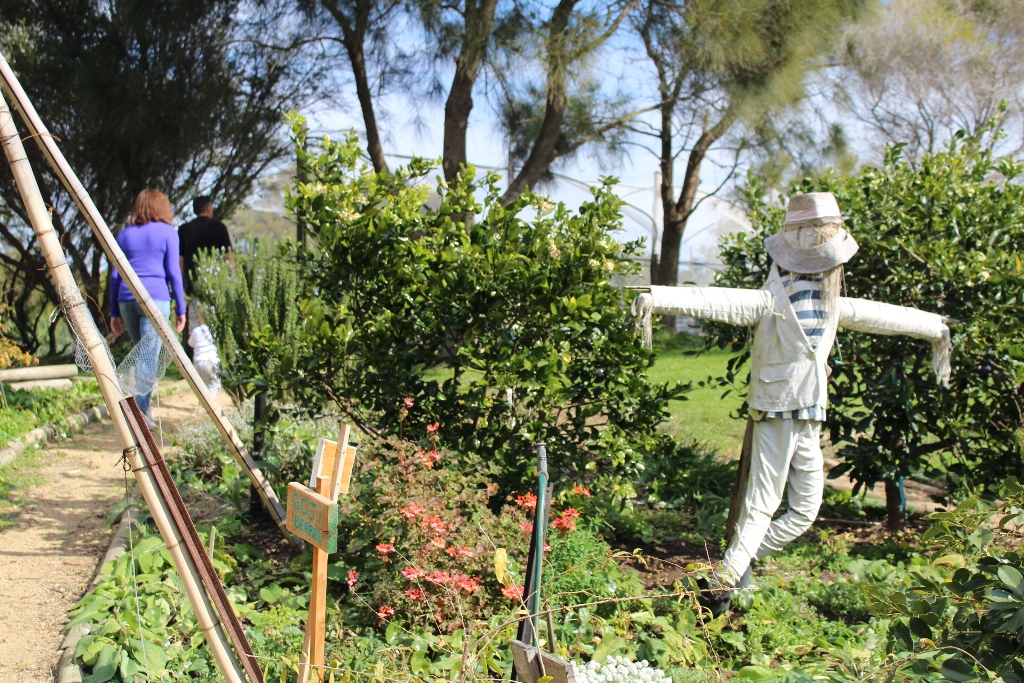 Bushfire Conference June 2021
Hosted by the Nature Conservation Council of New South Wales
Join us for over three days, as we explore this year's theme "Cool, Warm, Hot: the burning questions" which will examine how different fire intensities can influence ecosystems and communities in a changing climate.
Hear from leading academics, practitioners, Traditional Owners, and decision-makers including Former Commissioner of Fire and Rescue NSW Greg Mullins, Minister for Energy and Environment Matt Kean, Emeritus Professor and author Bill Gammage, Professor David Lindenmayer, Dr Mark Ooi and many more.
Presentations will investigate the effects of low, medium and high-intensity fires on the four sub-themes: climate change; fire ecology; ferals, weeds and restoration; and community resilience. The conference will examine how to incorporate and respond to cool, warm and hot fires in fire management as part of an optimal fire regime to achieve multiple objectives for biodiversity and cultural values, hazard reduction objectives and community resilience.
Building on themes from previous conferences, we will continue to showcase scientific research, current practices, on-ground projects and cultural burning to highlight lessons from across a range of ecosystems and communities.
Join us for a face-to-face conference field day to learn more about cool, warm and hot fire,
at North Head on Friday 4th June
. Come for a walk to see what has changed after recent fire events, hear about threatened species recovery and regeneration, and discuss lessons learnt and new approaches in fire, environmental and heritage management from experts and land managers. Hear from organisations including: Harbour Trust, NPWS, Northern Sydney Aboriginal Heritage Office, Northern Beaches Council, Fire and Rescue NSW, North Head Sanctuary Foundation and Australian Wildlife Conservancy. Transport to the location will be provided from Manly Wharf, along with morning tea and lunch, the day will go from 9am - 3pm. Tickets are limited so get in quick.
Location: online, with a face-to-face Field Day
Dates:
Tuesday 4th, 9:30 - 11:30 am and 2 - 4pm
Wednesday 5th, 9:30 - 11:30 am and 2 - 4pm
Thursday 6th, 9:30 - 11:30 am and 2 - 4:30pm
Field Day 4th of June, 9am - 3pm
NSW Government To Strengthen Planning For Natural Hazards: Feedback Wanted
New guidelines to help communities and councils plan for natural hazards such as bushfires, drought and floods have been released today for public feedback - until June 8, 2021.
In releasing the draft Strategic Guide to Planning for Natural Hazards in NSW, Minister for Planning and Public Spaces Rob Stokes said the recent flooding which devastated parts of the state emphasised the need to plan strategically for natural hazards.
"Our state is the best place to live in Australia but with its natural beauty comes challenges," Mr Stokes said.
"In the last few years we've experienced some of the worst drought, bushfires and flooding on record so it's important we continually learn and adapt how we plan for these hazards.
"This draft guide supports the findings of the Bushfire Royal Commission that we need to better address legacy risk in our communities by making sure that strategic land[1]use planning builds resilience to known hazards."
Minister for Police and Emergency Services David Elliott said NSW has been hit by a series of natural disasters in recent years and the NSW Government is working to reduce the impact and costs of extreme weather events on communities where possible.
"Between 2009 and 2019, NSW was affected by 198 declared natural disasters which resulted in significant losses and cost the State approximately $3.6 billion per year," Mr Elliott said.
"That's why we need to future proof our regions rather than reacting to disasters when they occur – prevention and mitigation are critical."
The draft document comprises eight guiding principles:
Consider natural hazard risk early
Protect vulnerable people and assets
Adopt an all-hazards approach
Involve the community in conversations about risk
Plan for emergency response and evacuation
Be information driven· Plan to rebuild the future, not the present
Understand the relationship between natural processes and natural hazards
The NSW Government's flood prone planning package will be finalised shortly.
For more information and to provide feedback on the draft natural hazard guide visit planning.nsw.gov.au/Natural-hazards
Federal Court Rejects 20 Of 21 Grounds Of Appeal For VicForests And Supports Original Findings Of VicForests Led Extinctions
The Wilderness Society provides the following comments following the handing down of the Federal Court judgement in the appeal of the Friends of Leadbeater's Possum Inc v VicForests case this morning (may 10, 2021).
National Campaigns Director, Amelia Young said, "The bench of the Federal Court has dismissed all but one of the grounds of appeal that VicForests put forward and upheld the previous finding of fact about the extinction risk that VicForests' logging activities pose to the Critically Endangered Leadbeater's Possum and Greater Glider. And the Friends of Leadbeater's Possum community group deserve all of our gratitude for bringing this case and highlighting the real damage that VicForests is doing in our publicly-owned native forests.
"The one ground that the Federal Court has upheld relates to whether it believes it has the jurisdiction to intervene when a state logging agency damages the environment where a Regional Forest Agreement is in place. In effect, the full Court agreed with The Honourable Justice Mortimer that VicForests was and is manifestly impacting on the survival of endangered species but disagreed that it is their Court's responsibility to curtail these impacts.
"Given all but one of the grounds were upheld, the Court's finding of illegal logging under Victorian law stands. This means that VicForests aren't obliged to adhere to state environment laws in order to enjoy an effective exemption from national environment laws.
"Manufacturers, processors, retailers and consumers of timber, paper and packaging products made from wood logged by VicForests must take action to remove themselves from VicForests' supply chain, if they have not already done so.
"Today's outcome does not change the systemic risk of illegality that exists in these supply chains, and confirms that national environment laws are in desperate need of reform to protect endangered forest animals from logging harm.
"There are currently five matters before the courts regarding VicForests' logging operations.
"Only last Friday, the Commonwealth Threatened Species Scientific Committee started consultation on uplisting the Greater Glider from vulnerable status to endangered—another step along the road to extinction.
"
Between the scientific evidence and now the full Federal Court judgment it's clear that Victorian forest fauna is in severe danger from the state government logging company.
What is not yet clear is what anyone is going to do about it. A practical question arises: will the Victorian State Government stand up to its own logging agency to prevent VicForests from further endangering these precious species?
"While appeals to the High Court are being considered by Friends of Leadbeater's Possum, we call upon the Victorian Government to act upon the findings of fact by the Federal Court, and take immediate steps to rein in VicForests, as well as expand the reserve system in order to protect endangered forests and animals.
"It is critical that the Victorian industry's planned 2030 exit from native forests be brought forward, and wood volumes reduced, not least because VicForests itself gave evidence in these proceedings that the size of the wood volumes it is required to provide are a constraint on it being able to be consistent with Victorian law,
meaning the only way VicForests can meet wood quotas is to log illegally
.
"
The Victorian pulp, paper and packaging sector must be supported to utilise the existing plantation estate for domestic use and manufacturing—rather than having large volumes of plantation wood exported offshore every year
, and
sawmill workers must be supported through inevitable change as the wood resource from native forests cannot continue to be supplied at current volumes
," Ms Young concluded.
Please note that the numbers of grounds quoted in the original release have been updated to acknowledge that VicForests abandoned eight of its original grounds for appeal on or before the first day of hearings, and did not press two additional grounds of appeal.
Mountain Pygmy-Possum Conservation Effort Gets Local And International Friends Onboard
The critically endangered Mountain Pygmy-possum (Burramys parvus) has been thrown a lifeline from an unexpected quarter after the Czech Republic's Prague Zoo committed $190,000 towards the building of a breeding facility in Lithgow, NSW.
This adds to funds raised by local organisations and institutions including UNSW Sydney, the Australian Geographic Society, the Australian Ecosystems Foundation and the Australian Wildlife Society, in addition to logistical support from the National Parks Foundation.
Miroslav Bobek, Director of the Prague Zoo, says the donation was partly motivated by the bushfires that ravaged Australia in the 2019-20 summer.
"When devastating bushfires peaked in Australia at the beginning of 2020, we set up a public fundraising at the Prague Zoo," Mr Bobek says.
"The Czech public's interest in supporting the conservation of Australian wildlife was incredible. We soon raised over a million AUD which enabled us to help support endangered species in Australia and we did not want to miss the Mountain Pygmy-possum which was also threatened by climate change.
"When we learned about the innovative Burramys Project, we did not hesitate to support construction of a breeding facility in Secret Creek Sanctuary."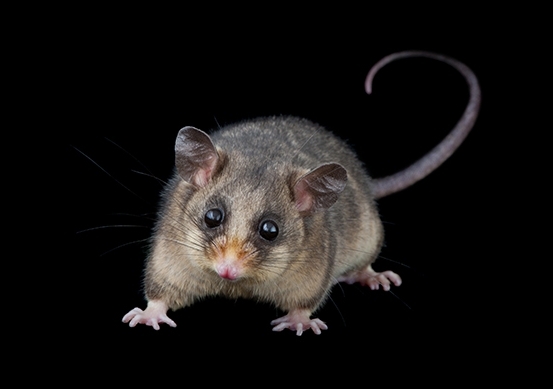 Pygmy Mountain-possums will soon be bred and acclimatised to conditions in Lithgow with a view to releasing them into a temperate lowland environment. Photo: Joel Sartore

With building now underway and expected to be completed by spring, the breeding facility at Secret Creek Sanctuary aims to produce a large, healthy population of Mountain Pygmy-possums. Scientists and conservationists involved in the project plan to release captive-bred possums into lowland wet forests after acclimatising them to the local conditions, the foods and other species they will encounter in their new homes.
Professor Mike Archer, a leading palaeontologist who has unearthed many of Australia's diverse and often bizarre prehistoric animals – most notably from the Riversleigh World Heritage Area deposits in northwestern Queensland– was the first to spot that Burramys parvus was probably a possum out of place.
"It was when we saw ancestors with a direct line to today's Burramys turn up in the fossil record in the most surprising places like Riversleigh, the Tirari Desert in South Australia and Hamilton in north-western Victoria that we first had the idea that these creatures had become marooned in a rapidly-changing environment that was quite different and more challenging than the one in which they and their ancestors had first evolved," Prof. Archer says.
"Our research showed that in the past, the preferred habitat for possums in this group has always been cool, lowland wet rainforest in contrast to the temperature-extreme, alpine habitat where today they just manage to survive."
Research colleague Dr Hayley Bates, whose PhD was focused on understanding how these possums managed to just survive in the alpine habitat today, says Mountain Pygmy-possums have to escape the freezing temperatures of winter by hibernating in rock piles using the snow cover as insulation.
"In the summer, these rock piles also protect them from dangerously high temperatures – anything above 28oC could be fatal," she says.
"But as temperatures slowly rise due to climate change, snow has begun to melt much earlier in the season. With the layer of insulation gone, air that is only just above 0oC penetrates the rock piles and wakes the possums from their hibernation, putting them at much greater risk of freezing or starving to death.
"To make matters worse, climate change has also drastically reduced the possums' main food supply: Bogong moths."
Current estimates suggest there are only 1500 Mountain Pygmy-possums left in New South Wales and Victoria, with numbers fluctuating depending on the severity of weather conditions from one year to the next, Prof. Archer says.
"Two mild winters in a row with reduced snowfalls could be all that's required to cause extinction of this species."
Rather than watch helplessly as the Mountain Pygmy-possums struggle to survive climate extremes in ever-diminishing numbers, researchers from UNSW Sydney have teamed up with others from University of Sydney, University of New England, the NSW National Parks Foundation, the Department of Primary Industries and Australian Ecosystems Foundation to set up this breeding colony in Lithgow.
The Burramys Project plan aims to do three things: increase the possum numbers via captive breeding, provide opportunities for researchers to study their behaviour, and conduct monitored trial releases into areas of lowland wet forests of the kind where their ancestors had thrived.
"Prague Zoo's welcome contribution, adding to the initial $130,000 raised by the Australian Geographic Society as well as funds generously provided by other donors such as the Australian Wildlife Society, will enable us to build much better facilities including two enclosures where the possums can be studied," says Trevor Evans, owner of Secret Creek Sanctuary and Secretary of Australian Ecosystems Foundation, which contributed a further $130,000 to the project.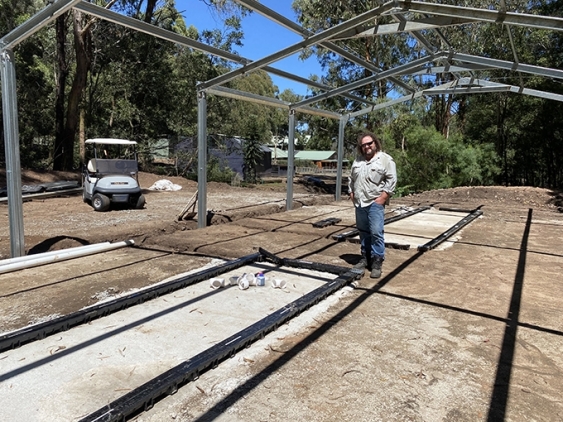 Trevor Evans under the frame of the soon-to-be built Mountain Pygmy-possum breeding facility at Secret Creek Sanctuary. Photo: Trevor Evans
"One of these will house a much larger number of Mountain Pygmy-possums than we are able to house now, while in the other we will genetically select pairs for breeding in specially designed nest-boxes."
Chrissie Goldrick, Editor-in-Chief of Australian Geographic, summed up the Australian Geographic Society's support for the Burramys Project.
"Accelerating climate change demands innovative approaches to the conservation of at-risk species like the Mountain Pygmy-possum which is why this Society will continue its long-term support of the Burramys Project in any way we can."
Managing Director of Australian Geographic Jo Runciman says: "The Australian Geographic Society and our magazine subscribers are very proud to have been able to support this project and to have played a role in securing the future of this very special species."
UNSW Knowledge Exchange Director, Warwick Dawson, who with Prof. Archer signed a partnership agreement with Prague Zoo, says getting a program like this off the ground requires funds as well as friends.
"It's heartening to know that the plight of a tiny marsupial struggling to survive can attract financial support from the other side of the world thanks to our friends at the Prague Zoo," Mr Dawson says.
"Through their help, together with funds raised by our local friends including UNSW donor, the late Gary Johnston, we now have the best chance yet to save one of Australia's most beguiling marsupials. It would be a tragedy if this creature became a casualty of climate change after 25 million years of history on this continent.
"This is an excellent example of the translation of UNSW expertise and knowledge into profound environmental impact."
Koala Management Program Commences At Cape Otway
May 17, 2021: Victorian Government Department of Environment, Land, Water and Planning
Wildlife Officers and vets will return to Cape Otway today, as part of a long-term strategy by the Victorian Government Department of Environment, Land, Water and Planning (DELWP) to address koala overpopulation within local Manna Gum woodland.
Manna Gums are one of the most favoured koala habitats and food sources, and in areas, koalas are at such high densities within local Manna Gum woodland that they are over-browsing the habitat.
The over-browsing is stripping Manna Gums of their leaves and causing tree death in extreme cases.
Without a sufficient food source to sustain them, the health of the koala population can gradually decline, resulting in starvation and ultimately death
DELWP will today commence a two-week koala management program at Cape Otway, involving health checks of koalas,
fertility control
to curb breeding rates, and translocation of koalas to habitat in the Great Otway National Park.
The habitat near Lorne is identified as a suitable location for the translocation of koalas from Cape Otway, due to its similar vegetation, climate and low numbers of koalas.
All captured koalas will undergo a health assessment, and any
koalas deemed to be suffering from starvation or serious health issues will be humanely euthanised
to prevent further suffering.
If an orphaned young koala is encountered during delivery of the program, the koala will be hand-raised by an authorised wildlife shelter until independent and then returned within its original home range
This is the eighth koala management program DELWP has delivered at Cape Otway since May 2015.
As a result of these programs, the koala density across private properties has been reduced from 13.9 per hectare in October 2015 to 2.75 koalas per hectare.
A sustainable koala density is believed to be approximately one koala per hectare for mixed eucalyptus forests.
DELWP's koala management programs at Cape Otway are informed by the results of the previous programs, and by targeted monitoring and research.
DELWP would like to extend its thanks to the local community especially landowners, businesses and the Conservation Ecology Centre for their cooperation during the programs.
Quotes attributable to DELWP Barwon South West Senior Wildlife Management Officer Wes Burns:
"The over-abundance of koalas at Cape Otway is a difficult long-term issue brought about by their love of Manna Gums for habitat and as a food source. The favourable climate and lack of predators in this area have also contributed to the overpopulation."
"While the overall koala and habitat health at Cape Otway has improved in recent years, further programs are needed to continue to manage the koala population."
"Koalas eat up to a kilogram of gum leaves every day, and by reducing koala numbers in Cape Otway woodland we're both ensuring the health of the koala population and the health of their habitat."
New Plan To Revitalise Oldest NSW's Park By Installing Mountain Bike Trails
One of Sydney's most loved natural destinations, the spectacular Royal National Park is set for a major revitalisation.

Greater Sydney Branch Director Deon van Rensburg said the draft Plan of Management (PoM) maps out how the Park will be protected and showcased as one of the nation's most important natural areas.
"With around 6 million visits per year Royal National Park is one of Australia's most popular parks. It is also on Australia's National Heritage List as a place of outstanding significance to the nation," Mr van Rensburg said.
"Royal National Park together with nearby Heathcote National Park and Garrawarra State Conservation Area, protect one of the most biodiverse areas in Australia, supporting more than 1000 plant and 350 animal species, including some of the most significant vegetation remaining in the Sydney Basin.
"Management priorities include freshwater wetlands, heathlands, rainforest, shorelines and grassy woodlands that support the Parks' rich animal biodiversity.
"The world's second oldest national park, Royal is a stunning place and one of our most visited parks where sites like Wattamolla and Audley attract thousands of visitors every weekend.
"The Plan will guide the future management and protection of the natural and cultural values, while providing opportunities for people of all ages, cultures and abilities to enjoy these much-loved places.
"This includes improvements and restoration at popular visitor precincts including upgrades to the historic 82-year-old Audley Boatshed, providing undercover space for picnics and a new open pavilion so that visitors can continue to enjoy the beautiful Port Hacking River.
"At Wattamolla, another popular visitor precinct, new amenities include better picnic areas, access improvements and a new walking track to the beach.
"To manage sustainable mountain biking in these areas a Royal Parks Mountain Biking Plan is also available for public comment.
"This is a great way for the millions of people who love and use these Parks to have a say in how these precious natural assets are managed into the future," Mr van Rensburg said.
The Plan now on exhibition has been prepared with extensive consultation from key stakeholders and your views are important.
Forestry Corporation Must Investigate Breaches Of Post-Fire Logging Standards In Mogo State Forest
Forestry Corporation appears to have breached its own post-fire logging rules in Mogo State Forest by cutting down a large ironbark, a feed tree for the critically endangered swift parrot.
Swift parrots migrate from Tasmania to the mainland during winter and feed on the nectar of a trees including South Coast ironbarks.
The breach was detected by the NSW Nature Conservation Council and Friends of Mogo Forest during a fact-finding tour of Compartment 180A on Friday, May 7.
NCC has written to Forestry Corporation asking it to investigate the alleged breach and put in place measures to ensure it doesn't happen again.
During the field trip, NCC and the Friends of Mogo State Forests discovered the stump of an ironbark with a diameter of more than 1.15 metres.
"Every tree being removed from that forest is a potential source of nectar for the swift parrot on its annual migration from Tasmania to the mainland," said Friends of Mogo Forest spokesperson Nick Hopkins said.
"Logging swift parrot feed trees puts another nail in the coffin for this amazing species. The forests between Ulladulla and Merimbula are listed as a Key Biodiversity Area for this species, with the greatest threat facing this species and habitat being logging. The community is outraged this is happening in our backyard."
NCC Nature Campaigner Wilson Harris: "There are believed to be only 350 swift parrots left in the wild, which makes it one of the rarest birds on earth.
"Swift parrots use ironbark trees like the one the Forestry Corporation contractors cut down as a vital food source.
"Most of the trees being cut down will end up being used for toilet paper or firewood. What an outrageous waste of desperately needed wildlife habitat.
"NCC and the Friends of the Forest Mogo are calling for an immediate moratorium on native forest logging and a rapid transition to plantation forestry.
"This region simply can't sustain a native forest logging industry after the Black Summer bushfires.
"The South Coast was one of the hardest hit areas in the state, with 80 per cent of bushland burnt in the Shoalhaven local government area and 65 per cent in the Eurobodalla and Bega Valley shires.
"Logging so soon after the devastation to our forests gives wildlife and the ecosystems little chance of long-term recovery and will tip some species over the edge.
"Now the destruction of South Coast forests is about to intensify, with Forestry Corporation earmarking 18 more compartments for logging between Ulladulla and Batemans Bay.
"It is time for the destruction to stop."
What: Rally to Save Swift Parrots. Speakers from NCC, Birdlife Australia and local activists will be there.
When: 1:15pm, Saturday, May 22
Where: 2 Museum Pl, Batemans Bay
Why: The community will rally at Batemans Bay Forestry Corporation office to oppose native forest logging on the South Coast and destruction of swift parrot habitat.
The $600M The Federal Government Is Squandering On A Kurri Kurri Gas Plant Would Be Better Invested In Big Batteries
The $600 million the Morrison government plans to spend on a new gas peaking power plant at Kurri Kurri in the Hunter Valley would be much better spent on battery storage.
The government announced today [1] that it would spend more than half a billion dollars of taxpayers' hard-earned money on a gas plant that will probably operate only one week a year. [2]
"That sort of money would buy seven batteries the size of the one the South Australian government installed to firm its energy supply in 2017," Nature Conservation Council Chief Executive Chris Gambian said. [3]
"Instead of lumping taxpayers with a $600 million white elephant, they could leave a legacy of more than 700 MW of clean, on demand capacity. As a practical engineering solution, the government's announcement it just doesn't add up.
"This announcement is nakedly political, timed to occur just a few days before the Upper Hunter by-election.
"Once again, the federal Coalition has put short-term political opportunism and the interests of their fossil fuel donors ahead of the long-term interests of Australians and the climate.
"Scott Morrison is spending money on fossil fuels like a drunken sailor. The problem is that taxpayers and the climate will be left with the hangover long after he last left politics."
References
[1] Federal government will spend $600 million on new Kurri Kurri gas plant in the NSW Hunter Valley, ABC, 18-5-21
[2] Hunter Valley gas plant 'would only operate a week a year', SMH, 13-5-21
[3] The original installation in 2017 was the largest lithium-ion battery in the world at 129 MWh and 100 MW.
Bushcare In Pittwater
For further information or to confirm the meeting details for below groups, please contact Council's Bushcare Officer on 9970 1367
BUSHCARE SCHEDULES
Where we work Which day What time
Avalon
Angophora Reserve 3rd Sunday 8:30 - 11:30am
Avalon Dunes 1st Sunday 8:30 - 11:30am
Avalon Golf Course 2nd Wednesday 3 - 5:30pm
Careel Creek 4th Saturday 8:30 - 11:30am
Toongari Reserve 3rd Saturday 9 - 12noon (8 - 11am in summer)
Bangalley Headland 2nd Sunday 9 to 12noon
Bayview
Winnererremy Bay 4th Sunday 9 to 12noon
Bilgola
North Bilgola Beach 3rd Monday 9 - 12noon
Algona Reserve 1st Saturday 9 - 12noon
Plateau Park 1st Friday 8:30 - 11:30am
Church Point
Browns Bay Reserve 1st Tuesday 9 - 12noon
McCarrs Creek Reserve Contact Bushcare Officer To be confirmed
Clareville
Old Wharf Reserve 3rd Saturday 8 - 11am
Elanora
Kundibah Reserve 4th Sunday 8:30 - 11:30am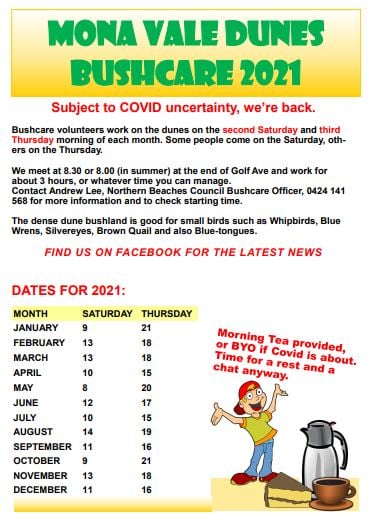 Mona Vale
Mona Vale Beach Basin 1st Saturday 8 - 11am
Mona Vale Dunes 2nd Saturday +3rd Thursday 8:30 - 11:30am
Newport
Bungan Beach 4th Sunday 9 - 12noon
Crescent Reserve 3rd Sunday 9 - 12noon
North Newport Beach 4th Saturday 8:30 - 11:30am
Porter Reserve 2nd Saturday 8 - 11am
North Narrabeen
Irrawong Reserve 2nd Saturday 2 - 5pm
Palm Beach
North Palm Beach Dunes 3rd Saturday 9 - 12noon
Scotland Island
Catherine Park 2nd Sunday 10 - 12:30pm
Elizabeth Park 1st Saturday 9 - 12noon
Pathilda Reserve 3rd Saturday 9 - 12noon
Warriewood
Warriewood Wetlands 1st Sunday 8:30 - 11:30am
Whale Beach
Norma Park 1st Friday 9 - 12noon
Western Foreshores
Coopers Point, Elvina Bay 2nd Sunday 10 - 1pm
Rocky Point, Elvina Bay 1st Monday 9 - 12noon

Gardens And Environment Groups And Organisations In Pittwater
Avalon Golf Course Bushcare Needs You
We're so short of helpers we've had to cancel for the time being. Meanwhile the weeds will go gangbusters.
We used to meet on the second Wednesday afternoon of each month. Could you come if we worked on another day or time? say a morning, or on a weekend day?
Contact Geoff Searl on 0439 292 566 if you'd like to help. He'd love to hear from you.
We have fun using the Tree Popper, here with our supervisor from Dragonfly Environmental. We can lever out quite big Ochnas, aka Mickey Mouse plant from Africa. We want to bring back the bush, not let the weeds win!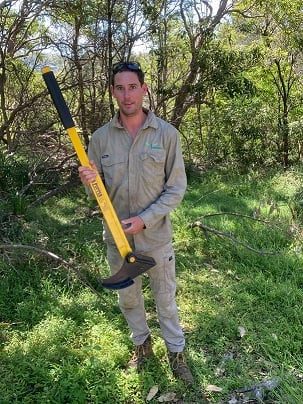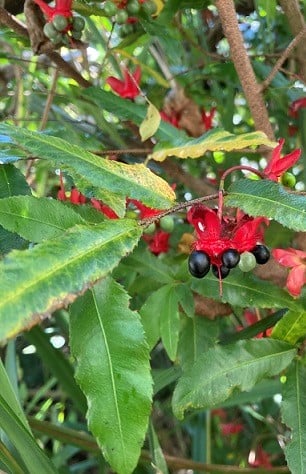 Ochna or Mickey Mouse plant has yellow flowers in spring, then lots of green berries that turn black when ripe. Seedlings come up in hundreds. Ochna has a very strong taproot but the steady pressure of the Tree Popper lifts the plant out of the ground easily. The alternative control is repeated scraping and painting with Roundup, very slow and time consuming. If you have an Ochna you cant remove, you can enjoy the flowers, then PLEASE prune it so that berries can't develop.
New Shorebirds WingThing For Youngsters Available To Download
A Shorebirds WingThing educational brochure for kids (A5) helps children learn about shorebirds, their life and journey. The 2021 revised brochure version was published in February 2021 and is available now. You can download a file copy here.
If you would like a free print copy of this brochure, please send a self-addressed envelope with A$1.10 postage (or larger if you would like it unfolded) affixed to: BirdLife Australia, Shorebird WingThing Request, 2-05Shorebird WingThing/60 Leicester St, Carlton VIC 3053.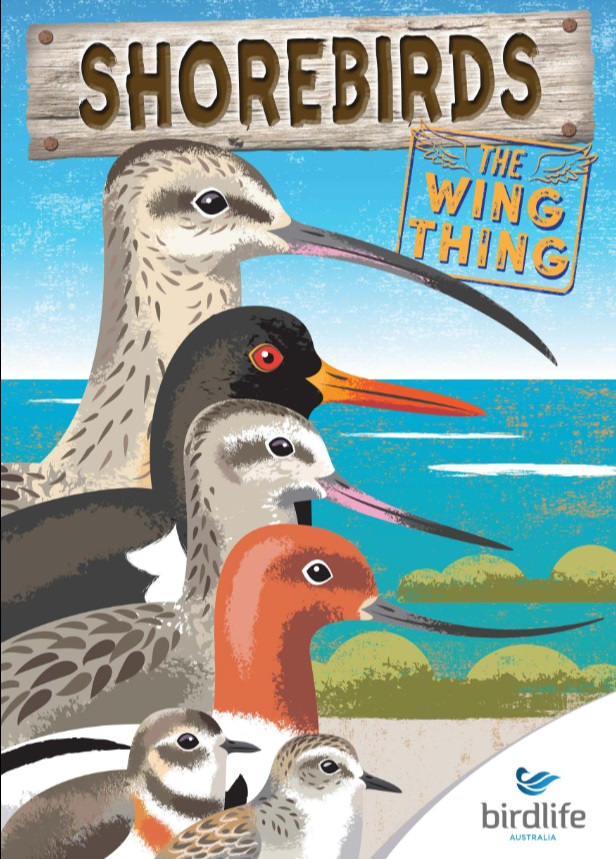 Shorebird Identification Booklet
The Migratory Shorebird Program has just released the third edition of its hugely popular Shorebird Identification Booklet. The team has thoroughly revised and updated this pocket-sized companion for all shorebird counters and interested birders, with lots of useful information on our most common shorebirds, key identification features, sighting distribution maps and short articles on some of BirdLife's shorebird activities.
The booklet can be downloaded here in PDF file format: http://www.birdlife.org.au/documents/Shorebird_ID_Booklet_V3.pdf
Paper copies can be ordered as well, see http://www.birdlife.org.au/projects/shorebirds-2020/counter-resources for details.
Download BirdLife Australia's children's education kit to help them learn more about our wading birdlife
Shorebirds are a group of wading birds that can be found feeding on swamps, tidal mudflats, estuaries, beaches and open country. For many people, shorebirds are just those brown birds feeding a long way out on the mud but they are actually a remarkably diverse collection of birds including stilts, sandpipers, snipe, curlews, godwits, plovers and oystercatchers. Each species is superbly adapted to suit its preferred habitat. The Red-necked Stint is as small as a sparrow, with relatively short legs and bill that it pecks food from the surface of the mud with, whereas the Eastern Curlew is over two feet long with a exceptionally long legs and a massively curved beak that it thrusts deep down into the mud to pull out crabs, worms and other creatures hidden below the surface.
Some shorebirds are fairly drab in plumage, especially when they are visiting Australia in their non-breeding season, but when they migrate to their Arctic nesting grounds, they develop a vibrant flush of bright colours to attract a mate. We have 37 types of shorebirds that annually migrate to Australia on some of the most lengthy and arduous journeys in the animal kingdom, but there are also 18 shorebirds that call Australia home all year round.
What all our shorebirds have in common—be they large or small, seasoned traveller or homebody, brightly coloured or in muted tones—is that each species needs adequate safe areas where they can successfully feed and breed.
The National Shorebird Monitoring Program is managed and supported by BirdLife Australia.

This project is supported by Glenelg Hopkins Catchment Management Authority and Hunter Local Land Services through funding from the Australian Government's National Landcare Program. Funding from Helen Macpherson Smith Trust and Port Phillip Bay Fund is acknowledged.
The National Shorebird Monitoring Program is made possible with the help of over 1,600 volunteers working in coastal and inland habitats all over Australia.
The National Shorebird Monitoring program (started as the Shorebirds 2020 project initiated to re-invigorate monitoring around Australia) is raising awareness of how incredible shorebirds are, and actively engaging the community to participate in gathering information needed to conserve shorebirds.
In the short term, the destruction of tidal ecosystems will need to be stopped, and our program is designed to strengthen the case for protecting these important habitats.
In the long term, there will be a need to mitigate against the likely effects of climate change on a species that travels across the entire range of latitudes where impacts are likely.
The identification and protection of critical areas for shorebirds will need to continue in order to guard against the potential threats associated with habitats in close proximity to nearly half the human population.
Here in Australia, the place where these birds grow up and spend most of their lives, continued monitoring is necessary to inform the best management practice to maintain shorebird populations.
BirdLife Australia believe that we can help secure a brighter future for these remarkable birds by educating stakeholders, gathering information on how and why shorebird populations are changing, and working to grow the community of people who care about shorebirds.

To find out more visit: http://www.birdlife.org.au/projects/shorebirds-2020/shorebirds-2020-program
Aussie Bread Tags Collection Points
Collecting bread tags enables us to provide wheelchairs that change the life of disabled people in need, as well as keeping the tags out of landfill to help to preserve the environment.
Bread Tags for Wheelchairs was started in South Africa in 2006 by Mary Honeybun. It is a community program where individuals and organisations collect bread tags, which are sold to recyclers. The money raised pays for wheelchairs for the less fortunate which are purchased through a local pharmacy. Currently about 500kg of bread tags are collected a month in South Africa, funding 2-3 wheelchairs.
We have been collecting bread tags nationally in Australia since September 2018 and now have more than 100 collection points across the country. In February 2019 we started local recycling through Transmutation - Reduce, Reuse and Recycle in Robe, SA, where our tags are recycled into products such as door knobs and bowls. Tags from some states are still sent to South Africa where a plastics company called Zibo recycles them into seedling trays.
These humble bits of polystyrene can make a real difference so get your friends, family, school, workplace and church involved. Ask school tuck shops and boarding school kitchens, child care centres, aged care facilities, hospitals, cafes and fast food outlets to collect for you - they get through a lot of bread!
All the information and signage for collecting or setting up a public collection point is
on our website
.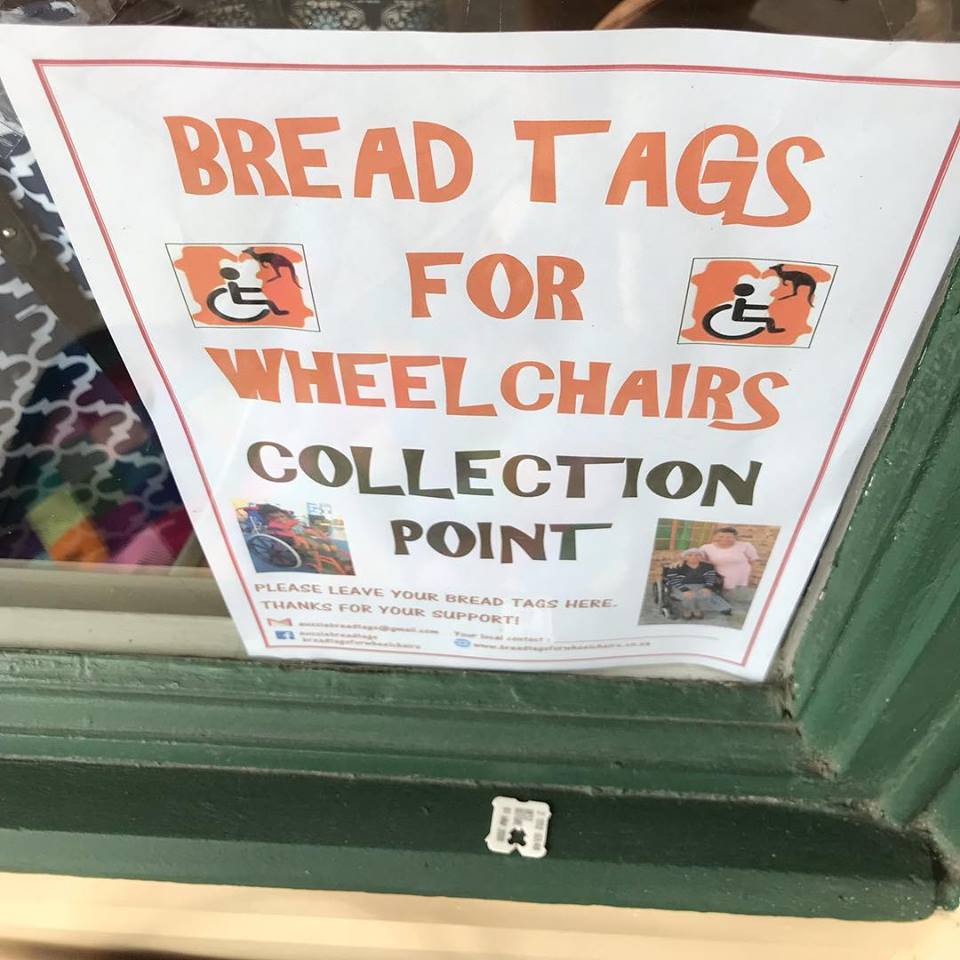 School Strike 4 Climate Change: Thousands Attend May 21st 2021 Strike
Thousands of students and their supporters joined in a School Strike 4 Climate Change on Friday May 21st.
The organisers state;
''Climate change is intensifying the risk of flooding and heavy rainfall and SS4C is calling on the Government to take our future seriously and treat climate change as what it is: a crisis.​

The Morrison Government could be protecting our climate, land and water, and creating thousands of new jobs by growing Australia's renewable energy sector and backing First Nations solutions to protect Country.

Instead, they are lining the pockets of multinational gas companies, which are fuelling the climate crisis, devastating our land and water, wrecking our health and creating very few jobs.

On May 21, we're striking to tell the Morrison Government that if they care about our future, they must stop throwing money at gas.''
The Sydney rally was one of over 50 taking part across Australia, some quickly reaching Covid-safe capacity, with Speakers pointing out they will be eligible to vote in next year's Federal election.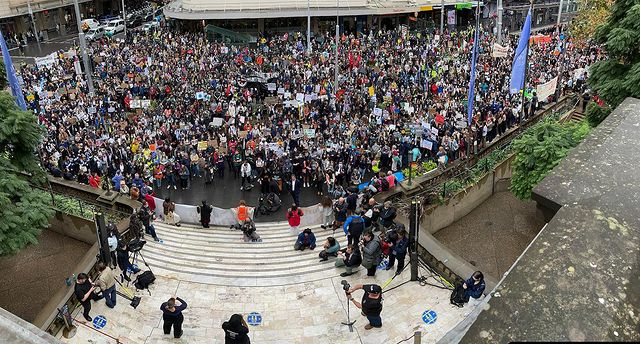 ''This is what democracy looks like. Not corrupt deals with companies, or billions of taxpayer dollars in expensive gas. But the congregation of citizens to protect our climate. - Sydney rally.' - SS4CC
The NSW Teachers Federation supported the strikes.
''School students, angry at the devastating effect of climate change, are once again taking to the streets and striking for change.'' the Federation said in a statement
On 21 May, students from all over Australia are participating in the School Strike 4 Climate (SS4C). They are demanding that public money be used to fund clean futures and not to expand the fossil fuel projects ''accelerating climate change.
And it's little wonder that the students are taking matters into their own hands. In the last 18 months alone school communities across NSW have been heavily affected by catastrophic bushfires, floods, heatwaves and hazardous air quality.
In addition to no new coal, oil and gas projects, SS4C are also demanding 100 per cent renewable energy generation and exports by 2030, and funding for a just transition with job creation for all fossil fuel workers and communities.
For many students, SS4C will be their first experience of collective action and activism and Federation supports them as they call on the Morrison Government to #fundourfuturenotgas.
Federation Officers, and staff where possible, will be supporting and attending rallies in their local area. Federation also encourages members who are not working on May 21 to attend their nearest rally in support of students.''
Doctors for the Environment Australia also joined the students at strikes.
''DEA doctors and medical students are proud to march with Australia's young people who are taking a stand against climate inaction.
Our youth have contributed least to the climate crisis but will be the most impacted.
We urge all those in power to listen to their voices and to act on their call for a safe planet now and into the future. '' the organisation posted online.
Armidale School Strike 4 Climate May 21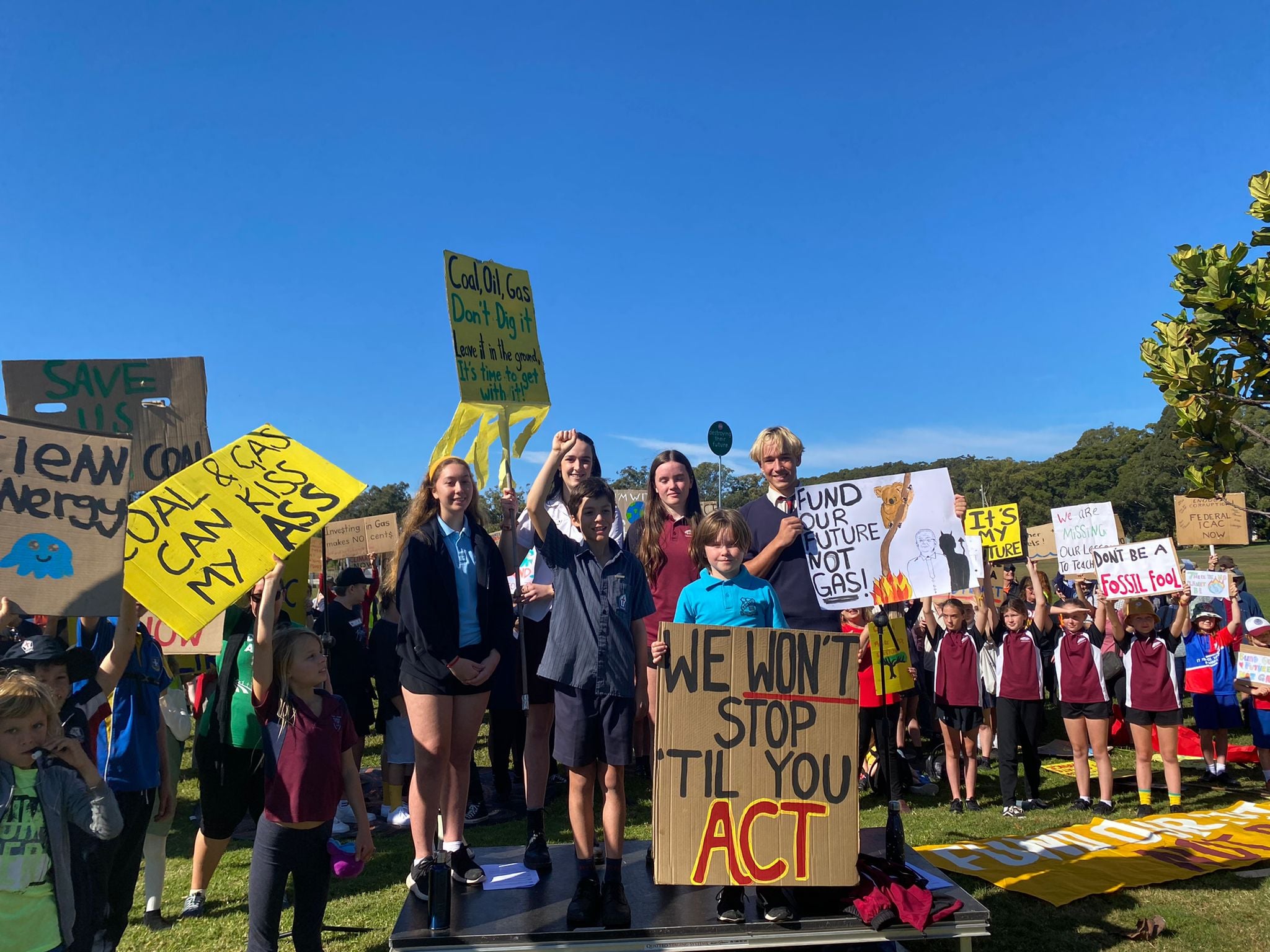 Coffs Harbour School Strike. Dubbo, Armidale, Port Macquarie, Lismore, the Gold Coast, & Coffs Harbour are all striking. Regional Australians are feeling the impacts of climate change THIS MINUTE and they are fighting to #FundOurFutureNotGas.- SS4CC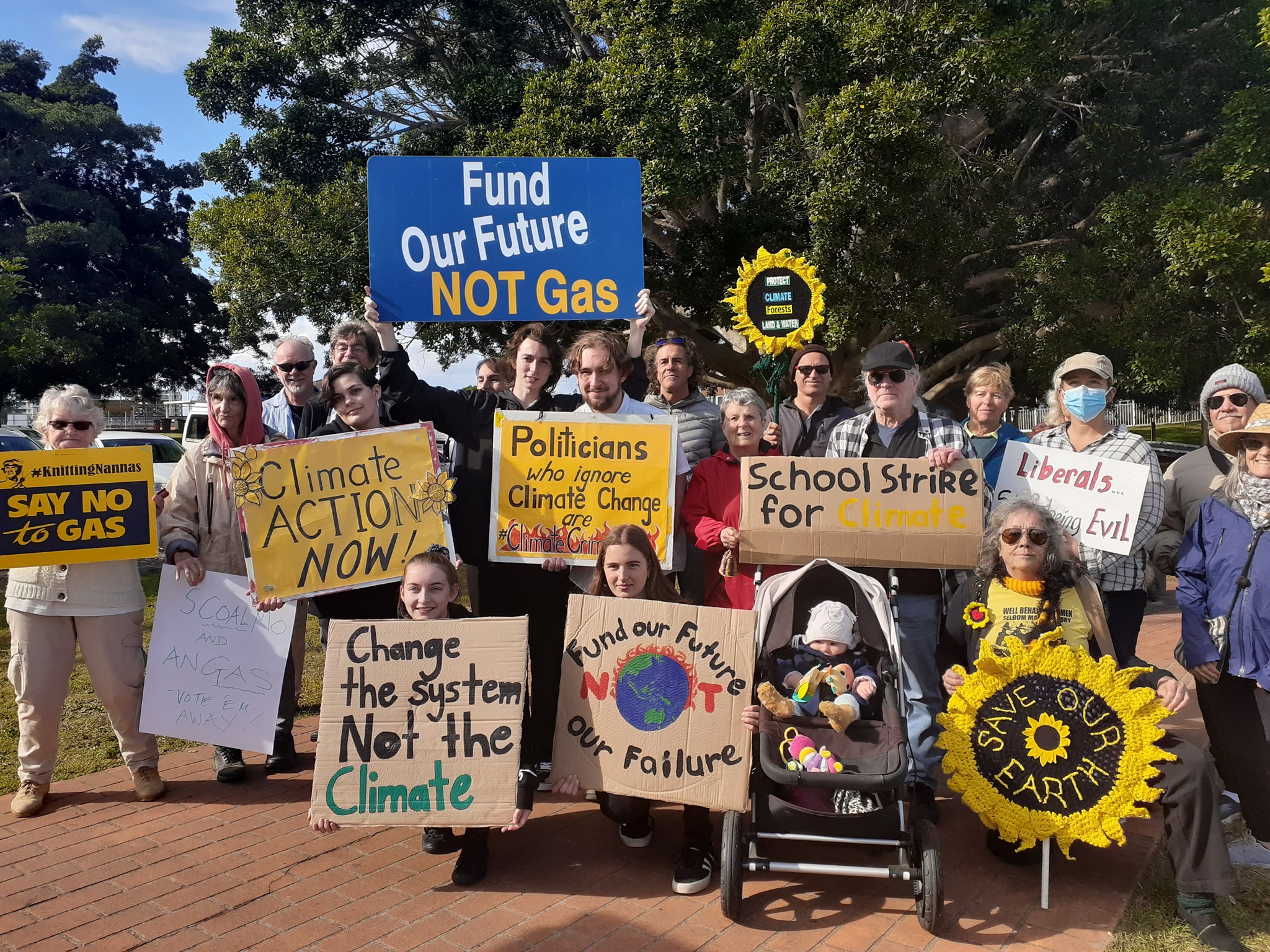 Today on #Worimi country, Forster, we demanded that our Governments #FundOurFutureNotGas

Super Flower Blood Moon 2021
On the nights of May 25-27, observers in Oceania, Hawaii, eastern Australia, Asia and Antarctica will see a lunar eclipse that coincides with the moon's closest approach to Earth — making it a "supermoon" eclipse that will turn the moon reddish — also known as a "blood moon." (The dates of this eclipse span two days because the area it will be visible spans the international date line).
Lunar eclipses occur when the moon is on the opposite side of the Earth as the sun. Usually we see a full moon when this happens, but every so often the moon enters the Earth's shadow, resulting in an eclipse.
The best viewing will be in Australia, New Zealand, Hawaii, the islands of the South Pacific and southwestern Alaska.
The eastern two-thirds of Australia will see the entire eclipse on May 26th.
From Sydney, the penumbral eclipse starts at 6:47 p.m. Australian Eastern Standard Time and the moon is already about 18 degrees above the horizon. The partial phase starts at 7:44 p.m. AEST and the total phase at 9:11 p.m. AEST. At that point, the moon is 45 degrees above the horizon — well above most obstructions. The total eclipse ends at 9:25 p.m. AEST and the umbral phase at 10:52 p.m. AEST. The penumbral phase ends near midnight, at 11:52 p.m. AEST.
When the full moon and perigee are close, it is called a "supermoon" — though definitions aren't consistent as it isn't an astronomical term. Ordinarily the moon is an average of 240,000 miles (384,500 kilometers) from Earth, but its orbit isn't perfectly circular. So the distance varies slightly. When it reaches perigee this month, the moon will be 222,022 miles (357,311 km) from Earth.
May's full moon - at the height of the Northern Hemisphere Spring - is also called a "Flower moon" - the name given to the moon when wildflowers bloom.
This infographic shows the stages of the May 26, 2021 total lunar eclipse in Universal Time, or GMT. (Image credit: NASA's Scientific Visualization Studio)
Minister's First Student Council Meets
May 19, 2021
The NSW Minister's Student Council met today for the very first time, giving 27 public school students the power to inform education policy in NSW.
The representative, state-wide council has a direct line to the NSW Education Minister and the Department of Education to share their education and school policy ideas.
Ms Mitchell said the council provides an opportunity for students to interact with policy and decision makers while advocating on behalf of more than 800,000 public school students.
"This initiative was born out of the COVID-19 pandemic, a year that has made us all rethink the way we do things," Ms Mitchell said.
"Students are at the centre of everything we do in education, so it makes sense that they have a seat at the table where decisions are being made.
"They have a strong vision for the future, and we want to hear their voices when it comes to their education. The council will be a meeting place between students, the Department of Education and the NSW Government."
The student council has been co-designed over the past six months with the help of a student steering committee, which also played a central role in interviewing and selecting successful applicants.
"I congratulate these students on being selected to advocate on behalf of the 800,000 public school students across 2,200 schools in NSW," Ms Mitchell said.
"As the first council, they will meet each other for the first time and begin engaging in education policy – it is an enormous responsibility, and I thank them for accepting the challenge.
"I know we have very talented students with brilliant minds across our public schools. I believe students will provide invaluable insights and advice into decisions impacting NSW public students."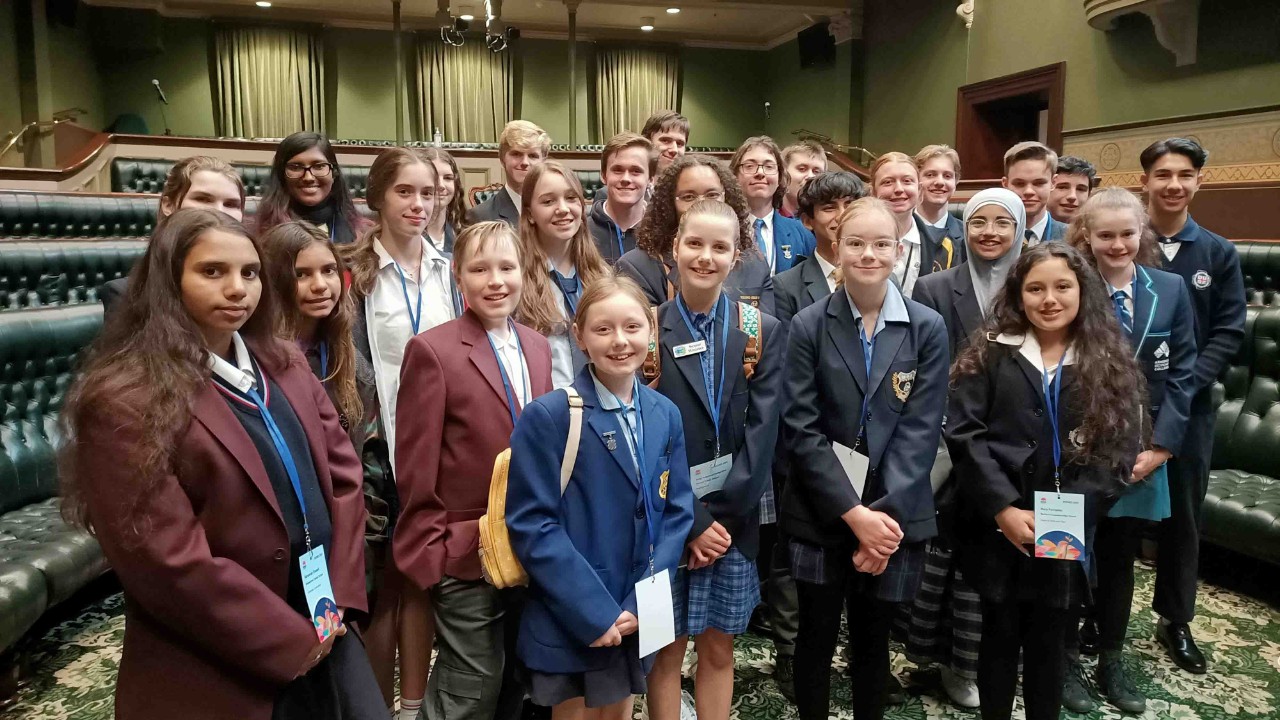 NSW Department of Education photo

Eating More Fruit And Vegetables Linked To Less Stress Study Finds
Eating a diet rich in fruit and vegetables is associated with less stress, according to new research from Edith Cowan University (ECU).

The study examined the link between fruit and vegetable intake and stress levels of more than 8,600 Australians aged between 25 and 91 participating in the Australian Diabetes, Obesity and Lifestyle (AusDiab) Study from Baker Heart and Diabetes Institute.
The findings revealed people who ate at least 470 grams of fruit and vegetables daily had 10 per cent lower stress levels than those who consumed less than 230 grams. The World Health Organization (WHO) recommends eating at least 400 grams of fruit and vegetables per day.
Lead researcher, PhD candidate Simone Radavelli-Bagatini from ECU's Institute for Nutrition Research, said the study strengthens the link between diets rich in fruit and vegetables and mental wellbeing.
"We found that people who have higher fruit and veggie intakes are less stressed than those with lower intakes, which suggests diet plays a key role in mental wellbeing," said Ms Radavelli-Bagatini.
Mental health conditions are an increasing problem in Australia and around the world. Around one in two Australians will experience a mental health issue in their lifetime. Globally, approximately 1 in 10 people live with a mental health disorder.
According to Ms Radavelli-Bagatini, some stress is considered normal, but long-term exposure can significantly impact mental health.
"Long-term and unmanaged stress can lead to a range of health problems including heart disease, diabetes, depression and anxiety so we need to find ways to prevent and possibly alleviate mental health problems in the future," said Ms Radavelli-Bagatini.
The benefits of a healthy diet are well known, but only 1 in 2 Australians eat the recommended two serves of fruit per day and fewer than 1 in 10 eat the recommended five serves of vegetables each day.
"Previous studies have shown the link between fruit and vegetable consumption and stress in younger adults, but this is the first time we're seeing similar results across adults of all ages," said Ms Radavelli-Bagatini.
"The study's findings emphasise that it's important for people to have a diet rich in fruit and vegetables to potentially minimise stress."
While the mechanisms behind how fruit and vegetable consumption influences stress are still unclear, Ms Radavelli-Bagatini said key nutrients could be a factor.
"Vegetables and fruits contain important nutrients such as vitamins, minerals, flavonoids and carotenoids that can reduce inflammation and oxidative stress, and therefore improve mental wellbeing," she said.
"Inflammation and oxidative stress in the body are recognised factors that can lead to increased stress, anxiety and lower mood."
"These findings encourage more research into diet and specifically what fruits and vegetables provide the most benefits for mental health."
The research is part of ECU's recently launched Institute for Nutrition Research, which aims to investigate how nutrition can help prevent and treat chronic health conditions.
'Fruit and vegetable intake is inversely associated with perceived stress across the adult lifespan' was published in Clinical Nutrition.
Simone Radavelli-Bagatini, Lauren C. Blekkenhorst, Marc Sim, Richard L. Prince, Nicola P. Bondonno, Catherine P. Bondonno, Richard Woodman, Reindolf Anokye, James Dimmock, Ben Jackson, Leesa Costello, Amanda Devine, Mandy J. Stanley, Joanne M. Dickson, Dianna J. Magliano, Jonathan E. Shaw, Robin M. Daly, Jonathan M. Hodgson, Joshua R. Lewis.
Fruit and vegetable intake is inversely associated with perceived stress across the adult lifespan
. Clinical Nutrition, 2021; 40 (5): 2860 DOI:
10.1016/j.clnu.2021.03.043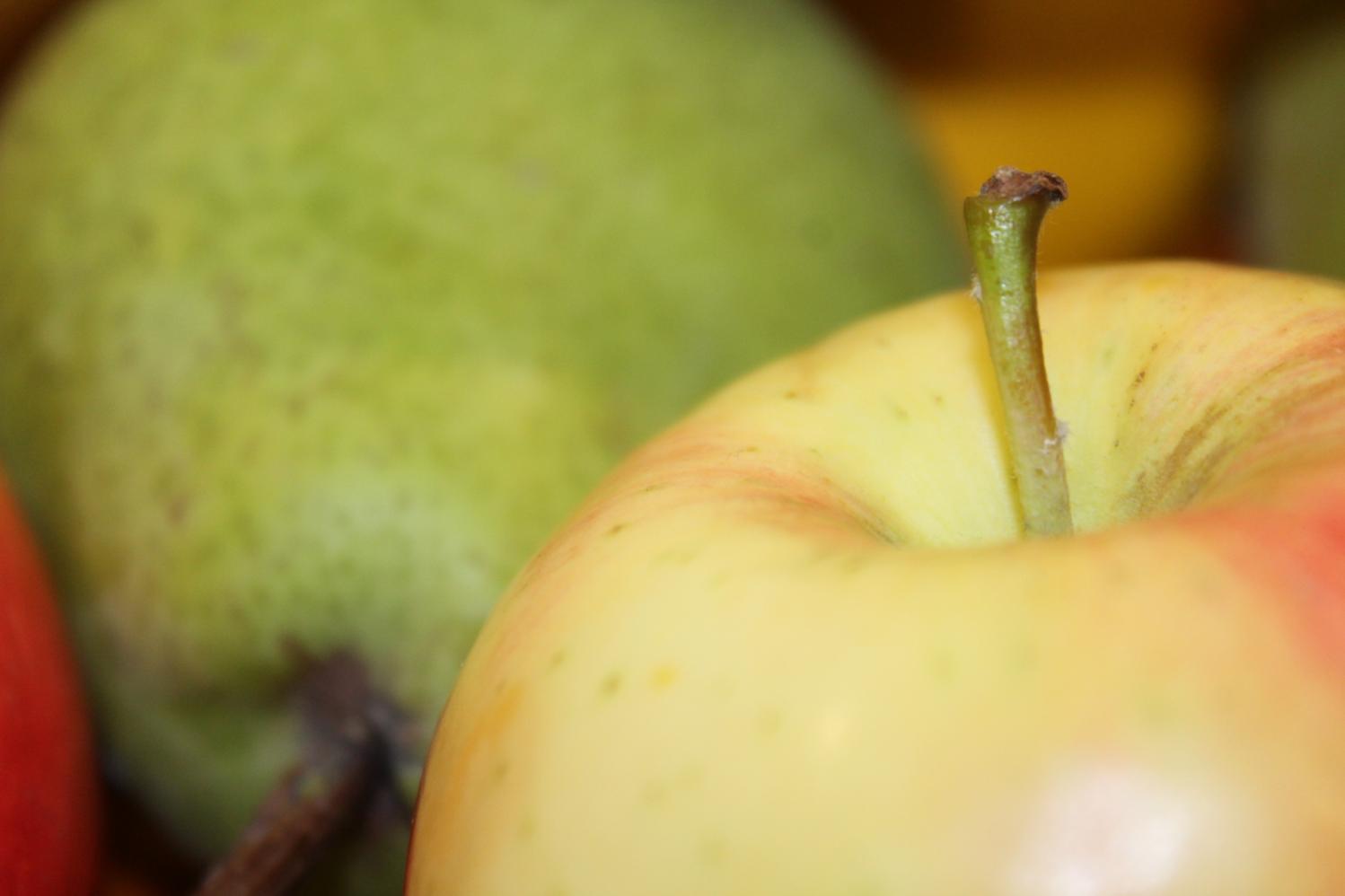 Connect To Collect Your Registration Discounts
Drivers are being reminded to link their e-tags to their MyService NSW account to ensure they benefit from discounts on their vehicle registration, with almost 40 per cent of those eligible currently missing out.
Minister for Transport and Roads Andrew Constance said the NSW Government wanted to ensure everyone eligible for the Toll Relief program was receiving the discounts.
"We implemented the Toll Relief program to help ease the cost of living and we want everyone who is eligible to take advantage of the benefits they are entitled to," Mr Constance said.
"More than $60 million has been collectively saved by drivers this financial year, with an average saving of $347, but data also shows that 37 percent of eligible customers aren't claiming their discount, and we want to fix that."
Launched in July 2018, the NSW Government's Toll Relief program provides free private vehicle registration on one vehicle linked to that account for drivers who have spent $1352 or more in tolls in the previous financial year. Drivers who spend $811 in a financial year are eligible for half-price registration.
Toll Relief must be claimed by 30 June in the financial year following the year it was earned or the discount expires. For example, if you met the threshold between 1 July 2019 and 30 June 2020, you must redeem your Toll Relief by 30 June 2021.
Minister for Digital and Minister for Customer Service Victor Dominello said once the accounts are linked the discounts are automatically applied.
"Customers simply need to link their e-tag to their MyService NSW account and ensure that their vehicle details are up-to-date. Then when you renew your registration, the discounts will be instantly applied and you don't have to do a thing," Mr Dominello said.
"If you believe you're eligible for free or half-price vehicle registration through Toll Relief, but were unable to make a claim when renewing your registration, you can apply via your MyService NSW account to have your claim reviewed."
Top suburbs for unclaimed Toll Relief for the 20/21 FYTD:
Crows Nest
Wentworthville
Seven Hills
Blacktown
Baulkham Hills
Castle Hill
Kellyville
Liverpool
Mt Druitt
Green Light For New Gosford Private Hospital
A new, 238-bed private hospital has been given the planning tick of approval to meet the growing need for better healthcare facilities on the Central Coast.
Minister for Planning and Public Spaces Rob Stokes said the $172 million Northside Private Hospital would provide new jobs, a multi-million boost for the local economy and improved healthcare access for the fast-growing Central Coast community.
"The new 11-storey facility, which is expected to open in 2025, will offer state-of-the-art facilities for patients and staff, including radiology, pathology, intensive care and operating theatres," Mr Stokes said.
"Once it's underway, this project will not only support the existing Gosford Hospital but will also inject $172 million into the local economy, provide more than 2,200 construction jobs and create 460 ongoing full-time jobs."
Parliamentary Secretary for Central Coast and Member for Terrigal Adam Crouch said Northside Private Hospital would be located on Racecourse Road, Gosford.
"The former disused Ausgrid Depot will be transformed into this state-of-the-art health facility, which is vital given the population growth of 95,250 residents expected by 2041," Mr Crouch said.
"In spite of the former Councillors attempting to stymie this project's progress, I am delighted that planning approval has been confirmed, paving the way for construction to begin by mid-2022.
"The new hospital will be connected to Gosford by a shuttle bus, improvements to a nearby bus stop and more than 300 parking spaces for patients, visitors and front-line workers."
A second development application will also be lodged for the construction of a five-story building for retail and medical support services, located adjacent to the hospital.
$540m Solar Farm Approved For Wellington
A new $540 million solar farm near Wellington that will create up to 400 local construction jobs has been given the green light by the NSW Government.
Minister for Planning and Public Spaces Rob Stokes said the Wellington North Solar Farm will be able to power more than 100,000 homes once completed and significantly boost the local economy during construction.
"This project will provide hundreds of construction jobs and when finished generate enough clean renewable energy to power more than 100,000 homes," Mr Stokes said.
"During the planning process we closely consulted with the local community and encouraged people to view, discuss and give detailed feedback on the proposal."
Member for Dubbo Dugald Saunders said the injection of a $540 million project into the local economy will be a major boost for Wellington and the surrounding areas.
"The big economic flow-on of hundreds of workers spending money locally is great news for local businesses, which have been doing it tough throughout the pandemic," Mr Saunders said.
"Also, the applicant has committed to hire local workers so this is more good news for the local community."
The project is located in an area that can contribute to the pilot Renewable Energy Zone in the Central West and Orana Region with access to the electricity grid.
To address impacts, the Department of Planning Industry and Environment has recommended a range of detailed conditions, developed in conjunction with government agencies and the local council, to ensure these impacts are minimised.
Screening For Ovarian Cancer Did Not Reduce Early Deaths
A large-scale randomised trial of annual screening for ovarian cancer, led by UCL researchers, did not succeed in reducing deaths from the disease, despite one of the screening methods tested detecting cancers earlier. Results from the UK Collaborative Trial of Ovarian Cancer Screening (UKCTOCS) have been published in a report in the medical journal The Lancet.
In the UK, 4,000 women die from ovarian cancer each year. It is not usually diagnosed until it is at a late stage and hard to treat. UKCTOCS was designed to test the hypothesis that a reliable screening method that picks up ovarian cancer earlier, when treatments are more likely to be effective, could save lives.
The latest analysis looked at data from more than 200,000 women aged 50-74 at recruitment who were followed up for an average of 16 years. The women were randomly allocated to one of three groups: no screening, annual screening using an ultrasound scan, and annual multimodal screening involving a blood test followed by an ultrasound scan as a second line test.
The researchers found that, while the approach using multimodal testing succeeded in picking up cancers at an early stage, neither screening method led to a reduction in deaths.
Earlier detection in UKCTOCS did not translate into saving lives. Researchers said this highlighted the importance of requiring evidence that any potential screening test for ovarian cancer actually reduced deaths, as well as detecting cancers earlier.
Professor Usha Menon (MRC Clinical Trials Unit at UCL), lead investigator of UKTOCS, said: "UKCTOCS is the first trial to show that screening can definitely detect ovarian cancer earlier. However, this very large, rigorous trial shows clearly that screening using either of the approaches we tested did not save lives. We therefore cannot recommend ovarian cancer screening for the general population using these methods.
"We are disappointed as this is not the outcome we and everyone involved in the trial had hoped and worked for over so many years. To save lives, we will require a better screening test that detects ovarian cancer earlier and in more women than the multimodal screening strategy we used."
Women aged between 50 and 74 were enrolled in the trial between 2001 and 2005. Screening lasted until 2011 and was either an annual blood test, monitoring changes in the level of the protein CA125, or a yearly vaginal ultrasound scan. About 100,000 women were assigned to the no screening group, and more than 50,000 women to each of the screening groups.
Blood test screening picked up 39% more cancers at an early stage (Stage I/II), while detecting 10% fewer late-stage cancers (Stage III/IV) compared to the no screening group. There was no difference in the stage of cancers detected in the ultrasound group compared to the no screening group.
The initial analysis of deaths in the trial occurred in 2015, but there was not enough data at that time to conclude whether or not screening reduced deaths. By looking at five more years of follow up data from the women involved, researchers are now able to conclude that the screening did not save lives.
Professor Mahesh Parmar, Director of the MRC Clinical Trials Unit at UCL and a senior author on the paper, said: "There have been significant improvements in the treatment of advanced disease in the last 10 years, since screening in our trial ended. Our trial showed that screening was not effective in women who do not have any symptoms of ovarian cancer; in women who do have symptoms early diagnosis, combined with this better treatment, can still make a difference to quality of life and, potentially, improve outcomes. On top of this, getting a diagnosis quickly, whatever the stage of the cancer, is profoundly important to women and their families."
Professor Ian Jacobs, from the University of New South Wales (UNSW Sydney), a co-investigator who has led the ovarian cancer screening research programme since 1985 and who was lead investigator of UKCTOCS from 2001-2014, said: "My thanks to the thousands of women, healthcare professionals and researchers who made this trial possible. The multimodal screening strategy did succeed in detection of ovarian cancer at an earlier stage, but sadly that did not save lives. This is deeply disappointing and frustrating given the hope of all involved that we would save the lives of thousands of women who are affected by ovarian cancer each year."
Professor Jacobs noted: "Population screening for ovarian cancer can only be supported if a test is shown to reduce deaths in a future randomised controlled trial. I remain hopeful that a new effective screening test will be found eventually, but it will take many years to conduct a large trial of the test. Realistically, this means we have to reluctantly accept that population screening for ovarian cancer is more than a decade away."
A huge wealth of samples and data from the trial has been donated by the participants for future research. This resource, referred to as the UKCTOCS Longitudinal Women's Cohort (UKLWC), is now being used by researchers worldwide, helping to improve understanding of ovarian cancer as well as other cancers and other diseases such as cardiovascular disease.
Researchers say that the study has also generated insights into how best to design, conduct and analyse a large-scale randomised clinical trial particularly in individuals who have no signs of disease. These insights will be helpful to future trials in all areas of health. It has also contributed to advances in risk assessment, prevention and diagnosis of ovarian cancer.
The UKCTOCS trial was funded by the NIHR Health Technology Assessment (HTA) Programme and the charities Cancer Research UK and The Eve Appeal.
Michelle Mitchell, Cancer Research UK's Chief Executive, said: "Trials don't always find the result we had hoped for, but we need long-term studies like this to know whether new tests save lives. Cancer Research UK will continue to fund vital research into aggressive forms of ovarian cancer so we can reduce the impact of this disease.
"Screening is for people without symptoms, so it's still important that if you notice unusual or persistent changes to talk to your doctor. Symptoms of ovarian cancer can be quite vague and similar to symptoms caused by less serious conditions, which can make spotting the disease tricky. Whether it's needing to go to the toilet more often, pain, bloating, or something else, raise it with your GP -- in most cases it won't be cancer but it's best to get it checked out."
Professor Nick Lemoine, Medical Director, NIHR Clinical Research Network, said: "These important findings from a large-scale trial, involving 200,000 participants, show that annual screening did not succeed in reducing deaths from ovarian cancer.
"However, it's important to note that negative results can be as important as positive. The study has provided important new evidence and insights into how to conduct and analyse future large-scale randomised clinical trials into ovarian cancer, in the hope that this will prevent and diagnose this disease more effectively in the future.
"We thank every single person who took part."
Athena Lamnisos, CEO, The Eve Appeal, said: "The threshold for introducing a national cancer screening programme is a mortality benefit. Of course this is key -- saving lives. It's disappointing that this research programme did not show a reduction in mortality from ovarian cancer and so can't be recommended as a national screening programme. However, the impact it had on earlier diagnosis is impressive and important.
"Ovarian cancer is so often diagnosed at stage 3 or 4 and shifting diagnosis one stage earlier makes a huge difference to both treatment options and quality of life. Earlier diagnosis will often reduce the amount and intensity of treatment, and this makes all the difference to women and their families who are living with cancer. It may have also given them more precious time with their loved ones."
Usha Menon, Aleksandra Gentry-Maharaj, Matthew Burnell, Naveena Singh, Andy Ryan, Chloe Karpinskyj, Giulia Carlino, Julie Taylor, Susan K Massingham, Maria Raikou, Jatinderpal K Kalsi, Robert Woolas, Ranjit Manchanda, Rupali Arora, Laura Casey, Anne Dawnay, Stephen Dobbs, Simon Leeson, Tim Mould, Mourad W Seif, Aarti Sharma, Karin Williamson, Yiling Liu, Lesley Fallowfield, Alistair J McGuire, Stuart Campbell, Steven J Skates, Ian J Jacobs, Mahesh Parmar.
Ovarian cancer population screening and mortality after long-term follow-up in the UK Collaborative Trial of Ovarian Cancer Screening (UKCTOCS): a randomised controlled trial.
The Lancet, 2021; DOI:
10.1016/S0140-6736(21)00731-5
Scientists Find New Way Of Predicting COVID-19 Vaccine Efficacy
The early immune response in a person who has been vaccinated for COVID-19 can predict the level of protection they will have to the virus over time, according to analysis from Australian mathematicians, clinicians, and scientists, and published today in Nature Medicine.
The researchers from UNSW's Kirby Institute, the Peter Doherty Institute for Infection and Immunity, and the University of Sydney have identified an 'immune correlate' of vaccine protection. This has the potential to dramatically cut development times for new vaccines, by measuring neutralising antibody levels as a 'proxy' for immune protection from COVID-19.
"Neutralising antibodies are tiny Y-shaped proteins produced by our body in response to infection or vaccination. They bind to the virus, reducing its ability to infect," says Dr Deborah Cromer from the Kirby Institute.
"While we have known for some time that neutralising antibodies are likely to be a critical part of our immune response to COVID-19, we haven't known how much antibody you need for immunity. Our work is the strongest evidence to date to show that specific antibody levels translate to high levels of protection from disease."
The researchers analysed data from seven COVID-19 vaccines to examine the how the response measured soon after vaccination correlated with protection. They then used statistical analysis to define the specific relationship between immune response and protection. Their analysis was remarkably accurate and was able to predict the efficacy of a new vaccine.
Dr Cromer said that this finding has the potential to change the way we conduct COVID-19 vaccine trials in the future.
"Antibody immune levels are much easier to measure than directly measuring vaccine efficacy over time. So, by measuring antibody levels across the range of new vaccine candidates during early phases of clinical trials, we can better determine whether a vaccine should be used to prevent COVID-19."
Vaccine boosters likely to be required within a year
Another crucial application of this analysis is its ability to predict immunity over time. The researchers predict that immunity to COVID-19 from vaccination will wane significantly within a year, with the level of neutralising antibodies in the blood dropping over the first few months following infection or vaccination.
"Vaccination works very well to prevent both symptoms and severe disease in the short to medium term, but efficacy is predicted to decline over the first few months for most of these vaccines," says Dr David Khoury, also from the Kirby Institute.
"However, it is very important to understand the difference between immunity against infection and protection from developing severe disease. Our study found that a 6-fold lower level of antibodies is required to protect against severe disease. So even though our analysis predicts that we will start losing immunity to mild infection in the first year after vaccination, protection from severe infection should be longer lived," says Dr Khoury.
"But ultimately, for optimal protection against moderate disease and transmission of COVID-19, these findings suggest we may be looking at annual vaccine boosters, just like what we have with the flu vaccine."
Applying the model in the real world
A major global challenge is the evolution of the virus and the emergence of new variants. There is a growing concern, based on laboratory studies, that antibodies developed against the dominant strains are less effective at neutralising these new variants.
"An added advantage of our work is that allows us to predict how protective an immune response will be against different variants," says Professor Jamie Triccas from the University of Sydney's Marie Bashir Institute and Faculty of Medicine and Health.
"This analysis shows a very good correlation between the immune response -- which is very easy to test for -- and the efficacy of a vaccine in preventing infection, which is incredibly hard to test for. This means we can predict how protective an immune response will be against different variants, without having to determine efficacy against each variant in large and costly clinical trials.
"This work can facilitate decision making by providing the necessary data much earlier on in the vaccine development pipeline and in a far more efficient way."
A limitation of this study is that it analyses the relationship between early immune responses to infection and vaccination and protection from infection (the data that is currently available), and uses this relationship to project how immunity will change in the future and in the response to different viral variants. Future studies should aim to confirm these predictions as data becomes available.
David S. Khoury, Deborah Cromer, Arnold Reynaldi, Timothy E. Schlub, Adam K. Wheatley, Jennifer A. Juno, Kanta Subbarao, Stephen J. Kent, James A. Triccas, Miles P. Davenport.
Neutralizing antibody levels are highly predictive of immune protection from symptomatic SARS-CoV-2 infection
. Nature Medicine, 2021; DOI:
10.1038/s41591-021-01377-8
Novel Nanotech Improves Cystic Fibrosis Antibiotic By 100,000-Fold Research Shows
World-first nanotechnology developed by the University of South Australia could change the lives of thousands of people living with cystic fibrosis (CF) as groundbreaking research shows it can improve the effectiveness of the CF antibiotic Tobramycin, increasing its efficacy by up to 100,000-fold.
The new technology uses a biomimetic nanostructured material to augment Tobramycin -- the antibiotic prescribed to treat chronic Pseudomonas aeruginosa lung infections in severe cases of CF -- eradicating the infection in as little as two doses.
The nano-enhanced antibiotic effectively eradicates bacteria from lung cells (bottom line).

In Australia, cystic fibrosis (CF) affects one in 2500 babies -- or one baby born every four days -- causing severe impairments to a person's lungs, airways and digestive system, trapping bacteria and leading to recurrent infections. Lung failure is the major cause of death for people with CF.
The UniSA research team, which includes Professor Clive Prestidge, Dr Nicky Thomas, and PhD candidate, Chelsea Thorn, says the discovery could transform the lives of people living with CF.
"CF is a progressive, genetic disease that causes persistent, chronic lung infections and limits a person's ability to breathe," Thorn says.
"The disease causes thick, sticky mucus to clog a person's airways, attracting germs and bacteria, such as Pseudomonas aeruginosa, which leads to recurring infections and blockages.
"Tobramycin is commonly used to treat these infections but increasingly antibiotics are failing to make any significant difference to lung infections, leaving sufferers requiring life-long antibiotic therapy administered every month.
"Our research successfully treats advanced human cell culture lung infections using nano-enhanced Tobramycin and shows how it can eradicate serious and persistent infections after only two doses.
"This could be a real game-changer for people living with CF."
Researchers enhanced the Tobramycin with a biometric, nanostructured, lipid liquid crystal nanoparticle (LCNP)-based material, testing it on a new lung infection model to showcase its unique ability to penetrate the dense surface of the bacteria and kill the infection.
Dr Nicky Thomas, says the discovery continues the global battle to eradicate and prevent Pseudomonas aeruginosa.
Tobramycin works by inhibiting the synthesis of bacteria and causing cell membrane damage. Yet, as it's a concentration-dependent antibiotic, achieving a sufficiently high concentration is critical," Dr Thomas says.
"Our technology improves the performance of Tobramycin without increasing the toxicity of the drug, so what we're doing is a far more effective and efficient treatment for chronic lung infections."
The technology is currently entering pre-clinical trials and hopes to be on the market in the next five years.
The research group for this study includes the University of South Australia; the Basil Hetzel Institute for Translational Health and Research; the ARC Centre for Excellence in Bio-Nano Science and Technology; the Biofilm Test facility at UniSA's Cancer Research Institute; the Helmholtz Institute for Pharmaceutical Research Saarland; and Saarland University.
Chelsea R. Thorn, Cristiane de Souza Carvalho‐Wodarz, Justus C. Horstmann, Claus‐Michael Lehr, Clive A. Prestidge, Nicky Thomas.
Tobramycin Liquid Crystal Nanoparticles Eradicate Cystic Fibrosis‐Related Pseudomonas aeruginosa Biofilms
. Small, 2021; 2100531 DOI:
10.1002/smll.202100531
Chelsea R. Thorn, Deepa Raju, Ira Lacdao, Stephanie Gilbert, Piyanka Sivarajah, P. Lynne Howell, Clive A. Prestidge, Nicky Thomas.
Protective Liquid Crystal Nanoparticles for Targeted Delivery of PslG: A Biofilm Dispersing Enzyme
. ACS Infectious Diseases, 2021; DOI:
10.1021/acsinfecdis.1c00014
Alien Radioactive Element Prompts Creation Rethink
The first-ever discovery of an extra-terrestrial radioactive isotope on Earth has scientists rethinking the origins of the elements on our planet.
The tiny traces of plutonium-244 were found in ocean crust alongside radioactive iron-60. The two isotopes are evidence of violent cosmic events in the vicinity of Earth millions of years ago.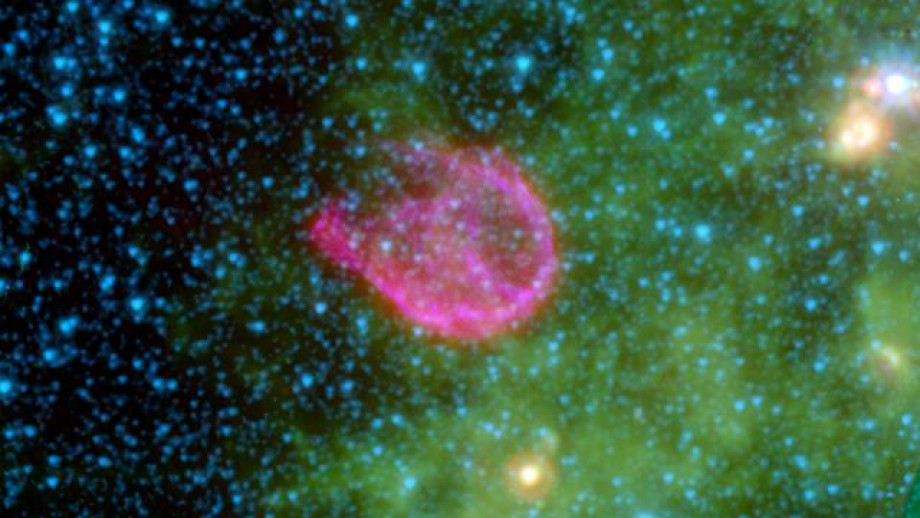 Star explosions, or supernovae create many of the heavy elements in the periodic table, including those vital for human life, such as iron, potassium and iodine.
To form even heavier elements, such as gold, uranium and plutonium it was thought that a more violent event may be needed, such as two neutron stars merging.
However, a study led by Professor Anton Wallner from The Australian National University (ANU) suggests a more complex picture.
"The story is complicated -- possibly this plutonium-244 was produced in supernova explosions or it could be left over from a much older, but even more spectacular event such as a neutron star detonation," lead author of the study, Professor Wallner said.
Any plutonium-244 and iron-60 that existed when the Earth formed from interstellar gas and dust over four billion years ago has long since decayed, so current traces of them must have originated from recent cosmic events in space.
The dating of the sample confirms two or more supernova explosions occurred near Earth.
"Our data could be the first evidence that supernovae do indeed produce plutonium-244," Professor Wallner said
"Or perhaps it was already in the interstellar medium before the supernova went off, and it was pushed across the solar system together with the supernova ejecta."
Professor Wallner also holds joint positions at the Helmholtz-Zentrum Dresden-Rossendorf (HZDR) and Technical University Dresden in Germany, and conducted this work with researchers from Australia, Israel, Japan, Switzerland and Germany.
The VEGA accelerator at Australian Nuclear Science and Technology Organisation, (ANSTO) in Sydney was used to identify the tiny traces of the plutonium-244.
A. Wallner, M. B. Froehlich, M. A. C. Hotchkis, N. Kinoshita, M. Paul, M. Martschini, S. Pavetich, S. G. Tims, N. Kivel, D. Schumann, M. Honda, H. Matsuzaki, T. Yamagata.
60Fe and 244Pu deposited on Earth constrain the r-process yields of recent nearby supernovae.
Science, 2021; 372 (6543): 742 DOI:
10.1126/science.aax3972
The 'Great Dying'
The Paleozoic era culminated 251.9 million years ago in the most severe mass extinction recorded in the geologic record. Known as the "great dying," this event saw the loss of up to 96% of all marine species and around 70% of terrestrial species, including plants and insects.
The consensus view of scientists is that volcanic activity at the end of the Permian period, associated with the Siberian Traps Large Igneous Province, emitted massive quantities of greenhouse gases into the atmosphere over a short time interval. This caused a spike in global temperatures and a cascade of other deleterious environmental effects.
An international team of researchers from the United States, Sweden, and Australia studied sedimentary deposits in eastern Australia, which span the extinction event and provide a record of changing conditions along a coastal margin that was located in the high latitudes of the southern hemisphere. Here, the extinction event is evident as the abrupt disappearance of Glossopteris forest-mire ecosystems that had flourished in the region for millions of years. Data collected from eight sites in New South Wales and Queensland, Australia were combined with the results of climate models to assess the nature and pace of climate change before, during, and after the extinction event.
Results show that Glossopteris forest-mire ecosystems thrived through the final stages of the Permian period, a time when the climate in the region was gradually warming and becoming increasingly seasonal. The collapse of these lush environments was abrupt, coinciding with a rapid spike in temperatures recorded throughout the region. The post-extinction climate was 10-14°C warmer, and landscapes were no longer persistently wet, but results point to overall higher but more seasonal precipitation consistent with an intensification of a monsoonal climate regime in the high southern latitudes.
Because many areas of the globe experienced abrupt aridification in the wake of the "great dying," results suggest that high-southern latitudes may have served as important refugia for moisture-loving terrestrial groups.
The rate of present-day global warming rivals that experienced during the "great dying," but its signature varies regionally, with some areas of the planet experiencing rapid change while other areas remain relatively unaffected. The future effects of climate change on ecosystems will likely be severe. Thus, understanding global patterns of environmental change at the end of the Paleozoic can provide important insights as we navigate rapid climate change today.
T.D. Frank, C.R. Fielding, A.M.E. Winguth, K. Savatic, A. Tevyaw, C. Winguth, S. McLoughlin, V. Vajda, C. Mays, R. Nicoll, M. Bocking, J.L. Crowley.
Pace, magnitude, and nature of terrestrial climate change through the end-Permian extinction in southeastern Gondwana.
Geology, 2021; DOI:
10.1130/G48795.1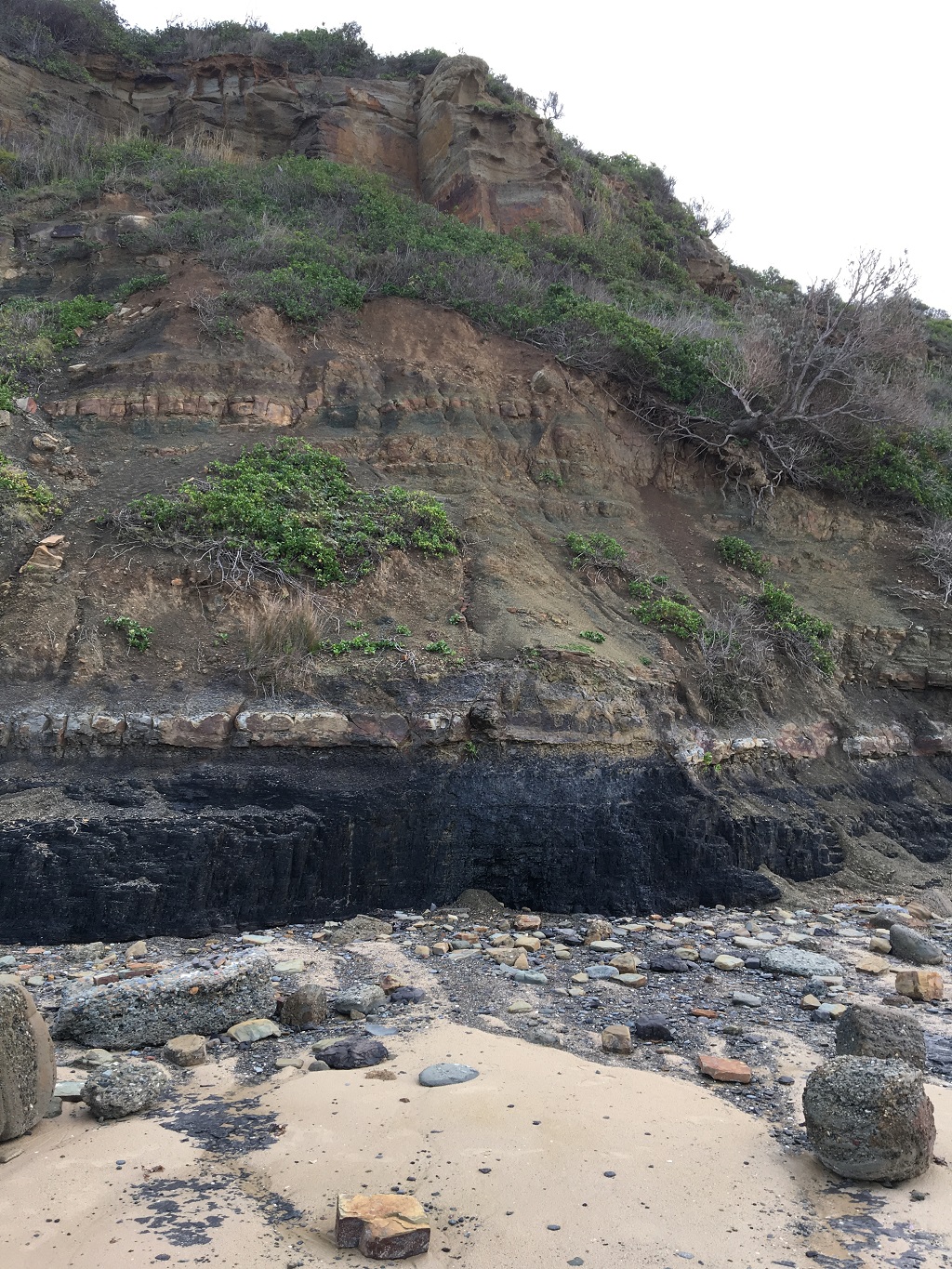 Outcrop photos are taken T.D. Frank and are from Frazer Beach, New South Wales, Australia. The end Permian extinction and disappearance of Glossopteris flora occurs at the top of the coal (black layer).

Disclaimer: These articles are not intended to provide medical advice, diagnosis or treatment. Views expressed here do not necessarily reflect those of Pittwater Online News or its staff.