Inbox and Environment News: Issue 493
May 9 - 15, 2021: Issue 493
Indigenous Voice: Overwhelming Support For Constitutional Enshrinement
Vast majority of public submissions published to date in response to the Indigenous Voice Interim Report support a referendum on an Indigenous Voice to Parliament.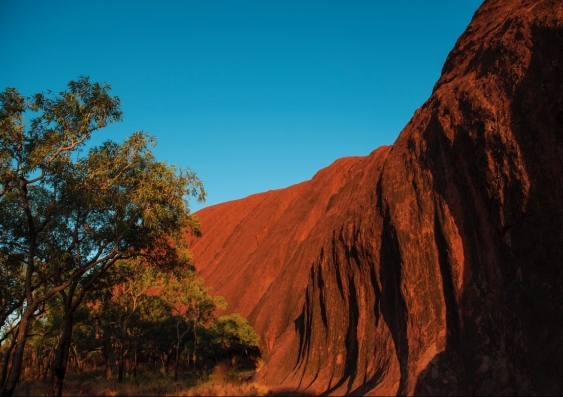 Public submissions, published online and analysed by the UNSW Indigenous Law Centre, show an overwhelming level of support for the constitutional enshrinement of a First Nations Voice to Parliament. Photo: UNSW Indigenous Law Centre, Jimmy Widders Hunt.
The Australian public has emphasised the urgent need for the constitutional protection of a First Nations Voice to Parliament in submissions made to the Indigenous Voice Co-design process.
Analysis by the
UNSW Indigenous Law Centre
(ILC) finds 82 per cent of published public submissions expressly support the constitutional enshrinement of a Voice to Parliament. A further 5 per cent express in-principle support for constitutional enshrinement, combining to a total of 87 per cent of total submissions in support of constitutional change.
Submissions closed Friday, 30 April 2021.
"The Australian public has accepted the invitation of the
Uluru Statement
. The submissions show overwhelming support of everyday Australians wanting to move towards a referendum to enshrine a Voice to Parliament in the Australian Constitution," Referendum Council co-chair and Uluru Statement leader Pat Anderson AO says.
"The Australian people have stated, explicitly, that the design of a First Nations Voice cannot be decoupled from constitutional reform. Public submissions show that most Australians want the question put to them in a referendum as a matter of priority."
Submissions have been received from Australians from all walks of life, both Indigenous and non-Indigenous, including Aboriginal organisations, healthcare and social services organisations, corporations, small community organisations, school children, teachers, professors, and community members.
This includes the Law Council of Australia, the Business Council of Australia, Qantas and many more.
"The overwhelming amount of support for a constitutionally enshrined Voice, represented by such a large percentage of published submissions, means that the Commonwealth and the Indigenous Voice Co-design group cannot ignore them," Deputy Director of the Indigenous Law Centre, Dr Dani Larkin says.
"The Prime Minister says there is no consensus on constitutional recognition. These submissions show otherwise."
Submissions ranged from legal perspectives and expressions of community sentiment to heartfelt personal calls for substantive change.
"I make this submission as an Aboriginal woman and mother," one public submission reads. "I fear for the future and safety of my 4 sons, my siblings, nephews, and nieces… Until substantial change occurs, I will remain in fear."
"Without a constitutionally enshrined Voice to Parliament we will not achieve the structural reform needed to fundamentally shift the way that this country engages with Aboriginal and Torres Strait Islander people… Our Voice needs to take its rightful place in our Constitution."
Many of the public submissions spoke of the call from the Uluru Statement to walk with First Nations people to a better Australia.
"I really value the Uluru Statement from the Heart as a way I, a non-indigenous Australian, can support First Nations people to have a Voice," another submission reads.
"I believe it is well overdue for all Australians and our institutions to place First Nations people at the centre of decision making and planning for a better future."
The total number of public submissions noted on the Indigenous Voice website was 2421 (as of 12pm, 30 April 2021), indicating that not all public submissions have been published online.
The Indigenous Law Centre analysed all public submissions published on the National Indigenous Australians Agency's 'I
ndigenous Voice' website
as of 12pm 30 April 2021, representing 1435 public submissions.
The UNSW Indigenous Law Centre leads educational campaigns on the Uluru Statement and the Uluru Dialogues process. Its mandate is the
Uluru Statement from the Heart
.
The work of the ILC is informed by the many cultural authority involved in the work of the Referendum Council and the First Nations dialogues that led to the Uluru Statement.
Northern Red Sea Corals Pass Heat Stress Test With Flying Colours
Even under the most optimistic scenarios, most of the coral reef ecosystems on our planet -- whether in Australia, the Maldives or the Caribbean -- will have disappeared or be in very bad shape by the end of this century. That's because global warming is pushing ocean temperatures above the limit that single-cell algae, which are corals' main allies, can withstand. These algae live inside coral tissue for protection and, in exchange, provide corals with essential nutrients produced through photosynthesis. Because the algae contain a variety of pigments and therefore give coral reefs their famous colours, if they are lost the corals turn white, which is known as coral bleaching. But in spite of the real threat caused by global warming, corals in the Red Sea look set to keep their vibrant colour.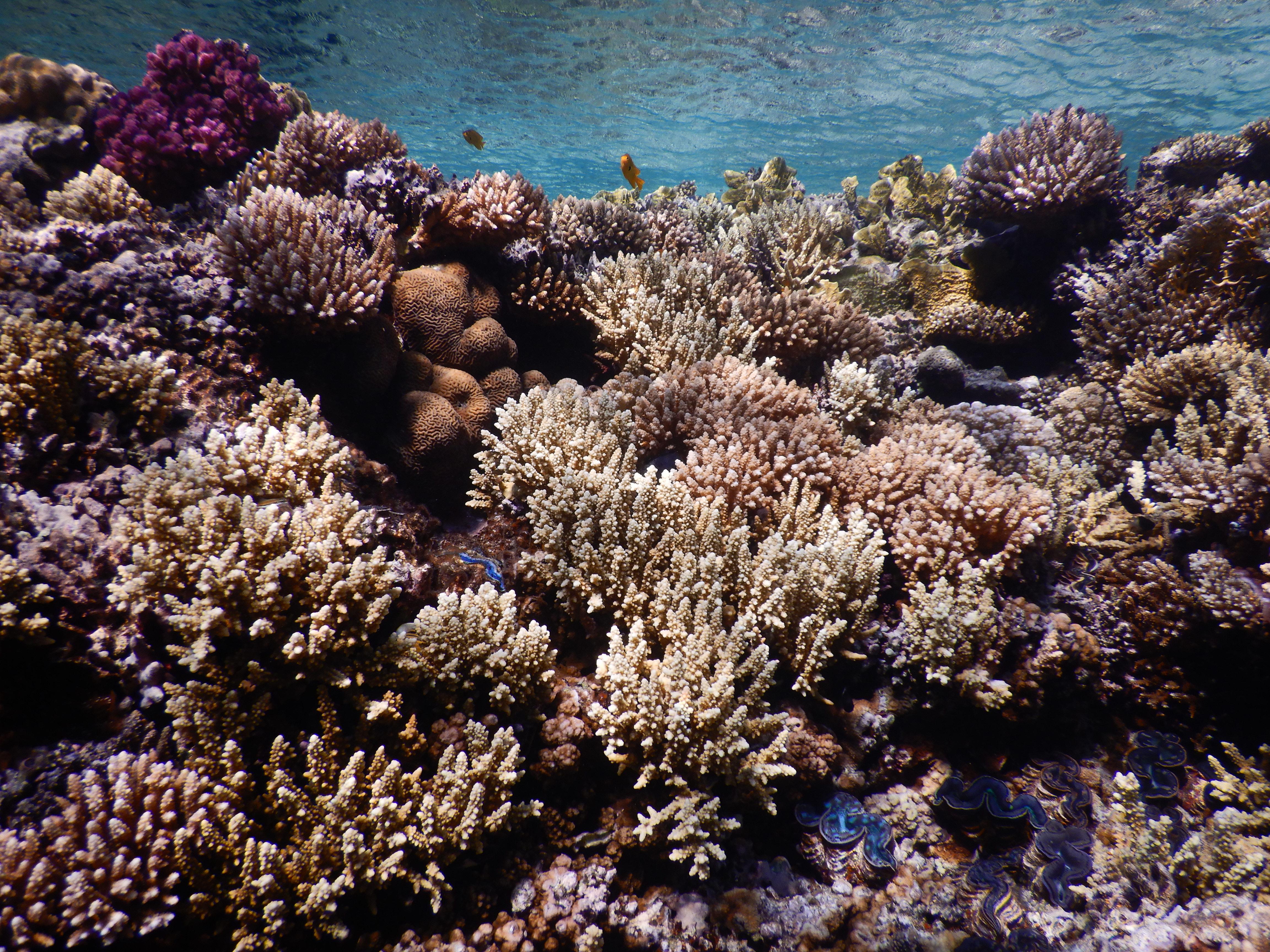 ©Maoz Fine

"We already knew that corals in the Gulf of Aqaba, at the northern tip of the Red Sea, were particularly resistant to higher temperatures. But we wanted to study the full molecular mechanism behind this resistance," says Romain Savary, a postdoc at EPFL's Laboratory for Biological Geochemistry (LGB) and lead author of the study, which appears today in PNAS. What the scientists found was telling: those corals, as well as the algae and bacteria they live in symbiosis with, can withstand average temperatures some 5°C higher than what they typically experience. And despite the severity with which climate change is taking place, it's unlikely that Red Sea temperatures will rise more than 5°C by the end of the century. "This gives us real hope that we can save at least one major coral reef ecosystem for future generations," says Anders Meibom, head of the LGB.
To conduct their study, the scientists subjected Gulf of Aqaba corals to a range of heat stresses including the higher temperatures likely to occur in the coming decades. The average maximum monthly temperature in these waters is currently around 27°C, so the scientists exposed coral samples to temperatures of 29.5°C, 32°C and 34.5°C, over both a short time period (three hours) and a longer one (one week). The scientists measured the corals' and symbiotic algae's gene expression both during and after the heat stress test, and determined the composition of the microbiome residing in the corals.
"The main thing we found is that these corals currently live in temperatures well below the maximum they can withstand with their molecular machinery, which means they're naturally shielded against the temperature increases that will probably occur over the next 100 or even 200 years," says Savary. "Our measurements showed that at temperatures of up to 32°C, the corals and their symbiotic organisms were able to molecularly recover and acclimate to both short-term and long-term heat stress without any major consequences." This offers genuine hope to scientists -- although warmer waters are not the only threat facing this exceptional natural heritage.
This is the first time scientists have conducted a genetic analysis of coral samples on such a broad scale, and their findings reveal how these heat-resistant corals respond at the most fundamental level -- gene expression. They can also be used as a basis for identifying 'super corals.' According to Meibom, "Romain's research gives us insight into the specific genetic factors that allow corals to survive. His study also indicates that an entire symphony of genetic expression is at work to give corals this extraordinary power." This sets a standard for what "super coral" gene expression looks like during a heat stress and a recovery. But could Red Sea corals be used to one day repopulate the Great Barrier Reef? "Corals are highly dependent on their surroundings," says Meibom. "They can adapt to new environments only after a long, natural colonization process. What's more, the Great Barrier Reef is the size of Italy -- it would be impossible to repopulate it artificially."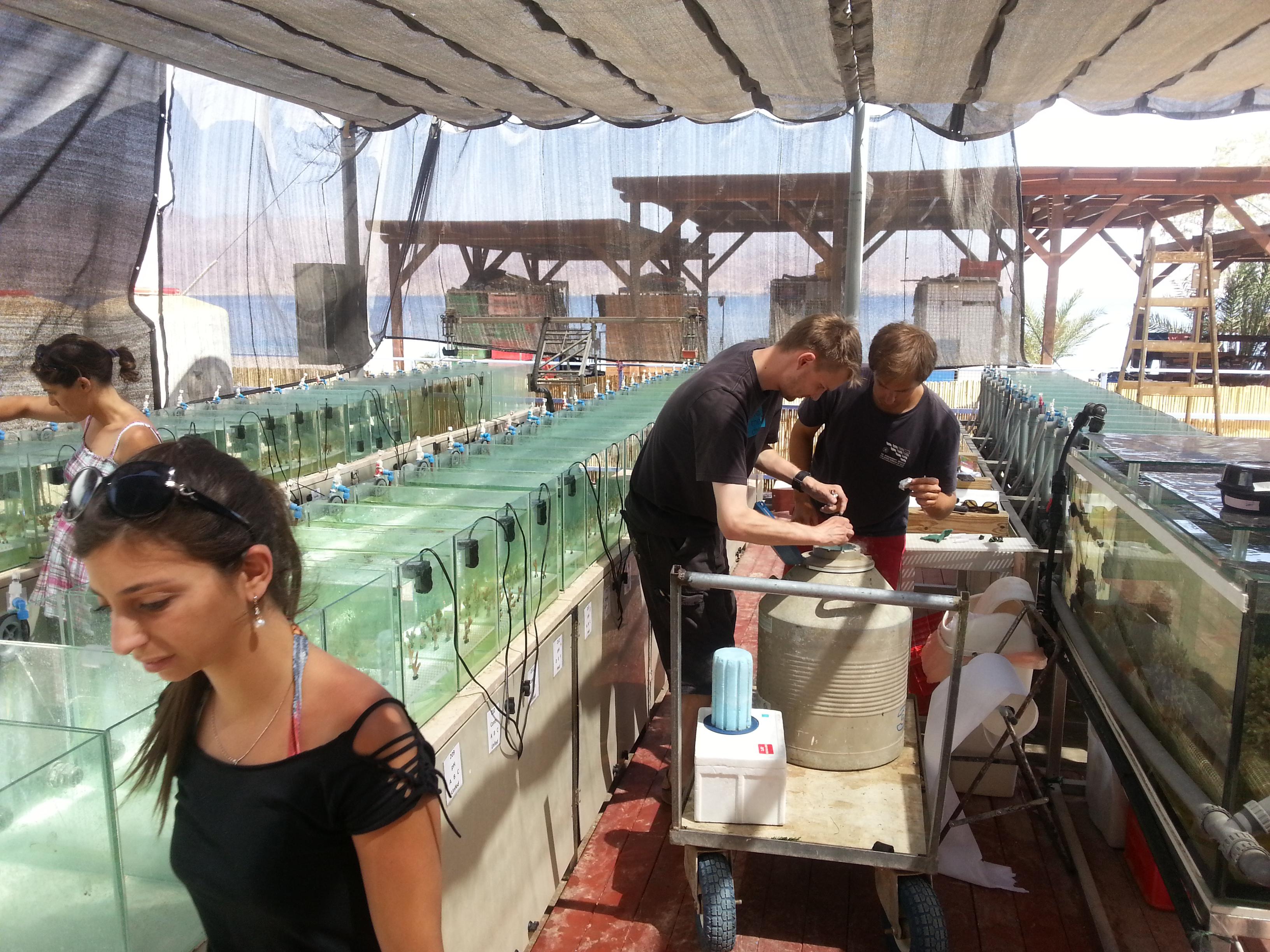 The aquarium system to make the tests. ©Maoz Fine

Sailing towards the future
The scientists' work was made possible thanks to two unique research instruments: the Red Sea Simulator (RSS), developed by the Interuniversity Institute for Marine Sciences in Eilat, Israel; and the Coral Bleaching Automated Stress System (CBASS), developed by a team of researchers in the US. Their findings have laid the groundwork for a much more ambitious project that will be led by the Transnational Red Sea Center (TRSC, http://www.trsc.org), which was set up at EPFL in 2019. This new project will kick off this summer and take place over four years. "We'll sail the entire Red Sea -- some 2,000 km long -- on the research vessel Fleur de Passion, owned by our partner the Fondation Pacifique," says Meibom. "The goal will be to map the heat tolerance levels and the diversity of all the different types of corals found in these waters. Water temperatures rise as you head further south on the Red Sea, with a 5-6°C differential between the northern and southern tips. That's what makes it a perfect real-world laboratory for studying these ecosystems. It's as if you're sailing towards the future as you head south."
And what does that glimpse into the future tell us? Some corals in the southern Red Sea are already starting to bleach. Savary believes there's just one solution: "We have to protect these corals and shield them from local stressors, which are mainly sources of pollution and physical destruction. That way we can keep a stock of 'natural super corals' for potentially recolonizing areas that have been hit particularly hard by climate-change-induced heat waves."
Romain Savary, Daniel J. Barshis, Christian R. Voolstra, Anny Cárdenas, Nicolas R. Evensen, Guilhem Banc-Prandi, Maoz Fine, Anders Meibom.
Fast and pervasive transcriptomic resilience and acclimation of extremely heat-tolerant coral holobionts from the northern Red Sea.
Proceedings of the National Academy of Sciences, 2021; 118 (19): e2023298118 DOI:
10.1073/pnas.2023298118
Next Step For Central Coast Highway Upgrade
The 3.8-kilometre Central Coast Highway upgrade between Wamberal and Bateau Bay is another step closer today, with a contract awarded to develop the concept design.
Minister for Regional Transport and Roads Paul Toole said engaging WSP Australia Pty Ltd to develop the design to upgrade the road is a significant step towards driving better journeys on the Central Coast.
"The NSW Government's $387 million investment in widening the highway to two lanes in both directions between Wamberal and Bateau Bay will improve travel time and safety for the 26,500 motorists who use this stretch of road daily," Mr Toole said.
"The upgrade will also improve economic growth and productivity, particularly during busy holiday periods, and delivers on our commitment to build a safer, stronger regional New South Wales."
Parliamentary Secretary for the Central Coast and Member for Terrigal Adam Crouch said the development of concept designs follows the community consultation process in late 2020 and geotechnical work in March 2021.
"Upgrading this 3.8-kilometre section of Central Coast Highway will be long and challenging, but it is incredibly important for local residents and we are not going to shy away from the hard work," Mr Crouch said.
The second stage of the concept design is expected to be open for community consultation next year, along with the environmental assessment, allowing local residents to provide further feedback as the project progresses.
A concept design and environmental assessment for the Tumbi Road intersection, which is being fast-tracked, is expected to be open for community consultation later this year.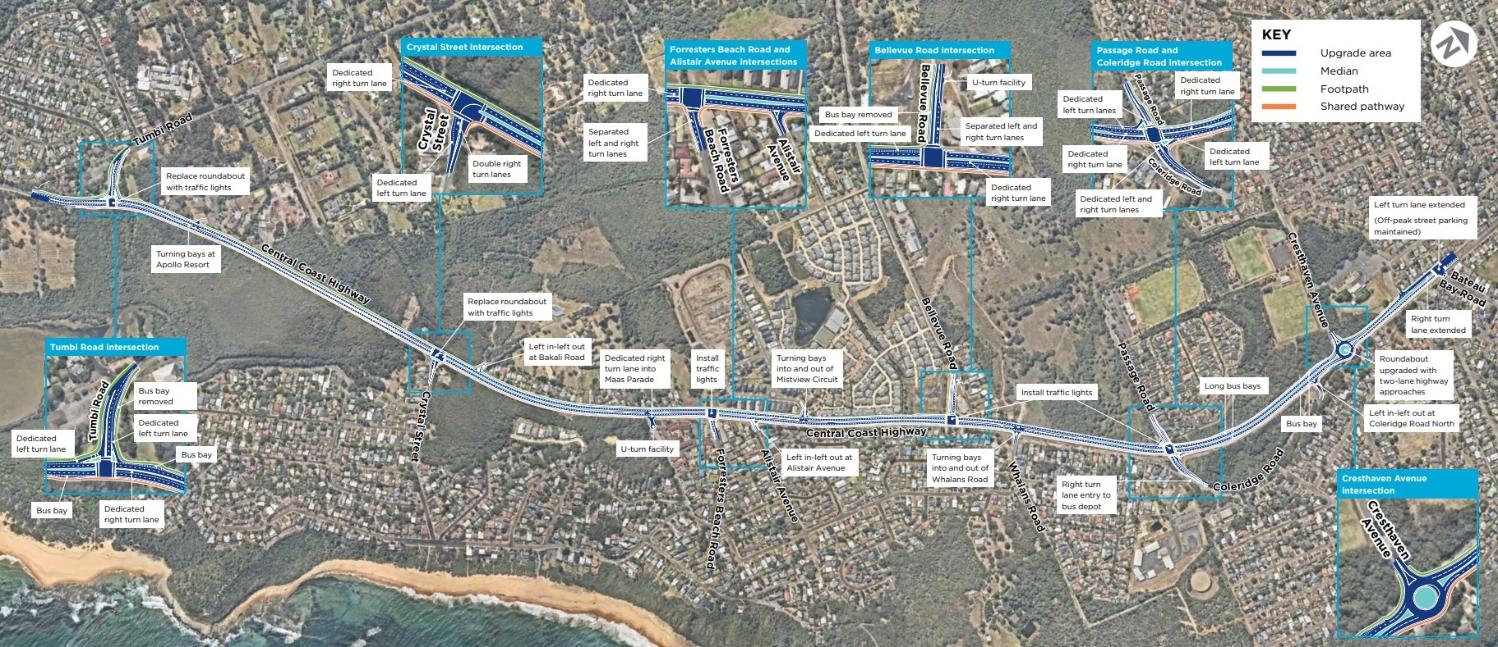 Australia's Longest Road Tunnel Proposed For Great Western Highway Upgrade
Investigations are now underway to make an 11-kilometre tunnel the central component of an upgraded Great Western Highway between Katoomba and Lithgow, forming the longest road tunnel in Australia.
Deputy Premier John Barilaro said the proposed tunnel would transform the state by better connecting the Central West to the East Coast.
"We have already committed to tunnels at Blackheath and Mount Victoria - this proposal would see those tunnels joined together, creating the longest road tunnel in the country," Mr Barilaro said.
"This is an immensely complex and ambitious plan, but we're working hard to make it happen because we know what a difference it will make to the lives of commuters, to regional businesses who need access to Sydney and vice versa, to freight companies, to families visiting relatives and to holiday makers.
"The NSW Government is committed to building a safer and stronger regional NSW and this corridor will enhance the state, significantly cutting travel times between the city and the bush.
"Completing the Katoomba to Lithgow section would deliver the final stage of a 130 kilometre upgrade, delivering dual carriageway on the Great Western Highway, a multi-decade program of works, making a safer, more resilient corridor."
Minister for Regional Transport and Roads Paul Toole said the solution would link the two tunnels already determined for Blackheath and Mount Victoria to deliver a safer, more reliable connection through the Blue Mountains.
"The NSW Government knows how important this upgrade is to the people who use the Great Western Highway every day and in improving connections between Sydney and the Central West, which is why we committed $2.5 billion to deliver a once-in-a-generation upgrade to this key corridor," Mr Toole said.
"As part of this upgrade, we've already committed to a 4.5-kilometre tunnel to bypass Blackheath and a 4-kilometre tunnel underneath Victoria Pass, one of the steepest roads in NSW.
"We're now investigating connecting those two proposed tunnels into one longer tunnel. This would be a history-making project, delivering Australia's longest road tunnel and
allow motorists to avoid all the current pinch points from Blackheath in the east to Little Hartley on the western side of Victoria Pass.
"It will also mean less disruption for local residents and businesses during construction and a smoother, safer journey for those travelling underneath Blackheath and Mount Victoria as well as those travelling above."
Mr Toole said the eastern entry for the proposed tunnel will be on the outskirts of Blackheath to minimise impacts on local homes and be built in a section of National Park land to the south of Evans Lookout Road.
"At the Western end, the portal location in Little Hartley has been modified to improve safety and reduce property impacts in the valley."
Transport for NSW is engaging with National Parks about the upgrade's impacts on land adjacent to the proposed portals. Neither portal would impact the Greater Blue Mountains World Heritage Area.
Mr Toole said heavy traffic over the Easter weekend had reiterated the importance of the Great Western Highway Upgrade and safe, reliable connections over the mountains for locals and travellers alike.
"This is an immensely challenging project but, once complete, it will deliver dual carriageway in both directions for over 100 kilometres," Mr Toole said.
"Should our investigations into a long tunnel determine that it isn't viable, the community can be assured that we would proceed with a tunnel at Blackheath and a tunnel at Mount Victoria."
Construction on the Great Western Highway Upgrade is expected to start at Medlow Bath in 2022, with the full upgrade expected to be completed within 8 to 10 years.
Mr Toole said the community would continue to shape the design of the upgrade as it moves towards construction.
"Later this year, Transport for NSW will consult with the community on the entire upgrade, including the proposed Blackheath to Little Hartley Tunnel.
"Between now and then, residents will see plenty of investigation work going on to make sure we have all the information we need to reduce the environmental impacts of the project."
New NSW Audit Program Cracking Down On Crooked Certifiers
The NSW Government has launched a data-led audit regime to target the state's high

risk building certifiers and triple the number of buildings to come under scrutiny by the

building regulator.
Minister for Better Regulation Kevin Anderson said through the NSW Government's
building reforms, the regulator is now equipped with powerful digital tools that can
analyse more than 170 million lines of data to determine the worst performing certifiers
and the residential apartment buildings they are working on.
"This data-led approach, combined with our new legislated powers, allows us to zero
in on the worst players in the industry and audit the projects they are working on," Mr
Anderson said.
"If an audit identifies potentially defective or non-compliant building work we will step
in immediately to issue rectification or stop work orders to protect consumers before
they move in."
This new initiative will complement the occupation certificate audits and inspections
already being undertaken on residential apartment buildings under construction and
is expected to more than triple the number of buildings that receive an audit from the
regulator.
"The pre-Occupational Certificate audit regime already in place is targeting around 50
site-based audits every six months," Mr Anderson said.
"Through these new audits we expect to be able to audit an additional 100 to 150
buildings every six months, more than tripling the regulator's compliance and
enforcement efforts on residential apartment buildings.
"This new approach is a big step in our commitment to cleaning up the industry. My
message to those who have been breaching the rules is that the days of hiding in the
shadows, cutting corners and taking consumers for a ride are ending.
"We will find and investigate every building these high risk certifiers touch and put
every decision they make under the microscope."
The approach signals the next phase of the NSW Government's landmark building reforms, shifting the focus from investigating problems in existing buildings to identifying and eliminating them before they go to market.
New Research Shows Long-Term Recovery Possible For Areas Impacted By Seagrass Die-Off
Nearly 10,000 acres of lush seagrass vanished from Florida Bay between 1987 and 1991, leading to massive ecological changes in the region near the Florida Keys. Abundance of the seagrass, Thalassia testudinum, more commonly known as turtlegrass, a foundation species of the Florida Bay ecosystem, decreased extensively during what is considered to be one of the largest declines in seagrass cover in recent history.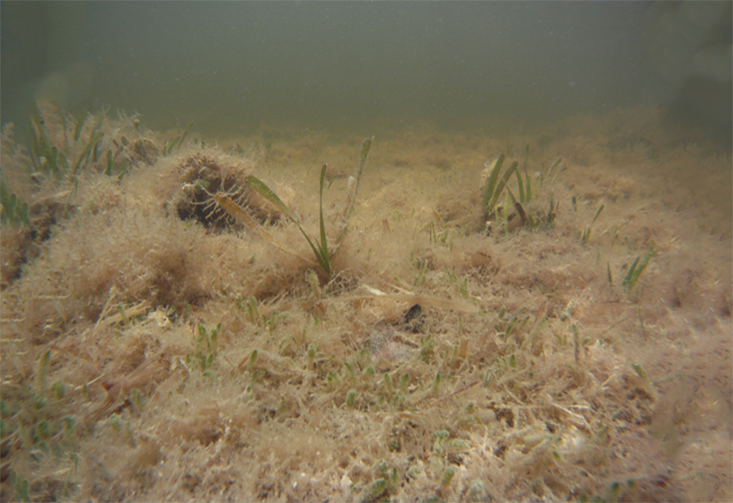 Credit: Florida Fish and Wildlife Conservation Commission

Researchers from the University of South Florida, the Florida Fish and Wildlife Conservation Commission (FWC) and the University of North Carolina Wilmington documented the response of seagrasses after the die-off. Their detailed data collection for over 20 years across the large area of impact has provided unique insight into seagrass resiliency or the ability of a coastal ecosystem to recover after the extensive loss. This study, published in Scientific Reports, is extremely timely as the work provides a framework for how future recovery of a new seagrass die-off, recorded in 2015 in the same location, may still be possible.
Seagrass plays an important role across much of the Gulf of Mexico and Caribbean Sea, providing critical habitat and feeding grounds for many species of fish, turtles and other wildlife. They're considered to be one of the most productive ecosystems in the world and in Florida Bay contribute to a sport fishing industry worth hundreds of millions of dollars per year.
USF Distinguished University Professor Susan Bell first learned of the 1987 large-scale seagrass die-off in Florida when she got a call from a long-time fisherman friend who noticed the seagrass disappearing and large amounts of dead seagrass. Bell notified colleagues at FWC, who began to detail what was happening across a roughly 15 square mile stretch of the bay.
For more than 10 years, researchers saw little to no change in seagrass, especially in the levels of turtlegrass. However, after another decade of monitoring, researchers reported a return to pre-die-off levels of turtlegrass in the region. The study shows that the entire sequence of die-off, algal blooms and recovery took 17-23 years. Both the long duration of the study and large area over which the data were systematically collected were unique to reports of seagrass recovery. Also, most studies of marine populations that recover from some kind of disturbance are linked to human intervention, such as removing a source of pollution, but in this case the recovery required no human activities.
"While the fact this system recovered after the 1980s die-off is fantastic, we really wanted to figure out the mechanisms that allowed recovery to happen," said Bell, a faculty member in the USF Department of Integrative Biology. "What we discuss are a number of features that underlie the seagrass recovery: the system was remote, remnants of seagrass leftover after the die-off served as a catalyst for repopulation and having multiple species of seagrass present increases the likelihood for recovery."
In the last case, two opportunistic seagrass species were first to increase in abundance after the die-off and likely facilitated the return of turtlegrass.
Bell believes this study can serve as a framework for other regions experiencing seagrass die-off, including once again in Florida Bay, which is still in the midst of the die-off that began in 2015. Their work warns that evaluation of ecosystem resiliency may take decades to detect, mandating long-term studies. Researchers are continuing to study the changes in Florida Bay, but are hopeful that with the right conditions, the region can once again return to normal.
"Today, this monitoring program provides some of our best information on the status of the system," said Brad Furman, a co-author of the study and research scientist at FWC's Fish and Wildlife Research Institute. "Studies like this one allow us to set expectations for recovery, something we did not have in the 1990s, which is extremely important as we watch the Bay respond to the most recent die-off event."
Margaret O. Hall, Susan S. Bell, Bradley T. Furman, Michael J. Durako.
Natural recovery of a marine foundation species emerges decades after landscape-scale mortality
. Scientific Reports, 2021; 11 (1) DOI:
10.1038/s41598-021-86160-y
CSIRO Innovation Partnership Bolsters NSW Science And Tech Strength
The NSW Government has signed a historic five-year Innovation Partnership agreement with Australia's national science agency, CSIRO, to drive digital technology, manufacturing and health excellence across NSW-based innovation precincts.
Minister for Jobs, Investment, Tourism and Western Sydney Stuart Ayres said that the partnership would emphasise the state's global reputation as a base for technological innovation, knowledge and expertise and drive new opportunities for businesses to invest, expand or locate in NSW.
"The NSW Government has a long history of working with CSIRO and this agreement through Investment NSW takes our strategic partnership to an historic next level," Mr Ayres said.
"The partnership will immediately accelerate innovation and commercialisation, create new jobs in growth industries like advanced manufacturing, Artificial Intelligence (AI) and digital health, and increase economic growth as part of our strong recovery from the pandemic.
"Engaging CSIRO as an Innovation Partner also enables us to work together to explore future opportunities to align and collaborate on research and innovation, with the potential to open up a range of new industry development and investment attraction opportunities across the state," he said.
Through the partnership, CSIRO will continue to consolidate its Sydney operations, focusing on advanced manufacturing, quantum technologies, aerospace, defence and agribusiness at the future Bradfield Aerotropolis, digital focus at Tech Central in Eveleigh, and health capabilities in the Westmead Health and Innovation District.
CSIRO Chief Executive Dr Larry Marshall said the agreement recognised the importance of connecting the NSW business and research community with Australia's largest commercialisation network, as well as access to world-class expertise in emerging fields like genetics, materials, quantum, synthetic biology, and space.
"CSIRO's partners in NSW will have access to the country's best scientific and commercialisation expertise, as well as world-class research infrastructure, to harness the power of science to create jobs in NSW and make life better for all Australians," Dr Marshall said.
"We are reinventing what it means to partner with Australia's national science agency, including by investing in next-generation facilities that use digital automation, robotics and sensors, AI-powered intelligent agents, and best-practice safety features to harness innovation to be globally competitive.
"Sydney is where CSIRO invented fast WiFi and where we will invent the next innovations for our future prosperity and sustainability," Dr Marshall said.
This historic Partnership directly builds upon and supports the direction and objectives set out in the NSW Government's 2040 Economic Blueprint and Global NSW Strategy.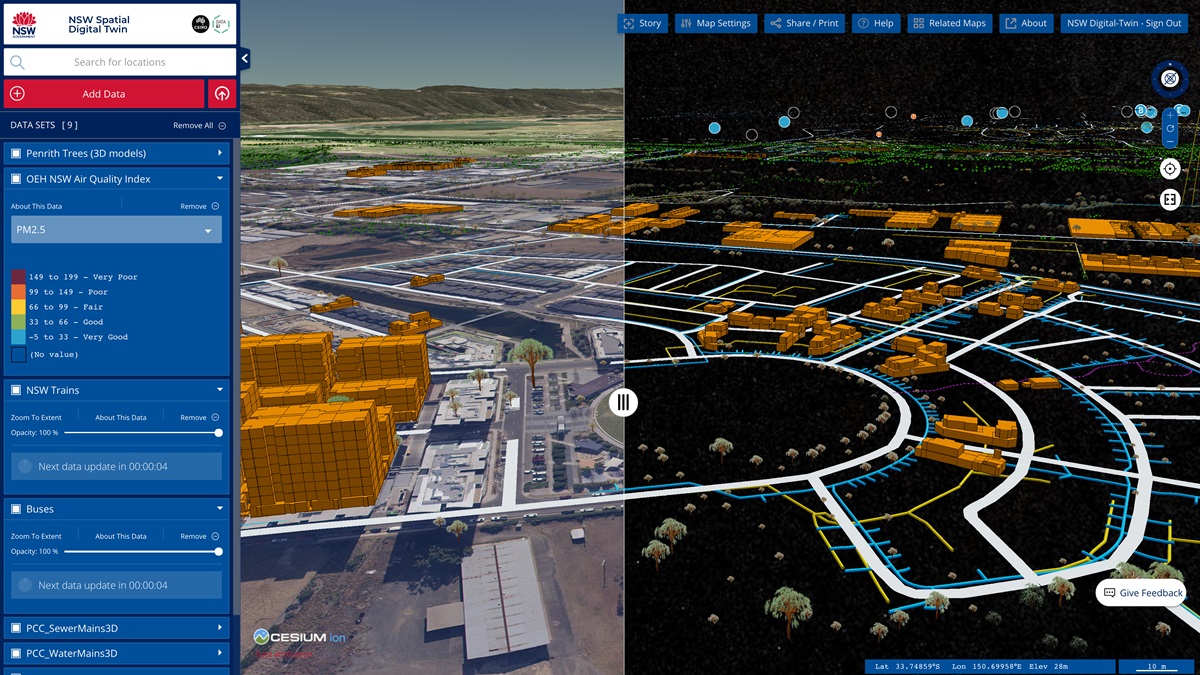 New 'Key-Hole Surgery' Technique To Extract Metals From The Earth
Researchers from The University of Western Australia, Australia's national science agency CSIRO, the Technical University of Denmark and the University of Exeter have developed a new mining technique that uses electric fields to extract metals from hard rock ore.

The technique could replace the traditional method of digging which results in significant costs to the environment.
Digging methods are currently used in 99 per cent of mining activity, often resulting in significant environmental degradation and huge quantities of solid waste.
Global estimates of waste are of the order of 100 gigatonnes per year, significantly larger than any other form of waste generated by humans.
The new technique is published in Science Advances. It is now being further developed and refined with support from the Minerals Research Institute of Western Australia.
Professor Henning Prommer from UWA's School of Earth Sciences and CSIRO said the technique worked by installing electrodes within the ore body and applying electric currents that could induce the transport of electrically charged metals such as copper through rocks by a process called electromigration.
"The metals are extracted within the ore body, instead of the traditional means of having to dig them out and milling huge amounts of material, a technique which traditionally has placed huge pressure on the environment," Professor Prommer said.
"Traditional methods of excavating ore material result in a large amount of solid waste brought to the Earth's surface which needs to be disposed of, whereas this new method dramatically decreases wastage". Professor Henning Prommer
Professor Andy Fourie from UWA's School of Engineering said the new technique held immense possibilities.
"It will not only improve mining outcomes, it will help us shift towards a more sustainable way of mining," Professor Fourie said.
The researchers have tested the technique in laboratory experiments and through computer modelling.
After successfully extracting copper from some very tight rock samples they are confident the idea will also work in the field, not only for copper but also for a wide range of other metals.
"This is really exciting because we can use intermittent power sources such as solar and wind to extract minerals," Professor Prommer said.
The research team have provided a proof of concept for the application of an electric field to control the movement of an acid within a low permeability copper-bearing ore deposit to selectively dissolve and recover the metal in situ.
This is in contrast to the conventional approach for the mining of such deposits where the material must be physically excavated, which requires removal of both overburden and any impurities within the ore (known as gangue material).
The researchers believe the new technique has the potential to transform the mining industry, because it has the capability to dissolve metals from a wide range of ore deposits that were previously considered inaccessible.
Furthermore, due to the non-invasive nature of the extraction, the research team are hopeful that the study will help usher in a more sustainable future for the industry.
This is urgently required now in order to provide the plethora of metals required to deliver green technology, such as renewable energy infrastructure and electrified vehicles, whilst limiting any potential environmental damage associated with the mining of such vitally important metals.
Dr Rich Crane from the Camborne School of Mines, University of Exeter, and co-author of the study, said: "This new approach, analogous to "key-hole surgery," has the potential to provide a more sustainable future for the mining industry, by enabling the recovery of metals, such as copper, which are urgently needed for our global transition to a new Green Economy, whilst avoiding unwanted environmental disturbance and energy consumption."
The central principle behind most modern mining techniques has not fundamentally changed since their original conception, which marked the beginning of the Bronze Age: metals are recovered from the subsurface via physical excavation, i.e., the construction of tunnels to gain access to the deposits, or by creating "open cast" mines.
This technique demands large volumes of surface soil, overburden and gangue material to also be excavated, which can contain millions of tonnes of material -- and can also lead to habitat destruction.
In this new publication, experts from the University of Western Australia, the Commonwealth Scientific and Industrial Research Organisation (CSIRO), the Technical University of Denmark and the University of Exeter, have demonstrated that a targeted electric field can be used to dissolve and then recover copper in situ from the ore -- avoiding any requirement to physically excavate the material.
This new technology comprises the construction (drilling) of electrodes directly into an ore body. An electric current is then applied which can result in the transport of electrically charged metal ions, such as copper, through the rock via a process called electromigration.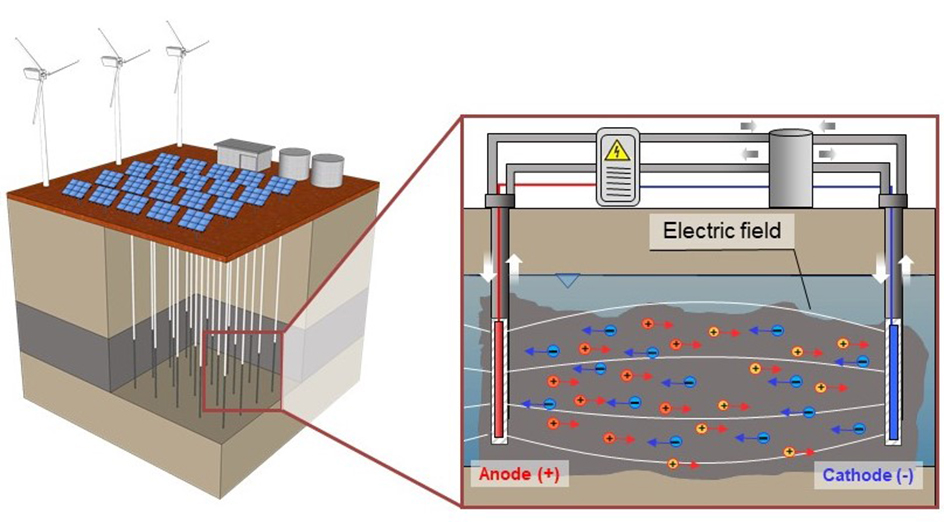 Illustration of metal extraction from a subsurface ore body via EK-IS. Image courtesy CSIRO

The research team have now provided a Proof of Concept for this new technology at laboratory scale, which has also been verified using computer modelling. They are confident that the idea will work beyond the laboratory-scale.
Evelien Martens, Henning Prommer, Riccardo Sprocati, Jing Sun, Xianwen Dai, Rich Crane, James Jamieson, Pablo Ortega Tong, Massimo Rolle, Andy Fourie.
Toward a more sustainable mining future with electrokinetic in situ leaching
. Science Advances, 2021; 7 (18): eabf9971 DOI:
10.1126/sciadv.abf9971
Disclaimer: These articles are not intended to provide medical advice, diagnosis or treatment. Views expressed here do not necessarily reflect those of Pittwater Online News or its staff.